This year has brought many new trends and fads into our lives, and wavy hairstyles are certainly the best obsession now. Alongside with everyone's craze for naturalness, the beauty of gently flowing waves has reached a new level, bringing whole lotta new ways to style and cut wavy hair.
It doesn't matter if you were born with this lovely pattern or you want to embrace those effortless beachy waves for your straight locks, we've made an ultimate post dedicated to waves and how to get them right today for everyone. Wave on, ladies!
What Hairstyle Is Good For Wavy Hair?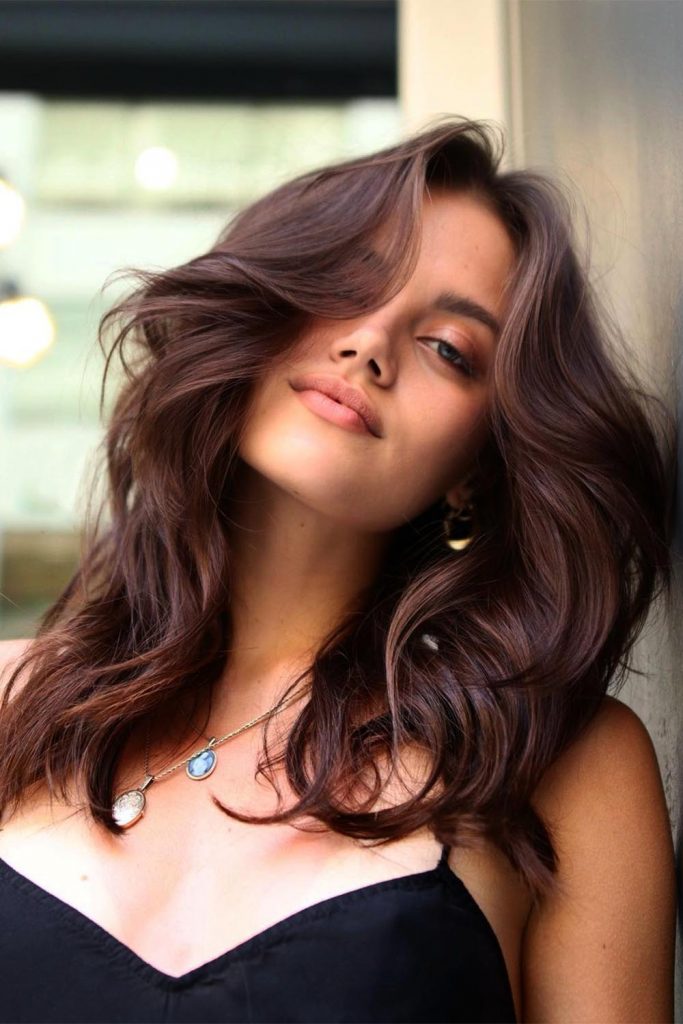 by @salsalhair
According to modern hairstylists, the very first thing you should focus on when choosing hairstyles for wavy hair is enhancing your pattern. Instead of straightening your precious waves, soft curls, or relaxed ringlets, you should do your best to accentuate your unique texture with the right products, styling tools, and haircuts. Here are the options for wavy hair that are going to be huge this year.
Textured beachy waves with soft layers are the perfect option for short and medium hair that lacks volume and definition.
Intense side-swept waves are a classic idea for anything from short to long wavy hairstyles.
Middle-parted medium wavy hairstyles with wispy edges are what women shouldn't miss.
Shaggy layered waves with sharp edges will be a trendy lifeline for those in search of short hairstyles for thick wavy hair.
High ponytails with loose waves are making a great comeback to flatter long manes.
Of course, that's only the beginning. In this article, you're going to see more options for your amazing hair type.
How Do I Make My Hair Look Wavy?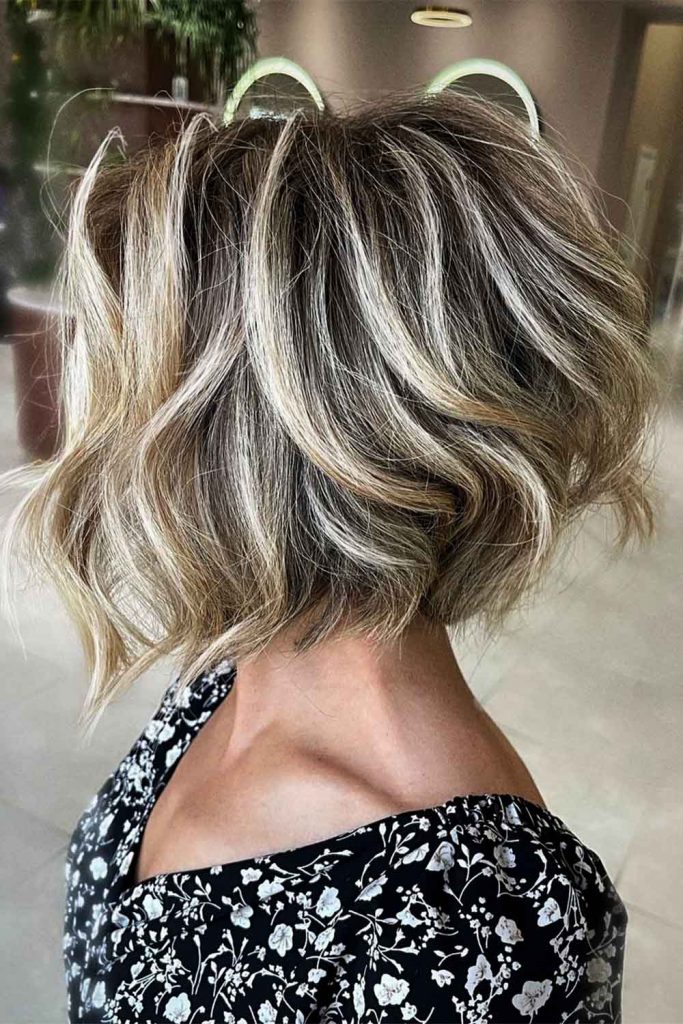 by @mila_kryshchykhina
And here comes the part that is meant for ladies who want to infuse the charm of waves into their straight locks. In fact, there are a lot of ways to wave your hair, but they split into just two categories: heatless and hot wavy hairstyles. Today, we will share with you the easiest yet effective ideas on how to give yourself a wavy texture. Also, let's not forget that styling products play an important role in wavy hairstyles, so we won't leave without some must-haves.
Hot waves
Flat iron + twists

This method takes minutes while giving a gently flowing effortless wave as a result. Although it's pretty universal, we'd recommend it to girls who want to achieve long wavy hair. First, prep your hair with a heat protectant and some gentle mousse to make it wave-friendly. Then, divide your hair into two sections, split each section into two, and twist them. Next, hold them twisted, and flat iron them throughout the length at the lowest settings for a minute. Do the same with the other section, and, lastly, coat the waves with a thickening hair spray to secure the look.

Curling iron

If you ever wonder how to style short wavy hair so that it looks effortless and doesn't fall throughout the day, a curling iron is your saving grace. Apart from that, you will also need a wave enhancing volumizing mousse to keep the roots lifted and the hair texturized. The process is pretty simple: you need to divide your hair into a top and lower layers. Then, grab a small section of hair and curl it away from the face. Next, take another small section, but this time curl it toward the face. When the waves on the top and bottom layers are ready, spritz them with hairspray and run your fingers through them to give them a natural finish.

Small barrel curler

If you happen to own a small barrel curler, you've got all you need for fantastic mermaid-like hairstyles for thick wavy hair. To get the best results, it's better to prep your hair with a softening conditioner to make it manageable for stying. And, of course, you'll need a heat protectant here. So, basically, you should start with freshly washed dry hair. To style, start taking out small but thick sections of hair and wrap them around the curler. Repeat it until all your hair is waved, shake your head, and give the locks a coat of hairspray.

Curling wand + ponytail

You will need to work with a high ponytail here, so this method is meant to create long or medium length wavy hairstyles. Not only is it super straightforward but it also gives amazing beachy-inspired results as if you've just been surfing in the ocean. It's a very convenient way to work with a curling wand, too. Prep your hair with anything from styling mousse to heat protectant and create a high ponytail. Then, take off a section, wave it with a wand, and flip it over to the side. In this way, you will wave all of your hair quickly. Finally, untie the pony and give your waves some texture with sea salt spray. You will totally love this, no doubts.

Braids + blowdryer

Another cute and unbelievably easy way to get those beachy waves without spending the whole day at the beach! Just as the name suggests, you need to braid your hair into as many braids as you want. The size of the braids, however, determines the size of the waves, so you will want to work with small to medium braids for classic beachy waves. Just braid your hair, spritz it with a protectant, and apply some curling mousse. Then, just blow dry your braids.
Best products for wavy hairstyles
Moisturizing, alcohol-free heat protectant will save your locks from damage during heat styling.
Wave enhancing mousse will make your hair more wave-friendly by smoothening and nourishing it.
Texturizing sea salt spray will give your waves more definition.
Thickening hair spray will make your waves look thicker and more dynamic.
How Do You Style Wavy Hair Without Heat?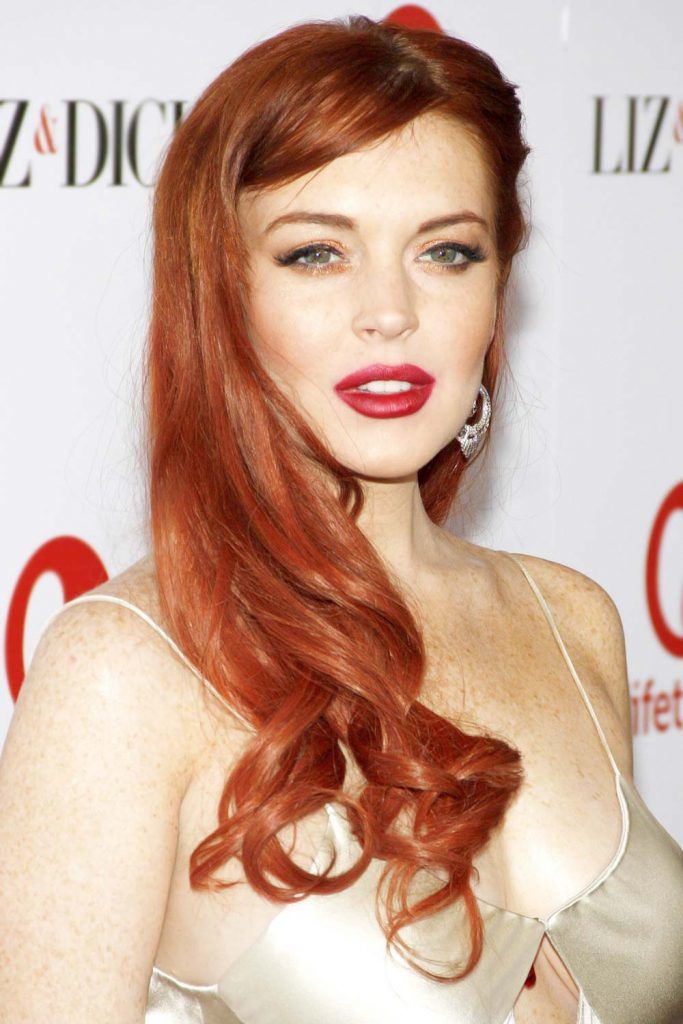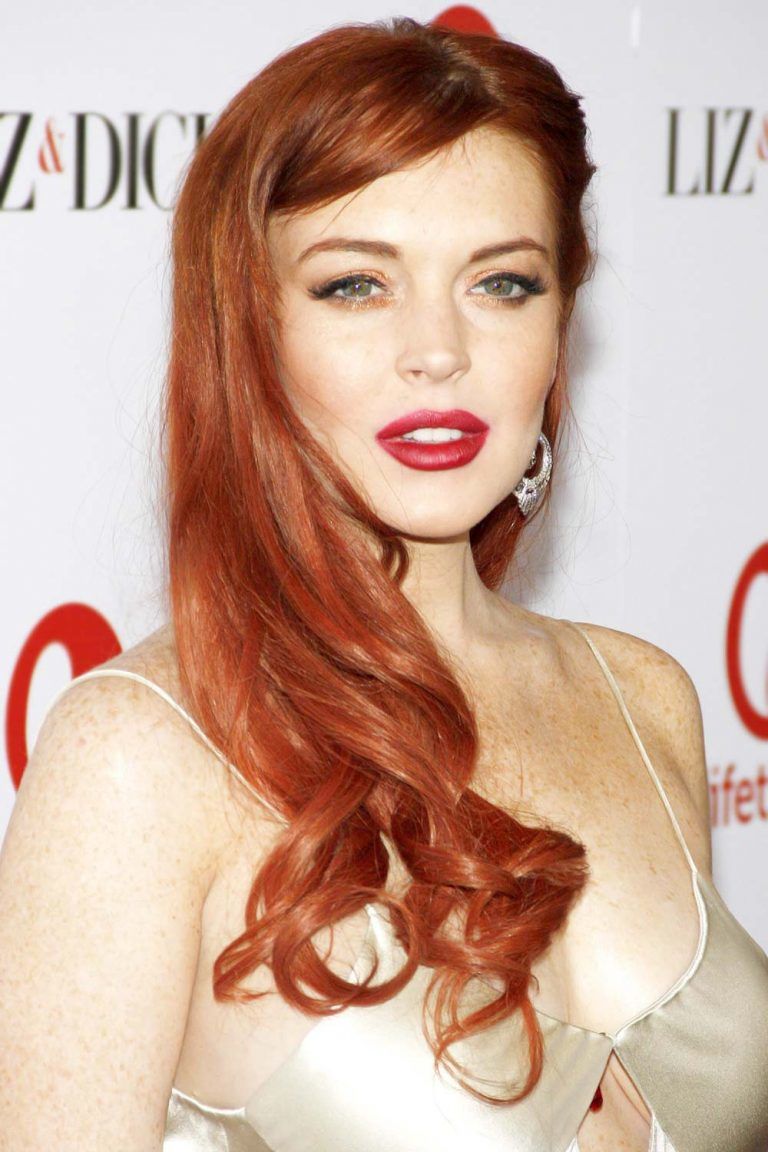 Credit photo: Tinseltown/Shutterstock
Heatless waves
Braids overnight

Probably the easiest thing you can do is to braid your hair before going to bed. That's a cool way to create both long and short wavy hairstyles, but make sure to start with the hair dampened by a styling product. If you don't have any, water will do just great. Just create braids and unravel them in the morning: you will feel the ocean breeze when you see those beachy locks.

Damp buns

As it turns out, braids are not the only way to give some beautiful texture to the hair. Hair buns can also come in handy; they even take less time than branding. Apply some wavy mousse to your slightly damp hair and create two buns. Air-dry the hairdo and unwrap the buns to get big bouncy waves. If you want them to hold longer, give it a coat of hairspray.

Rope belt + braided buns

Well, that's a game-changer that's going viral on Instagram! First, part your hair as you usually do it. Then, place a robe belt on your head, take off a one-inch section from the front on one side, and wrap it over the rope. Next, you put this section under the rope and incorporate another one-inch section, wrapping it over and under. Do it until your hair is wrapped around the rope and repeat the same step with the other side, wrapping the ends all the way around the rope as well. Secure the ends with elastic bands. Finally, create buns with your improvised braids for a comfortable sleep.
Wavy Hairstyles For Short Hair
Whenever you ask yourself "how do I style short wavy hair?", you can come back to this gallery of wavy short hair looks that will never go out of style. Below, we've selected the hottest short hairstyles for wavy hair for all wave types, be they natural type 2 hair textures or those achieved with curling wands. And remember: short hair has nothing to do with styling limitations!
Pixie Wavy Hair Styles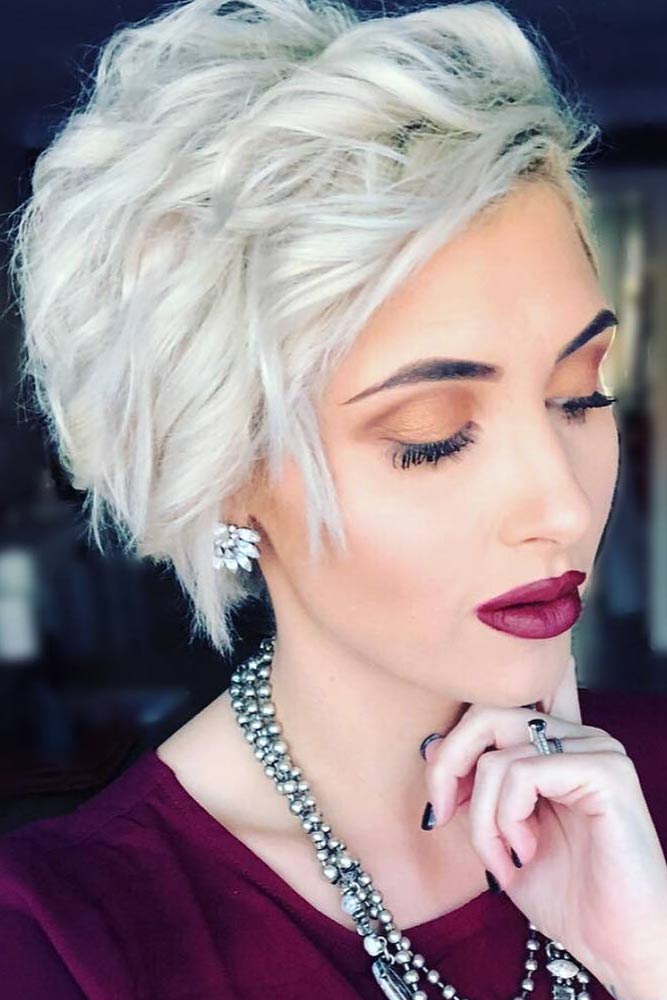 by @rayahope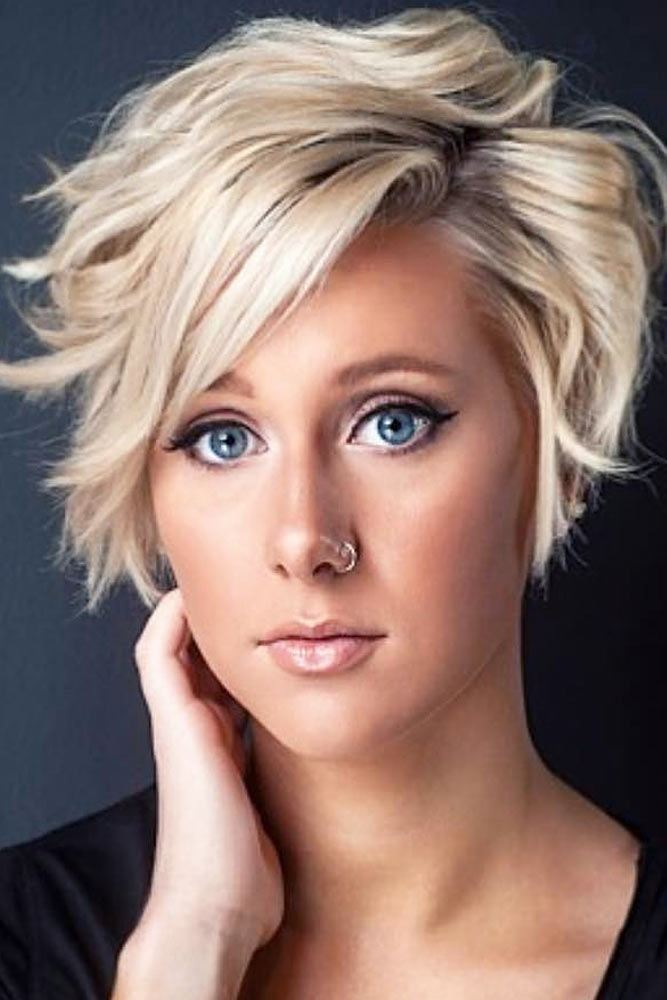 by @shorthair_love
Pixie haircuts are a great way to style short wavy hair. The shorter style will remove some bulk from your wavy tresses. Plus pixies are super cute and sexy!
If you want to keep your wavy hair short, these stylish pixies are a good starting point. And they are super easy to style as well. You can opt long pixies with layers or pixie haircuts with bangs. As well, they are easy to style!
Not quite sure how to style wavy hair after shower? With a pixie, it's so simple!
Apply a texturizing product to your damp hair.
Blow dry with a diffuser on low setting and style as desired!
Wavy Bob Styles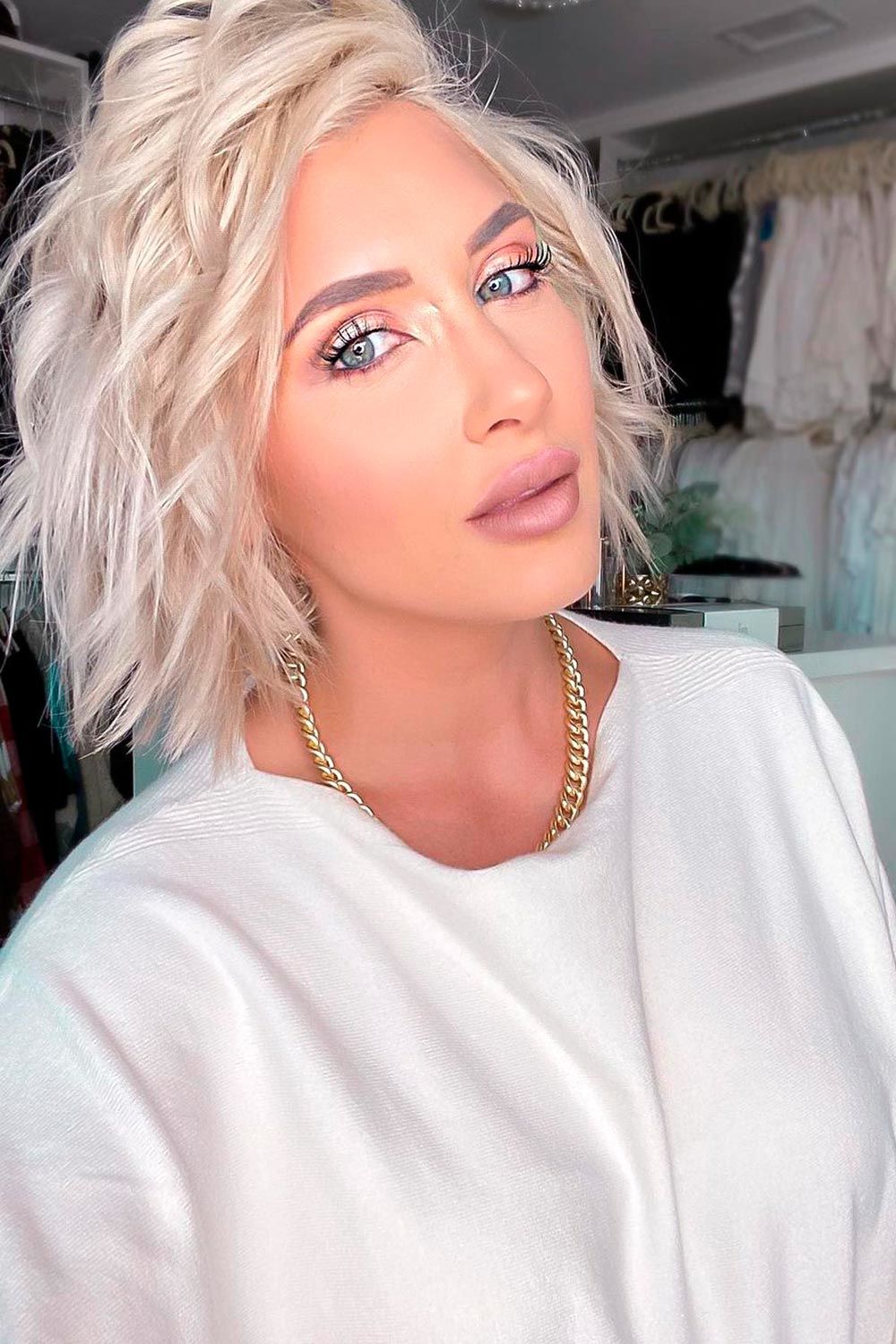 by @rayahope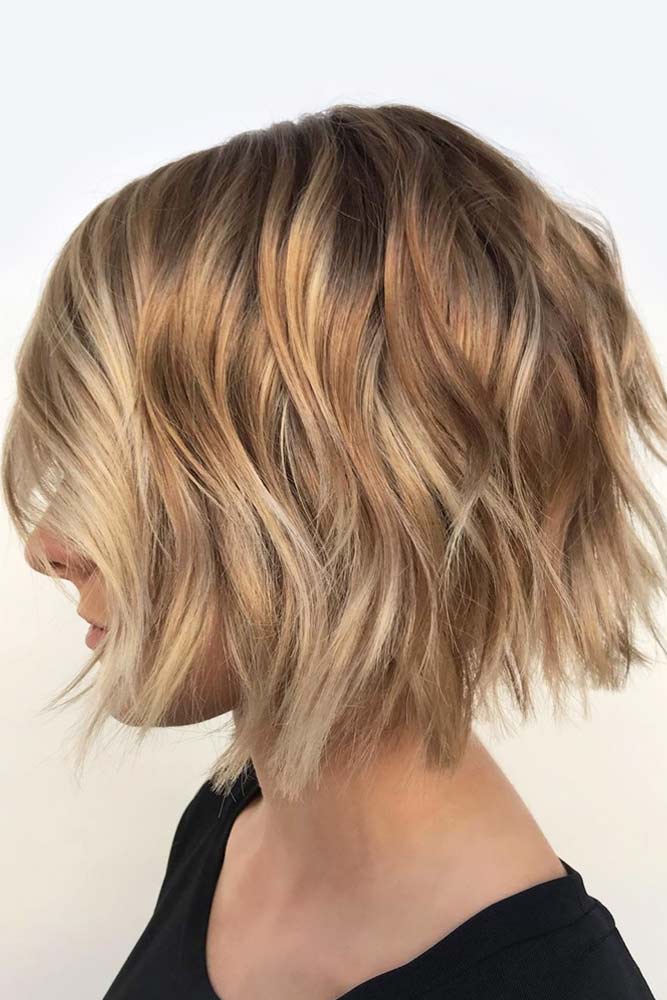 by @styled_by_carolynn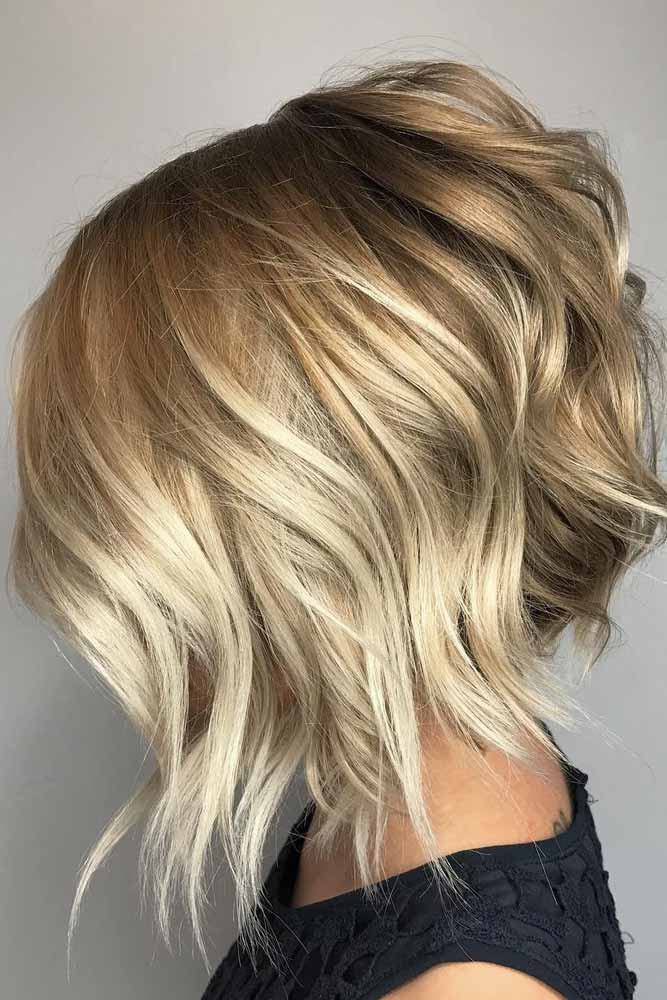 by @styled_by_carolynn
Do you have medium wavy hair and are looking for a new way to style your wavy locks? How about a bob haircut?
Bob hairstyles are very popular right now, and they are surprisingly versatile. You can opt for asymmetrical bob, a graduated bob or A Line bob or lob (a long bob haircut). And bob cuts are easy to style as well! Check out these sassy wavy hairstyles for medium length hair.
To style your wavy bob:
Apply one your favorite wavy hair styling products while your hair is wet.
Blow dry with a diffuser or let air dry.
Tousle your wavy tresses and go!
Short To Medium Wavy Bob
by @chrisjones_hair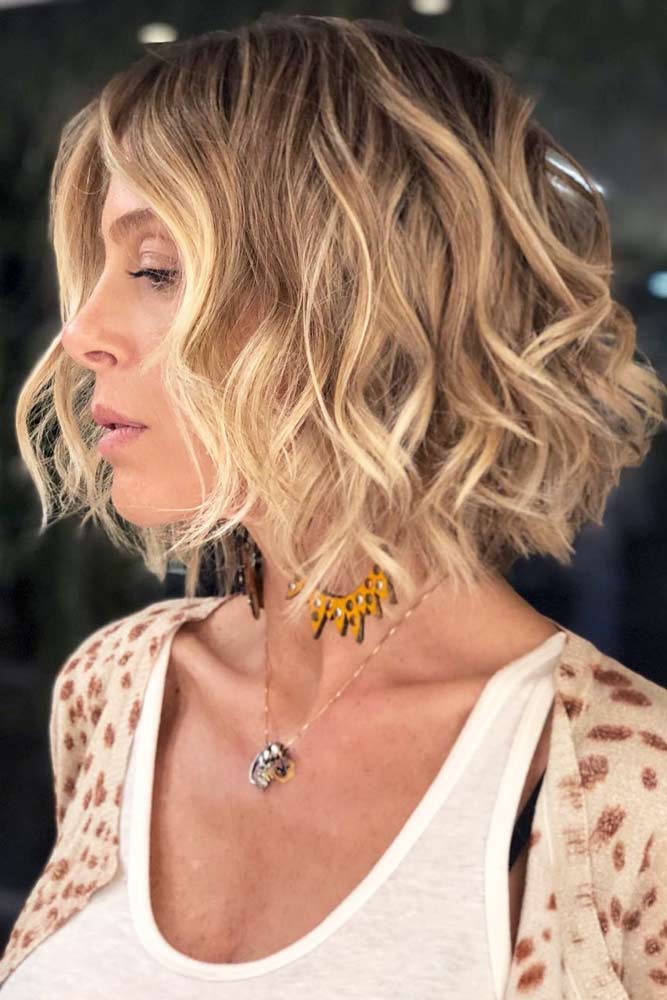 by @natancorreia
No words in the world can fully describe the beauty and practicality of waves. There's no need to say how easy they are to get and to style: every lady knows that some whirls of a curling iron are enough for a textured hairstyle. And if you flaunt with a short-to-medium bob haircut, congratulations! Once you wave your hair, you will not only emphasize the beauty of your locks but also enhance the charm of fantastic waves, as they look far lovelier on shorter lengths. Also, accentuating highlights will perfectly complement your wavy style: they will make your waves richer and more profound.
Medium Wavy Hair Cuts Ideas
With the right haircut, shoulder-length wavy hair will be your ticket to the spotlight! What is the best haircut for thin wavy hair and how to get the most of thick waves? Well, we've collected the most flattering and modern cuts and styles for your length so that every woman, whether she has thick or thin hair, can find the best idea for her.
Wavy Long Bob Hairstyle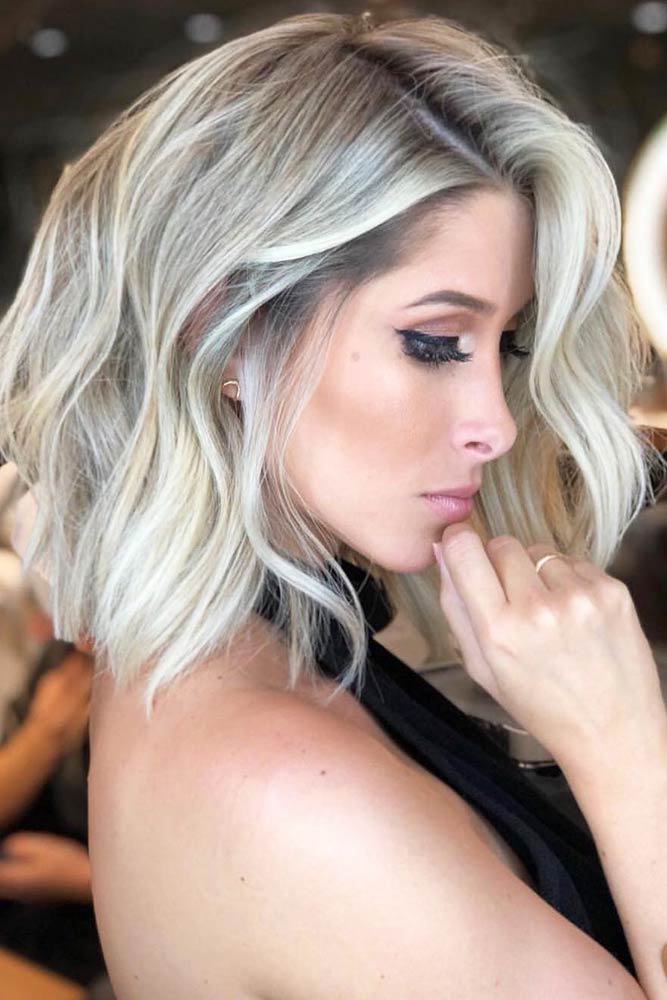 by @kellyfarias2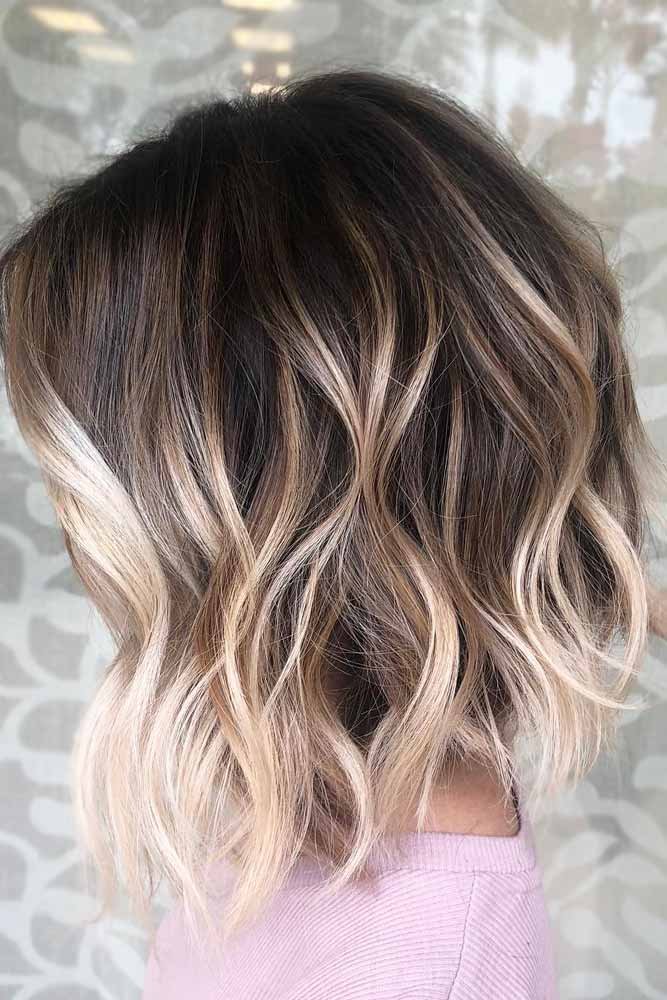 by @hairby_gabbs
Long bobs are charming too! They have loads of styling options, and wavy hairstyles are obviously not an exception. But this time, they're less textured and highlighted; on these long wavy bobs, waves volume up the silhouette with their slight and almost weightless thickness. Yes, these cuties can be different, and if they're not too visible and bold, it doesn't mean they can't beautify your look. The texture of little waves on long bob cut is so lovely and feminine that you won't ever want to style your hair in another way: these pics are the proofs.
Shoulder Length Wavy Hairstyles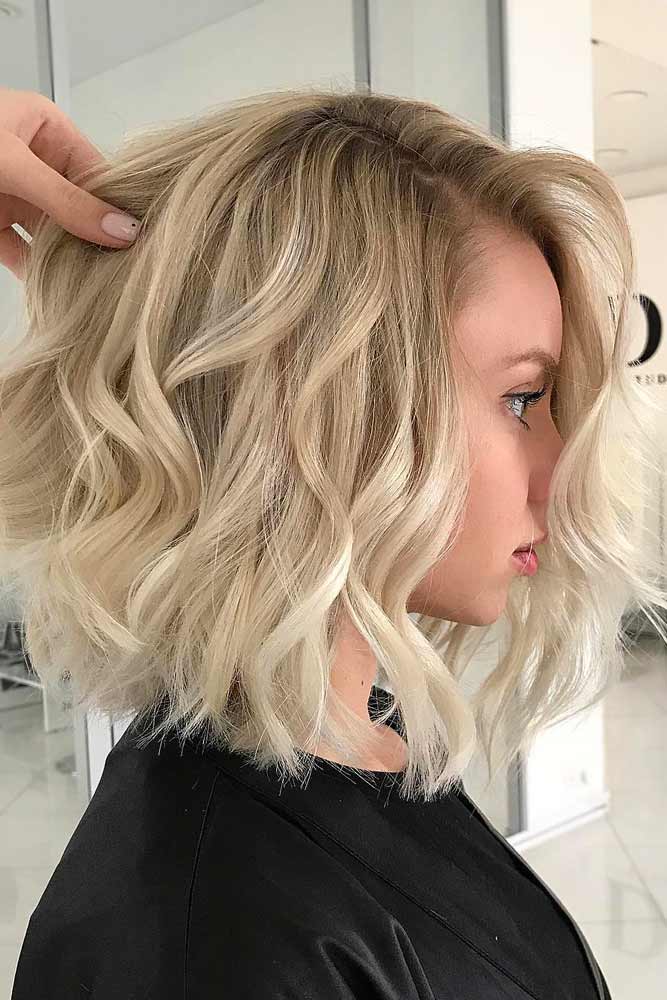 by @id_studio_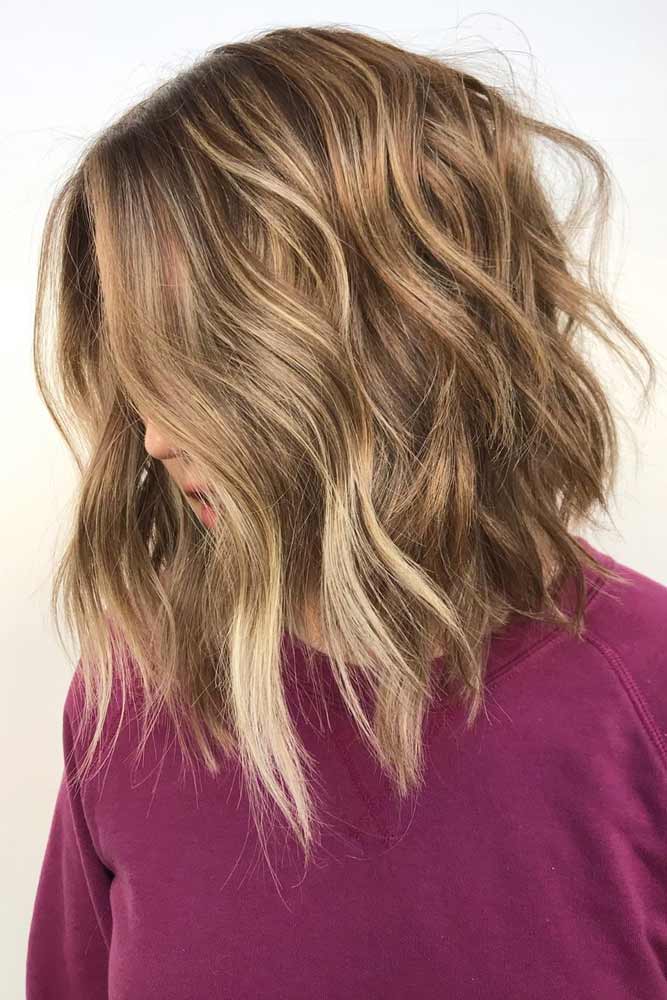 by @styled_by_carolynn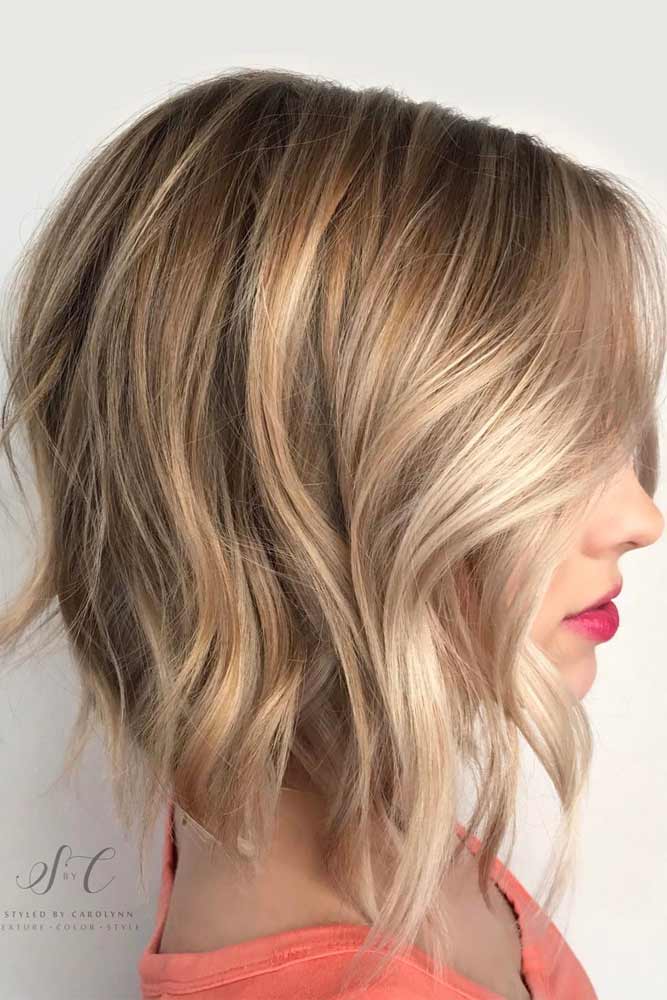 by @styled_by_carolynn
If you don't like bob hairstyles, you can opt for other looks for wavy hairstyles like the ones pictured here.
For those who don't have naturally wavy locks, there many simple ways to achieve gorgeous waves for shoulder-length hairstyles. You can use a medium or large barrelled curling wand, hot or soft rollers, a deep waver or make soft waves using a flat iron.
Not sure how to style naturally wavy hair without heat?
Make pin or finger curls.
Pull your hair back in a braid or twisty bun and then let it loose to fall into soft wavy tresses.
Shoulder length wavy hair is fun and flirty and so easy to manage!
Wavy Medium Length Hairstyles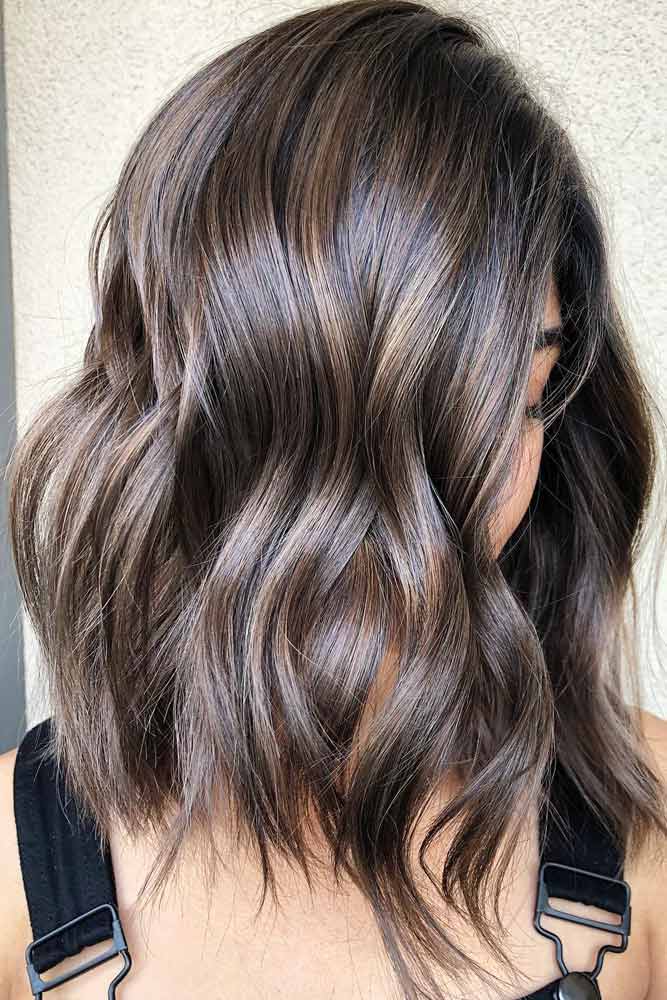 by @hairbykimberlyh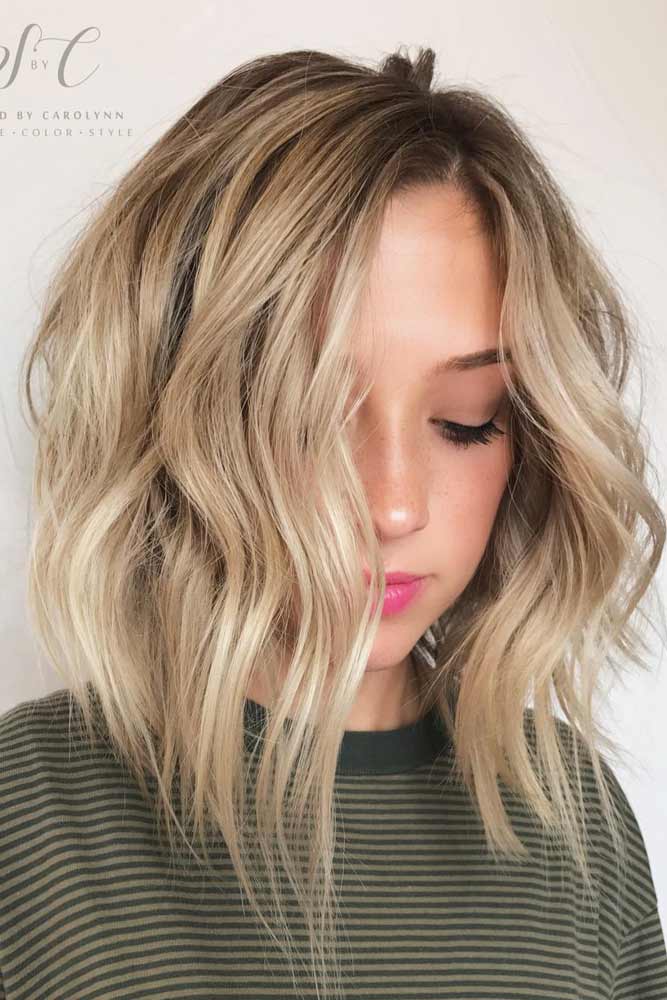 by @styled_by_carolynn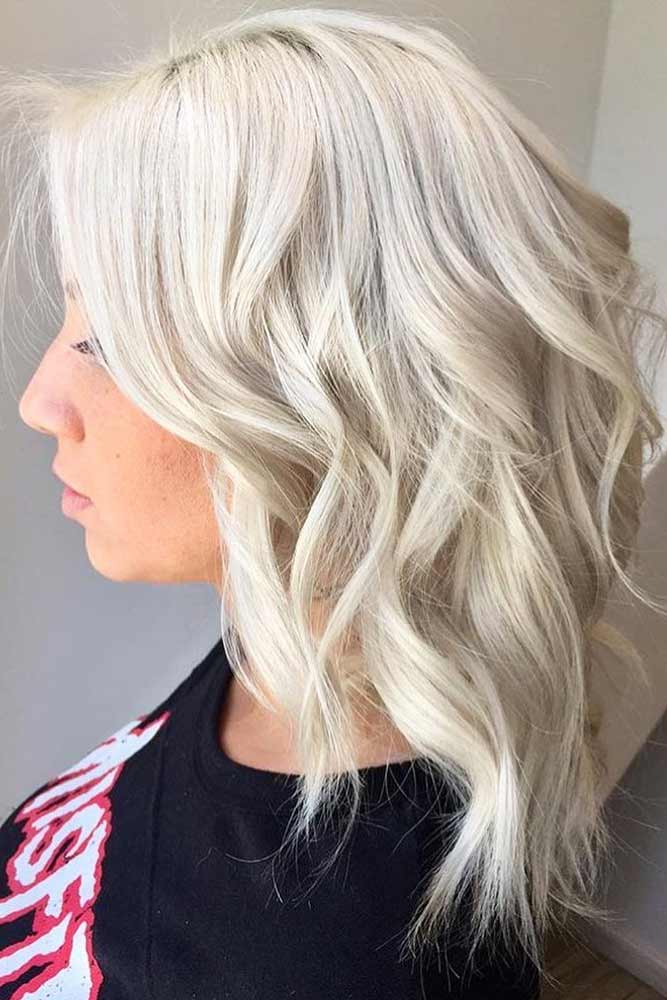 by @beauty.byrachel
If you have want a bit of a longer look, you can try one of these captivating medium length hairstyles. Medium length hair is the perfect compromise if you want to get rid of some length without going too short.
Whether you have shoulder-length or medium wavy hair, you will still be able to pull it back in a cute updo or half-up/half-down style such as braided hairstyle, half ponytail, top knot or bun. There is no end to the way to dress up medium wavy hairstyles!
How to style wavy hair without frizz:
Apply an anti-frizz serum to your freshly washed hair.
Blow dry on low or cool setting using a diffuser.
Sleep on silk or satin sheets.
Wrap your hair in a microfiber towel or t-shirt instead of a cotton towel.
Long Wavy Hair Cuts
How do I stop my wavy hair from frizzing? That's the issue that many girls with long and medium to thick wavy hair struggle every single day. As a matter of fact, you only need to include the right products into your hair care routine and get the right haircut. So, what is the best haircut for wavy frizzy hair? Of course, the one featuring layers. And here comes the best part: the variety of such cuts knows no limits. Are you ready to see the most impressive picks for your long hair?
Long Wavy Layered Hair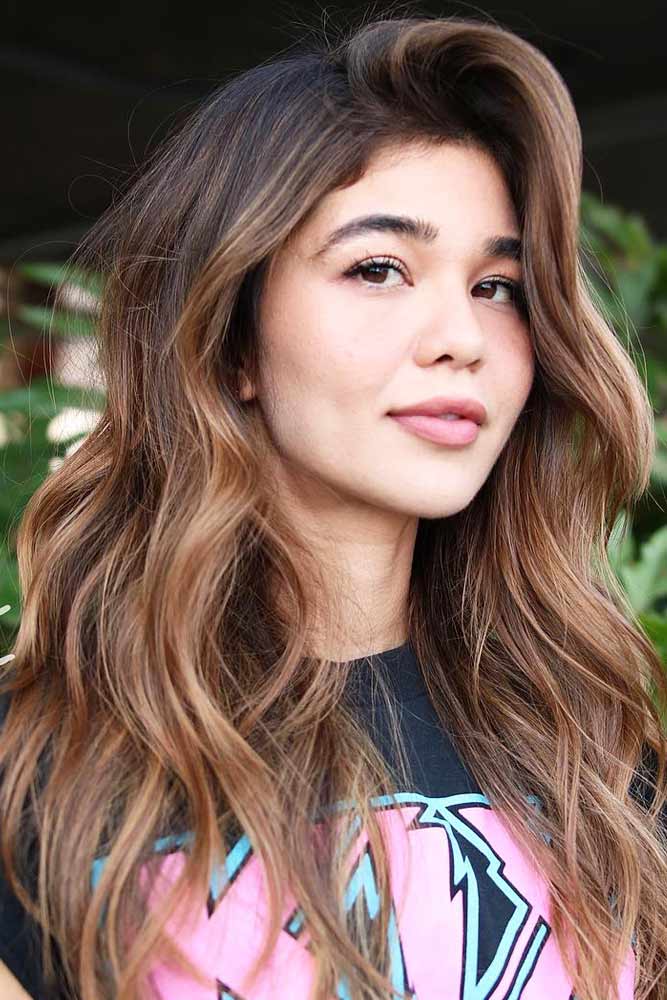 by @salsalhair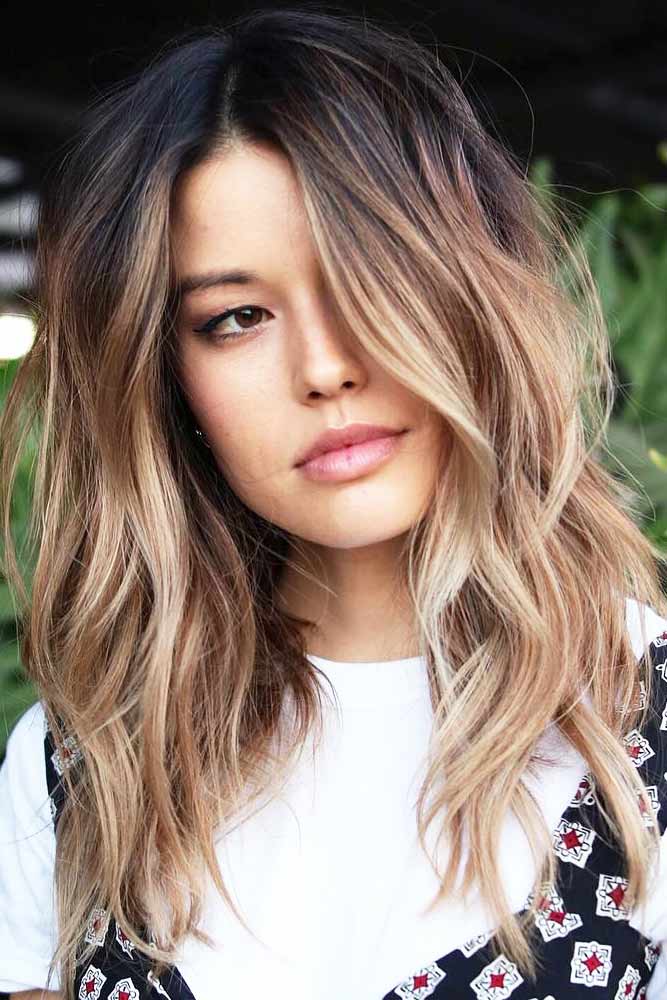 by @salsalhair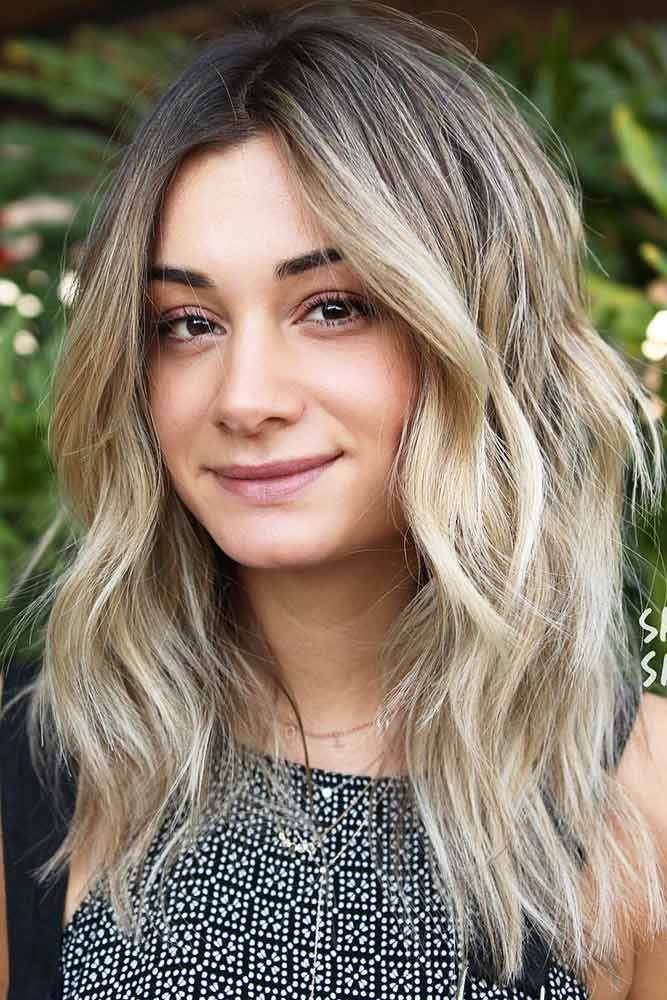 by @salsalhair
If you wish to keep your long wavy hair, simply adding some layers can give your hair added volume and bounce! As well, it can promote healthy regrowth and add texture and dimension to your wavy tresses.
Check out these women wavy long hairstyles. As you can see, they are very chic and feminine. You can also opt for long wavy hairstyles with bangs. Beach waves are all the rage right now as they are very sexy and mysterious.
To duplicate these long wavy locks, follow these steps:
Apply a generous amount of sea salt spray to your damp hair.
Allow to air dry or dry on the lowest setting with a diffuser.
Gently run your fingers through your locks to separate and apply a soft hold spray.
Here are some ways how to style naturally wavy hair overnight.
French braid your hair while still damp and secure with a hair tie and pins if necessary.
Set your hair with soft rollers before bed.
Twist your hair into a rope braid.
Make a fishtail braid.
Put your hair in a loose bun on the top of your hair.
Other Tips For Wavy Hair:
Use shampoos and conditioners without sulfates and that are designed for curly or wavy hair.
Only shampoo your hair once or twice a week.
Use dry shampoo and leave in conditioners.
Avoid heat as much as possible.
Sleep on silk or satin sheets.
Pull your hair back in a braid, loose ponytail or bun while you're sleeping.
Avoid brushing your hair. Use your fingers or a wide-tooth comb to style.
Sea salt spray is the miracle cure for wavy tresses!
Get your ends trimmed every six to eight weeks.
Comb your hair from the bottom up.
Hollywood Waves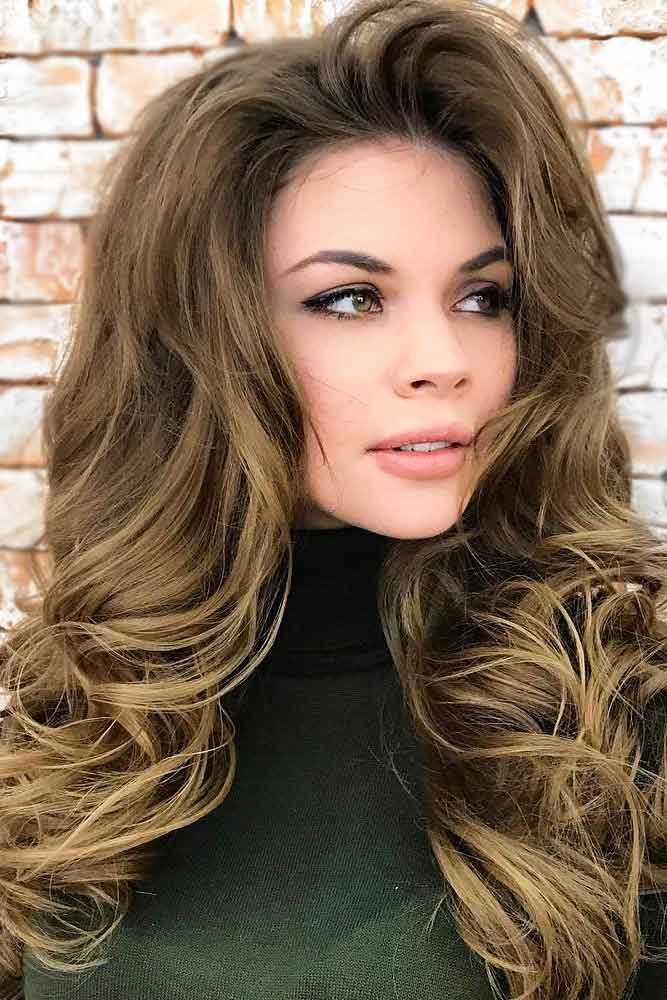 by @hair_by_zolotaya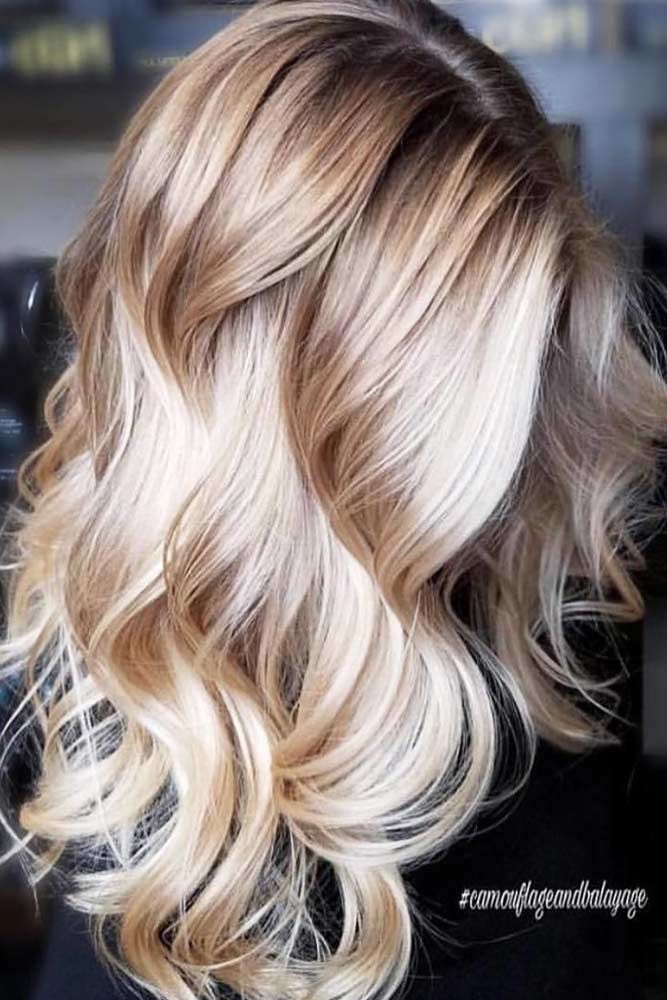 by @camouflageandbalayage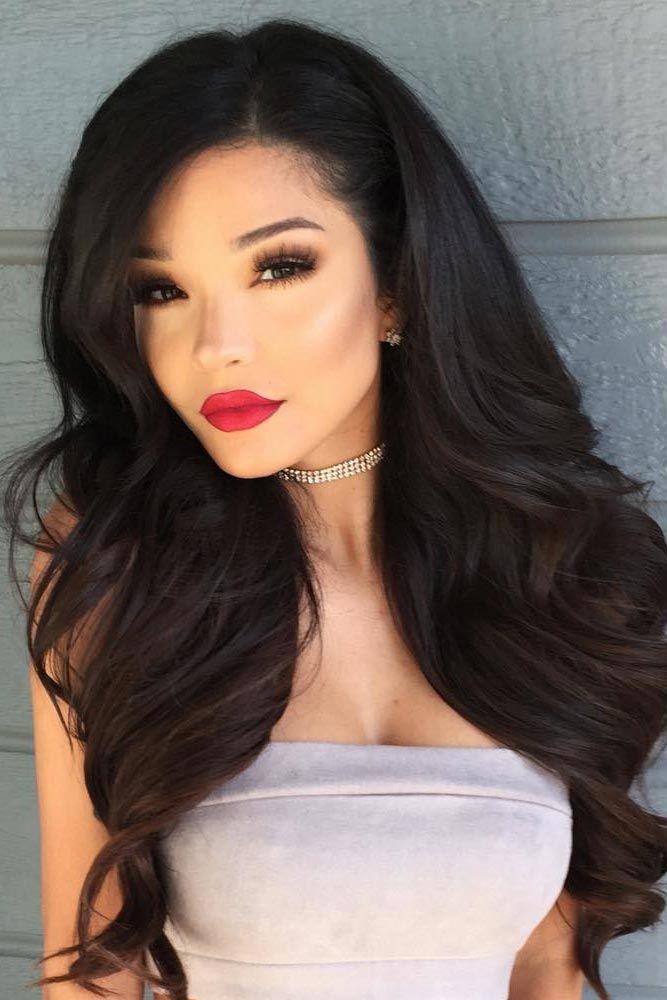 by @jew_booo
Or, achieve super-cute waves in the form of "S." Take one tress and begin with dropping its middle into a straightener in order to get the 1-st bend. Now create a section that has an "S" form.
Cute Curly Hairstyles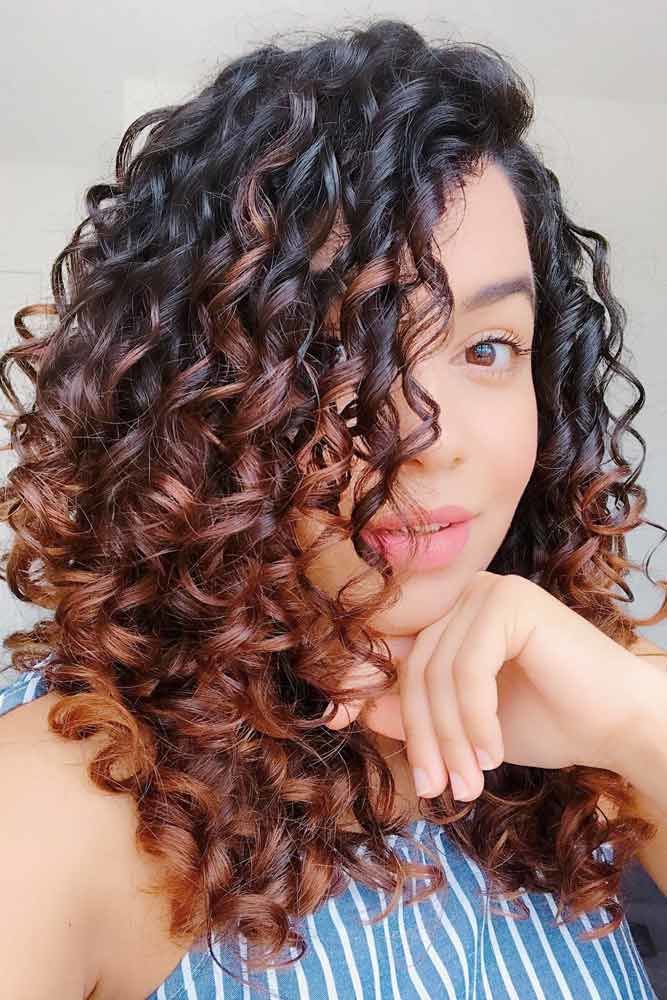 by @tuanyweiny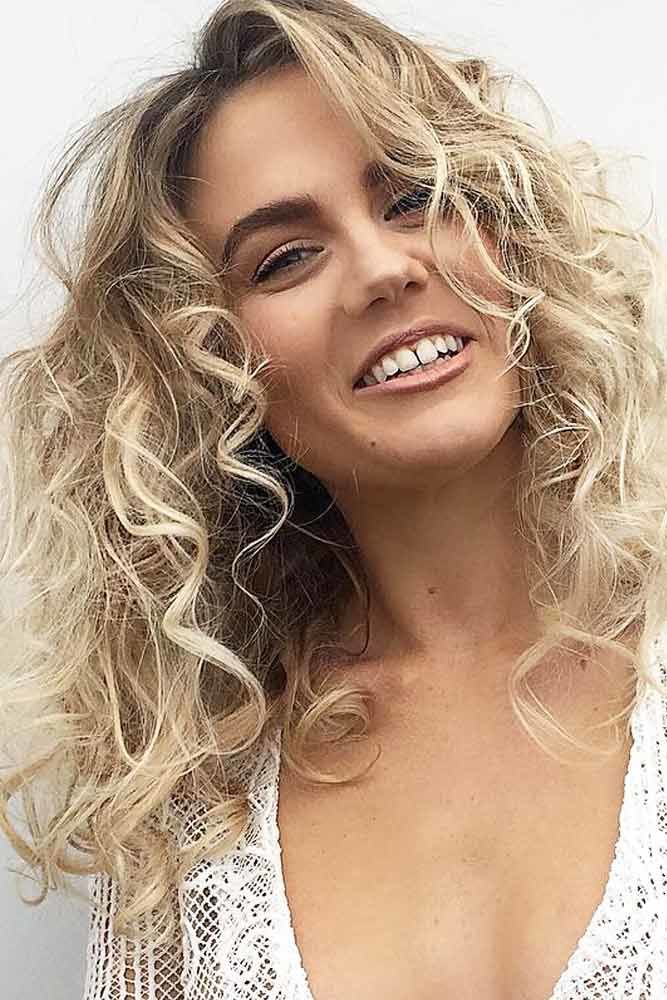 by @hairbyjaxx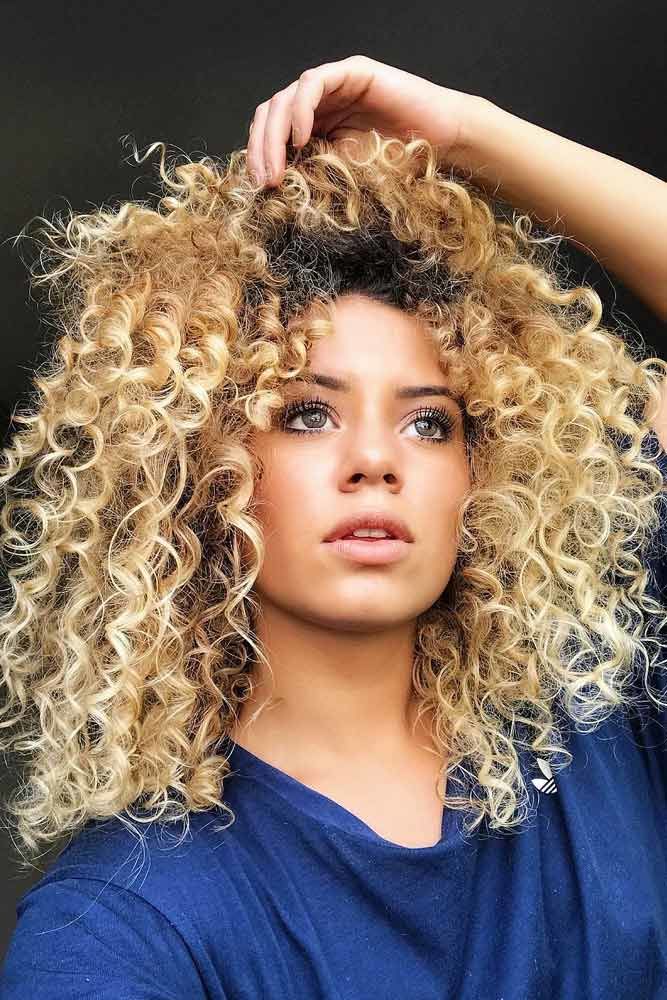 by @nattymorais
Next, clamp this section with a straightener in the place where "S" curves. Repeat this process to the very ends. With this method, your waves will seem carefree, which is ideal for everyday wear.
Side Part Sexy Waves For Ladies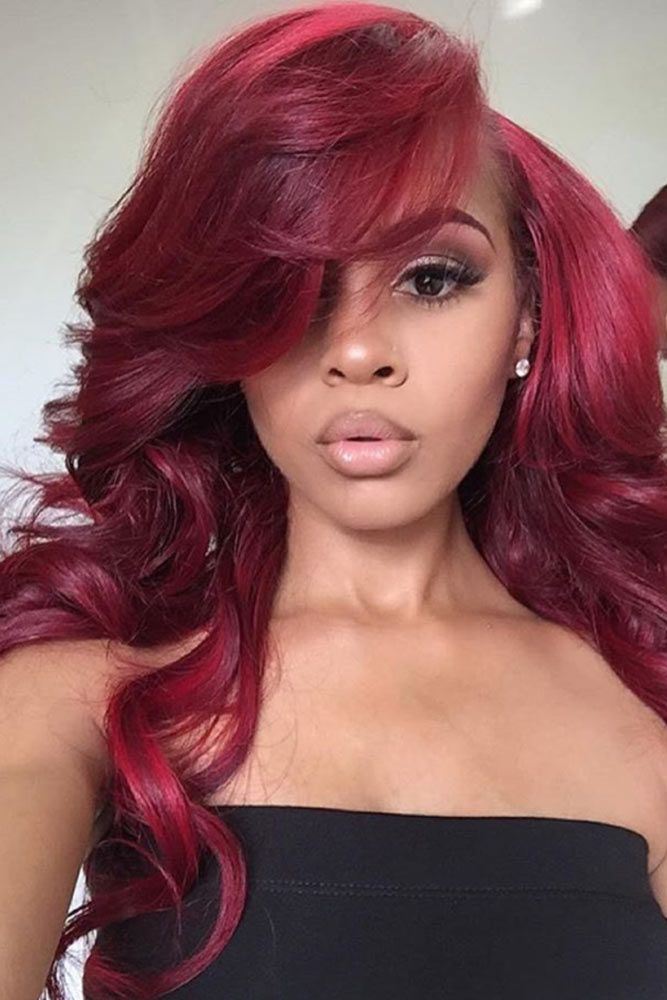 by @igbeautiess_
Just apply sea salt spray to your wet hair and finger comb your locks while blow-drying. And voila, the sexy, beach waves are ready!
Center Parted Hair Waves Ideas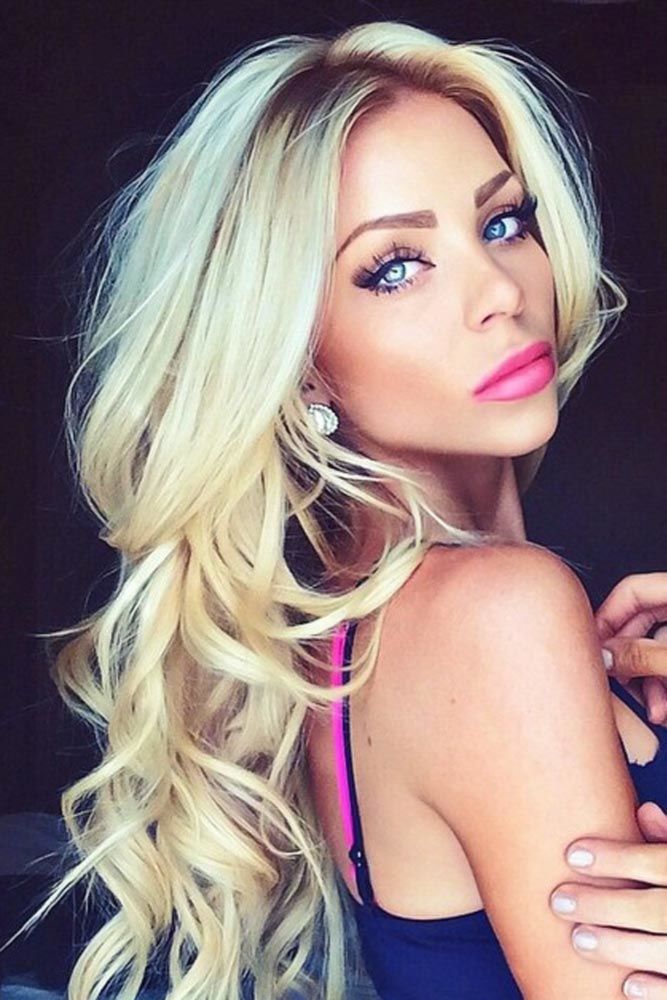 by @lo_wheelerdavis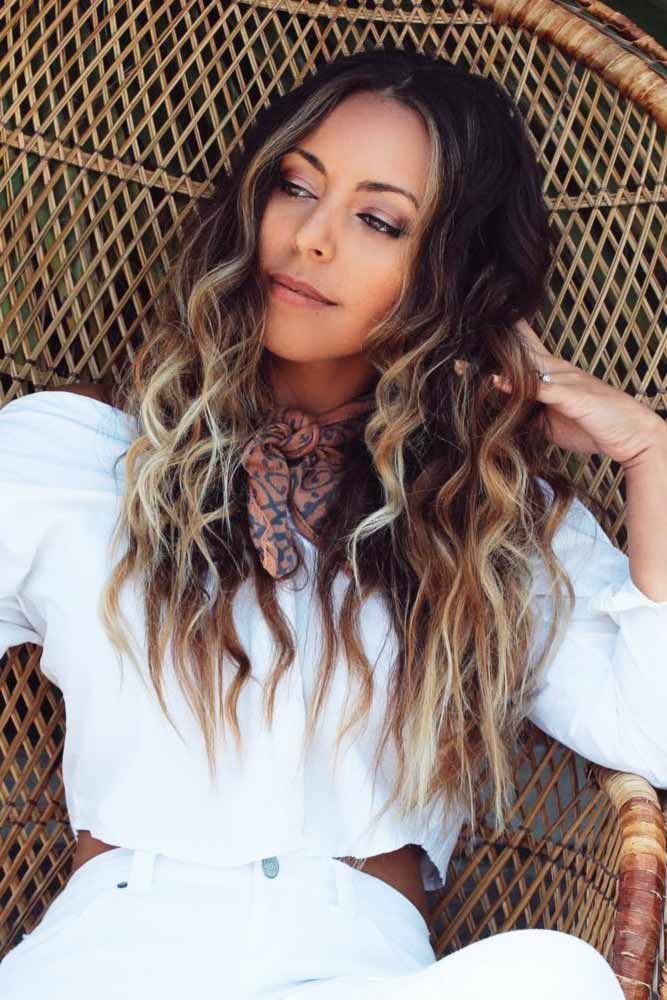 by @guineverepenelope
And do you know that it is possible to create ideal waves with the help of a flat iron? There are different techniques how to achieve it. For example, create a simple braid and secure it with elastic.
Layered Pretty Hair Waves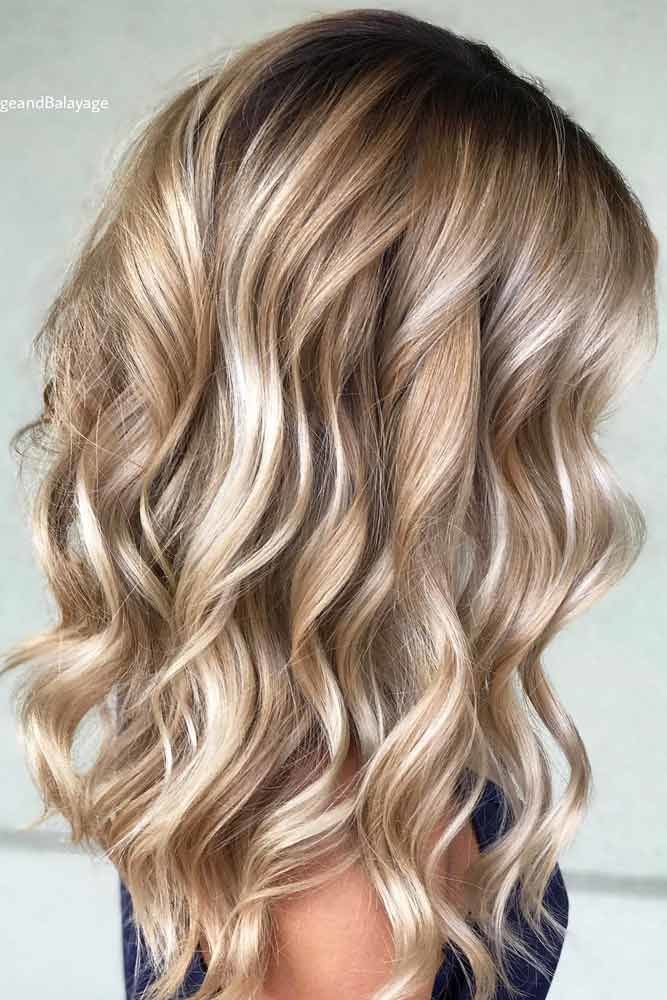 by @camouflageandbalayage
Next, take a flat iron and run it over the braid several times. Unbraid and see pretty beachy waves. Just don't forget to apply a heat protectant before using your flat iron in order to reduce the harm to the minimum.
Wavy Hair Styles Ideas
Since we can't have too much inspiration, we want you to discover the latest hairstyles for wavy hair that no one can resist. Despite being easy to recreate, the styles you're going to see are totally worth a walk on the red carpet!
Braided Wavy Hair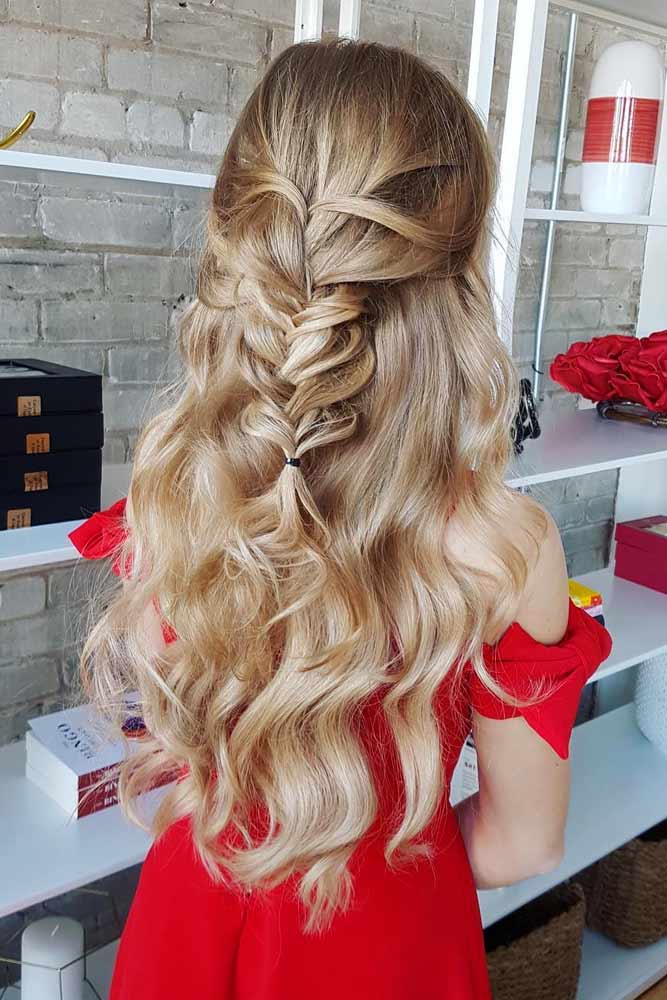 by @luxyhair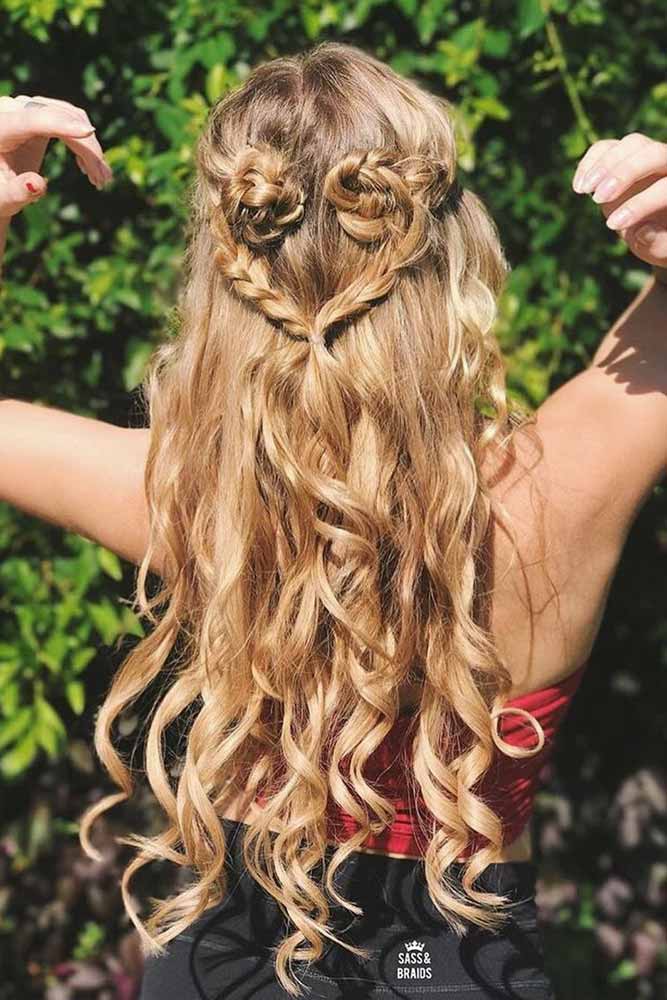 by @sass.and.braids
Braided hairstyles are very popular, especially during the summer months. These braids work beauty and comfort into any hair length or texture. If you prefer a soft, romantic look these style is a great choice for you. Look for inspiration on these cute half up braided hairstyles for long hair.
Updos For Wavy Hair
by @tonyastylist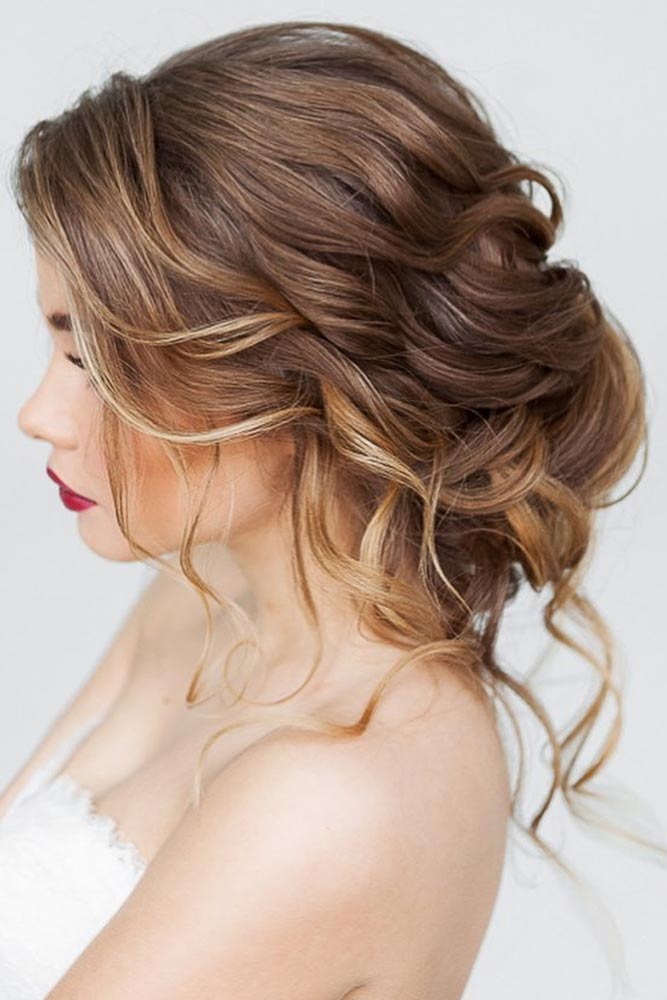 by @elstilespb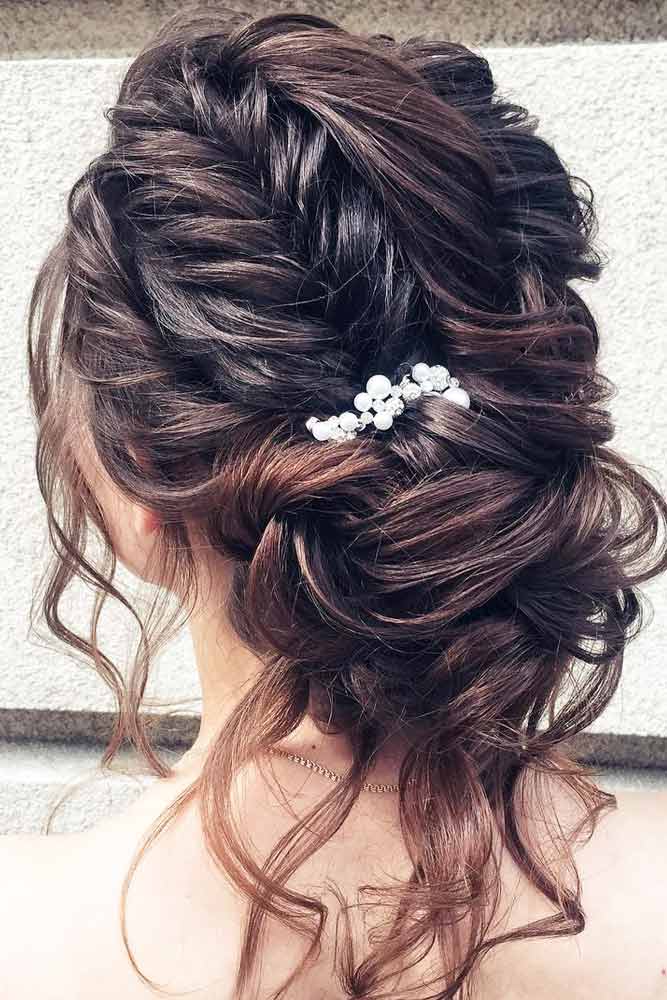 by @elstilespb
Many hairstyles can be adapted for long hair. Some of these updos can be achieved with the use of hot tools or pin curls. Elegant waves are classy and your look is wonderful!
Wavy Styles With Accessories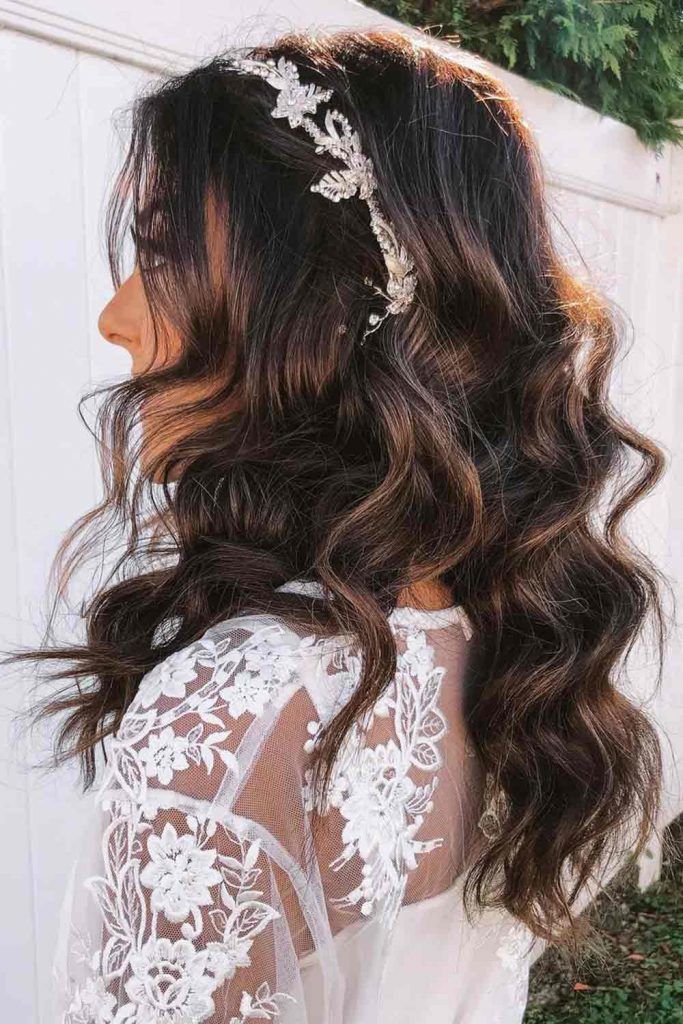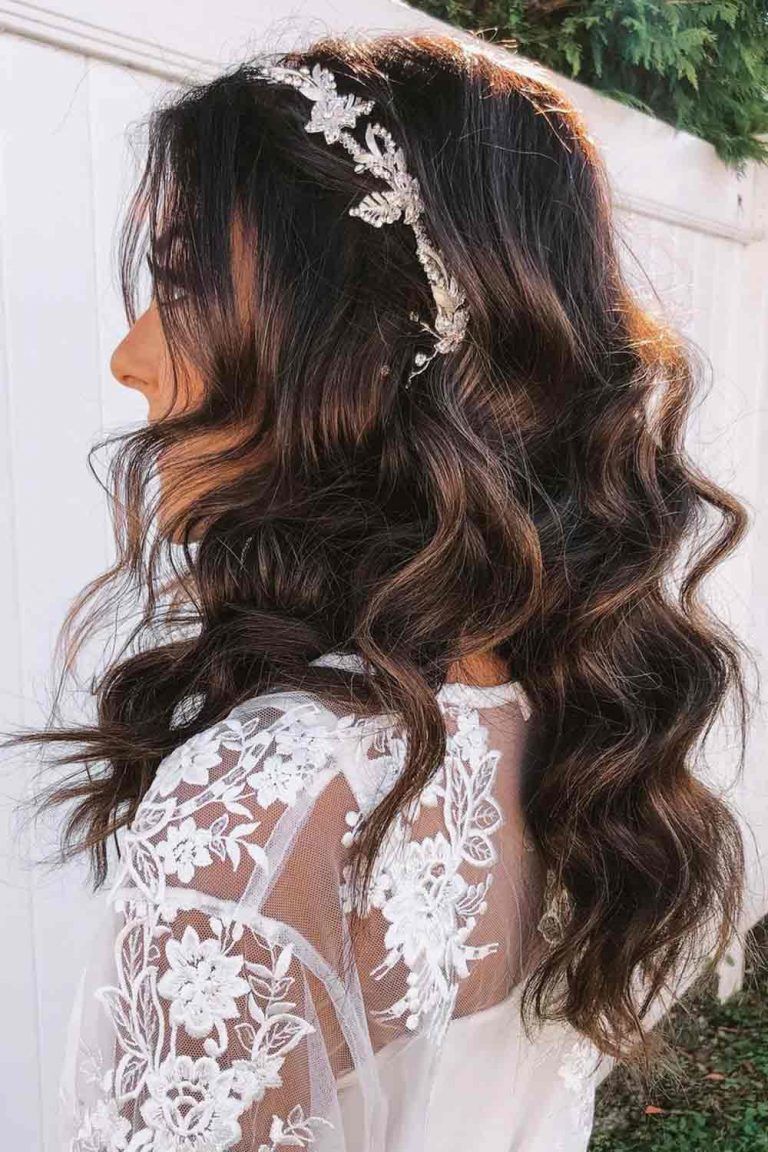 by @ashleyglazerhair
While waves are the cutest natural accessories, you can enhance their charm by finishing them with some hair embellishments. Some minimalist accessories will not only make your gorgeous look complete but will also individualize your 'do.
Wavy Half-Up Ponytails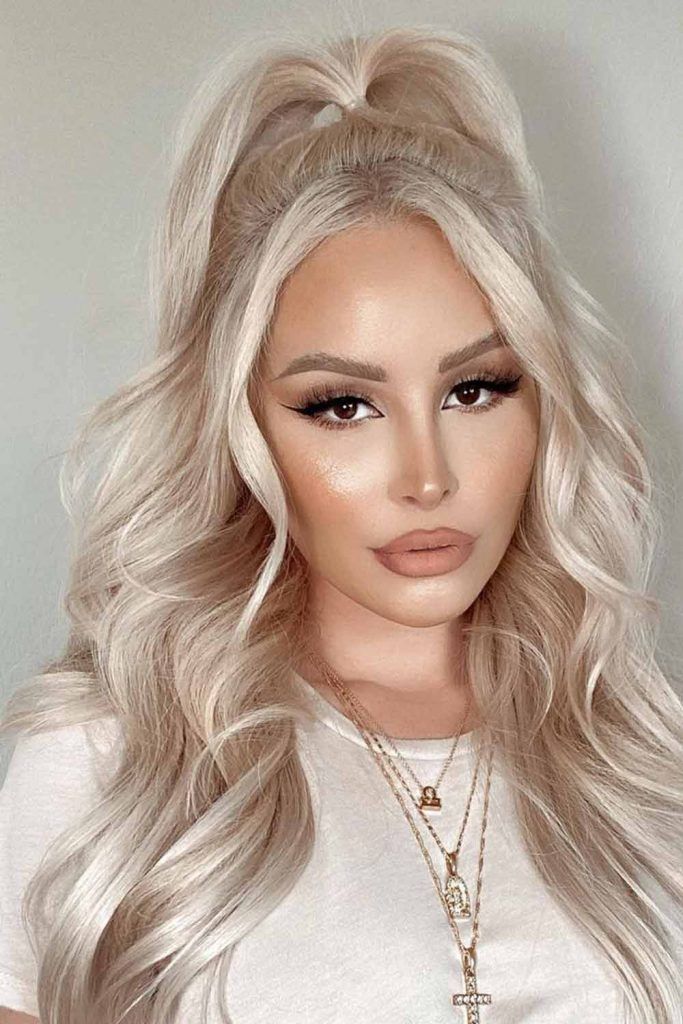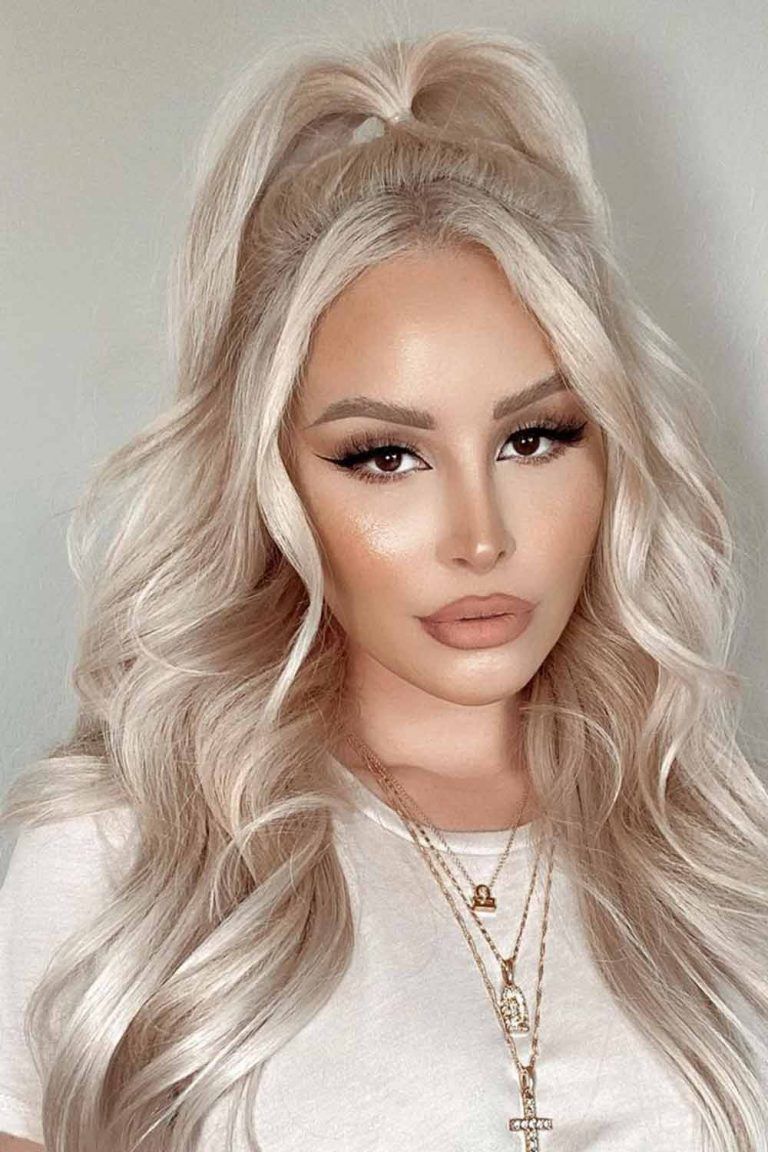 by @ashleyswagnerxo
There's nothing easier than tying a half-up ponytail. And who would've thought that once you spice it up with a wavy texture, you will take the style to the next level? Besides a glorious appearance, such wavy half-ups will fascinate with a ton of volume in your hair.
Buns For Wavy Hair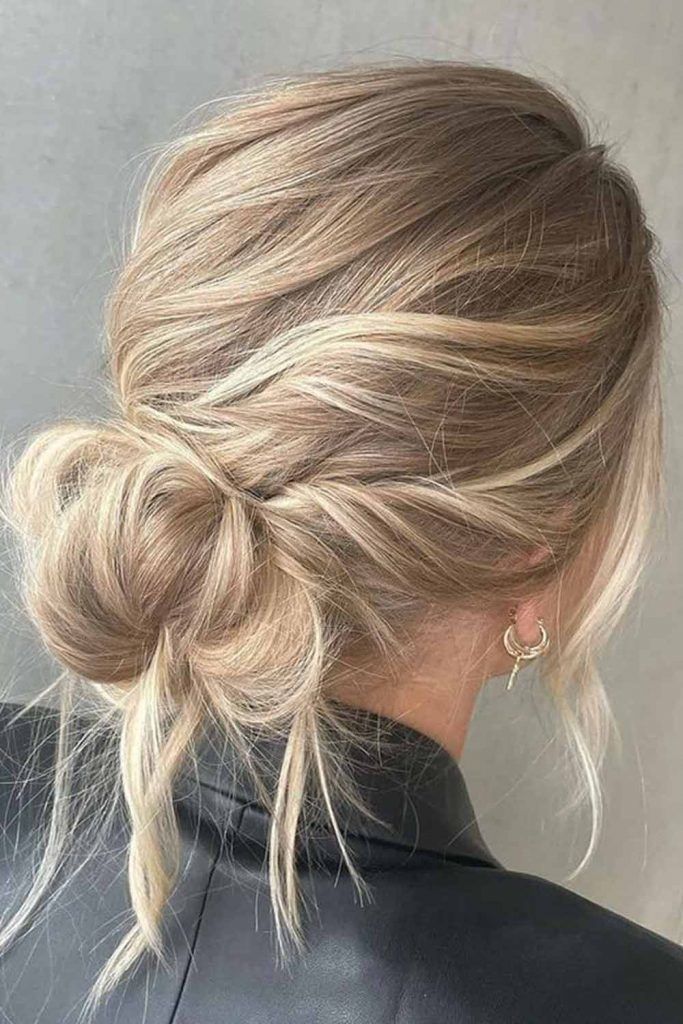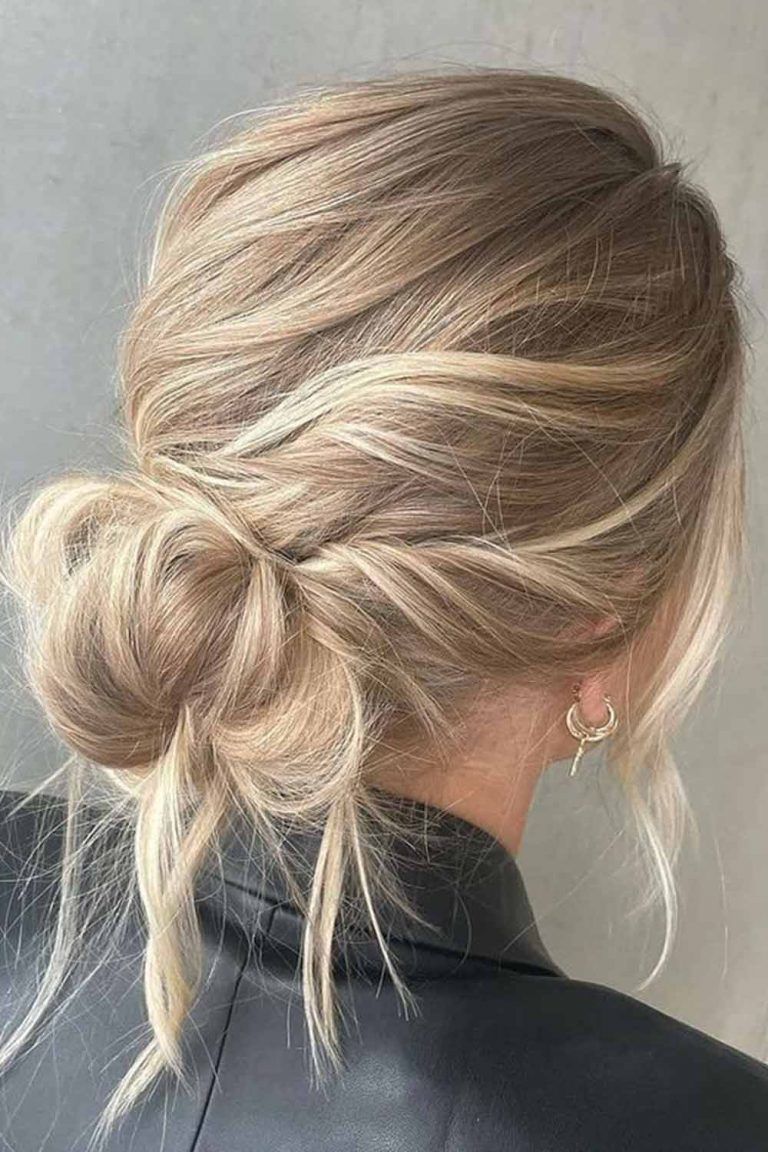 by @_edwardsandco
With waves, even a simple one-way twist will look like an updo sported by runway girls. It just so happens: wavy hair adds a lot of effortless vibes and natural dimension to all styles. A high top knot, loose chignon, or simple bun will look different if you ask waves for help.
Wavy Half-Up Knots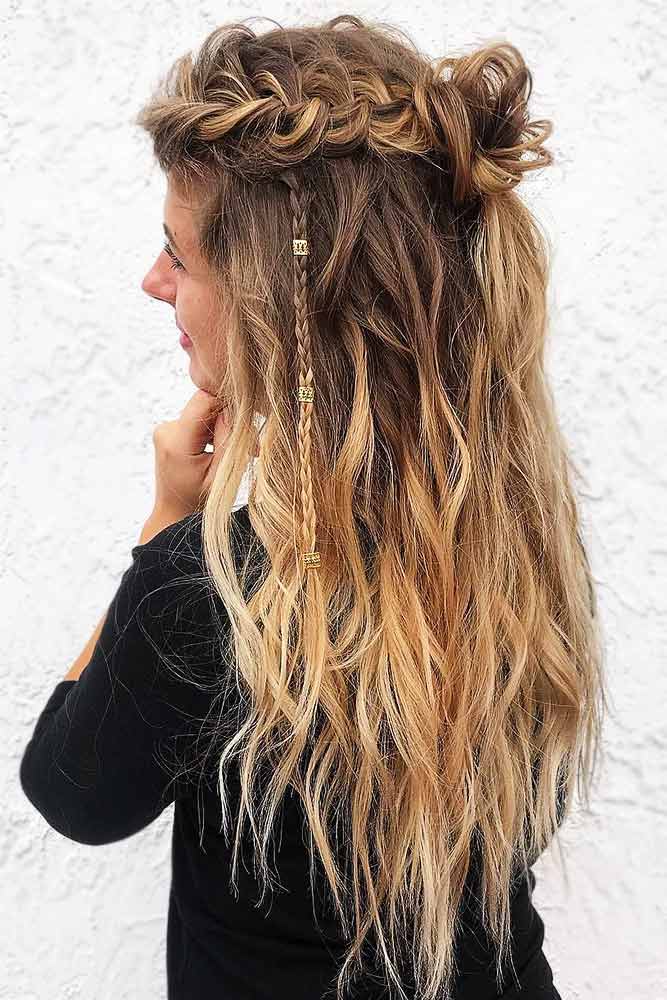 by @hair_by_zolotaya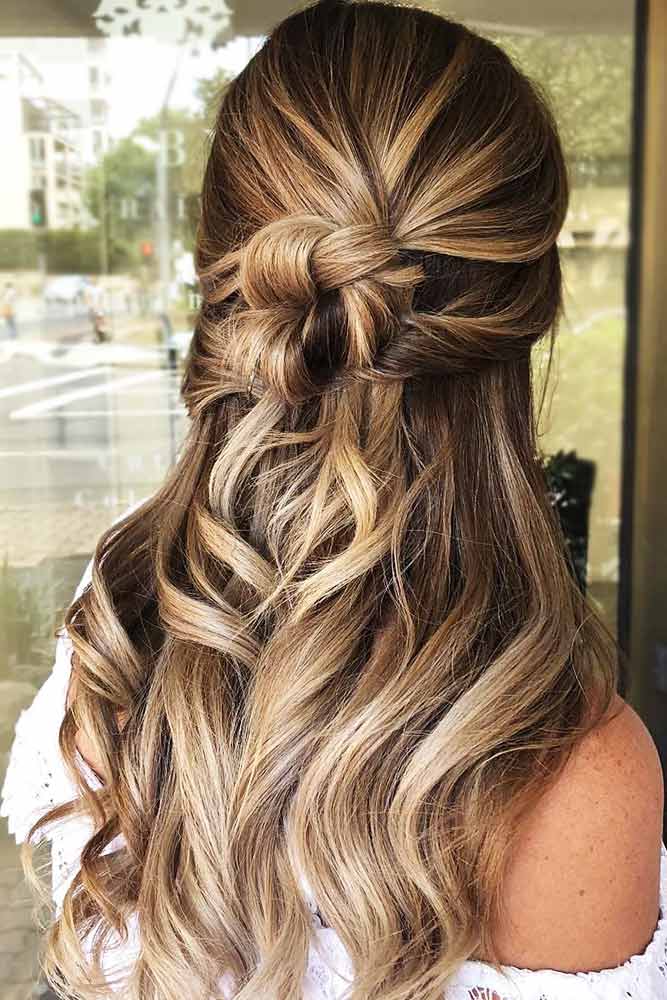 by @hairbyjaxx
One of the biggest cons of wearing a half up is that the lower portion of hair tends to look flat sometimes. Well, you know how to solve it: give it a couple of curly iron passes. Whatever waves you choose will look voluminous and lovely, regardless of what half-up knot style you want to wear.
Low Wavy Ponytails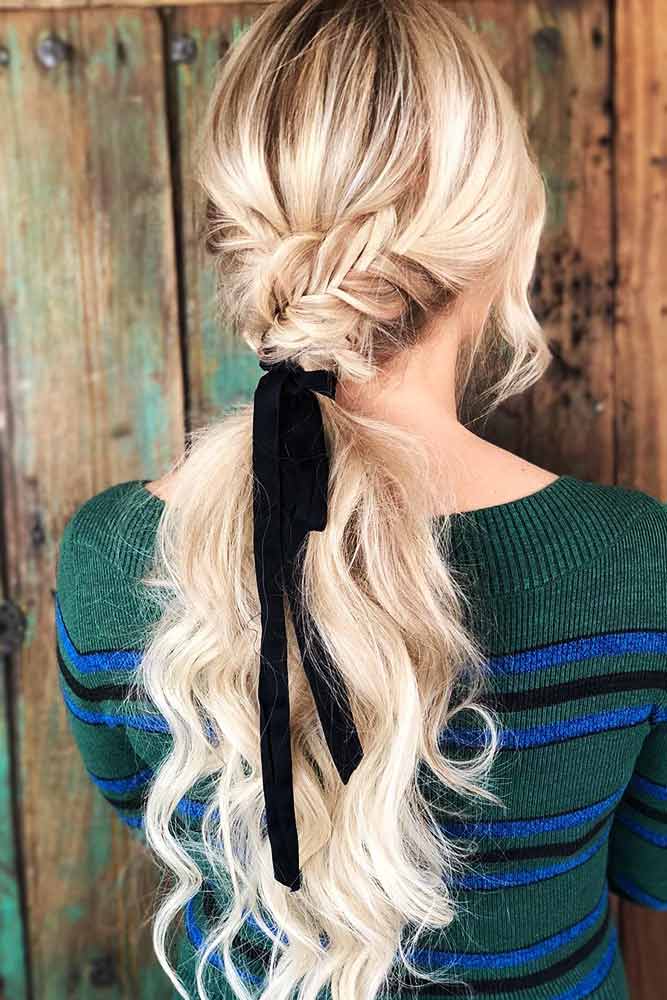 by @annette_updo_artist
Let's get back to ponytails. If you're one of those ladies who consider the style to be too simple, these pics will change your mind once and for all! Just look how luxuriant and elegant the simple style looks when a wavy texture accompanies it: anything from big finger waves to little messy ones will work just great.
Wavy High Ponytail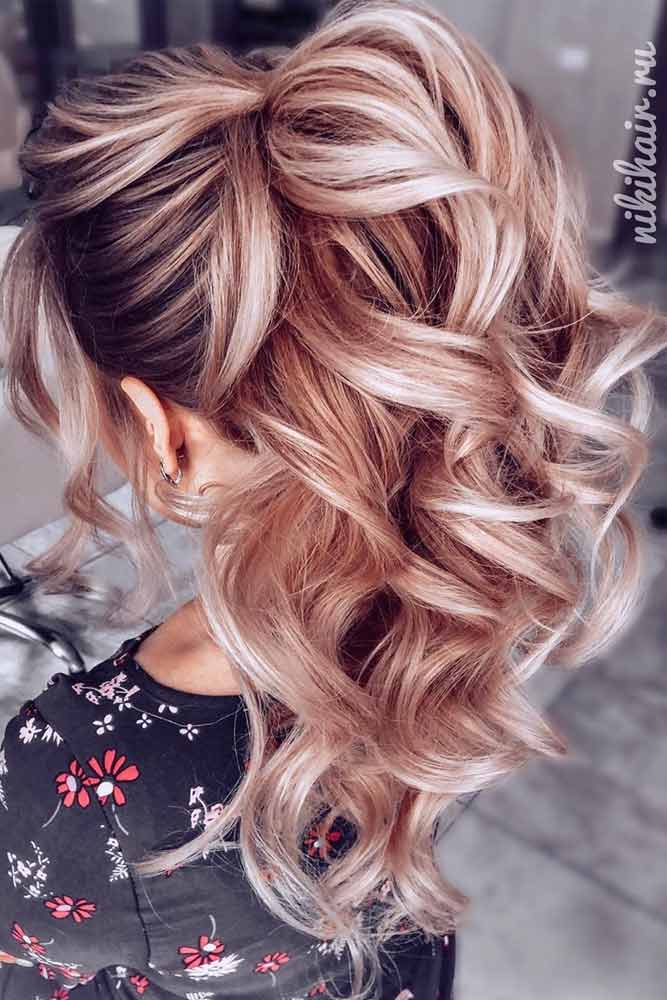 by @nikihair.ru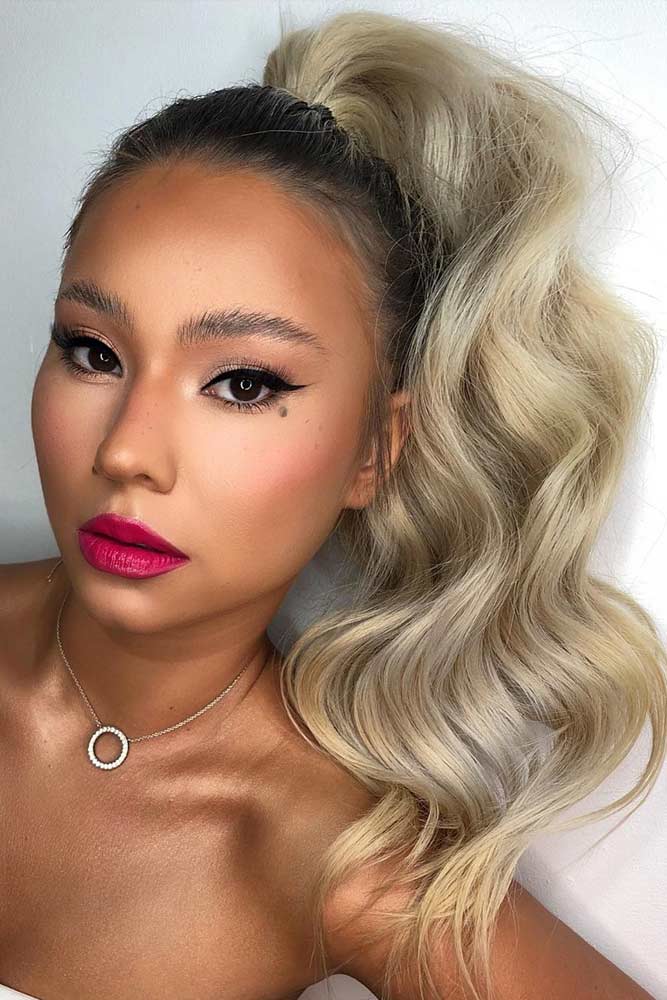 by @bar_ohayon
You can't even imagine how much flirty and dramatic character you can add to a ponytail by simply waving your hair. Should we mention that it's the easiest way to make the texture of your pony not only fuller but also dimensional? It can be big, softly waved and messy waves, posh little cuties with a defined finish or even brushed wavy locks styled to the side. You won't be limited with options if you set your creativity into motion. And don't forget about a heat-protectant.
Half-Up Chic Hair Long Waves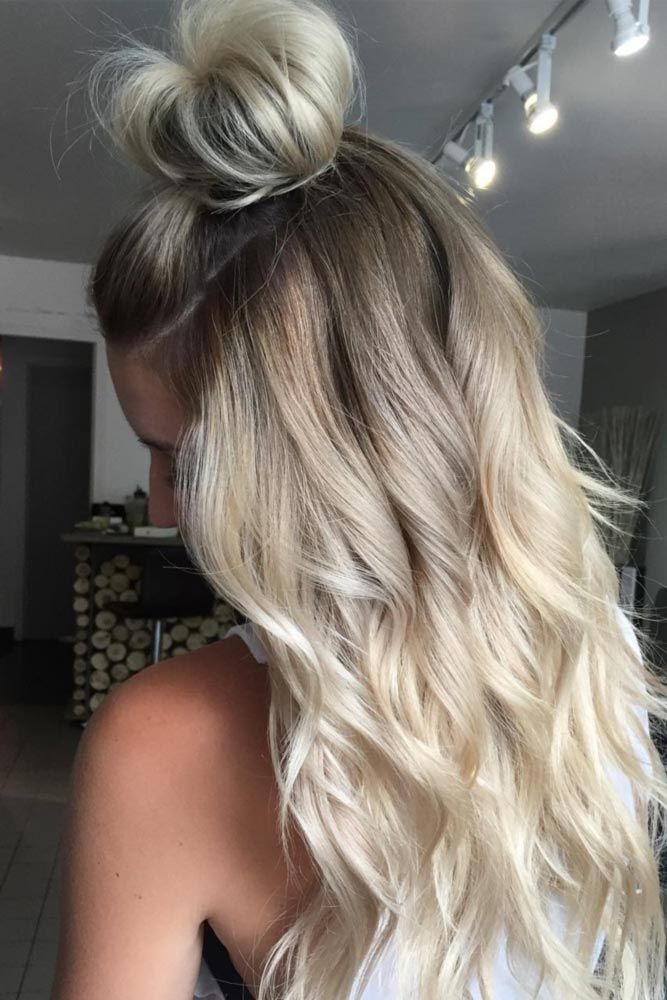 by @josievilay
And if you are not an amateur in braiding, you can try braided updos – the most elegant braided hairstyles. It is an amazing way to spice up your hair routine. Everyone will love this gorgeous look.
Braided Beautiful Hair Waves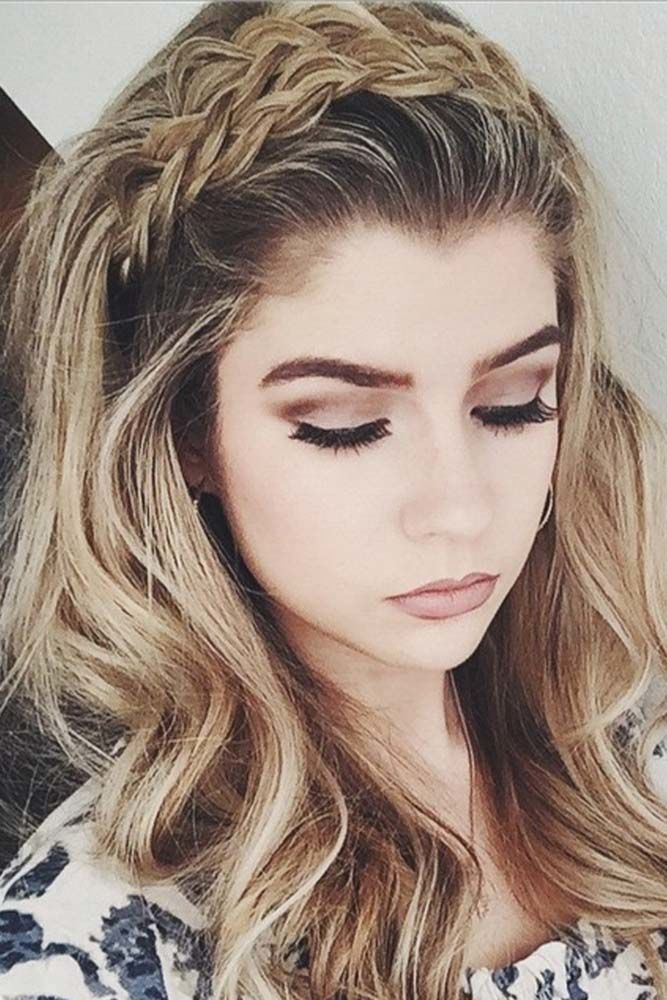 by @byashleypaige
Waves are considered to be quite easy hairstyles for long hair. Even if your hair is naturally straight, you can make it wavy overnight. Just apply some holding cosmetic product of your choice, braid your hair and go to sleep. It will be wavy in the morning.
We hope that are feeling inspired by our guide to wavy hair. As you see, there is no limit to how to style your wavy tresses! From short curly pixies to long, beachy waves, the possibilities are endless!
Wavy and curly hair are very sexy. As such, they will never go out of style! If you are looking to add some life your locks, you can dress up your naturally wavy hair with a new style! Or if you have straight hair, you can use some of our tips to get gorgeous waves in a few simple steps!
So get out there and embrace those wavy tresses!
Frequently Asked Questions - Learn Everything About Waves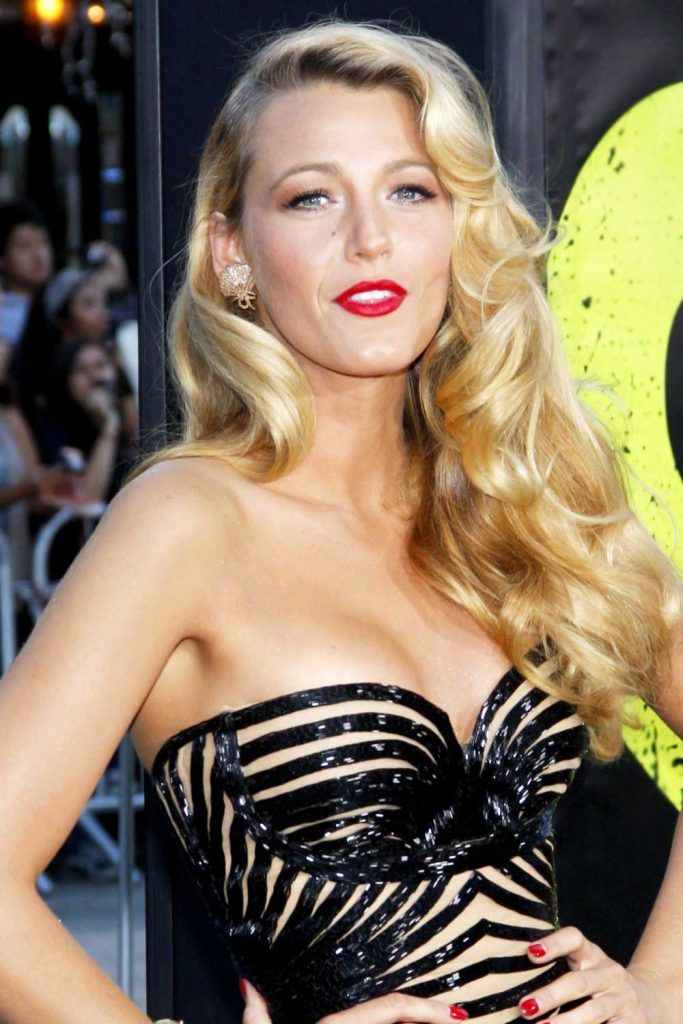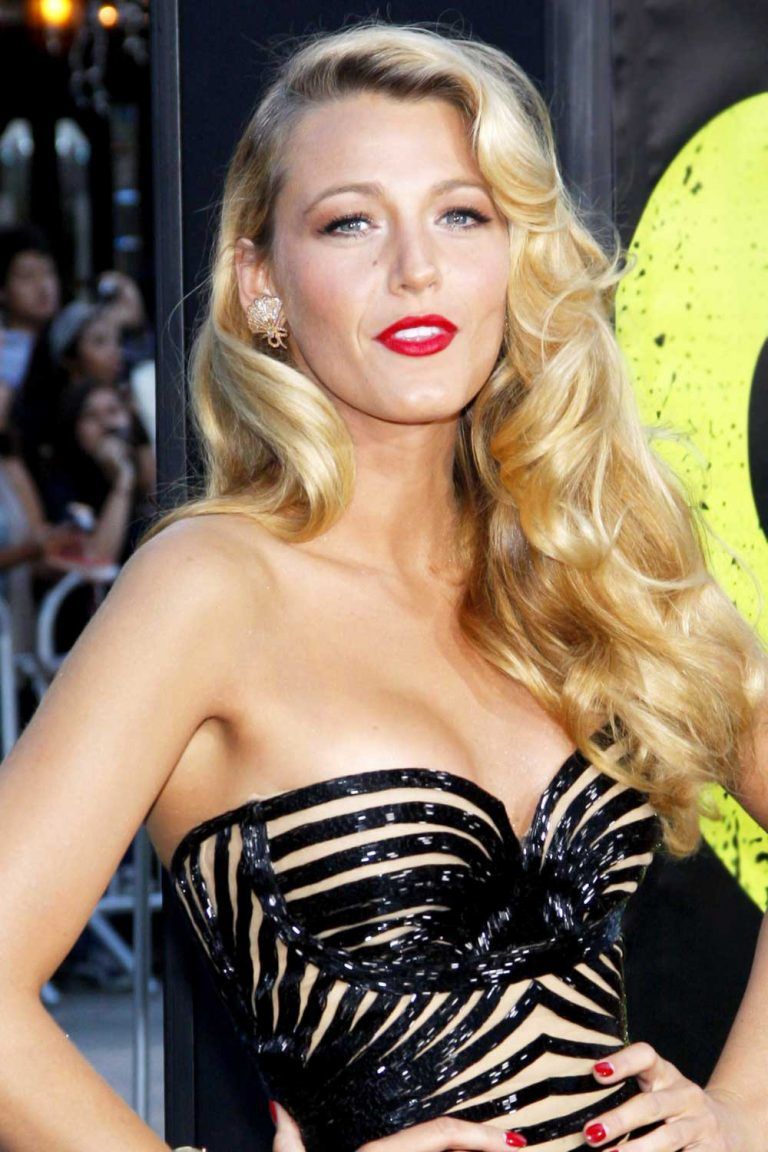 Credit photo: Tinseltown/Shutterstock
What hairstyle is good for wavy hair?
Hairstyles that accentuate wavy texture, such as side-swept beachy waves, shaggy textured styles, and high ponytails, will certainly show your wavy locks at their best. Basically, the same goes for all hairstyles you've seen in this post.
What is the best haircut for wavy frizzy hair?
Textured and layered haircuts are the perfect stylish weapon to fight the overwhelming frizz. That's because layering takes off extra weight from the hair, making it more manageable to style and brush. In this way, the hair doesn't tangle easily and hence prevents frizz from occurring.
How do you style wavy hair without heat?
The most popular ways include braiding overnight, as well as styling damp hair into buns to give a wavy texture in the morning. While you don't need to use heat to achieve a wavy look with such methods, styling products are pretty much crucial to get the best results.
Should wavy hair be layered?
It depends on the type of wave you have. Waves are not created equal; there are three types of waves, where they differ from one another with thickness and density. The general name for wavy hair is Hair Type 2, which splits into three subcategories: 2a, 2b, and 2c. For example, 2a hair type is very lightweight and fine in nature, so getting layers would be a mistake, as you may lose the natural wavy volume if you cut off some weight. If you have anything from 2b to 2c hair types, layers are recommended: these types are thick and prone to frizz, and layers know how to deal with it.
Is my hair wavy or straight?
If your hair texture tends to vary from straight to slightly wavy, you probably have the 2a hair type. And if it's thick and gets frizzy, it's certainly 2b hair type. Although some women may have a mixed pattern, there's a strong chance they don't maintain their hair type the right way, hence they always have different textures. To find out what type you have exactly, you should try the curly girl method. First off, deep-condition your hair with some oil or leave-in treatment. Then, go to the shower, and use sulfate-free shampoo. Next, you need to condition the hair again with a nourishing conditioner. Then, apply some curl gel to your damp hair to tame frizz and either blow-dry it or let it air dry, constantly scrunching your hair to help the wave form.
Can I cut my thick wavy hair short?
Thick hair indeed gets more manageable when it's short, but you should find the right haircut for your texture. Something featuring texturizing ends of shaggy layers will nicely fit modern bobs, lobs, and pixies while giving you a sense of freedom in your hair.
Should you brush wavy hair?
When it comes to wavy hair, you should comb your hair, not brush it. As for the perfect tool, a wide-toothed comb works universally well for all wave types. This comb is not only good for making the hair smooth but it's also a nice way to gently detangle waves.
How often should you wash wavy hair?
Again, it depends on the type of wave you have. On fine hair, for instance, the oils produced by the scalp travel pretty quickly along the hair shaft, so girls need to wash their hair every other day. If you have the 2b hair type, every two or three days with regular moisturizing is the best scenario. And for the thickest wave type, you need to avoid overwashing, shampooing your hair no more than twice a week.
How do you treat thick wavy hair?
Thick wavy hair is prone to frizz and always needs to be hydrated, so switching to sulfate-free shampoos and conditioners would be a good idea to prevent frizz. As for conditioners, you should use nourishing products after every wash and also deep-condition your hair at least once a week. Additionally, you can use a hair mask for frizzy hair weekly. And don't forget about moisturizing heat protectants: your hair is prone to damage too, after all.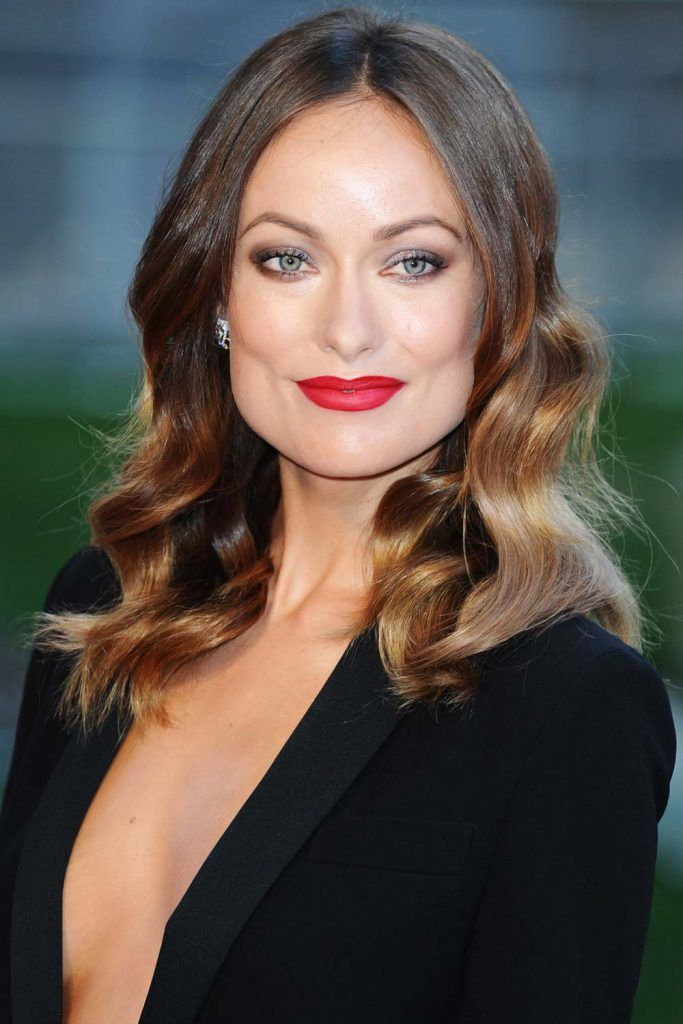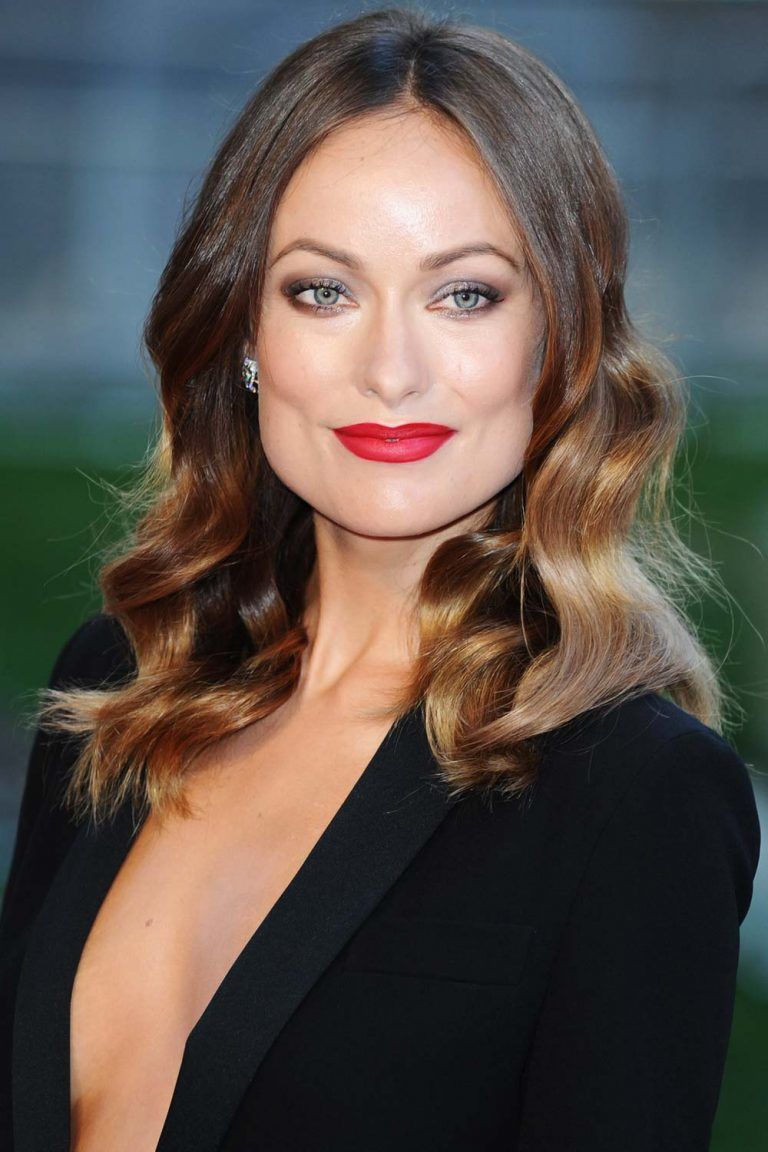 Credit photo: Featureflash Photo Agency/Shutterstock
Wavy hairstyles are taking over all the beauty charts, Instagram feeds, and runway scenes. All in all, it just had to happen in the world so obsessed with natural looks! Today, you've learned a ton of useful info about waves, as well as how to make them look effortless and natural-looking no matter if you have the texture naturally or not. Now, you've got everything to have all eyes on your hair!
REFERENCES:
With such a wide variety in shapes and sizes, wavy hairstyles can be worn no matter your face shape, hair texture, or length. Source
Getting beach waves can be easier than you think. From curling wands to overnight braids, and even the infamous headband method, here are the best hairstyles ideas for wavy hair. Source
Was this article helpful?