Here is the good news for girls who are eager to experiment with their hair: with the right purple hair dye, the purple trend has nothing to do with damage and commitment. A couple of years ago, dying hair bright shades would lead to dryness of strands, dullness of natural color, tons of damage, and months of commitment. Today, things have drastically changed.
More and more hair manufacturers are introducing promising temporary hair dyes supposed to give salon results without bleaching and damage. But are those products actually good? According to countless reviews, we've highlighted the most effective products to help every girl find the best purple hair dye for her hair type.
Fudge Paintbox Raspberry Beret
Everything you need to stay bright and healthy in just one tube!
While usual hair dyes dry the hair out when penetrating into the cuticles, this temporary purple hair dye by Fudge works in an opposite direction. Drum roll, please…It conditions as it colors! Yep, a dream comes true. Besides conditioning, this little cutie has some more advantages: it's rich in keratin which strengthens the hair, it doesn't require a developer, and doesn't contain ammonia.
Type of dye: semi-permanent
Lasts for: 4-8 weeks
Buy on Amazon: $25.89
Source: Fudge Professional
Manic Panic Dye-Hard Temporary Hair Color Styling Gel, Purple Haze
If you don't want to rock several different shades a week without commitment, skip this masterpiece.
Today she flaunts with a vivid lilac shade on her hair, tomorrow she shows up with a purple haze covering her head. Is she a magician who put a spell on permanent purple hair dye? Nope. She's just a girl who has found a good temporary product by Manic Panic. Once you apply the dye, you can pull off the new shade all day long. To break the spell, one shampoo will be enough. Color that disappears after a wash, who could ask for more?
Type of dye: washable styling gel
Lasts for: 1 shampoo
Buy on Amazon: $11.94
Source: Manic Panic
Lunar Tides Hair Dye - Nightshade Dark Purple Semi-Permanent Vegan Hair Color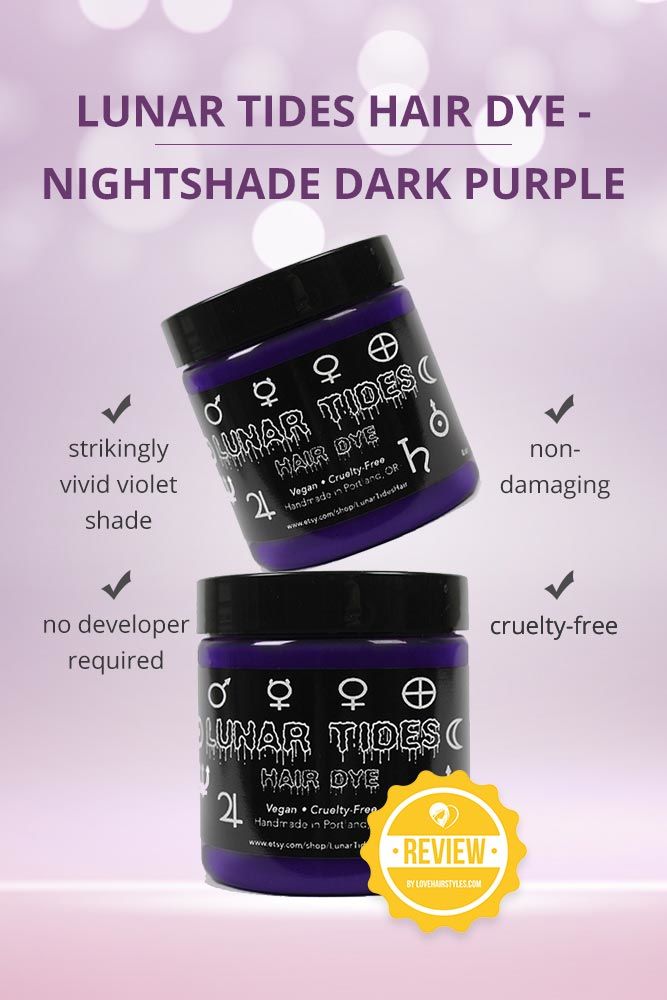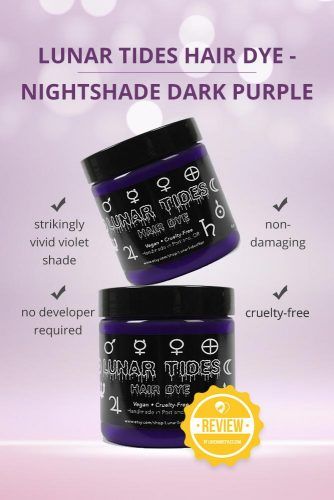 Cruelty-free and vegan purple hair dye for dark hair without bleaching and damage, also known as a gift sent from above.
Finally, a hair product that suits the needs of modern girls. You can take care not only of your hair but also of animals while sporting a deep, dark, and luscious shade of purple. Of course, the colors come out brighter on light hair, but you still don't need to get your hair pre-lightened to wear such an amazing hue.
Type of dye: semi-permanent
Lasts for: 4-8 weeks
Buy on Amazon: $11.99
Source: Lunar Tides
Good Dye Young Poser Paste Temporary Hair Makeup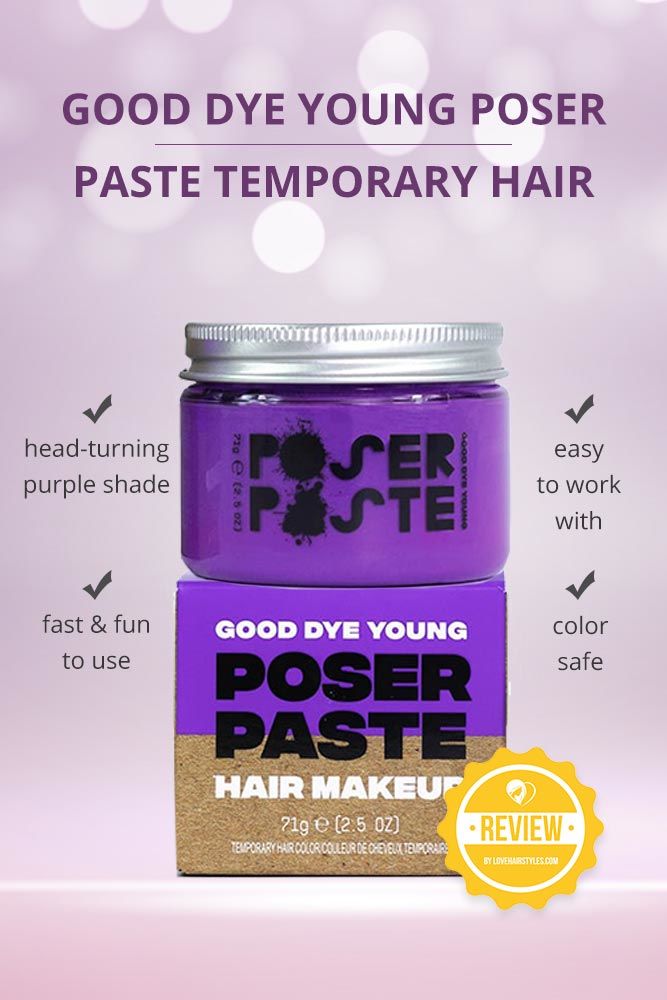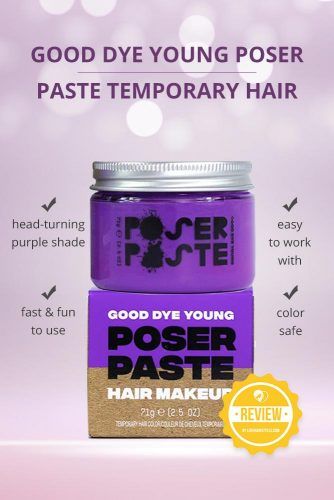 Meet the finishing step of your styling routine - damage-free hair makeup.
You've applied striking eyeshadow, enhanced the eyes with mascara, finished the look with a seductive lipstick. What's missing? Don't forget about hair makeup, girl! Whether Coachella is knocking at the door or you want to brighten up your casual hairstyles, this temporary purple dye is the must. The only thing you need is to apply the dye to the areas you'd like to spice up. By the way, you can get back to the natural mode in just a wash. A tip: to achieve an effect of pastel purple hair dye, brush out the dye throughout your locks.
Type of dye: washable hair makeup
Lasts for: 1 shampoo
Source: Good Dye
Purple Haze - Classic High Voltage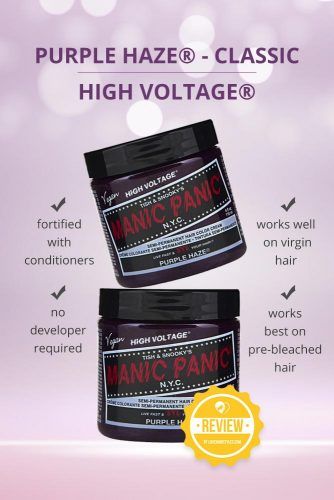 Danger! High voltage. Dye tested on celebrities, not on animals. Causes heads to turn and eyes to get caught.
Dark purple hair dye that was named after a legendary song and used by a celebrity stylist. Isn't that enough to leave doubts and take a plunge? It's dark, warm, vegan, and free of harsh chemicals. The best thing is, it works equally well for light and dark manes, so there's no way you will be dissatisfied by the result. On darker bases, the color may last up to 6 weeks.
Type of dye: semi-permanent
Lasts for: 2-4 weeks on light hair; 4-6 weeks on dark hair
Buy on Amazon: $7.93
Source: Manic Panic
Ion Intensive Shine Hair Color Kit Plum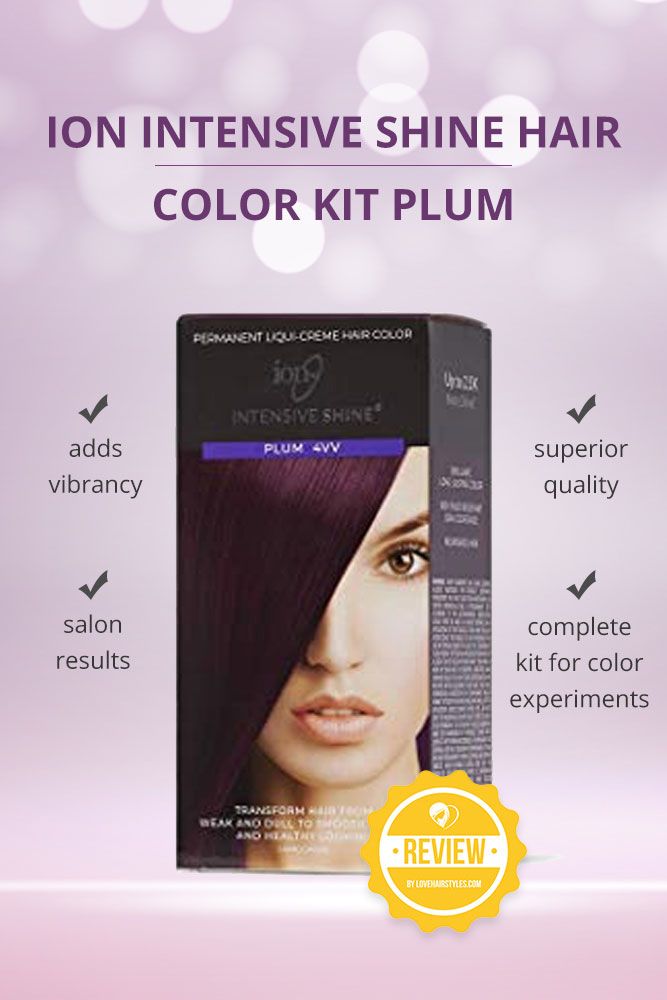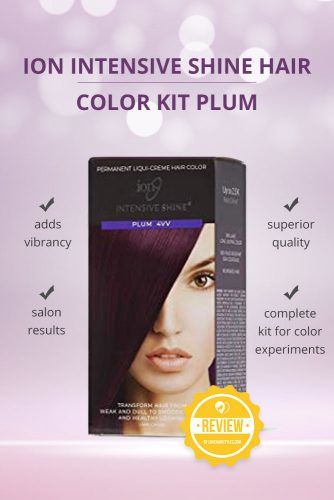 Conditioning oils and vibrancy with every application is only the beginning!
How about purple reddish hair dye that results in a shiny and glossy plum shade and lasts for months? Not only does this product nourishes the hair with its natural oils but also comes with a kit for professional results at home. Naturally-looking, silky purple hair - prayers work! Besides, this dye can last from 6-8 weeks, which makes it the longest lasting purple hair dye.
Type of dye: natural permanent
Lasts for: 6-8 weeks
Buy on Amazon: $22.99
Source: Ion Professional
Arctic Fox Semi-Permanent Hair Color Dye In Purple Rain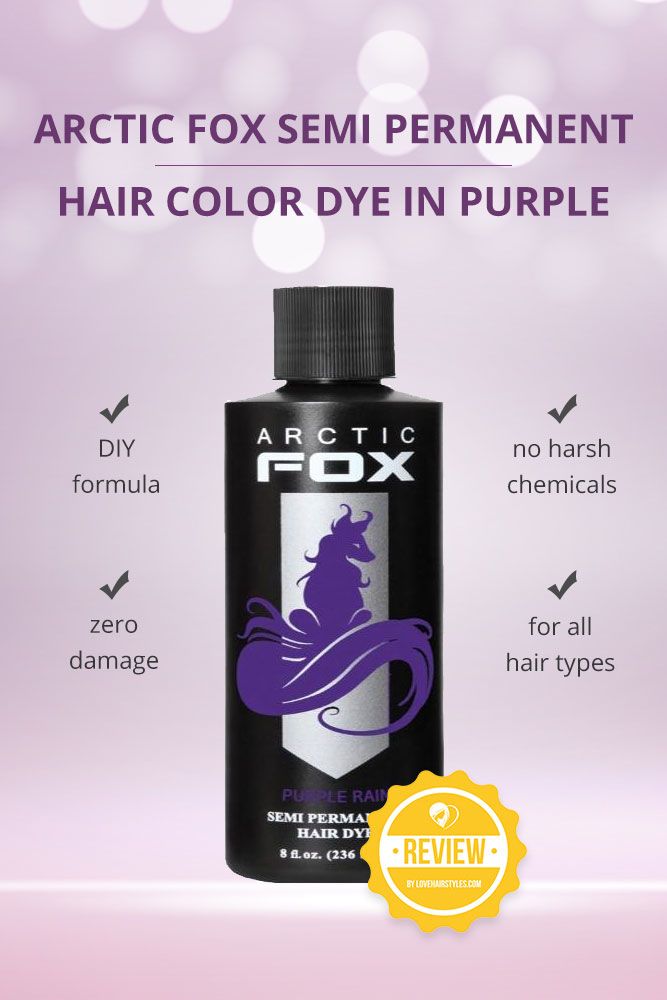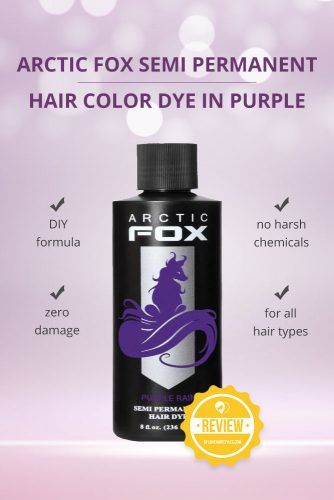 Purple hair dye for dark hair with DIY formula and no harsh-chemicals: just what the doctor ordered.
Another stunning purple dye named after a famous song. Well, no wonder singers go crazy about the color; it's truly breathtaking. As for this Arctic Fox dye, it works wonders for hair that dries out fast. Its hydrating vegan, cruelty-free formula is designed to keep you away from damage while giving a classy versatile color.
Type of dye: natural semi-permanent
Lasts for: 4-8 weeks
Buy on Amazon: $12.99
Source: Arctic Fox
Punky Colour Semi-Permanent Hair Color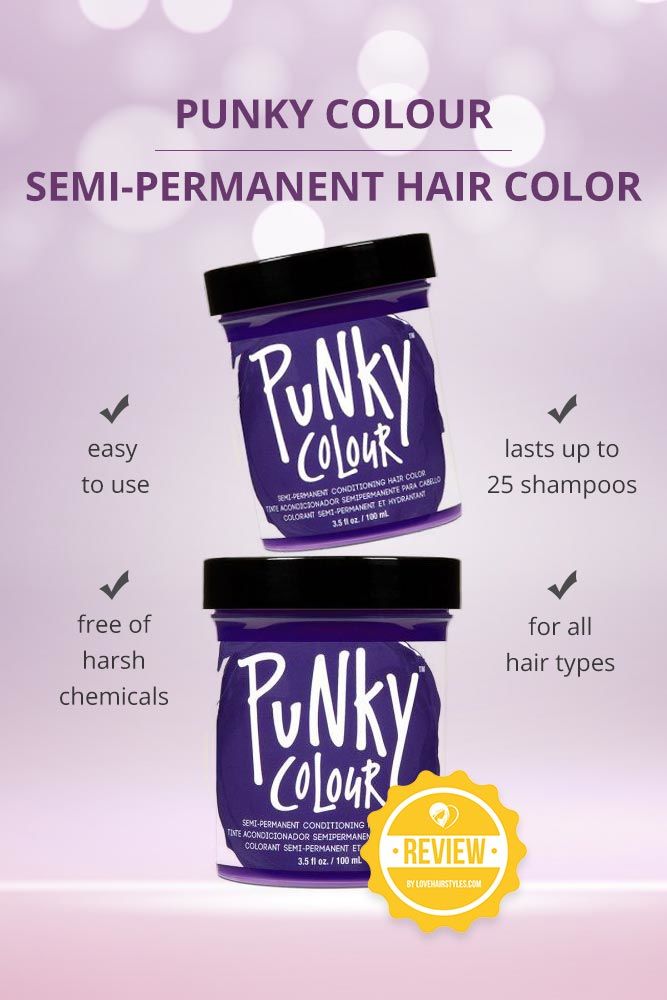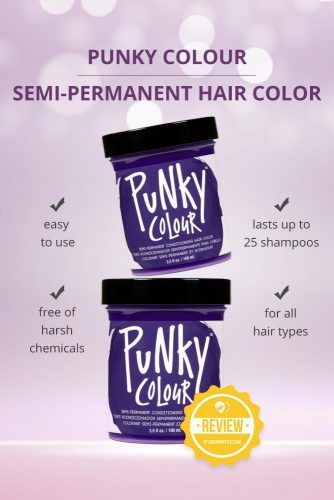 Conditioning hair dye that acts as all-over color for bleached hair and as highlights on dark, virgin hair. Versatility nailed.
If you're wondering what products you can use to achieve new color on your chemically-treated or bleached hair, look no further than this Punky Colour. It's a nice way to condition your locks when getting a pretty long-lasting touch-up, as well as to give a fresh take at your virgin base.
Type of dye: semi-permanent
Lasts for: 2-6 weeks
Buy on Amazon: $10.45
Source: Punky
Loreal Colorista Hair Makeup Purple Temporary Brunette Hair Color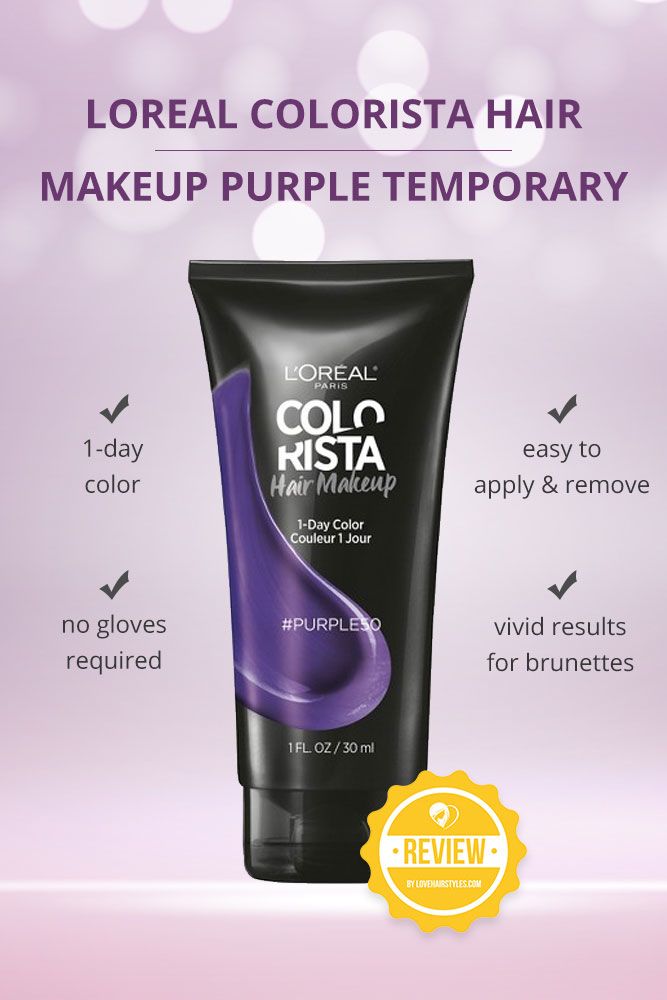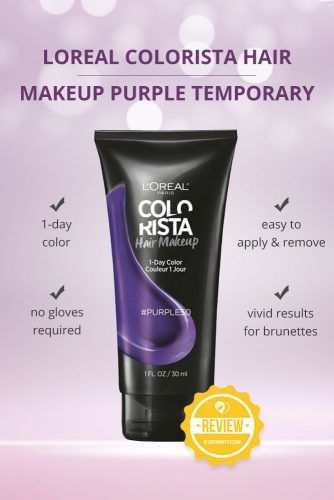 Instant color with no need to rinse that is perfect for festival hair and hot summer looks.
Hair color that acts and feels just like eyeshadow but for hair, too good to be true, huh? Although it has a slightly powdery texture, it doesn't fade out until you wash your hair. On dark hair, it shows up soft and pastel, whereas light manes can achieve a more saturated look.
Type of dye: washable hair makeup
Lasts for: 1 shampoo
Buy on Amazon: $6.62
Source: Loreal


Dyeing hair purple is no longer a commitment. Now we can play around with the most enviable hair trend without any fear of damage, dullness, and dryness. The products you've seen today are the highest rated, so you won't go wrong by choosing one of them, that's for sure. Let's go bright!
FAQ: Purple Hair Dye
Is semi-permanent hair dye purple?
Manic Panic Semi-Permanent Color Cream Purple Haze is called after the famous Jimi Hendrix hit. It is a vivid and warm violet color. The color can offer lovely highlights to darker hair colors. Celebrities, not animals, are used to test this amazing semi-permanent vegan color.
Can you put purple dye on dark hair?
Yes. Purple hair may be colored without bleaching dark hair. A few trademarks offer hair dyes that don't require bleached hair to achieve the desired color payoff. To get that ideal purple hair without bleach, you'll have to use the proper coloring technique.
How do you use ion purple hair dye?
Apply the brights to dry, natural or color-treated hair and let them sit for 30 to 45 minutes. Cover the hair with a special hat and heat it to get a more intense and brighter effect. Make a strand test every 5 minutes.