Try A Chocolate Lilac Hair Shade, And All Eyes Will Be On You
Chocolate lilac hair: how miraculous it looks, don't you think? This new hair trend is super hot this season, and this tendency can be observed all over Instagram. But besides being trendy, such shades are also very versatile, which means that practically anyone can pull off this look. Here you can see the most popular shades.
Simple Lilac Hair Color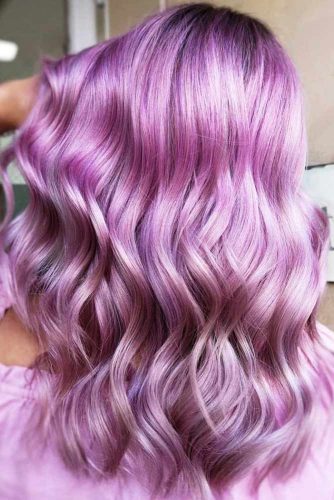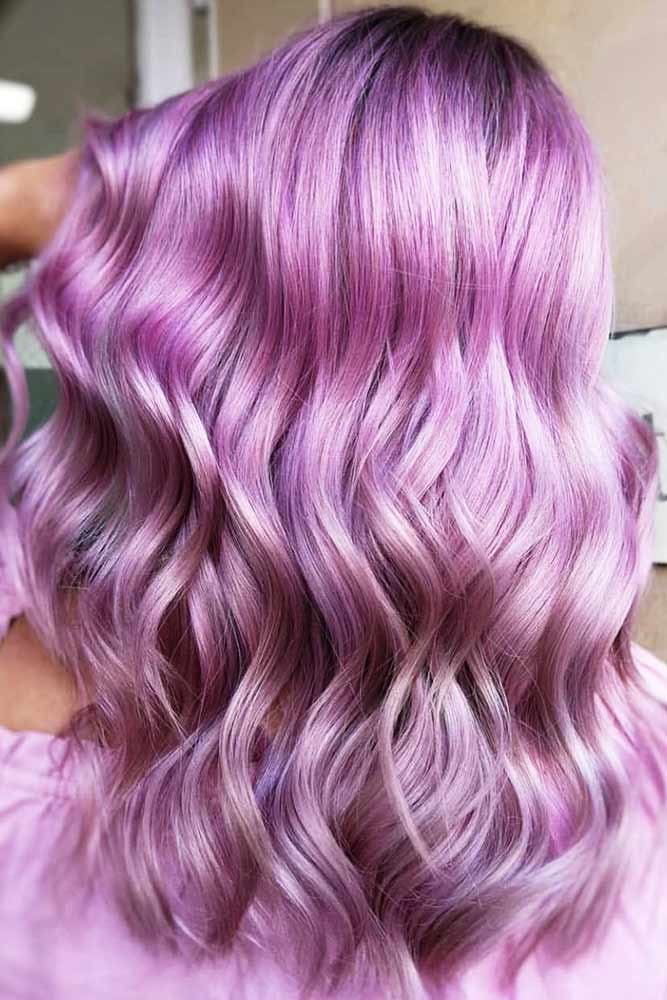 Source: pulpriothair via Instagram
A lilac hair color is the perfect choice, if you are looking for a chic and feminine shade that is also edgy and hip. This shiny lilac purple hair color is so vivid and almost resembles a pretty shade of orchid. Start with dark roots and then dye your hair a pretty lilac color to turn heads. Style your hair in loose waves to add some volume and movement as well as additional texture. Remember to bleach your hair first and then give it a day or two before you color it. Do not wash it again or use some product. Let some natural oils build up in your hair. You will be sure to look and feel like a princess with your radiant lilac locks!

Lilac Ombre Hair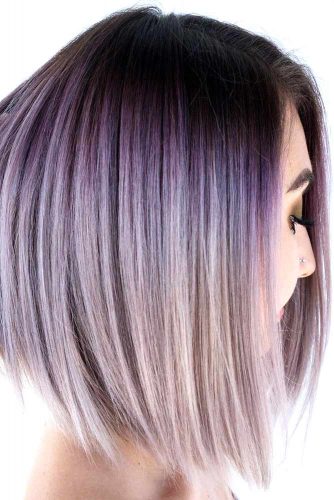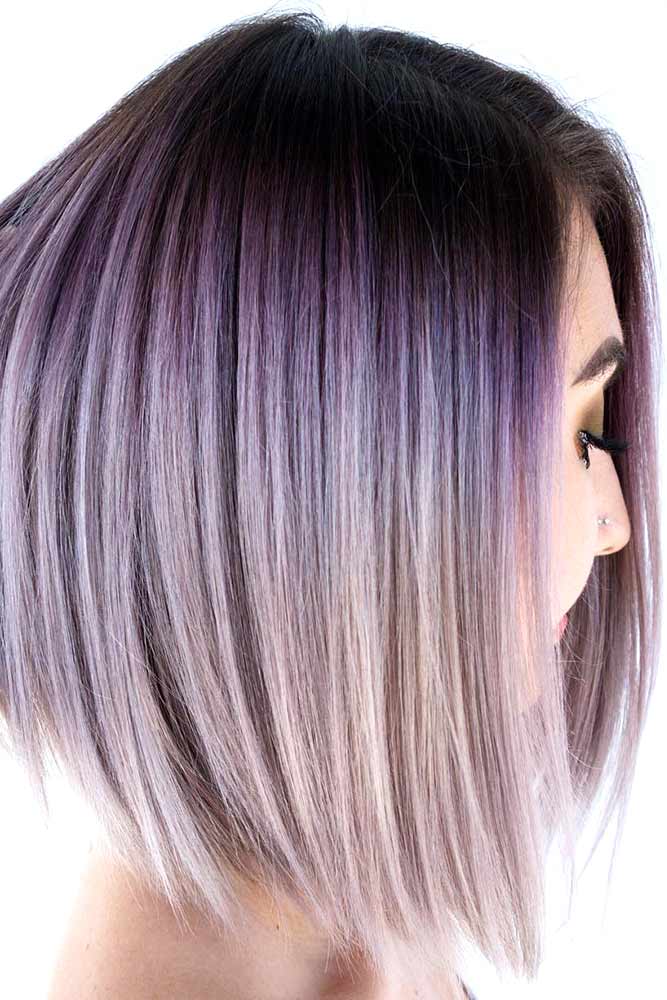 Source: pulpriothair via Instagram
If you prefer short lilac hair, this lilac ombre hairstyle is so chic and pretty! It is edgy yet still feminine in case you are looking for a style that is both sleek and cool! Start with dark brown or black roots and slowly fade to a smokey lilac hair color with hints of dark lavender and smokey lilac hues.
A straight and sleek inverted bob is the perfect way to showcase this bold color choice. Remember to wait a while before washing your hair after you color it to give the colors time to set. And try to wash your hair only once a week, using sulfate free shampoo. Dry shampoo for color treated hair works great between washings!

Pink And Lilac Color Hair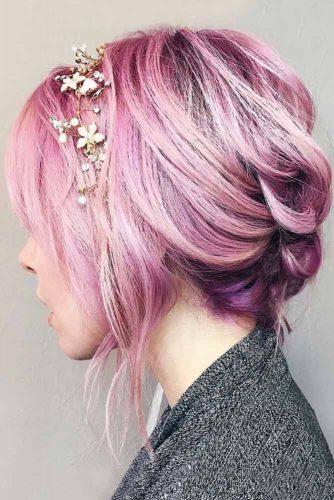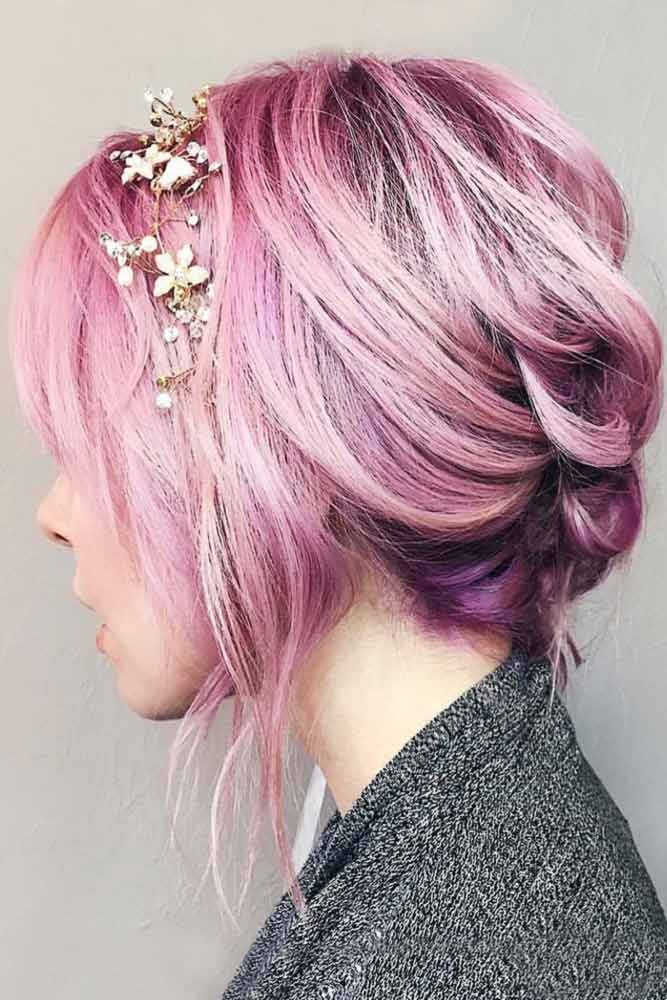 Source: pulpriothair via Instagram
If you are like most girls, you have always dreamed of having pink hair. But you are torn between your undying love for pink and a stunning lilac color hair. Why not opt for both! This pretty pastel pinkish-purple is totally cool! Embrace the best of both worlds! Start with a dark purple base, almost mauve or boysenberry. And then blend in soft lilac tones and pastel bubblegum pink! The result will be a pinkish-lilac hue that will make you stand out from the crowd and be the envy of all of your friends!
Keep in mind that pinks and purples tend to fade very quickly. Wait between washings and do not use hot water or heat on your hair to maintain your color. However, once you see how awesome it looks, it'll be worth the effort and you'll keep coming back to this fun and flirty pink and lilac color blend!
It will look even more stunning if you style it in a messy braided updo like the one shown here. This will add even more depth and texture to your totally hip hair!

Pastel Lilac Hair Rainbow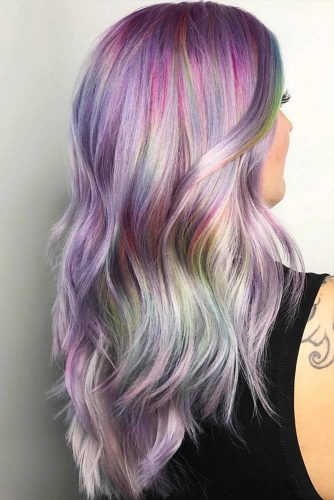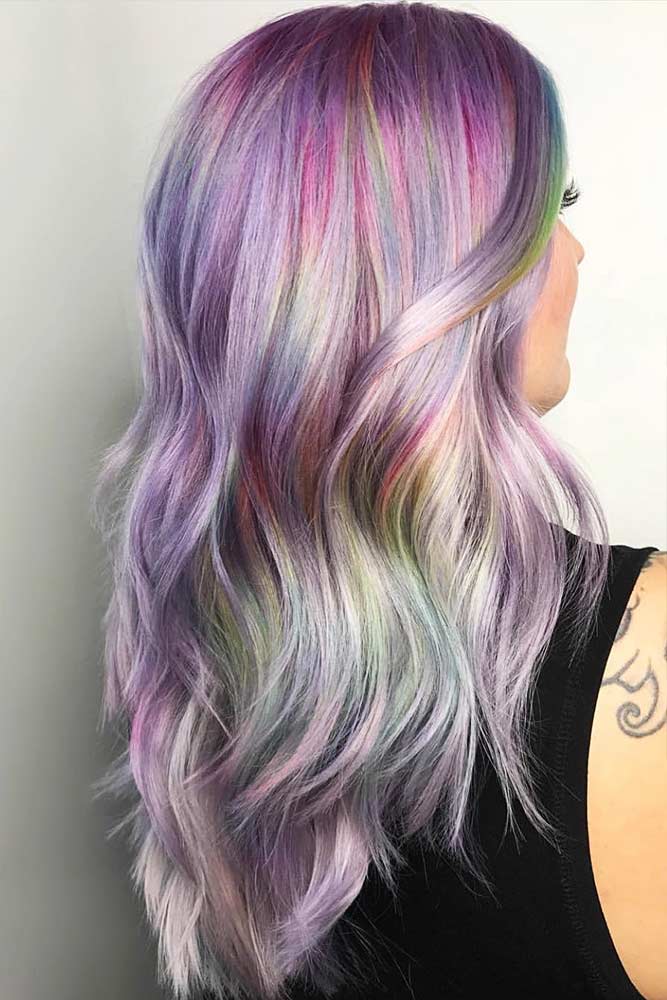 Source: pulpriothair via Instagram
One of the nice things about lilac hair dye is that it fades to pretty silver. And silver hair is all the rage right now. So, you can embrace your silver steaks for a bit to give your hair a bit of a break between colorings. Or you can go back to your pastel lilac hair as soon as it starts fading.
We suggest embracing the silver hues and mixing in some pastel shades of pink, blue, green and yellow for a pastel rainbow effect. Ask your stylist to place them throughout your lilac hair to give it a truly multi-dimensional look. As it fades, it will blend into a silky silver-hued rainbow that will make you feel like a fairy princess!

Cool And Warm Shades Of Lilac Ombre Hair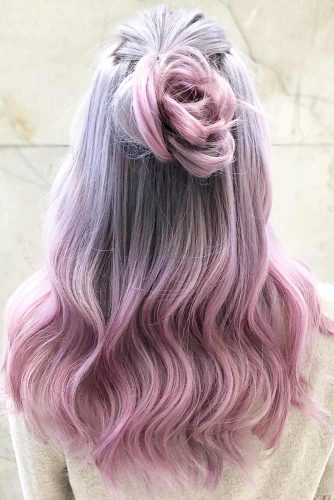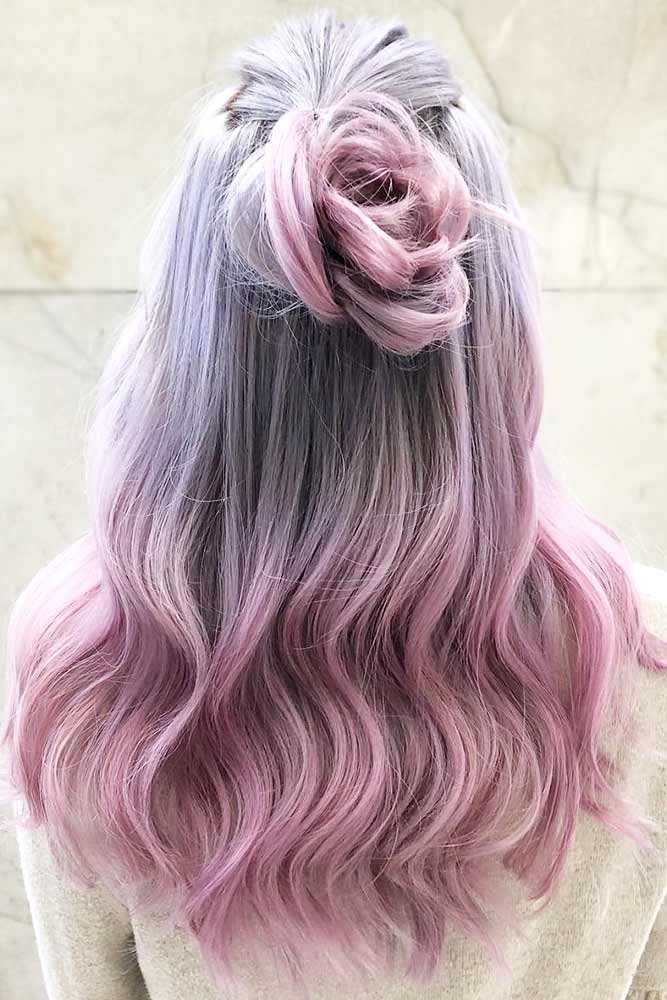 Source: mojkahair via Instagram
Normally, when you choose a hair color or a combination of colors, you opt for either warm or cool tones. But who says you have to choose? Why not go for the best of both worlds with a stunning blend of periwinkle and lavender hues? This multi-tonal look embodies both cool and warm tones for a stunning silver lilac ombre hair blend that is full of warmth and texture. It will eventually fade to a silver lilac hair color that will shimmer in the sunlight.
Always bleach your hair before going light. However, if you have bleached your hair within the last six months, you should strip your hair instead of bleaching. Over-bleaching your hair will only damage it. Keep your hair hydrated by using leave-in conditioner or even applying some coconut oil to your hair to seal in the moisture.

Lilac Hair Color Balayage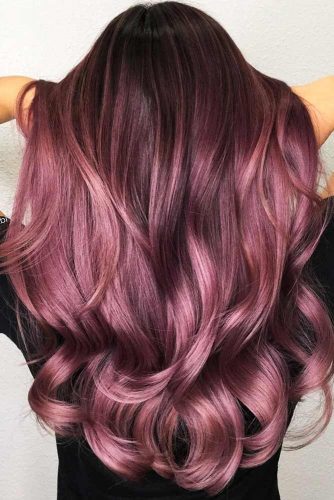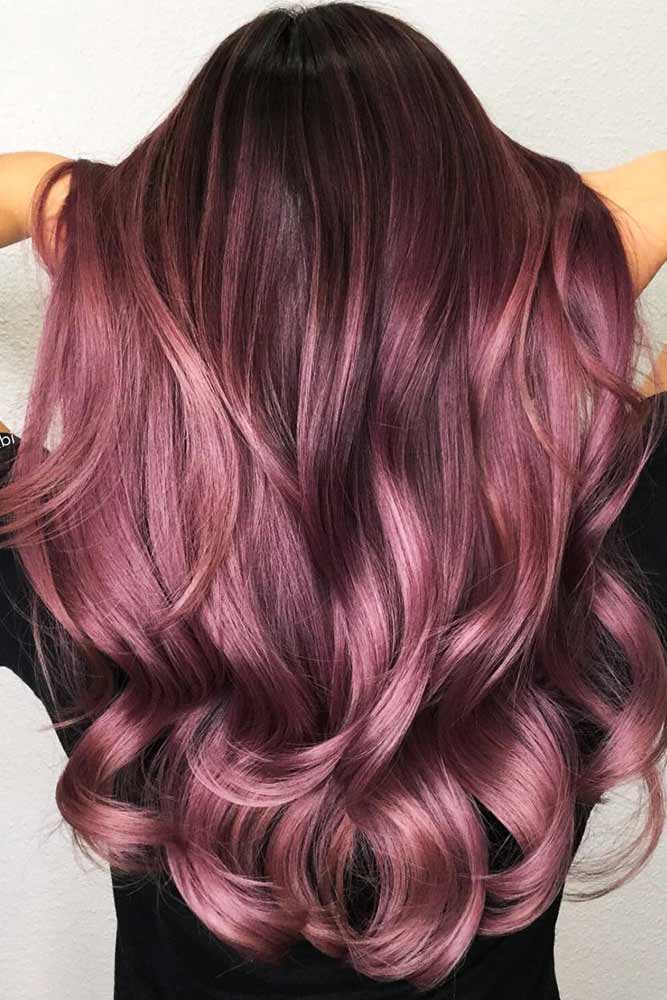 Source: kimwasabi via Instagram
Do you want to maintain your gorgeous brunette tresses but still add a hint of lilac hair color? Why not go for warm chocolate and periwinkle balayage blend like the one shown here? Choose soft lilac and blend it in with your chocolate brown hair to add just a touch of color that is subtle and sophisticated. This look is perfect if your career does not allow you to dye your hair bold or vibrant colors.
Remember that lilac hair dye will fade over time. So, try to limit the number of times you wash your hair to once a week. Dry shampoos are always a good idea but make sure to check that they are safe for colored hair. Avoid the excessive heat from blow-drying and curling or straightening your hair to make your color last as long as possible.

Chocolate Lilac To Rose Gold Ombre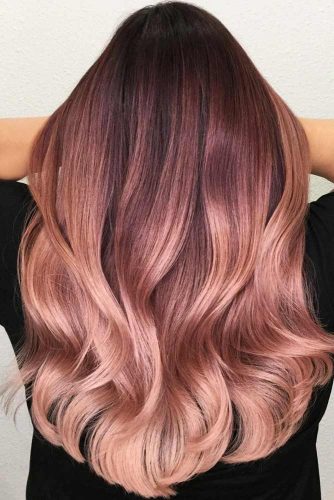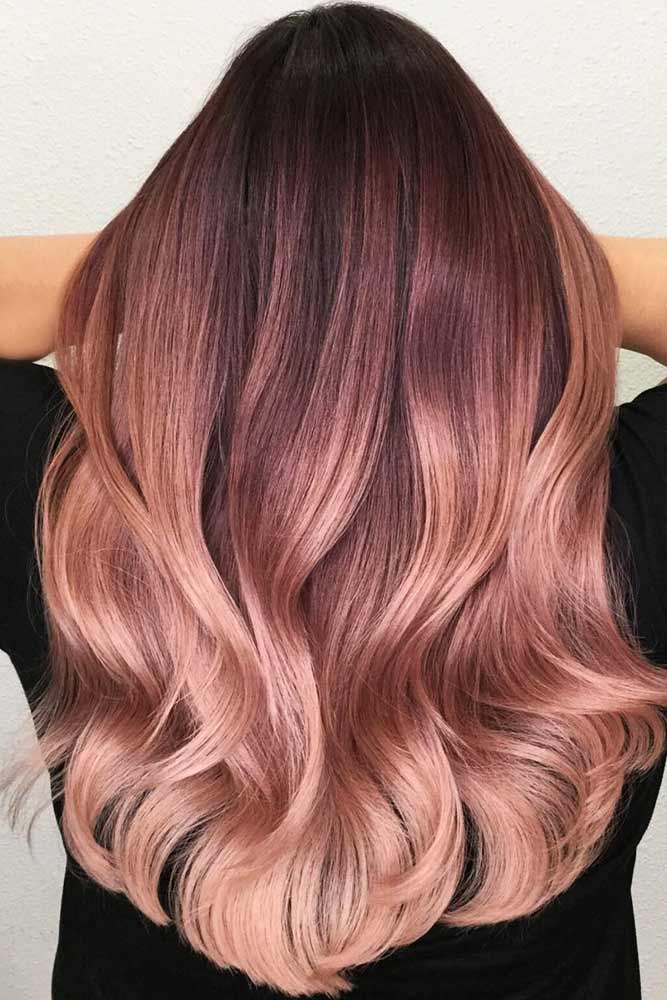 Source: kimwasabi via Instagram
Rose gold hair is very popular right now. And there are so many shades of rose gold, from rustic to dusty to pastel and pale rose gold hues. However, this chocolate brown and rose gold take the cake. If you have always wanted lilac blonde hair but also want a touch of rose gold, this pretty ombre might be exactly what you have been dreaming of!
Start with a dark chocolate lilac hair color and slowly fade to dusty rose gold ombre. This look is so full of depth and dimension. The ends of your hair will be soft rose gold blonde that will catch everyone's eye and will look like mother-of-pearl pink in the sunlight.
Again, be mindful of the quick fading of pinks. You might need to do regular touch-ups to maintain this look. Less frequent shampooing will help extend the lifespan of this pretty lilac and rose gold ombre effect. Style it in soft beachy waves to add even more depth and dimension. The soft chocolate brown hues will add texture and warmth for a truly multi-tonal look.

Lilac And Caramel Balayage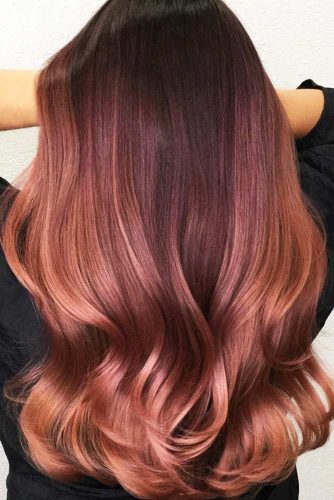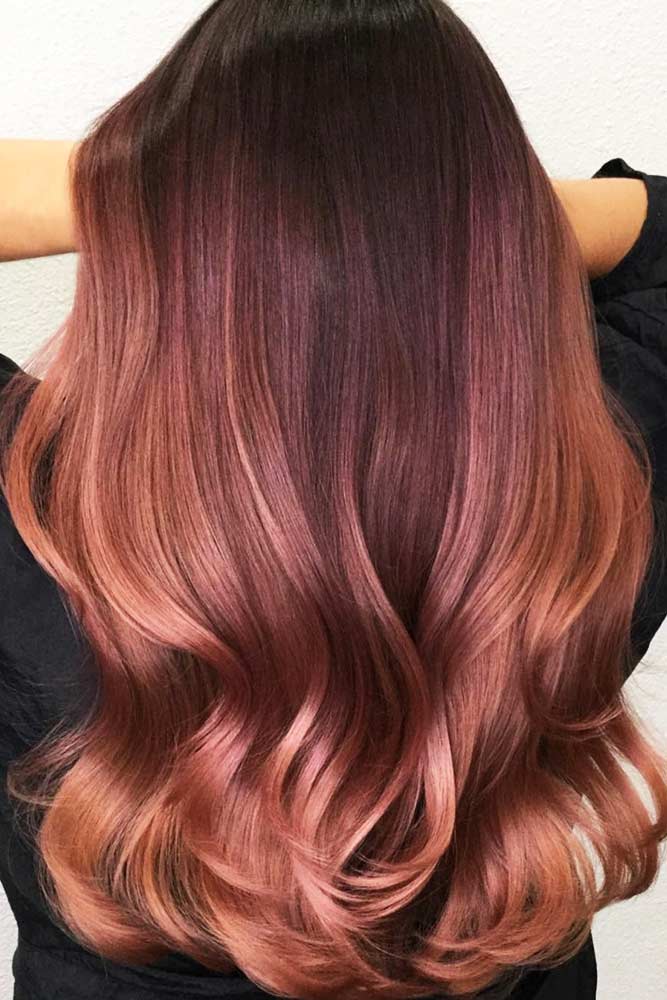 Source: kimwasabi via Instagram
Another pretty look for lilac hair is this caramel and lilac balayage blend! One of the best things about today's styles is that anything goes when it comes to the hair color. Roots used to be a sign of laziness between trips to the hair salon. However, now roots are totally hip and happening. Don't be afraid to show off your roots. That's what makes ombre and balayage styles so popular. You can let your natural color shine through and wait a bit between coloring your hair again. So, get ready to flaunt your dark roots with style and grace!
This stunning balayage is a blend of eggplant, chocolate brown, light auburn, and dusty pink. Talk about dimension! This style just screams depth and texture.
Try not to overuse hair products that contain sulfates, chlorine or alcohol. Avoid them completely if you can as they will cause your hair to fade quicker. Always condition your hair to keep it hydrated, which will help your color to last longer.

Chocolate Lilac And Grey Highlights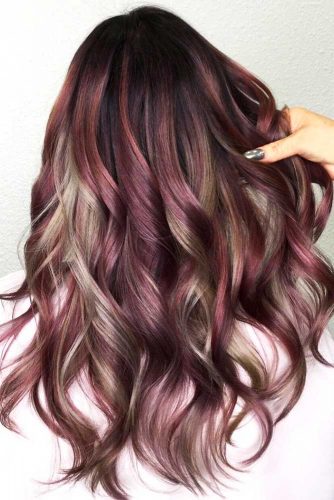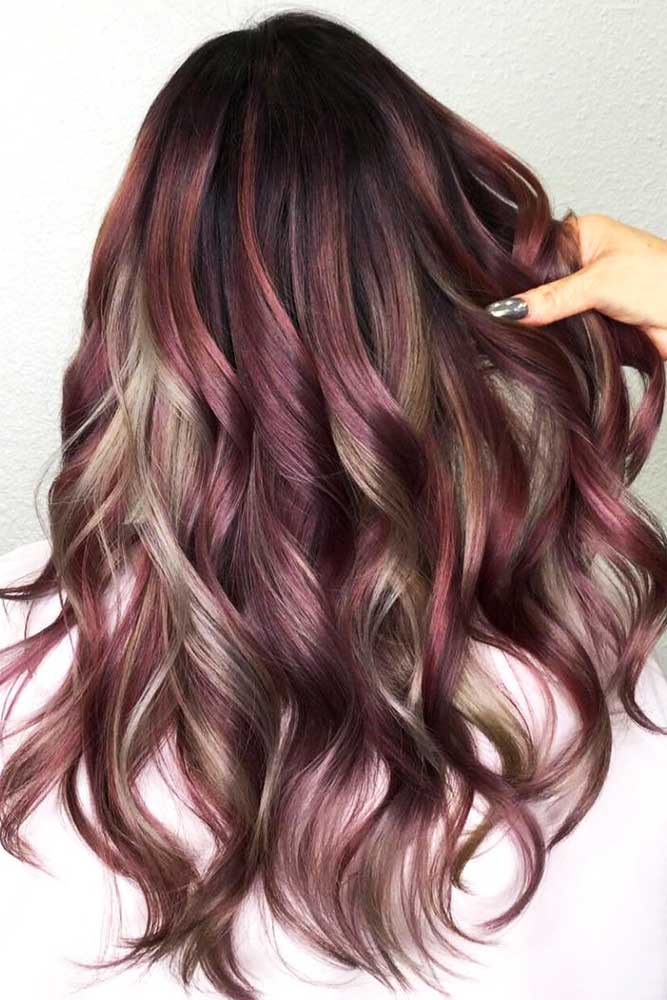 Source: kimwasabi via Instagram
If you want a look that is professional enough to wear to work but still has hints of lilac, this lilac silver hair color is very chic and sophisticated. It is also an ideal way to embrace your natural grey hair. Just a few short years ago, grey hair was seen as a curse, but now it is viewed as a blessing. Silver and grey hair shades are showing up everywhere and in every possible combination!
This lilac grey hair color is a balayage blend of charcoal grey, dark eggplant and silver highlights. It will add a ton of depth and texture to your hair and result in a chocolate brown and purple blend that is one-of-a-kind. Style your long locks in soft beachy waves to add texture and movement.
Remember, lilac hues tend to fade to silver and/or grey anyway. So, as this look fades, you will be left with a stunning shade of silver that will make you look and feel like a goddess!

Chocolate Lilac With Brunette Roots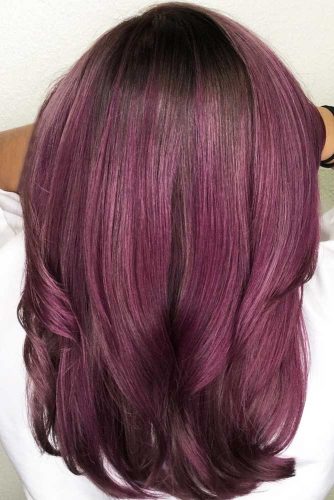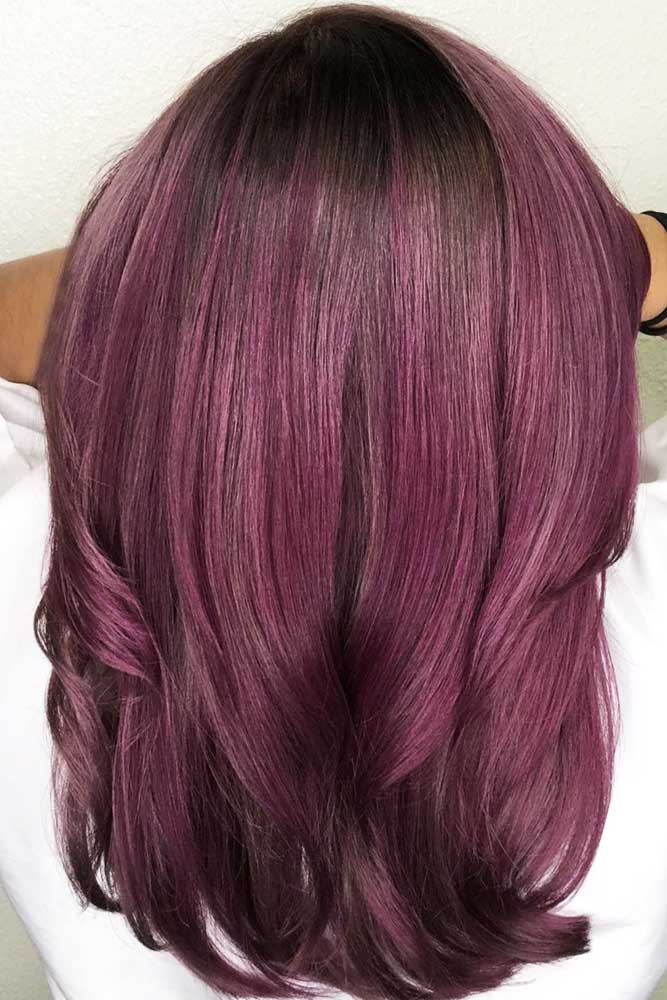 Source: kimwasabi via Instagram
Another look for darker hair with lilac hair color is this warm chocolate lilac ombre fade. Start with your dark roots and fade to dark lilac or mauve. Blend in thin pastel lilac highlights throughout to give it a multidimensional vibe. This look has a ton of depth and just the right amount of cool and warm hues to give it a bit of an edge. The result almost resembles a deep red wine color that will certainly make you stand out from the crowd.
Warm purples work best for darker hair colors, while cooler tones are best for lighter shades. However, you can make your own rules and blend both cool and warm tones to pump up the volume and enhance the depth of your hair color. The result is stunning and will look so pretty in the natural light. Everyone will be envious of your chocolate brown and mauve hair!

Deep Lilac On Brunette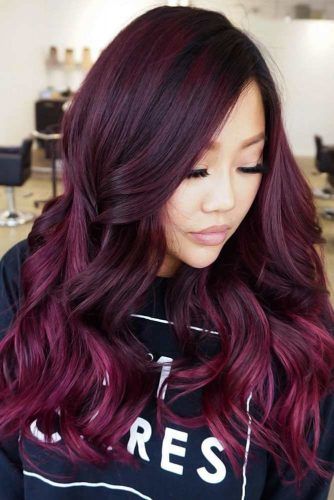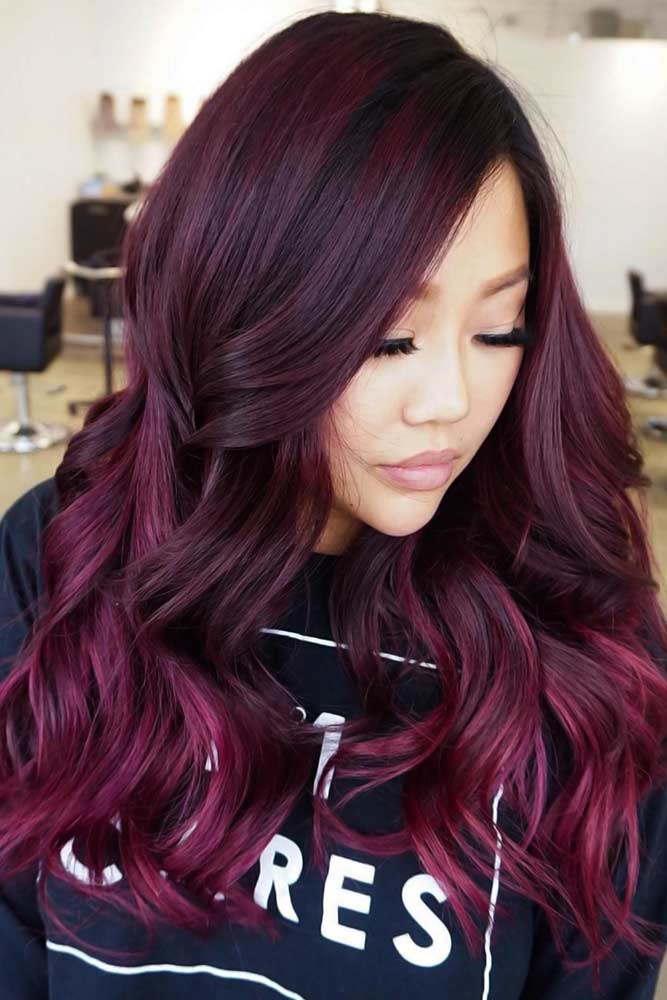 Shiny Dark Lilac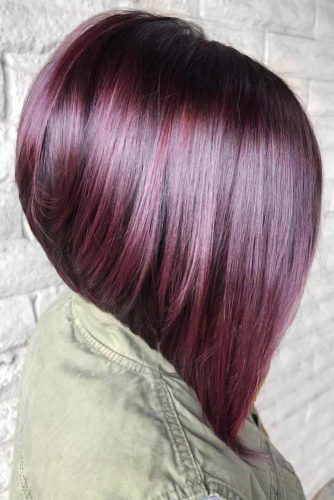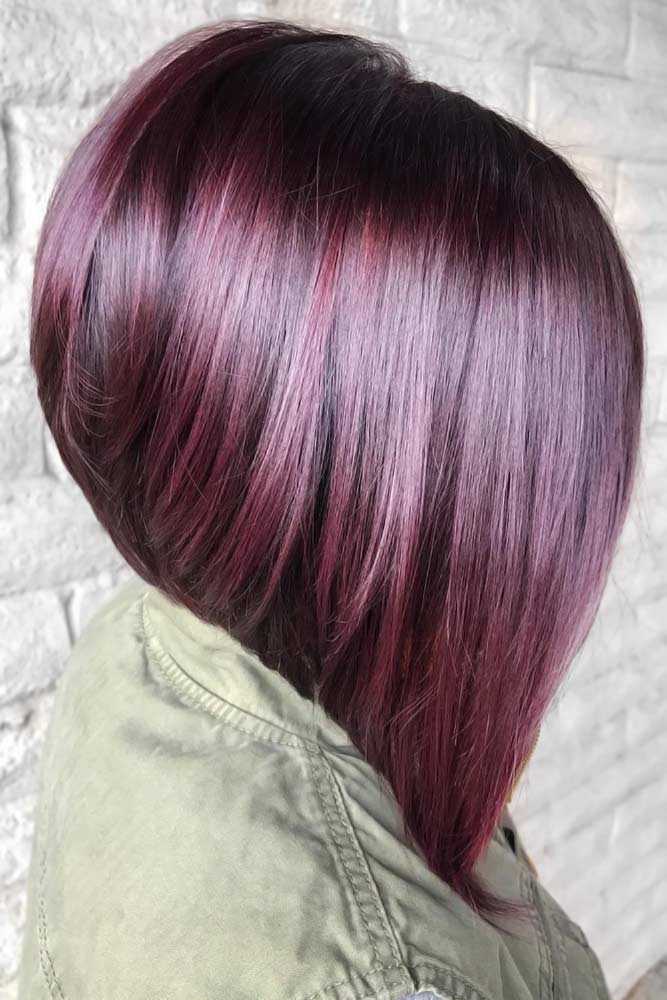 Dark Purple Chocolate Lilac Balayage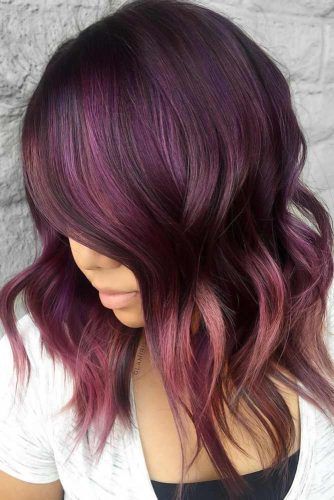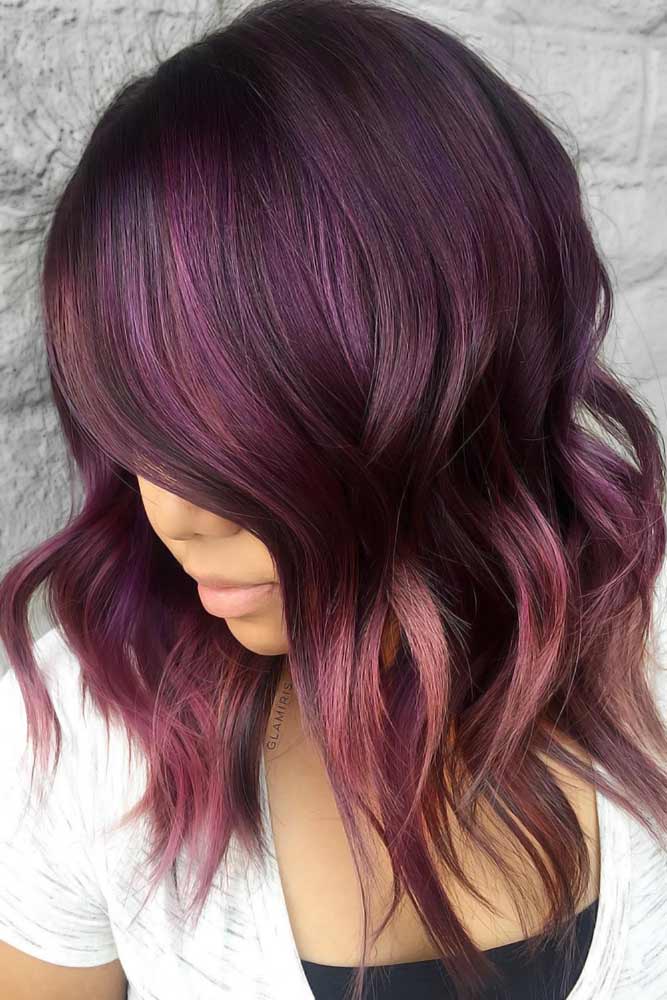 Silvery Lilac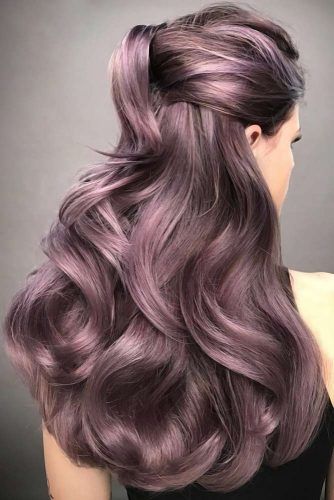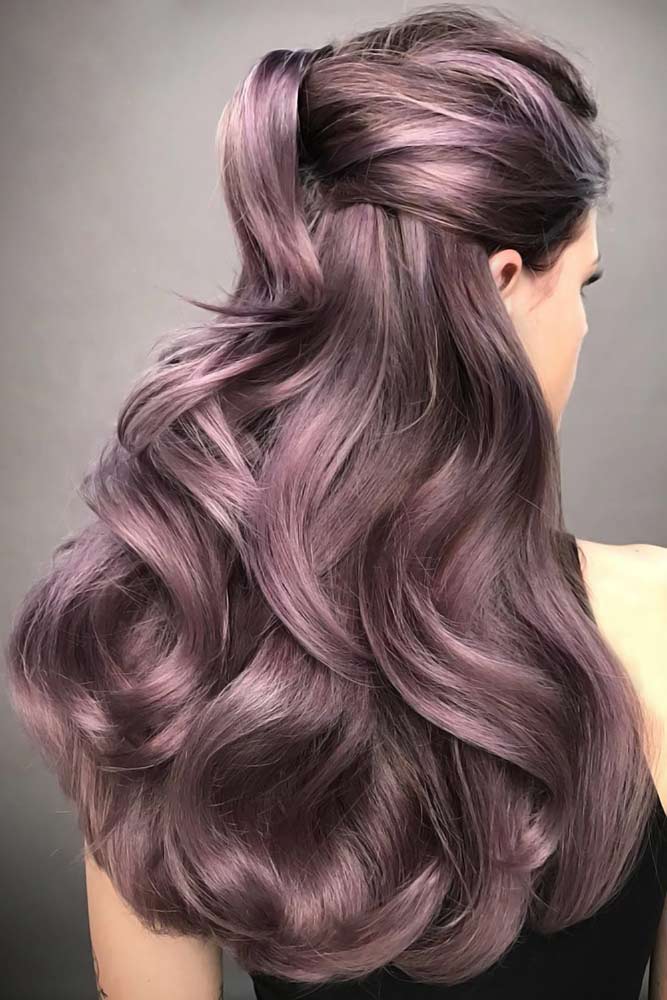 Lilac Dark Chocolate Color Melt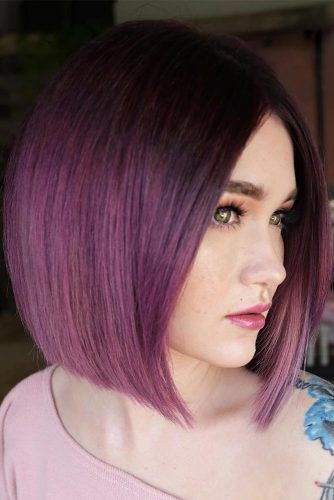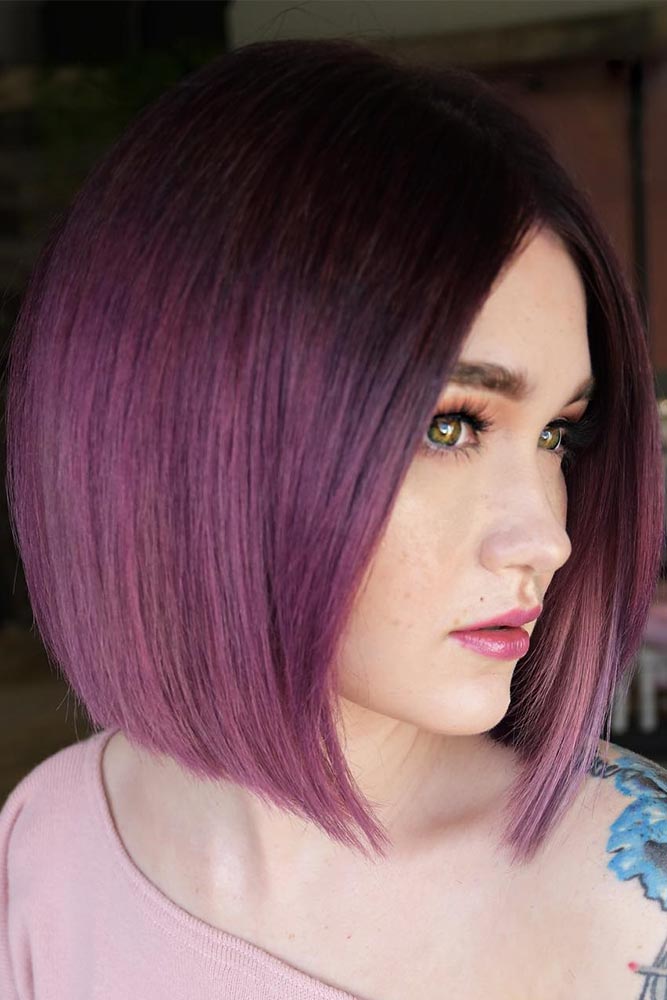 Subtle Chocolate Lilac Ombre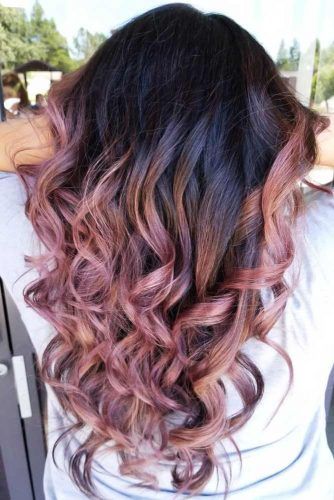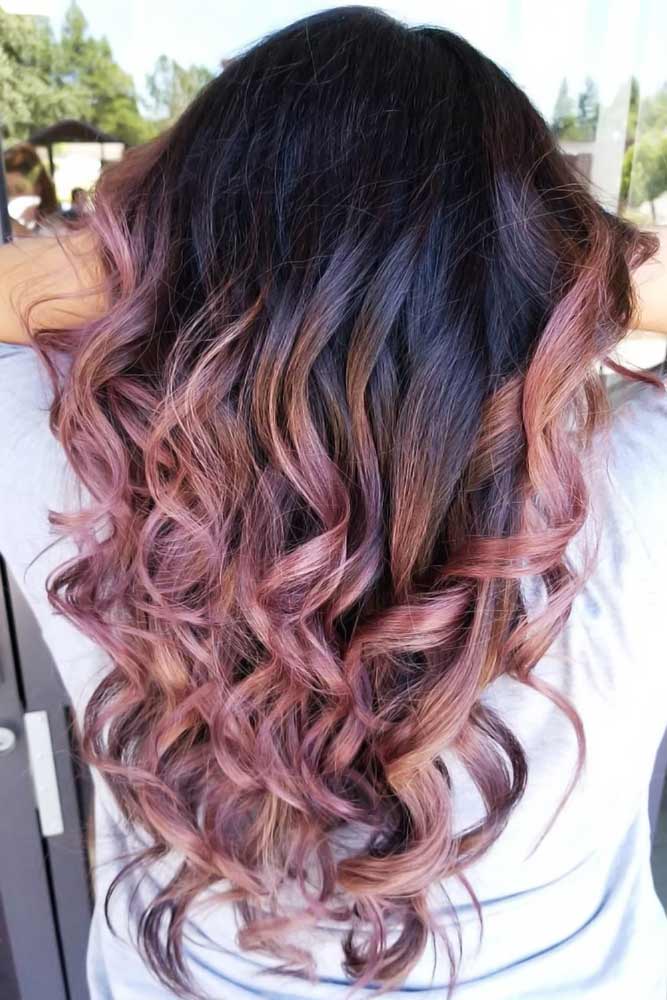 White Blonde Ends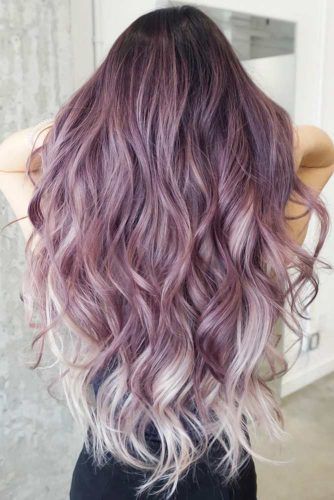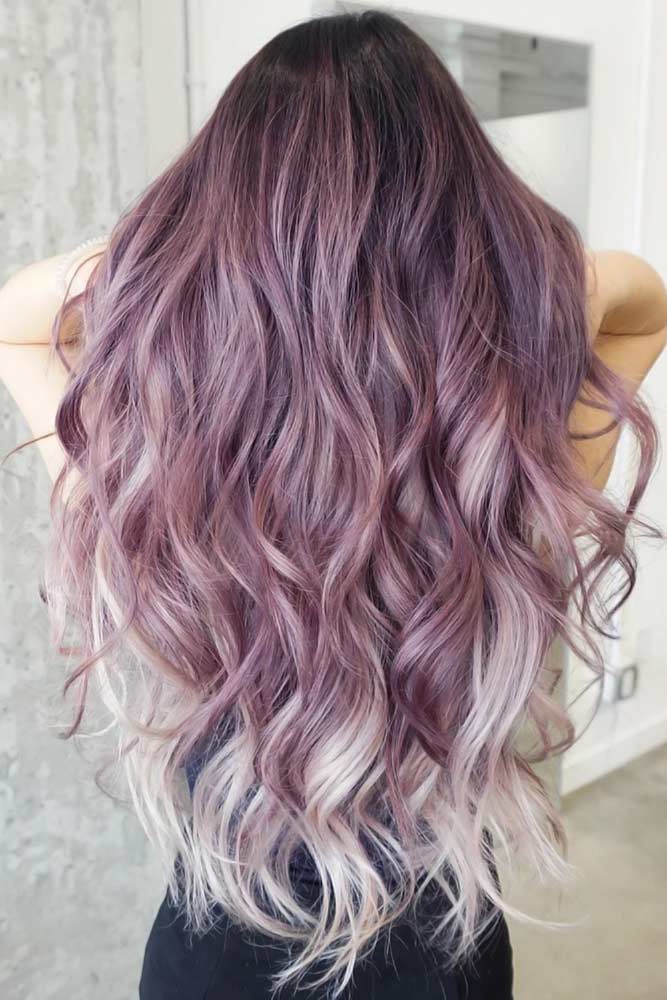 Trendy Hair Color In 2019
Source: kimwasabi via Instagram, evalam_ via Instagram, guy_tang via Instagram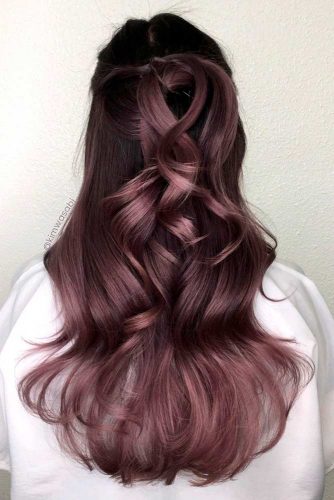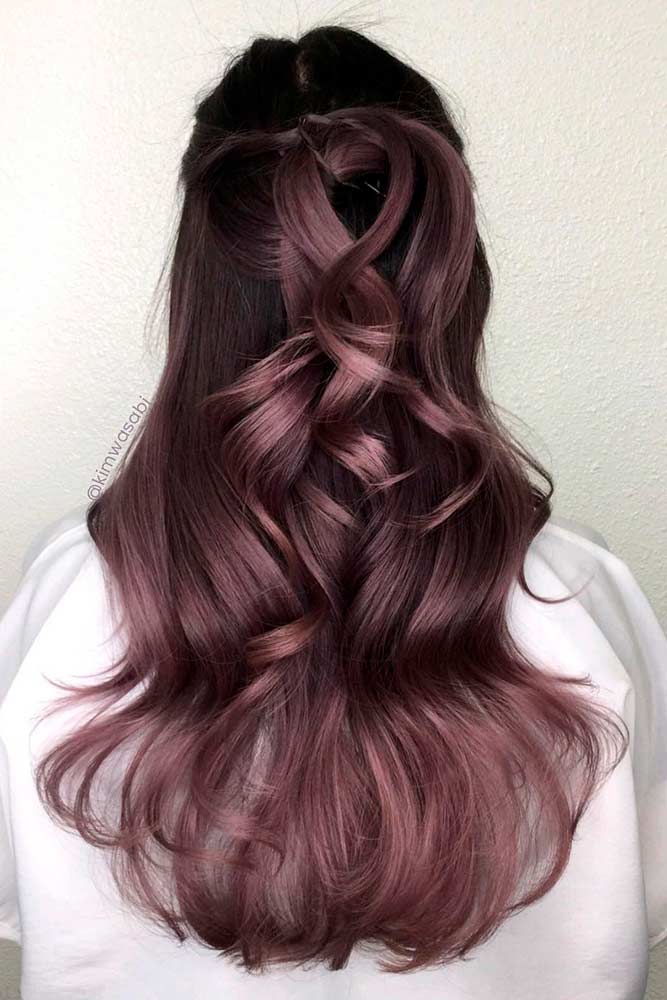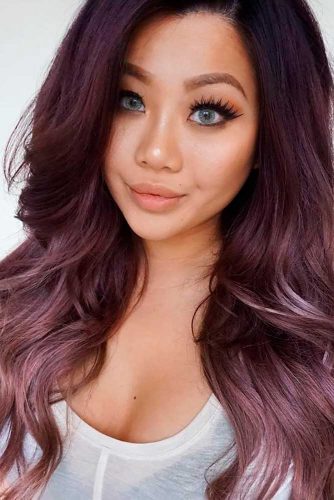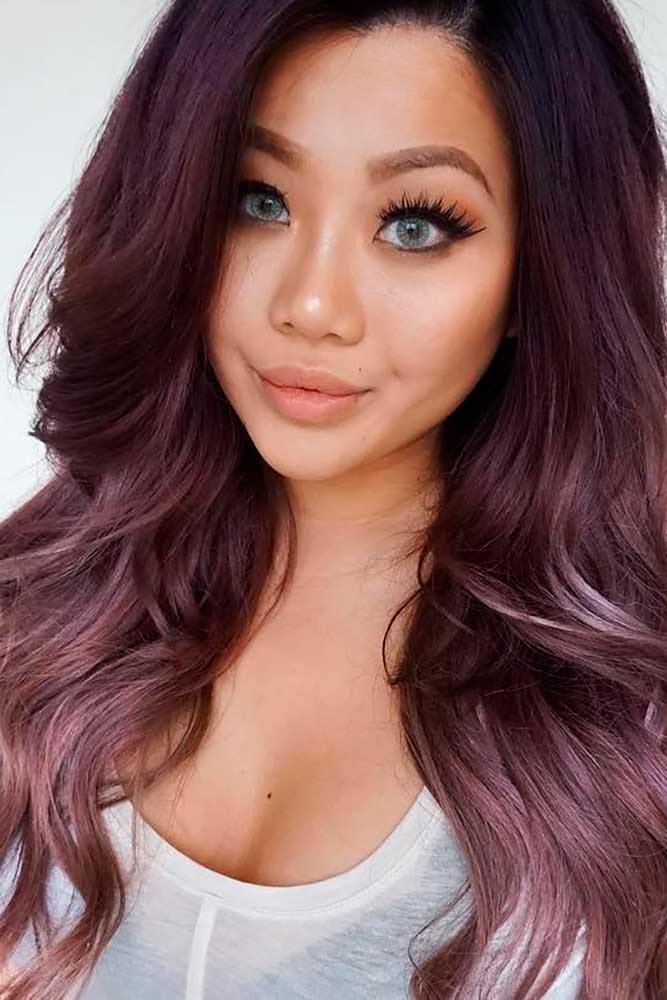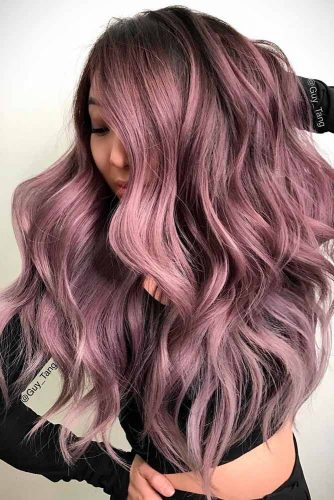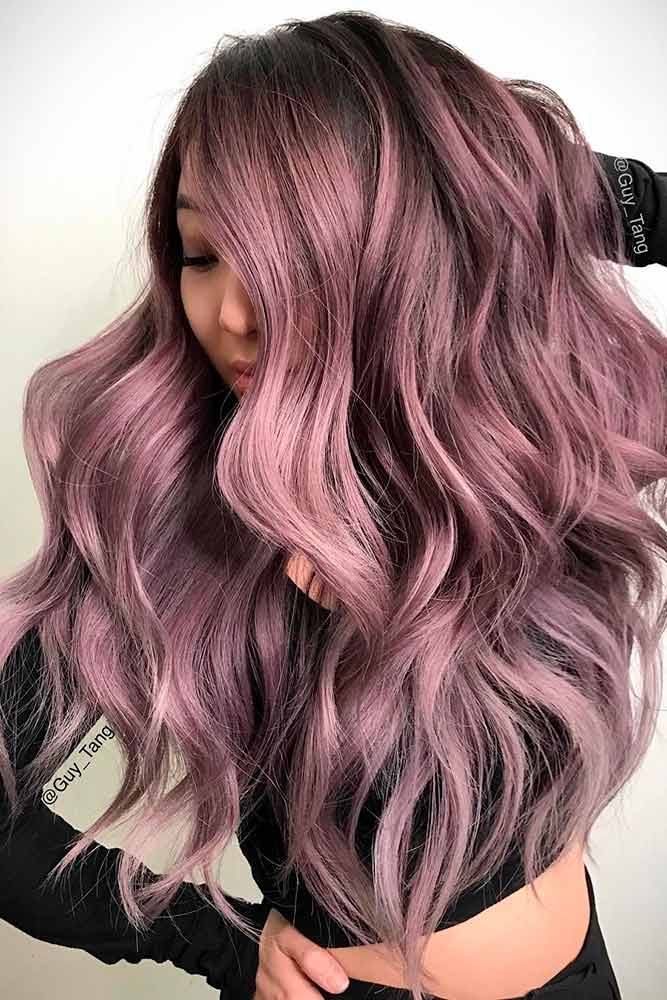 When this interesting chocolate shade is closer to pastel hair shade, it looks even more natural. And natural is always trendy! That is why you can opt for such look without any hesitation!
Beautiful Chocolate Lilac Hair
Source: kimwasabi via Instagram, guy_tang via Instagram, ashetonsilvers via Instagram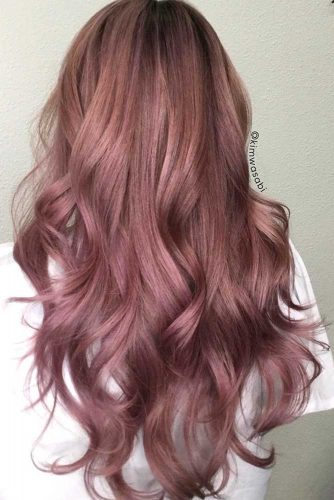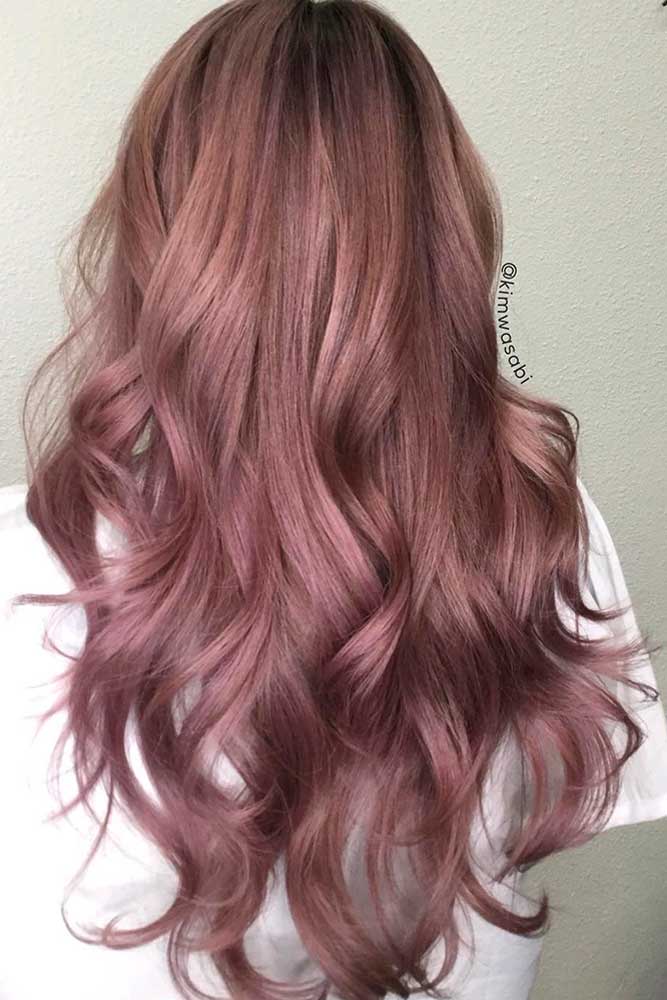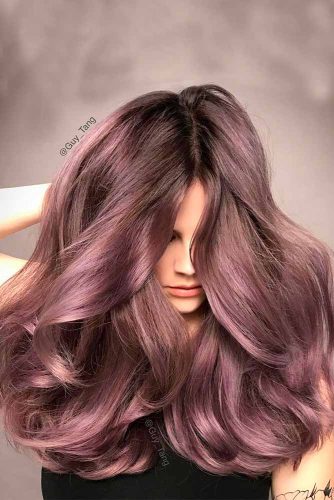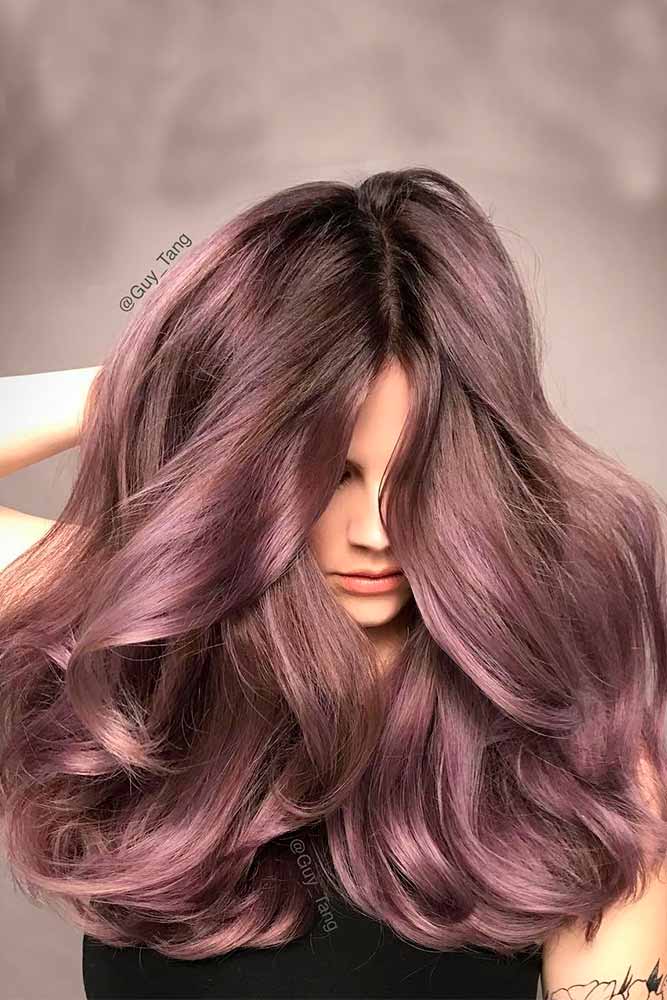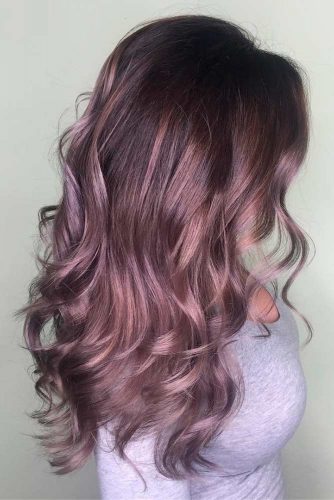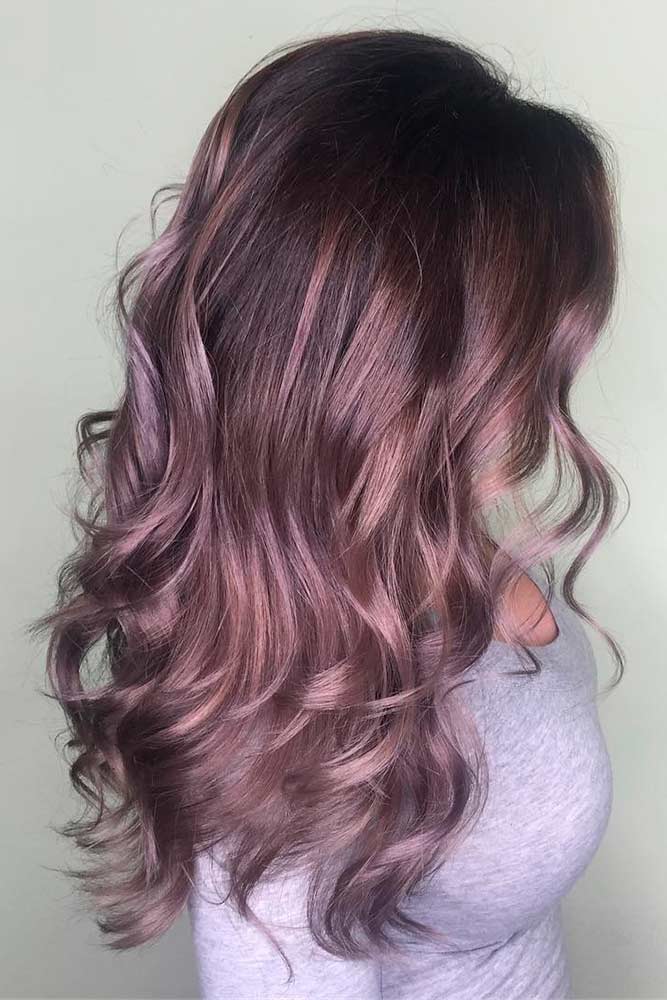 Chocolate pink hair shades are totally glamorous, and considering that many celebrities pick such hues, this statement is definitely true! Watching celebrities is the easiest way to follow trends.
Amazing Trendy Hair Color
Source: kimwasabi via Instagram, evalam_ via Instagram, guy_tang via Instagram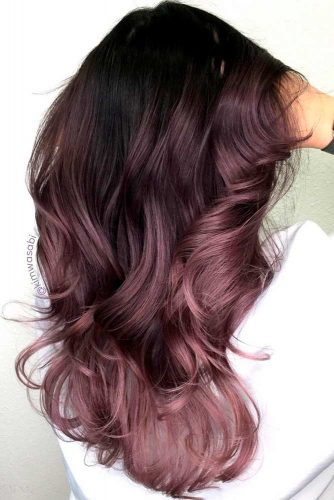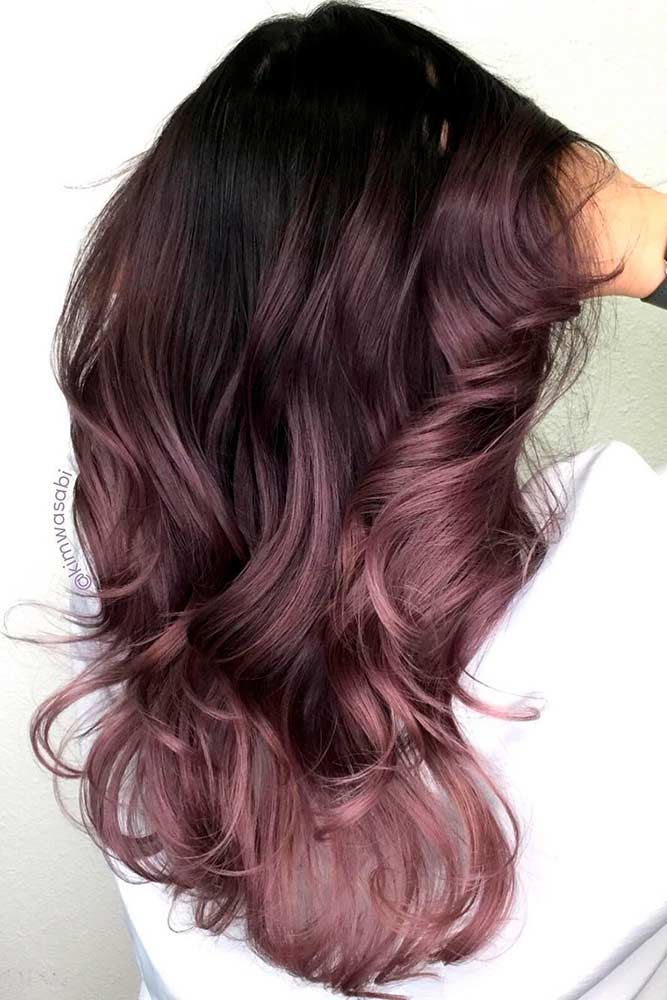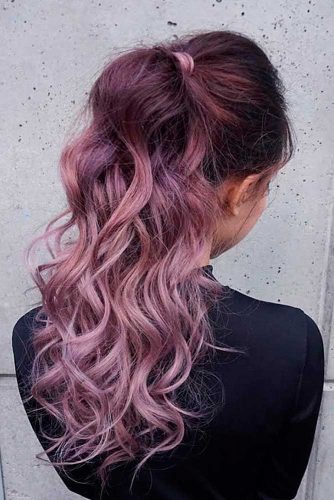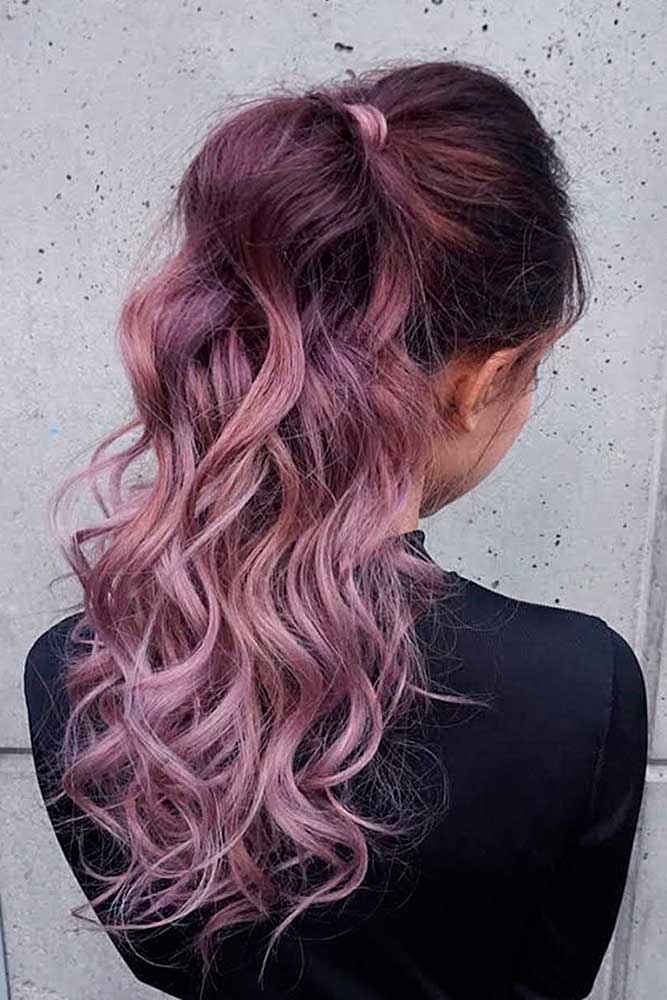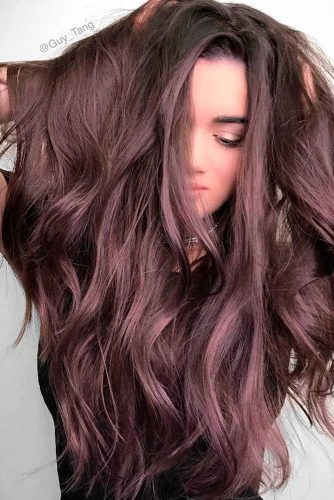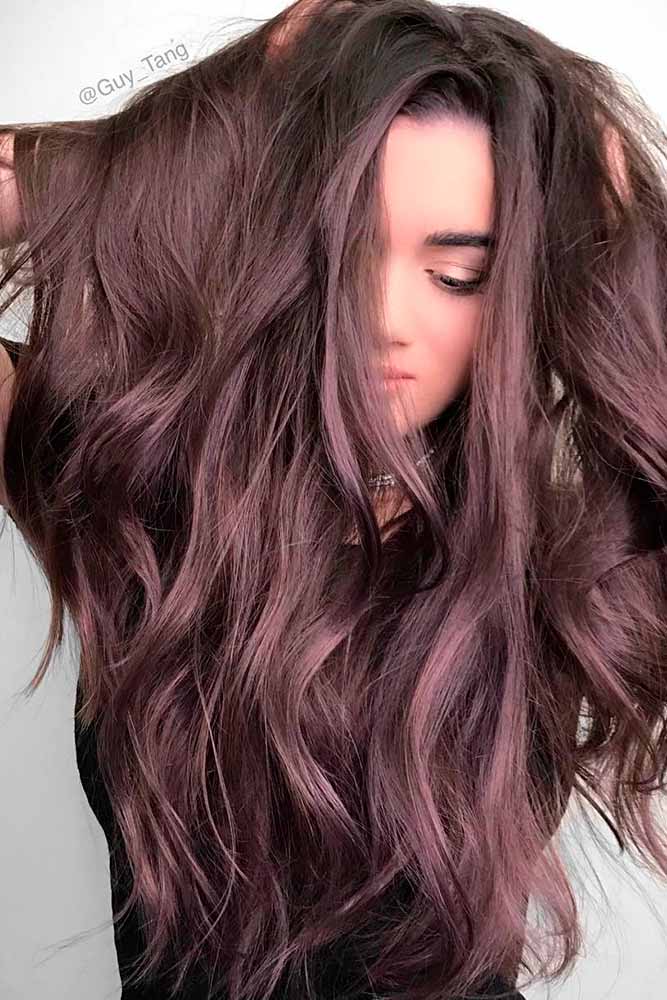 We do agree that balayage is not only trendy and innovative technique but it's also very convenient! Truly, how else would we figure out to mix shades that seem to be unmixable?
Chocolate Lilac Hair Ideas For Your Brown Hair
Source: kimwasabi via Instagram, kateloveshair via Instagram, hoang.n.pham via Instagram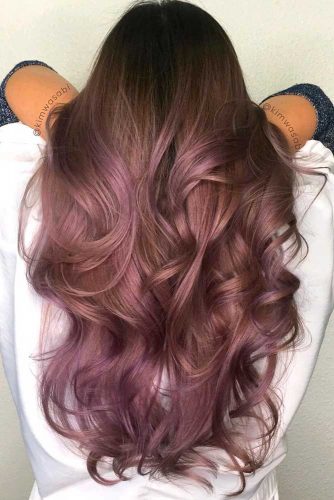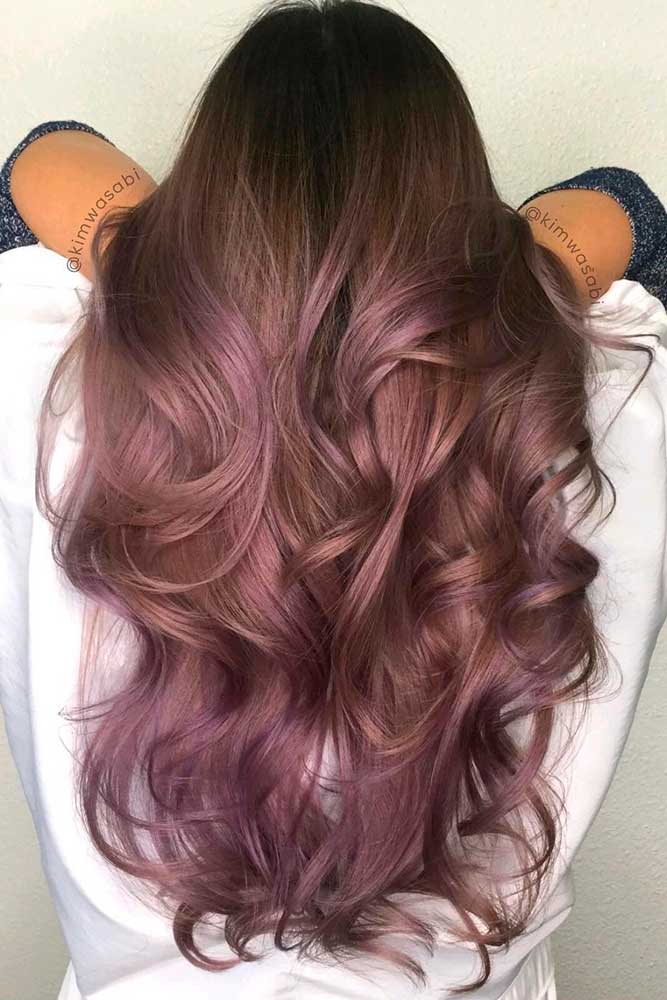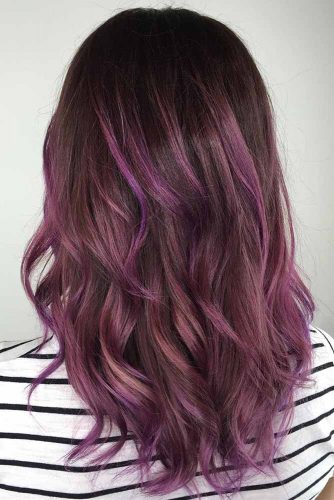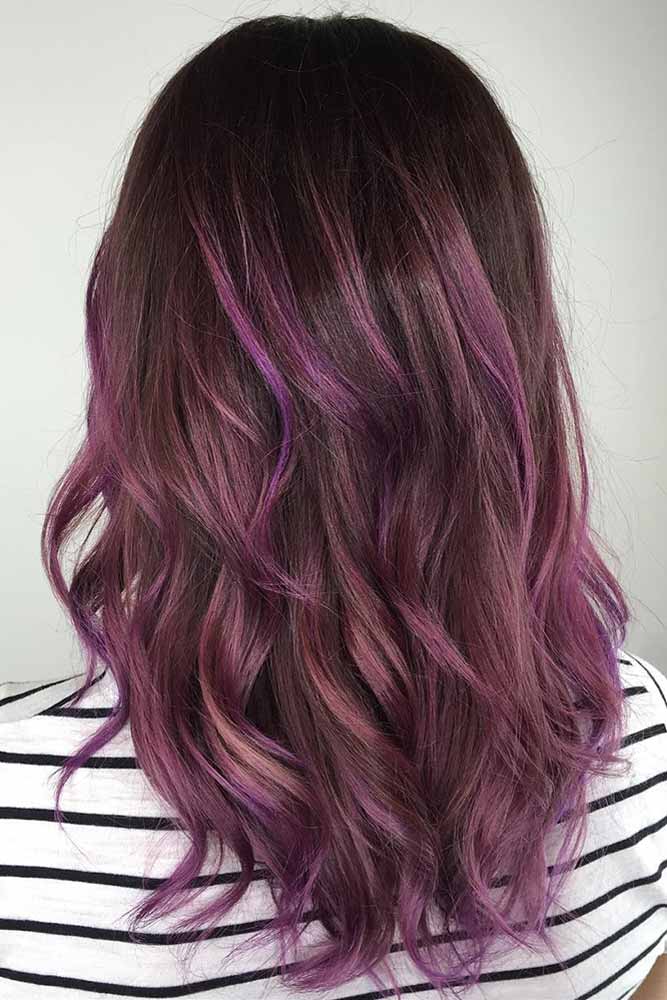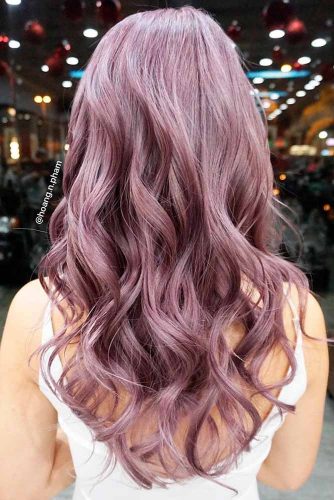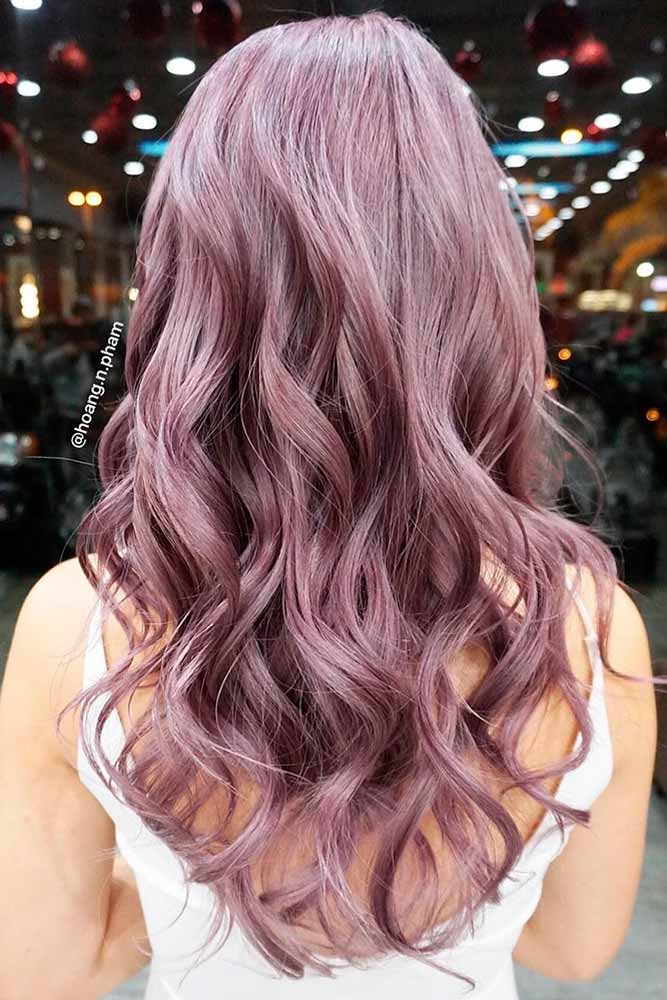 Right, when you think about brown and purple, do you ever imagine those two together on your hair? Probably not. But here you can see how marvelous these two shades can blend on any hair length.
Chocolate Lilac Hair To Try
Source: evalam_ via Instagram, lo.reeeann via Instagram, meredithabloom via Instagram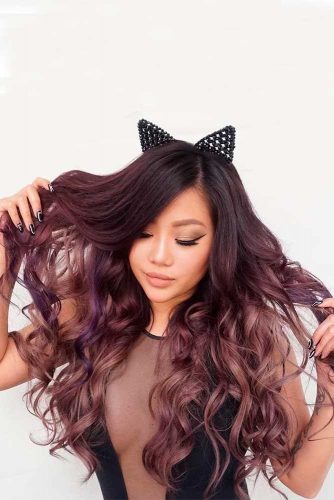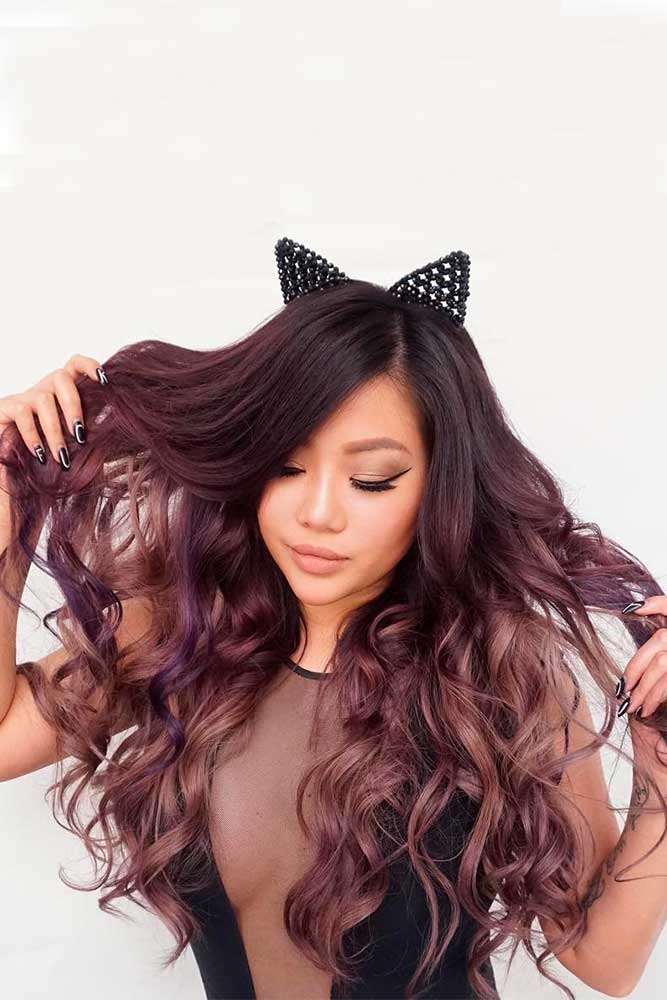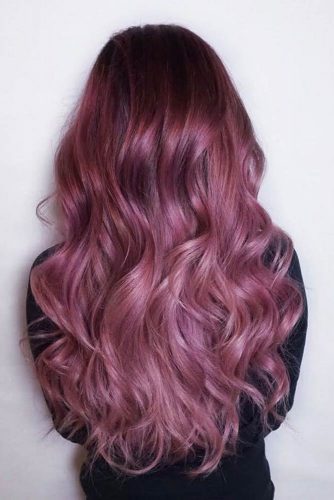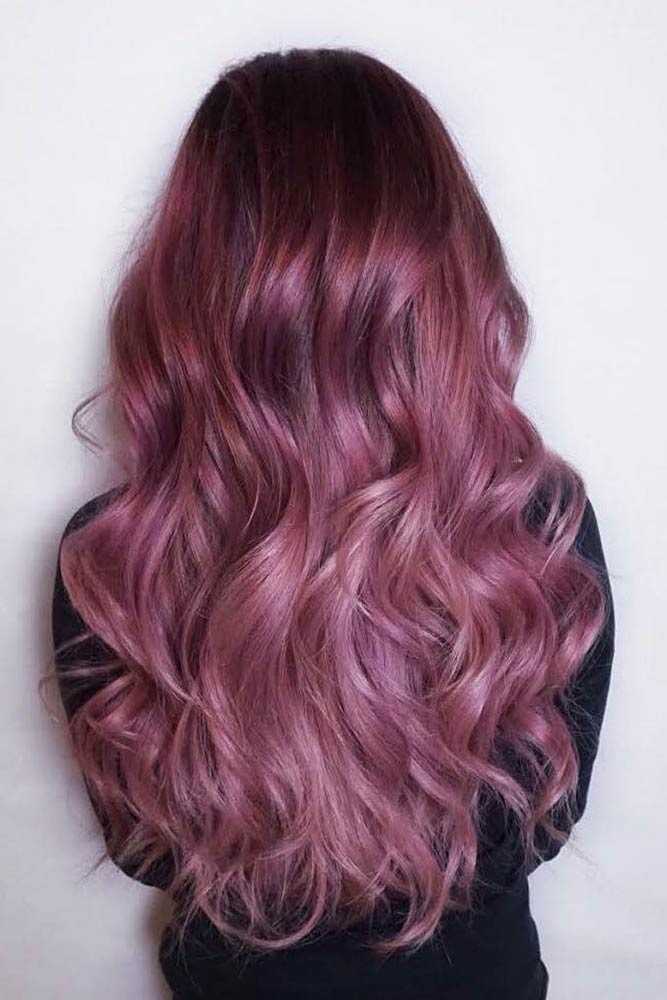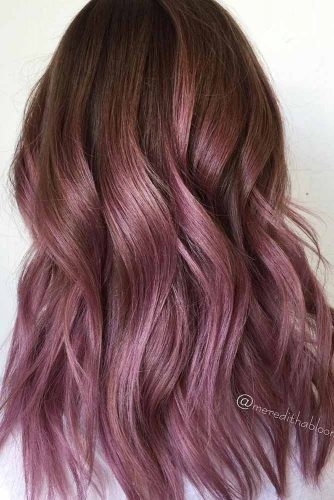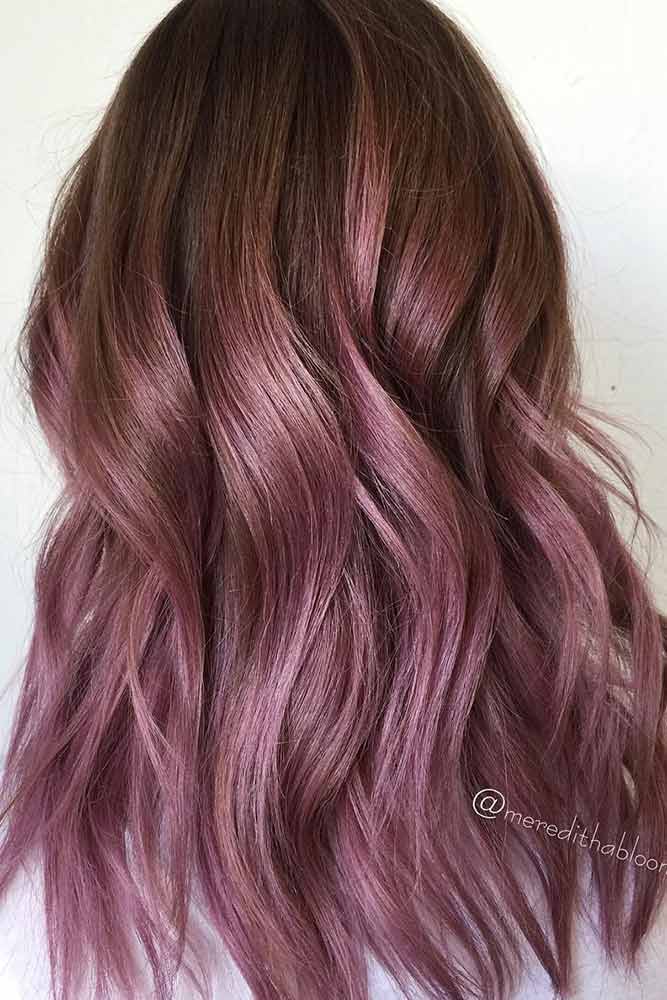 Plus, you can make one of these shades as a main color and let another one be very subtle, we would say barely noticeable. Thus, you will get amazing, naturally-looking hues. No one will guess it's hair dye!
Shoulder Length Hair In A Chocolate Lilac Color
Source: baileyage via Instagram, crystalteach via Instagram, rossmichaelssalon via Instagram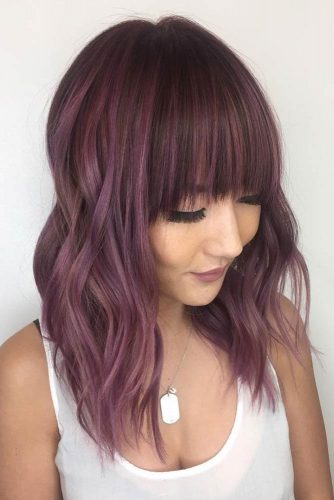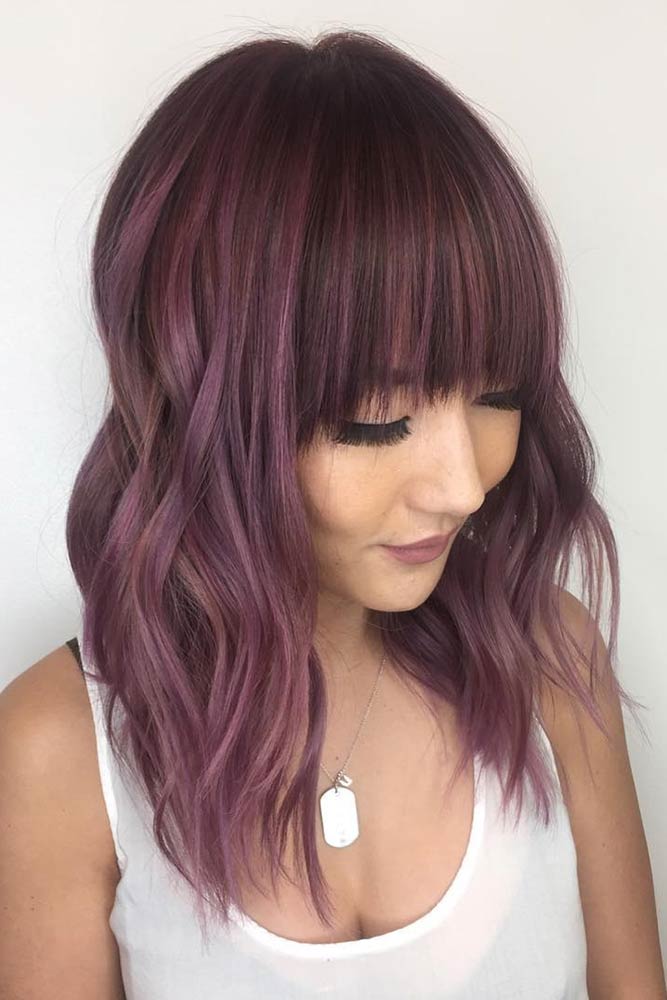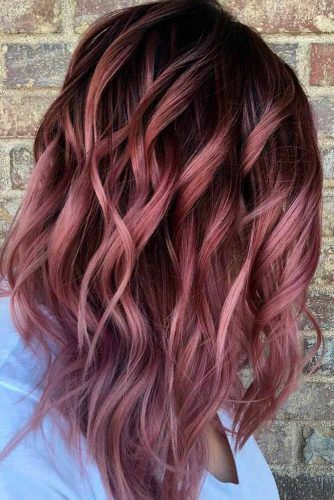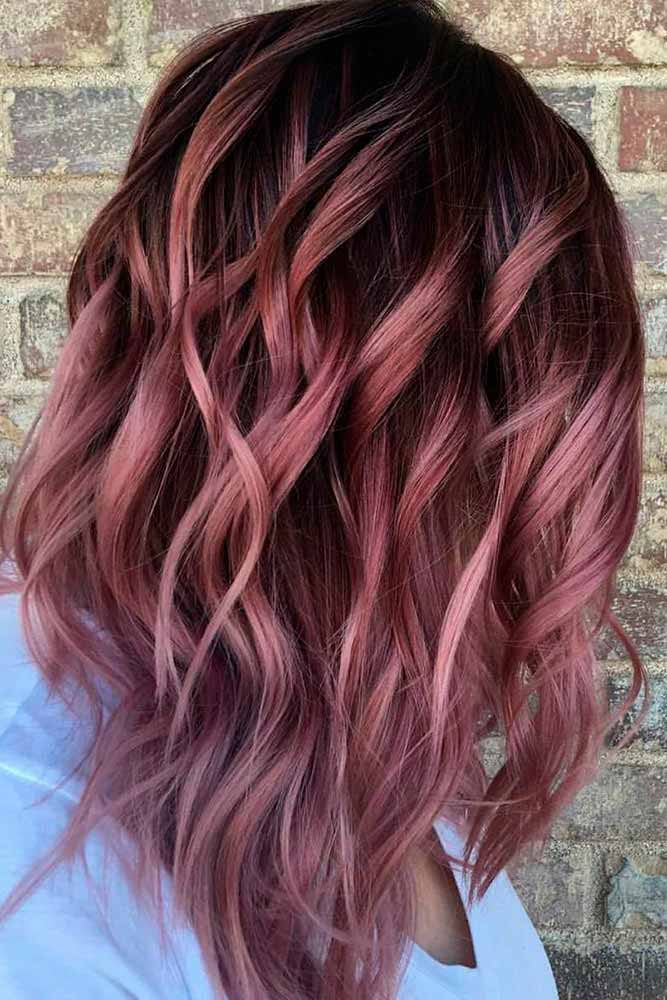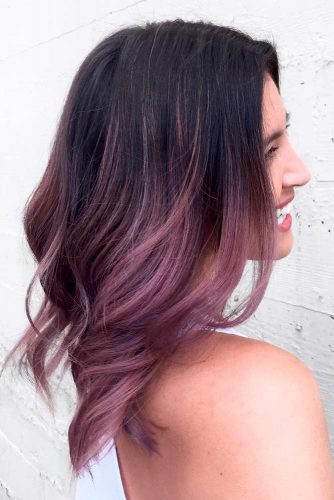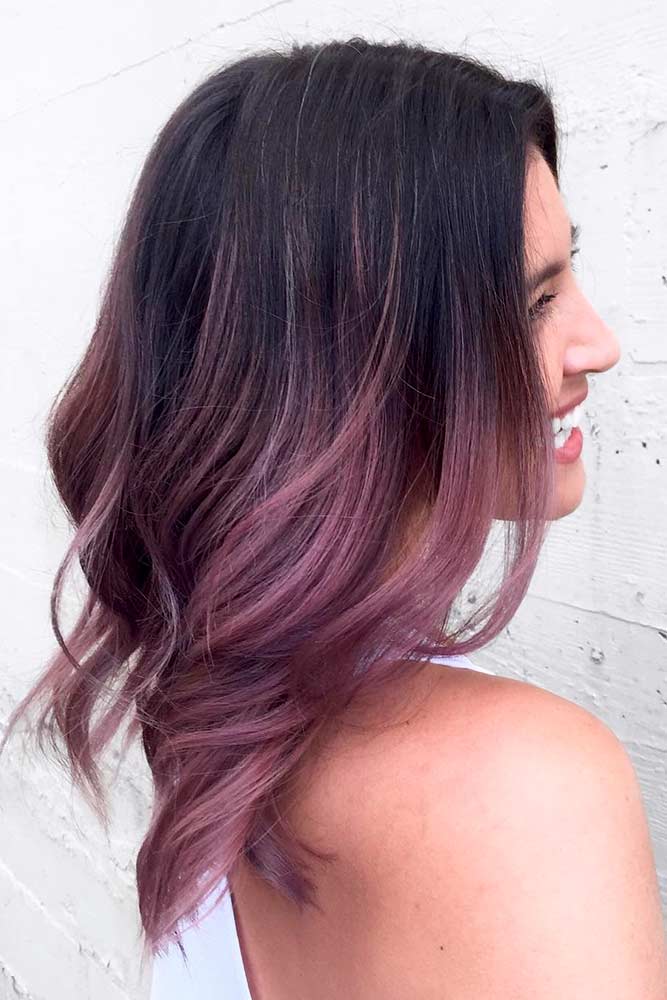 Add some waves to your hairstyle to make those dimensional chocolate lilac hues play.
Main photo by Evalam_