Cute Girls Hairstyles Your Little Fashionista Will Love
There are many cute girls hairstyles you can see on the Internet, but which of them are the best? Let us discuss it today.
First of all, the best kids hairstyles for girls appear sweet and make your kiddo feel comfortable. Plus, take into consideration her hair texture. For example, a bob looks great on fine tresses. The bob won't need much styling, but you can add some French braids or twists to keep her hair off her eyes. And in case your little kiddo has adorable curls or thicker tresses, a longer hairstyle is to opt for. Then you can create sophisticated down-dos and updos on her beautiful long hair.
Now let's see what we are talking about. You will adore these easy hairstyles for school and play.
Pull-Thru Ponytail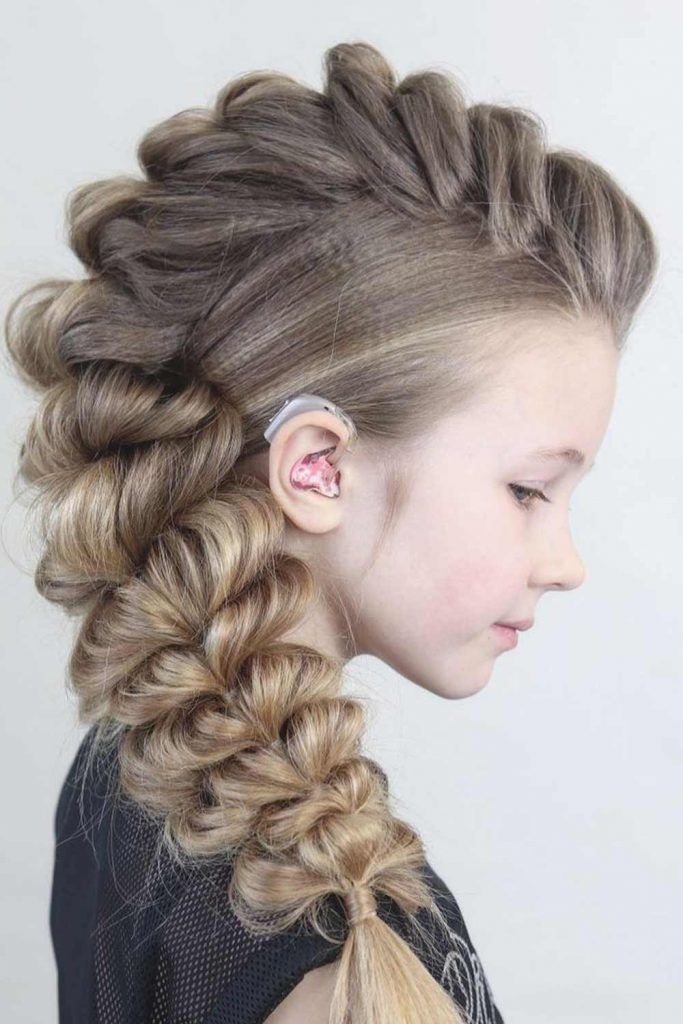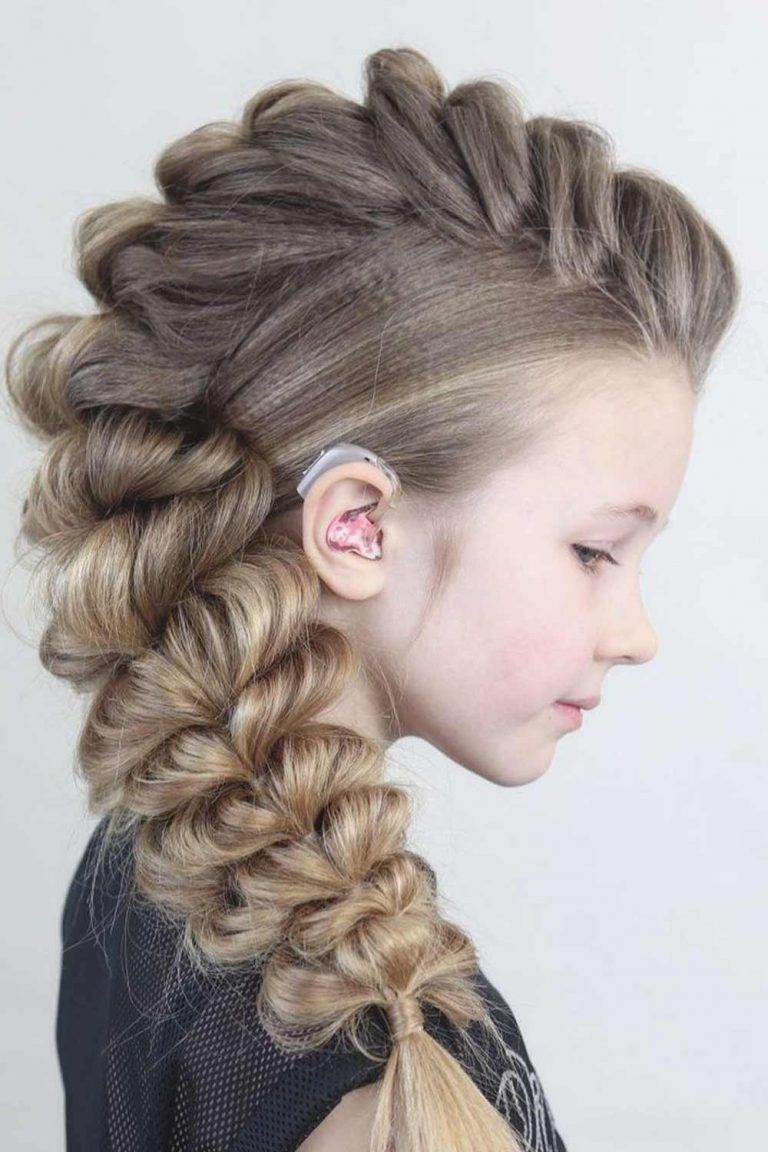 @sweethearts_hair
The pull-thru ponytail is not as difficult of a hairstyle as it appears. Begin by assuring that the hair is smooth and secure in a hair band. Next, divide the hair into two even ponytails, a top ponytail, and bottom ponytail. In the top ponytail place an additional hair band about an inch and a half from the top hair band and divide the hair in half making a hole for the hair of the underneath ponytail to pass through by pulling it up from the bottom. Repeat this process all the way to the bottom of the length of the ponytail or stop at the base of the skull. This is one of the cute hairstyles easy enough to do before school in the morning.
ZipperBraid Updo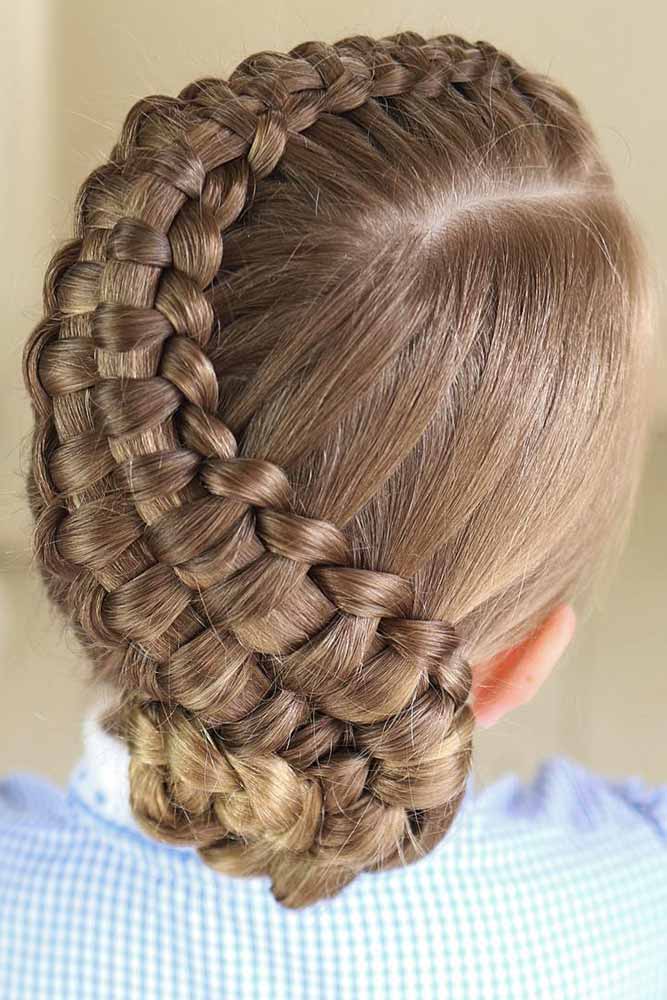 @sweethearts_hair
The zipper braid updo can be done in a variety of directions. It is a tricky but elegant look that once mastered can be modified for multiple occasions. The beginning of this braid is somewhat complicated and requires the cooperation of the client. Once you have completed the first few strands, it is a repetitive process. The smaller sections of hair that you use, the prettier this style tends to be. This is one of several little girls hairstyles that are perfect for formal occasions.
Flip Over Braid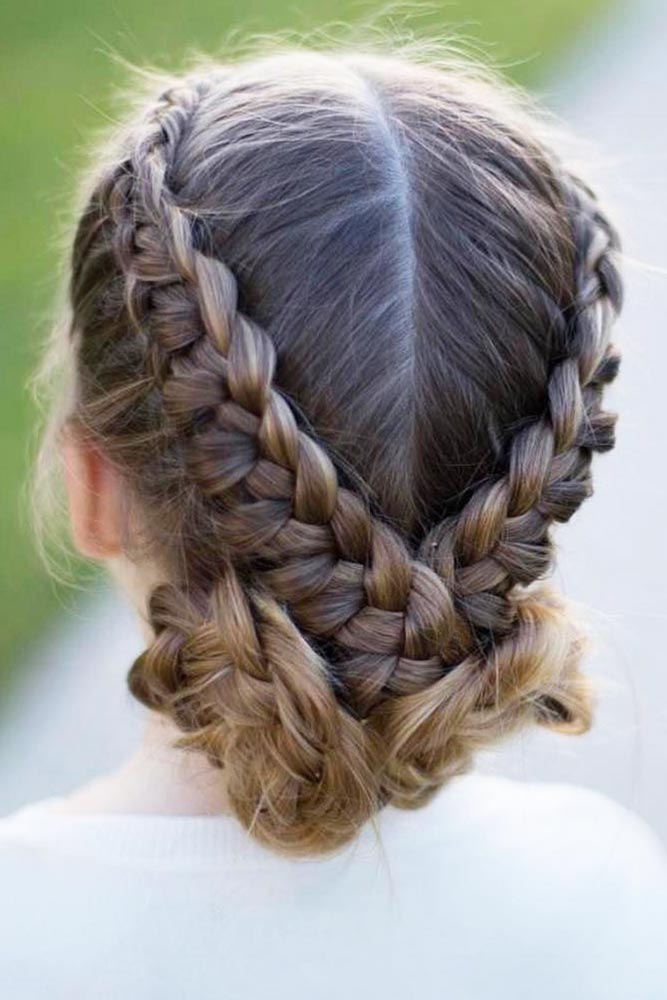 @abellasbraids
By far, one of the cutest hairstyles for little girls is the flip over braid. Begin with dividing the hair into two sections and choose a side to start with. Place the other side in a ponytail to keep it secured and out of the way. Begin your braid by doing a Dutch braid at the top front of the hairline. Once you have proceeded to the area of the ear, leave out part of the section toward the face prior to adding hair to your braid, creating a waterfall effect. Finish the braid and secure with a hair band and repeat the process on the other side, leaving out the waterfall sections to match the opposite side you just completed. Returning to the waterfall pieces, begin a Dutch braid providing space as you make your way back. Once this process is completed on both sides, the bottom braid is flipped up and pinned above the top braid. And then the remaining hair can either be left in a ponytail or braided to create flowers as in the above photo. Although it appears complicated, this is one of the easy little girl hairstyles that gives the illusion of difficulty.
Rick Rack Braid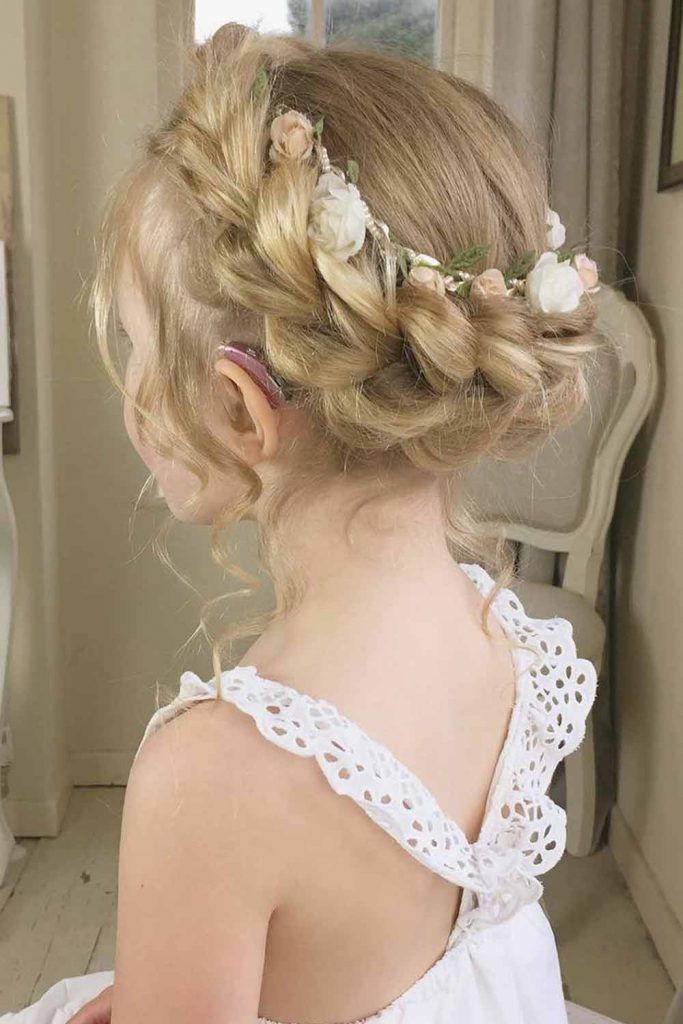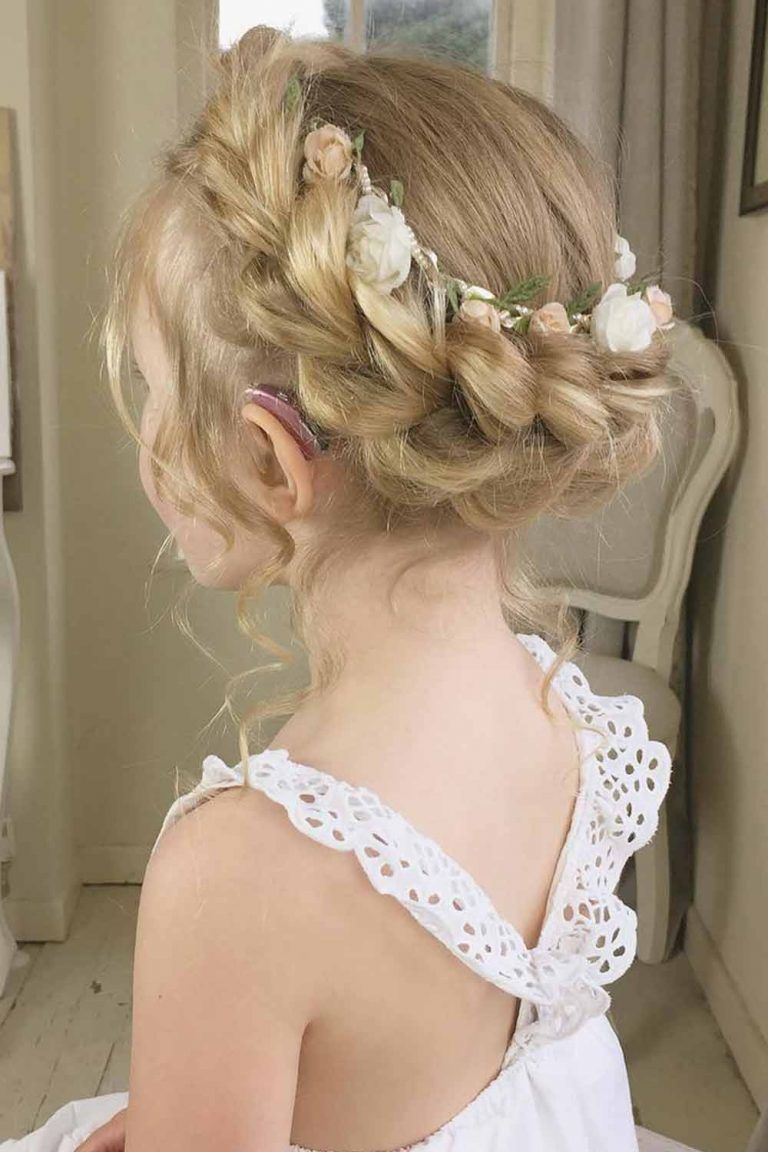 @sweethearts_hair
The rick rack braid is so simple even dads can do it! Obtain a section of hair about the size of the thickness of a pencil. Divide the hair into three sections, one small section, and two larger sections. Then proceed to complete a loose braid with the three sections, leaving a section of length to help with the pancake effect. Once the braid has been completed, inspect your braid for the larger sections that you will pancake by pulling them out to form a large swoop. Continue this process and make each larger section as even as possible. Pin the braid in place and blend with the length of her hair. This is by far one of the simplest little girl hairstyles braids.
Rope Twisted Heart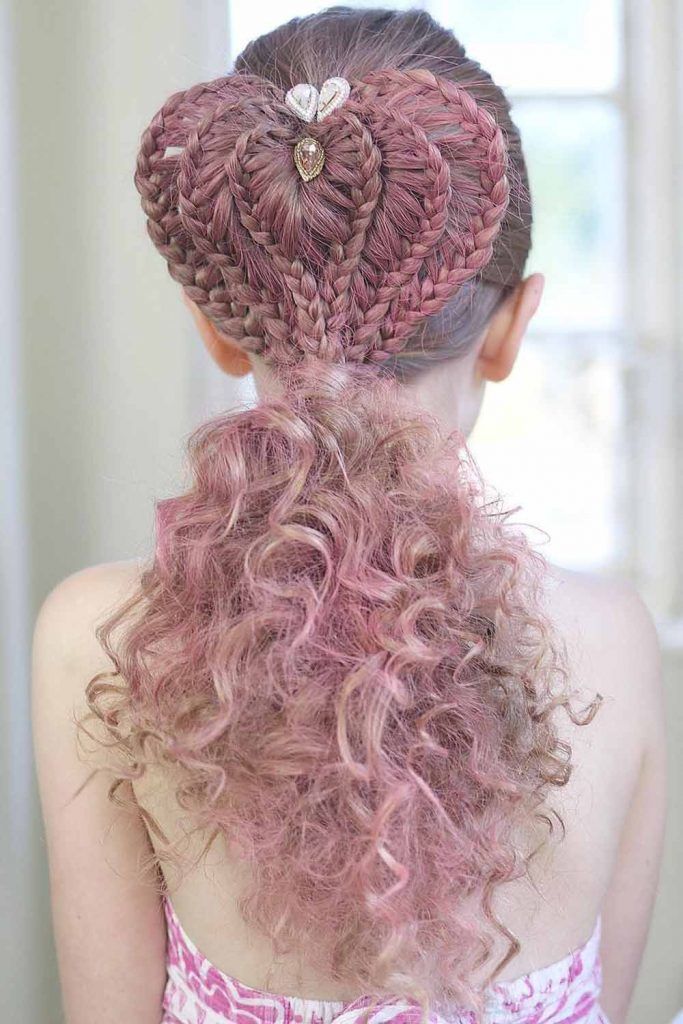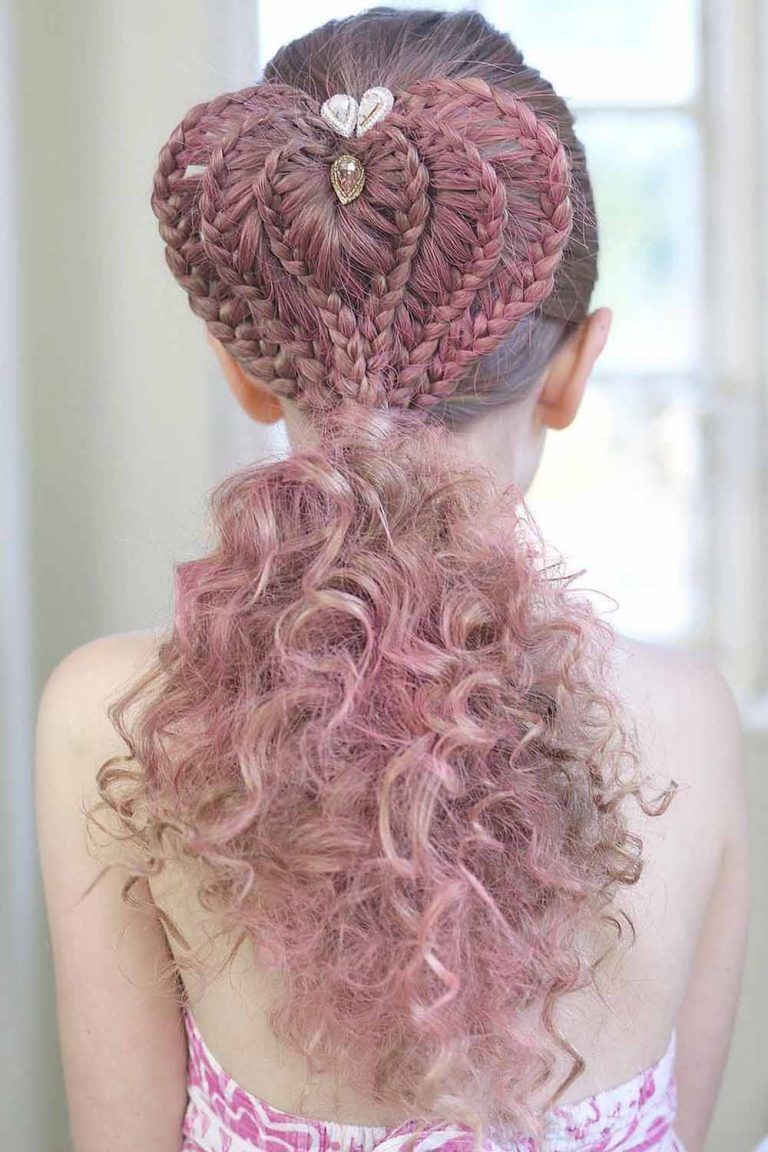 @sweethearts_hair
For the rope twisted heart braid, it is easiest to work with damp or wet hair. Begin with parting your hair into two sections. At the top of the part where you plan to start your braid, use the end of a comb to make a heart shape on one side and repeat its mirror image on the other side. Once your heart is formed, secure the hair with a hair band. Using the hair length on top, on either side, begin making rope twists adding hair and braiding/twisting away from the heart, so its design is not obscured. Once your twist reaches the bottom of the apex of the heart, use half of the hair from the ponytail and incorporate it into the twist. Repeat on the opposite side and then decide which end effect you would like to add to the hairstyle. In the above pic, the hair inside the heart has been braided and finished into a fancy bun. This is a classic among the hairstyles for girls.
Dragon Braid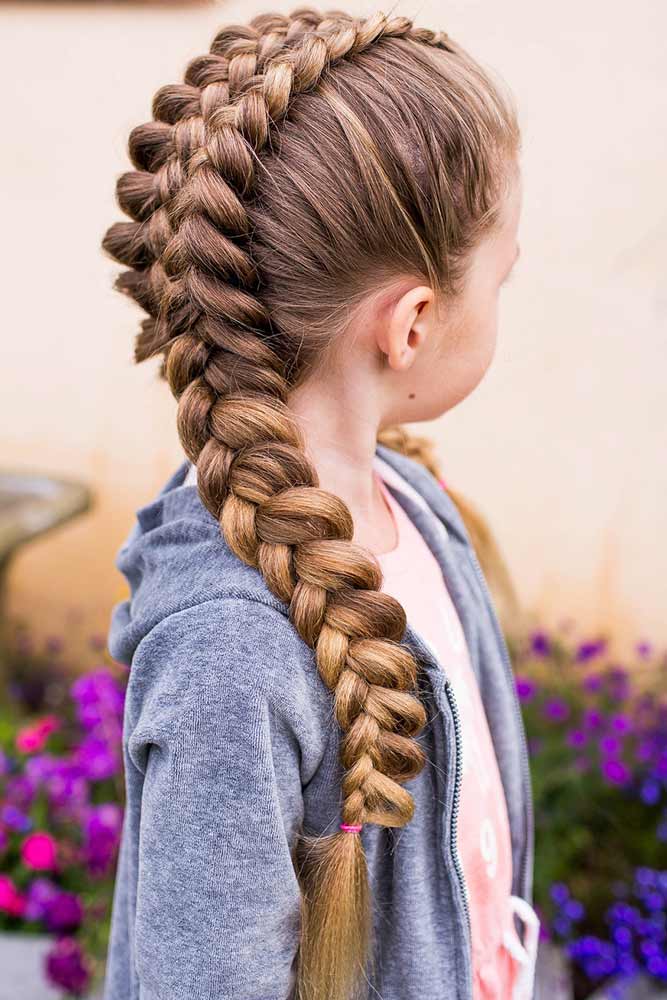 @abellasbraids
The dragon braid is an exotic looking braid that resembles a faux hawk. This braid begins with an ordinary braid on one side of the part line. Once it reaches the nape of the neck, pull out the pieces on the inside edge of the braid out so that they pancake. Repeat the process on the opposite side, addressing the part line to cover it. Once that side has been pancaked, lift and push both sides of the braid together and secure them with bobby pins. The more you emphasize the pancake effect, it gives a more defined look, adding dimension to it, as well. This is a great kids hairstyle for school and sports events alike.
Cute Hairstyles For School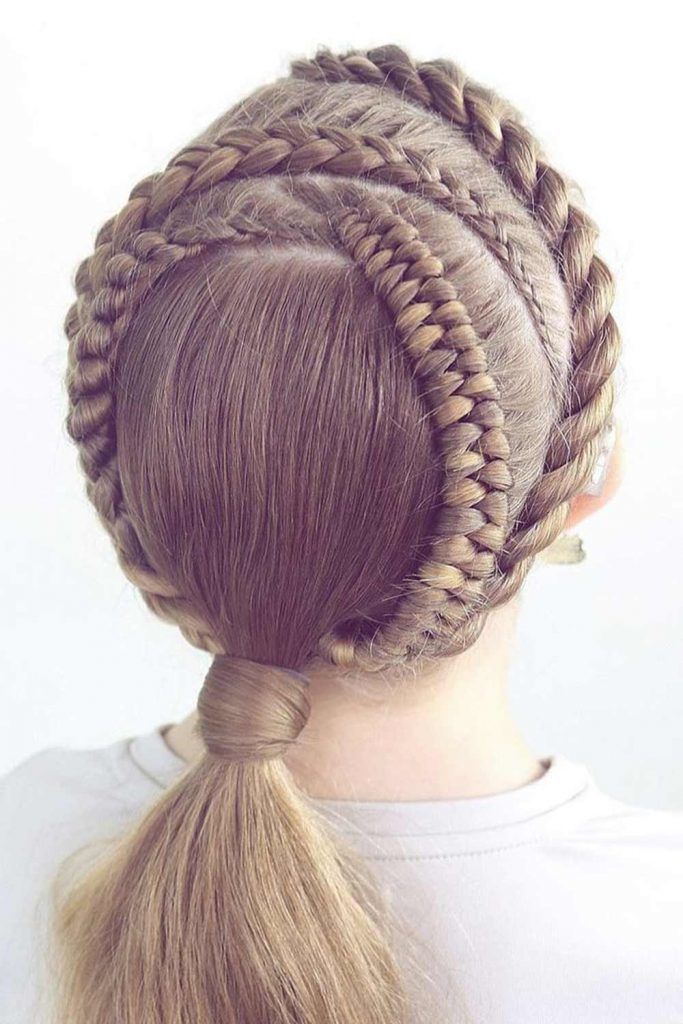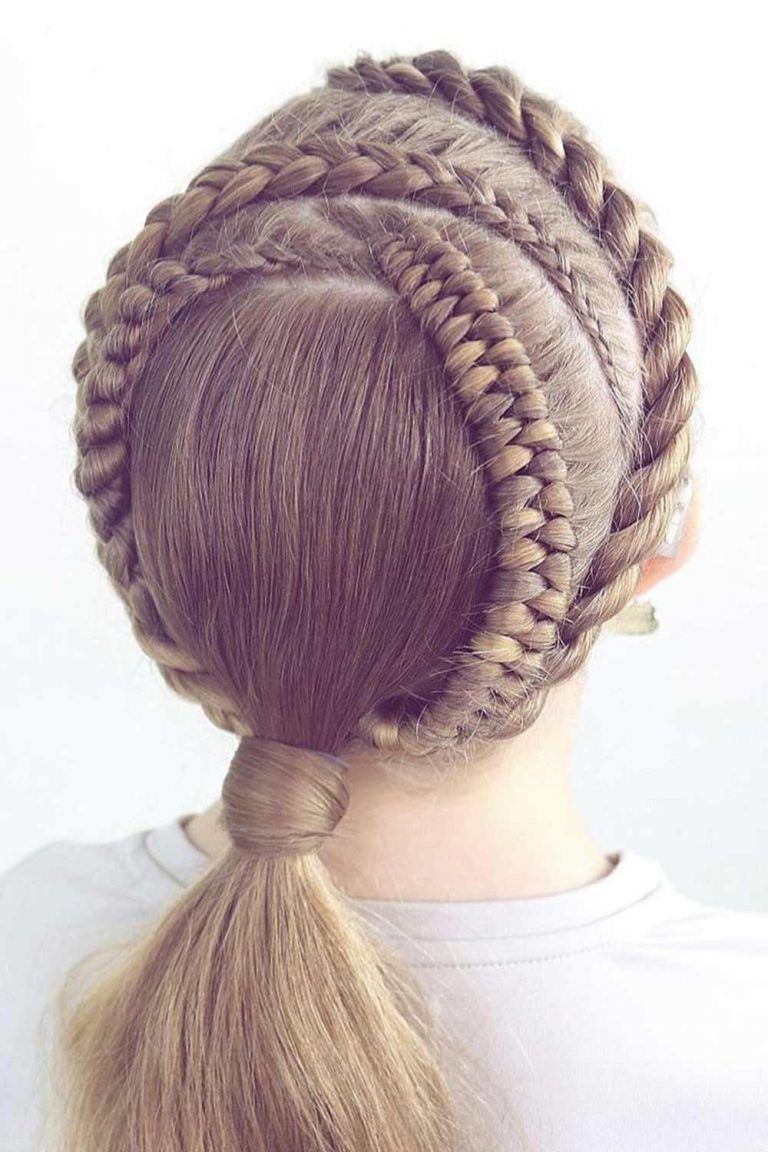 @sweethearts_hair
Are you in search of various cute hairstyles for school? You have come to the right place! There are many different hairstyles that are both simple and stylish and some that you haven't even thought of. You can modify the simplest of hairstyles to be different by twisting or pulling sections of hair from various directions giving the style a fresh new look. Braids are very popular, and there are so many options and types of braids – it could make your head spin. Some styles take on a whole new appearance when adding hairbows or decorative pins. There are several school easy and cute hairstyles for medium hair to keep things interesting. Don't be afraid to experiment with new styles to see what works best for you.
Girls Hairstyles For School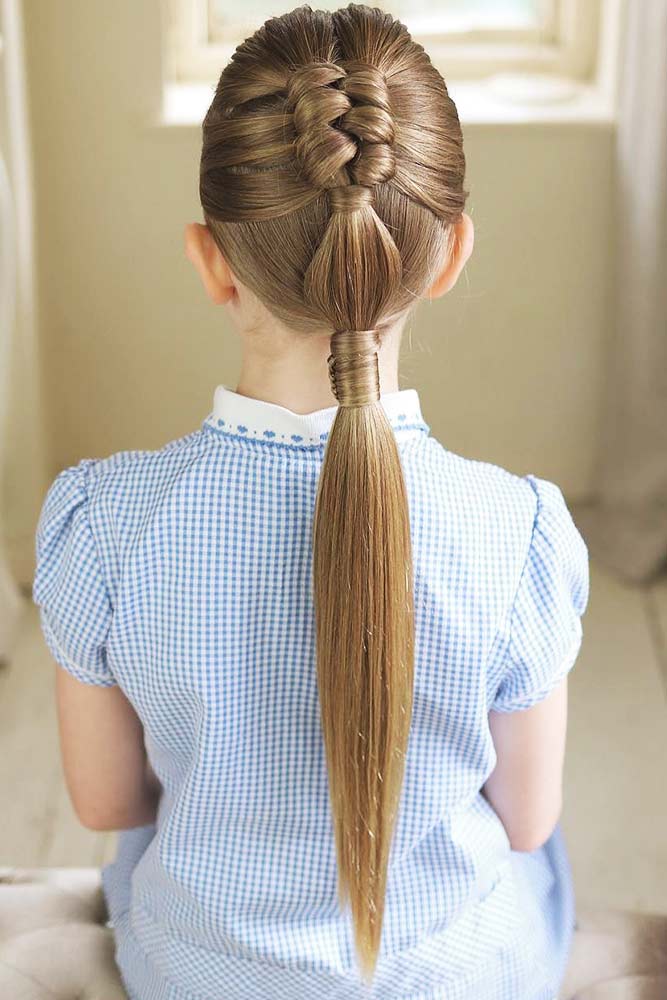 @sweethearts_hair
When you are deciding on girls hairstyles for school, you are in search of something that is cute but also quick and simple. If your child has long hair, your options just increased exponentially. It is amazing what you can do to style hair when you use various ponytails and a little creativity. When you combine braids with ponytails, the looks become even more interesting. If you are worried about fly-a-ways, the solution to that problem is a little spray wax or hairspray and voila, problem solved. The options are basically endless when considering school hairstyles for long hair if you're willing to use a little creativity and experiment with various styles.
Cute Hairstyles For Medium Length Hair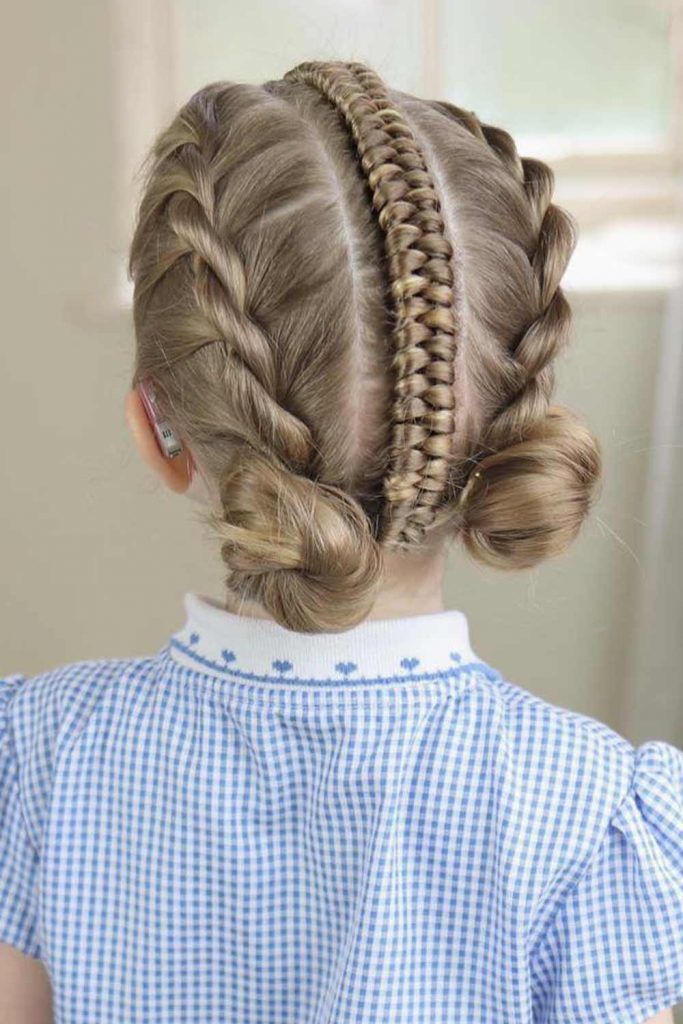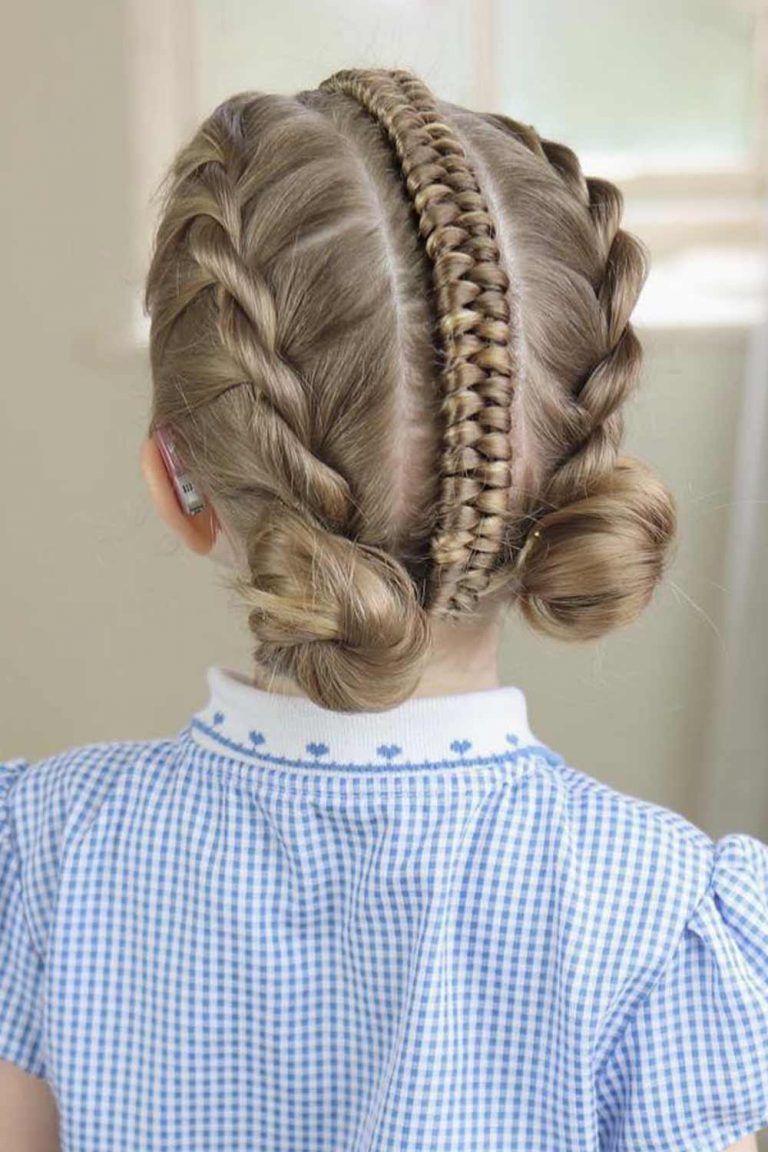 @sweethearts_hair
There are also cute hairstyles for medium length hair. Whether it is the ever popular "messy look," a braid variation, or scrunched curls, you can look beautiful without spending a tremendous amount of time styling your hair. There are so many easy hairstyles for kids such as the side braid, ponytails, messy buns and the list goes on and on. You can even add a splash of temporary color to your child's hair without using harsh chemicals. For example, apply Kool-Aid to color sections or strands of hair. In the easy hairstyles for kids category, the side crown braid adds just enough sass to a style to make it cute! So, don't be afraid to step outside of your comfort zone and remember your hair doesn't have to be perfect to be pretty, messy is in!
Cute Girl Hairstyles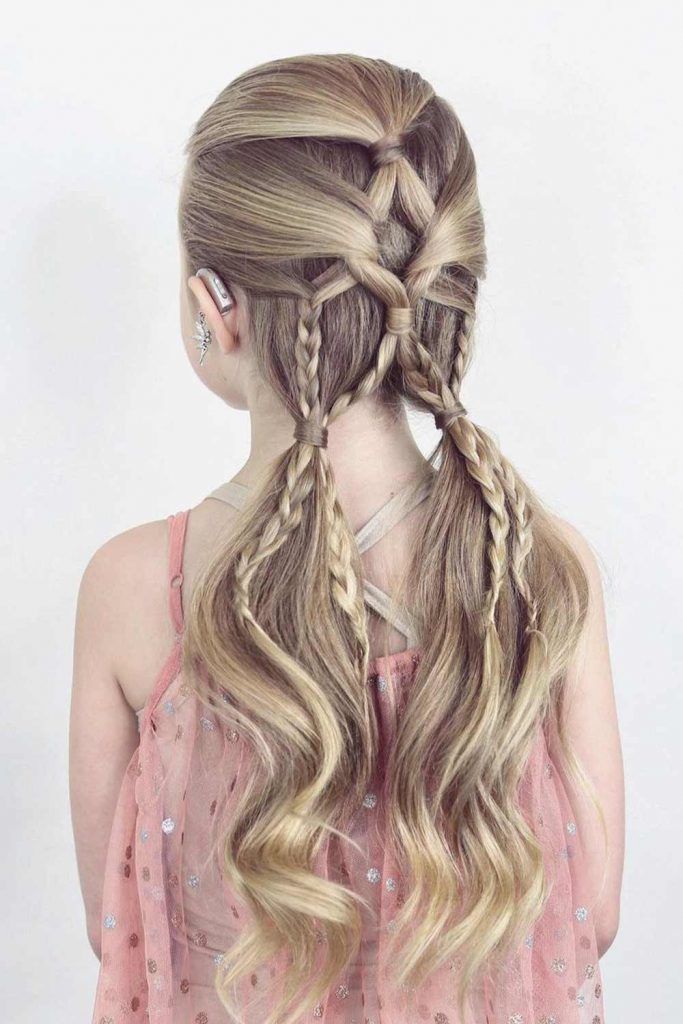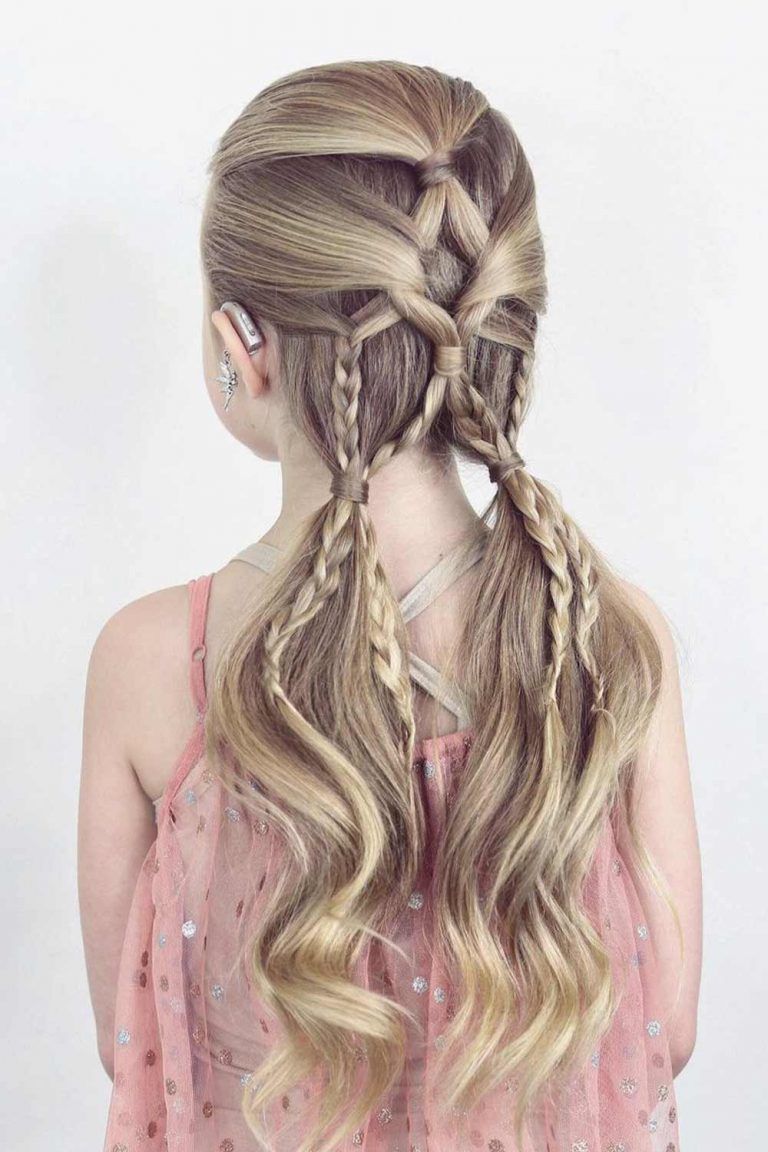 @sweethearts_hair
Your daughter has beautiful hair, and you're looking for cute girl hairstyles. You've found the right place. You can add a little extra pop to an ordinary ponytail by doing a pull through. This style is a simple variation of the everyday ponytail. Braids are also very popular, and you can experiment a lot with them. Combine braids and ponytails, and your result could be something similar to the above photo. When it comes to cute hairstyles for little girls, the only limitations you have are based on the hair length and your level of creativity.
Cute Little Black Girl Hairstyles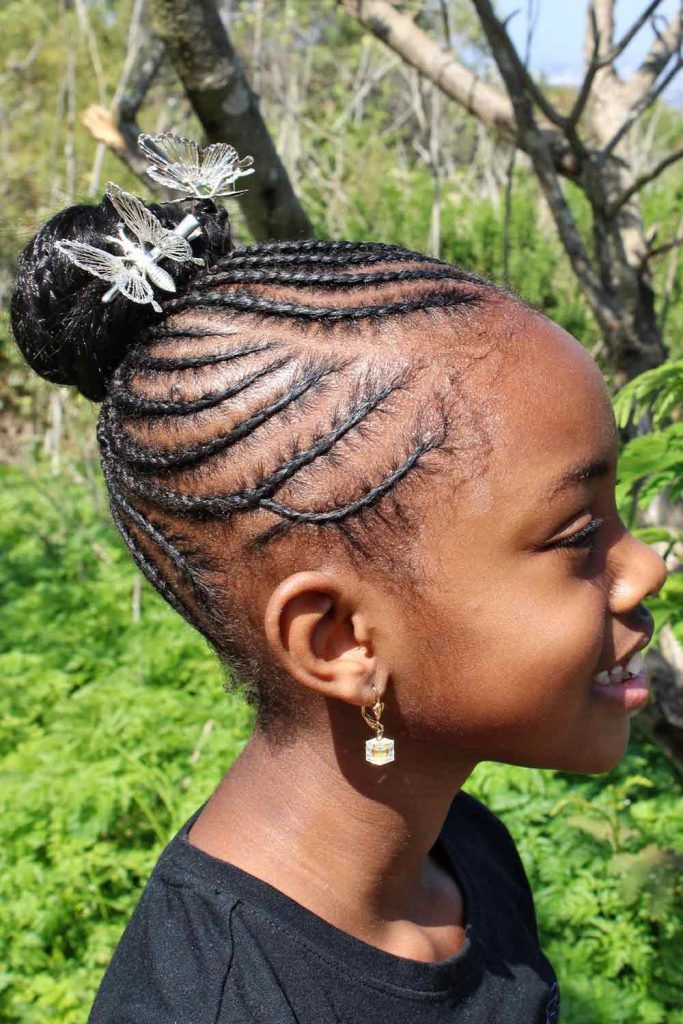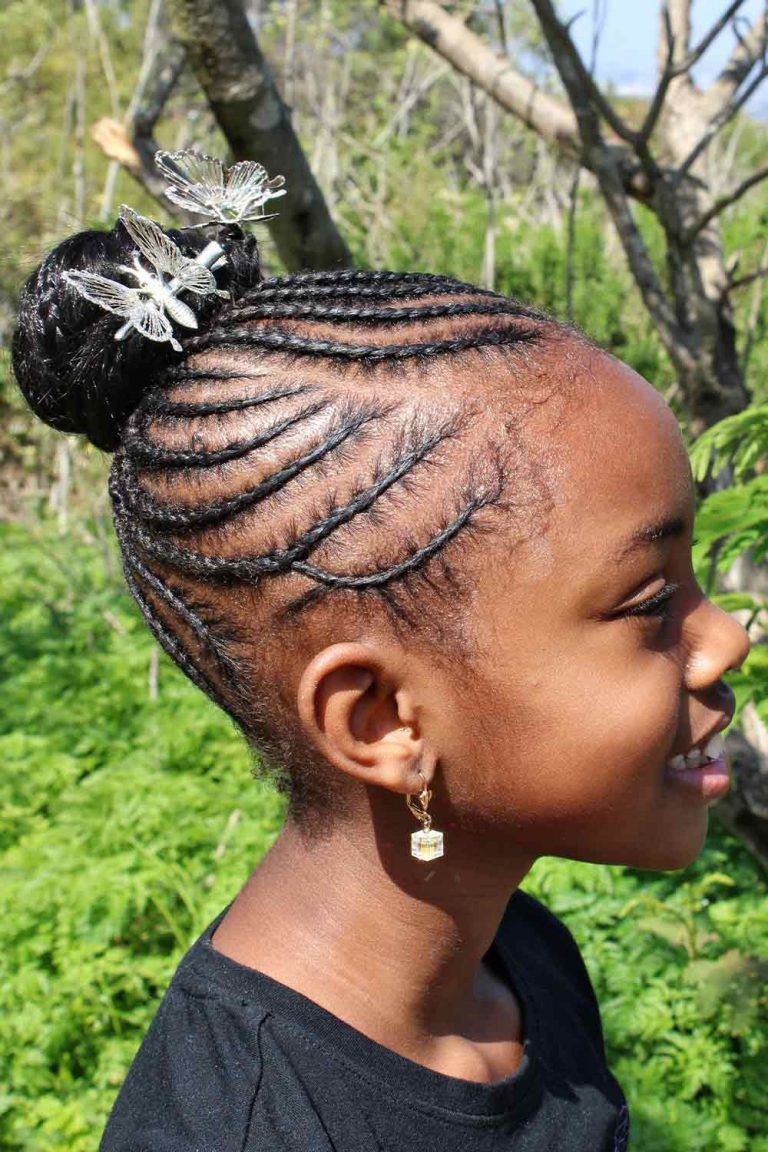 We have all seen the classic cute little black girl hairstyles with the various braids adorning their heads. The seemingly gravity-defying waves and lines are both captivating and stunning. With various types of twists and braids, these styles definitely have the wow factor. The princess effect is almost a given in the confidence department when you pursue the various braids options. You can add pizzazz to these styles by completing them with bows, beads and even color. Black girls hairstyles are adventurous and creative and deserve to be acknowledged for their time-consuming intricacy.
Cute Little Girl Hairstyles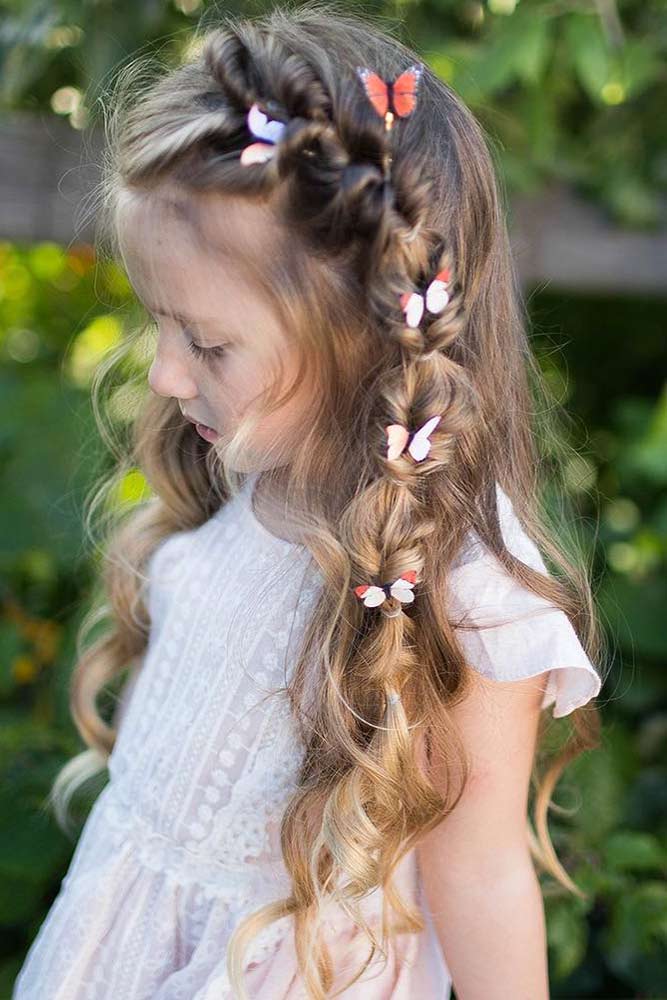 @abellasbraids
Regardless of the overall length of your girl's hair, there are still a lot of cute little girl hairstyles to choose from. It is possible to have a pretty hairstyle without it being time-consuming. There are options of buns and braids that will boggle the mind. Whether the flower braid, bow bun or double bun, these styles are simple and quick. If you're looking for a little more elegant look for a special occasion, the waterfall twist braids would be more appropriate. If your child has curly hair, help her feel comfortable by encouraging her to show off those beautiful curls. Styling your girl's hair doesn't have to be an hour long stressful process, you can achieve gorgeous hairstyles in a matter of minutes.
Cute Black Girl Hairstyles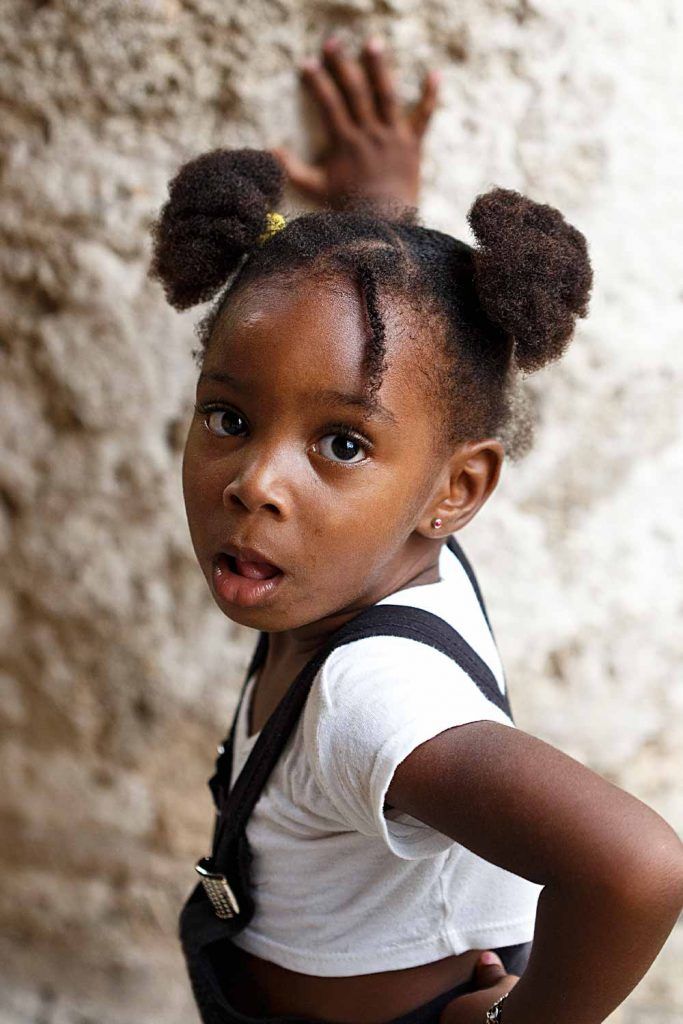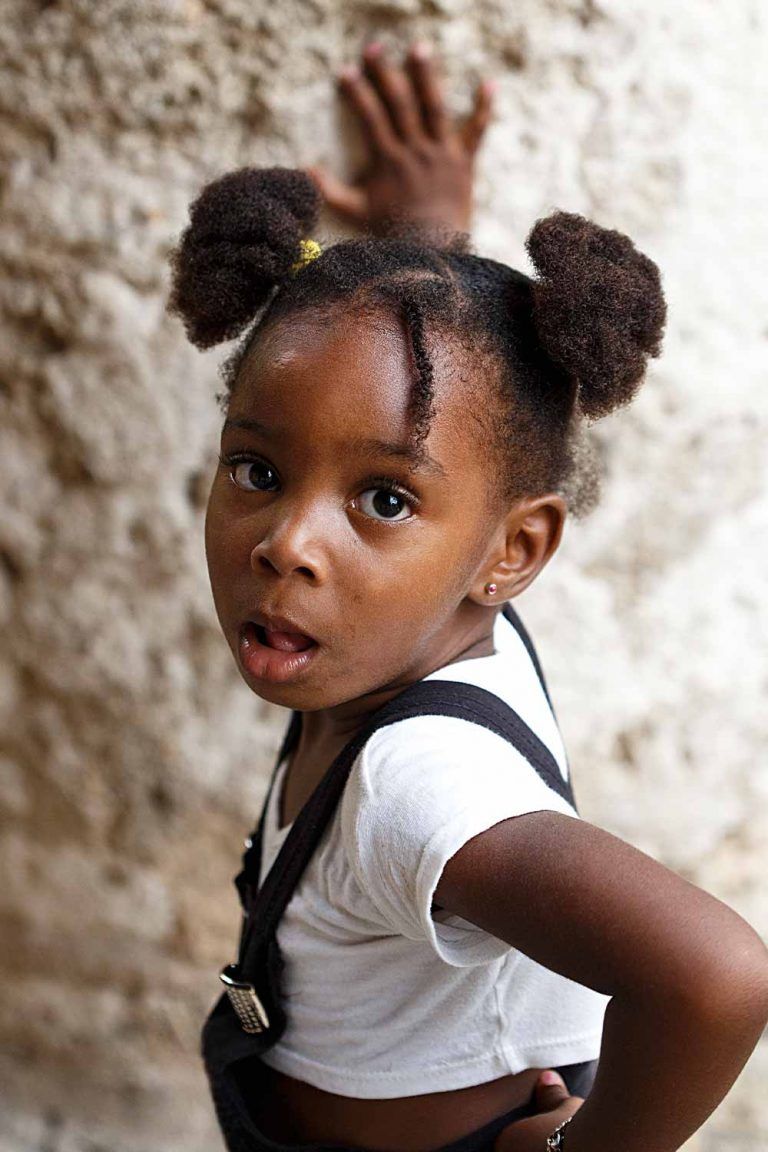 There are several options when looking for cute black girl hairstyles. There are options outside of the classic pigtail braids and designed braids, as well. There are options to side sweep her natural curls or style ringlet curls and incorporate a bow or barrette. The cornrows with a ponytail is a popular option, and the mini twist is utterly breathtaking. When exploring little black girls hairstyles for school, one needs to take into consideration the time it will take to complete the style. While you may not have time to do intricately designed braids, a simple thick braid or twin buns could be the perfect solution. Don't forget to occasionally let her heritage shine through as well with the natural afro look. Building confidence in her at an early age is important to her development.
Double Dutch Infinity Braid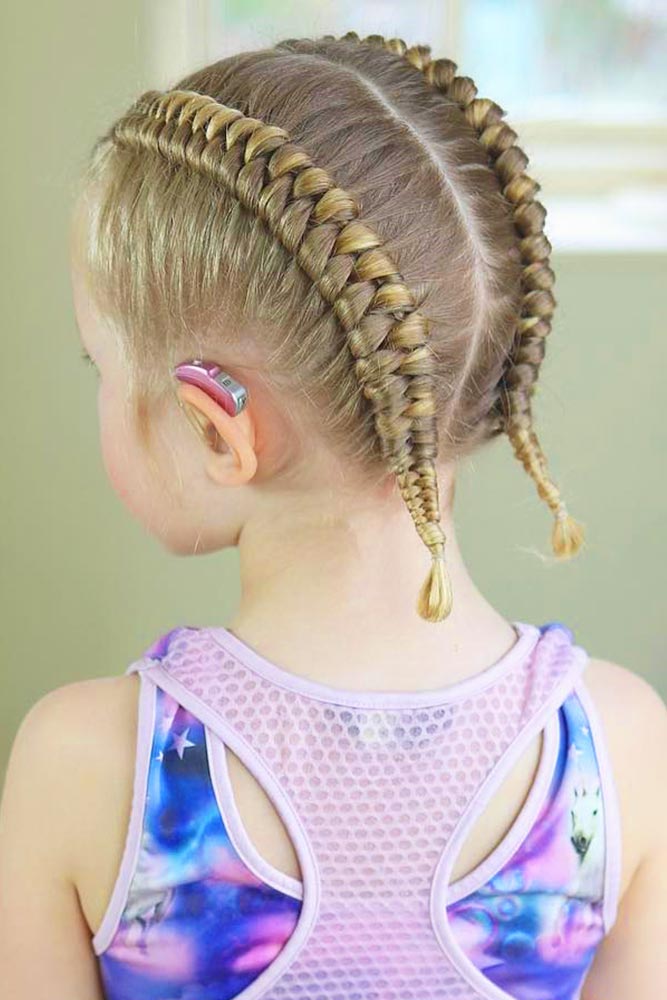 @sweethearts_hair
There are also cute hairstyles for girls with short hair. The Dutch infinity braid is a beautiful option to pursue. And if one is worried about the overall neat look of the style, a tip is to use wax spray to tame all the flyaways. A useful tip with this braid is to keep the braid tight and to secure each link in the braid. Although it appears to be difficult, this is one of many easy hairstyles to do at home. You can allow the braid to curve and follow a varied pattern if you have longer hair or you can go straight back of the head if your hair is shorter.
Simple Dutch Braid Hairstyles For Girls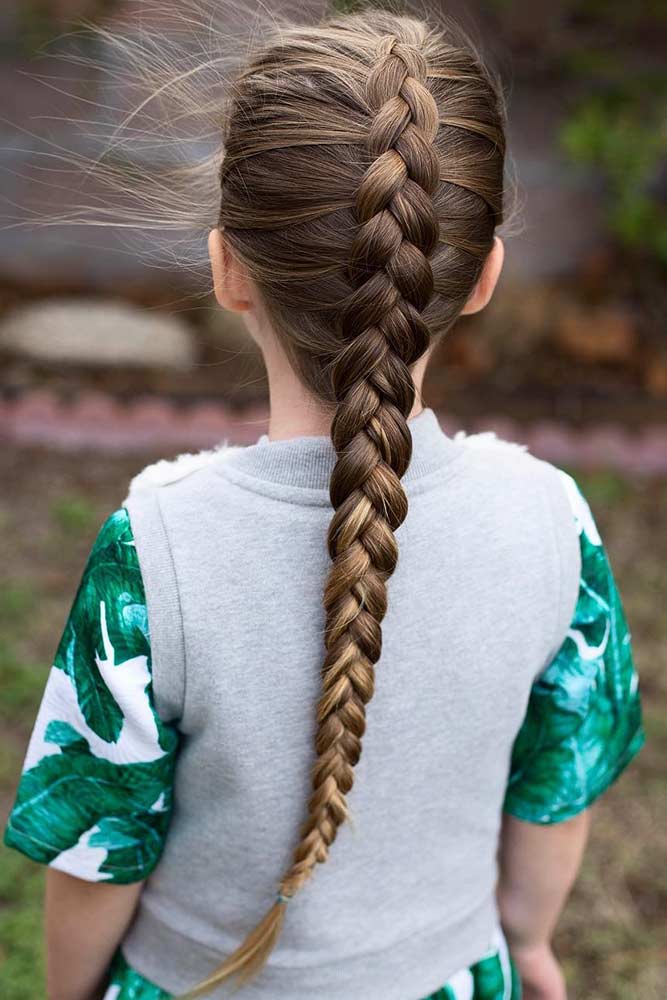 @abellasbraids
It's almost time for school and you need to find a couple of cute easy hairstyles for girls. It is a given to do a braid but to decide on which one is the next dilemma. The braid is one of the easy hairstyles for school aged girls and allows them to show off their hair without it being in the way of learning and playful activities. The Dutch braid is not only beautiful but simple, and it gives a look of depth to a girl's hair. Regardless of the length of the hair, this style is still possible as long as the sections of the hair you are braiding meet and intertwine.
Double Pull Through Braid Pigtails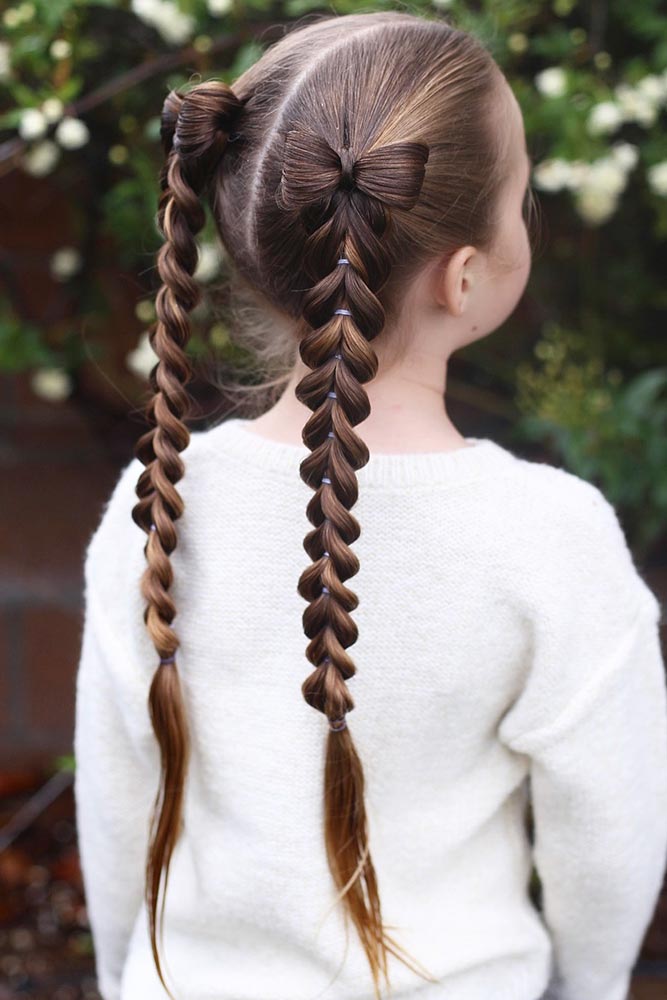 @abellasbraids
If you are trying to find some cute hairstyles for girls, you really should look at the pull through braid pigtails. Begin with parting the hair and make two small ponytails at the top of the hair. Divide the top ponytail in half and pull the bottom ponytail through it. Then rejoin the two halves with hair length and secure with a hair band. Pull the braid through to create the desired look and repeat the process on the other side. This is one of the easy formal hairstyles for long hair as it can be embellished by the bow designs at the top of the braid.
Cute Short Side Braids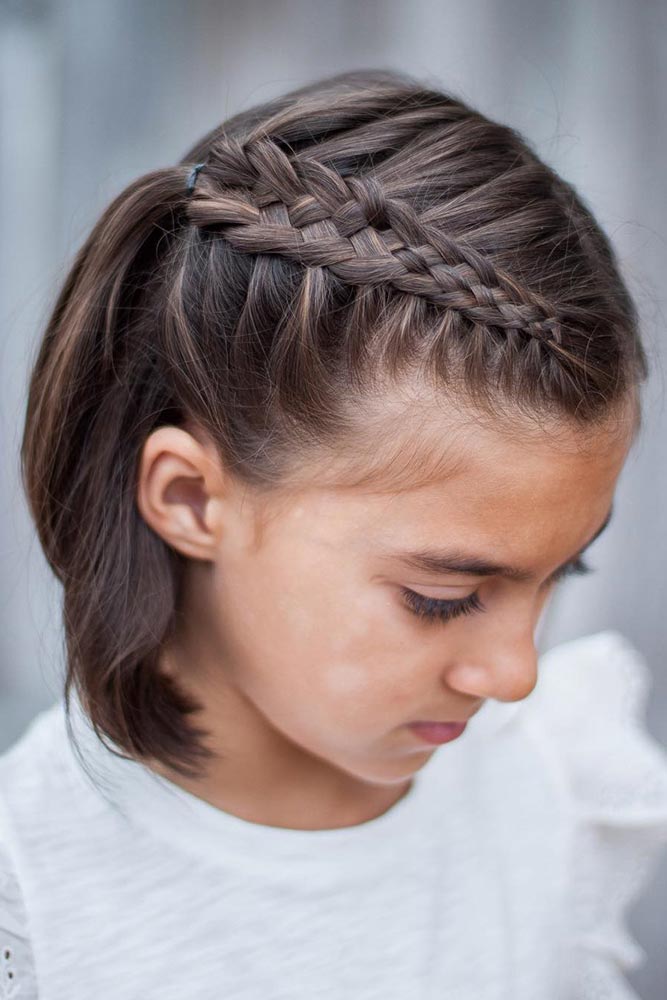 @abellasbraids
Whether your child has problems growing out her hair or she is simply tired of the hassle of long hair, there are plenty of cute short haircuts to her taste. The bob is an ever-popular style and can be enhanced with various braids like the one in the above photo. It is also one of the easy hairstyles for short hair. The side braid allows for style while the shortened length allows for comfort. Reassure your girl that she doesn't have to have long hair to be beautiful.
Double Dutch Braids For Short Hair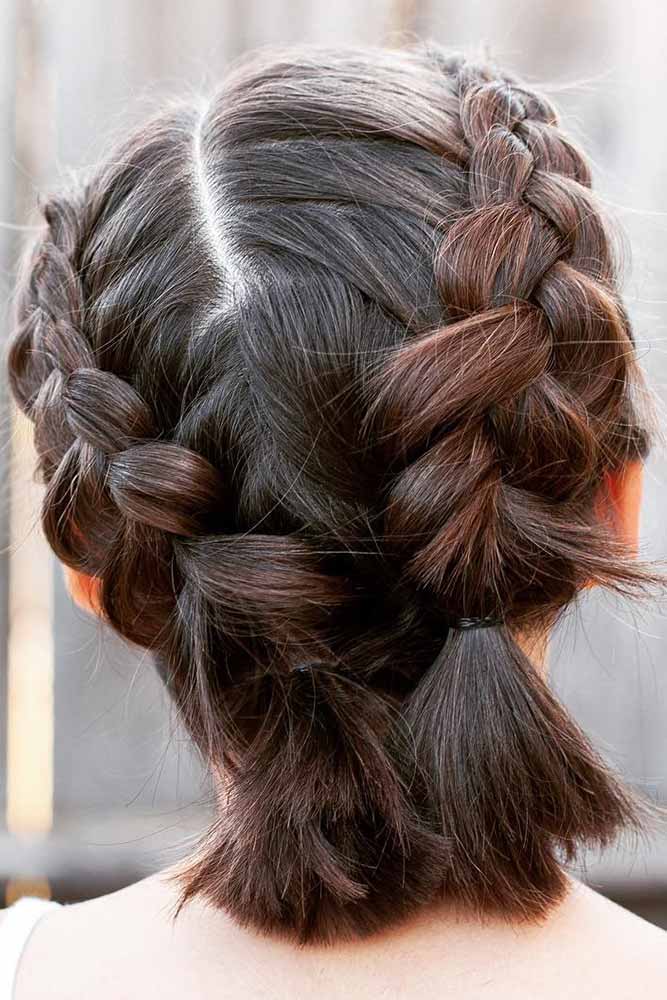 @abellasbraids
There are several options when it comes to short haircuts for girls. The double Dutch braid is very popular right now. And although it looks complicated, it is fairly easy. Too often people think you can't braid your hair if you have a shorter hairstyle. This is not the case. Part your hair wherever you desire and begin braiding on one side. Contrary to the popular belief, braids do not have to be neat and flawless; messy look braids are in, as well. Once the braid is completed, gently pull at each link of the braid to make it look fuller. Simply spray, and you've completed this hairstyle.
Pigtail Buns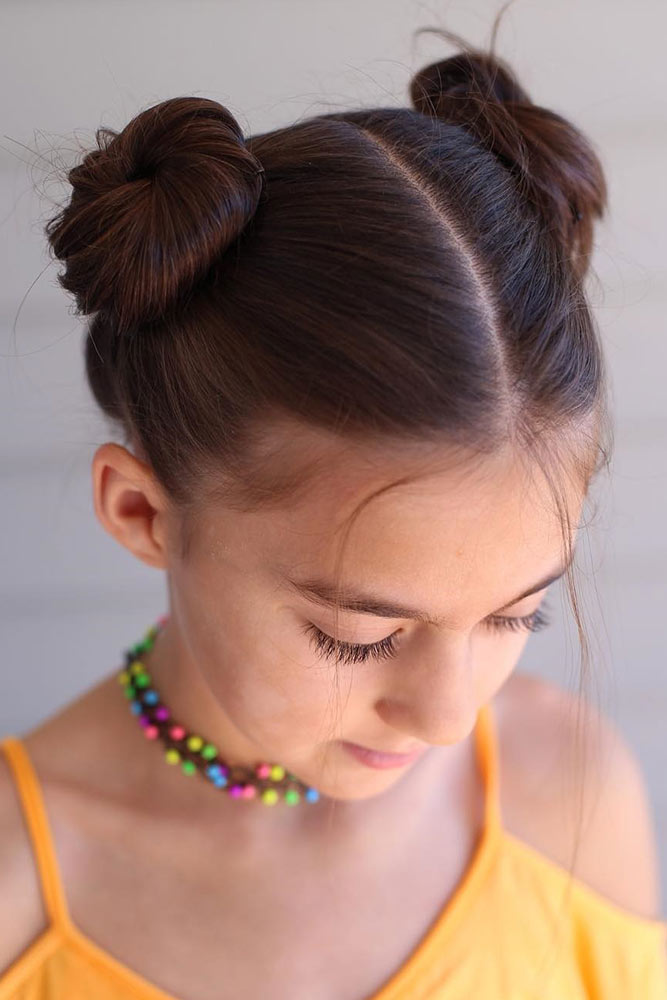 @abellasbraids
There are several options when it comes to updos for short hair. Begin with parting the hair in the middle and combing through well. Gather some hair and do a small ponytail and secure with a hair band. Proceed with gathering the remaining hair up and do a larger ponytail with an additional hair band. If you want to add wispy side strands, pull those down prior to securing with the hair band for a smoother look. The pigtail buns are adorable once you twist them up and secure them with a pin or hair band. Once again, perfection is not essential in this hairstyle as the somewhat messy nature adds character to the style.
Upside Down Braid Into A Messy Bun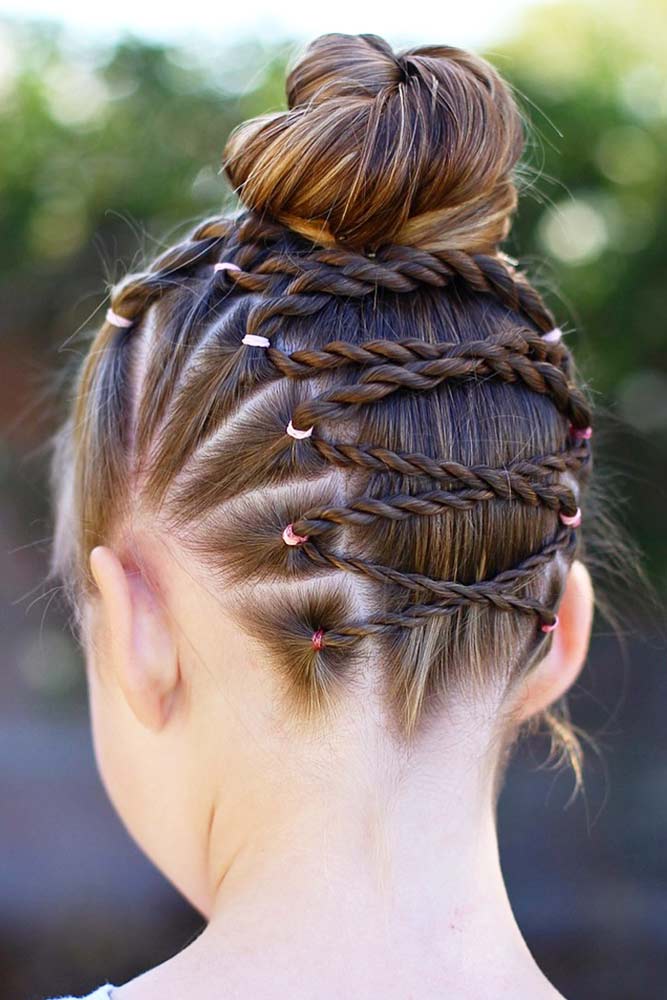 @abellasbraids
This style is by far one of my favorite in little girl hairstyles. This braid is typically down in a single braid from the center of the head up towards the crown to finish with the messy bun. However, in the photo above, there is a unique flair to this style which exudes the youth and playful nature of a child. The braids were drawn from sections of hair from the sides and then crisscrossed to form a fun design. You begin at the base of the neck to form the upside down braid into a messy bun at the top of your head.
Accent Braids On Short Hair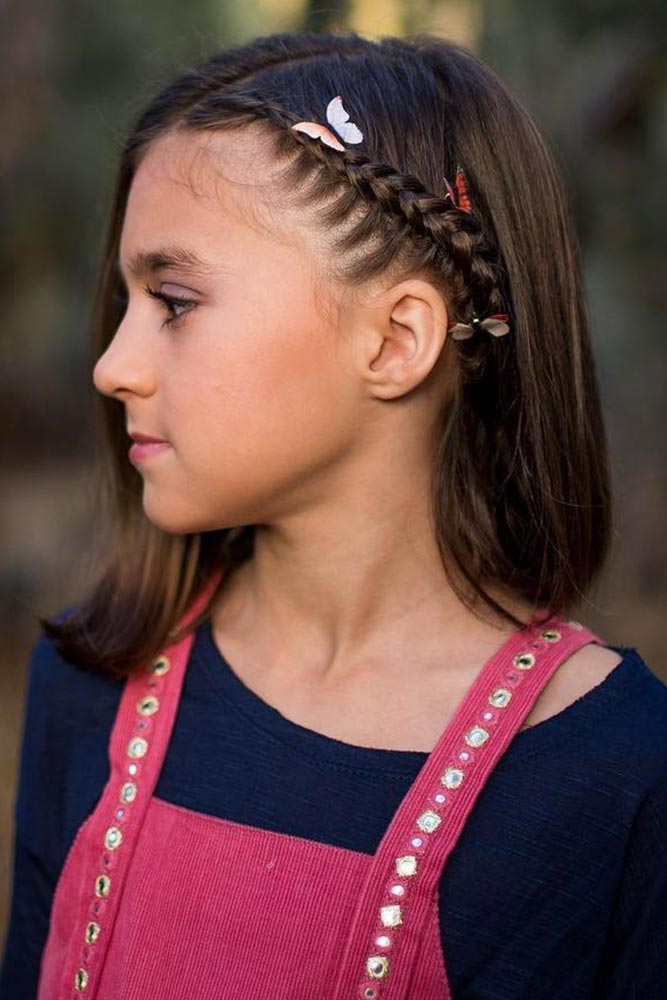 @abellasbraids
There are many ways to embellish short hair styles for girls. One of these ways is to use accent braids like in the picture above. The accent braids not only add some flair of style to your hair, they serve multiple purposes, among which to keep your hair back – off your face and eyes. You can also add hair bows and decorative embellishments to kick it up a notch. Or play with different variations and styles of braids to further accentuate the overall look.
Side Flipped Fishtail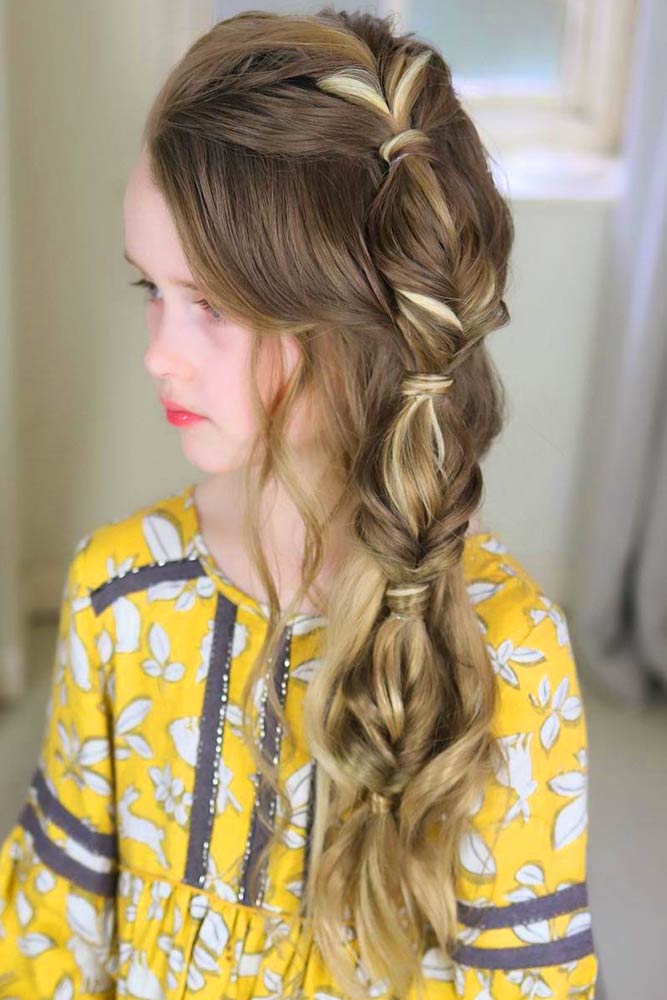 @sweethearts_hair
One of the more elegant looks in kids hairstyles is this side fishtail style. While this style has the appearance of difficulty, it is beyond simple. You just gather sections of hair, secure it with an elastic and then flip it. It's honestly that simple! As you proceed through the length of the hair, gather additional sections, secure and flip. You can do as many or as few as suits your taste. You can also add some intertwined flowers or ribbons for an added pop. This sweeping hairstyle is glamourous looking but super easy to obtain.
4th Of July Hairstyle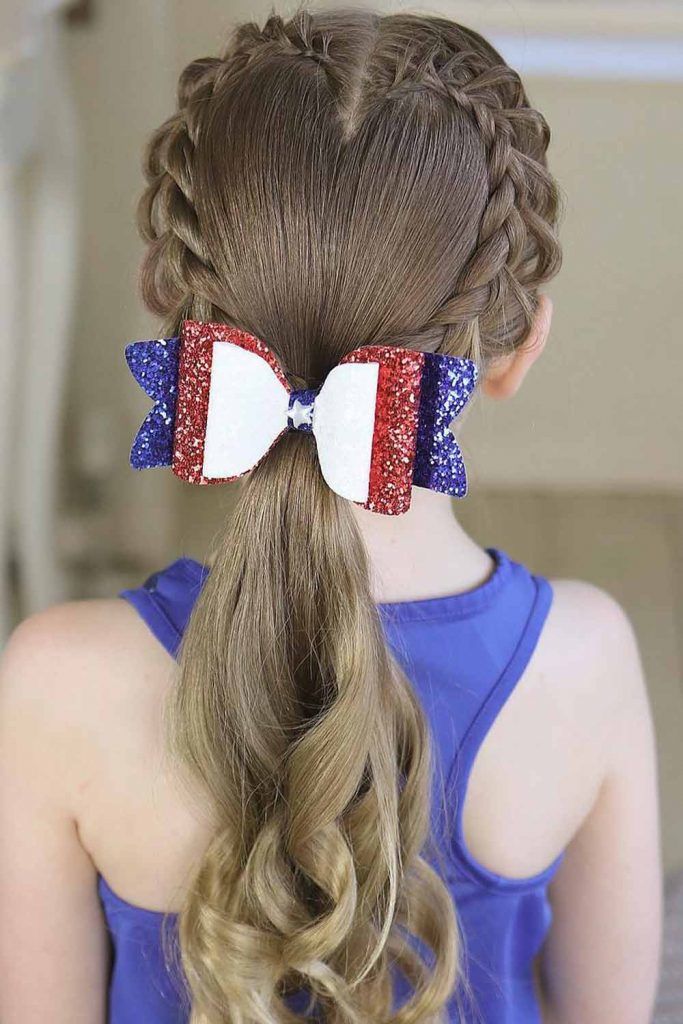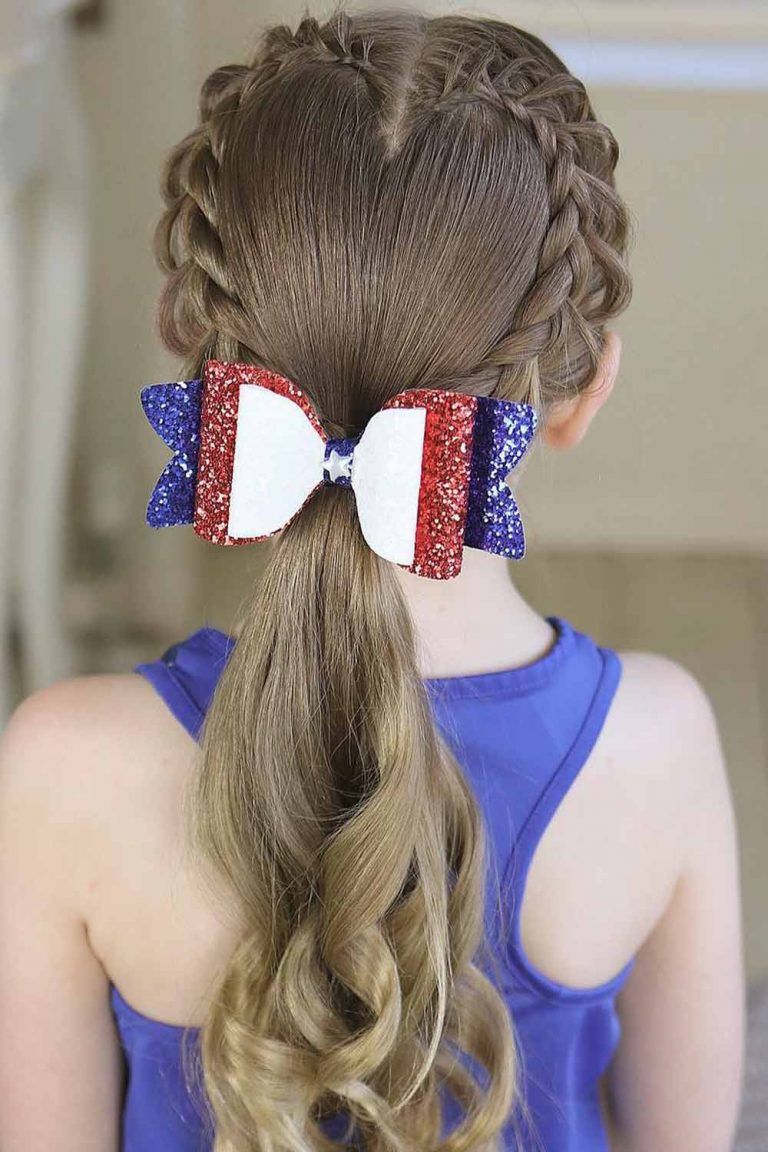 @sweethearts_hair
There are several festive 4th of July cute girls hairstyles to choose from. The one in the above photo is simple but beautiful. Besides the option to follow with a complete braid all the way through the length, there are also options to tuck the hair underneath, which works best for thinner hair. You can also stop the braid at the base of the neck and allow it to be a ponytail. As with all hairstyles, the limitations are based solely on your imagination and creativity.
Braided Ponytail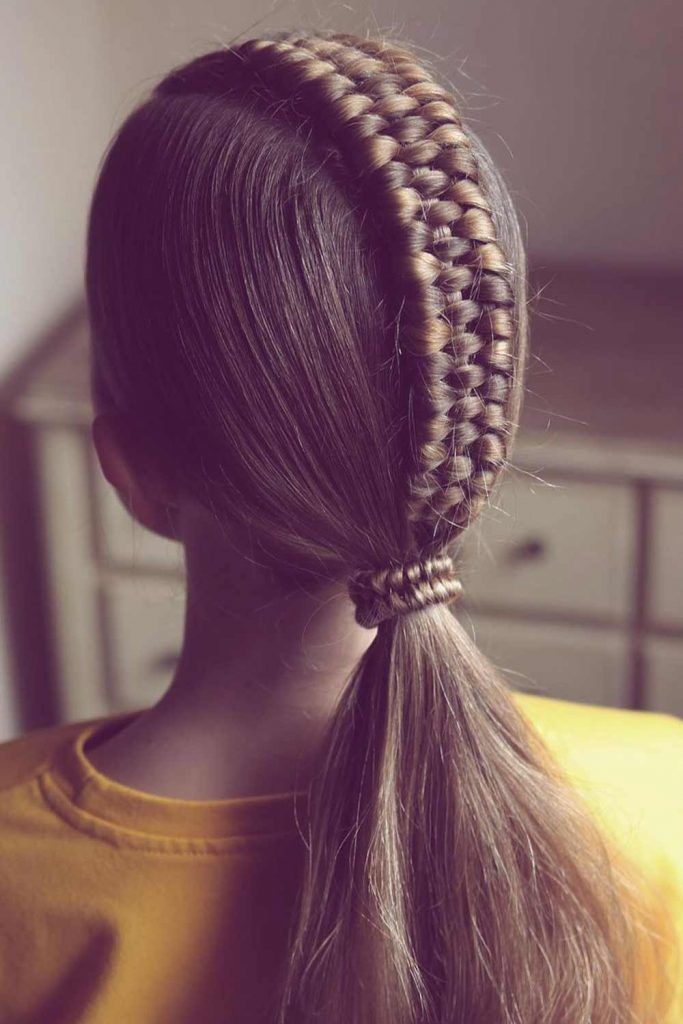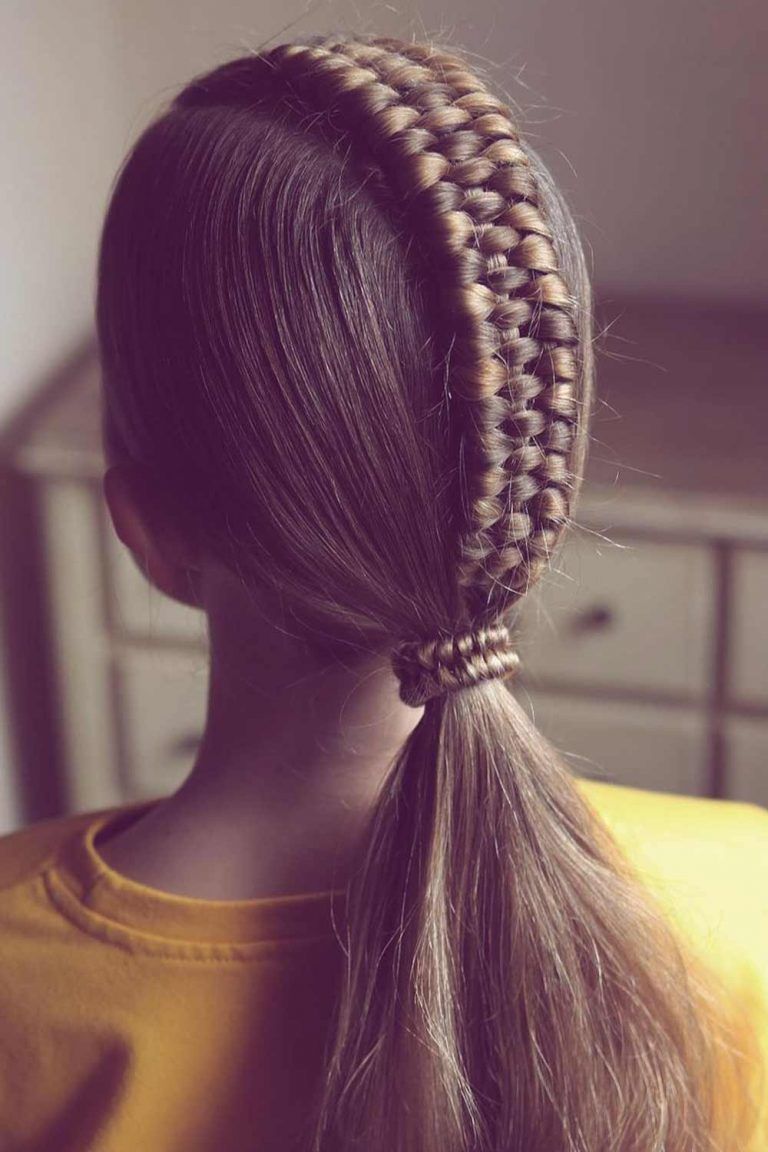 @sweethearts_hair
Among the high ponytail styles cute girls hairstyles are fun and pretty. As with any ponytail to provide a neater look, you can cover the elastic with hair. There are various braids and twist options you can try to change the look. Multiple braids add an interesting dimension to a ponytail as do intricate twists. Combine these two factors, and you end up with a stunning result that makes the everyday ponytail a thing of the past.
Ladder Braid With Flowered Updo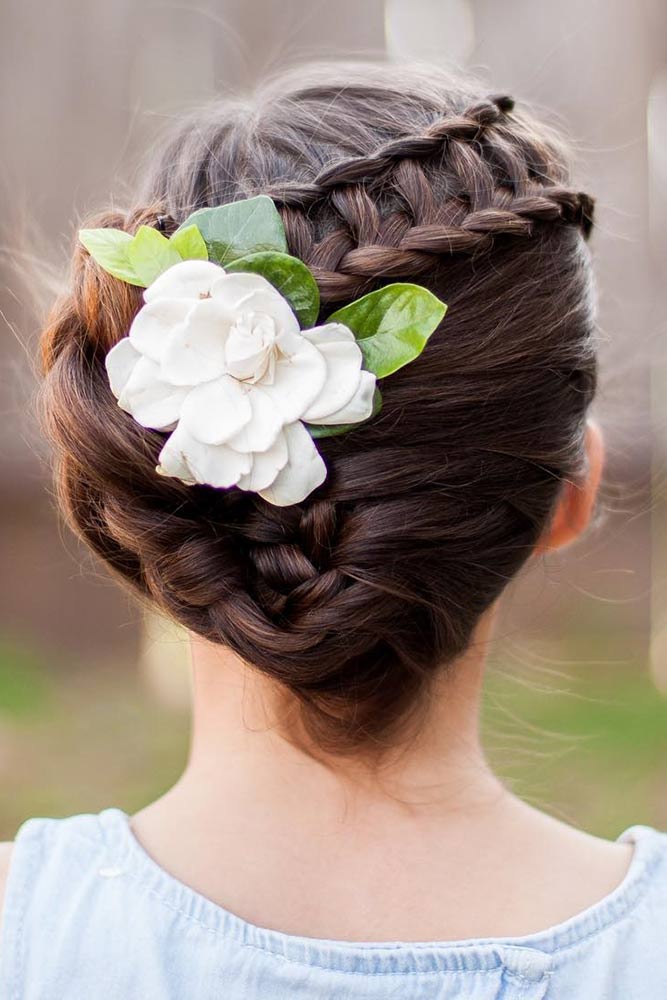 @abellasbraids
For more formal occasions, cute girls hairstyles braid with flower is by far one of our most favorite styles. This intricate style has a unique look for those special occasions. And the flower can be used to accentuate and tie in specific color themes. The ladder braid is a little more time consuming, but the result is worth the trouble. By interlacing the braids and forming the ladder effect, the three braids are a stunning hairstyle which can be left or finished with a formal braid.
Updo Hairstyles for Girls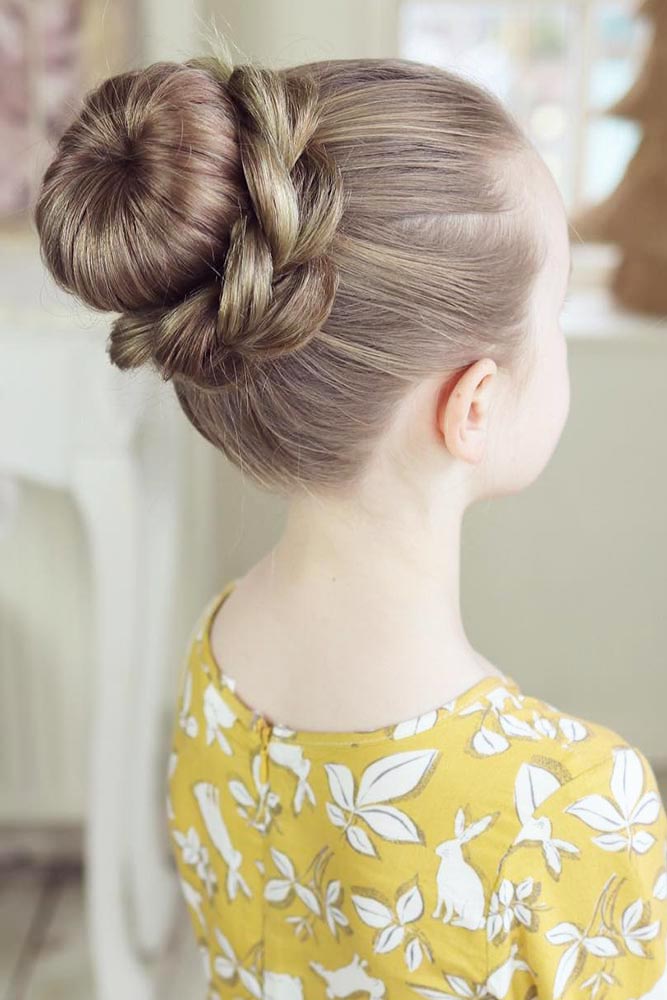 @sweethearts_hair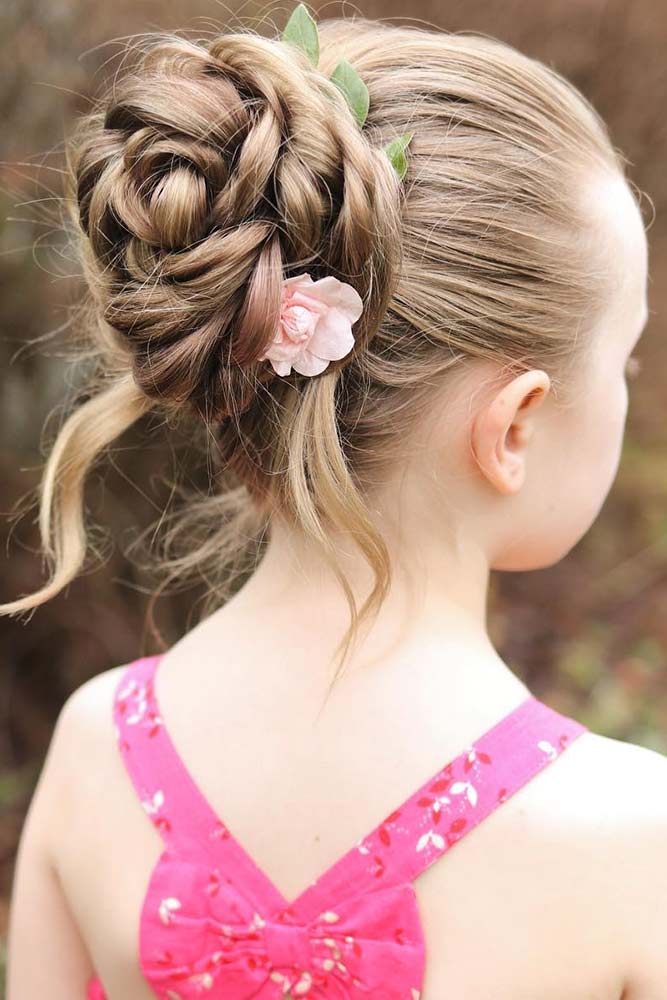 Braided Hairstyles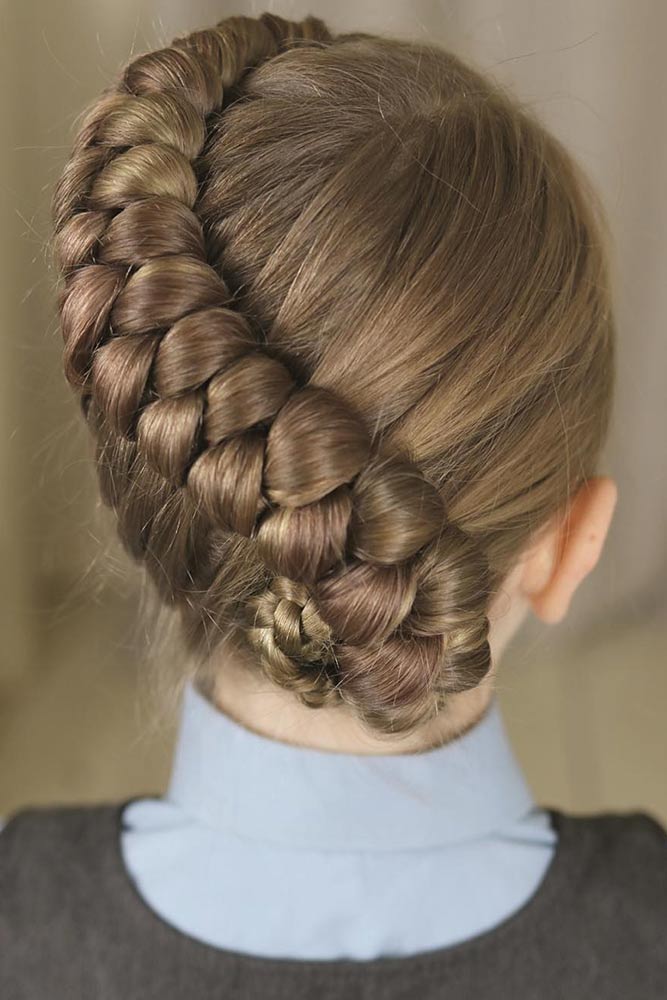 @sweethearts_hair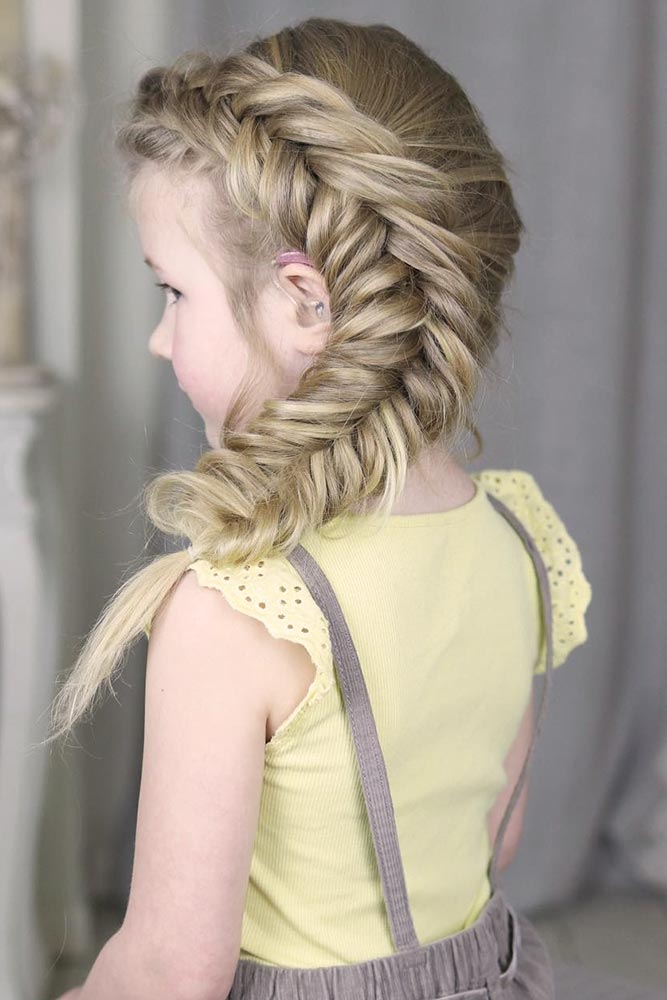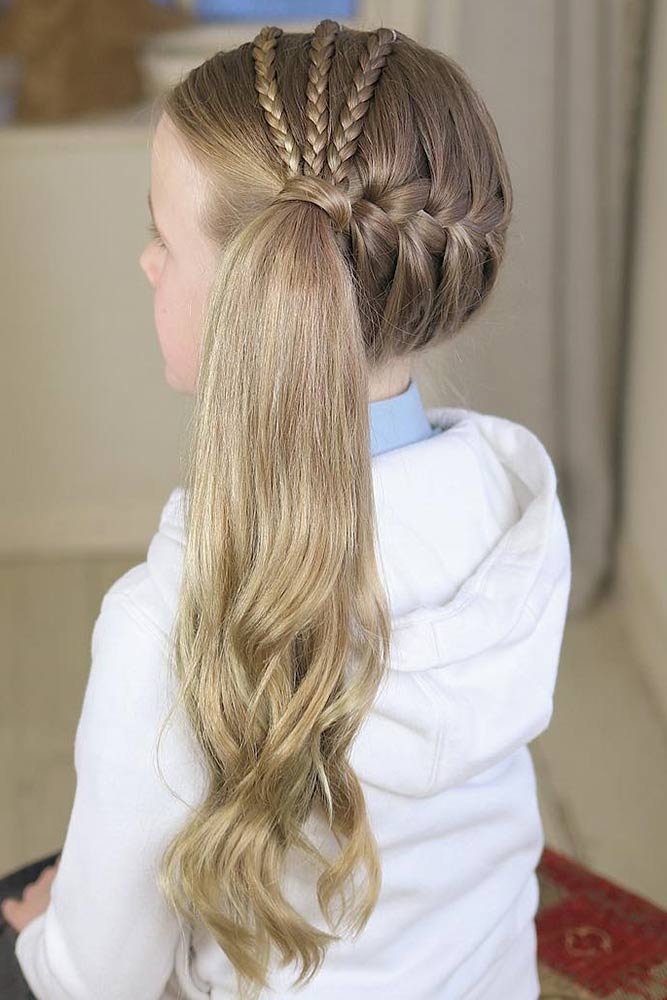 Half Up Style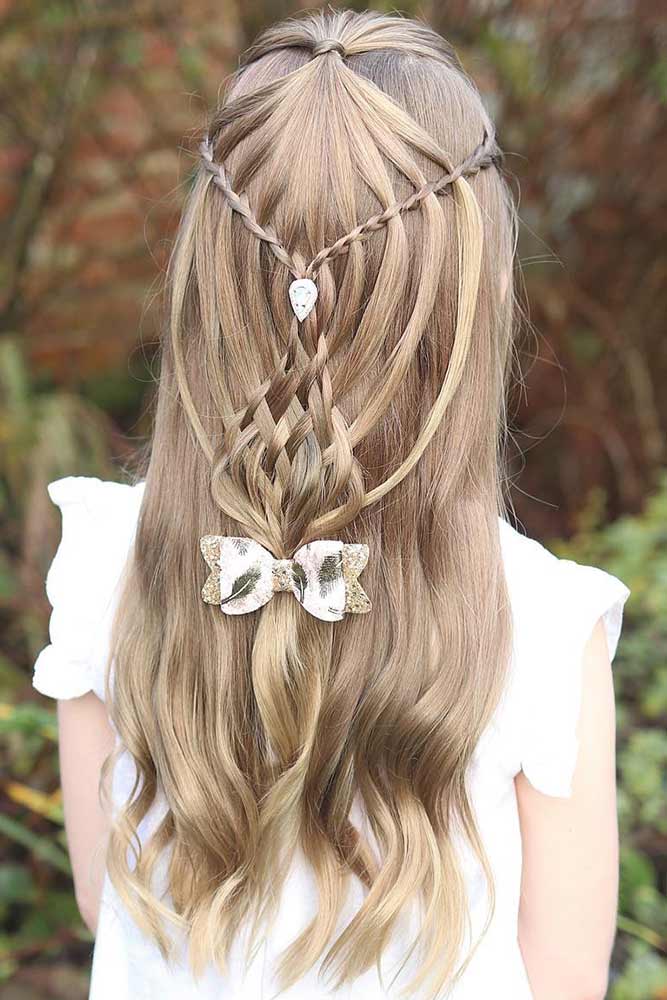 @sweethearts_hair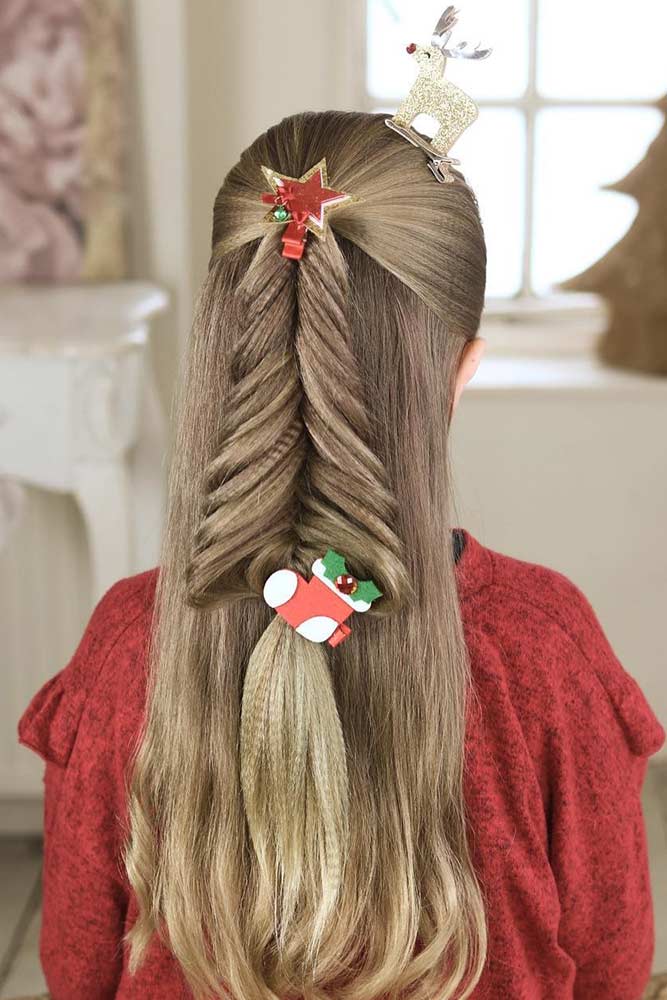 Hairstyles with Accessories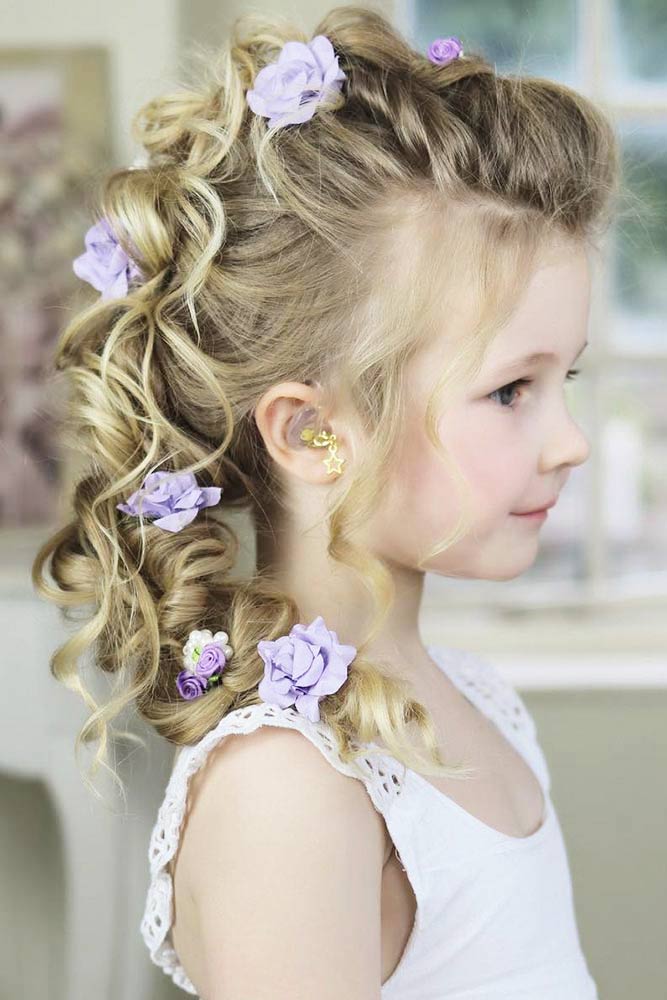 @sweethearts_hair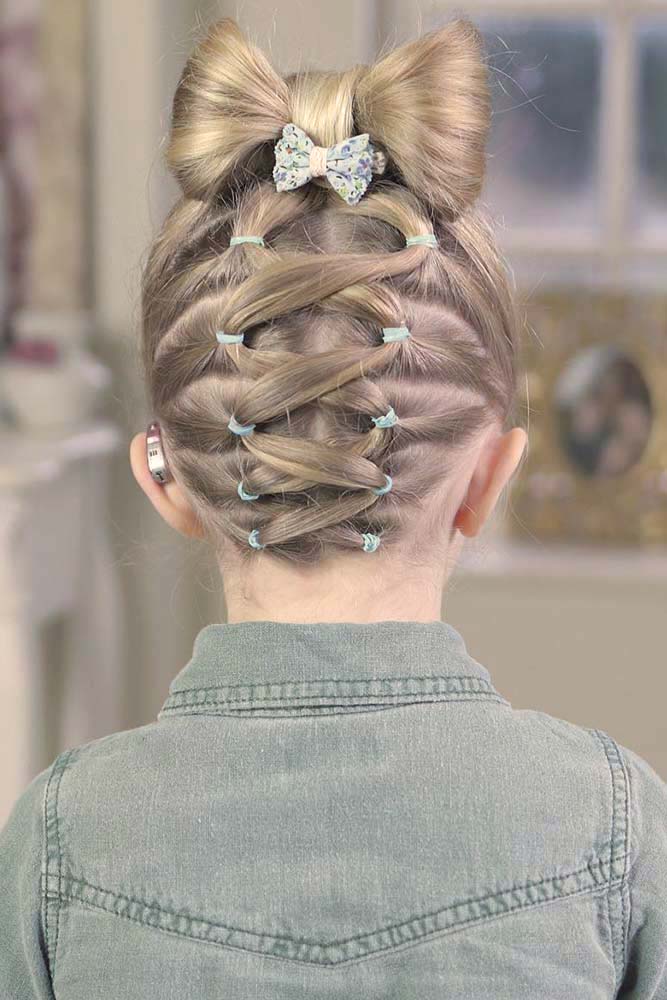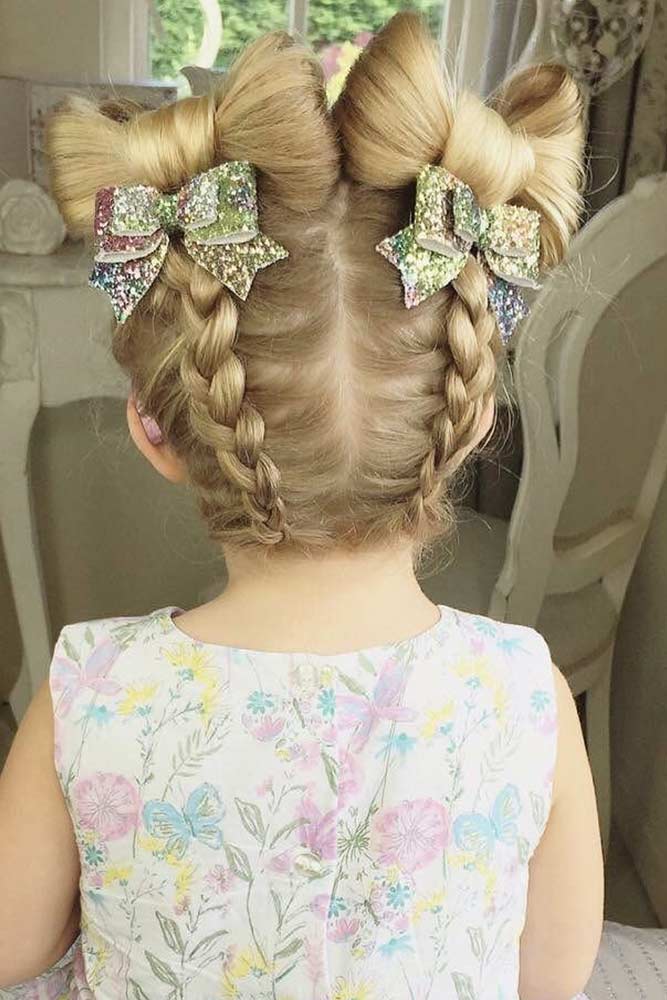 Short Hairstyles for Girls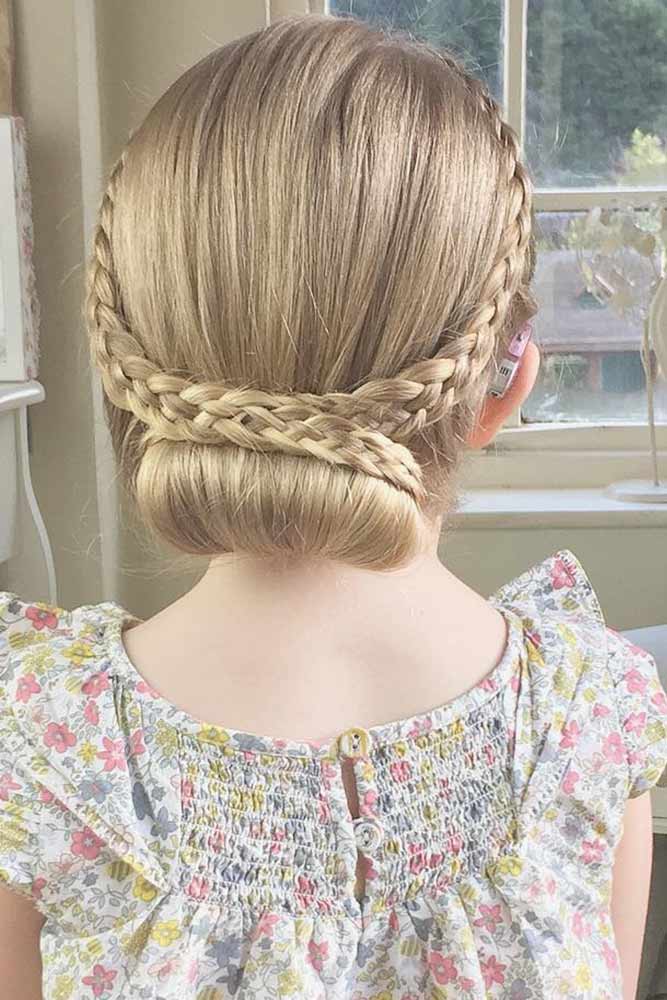 @sweethearts_hair
Hairstyles with Bows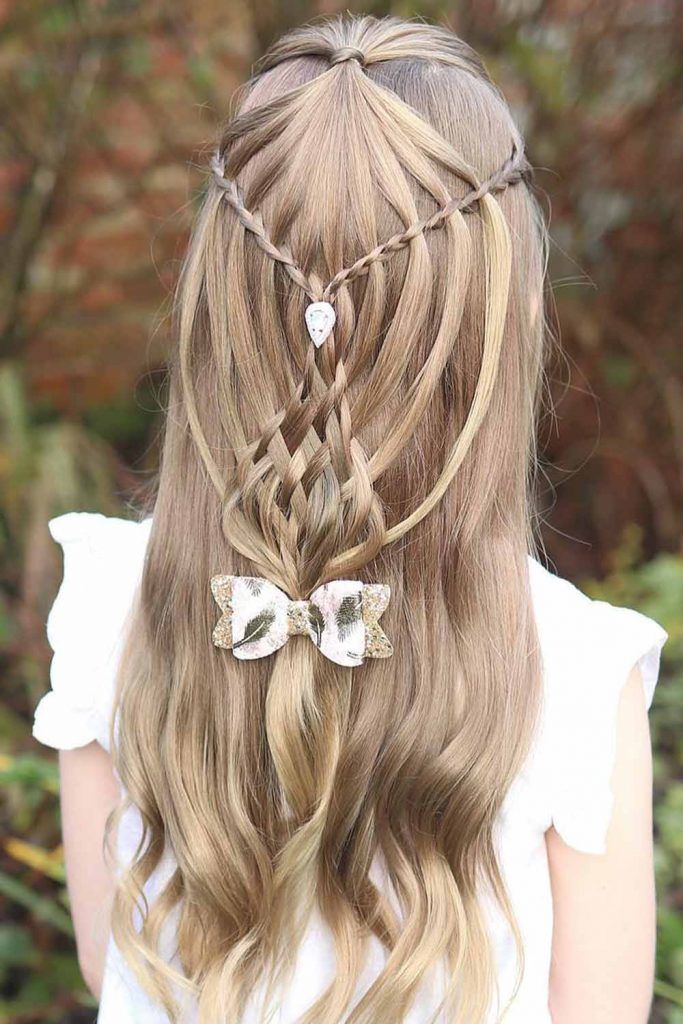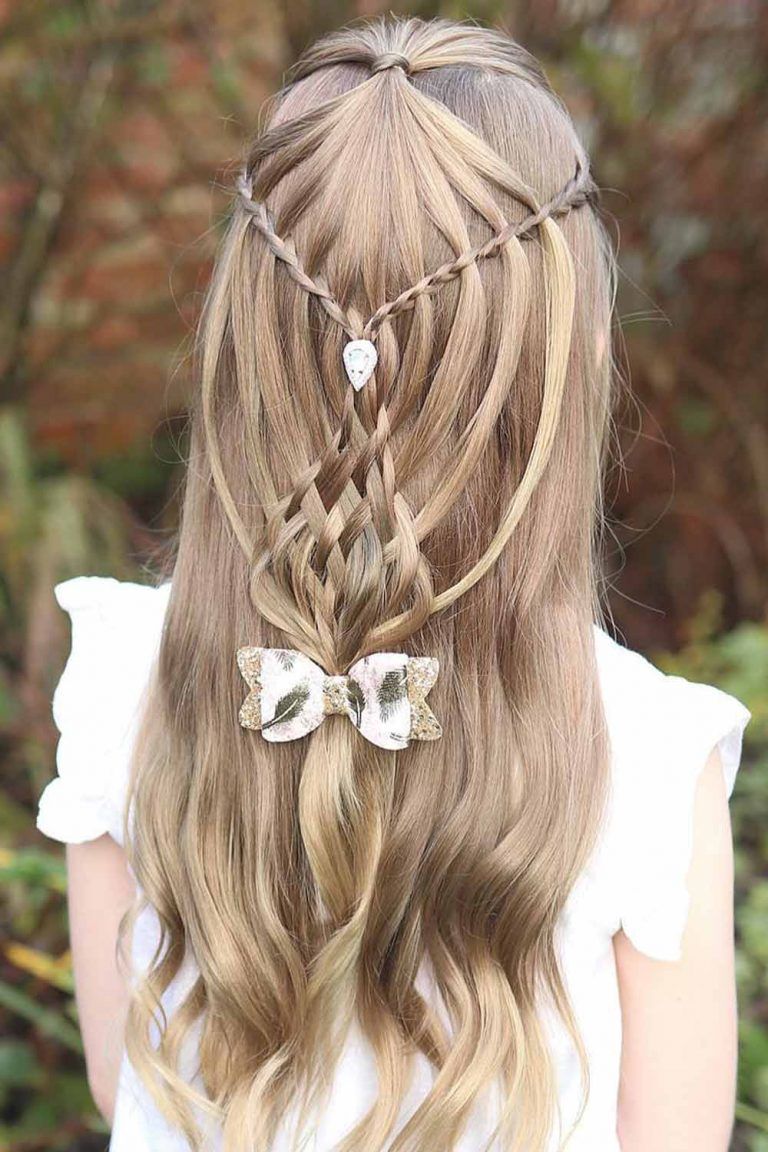 @sweethearts_hair
We know that every girl, no matter how old she is, always wants to be the most beautiful among the others. And you know that your little girl deserves all the best. Our women's nature can be revealed even in the very childhood, it's just written in the stars. Some special occasion is just around the corner? So how about getting your little star the brightest look for this day? Adorn your princess's beautiful hair with flowers. Show her what femininity is by getting her a delicate hairstyle with a bow. It can be a braid half-updo or wavy hair beautified with bows, these are the things you can leave up to your girl. Let her choose a hairstyle herself, and you will see how glad and grateful she will be. Small ladies are ladies too, so it's never too early to let her feel feminine.
Fresh Look at Familiar Hairstyles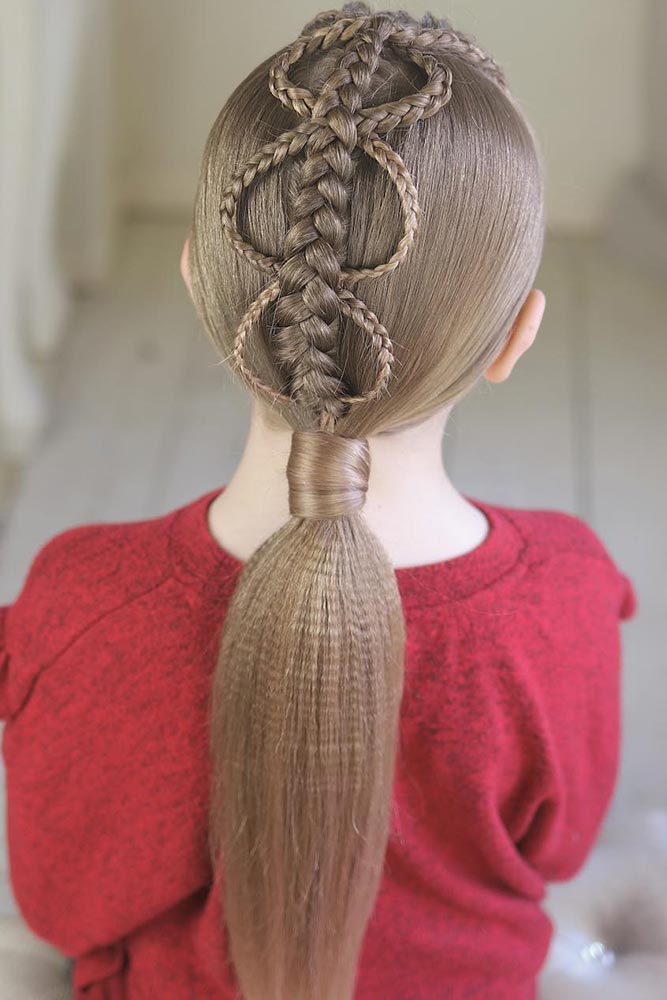 @sweethearts_hair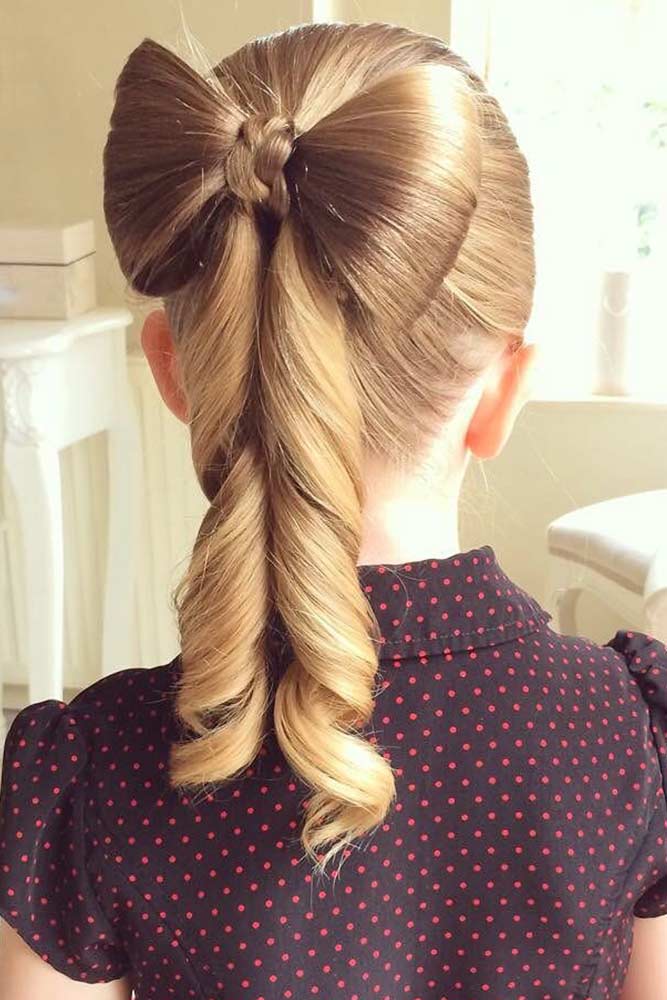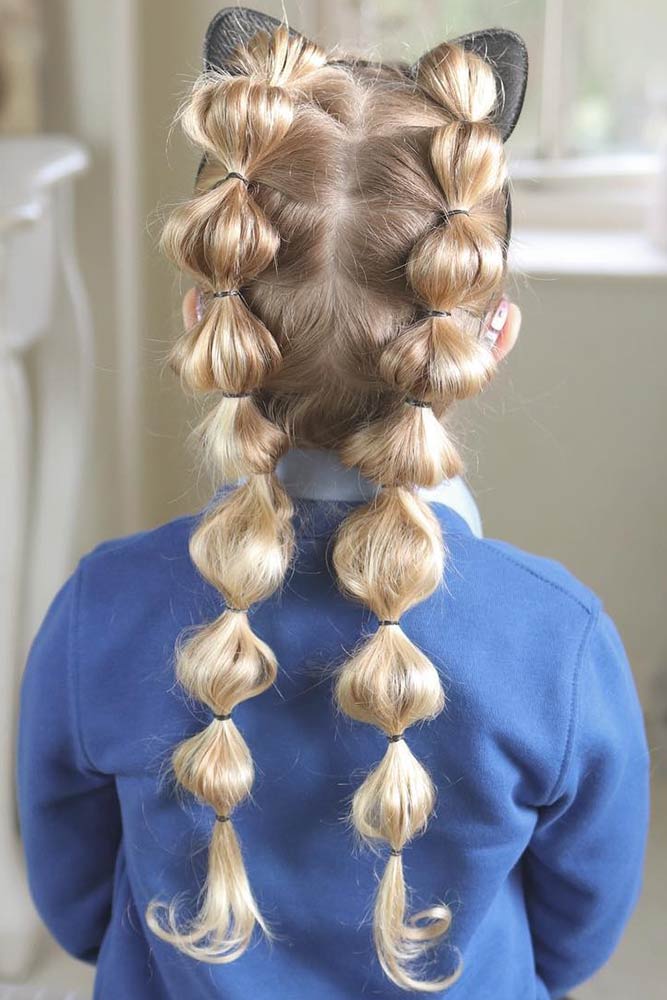 Just look at these cute hairstyles for girls! Have you seen something more adorable? We literally fell in love with these ideas, as now, we understand that little girls have lots of opportunities to experiment. Seeking something new brings colors to our lives, and adding something new to familiar things delights our imagination. Braided ponytails are something we can do with our eyes closed, and the first picture is here to ruin all the stereotypes: everything we are used to can be far more special than we expect. We know that our little girls just love bows, how about making a bow of your girl's hair? This hairstyle is very minimalist, yet very delicate. Long hair is a good base to let your and your little girl's imagination run wild: these ideas have proved that. Now it's totally clear to everyone: it's so good to be a girl!
FAQ: Cute Girls Hairstyles
What is the easiest hairstyle for girls?
Flower style.
Pure-Braid Pony.
Undone Bun.
Simple Beach Waves.
Triple Topsy Tail.
Side Sweep.
Ponytail.
Colorful Headband.
Double French Braid.
Dutch Pigtail.
How to take care of a girl's hair?
Brush your hair before you take a shower.
Apply hair balm to your hair ends.
Use wide-spaced combs.
Before going to bed, wrap your hair with a silk bandana.
Massage your scalp every day.
Was this article helpful?