By:

Glaminati Media

| Updated:

05/22/2019
The Palette Of Trends: Blue Black Hair And Dark Blue Hair Shades Are About To Inspire You
Blue black hair is a deep and bold decision for ladies who like to play with fascinating and extraordinary colors, experimenting with matching shades. Though such color variations are pretty trendy these days, as well as the popular dark blue hair color, they're not the ideas you can see on every single girl: such a color change requires not only proper preparation but also a lot of courage to nail it! And we're here to share with you some tips and inspo-pics of girls who managed to pull it off. Why don't you become one?
Whether you want to add a touch of bluish charm by getting some highlights or you are about to go for an all-over blue mood, there's no way you won't find an idea that will fit your taste. Get blue hair educated, read the basic tips that will prepare you for the trendy color, and fall in love with the ideas we've selected for you: it's time to set your mood for the blue enchantment!
How To Get Blue Black Hair
Before making a salon appointment or buying a hair dye for home experiments, you should know how to get blue black hair and how to maintain your brand new color. Here's what you need to keep in mind to achieve this color yourself:
Make sure that you washed your hair with shampoo and conditioner before dyeing it. Your hair should be super clean; otherwise, the black blue hair dye might not adapt to it.
Before coating your hair with new color, combine all the dye components together, mixing them thoroughly in order to get a rich color.
For an even color, apply the dye by section or by layers, paying attention to the roots if you want to create an all-over blue look. Remember: it's better to start with bottom layers.
The picture above is here to show you how perfect blue black hair coloring looks like. To get the most out of the dye you choose, don't forget to follow our tips and such a polished, vibrant look will be yours.
Useful Tips You Should Know Before Dyeing Your Hair Dark Blue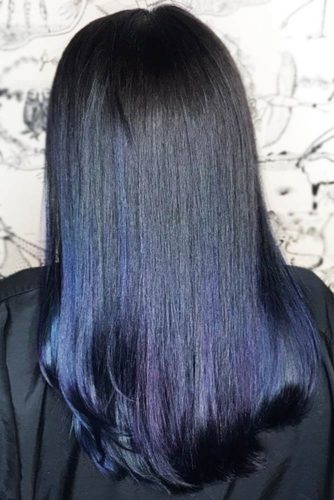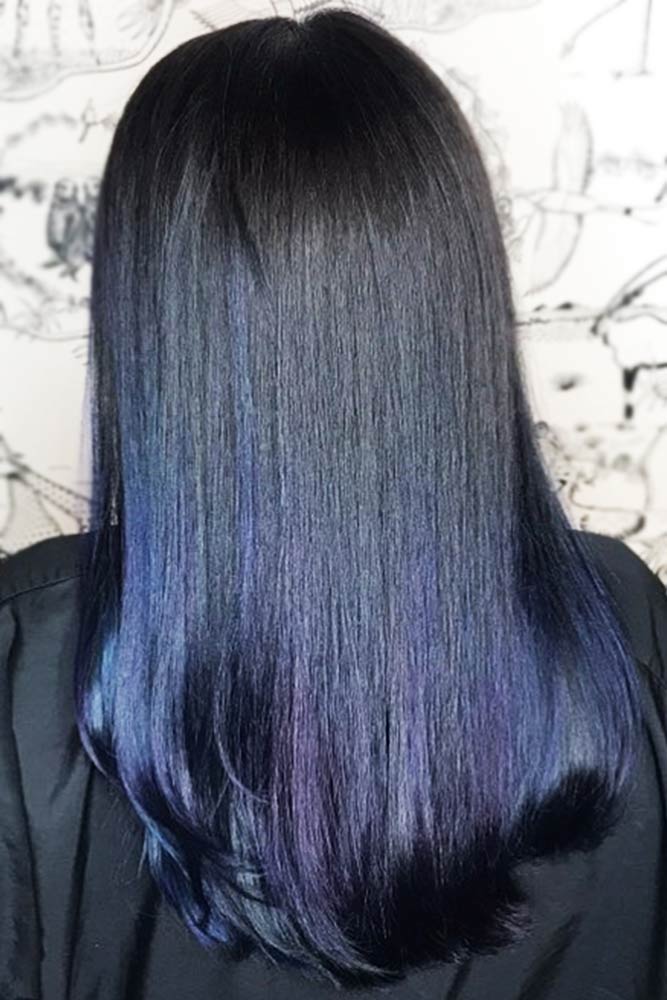 Every creative lady knows that rich imagination and will of creativity are not enough when it comes to hair coloring. It's crucial to be aware of consequences and pitfalls that you may encounter with your new color. So we want you to get to know some dark blue hair tips which will come in handy for everyone: from girls with virgin hair to experienced color players.
Pre-bleaching is mandatory! If you want to get a sumptuous color, don't even think about going for blue hair dye without bleaching. It doesn't matter what coloring technique you want to go for; a truly vibrant and intense effect can only be reached with a lightened base. That means that you should be prepared for little damage.
To make your color stay longer, consider using sulfate free shampoos and conditioners for dyed hair. Also, it's better to wash your hair in cold water and blow dry it with cold air; it's a healthy care routine.
If you don't just play around with dark blue black hair, and you want it to be a part of your life, you should make salon appointments in advance. Such colors require updates every two weeks: they start to fade very quickly.
Sometimes it's hard to notice where dark blue base ends and black undertones begin. And that's the reason why this color is so charming. Look at this pic: this seamless transition of rich colors are a look to steal.
---
Click NEXT below to browse the gallery!
---