Let us tell you something about black hair: this hair color is meant for women who want to be in the spotlight. It doesn't matter how old we are, we all like to grab people's attention. That just makes us feel even more confident. So how about to become a woman that has all eyes on her once she leaves her house? Attractiveness is something that every woman wants to achieve in her life, and you know that it's impossible to get the desired result without experiments. We just want you to know that a truly perfect look can be achieved only through experiments: let your hair color be the first step towards your brand new attractive style.
Yes, girl, it's time to go to the dark side of the color palette: it's even more beneficial than you can imagine. We are here to lead you to the land of never-ending beauty. Don't worry, some useful tips on black hair dye will accompany us on this journey. Are you ready to be impressed?
Black Hair Dye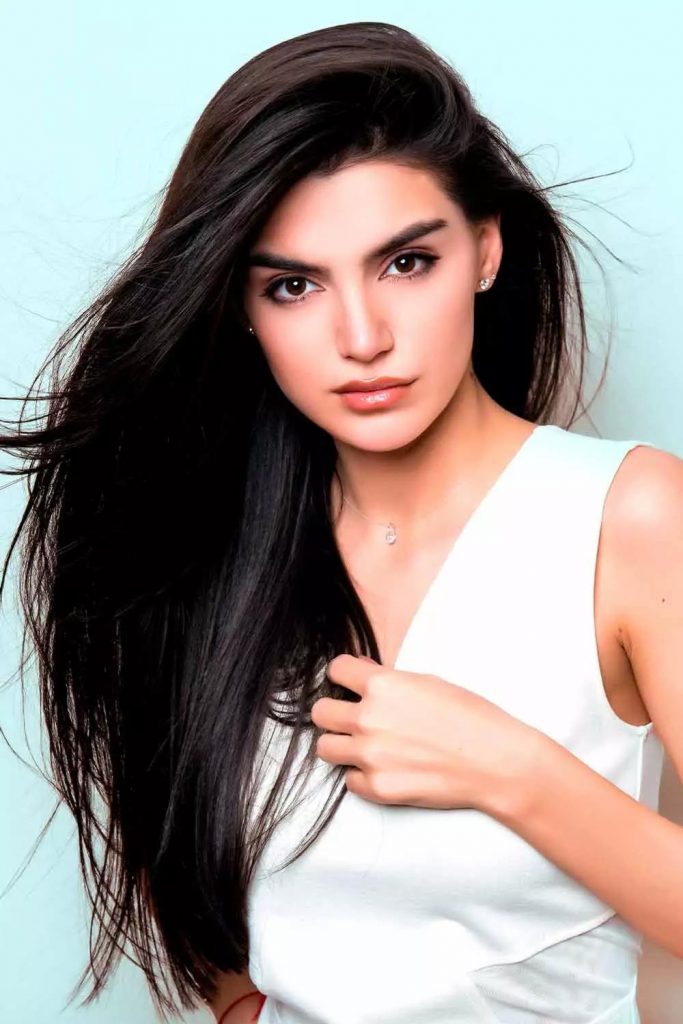 Credit photo: shutterstock.com
When it comes to choosing a shade of the black color palette, dark brown hair color is the most popular decision. And no wonder, this color is absolutely gorgeous. Mainly because it's easier to reach a natural-looking hair color when you opt for brown shades. Don't worry if you set your mood to the deep, totally black hair color, a good colorist is all you need to make it come true. But sometimes we should make a choice not only based on our preferences, there are some essential things that will determine whether a color is suitable for you. The first thing is your brows. If you are ready to get it dyed, you are free to experiment with any color you want. And those who like their brows as they are and don't want to change anything should go for a shade that matches the color of their brows. Look at these pics: each can be a cover for the black hair magazine. And you know what? These girls weren't afraid of changes.
Tips On Going Black Hair Color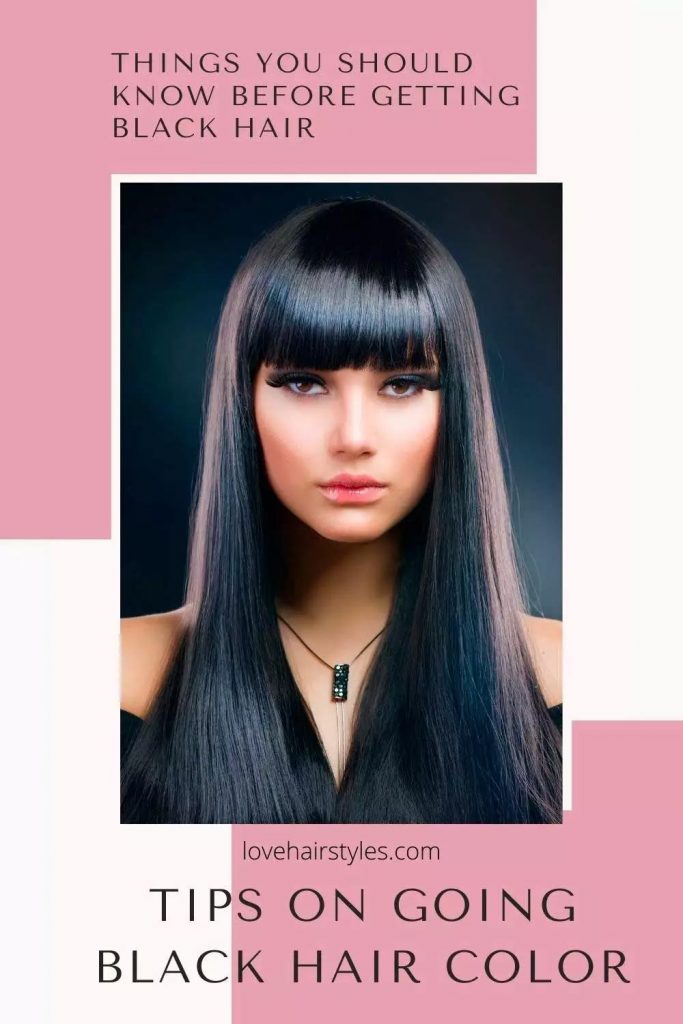 Credit photo: shutterstock.com
It doesn't matter if you are a blonde or a brunette, there are still some things you should show before coloring your hair black. Brows are not that important, as you can always change their color. But there's something that you can't change if it occurs to you: the individual reaction of your skin. Sometimes dark dyes can cause itching or burning, and that's the thing you should attach importance to. You and your colorist should make a patch-test to make sure that your skin feels OK with the dye. Don't get it as a real danger! Any dye can affect our skin, and such reactions are rare, we all just have to be careful when we change something in our life. Now, let's talk about pleasant things: every shade of dark hair looks so unbelievable, and these black hairstyles for long hair are living proofs.
Dark Brown Ideas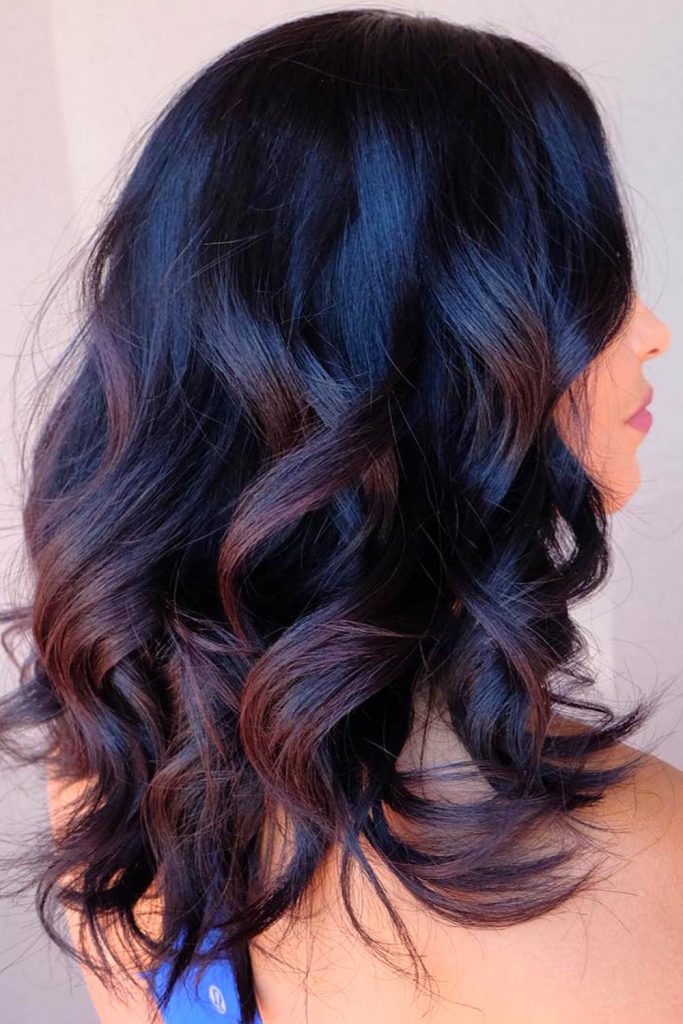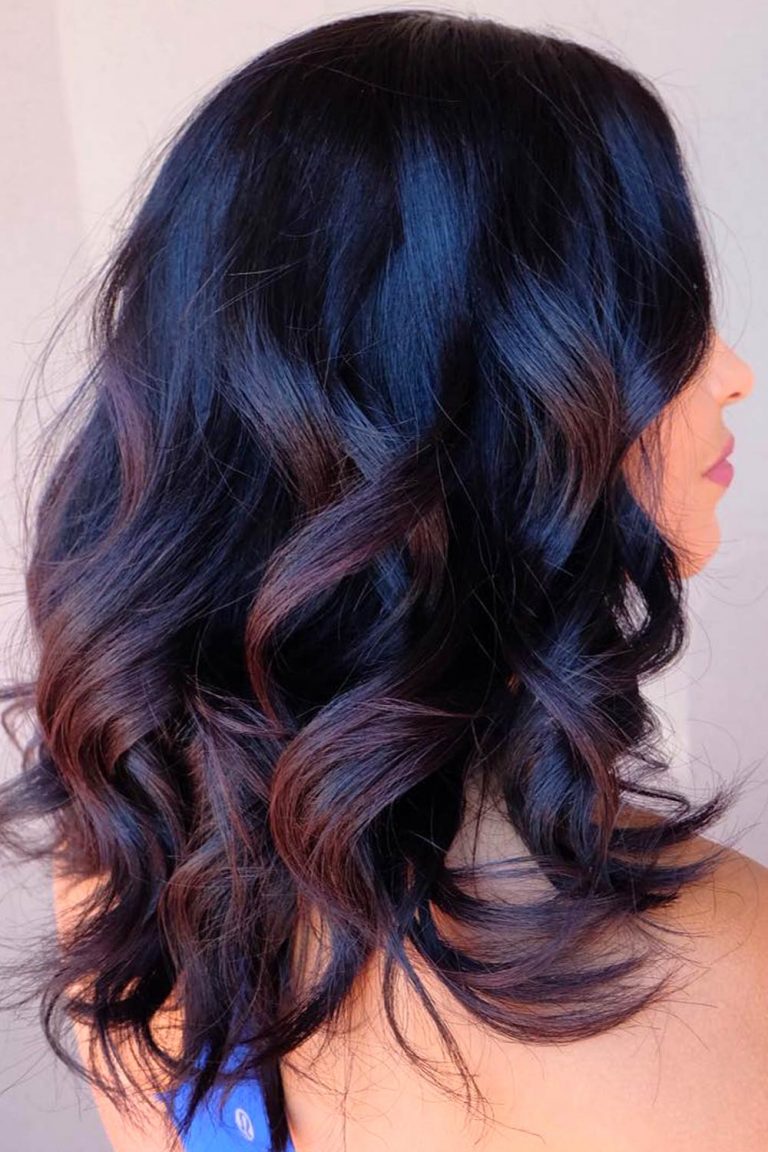 by @instagram_irinabilka_hairandmakeup
Don't feel like being too radical? We understand that, despite all the advantages of black hair, it has its disadvantages, too. For example, once you dye your hair black, your hairstylist won't find the words to describe the difficulty of going light when you ask for it. "Impossible" doesn't apply here, as you can actually do that. It's hard, indeed, and incredibly harmful to your hair. Dyeing always affects our hair in some measure, but this time it can be a real disaster. So, let's talk about the dyeing compromise. How do you like these brown color ideas? Admit it, it looks warmer and softer than soft black hair, as it gives a really natural look. It's so cool to experiment: change our hair color, trying out new makeups, go for different coloring techniques. And if you feel that you are not ready to say goodbye to experiments, it's better to opt for this color. With the dark brown, it will be possible to go for any color your soul wishes.
Brunette Hair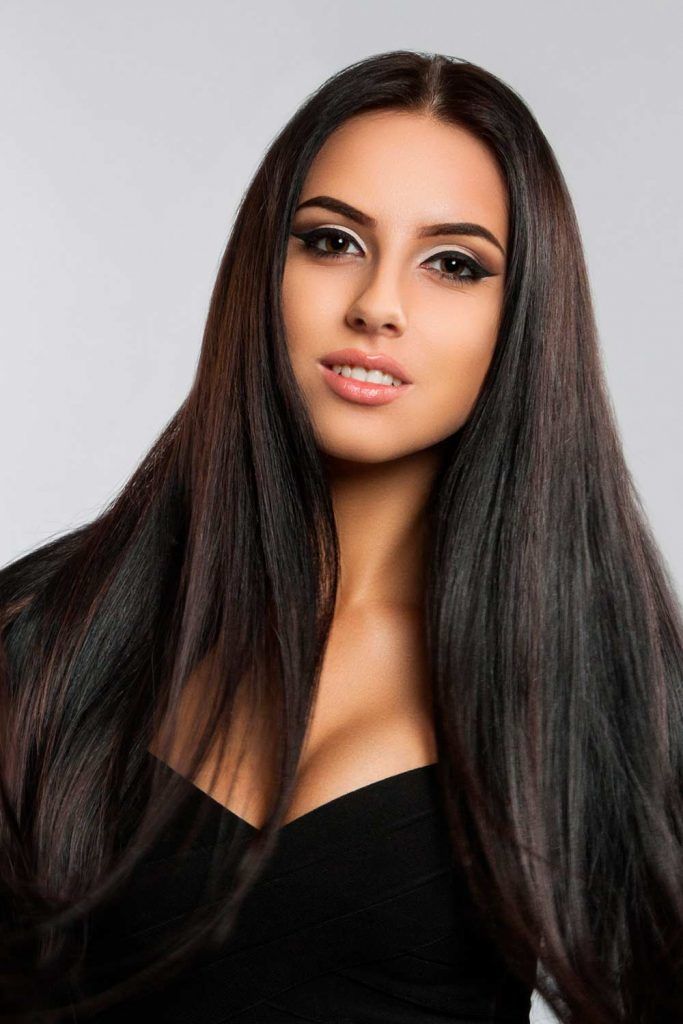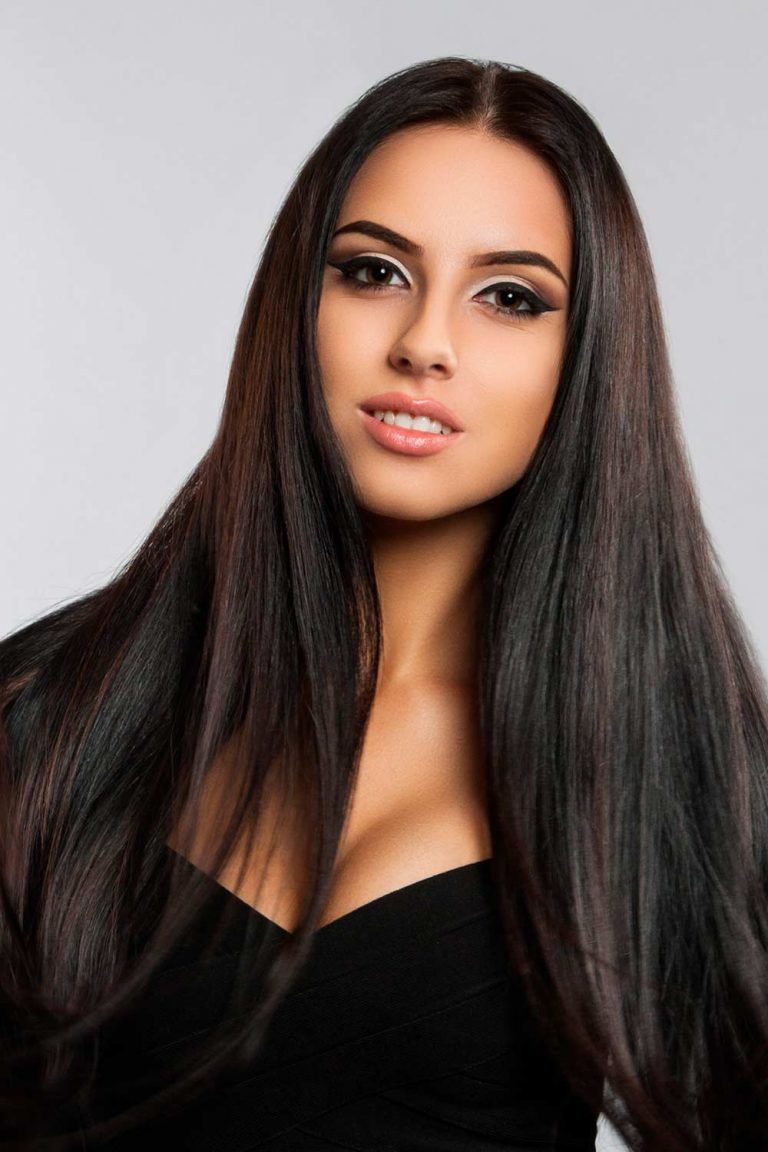 Credit photo: shutterstock.com
The diversity of colors that girls pull off is just immense. How do you think, how many natural hair colors are there in the world? The truth is that the creativity of modern colorists seems to change the history of hair colors: they don't stop inventing something new. But we can tell you for sure, brunette hair is the classic that will never change. So even if you choose this hair color, nobody will tell you that it doesn't look natural. If you have some doubts about that, these pictures are here to change your mind: it seems like these girls were born with this hair color. Yes, natural hair color can be deceiving.
Balayage For Black Hair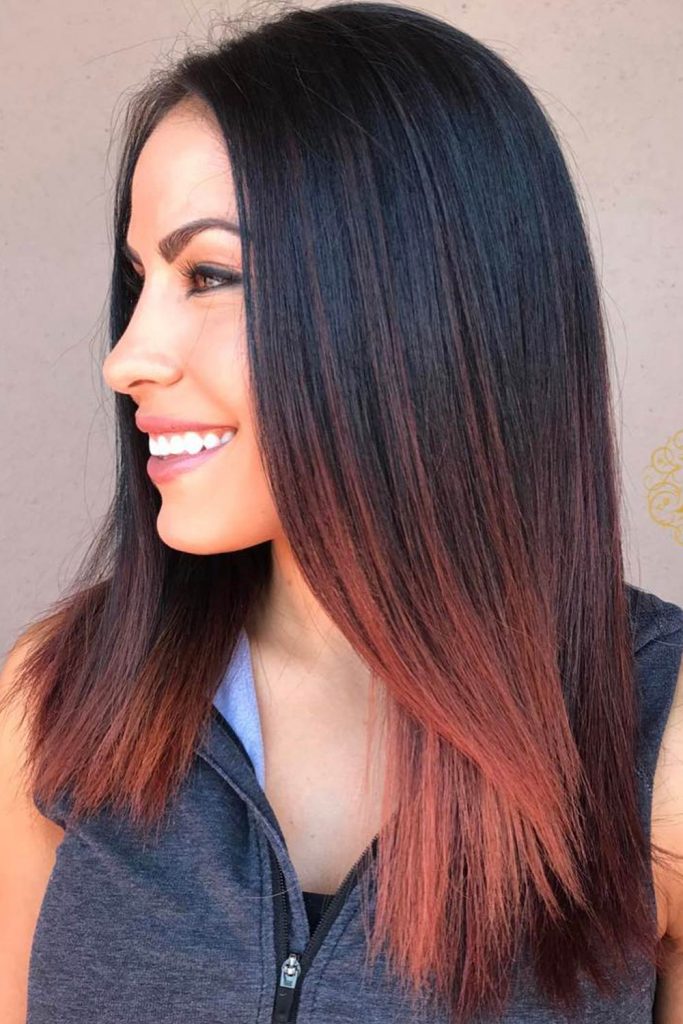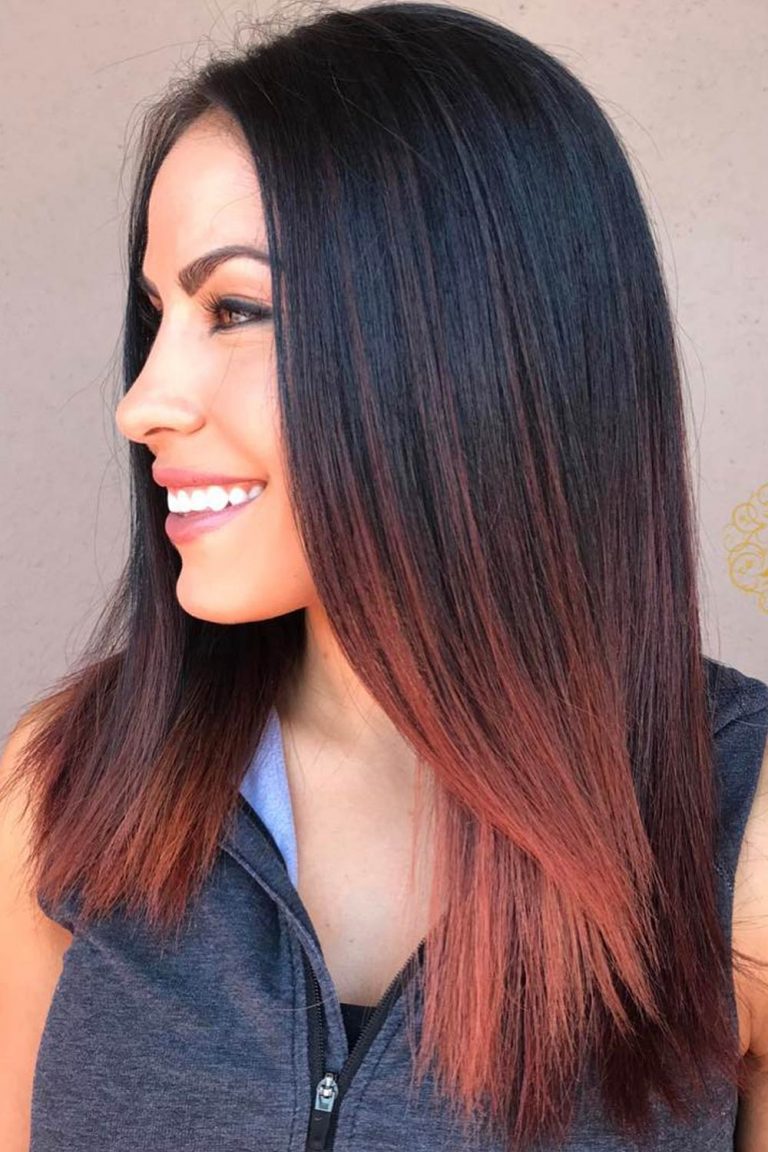 by @instagram_irinabilka_hairandmakeup
It's not a secret that we often come across argues about black hair shades on the Internet. And most commonly read blogs say that girls get lost comparing jet black hair vs black hair. Of course, both these colors are so bald and chick, but some light won't hurt, don't you think so? We want you to be creative: wouldn't it be better to add some hues to simply black hair? You know that balayage is a Fairy Godmother that can make a real fairytale out of our hair. These ideas will help you if you can't imagine how it will look on black hair. It will look just gorgeous, you can see it with your eyes. Once you search for black hairstyles 2018, don't get surprised if you will be offered with this technique. It's tasteful, it's stylish, it's worth a try. What are you waiting for? Your hair won't get balayage itself!
Black Hair Ombre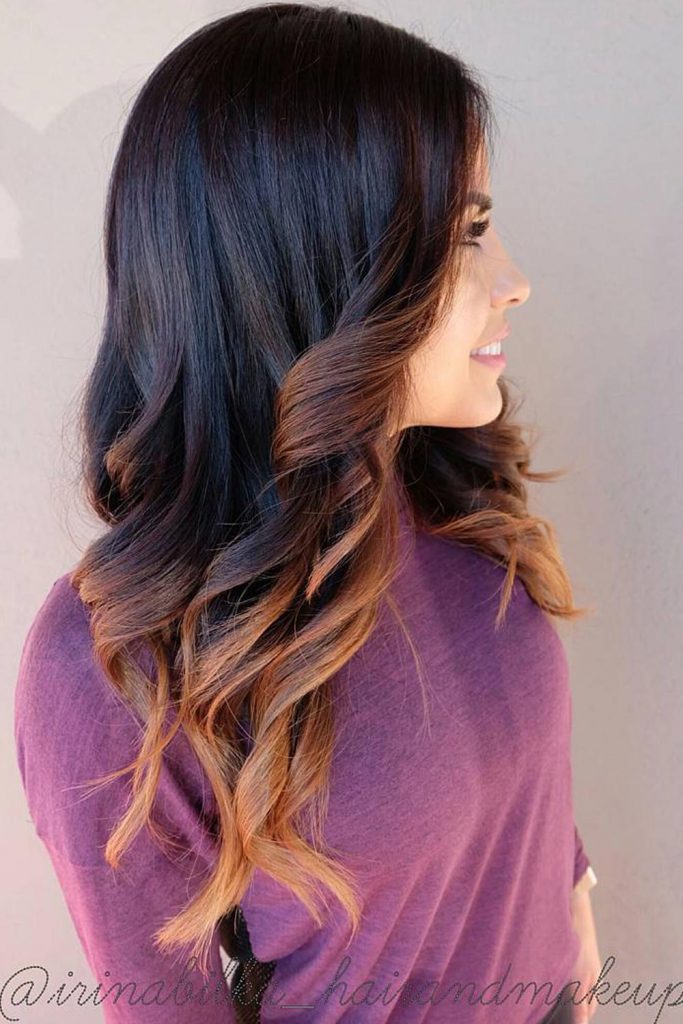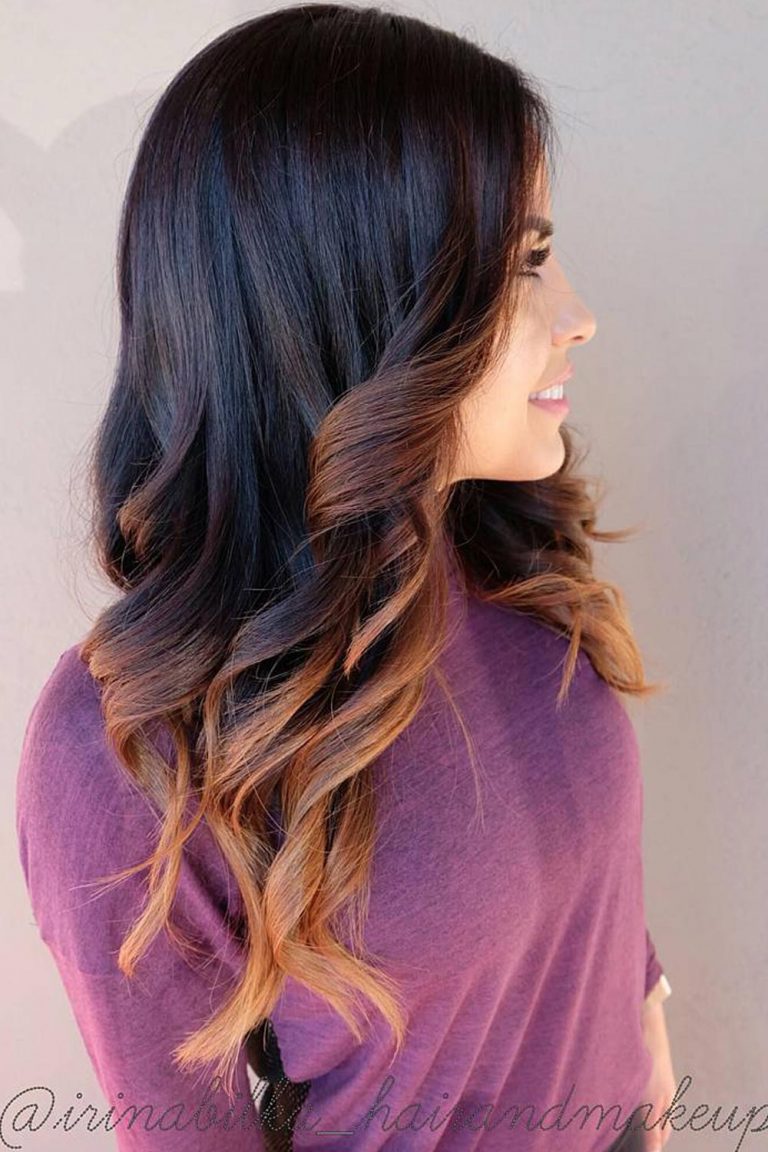 by @instagram_irinabilka_hairandmakeup
When you make your black dream come true, you would like to know how to style natural black hair at home. Actually, the only thing you need is to freshen up your basics. If your hair color is different now, you should buy some new bobby pins, ties, combs and other useful things. They should match your hair color! Then, style your hair in any way you want, a hair color is not an obstacle to styling. And when you'd like to find some black hairstyles to try on your brand-new hair, you will see that the balayage is not the only thing all the girls love so much. Ombre is another good way to diversify your hair color. You can opt for light waves that smoothly transit to the ends or get yourself a slight ombre that features similar colors. Which idea do you like the most?
Highlighted Black Hair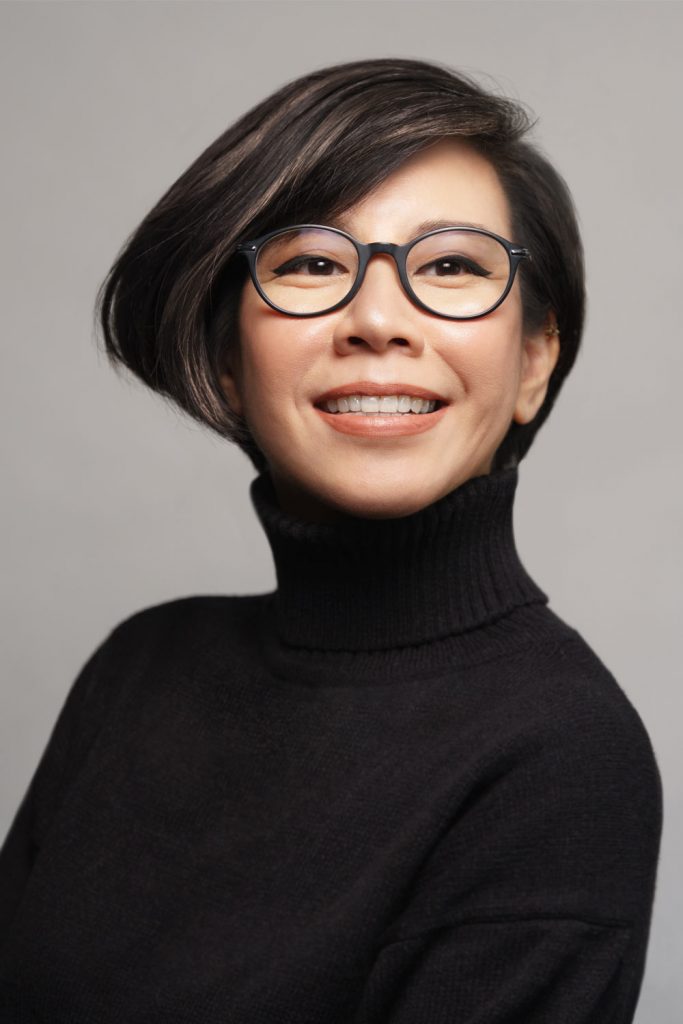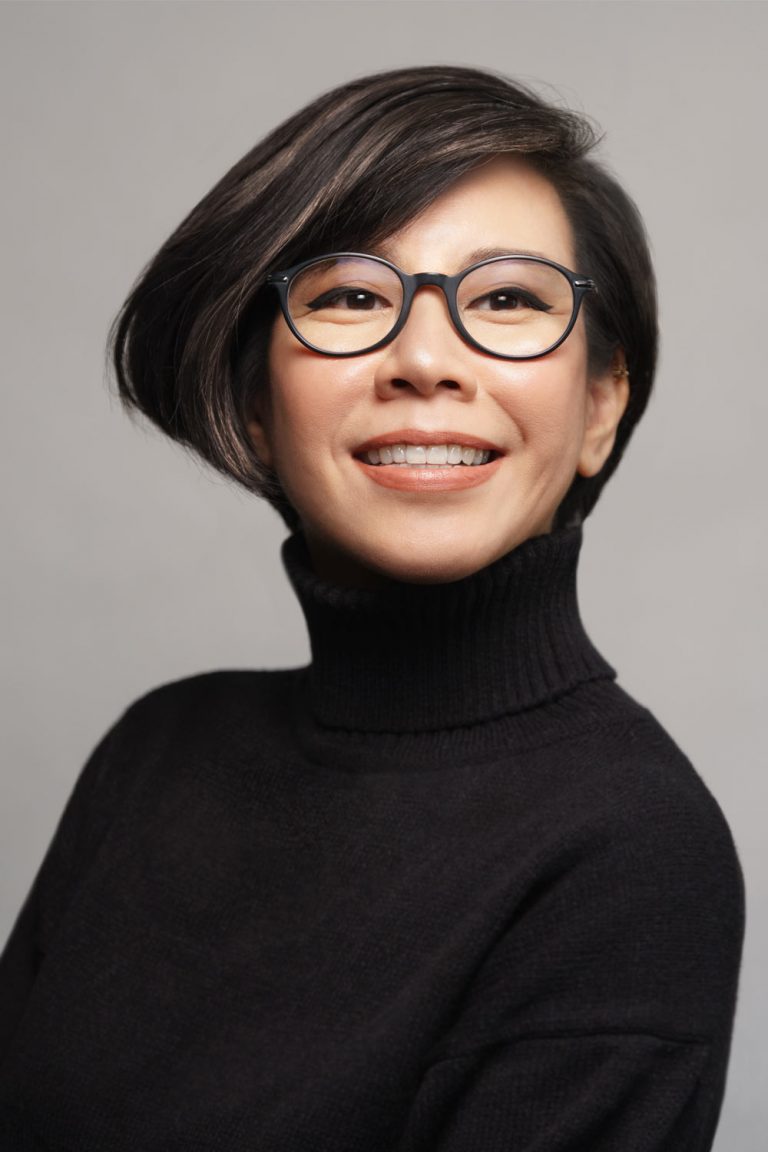 Credit photo: shutterstock.com
Do you want to emphasize the beauty of your black hair? If yes, here comes another breathtaking coloring technique, the so much popular shatush. There is no better way to show off your black hair than to add some light shatush highlights: the gradient that contrast color create gives a fresh, voluminous look. You know that your hair is your natural accessory, so don't hesitate to make it look different. Needless to say, it's almost impossible to take eyes off highlighted black hair with waves. It's just a magnet for people's eyes! Whether you are about to sport it with loose hair, or you want to try one of the popular updos for black hair 2017 or 2018, you can be sure that any hairdo will look amazing: your unbelievable hair color will do the talking.
Sleek Black Hair Ideas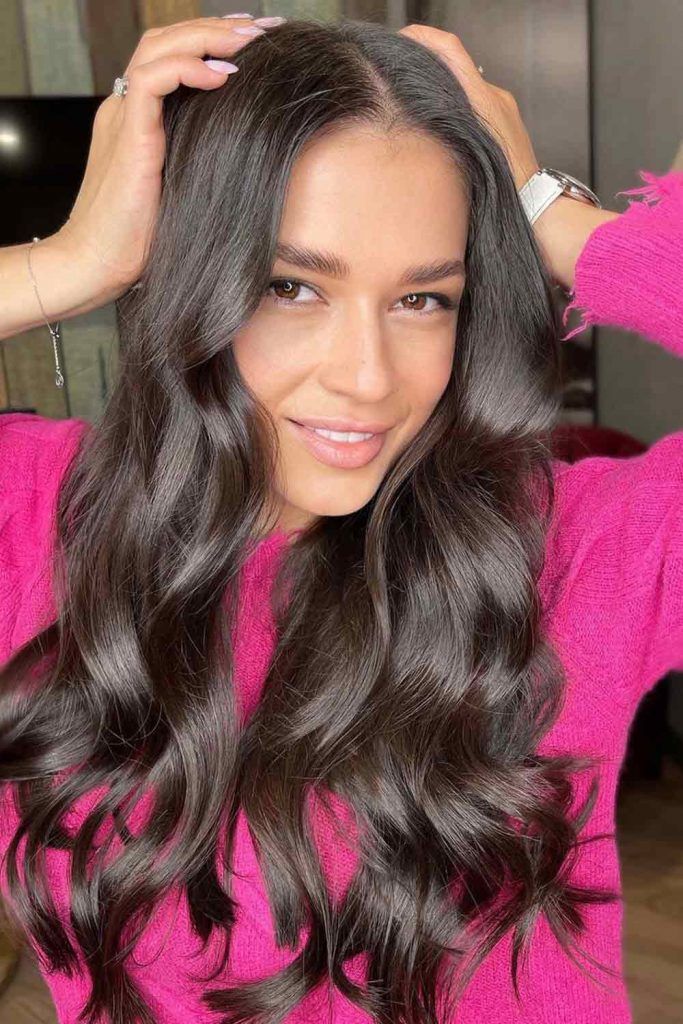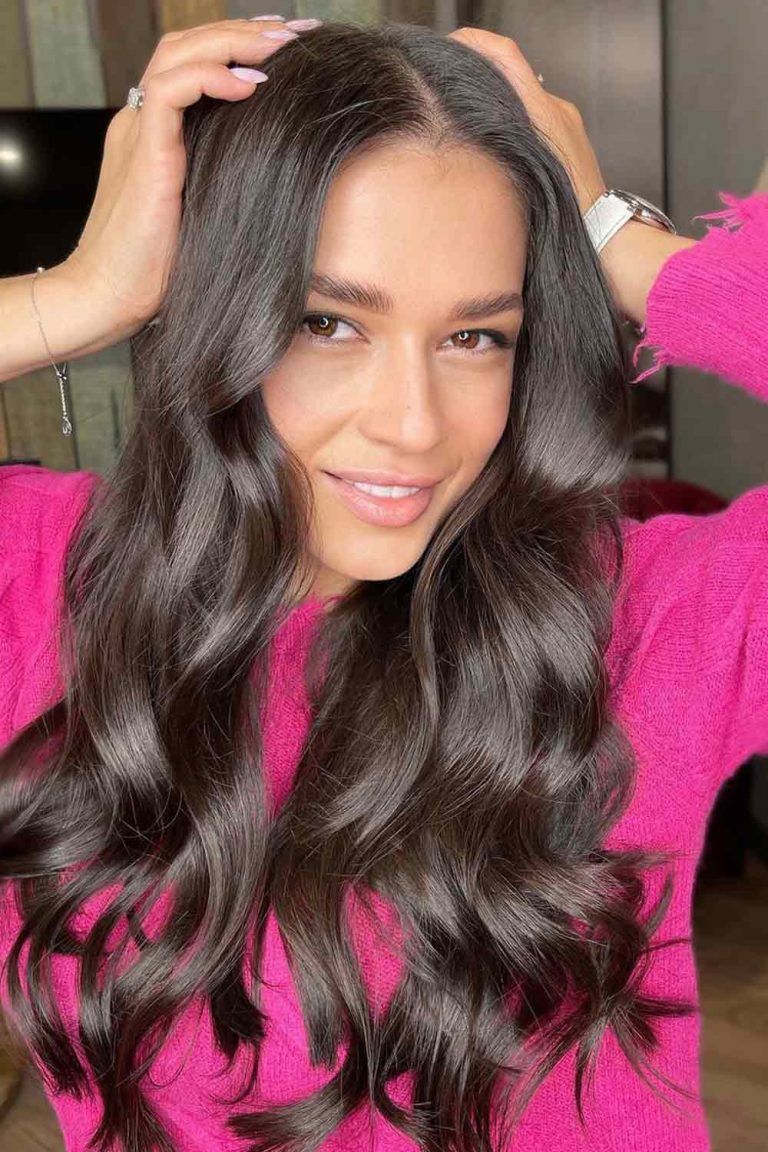 by @instagram_sheffpavelstylist
These photos show how diverse your styling can be, from straight to wavy. The depth of your black hair color will be accentuated with its smooth styling.
Black To Brown Hair Ideas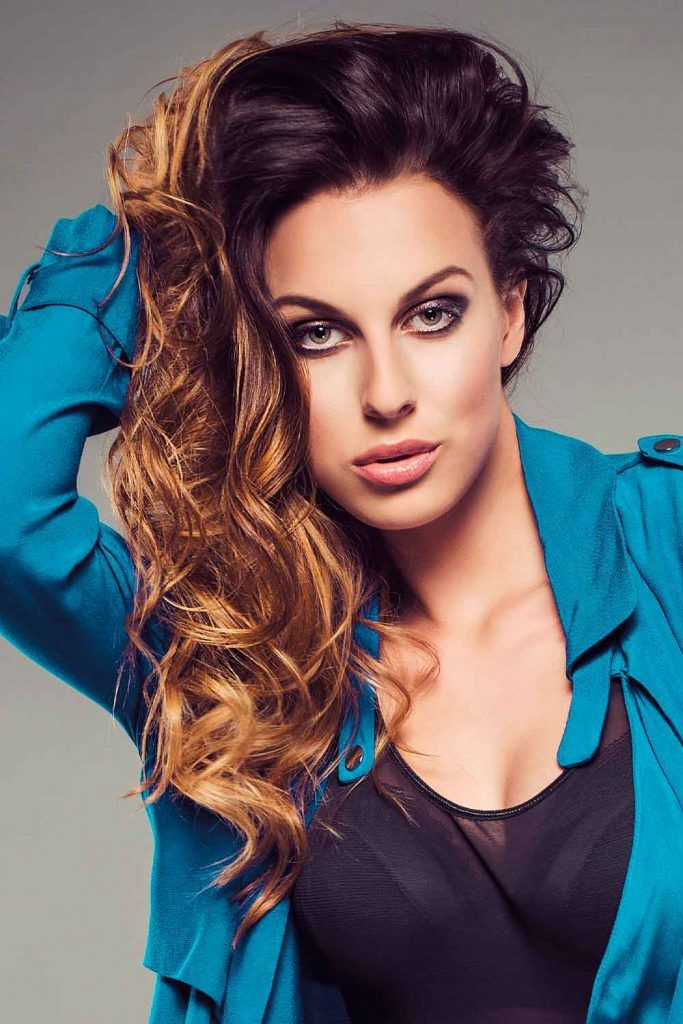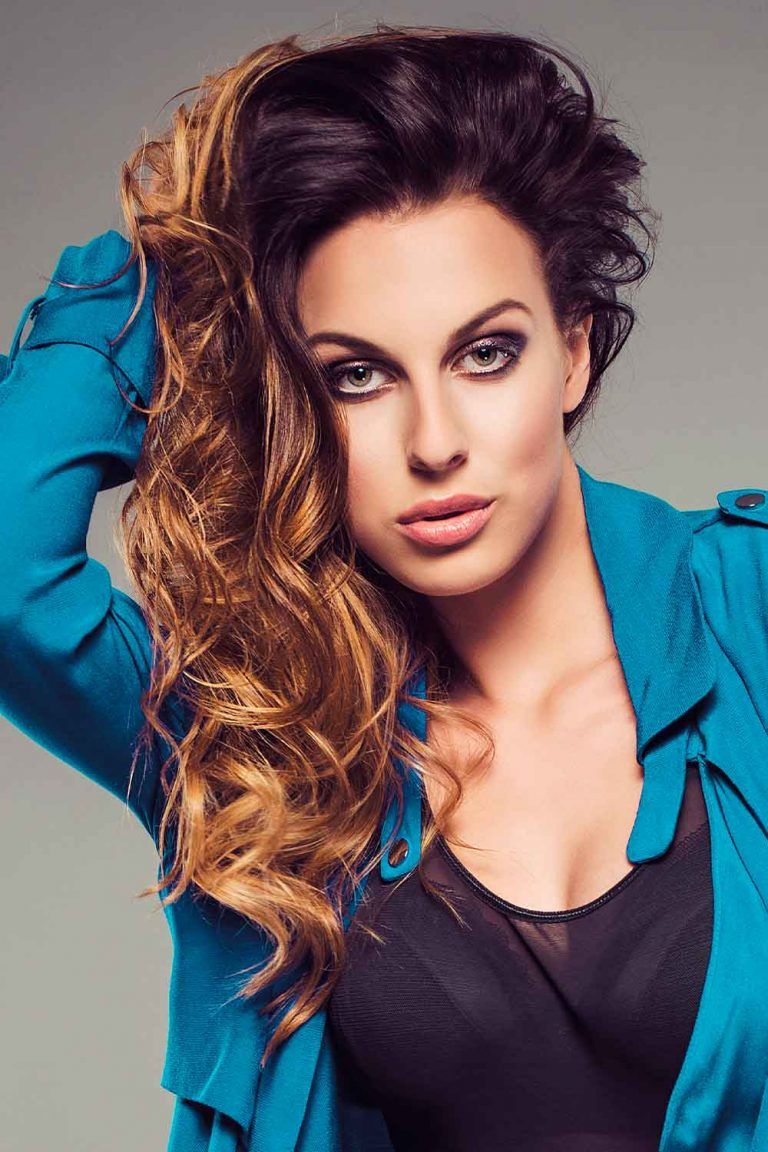 Credit photo: shutterstock.com
It's so cool when you can diversify your look by adding just a couple of accents. For example, refine your hairstyle with some highlights, and shine in a new way!
Blue Black Hair Undertone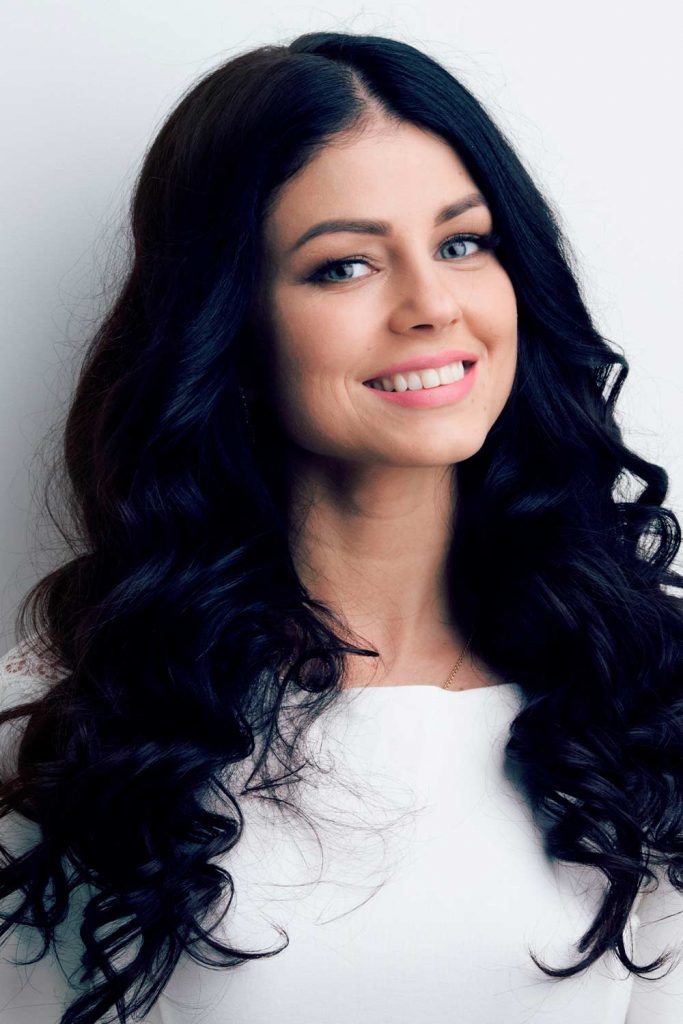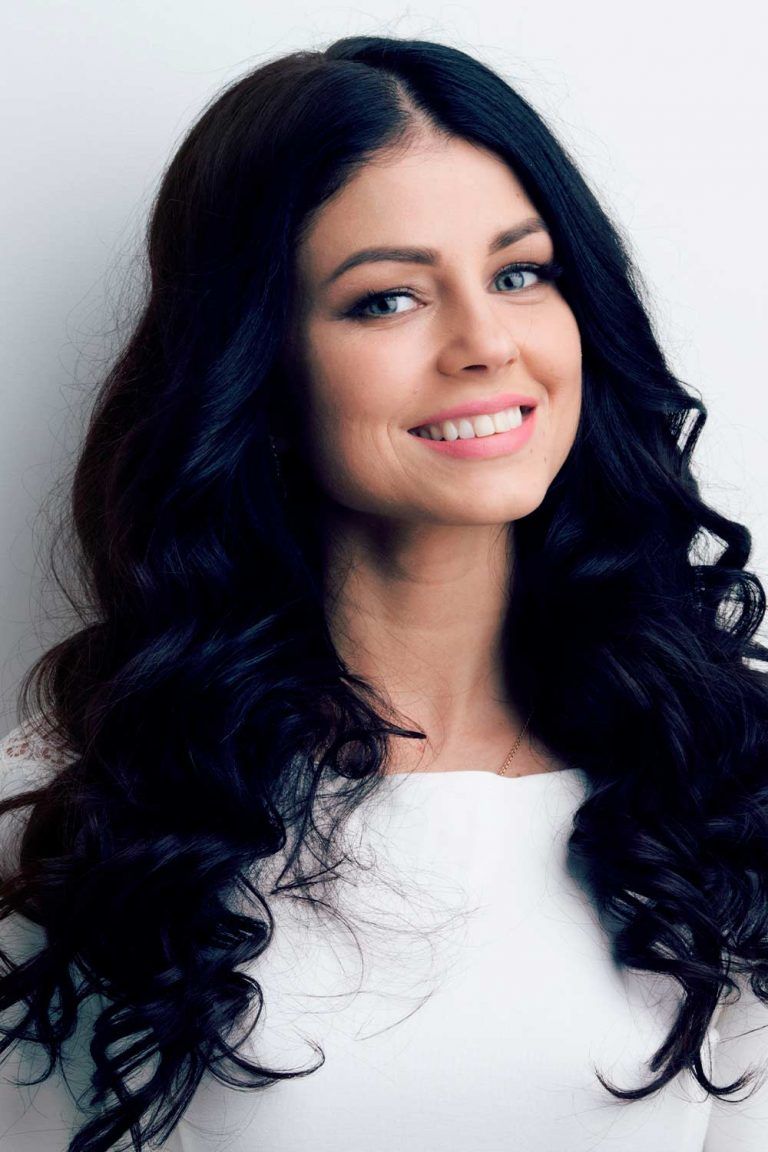 Credit photo: shutterstock.com
While you can't really play around with the variety of black hair shades, you still can make your black color unique and multidimensional. Although this hair color isn't as multi-faceted as most colors, with the right approach, you can customize it to make it stand out in the crowd of dark manes. As it turns out, it's all about undertones! There's no need to tell you how awesomely black and blue go well together, as this duo has taken over the color world. Now, imagine the amazing visual impact these two will bring once you apply the blue portion as a soft tint that shows up when the sun shines down on your black locks.
Black With Metallic Shine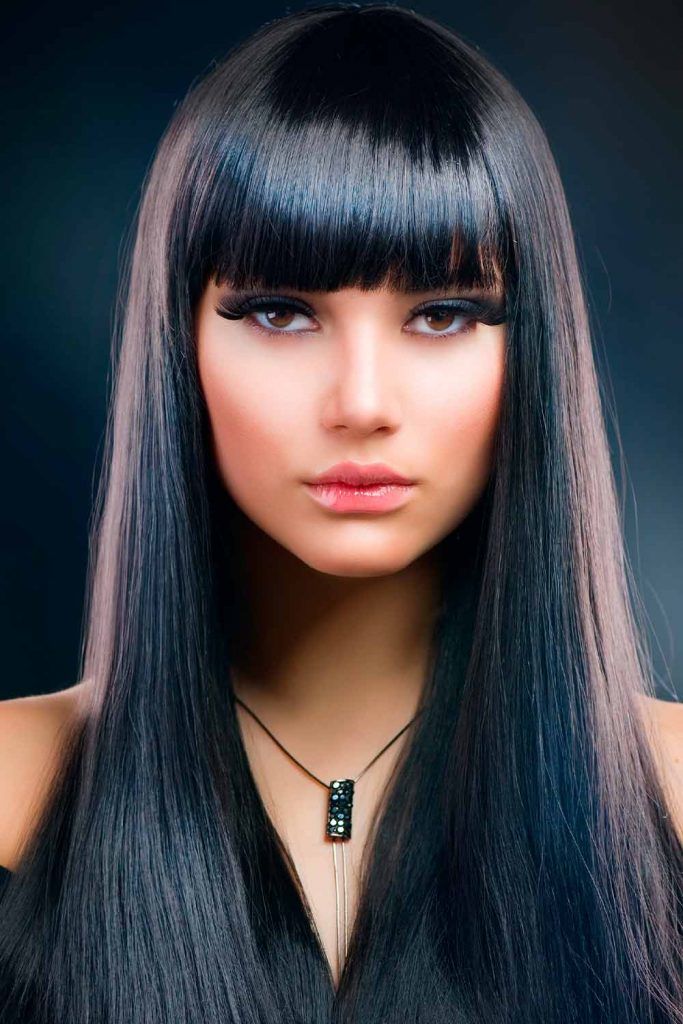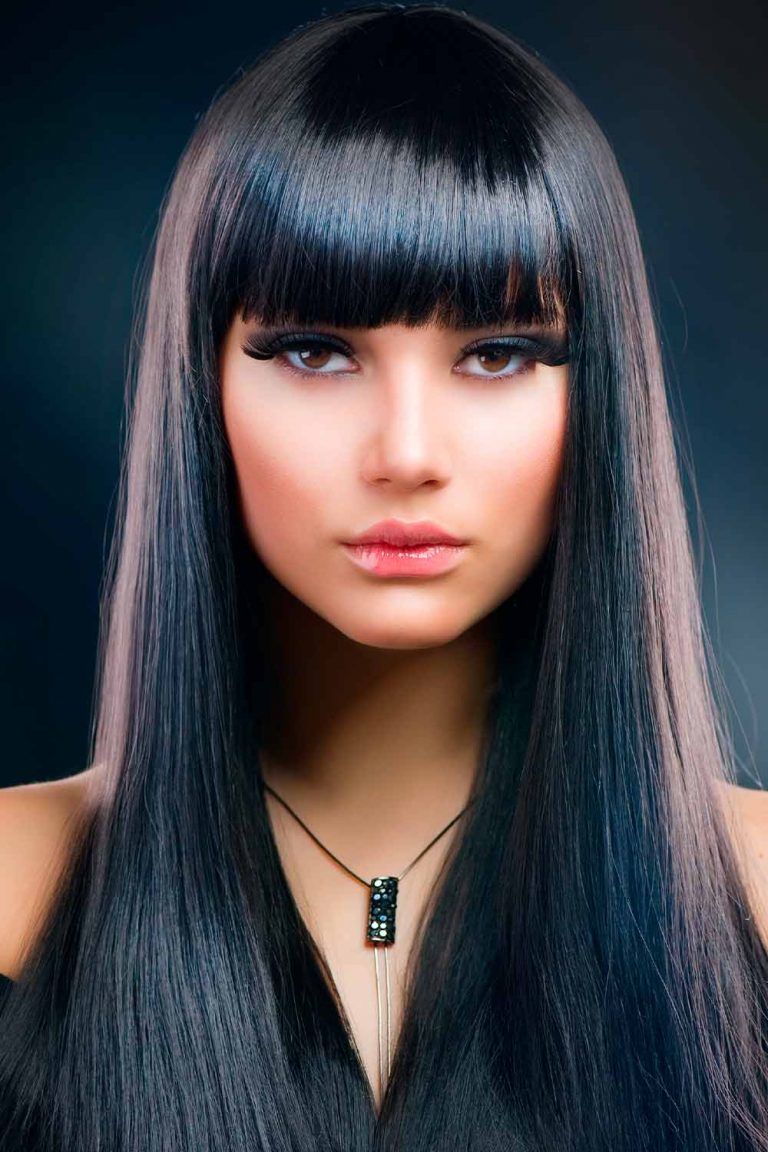 Credit photo: shutterstock.com
Experimenting with undertones, as well as adjusting the intensiveness of your new black shade is what can make your black hair unique. If you love when the hair has a shine-reflecting finish, ask your colorist to make your new color as saturated as possible. And if you're one of those who want their locks to shine like million stars even when the light doesn't reach them, it's time for a metallic hue. Just finish your color job with a lightweight metallic vibe coating your mane to see the look amp up.
Black & Gold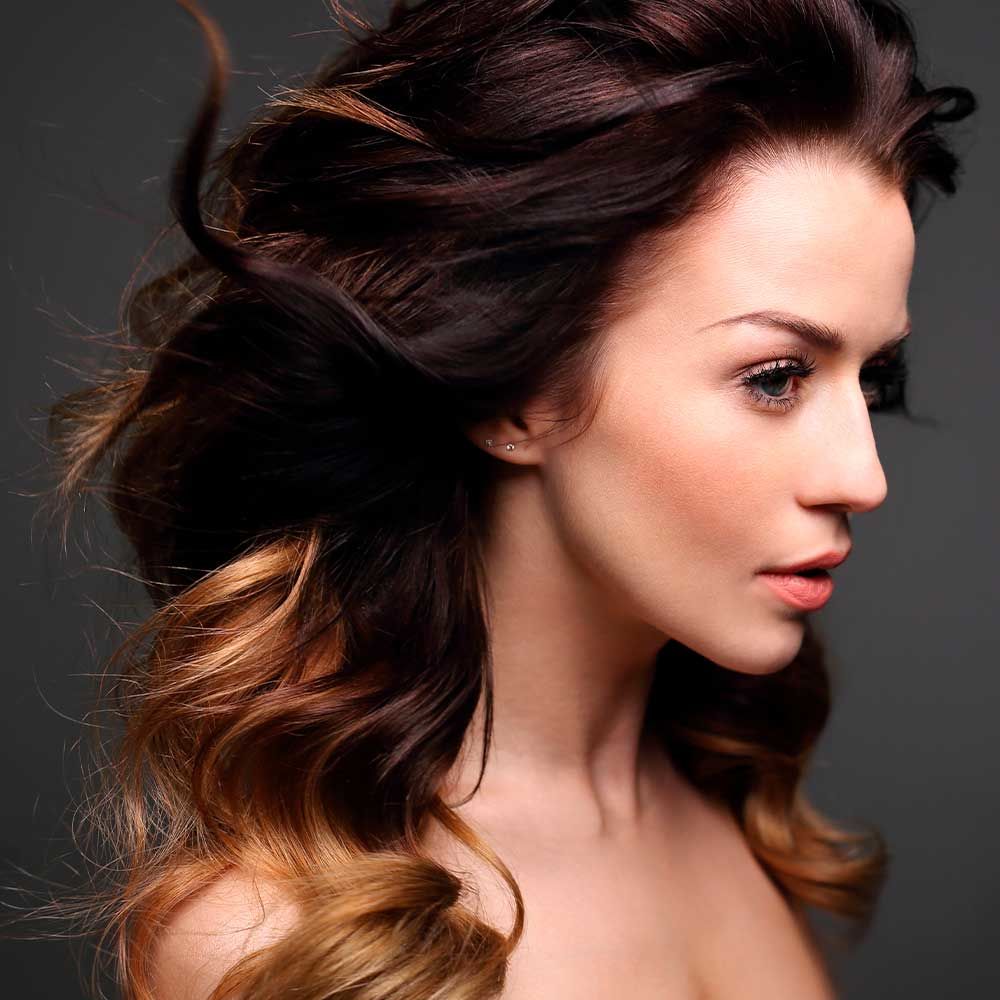 Credit photo: shutterstock.com
Contrastive shades don't always result in drastic hair colors. On the contrary, they can create an absolute harmony if you choose a proper color technique. Black and gold: sounds posh and elegant, isn't it? Well, it can actually look as ravishing as it sounds. Pick a shade of golden brown and ask your stylist to apply it to your black mane as highlights or balayage. Make sure that the colors blend smoothly and seamlessly, and the colors will look balanced and nice.
Raven Black Hair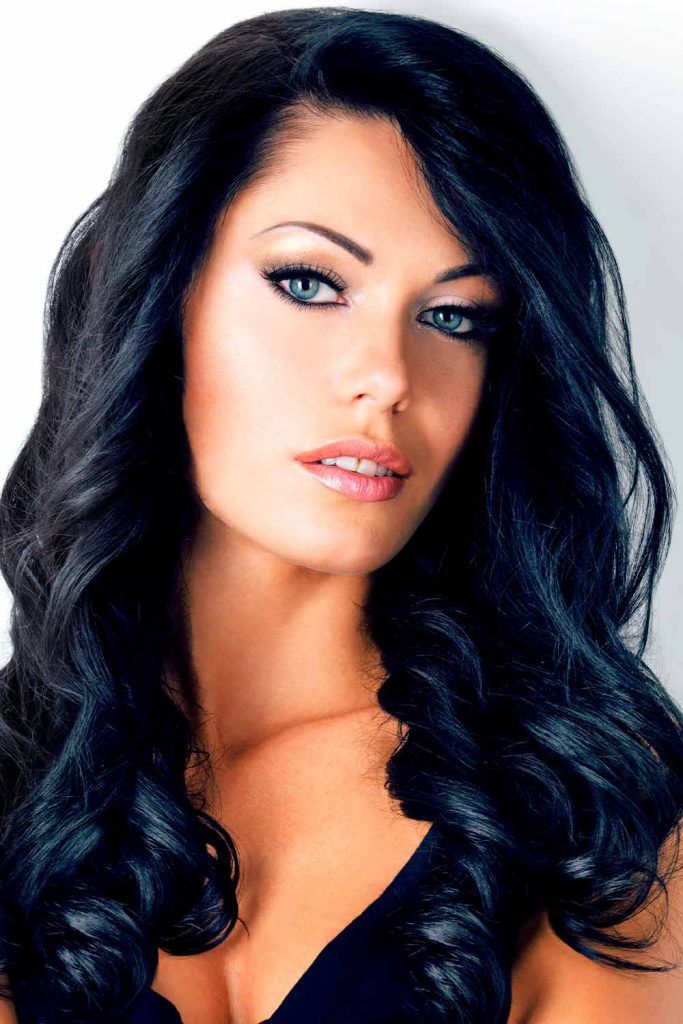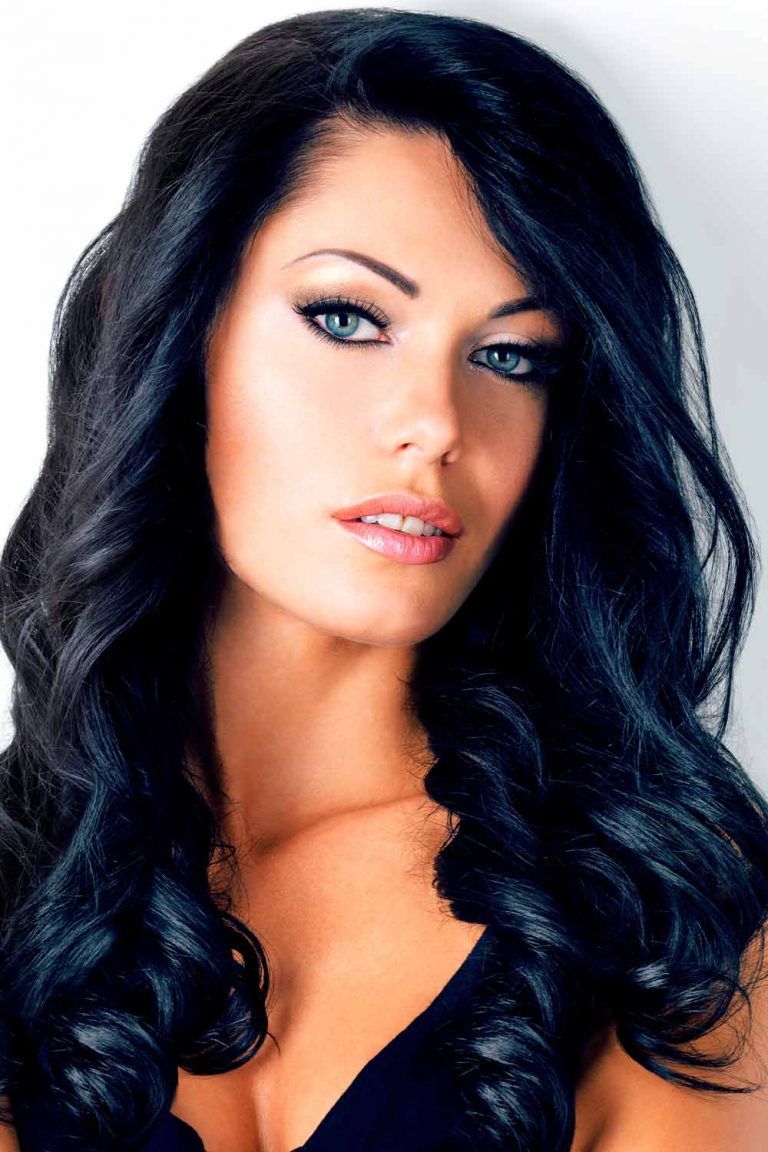 Credit photo: shutterstock.com
Raven black is a soft, balanced, and a little bit bluish shade of black that many women who want to color their hair black aim to achieve. First of all, the best results lie in the best professional: ensure that the colorist you choose is experienced with black hair. Also, remember to ask your colorist about the right color care and maintenance routine and stock up on products designed for dark-colored hair.
Purple and Black Hair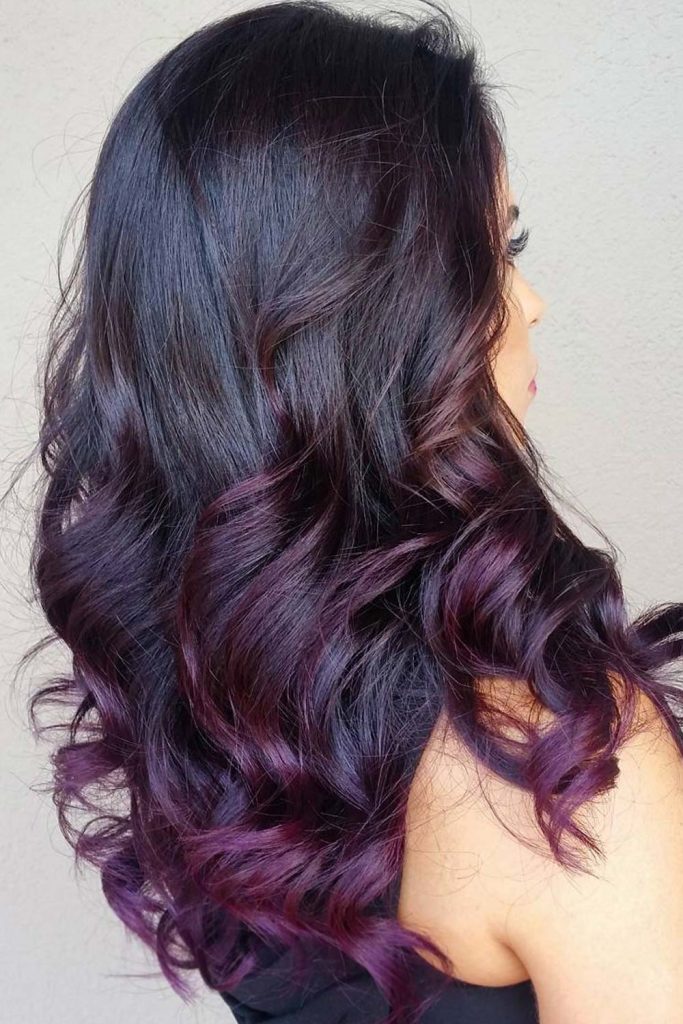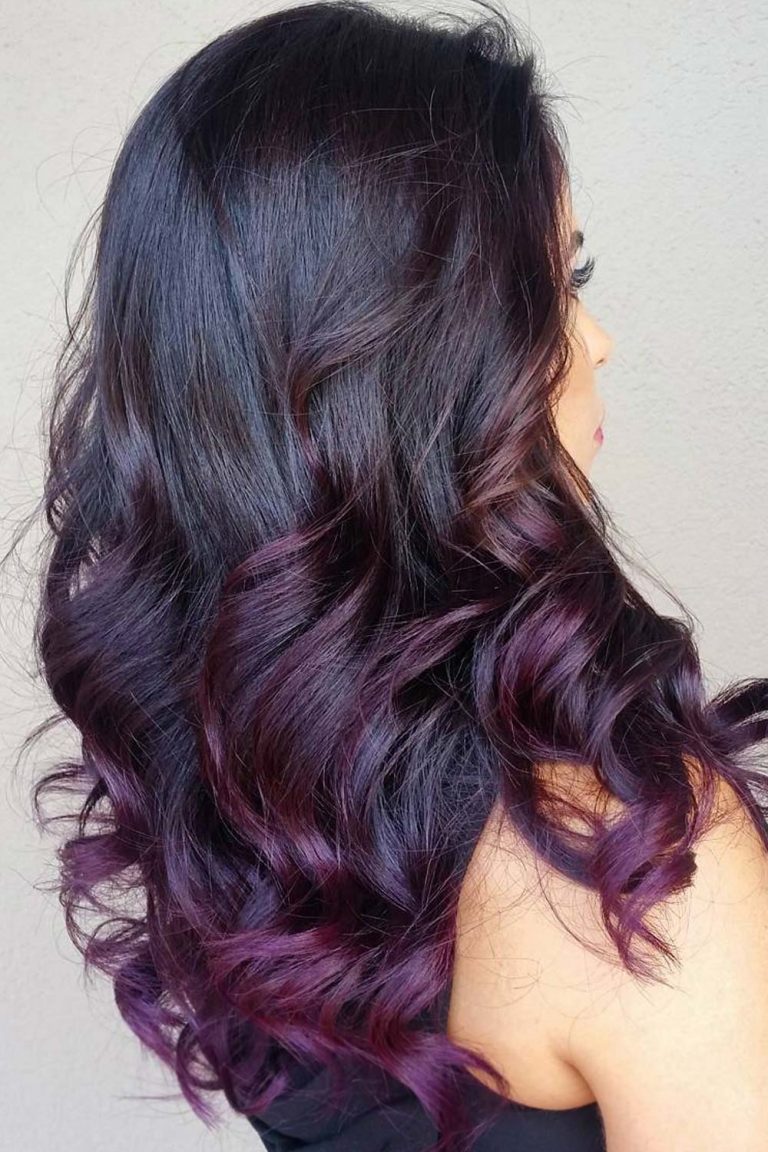 by @instagram_irinabilka_hairandmakeup
Purple and black make up a gorgeous color combo. While it is up to you to decide how to apply the color, we suggest opting for purple and black hair ombre. Purple ends, as they melt into black roots, look striking and pronounced, adding interest to your hair color style.
Black and Blonde Hair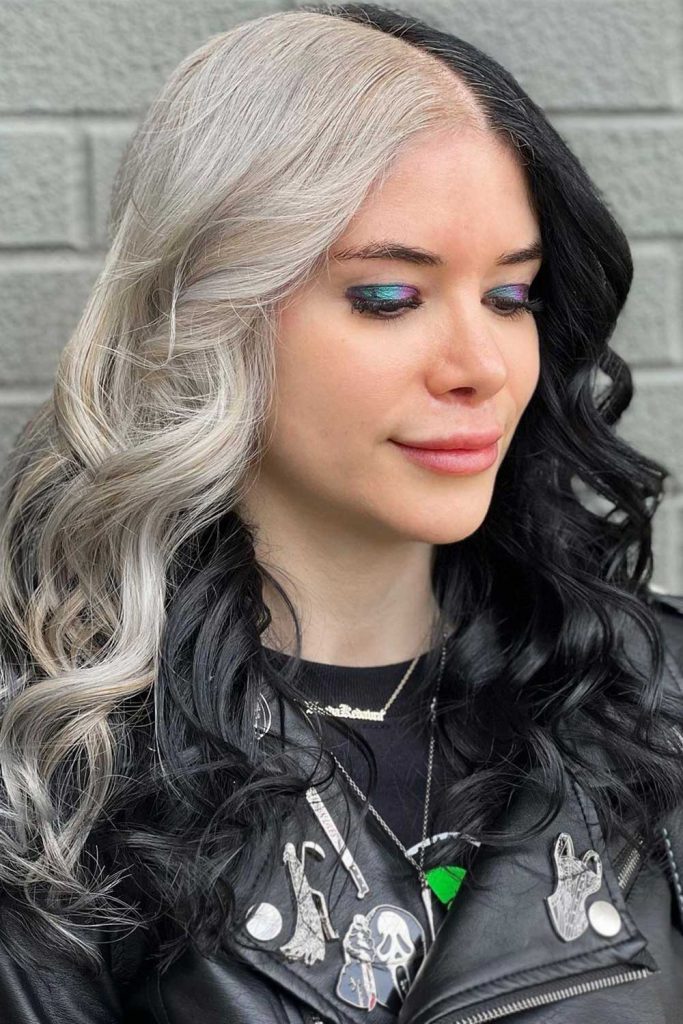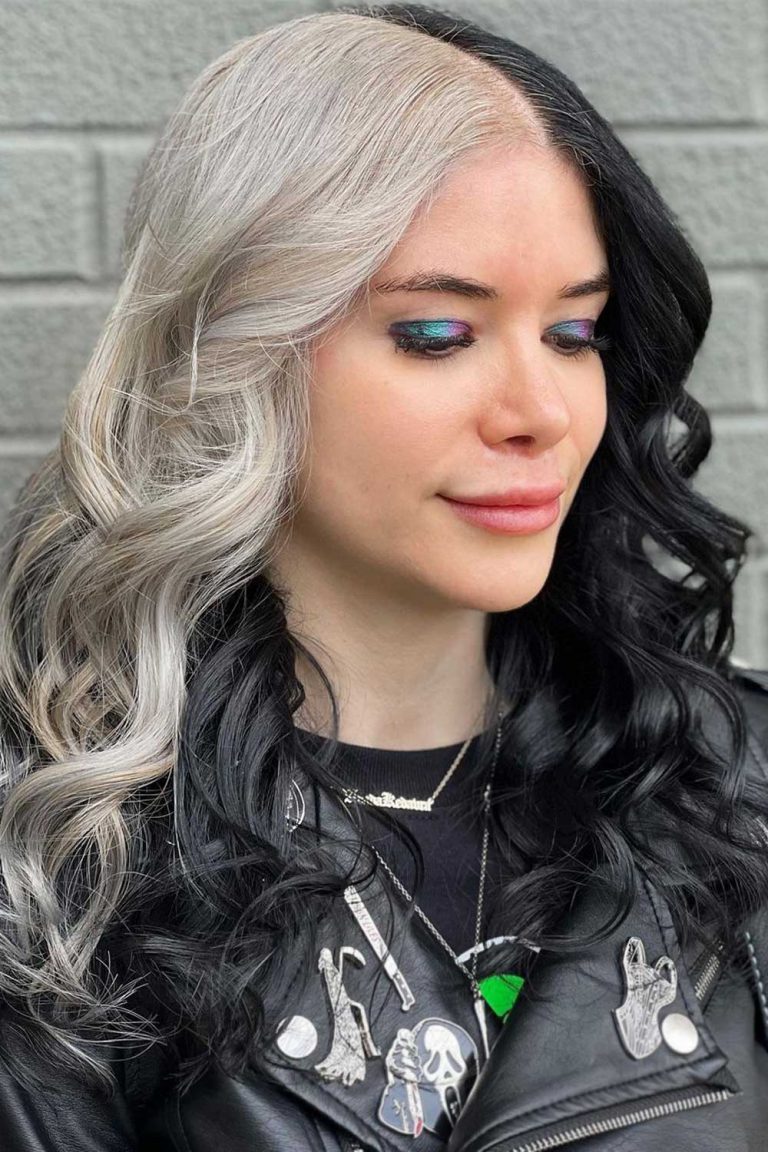 by @instagram_alyssawiener
Cannot decide between black and blonde hair? You do not have to. Incorporate both colors into one hair look. But instead of traditional highlights, get the split hair color style. It is what it sounds like. You split the hair into two equal parts and dye one part black while the other one should be bleached blonde. The look that will surely make you stand out in the crowd.
Black Hair Color Base with Ash Brown Highlights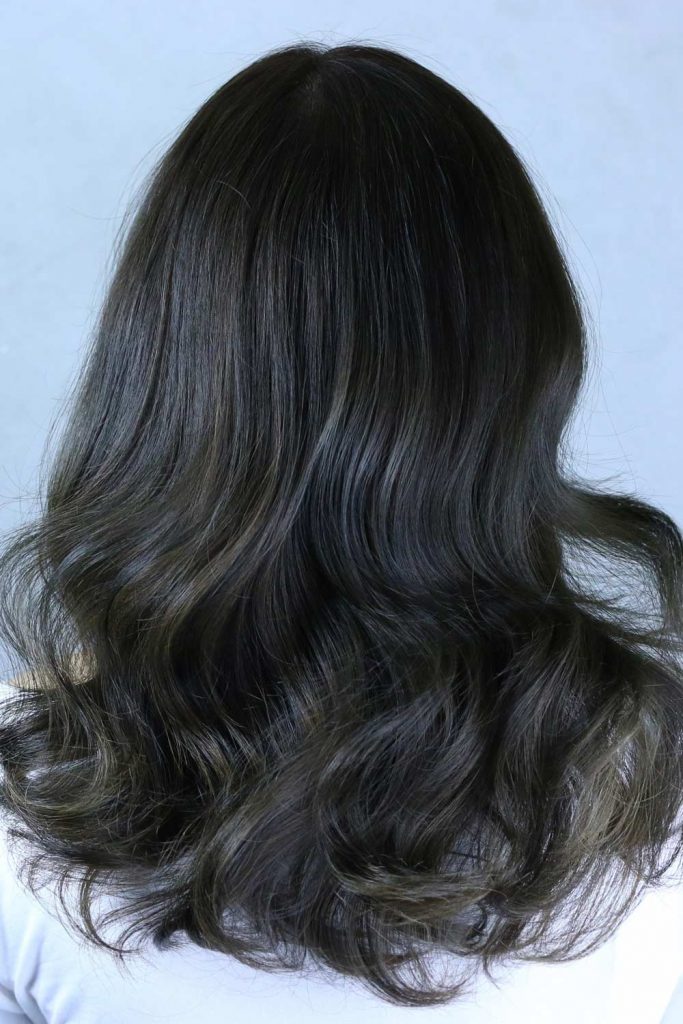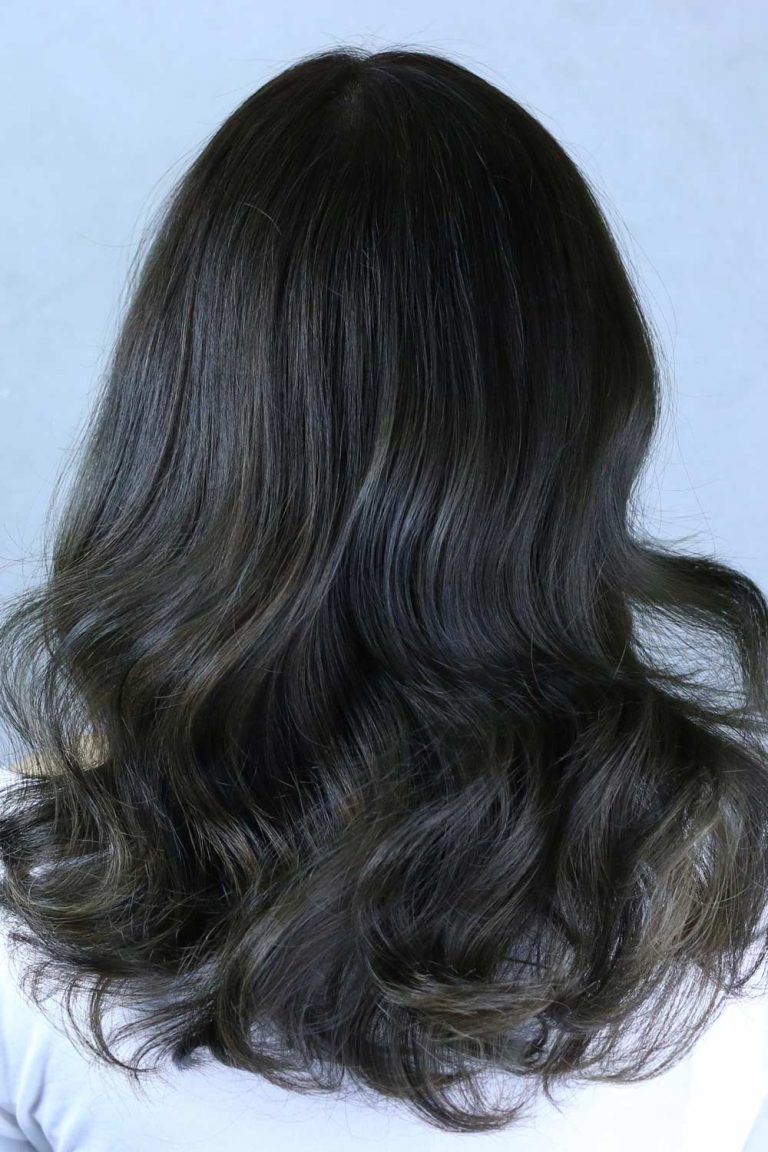 Credit photo: shutterstock.com
It comes as no surprise that black hair with highlights appears more dimensional and structured. Though, if you do not want to create too high contrast between the base and the streaks, then go for blue black or ash brown highlights. The final result looks softer but still very bold.
FAQ: Black Hair
Is black hair damaging?
Black color does not cause significant damage to natural hair. However, all products that remove black hair color harm your hair, so just allow your natural roots to grow out without coloring at this time and cut off the black locks when they are long enough.
Is black hair not attractive?
Longer black hair is deemed more appealing than medium-length black locks. The researchers' findings are as follows: 110 males examined photographs of women with various hair colors and lengths. The hair was blond, light-brown, and black in color, with long, medium and short lengths.
Does black hair make you look younger?
If you prefer the dark side and don't want to go light, go for soft black tones to get a younger look. Rough black tones might wash you out by bringing a lot of contrast to your look, whereas softer black tones can make your skin appear smoother and hence younger.
Was this article helpful?