There Is Nothing Better Than The Unique Purple And Black Hair
The combination of purple and black hair is not only stunning, but it is also kind of daring. Besides, the versatility of shades purple hair comes in won't leave anyone indifferent. And when one shade is not enough for you, you can always ask your stylist to mix and match for the creation of something special. What we have here is the list of the trendiest ideas of these colors. Who knows, maybe there will be something for you, too.
Long Purple And Black Hair
Source: peypaintshair via Instagram, off7thsalon via Instagram, stephygnarstagram via Instagram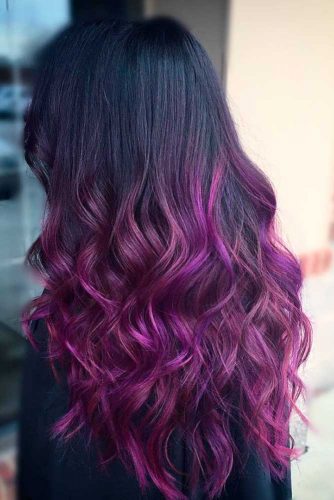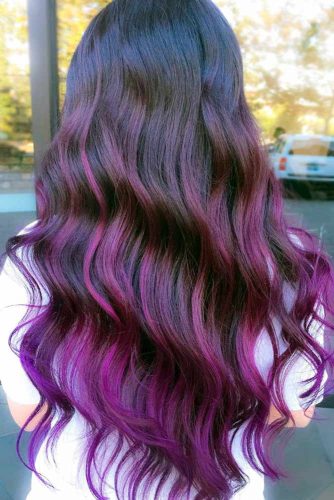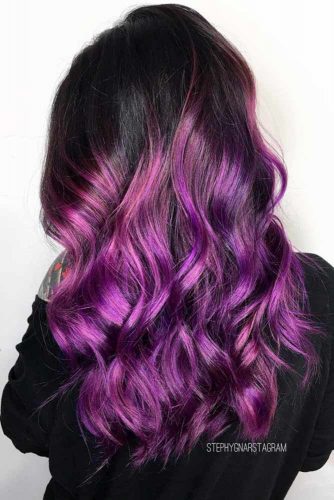 Purple and blue hair mixture is totally a choice for crazy little dare-devils. And what we are suggesting here is a calm but oh-so-sweet transition from black to dark purple. These purple waves make you crave for it, don't they?
Black To Purple Bob
Source: off7thsalon via Instagram, veeronk via Instagram, stephygnarstagram via Instagram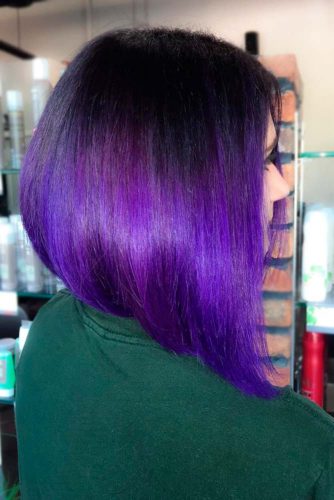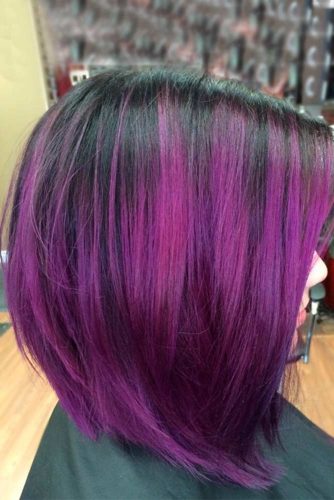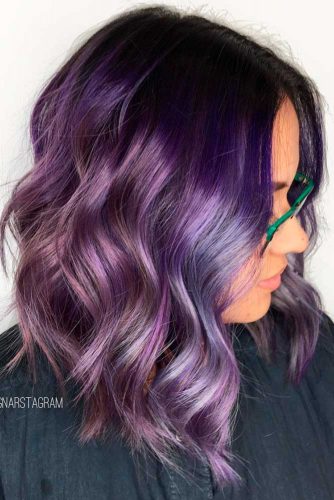 There are cases when dark purple hair coloring is not an option. In such cases lilac substitution fits in perfectly. Not only pastel purples are trendy but also they look incredible on middle-length wavy hair.
Black Purple Medium Hair
Source: hairbyginarosato via Instagram, stephygnarstagram via Instagram, nyane via Instagram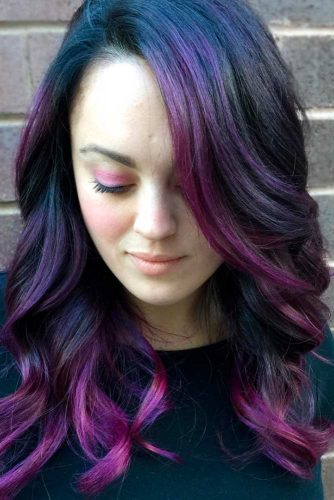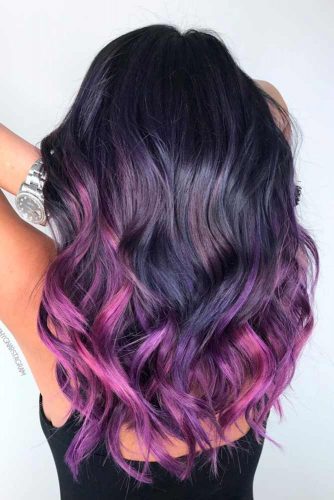 Sometimes women are not completely sure of what they want to do with their hair. In such cases opting for purple highlights is the best suggestion. You can always show them off by creating elegant curls or hide them if it turns out to be not your cup of tea.
Cool Black To Purple Ombre
Source: frenchysbeauty via Instagram, glamiris via Instagram, butterflyloftsalon via Instagram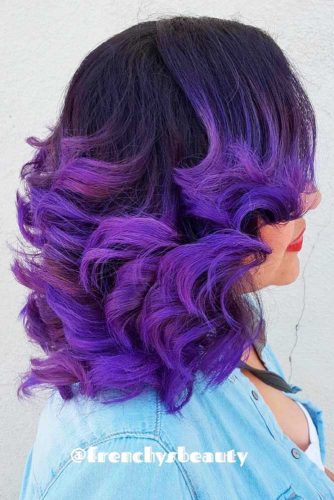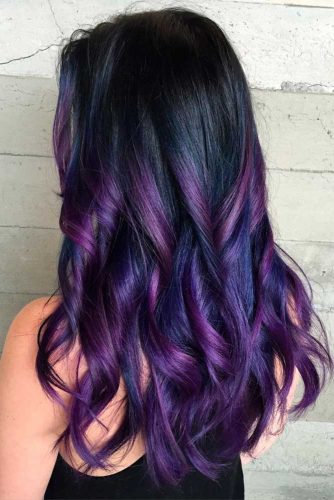 When you get bored of your jet black hair, go for an awesome upgrade. Ask your stylist to mix the blue and purple shades into one stunning ombre. Trust us, that will be a non-regrettable decision.
Cute Purple Black Hair
Source: xostylistxo via Instagram, michellehair via Instagram, bowandarrowhair via Instagram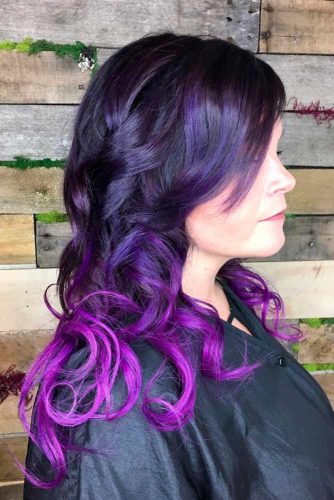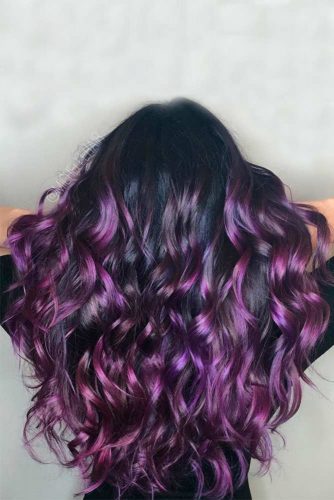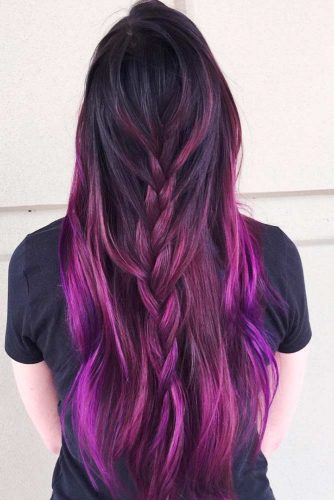 When you go to the purple side, you should not only be able to pick the perfect shade, but also you need to learn what makes your highlights stand out best. And in our opinion, any kind of braiding will do for that. See for yourself!
Bright Purple Ombre
Source: kimwasabi via Instagram, muhamed_balasiev via Instagram, elissawolfe via Instagram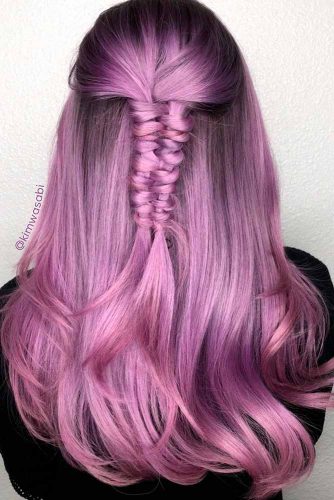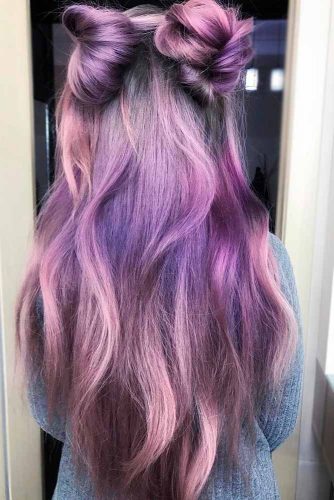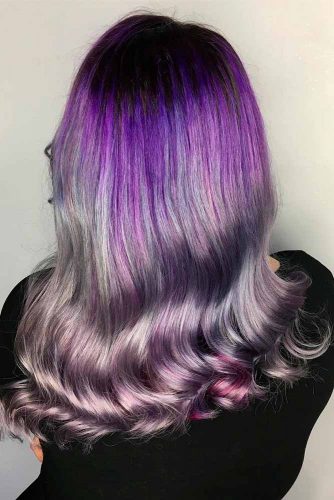 Amazing Purple Ombre Hair Color
Source: 76amy via Instagram, bree.little via Instagram, candicemarielv via Instagram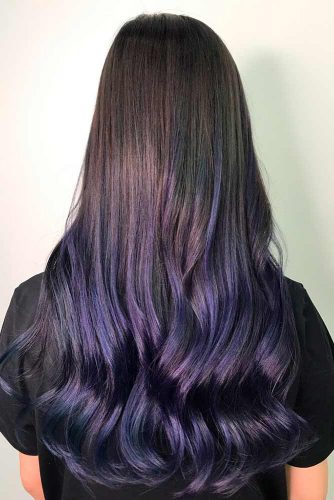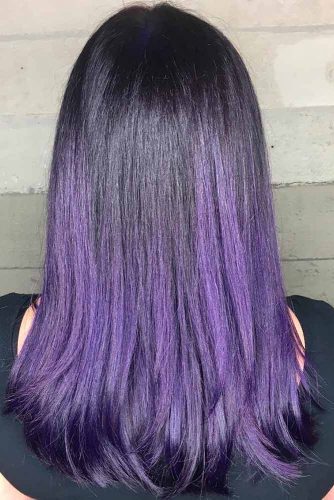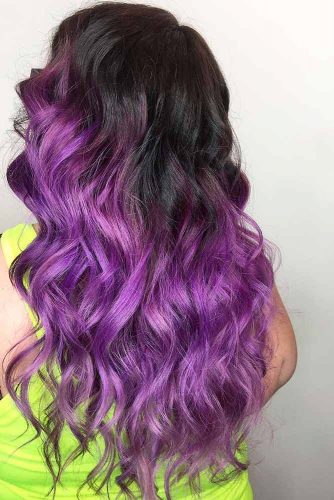 Mulberry Purple Locks
Source: xostylistxo via Instagram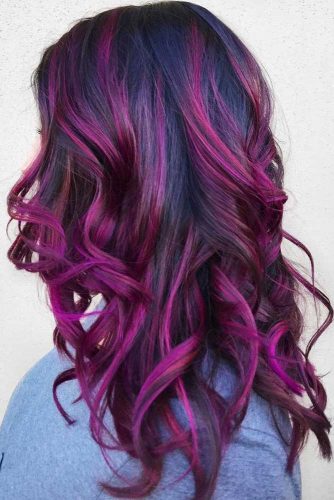 We love dark purple combinations. What about you? Just look at this one. Such a soft transition of dark hair that is highlighted at length with a lighter purple. Doesn`t it look dramatic in a good way?
Electric Purple Ombre
Source: xostylistxo via Instagram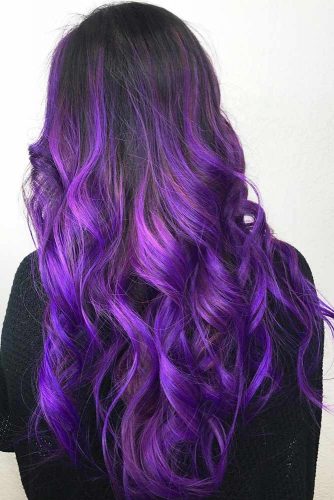 Ombre ideas with colors are always fun. Especially when they are super colorful and creative. What do you think about this electric purple one? Look at how beautiful purple looks with different shades. We love how gorgeous it is fading from dark black roots.
Black With Smokey Purple
Source: jeffreyrobert_ via Instagram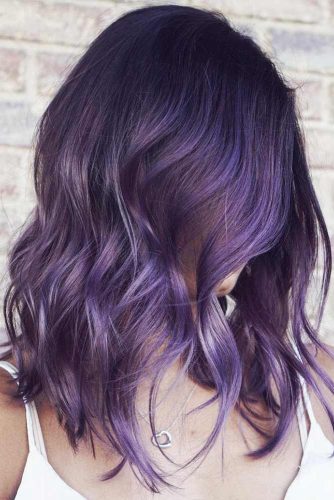 A silver shade combined with a light purple tone. That`s how we can describe the smokey purple that you can see in the picture. This is the trendiest color that you can come up with for your hair this season. Creative but neutral and stylish at the same time. Wouldn`t you like to try it?
Purple Highlights
Source: xostylistxo via Instagram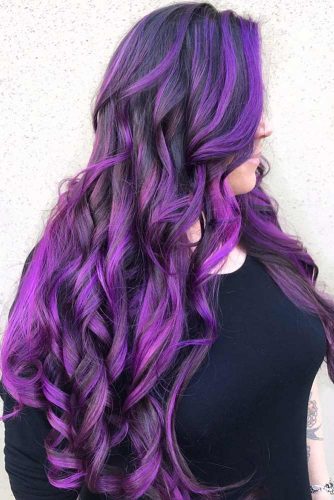 This idea is for you if you are bored of having plain black hair and would like to experiment with it. Have some fun with adding purple highlights to your hair. If it is also long, don`t even doubt your choice as it will look magically.
Smokey Plum With Babylights
Source: jeffreyrobert_ via Instagram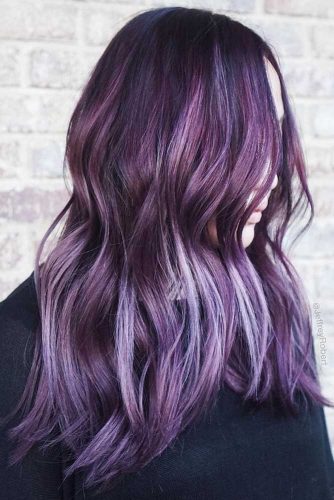 Another trendy shade is this smokey plum one. Look at how deep and beautiful it is. Such dark colors look so good with interesting highlights, so play with a bit of lighter tones to get a bit of contrast. And voila your friends will be amazed by the results when they see you!
Lavender Purple Tint
Source: xostylistxo via Instagram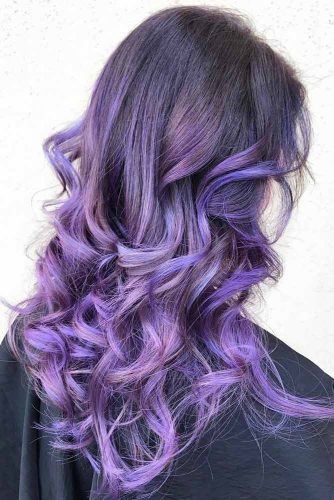 Dark roots that are slowly fading into light lavender color at the ends of the hair. Wow! An idea that will freshen up your look and will bring a unique vibe to your appearance. Would you like to play with colors?
Purple With Ashy Blue Ends
Source: evalam_ via Instagram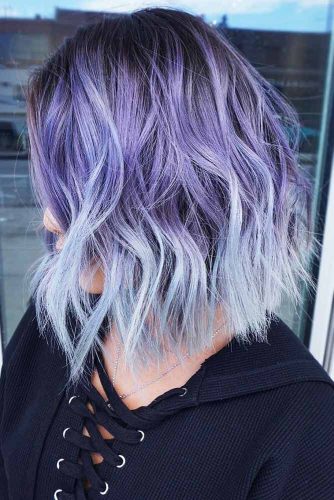 A pastel purple is already a hot choice so imagine adding an ashy blue shade to it. If you have a short cut, this idea is for you. Enhance the beauty of your short length by adding such an interesting combination of colors, and you will be looking super special.
Purple With Red-Violet
Source: rebeccataylorhair via Instagram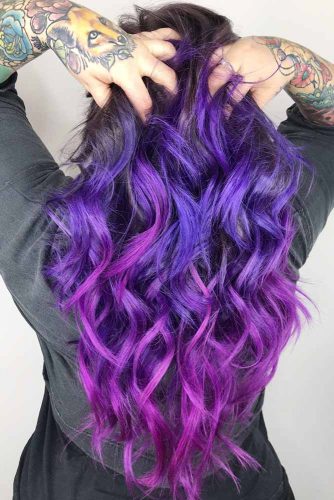 Dark roots that go into a purple color, which fades into a red violet. Isn`t it chic? For long hair, such an idea is unbelievable beautiful as it will fully complete the combinations. Gorgeous mermaid hair that will turn heads.
Black Roots With Purple And Yellow Ends
Source: rebeccataylorhair via Instagram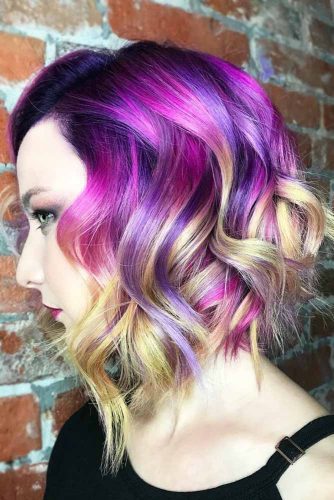 Creativity is always about bringing in something new that nobody has done before. Have you ever seen a girl with purple hair that goes into yellow ends? If no, then dare to try such an idea on yourself. Leave your roots dark and play with a bright contrasting color.
Black With Purpura Purple Highlights
Source: hairgod_zito via Instagram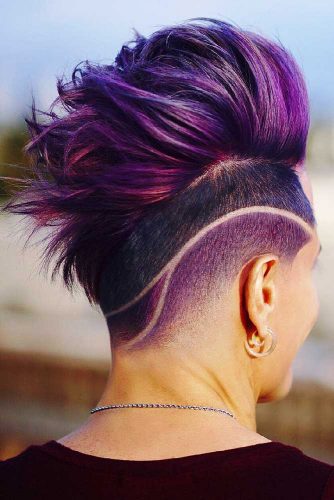 Black hair is perfect for experimenting especially with fun colors like purple. Why don`t you add purple highlights to the length? Blend in the dullness and bring in some freshness to your hairstyle. You will love how different it will make you look and feel about yourself.
Main photo by Nyane