Lavender hair color is your ticket to a real fashionable fairytale. The fairytale, where you flaunt with a hair color that reminds you of the blissful early spring and makes you stand out from the crowd. How about you to make it real? It's time to see how you can add the magnificent color to your life palette: our ideas will be your eternal inspiration.
*We may earn money from affiliate links on this page. Please check out our disclosure policy for more details.
JUMP TO THE GALLERY
Whether you got your purple hair randomly, when trying to achieve a greyish tone or you are rough and ready for trendy color changes, there's an idea for every girl and any taste. Let's plunge into the world of endless spring and everlasting, immense lavender fields on your hair. See how to pull off lavender shades!
How Do You Get Lavender Hair?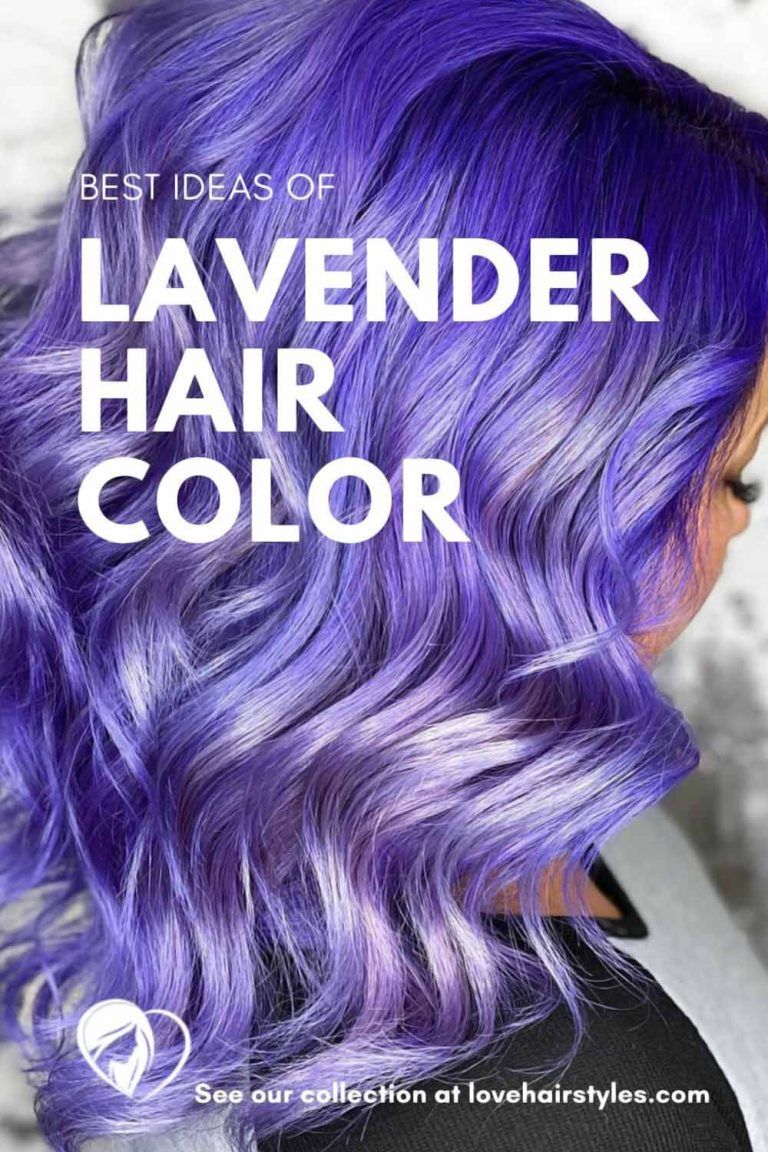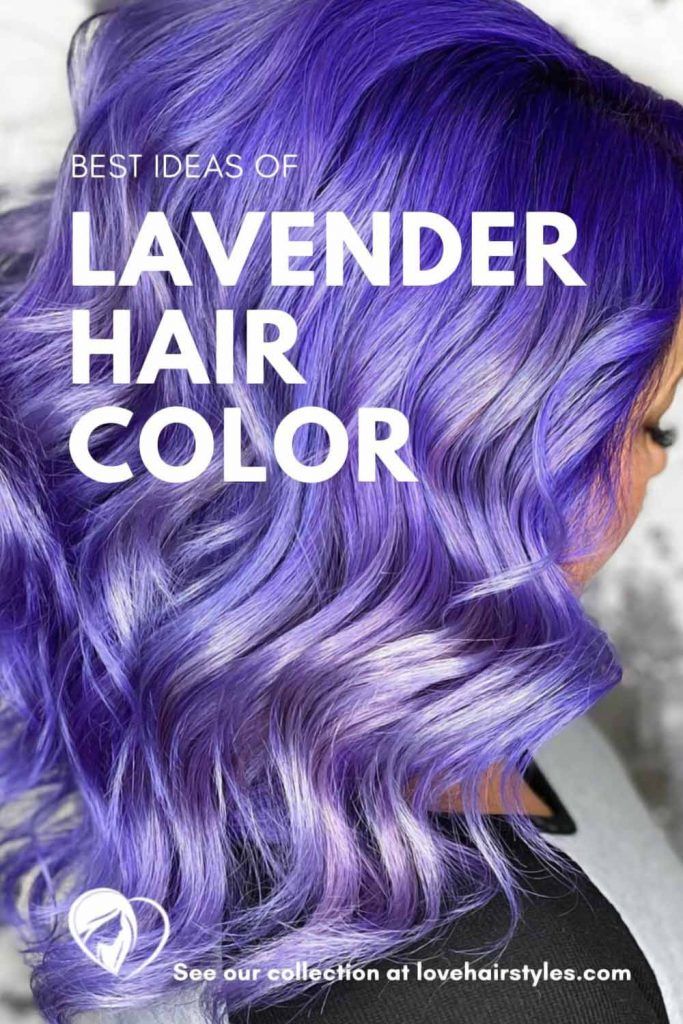 We know how hard it is sometimes to resist the beauty of color, especially when it's SO radiant. And even though hair coloring is something that we all should get during a salon visit, the desire for home experiments is pretty powerful. For that reason, we can't help but share with you an amazing tutorial meant for those who want to get salon results while staying at home. By following this tutorial, you will create a pleasant flow of dark purple roots to soft pastel lilac ends.
What you will need:
Coloring set with diluter and semi-permanent purple dye.
Pack of lilac + pack of a dark purple shade of the same brand (we recommend you using Arctic Fox) for the roots.
For the rest of the hair, you will also need diluter and a couple of light purple shades
Gloves
Clips
Brushes
How to:
Begin by mixing diluter with dyes in two separate bowls: you will need to create a dark mixture for the roots and a light mixture for the rest of the hair.
You need to work with mall sections of hair, so make sure to divide your hair into several sections, clipping them out of the way.
Next, put on the gloves, and dip your brush in the darker shade, sweeping it to the roots of a thin section.
After that, take another brush and dip it into the lighter shade, applying it to the midshafts and ends.
Lastly, smudge the colors with your fingers.
Repeat these steps until all your hair is saturated with the dye.
Wait for the specified amount of time and rinse the color with cold water!
How Long Does Lavender Hair Last?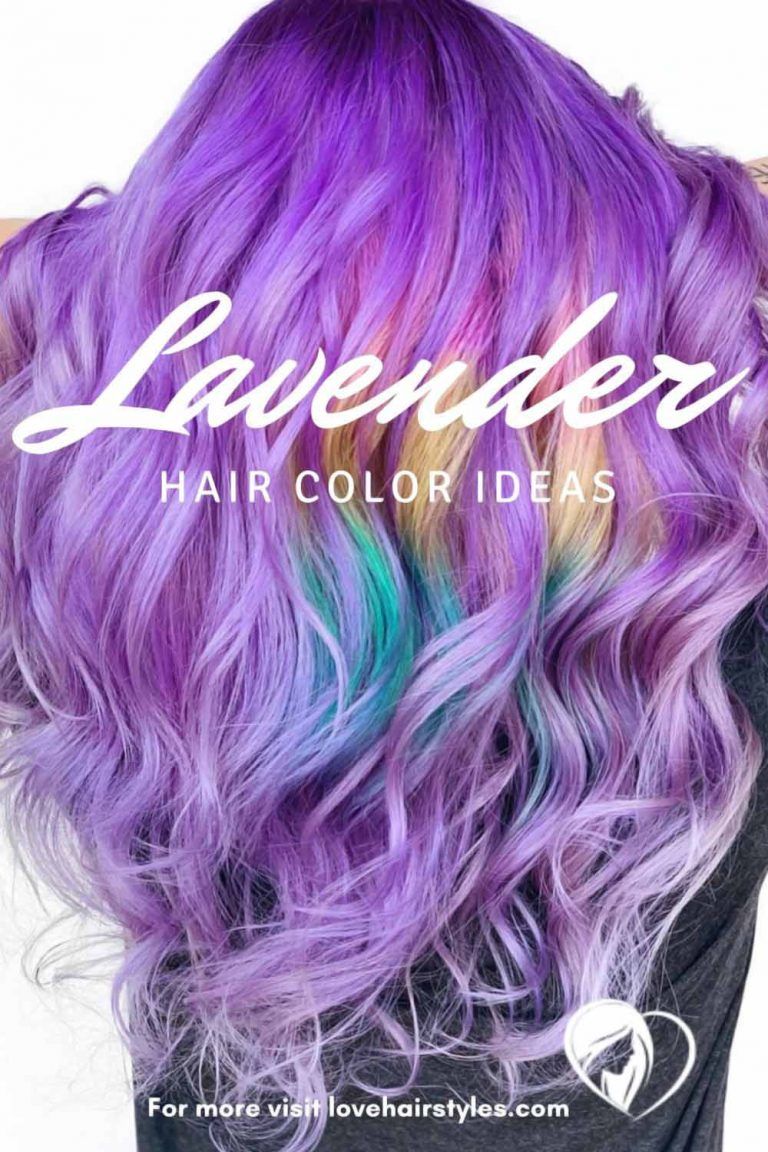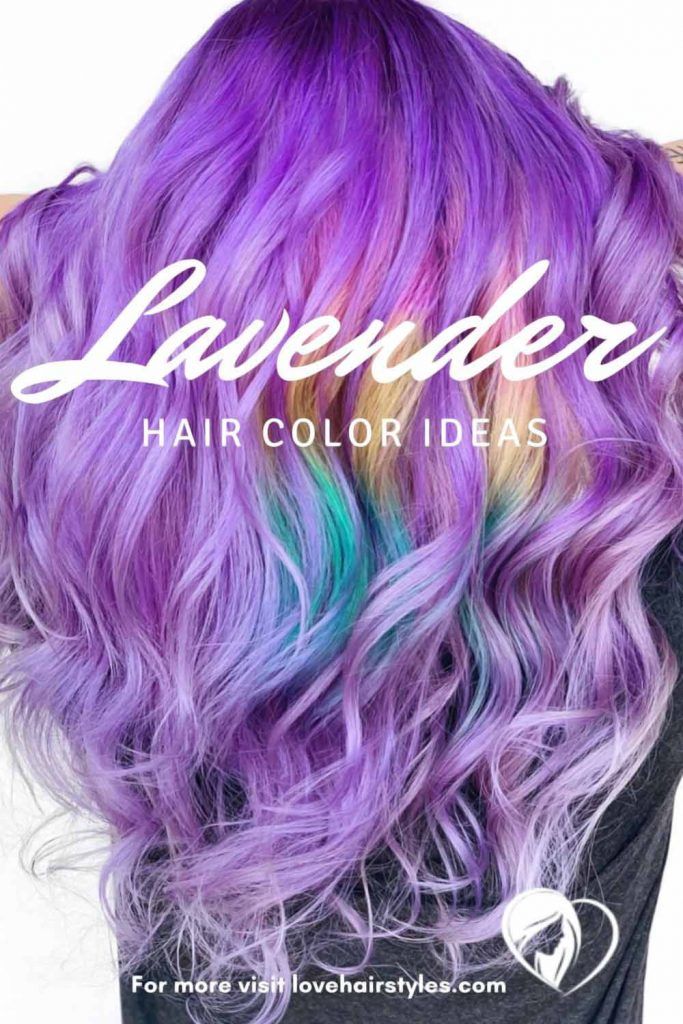 Lavender hair colors, and pastels in particular, usually last from 4 to 8 weeks, depending on the frequency of hair washing. Basically, the more often you wash your hair, the sooner your hair will fade.
Q: What color does lavender hair fade to?

A: While it depends on the base you start with, lavender hair usually fades to silver-ish. However, if you work with a blue-based dye on your yellowish blonde shade, your lavender hue may get a green tone.
How Do You Maintain Lavender Hair?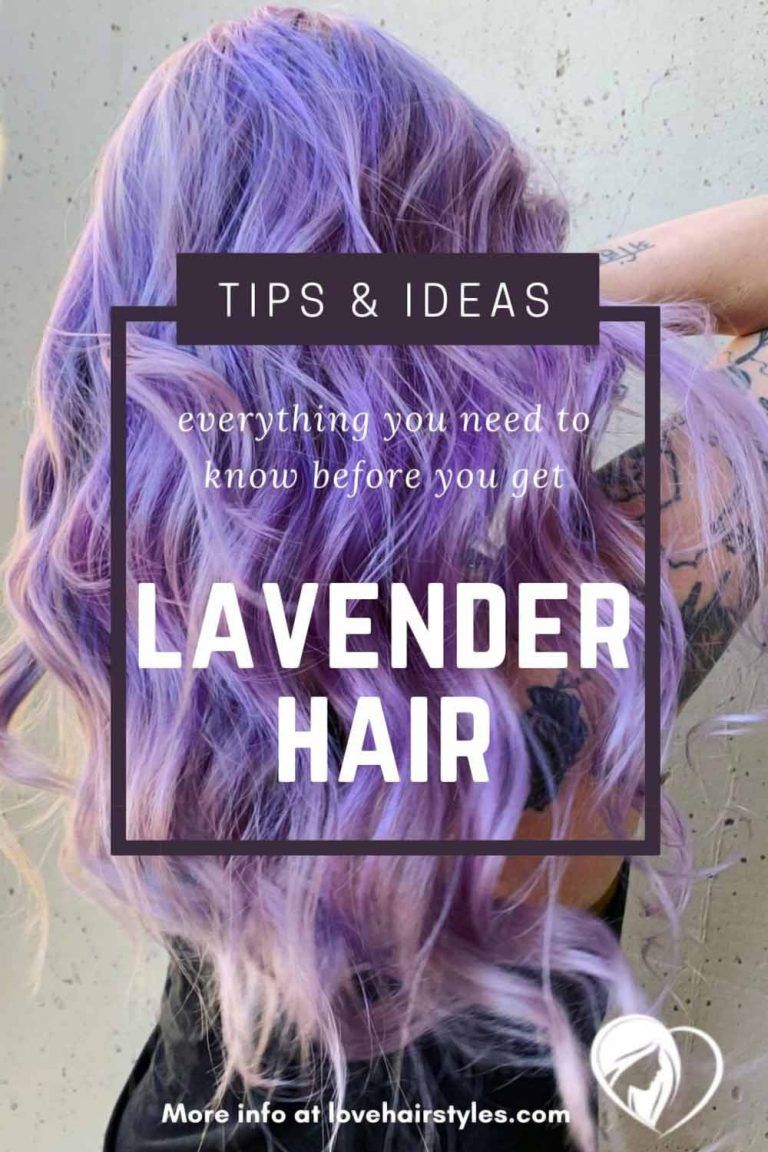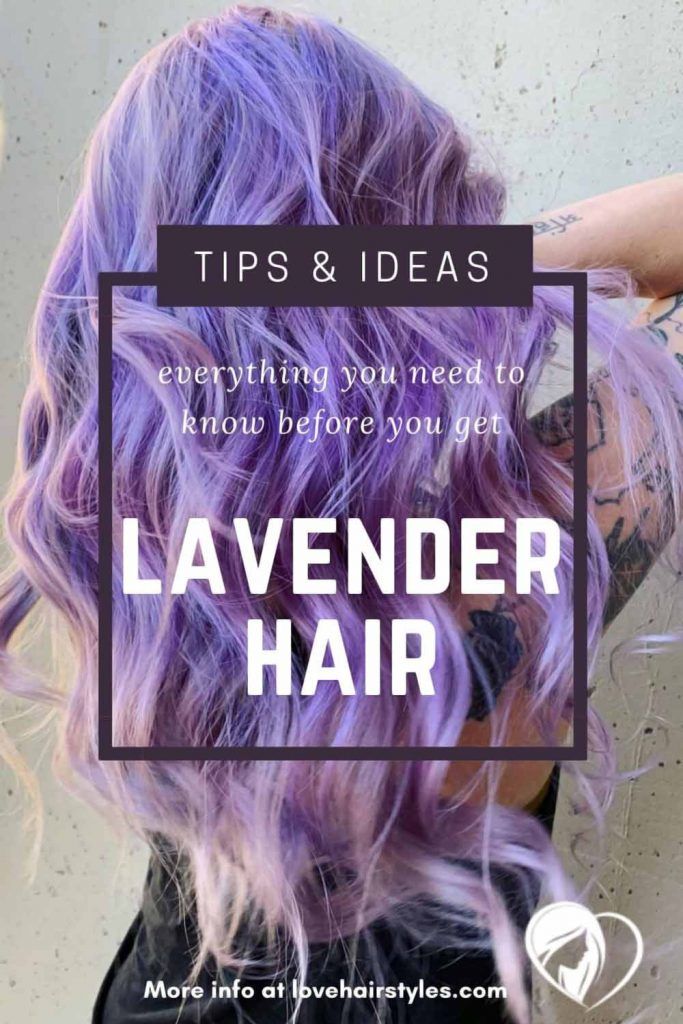 When rocking pastel hair, you should be very careful with everything from the products you use to the styling tools you work with, as such colors are very subtle and easy-to-fade. Therefore, you should stick to the right pastel hair care routine to make your gorgeous shade last longer. And here are the crucial tips that will help you get the most of your lavender hair.
#1. Stop washing your hair every day. As a good rule of thumb, you should switch to a new washing schedule. If you start washing your hair once or twice a week, you will preserve your shade, as the more you wash your hair, the sooner the color washes out. In case your hair gets greasy pretty fast, you can use color-safe dry shampoo.
#2. Stay away from heat. Besides damaging your hair, heat styling tools can also strip off the colors. So if you're a curl or wave lover, make sure to make a little sacrifice for the sake of color. Still, if you need to straighten some messy sections, you can do it at the lowest temperature and a heat-protectant applied.
#3. Stock on products designed for pastel purple hair. Your shampoo and conditioners should be picked based on your hair color, that's pretty obvious. But, apart from basic haircare products, you should also involve daily care items like toning leave-ins that will condition your hair and maintain your color. The same goes for purple shampoo - it's a must.
#4. A hot shower is your enemy now. Another thing that you should remember is that if you like taking hot showers, your lavender hair doesn't. Hot water makes the color wash off faster, thus leaving you with a faded shade too soon. So, consider taking lukewarm or slightly cool showers. Or, if you can't really change this part of your routine, wash your hair first and wrap it with a towel before letting hot water come in.
Pastel Lavender Hair With Dark Roots
Credit photo: instagram.com/nealmhair
Some people stay away from eye-catching colors like this because they're too shy to express their personalities. More for us then, right? Let's enjoy the stylish lavender hair idea for brunettes. Even though getting such a pastel color requires bleaching, this subtle look is totally worth a little sacrifice. Ask your colorist to create a smooth shift from the darker roots, wave your hair, and fall in love with your own look! Remember: there are no shades of lavender hair dark roots can't adorn.
Lavender Hair With Gentle Highlights
Credit photo: instagram.com/hairgod_zito
When it comes to dyeing your hair in an unusual, extraordinary color, the best thing is that every color has an endless variety of shades. Yes, you can mix any shades of purple hair and resemble the rainbow of the lavender palette. These light lavender hair highlights are a good idea of combining matching tones, where one is slightly more faded than the other. Besides, you will be pleased to find out how gorgeous highlighted purple braids look.
Chic Lavender Ombre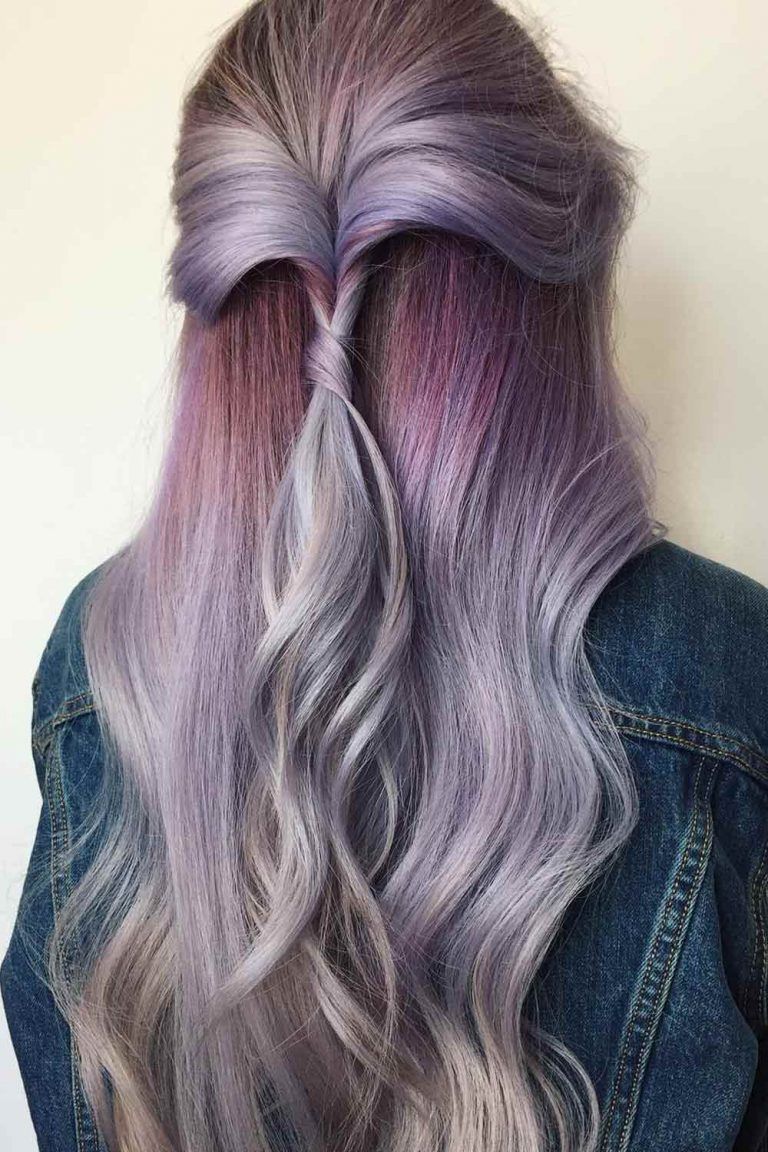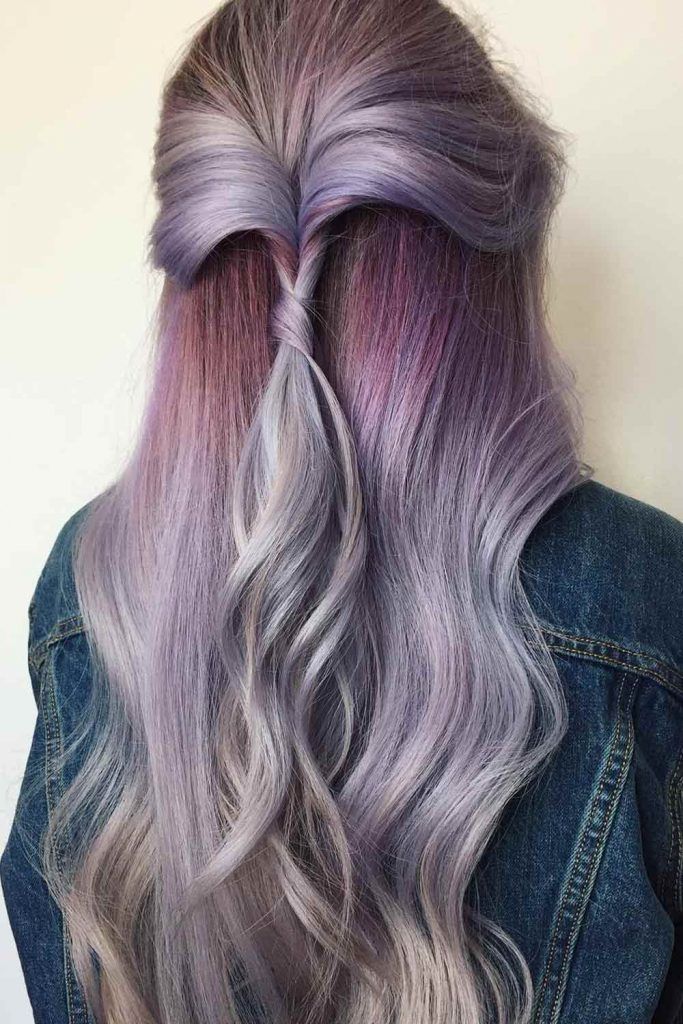 Credit photo: instagram.com/isaac4mayor
Lavender hair ombre is for those who want to focus on every single hue that shows up on their hair. Here comes the idea that is called multi-layered lavender hair: it includes many different shades of lavender. The rough graduation from darker roots to light lilac base with a touch of rose vibes, which, in its turn, transits to pastel purple ends is a color combination to steal. Every shade of this ombre is absolutely seeable, so your creativity will be shown at its best.
Subtle Lavender Ombre Hair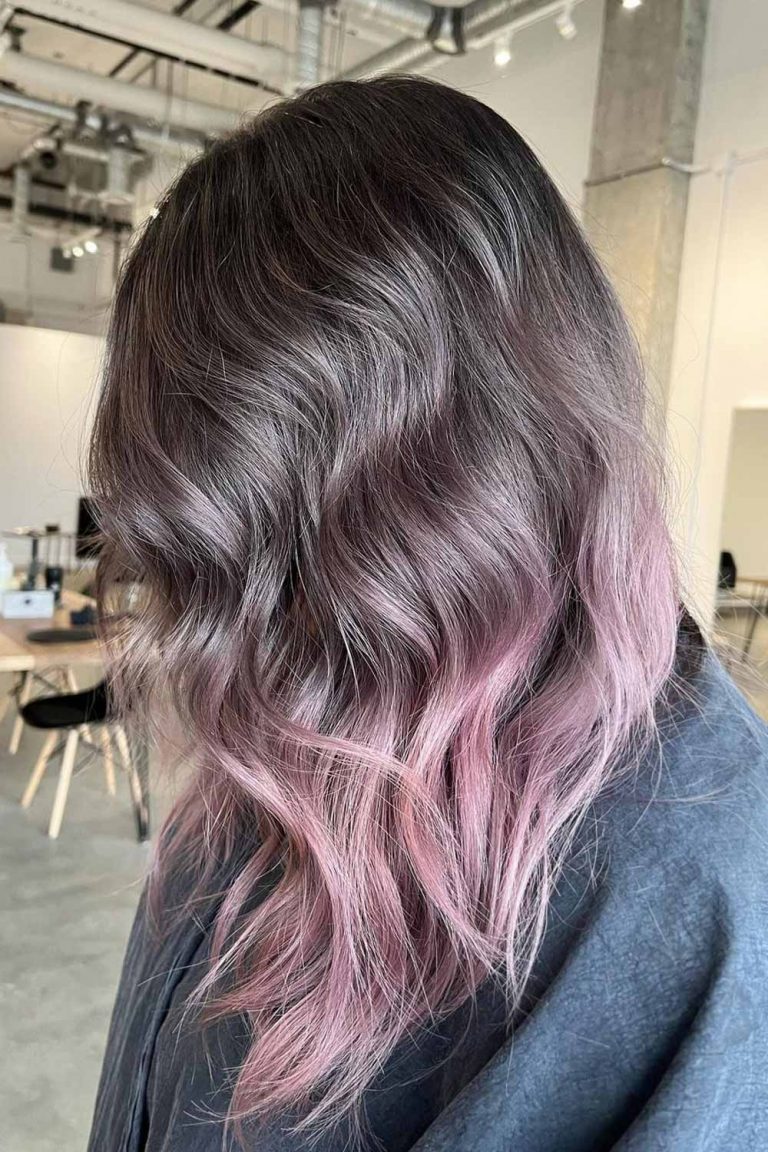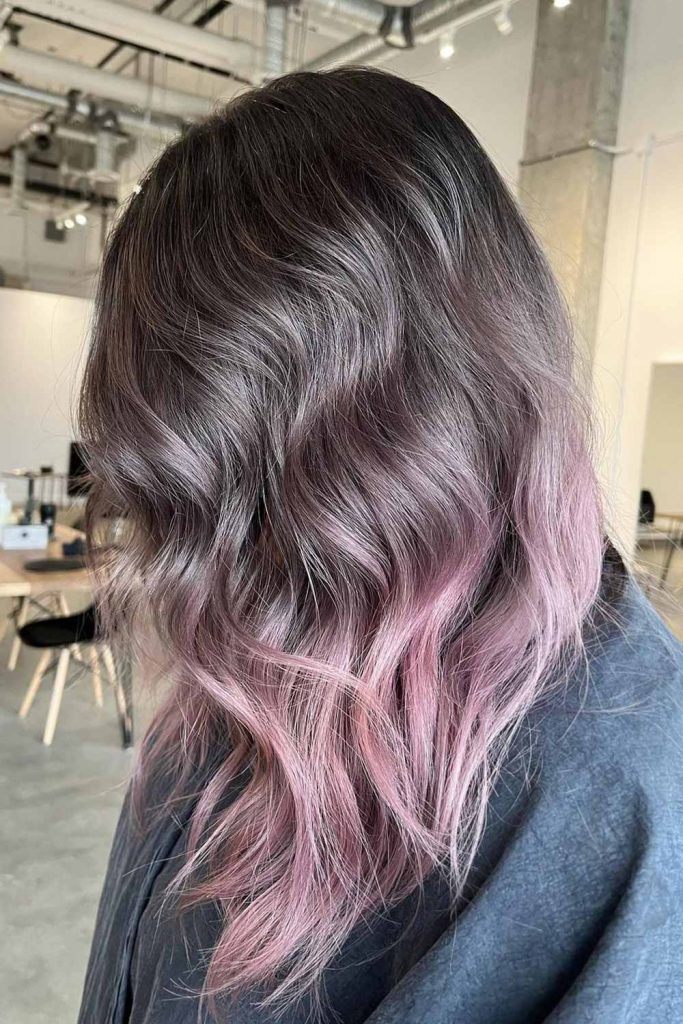 Credit photo: instagram.com/jade__ly
When we look at such fascinating combinations like this subtle ombre with the almost seamless transition of colors, we get so upset that it can't be permanent. Unfortunately, no lavender hair dye will let you flaunt with such a stunning color forever. To keep up this ombre as long as possible, you should take care of it 24/7: deep conditioning and weekly update of color really take plenty of time. So our advice is to enjoy the moments spent with lavender color and go on playing around with something new.
Light Lavender Hair Color With Intense Ends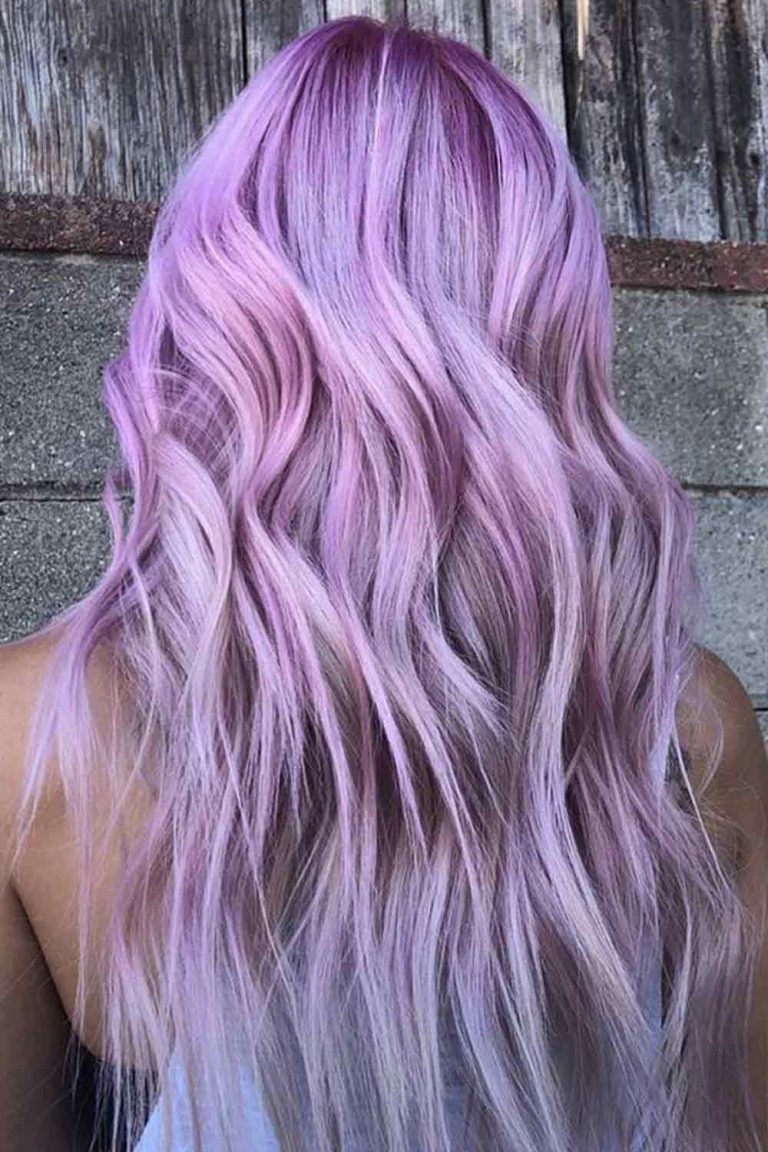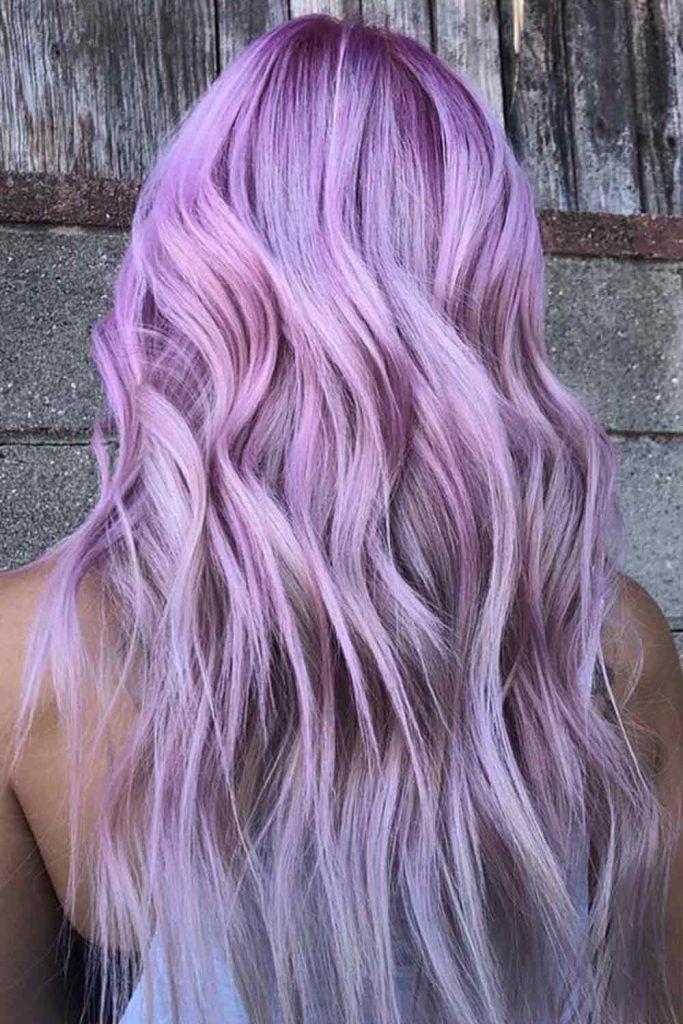 Credit photo: instagram.com/_heyhelena
Whiter on the crown and deeper to the ends: this burst of lavender hair colors looks even more ravishing on wavy hair. When going for ombre, most ladies prefer to build a contrast from dark to light, and our task is to make you different: start from the lightest shade, let waves move along the deep lavender sea, and be unique!
Deep and Dark Lavender Hair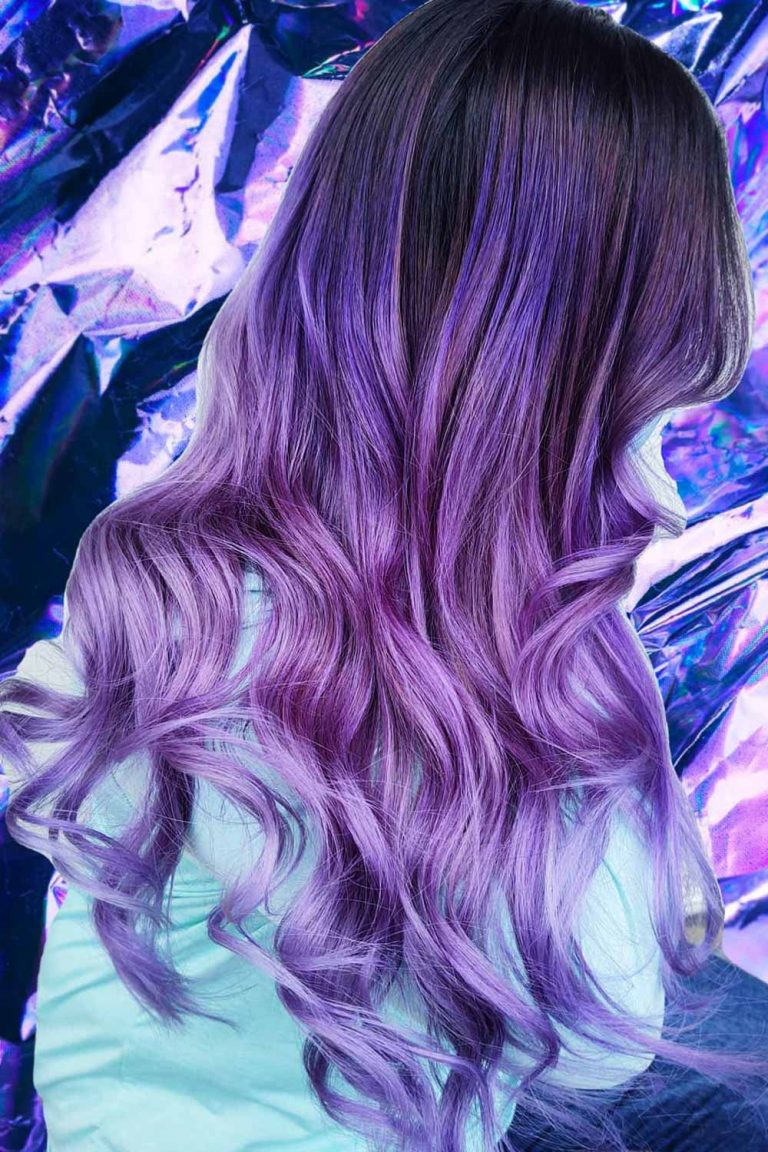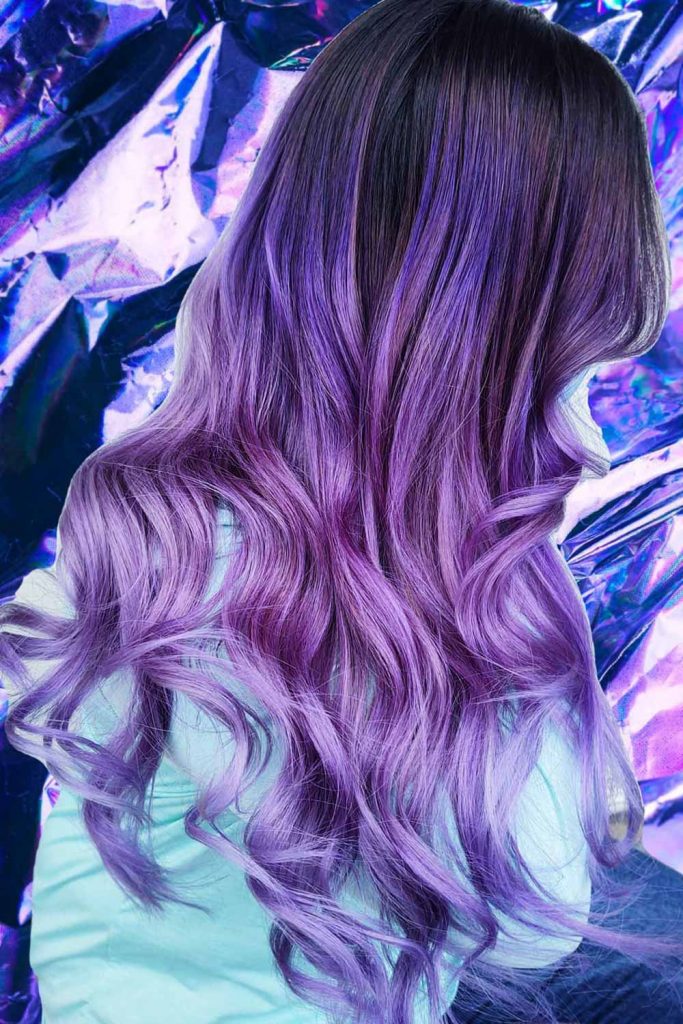 Credit photo: instagram.com/adlydesign
Dark lavender hair colors are a charming alternative to your natural dark locks. We don't try to say that girls with light hair colors can't go for this idea; we're talking about habits that don't change with the time. Those who like sporting darker colors should never miss this idea: the deep violet top that slowly transforms into cute lavender waves is a must-try combination.
Half-Lavender Half-Pink Color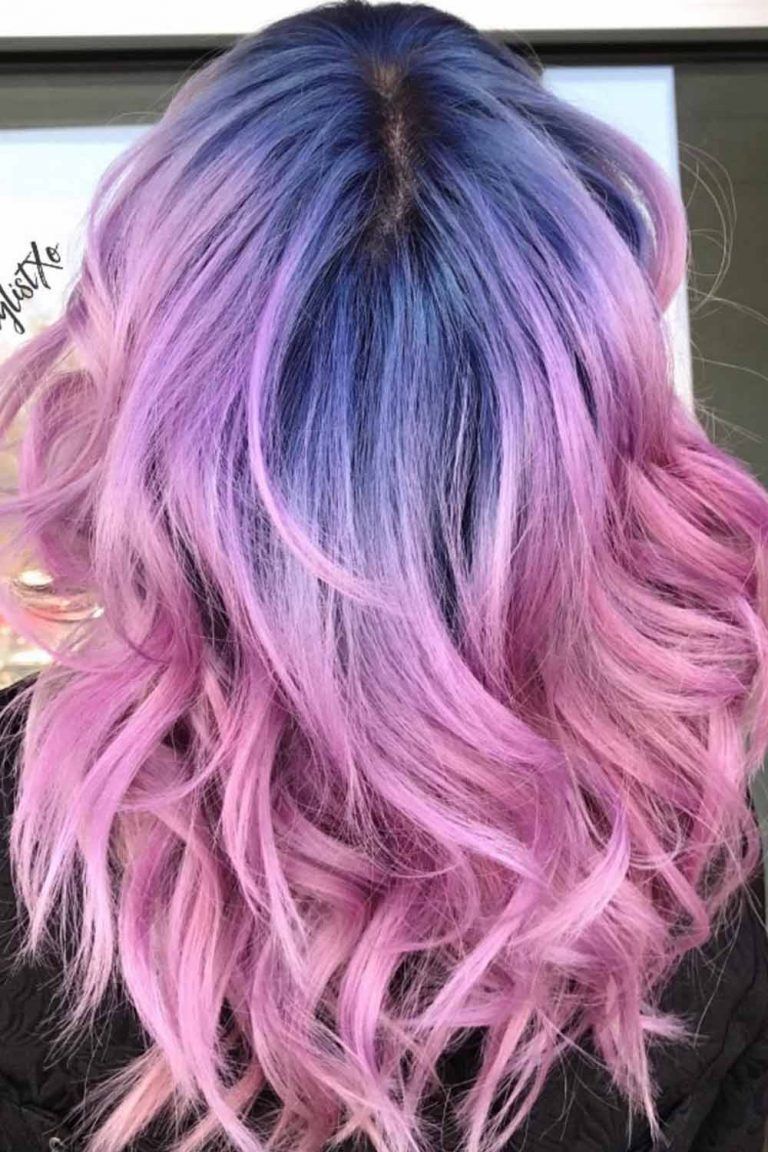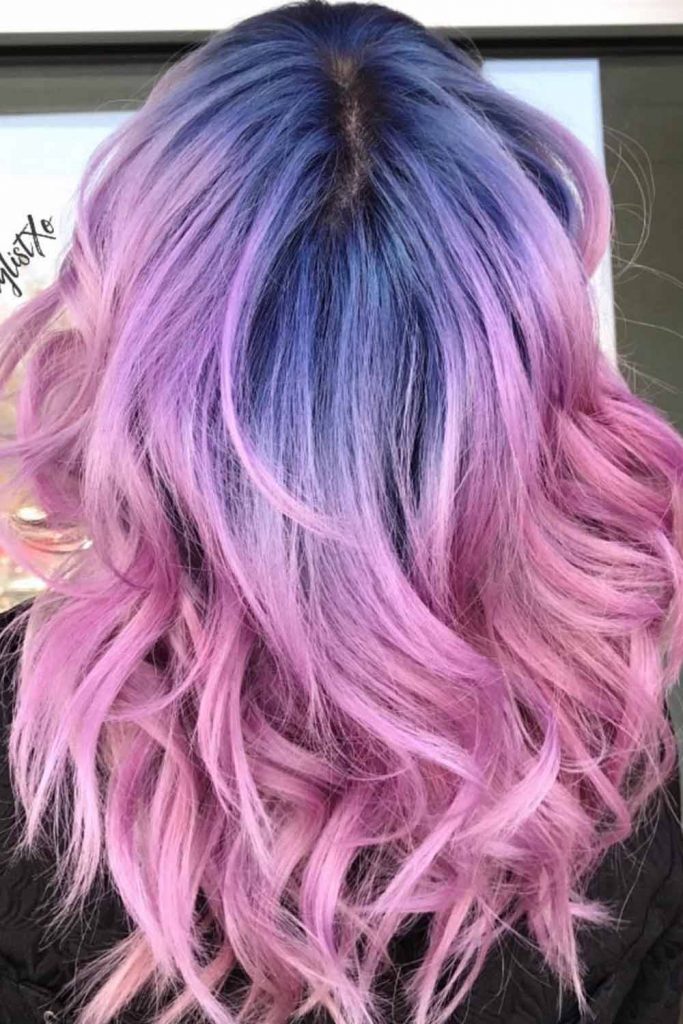 Credit photo: instagram.com/xostylistxo
One of the crucial lavender hair tips that every girl who's into dyeing pastel should know is that it requires an individual approach. In other words, you should be not only prepared to pay a decent sum of money for the magical effect like you see in this pic but also be ready to buy care products that are meant for bleached hair. To make your pink-to-lavender beauty stay silvery and silky, wash and condition your hair only with after-bleach shampoos and conditioners.
Adorable Silver Lavender Hair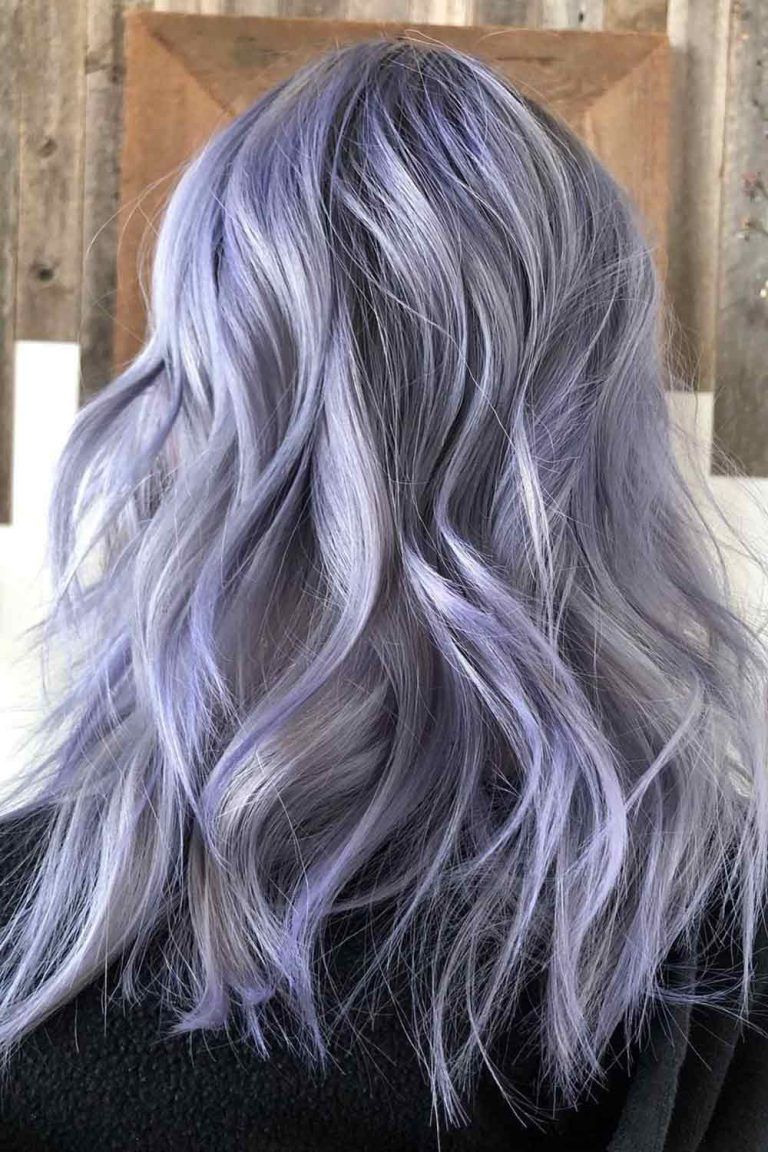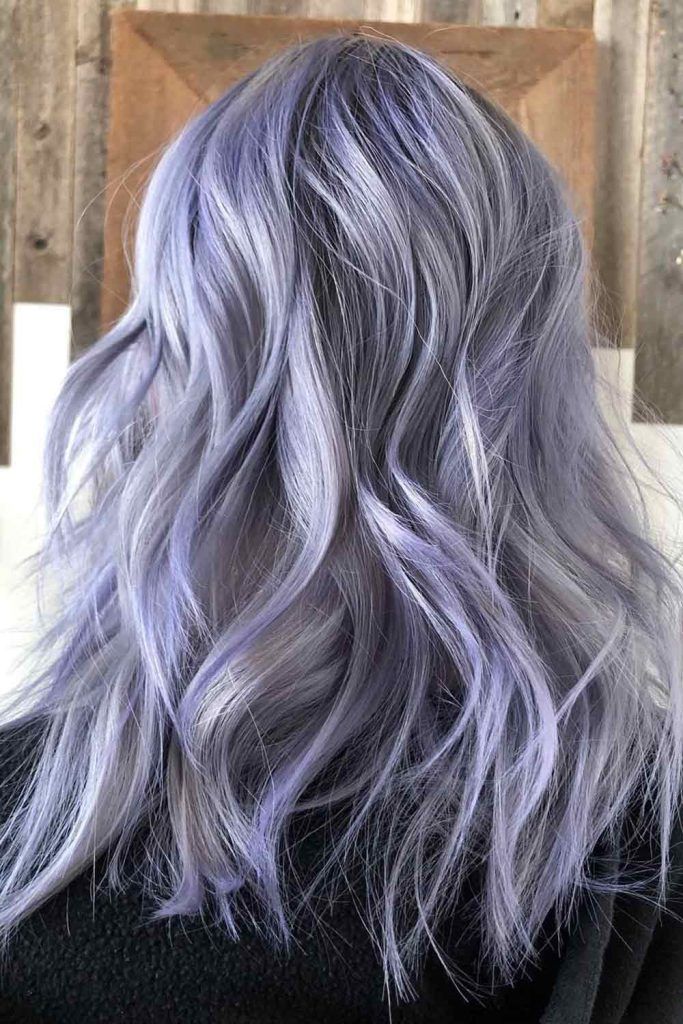 Credit photo: instagram.com/_heyhelena
Do you want to get an excuse for not maintaining your brand new lavender color every week? This silver lavender hair is the thing. When you stop upgrading your tone, it gradually fades into another one. And, if all the care tips were followed after dyeing, this is how your hair can look like. But if you want to get such a color initially, just ask your colorist for a silver base with a soft accent of lavender on the top.
Black And Lavender Combo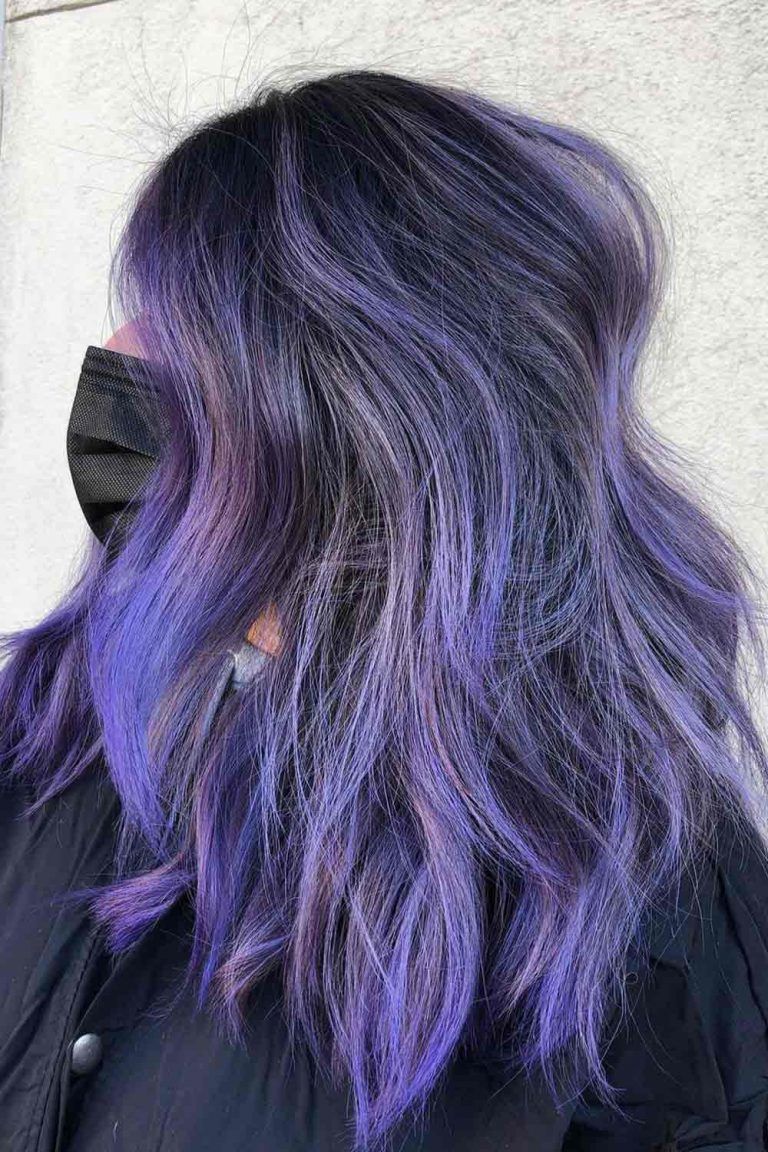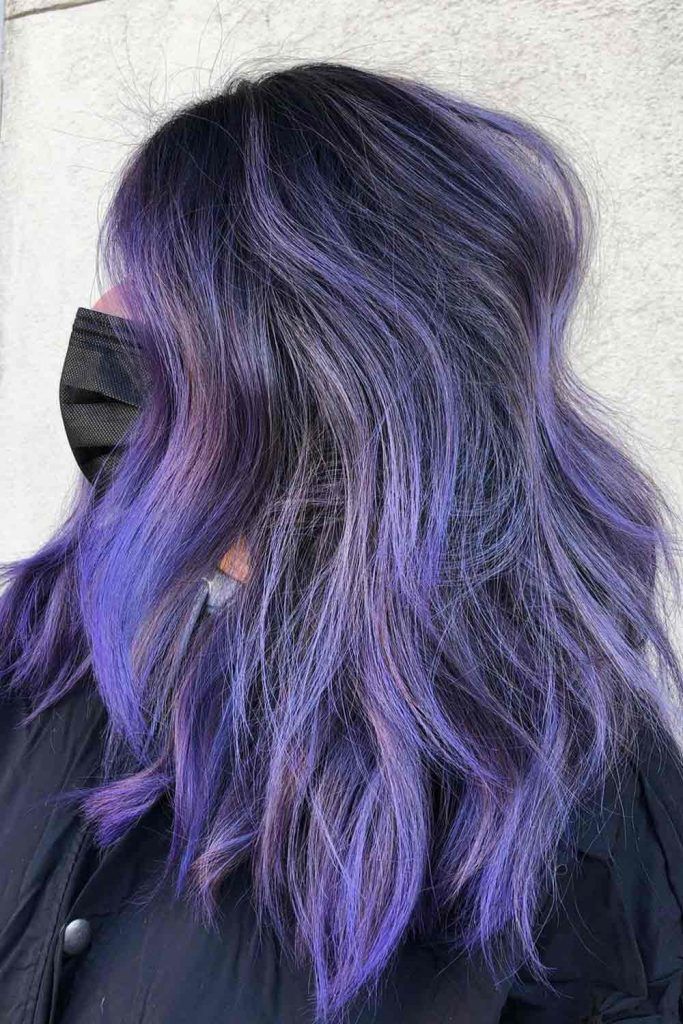 Credit photo: instagram.com/adlydesign
Don't believe your eyes? The effect of deep blue undertones and shiny light lavender base can make people lose their minds. As you can see from the roots, this beauty was created over the black hair color, which required particular sacrifices. If you feel that your hair isn't ready for such bold changes, it's better to go for lavender highlights for black hair, where lavender accents enhance your natural color.
Noble Light Lavender Hair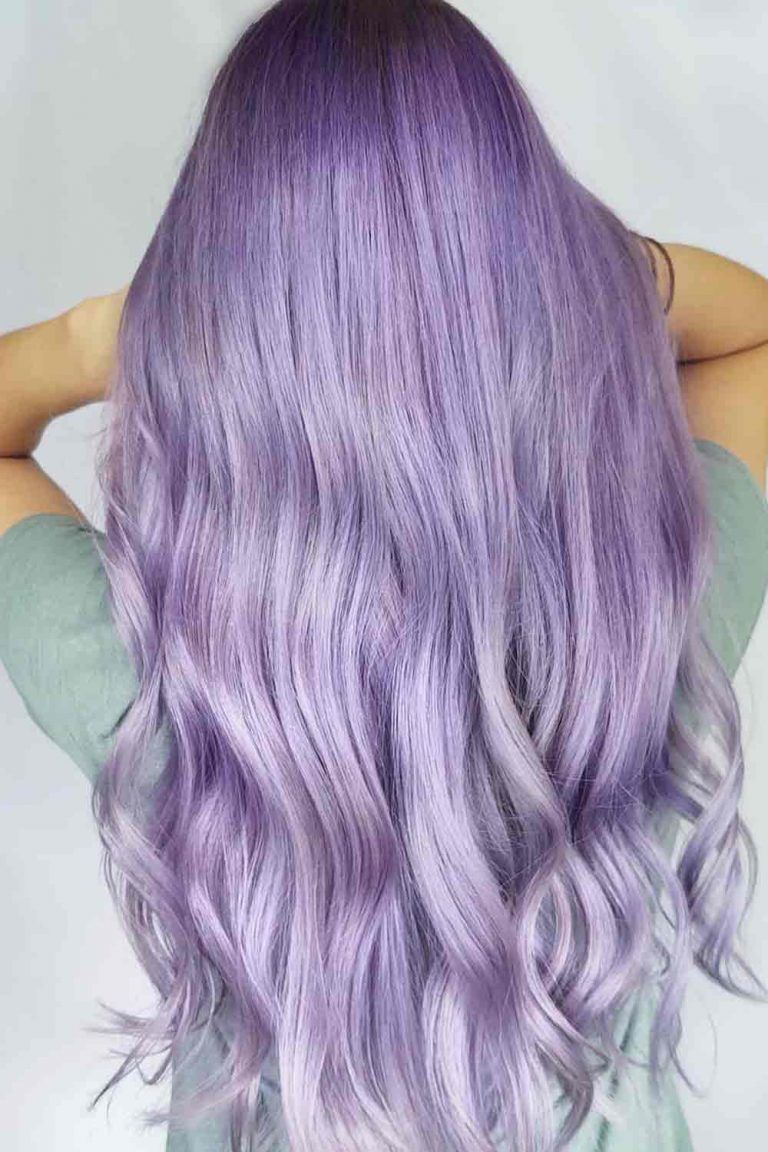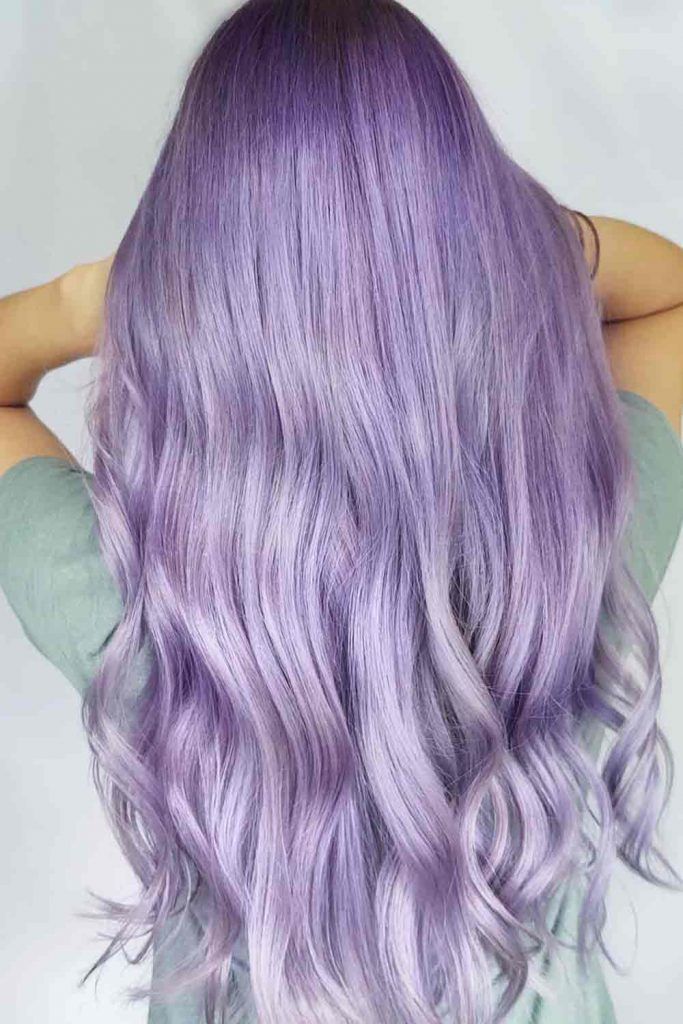 Credit photo: instagram.com/adlydesign
Light lavender hair is a splendid color idea for women with light skin tones. Nowadays, ladies with pale skin and light hair color are considered very attractive, as everything in their looks is absolutely authentic. To emphasize the beauty of your subtle skin tone, you can go for whitish lavender ting with saturated violet roots.
Marvelous Pastel Lavender Hair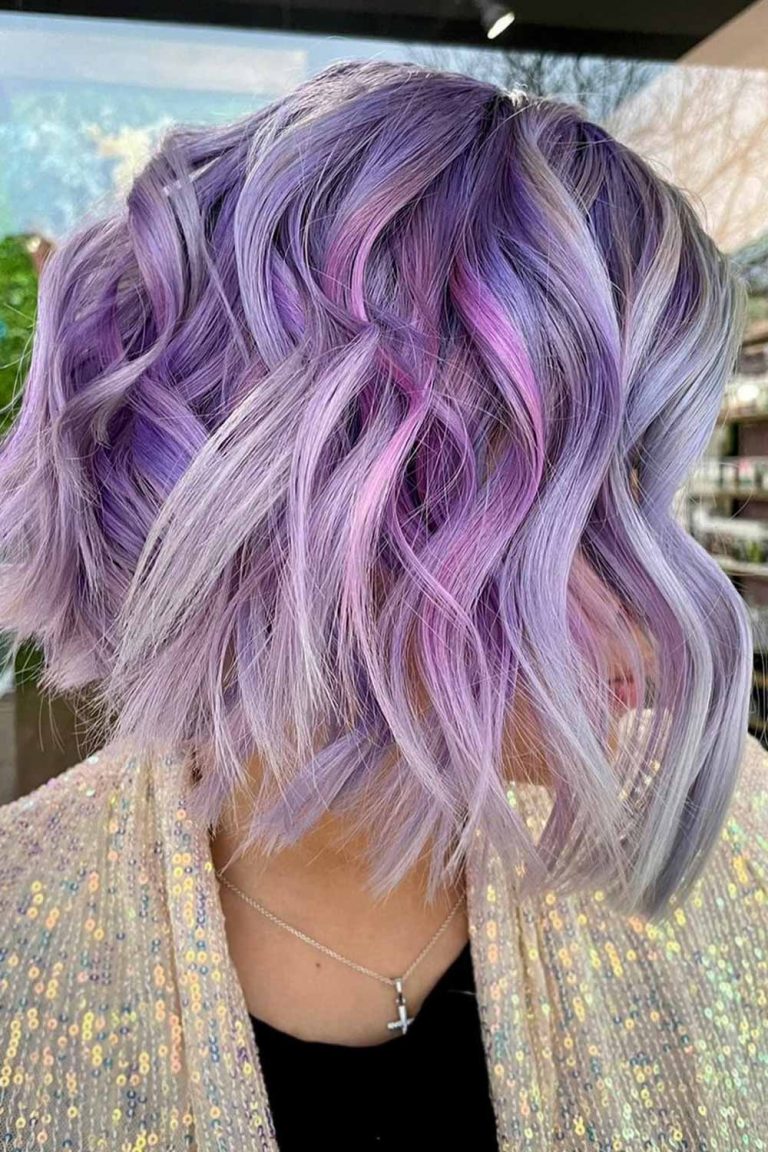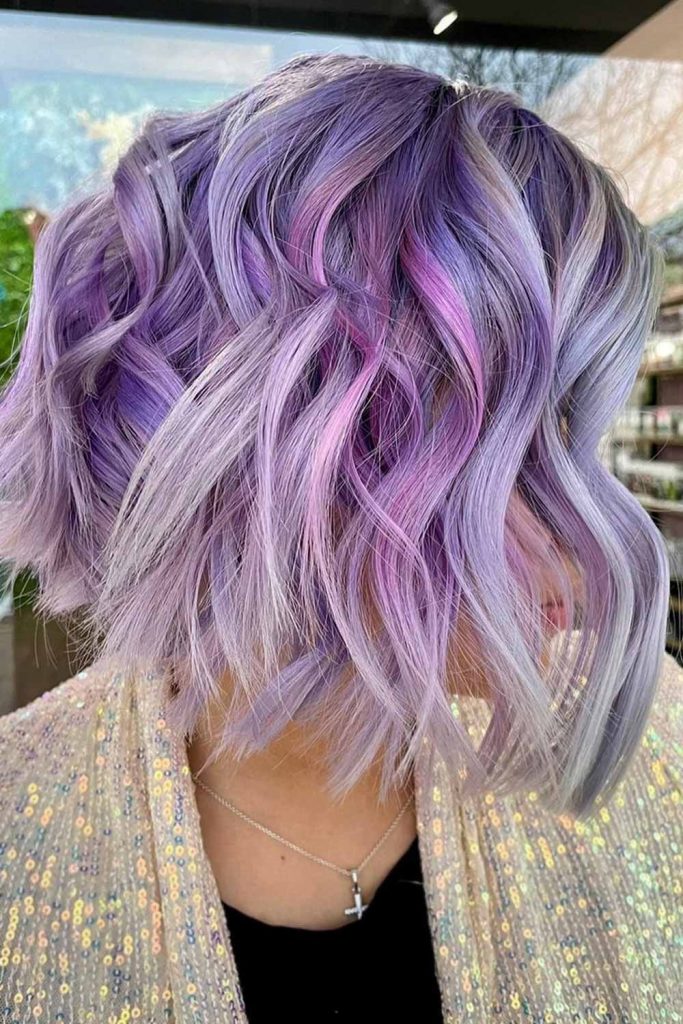 Credit photo: instagram.com/xostylistxo
Pastels are the most requested trends of now not for nothing! They beautify everything around them, regardless of your skin tone, eye color, and hair type. Colors that are versatile for everyone, what can be better? This pastel lavender hair look isn't drastic at all, yet it's very gentle and eye-catching, so if you want to keep it well-balanced, don't pass it by.
Pastel Silver To Lavender Hair Transition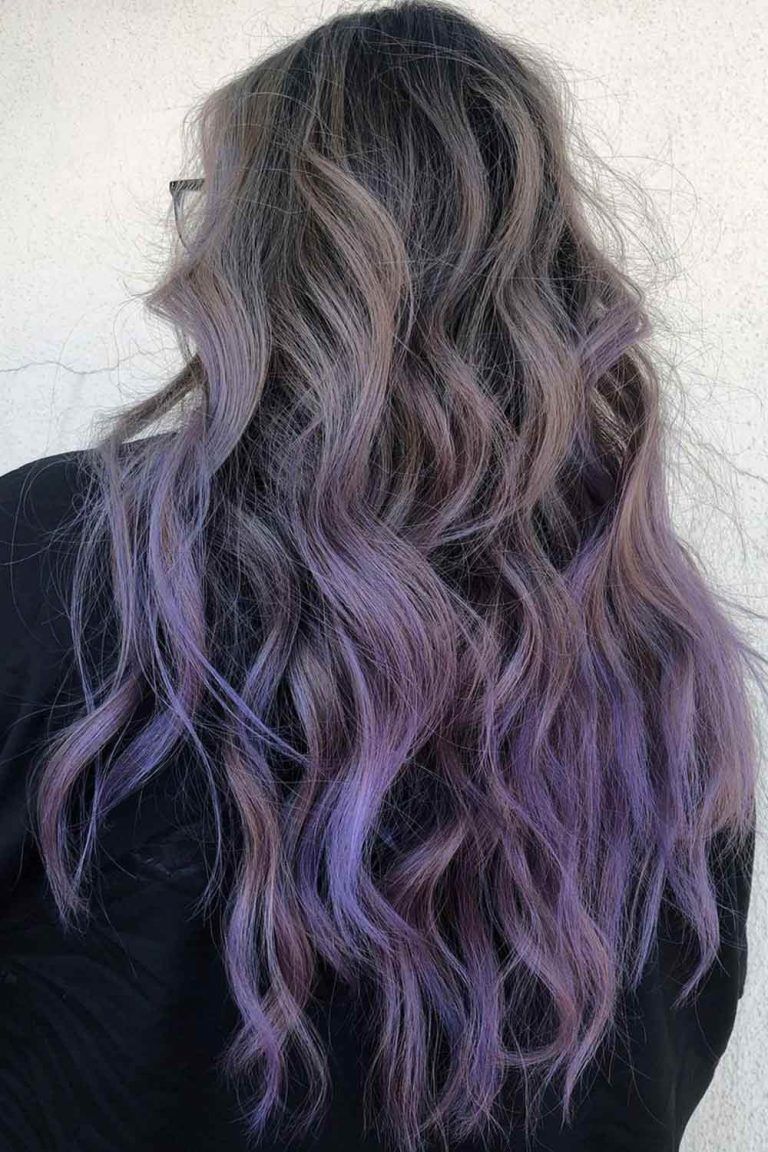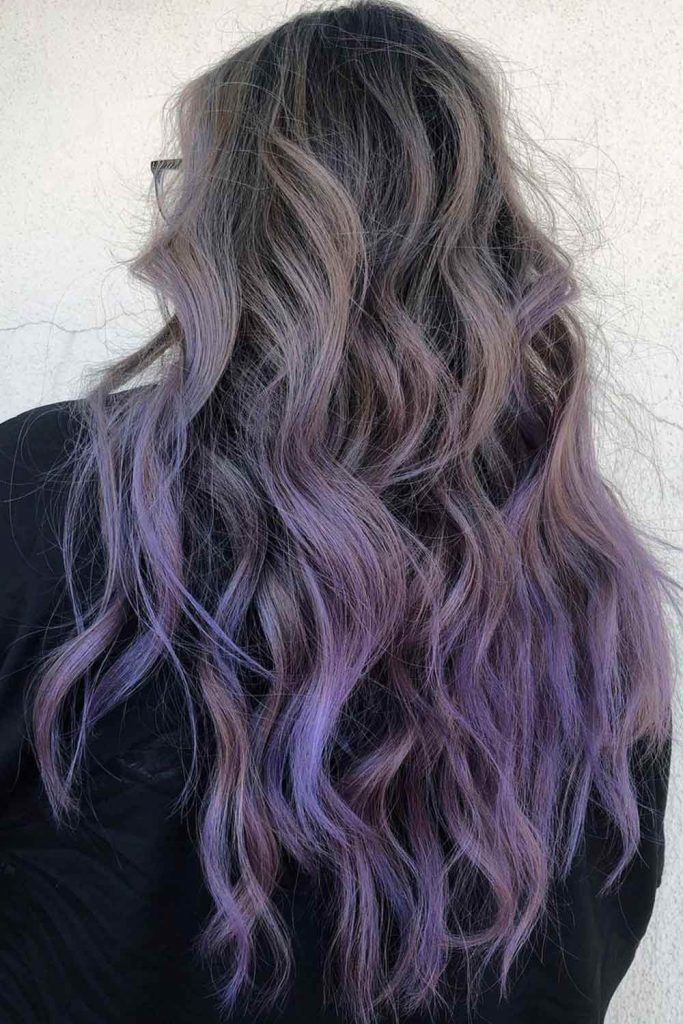 Credit photo: instagram.com/_heyhelena
It seems like there's no a combination better than silver and lavender duo. Whatever shade of violet you pick, it will suit any silver hue: that's a color destiny that we can't deny. Look at this tender transition! It's hard to notice when the pastel silver tone turns into slight lavender ends. Pastel silver lavender hair will look ravishing on any girl; there are no obstacles for you!
Lavender Roots With Blonde Base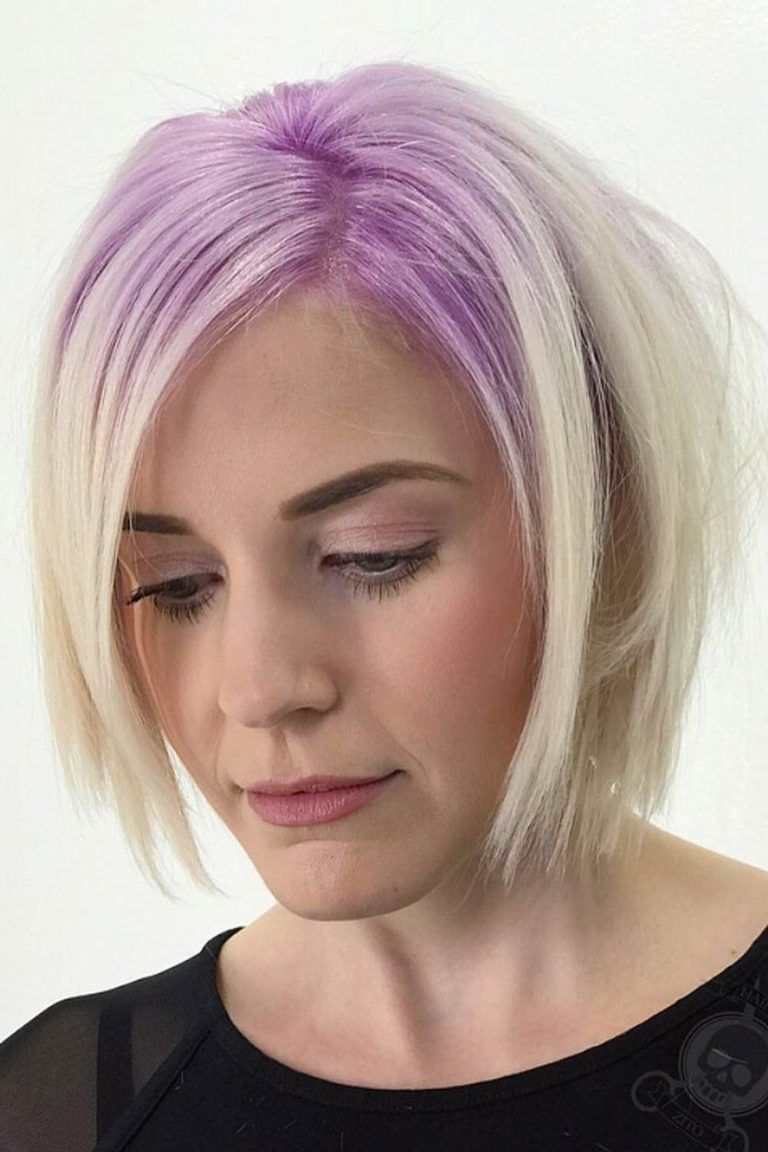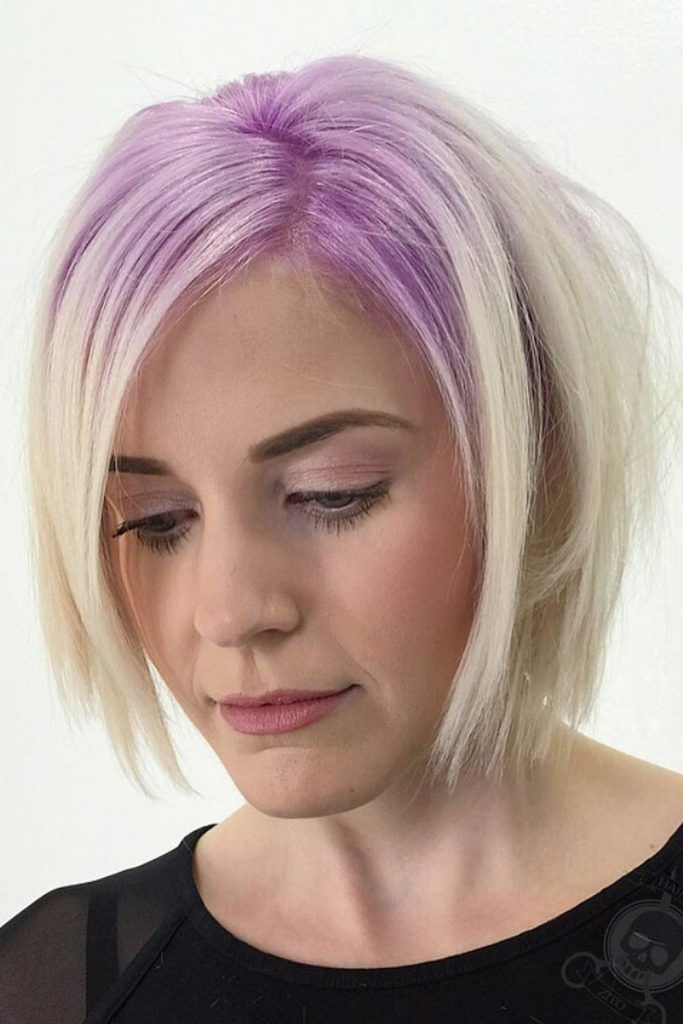 Credit photo: instagram.com/hairgod_zito
Two colors and million of their variations can give birth to the most unusual and seductive looks. Here you see the good old lavender color and the popular silver tint. But this time, they create something special: lavender color is used on the roots, while silvery base becomes lighter to the ends. Attention! Even though all our ideas are extremely tempting, don't try to figure out how to do violet melting roots at home; it's better to leave it up to professionals so as not to end up crying about your spoiled roots.
Ash Blue With Lavender Ends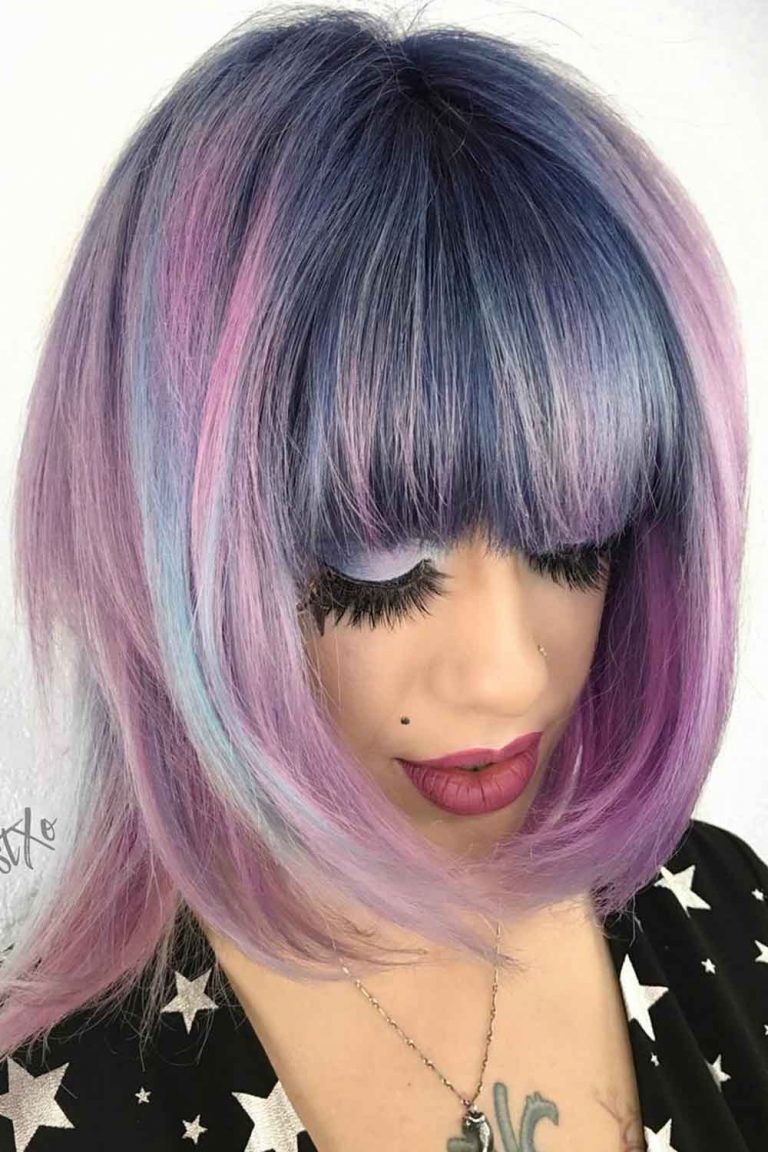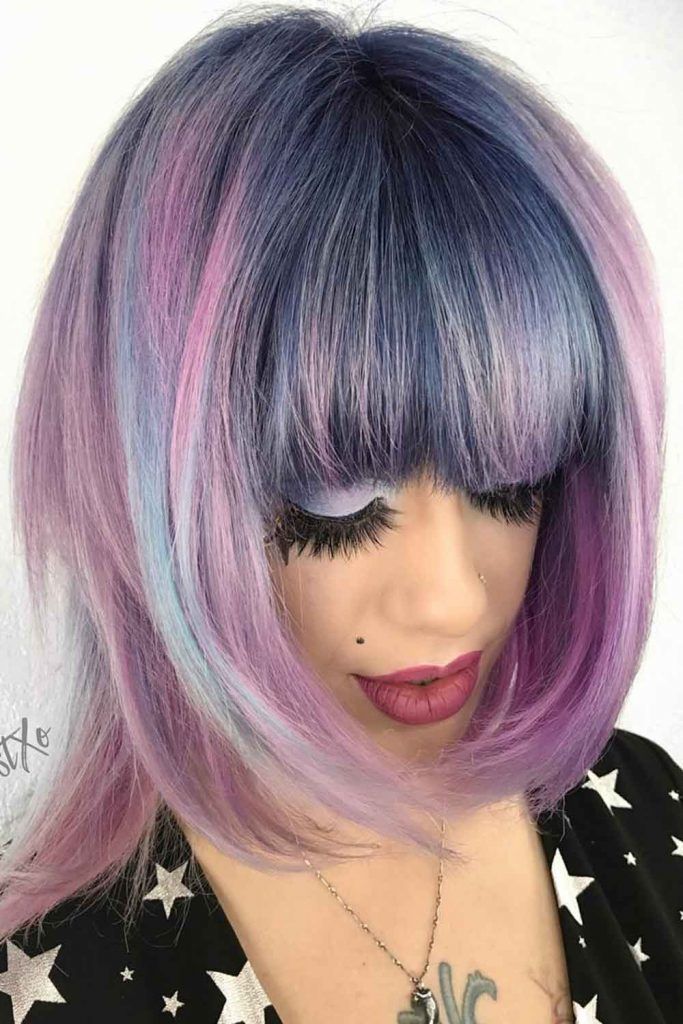 Credit photo: instagram.com/xostylistxo
It's hard to find the words to describe the dimension that these lavender ends create. Ashy color ideas, whatever they are, usually feature no movement due to the faded tones. And this color decision is something really different! Who would've thought that a bit of saturated lavender color to the tips is enough to enliven the whole look?
Nude & Lavender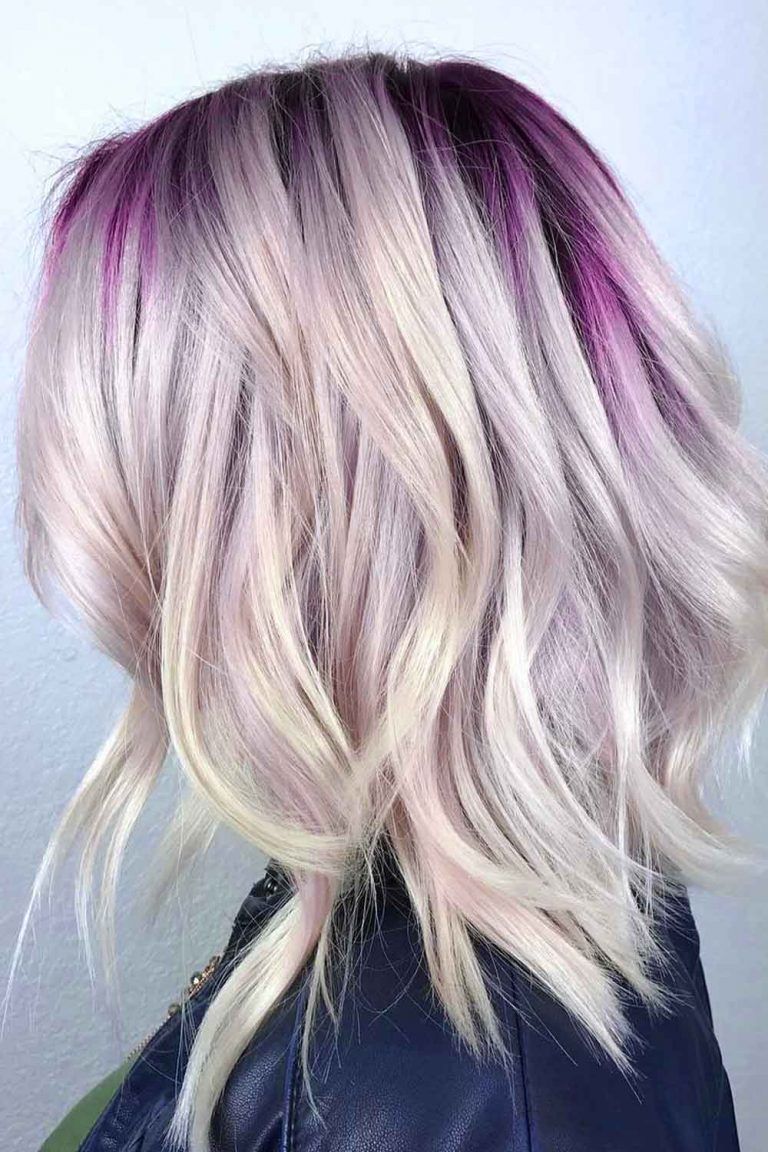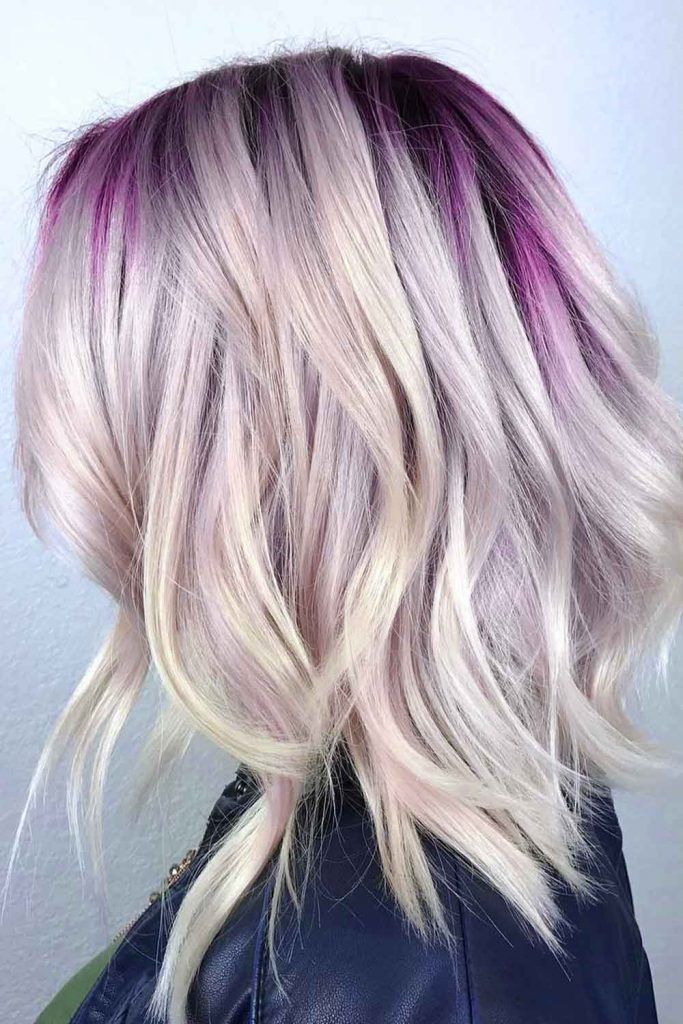 Credit photo: instagram.com/xostylistxo
Pure nude hair colors accentuated with soft lavender shades are nothing but growing trends! Mixing something delicate with something that brings exotic mood is the latest fashion idea! You can add some lavender vibes over your cool blonde hair to the lower portion of hair and to the roots. It will give an enviably smooth blend.
Lavender Roots With Metallic Blue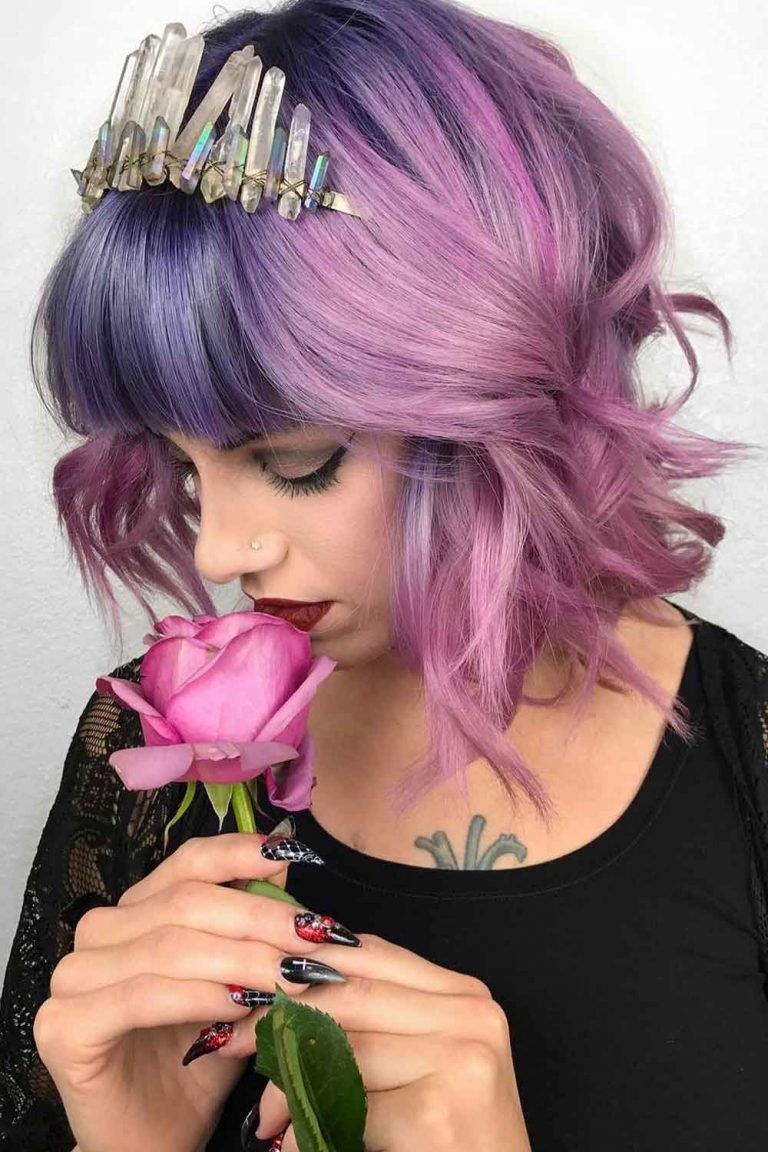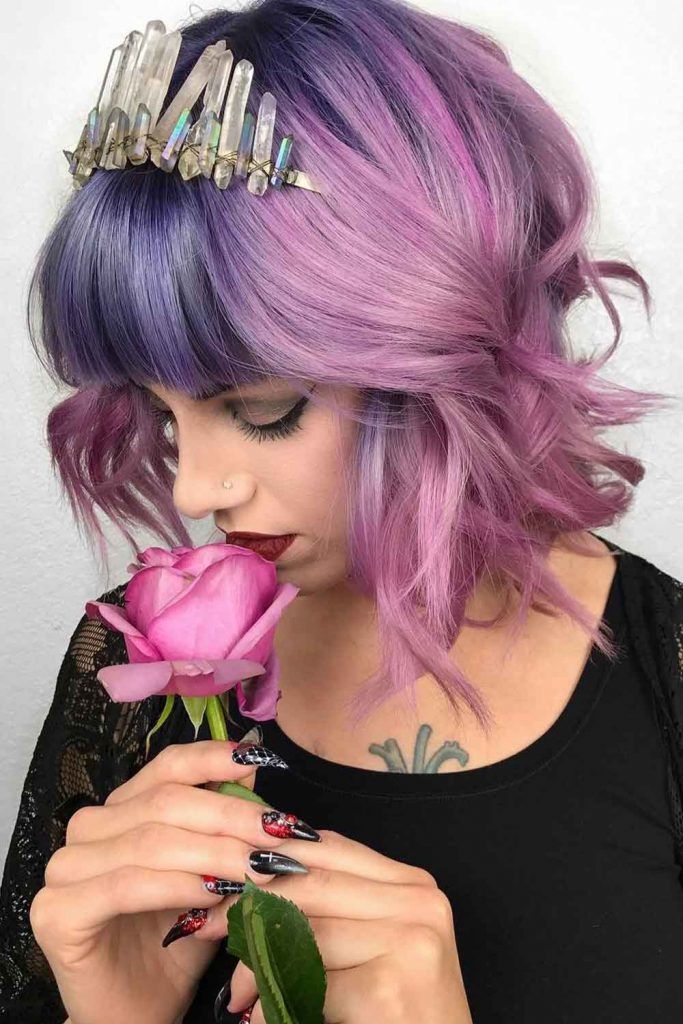 Credit photo: instagram.com/xostylistxo
Just like blue and purple colors, lavender and faded blue form an unforgettable duo. So why don't you turn your roots into some pastel lavender shade and embellish your ends with a trendy metallic blue? It's a perfect idea for ladies who want to accentuate their nobly pale skin tones.
Lavender For Brunettes With Ashy Ends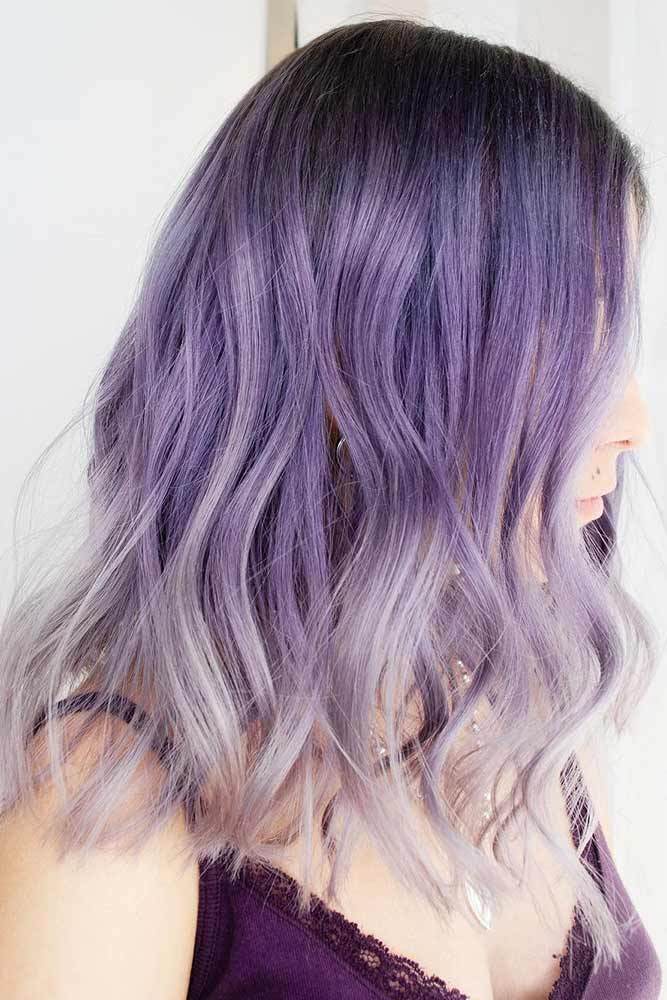 Credit photo: instagram.com/theniksters
For brunettes, it's crucial to go for coloring technique that will blend their brownie roots with the added color seamlessly. If you want the color to lie evenly, look no further than sobmre - the soft variation of ombre. To make the new shade even more unique, you can color your ends in some ashy hue.
Lavender Roots With Powder Pink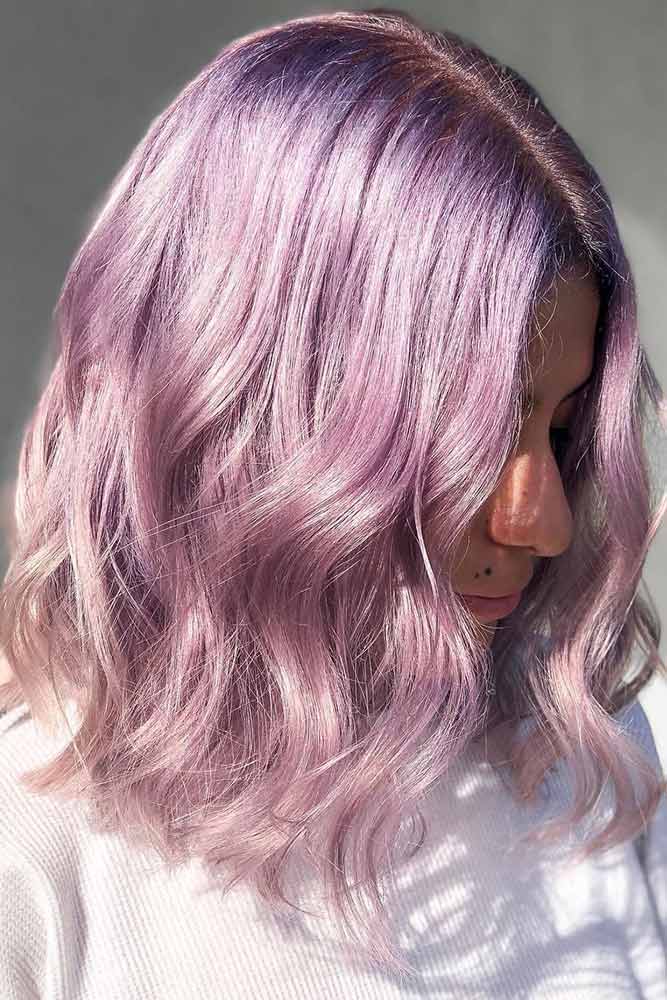 Credit photo: instagram.com/theniksters
Powder pink is called so due to its lightweight texture and very subtle saturation. And, as you know, pink and purple stand pretty close to one another in the color scheme. That means you can rock the cutest, lightest combo of these two: just go for lavender-to-powder pink ombre or sombre.
Lavender And Blonde Color Combo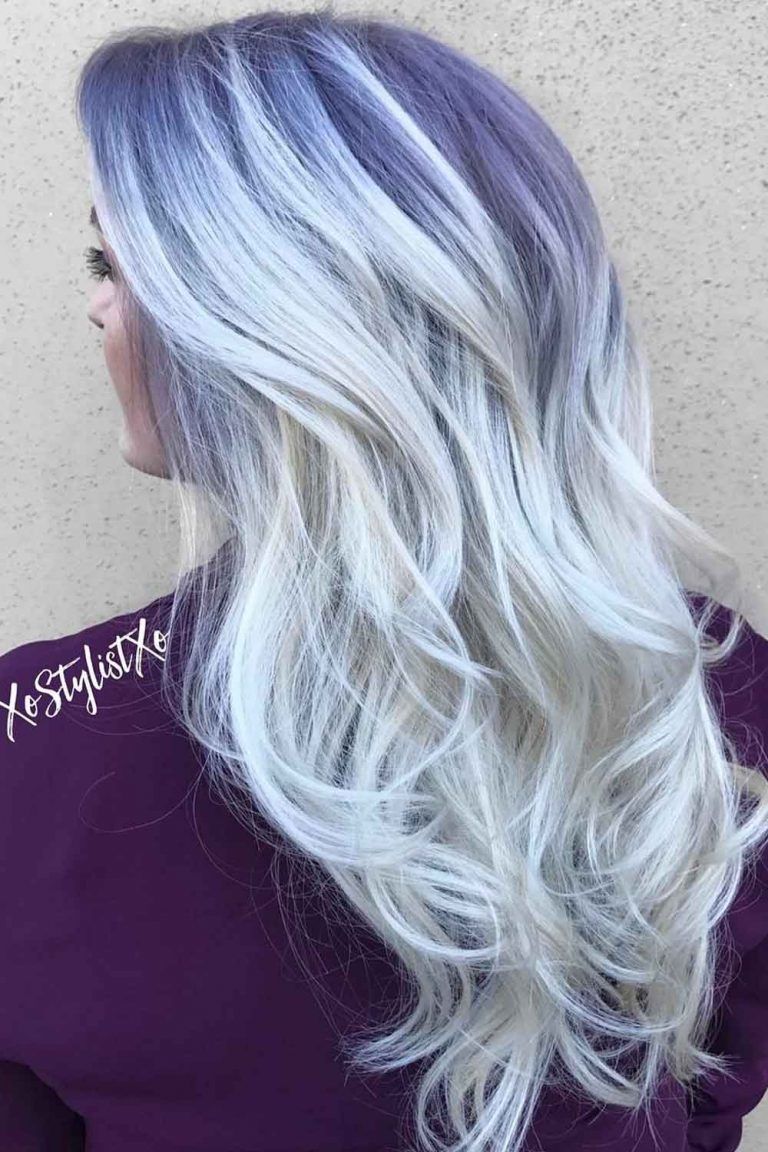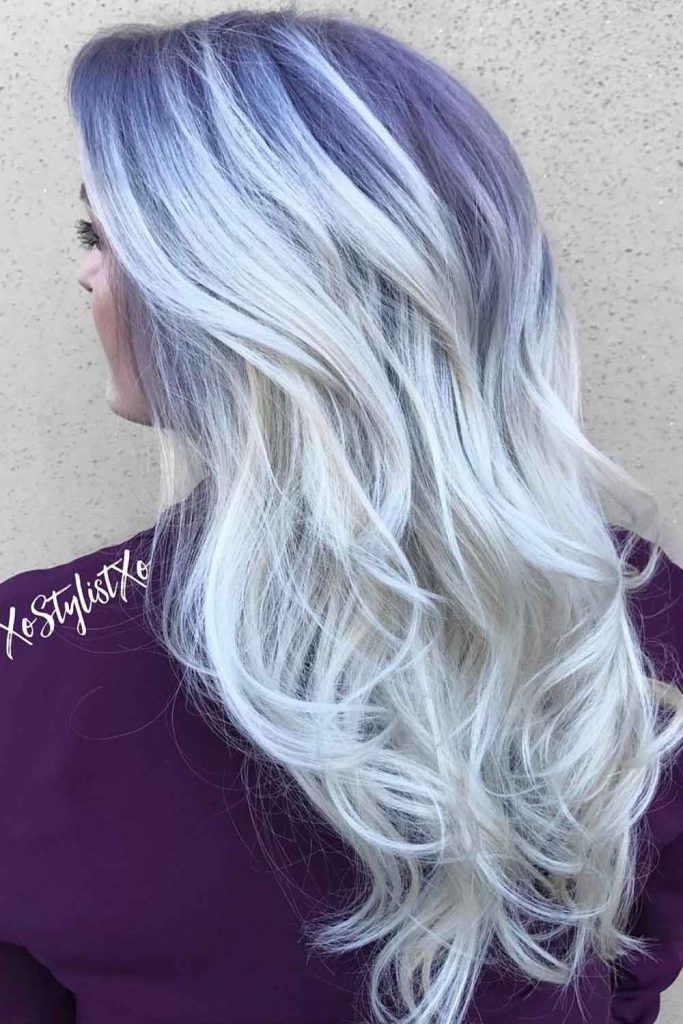 Credit photo: instagram.com/xostylistxo
Seems like you've just found the common ground between lavender and icy blonde hair colors. In fact, there's no better base for lavender shades than a super light blonde. And here, it simply takes the biscuit by being not just a base but a fantastic complement to the wonderful purple shade. As you can see from this pic, you can play with the intensiveness of the added shade, thus creating a dynamic color transition. Let some streaks be more saturated than the others, and you will love the multidimensional effect on your hair.
Pastel Hair Colors + Lavender Roots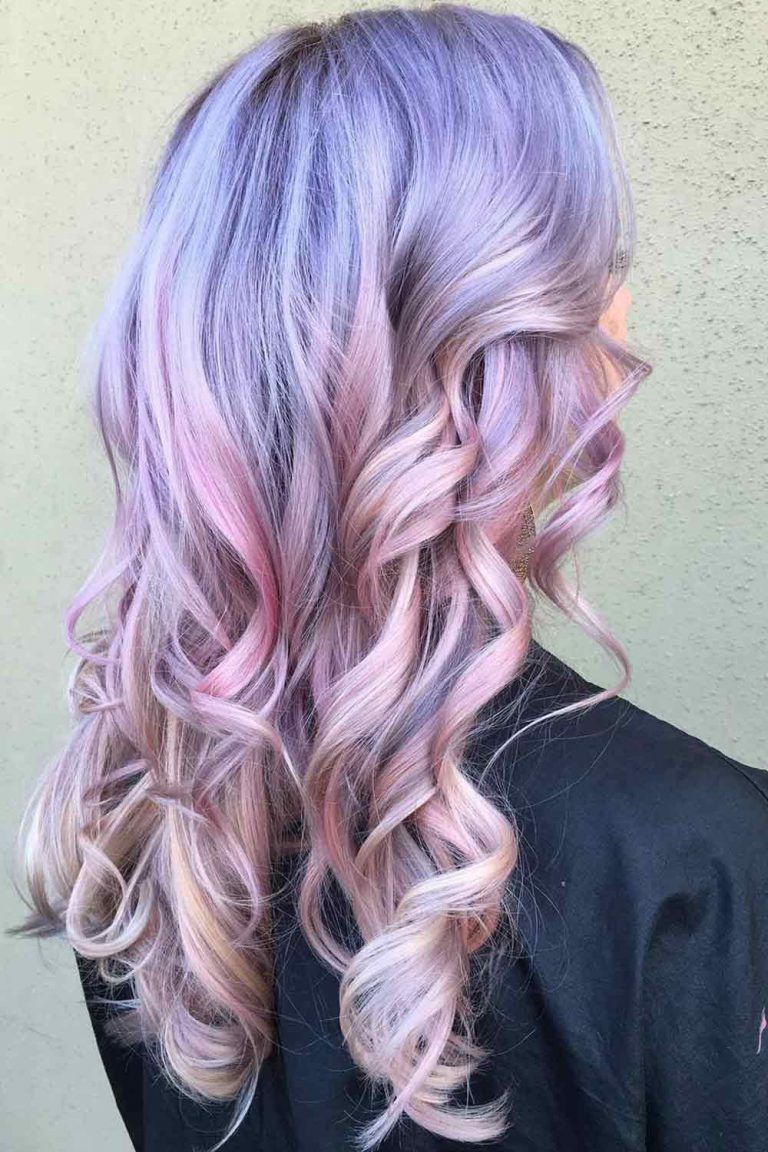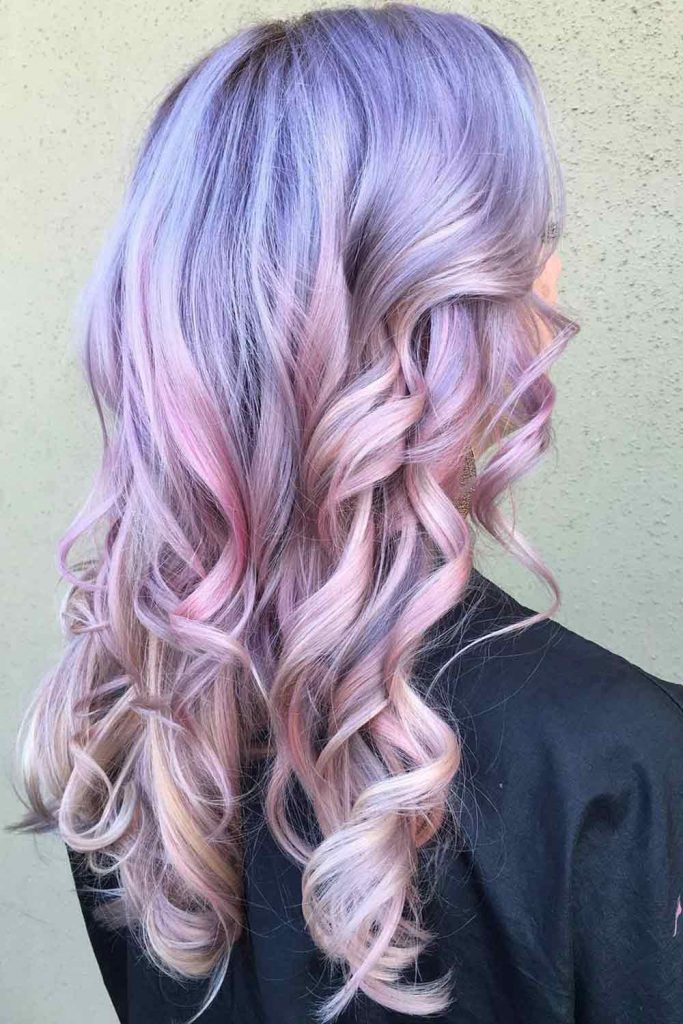 Credit photo: instagram.com/xostylistxo
We can't have too many pastel ideas! Here, lavender stans as a flexible base that can turn into anything you want. One of the greatest things about pastels is that they can create harmony with any colors possible, making a good team out of unmatching shades. Now, imagine how mesmerizing they look when you mix colors that match perfectly! Here, the dark lavender hair becomes lighter as it moves to the ends to finally get a pleasant rose hue.
Lavender Hair With Charcoal Roots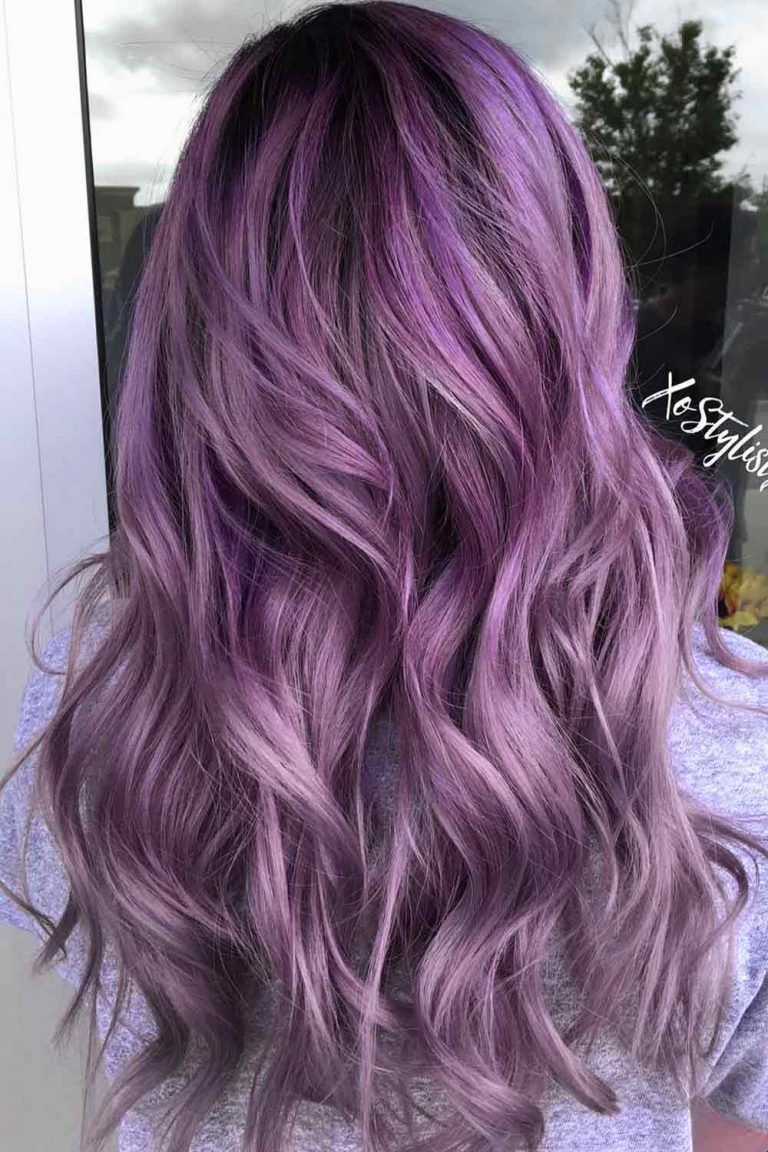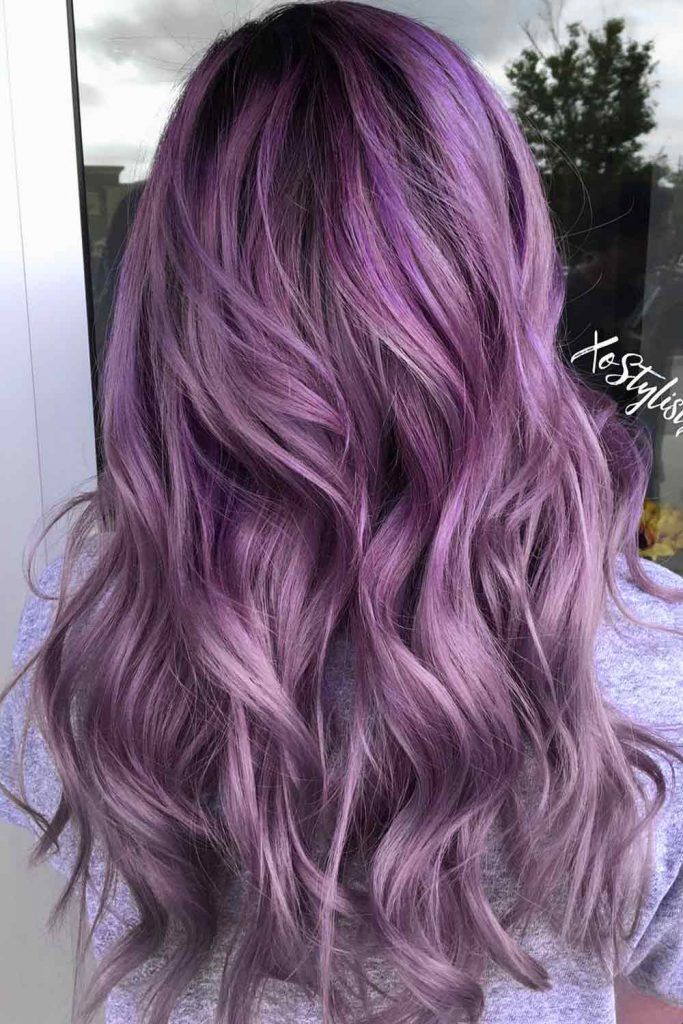 Credit photo: instagram.com/xostylistxo
Though your roots are a little detail, they can drastically change the mood and the tone of your lavender hair. While you can choose any color for your roots, many colorists recommend combining lavender with a charcoal or ashy hue. They say such a combination is enough to provide the whole look with a sense of depth and visual volume. Plus, these two just go well together, so you won't be mistaken in choice.
Bright And Shiny Lavender Hair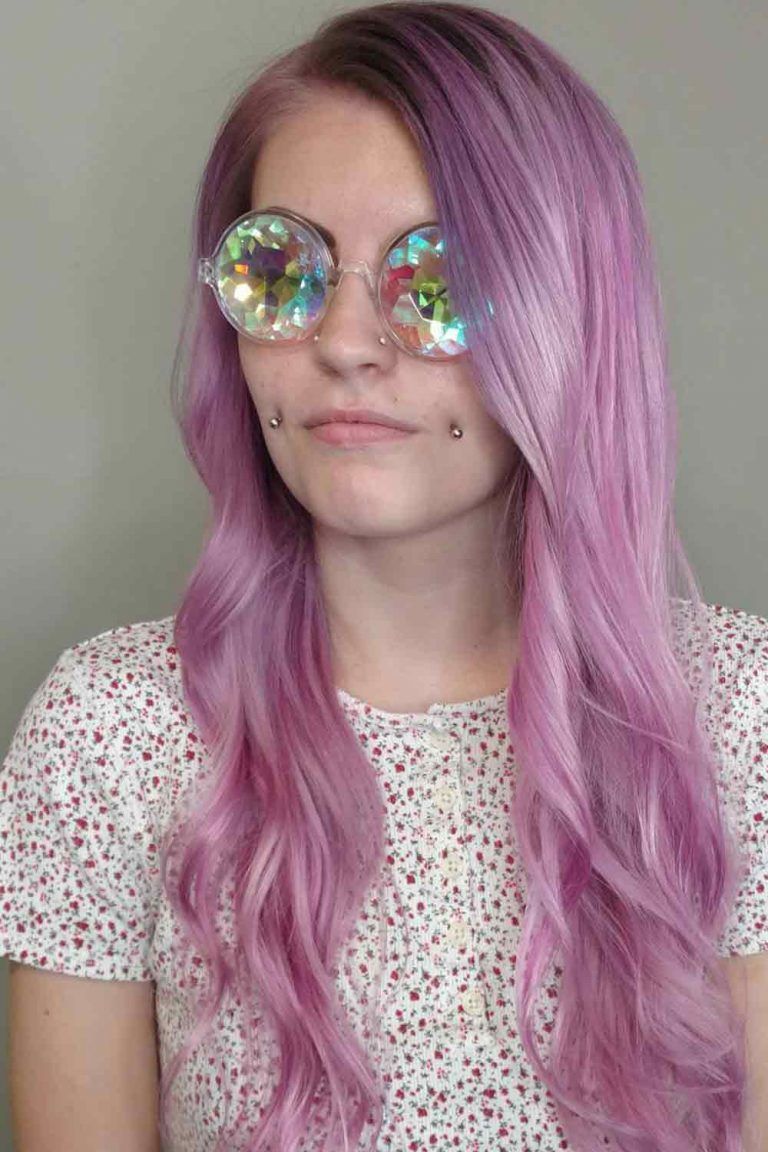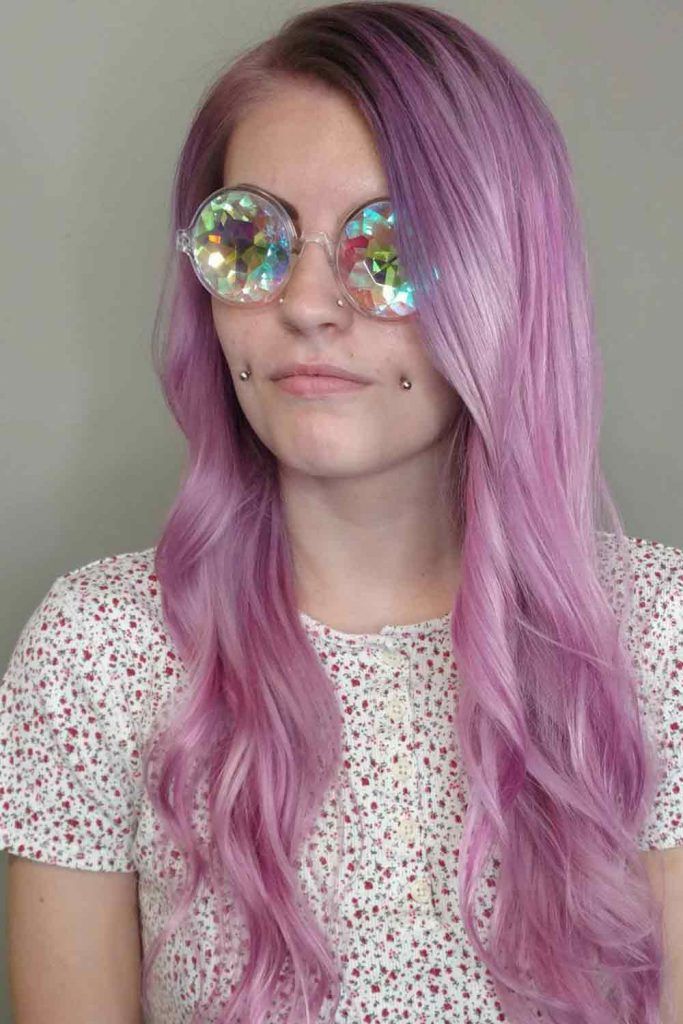 Credit photo: instagram.com/adlydesign
Now, let's see how differently you can experiment with the temperature of your lavender. In contrast to most previous ideas, this shade is brighter and therefore warmer, which is a good choice for women with fair to medium complexions. To make your color transformation balanced, consider making some of the strands lighter or even coloring them pastel, and apply a darker shade to your roots if you don't want to leave them as they are.
Smoky Lavender Hair Color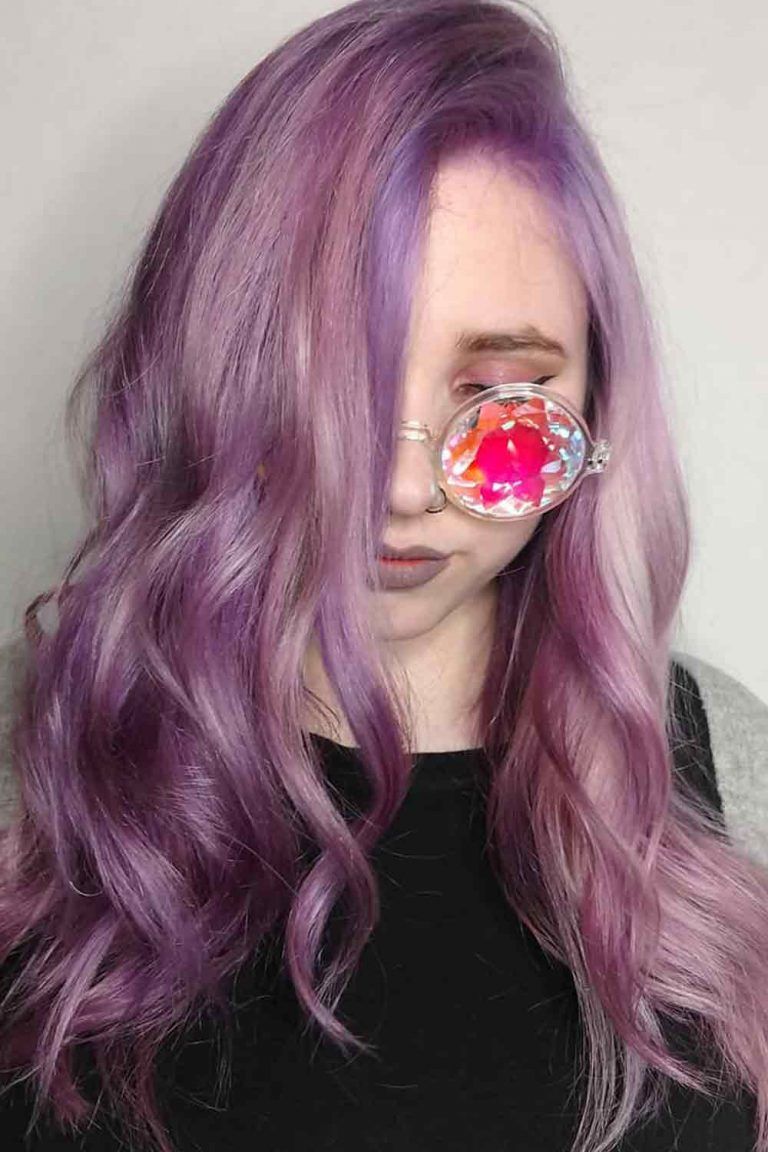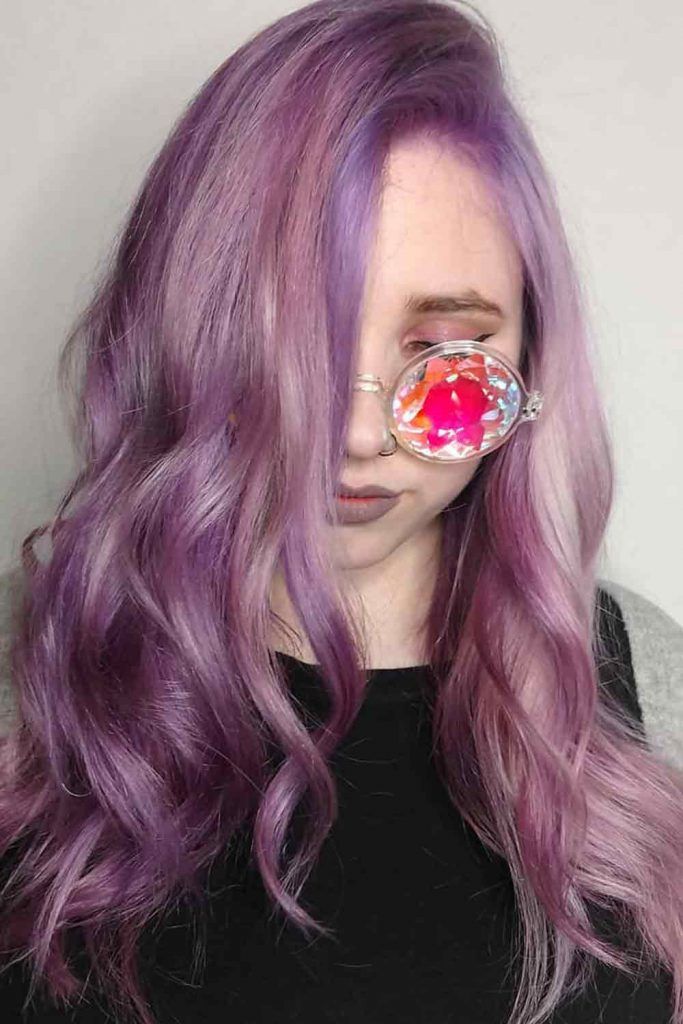 Credit photo: instagram.com/adlydesign
Another faded lavender variation. It just so happens that this color trend looks its best when its muted, pastel-ish, and smoky. To achieve a smokey-like effect, your colorist will mix everyone's favorite grey tone with a lightweight lavender, finishing the look with a soft touch of whitish blonde on the tips. Without a bit of snowy blonde, the color won't come out resembling smoke, so don't forget about this little yet crucial detail.
Blonde To Lavender Ombre Hair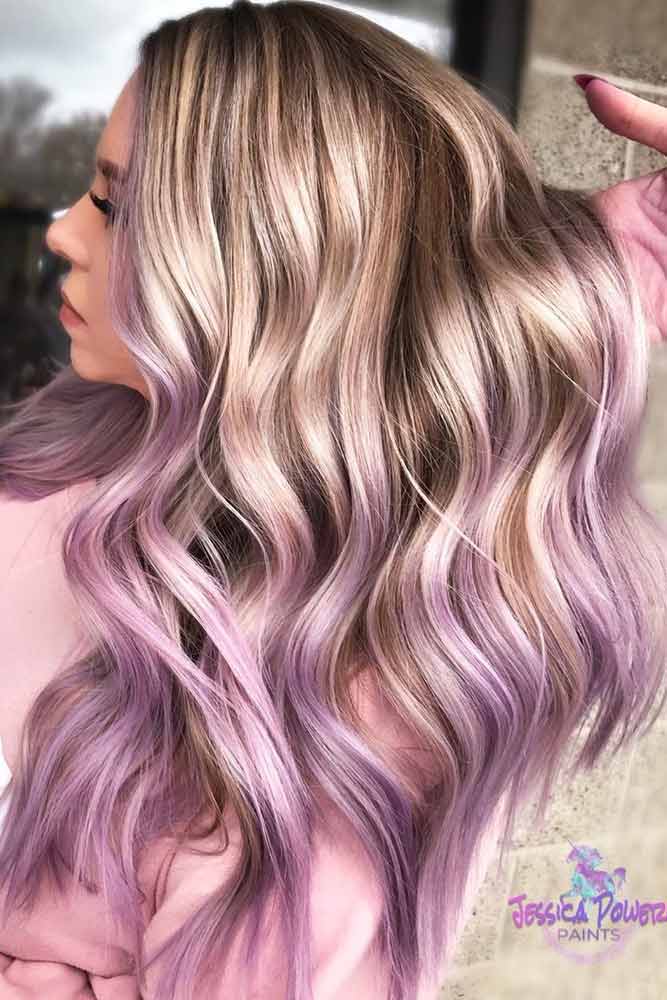 Credit photo: instagram.com/jessicapowerspaints
Ombre can be different. It can mix several similar shades to create a natural but distinctive look. Ombre is one of the best ways to get a timeless contrastive light-to-dark color. And, most importantly, this color technique is also a splendid canvas for rocking a color rainbow, where you can mix as many shades as you want. How do you like this customized rainbow that embraces the naturalness of blonde hair with a slight touch of lavender? What makes the look so special is that the ombre is applied to vertical strands.
Lavender Highlights On Violet Hair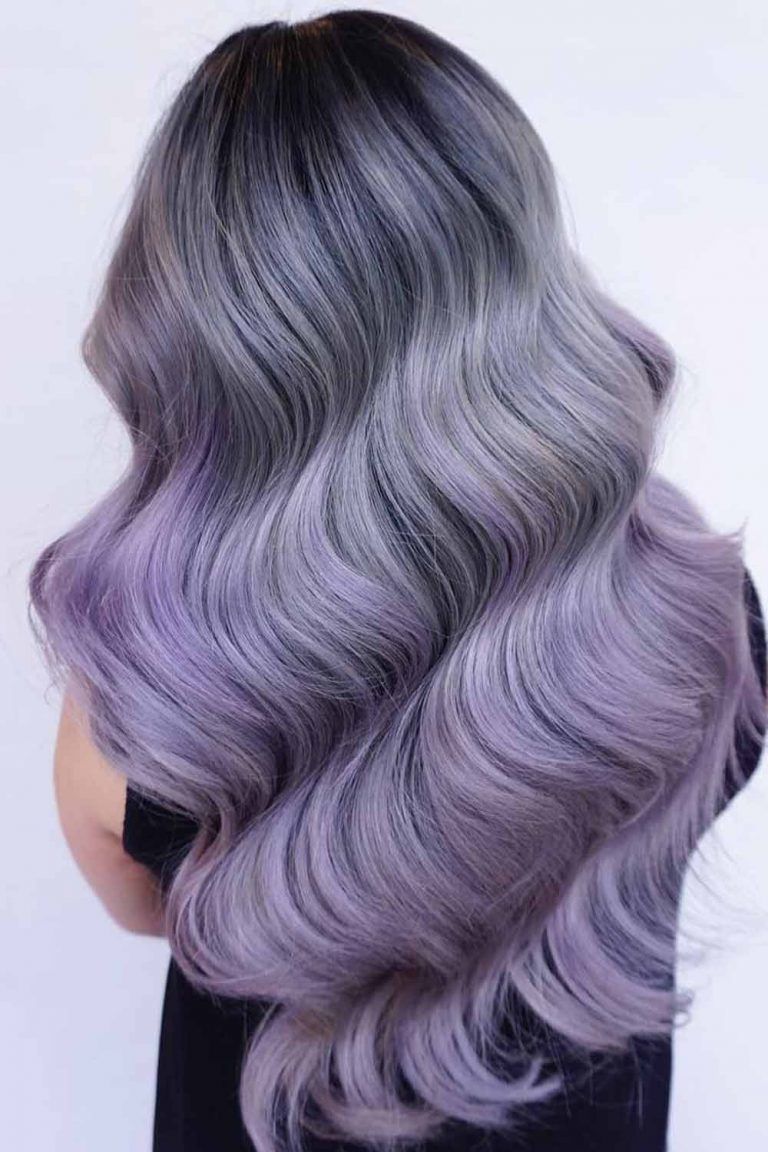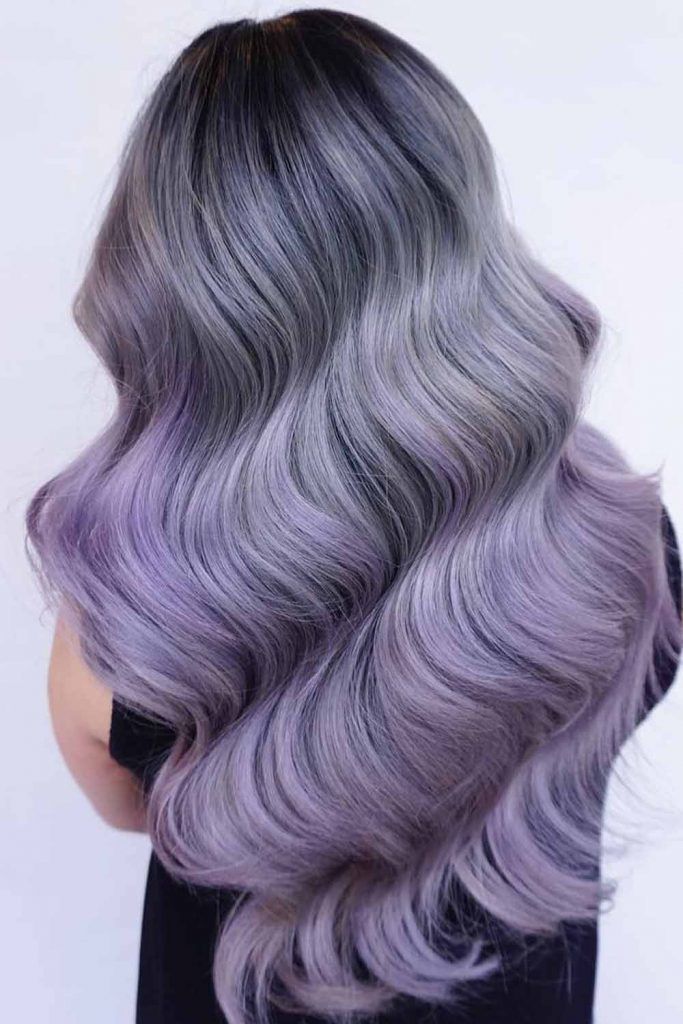 Credit photo: instagram.com/hairgod_zito
Can't decide whether to cut your lavender hair short or not? We want you to always keep in mind that this color doesn't care about the length of your hair: it just embellished everything around it, and this pic is living proof. As for this particular idea, not all of the hair is dyed lavender: it has a violet base, which is highlighted with light lavender strands. Nothing stops you from experimenting with colors!
Whitish Blonde Lavender Hair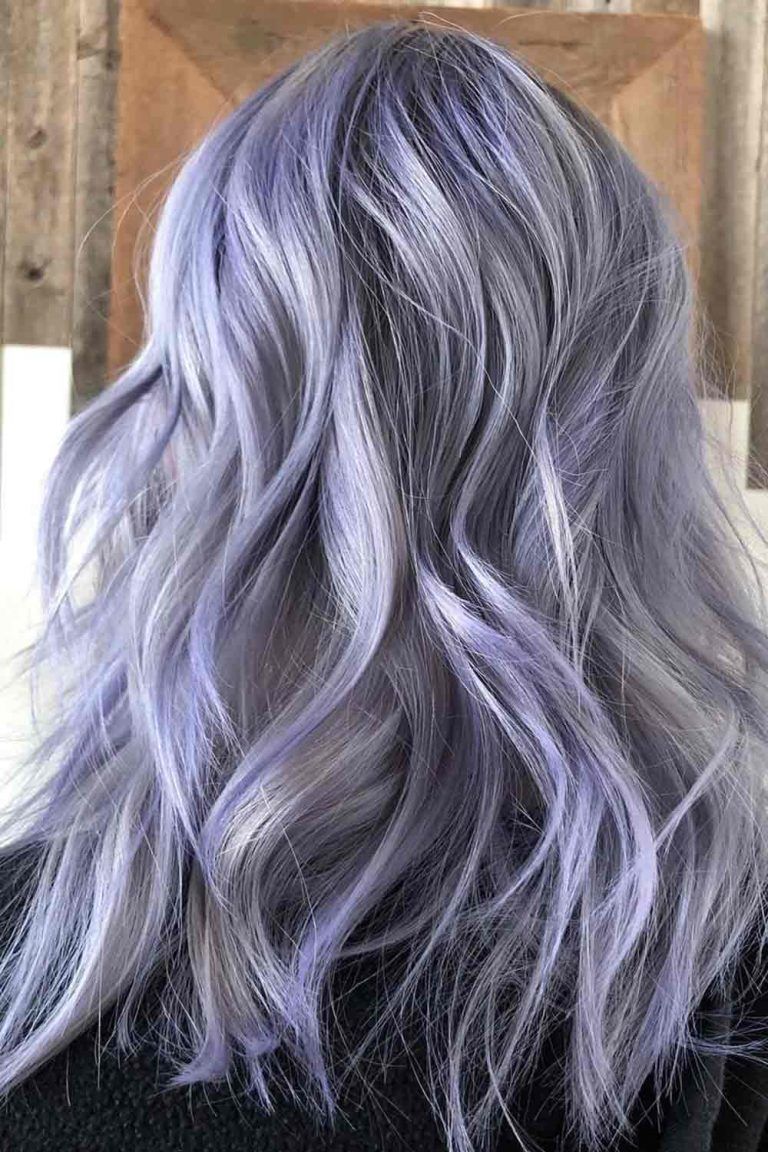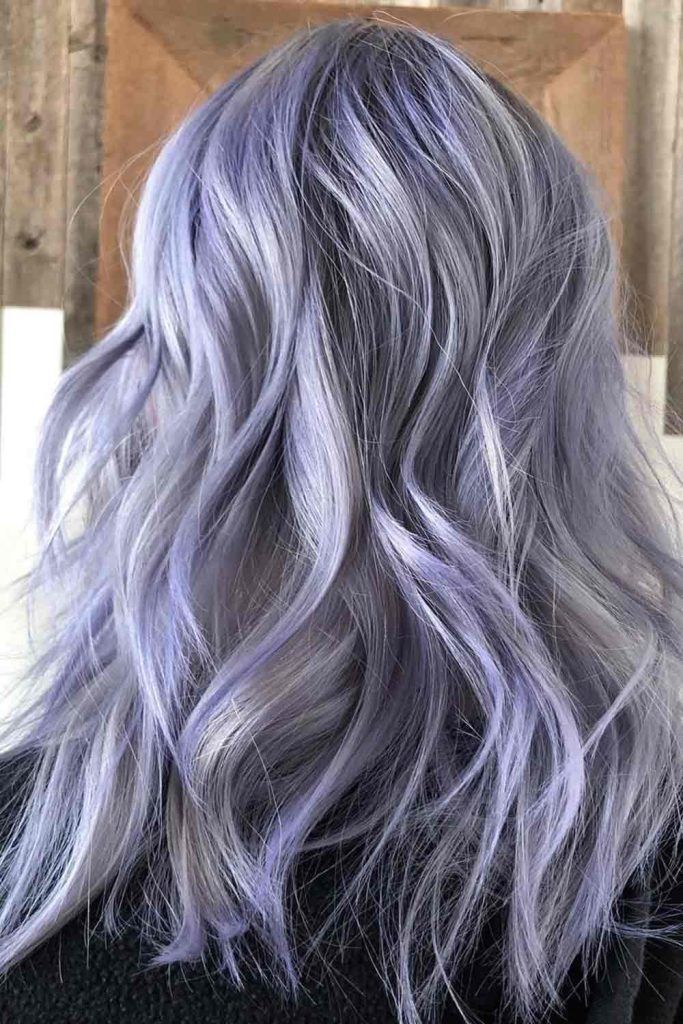 Credit photo: instagram.com/adlydesign
Don't want to say goodbye to your inner blonde? You don't need to! As we've already told you, there's a lavender shade for every girl. You can get a whitish blonde base and add a slight violet tint all over the length, leaving the roots a bit darker. Also, you can achieve this pale blonde lavender hair when your saturated lavender color, which overlapped your blonde base, start to fade.
Lavender Highlights in Cool Toned Blonde Hair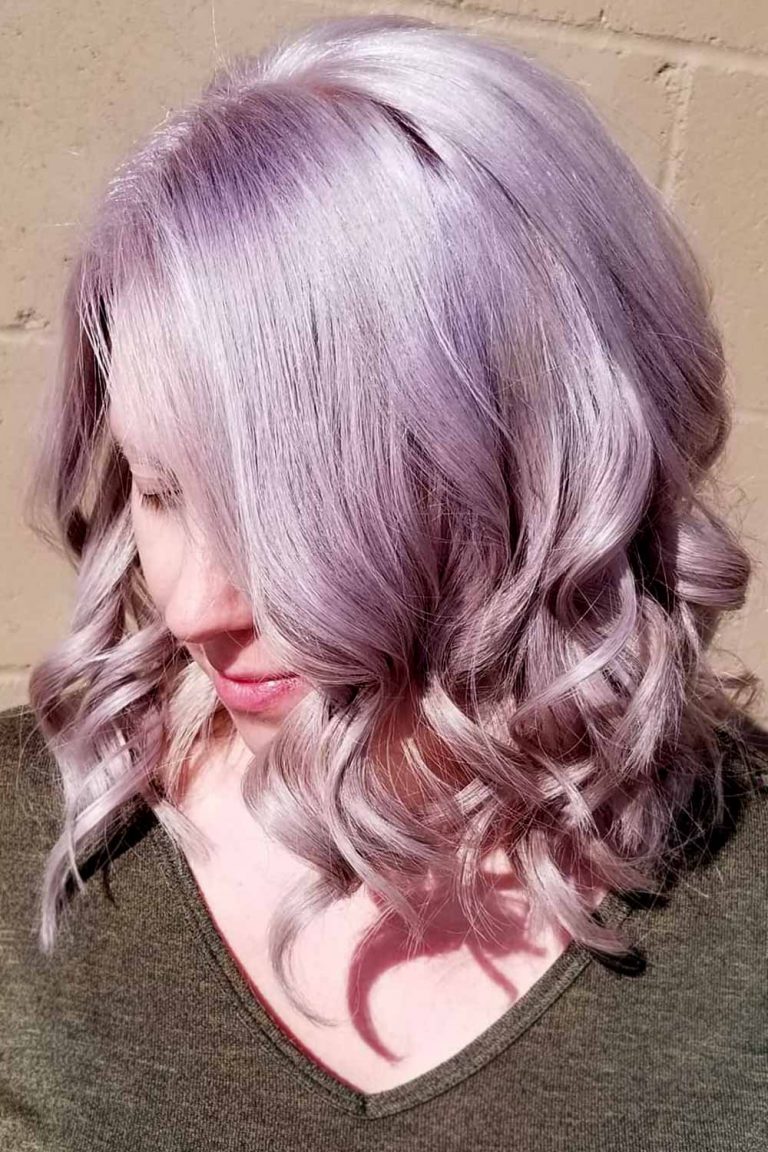 Credit photo: instagram.com/sheartale
Lavender highlights in blonde hair look quite unusual, yet very delicate and elegant. Ladies who are into noble, cool toned blonde colors such as snow-white or platinum blonde will love how harmonically the combination of their minimalistic base reveals its fascination. One of the reasons to mix these colors is that when your lavender tint washes out, it will leave a silvery hue on your blonde, which will perfectly match it.
Lavender Highlights For Brown Hair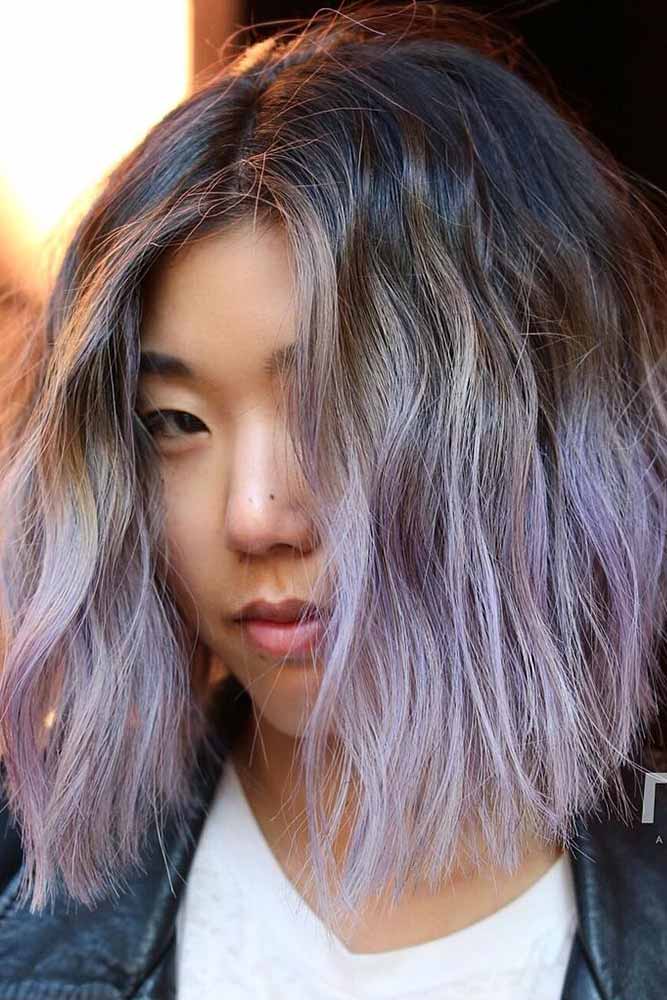 Credit photo: instagram.com/salsalhair
Some brunettes may think that lavender hair color won't match their natural locks, that's why they hesitate to give it a try: they believe that the only right way for them is to dye their hair completely. Those who think so just don't know about its diversity. And the truth is, there are no lavender highlights brown hair can't complement. This pic proves that! Girls with chestnut or dark brown base should opt for paler lilac highlights so that the softness of their natural color will smoothly melt with the added one.
Multidimensional Lavender Highlights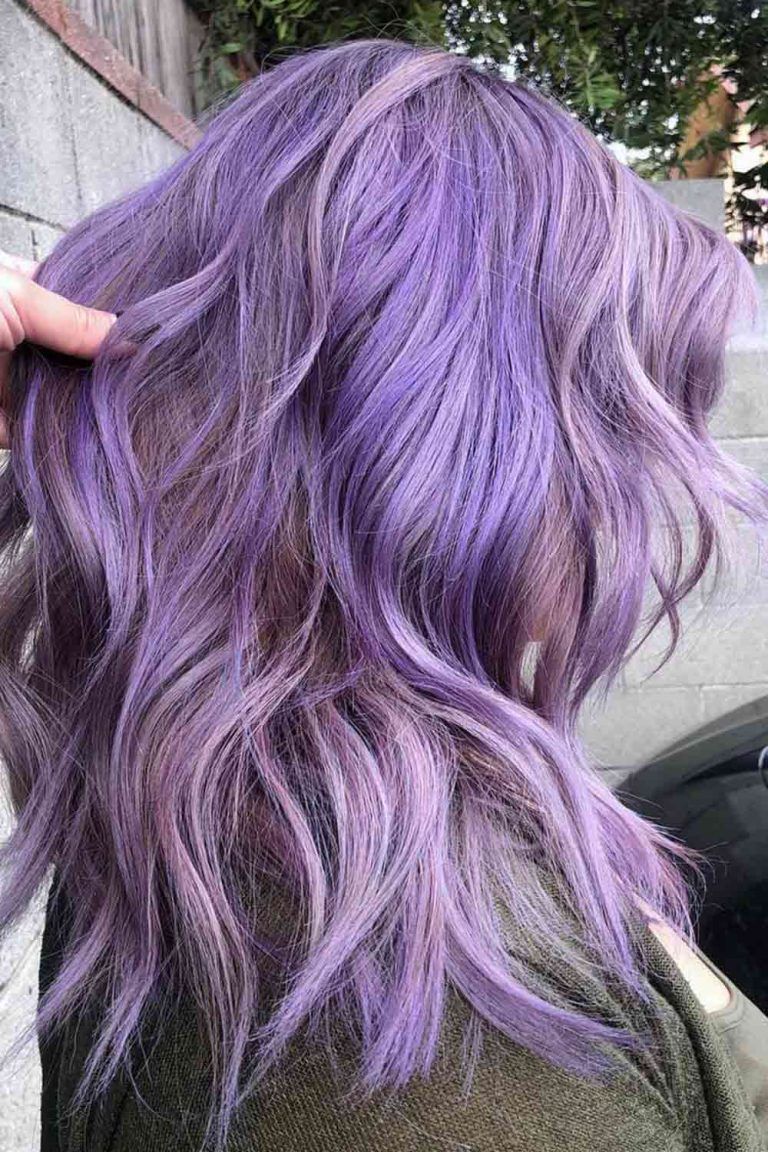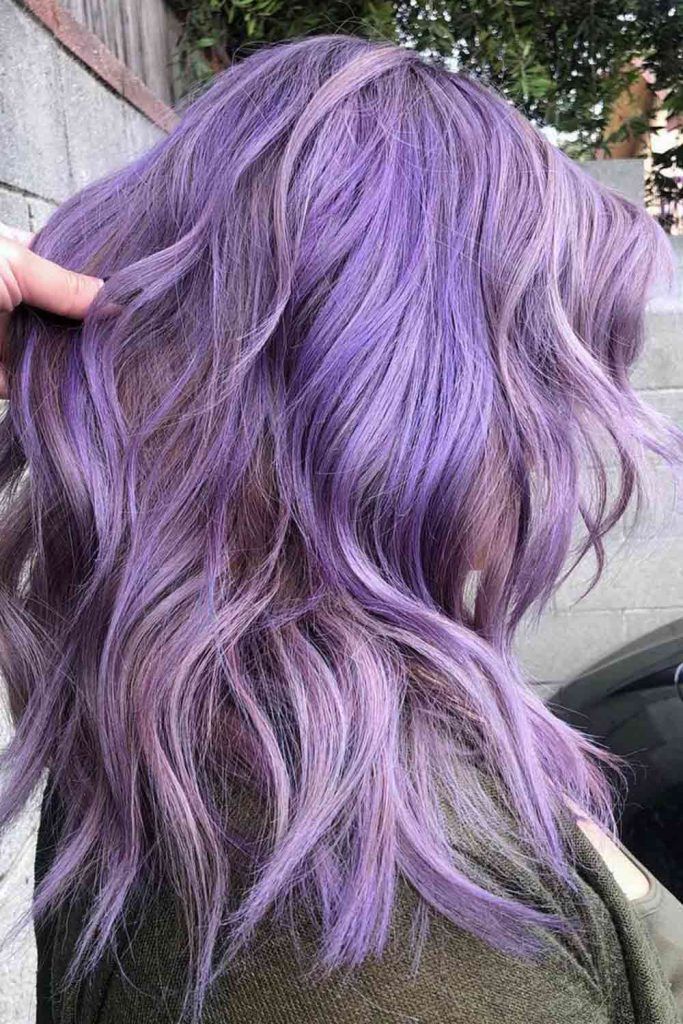 Credit photo: instagram.com/_heyhelena
How about a head-turning, multidimensional look? Once you create your own fairy-like palette on your head, you will see the subtle lavender highlights in an entirely new light. The dark bluish roots that follow the dimension of layers, colored in many magical shades, create a beautiful balance of warmer and cooler tones. Mix blue, violet, light lavender, and any colors you want and your look will be the one of a kind.
Lavender Highlights With Dark Roots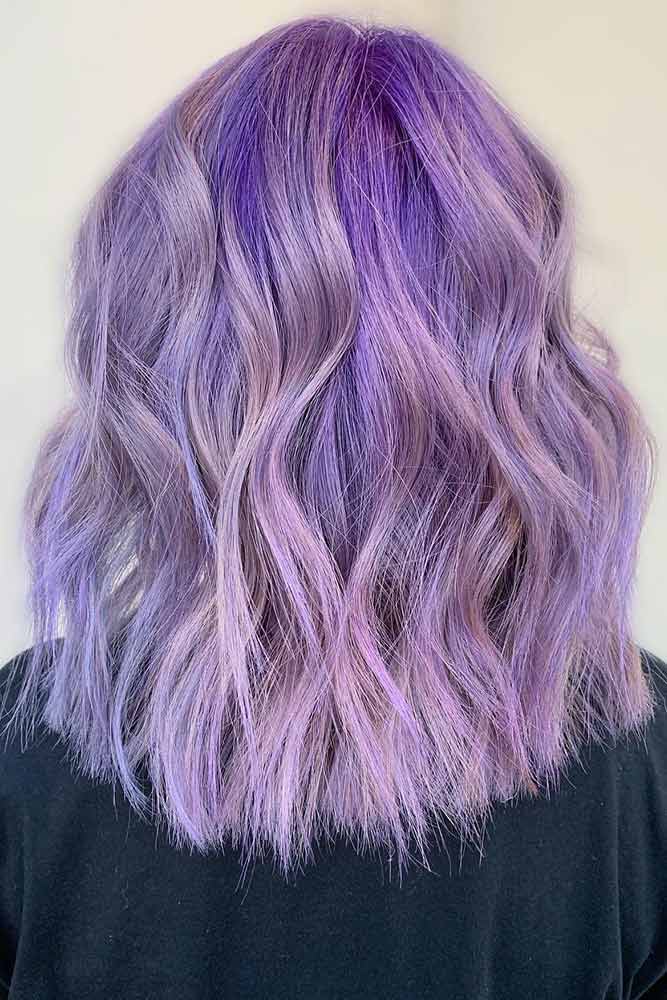 Credit photo: instagram.com/savvyheartshair
By dark roots, we mean the darker shade of lavender. When you are about to play with colors, make this play big! Mix several shades of lavender hair color, altering them from roots to tips: the roots can embrace the darkest shade; the mid-length can turn to medium lavender hue; and your ends can finish the look with a silver vibe.
Pink and Lavender Color Blocking Hair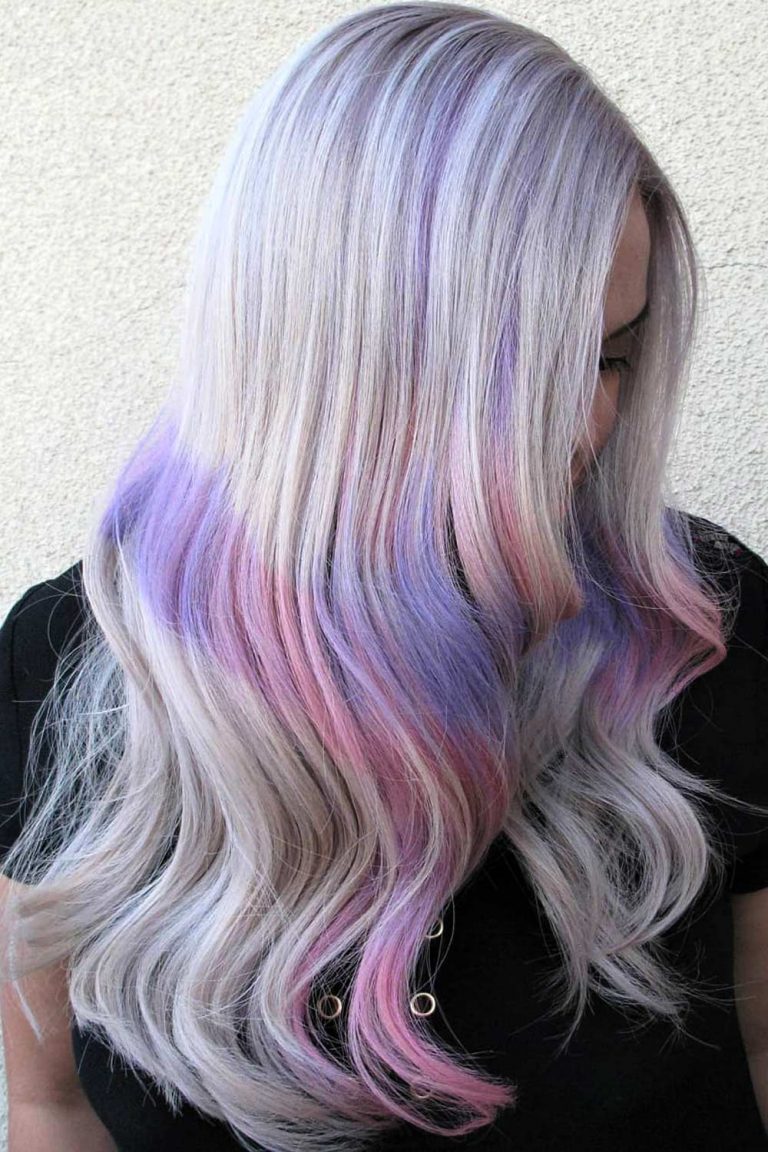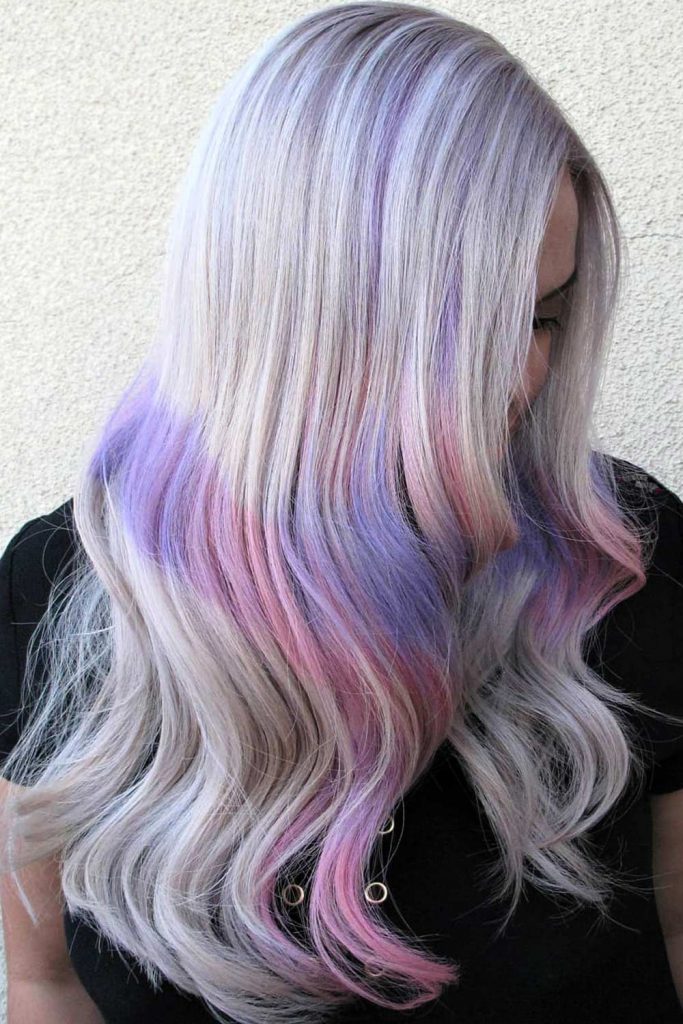 Credit photo: instagram.com/sheartale
Lavender Hairstyle with Hair Tinsel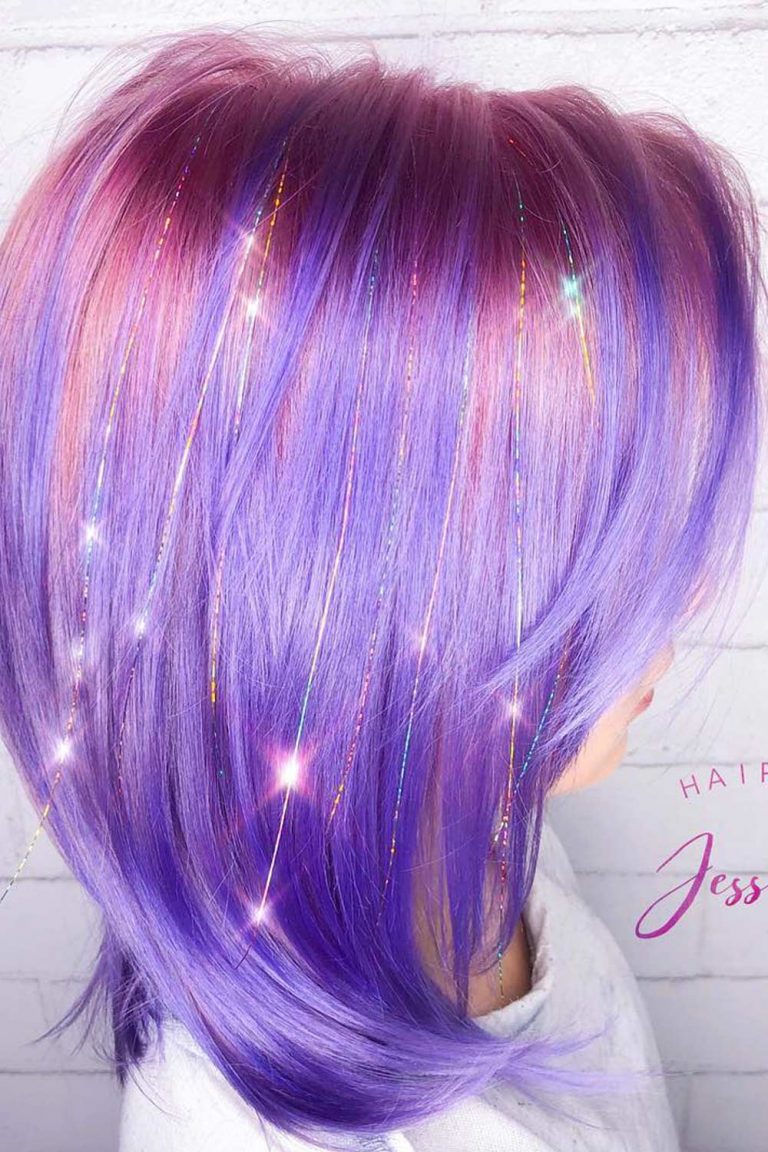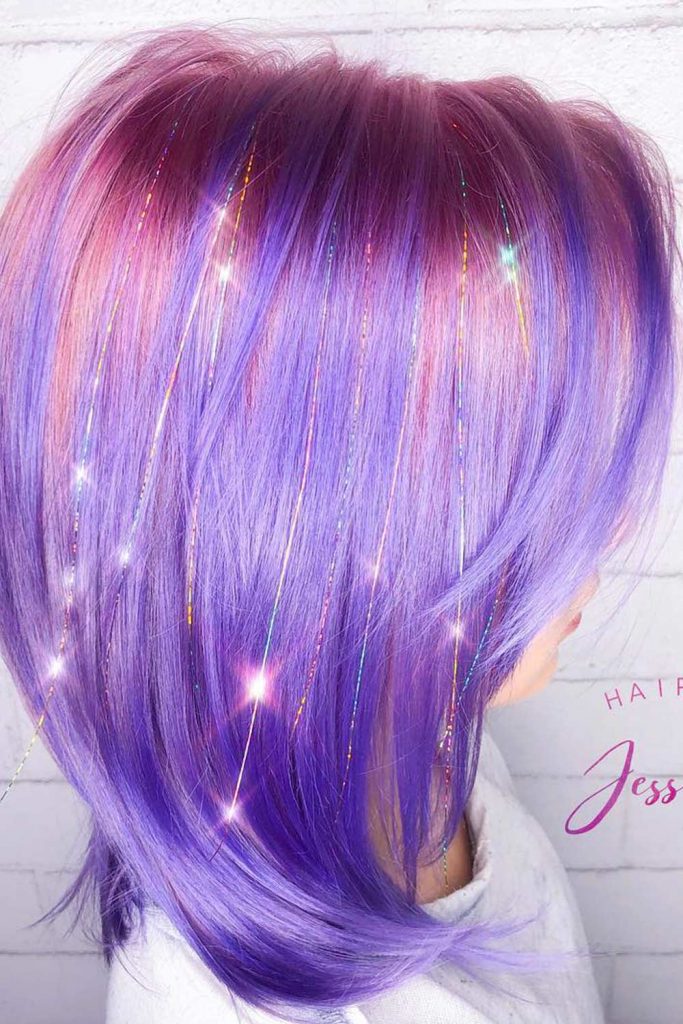 Credit photo: instagram.com/row_house_hair
There's no way you haven't fallen for lavender hair: its play of lights and shades is awe-inspiring! Now you know how many ways of pulling it off there are. Why don't you make this color a part of your hair experiment? Each of these looks deserves a try, and you deserve to be the brightest girl in the crowd!
FAQ: Lavender Hair
Who can wear lavender hair?
Fair skin tones look best in combination with purple or lavender hair, and while it can be worn by people with any eye color, blue hazel and green eyes will make the most of it. If you've been eyeing purple locks on Pinterest but are afraid you'll end up looking like a grape, better think again.
What color does lavender hair fade to?
If you bleach the ends of your hair to a pale platinum blonde, the dark blue-purple color will most likely fade to lavender, and then to a silver tone. Some purple dyes, on the other hand, may fade to light-blue or pink instead. Purple colors come in a variety of shades, and the closer they are to red, the more likely they are to turn into pink.
Why did my lavender hair turn green?
Punky Violet is an extra-strong blue-ish purple, so a drop of blue left over with a yellow foundation turns green when bleached. To make it lighter, take a vitamin C treatment, try a bleach bath or a dish soap or shaving cream wash. Alternatively, you may go purple once more.
REFERENCES:
Get inspiration for lavender hair ideas, spring`s biggest hair color trend. We rounded up the prettiest options to try. Source