Whether you have naturally dark hair or you are about to switch your palette to a darker mode, you can't go wrong with the idea of black hair with highlights.
When a dark hue meets a lighter one, they create a tasteful contrastive ensemble. This contrast gives birth to two invaluable features: color dimension and enhancement. So why don't make your new dark color even better?
This post is devoted to the beauty of highlighted dark hair. Besides eternal inspiration, you are also going to get to know the basics of getting highlights hair. See how color accents can change your dark base for the better!
How To Highlight Your Hair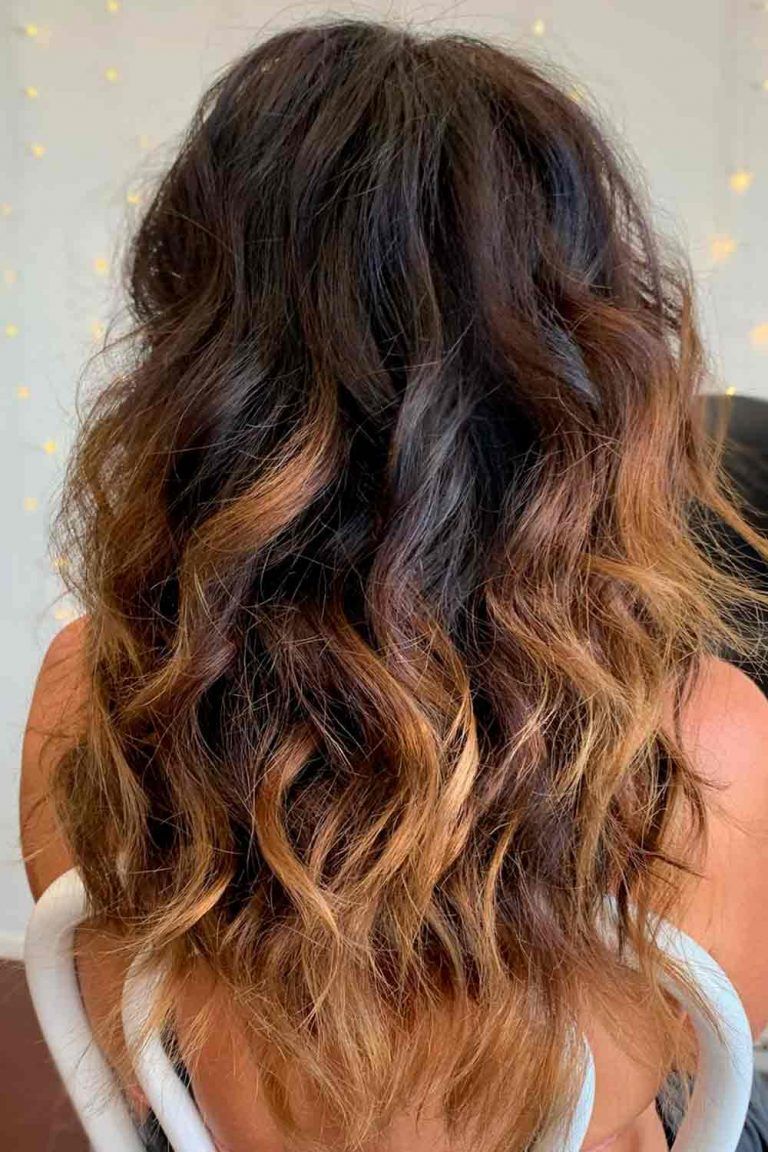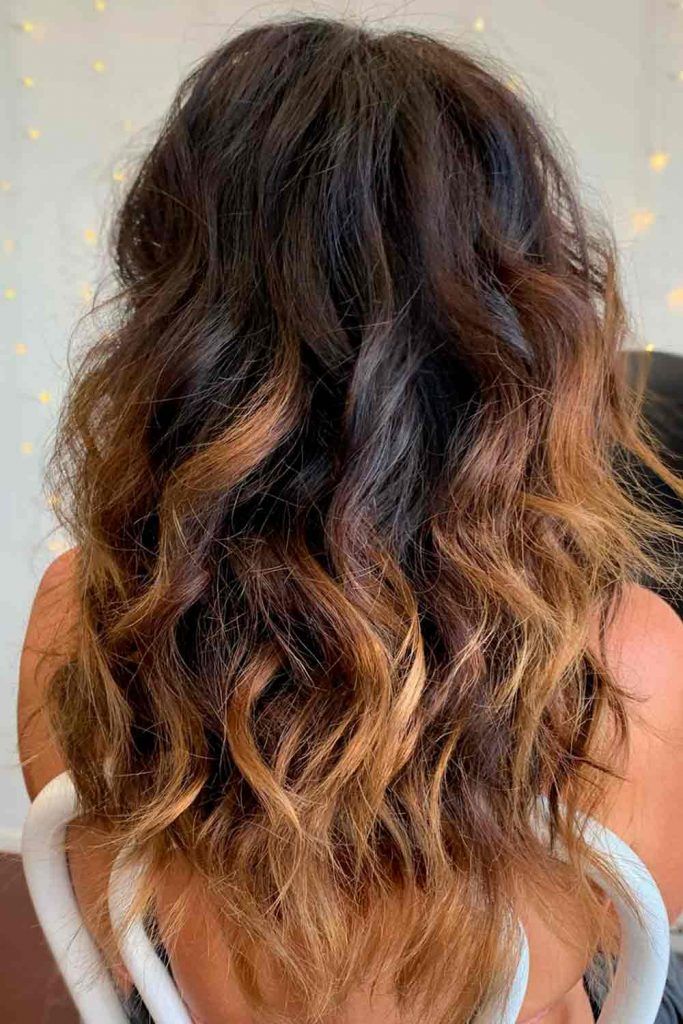 Credit photo: instagram.com/rachaelharris_hairmakeupbeauty
Of course, to achieve perfectly blended and even highlights for dark hair, it's always better to go leave your mane up to a colorist. But let's be honest: girls either have no time to spend on searching for a good one or love to experiment with their appearance themselves. Since colorists already know how to highlight hair, here are the basics for home players.
What you need:
A pack of Box Dye that is one or two shades lighter than your natural base;
A regular brush;
A toothbrush;
Hair clips for sectioning;
A pair of gloves;
An old T-shirt;
Shampoo and conditioner
Vaseline
How to:
Start with third-day hair: colors adapt better to greasy locks. Before getting to the coloring process, brush your hair thoroughly to make sure there are no knots or tangles.
Wear a T-shirt that you are ready to sacrifice for the new color and put on your gloves.
Then, apply vaseline along the hairline, also paying attention to your neck, ears, and forehead.
Decide how and where you want to place your highlights. For fine and thin hair, it's better to work with thin strands, spacing the sections evenly. As for thicker, curly chevelures, place the sections sparsely.
Mix the developer and colorant based on the instructions on the box.
Part your hair in any way you like.
Apply the dye onto your hair with the help of a toothbrush. It's an awesome trick for achieving better color precision.
When coloring your hair, keep in mind that your highlights should get heavier in the front portion.
So as not to make the color dull, don't forget to add some light to the lower layers.
Leave the color in for the specified amount of time and then wash and condition your locks.
Ashy Highlights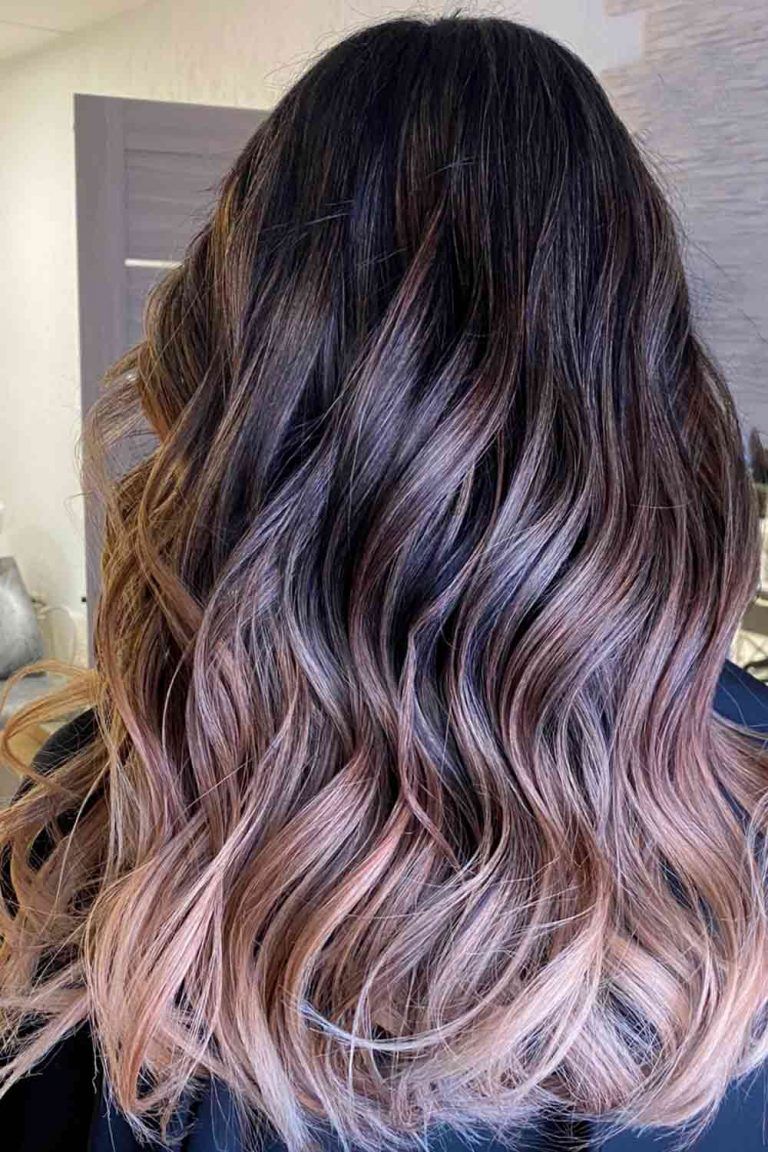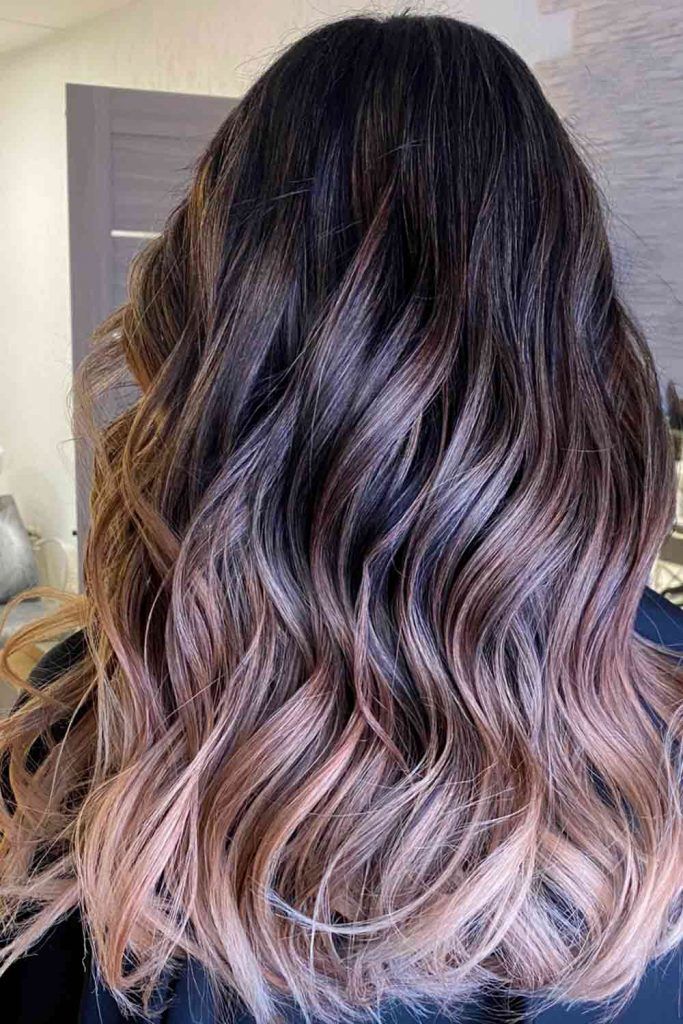 Now, it's time to get inspired! Let's start with a color combo that embraces an overwhelming trend of silver hair. Though white is the opposite of black, the black hair with silver highlights achieves a better color play, accentuating dark locks effortlessly.
Dark Chocolate Walnut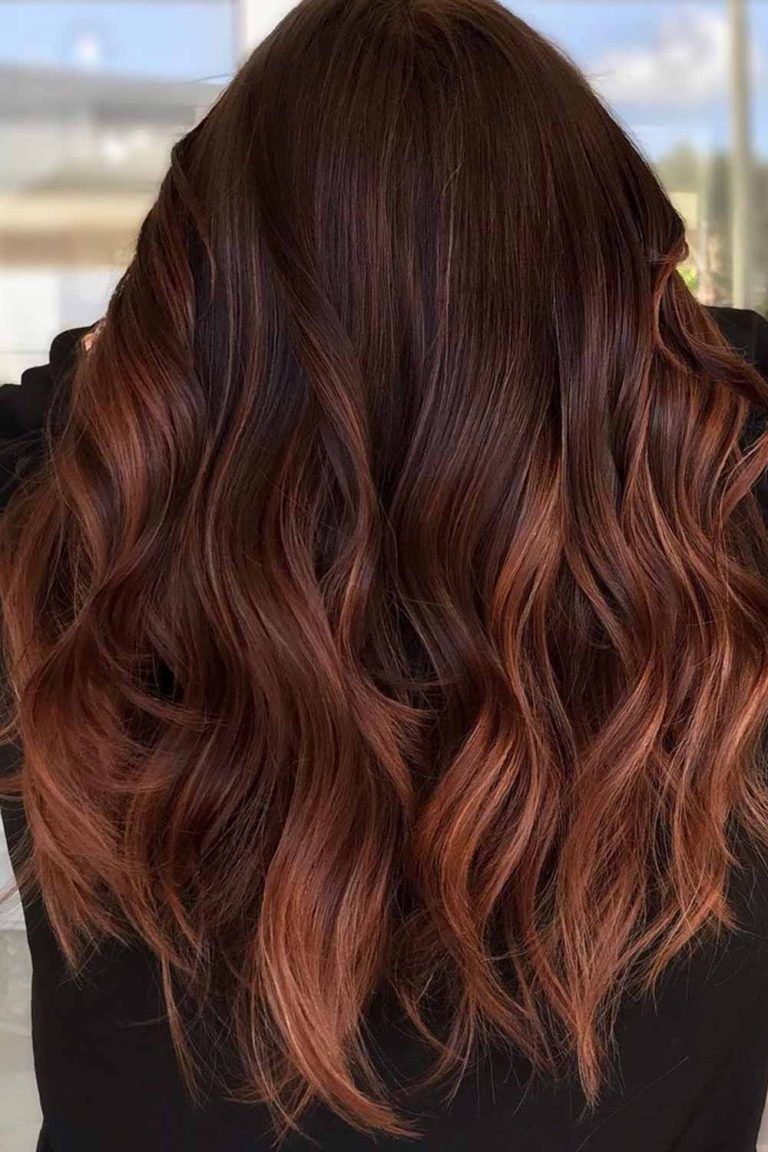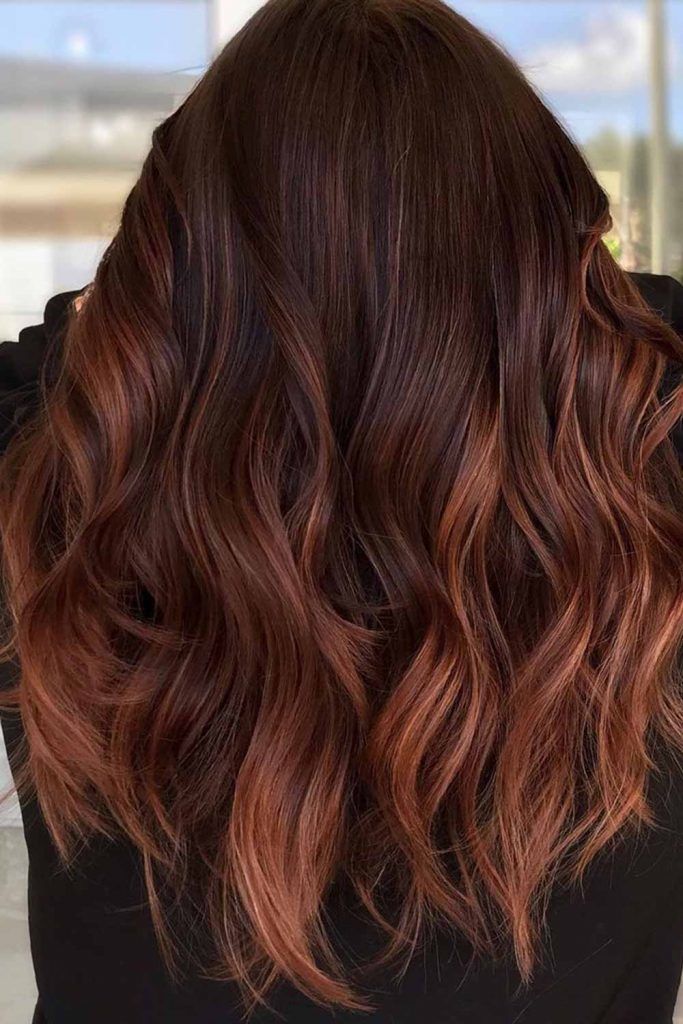 Credit photo: instagram.com/suetyrrellstylist
This color looks just as attractive as it sounds. It also proves that black hair with brown highlights actually can go well together. To get that lovely transition, ensure that the brown accents are just a tone lighter than the base.
Golden Lights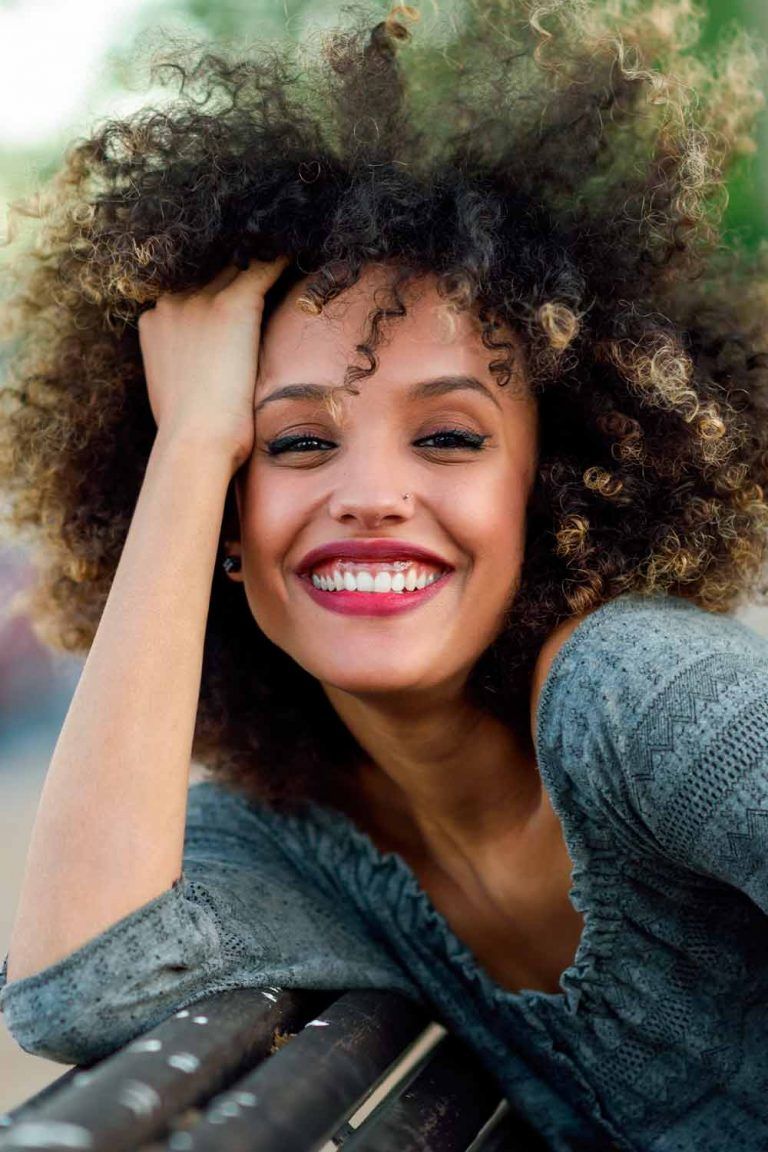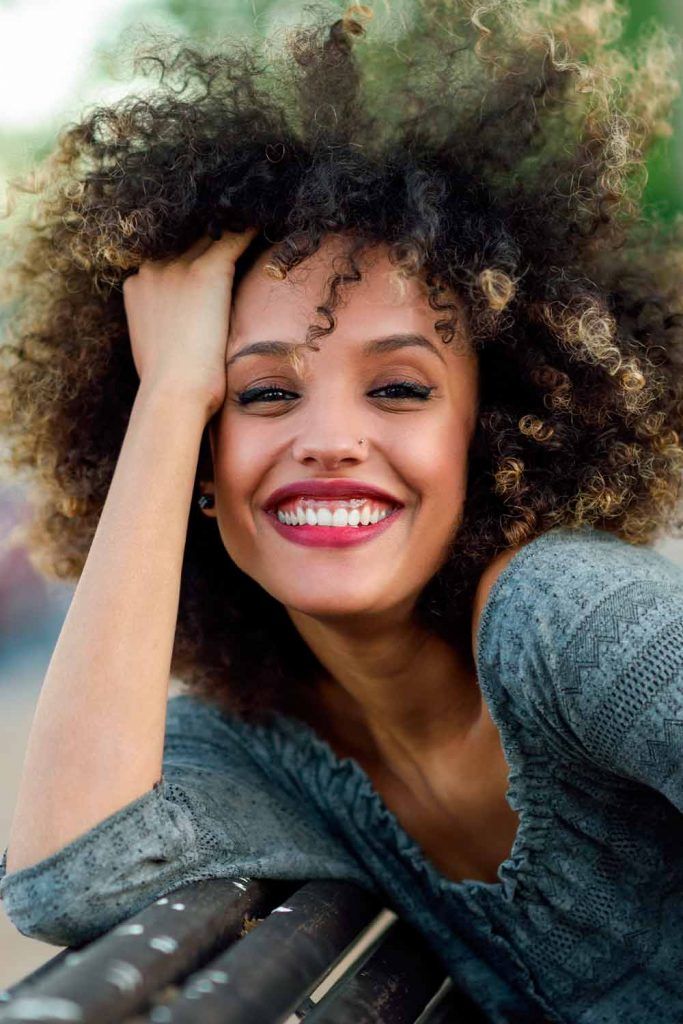 Believe it or not, the golden hue that enlivens this dark primary is achieved with a mix of brown shades. If you spice up your black hair with caramel highlights and finish it with dark brunette ones, you will get such organic color movement.
Copper Brownish Lights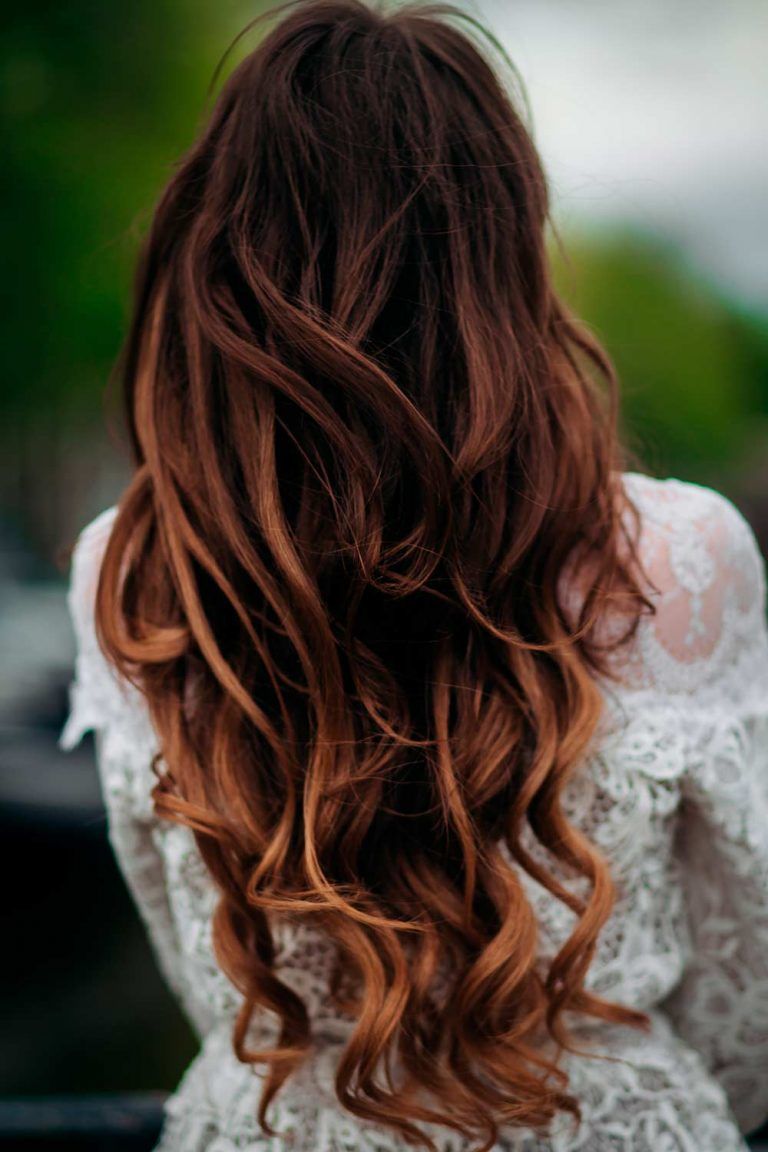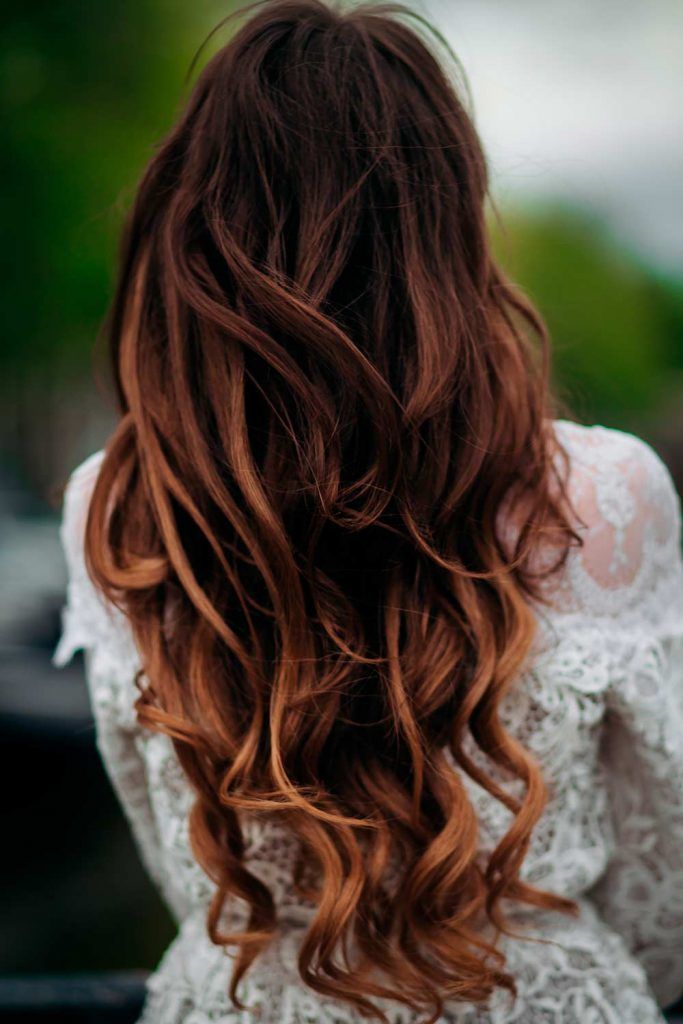 And this is how subtle highlights for dark hair look like. The space between colored strands is so even and the color is so balanced that it's hard to believe it's a dye job.
Cascara Cold Brew
Переглянути цей допис в Instagram
A color that is as fresh and crisp as your favorite cold brew drink, who could ask for more? This idea is nothing but brown hair with black highlights, but, of course, you can replace the color order to get that deep and cool shade.
Caramel Dimensions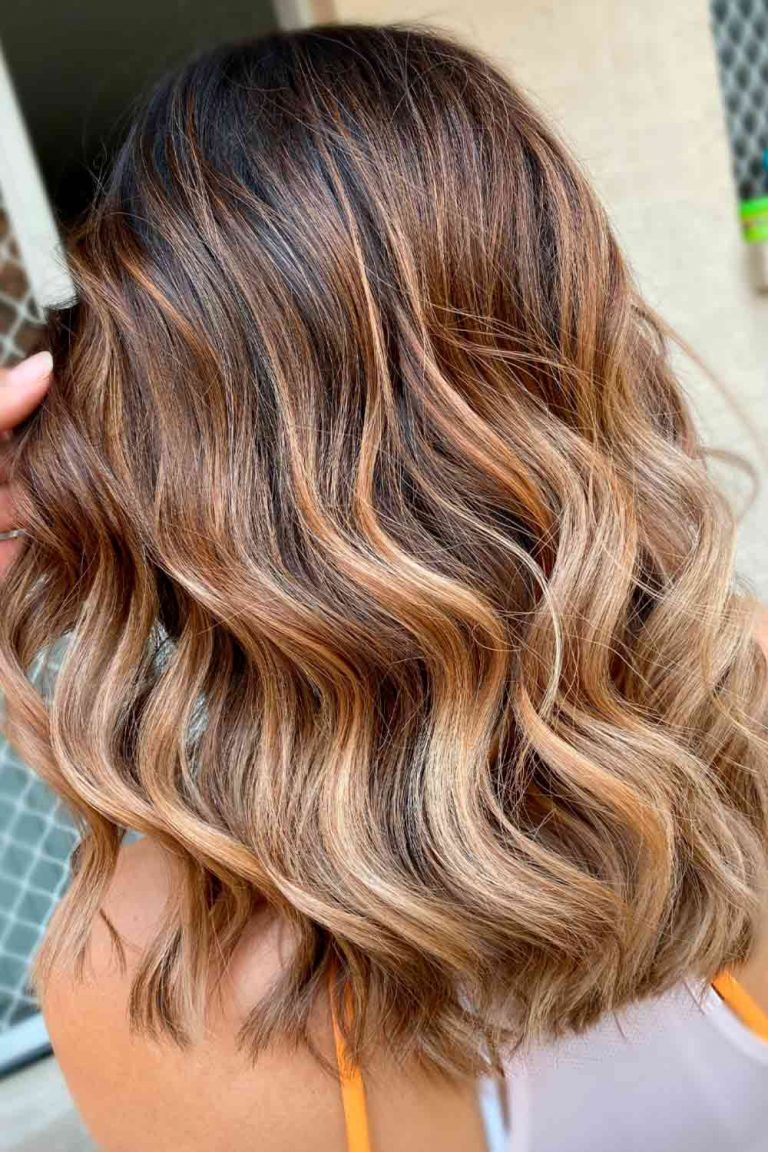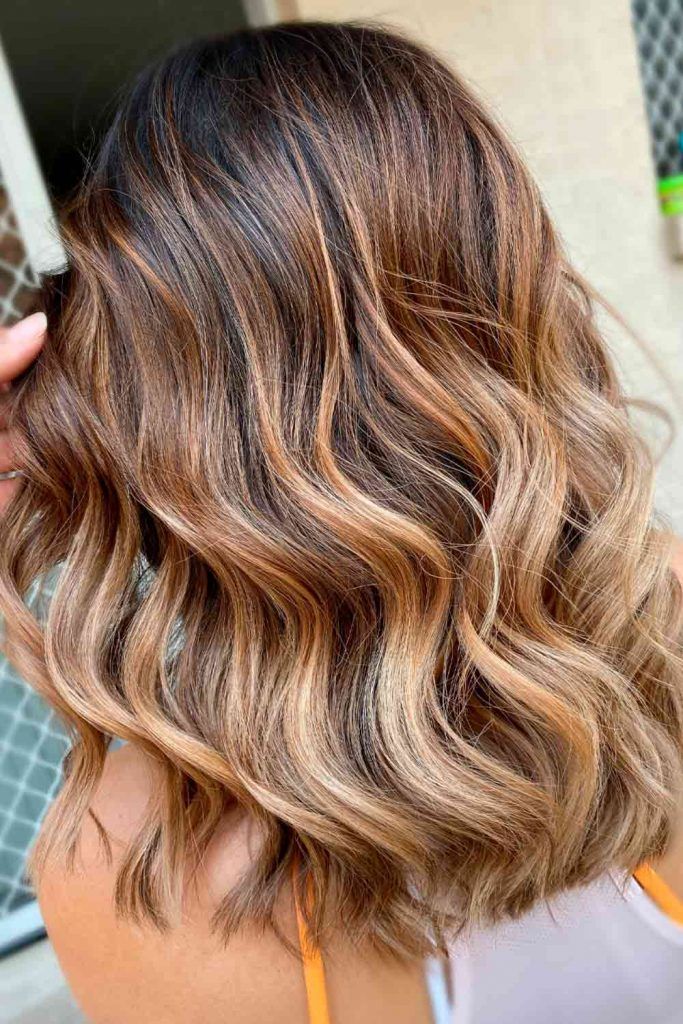 Unlike previous color combos, this one is all about distinctive contrasts. Black hair with blonde highlights that get warmer to the ends makes the basic color appear in a totally new light.
Melted Praline Dimension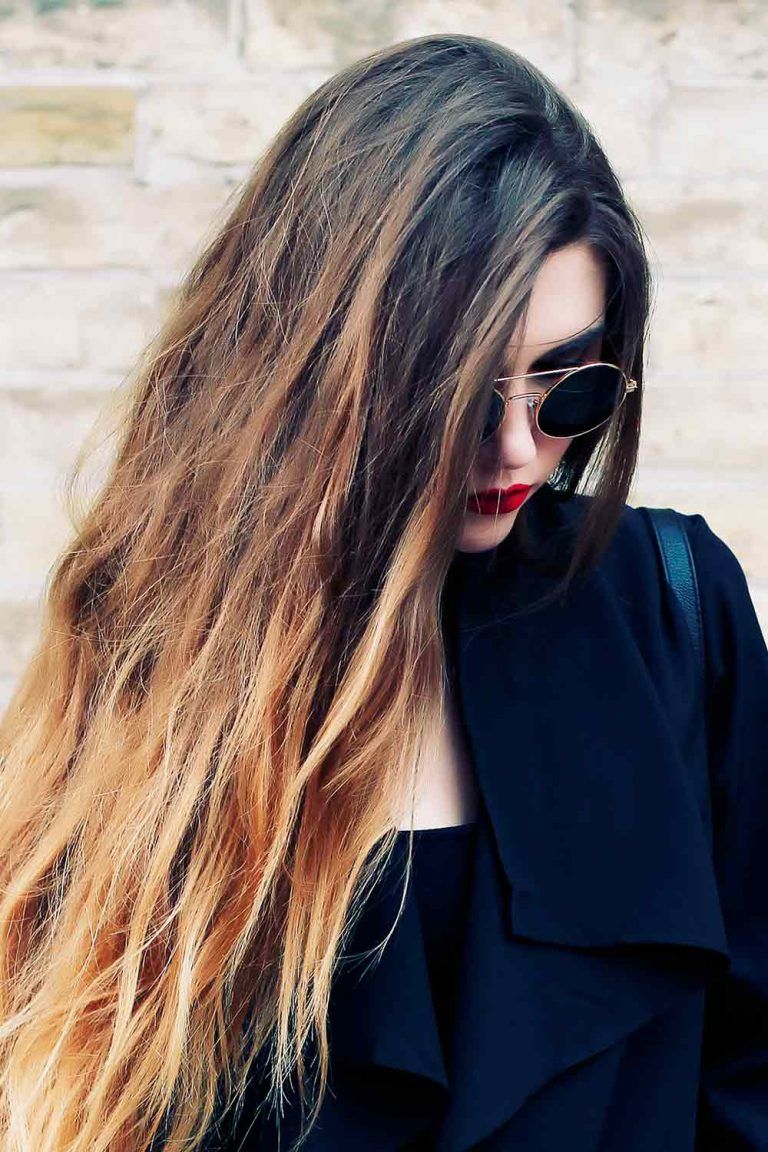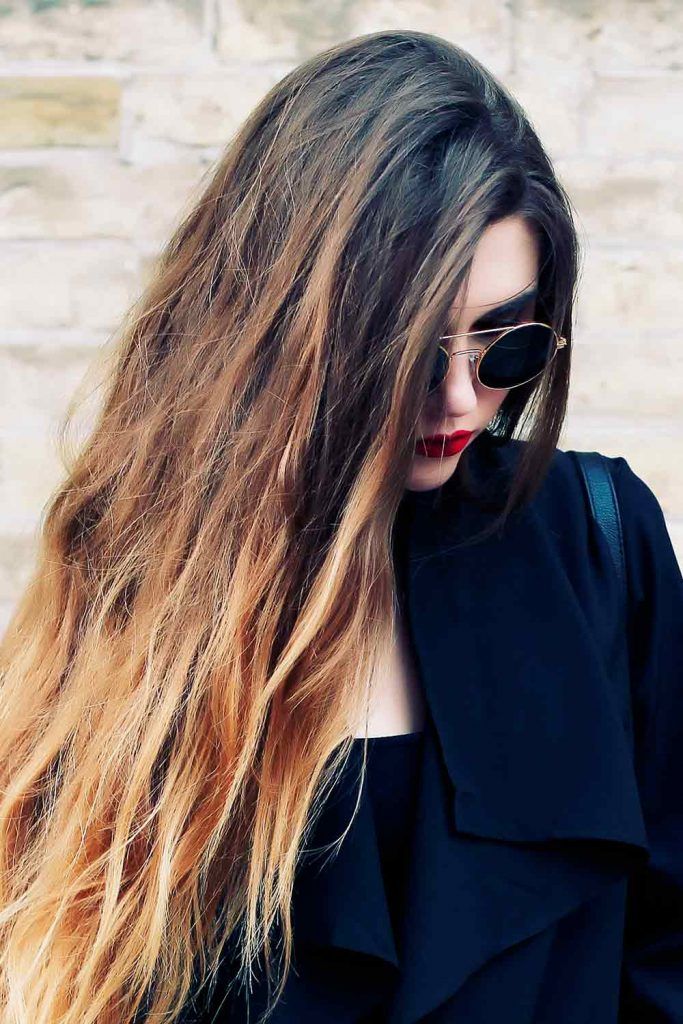 While praline is a palette of the most desired tastes, you can make it work for your hair to show off your good taste. Light hazelnut hair, soft caramel vibes, and sugary blonde are the ingredients of these stunning hair highlights for dark hair.
Reddish Highlights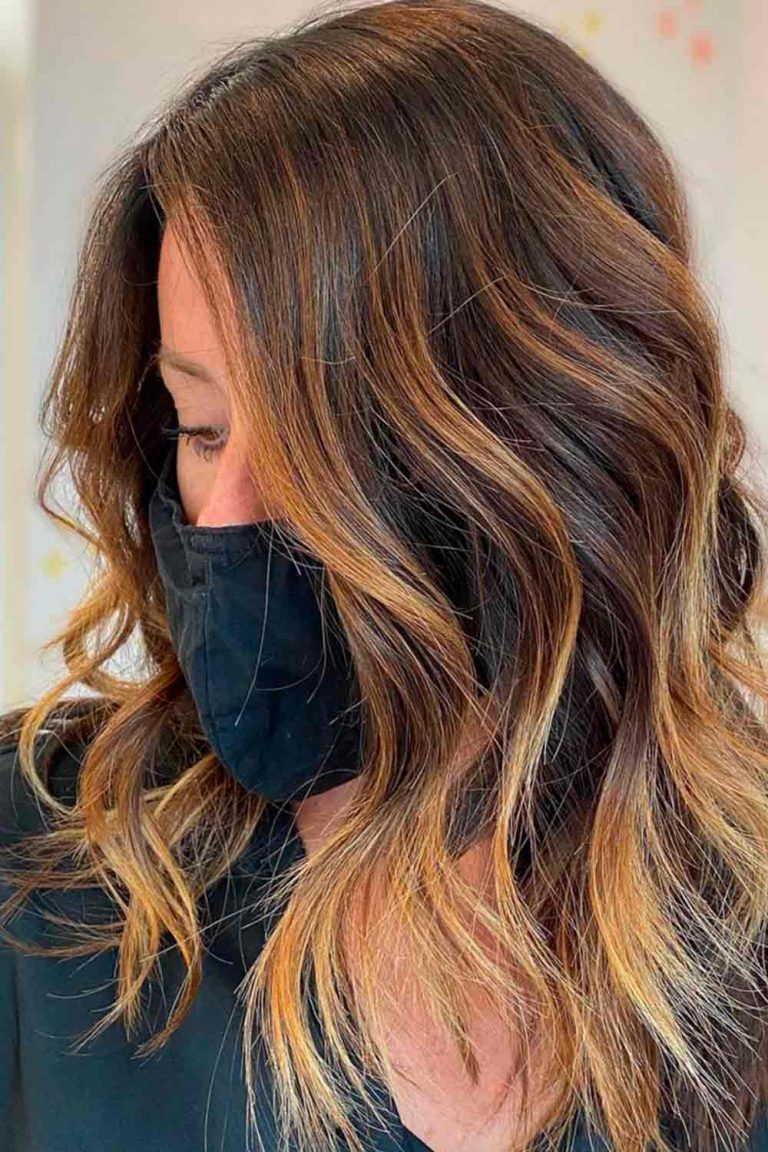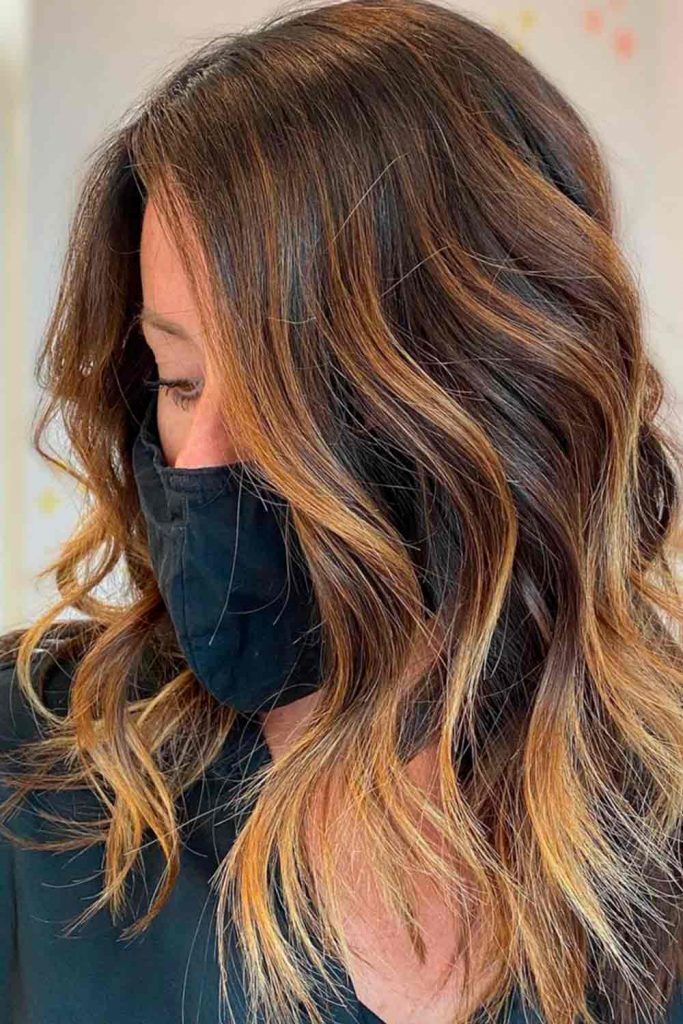 Credit photo: instagram.com/thevividbrunette
Reddish highlights for dark hair can be saturated and eye-catching or muted and harmonic. If you're into well-balanced ideas, this dark chevelure with a soft red tone stretching down the length will be an excellent choice.
Rosy Orange
Переглянути цей допис в Instagram
How do you imagine black hair with pink highlights? Luckily, the epoch of the emo generation passed us in 2007, so now we can show you the best angles of this color combo. A slight hint of rose that gently hits your ends, isn't that a dream come true?
Fiery Orange Highlights
Переглянути цей допис в Instagram
Here comes a variation of black hair with red highlights designed to catch people's eyes. Girls who want their hair to make a statement should look no further than this fiery duo!
Deep Yellow Highlights
Переглянути цей допис в Instagram
Though many people may find yellow highlights for dark hair to be too drastic and unnatural, we want you to listen to your heart. Want to be in the spotlight? Do it, girl!
Green Highlights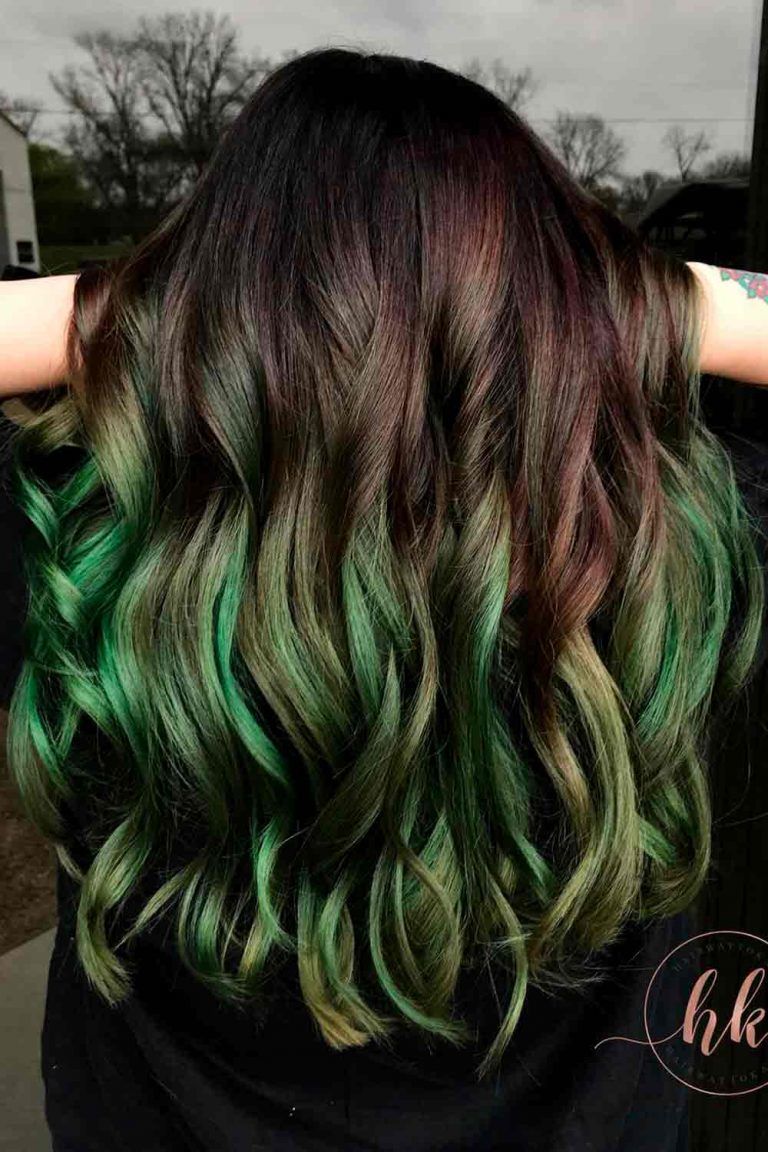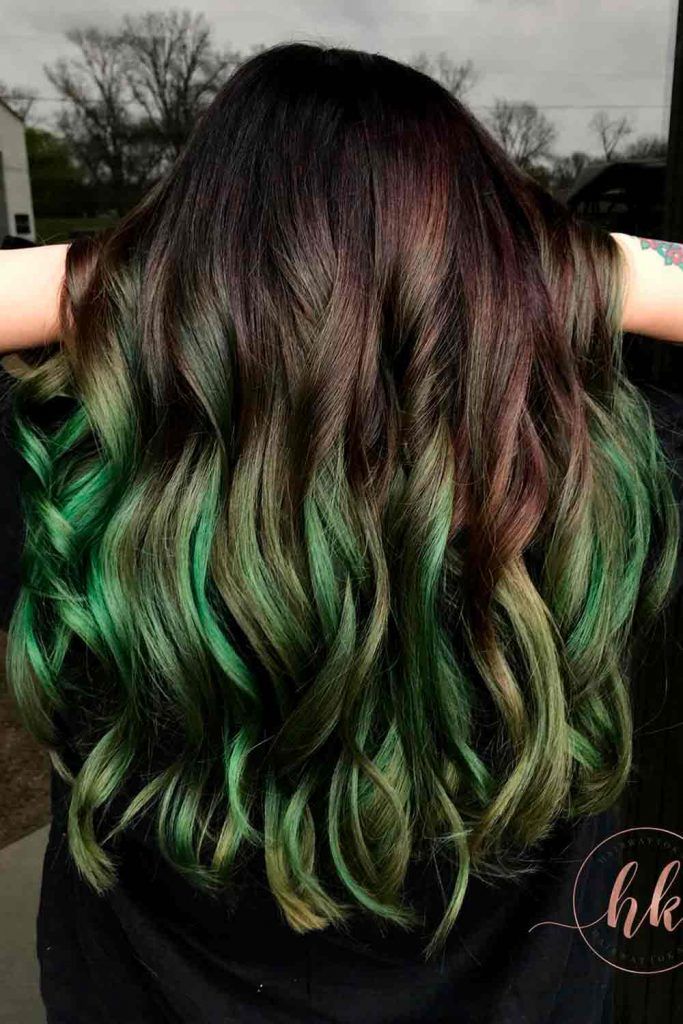 Credit photo: instagram.com/hairwaytokale
This time, highlights don't just accentuate the deepness of the color; they make it complete, enhancing the profound dark hue. To finish the look, leave some strands a bit lighter to let the color be visible at some point.
Rainbow Highlights
Переглянути цей допис в Instagram
Black is a good match for all colors possible, so how about you to mix them all? First, embellish your black hair with blue highlights, for example. Then, place any colors you like so that they match the first added shade. Voila!
Colorful Highlights
Переглянути цей допис в Instagram
If you're wondering what is a pastel version of rainbow highlights, that's it. The best thing is, if you work with pastel hues, there are no color oder restrictions: all muted colors work well with one another.
Purple Highlights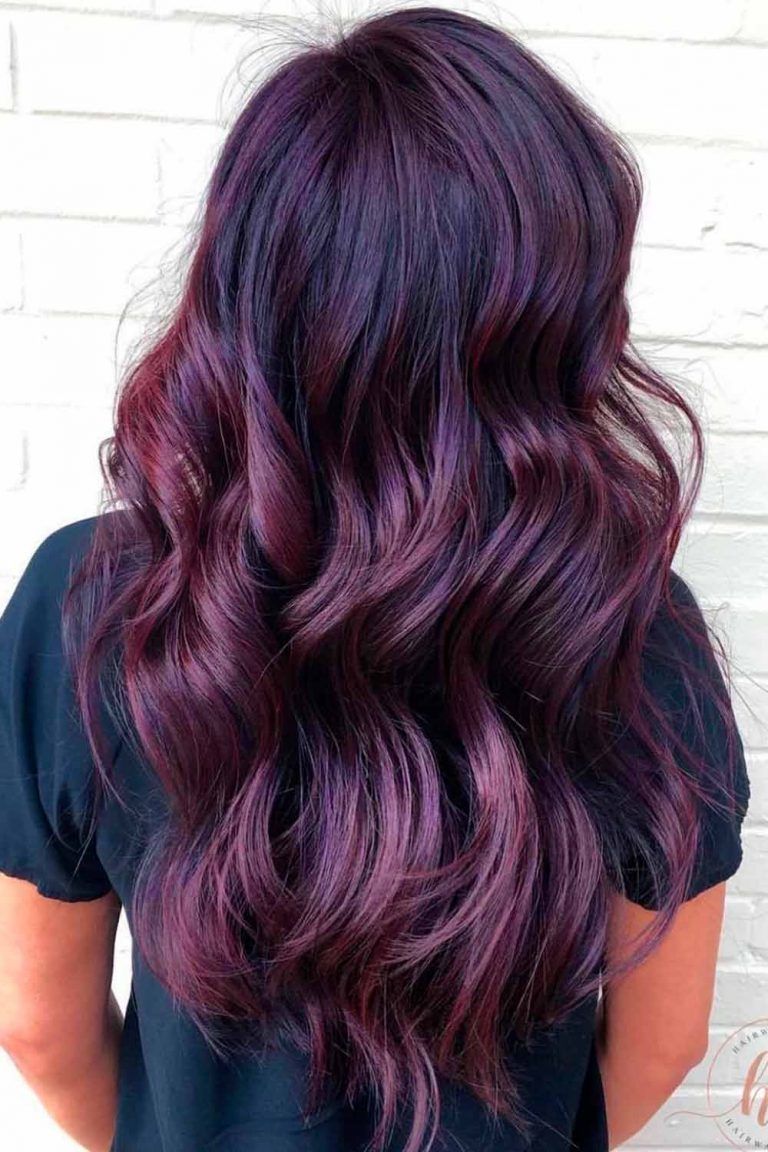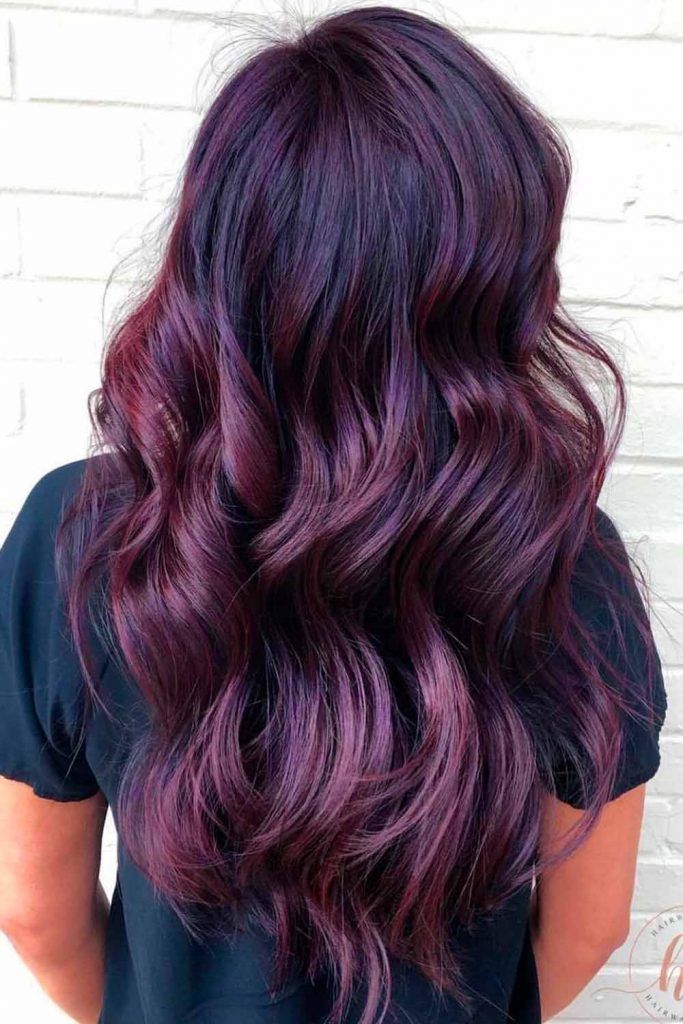 Credit photo: instagram.com/hairwaytokale
Black hair with purple hues highlights has had its ups and downs, yet, today, it seems to be the hottest trend ever. There's no better way to enhance a deep color than to do it with a saturated one.
Magenta Lights On Black Hair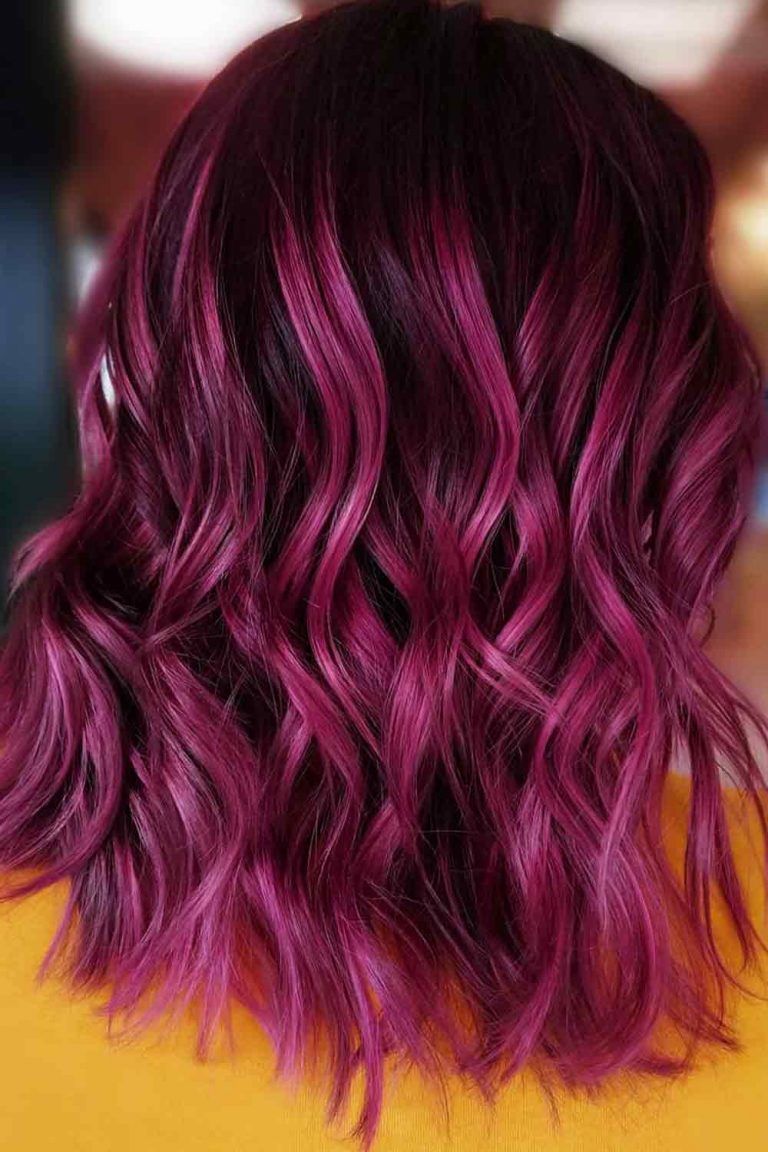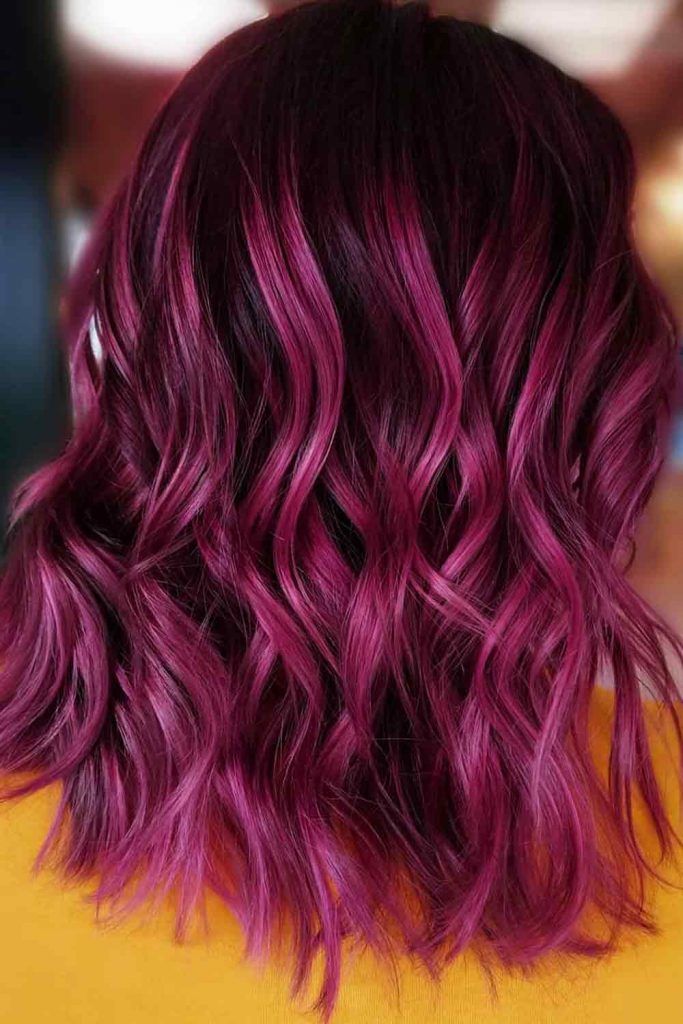 Credit photo: instagram.com/adlydesign
There's a magical way to go for purple highlights for dark hair and still look effortless. Magenta color, which is a mix of purple and deep red colors, will nicely complement your dark shade, looking as if your hair has been kissed by the sun.
Wine Red Highlights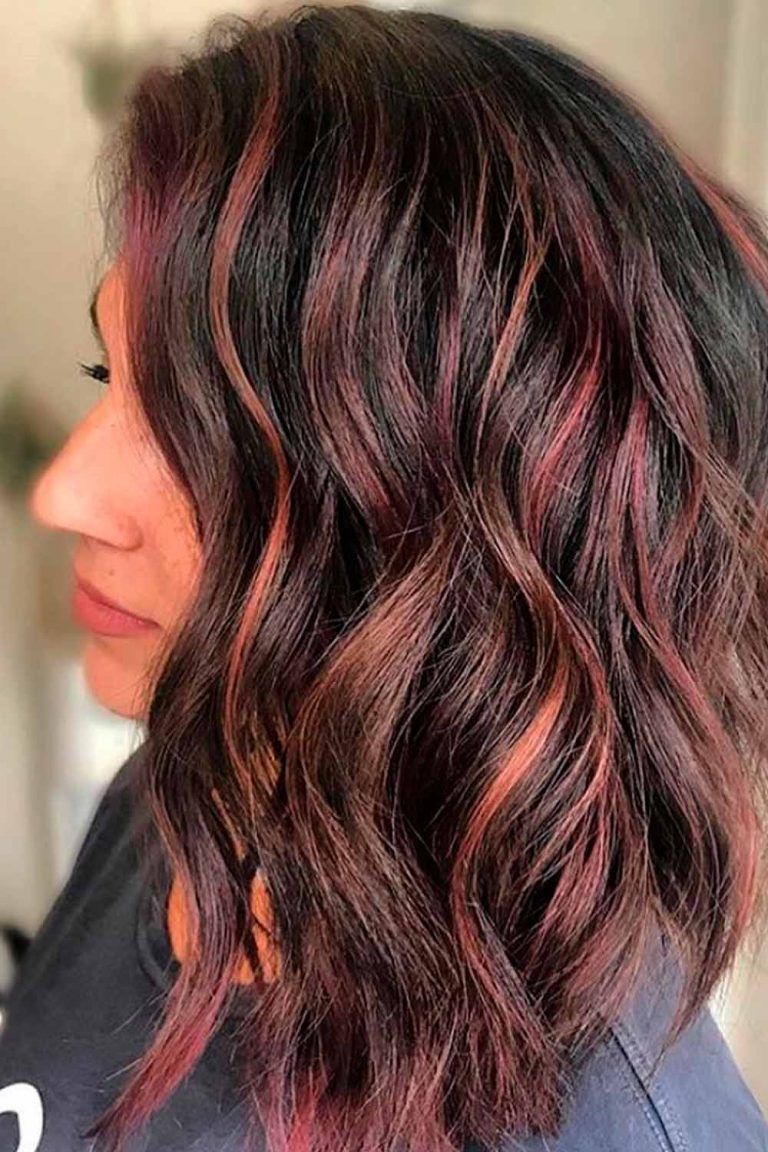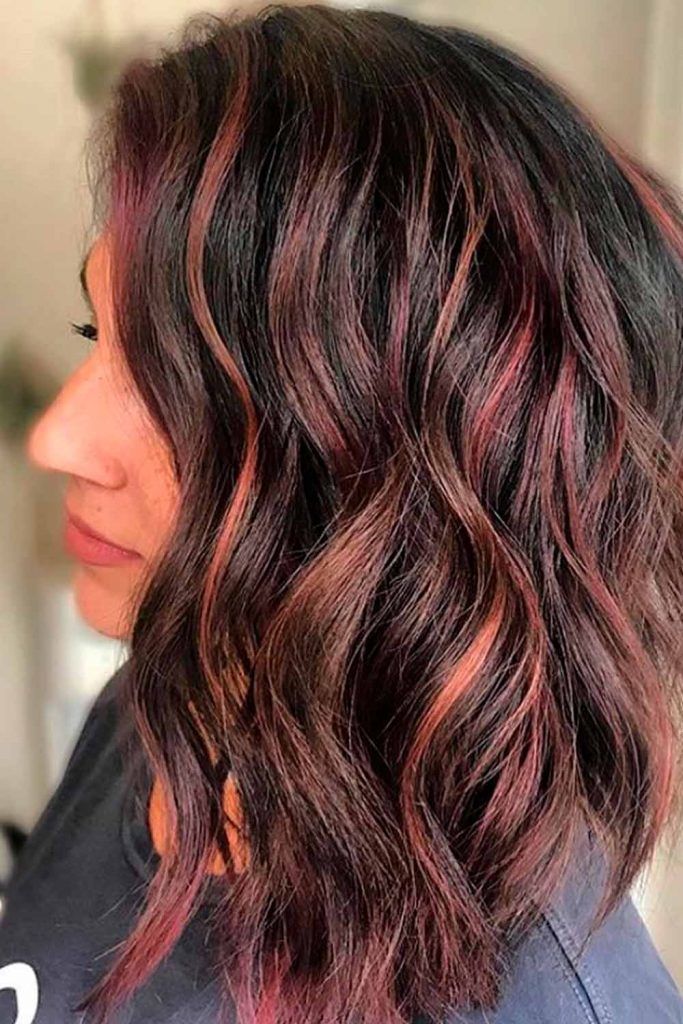 Credit photo: instagram.com/thevividbrunette
We can't have too much wine colors in our life, can we? Some burgundy, garnet or merlot colors can make your hair look like never-ending Friday!
Soft Brownish Lights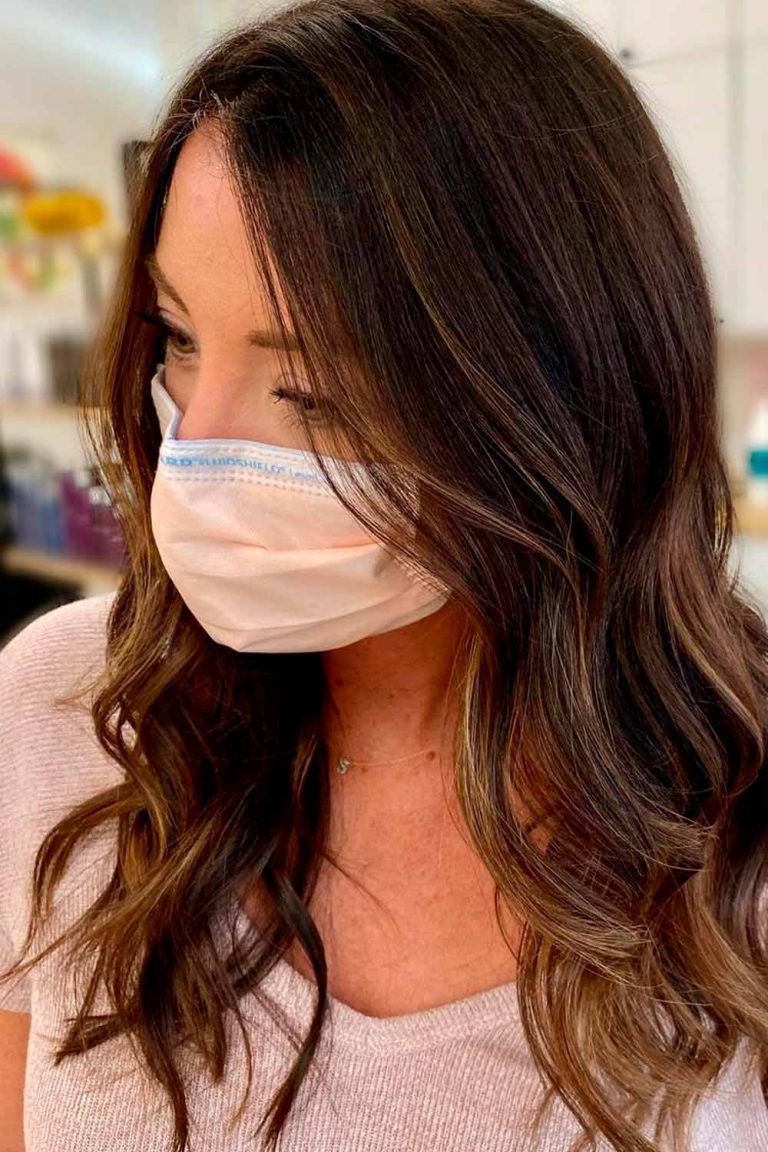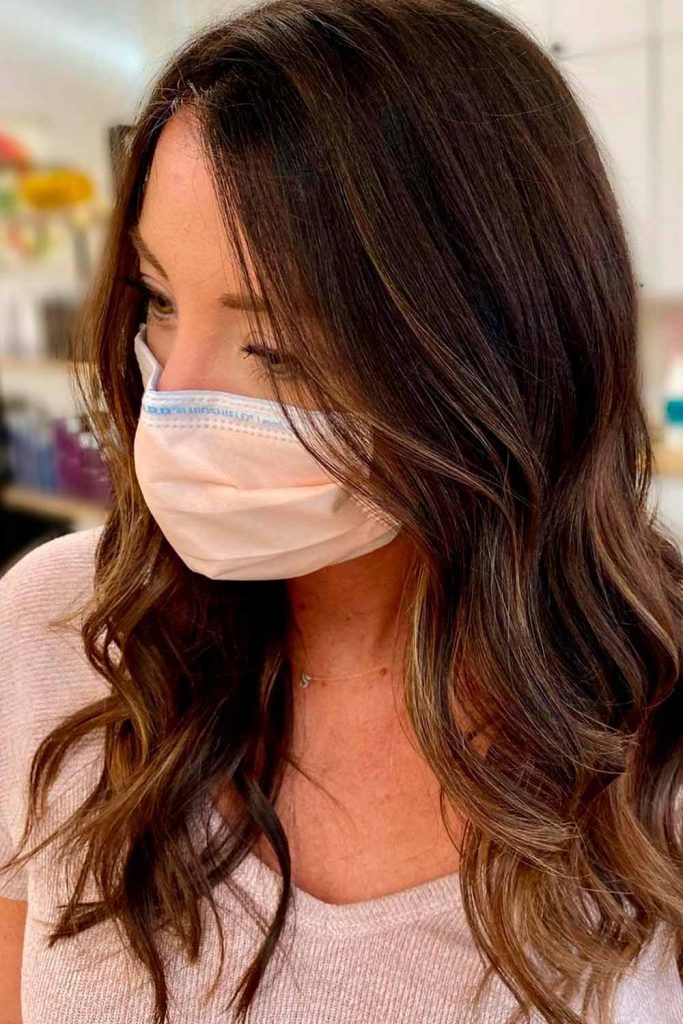 Credit photo: instagram.com/thevividbrunette
Although highlights are meant to accentuate a base, they should not necessarily be bright and contrastive. You may think that black and brown won't go well together until you actually give them a try. Here, you can see how harmonically they can blend: the brownish hint makes this dark hair color appear smoother, thus making it look alive and organic.
Chocolate Highlights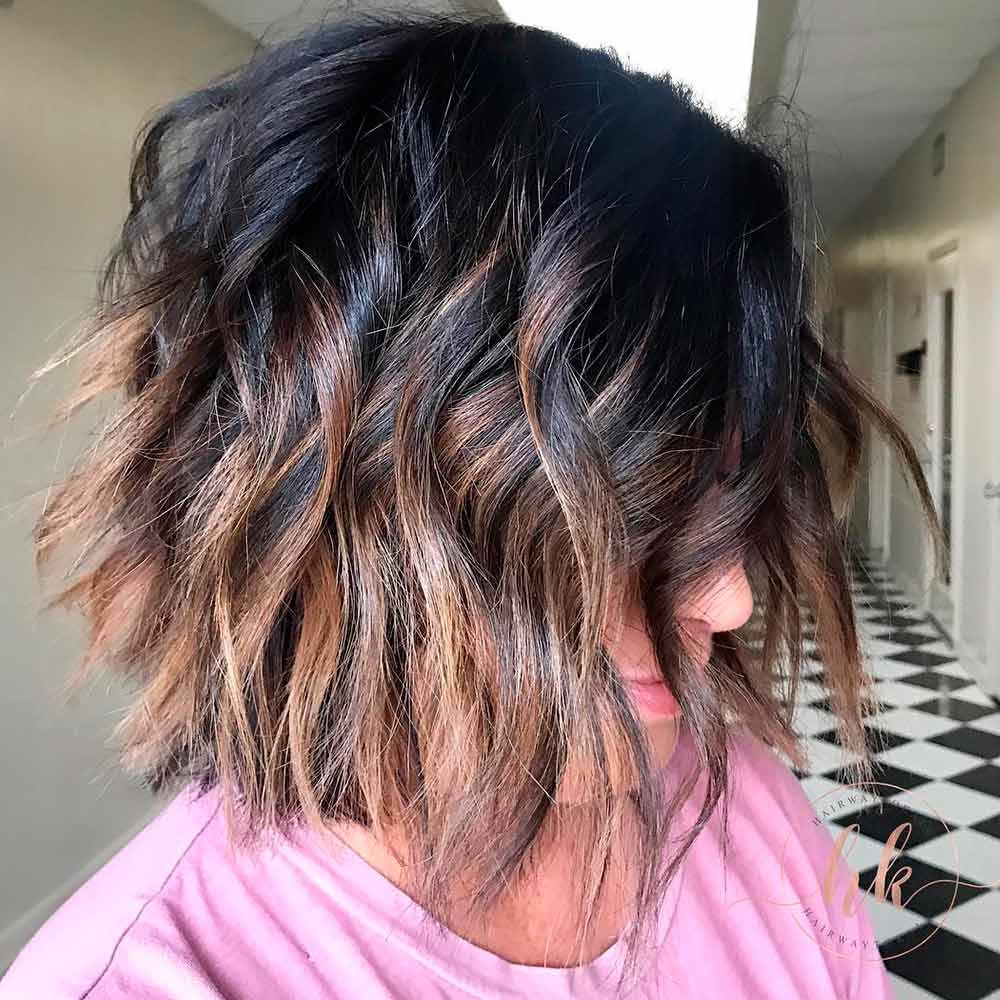 Credit photo: instagram.com/hairwaytokale
Another proof that black and brunette shades work wonders. This time, the shade of brown is more intense to add more dynamic character to the black base. The truth is, despite being super hot and seductive, black hair tends to lack dynamics and appear very static. And a little hint of a matching brown is enough to bring the balance back.
Metallic Shine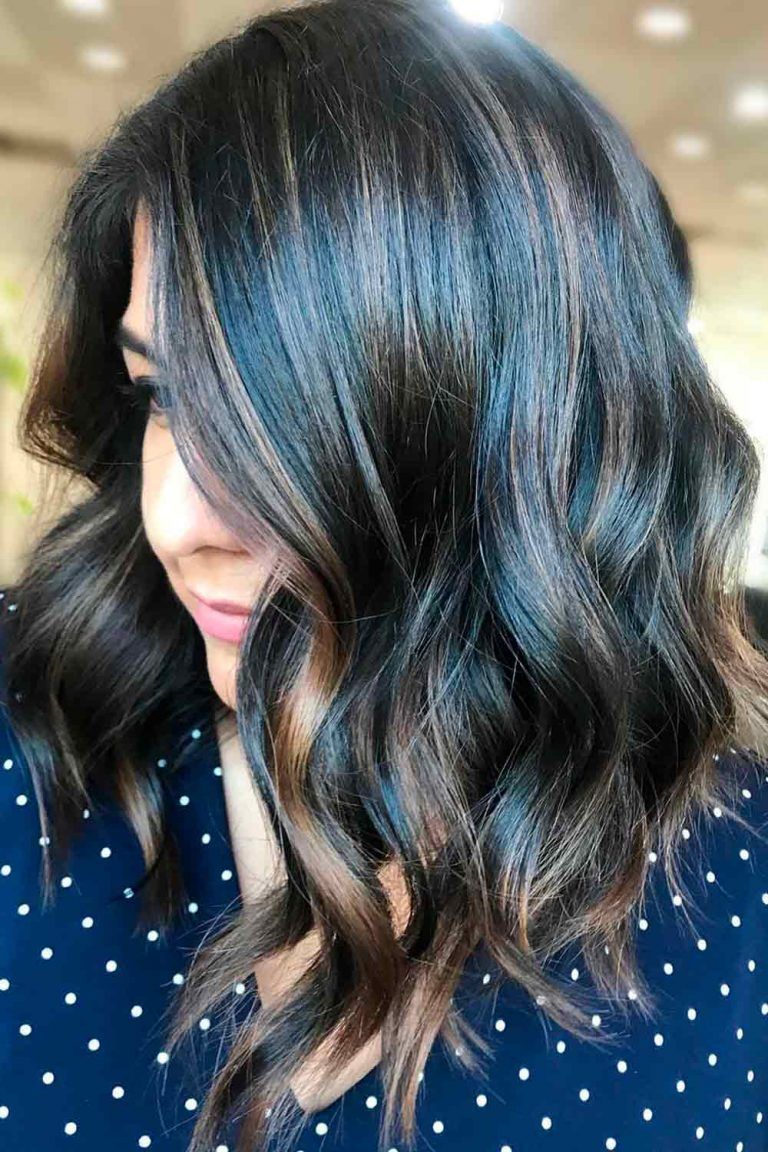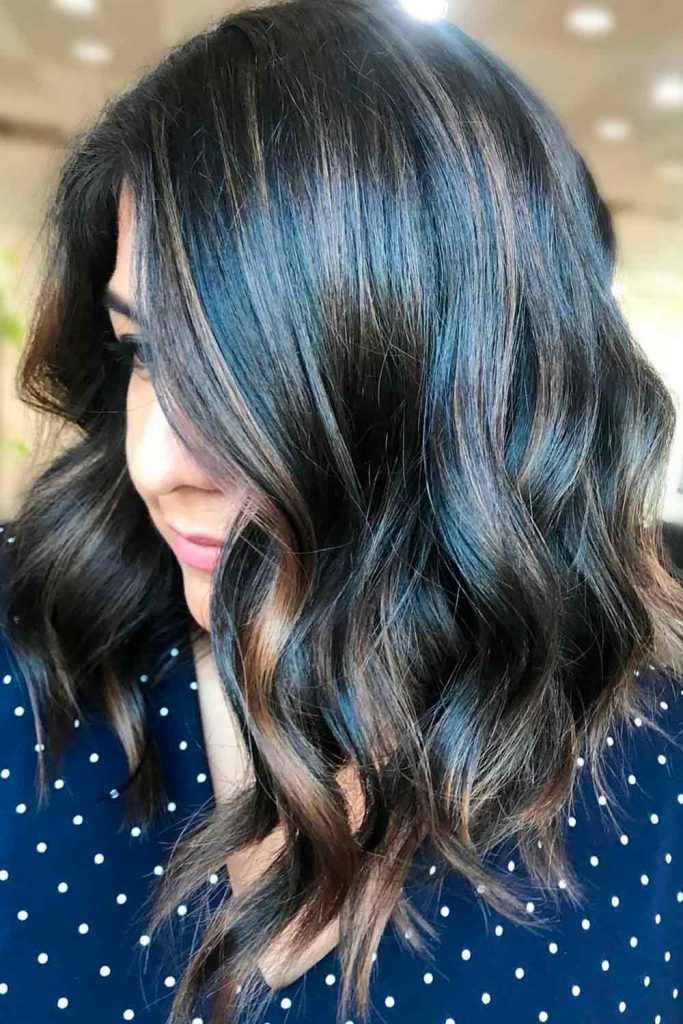 Credit photo: instagram.com/thevividbrunette
Want to enhance the natural shine that your black hair reflects once the sun shines down on it? A metallic shade of brunette is key, then. Ask your colorist to coat your hair with a thin layer of a metallic brown so that it acts just like a tint. Once your black hair with highlights meet one another, they will literally show up from new perspectives.
Cold Reddish Toned Lights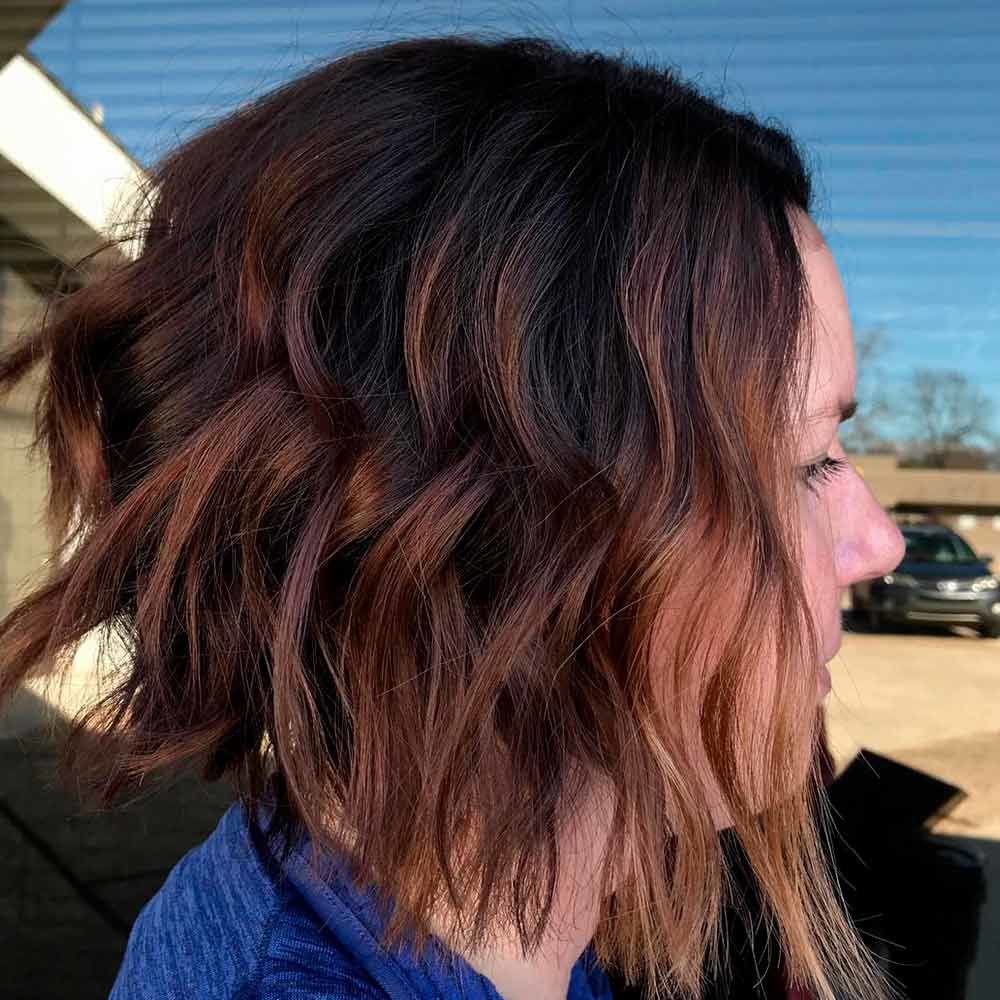 Credit photo: instagram.com/hairwaytokale
Besides catching a lot of shine and light, reddish toned black hair will also catch eyes and make heads turn. Of course, this color idea has nothing to do with all those red ombre or balayage looks; it actually shows the new side of the most desirable shade. If you go subtle with a cool reddish shade added through your black hair, you will not only give a fresh take at it but will also enhance its natural beauty.
Caramelized Chocolaty Bliss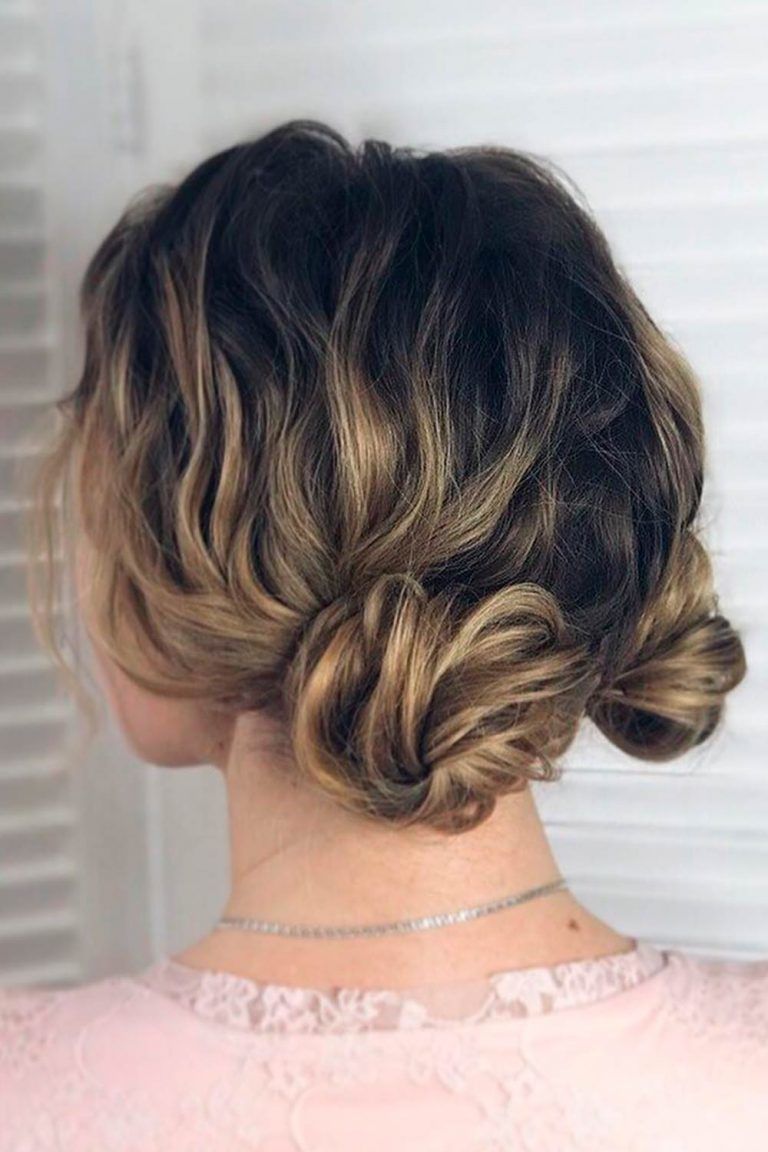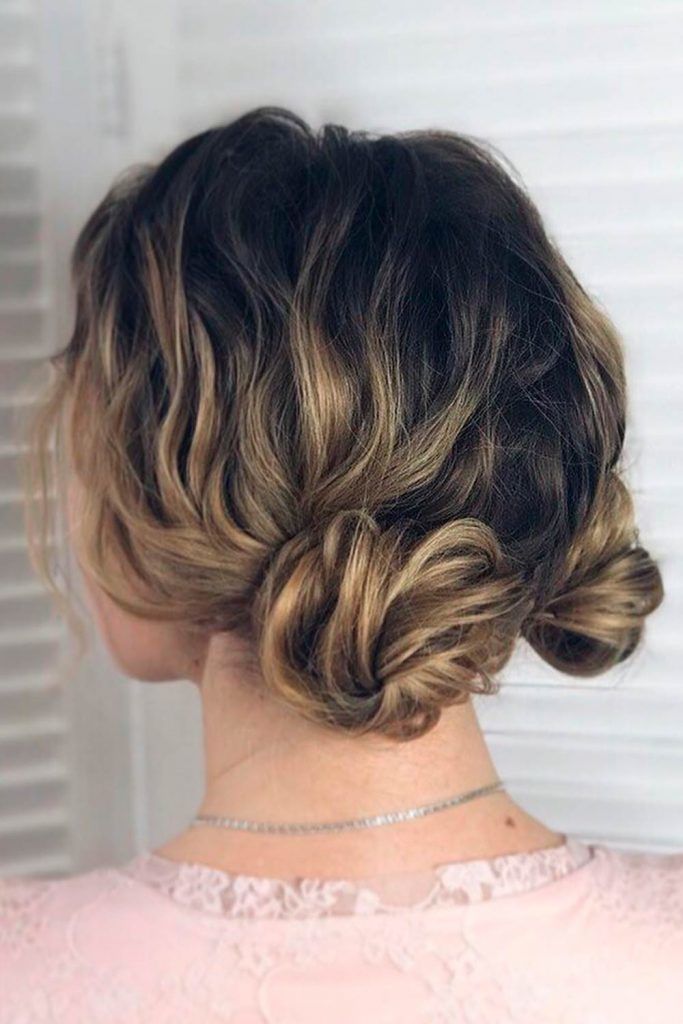 Credit photo: instagram.com/karinaupdo
Not only haircuts can work on your face shape; colors also have the beautifying power. The secret of making it work for you lies in the right color placement. If you want to frame your face, you can highlight only the front sections of your hair. Or, you can go for hidden highlights placed underneath the top layer of hair. By the way, this caramelized chocolate bliss is a stunning example of perfect color strategy.
Toasted Sandalwood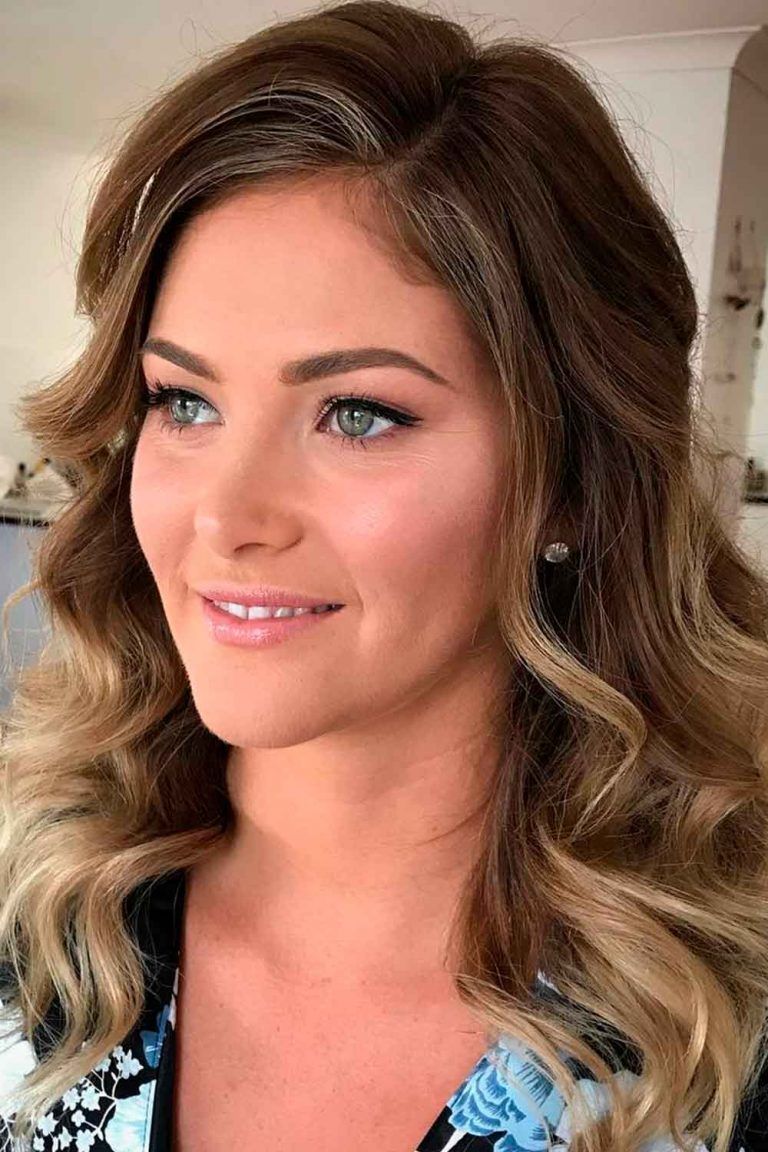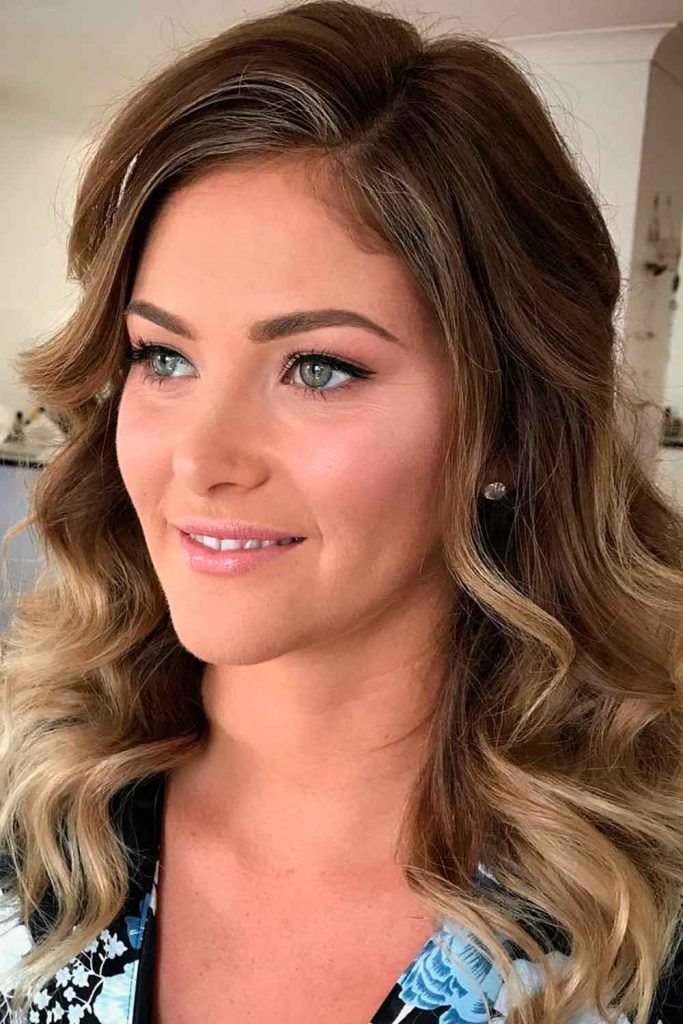 Credit photo: instagram.com/rachaelharris_hairmakeupbeauty
The color of sandalwood is pretty light and warm, which may not be the best match for black manes. All in all, naturalness, harmony, and balance are three essential characteristics that most ladies expect to achieve after getting their black hair highlighted. Therefore, you can try a toasted, a bit darkened version of the warm sandalwood shade, thus changing the temperature of your look.
Toasted Toffee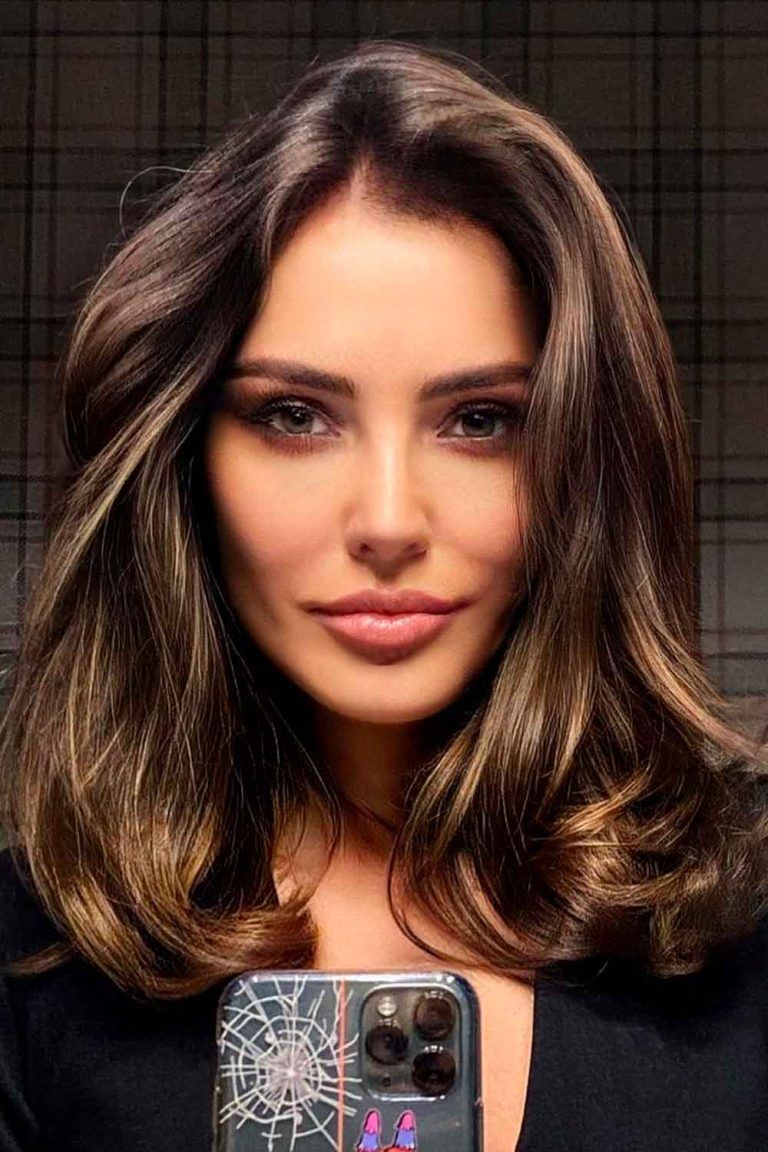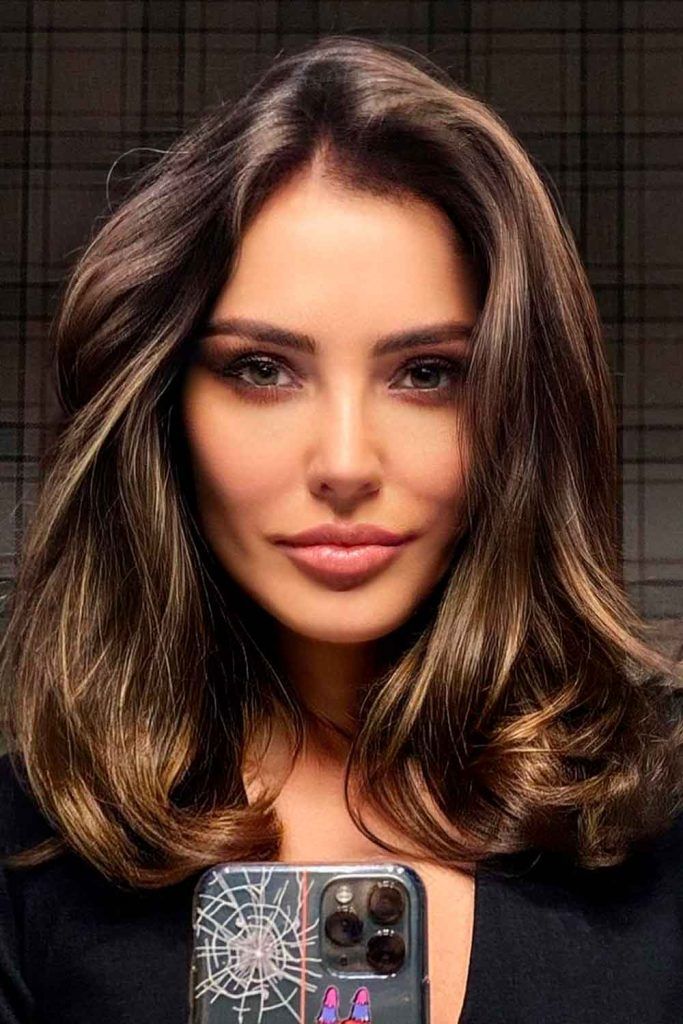 Credit photo: instagram.com/kseniiaburda
Hair color that gently escapes from the top of your head, giving every single wave of your hair tons of definition and movement: too good to be true, huh? The color transition in this pic is done so smoothly that it looks like appetitive molasses dropping down on fresh crispy cookies. This is how perfect color jobs look like.
Jet Black Hair With Highlights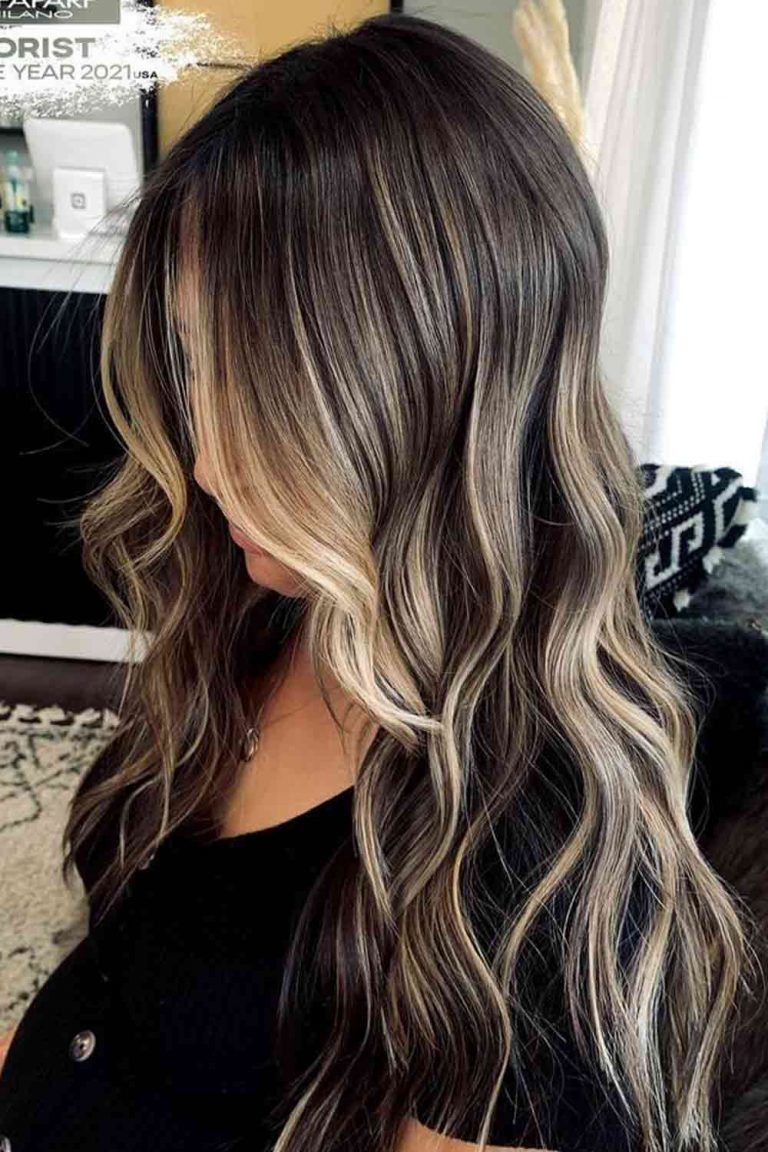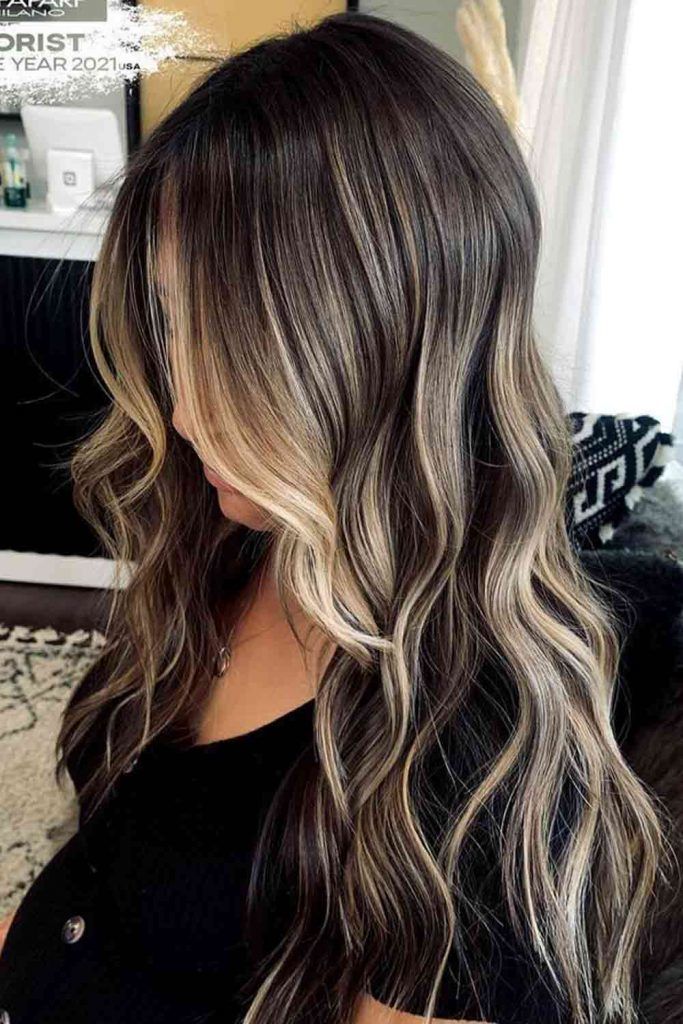 Credit photo: instagram.com/ashley.m.stylist
Jet black hair, be it natural or achieved in a salon, is pretty drastic and thus striking. And while some women love how this deep and breathtaking shade stands out in the crowd, others would like it to appear more harmonic. As it turns out, a hit of brunette shade will add the needed warmth and slight dimension, making your hair color soft, yet deep.
Cold Toned Brown Highlights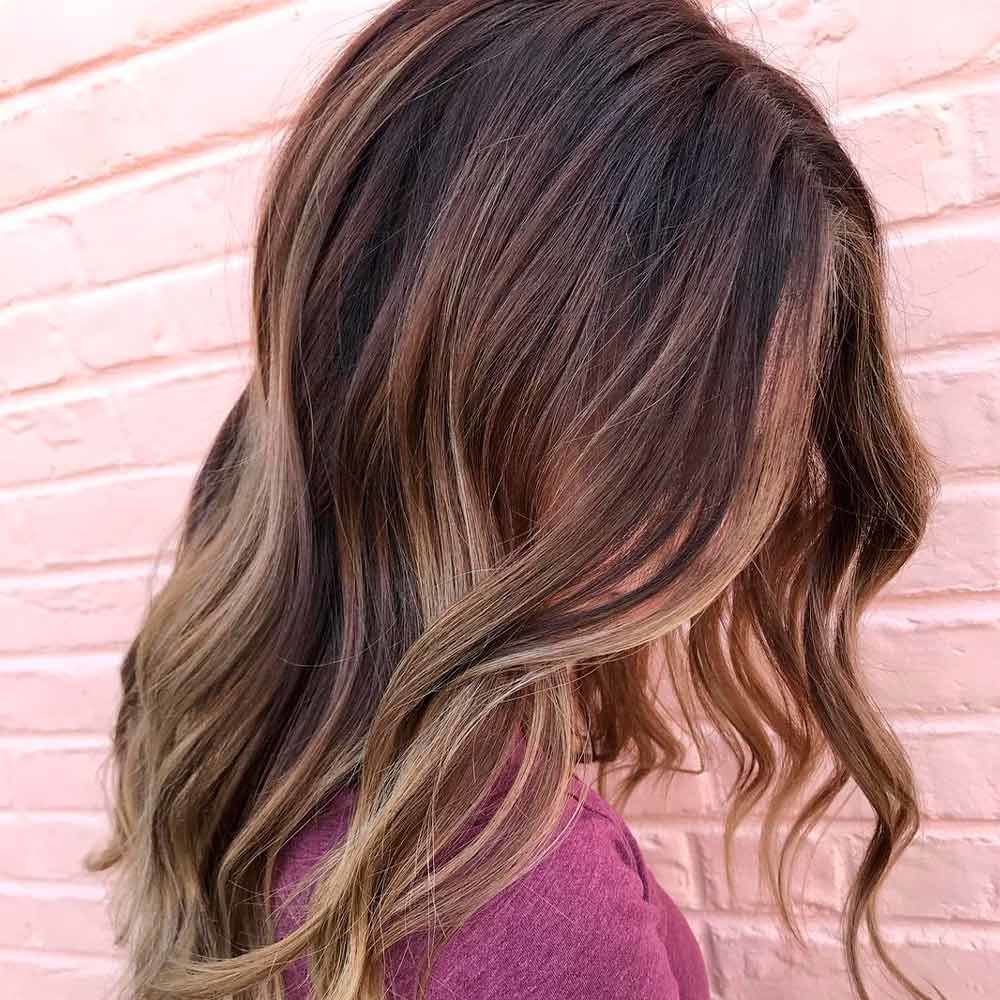 Credit photo: instagram.com/thevividbrunette
Warm brown highlights can bring the temperature of your black hair to a more-balanced mode. And if you want to not only accentuate your amazing primary but also intensify the whole look, cool brown highlights are just what the doctor ordered. Here, the lights aren't very bright or light, but the contrast between the deep base and cold highlights creates a stunning contrastive finish.
Warm Golden Highlights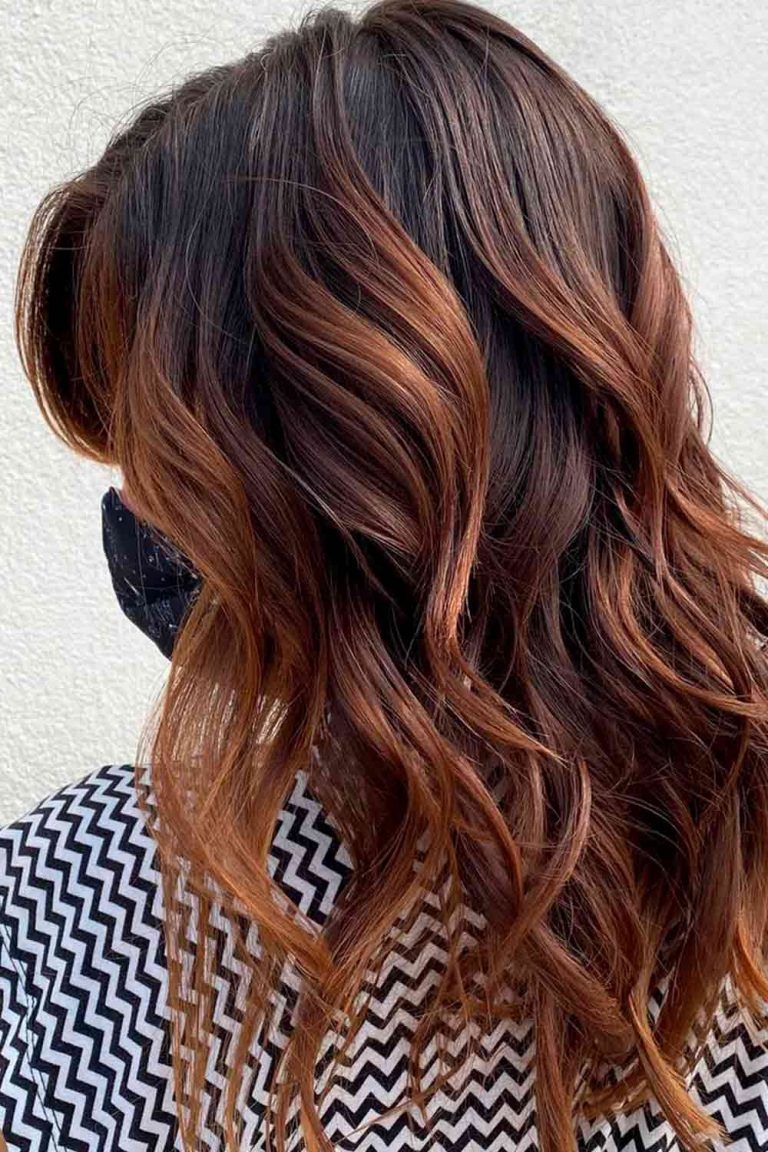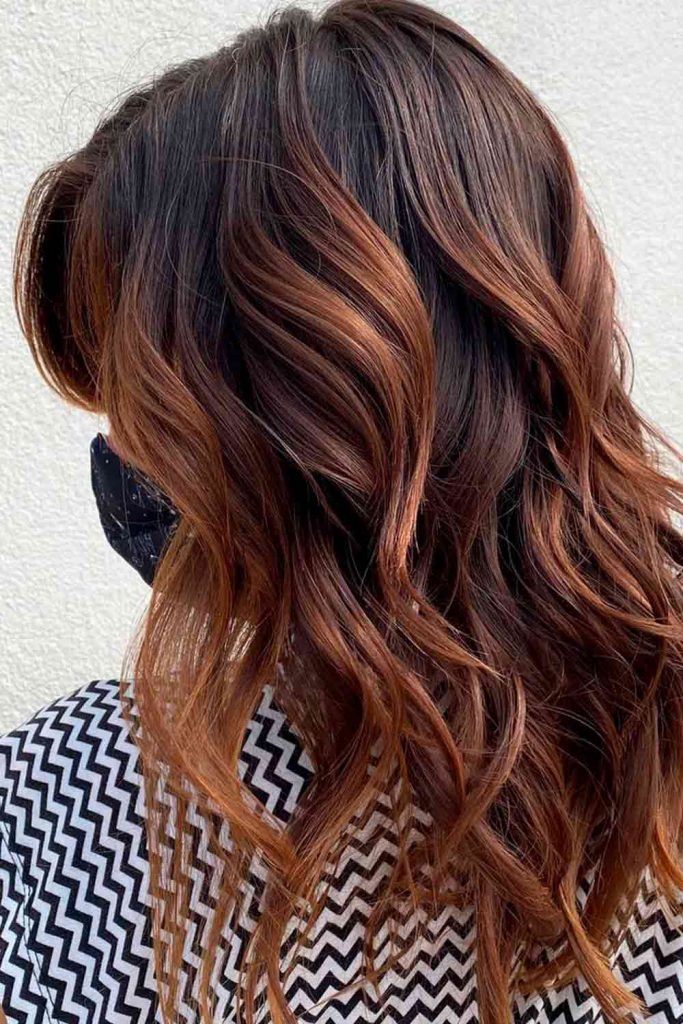 Credit photo: instagram.com/thevividbrunette
Black and gold is a combination that people will be passing through generations. In fact, it's a synonym of refinery and luxury at the same time. And here's one of the endless experiments you can try with these two fantastic shades: slight gold highlights hitting black mid-shafts. Due to the well-blended transition, colors melt with one another smoothly, therefore forming a flawless duo.
Face Framing Platinum Blonde Highights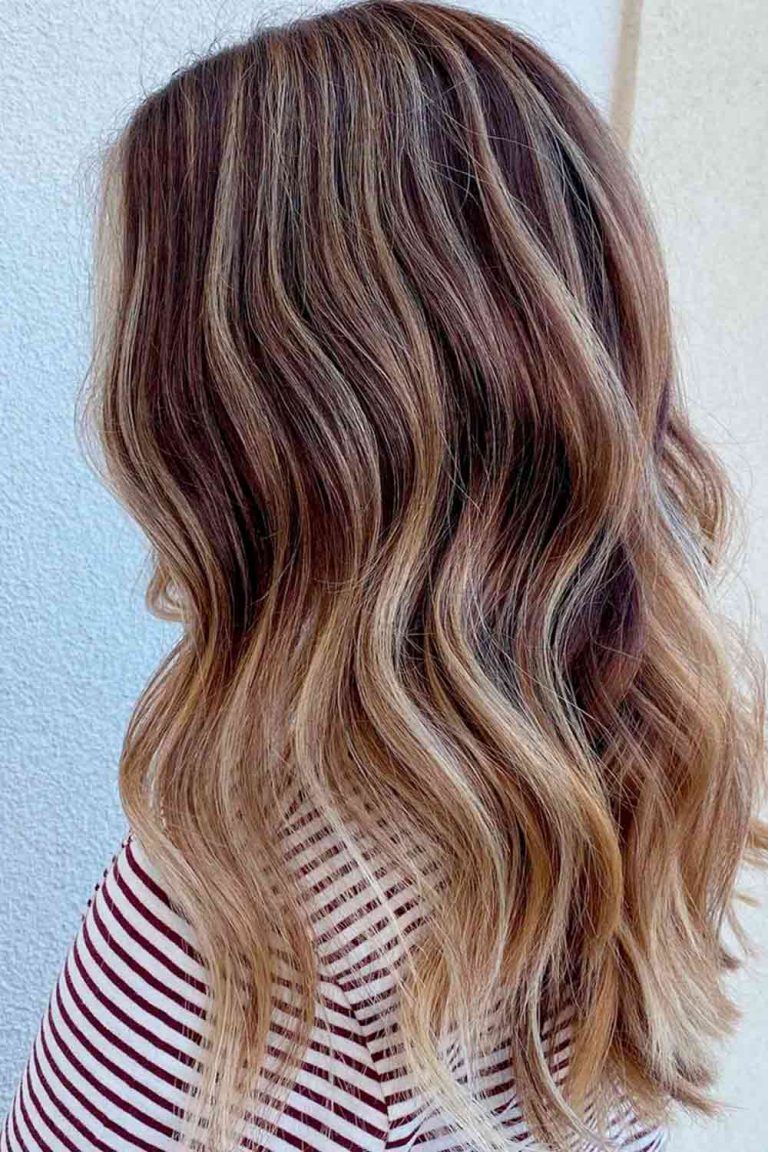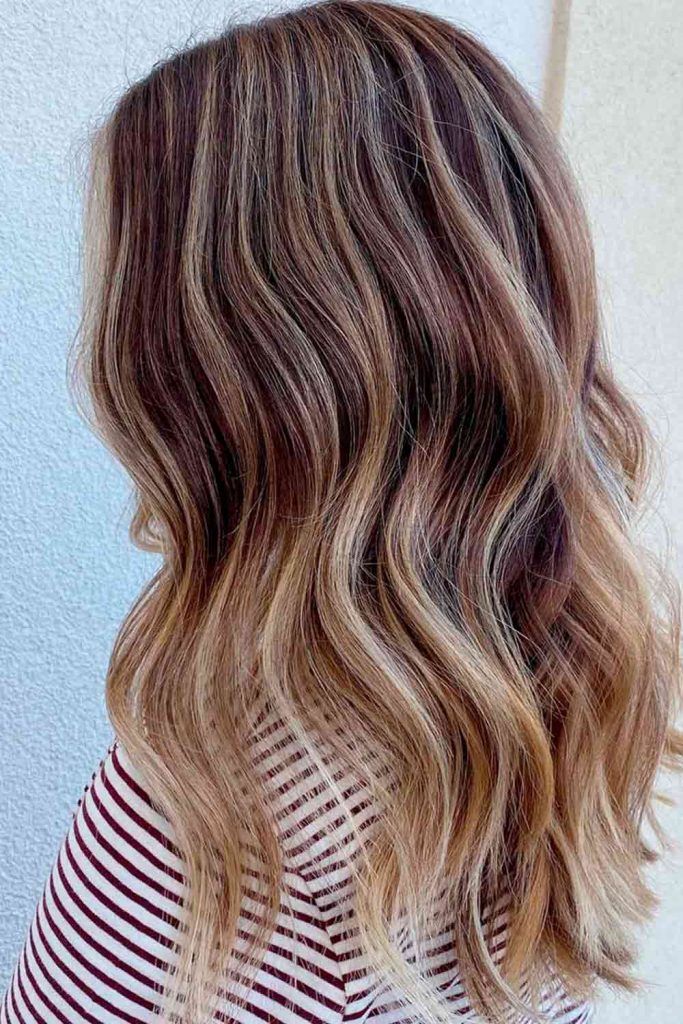 Credit photo: instagram.com/thevividbrunette
If you want to see a new, different person in the mirror, it's time to open your heart for contrastive black hair with highlights. What makes this idea so special is the application, as well as the intensiveness of the added color. There's no need to tell you how much of a visual impact you can achieve once you mix pure blonde with black. As for the application, the color is placed mostly to the front, thus giving an illusion of a slimmer face. Such a color play literally changes the appearance of this model, making her look even more beautiful.
Chestnut Brown Highlights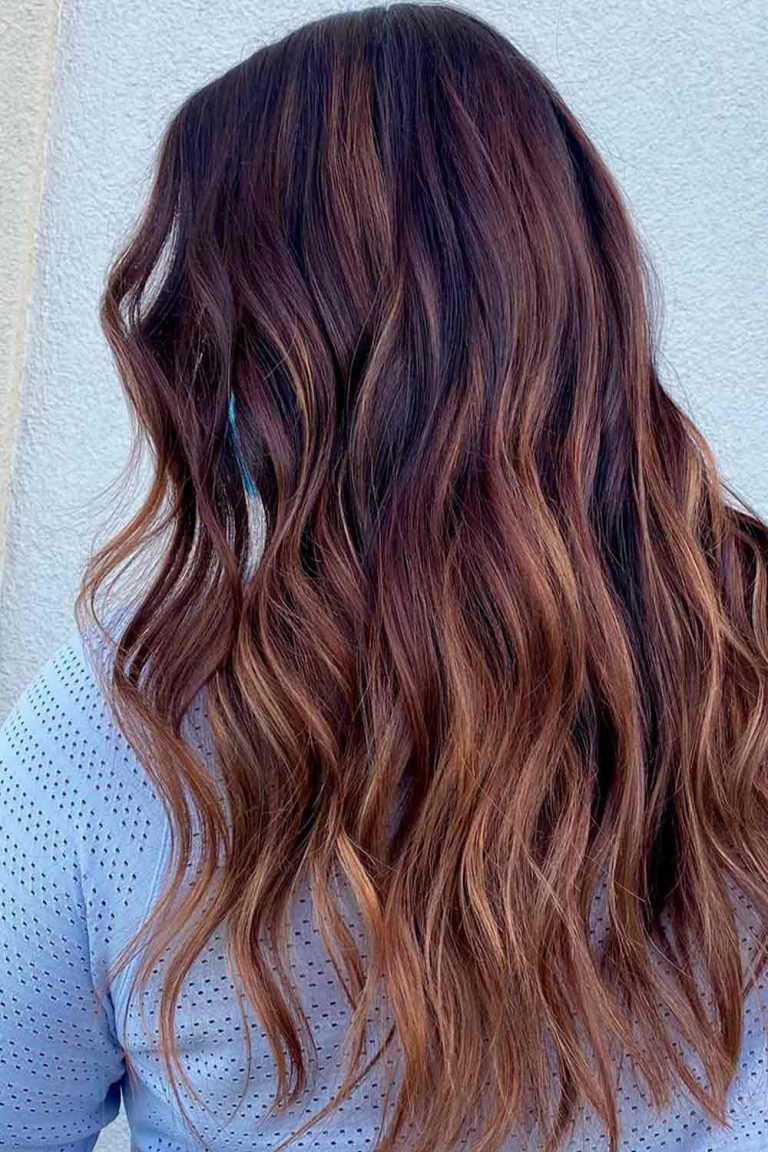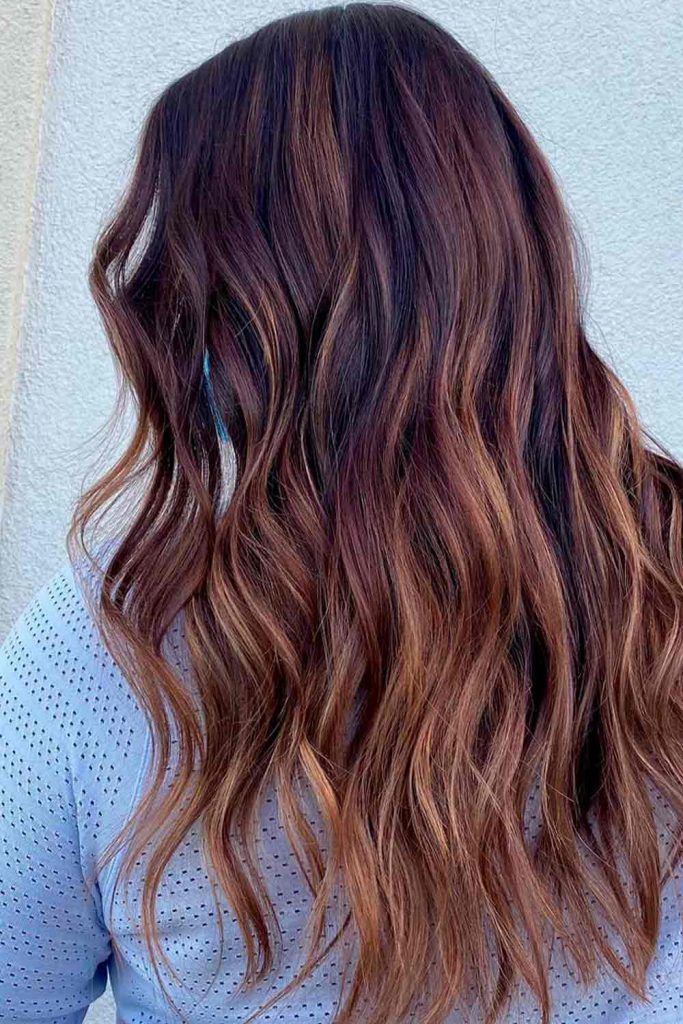 Credit photo: instagram.com/thevividbrunette
When you want to add some more dynamics to your one-toned black hair, brown highlights will be a perfect choice. Naturally dark tones usually have a couple of brunette hues, so making them more visible by going for highlights is a good way to enliven your color. And if you'd like to go a bit warmer, pick chestnut brown and you won't be disappointed.
There are no limits to your imagination when you are about to get highlights. Now that you've seen today's black hair with highlights ideas, you know what techniques and color combinations will come out ravishingly for sure, so there's no way your new color will end up being a failure!
FAQ: Black Hair With Highlights
Does highlights damage black hair?
Remember that black is a difficult base color to highlight. Another issue that arises when adding highlights to dark colors is the loss of vibrancy. Black hair perfectly reflects the light, and with highlights you will lose some of its gorgeous shine over time.
Does highlights damage natural hair?
Semi-permanent dyes and highlights aren't as harmful for your hair as bleach, however they do have consequences. They can also alter the inner hair structure, resulting in a lackluster appearance and dryness, especially if you color it regularly to conceal gray hair.
What Colours go with black hair?
On women with black hair, red color looks gorgeous, so all of the jewel shades will look good on you:
cobalt blue
bottle green
turquoise
gold
Look for saturated and bold tones. Bright pinks and berries, yellow and pear green will all work well.
Can you put blonde highlights on dyed black hair?
You cannot just apply a color highlight to dyed-dark hair, or even naturally black hair. Darkly dyed hair has dark deposits that stain and make lighter colors difficult to lift.