Dark purple hair: it's a dream come true! As you might guess from its name, the dark purple color category involves deep shades of purple. Specifically, this category involves the following hair hues: dark amethyst, purple blue, mauve, dark purplish pink, smoky purple, dark purple magenta, dark true purple, electric violet, deep plum, and dark purple ombre.
Who can choose dark purple?
Ladies with cool complexion (if they opt for pinkish purple, for example, magenta);
Ladies with warm complexion (only if they go for cool violet, preferably with blue undertones).
Despite its brightness, dark purple is quite sophisticated. Practically anyone can pull it off. Discover our gallery and pick your perfect shade of purple!
Dark Purple Roots Into Ash Hair Color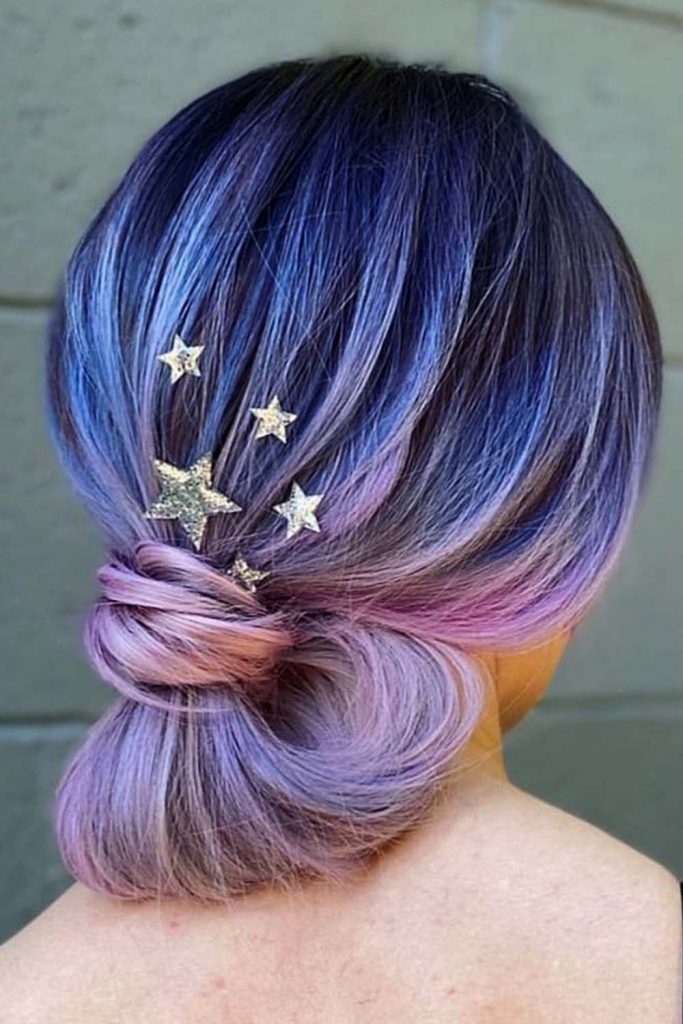 by @tiffanymhair
Purple hair dye comes in so many delicious shades that flatter both cool and warm complexions and there are many other tones that highlight both it and you. So, why should you choose just one? Choose a few! Better yet, go for a purple hair ombre and let one gorgeous color cascade down into several.
This stunning look begins with a rich dark purple hair color as the base color at the root and then fades slightly into lavender and silver, and then bursts into ash at the bottom. Ash provides fullness, so if you have fine hair, you'll adore the effect. The brighter colors especially compliment those with light, cool complexions.
Purple Blue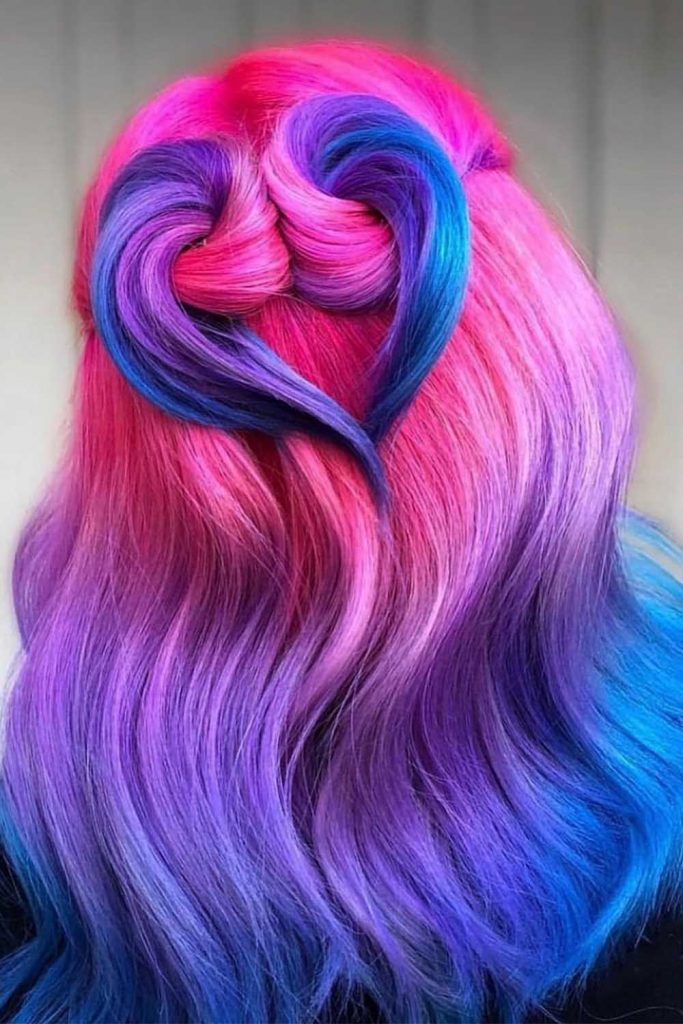 by @tiffanymhair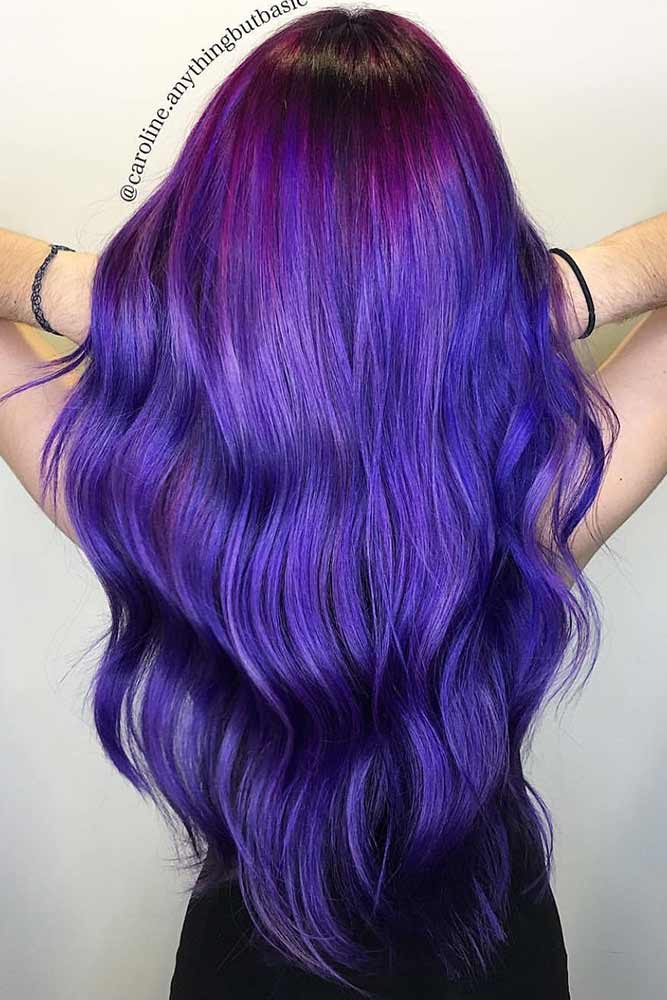 by @thehairsa
Are you into vivid, saturated colors that people can spot from a mile away? These ideas are your future go-to, then. Many modern colorists recommend mixing blue and purple colors when you are about to go bold, describing them as the most matching, statement-making shades. It can be a soft ombre from neon lilac to bright purple, eye-catching balayage, or even sombre. The point is to make colors blend well and pop!
Purple Colored Geometric Undercut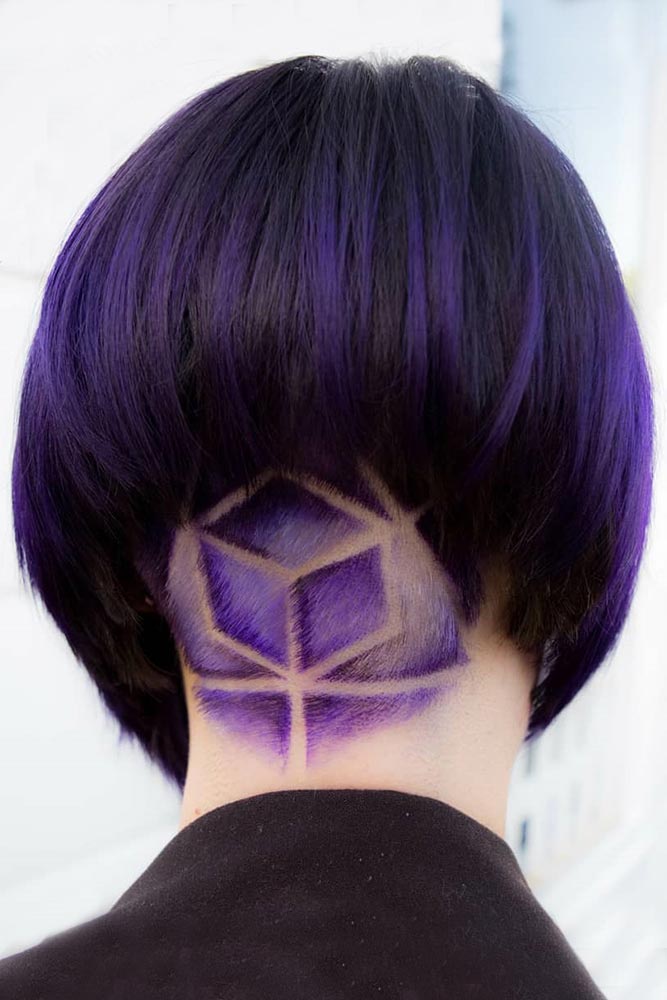 by @angela_skullptures
If you have black hair and want to try something cool, fun, and different from the same old color choices, but still aren't yet ready for a complete change, the purple colored look is the one for you. You can pretty much use any purple shade you want in nearly any style and all will look classy.
Purple highlights in black hair are stunning and you can put in only enough to be noticed when you're out in the sun or cover half your head with a vibrant dark purple hair color that makes your already shiny hair reflect even more light. Take it up a few notches with a contemporary short cut and a cool geometric undercut, like this three-dimensional cube.
Two-Toned Hair Color Trend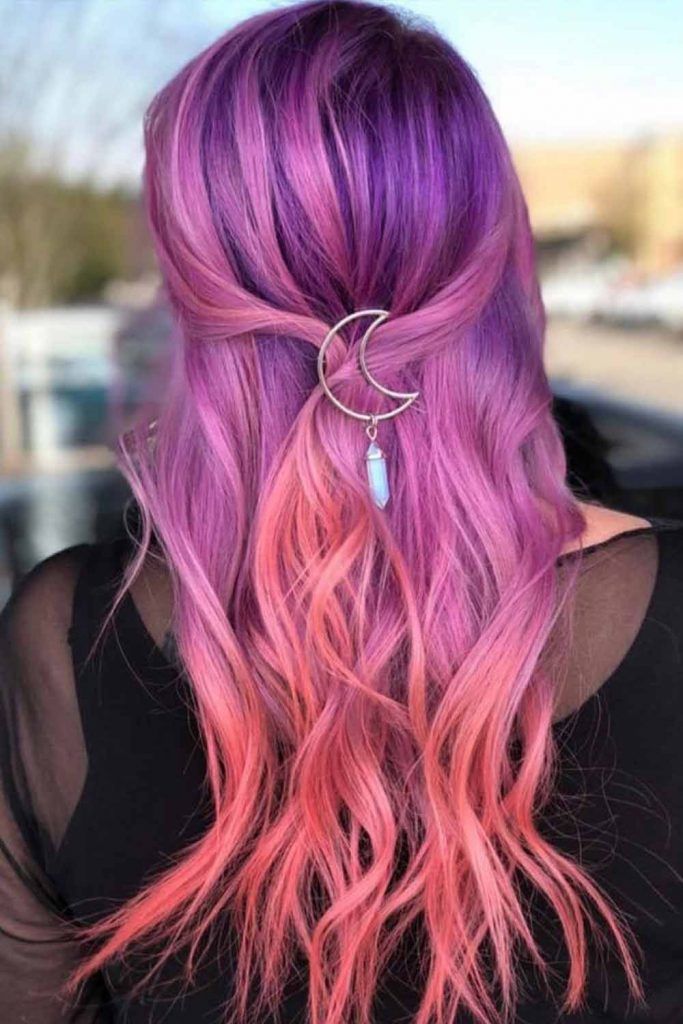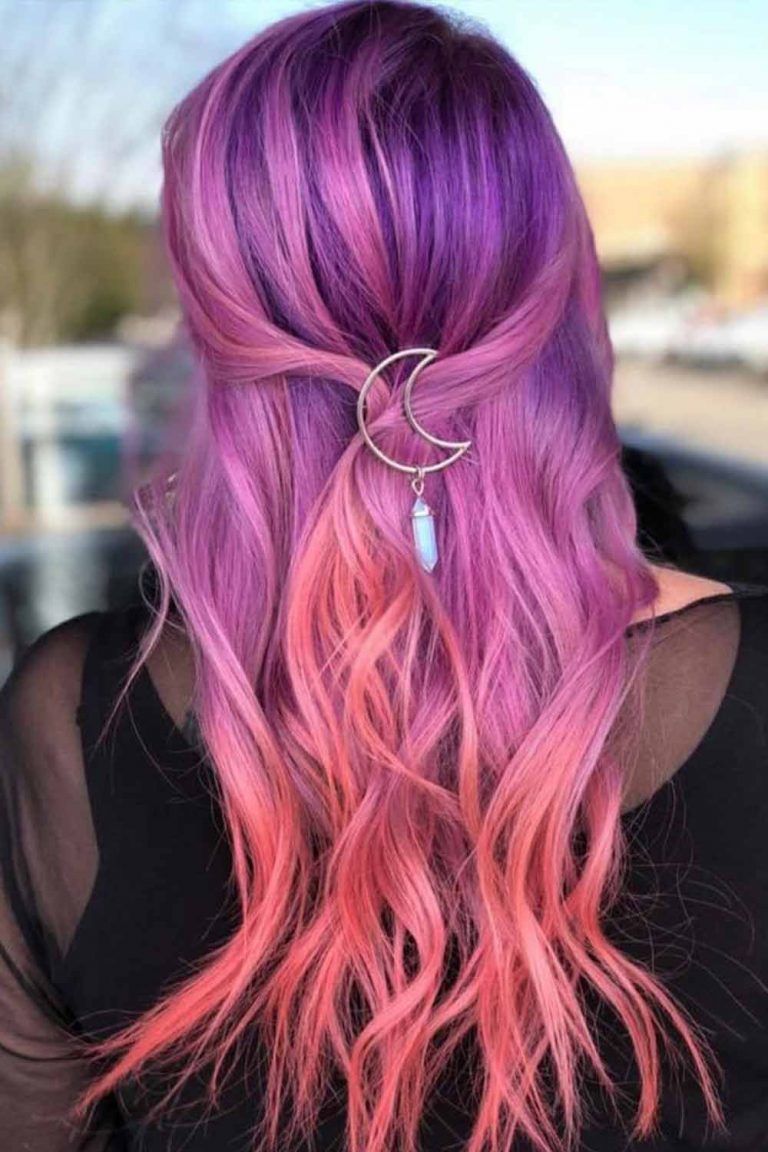 by @xostylistxo
The color melt technique is a relatively new hair trend that looks amazing with purple. The technique takes two colors and blends them seamlessly, as if they "melted" together naturally. Selecting a warm and cool shade is certainly attractive and you'll never go wrong with such a safe choice. But, if you're feeling daring (keep in mind that purple represents bravery), perhaps one day you'll select a deep, dark purple color, which will give you dark roots, and then maybe a pastel color, such as lilac, into which the dark purple will "melt."
Whether you have a cool or warm complexion, the color will look good on you. This melt combines pastel shades of lavender and pink, which look lovely against a fair complexion.
Hot Pink And Dark Purple Hair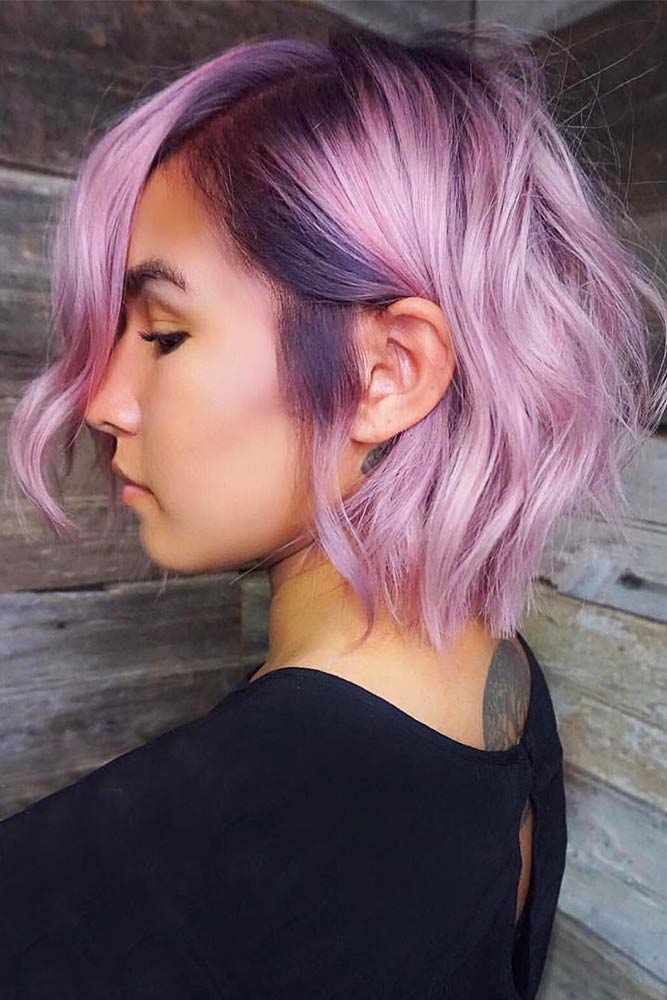 Source: yokii.san via Instagram
For years, when it comes to fashion, or anything, really, certain color combinations are standard (black and white, green and yellow). Pink and purple are hardly ever referenced. But, they go together splendidly. And, not just as a popular combination for hip, young people. It can look elegant, romantic, serious, playful, and, of course, young and hip. Display all of your personalities vividly with hot pink and dark purple hair.
Some purple hairstyles ideas with the stunning blend include pink and purple ombres, highlights, duos, and melts. This duo blends a rich purple hue with lavender on a contemporary wispy cut and looks gorgeous on this model. Normally, lavenders are for fair complexions, but since purple is creative and independent, it has a mind of its own and will break the rules.
Purple And Lavender Ombre Hair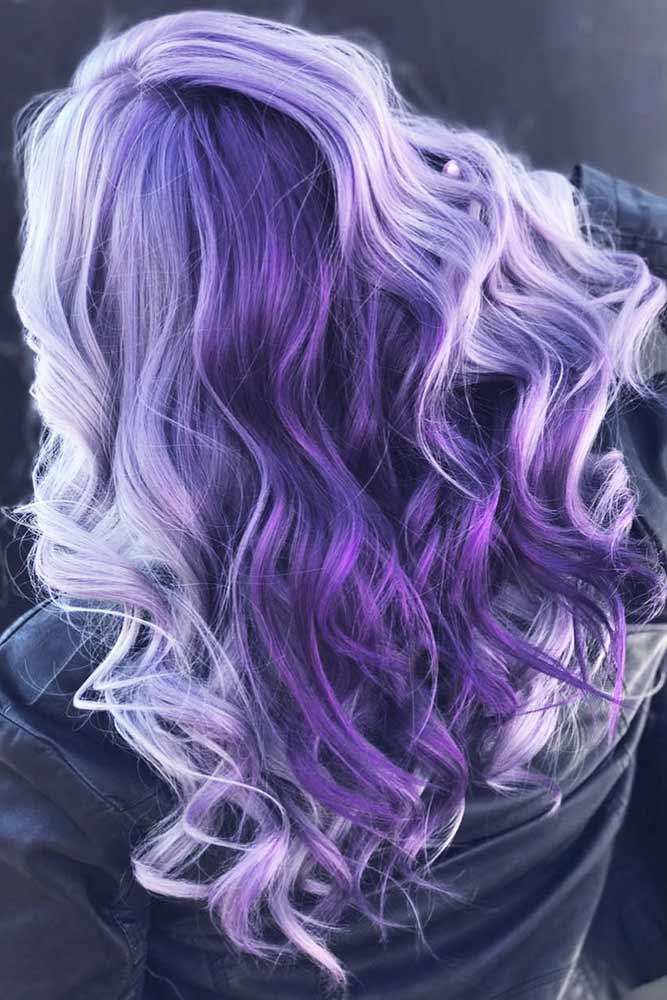 Source: xostylistxo via Instagram
Unique, artistic people tend to like purple. When you wear purple, it soothes you, inspires you, and sparks your creativity. There are plenty of options, so you will certainly find one that suits you. If you're not sure which to pick, you'll always make the right choice and look terrific with one of the dark purple hair color ideas.
Just look at the way purple and lavender lay beside one another in this lavender ombre hair with waves. They both compliment each other, yet, at the same time, there's a bit of contrast. In the light, lavender glows against purple's bold richness. And the waves just add dimension. This hair is full of shine and body. It's simply spectacular.
Dark Hair With Purple Highlights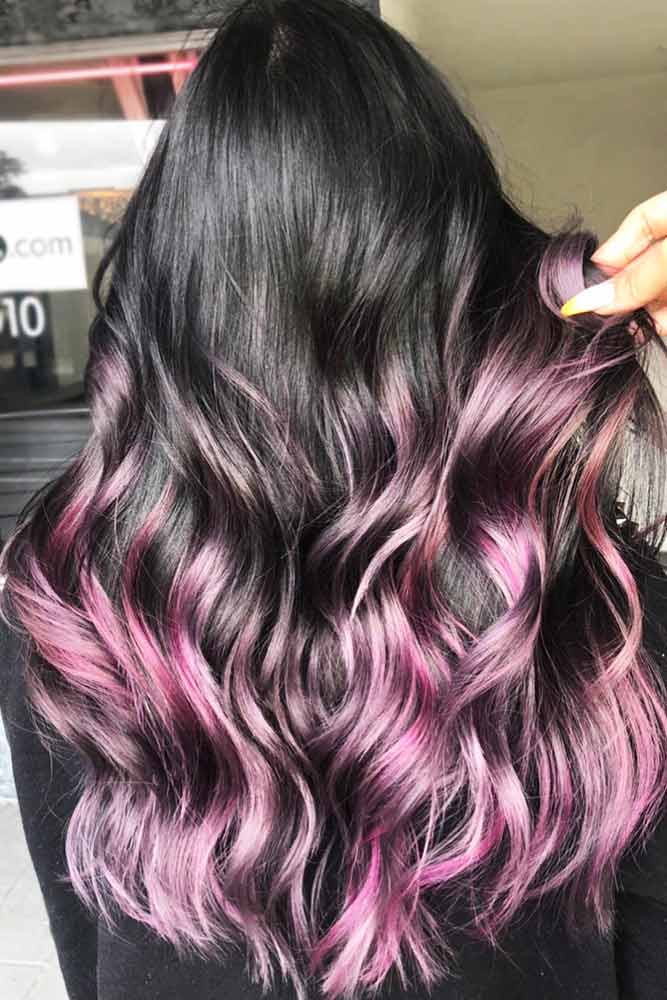 Source: a.vibe.called.steph via Instagram
If you have naturally dark colored hair and have been yearning to try the unnatural hair color craze, purple's the one for you. We noted previously that purple looks amazing on black hair and that nearly any shade would look great. The same essentially goes with all darker hair tones, including medium and dark browns.
Purple lilac even flatters dark ginger. Purple's a great choice, too, if you want to keep it simple, start out easy, or maintain a subtle, classy look. This model's dark hair with purple highlights is just one example of how sophisticated and polished a purple hue can look. This model's rich black hair makes a beautiful backdrop for the various mauve tones.
Aubergine Hair Color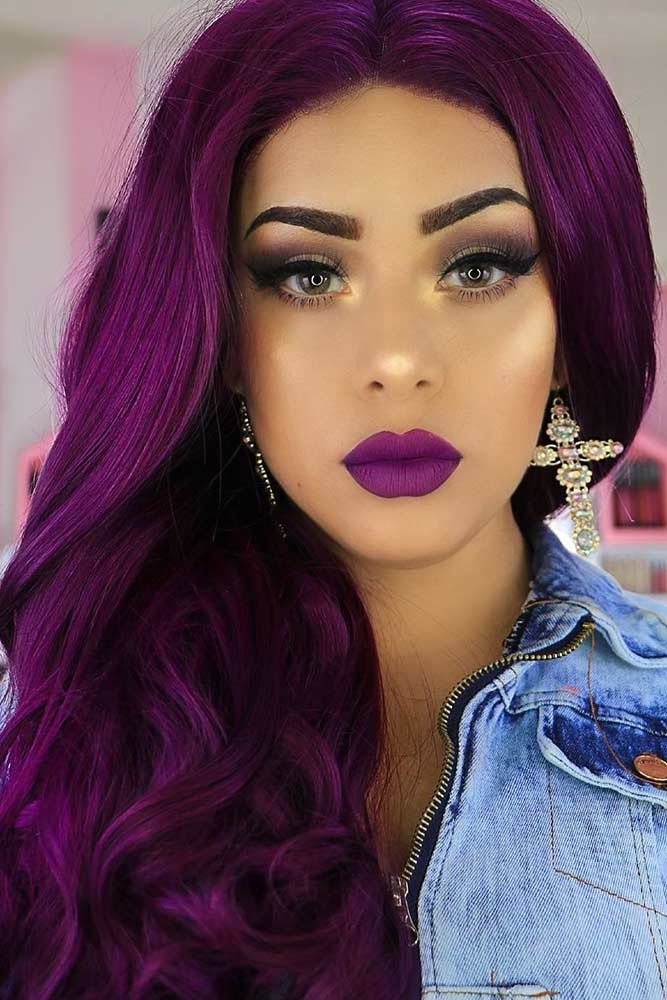 Source: jeamileth via Instagram
Eggplant or aubergine is an awesome color. It's bold, self-assured, self-sufficient, and just a little bit rebellious. When you add it to your hair, people will instantly notice you and they will be unable to look away. An aubergine hair color turns every woman into the hot girl with dark purple hair. Like this stunning model, the deep, rich aubergine color looks best on those with a dark skin tone and olive skin tone.
It'll also flatter any eye color and make them both pop with barely any makeup. For even more drama, layer in a navy shade. Or, if you have a light skin tone and really want to try aubergine, pair it with plum, which has warm undertones.
Purple Curly Hair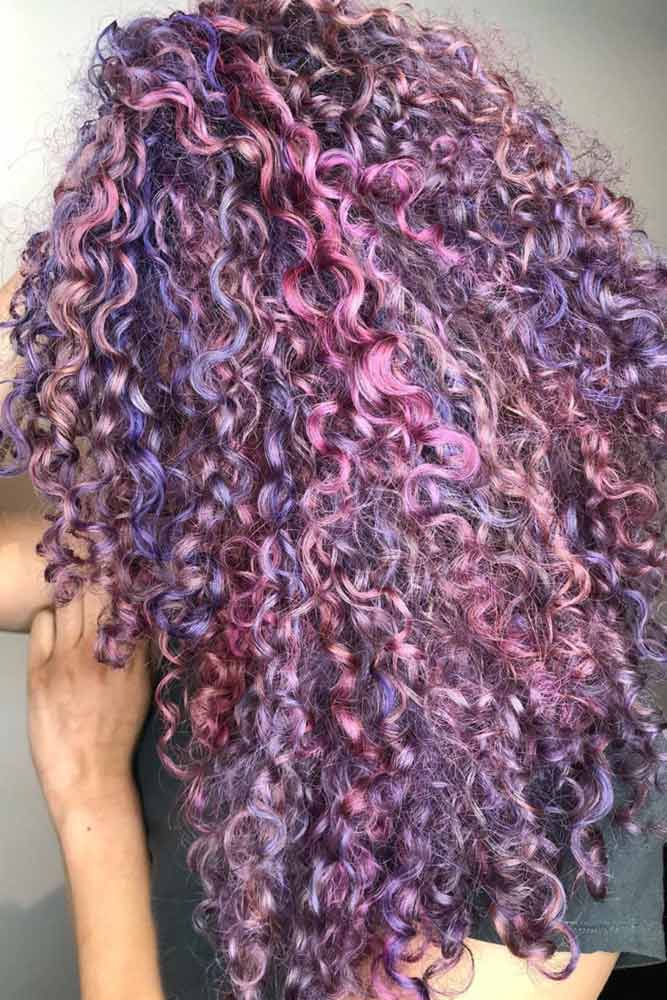 Source: leysahairandmakeup via Instagram
Naturally curly hair is more porous than straight hair, more vulnerable to breakage, and needs tons of moisture to stay healthy. It's high maintenance even without color. Adding purple which, if you're brown haired or African American, might also require lightening beforehand and thus cause damage and dryness. But, just look at that photo. It magnificently shows a range of purple tones.
There's pink, lavender, mauve, and even magenta. Add the curls add further dimension and excitement to the mix of colors. It's as if the colors are in motion. It's just spectacular. To help purple curly hair better retain the dye and look its best, condition your hair with unrefined coconut oil or an intense conditioning treatment the evening before you color.
Many Colors For Long Curly Hair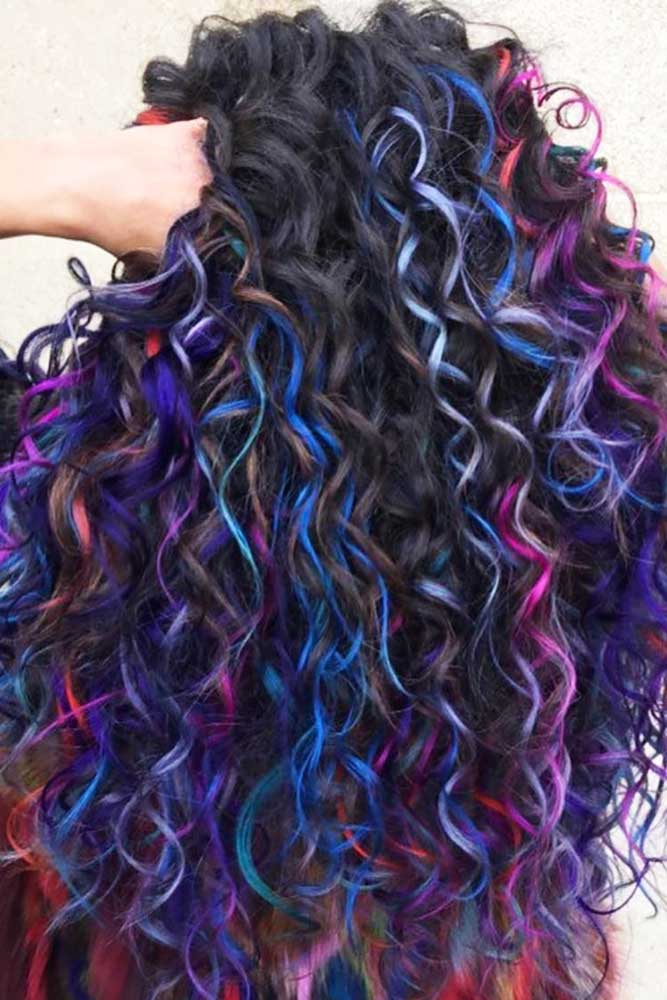 Source: leysahairandmakeup via Instagram
There's nothing more gorgeous than a long mane of purple curly hair. No, wait, that's wrong. A long, curly mane of hot pink and dark purple hair is certainly just as gorgeous. Or, perhaps a curly mane of blue black hair with multiple shades of purples, pinks, and blues. Now, that is dazzling.
Notice how the model's dark brown hair and roots are still discernible, even with all these wonderful purple colors winding through her curls, like stunning ribbons. All those bright purple tones bring out the beauty in her natural color. You might not have noticed her natural color before, but now, it shines with a healthy glow.
Mermaid In Shades Of Purple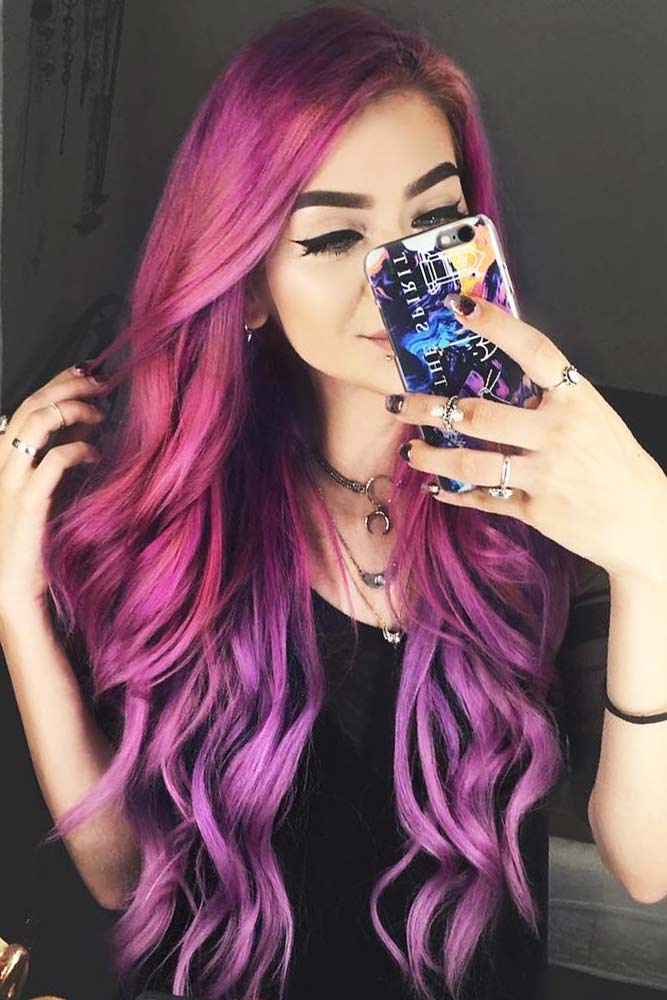 Source: lastfeastofthewolves via Instagram
If you research purple hair ideas for long hair, you may come across articles that reference mermaid hair. It's a relatively new style. It mostly uses numerous pastel colors, like pinks and blues, which are more like sea colors, and blends them all together. Typically, the hair is long, but stylists and individuals have achieved the look on shorter lengths, as well.
A purple mermaid, like the one in the photo, blends a few shades of purple onto a waterfall-like pattern. The look blends the rich, dark shade of magenta, which is an ideal choice for those with warm undertones, with orchid, an ideal choice for those with cool undertones. The look is just right for her medium skin, long hair, and curls.
Dark Violet Burgundy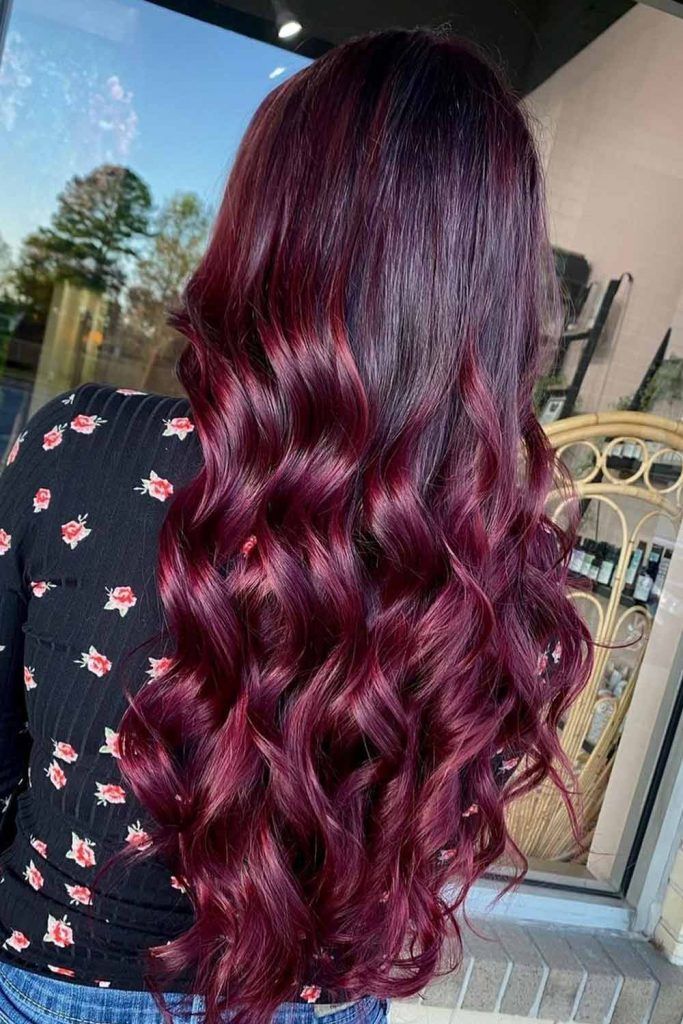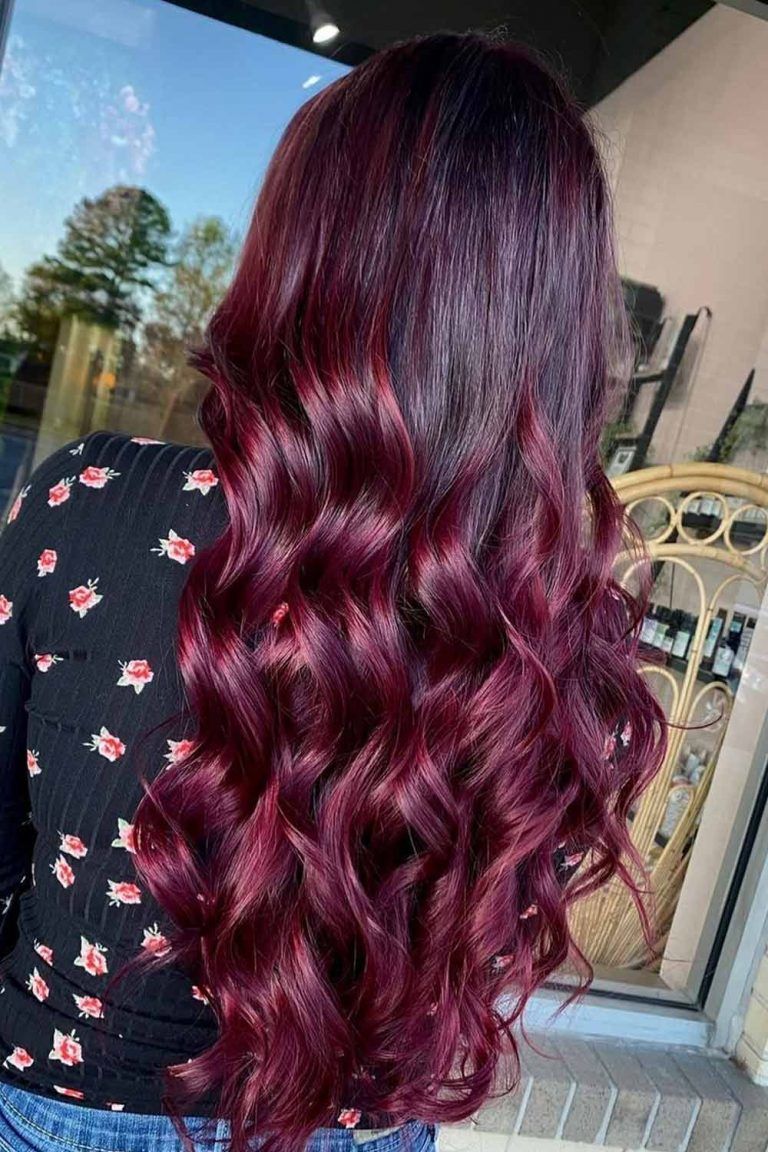 Source: xostylistxo via Instagram
A glass of striking appearance won't ever hurt, whether you are at a party or on a walk with a friend. Since your hair is your natural accessory, you are the only one who knows how to make it suit your personality. So why don't let an exquisite, seductive shade show who you really are? To add more character to the everyone's favorite burgundy shade, spice it up with a purple tint. Trust us, there's no way you will regret looking different, especially if an all-over dark violet shade is the highlight of your look.
Amethyst Dark Purple Hair
Source: theniksters via Instagram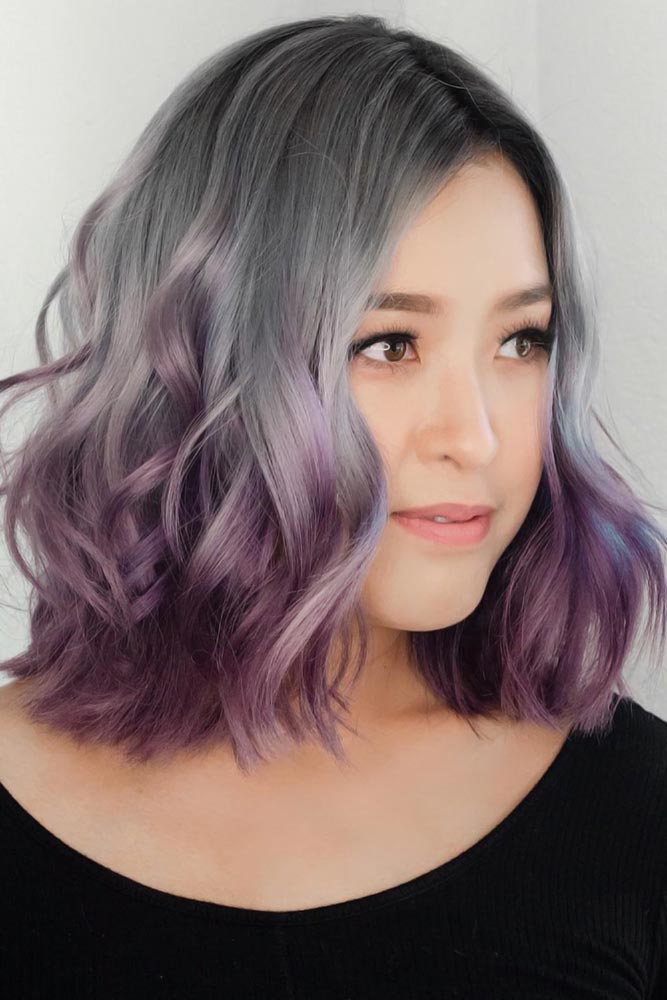 While being quite a simple jewel stone, amethyst gives a very noble finish to ladies who wear it as an accessory. So why don't give life to this idea with your hair as the main embellishment? For example, a smooth dark purple tint will be a nice match for medium brown bases. And those who prefer to lower the temperature can mix some violet shades with pastel silvery hues.
Dark Purple Hair Dusty Mauve
Source: foxandjane via Instagram, theniksters via Instagram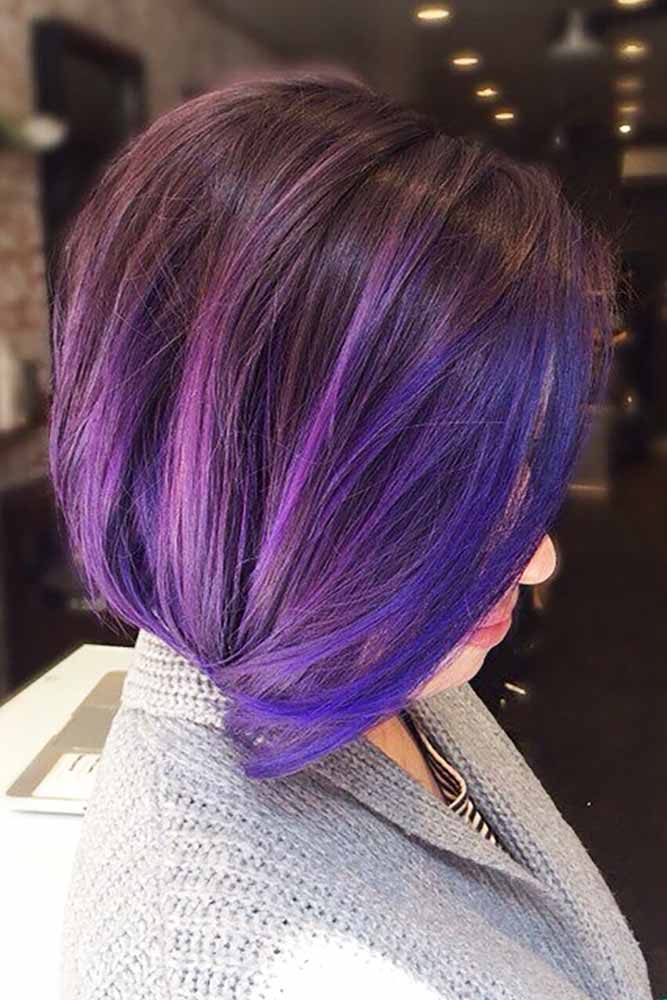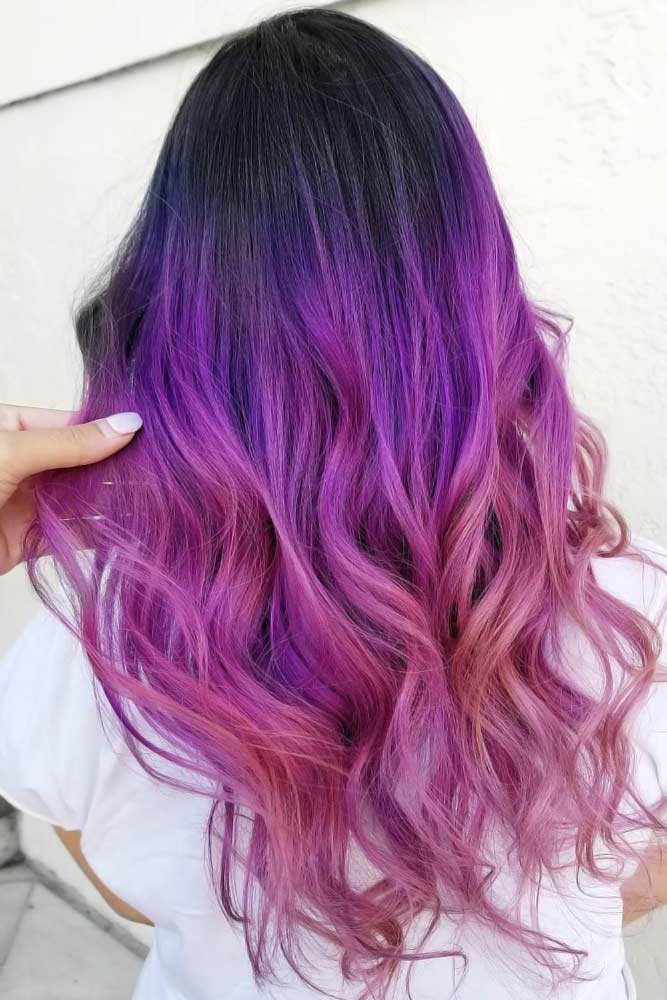 Dusty or muted mauve hair color is a perfect idea for ladies who love the amazing effect given by popular pastel shades. Why? Well, while most pastel colors are too plain and can make thin hair appear even weaker, this idea gives crazy dimension without going too much with the colors. Just look at these pics: have you ever seen such gentle and impactful color decisions?
Dark Purplish Pink
Source: xostylistxo via Instagram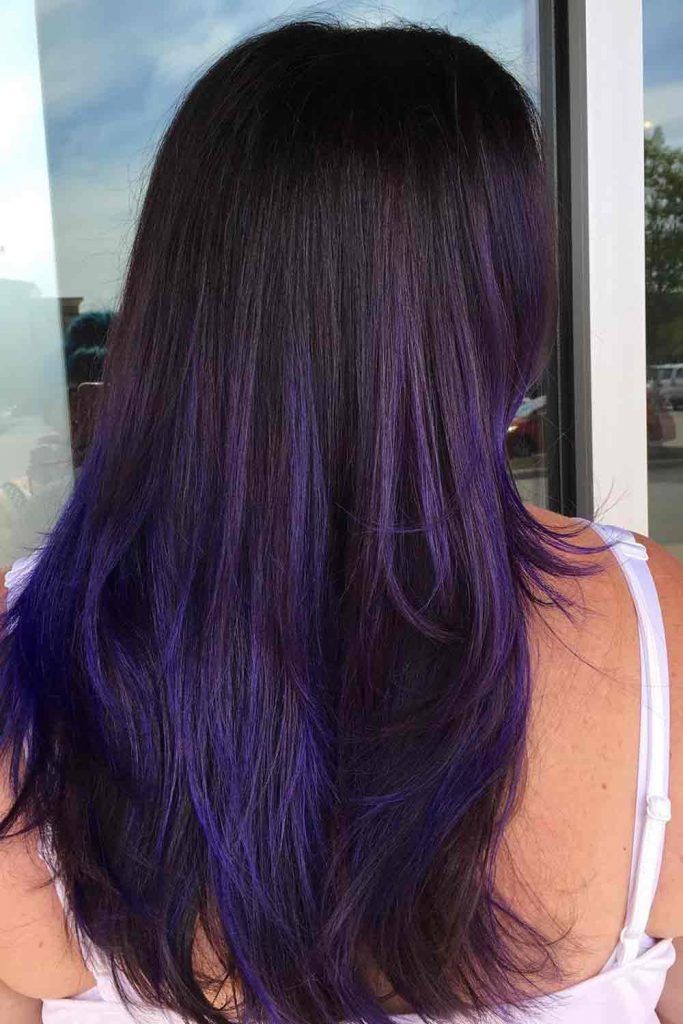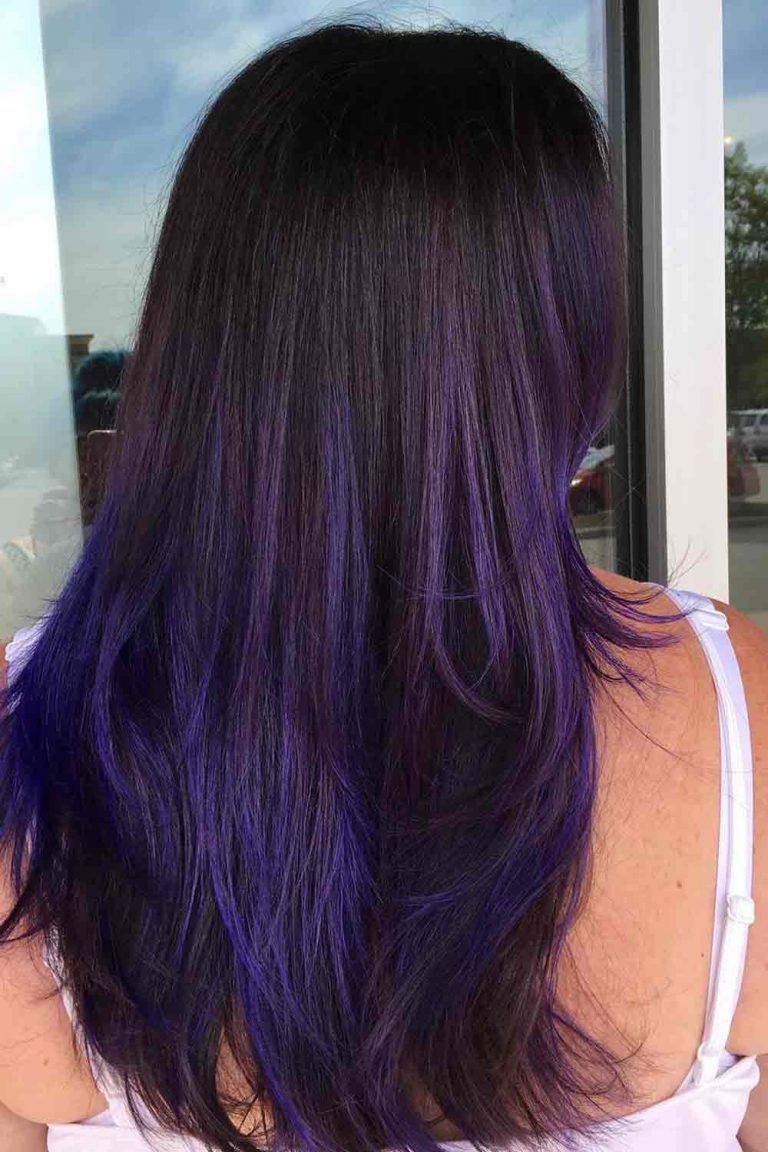 If you have a look at the color wheel, you will notice that purple, blue, and pink stand together. That's why you can't go wrong if you combine these three shades. But there's something you should know: unlike the previous idea, this combo is all about catching eyes. Are you ready to be in the spotlight? If so, your hair needs distinctive three-colored ombre ASAP!
Smoky Purple Color Melt
Source: hairbysarmad via Instagram, hairbysarmad via Instagram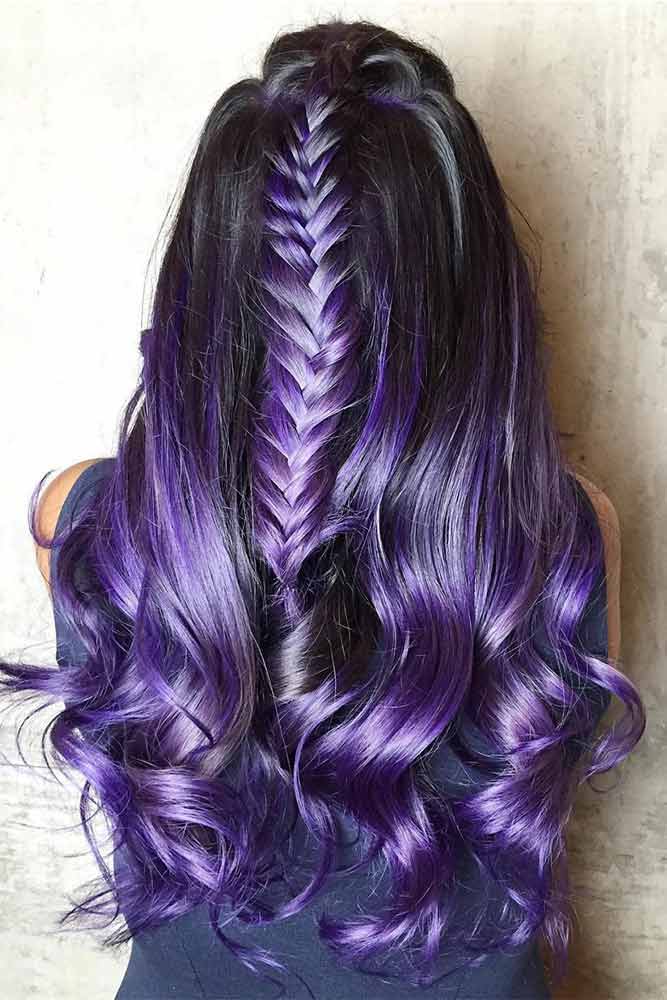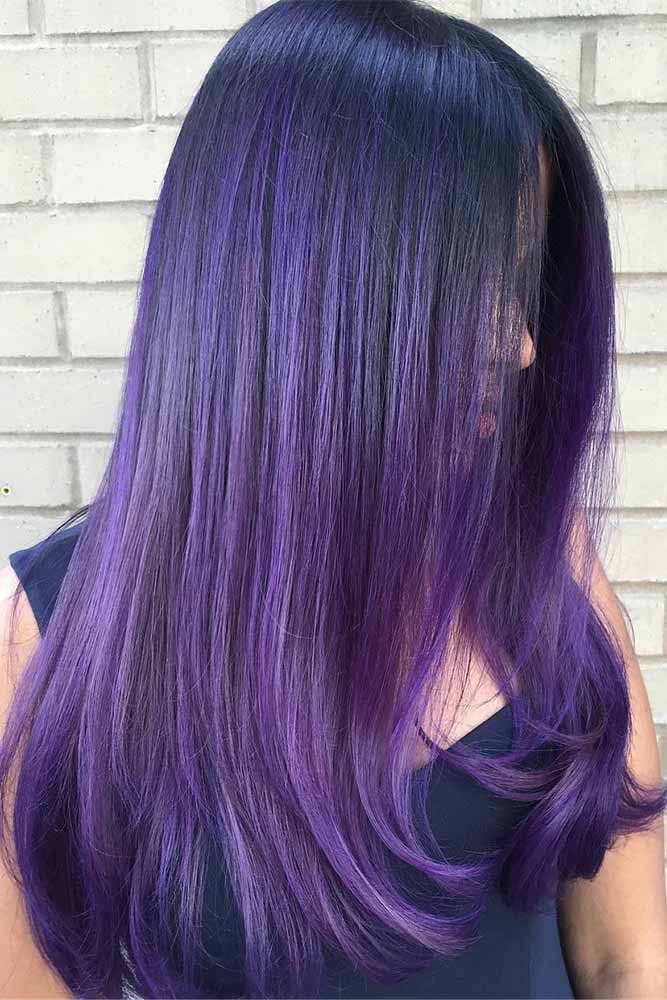 Wondering what smoky purple is? Let's say it's midnight. The dark sky slightly illuminates with the stars trying to get through the clouds that look like transparent smoke. Smoky purple is the color that tell such a story. And once you pull it off, you will be the trendiest storyteller ever: dark purple hair finished with silvery and bluish streaks are the best setting for your color tale.
Dark Purple And Magenta Color Mix
Source: samihairmagic via Instagram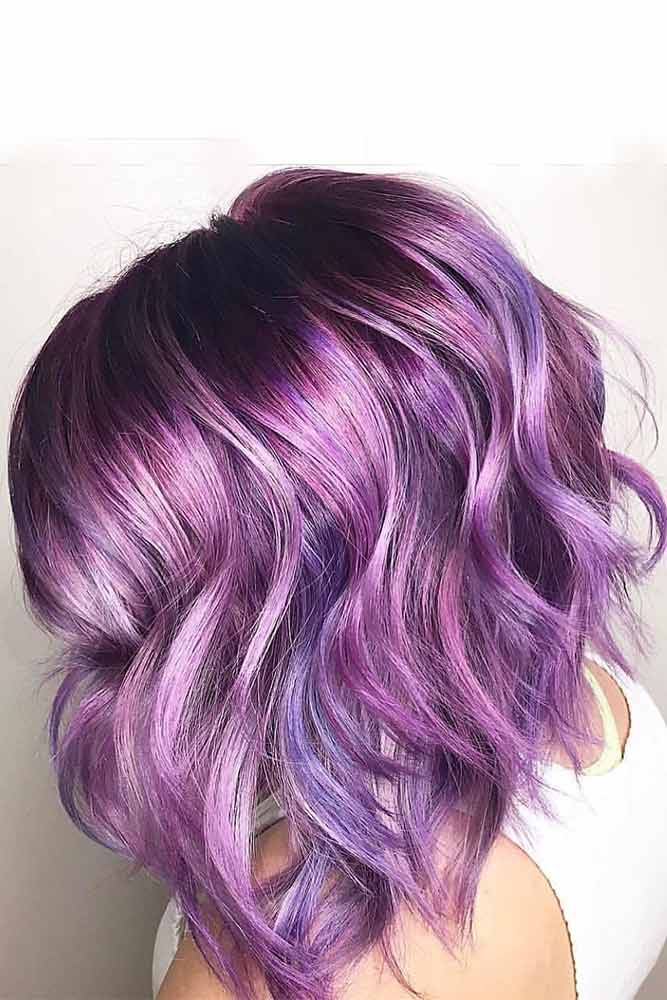 Magenta and dark purple hair combination is nothing but the color balance in its purest. Of course, the combo isn't something we're accustomed to seeing every single day, yet, these two powerful, extremely saturated colors go perfectly with one another. Each color is very bright but when they are mixed, they create a well-balanced, harmonic, and even finish. Each of these ideas is proof!
Truly Dark Purple Ombre
Source: stephhstyles via Instagram, hairbysharmichele via Instagram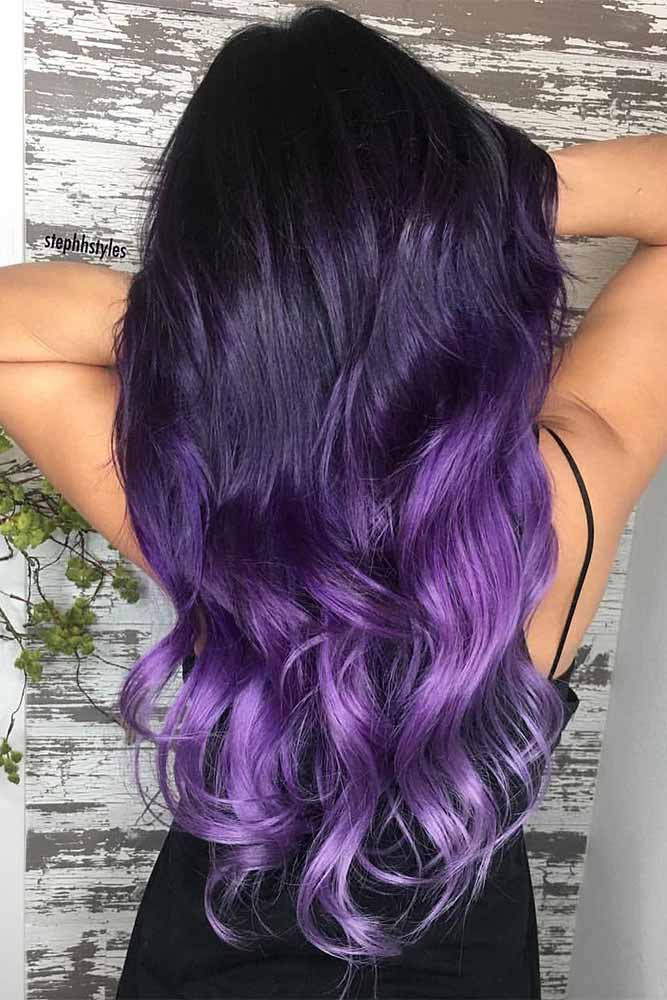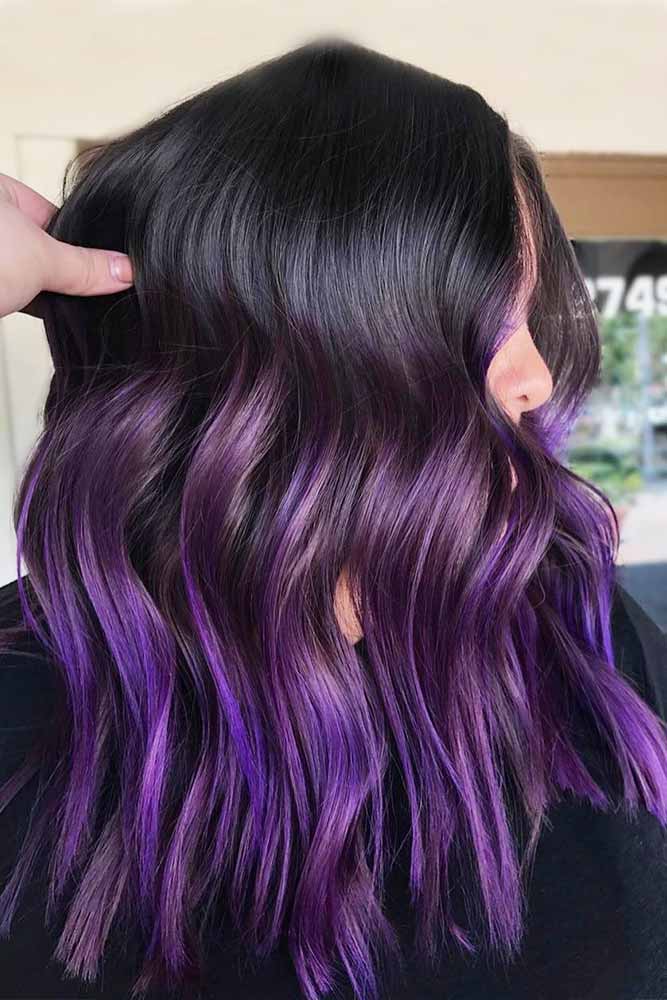 Nothing goes better with dark purple than jet black or dark brunette bases. The best thing about these ombres is that the natural color is preserved, but it still gives a lot of room for colorful experiments. Plus, you can play around with the color combination by adding some lighter or bluish shades to make the ombre complete.
Electric Violet
Source: taylorrae_hair via Instagram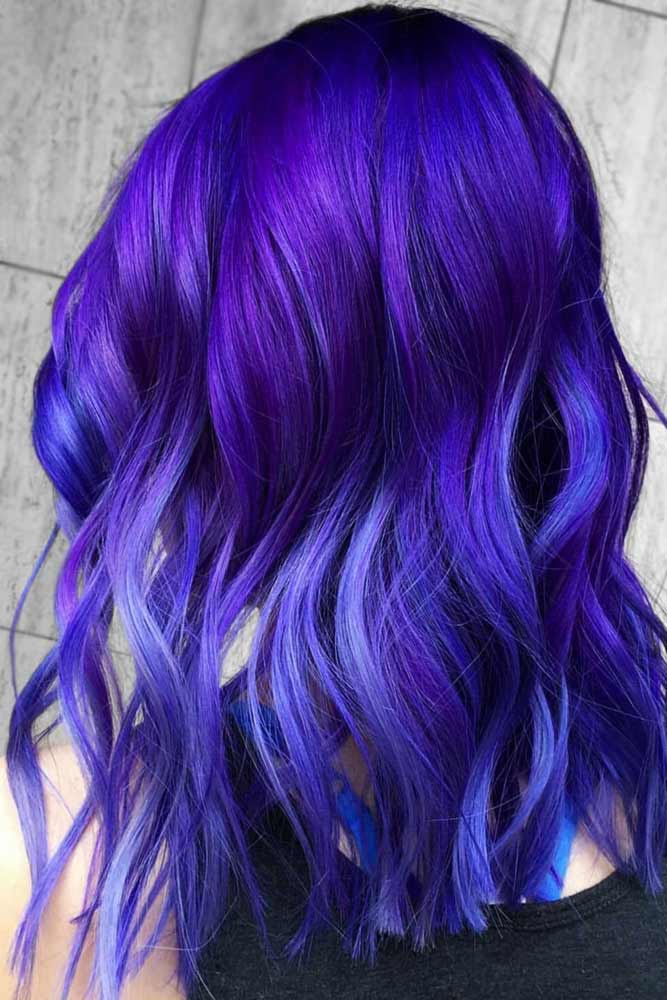 Electric violet is another idea that is not for the faint of heart. Only a woman who wants to make all heads turn, catching strangers' eyes can go for such a flamboyant shade. Electric violet is called like this for one simple reason: it strikes everyone like lightning. But, still, its beauty is worth it! Also, it looks good whatever it is: from highlights to full coloring. Moreover, electric purple braids can be one of the best hairstyles you have ever flaunted.
Deep Plum
Source: hairgod_zito via Instagram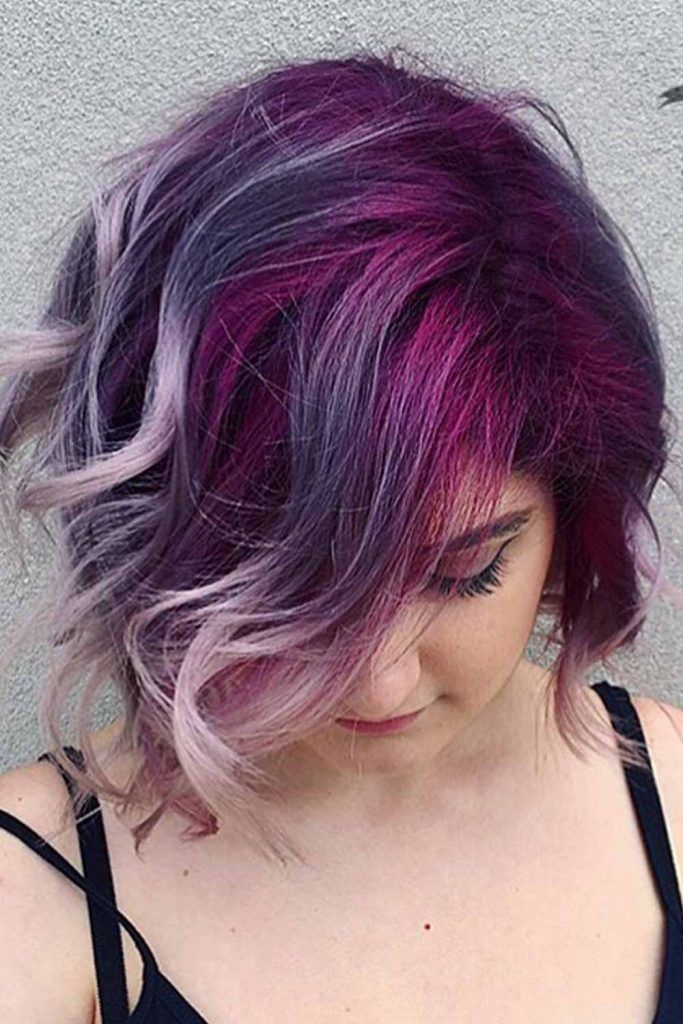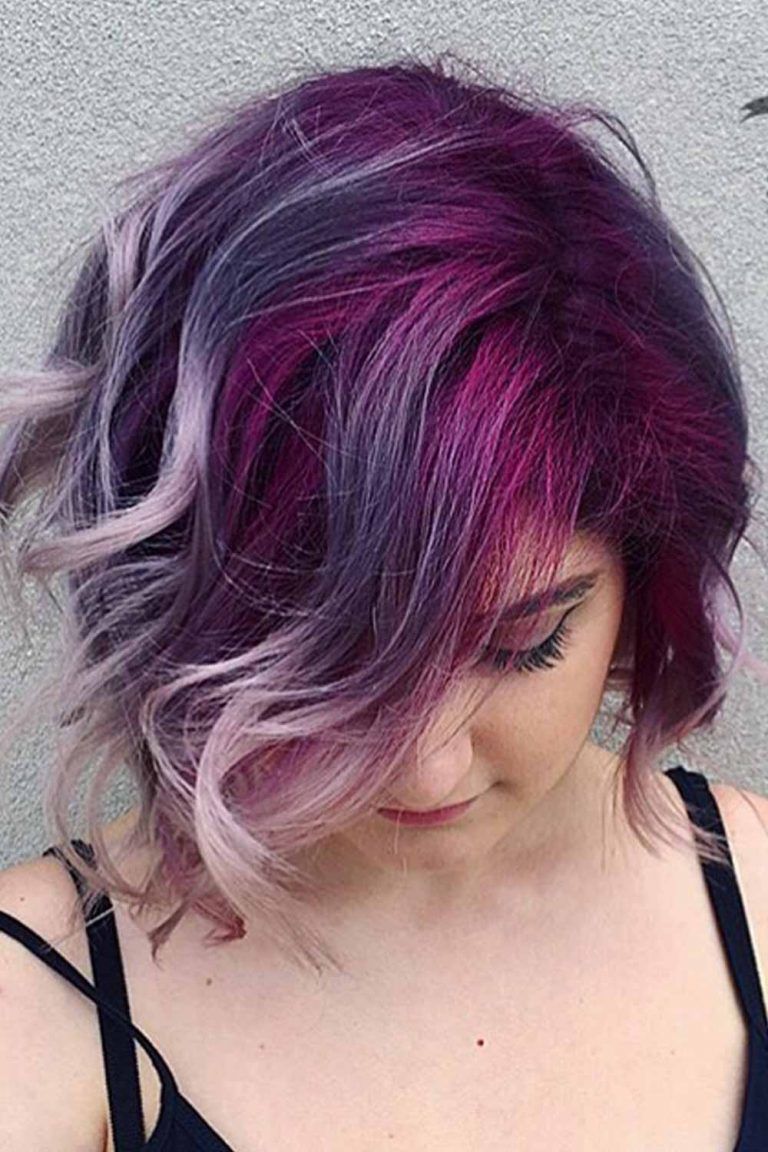 If you have no idea what purple to bring to life, let a plum be your guide. Sounds weird unless you take a closer look at the fruit: it's not just purple or blue. It's both. And not just both, it can be reddish, yellowish, and greenish sometimes. Isn't that a stunning palette to choose your shades from? These plum hair ideas feature highlights and balayage achieved through mixing blue, purple, and pastel hues.
Purple Ombre
Source: theniksters via Instagram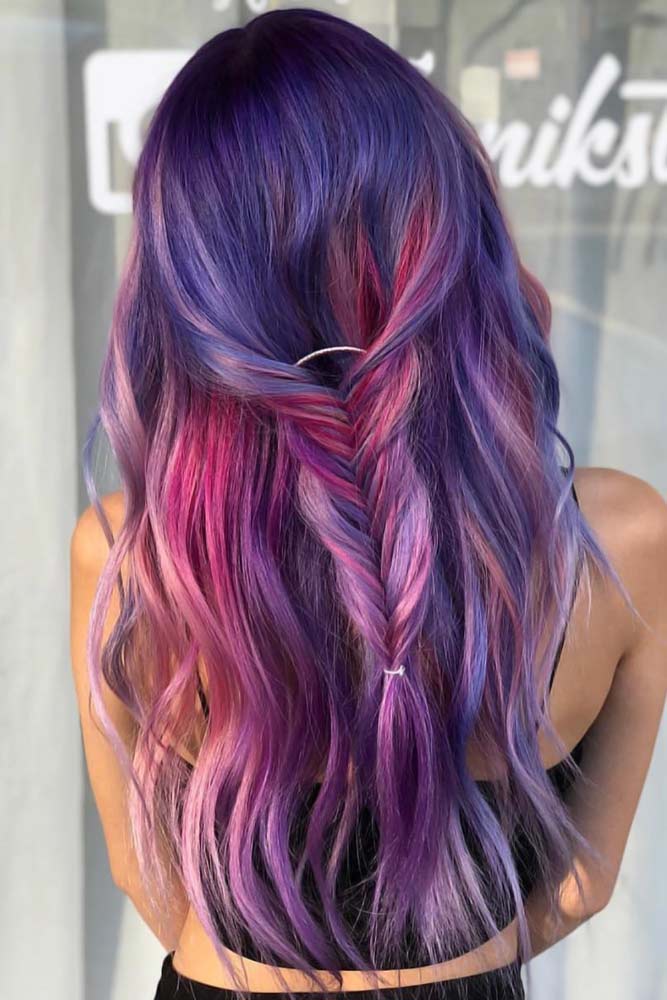 You can reveal the real potential of purple and blue colors if you get yourself an immaculate, professional ombre. It's very important to find a colorist you can trust with your hair as a badly blended ombre is a color session and money wasted. With the right approach, the colors will evenly reflect one another, forming a gorgeous, cosmic waterfall.
Metallic Purple
Source: hairgod_zito via Instagram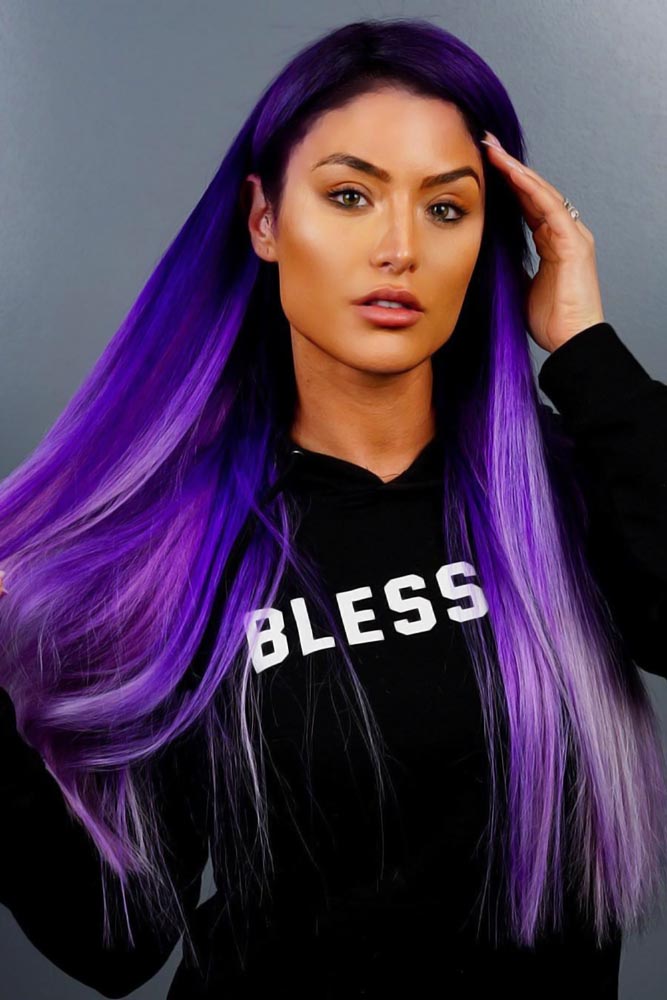 Metallic purple is officially the deepest, the richest, and the most enviable shade of 2019. And it seems like it will never lose its popularity. Whatever trends are going to fall down on us, nothing could ever be compared to this quintessence of aesthetics. Deep, vivid, vibrant, and luxuriant shades of purple that reflect shine with their metallic hue are the mix to die for.
Blue Purple Balayage
Source: kateloveshair via Instagram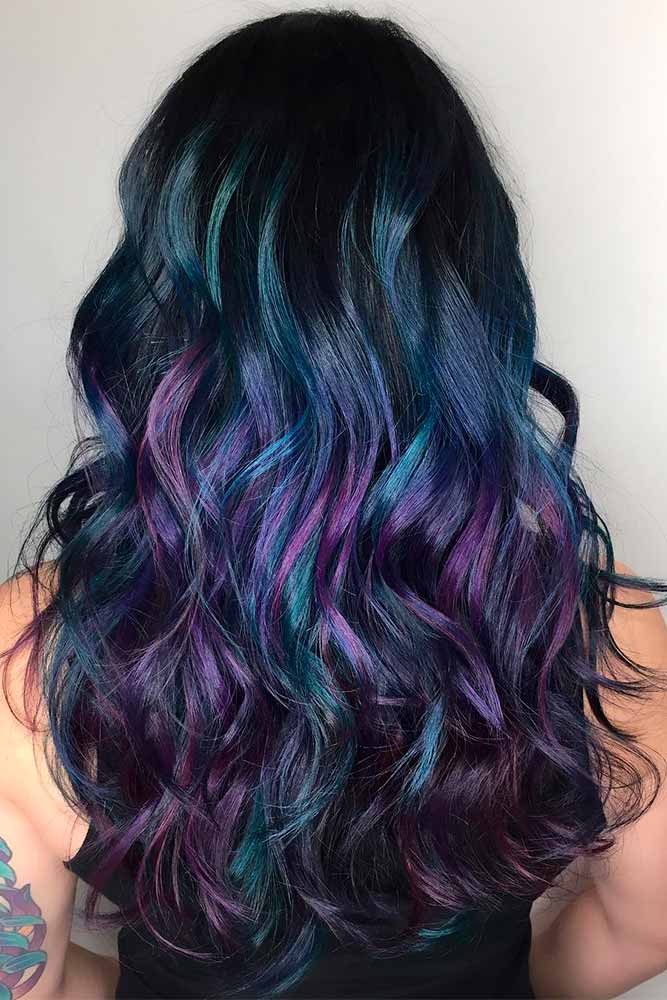 Purple and blue balayage is the newest dye obsession. Due to the resemblance to the night sky full of stars, this coloring technique is also called galaxy dye. And these colors are analogous, that is, their mixture will be harmonious rather than contrast in a stark way.
Silvery Violet
Source: theniksters via Instagram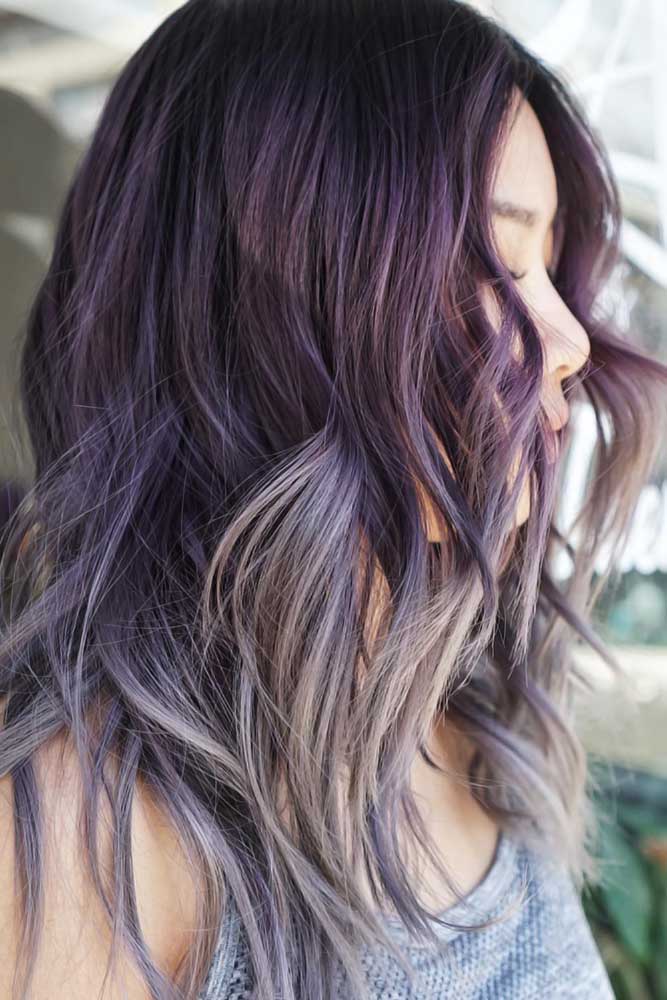 What is a better way to start your purple way than with a metallic silvery violet hair look? This gorgeous gradient begins dark gray, and slowly the color fades into a smoky lavender, with metallic tips. It's cool for winter and ideal for those with neutral-pink skin tones.
FAQ: Dark Purple Hair
What color purple is good for dark hair?
You should consider the shade of purple dye you wish to get. If you already have dark hair, dark purple shades like burgundy, indigo or amethyst are simple to obtain.
What skin tone looks best with purple hair?
Purple hair color is a beautiful way embellish any dreary hair. Fair skin tones suit it perfectly. Because violets are often cooler, they look very well on skin tones with a neutral tone (not pink nor cool undertones, nor yellow nor warm undertones).
What color cancels out purple hair?
Depending on how deep the purple in your hair is that you want to get rid of, you should use orange or yellow shades. Use an orange color if you want to remove a light purple. If you want to remove a dark purple, use a yellow color.
Was this article helpful?