Blue black hair is a deep and bold decision for ladies who like to play with fascinating and extraordinary colors, experimenting with matching shades. Though such color variations are pretty trendy these days, as well as the popular dark blue hair color, they're not the ideas you can see on every single girl. That's because such a color change requires not only proper preparation but also a lot of courage to nail it! And we're here to share with you some tips and inspo-pics of girls who managed to pull it off. Why don't you become one?
Whether you want to add a touch of bluish charm by getting some highlights or you are about to go for an all-over blue mood, there's no way you won't find an idea that will fit your taste. Get blue hair educated, read the basic tips that will prepare you for the trendy color, and fall in love with the ideas we've selected for you: it's time to set your mood for the blue enchantment!
How To Get Blue Black Hair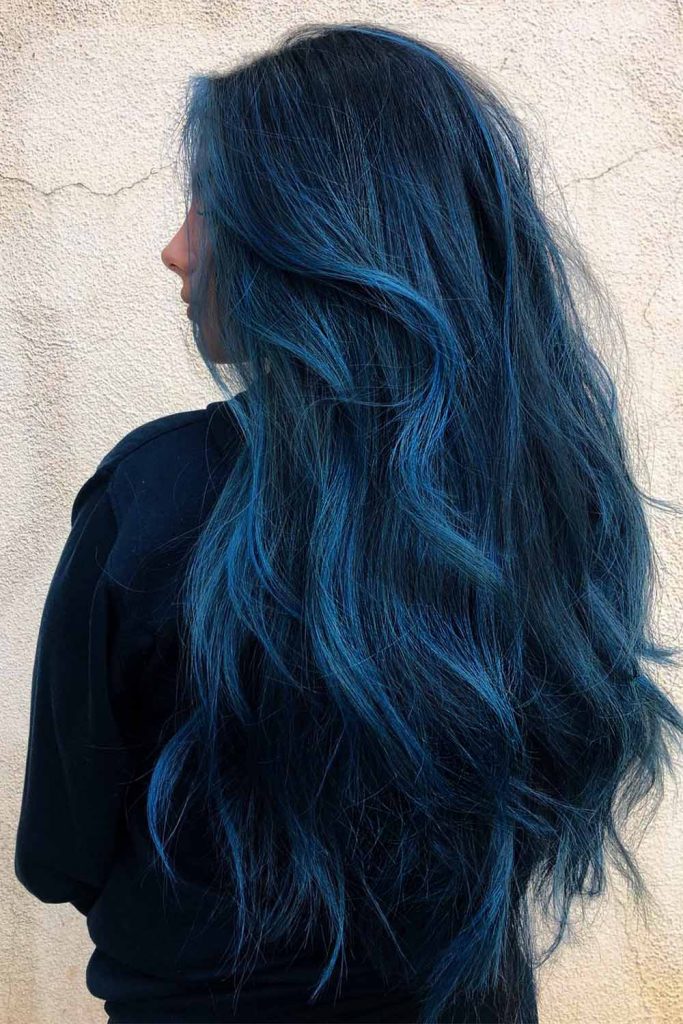 by @_heyhelena
Before making a salon appointment or buying a hair dye for home experiments, you should know how to get blue black hair and how to maintain your brand new color. Here's what you need to keep in mind when trying to achieve this color yourself:
Step 1. Make sure that you washed your hair with shampoo and conditioner before dyeing it. Your hair should be super clean; otherwise, the black blue hair dye might not adapt to it.
Step 2. Before coating your hair with new color, combine all the dye components together, mixing them thoroughly in order to get a rich color.
Step 3. For an even color, apply the dye by section or by layers, paying attention to the roots if you want to create an all-over blue look. Remember: it's better to start with the bottom layers.
The picture above is here to show you how perfect blue black hair coloring looks like. To get the most out of the dye you choose, don't forget to follow our tips and such a polished, vibrant look will be yours.
Useful Tips You Should Know Before Dyeing Your Hair Dark Blue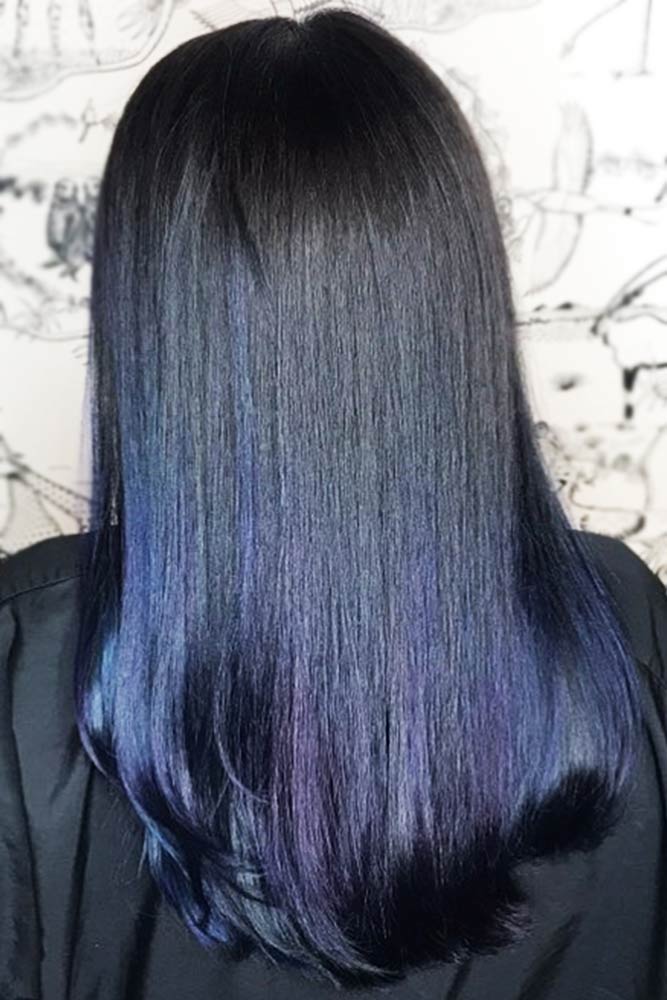 by @jillianbono
Every creative lady knows that rich imagination and will of creativity are not enough when it comes to hair coloring. It's crucial to be aware of the consequences and pitfalls that you may encounter with your new color. That's why we want you to get to know some dark blue hair tips that will come in handy for everyone: from girls with virgin hair to experienced color players.
Pre-bleaching is mandatory! If you want to get a sumptuous color, don't even think about going for blue hair dye without bleaching.
It doesn't matter what coloring technique you want to go for; a truly vibrant and intense effect can only be reached with a lightened base. That is to say, you should be prepared for little damage.
To make your color stay longer, consider using sulfate-free shampoos and conditioners for dyed hair. Also, it's better to wash your hair in cold water and blow dry it with cold air; it's a healthy care routine.
If you don't just play around with dark blue black hair, and you want it to be a part of your life, you should make salon appointments in advance. Such colors require updates every two weeks because they start to fade very quickly.
Sometimes it's hard to notice where dark blue base ends and black undertones begin. And that's why this color is so charming. Look at this pic: this seamless transition of rich colors is a look to steal.
Blue Black Hair Color Ideas
Now that you know what to expect from your blue-black coloring session, it's time to get inspired for your next color experiments! While you can add as many shades to your color combo as you want, and we're going to show you ideas that will certainly be huge this year.
All Over Blue Black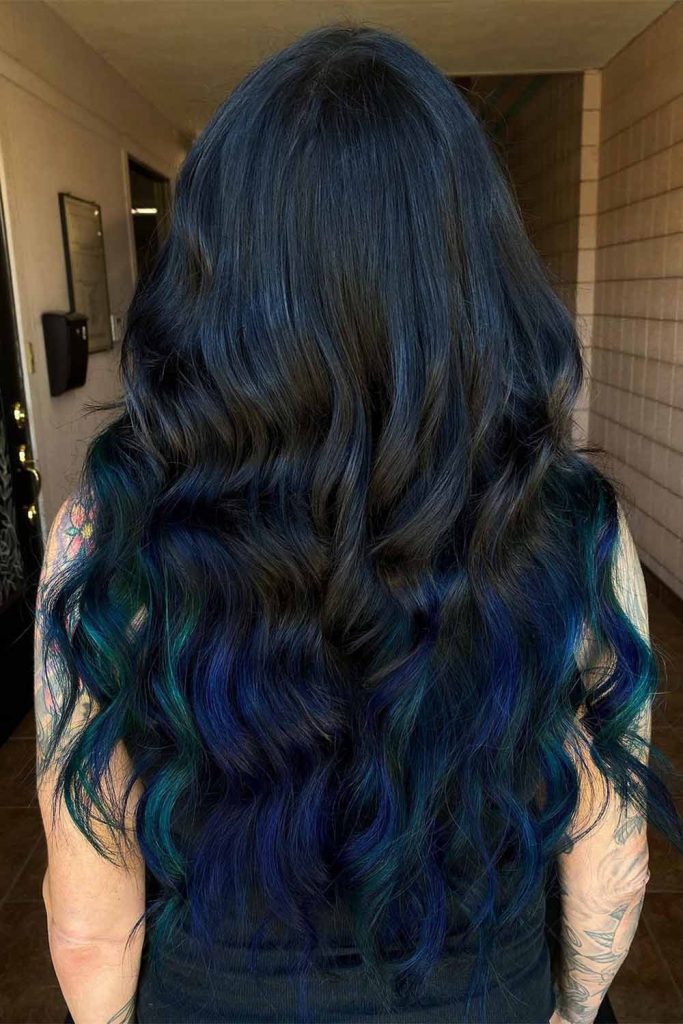 by @hairbyclairperez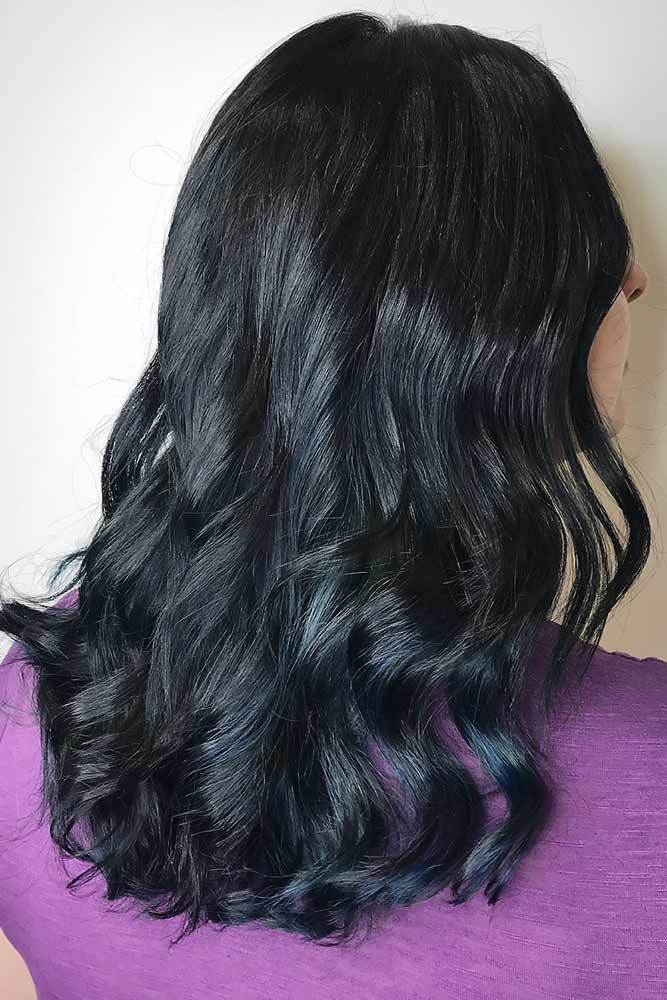 by @sherrimeow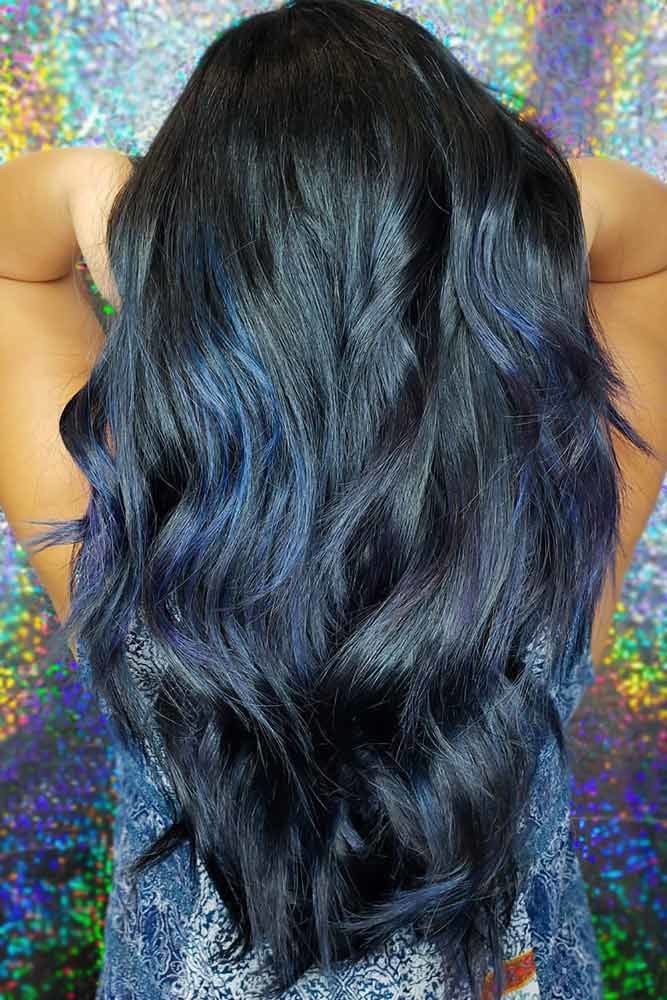 by @michelle.zapanta
There's no need to tell you how many variations of blue-black hair there are, as you can always create your own picture of this combo. However, there's a way to get a balanced color that will reflect the beauty of the two without spending much time on choosing the best idea. So why not pick an all-over option? In this case, all-over coloring involves painting a black base with a blue tint, blending them until they form a harmonic whole. As a result, your hair will have a natural black shade with a subtle cool undertone.
Magical Blue & Violet Highlights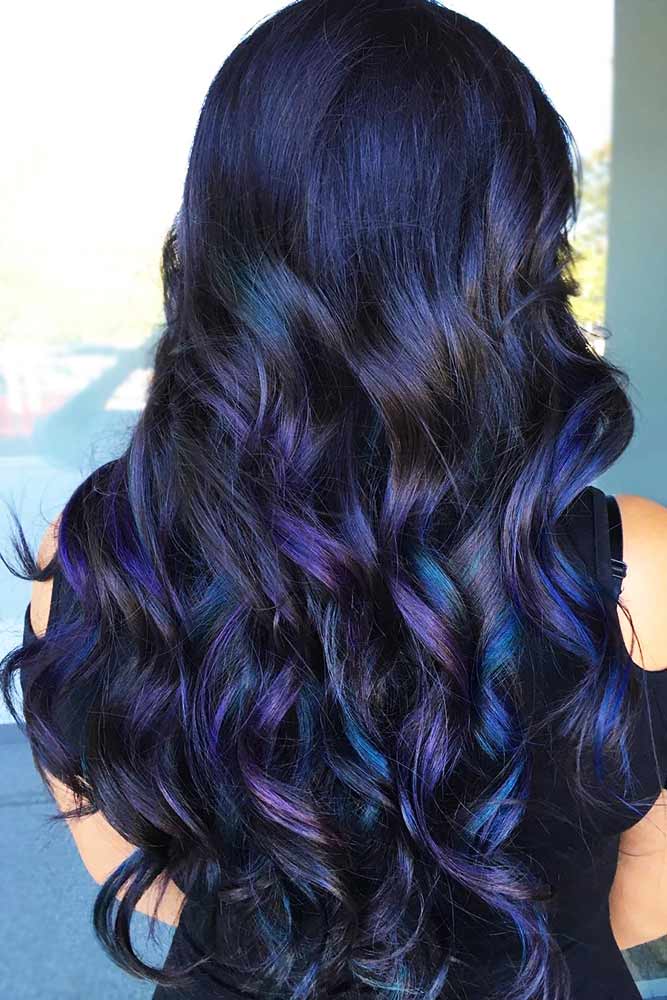 by @xostylistxo
Once you have a look at the blue hair color chart, you will notice two seductive colors that will captivate you once and for all. Yes, we're talking about blue black and dark blue hair colors. They may appear similar at first sight, but there is a strong color difference between them. The first color is mostly black, with a bluish tint that enhances the deepness of the base. As for dark blue, it's the darkest version of blue, where deep dark undertones prevail. They're both so beautiful that we can't even imagine how to make a choice! So why don't you mix them all? This magical blue hair color is the mixture of these wonderful two, accompanied by accentuating violet highlights. It's a good start, isn't it?
Dark Blue With Bright Elements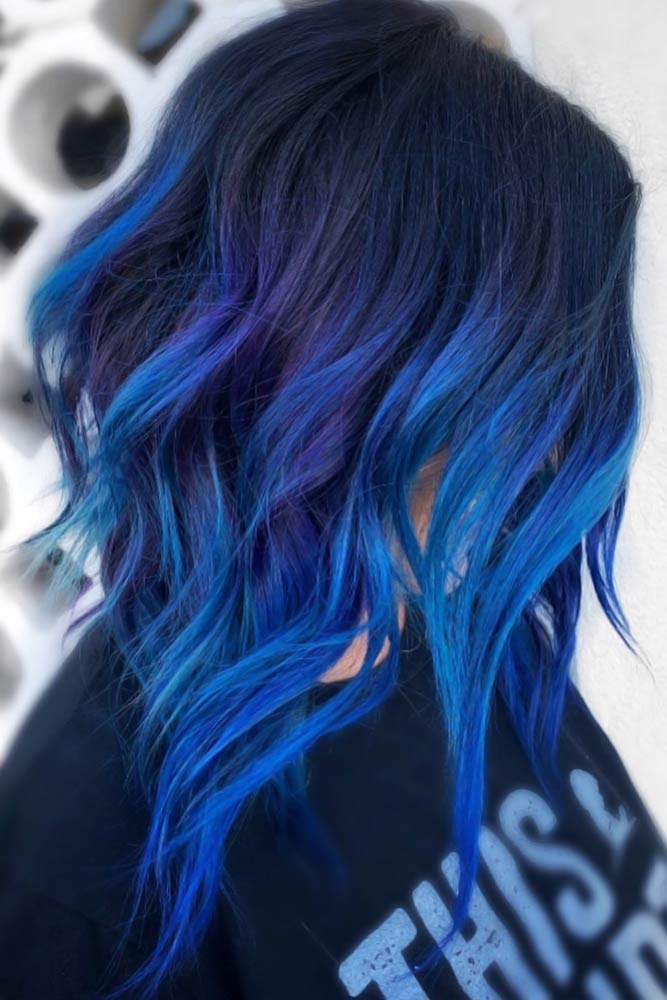 by @jaywesleyolson
How about you add some lighter accent to your dark blue look? A little contrast will enhance the beauty of your deep primary and create stand-out elements that will catch people's eyes with their brightness. In fact, dyeing some of your strands in light blue or violet hues is a stunning idea to spice up your color and make it even more unusual.
Denim Blue On Black Hair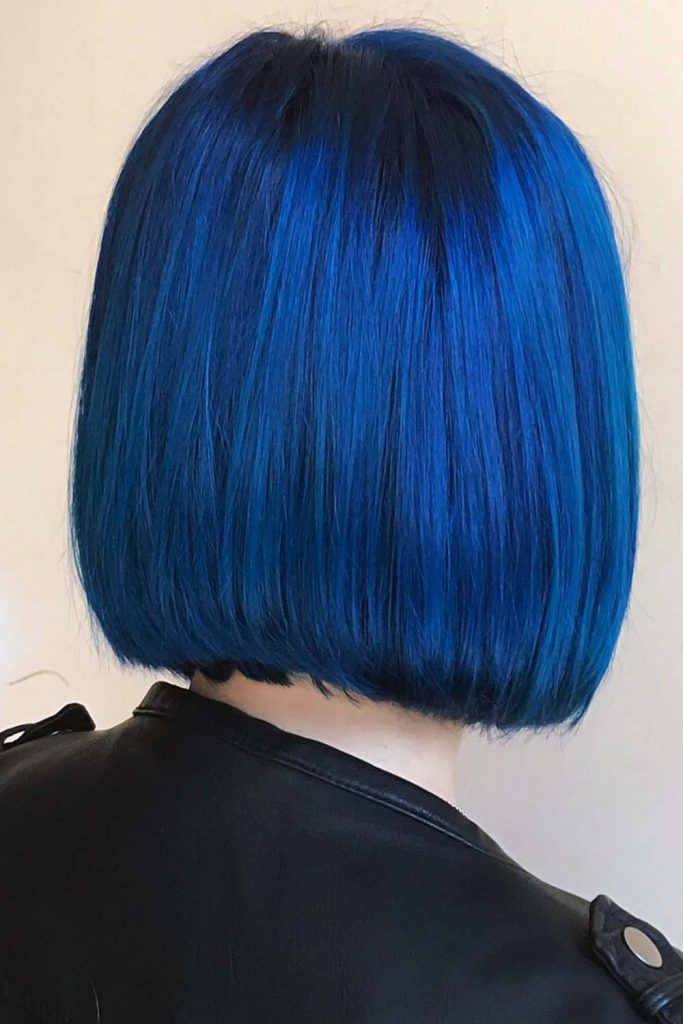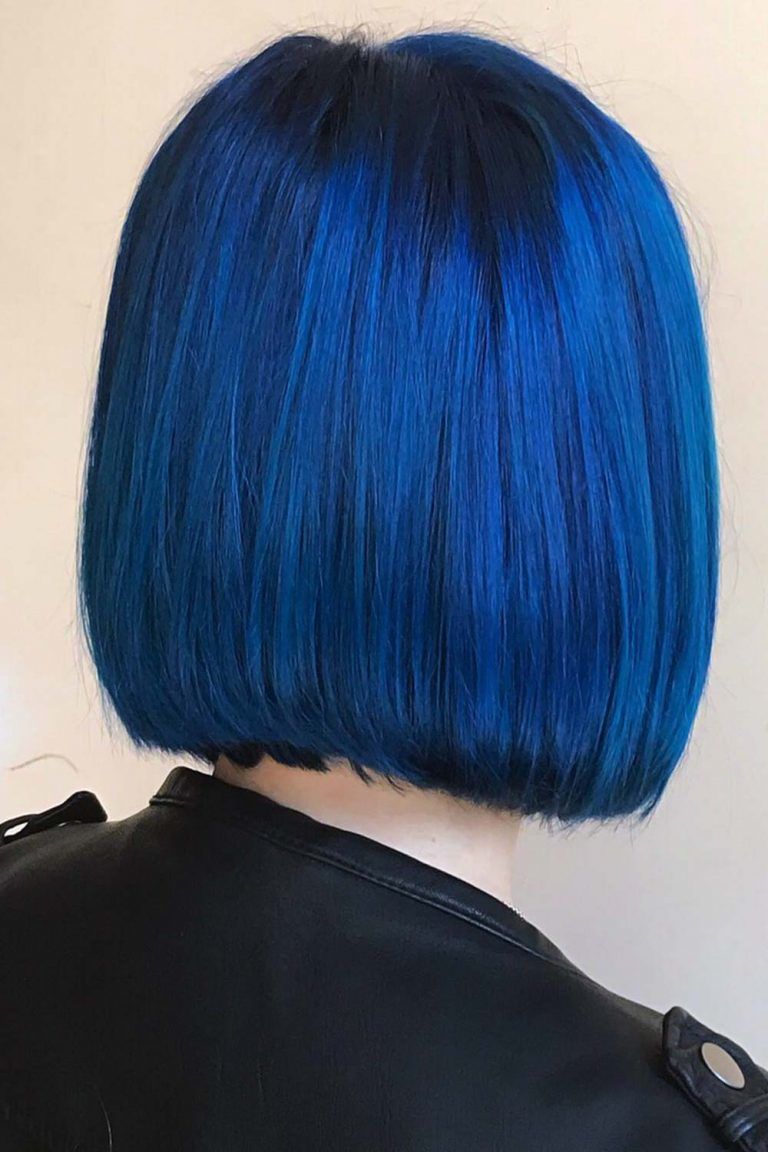 by @raznoglazaya_hair
When every color has a lot of shades, can you imagine how many undertones you can create? This blue black hair look is called so not for nothing, indeed: you can clearly see the dark base and a soft denim blue tint all over it. There's not all-over color but a sumptuous dimension of deepness and softness. To get such a duo, you can apply semi permanent denim hair dye, for example, which will give you a stunning effect for two weeks.
Navy Blue Ends On Black Hair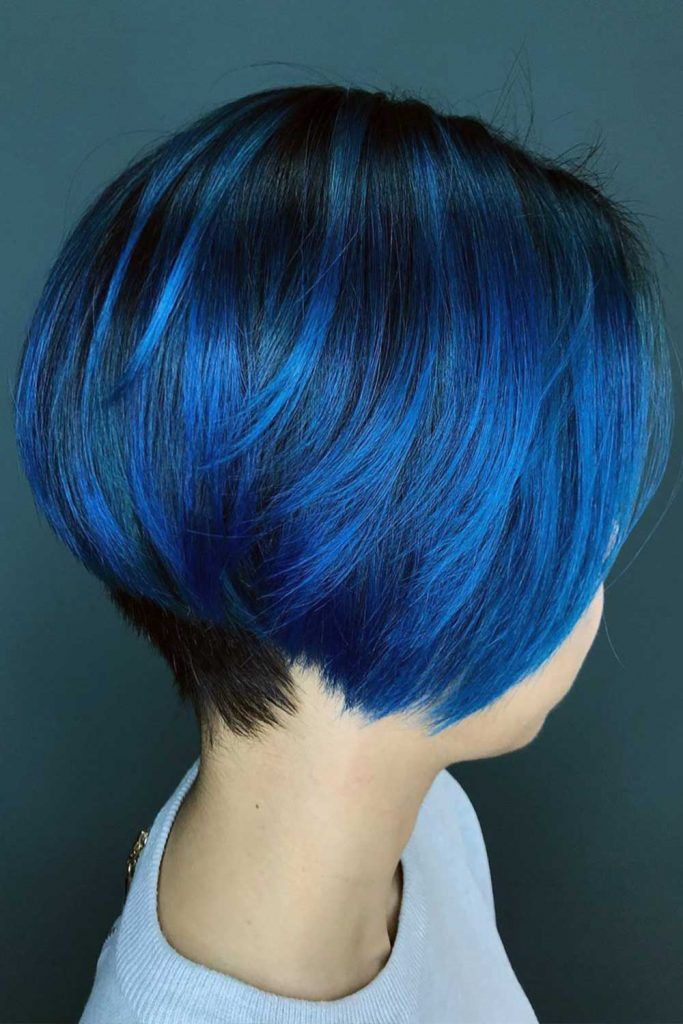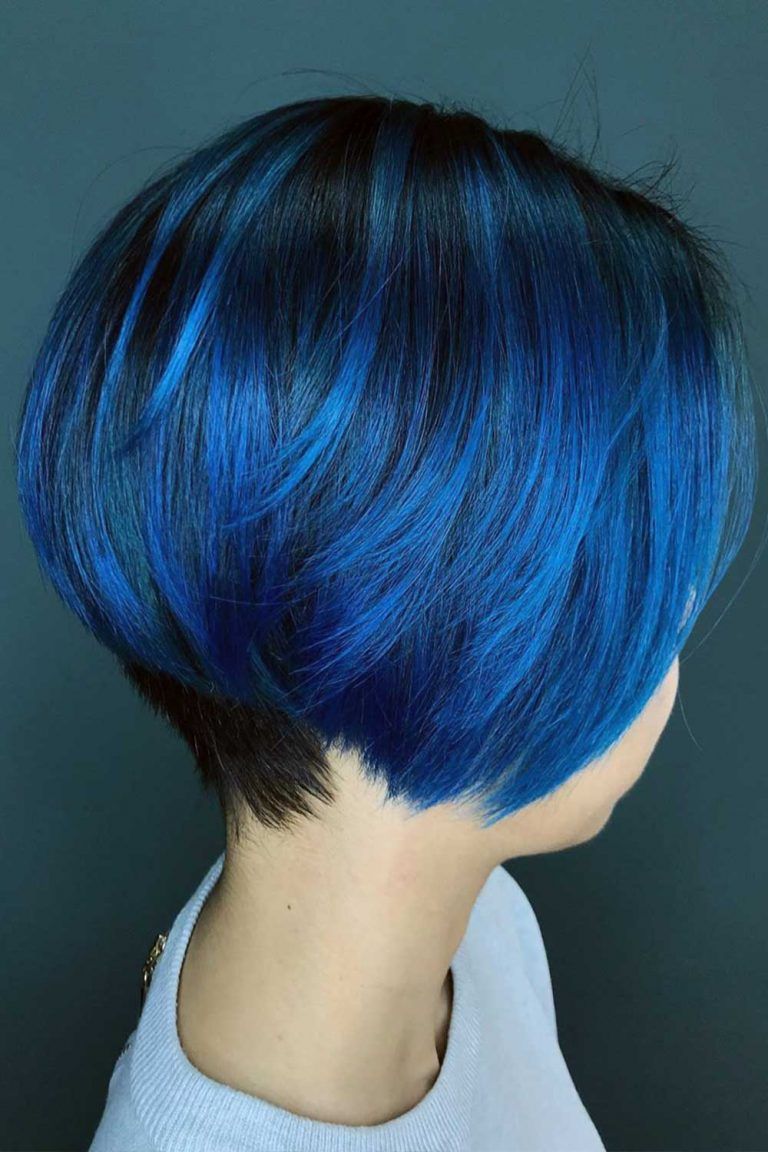 by @roma_rozhkov
This pic shows that nothing emphasizes the awesomeness of black hair better than navy blue hair dye for dark hair. Just look at this pic: a little touch on the ends moves the basic hair color to a whole new level. Navy blue is a very dark blue hair color that is popular with creative ladies because of its silky and saturated texture. How about making your ends look like pure silk?
Dark Blue With Purple Tones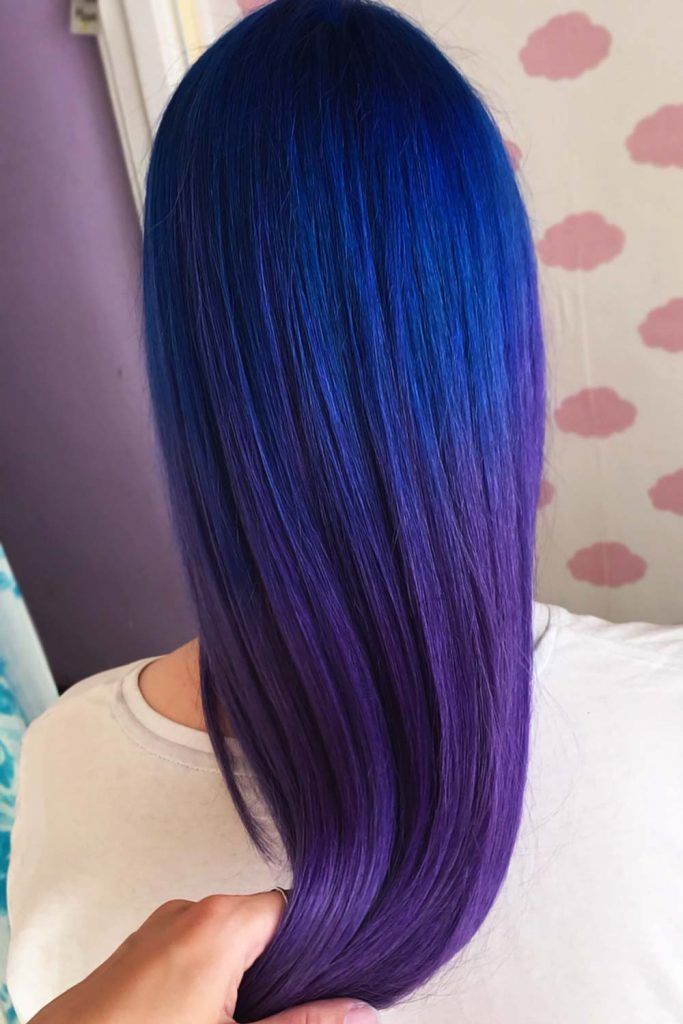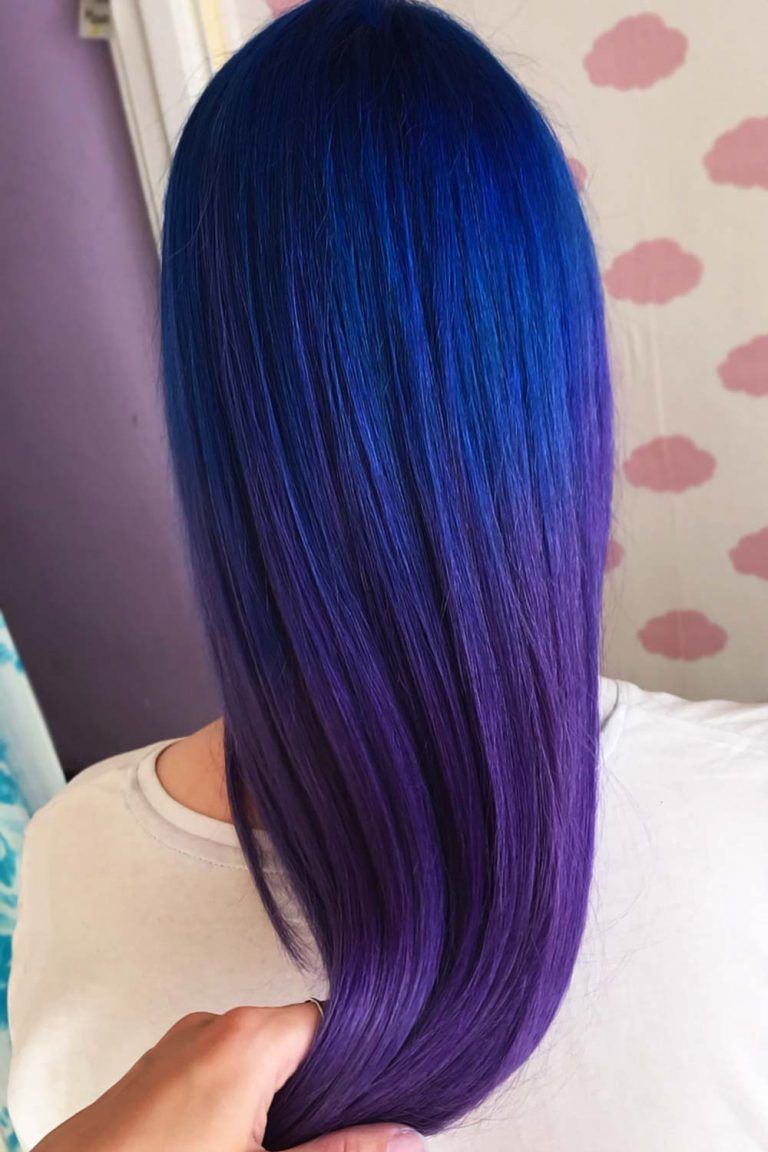 by @raznoglazaya_hair
There's only one rule about dyeing your hair blue: there are no rules! So when you are about to find a perfect shade for your complexion, you can be sure that one dark blue hair dye is not enough to create a masterpiece! Perceive your hair as a palette for experiments, combine different shades of blue, add more dimension by adding soft purple highlights, and do whatever you can imagine! This look is a role model for coloring experiments: it's deep, silky, and multicolored at the same time.
Midnight Blue Black Hair Color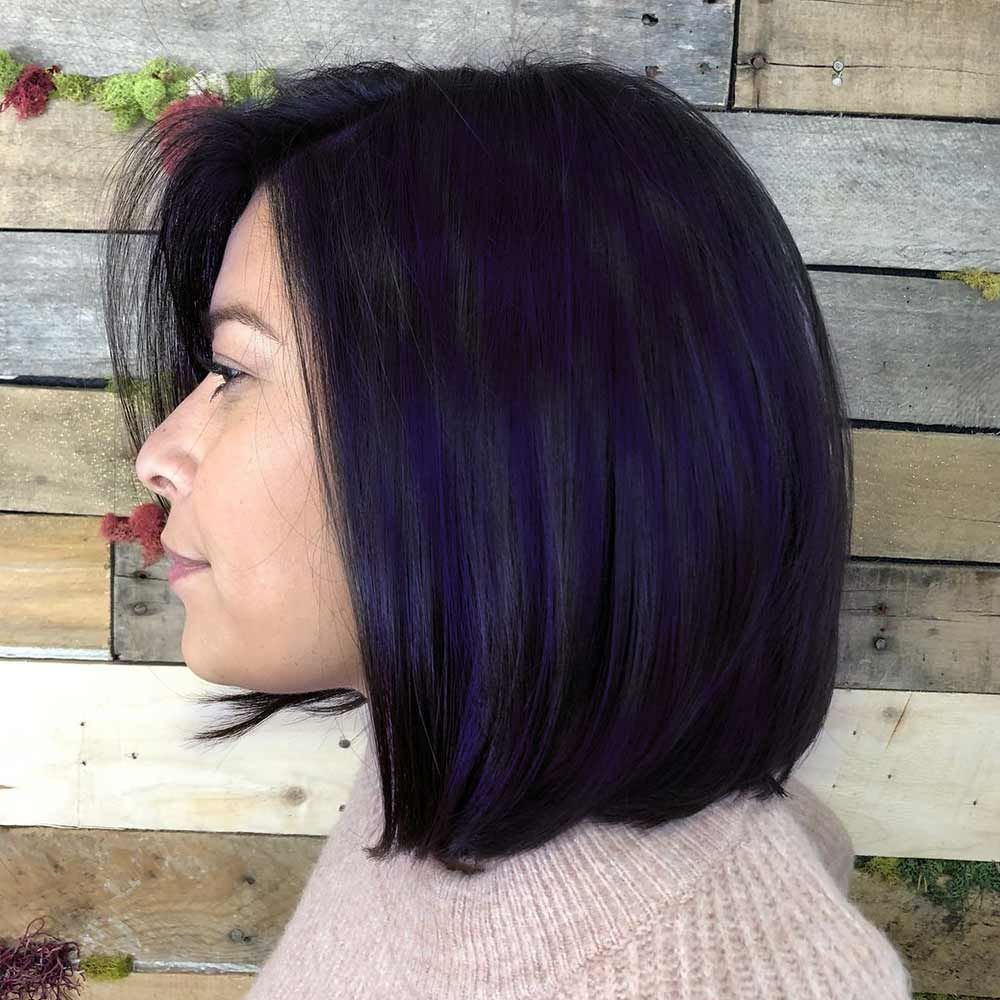 by @xostylistxo
Midnight blue hair color is a saturated blue shade that looks as though it reflects the moonshine of the midnight sky. And the truth is, no colors can compare to blue black hair accompanied by midnight blue charm. In this pic, the black color prevails, but the midnight cutie gives a very rich undertone, creating a very noble, exceptional look.
Multidimensional Deep Blue Highlights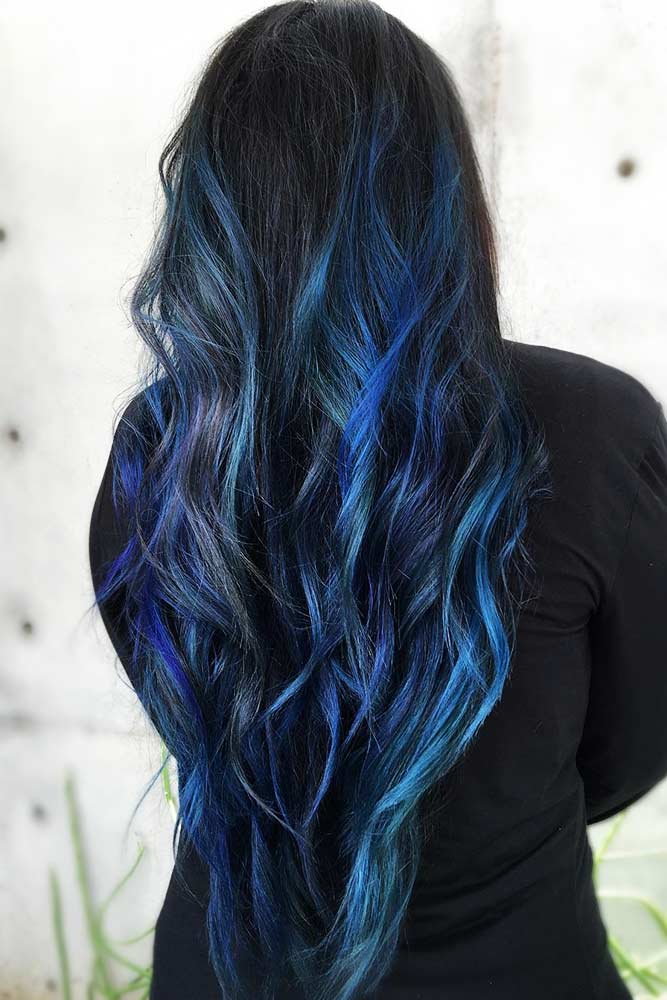 Highlighting your by @jaywesleyolson hair allows you to keep up with your base and try new colors at the same time. Since nothing can stop us from creating our own brand new combinations right on our pretty locks, it's time to be as creative as possible. You already know how captivating midnight blue hair dye on black hair looks, so why don't you include this shade in your coloring? Try mixing at least three shades of blue, and, we promise, you won't ever regret it. All in all, who regrets looking different?
Navy Blue Coloring On Dark Hair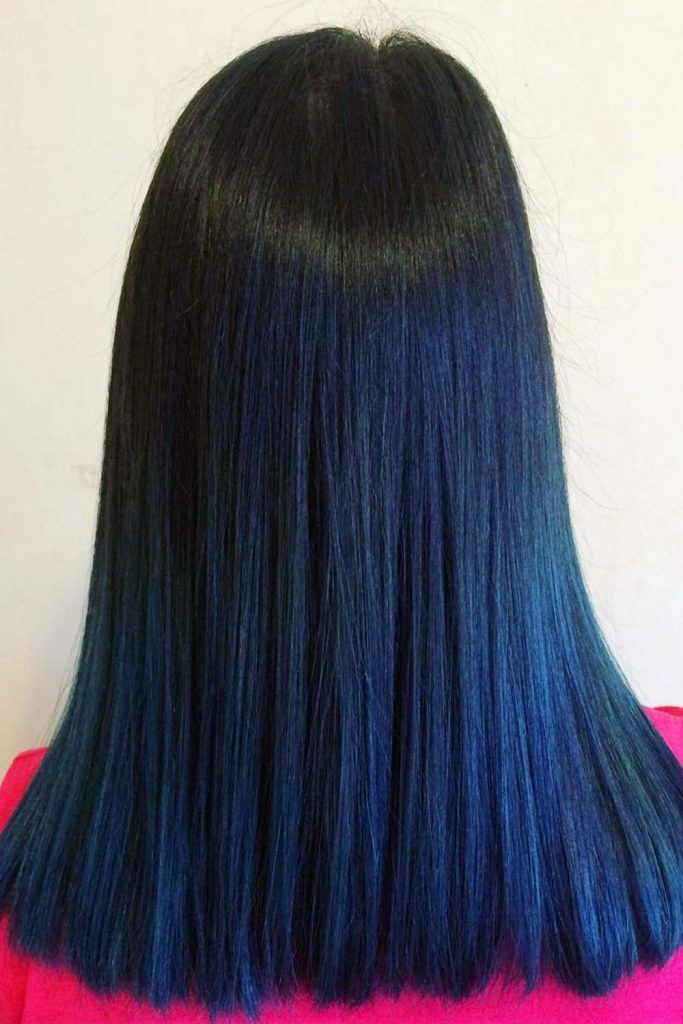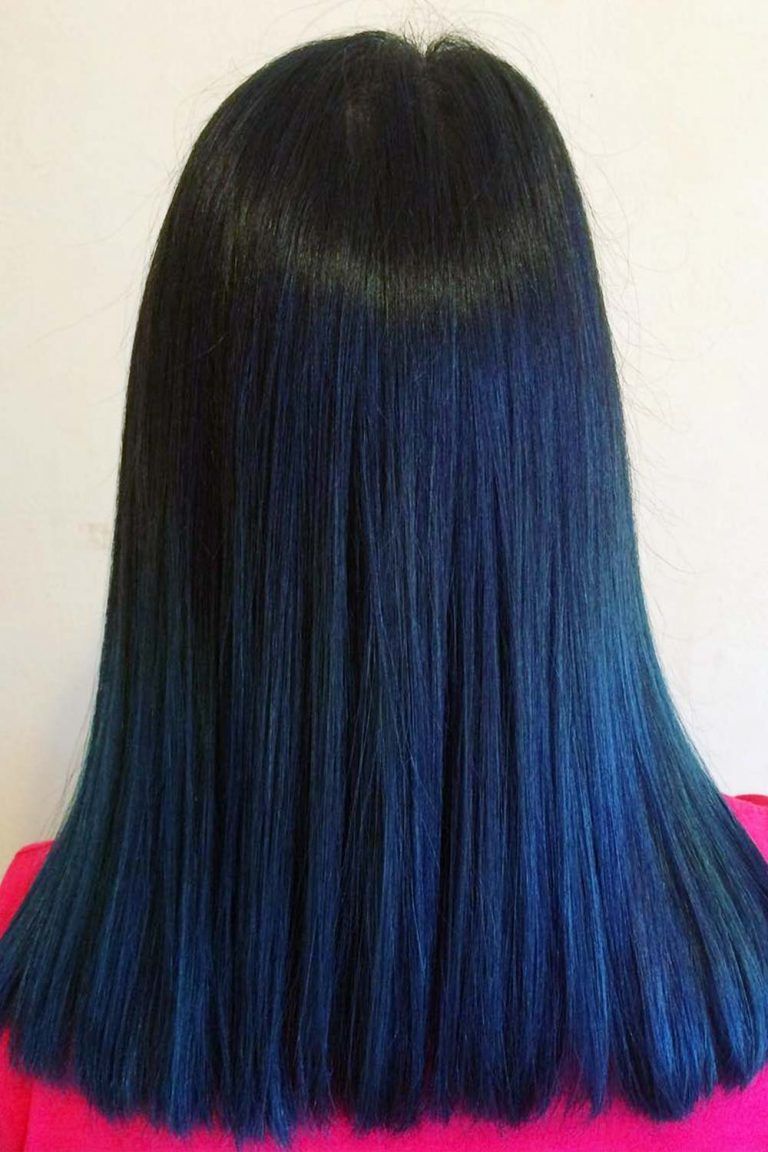 by @raznoglazaya_hair
Now, let navy blue shade take over black hair! The previous idea of this shade was a tint, while this pic shows how it looks when it's taken as a base. Of course, with such a color, being in the spotlight is inevitable, but isn't that a point? Everyone should see such beauty! The blue black hair, where the saturated light navy base melts with darker hues all over the length is your chance to stand out from the crowd.
Deep And Gentle Vibrant Blue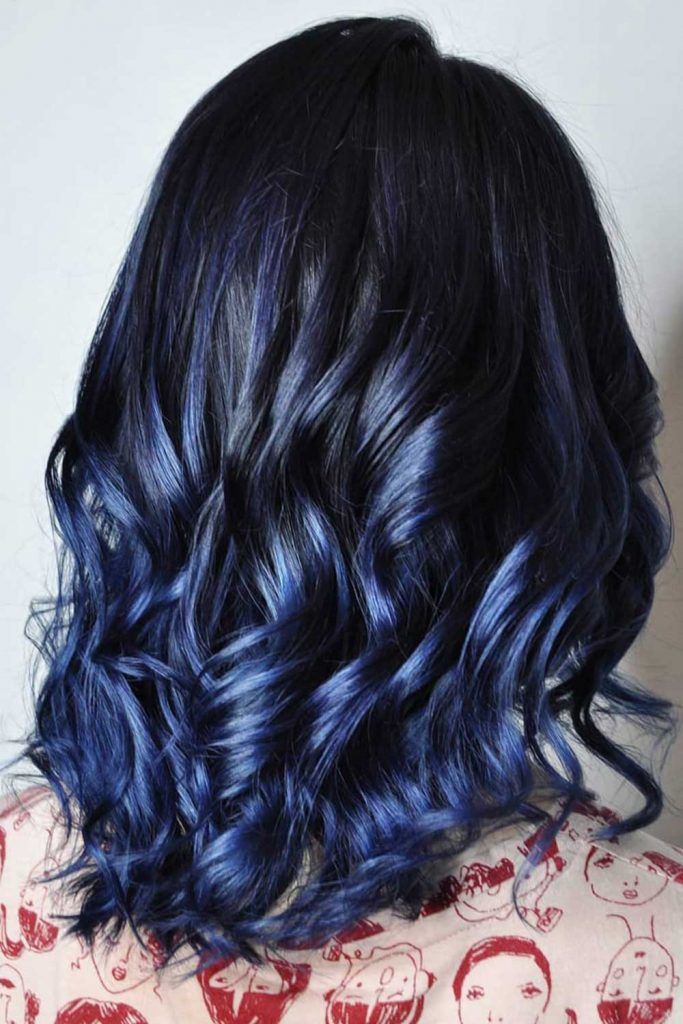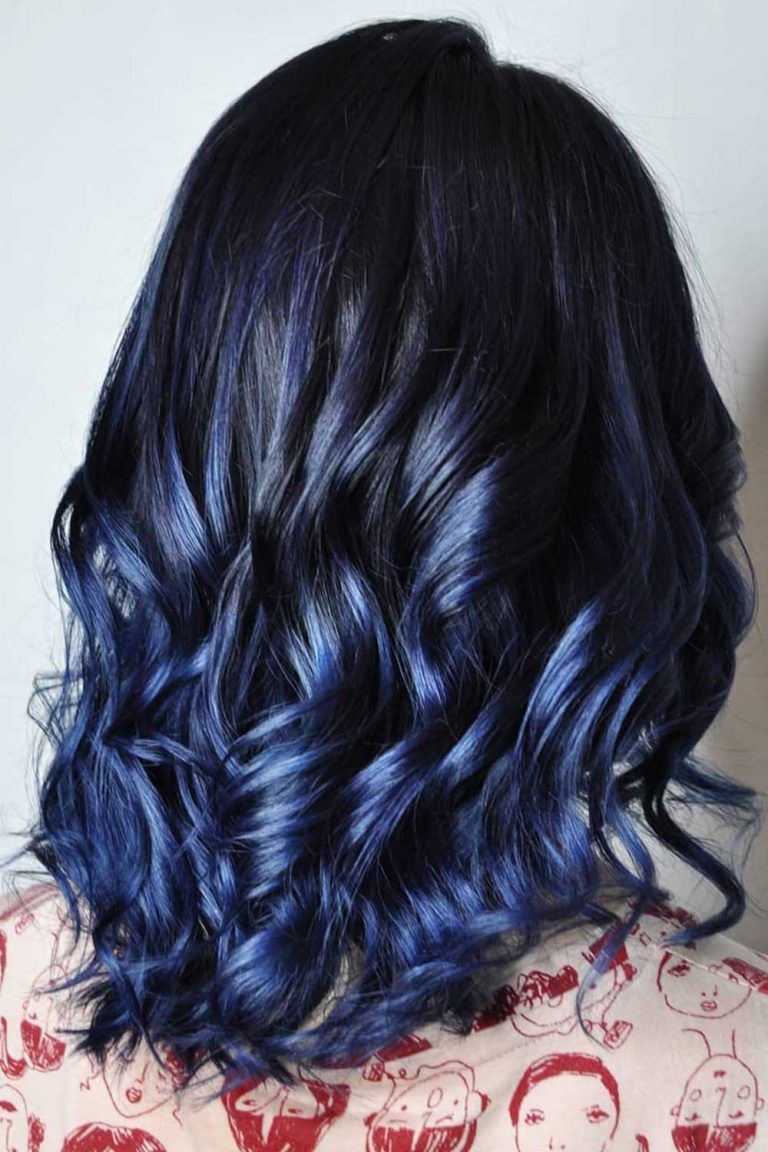 by @kris_hairraider
This is what happens when you decide to cut your dark blue black hair short! You double the beauty of texture, the vividness of colors, and therefore enhance the whole look. Look how gently this vibrant blue tint has met the dark base, softly melting with it and creating a little bit pastel look to the crown. These ends are something that can't be described with regular words. The only thing we know for sure is that these bright strands give a 'wow' effect.
Satiny Indigo Blue Hair Color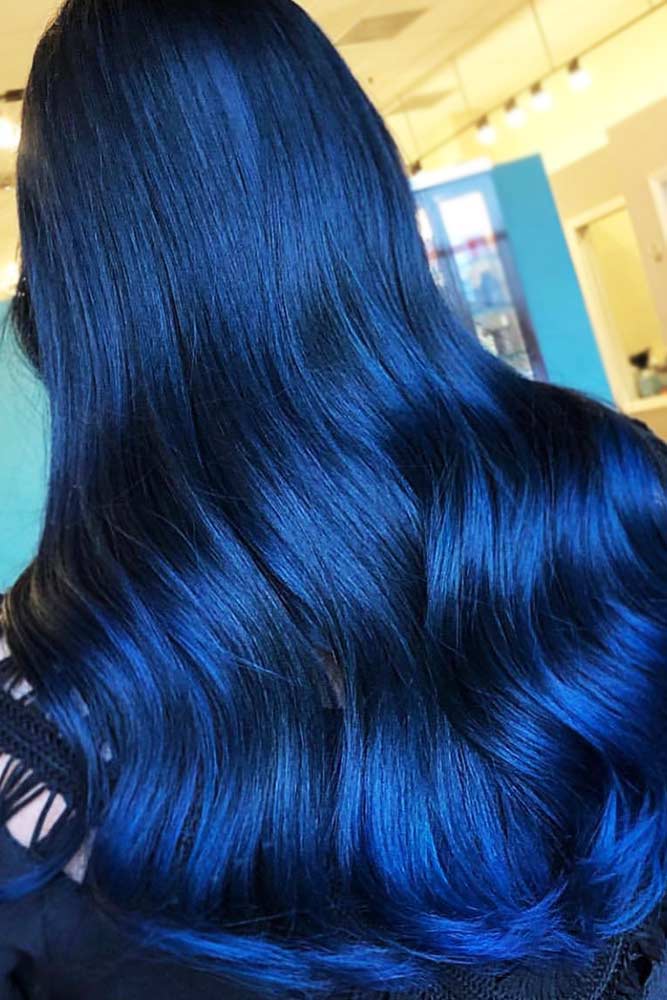 by @hair_zaddy32
As you might have noticed, blue black hair can be different; it's hard to guess how many color combinations are born each day, as the creativity of ladies is simply endless. But there's something that unites all the variations of such colorings: whether it's deep, light or pastel, it always looks very flossy. The reason is that it's blue, and that's it. Though the indigo blue is very intense, it shines so brightly that it's hard to embrace its variety at first. And once the sun shines down on the look you see above, everything will be clear: it's simply gorgeous.
Black Blue Into Smooth Pink Ombre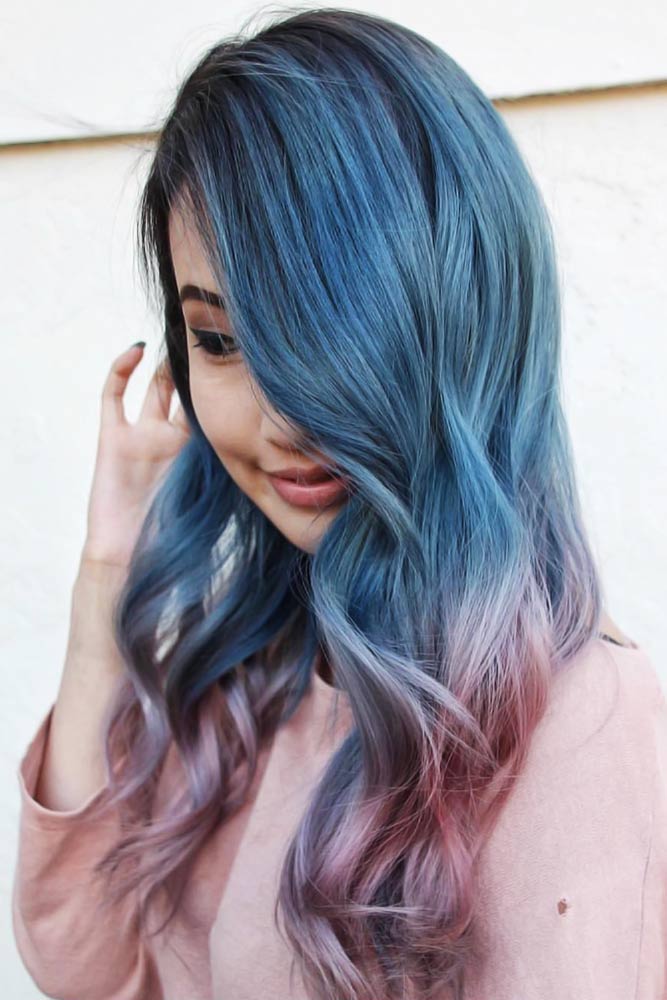 by @theniksters
We are not going to leave you without ombre inspiration! The transition of contrastive colors that this coloring technique can give to your hair is one of the things people can watch forever, especially when it's a glorious combination of blue, purple, and pink shades. Each of these fantastic colors sets its own mood, smoothly moving to the next ombre hair hues. The dark blue hair base that graduates to faded blue, which turns into a purple-to-pink duo are a combo to copy right away!
Dark Blue Metallic Hair Color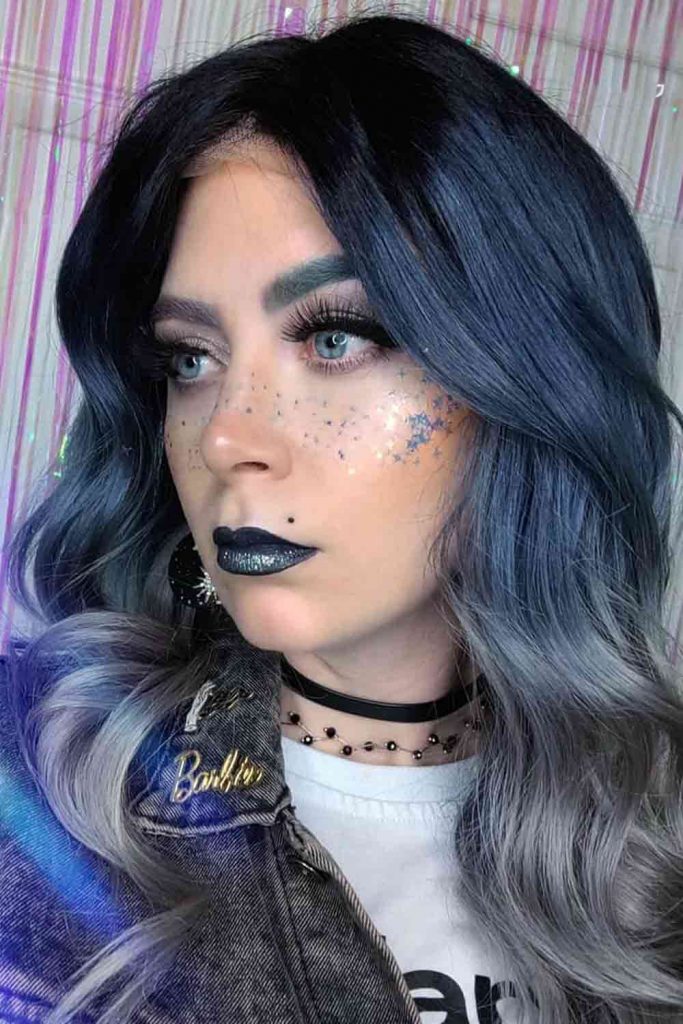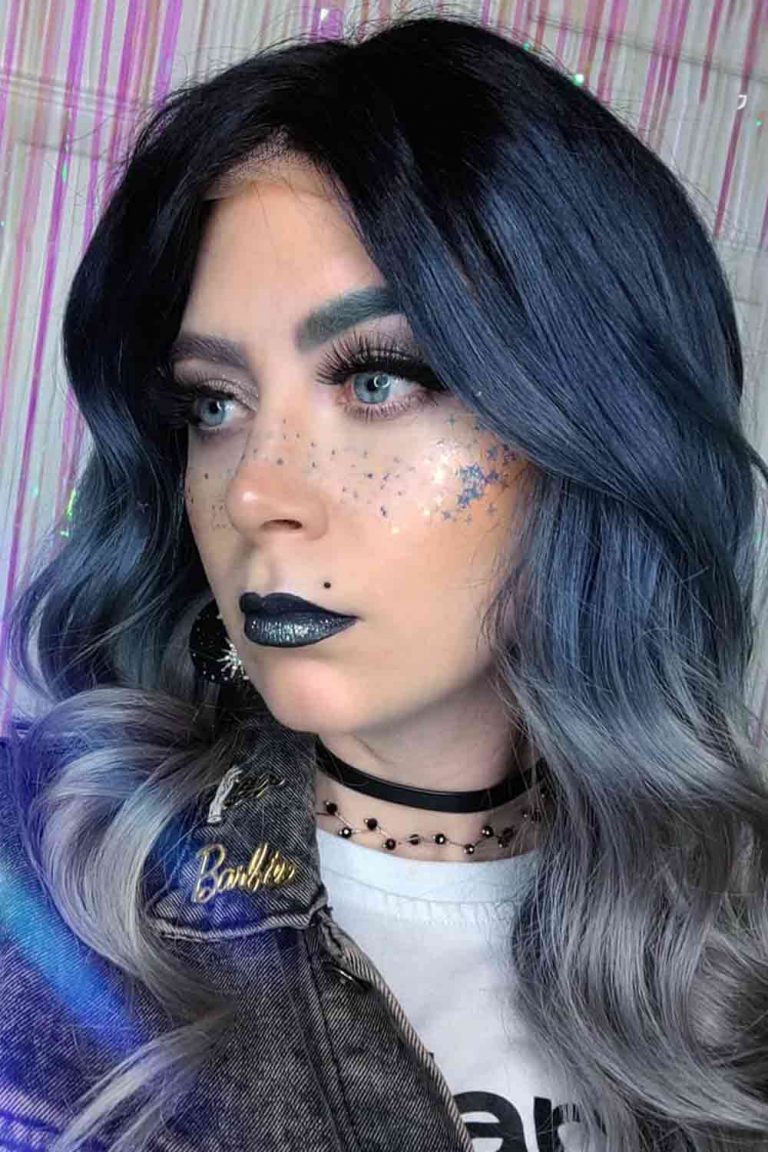 by @adlydesign
Here comes a bullet-proof metallic dark blue black hair. We call it so because it combines the so much trendy gunmetal gray and deep blue hair with the darker base and pastel ends. As a matter of fact, such a color combination will never go out of style, as the harmony of colors is the quality that will never lose its significance.
Black Hair With Blue Undertone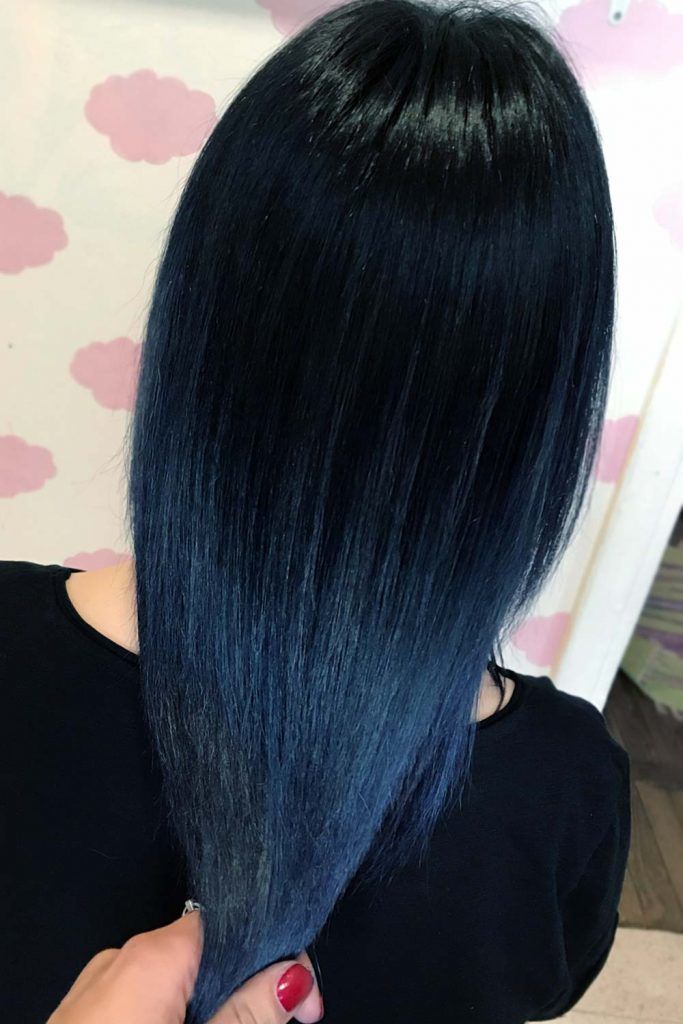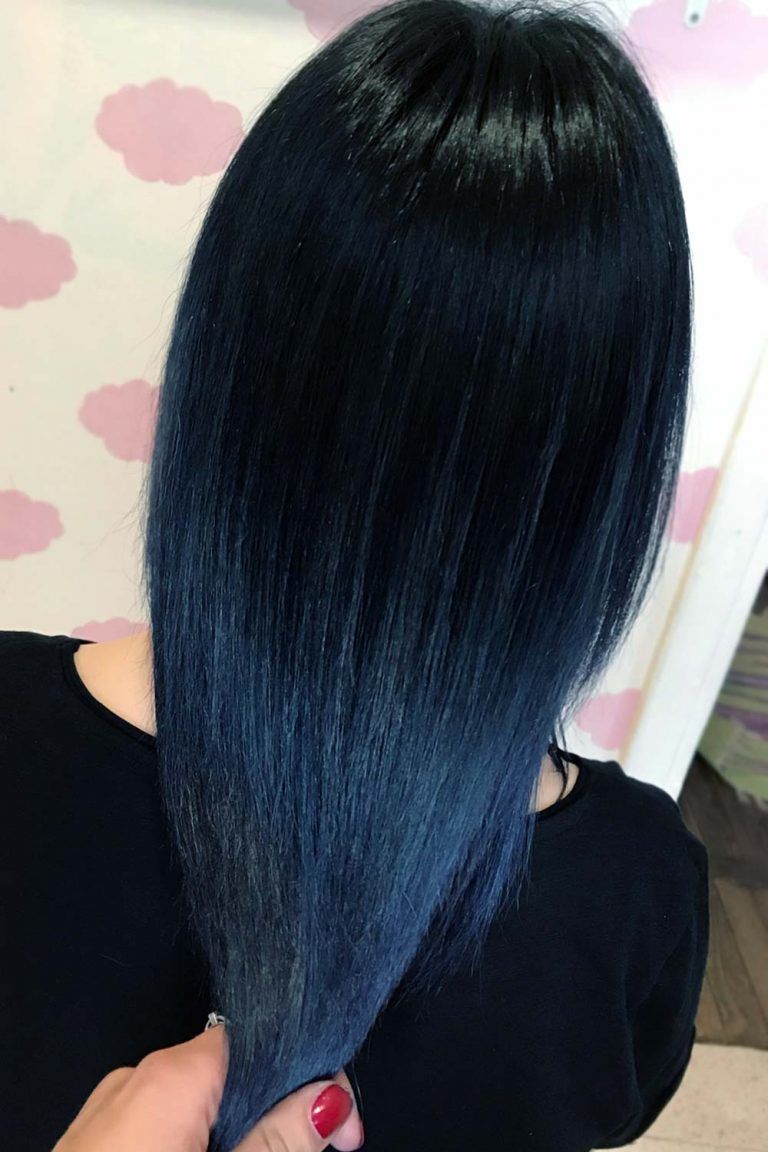 by @raznoglazaya_hair
This idea is about to strike everyone; even ladies who have always been loyal to their blonde hair. Believe it or not, but this damage can change your life for the better. Yes, new colors can cause some harm, regardless of their intensiveness. But they're worth it: those who dare to pull off black hair with blue undertones will finally find out what the real dimension, fullness, and silkiness of hair texture are. Don't believe that colors can change the way your hair type looks? You've never been so wrong.
Peek-A-Boo Blue Coloring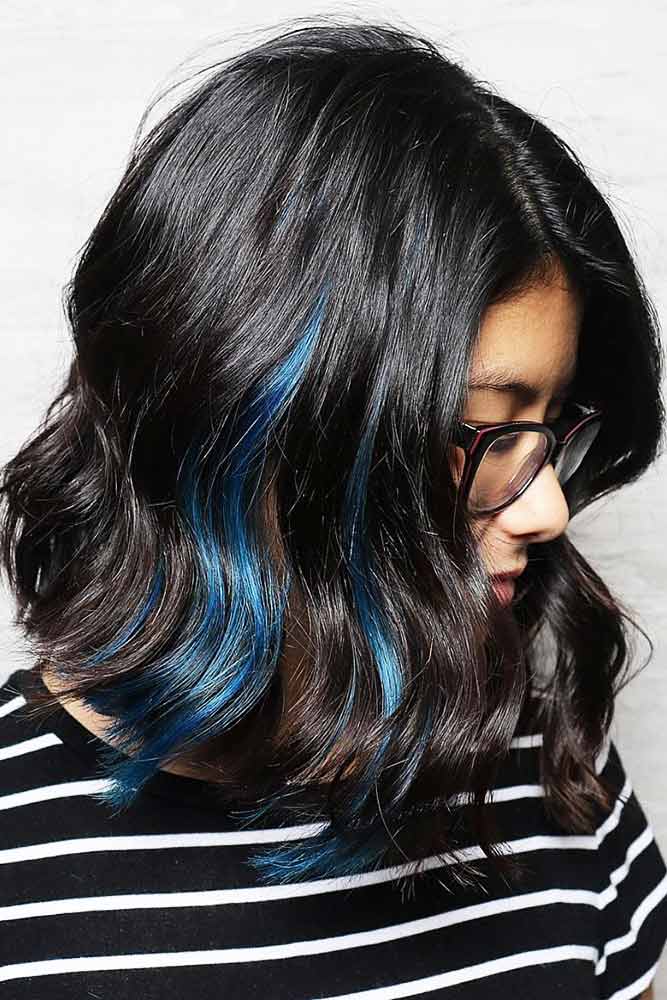 by @rachelpesh
Girls who like to keep it simple, but significant will appreciate this lovely idea. Blue black hair isn't always about two deep, unusual shades that mix together. It can be a minimalistic combination, where a couple of strands of dark blue hair are colored in saturated blue. With such an idea, you will accentuate your rich hair color, embracing the trend in your own way. Also, you don't need to buy lots of hair dyes to maintain your color, as your hair won't take huge amounts.
Jet Black With Dark Blue Tint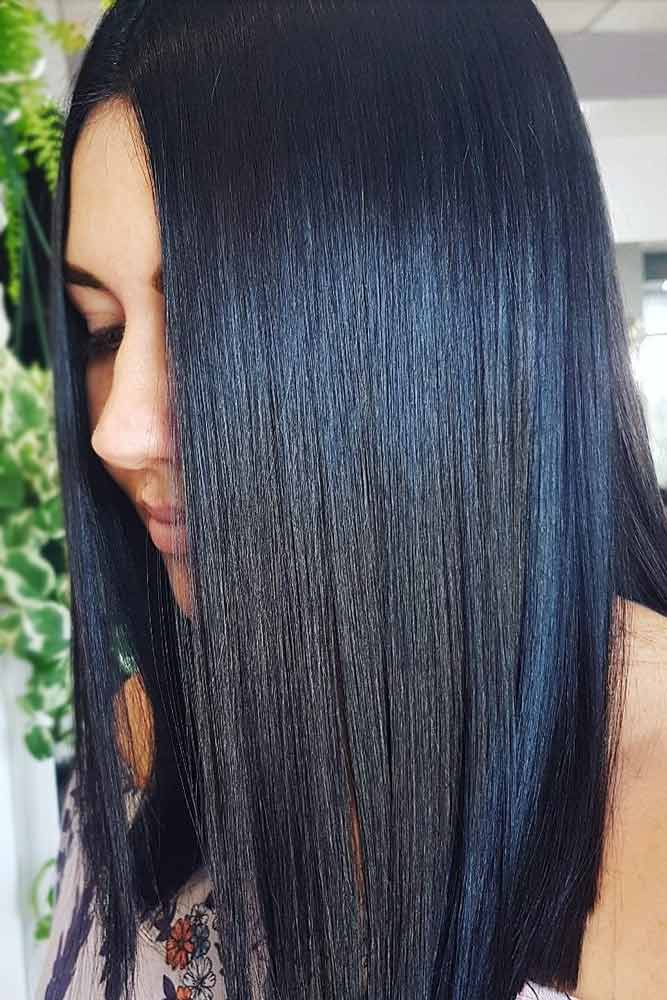 by @hairbykirst
Jet black hair is known as a "darker than dark" hair color. Many girls, many color preferences, and hence many moods to create with colors. Even those who love to flaunt with full black looks can suddenly realize that they need more colors in their lives. Yes, girls can be so moody! To satisfy your inner mod, take a fresh look at your jet black hair by adding a dark and shiny blue tint over it. You will definitely love the play of hues: this pic is the proof.
Midnight Blue Highlights On Dark Hair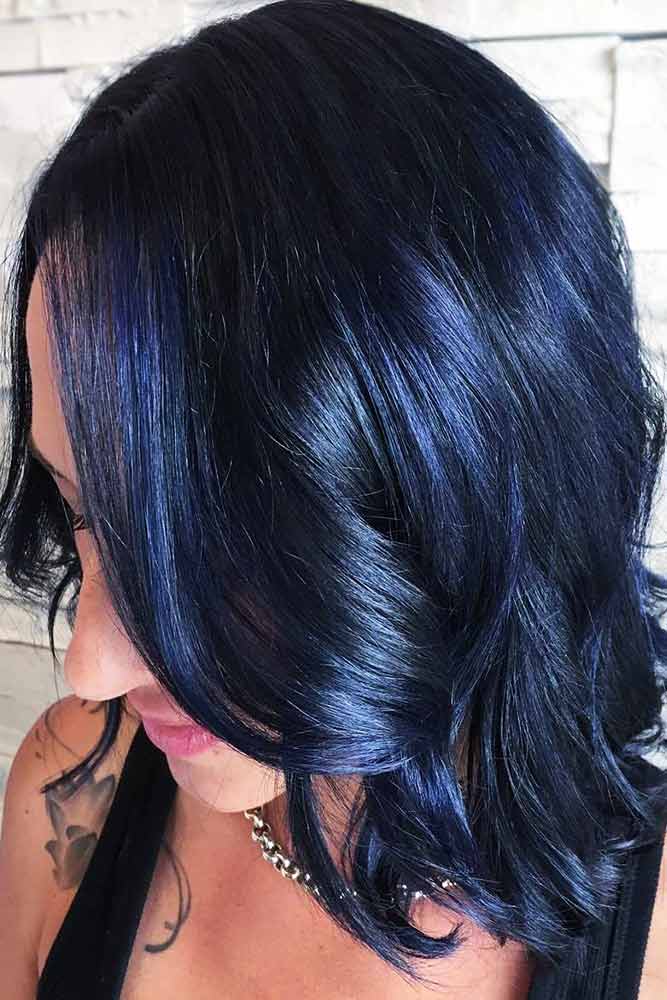 by @kailee.halifax.hairapist
When we look at these midnight blue highlights, it seems like nothing can tear blue black hair combinations apart. Together, they create unbelievably sophisticated and authentic looks. But some ladies don't feel like sacrificing their healthy locks for a short-lasting experiment. A little tip: you don't need to be an African American cutie to wear midnight blue hair weave. Short dark hair will also be enough to try something new without damage, just make sure you install it right.
Ocean Blue Ends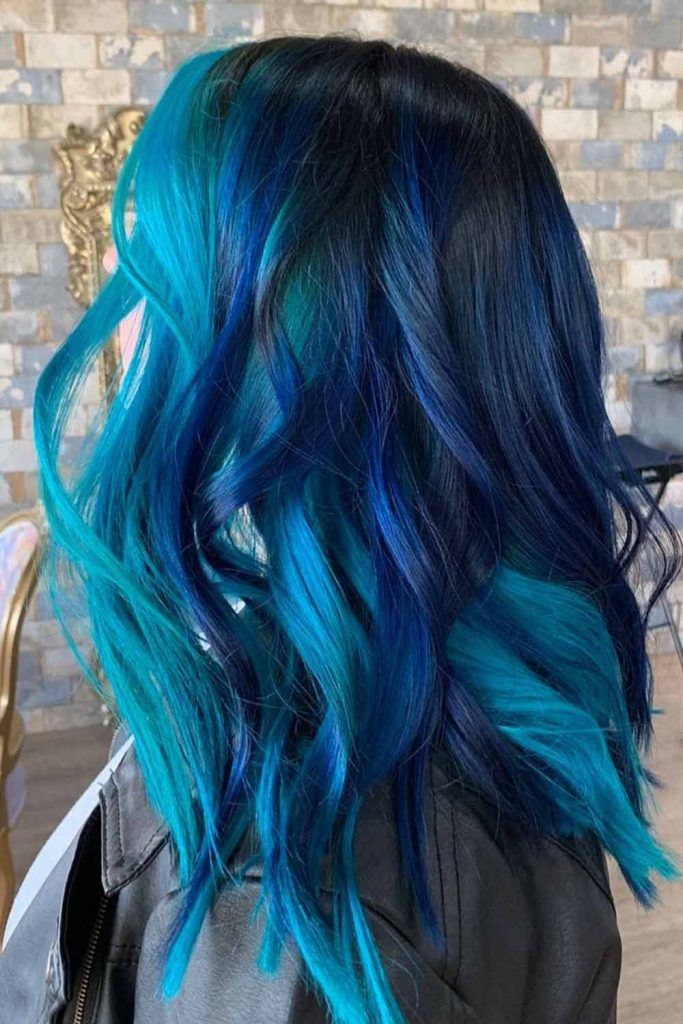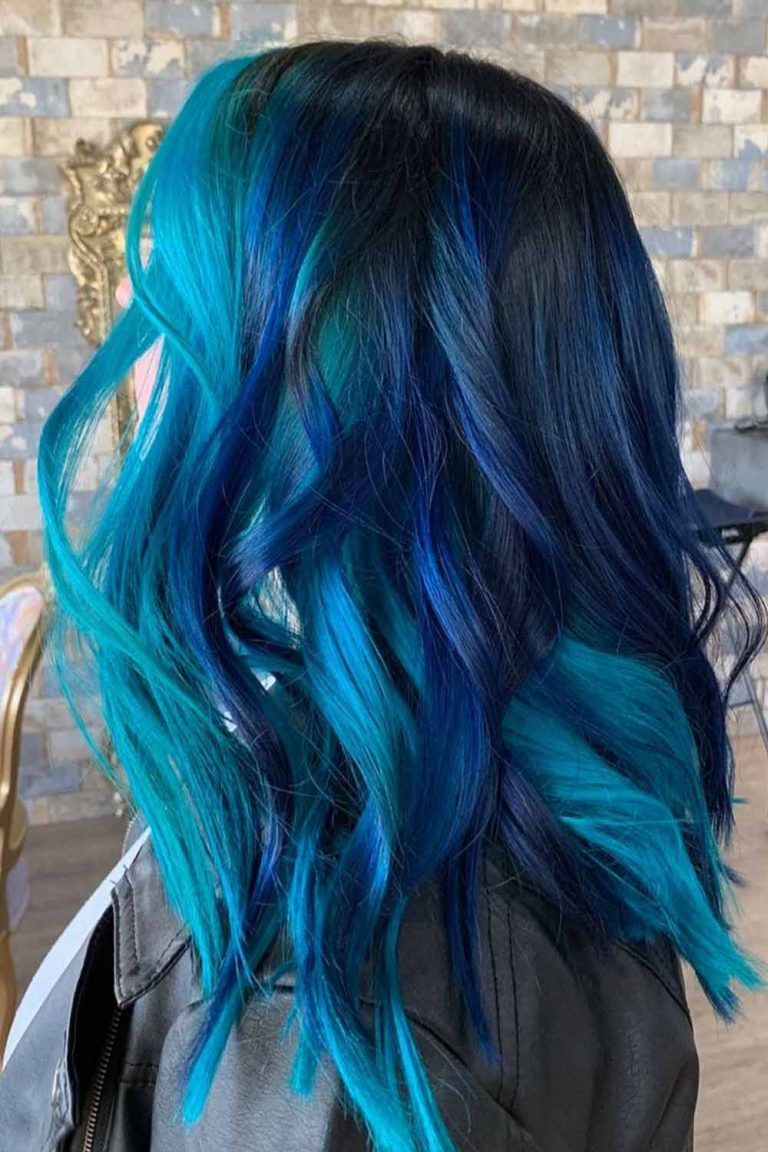 by @xostylistxo
A bit of magic on your magnificently black base won't hurt. Moreover, the perfectly matching, luxurious colors will enliven everything around, making people lose their minds in the beauty of ocean colors.
Indigo Blue Black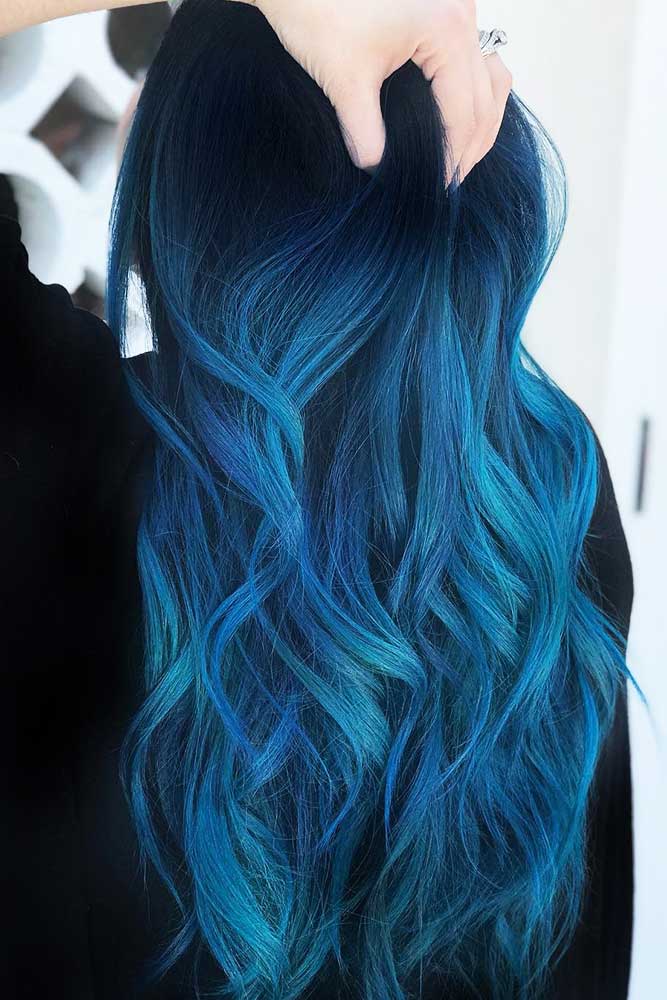 by @jaywesleyolson
Such a smooth blend of blue black colors is just to die for. To get the look, you need not just a skilled colorist because only a professional that can feel the real aesthetic of blue shades can make this idea real.
Black Cobalt Hair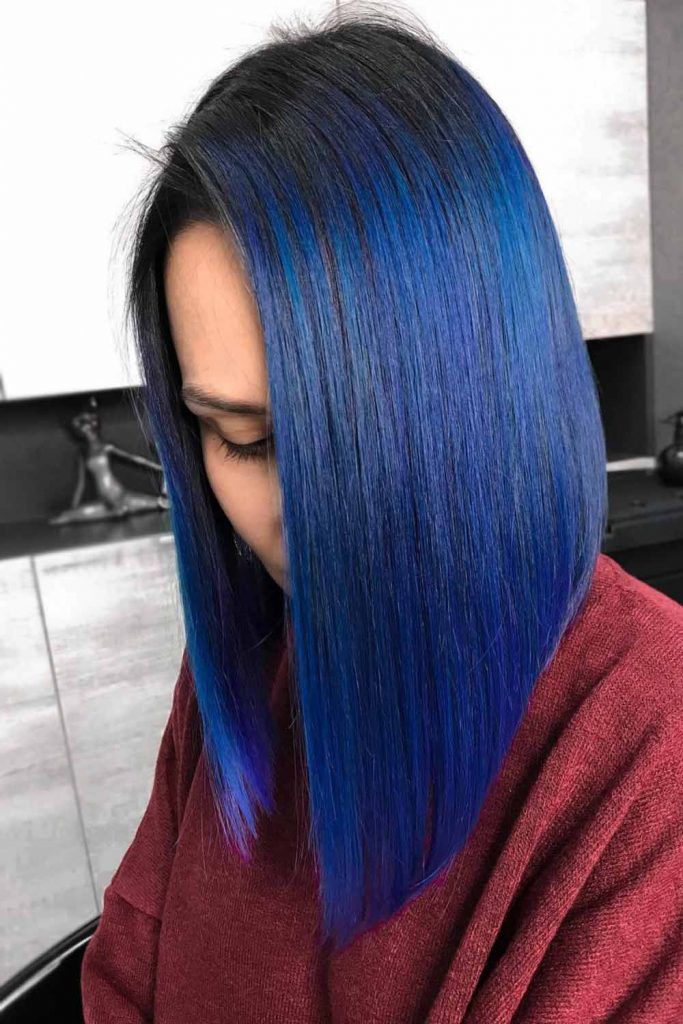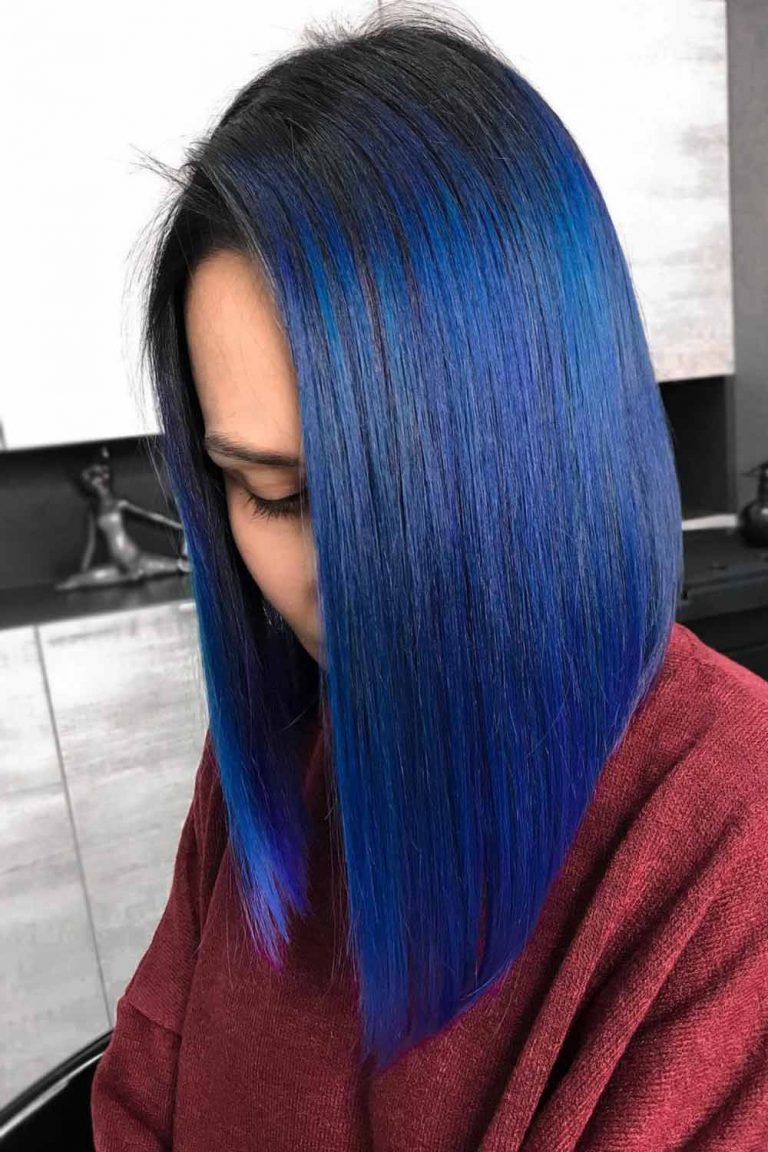 by @svetlana_dovnar_color
Cobalt color seems to be everywhere: on furniture, accessories, clothes. Of course, it can come to your life as wonderful hair color, too! The depth and movement of the black base that gets through cobalt coloring are simply gorgeous.
Blue Black & Midtown Magenta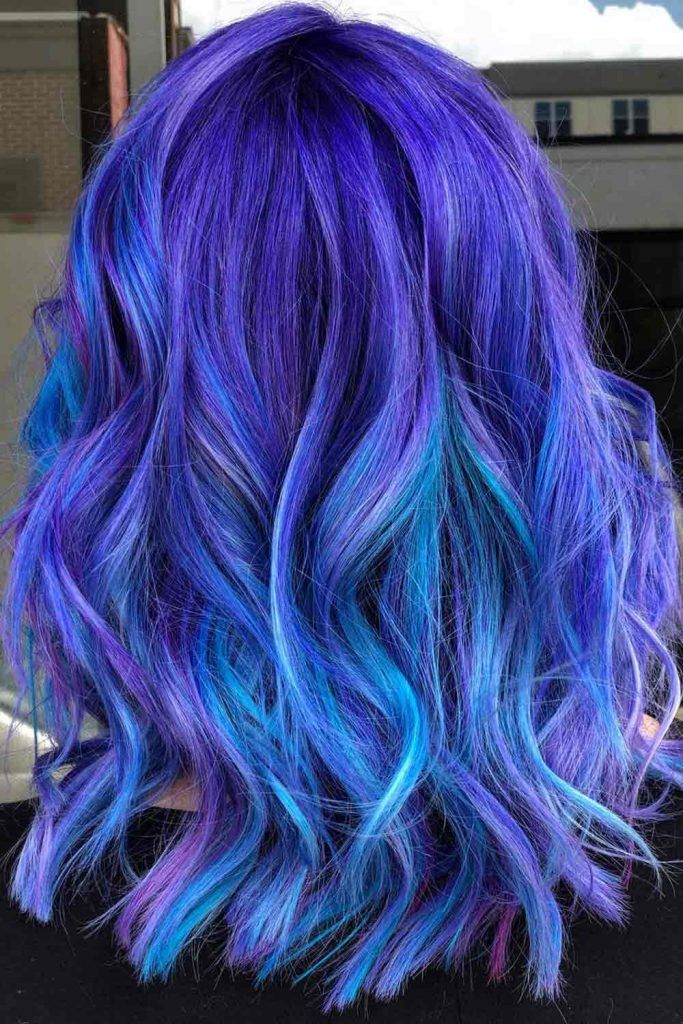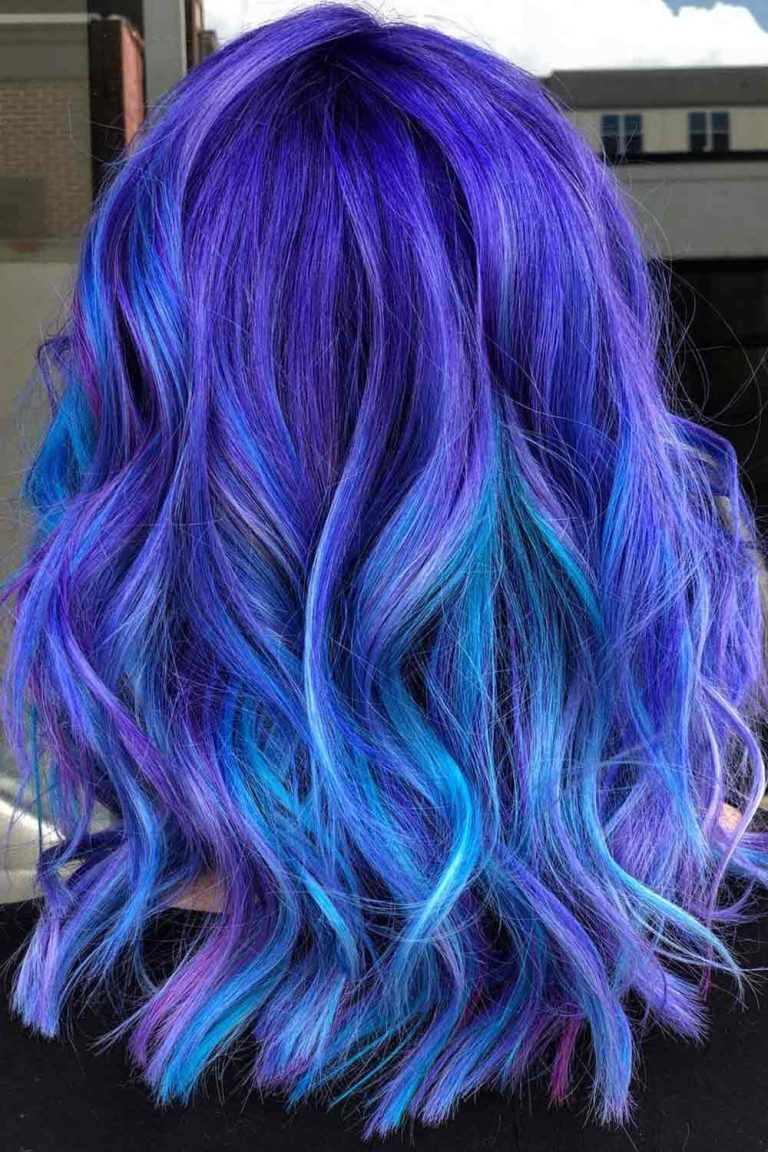 by @xostylistxo
Midtown Magenta coloring usually features saturated pink or violet shades. As you can see, it serves as a stunning match for blue black colors, especially if they're added selectively as highlights.
Dark Metallic Blue Highlights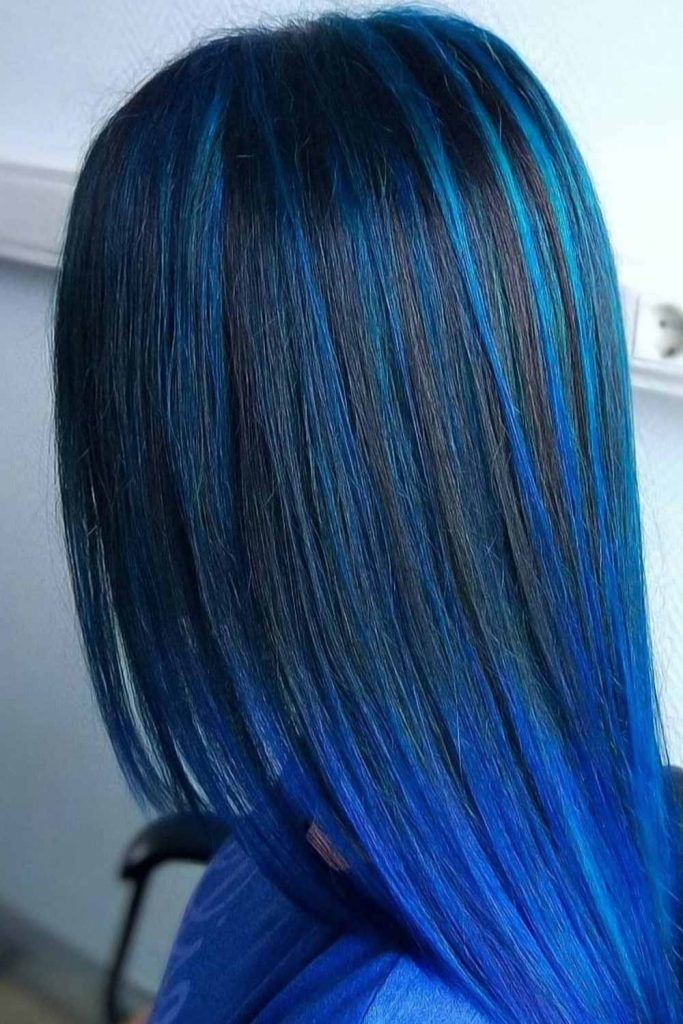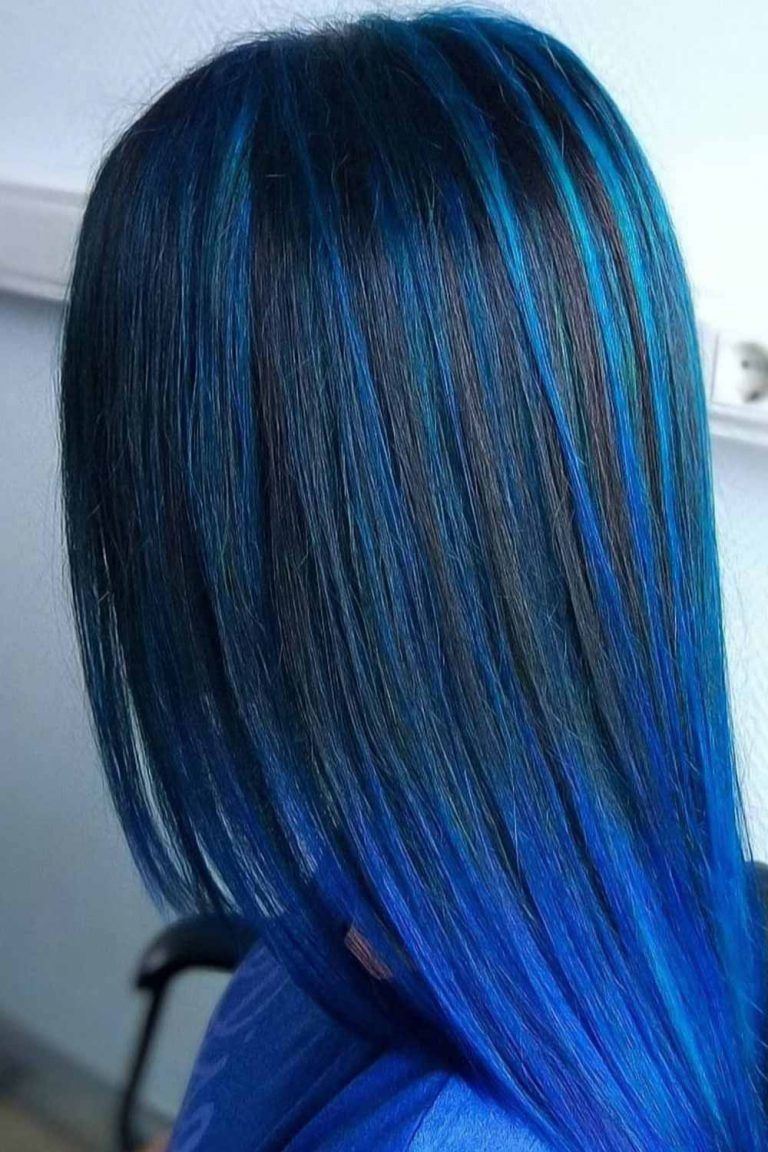 by @kristina_color39
Dark blue can be anything you want it to be, and if you're into modern metallic ideas, its striking metallic-inspired version won't let you down. For a truly dimensional look, add the color as accents.
Frosted Black Blue Hair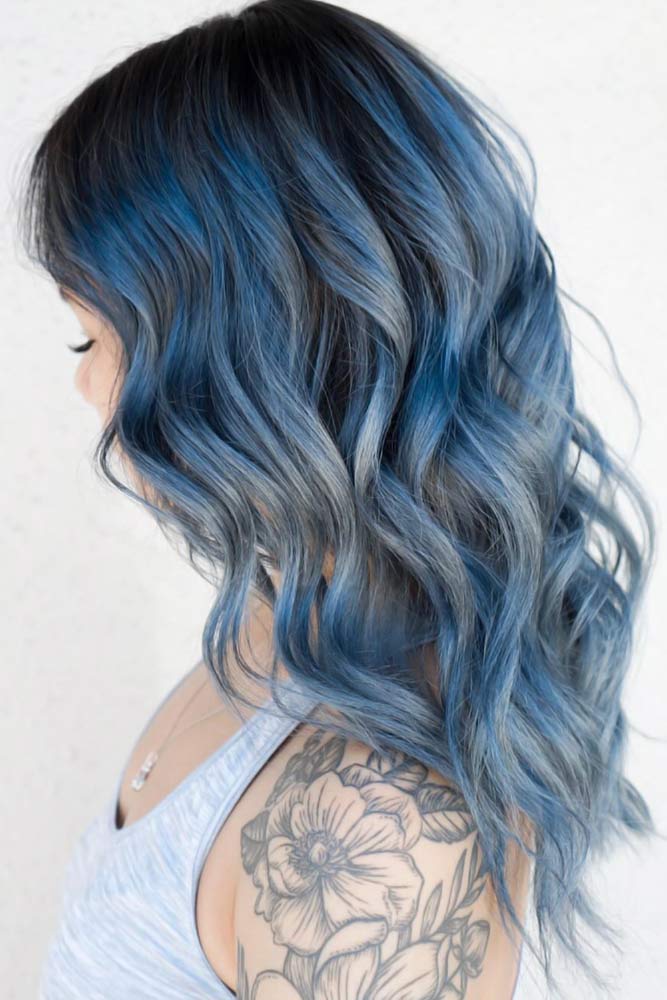 by @theniksters
Yes, matte blue colors are popular not only on nails! This ombre shows that, despite a rough transition, pastel blue and black shades go well with one another.
Iced Indigo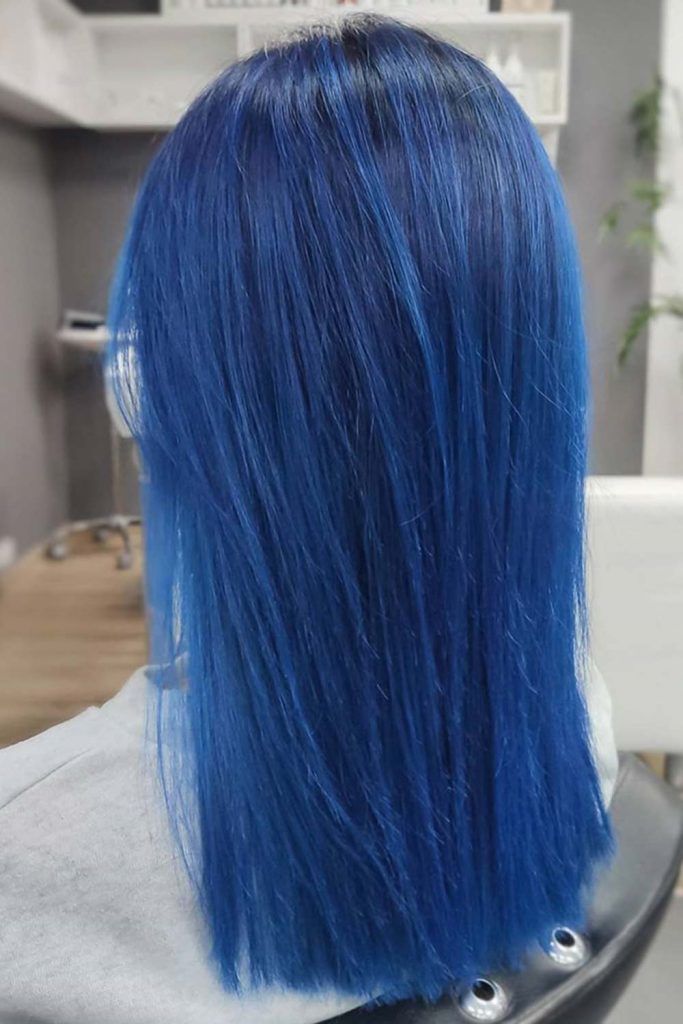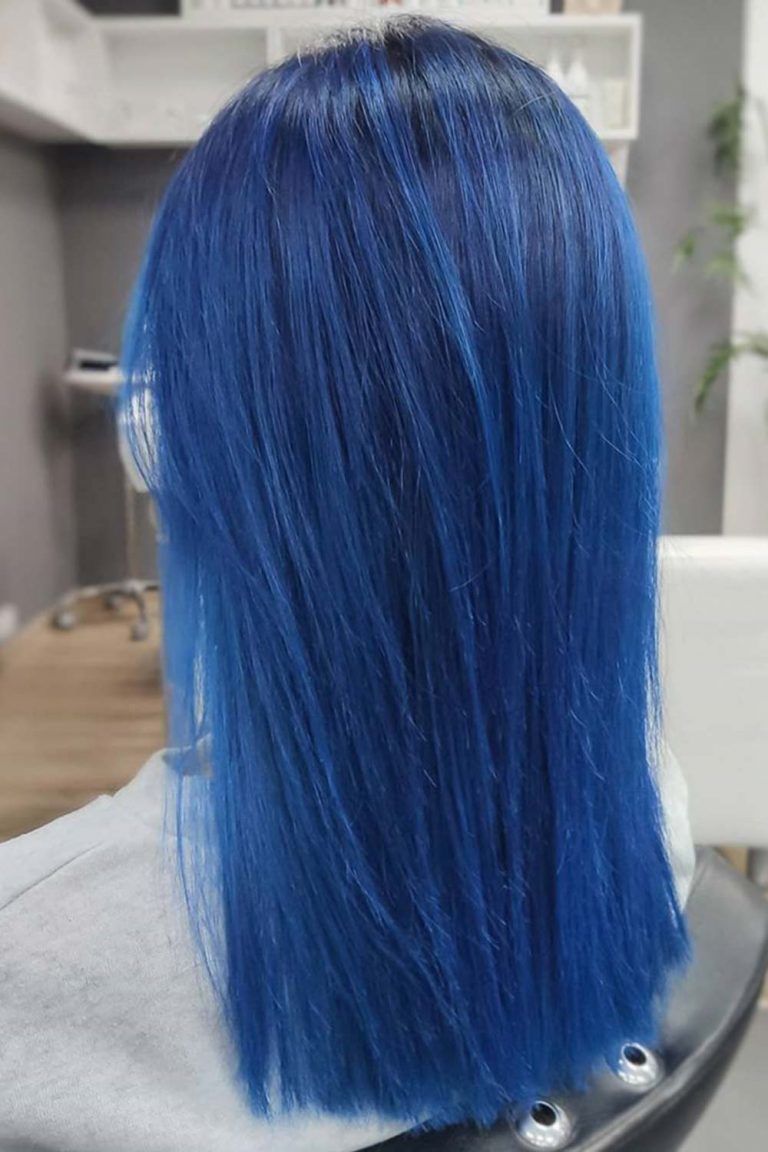 by @kristina_color39
Indigo blue is quite remarkable for its nobly light and bright tone. It embraces two opposite characteristics of color tones at once, which is the main reason why it's becoming more and more desirable. Although it goes well with all bases and complexions, you can make it work as a totally authentic finish for your pale skin. Start with your dark roots and then let an icy version of the indigo stretch down the bottom.
Indigo Blue Ombre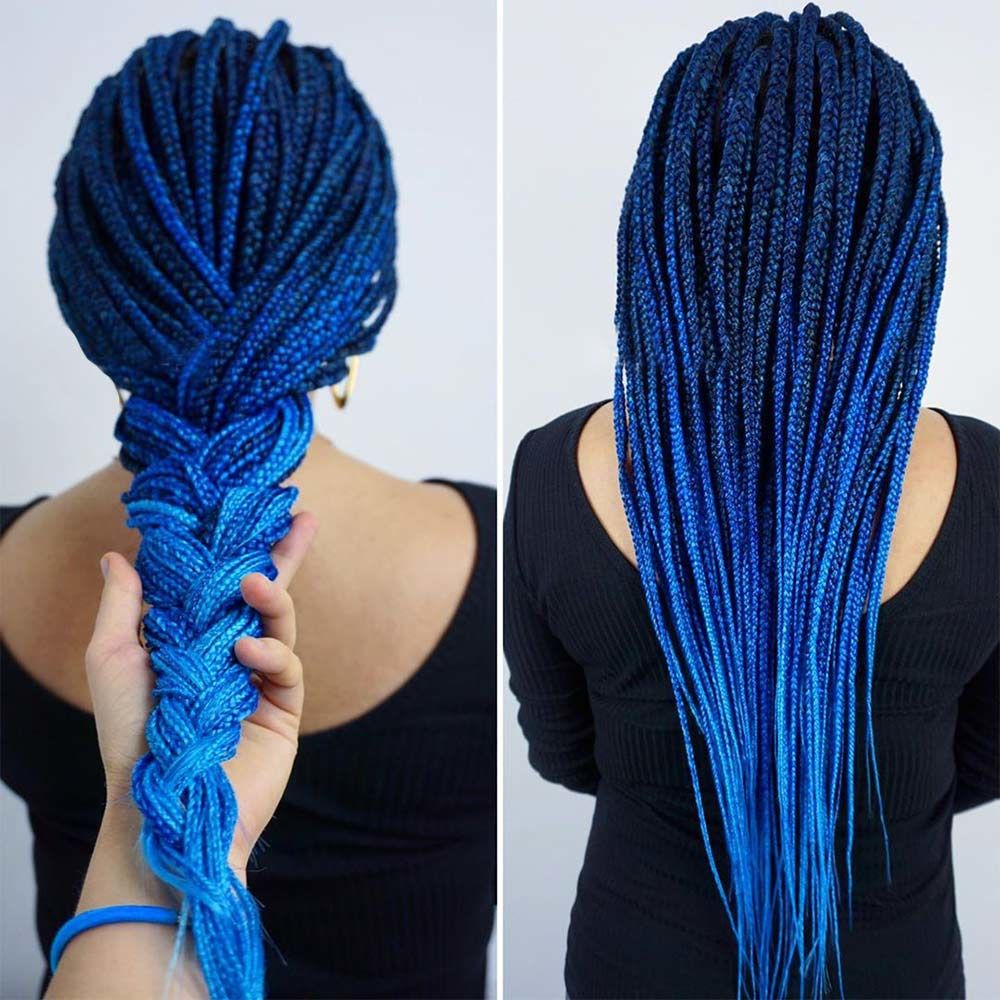 by @afrolife16
Now, it's time for the dark side of the indigo blue palette. We weren't lying when we told you about its versatility, though. But this time, the whole look is built on perfectly balanced contrast. The blue shade gives a deeper finish to the dark brunette mane, thus emphasizing the light skin tone.
Blue Black To Grey Ombre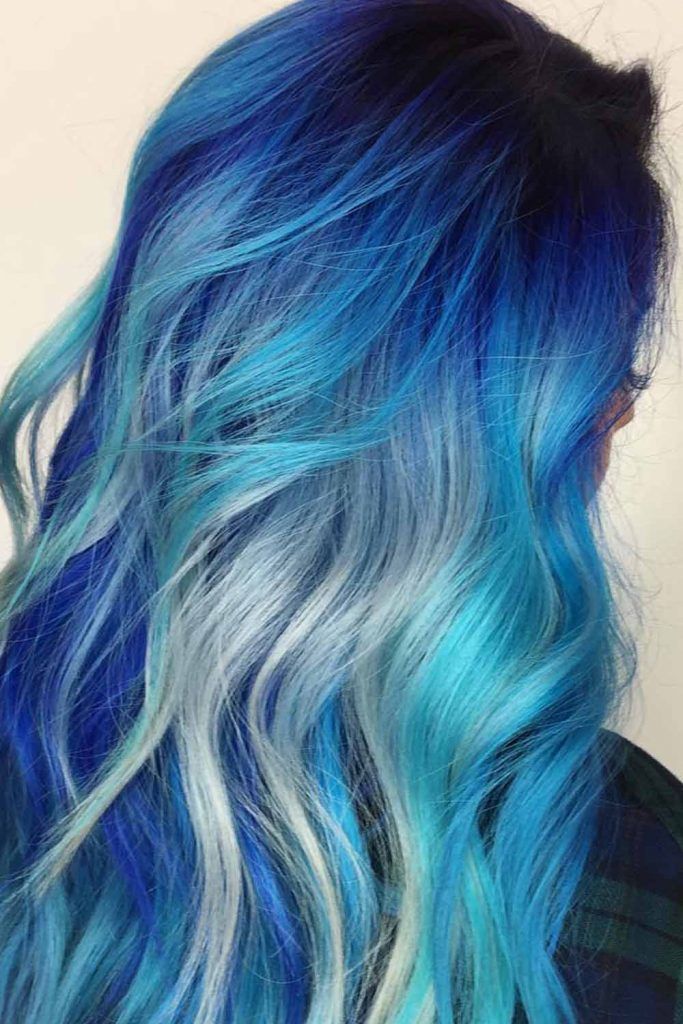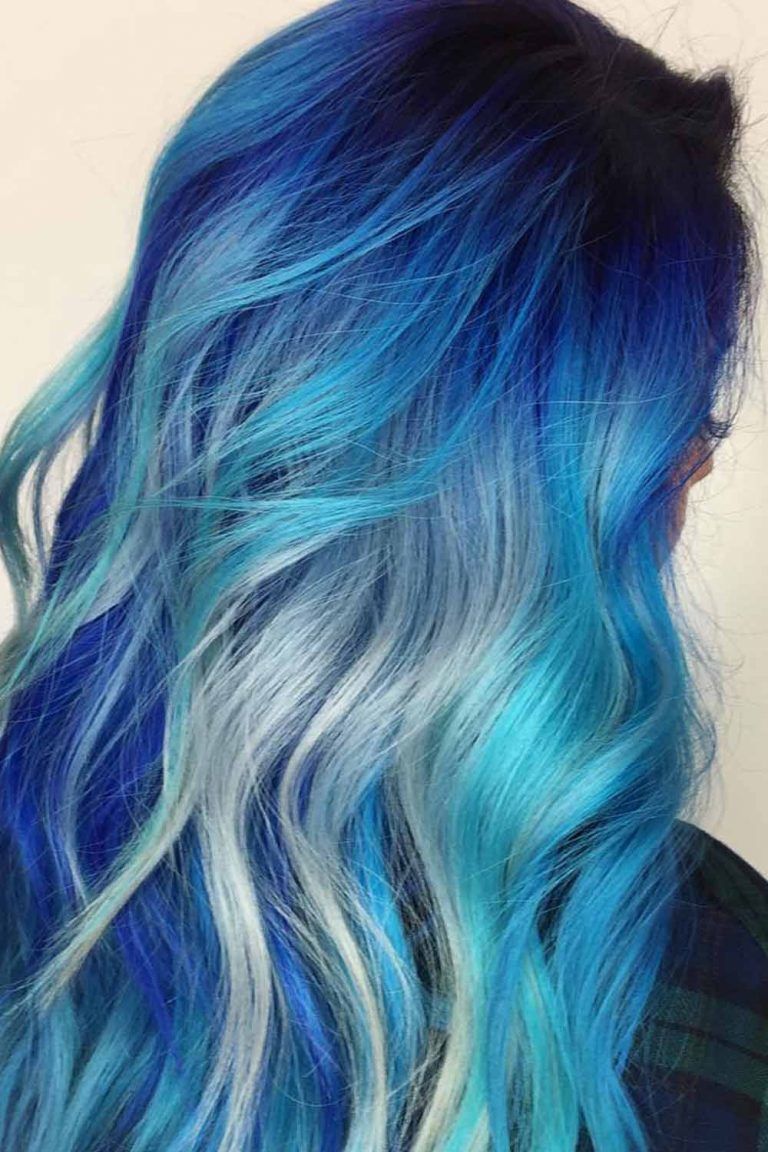 by @isaac4mayor
While some ladies get satisfied with just a couple of highlights, others want their head to be a canvas to all trending colors. Blue black hair paired with grey ombre seems to have outshined the latest looks spotted on trendsetters. So as not make the colors blend roughly, ask your stylist for grey ombre with blue undertones.
Deep Blue On Black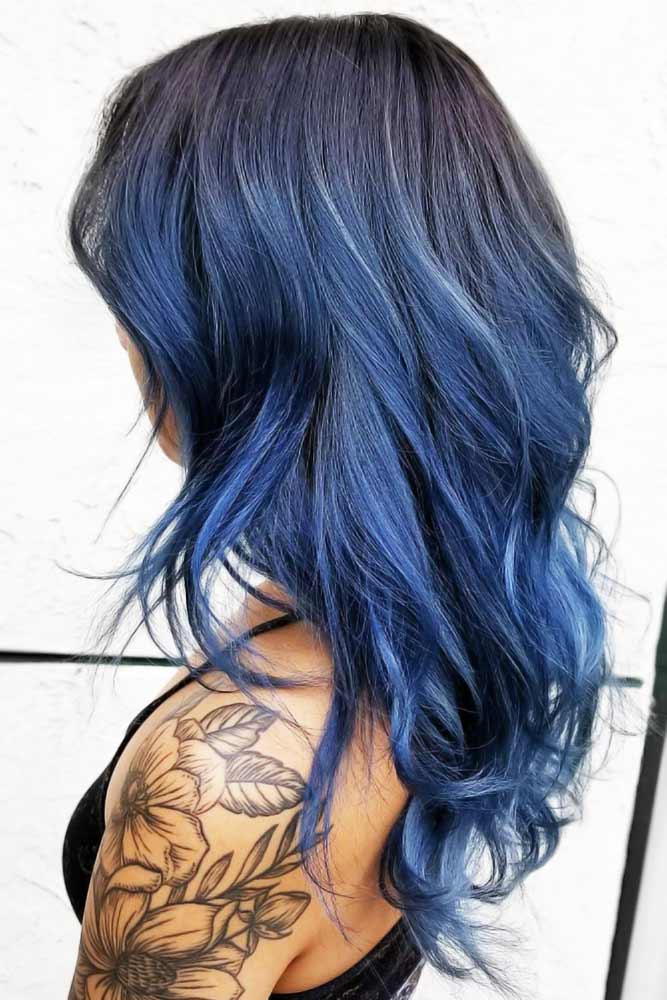 by @theniksters
How about playing hide and seek with your black hair? Once you get tired of seeing the same picture in your mirror every day, you can hide your black locks under a thick layer of deep blue. A tip: don't hide it completely, as a hint of black showing up will only add more movement to the look.
Blue Black With Holographic Rainbow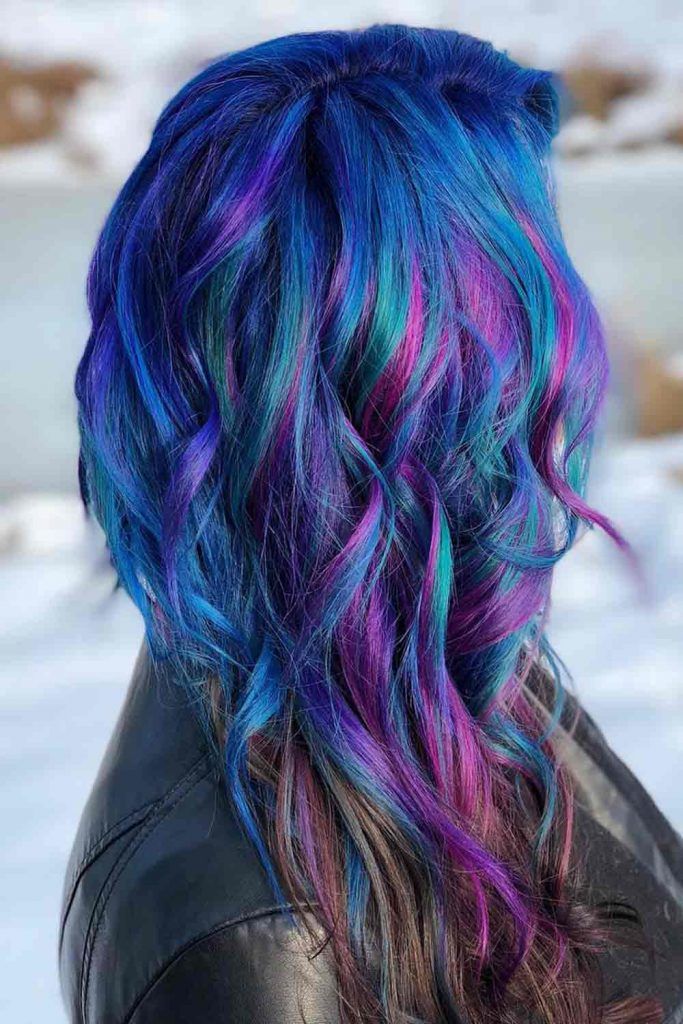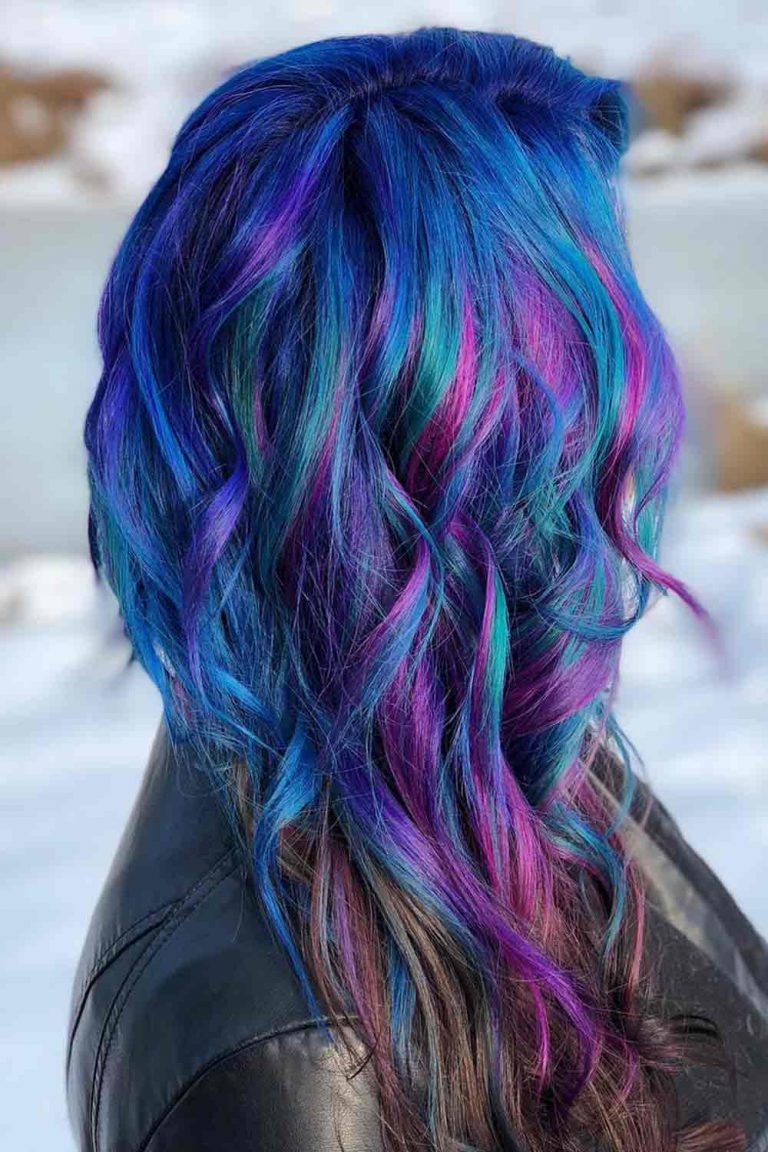 by @xostylistxo
There are three things that women can watch forever: blue-black hair, smoothly blended coloring, and dark holography shades. Can you imagine how much of a visual impact you will achieve once you mix the three irresistible beauties? This pic is here to precede your imagination.
Midnight Blues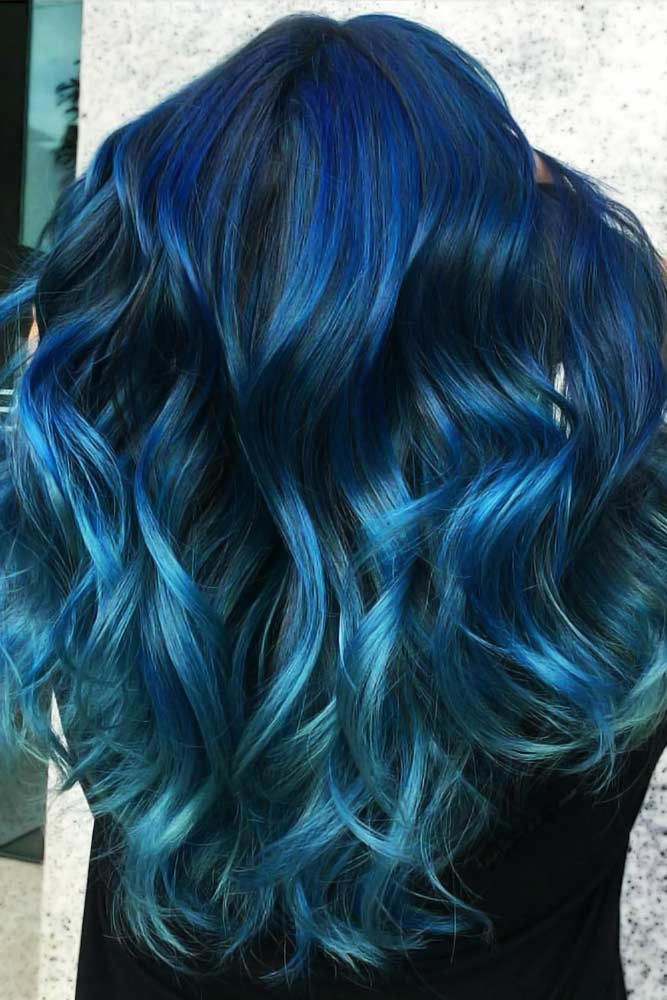 by @taylorrae_hair
Midnight. You walk into a bar where there's no one but you and the moonshine. A light projector suddenly turns on and begins to light your way to the scene. You get up, surrounded by the beauty of the night and your hair starts to flame like a cold fire. Got thrilled? That's the mood you can create by mixing several blue shades with your dark mane.
Nightfall Blue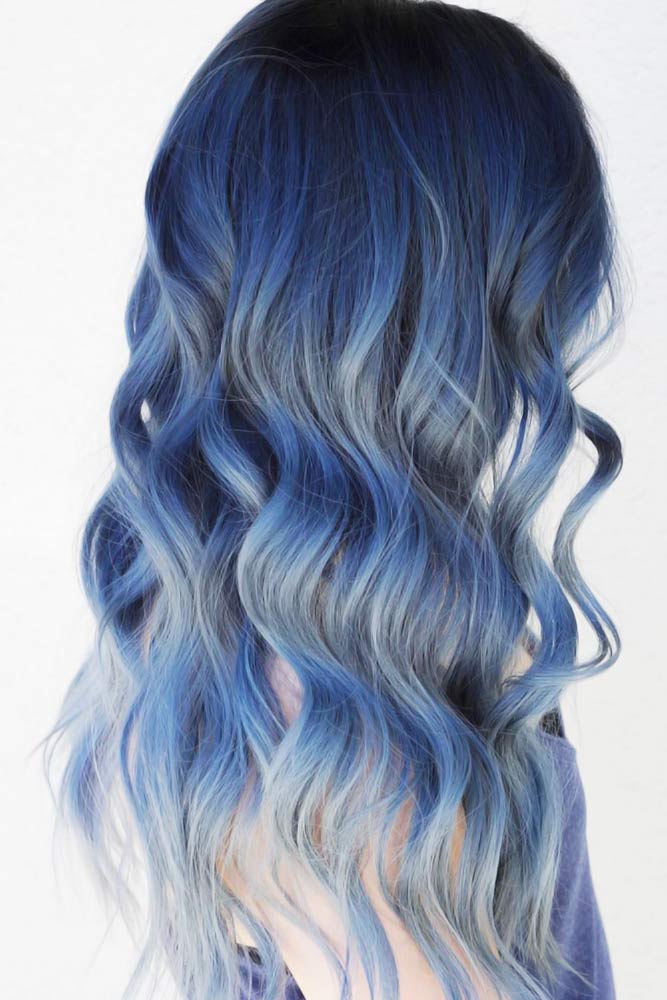 by @theniksters
Nights are dark, deep, and sometimes scary, yet unbearably attractive at the same time. And if you feel that you have a lot in common with nighttime, this nightfall blue shade will be there for you to express it. Since nights have dark and light phases, let your hair color be just as dynamic: make the dark roots transit to moonlight pastel hues, creating the dimension of light and deep blue-black hair colors.
Smokey Black Blue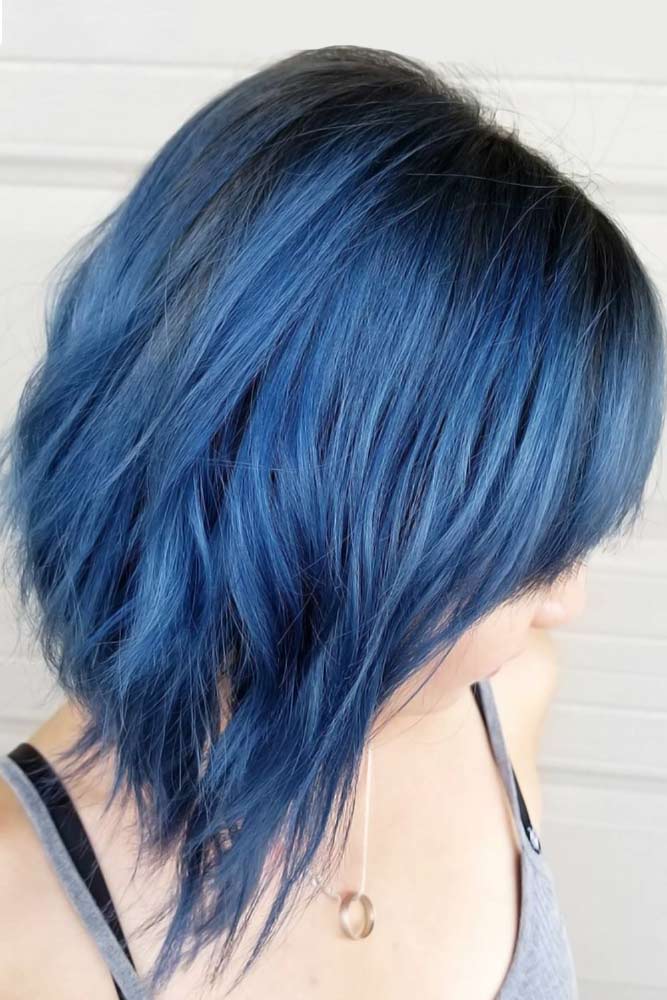 by @theniksters
As the name suggests, smokey black-blue shade focuses on the dark tones. To make the black portion prevail, ask your stylist to blend a saturated shade of blue into your dark base so that the dye comes out as a transparent layer. In this way, you will make your black hair stand out even through the blue-colored hair, switching the whole look to the dark mode.
Vintage Blue Black Waves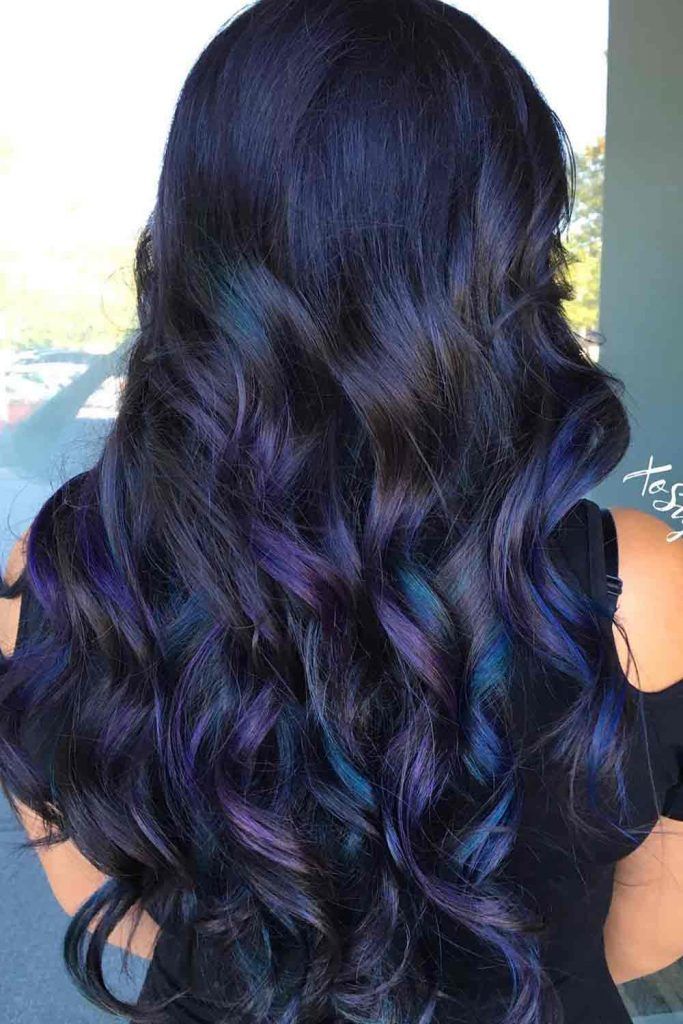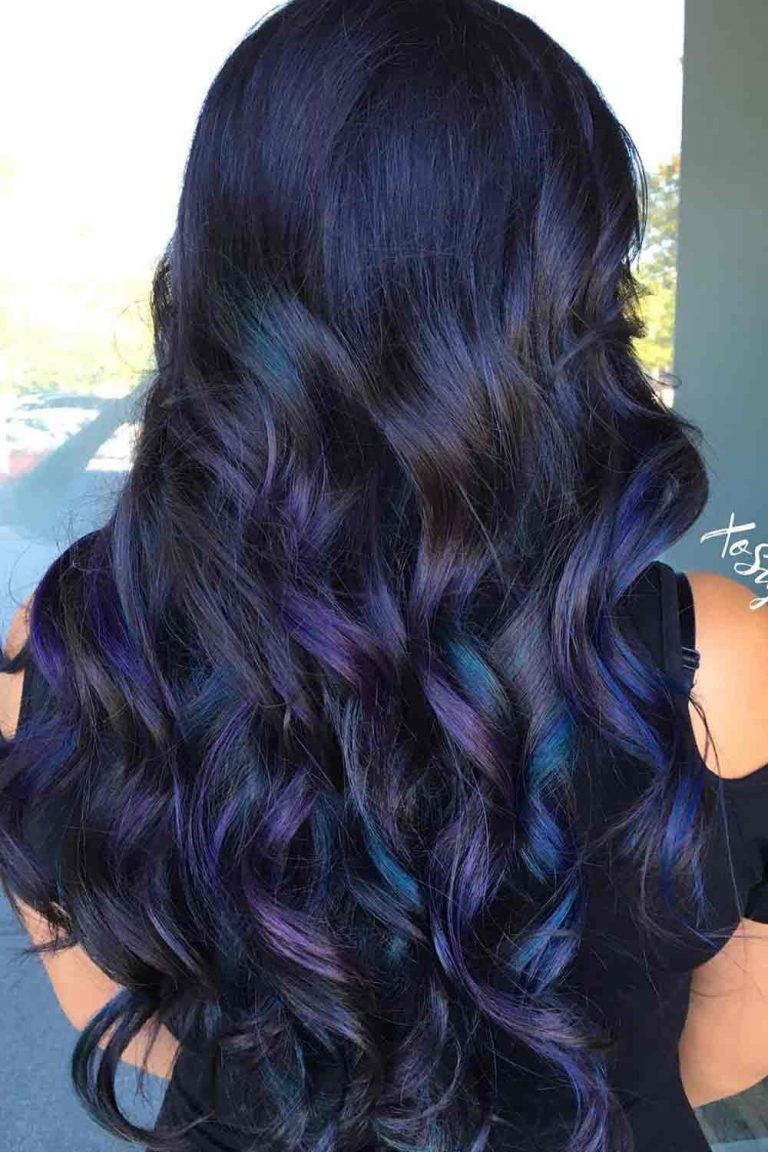 by @xostylistxo
If you put this pic with a picture of the sea covered with muted moonshine together, you won't notice the difference! The movement, natural shine, and flow of waves are so dimensional that it seems like we can take a dip. Yes, that's what thorough, properly applied color job may result in. The secret of such a look lies in coloring hair in a wavy pattern, painting the strands horizontally.
Dark Blue Hue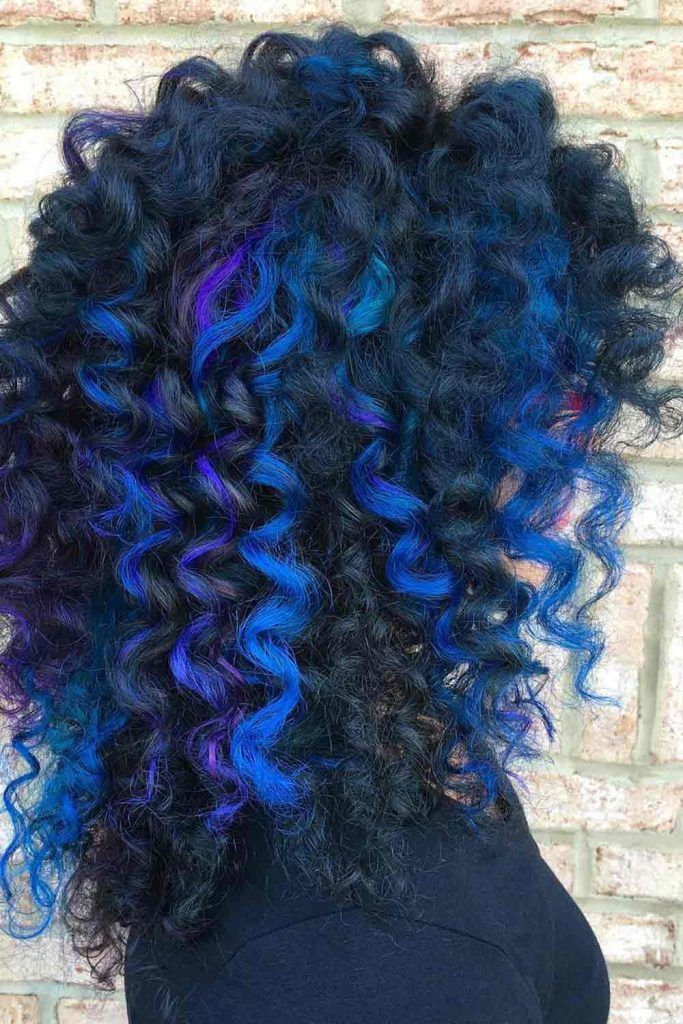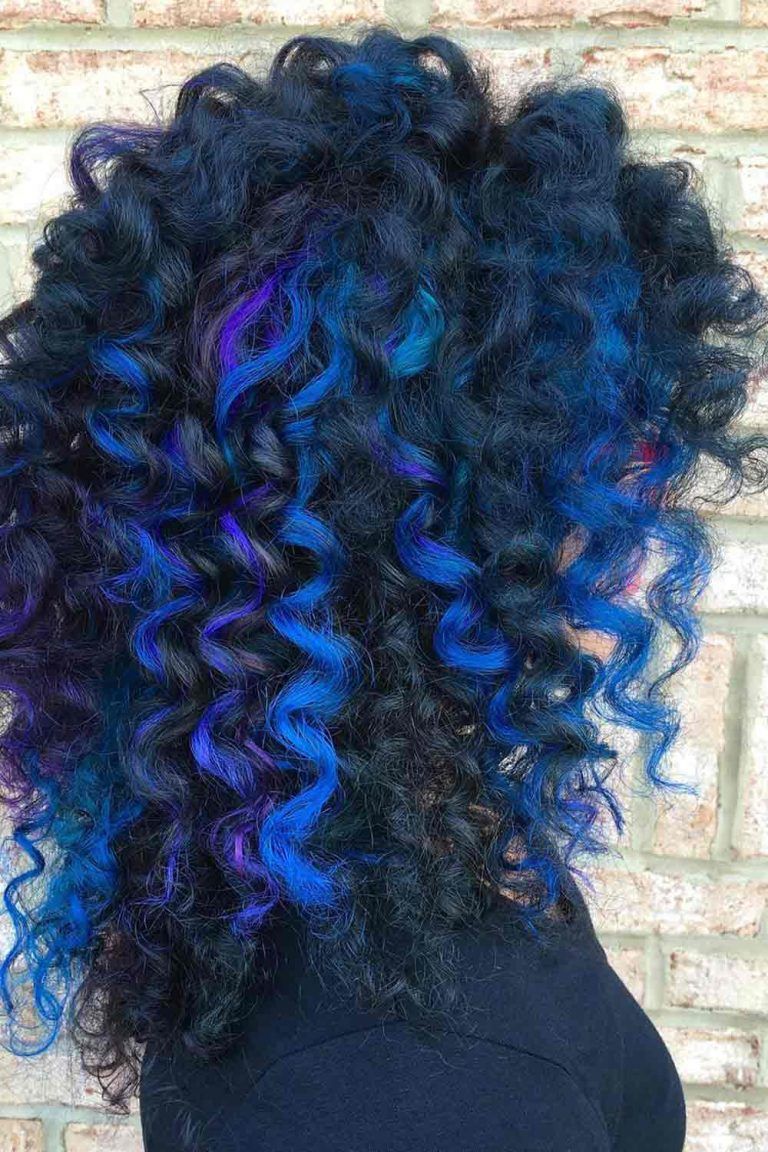 by @xostylistxo
For those who don't want to go too bright and drastic and would rather simply freshen up their black manes, a soft dark blue hue is the must. The good news is, such looks don't require bleaching, so you can try something new without the fear of damage. Also, it's better to apply the color only to the mid-lengths to keep your roots safe.
Ocean Blue With Black Roots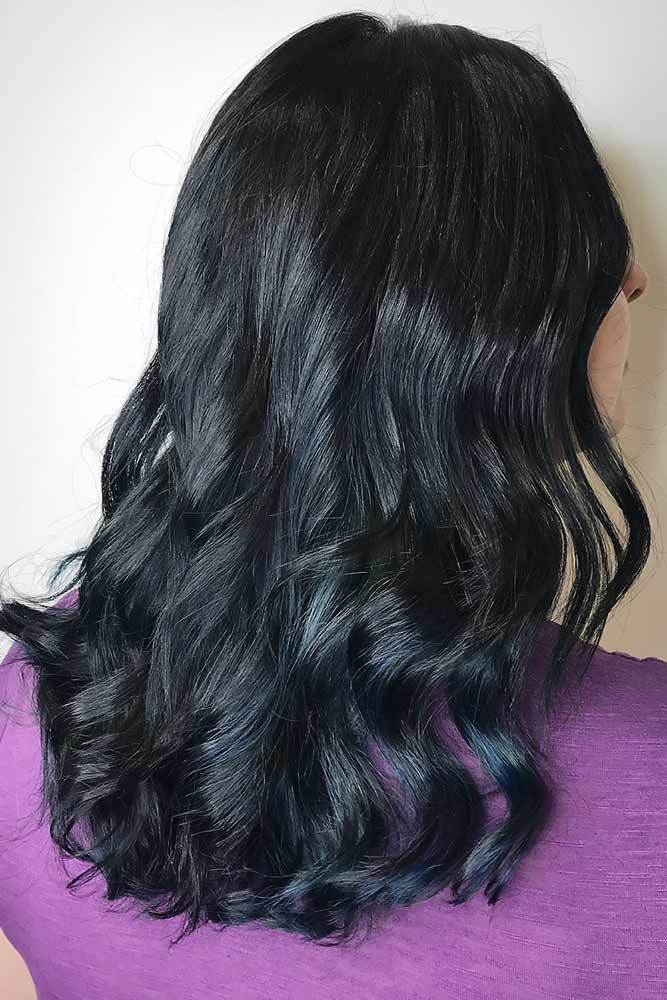 by @sherrimeow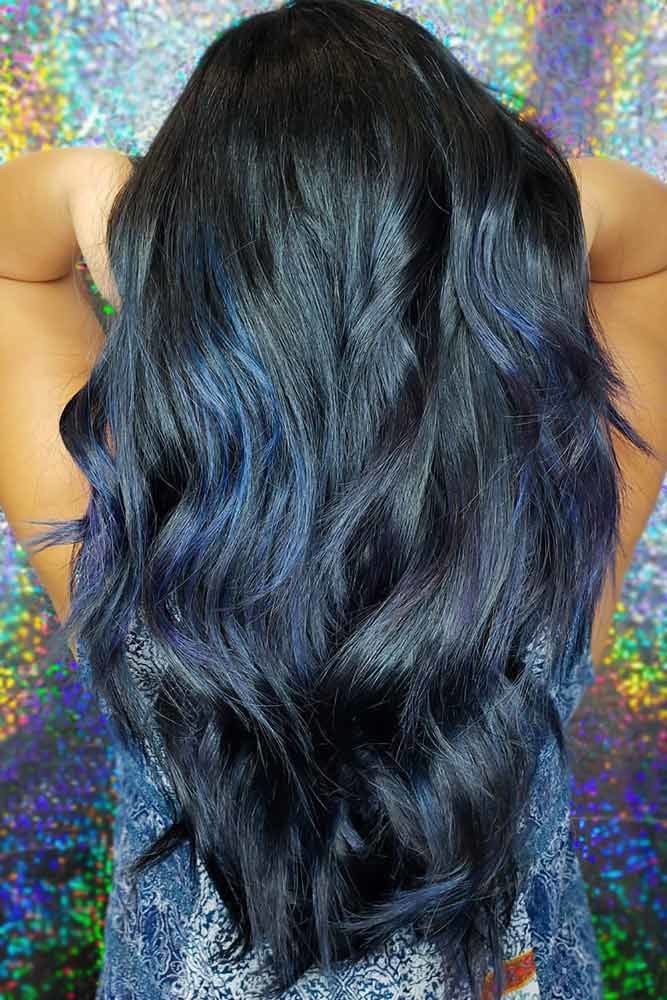 by @michelle.zapanta
There's no need to tell you how many variations of blue-black hair there are, as you can always create your own picture of this combo. However, there's a way to get a balanced color that will reflect the beauty of the two without spending much time on choosing the best idea. So why not pick an all-over option? In this case, all-over coloring involves painting a black base with a blue tint, blending them until they form a harmonic whole. As a result, your hair will have a natural black shade with a subtle cool undertone.
Purplish Blue Black Hair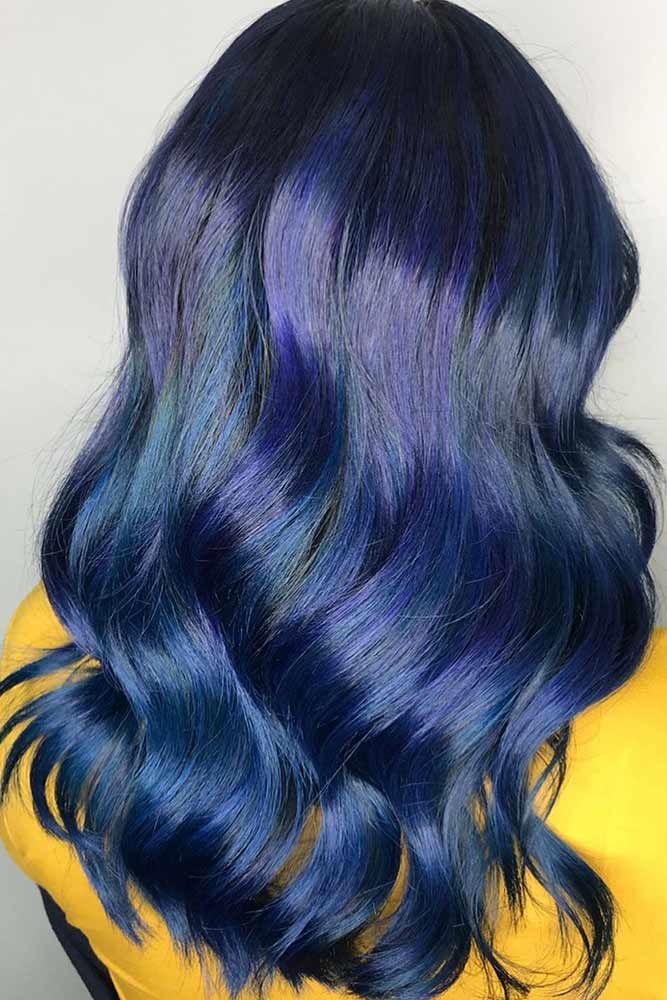 by @noblandhair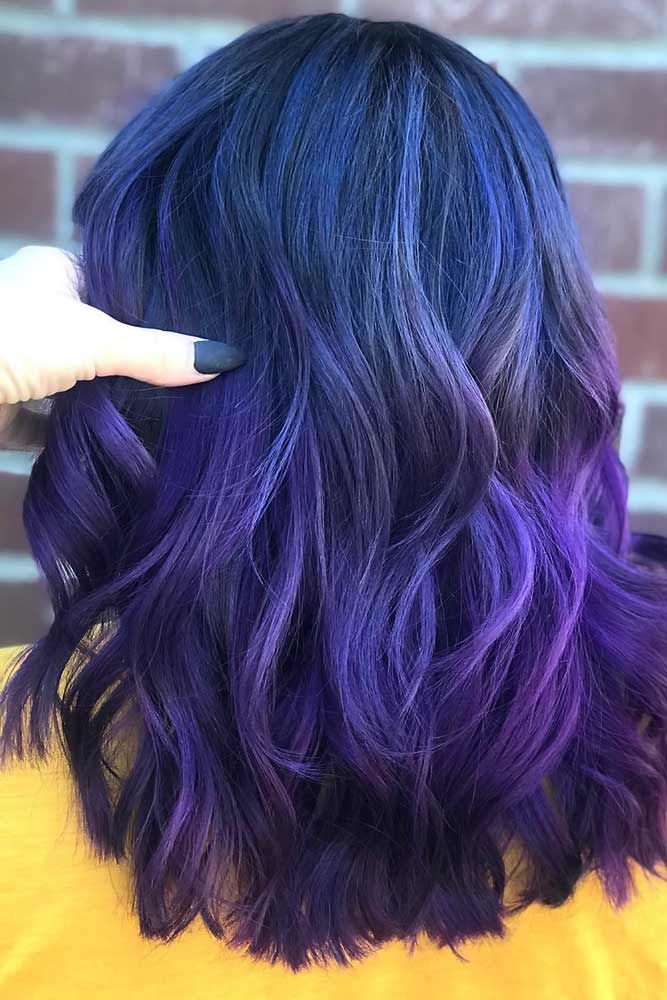 by @noblandhair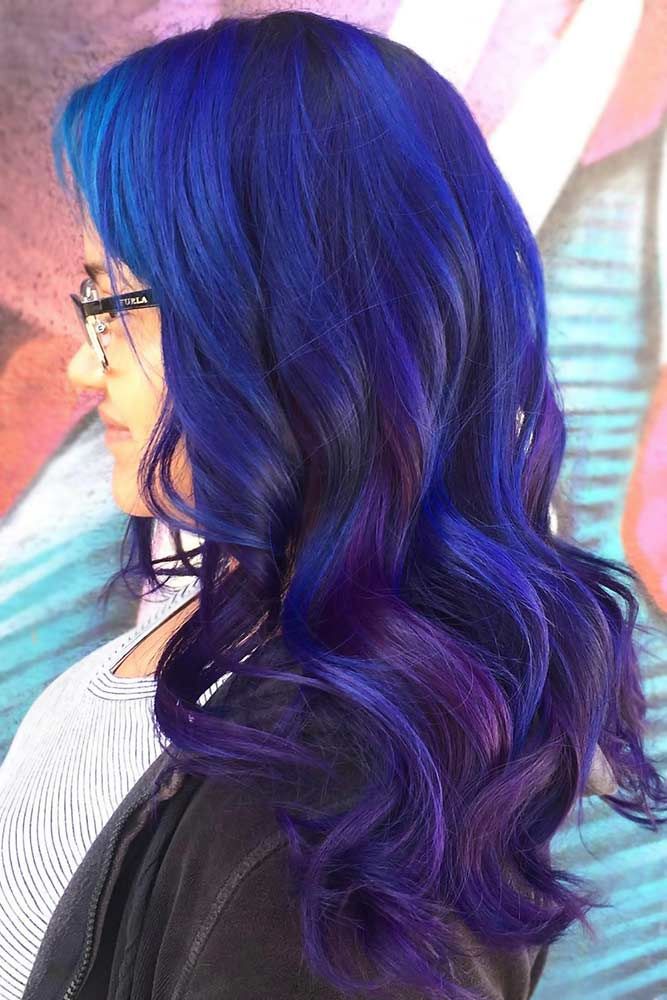 by @joleyhalbyhair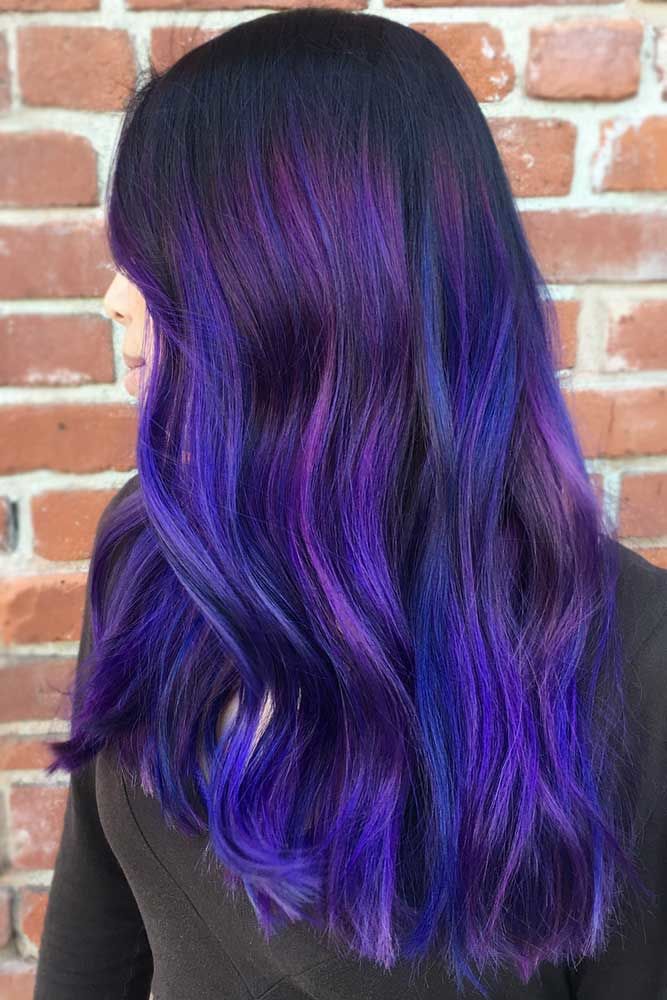 When you'd like to step out of naturalness without leaving harmony in your look, purple hues come in. Even a preschooler knows that nothing goes better with blue color than purple and violet shades, as they stand close to one another in the color wheel. Of course, on your black hair, this ageless duo will create an ensemble that will literally make you the queen of the spotlight. At the same time, the look won't be drastic. Balayage and highlights will certainly be the best ways to apply a new color to the blue-black mix. As for the tones and shades, it's all up to you: you can go with anything from a seamless dark combo, as well as play with a well-defined pastel look.
Blue Black With Teal Tones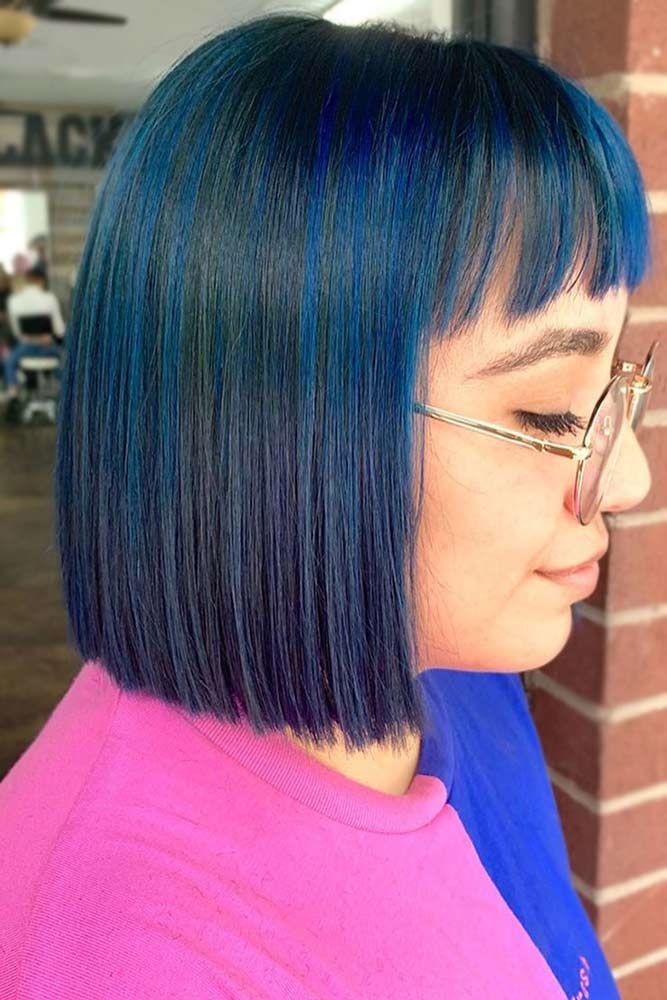 by @noblandhair
Since blue hair color is one of the most multi-faceted bright colors, you can always experiment with the bluish part of your black blue hair. Let's take a teal shade, for example. It's a super trendy idea for girls who want to be different these days while keeping up with the latest in fashion. At the same time, those with darker bases may go for it as highlights or lowlights to accentuate or deepen their colors through a lighter, brighter shade. Teal color may vary between super light and bright blue to medium-dark blue, so the ways to make it a part of your look are endless.
Ink Blue Black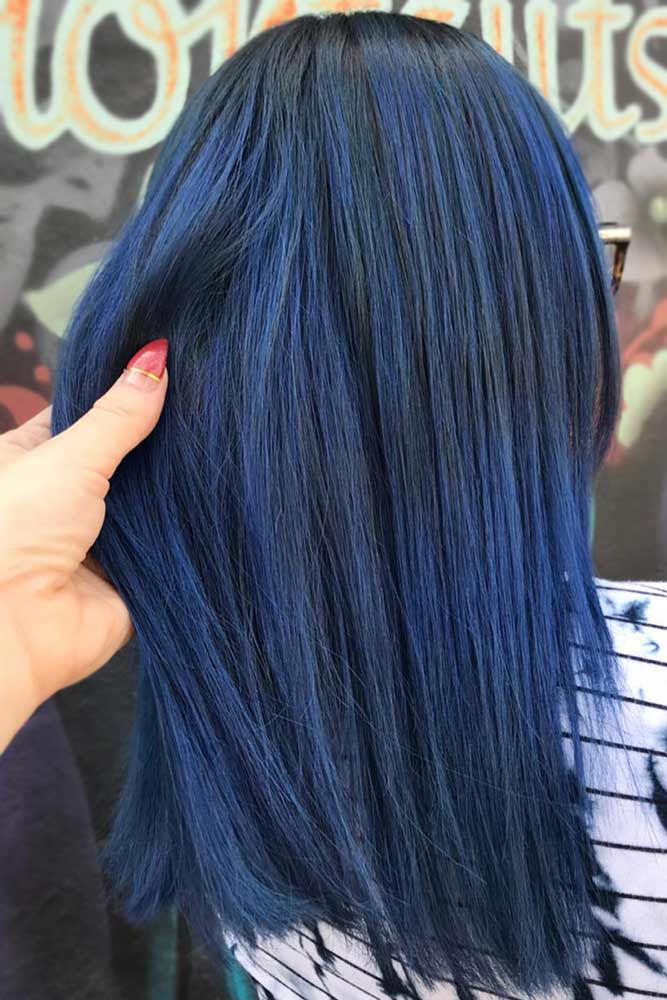 by @noblandhair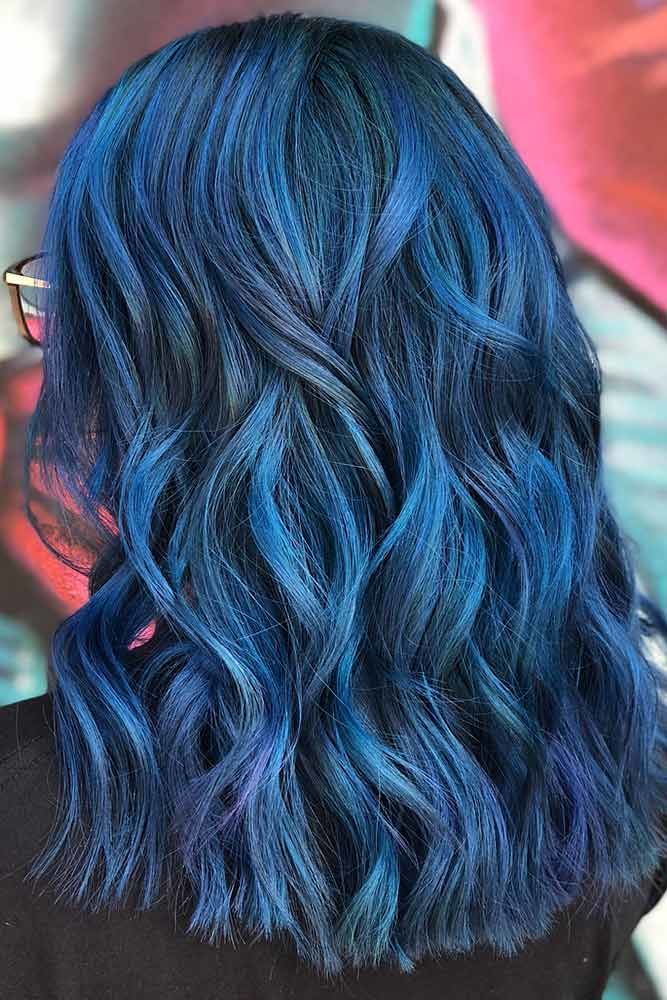 by @noblandhair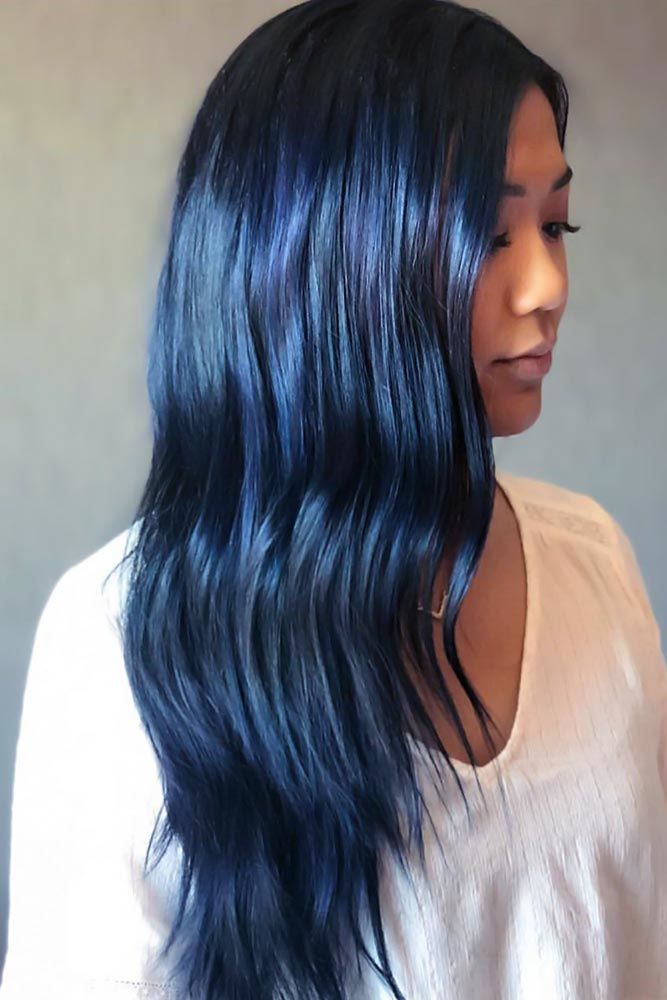 by @joleyhalbyhair
Ink blue is a deep, yet the pretty bright, and absolutely mesmerizing shade of blue. Basically, if you go a shade or two darker with a denim shade, you will get this color. What makes it so special is, when applied right, it adds a silvery sheen to the dark hair. Another amazing thing about this shade is that it may have both warm and cool undertones, depending on the choice of shade, as well as its saturation. By the way, if you'd like to try the middle-ground between cool and warm tones, you will love its pastel version.
Cold Blue Black Balayage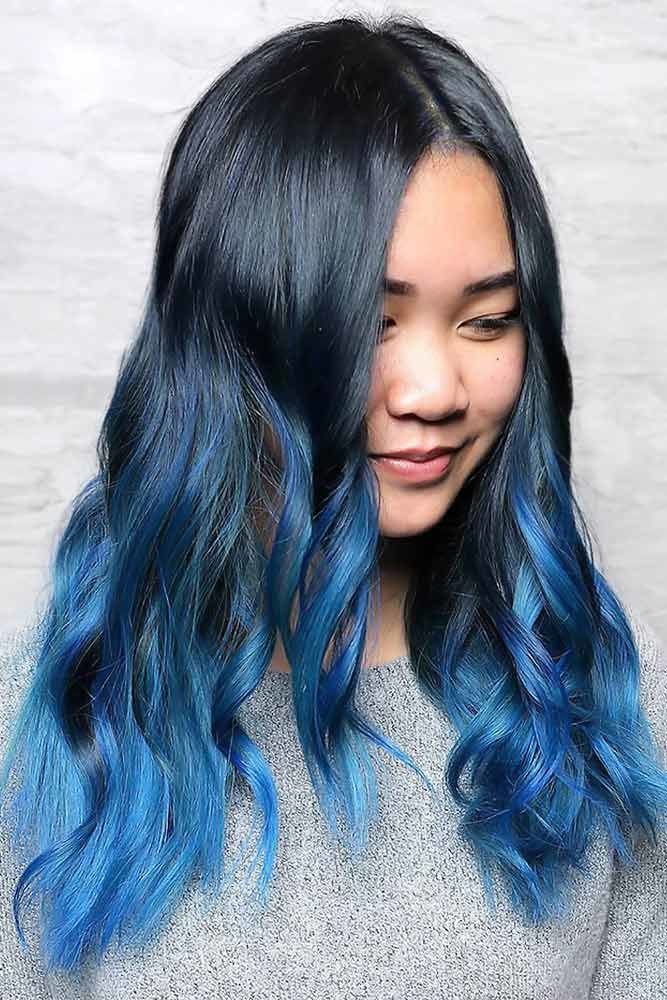 by @thehairstandard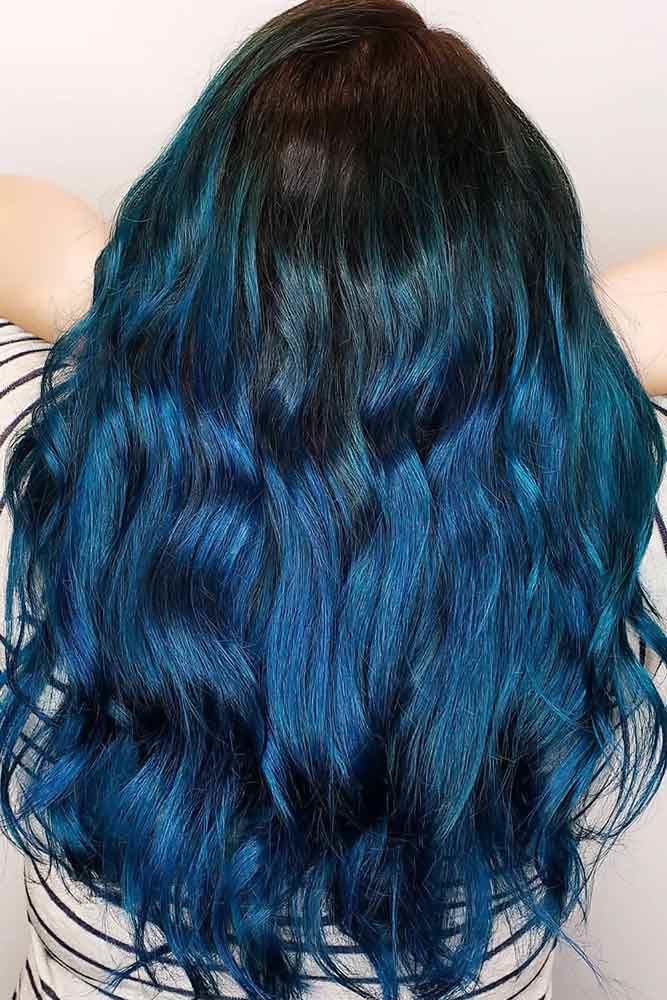 by @michelle.zapanta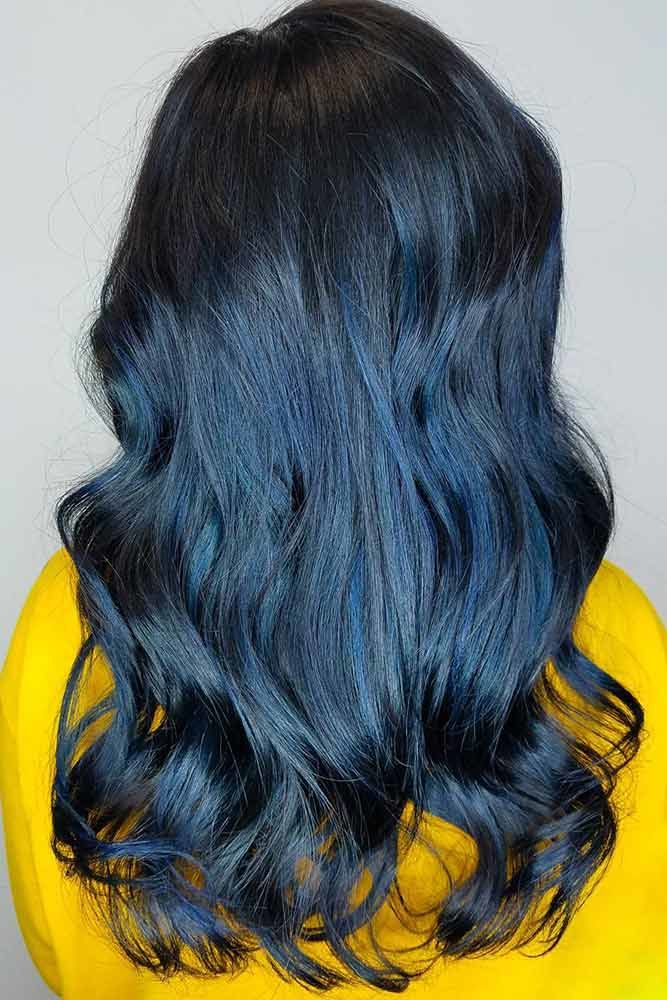 by @michelle.zapanta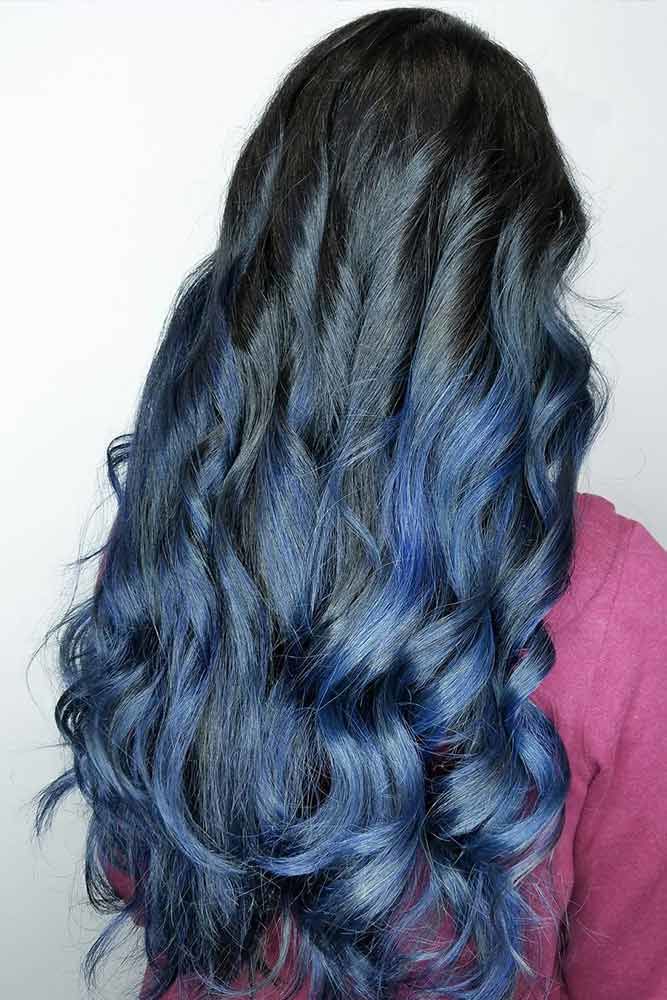 by @michelle.zapanta
If you're going for balayage, it's very important to choose an optimal shade for your midshafts. All in all, you're working with a black base, which means that even a slightly unmatching color will make your look too drastic and unnatural. When mixing unusual shades, they should match one another so perfectly to create a natural appearance. And here, you can see how dark roots smoothly transit to a cooler temperature of various bluish shades. Ask your stylist what shade of blue will work best for your particular black tone to get the most of this idea.
What is blue black hair color? It's a rising trend that combines blue and black shades to produce an intense yet harmonic mix of colors. This amazing combo splits into countless ideas, so you can experiment with anything from midnight blue to jet black. Now you know how versatile the trendy colors can be, how you can create an individual combination to your taste, as well as how to express your creativity. Therefore, it's time to try out one of our inspiring ideas. So, what appeals to you best: dark blue hair, blue black hair, or both? In fact, whatever you choose will look gorgeous, just go for it, you creative soul!
Frequently Asked Questions
Do I need to bleach my hair to dye it blue black?
Bleaching is necessary if you want truly saturated and balanced blue black hair. If you're a blonde, however, you may only need to get rid of warm orange undertones to help the dye come out right. And even though those with naturally darker mane think they can skip the bleaching, they actually can't. You need to bleach your hair from black to blonde or at least go a shade lighter for the dye to take hold.
Which blue black hair dye is the best?
Finding the most suitable dye for your hair is another crucial detail on your way to getting blue black hair. Today, stylists recommend women work with Garnier Nutrisse #22, Manic Panic Bad Boy Blue, Arctic Fox Transylvania, and Sparks Electric Blue. These blue black hair dyes are easy to apply, and they also give very intense results.
Is blue black hair natural?
As it turns out, bluish-black may occur naturally in human hair. Although it happens pretty rarely, some people may be born with black hair that has a soft bluish undertone, which is known as blue black hair today. In case you don't belong to this limited group of people, you can try this all-over idea. Trust us, it will look as if you were born with this shade.
Is jet black darker than blue black?
Jet black is the darkest and most intense shade of black that naturally comes with blue or purple undertones. Therefore, if you spice up jet black with a bluish tint, intensifying its natural undertone, you will get a shade that is darker and richer than any idea of blue black hair.
REFERENCES:
Dark hair colors are always on trend and blue black hair is currently leading the pack. Source
Was this article helpful?