Female mullet is gaining popularity at the speed of light, and it's safe to assume that no one has expected the cut to become a new trend. Not so long ago, we all thought a mullet is a long-forgotten style that bikers used to show off in the '80s. However, the hair fashion turns out to be unpredictable, and now every fashionista is dyeing to come up with the style that is the rarest but most inspiring. Would you like to learn about the looks that will turn the tables? You have come to the right place!
*We may earn money from affiliate links on this page. Please check out our disclosure policy for more details.
Modern Female Mullet: Who Started the Recent Trend?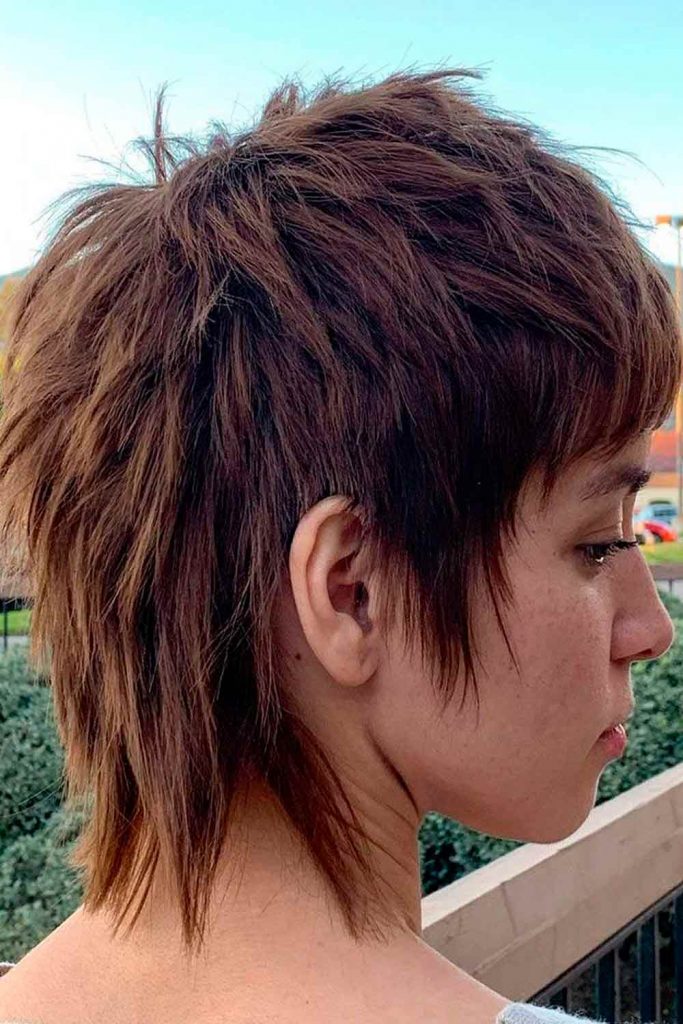 Credit photo: instagram.com/shrunknheads
When it comes to a hairstyle that was popular decades ago, it's safe to assume that if it returns, it'd be a close replica of what it used to be. A modern mullet is certainly an exception to the rule. The only thing that remains is the definite rebellious vibe the cut is known for. Miley Cyrus was the first one to adopt the trend back in 2019, and the obsession with the look started to spread ever since. These days such celebs as Zendaya, Irina Sheik, and even Ri-Ri can't but play around with the hairstyle. If you want to keep up with those fashion icons, you should better know your options.
Mullet Haircut Celebrity Choice
Credit photo: Shutterstock
i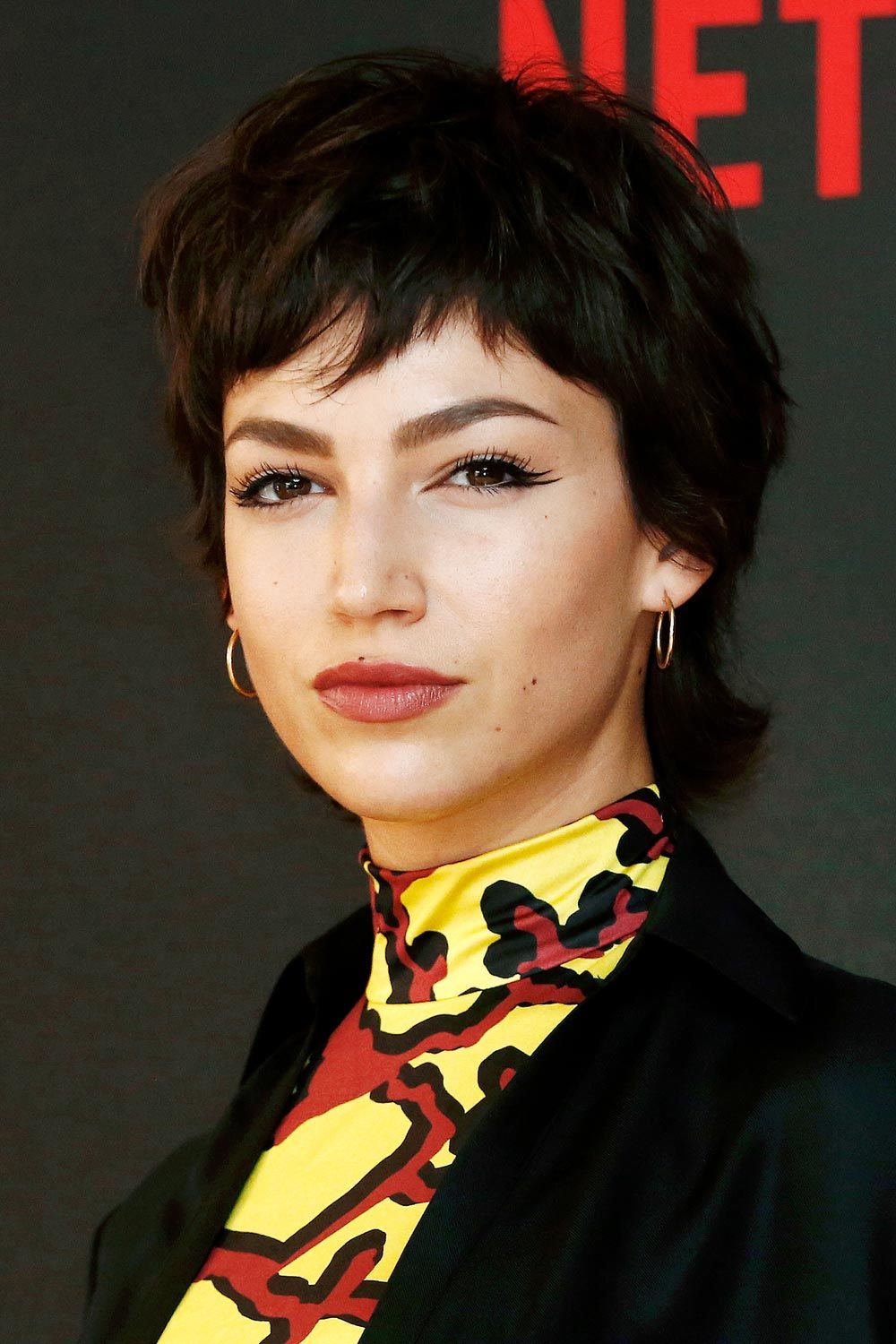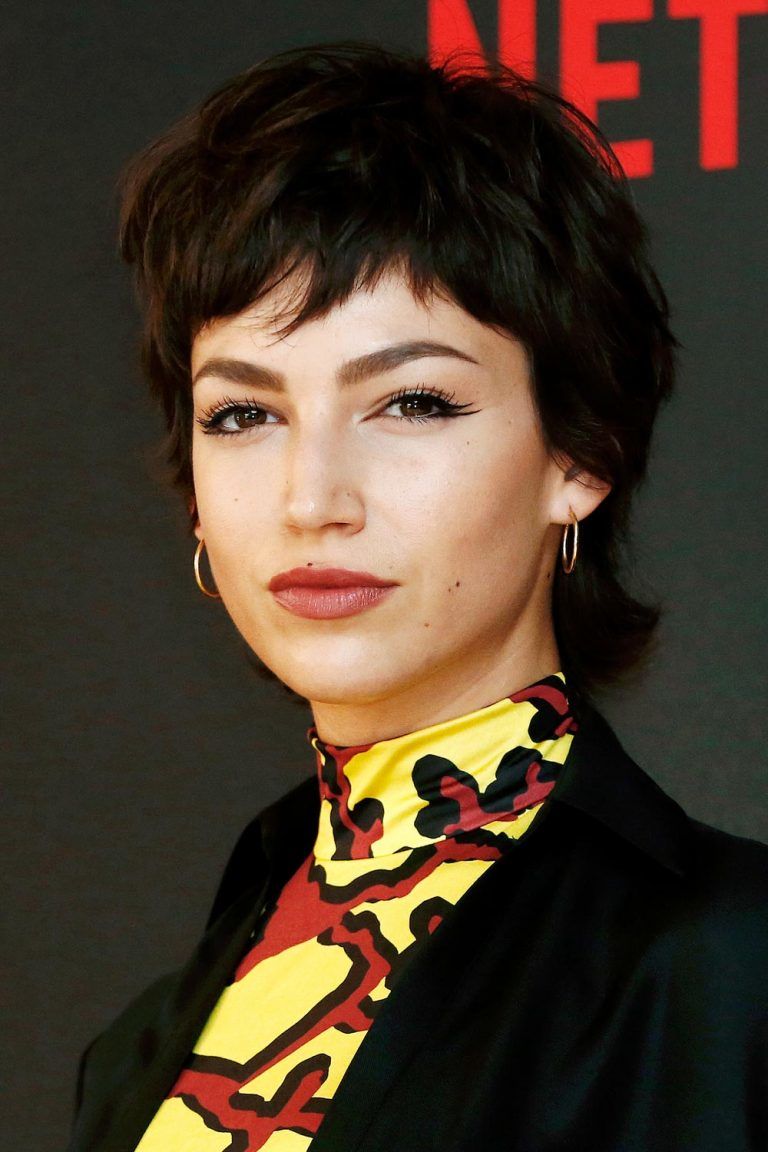 Credit photo: Shutterstock
i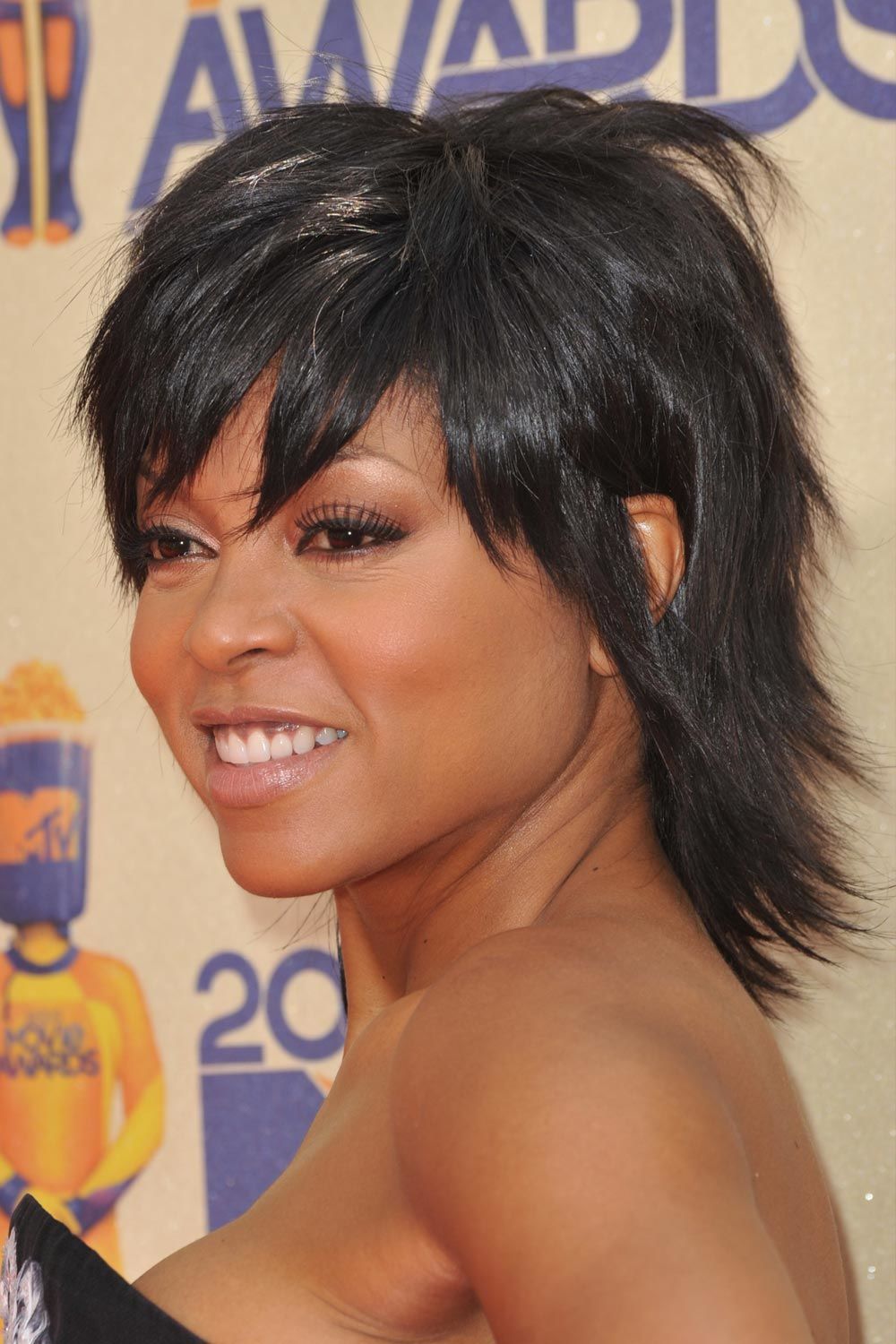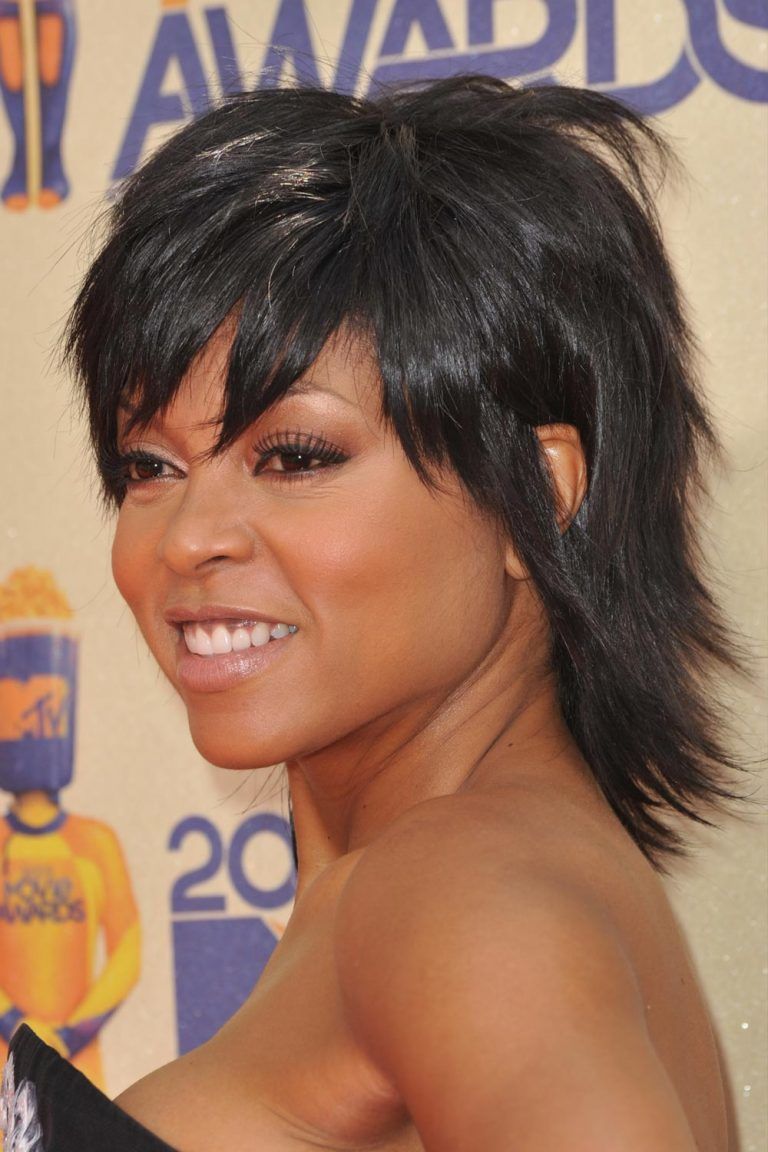 Credit photo: Shutterstock
i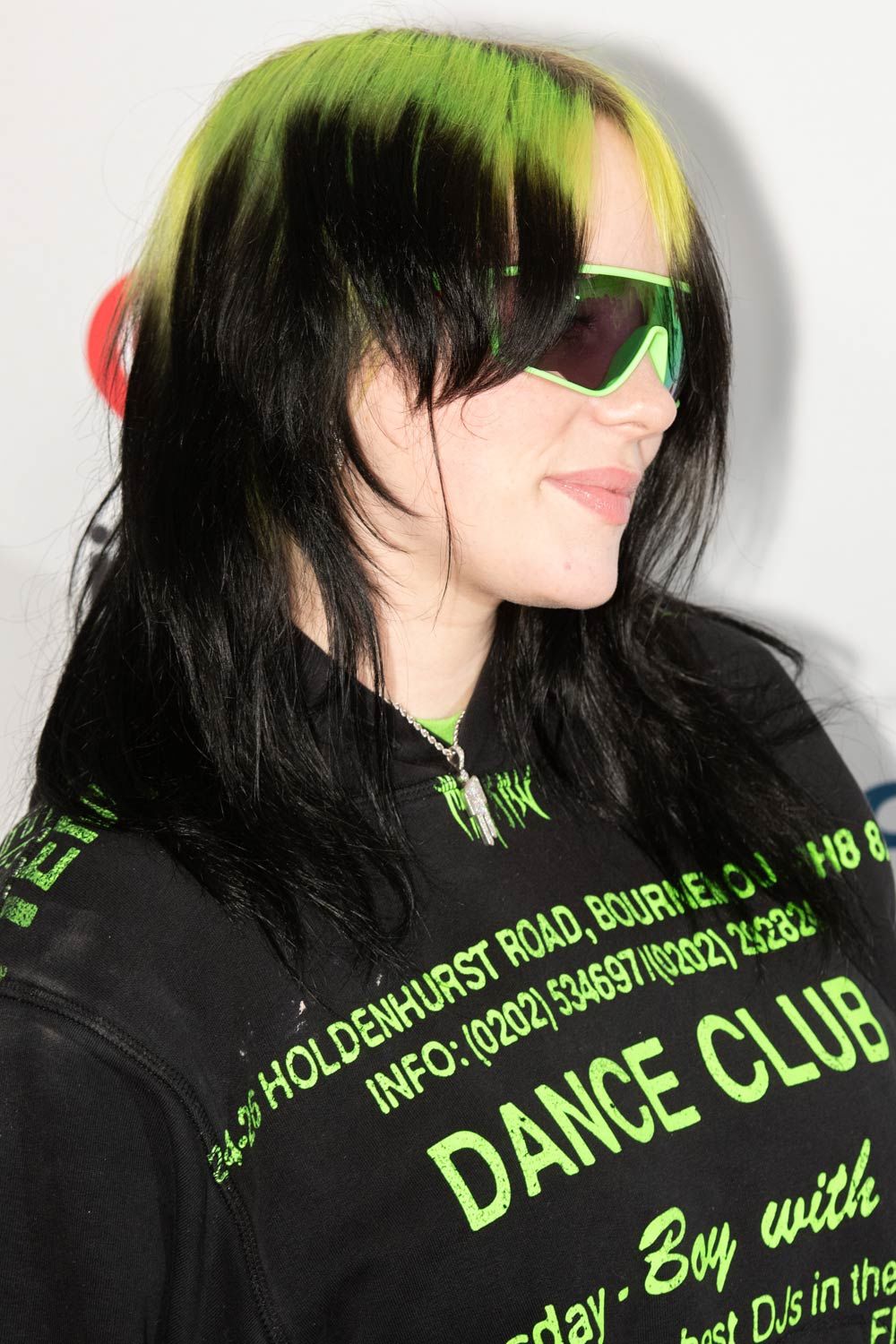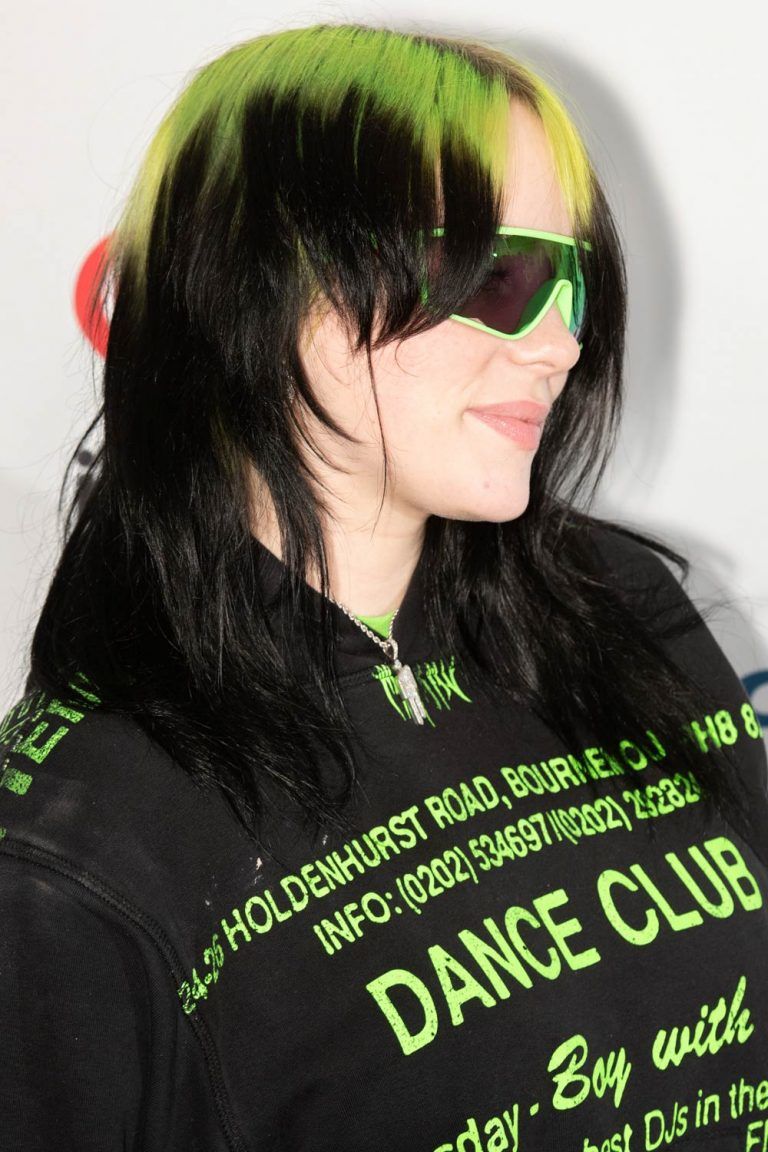 Credit photo: Shutterstock
i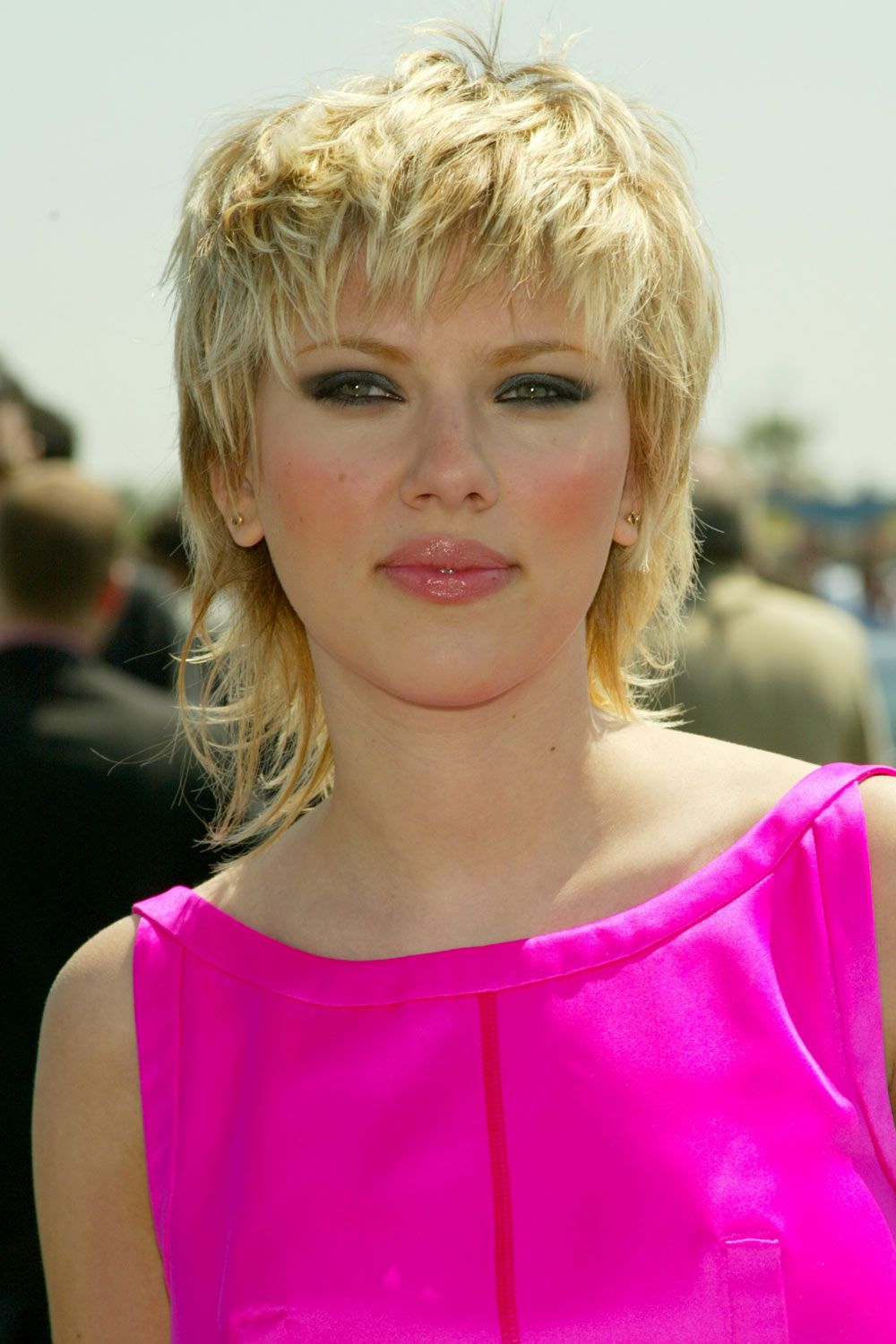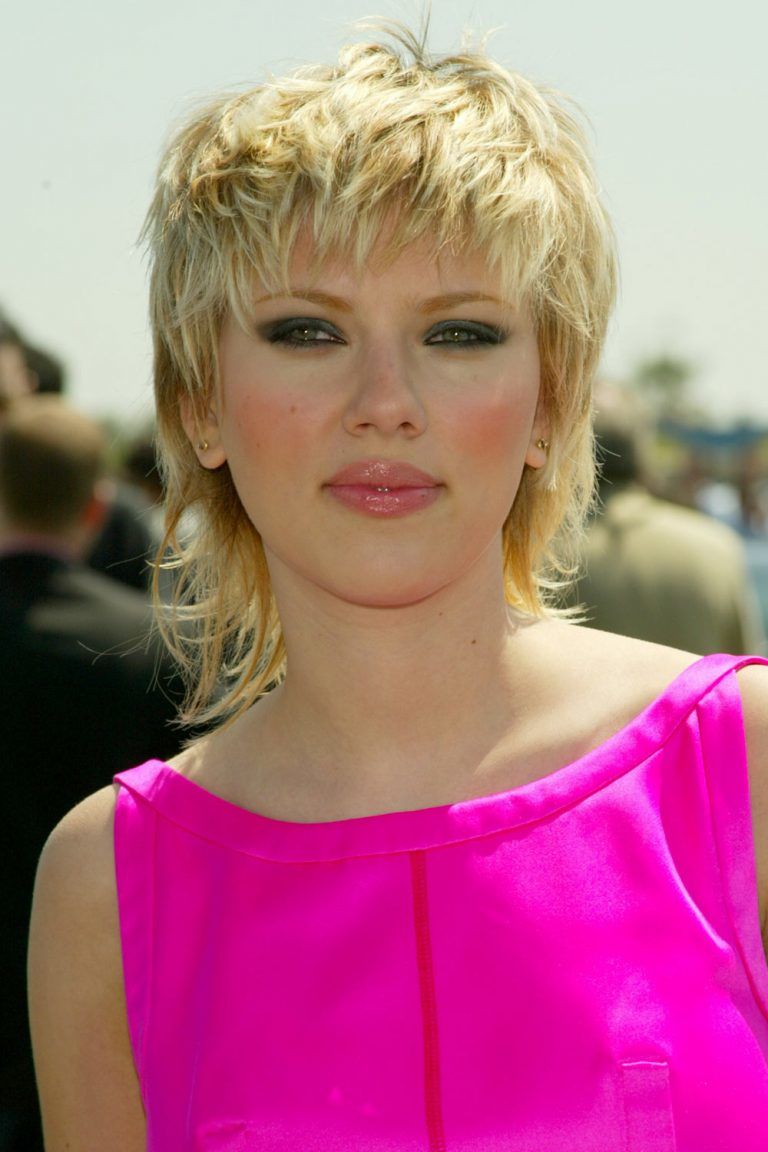 /
More and more famous people are choosing mullets as their signature haircut and not for nothing. It is edgy, daring and instantly takes them to the spotlight. So, they do not even need to be bothered with bold makeup or outfit. Besides, every one of them tries to give the popular haircut a unique flair. So, it is a good idea to draw your inspiration from real trend setters – celebrities. Be it a neon root pop or a shaggy mullet, you are guaranteed to look camera ready.
Classy Mullet
Credit photo: @salsalhair
i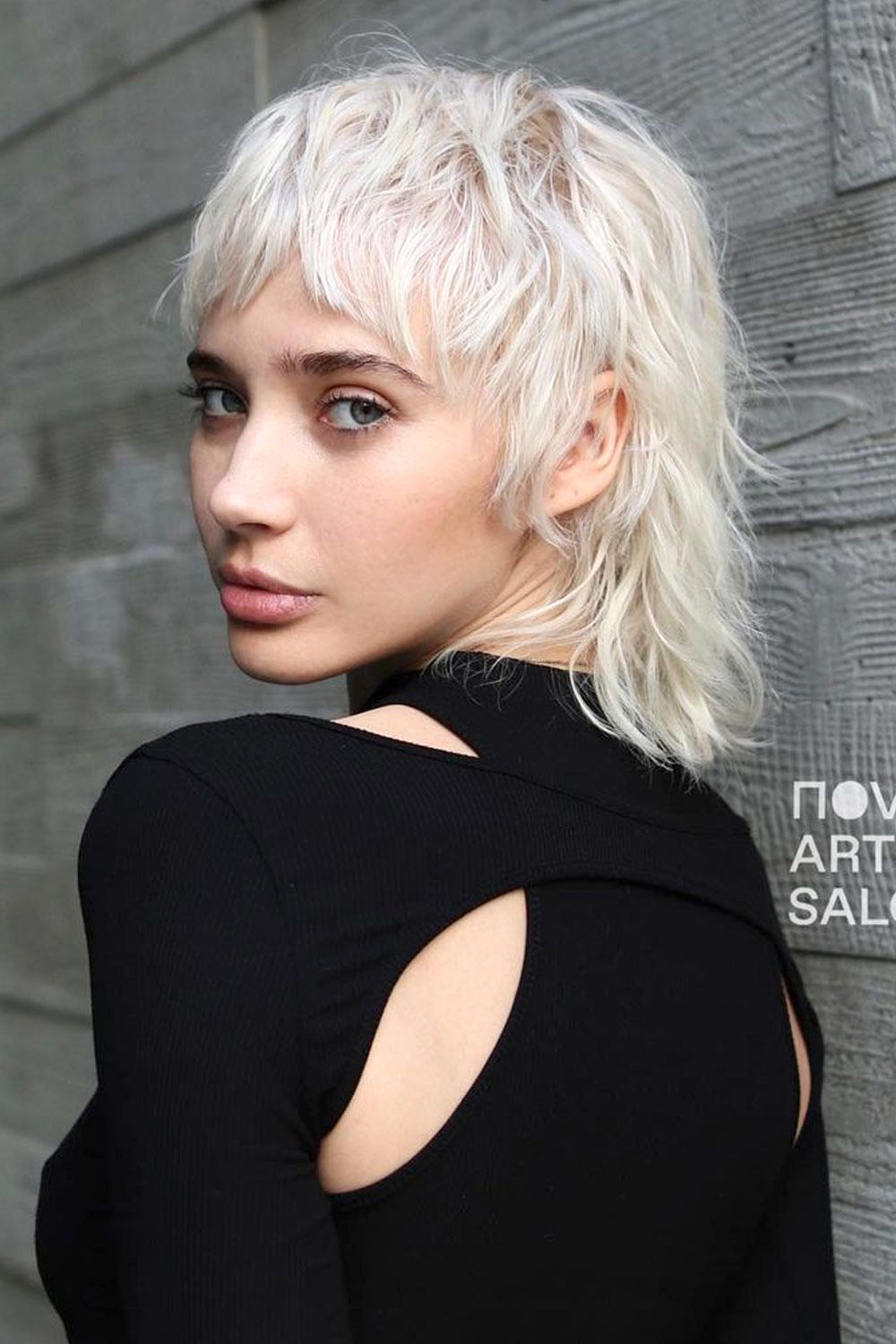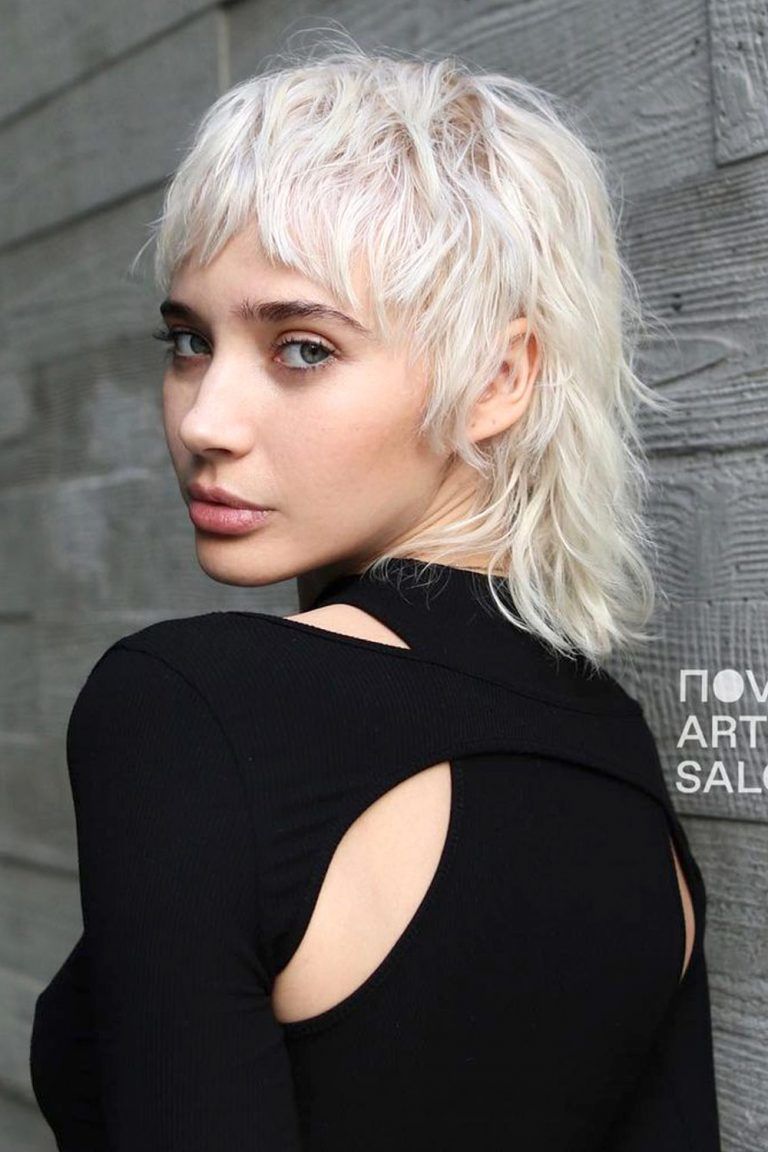 Credit photo: @exotismos
i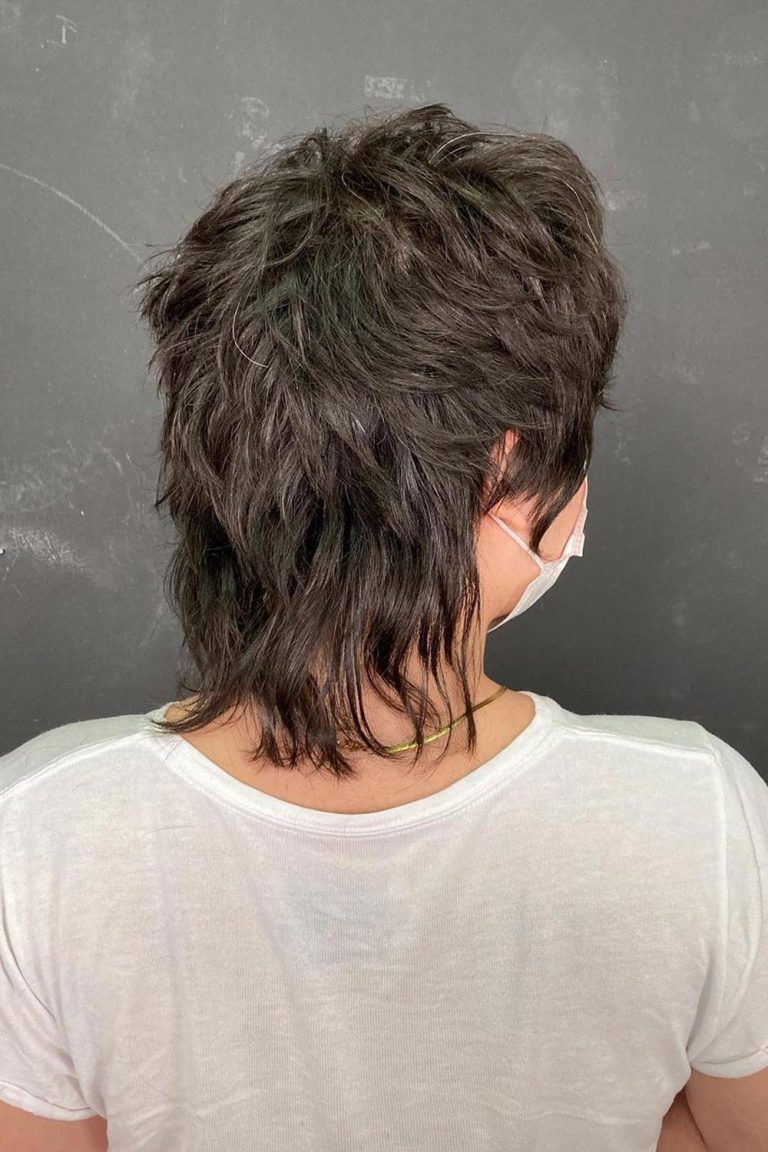 /
Among all short haircuts, a classy mullet would the most controversial of all. Bangs that start at the middle of the head together with a so-called rat-tail may seem the worst combo there is. However, as much as well-colored platinum blonde and a little leave-in conditioner can change the look for the better instantly. See for yourself!
Platinum Blond Messy Mullet With Thick Bangs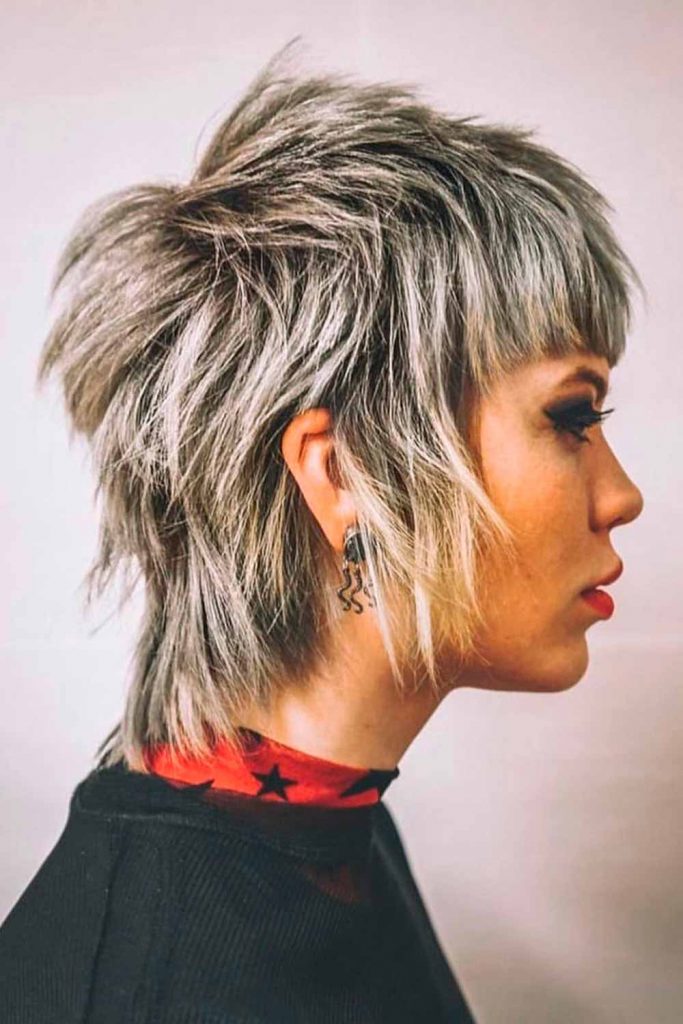 Credit photo: instagram.com/joeltorresstyle
This dynamic modern mullet hairstyle effortlessly combines edginess with a touch of retro flair, making it a statement-making choice for those seeking a bold and unique look. The platinum blonde color adds a striking element to this style, radiating confidence and individuality. The icy tones of platinum create a dazzling contrast against any skin tone, making it a versatile choice for anyone daring enough to try it. The messy mullet itself brings an air of effortless coolness to the hairstyle. The shorter front layers with the longer tousled back add movement and volume, resulting in a dynamic and playful appearance.
Neon Orange Shag Mullet With Zebra-Styled Side Locks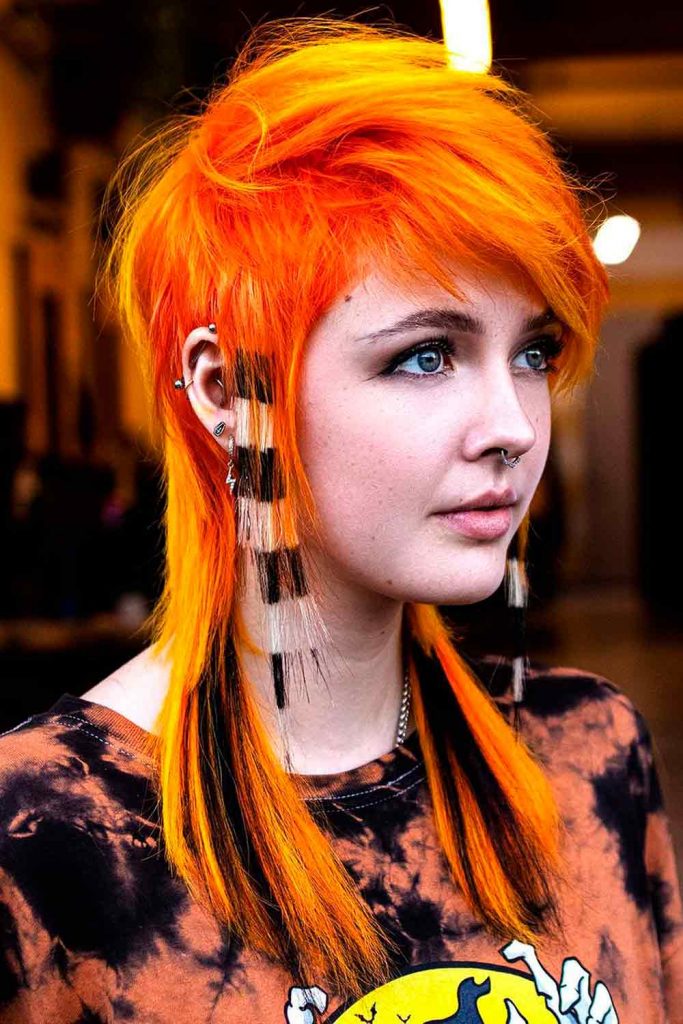 Credit photo: instagram.com/thehairygodmotherr
Opt for a more audacious hairstyle that is an expression of individuality, and exudes an electrifying aura that is sure to make a lasting impression. The neon orange color takes center stage, radiating bold and fearless energy. It demands attention and showcases a willingness to embrace the extraordinary. To further enhance this already daring style, raccoon tail hair is incorporated. Paired with the orange hue it becomes a style perfect for those who dare to create something unique. The shag mullet adds a touch of retro charm to the hairstyle. Its layered and tousled texture creates an effortless, lived-in look that embodies a rebellious spirit. By combining the length in the back and the shorter layers in the front, your hair has more movement and dimension. What you then get is a dynamic and edgy aesthetic.
Long Sassy Honeycomb Sunset Styled Mullet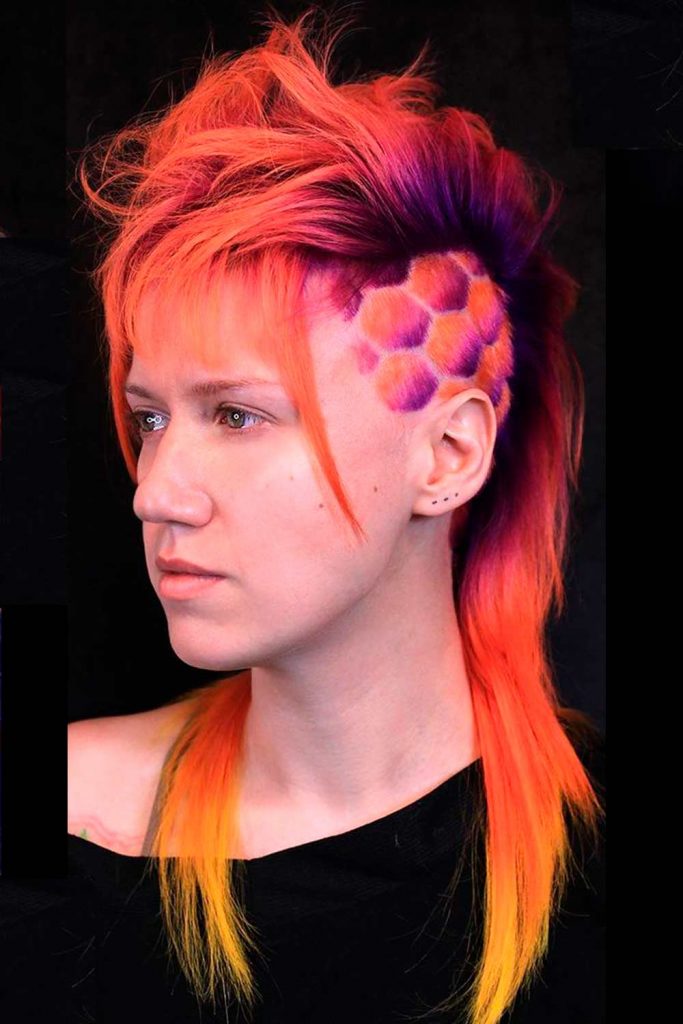 Credit photo: instagram.com/thehairygodmotherr
If you want a bold and captivating look, then combine the elements of a classic mullet with a modern twist. By seamlessly pairing the red, orange and pink tones to create a lovely sunset shade, the long and flowing layers at the back easily fit into the hairstyle. The carefully crafted layers provide volume and movement, while the shorter front layers add a touch of sass and attitude. It's a perfect fusion of edgy and elegant. You can also cut out honeycomb shapes on the lower side of the hair for a daring appearance. Stand out from the crowd with this eye-catching hairstyle that is as unique as you are.
Short Neon Green Boyish Mullet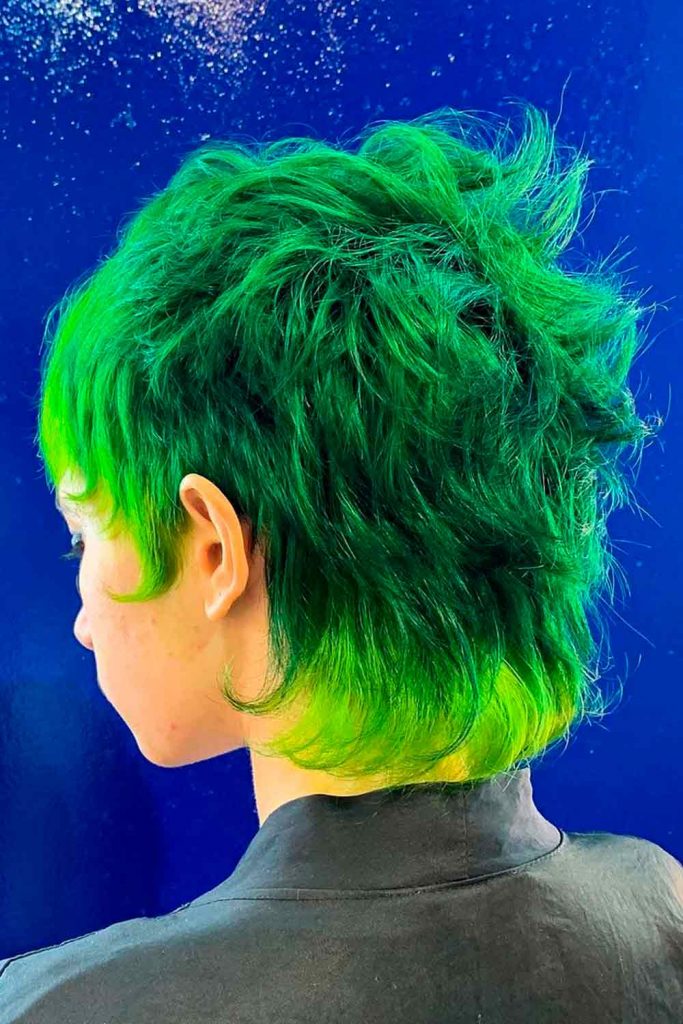 Credit photo: instagram.com/exotismos
Want to be a trendsetter? Then try out the neon green boyish haircut that screams attitude and defies conventions. The short length at the front gives this mullet a boyish charm, while the vibrant neon green color adds an electrifying twist. It illuminates your entire look, adding a burst of vibrancy and a futuristic flair. Whether you're out for a night in the town or having a get-together with your friends, this wavy mullet can easily fit into the setting. It breaks away from the traditional norms and embraces a sense of adventure and confidence. Unleash your inner trendsetter and let your hair be a dazzling canvas of self-expression.
Neon Blue Punk-Style Female Mullet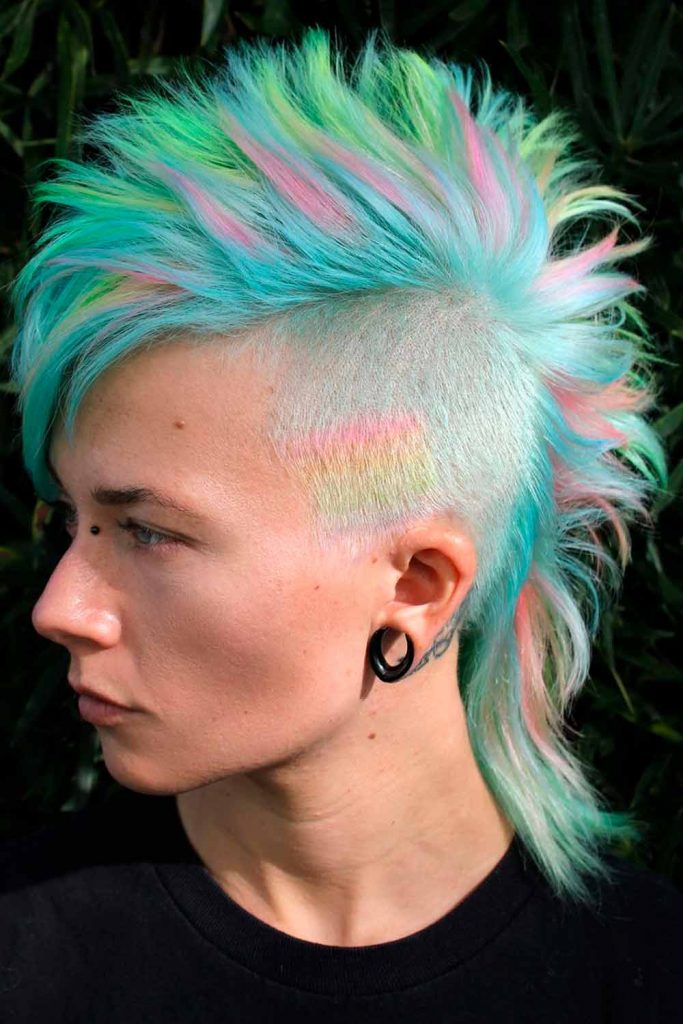 Credit photo: instagram.com/thehairygodmotherr
The fusion of punk and female mullet aesthetics creates a captivating and edgy combination. The shorter front layers exude a bold and confident attitude, while the longer layers at the back provide a sense of movement and flair. It's a hairstyle that demands attention and showcases your fearless spirit. Also, the vibrant shade of blue adds an instant punk rock edge to your look. It's a hue that radiates intensity and showcases your willingness to embrace the extraordinary. This hairstyle is more than just a fashion choice; it's a symbol of empowerment and breaking free from societal norms. It's a celebration of your unique personality and a reminder to embrace your authentic self.
Extra Bold Textured Mullet- Hawk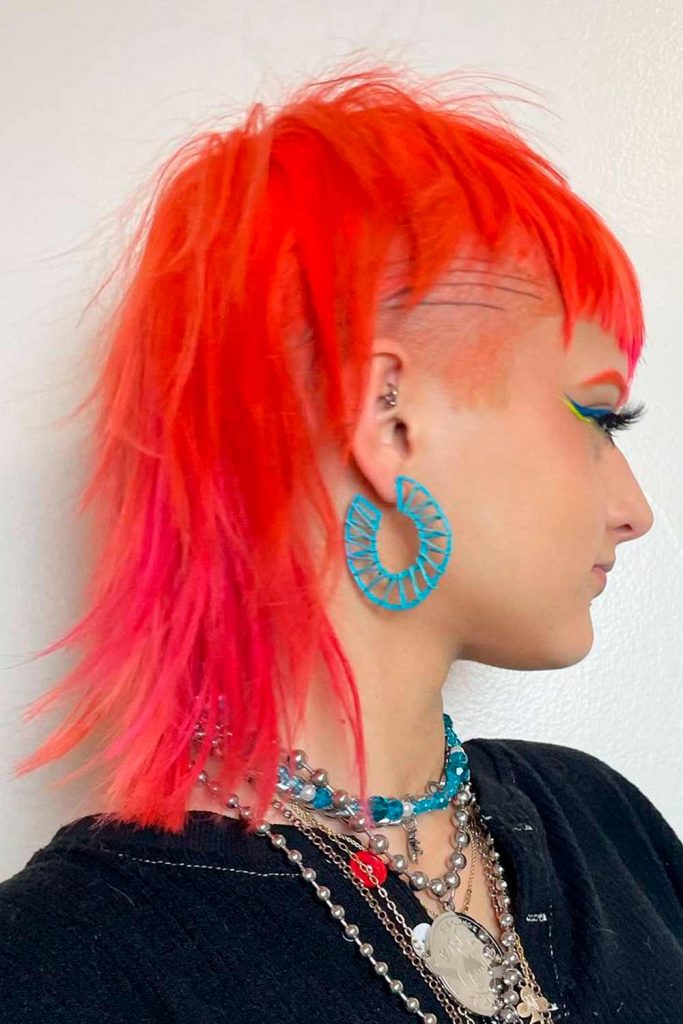 Credit photo: instagram.com/exotismos
The extra bold curly mullet hairstyle is not for the faint of heart; it's for those who crave a hairdo that reflects their fierce individuality. This avant-garde masterpiece merges the audacity of a mullet with the boldness of a mohawk, resulting in a jaw-dropping look that is nothing short of extraordinary. The shorter sides provide a sleek and polished foundation, while the voluminous, textured top steals the spotlight with its gravity-defying height and mesmerizing allure. Express yourself in the most authentic and unconventional way with this hairstyle. It's a hairstyle that embraces imperfections and celebrates the beauty of raw, untamed energy.
Shaggy Mullet with Waves
Credit photo: @salsalhair
i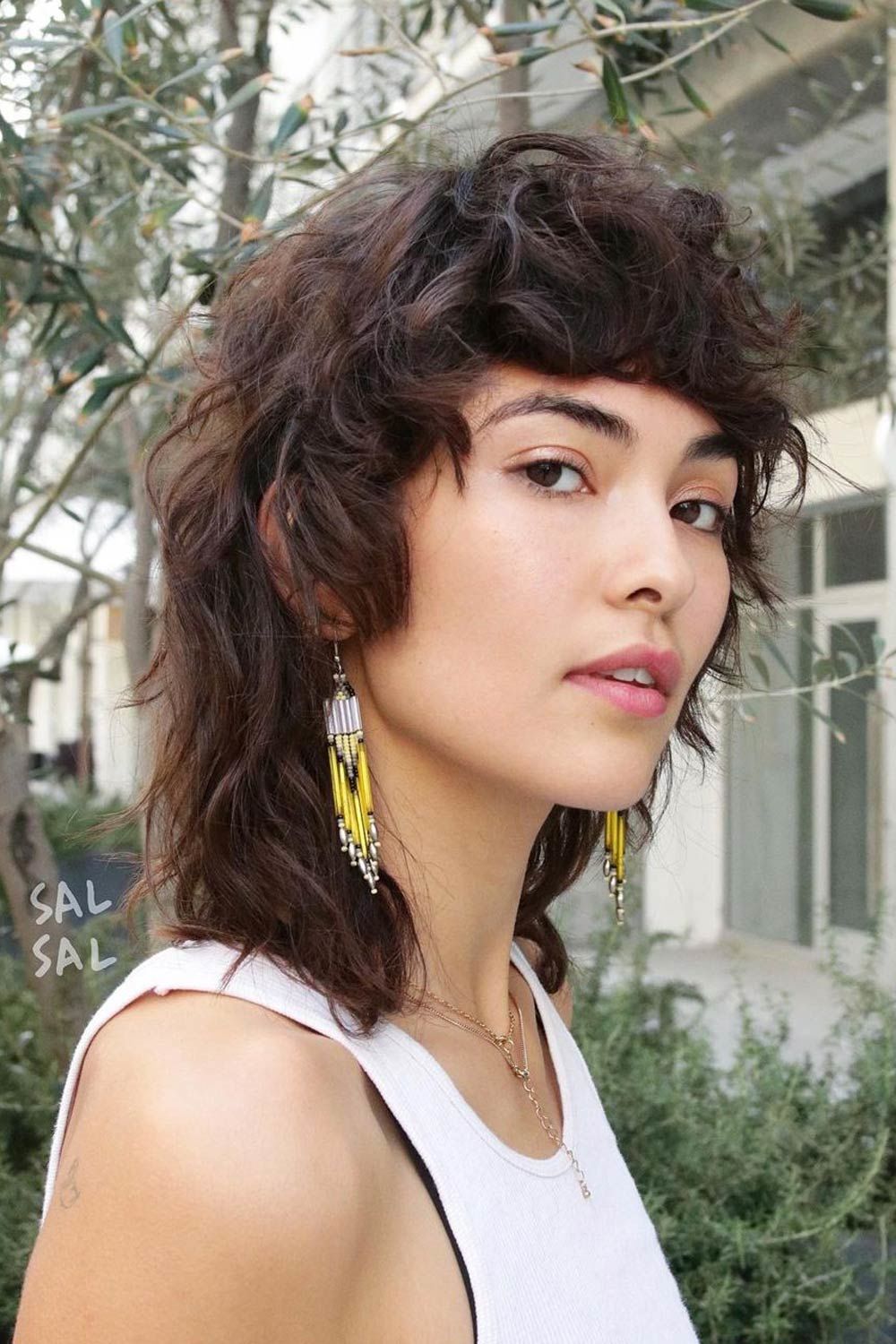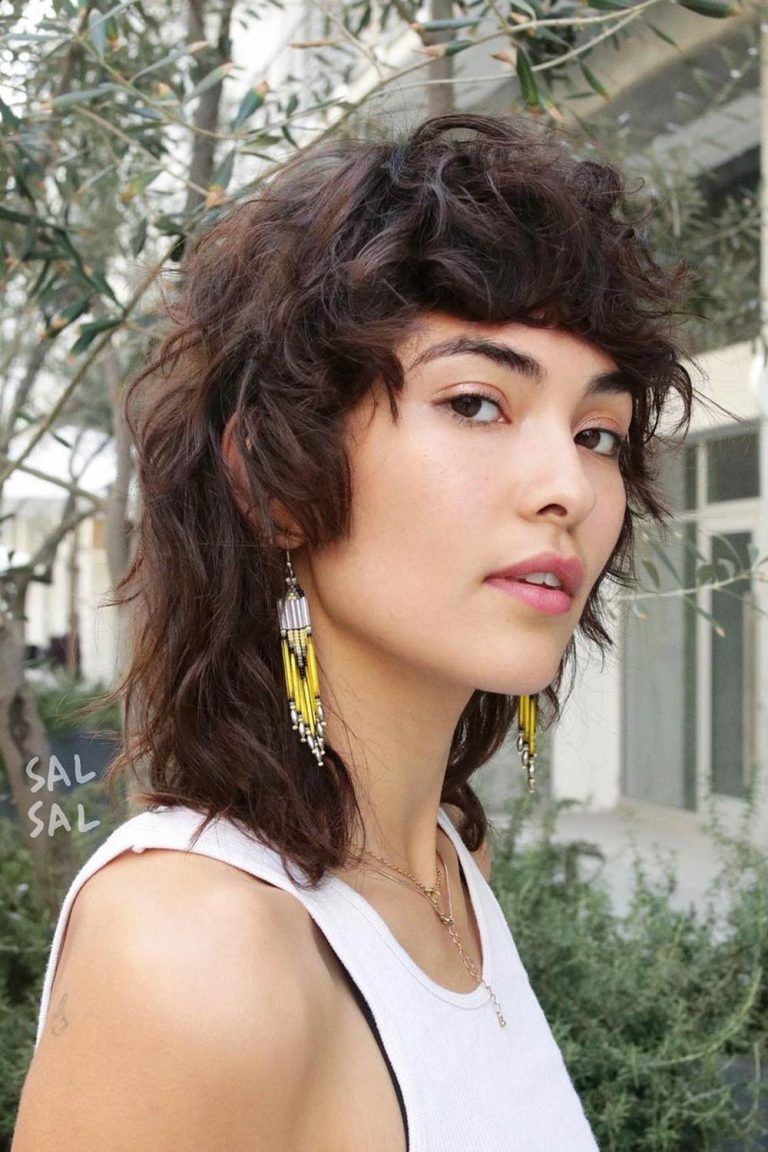 Credit photo: @exotismos
i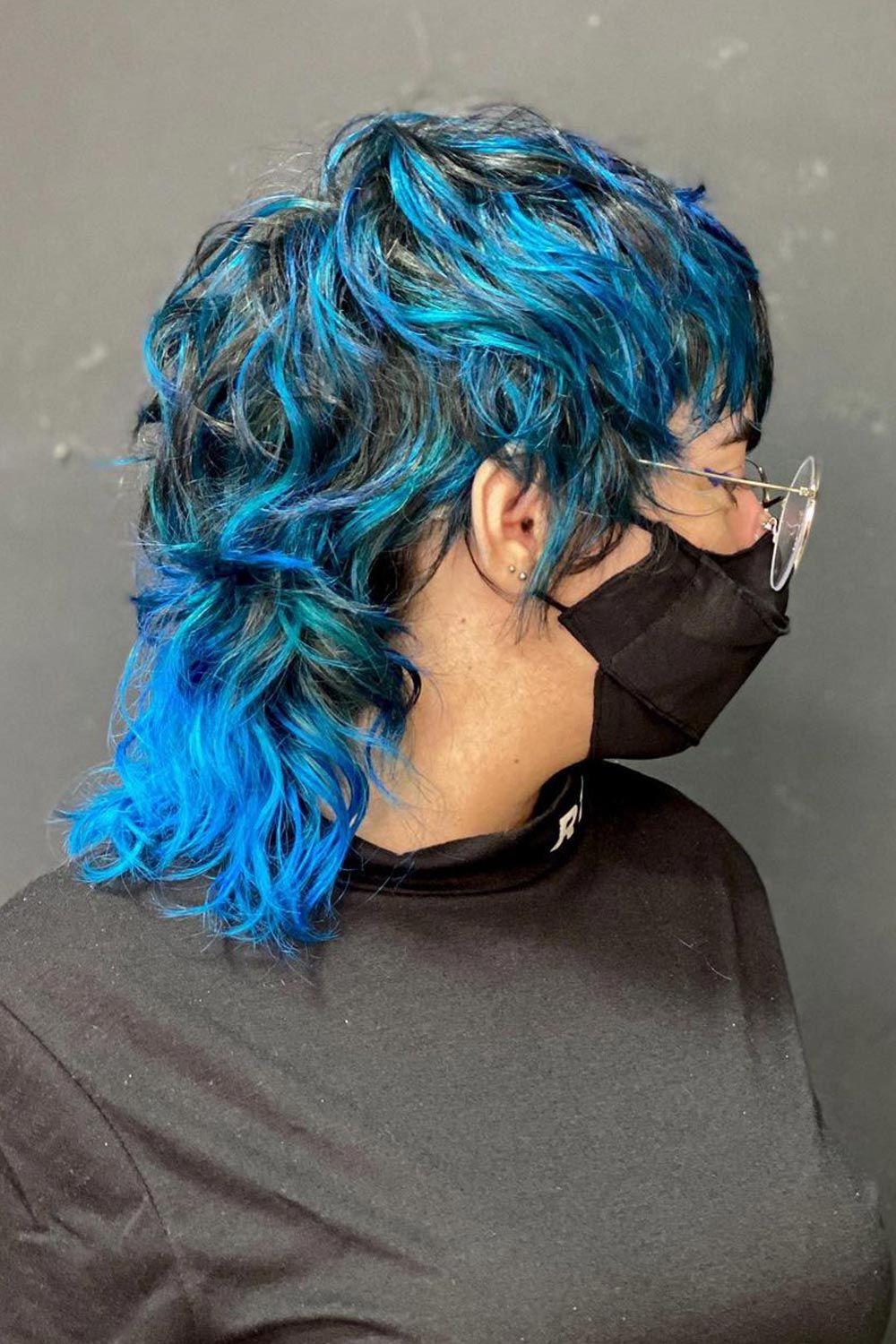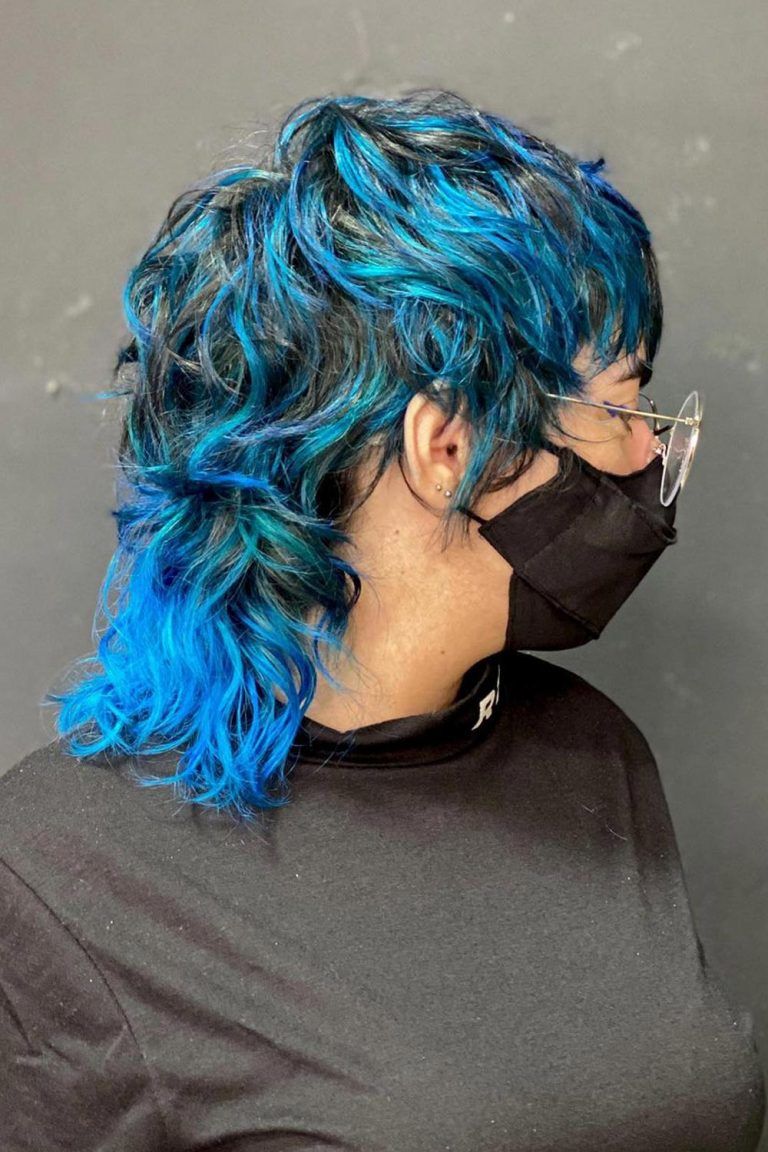 Credit photo: @exotismos
i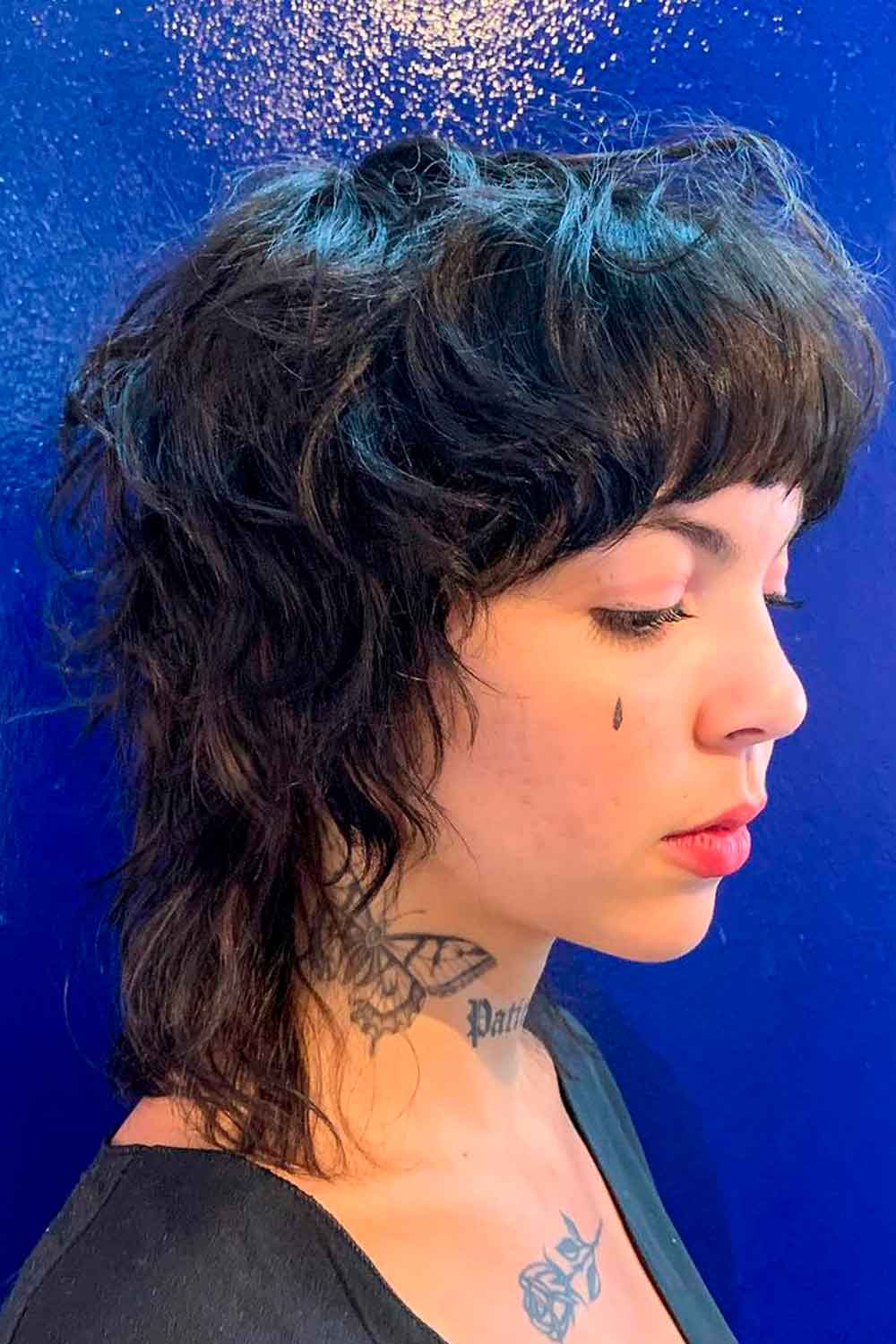 /
A girl mullet can look gentle and even feminine at times too. The hair texture you play around with matters greatly. Wavy texture makes a perfect option for a shaggy mullet. If you want to keep things neat and stylish, stick to more reserved hair shades while the cut itself will draw the necessary attention.
Voluminous Female Mullet with Short Bangs
Credit photo: @andrewdoeshair
i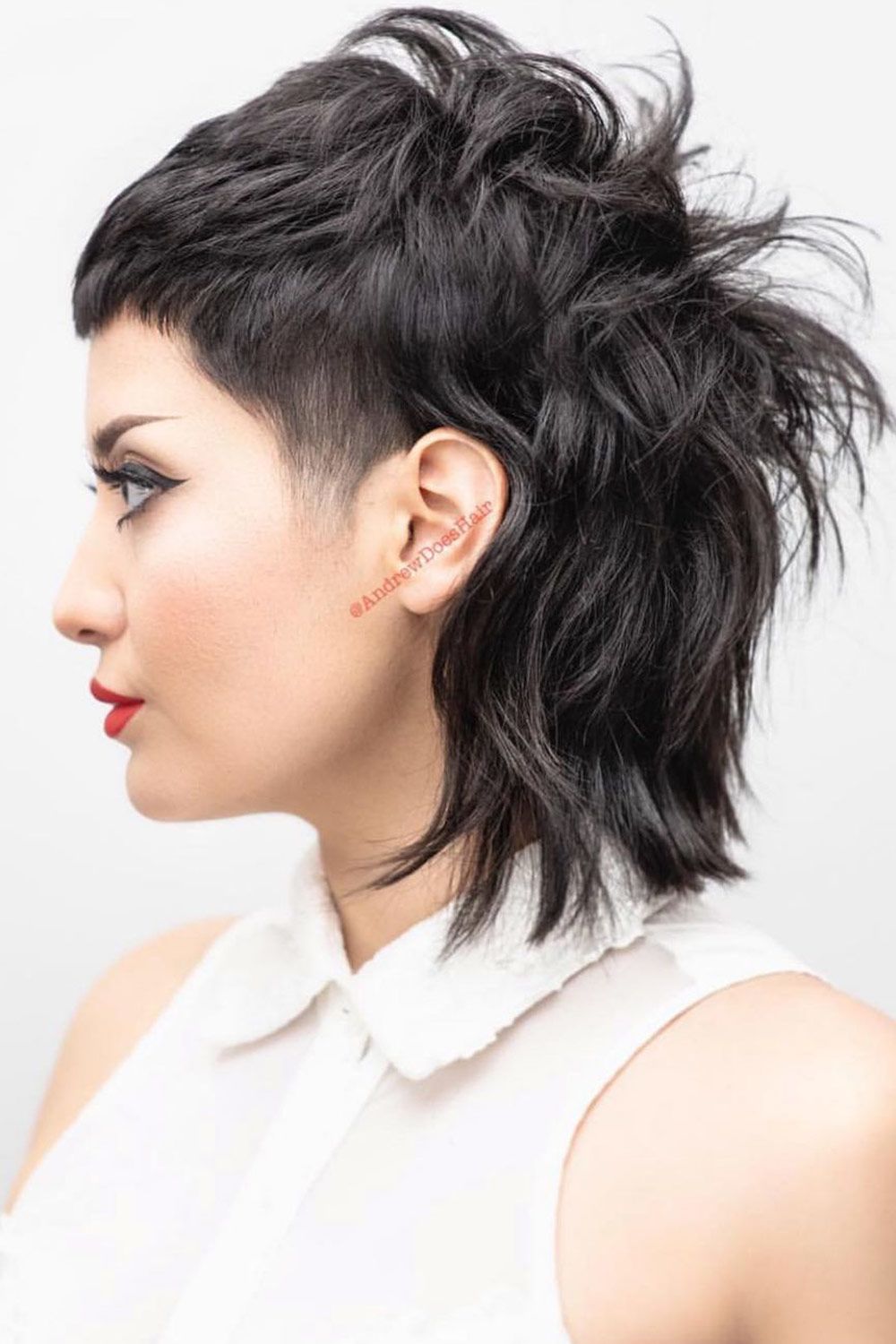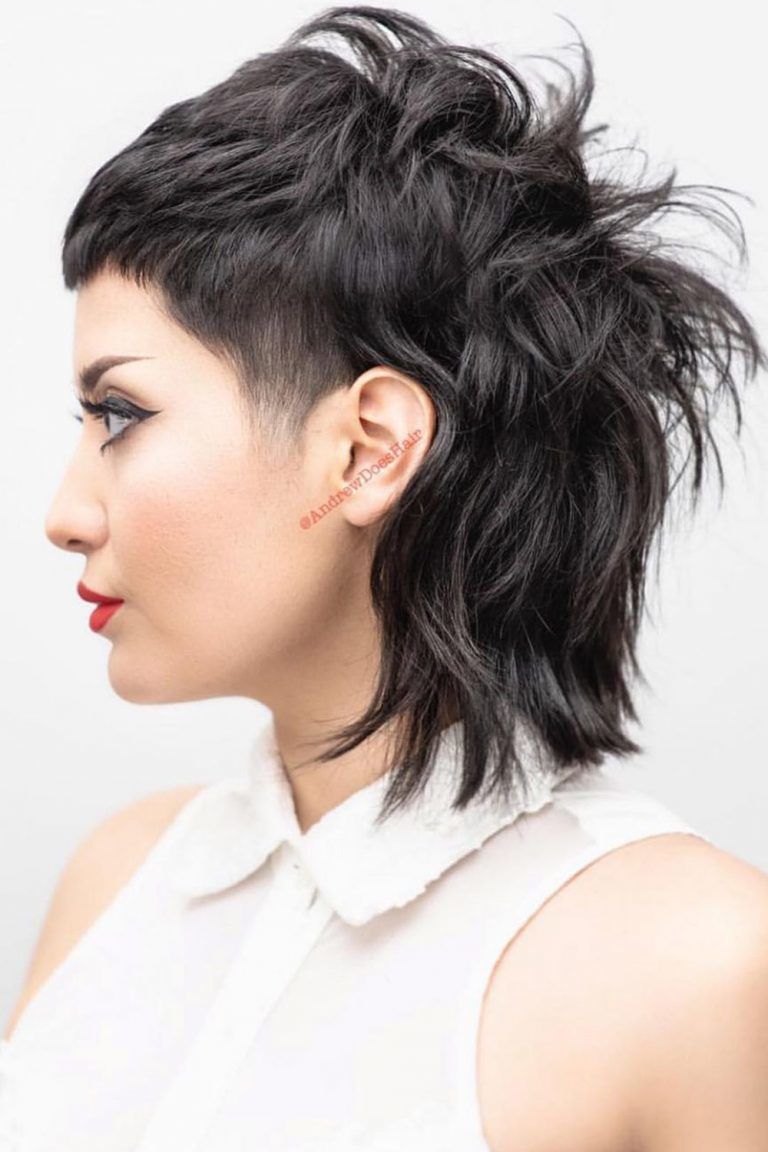 Credit photo: @shrunknheads
i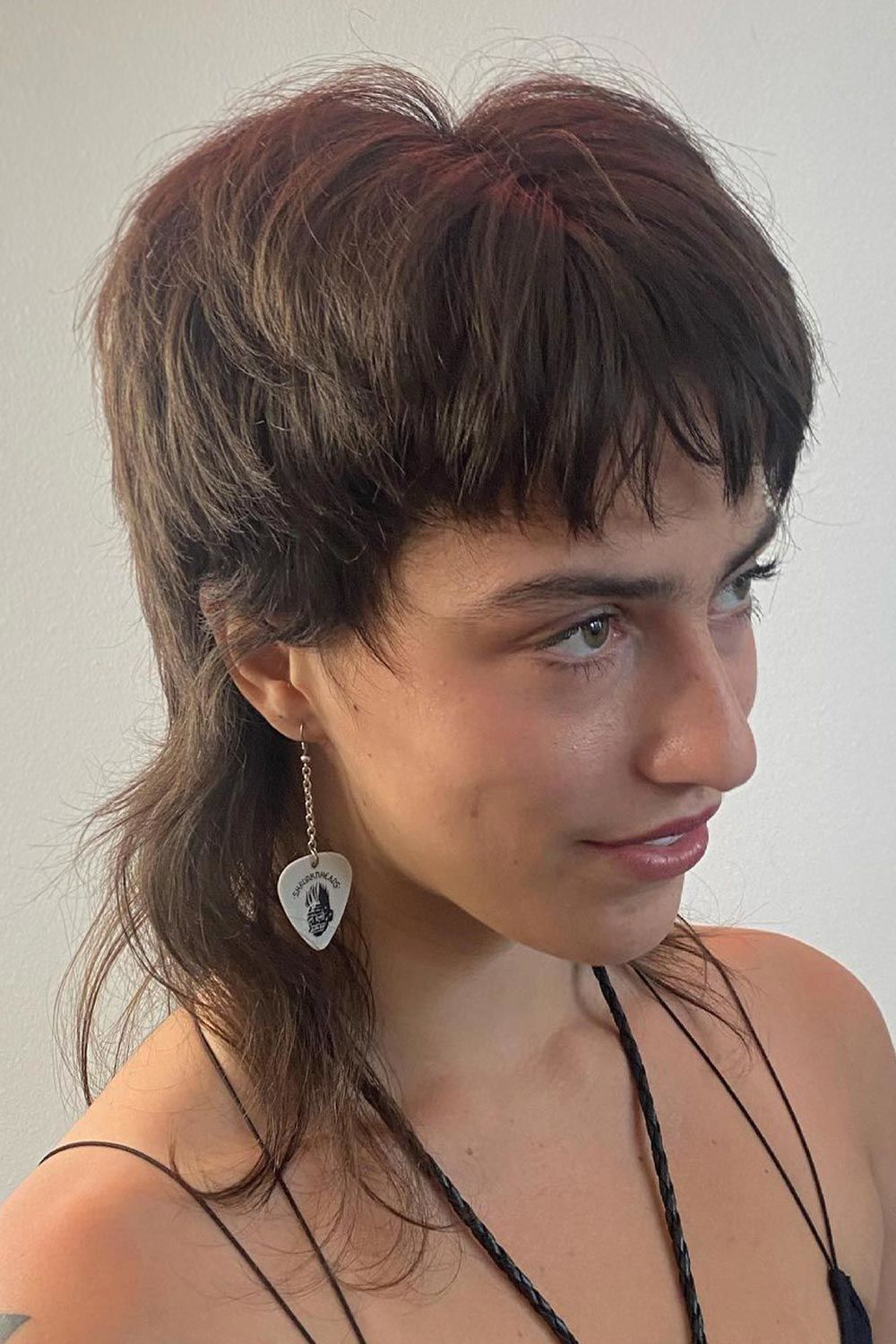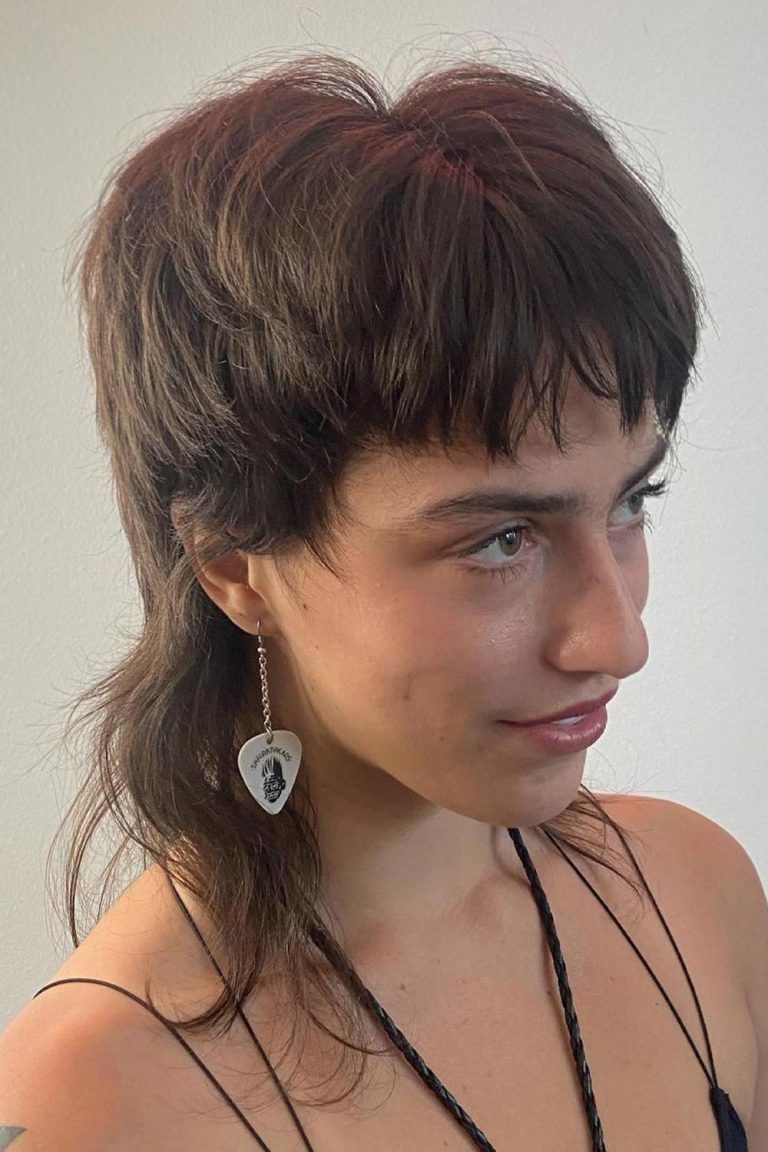 /
Short hair styles are difficult to count, and you probably know that already. However, a short mullet with an ultra-short fringe and voluminous back looks extraordinarily fashionable and daring. Keep in mind that some dress codes may forbid such an edgy style.
Silver Mullet With an Undercut
Credit photo: @shrunknheads
i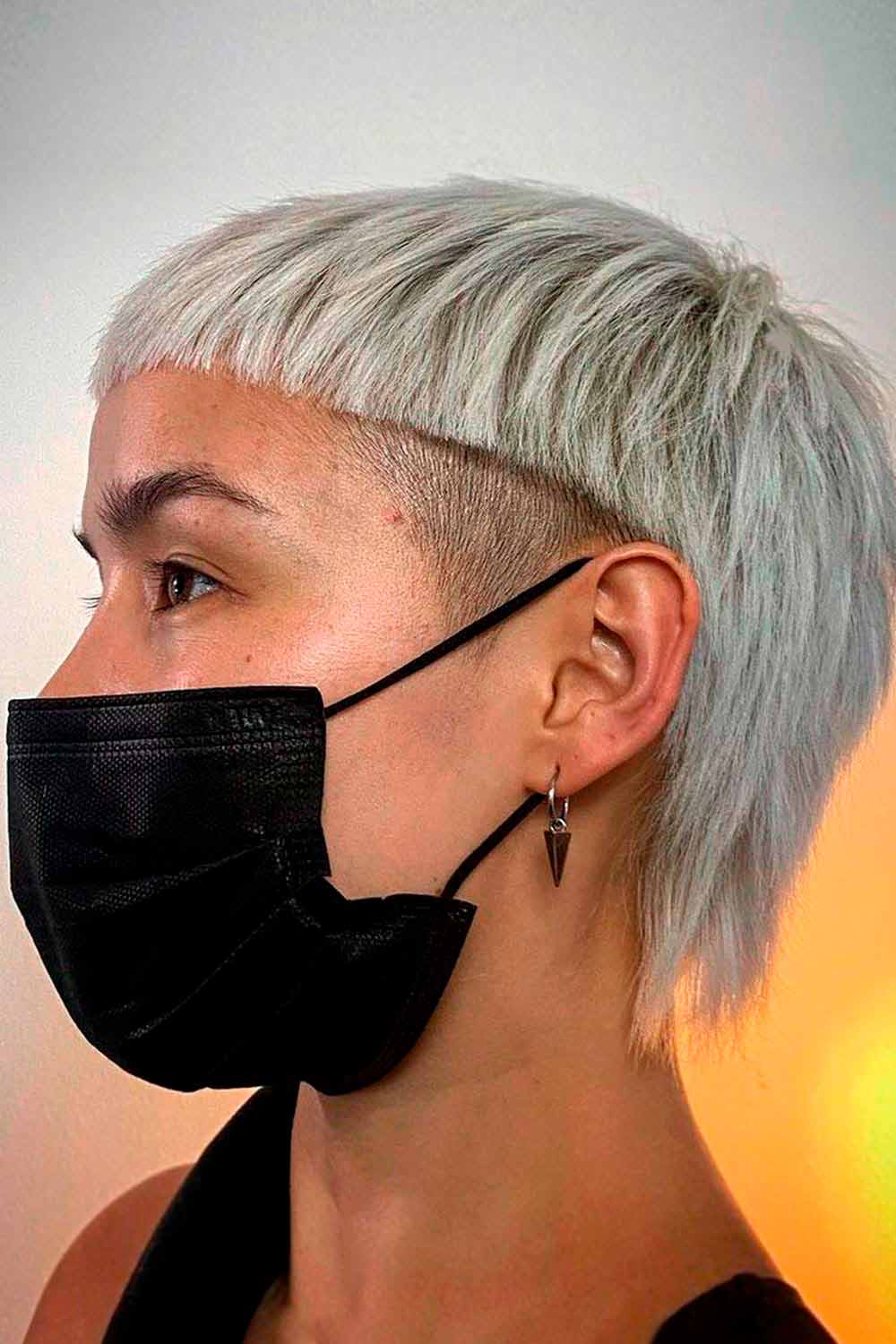 Credit photo: @shrunknheads
i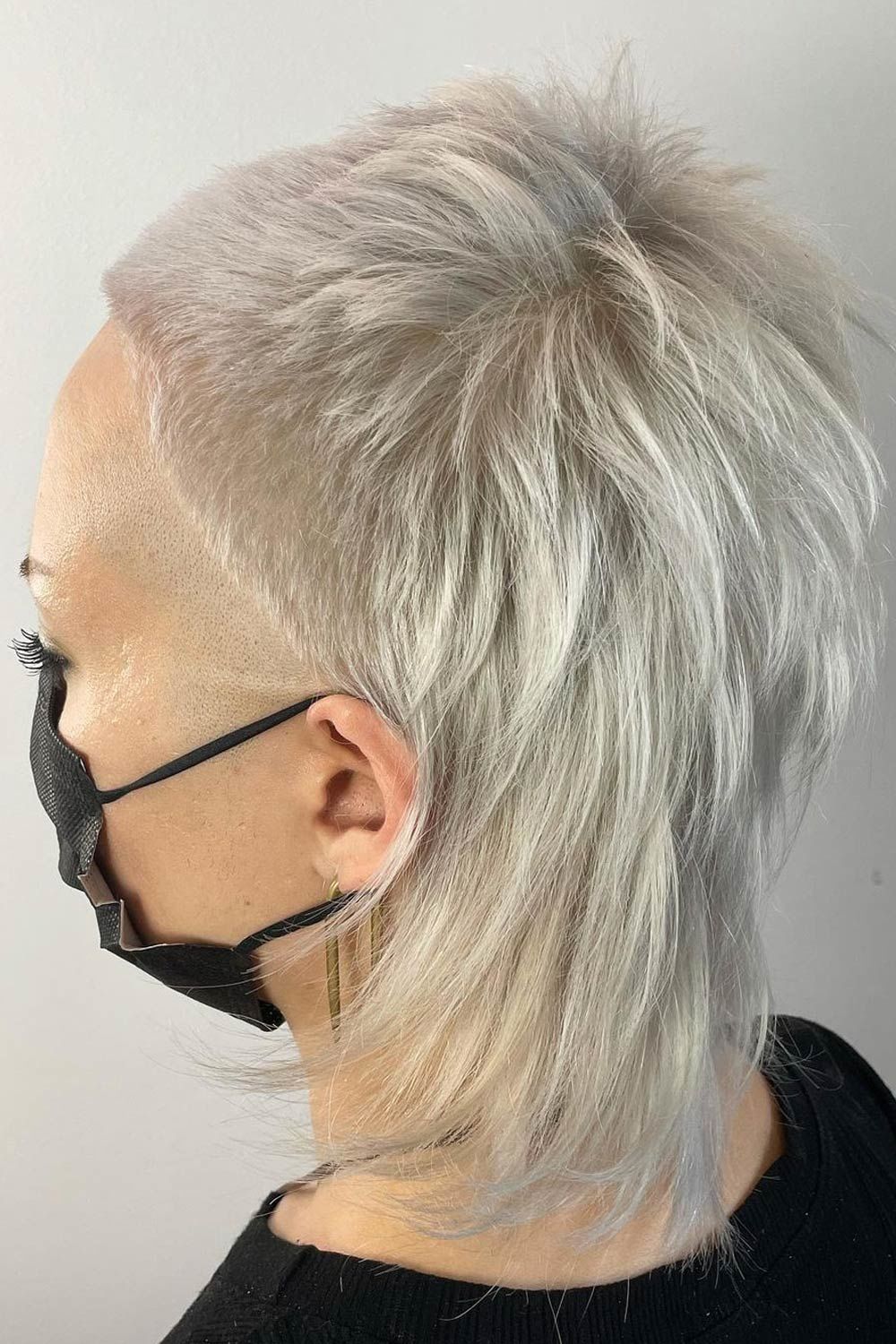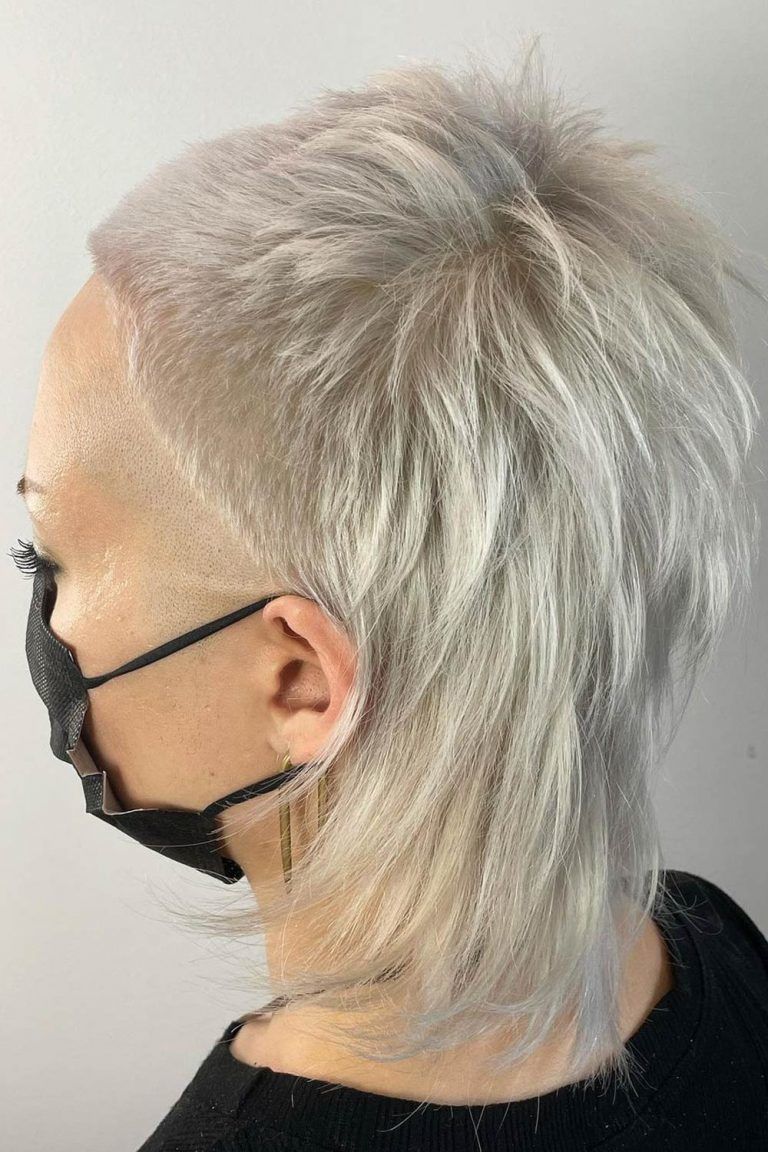 /
Some people can't tell a mullet girl from a short pixie lady. The times when two styles merge aren't many, but when they do – you will be amazed at the outcome. A neat undercut paired with short, straight mullet of silver shading looks gorgeous on daring ladies.
Mullet with V-shaped Fringe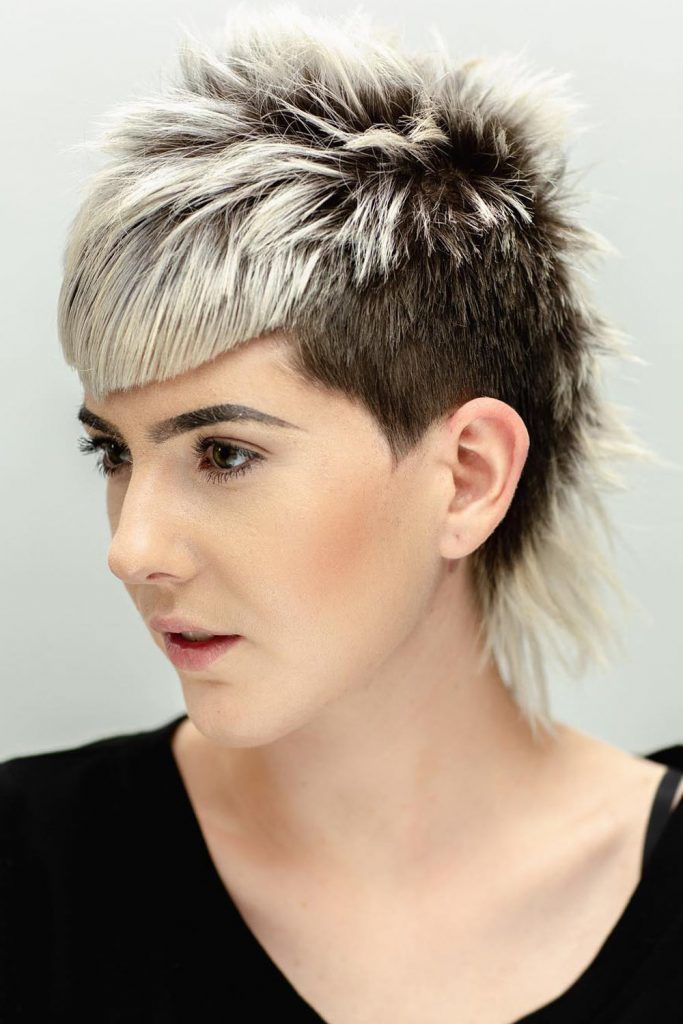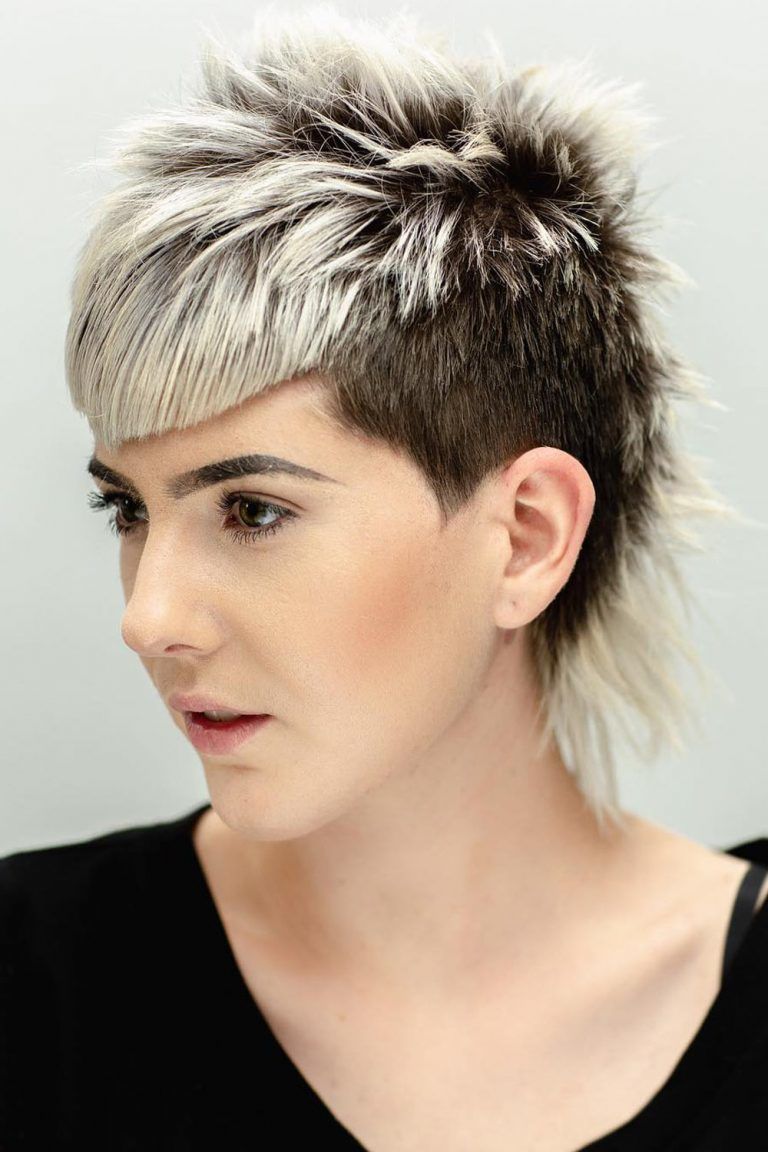 Credit photo: instagram.com/andrewdoeshair
It's surprising how differently a mullet on a girl can look depending on personal preferences. In case a good old look is not enough for you, you can experiment with anything on the scale from the length, coloring, and fringe. A V-shaped fringe looks fantastic, let alone unique, don't you think?
Pastel-Colored Long Female Mullet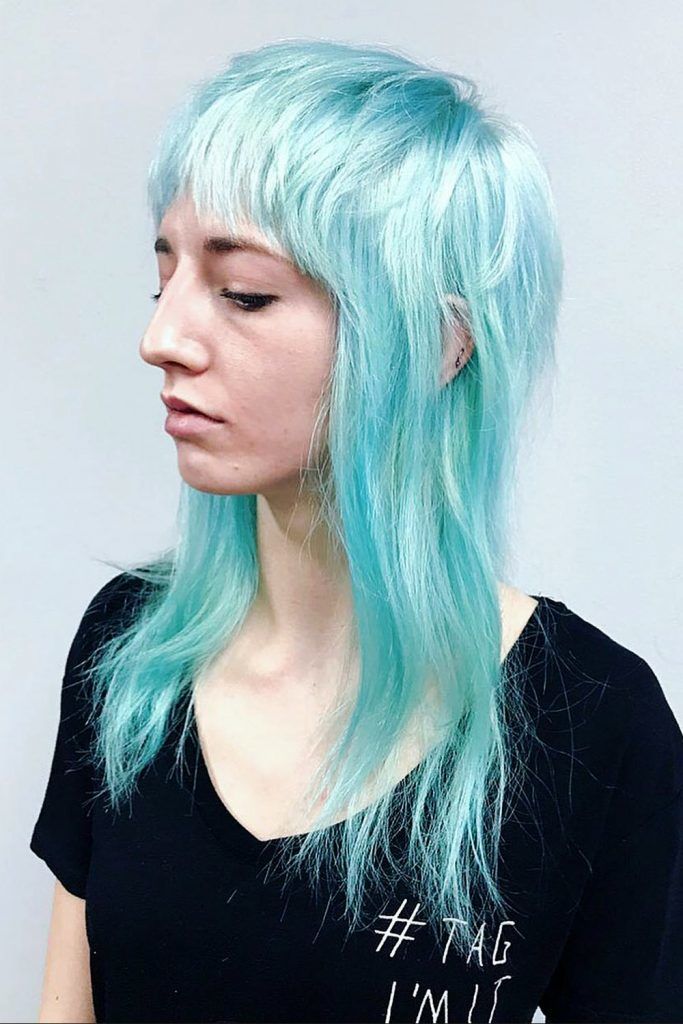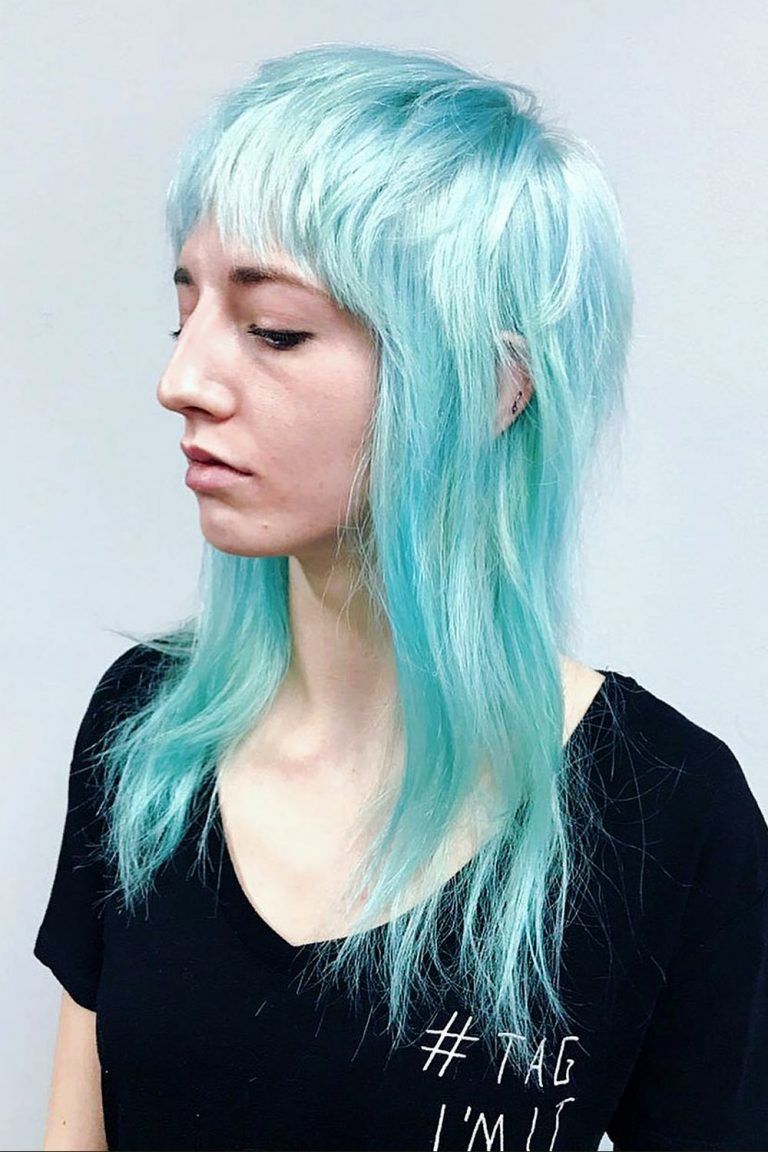 Credit photo: instagram.com/joeltorresstyle
How does a regular girl with mullet look like? It depends upon the girl. Should you decide that you want to look like a sexy elf – a mullet can help you achieve the goal. All it takes is a little length and charming pastel hue to transform you from a rebellious rock star into a seductive elf queen.
Messy Mullet with Side Bangs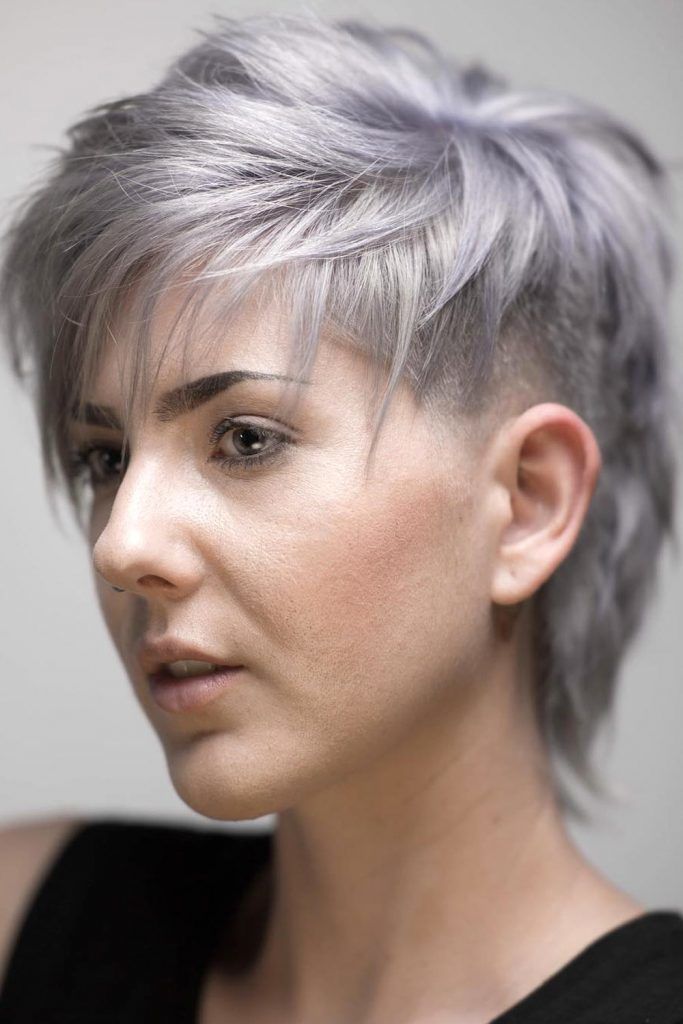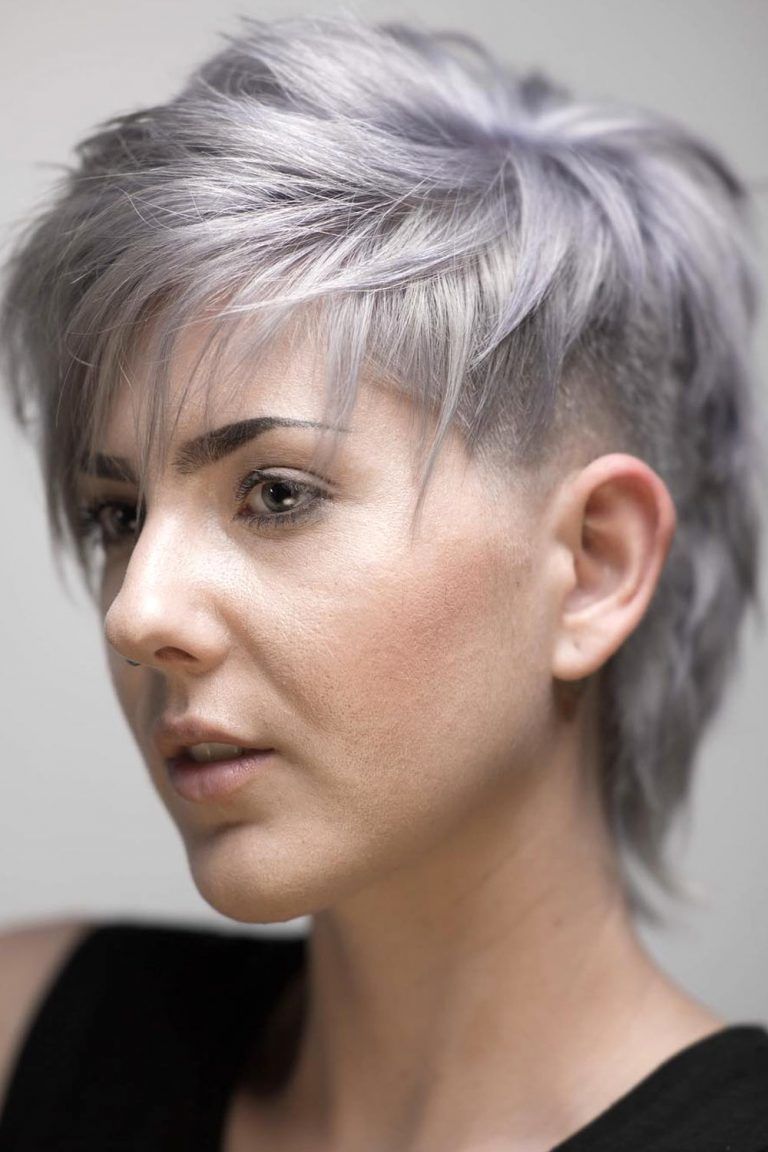 Credit photo: instagram.com/andrewdoeshair
Side bangs can bring in additional appeal into any style, and a mullet is not an exception. A great silver cut with shaved sides and unusual dyeing will help you stand out from the crowd. Besides, a cut like that can be easily fitted to any personal style and taste. What's more, it's ultra-simple to style too.
Fashionable Mullet for Thick Hair
Credit photo: @joeltorresstyle
i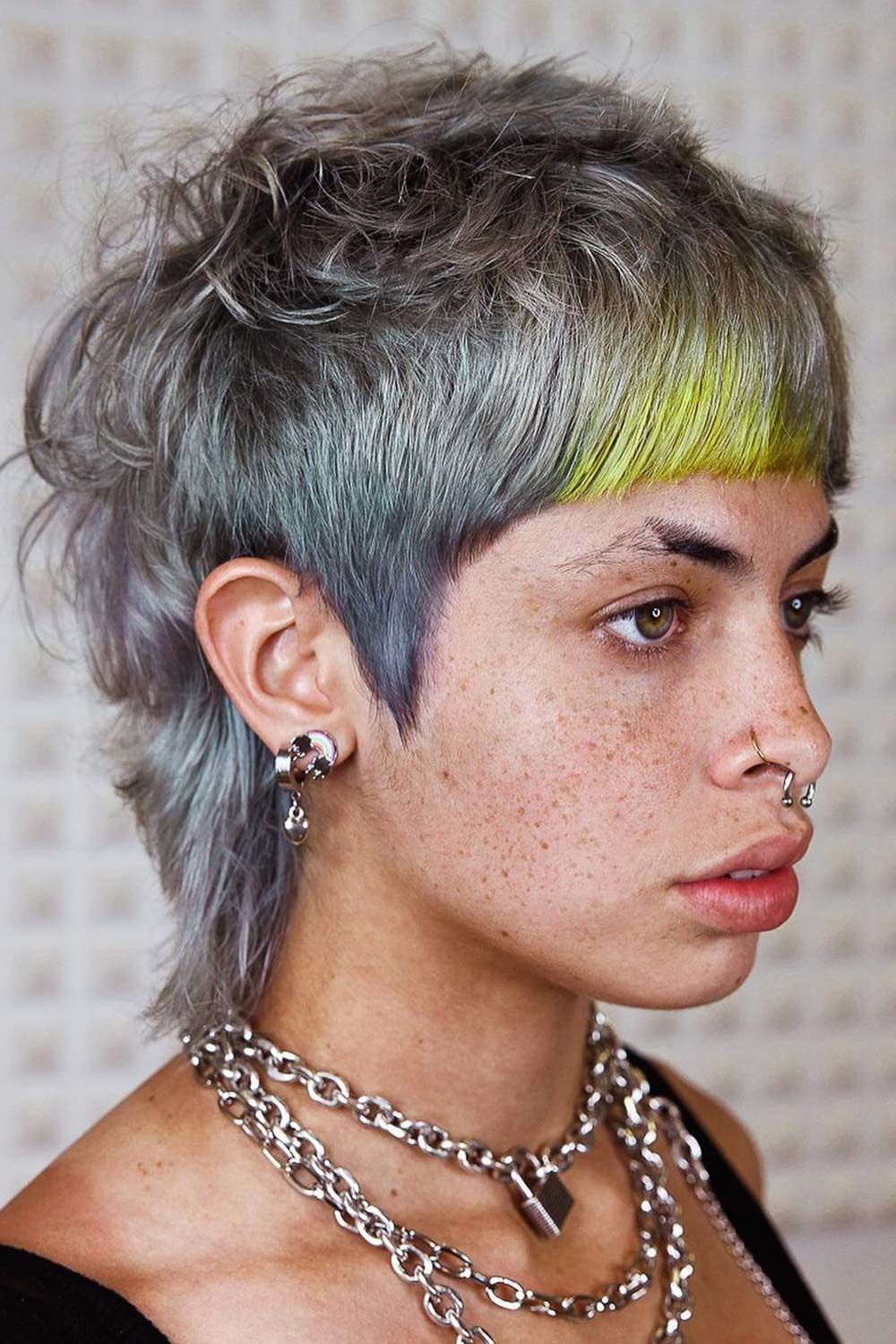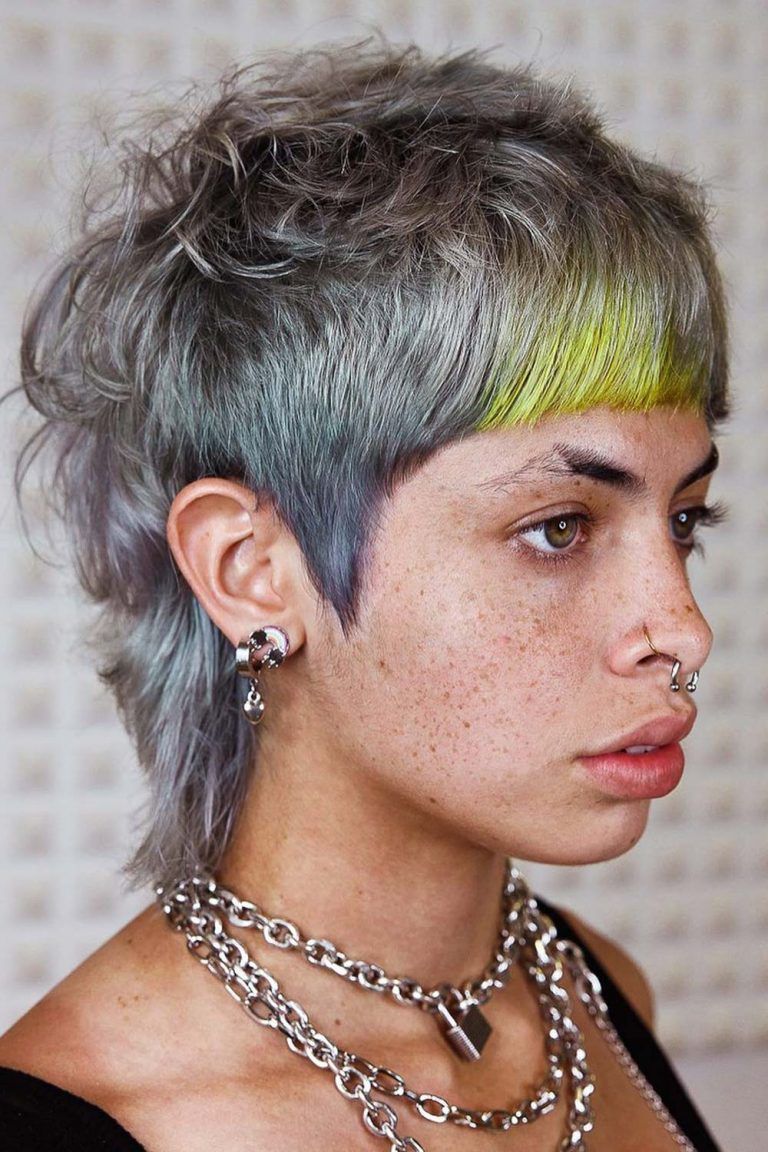 Credit photo: @z_ramsey
i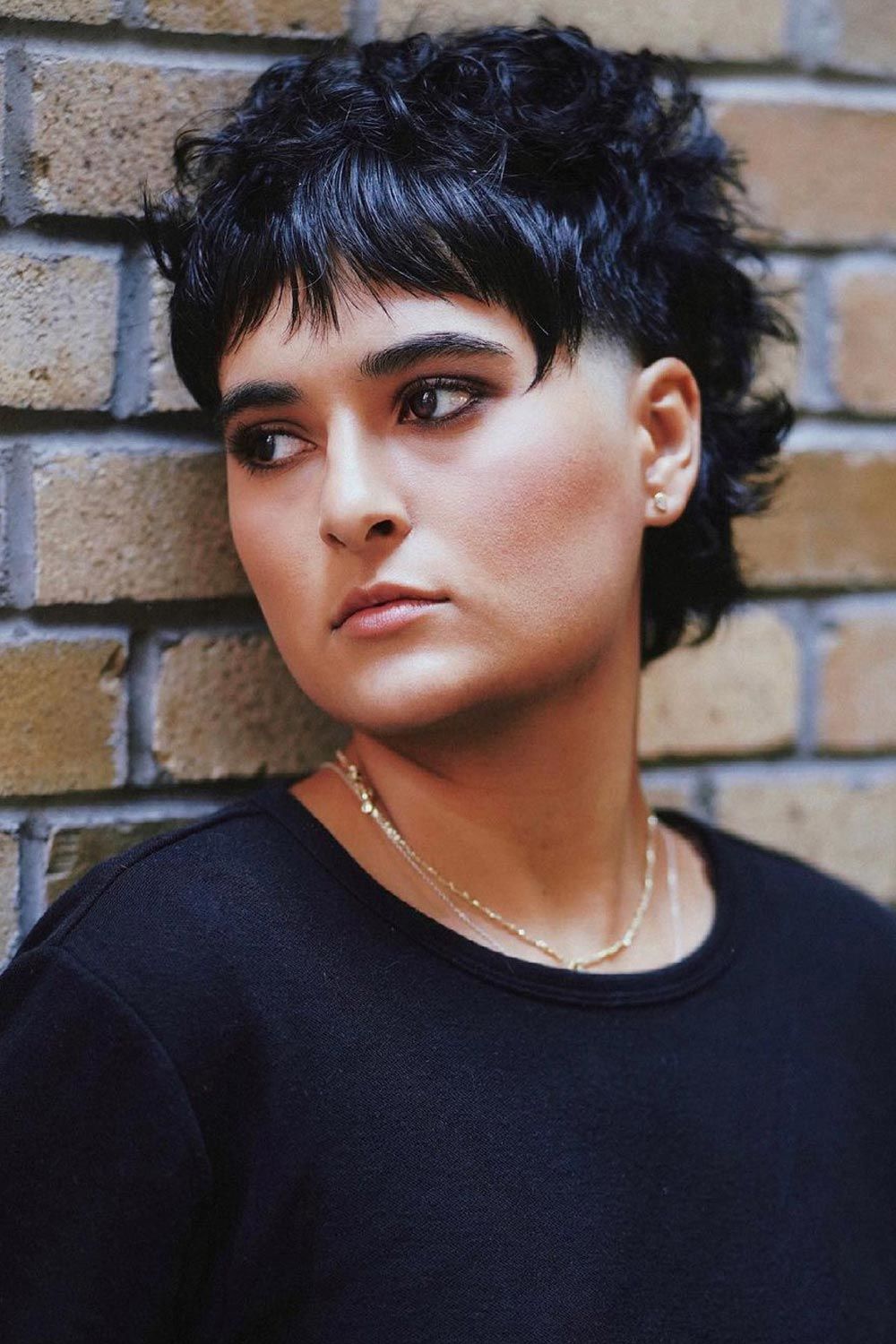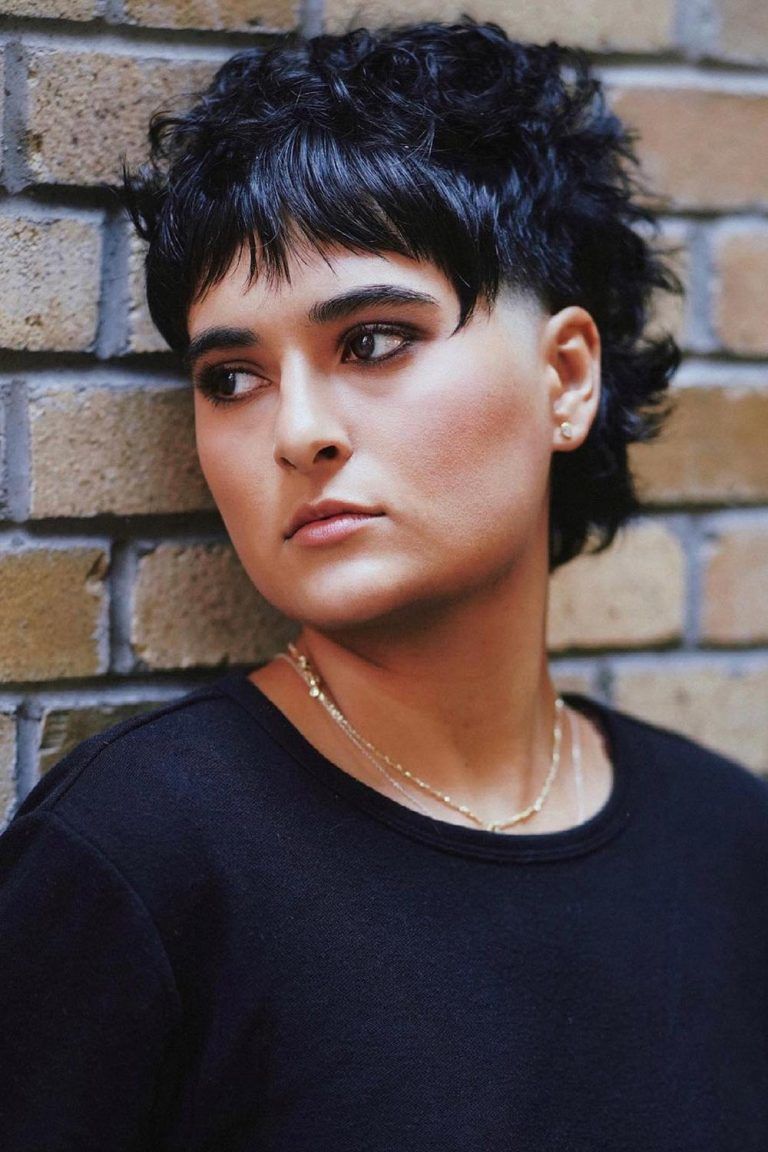 /
Short bangs aren't for everyone. So, before dedicating yourself to an edgy look, you need to consult your stylist if the option will go well with your face shape and features. Should the expert agree that the look will compliment you, you need to be aware that it's designed to keep thick locks manageable and lighter too.
Bright-Shaded Mullet with Shaved Sides
Credit photo: @soraverly
i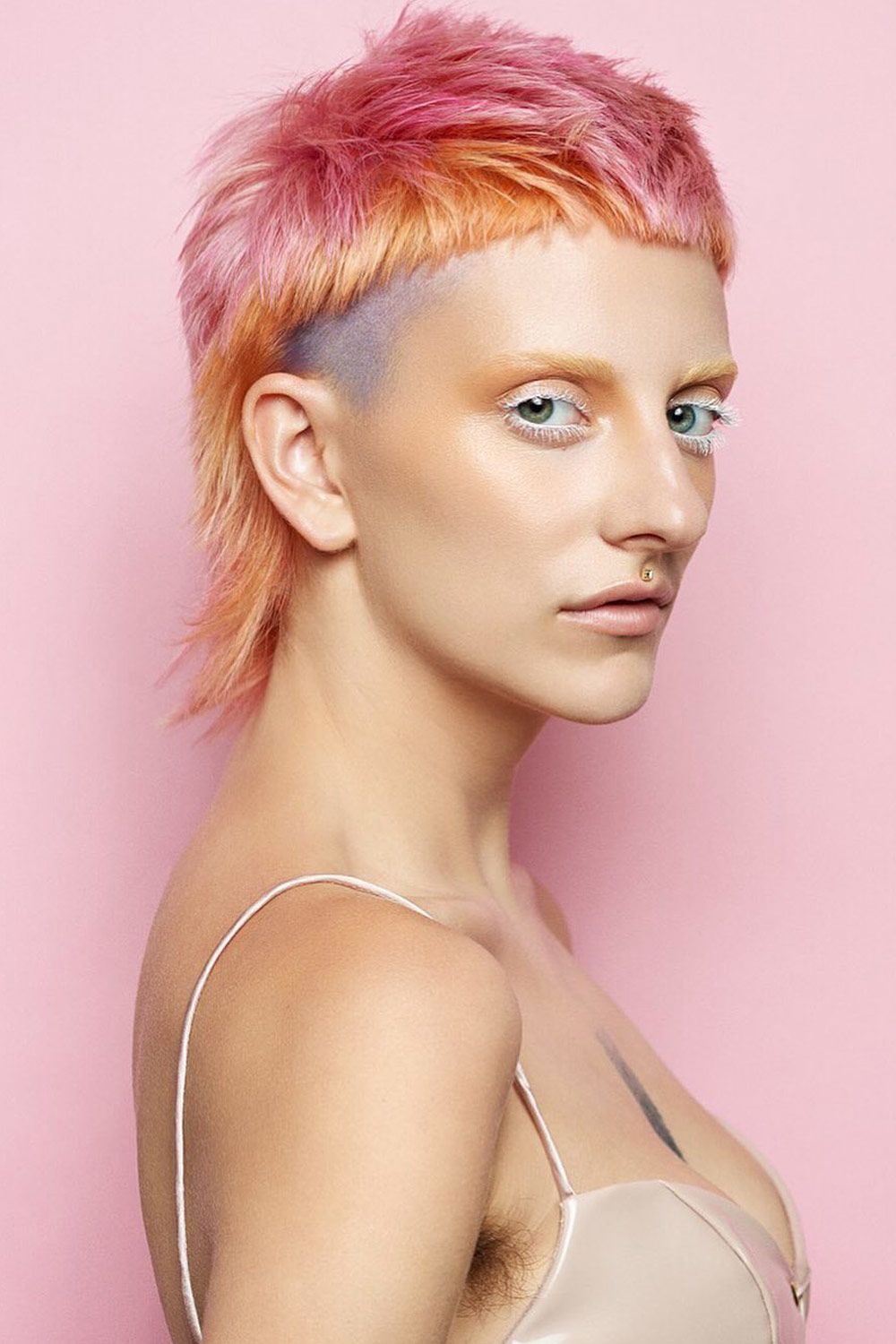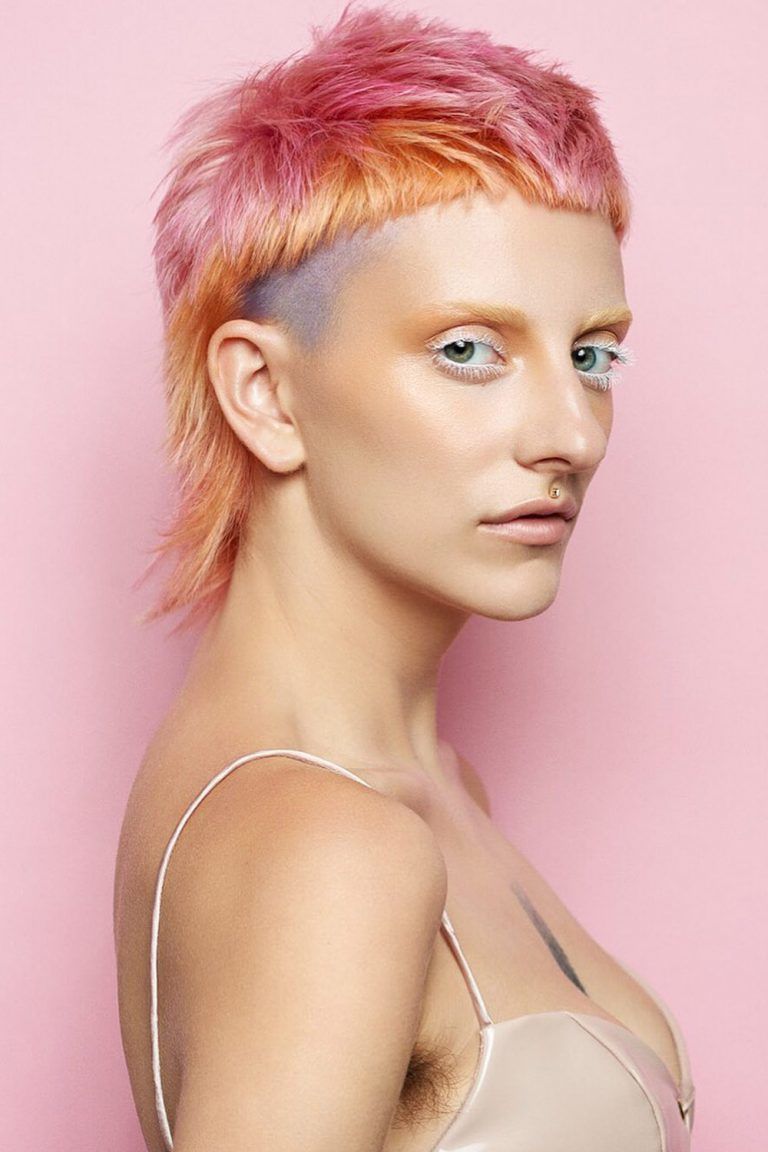 Credit photo: @doug_theo
i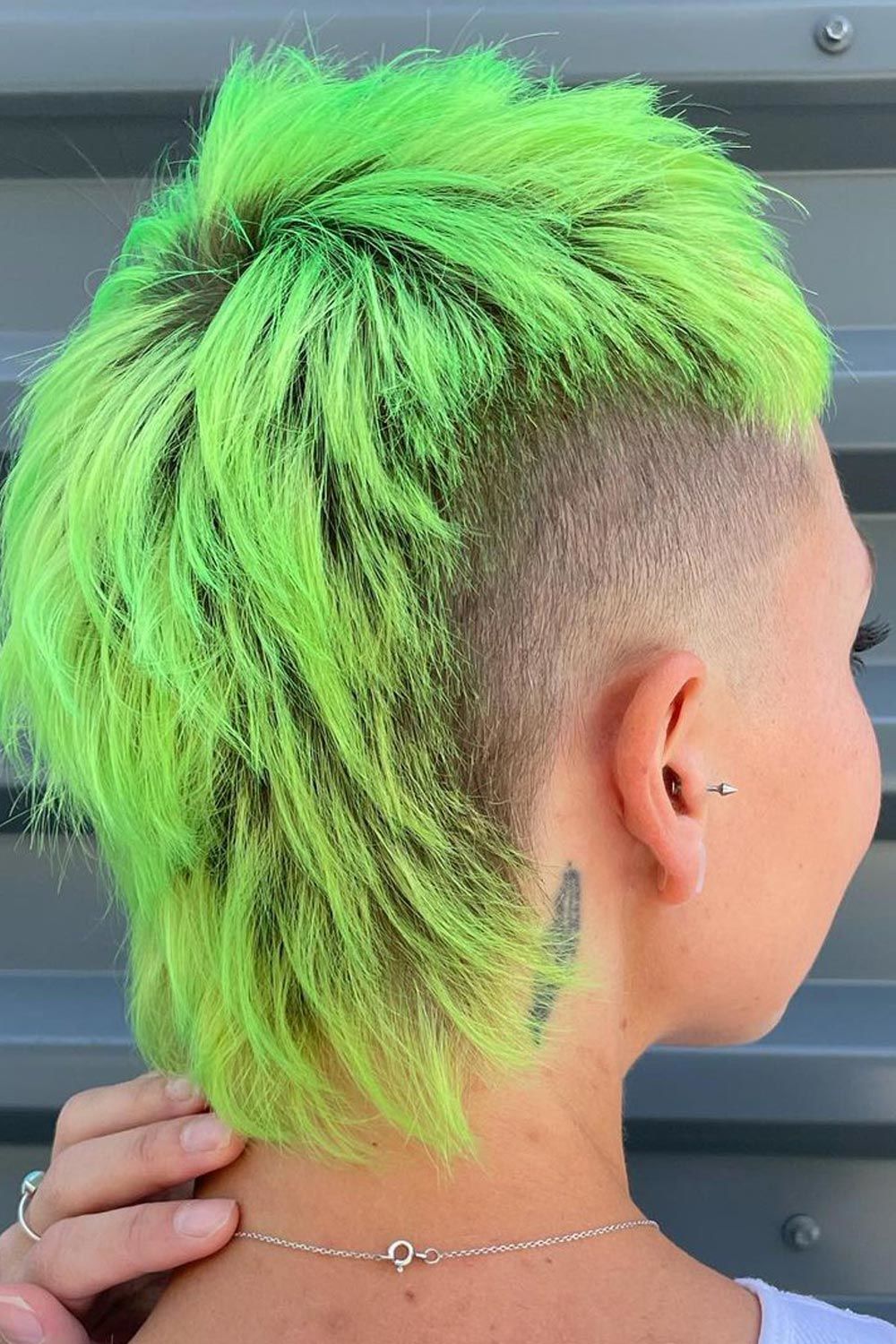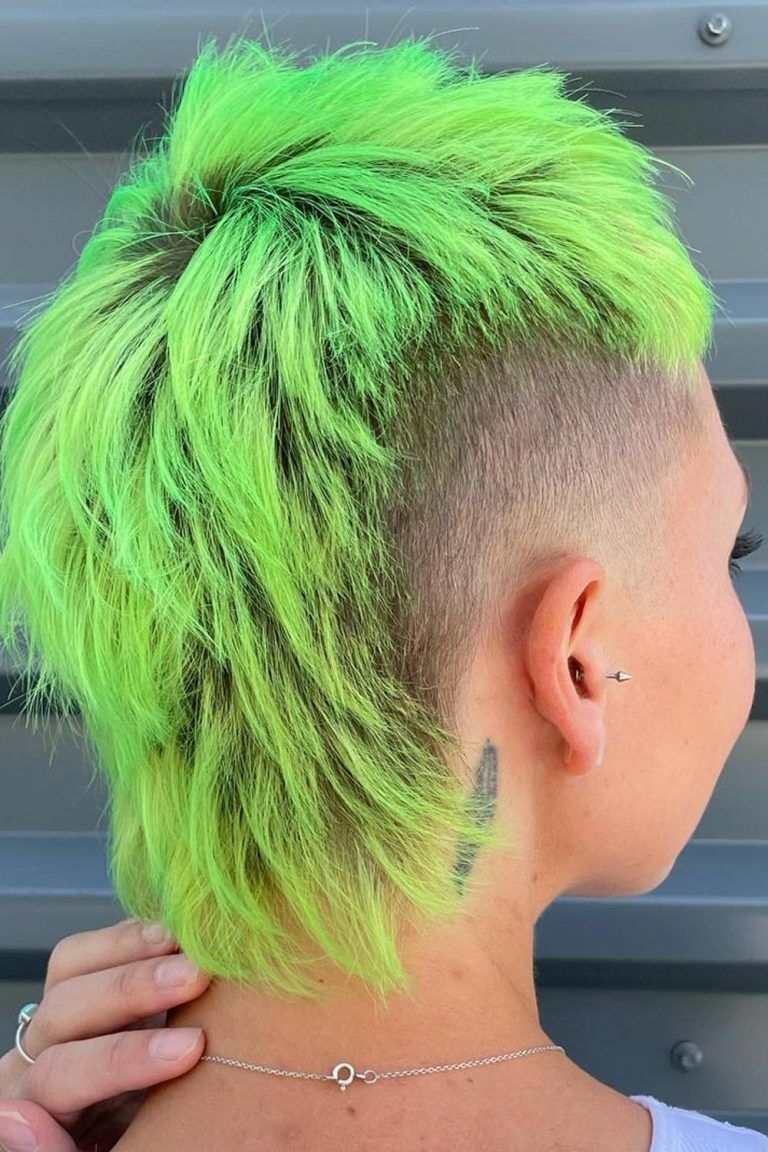 Credit photo: @doug_theo
i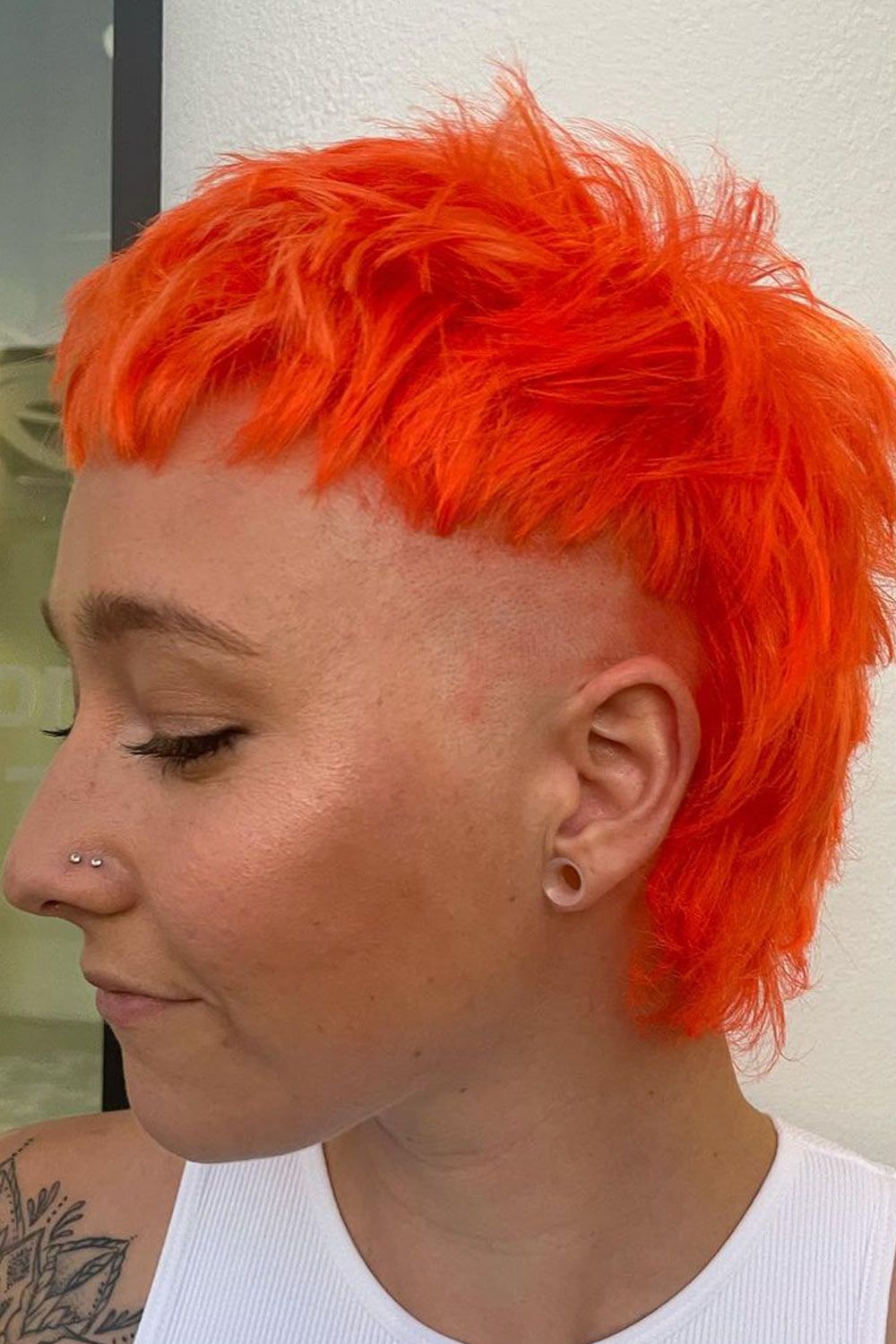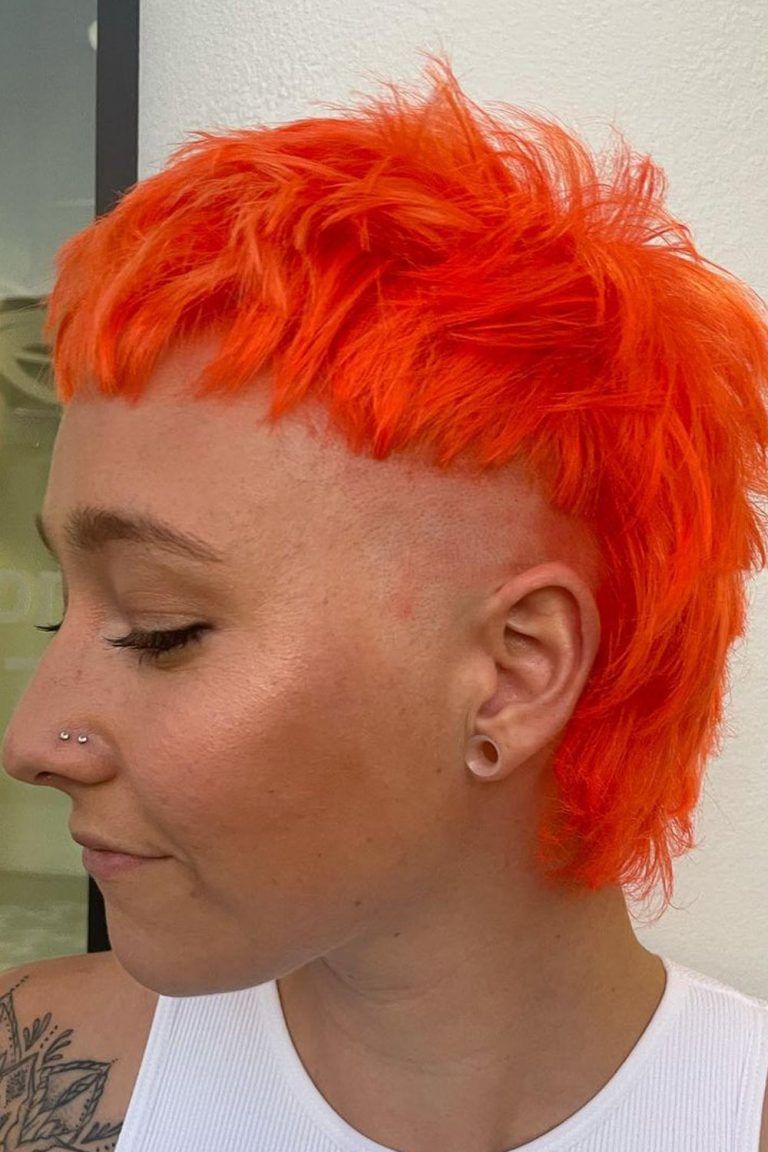 /
Female mullet hairstyles photos are incredibly versatile and impressive. No matter your personal preferences and ideas, there's always a look to think about. If keeping things low-maintenance is your number one priority, then a pastel-hued, short mullet with shaved sides is a worthy option to consider.
Punk-Style Female Mullet
Credit photo: @andrewdoeshair
i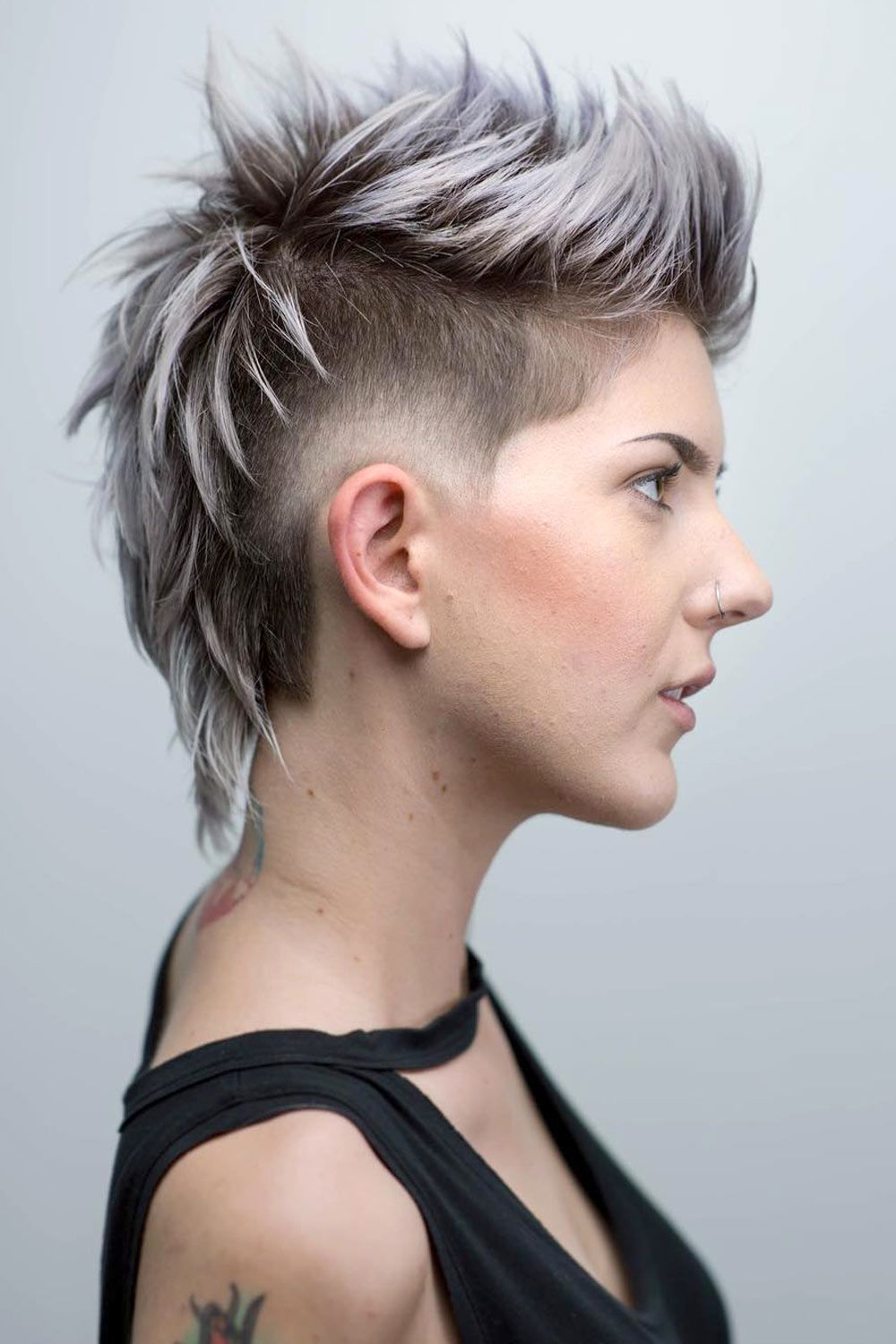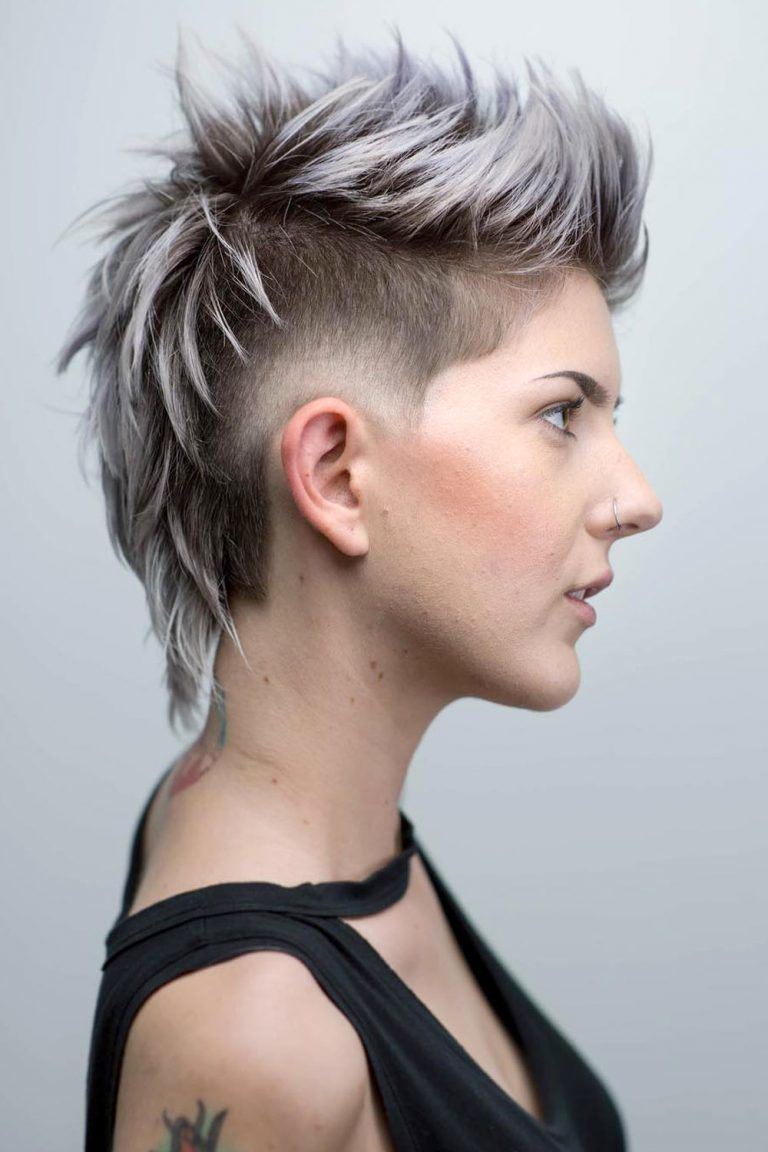 Credit photo: @andrewdoeshair
i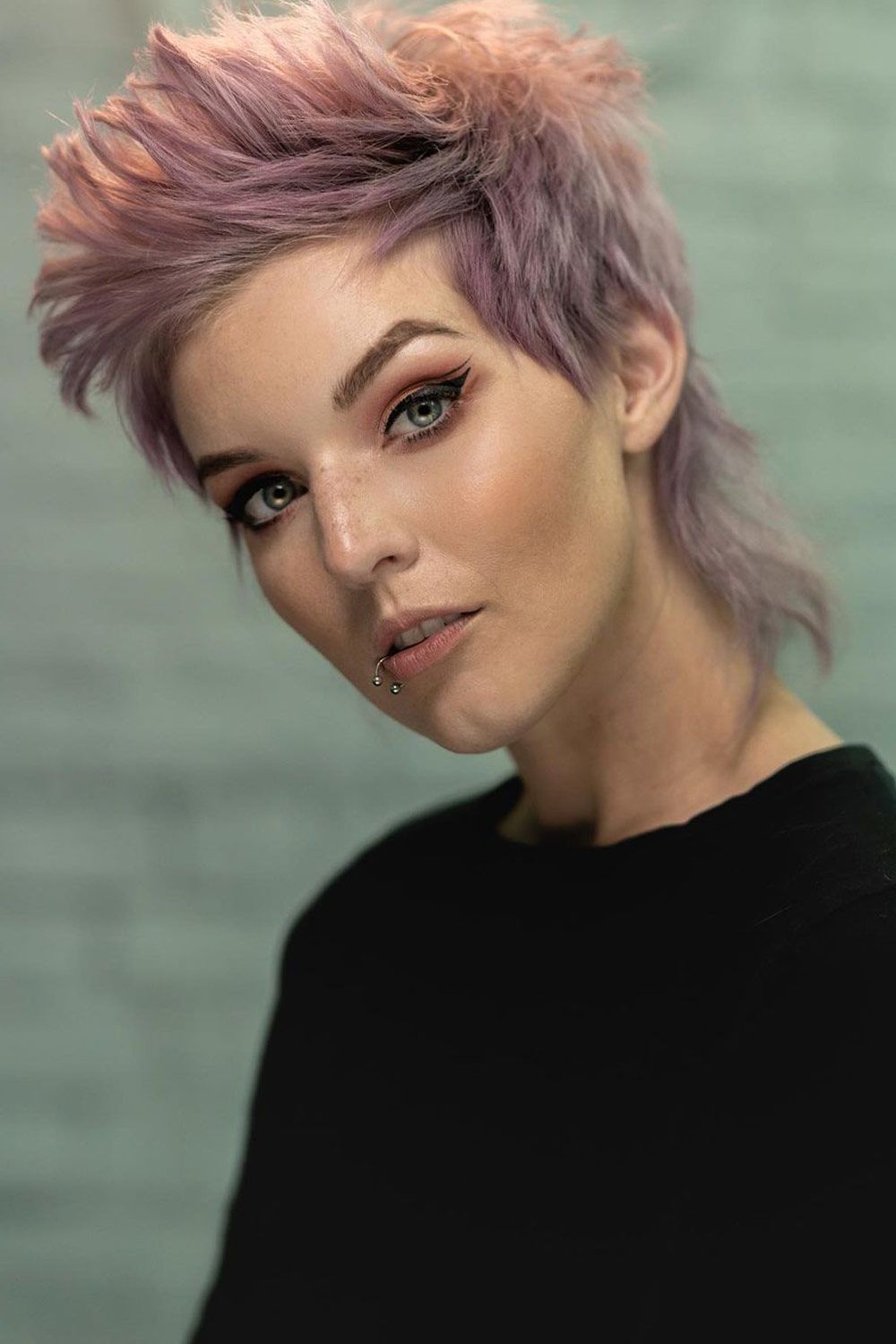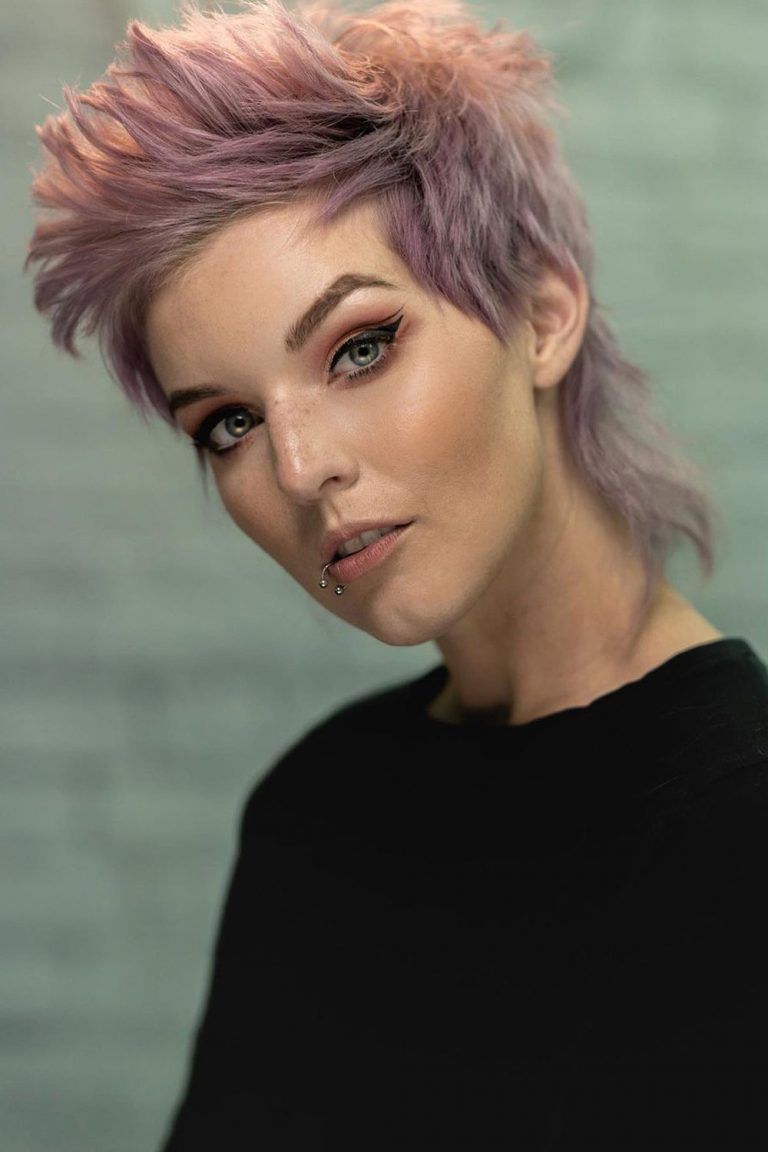 /
Modern mullet female variations are truly impressive in their majority. To preserve your rebellious vibe without stepping away from your punky nature, you can easily pull off a mohawk-related mullet. Even bold coloring isn't required here. A mild silver hue will deal with the task effectively. Add a stylish fade to the undercut, and you'll look irresistible and edgy.
Ultra Feminine Messy Golden Pink Mullet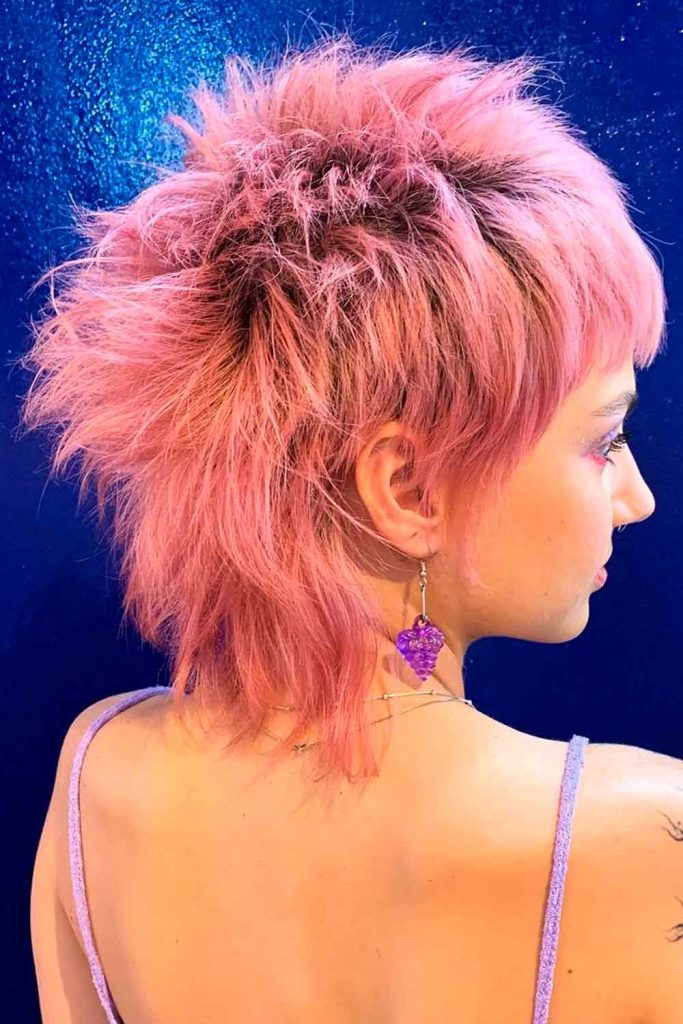 Credit photo: instagram.com/exotismos
The golden pink mullet is a perfect mullet for women who desire a hairstyle that combines elegance, playfulness and a touch of effortless charm. This dreamy combination of warm golden hues and soft pink undertones adds a whimsical and romantic touch to your hair. It's a shade that exudes femininity, radiates confidence, and effortlessly captures attention wherever you go. The delightful contrast of the tones makes the Ultra Feminine Messy Golden Pink Mullet a truly eye-catching choice. It's a hairstyle that celebrates the art of embracing imperfections and embracing a carefree, messy allure.
Teal Mullet with Stylish Curtain Bangs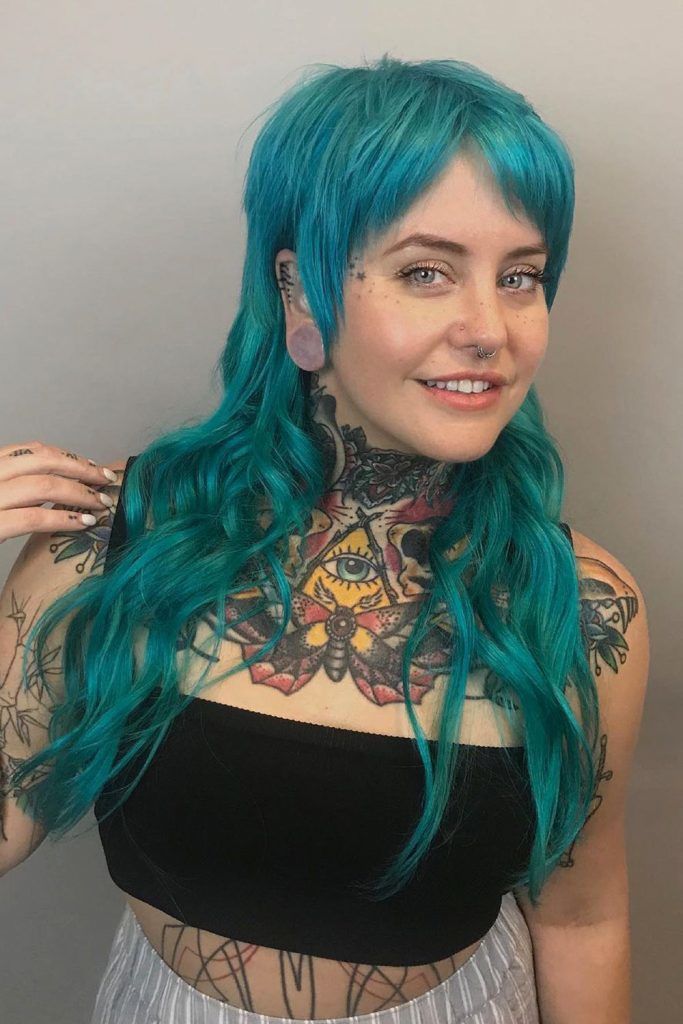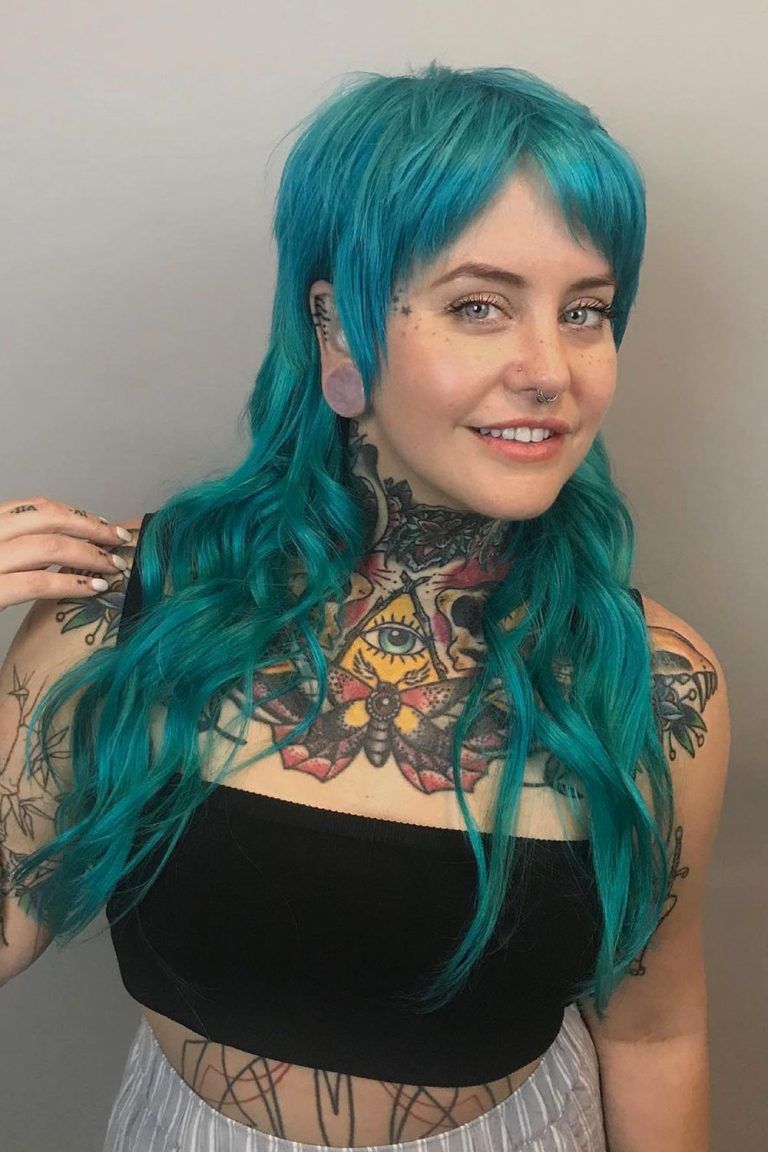 Credit photo: instagram.com/thehairygodmotherr
Curtain bangs are all the rage at the moment. However, what happens if you combine two equally trendy styles? You can see the result in one picture – a gorgeous long teal-shaded mullet with awesome curtain bangs. A look like that will make you a true mullet believer even if you considered the cut distasteful before.
Unicorn Mullet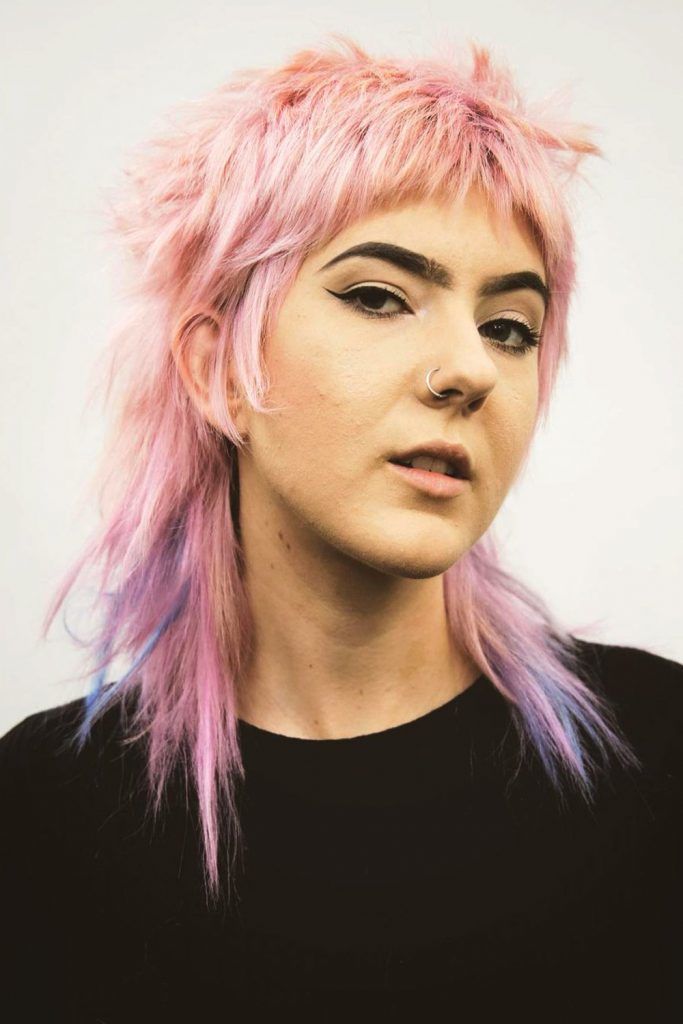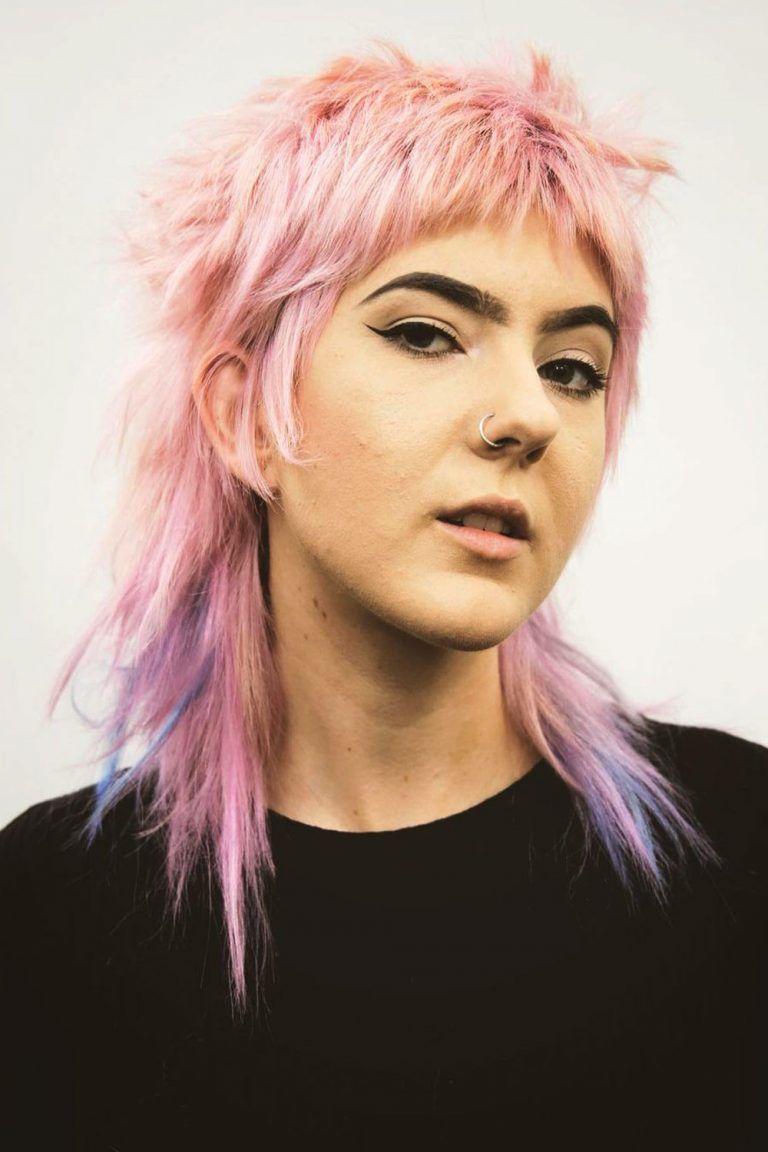 Credit photo: instagram.com/andrewdoeshair
Wispy bangs will help you look like the true magical unicorn that you are. Keep the pastel hues closely related, like pink and violet, while skillfully cut layers will do the rest. To keep the style in place – run your fingers with some product on through your mane and make it look perfectly disheveled.
Pink Mullet with Thick Bangs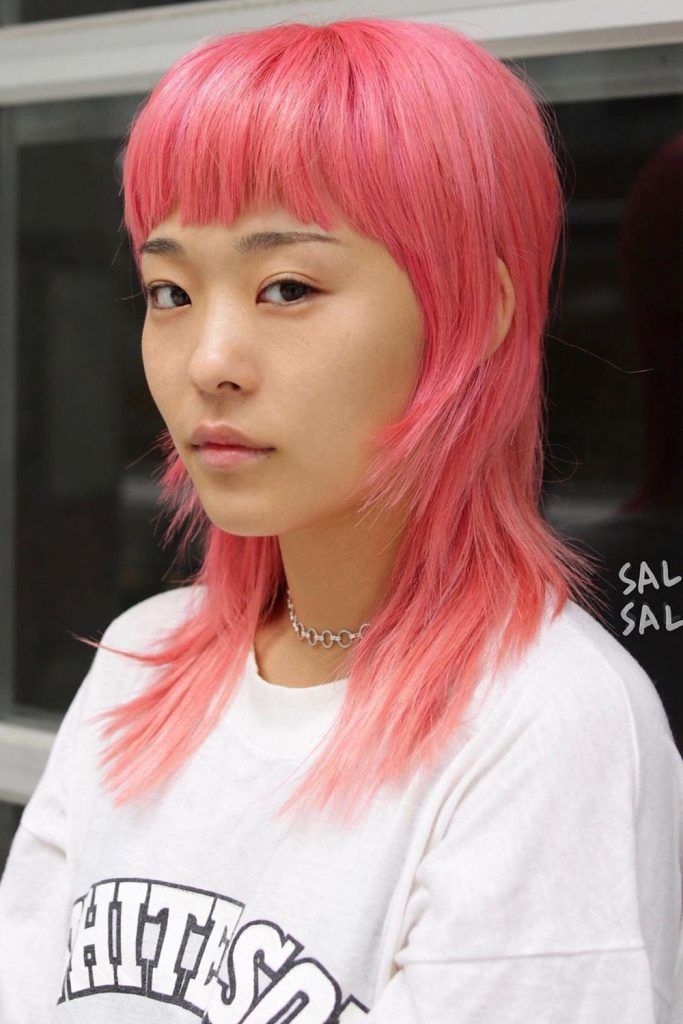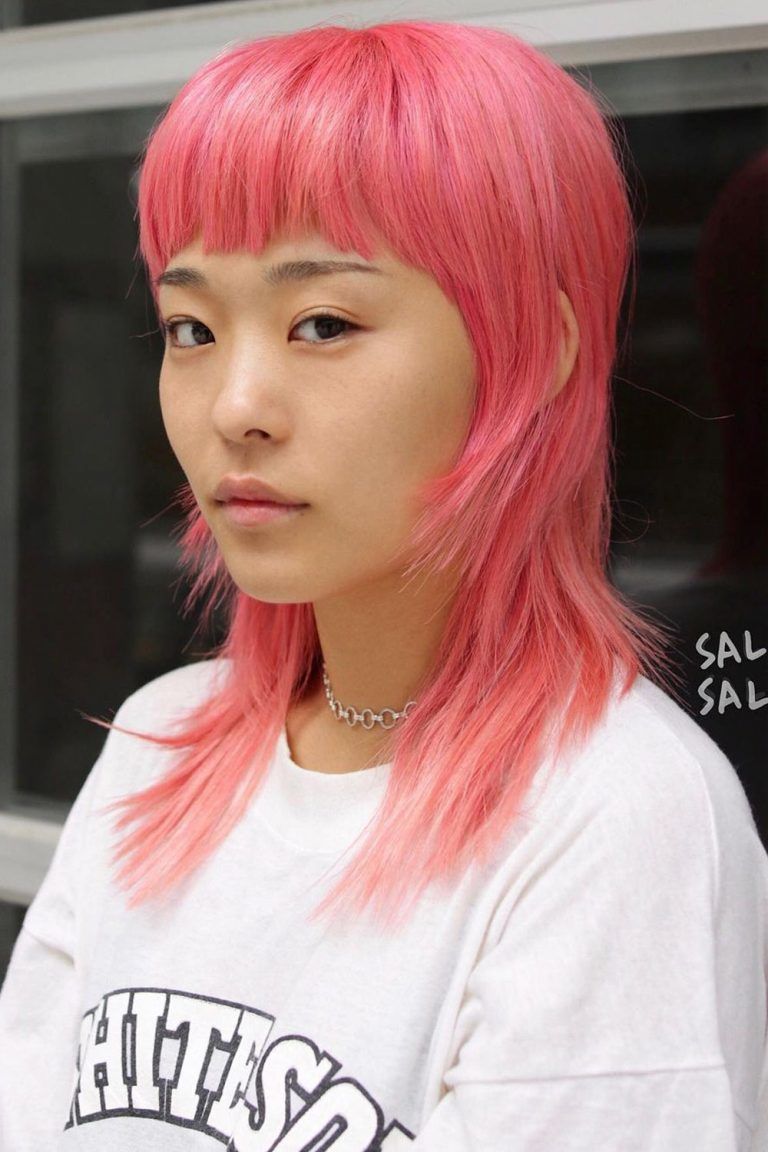 Credit photo: instagram.com/salsalhair
At the time, it's pretty challenging to tell a girl mullet hairstyle from anything else. This example proves the point perfectly. If you didn't know what a mullet stands for genuinely, you wouldn't have guessed this gorgeous pink hairstyle for thick hair to be one. That's the beauty of versatile cuts. We can tell you that much.
Long Female Mullet with Messy Layers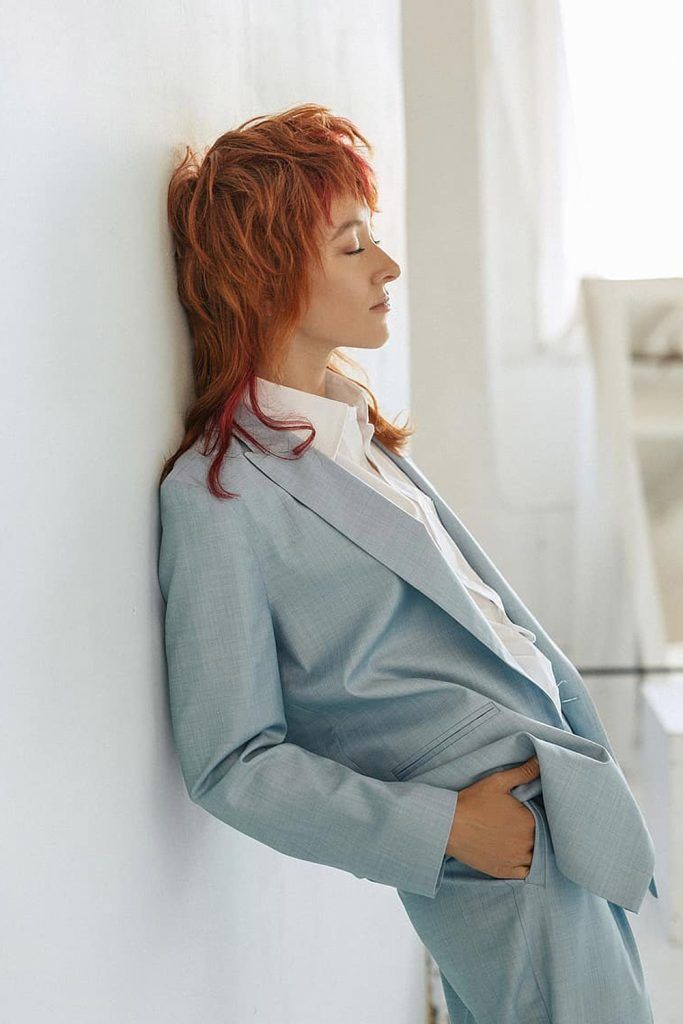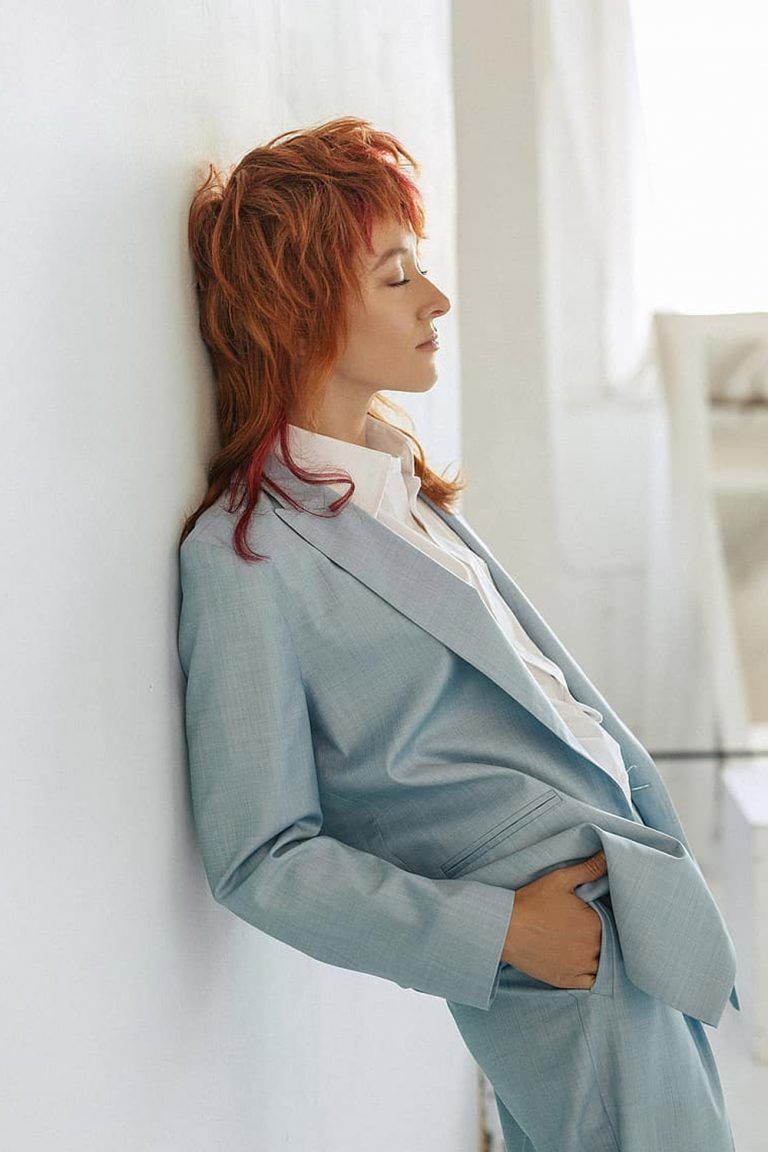 Credit photo: instagram.com/ilyashuvalov_nn
Who could have thought that a classy mullet can look so spicy and great on longer manes? The sleek layering in the front together with a well-trimmed back make an irresistible combo. Besides, the variety of styles to pull off is grand. You can be anything you want – an elegant secretary or a hot rock start depending upon the mood with a cut like that!
Sassy Mullet Hair with Shaved Sides
Credit photo: @doug_theo
i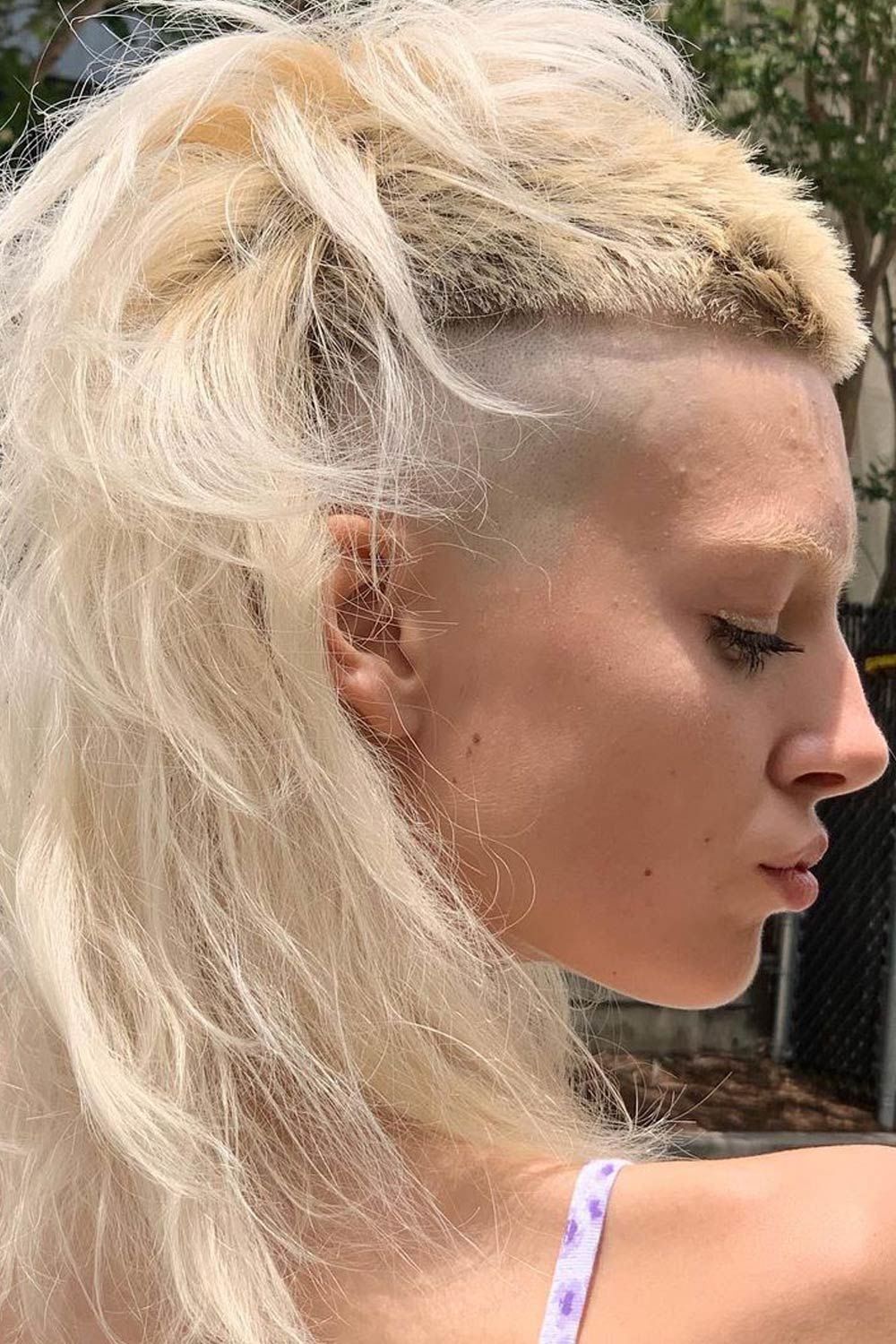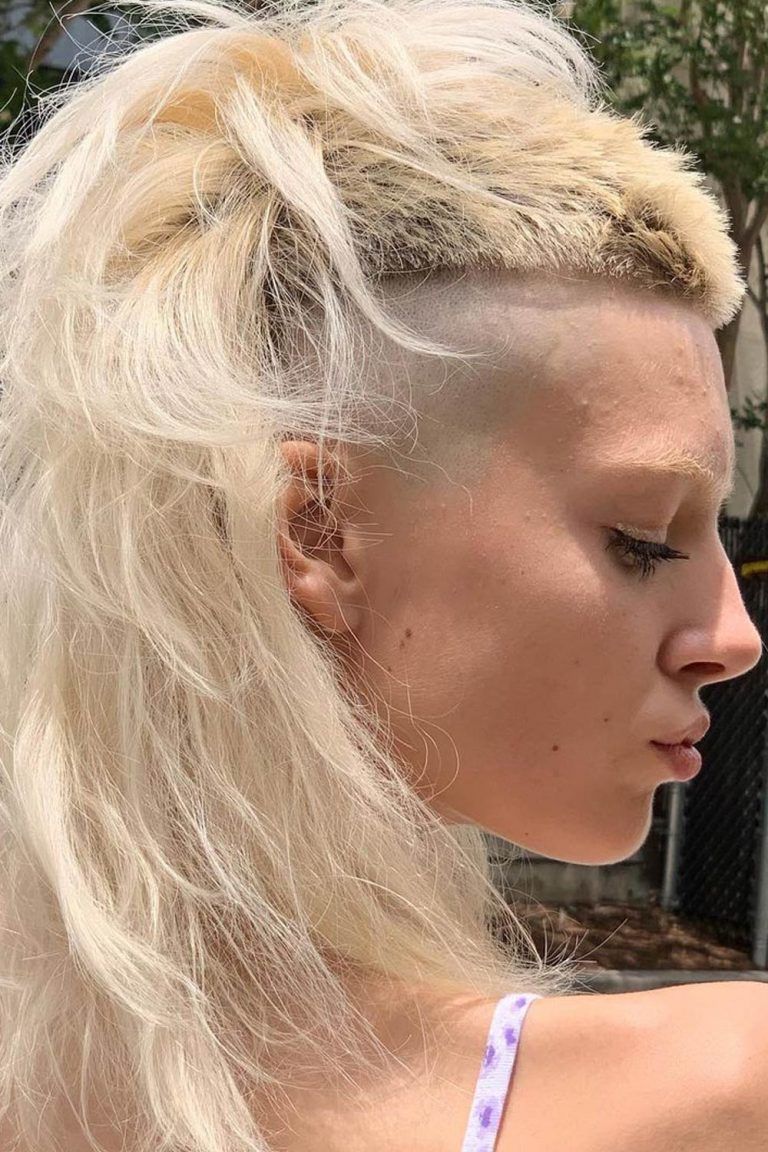 Credit photo: @shrunknheads
i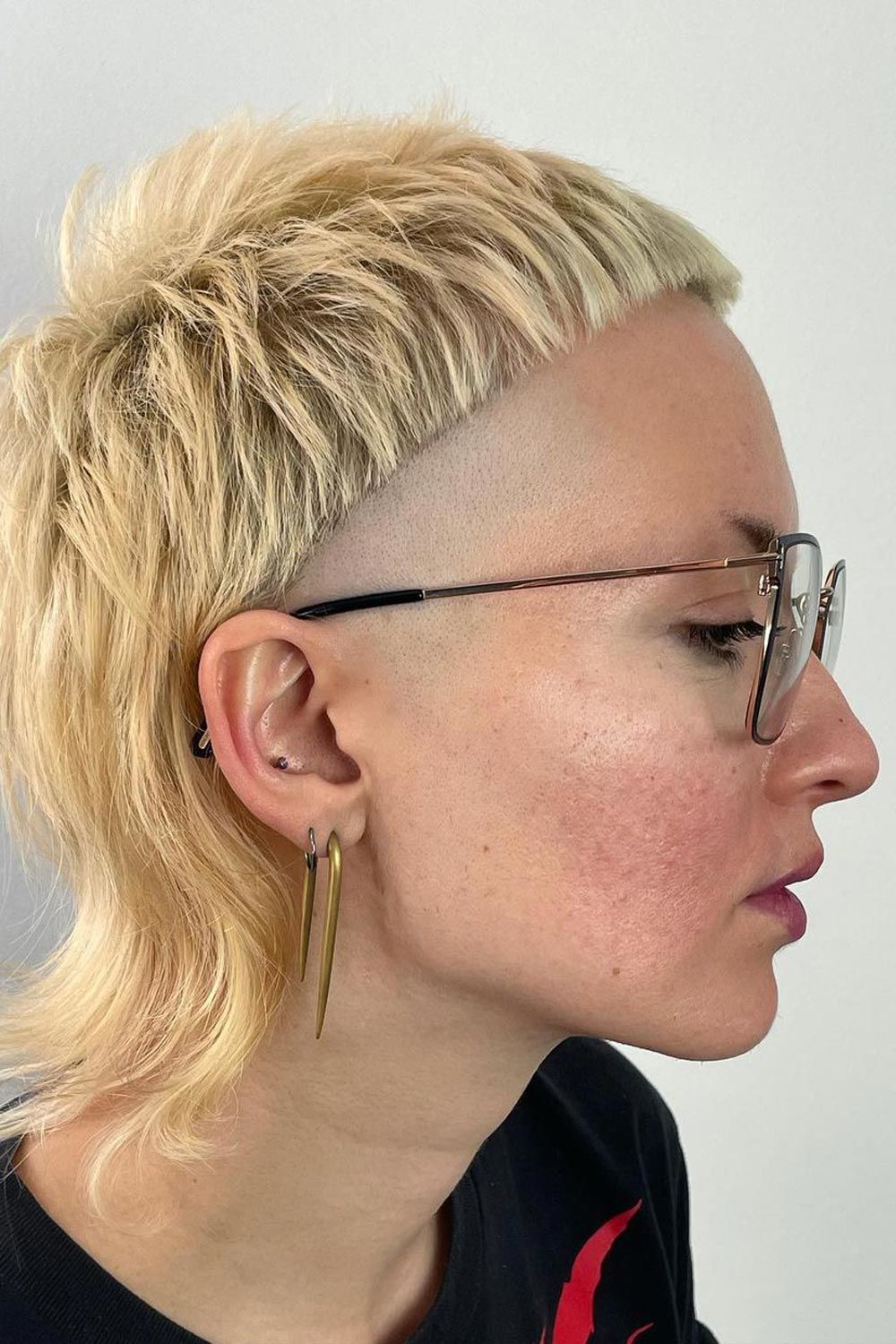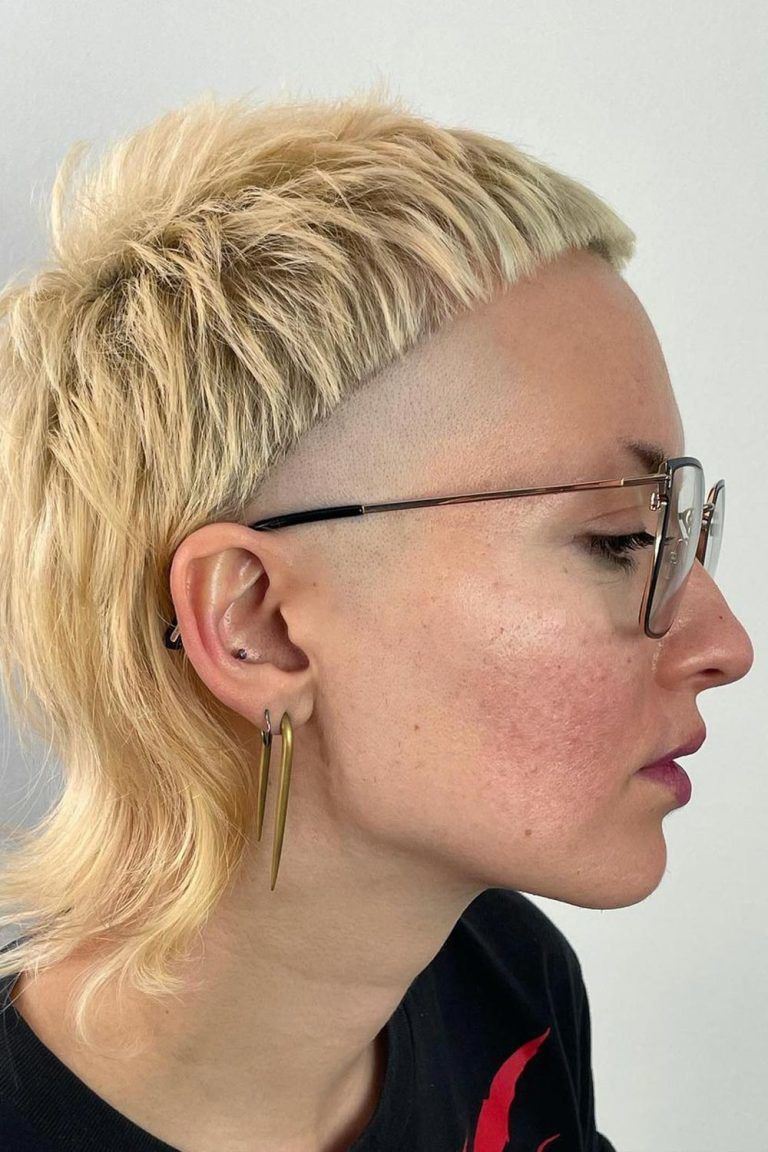 Credit photo: @exotismos
i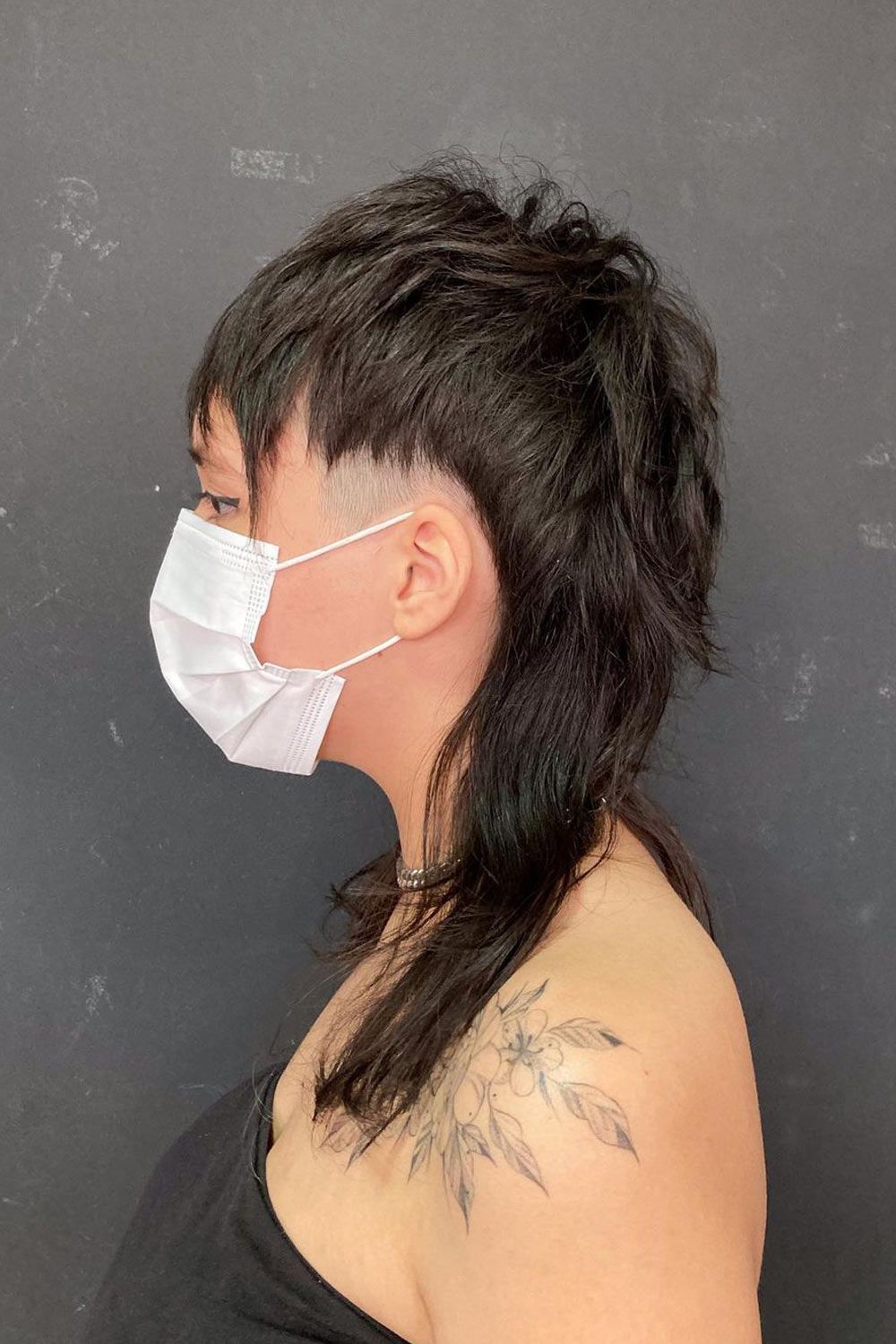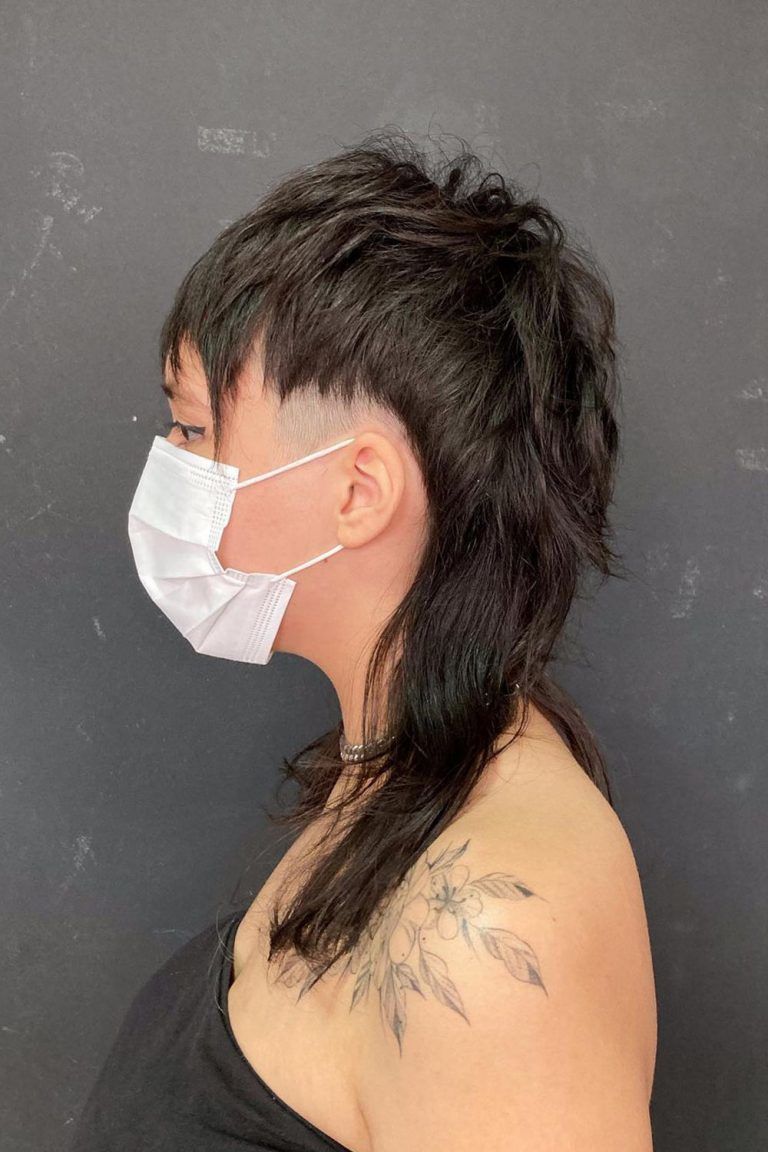 /
If you are not afraid to stand out in the crowd, then you can take a female mullet to another level of boldness by shaving the sides to the skin. In this way, the hair on top and back gets ultimate attention. So, you are free to play around with styling. Remember though that you will need to pay visits to your hair stylist pretty often to keep your haircut fresh. Alternatively, you can learn how to cut your own hair and get upkeep in the comfort of your own home.
Long Wavy Mullet Hair
Credit photo: @shrunknheads
i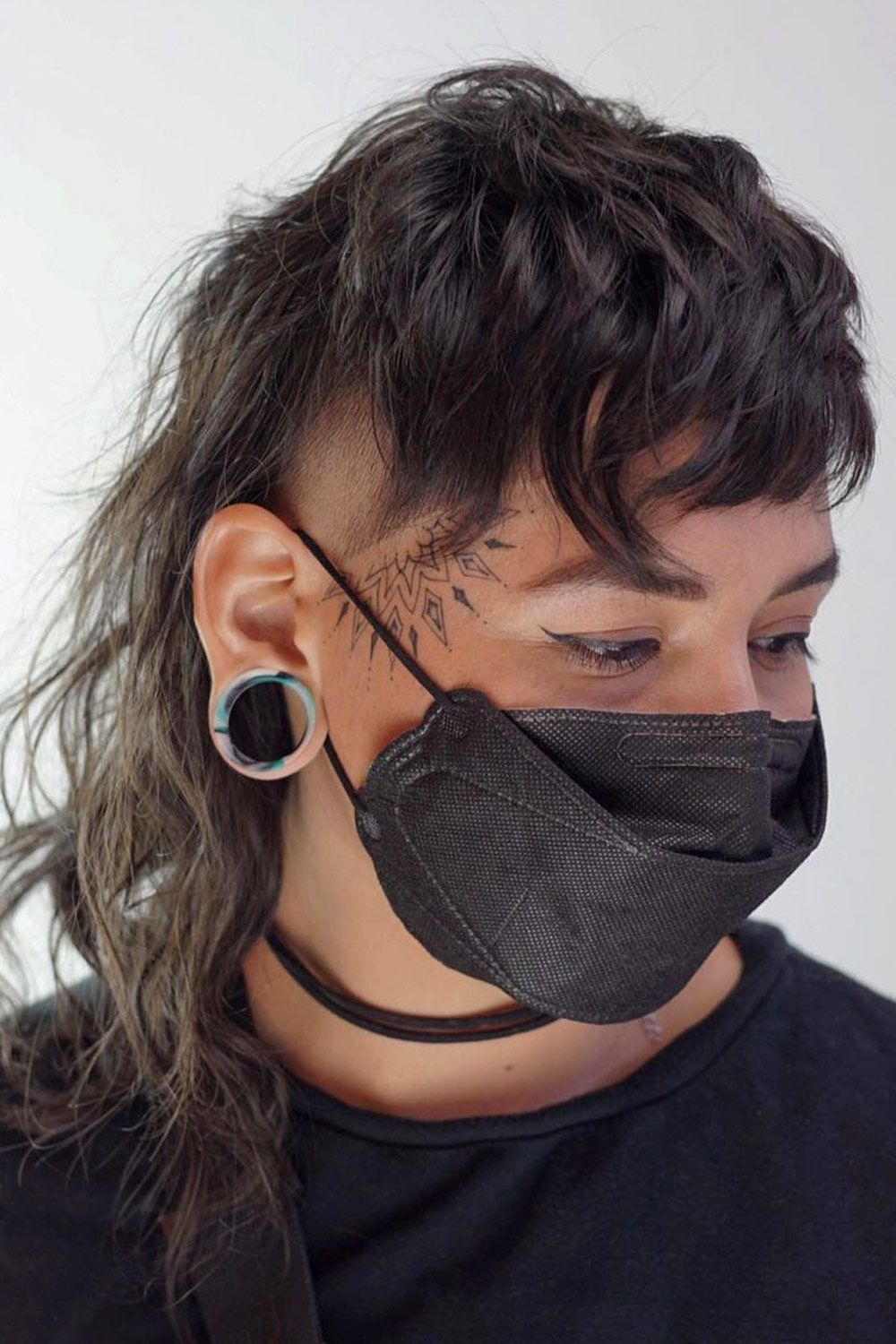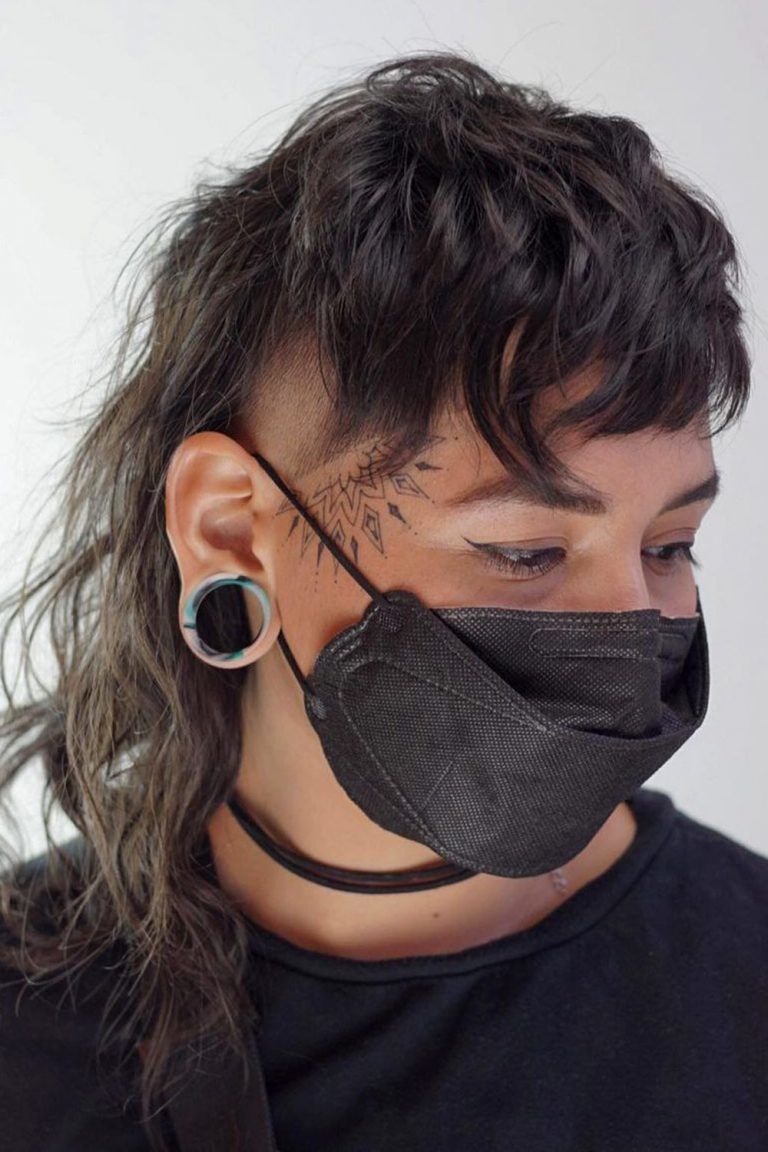 Credit photo: @noblandhair
i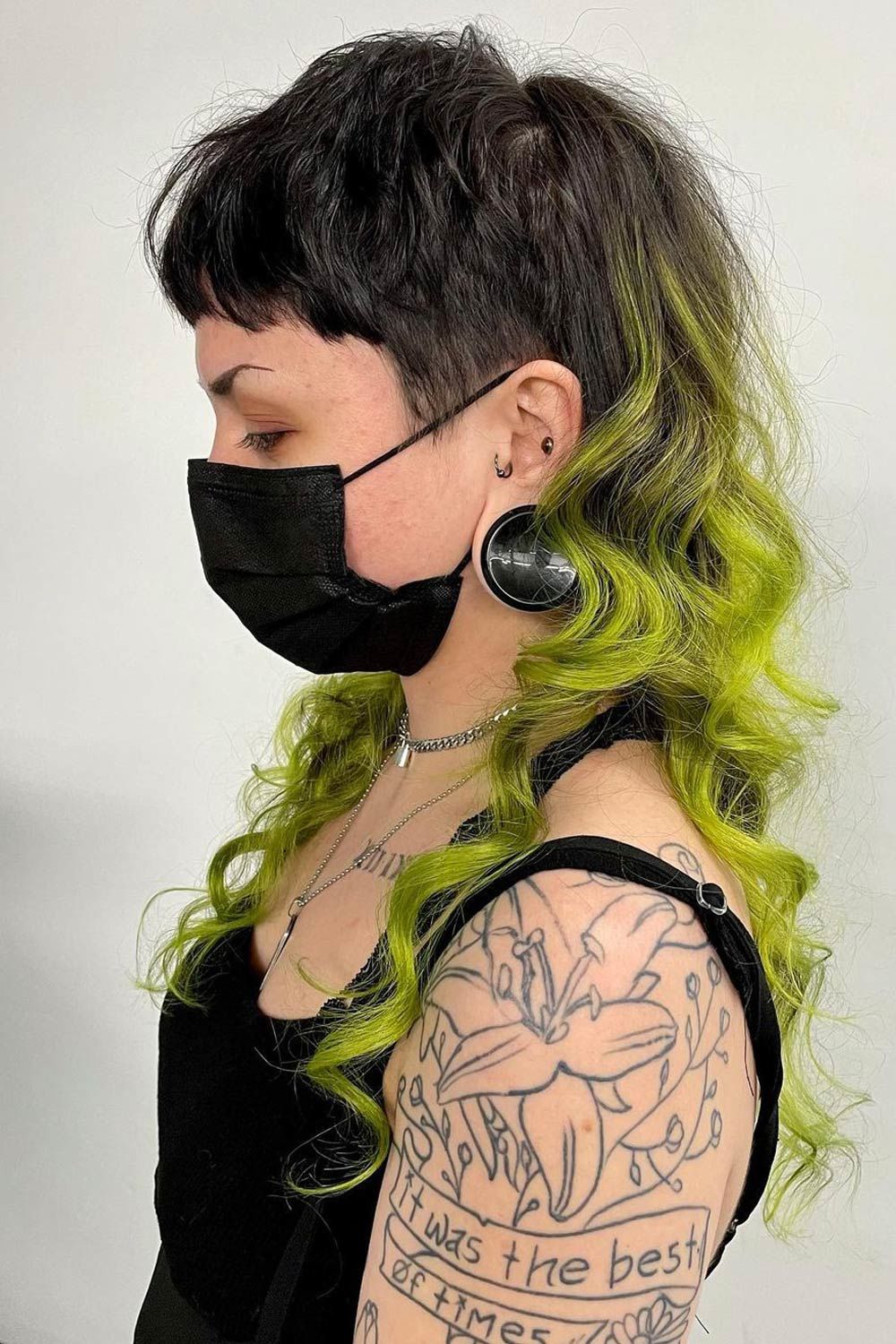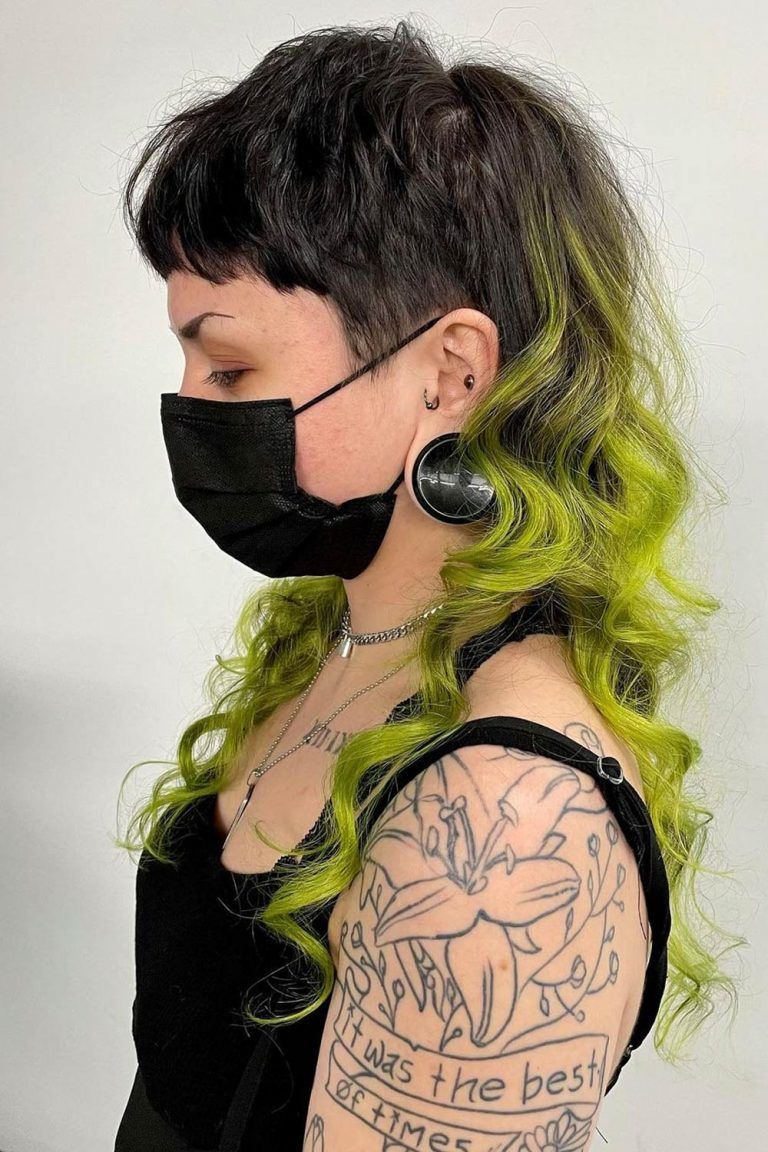 /
The most suitable hair type for a perfect mullet is wavy. It does not mean that others cannot have it. Yet, a wavy mullet is one of the most preferable ways to wear the style. To make it more impactful, leave quite a lot of length in the back. While it is a bit more difficult to maintain compared to a classic "business in the front, party in the back" haircut, the effort will fully pay you off with tons of compliments you are going to collect.
Mullet Cut Ideas for Women over 40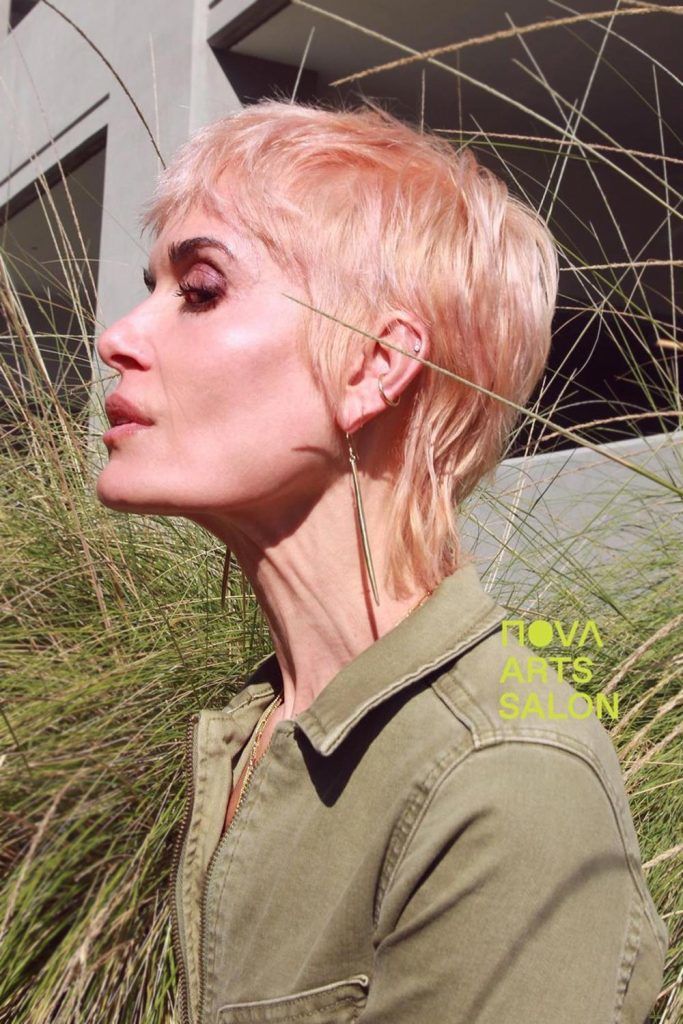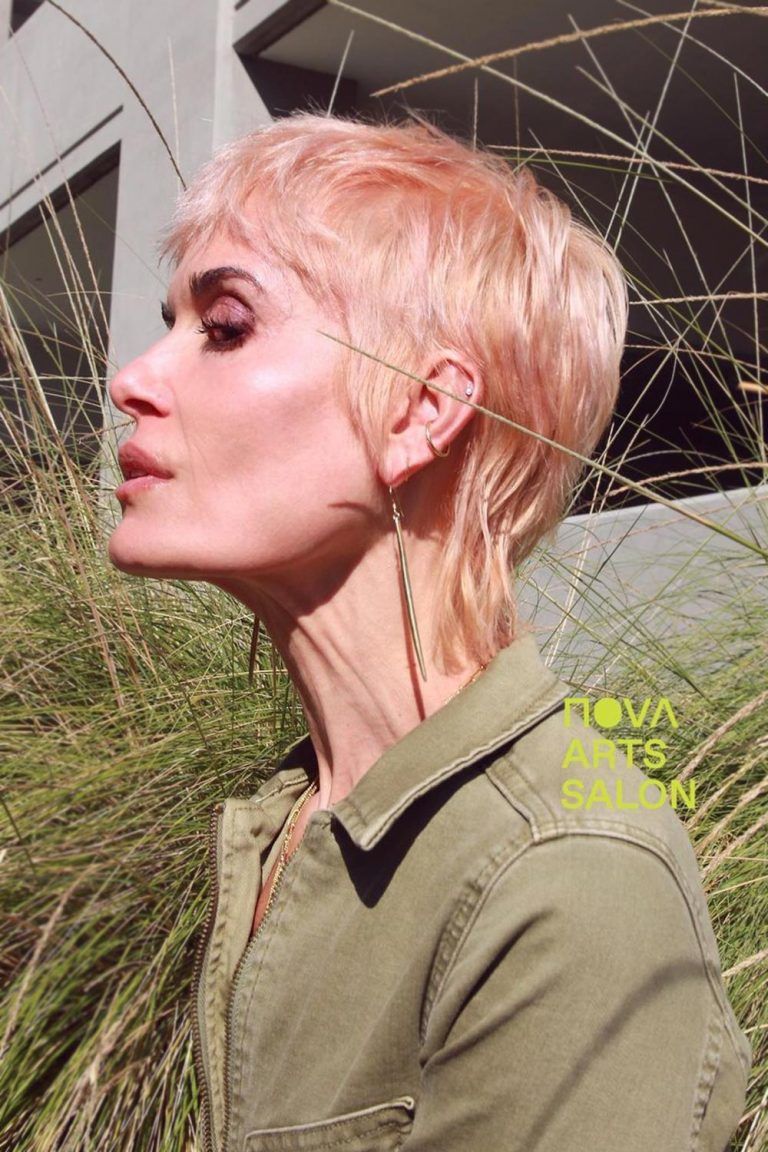 Credit photo: instagram.com/salsalhair
For mullets, there are no restrictions in terms of not only hair length and texture but also age. For this reason, women who are a little or much older than 40 should not shy away from a trendy cut. Mullets look incredibly flattering on women of any age. Besides, they allow you to enhance your beautiful facial features while disguising any potential imperfections. Want to make a strong fashion statement with your cut? You are welcome to dye your mane into an eye-catching color.
Curly Mullet Style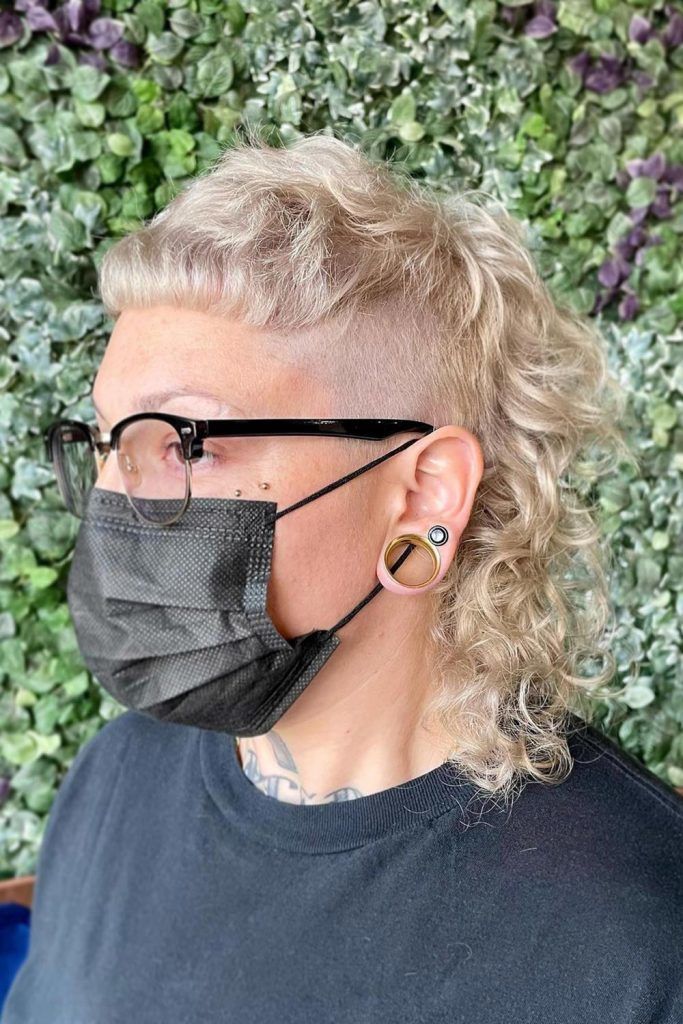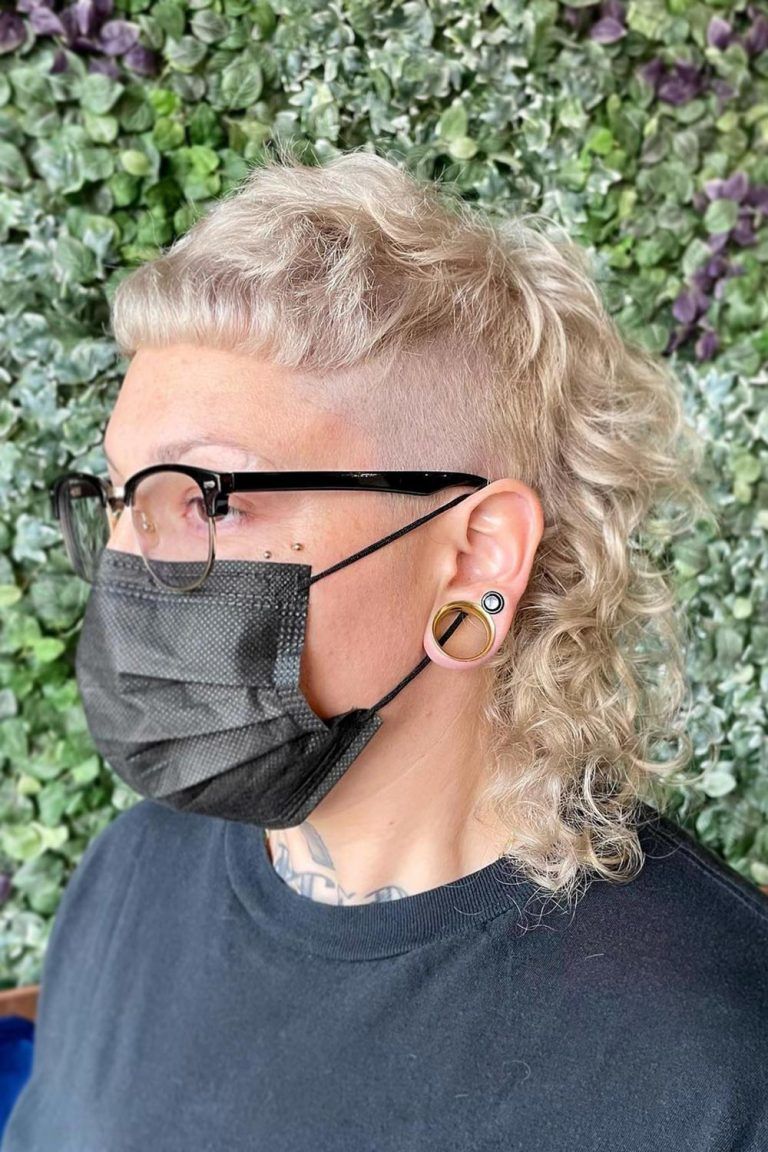 Credit photo: instagram.com/noblandhair
Women with curly hair may find it really difficult to tame their locks. Thus, it is a good idea to opt for a haircut that would be both fashionable and practical, such as a curly mullet. As the sides feature less hair, it provides you with ease of maintenance and styling. As such, there are many ways to pull it off. An undercut mullet will create a cutting edge hair look, while a taper mullet is a way to go for those who are looking for a low key haircut.
Half and Half Bang with Auburn Mullet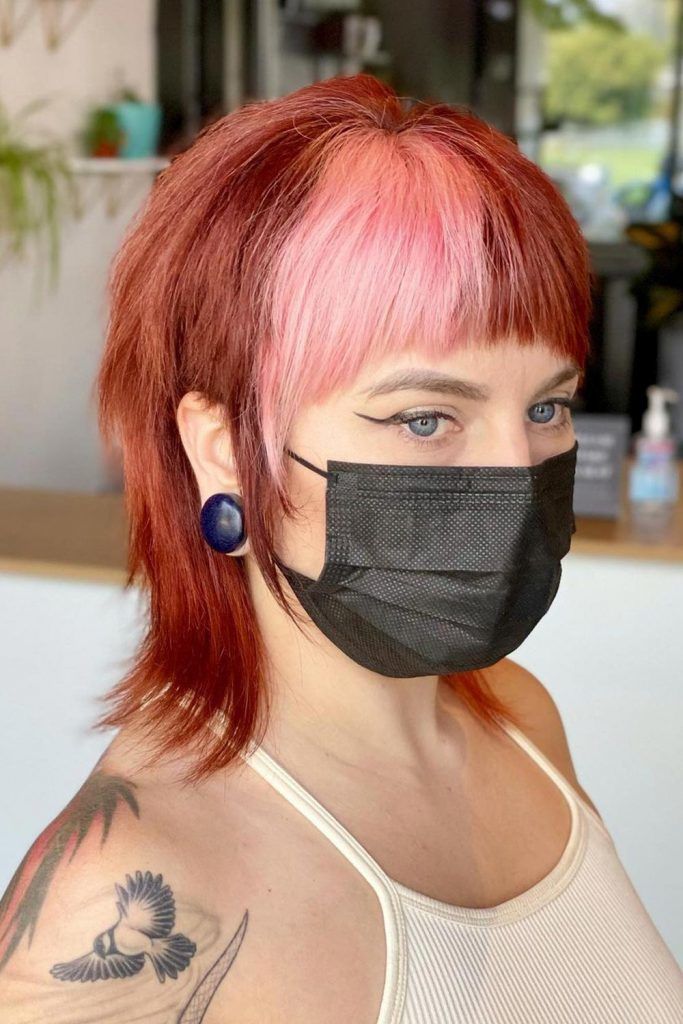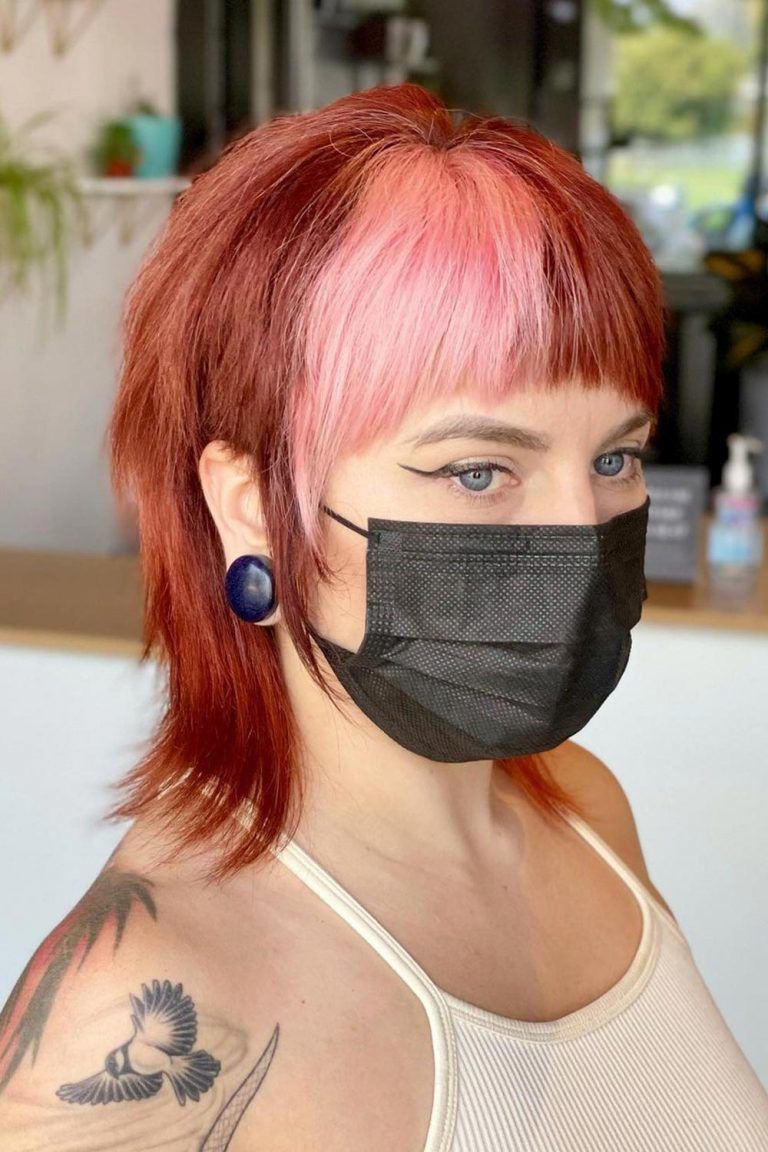 Credit photo: instagram.com/noblandhair
Mullets pair nicely with bright and vivid hair colors, especially if you add a high contrast shade to them. Not sure how to accentuate your haircut? Dye your bangs half and half. The colors can be either complementary for a more striking appearance or matching for a softer finish. Take into account, however, that flamboyant shades tend to fade out quickly, so you will need to refresh your hair color quite often.
The Shaglet – The Hottest Trend for 2023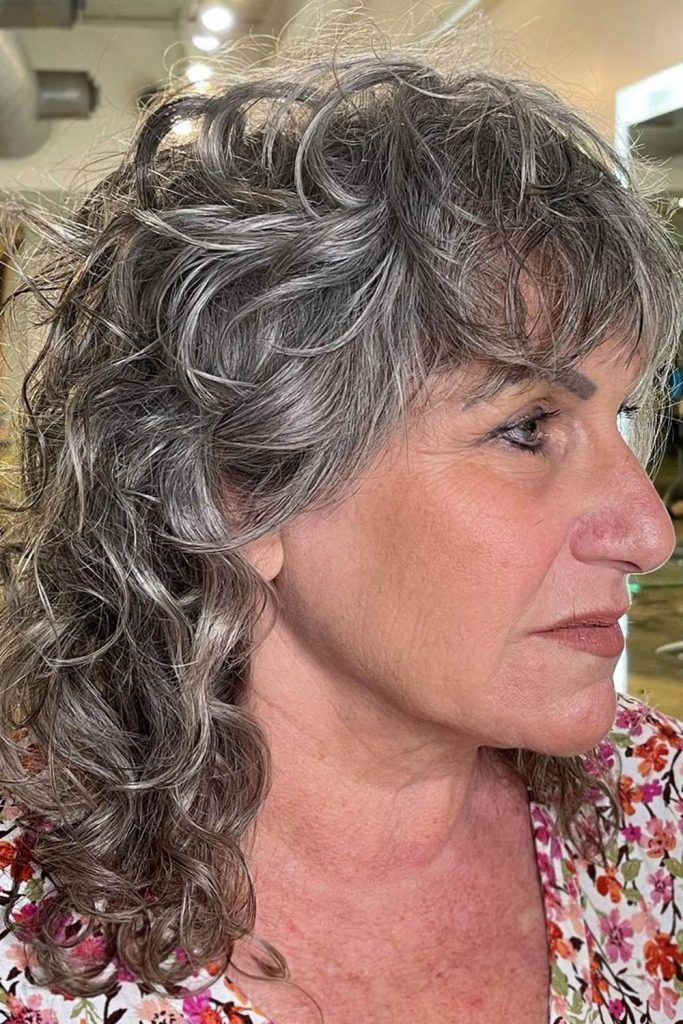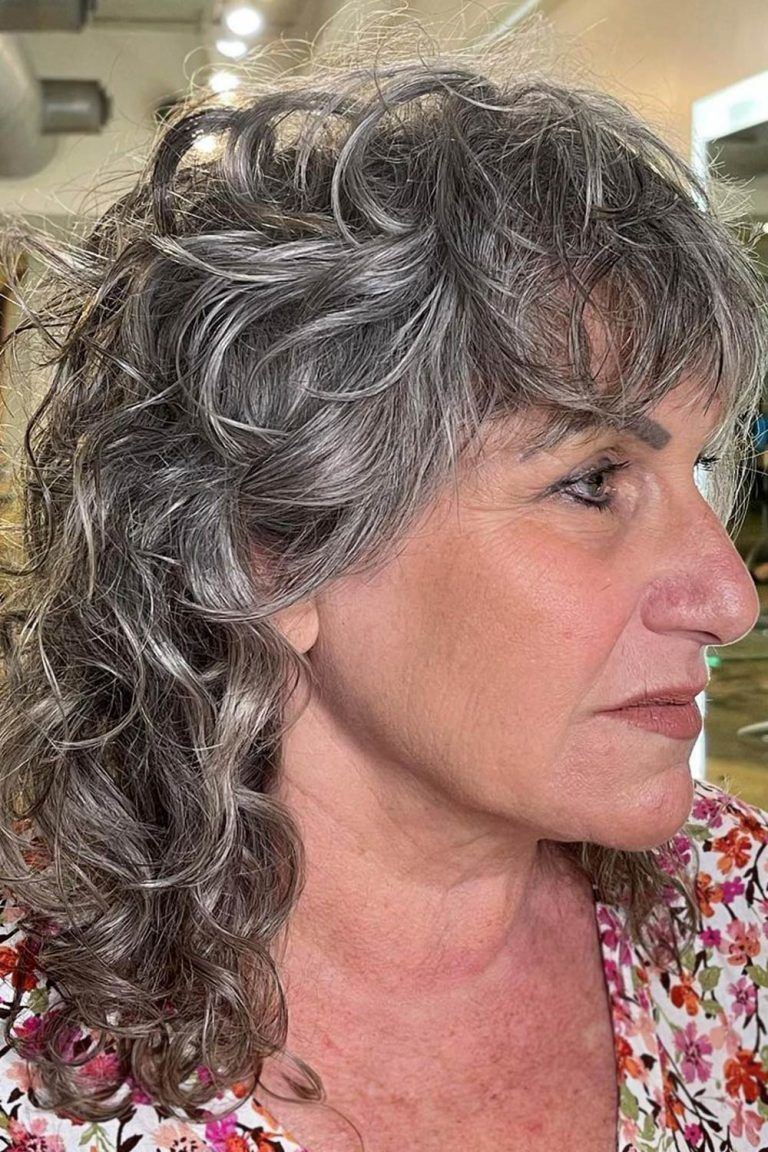 Credit photo: instagram.com/josh_congreve
While you are getting properly familiar with the ways how style a mullet, you should know that there is an alternative to consider, too. Shaglet is on the rise at the moment. Are you still utterly unaware of what is a Shaglet? To put it simply, it is a perfect union of where a female mullet meets a shag haircut. The outcome is all about the texture without any heaviness about it.
The main reason why this type of haircut is gaining popularity at the speed of light is the fact that along with the wolf cut, it is designed to grant you the confidence you haven't known has been dormant in you.
Once you decide to pursue the notion of a fashionable shag tail, there are a few tips to keep in mind to achieve the best result.
Every person is different, and so is the shape of their head. Thus, while working on the image, you should consider the individuality of your head shape.
You won't achieve a flawless outcome without sacrificing some bulk to it.
The crown is the part where you should build the volume up.
Make sure there are proper cutouts above your ears so that there is no 'doggy ears' effect to be wary about.
Your fringe is the best statement you can use to emphasize your style and individuality. Thus, the more textured it is – the better!
Don't forget that the styling requires a peculiar approach and some styling products involved. Yet, you shouldn't go over the edge with the volume.
Another Top Haircut for 2023 - The Mixie: Mullet & Pixie Mix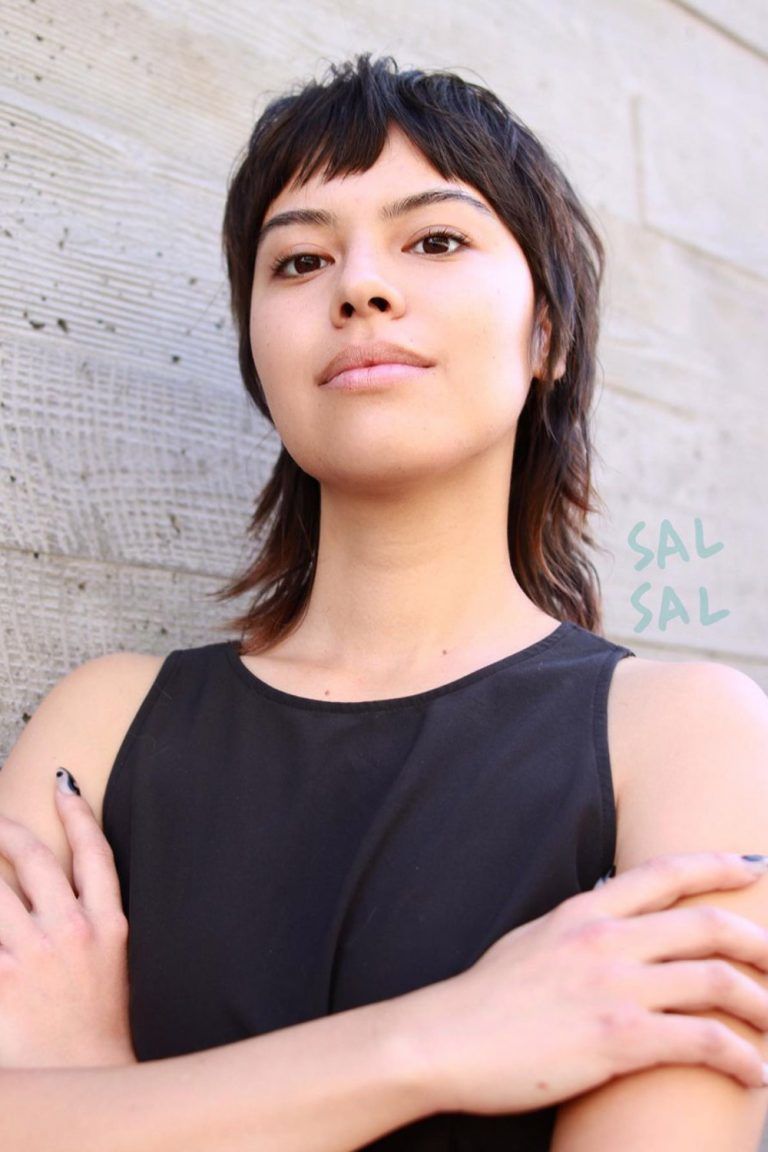 Credit photo: instagram.com/salsalhair
A modern female mullet can be combined with other popular women haircuts to create an unusual and quirky hair look. The mixie, which comes from the corruption of two words – the mullet and the pixie, is one of such cool combos. It is also a great option for women who prefer short hair but would like to try out something new. What is more, it opens up your face, thus allowing you to show it off.
Female mullet is back and trending. The style is no longer considered to be a sign of poor taste – on the contrary. If you want to look like a true fashion icon, it's time you browse the presented gallery and pick your mullet variation!
FAQ: Female Mullet
Can a girl get a mullet?
After a couple of years of attempting to resurrect itself, the mullet haircut has been updated for the twenty-first century trends, allowing anyone to ROCK this wonderful haircut. More ladies are now adopting this haircut, enriching it with new, sophisticated tips and styles.
Do mullets suit thick hair?
Straight long mullet is perhaps the most recognizable type of the mullet cut. This style works well with both thick and fine hair.
How do you make a mullet feminine?
Make sure the fringe is silky and soft, with enough of movement in the back.
Disconnect your hair at the crown, but maintain the sides attached along the length to keep it graded and silky
Does mullet work on straight hair?
Different to the original mullet, its modern version does not require you to have long hair. It can now be used on people with straight, wavy or curly hair. However, a fantastic mullet means more maintenance and responsibility.
REFERENCES:
Less expected: the mullet trend many celebrities are going for in 2021. Source
Was this article helpful?