Goddess braids are not so gloriously named for nothing. Not only do they make African-American ladies look ravishingly beautiful, they are also impressive, catchy, trendy, allow a lot of room for creativity.
Also known as scalp braids, it is pretty easy to confuse goddess braids with ordinary cornrows if you don't have a closer look.
What Do Goddess Braids Look Like?
Goddess braids are slightly different from cornrows due to their big sizes and techniques involved in plaiting them.
Normally, other braids like goddess box braids, French braids, fishtail braids, etc. depend only on the plaits to look beautiful, but goddess braids depend on the plaits and well laid scalp. The cutting of each strand that makes up the three sections braids is done artistically for the scalp to show.
Let's simply put it that goddess braids are thicker versions of cornrows on beautifully designed scalps.
Things You Need To Know Before Getting Goddess Braids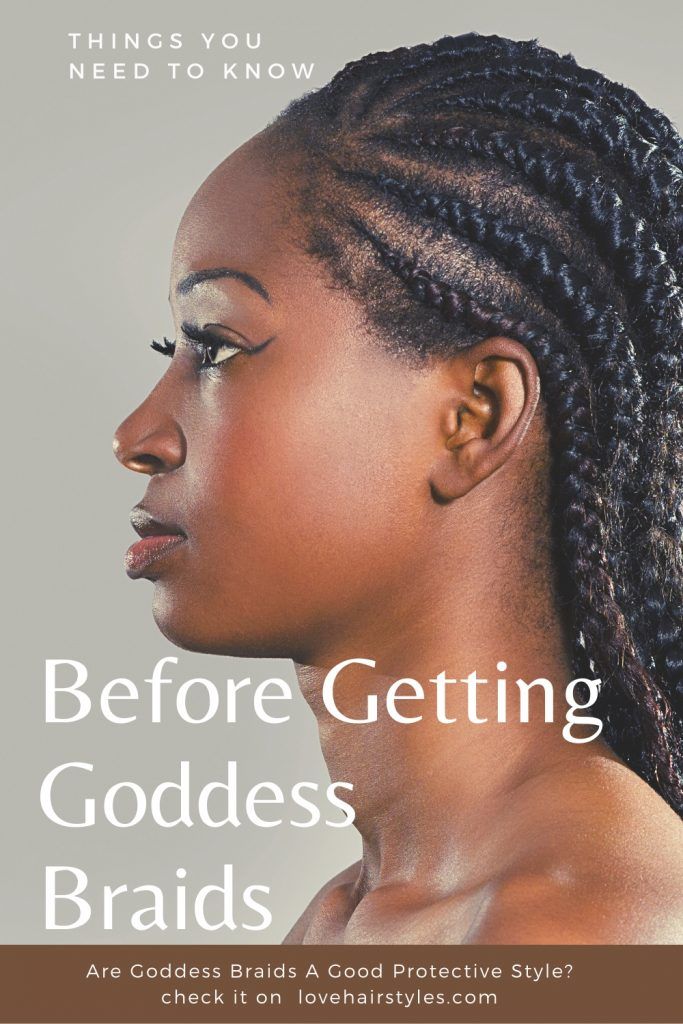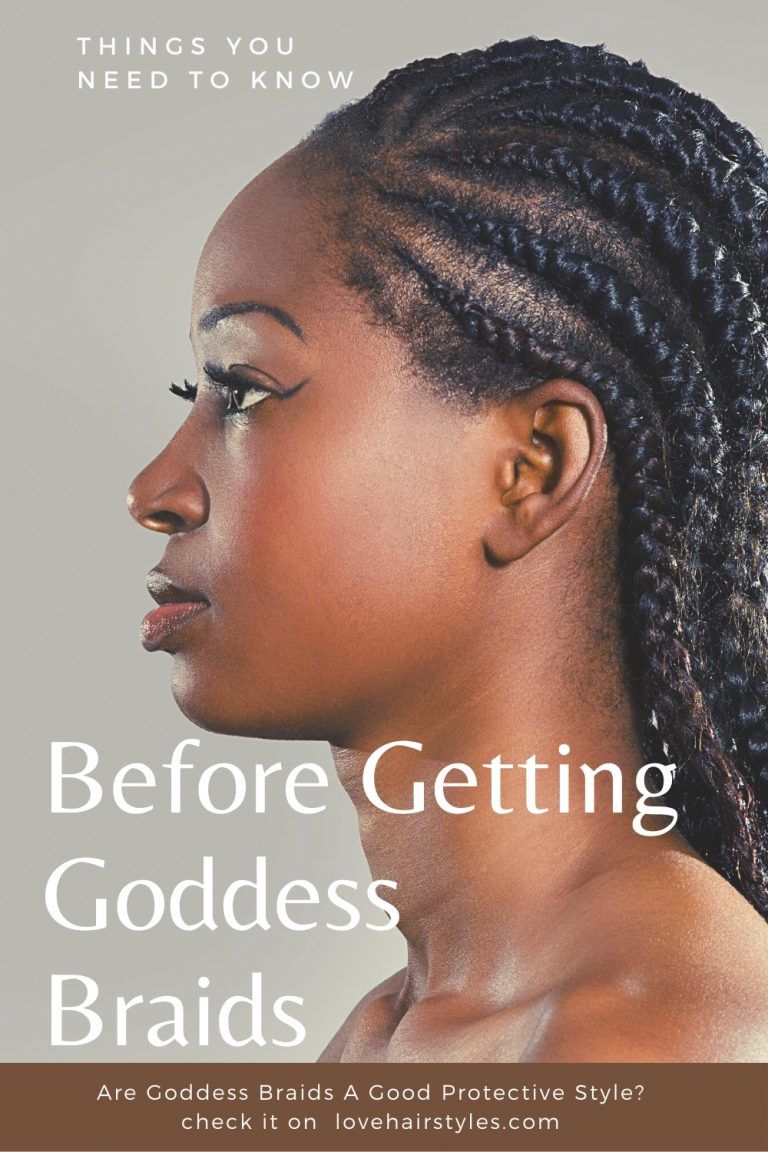 Time: Just like other braids, goddess braids take time to get them done. Check if you have 3-4 hours to spare because this art takes time to perfect.
Prep: For your goddess braids to stand out, you need to prep your hair. You have to wash, conditions and make sure your is tangle-free before braiding.
Endurance: If you can't bear the pain that comes with braiding your hair, then goddess braids aren't for you. The beauty of these cute braids depend on how the scalp is handled.
Care: You have to know how to care for goddess braids by moisturizing, lubricating and tying your hair with a silk headscarf when sleeping.
Are Goddess Braids A Good Protective Style?
Goddess braids aren't only fancy looking, they are one of the most protective styles you can think of. Ladies choose goddess braids just to protect their hair from breakage.
They're also perfect when transitioning to natural hairstyle because they don't need much chemical products to maintain.
Your hair gets to be tucked in safely for with little or no breakage. Your scalp also gets to feel the breeze, unlike some braids that make your hair itch due to lack of air.
How Long Do Goddess Braids Last?
All things being equal, goddess braids can last up to four weeks. It also depends on how long you wish to carry them.
There are goddess hair braids that can last for a day or two, but they are often very big and one time occasions.
How long they last depends on the following factors:
Expertise of the hairstylist: How good your hairstylist might make them last.
Maintenance: When properly maintained, they last longer.
The type of goddess braids: The bigger braids don't last long when compared to the smaller braids.
What Kind of Hair is Used For Goddess Braids?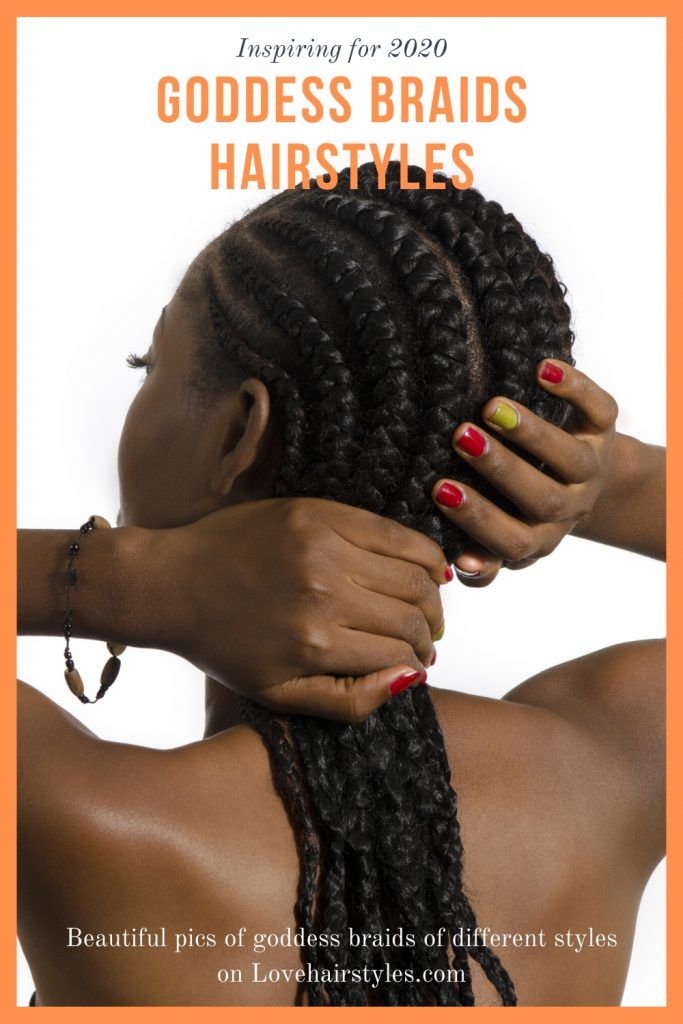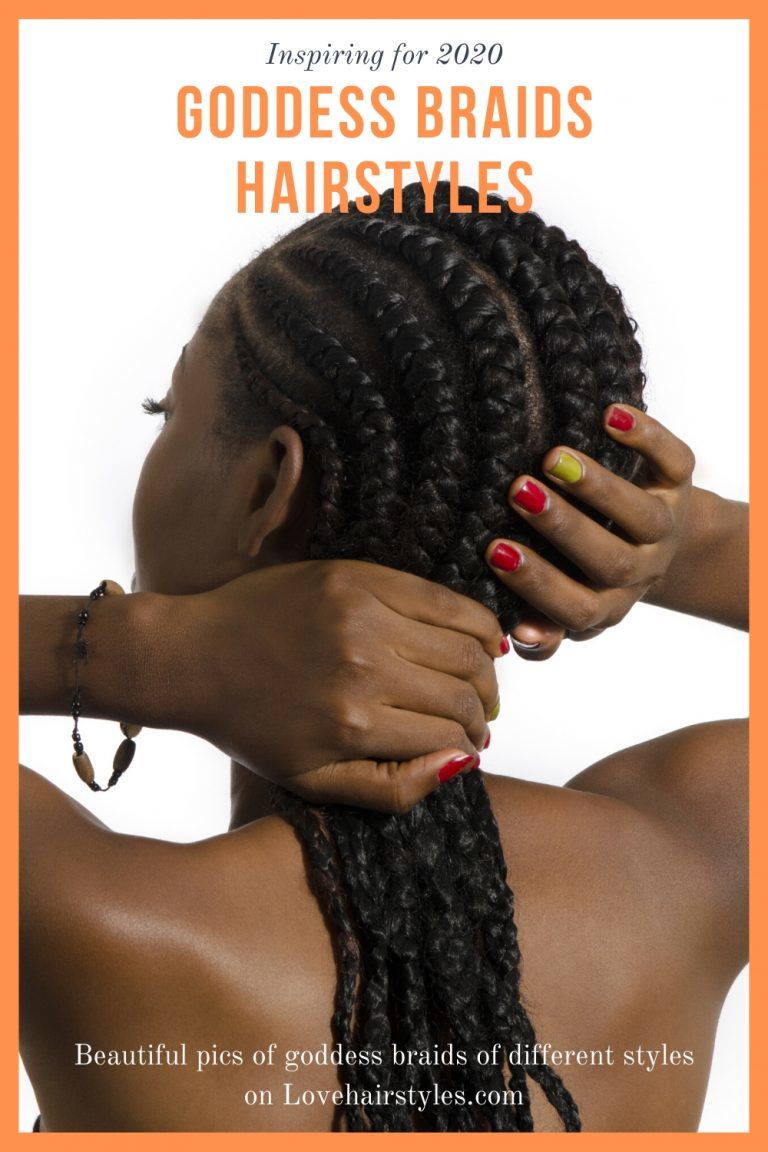 Goddess braids can go on natural or relaxed hair. If your hair is natural, you don't necessarily need to stretch it. But you certainly need to wash, condition and detangle before getting your hair braided.
Due to the texture of natural hair, you will have to apply eco styler gel to make your hair sleep neatly on your scalp.
Since relaxed hair isn't as thick as natural hair, you can use the normal styling gel because the hair is relaxed already.
Inspiring Goddess Braids Hairstyles
Interestingly, there are hundreds pics of goddess braids of different styles as people are becoming more creative with the African goddess braids.
Here are a few of those inspiring goddess braids hairstyle:
Goddess braids with cornrows: This is one of the most popular goddess braids hairstyle. The goddess braids in for of cornrows run from your forehead to the nape of your neck.
Feed in goddess braids with colors: This is one of the fastest goddess braids hairstyles. The hair is braided into two opposite directions. They are angularly curved from the left/right angle of the head to the right/left angle while using any color of hair extension.
Two reverse goddess French braids: This is a combination of reverse French braids and goddess braids. Two braids racing down from your forehead to the nape of your neck with curly extension flowing down to your back.
Sexy Swept Back Goddess Braids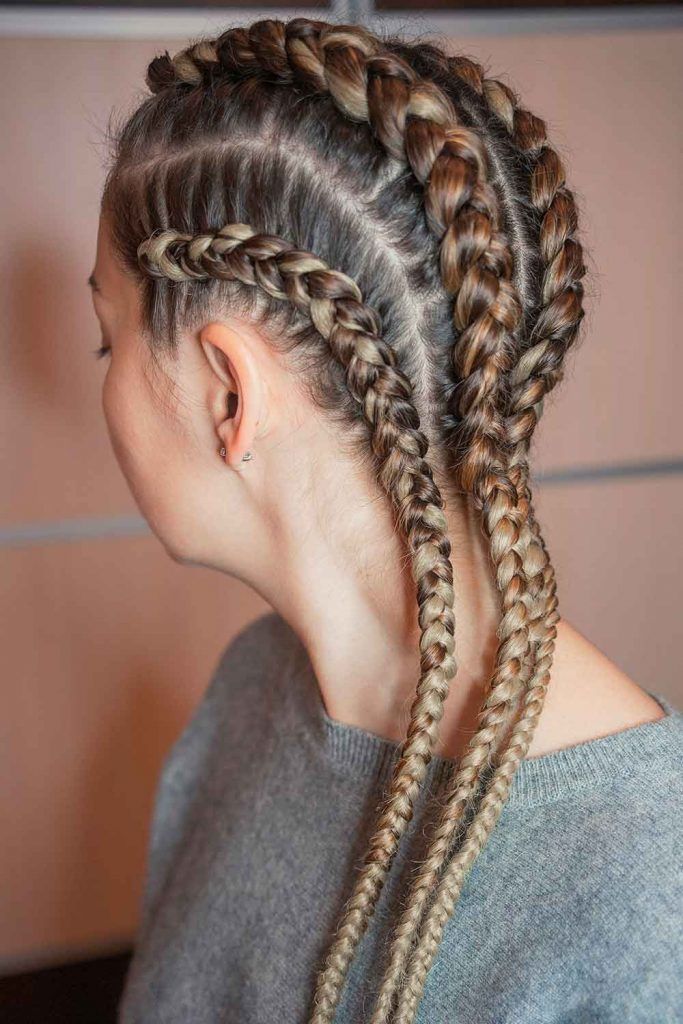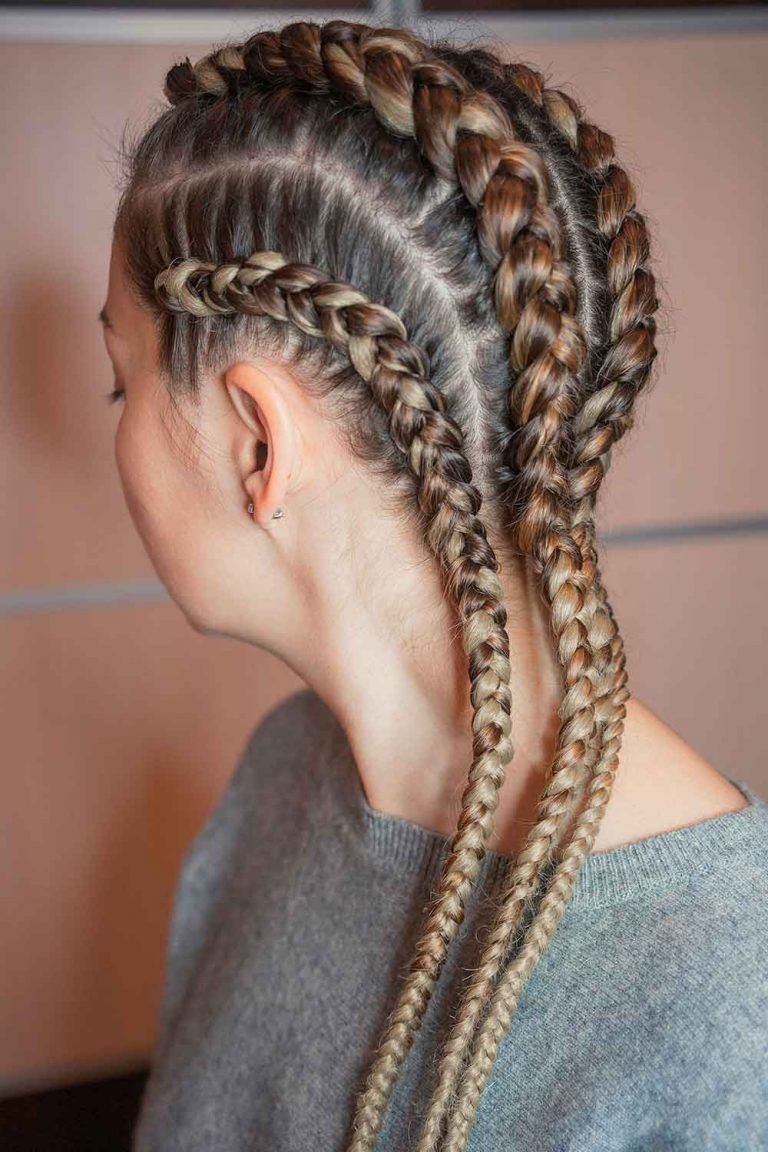 Though this goddess braids style isn't something extraordinary, we'd like to start with some classic styling options. With the rows of tight and bold braids on your head, you can create literally any hairstyle you want, and this idea is a good start. It can be either braided natural hair or installed extensions; it all depends on what you need from your look. The point is to get a neat, polished, and textured look that will keep your hair secure and away from your face; the look above is definitely a perfect example.
S-Design Goddess Braid Updo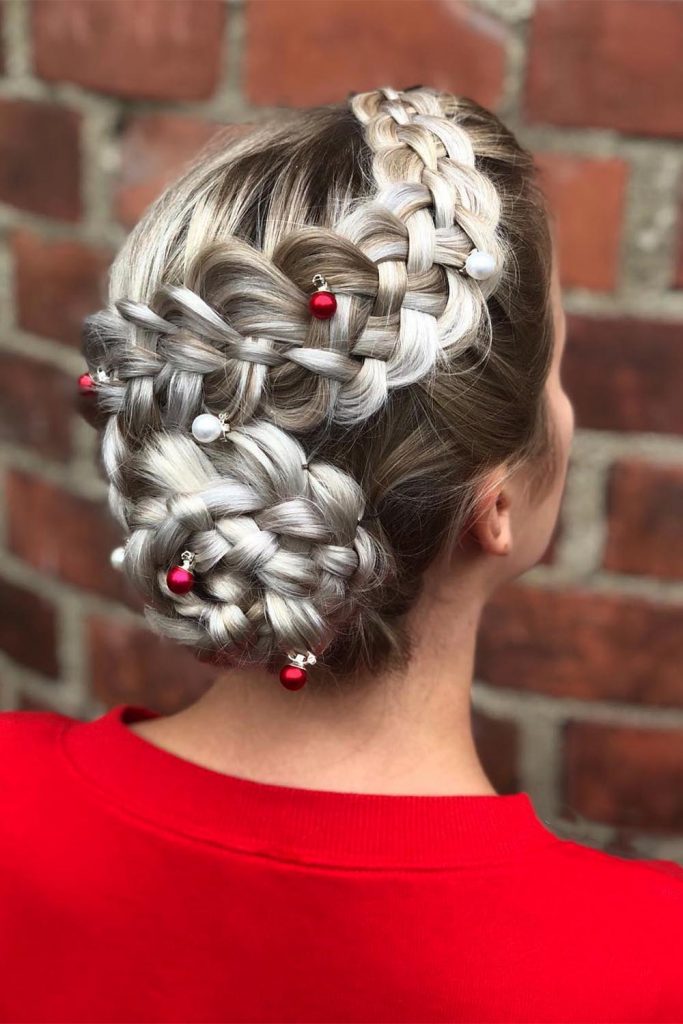 by @lettileipuri
The s-designed updo is here to prove that there are no goddess braids natural hair can't handle. Yes, there's absolutely nothing impossible about them. How about a huge, all-over braid, designed in an "S" shape? It can be a splendid hairdo for weddings, evening parties, and even prom nights.
Double Butterfly Braid With A Twist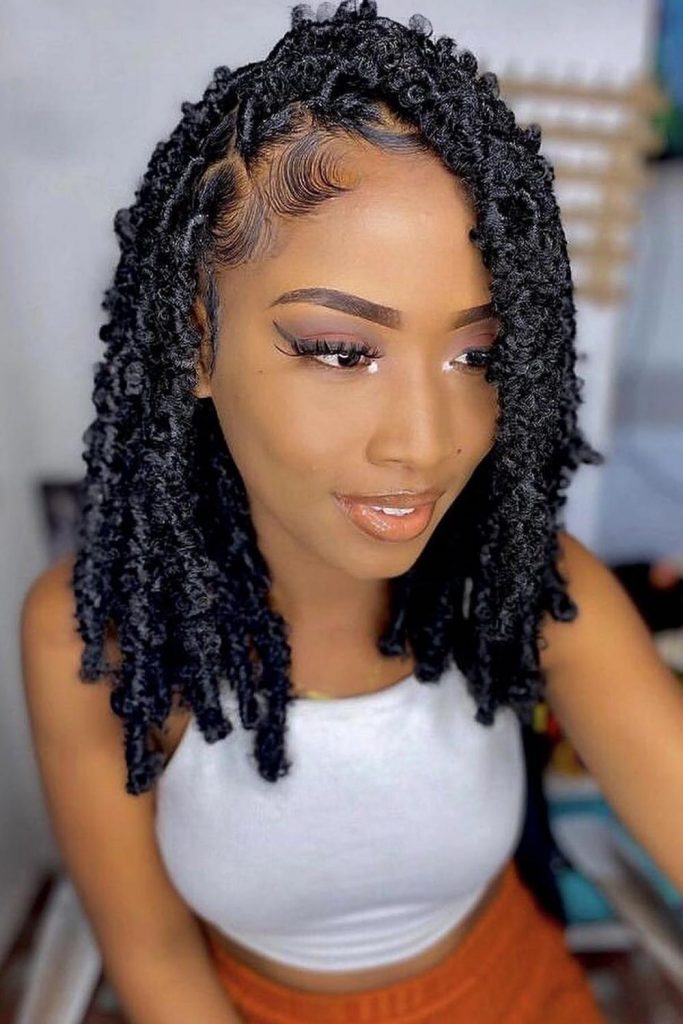 by @carlisbeautyhair
This style wants you to let your imagination run fly and go for a creative butterfly braid. Or, let it be double braids that twist at the ends! The full and lush duo that keeps your sides tight and creates a super outstanding crown is worth everyone's attention!
Twist Goddess Braids Half-Up Style
Not, let's look at goddess braids from a half-up perspective. Have you ever heard about twisted braids? Look at this pic and to see how lovely they look. There are lots of hair braiding techniques, and when it comes to styling natural hair, there's also a stunning twisting technique. You can braid and twist the hair on your sides, creating a very textured look, and leave the rest of your puffy hair to stand out. For a fuller effect, you can install some curly extensions which will give a thicker base.
Creative Side Goddess Braids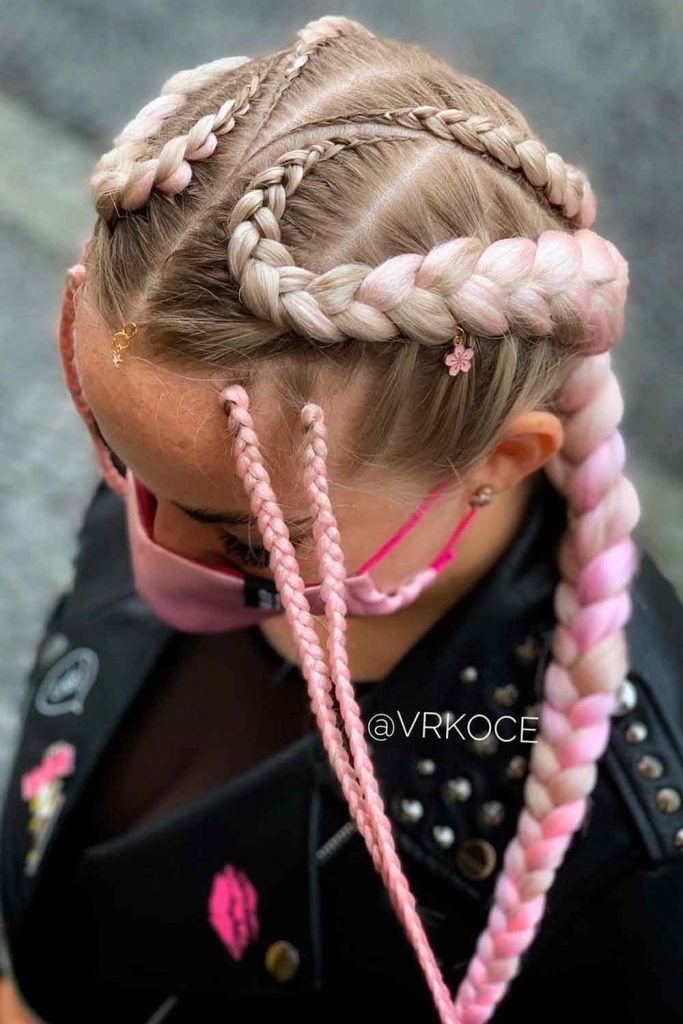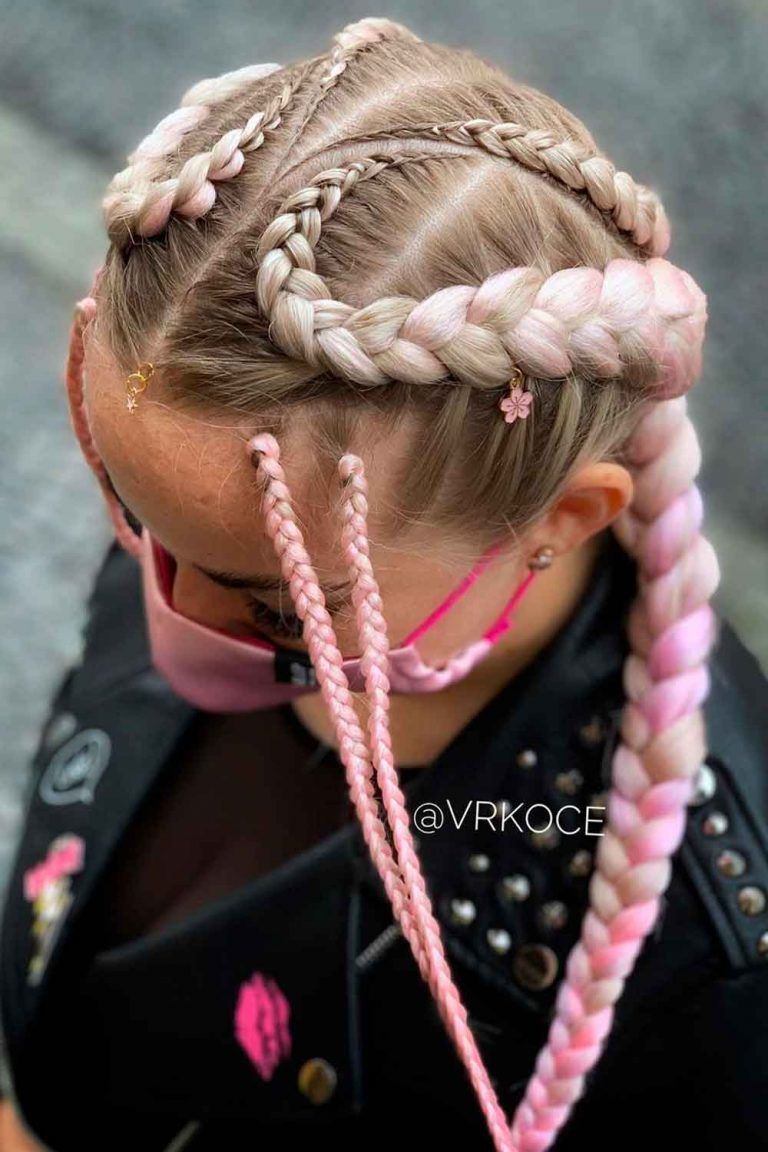 by @vrkoce
One of the greatest styling things about goddess braids is the customized parting. Yes, you can braid your hair in any direction you want, thus giving your silky locks many different looks. If you are fond of larger braids, it's better to braid all your hair down to the ends. Do you like this fascinating side styling? The braids are a bit outweighed to the side, which makes this hairstyle look quite unique.
Cute Space Buns Half-Up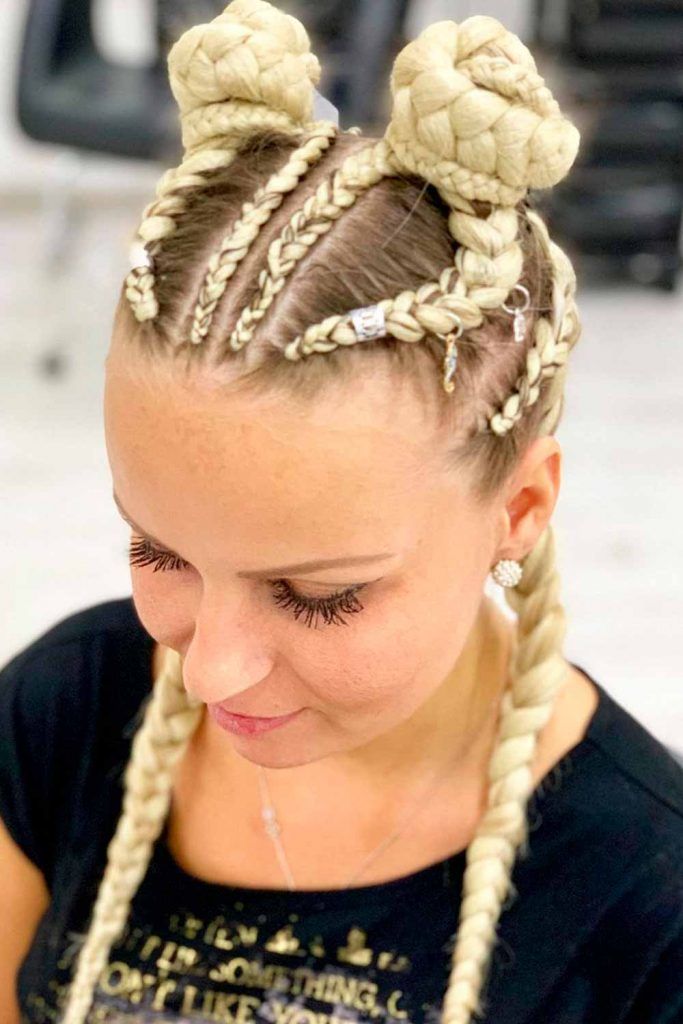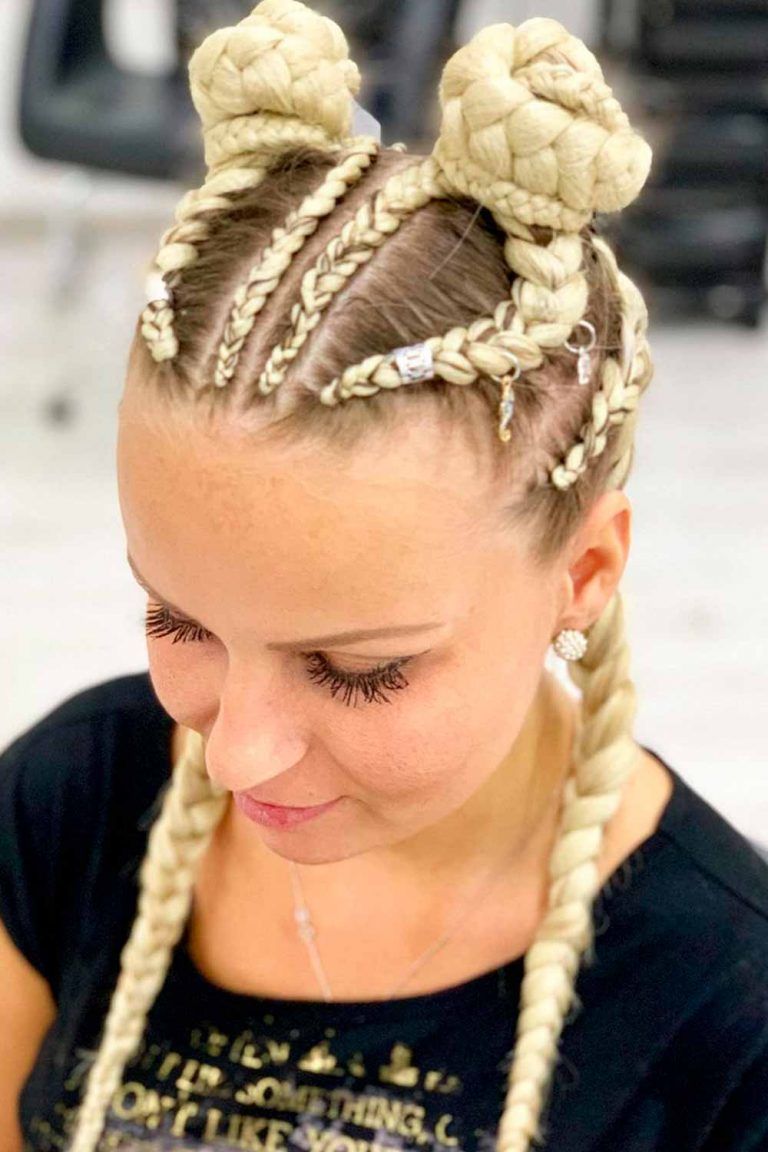 by @vrkoce
Want to keep it even more tight and secure? Nothing stops you from putting your hair up in a high updo, especially when you flaunt with such versatile braids. You can change the spacing between your braids, adorn them with colorful elastics, twist them into space buns, and leave some of them to excel at the back of your head. Just don't be shy to experiment with your beautiful hair!
Chic Double Goddess Braids Crown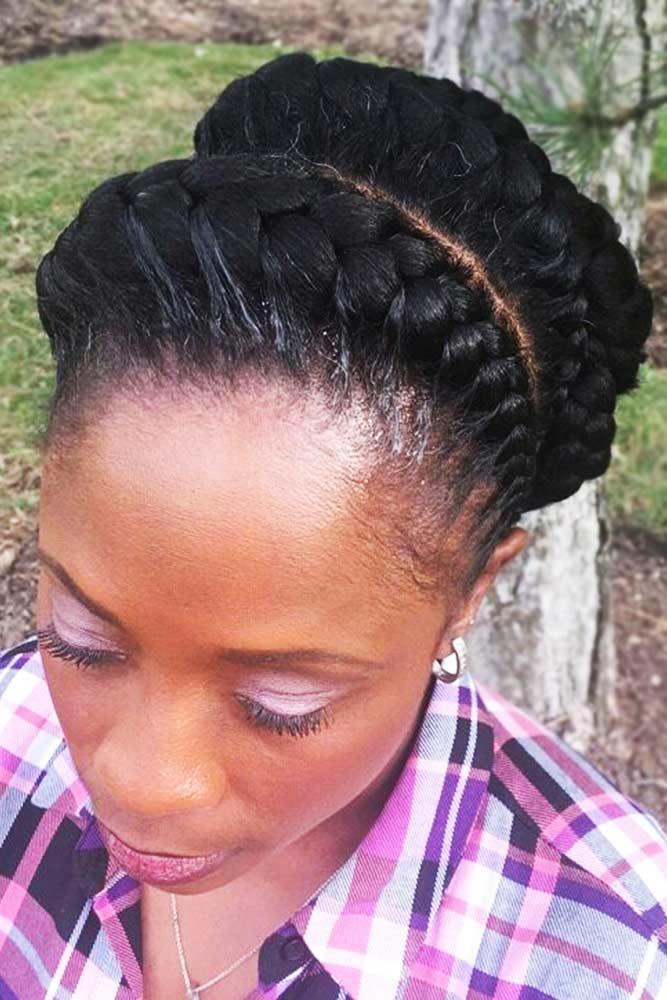 by @a_ii_z
Depending on the style you want to flaunt with, goddess braids hairstyles have perfect and suitable approaches. Don't forget that the initial aim of such hairdos is to show off your femininity; so meet the most delicate idea ever: two super neat, volumetric, and sturdy braids with a clean and definite parting really look like a crown. How about you to show everyone who's the queen?
Goddess Braids Into A Dramatic High Bun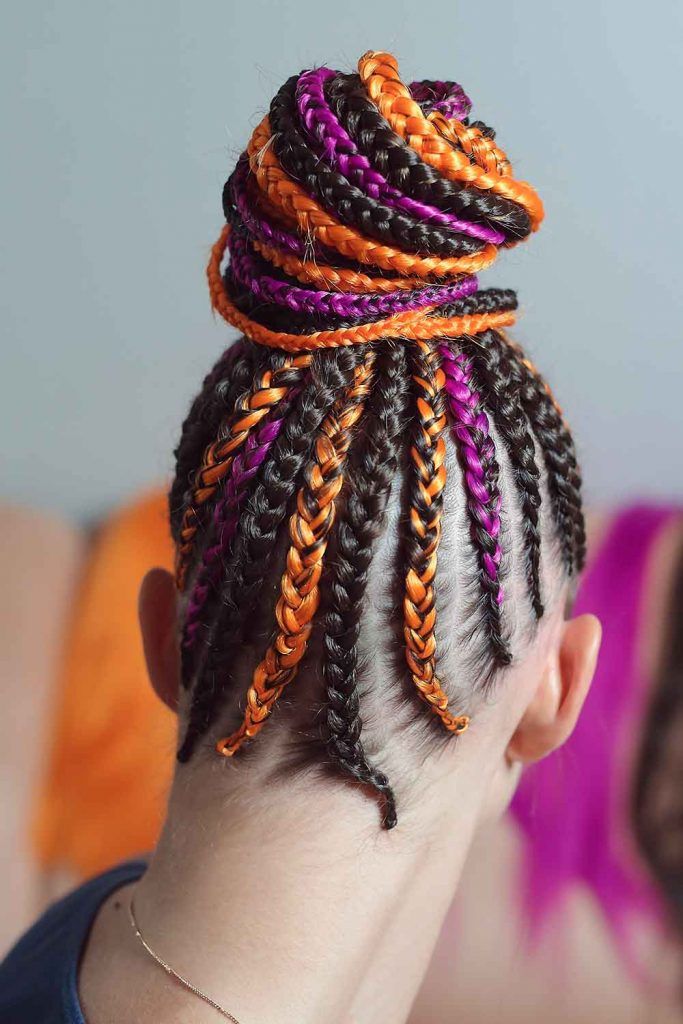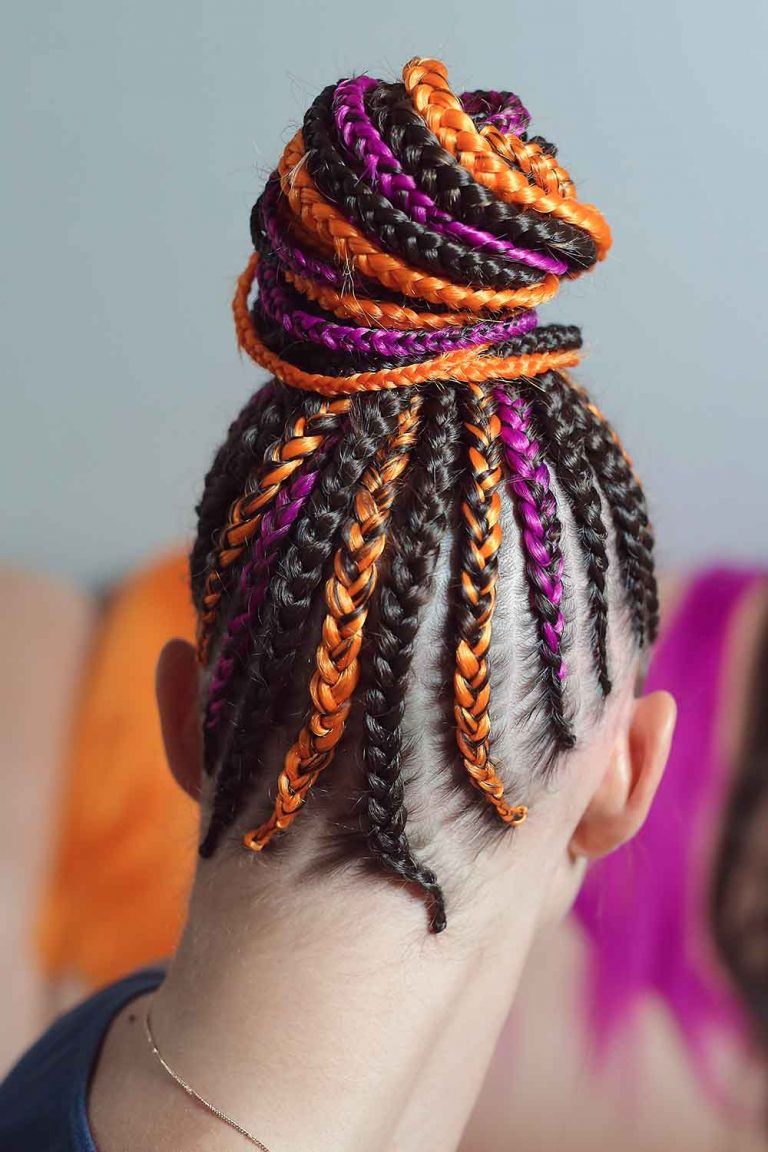 Goddess braids seem to be a special form of art. The designs that you can create on your head with your own hair can actually impress everyone around. Following the right pattern of braiding can lead you to such a hair masterpiece like this one: the tight massive braids, framed with smaller ones, are twisted into a great high bun. This look will definitely catch people's eyes.
Goddess Braids With Spectacular Star Design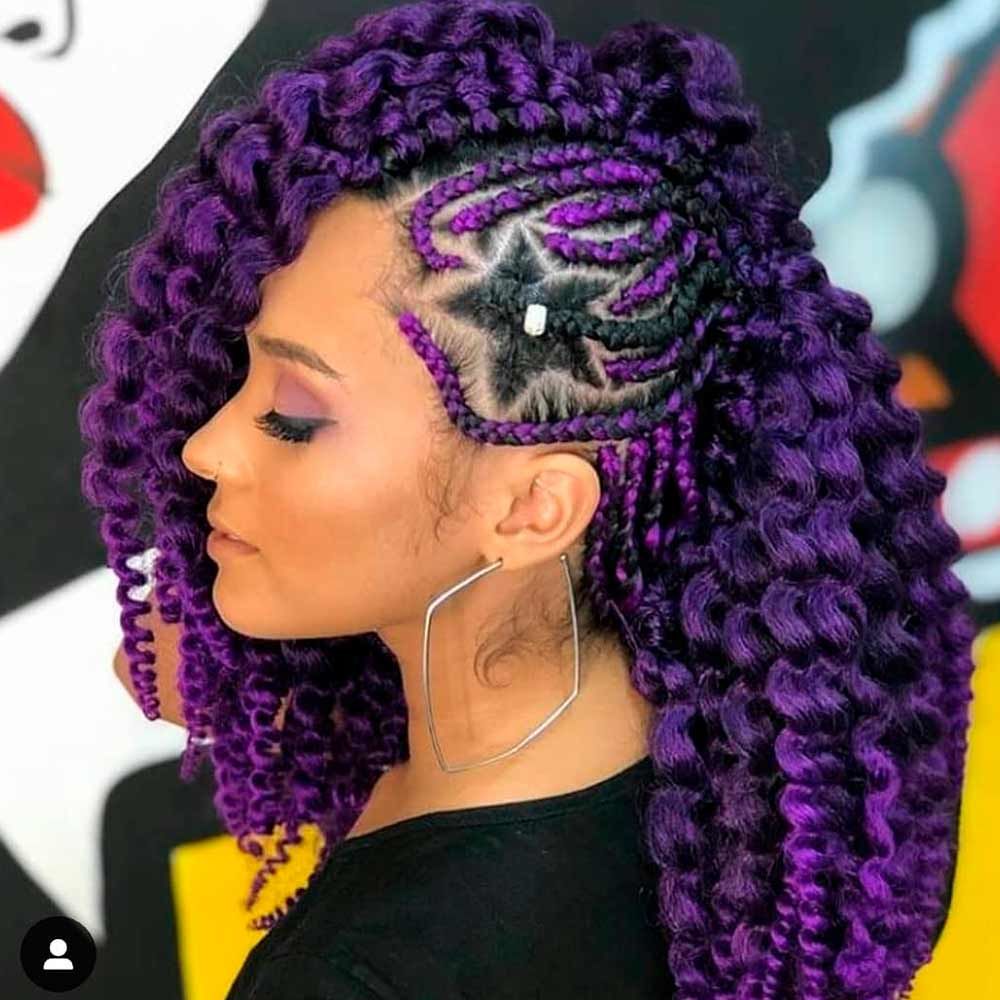 by @braidsncornrow
Remember what we said about the room for creativity? We weren't joking: your hairstyle can be as astonishing and different as your inner stylist lets you. Having mastered some braided hairstyles, you will be able to go as far as the design on this pic: some stargazing with large and tiny braids won't hurt.
Fantastic Double Goddess Braids Into Bun
A look that reminds you of the soft sea waves, who could ask for more? Though today it's all about the braids, and there is no wavy hair, there's a marvelous wave-like bun silhouette: two large braids, that gradually become bigger to the side, and smaller to the crown, look like a rising tide. As for baby hairs, they're styled very gently, in a tasteful wave-like manner.
Magnificent Goddess Braids Updo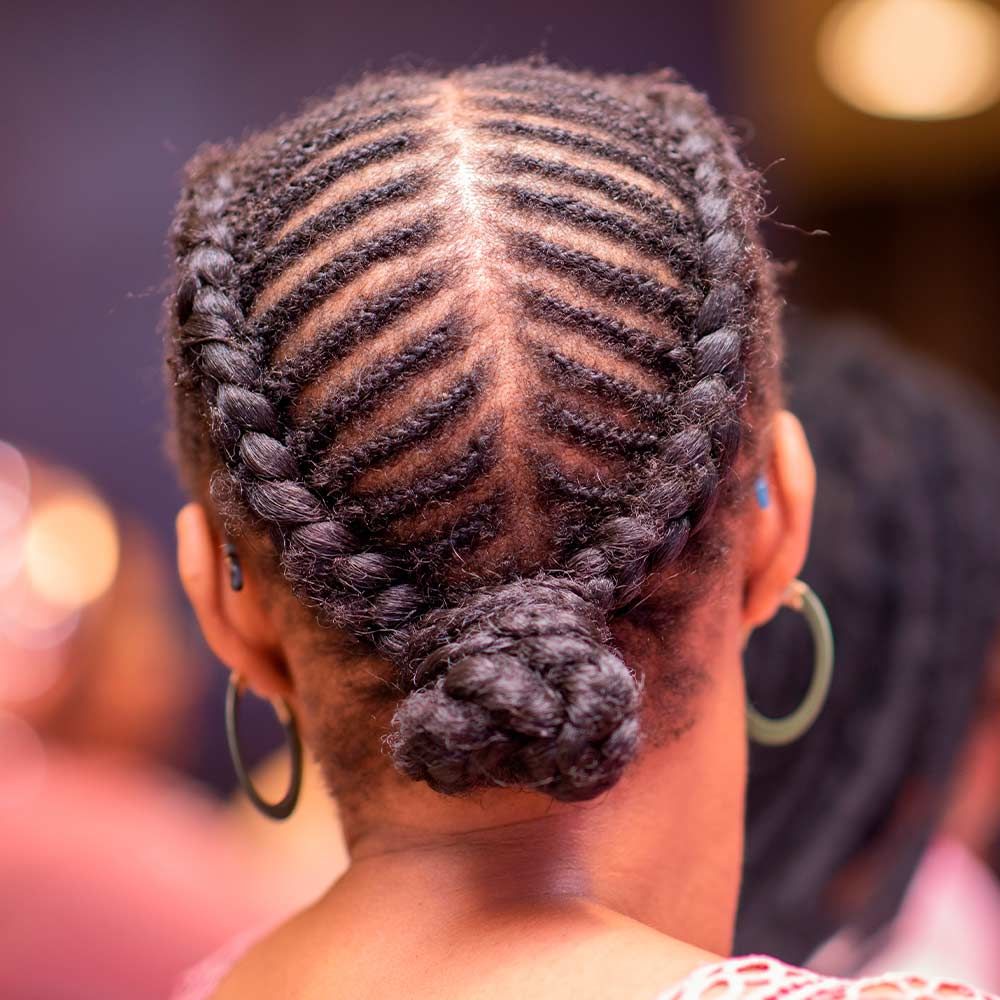 Ladies with natural hair never complain about not having enough volume in their hair. But it's very important to know how to keep it when taming your coarse and puffy hair into an updo. This braid updo is a win-win idea that will emphasize the fullness of your locks and give it a well-groomed look at the same time. Three big goddess braids that turn into a low, braided bun shows how to get the most out of your natural chevelure.
Sassy Braided High Ponytail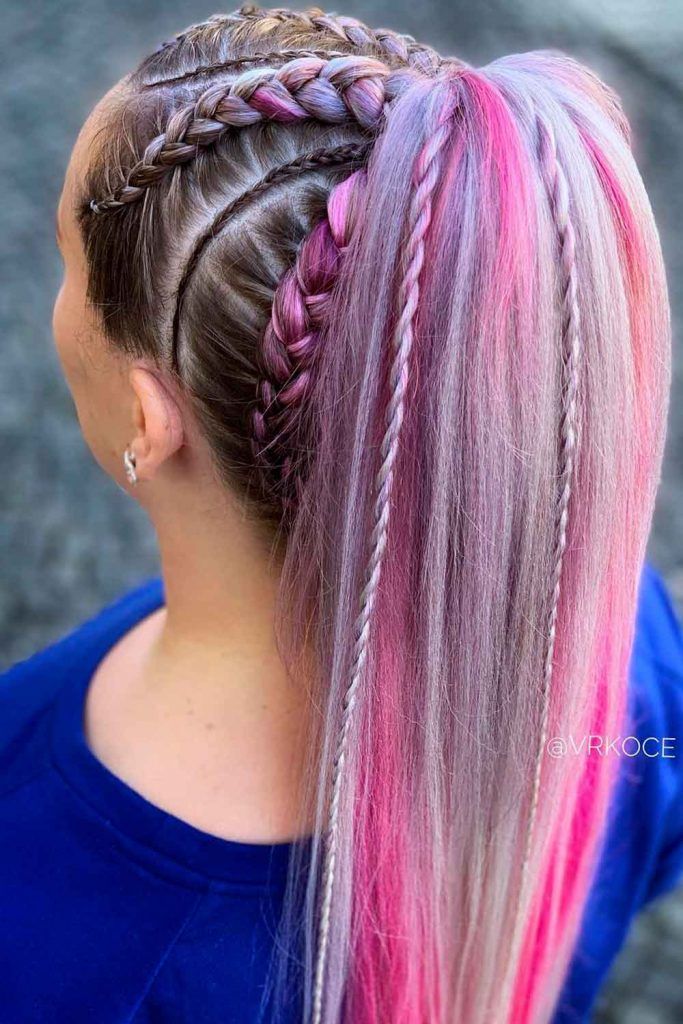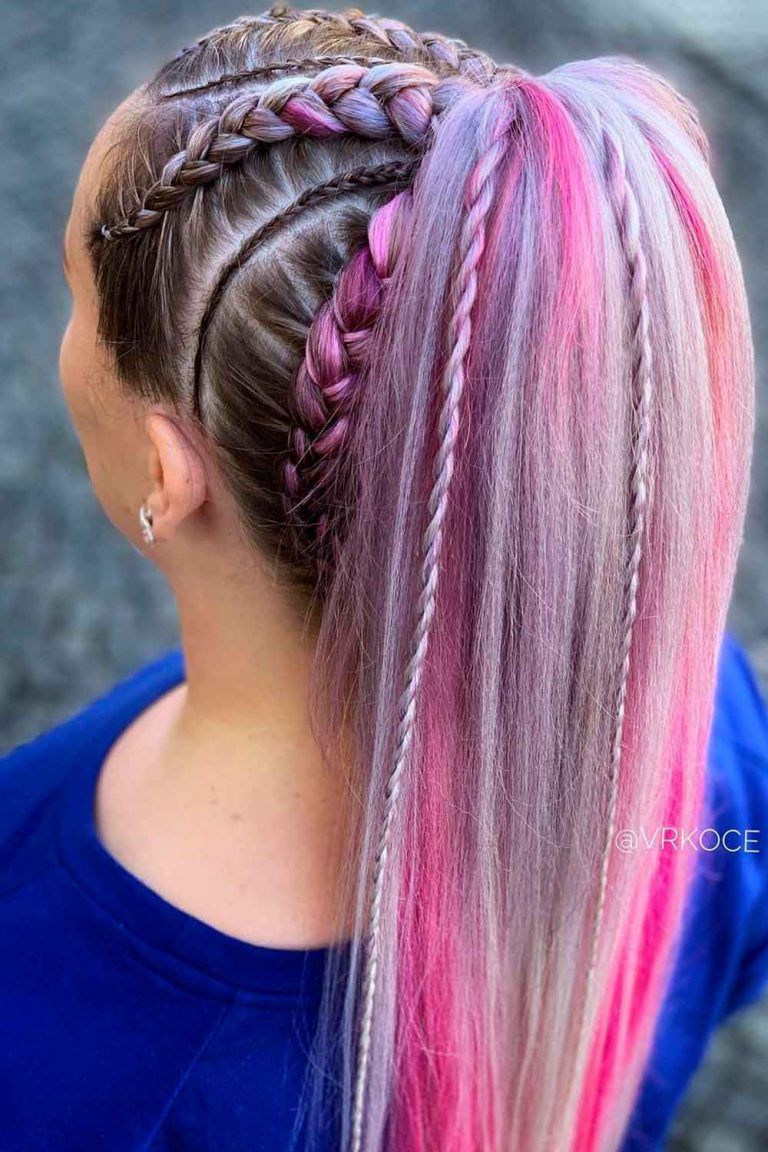 by @vrkoce
Your hairstyle can express your personality, and braids also take part! Those who rock their days brightly, sporting colorful clothes and enviable hairstyles, this idea is for you: the high ponytail, made out of spectacular long braids styled to the side, is something that will show all your daring nature.
Fancy Double French Goddess Braids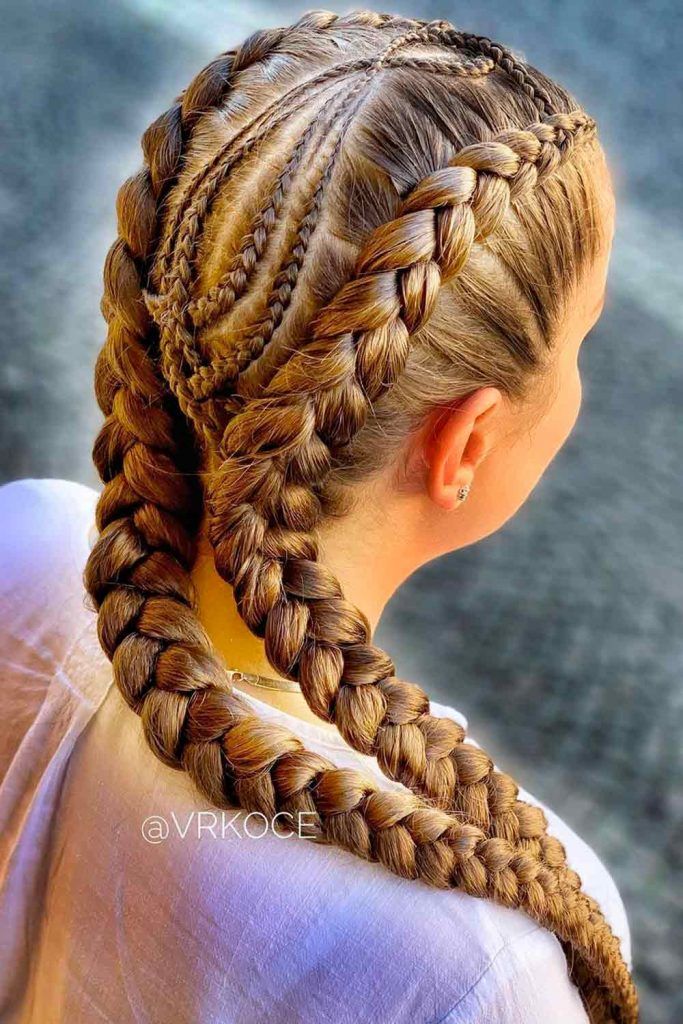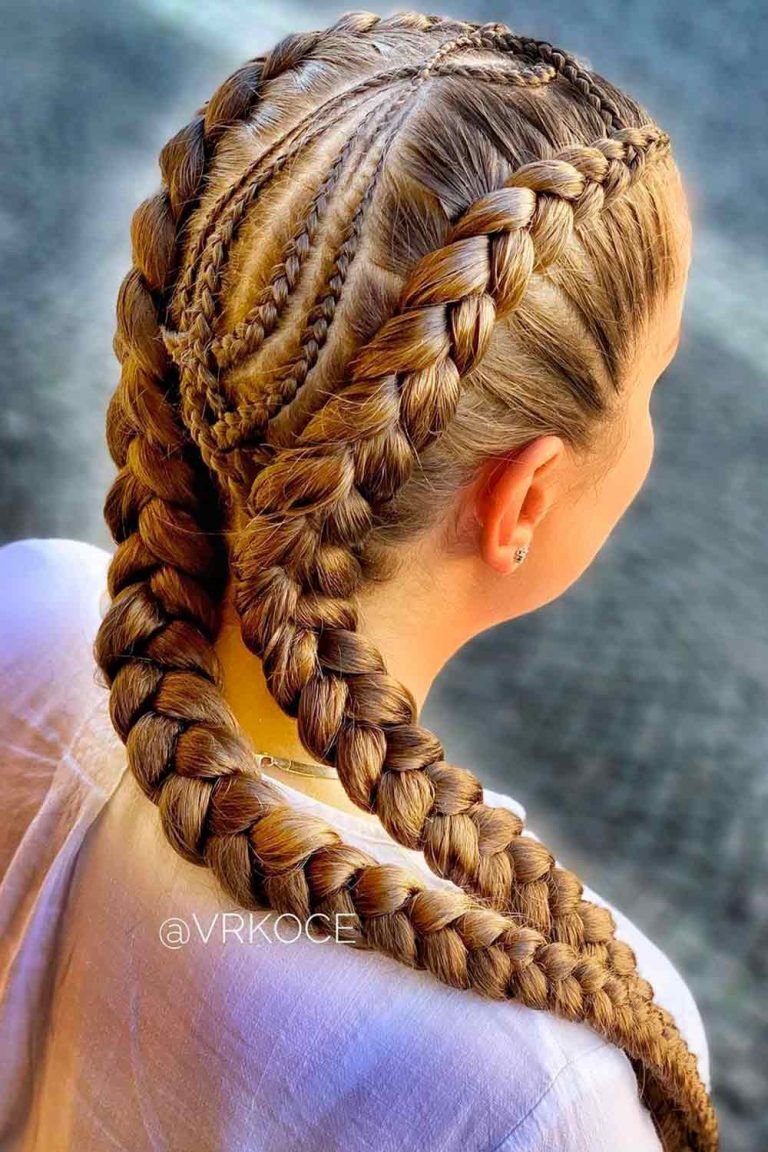 by @vrkoce
There's no way you're not familiar with French braid; we all have tried the never-ending, world-famous trend. It may be quite unexpected, but you can get yourself goddess braids by French braiding your hair. This time you just have to do your braids bigger and tighter. Just look what a girly style these double French goddess braids create!
Gorgeous Fishtail Goddess Braid Into Ponytail
Continuing the theme of familiar hairstyles, we'd like to share with you another way of diversifying them: how about you to mix some goddess and fishtail braids? The gorgeous hairstyle you see in this pic isn't the easiest one: first, you need to tame your natural hair, straighten it, and only then play around with it. But it's worth a try! The fishtail braid that lifts up the crown and little goddess braids on the side that are wrapped around the sleek ponytail is a look to steal.
Captivating Dutch Goddess Braids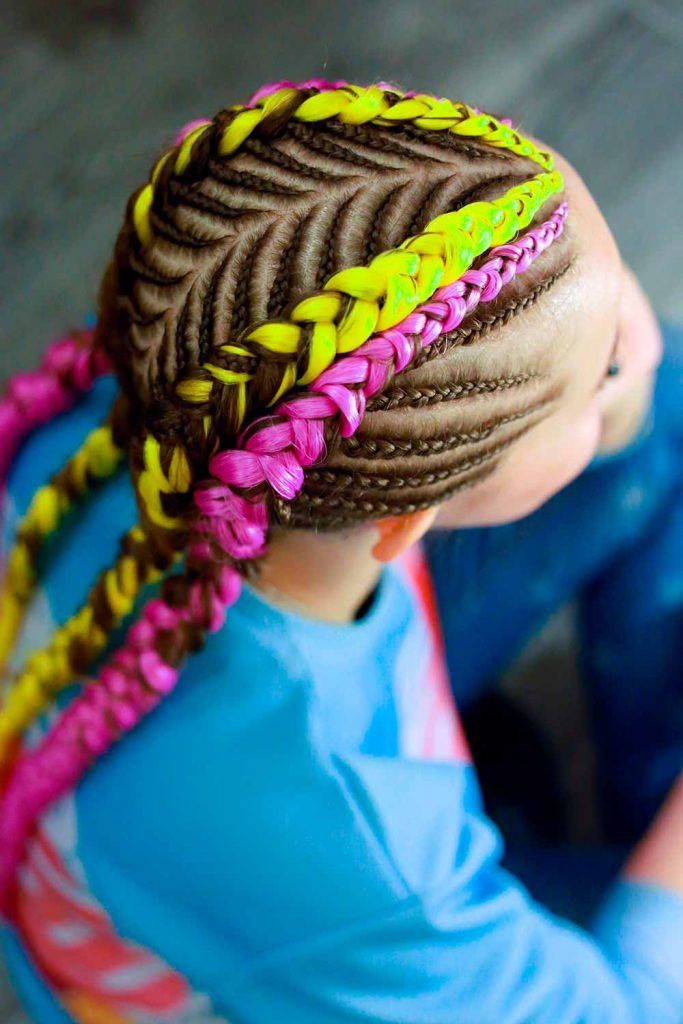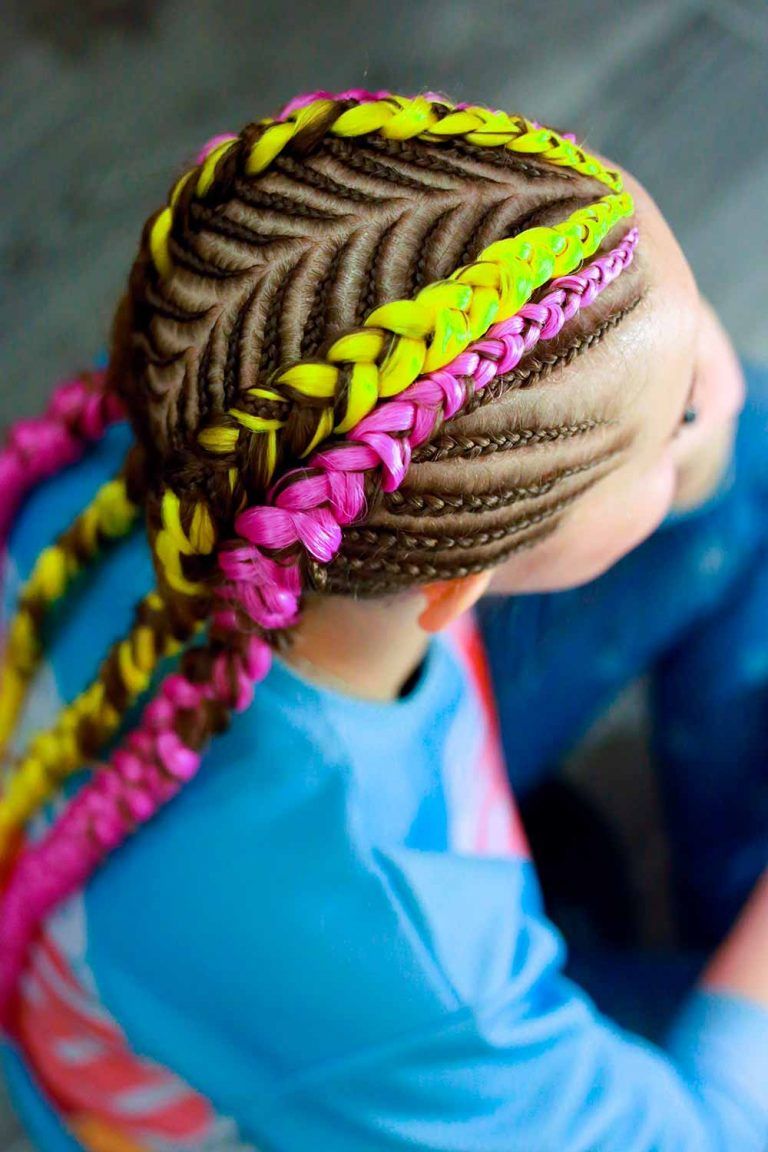 Here comes another popular braiding technique that can be applied to goddess braids. Once you pull off such a wonderful Dutch-goddess braid design, you will take the common hairstyle to the next level. Originally, Dutch braids create a very neat look, incorporating all of the hair. And you will get an even tidier look with such a fabulous texture.
Double Goddess Braids With Beads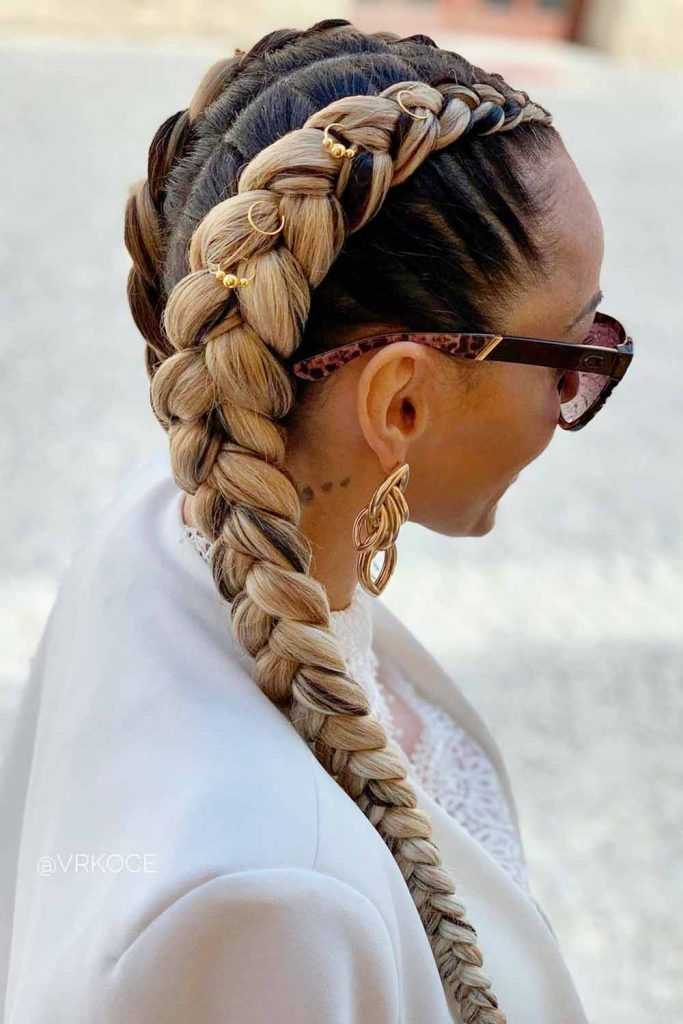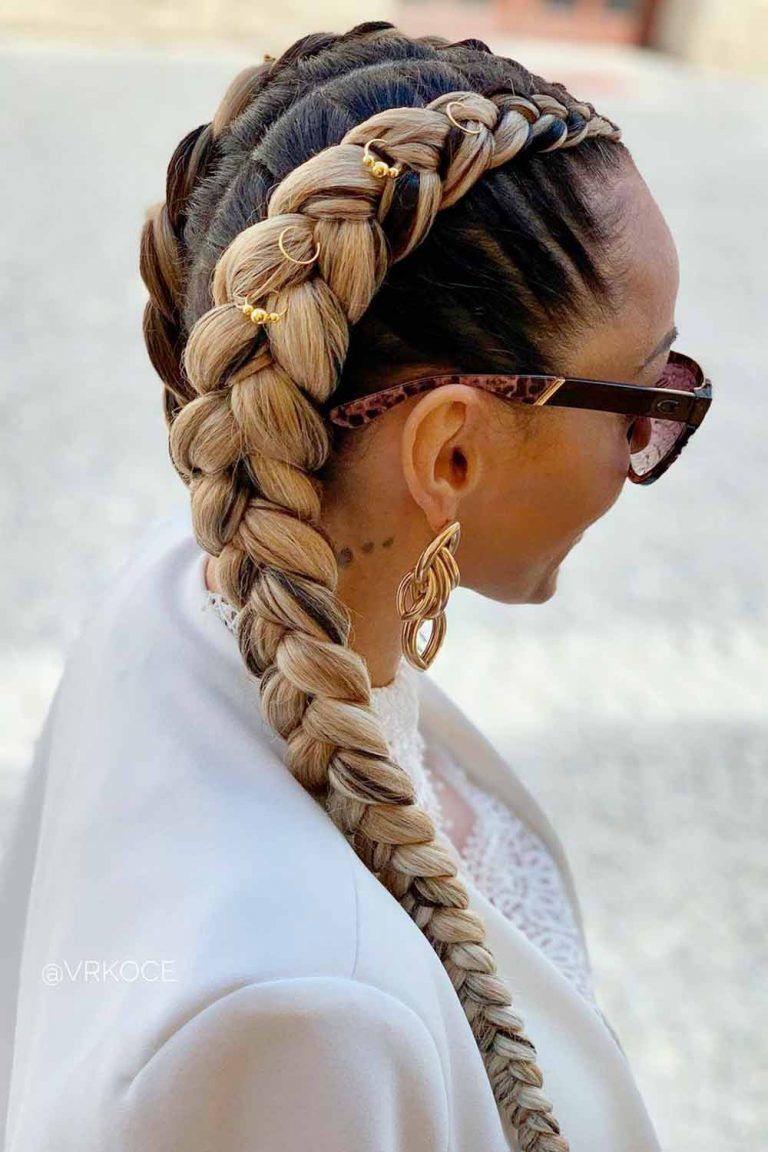 by @vrkoce
Not only creative designs can embellish your thick braids! There are hair accessories that ethnic women like to combine with their outstanding hairstyles. A couple of beads can change the whole look of your braids, giving them some cute, tribal-inspired, and authentic vibes; these awesome double braids with tiny cuties on the sides and beads on the ends are living proof.
Fabulous Dutch Fishtail Goddess Braid Into Bun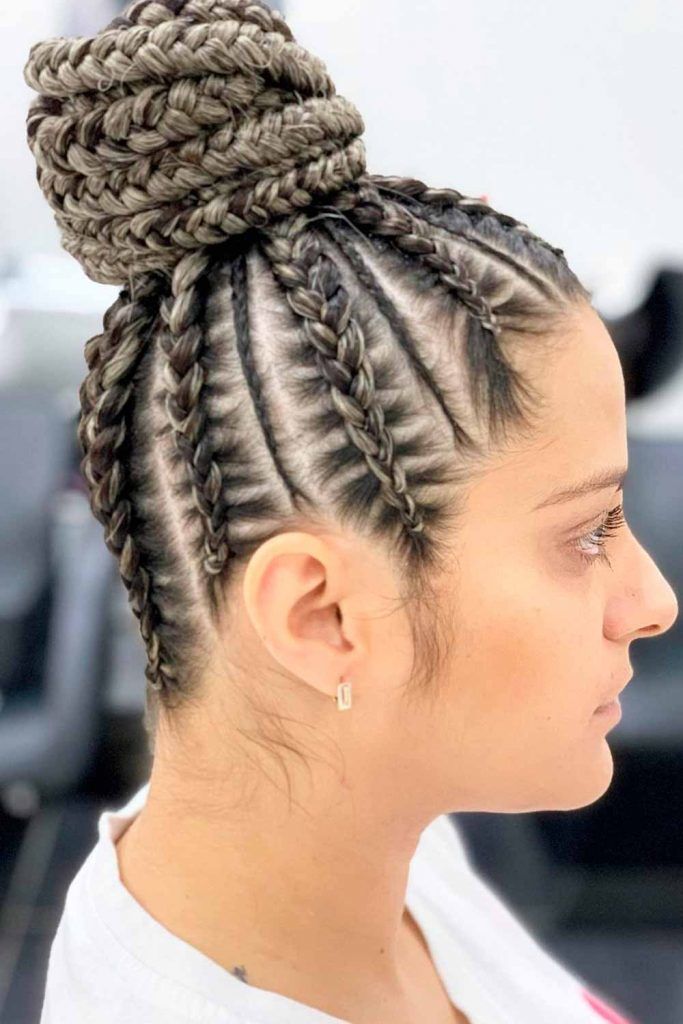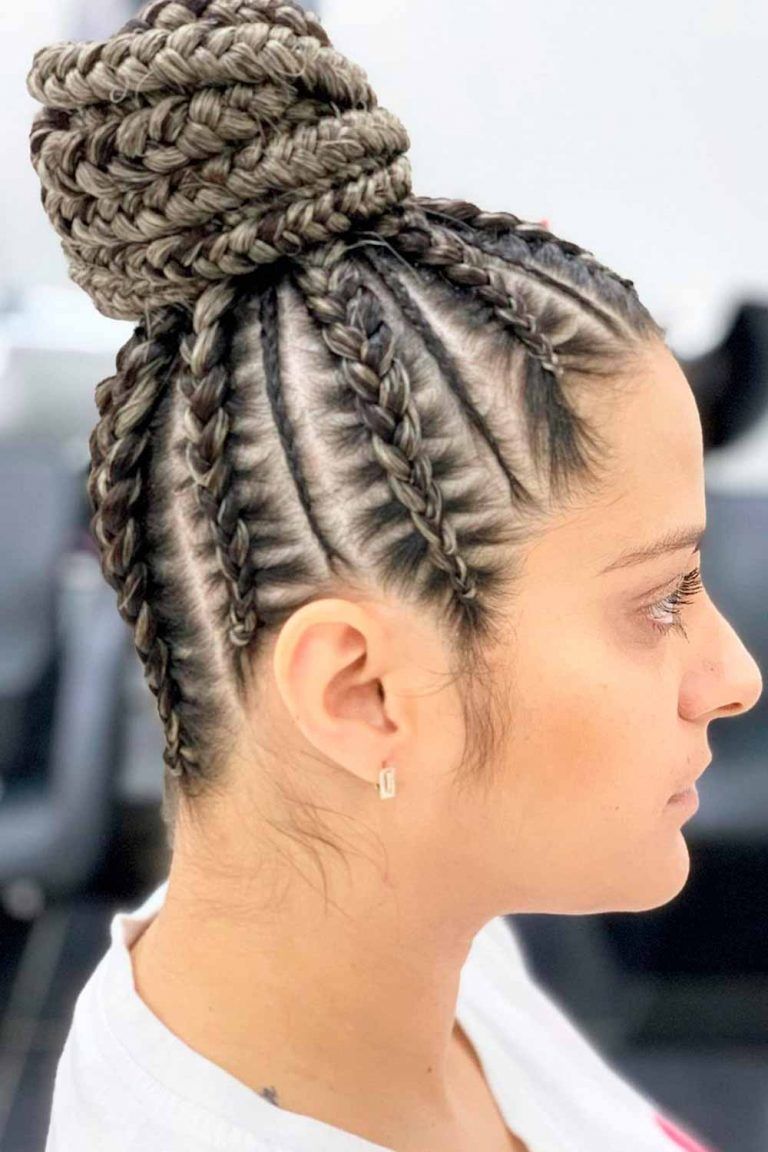 by @vrkoce
Are you ready for head-turning experiments? Since you've already faced the new versions of familiar hairstyles, it's time to impress you with the hair mixture you won't ever be able to forget: dutch fishtail braid that twists into an unbelievable bun at the top of the head. It seems to be a new definition of impressive hairstyle, do you dare to sport it?
Funky Crochet Goddess Braids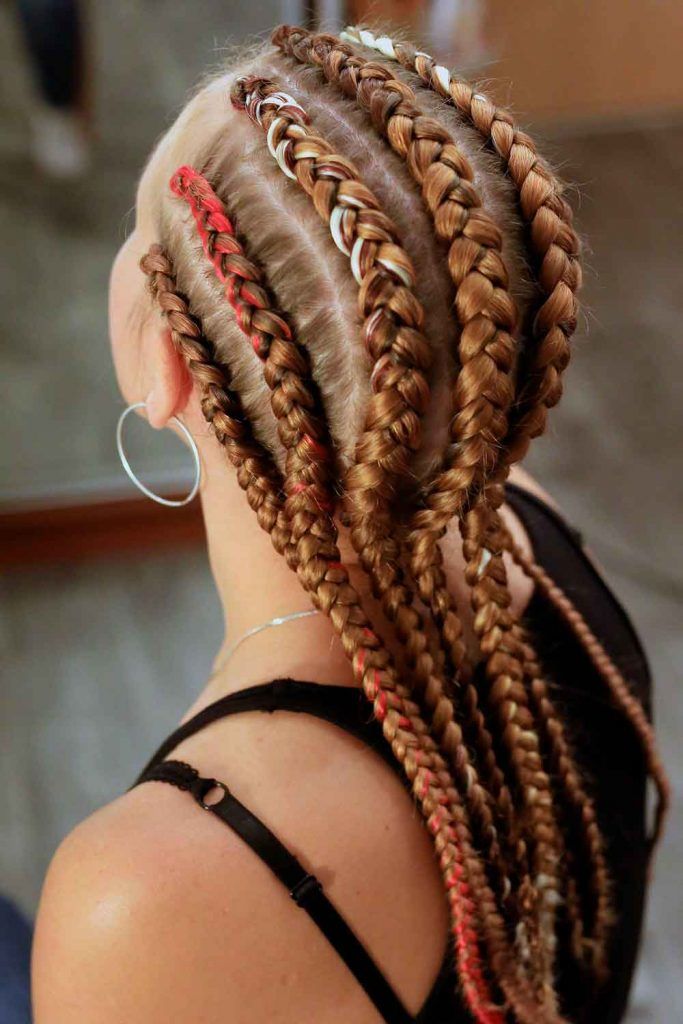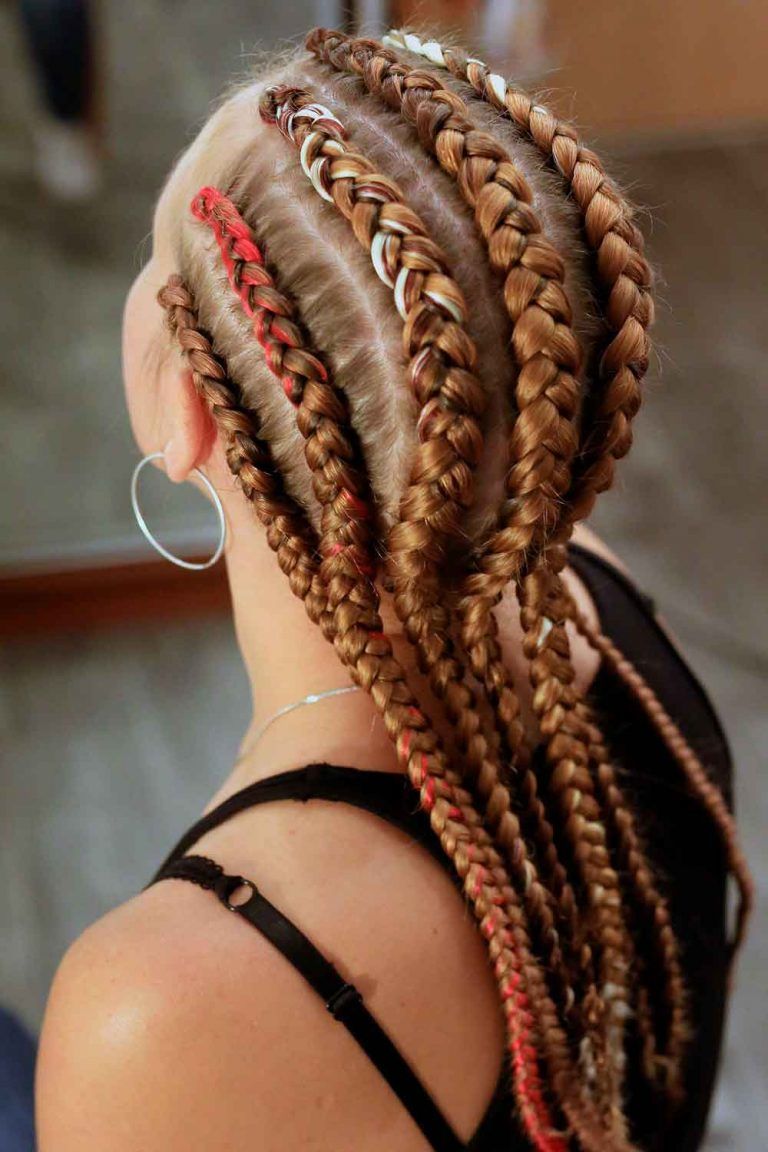 It's no secret that stylish black women prefer wearing goddess braids with kanekalon hair, installing them with crochet technique. Yes, those lucky ones can pull off any colors they want without damaging their hair at all. So why don't add some colors? You can incorporate some kanekalon hair into your braids to get a truly bright and terrific look.
Goddess Braids Faux Hawk Hairstyle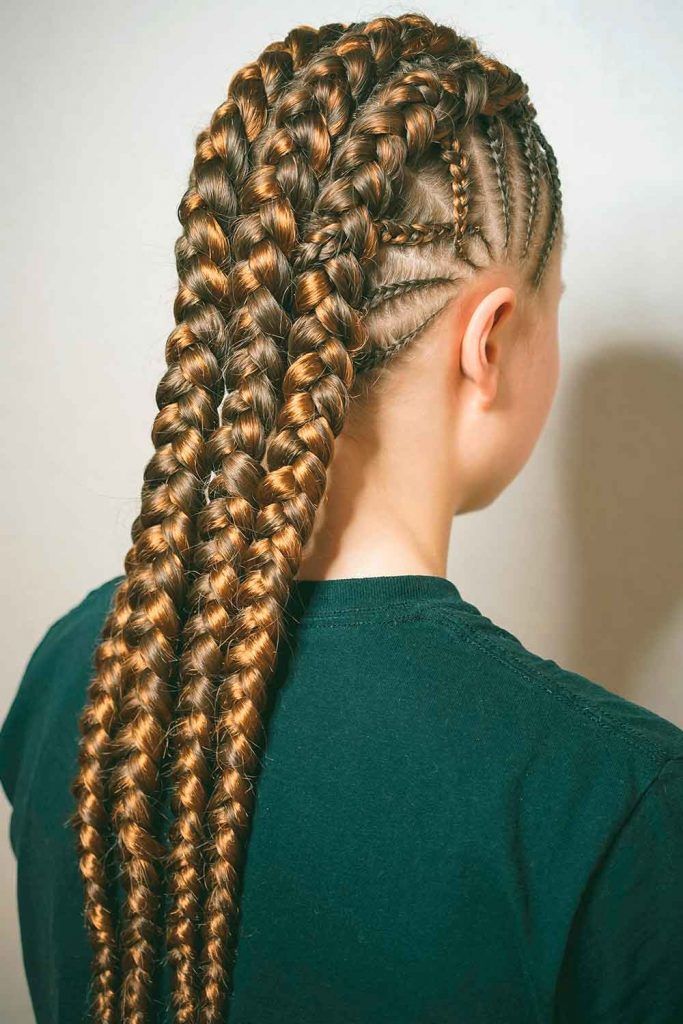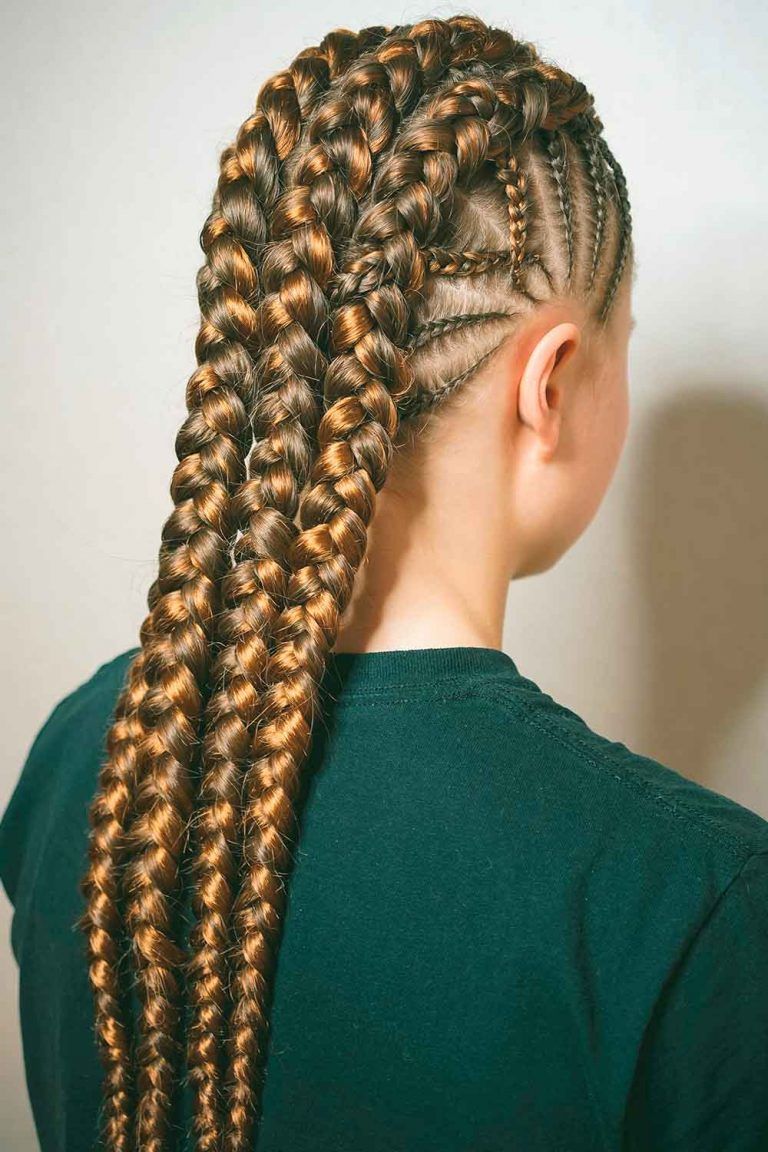 This is the faux hawk we all deserve. The amazing contrast of colors, bold texture, neat and silky hair rolled into one. After looking at this ideas, only the most pleasant and girly things will come to your mind when you think of mohawks. The bright top braid stands as a hawk, while the rest of the hair, put into a long braid, forms the clean sides.
Classic Goddess Underbraids
Переглянути цей допис в Instagram
For ladies with natural hair, the styling options are countless, regardless of their age or the upcoming event. Since you can install goddess hair, why don't you play around with the braided designs on your head? Change the regular direction of your braids, involve chic underbraids, and change the thickness: it's all about experiments.
Asymmetrical Braided Hairstyle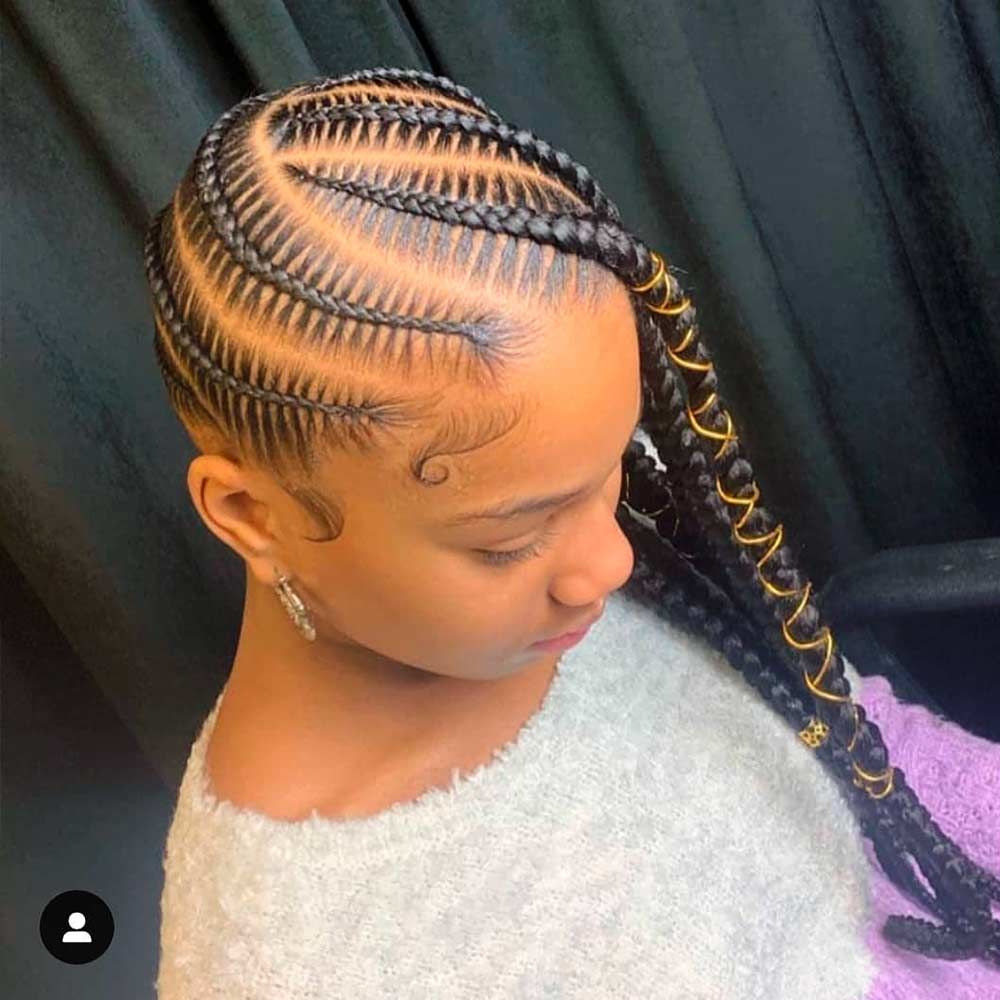 Credit photo: instagram.com/braidsncornrows
It's no secret that your hairstyle can be focused on one side only: this trick adds a lot of modernity and creativity to braids, whether they're cornrows of goddess braids. Just braid your hair to the side you like the most and see how it will freshen up the whole silhouette.
Double Jumbo Goddess Braids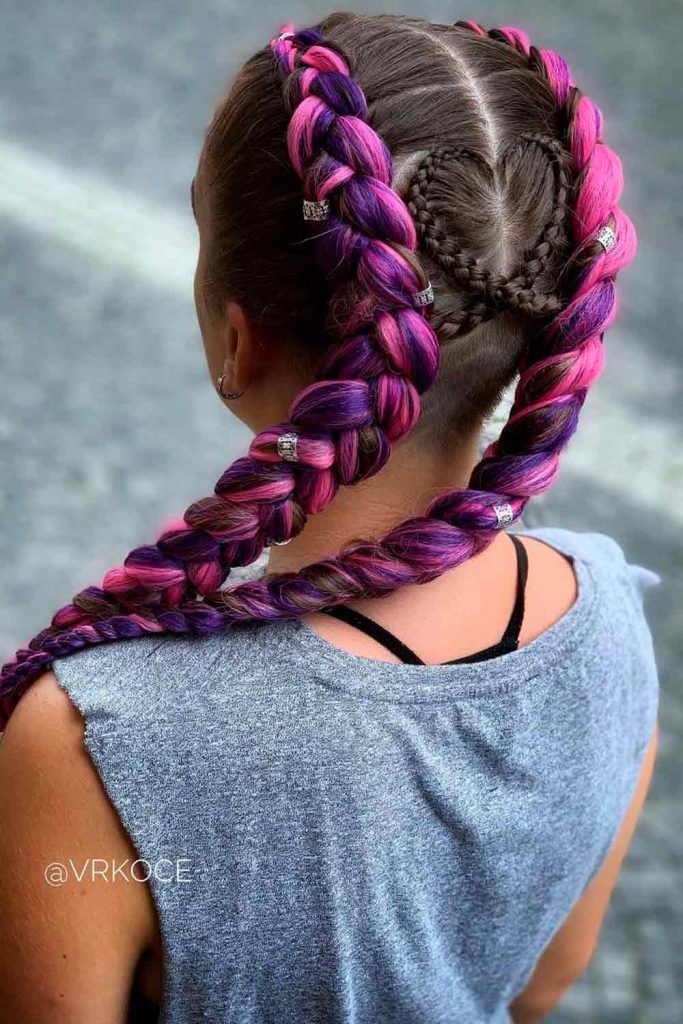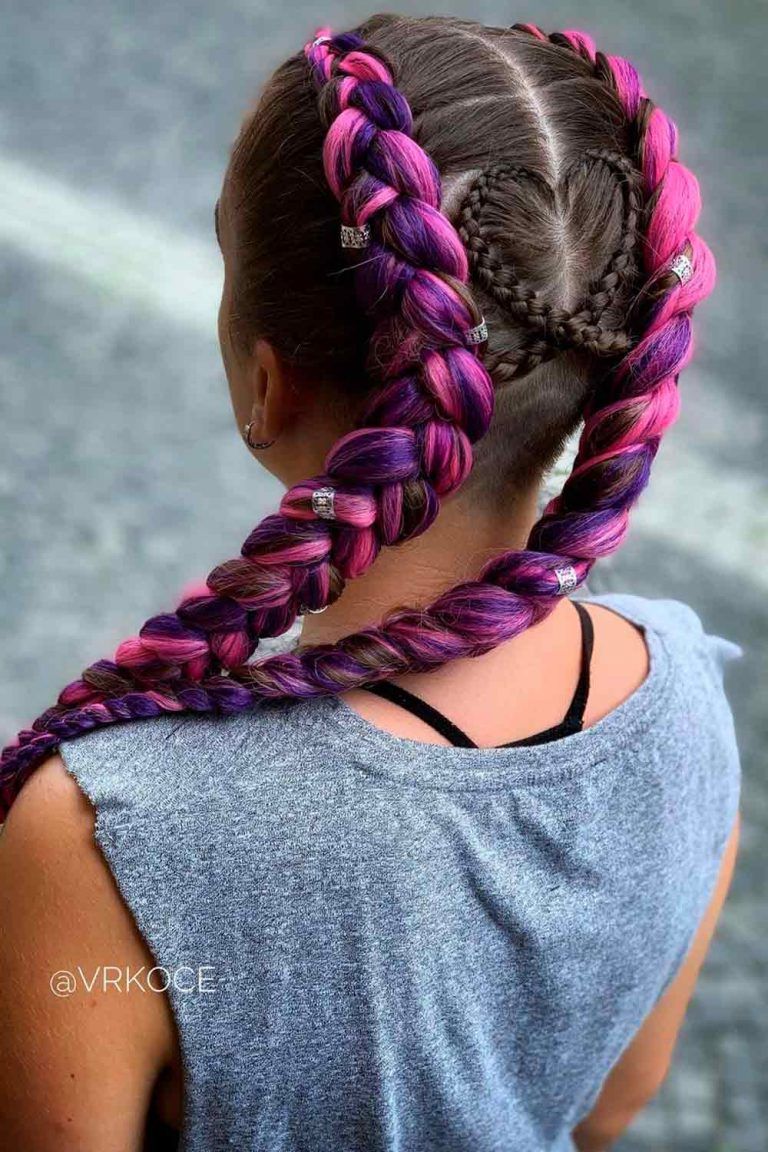 Credit photo: instagram.com/vrkoce
Jumbo braids are famous for their irresistible lushness and silkiness. If you want to put your hair in the spotlight, don't look any further than double jumbo braids! Nowadays, braiding two braids on the back of the head is a thing, and if you spice it up with voluminous curls that unravel at the midway, your style will be just on the top.
Dutch Goddess Braids Into Ponytail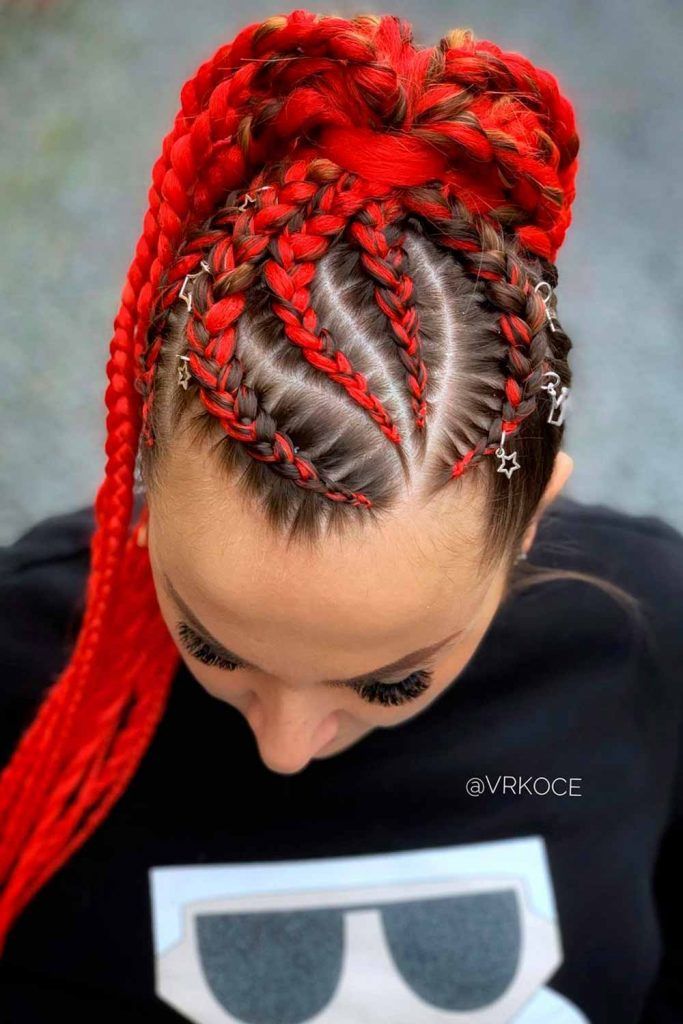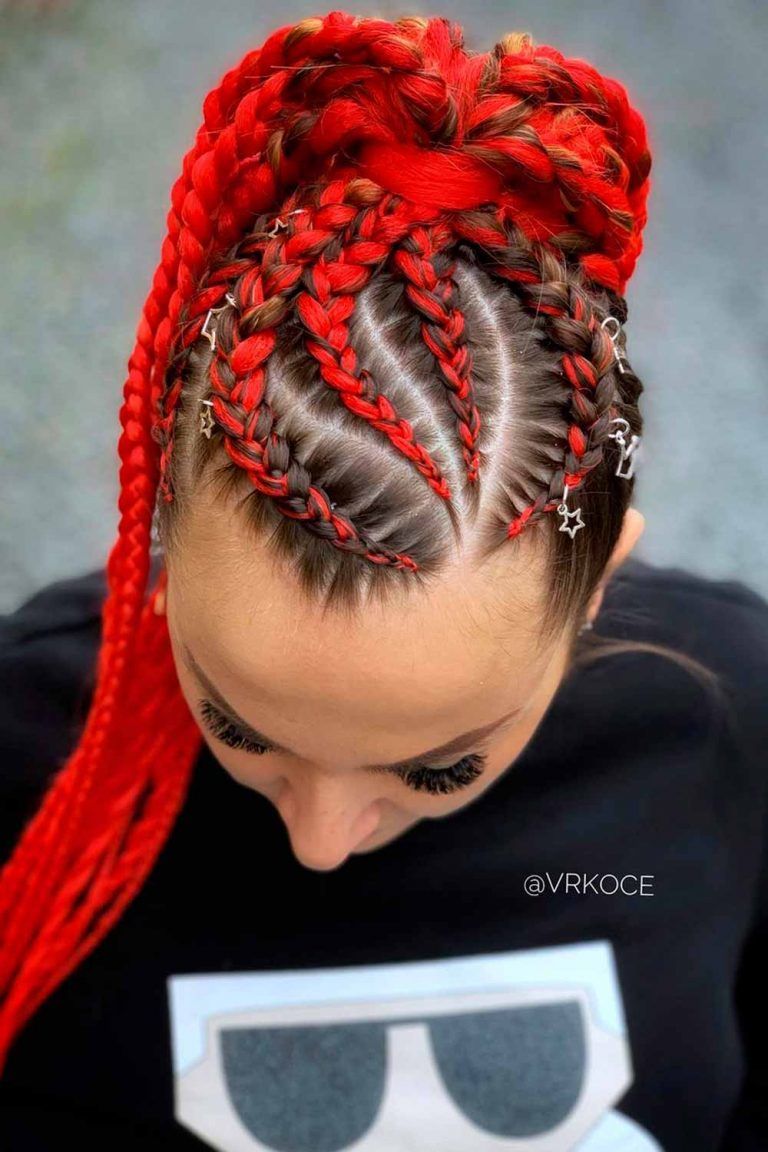 Credit photo: instagram.com/vrkoce
Who says that the everyone's favorite Dutch braids can't be done on natural hair? This time, they will show up in a whole new light! You can braid the top in any direction you please, incorporating some highlighted strands, and put it all into a high ponytail. Isn't that sexy?
Mohawk Goddess Braid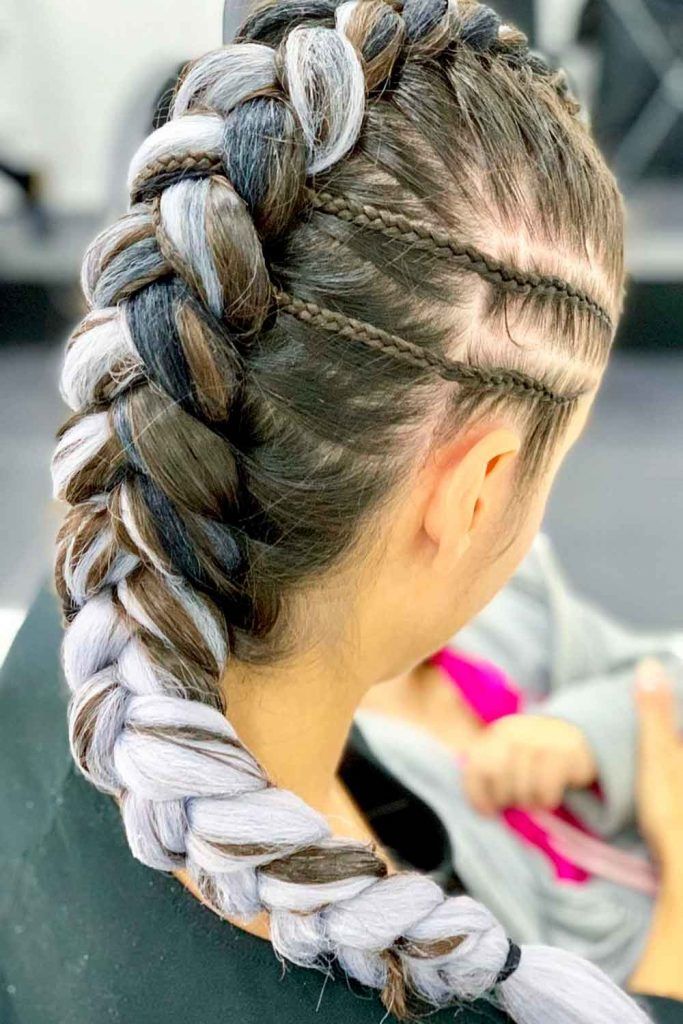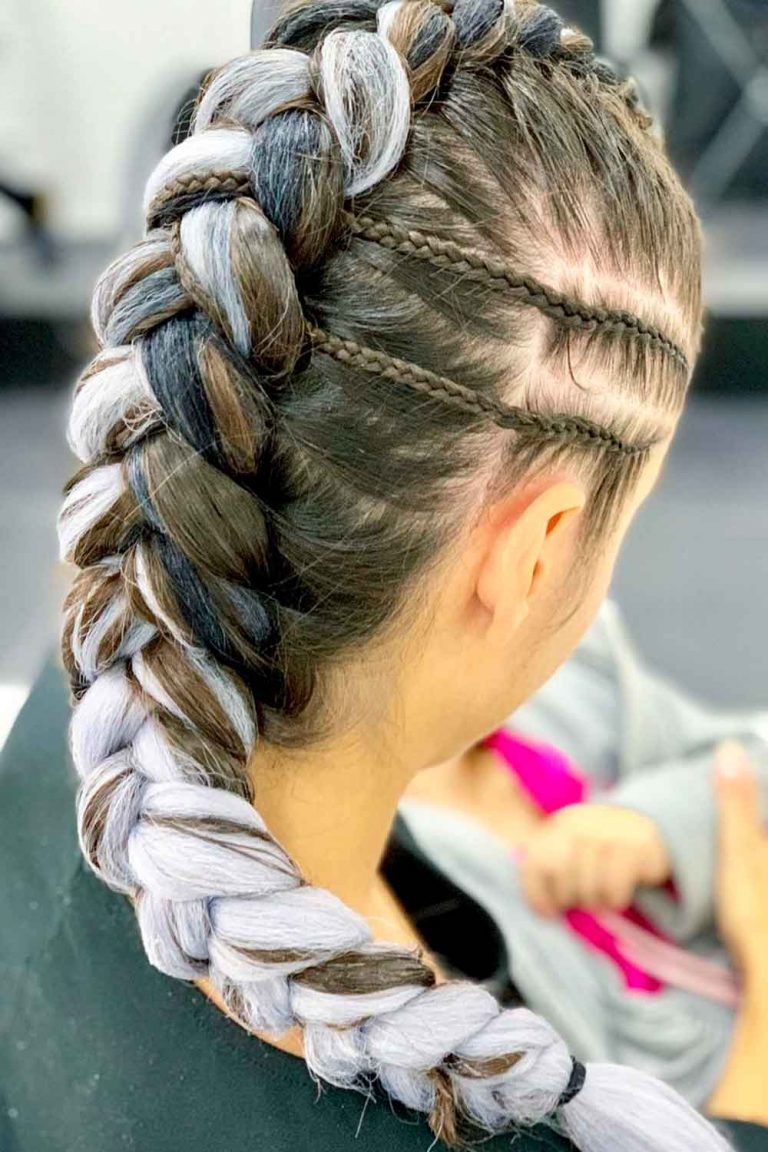 Credit photo: instagram.com/vrkoce
The feminine version of the popular Mohawk hairstyle will never stop impressing ladies; there are so many ways to recreate the style! It can be a huge center braid with neatly tight sides, or you can add a bit more creativity and braid the sides, adding even more texture to this beauty.
Greek Goddess Crown Braid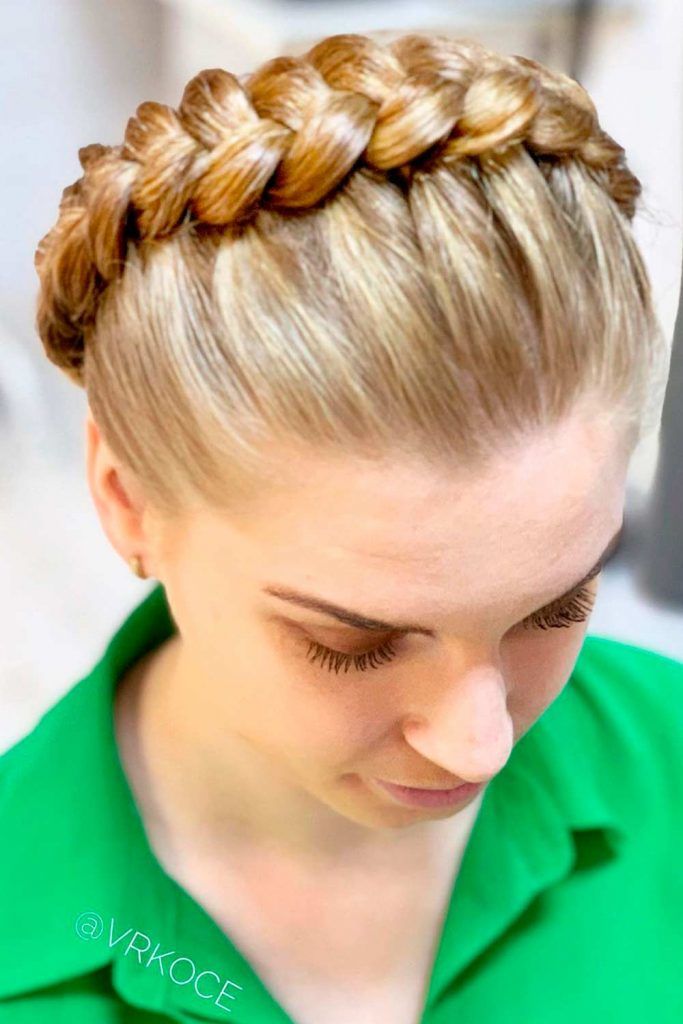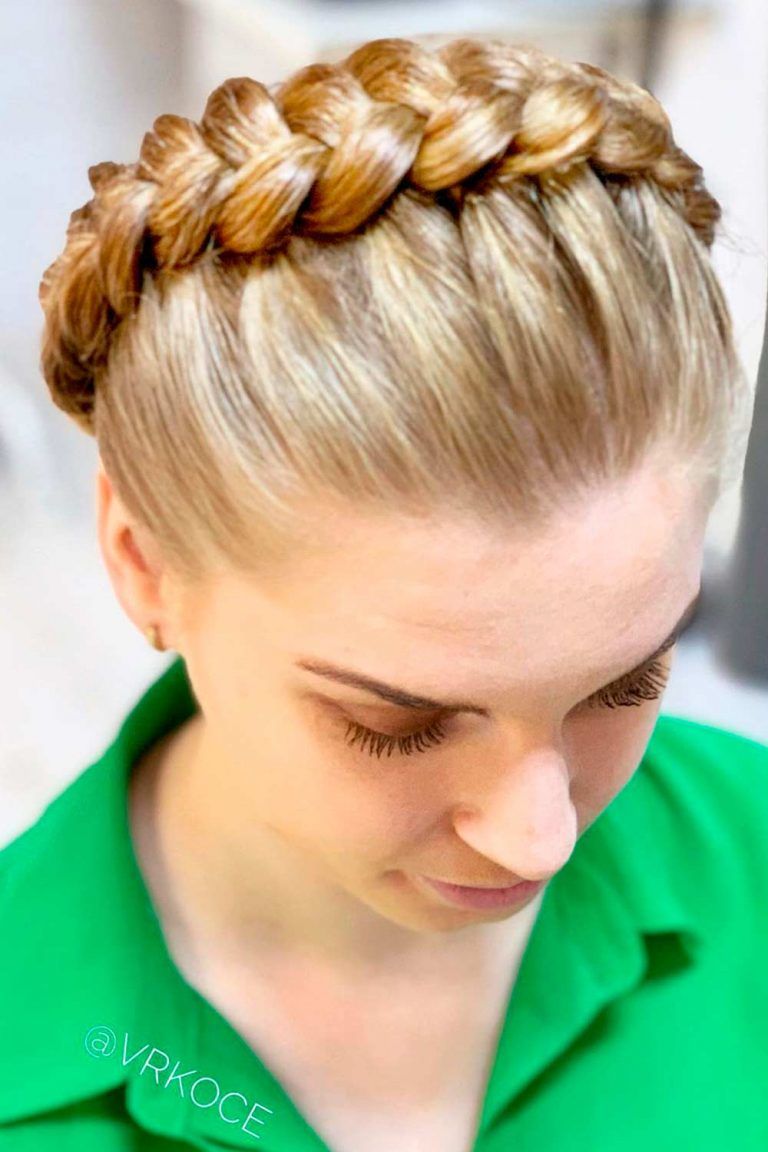 Credit photo: instagram.com/vrkoce
Meet another super girly idea that perfectly tames natural hair, whipping it into decent, clean shape. A greek crown braid with cute thin braids near the hairline is a simple, yet very sophisticated idea to pull off for an evening party or a date.
Dragon Goddess Braid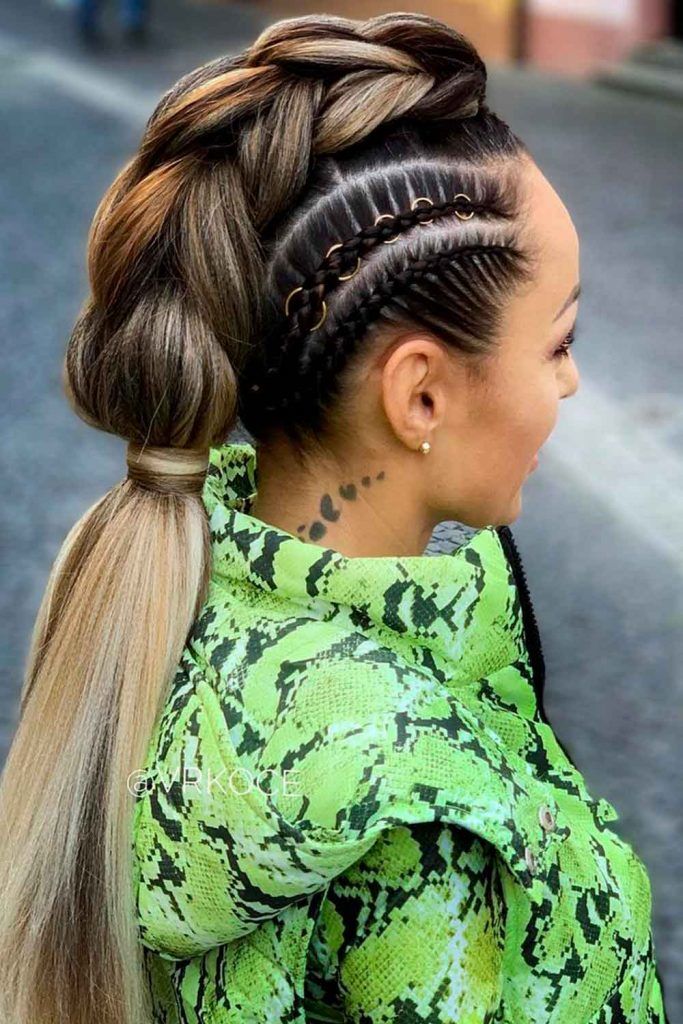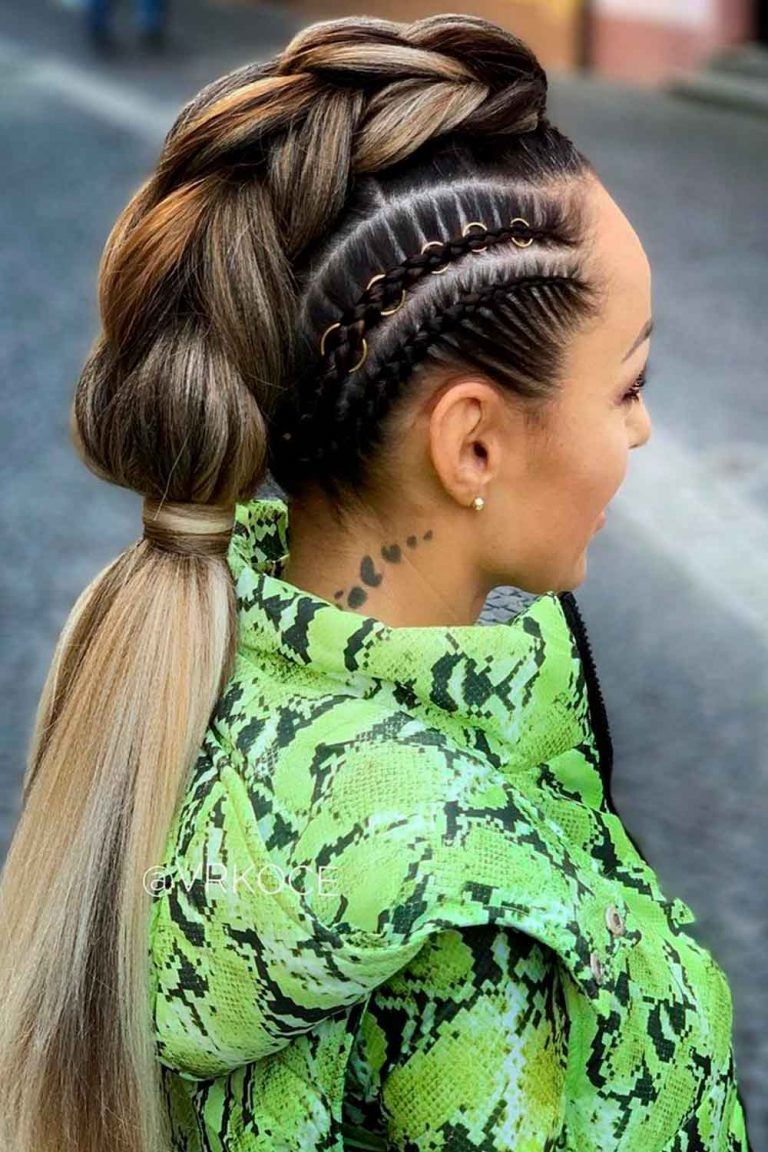 Credit photo: instagram.com/vrkoce
If you're fancy trying something new, how about a head-turning braid that looks like the scales of a dragon's spine? It's not the familiar braids we're all used to seeing; it's something that can expose your inner experimenter and leave everyone speechless.
Goddess Rope Twists
Twisting two strands has never been complicated, yet, the looks they give to us are the ones to copy. And, of course, on your natural hair, this style will show up in the most attractive light.
Goddess Butterfly Braid
Wondering how a single butterfly braid looks like? Actually, it can be anything you want, as it gives a lot of room for braiding creativity. This idea starts at the side as a voluminous crown and then transforms into a huge braid that looks like a caterpillar. A caterpillar that has become a gorgeous butterfly!
Double Dutch Goddess Braids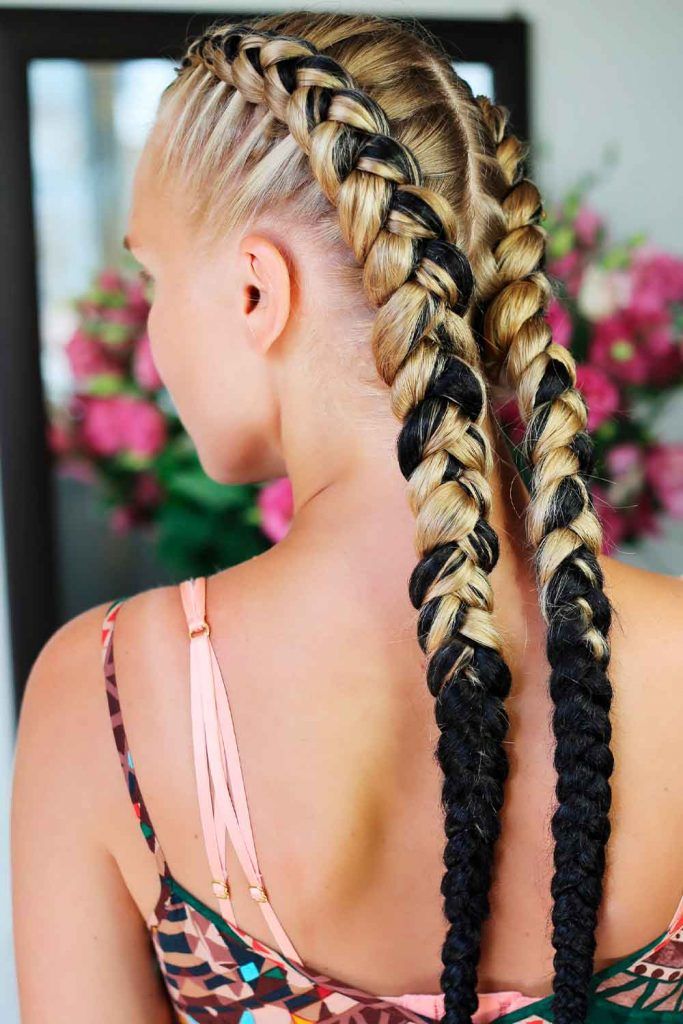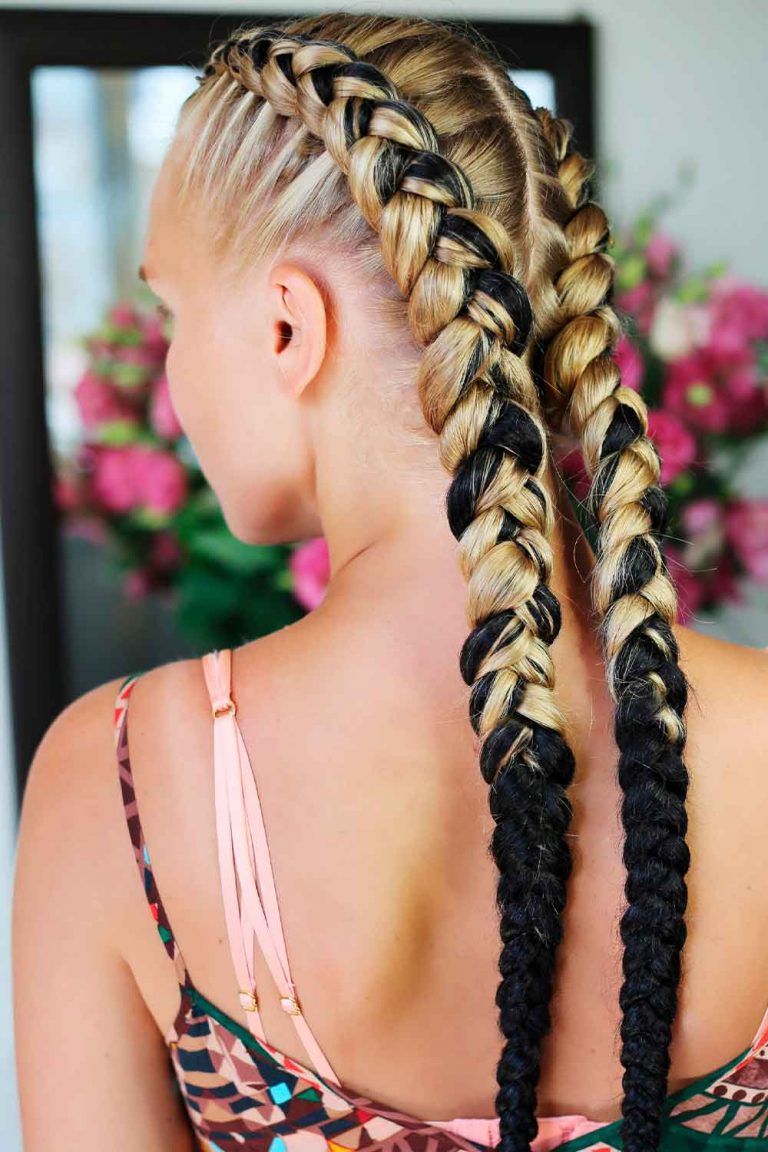 These perfectly symmetrical Dutch goddess braids show how differently you can wear today's classics. As you can see, the neat and full body can be enhanced with the play of contrastive colors! Just involve some colored strands into your braids to add some oomph.
Goddess Sleek Pony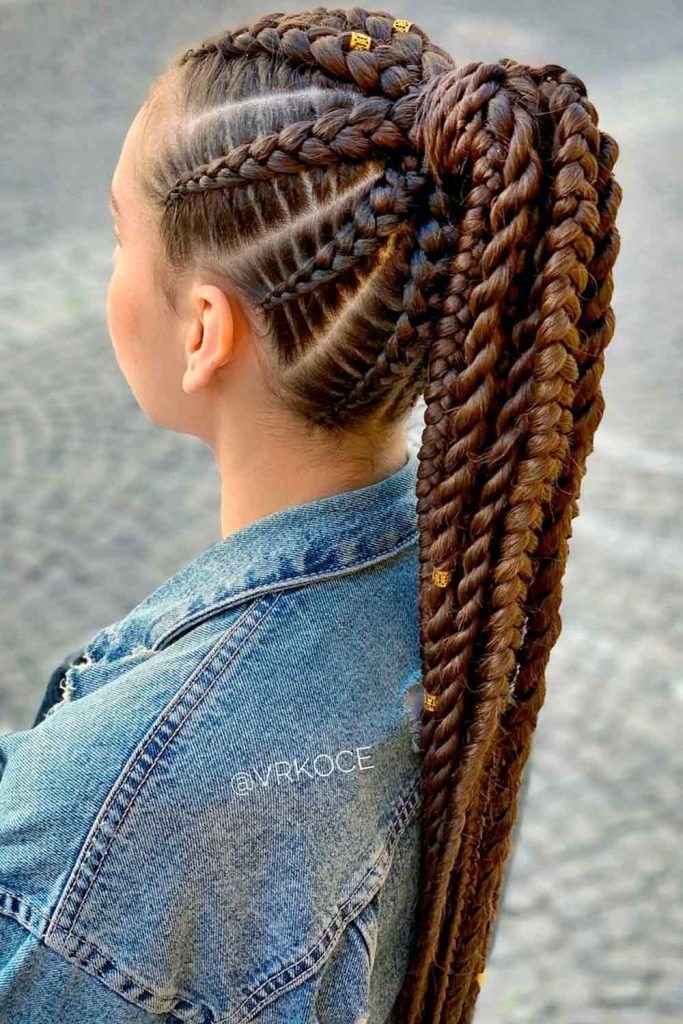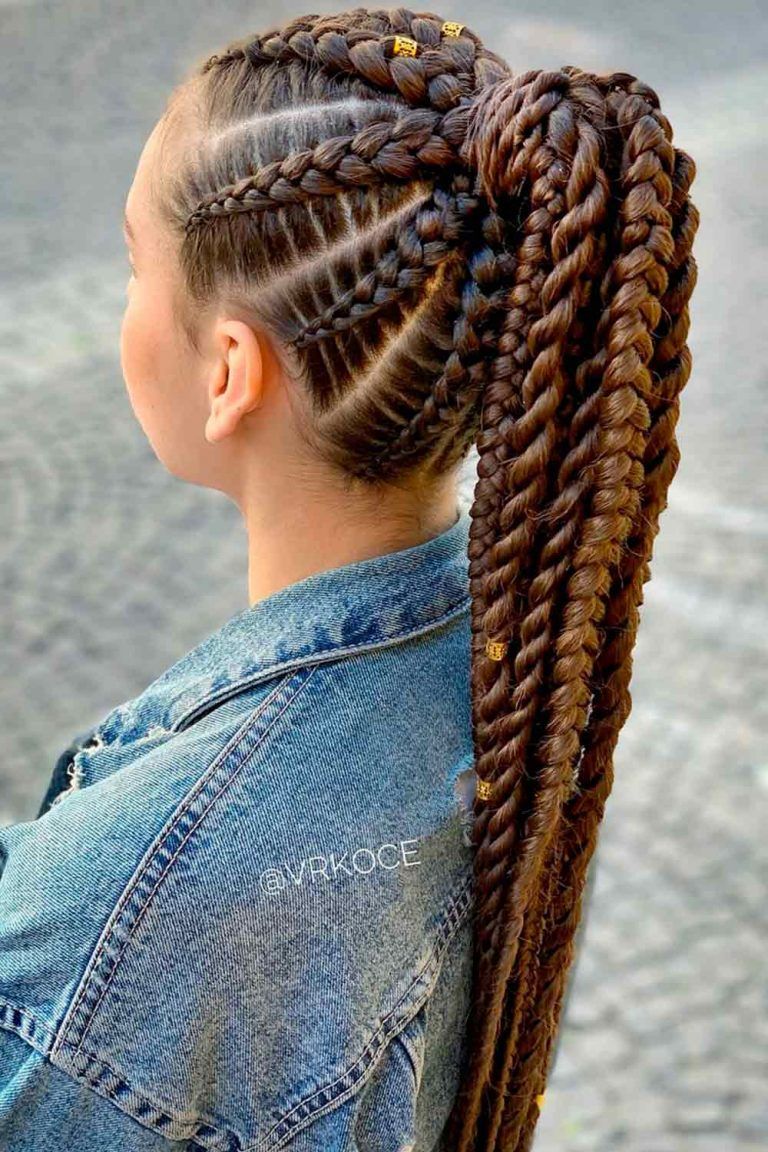 Credit photo: instagram.com/vrkoce
Not all the goddess braids are all about voluminous and unbearably full silhouettes, and this pony is here to introduce its sleek and tidy side. You can show up with a wonderful, immaculate pony that features a braid along the top and some braided elements on the sides. See? The versatility of goddess looks is to die for!
Goddess Cornrows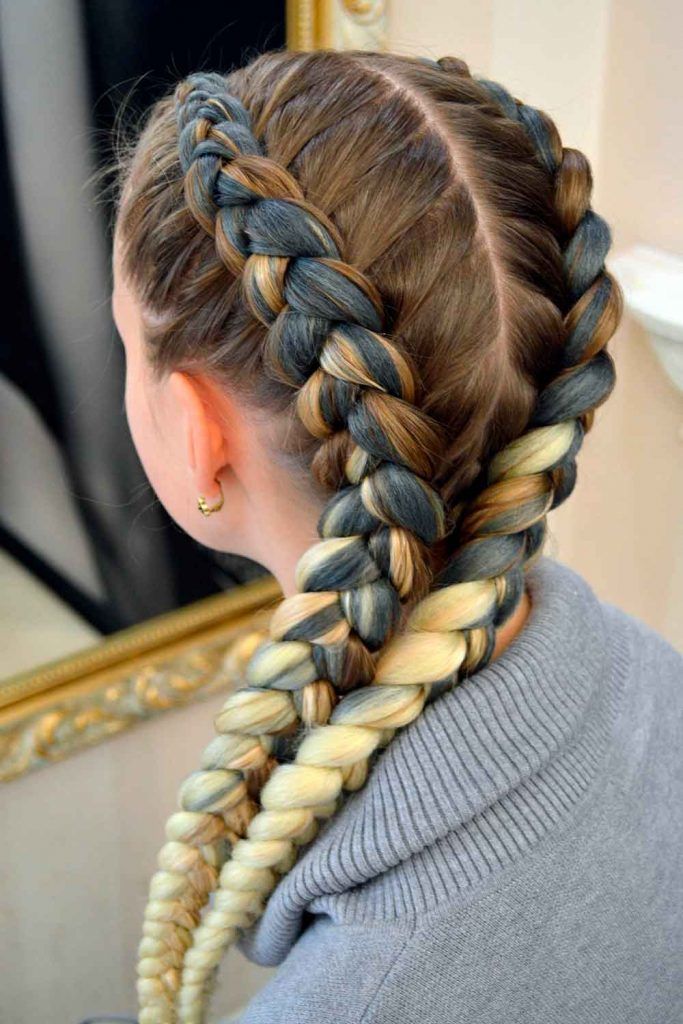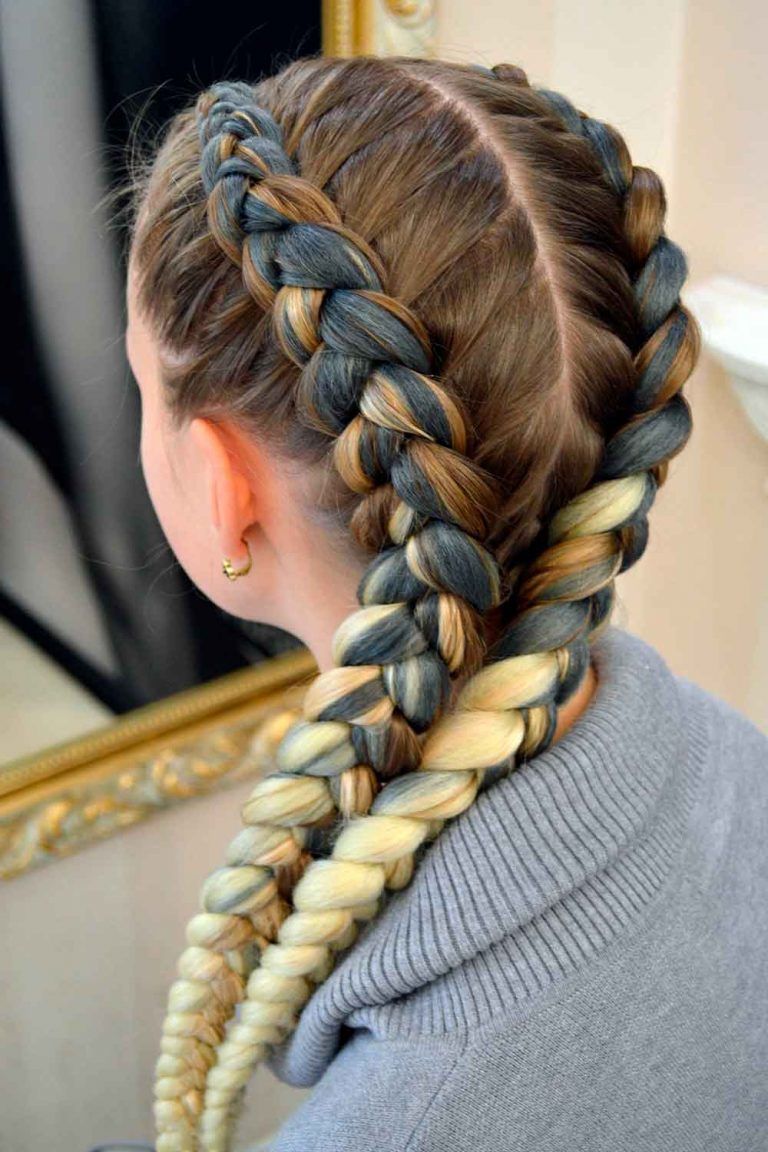 Now, it's time to remind everyone why goddess braids have outshined the good old cornrows. While being the version of the latter, goddess hairstyles appear thicker, thus giving a greater visual impact. And here, you can see a wonderful way to show off the majesty of hairstyles rocked by goddesses. Create two big and full cornrows falling down as double braids and unravel the bottom to finish the look with a fantastic play of texture.
Stitches & Waves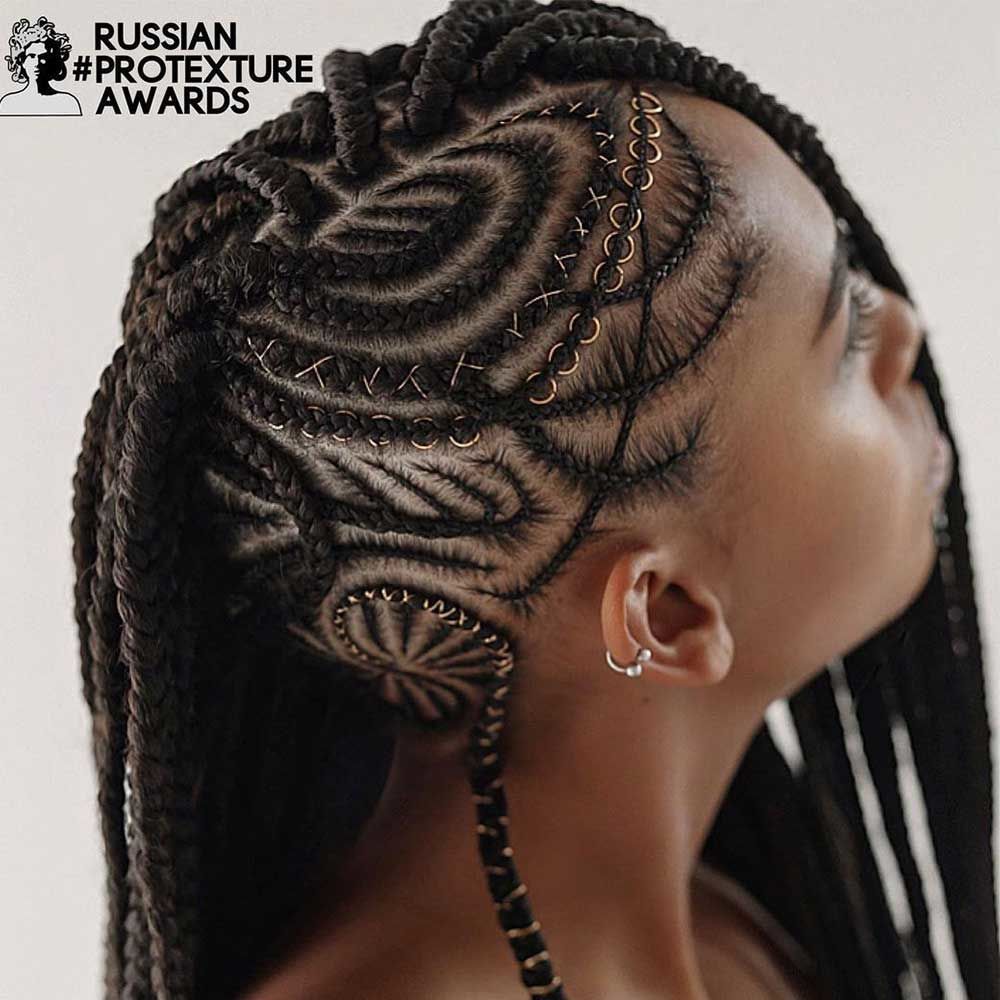 Credit photo: instagram.com/afrolife16
Here's another option from the endless variety of braided patterns you can recreate. You can either make up your own idea or ask your braider to set her creativity into motion. In other words, with a little effort, you can leave your stylist with a hairstyle that will boost likes on your Instagram like crazy. By the way, combining stitches and waves is one of the most desirable styles now.
Goddess Braids With Ribbon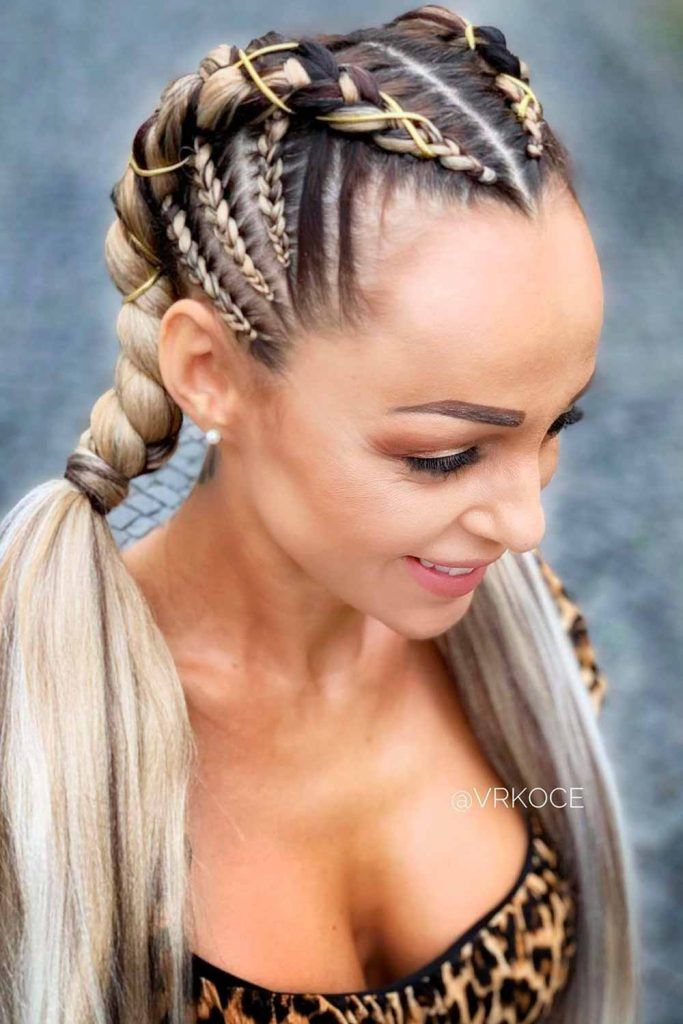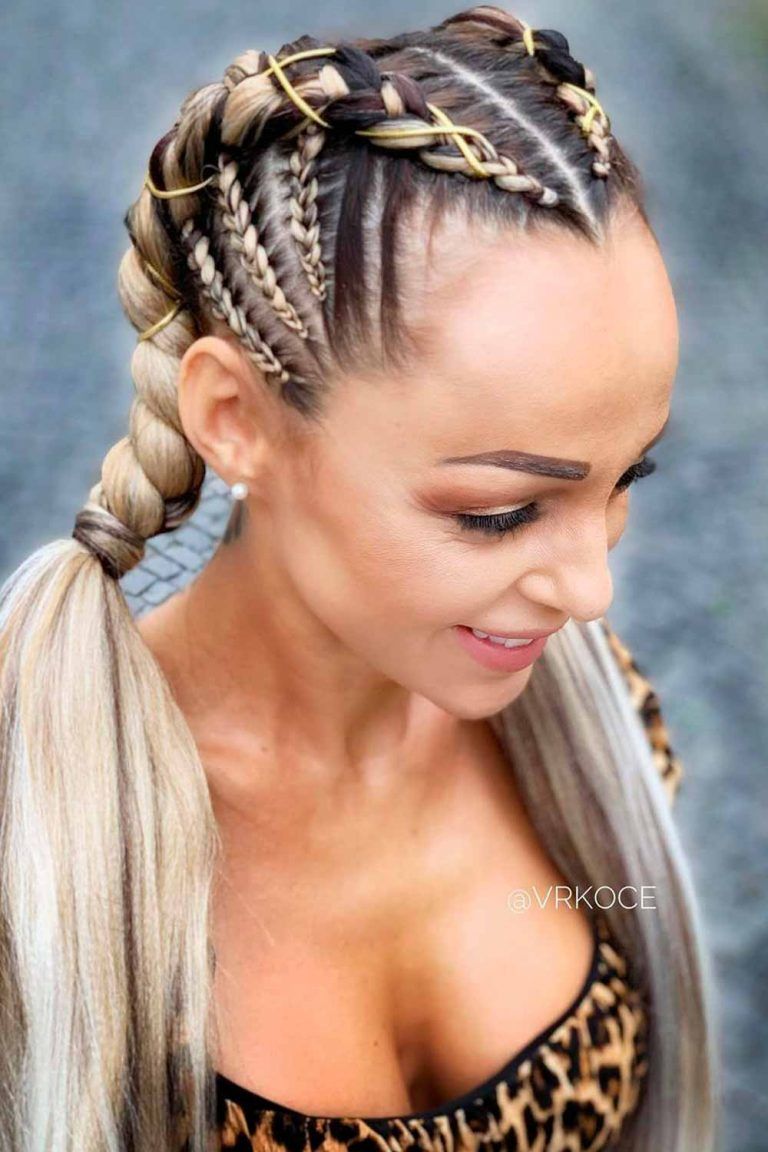 Credit photo: instagram.com/vrkoce
Accessories are what add character to our looks. And this time, you can forget about all accessorized hairstyles you've seen lately, as this simple, yet striking idea seems to play by its own rules. As it turns out, a shiny silk ribbon incorporated into a braid can become a hairstyle worth a red carpet walk! Paired with a big makeup, this look will reach its highest.
Goddess Designed Braids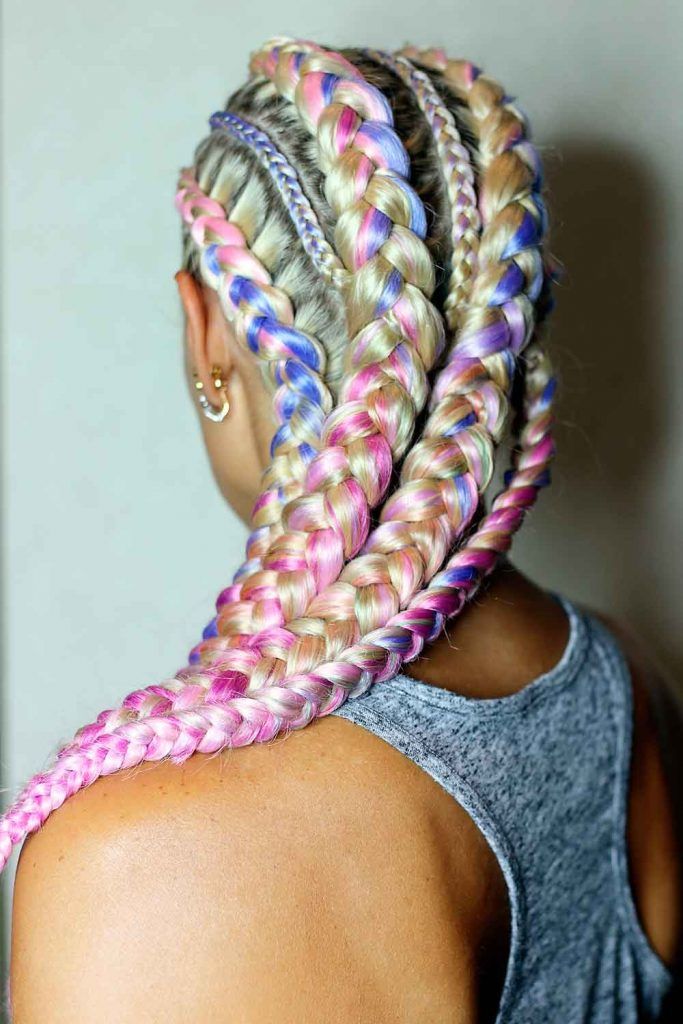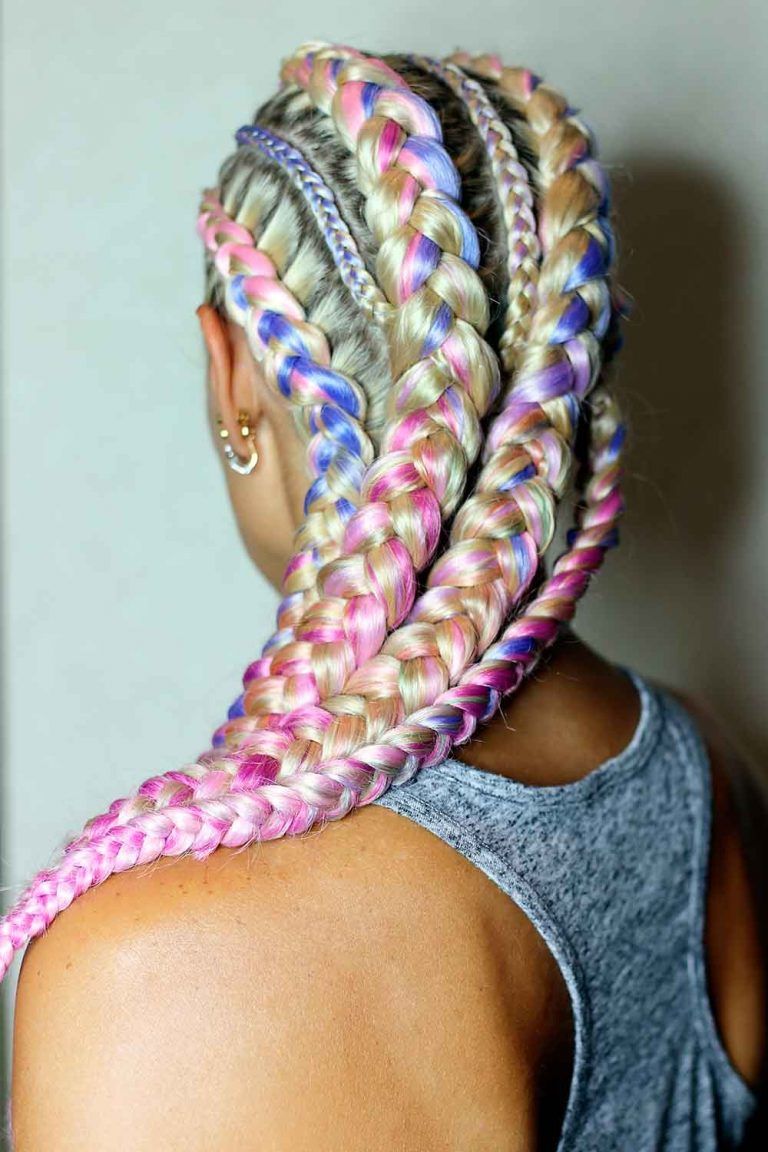 Little stitches, thick cornrows, box-like pattern, colorful elastics, and minimalist embellishment on the Fulani-inspired design: if you think that you can go too much with braiding techniques for natural hair, you've never been so wrong. Think of how you can tie everything up, embracing the main details of all braiding patterns to create your one of a kind masterpiece.
Halo Style Updo
If a halo hairstyle is initially meant to resemble a crown, why don't you make it look as regal as a real queen's accessory? Since you are free to incorporate kanekalon extensions or even paint over any faux locks, you can add a sense of kingdom drama to your halo braid by coloring the top bright golden shade. Apply the color in a smooth ombre technique so that the shade stands out, yet without being too drastic.
How does it feel to be the luckiest person in the world? We call you so because now you know all the trendy ways of wearing goddess braids, so all the flattering compliments will be yours. Don't be shy to look different and give our fancy braided ideas a try right now!
FAQ: Goddess Braids
What are Goddess box braids?
Goddess braids, also known as Granny braids, are a softer and more feminine take on classic box braids. They're long, rope-like cornrow-type braids and wavy tendrils that lay flat on the scalp.
Do you dip Goddess braids in hot water?
Box braids, often known as goddess braids, are a trendy hairstyle. Your goddess box braids could last a month or even longer if you use this method. We don't advocate putting the hair in hot water for this protective style since it will lose its curly structure and wavy pattern and you'll end up with flat, unkempt locks.
How do you sleep with Goddess braids?
Braids feel fantastic in silk! Convert your hair to silk covers.
Make your hair ready for the evening. Apply water or a spray leave-in conditioner.
Wrap your braids up. Begin by sectioning your hair into two equal parts.
Was this article helpful?