Before you start searching your whole place for a suitable bowl: our guide on how to cut your own hair doesn't involve this ingenious tool. According to blogs of popular hairstylists, every woman tries to get herself a haircut at least once in her life, usually getting a mess as a result. As much as we want to urge all ladies to get their haircuts at salons, we do realize that sometimes they don't have time for that.
The good news is, the world is no longer divided into two kinds of people, where the first cut someone's hair using a bowl and the other shed tears over a spoiled cut. This post is a compilation of fail-proof advice and techniques from professional hairstylists. Though there's nothing like getting a fresh, perfectly shaped, and leveled haircut in a hairdresser's, these ways how to cut hair won't let you down if you need to do an update at home.
Layering Long Hair
Long hair is the most enviable and desirable hair length as long as you keep it well-trimmed. In a couple of weeks, your hair starts to grow longer, becoming heavier and thus weighting the volume down, not to mention split ends. Since layers preserve the length while retrieving the life and movement in your locks, this step-by-step tutorial on how to cut your own long hair is a must for those with long manes. Remember to be careful and don't go too fast with your scissors!
Tools:
scissors
a comb
a brush
a spray bottle filled with water
How to Cut Your Own Hair in Layers: Method 1
Start by dividing and separating the top two-thirds of your damp hair, putting it in a bun.
Next, bring the bottom third of your hair to the front and then separate it into two parts.
Starting with the bottom piece, run a comb through your hair, brushing it forward at a slight angle.
Determine the length you'd like to achieve, cut the section straight across with the scissors, and then point cut into the hair.
Use this piece as a guide by combining it with the other section. Comb it all forward as you did before, holding your hair firmly between your fingers and looking at the guide when cutting new layers.
Repeat the same with the bottom piece on the other side, and check if the trimmed sections are cut evenly.
After that, tie away the whole bottom part and bring the top two-thirds of your hair to the front.
Then, create a center part.
Using a comb, take a one-centimeter section of hair at the right side and flip it over to the other side.
Next, tie the hair on the right side in a bun.
Take a comb and create a two-centimeter section on the top of your head: one centimeter to the left and one centimeter to the right of the center part consequently.
Use this section to determine the length of the shortest layer.
How to Cut Your Own Hair in Layers: Method 2
Start combing your hair straight up, holding your hair between your pointer and middle fingers so that they are parallel to the floor.
Keep the tension between the fingers and bring the hair down. Cut it straight across as you did before: blunt cut first and point cut in then.
Move about half of this hair to the other side of your head, keeping the other half of it to combine it with the new section and using it as your guide.
Then, take another section of hair, incorporating the guide into it, and repeat the previous step.
Repeat the same steps again until the hair on the left side of your head is trimmed.
Now, move to the right side of the head.
Again, separate off a centimeter-length section and flip it to the tied side.
Untie the hair on the right side and brush it thoroughly and do exactly what you did with the left side, using the flipped section as a guide.
Spray the hair one more time, and brush all your hair to the front.
Take a comb and draw a line from the center part down to the top of the year, separating off the sections from both sides. Also, tie away the hair on the back.
Start combing your hair down at an angle while holding the hair between the fingers.
Distribute the hair between your fingers evenly, and then begin to cut a little bit off the length, point cutting as you work your way down to the ends. Repeat it on the other side.
How To Cut Your Own Hair Using The Twist Method
If you'd like to know how to trim your own hair shorter and give it a slightly angled body, make sure to follow these steps. However, keep in mind that this way of cutting your own hair works best for women with thick textures, as it removes a lot of the length to produce layers.
Tools:
How to cut your own hair short into an inverted bob:
First off, comb your hair to the top and twist it tightly.
Pinch a piece of hair from the front hairline just where you want the shortest layers to be.
After that, pull this piece back to where you will twist your hair, and use it as a guide for cutting.
Take scissors and then cut into your hair, holding it firmly up above your hair.
Let your hair fall down and comb through it.
Pull your hair up again and twist it in the opposite direction.
Hold your twisted hair up and then snip away hairs that stick out.
Cutting Hair with A Ponytail Methods
Below, you're going to see the ways on how to cut your own hair women love for their simplicity. As it turns out, a ponytail is a key to saving some money on salon appointments! Besides, it guarantees that you will not end up with a bad haircut.
Cutting A Low Ponytail
By following this tutorial, you can get a straight hairstyle with a slightly rounded body.
Tools:
a comb
hair elastics
a spray bottle filled with water
a brush
How to cut your own hair straight step-by-step:
Start by spritzing your clean hair with water.
Using a comb, create a precise center part that hits the middle back and the top of your crown. Comb back your hair straight behind that point.
Then, pull your hair into a low ponytail at the nape area, ensuring that your hair is smooth and firm and that the ponytail is exactly in the middle of the back of your head.
Place another elastic, creating another ponytail a few inches below the first one.
Pull the ponytail up toward the ceiling, trying not to lose it from the nape area.
Next, cut off the excess hair from below your second ponytail, doing it in small snips and making sure that the ponytail is even.
Remove the elastics and then brush your hair. If there are any stray hairs, put your locks back into ponytails and try to level everything.
Cutting A High Ponytail
How about you to learn how to cut your own hair in layers with a ponytail method? As a result, you can get yourself heavy layers, which is a win for women with long and thick tresses.
Tools:
a comb
a brush
hair elastics
scissors
How to cut your own hair in long layers with high ponytail:
Starting with your clean and damp hair, bend over at the waist so that your hair is pointing down.
Then, brush your hair into a ponytail right at the center and the top of your head while standing in the same position.
Put a hair elastic close to your scalp.
Place another elastic just below the area you want to cut.
Just like in the previous method, cut your hair just above the second ponytail, holding the bottom of your locks firmly.
Remove the elastics and brush your hair to check if the hair is all even.
If you notice some sticking out hair, flip your hair again and repeat the same steps for the final touch-ups.
Cutting A Front Ponytail
Here comes another ponytail method that will give you layers. This time, layers are infused with face-framing magic. Try repeating these steps if you'd like your hair to work on your face.
Tools:
a comb
a brush
hair elastics
scissors
How to layer your own hair at the front:
Start with your clean, smooth and dry hair.
Tip your hair upside down and brush it into a ponytail, placing it at the center of your forehead.
Now, you should measure the length of your first layer: take a comb and measure the distance from the base of your ponytail to where you want the first layer to fall.
Hold your ponytail with one hand and scissors in the other, cutting the hair based on the measured length.
Then, point cut into the ends of the ponytail so that they're graduated and fluffy.
Cutting Pigtails
If you need to remove some weight from your heavy locks, just grab your scissors and create two pigtails! As a matter of fact, this way isn't the best choice for women with thin hair, as it cuts off a bit of density at the bottom.
Tools:
a comb
a brush
hair elastics
scissors
How to trim your thick hair using pigtails:
Start with your clean, dry, and well-brushed straight hair.
Create an immaculate center part with a comb, dividing your hair into two equal parts.
Put each part into a low ponytail, ensuring they sit below and behind your ears.
Secure the pigtails tightly by splitting each ponytail into two halves and pulling them so that the elastic moves upward.
Decide how much hair you want to cut off and start pulling the elastic gently to the cutting point.
After that, take your scissors and cut your hair just below the elastic, holding the scissors at a 45-degree angle.
Lastly, remove the elastics and check if your hair is cut evenly. Hold your scissors at an angle to point cut into the ends if some stray hairs need trimming.
Cutting Back To Front Hair Method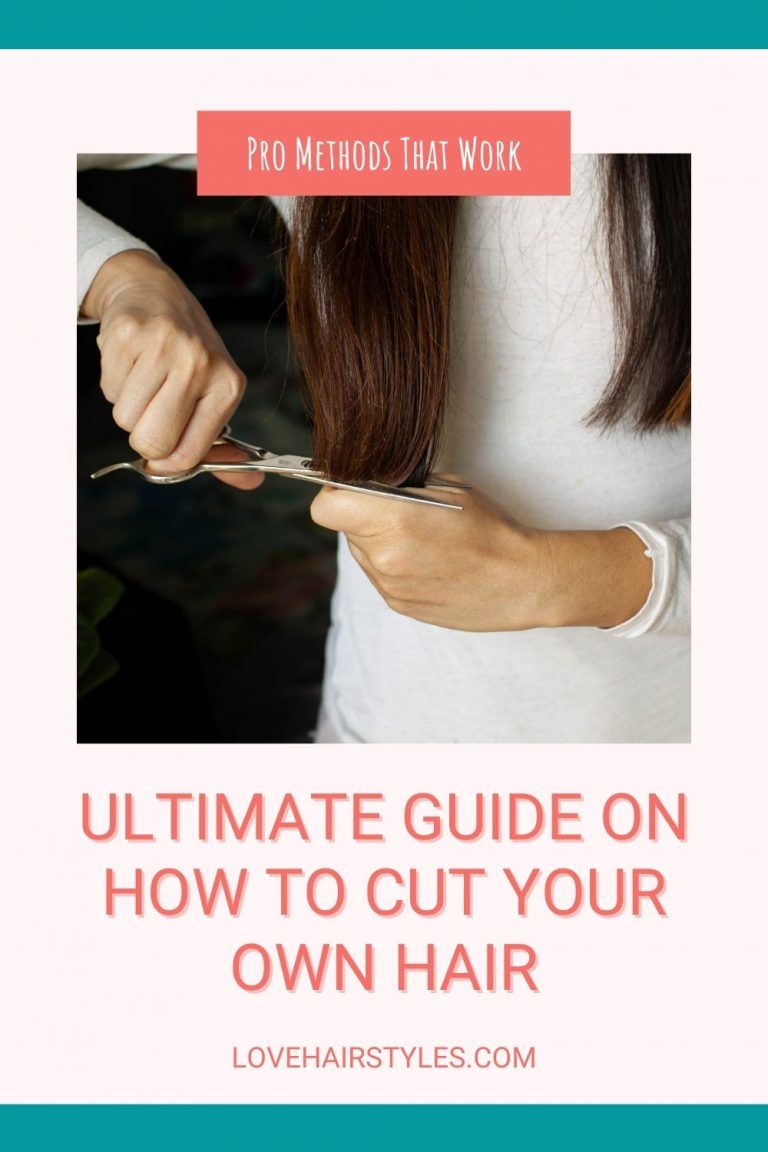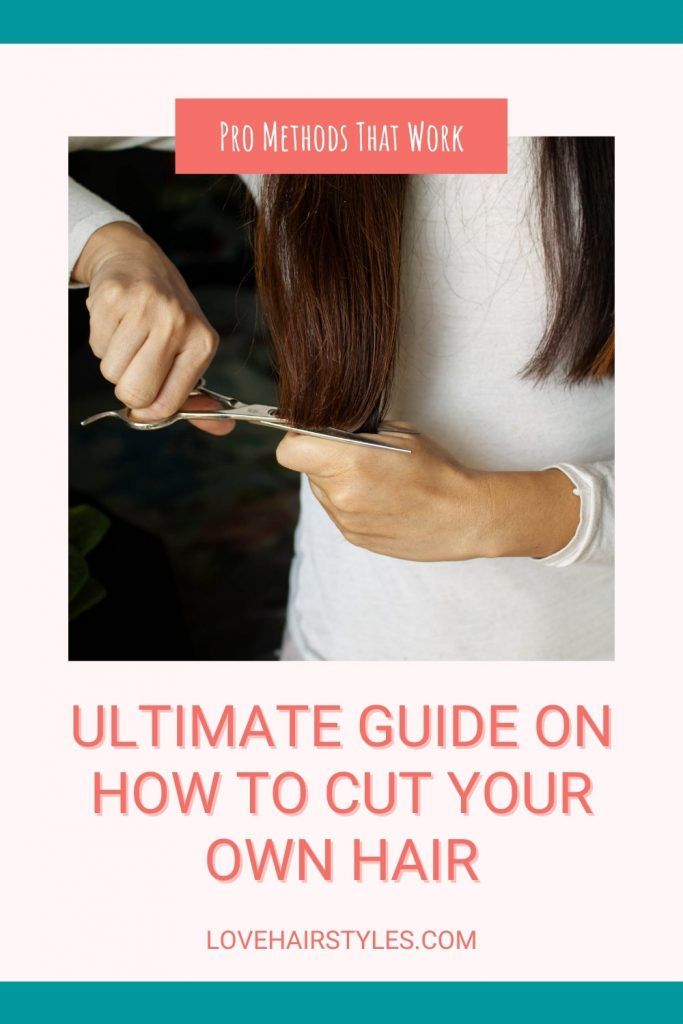 While being pretty versatile, this way of cutting hair at home has a lot of details to which you should pay close attention. For example, if you want a blunt haircut, hold your scissors horizontally as you cut your hair straight across. As for softer looks that feature layers, you should cut your hair at a 45-degree angle, cutting it upward and making small diagonal cuts.
Also, ensure to cut your hair in a place with two mirrors: you will need to stand in front of one and look into another mirror behind you to get the most of this DIY cut.
Tools:
a comb
a brush
hair elastics
scissors
a spray bottle filled with water
How to cut your own hair back to front:
First, comb your clean damp hair to a preferred part, holding your hair in a neutral position.
Divide your hair into eight following sections: top-front (left and right), top back (left and right), bangs, one section at the nape area, and sides (left and right).
Next, twirl all the sections around your finger, except for the one at the nape, and clip them out of the way.
Begin to cut your hair with the section you left out: bring it in front of your shoulders, comb it, hold it with your fingers as if they're a pair of scissors, and comb it again. Then, slide your fingers till they reach the point where you want to cut the hair and cut just beneath your fingers.
When this section is ready and you're satisfied with the result, put down the top-back section and cut it, ensuring it's the same length as the top-back right and nape sections.
Go on cutting the rest of the sections, working from back to front and combing every lock.
Once your cut is one-length, you can add layers to it by cutting hair sections at an angle and shaping them with point cut technique.
Trimming Curly Hair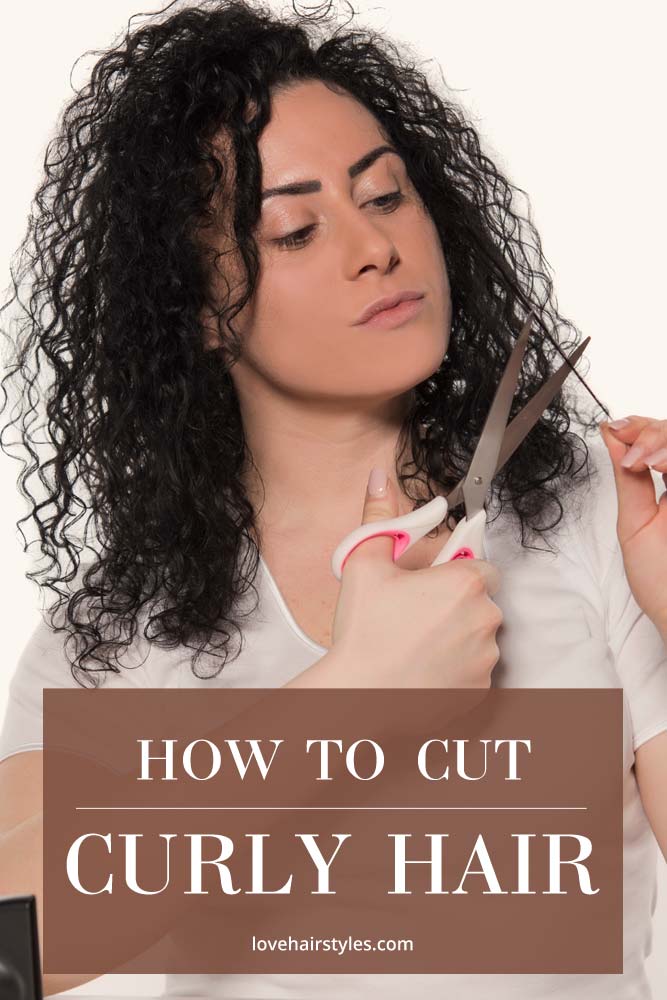 It's no secret that curly hair looks its best when it's regularly trimmed. This tutorial is perfect for those who want to tame their curls at home and keep them fresh between appointments. Remember to work with dry hair!
Tools:
scissors
hair elastics or clips
How to trim your curly hair:
To begin, separate off the top layer (or layers) of your haircut and clip it out of the way.
Then, split the bottom layer into two equal parts.
With one of the parts, stretch the ends to check if there's hair that sticks out, trimming all the stray hairs with an upward motion and at an angle.
Go on trimming the ends until they're leveled evenly, separating big layers from one another so as not to mix everything.
Continue to trim your curls till you get satisfied with the look of your curls.
Trimming Bob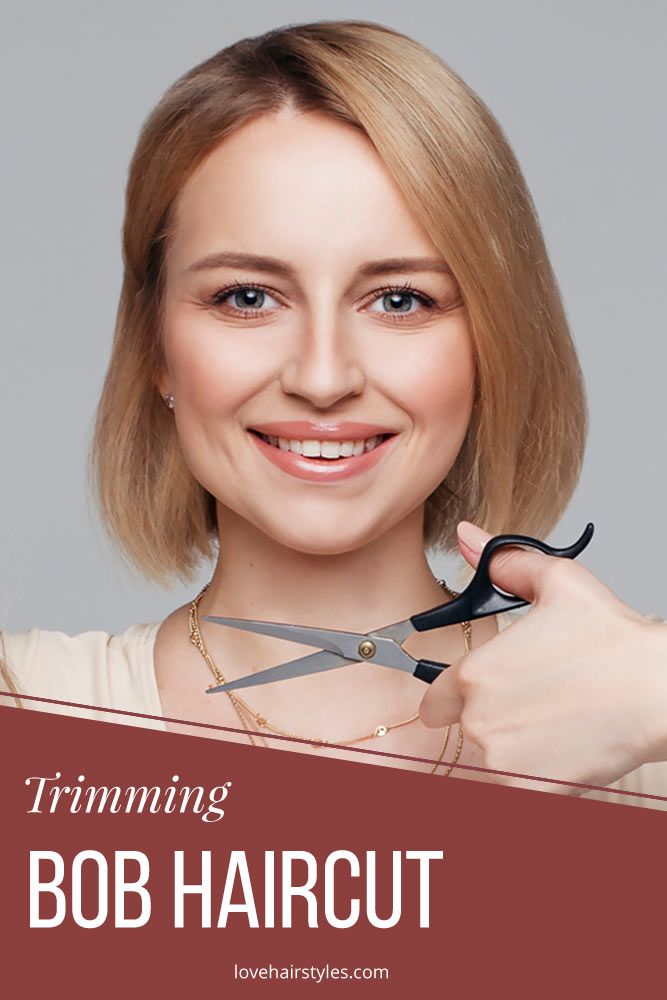 If you've got the guts to freshen up your blunt bob at home, this tutorial will be your saving grace, no doubts. While it's not advisable to look for ways on how to cut your own hair into a bob, you can still try to whip your short haircut into a decent shape with a simple trim.
Tools:
How to trim your blunt bob:
First off, grab your comb and run it through your hair to ensure there's no knots or tangles.
Take some of your hair at the front and hold it firmly between your fingers, pulling it straight down.
Then, grab your scissors and trim the bottom cutting a straight line.
Go on trimming your hair at the front, following the length of the first section that you've cut until you trim the side.
While cutting the ends, comb your hair to see if the length is even and has no stray hair.
Once you reach the hair on the back of the head, take a section, comb it, and grab it as tightly as you can.
In the end, bring this hair to the front so that you can see the ends, and trim them into a straight line.
How To Cut Pixie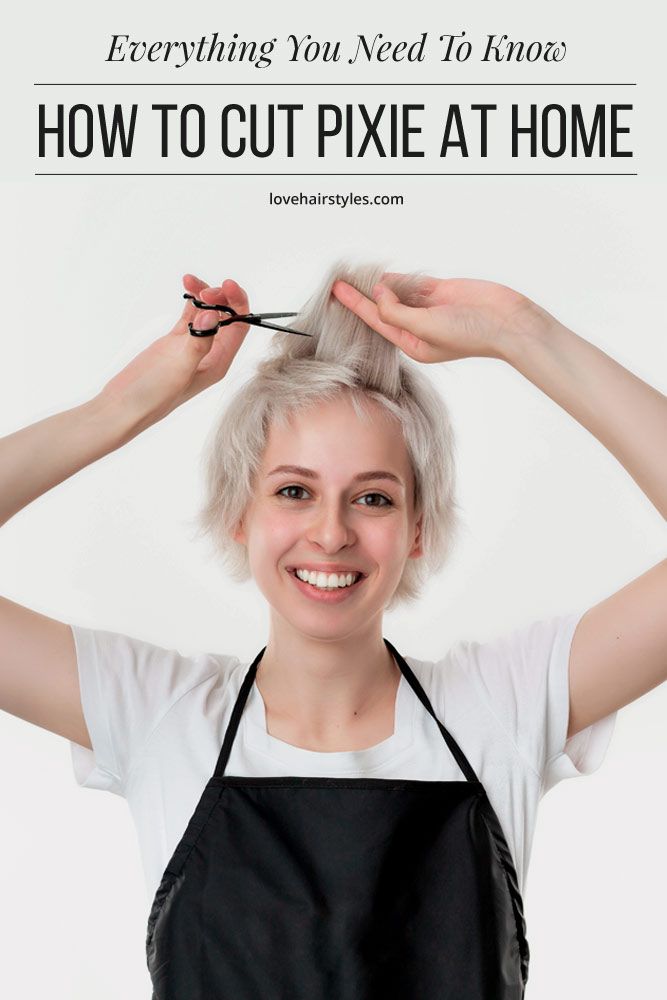 Now, we'd like to guide you through the basics of maintaining your pixie with disconnected sides. Before you start: prepare to set all your patience into motion.
Tools:
a comb
butterfly clamps
clippers
How to cut your own hair for a short pixie:
Basically, the key to a properly chopped pixie lies in even partings: make sure to nicely separate off the top and hair at the sideburns area by clipping or tying them tightly.
In order to make clippers glide through your hair, comb all the naps with a comb.
Take your clippers and start trimming the sides and back of your pixie from the bottom to the area below the clipped top.
Hold the clippers at a slight angle and work your way up in an upward motion.
If you want to blend the sides with the top, slide your comb through your top to connect it with the sides. Hold the comb at an angle and then grab your clippers set on the lowest mode and try to blend the edges with the sides. Of course, you should be working with small sections and moving very carefully.
How To Cut Your Own Bangs - 3 Different Ways
Bangs are probably the most common confession of women who enter salons with the phrase "I cut my hair myself". So if your DIY nature keeps you from calling your stylist, we've prepared three ways to create bangs without crying rivers at the results.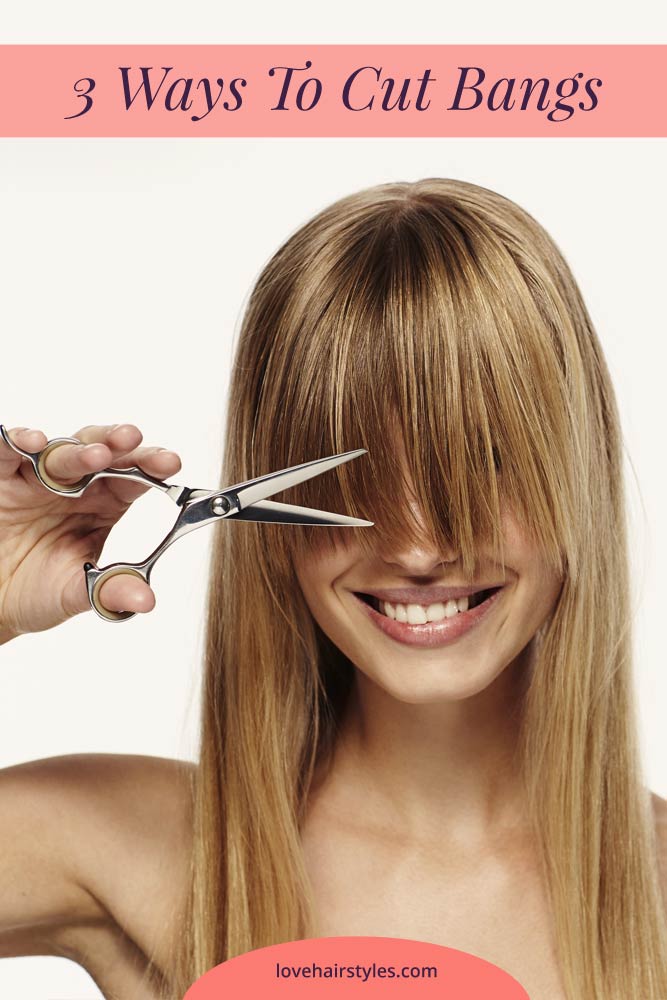 Classic Straight Bangs
Tools:
scissors
hair clips
a flat iron
a round brush
a hairdryer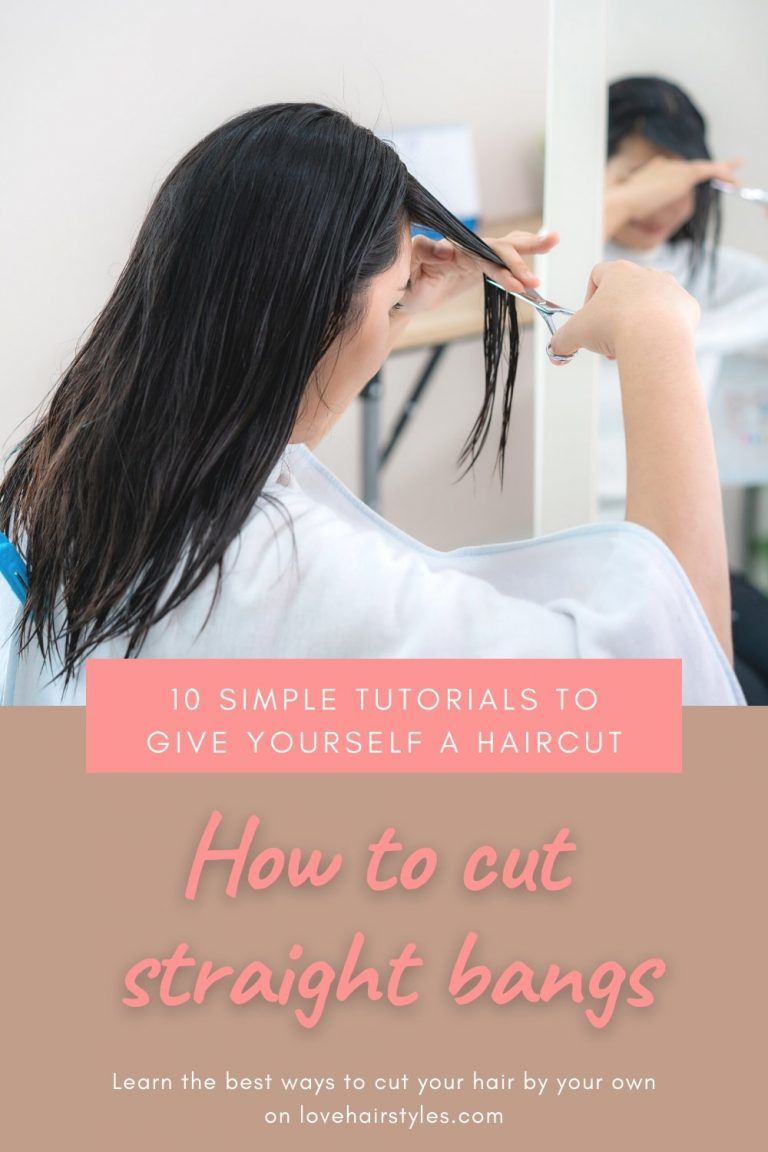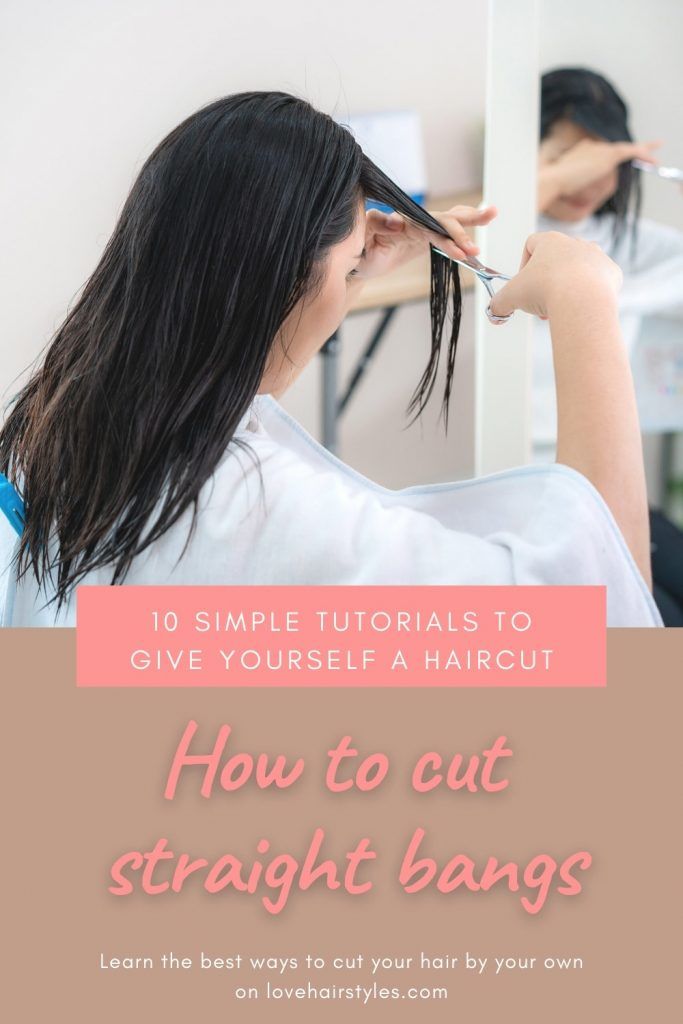 How to cut straight bangs:
Firstly, create a center part.
From each side, separate off a small section of hair right at the front of the part.
Take these sections, comb them through, and twist them.
After that, hold the sections twisted with one hand and cut a straight line with the other, taking off as much length as you want.
Then, point-cut into the edges of the bangs if you want them to look transparent.
Straighten the fringe with a flat iron to see if the hair is cut evenly.
If there are some stray hairs, point cut them till they're all nice and even.
Now, take a round brush and style your bangs holding a hairdryer in the other hand.
Long Curtain Bangs
Tools:
a comb
scissors
hair clips
How to cut curtain bangs:
First, create a middle part.
Next, divide off a small section of hair at the front of your parting from either side.
Clip the rest of your hair away from the face.
Combine these two sections, comb them through while holding them tightly with your fingers.
Grab your scissors and cut a straight line, cutting off as much hair as you want.
Then, trim the ends of your bangs by point cutting into the hair.
To blend the fringe with the whole length, hold your scissors at an angle and run it through the edges, slightly chopping weight off the tresses.
Side Bangs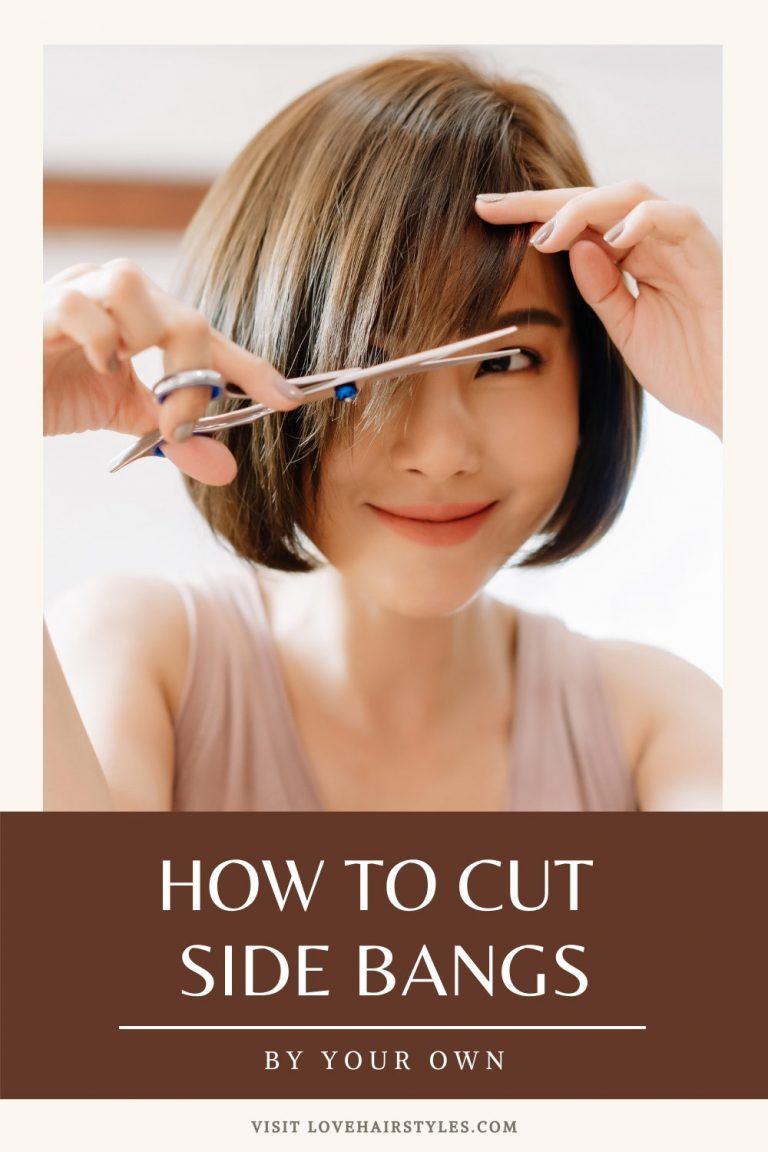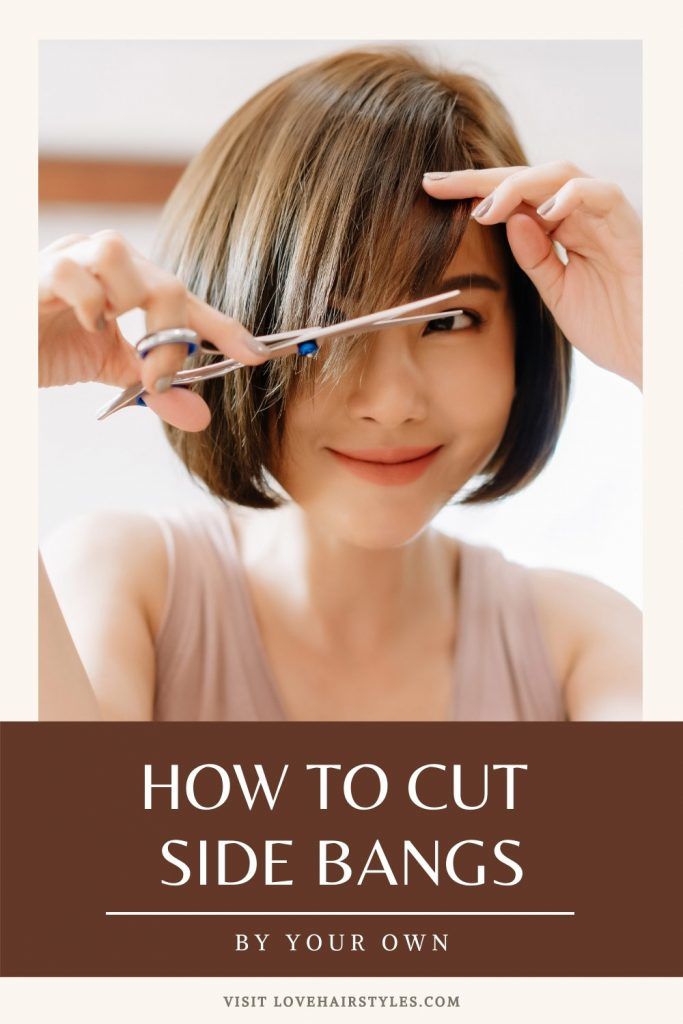 Tools:
a comb
scissors
hair clips
a flat iron
How to cut side bangs:
Begin by parting your hair in the middle.
Then, section off a small piece of hair at the front of your parting on both sides.
Clip your hair out of the way after that.
Next, comb these sections and hold them firmly.
Cut a straight line with your scissors.
Take a flat iron and straighten the section you've just cut.
Next, brush the hair you want to turn into bangs to the side you like the most.
With a piece you've left out on the other side, blend it with the rest of the hair by holding the scissors at an angle and running them through the edges.
Point-cut into your bangs and texturize them, working with your scissors in an angular motion.
Lastly, blend the bangs with the hair on the side.
Whew, it feels like now you can work in a salon, doesn't it? Okay, jokes aside. In fact, we strongly do not recommend women cutting their hair at home. Is cutting your own hair bad? Well, there might be unpleasant results if you do it without the basic principles of trimming in mind.
But, we want to support all of you who decide to do your hair yourself, that's why we've gathered all the useful tips and tutorials here. Be careful and make sure to read those guides thoroughly to get the most of your DIY cut!
FAQ: How to Cut Your Own Hair
Is it better to wash hair before cutting?
Apart from working with damp hair, most salons include hair wash into the cutting process. When trimming your own hair, always start with clean locks. If your hair is clean already, you don't need to wash it again; just spritz it with some water for manageability.
How much hair should I cut off for a trim?
It pretty much depends on the type of texture you've got. In general, hairstylists suggest trimming no more than 1/4″ of your hair. This is enough to refresh your ends. Consequently, if you take off more length, your trim will turn into a haircut.
Is it best to trim your hair wet or dry?
For straight and medium textures, it's better and more comfortable to work with damp hair, as it gets more manageable. But, you should remember that wet hair is longer when giving yourself a haircut and be ready for "shrinkage". As for curly hair, it's crucial to cut it dry.