Low Ponytail Has Never Been Boring!
A low ponytail isn't the first hairstyle girls think of when some special occasion is knocking at the door. What a shame! The problem is that not all ladies know how different and versatile this simple hairstyle can be. Moreover, most of them tend to underestimate the power of simplicity. If you feel like you are one of such girls, let our today's ideas dispel the myth about the familiar hairstyle.
You can't even imagine how many different sides low ponytail hairstyles have: there's an idea for casual, occasional, and festive looks. And you know what? Though the styles can come in many different variations, they all have one thing in common: they are all easy to do. Get ready! Today's hairstyles are going to open your eyes and change the image of the low pony once and for all.
Tips On Getting A Perfect Low Ponytail
Source: brittsully via Instagram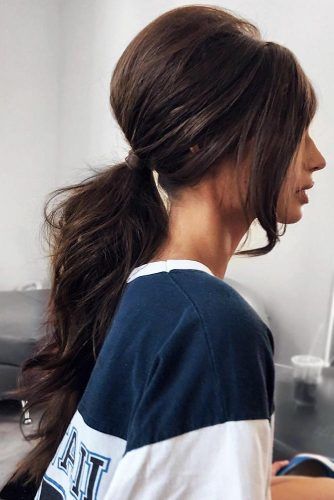 It doesn't matter what kind of low ponytail hairstyles you are going to try as there are some universal tips that you should keep in mind to reach perfection. Make sure you follow these basics, and your low pony will be flawless!
To do a nice low pony, you should keep up with low elevation. To do so, gather your hair with one hand and set it with the other so that it doesn't lift up.
Always deal with flyaways before you get to style an updo: your ponytail needs a smooth base.
If you want to curl your hair, do it after the pony is done.
Low Pony With Side Messy Braid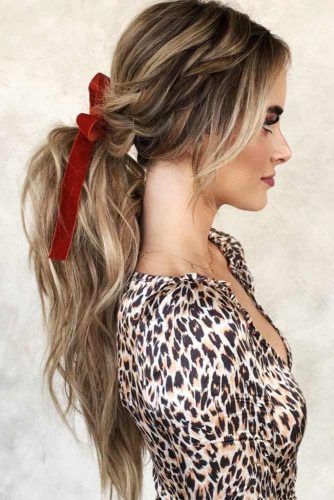 Source: hairby_chrissy via Instagram
We all know that the negative of a negative is positive, so why don't we combine two common hairstyles to get a super unique one? Getting a side braid that incorporates into your pony is enough to create a pony to remember.
Double Bubble Ponytails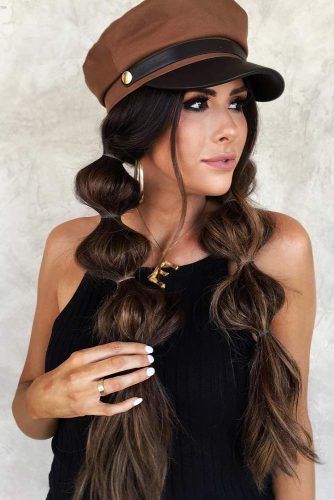 Source: hairby_chrissy via Instagram
Is there something easier than bubble ponytails? A couple of elastic bands is all you need to rock a stylish and fascinating 'do. Just don't forget to pull the edges!
Dutch Waterfall Braid Into Pony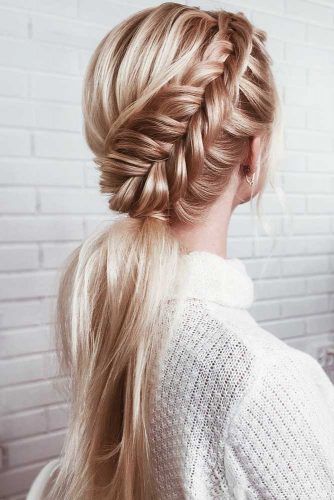 Source: lenabogucharskaya via Instagram
Your low side ponytail won't ever look plain if you set your creativity into motion. Pick your favorite type of braid, let it fall through your crown, and finish the style as a ponytail. See the difference?
Bubble Braid Into Low Ponytail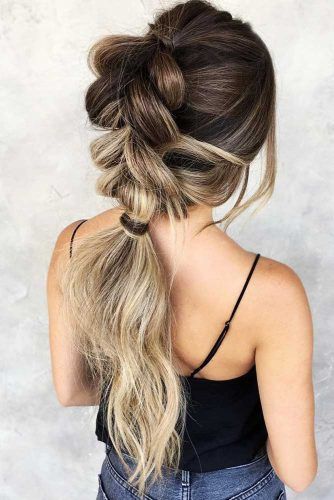 Source: hairby_chrissy via Instagram
If you think that low ponytail styles can't provide your chevelure with volume, let this combo prove you otherwise. The good-old bubble braid that turns into a pony literally lifts the whole mane up.
Low Pony With A Scarf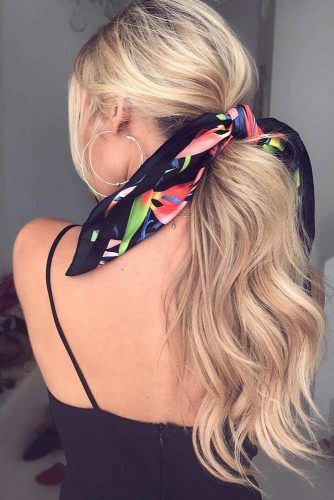 Source: emmachenartistry via Instagram
Short of time? Okay, braids and waves aside! Luckily for busy girls, there's a lovely, fashionable solution that lies in your colorful scarf. Look how lovely the simple style looks with a fancy accessory!
Dutch Braids Into Pony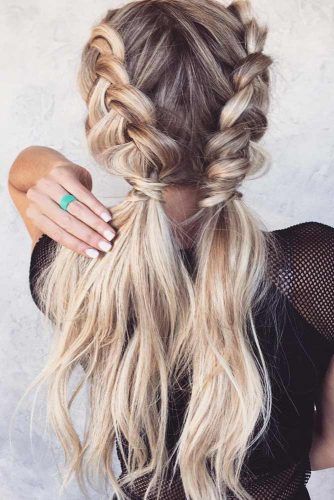 Source: hairby_chrissy via Instagram
Double Dutch braids seem to have become a symbol of every summer: they're easy to get and comfy to wear. How about making them even more straightforward? Turn each one into a low pony!
Low Sleek Pony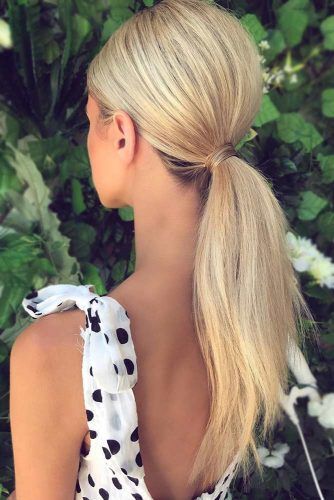 Source: emmachenartistry via Instagram
As you can see, despite its immaculate and clean appearance, this sleek low ponytail is pretty voluminous. A trick you should do every time you create a pony is to tousle up the crown: it will balance out the look.
Mohawk Braided Pony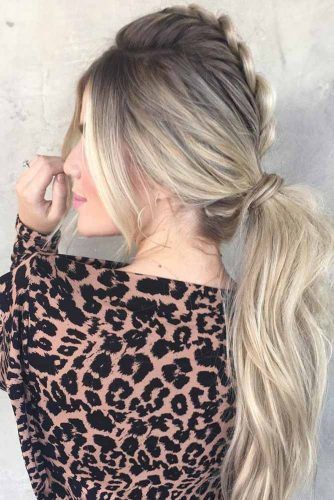 Source: hairby_chrissy via Instagram
Instead of going for a huge commitment to get a sassy Mohawk hairstyle, you can ask a ponytail for help. Create a braid out of the top layer and put the rest of your hair into a pony. A tip for girls with thin hair: you can get a low ponytail with weave for a fuller effect.
Messy French Braid Into Low Ponytail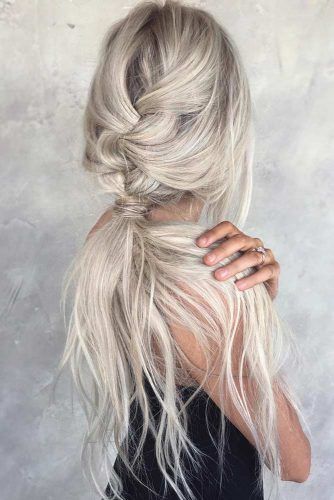 Source: hairby_chrissy via Instagram
For everyday wear, nothing works better than styles that feature a hint of carefree messiness! This messy low ponytail, embellished with a tousled French braid, is a stunning way to diversify your daily look.
Low Pony With Bangs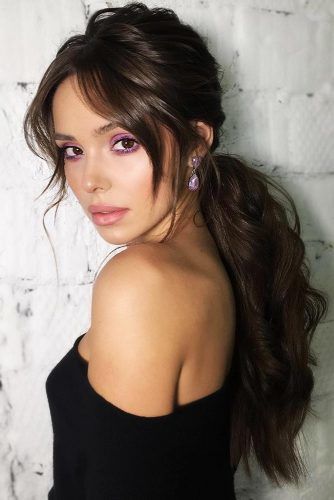 Source: lenabogucharskaya via Instagram
Everything that bangs touch turns to brand new hairstyles and this low ponytail with bangs is the proof. A soft framing touch of the edgy bangs makes the common hairstyle a nice complement to an evening look.
Low Pony With French Twist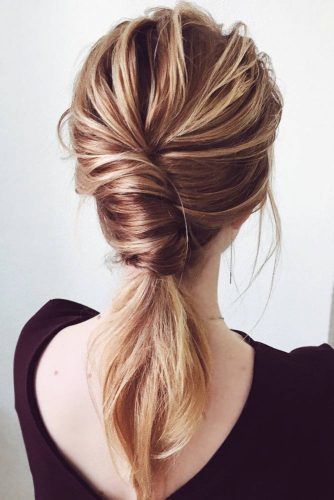 Source: lenabogucharskaya via Instagram
There are few ideas of low ponytail short hair can go for. And this French twist pony is one of the few! Leave some of the back strands as they are instead of putting them into the twist and show up with an elegant, chic style.
Low Pony With Side Dutch Braid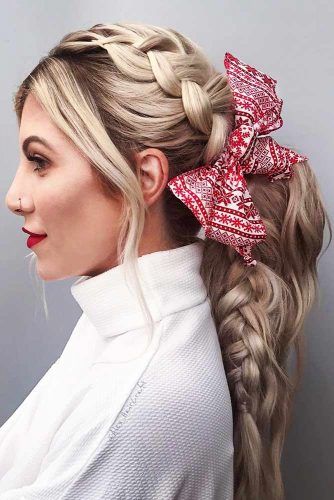 Source: alex_haircraft via Instagram
To make your pony really distinctive, a big, voluminous side braid will work perfectly on the look. For a romantic effect, leave some front locks to frame your face slightly and secure the style with some bright accessory.
Diagonal Twisted Low Ponytail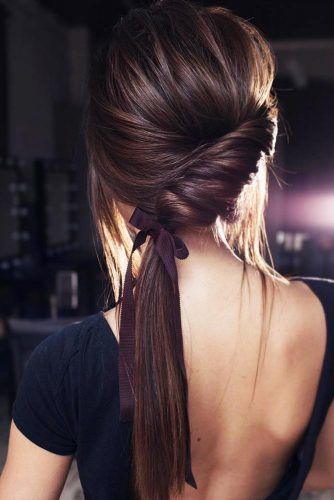 Source: tonyastylist via Instagram
Still don't believe in the art of simplicity? This hairstyle is nothing but a low ponytail with a diagonal twist and slightly lifted crown. And that's the point, as it's hard to take eyes off.
Low Pony With Double Headband Braids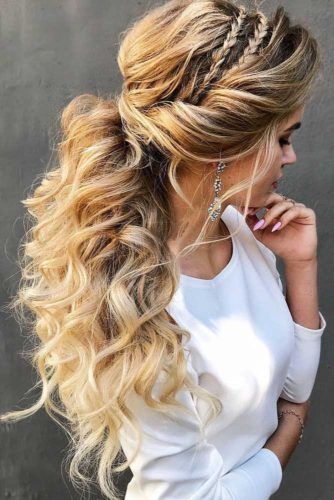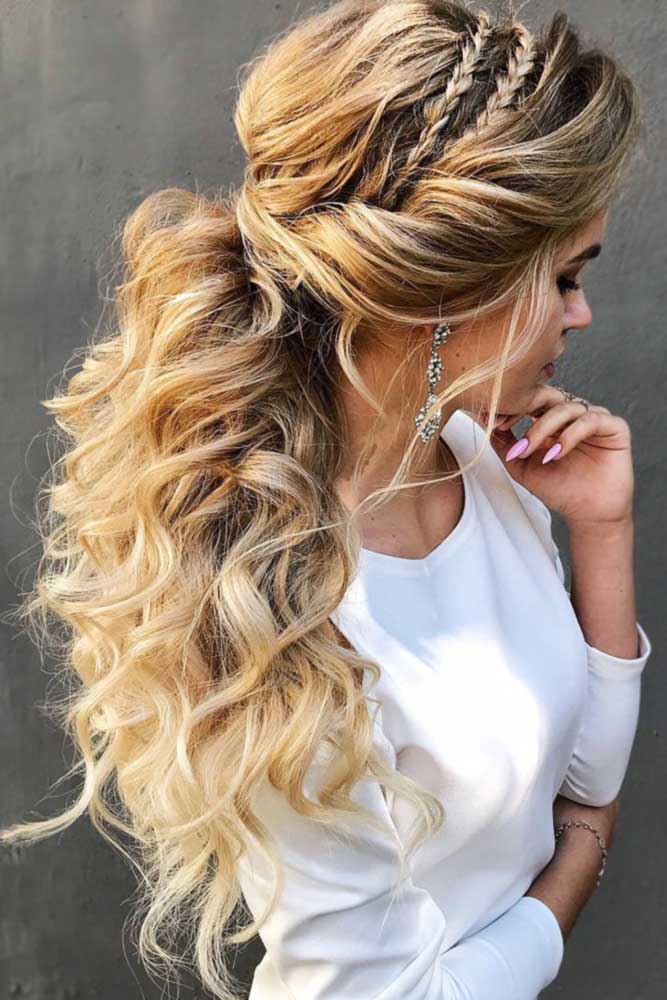 Source: hair_by_zolotaya via Instagram
Here's an idea that reveals the posh side of ponytails. Not only do such wavy or low curly ponytail hairstyles get the most out of your hair type but also give you a red-carpet look. Isn't this majestic, breathtaking, and time-consuming ponytail worth all the efforts?
Tight Twist + Pony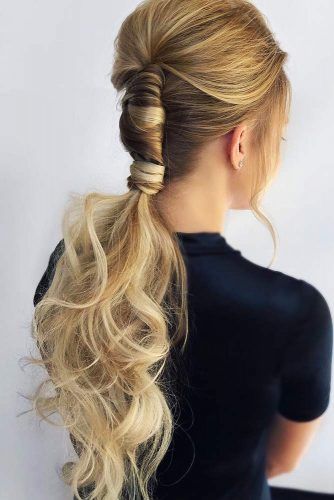 Source: annette_updo_artist via Instagram
This is how awesome you can look if you let your imagination run fly. The top layer transforms into a twist that makes the sides of your 'do sleek while keeping the top voluminous. As for the pony, waves add a lot of oomph!
Classic Low Pony With A Bow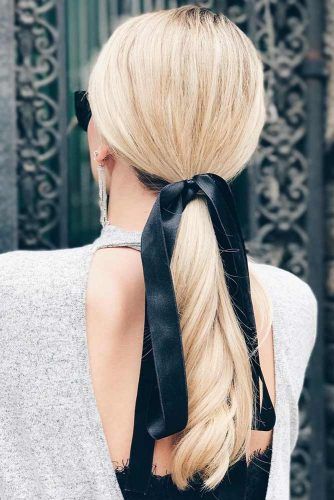 Source: ohmyglam via Instagram
Here comes another way to get a unique style in the last minutes before leaving your home. A classic, silky bow tie will come in handy!
Low Ponytail With Fishtail Braid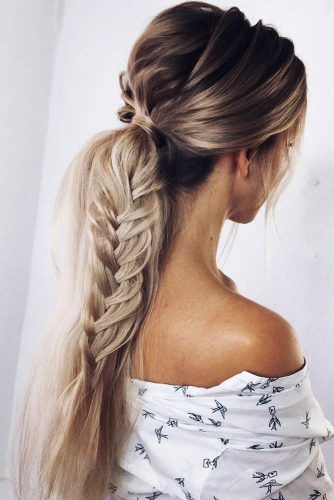 Source: lenabogucharskaya via Instagram
There are lots of ways to combine braids with ponytails. For example, you can get the pony first, pick a little piece of hair from the tied portion and create a braid then. Whatever way you choose, don't forget to pull the crown!
Simple Pony With Ribbon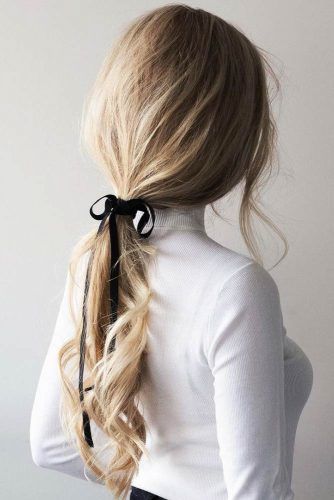 Source: alexgaboury via Instagram
The true beauty lies in the details, remember? It hides in the simple things that make you look special. Add some wavy texture to your freshly blow-dried hair, take a ribbon of the color you like and tie a loose pony. To finish the simple but significant look, leave some strands out and wave them to gently fall on your face.

Messy Low Twisted Pony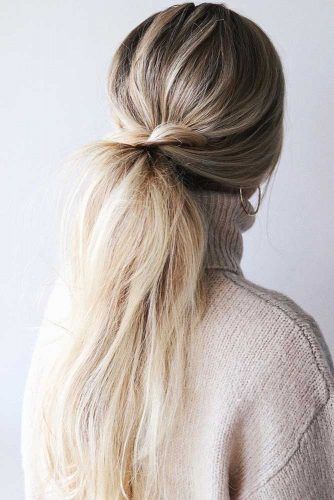 Source: alexgaboury via Instagram
Some texture tricks are enough to diversify the idea of a low pony. Trust us, this hairstyle has nothing complicated, but it still gives a great visual impact, which makes it look very presentable. When your low pony is ready, separate off some sections and criss-cross them to hide the elastic and lift the top portion of the pony.

Topsy Tail Pony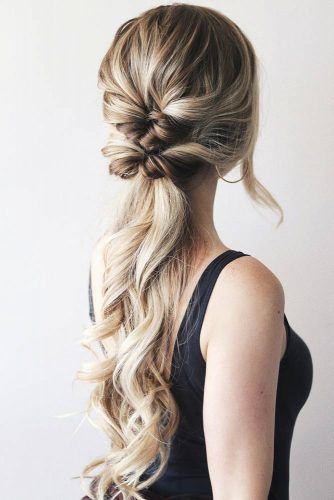 Source: alexgaboury via Instagram
A continuous topsy tail is another easy and very decent hairstyle that any lady can bring to life. Besides striking appearance, this hairstyle has one more advantage: one day you flaunt with a creative topsy, and the second day, after you unravel it, you can rock a naturally twisty, wavy chevelure. To make the style festive enough, wave the ponytail.

Voluminous Waves Into Pony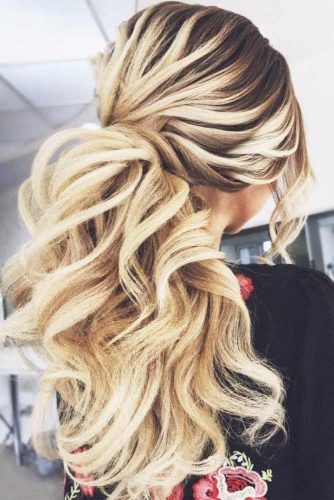 Source: verafursova via Instagram
This is the kind of low ponytail that is worth walking down the red carpet. Everything in this look screams about pure richness: the vivid color decision, the perfect shape of waves, and the way they fall on one another. And if you think that this look requires a salon appointment, we've got good news. For such a "swirl" effect, you simply need to wave your hair, take some waves from one side and half-wrap it. The point is to use bobby pins that will give that even silhouette.

Sleek Shiny Pony With Center Part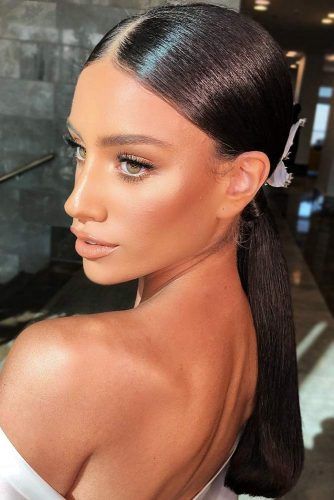 Source: dvir_tvik via Instagram
It's not about volume in hair and it's not about showing off your texture. This ponytail is all about giving you a luxuriant look with the help of amazing shine and unbelievably sleek body. All you need to finish your posh outfit is shiny styling products. Make sure to hide the elastic under the strand of hair: it's the key of ideal low ponytail hairstyles.

Sleek Low Pony With Long Bang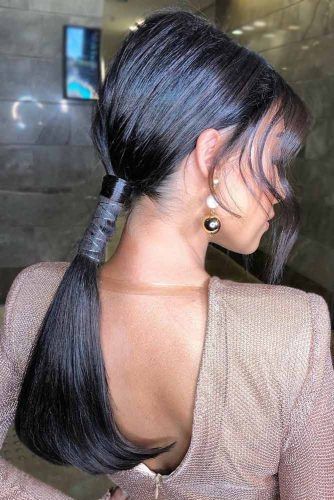 Source: dvir_tvik via Instagram
Now, it's about the volume. And sleekness, too! Women with thin hair can take this idea into account when they're short of time but still want to stand out in the crowd. To let volume into your life, you need to separate off the top layer of your hair and create a pony with the low layer only. Then, take the top layer, comb it down so that it appears fuller, and incorporate this section into the pony. Spritz the style with shine spray, add some accessories, and be ready to shine like a star.

Double Dutch Braids Into Ponytails For Short Hair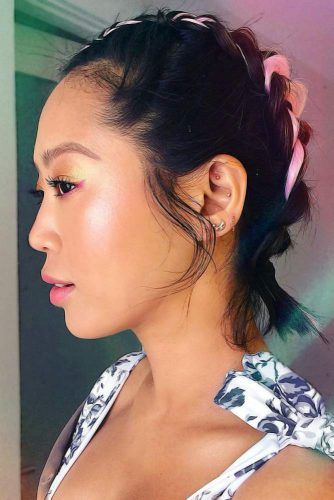 Source: brittsully via Instagram
If you think that braids and ponytails are a no-no for short hair, this idea is here to prove you otherwise. In fact, with the right approach, these two can look even edgier and more attractive on a shorter length. And this tiny little Dutch pony is a stunning example: all hair is incorporated into a Dutch braid that runs toward the back. As for the ponytail, it's nothing but the icing on the cake.

Side Designed Braid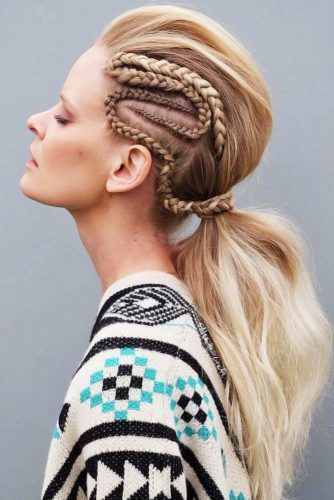 Source: alex_haircraft via Instagram
At first sight, styling a low ponytail may seem to be a simple process. But, in reality, when creating the hairstyle, you open the eternal room of freedom where your imagination can run as wild as you want. Believe it or not, this well-shaped braid that escapes from a voluminous, and boho-inspired ponytail is only the beginning.

Double Side Braids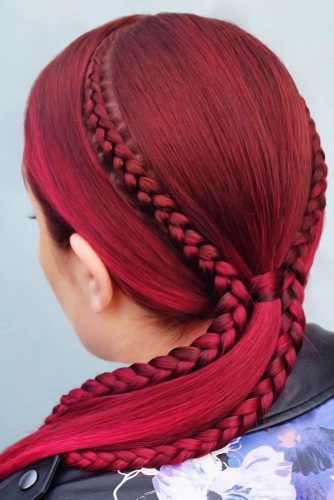 Source: alex_haircraft via Instagram
Symmetry is a synonym to total perfection. And if you add some neatness and sleekness, you will discover the new side of it. Super-defined side braids that accompany a ponytail from roots to tips: you can call it magic, and we call it the versatility of ponytails.

French Pigtails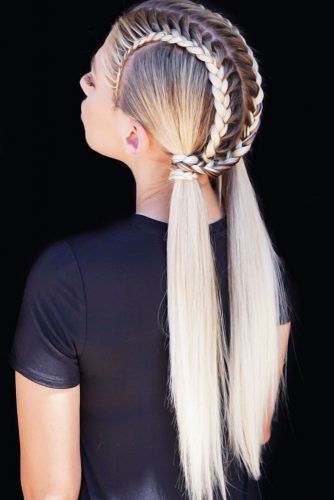 Source: maggiemh via Instagram
Another modern way to wear ponytails! This time, it's a combination of timeless classic and the latest trend. Pigtails will never go out of fashion for their magic power of adding tons of cuteness to a girl's look. As for French braid, it works better than any accessories when you need to freshen up some hairdo.

Braided Pony With Long Bangs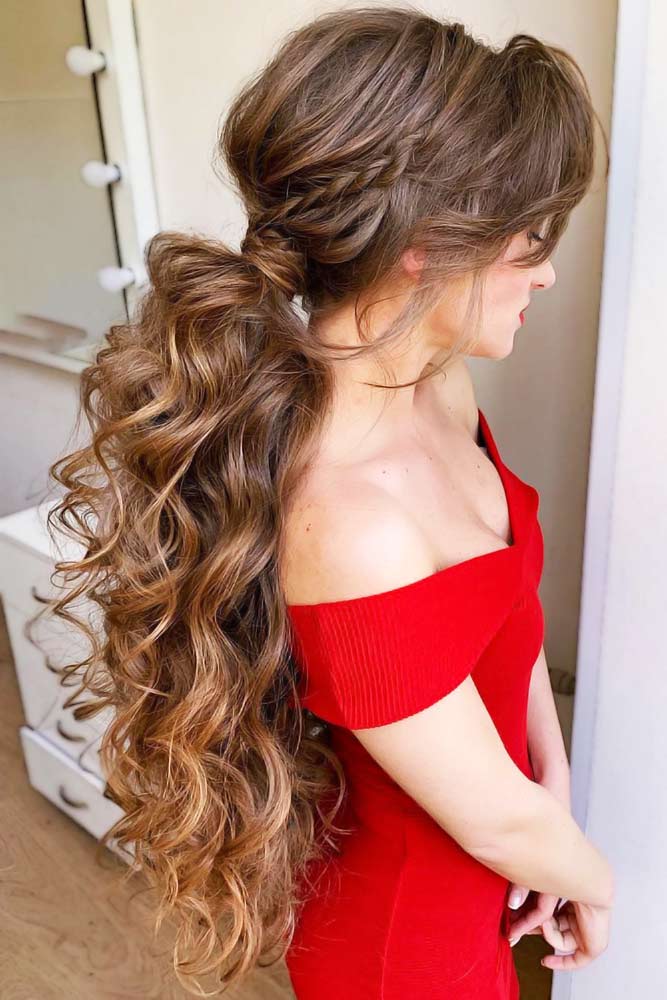 Source: hair_by_zolotaya via Instagram
Words are not enough to describe how dramatic this ponytail is. Every single lock stands out to form a totally voluminous silhouette while long bangs give a stunning face-framing effect. Of course, it takes a super long mane and hours of styling. But, such artwork is definitely worth it.

Side Dutch Into Fishtail Braid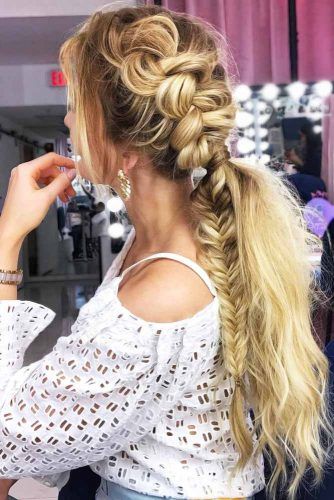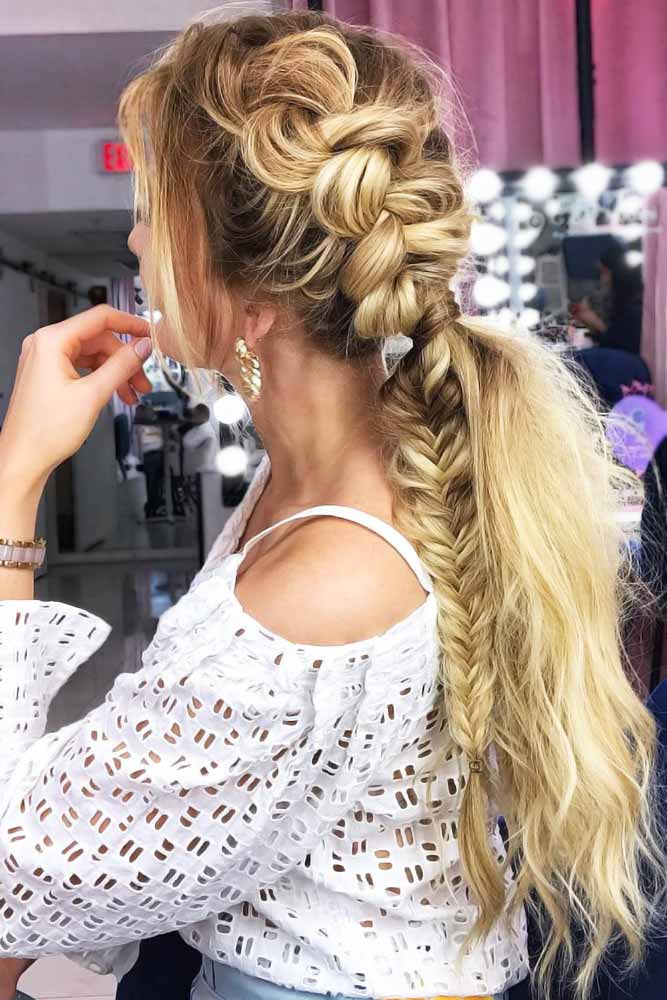 Source: hair_by_zolotaya via Instagram
Your ponytail is the mirror of your personality. Want to show how different you are? Make your ponytail match your inner-self, then. Pick your favorite braiding techniques and try to combine them creatively. Then, finish it all with a ponytail and give some tousled vibes to add more character to the look. Voila! This is what we call one of a kind.

Now you know that ponytails, whatever they are, have never been and will never be boring. Be creative, don't be afraid to mix the familiar styles, and your pony will always catch people's eyes. You see, simplicity never fails!
Main photo by Alexgaboury