If you ever wondered how to dye your hair at home, now, when all salons are closed and we got stuck at home, it's literally the best time. Besides, experimenting with your hair is the best cure for boredom! Coloring your hair is becoming more popular than ever before, with so many color and style options available.
The good news is, you don't need to go to a salon to get salon results. And today, we're going to prove that to you with our professional color guide full of essential tips and effective tricks. Let's brighten up this lockdown with anything from ombre and DIY highlights to mermaid hair colors!
How To Dye Your Hair the Right Way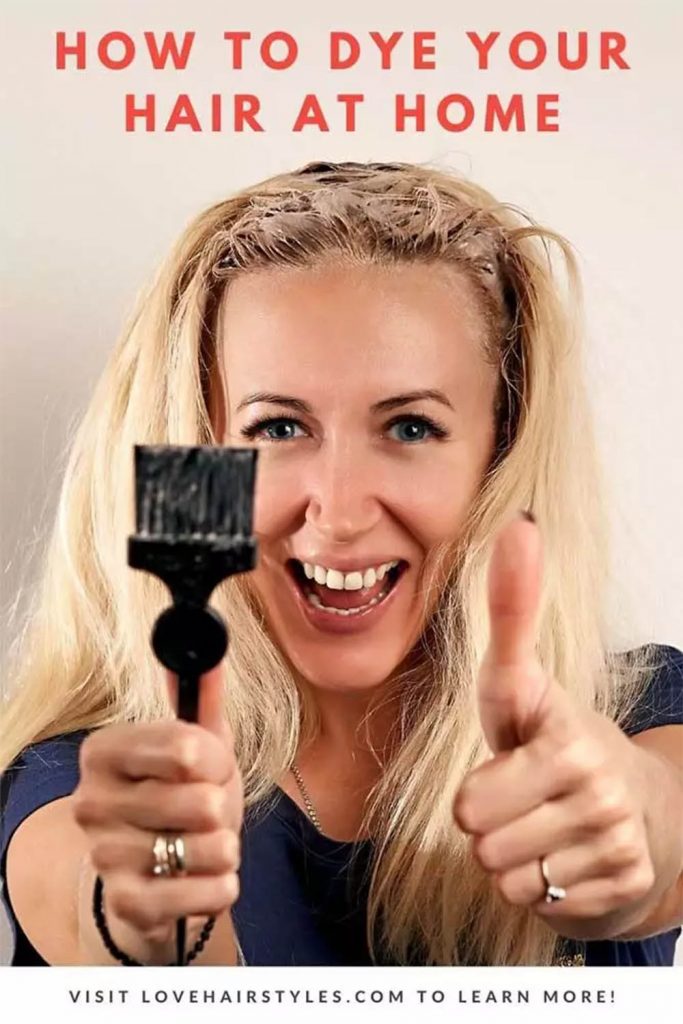 We will never stop telling you that the salon is the best place for hair transformations. However, it doesn't mean you can't get decent results at home. Below, you're going to get through a basic dyeing tutorial based on recommendations of professional colorists.
Before you start: Avoid using conditioners before dyeing your hair, as they eliminate natural oils. But, if you have extremely dry hair, you can condition your hair every night a week before the home coloring session.
Q: Can I dye my hair after I wash it?

A: That would be a mistake. Clean hair is free of any natural oils that help the dye to hold better. On top of that, you can burn your scalp by dye or bleach if it doesn't have enough oils for protection.
Preparation
Wash your hair 24-48 hours before coloring it. That's what you should know before you dye your hair in the first place. Second-day hair develops enough natural oils that help the dye bind to it better.
Choose a shade and type of dye. Make sure to pick a shade that doesn't only fit your preferences but also suits your complexion. As a good rule of thumb, it's better to go for a shade that is one or two tones lighter than your natural shade to freshen things up. Then, decide how long you want the transformation to last, choosing between permanent, semi-permanent, and temporary hair dyes.
Protect your place from stains. Put on an old T-shirt that you're not afraid to sacrifice to the god of color experiments. You will also need to cover the area where you work with the dye; some newspapers will do just great.
Coat your shoulders with a towel or color cape. You can either purchase a color cape to catch the dye that will drip off or simply use a dark towel. Wrap it around your shoulders, and secure the ends with a pin to hold it in place.
Brush your hair thoroughly. It's very important to apply the dye to perfectly brushed and detangled hair to distribute it evenly.
Protect your ears, neck, and hairline. Use vaseline, lip balm or special conditioner that comes with self-dyeing kits. Apply the product along your hairline, ears, and neck to prevent the dye from coloring your skin in these areas.
Put on the gloves. It can be any kind of gloves you have, the point is to keep your hands save. Otherwise, you will dye them as well.
Mix the dye in a bowl. Of, if you have a specialized kit, you can mix it in a bottle. Follow the instructions on the dye you work with and mix all the ingredients well.
Combine your dye with a developer. Not every dye requires a developer and those that do usually come with it.
Q: What happens if I don't use developer with hair dye?

A: A developer is what activates the dye. It helps the color penetrate the hair shaft and give permanent results. If the dye you use requires a developer, going without it will have absolutely no effect.
Application
Before the application: If it's the first time to dye your hair, apply the dye an inch above from your roots. To do a touch-up, start with ½ from your roots.
Divide off your hair into four separate sections. With the help of a comb, create well-outlined sections, and clip them off with plastic clips.
Start applying the dye in sections. Split the clipped portions into smaller sections (1/4"-1/2") to make everything even. By the way, women with thicker hair should do smaller sections to achieve the best results. Dispense the dye onto your hair, using a brush or applicator bottle. Then, apply the dye with your gloved fingers. Ensure that the dye is evenly distributed through your hair.
Set a timer. The time you set should be based directly on the instructions of your dye. Remember not to rinse the dye off before the minimum amount of time.
Q: Do you dye your roots first or last?

A: For an even application, work the dye into your roots in the end. In general, colorists start the application at a half-inch away from the scalp, working their way down to the ends. After that, they go back to the roots.
Rinse
Get rid of excess dye. Use a paper towel to wipe off the dye from your hairline, ears, and neck, without touching the hair. If you have a shower cap, secure your dyed hair with it.
Timer's up. Once you've waited for the required amount of time, go to the shower to rinse off the dye. It's crucial to work with warm water and rinse the hair until the water runs clear.
Shampoo and condition your hair. Before you get to shampooing your locks, wait for at least an hour to let the dye penetrate deeper. Next, shampoo your hair and apply conditioner designed for color-treated hair. In fact, dyeing kits usually include conditioners.
Dry and style your hair. Now, nothing new to you: just follow your basic drying and styling routine. Of course, it's better to apply less heat so as not to damage your hair.
Tips On How To Dye Your Hair At Home
Giving your hair a new shade is a whole artistic process known as a huge commitment. So to be rough and ready for unexpected difficulties and even avoid them, you should learn the little basics that will help you to get the desired result. It's time to learn the main tips on how to dye your hair yourself!
From curly to straight hairstyles, longer to bobbed haircuts, there are many safety tips to remember when dyeing your hair at home.
Also, if you have hair extensions, the dyeing process might be slightly difficult as you should save them from getting ruined. Simply making note of a few tips can save you a lot of time and money. So, if you want to know how to dye the hair at home, we can give you some helpful tips.
Don't Go From One Extreme to Another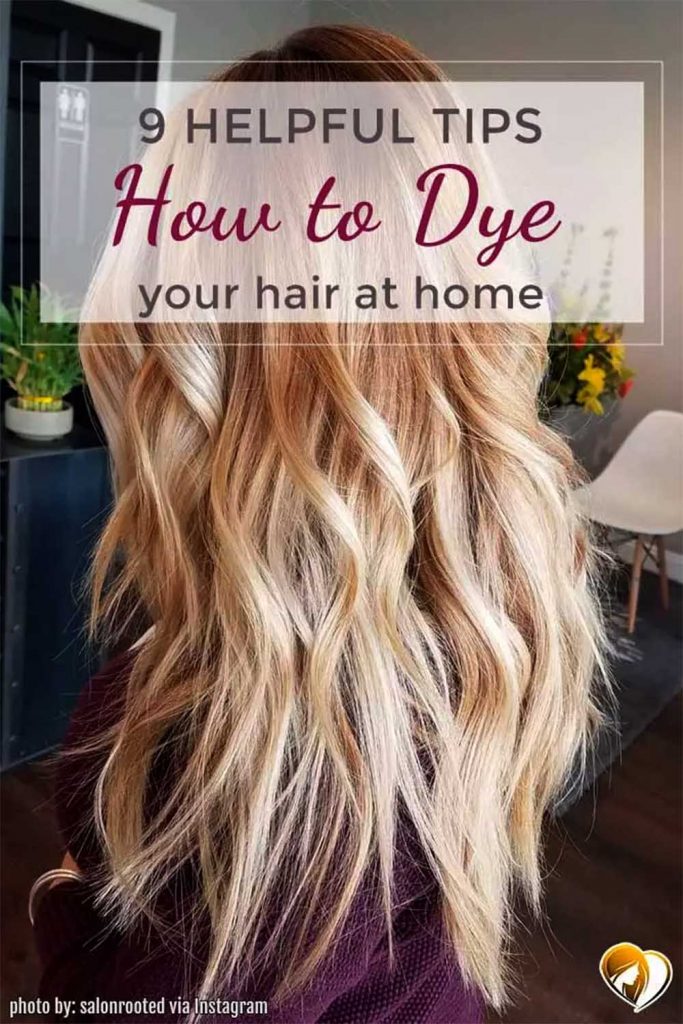 Credit photo: instagram.com/salonrooted
by @salonrooted
So, how to dye your hair? One of the most common mistakes that people make when dyeing their hair at home is going from one extreme to the next. For example, going from an intense red to a platinum blonde. It takes several steps to go from one extreme to the next. Unless you are experienced at stripping and bleaching your hair, it might be better to go to a hair salon if you are doing a drastic change. You can cause a lot of damage to your hair or end up with the wrong shade, such as greenish or orangish hues, if you do not follow the proper guidelines.
It is recommended that you stay within two shades darker or lighter of your current or natural hair color. Most hair colors are arranged by shade in stores, so you can hold up a strand of your hair to the sample and compare the two shades.
Buy At Least 2 Boxes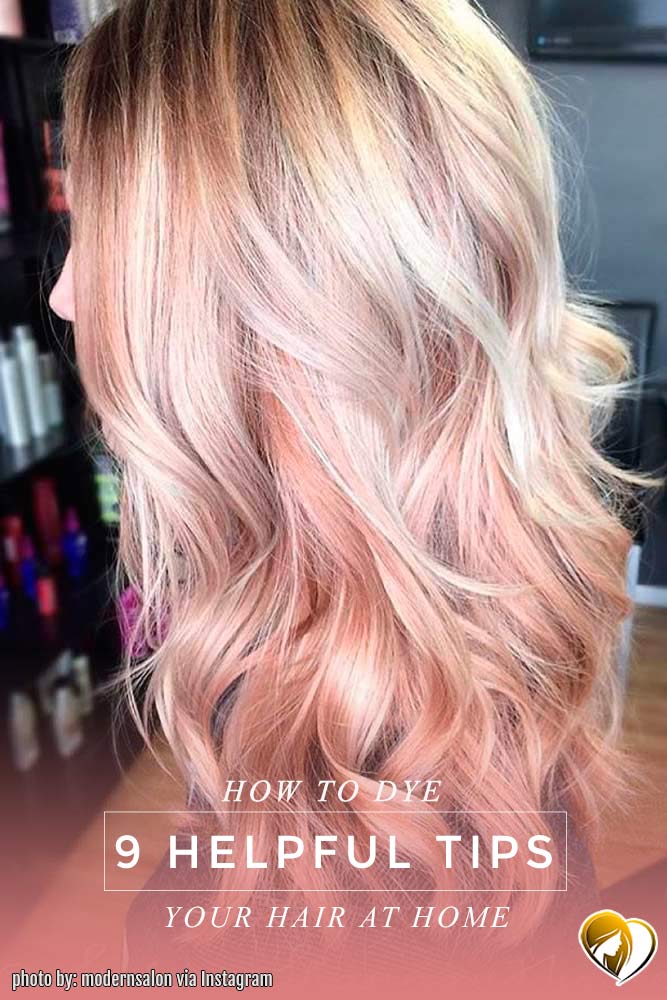 Credit photo: instagram.com/modernsalon
Another common mistake is not purchasing enough hair dye for your hair length and/or thickness. If your hair is longer than shoulder length, you should purchase at least 2 boxes to ensure that all of your hair is covered. There is nothing worse than running out of hair color halfway through the coloring process and being stuck. It's always better to play it safe than sorry. Worst case scenario, if you don't use it, you can return or exchange the unopened box or save it for the next time.
Allergy Test Before Applying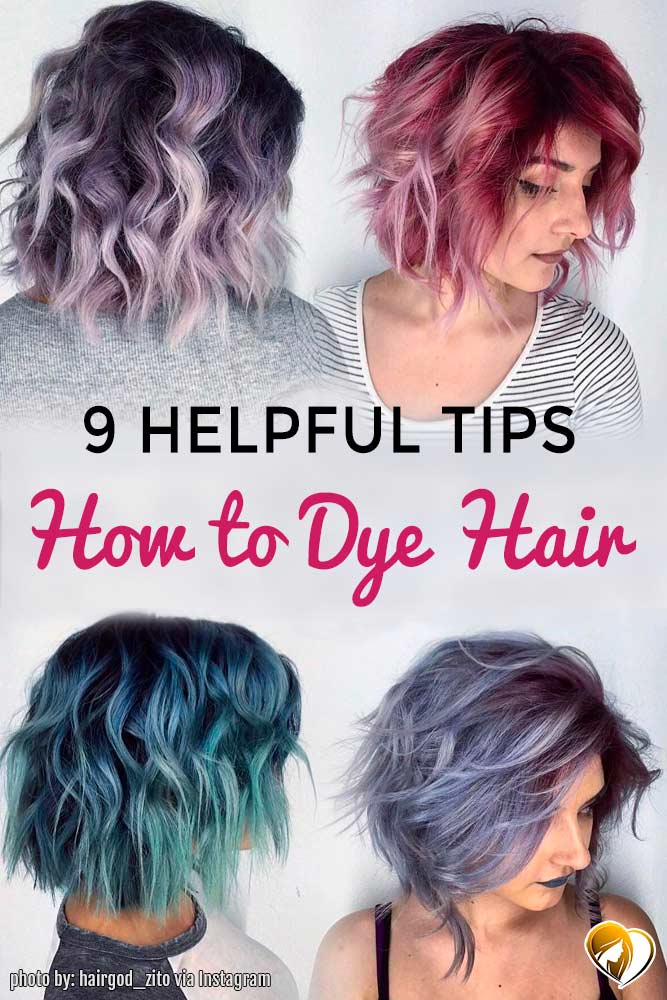 Credit photo: instagram.com/hairgod_zito
The warning about allergy and/or strand testing is there for a reason. Many people have had moderate to severe allergic reactions by the chemicals in certain hair dyes. Always read the label before purchasing to see if you have had a prior reaction to any of the ingredients listed. Also, there are many horror stories of those who have used a hair color that has turned out other than the intended color. It is always wise to test a small section or a strand of hair before committing to a color, whether you use an all-natural henna hair dye or some mass-market stuff.
Don't Forget The Gloves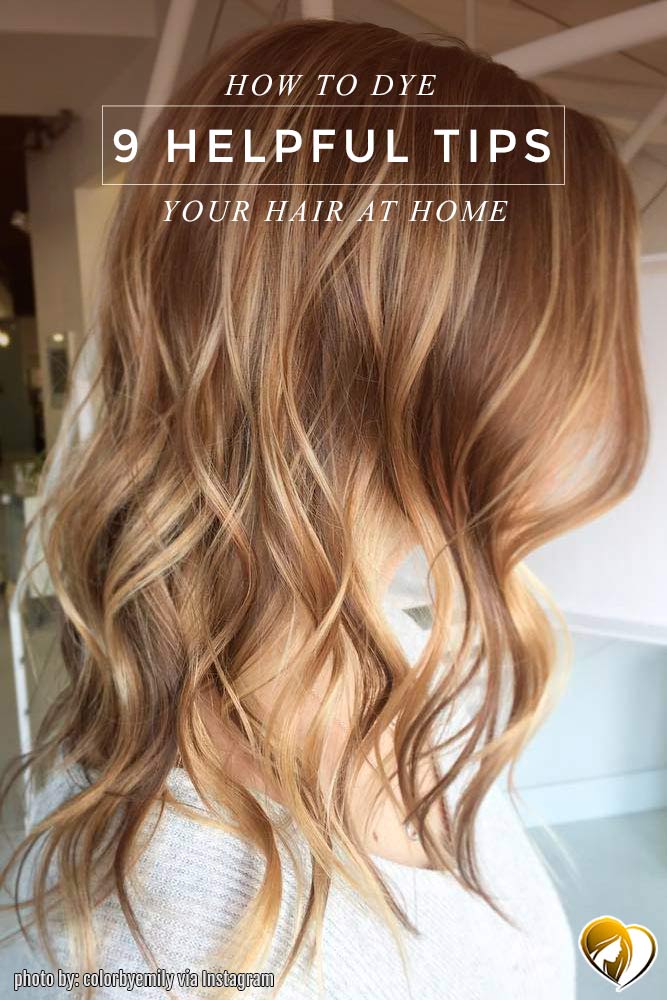 Credit photo: instagram.com/colorbyemily
Another significant tip on how to dye your hair at home concerns gloves. Just as the warnings on the label, the protective gloves are included for a reason. Hair color can not only stain your hands, it can cause an allergic reaction, too. If you want to be even better prepared, purchase an extra set of gloves just in case of emergency.
Wear Old or Protective Clothing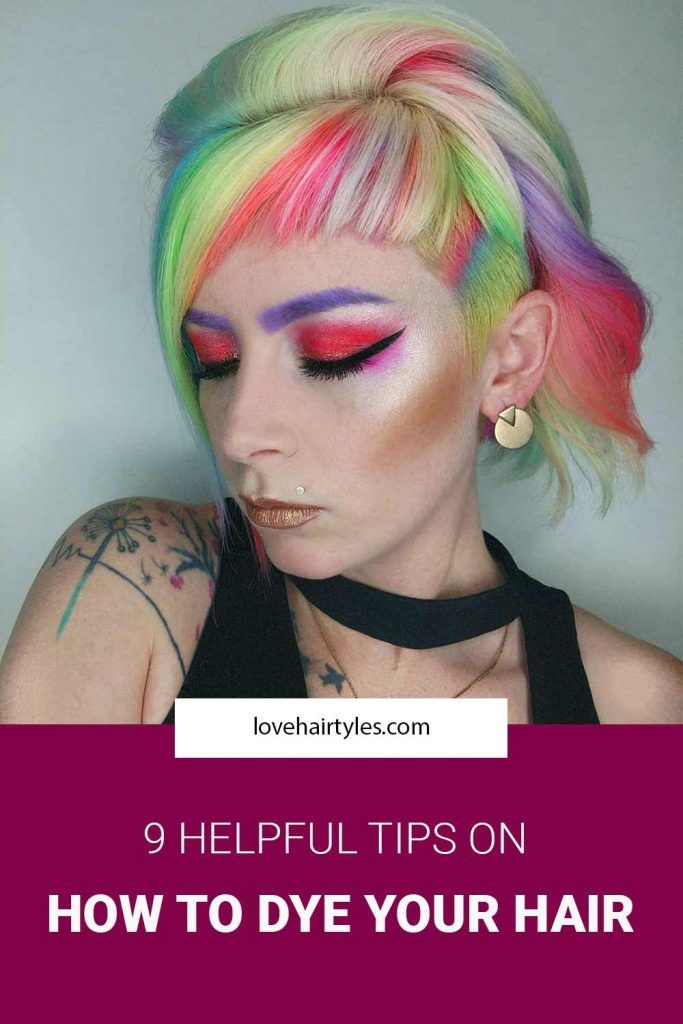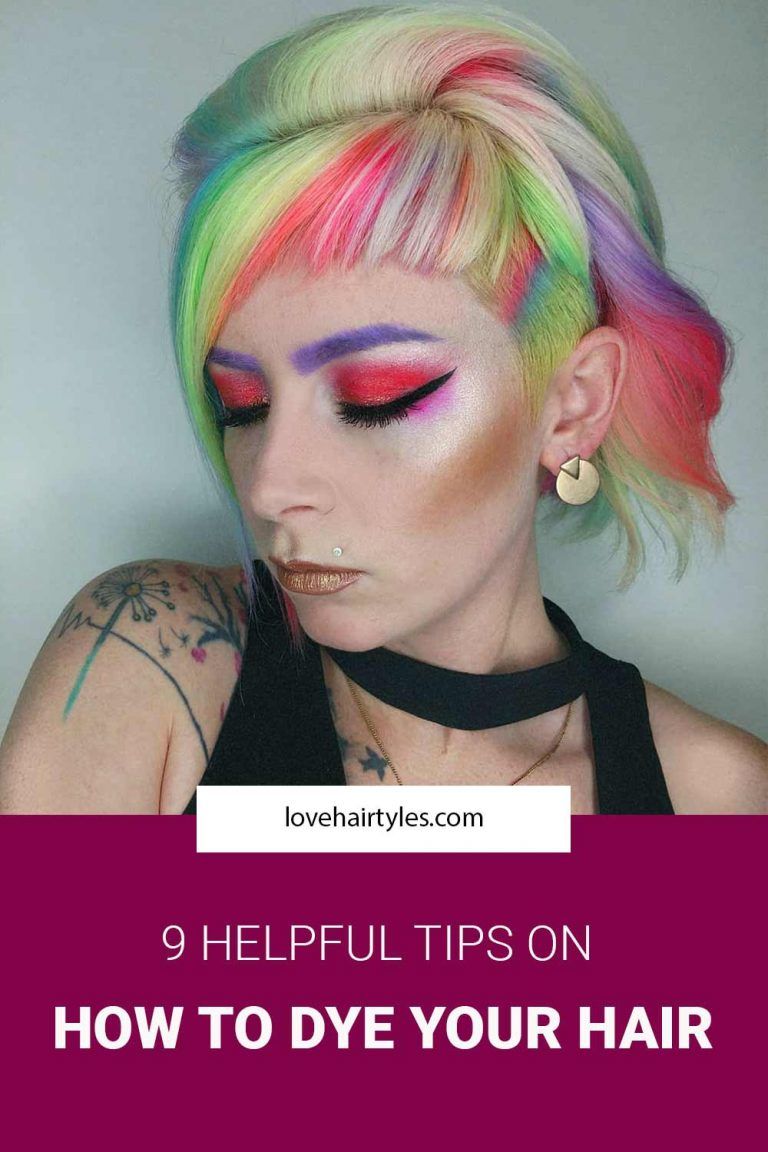 Credit photo: instagram.com/adlydesign
Many nice outfits have been ruined over the years due to spilled or dripped hair dye. It's best to put on an old shirt or sweatshirt that you don't mind ruining. A button up shirt or an old robe work even better. So, you won't have to pull the shirt over your head before rinsing. Also, you should cover the floor and any other surfaces with old newspapers, towels or even trash bags to protect it from getting stained or damaged. Do not forget to wear a shower cap to protect the dye from running onto your face or into your eyes.
Many nice outfits have been ruined over the years due to spilled or dripped hair dye. It's best to put on an old shirt or sweatshirt that you don't mind ruining. So, should you cover your hair when dying it? It's essential if you don't want to turn your clothes and home into a mess. A button-up shirt or an old robe will work even better. In this way, you won't have to pull the shirt over your head before rinsing. Also, you should cover the floor and any other surfaces with old newspapers, towels or even trash bags to protect it from getting stained or damaged. Do not forget to wear a shower cap to protect the dye from running onto your face or into your eyes.
Be Prepared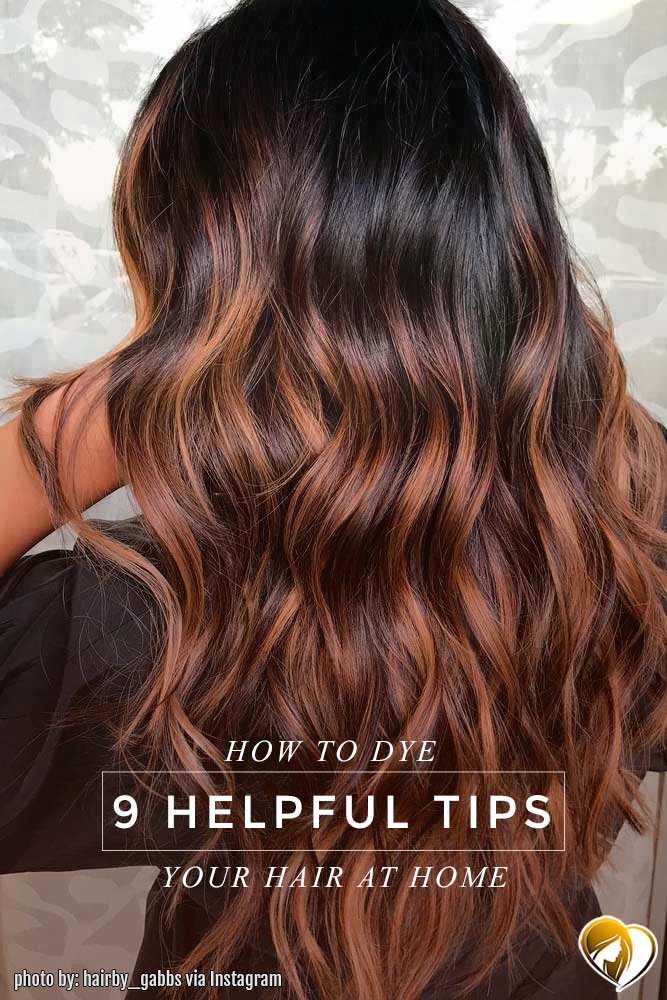 Credit photo: instagram.com/hairby_gabbs
You don't want to be halfway through applying your color and realize you forgot something. Make sure you have all of your necessary supplies set up beforehand, including hair dye, conditioner, gloves, timer, etc. It is also a good idea to have wipes handy in case you spill any hair dye. Also, read the instructions thoroughly before applying the dye, even if you have used the same product before.
Apply The Dye Properly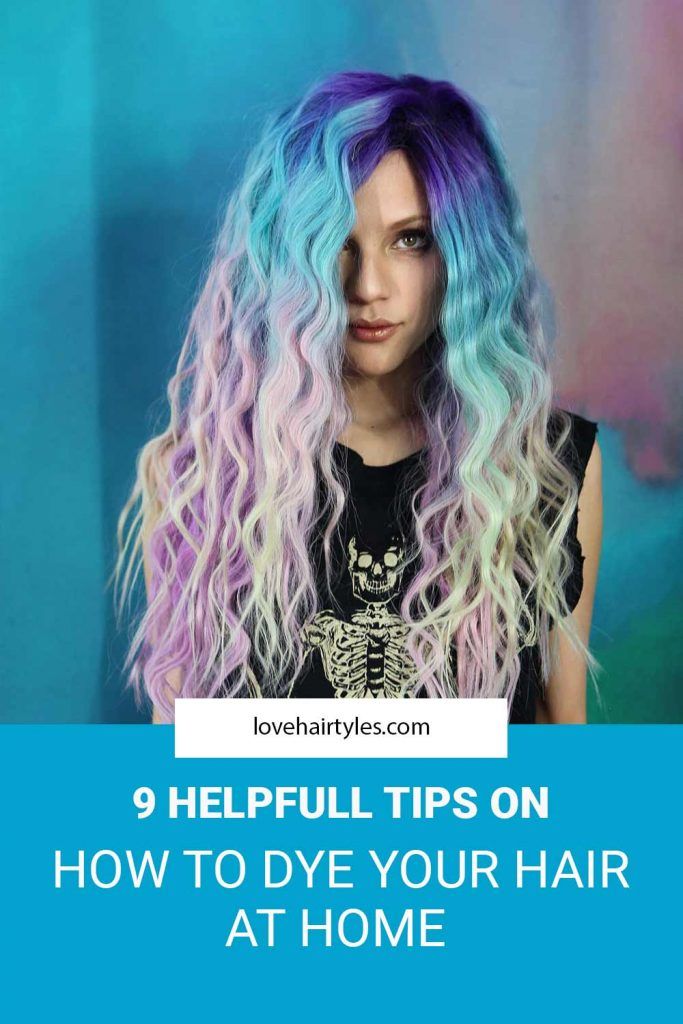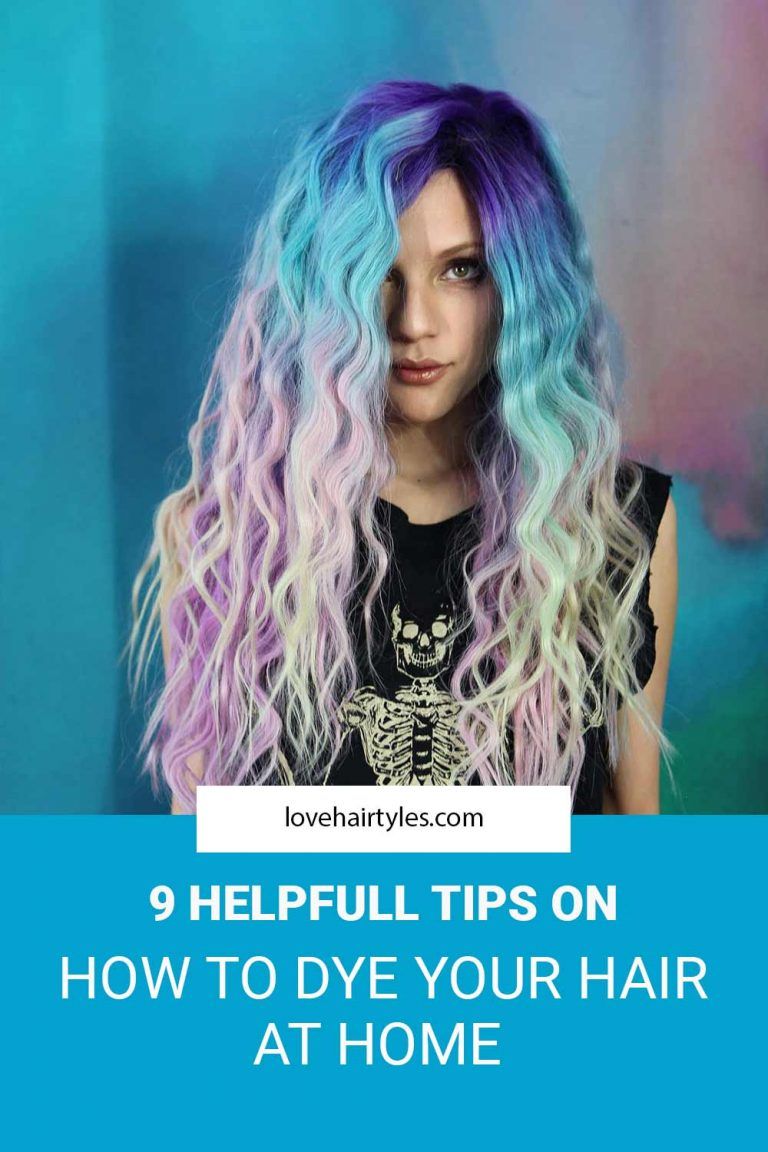 Credit photo: instagram.com/hairgod_zito
Although it is much quicker and easier (and quite honestly more fun) to squeeze the hair dye directly from the bottle into one glob on the top of your head or on your gloved hands, this is not the proper way to color your hair. Follow the directions and mix the color in a bowl. Apply it with a brush as a professional hairstylist would do. This ensures an even finish.
Start from the top and work your way down, combing it through to ensure it is evenly distributed. It is critical to start at the roots as they generally need the most color and proceeding time. Also, you should work in sections similar to a professional colorist to ensure that you have the complete coverage.
If you are adding highlights, you should apply them with a clean mascara wand or toothbrush. Add them sparingly and go two shades lighter than the overall color.
Q: Can I dye my hair if I have hairspray in it?
A: Never get to color your hair when it's coated in styling products, whatever they are. Most products designed for styling contain chemicals that may interfere with the dye you use, which may spoil the color and damage your hair.
Set A Timer
This is perhaps one of the most crucial steps when coloring your hair. Oftentimes, we forget to set a timer and become distracted and forget how long the color has been setting. You don't want to leave the dye in your hair for too long as it can harm your skin and scalp as well as interfere with the coloring process. Set the timer according to the directions.
Protect Your Hair Color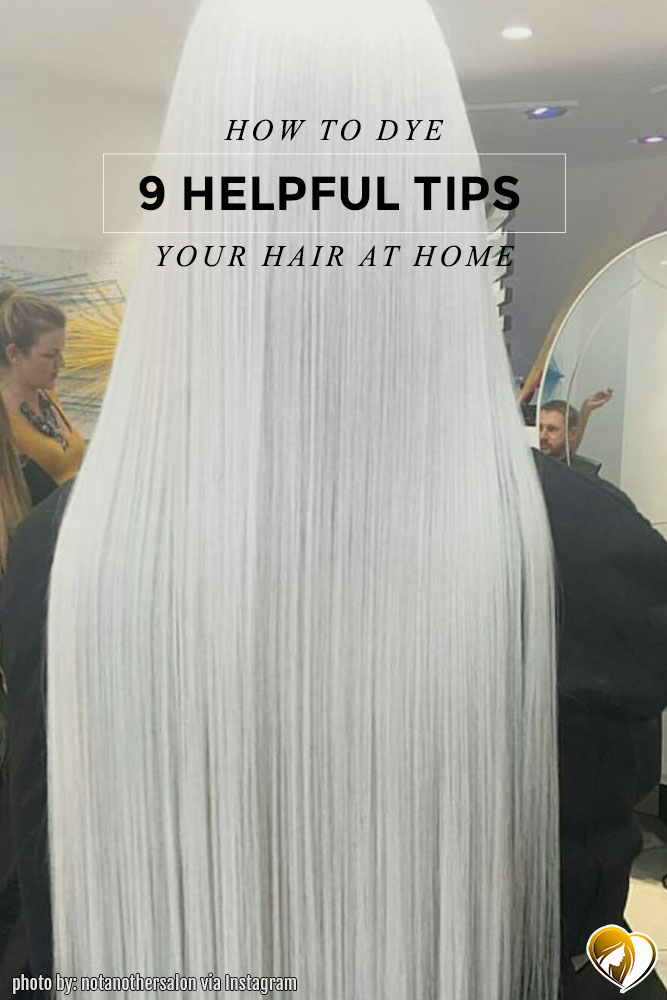 Credit photo: instagram.com/notanothersalon
Is coloring your hair bad? Well, it might be if you don't take a thorough approach to its care routine. Just think about it: you let some chemical dye penetrate into your hair shaft to change its color. Obviously, you may cause some damage. However, you can minimize it with a good hair care regimen in mind.
In order to keep your hair healthy and prevent your color from fading, you should only wash your hair 2 to 3 times per week. Also, you should use hair products that are color safe and do not contain sulfates or alcohol. It is advisable to apply coconut oil to your hair before swimming to protect it from chlorine.
Tutorials
Some ladies can't leave their hair up to someone but their colorists. But who says that you can't experiment at home? Knowing all the basic tips and following the right, comprehensive tutorials can lead your play with colors to success. We've prepared some very easy and no-regret tutorials that will prove you that some color jobs can be done at home too!
Easy Ombre Hair At Home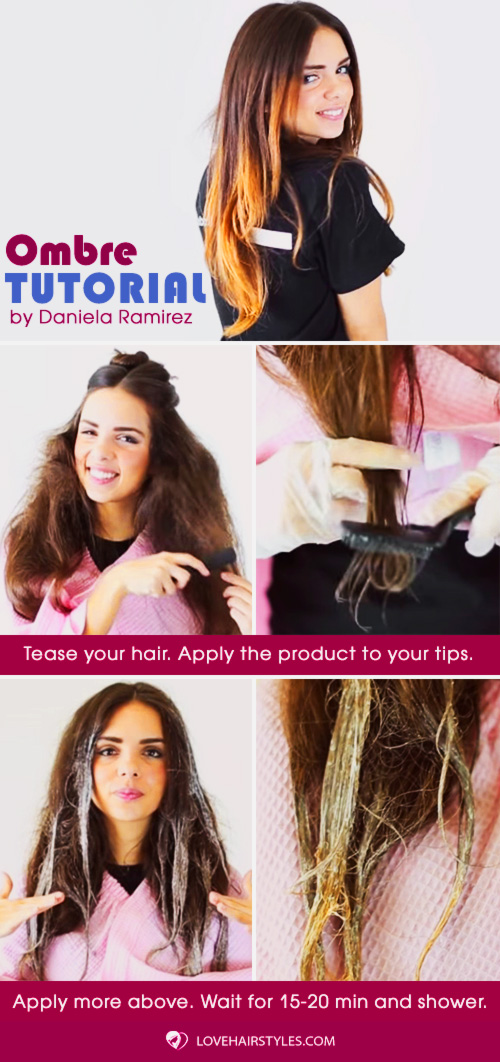 Credit tutorial: Daniela Ramirez via YouTube
Tools & Products To Use
A hair dye designed for at-home ombre coloring that matches your natural shade;
A little brush to apply the product;
A towel for clean work;
A pair of gloves so as not to touch the harsh chemicals directly.
How To:
Start by teasing your hair to prepare it for the product. It's needed for a smooth and even graduation without any harsh lines.
Mix the product with the dye and bleach that comes with it by shaking the bottle.
Separate your hair into two, put on your gloves and start squeezing the dye on the brush to apply it on your ends.
Once the ends are ready, go on applying the dye to the desired level.
Wait ten minutes and apply some more dye on the upper layer of your hair.
Then, wait for 15-20 minutes and wash the dye.
Q: How long does it take to dye your hair at home?

A: It pretty much depends on the type of color application, as well as the type of dye. Generally, home color experiments take up to 40 minutes, which include bleaching and waiting for the dye to develop.
Mermaid Hair DIY

Credit tutorial: L'Oréal via YouTube
Who doesn't dream to show up with magnificent mermaid hair for Coachella or Halloween party? While most girls stay away from this idea as they think it's too complicated, you are going to prove otherwise!
Tools & Products To Use:
Three or more packs of washout hair dyes;
Hair clips for separating your hair;
A towel for clean work;
A couple of gloves to apply and even out the product.
How To:
Clip off the top layer of your hair.
Put on the towel and gloves and start applying one of the colors by smoothing it evenly with your hands throughout the chin level.
Take the next color and apply it a bit lower, making sure that the colors melt with one another.
Then goes the third color; apply it to the ends.
Blend the area between the colors for well-balanced graduation.
Rinse your hair after a 20-min-wait.
Moonlight Look Tutorial

Credit tutorial: L'Oréal via YouTube
It's no secret that a bit faded, washed-out colors with a paler hint are the thing today. Luckily for all ladies, such shades are pretty easy to achieve. See how to dye your hair pastel!
Tools & Products To Use
At least three packs of different washout hair dyes designed for pastel coloring;
A hair clip to separate off your hair;
A pair of gloves to apply the colors;
A little towel to clean the gloves during the coloring.
How To:
Start by separating off the top layer of your hair.
Put on the gloves and start applying the first color to small sections, picking them randomly.
Clean the gloves with a towel and go on to apply the second shade.
Clean the gloves again and repeat the same step with the third color.
Make sure that the dye is distributed evenly throughout the streaks.
Wait for 30 min, rinse your hair, and blow dry your brand new locks.
Q: Is it better to dye your hair wet or dry?

A: Dry and dirty (second-day) hair is usually the main option. Basically, the dye doesn't develop well on wet hair. On the other hand, some dyes require different approaches, for example, to start with damp hair. Just follow the instructions on the dye to get the best results.
FAQ: How To Dye Your Hair
Is it better to dye your hair wet or dry?
When your hair is damp, it is at its most vulnerable. Thus, using hair dye on wet hair can cause damage and breakage. You'll want to dye your strands when they are dry. It's preferable to color your hair when it's still damp if you want subtle results and less possible harm for your hair.
Where do you start when dying hair?
Because hair roots require the most color and processing time, start with the roots first. Saturate them with color and dye your hair from back to front so that the dye would stay on the rear of your head the longest.
Does hair dye get darker the longer you leave it in?
Semipermanent dye formulas do not contain a developer, so the longer you keep them in your hair, the darker they become. It's safer to start with a color that's a shade lighter than your current hair color.
Was this article helpful?