Starting with a little spoiler, let us dispel a weird but common myth: using lemon juice isn't the best way on how to highlight hair. While this age-old method might actually lighten your locks, the outcome will be pretty far from what you may get in the salon. And since the point is to get professional results at home, welcome to the complete guide on creating hair highlights with colorist tips and tricks but without heading to a colorist!
Highlights are a huge trend, and that's well-deserved. On one hand, they're just lighter painted strands. But on the other hand, those strands build tons of movement, dimension, and dynamics in the hair, livening up the whole look without the commitment.
While there might be countless reasons why you decide to leave the upgrade up to DIY, you should be aware of the risks, as well as know-how to avoid them. Based on celebrity colorist advice and insights, we've prepared this guide for women who want a trendy little change in their hair but don't have the time for salon appointments. In case you're one of those brave ones who have always been dyeing their hair themselves or want to learn how to dye your hair at home, there's something new for you to learn as well!
Here we go: let's see what you need for successful DIY highlights.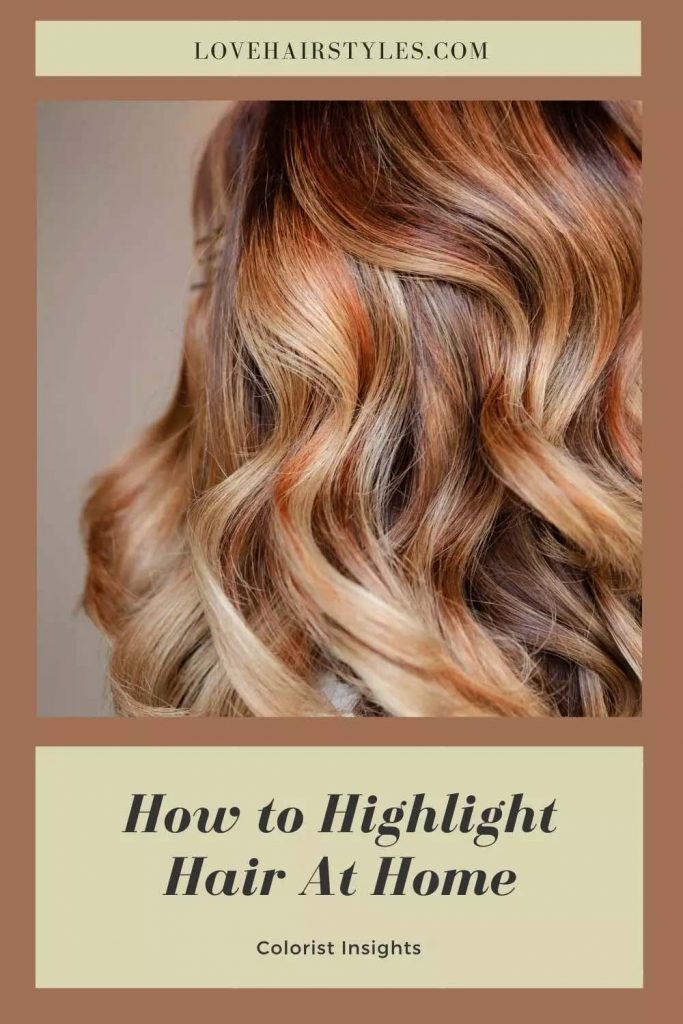 Step One: Consult with a Pro Colorist
As much as we love hair experiments, we value safety and quality when it comes to coloring. For that reason alone, you won't go wrong by trusting a skilled professional with your makeover. All in all, this color technique requires a steady hand and strategic approach to the lighting time, all of which you can find in modern salons.
Still, if you want to take your chances, don't stay away from your colorist, too. Consulting with a pro will help you eliminate possible mistakes and organize the coloring process properly. Don't hesitate to confess your stylist about your at-home coloring intentions and ask for some recommendations.
Of course, we're going to cover all the self-coloring essentials in this guide, so make sure to read it till the end to get your fail-proof plan on how to highlight your own hair. With the recommendations gathered from color professionals, as well as your colorist's guidance, you will have more chances to succeed in the at-home color session.
Tip: Ask your colorist about the coloring products that will be most suitable for your hair type and condition. Also, consult on which tones will be the best choice for your base so as not to end up with a mismatching shade.
Step Two: Find a Color Kit with the Right Tools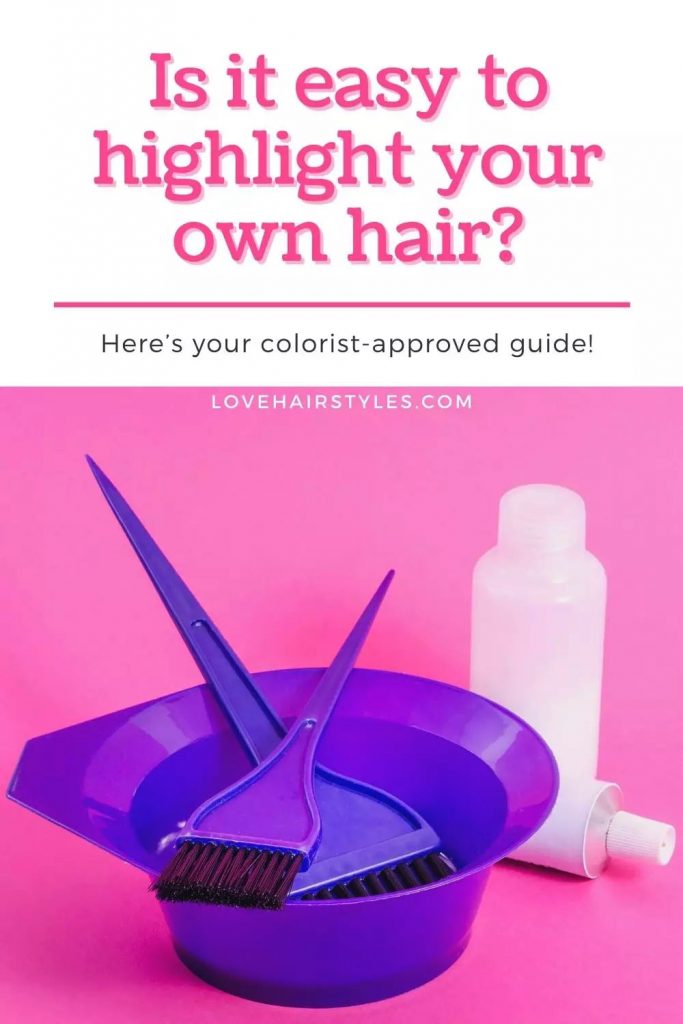 Once you get your colorist's blessing, it's time to consider the type of coloring you're going to try and, subsequently, get the right color kit for it. In fact, there are several ways on how to highlight hair at home without a kit, but it's safer to work with a set of quality products that manufacturers recommend to use together. While you may find lots of options for all-over color involving a one-step color process, classic highlights require a different approach. When highlighting the hair, stylists usually use bleach to lighten the hair to the desired level. Then goes the second part of the process - toning.
As you probably know, one should be very careful while working with bleach, as it strips off your natural shade. Even in salons, many colorists perform bleaching with assistance to calculate the right time and not overprocess the hair. And this is where you will need a color kit and instructions approved and given by a professional to get decent results.
Step Three: Last Prep – Gather All Supplies
Now, it's time to check if you have all the needed tools and products for your at-home highlights. Seek the kits that come with:
A mixing bowl
A color brush
Bleach
Peroxide
A pair of gloves
A color cape
A rat-tail comb
Foil (kitchen foil cut to 4" x 6" rectangles will also work great)
Note: It's important to pay close attention to the peroxide contained in the kit. Your colorist will definitely suggest you working with low volume peroxide if you're a blonde or light brunette (10vol) so that you won't fry your hair. For darker manes, 20vol will be the go-to.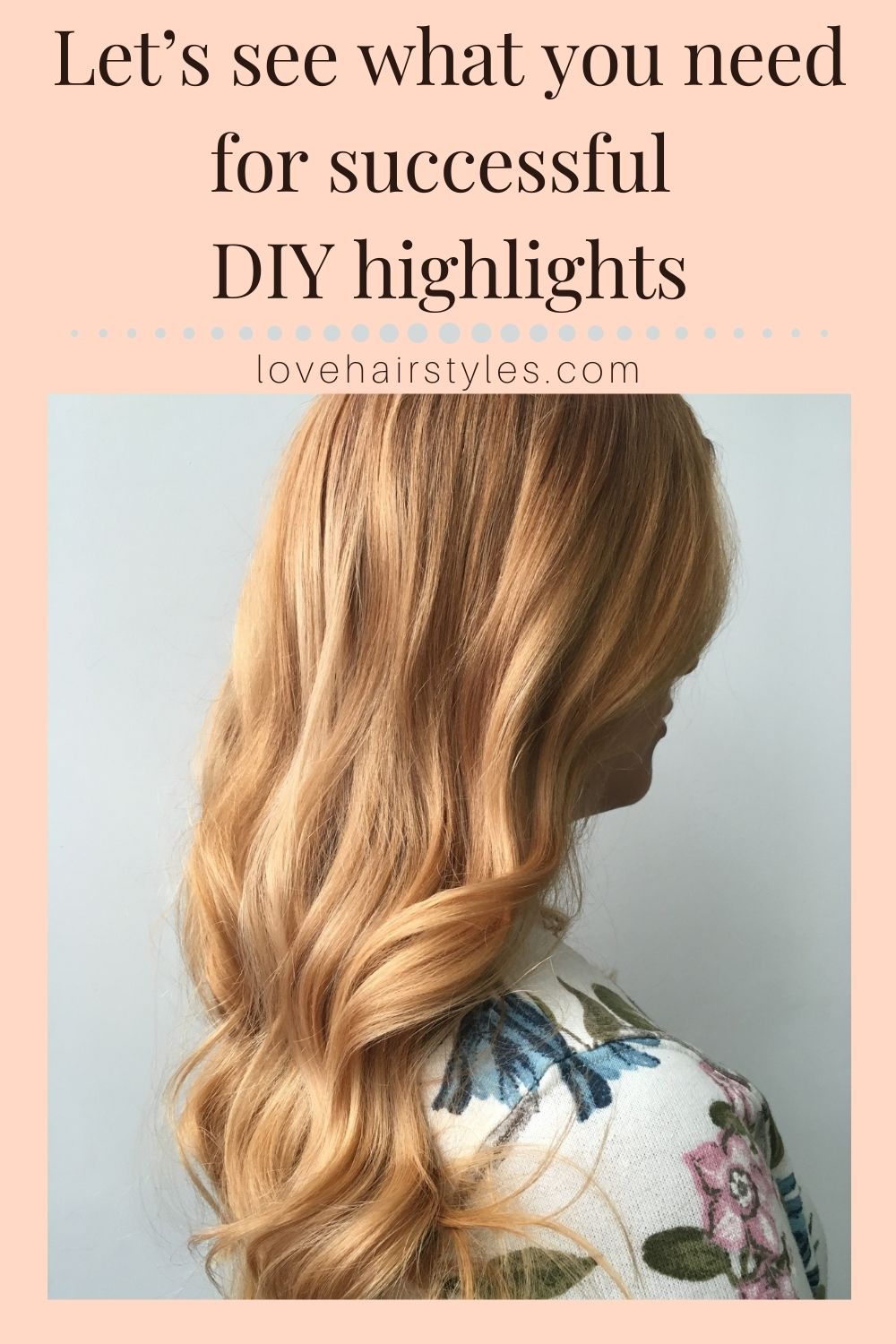 Although most DIY kits give clear and comprehensive instructions on how to highlight hair at home, let's do a quick run through the main steps in the correct order. First, you should take on the gloves and cape. Otherwise, if the mixture touches the skin, it will burn. The chances to wash out bleach from clothes are pretty low, so don't forget about it, too. Next, mix the bleach with peroxide into a thick well-blended mass.
Step Four: Do a Strand Test
Where do you start when highlighting your hair? Whenever you try something new on your skin and body, it's always wise to begin by applying the product to a small area to eliminate allergic reactions. The same goes for your hair: you should do a strand test before bleaching all the sections you want to highlight. Not only does it help you understand whether or not the kit interacts with your hair correctly but it will also give you a clear picture of the timing.
At this point, you should be pretty attentive to the process: apply the bleach to a section of your hair and fold it into the foil. Leave it in for the specified time, and don't unfold the foil or tuck more hair into it. From time to time, open it slightly and check how things are going: if the strand is pale yellow or yellow, it's ready. As for the time, it's pretty much individual. Of course, blondes will need less time than brunettes.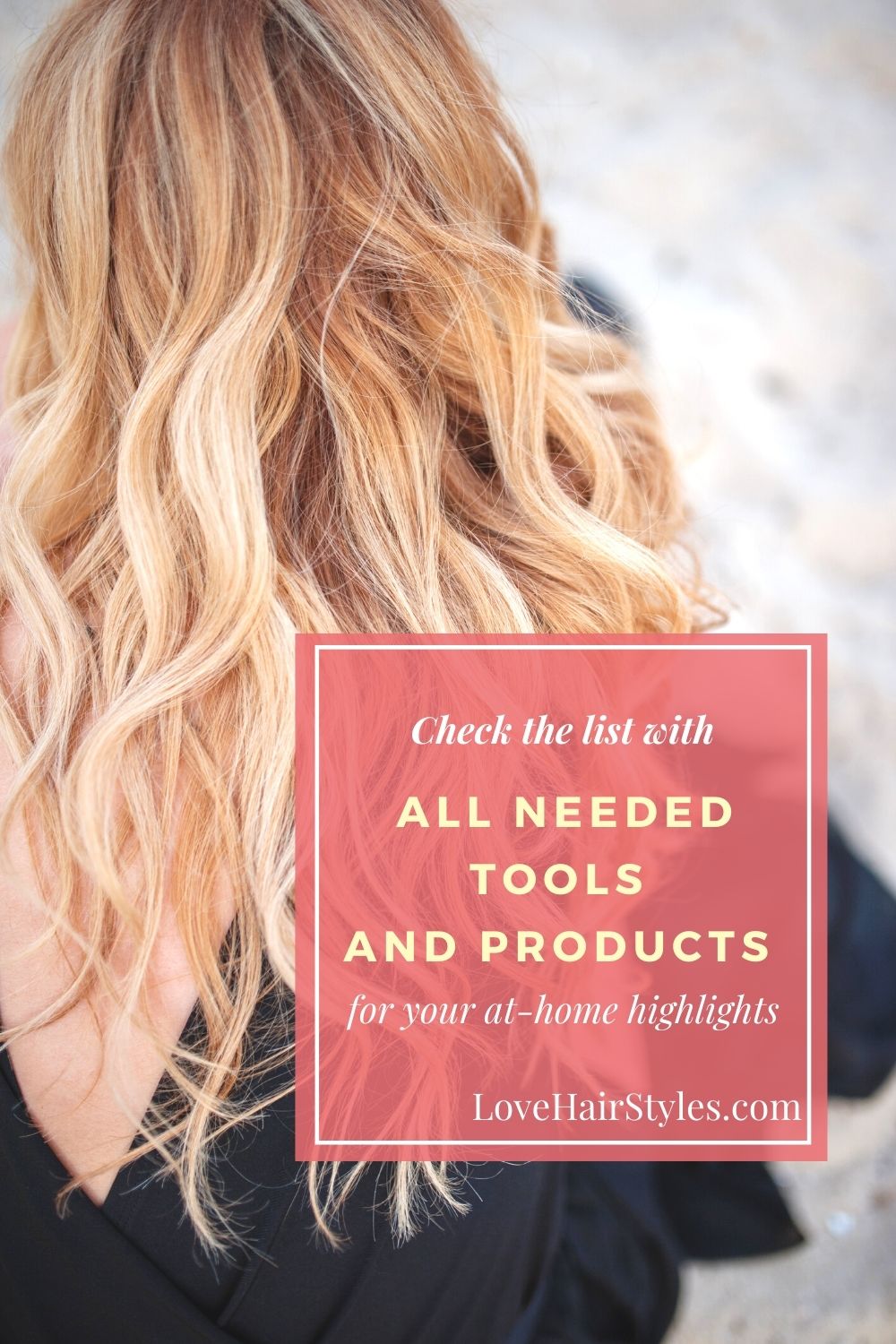 Step Five: Choose Your Method
The next step is to choose the application technique based on the desired results. In salons, colorists may use foils, do balayage, or use a backcombing method where the ends are folded in foils and put under a dryer. One of the best ways how to highlight hair at home yourself is to do it with foils, and you're most likely to hear it from your pro because the two other techniques are meant for all-over and tip coloring. Plus, it's a universal way to get both classic and partial highlights.
As for the processing time, it's better to depend on your colorist's advice, checking how the hair is lifting for every 5 or 10 minutes.
By the way, there's also an alternative to this method on how to highlight hair, in case you don't have foil at hand - more on that later.
Tip: When checking the hair in the foil, go with minimal touching to avoid bleed marks.
Step Six: Section Your Hair
Now, let the application begin. First things first, you need to divide your hair into sections to organize the process and avoid the mess. Clip two sections on the sides and one on the back, and focus on the T-zone (parting and hairline areas) for painting.
Step Seven: Apply Highlight Foils To the Hair
Using a rat-tail comb, slice a fine section of hair from either part and hold it between your fingers. After that, take a piece of foil and apply it underneath the hair, sliding it under the section you're holding. Put simply, the foil serves as a barrier between the section you're going to paint and the rest of the hair.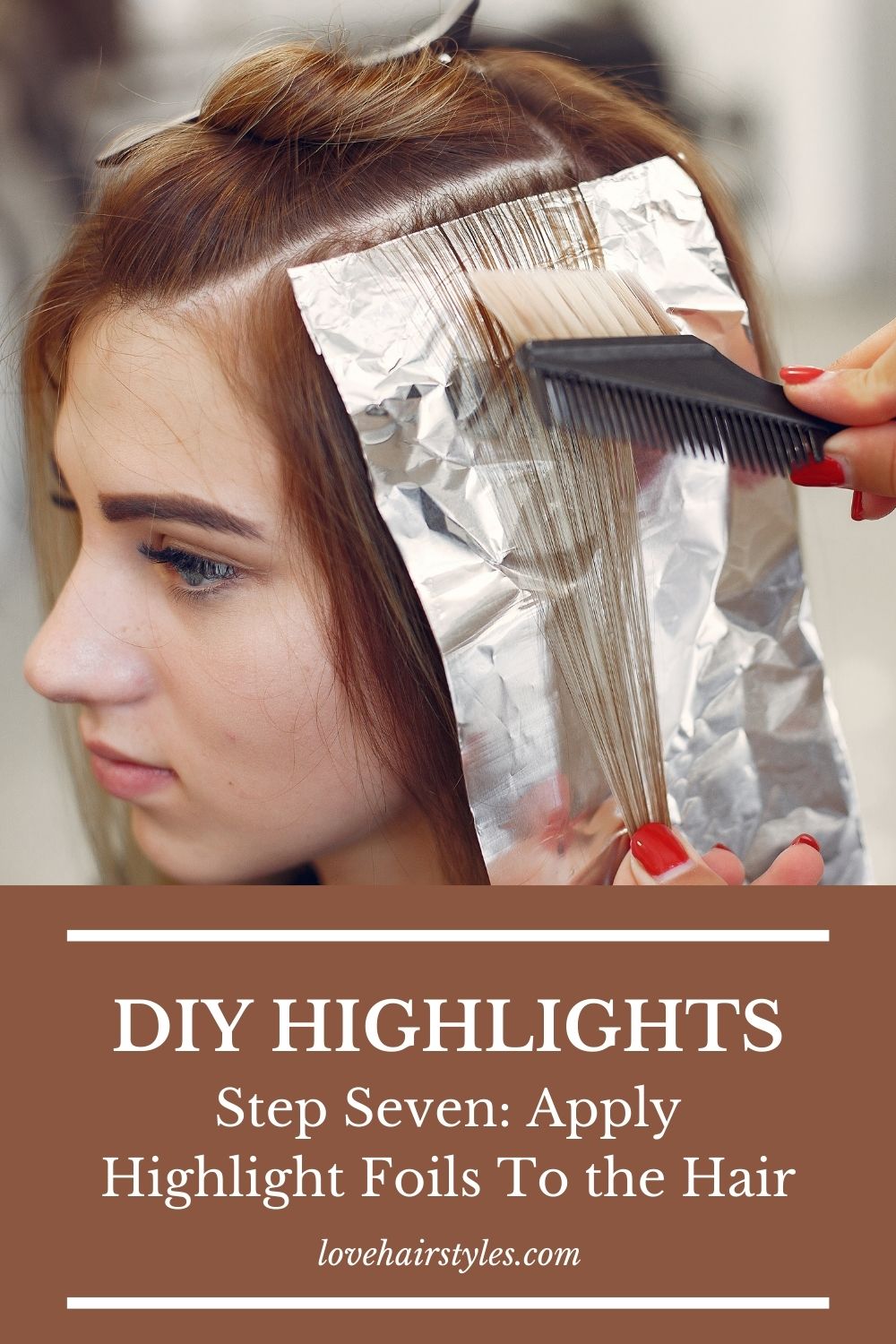 Step Eight: Paint Your Strands
To set the strand on the foil, dip your brush in the bleaching mix and press it on the section, ensuring the hair is nicely saturated. The point is to spread the mixture evenly so that the hair lightens up without visible color gaps. When you reach the hair at the hairline, press the folded section against your cheek, paint it with bleach, and then fold the bottom and corners to keep the foil in place.
Note: if you happen to have bleach on your skin or scalp, rinse it off immediately.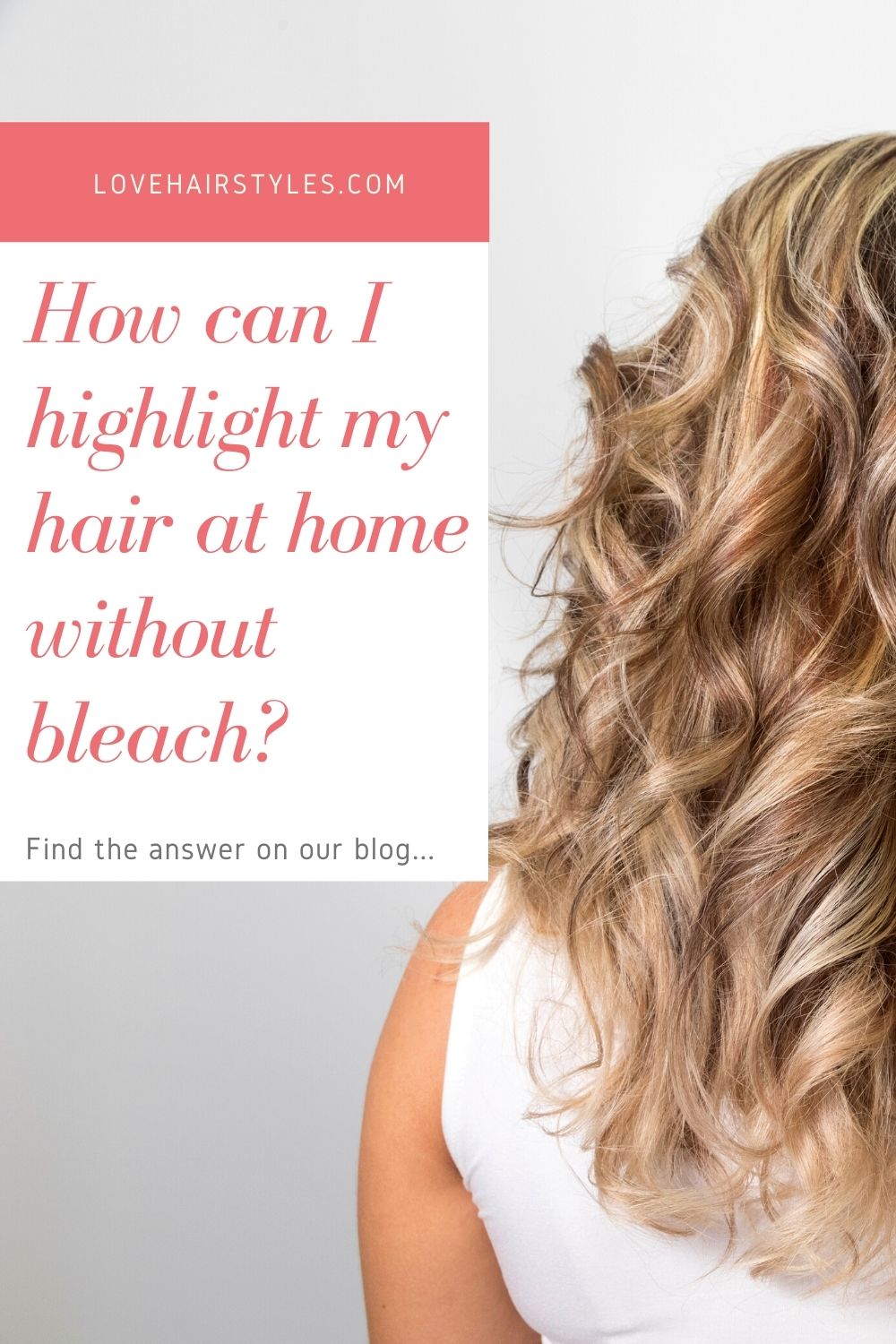 Step Nine: Apply Your Toner
You need a toner to neutralize the yellow tone and brassiness of bleach. If you're blonde, it's not necessary for you to apply the toner onto entire sections. Instead, you can just wait for the right color to show up, and if you're satisfied with the result, you can rinse it off and go to the next step. Brunettes, however, should pay closer attention to the color they achieve and smooth out the brassiness and balance out brown hair with highlights by applying the toner.
Step 10: Deep Condition Your Hair
Finally, follow up on the coloring process with a conditioning finish. Even though highlighting isn't the most damaging kind of makeover, every color treatment affects the moisture levels in your hair. Rinse your hair with cool water, wash it with shampoo, and apply a treatment. It can be any deep-conditioning treatment that works best for you. And, in case you don't apply toner, you can finish your session with a conditioning toning shampoo.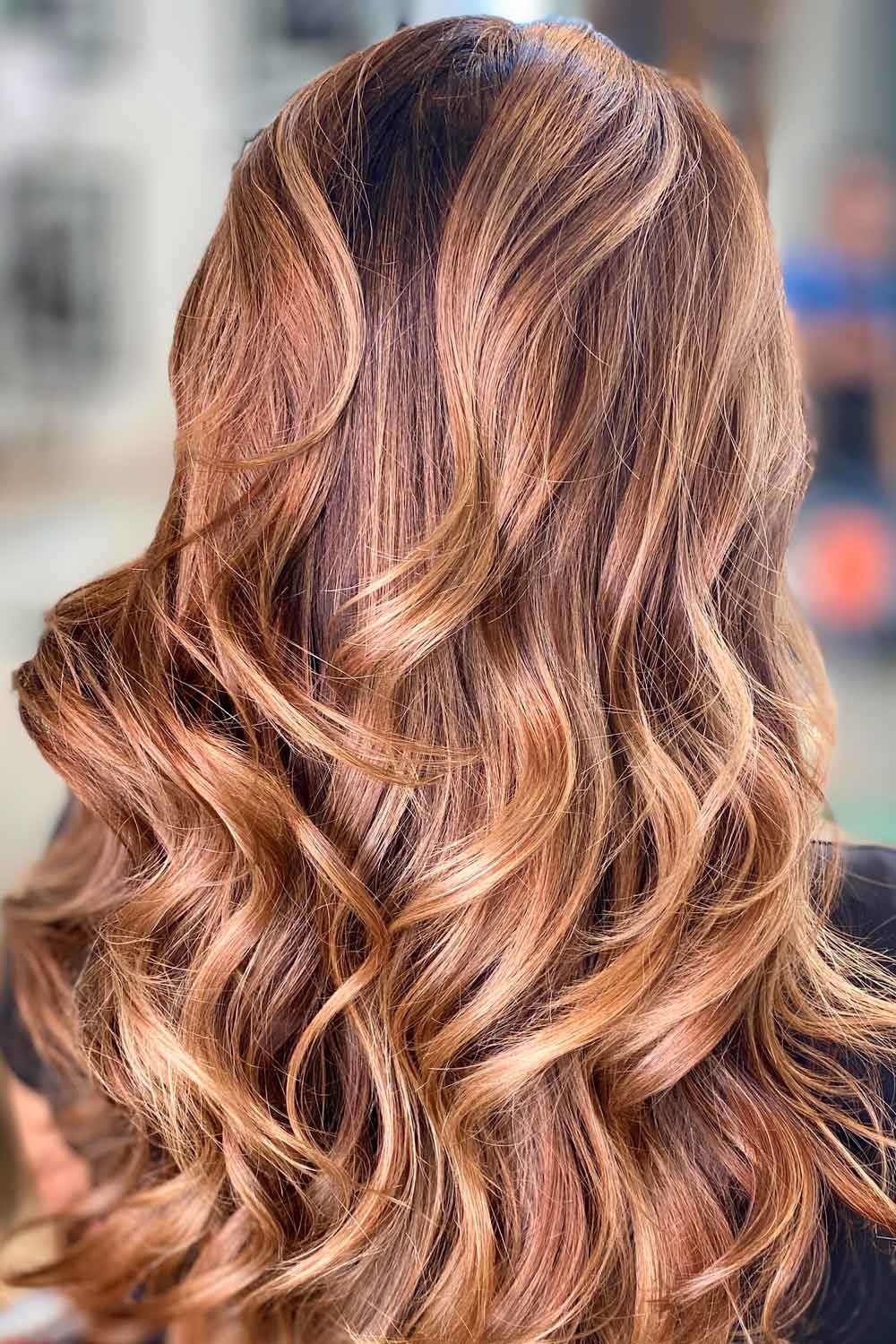 How to Highlight Hair with a Cap
For those wondering how to highlight hair at home without foil, we've prepared one more method. Both processes have a lot in common, but here you're going to use a special highlighting cap with a needle. Everything is pretty simple. Basically, you part your hair in the middle, wear a cap with marked holes, and then take off thin sections of hair using a needle. When all the sections are ready, apply the bleaching mix, wait, and rinse. Yep, that's it.
Pro Tips For DIY Highlights
Being attentive to details really pays when you're about to color your hair at home. So here are some basic tips on highlights application that will help you take your color session to a more professional level.
Keep your DIY highlights focused around the face by working from the front-backward and bottom-up. It will help you frame up the face, whether you're doing highlights for short hair, medium-length hair, or a long mane.
Set the timer while your highlights develop to follow the instructions on the kit precisely.
Always start with small sections and bleach amounts, as you can always add more if you're not satisfied with the result.
Don't pass on the toner if you're a brunette to control the level of warmth that you may get after bleaching.
Use different brushes for painting and blending for maximum control: for painting, it's better to go with a brush with a pointed tip, and for blending, a spoolie brush is the best pick.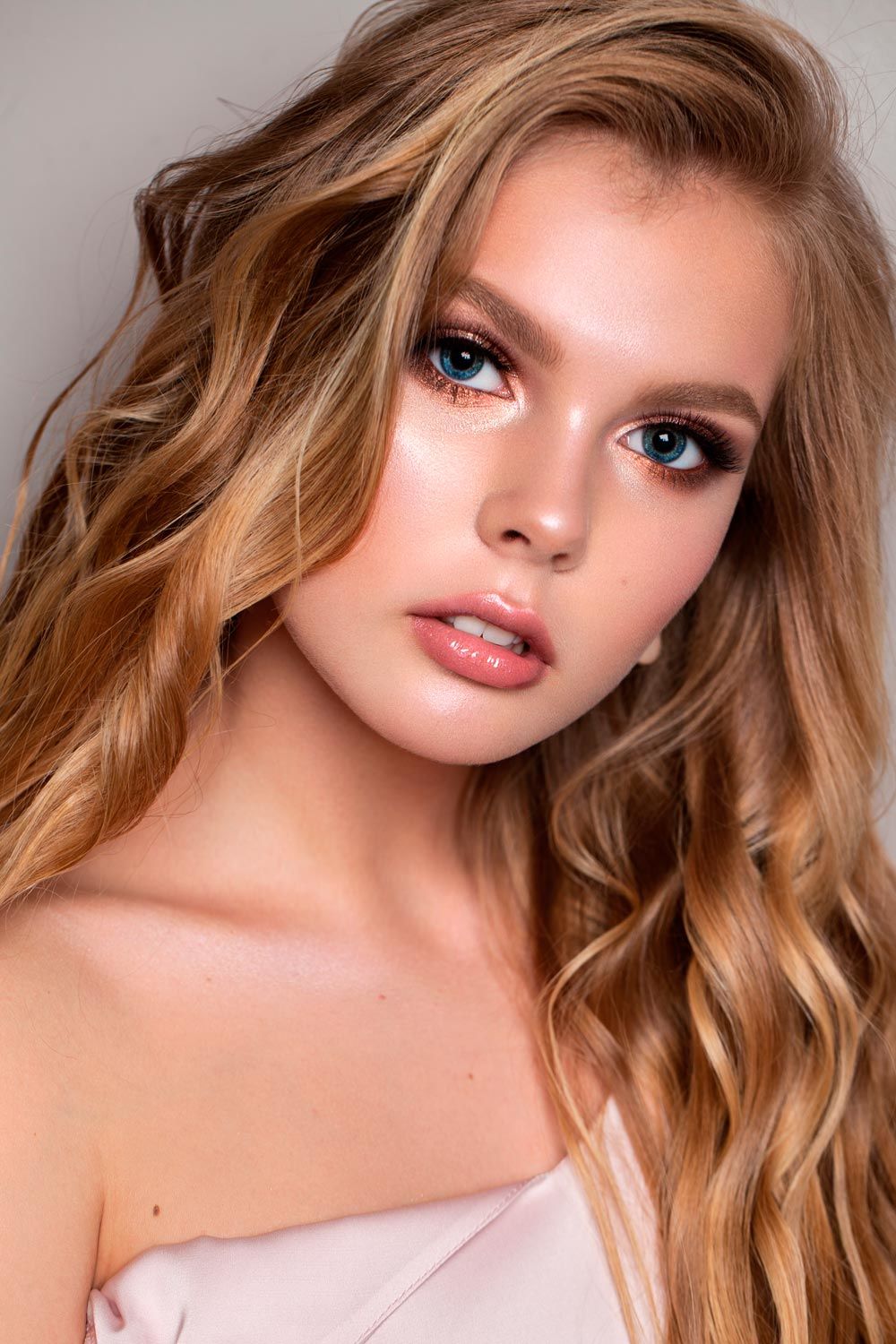 FAQ
Is it easy to highlight your own hair?
According to celebrity colorists we've talked to, highlighting is a complex process requiring a sharp eye and attention to details. It's not recommended to do without assistance, so make sure to stress the prior consultation with a pro.
How can I highlight my hair at home without bleach?
Since bleach is a harsh chemical that may cause damage, some women go for more strategic and expensive methods involving the use of high lift dyes, hair color removers, and packs of base colors and toners. They're nice picks if you're looking for safe ways how to dye your hair at home.
Highlights are a popular yet not the easiest technique to recreate at home, especially if you're a newbie. But if you're brave enough to try your hand at it and ready to sacrifice some time, it's more than possible. First, ask your colorist "how can I highlight my hair at home?", as they know your hair like nobody else. Then, use this guide. That's the right approach to getting at-home highlights!
REFERENCES:
From hair color ideas to hair color trends, find your next new hue here. Source
Learn how to dye your hair at home with our easy to follow tutorials. Source
Was this article helpful?