Brown hair with highlights can be quite stunning. With all of the styling options available today, there is no end to the looks you can get with brown tones with gorgeous highlights.
ADVERTISEMENT ‧ CONTINUE READING BELOW
Brown hair is quite beautiful on its own. And if you are a natural brunette, you are extremely blessed.
Brown hair color is very trendy right now. Hair with highlights, lowlights or babylights is really elegant. Also, you can consider a pretty brown balayage or ombre to spice it up a bit!
Light Brown Balayage For Brunette Hair
Source: chelseahaircutters via Instagram
Believe it or not, but the most authentic looks are achieved by sticking to one color palette. Yes, we all know that blonde accents work stunningly for brunettes. But, come on, let's think different: nothing goes better with brunette shades than the matching brown ones. And this balayage will prove that.
While highlights are just painted streaks, balayage involves coloring your hair in a free-hand manner, sweeping the dye onto the sections. So, your task is to decide what effect you want to get. For more blended looks, consider mixing light and dark brunette shades for balayage. And if you are more into strand coloring, you can try light brown hair with auburn highlights.
ADVERTISEMENT ‧ CONTINUE READING BELOW
Golden And Ash Blonde Highlights
Source: chelseahaircutters via Instagram
Sometimes brunettes come up with the thought of going for a lighter hair shade. This is how our moody nature works. We just can't do without color experiments. So why don't make the lighter tones take over your base in this combo?
Instead of simply combining blonde highlights with brown hair, you can create your own light palette that goes from a smooth brunette base and graduates to ashy and golden tones, forming a refined happy medium between blonde and brown colors.
Face-Framing Balayage
Source: chelseahaircutters via Instagram
Besides adding something new to your everyday palette, balayage can bring even more advantages to your life, and some of them are just priceless. With the right coloring pattern, your brand new color combination can be a flattering detail for your face. Yes, not only cuts can do the framing.
To make this framing fairytale real, you should ask your colorist to put an accent to the front tresses. It can be a subtle balayage with an accentuating blonde shade. Or you can frame your brown hair with caramel highlights. To enhance the effect, wave the highlighted front and see the difference.
ADVERTISEMENT ‧ CONTINUE READING BELOW
Subtle And Soft Highlights
Source: hairby_chrissy via Instagram
No wonder that girls who seek natural looks for their dark brown hair do not fancy adding blonde elements to it. Some just like to stay loyal to their colors, as added ones, even if they're not too drastic, may draw attention from the beauty of their natural hair.
If you're one of such girls and you feel that you want to enhance the charm of your color, we strongly recommend that you adorn your dark brown hair with light brown highlights. It's a subtle coloring decision that won't be too noticeable to a naked eye. Yet, it will provide your hair with some effortless and lively dimension, which we can't have too much.
Ash Blonde Highlights
Source: hairby_chrissy via Instagram
Now, it's time to talk about the moments when you feel super tired of your natural hair color. It may happen to you at any time, and this idea will show you how to deal with the need for changes. Just try sporting brown hair with highlights!
Ash blonde highlights with a soft greyish undertone is a fascinating way to take a break from the brown hair color. Let the highlights be super intense. Ask your colorist to create gradation from a darker to lighter tone. If you'd like to keep a trace of brown, dark roots won't hurt. Keep in mind that this idea will perfectly flatter girls with porcelain skin and green or grey eyes.
ADVERTISEMENT ‧ CONTINUE READING BELOW
Golden Blonde Highlights
Source: rafaelbertolucci1 via Instagram
Here comes another classic variation of dark brown hair with blonde highlights that can actually take your brunette hair color to a completely new level. The variety of contrastive colors in your hair can make it appear thicker visually, showing every strand in a new light.
The point of such color decisions is to add lighter hues to the dark primary, yet, without hiding it. Whether you're a lady with pale skin or a sexy tanned girl, there's no way this timeless combo won't work for you. Golden shades are considered the most versatile choice when it comes to coloring.
Light Ash Brown With Blonde Highlights
Source: rafaelbertolucci1 via Instagram
Once you feel that your current mood is all about light shades, it's time to pair your light brown hair with blonde highlights! Light ash brown is gorgeous as it is, but when it's accompanied by blonde highlights, nothing can compare to the fascinating dynamics of the color combo.
Obviously, this idea is meant for ladies with light skin tones: it can emphasize their peachy undertones, creating an authentic look.
Chestnut Brown Highlights
Source: petermenezes via Instagram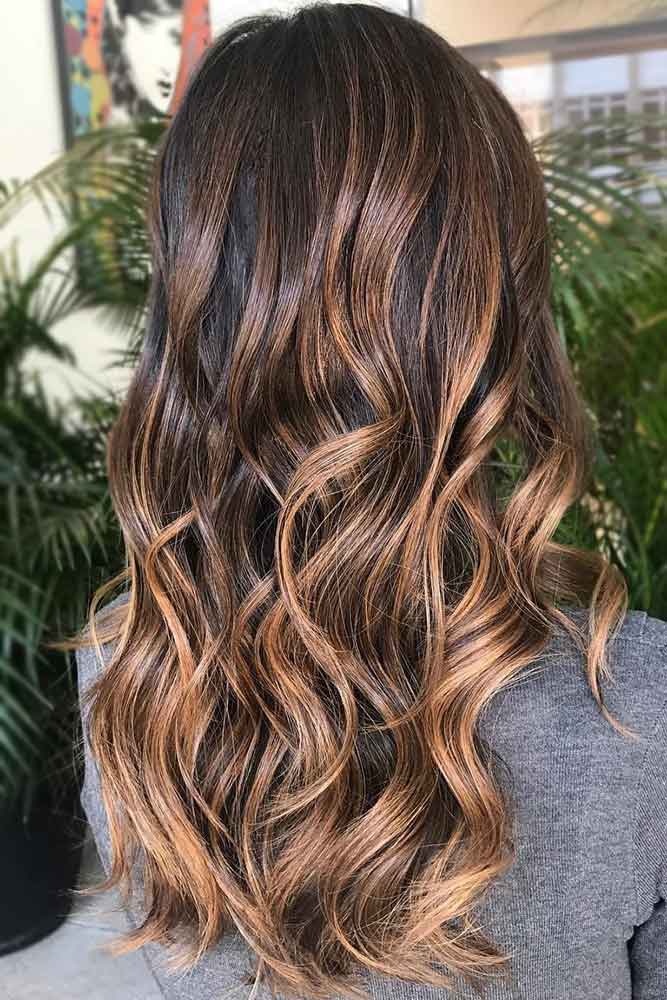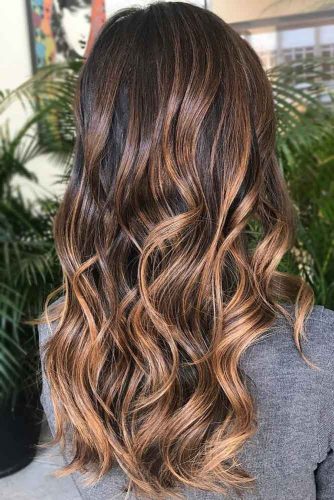 Remember that you always can play around with your brown hair, as the diversity of the brown hair color chart is pretty impressive. Those lucky ones who proudly sport dark shades of brown can accentuate their colors with lighter brunette hues.
Chocolate brown hair with highlights that are two tones lighter will look as if your hair faded, which appears very attractive and lightweight at the same time. The best thing is that it will look ravishing against any complexion!
ADVERTISEMENT ‧ CONTINUE READING BELOW
Sandy Brown Hair With Golden Highlights
Source: rafaelbertolucci1 via Instagram
Do you know the main advantage of looks that feature light brown hair with highlights? They are effortless, which means that even though your colorist mixes a couple of new colors, they will blend naturally into your brownish base, highlighting the beauty of your color.
Ladies who flaunt their medium brown hair that is close to a wet-sandy shade can nicely accentuate their deep warm locks with a touch of golden highlights. They will not only give a fresh take on your primary hair color but will also enliven your green eyes and a tawny skin tone.
Brunette Tones With Purple Highlights
Source: evalam_ via Instagram
Why not take a chance and add some purple highlights to this cute and stylish asymmetrical cut?
Light Brown And Caramel Tones
Source: natalieannehair via Instagram
This youthful style with light brown hair and soft, buttery caramel highlights gives off a trendy, diminutive air of excitement.
ADVERTISEMENT ‧ CONTINUE READING BELOW
Chestnut Sombre
Source: brookebent via Instagram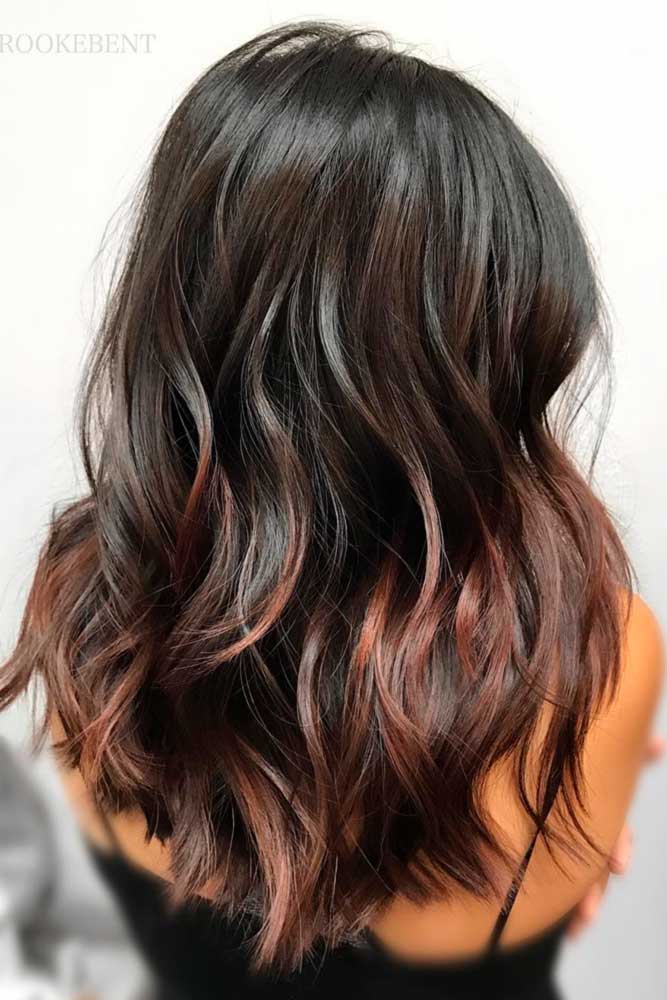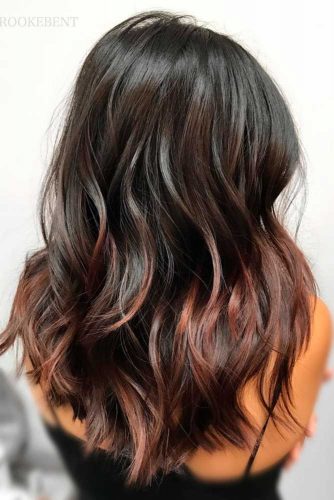 Highlights, whatever they are, always play a role of the most distinctive detail of your look, even if they are added minimally. Some girls prefer softer and more seamless color gradations to accentuating ones. That's why we'd like to share a subtle sombre idea with you.
Sombre is a soft version of the popular ombre coloring, where colors melt more organically. Such a technique is usually chosen by women with dark hair, as it can perfectly spice up the hair at midway with a matching color. So why don't you ask your colorist for chestnut sombre over your dark base instead of the commonly offered dark brown hair with highlights?
Burst Of Pink
Source: michellehair via Instagram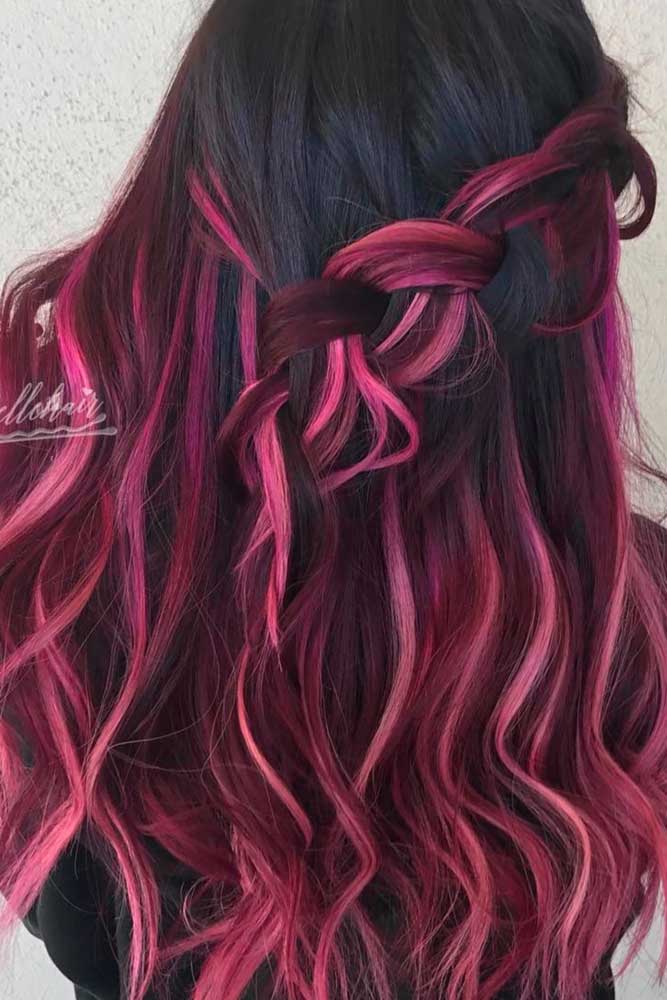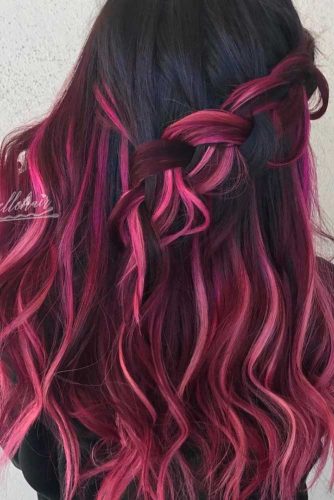 Hair with highlights doesn't have to stick to traditional shades of brunette and blonde. Why not add some neon pink streaks in your gorgeous brown tresses?
A Line Cut With Streaks Of Copper
Source: sharchang via Instagram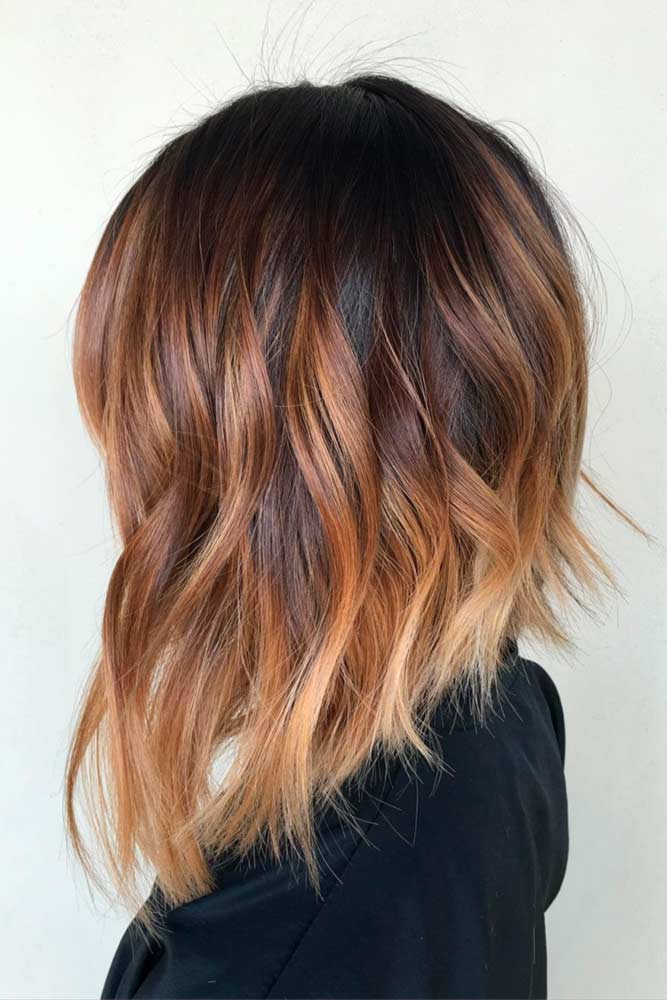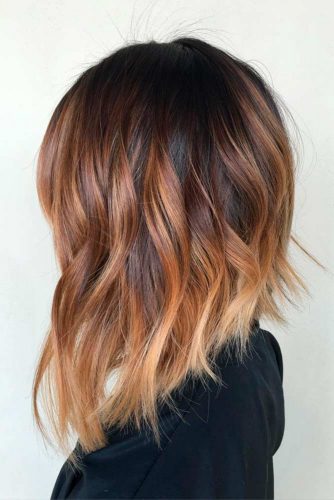 It's no secret that every lady thought about adding some bold colors to her brunette shade at least once in her life. Yet, those who appreciate all things natural tend to stay away from this idea because they don't want to sacrifice a healthy and effortless look. And you know what? You can spice up your brown hair with red highlights. Just make sure that they match your roots and that they're not too intense.
Soft, copper streaks that remind you of the good old henna will add natural reddish shining to the brown hue, without standing out too much. It's a nice idea for girls with fair to medium skin tones who want to add some warmth to their overall look.
ADVERTISEMENT ‧ CONTINUE READING BELOW
Cool Highlights With Dark Roots
Source: evalam_ via Instagram
As you know, your brown hair with highlights can be as different, eye-catching, and unique as you want. And the idea of cool accents is something that will change your image of this coloring technique once and for all.
Ladies who appreciate the trendy combination of dark brown hair with purple highlights will love the way these colors melt with one another. Of course, applying pastel colors can be a commitment, yet the look is worth a try.
You can start with your deep brown roots, leaving them as they are, and gradually go for a cool lilac base, finishing the color masterpiece with whitish purple highlights.
Bob With Multi-Toned Lowlights
Source: natalieannehair via Instagram
Want to create depth in your hair, adding more movement and dimension at the same time? You need to become friends with lowlights. In simple words, it's just the opposite for highlights: the added colors involve darker accents for lighter bases.
Whether you wear a short bob or rock your days with a long chevelure, this coloring technique will adapt to any image. Nowadays, it's very trendy to opt for faded and washed out colors. So, you can embellish your light brown hair with caramel highlights and lowlights. The lowlights will make the look deeper, while the highlights will accentuate the ends, thus producing a multi-toned, a bit washed-out color.
Light Honey Brown Tresses
Source: ryabchik.moscow via Instagram
This warm, natural look with caramel colored highlights and light brown undertones is classy and sophisticated.
ADVERTISEMENT ‧ CONTINUE READING BELOW
Dark Brown With Hints Of Auburn
Source: natalieannehair via Instagram
If you prefer a darker look, this rich combo of deep brown locks with auburn highlights gives off a very sexy vibe.
Caramel Balayage
Source: guy_tang via Instagram
If you have naturally dark brown hair but want a softer look, this stylish mix of caramel and brown balayage tones is truly dazzling.
Soft And Subtle
Source: salsalhair via Instagram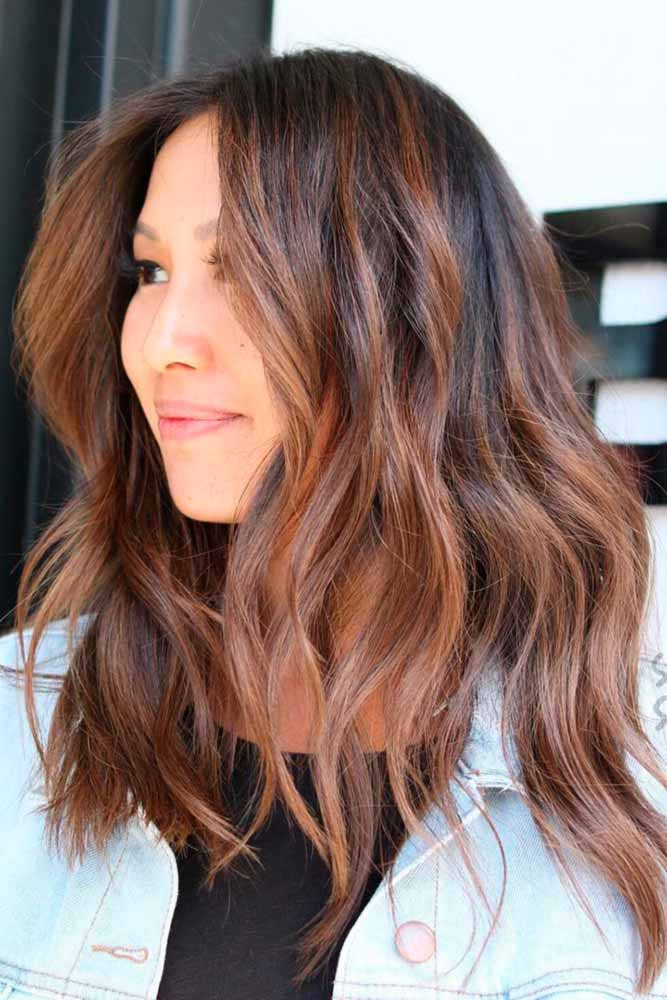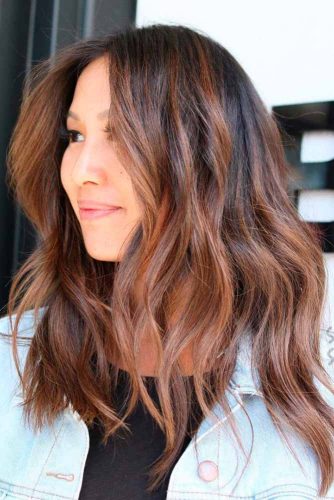 If you are new to highlights and don't want anything too bold for your first try, why not get some thin blonde streaks woven in your natural brown strands for a subtle look?
ADVERTISEMENT ‧ CONTINUE READING BELOW
Luscious Lowlights
Source: guy_tang via Instagram
Add some alternating lowlights and highlights to your base color for more depth and volume.
Drama Queen
Source: evalam_ via Instagram
If you are feeling daring, try this dramatic style with very light blonde highlights on deep, dark brown for a striking contrast that is almost artistic.
Reddish Highlights For Dark Brunettes
Source: irisdoeshair_ via Instagram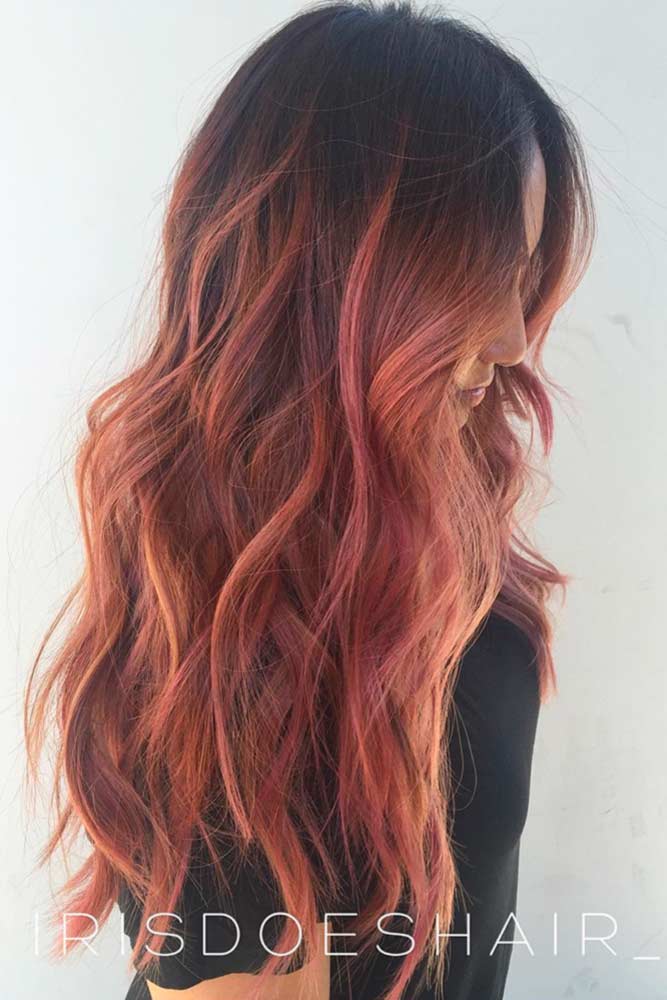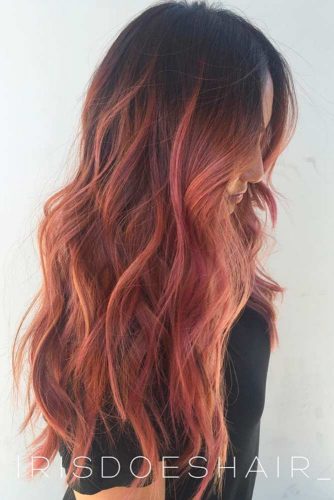 It's never too late to reveal your fiery soul, and your brown hair will help you to do that! A soft red ombre or reddish highlights in pastels will work awesome for ladies with dark chestnut or black hair, as the contrast of deep and vibrant shades never fails.
Brown hair with red highlights can flatter any girl, disregarding her initial hair color. But for a really natural look, it's better to work with dark bases and light or warm complexions.
Also, based on your preferences you can regulate the intensity of color. For example, this fall can't do without soft and pastel shades!
ADVERTISEMENT ‧ CONTINUE READING BELOW
Dark Blue Long Bob
Source: off7thsalon via Instagram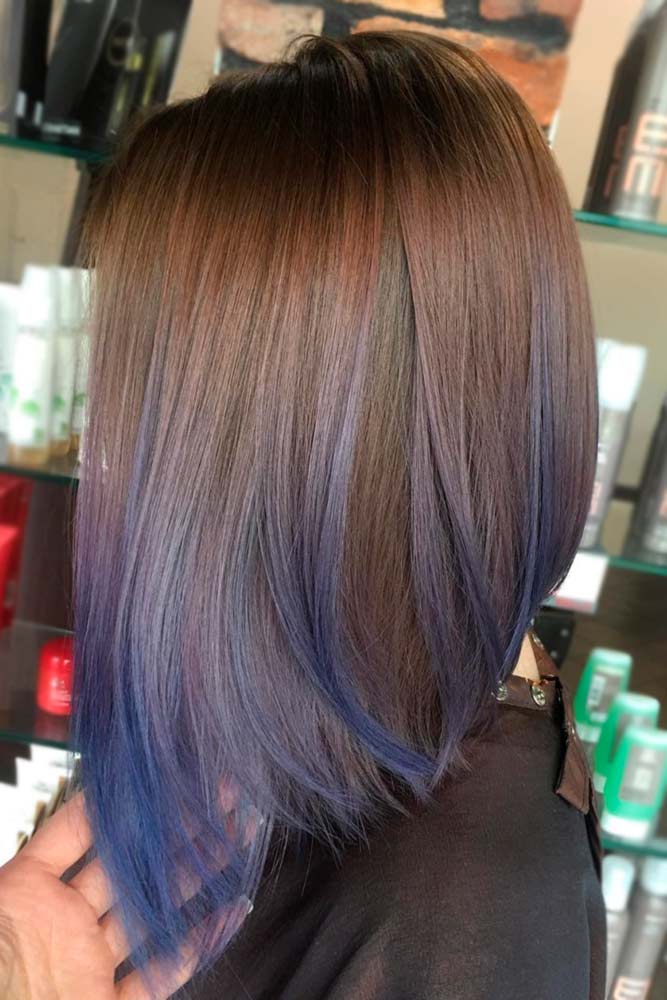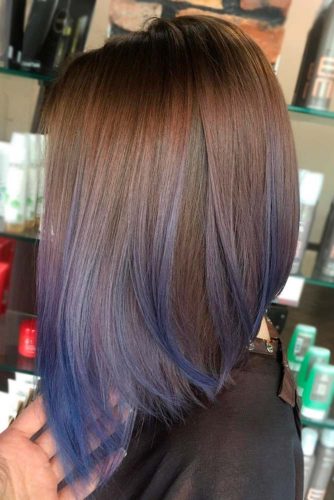 When you are still afraid to devote to the solid bright color, adding blue highlights is the perfect suggestion, not to mention that it looks very sweet and feminine.
Blonde Highlighted Waves
Source: off7thsalon via Instagram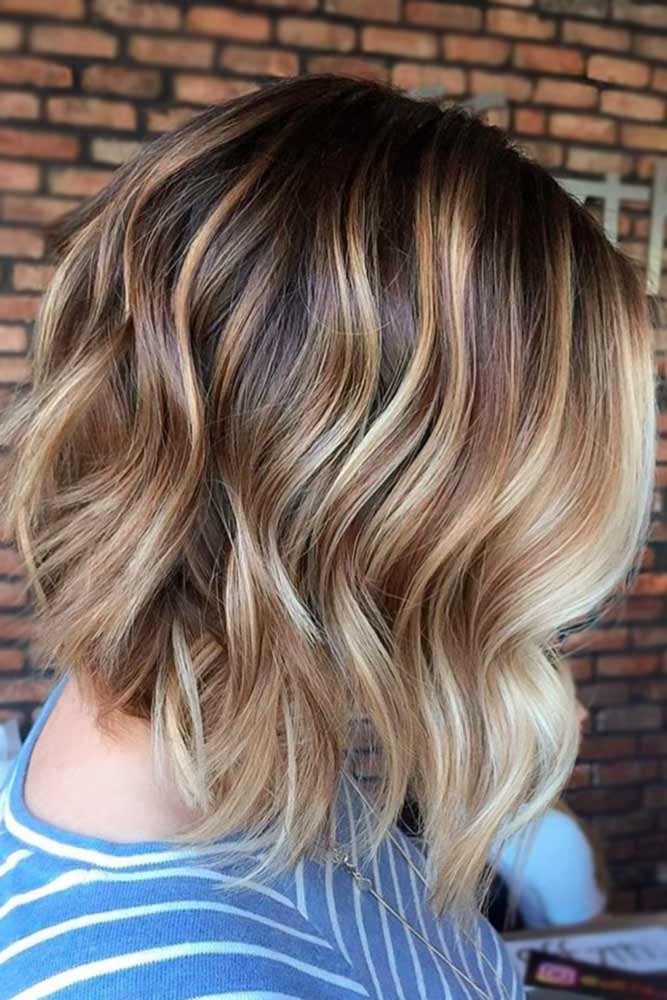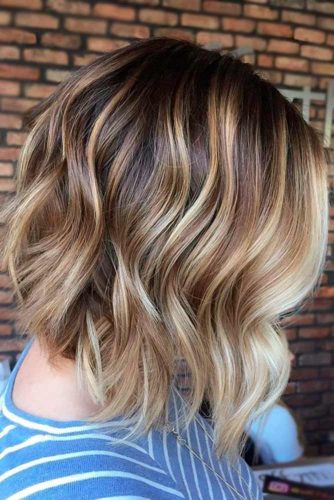 One of the best ways to put your natural hair color in the spotlight is to go for truly distinctive and even contrastive highlights. If you want to lighten up your dark or medium brown hair with blonde highlights, go big!
Let the blonde strands be as visible as possible, and don't worry: they won't overlap with your natural brow hue. The popular coloring will make your hair look dimensional and full due to the play of colors. Just look how gorgeous the short brown hair with blonde highlights looks when it's waved! Isn't that enough to give it a try?
Dark To Honey Ombre
Source: thassiodutra via Instagram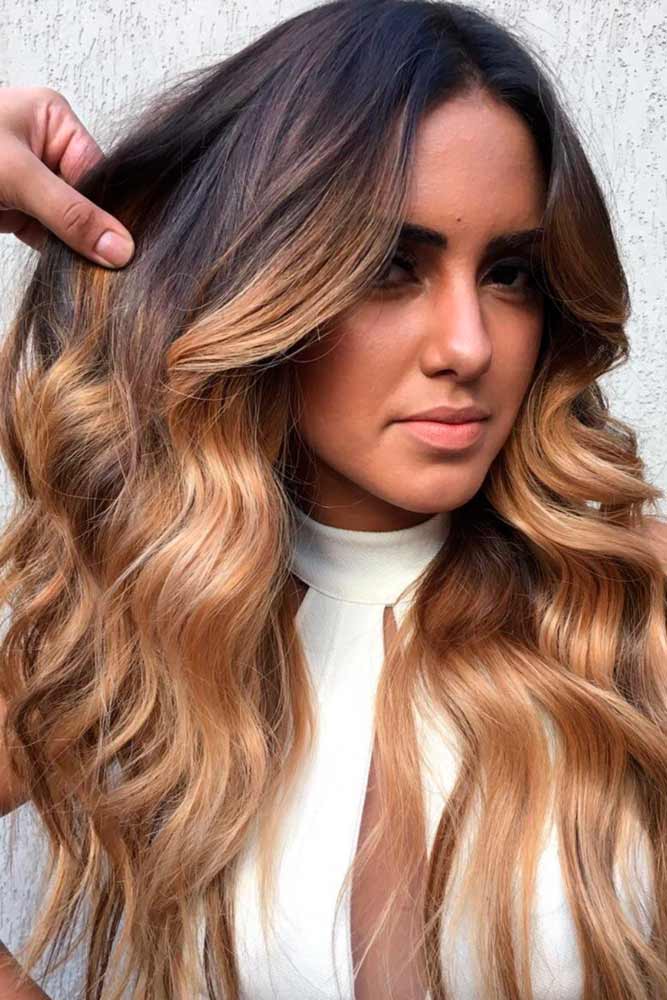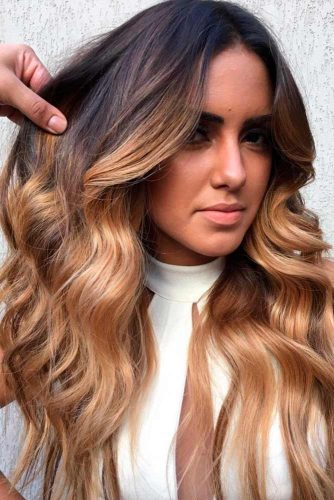 Dark brown hair is naturally beautiful, yet, we know how to make it even more stunning. What we suggest you is the dark to honey transition. Curl it up and you are ready for the win!
ADVERTISEMENT ‧ CONTINUE READING BELOW
Brown To Caramel Ombre
Source: centro_degrade_joelle via Instagram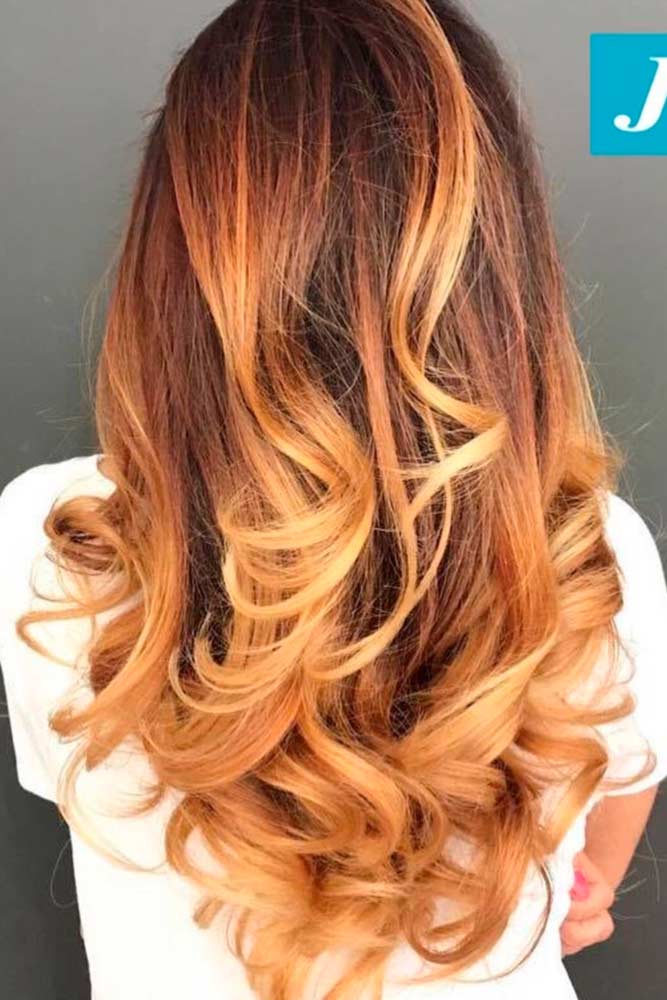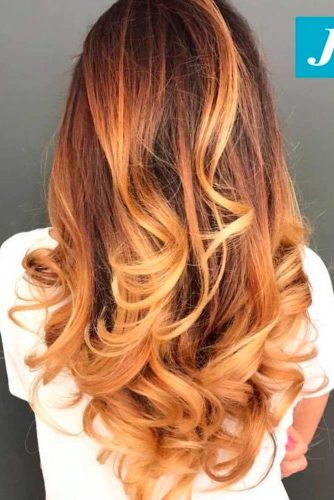 Brown to caramel ombre looks so tasty that if you could, you would try to eat it, wouldn't you? The transition is so soft and gradual that, no matter where you go, the gazes will follow.
Long Curly Sandy Ombre
Source: roxybeautytouch via Instagram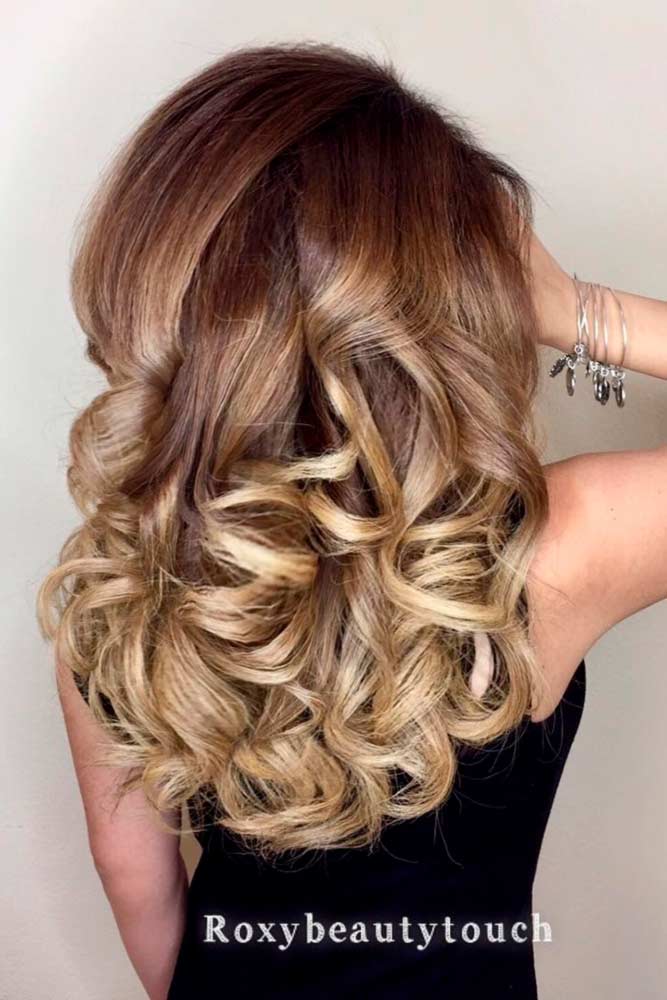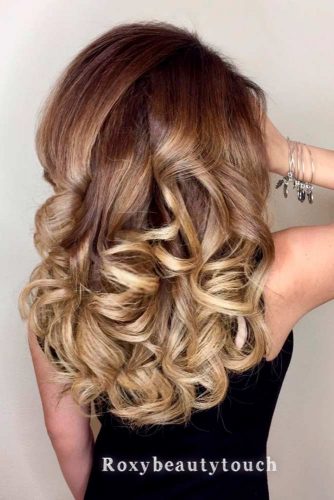 Would you like the vacation mood to stay with you for a little longer? Go for sandy ombre. Every look in the mirror will take you back to the warmth of sandy beaches and the ocean.
Auburn Strands
Source: hairbyjessysilva via Instagram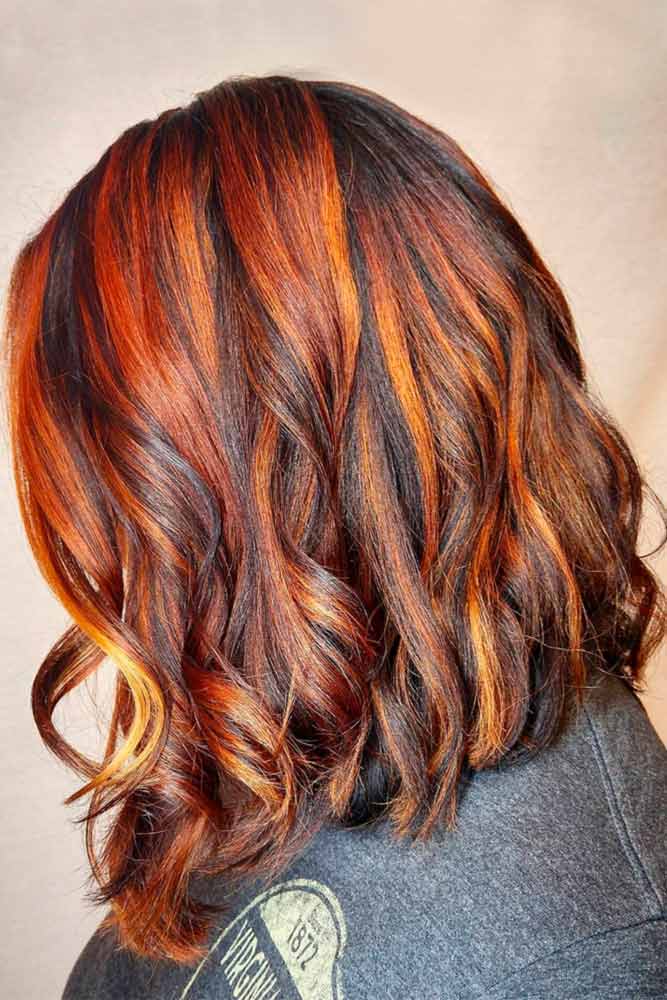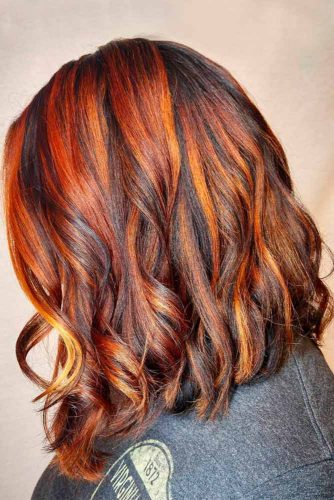 What can make your hair look more radiant than the addition of bright auburn strands?
As you can see, these captivating color combinations for brown with highlights are quite breathtaking!
ADVERTISEMENT ‧ CONTINUE READING BELOW