Are you struggling with how to get rid of flyaways yet? No worries, we have all been there. These little unruly hairs sticking out in every direction are really annoying and may ruin your whole hair look. So that it will not happen, we have prepared this detailed guide. Below, you will find ten approaches to dealing with fly away hairs in almost every situation. All you have to do now is to study them carefully and decide which of them are your sure bet.
Why Do You Get Flyway Hair?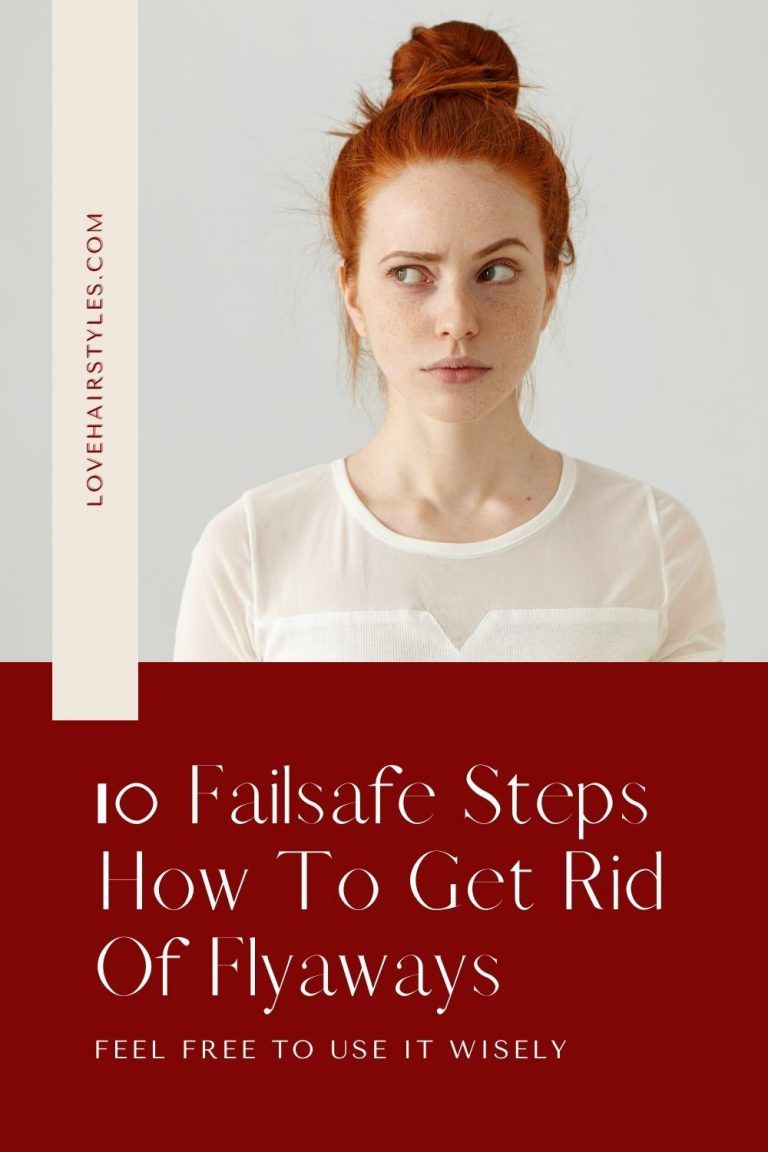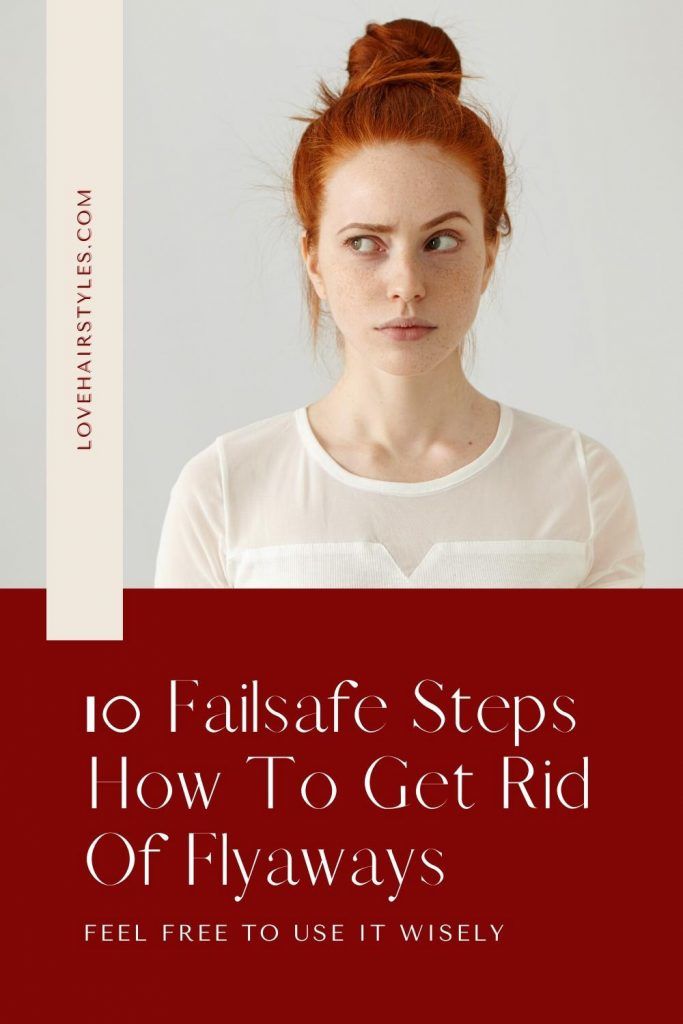 Credit photo: Shutterstock
Similarly to why hair is falling out, you may get flyaways for a number of reasons. Product residue that is building up on your scalp is among the most common things that cause flyaway hair. So, you need to make sure to clean your hair thoroughly and keep it moisturized. In this case, it will look smooth but not limp. Also, if you have damaged your hair chemically and/or it has become overly dry and brittle, it may fly away as well. Humidity and static are also among the reasons why you might have this hair concern. The good news is that flyaways are temporary, as they tend to grow out. Yet, your hair care routine and styling may affect how much time it is going to take.
How Do I Fix Fly Away Hair?
There are actually several solutions to fly hair. This does not mean that you should try all of them. Just stick to those that you think will suit you best, which may depend on the reasons why you have stray hair and your lifestyle in general. So, here is how to fix flyaways: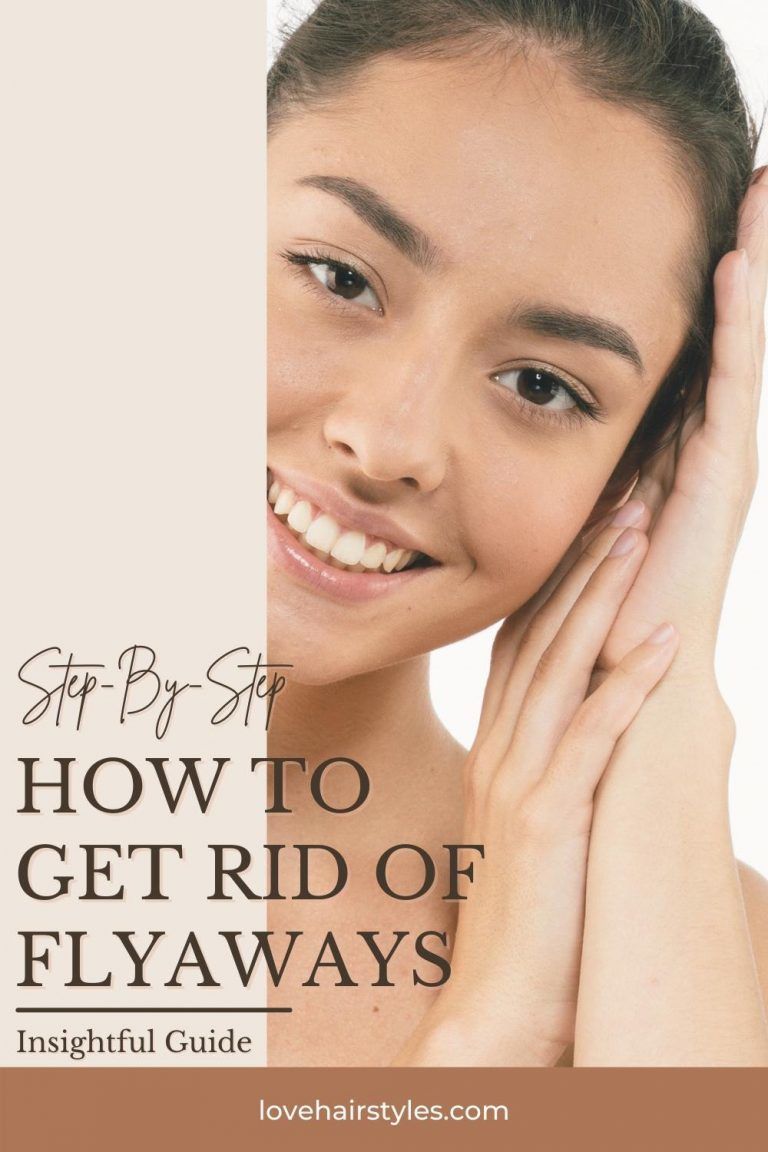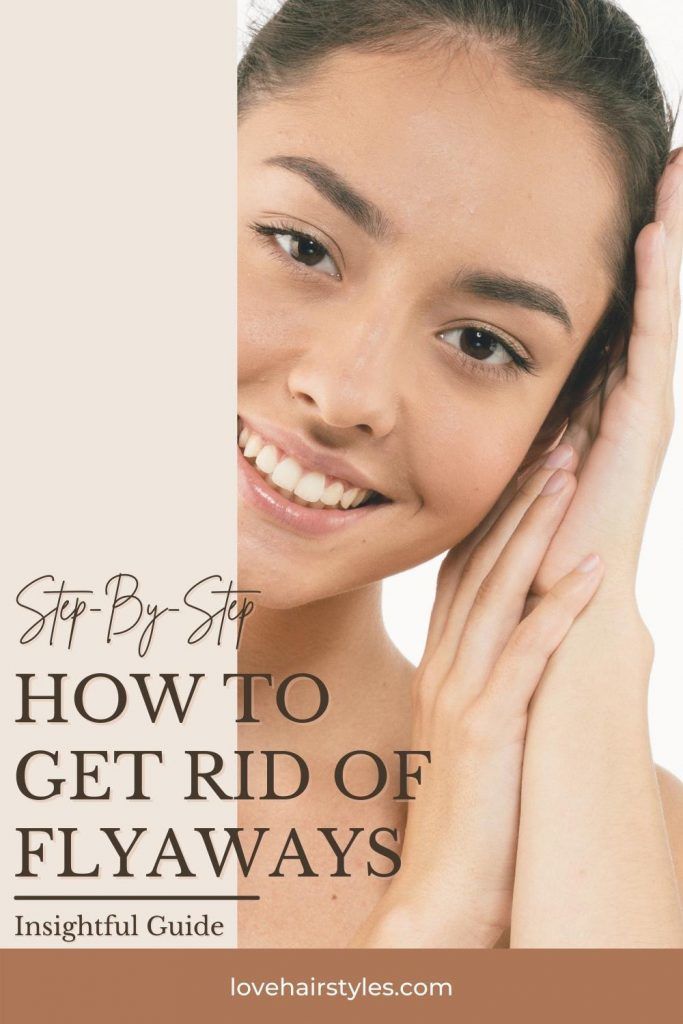 Credit photo: Shutterstock
1. Trimming your hair.
Split ends, dry hair, humid air are among the main causes of flyaways. Some people just have naturally frizzy hair. The reason you have hair flyaways affects directly the choice of the method to deal with them. Thus, in case your hair is damaged, which entails split ends and breakage, a surefire way to deal with flyaways is to get your hair cut. This does not mean that you need to chop off all of your locks or live at your hairstylist's. How often should you cut your hair depends on the severity of the damage and the initial haircut. Sometimes, simply trimming the ends to refresh your current hair look is more than enough.
2. Moisturizing your locks with a leave-in.
If your hair is sticking out in all directions, this may mean that it is overly dry. Thus, you need to provide it with needed hydration with the help of a moisturizing hair conditioner. Not only will your strands become smooth and sleek, but they will also look healthier and grow better.
3. Sealing the ends.
If for any reason, a haircut is not an option for you, then you may try to fix your split ends with a special hair product. A hair cream or oil is aimed at sealing the ends, thus making them look silky smooth.
4. Flattening frizzy hair.
While this will not solve the issue fundamentally, smoothing out randomly curled-up fluffy hair will help to keep your locks in check at least for a while. Such a fly-away hair tamer will become a real savior for those who live in areas with high humidity.
5. Enlisting the help of styling products.
If you tend to finish off styling your hair with hairspray, then you may want to take advantage of it to get rid of flyaways. So, here is how to keep flyaways down using a hair spray. Once you have applied the hairspray to your locks, smooth them out with either a hairbrush or simply your hands.
6. Switching the towel.
In some cases, your towel is the one to be blamed for flyaways. As such, one of the ways of how to get rid of flyaways is to change your current towel for a microfibre one or a cotton T-shirt. They will not mess with your hair surface, so your locks will not get frizzy as a result. Also, it is a good idea to use the hair plopping method, especially if you have a curly or coily hair texture.
7. Blow drying your hair.
A hairdryer may help you to keep your hair in place so that there are no flyaways coming into sight. After washing your mane, arm yourself with a hairdryer and a vented round brush and blow-dry your locks using the method of pulling and rolling.
8. Choosing a suitable hairbrush.
If you think that a hairbrush does not make a big difference for your hair, we are here to prove you wrong. It is important to match your hairbrush to your hair needs and hair type. Here is a cheat sheet for you:
Fine and brittle hair – a brush with boar bristles;

Long and thick locks – a paddle brush;

Knots and tangles – a detangling brush.
9. Opting for a pillowcase made of silk or satin.
Not only is the material of your towel important but your pillowcase as well. If you still sleep on a cotton pillowcase, this may be the reason why your hair is dry. As cotton is so porous, it absorbs too much moisture from your locks, thus making them frizzy and brittle. Silk and satin, in their turn, help your hair to maintain a good level of moisture. And this is also how to sleep with long hair to prevent it from falling out at night.
10. Using dryer sheets.
This method of how to tame fly-away hairs is not one of the most popular, yet it may help you to save the day. Take a dryer sheet and run it from top to bottom along your locks. This trick will help you to deal with static and get rid of impurities in your tresses.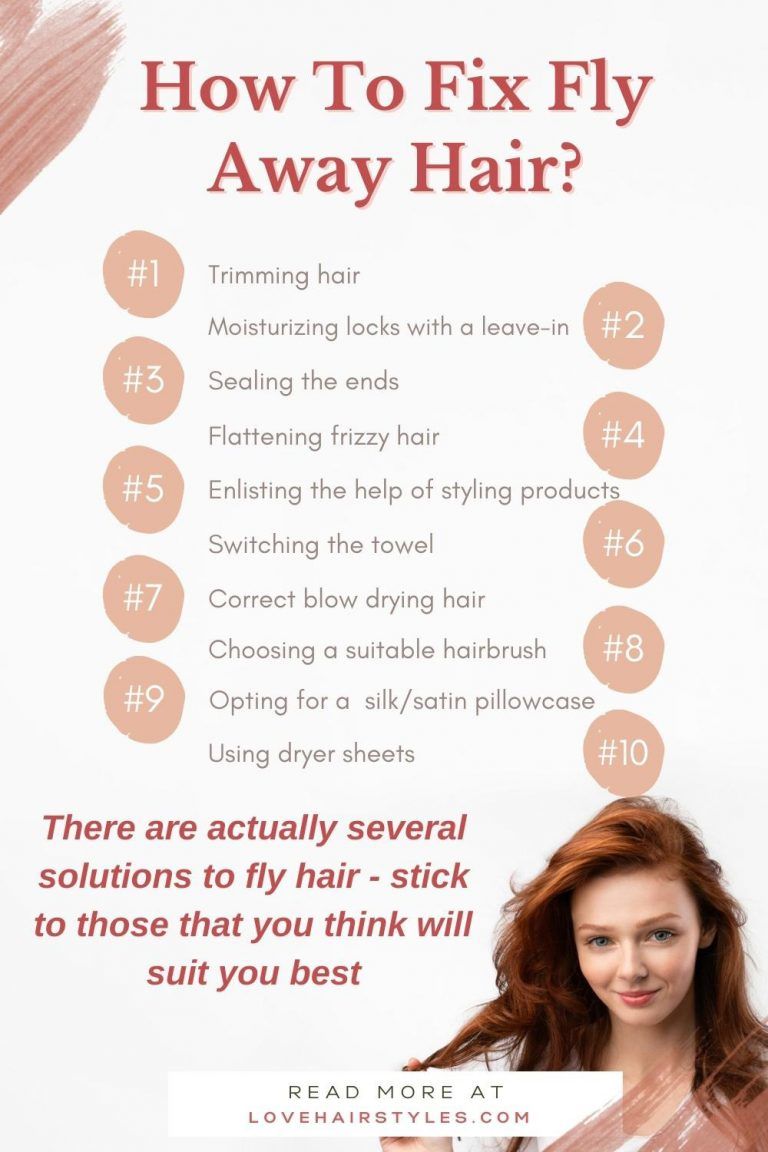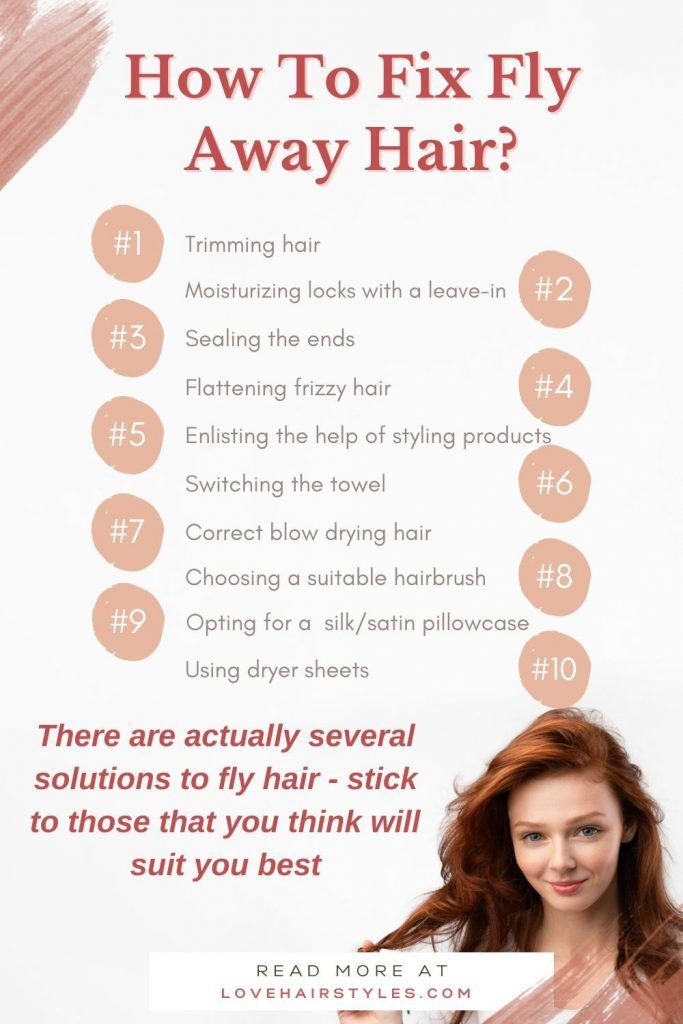 Credit photo: Shutterstock
FAQ
Do flyaways grow out?
Regardless of the causes of flyaways, be it humid environment, dryness, or breakage, your hair will still grow out eventually. So, you should not worry that you are stuck with them for life. Of course, this requires some effort on your part, such as proper care and styling.
Should I cut off my flyaways?
You should only cut your hair if there are severely split ends and none of the other methods of dealing with flyaways works. Thus, you may resort to trimming the hairs that are sticking out along the length of your strands.
Now that you know how to get rid of flyaways, this should not be an issue for you anymore. As you can tell, there are many ways to tame your sticking out hairs to end up with smooth and sleek strands. If you are unsure which one is going to work for you best, then you can never go wrong with the hit or miss method.
REFERENCES: