Purple hair is for women who are not afraid to express themselves. It often happens that a woman wakes up and decides to change at least something in her appearance. Interestingly, it is a kind of a rule for a woman: if something negative occurs in life, change your hairstyle, and you will feel better. So, if you are stressed or depressed, why not dye your hair purple? However, not all of us that brave to do all-over dye. It is possible to do it step by step, starting with dying streaks.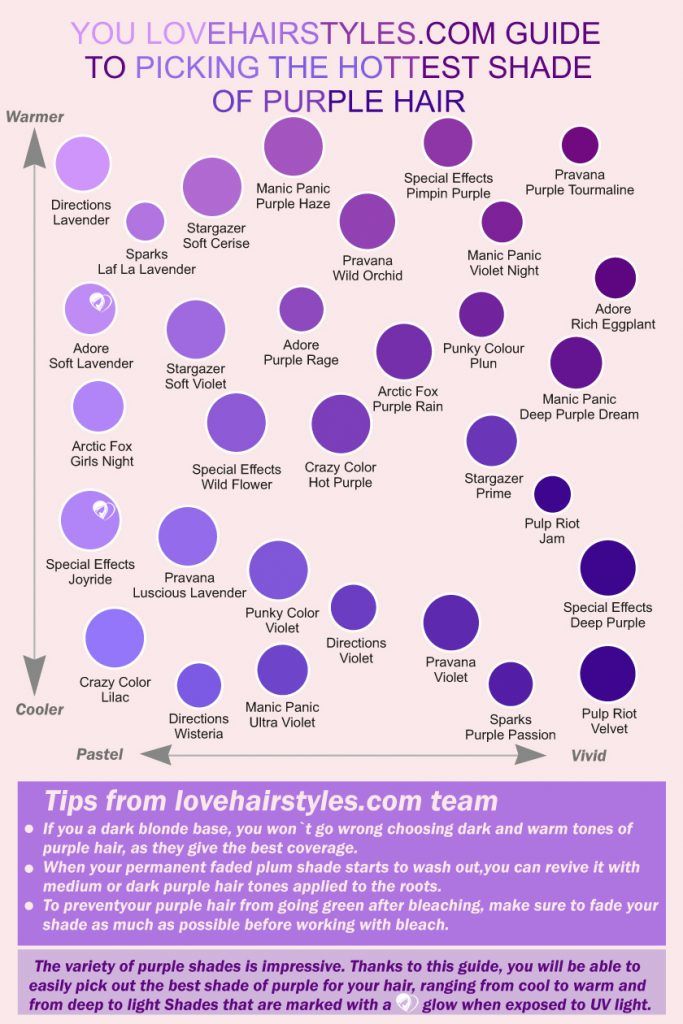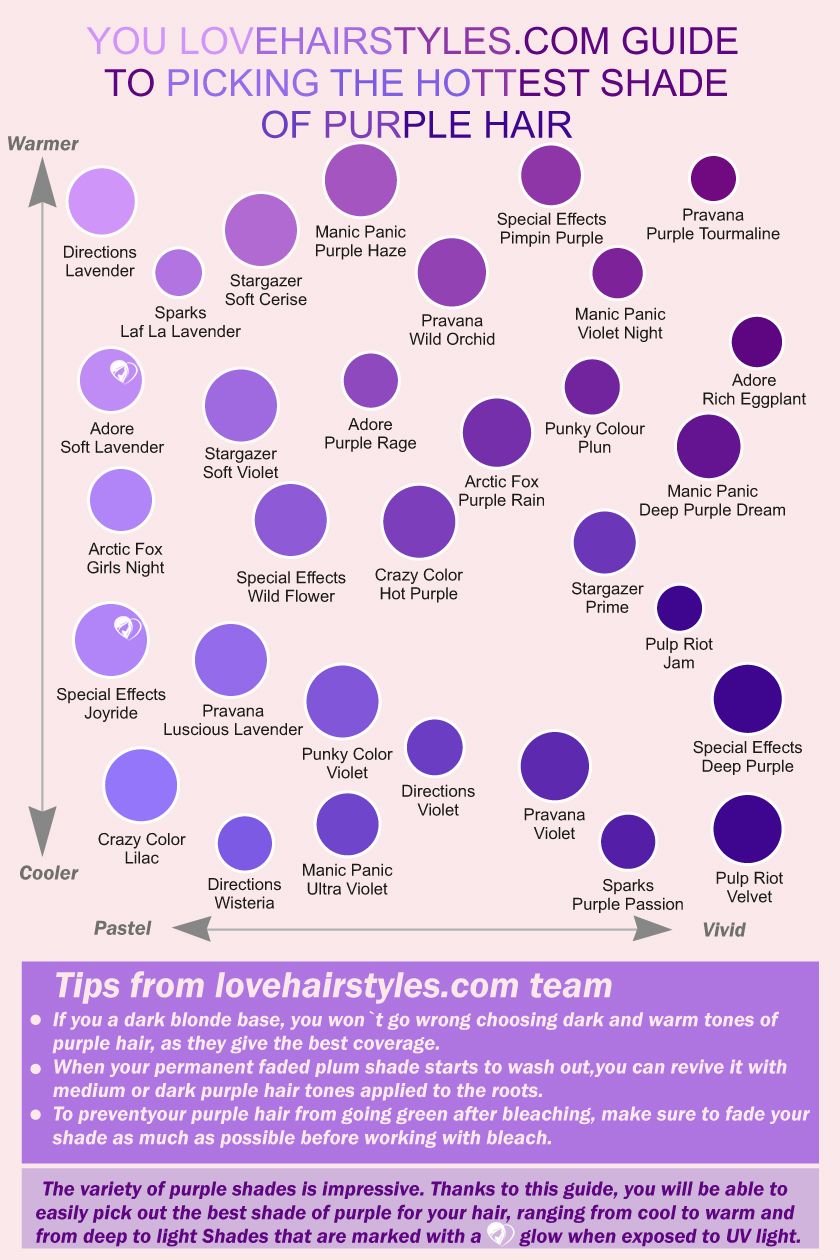 Purple Hair: Pros and Cons
| Pros | Cons |
| --- | --- |
| Uniqueness: Purple hair can help you stand out in a crowd and express your individuality. | High Maintenance: Purple hair dye often fades quickly, requiring frequent touch-ups. |
| Creative Expression: The wide range of available shades offers a great platform for creativity and personal expression. | Hair Damage: To achieve vibrant purple, you may need to bleach your hair first, which can cause significant hair damage. |
| Versatility: Purple can range from dark, rich shades to pastel, so you can choose what best suits your personality and style. | Potential Staining: Purple dye can potentially stain your clothing, pillowcases, and towels, especially when the hair is wet. |
| Complements all skin tones: From the lightest lavenders to the deepest violets, purple can be flattering for all skin tones. | Less Accepted in Certain Environments: In some professional settings or traditional cultures, unconventional hair colors may not be readily accepted. |
From Dark Lavender To Frozen Raspberry Ombre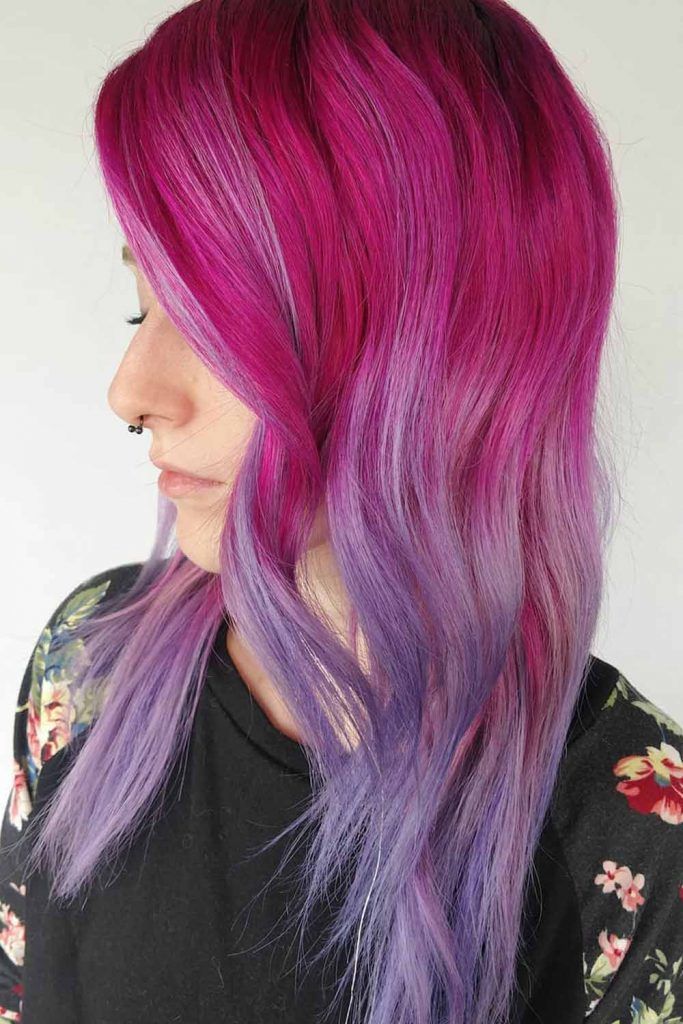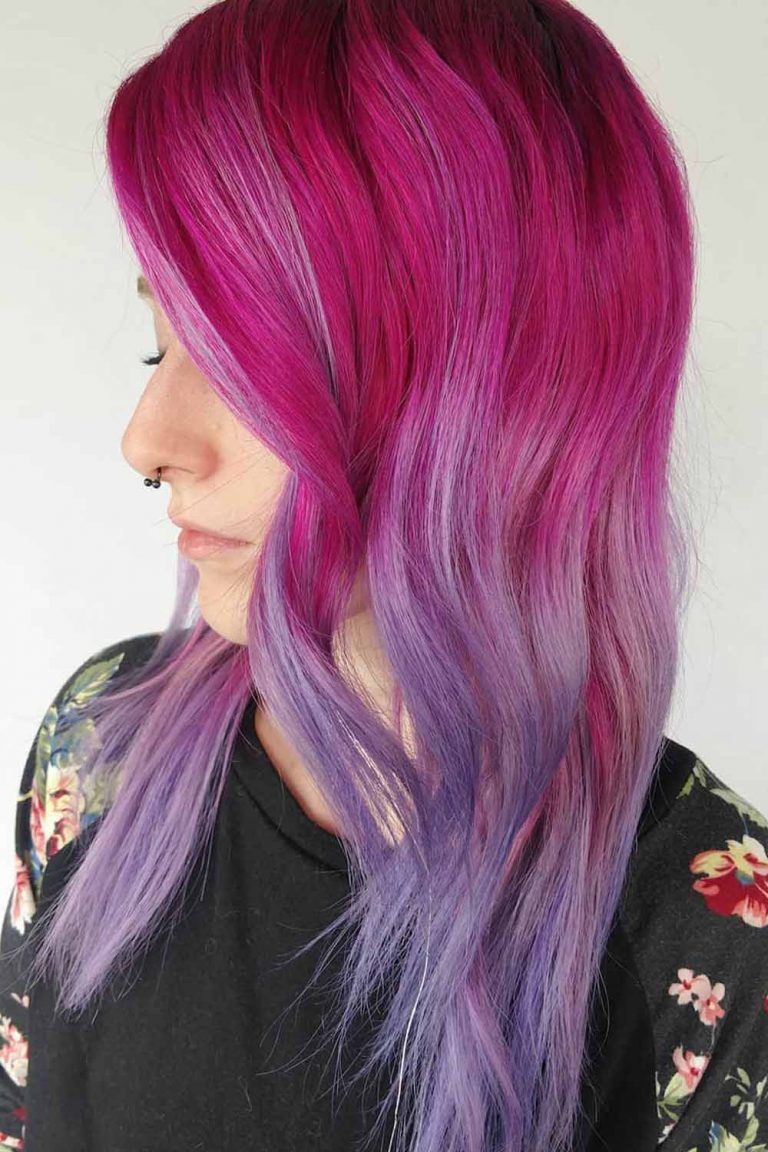 @hairgod_zito
The long layered bob hair cut is perfectly complementing this glamorous woman The purple hair along with it shows her vibrant personality. She is certainly someone who likes to change her look and knows how to work it! The Raspberry Ombre is giving her an exquisite trendy look that she can easily carry to any party as well as on any regular working day!
Royal Purple Hair Bob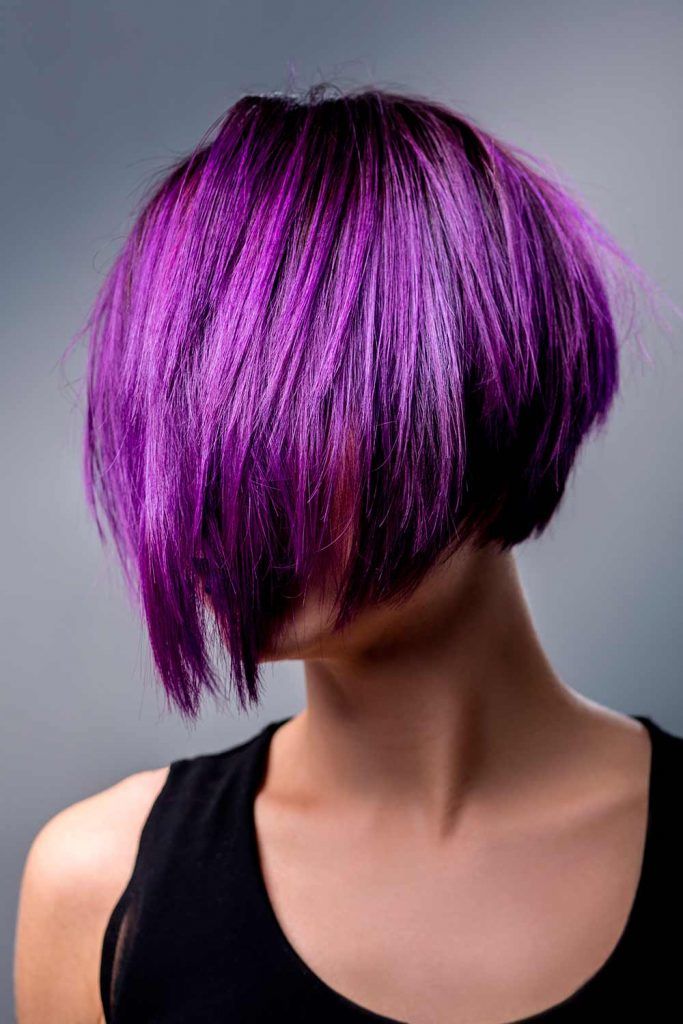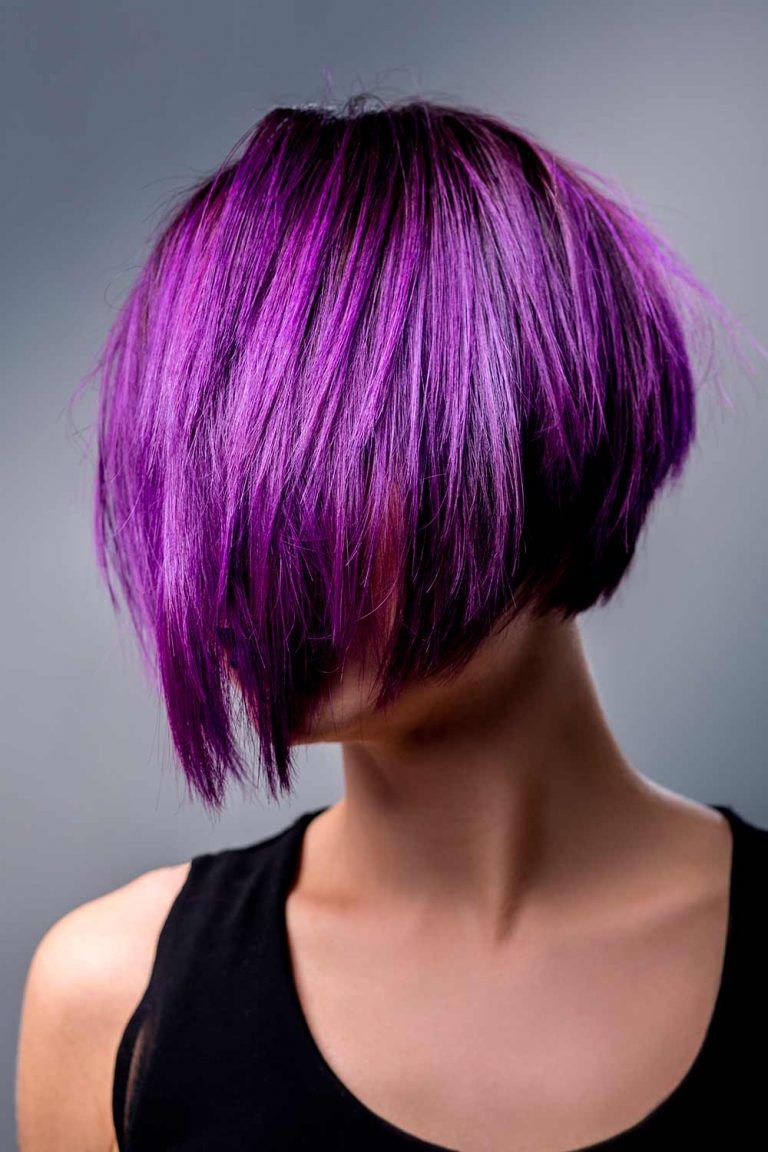 This bob hair queen is truly looking like royalty in royal purple hair! This dark purple bob would perfectly complement oblong faces. The trick is knowing how to get dark purple hair. If you are already wearing colors like brown or black, you just have to let those colors fade a little before you go for the royal purple. Its most drastic results will appear clearly on natural hair only. Hand it to your trusted stylist and let her turn you into a royal purple queen.
From Navy Roots To Valerie Ends Ombre Purple Hair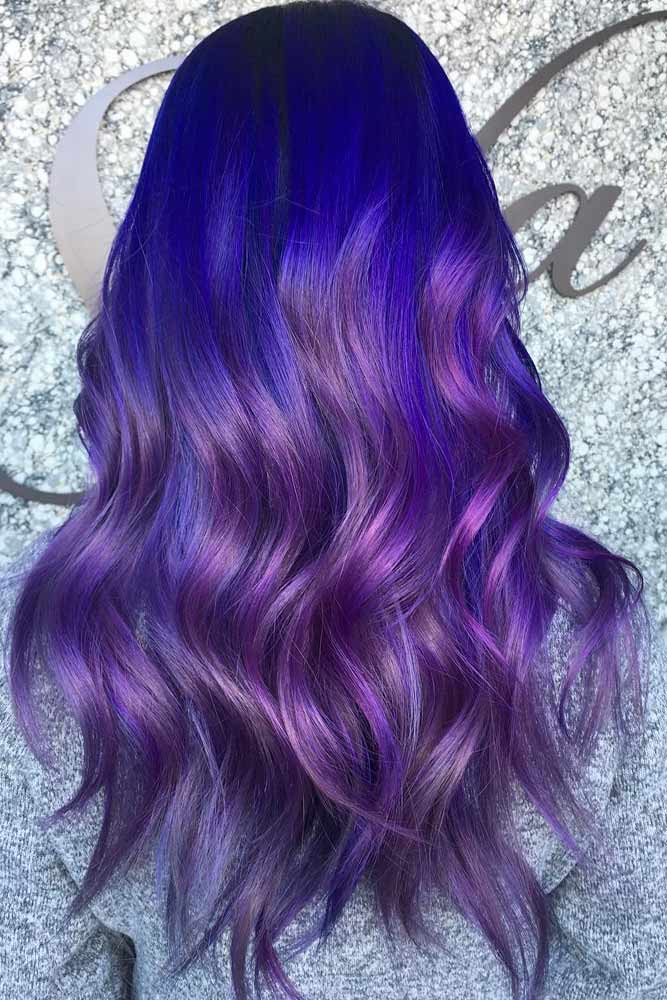 @beautybyyasuko
The beautiful long wavy hair seems like clouds in the velvety blue night shown off by the navy blue roots combined with purple hair tips. You can be the shining star of any nighttime event with this extraordinary combination. If you have an olive tone skin, this is the color for you! It will complement your creativity and outgoing nature beautifully.
Inverted Purple To Blue Ombre Hair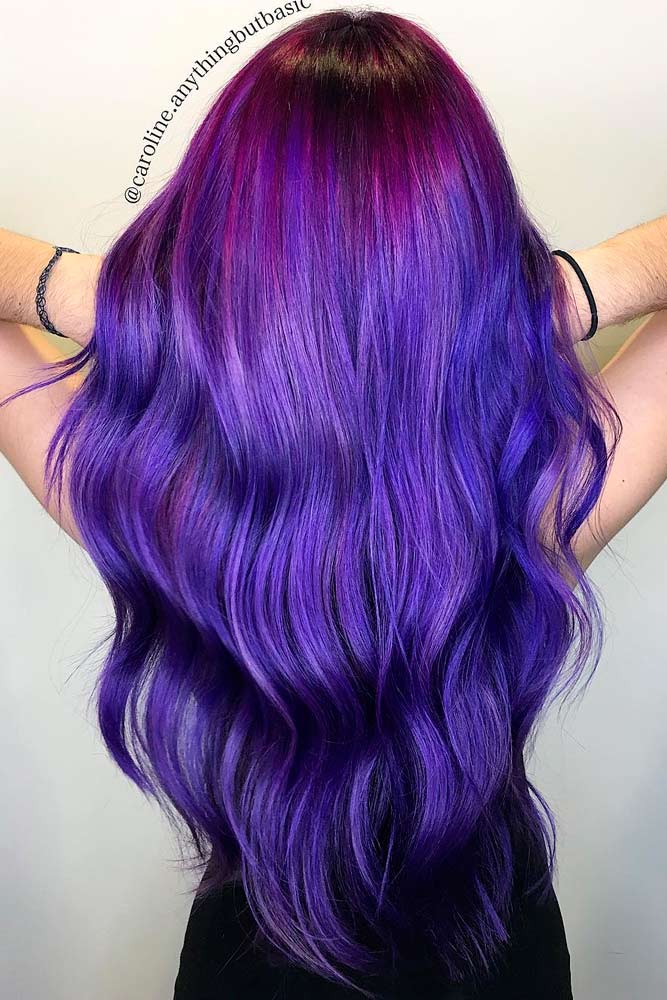 @caroline.anythingbutbasic
This long layered haircut can make you quite prominent as you show off your wavy purple hair! The transition from purple to blue ombre gives you the look of an animated character right out of your favorite comic book! It brings out the confidence in you and shows off your bold beauty!
Sweet Dream Tresses With Black Roots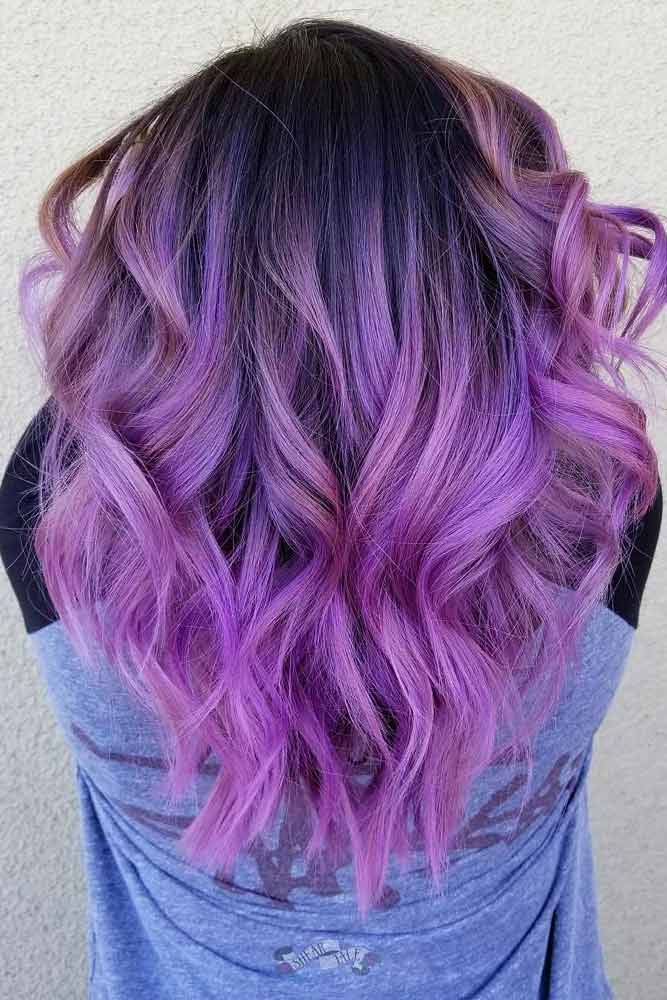 @sheartale
This is a fine choice if you have a darker skin tone. The ombre hair exhibits a fun and funky personality. Warm purple hair expresses your jovial mood and shows that you're someone who doesn't shy away from attention. You will love this look if you rarely get time to maintain your hair, but you still want to have fun with your hairstyle.
Teen Spirit Balayage On An Angled Bob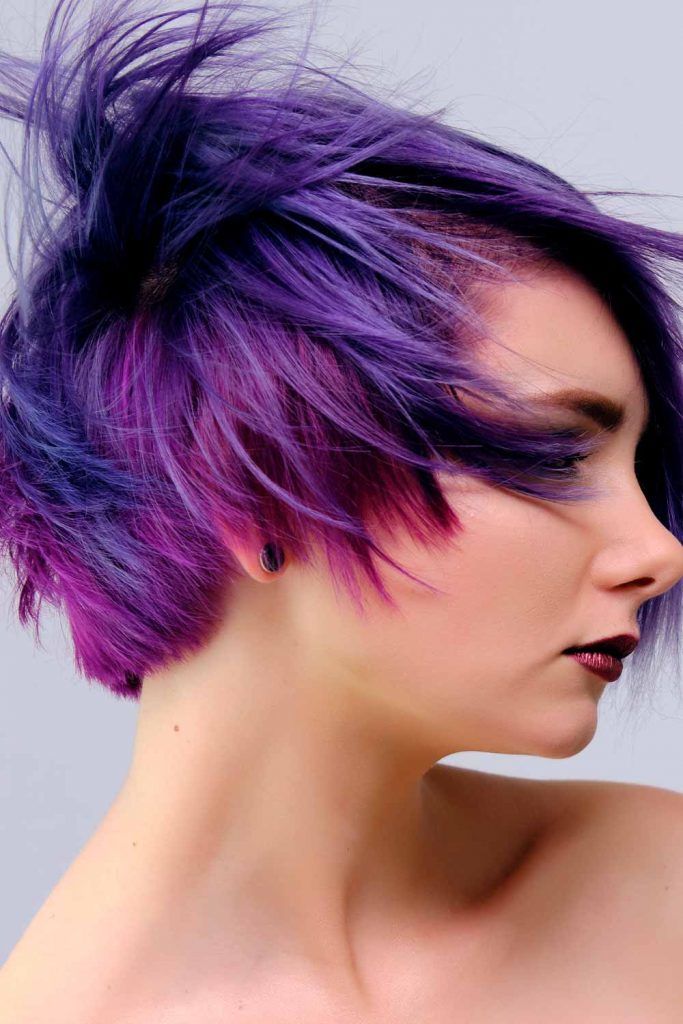 Need to look 10 years younger? Look no further! The inverted bob takes years off of your face and gives you the perfect bob that you have longed for your whole life. The purple hair highlights are just the cherry on top to give you an even more youthful appearance. You can carry this style quite gracefully anywhere you go.
Gravel Bob With Fuchsia Locks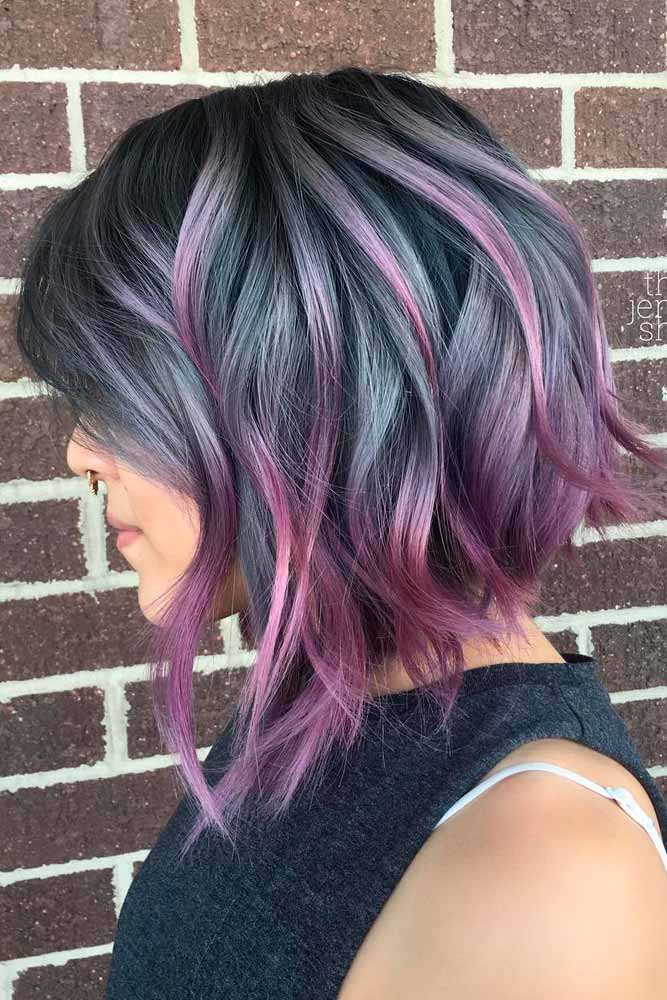 @thejennshin
Don't want it too short? Here's the wavy medium bob to suit all your needs! If you need purple hair without bleaching, this is your perfect hairstyle! The highlights alone will make your waves stand out. If you are looking for a cut and color that would give your face a slimmer appearance, then this is perfect for you.
Deep Purple Highlights In Black Hair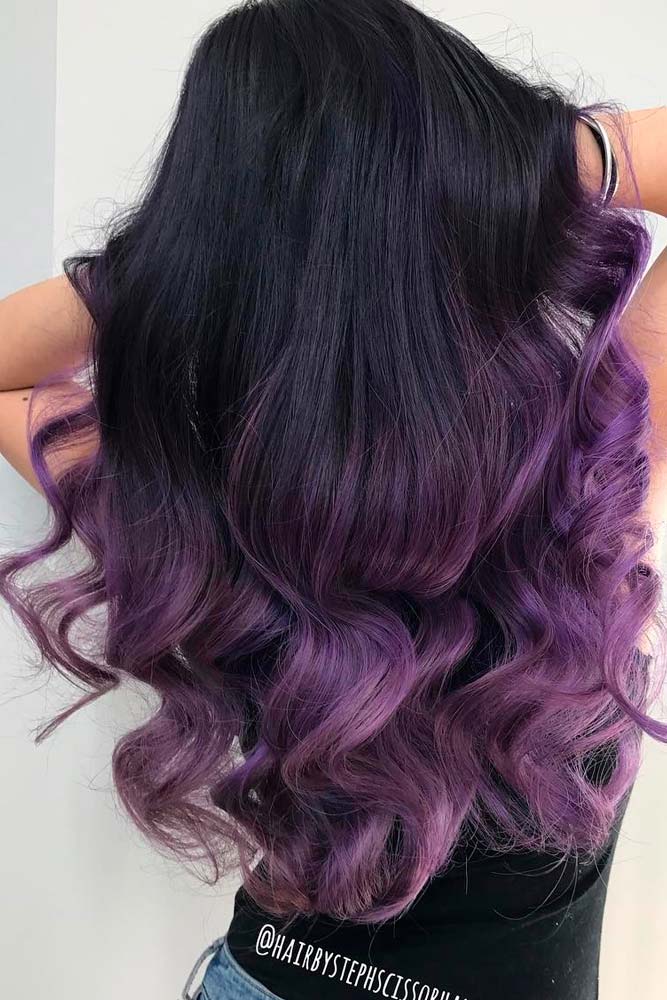 @hairbystephscissorhands
Now here's a combination you do not want to miss if you have naturally black hair! Purple highlights in black hair are the most attractive upgrade you could give your hair! These long gorgeous locks stand out beautifully with the touch of purple. Purple hair on medium skin is definitely recommended if you want to experiment with your hair. With this color, you will have all eyes on you and for all the right reasons!
Ancient Blue Colored Braid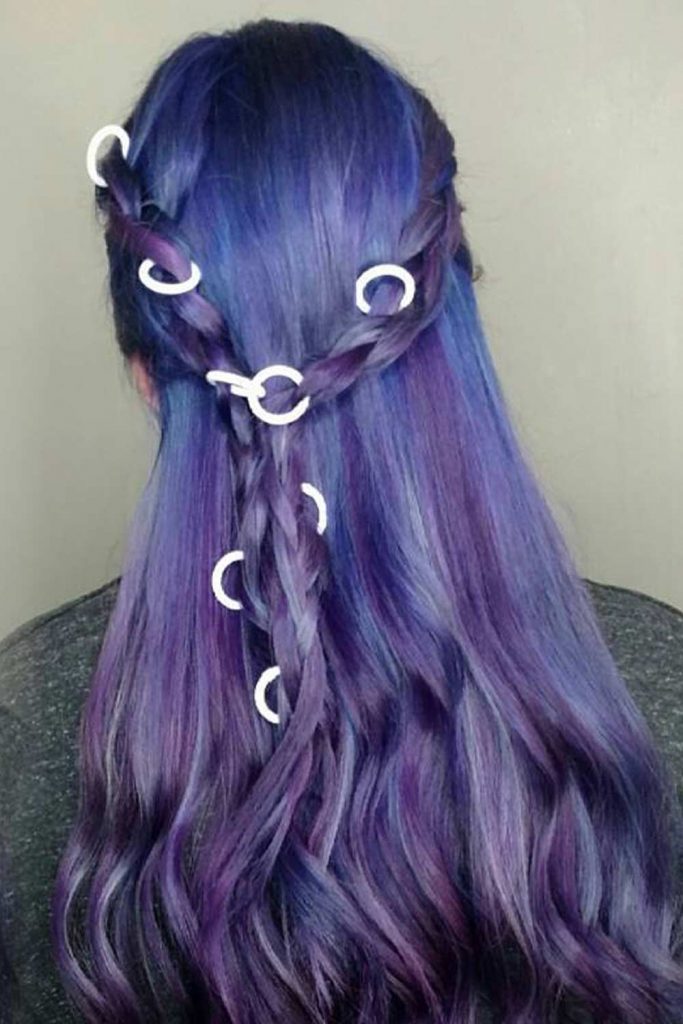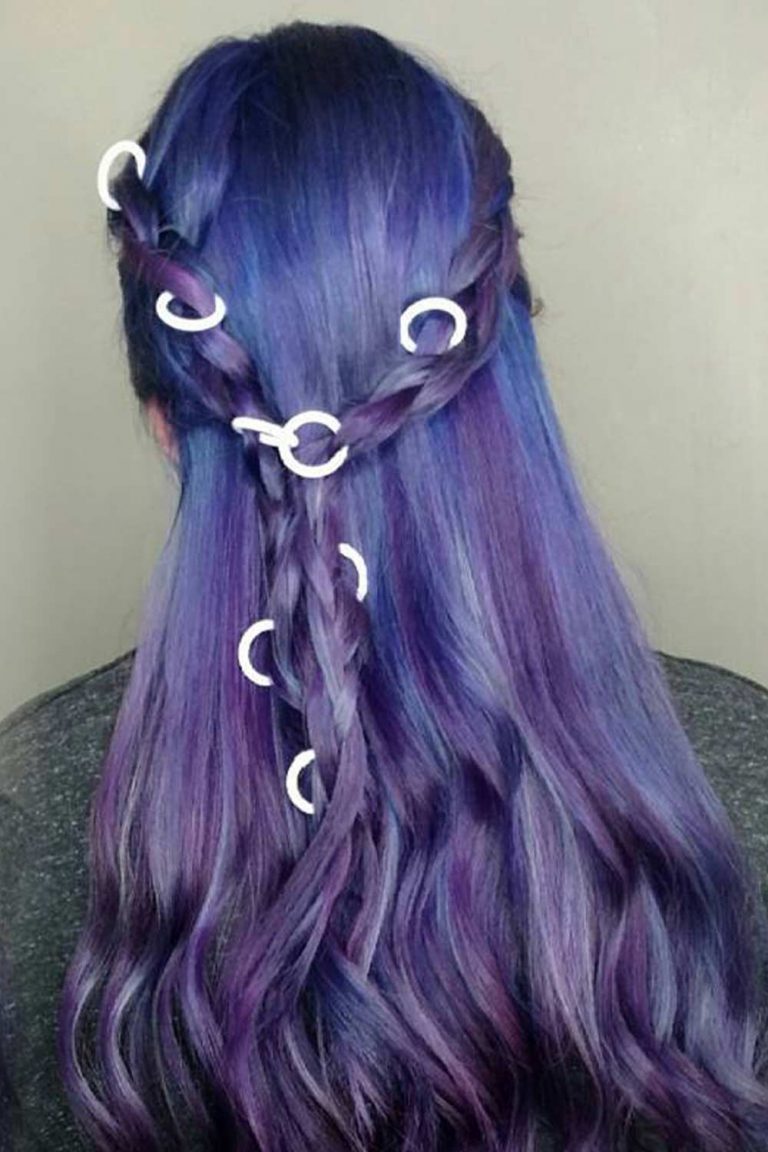 @adlydesign
This is such a romantic look! The braids show your delicate and lovely personality! The blue-purple touch gives your hair an almost fairy tale like glimmer. You are guaranteed some major princess-y feels in this hairstyle. This is a fine way to impress your date if you have been going out for a long time and you know he will love the novelty of this style!
Blue Velvet And Purple Hair Wavy Bob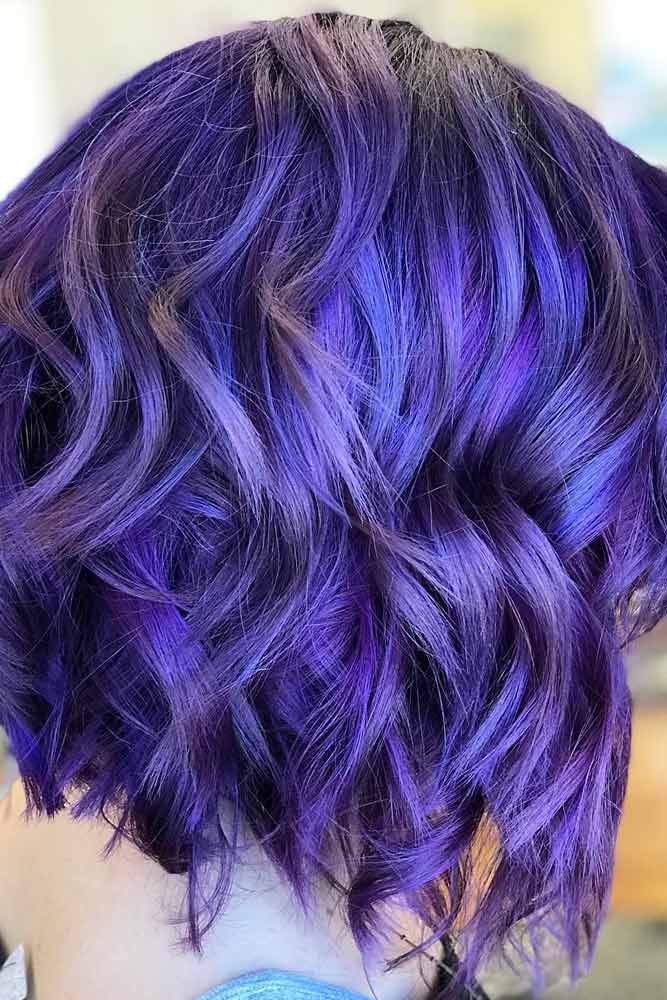 @mandaharsche
Want to give your short to medium hair style a makeover? Things become a lot more interesting when your curly hair is dyed with purple highlights! This gives it a bouncy look that complements lighter skin tones. What we love about this look is the ease as well as the glam look it seems to radiate all together!
Dark Magenta To Gray Ombre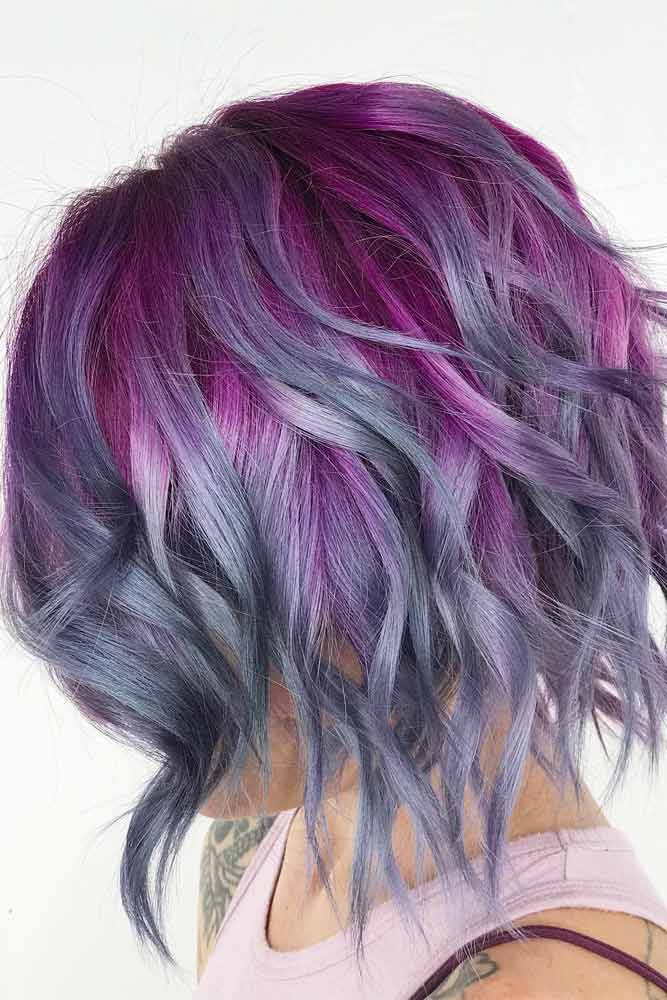 @isaac4mayor
A unique three-way combination of magenta hair, gray hair and purple ombre! This is truly a remarkable combination giving you the spotlight that you so deserve! This is a fashion statement that is good for people who want their hair to reflect their colorful personalities. The unique color combination alone states a fact that you are not afraid to step out of your comfort zone!
Blue And Purple Hair Mermaid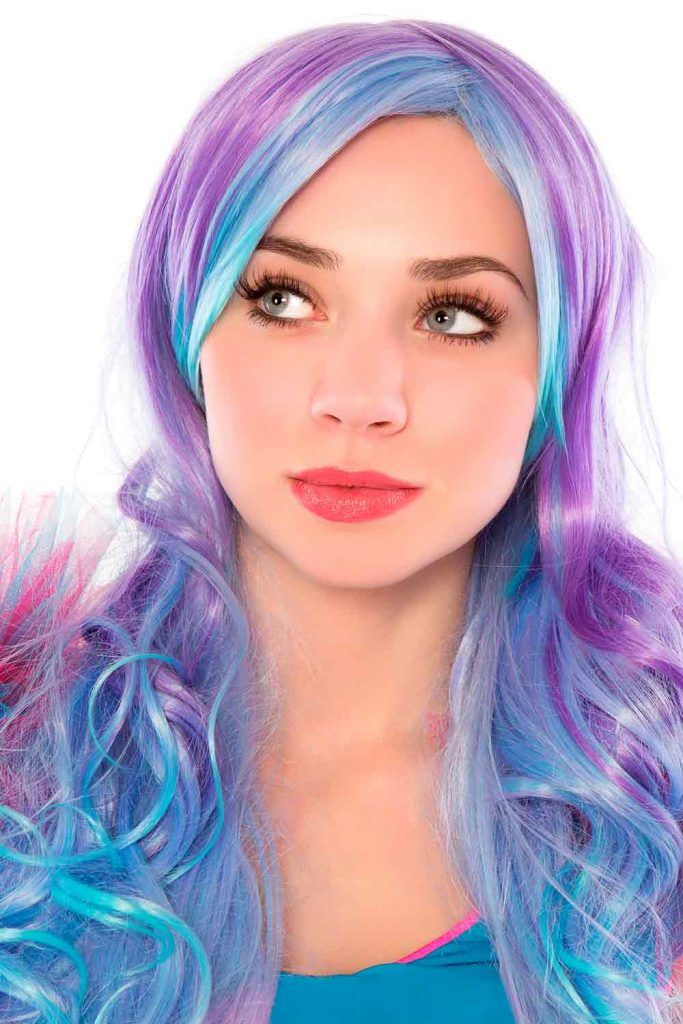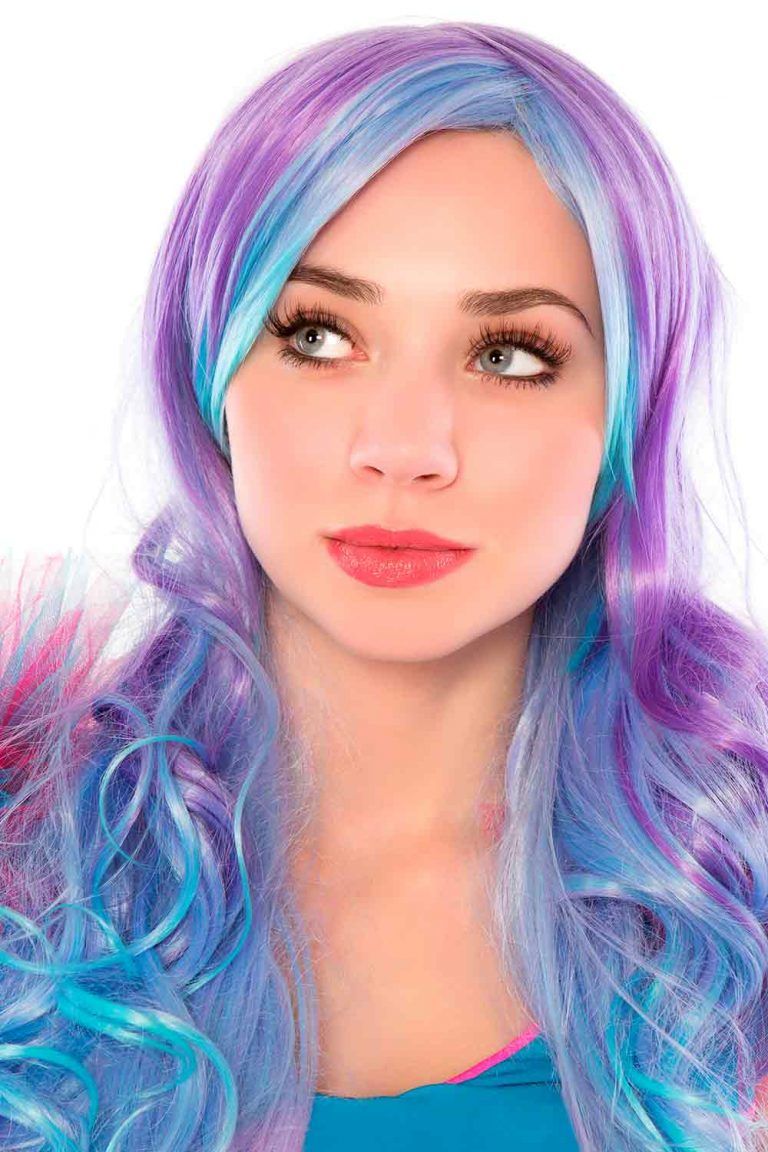 Ever dreamt of being deep under the sea like the little mermaid? Well, this is your day! The mermaid hair can make your dream come true by using the light purple ombre hair as a fantastic tool! Experience the mermaid life on the solid ground. It gives a melt-down look while purple mixes in with blue.
Purple To Light Gray Ombre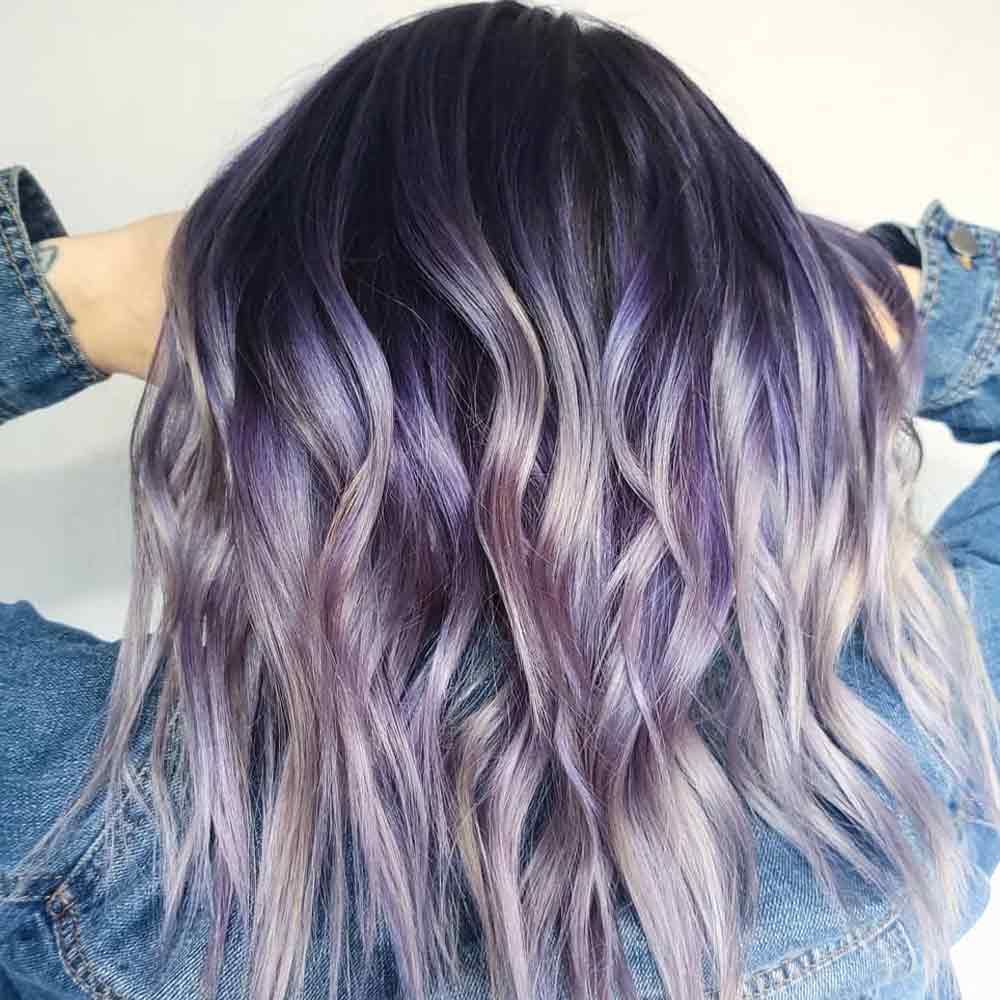 @adlydesign
If you are looking for the perfect spring look, this is it! Pastel purple ombre hair can give you exactly that as it makes your hair edgy and fun! There is the harmony of lilacs and violets within the pastel making it so peculiar. Any skin tone is perfect for this, it just needs a bit of confidence and valor from the person who is wearing it.
Amethyst Blue Hair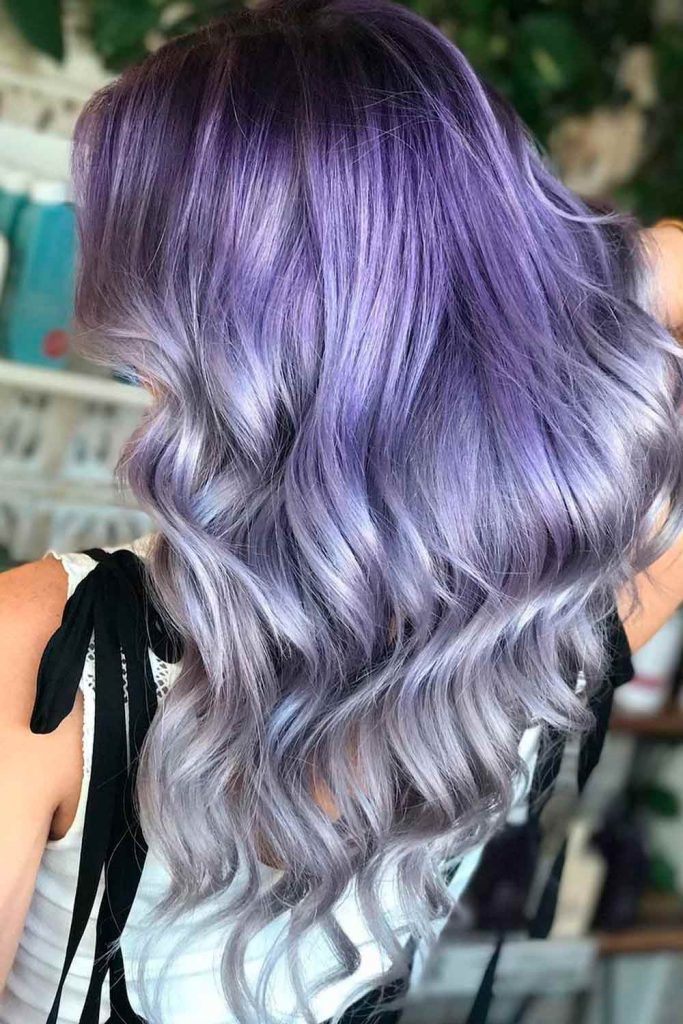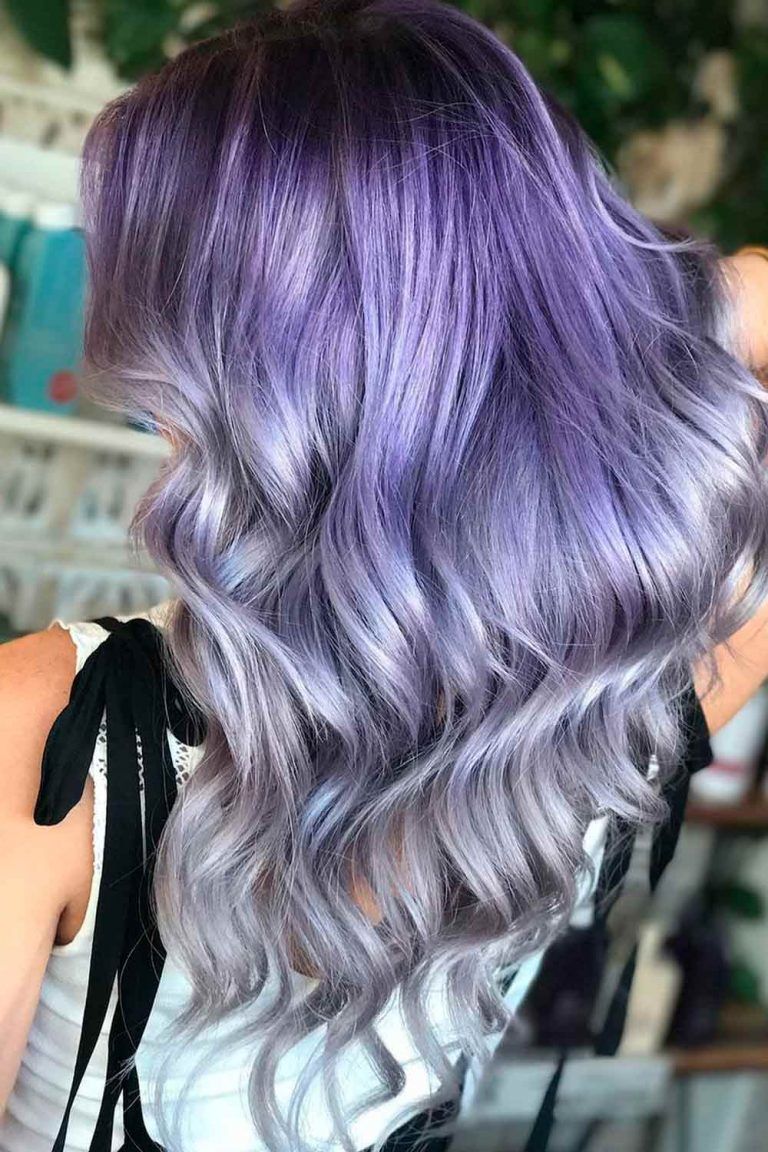 @hairbykristinamarie
Short is the new trend! And this beautiful lady can carry it perfectly! Most blue hairstyles for short hair go with navy blue or royal blue, but the shiny light purple here looks quite graceful! This is your go-to color if you are looking for good combos of purple hair on dark skin.
Black Blue To Viola Ombre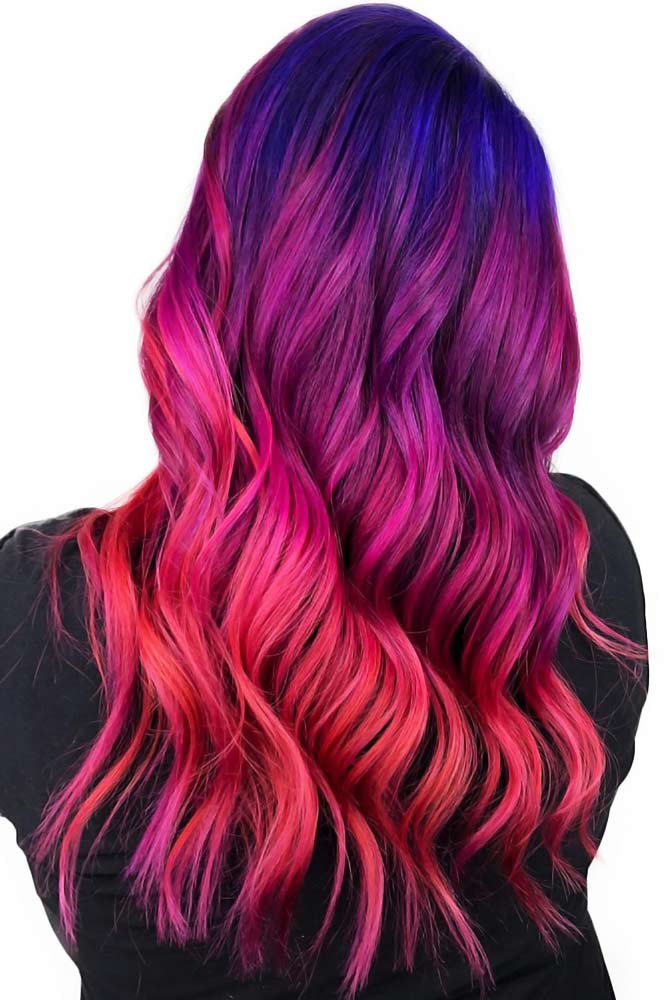 @kayla_thehairwizard
You can be the modern day Rapunzel with long weave hair that bounces beautifully on your shoulders giving you the beauty of a Goddess! The combination of blue ombre bob weave is a simple addition to the magnificence of your beauty. It is a high maintenance look for which you will be required to visit the salon every four to six weeks but it's all quite worth it!
Electric Blue Hair With Plum Spots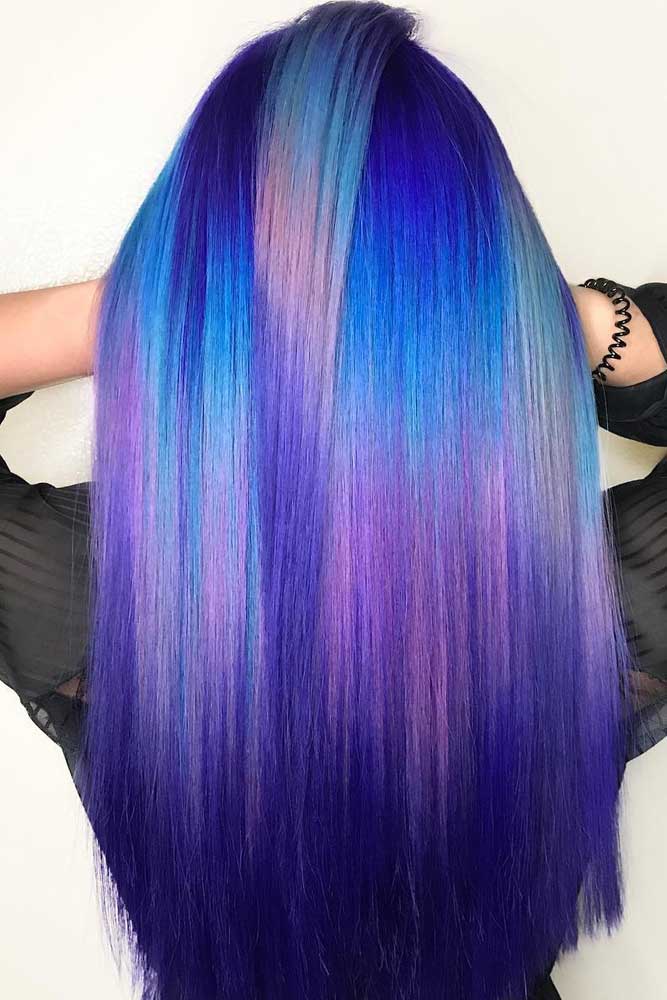 @presleypoe
A beautiful combination for your long straight hair! The purple highlights in brown hair with various shades of purple make it quite extraordinary. This hair has a vivid look. It is quite unforgettable. You will be remembered for your long purple hair for a long time anywhere you go!
Mystic Sky Blue To Purple Hair Colors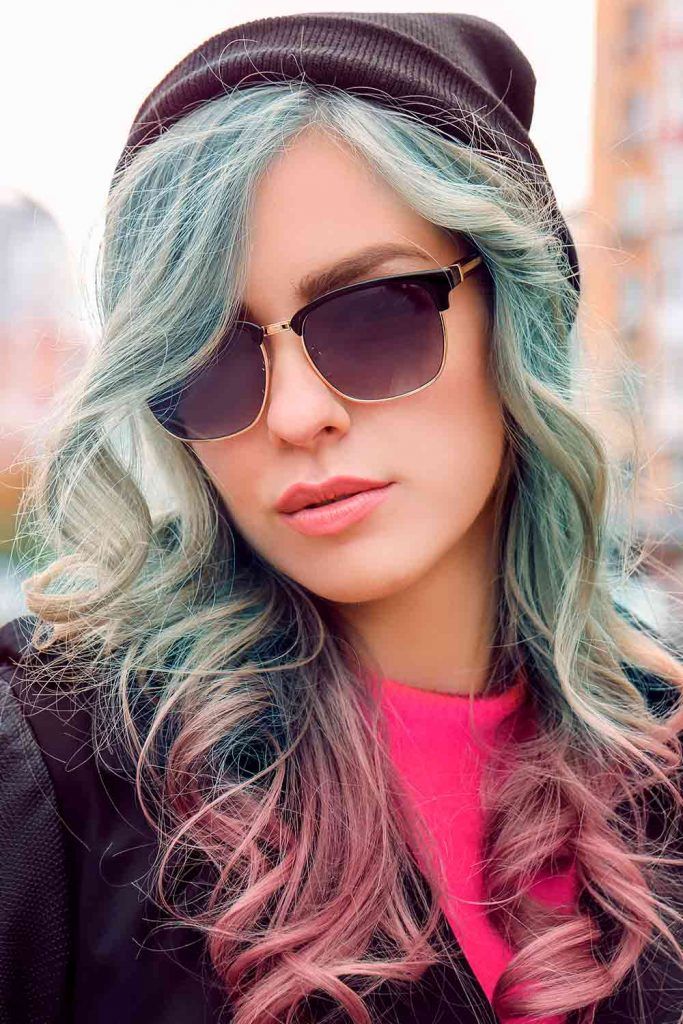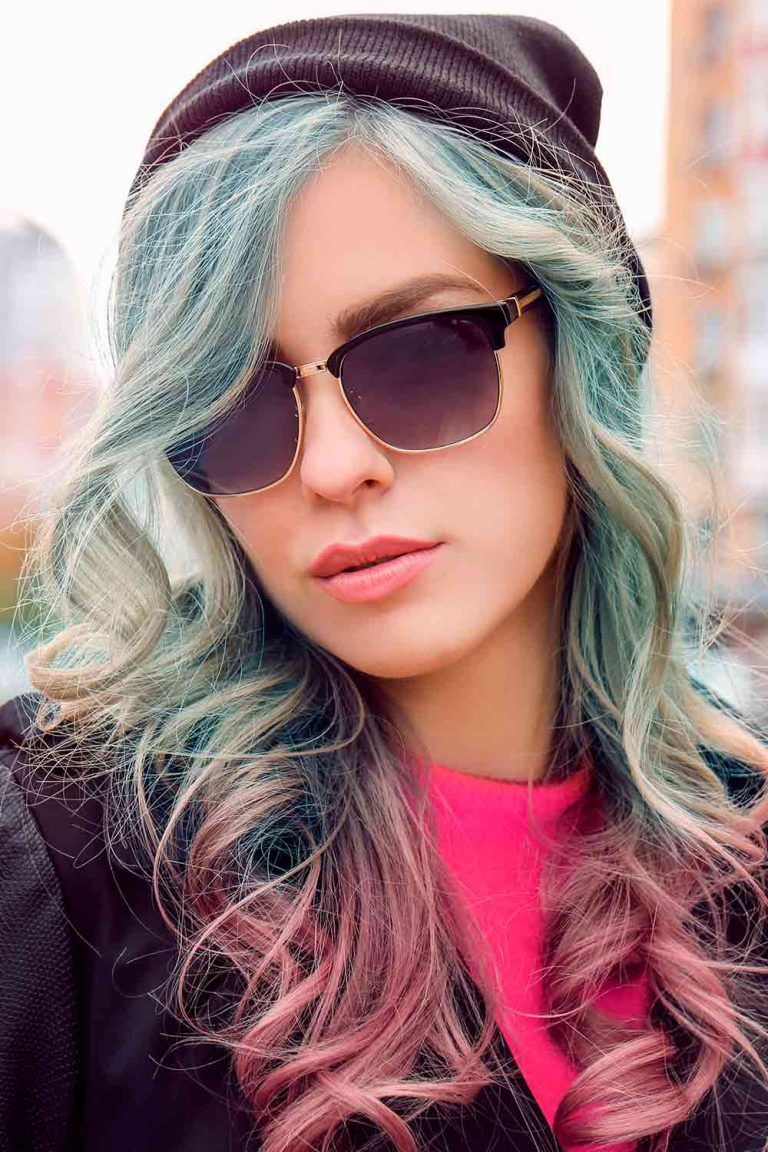 Cute Purple Hair Looks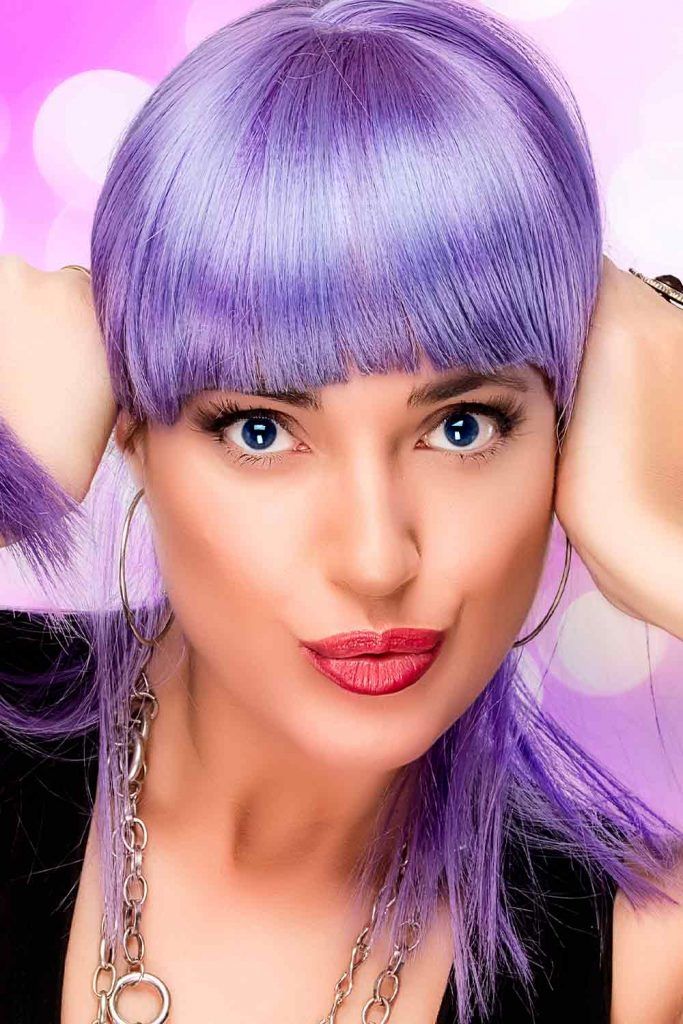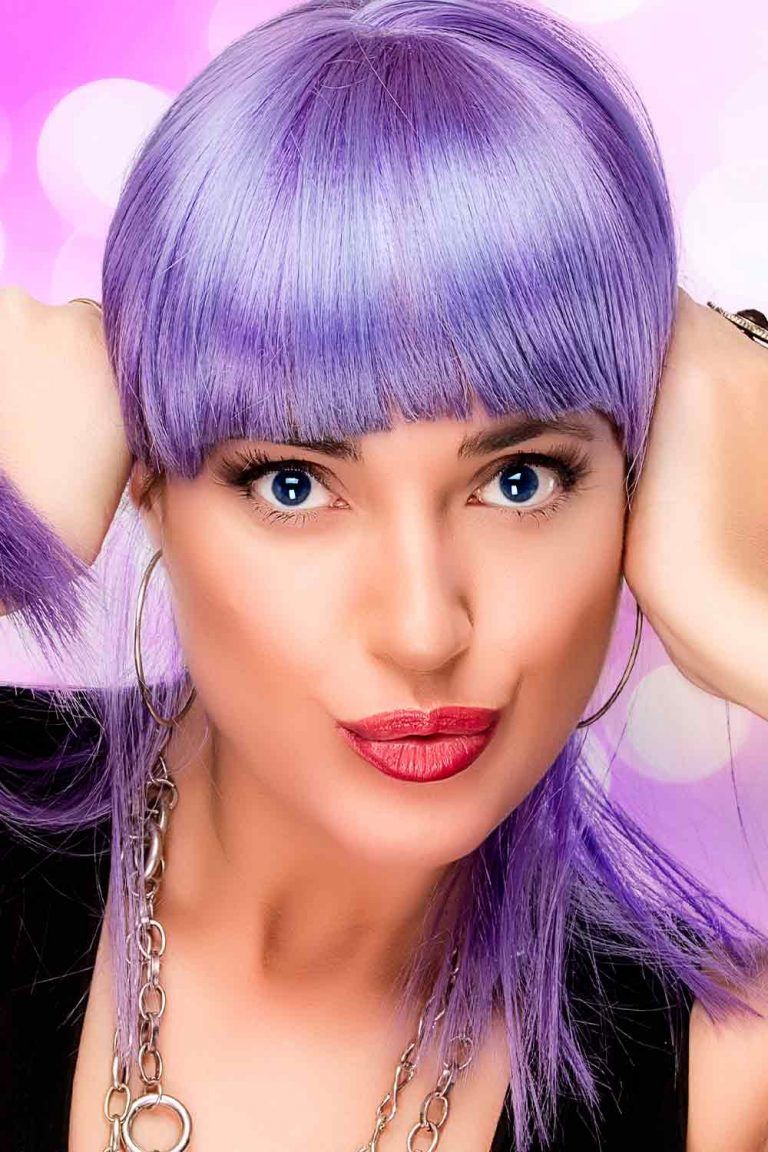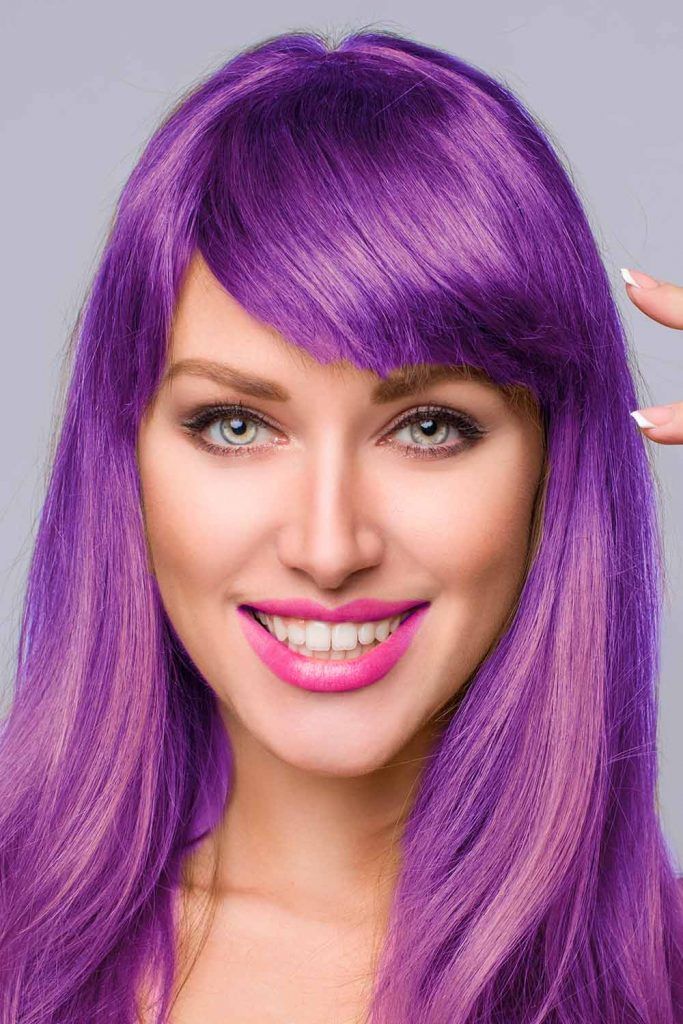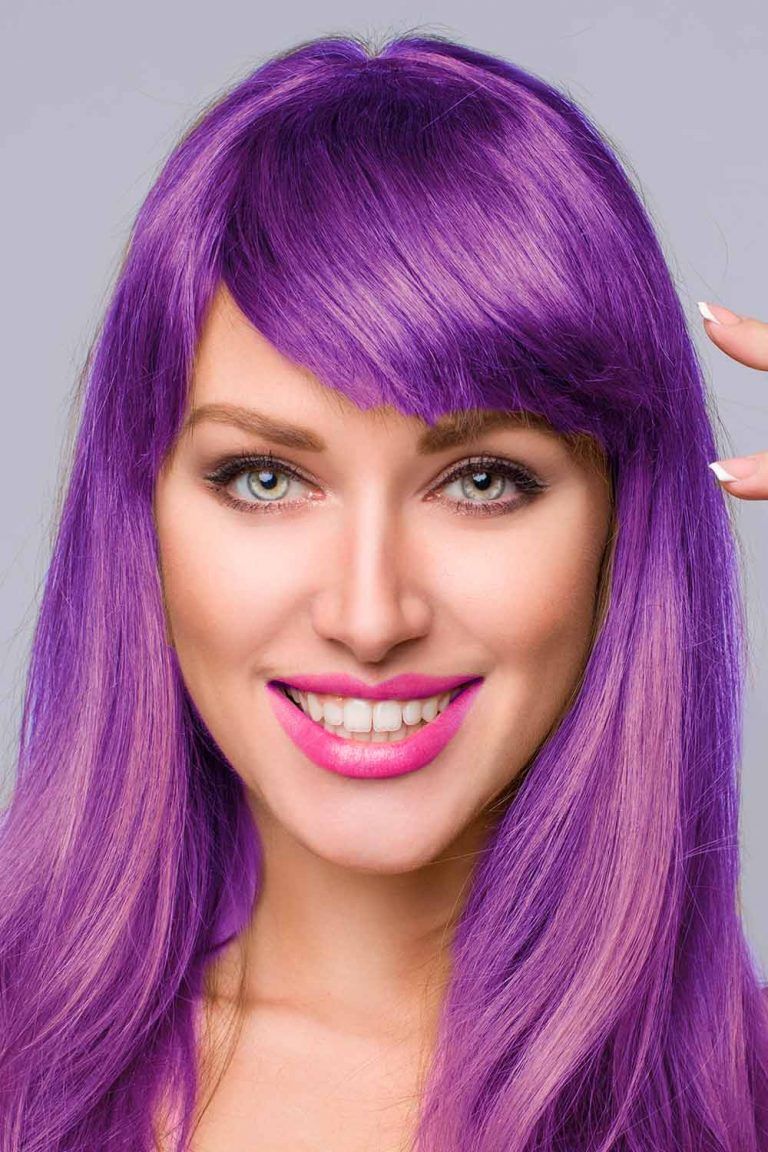 Blow out hair is just astounding with its bouncy and voluminous style. Most blue hairstyles for medium hair are based on dark blue shades, but this one is simply mesmerizing with the multi-color approach with blue being the base. People with light and pleasant personalities are drawn to this sky blue touch automatically.
Three Shades Of Purple: Black Purple, Lavender, And Light Lilac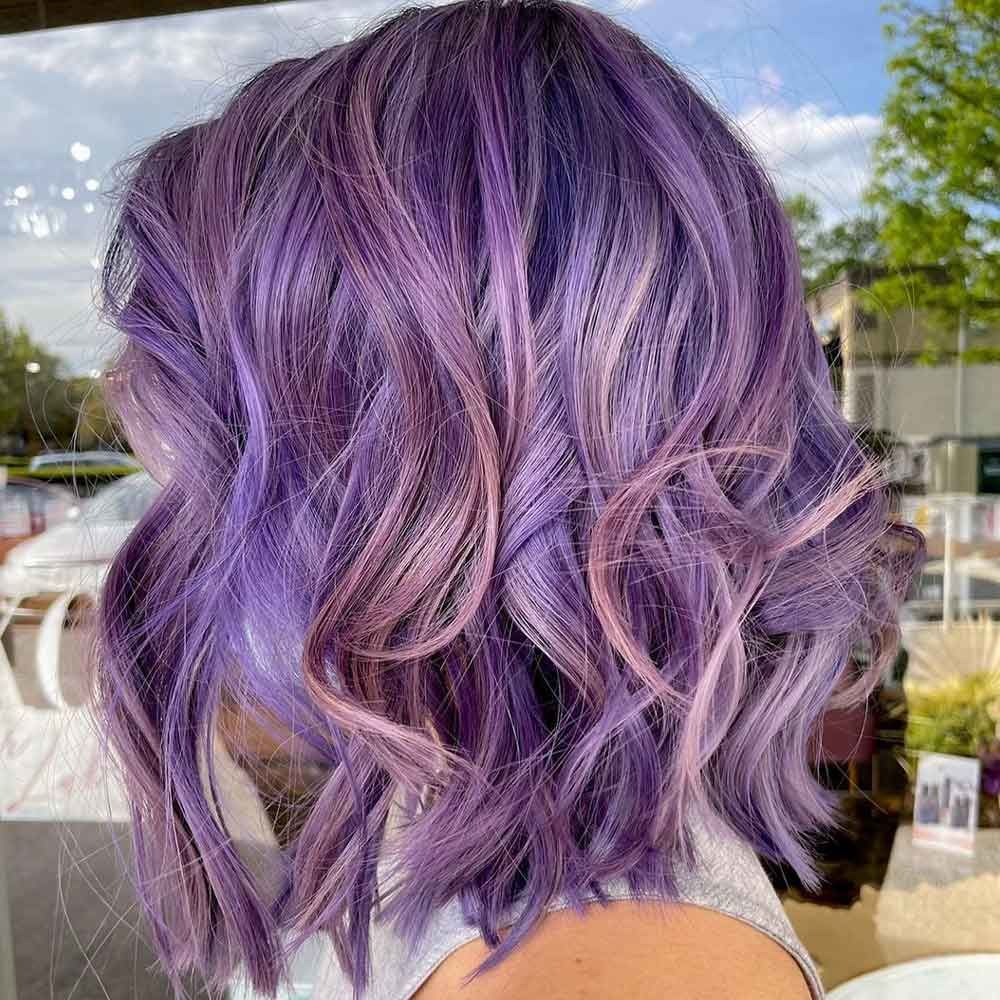 @xostylistxo
Who doesn't want long hair? And in addition, its transition from black to purple ombre will make you go crazy! You can also have that if you have natural black hair with a touch of purple highlights! It is a combination of smoky velvet with dusty lilac, a peculiar fashion statement. It goes with all types of complexions, but it is a dare to take! You won't see many people with it!
Two-Toned Hair In Pastel Colors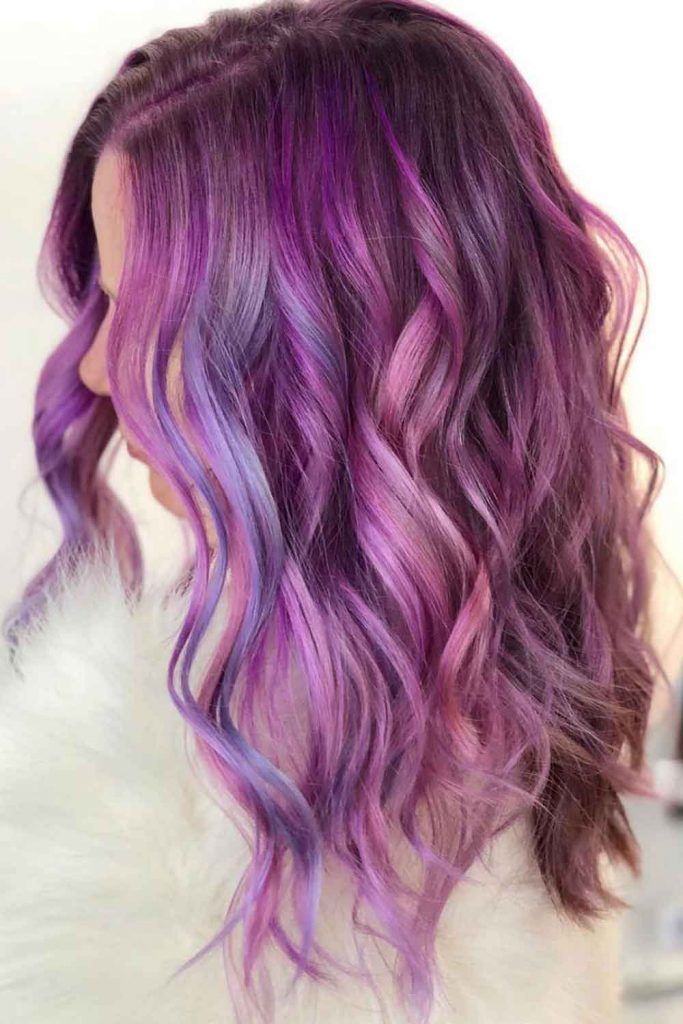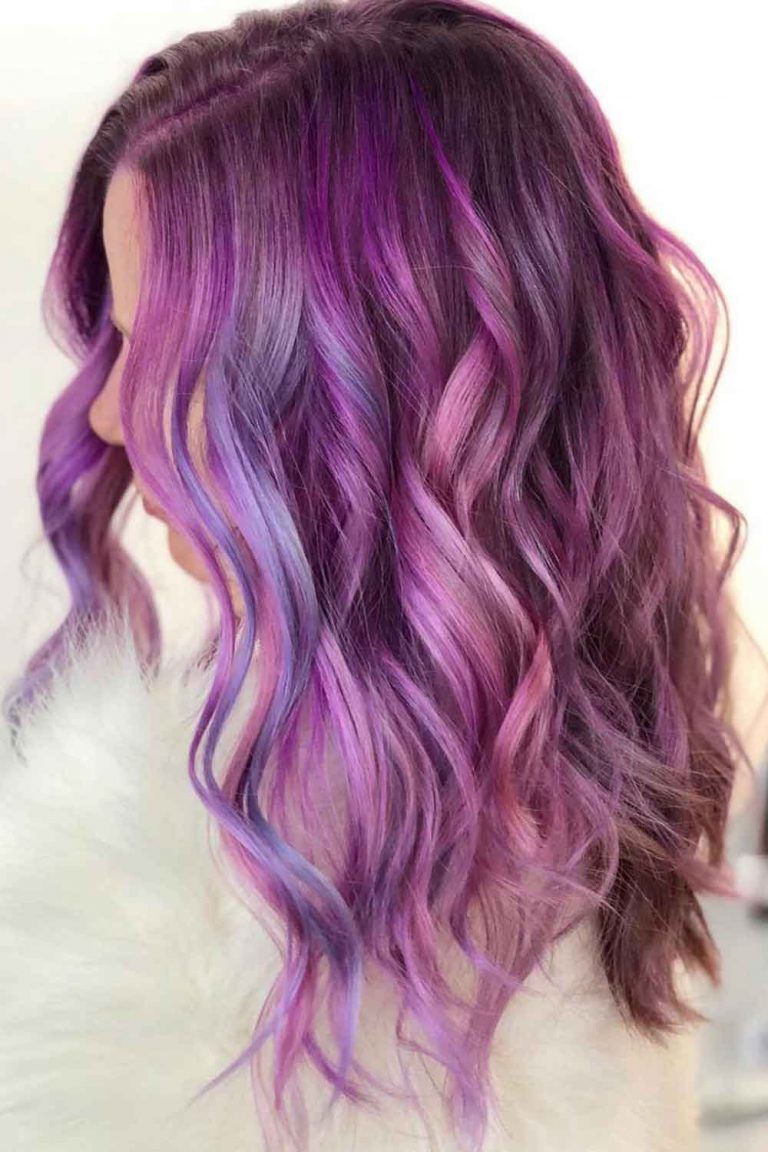 @xostylistxo
Light violet hair is for people who enjoy changing their hair every few days wanting to try new looks every now and then! You can achieve this if you have medium hair with blue highlights. Just add some violet to the mix, and you will enjoy being the center of attention for a long time! Yet, to ensure that your experiments do not damage your locks, you want to use only the best purple hair dye.
Shock Blue And Purple Colored Long Wavy Hair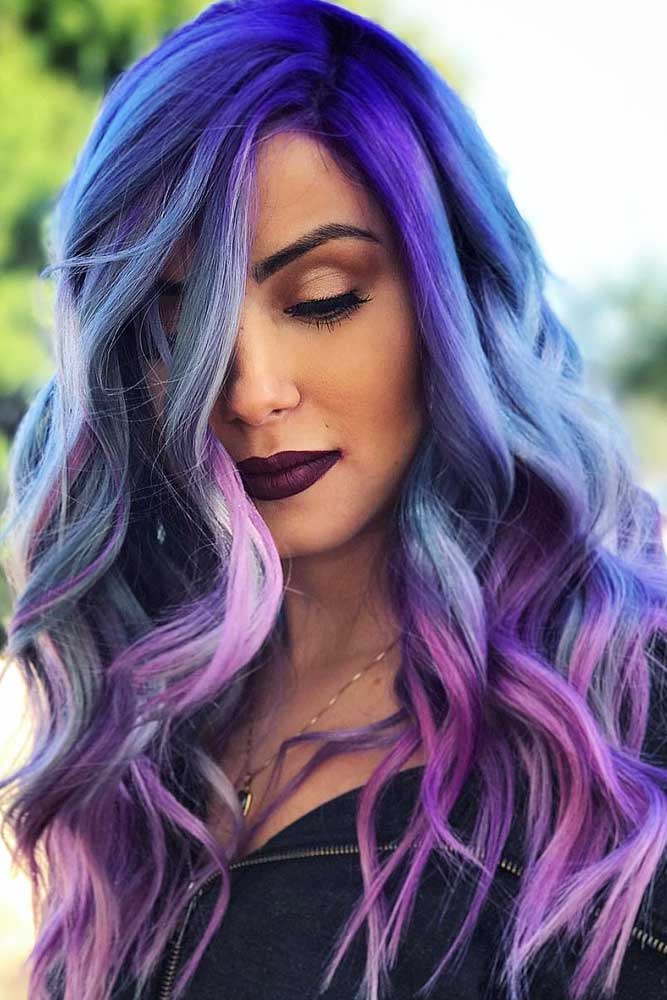 @hairgod_zito
Your long blunt hair always needs_ trendy new styles so you can carry it easily. Long hair can stay beautiful for a long time if you keep it well tended. Purple highlights on long hair are very popular, especially shocking purple which keeps it in the hottest and the sharpest trends! Your beautiful boldness will shine out through this hair style!
Pink, Flame Blue And Baby Blue Colors For A Wonderful Look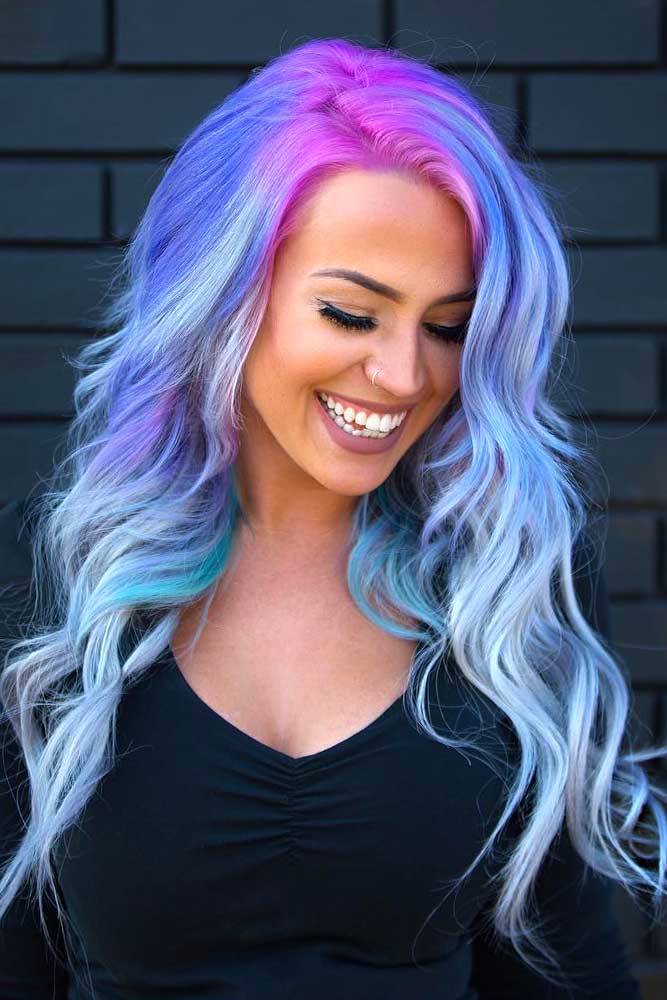 @hairgod_zito
Long blue ombre hair is exactly what you need if you want some exciting change in your looks! It begins from the roots to ends with a combination of flashing purple to blue ombre. It is like the spark of fire shooting from the roots and calming down into light blue, cool flames as it descends to the ends!
Dark Magenta And Plum Ombre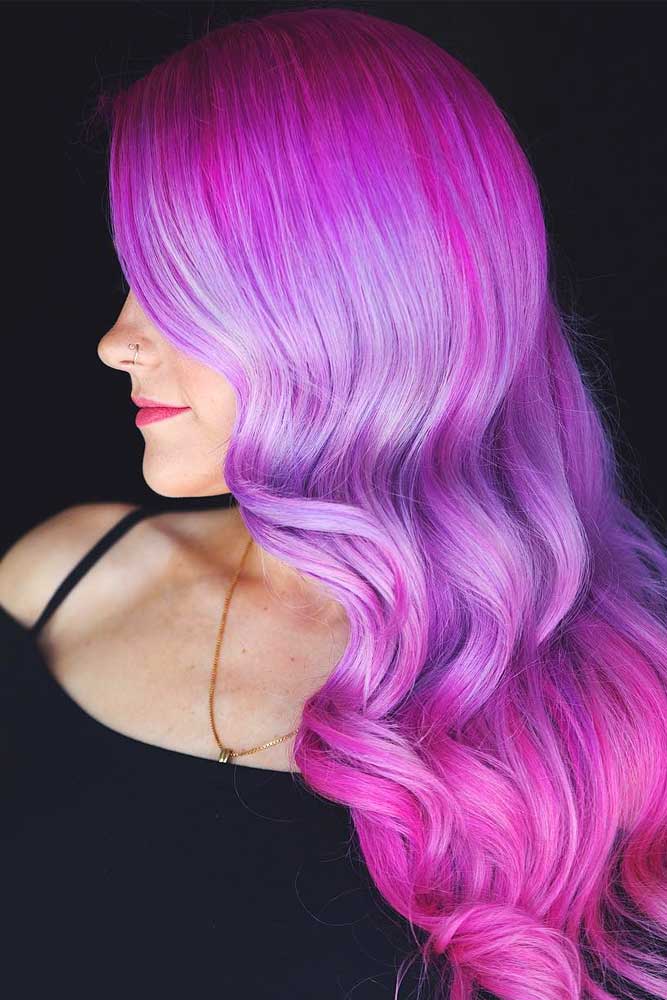 @hairgod_zito
Blond is a beautiful color! Purple highlights in blond hair just make it ten times prettier! It is an almost unreal look. If you have sharp, snow whitish features, this is your color! Purple ombre long hair will keep you at the center of every event well spotted! In addition, you can work it quite decently in the casual office days too! No end to the fun for people who dare to take this one!
Purple With Grey Layers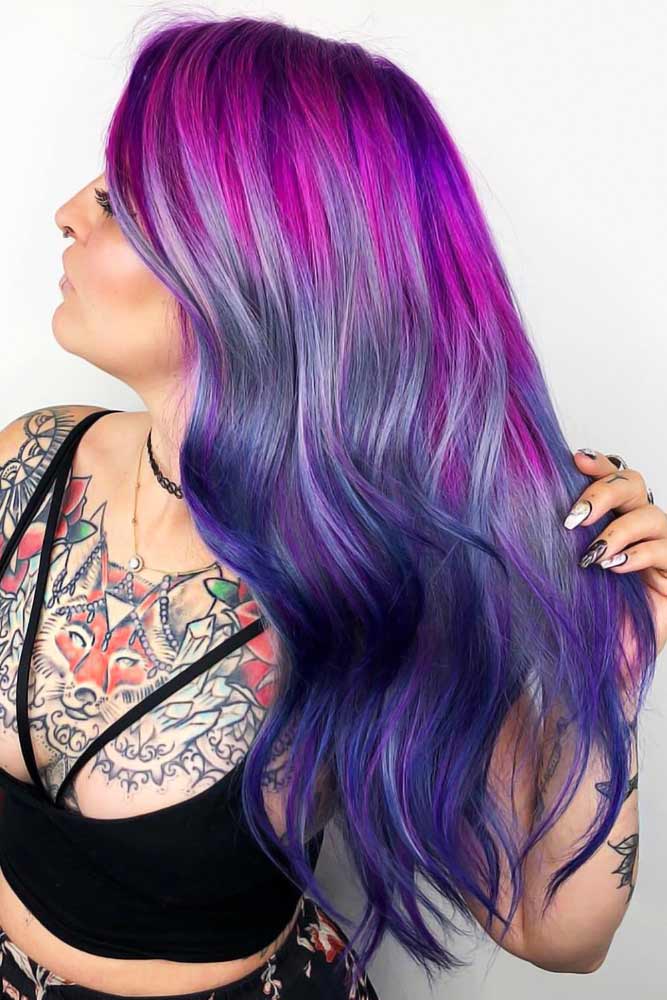 @kayla_thehairwizard
Some people call it magic, and we know how to make it true. There's one thing you should always remember: if you want your hair to make heads turn, you should take care not only of your color. Your haircut plays a crucial role in how the colors will show up! Layers are the most powerful weapons to hit people with the beauty of your bright purple hair. The added grey hue in this ombre, for example, stands out not only for its contrast: layers are what make them so sharp and distinctive. By the way, it looks amazing when the roots and the tips are of the same color.
Purple With Yellow Streaks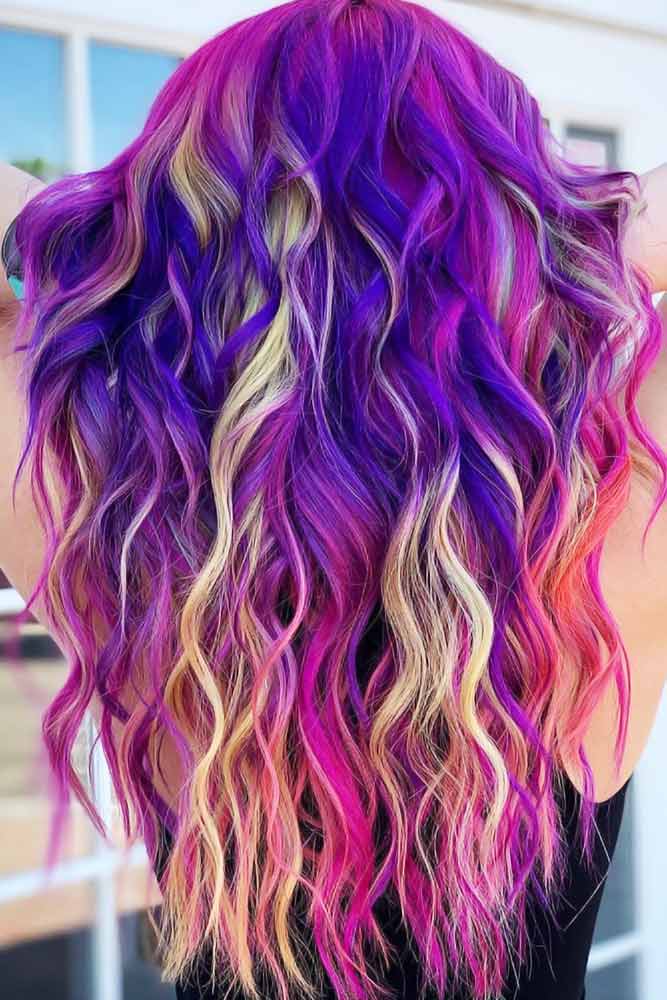 @hair_princess_steph
Nothing adds more fun to the palette of deep and profound shades than a streak of something unbearably bright! Here, these yellow accents drastically change the character of the ensemble, making it even more alive and dynamic. If you don't want the new shade to be too saturated, you can try its pastel version. In this way, the effect will still be striking, yet more balanced.
Grey To Lavender Purple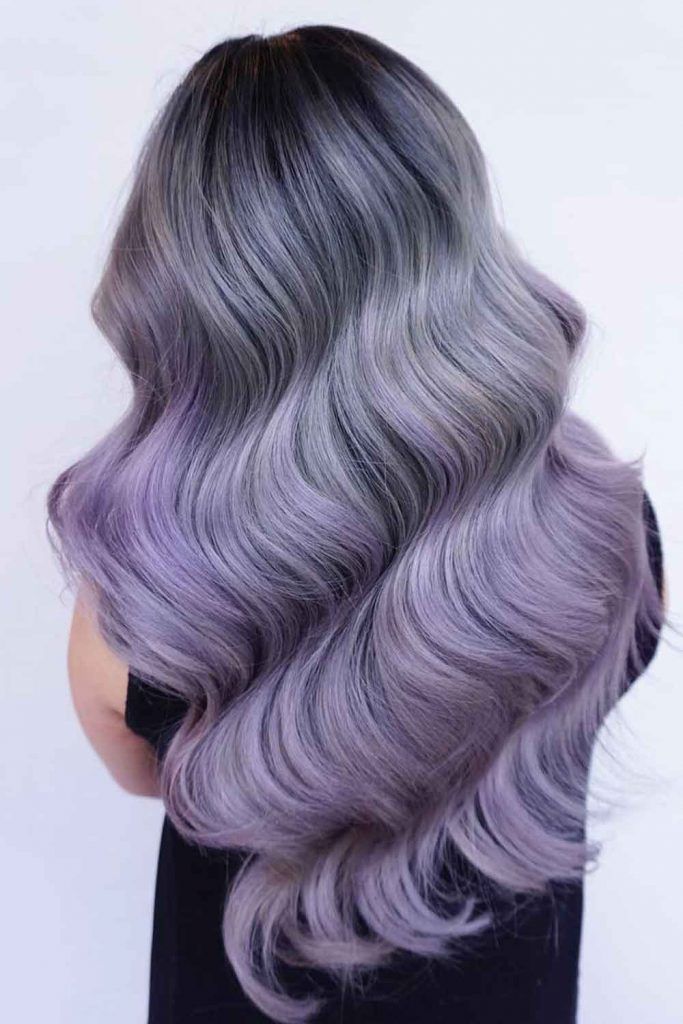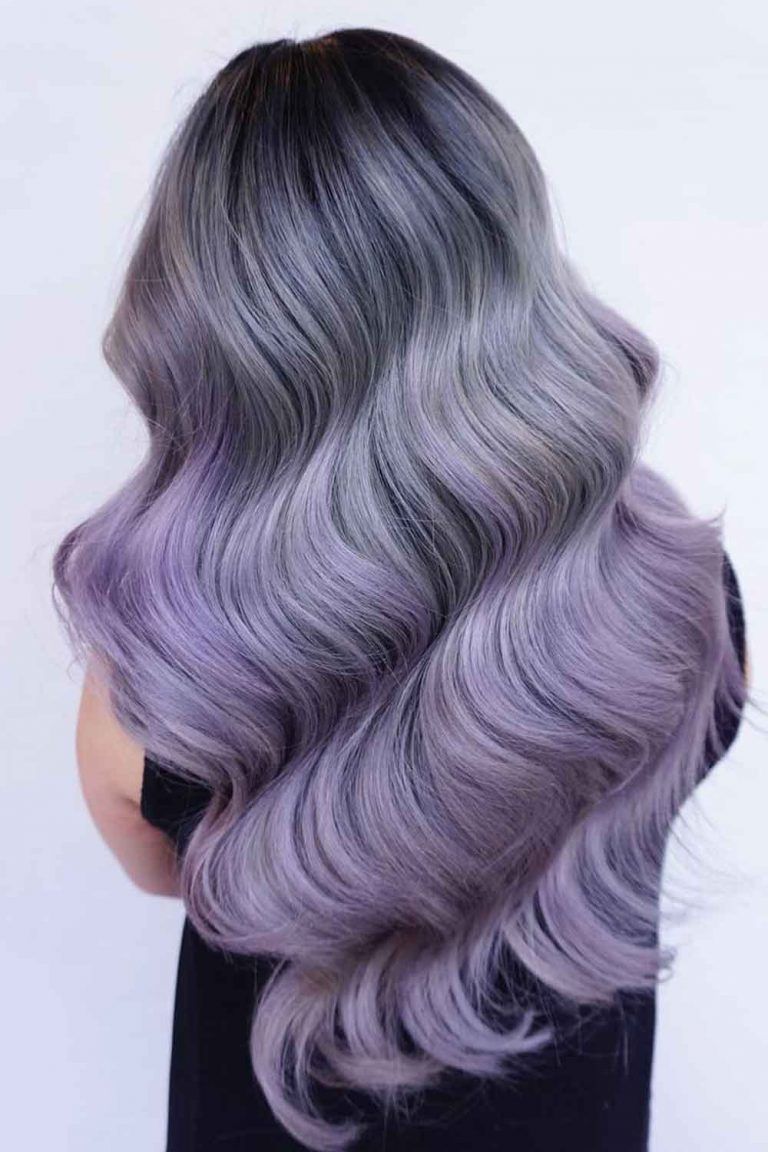 @hairgod_zito
It's turned out that some trends just belong together. The grey hair trend that has literally changed the vector of the fashion world shows its new side when paired with purple hues. Smooth transition and well-balanced blend will help you reach harmony in your look. Besides, you will rock two trends at the same time, isn't that a dream come true?
Cute Purple Hair Looks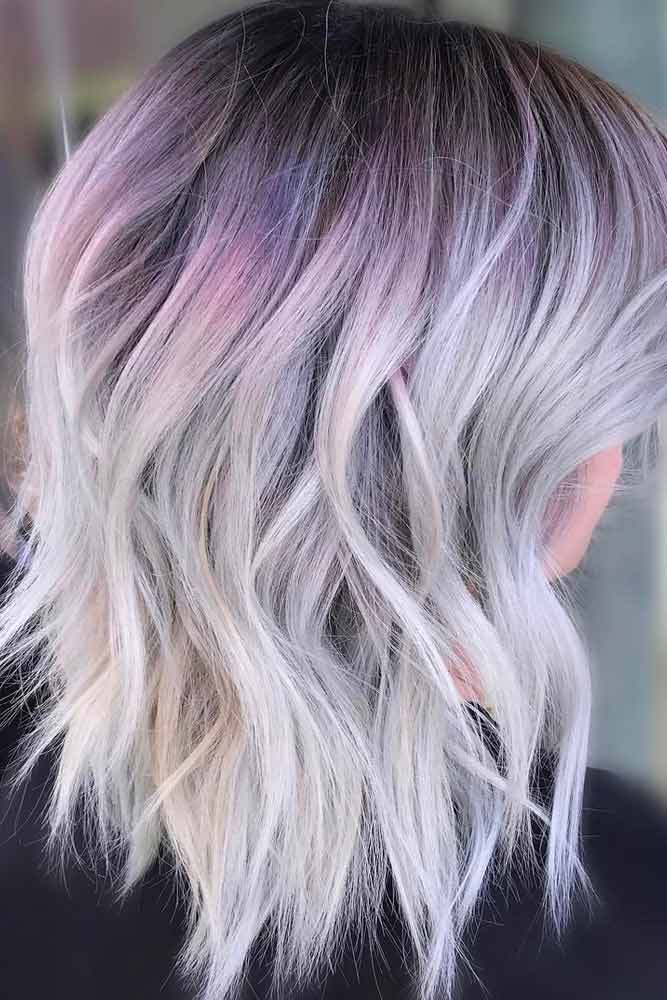 @ajhandlonstyling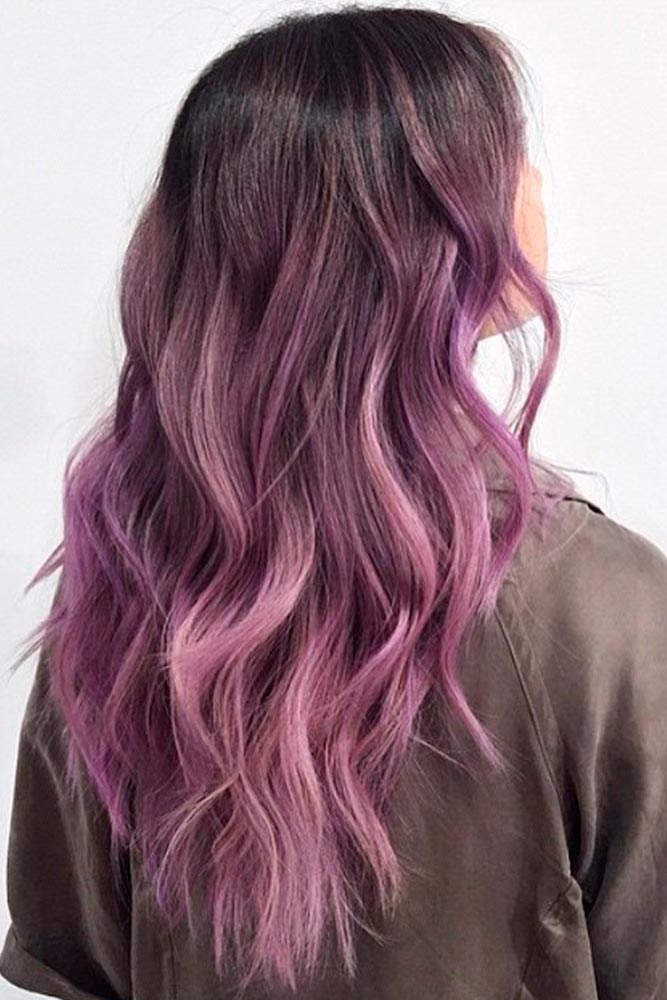 @mizzchoi
There is a big number of hair color ideas that can really make you feel better. There are many other options for those women who think that dying their hair purple is too drastic. Just consider which color fits your face features.
Cool Purple Hair For Brave Girl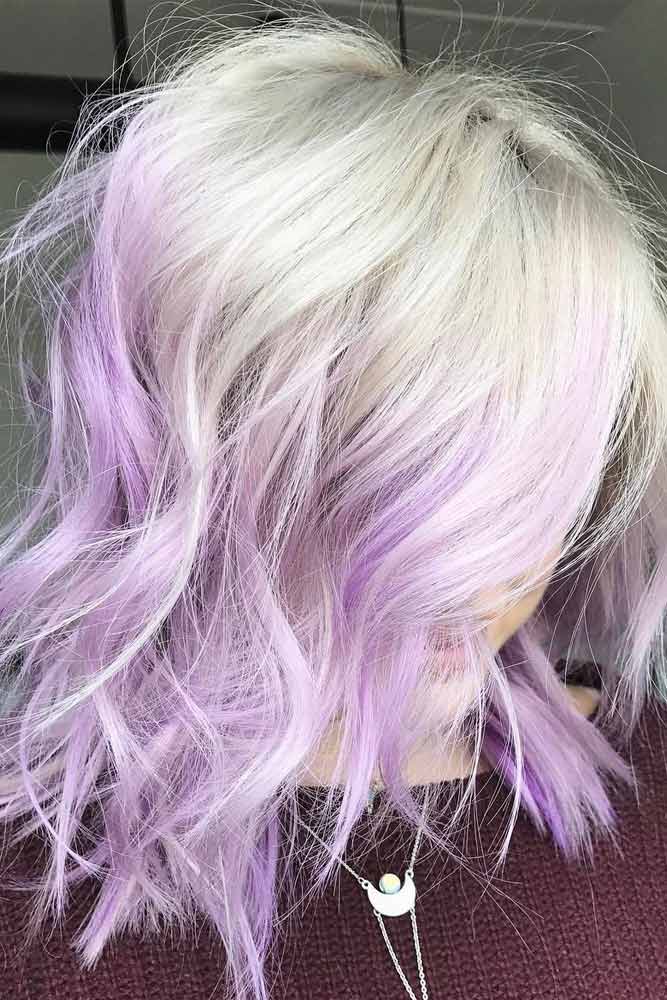 @kayla_thehairwizard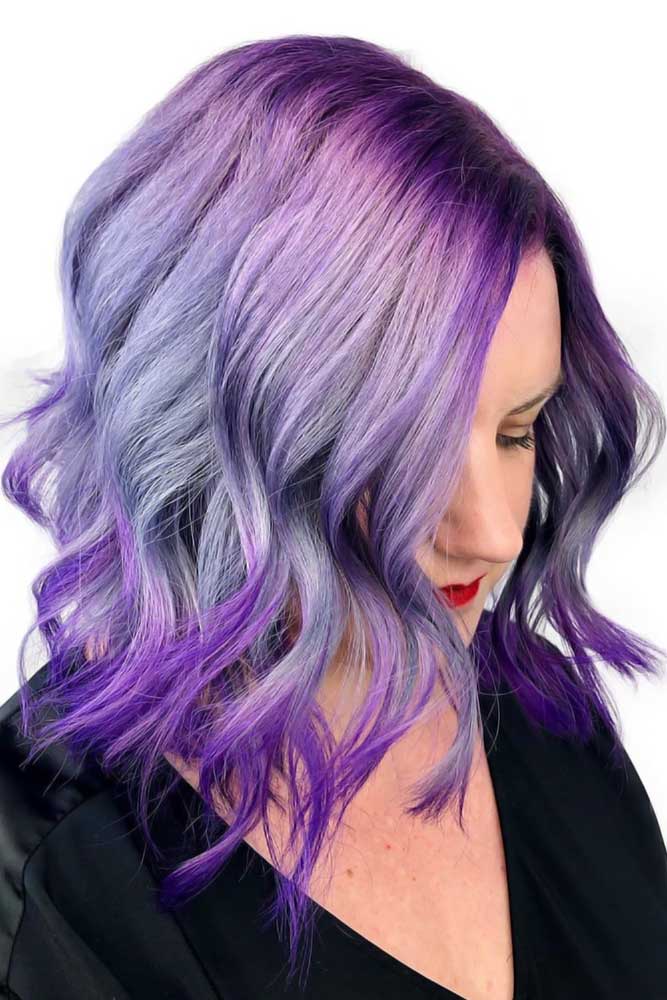 @kayla_thehairwizard
But if you do dare to pick purple, we can assure you that this color will look great whether originally you had brown or dark blonde hair. But after dying your hair purple, it is advisable to keep the makeup minimal. Otherwise, that would be too much.
Now let us discuss which shade of purple to pick. Ladies whose skin has warm undertones, like olive and yellow, should opt for warmer shades, for example, magenta or lilac.
And as for ladies whose skin has cooler undertones, like pinkish, will look pretty with deep violet or pastel lavender, that is, with cool shades. And any shade of purple works for ladies with neutral skin undertones.
Blonde And Purple Hair Mix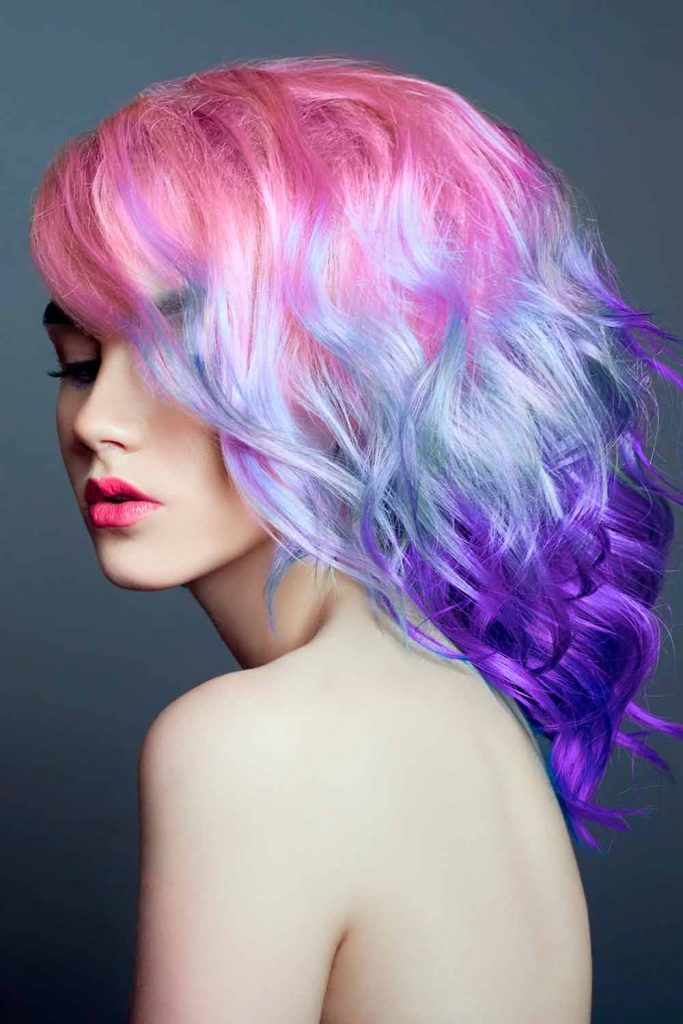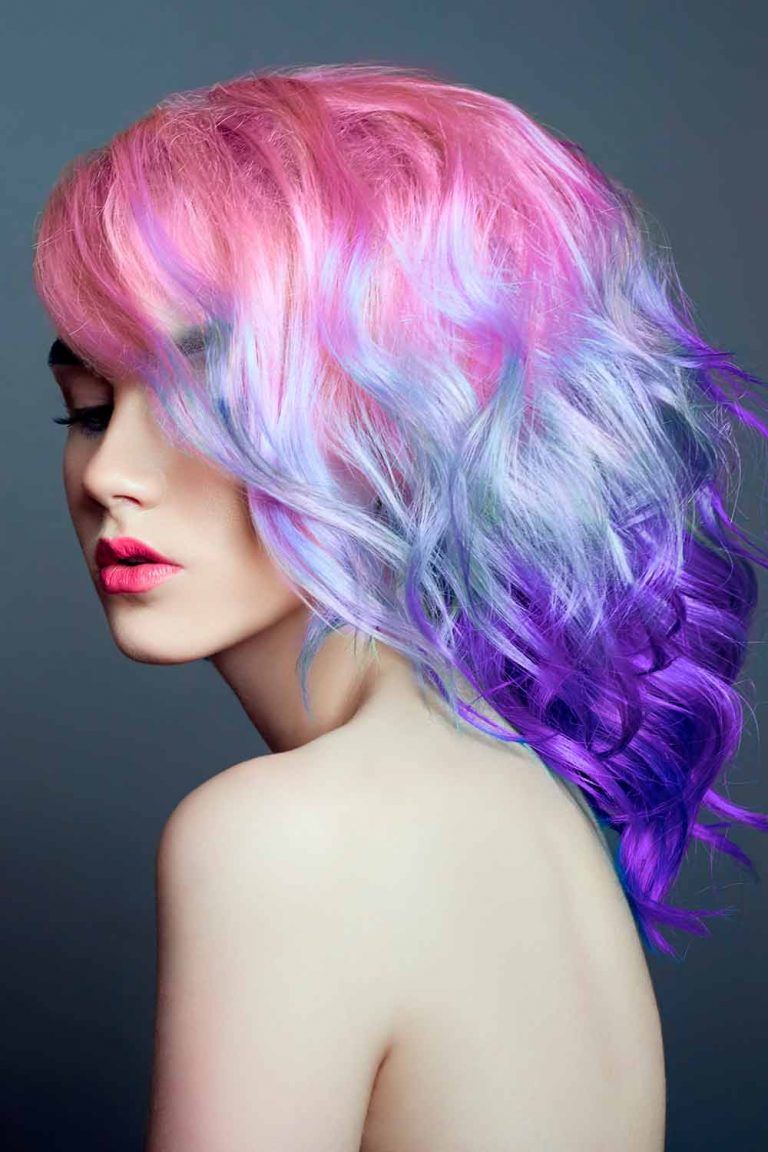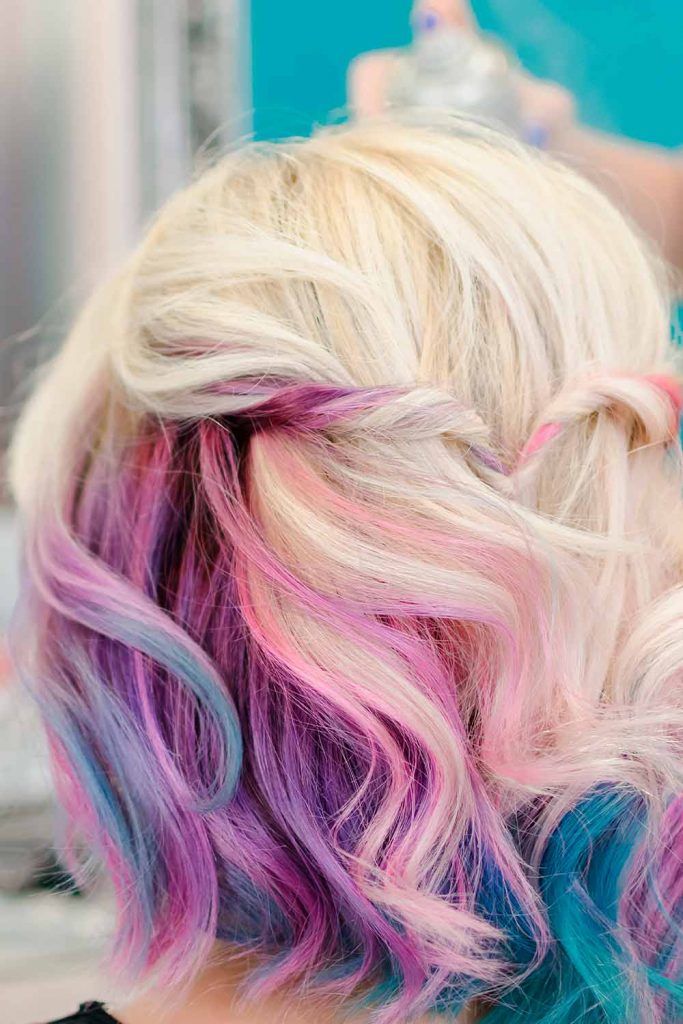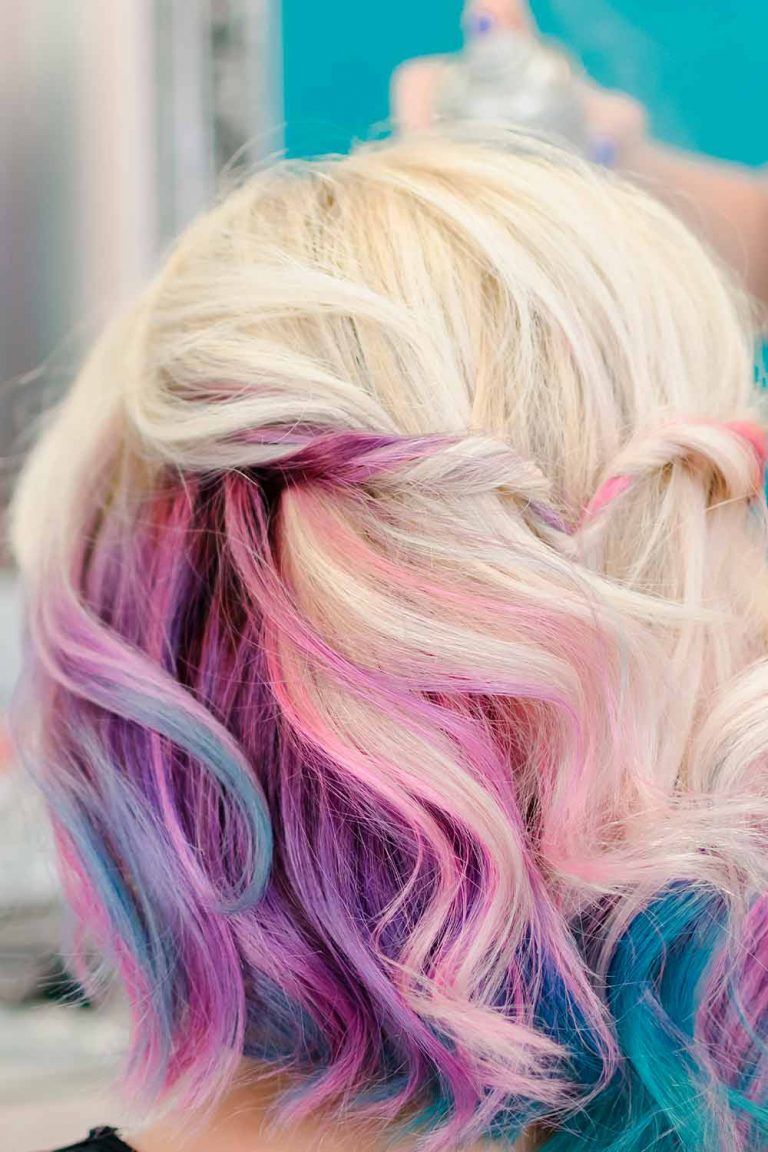 If going too bright is totally not your cup of tea but you still want to have that fairytale-like vibe, we have a suggestion for you. What do you think about the subtle transition from pastel purple to icy blonde? We think it is fantastic!
Amazing Light Purple Hair Color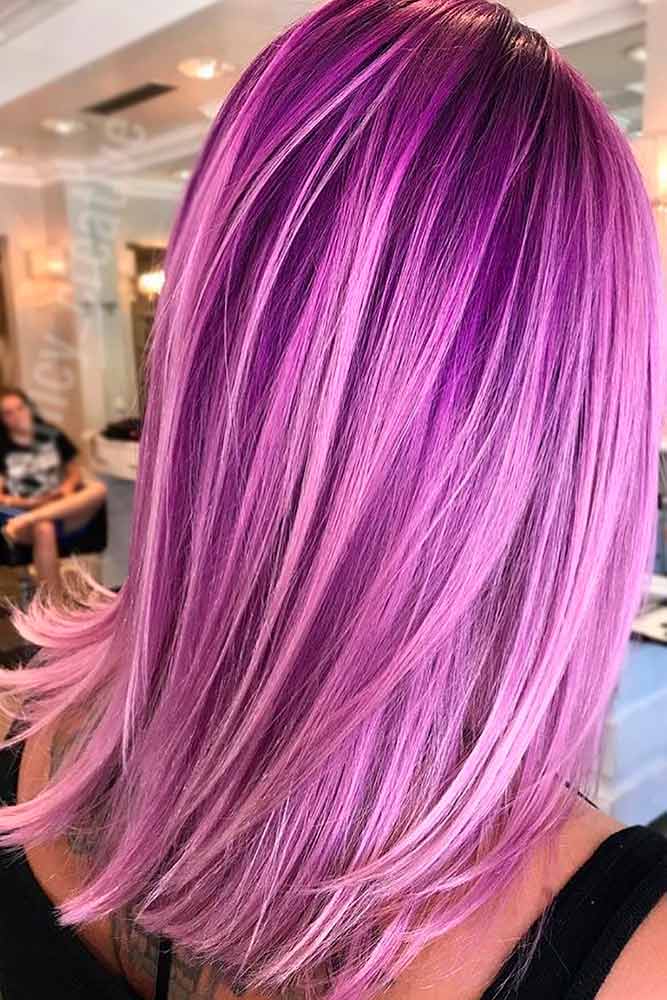 @pulpriothair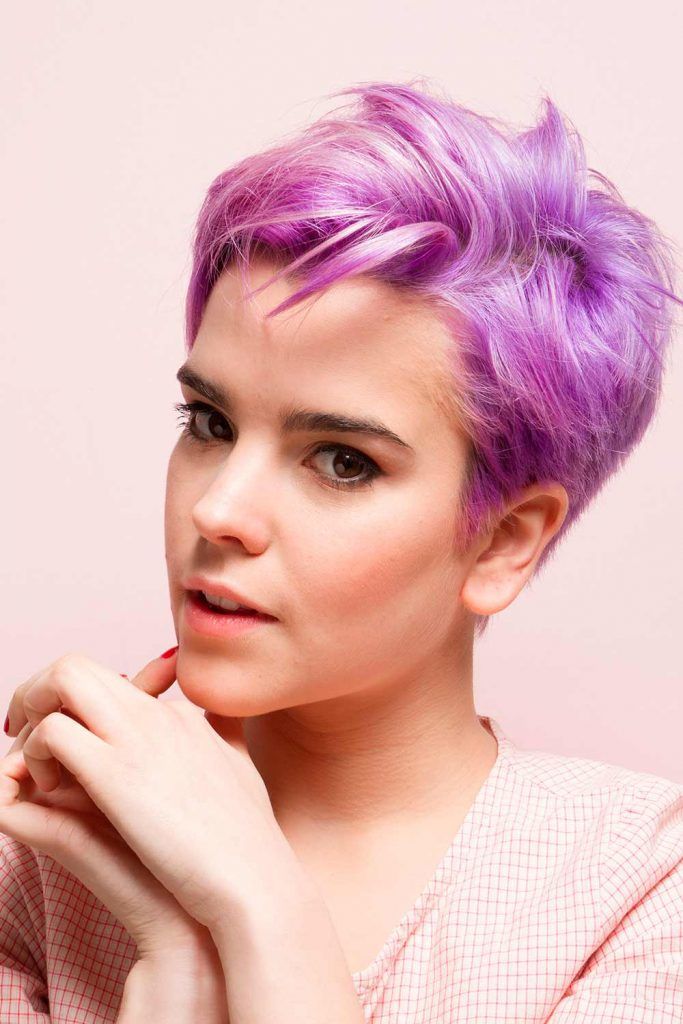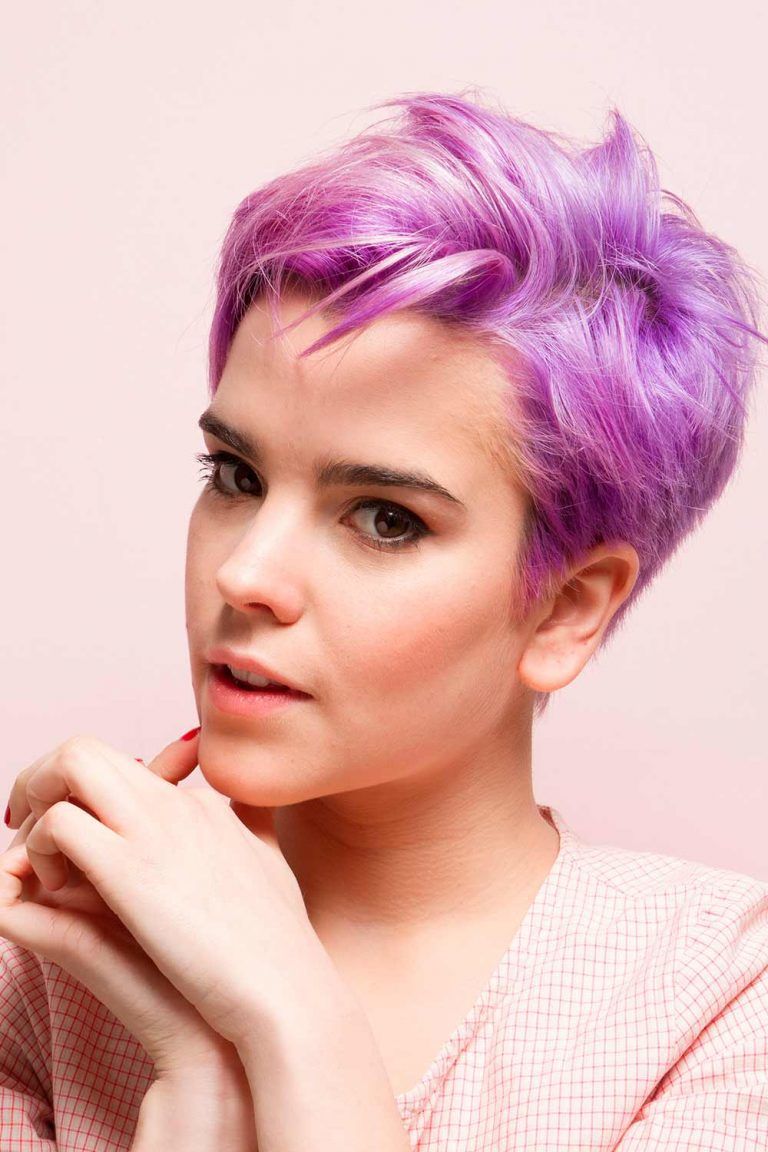 @hairbystephanierose
Metallic shades are trending everywhere these days, so why not add them into your light purple hair? Besides, mixing cool tones with just a hint of warm ones creates that unforgettable palette that is almost hard to recreate precisely.
Purple Hair Ombre Composition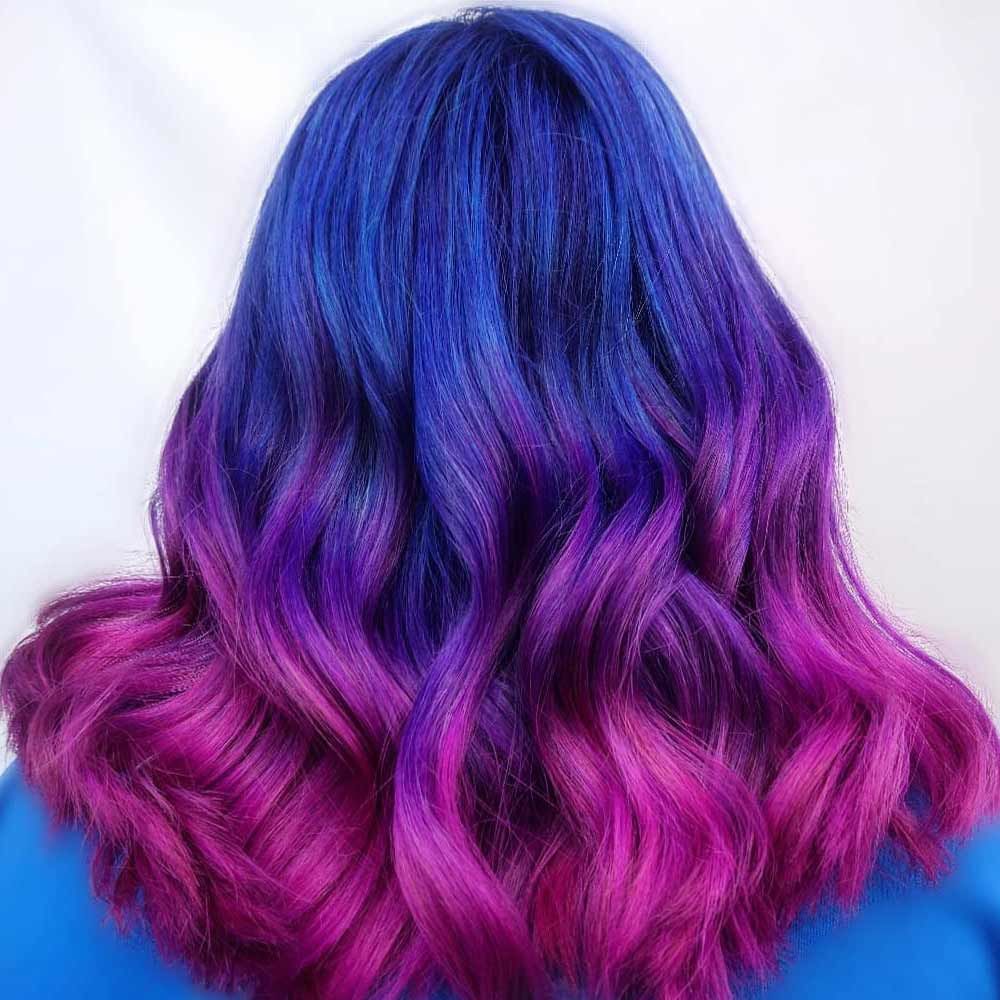 @adlydesign
Deciding between two favorite colors is a pretty tough job, but what if we tell you that you can have them both? Yes, you read it right, just look at this dark blue to purple ombre composition. It looks so perfect that it is even painful to look at!
Cute Hairstyles With Purple Strands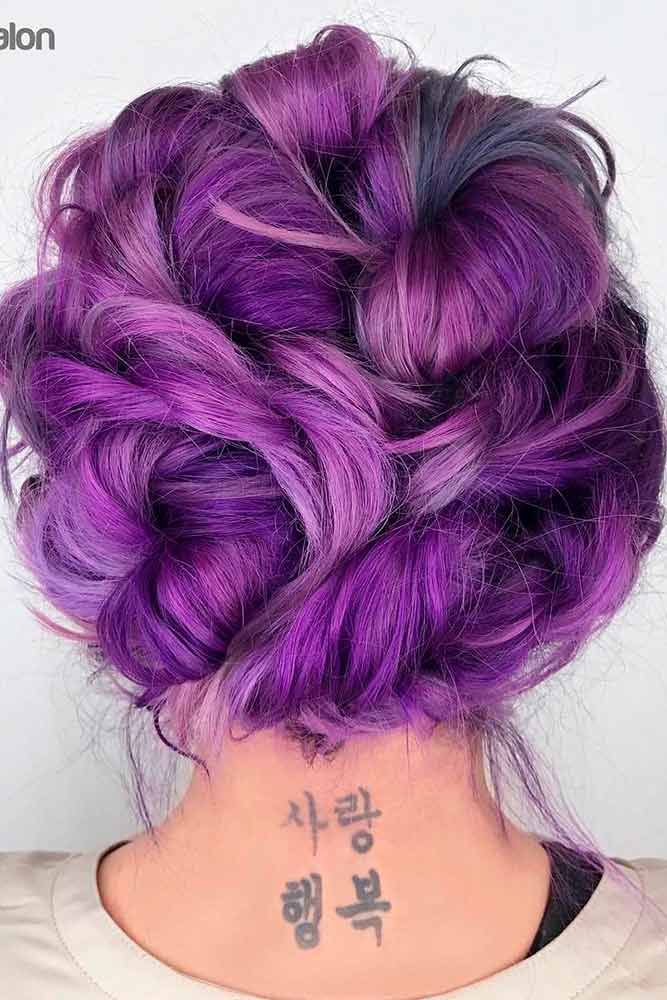 @kayla_thehairwizard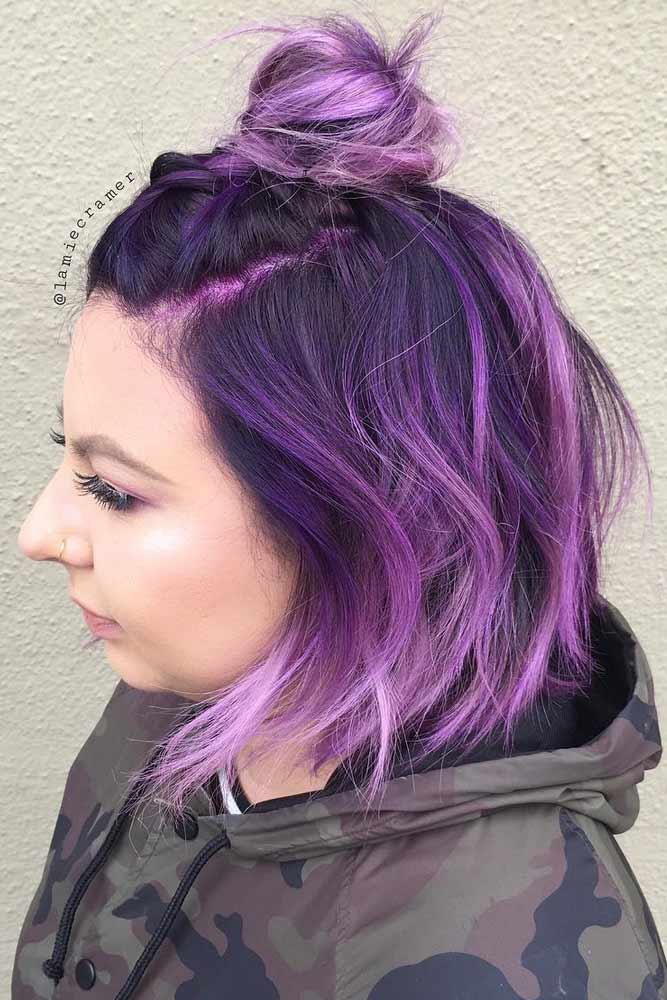 @kayla_thehairwizard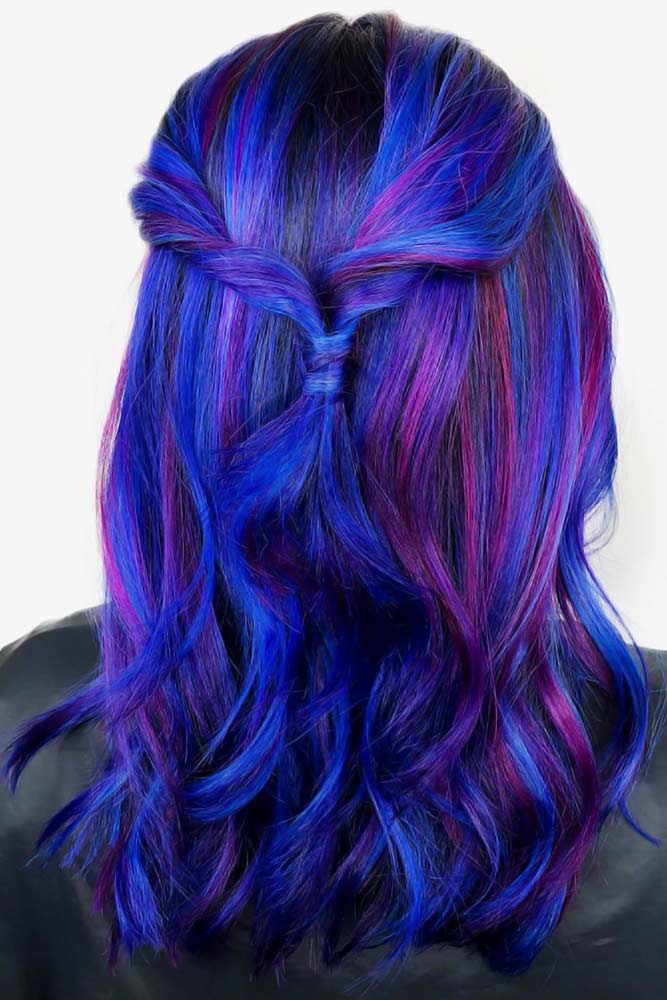 @kayla_thehairwizard
It seems that the ideas of what to do with purple hair are never-ending. Plus, those of you who have long hair can totally rejoice – the longer the hair the more shades can be added. Just add some light waves and a nice crown-like band, and you are ready to gather the gazes!
Cool Purple Ombre Shades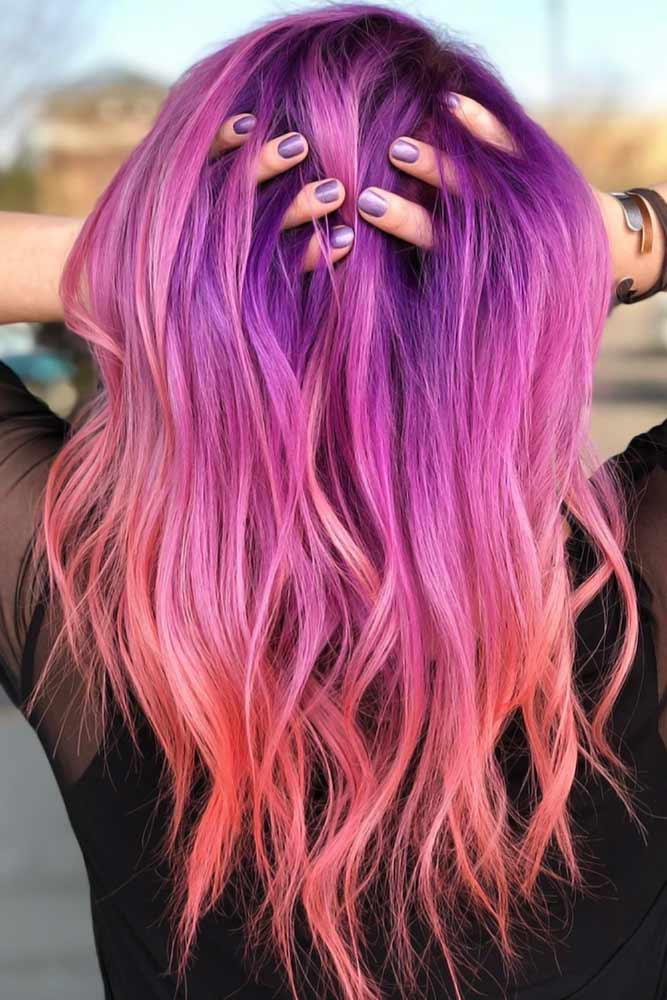 @xostylistxo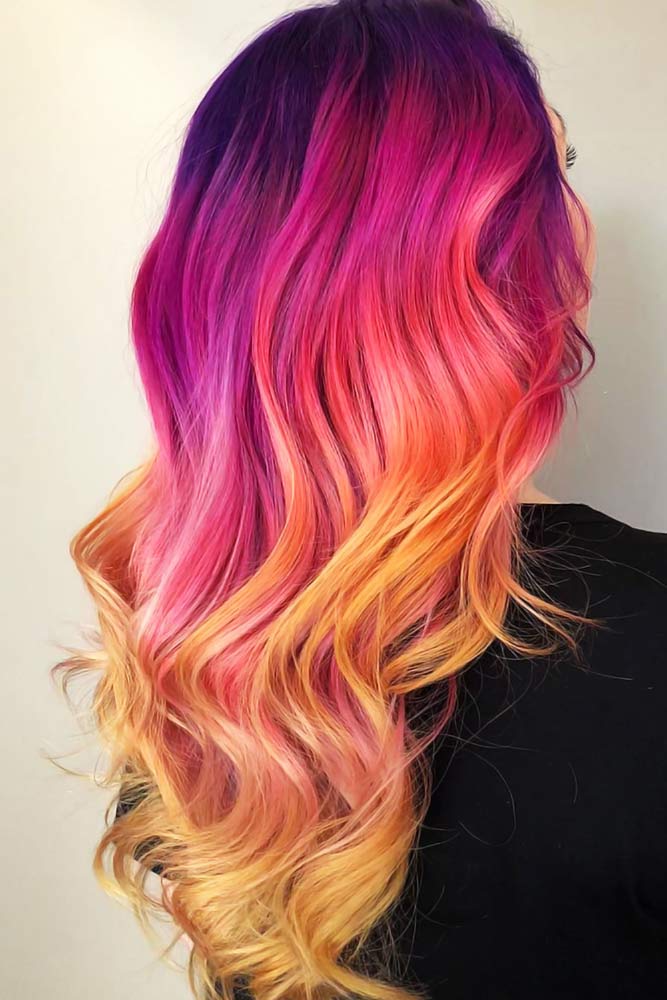 @hair_princess_steph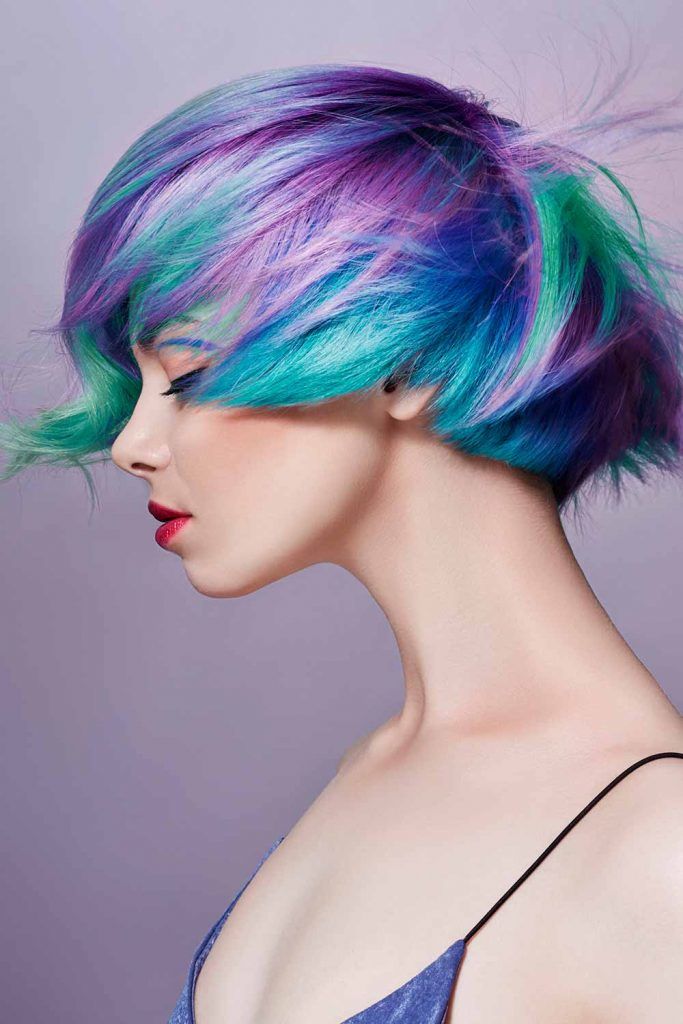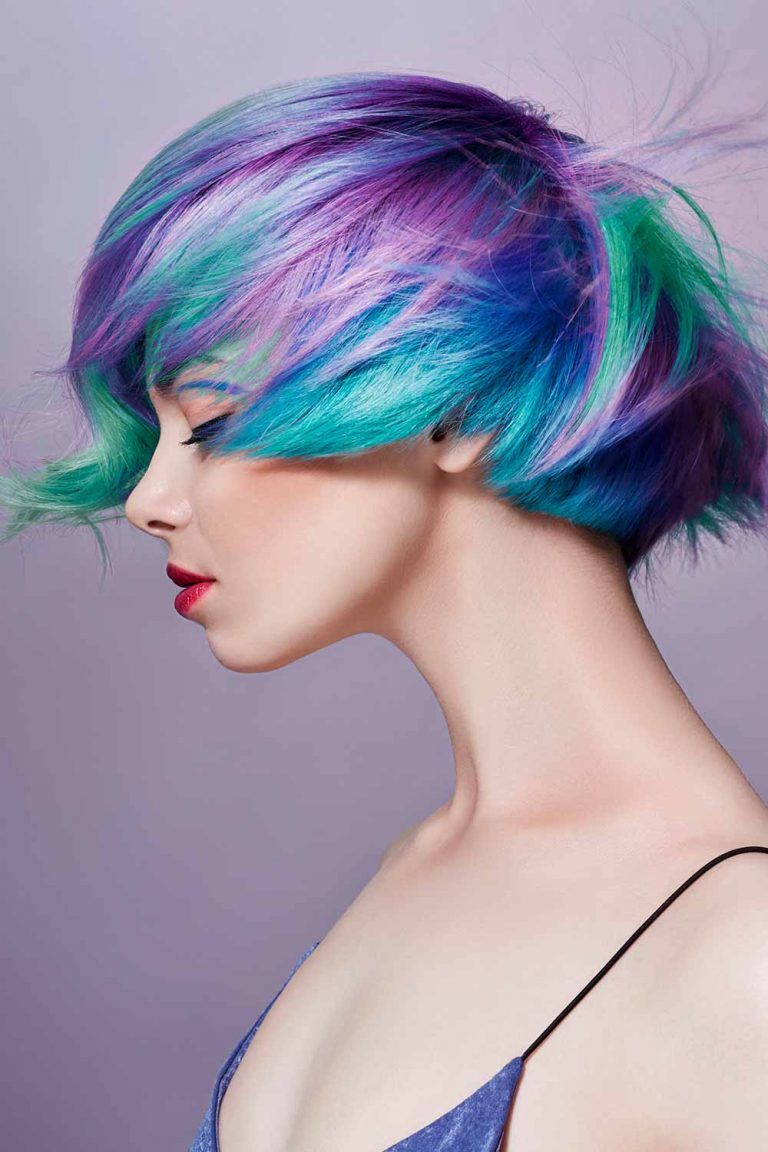 There is no better color to combine! Purple hair will look great anyway. Try these soft and romantic shades of pink or bold blue, and you will see that the result is truly magical.
Lavender Purple Hair Color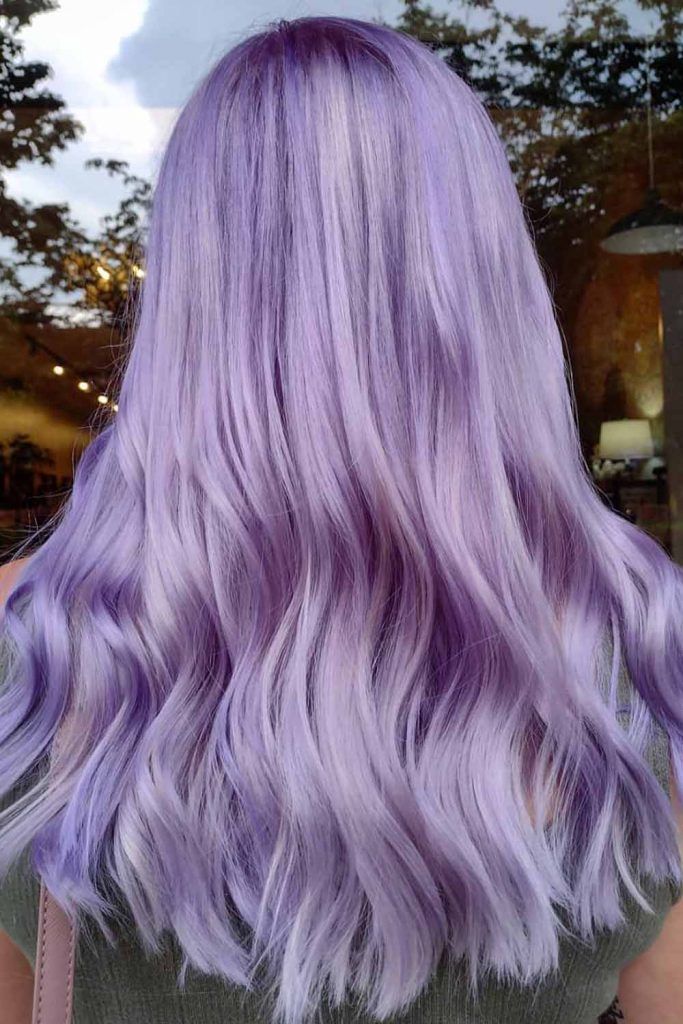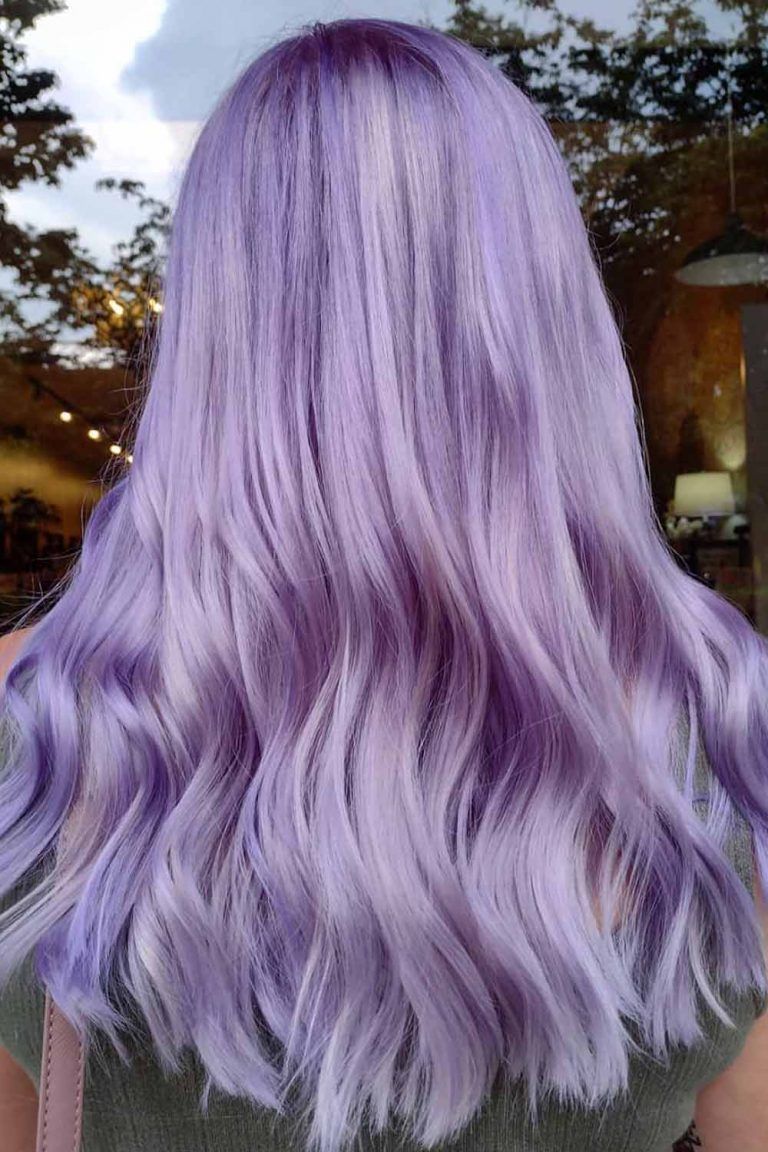 @adlydesign
One of the most popular pastel tones is purple lavender. Dye your hair purple, triple toned ombre or highlights.
Bright Purple Hair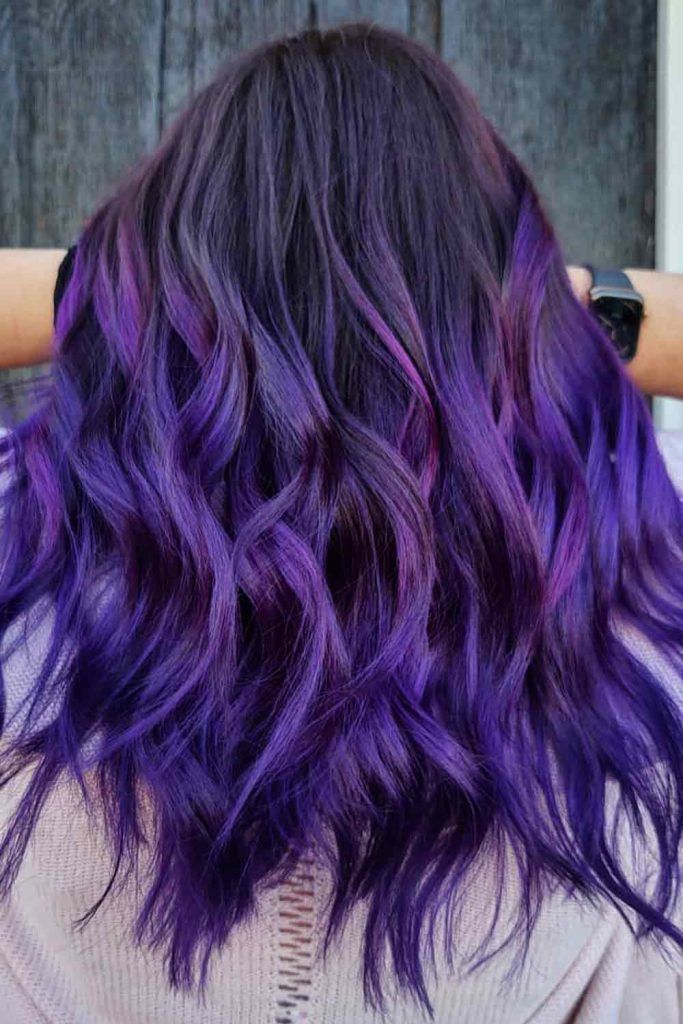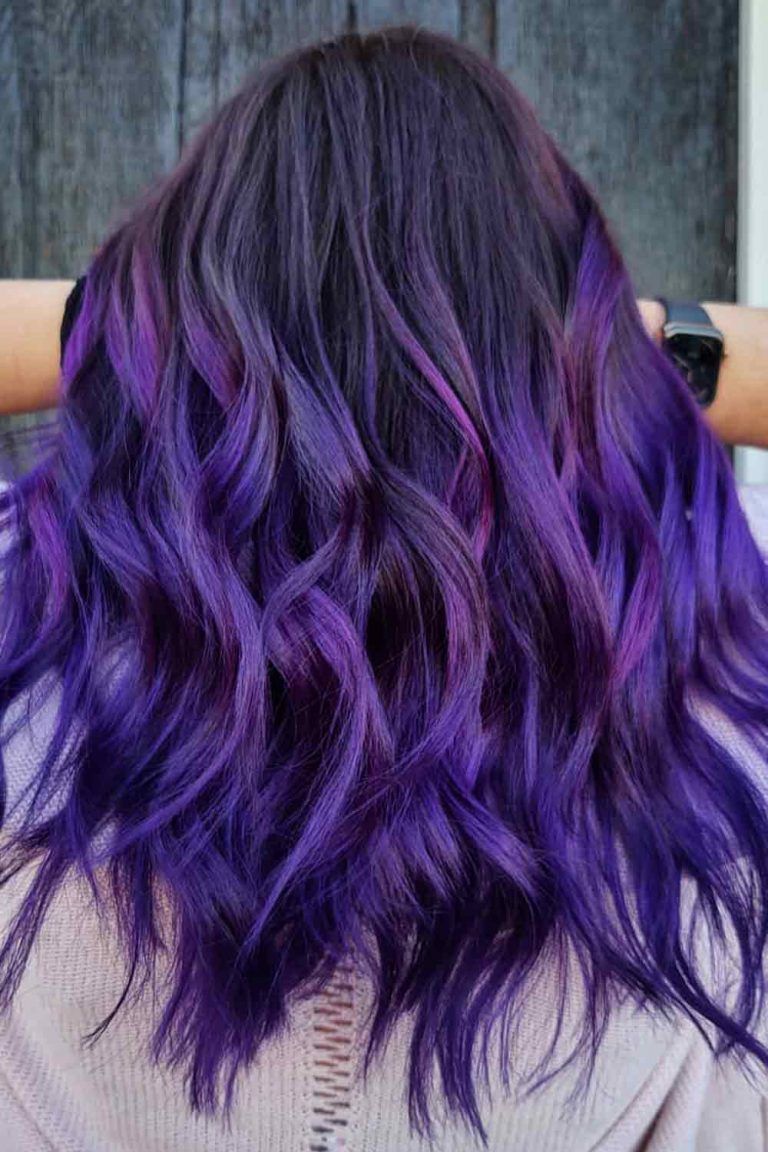 @adlydesign
Dark purple hair is for those who do not want to go too bright. Darker shades of purple make your hair look richer. Plum hair is for those who are seeking a sophisticated look mixed with sexiness.
Violet Ombre Hair Color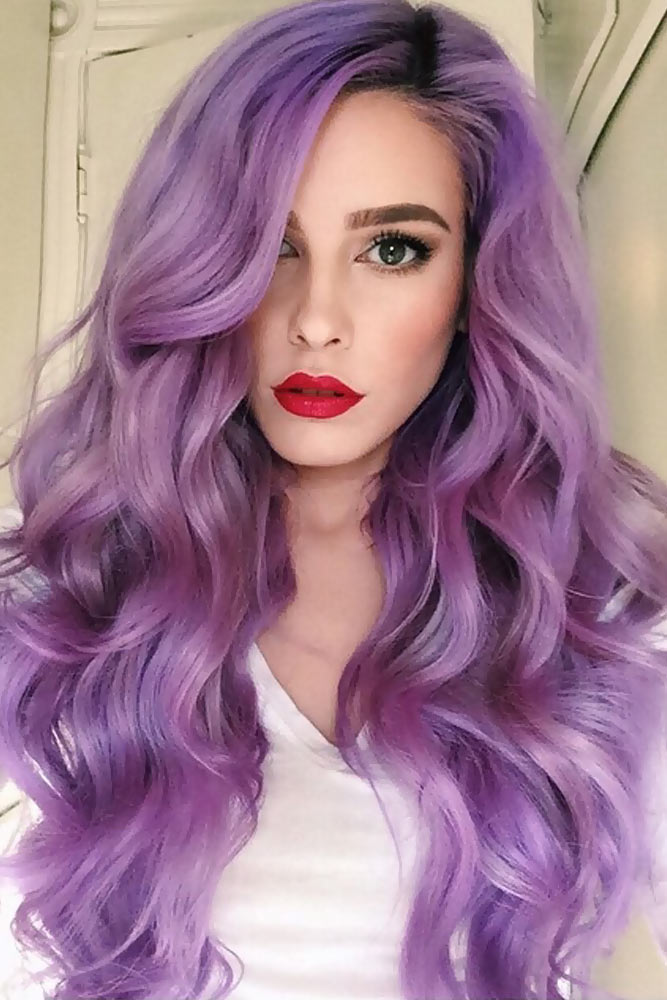 @laurencalaway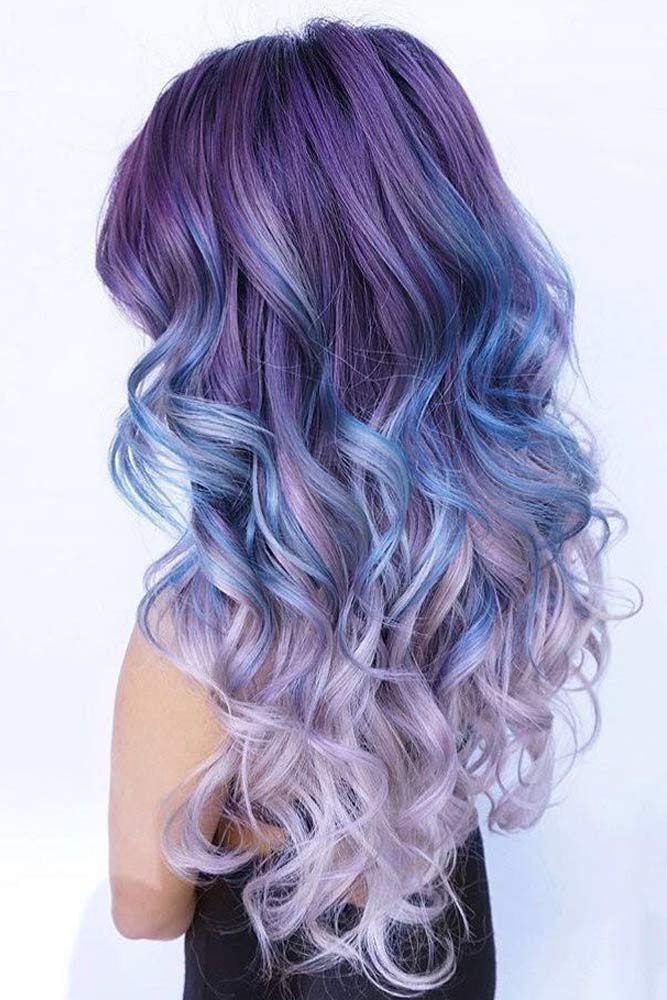 @_wanderlust_and_pixiedust_
Violet balayage hair color will definitely make a statement. It transforms your dim look in a blink of an eye. The most important rule to stick to in creating a violet balayage is that a matte finish should be reached. This is what makes this 'do glamorous.
Violet Hair Color With Braids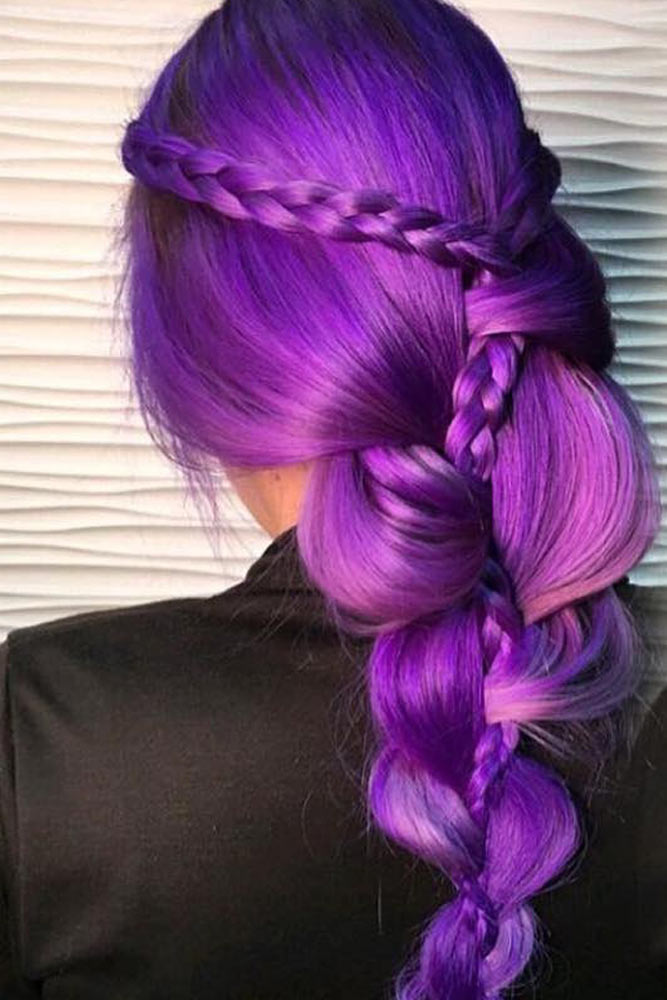 @stephhstyles
Hair colors are extremely creative nowadays. Conventional colors are a thing of the past now. In the streets, we can observe more and more women of different age sporting pink, violet, blue, vibrant red and a lot more.
Let us see how it works. For example, you will get your hair bleached tomorrow. Then you will need unrefined and pure coconut oil. Apply it to your tresses, from roots to ends. Cover your hair with something, like a special shower cap.


FAQ: Purple Hair
What color does purple hair fade to?
Purple hair dye generally fades to a blue or reddish tone when washed. The color that it fades to is determined by the pigment intensity.
What skin tone does purple hair look good on?
A yellow skin undertone can be nicely balanced with lilac hair with traces of pink.
Although they look best with cool skin undertones, violet and indigo shades can be worn with almost any undertone.
Eggplant purple, mauve and magenta are perfect option if you want to provide more brightness and color to the cool, chilly complexion.
Will purple shampoo fade purple hair?
Purple shampoo is gentle on the hair. However, it contains much lighter pigments. As a result, your purple color will not be revitalized in the same way. Using a color depositing shampoo is the greatest way to preserve the bright purple color for a longer period of time.
Was this article helpful?