If you've ever dreamt of lovely tousled, sun-kissed locks that evoke the carefree spirit of endless summers and sandy shores, then you're in for a treat. Long beach waves hair is more than just a hairstyle; they're a symbol of laid-back beauty and a passport to instant glamor. Picture yourself strolling along the beach, feeling the gentle ocean breeze tousle your hair into perfect waves. You get to turn heads with your natural, radiant allure. In this blog post, we'll dive deep into the art of creating and styling beach waves hairstyles, unlocking the secrets behind this coveted look. From expert techniques to must-have products, we'll equip you with all the tools you need. This way you can embrace your inner beach goddess and achieve that effortlessly chic, beachy mane.
Classic Beach Waves for Long Hair
Credit photo: instagram.com/amastylist__
i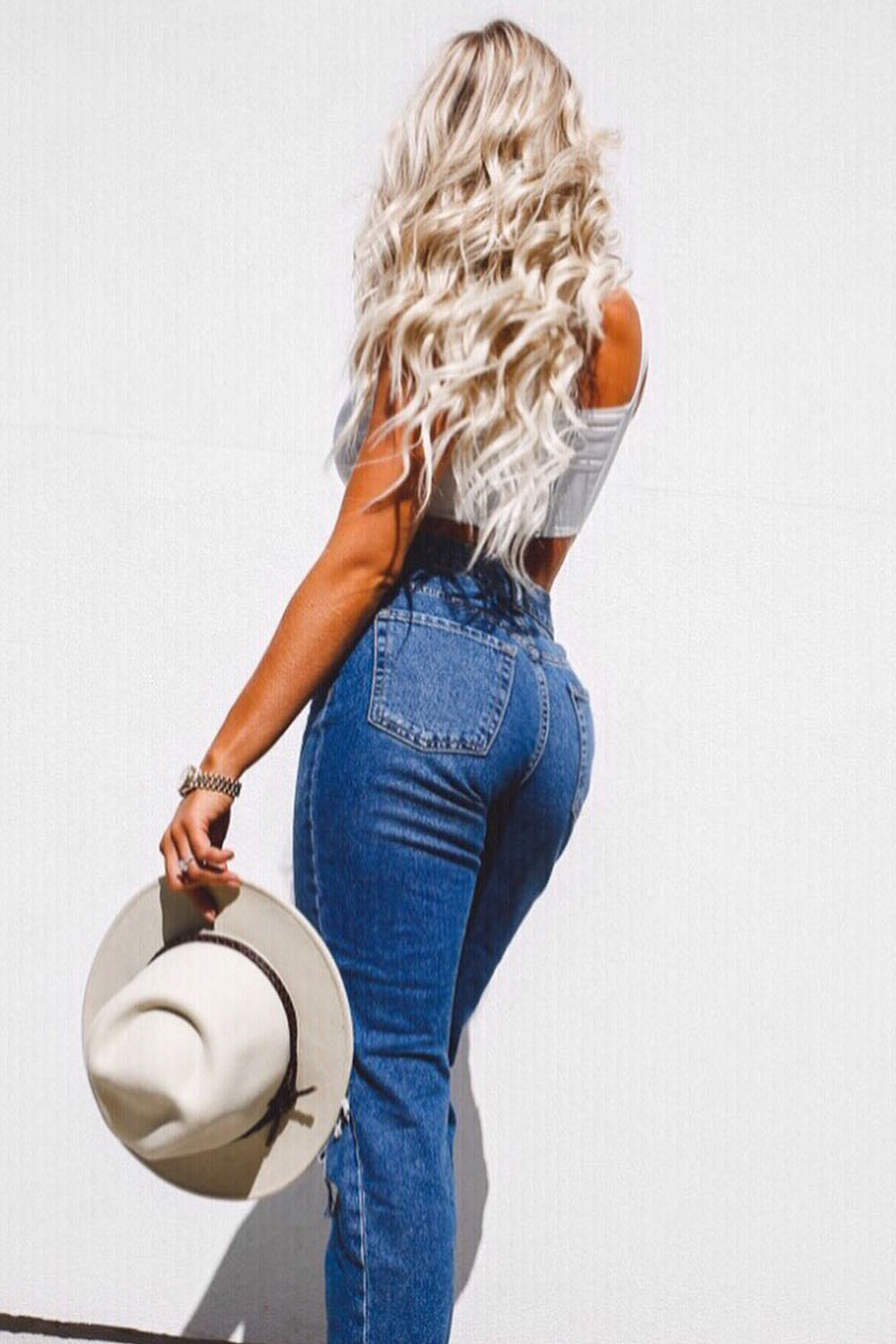 Credit photo: instagram.com/petermenezes
i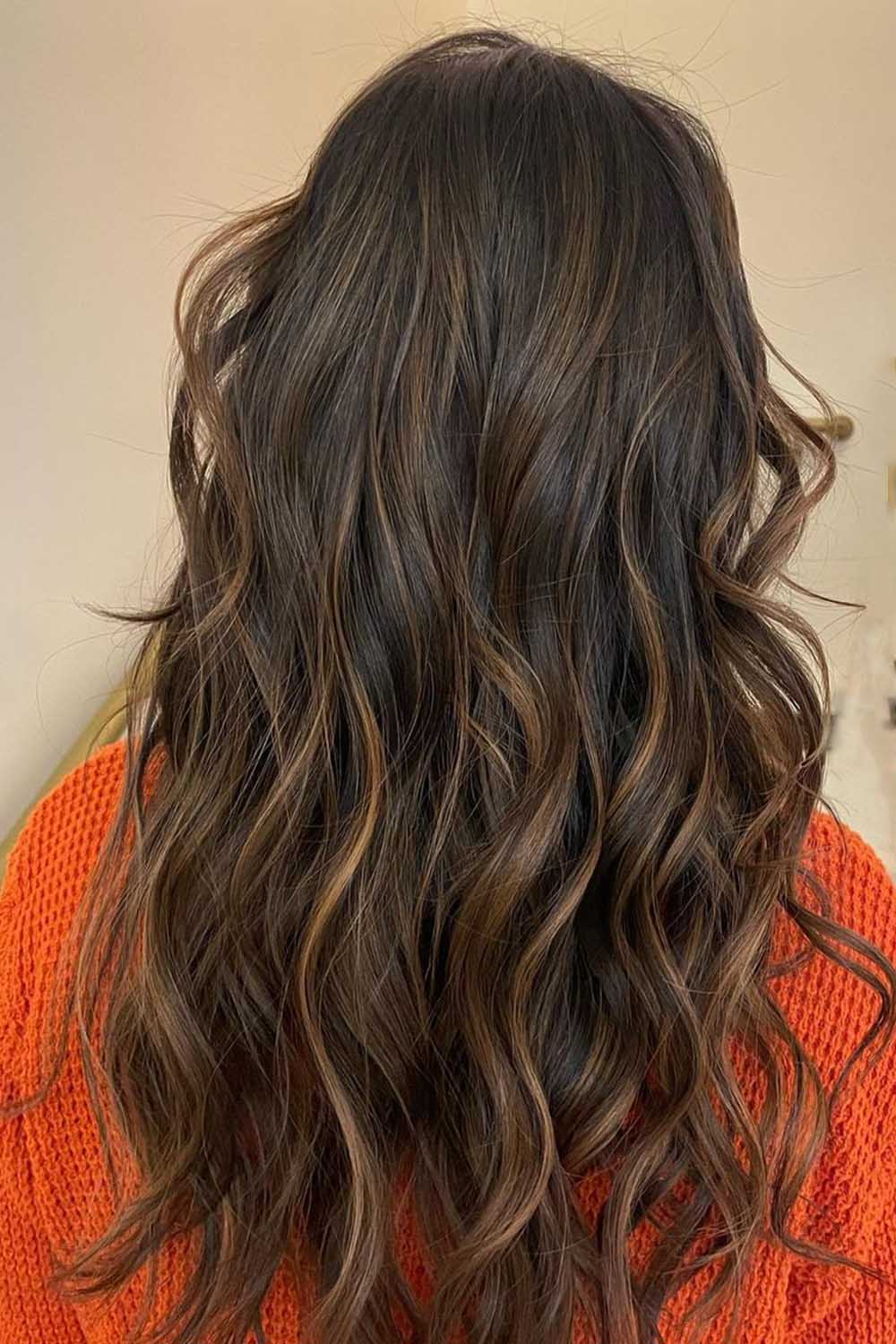 /
Achieving the classic beach waves for long hair look is simple, as it requires minimal effort and a few key techniques. Whether you're heading to the beach or simply want to embrace a relaxed and glamorous style, classic Beach Waves for long hair are the perfect choice. So, grab your curling iron, and a salt spray, and let those cascading waves take you on a journey of coastal chicness. Get ready to make a splash with your stunning, beach-ready locks.
Long Beach Waves with Overnight Braids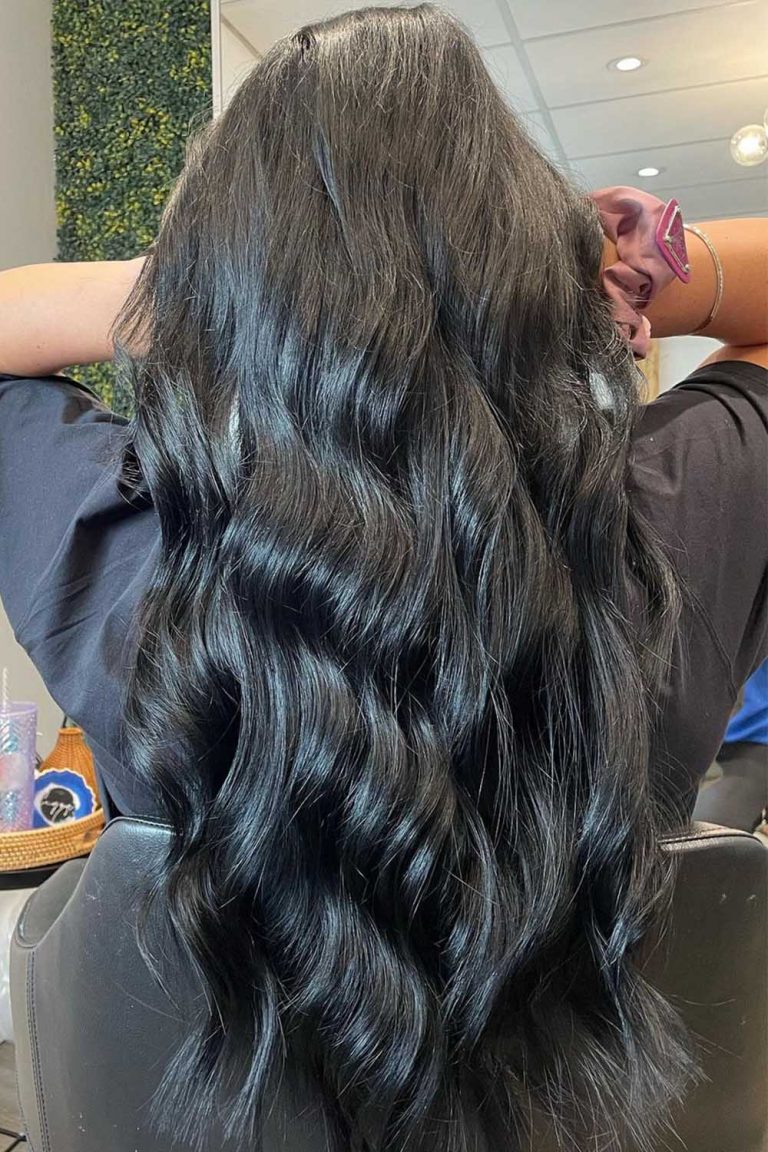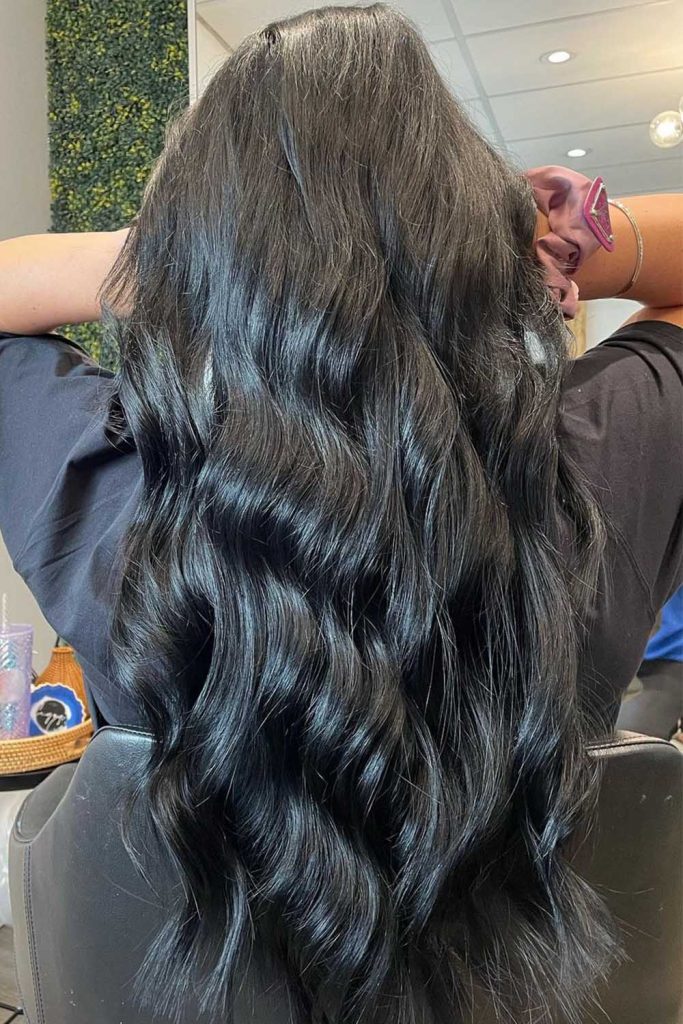 Credit photo: Instagram.com/amastylist__
Long Beach Waves with overnight braids are a game-changer for those seeking effortless, tousled waves without the need for heat styling. By simply braiding your damp hair before bed and letting it work its magic overnight, you wake up to beautifully textured waves that resemble a day spent at the beach. This method not only saves time but also minimizes heat damage. Experiment with different braid styles, such as loose French braids or Dutch braids, to achieve various wave patterns. Embrace the simplicity and elegance of these waves with overnight braids, and enjoy the freedom of effortlessly chic hair every day.
Half-Up Beach Waves Hairstyle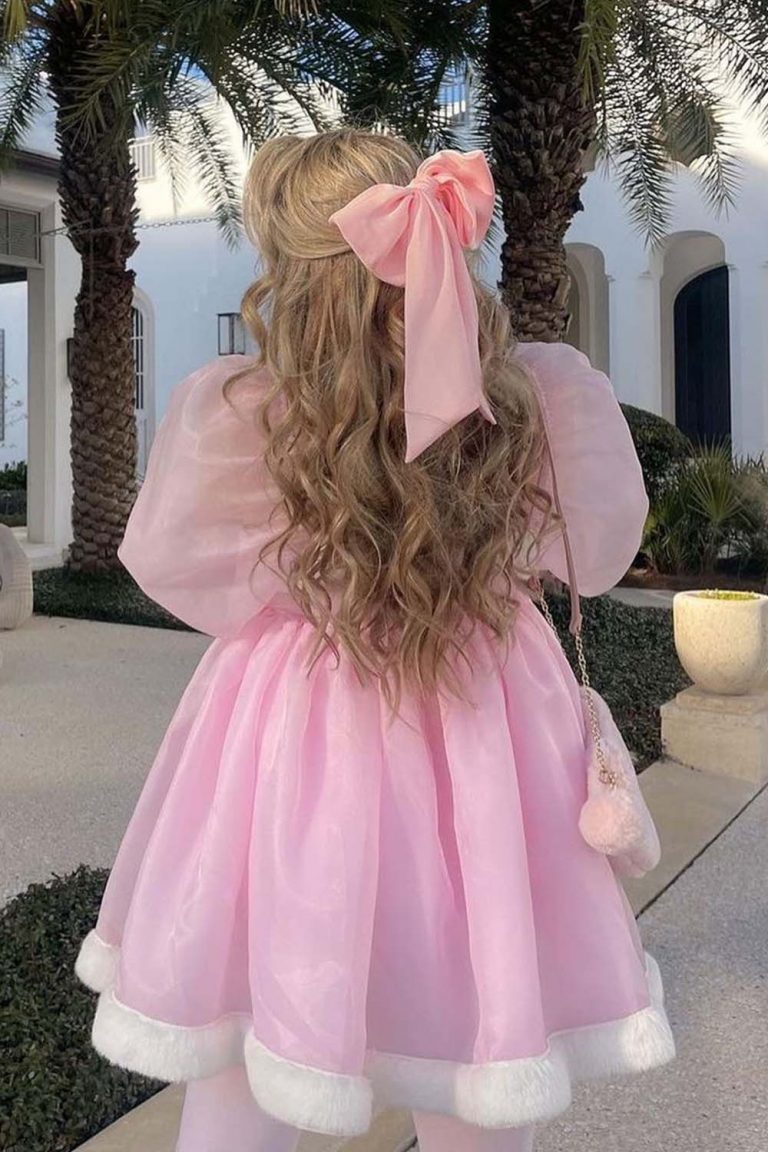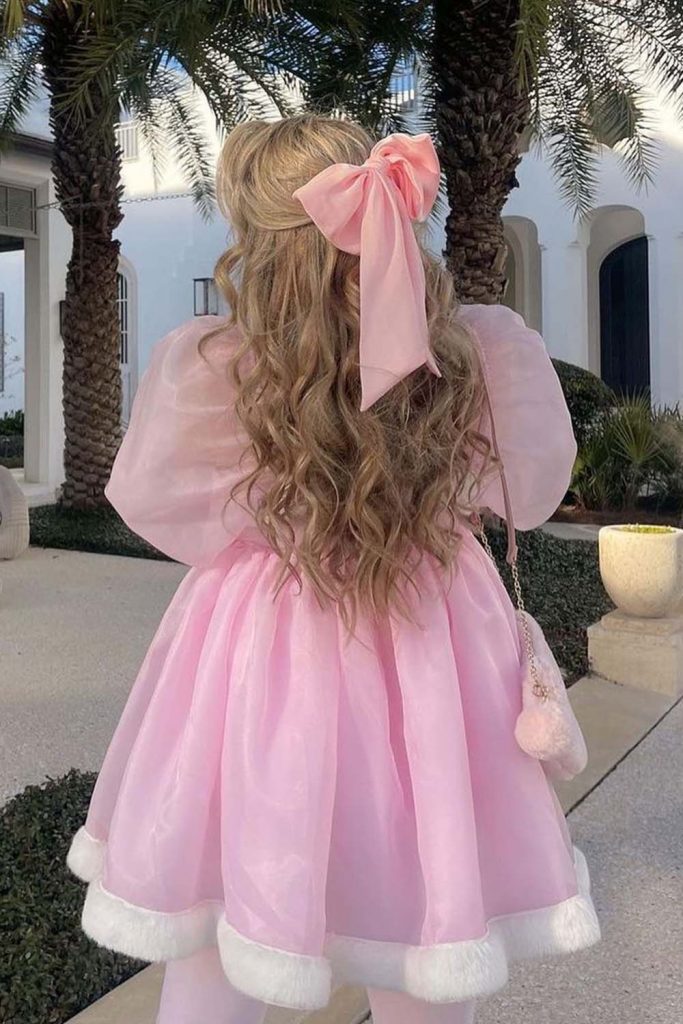 Credit photo: Instagram.com/luxyhair
The half-up beach waves hairstyle offers a perfect balance of sophistication and beachy vibes. By sweeping back the top section of your hair and leaving the rest flowing in gorgeous waves, you create a look that is both effortlessly chic and practical. This versatile style can be dressed up or down, making it suitable for any occasion, from a casual beach outing to a formal event. With its playful yet elegant aesthetic, the half-up waves hairstyle is a go-to choice for those seeking a blend of carefree and polished vibes. So, embrace the best of both worlds and let your waves take center stage while enjoying the freedom of a half-up style.
Wavy High Ponytail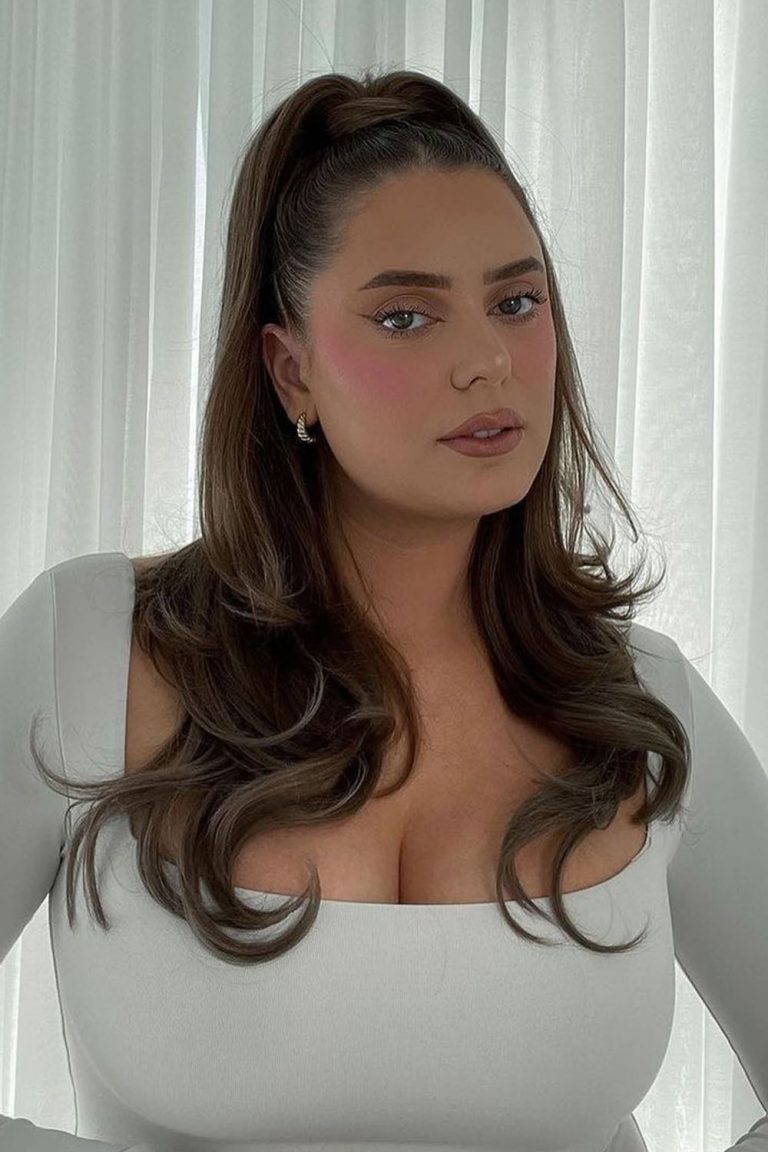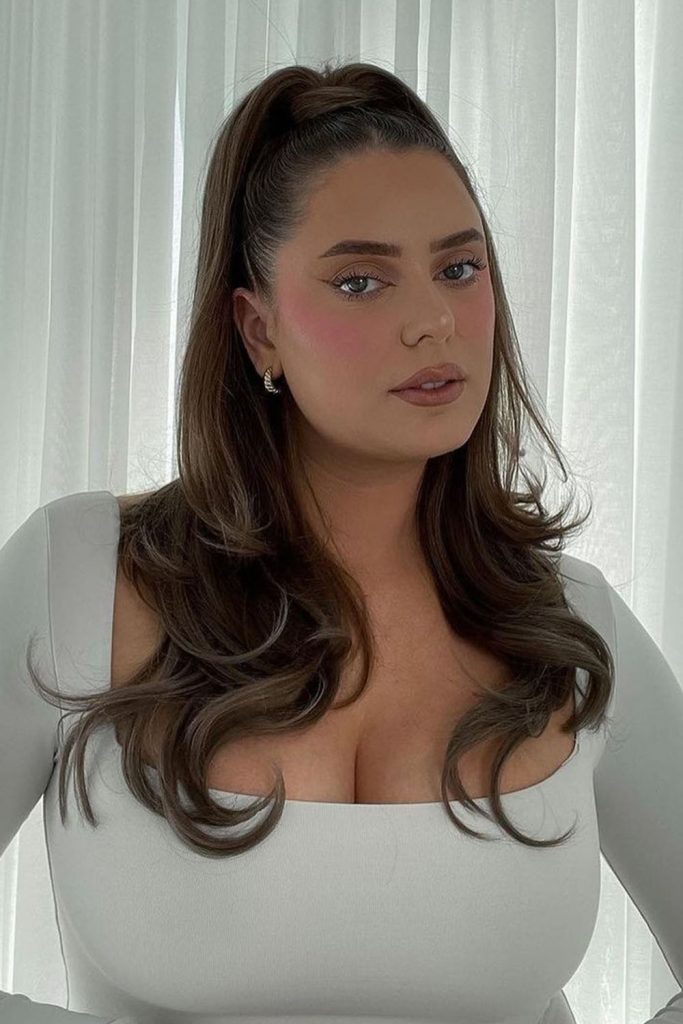 Credit photo: Instagram.com/luxyhair
If you're a lover of ponytail hairstyles, then why not incorporate them into your long waves? This way, you get to combine the sleekness of a high ponytail and the effortless texture of loose waves. By incorporating soft waves into your high ponytail, you instantly elevate the overall appearance, adding movement and dimension to your hair. With just a few simple steps and the right styling tools, you can create something a little beyond the ordinary. It's a hairstyle that effortlessly transitions from day to night, allowing you to rock it at the office or unleash it on the dance floor. With its cascading waves cascading down from a sky-high position, this style is a true head-turner.
Ponytail with Curtain Bangs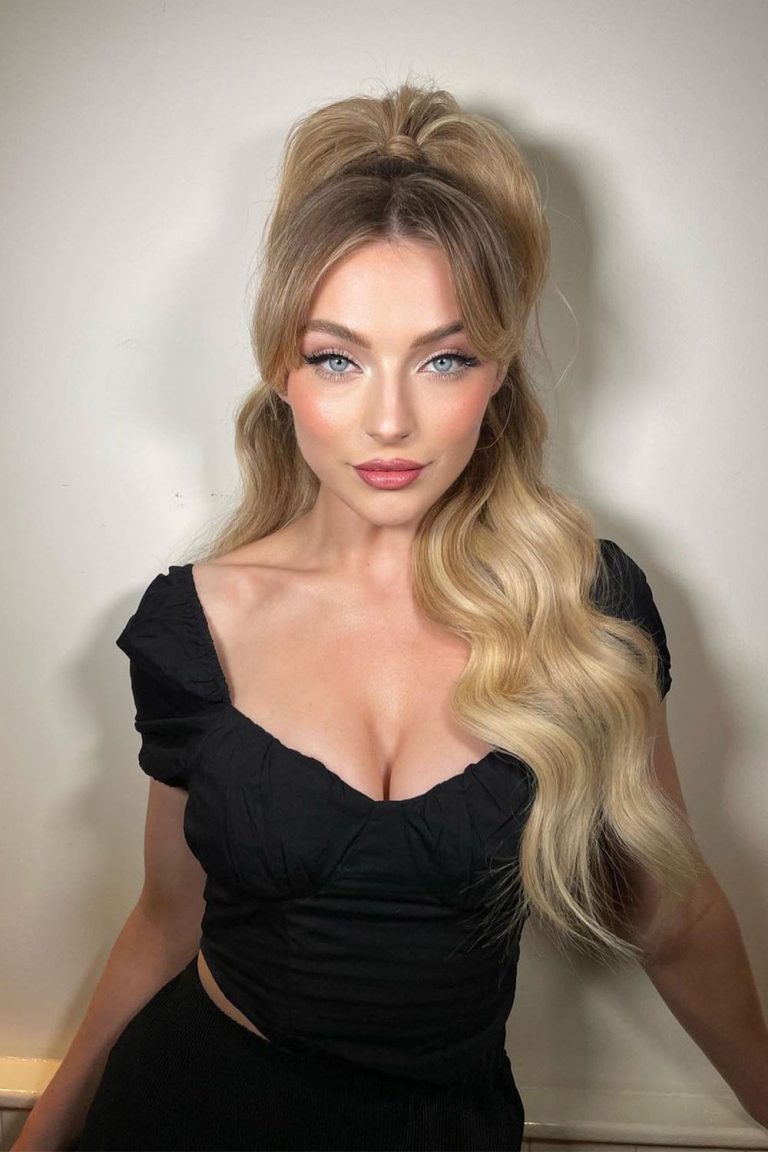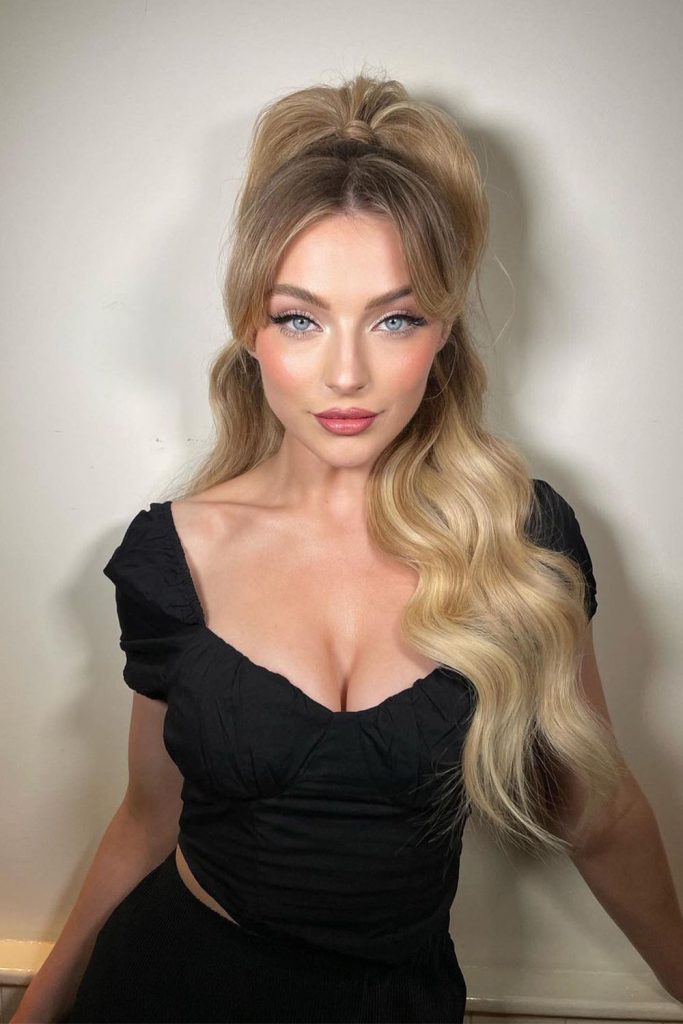 Credit photo: Instagram.com/michaelgrayhair
Prepare to turn heads with the mesmerizing allure of a wavy ponytail with bangs. This exquisite hairstyle combines the effortless grace of flowing waves with the face-framing magic of curtain bangs. The result is a look that is nothing short of breathtaking. Pair two trendy elements into one captivating hairstyle and produce a chic look. The soft waves cascade down, adding a touch of romanticism and movement to your ponytail, while the curtain bangs delicately frame your features, highlighting your best facial attributes. Also, the style is a true masterpiece thanks to pairing sophistication with classics. This makes the style a standout choice for any occasion that demands a touch of glamour.
Mermaid Long Beach Waves Hair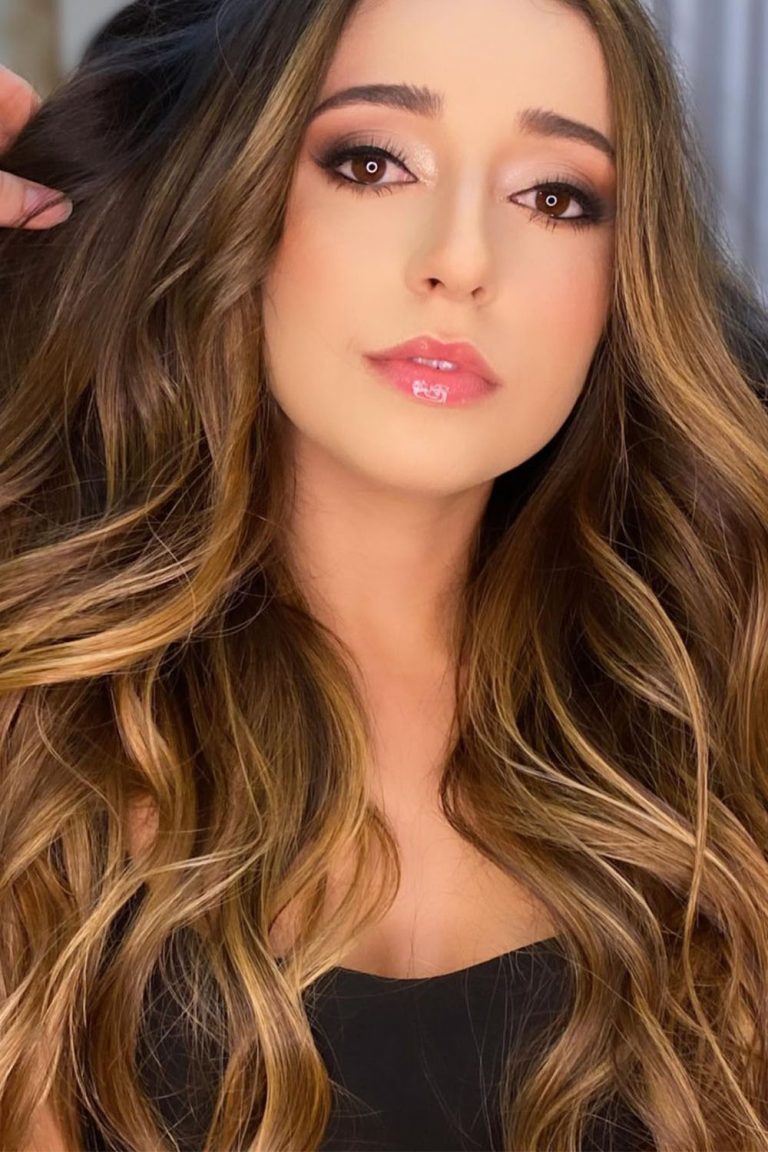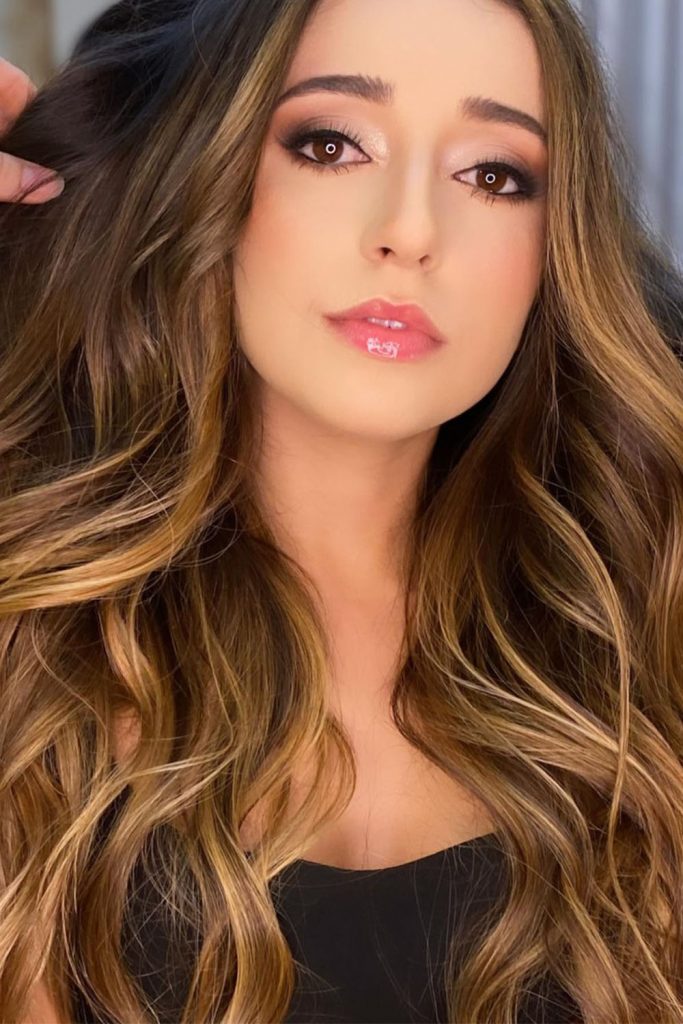 Credit photo: Instagram.com/petermenezes
With its ethereal and mesmerizing appeal, the mermaid long beach waves hair captures the essence of mythical beauty. Imagine cascading waves that mirror the ebb and flow of the ocean, creating a captivating and romantic look. To perfectly achieve this waves hair, embrace texture, volume, and a touch of whimsy. From sea salt sprays to braiding techniques, there are endless possibilities to channel your inner mermaid. Let your hair become a canvas for ocean-inspired magic, as you embark on a journey of aquatic elegance and unleash your inner siren.
Updo and Beach Waves Combination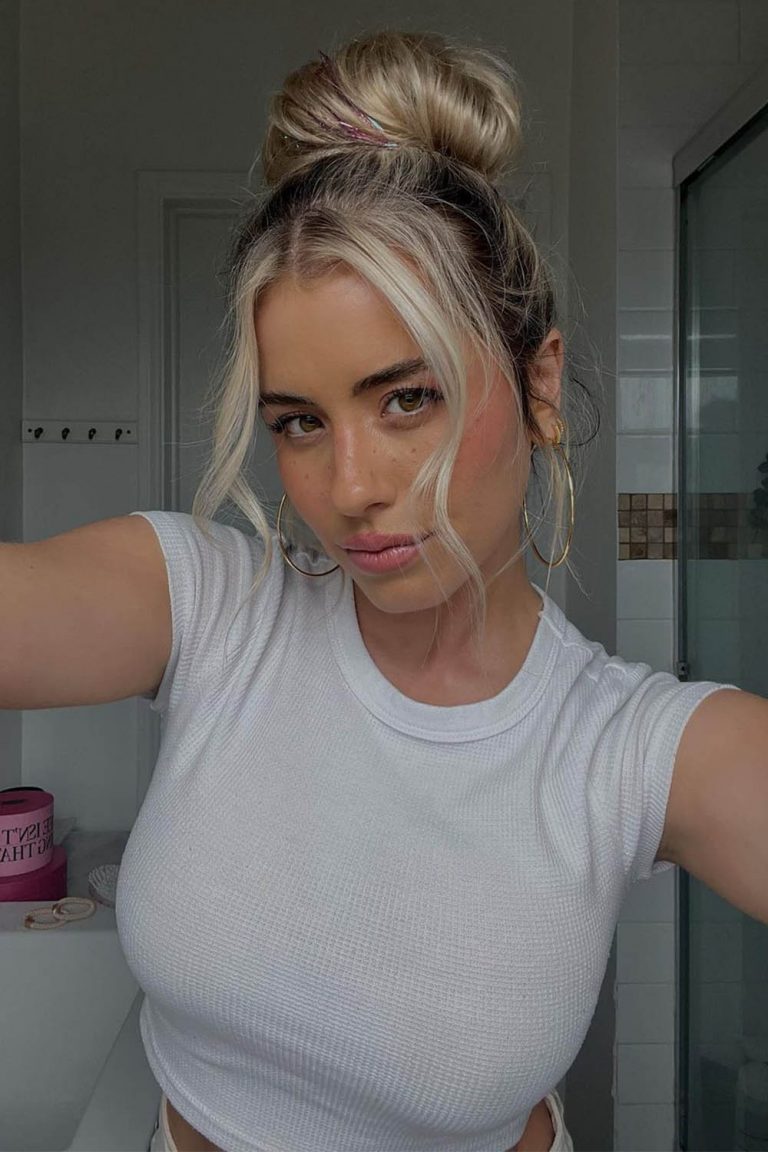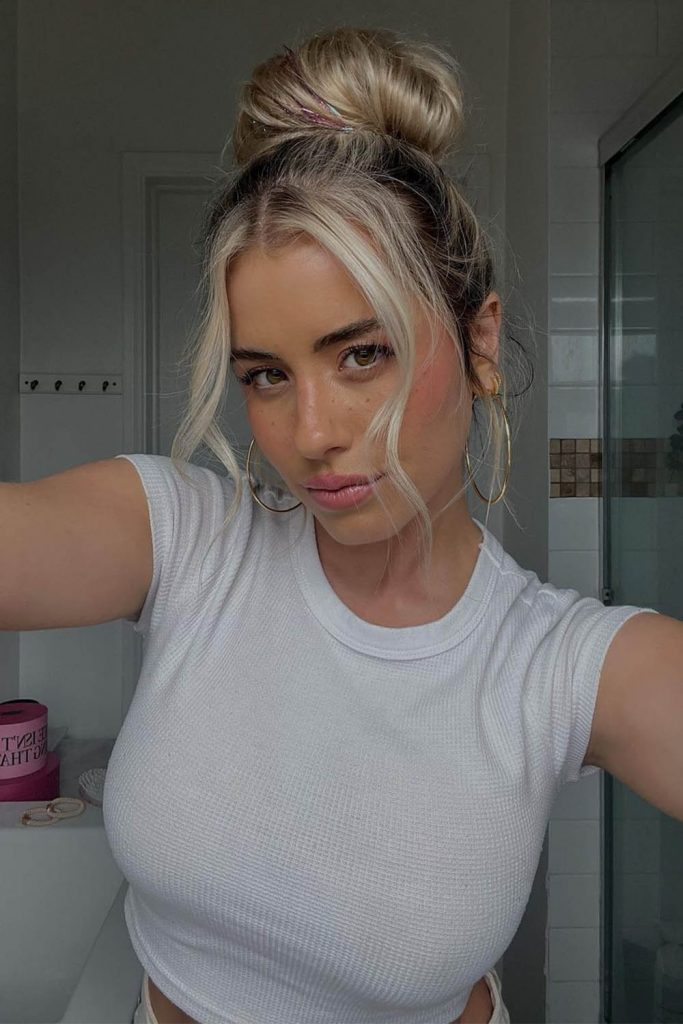 Credit photo: Instagram.com/luxyhair
While others love their hair effortlessly falling behind their backs, some don't. This doesn't however stop you from slaying beach curls like others. You can have your waves styled in an updo and to compliment this style, have little strands of hair fall on both sides of your face. Have the strands fall from the center of your face and ensure they're in loose curls to easily frame your face and compliment your facial features. What's more, is that your bun could be messy for a more beachy result so don't fret about achieving the perfect updo!
Braided Long Beach Waves Hair
Credit photo: instagram.com/luxyhair
i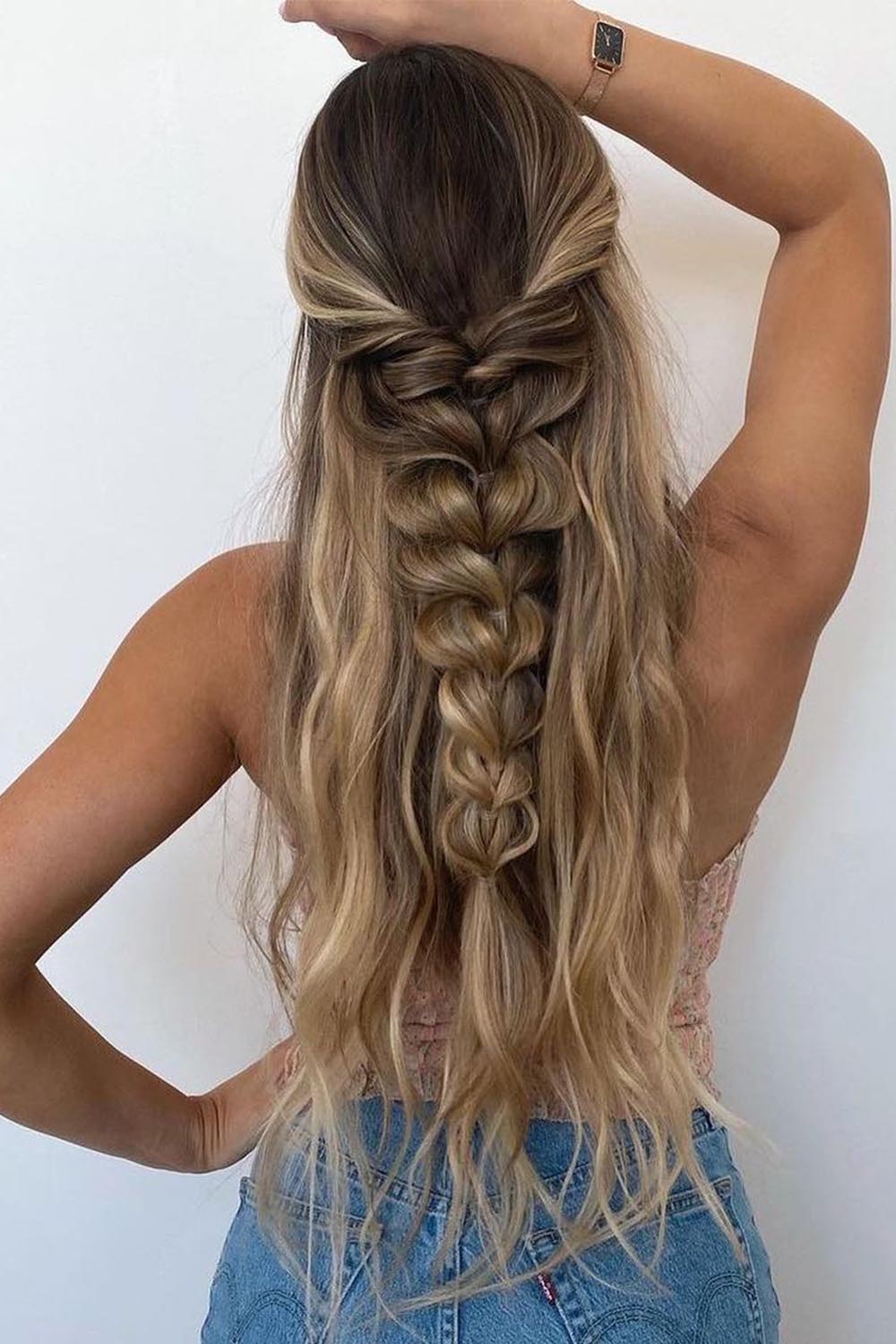 Credit photo: instagram.com/amastylist__
i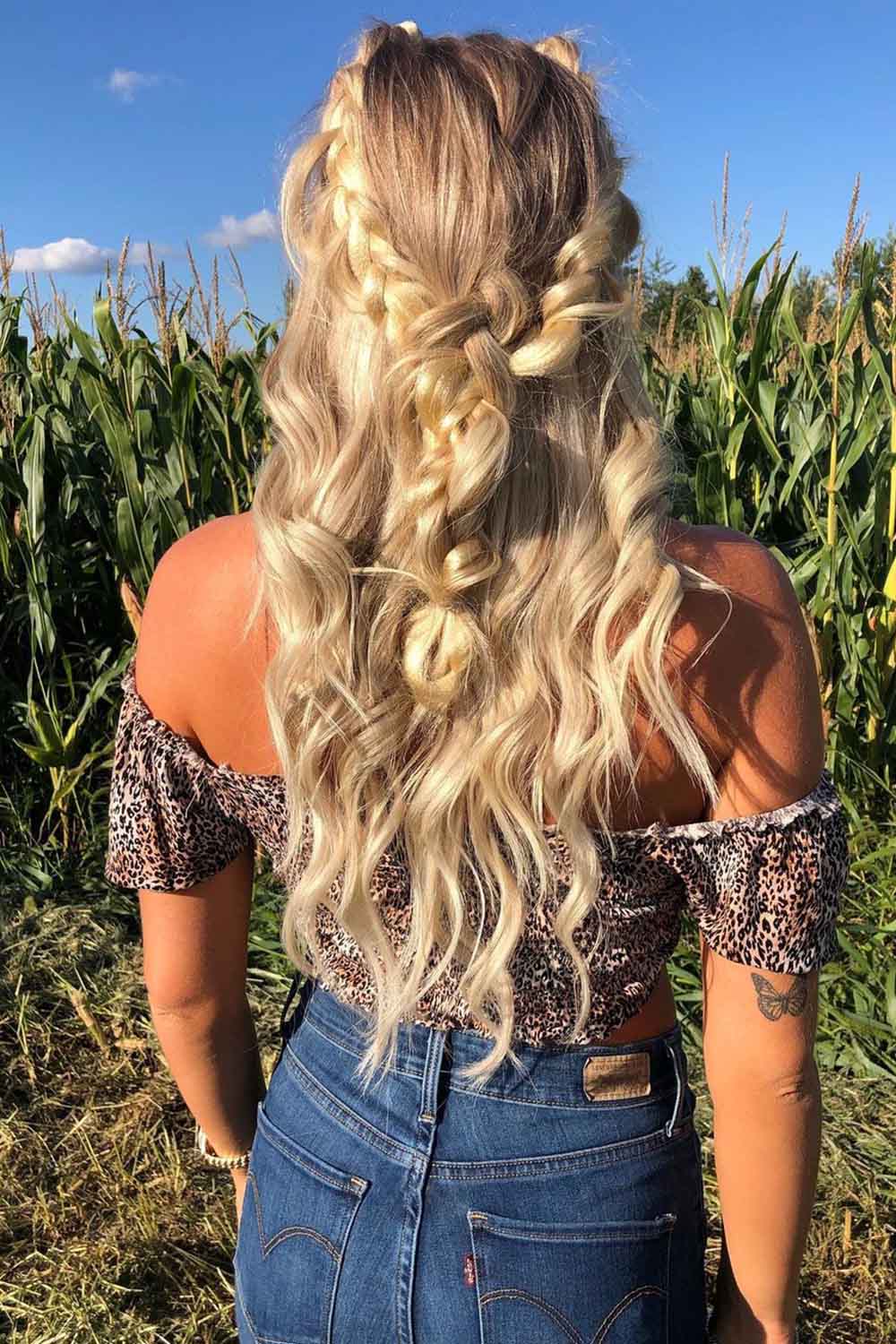 /
Wavy long hair with braids adds a touch of bohemian charm to the classic beachy look. By incorporating braids into the flowing waves, you can elevate your style with intricate texture and a playful twist. This fusion of braids and waves creates a captivating and effortlessly chic hairstyle that is perfect for any occasion. Whether you opt for a single braid or multiple braids interwoven throughout your locks, the result is a stunning combination of femininity and beachy vibes. Embrace the artistry of this braided beach style and let your look tell a story of carefree elegance and undeniable allure.
Old Hollywood Waves for Long Hair
Credit photo: instagram.com/luxyhair
i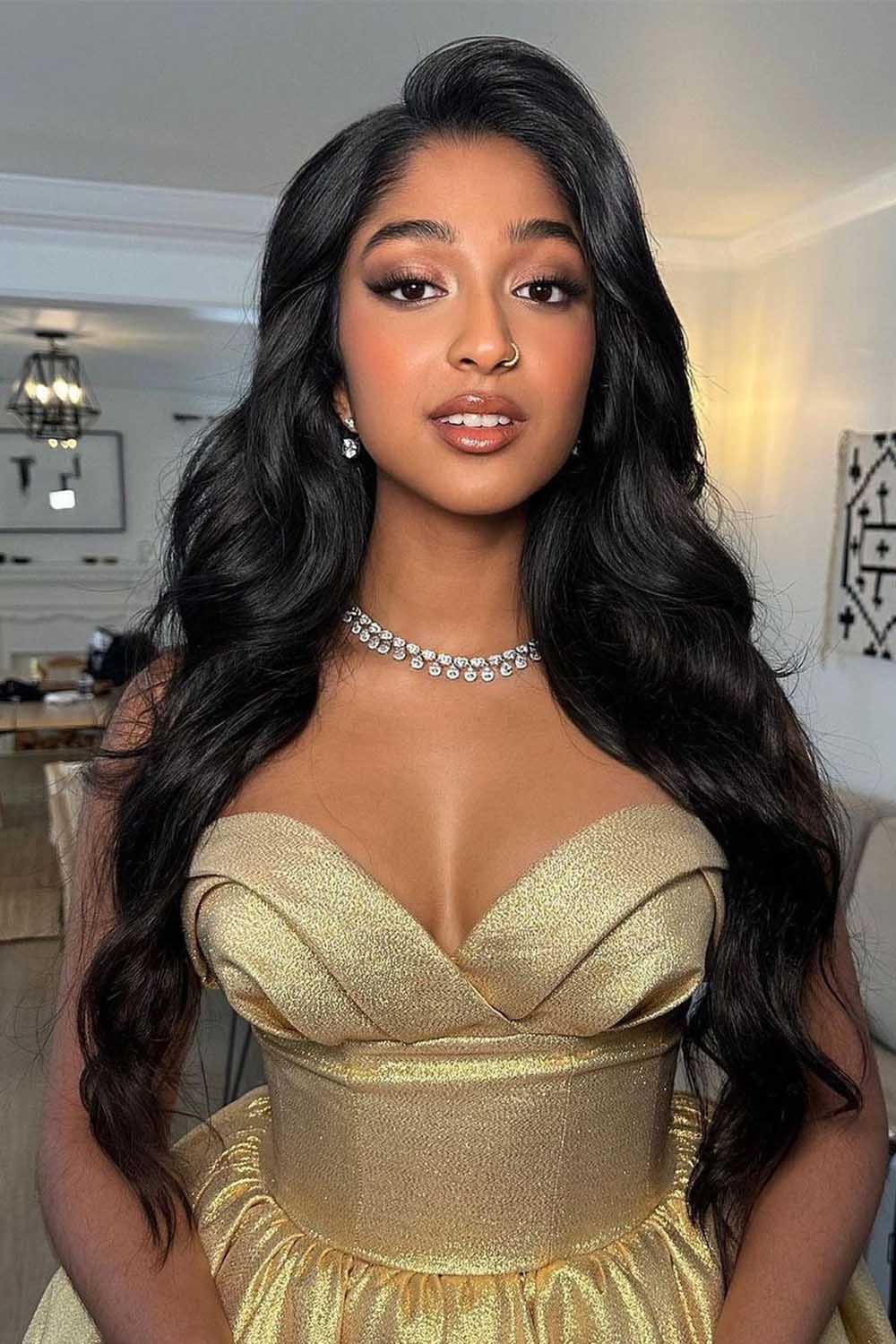 Credit photo: instagram.com/michaelgrayhair
i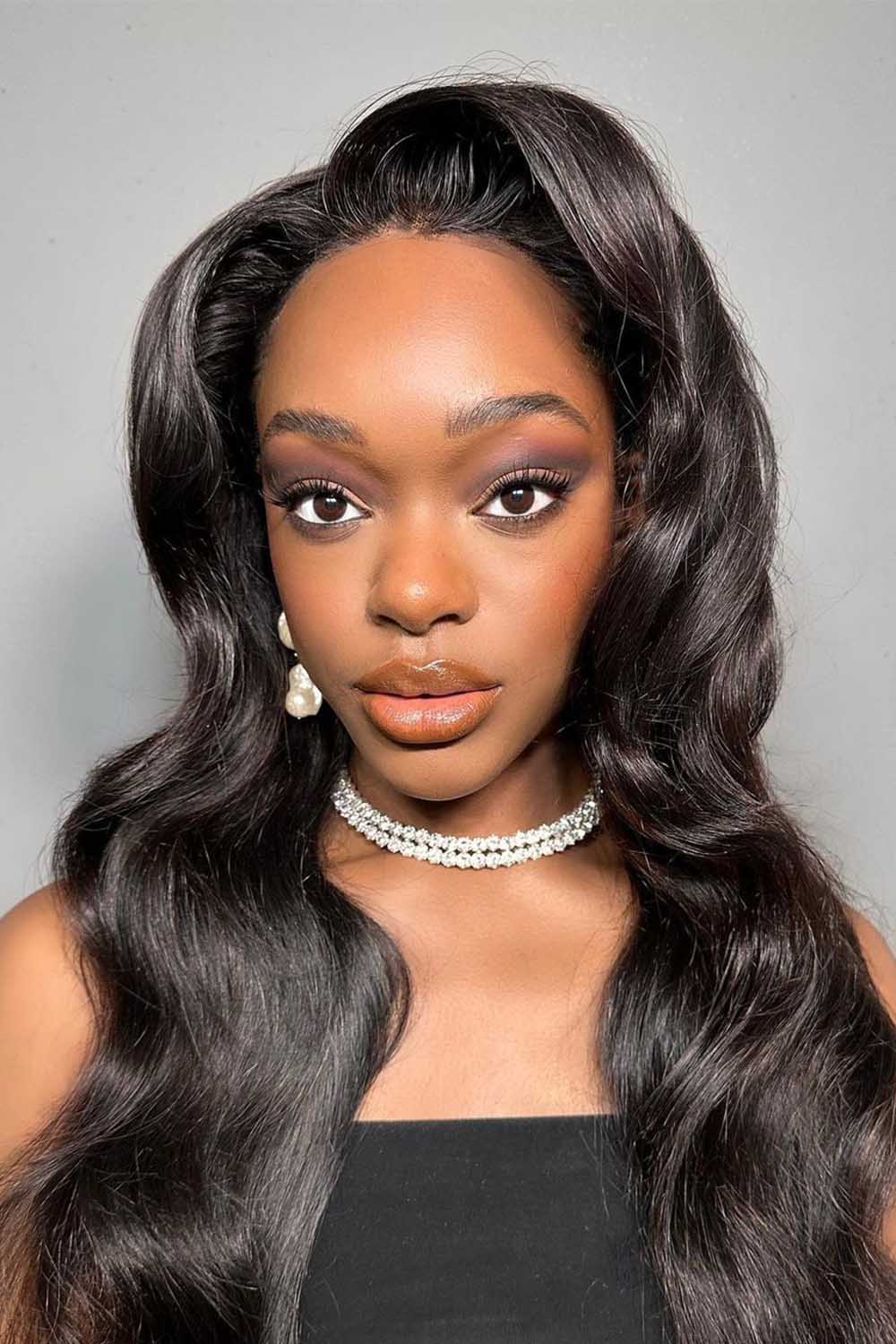 /
Step back in time and channel the elegance of old Hollywood with stunning waves haircut for long hair. Inspired by the glamorous hairstyles of the silver screen icons, these timeless waves exude refinement and allure. Achieving the coveted old Hollywood wave requires meticulous styling, attention to detail, and the right tools. With a curling iron, setting lotion, and a touch of vintage charm, you can transform your long locks into a mesmerizing cascade of classic waves. The style is perfect for special occasions or when you want to add a touch of vintage glamour to your everyday look. It is a timeless choice that never goes out of style.
Beachy Waves with Face-Framing Bangs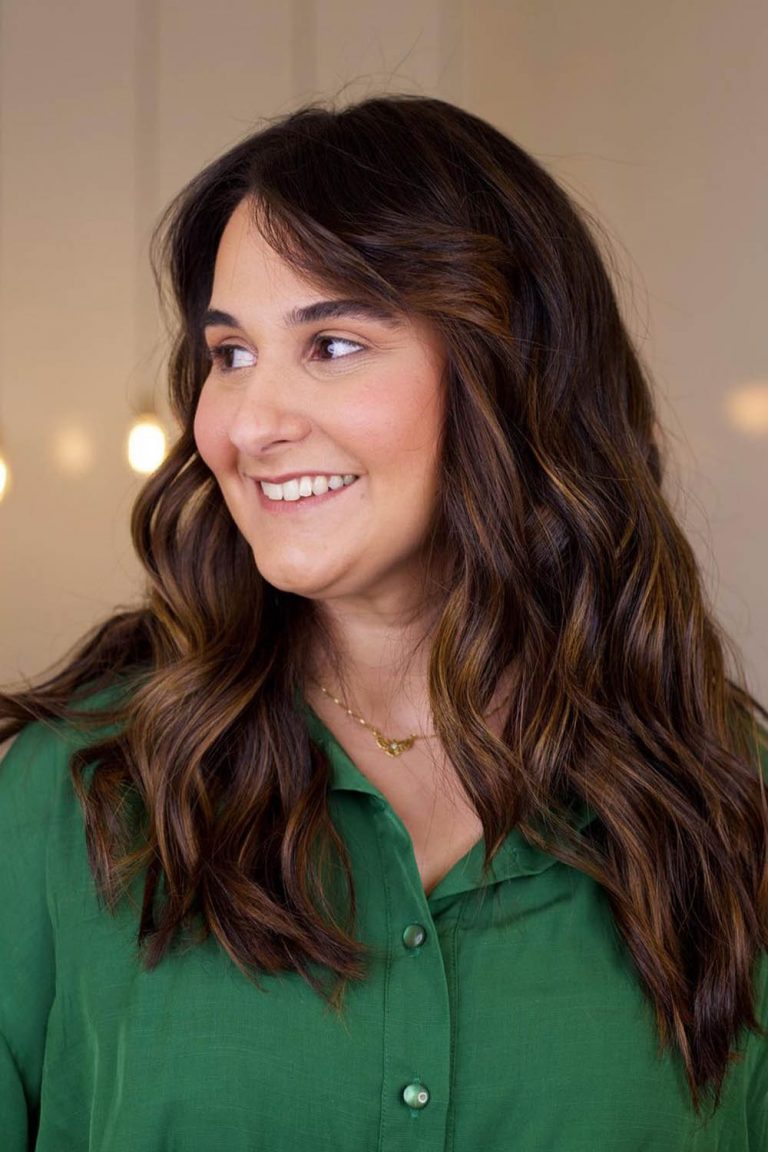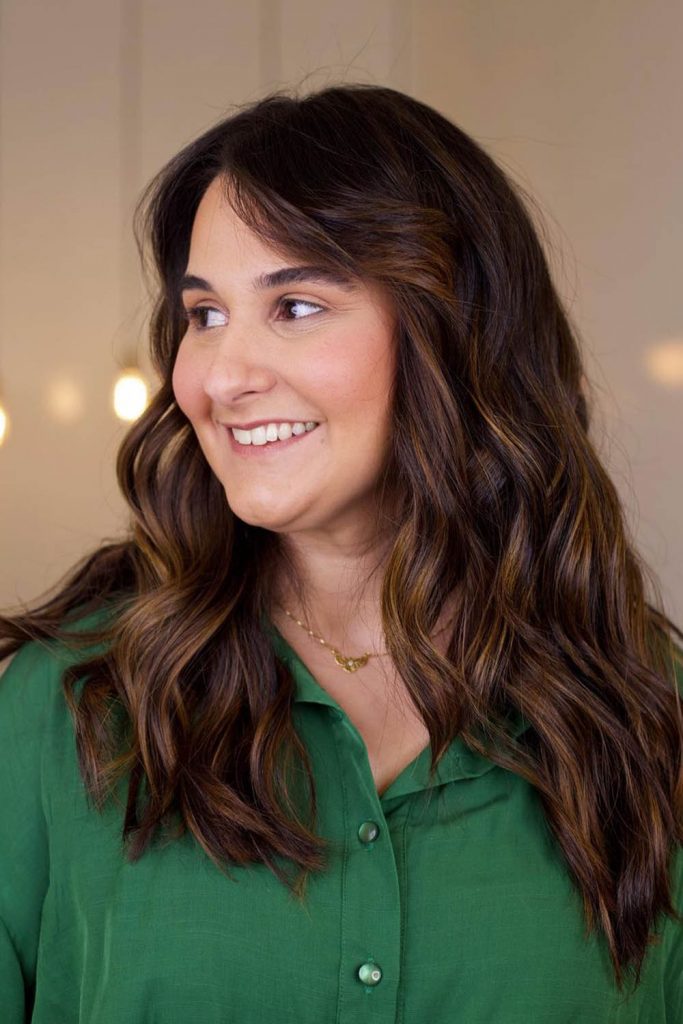 Credit photo: Instagram.com/petermenezes
Don't want the usual beach waves hairstyle? Another option is long beach waves hair with face-framing fringe. These beachy waves lend a carefree and laid-back vibe to your overall style while the bangs provide a frame that draws attention to your eyes and complements your face shape. Beach waves with face-framing bangs offer a mesmerizing combination of bohemian beauty and modern chicness. Accentuate your features and add depth and dimension to your outfit by opting for this innovative and ever-trending hairstyle.
FAQ: How Do You Get Beachy Waves in Long Hair?
For those curious about how to do beach waves on long hair, know that the traditional method is the use of a curling iron or a wand. Prior to making use of this heating tool, apply a heat protectant on your hair before grabbing them in little sections. After this, you can create the waves of your choice and then blow them out if you want a voluminous result.
What are Different Tools to Make Hair Wavy?
If you want to get the perfect beach waves, then you need the best tool for beach waves long hair. tools you use depend on the style you're opting for. Either way, the major tools used are a curling iron, flat iron, deep waves styler, and wand. This doesn't however limit you from using other tools.
How to Care for Wavy Hair?
As making waves would involve using heating tools, it is important to use a heat protectant first. Also to maintain your waves, you might want to get a shampoo for curly hair. Also deep condition a lot but don't use too many products on your hair at the same time.
Long Beach Waves hair offers a timeless and effortlessly chic look that captures the spirit of carefree beach days. With the right techniques and products, anyone can achieve those tousled and textured waves that exude natural beauty and confidence. Whether you're strolling along the shore or attending a glamorous event, Long Beach Waves is a versatile and captivating choice. So, embrace your inner mermaid, let your hair dance with the ocean breeze, and make a statement with your stunning hairstyle.
REFERENCES:
Long Beach Waves Hairstyles. Source