Pixie haircuts for women over 50 want you to stop counting your years and start enjoying your life! This famous pixie cut is the best women's friend who knows how to deal with any age, any hair type, any face shape. Pixie has many faces, and some of them have wrinkles. But who says that they're an obstacle for being beautiful?
ADVERTISEMENT ‧ CONTINUE READING BELOW
Women's beauty is ageless. Only fools would get upset about their old age, as every wise woman knows that her sacred number is something to be proud of. Wearing a haircut of now is the best way to show off your timeless beauty. Go on reading to see what pixie variations will suit your personality!
Long Pixie Hairсut Ideas
ADVERTISEMENT ‧ CONTINUE READING BELOW
Long Layered Pixie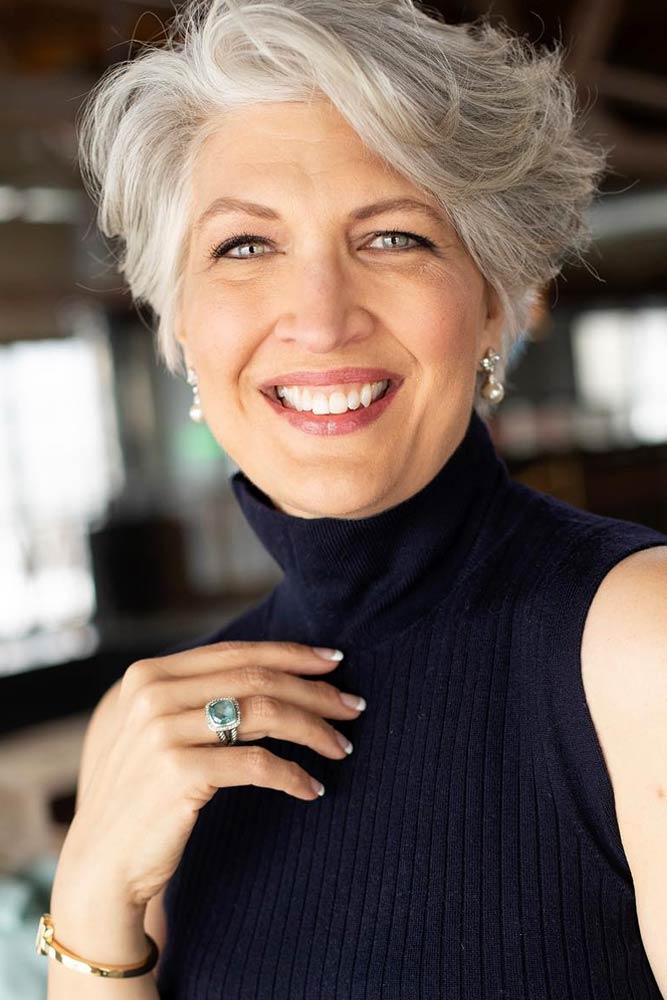 Credit photo:janellenelson via Instagram
Layers add body to your haircut. Some women don't find this feature to be crucial for them, but those who've reached a certain age know how handy it can be. No wonder why there are so many beautiful layered medium length haircuts for women over 50 out there. A well-groomed look is the best way to put a focus on the best features of your face, hiding your flaws at the same time.
Bang hairstyles for older women are one of the best ways to disguise any possible flaws and enhance the most beautiful facial features. Hence, a layered pixie with bangs will hide your wrinkled forehead, thus accentuating your beautiful eyes. Remember: new hair color isn't something that will make you look younger. The right, flattering pixie haircuts for women over 50 are the thing.
Side Parted Cut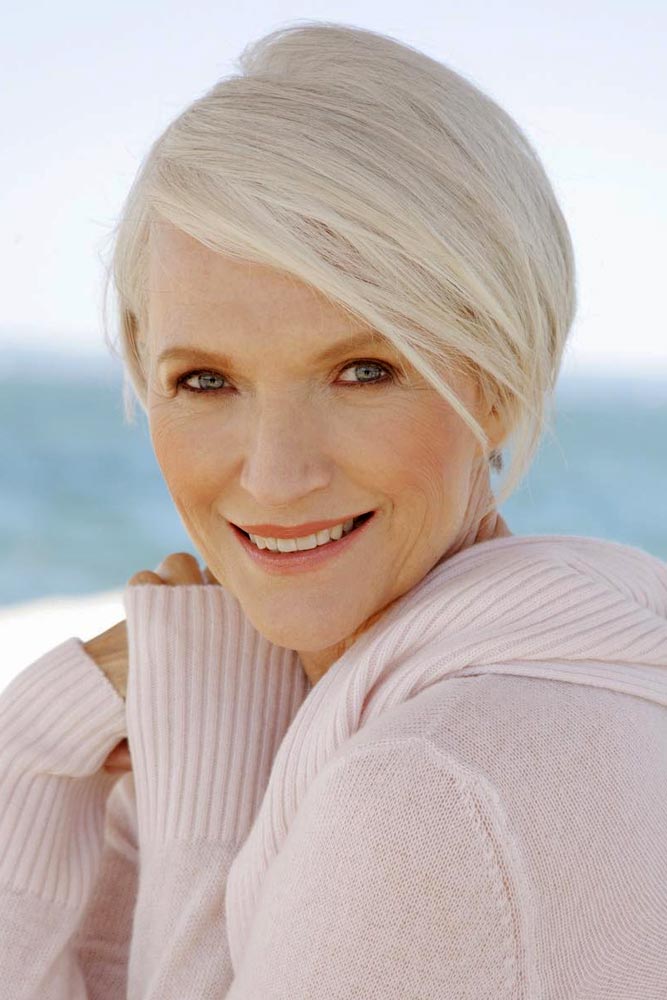 Credit photo:mayemusk via Instagram
Wavy hair styled to the side is another definition for a timeless look. To show everyone how stylish you are, cut your hair short, styling it asymmetrically, and wave your hair to add some movement. A bit messy silhouettes of pixie haircuts for women over 50 can draw attention from your wrinkles, showing off your good taste.
ADVERTISEMENT ‧ CONTINUE READING BELOW
Long Bang Pixie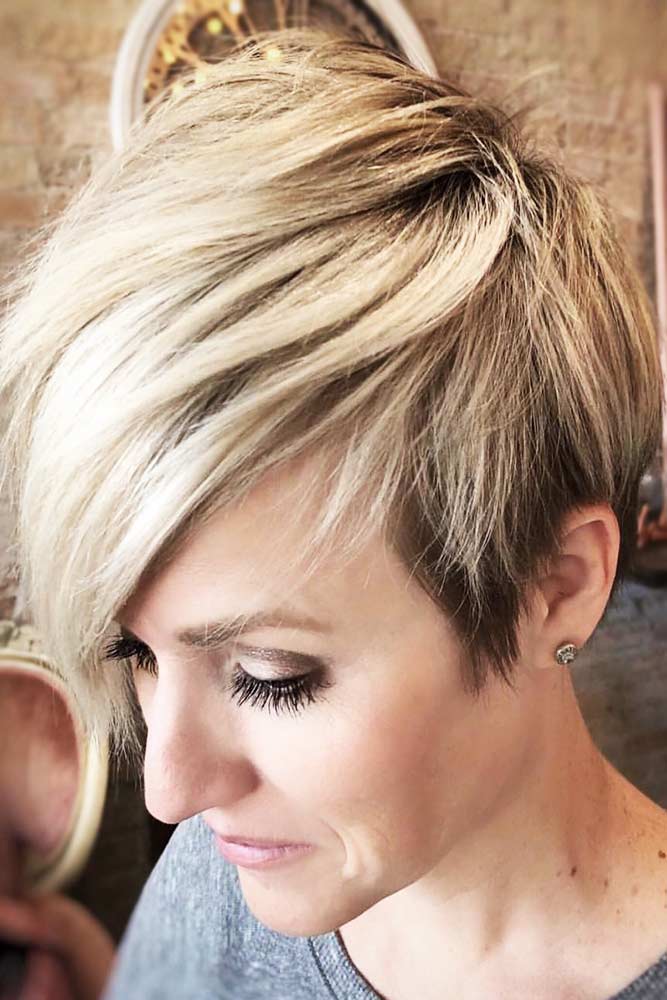 Credit photo:shorthairbyshawni via Instagram
When a woman is about to change something in her life, there's a thin line between a pixie cut and short bob. Both these cuties are risky, radical, and absolutely fancy. And sometimes, bobs win, as not every hair texture can work with pixies. Hairstylists recommend women with fine hair to go for a short bob because once they opt for pixie, they will experience their hair falling flat.
Tones of styling products every morning isn't the best thing for your hair, so this dramatic silver bob with youthful bangs, will be there for you. As you can see, pixie haircuts for women over 50 can really change your styling routine for the better!
Side Pixie Styling For Thick Hair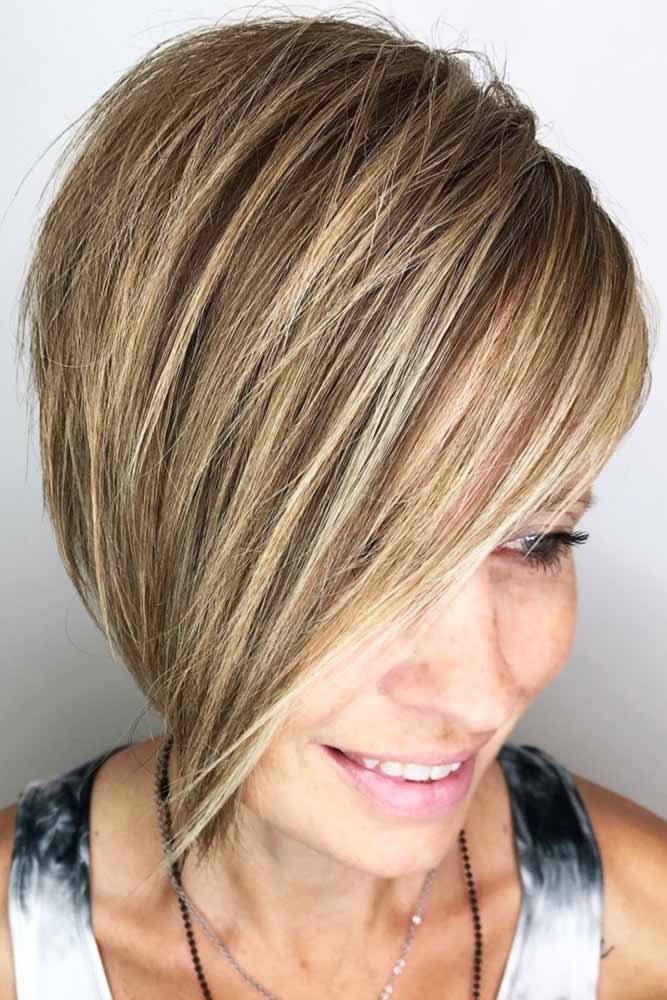 Credit photo:emilyandersonstyling via Instagram
Thick hair is a hair texture of a high maintenance, every woman who has it knows all its pitfalls. Yes, we know, styling and washing routine are so exhausting for you sometimes. But do you know that the shorter your hair is, the fewer troubles you have? Just go for one of the amazing pixie haircuts for women over 50 that are accompanied by a side-swept bang to get what we mean. P.S. It's so easy to style!
ADVERTISEMENT ‧ CONTINUE READING BELOW
Angled Long Pixie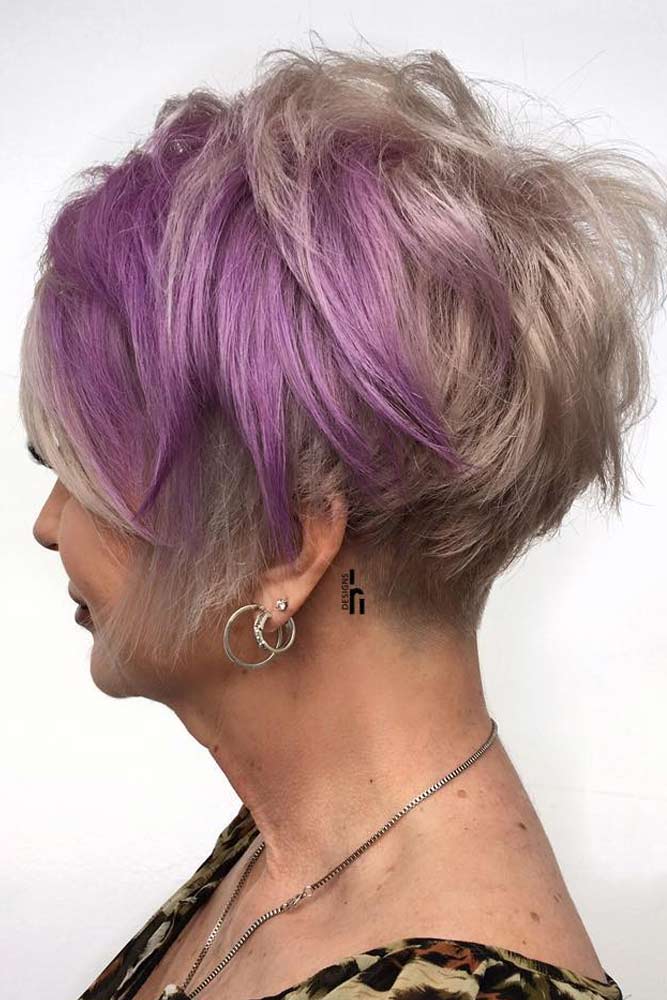 Credit photo:headrushdesigns via Instagram
The silhouette that angled bob creates is to die for. Longer strands in the front and shorter in the back are another stunning idea for those who want to calm down their fine hair and just put an end to this tiresome styling rituals. As you can see, this shade of red perfectly complements such an iconic bob, and when it's waved, it looks even more fascinating.
Blunt Long Pixie For Straight Hair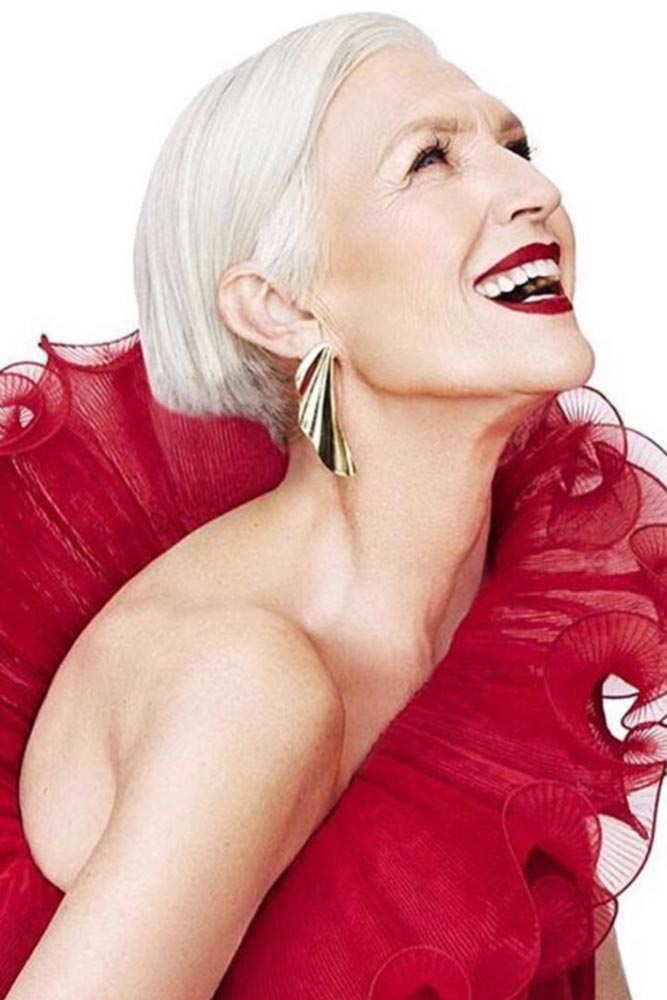 Credit photo:mayemusk via Instagram
Don't get surprised if your hairstylist insists on going for a blunt pixie. It's just all about your hair; it's straight, right? Nothing flatters straight hair better than this variation of the pixie cut. This cut is elegant, timeless, and totally glamorous. Put on your red lipstick, style your blunt cut neatly and be ready to hear the most flattering compliments.
Wavy Styling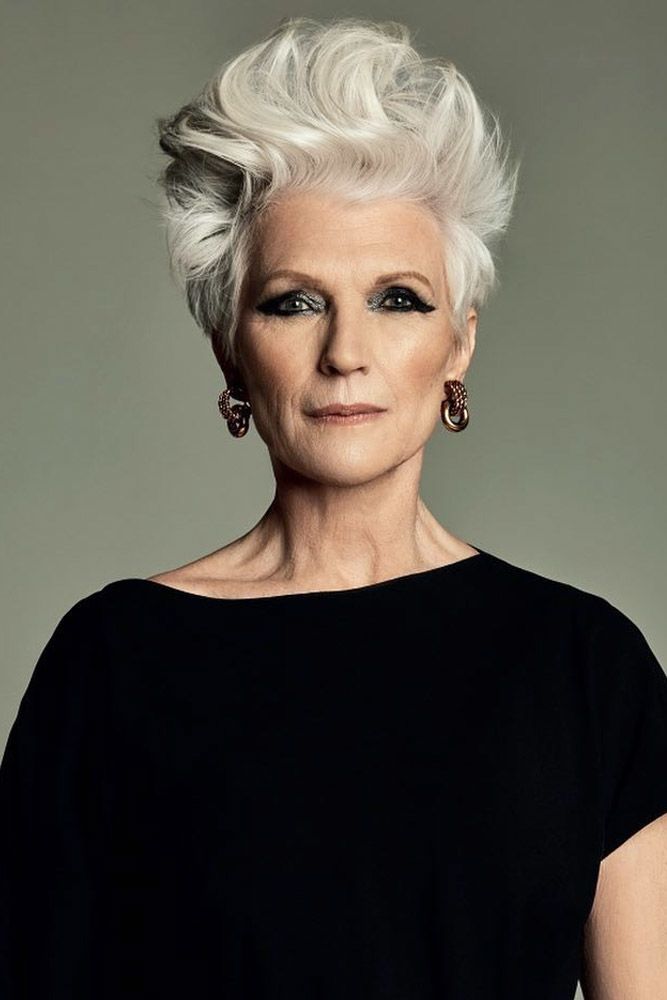 Credit photo:mayemusk via Instagram
Do you want to be a pin-up icon of the 21st century? A special hairstyle is enough to look like a magazine cover. The brushed up wavy top with short sides is probably one of the hottest short hairstyles for women over 60: volume, texture, the balance of hair lengths and sexuality rolled into one!
ADVERTISEMENT ‧ CONTINUE READING BELOW
Side Part Pixie With Long Bang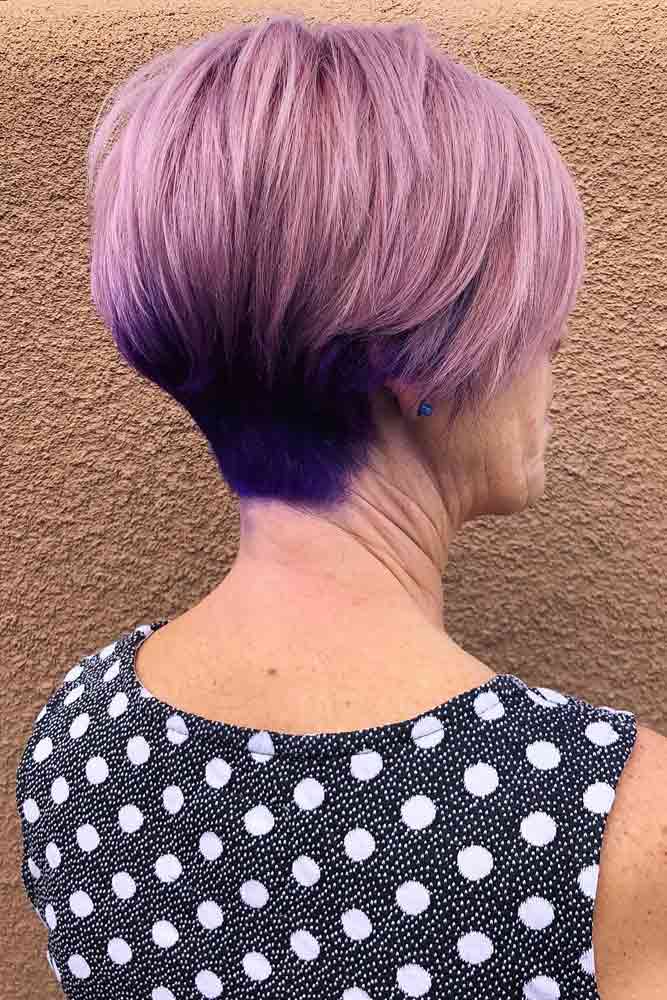 Credit photo:desirre_hairstylist via Instagram
Try not to fall in love with the hair length graduation of this pixie! Side-part looks always add a touch of boldness, and when the sides are a bit shorter than the top, which is beautified with a long bang, a simple pixie turns into a look to steal. If you think that this idea is one of the most iconic pixie haircuts for women over 50, you're so right, lady!
Long Platinum Blonde Pixie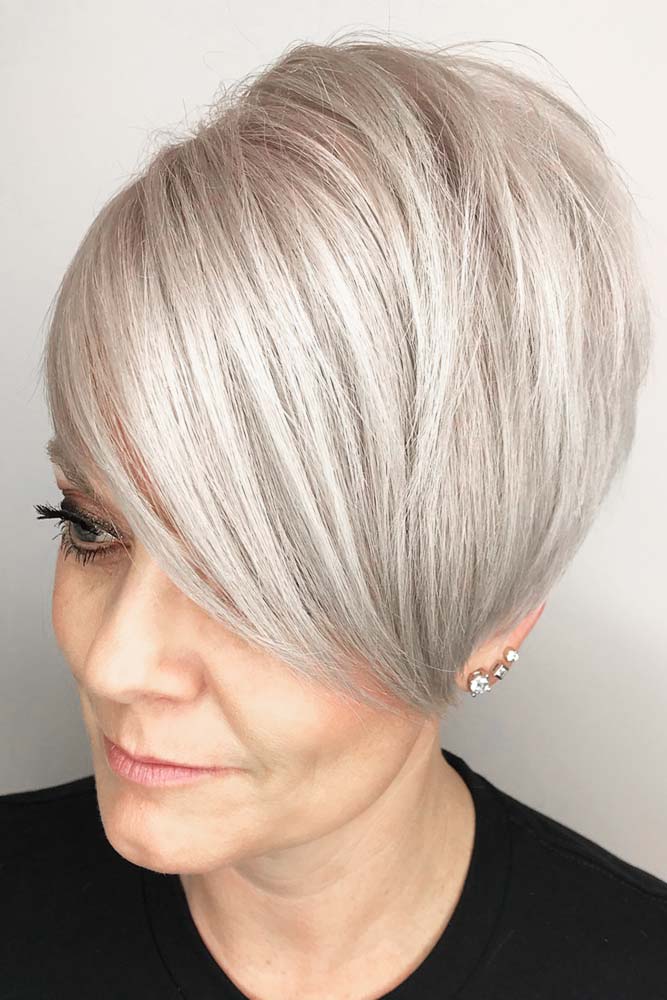 Credit photo:emilyandersonstyling via Instagram
Long pixie + long bangs = the most iconic duo ever. There are no better ways to frame your face or hide your wrinkles than getting yourself pixie haircuts for women over 50 like this. The bangs are of the same length as your pixie, which creates a very smooth and pleasant texture. Forget about your round face: this voluminous cut knows how to sort things out!
Extremely Short Edgy Pixie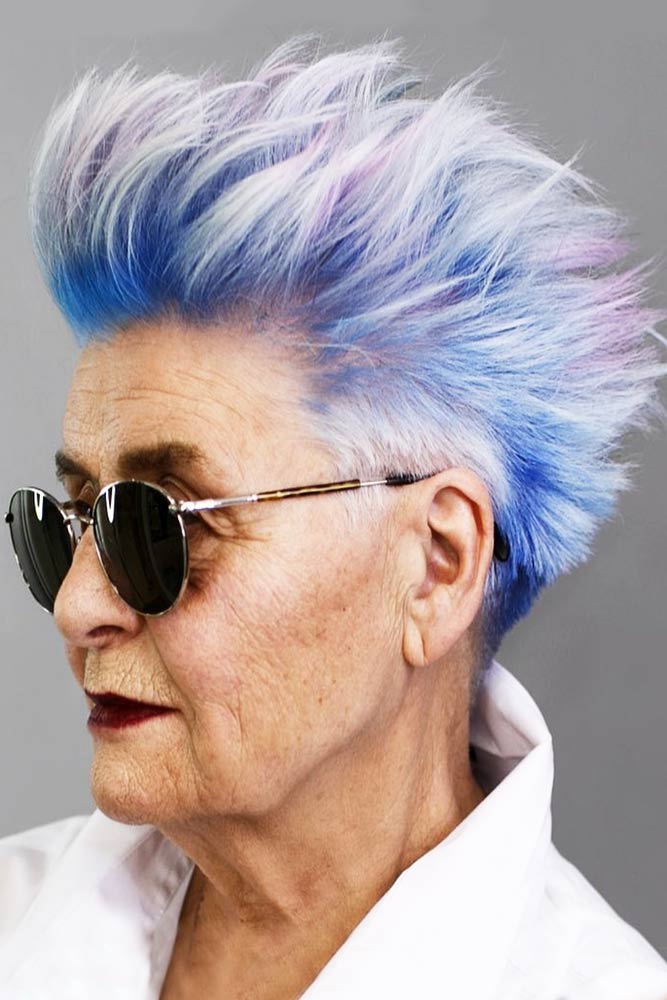 Credit photo:shorohet via Instagram
What comes to your mind when you think of short hairstyles for women over 50 with glasses? Does it look as sassy, badass, and funky as this idea? Those who believe that wearing glasses is boring, ladies, you're missing out. Whether they are the sunglasses or prescribed ones, women with glasses are the hottest goddesses! Is your soul young enough to let you sport this super edgy pixie with blue roots?
ADVERTISEMENT ‧ CONTINUE READING BELOW
Bob-To-Pixie Transformation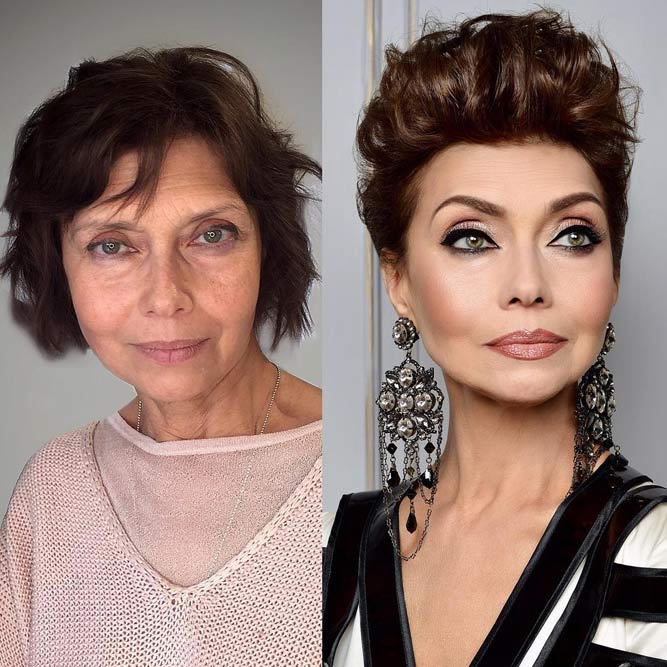 Credit photo:ruslantatyanin via Instagram
There are many youthful hairstyles women over 50 sport every day. Needless to say, most of them are pixies and bobs. But sometimes one is better than another, it all depends on your appearance. Sometimes, when bob grows out, it looks even worse than mom haircuts. If you have thin hair, it's better to opt for a wavy pixie with side fringe. This transformation pic is a proof that haircuts can actually take years off.
Platinum Blonde Pixie-Bob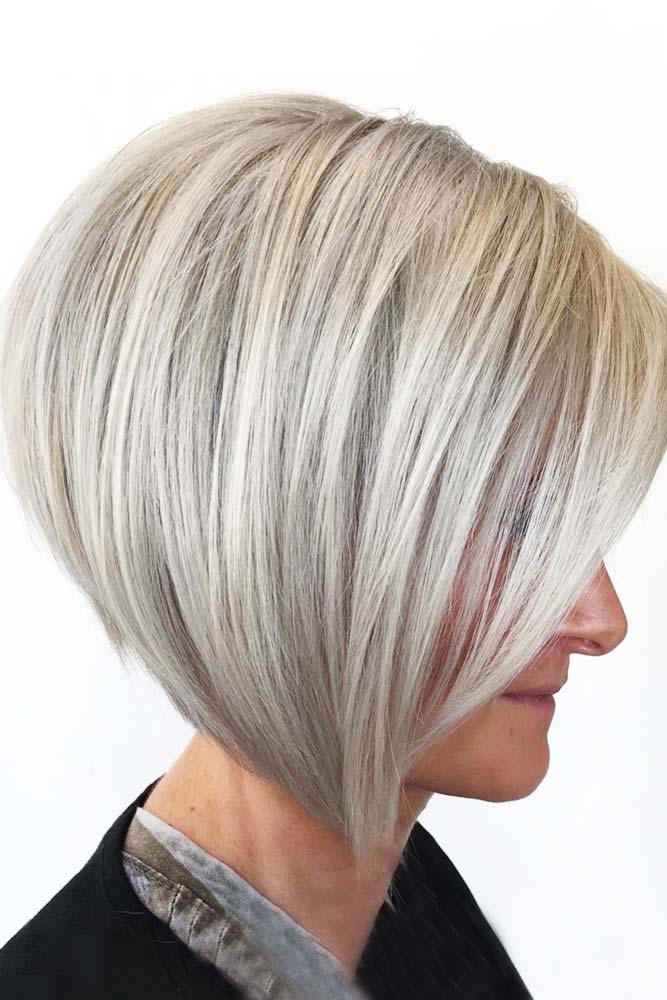 Credit photo:headrushdesigns via Instagram
Indecisive women who can't decide between these two haircuts, you can breathe a sigh of relief! Pixie bob-haircut is a love child of the well-known haircuts. Want your hair to look unbearably gorgeous and voluminous? This idea is a good choice for those who love volumetric bobs and stylish pixies. The best pixie haircuts for women over 50 are the ones that let you experiment, don't you agree?
Long Curly Pixie For Natural Hair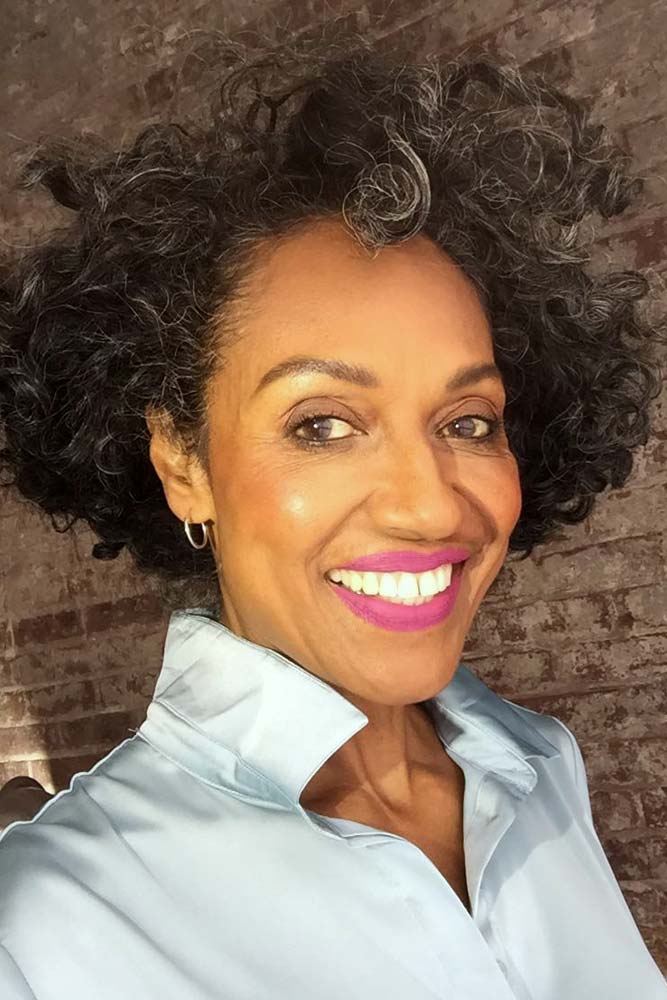 Credit photo:pat.tracey via Instagram
Congratulations to all those lucky ladies with natural hair! Though there are lots of different pixie haircuts for women over 50, nothing can compete with the charm of unique, long natural pixies. We know that all you want is to whip the bouncy texture of your fine hair into shape. That's why we advise you to opt for the long version of the pixie.
The best thing is when this cut is curly, it looks ravishing with soft salt and pepper or trendy greyish coloring. So, if your chevelure gets gray itself, don't worry; it becomes even more trendy and youthful that way.
Besides the visual benefits, you can also provide yourself with a low-maintenance cut that doesn't need to be styled with lots of tools and products. Some gel or wax to add some shine to your texture will be enough for your styling routine.
ADVERTISEMENT ‧ CONTINUE READING BELOW
Bedhead Pixie Style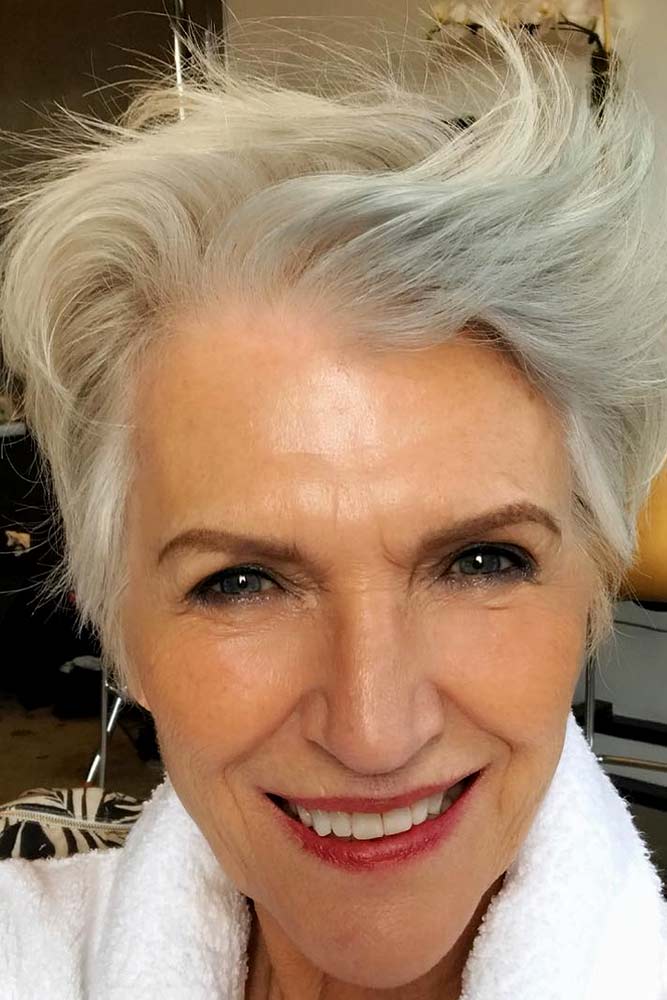 When it comes to pixie haircuts for women over 50, finding the right cutting technique is crucial. Your new cut should not only match your inner self but also fit your lifestyle and image. If you're a carefree lady who likes the popular I-don't-care looks, you should ask your stylist for a choppy pixie with layers.
Layers will build volume, while choppy ends will create an edgy, attractive silhouette.
With such a cut, the styling options are simply countless, but the most glamorous way is to style your pixie messily. Let the front layers or bangs touch the sky, tousle up the sides to add even more volume. Also, make sure your ends are airy and weightless, and the most contemporary style is done!
Credit photo:mayemusk via Instagram
Funky Pixie With Long Bangs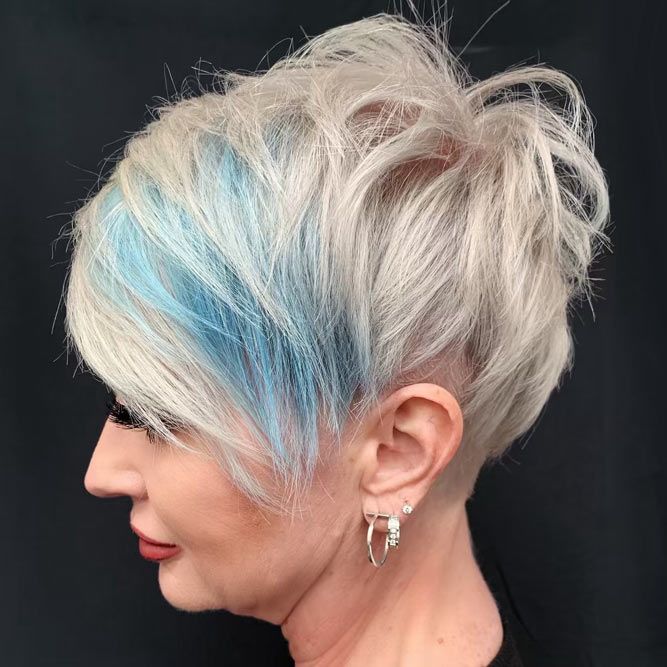 Credit photo:headrushdesigns via Instagram
Another crucial thing about pixie haircuts for women over 50 is to find a cut that perfectly matches your face shape. Something with long bangs and a bit asymmetrical or outweighed silhouette can elongate round faces by volumizing the crown and draw attention from pointed cheekbones or jawline. And when it's accompanied with some funky, eye-catching colors, this cut is more than just perfect.
When you are over 50, nothing stops you from playing around with bold colors! On the contrary, adding a pop, attention-grabbing color can give a fresh take on your base. Such bright shades as purple or baby pink look awesome when they're combined with a whitish or greyish base. Isn't that a perfect way to reveal your bright nature?
To style long bangs, make sure that you have a wide, round brush as it's a necessary tool that shapes your bangs during blow drying your hair.
Long Layered Pixie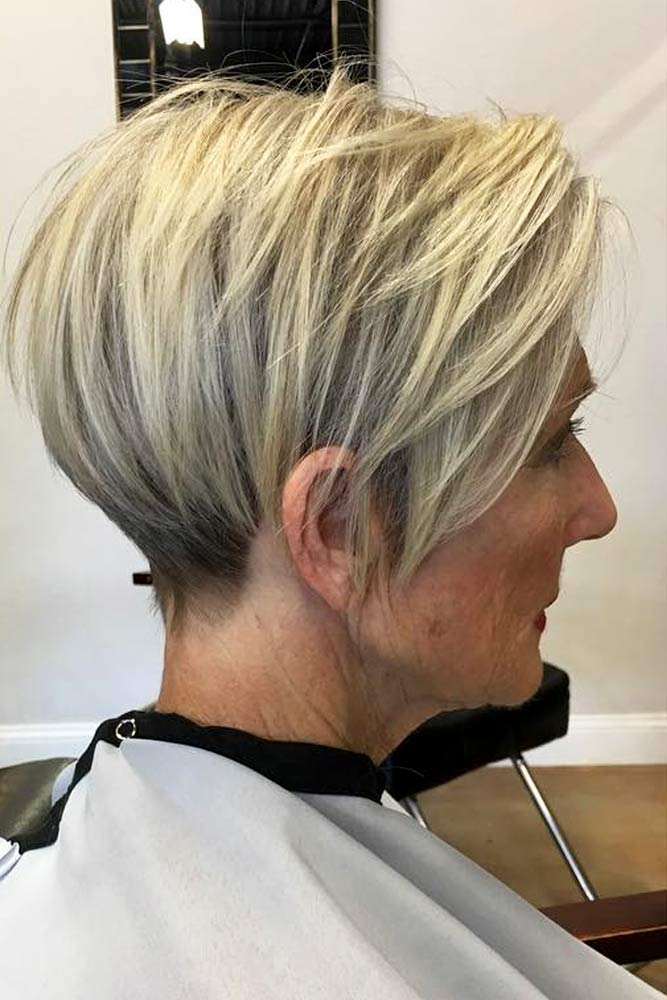 Credit photo:dillahajhair via Instagram
Going for a long layered pixie is the final step to reaching the style sophistication. The longer your pixie is, the more visible layers will be, which means that every single detail of your cut will look distinctive.
Such pixies look fantastic on any hair type but work perfectly for thin hair. With the help of voluminous and fullness-building layers on the back and front, thinning locks literally will have no chance to show up.
To style the cut, you may need to apply some softening mousse that makes hair more manageable when styling it. A good blow dryer and round brush is something you can't do without!
Also, you can try individualizing your haircut by opting for soft, ash blonde balayage or ombre. This color is popular today, and it will nicely complement the trendy cut.
ADVERTISEMENT ‧ CONTINUE READING BELOW
Long Straight Pixie With Baby Bangs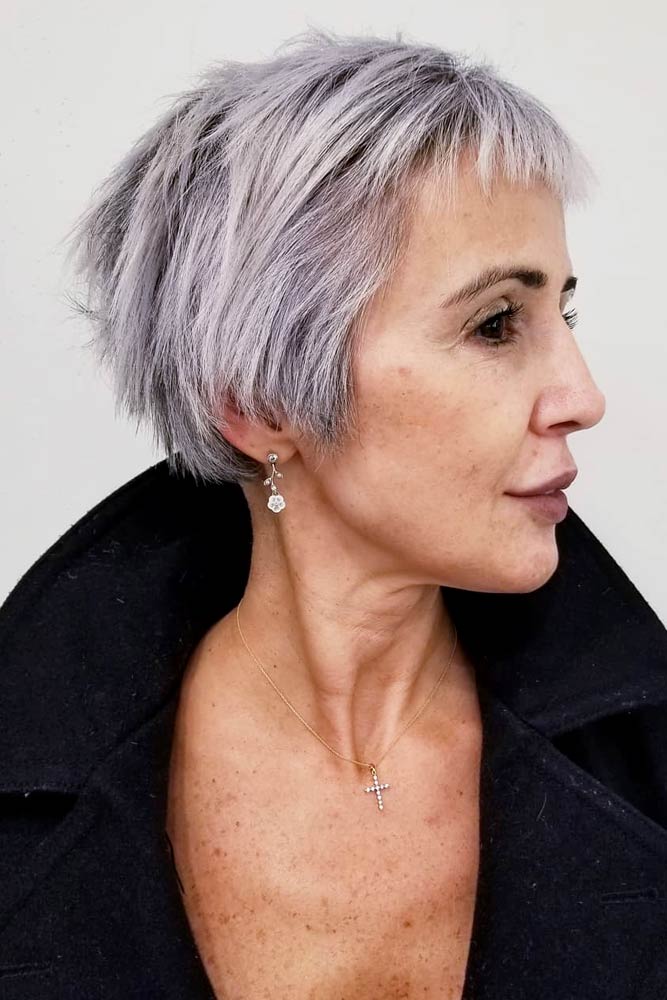 Credit photo:zoesimonecohen via Instagram
If your inner fashion rebel is ready to captivate, the daring and totally sexy long straight pixie with baby bangs is something you won't be able to resist. This cut is achieved by rough feathering of the ends, which creates a disheveled movement in your hair.
Baby bangs look as cute as they sound. But the appearance isn't the only advantage of this fringe! These little cuties can hide broad and wrinkled foreheads while keeping your beautiful brows open. In this way, you can conceal some flaws without really covering your face.
When styling this masterpiece, run your fingers through semi-wet hair to set your feathers into motion and make them stand out. Texturizing foam will come in handy!
Voluminous Side Parted Pixie-Bob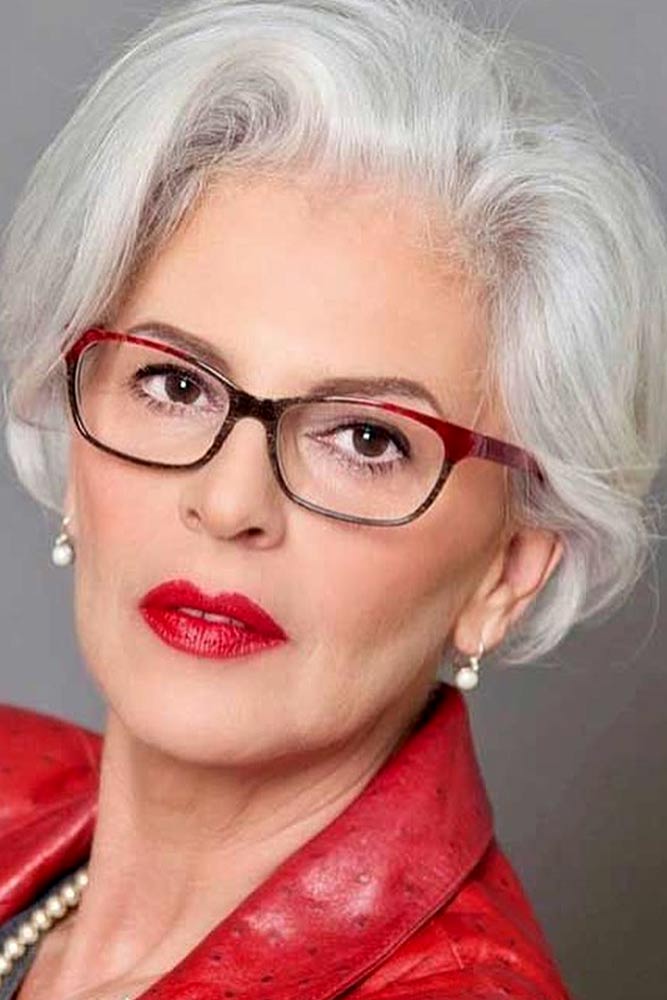 Credit photo:zvonavuckovic8 via Instagram
Finding the parting that flatters you is also very important when your goal is to look both feminine and presentable. Ladies who are into pixie-bobs, where the best features of two iconic haircuts are rolled into one, should opt for a side parting.
First of all, the side part gives a possibility to add volume from both sides, while the middle part rather focuses on the overall texture. And we all know that a pixie bob is all about dramatic volume on the crown and back, that's why this type of parting will work better here.
The cut can be styled in lots of different ways, which is good news for creative ladies. And those who'd like to get the most out of the possible volume should be prepared to use some heat for the front areas. A couple of flips of a curling iron is essential to create the needed lift.
Side Parted Pixie Haircut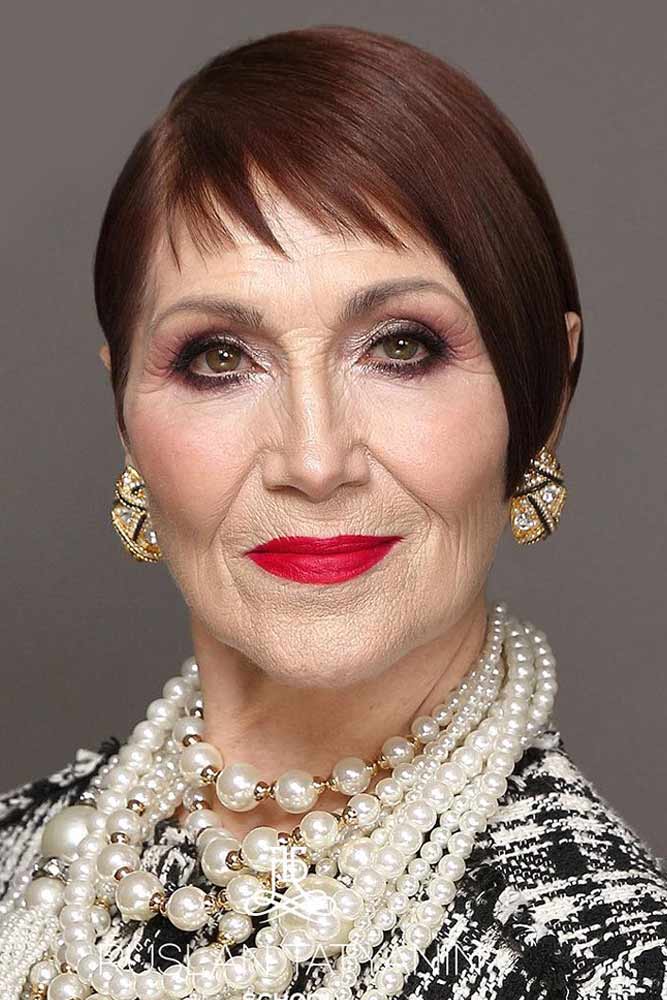 Credit photo:ruslantatyanin via Instagram
Not only does a side part give a modern touch to the popular pixie cut but also offer great styling flexibility.
Whatever texture you want to show up with is possible to get if you have the right styling products. If you sport a relatively short side-parted pixie, it's better to style it with soft mousses that will give a defined body, accurate silhouette and set the style at once.
Such a hairstyle will be a nice complement for your casual look. But when some special event is just around the corner, a bit of curly magic on the heavy side will give you the needed look.
ADVERTISEMENT ‧ CONTINUE READING BELOW
Layered Pixie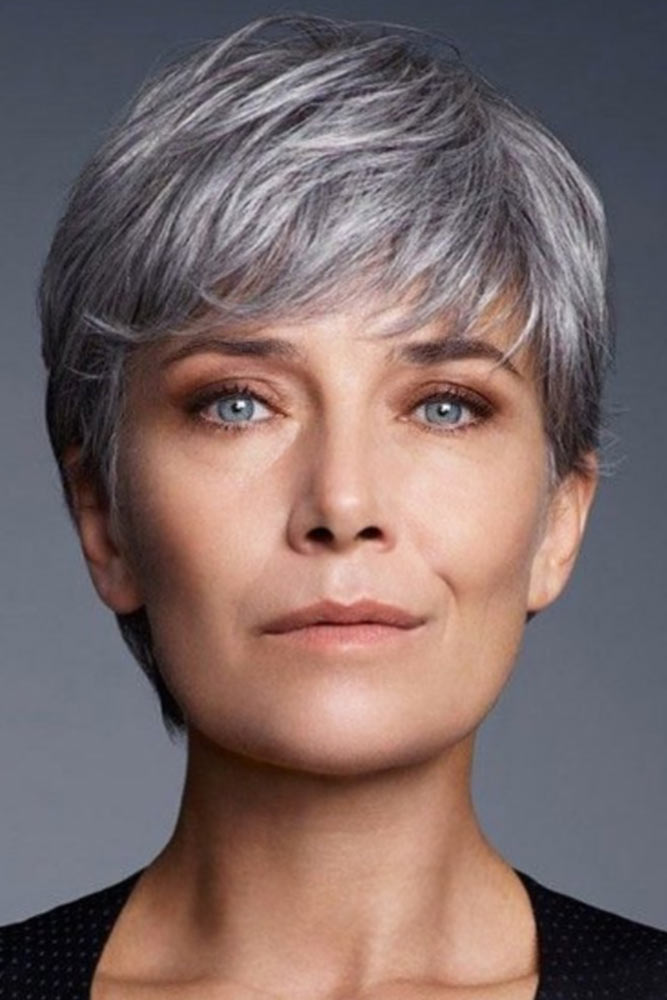 Credit photo:catherine_delzenne via Instagram
There's no need to repeat the advantages of layers, as you've probably learned them by heart already. But we can't have too much aesthetics, so let us show you how differently layered pixies can look.
This time, it comes as a fringe pixie cut that barely reaches the brows. Such an option is ideal for ladies who want to hide up their broad or wrinkled forehead and boost their fine locks up. As a result, you can get the style that can work on your flaws and enhance your awesome features.
Voluminous Long Pixie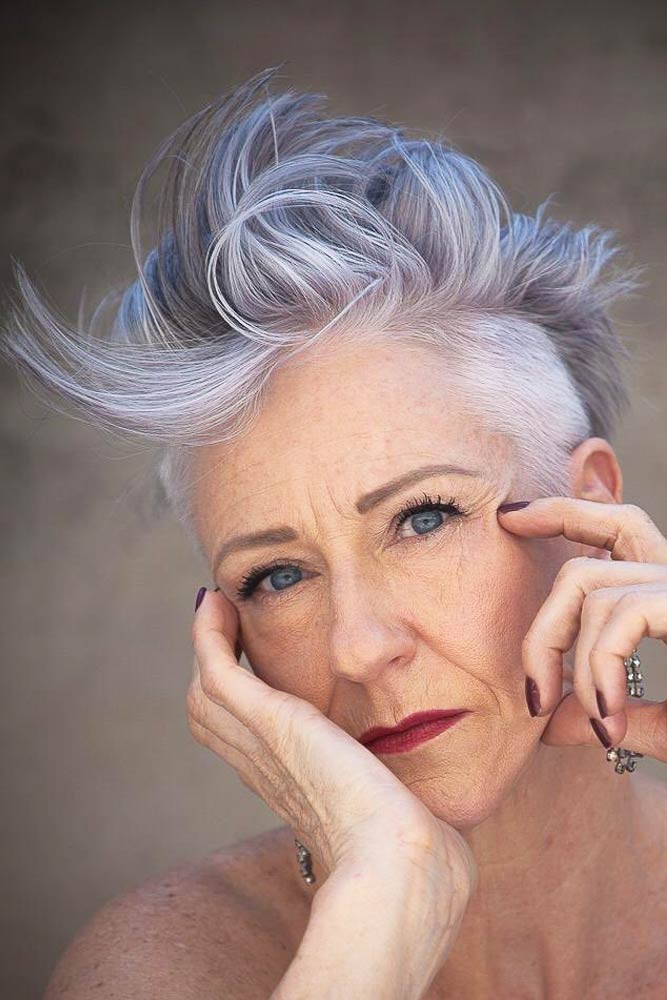 Credit photo:deborah__darling via Instagram
Volume is something that will never get old. Just like your natural charm! So why don't you combine these two irreplaceable features to wear a look that really shows what kind of woman you are?
Although the swept-back chevelure requires some time in the mornings, the result is definitely worth all the time and efforts.
Layered Messy Pixie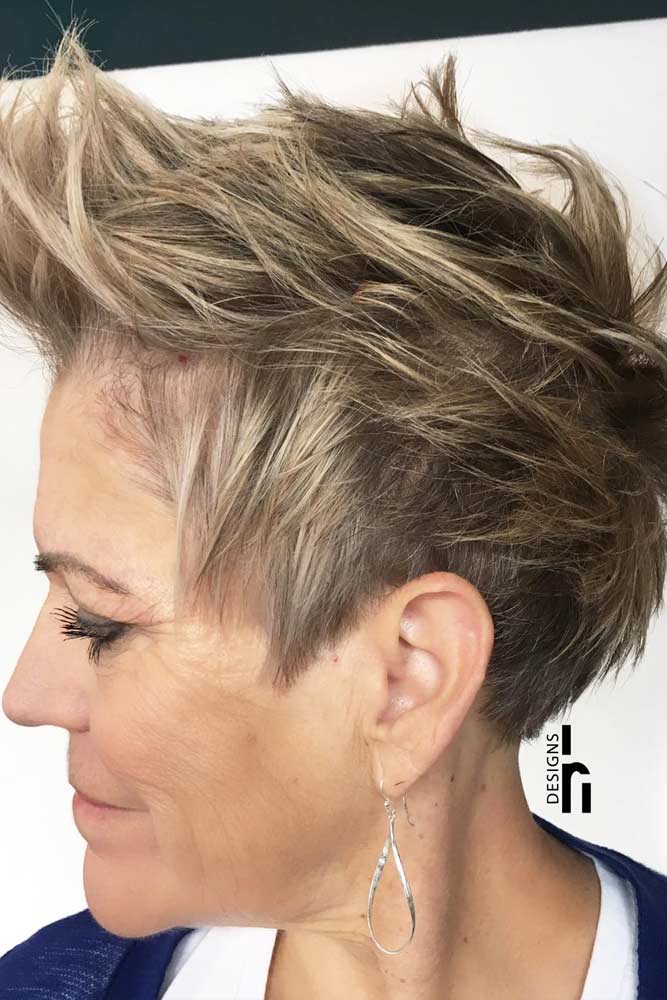 Credit photo:headrushdesigns via Instagram
Never be afraid to show what kind of person you are. If you live a happy and prosperous life, enjoy the burst of colors in spring and look as unique as snowflakes in winter, let your haircut show it off! Such a stylish, spiky pixie with a messy touch of short layers is the thing you should see in your mirror!
ADVERTISEMENT ‧ CONTINUE READING BELOW
Classic Long Pixie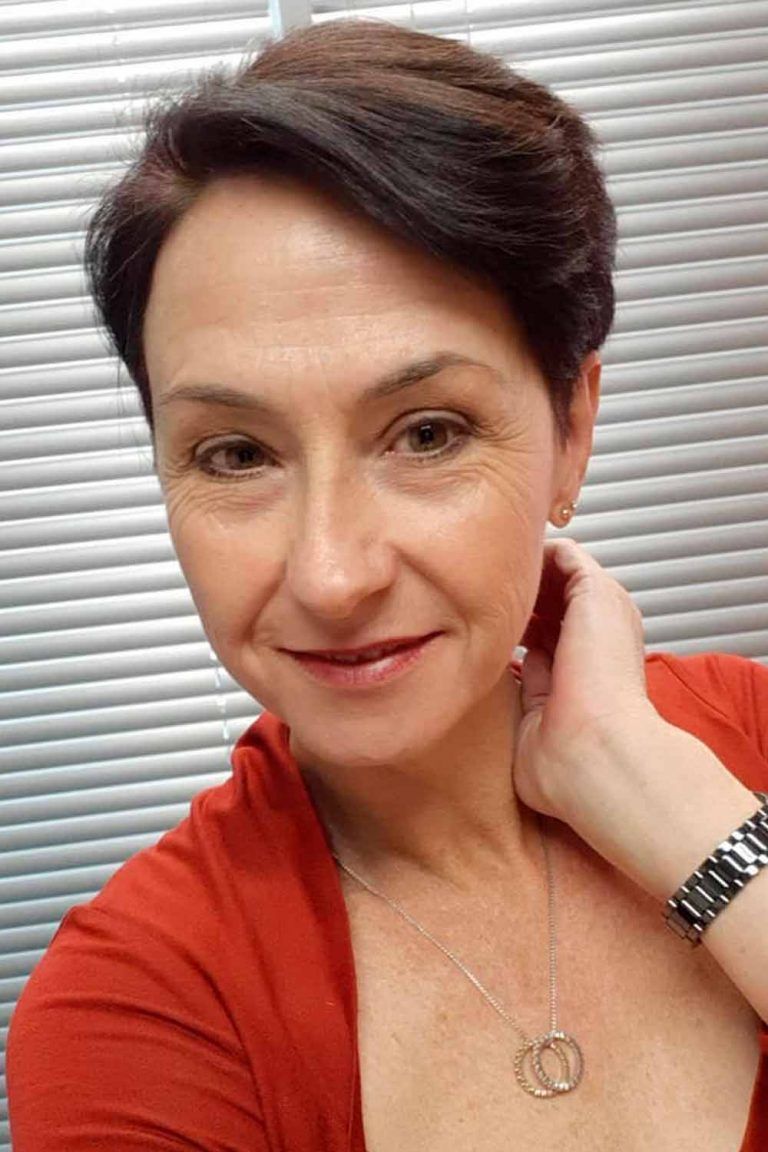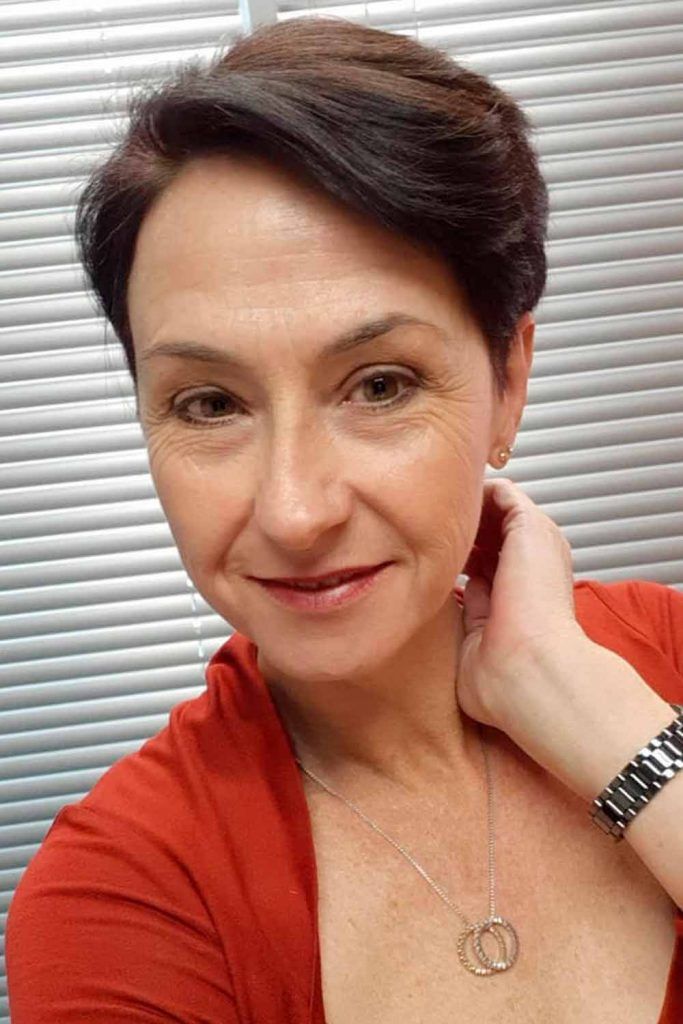 Credit photo: instagram.com/perfectly_imperfect_wendy
Asymmetric Long Pixie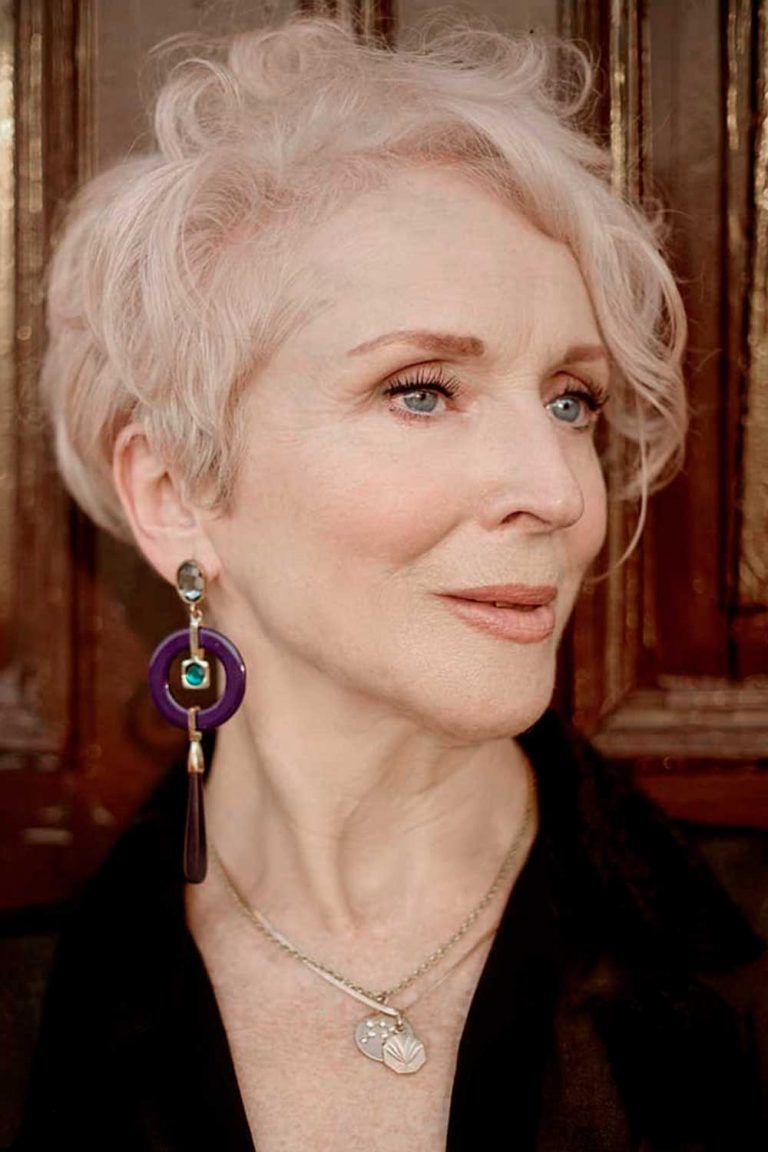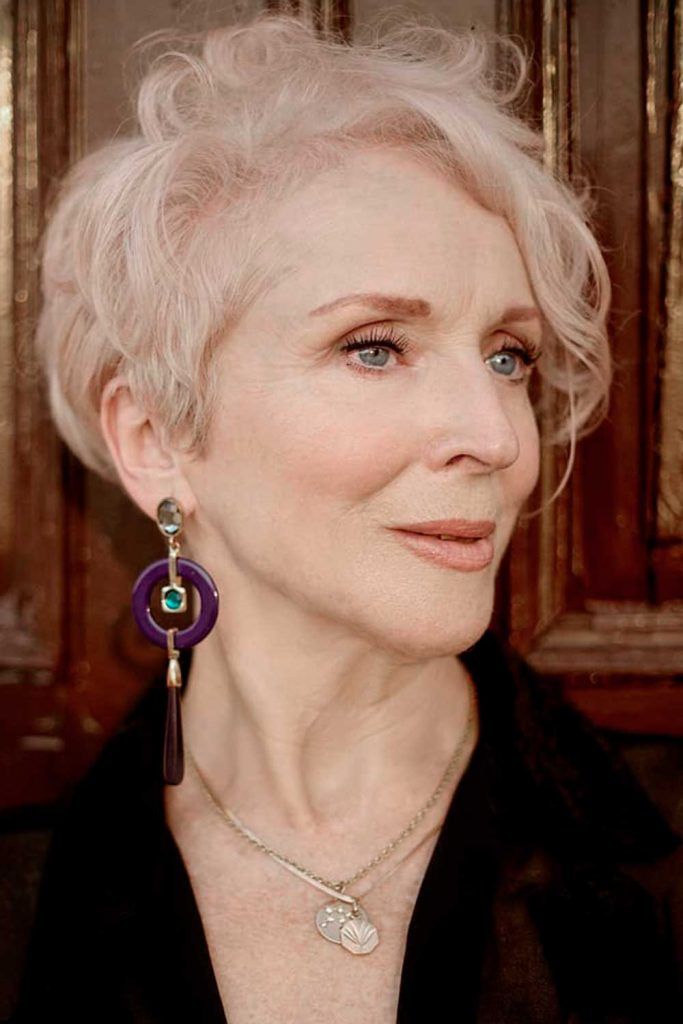 Credit photo: instagram.com/olgashatyko
Short Pixie Haircuts To Reveal Your Young Soul
ADVERTISEMENT ‧ CONTINUE READING BELOW
Short Layered Pixie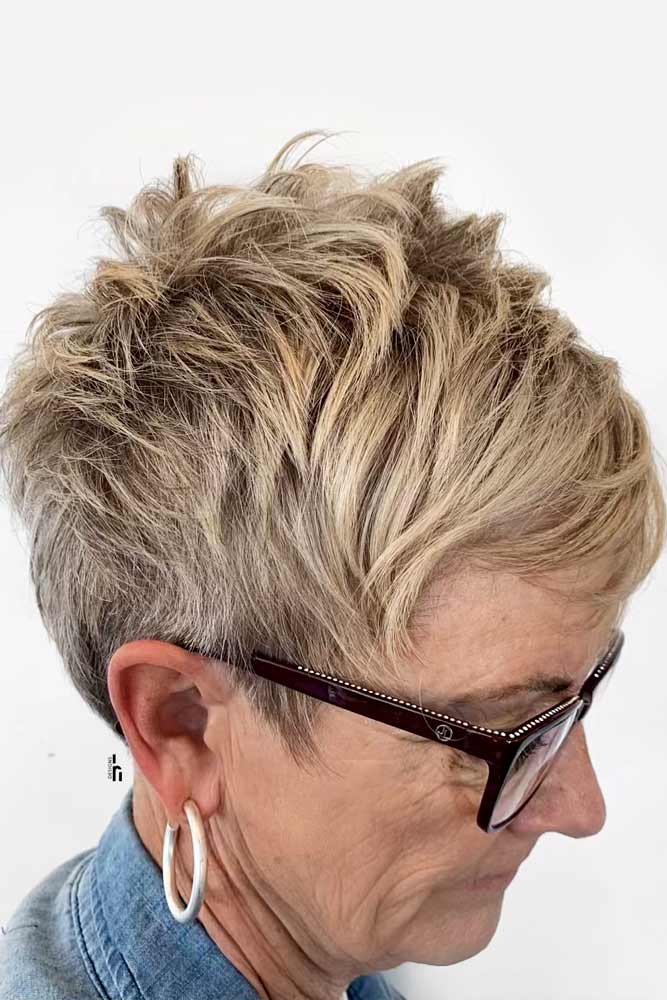 Credit photo:headrushdesigns via Instagram
Layers can be different; they don't know what limitations are. No charts of short haircuts for women over 50 can't do without this idea: it's a trend that will never die. Older women prefer to cut their hair short for convenience, and we want you to cut it for a fancy look. You got your layers, got your movement, got your exquisite taste: you are ready to turn heads.
Pixie Blonde Highlights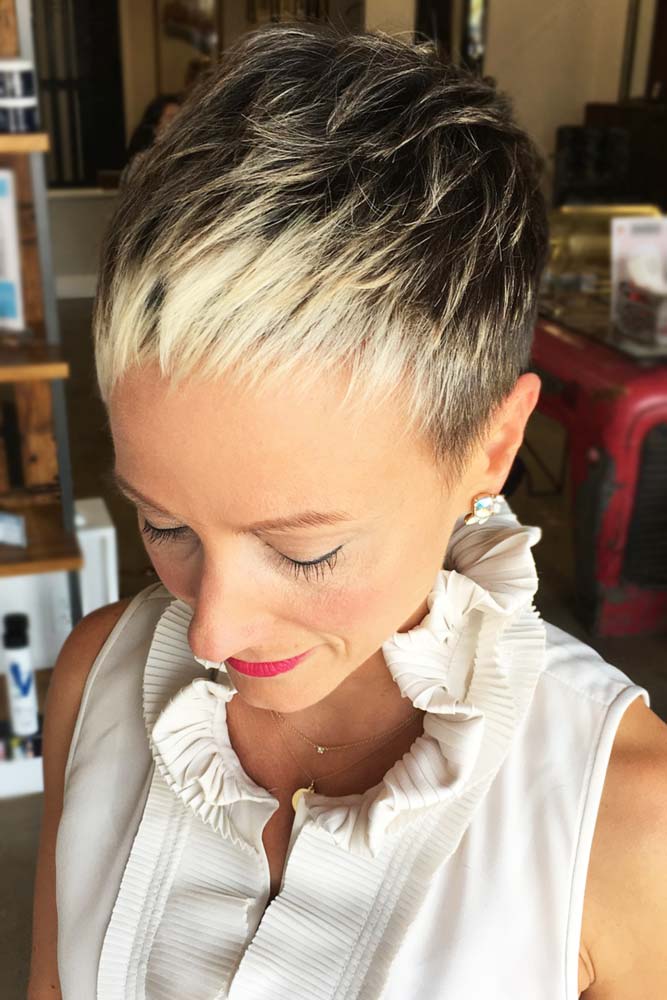 Credit photo:dillahajhair via Instagram
Here comes the awesome way to diversify popular short haircuts for older women. Adding some highlights to your base can also make any cut, including the popular pixie haircuts for women over 50 look more sophisticated. This textured blonde pixie with highlights has all eyes on it, as all the attention is brought to the tasteful contrastive colors.
Layered Platinum Blonde Pixie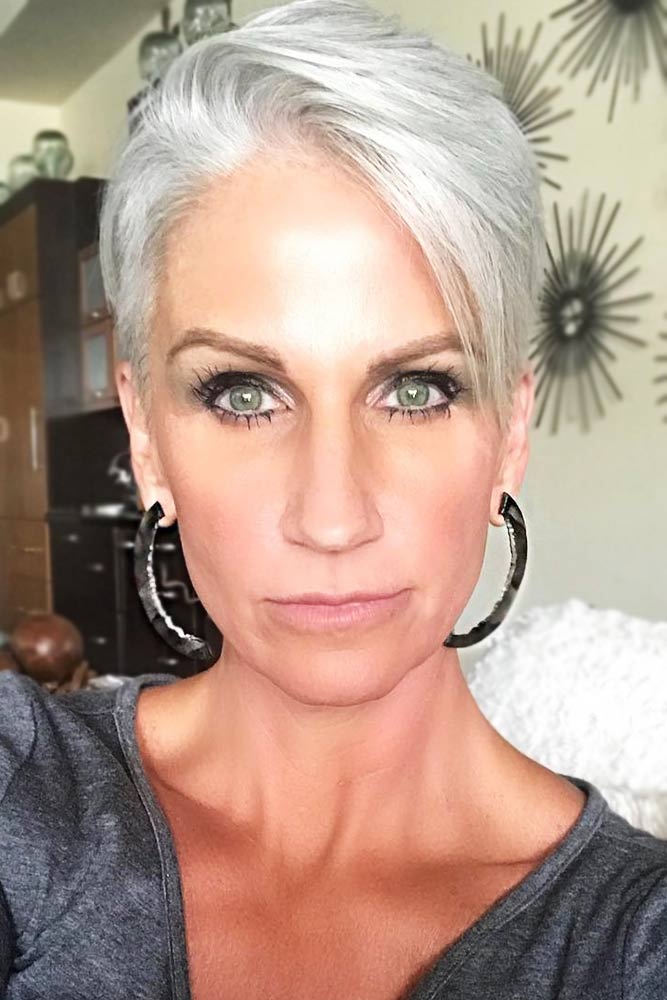 Credit photo:emilyandersonstyling via Instagram
When your hair goes gray, it's time to challenge it! Though grey color shades are in great demand these days, naturally grey hair isn't that attractive. How about you to opt for the platinum blonde with a greyish tint? This chic pixie with volumetric side-swept bangs shows that age is just a number.
ADVERTISEMENT ‧ CONTINUE READING BELOW
Wavy Pixie Styling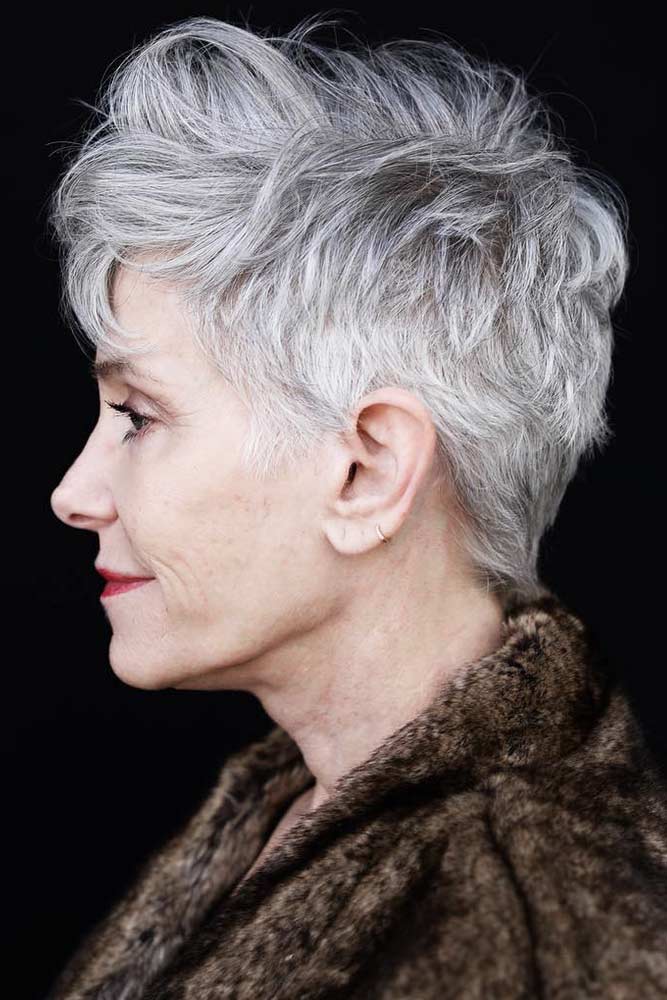 Credit photo:anhcotran via Instagram
We can write a whole book devoted to fine hair pros and cons. And if we were about to write a book about fine wavy hair, life wouldn't be enough to describe how hard its styling can be. Fortunately, there always is a "but"! There are some short hairstyles for women over 50 fine hair won't be able to spoil. A simple bun is your salvation: fine hair is styled immaculately. To spice up this delicate updo, leave some of your wavy locks in the front.
Messy Styling For Short Pixie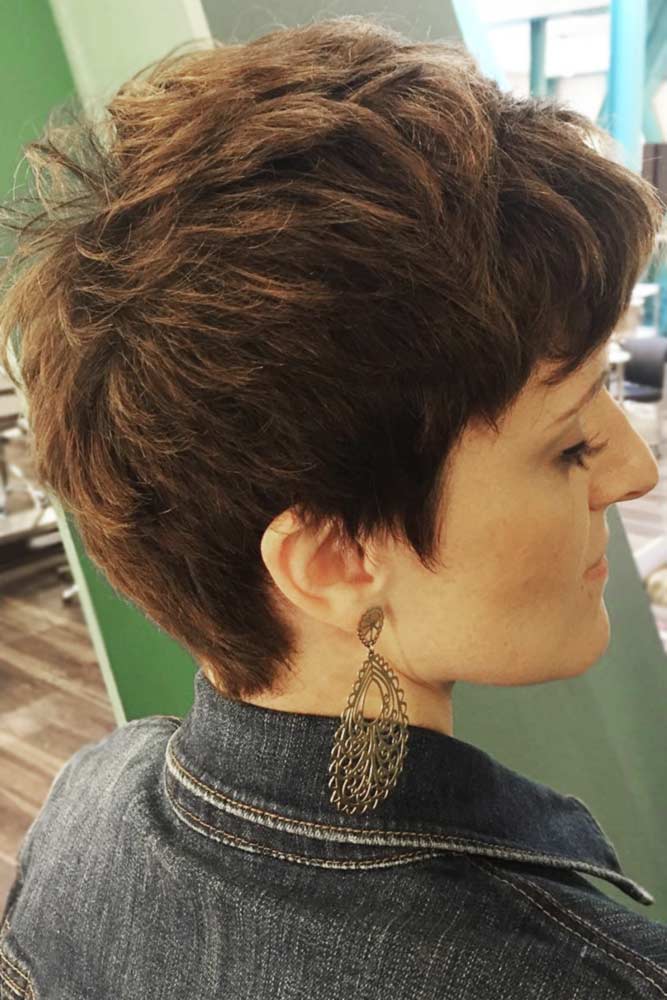 Credit photo:rodrigocintra via Instagram
Wondering why so many short hairstyles for women over 60 feature messily styled top? Well, a little mess is a key to a truly lively look. Plus, it's no secret that our hair tends to become thinner with age, and messy silhouettes perfectly hide it. Just look at this whipped up pixie: this woman is just flawless. And you can look as gorgeous, lady!
Short Pixie Haircut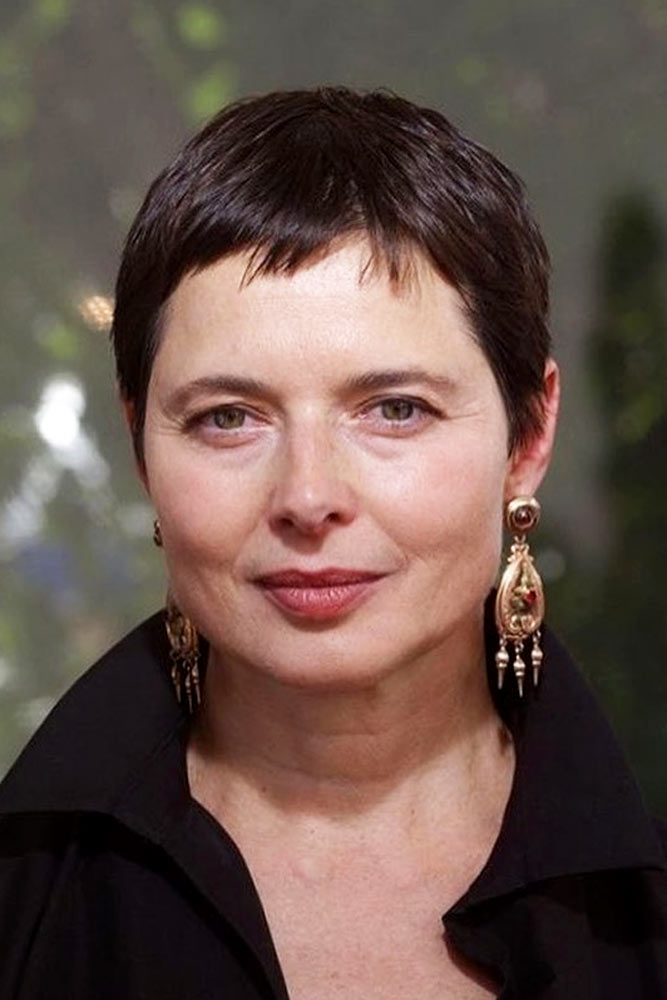 Credit photo:isabellarossellini via Instagram
Now let's talk about the minimalist version of the pixie cut. The cut you see here is the classic short pixie that is famous for its versatility. You may wonder 'how a very short haircut can be versatile?' Well, due to its simplicity and some slight lift on the crown, this cut works for every hair type and face shape.
Whether you want to calm down your unruly thick hair or volume up your thinning locks, a short pixie is probably the cut that your hairstylist will insist on. You can add layers or feathers to the cut for more texture or spice it up with a fresh color to reveal your youthful mood.
As for styling, nothing is easier. You won't ever have to wake up earlier and can forget about blow drying. To make your style look alive, all you need is adding a sense of modernity and some lift to the roots. Just apply some soft hair gel and tousle your hair a bit.
ADVERTISEMENT ‧ CONTINUE READING BELOW
Very Short Edgy Pixie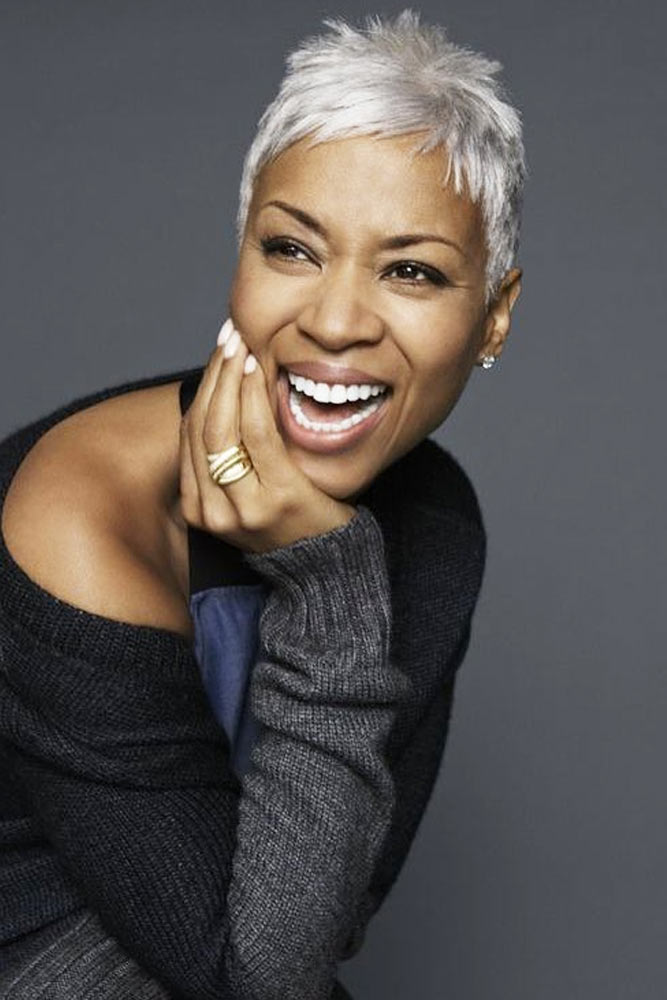 Credit photo:over50__style via Instagram
Do you rock a carefree lifestyle? Are you always on the move? Do you want your style to be simple, yet striking? If the answer to all the questions is 'yes,' let this edgy pixie show off its benefits.
Besides the low-maintenance and chic look, the style comes as a very versatile finish to any outfit. It can even send a stylish reply to a formal party invitation: with the right accessories and shiny styling product, it can show up in a red-carpet light.
Short Pixie For Natural Hair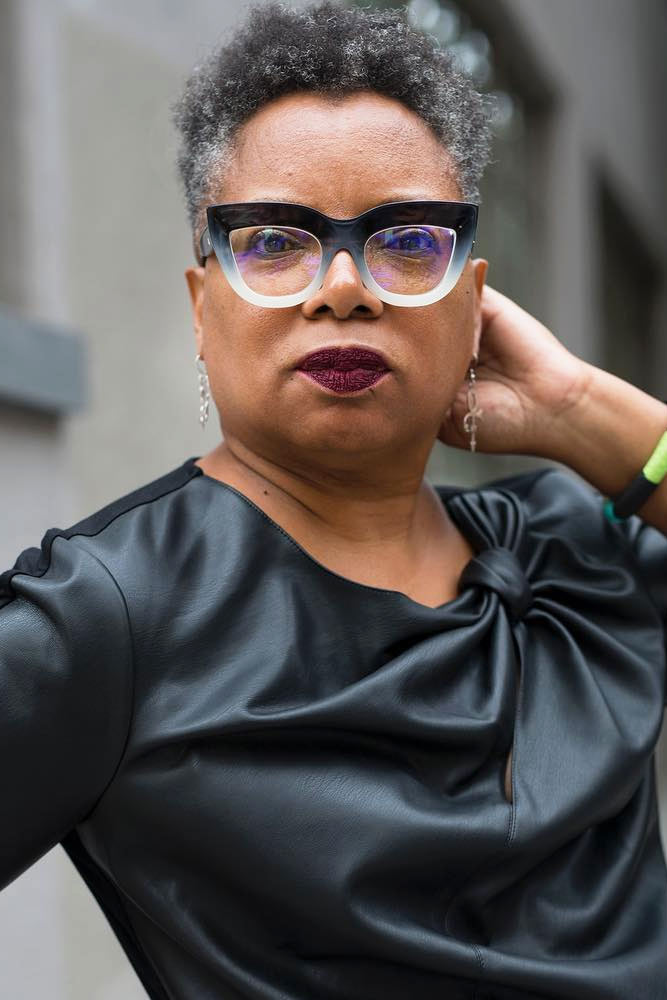 Credit photo:motorcitymystic via Instagram
There's nothing more convenient and striking than a short afro pixie. Even ladies who don't have natural hair know how cruel its styling and maintenance routine can be. Of course, pixie haircuts for women over 50 have solutions for everyone!
The body of natural pixie doesn't really look like its classic idea, and that's the reason to wear it: who doesn't want to look different?
To keep the look fresh and decent, don't forget to moisturize your coarse locks with some water-based mousses.
Spiky Edgy Pixie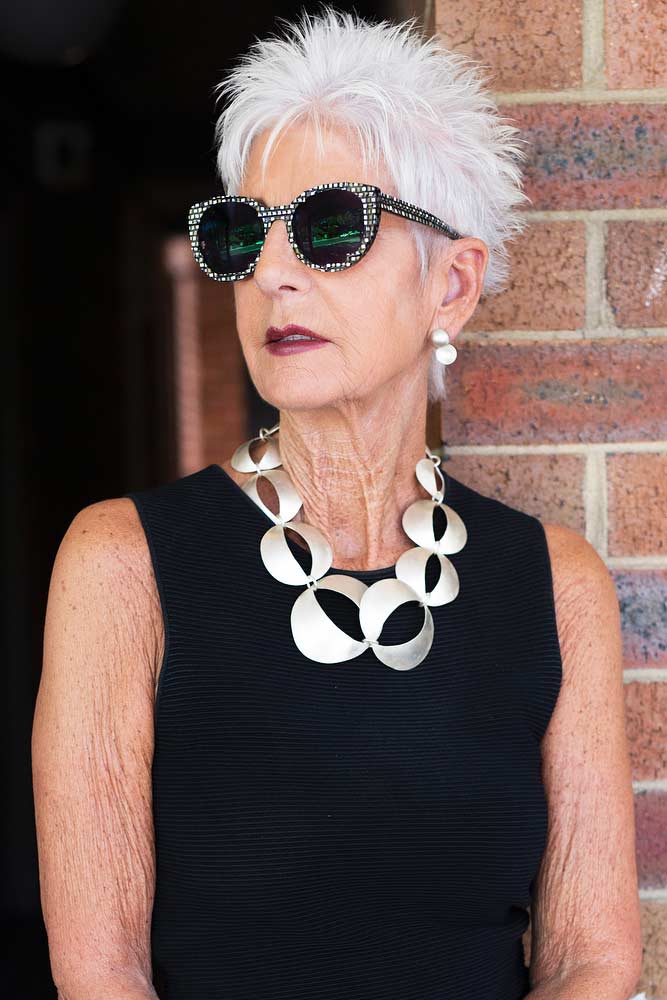 Credit photo:advancedstyle via Instagram
Spikes aren't meant for football and punk music appreciators only. Moreover, they can even be sophisticated and refined. You can make the outrageous style adapt to your presentable image; just ask a pixie for help!
Try getting a short layered pixie with pointed edges, styling it with lightweight wax, and adding some messiness as a finish. As you can see from this pic, ladies can sport spikes too: you just need to find the right approach to them.
ADVERTISEMENT ‧ CONTINUE READING BELOW
Classic Short Pixie Cut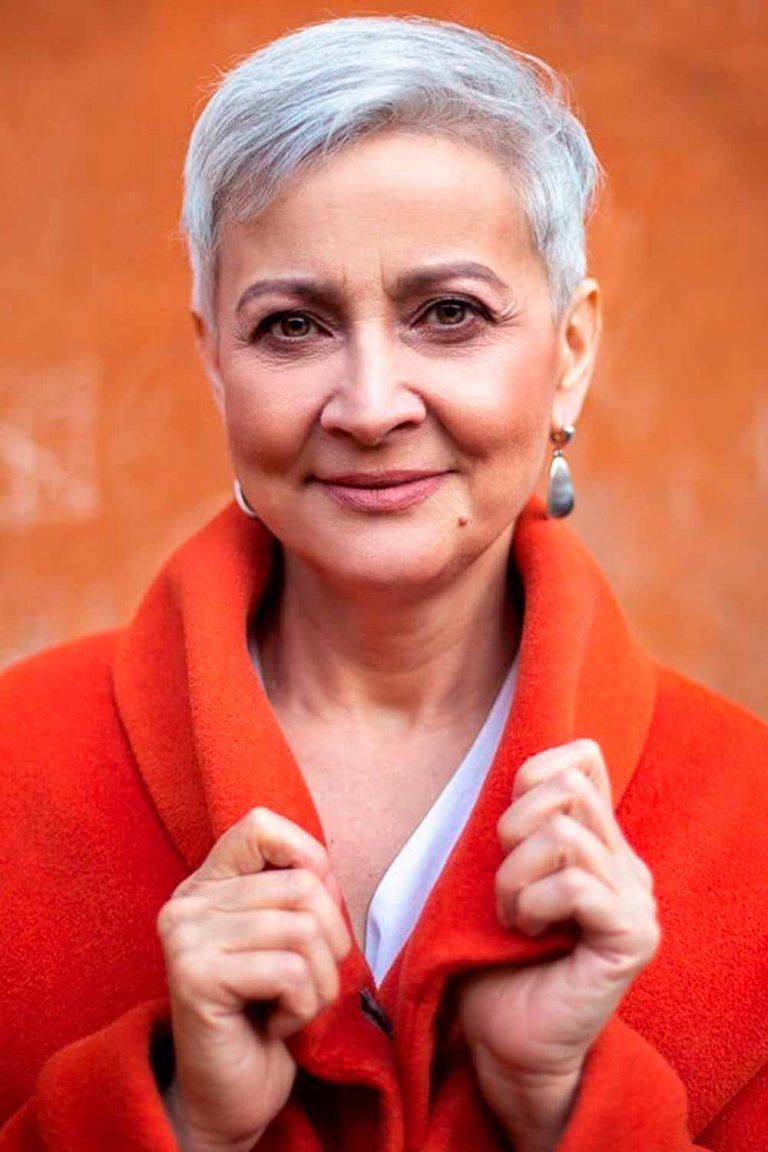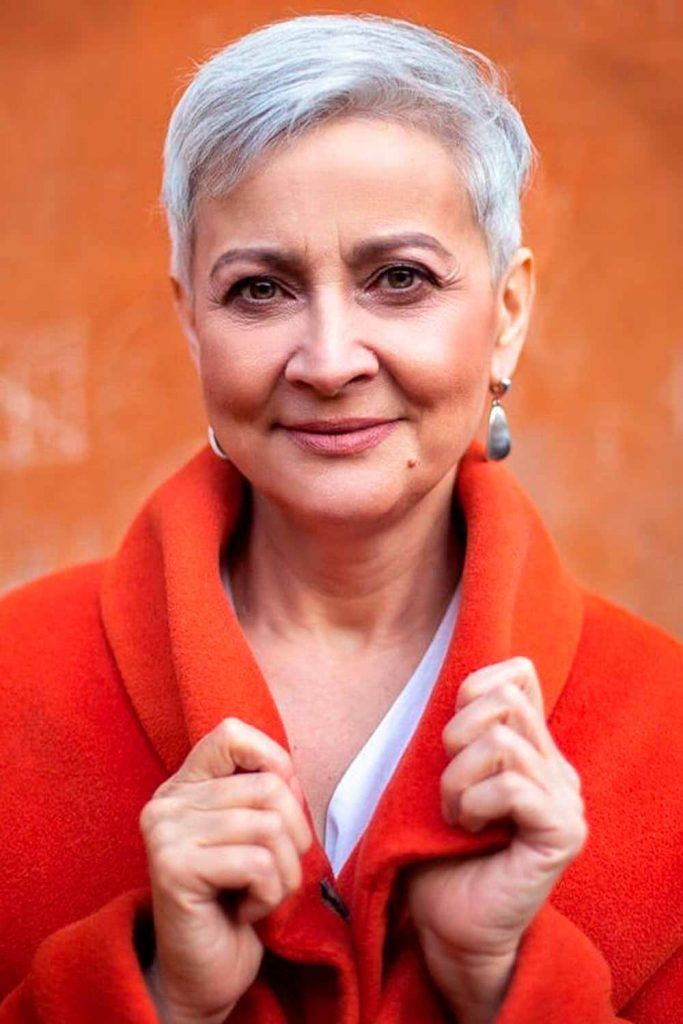 Credit photo: instagram.com/liudmilaakulshina
Spiky Grey Pixie Haircut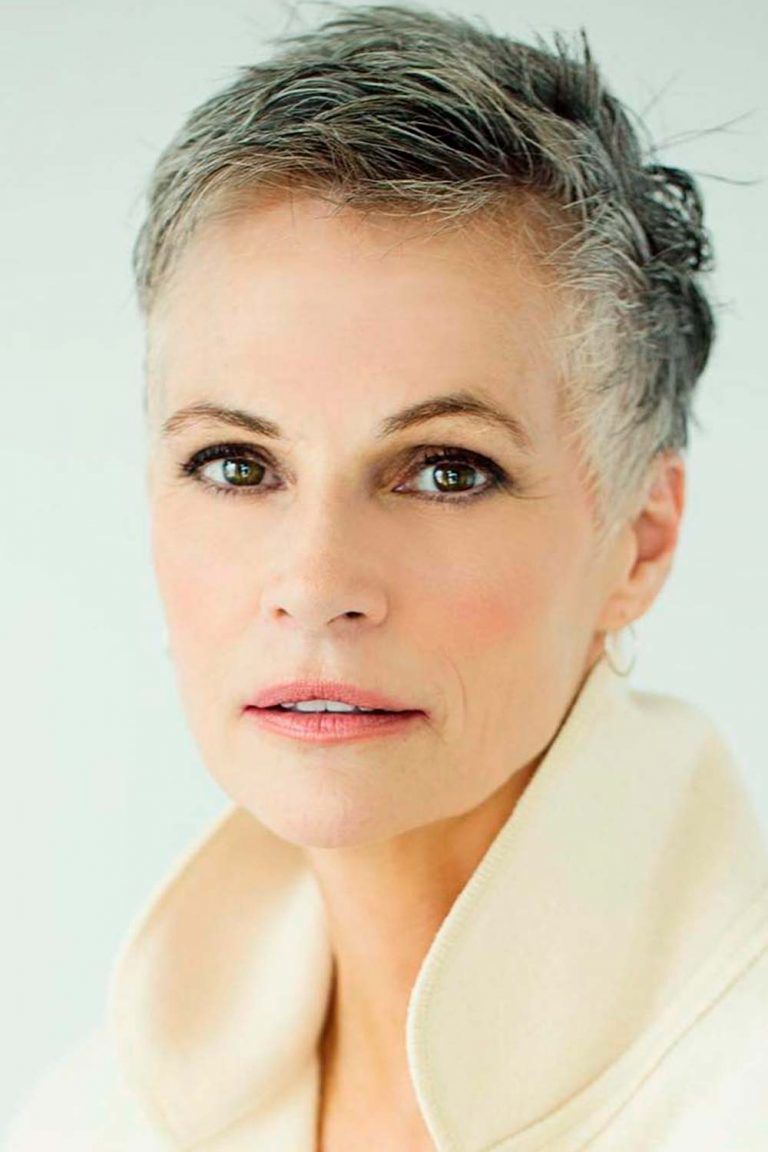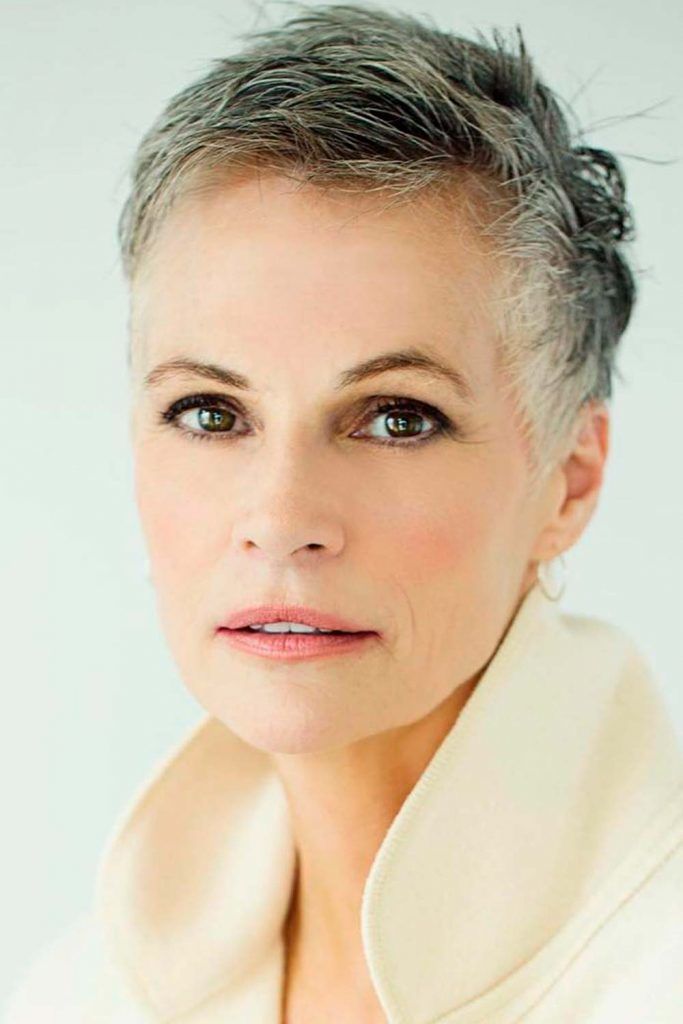 Credit photo: instagram.com/michele_torres
Now you see that your age is your best accessory that becomes brighter with the time. Experiment with your hair, make the most out of your age, and remember that your beauty doesn't age!
REFERENCES:
A pixie cut is a short hairstyle generally short on the back and sides of the head and slightly longer on the top and very short bangs. Source
ADVERTISEMENT ‧ CONTINUE READING BELOW