Purple highlights came to the women's world to flatter those who need to make a difference in their lives. New hair color, whatever it is, is a huge change for every woman, so no wonder that many girls tend to draw it out into a lifetime special. But who says that you have to dye all your hair to add some brightness? We've collected plenty of soft purple ideas for women who just want to add a touch of bright color to their hairdo. Don't worry, if you're about a great purple change, there are lots of ideas for you, too!
As for purple hair color palette, have you ever seen something more attractive? Of course, it requires a certain sacrifice, and hair damage is inevitable. But it's worth a try! See how you can minimize the damage of bleaching, experiment with purple shades, and pull off the most eye-catching color with highlights hair.
Gentle Touch Of Deep Purple Highlights
The best way to diversify your dark hair color is to add some brighter hues. As you can see, these deep purple highlights match the black hair perfectly. Nothing drastic, only a gentle touch of saturated purple shade. You can also wave your hair to emphasize the beauty of your new amazing color.
Source: hairgod_zito via Instagram
Light Purple Hues For Long Hair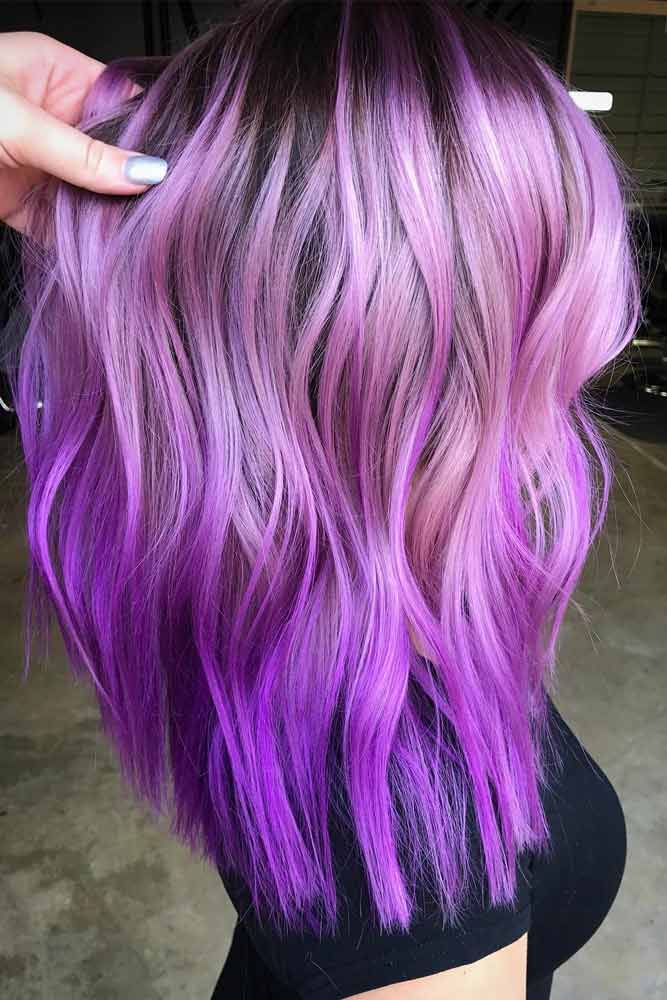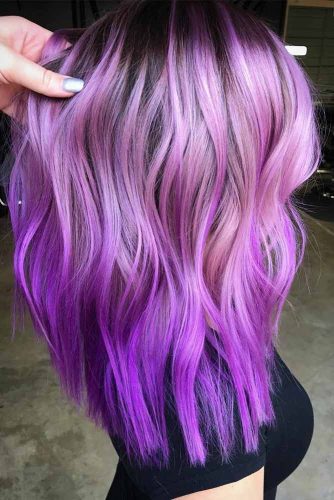 Are you fond of lighter purple hues? Deep vivid waves on long hair look gorgeous, but let's don't forget about the light side of purple. You will need beaching anyway, but it's safer to dye your hair if you opt for lighter shades. Bright colors require pre-lightening of your natural hair, but if you want it less saturated, you can use a smaller amount of hair dye, thus causing not that big damage.
Source: shmeggsandbaconn via Instagram
Dark And Light: Contrasts Never Fail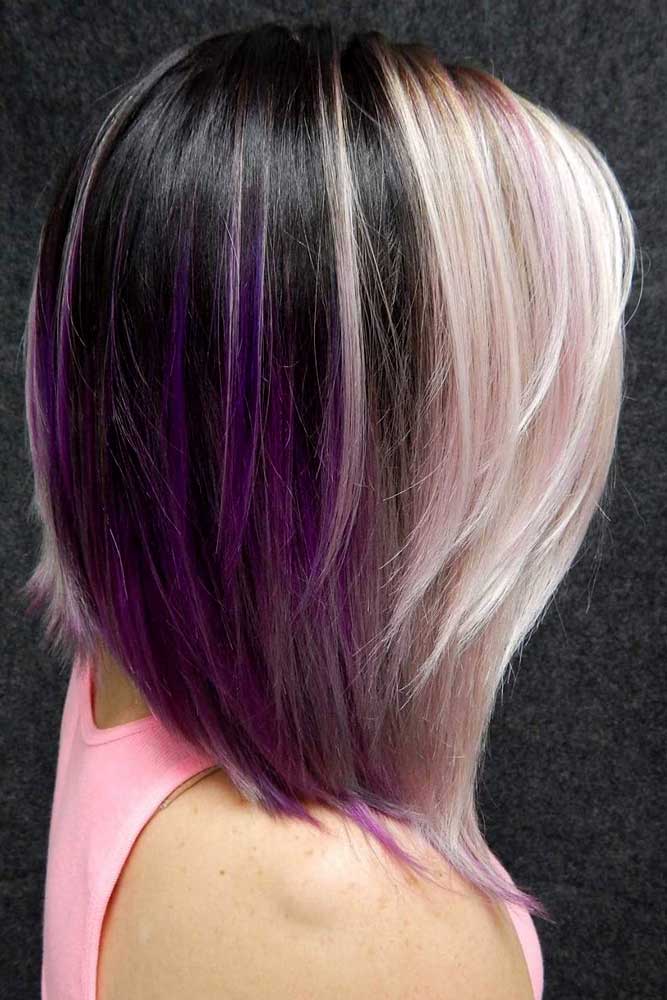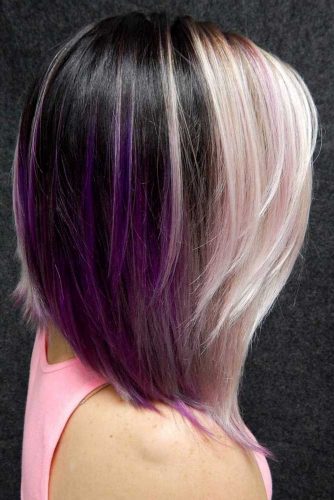 When dark and light colors melt together, they give birth to the most requested hair color pair of this year. And when purple shade plays the dark role, and whitish blonde stands for the light one, this contrast becomes a look to steal. Don't be shy to mix many colors on your hair: dark roots can be a good finish for this duo.
Source: alix_maya via Instagram
All The Cute Purple Highlights Rolled Into One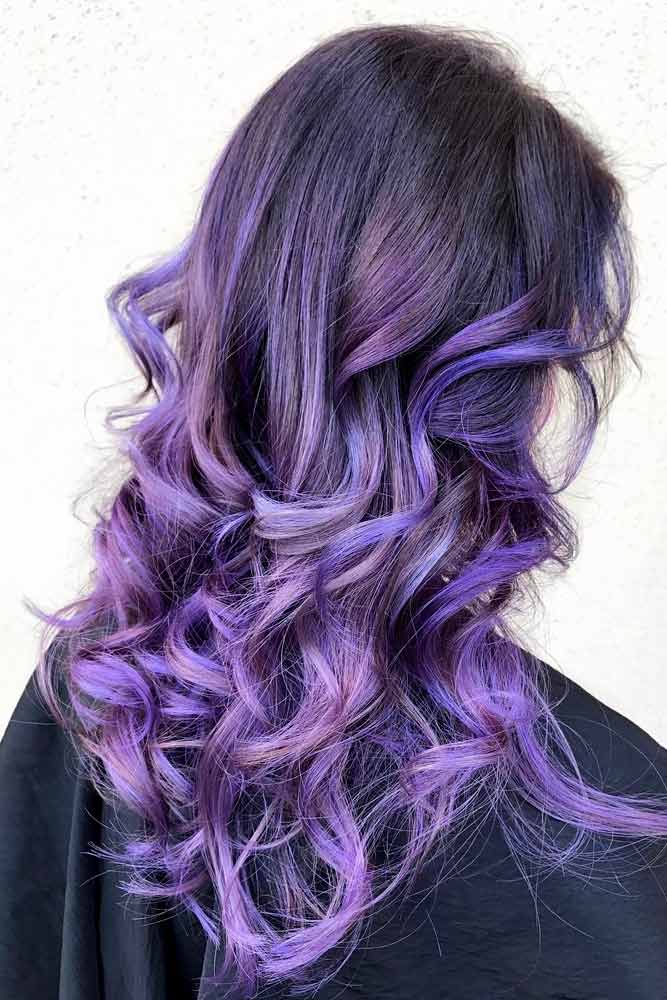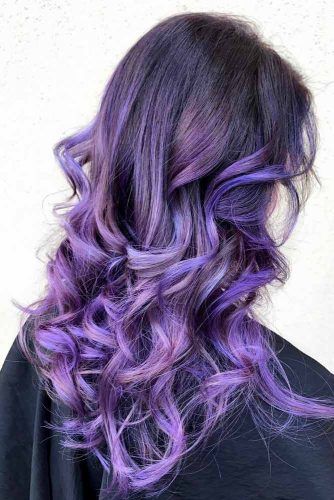 Remember that purple is the color of experiments. So how about you to explore all the shades of purple and do the most colorful experiment people could ever see? Soft light blue roots that gradually become cool purple waves: isn't that great? If you think that this idea is all about damage, you're right. But you can lessen it! Before two weeks of your appointment, wash your hair with hydrating shampoo and conditioner to make your locks stronger.
Source: xostylistxo via Instagram
Saturated Dark Purple Shade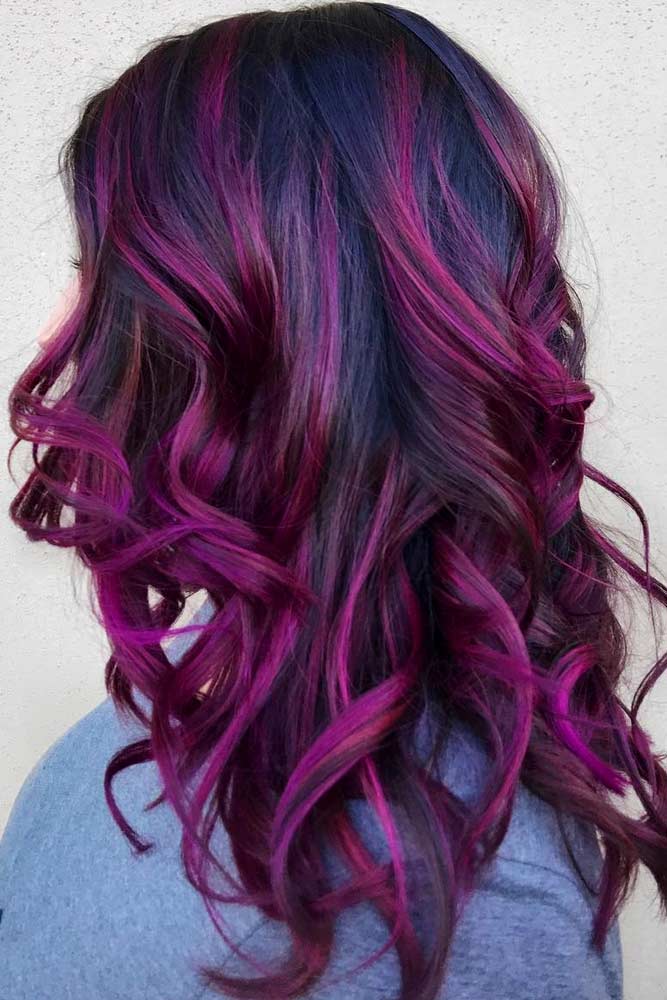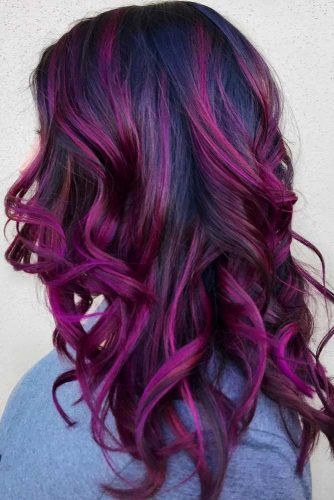 This color combination needs to be stolen too! It will suit girls with any complexion, but dark hair is a must have to create this soft transition. Once you feel that you're ready for purple color changes, you should keep in mind that this color doesn't last long. It contains minimum pigment, so it washes out quite quickly. To make your stunning color stay longer, don't wash your hair too often, stay away from the sunlight and avoid chlorinated pools.
Source: xostylistxo via Instagram
Soft Purple Ombre For Your Ends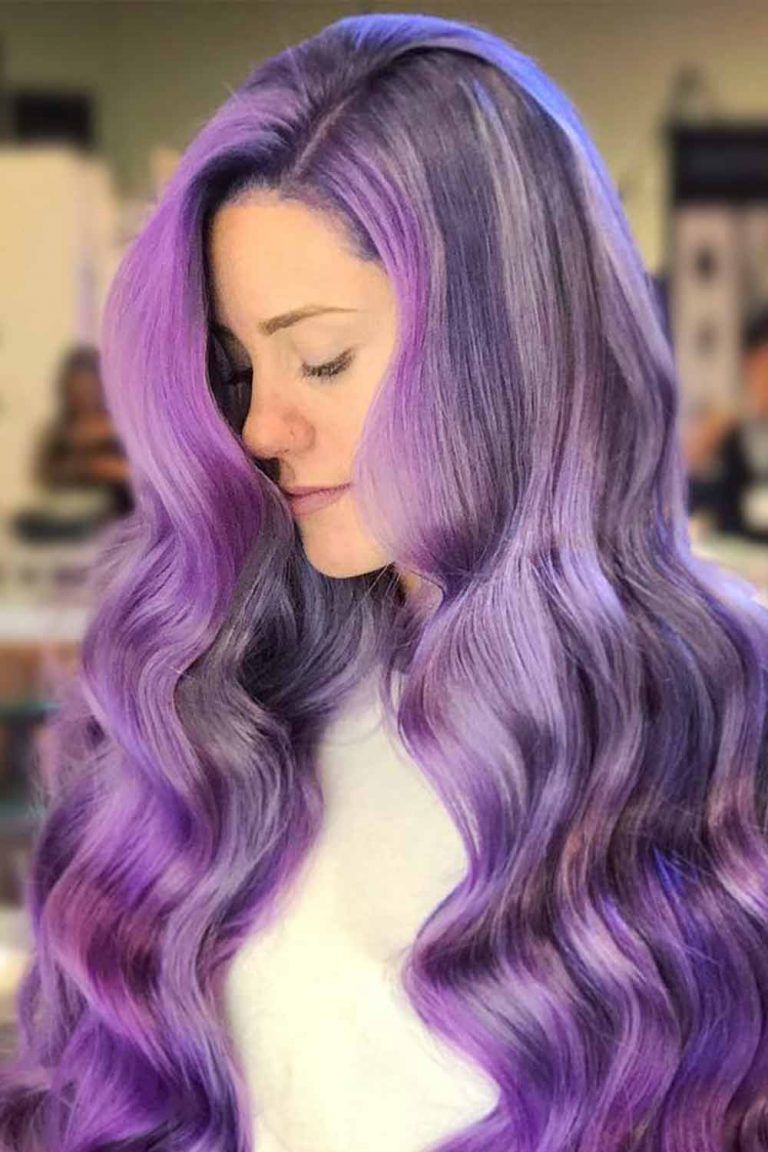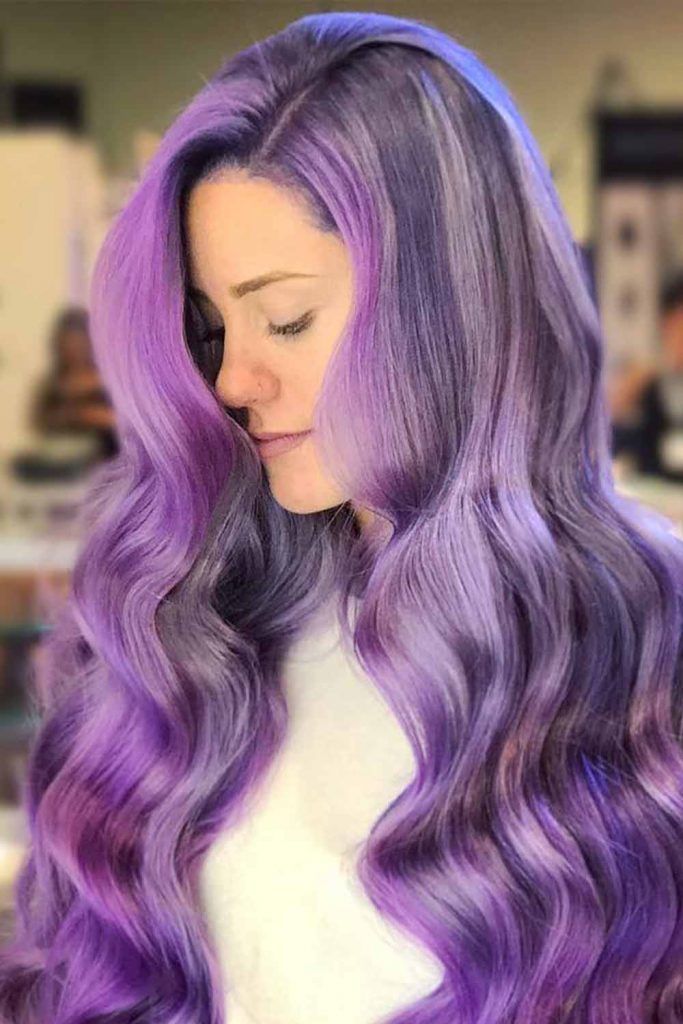 Believe it or not, purple ombre can save you from big damage and brighten your locks at the same time. Words are necessary, just look at this pic: pale greyish tint meets the pale purple ends. If you wave your hair, your ends will look like real flames. Isn't that the effect you want to get?
Source: hairgod_zito via Instagram
The Brighter Highlights You Wear, The Better!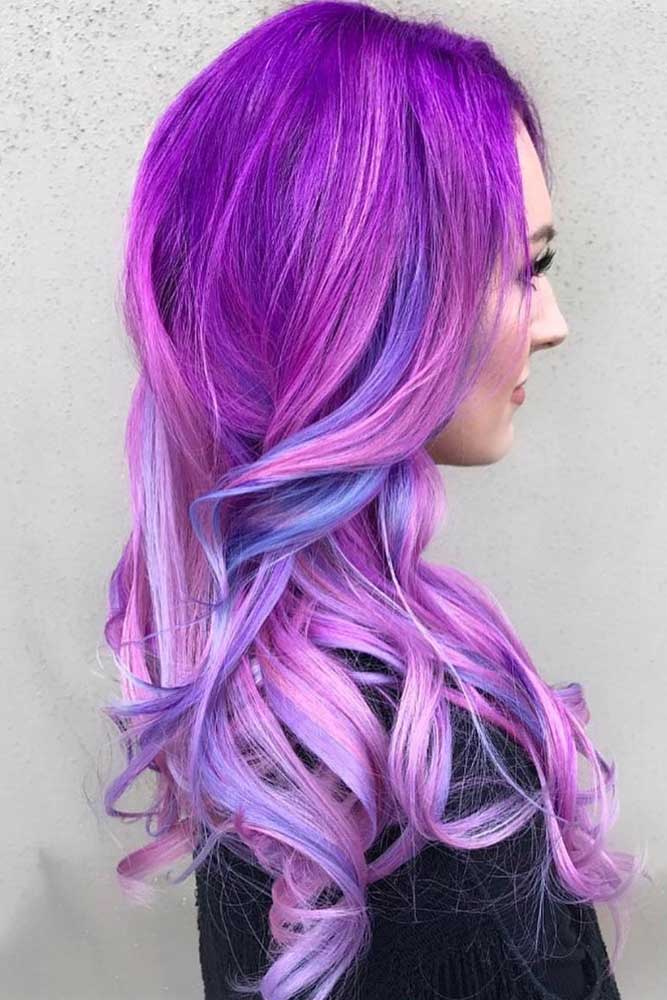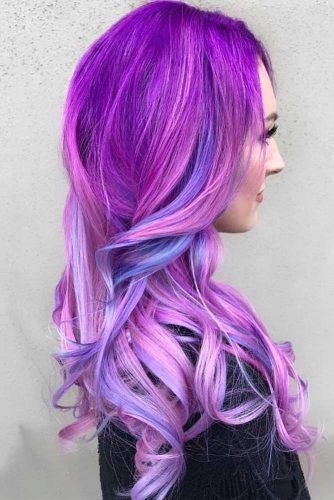 Bright colors know how to make you be in the spotlight 24/7. And the more colors you pull off, the more eyes you will catch. Your long hair is a good chance to mix all the pleasant shades of the purple family: from light purple to soft rose.
Source: xostylistxo via Instagram
Fancy Purple Highlights With A Blue Accent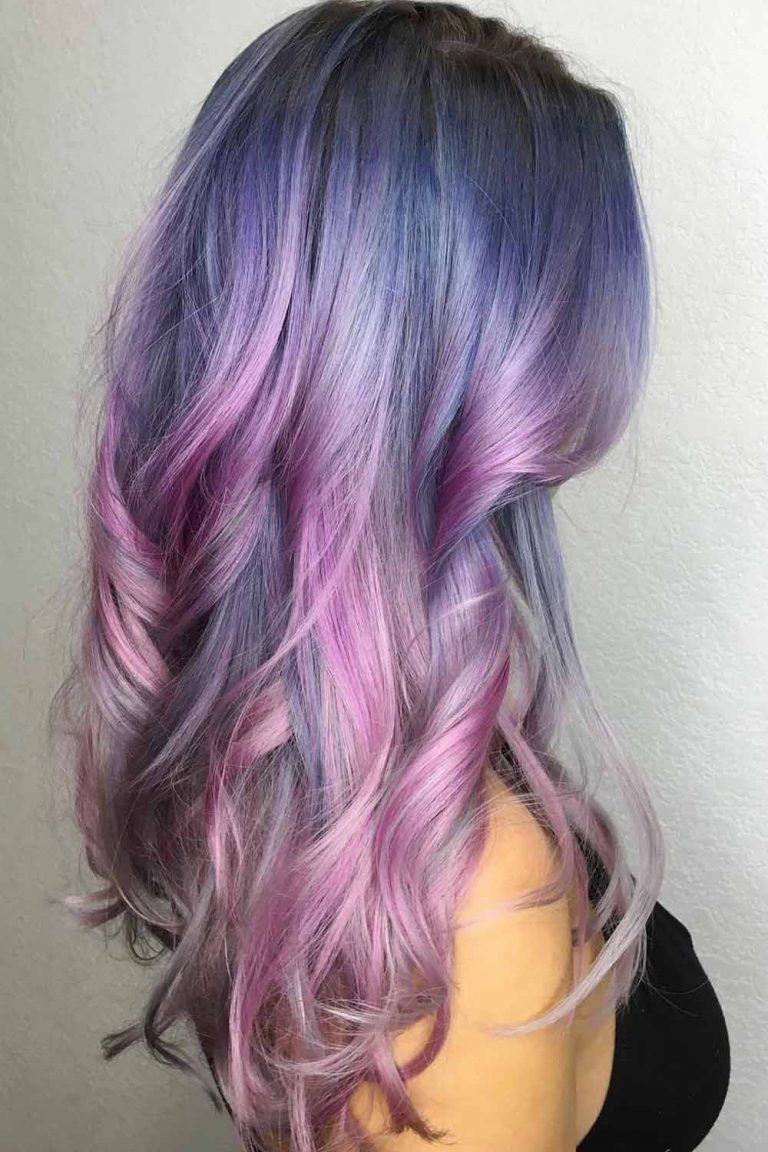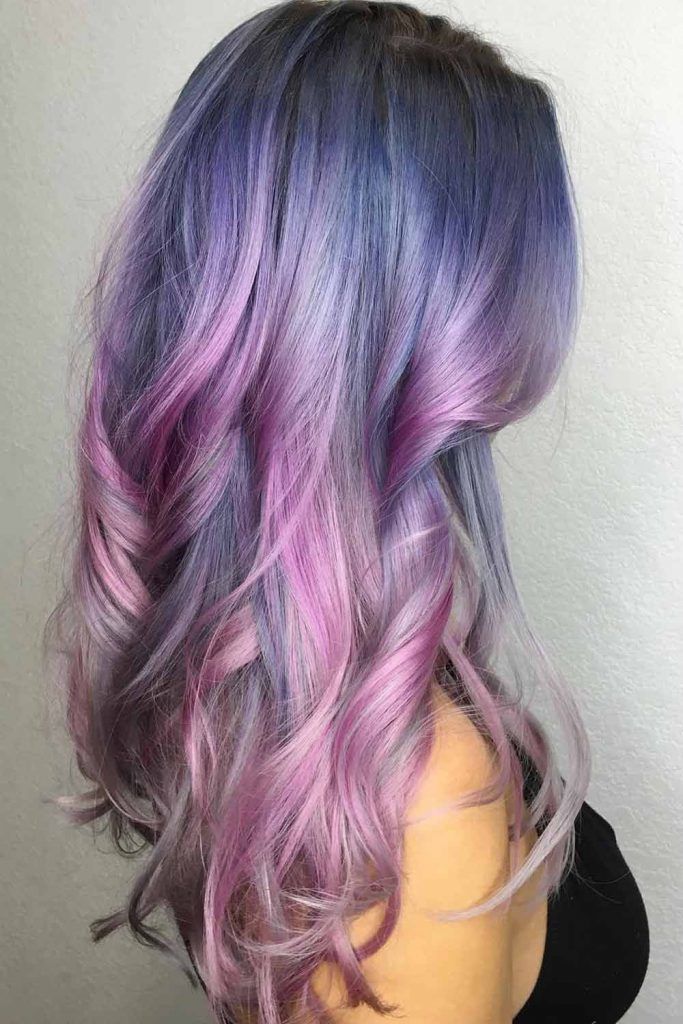 How about you to diversify your purple ideas with a delicate blue tone? Though purple color is rather unusual, it looks authentically when it's paired with darker hair colors. And if you want your hair color look exceptional, why don't add accentuating blue highlights to it?
Source: xostylistxo via Instagram
The Dark Side Of Seductive Purple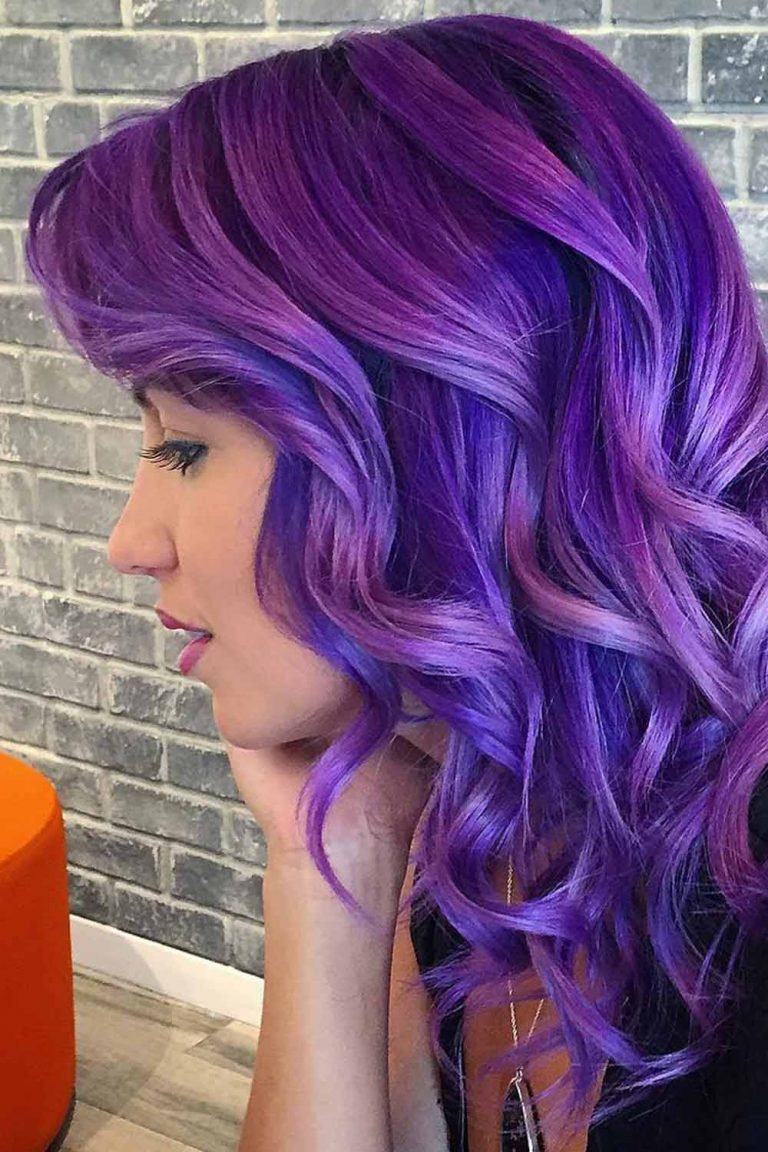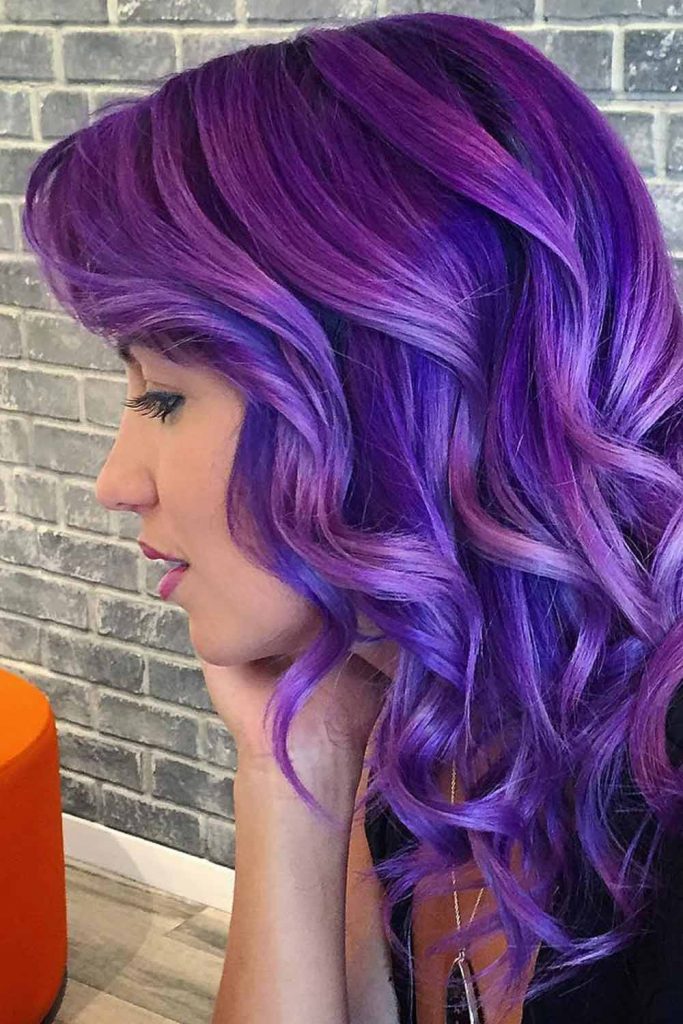 Nothing looks hotter than a girl with black wavy hair and purple ombre on the midway of her locks. This pic is living proof: dark colors complement each other in a truly stunning way. But don't worry if you have brown hair, there's an option for you, too! Brunettes usually opt for slight and soft balayage so that their hair color smoothly transits to the added one.
Source: hairgod_zito via Instagram
Neon Highlights To Shine Brighter Than Stars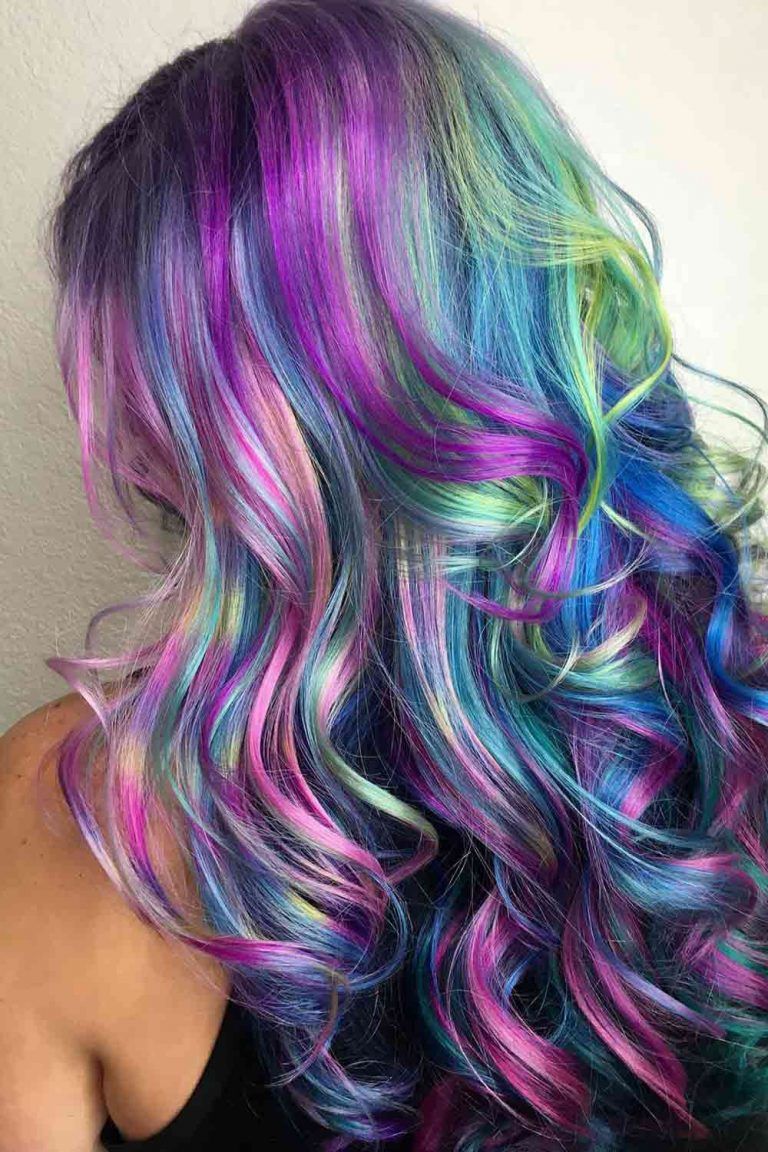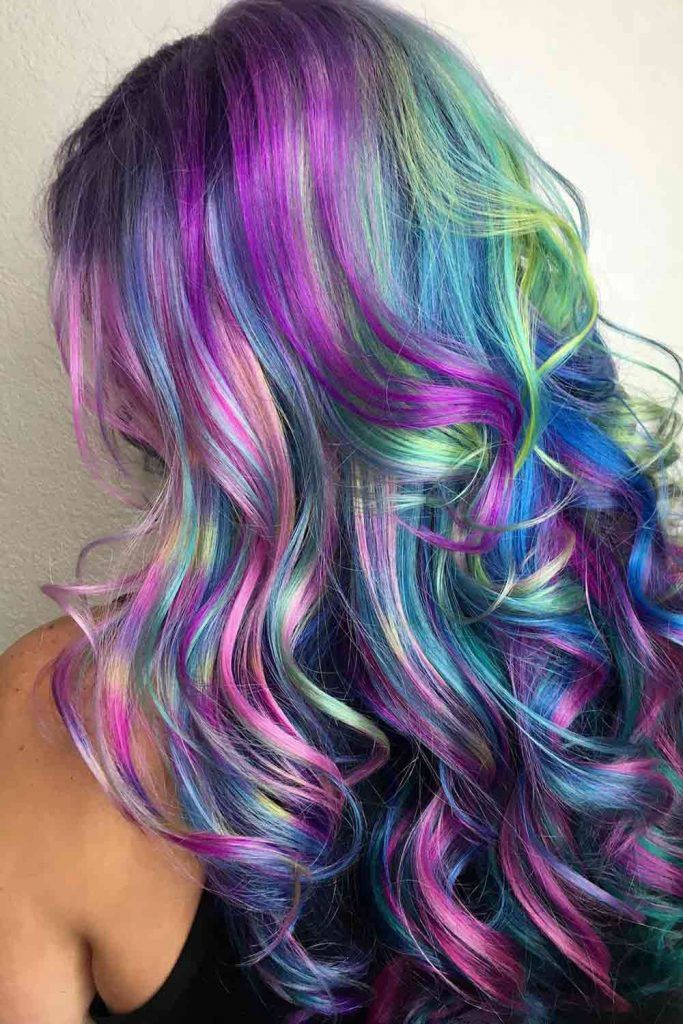 Be careful! It's not a look for faint-hearted, as these colors can literally blow people's minds. There's no way you will come across something brighter, bolder, and sexier. Do you want your hair to look like a shooting star? Brave girls who like the diversity of neon purple colors will never miss this idea!
Source: xostylistxo via Instagram
Trendy Blue And Purple Highlights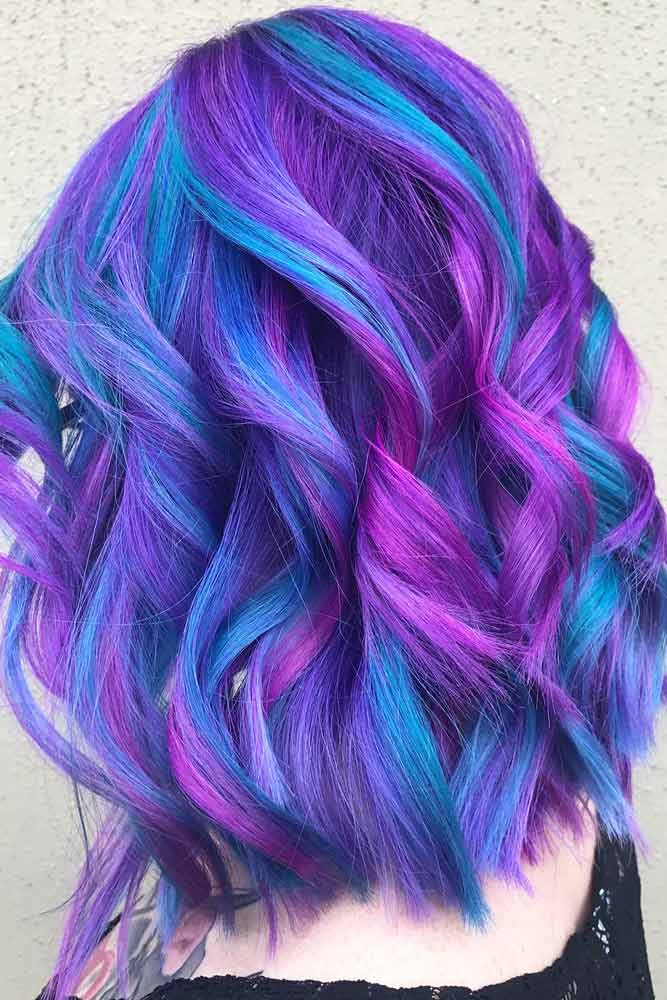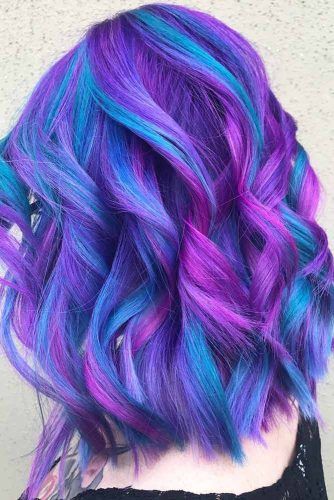 Now, let purple colors be your background: it's time to add some cobalt blue vibes to the foreground! One will never outweigh another, as they create absolutely lovely color graduation together. To bring the duo of blue and purple to life, ask your hairstylist for balayage highlights so that each section is painted in different color one by one.
Source: xostylistxo via Instagram
Purple-To-Rose Highlights On Dark Hair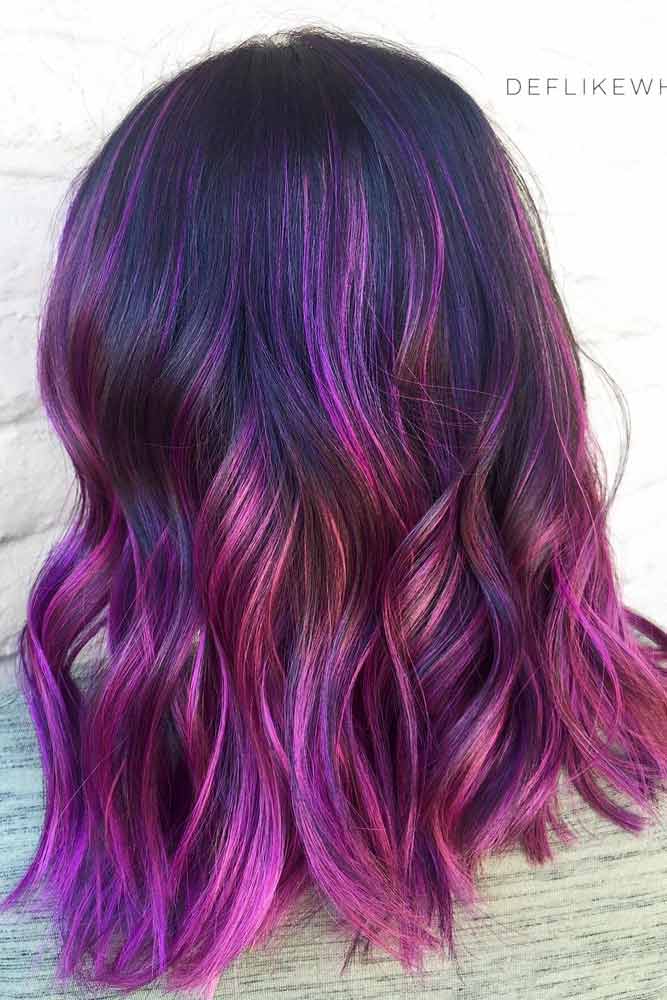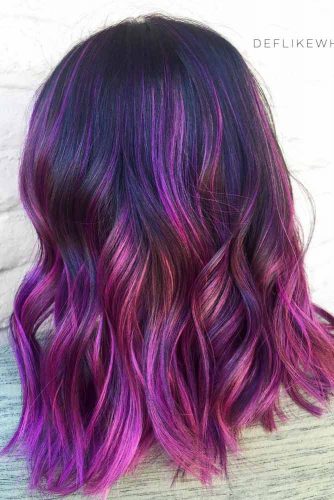 Do you remember what color suits purple best? Yes, any rose shade would be a good friend for your purple hair, so don't even try to miss this idea! Just look what a tasteful look you can create by mixing these wonderful shades: that's officially the best way to beautify your bright purple base.
Source: deflikewhat via Instagram
Pastel Purple And Grey Highlights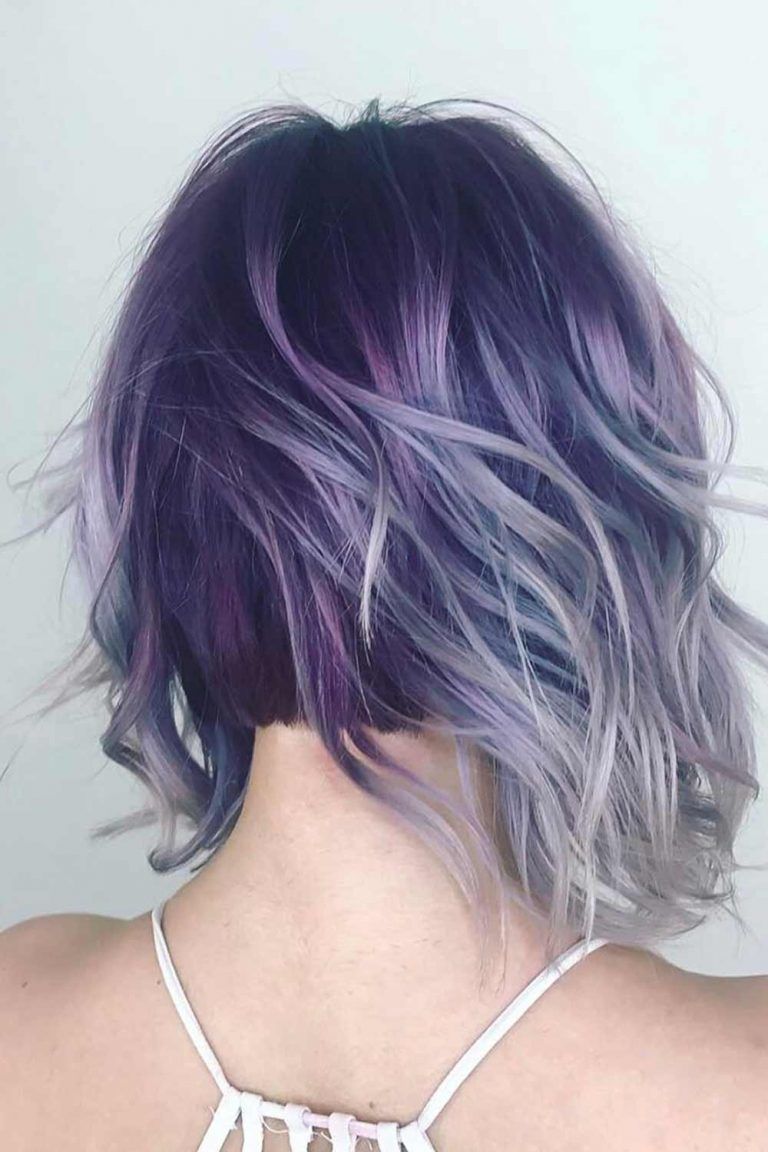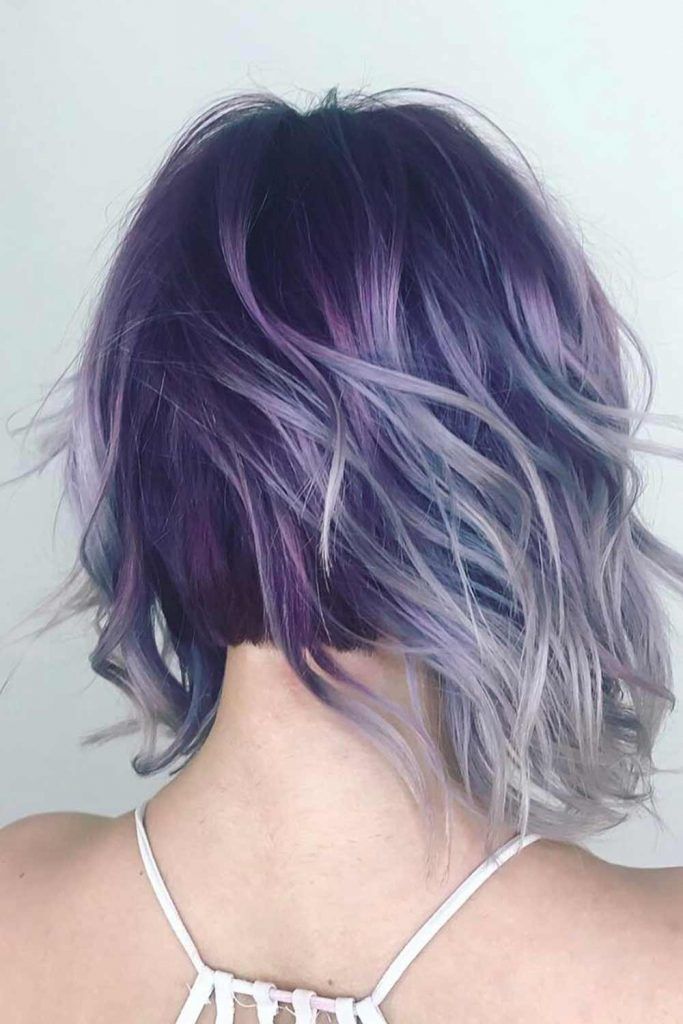 Sometimes, things that we don't combine usually can create a real masterpiece! And these pastel purple and grey highlights are the best examples. You can dye only a couple of strands, that will be enough to freshen up your natural color. A little tip: girls with pale complexions and naturally blonde or brown hair should opt for pastel hues, so as not to look too drastic.
Source: hairgod_zito via Instagram
Shiny And Silky Purple Hair
Переглянути цей допис в Instagram
This unbearably beautiful idea is meant to turn heads! But only the patient ones can make this eye-catching hair dream come true, as it requires a lot of time to get it done. Fortunately, warm tones of purple are easier to achieve because they don't require aggressive lifting to avoid any warm undertones. Whether you're a blonde or a brunette, bleaching is necessary. And if you want your hair color to reflect all the fairy-like colors, prepare for any damage and time sacrifices.
Lovely Color Combinations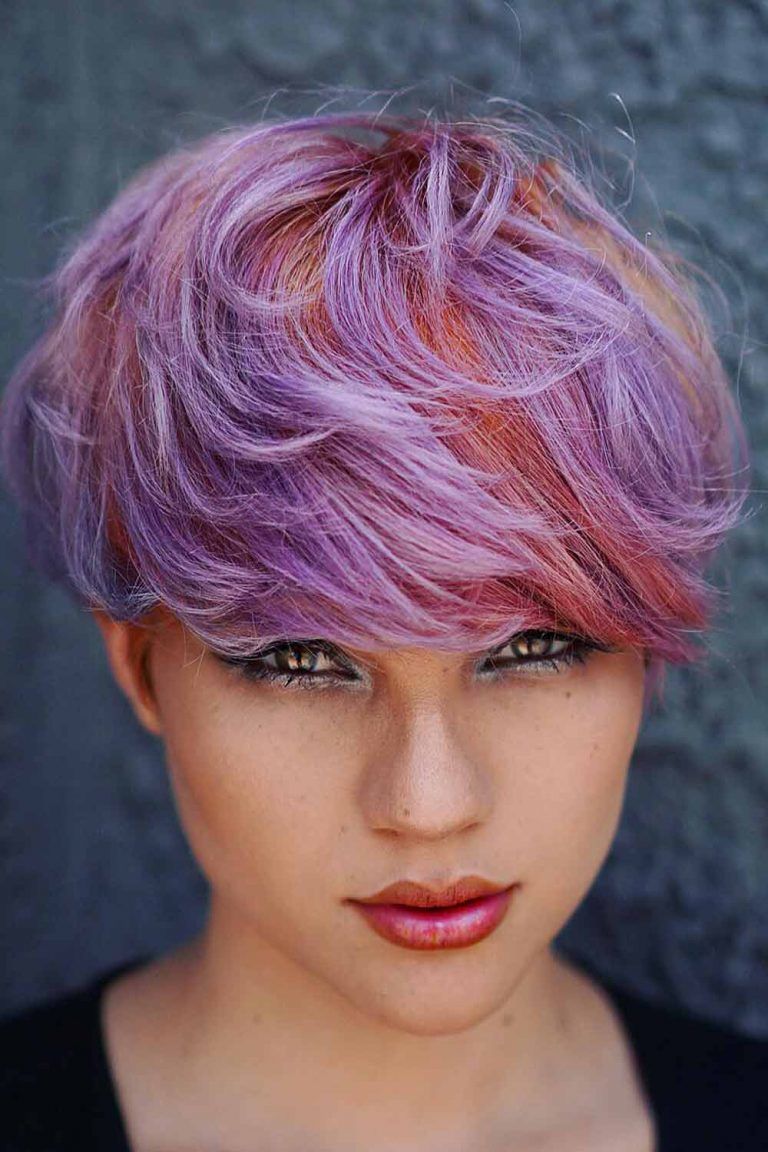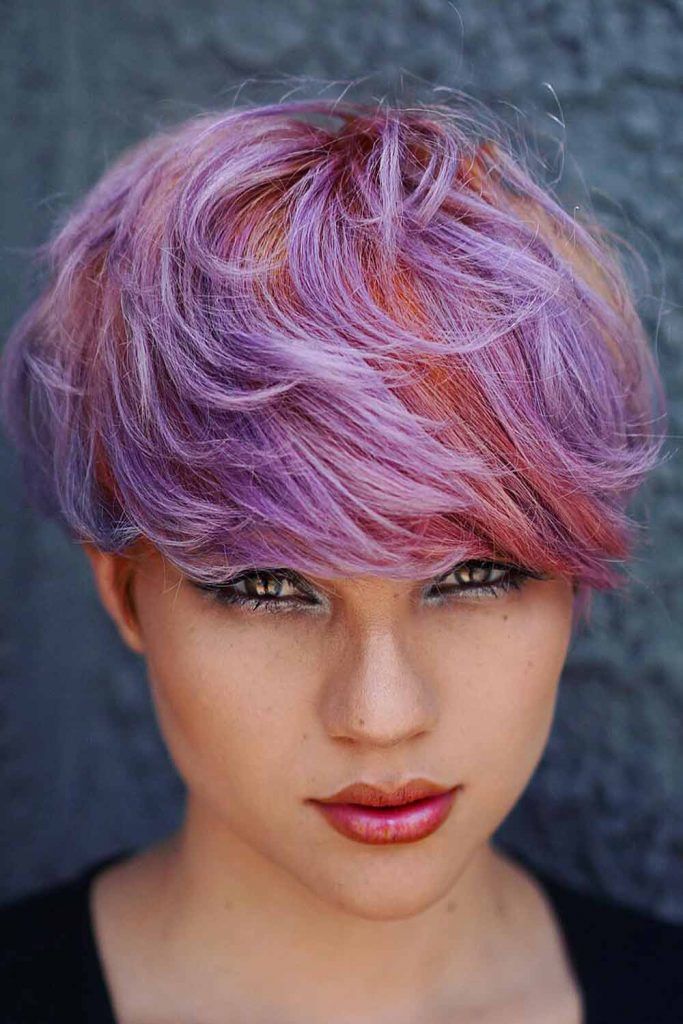 Those who prefer rough color transitions to smooth ones will definitely fall in love with these colors. This amazing color combination of warm purple and rose colors is one of the trendiest purple hair ideas of 2018, so we recommend you not to miss the ombre of now!
Source: hairgod_zito via Instagram
Purple Highlights For Short Hair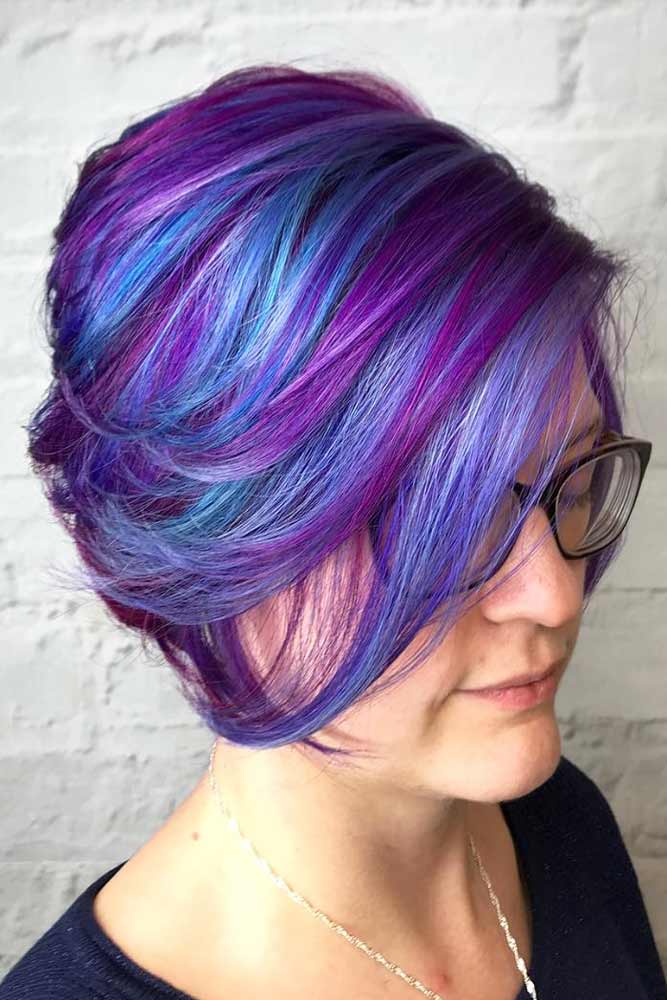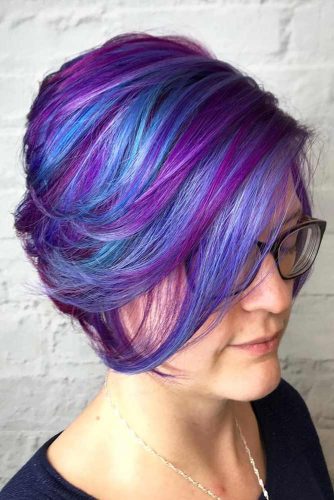 We all know that short haircuts have no limitations. And it's time for you to remember once and for all that there are no purple highlights short hair can't complement. Once you pull off this idea, people won't be able to take their eyes off you: blue and purple hues are the magic we can't resist.
Source: pinupjordan via Instagram
Pale Light Purple Highlights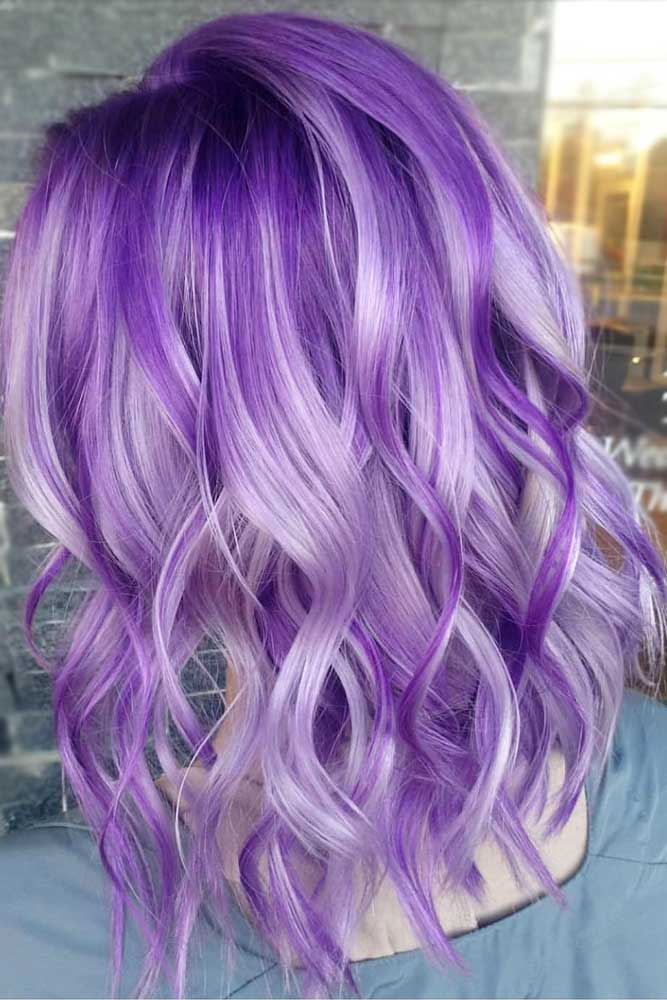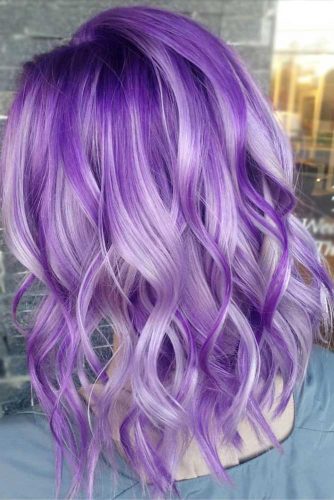 Have you ever seen something more cute and delicate than these light purple highlights on wavy hair? Some of the sections are dyed warm toned purple, while the pale base sets the balance perfectly. Keep in mind that this hair color works well for fair complexions only! Girls with medium skin tones should go for something warmer.
Source: arielledoesmyhair via Instagram
Fairy-Like Mermaid Hair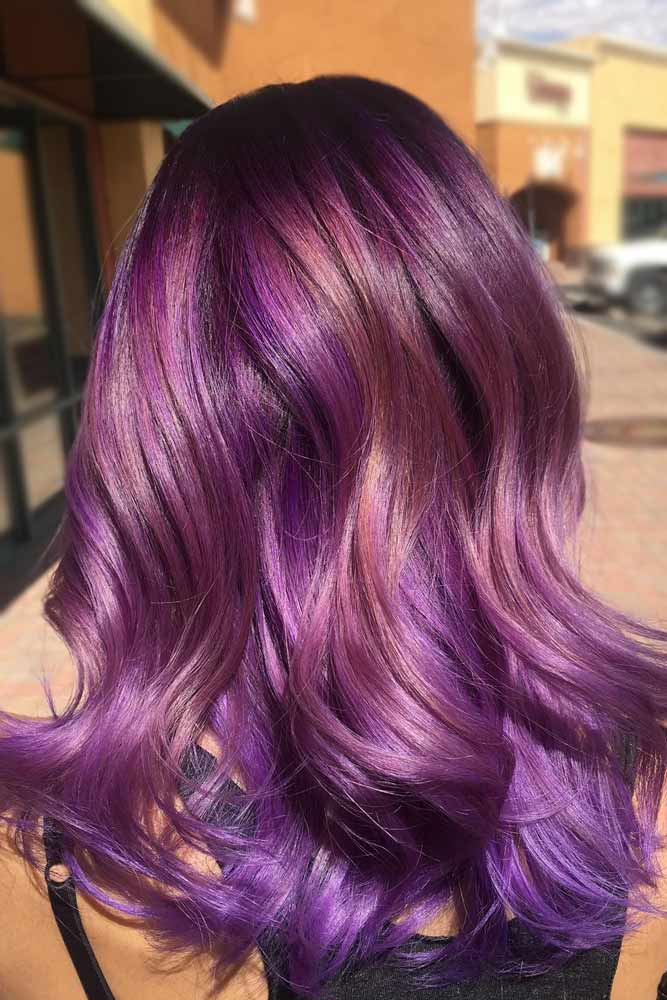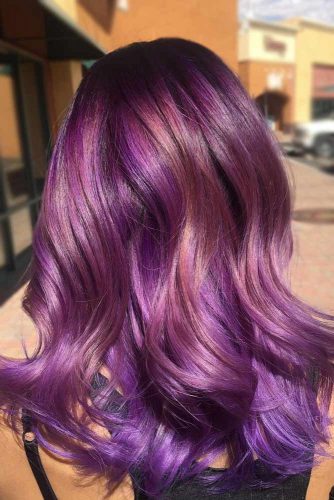 It's never too late to find yourself in a fairytale. You dreamed about mermaids when you were a child, and now you can see one in the mirror! Stunning purple mermaid hair is quite a bold decision, but once you have a look at this soft rose to light purple transition, you'll realize that it's worth it!
Source: jenndones_color via Instagram
Wavy A-line Lob With Pastel Highlights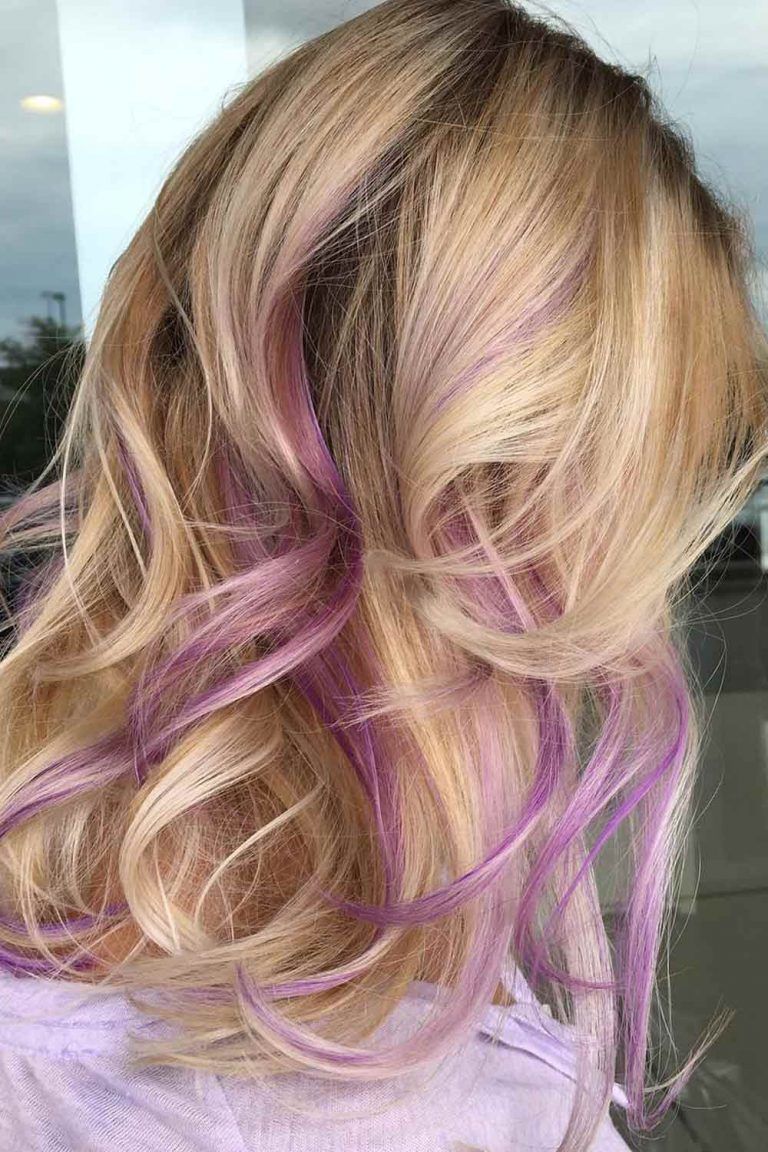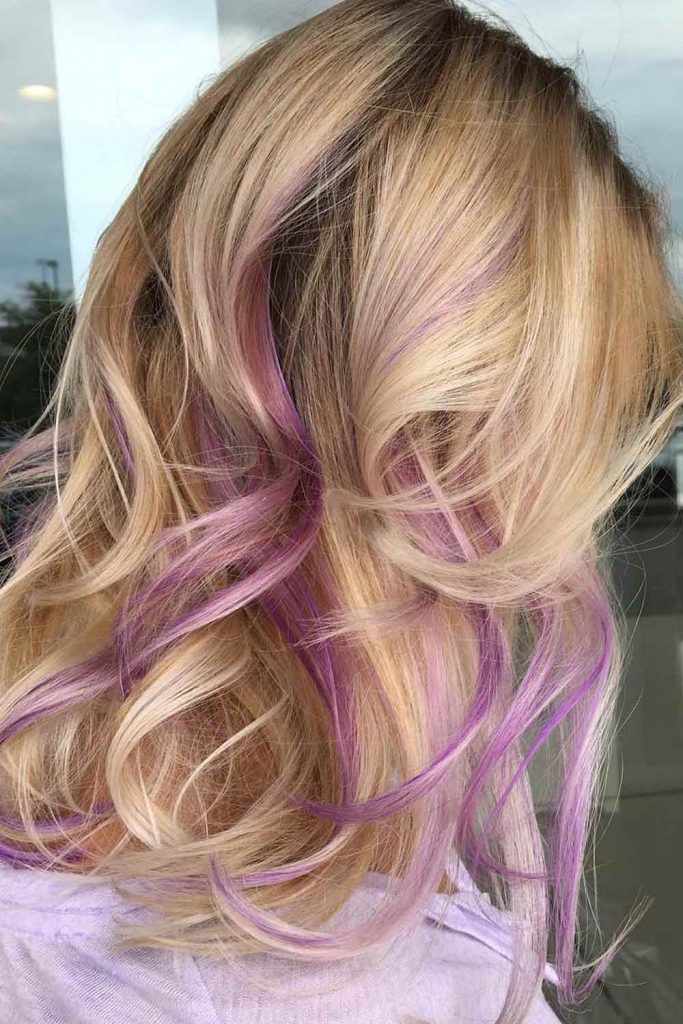 We love pastels not only because they're so soft and yummy; their main advantage is that they suit any complexion because of their neutral tones. Just look what a unique duo you can create once you go for a purple rainbow on your wavy A-line cut: each wave is exceptional, and each wave attracts attention.
Source: xostylistxo via Instagram
Purple Highlights For Wavy Lob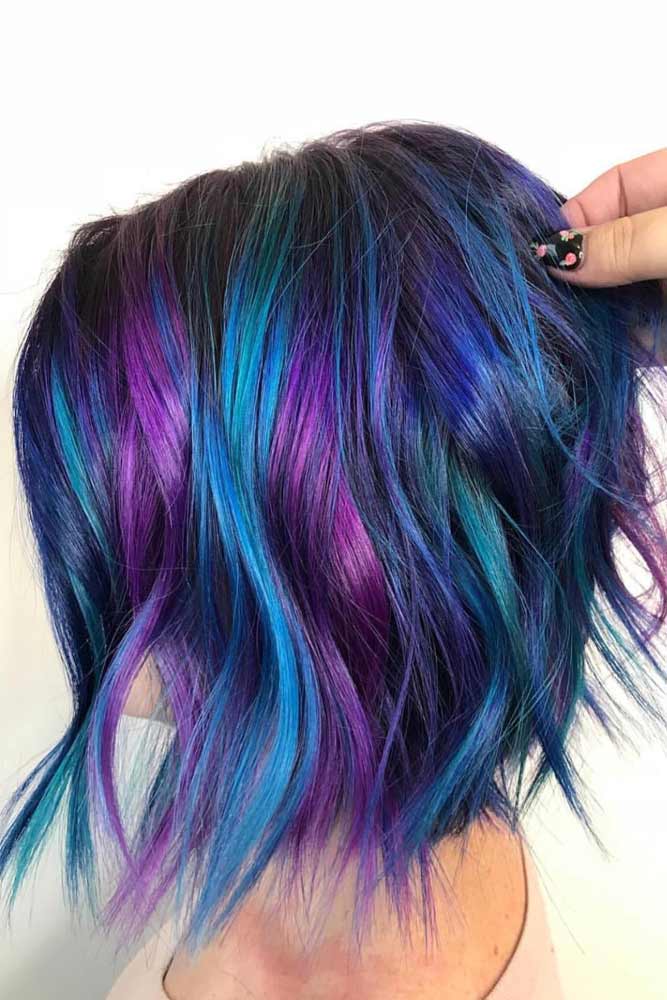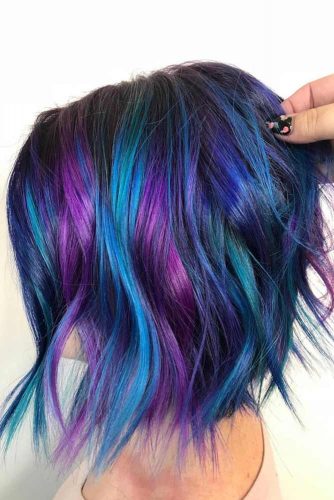 Do you want to enhance the beauty of your impressive lob? Apparently, there's no better way to accentuate your stylish cut than to color it in saturated, eye-catching colors. Once you go for purple highlights, you will fall in love with the way purple waves fall on bluish ones.
Source: pulpriothair via Instagram
Angled Bob With Purple Balayage Highlights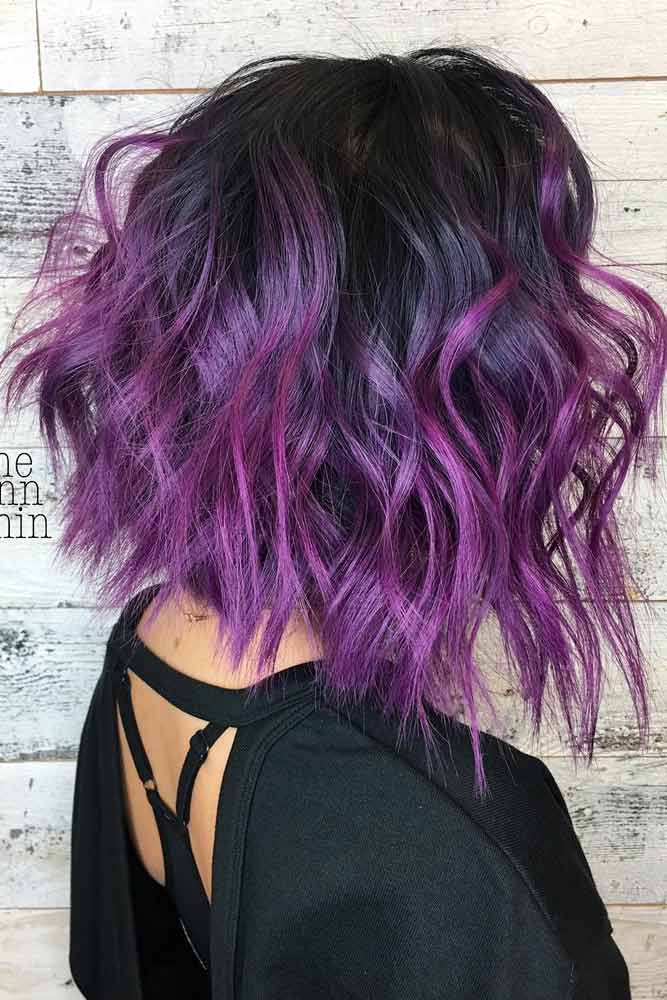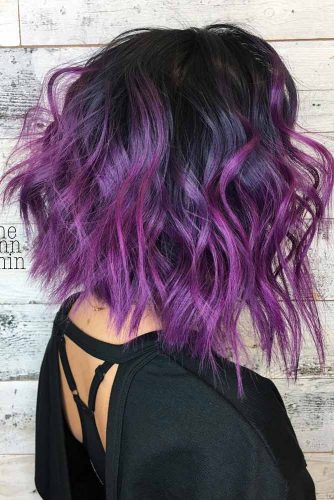 Edgy angled bobs were invented for ladies who want to make a statement, as their asymmetry always creates extraordinary looks. The lovely texture of your hair will appear in a new life if you steal this look: these gentle purple balayage highlights will emphasize the beauty of your modern cut.
Source: thejennshin via Instagram
Long Middle Part Hairstyle With Pastel Highlights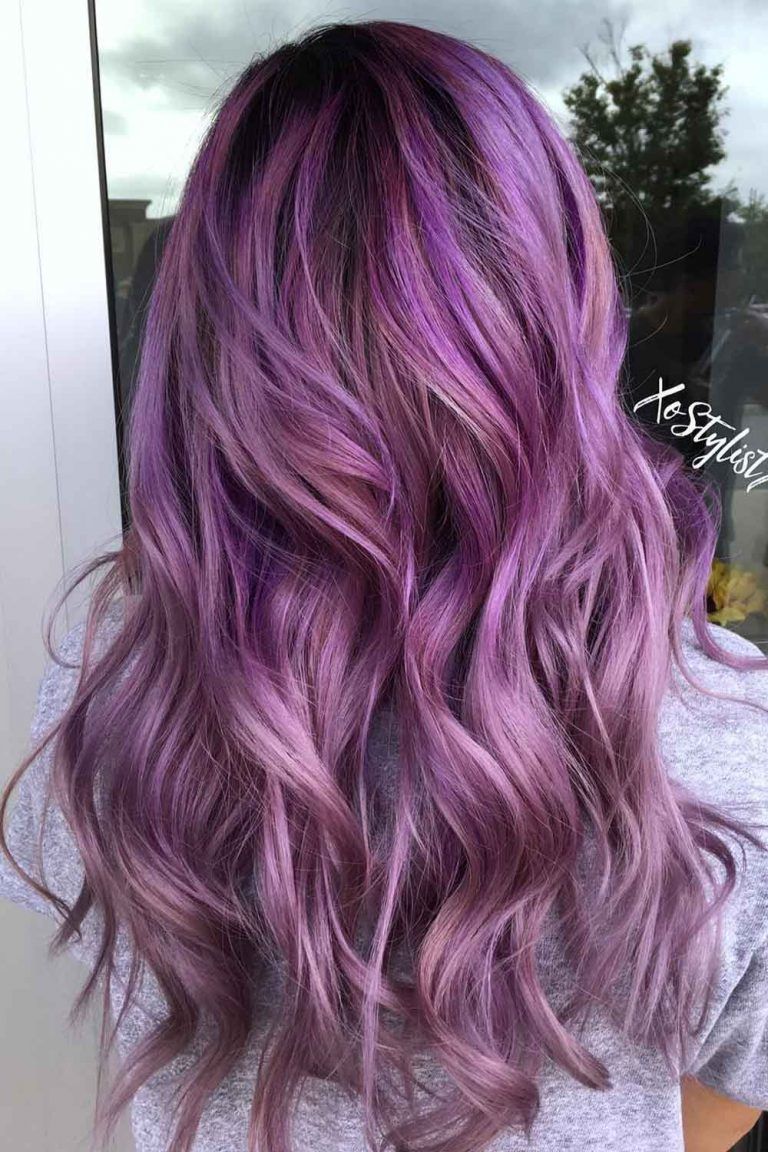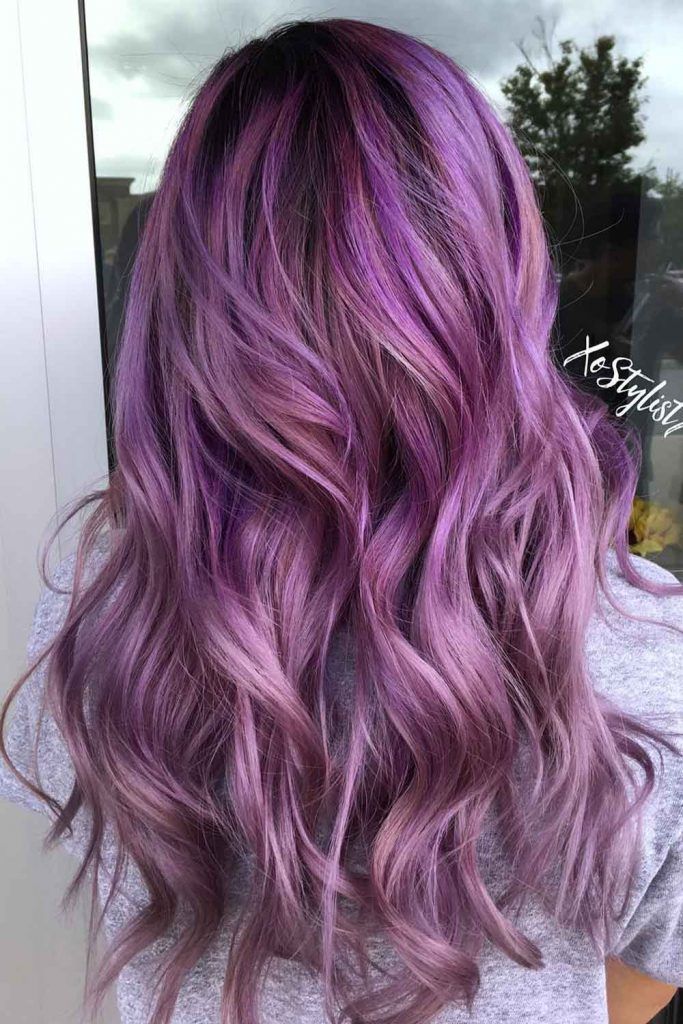 The longer your hair is, the more room for a burst of colors there are. Long hair has always been the most attractive detail of women's styles, but there are no limits for beauty, right? You can make your magnificent locks look even more breathtaking, and these pastel highlights are an excellent way to do that.
Source: xostylistxo via Instagram
Long Layered Hair With Purple And Green Highlights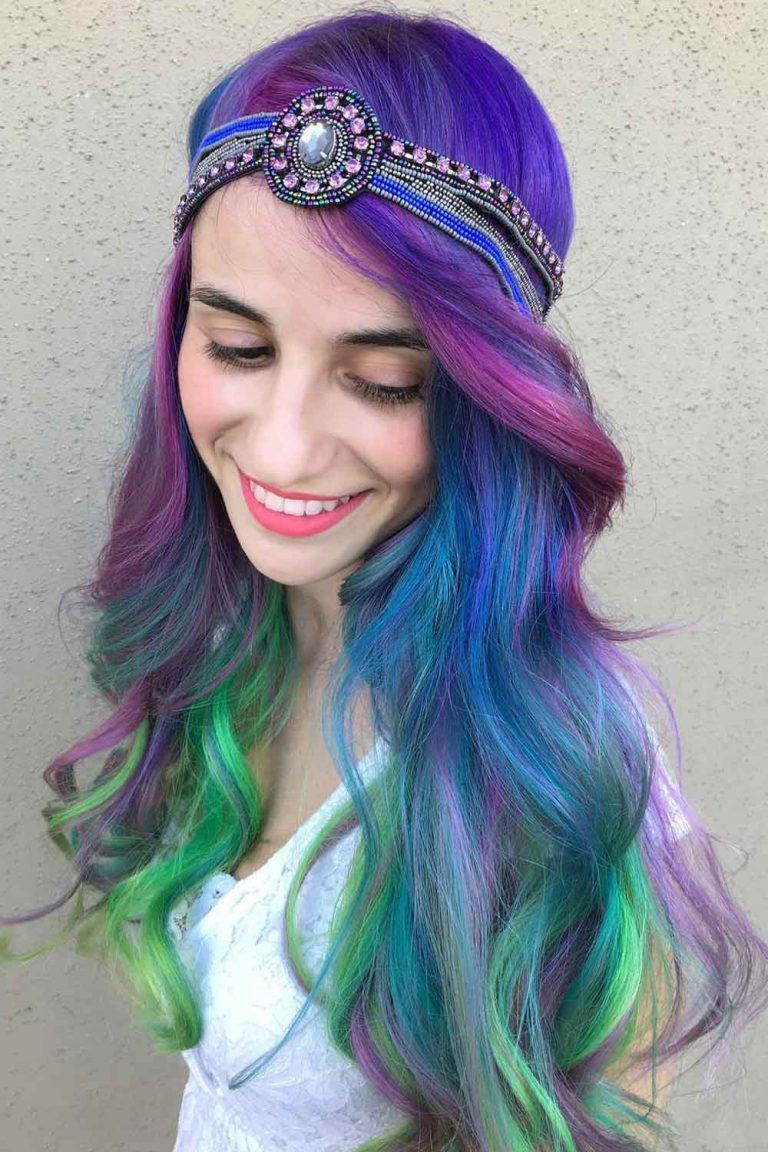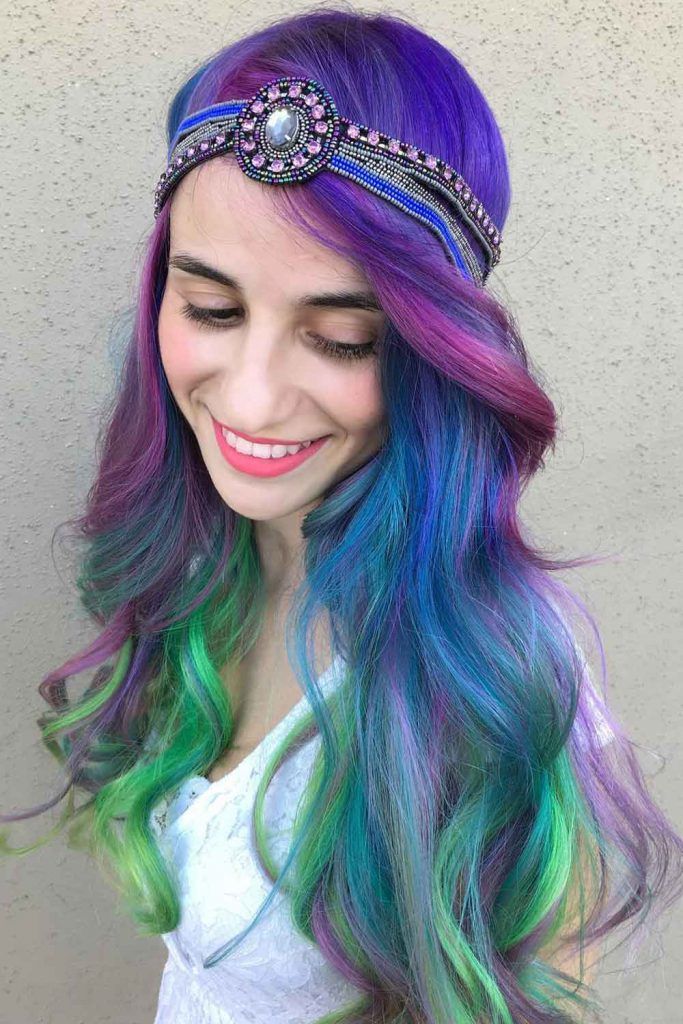 Layers are magic in its purest form: they boost the volume in our hair, improve its seductive texture, and simply create a well-balanced look you could ever dream of. And when different outstanding colors accompany this magic, it becomes unbelievably powerful. Are you ready to catch people's eyes with the power of purple and light green highlights?
Source: xostylistxo via Instagram
Straight Long Hairstyle With Multicolored Highlights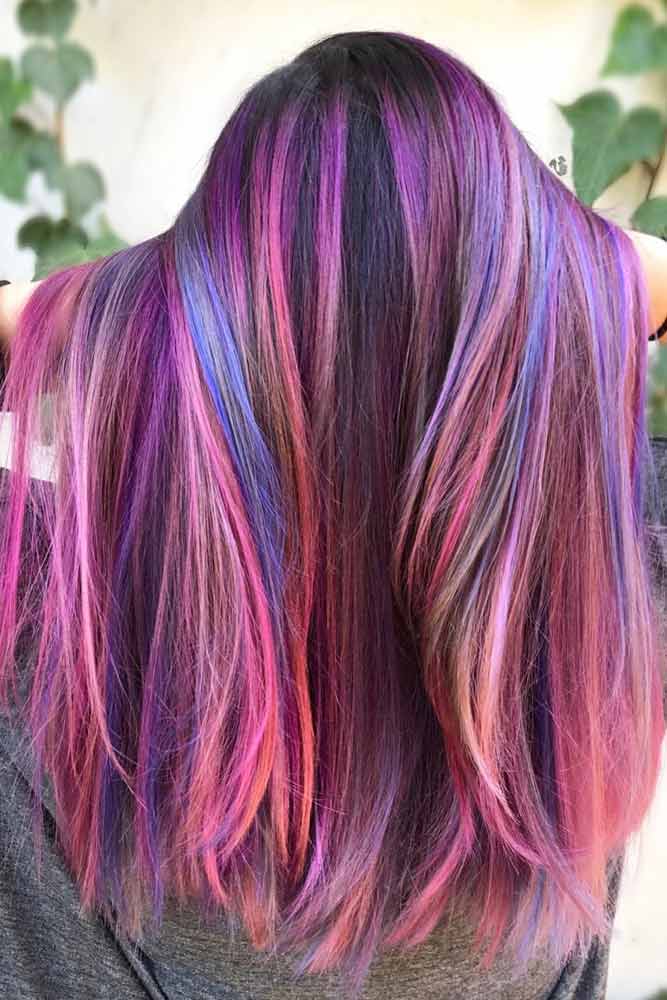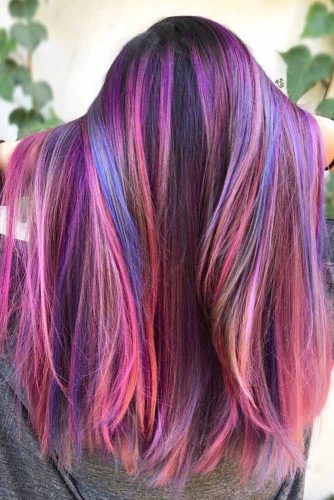 Our bright ideas are another proof that every girl can create her own rainbow. The only things you need is a little need for change, a will to experiment, and your stunning long hair. This idea wants you to mix all of your favorite colors. Believe it or not, when you add colorful highlights to your daily color palette, all those colors will match, as the transition of this soft technique knows how to deal with any hues.
Source: liz.colors via Instagram
FAQ: Purple Highlights
Do purple highlights fade fast?
When compared to more natural tones, purple hair fades faster. This is due to the fact that purple hair dye molecules leave the hair shaft faster than natural colors. So, wash your hair less frequently and avoid heat styling.
Can you put purple highlights in brown hair?
Purple highlights (plum, lilac or violet) are a simple method to add a splash of color to brown hair without having to dye it completely. Creating purple tones to your hair, no matter what shade of brown you have, is a good way to create a dramatic appearance while also adding dimension.
What Colours go well with purple?
The most noticeable colors that work well with purple are yellow, orange and green. Contrasting colors aren't the only option. Purple, pink and indigo which are next to each other on the wheel, work well with each other.