The reasons for having a receding hairline are various, individual and sometimes simply countless. And the worst thing is that this problem can come to a man's life at the most unexpected time. Though men's masculinity isn't really related to their thick and full thatches, they tend to be extremely concerned about hair loss, as it affects their confidence in some measure.
Today we're going to get closer to the topic of receding hair and share with you some possible solutions that will help you to get rid of such an irritating pitfall of men's routine. See how to know if your hair is falling, discover why, and learn how to conceal it during hair treatment.
How To Understand That Hair Falls Out: Symptoms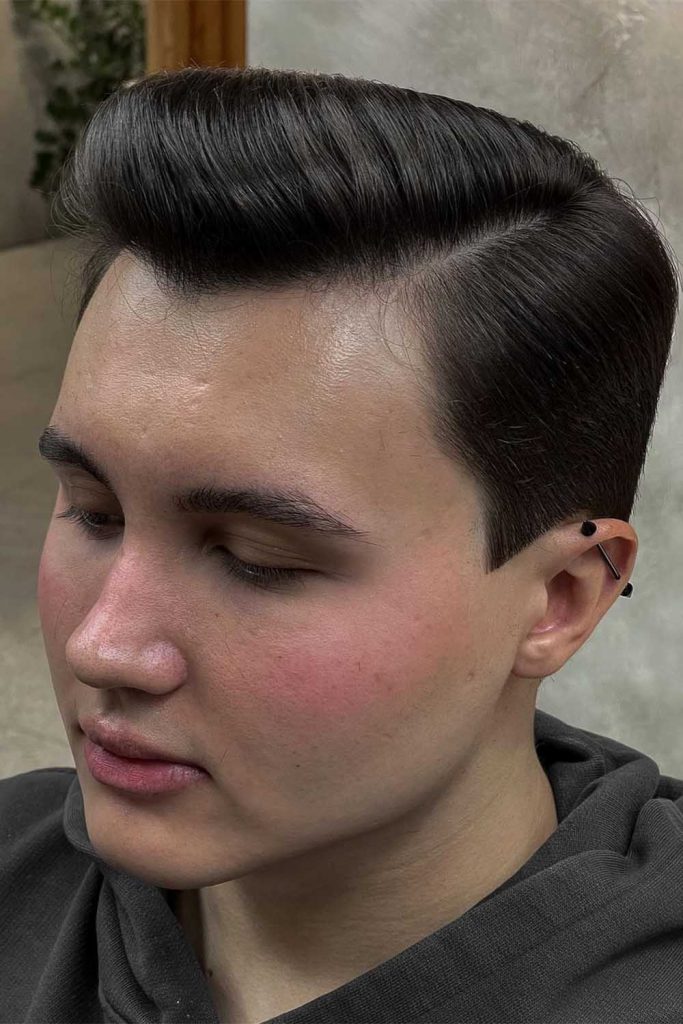 by @shefer_andrew
The unpleasant process of hairline receding usually starts above the temples area, moving back across the top. As a result, it may leave a gap on the top of the head, where thinning hair may continue to grow out.
Also, sometimes when your receding hairline begins above the temples, it can be accompanied by the middle hairs that stay close to your forehead, forming a V-shaped hair growth.
All these symptoms may result in partial baldness, usually with an uneven thickness of hair all around the head. Yet, make sure not to confuse a receding hairline with a widows peak, which is an inherent trait.
Why Did I Lose My Hair?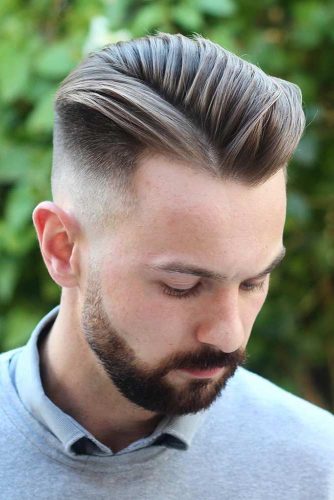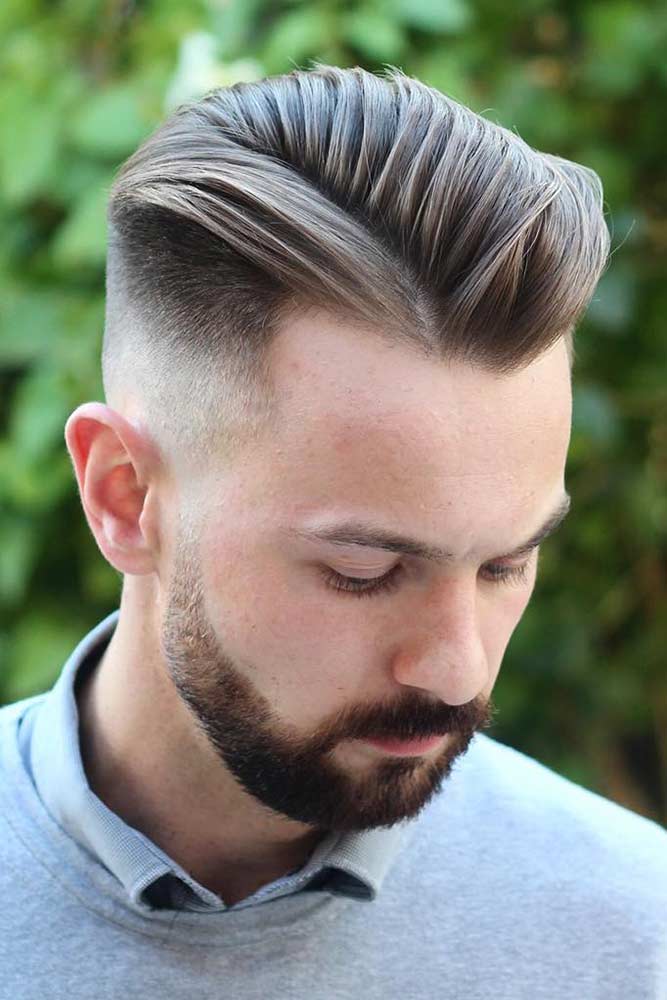 by @alan_beak
You don't notice that, but initially, your scalp has nearly 100,000 hairs that grow right beneath the surface of your skin. This number is not noticeable because these hairs tend to fall, yet new ones always replace them. And if your hair is damaged for some reason, it may stop its regrowth, causing a receding hairline.
One of the main reasons for receding hairline men from all over the world struggle with each day may be hidden in family history. It can be a hereditary trait with sensitive follicles that tend to weaken at some moment.
How To Stop A Receding Hairline?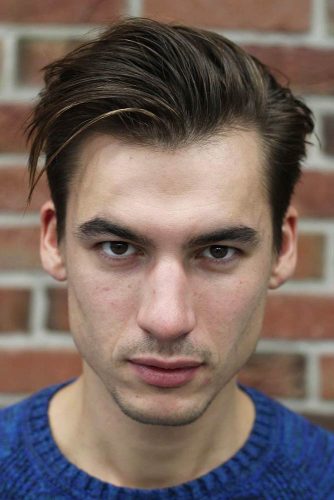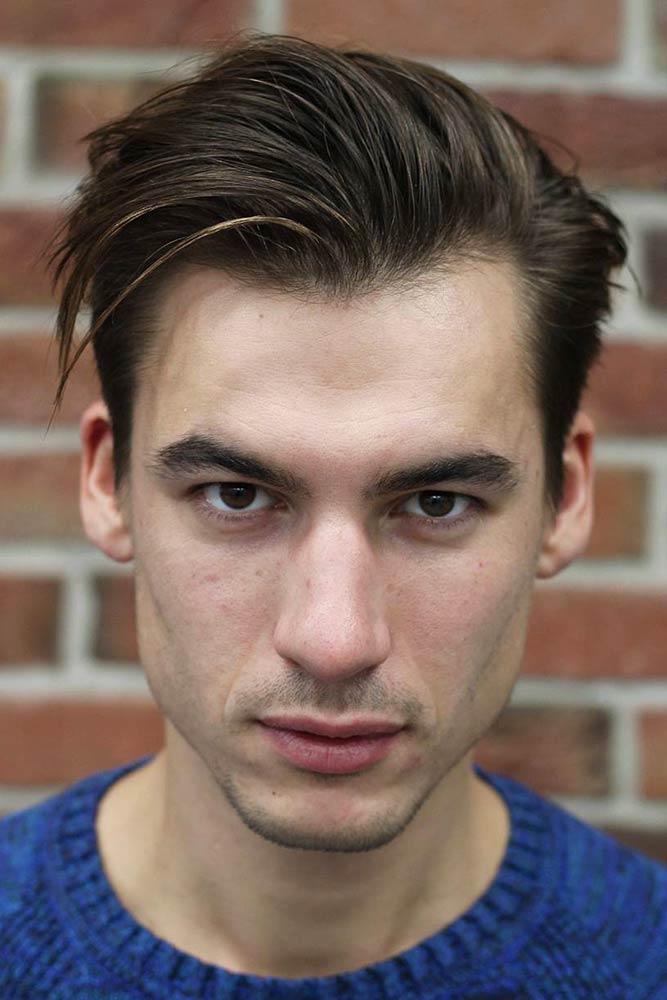 by @barber_djirlauw
It's unbelievably hard to restore the hairs that you've lost. But slowing down the hair loss process is actually possible, and far easier compared to its recovering. So whether you already have a bald spot or a trace of a receding hairline, here are some basics on how to stop receding hairline and keep up with a healthy routine.
Feed Your Head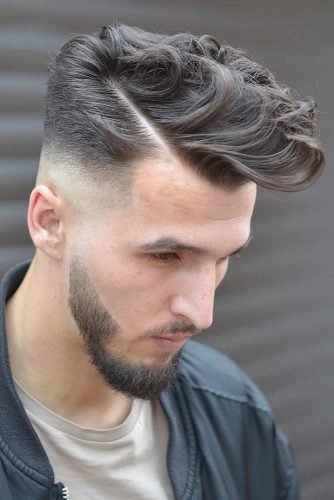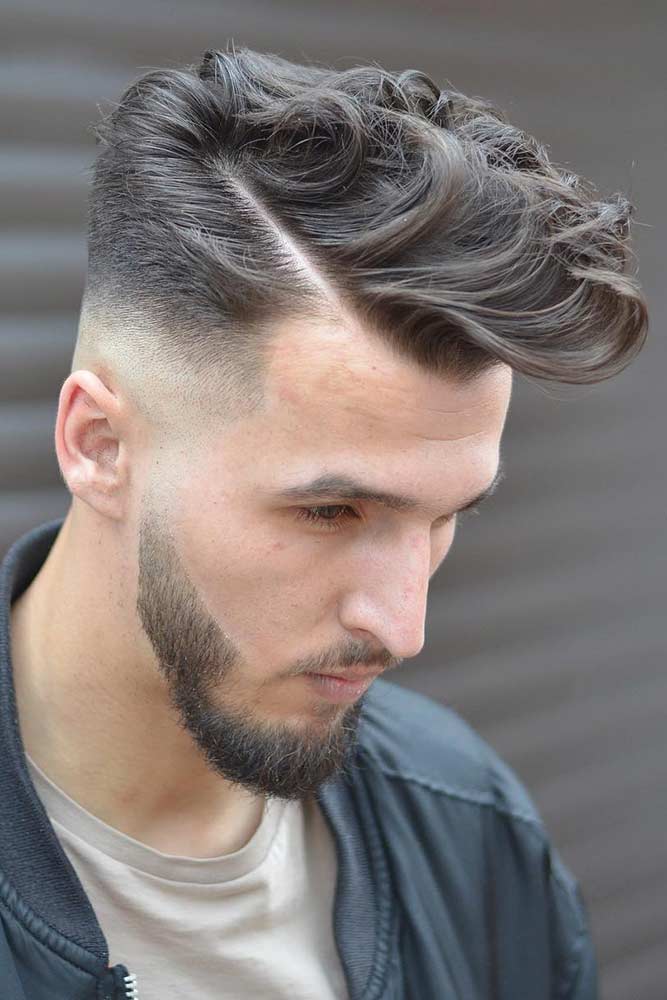 by @mattjbarbers
First of all, make sure that you get enough proteins. Otherwise, your non-protein diet can lead your hair to its weakening. Remember that good and healthy chevelure directly depends on your overall health and lifestyle: consume food rich in zinc, iron, and B vitamins to be healthy from the inside, and thus from the outside.
Choose The Right Styling Products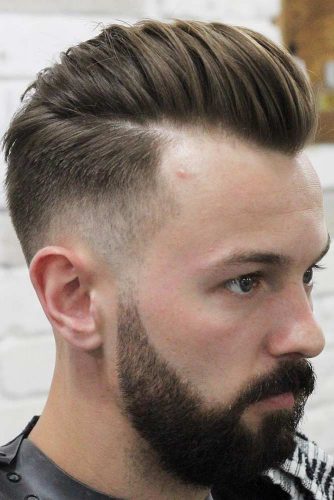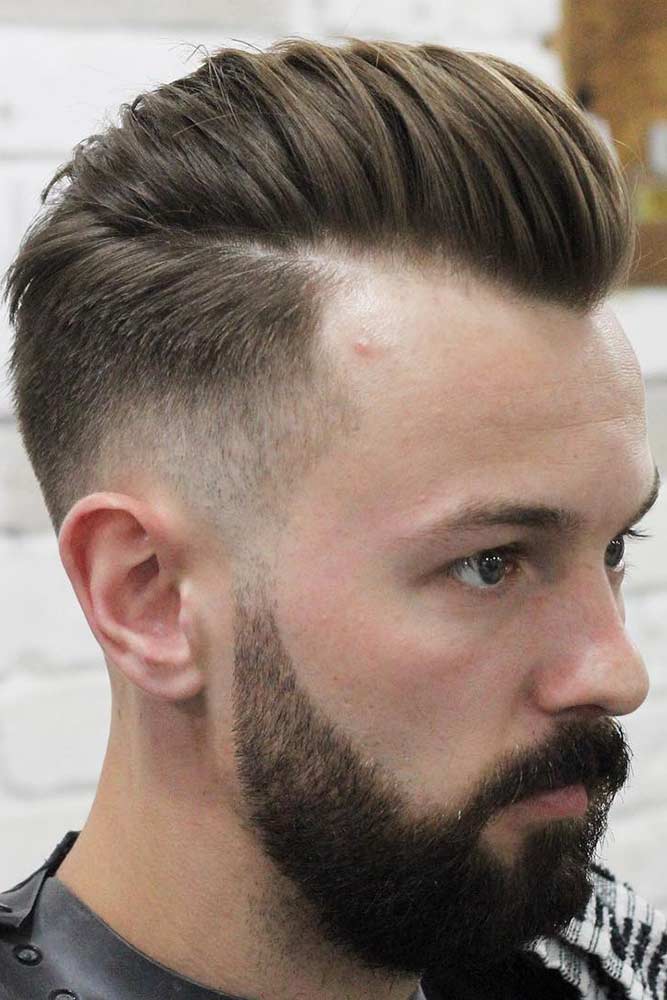 by @mozambeak
When you fight with hair loss, the right styling products that match your hair type are your best way on how to fix receding hairline. Consider replacing heavy products such as pomades, clays, and gels with soft spray waxes and powders to minimize the risk of outweighing your weaken hairs.
Elect The Healthy Life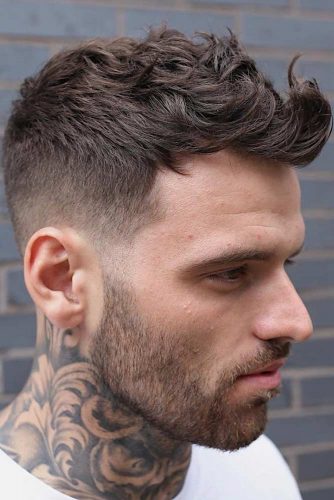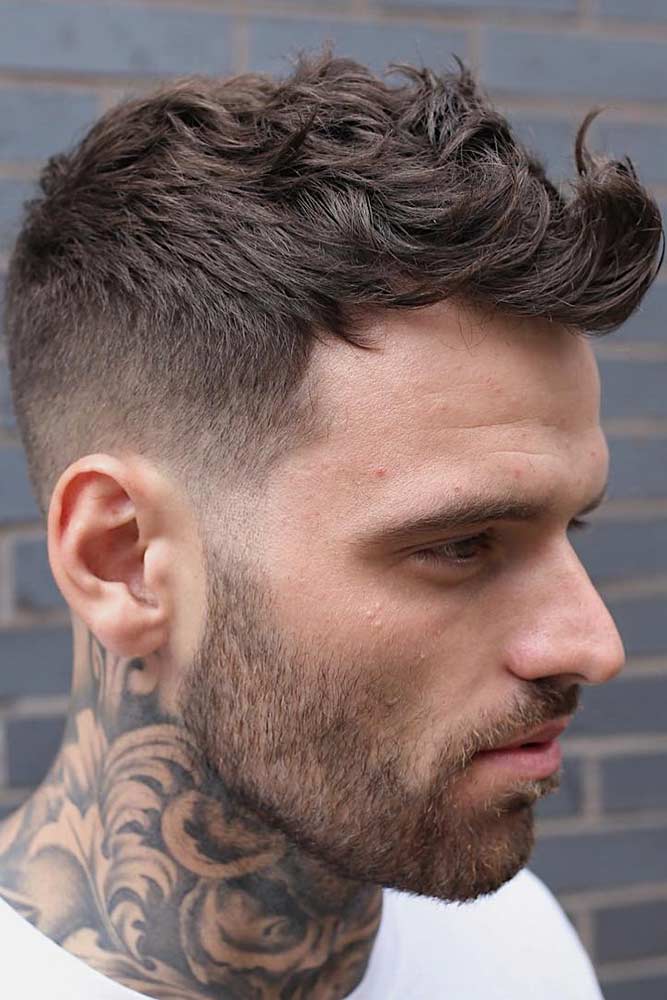 by @rpb_nq
According to the latest research on smoking and its effects, men who smoke more than twenty cigarettes a day are the closest to hair loss issues, while chances for non-smokers are miserable. So there's a strong possibility that your hair will get healthier if you manage to quit smoking. Sports and exercising that manage stress won't hurt, too.
Take The Right Treatment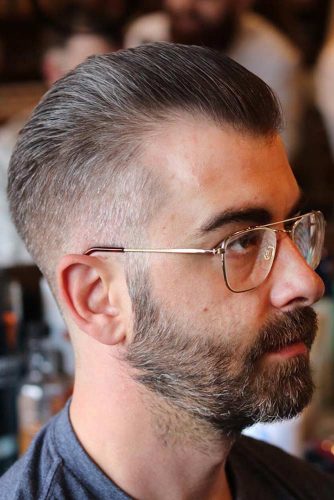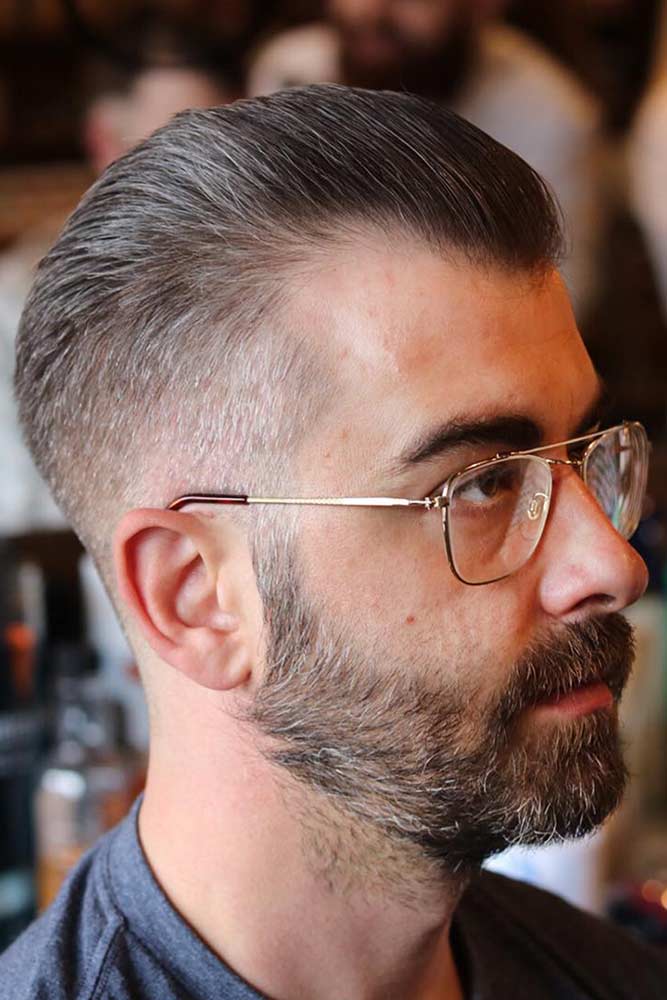 by @blake_dunne_hair
Unfortunately, there's no cure from receding hairline, yet some medications can help you to slow down this process, and, if you're lucky, to regrow your hair. Dutasteride, Minoxidil, and Corticosteroids are the drugs your doctor may prescribe you. Keep in mind that only a professional can choose the right one for you.
Try A Transplant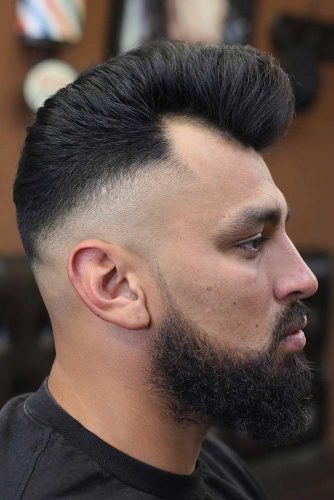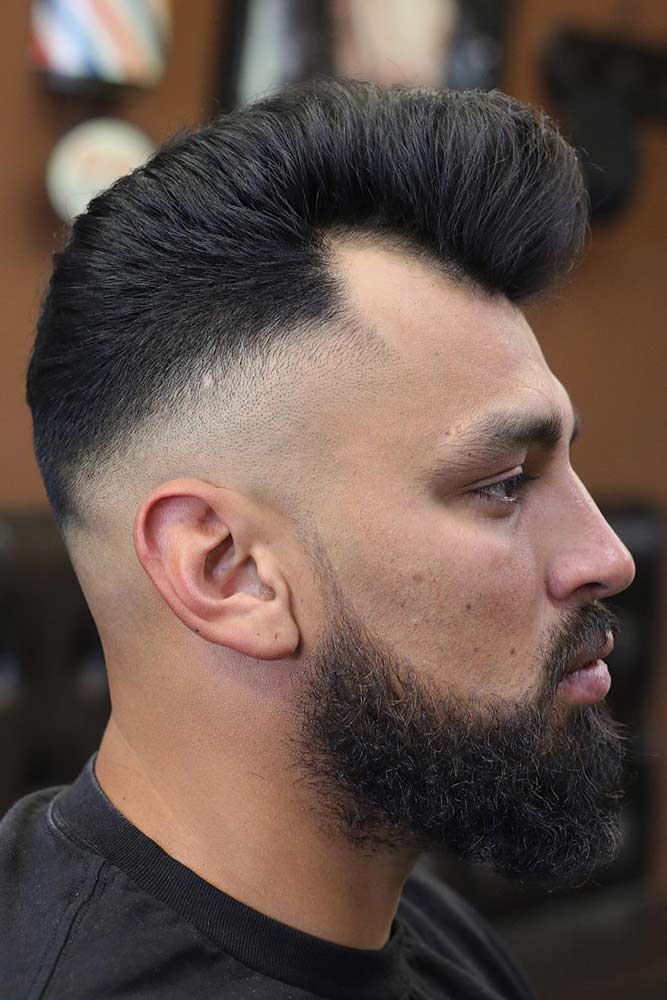 by @mister_xclusive
Sometimes going for a hair transplant is the only salvation from hair loss, bald spots, and receding hairline. When all the previous solutions don't really work, this one will definitely change your life for the better. In the modern world, the procedure of transplanting hair from the back and sides to the hair thinning areas is quite popular; now it's as common as teeth whitening, so don't hesitate to try.
The Best Hairstyles And Haircuts For A Receding Hairline
Of course, when you're trying to put an end to hair loss, the right hairstyles for receding hairline are the best weapon. It's very important to stay presentable during hair treatment and recovery, so your task is to mask everything to feel confident. See how you can do that with some receding hairline haircuts and styles.
Spiked Hair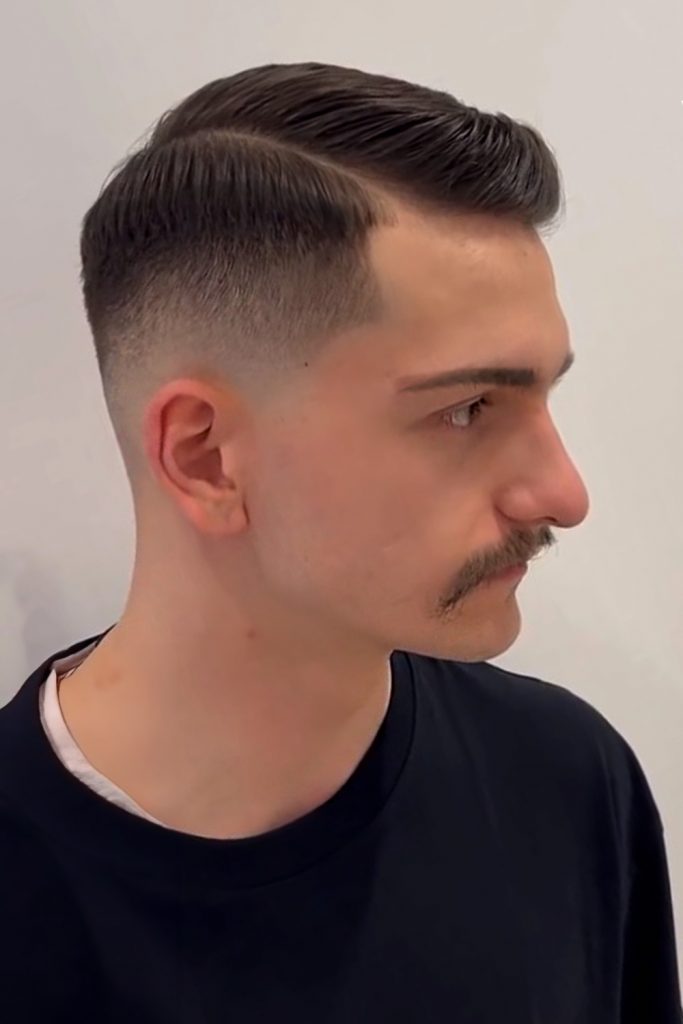 by @mister_xclusive
Spiky hair idea stands among the easiest and most versatile receding hairline hairstyles. There's nothing complicated about styling your hair upwards, especially if you go for short spiky hair where hair is slightly longer in the front.
Bald Head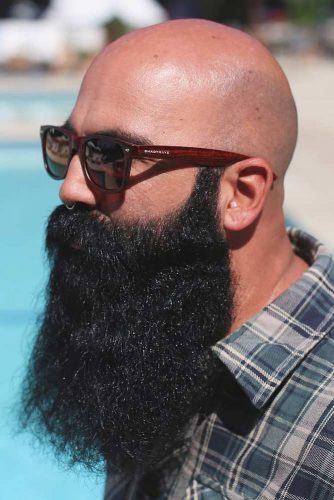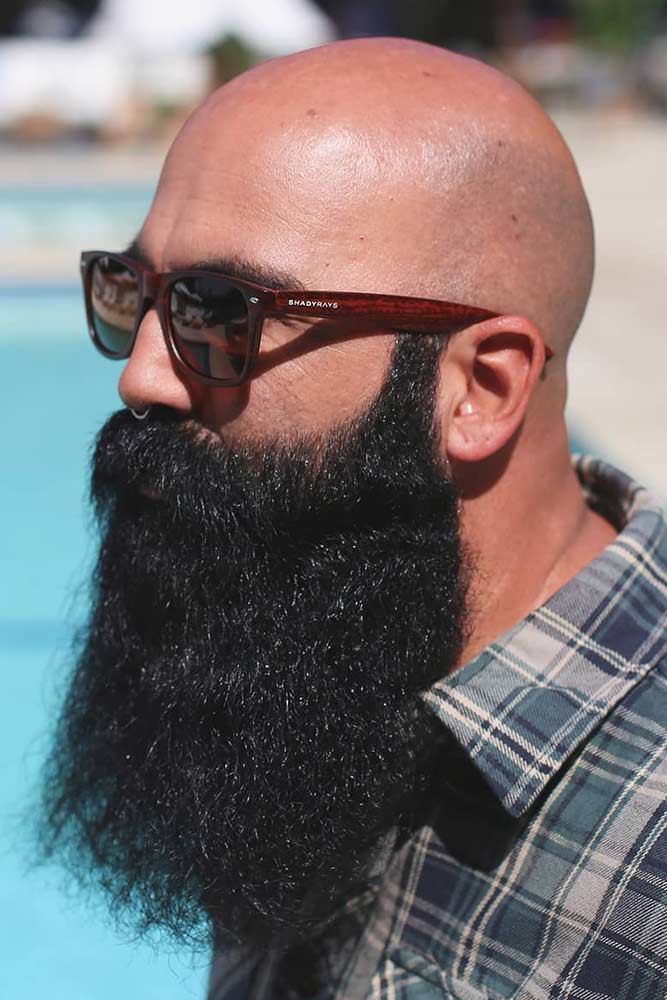 by @markhasabeard
No hair, no problems. One day you may realize that it's time to give up fighting for your last hairs and let baldness overcome you. And become a winner in this way! The close shave is a haircut for receding hairline that, obviously, features no hair at all, yet looks stylish and feels comfortable.
Buzz Cut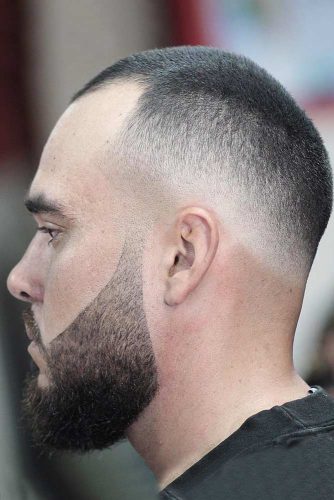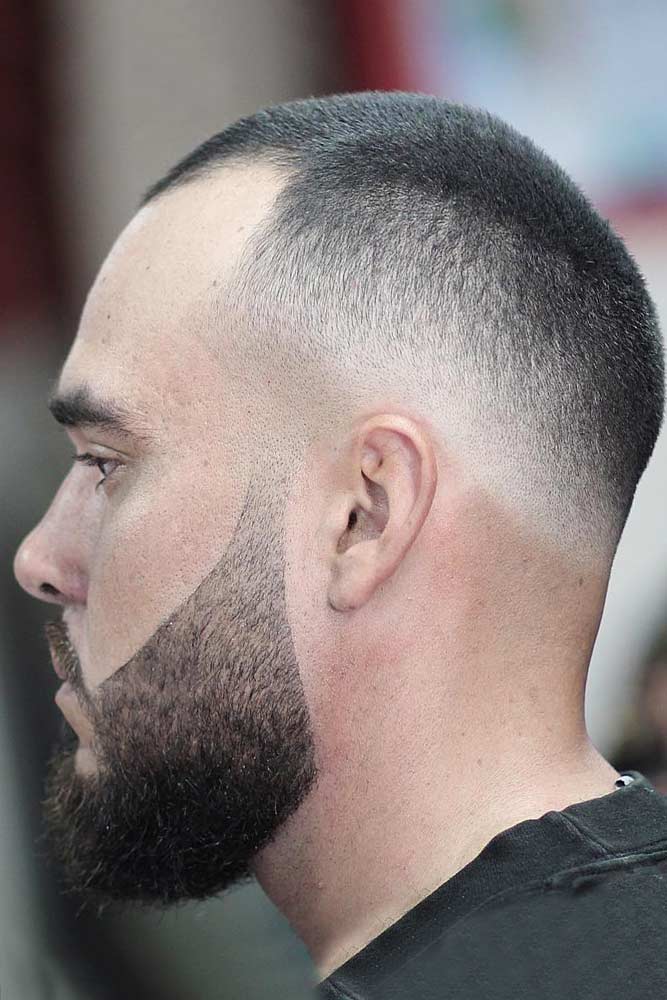 by @fade_master
The minimalist, strict, and refined military buzz cut can give a fresh take at your hair. It's always good to go short, as longer hair tends to appear thinner than it actually is. A skilled barber will cleanly cut your hair to the buzz length, giving you a balancing receding hairline haircut.
Crew Cut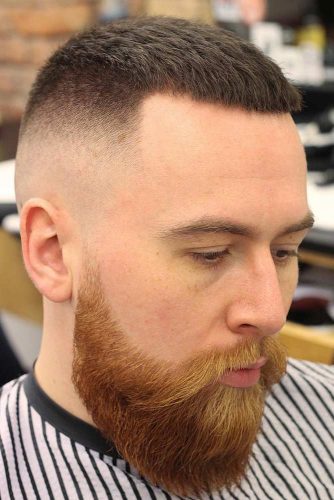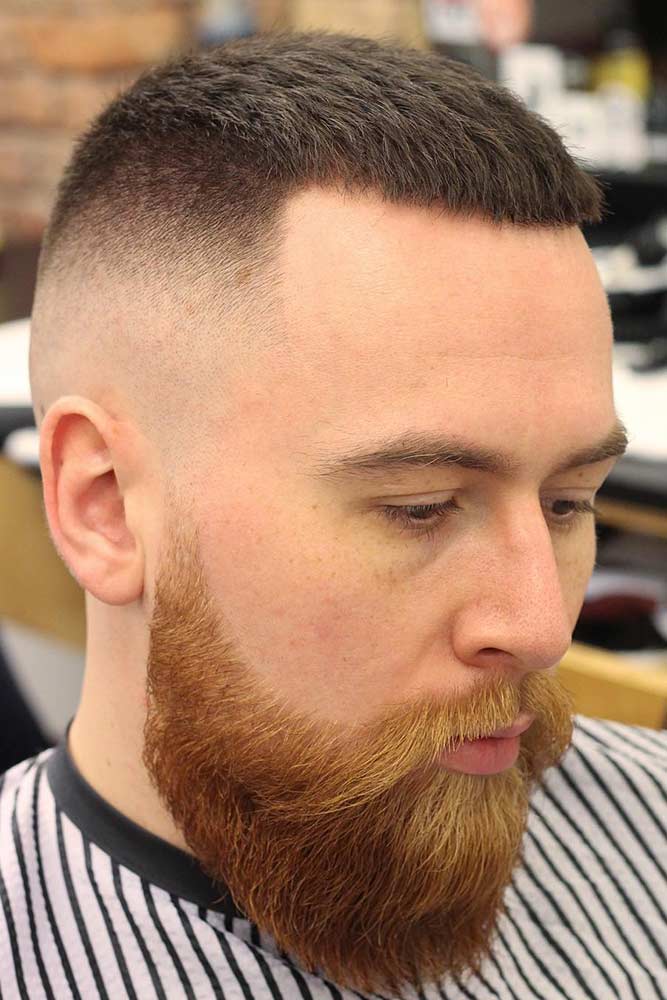 by @hayden_cassidy
Crew cut haircut is something that will never harm your appearance. It's a neat, simple, low-maintenance army cut that you won't really need to style. Since its structure involves cleanly cropped top and short sides, it's probably one of the best haircuts for receding hairline. Plus, it looks awesome with a beard!
Comb Over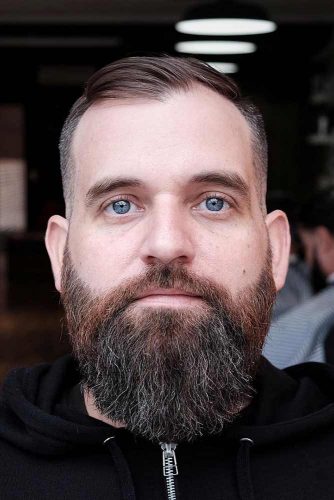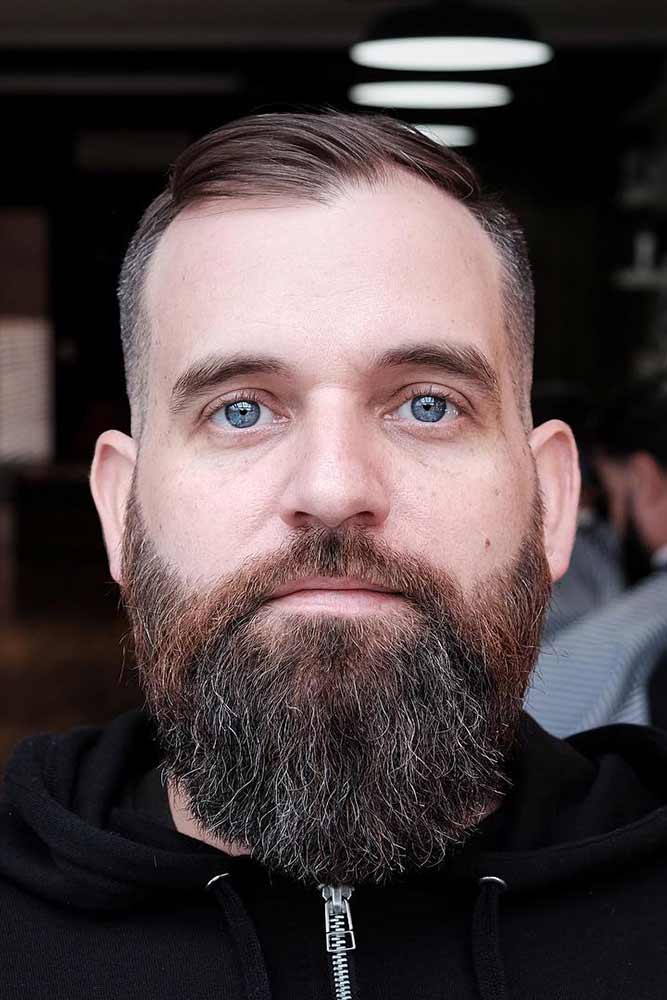 by @fittingroomtoronto
Comb over haircut speaks for itself; every man knows its first aim and origin. The sides and back are cut short, while the longer top is left for swept styling, which, in its turn, serves for bald spots concealing. Not all the receding hairline haircuts can offer you such styling flexibility, just in case.
Mohawk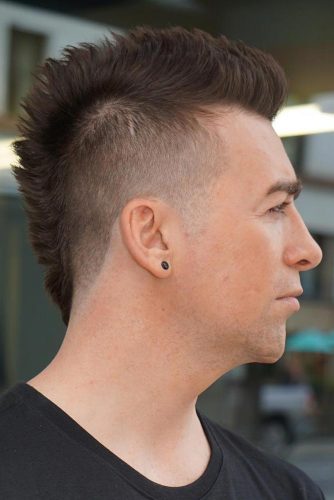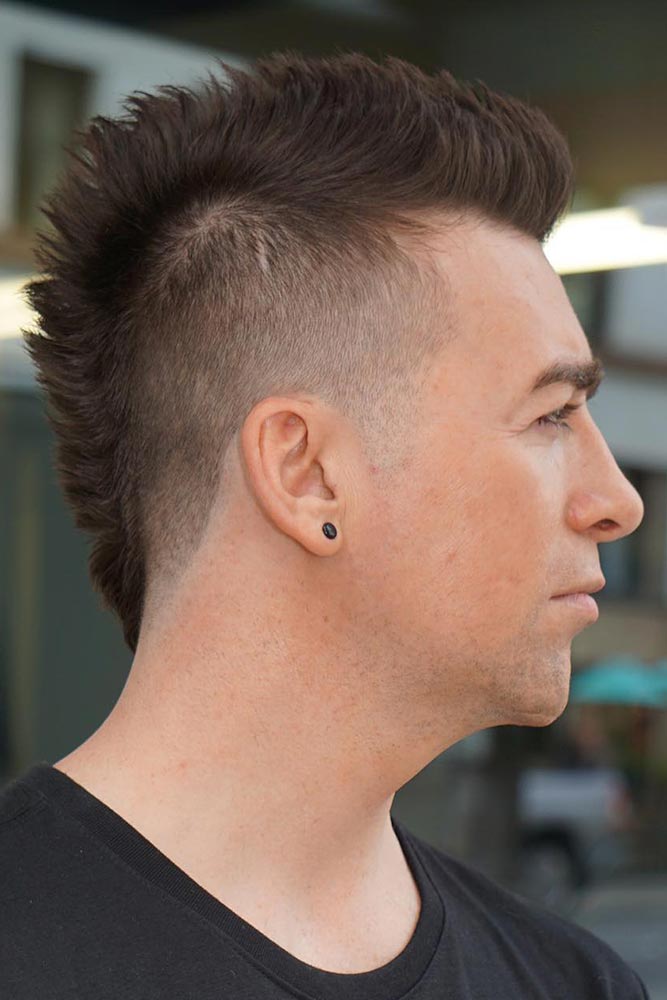 by @cutsbyerick
Don't forget that the best haircut for receding hairline is the cut that matches your inner self. Yes, it should hide your flaw, but you don't need to sacrifice your style. So all those bold guys who suffer from hair loss can make a statement with a daring mohawk haircut that will cover the drawbacks by brushing all the hair up.
Short Back And Sides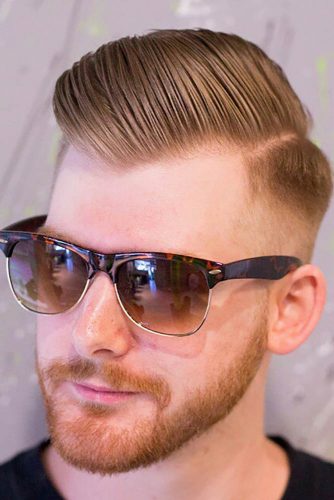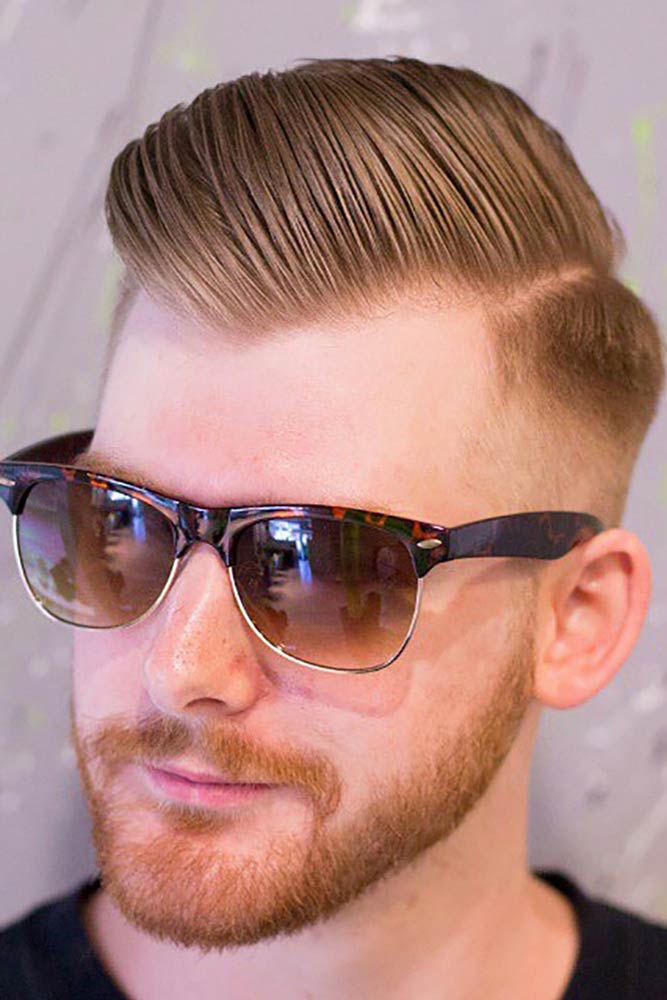 by @shawnscheepers
The majority of haircuts for men with receding hairline feature short back and sides not for nothing. The longer hair on top allows men to play around with it, which helps to achieve a smooth and iconic look. With the help of organic products, you can create both a polished and flawless hairstyle.
Undercut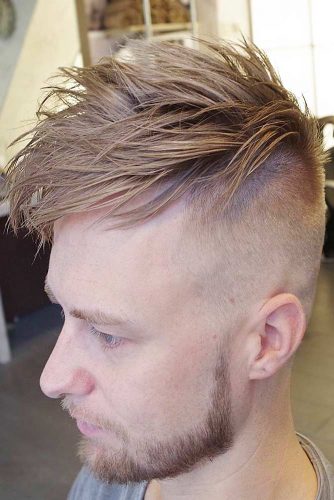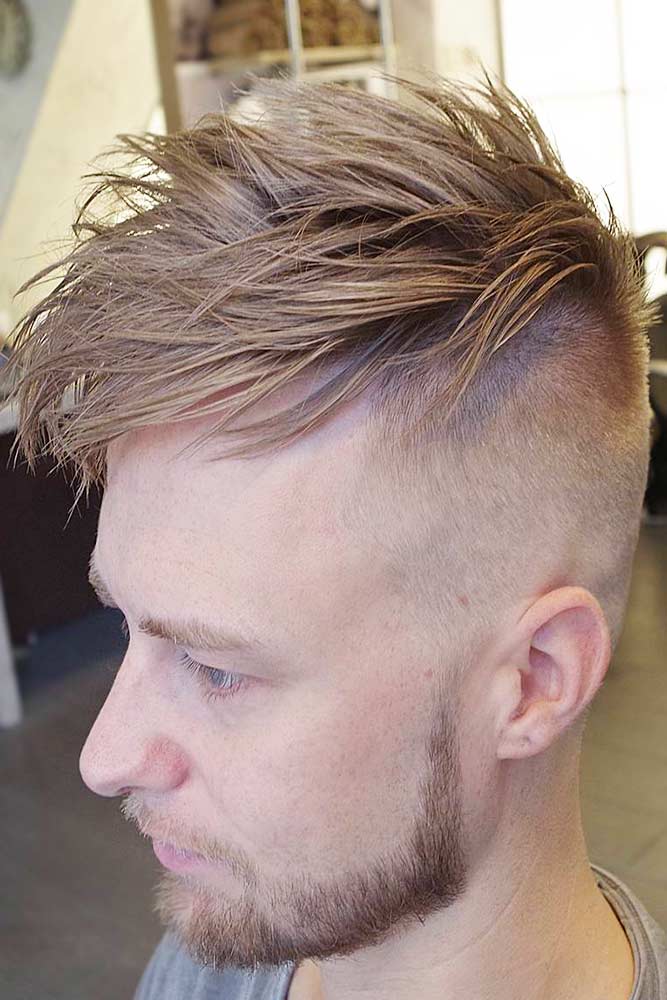 by @mensworldherenkappers
With the eternal variety of undercut haircut, there's no way you won't find a suitable cut for you. Mens undercut have lots of approaches, so you can easily find one based on your individual needs. The long, flexible top of the undercut men sport today is another win-win decision.
Brushed Back Hair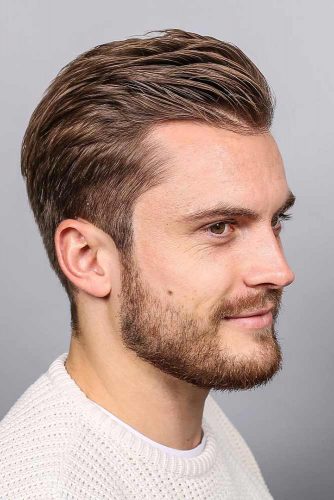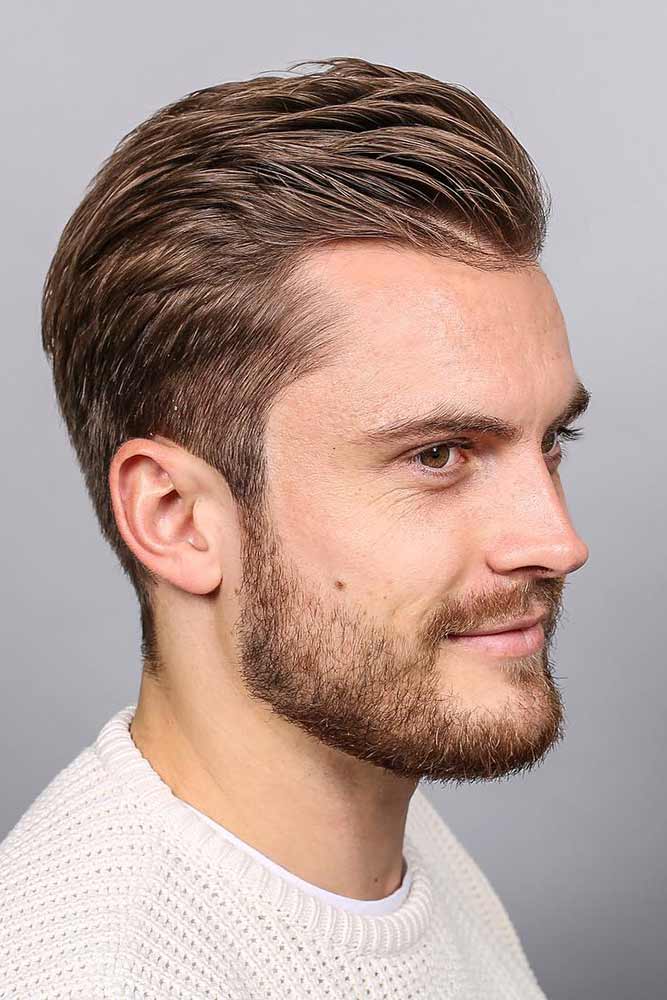 by @londonschoolofbarbering
Brushed back hairstyles for men with receding hairline are an excellent way to hide the hair loss that starts somewhere close to the middle part. You just need to grow out the top so that it can be brushed to the back, and the volume of the front will do the trick.
Slicked Back Top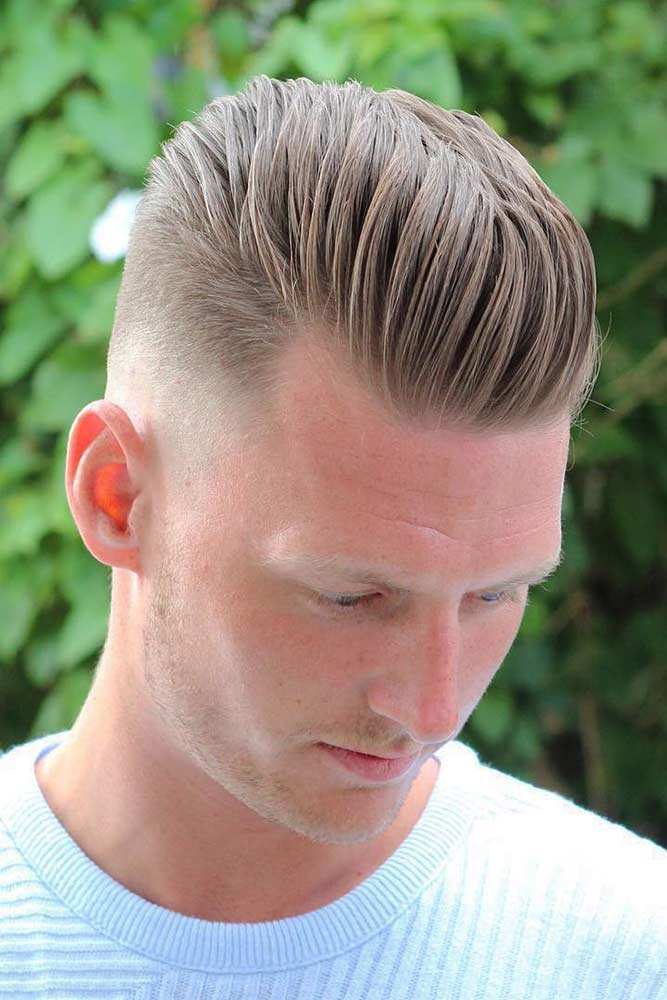 by @alan_beak
Slicked back hair that turns into the popular pompadour hairstyle also can deal with your hair troubles. Once you leave the sides short or faded and slick back hair on top, the problem will be replaced with a modern look.
Though a receding hairline is bound to upset you, you know how to confront it now. Treat your hair with respect, experiment with new styles, and hair loss troubles will have no choice but to go away!
FAQ: Receding Hairline
Can receding hairline grow back?
There is no certainty that the receding hairline will stop or grow back. However, you may take steps to reduce hair loss and achieve fuller and healthier hair. If your hairline is receding, you should see a board-certified dermatologist as soon as possible for the timely ailment prevention.
Is it normal to have a receding hairline at 15?
While you may believe that you are too young to begin losing your hair in your teens, hair loss can occur at the age of 15 – 17. Hair loss in your teens usually starts with a receding hairline or thinning hair and progresses gradually.
Does hair thinning mean balding?
Thinning hair, unlike intensive hair loss, does not always lead to baldness. It does, however, make your hair appear thinner in certain areas of your head. Hair thinning occurs gradually, giving you time to identify the causes and determine the best treatment options.
Was this article helpful?