When you feel the need for drama, there's no better scene you can make than getting scene hair. Also known as a youth subculture, the scene generation emerged at the beginning of the 2000's. The extraordinary movement was all about bright colors, skinny jeans, straight layered fringes, and breathtaking hair extensions. Though some people believe it got muted years ago, it will live and prosper as long as metalcore, deathcore, and post-hardcore do. Today, we invite you into another world; the world that gives a new take at the vivid color ideas and styles called scene hairstyles. Whether you want to look different at your favorite band's concert or you'd like to set your bright personality free, make sure to see them all!
Scene Hair Cuts With Layered Side Bangs
In general, scene hair cutting involves sharp layers that fall distinctively on one another and get edgy at the ends, but you can always play by your own rules. Many girls prefer to wear the
haircut with bangs
, as they make the whole look appear cuter. As for this idea, it's layered but layers are muted, which makes the style appropriate not only for bright events.
Source: teddygraham97 via Instagram
High Pony With Long Bangs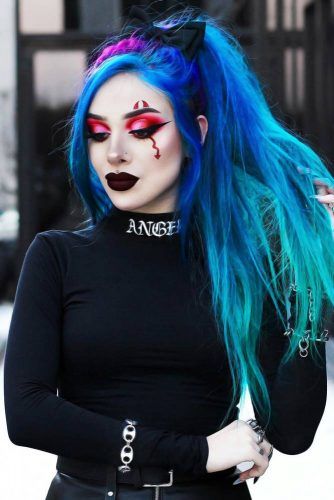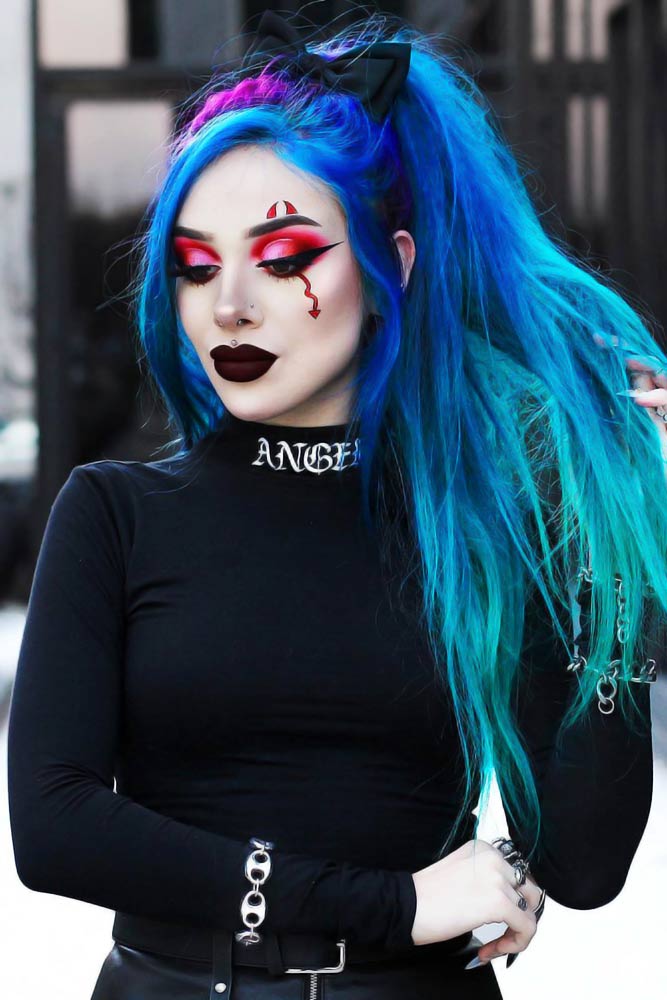 The structure of scene hair cuts usually consists of two parts: the top and the bottom. The two layers give great styling freedom for scene kids, allowing them to wear updos while still having a face-framing effect. This pony, for example, is a gorgeous idea of rocking a long scene.
Source: sandrarclemente via Instagram
Pony Scene Hairstyles With Headband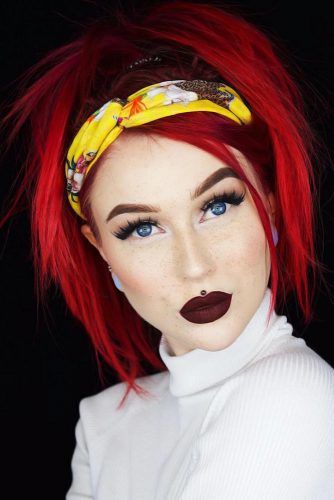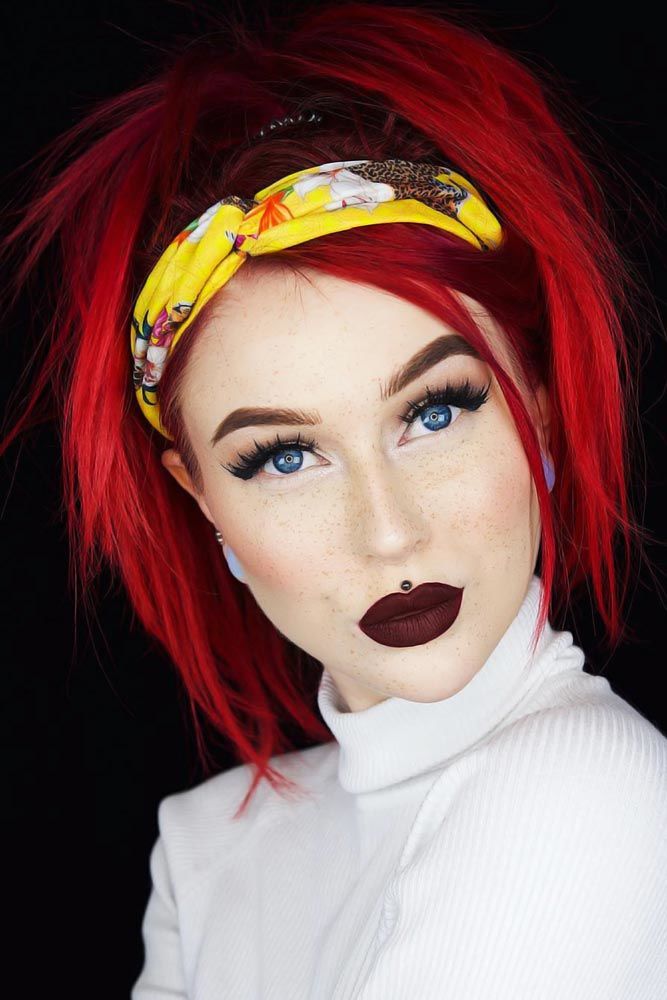 Colors do matter. What makes scene styles so special is the unique combinations that every scene girl hair flaunts with. Without a bright, head-turning color mixture on your locks, the look won't reach its highest. Hair accessories, however, may come in handy when customizing your updos, ponytails, and braids.
Source: evelina.forsell via Instagram
Long, Messy & Colored Waves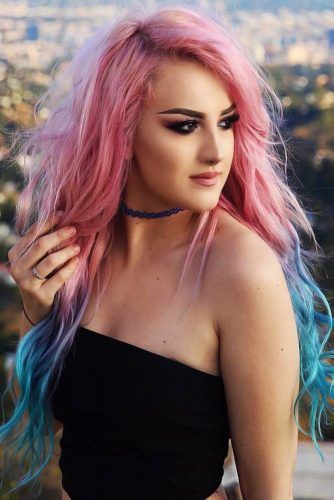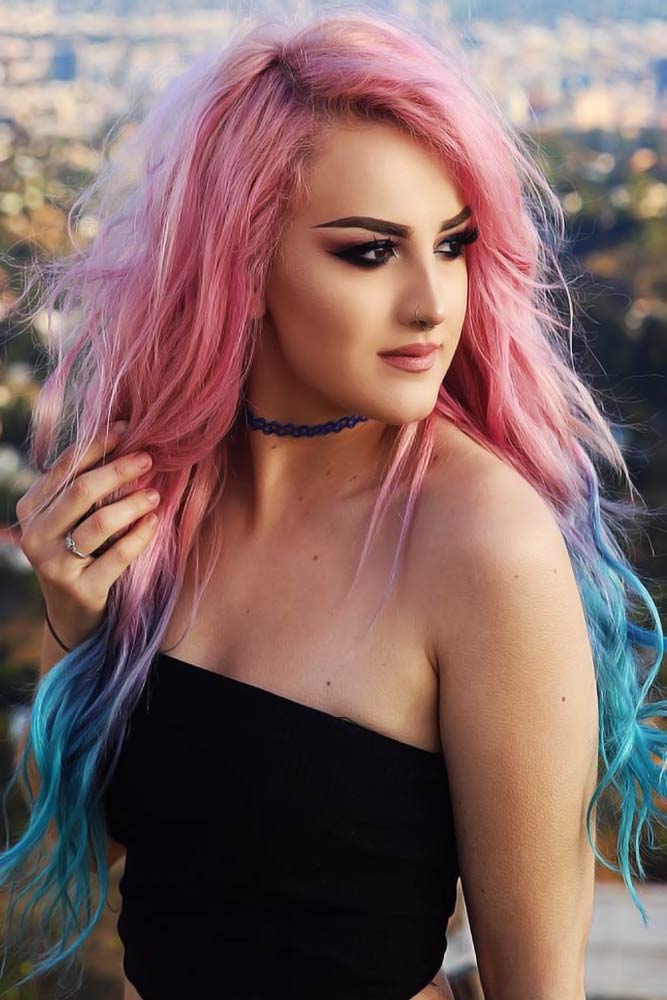 Today, more and more girls are diversifying the common ideas of scene styles by playing around with subtle colors and relaxed textures. Instead of going too bright and courageous with colors, they opt for pastel variations. Soft, effortless waves replace the pointed edges of the classic ideas. Yes, this idea has nothing to do with those drastic scene
emo hair
looks!
Source: teddygraham97 via Instagram
Sleek & Straight Layers With Scene Hair Coloring
Sometimes the right play of colors is enough to turn your mane into a scene! Various colorful streaks that roughly blend with one another is a gorgeous option for those afraid of scissors. Scene hair coloring does wonders!
Layered Style With Cat Ears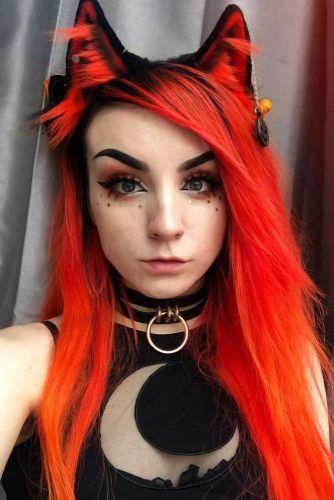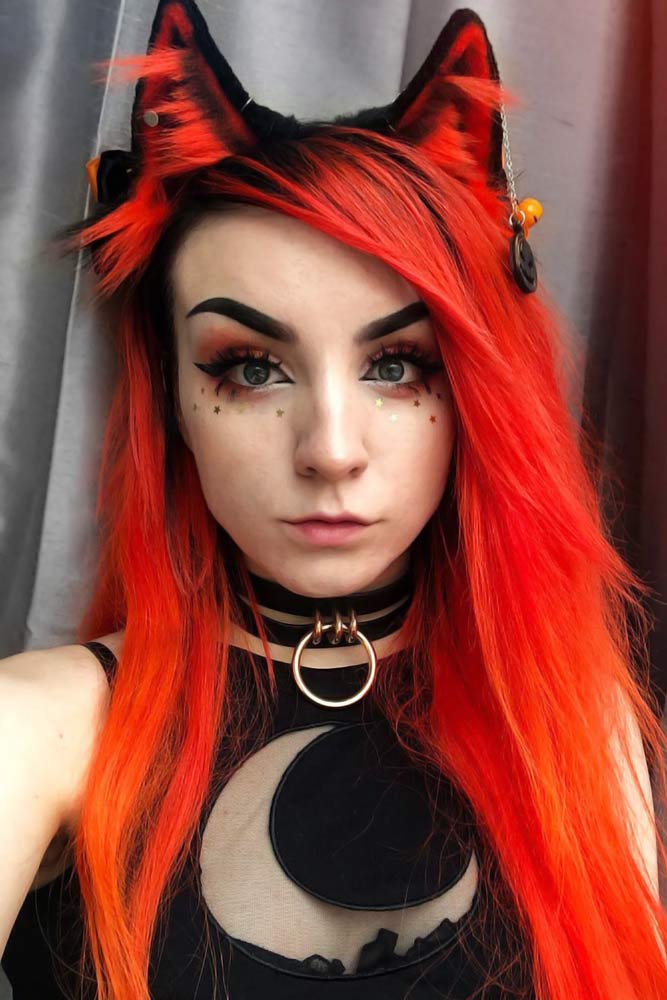 Now, it's time for special occasions. Besides giving a striking visual impact to your casual look, scene cut will be there for you when you're about to stand out at a costume party. Be it Halloween or Comic-Con knocking at the door, you won't go wrong with chic layers wrapped around cat ears headband.
Source: p273 via Instagram
Sweeping Fairy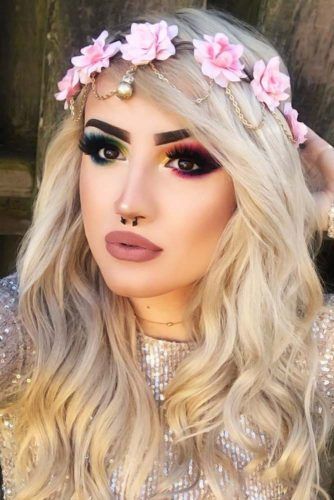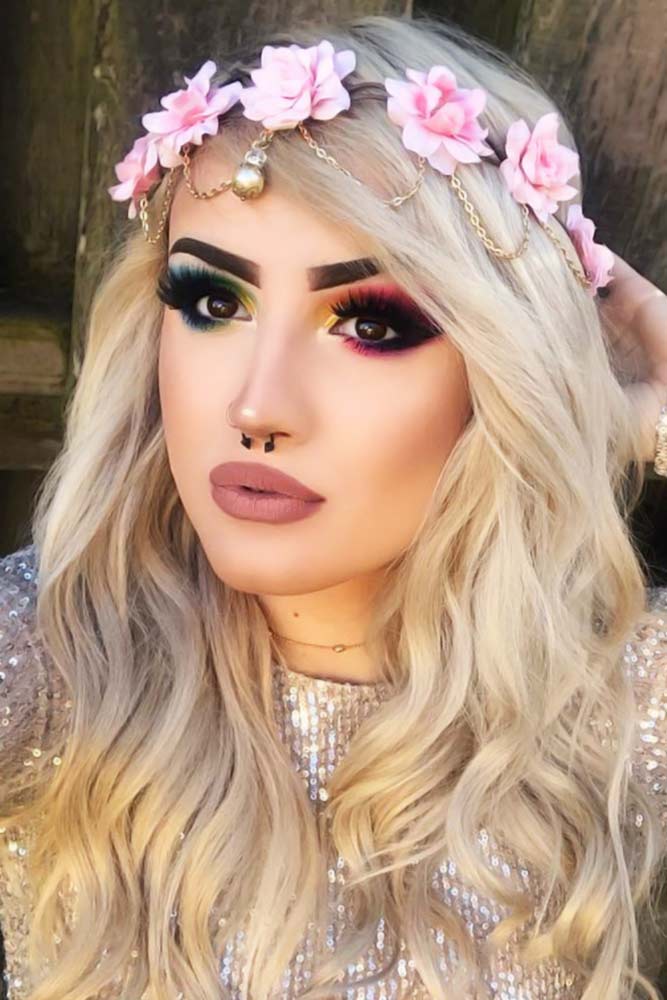 Why don't you make today's trends work for your scene image? Although this idea doesn't feature a head-turning color, it still follows the classic look of the haircut. Soft pastel blonde shade will give a modern take at most scene styles while looking absolutely different than any other ideas trending these days.
Source: teddygraham97 via Instagram
Double Fishtail Braids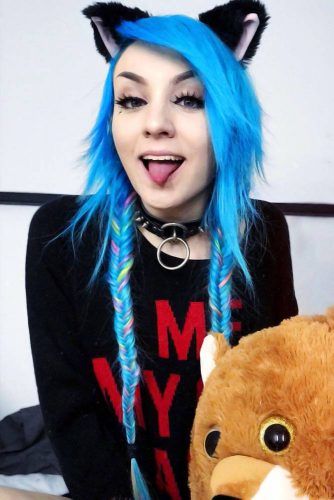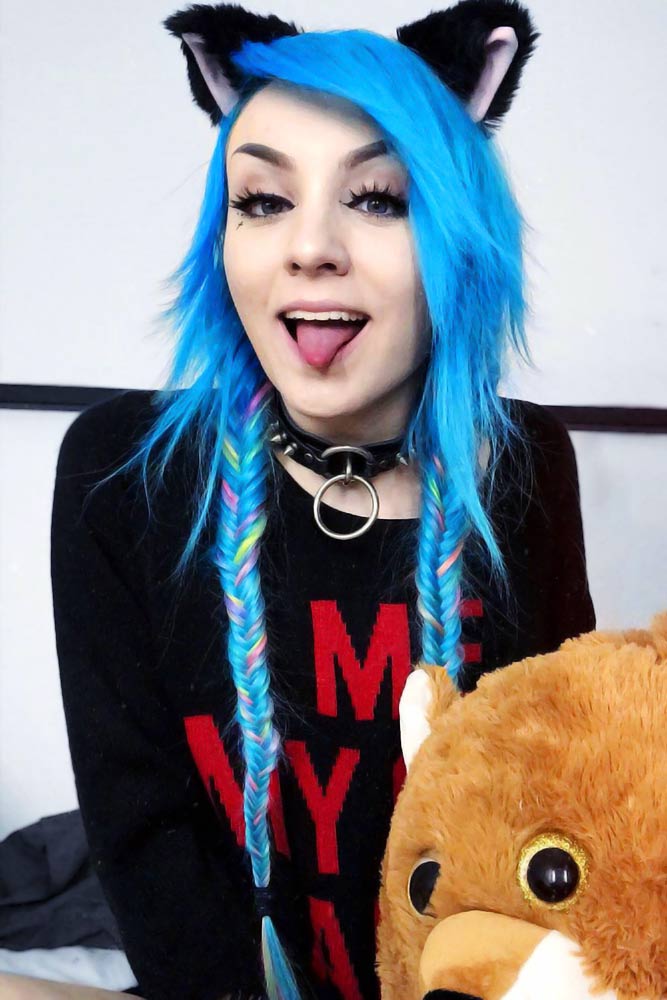 Wondering how vast the versatility of scene hair is? Let this idea answer your questions. You can leave the top just as it is, letting your imagination run wild with the lower portion. Ponytails, buns, double braids - that's only the beginning.
Source: p273 via Instagram
Bump-It Half-Up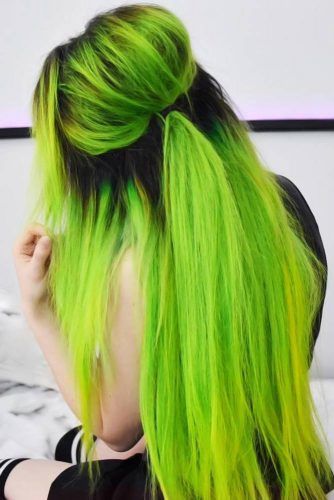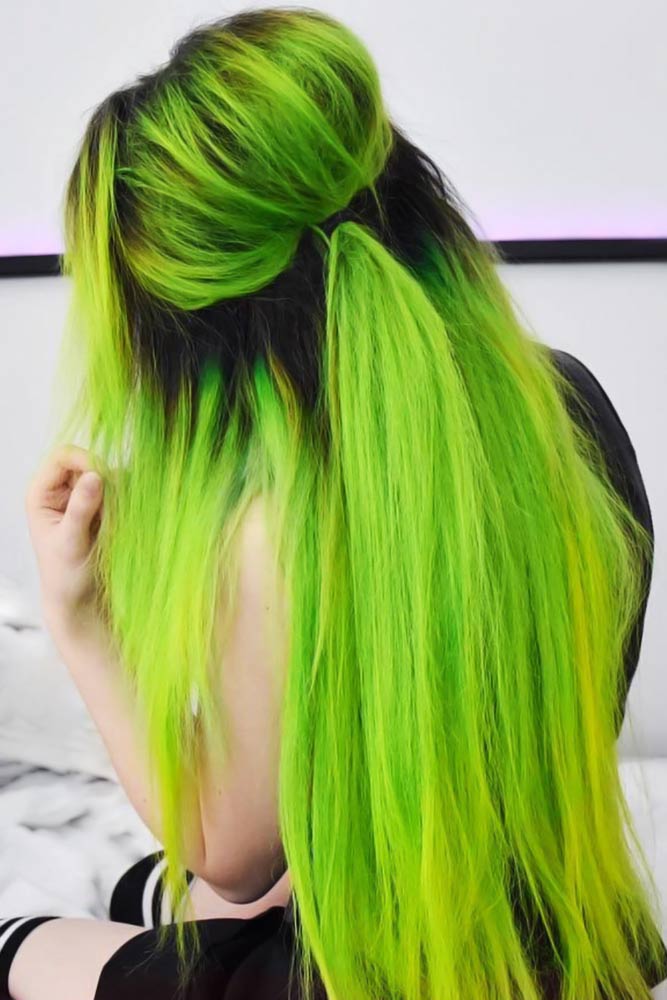 Initially, all scene hair styles and cuts turn out to be extremely voluminous due to the countless layers running through the hair. But, sooner or later, you will want to enhance this volumetric effect. And that's where bump-it half-up should come into your life!
Source: p273 via Instagram
Bow Updo Style For Short Scene Hair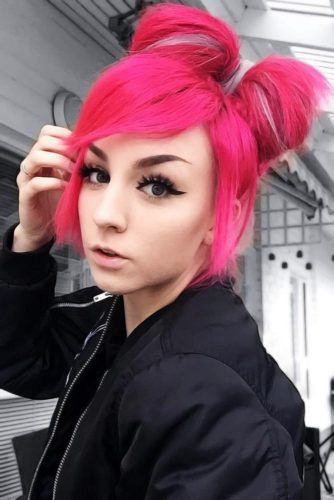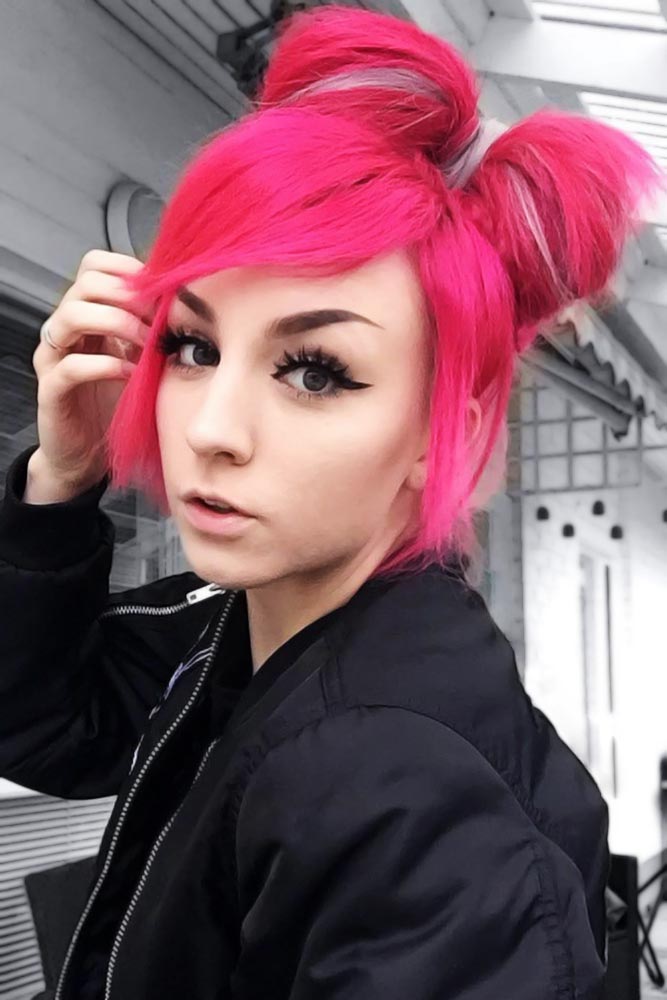 Another ravishing updo for scenies! Bow updo is not only about pure femininity and delicacy. With the right color approach, you can change the direction of a girly hairdo, transforming it into a lively layered masterpiece.
Source: p273 via Instagram
Space Buns Half-Up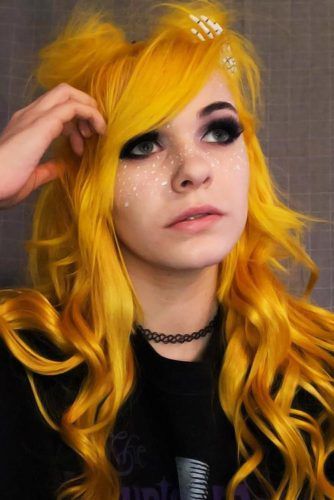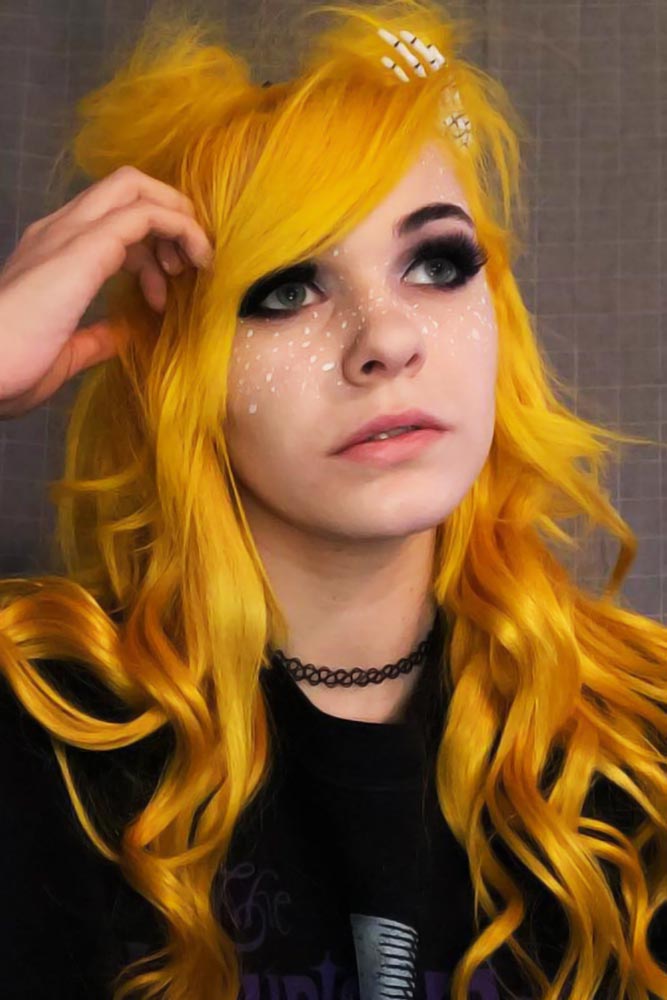 These
space buns
do look like they've come to our world from the outer space; they're just ethereal. Who would've thought that going for a sassy yellow tone over your long hair would be enough to travel in space? Well, you know, a wig will count, too, if you're afraid of commitments.
Source: _war.paint_ via Instagram
Half Up-Ponytails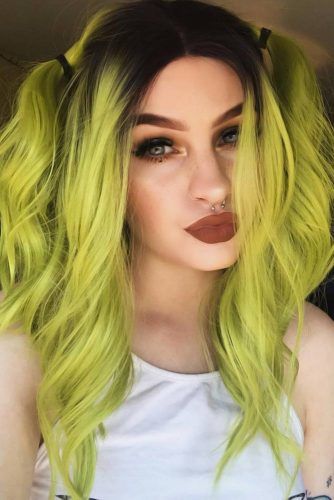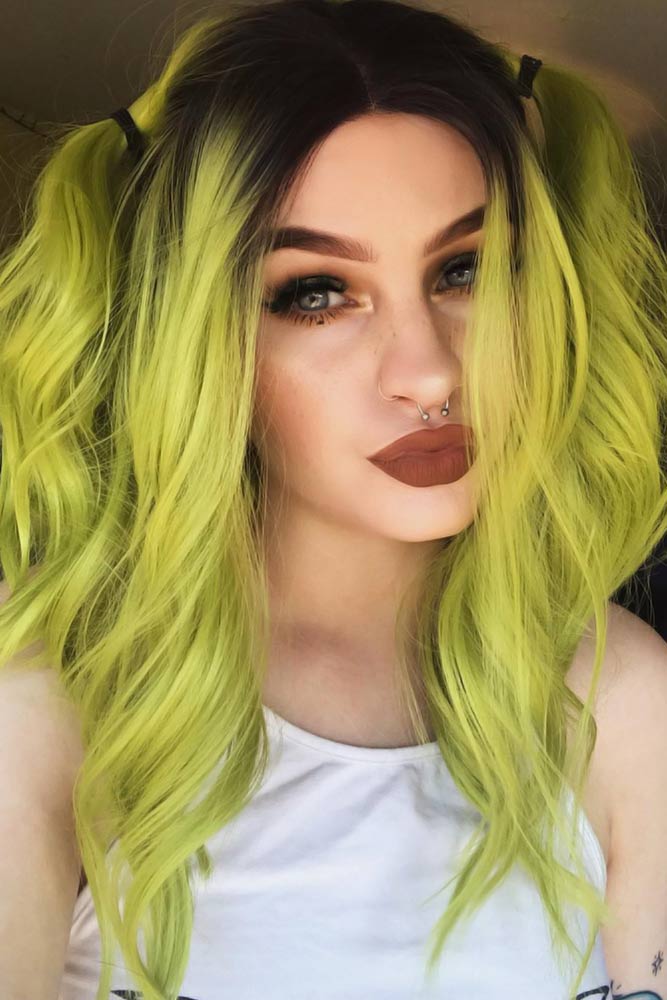 Scene hair colours make even the simplest hairstyles ever appear in a totally new light. Have you ever seen that fascinating half-up ponytail? A tip: whatever color you choose, leave the roots dark to add some contrast.
Source: f.oxbaby via Instagram
Double Knots With Scene Hair Colours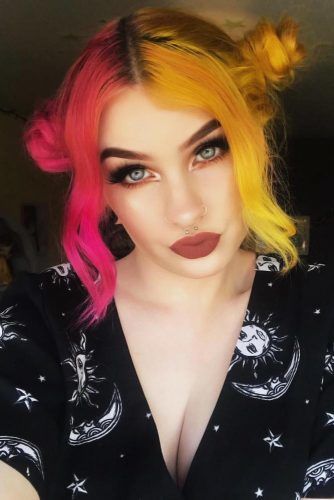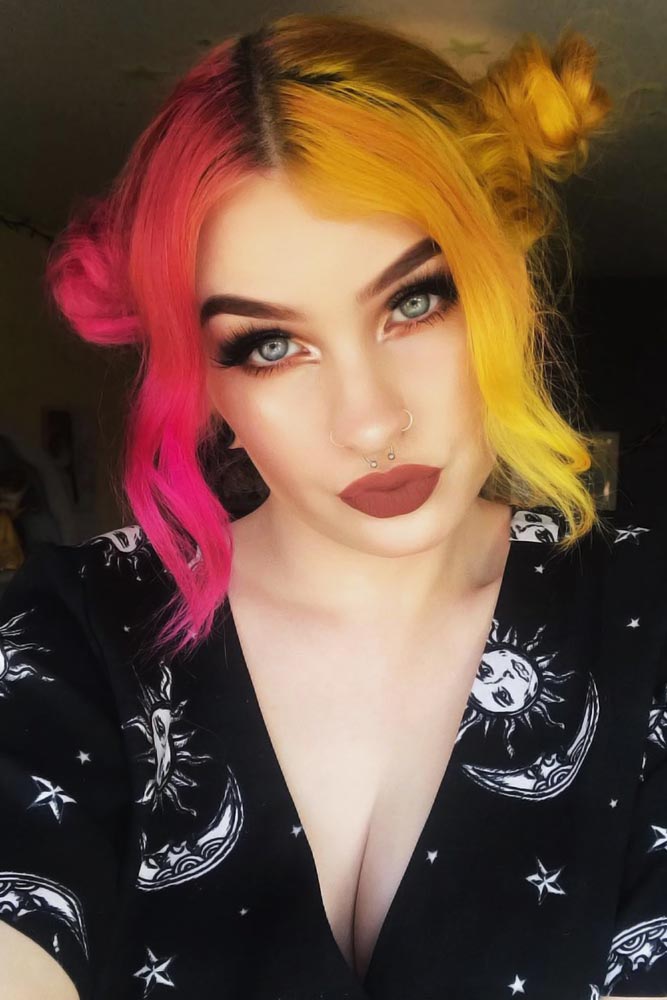 Your hair is the eternal canvas to your creativity, so don't limit yourself with just one color! Choose a couple of colors you like the most and make every single updo absolutely special. Needless to say, double knots have never been so charming.
Source: f.oxbaby via Instagram
High Bun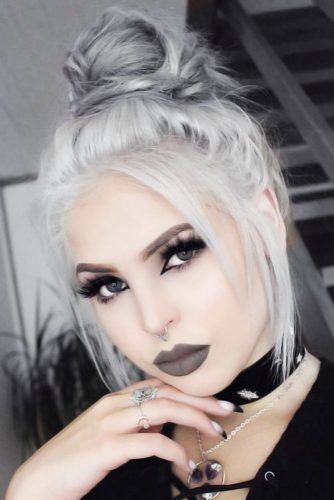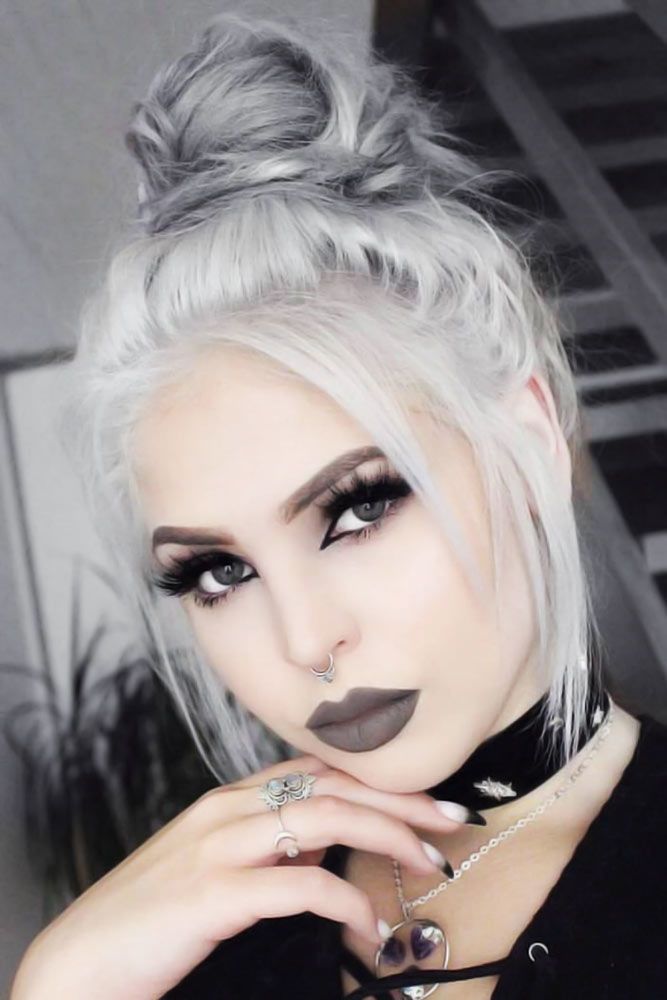 If you think that high bun hairstyles are too simple, this idea will prove you otherwise! When your hair is coated with a trendy gray or silver color, even such an easy-to-do hairdo will look different.
Source: tavujesus via Instagram
Low Double Ponytails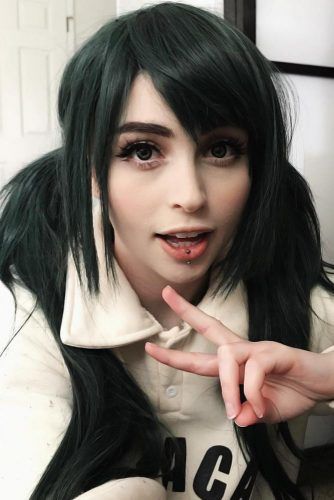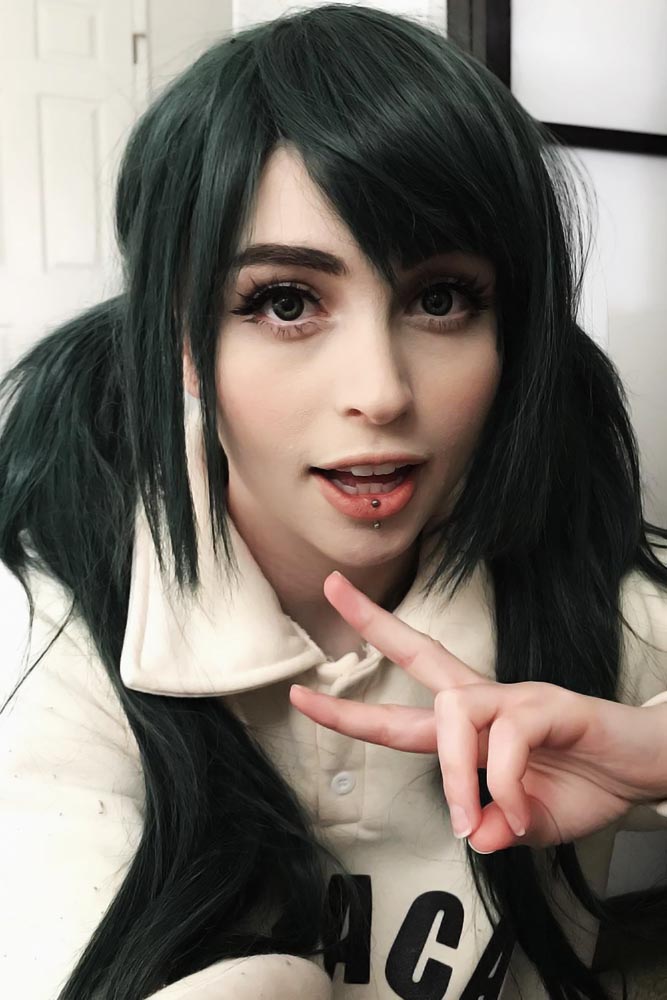 This idea is something in the middle between the trendy
hime haircut
and the newly emerged scene hairstyle. If you're one of the few girls who like to mix different trends to create a one of a kind look, don't dare to miss these cute ponytails.
Source: j0uzai via Instagram
Pony With Long Side Bangs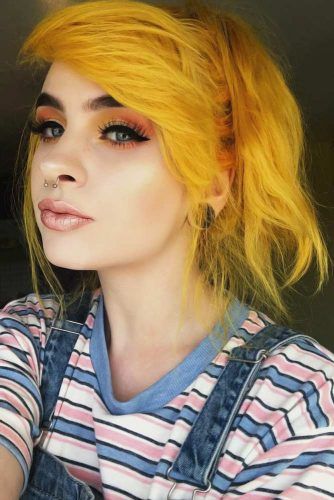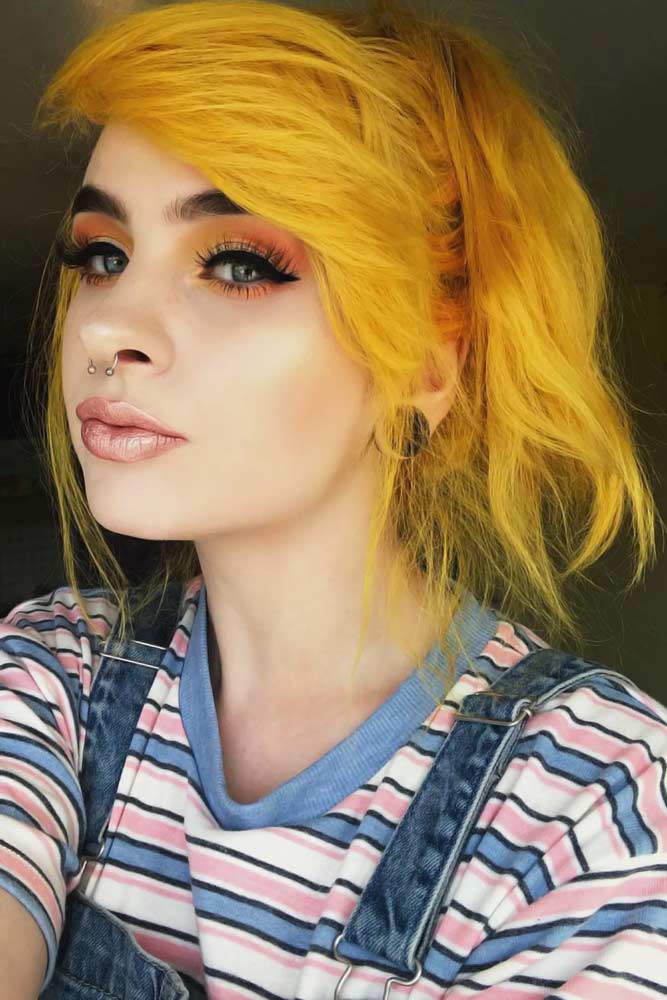 Wavy and curly scene hair always have a way gentler appearance than traditional straight ideas. And that's one more score to the versatility of the new trend. Every time you feel like expressing your feminine side, remember: tying your wavy locks into a pony will do just great.
Source: f.oxbaby via Instagram
Side Messy Braid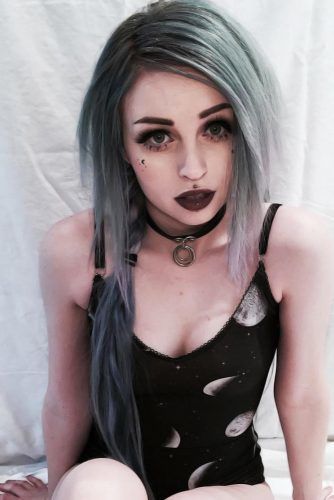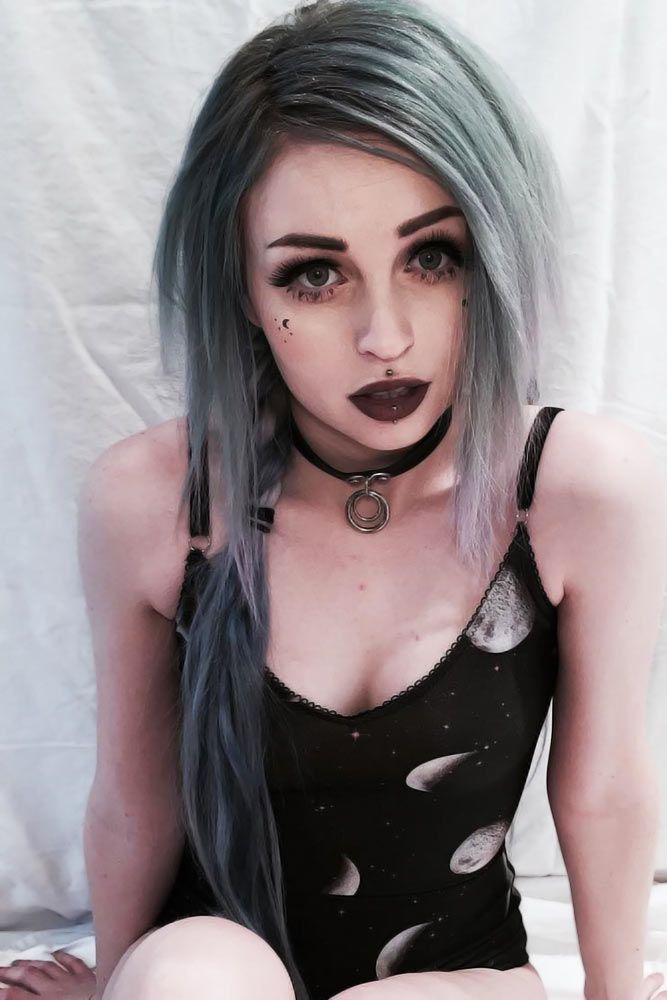 Braids are another hairstyle considered to be the embodiment of femininity. How about you to break this stereotype with a daring messy braid hanging down from the layered top?
Source: j0uzai via Instagram
Bob With Dreadlocks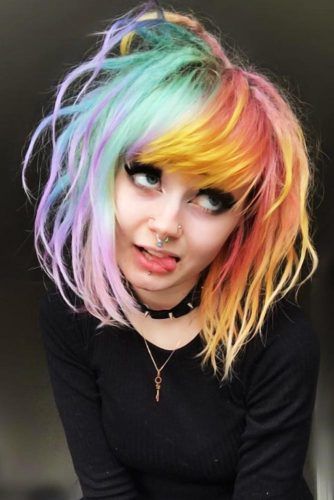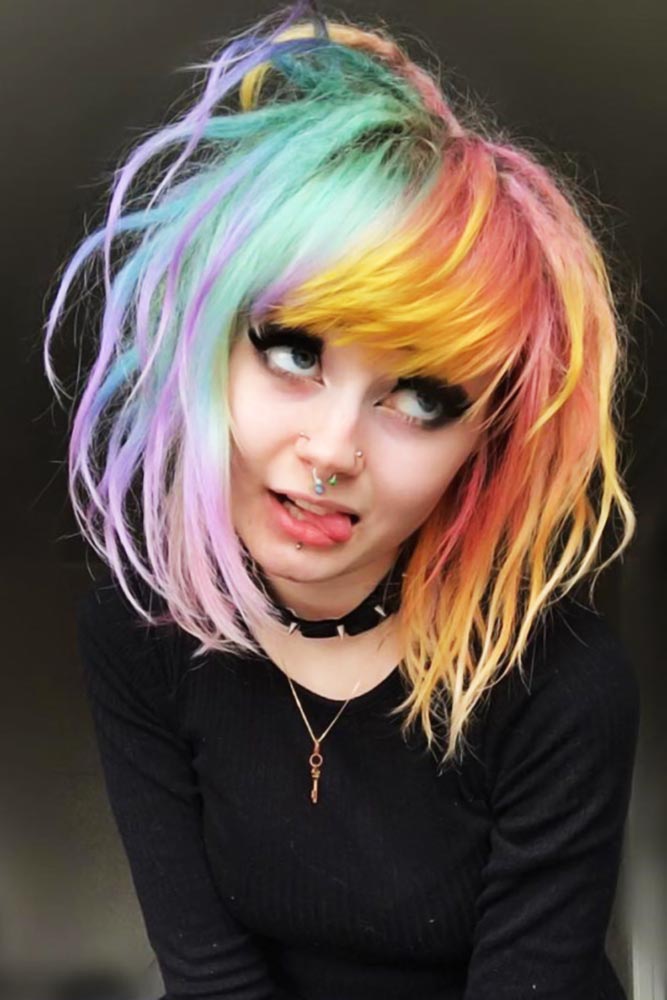 Remember the good old
dreadlocks
rocked by natural-haired queens and brave girls who are into ethnic-inspired styles? This short scene hair idea is here to remind you that they are actually a perfect match to scene looks. Of course, it doesn't matter how long your hair is; just make sure it's as bright and fun as possible.
Source: exoticcandyfloss via Instagram
Despite many people's belief that scene hair took a backseat at the end of 2010, this haircut still has some hidden aces in the hole. Todays ideas are different than the original scene styles: they provide more styling flexibility and versatility. So if you're thinking of diversifying your life palette with some bright colors and tons of volume in your hair, look no further our ides.
FAQ: Scene Hair
What does scene hair look like?
A shaggy, long mullet-like hairstyle with texturized fringe and layers is known as scene hair. It's commonly done with a deep side part and reaches the length of jaw or collarbone, which your stylist should be aware of when cutting so that your natural cowlicks are respected.
How do you get scene hair?
Before flat ironing your curly or wavy hair, blow it out to make it straight. Flat iron is required for the silky-straight look on the bottom of your hair, and also for flattened bangs. It can also be used to make hair ends curlier.
Was this article helpful?