It can be difficult to find the ideal hairstyle and haircut for a woman with a small forehead. However, it's still conceivable. We have explored trendy hairstyles to find the most popular small-face haircuts. Do not be concerned if your facial characteristics are so small or if your face does not have apparent proportions. These low forehead hairstyles and haircuts provided below would definitely benefit you.
*We may earn money from affiliate links on this page. Please check out our disclosure policy for more details.
Bangs For Women With Small Foreheads
Bangs are so adorable and fun to experiment with on small foreheads just as much as a big forehead. By selecting the ideal bangs to compliment your facial features and hair texture, the long held myth that small forehead bangs don't look good as a pair would be disproved. Below are exception types of bangs that go really well with petite foreheads.
Short Thick Bangs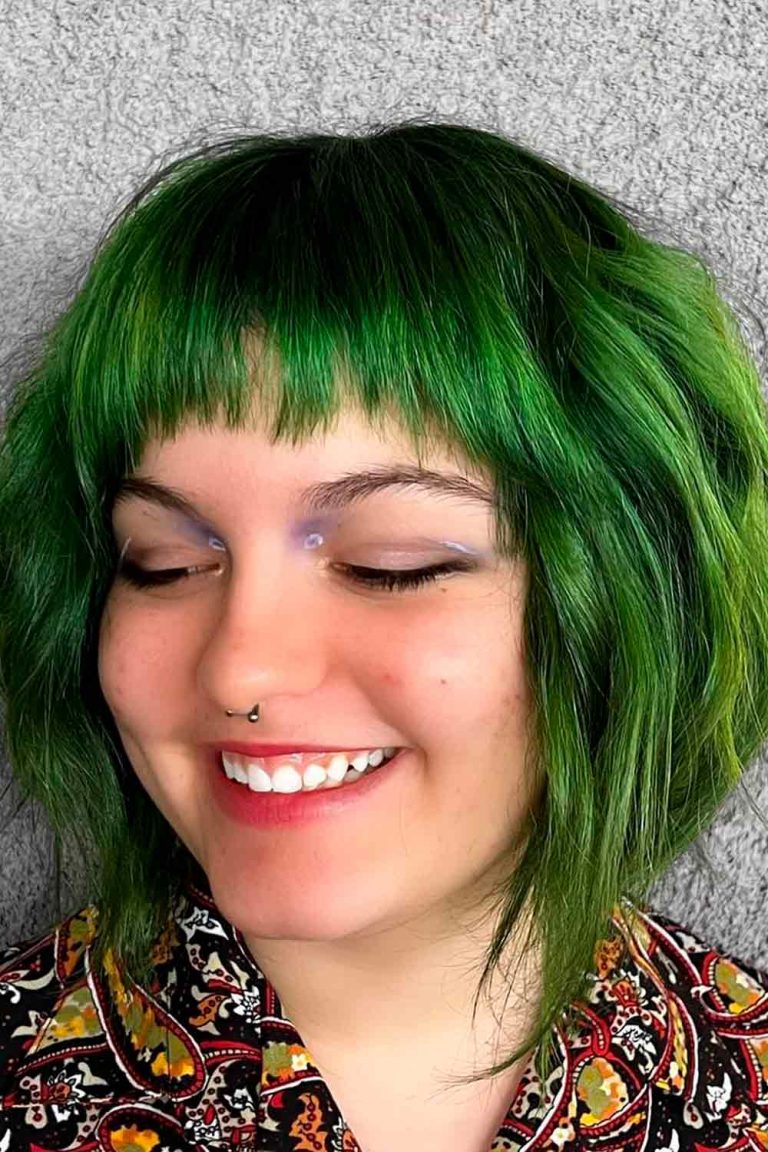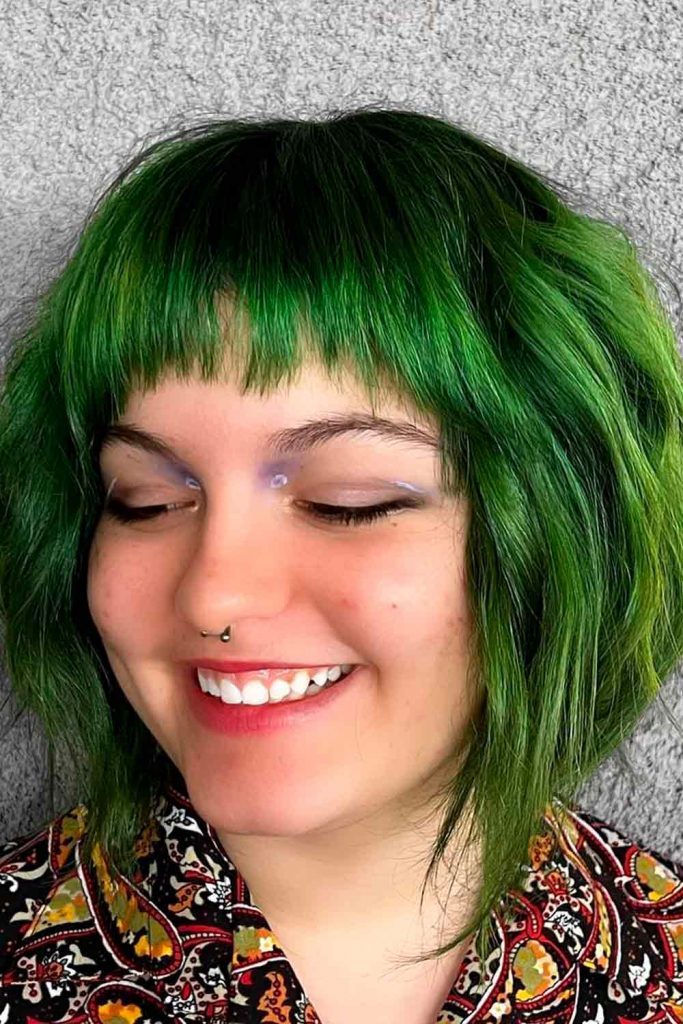 Credit photo: hairhunter/instagram.com
While some might think short bangs on small forehead don't actually sit well with each other, we beg to differ. When you opt for a short bang, there is more space between your bangs and your eyebrows which ends up adding length to your forehead. As a result, most people are drawn to your bangs rather than your forehead.
Mid Length Blunt Bangs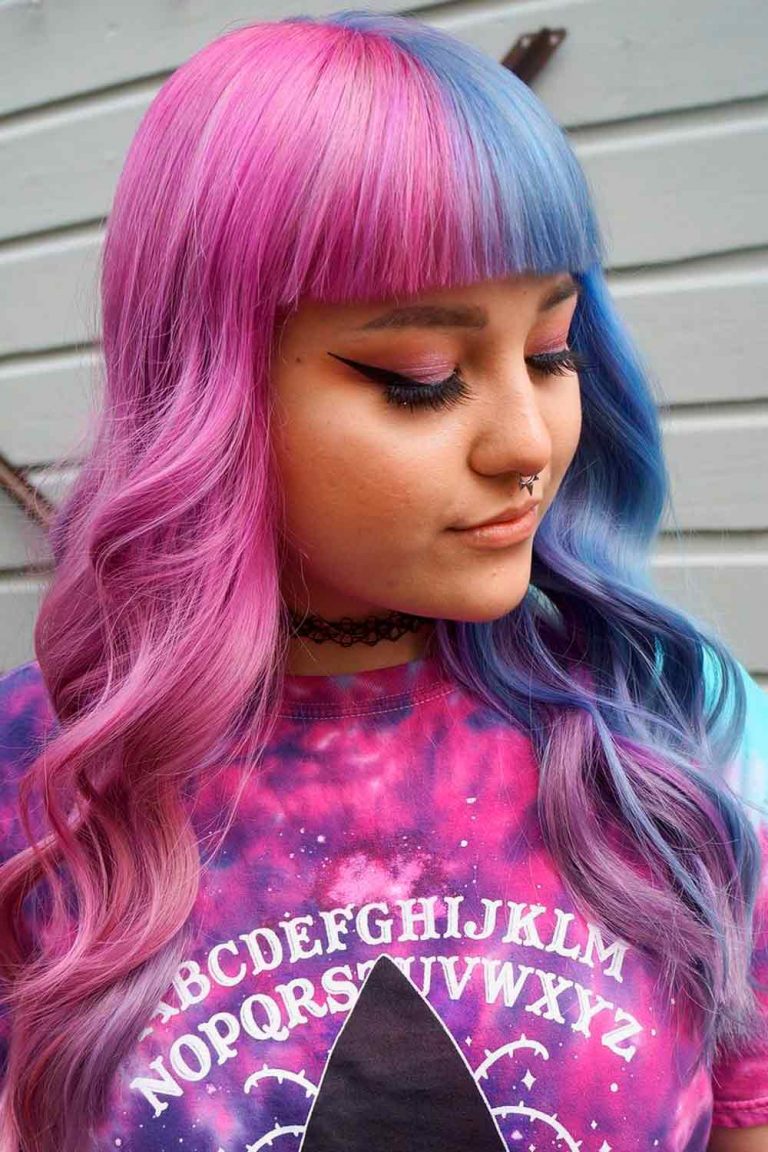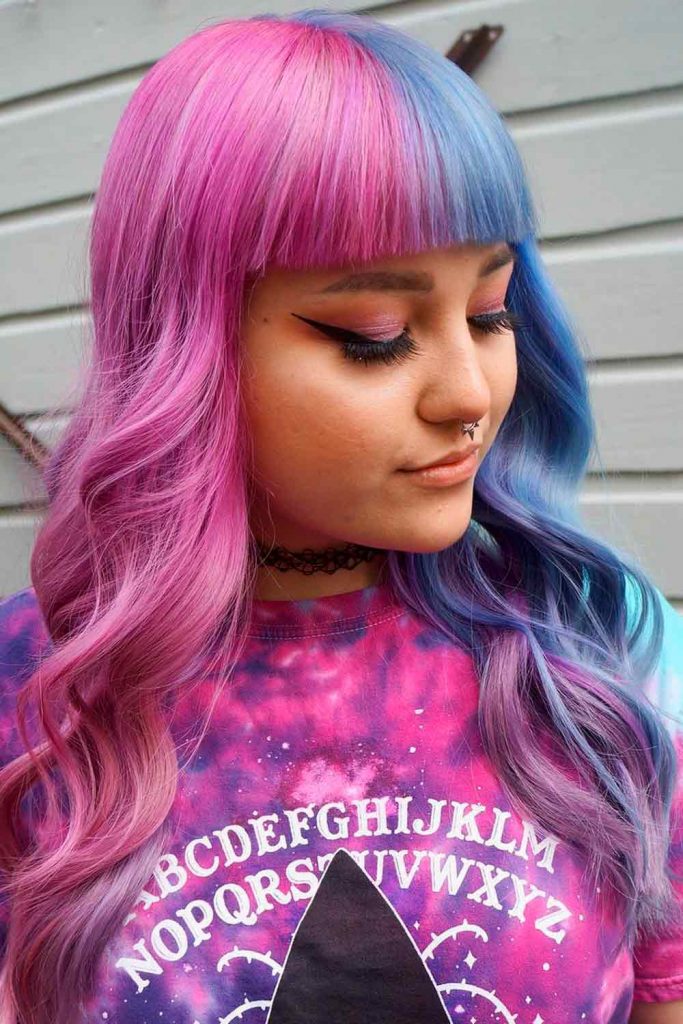 Credit photo: hairpaintedwithlove/instagram.com
You create very little space between your hair and eyebrow when you get mid-length blunt bangs on small forehead. Cutting your fringe wide and blunt will make your forehead appear longer while also giving your face an edgy frame. Thanks to the thickness and width of this bang, it takes away the attention on your small forehead as people admire the bangs instead.
Face Framing Long Bangs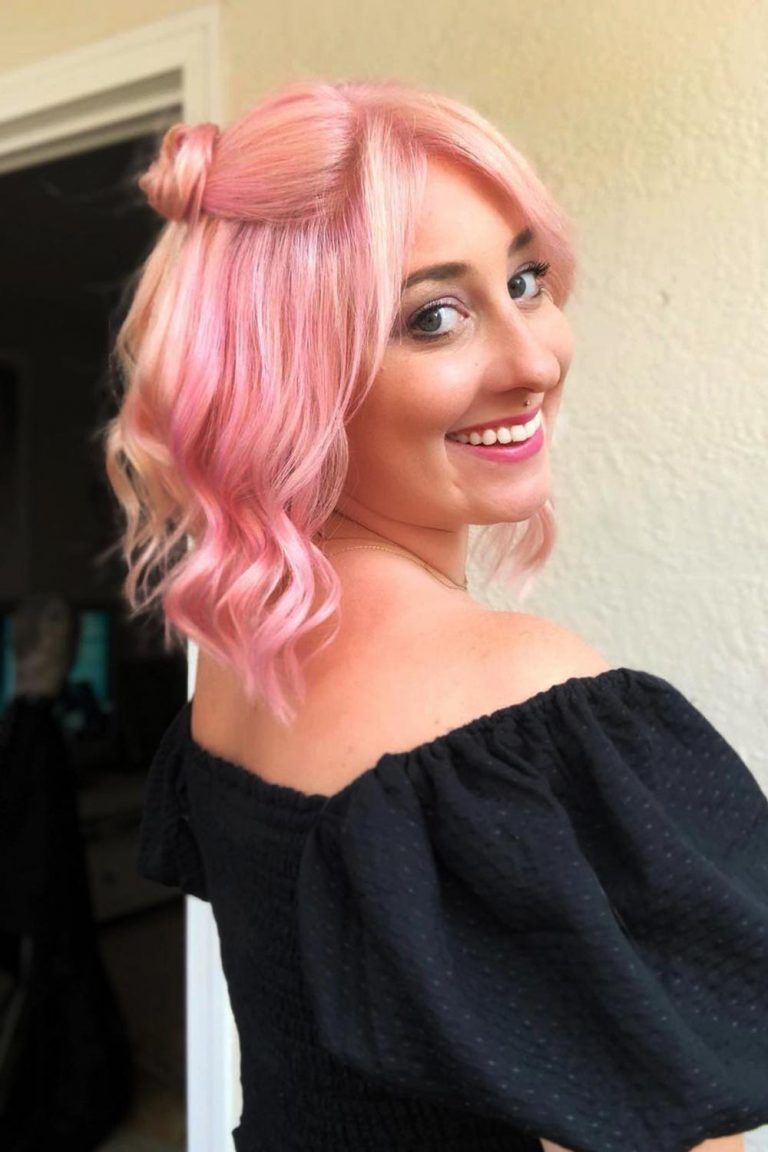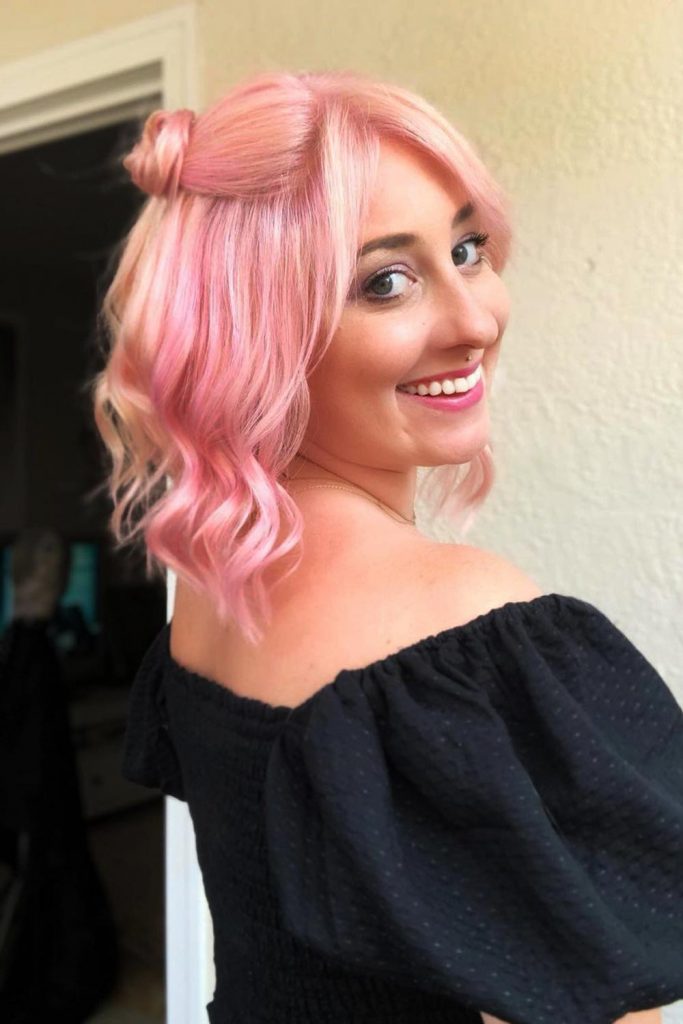 Credit photo: hairpaintedwithlove/instagram.com
If you are still apprehensive about committing to bangs, you can ease yourself in with longer types of bangs. They soften your facial features and add something different to your haircut. You can enjoy your bangs without having to cut a part of your hair too short and what's more, is that long bangs look great on a short forehead.
Arched Bang Style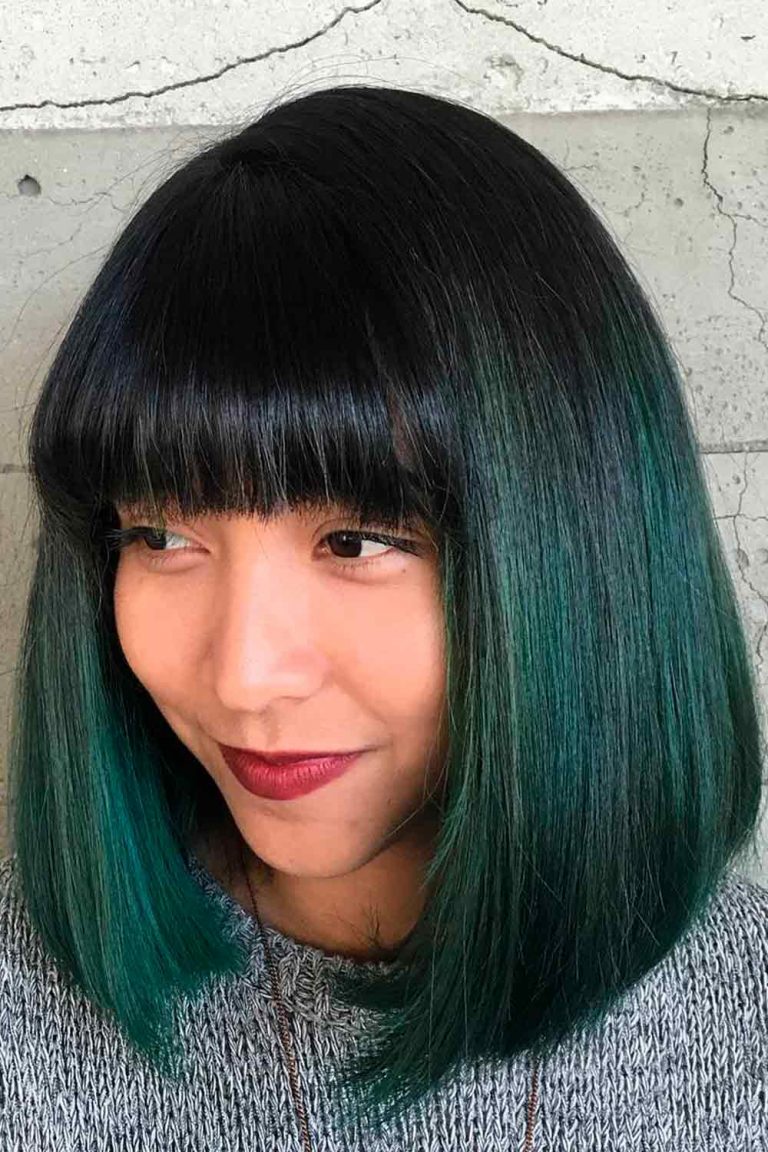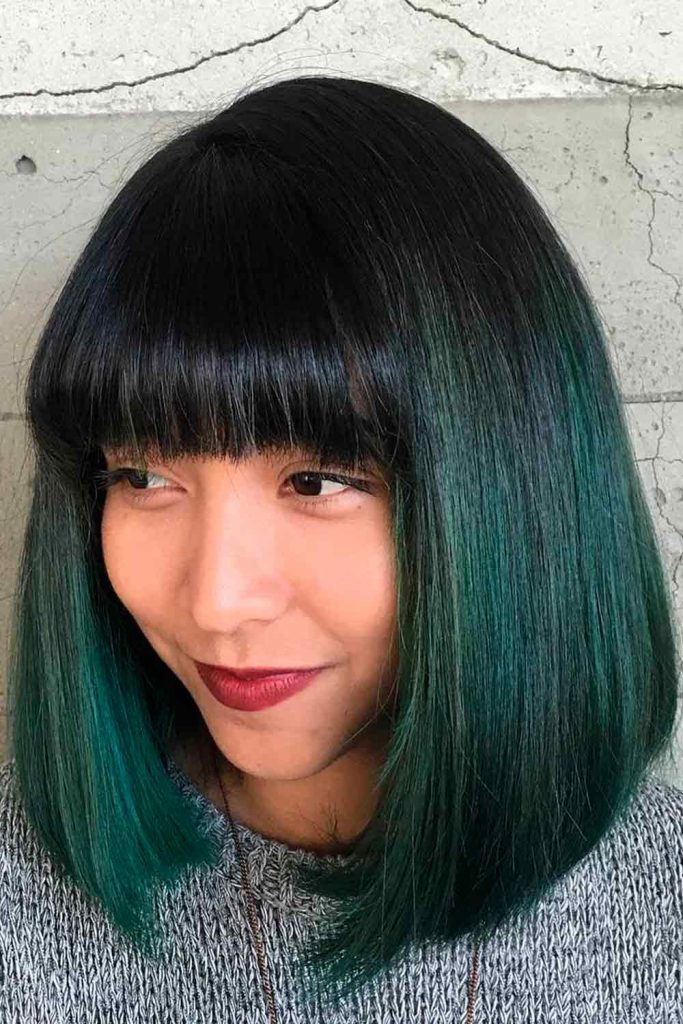 Credit photo: hairhunter/instagram.com
If you want volume and length combined in your bangs, the arched bang style features both. This bang is very suitable if you wish to hide your forehead because its length surpasses your eyebrows and stops only a few inches away from your eyes. It best highlights your eyes if that's what you desire to achieve and also widens your face. Overall, the half-moon bangs elevate your appearance and compliment all types of face shapes.
Bottleneck Bangs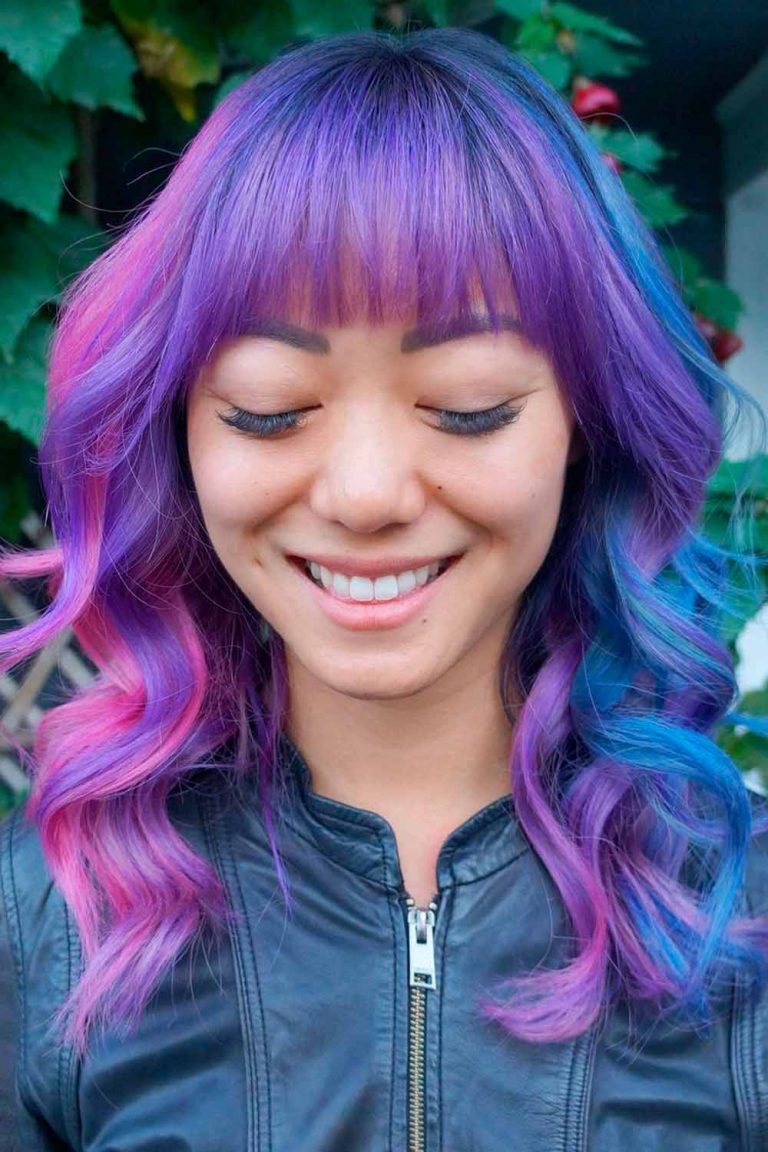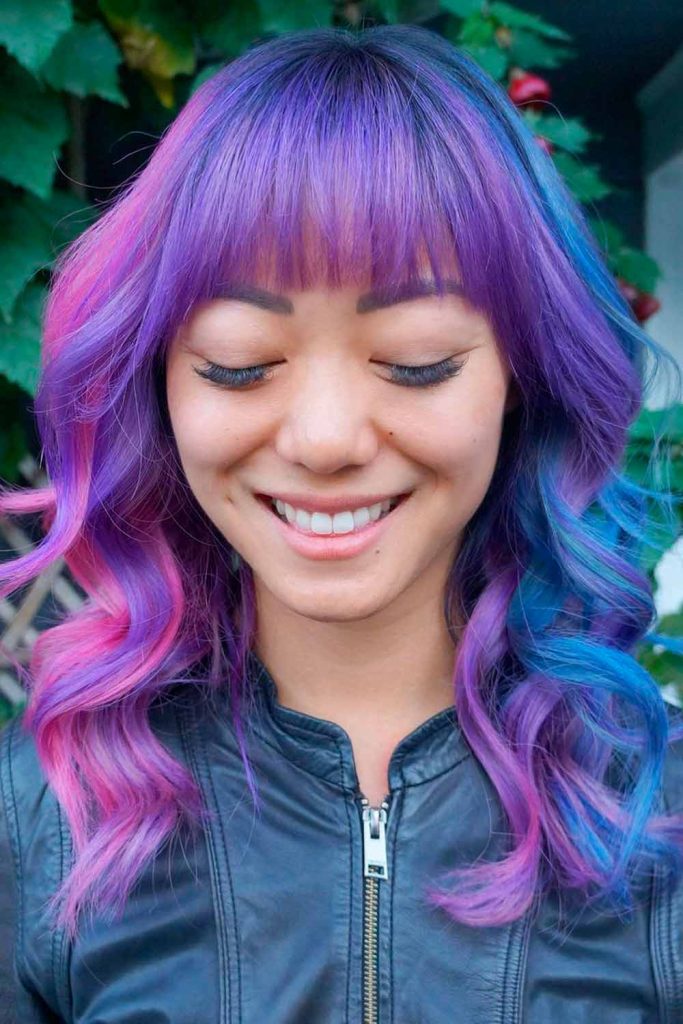 Credit photo: hairpaintedwithlove/instagram.com
Well-known to be similar to the body of a Coke bottle, bottleneck bangs have quite the popularity among women since it highlights your face and makes your face look small in it. They aren't voluminous and are very similar to wispy bangs, making them comfortable to wear. Your forehead is hidden behind the bangs while having a more natural look.
Short Hairstyles For Small Foreheads
If you not searching for just bangs to go with short foreheads but rather, general styles that look gorgeous with this type of forehead, we might have just a few suggestions. They are very chic and elegant when styled and also quite easy to replicate on your hair.
Asymmetrical Bob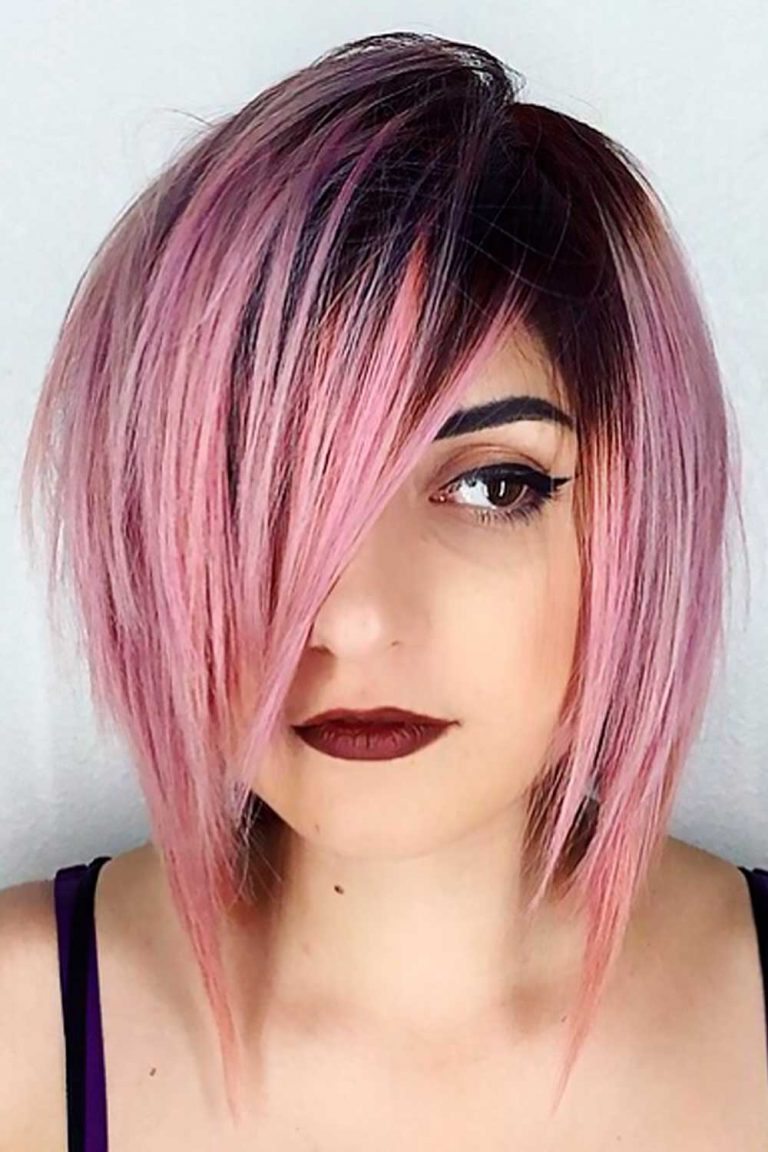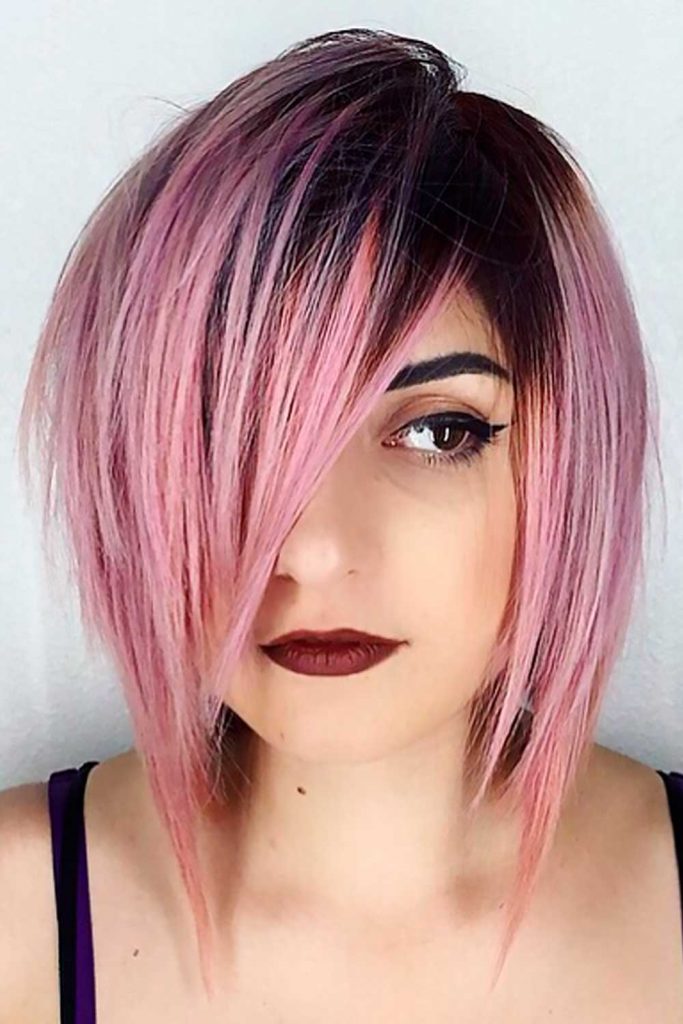 Credit photo: hairgod_zito/instagram.com
When it comes to choosing a hairstyle for small foreheads and short faces, asymmetrical bobs are popular for a good reason. It's among the classic face flattering haircuts that accentuate the profile of one's face while also highlighting one's charm. The asymmetrical bob introduces some flair to the traditional style by going above and beyond the norm to make it more interesting. It merely removes the monotony of a basic haircut and gives you an exquisite appearance that perfectly suits little foreheads.
Muffed-Up Hairstyle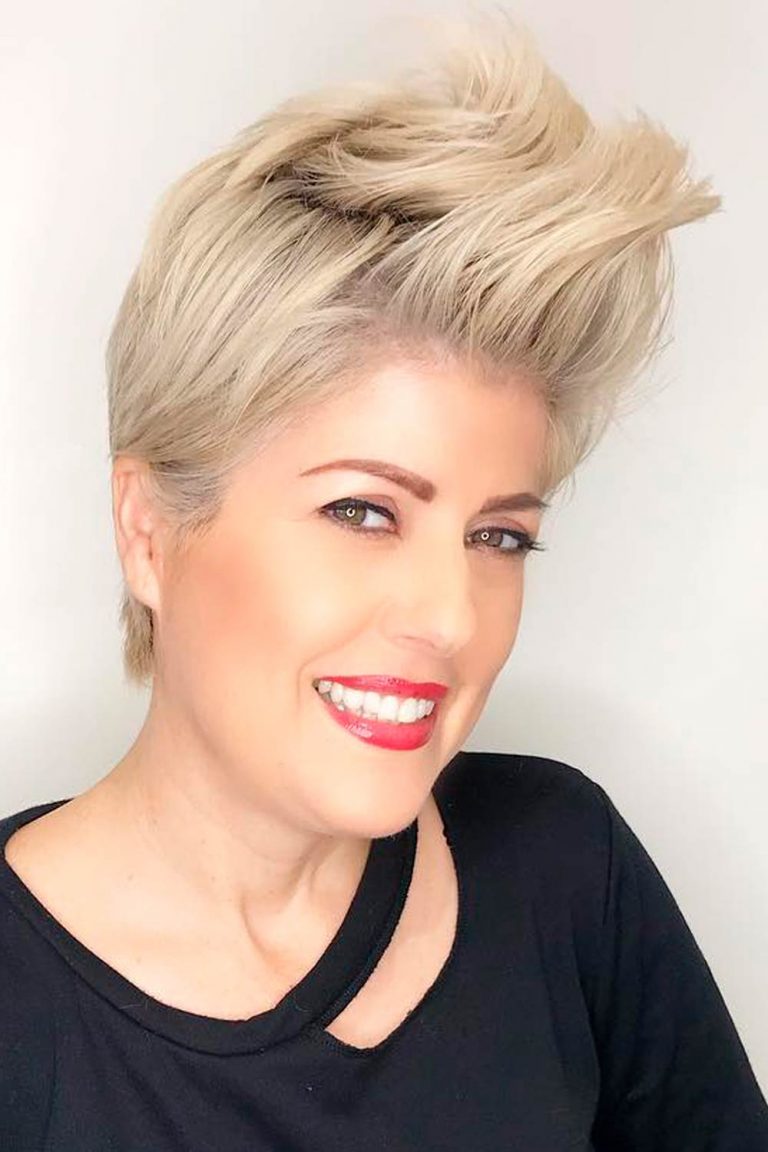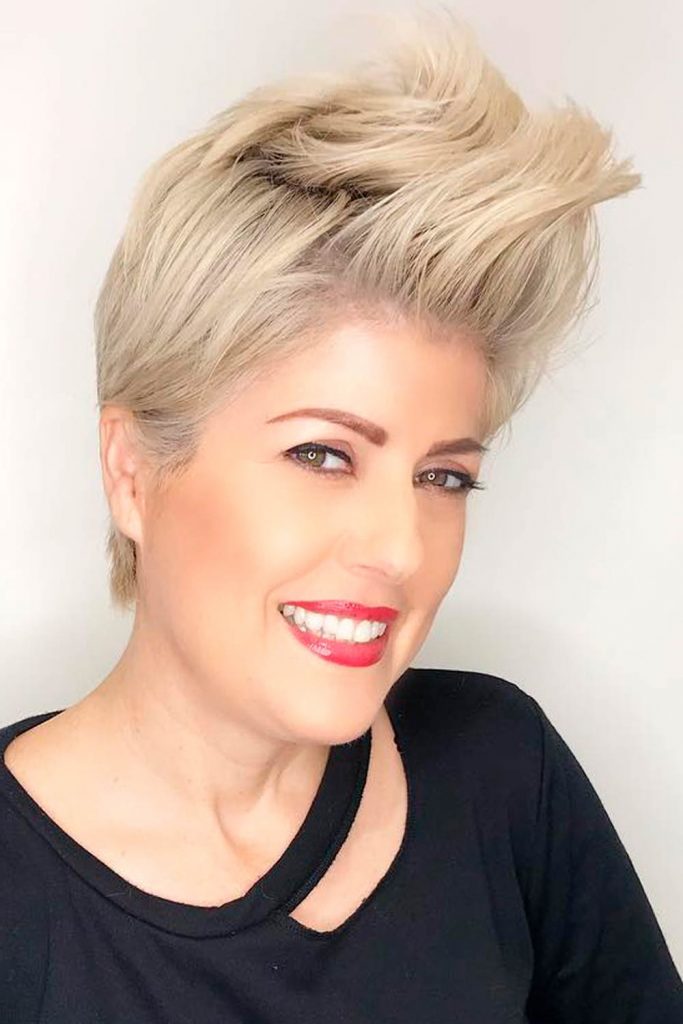 Credit photo: chitabeseau/instagram.com
The muffed-up hairstyle is ideal for you if you want to prolong and lengthen the appearance of your face. If you're looking for chubby face haircuts, you might want to consider giving this style a try. All you need to do is style your curly locks to add density to the top area of the hair as usual. You may wear this daring hairstyle to any event and draw well-deserved attention. Try it out for yourself to judge.
Loose and Wavy Short Hairstyle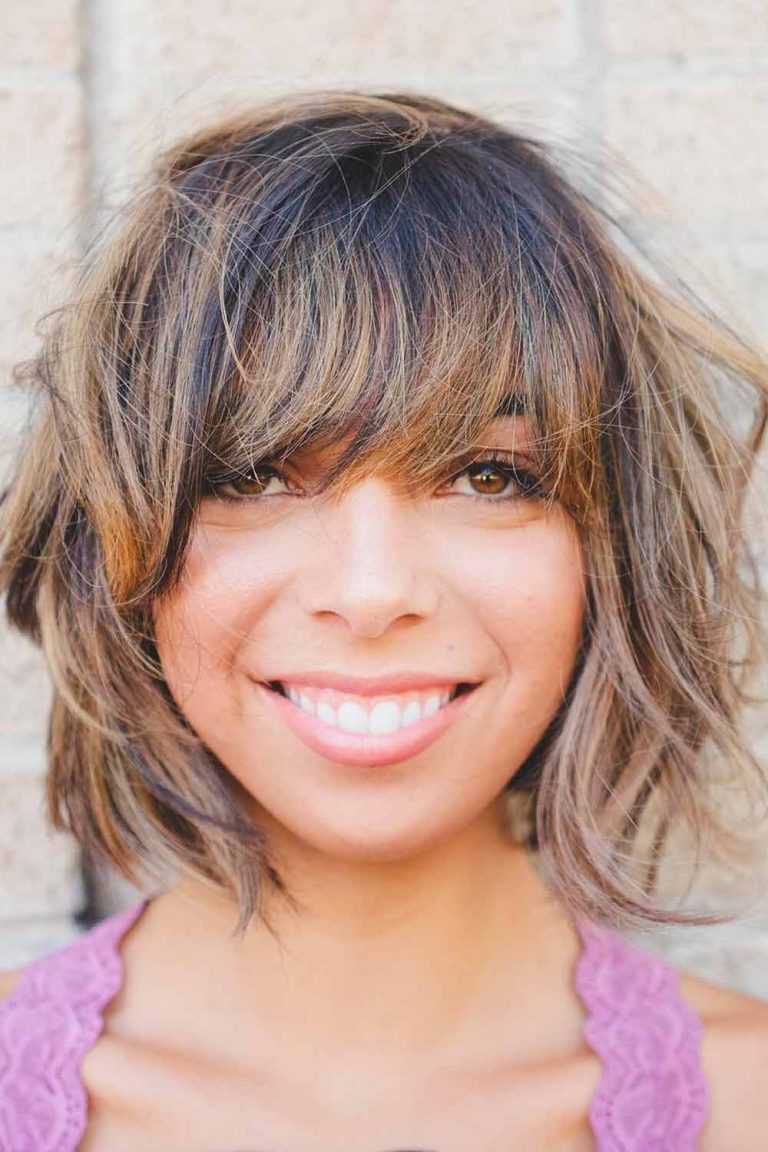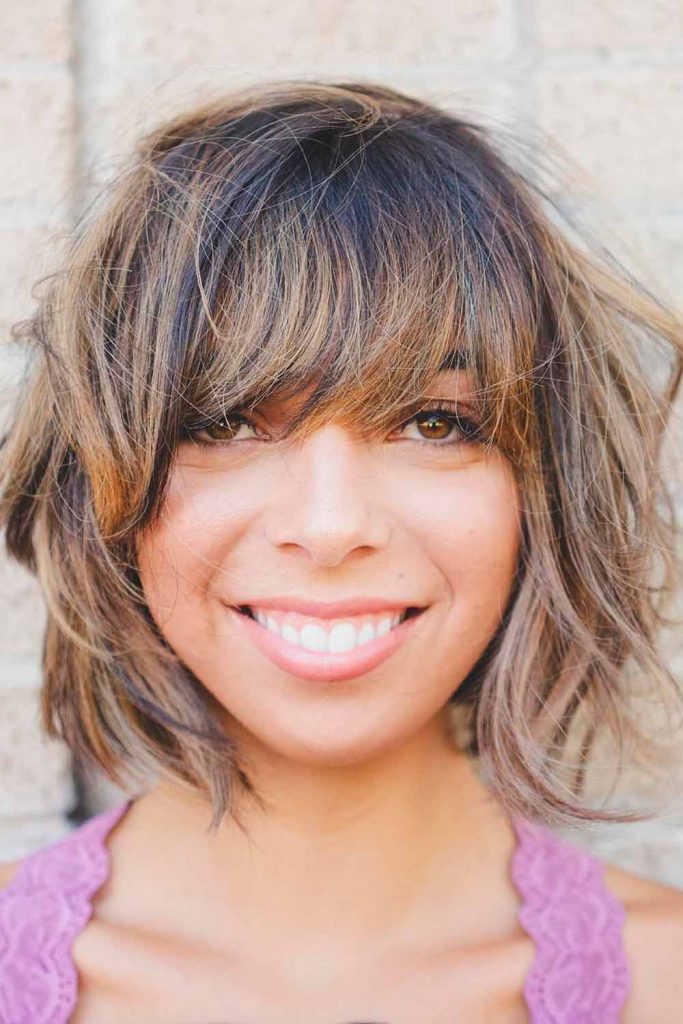 Credit photo: joeltorresstyle/instagram.com
A short loose wave hairstyle is very cool and easy to style if you have a short forehead. The length of your hair isn't cut extremely short and the addition of loose waves adds beauty, texture and class to your hairstyle. If you have a curly air texture already, then creating this style becomes a lot easier. This wonderful style can be cut in a feather format, including the fringe. The length doesn't exactly reach your shoulder but aligns your face to give you an appealing look.
Chubby Face With Small Forehead Haircuts
Are you looking for a short hairstyle for round faces or do you want a haircut that looks absolutely good on a chubby face? The first thing to note when choosing a style for this particular type of face is that you should avoid blunt straight bangs with lots of volumes. This is because this type of bang only emphasizes your round and chubby face and also visually enlarges it. Rather, go for styles that are ripped, progressive and a little reckless.
Messy Short Layers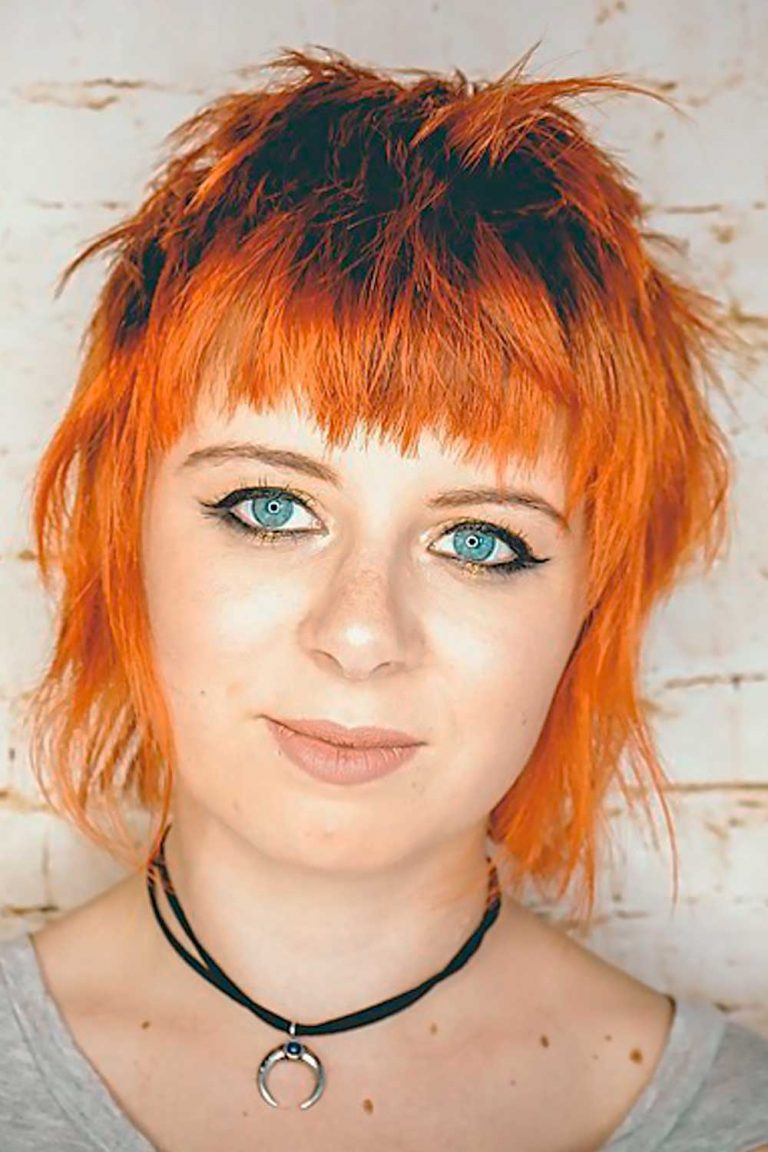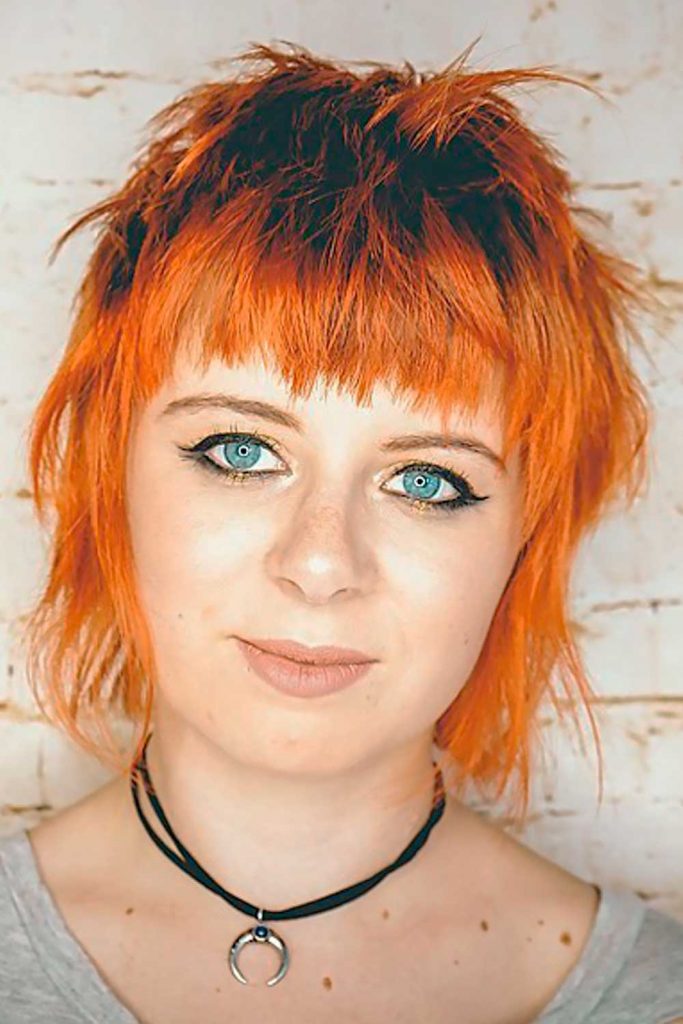 Credit photo: joeltorresstyle/instagram.com
A perfect haircut for fat face double chin is a messy short-layer hairstyle. The feather cuts will heighten your face and your hair can be styled to fall across your forehead and cheekbones. Hairstyles like jagged bobs or pixie cuts go really well with double chin faces since they provide texture to the hair and visually lengthen a round face, deflecting attention from an undefined jawline.
Long Face-Framing Waves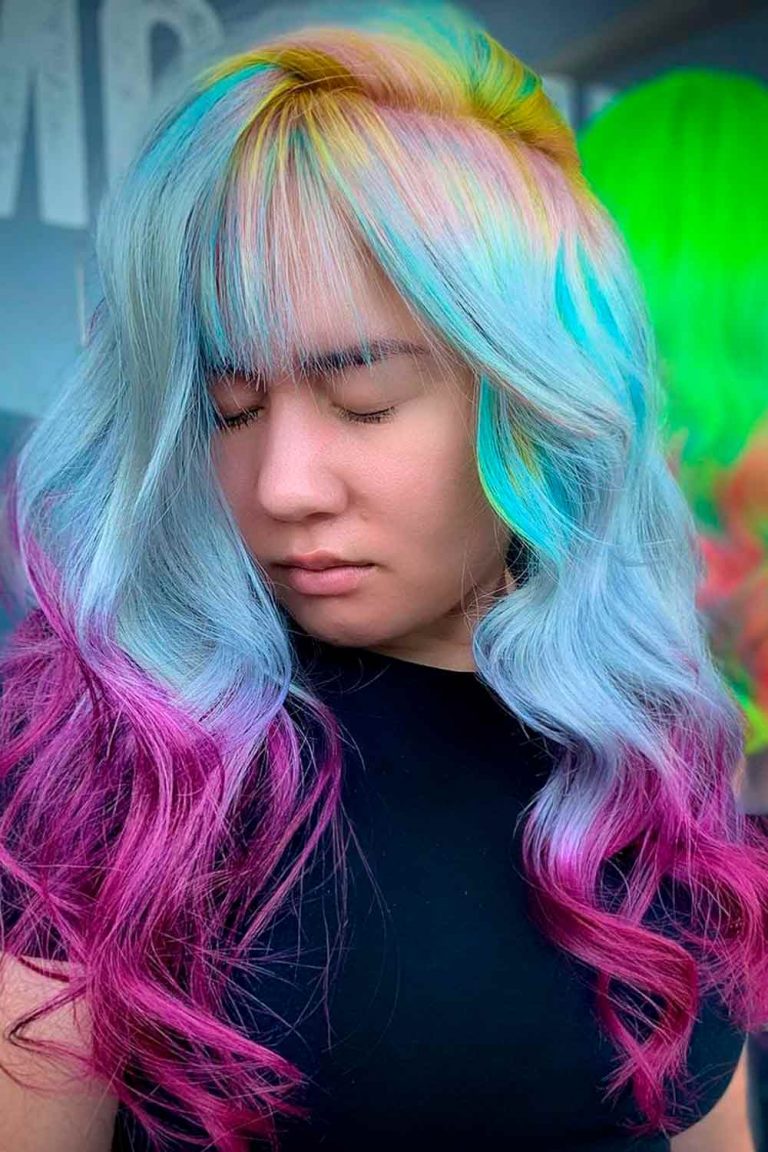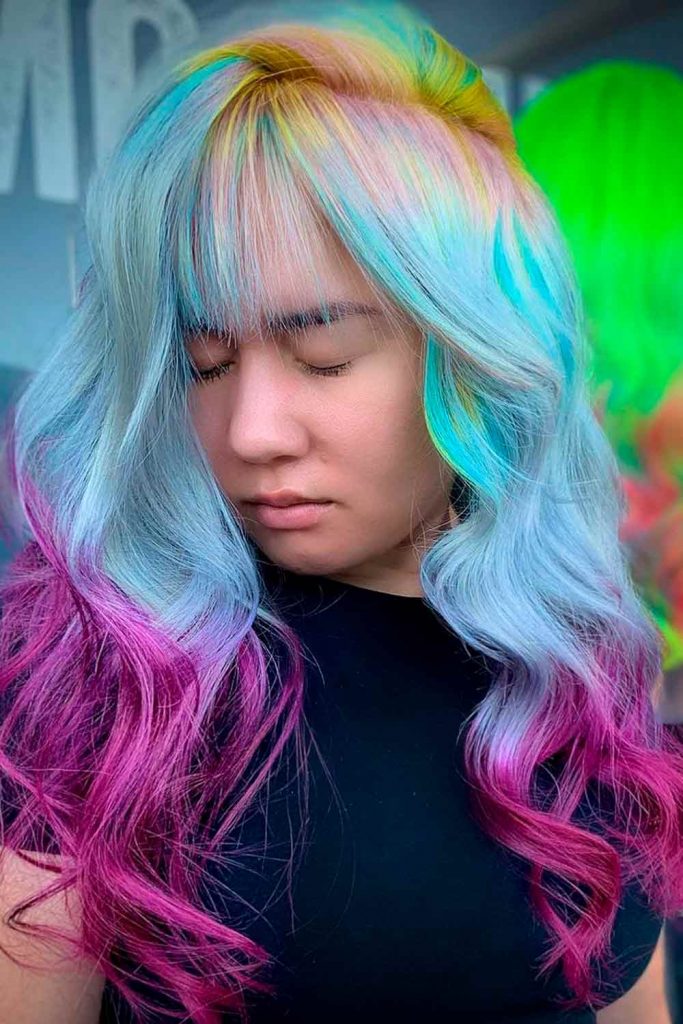 Credit photo: chitabeseau/instagram.com
If you still have a hard time deciding what style to fit your face shape easily, a popular option is the long face-framing waves. A double chin can be optically concealed with the help of face-framing layers, side bangs or introducing pretty colors to your hair. A round face is made slender thanks to the lengthy haircut, supple layers and loose waves of the face-framing hairstyle. The haircut gains appeal points from the bright hues if you want to experiment and opt for something bold and daring.
Well-Defined Curly Hairstyle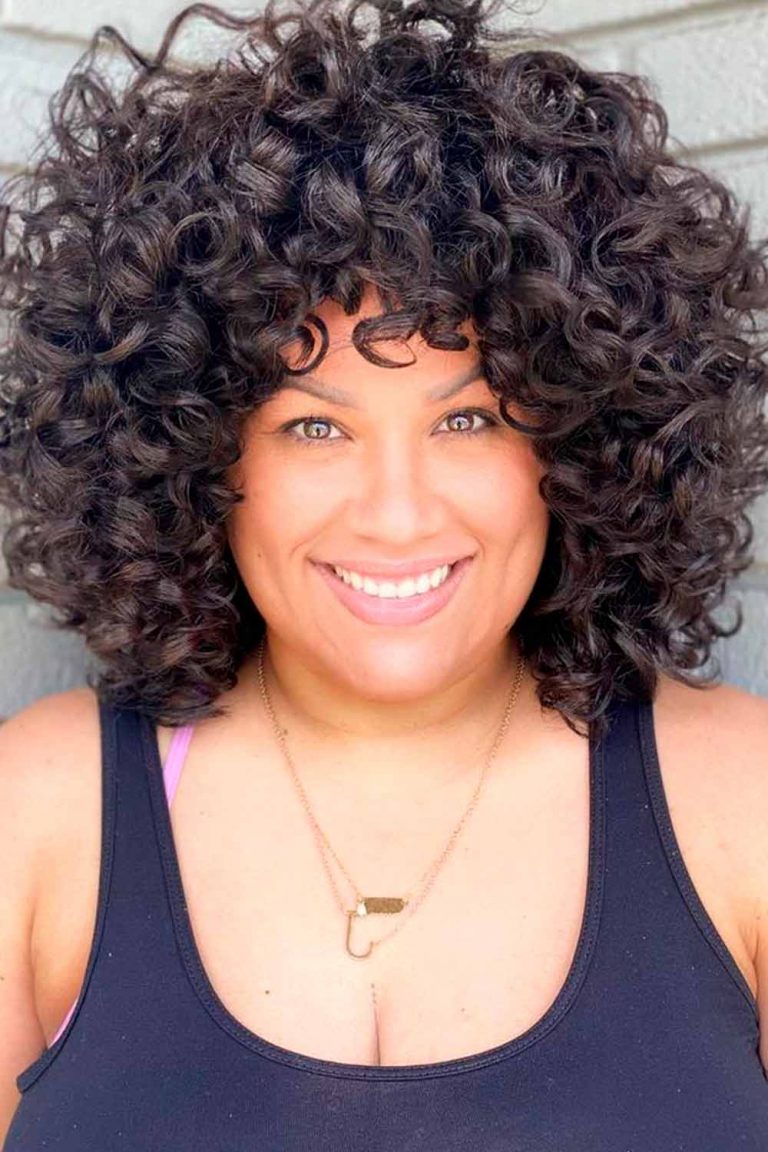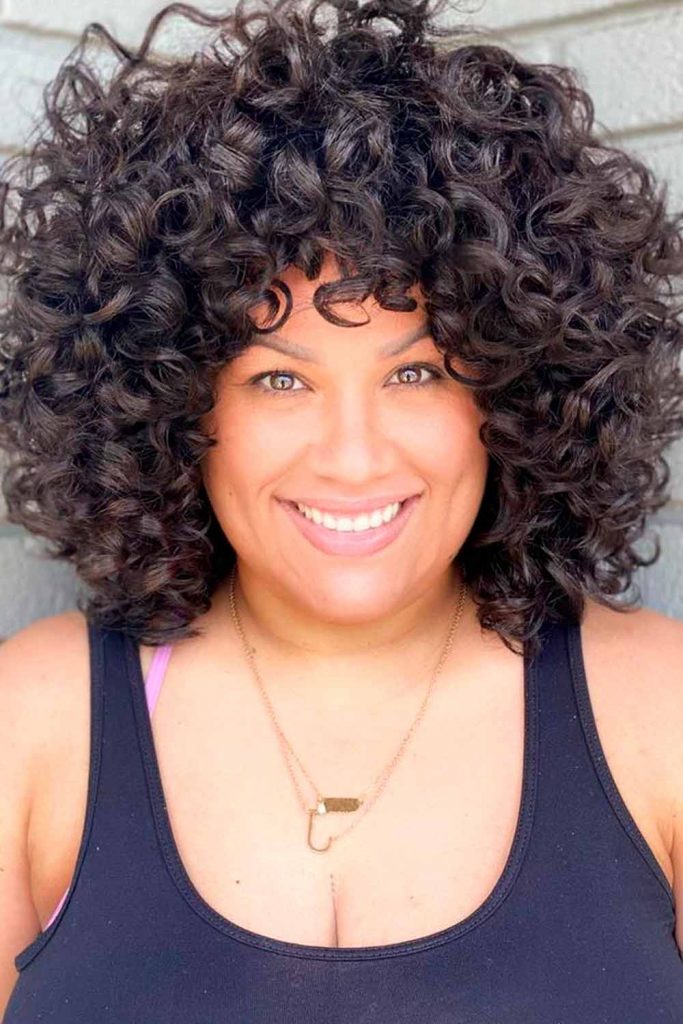 Credit photo: nubiarezo/instagram.com
Bangs with curly hair can make for an intriguing combination, but trimming curly hair can be a little challenging. It is preferable to allow the hair to be pre-styled, allowing the curls to flow, and then cut the hair while incorporating texture into it. Whether your curls are thick or not and regardless of the length of your hair, your final appearance will look flattering.
Bun Hairstyles For A Small Forehead
For practically any event, hair buns have become a common small forehead hairstyles female love to do, whether they are neat or softly untidy. In addition to looking beautiful on most people, the hairdo is also rather adaptable and suitable for most activities. Here are a few suggestions on how to quickly style your hair bun.
Loose Messy Updo With A Bun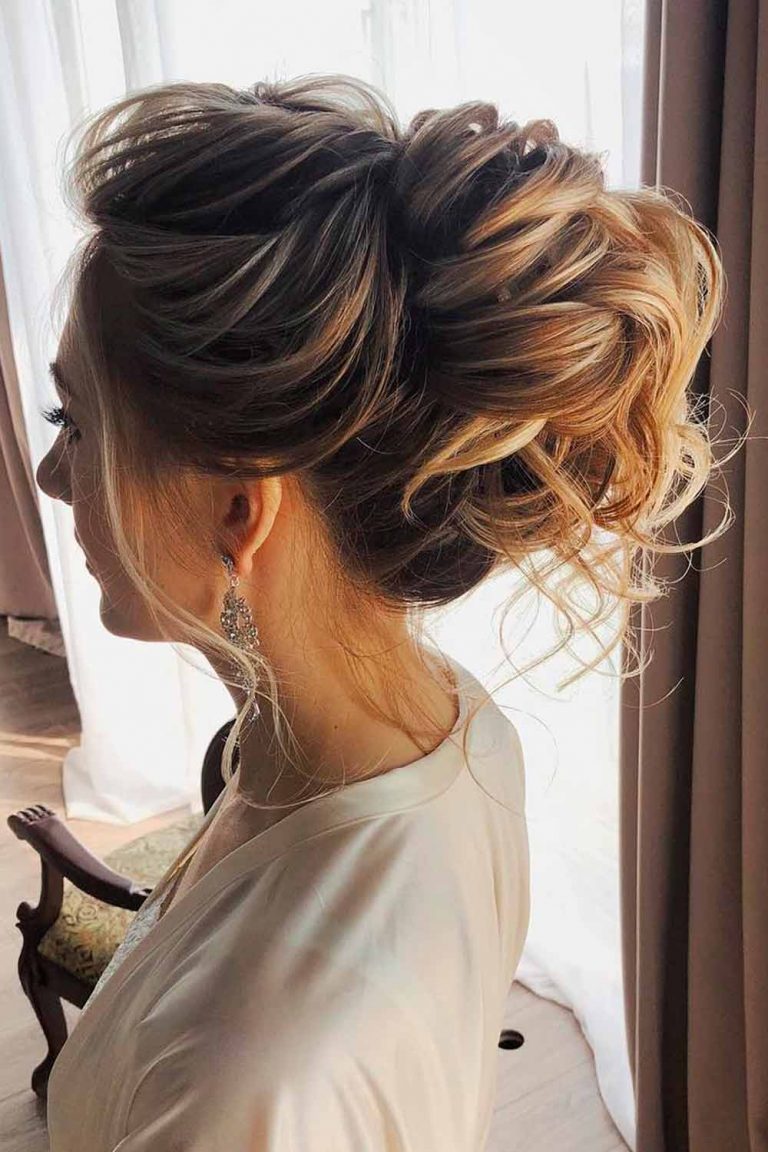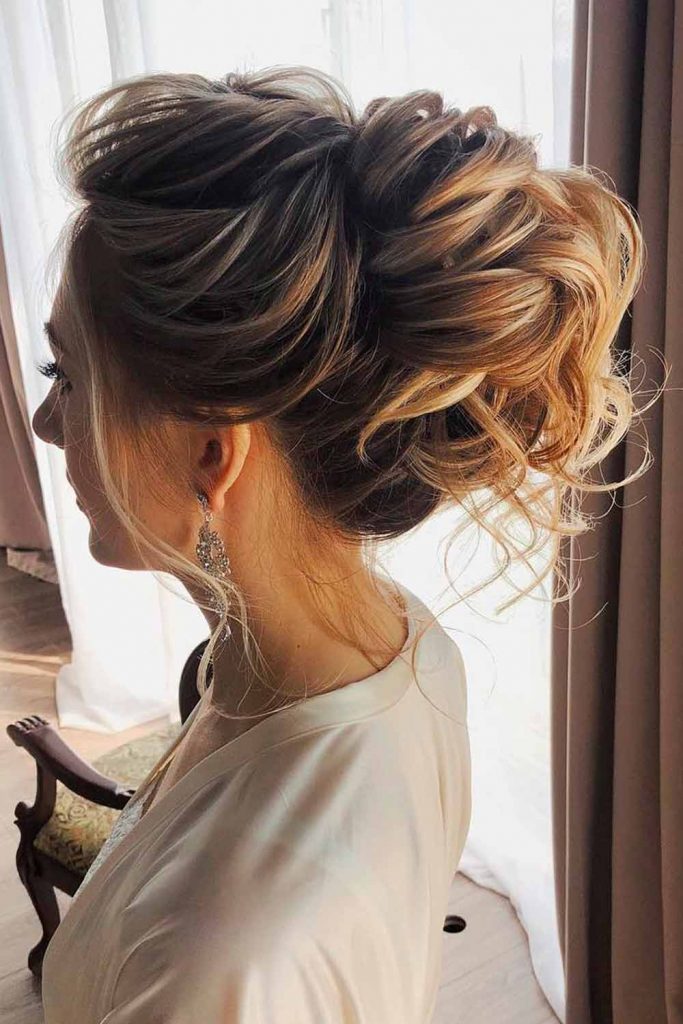 Credit photo: oksana_sergeeva_stilist/instagram.com
Want a but that's quick to achieve yet very stylish? A loose messy bun packed a little below the center of your hair is one of the best hairstyles people are trying out. It not only adds length to your face but also gives you a carefree look. You can have a few face-framing strands fall on both sides of your face while your sloppy bun is styled in a fashionable way. It's also the best way to emphasize the volume of your hair if you don't want it falling down.
Twisted Low Bun as Small Forehead Hairstyles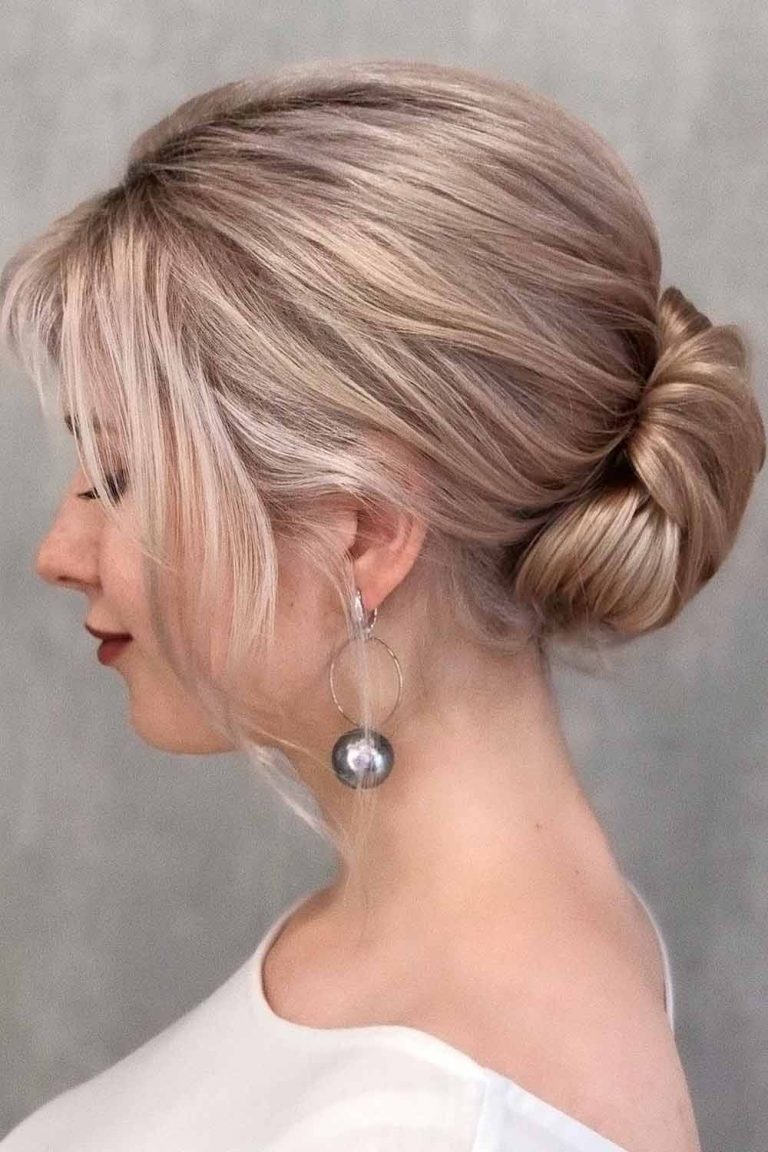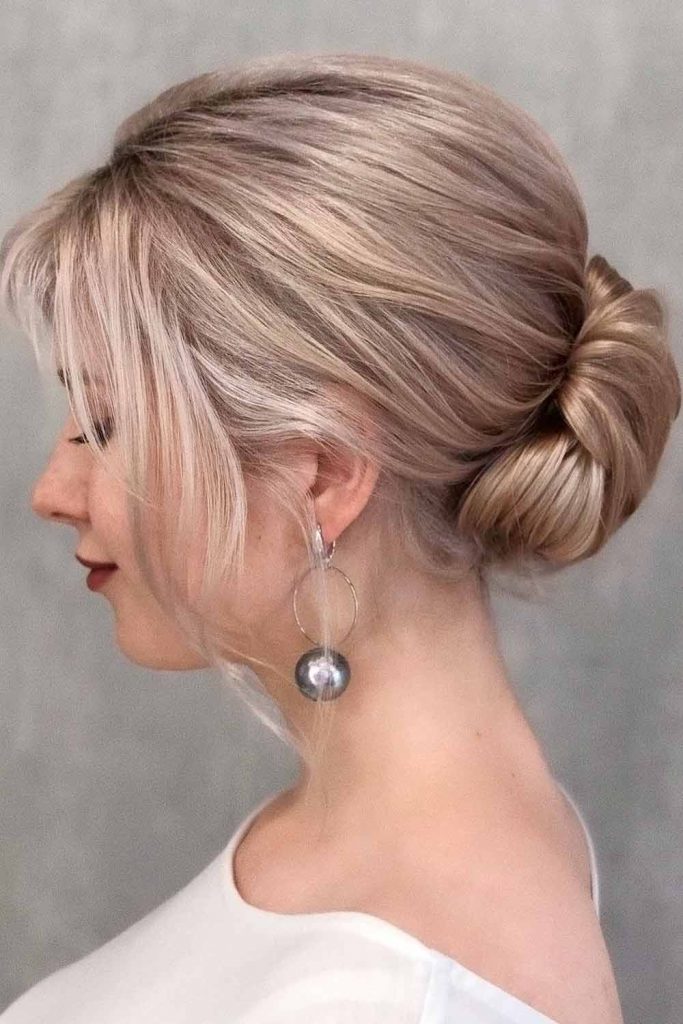 Credit photo: xenia_stylist/instagram.com
Do you have a narrow forehead as well as elevated cheekbones? Well, you can consider yourself lucky because any haircut, including any bun, will look good on your face. Any hairstyle with, either high or low buns, and with or without bangs, would enhance your facial features. If you want bangs for short forehead with this bun, you can just allow for little face-framing strands to keep your face busy but elegant.
High Bun With Face-Framing Locks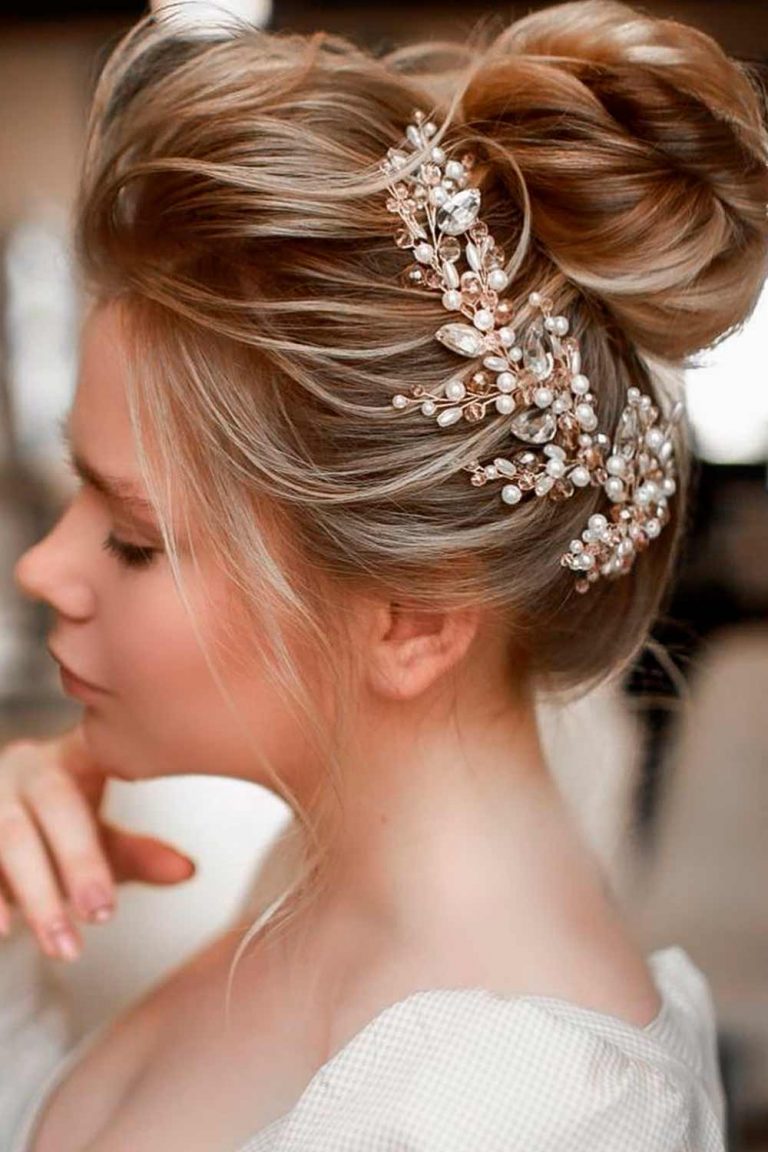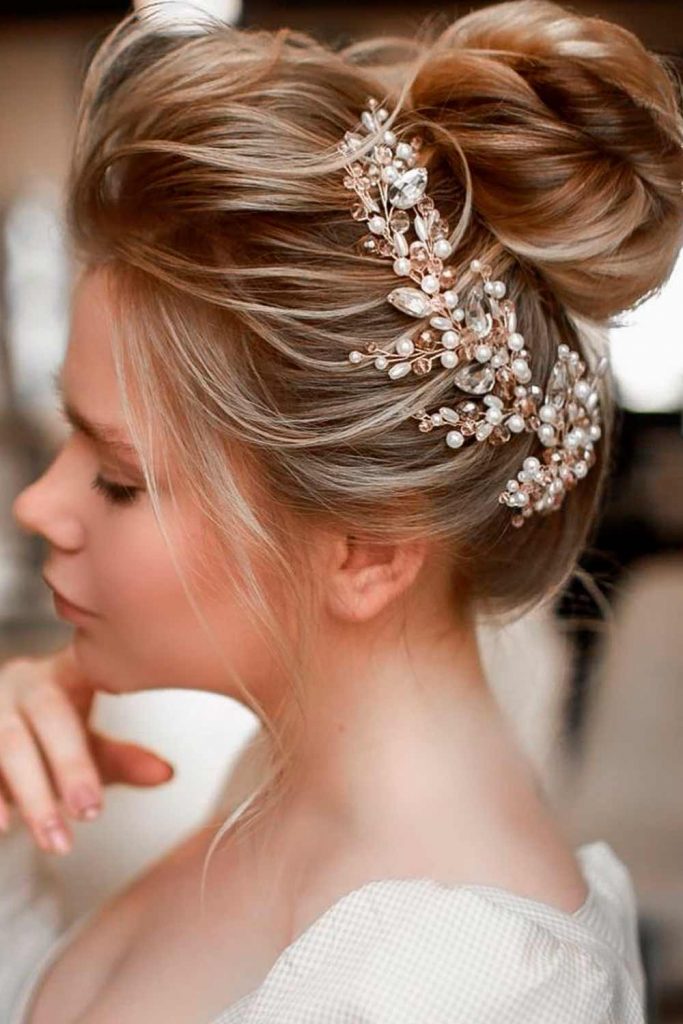 Credit photo: xenia_stylist/instagram.com
Any hair packed up would bring out the eyes and also make a round or chubby face appear slimmer. So style your hair in a high bun, leaving out a few locks of hair on the sides of your face. You don't want to make the bun too tight putting pressure on your hair and you could also add hair accessories to it to keep it from looking too plain and simple. This is a great choice for bridal events and also dinner dates if you don't have all the time to spend on your hair.
With all the various styles provided above, it is quite evident that having a small forehead doesn't limit the trendy hairstyles you can consider trying out. Whether it's the perfect fringe you've been searching for to lengthen your face or you're looking for short hairstyles that would look great paired with a short forehead, or is it bun hairstyle ideas you're interested in; we've covered everything and left no stone unturned. Scan through our list and pick the style that bests suit your taste and personality traits.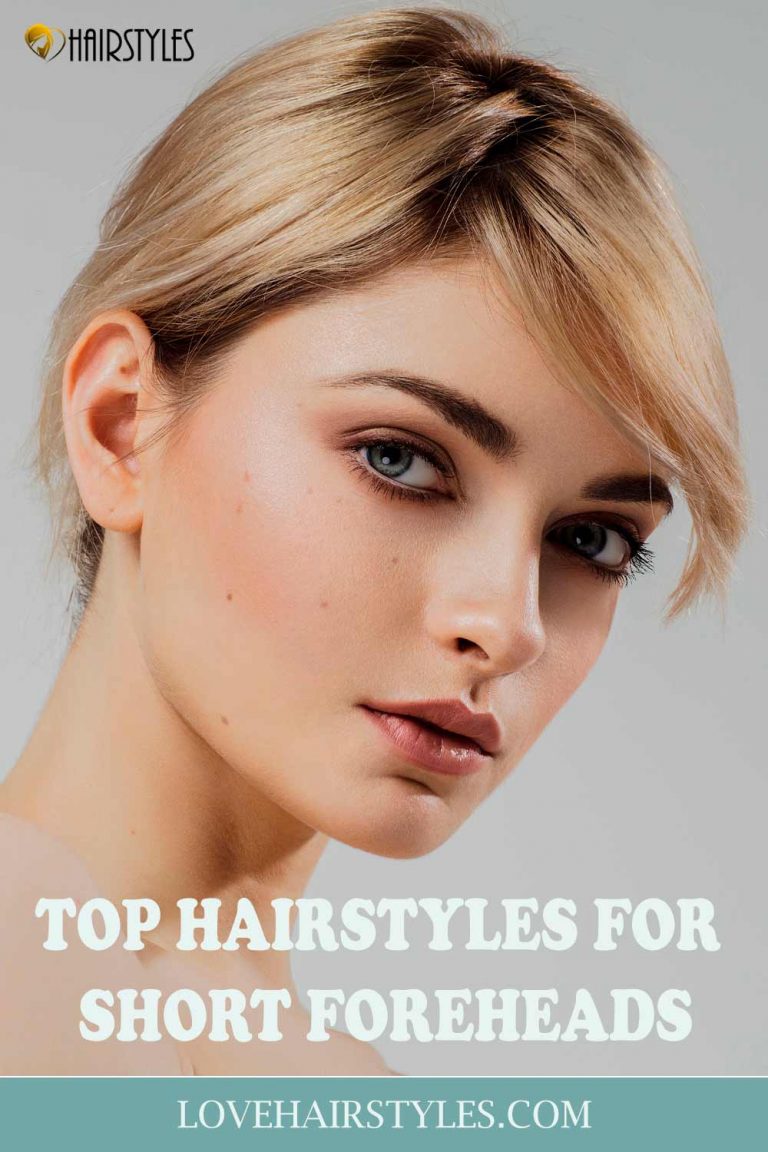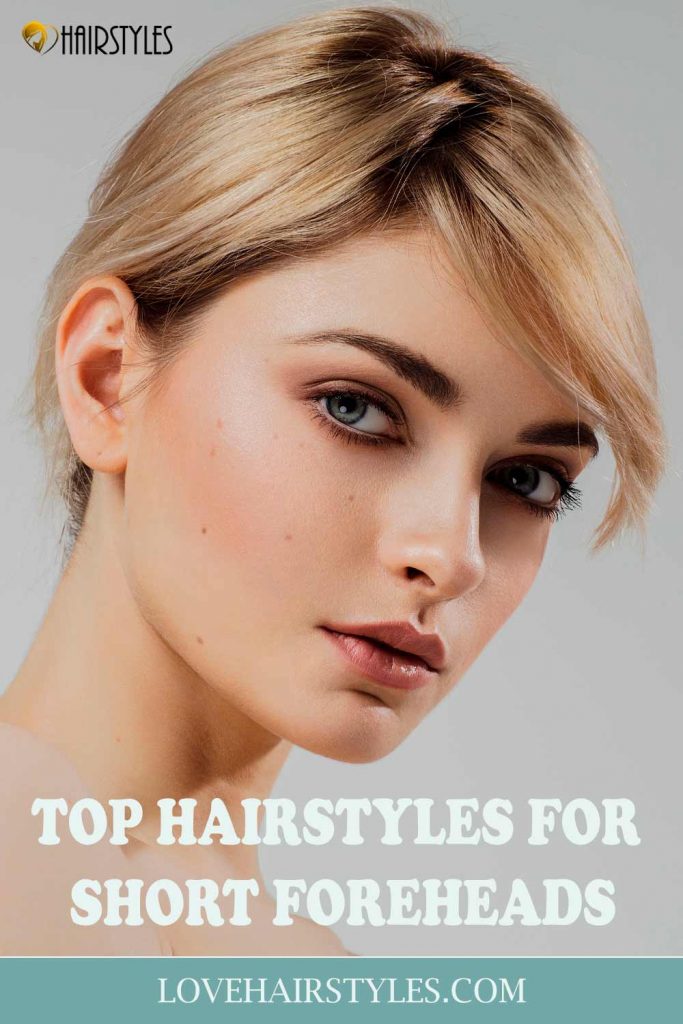 FAQ: Small Forehead Hairstyles
How many fingers is a normal forehead?
A normal forehead is four fingers, a little more than this might be too broad that it doesn't compliment the rest of the face. However, these days, a lot of men and women perform plastic surgery to reduce the size of their foreheads.
How can I make my small forehead look better?
Using a bronzer is the quickest technique to instantly shorten your forehead. For the look to be noticeable, your bronzer must have a matte finish and be at least three shades deeper than the original color of your skin. All you have to do is apply the bronzer with a blush brush to your forehead and the area surrounding your hairline. Another way is through your hairstyle as suggested above.
Do baby hairs make your forehead look smaller?
Yes. Baby hairs have a cute way of making your forehead appear shorter. You can achieve this by brushing down those baby hairs which would shorten the length of your temple.
REFERENCES:
Style Ideas for Women With Small Foreheads. Source