What is that protective hairstyle that has gone viral on social media? It is Coi Leray braids, thank you very much. Mixing jumbo knotless braids on top with curls on the ends, this hair look does not leave anyone indifferent. So, if you have decided to go for it, you may want to know some more info about the style, from how to do it to what options you have. To give you full insight into this celebrity-inspired hair look, we have created this comprehensive guide.
What Are Coi Leray Braids?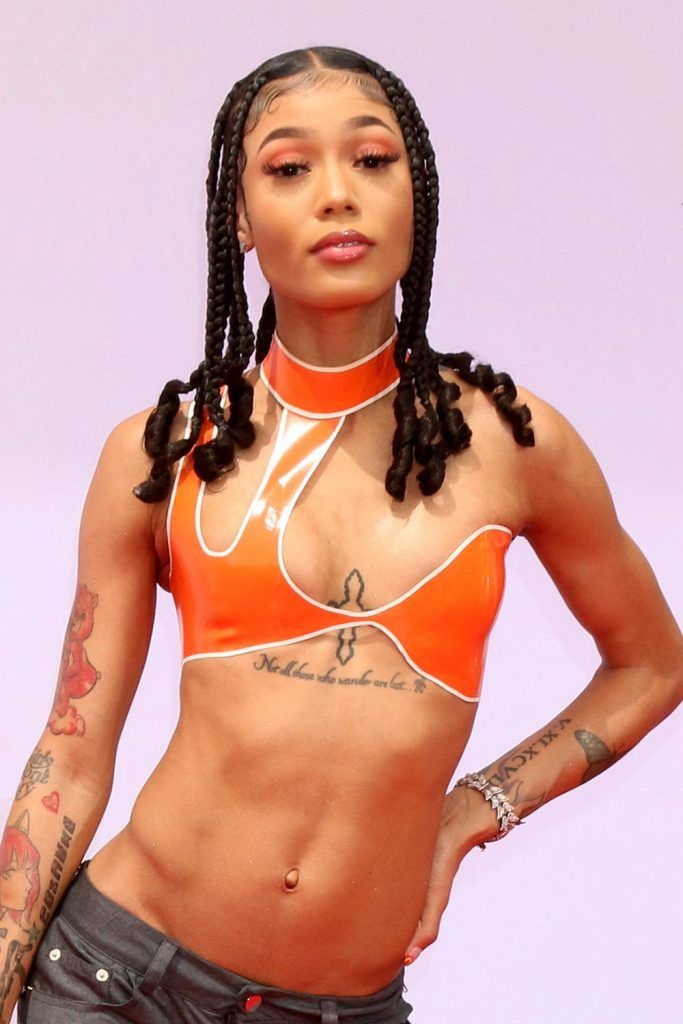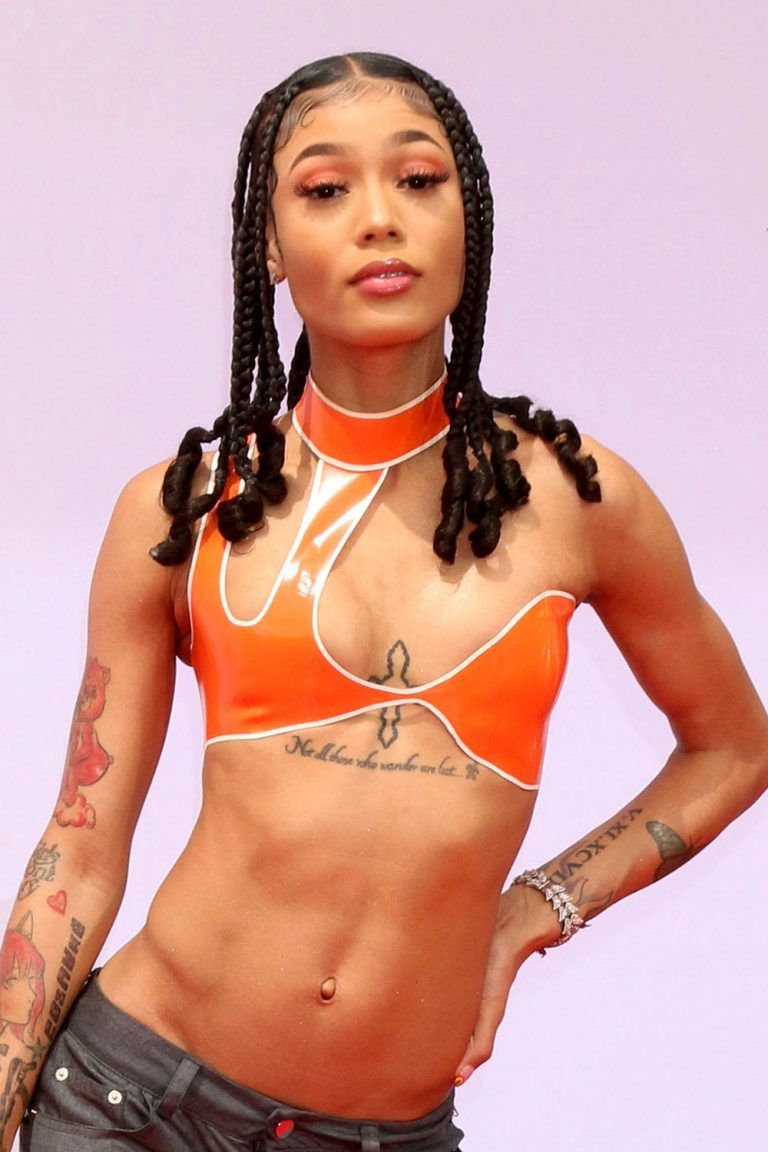 Credit photo: Shutterstock
Before learning how to do it, let's first define what Coi Leray braid is. This is one of the popular protective hairstyles for kinky locks that features jumbo knotless braids curled up on the ends. The style owes its name to Coi Leray, a famous American rapper and songwriter. Her signature knotless box braids with curls became iconic, thus being named Coi Leray braids. One of the main advantages of this hairstyle is that it does not weigh down your natural hair. Besides, the installation process is relatively easy and not as time-consuming as with other Black braided hairstyles. At the same time, it works wonders for framing your face and enhancing its traits. So, you can never go wrong with this jaw-dropping hairstyle.
Coi Leray Braids: A Step By Step Tutorial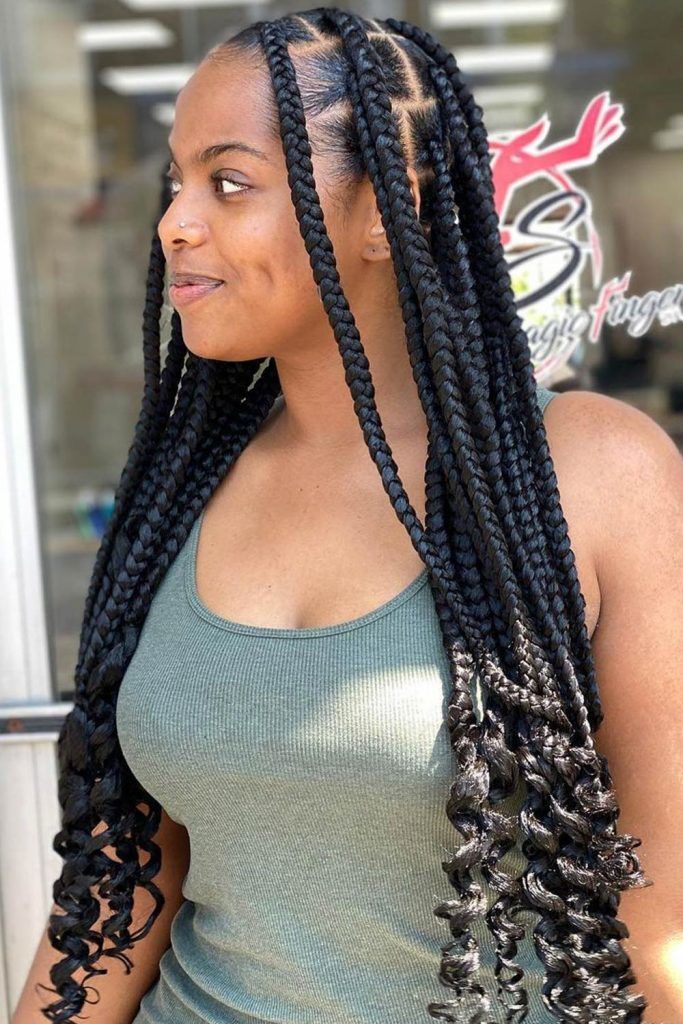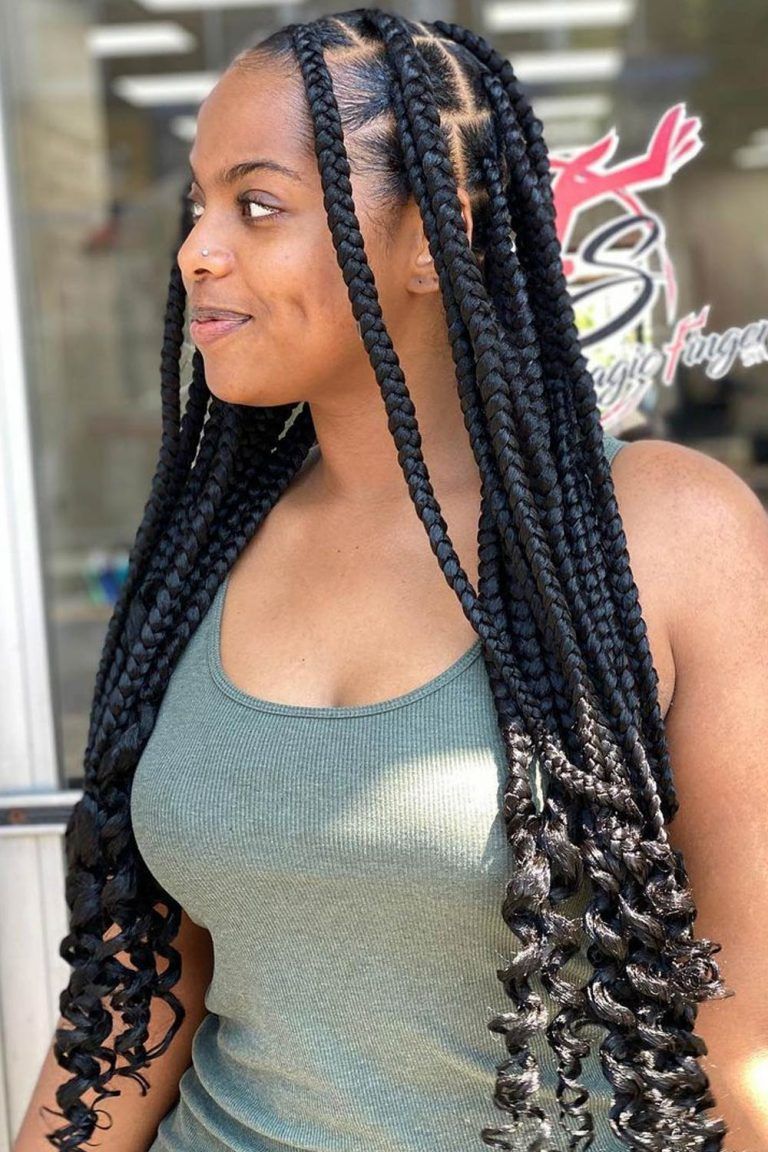 Credit photo: instagram.com/magicfingersstudio
So, without further ado, here is how to do Coi Leray braids and what you need for them.
Tools:
Between 3 and 6 packs of braiding hair;

Elastic bands matching your hair color;

Hair mousse;

Strong hold conditioning gel;

Edge control product;

Hair perming rods;

Comb with a rat tail;

Hot water.
Once you are equipped with everything needed, follow these steps:
Prestretch and moisturize the braiding hair. Divide it into chunks with the help of the comb.

Scoop a dime sized amount of the conditioning gel and work it into the separated hair to keep it smooth and pliable.

Depending on the chosen style of box braids, section out either square or triangular portions of hair.

Start weaving your hair at the roots and feed in braids with braiding hair as you go.

Once the braid is long enough, fasten it with an elastic band. Make sure though to indent a bit from the end since you need to curl it afterward.

Continue doing so for the rest of the hair, leaving several strands near your forehead for later.

Wrap the ends of the braids around the perming rods and immerse them into the bowl of hot water.

Pat them dry with a towel and follow up with a blob of hair mousse applied to the braids.

Take out the rods and finish off by laying the edges using an edge control.
Mesmerizing Coi Leray Braids Ideas For Your Inspiration
There is actually a wide variety of Coi Leray box braid styles. Below, we have picked out crème de la crème of them to infuse you with a dose of inspiration.
Knotless Coi Leray Braids
Coi Leray knotless braids are a popular way to wear the style and no wonder. They are sleek, fashionable, and quite easy to get. What is more, because they do not feature knots near your roots and require less braiding hair, they put less tension on the scalp. To give your hairstyle an added definition, try out pop smoke braids, which are all the rage now.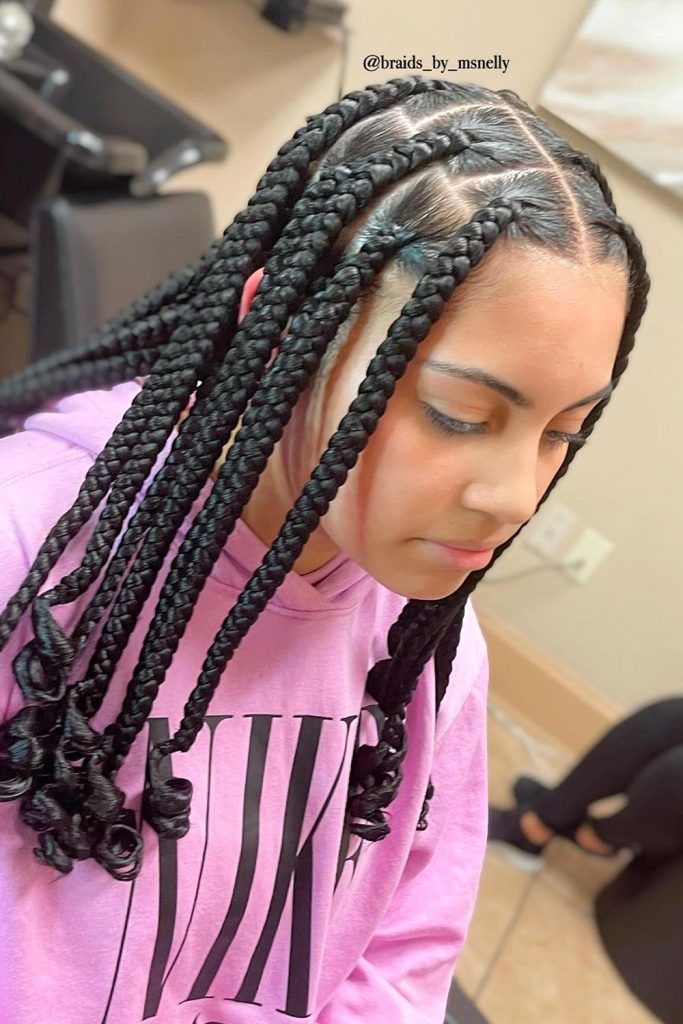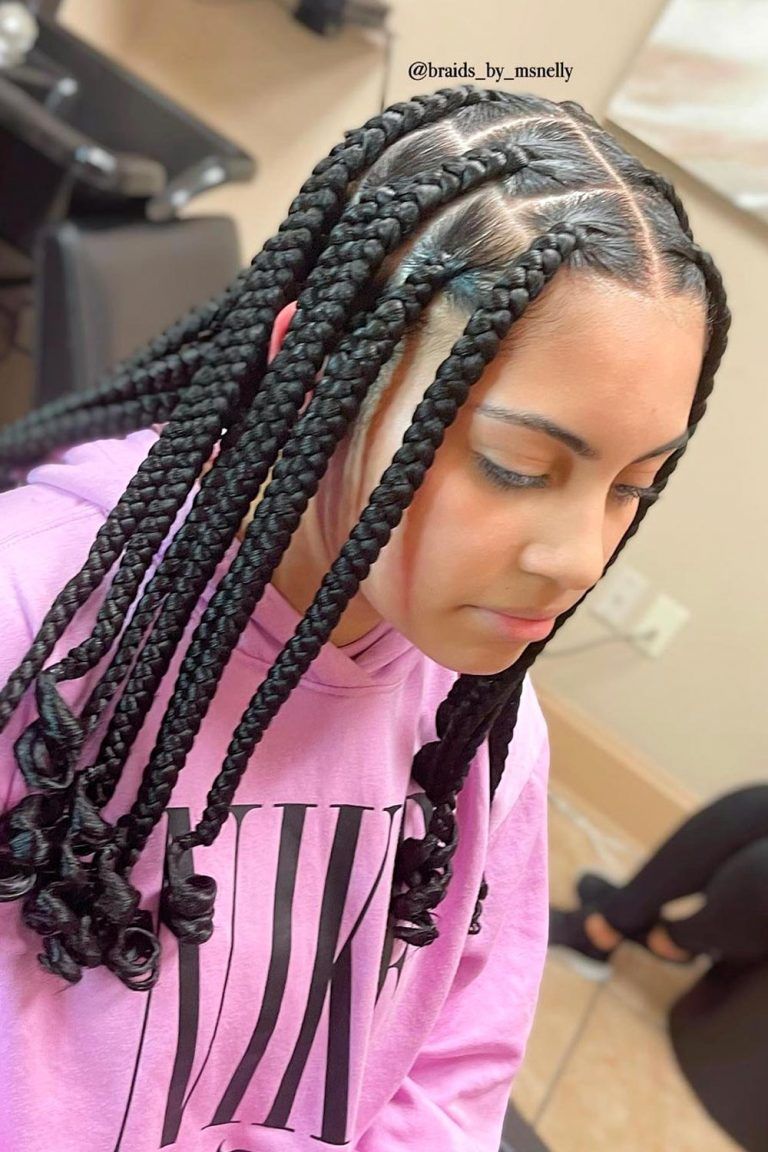 Credit photo: instagram.com/braids_by_msnelly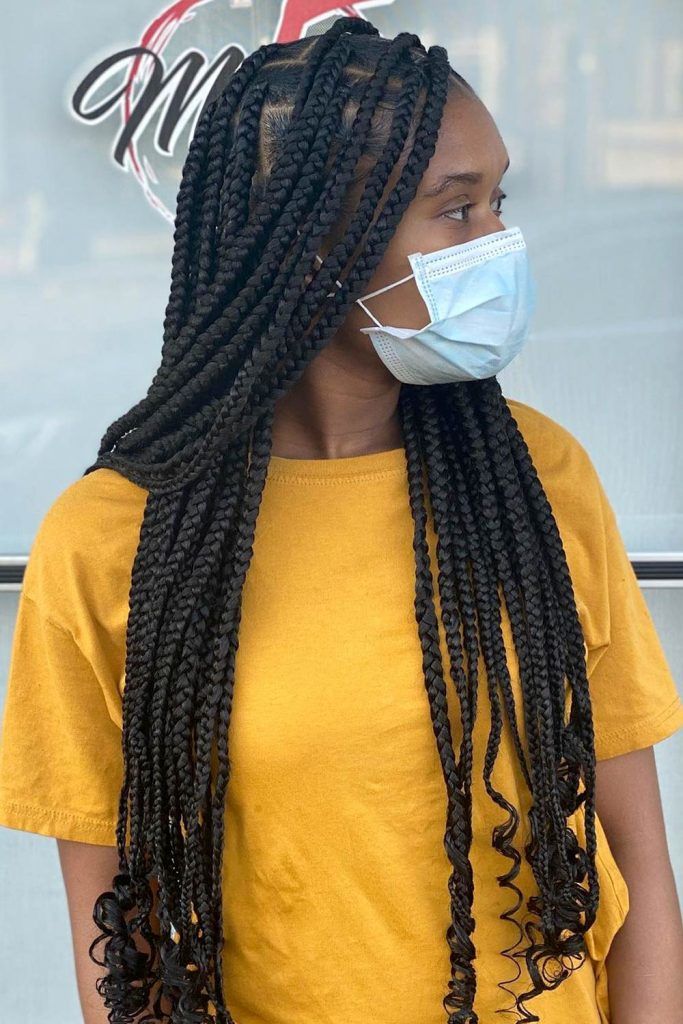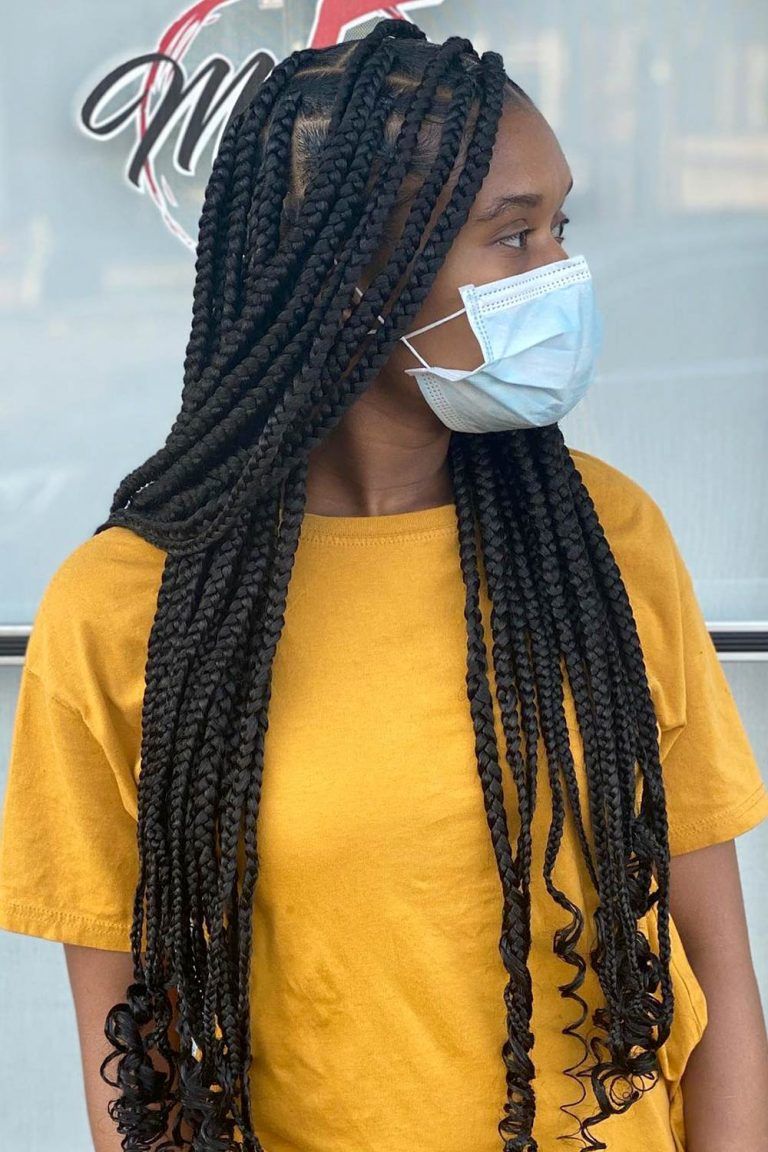 Credit photo: instagram.com/magicfingersstudio
Curly Box Jumbo Braids
Jumbo box braids with curls look feminine and ultimately stylish. As they are pretty thick and chunky, they take noticeably less time to create. So, if you want a style that would be easy to get while allowing you to make a strong fashion statement, you cannot think of a better option than jumbo box braids with curls at the end.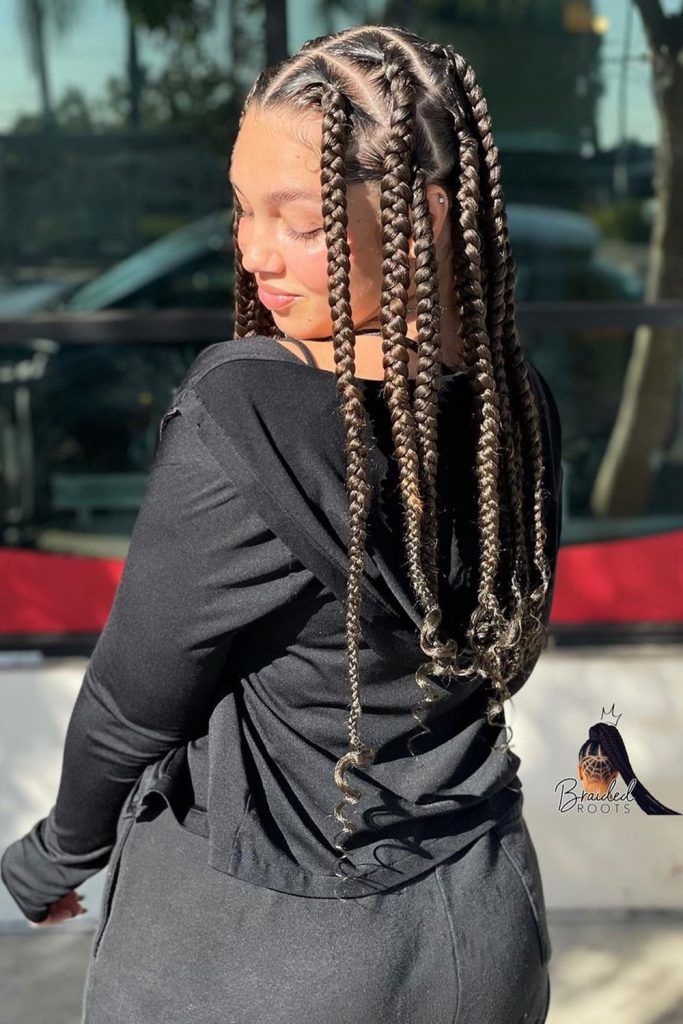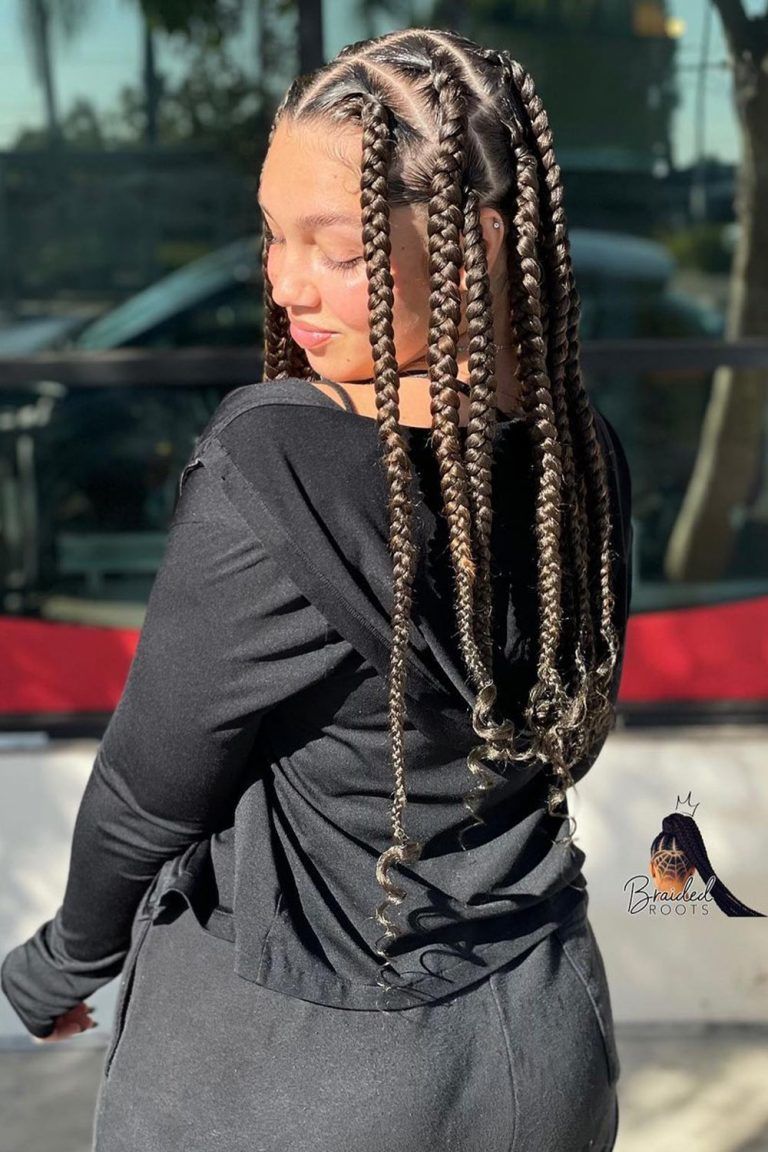 Credit photo: instagram.com/braidedroots
Box Coi Leray Braided Hairstyle For Long Locks
If you have long natural tresses, Coi Leray box braids with curls coming out of the middle of your hair is a surefire option for you. When you leave pretty much hair on the ends, you do not need to sacrifice the length of your mane, whereas putting it in braids is a great way to tame your unruly locks.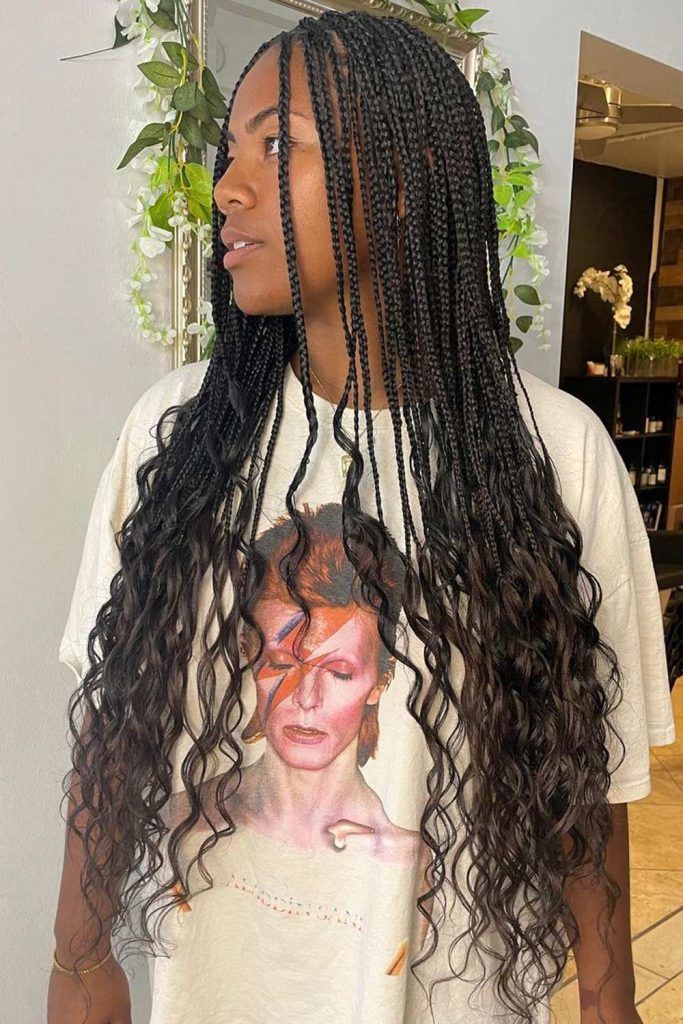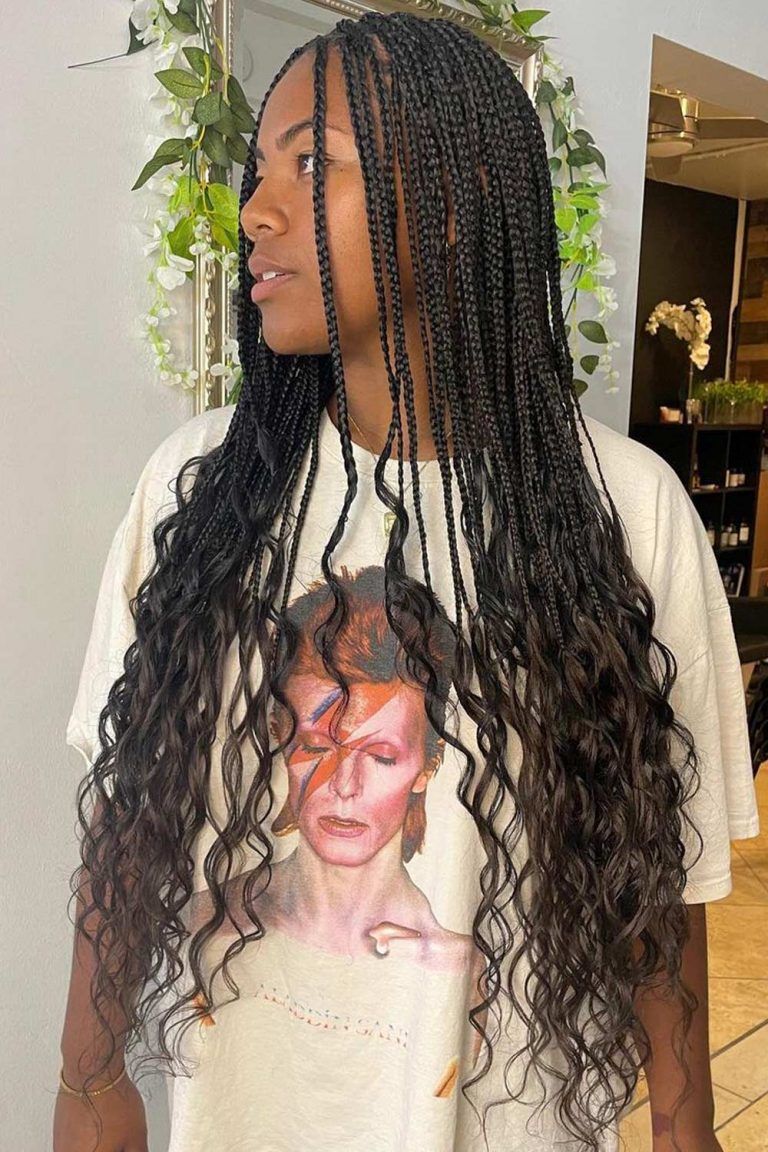 Credit photo: instagram.com/braidedroots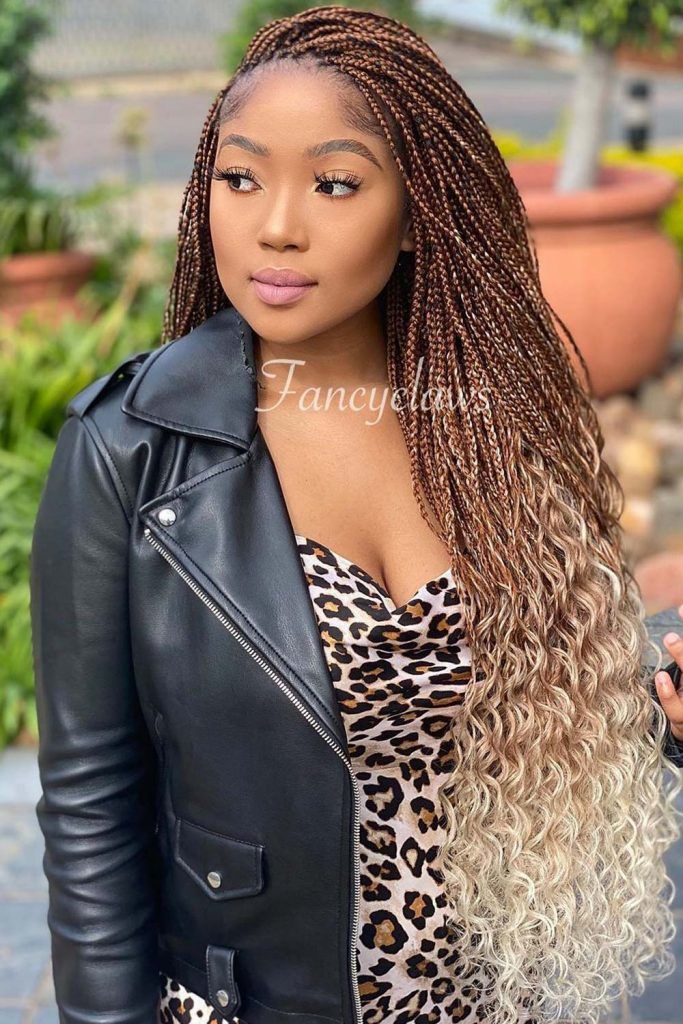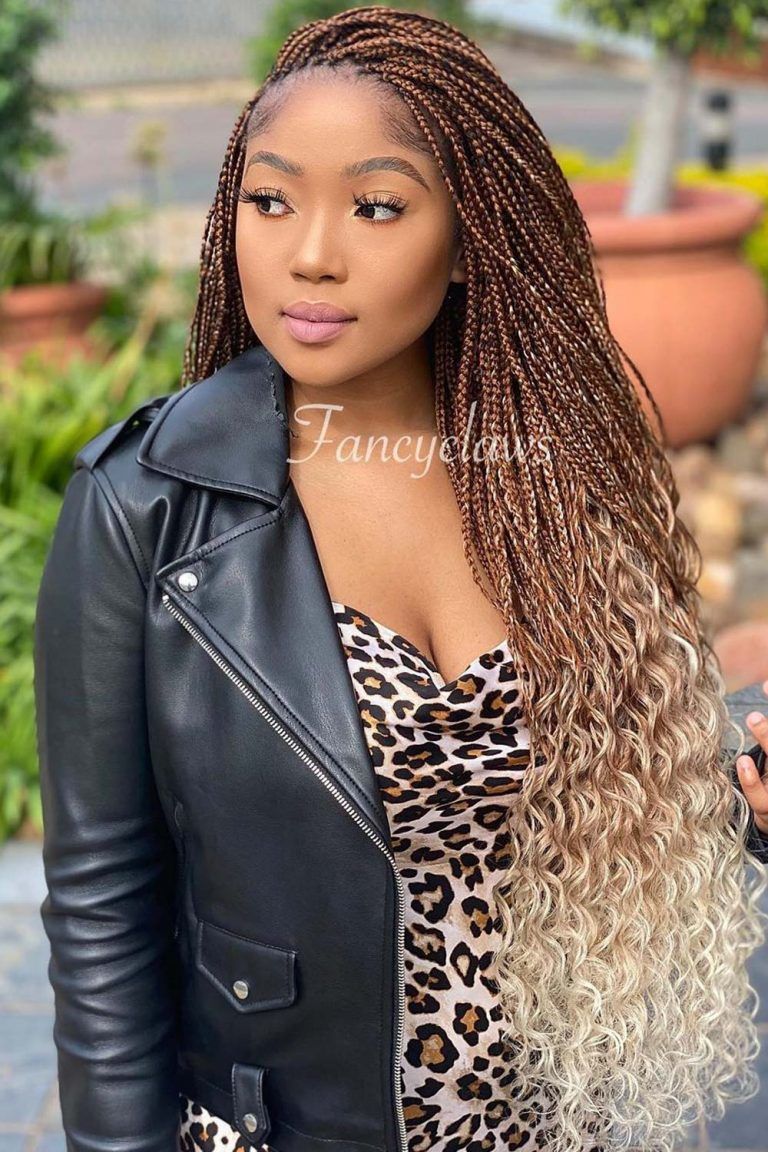 Credit photo: instagram.com/fancy_claws
Micro Braided Coi Leray Hairstyle
Those who have more time on their hands should definitely try out micro Coi Leray braids with curly ends. Although the braiding process is very painstaking, it will fully pay you off with tons of compliments you are going to collect. Since the style comes out pretty low key, it allows for various embellishments. As such, micro Coi Leray braids with beads may be your best bet.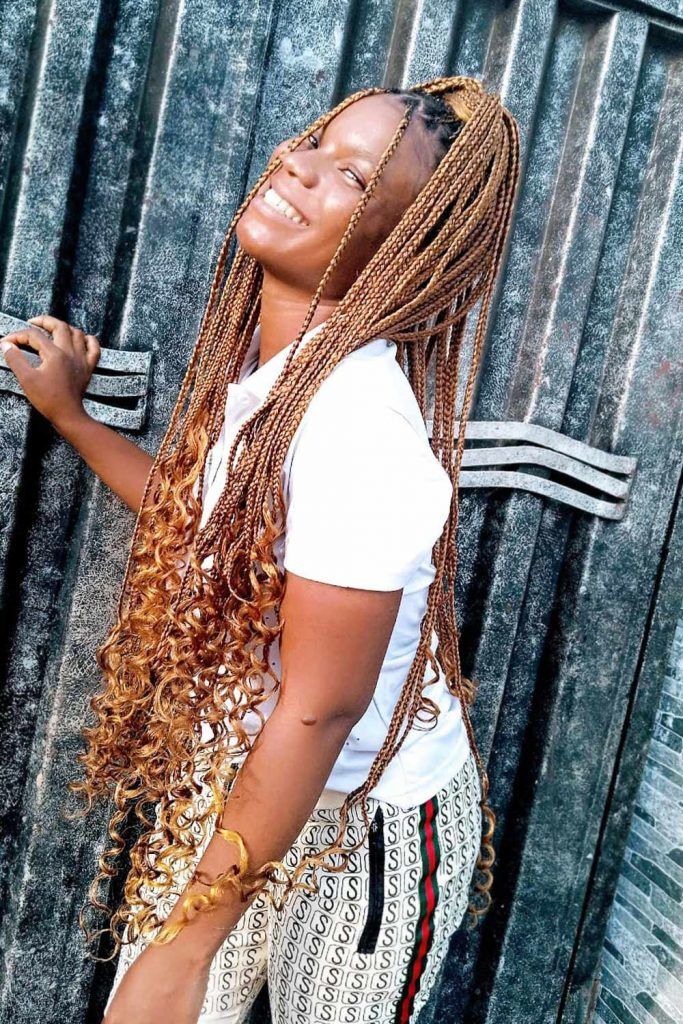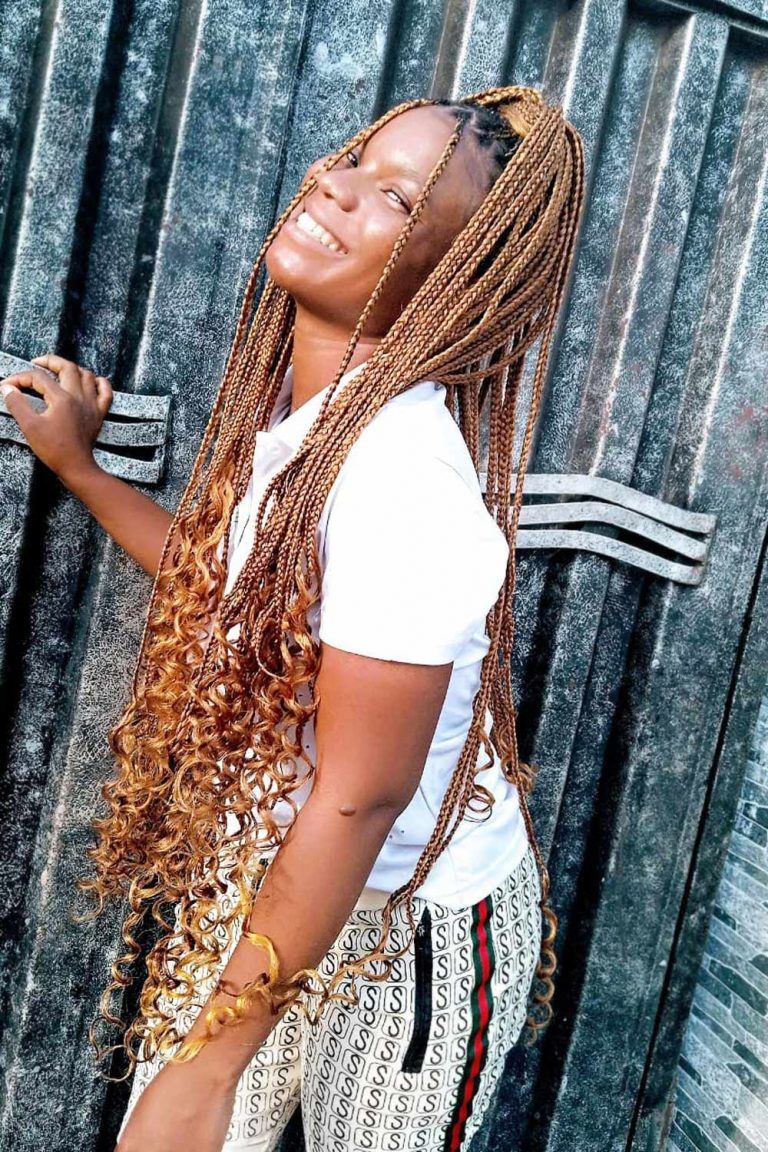 Credit photo: instagram.com/arbie_beaut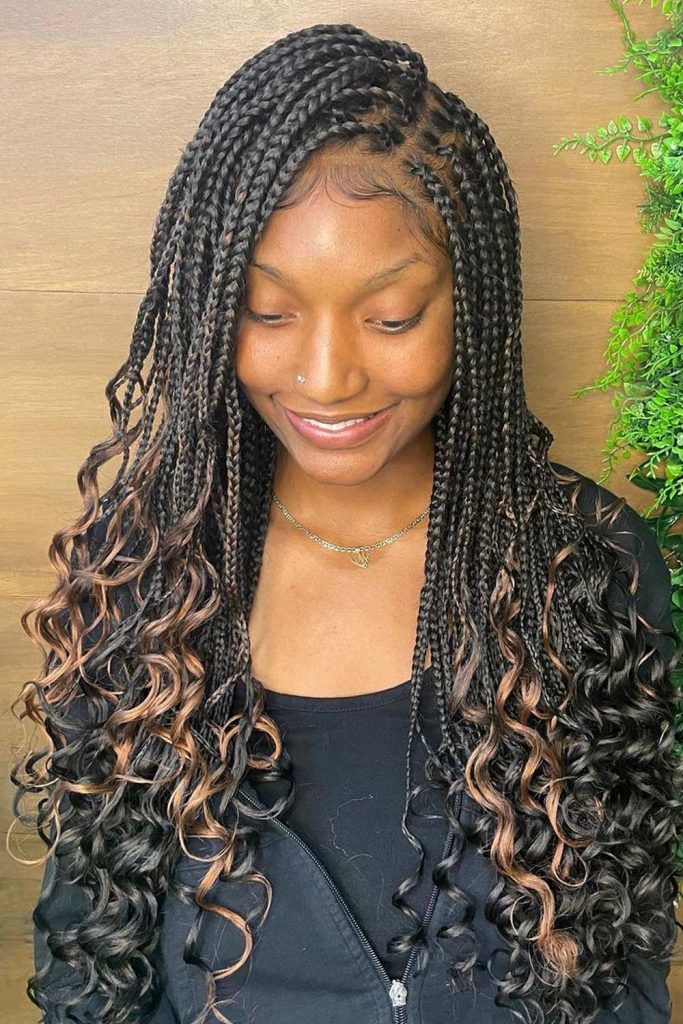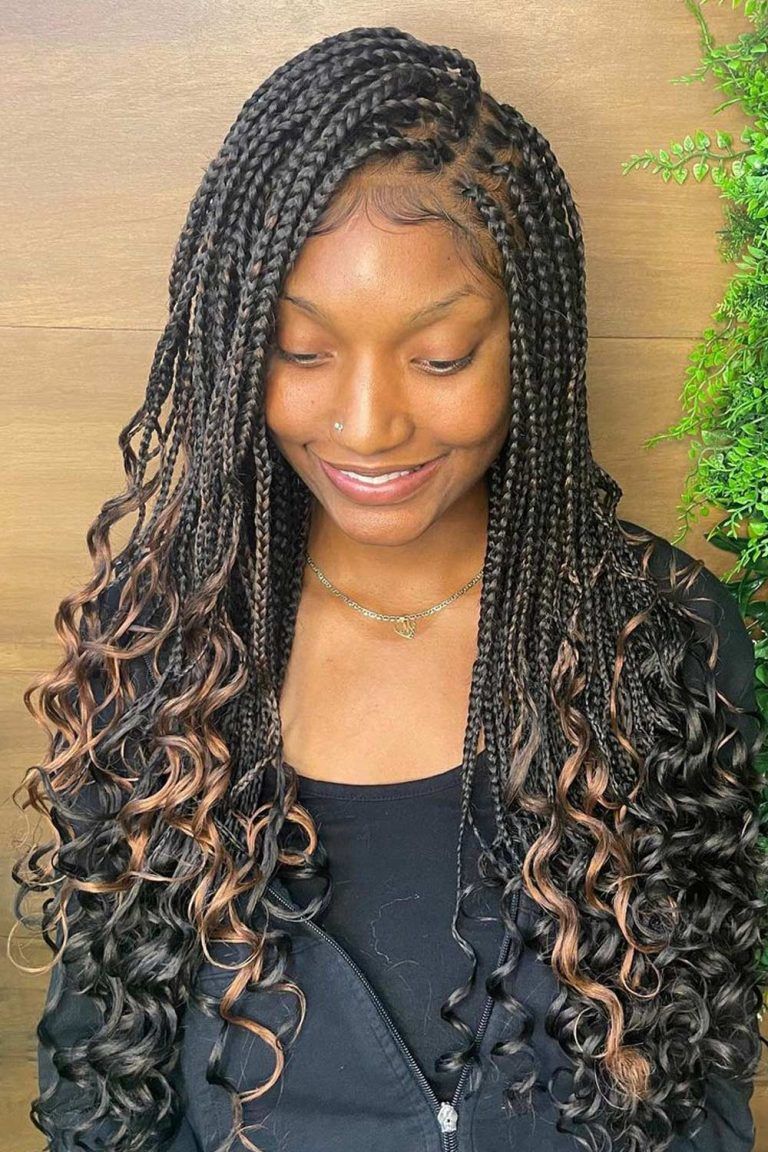 Credit photo: instagram.com/braidedroots
Extremely Long Unicorn Coi Leray Braids
Girls who are not afraid to stand out in the crowd should take a closer look at this mind blowing hairstyle. While extra long Coi Leray braids already seem eye catching and edgy, throwing a rainbow into them takes the hairstyle to a whole new level of boldness. Any hair dyeing technique will work in this case, from colorful pastel highlights painted in your natural strands or an all out unicorn hair color style.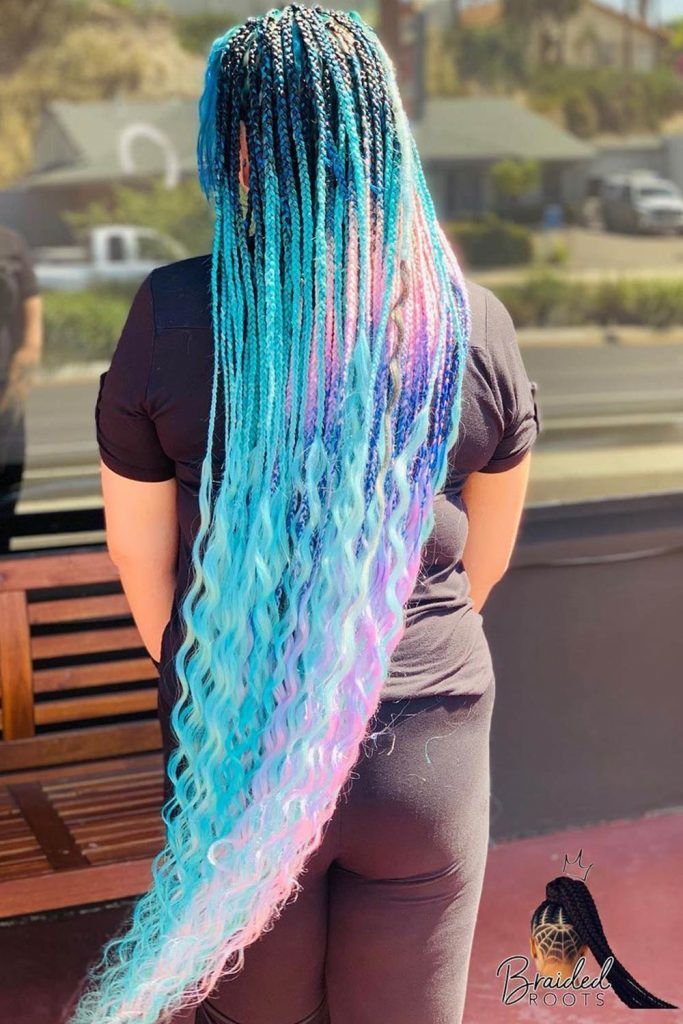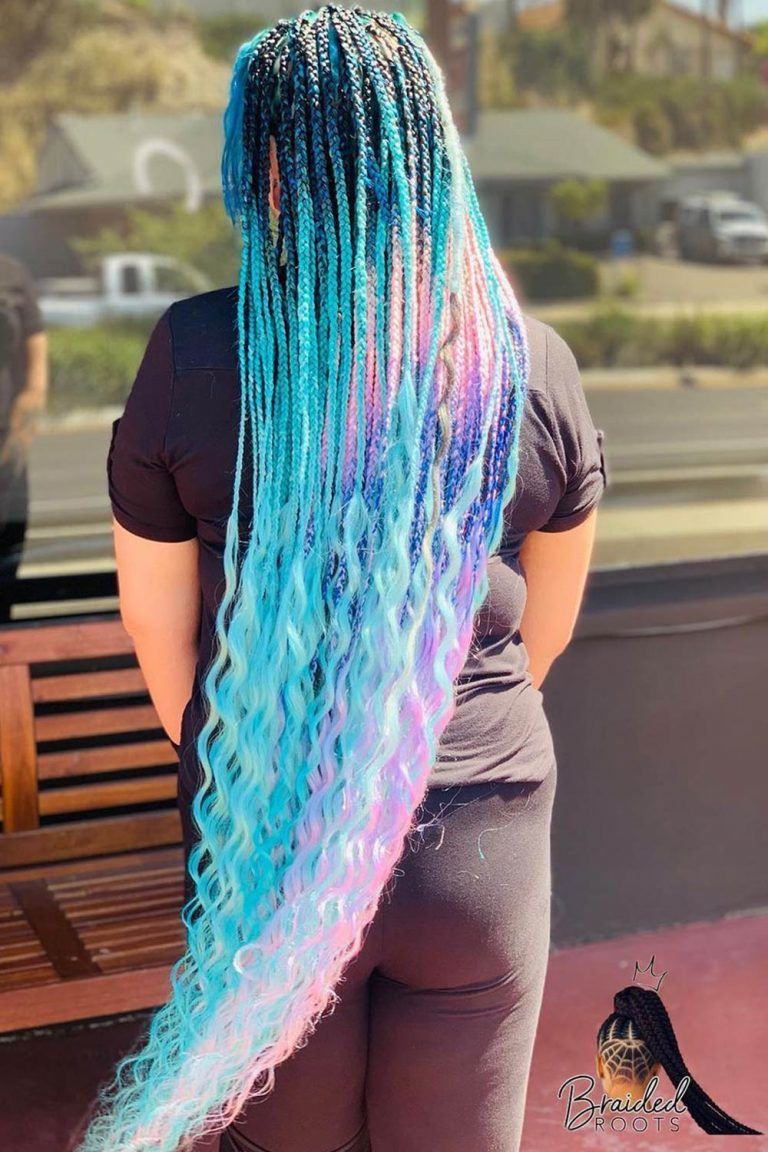 Credit photo: instagram.com/braidedroots
With Coi Leray braids, you can rest assured that your kinky locks are not only tamed and protected but they are also camera ready since the hairstyle is a signature look of a popular musician, Coi Leray. Being made of jumbo box braids and enhanced with curly ends, they are universally flattering regardless of your face shape. Thus, it comes as no surprise that they are so favored by girls with natural locks.
REFERENCES:
Was this article helpful?