If you have coily or kinky locks, then putting them in protective hairstyles is a must for you. They will help you to deal with such hair concerns as dryness and frizziness. Moreover, you will be able to grow out long healthy locks. Sounds intriguing? Then what are you waiting for? Below, we have broken down all the information you need to know about protective styles and collected the classiest ideas.
What Are Protective Hairstyles?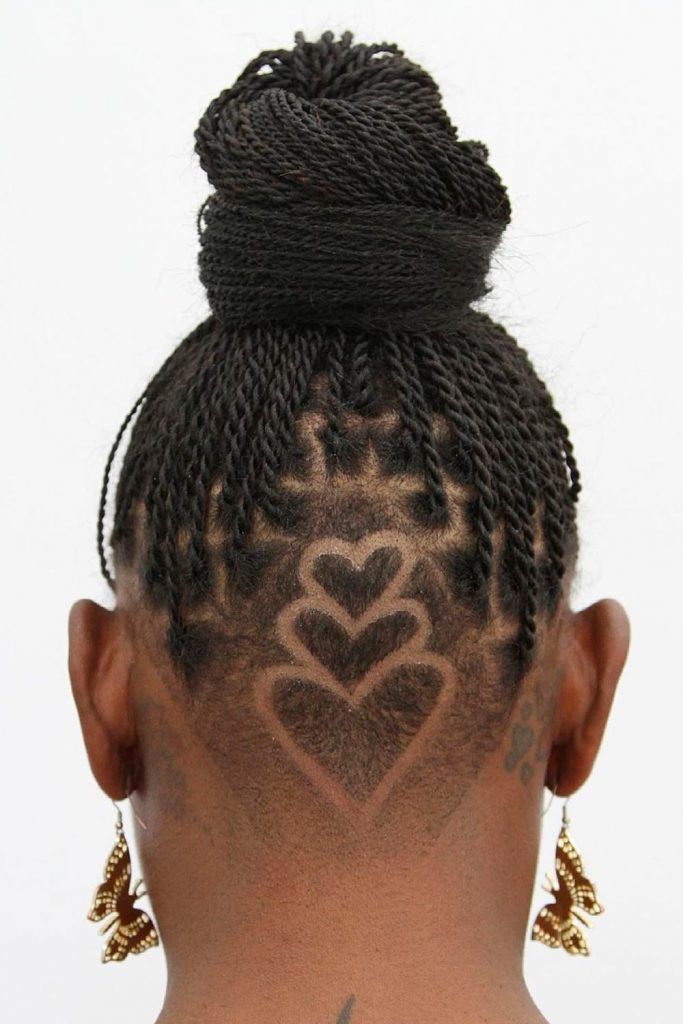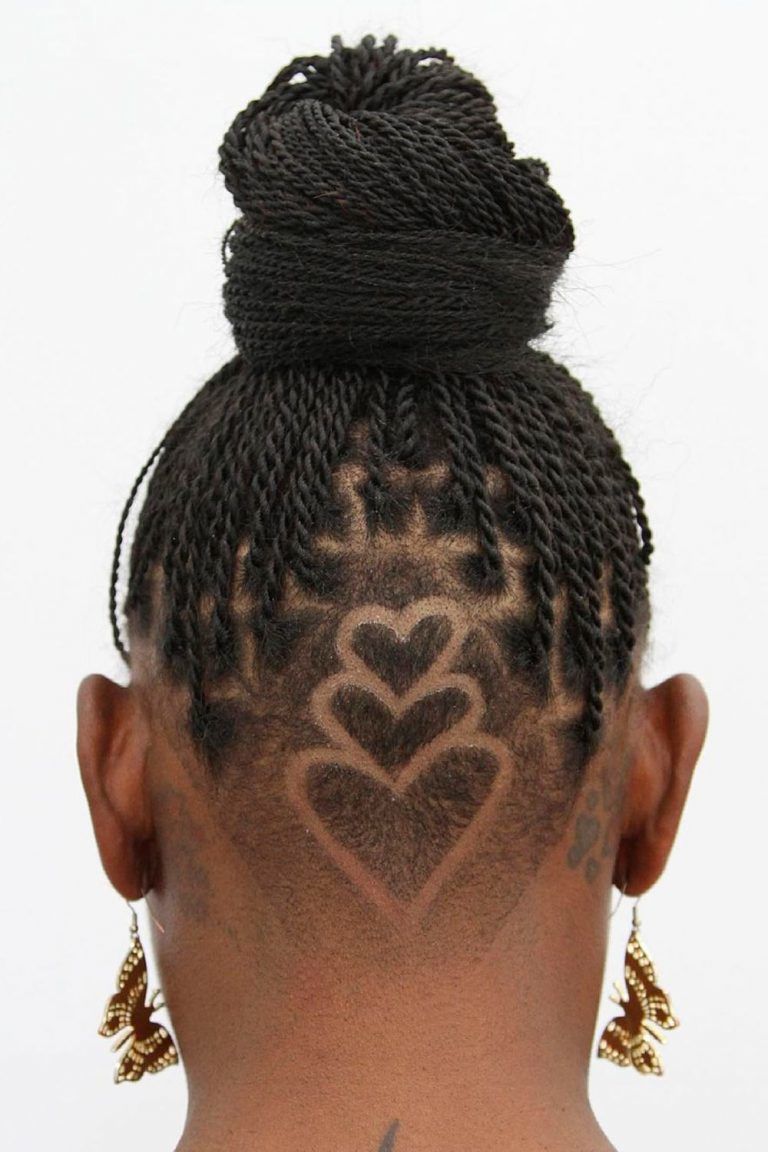 Credit photo: instagram.com/adrianfanus
So, essentially, what are protective hairstyles? This is a hairstyle type that implies tucking the ends of your hair away to keep them protected from drying out, getting frizzy and tangled. It does not require hot tools application or much maintenance. If you want to keep your strands healthy during winter, when they are exposed to weather elements, such as freezing temperature, cold wind, heavy snow, etc, a protective hairstyle is a sure bet. During warmer months, protective styles guarantee that your locks do not get damaged by the sun, water and wind.
Benefits Of Protective Hairstyles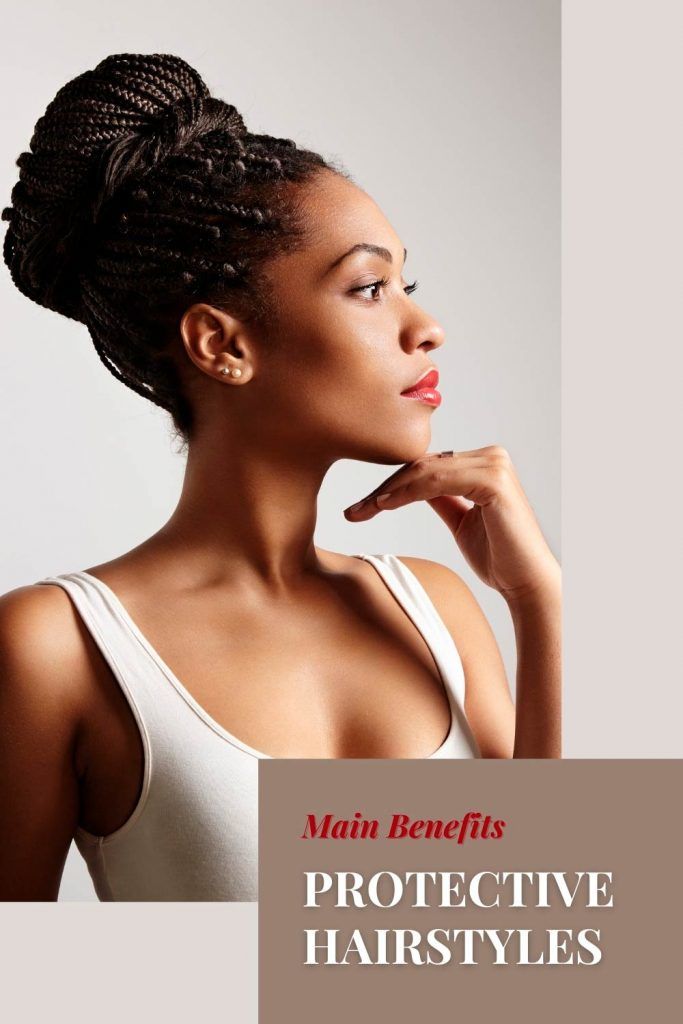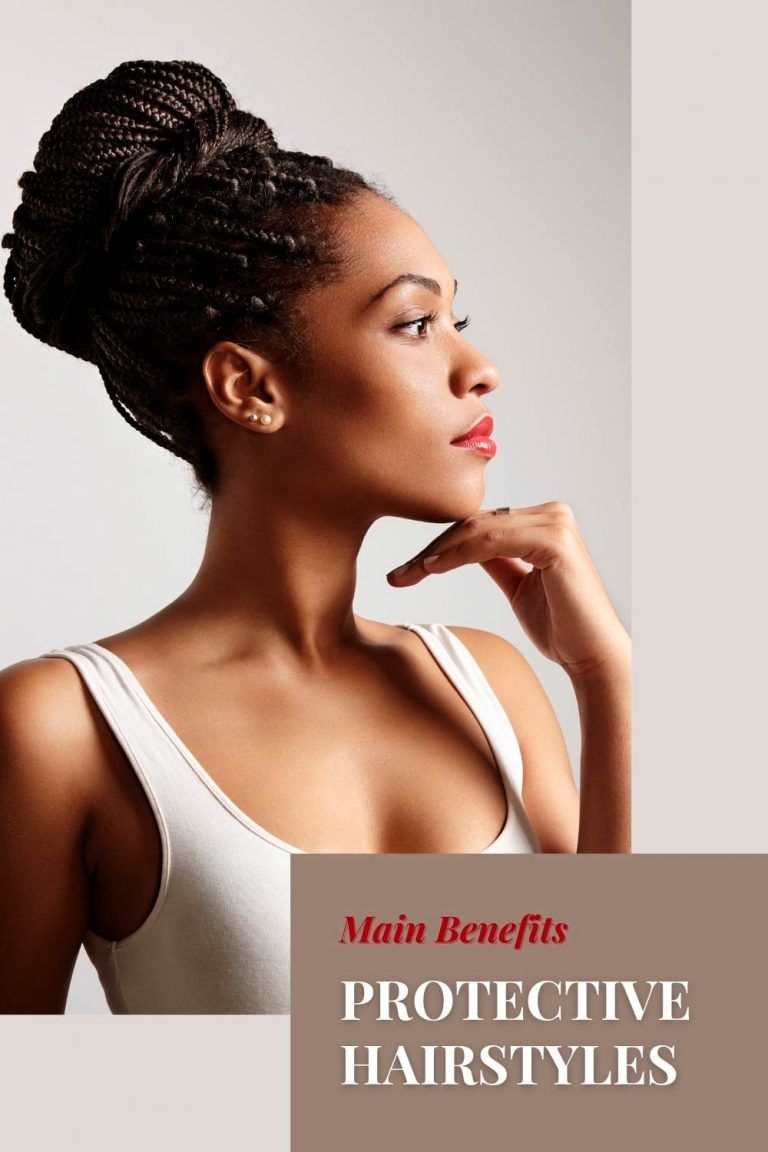 Apart from looking polished and refined, protective hairstyles for natural hair have plenty of other benefits. They prevent damage from harsh weather conditions, stop your strands from breaking, keep them hydrated and do not let the ends thin out. Besides, if you want to get the most out of your protective hairstyle, you should stick to these rules:
Moisturize your locks and the skin on your head with a balm or use a natural oil for added nourishment. Only then you can style it.
Avoid using hot tools and allow your tresses to air dry while you are sleeping.
Whenever your mane can be exposed to extreme heat or cold, always protect it with a piece of headwear.
Put on a silk or satin head wrap to keep your locks protected at night.
How Long Do Protective Hairstyles Last?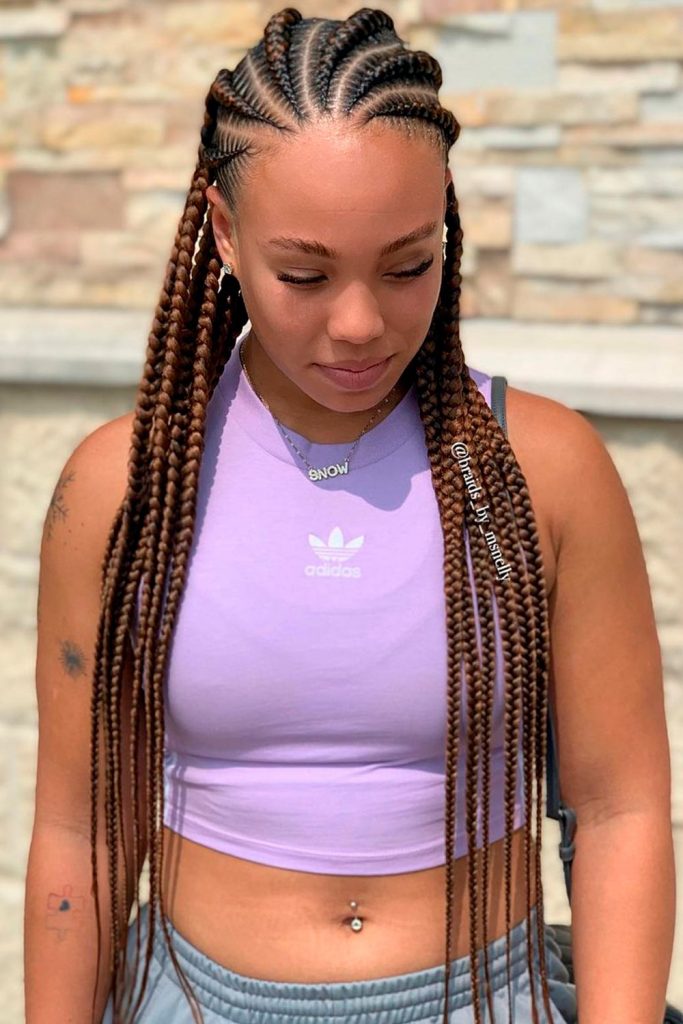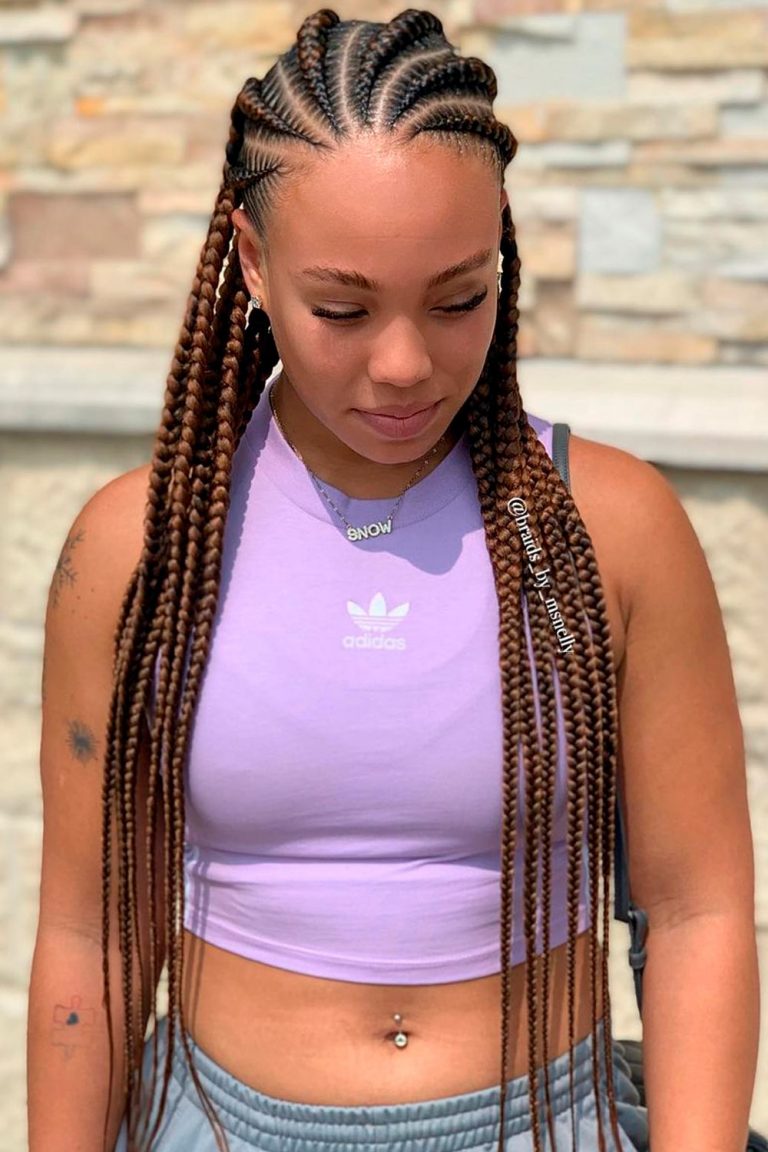 Credit photo: instagram.com/braids_by_msnelly
If you wear natural protective hairstyles, it does not mean that your hair and the skin on the head do not require special care. You should always cleanse your scalp regardless of the chosen hairstyle and apply hydrating products to it. Also, not every protective hairstyle can be worn equally long. A rough timing would be the following:
You can wear braids for 6-8 weeks. More than that and your hair may become matted because of grease and products building up. Besides, as your hair will grow out quite much, it may be weighed down by the braids.
The lifespan of sew-in weaves is between 3 and 4 months. However, your hair growth rate can either extend or reduce this period.
If you opt for twist protective hairstyles, make sure not to wear them for more than one week.
It is okay to wear a protective pony for 2 weeks. However, make sure to keep it pretty loose so that it does not put a strain on the scalp.
How To Maintain Protective Styles?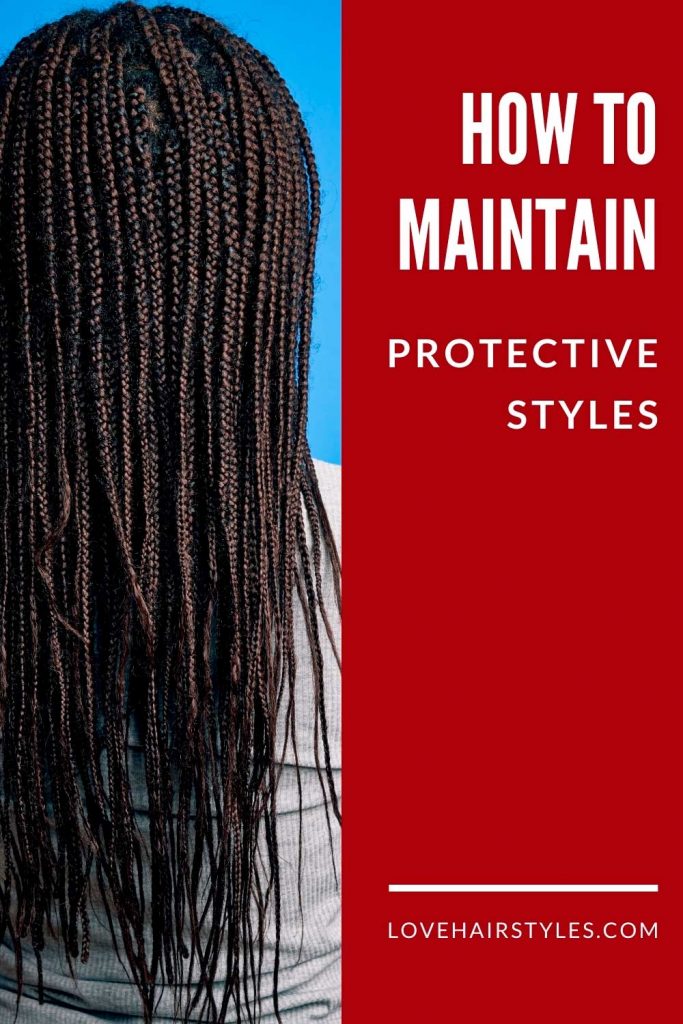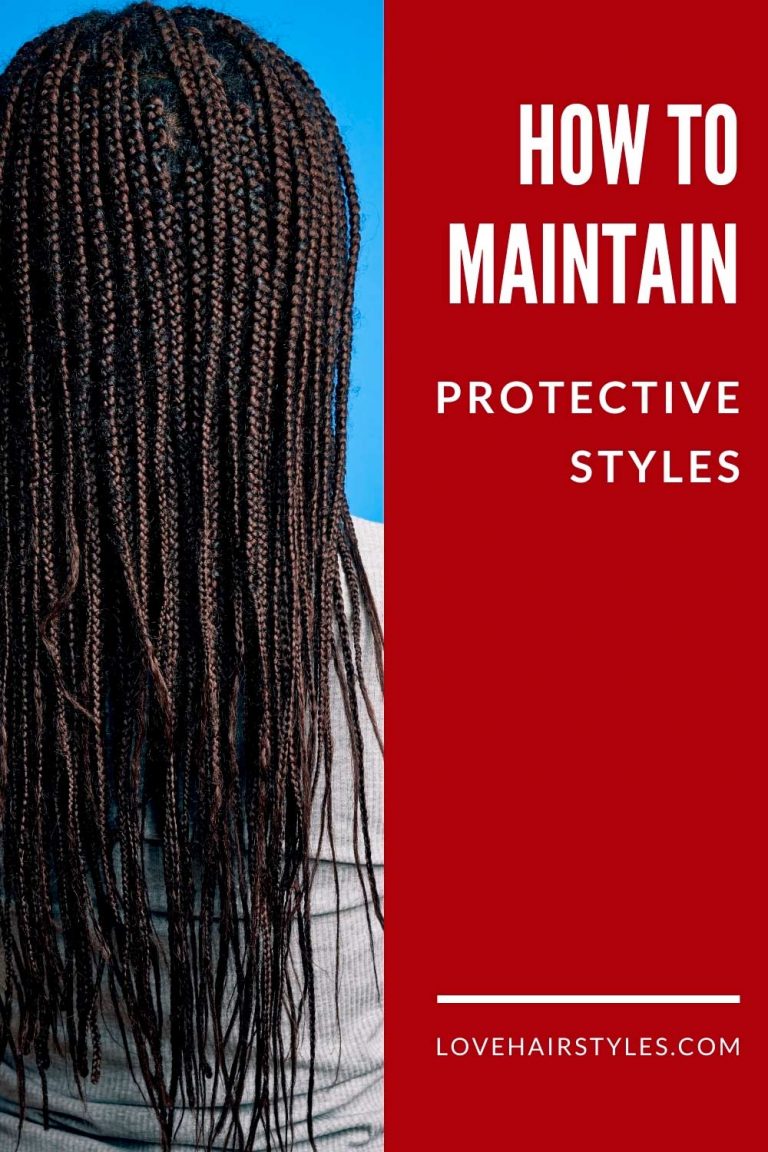 So that your protective hairstyle could stand you in good stead, you want to take care of it properly. For starters, arm yourself with satin or silk headwear. A scarf or a bonnet will work just fine. You will need to wear it when sleeping to avoid frizziness in the morning and lock moisture in your strands. If you neglect it, your hairstyle will unlikely last for the expected period of time.
Also, use a tad of natural oil on both the scalp and the tips of your hair to keep them hydrated and nourished. Massage the oil into your skin and let it absorb. Repeat the procedure 1-2 times weekly for the best result.
If you notice that your hairstyle has become a bit unkempt, you can smooth out the flyaway hairs with a blob of a hair mousse. To maintain good hygiene of your hair, you need to cleanse it regularly. How often should you wash a protective style? Well, on average, to remove sebum, dirt, product residue and other pollutants, you should wash your protective style every couple of weeks.
Trendy Protective Hairstyles For Natural Hair
Now, from theory to practice. So that you could style the locks according to your liking, we have put together the most fashionable protective hairstyles for natural hair.
Box Braids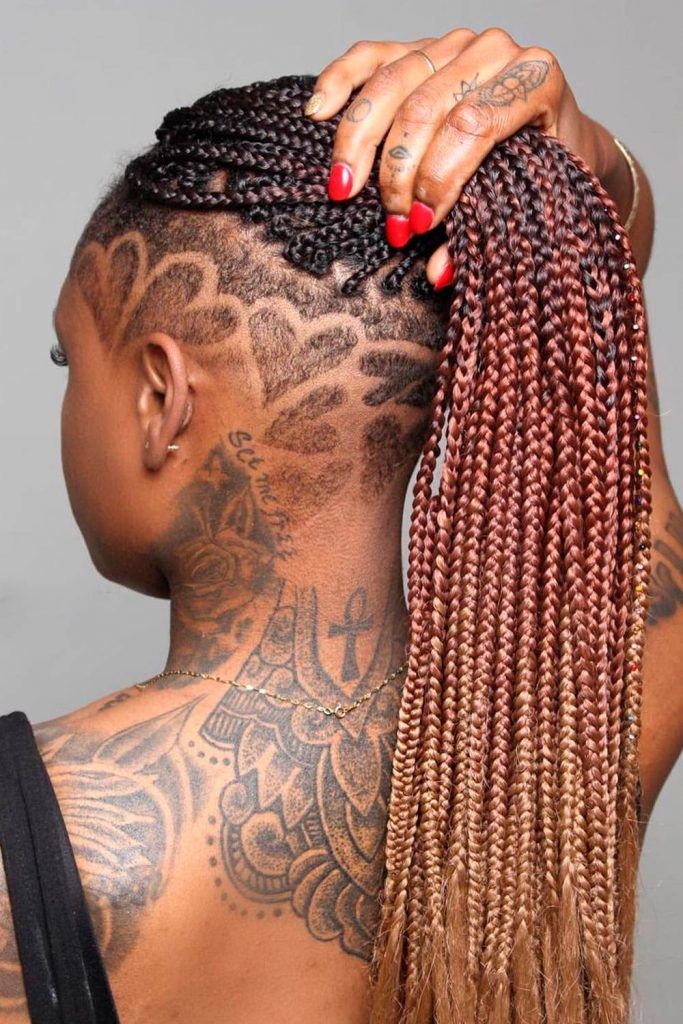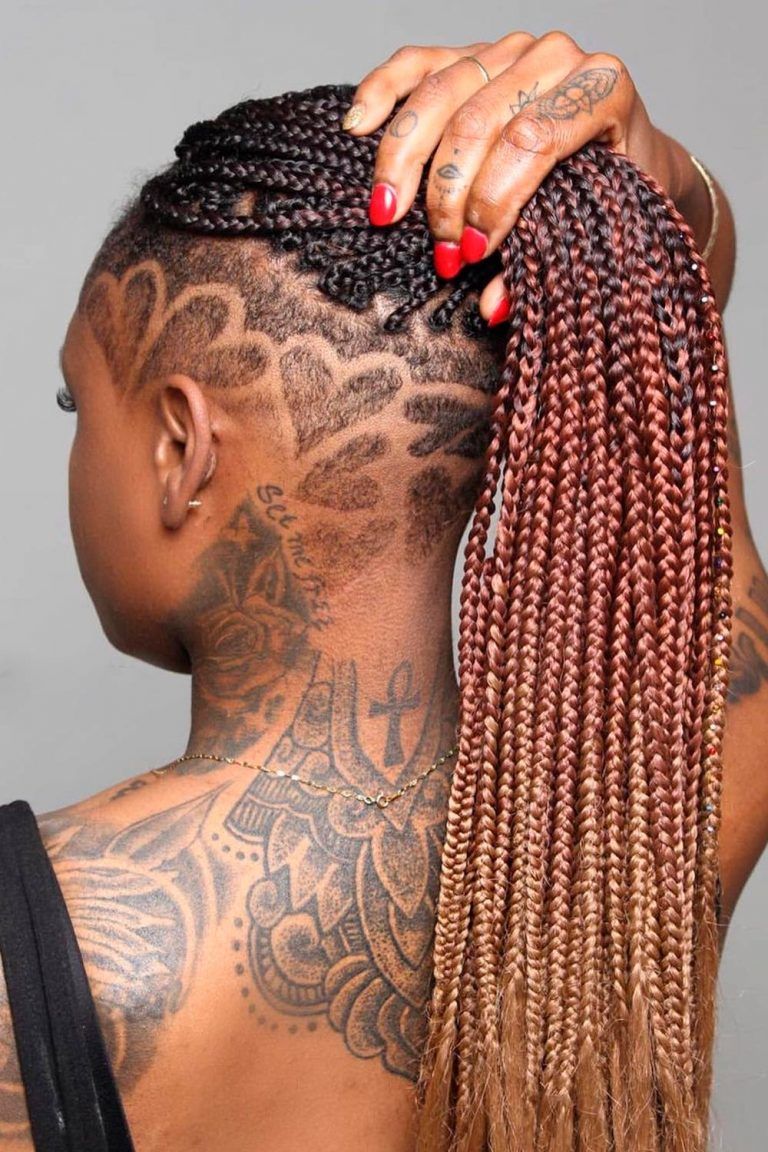 Credit photo: instagram.com/adrianfanus
Box braids are one of the most popular protective hairstyles for curly hair. Not only do they create an intricate and eye catching pattern on your head, but they are also pretty versatile. Even though traditionally you should divide your hair into square sections, you can play around with the look and go for triangles, diamonds or even more complex shapes.
Cornrow Braids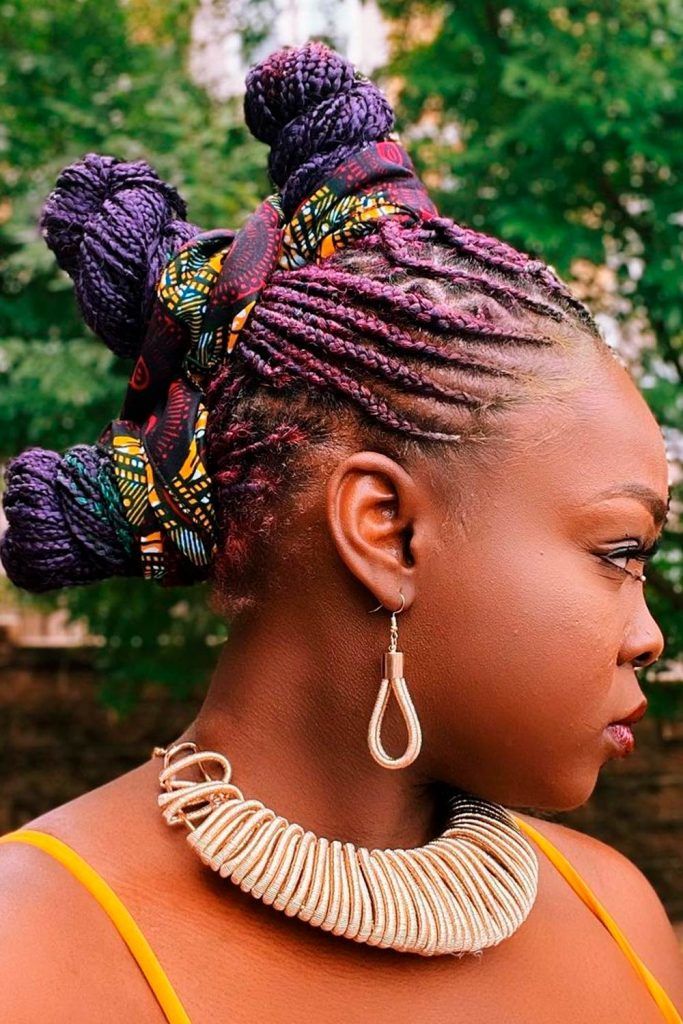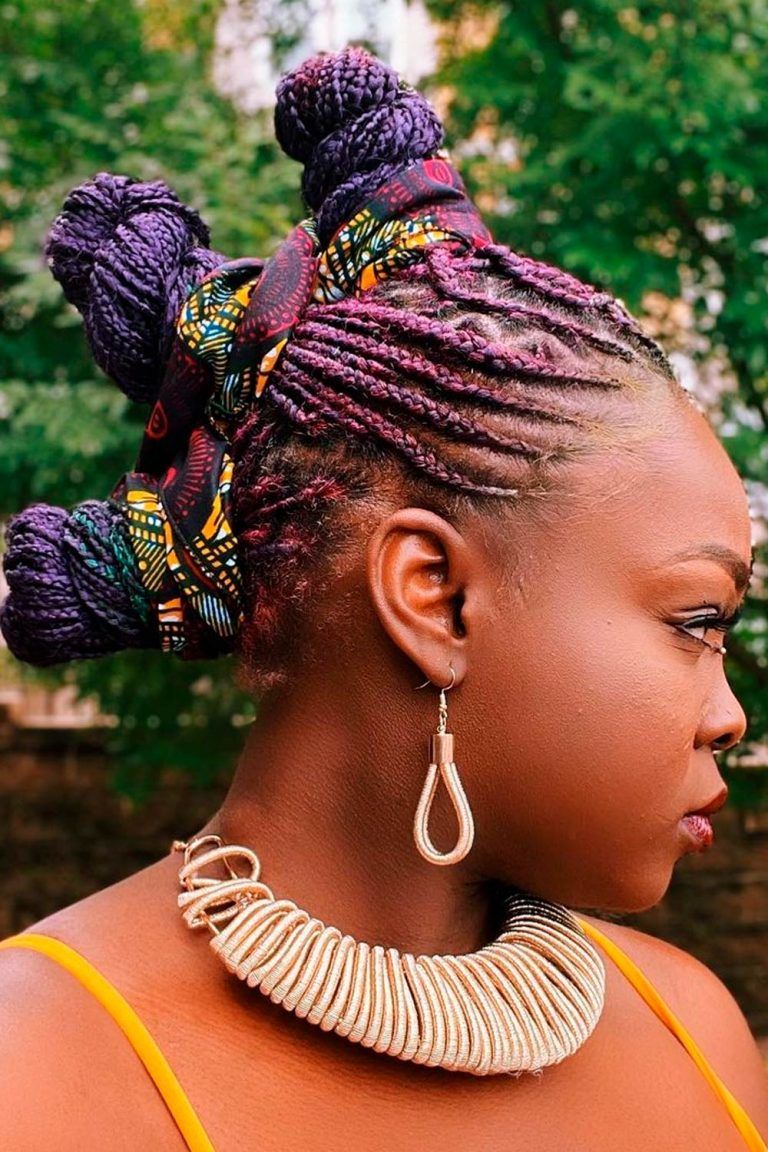 Credit photo: instagram.com/africancreature
With cornrow braids, your kinks both are safe from damage and look amazing. If your braider is skilled enough, you can ask them for more elaborate braiding to get a unique look. Plus, the braids can be performed in a number of different ways and accentuated with various accessories: beads, rings, tinsels to name a few.
Crochet Braids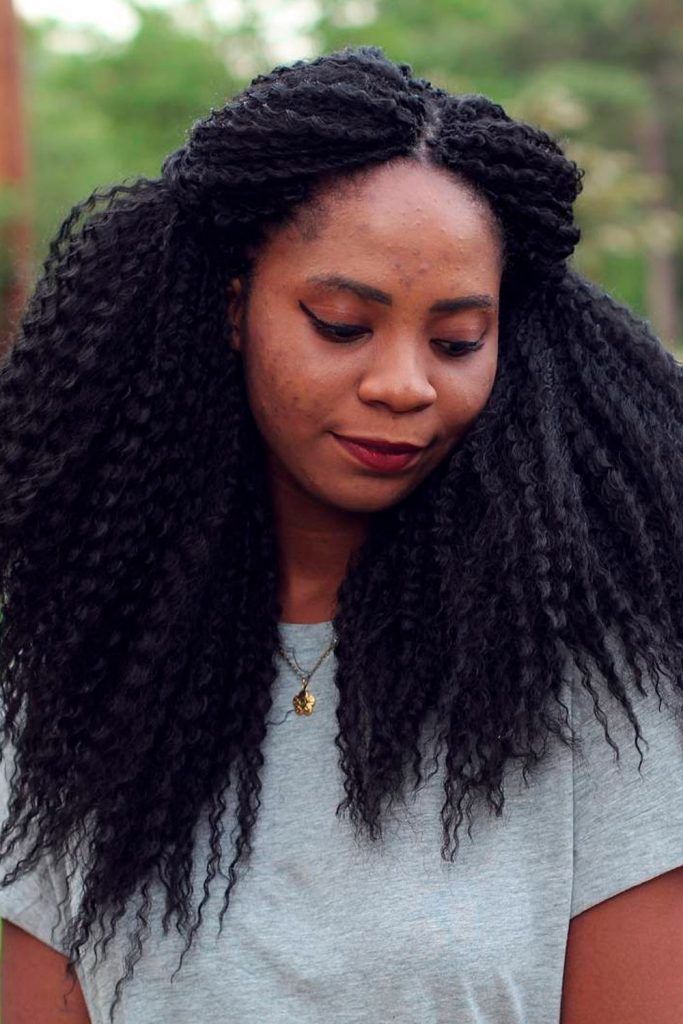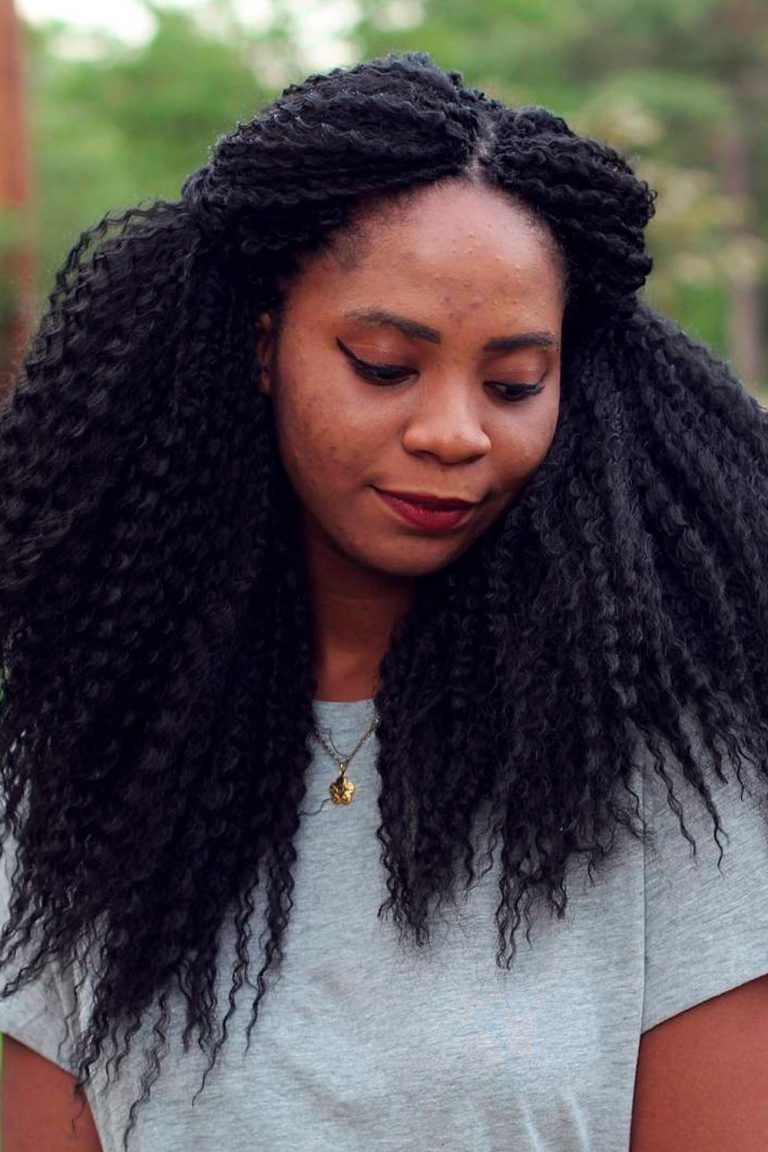 Credit photo: instagram.com/aggie_hair
Crochet braids are a great option for those women who struggle to grow long locks. As these are basically hair extensions that are attached to your natural hair with the help of a crochet hook, you can go for any length and color option.
Senegalese Twist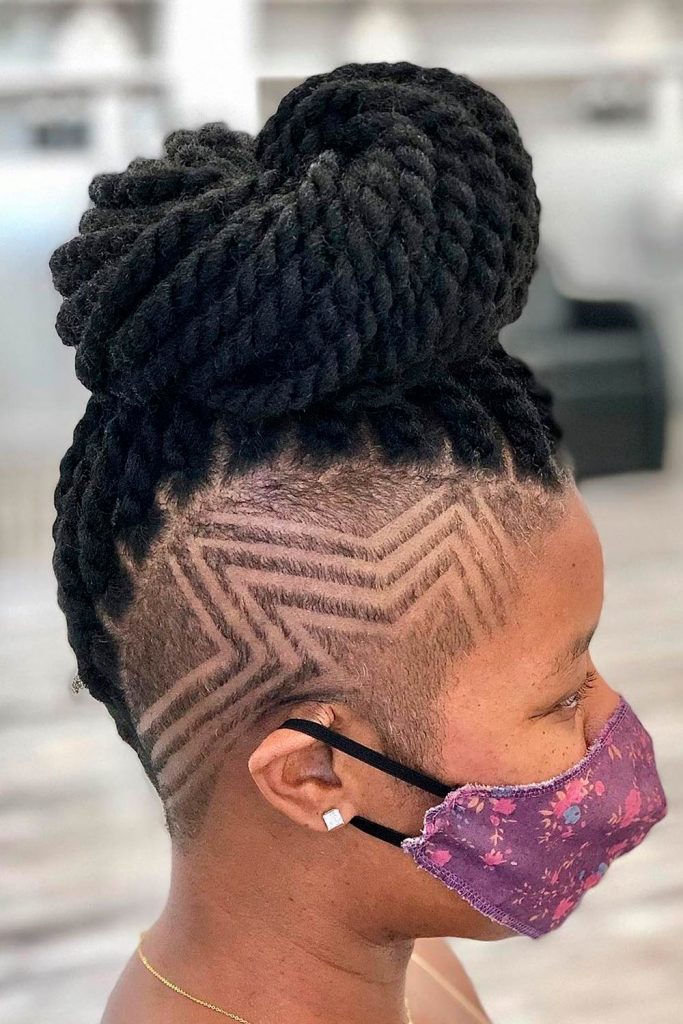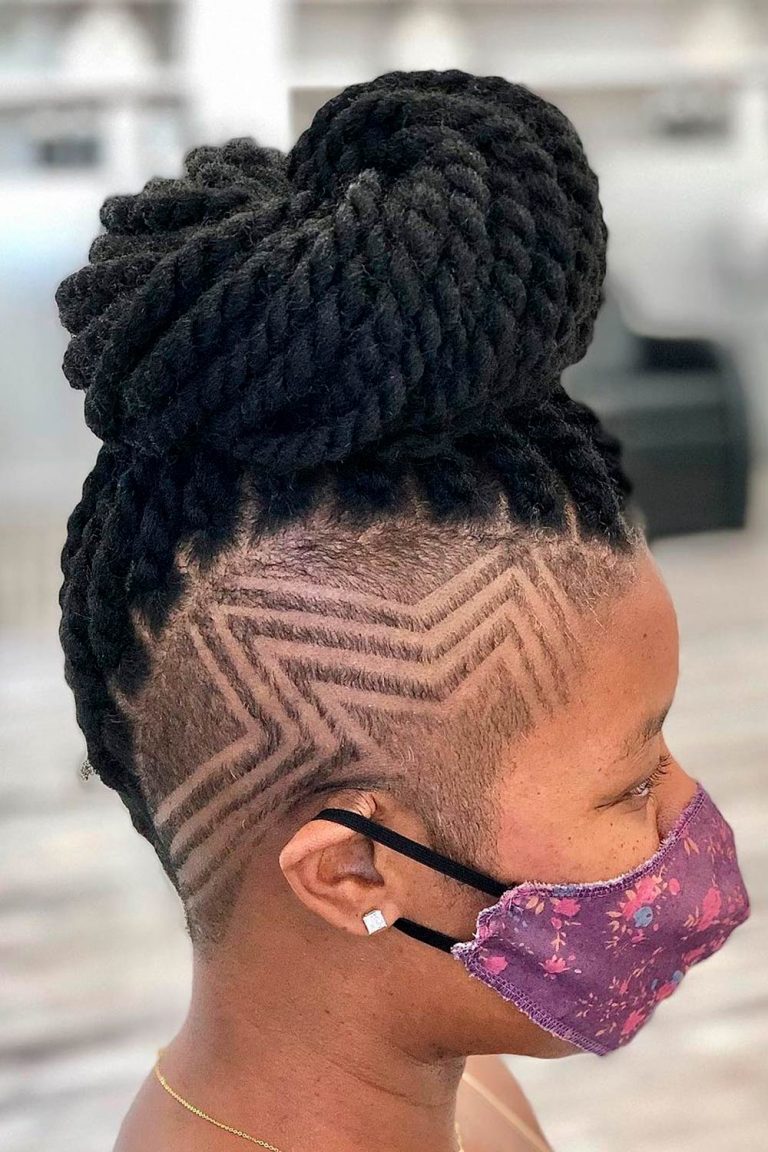 Credit photo: instagram.com/adrianfanus
The Senegalese twist is one of the easiest protective styles, as it basically consists of multiple rope braids. With some practice, you will even be able to braid your own hair. What is more, it can be styled in a wide range of hair looks, such as a top knot, a ponytail, a bun and suchlike.
Goddess Braids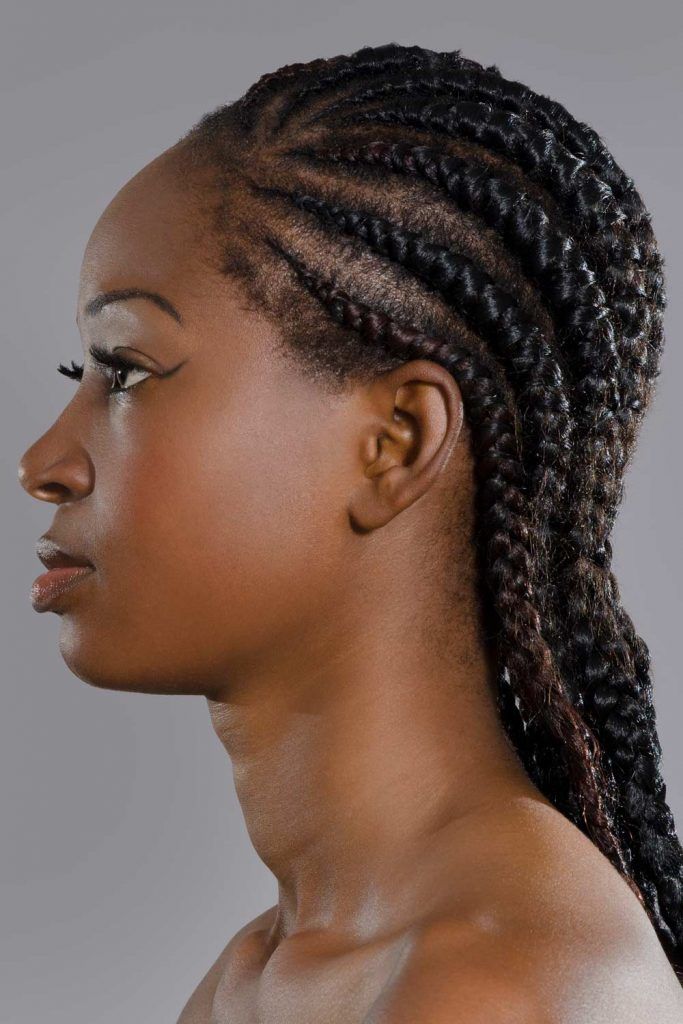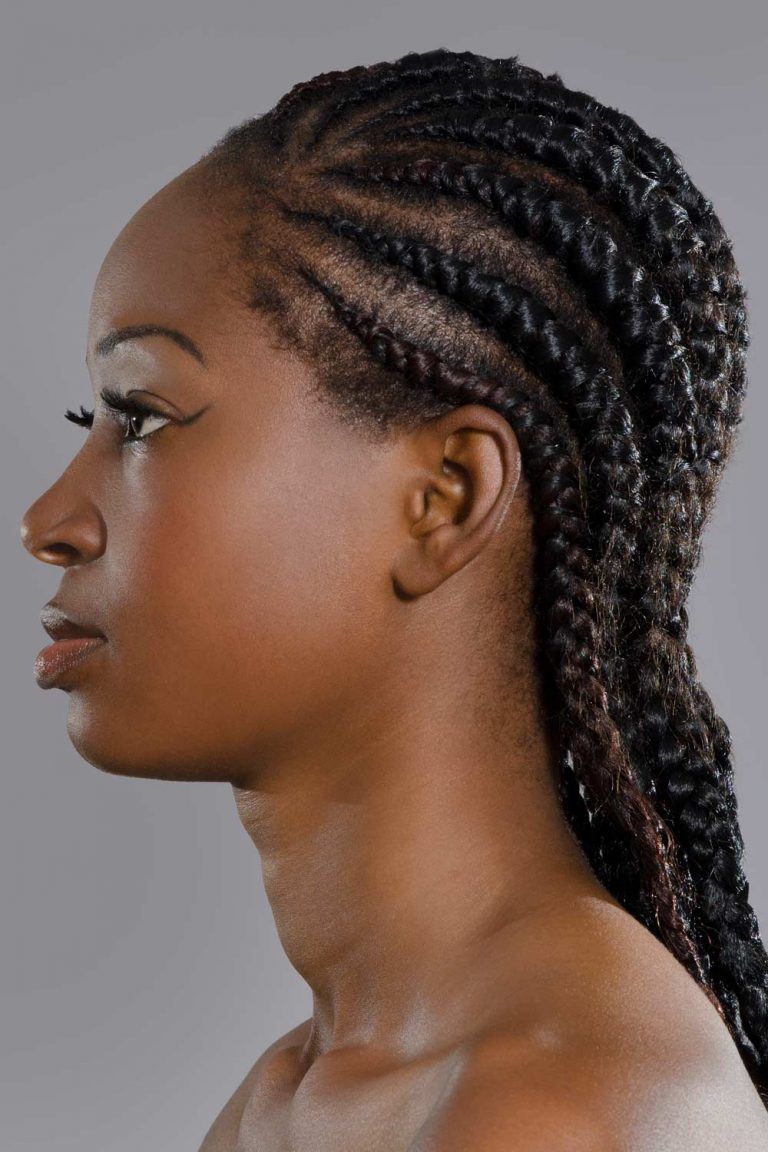 You may want to try goddess braids only for the sake of their name. Who would not want to sport a hairstyle that associates you with a goddess? Especially since they are a bit easier to create than say, cornrow braids. Yet, they look just as good as any other protective style.
Micro Braids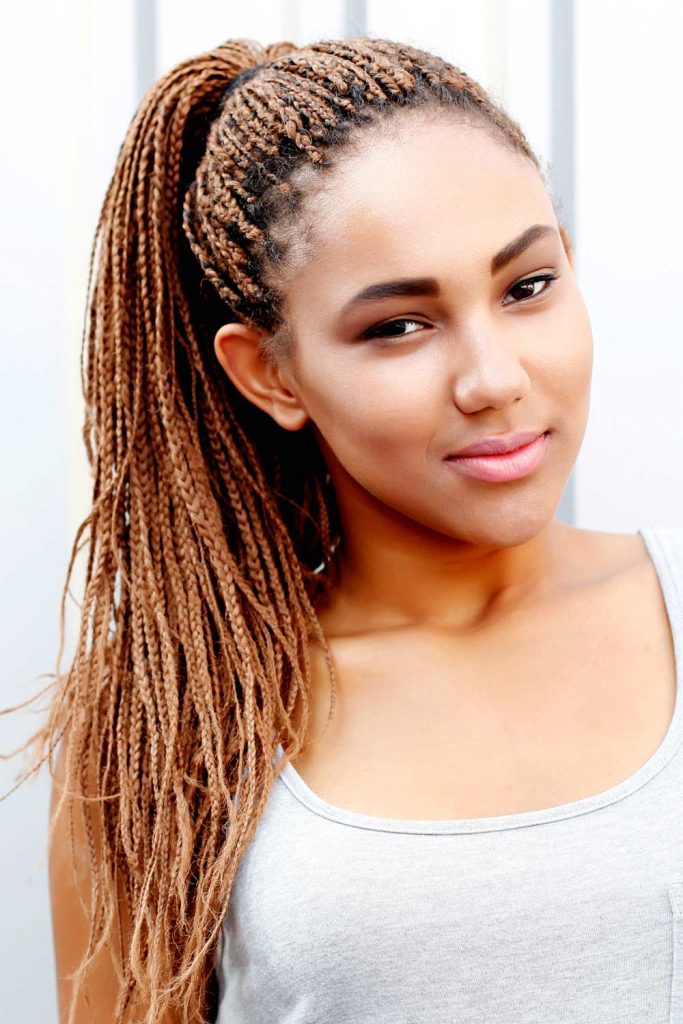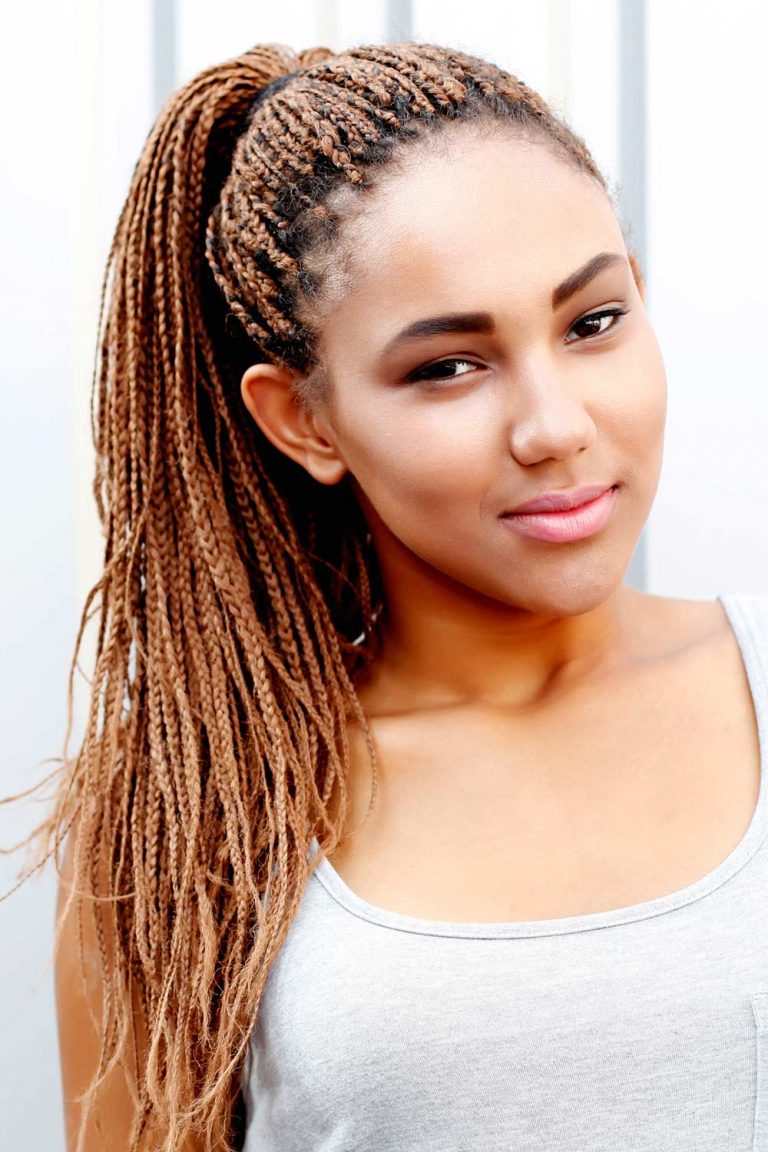 If you and your braider have enough patience and persistence, then micro braids are your way to go. While they are quite time consuming, they will certainly pay you off not only with the awe inspiring look but also with the longevity of the style.
Fulani braids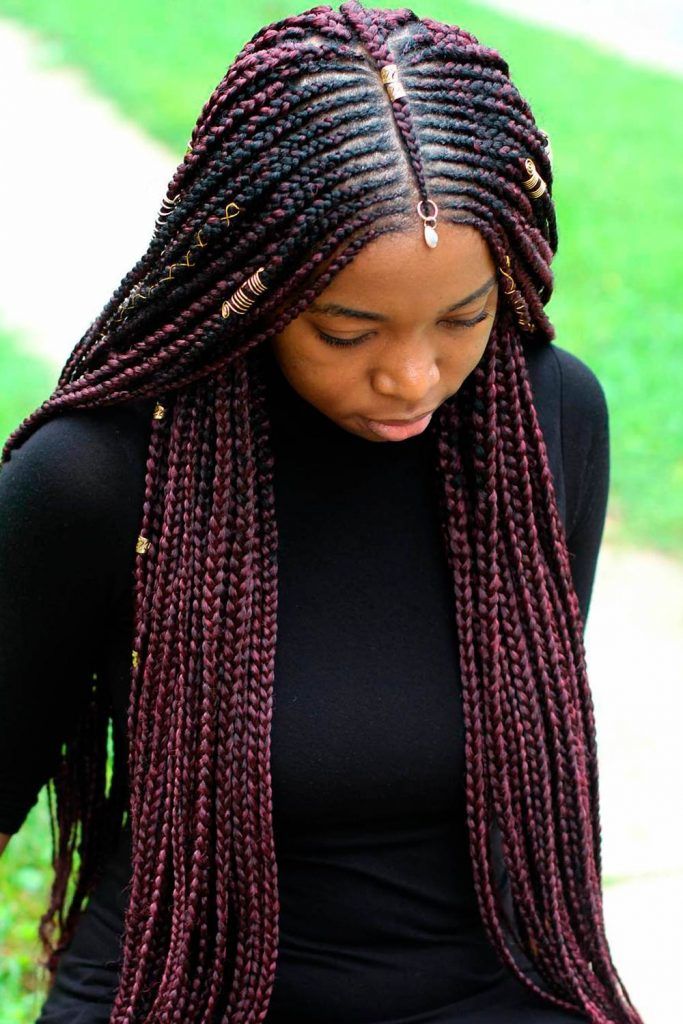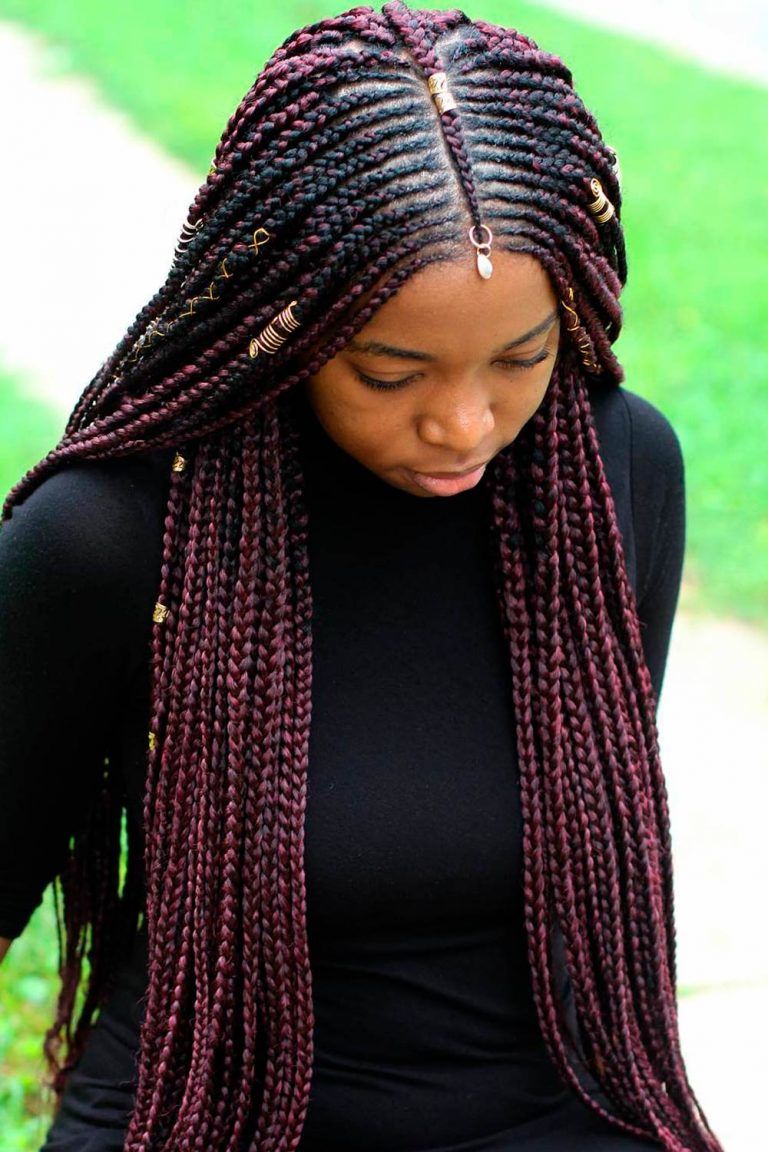 Credit photo: instagram.com/aggie_hair
Fulani braids have very distinct characteristics that make them stand out from other protective styles – a long cornrow braid that starts at the front and goes down to your nape through the center of your head, thus creating a kind of center parting. The rest of the hair can be braided in a plethora of styles.
Lemonade Braids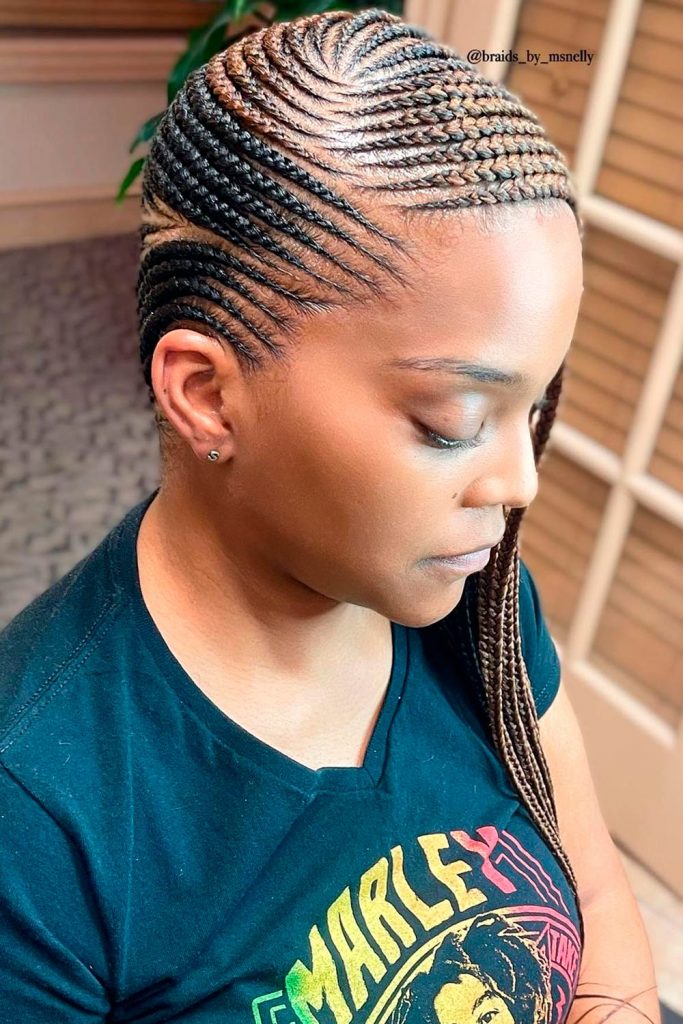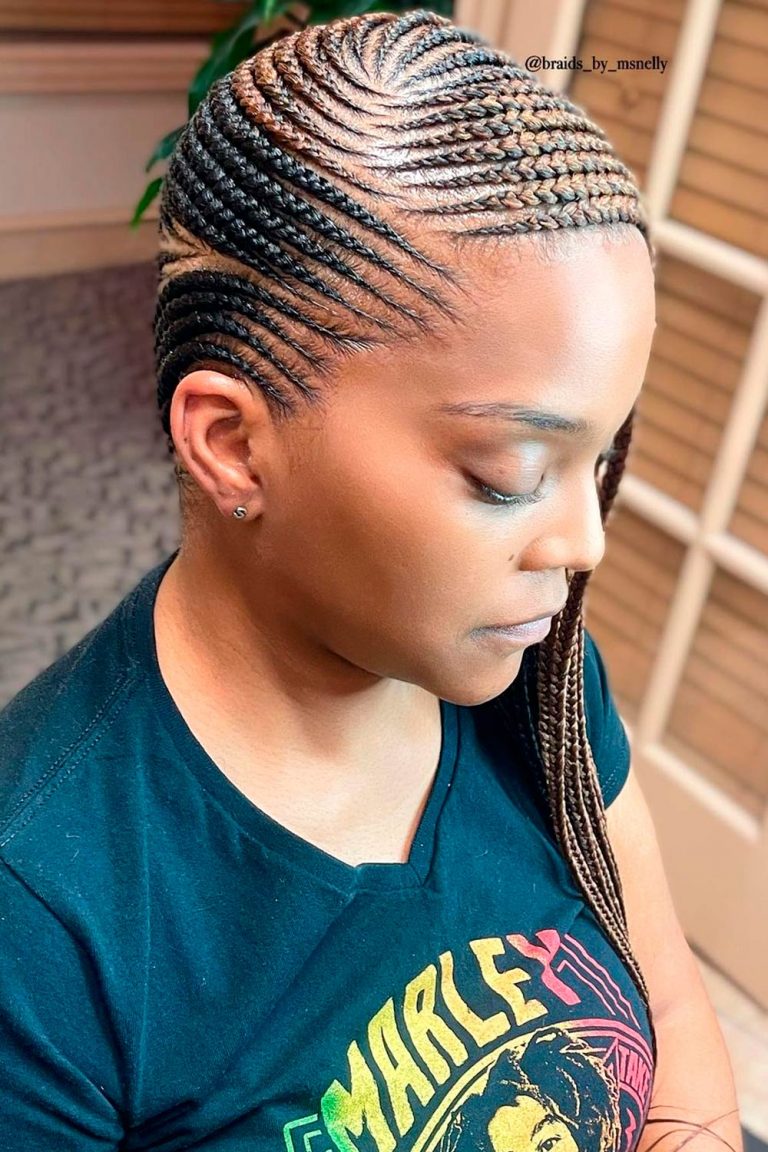 Credit photo: instagram.com/braids_by_msnelly
If you have not heard about Lemonade braids, then you are missing out much. This jaw dropping hairstyle was popularized by the one and only Queen B, aka Beyonce, and named after her studio album Lemonade. Whereas the style is based on regular cornrow braids, the R&B diva takes it to a whole new level.
Sisterlocks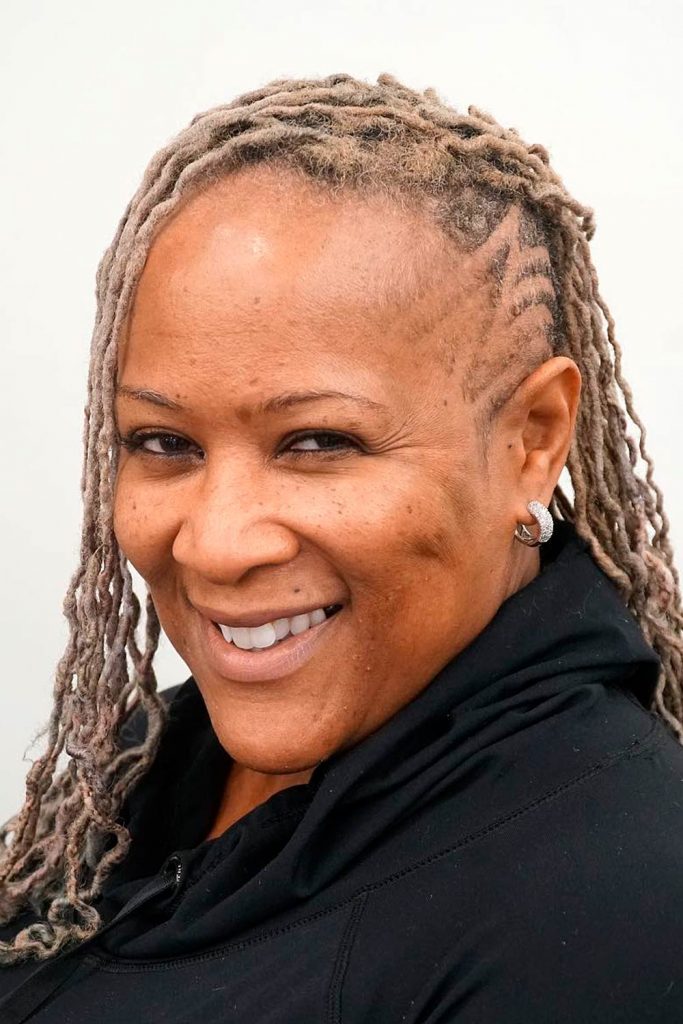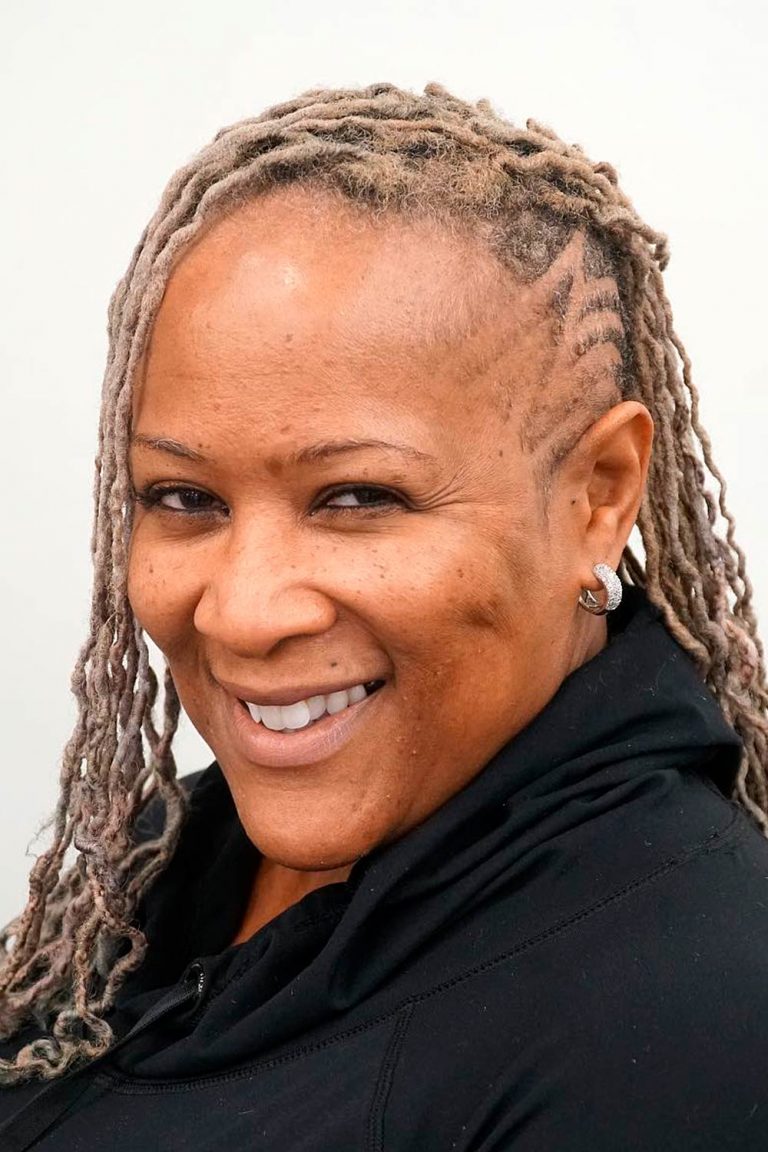 Credit photo: instagram.com/adrianfanus
Sisterlocks are among the most common summer protective hairstyles. They are beautiful, trendy and quite low maintenance. As you create the look with the help of the interlocking technique, the strands remain soft and flexible. Also, because they are so narrow, they look natural and low key.
Knotless Braids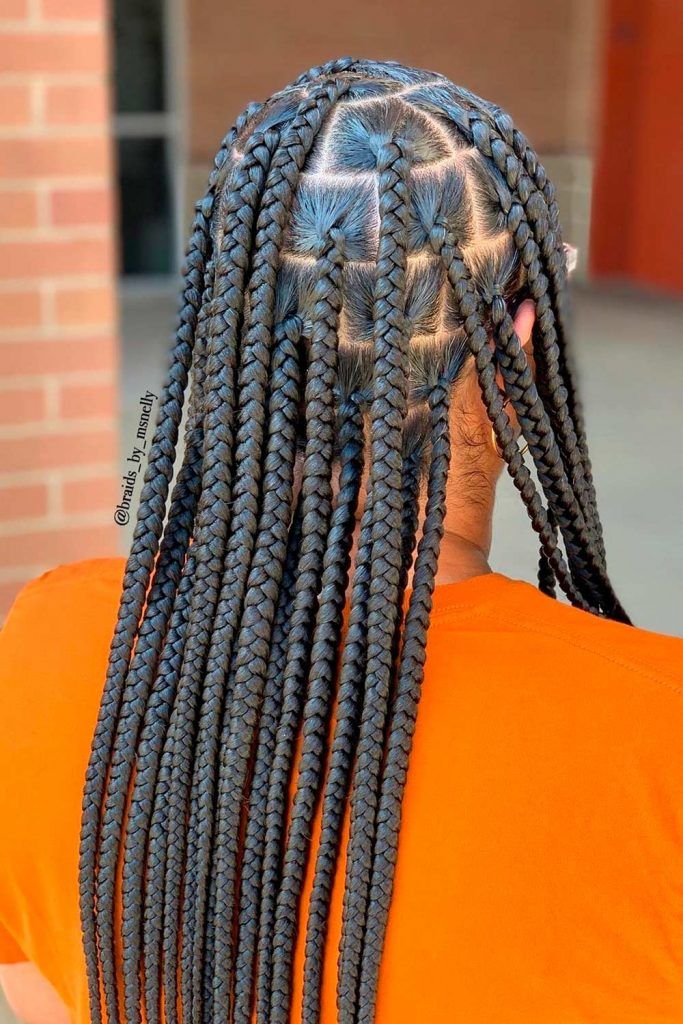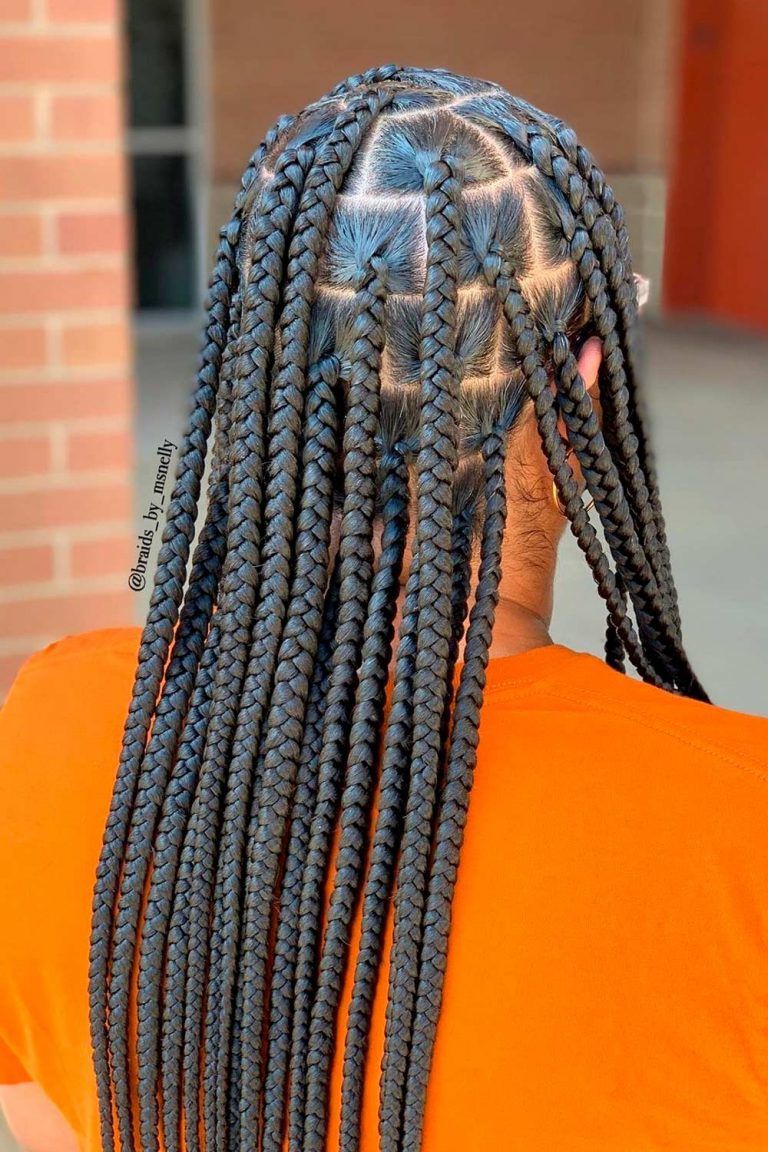 Credit photo: instagram.com/braids_by_msnelly
Knotless braids are a variation of classic box braids. While these two types of braids look pretty similar, their main difference is in the beginning of the braid. As you can guess from the name, a knotless braid does not start with a knot tied at your roots, which means that there is less strain.
With protective hairstyles, your locks are guaranteed to be healthy and hydrated. Yet, you should not be afraid that you are going to be limited in styling. As you can tell, there are plenty of trendy and fun protective styles to choose from. All you have to do now is to pick out the one that resonates with you most.
FAQ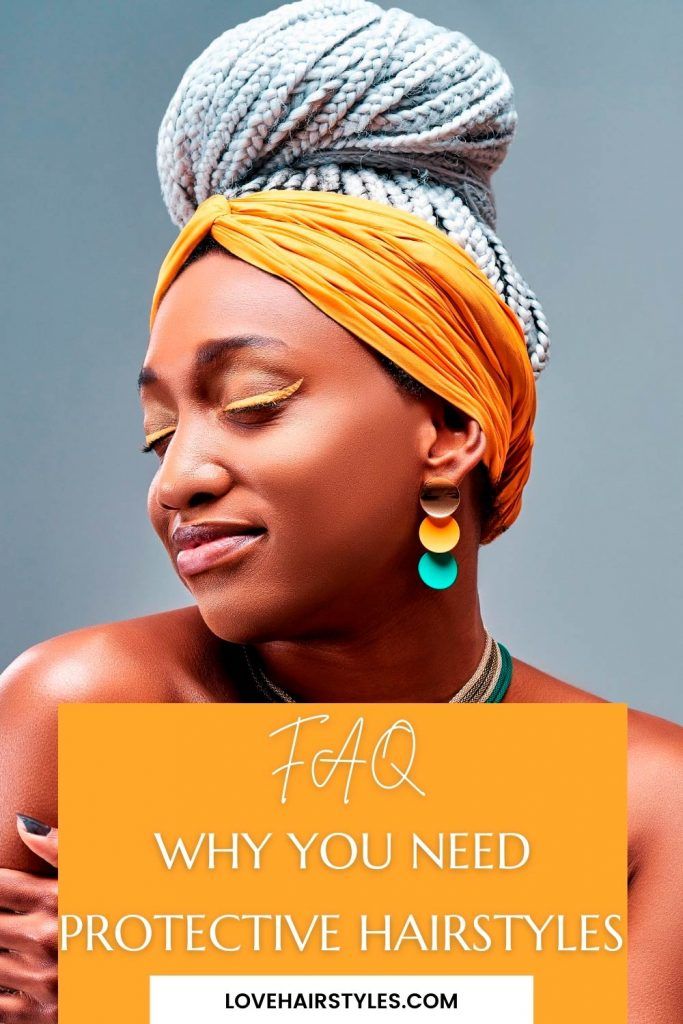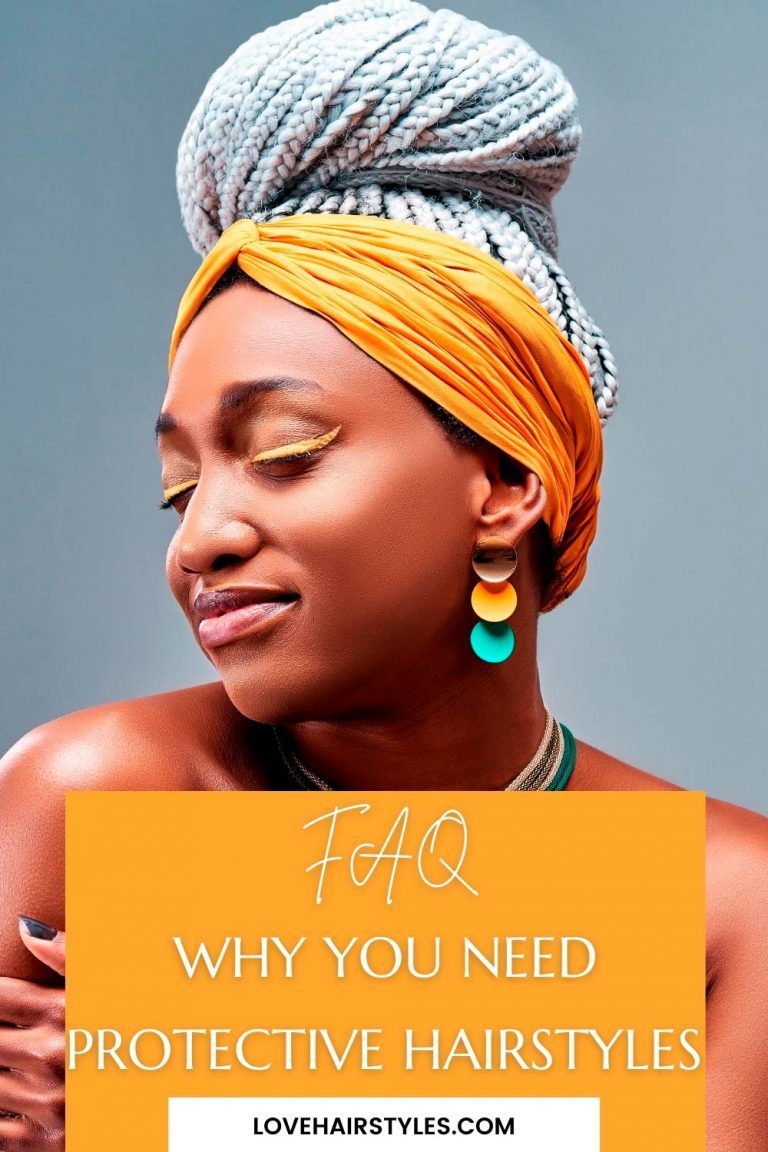 Do protective styles help hair grow?
Protective hairstyles can indeed help your hair to grow longer, as they stop it from breaking, tangling and matting. So, if you are dreaming about a long main, getting a protective style is a really good idea.
What protective style lasts the longest?
The most long lasting protective hair look is a box braids style. Because it does not require much maintenance, you can rock it over a longer period of time than the majority of other protective hairstyles.
How long should you let your hair breathe after braids?
After taking braids out, you should allow your locks 3-7 days to restore and breathe. If you have had a natural protective hairstyle, 1-2 days will be enough.
REFERENCES:
Protective hairstyles for natural hair. Source
Was this article helpful?