Fulani Braids Are The Hottest Protective Trend Of Now!
Most teens would probably associate Fulani braids with pop icons from the era of MTV blowout. But, in fact, the hairstyle is a part of cultural heritage of Fulani people - a Muslim group from West Africa. Well, we can't blame them for the misconception of Fulani braids origin, as this ethnic style has spread its popularity all over the globe, giving natural hair movement another braided trend.
ADVERTISEMENT ‧ CONTINUE READING BELOW
It just so happens that this type of braided hairstyles has become the most requested amongst women of color, who, in their turn, have created lots of stunning Fulani variations. Today you are going to find out why the once popular crochet braids are taking a backseat: see the latest ethnic hairstyles!
What Are Fulani Braids?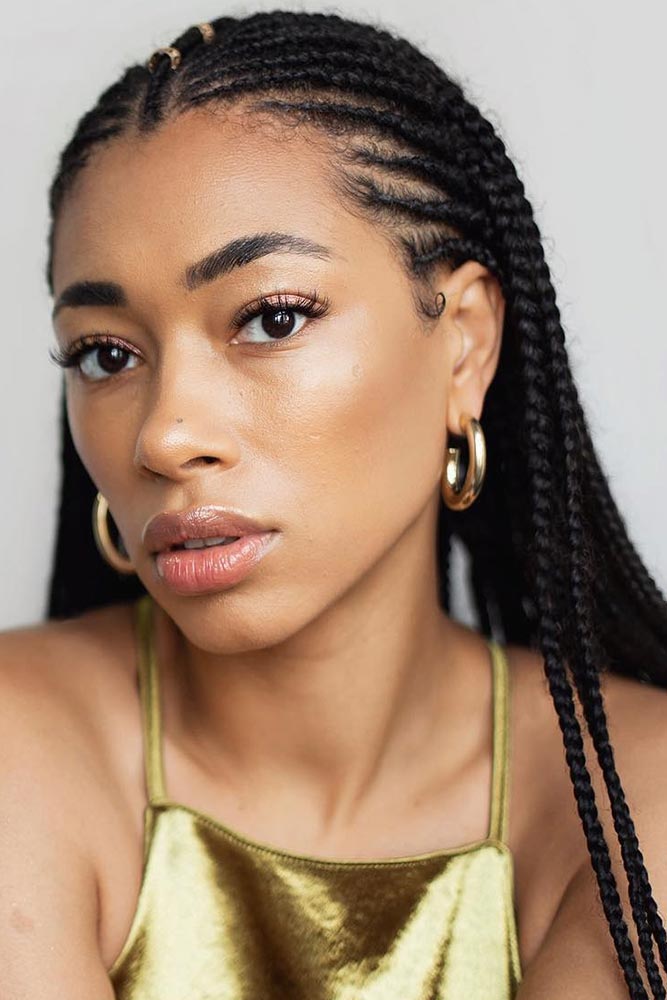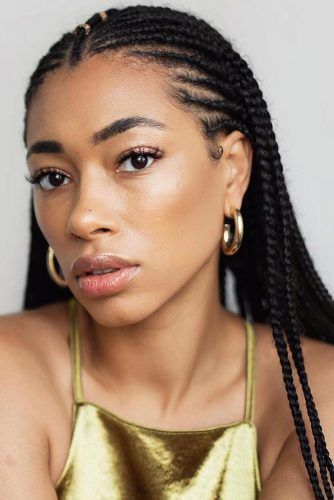 Source: freshlengths via Instagram
"What are Fulani braids and how do they differ from other protective hairstyles?" you may ask. Well, the pattern of the style is its distinctive feature. If you see that a braided style has a cornrow that stretches from the front to the back, moving down the center, you can be sure it's one of Fulani braids styles. Beads and ethnic accessories are another prominent characteristics. Also, the classic Fulani pattern often features a couple of side cornrow braids that are braided from back to front and a wrapped braid that goes along the head.
"How long do Fulani braids last?" is the common question among those who are about to rock the style. Since it's a protective style, you can wear it for 3-4 weeks. Your braids can turn into many different hairstyles: bigger braids, updos, half-ups. And your task is to moisturize your hair and scalp regularly so that each style is well-groomed.
ADVERTISEMENT ‧ CONTINUE READING BELOW
Braided High Bun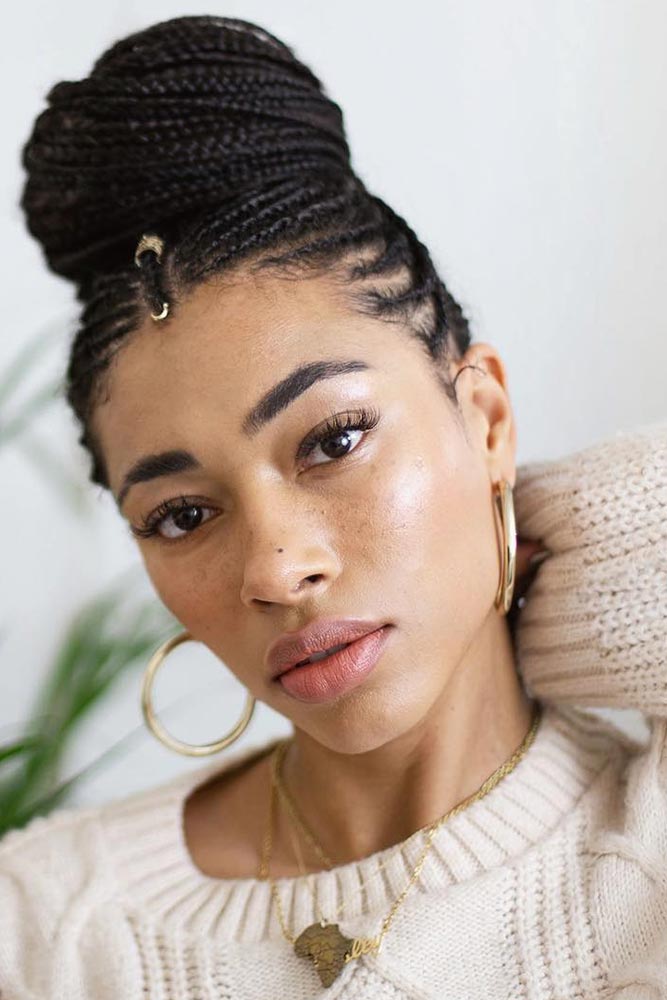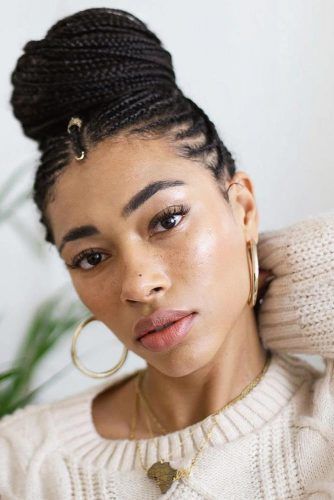 Source: freshlengths via Instagram
Once you put your Fulani braids in a bun, you will get the easiest and most feminine hairstyle at the same time. Though it's a simple updo, it looks pretty different: just place some beads to the center cornrow.
ADVERTISEMENT ‧ CONTINUE READING BELOW
Half-Up Space Buns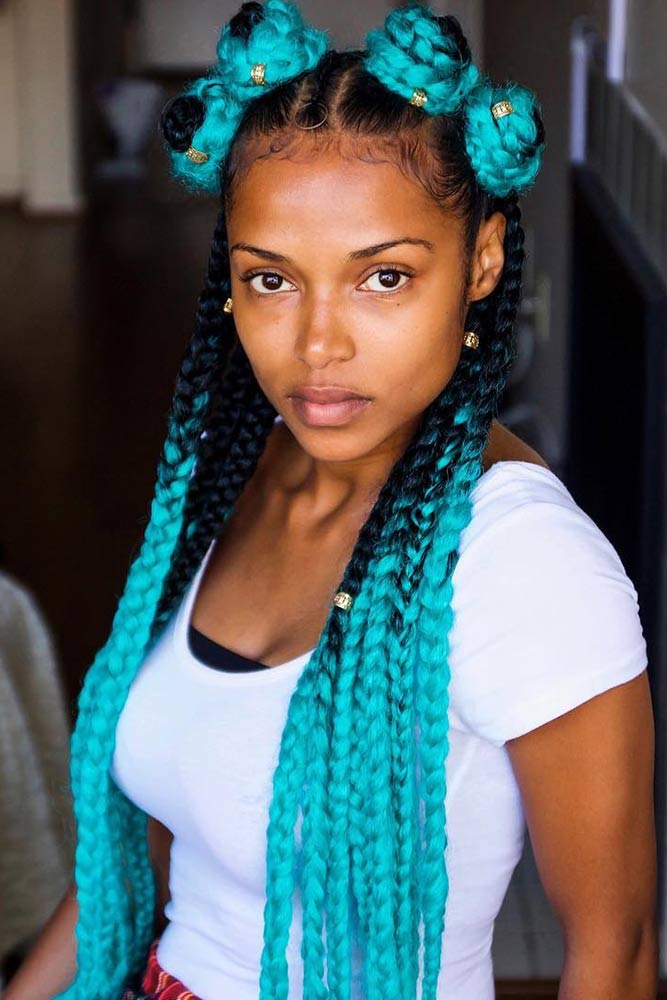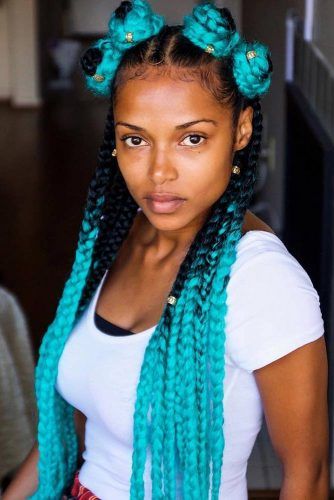 Source: kersti.pitre via Instagram
When you sport a distinctive style, why don't set your creativity into motion? You can create a crown of twists and finish the style with ombre Fulani braids using some colorful kanekalon tresses.
ADVERTISEMENT ‧ CONTINUE READING BELOW
Swept Back Styling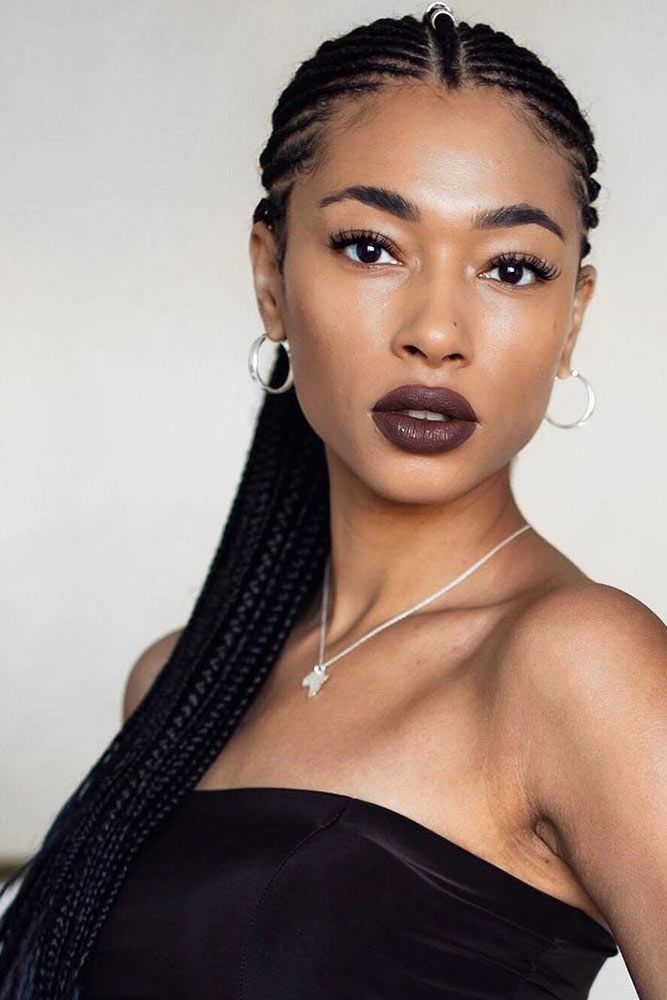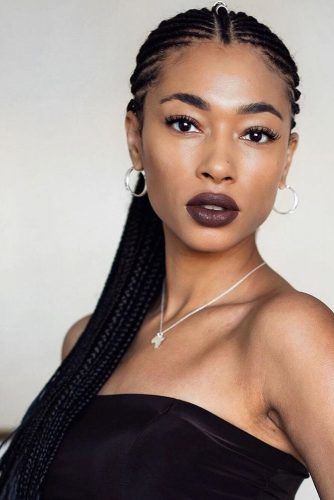 Source: freshlengths via Instagram
Who says that you can't go sleek and neat with braids? A swept back Fulani braids ponytail will still bring a sophisticated mood, grabbing more attention than usual due to the outstanding texture.
ADVERTISEMENT ‧ CONTINUE READING BELOW
Classic Fulani Braids Updo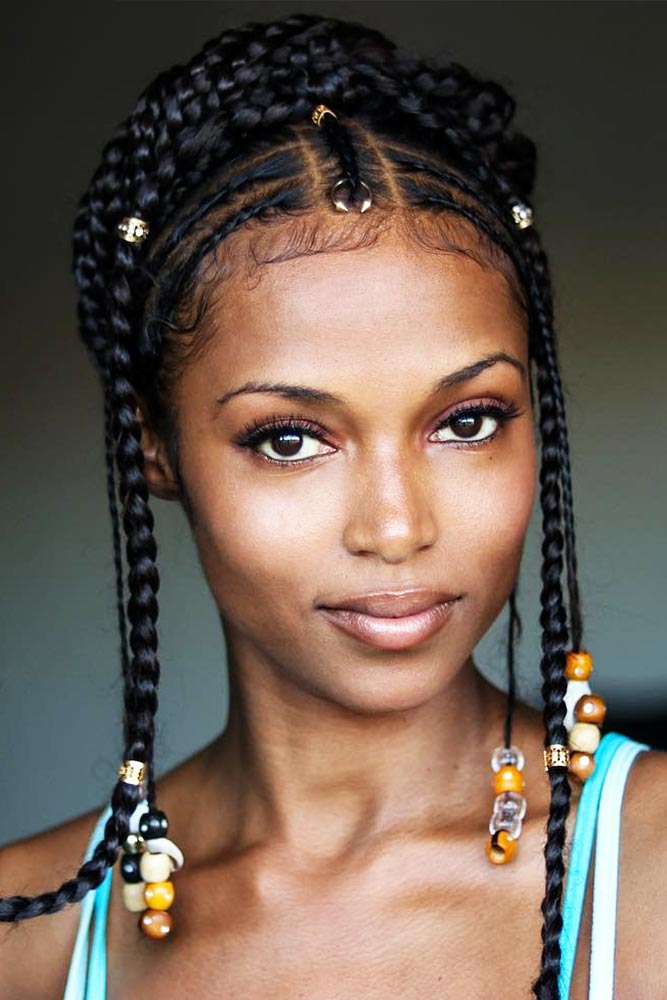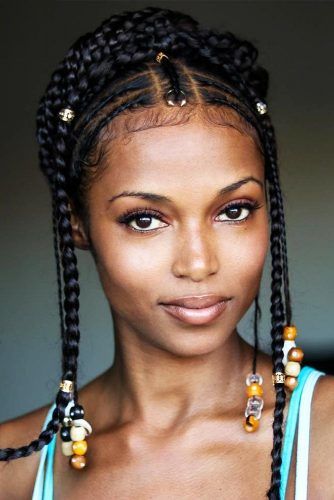 Source: kersti.pitre via Instagram
If you want to flaunt with an authentic ethnic hairstyle, you should stick to Fulani braids history. This idea is a perfect example of their classic version, so you can't go wrong with it.
Accessorized Fulani Braids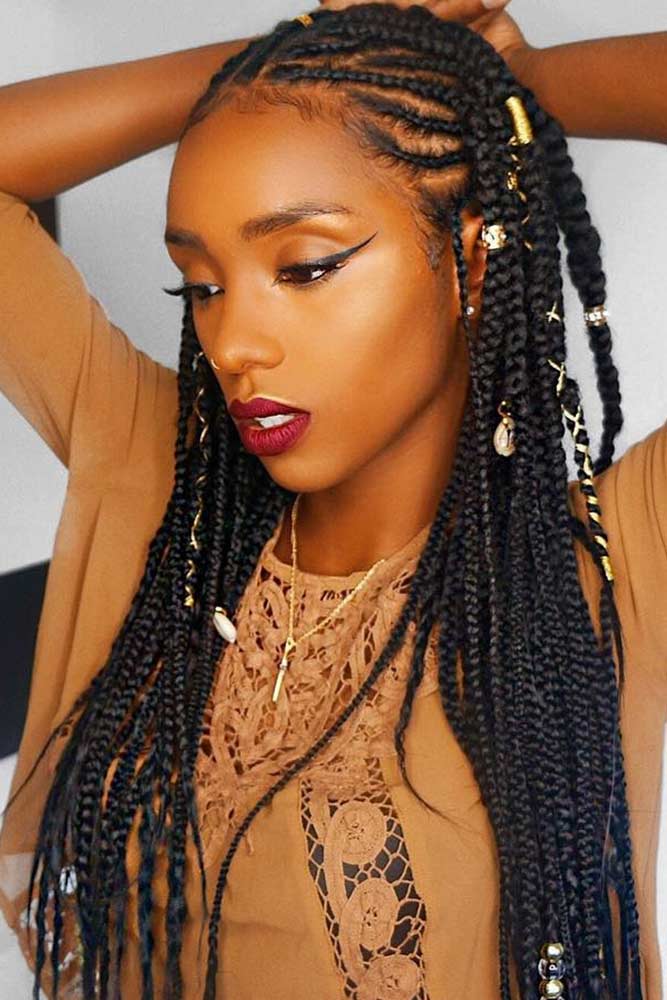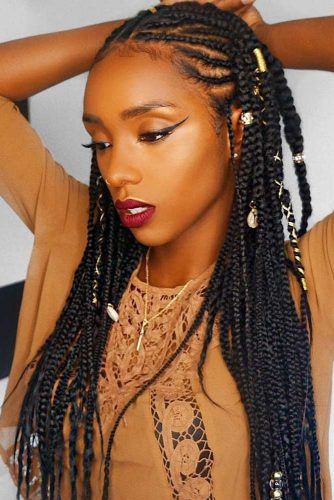 Source: lavishlybritt via Instagram
There are lots of ways of how to do Fulani braids and how to accessorize them, as well. It can be a heavy beaded composition placed at the ends or a strategic design; it's totally up to you.
Double Low Buns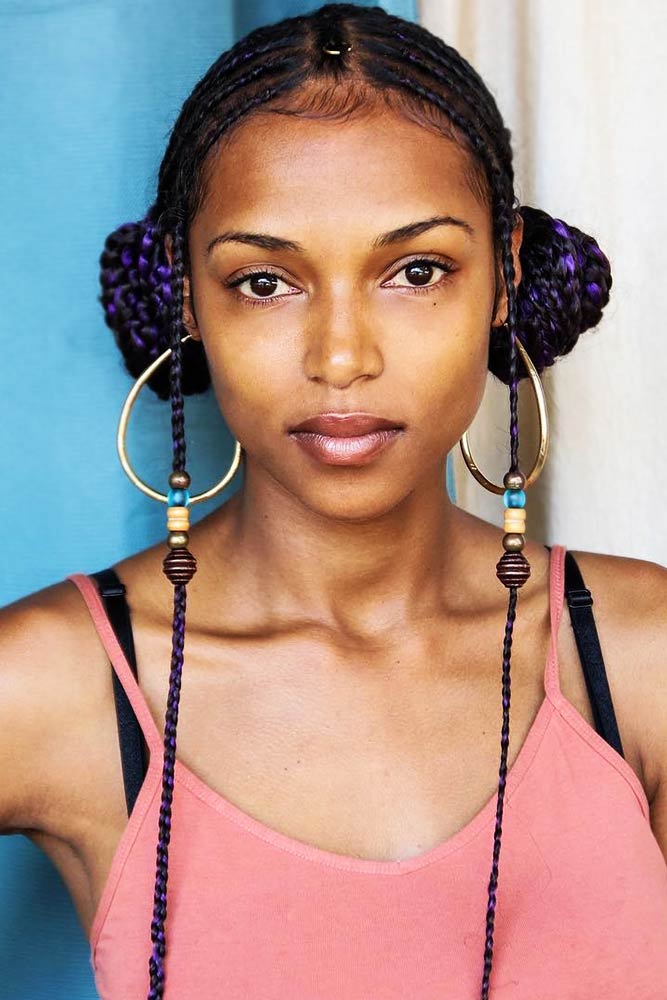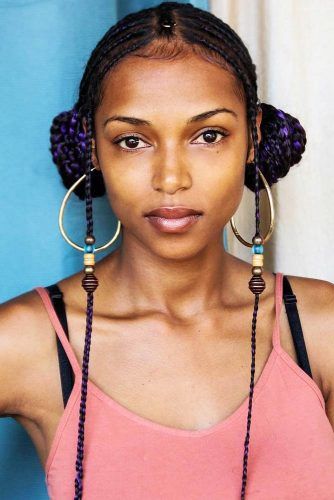 Source: kersti.pitre via Instagram
Twisting Fulani braids into two buns is enough to look at a simple style from a new perspective. With such a spectacular braided design and texture, double low buns will become one of your favorite styles.
ADVERTISEMENT ‧ CONTINUE READING BELOW
Half-Up Bun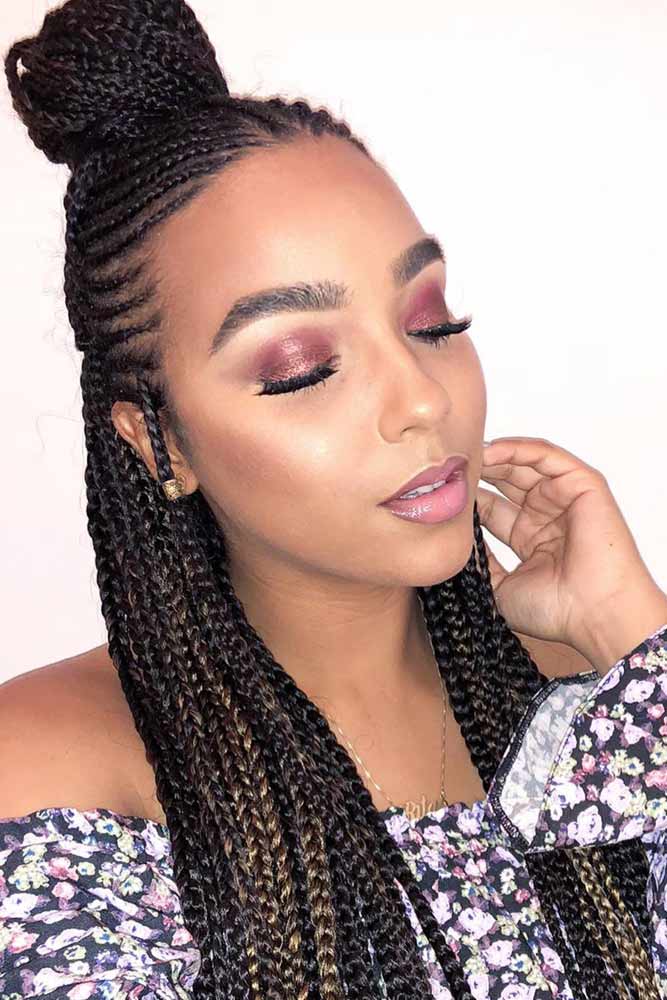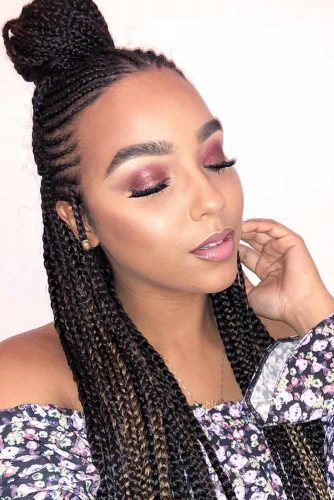 Source: lipstickncurls via Instagram
This is how awesomely you can look with a 5-minute hairstyle! There's nothing easier than twisting the top layer in a bun, especially if you are working with braids, yet, it looks absolutely gorgeous.
Fulani Braids Into Twisted Pony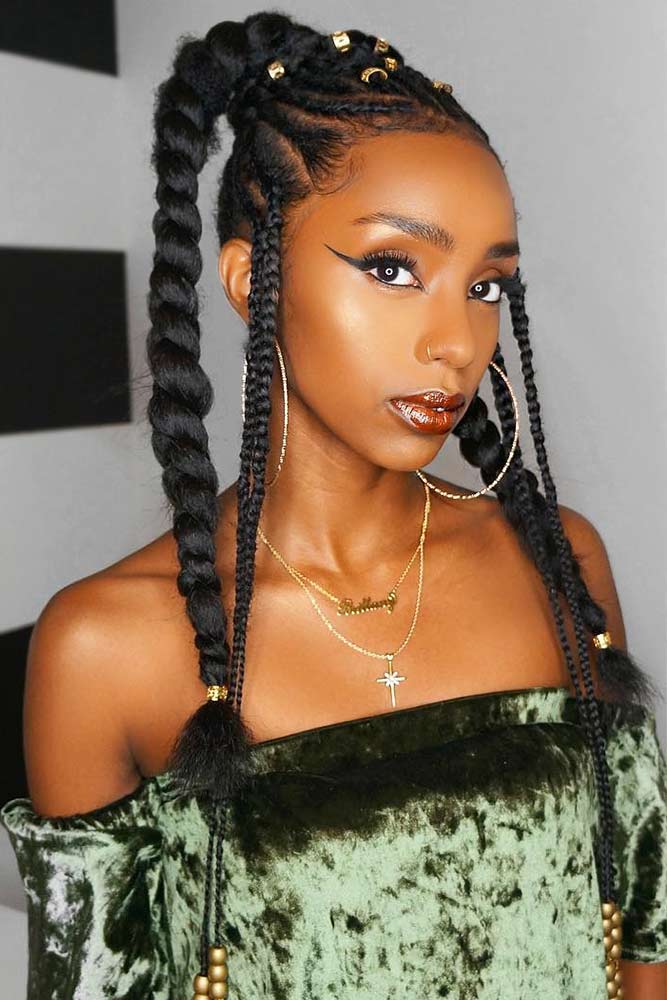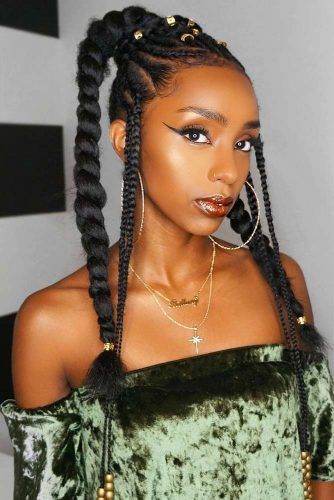 Source: lavishlybritt via Instagram
Not all of your locks should turn into braids. Besides the size and thickness, you can regulate the number of twists. As this idea suggests, you can simply spice up your texture with a couple of front braids.
Wavy Fulani Braids Styling With Beads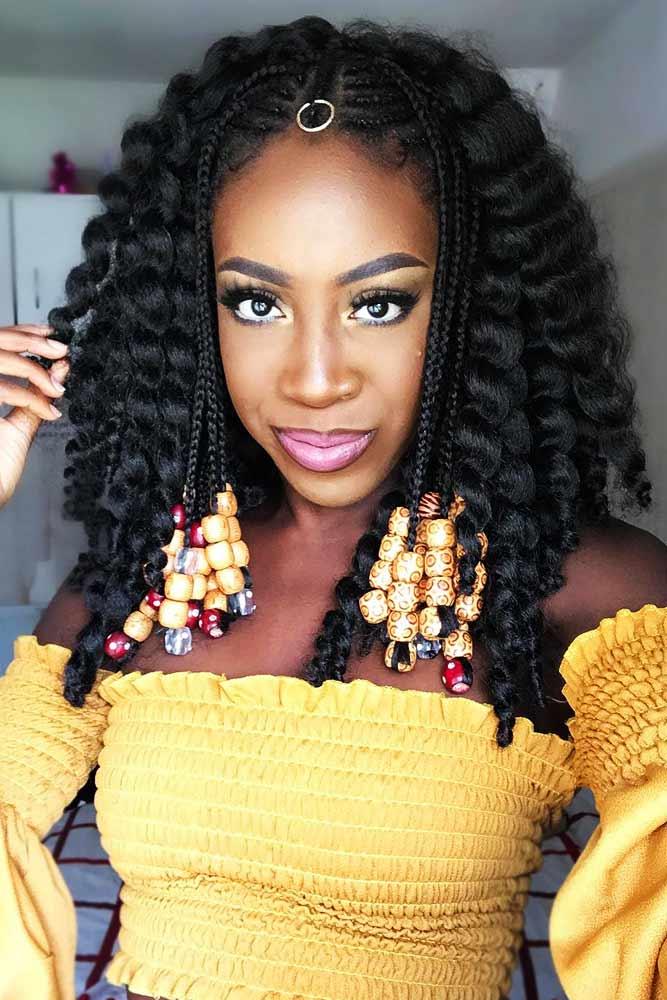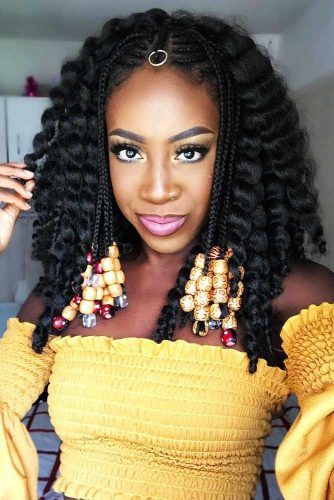 Source: sincerelyoghosa via Instagram
Here's another idea of texture experiments. Braids look unbelievable with wavy hair: these Fulani braids with beads look like a set of natural accessories for her voluminous chevelure.
ADVERTISEMENT ‧ CONTINUE READING BELOW
Braided Ponytail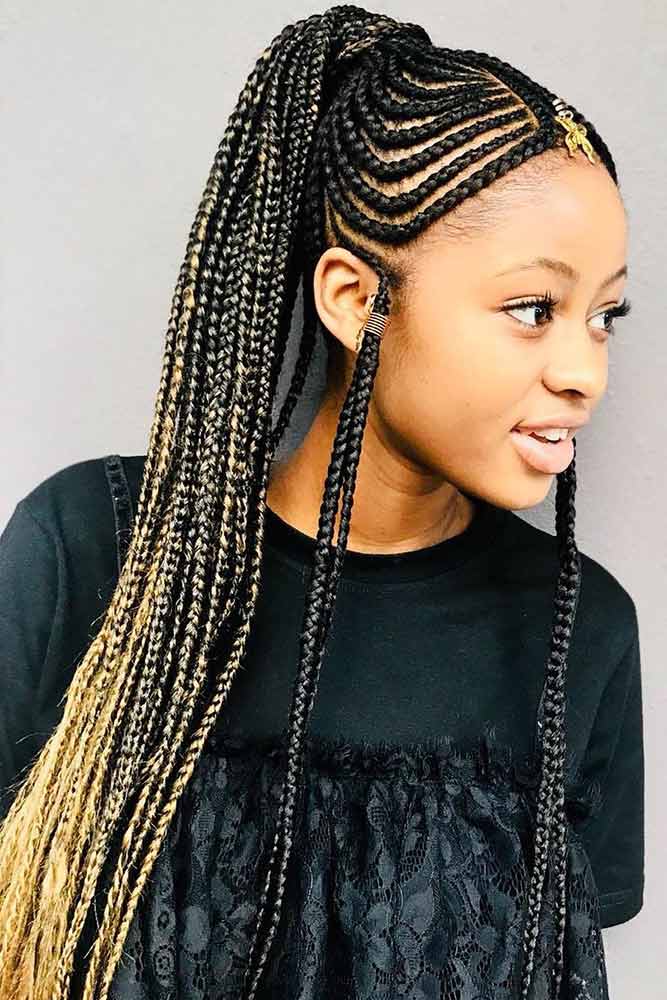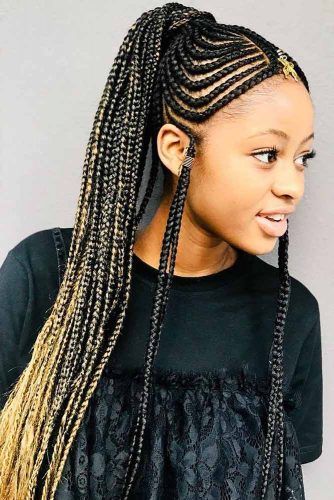 Source: fancy_claws via Instagram
Long Fulani braids can be anything you want them to be! And the best thing is that they can make you fall back in love with such a common, familiar hairstyle as the ponytail.
Fulani Braids With Afro Hair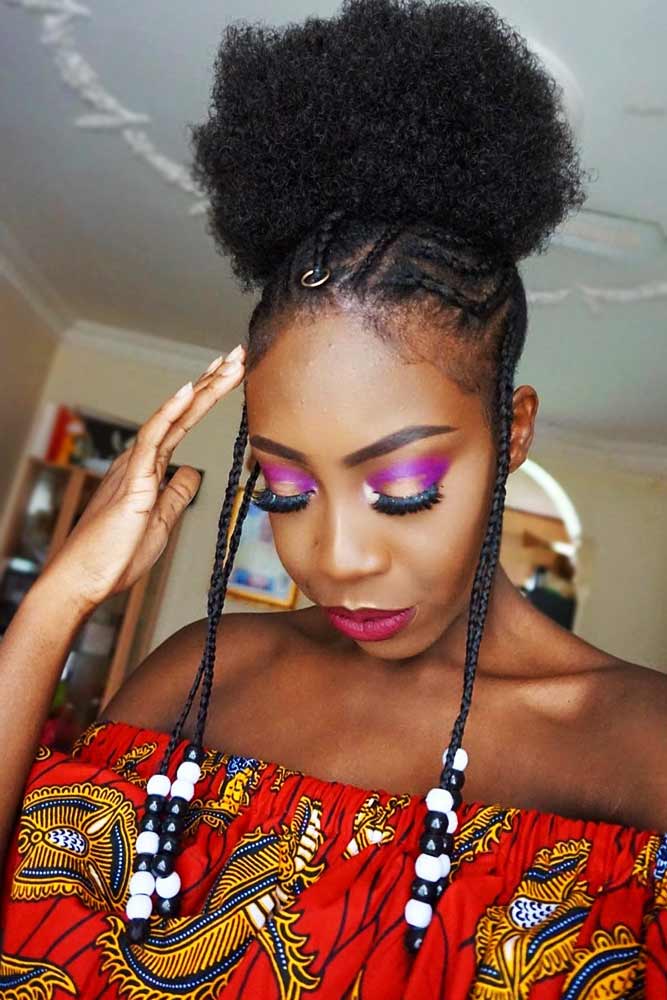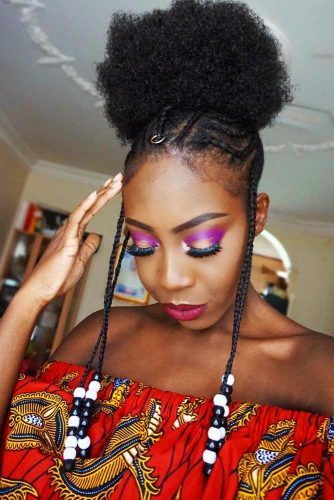 Source: sincerelyoghosa via Instagram
How about you to catch people's eyes with the charm of contrast? The tight crown and puffy top are a nice duo that can emphasize the beauty of your hair texture.
Double Ponytails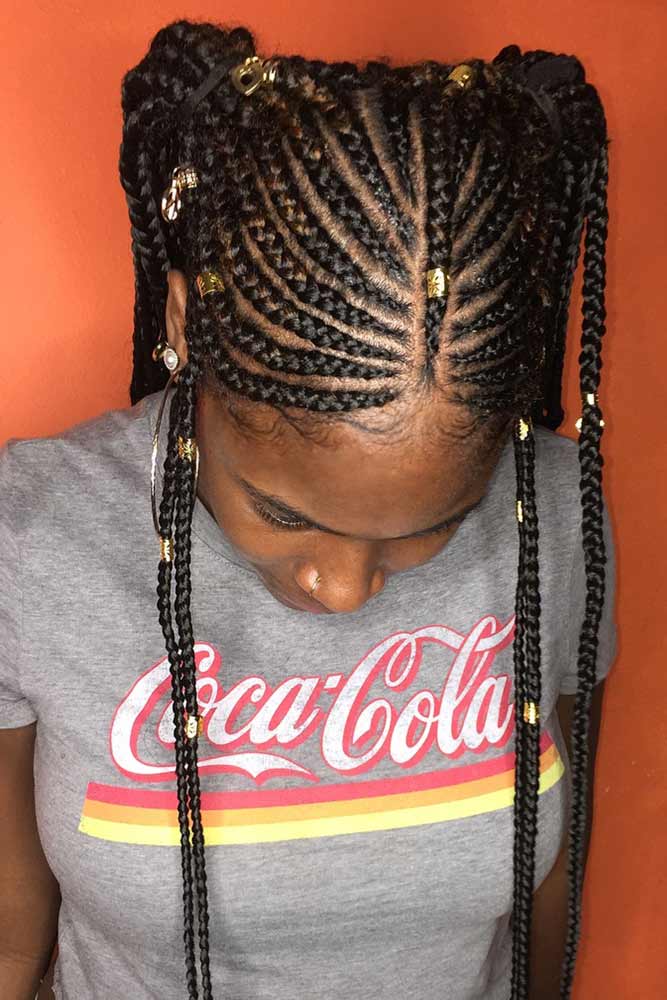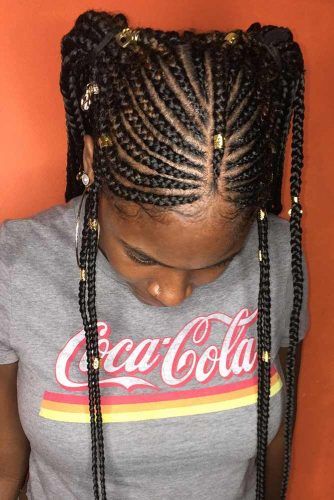 Source: maya_giftedhands_ via Instagram
Meet the variation of Fulani braids kids will never stop adoring. It's a very fun and playful idea for girls who like to stand out in the crowd. Not all the ladies can rock such a style, right?
ADVERTISEMENT ‧ CONTINUE READING BELOW
Half-Up Double Buns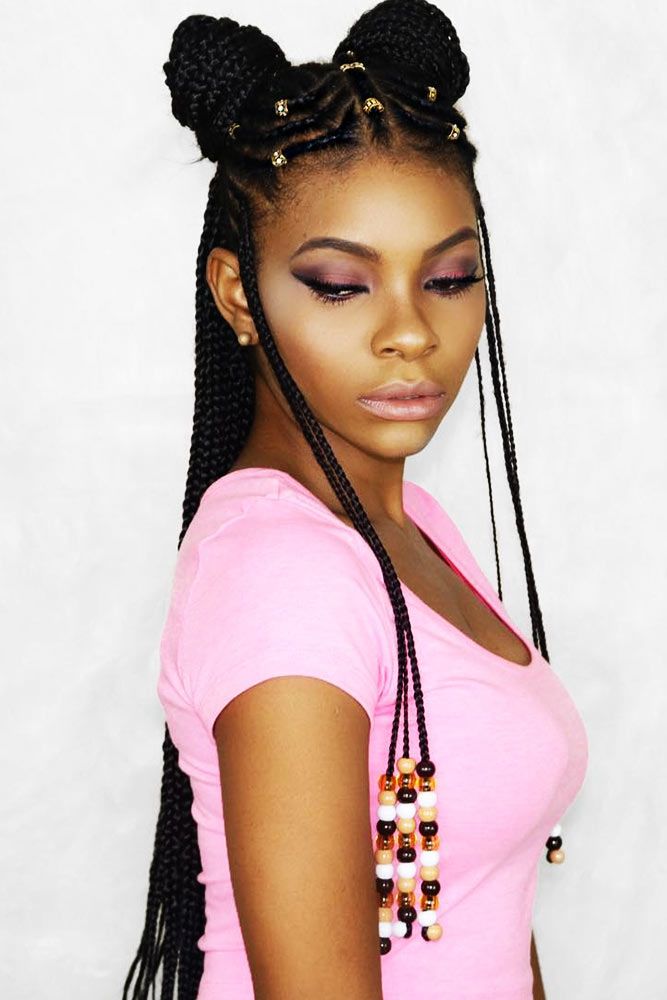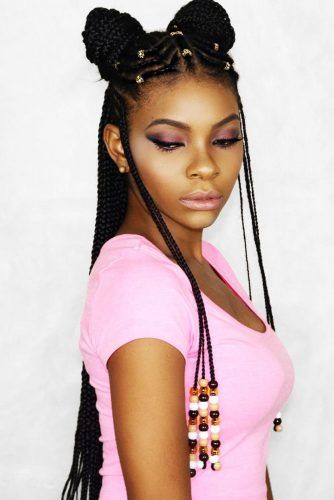 Source: chelseaphilias via Instagram
When you want to add some fullness to your tight silhouette, nothing works better than double half-ups. While giving a fuller body, this hairstyle shows off the enviable length of your locks.
Fulani Braids Into Afro Pony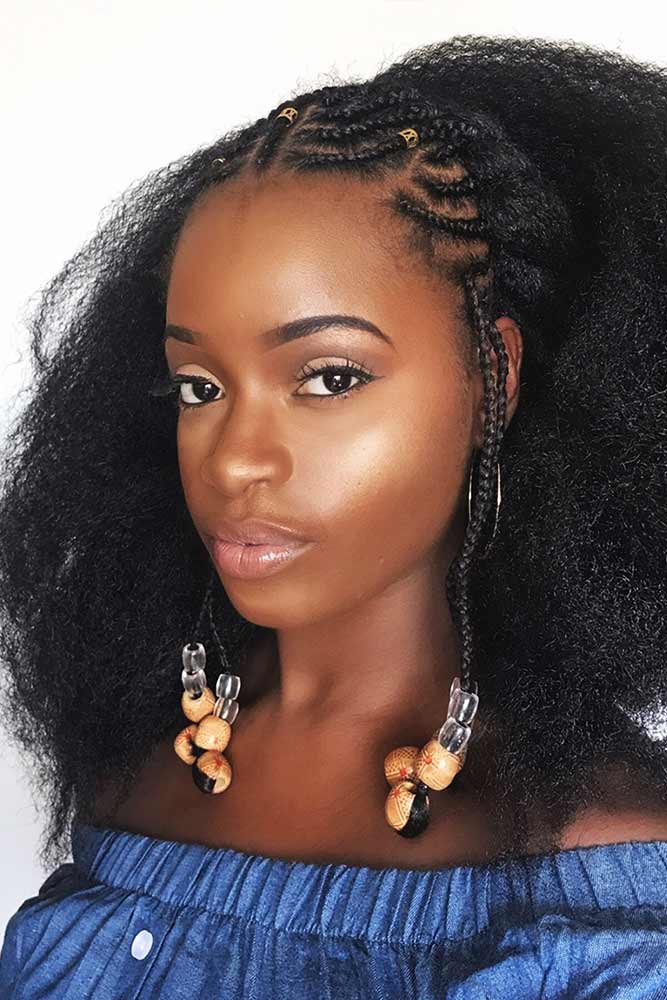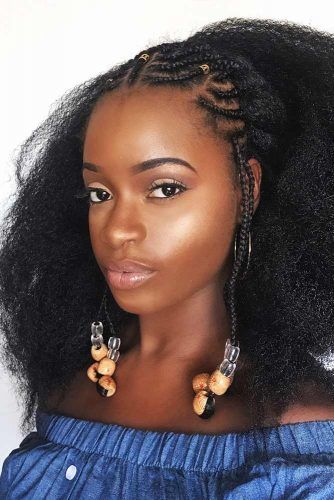 Source: missaudreybee via Instagram
It's always hard to gather afro hair in a ponytail. So here come Fulani braids; the braids that will keep the front tight, thus helping you to rock your days with a voluminous and immaculate pony.
Twisted Fulani Braids Updo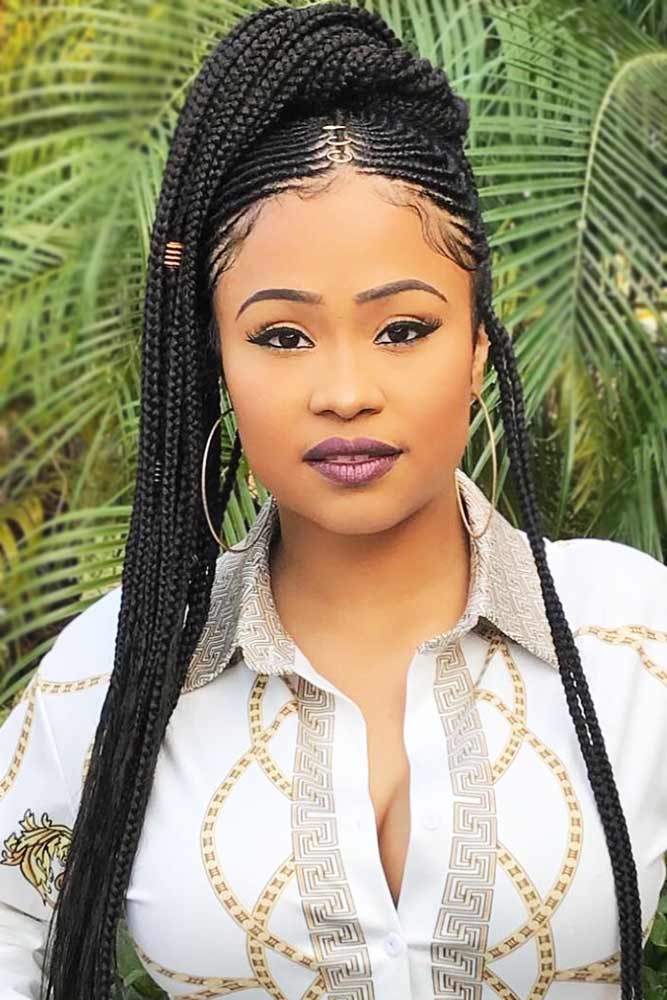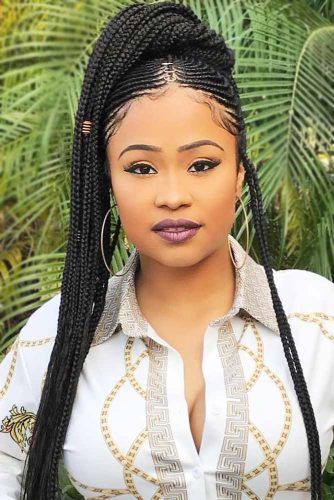 Source: braids_by_antoinette via Instagram
Braids that transform into twists and go along as braids. Braided mind games? The versatility of this protective style knows how to impress!
ADVERTISEMENT ‧ CONTINUE READING BELOW
Fulani Braids With Ties
Source: braid.barbie via Instagram
Many women with natural hair love to accessorize their dreads and Marley braids with colorful hair ties. Of course, for your Fulani braids, there are no restrictions, so you can pair beads with ties if you please.
Long & Colorful Fulani Braids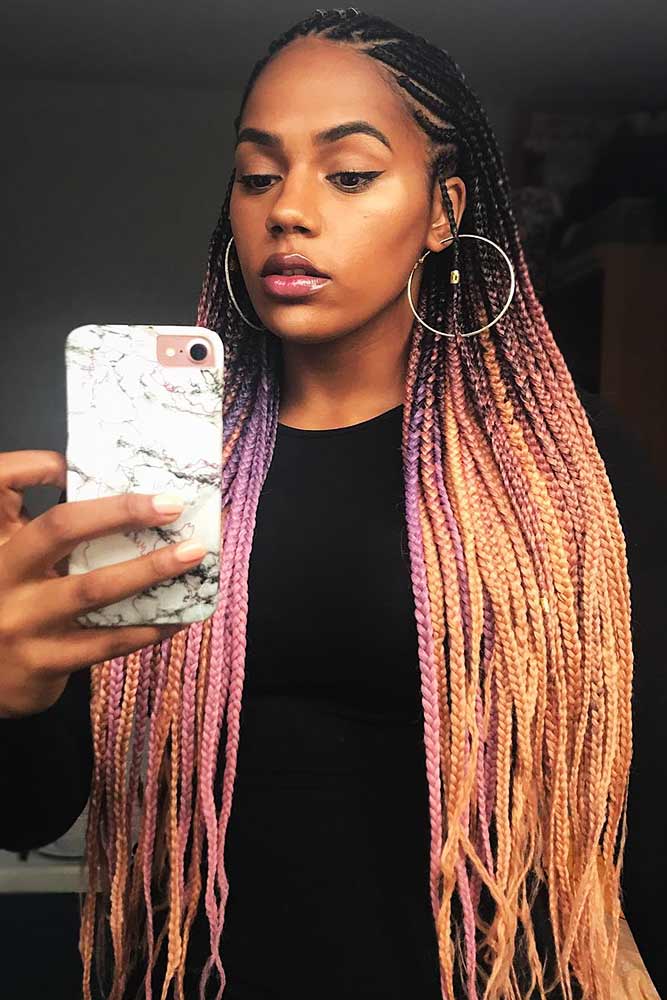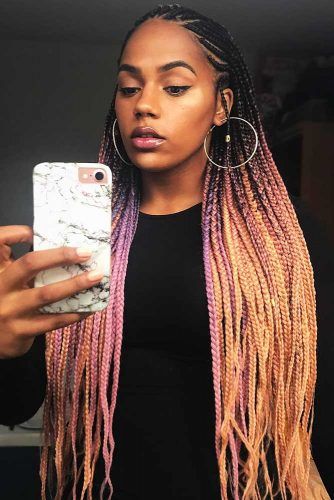 Source: thelondoncurls via Instagram
Super long and attention-grabbing, who could ask for more? If you feel that you can't handle such a length yourself, you can go for extensions. And if you aren't ready for bleach commitment, choose colored fake tresses!
Fulani Braid With High Sleek Pony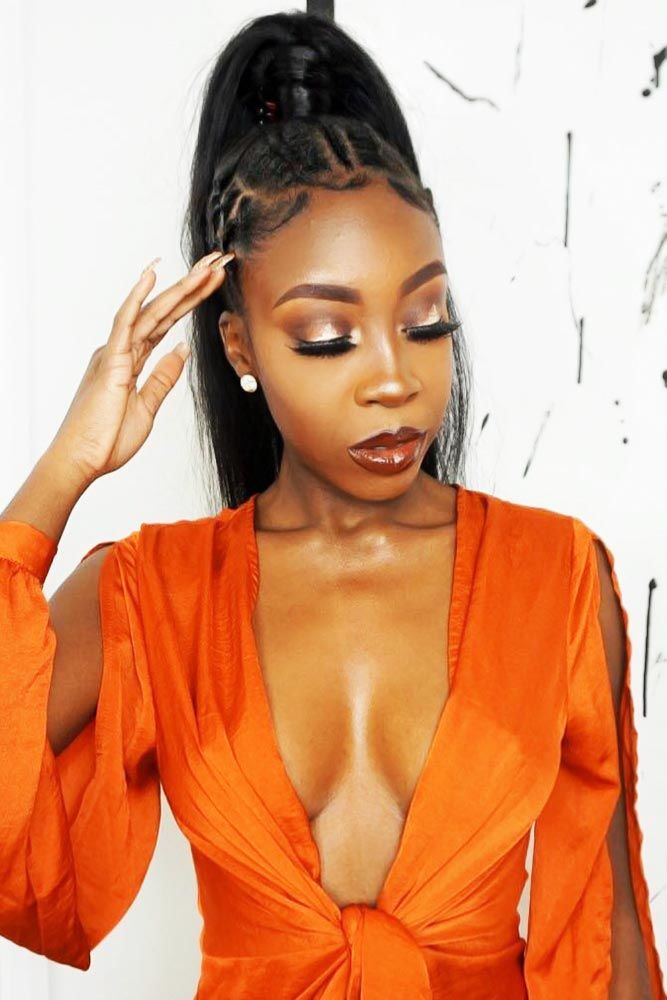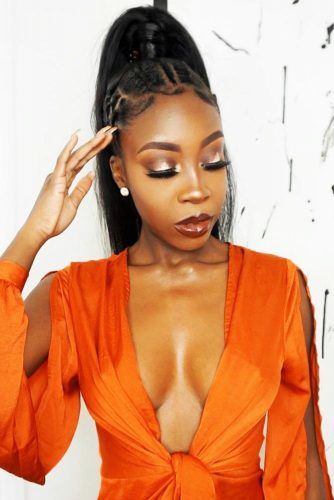 Source: sincerelyoghosa via Instagram
Instead of braiding all of your natural locks, you can save some time and still have a magnificent look. Let the impressive Fulani braids pattern embellish only the top of your head, putting the rest of your hair into a sleek pony. A tip: If your natural hair isn't straight by default, don't forget about oil-based heat protectant before getting the look.
ADVERTISEMENT ‧ CONTINUE READING BELOW
Nubian Princess Fulani Braids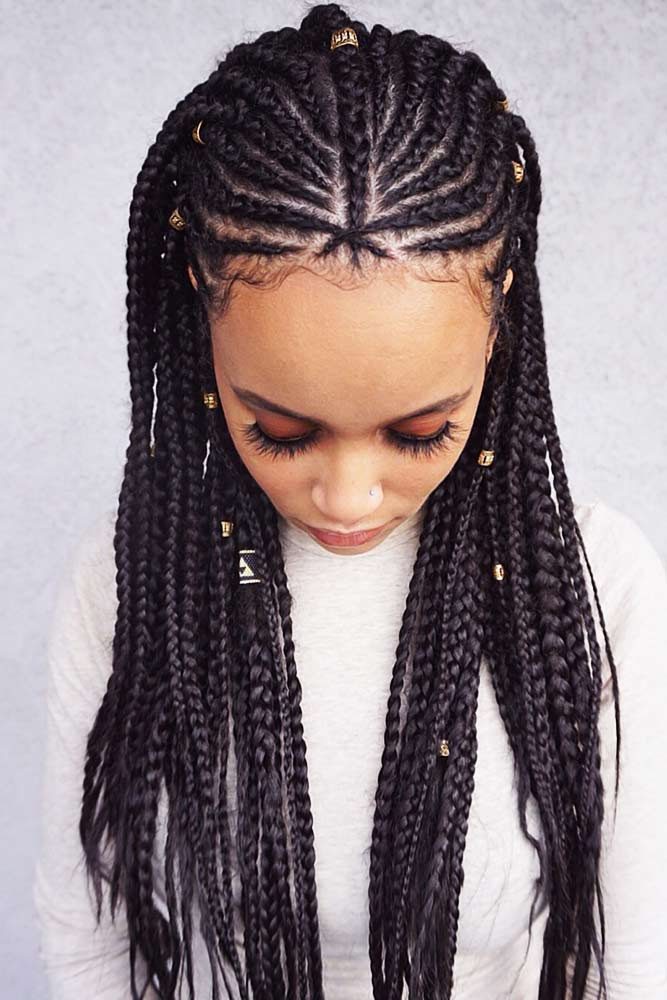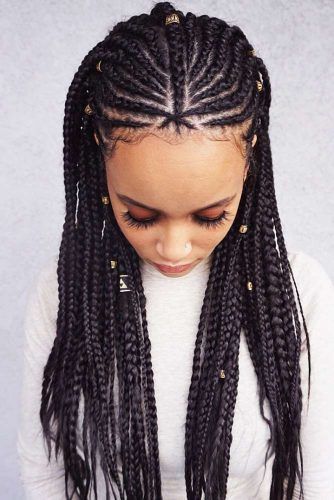 Source: sunreey via Instagram
If you have a natural mane full of exotic braids, you've got everything you need to walk in the shoes of Nubian Princess. Or even to become one! A classic braided pattern that moves toward the back and several hair beads and cuffs are the keys to getting the purely authentic African look.
Super Long Braids With Cuffs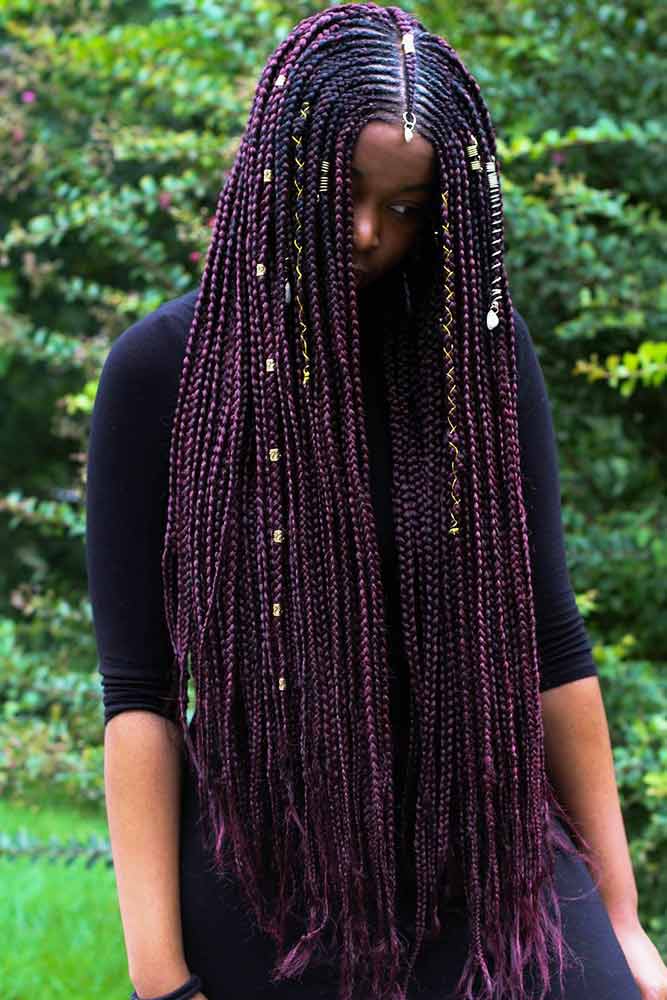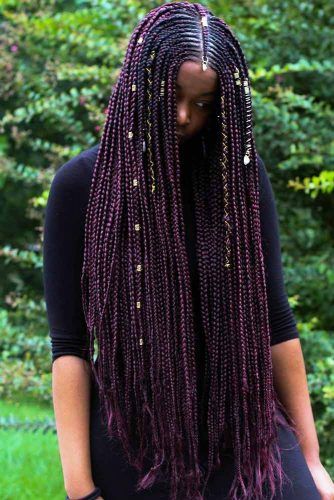 Source: aggie_hair via Instagram
Although there are lots of timeless trends, everything in women's fashion either comes and goes or simply disappears with time. Still, wearing long hair is a constant value that will never lose its popularity. Therefore, if you turn your locks into super long braids, you will get a totally universal, ageless look for all moods and occasions.
Tribal Braids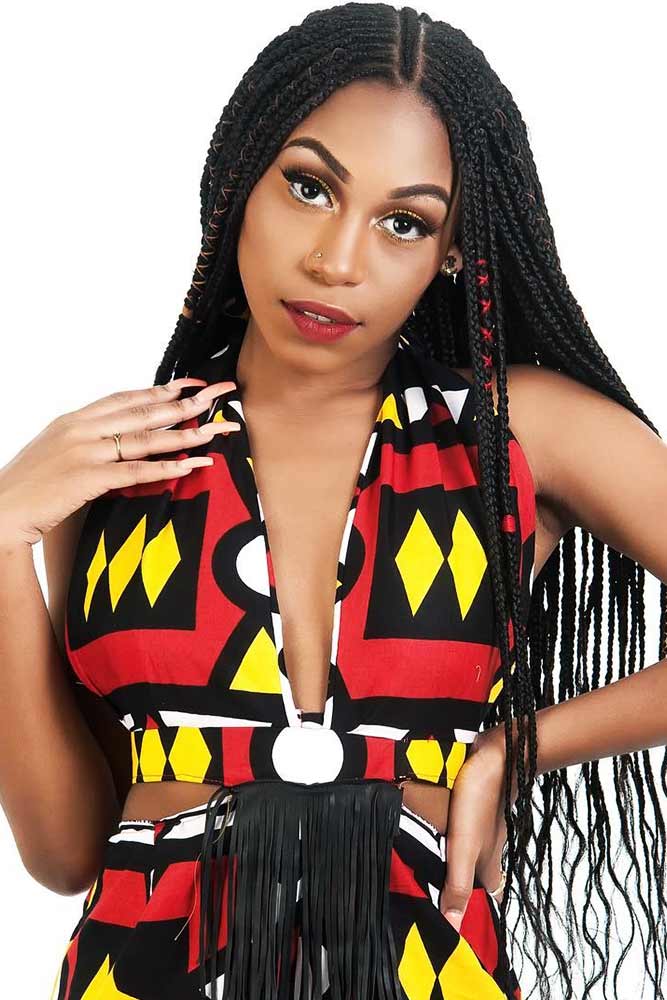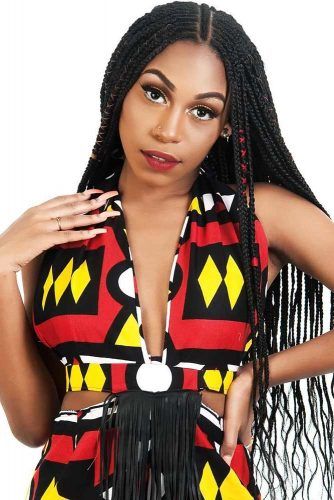 Source: chikodix via Instagram
Tribal braids focus on naturalness and minimalism. To be more exact, you don't need to go too much with colors and accessories to create a tribal-inspired mood. A hint of color added by a thin elastic to a couple of braids will do just great. Of course, the right outfits are the musts when it comes to such looks.
ADVERTISEMENT ‧ CONTINUE READING BELOW
Fulani Braids With Loose Cascading Plaits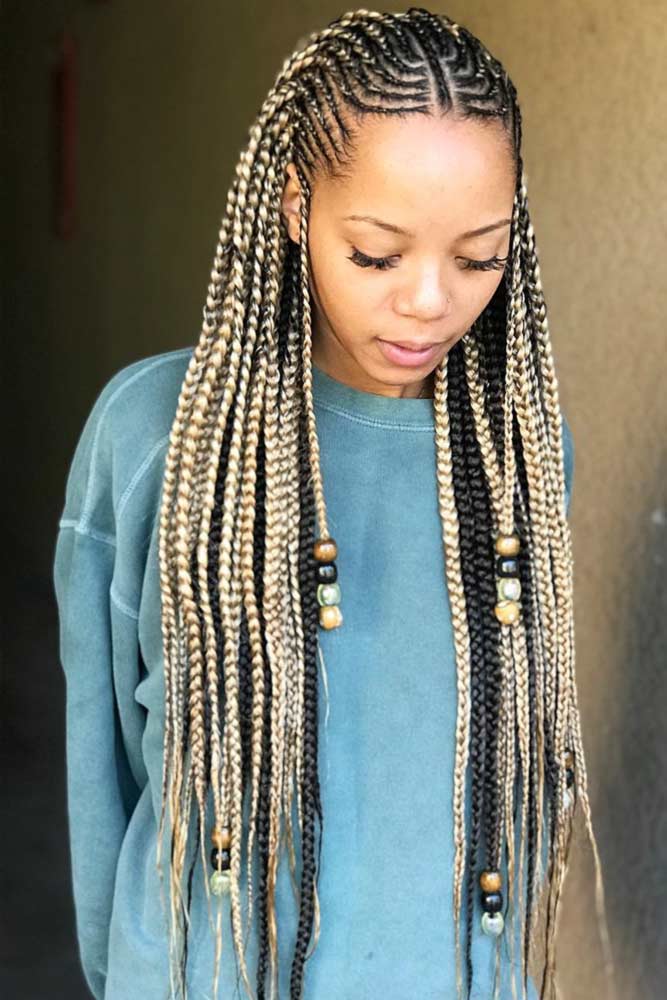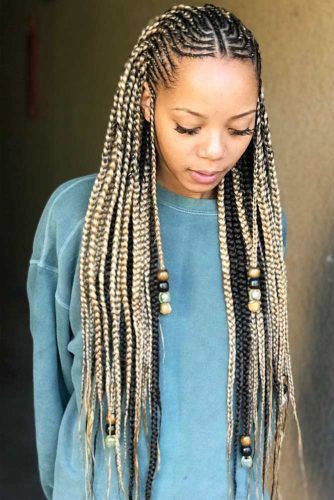 Source: hairbykey___ via Instagram
When you rock braids, it doesn't matter how thick or thin and healthy or damaged your hair is. That's because, for natural-haired women, they are protective hairstyles in the first place. Want your hair to look fuller? Add some fake tresses or braids made of real hair. Want to make it brighter yet without commitment? Get already colored extensions. Doesn't this idea make you want to steal it right now?
Fulani Crown With Horizontal Braids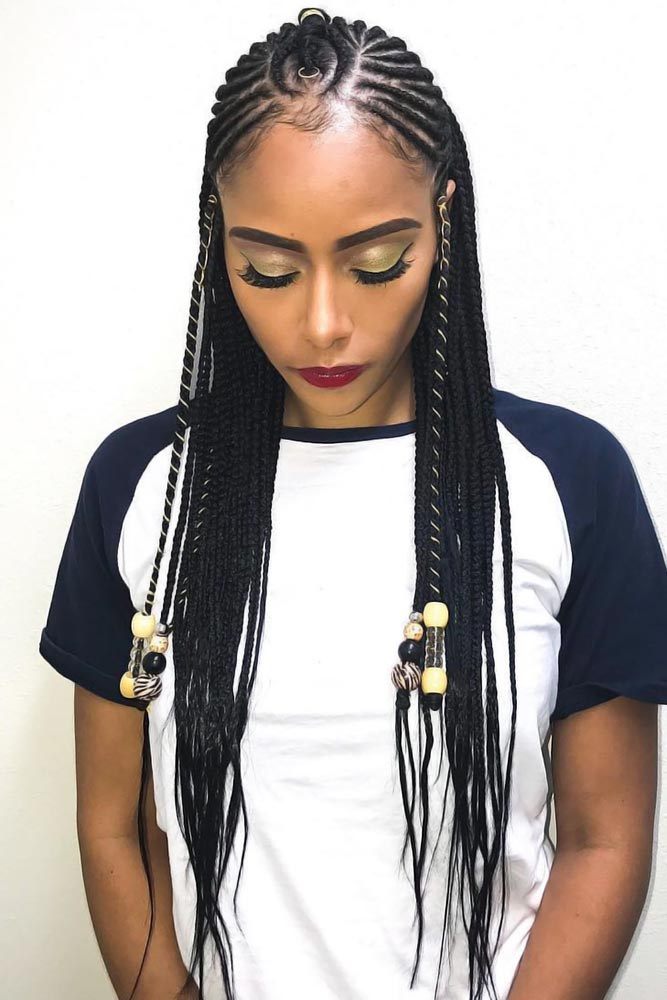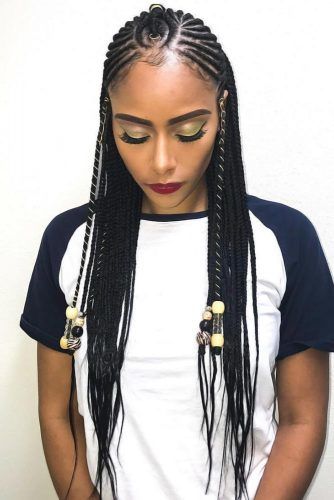 Source: larabelle_makeover via Instagram
The top is braided horizontally, and the sides fall down in a classic, vertical manner. How do you like this play of textures and directions? As a matter of fact, you can switch between patterns as you braid. But, it's very important to keep up with the balance, as it's a crucial style detail.
Center Parted Fulani Braids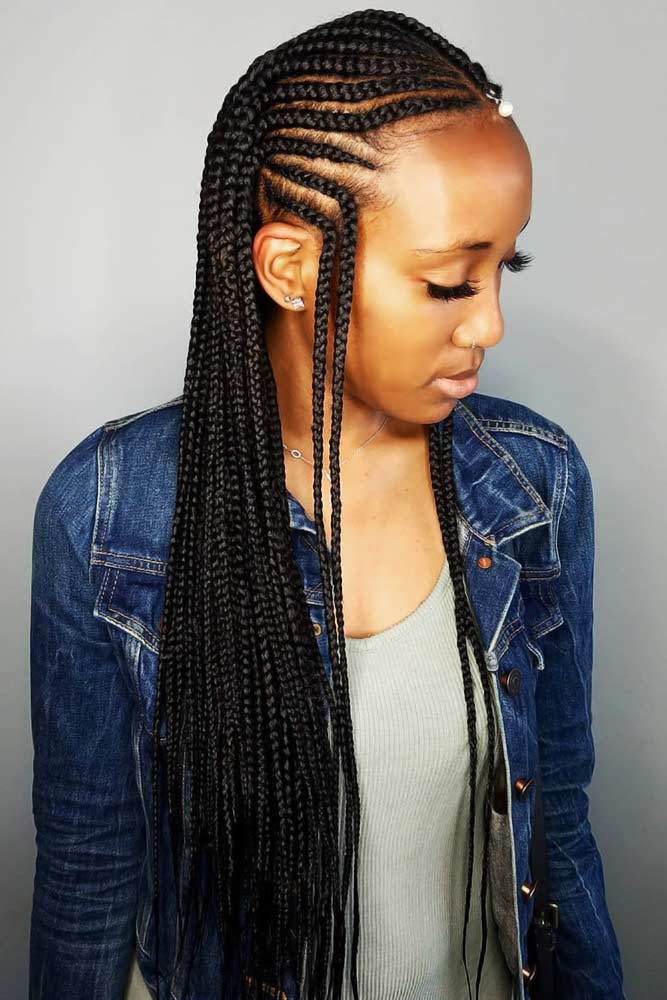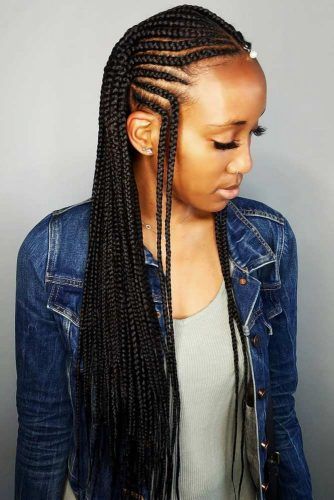 Source: e._k.a.h.l.e.r via Instagram
It's hard to notice the tiny little thing that makes the whole hairstyle look that different. Now, take a closer look at the side braids. Unlike the rest of the top braids, there are two pieces on the sides that don't begin right at the forehead. On the contrary, they move toward the front. Yes, little changes can bring great visual impacts.
ADVERTISEMENT ‧ CONTINUE READING BELOW
Cleopatra Style With Beads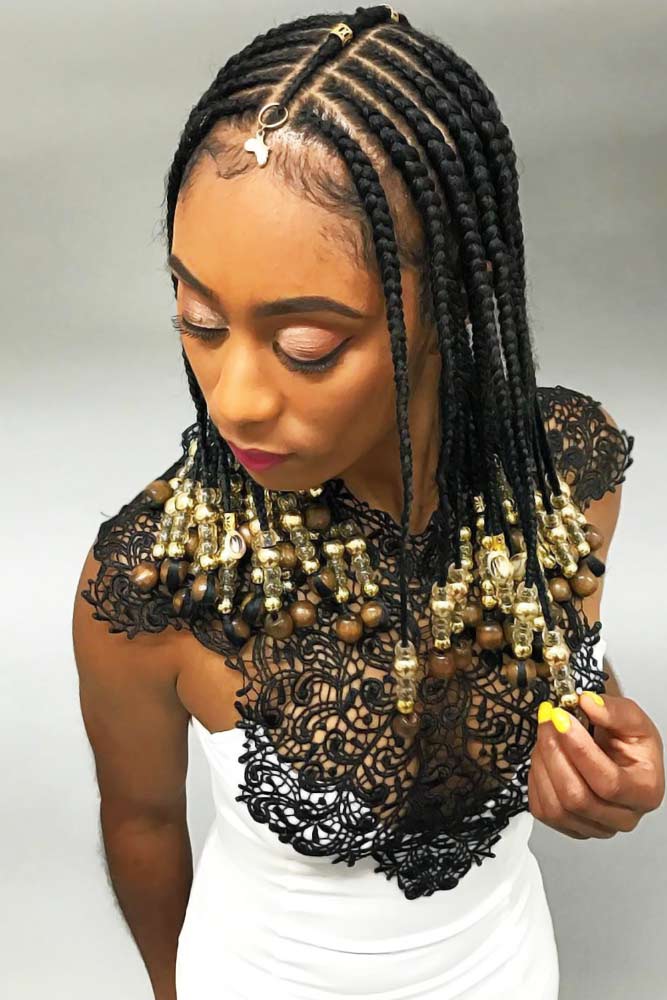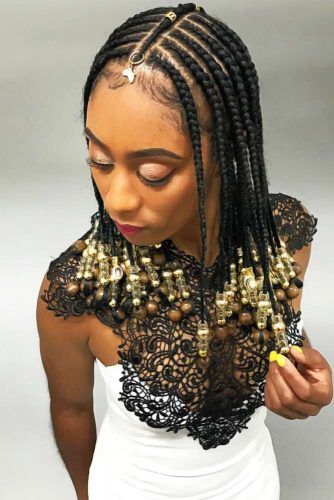 Source: creative.precision via Instagram
Cleopatra was not just a ruler; she was a trendsetter. Needless to say, not only her makeup was a starting point for a new era of women's style but also her hair contributed to the art of braiding. So why don't steal her look? Unless you don't want to look like a queen.
High Pony With Pink Extensions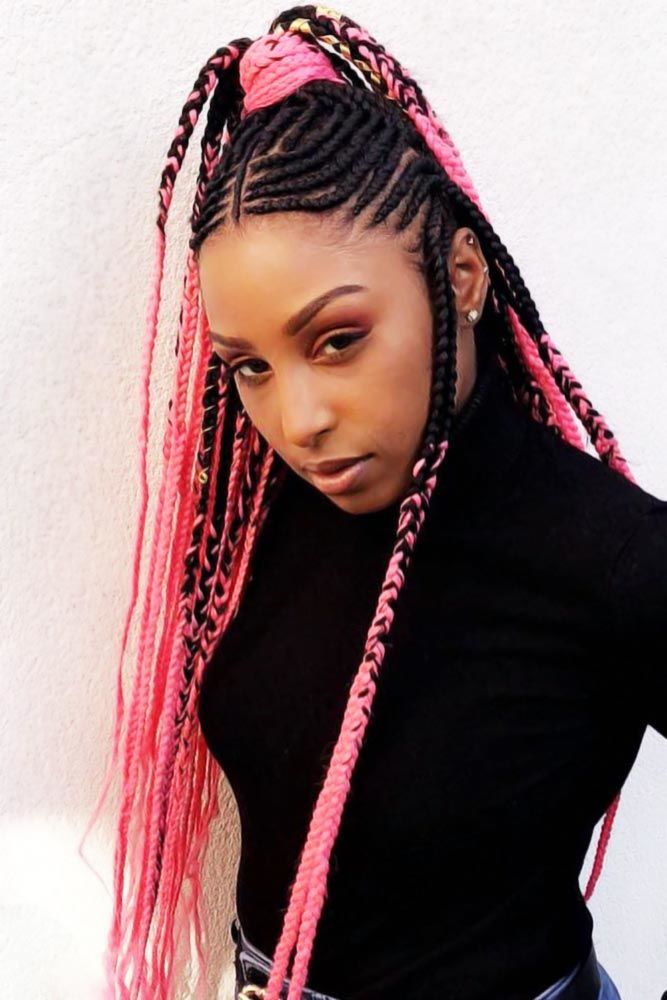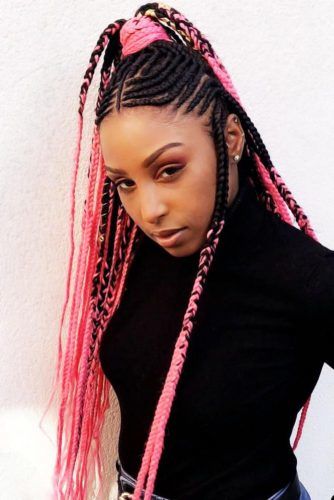 Source: tamika_braidbarbie via Instagram
Girls who are not afraid to stand out in the crowd can go for truly bright contrasts. Hair extensions of vivid neon shades are a simple and, most importantly, damage-free way to make your natural mane hit people's eyes from a mile away.
Fulani Braids With Massive Ivory Beads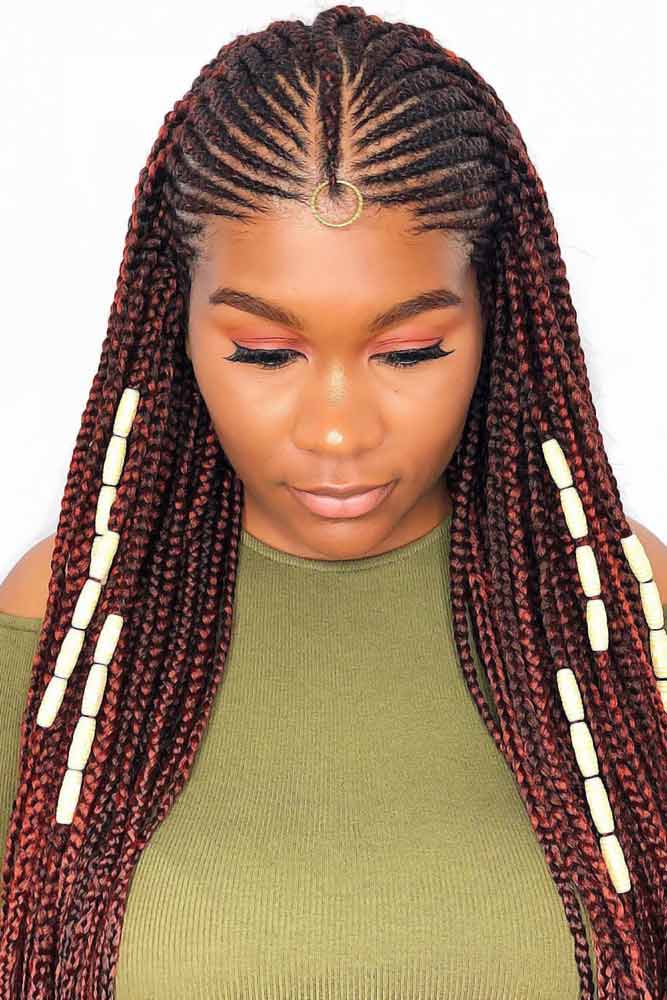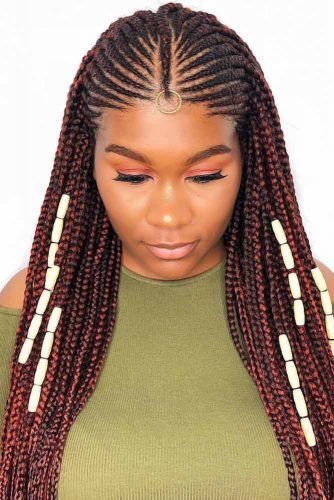 Source: londonsbeautii via Instagram
Some girls may say that such beads are too heavy to wear. As for us, we say that they're hard to resist! If you're one of those ladies who love wearing massive accessories, do yourself a favor and try accessorizing your Fulani braids with big Ivory beads.
ADVERTISEMENT ‧ CONTINUE READING BELOW
Geometric Tribal Fulani Pattern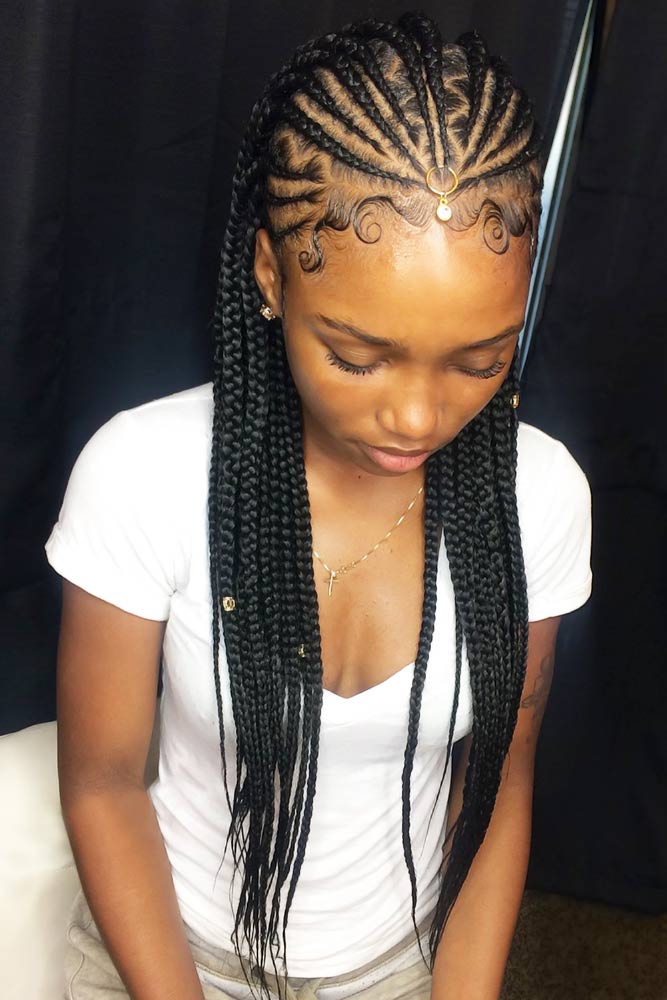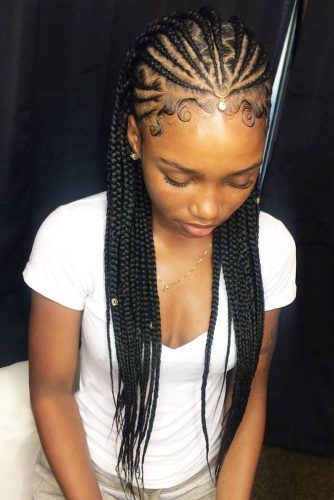 Source: prettyy.braids via Instagram
Geometric braiding patterns aren't the easiest ideas to recreate. But, anyway, the special, structured look is worth all the time and efforts. To make your hairstyle match the Fulani spirit, finish the central cornrow with a hair ring. Besides, taming baby hairs with styling gel won't hurt as well.
Half Up Bun With Cascade Of Thin Braids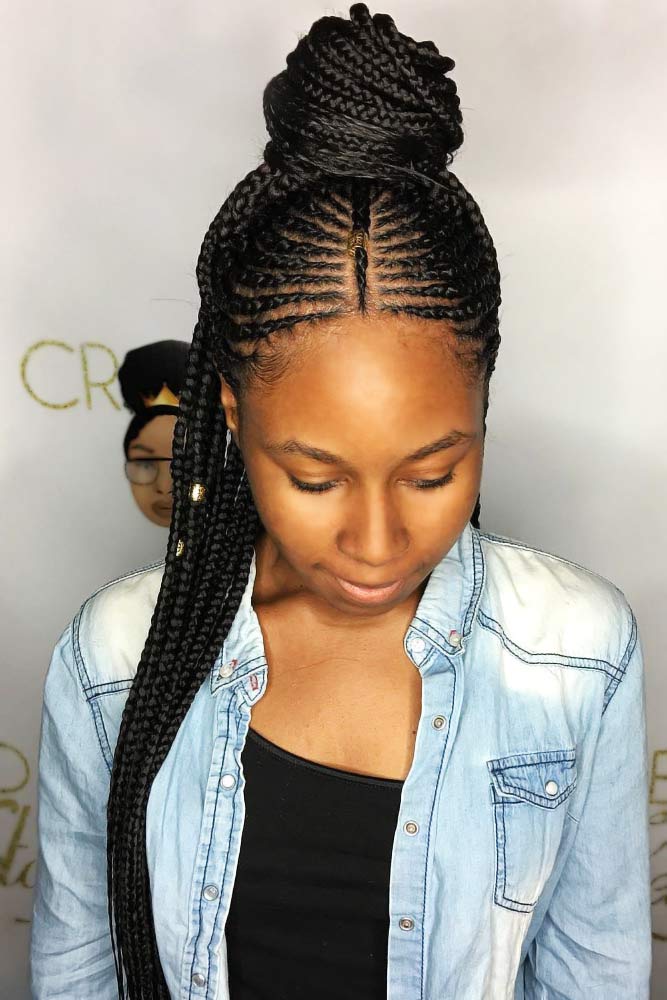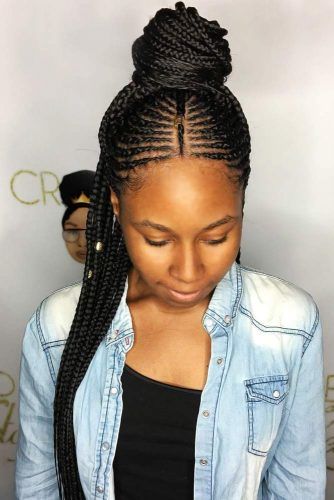 Source: crownedbyketa via Instagram
Creating cascading braids means always have a room for countless styling ideas with smooth and seamless results. As you can see from this stunning pic, the sections that turn into a bun flow evenly and don't stick out. And that's what makes the look so pleasant!
The Fulani braids hairstyles you've seen today are only the beginning. Now you know how gorgeous simple 'dos can be with the help of braided texture. So if you want to discover the real diversity of Fulani styles, it's time to get the braids and let experiments into your life!
ADVERTISEMENT ‧ CONTINUE READING BELOW