Most teens would probably associate Fulani braids with pop icons from the era of MTV blowout. But, in fact, the hairstyle is a part of the cultural heritage of Fulani people. Well, we can't blame them for the misconception of Fulani braids origin, as this ethnic style has spread its popularity all over the globe, giving natural hair movement another braided trend.
It just so happens that this type of braided hairstyles has become the most requested amongst women of color, who, in their turn, have created lots of stunning Fulani variations. Today you are going to find out why the once popular crochet braids are taking a backseat: see the latest ethnic hairstyles!
*We may earn money from affiliate links on this page. Please check out our disclosure policy for more details.
What Are Fulani Braids?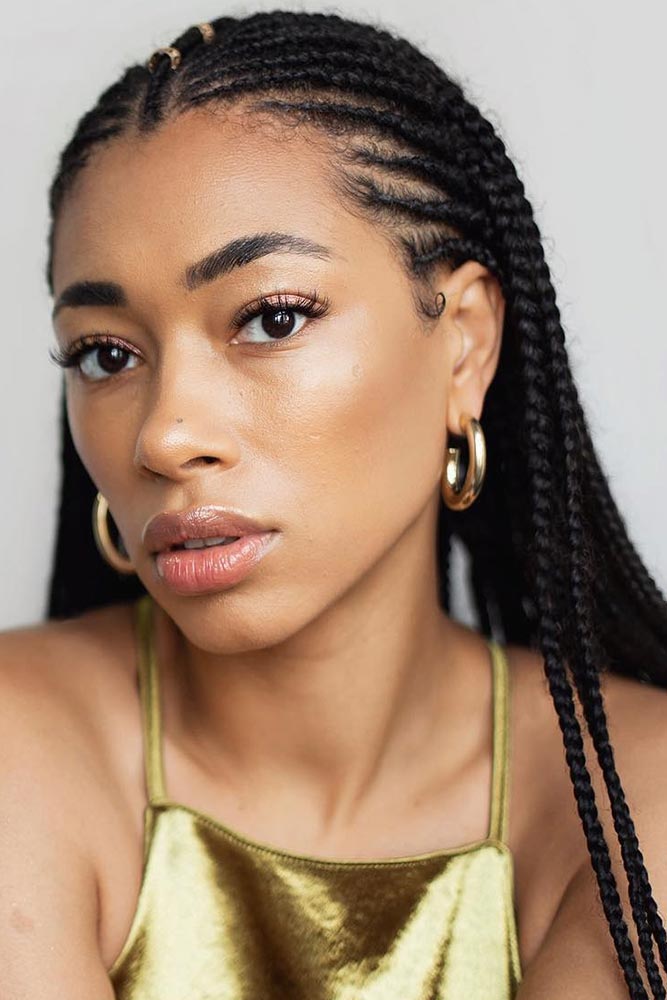 Credit photo: instagram.com/freshlengths
"What are Fulani braids and how do they differ from other protective hairstyles such as simple box braids?" you may ask. Well, basically, the pattern of the style is its distinctive feature. If you see that a braided style has a cornrow that stretches from the front to the back, moving down the center, you can be sure it's one of Fulani braids styles. Beads and ethnic accessories are other prominent characteristics. Also, the classic Fulani pattern often features a couple of side cornrow braids that are braided from back to front and a wrapped braid that goes along the head.
And where do Fulani braids come from? Believe it or not, the Fulani styles that catwalk icons and celebrities pull off today is a heritage of a Muslim ethnic group from Africa that had been cultivated their amazing hairstyles for decades until they became a worldwide trend.
Fulani Braids Lifespan
"How long do Fulani braids last?" is the common question among those who are about to rock the style.
Since it's a protective style, you can wear it for 3-4 weeks. Your braids can turn into many different hairstyles: bigger braids, updos, half-ups. And your task is to moisturize your hair and scalp regularly so that each style is well-groomed.
How much do Fulani braids cost?
The price of getting Fulani hairstyles at a salon is similar to cornrowing prices. In fact, this style involves classic and individual cornrows, so you can expect to be charged from $160 to $220, which is average for this type of braids.
How Do You Maintain Fulani Braids?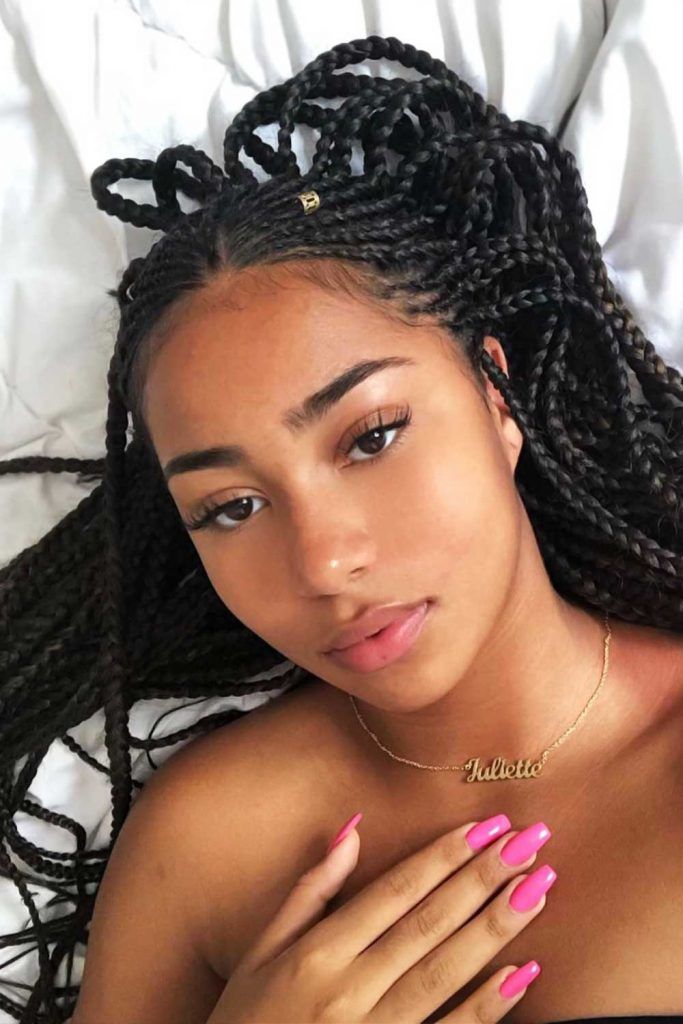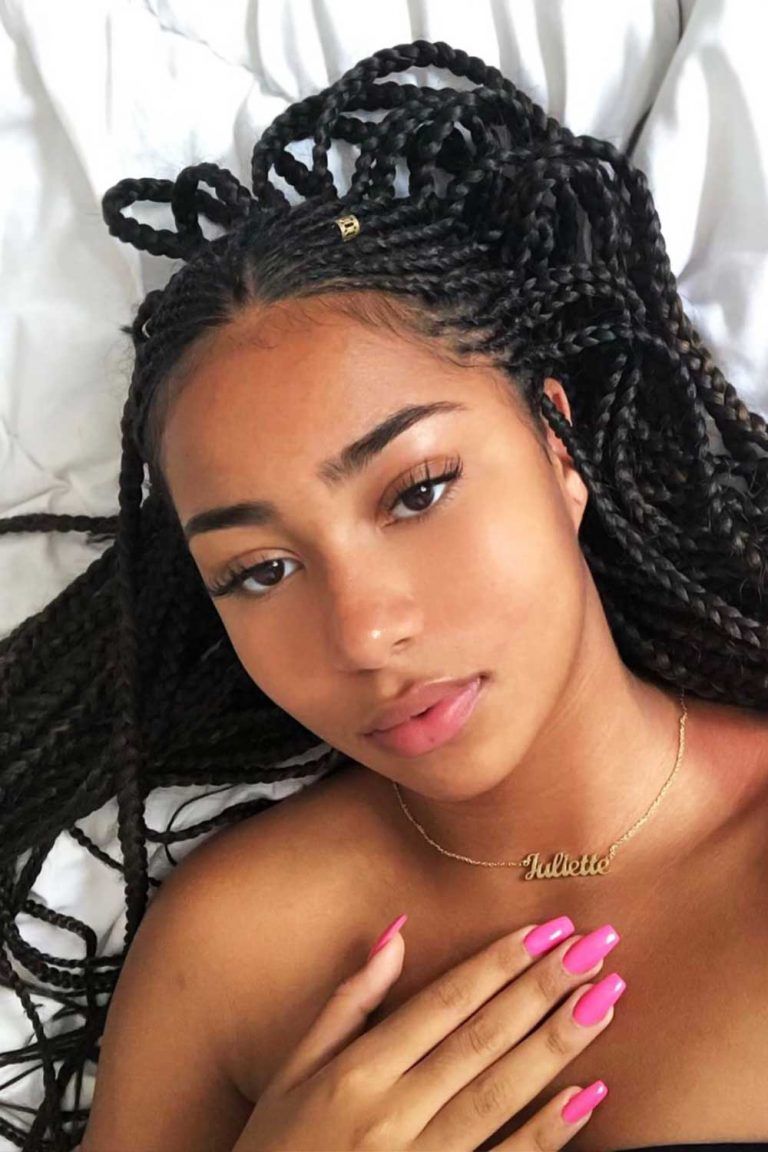 Credit photo: instagram.com/jsmrgn3
Every style requires proper maintenance routine to look its best, especially if it's a natural style. Since you're going to wear your braids for a month, you will probably want them to look as if you've just left a salon all the time. So here are the essentials you should incorporate into your routine to keep up with the gorgeous look of your braids. We'd like to cover all you need to know by answering popular braid-related questions.
How do you wash Fulani braids?
Your natural hair, whether it's braided or not, is prone to frizz. And that's certainly the last thing you want to see on your shiny braids. For that reason, don't overwash your hair: shampooing it every 7-10 days would be the perfect regimen. As for the washing process, it's better to work with diluted shampoos and conditioners to cleanse and smoothen the hair in a more natural way. Then, you should moisturize your hair with hydrating all-natural products like leave-ins and serums.
How often should I moisturize my Fulani braids?
Constantly! Make sure to have a sprinkler filled with water, and spritz your roots a couple of times throughout the day to keep them hydrated and prevent dryness in the scalp. Also, you can use a leave-in conditioner in between your braids every other day. Oiling is another must that you shouldn't forget about: applying anything from coconut and peppermint to castor oil between your braids will prevent itchy scalp.
How do you sleep with Fulani braids?
It's crucial to protect your hair at night. Again, frizz is the worst enemy, which you're most likely to face while sleeping. That happens because of the friction between your hair and your pillow. To keep your braids fresh in the morning, put it into a comfy bun, and secure it with a silk hair scarf. Or, you can invest in a satin pillowcase instead.
How to keep braids and scalp fresh?
When the roots get oily too fast, you can use dry shampoo for the roots. As for flakes and build-up caused by hair care products, there's no need to go to the shower to wash them off. Simply rub a wet towel over the flakes or use hair moose. To refresh the look of braids, apply moisturizers to them, gently distributing the product through the hair.
How to avoid damage with Fulani hairstyles?
By following the tips we've shared above, you can keep your hair and scalp safe. However, there's one more thing to remember: don't keep the braids for more than 6 weeks. Otherwise, you may make it prone to breakage. And when you get them undone, give your hair a week to breathe before planning another appointment. Your hair also needs a break before new changes.
Fulani Braids Ideas
Now that you know that you can customize everything from the pattern and shape to the style of your braids, it's time for some inspiration. Below, you're going to see the most creative and impressive ways to get and style the Fulani style so that you can build an amazing styling routine!
Accessorized Fulani Braids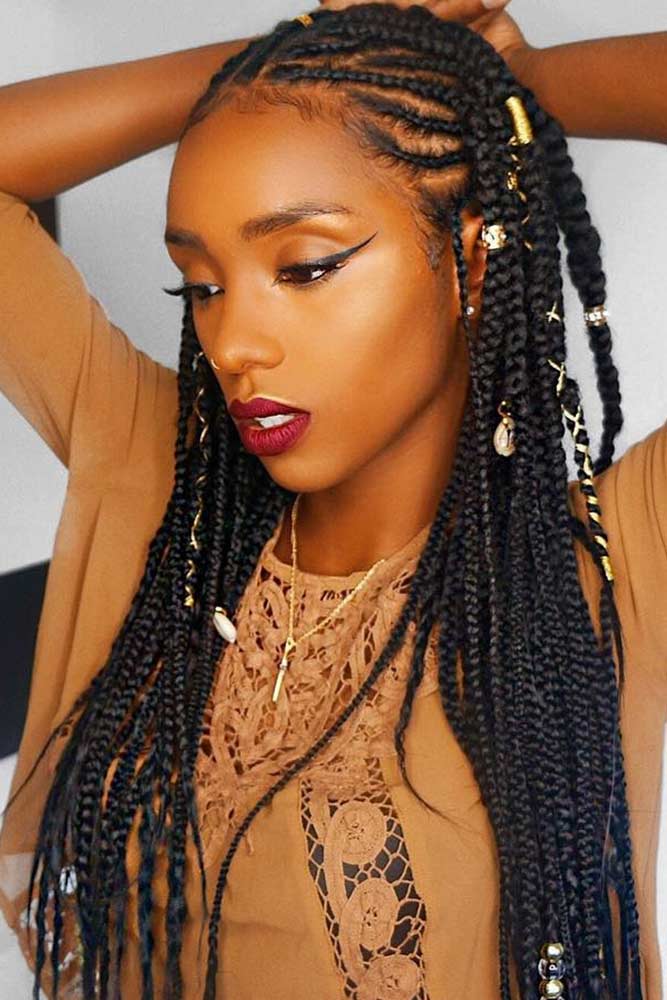 Credit photo: instagram.com/lavishlybritt
There are lots of ways of how to do Fulani braids and how to accessorize them, as well. It can be a heavy beaded composition placed at the ends or a strategic design; it's totally up to you. Moreover, you can create a fusion of modern and ethnic styles by embellishing your hair with different accessories.
Wavy Fulani Braids Styling With Beads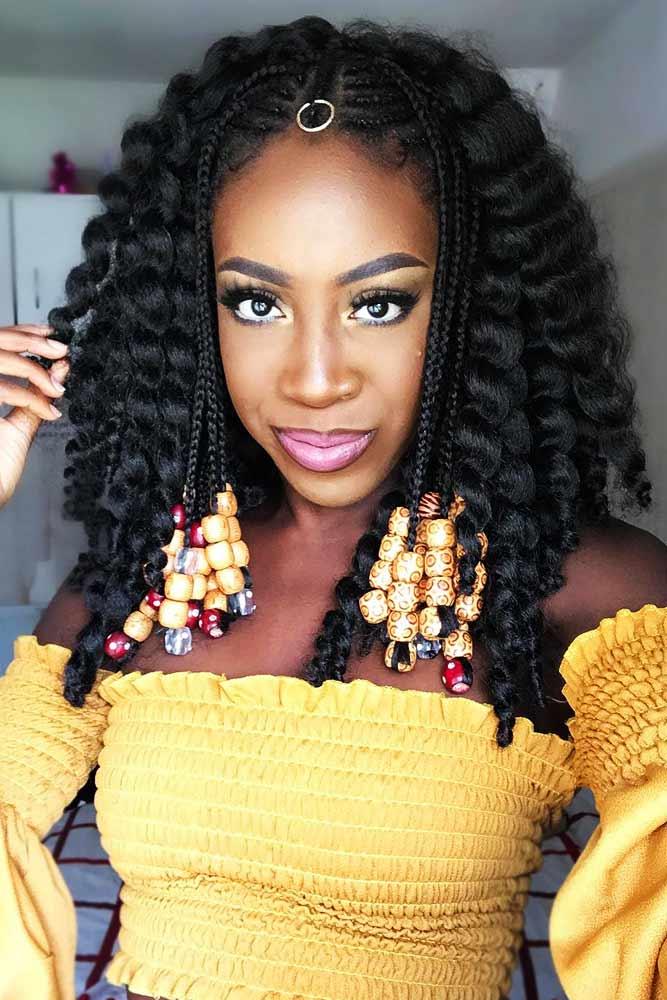 Credit photo: instagram.com/sincerelyoghosa
Here's another idea of texture experiments. Braids look unbelievable with wavy hair: these Fulani braids with beads look like a set of natural accessories for her voluminous chevelure.
Fulani Braids With Ties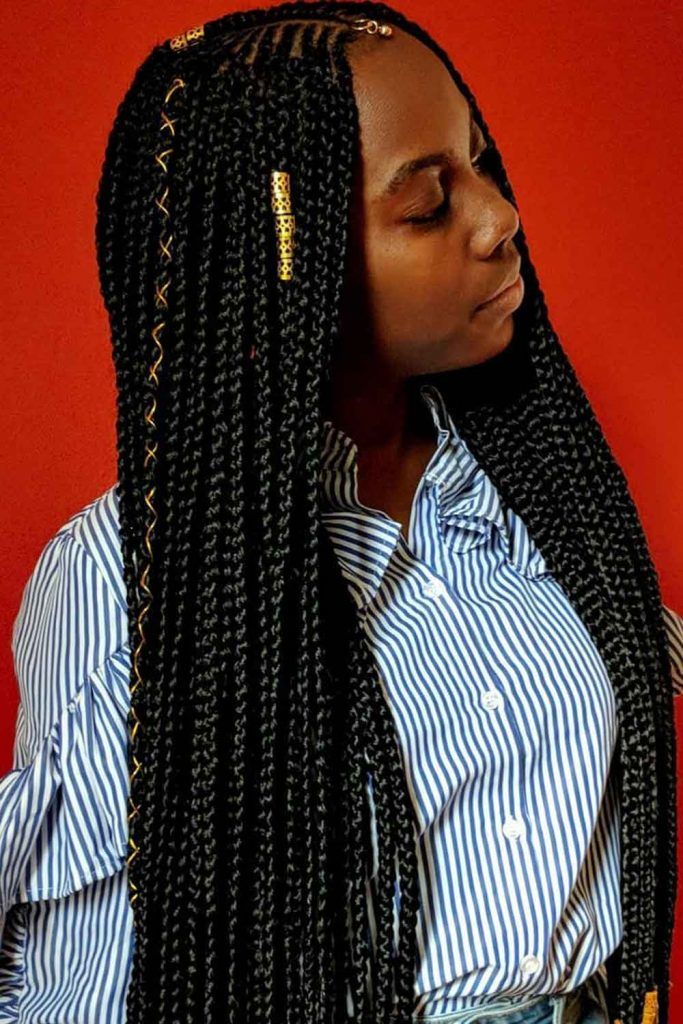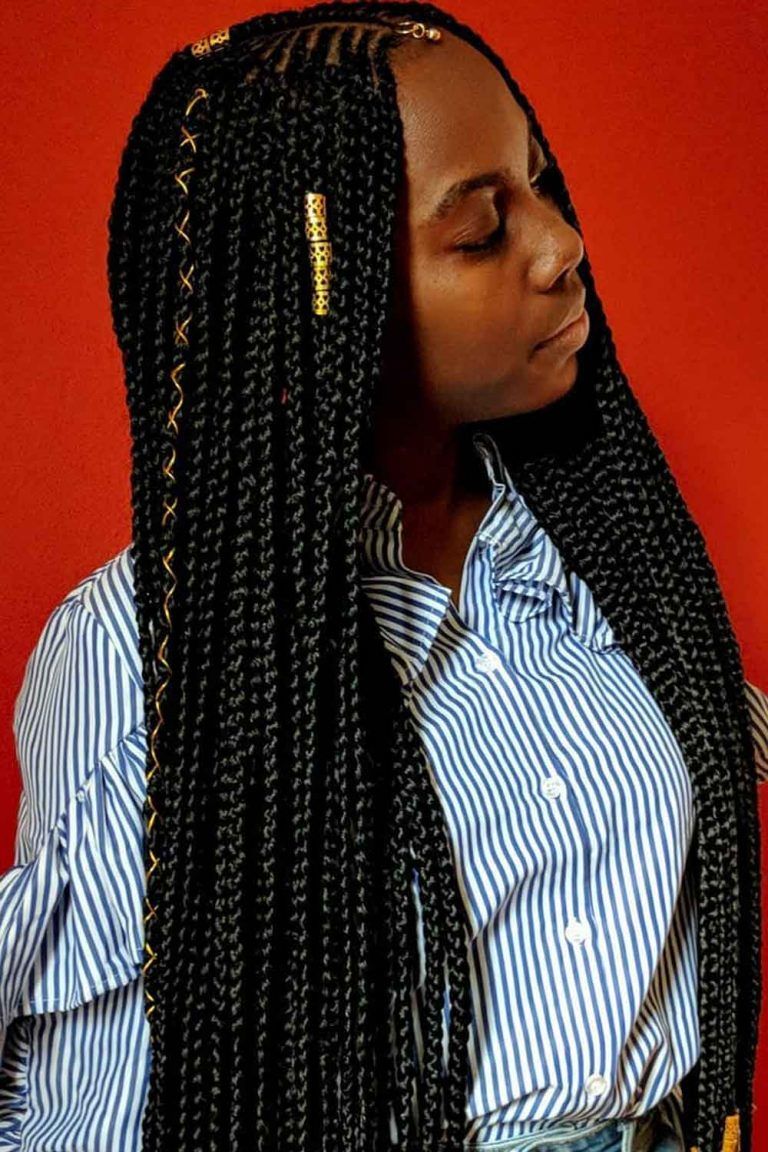 Credit photo: instagram.com/aggie_hair
Many women with natural hair love to accessorize their dreads and Marley braids with colorful hair ties. Of course, for your Fulani braids, there are no restrictions, so you can pair beads with ties if you please. Besides, those ties are so cheap!
Long & Colorful Fulani Braids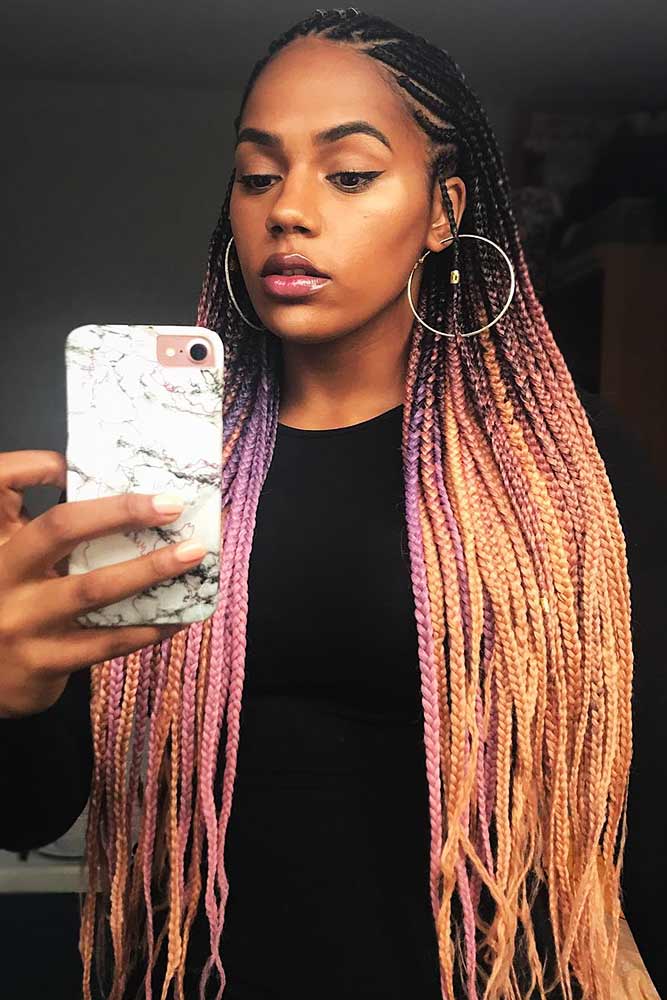 Credit photo: instagram.com/thelondoncurls
Super long and attention-grabbing at the same time, who could ask for more? If you feel that you can't handle such a length yourself, you can go for extensions, for example. And if you aren't ready for bleach commitment, choose colored fake tresses then! In general, there are two scenarios to steal this look. First, you get extensions, bleach them, and dye however you please. Or, you can take a shortcut, getting already colored extensions. Going by the DIY-path, however, is the best way to show off your bright individuality.
Nubian Princess Fulani Braids
Переглянути цей допис в Instagram
If you have a natural mane full of exotic braids, you've got everything you need to walk in the shoes of Nubian Princess. Or even to become one! A classic braided pattern that moves toward the back and several hair beads and cuffs are the keys to getting the purely authentic African look.
Super Long Braids With Cuffs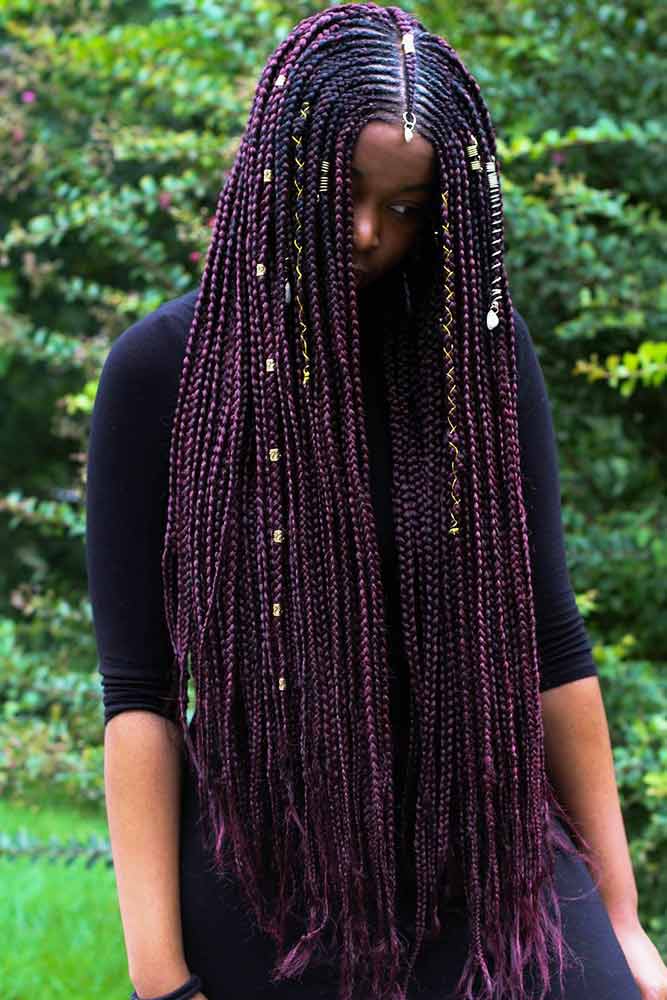 Credit photo: instagram.com/aggie_hair
Although there are lots of timeless trends, everything in women's fashion either comes and goes or simply disappears with time. Still, wearing long hair is a constant value that will never lose its popularity. Therefore, if you turn your locks into super long braids, you will get a totally universal, ageless look for all moods and occasions.
Tribal Braids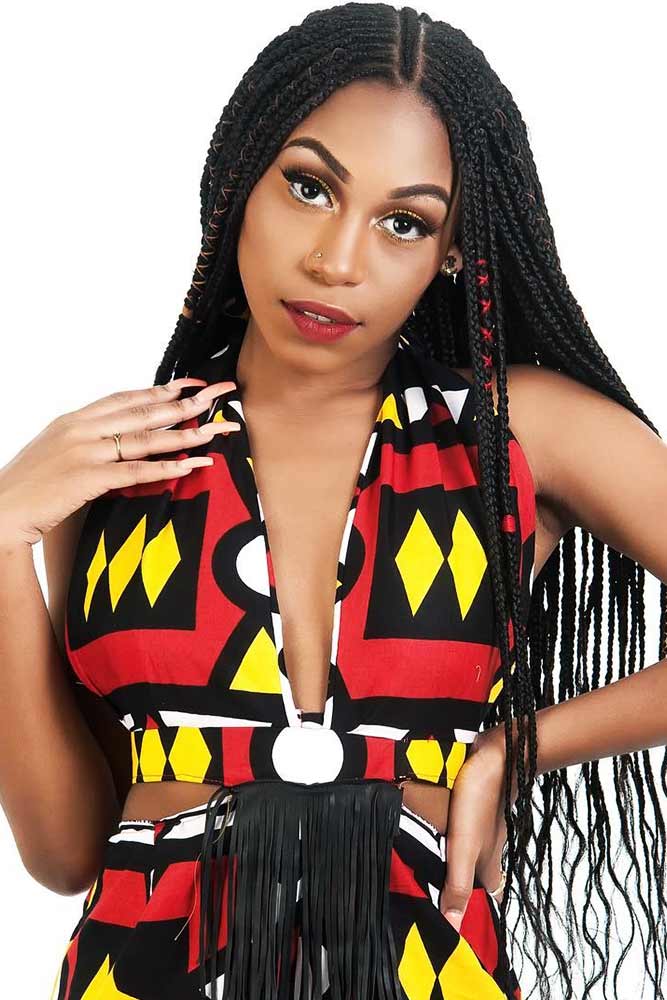 Credit photo: instagram.com/chikodix
Tribal braids focus on naturalness and minimalism. To be more exact, you don't need to go too much with colors and accessories to create a tribal-inspired mood. A hint of color added by a thin elastic to a couple of braids will do just great. Of course, the right outfits are the musts when it comes to such looks.
Fulani Braids With Loose Cascading Plaits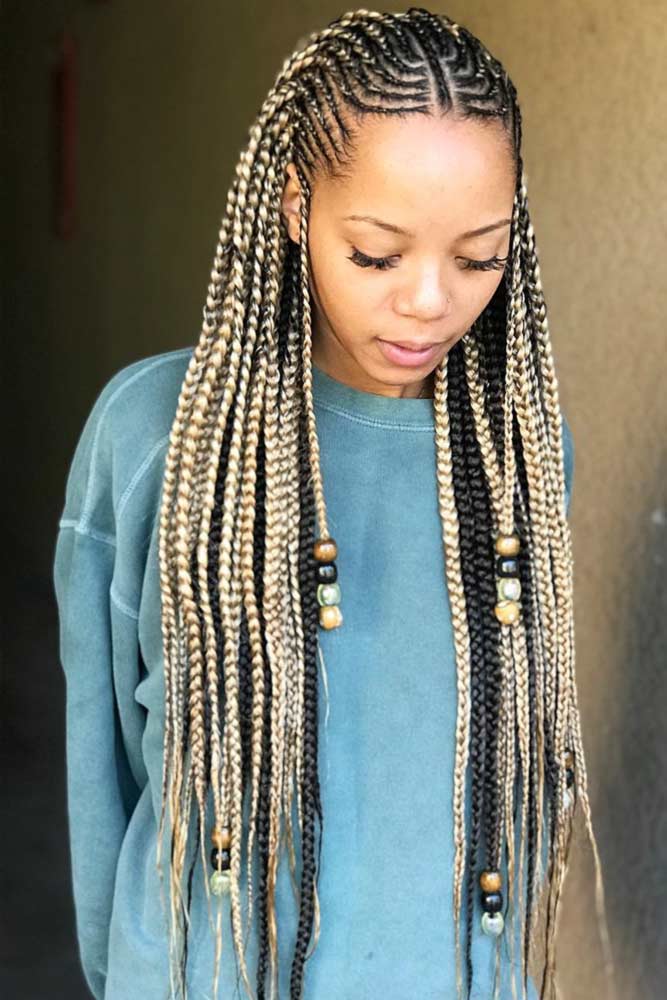 Credit photo: instagram.com/hairbykey___
When you rock braids, it doesn't matter how thick or thin and healthy or damaged your hair is. That's because, for natural-haired women, they are protective hairstyles in the first place. Want your hair to look fuller? Add some fake tresses or braids made of real hair, then. Want to make it brighter yet without commitment? Get already colored extensions. Doesn't this idea make you want to steal it right now?
Fulani Crown With Horizontal Braids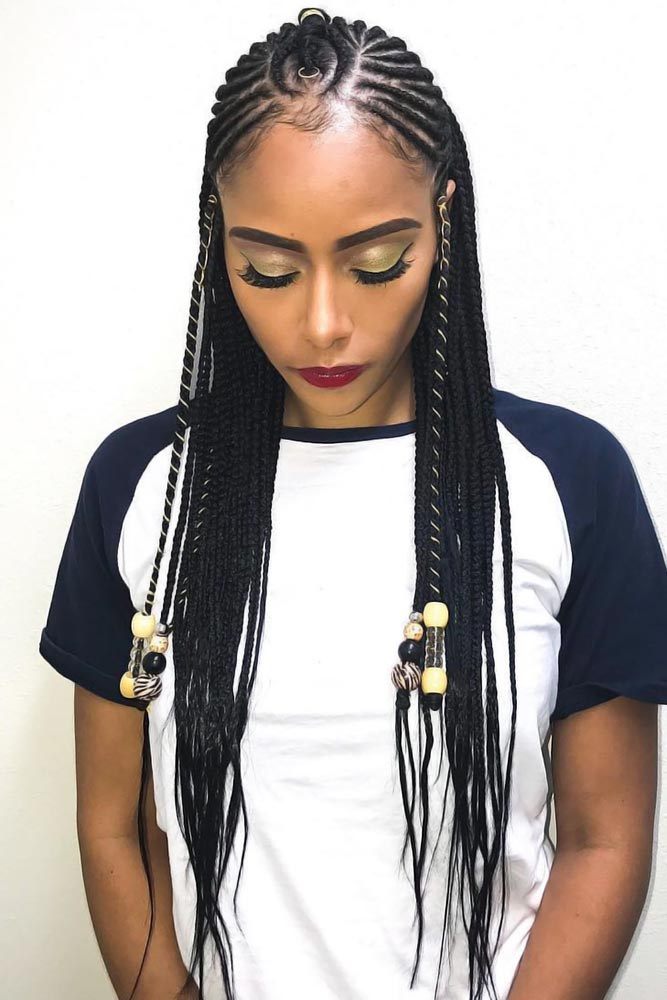 Credit photo: instagram.com/larabelle_makeover
The top is braided horizontally, and the sides fall down in a classic, vertical manner. How do you like this play of textures and directions? As a matter of fact, you can switch between patterns as you braid. But, it's very important to keep up with the balance, as it's a crucial style detail.
Center Parted Fulani Braids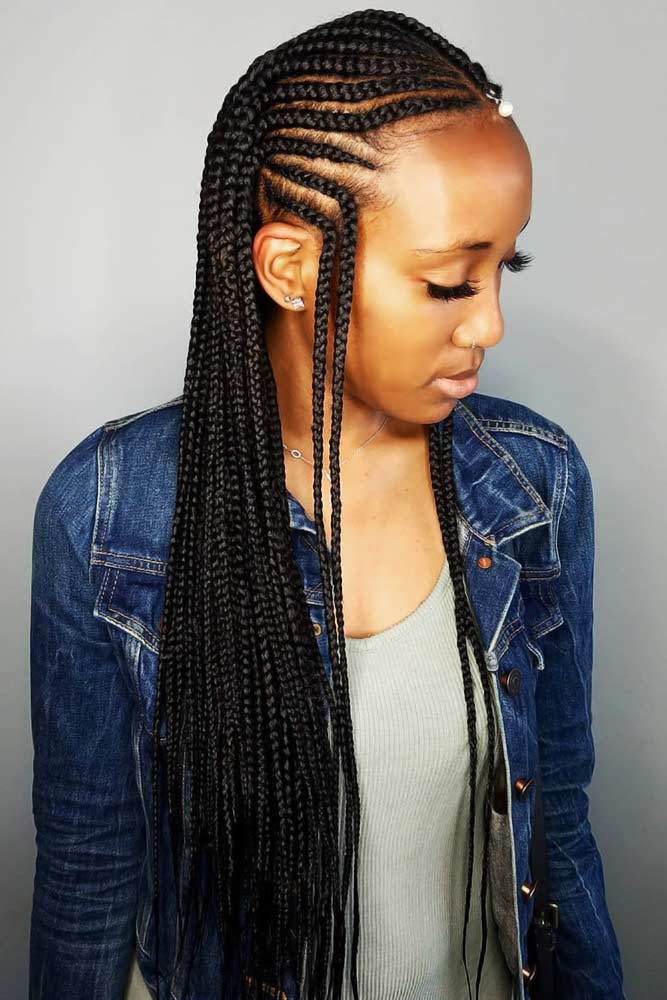 Credit photo: instagram.com/e._k.a.h.l.e.r
It's hard to notice the tiny little thing that makes the whole hairstyle look that different. Now, take a closer look at the side braids. Unlike the rest of the top braids, there are two pieces on the sides that don't begin right at the forehead. On the contrary, they move toward the front. Yes, little changes indeed can bring great visual impacts.
Cleopatra Style With Beads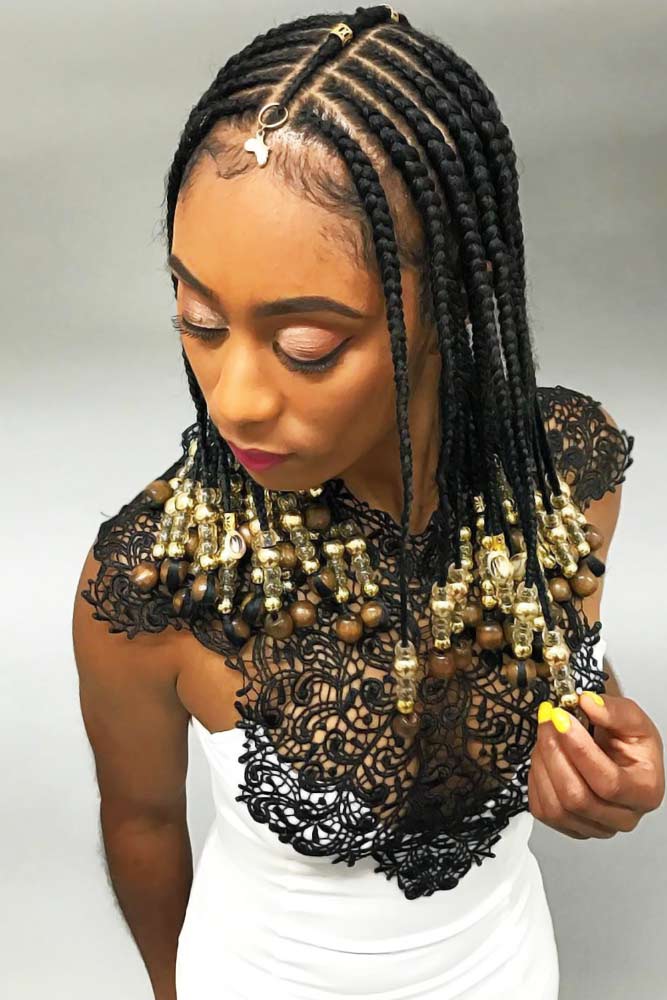 Credit photo: instagram.com/creative.precision
Cleopatra was not just a ruler; she was a trendsetter. Needless to say, not only her makeup was a starting point for a new era of women's style but also her hair contributed to the art of braiding. So why don't you steal her look? Unless you don't want to look like a queen.
Silver Ombre Fulani Braids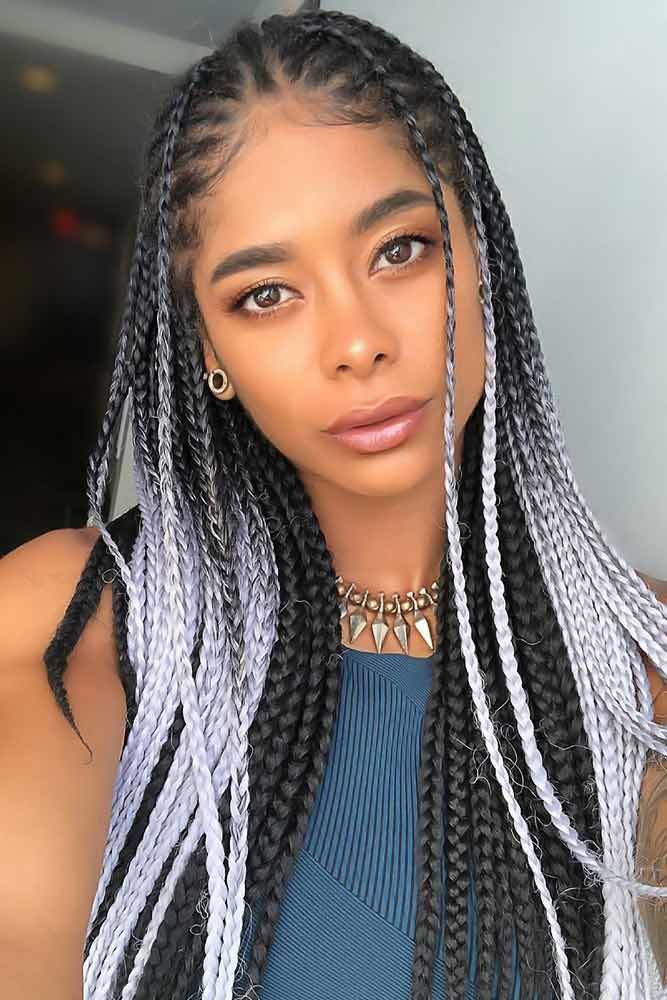 Credit photo: instagram.com/massy.arias
Now, let's talk about the latest in colors. Silvery shades have always been around. In fact, more and more stylists involve this shade into their creative routine, adding it as highlights over blonde locks or for salt-and-pepper color jobs. And here's how natural hair can find its stylish peace with a touch of silver charm on the midshafts. Again, you can either invest in already painted extensions or dye your hair with temporary dye. Whatever your choice is, you will look radiant anyway, as there's nothing like smoothly flowing silvery hues on a darker mane.
Fulani Braids With Hair Rings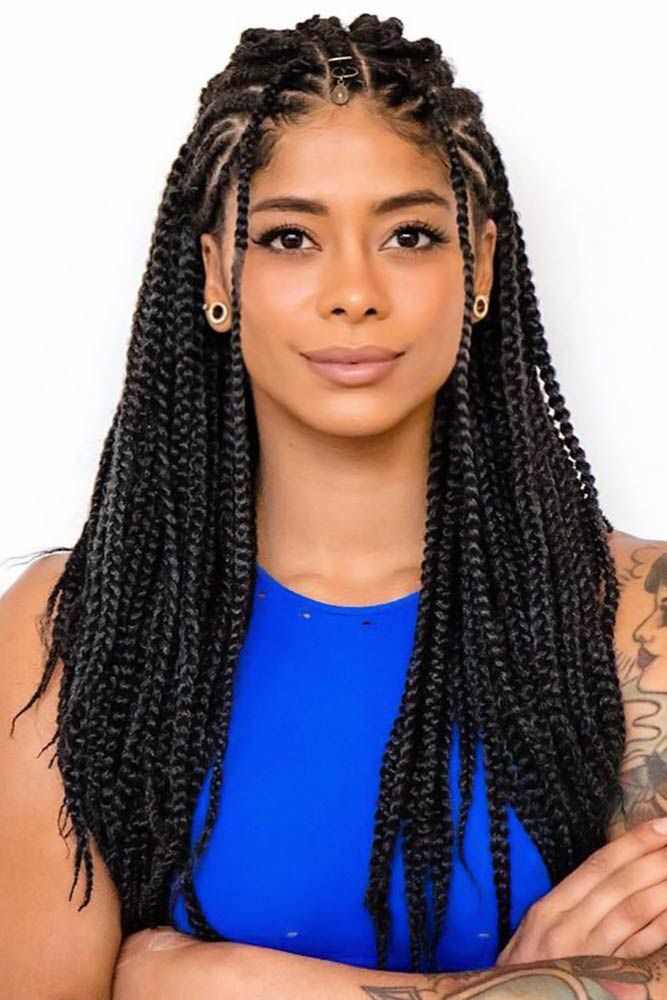 Credit photo: instagram.com/massy.arias
When wearing Fulani braids, accessories do matter. Basically, the choice of accessories you put on your braids can drastically change the mood of your look. For a rather authentic look, massive wooden beads will work perfectly. At the same time, if you'd like to add a modern vibe to the ethnic-inspired hairdo, you can try hair rings. This kind of embellishments is becoming more and more popular each day, so you can find an option to your liking.
Fulani Braids With Massive Ivory Beads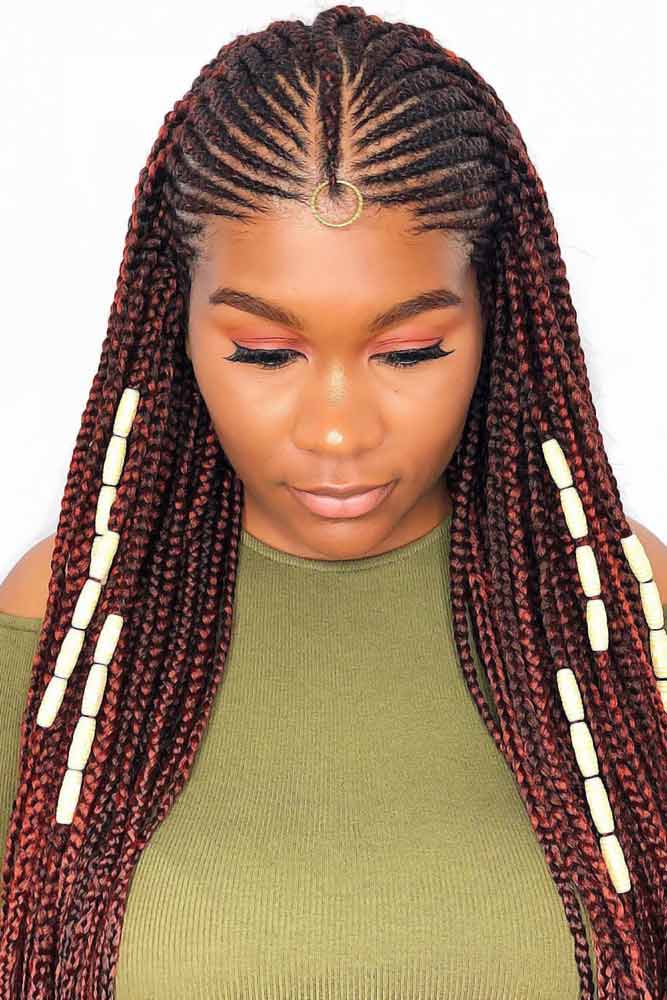 Credit photo: instagram.com/londonsbeautii
Some girls may say that such beads are too heavy to wear. As for us, we say that they're hard to resist! If you're one of those ladies who love wearing massive accessories, do yourself a favor and try accessorizing your Fulani braids with big Ivory beads. Those who like to play with colors can also add some burgundy accents to their hair. All in all, this color has always been a good match for darker bases!
Geometric Tribal Fulani Pattern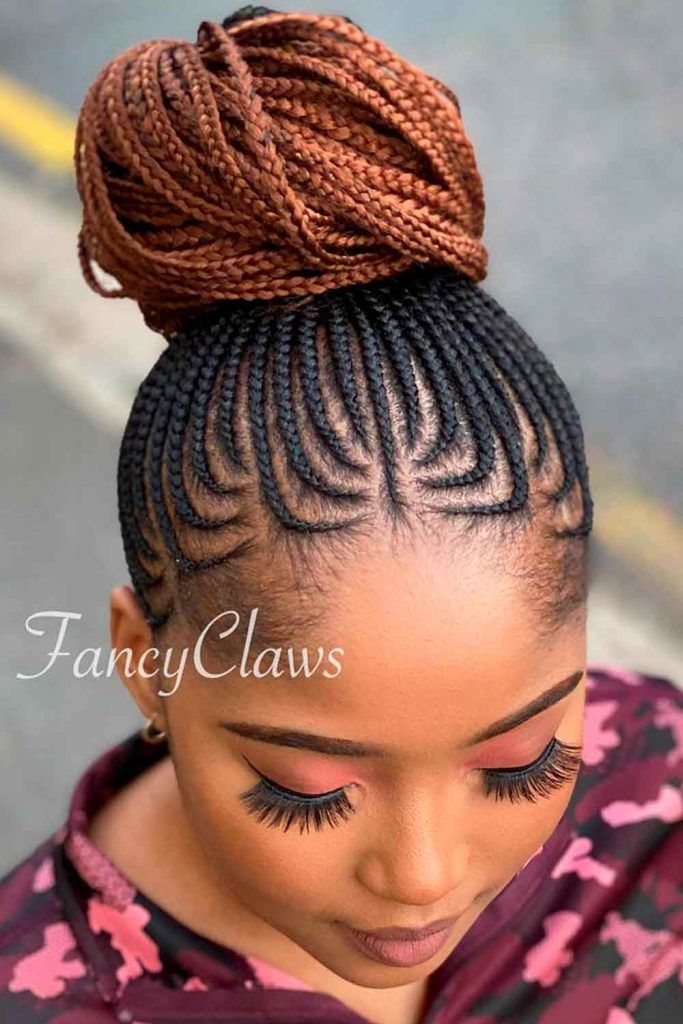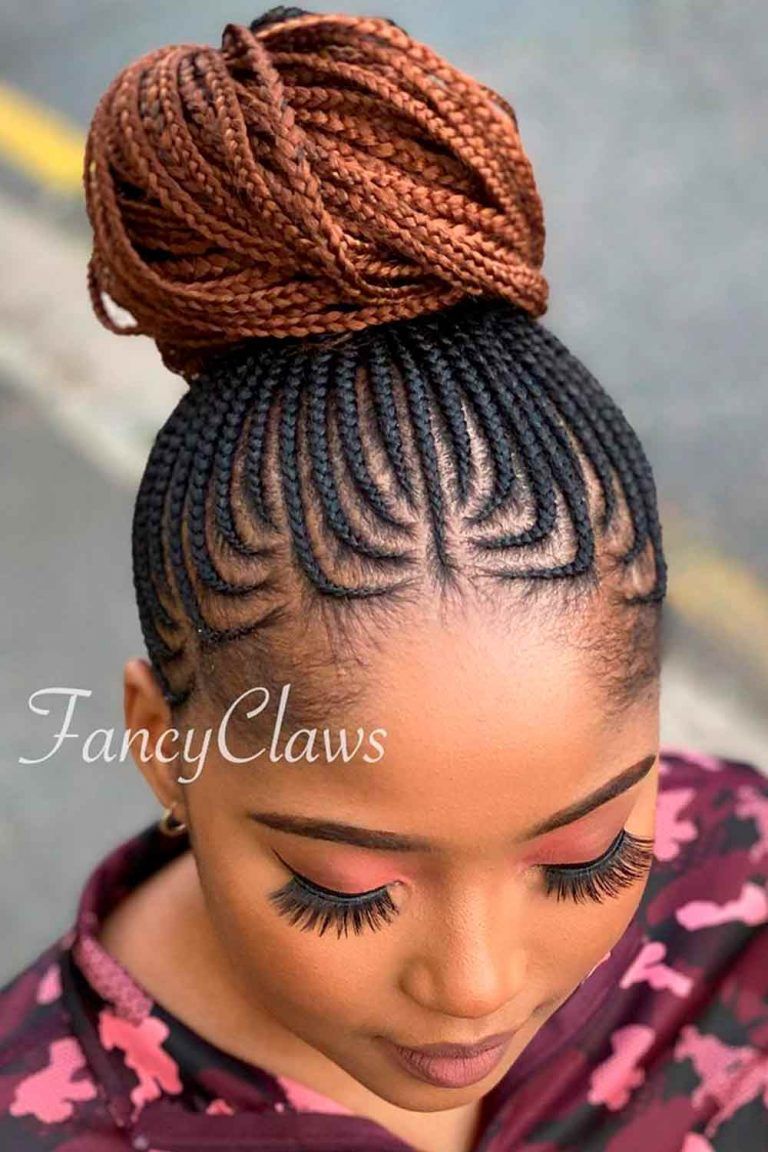 Credit photo: instagram.com/fancy_claws
Geometric braiding patterns aren't the easiest ideas to recreate. But, anyway, the special, structured look is worth all the time and effort. To make your hairstyle match the Fulani spirit, finish the central cornrow with a hair ring. Besides, taming baby hairs with styling gel won't hurt as well.
Extra Long Purple Fulani Braids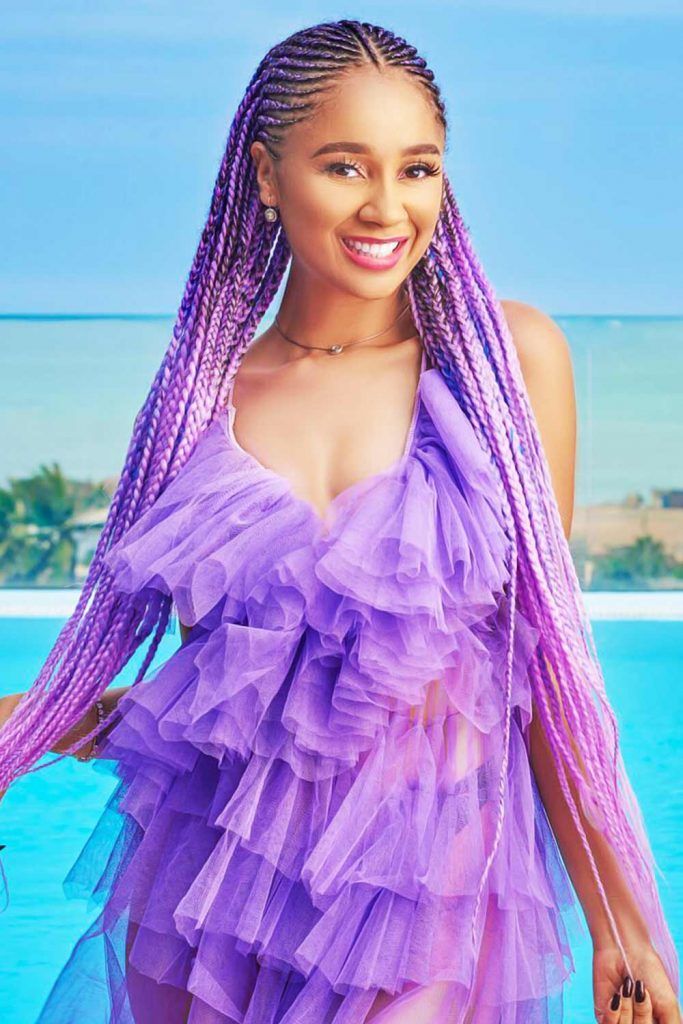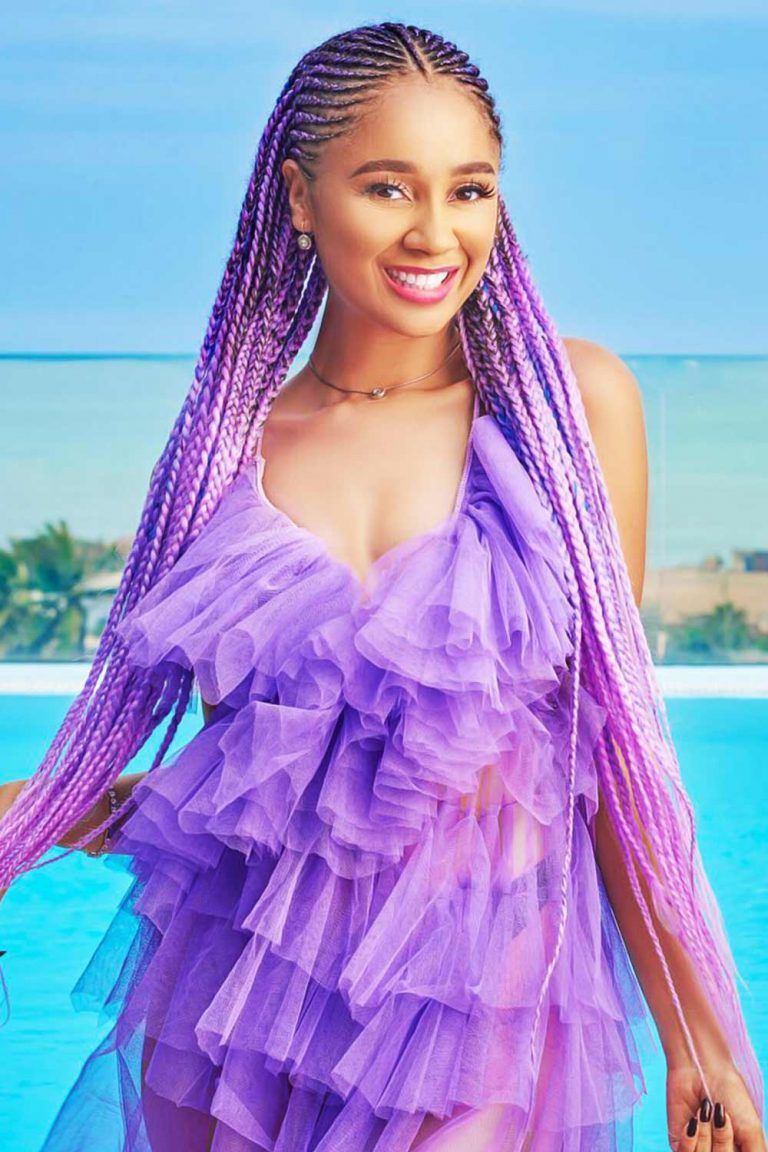 Credit photo: instagram.com/sisterdeborah
Long Curls With Fulani Braids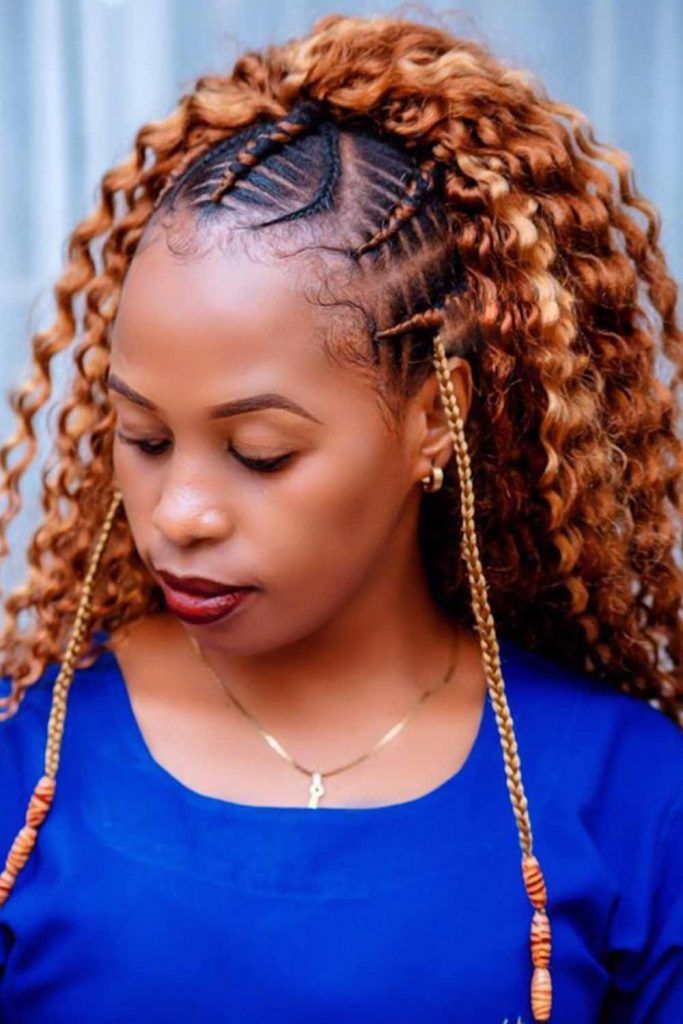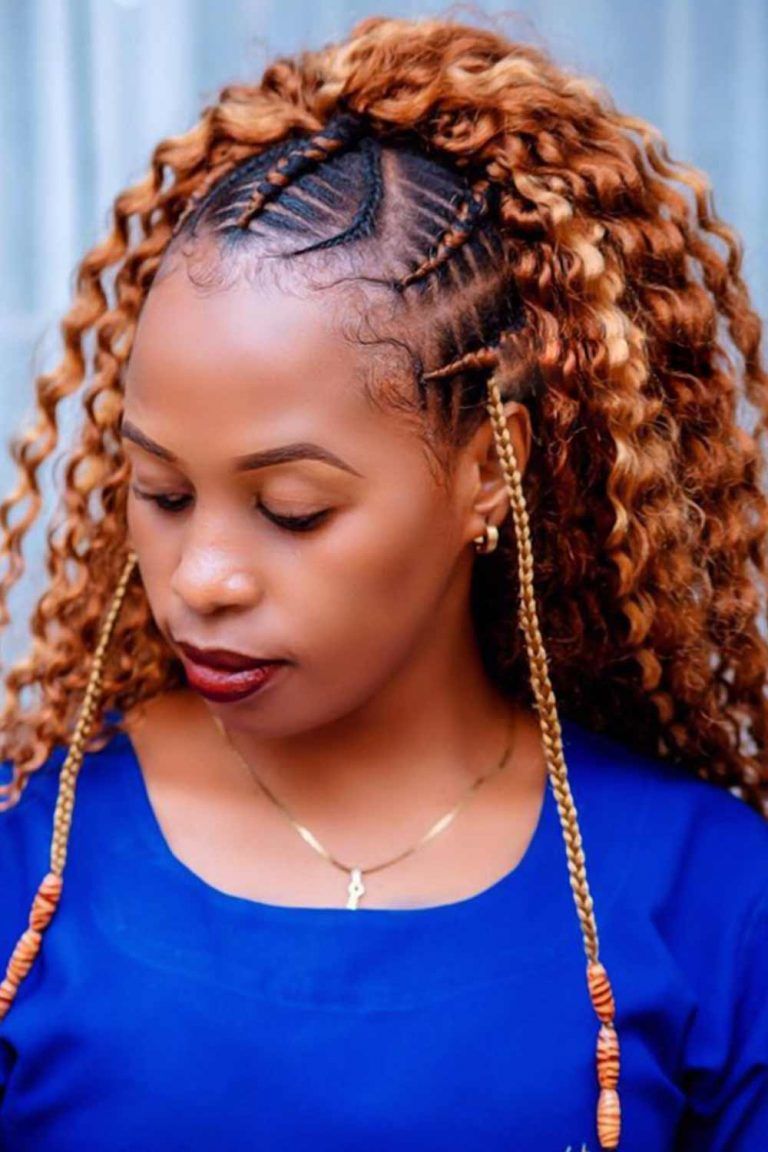 Credit photo: instagram.com/cutelooksdar
Updo Styles Fulani Braids
Although updos are one of the most common choices of women of color, they're all far from looking common. Wearing your braids up is not only a stylish way to show them off but it's also a practical way to deal with them in your daily routine. Updos are the first thing we think about when we want to go sophisticated while keeping the hair secured. That's why you should see these wonderful top picks we've highlighted from Instagram and Pinterest!
Braided High Bun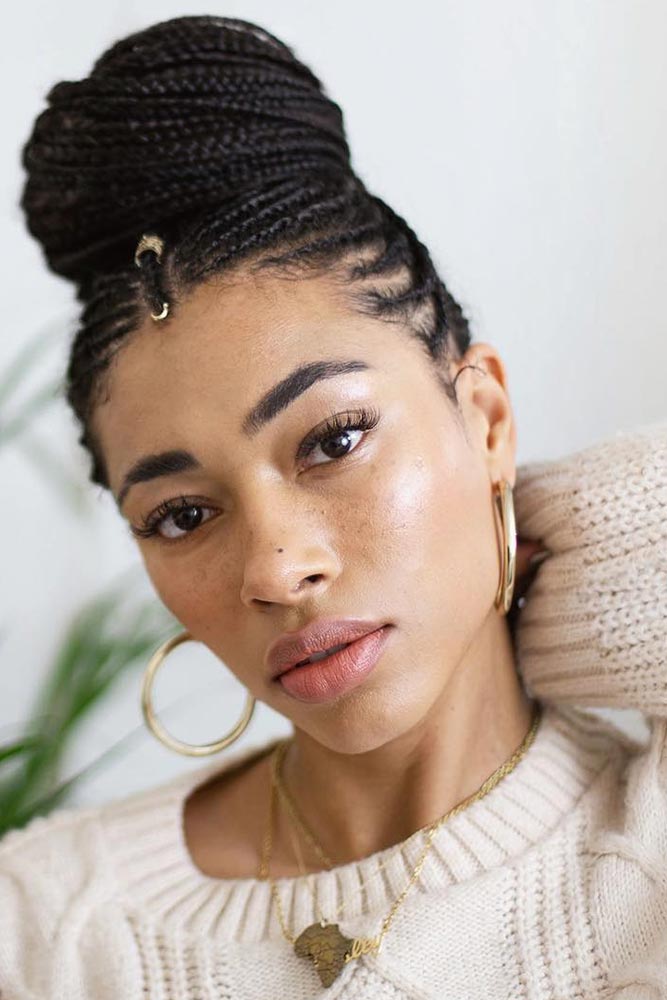 Credit photo: instagram.com/freshlengths
Once you put your Fulani braids in a bun, you will get the easiest and most feminine hairstyle at the same time. Though it's a simple updo, it looks pretty different: just place some beads to the center cornrow.
Classic Fulani Braids Updo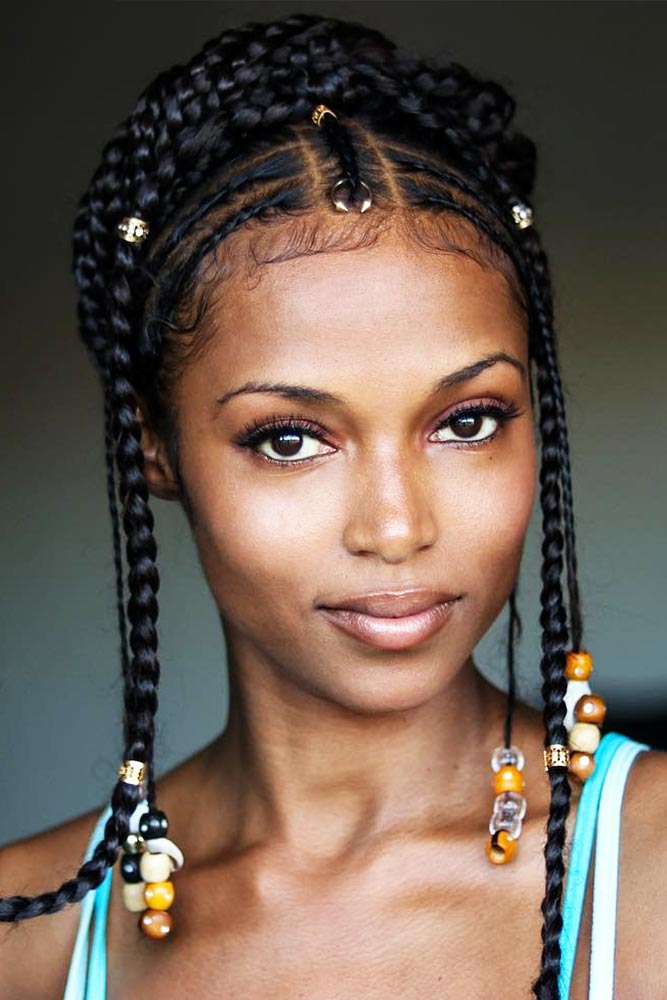 Credit photo: instagram.com/kersti.pitre
If you want to flaunt with an authentic ethnic hairstyle, you should stick to Fulani braids history. This idea is a perfect example of their classic version, so you can't go wrong with it.
Double Low Buns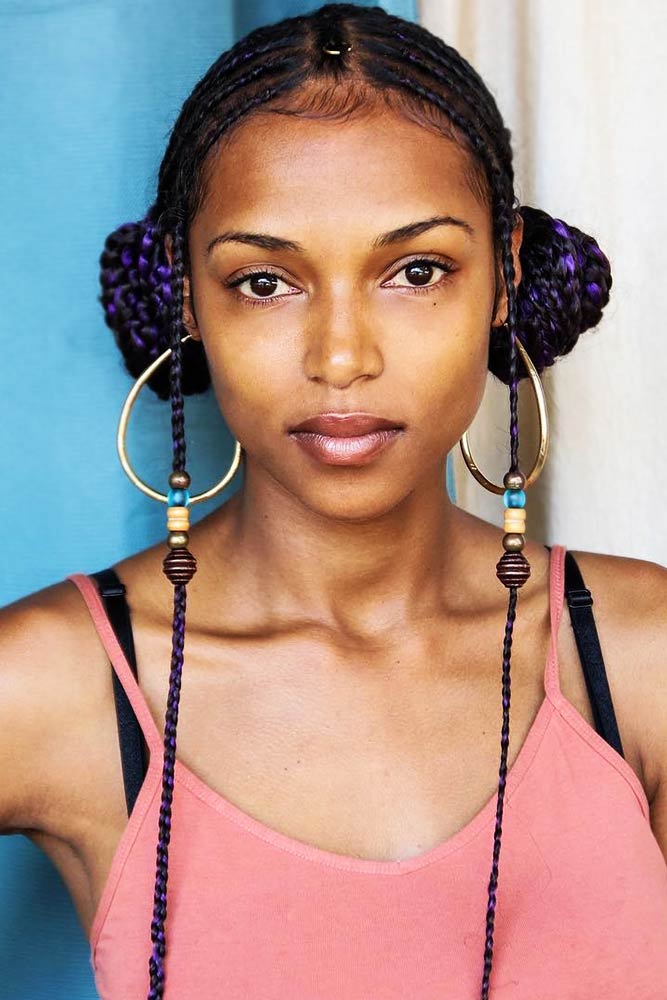 Credit photo: instagram.com/kersti.pitre
Twisting Fulani braids into two buns is enough to look at a simple style from a new perspective. By the way, with such a spectacular braided design and texture, double low buns will become one of your favorite styles.
Fulani Braids Into Twisted Pony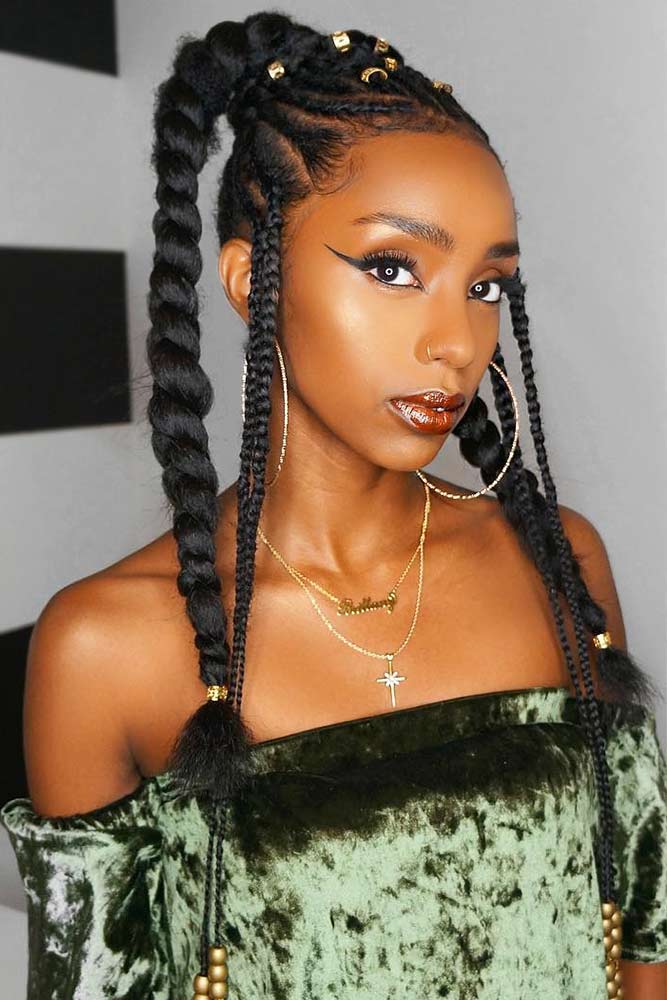 Credit photo: instagram.com/lavishlybritt
Not all of your locks should turn into braids. Besides the size and thickness, you can also regulate the number of twists. As this idea suggests, you can simply spice up your texture with a couple of front braids.
Braided Ponytail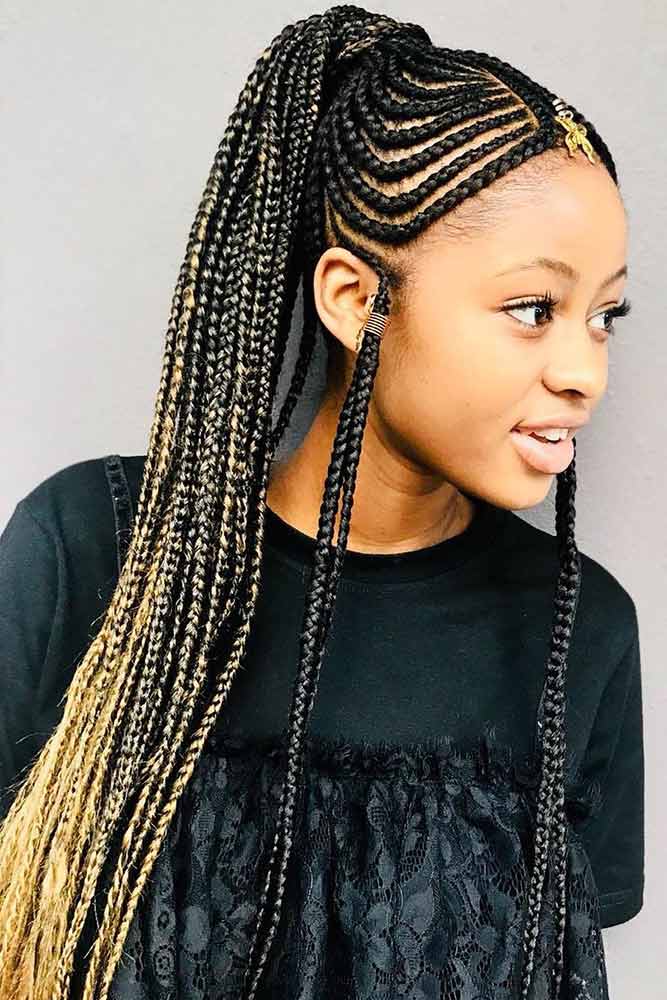 Credit photo: instagram.com/fancy_claws
Long Fulani braids can be anything you want them to be! And the best thing is that they can make you fall back in love with such a common, familiar hairstyle as the ponytail.
Double Ponytails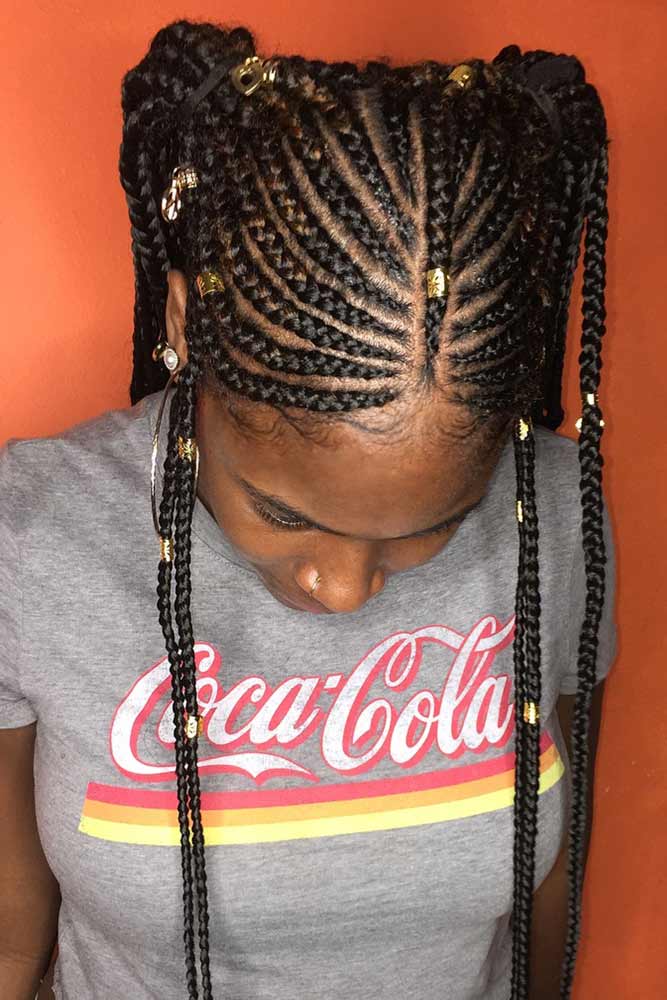 Credit photo: instagram.com/maya_giftedhands_
Meet the variation of Fulani braids kids will never stop adoring. It's a very fun and playful idea for girls who like to stand out in the crowd. Not all the ladies can rock such a style, right?
Fulani Braids Into Afro Pony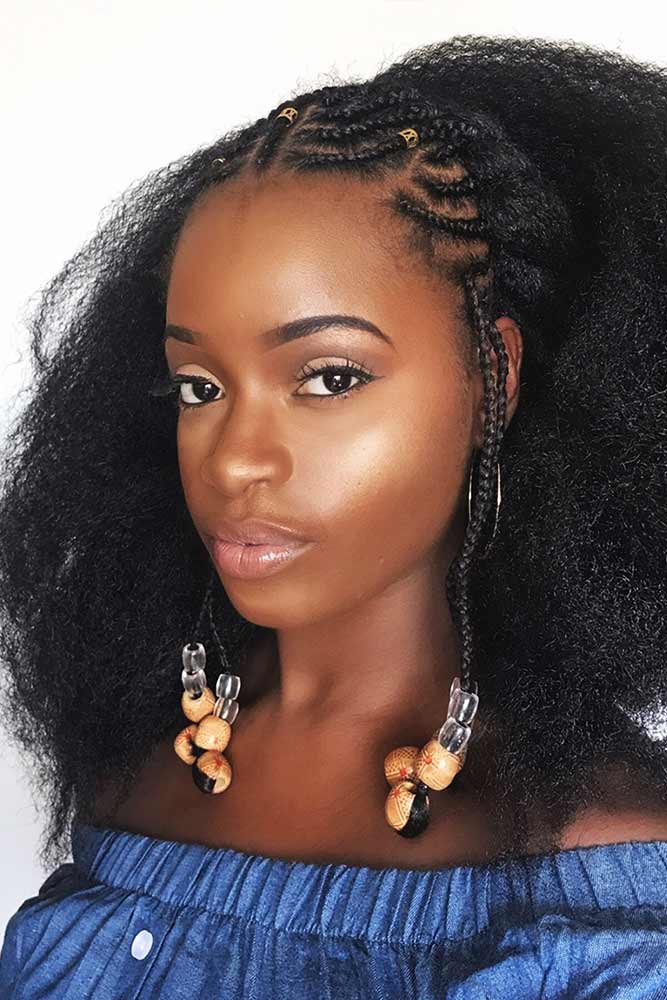 Credit photo: instagram.com/missaudreybee
It's always hard to gather afro hair in a ponytail. So here come Fulani braids; the braids that will keep the front tight, thus helping you to rock your days with a voluminous and immaculate pony.
Twisted Fulani Braids Updo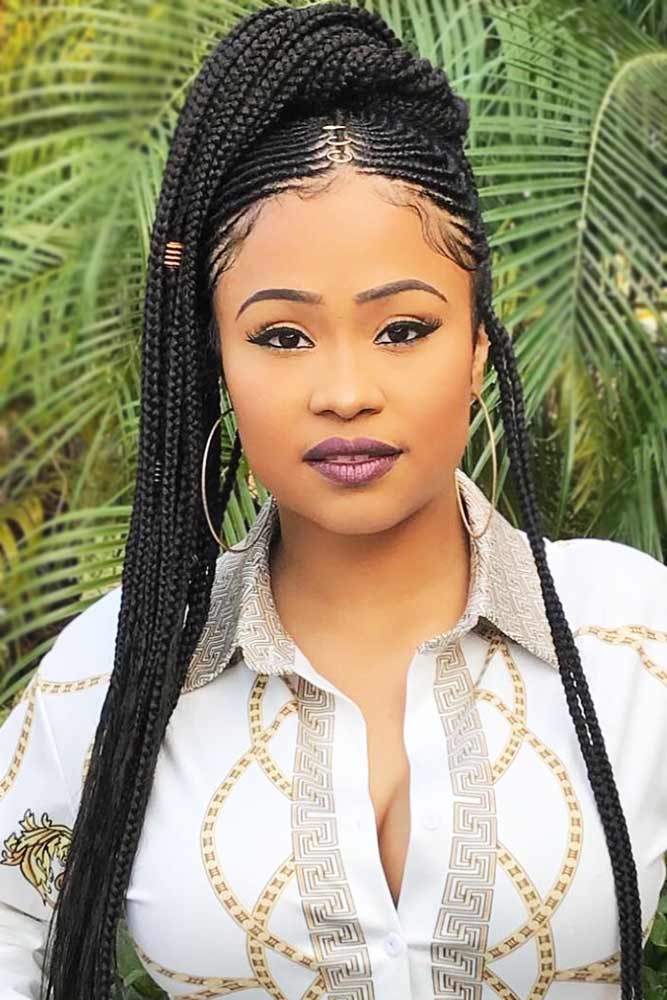 Credit photo: instagram.com/braids_by_antoinette
Braids that transform into twists and go along as braids. Braided mind games? The versatility of this protective style knows how to impress!
Fulani Braids With Afro Hair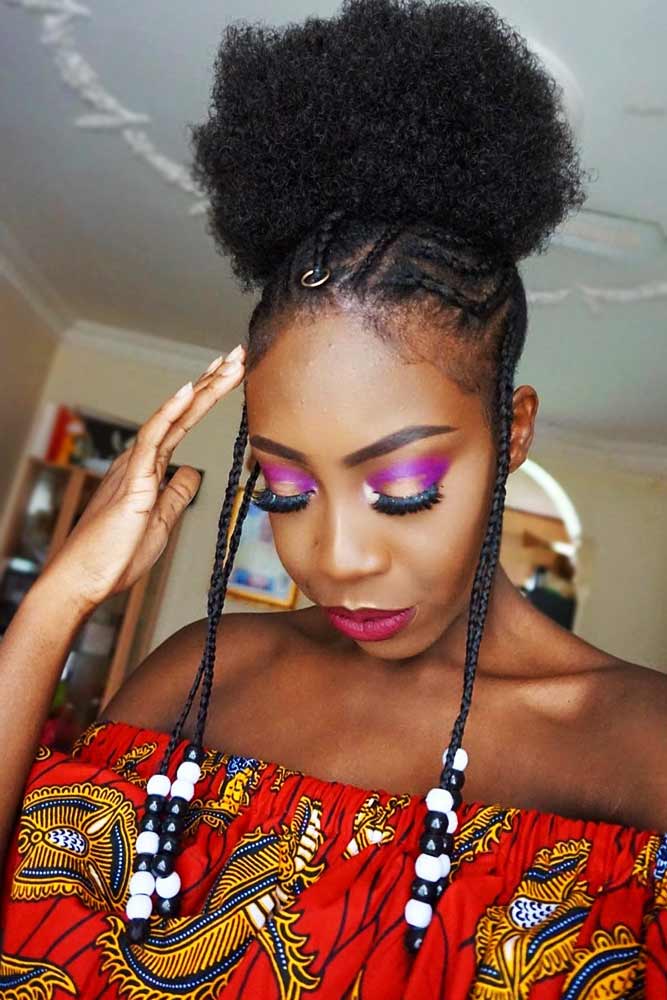 Credit photo: instagram.com/sincerelyoghosa
How about you to catch people's eyes with the charm of contrast? The tight crown and puffy top are a nice duo that can emphasize the beauty of your hair texture and make heads turn at once.
Swept Back Styling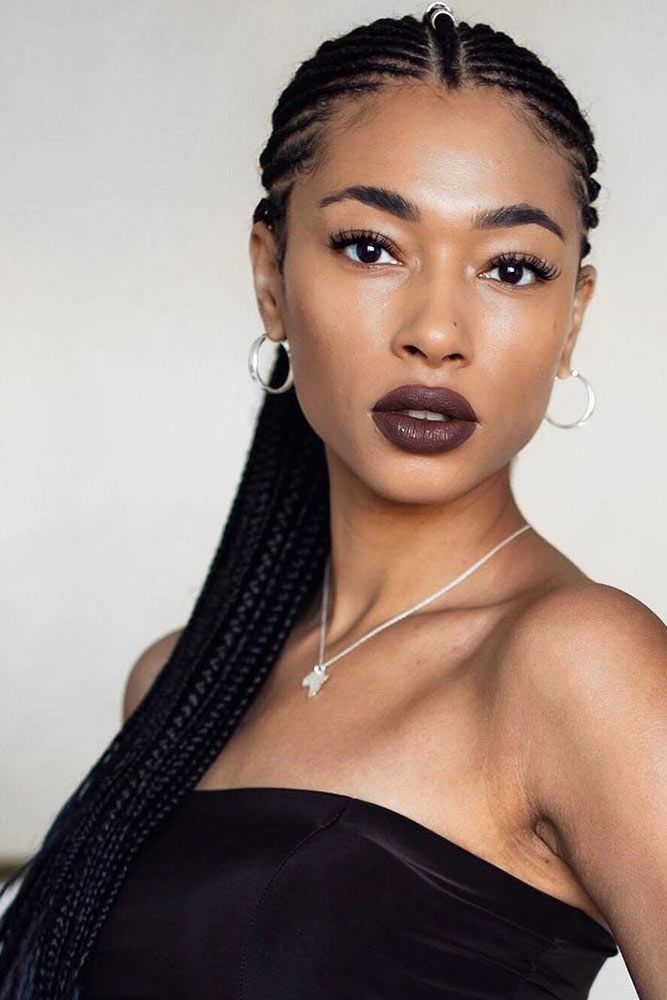 Credit photo: instagram.com/freshlengths
Who says that you can't go sleek and neat with braids? A swept back Fulani braids ponytail will still bring a sophisticated mood, grabbing more attention than usual due to the outstanding texture.
Fulani Braid With High Sleek Pony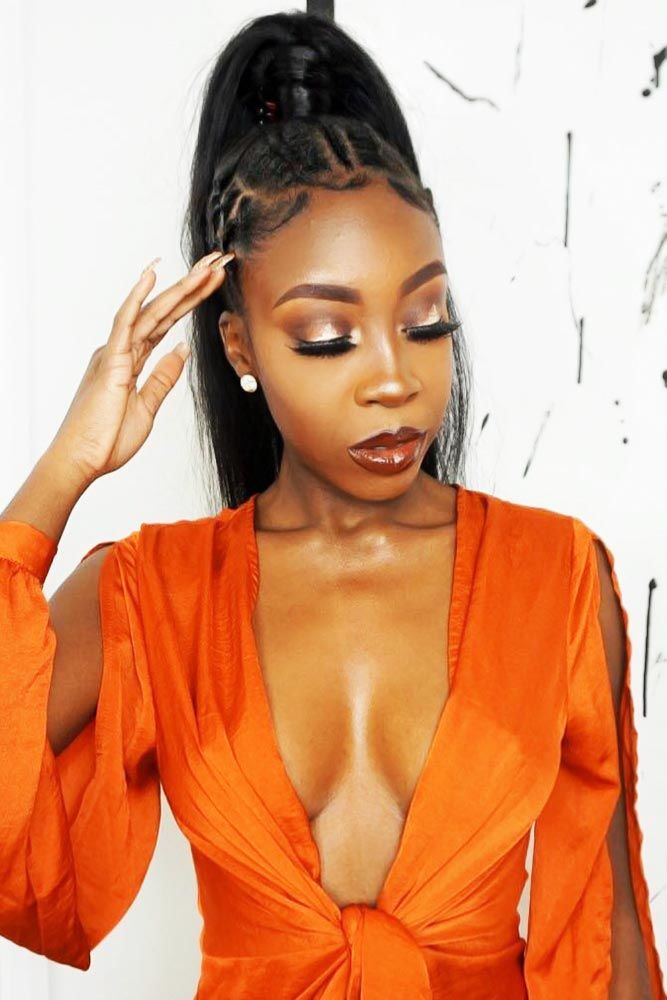 Credit photo: instagram.com/sincerelyoghosa
Instead of braiding all of your natural locks, you can save some time and still have a magnificent look. Let the impressive Fulani braids pattern embellish only the top of your head, putting the rest of your hair into a sleek pony. A tip: if your natural hair isn't straight by default, don't forget about oil-based heat protectant before getting the look.
High Twisted Pony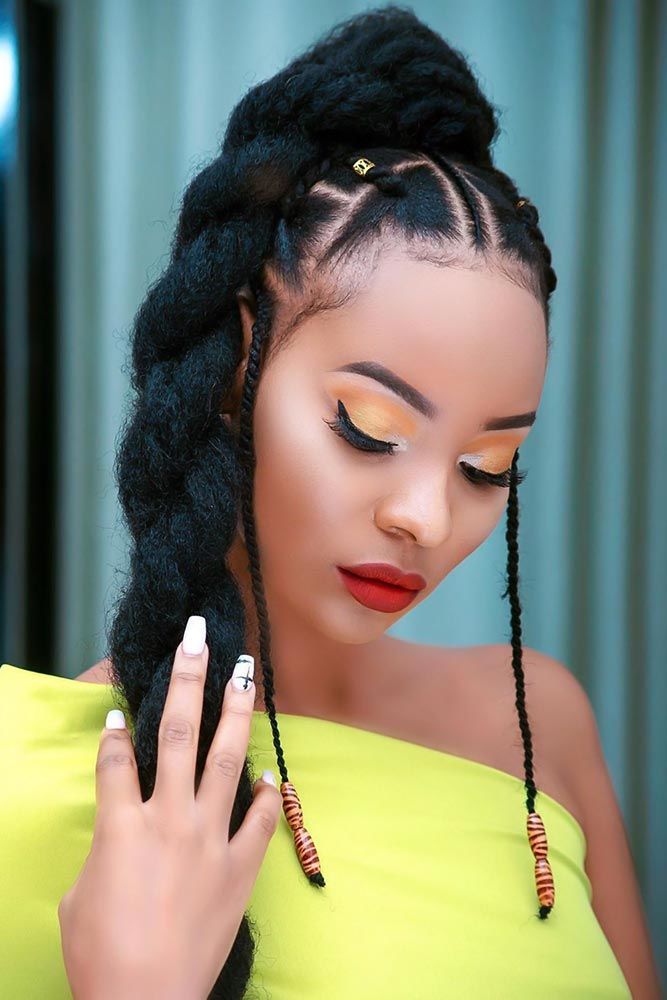 Credit photo: instagram.com/cutelooksdar
Fulani braids also look wonderful not as a base but as elements for a natural hairstyle. You can create two braids on the sides and the single cornrow on the top, for example. As for the rest of the hair, you're the one to decide how to style it. Anything from a sleek styled top to a pouffy ponytail with your brushed locks will look just perfect. Or, why not mix all these ideas just like in this high twisted pony?
High Pony With Pink Extensions
Переглянути цей допис в Instagram
Girls who are not afraid to stand out can go for truly bright contrasts. Hair extensions of vivid neon shades are a simple and, most importantly, damage-free way to make your natural mane hit people's eyes from a mile away.
Mermaid Hair High Bun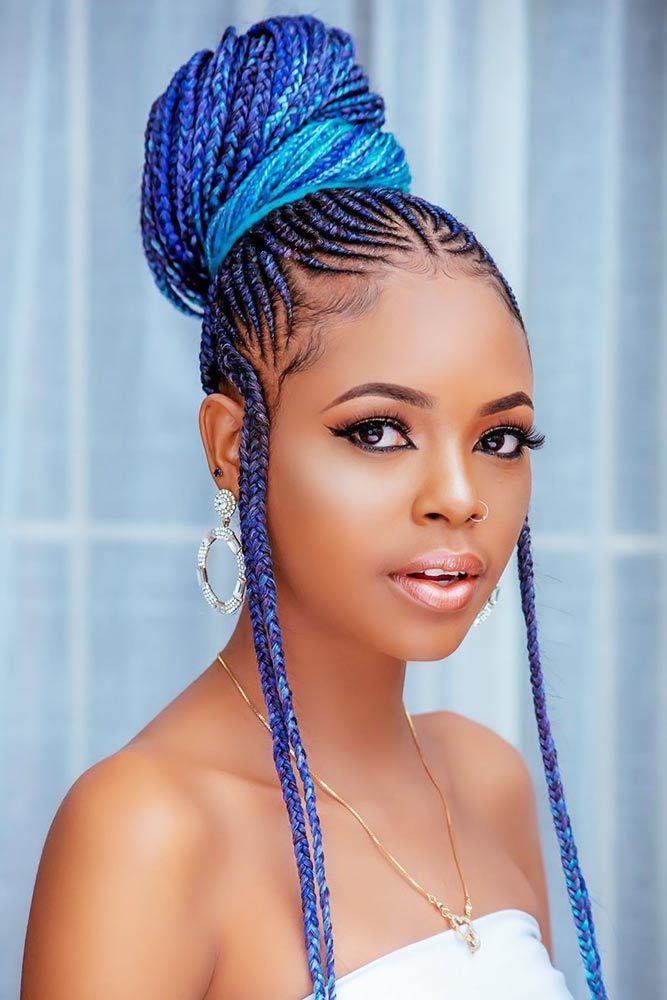 Credit photo: instagram.com/cutelooksdar
It's hard to believe that this hair look has come from a beauty salon; it's just so fairy-like. Well, you can't predict when another mesmerizing trend washes up on the shore of the fashion world. Yes, mermaid hair is a thing today, and girls love to follow this trend on Halloween and some themed parties. What we want you to do is just to take a moment to appreciate the beauty of marine colors, and then imagine how spectacular it will look on your texture. This high bun colored the most pleasant ocean shades is just to die for, that's for sure.
Tight High Pony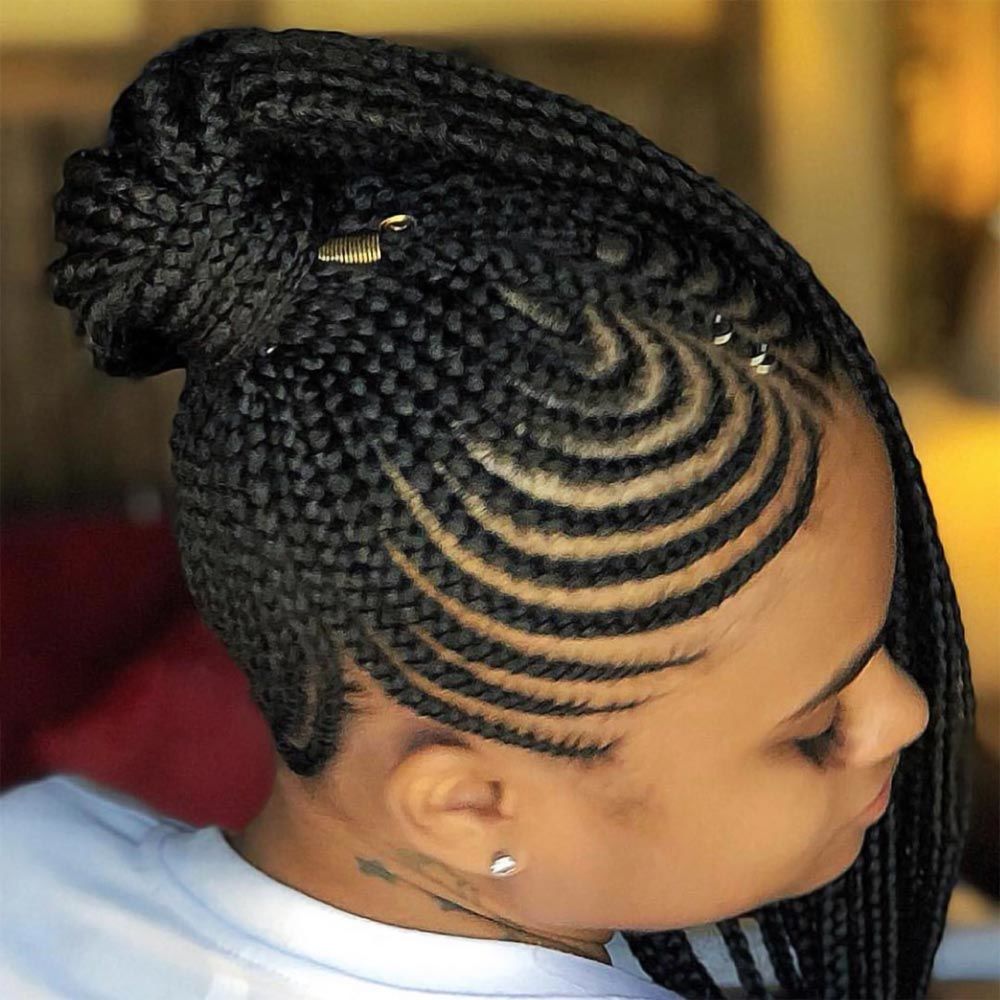 Credit photo: instagram.com/fancy_claws
Heart-Shaped Design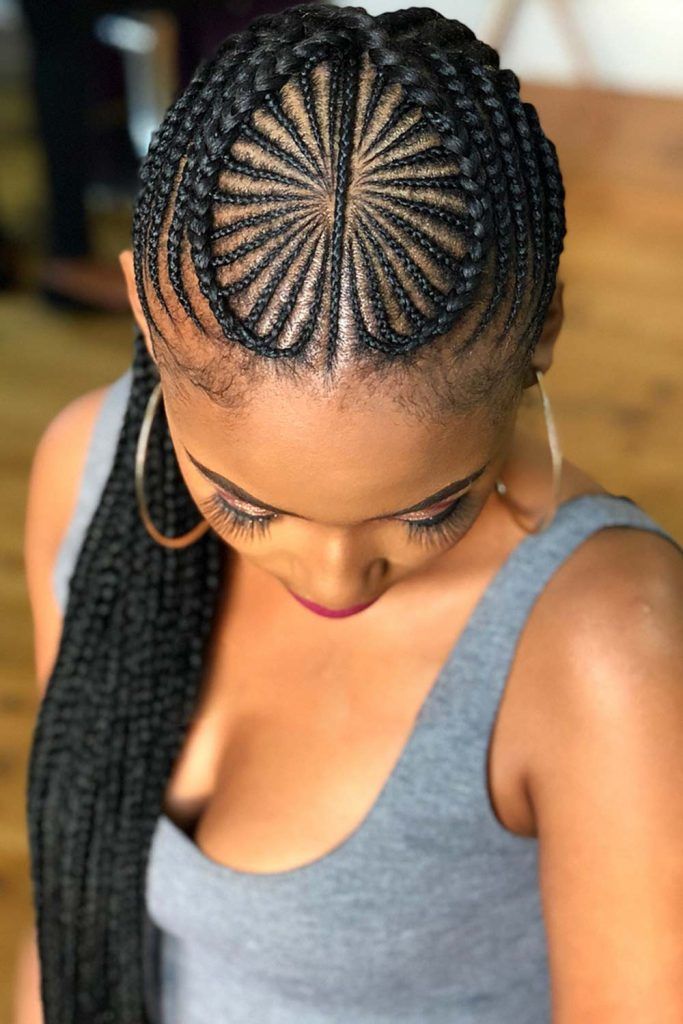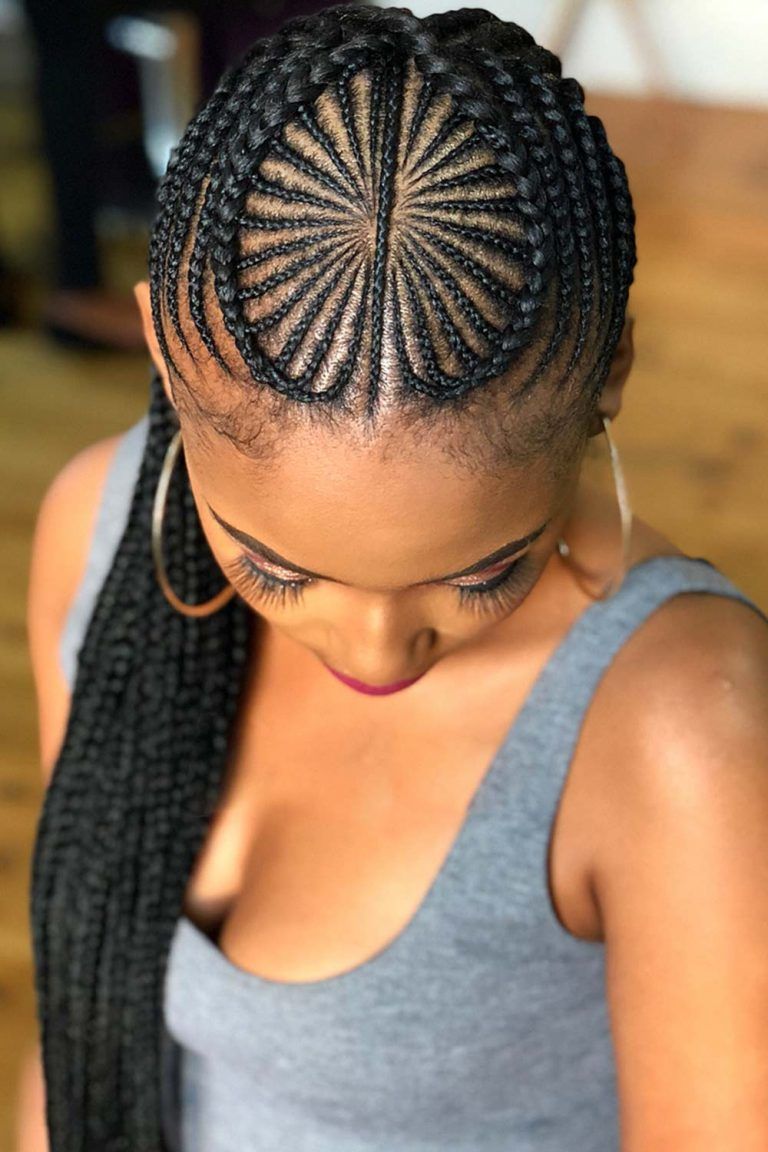 Credit photo: instagram.com/fancy_claws
Curly Updo Style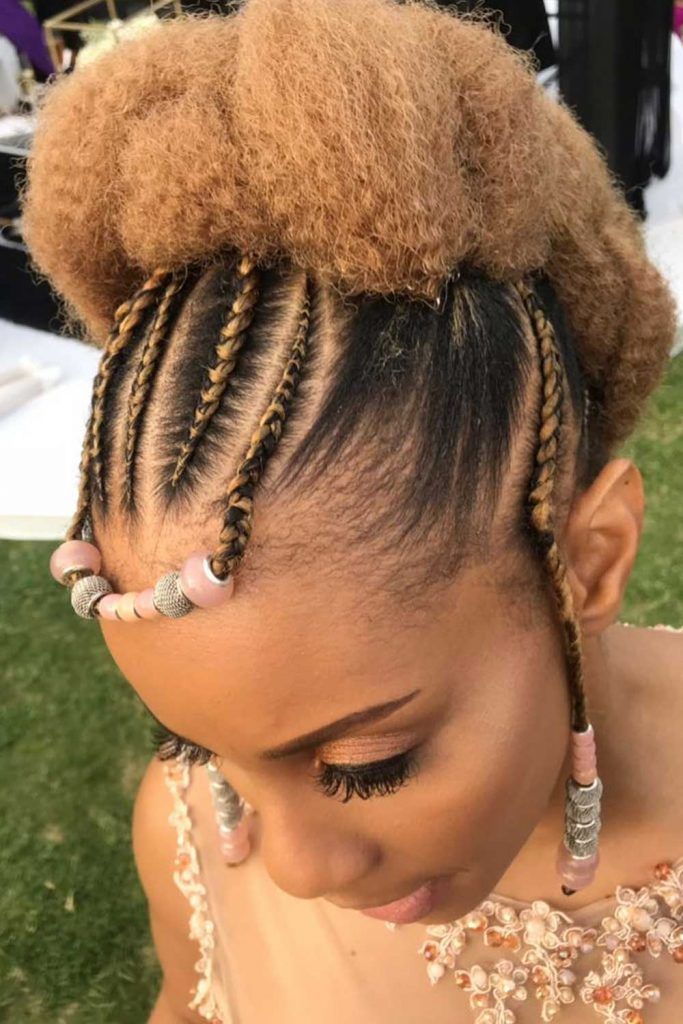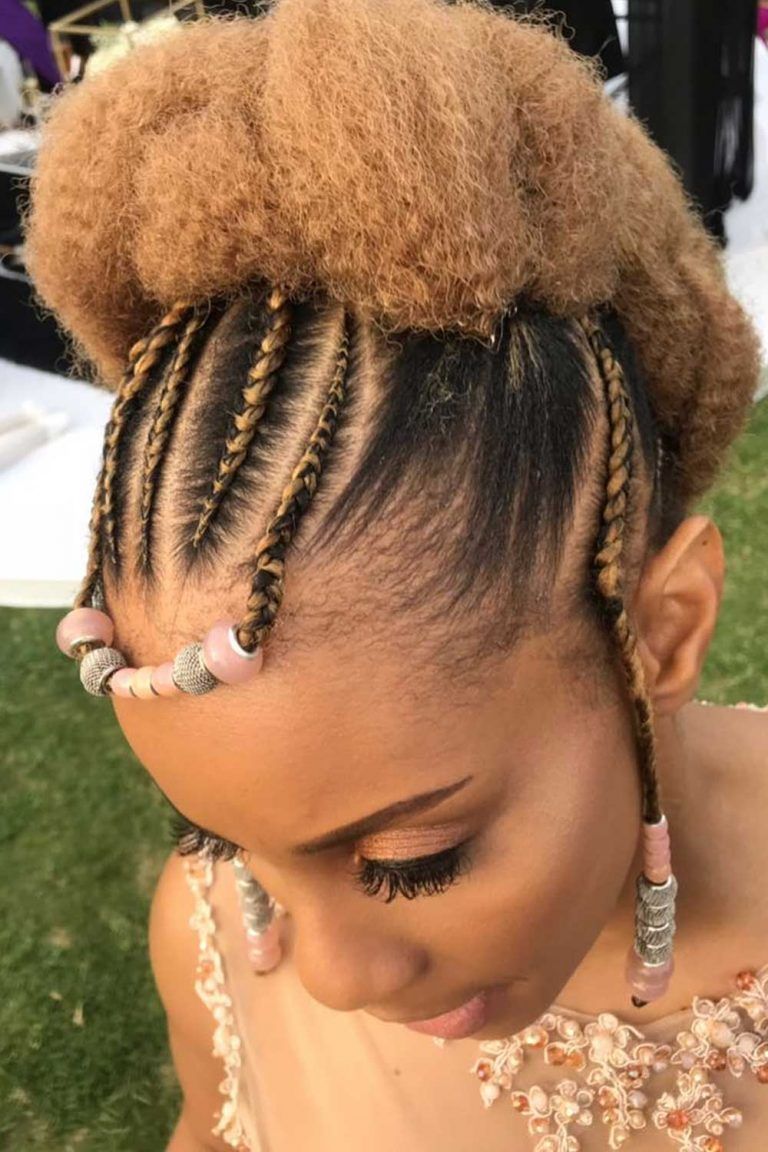 Credit photo: instagram.com/fancy_claws
Braided Updo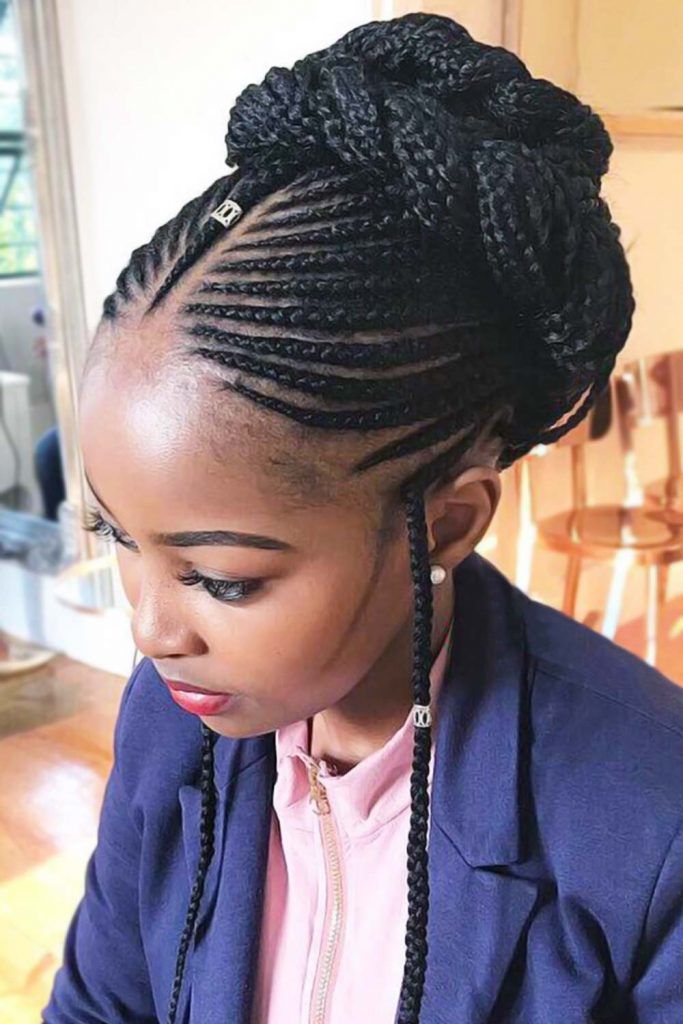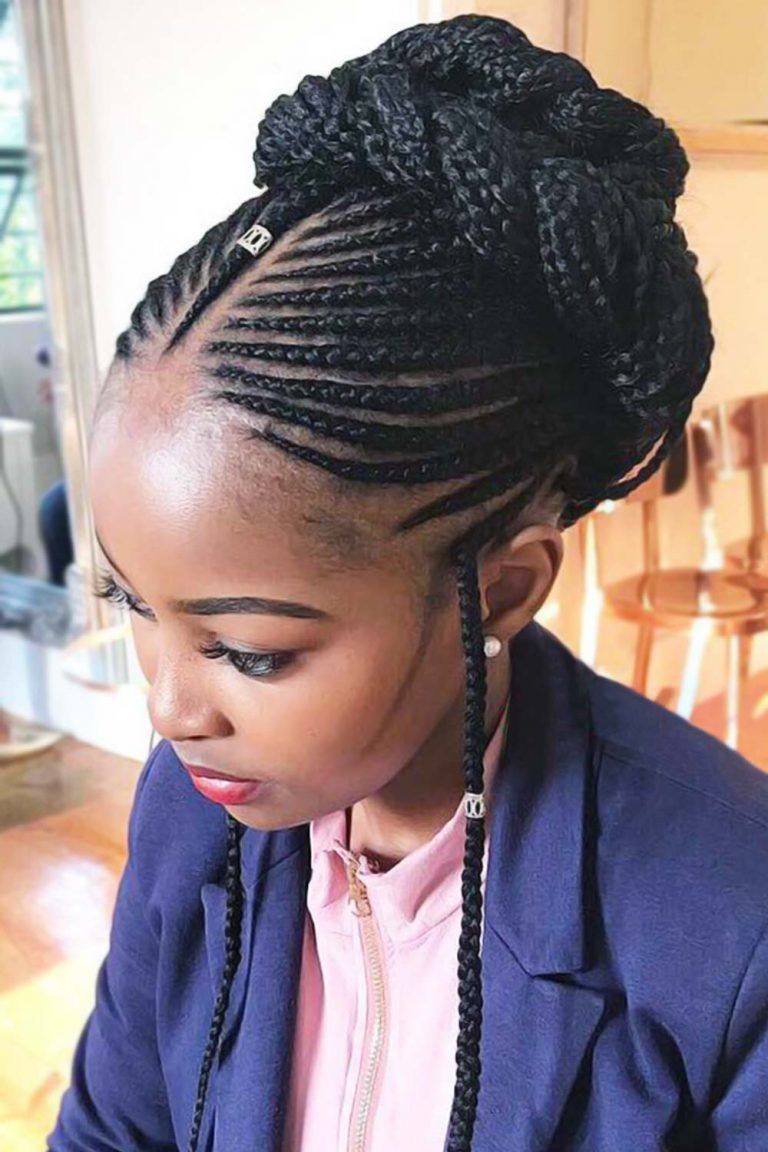 Credit photo: instagram.com/fancy_claws
Beads & High Pony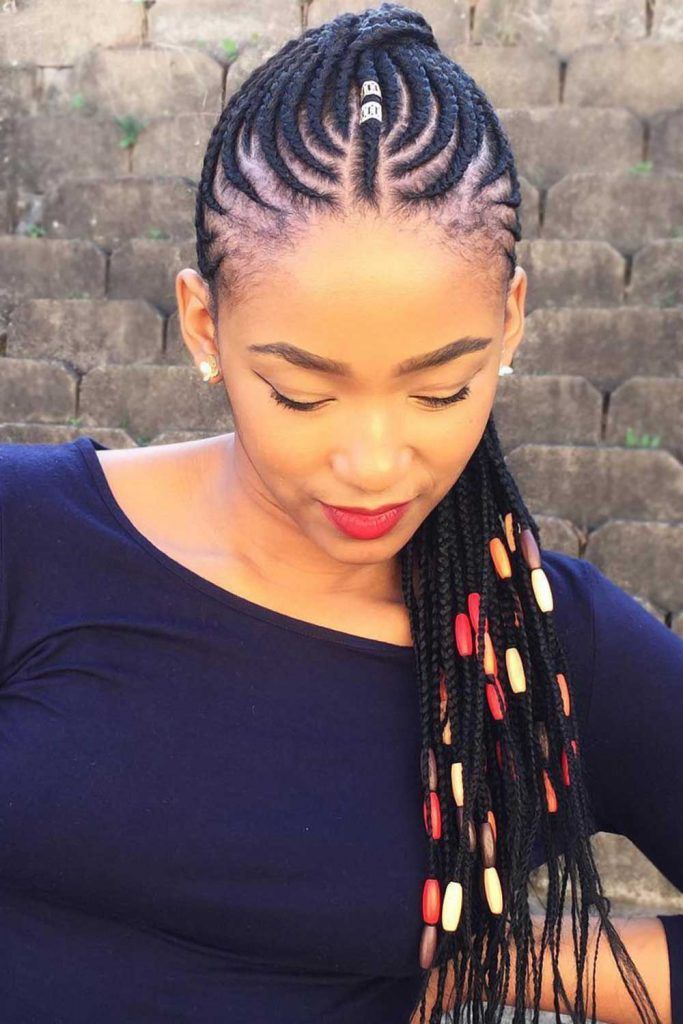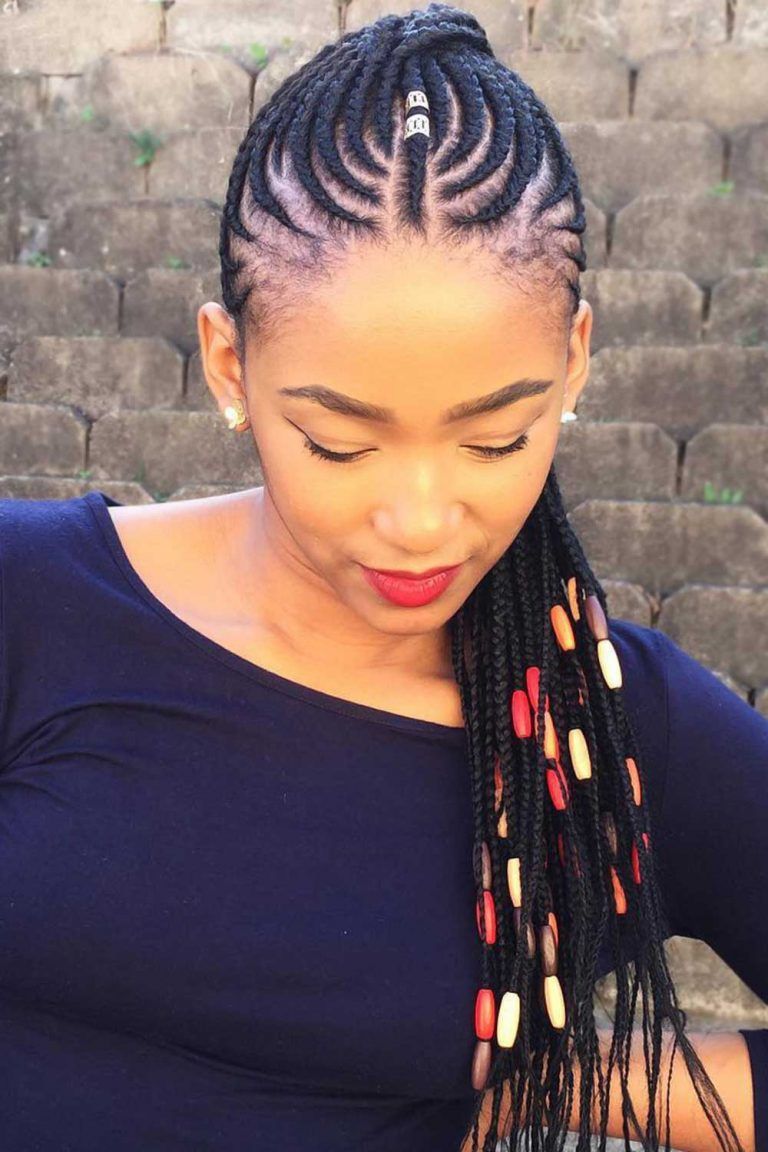 Credit photo: instagram.com/fancy_claws
Ring & Beads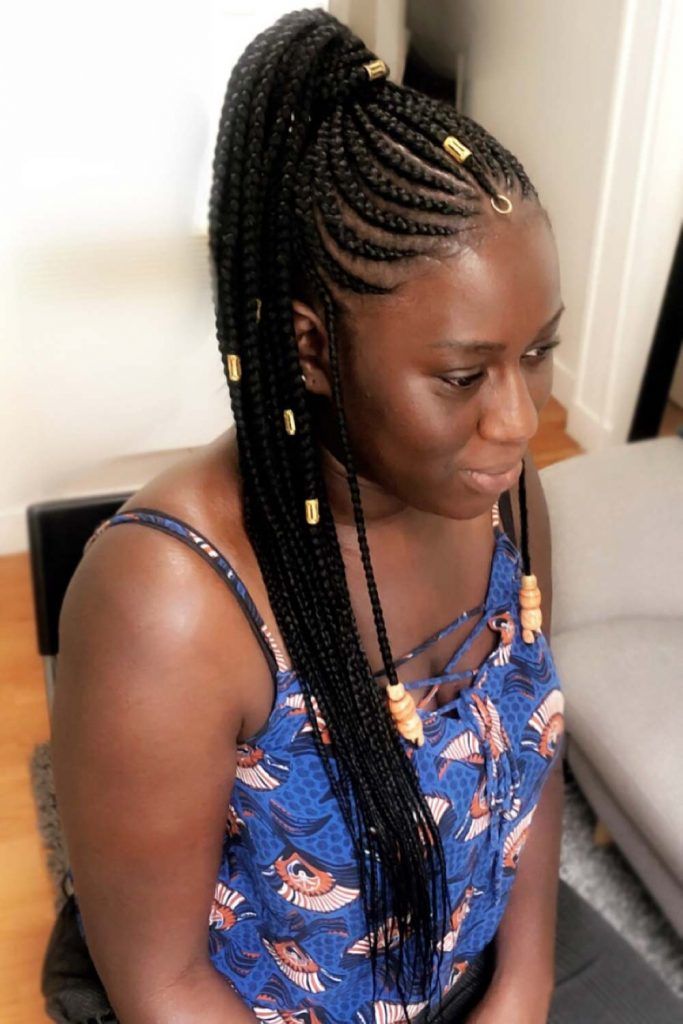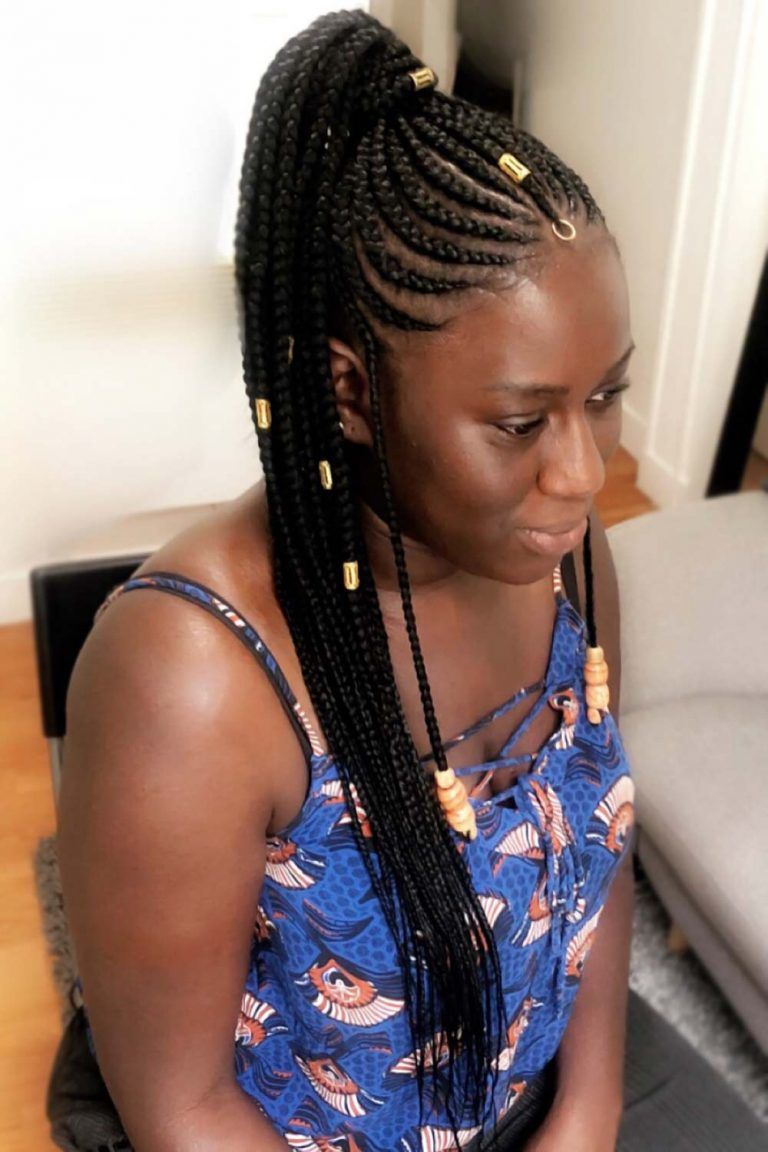 Credit photo: instagram.com/tresses_africaine
Low Pony Style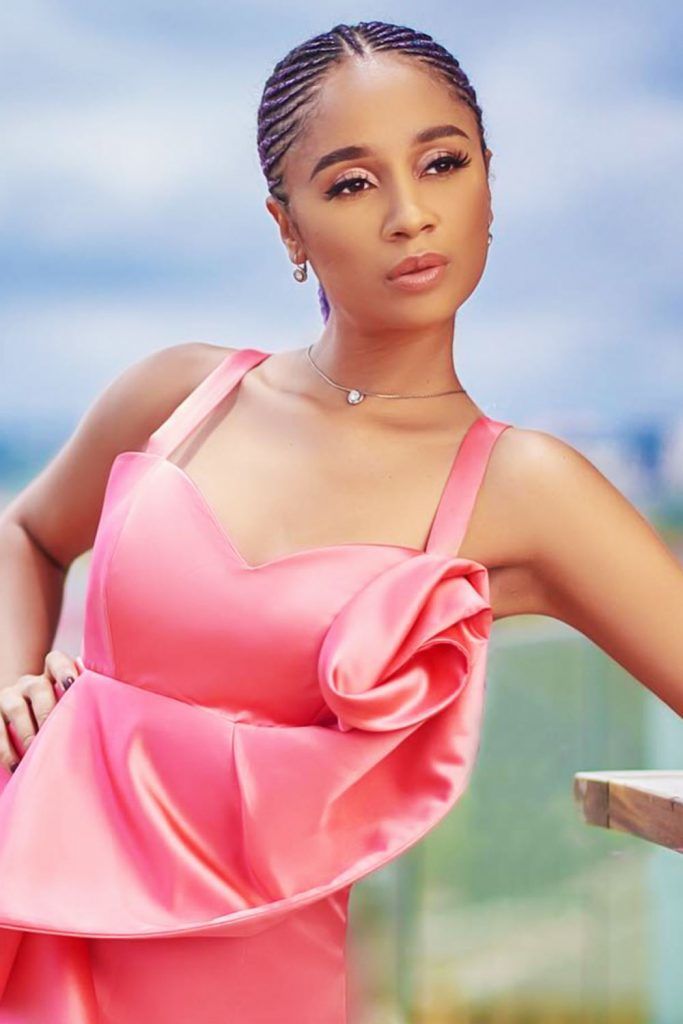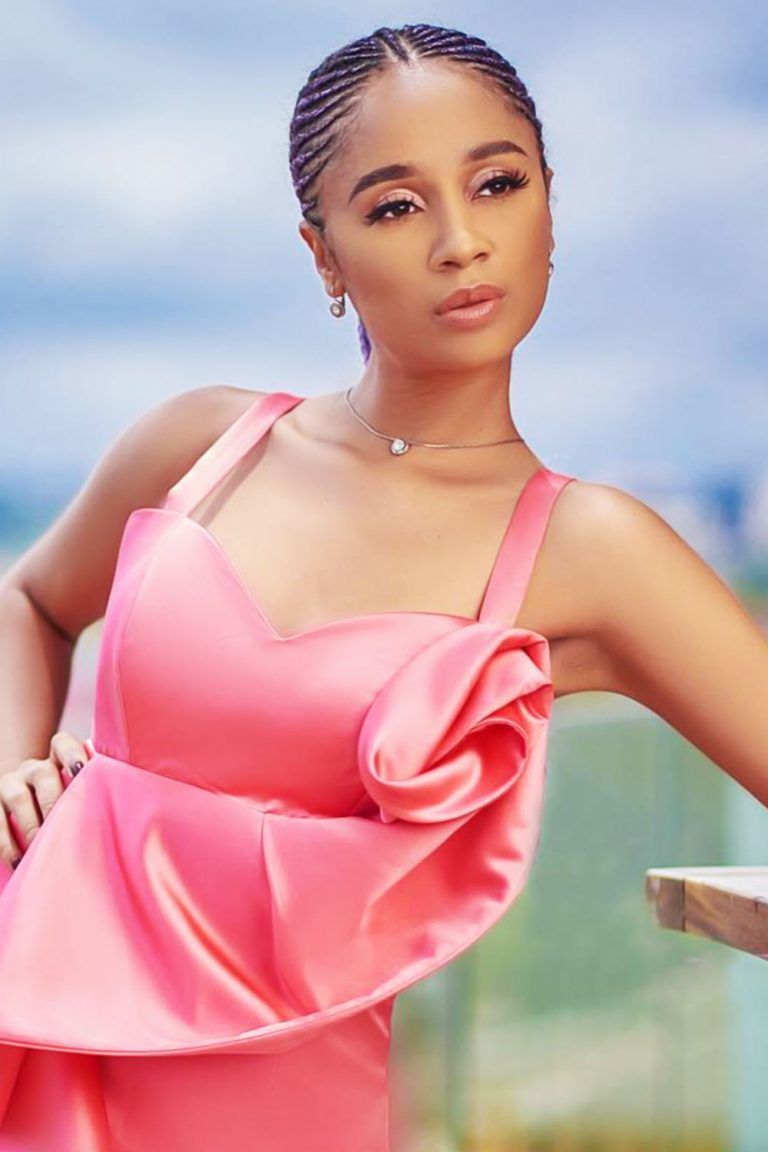 Credit photo: instagram.com/sisterdeborah
High Double Ponytails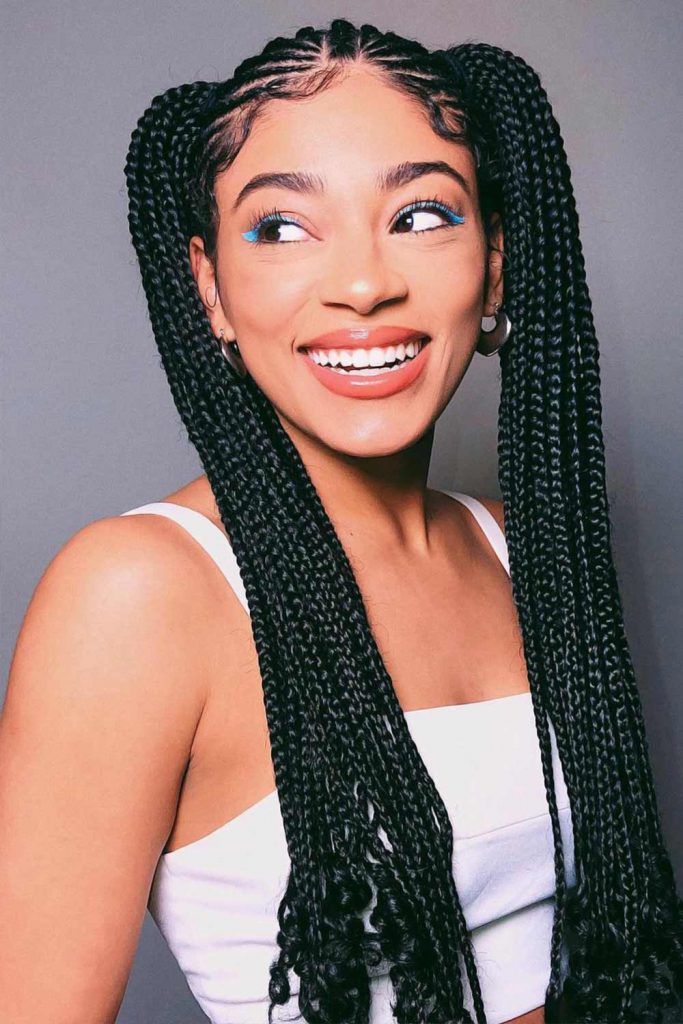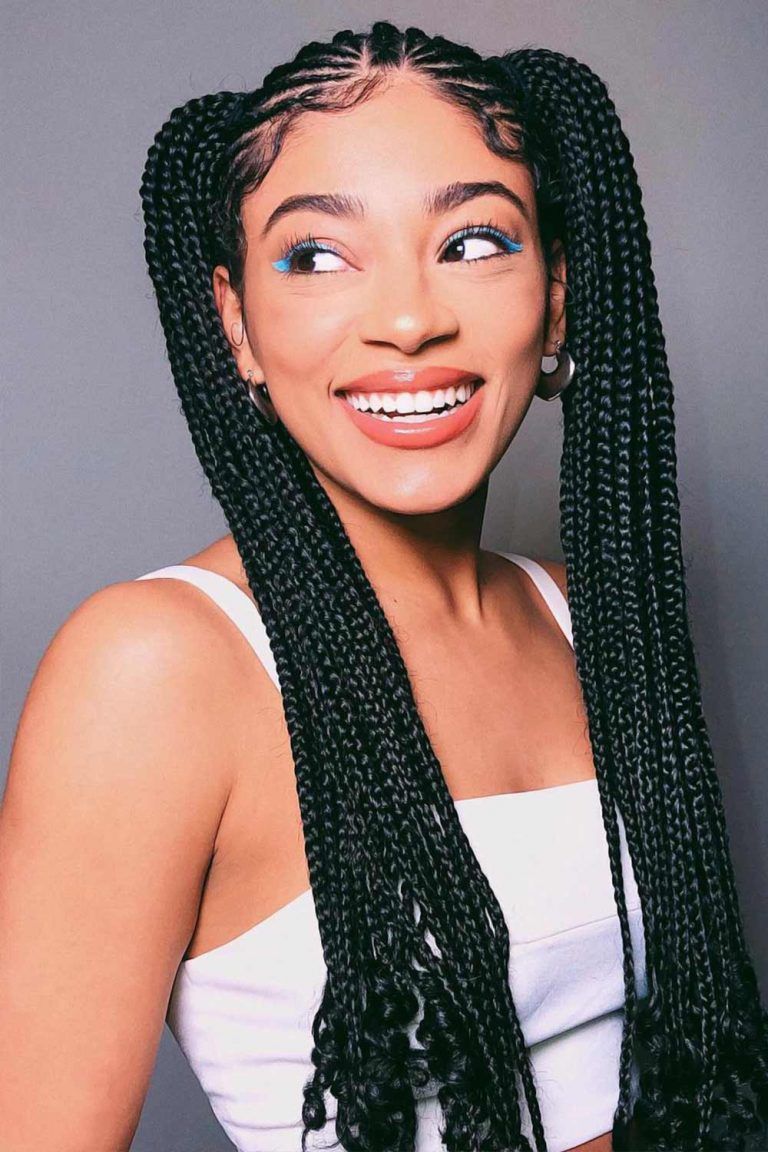 Credit photo: instagram.com/jasmeannnn
Half-Up Fulani Braids Hairstyles
Want to wear your amazing locks up but don't want to hide them in updos completely? This is when half-ups come in! Despite being unbelievably simple, braided half-ups have the power to showcase the beauty of your braids while keeping you comfortable with them. On top of that, you can always add some colorful magic to such styles. No more spoilers: it's time for you to behold the gorgeous Fulani half-ups that are especially perfect for hot summer days.
Half-Up Space Buns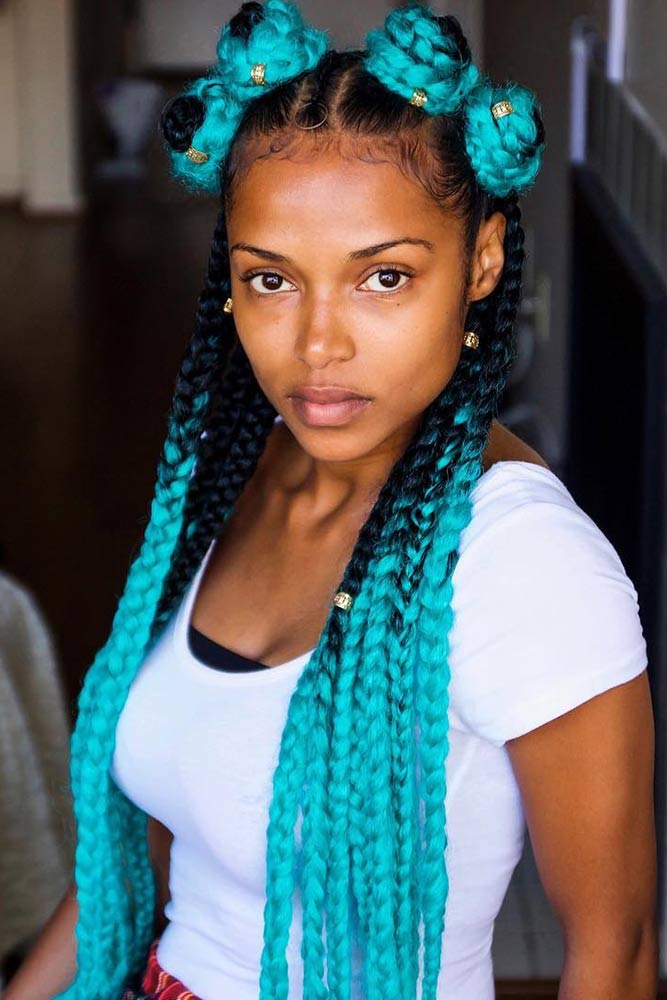 Credit photo: instagram.com/kersti.pitre
When you sport a distinctive style, why don't set your creativity into motion? You can create a crown of twists and finish the style with ombre Fulani braids using some colorful kanekalon tresses.
Half-Up Bun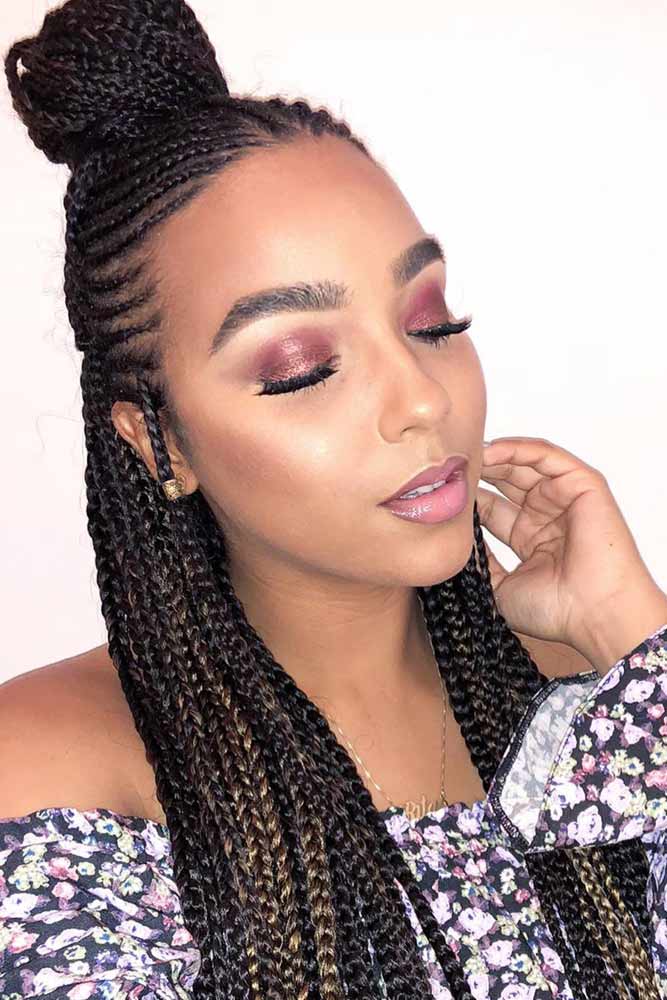 Credit photo: instagram.com/lipstickncurls
This is how awesomely you can look with a 5-minute hairstyle! There's nothing easier than twisting the top layer in a bun, especially if you are working with braids, yet, it looks absolutely gorgeous.
Half-Up Double Buns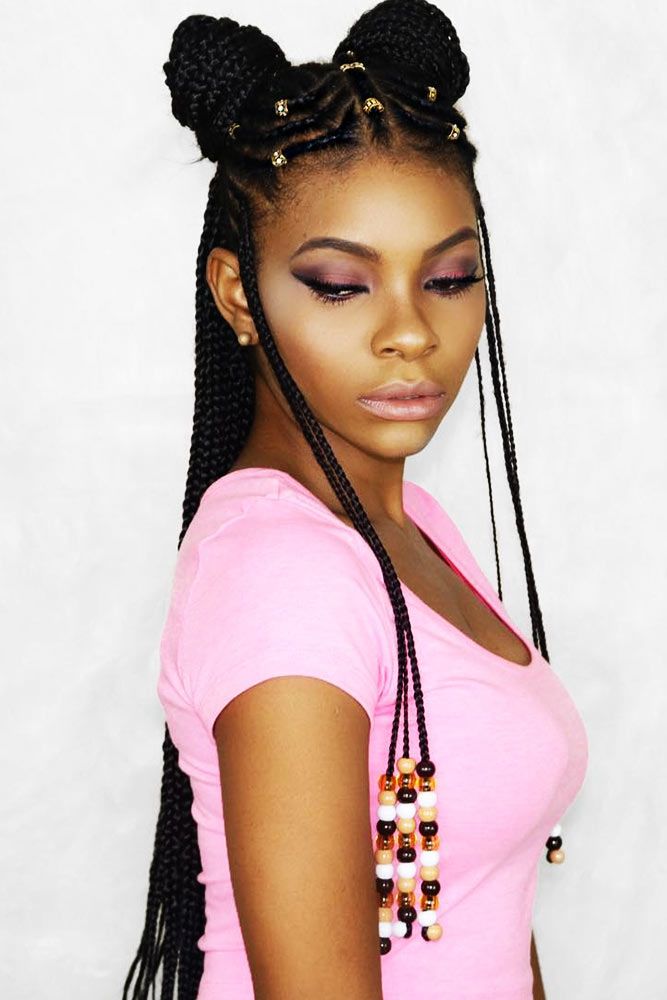 Credit photo: instagram.com/chelseaphilias
When you want to add some fullness to your tight silhouette, nothing works better than double half-ups. While giving a fuller body, this hairstyle shows off the enviable length of your locks.
Half Up Bun With Cascade Of Thin Braids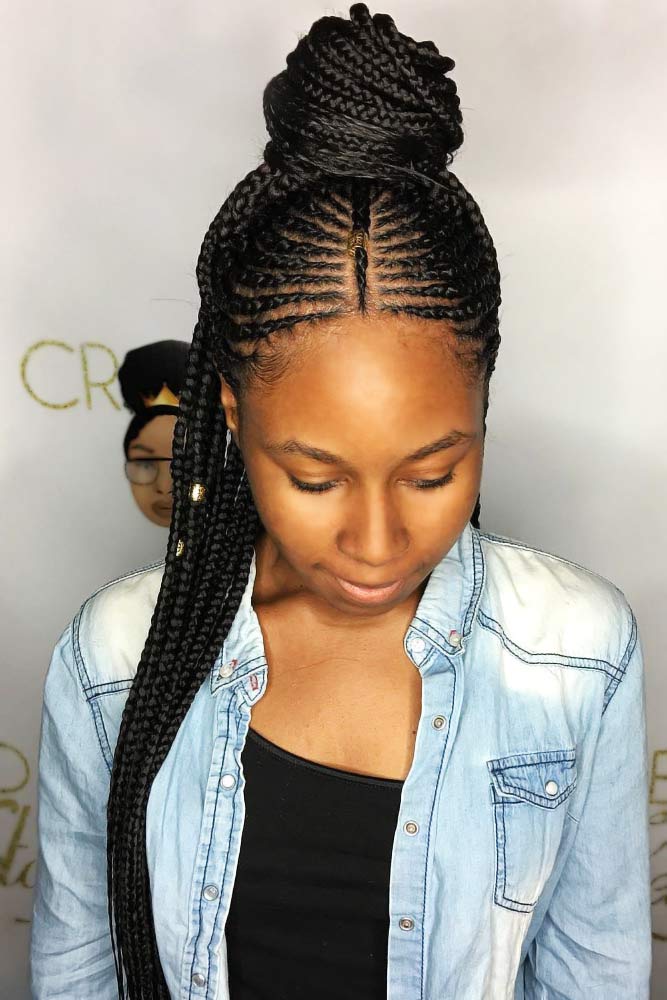 Credit photo: instagram.com/crownedbyketa
Creating cascading braids means always have room for countless styling ideas with smooth and seamless results. As you can see from this stunning pic, the sections that turn into a bun flow evenly and don't stick out. And that's what makes the look so pleasant!
Half Up Braids With Accessories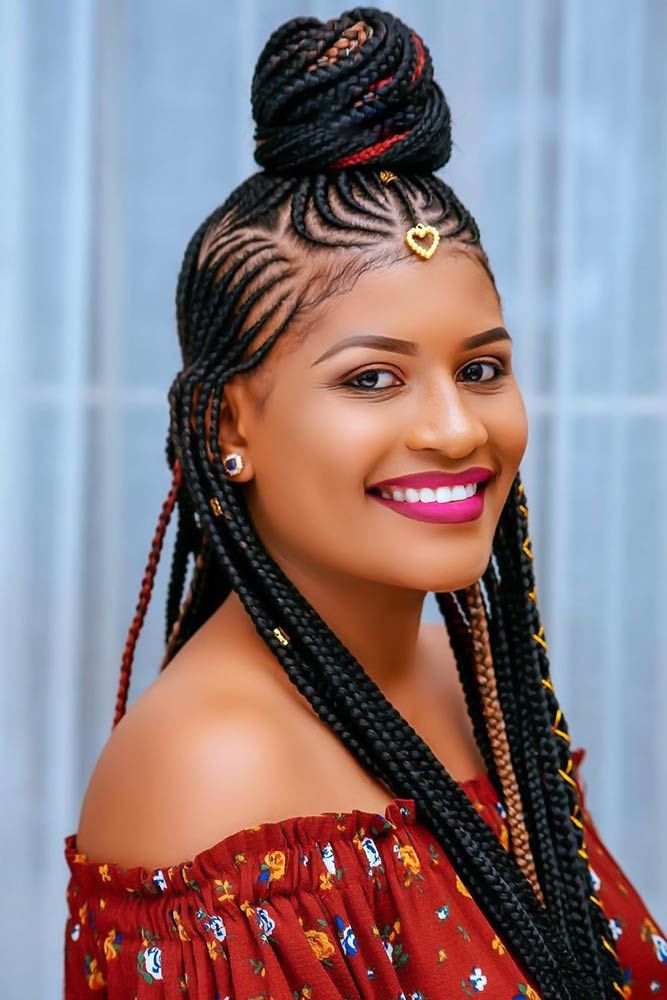 Credit photo: instagram.com/cutelooksdar
Gone are those days when half-ups were the simplest styles ever. In the context of braided natural hair, simplicity gains a totally new meaning. It's truly amazing that you can simply put all your hair up and leave some of the locks down to get a fabulous look. Apart from that, you can also accessorize your 'do to fit both the occasion and your unique outfit. If you're really into customizing a signature look, some colorful strands will do the trick.
Long Half-Up Fulani Braids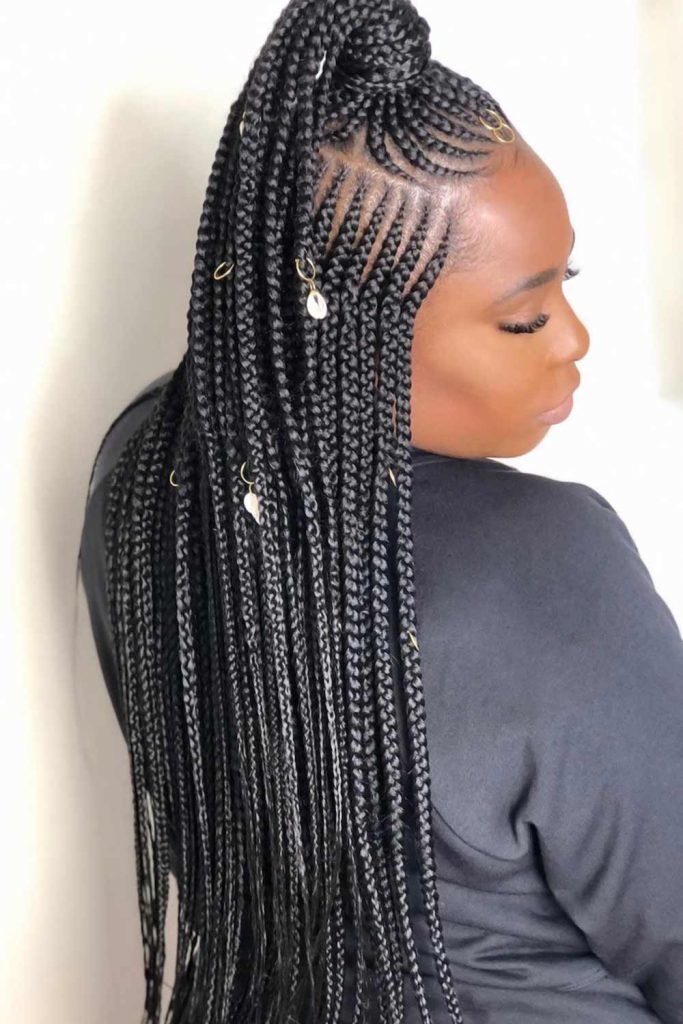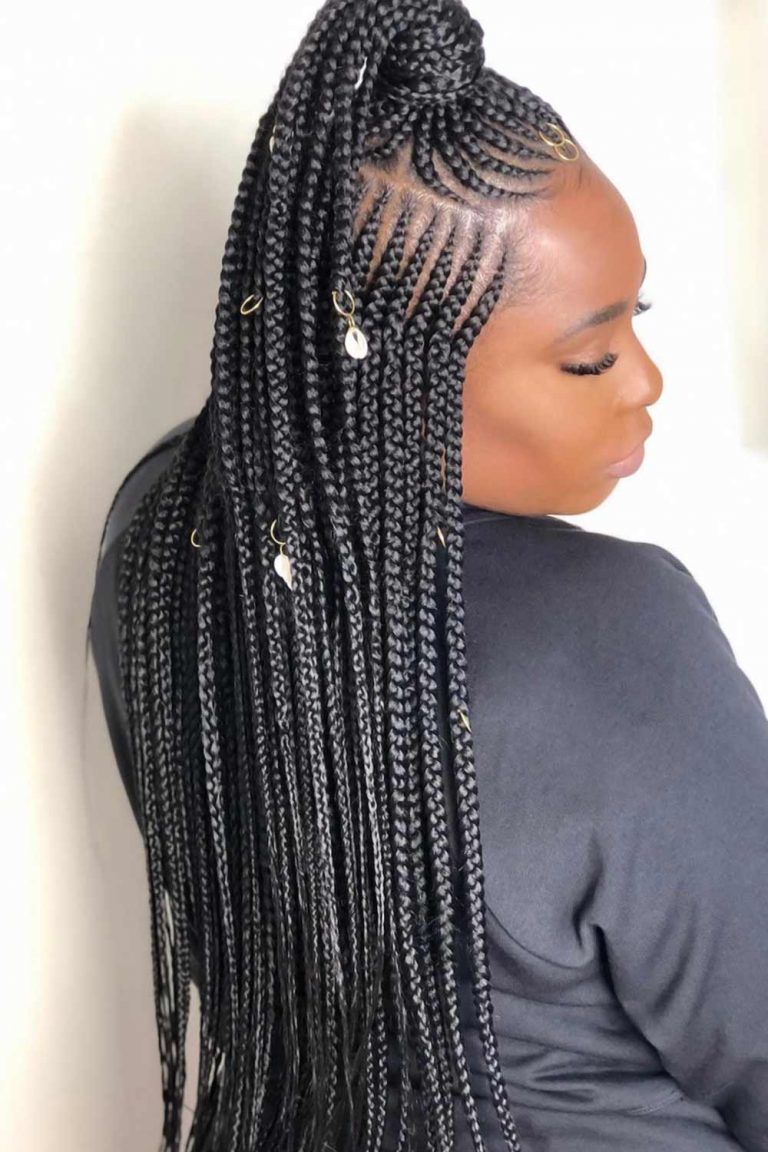 Credit photo: instagram.com/tresses_africaine
Big Half-Up Bun Fulani Braids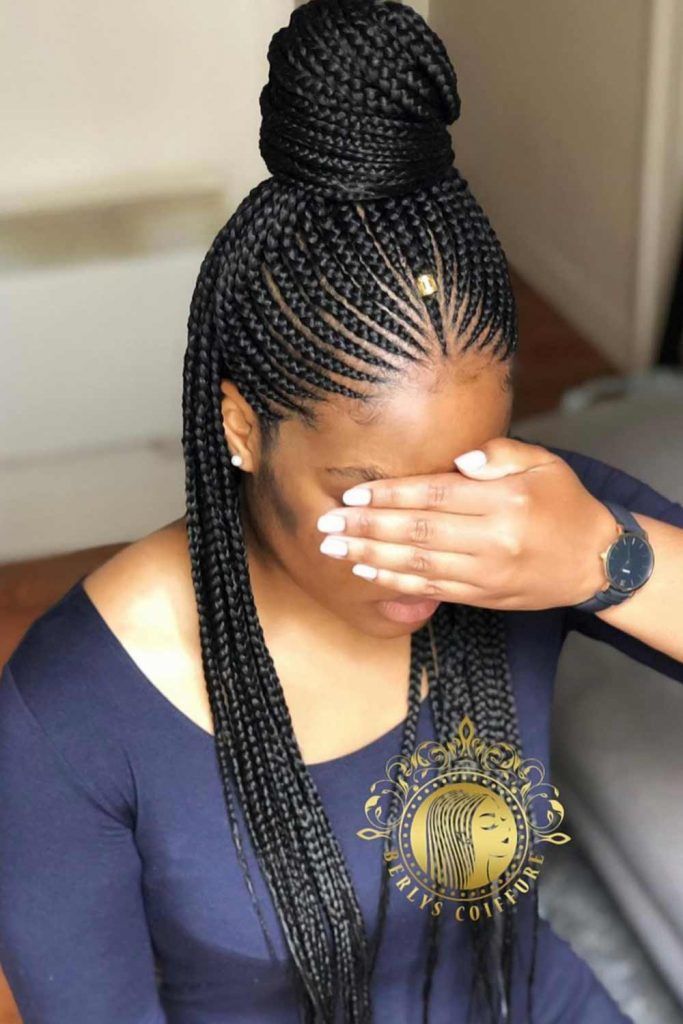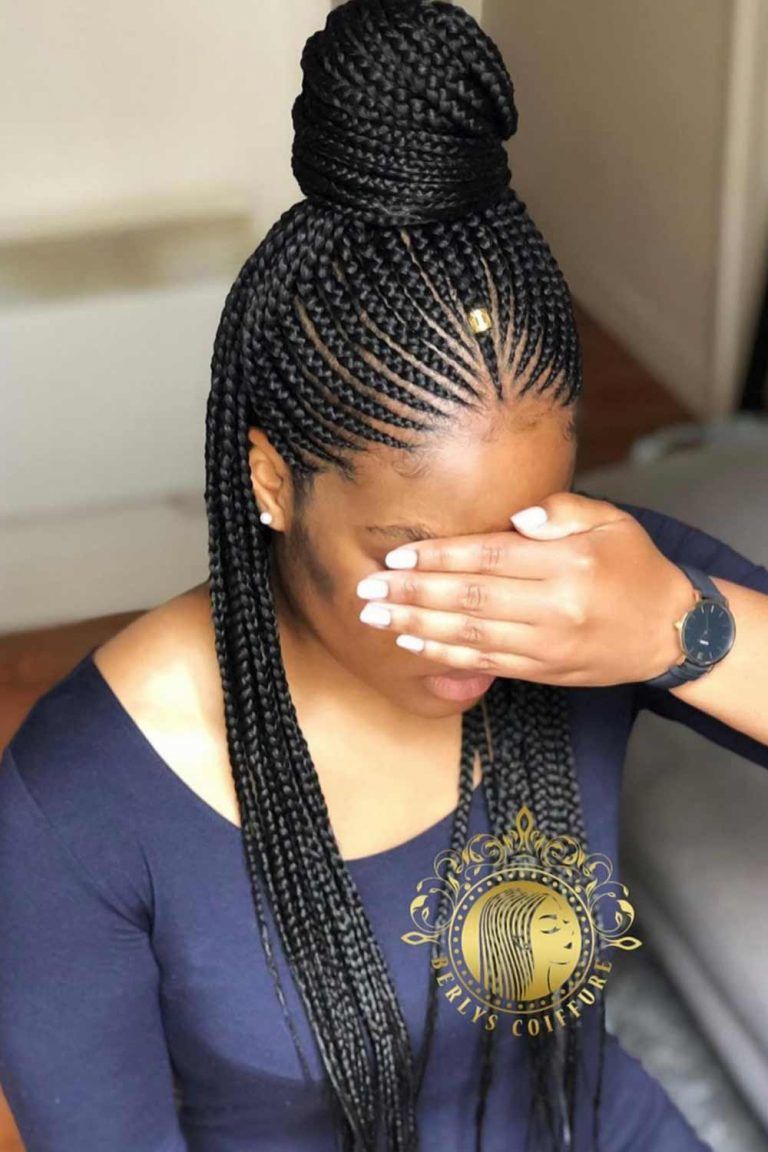 Credit photo: instagram.com/tresses_africaine
The Fulani braids hairstyles you've seen today are only the beginning: there are way more ways for you to style them, as well as experiment with their placement. Not only are they a protective hairstyle that saves your hair from damage for weeks but they're also a good way to express your bright-self. What is more, there's nothing easier than style those braids! In fact, that's the I-woke-up-like-this look women have been dreaming of. Now that you know how gorgeous simple 'dos can be with the help of braided texture, why don't you make it a part of your look? And, in case you want to discover the real diversity of Fulani styles, it's time to get the braids and let experiments into your life!
REFERENCES:
Fulani braids are versatile and low maintenance. Source
FAQ: Fulani Braids
How do you take care of Fulani braids?
Soak the hair extensions for Fulani braids in a mixture of apple cider vinegar and water them. This will help to eliminate the lye from the extensions, which will prevent your scalp from itching. Before you weave them into your hair, let them dry well.
Are knotless braids better than box braids?
Knotless braids are generally a safer option, because the procedure causes less strain and pulling on the roots, reducing the risk of traction alopecia and causing damage to hair follicles.
Do Fulani braids hurt?
Fulani braids stay trendy and are a lot of fun to play with. While there are many braid hairstyles available, the Fulani braids, which have been inspired by the Fula tribe, are particularly lovely. There shouldn't be too much pain which making this hairstyle. Everybody should try it at least once in a lifetime.
How many hours does it take to do Fulani braids?
Depending on the thickness of your hair, getting them done by a professional or at a salon. Making Fulani braids may take 2,5-3 hours.
Can you keep Fulani braids for a long time?
Depending on your lifestyle, a bundle of well-cared Fulani braids can last up to seven weeks.
Was this article helpful?