Braids with beads go together like peanut butter and jelly. So, if you still hesitate whether to incorporate them into your braided hairstyle, wait no longer. Besides, they are so versatile, that it will not take you much effort to find your personal style. They range in color, shape, material, and size. So that you do not have to browse the Internet for inspiration, we have done the job for you. Below, you will find the most beautiful braids ideas with beads.
*We may earn money from affiliate links on this page. Please check out our disclosure policy for more details.
Do Only Kids Wear Braids With Beads?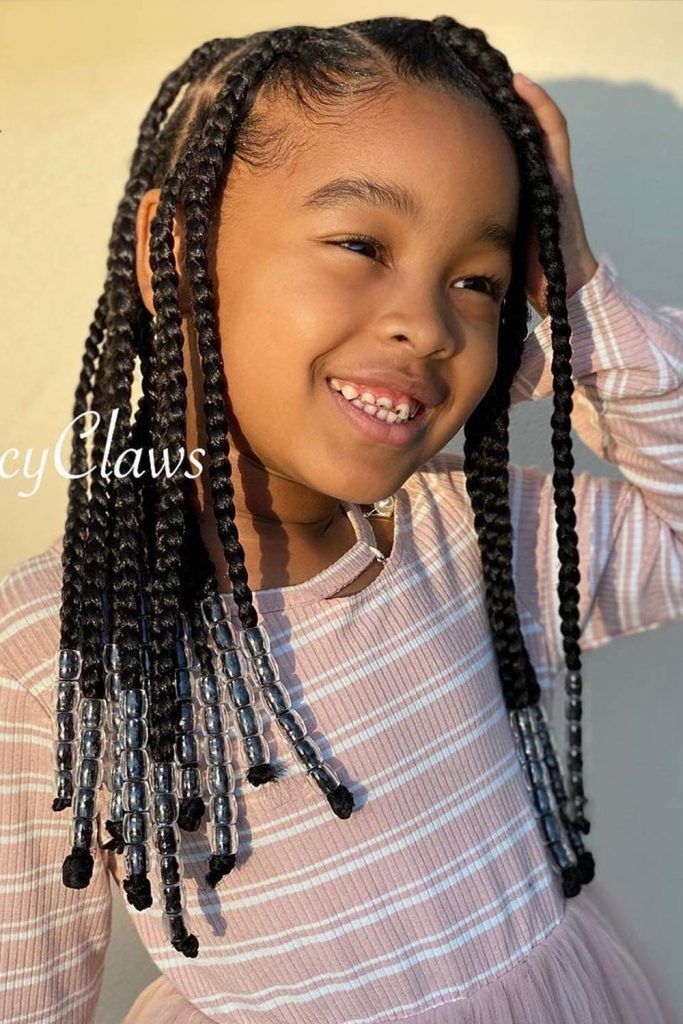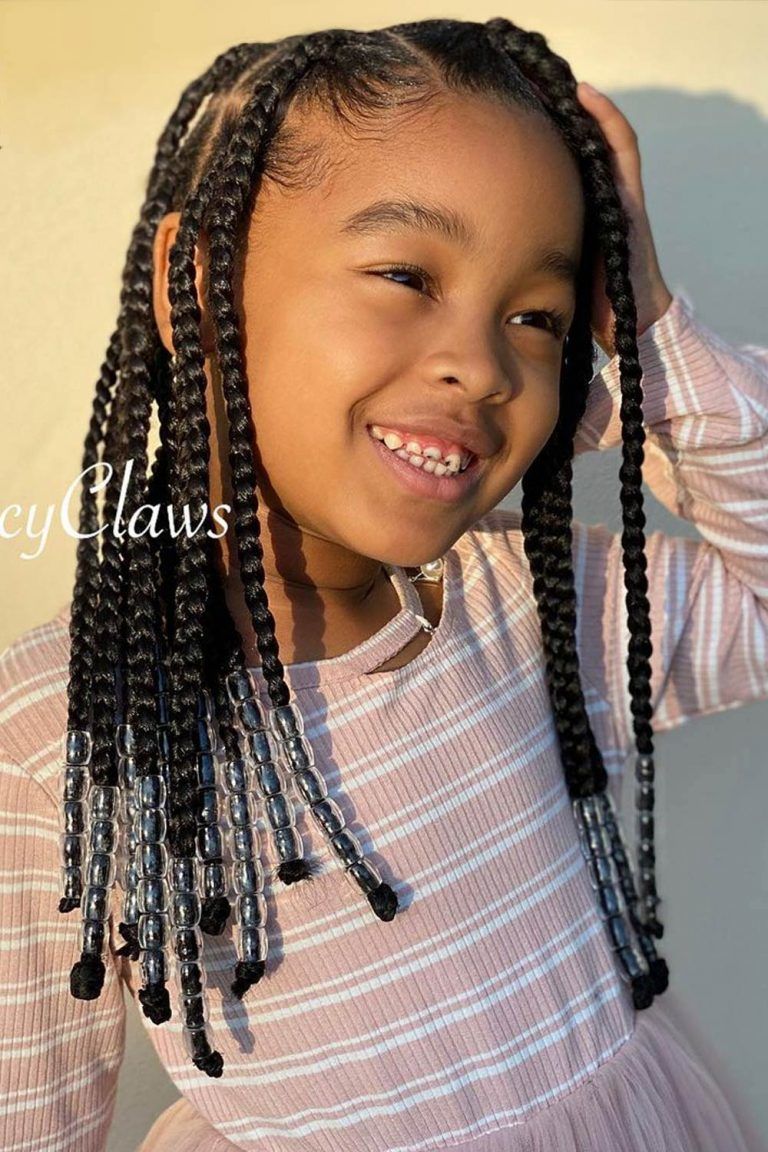 @fancy_claws
Of course, not. Hair beads are a popular accessory for women that allow them to add a stylish twist to their hair look. Besides, you are offered plenty of cool hairstyles with beads, such as box braids, lemonade braids, knotless braids, tribal braids, and others. The beads options are also versatile, from wooden to clear, so you could match them not only to your taste but also to your outfit.
Inspirational Braids With Beads Ideas That You Will Love
As we mentioned above, there are many ways to install beads in hair with braids being one of the most popular. To infuse you with a dose of inspiration, we have selected some of the trendiest ideas on how to put beads on braids and put them together below.
Bantu Box Braid Knots And Beaded Ends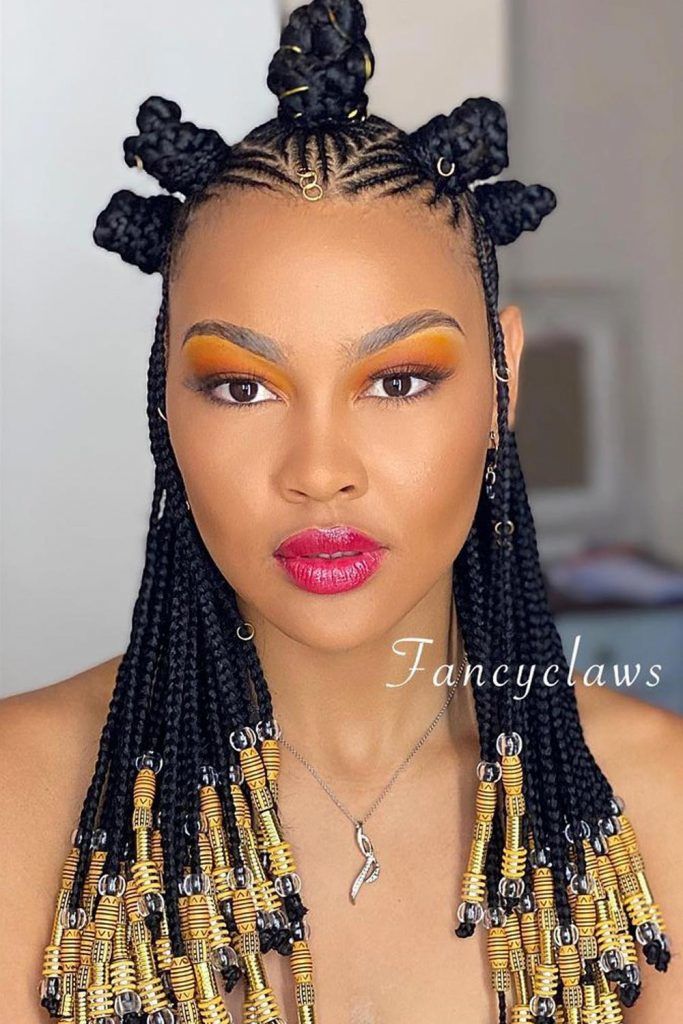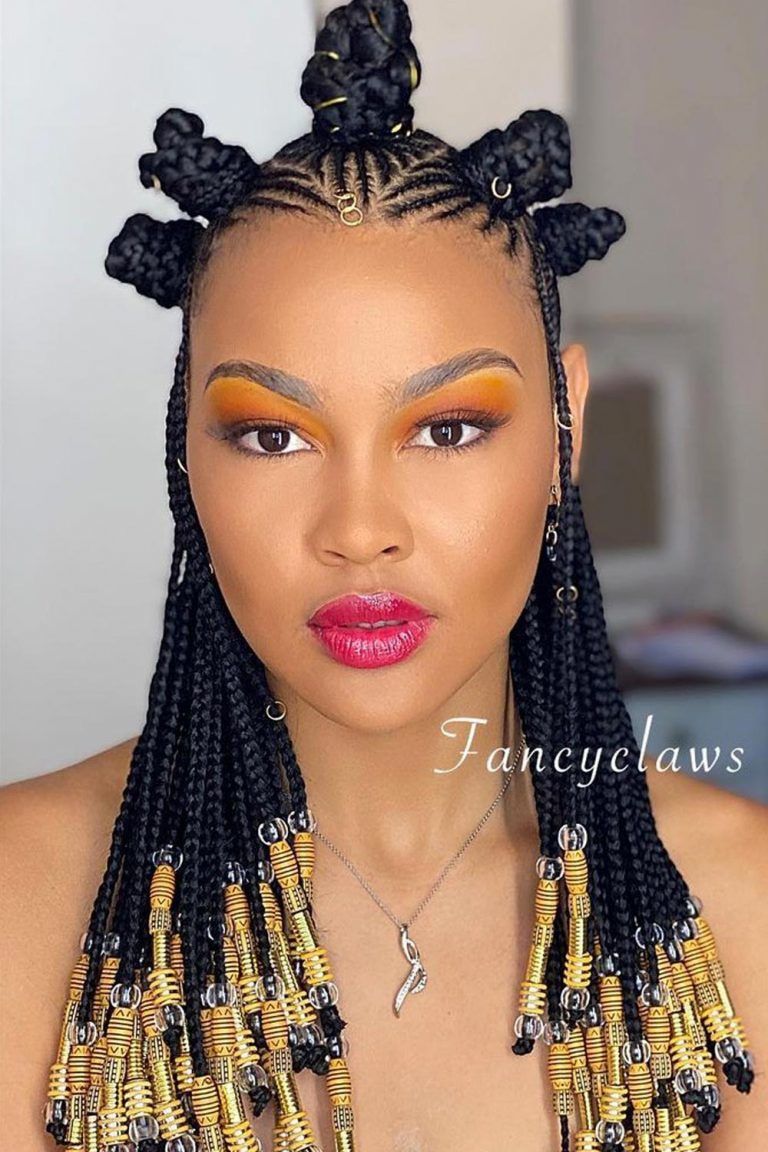 @fancy_claws
Bantu knots are among the best protective hairstyles. While they keep your locks safe and sound during an extended period of time, thus contributing to their growth, they also create a very fashionable look. Besides, they are a great way to upgrade your box braids with beads at the end if you get bored of them.
Genie Braids With A Beads Accent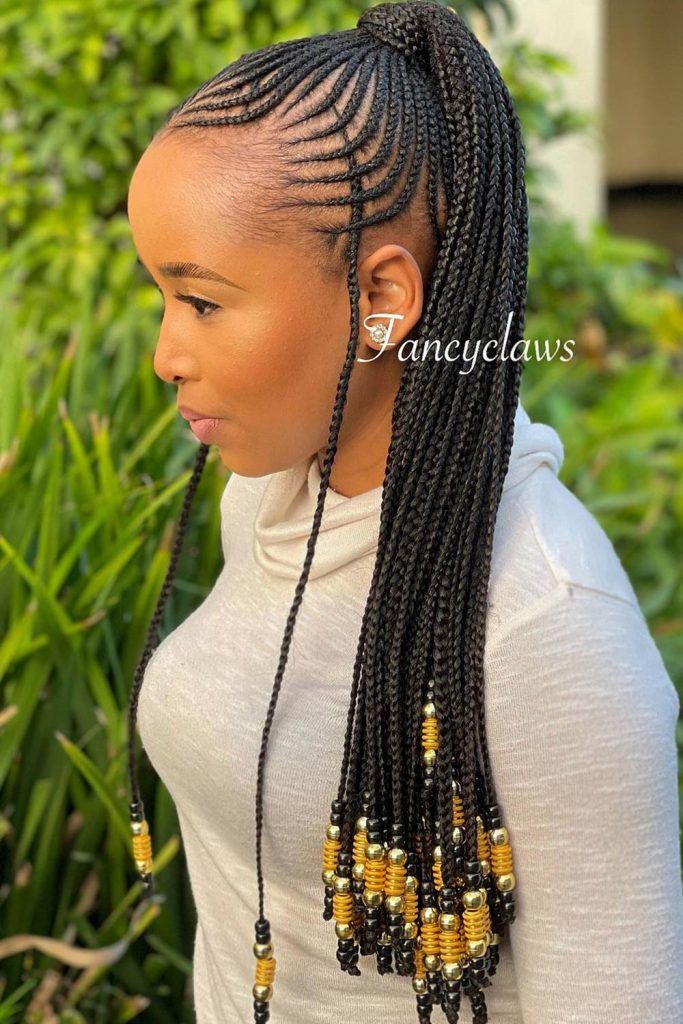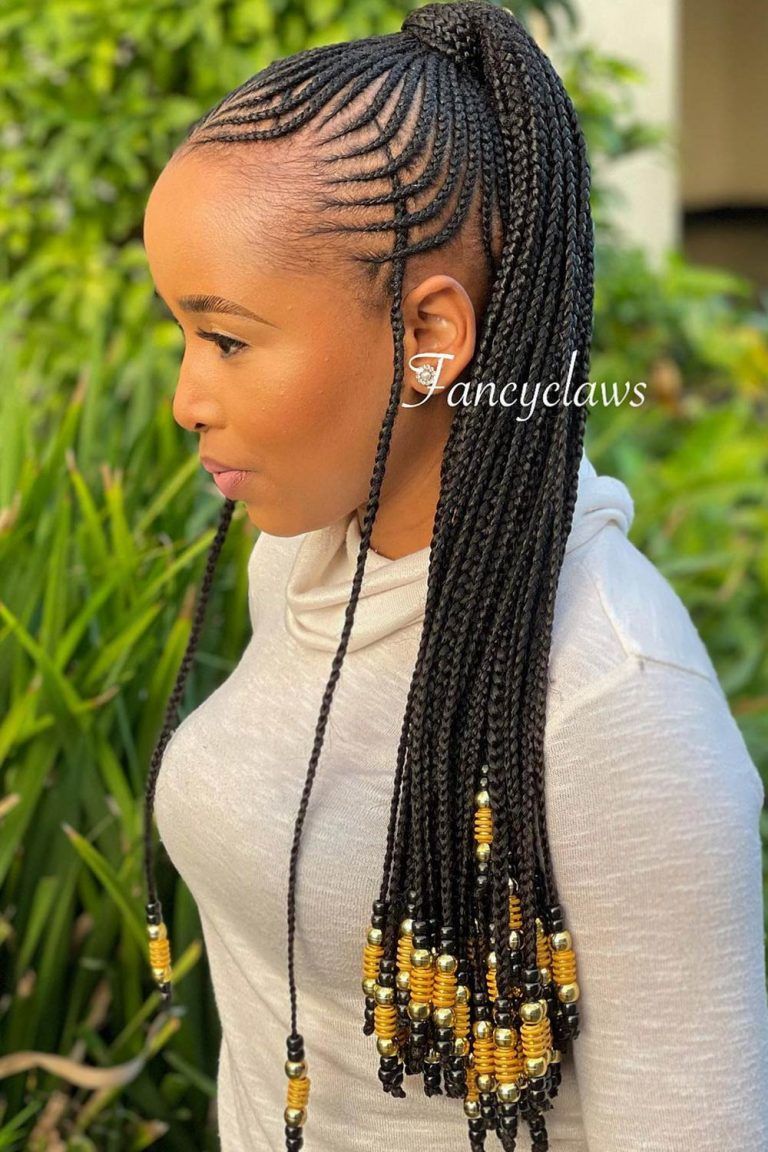 @fancy_claws
Accentuate your long box braids with beads and put them into a high genie ponytail. This look guarantees that you will not go unnoticed no matter where you are. Plus, it is suitable for almost any ambiance. Thus, if you are headed to a fancy event, you do not have to get rid of your box braids with beads.
A Micro Braided Top Knot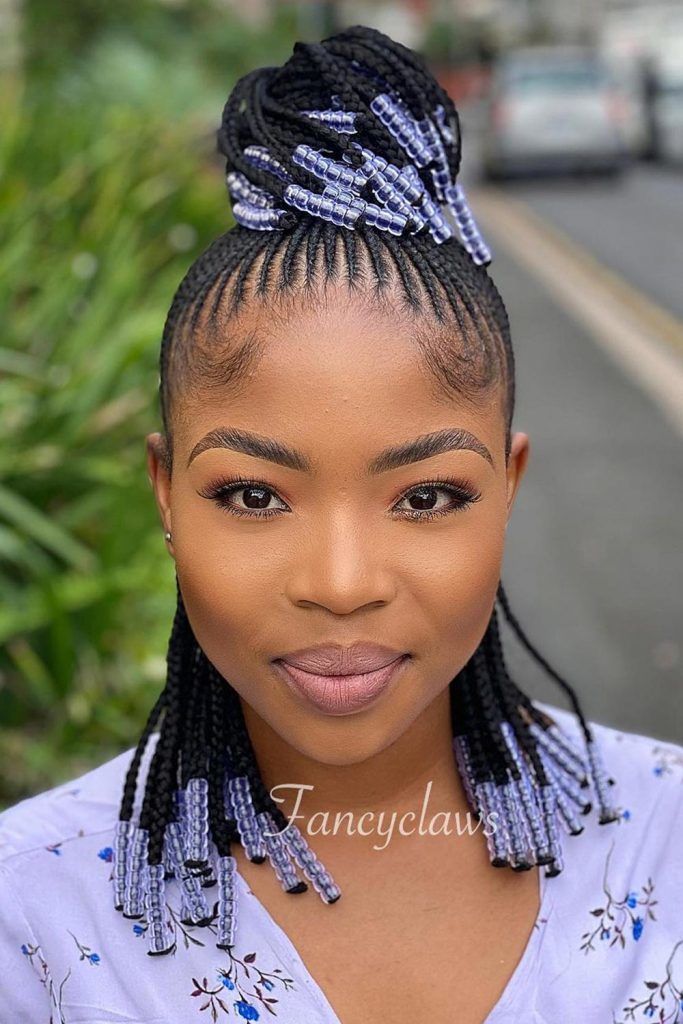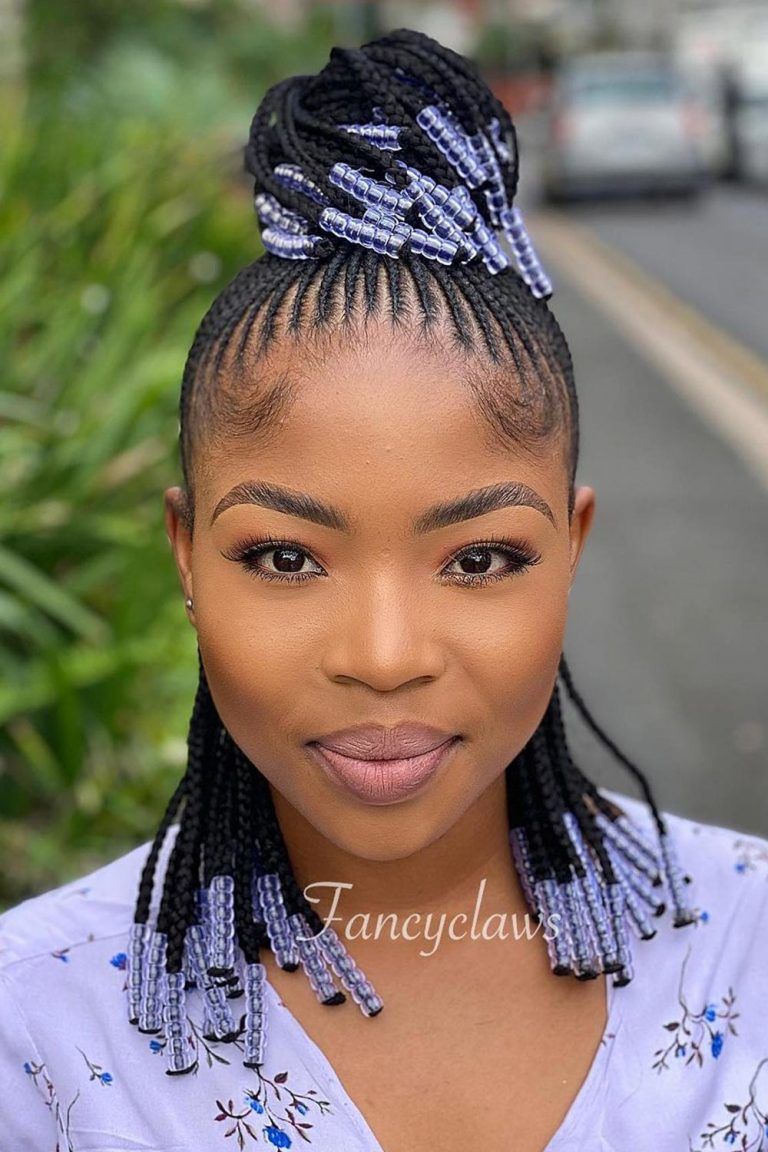 @fancy_claws
A top knot, or a half-up bun, takes your locks out and away from your face even if they are micro braided. This is also your golden mean when you cannot decide between an updo and loose micro braids. And when it incorporates hair beads for braids, it gives off a very feminine vibe.
Voluminous Braided Faux Hawk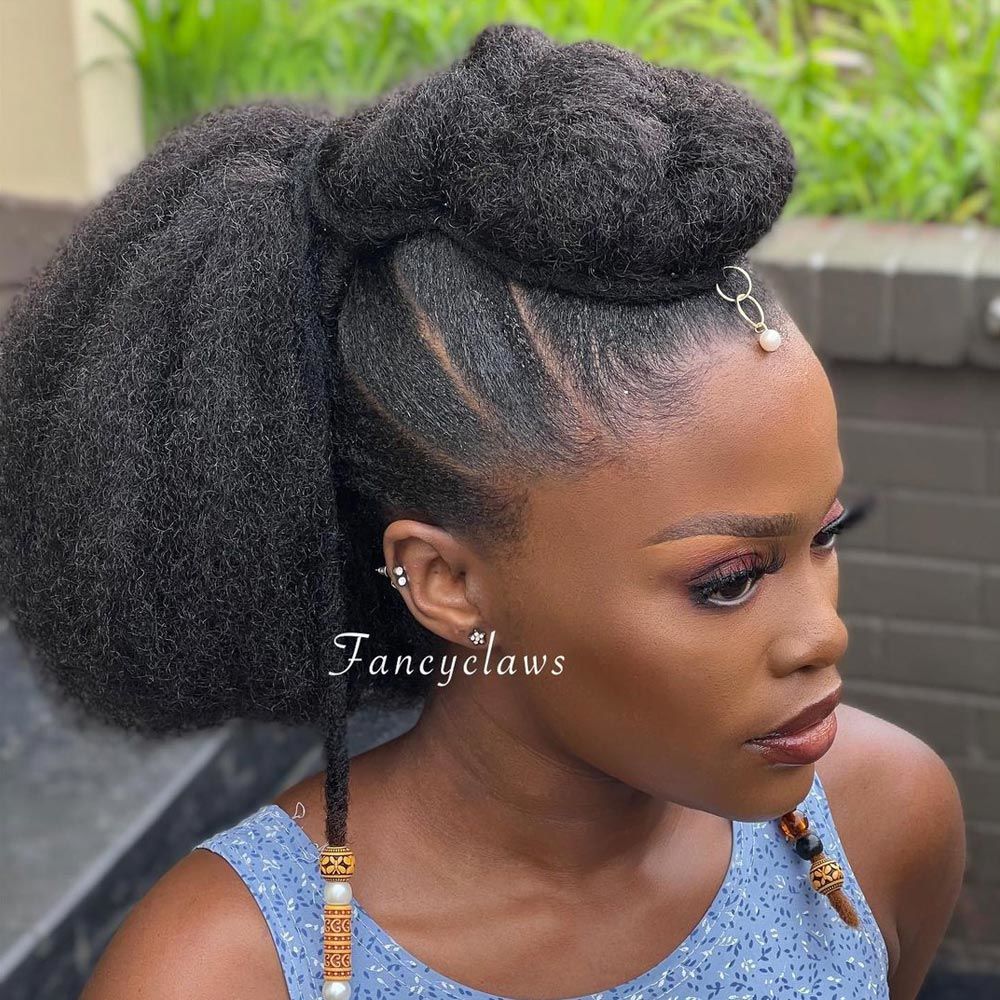 @fancy_claws
Want to show off your inner Rockstar? Then a braided faux hawk is your way to go. To create it, you may use large knotless braids with beads, which will bring an ethnic flair to the style. Volume is key to achieving the desired look in this case.
Braided Bangs With Beads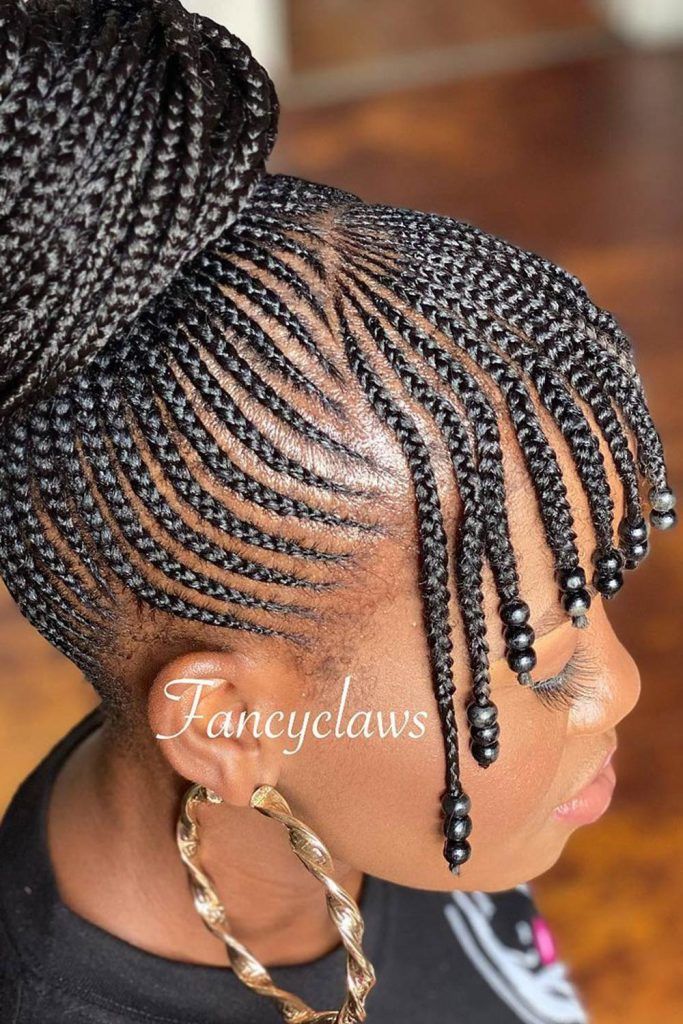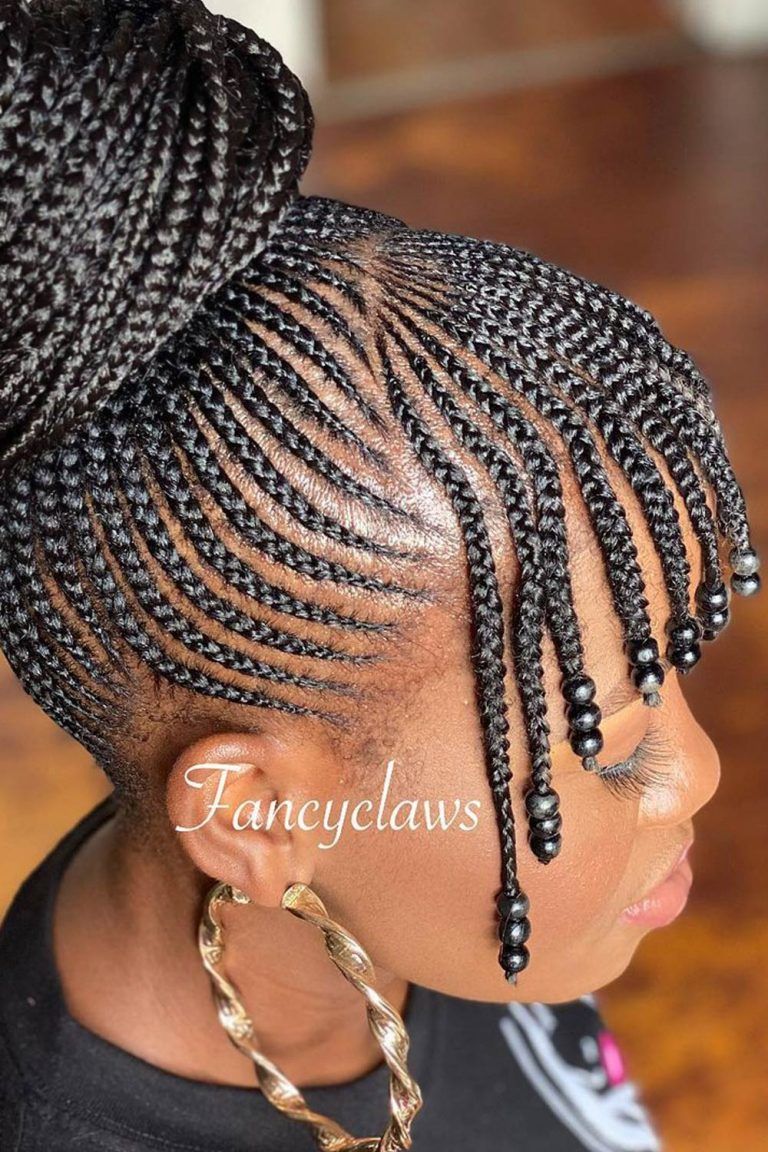 @fancy_claws
It is actually up to you to decide where to put an accent on. If you like to stand out in the crowd, then you may braid your bangs and adorn them with beads. The final look will appear girlie and cute regardless of the style you choose for the rest of your hair. So, why not get these braids for the little girl in you?
A Beaded Updo And Cornrows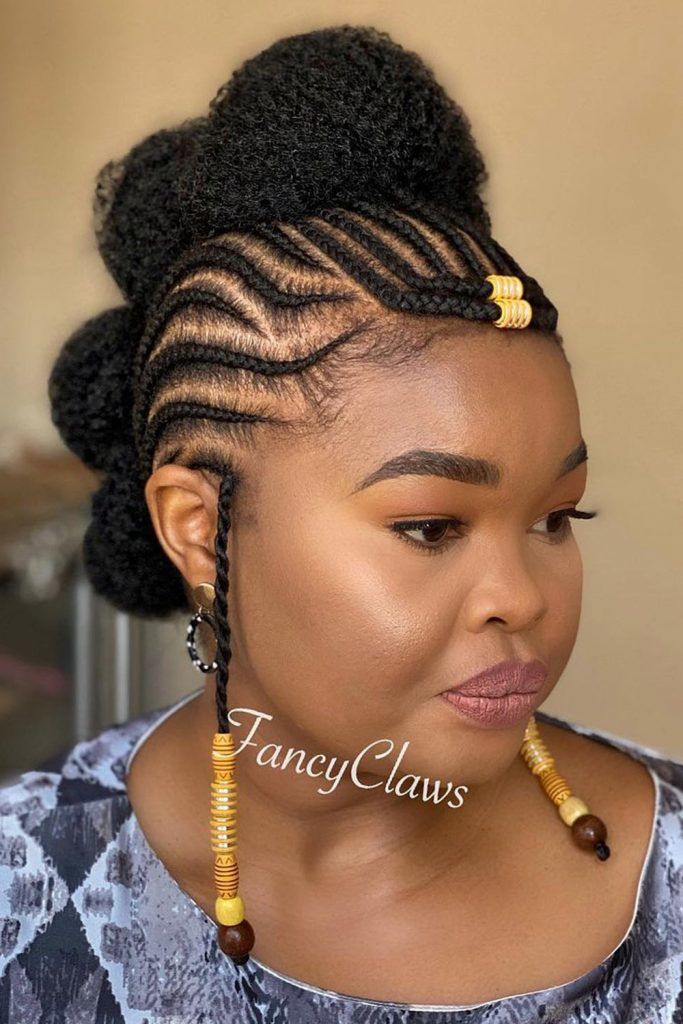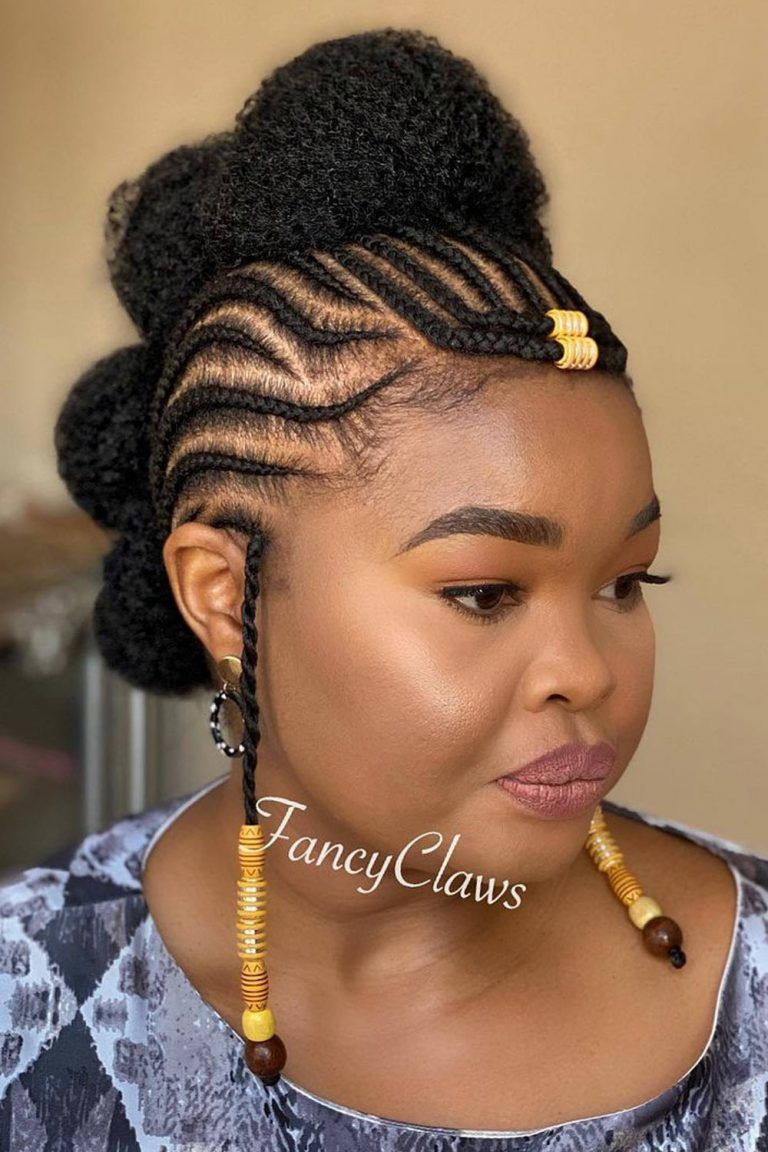 @fancy_claws
Cornrows allow you to express yourself through a wide variety of intricate patterns. Yet, if you want to give them an elegant and chic touch, then put the remaining locks into an updo and beautify your hairstyle with beads. You can either weave them into the cornrows or put them right into the updo.
A Full Head Of Bantu Knots And Face Framing Beaded Braids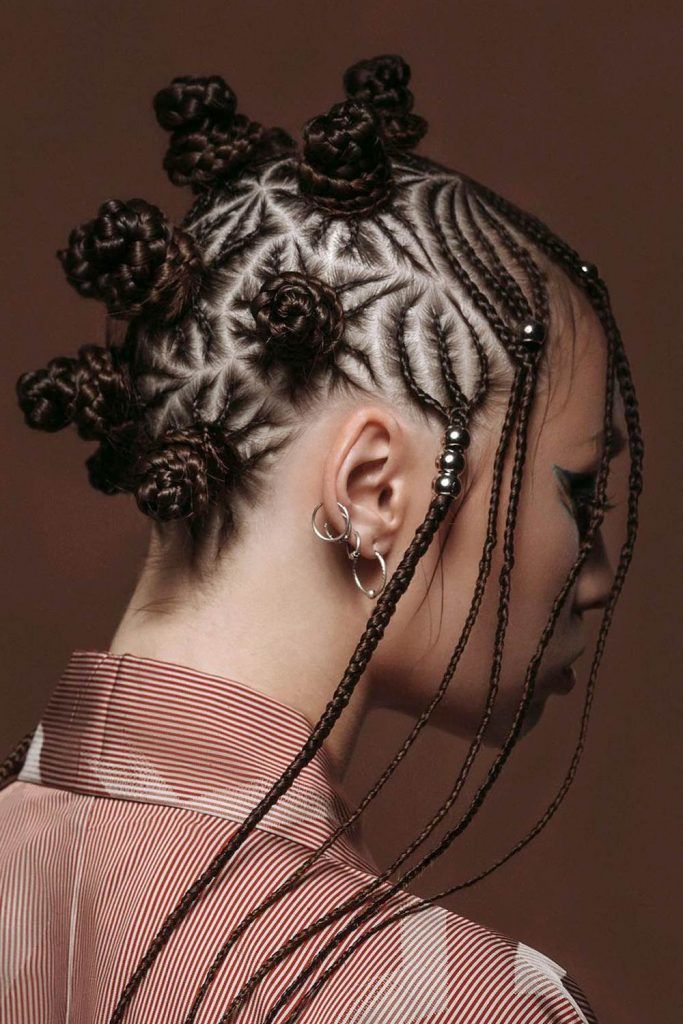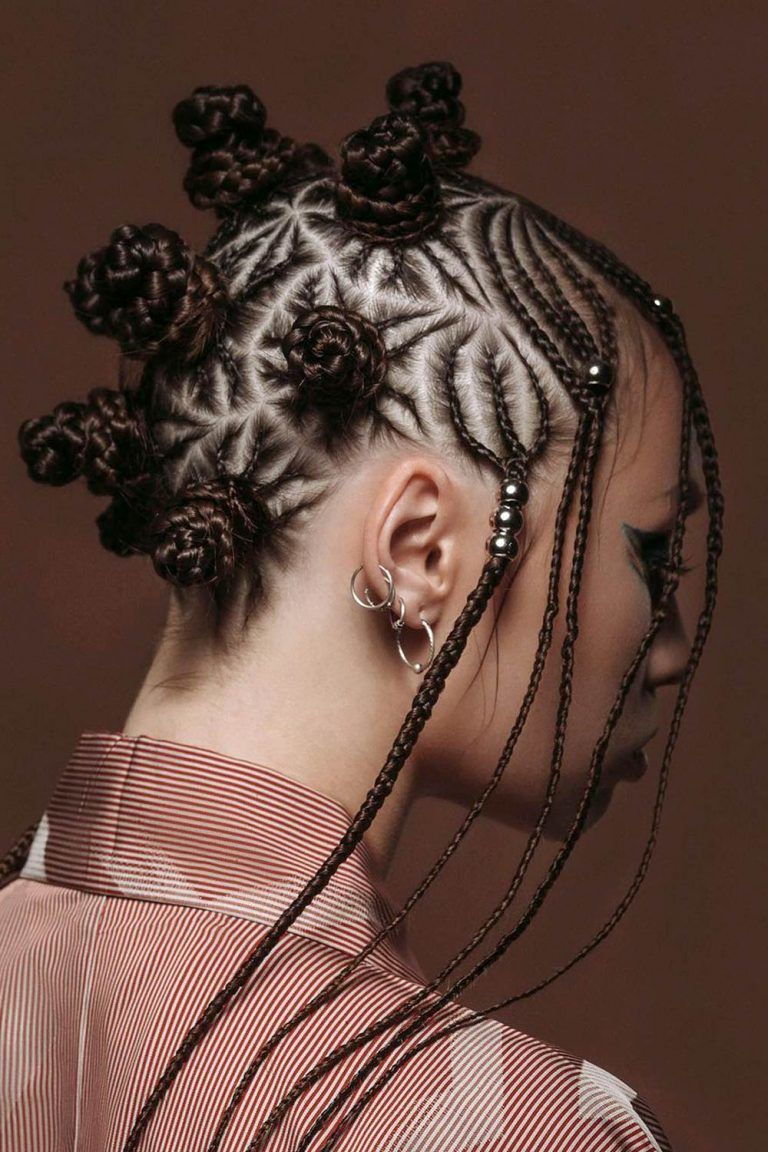 @braidsvolna
While lemonade braids with beads look undoubtedly phenomenal, you can take them to a whole new level by tying them into Bantu knots across your head. Leave a couple of braids in front of your face and garnish them with beads for a perfect face-framing effect.
Box Braids On Long Hair Feat Bangs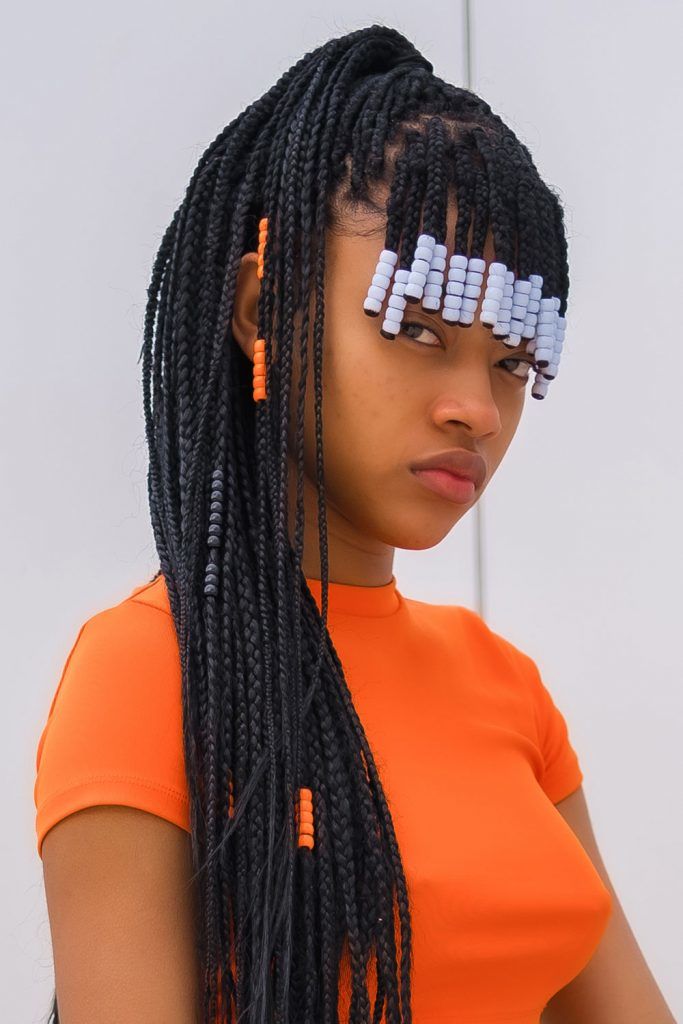 Credit photo: Shutterstock.com
Box braids give you a solid foundation for a wide variety of incredible hairstyles. Getting them on long locks guarantees that your hair will not only look amazing but also keep protected. Bangs are a great accompaniment for such a look. Feel free to embellish them with clear beads for hair.
Beaded Braids For Short Hair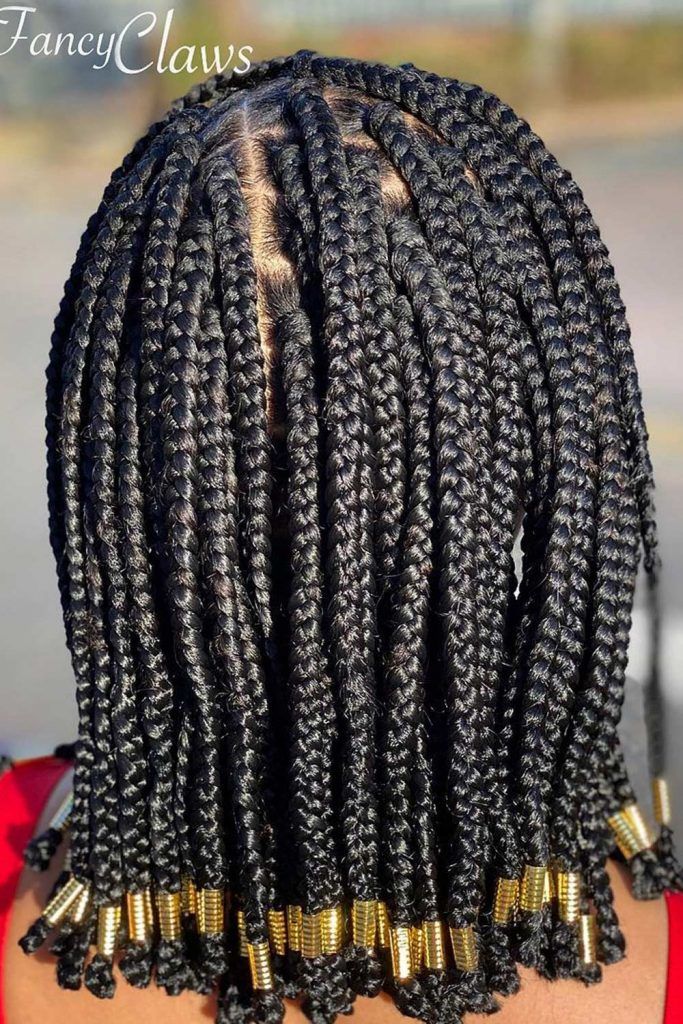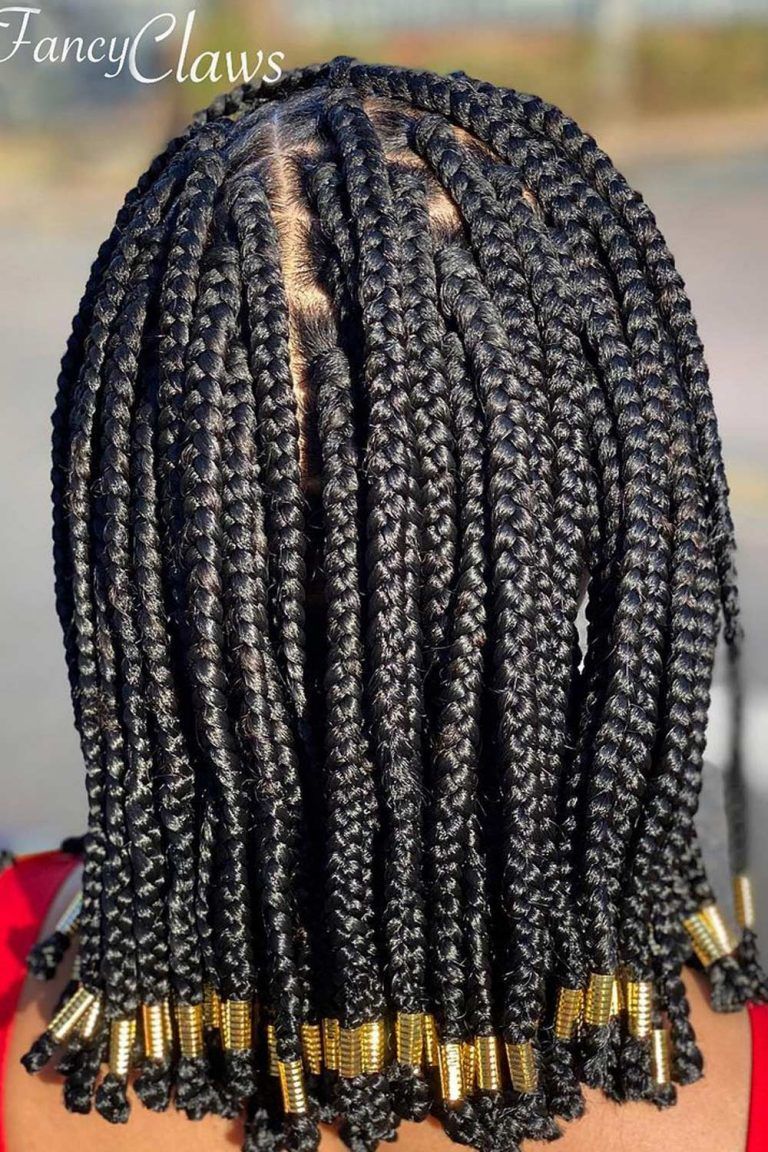 @fancy_claws
The material options for braids with beads are quite vast. The most common are plastic, metallic and wooden beads for hair. When you choose rather low-key hairstyles, such as short pop smoke braids with beads, make sure the latter is the focal point of the look.
Tribal Beaded Braids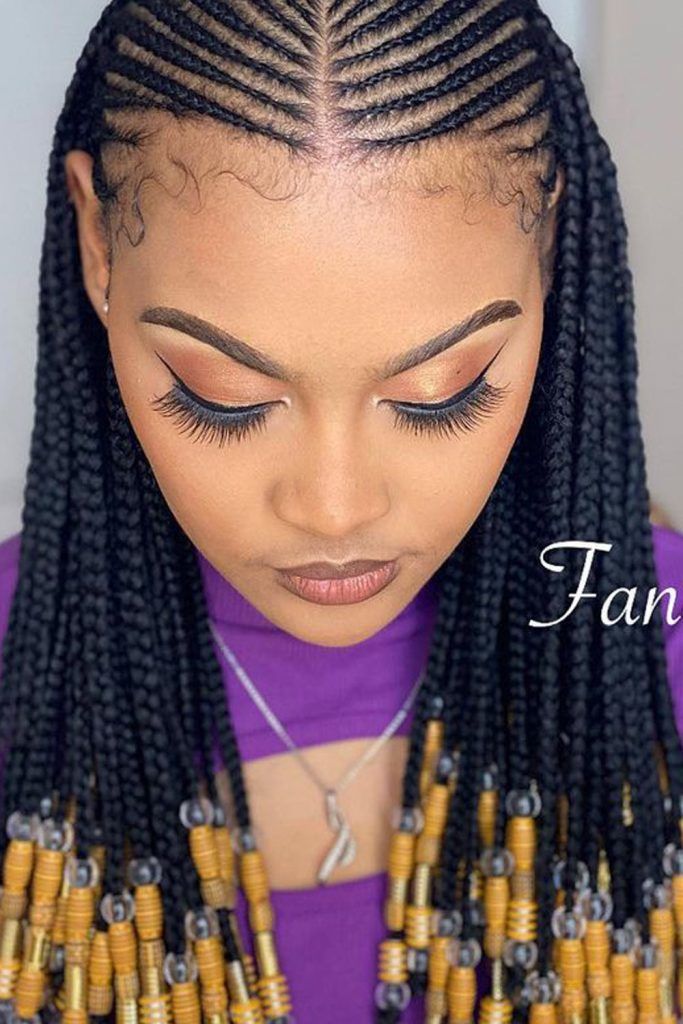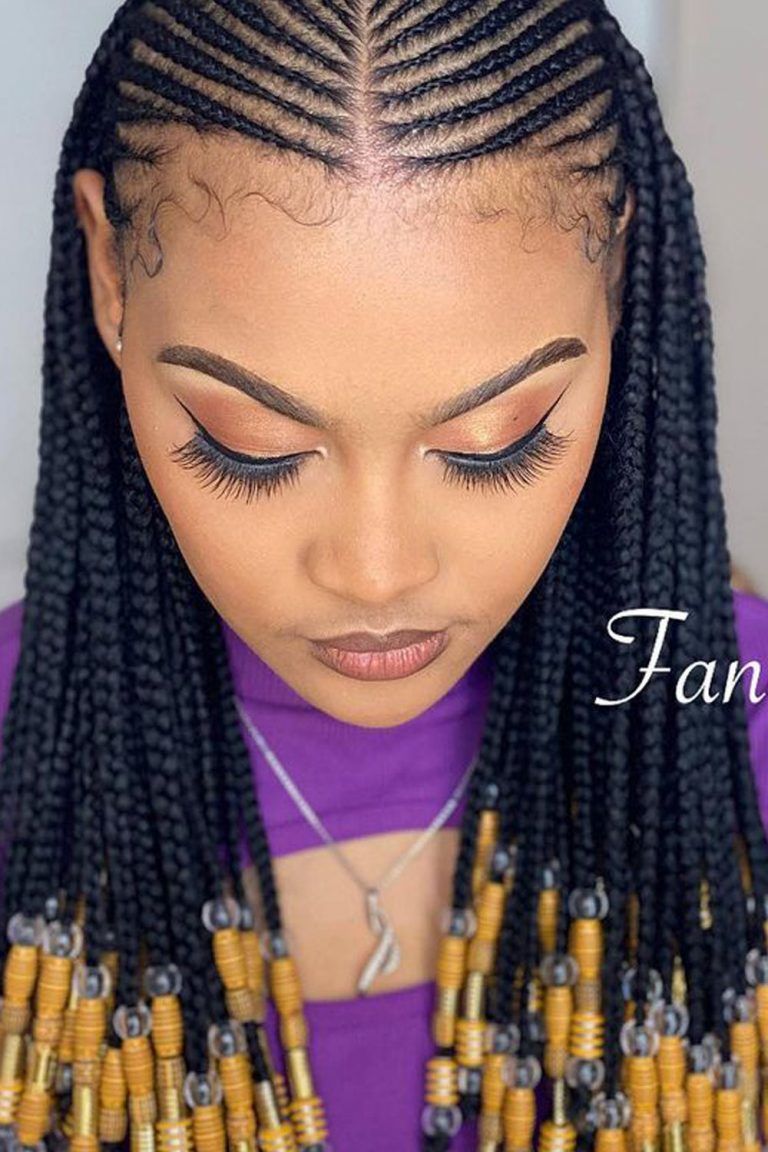 @fancy_claws
It is always a good idea to draw inspiration from the original look. Thus, you can never go wrong with tribal braids with beads. For this hair look, any braid style will do. Yet, for a more authentic appearance, go for beaded Fulani braids.
Sure, these are not all styles of braids with beads existing nowadays but the most popular ones. You are welcome to set your imagination free and curate your very own unique beaded braid style. And if you do not want to reinvent the wheel, then simply stick to one of the styles we picked out for you.
FAQ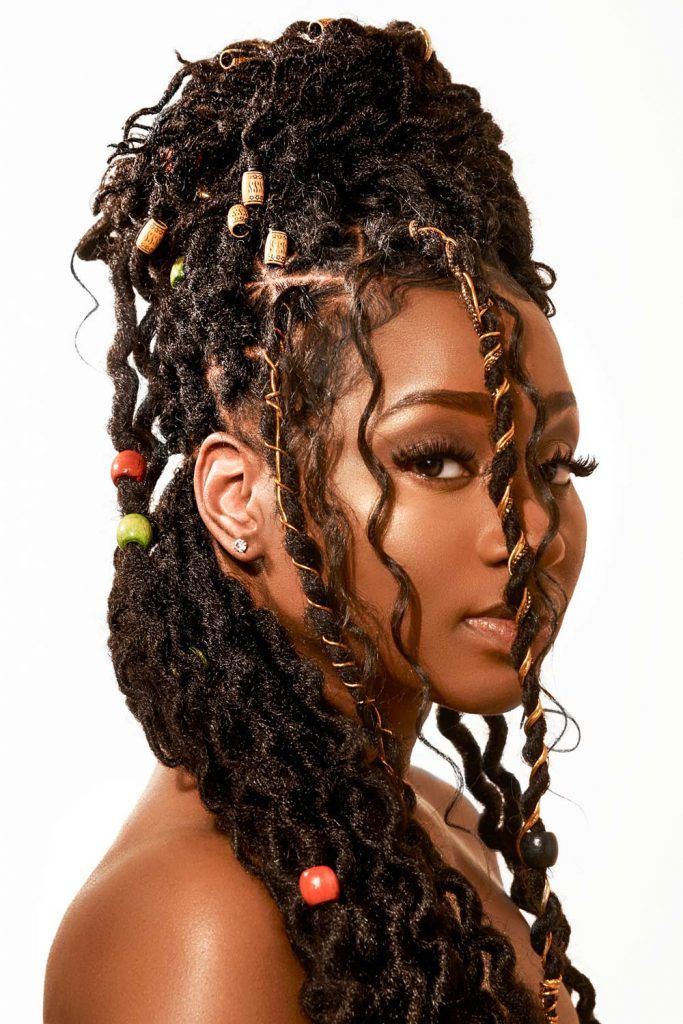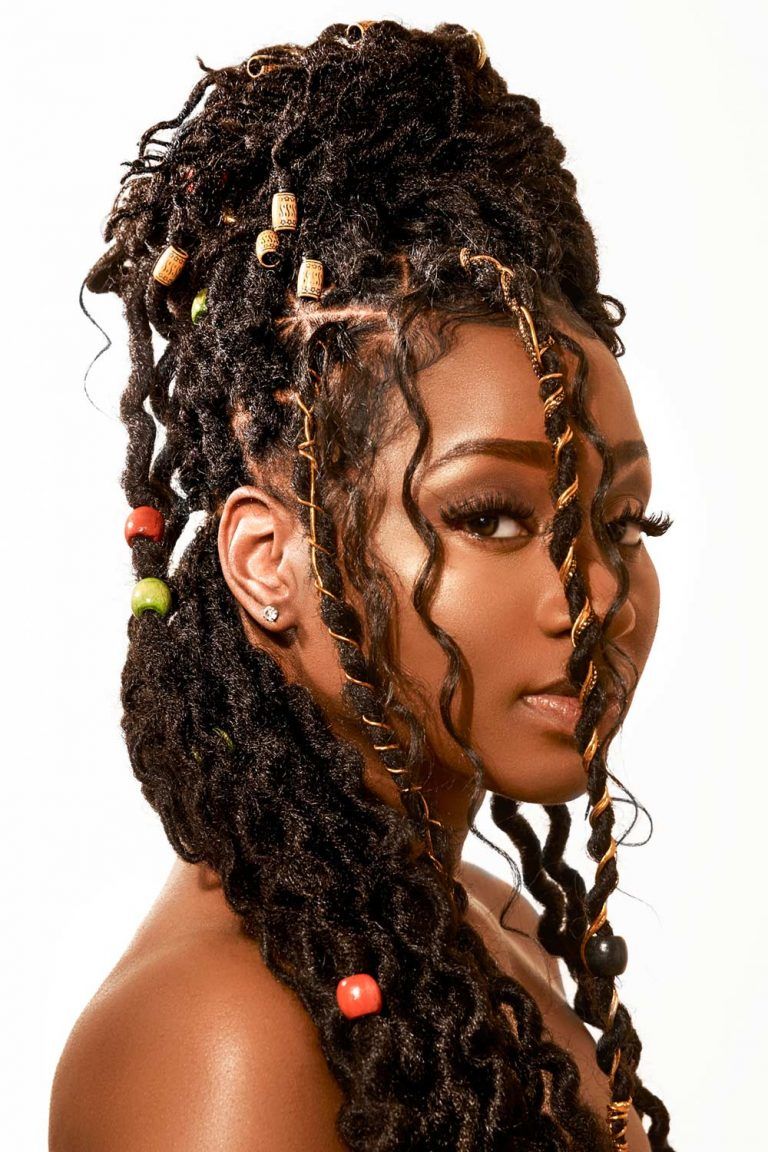 Credit photo: Shutterstock.com
Are beads good for braids?
Beads are a surefire way to spruce up your protective hairstyle, be it locks, braids or twists. With the great number of materials, colors, sizes and even shapes of beads available, you are sure to customize a jaw-dropping hair look.
What are also hair beads called?
Beads that you add to your braids, twists, or dreads can also be referred to as cuffs, filigree tubes or dreadlocks beads. Wearing them ensures that your hairstyle will look unique and eye-catching.
REFERENCES:
Was this article helpful?