A braided ponytail steps in right after you decide you are bored of simple ponytails. In fact, this upgraded version of a ponytail won't leave anyone without a satisfying way out. Moreover, these upgrades just won't stop changing and amazing you even when you start to think that you have already tried them all! A nice braided pony can make even the strictest suit look more feminine or add some more softness to a pretty floral dress. For that reason, you should check out the latest ideas of braided ponies. All in all, we all need some new styles as we enter a new season. Dive in!
Dutch Braided Ponytails
Here's a trendy way to combine two ageless and familiar hairstyles, as well as show them from a new perspective! The top of your head can be embellished with a feminine texture of Dutch braids, while the rest of your hair can show up as a low ponytail. The good news is, the ways to experiment with braided ponies are basically endless as long as you think creatively! It can be a thin single braid on the top or double braids at the sides of your pony, for example. It's all up to your imagination.
Credit photo: instagram.com/braids_for_my_hair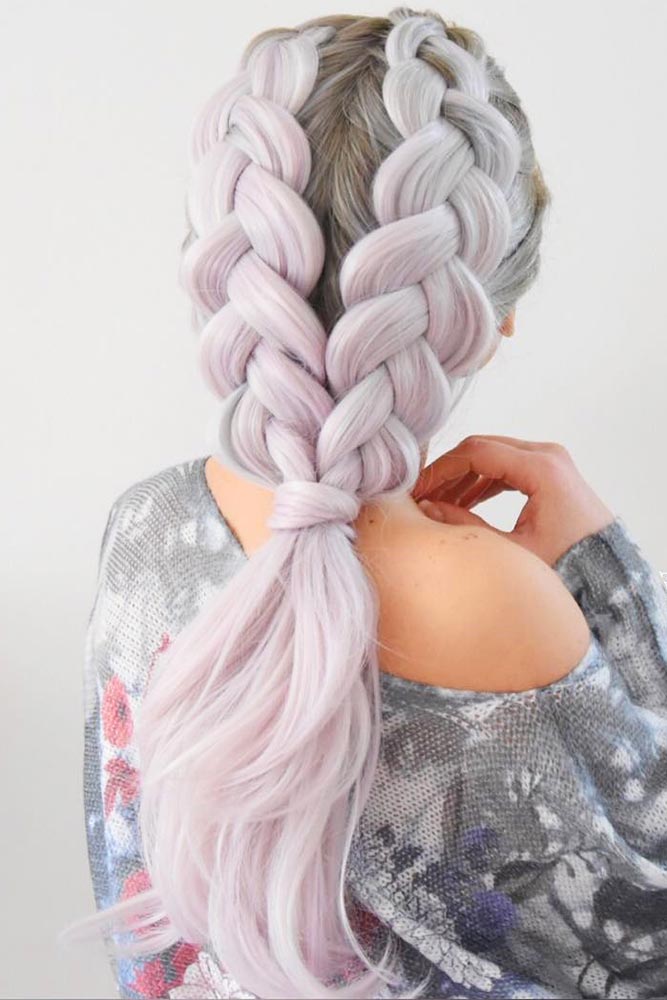 Credit photo: instagram.com/samirasjewelry
Dutch Fishtail Braids
Credit photo: instagram.com/samirasjewelry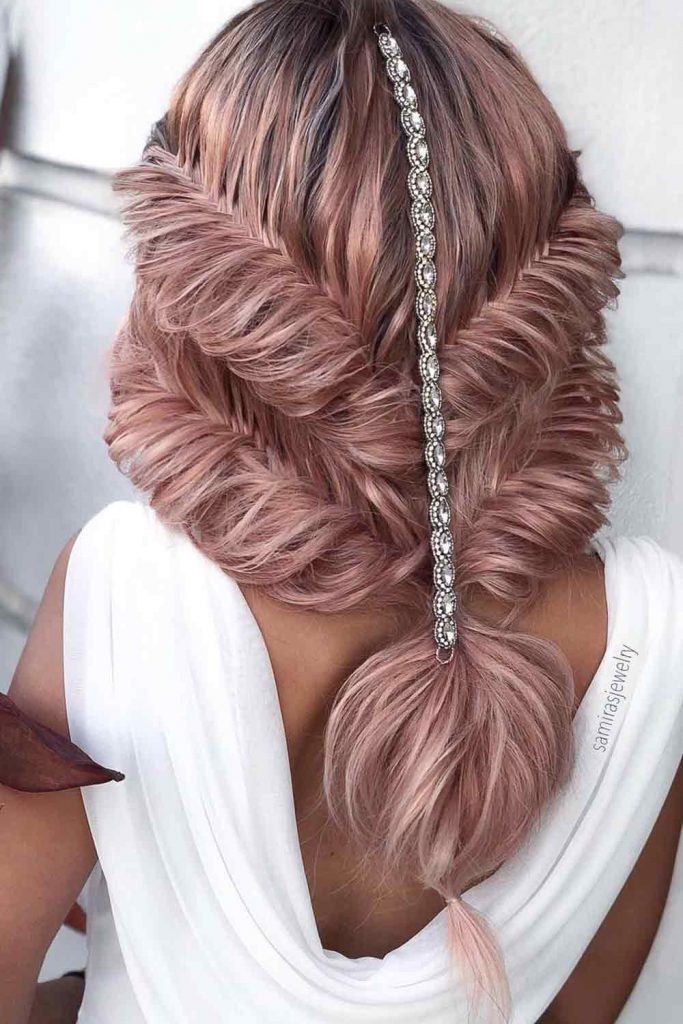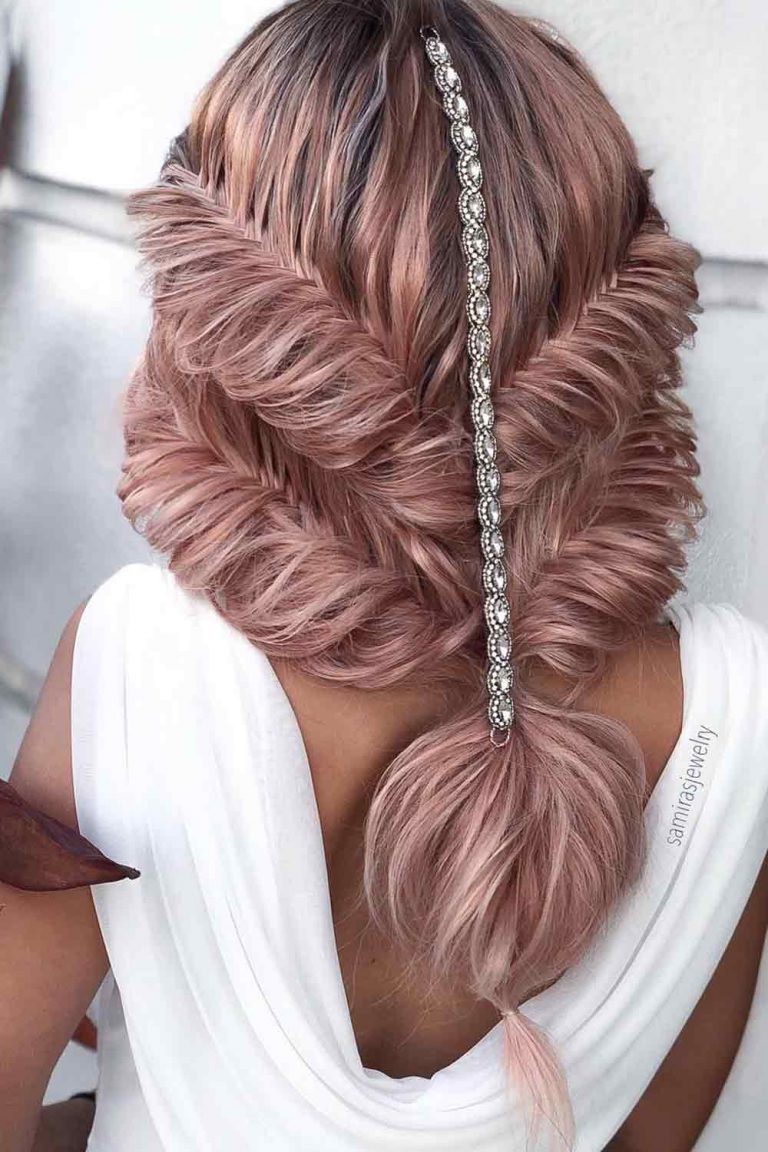 Wearing Dutch fishtail braids will give your hair not only a lot of natural volume and movement but also a unique, versatile look. Whether it's a textured braid or a braided updo that turns into a ponytail, it will suit any occasion and outfits. At the same time, this style requires minutes to get it done. That is to say, you will save some time while flaunting with a fabulous 'do. Stylish and practical at once!
Beautiful Half Double Pigtails
Credit photo: instagram.com/Ingridmhald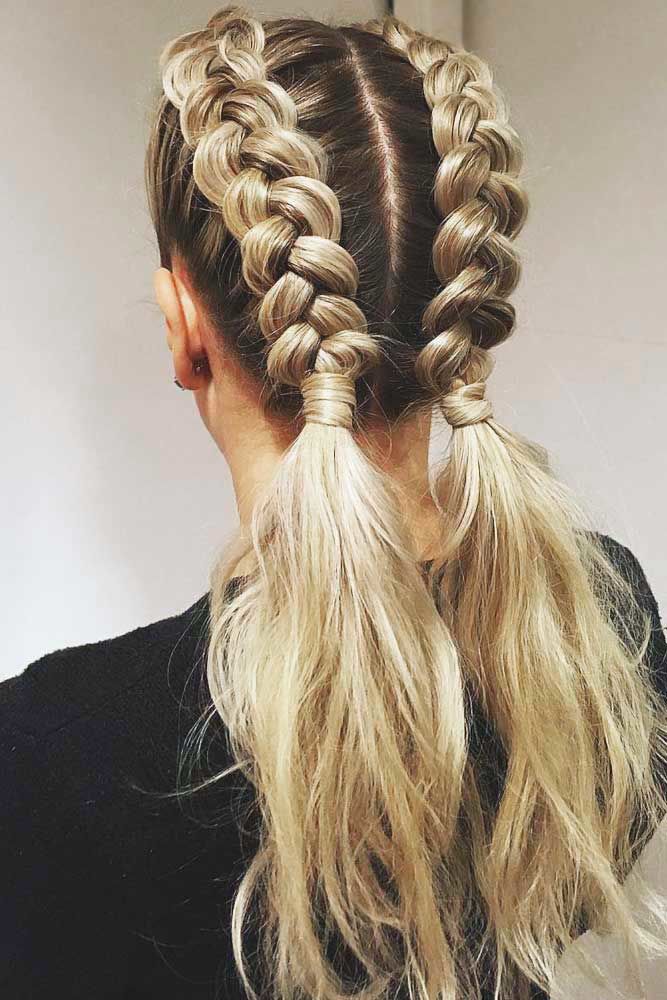 Pigtails are all the rage these days! Therefore, if you like lovely braided hairstyles, you can create two half braids. It may be Dutch, fishtail, or French braids. Of course, you can choose what you love. Plus, you can't go wrong with pigtails when you're about to add some romantic, feminine vibes to your style. And last but not least, everything beautiful comes in pairs. And no, such styles won't look childish!
Crown Braid To Ponytail
Credit photo: instagram.com/Michaelgrayhair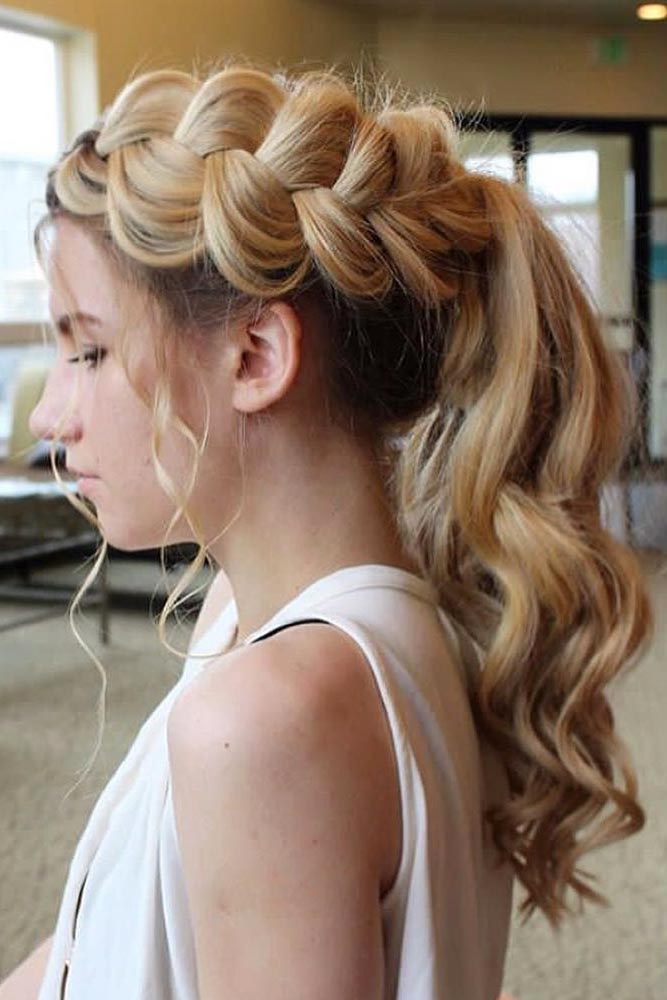 This is really a royal hairstyle with its magnificent texture and sophisticated feel. The crown braid will give you a refined look so that you won't ever need to put a tiara. Indeed, who needs accessories when we can have so much fun with braids? However, you can still add some little embellishments to the 'do. When some special occasion is knocking at the door, this style will be the best choice. And if you want to individualize it, some minimalist pearl accessories will do just great.
Side Dutch Braid Styles
Credit photo: instagram.com/Hair_do_salon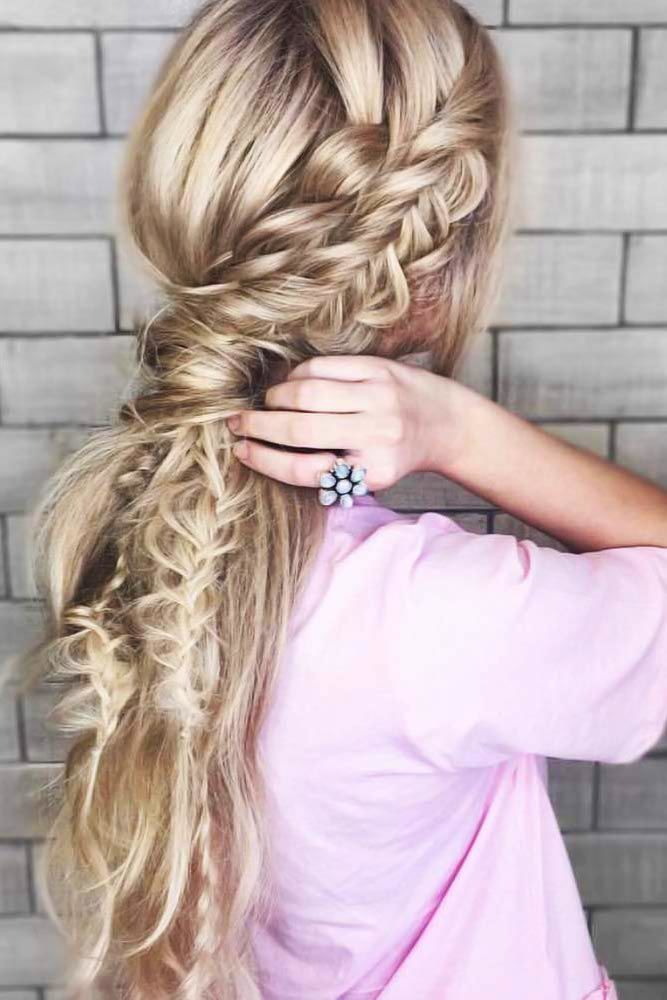 A side braid is an excellent option for romantic ladies, especially when they're preparing for a date. A touch of asymmetry always looks interesting. That's why side ponytails look so different. The best thing about ponytail hairstyles is that they can work for any hair texture, be it thin or thick hair, curly or straight, as well as long or short. And, if you want to look unforgettable on your first date – we know a trick or two! You can also wear this hairstyle a little bit messy to add some playful flair to your look. However, it looks nice when it's sleek and polished, too.
Dutch Mohawk Braided Ponytail
Credit photo: instagram.com/samirasjewelry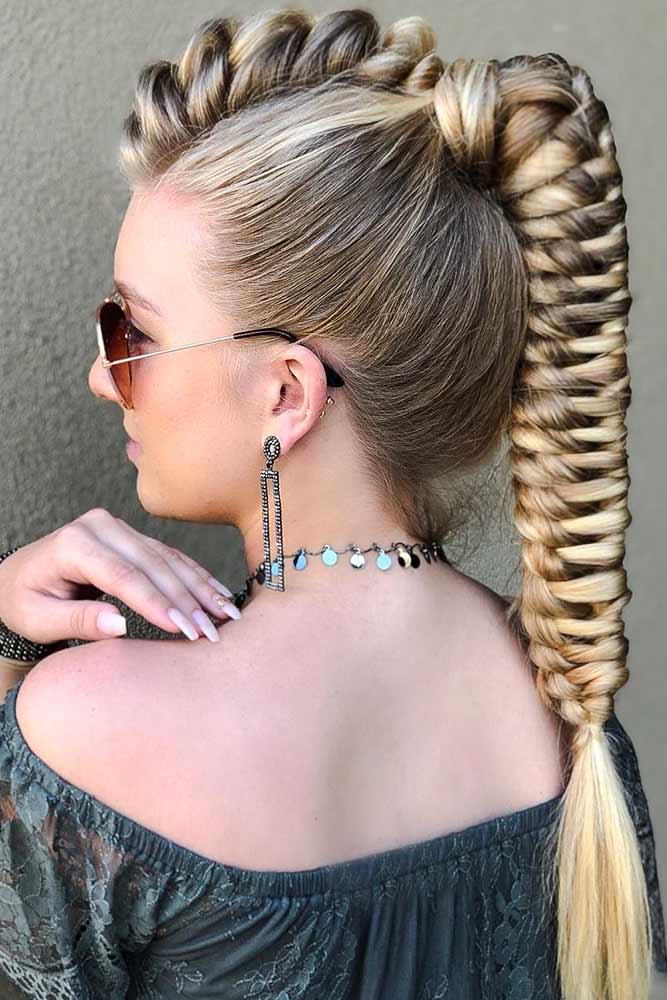 Credit photo: instagram.com/Inspobyelvirall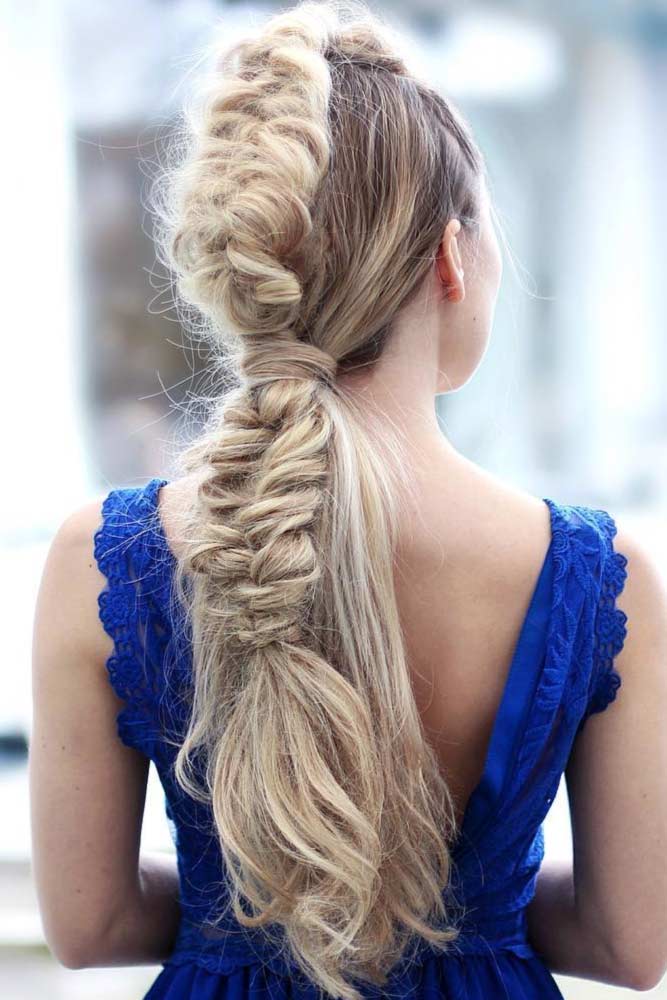 Credit photo: instagram.com/sweethearts_hair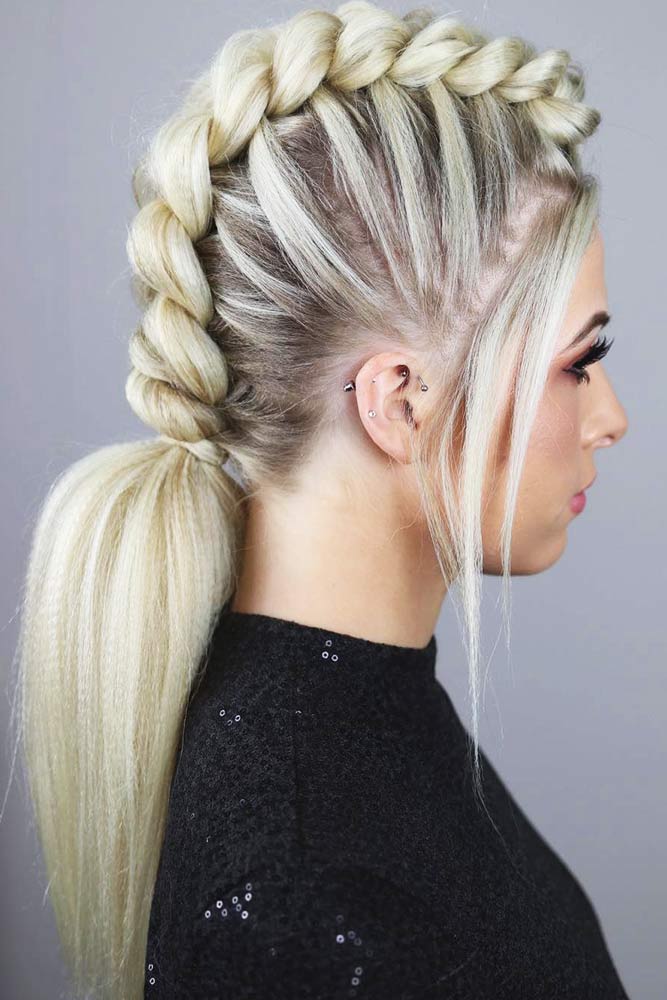 We can't leave you without girly mohawk hairstyles! Of course, one of the best ways to achieve the stand-out top of a mohawk is to braid the crown as high as possible, leaving the sides neat and tight. Braid the rest of your locks or leave them as they are, creating a pony: anything will work awesome! As a matter of fact, this style is a perfect combination of feminine and rebellious character bursting inside a woman!
Rope Braid Pony
Credit photo: instagram.com/samirasjewelry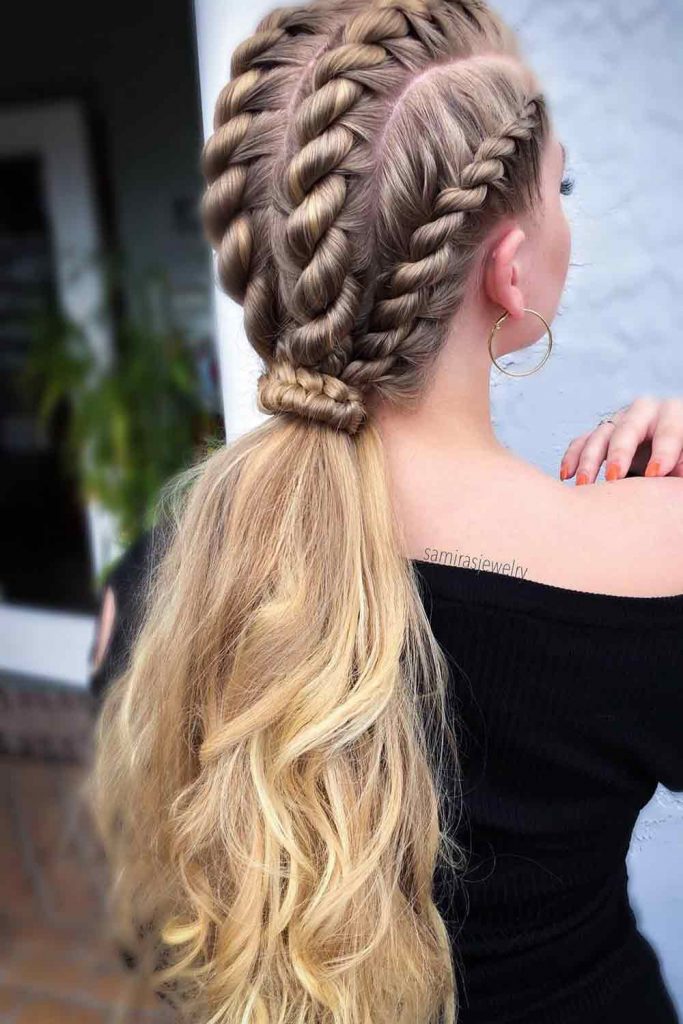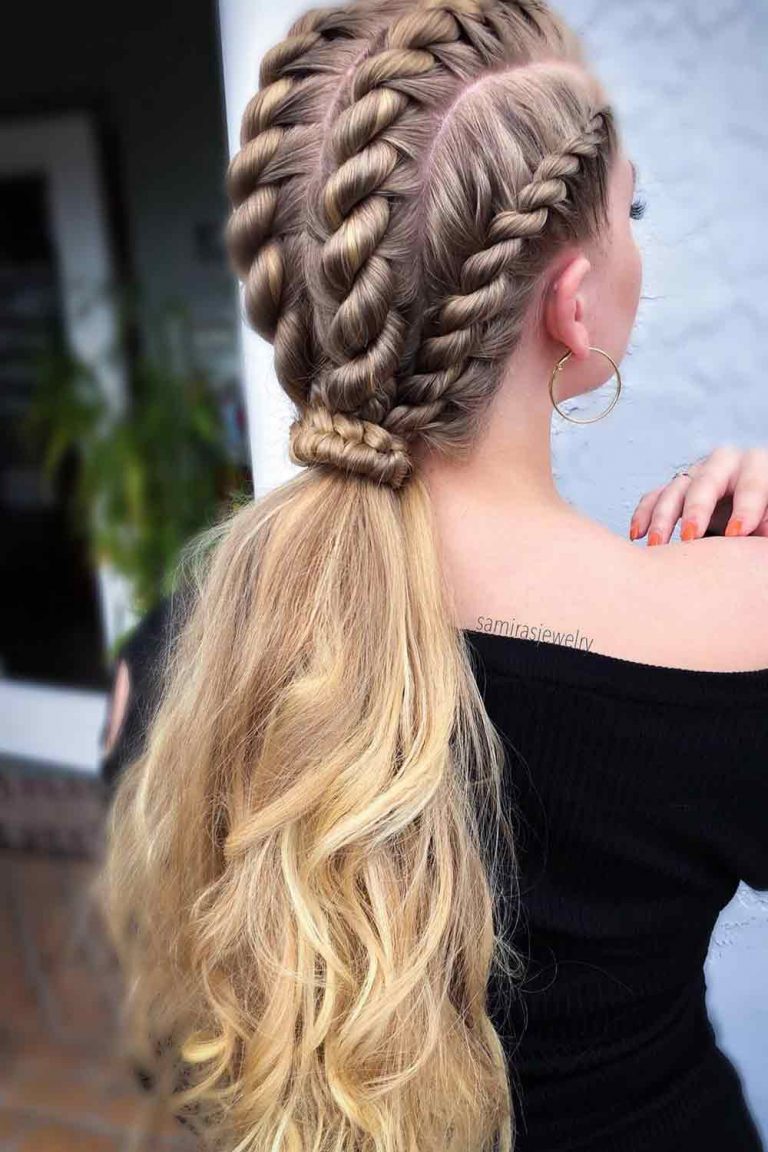 Rope braids have always been one of the most effective solutions for thin hair. Once you go for such a flirty, twisted updo, you'll take your hair type to the next level. And when this cutie is combined with an effortless ponytail, it becomes even more attractive. Besides, with such a braid, ponies will never look flat. Since this braid has a rather twisted structure, you can pull it as much as you want to make it appear fuller and more voluminous.
Pull Through Pony
Credit photo: instagram.com/Davidsolis22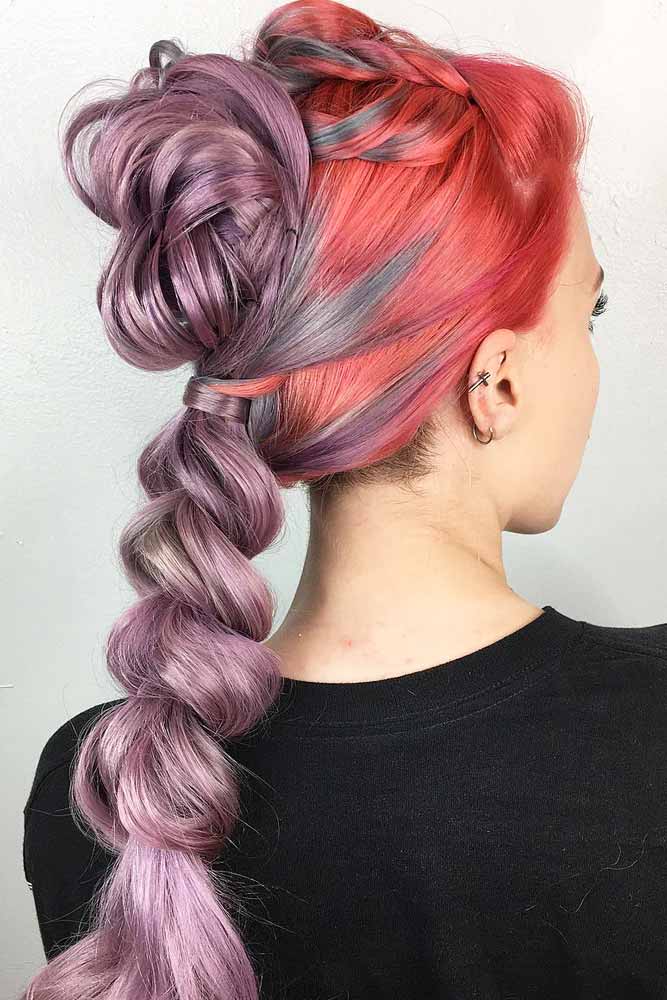 Credit photo: instagram.com/Hairbyjaxx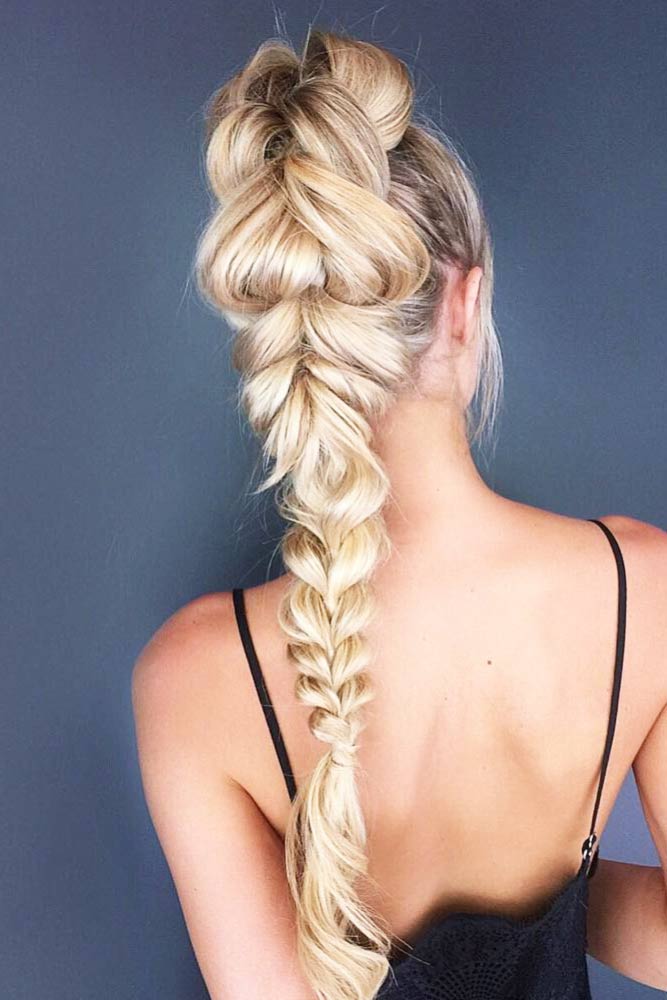 How do you like the idea of an inverted braid that transforms into a ponytail? Mixing different textures is always fun and beautiful. Just let your imagination fly, and truly unique braided hairstyles will be yours. Adding a braid into your pony also makes your look even more sophisticated. If you are a fan of bright colors that are undoubtedly very trendy, just blend in a double Dutch braid into a fishtail of your purple (or blue, or pink) hair and Lady Elegance will be staring back at you from the mirror! In case you're afraid to color your hair, there are lots of temporary chalks, sprays, and dyes. Therefore, you can recreate these ideas without any damage!
Add A French Braid To Your Pony
Credit photo: instagram.com/lenabogucharskaya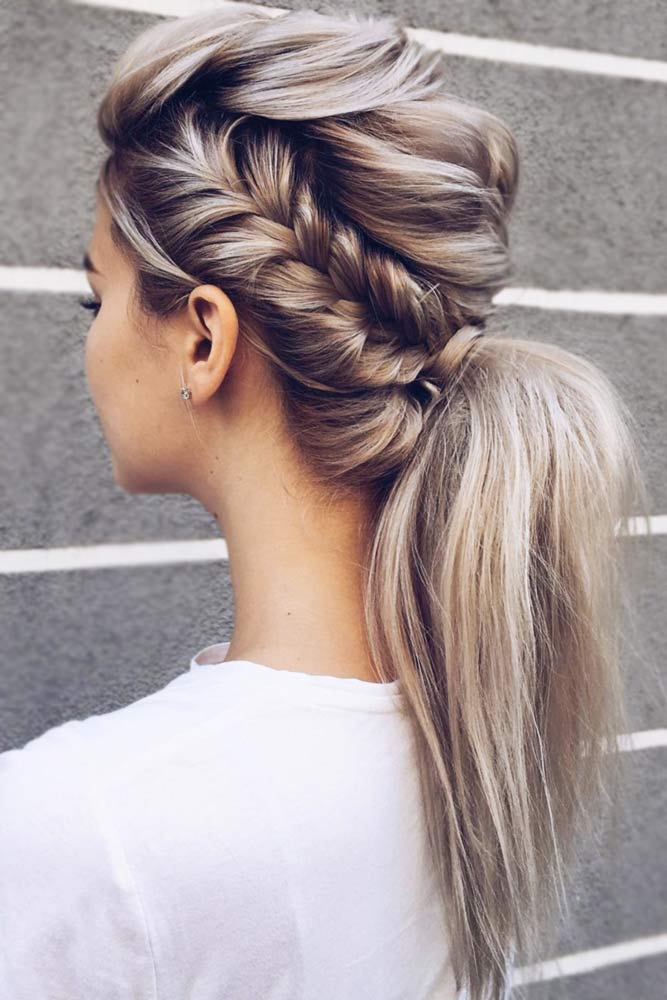 A French braid hidden in the middle of your ponytail is a symbol of sheer humbleness that no one can resist! The Charming will be conquered, undoubtedly! Though this idea seems to be fairly complicated, it's anything but hard to master. Well, in fact, that's your chance to stand out in the crowd! Besides experimenting with different braiding techniques, this idea will also allow you to show your creative side! By the way, how do you like the idea of a back braid? It's a brand new take at braided ponytails!
Infinity Braid
Credit photo: instagram.com/samirasjewelry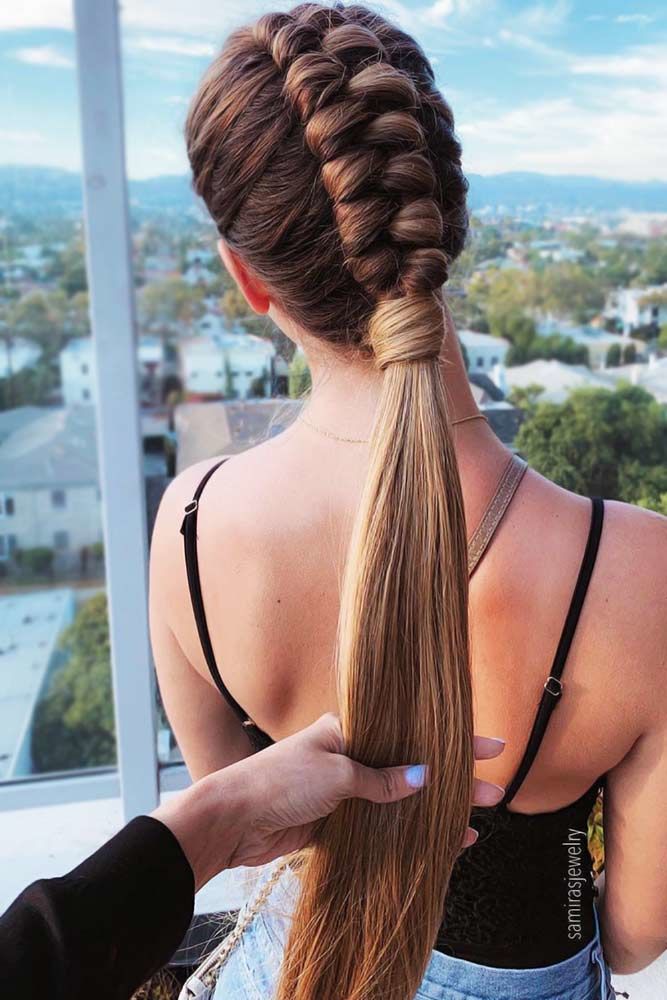 Although we all love simplicity, here come phenomenal braided ponytails for extraordinary girls! As you can see, the more braided elements, the better. Once you try to create an infinity braid with a ponytail, you will see your hair look very stylish. Don't be afraid of trying this braid: despite its complexness, it's pretty simple to achieve when you pair it with a pony. Since you don't need to braid all the hair down, it won't take a lot of time!
Half-Up Half-Down Braided Pony
Credit photo: instagram.com/Hairbyfranco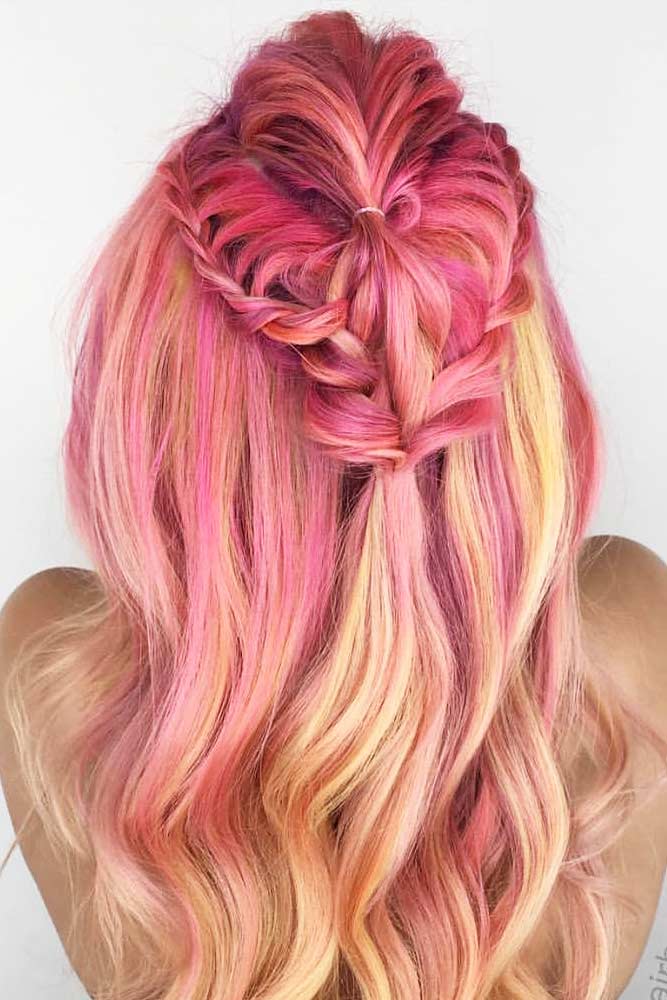 If you prefer loose hairstyles, you can try a half up half down braided pony, for example. This idea is also a nice pick for girls who want to spend much time styling their locks. Additionally, you can always spice it up with some twisted elements or soft waves. When styling, don't forget to pull the edges of the braid. It will add additional volume and fullness, regardless of what type of braid you choose. Here, you can also see colorful accents. They look creat with these carefree styles, aren't they? Well, this is where hair chalks should come in.
Bubbled Braid Pony
Credit photo: instagram.com/hairbyhaileyy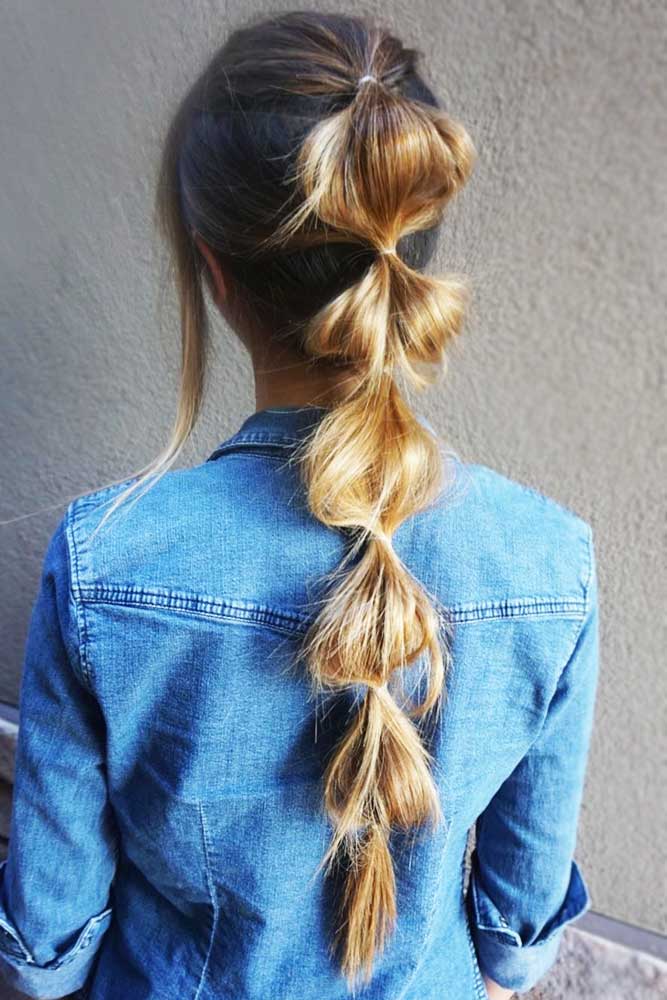 Credit photo: instagram.com/emmas_parlour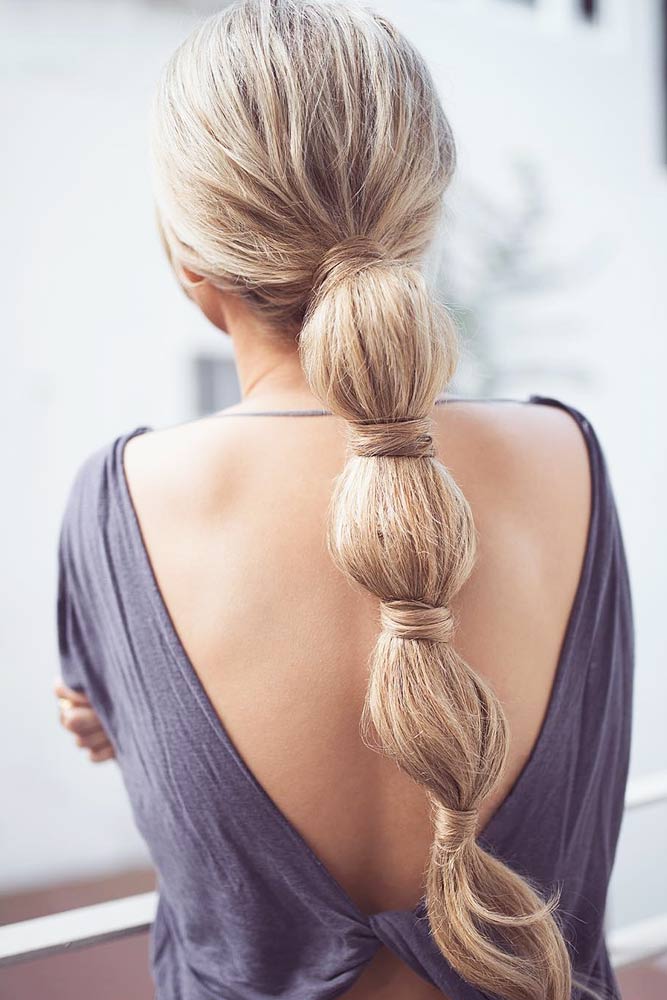 Though bubble braid ponytails seem to be the easiest hairstyles in the world, nobody can't resist their charm and fullness. In this way, you can whip your hair into shape with a super chic hairdo that takes minutes. Plus, when you have no idea how to build volume on this hair, this idea will be your saving grace. You can also add even more fullness and texture with waves. But it will take some more time. A tip: your bubble pony will look better if you hide the elastics with your hair. Easy yet gorgeous. Who could ask for more?
Cornrows Into Ponytails
Here's a recipe for a stunning style. Create a braid consisting of lots of tiny strands. Then combine it with a sleek, polished front. And what you get as a result is a spiced up ponytail to help you make a statement! There's nothing like a textured top with a contrastive sleek ponytail, especially if you have long hair. Apart from that, such ideas work equally well when styled high and low. If you want to style it sleek, make sure to work with shiny oil-based products. And for a messier effect, sea salt spray will be your weapon.
Despite being pretty simple hairstyles, ponytails and braids are more powerful than you think. Furthermore, once you combine these two, you will give life to an endless variety of styling choices. Now that you've seen the hottest ways to combine them, you will never feel like you've run out of ideas. And even when you feel like you've tried it all, we will be there for you, adding more and more new impressive ideas!
FAQ: Braided Ponytail
Is a braid a type of ponytail?
Ponytails, pigtails, or bunches are loose hairstyles in which he hair is divided into 2 sections, whereas plaits, pigtails or braids are plaited hairstyles.
How long does a braided ponytail last?
For a powerful effect, this basic braid is wrapped in fabric. Protective ponytails can last up to 2,5 weeks . They are ideal for those who don't like braiding. Make sure your ponytail isn't too tight, as this can cause tension on your scalp.
What are two braids called?
In most modern dictionaries, pigtail refers to a single tight braid. Many people, however, use it to refer to two symmetrical hair bunches on either side of the head, with or without braids.
REFERENCES:
Combine your love for braids and ponytail hairstyles with these braided ponies. Source
Was this article helpful?