A rope braid can be a pretty addition to your hairstyle. And the good news is that such braids are really easy to pull off. If you wish to learn how to create it, our tutorial will be quite helpful.
Rope Braids Updo
Credit photo: instagram.com/twistmepretty, instagram.com/heatherchapmanhair, instagram.com/n.starck
While there's nothing easier than doing a rope braid, the hairstyles you can create with them look very elegant and sophisticated. That said, they form the basis for many party hairstyles. You can create a side braid and turn it into a messy low twist, go for a continuous rope braid or try a floral updo. This simple twist made of two strands is full of surprises!
Braided Ponytails
Credit photo: instagram.com/n.starck, thejoyoffashionblog.com, instagram.com/prettyhairstyleess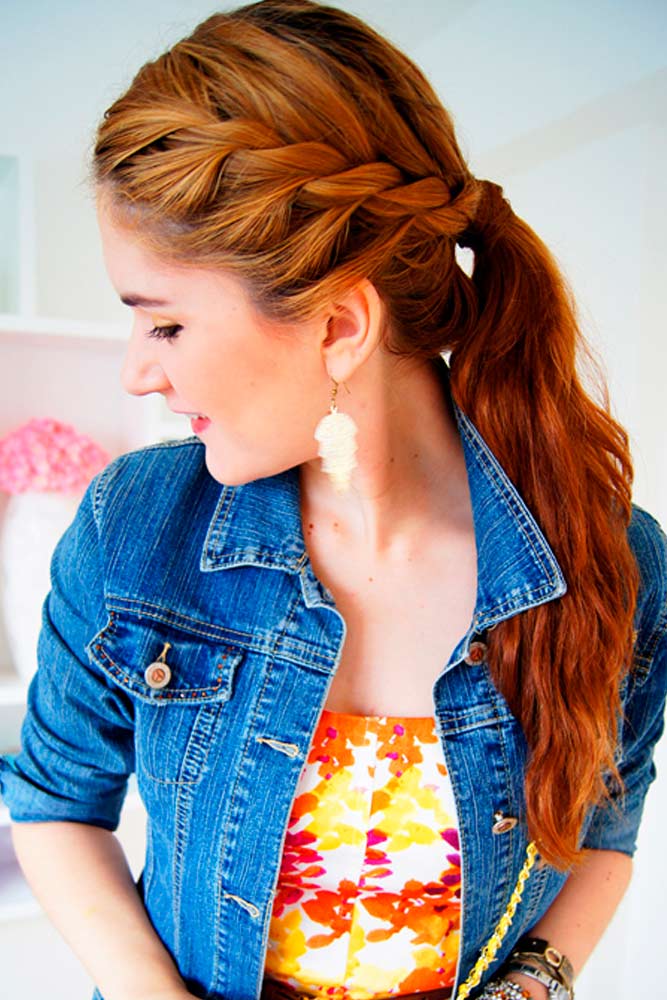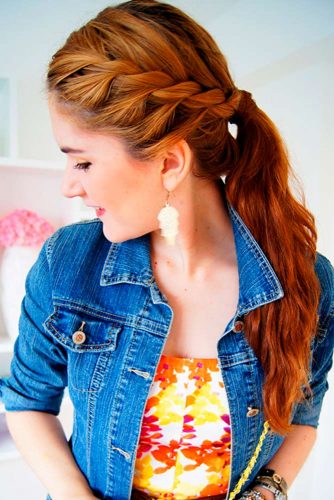 Once you take a simple ponytail and the straightforward rope braid and combine them, you will get the style one couldn't even dream of. It can be a side braid that incorporates into a pony, or you can do a braid out of your ponytail: you will keep your look full anyway.
Half-Up Styles With Rope Braids
Credit photo: instagram.com/twistmepretty, instagram.com/n.starck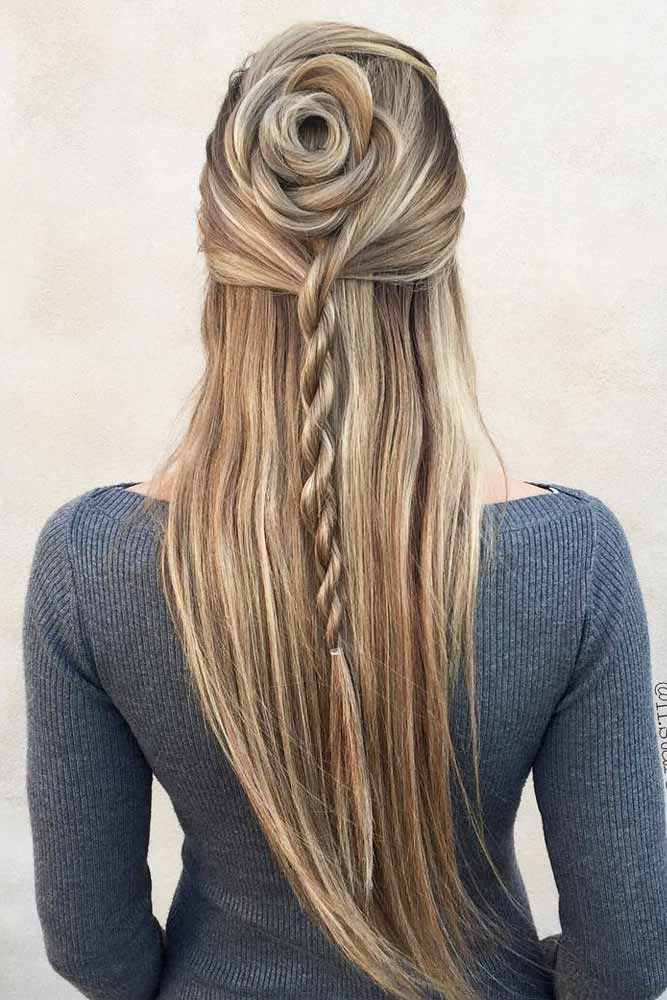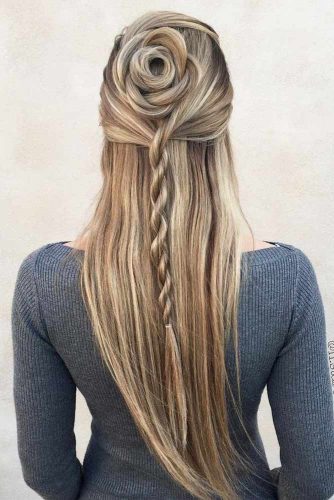 If you have only a couple of minutes to leave your home, it doesn't matter that you will spend this day with an I-overslept look. Just twist two strands into a rope braid, working with the top layer of your hair, and a decent, lovely look will be yours.
Side Rope Braids Styling
Credit photo: instagram.com/twistmepretty, instagram.com/alex_haircraft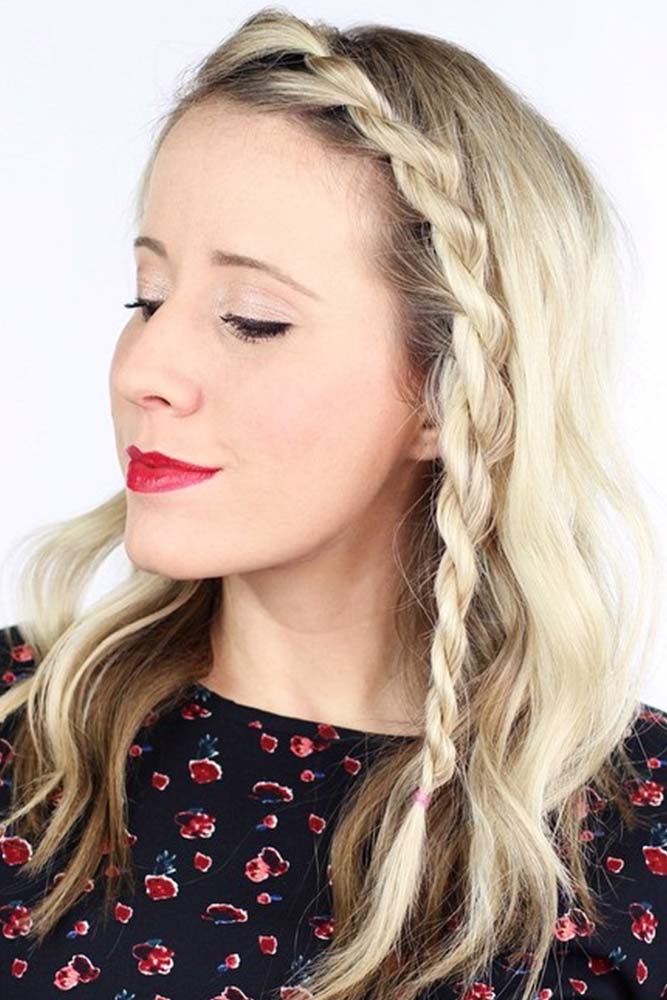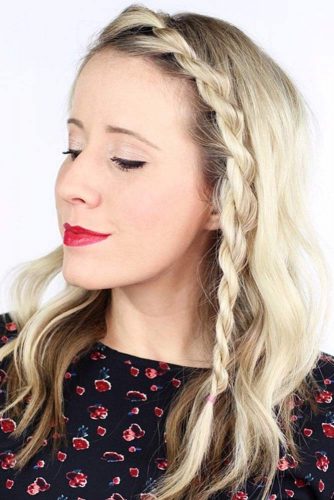 Simplicity + creativity = the most eye-catching and unique ideas. And the same goes to hairstyles. Look how stunning these side braids are! Who would've thought that two twisted pieces of hair would look so perfect?
Combo Rope Braids
Credit photo: instagram.com/n.starck, alexsismae.com, instagram.com/ashpettyhair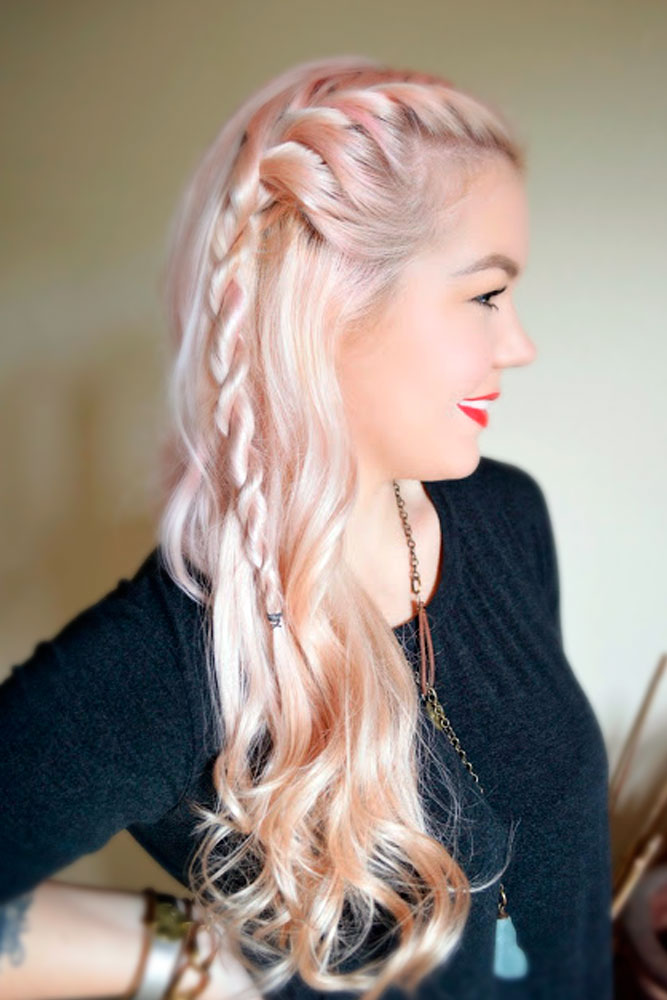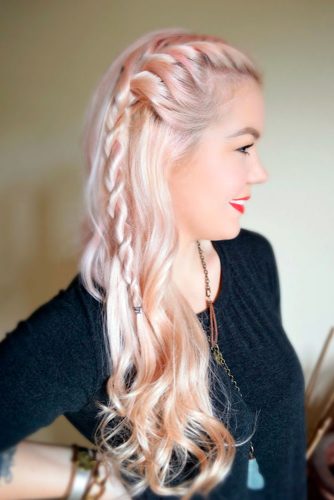 How about you to play with different textures? When dealing with braids, the more different types you mix, the better. Let your imagination fly and see how nicely braids go with one another.
Double Rope Braids
Credit photo: instagram.com/kayleymelissa, instagram.com/myhairstyle_xo, instagram.com/anniesforgetmeknots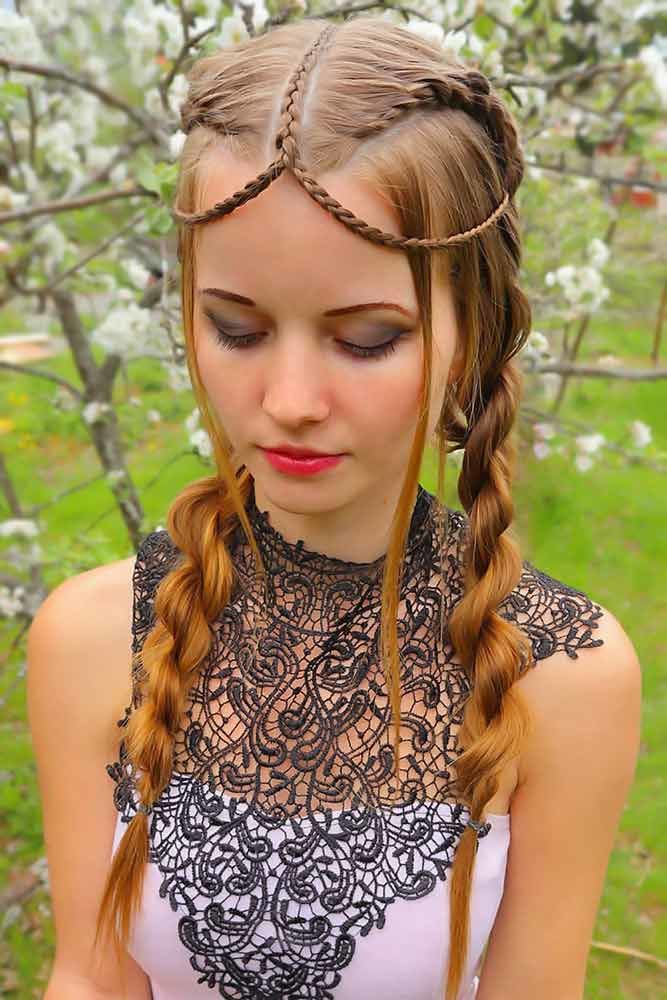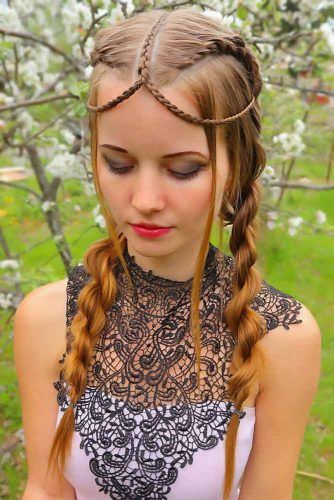 Everything beautiful always comes in pairs, and these pretty double rope braids are another proof for this expression! Apart from playing around with the thickness and texture of your plaits, you can also experiment with other braiding techniques to add some creativity to your style. Some braided element, for example, is enough to make your look unique.
Our hair tutorial is really easy. Just follow each step and practice a little, and you will soon master it. Then you can sport this look as often as you wish and be amazing.
Rope Braid Tutorial
Credit photo: freckled-fox.com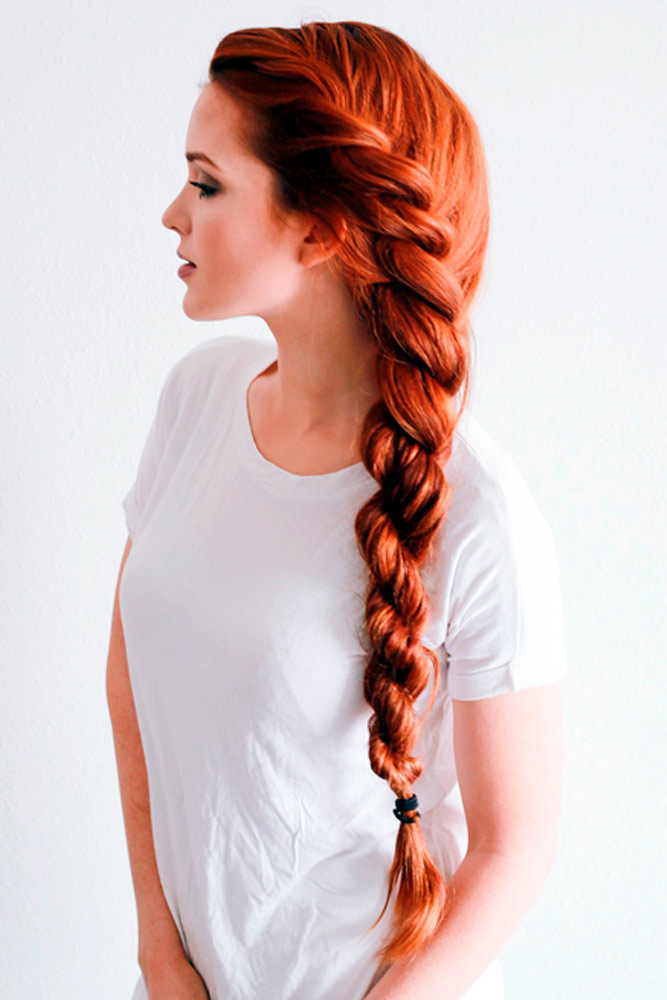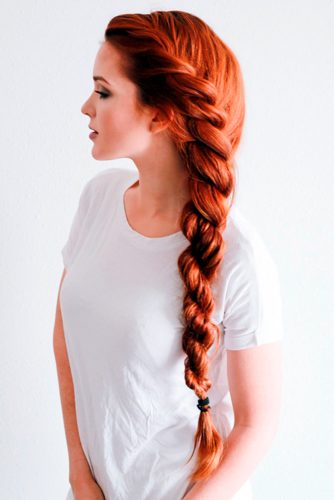 First, apply dry shampoo to your hair.
Use your hairbrush to smooth your hair out. After brushing, scratch the scalp with your fingers to get more volume.
Now part your hair. Pick a rectangular section on the side of your preference. Split this section in two halves.
Pull its front part over to the back part. Now make the front part fuller by adding more hair.
Next, criss cross the front and back parts.
Repeat points 4 and 5.
Keep repeating this process as you go down.
The moment your braid reaches the shoulder, take more hair from the back of your head.
Now take the two parts of your hair from the bottom and twist them tightly in a counterclockwise manner.
When they start twisting without your help, twist them around in a clockwise manner.
Keep repeating points 9 and 10, going down.
Now take a hair tie and secure the end of your braid.
Loosen the braid a bit by pulling it out section by section.
If you opt for a carefree look, you can pull out several strands of your hair.
Finally, apply hairspray.


How To: Easy Updo | French Rope Braid
Another absolutely straightforward and effortless rope braid tutorial is about to give you a feminine and glamorous look for any occasion. Follow these steps to flaunt with the unbelievable French rope cutie!
Credit photo: youtube.com/Alex Gaboury

Prep your hair with a light or medium hold gel to make it more manageable and less frizzy during styling.
Start parting your hair on the side you like the most.
Then, take a one-inch section right from the front area of the part.
Grab another section, taking it from below the previous one.
Start doing a French rope by taking the bottom section: bring it up and in front of the top section, and then bring the top section down.
Continue to cross the sections over one another, adding another one-inch section into the bottom section until you reach the very ends of the braid: it will create the French portion.
When your braid reaches your ears, direct it across the back of your head and go on braiding.
Once you braid your hair all the way across the back, secure it with an elastic.
Twist the ponytail into a low bun.
Pull the edges of the edges of your braid and bun to create a thicker appearance to the style and enjoy!
Rope Braid Twists Short Hairstyle
Credit photo: youtube.com/Milabu


Before you jump to conclusions, here's an easy rope braid tutorial for short hair. There's a weird misconception that keeps women with short locks from wearing braids. What a shame, though! Follow these simple steps to turn your bob or lob into a braided masterpiece.
Starting with a deep side part, section off two equally small pieces of hair alongside the hairline.
Twist the two down to the ends, and secure the first rope braid with an elastic.
Then, repeat the same step, sectioning off two more small pieces of hair and turning them into ropes.
Once the twists are ready, pin them underneath your bob.
Now, you are free to experiment with the rest of your hair: you can wave your locks or put them in a bun.
We hope that this tutorial is enjoyable and helpful.