Partial highlights or full highlights: that is the question. When you're about to add an accentuating color to your hair, you are most likely to deal with the struggle of coloring technique choice. Let us be your color guide!
Today we want to tell you the main difference between full and partial highlights, showing you the advantages of the latter, and sharing some examples on how to pull it off.
It doesn't matter what hair color you flaunt with; it's time to choose the perfect technique to highlight its charm!
What Are Partial Highlights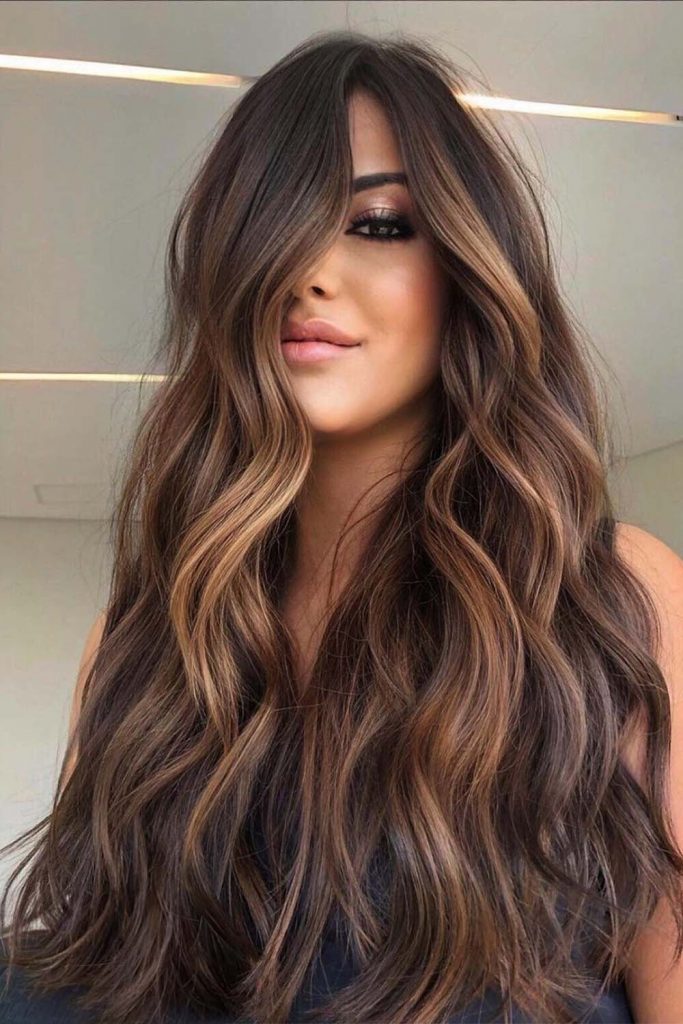 by @balayageombre
First off, let's answer the tricky question that's on everyone's lips now 'what are partial highlights?'. When applying this coloring technique, your stylist highlights only half of your hair. Usually, it involves local highlighting in front, back, and nape areas. In simple words, it's a couple of lightened streaks that peek through your base.
Partial Vs Full Highlights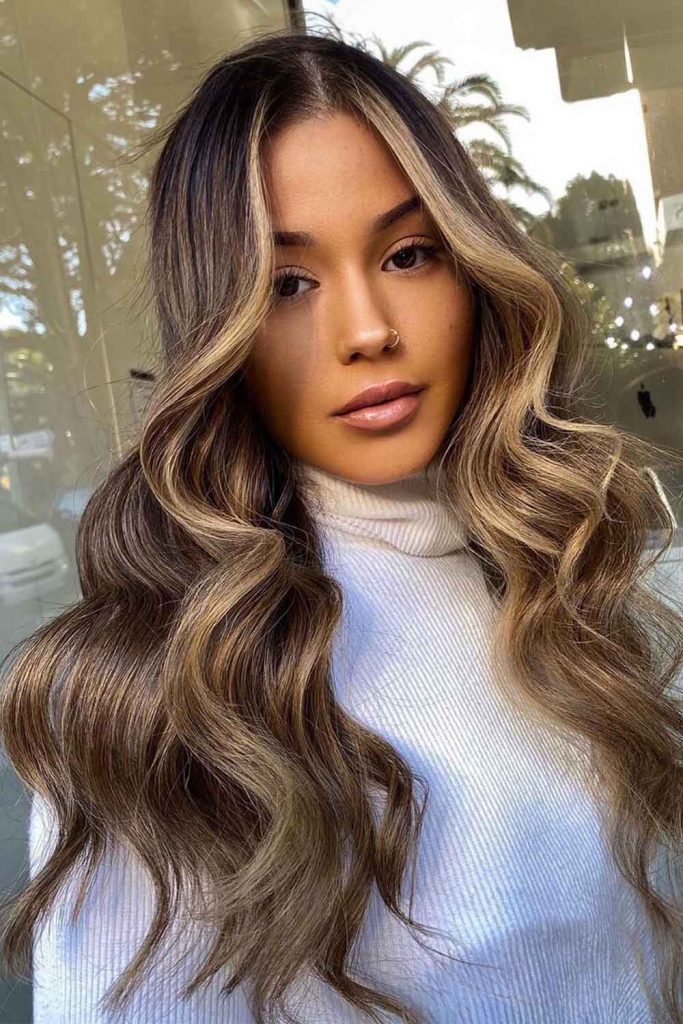 by @balayageombre
Now, let's puzzle out the difference between partial and full highlights hair! Even though they're both a touch of color that reaches the surface of your locks, the full highlights go throughout the whole length. And partial highlights usually take place at the front, mohawk, or crown section.
One of the main advantages of the latter is that you get less damage during bleaching. Also, getting partial highlights is pretty affordable.
And finally, you can place highlights where you want, based on your needs and preferences.
Front-Framing Partial Highlights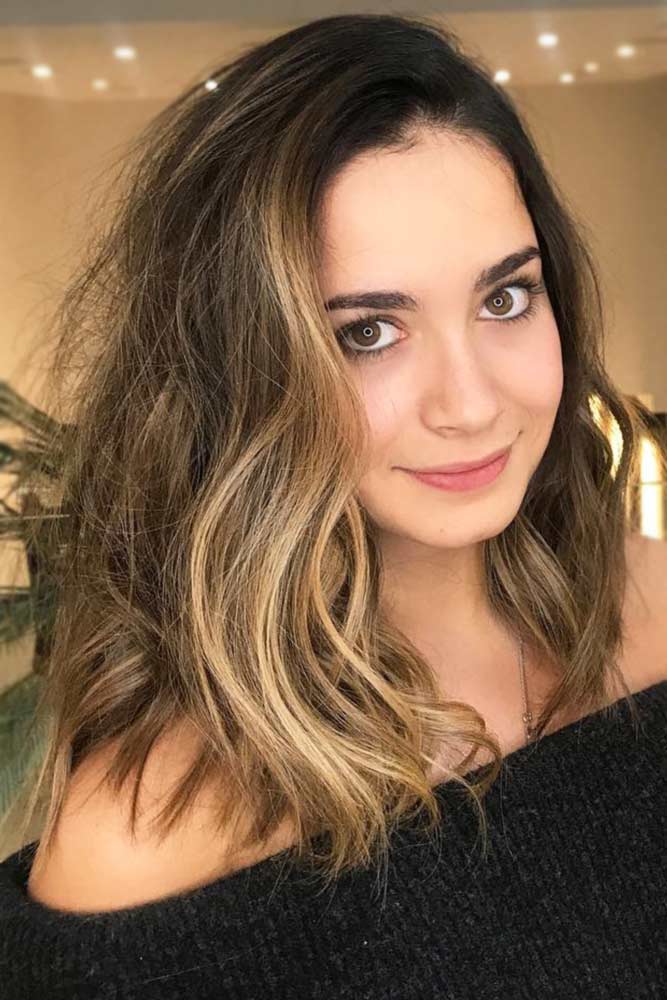 Source: petermenezes/Instagram
When a woman needs to frame up her face, partial highlights become the winner of the partial vs full highlights fight. If you want to soften some prominent angles of your face or elongate a round silhouette, ask your stylist to highlight some front sections and see the difference!
From Top To Bottom Partial Highlights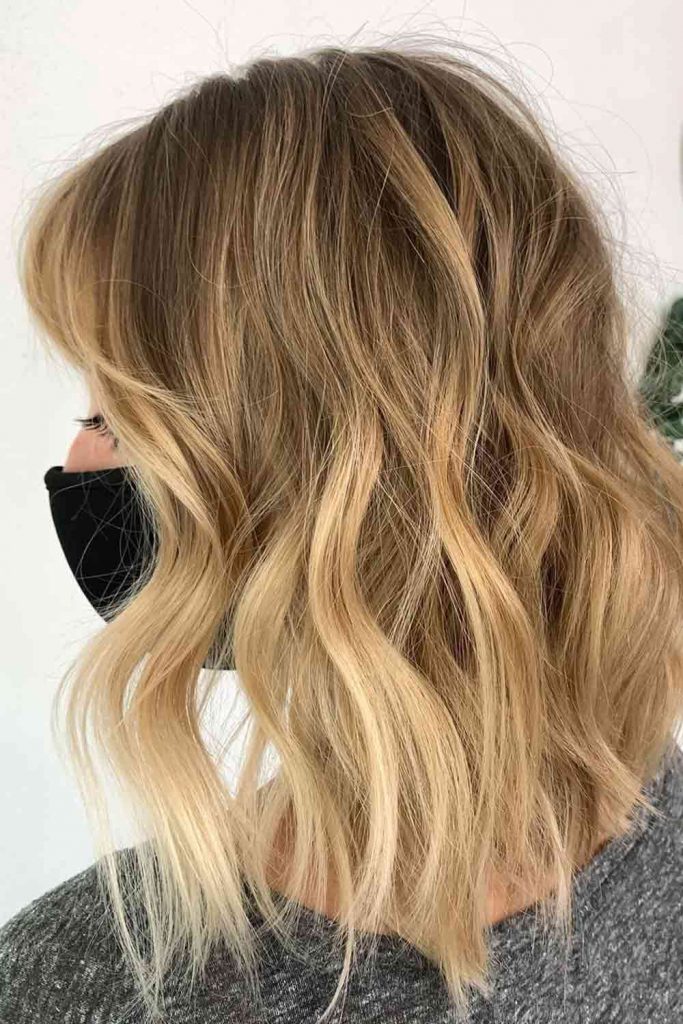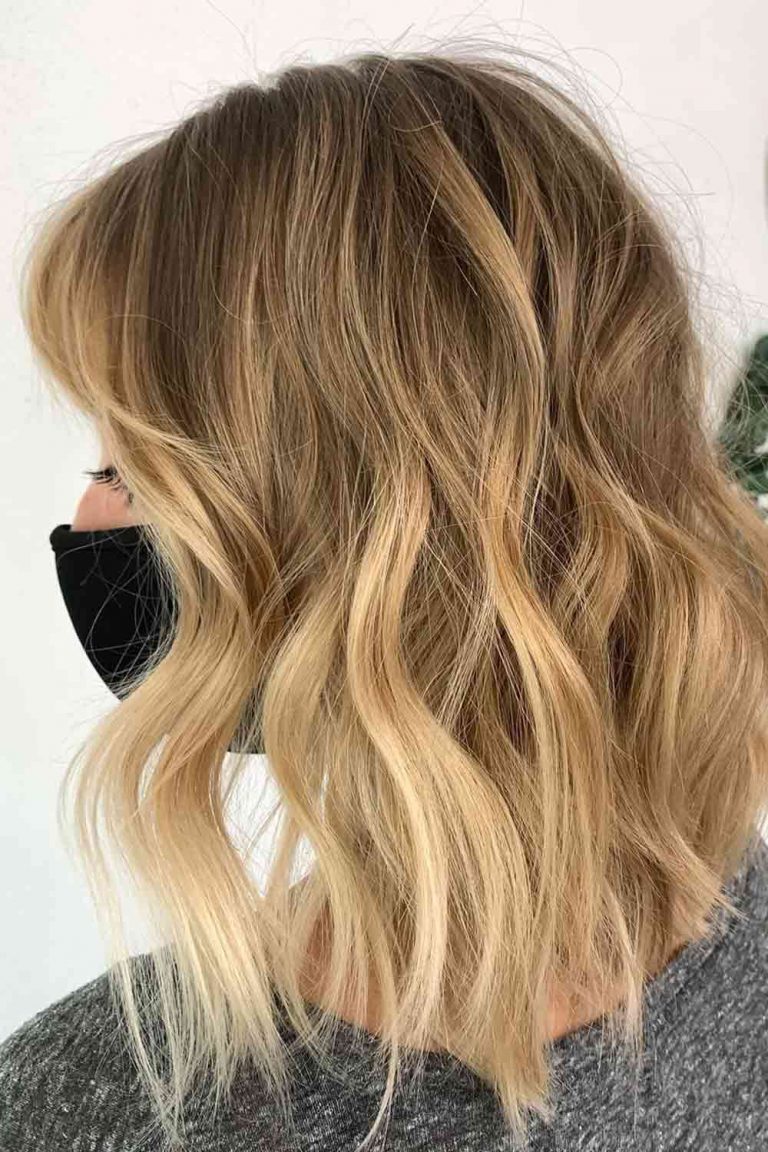 Source: ashley.m.stylist/Instagram
Spicing up your brunette base can really brighten up the overall silhouette of your hair. Some sandy or golden partial highlights on brown hair, added from top to bottom will nicely enliven your warm skin tone, enhancing the beauty of your natural brownie.
Hair Contouring Using Partial Highlights
Believe it or not, there's something that can work on your face shape besides makeup contouring. Moreover, it's way easier to bring to life and pull off. We're talking about hair contouring, where highlights are added selectively based on one's facial features. So, yes, partial highlights are meant for something more than a fresher look: they can balance out the silhouette of your head and hair with the play of lights and shadows. Keep in mind these basic tips to make your next highlighting super beneficial, whether you plan a salon appointment or take your chances to learn how to highlight your own hair!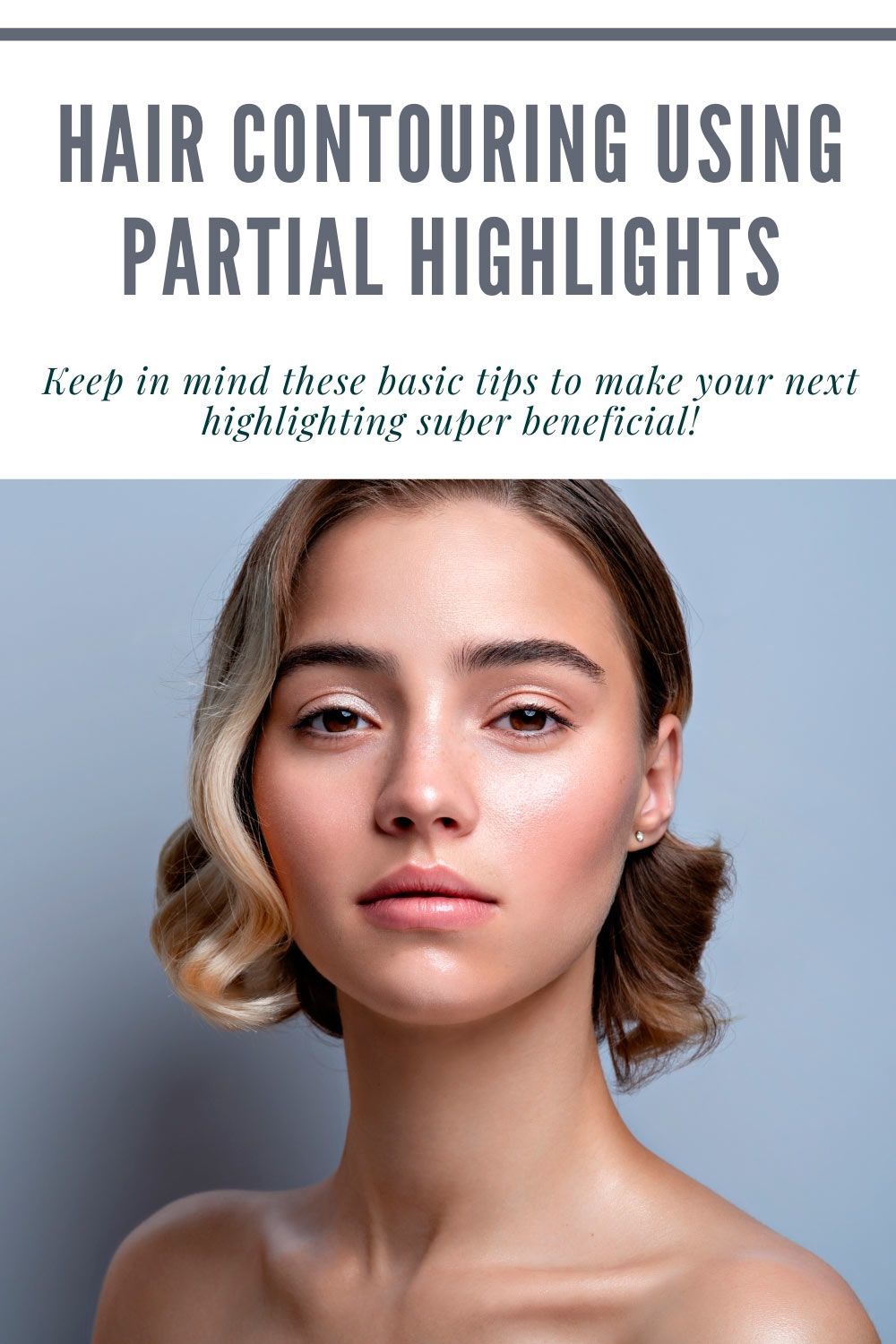 For round and square faces, it's better to go for face-framing highlights. Such face shapes need to be verticalized visually, and highlighting front tresses will be the best choice.
Diamond, rectangular, and oblong faces need to be horizontalized, so the highlights should be placed throughout the mid-length, slightly hitting front tresses.
For triangular shapes, the accents will work best at the mid-way and front areas.
For Round Face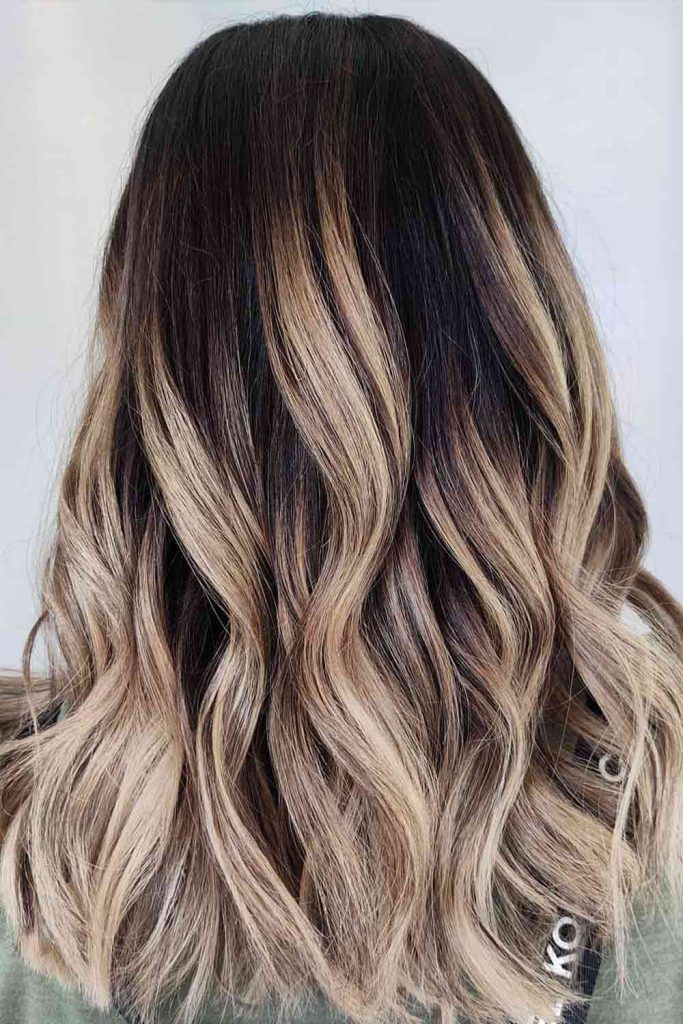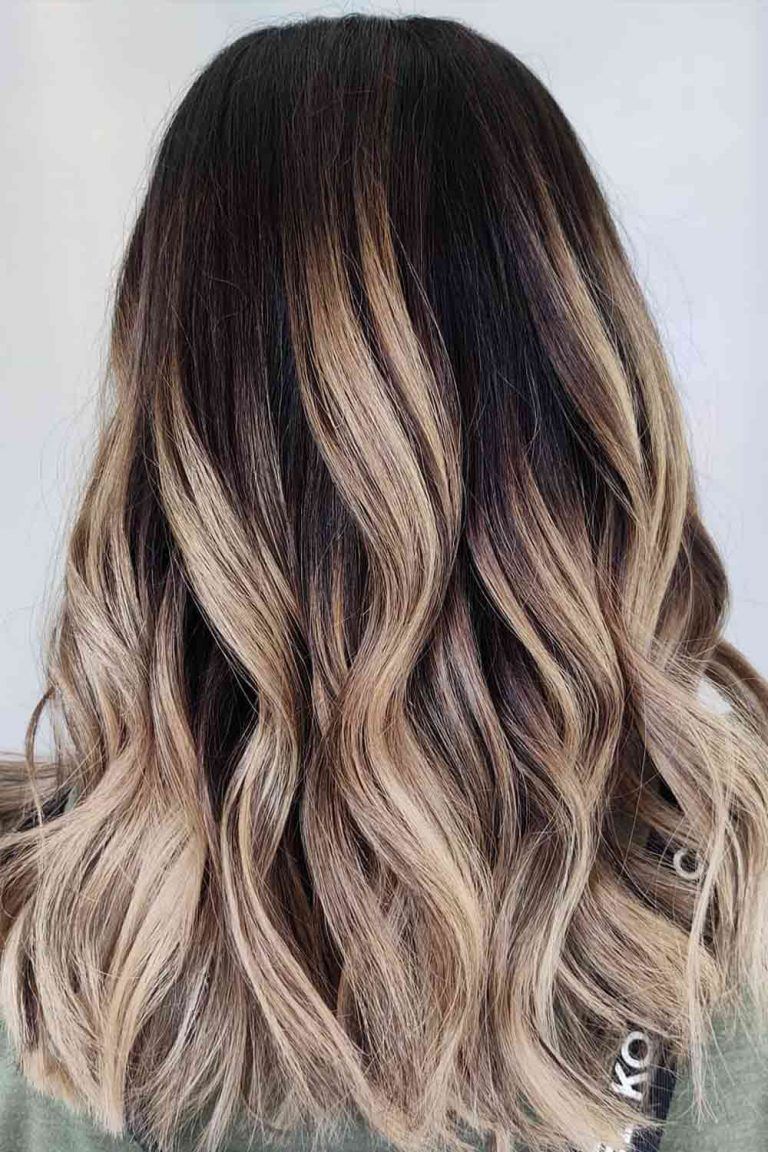 Source: adlydesign/Instagram
As you can see, the effortless caramel brown highlights are added to the front tresses to frame her round face slightly. Though such coloring doesn't create an angular silhouette, the way the colors blend can smooth things out.
For Square Face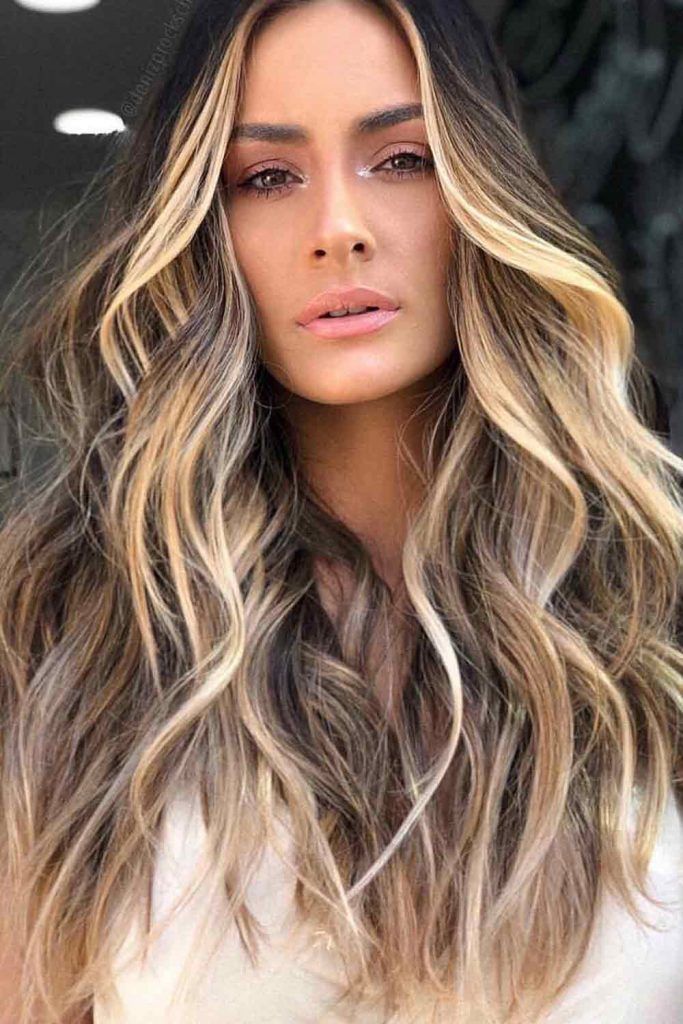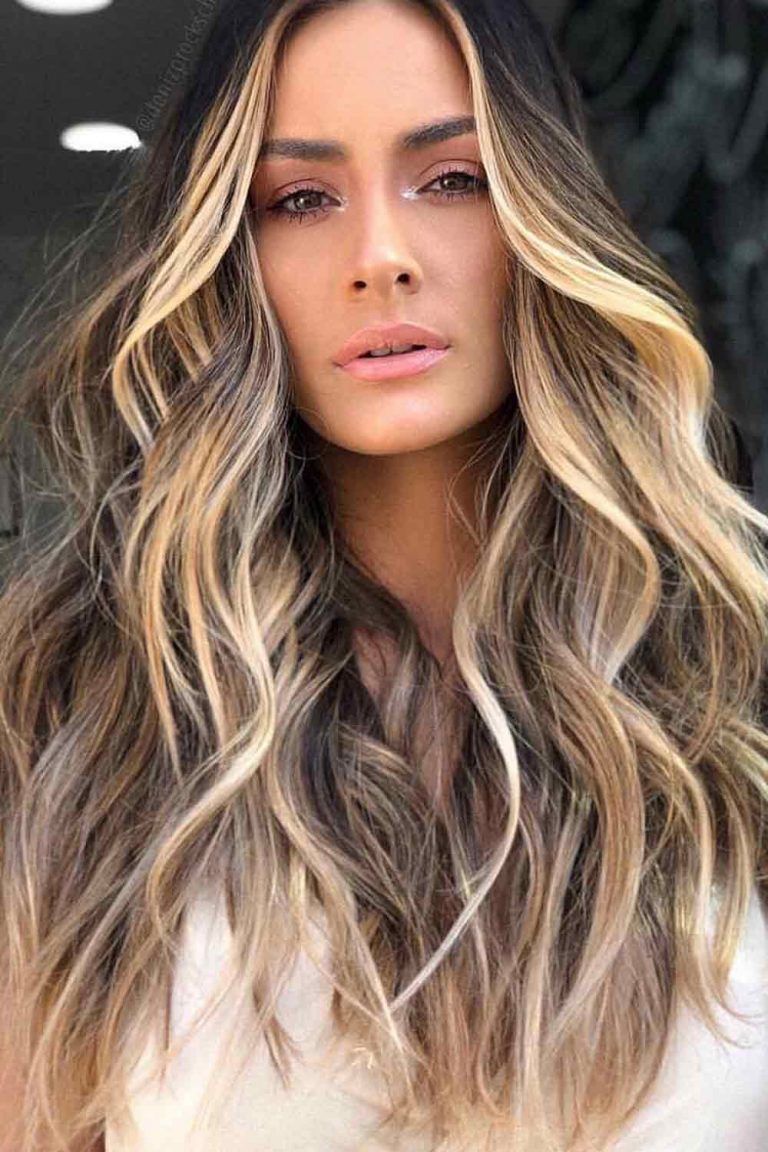 Source: balayageombre/Instagram
The multidimensional vertical wheat brown highlights added over the brown base give her hair a lot of natural movement. In this way, the angular silhouette and broad forehead look very balanced and harmonic.
For Diamond Face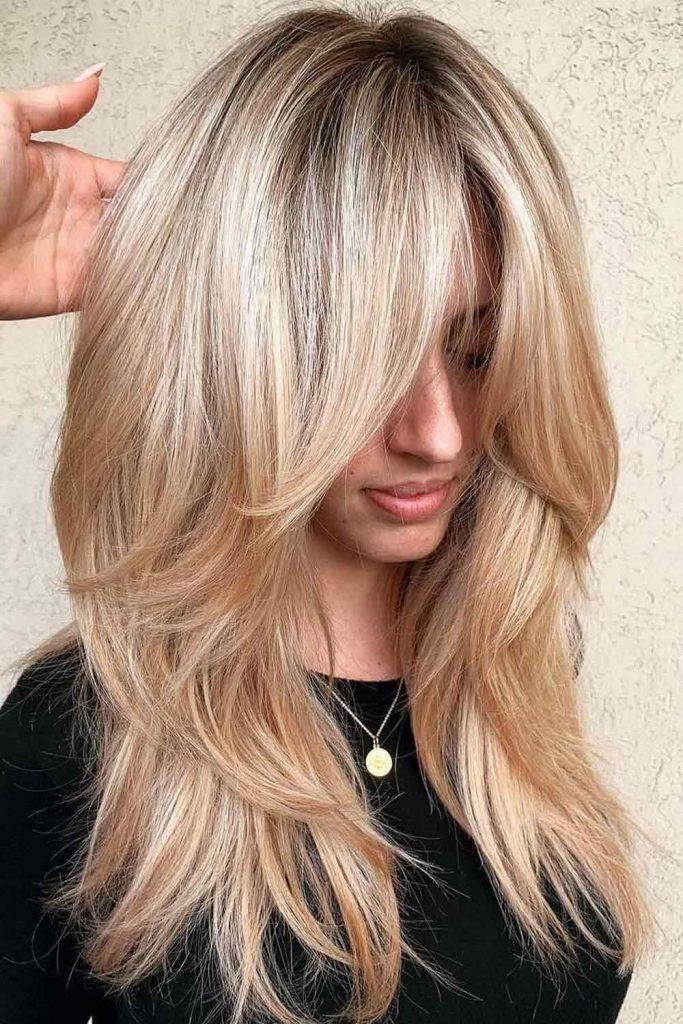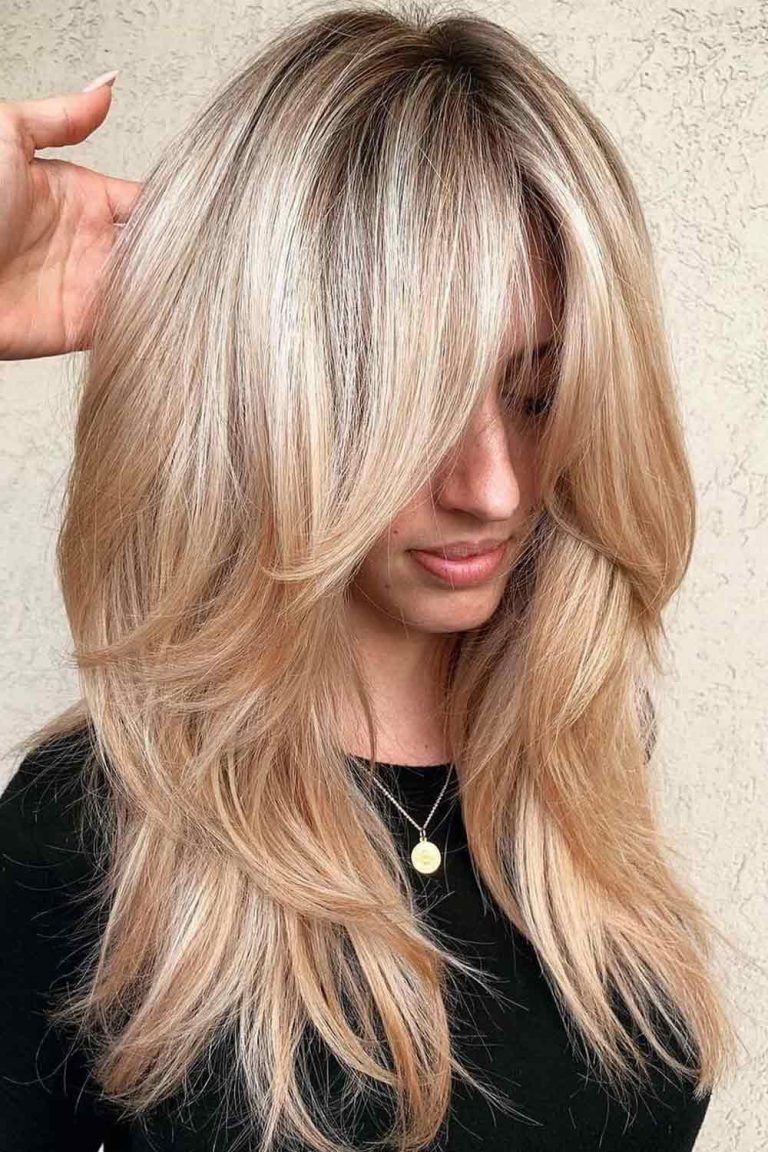 Source: balayageombre/Instagram
This diamond face looks at its best with the chic highlights that move throughout the visible front and mid-length. This face shape has a very pointed chin and broad forehead, so the new colors should take place on both the front and sides.
For Oblong Face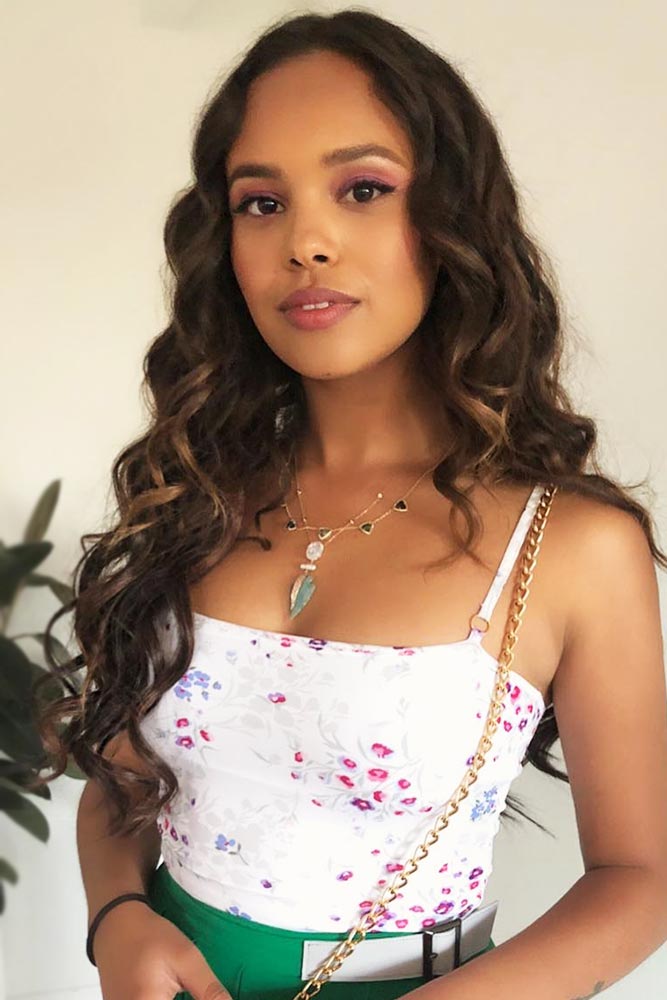 Source: castillo_13/Instagram
So as not to make an oblong face look too slim and long, modern colorists recommend adding highlights horizontally in small portions. Such a decision will not only keep the harmony but also will give a natural look.
For Rectangular Face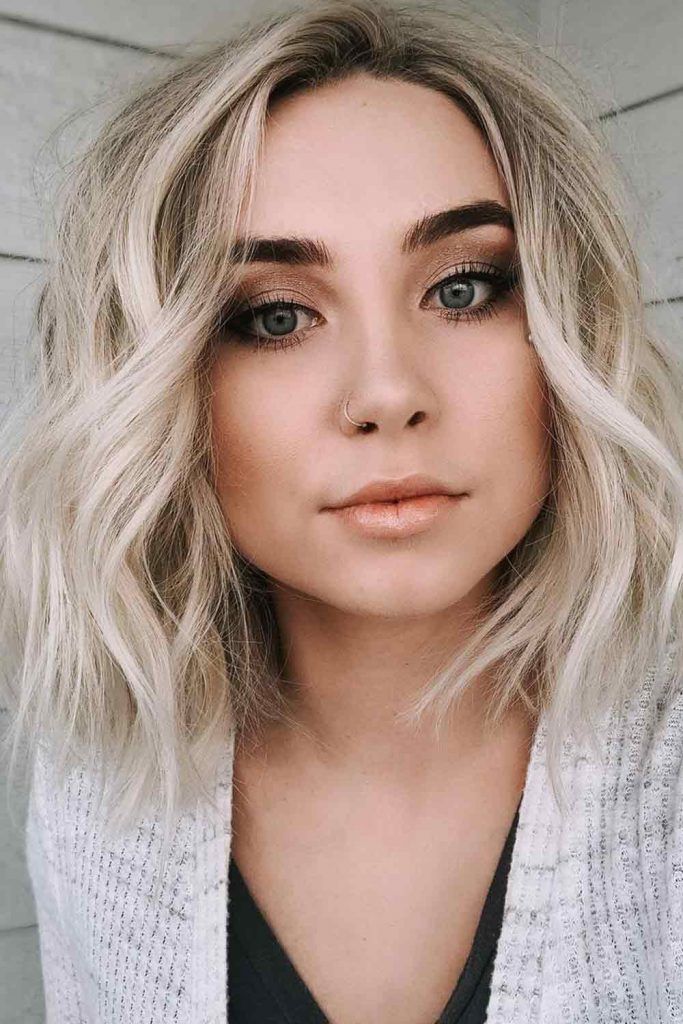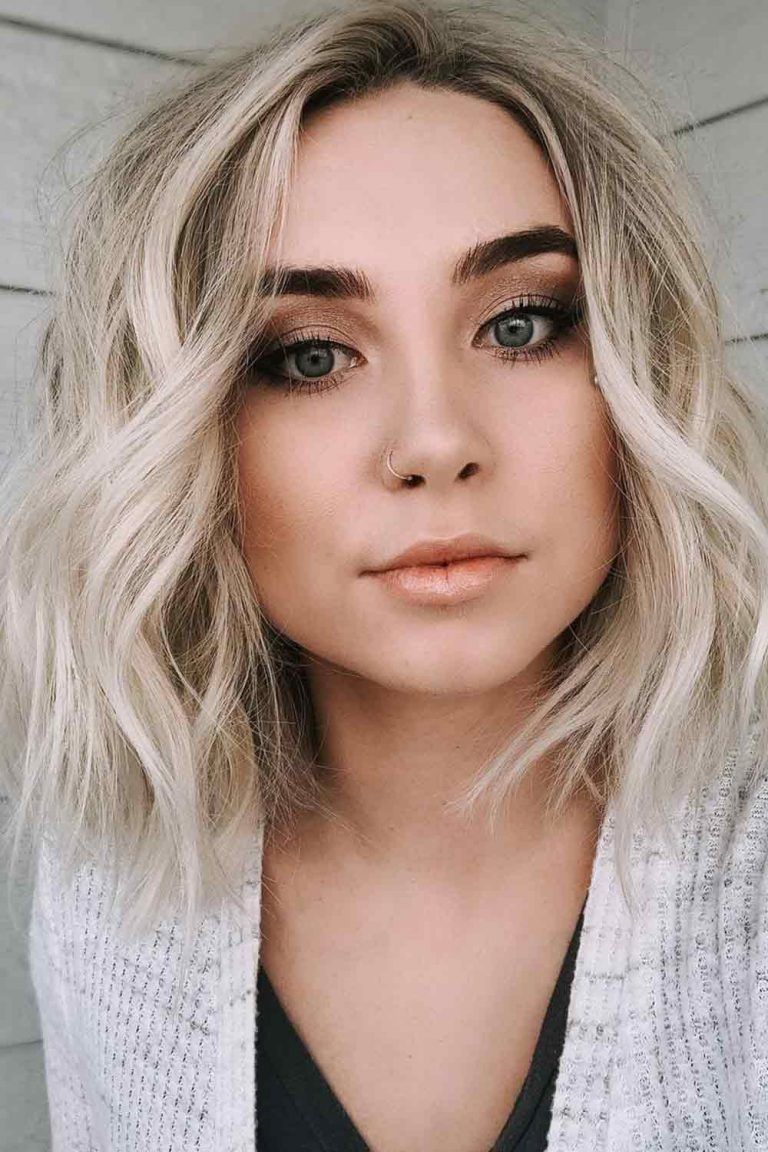 Source: ashley.m.stylist/Instagram
Rectangular faces need a special approach when it comes to highlights. Besides the horizontal position of the color, it should be added to the areas that can smoothen the prominent angles of the face: the front and midway tresses.
For Triangular Face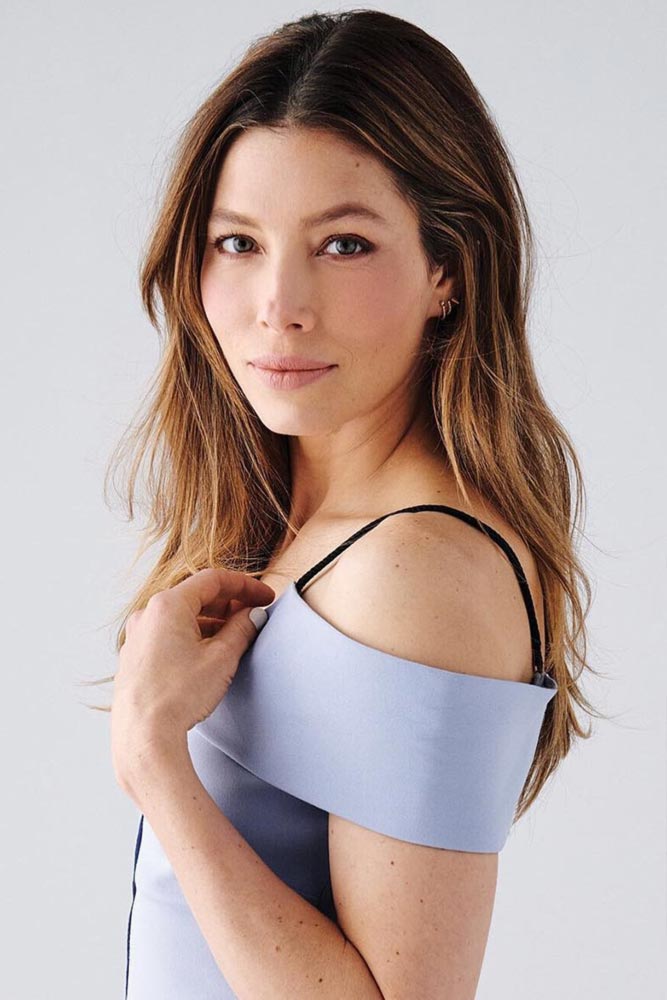 Source: hairbyadir/Instagram
Ladies with the triangular face should go for highlights that slightly hit the roots. Your new color should naturally blend with your base, so adding some to the top is crucial. For the perfect effect, try coloring most of your hair, yet, make sure that your primary evenly fills the gaps.
Trendy Ideas With Partial Highlights
Golden Beachy Waves
Want to emphasize the dimension of your waves? Girls who like waving their hair or have naturally wavy locks can ask for top layer foil placement for partial highlights. In this way, each highlighted wave will look super dynamic, which is awesome for bob and lob cuts.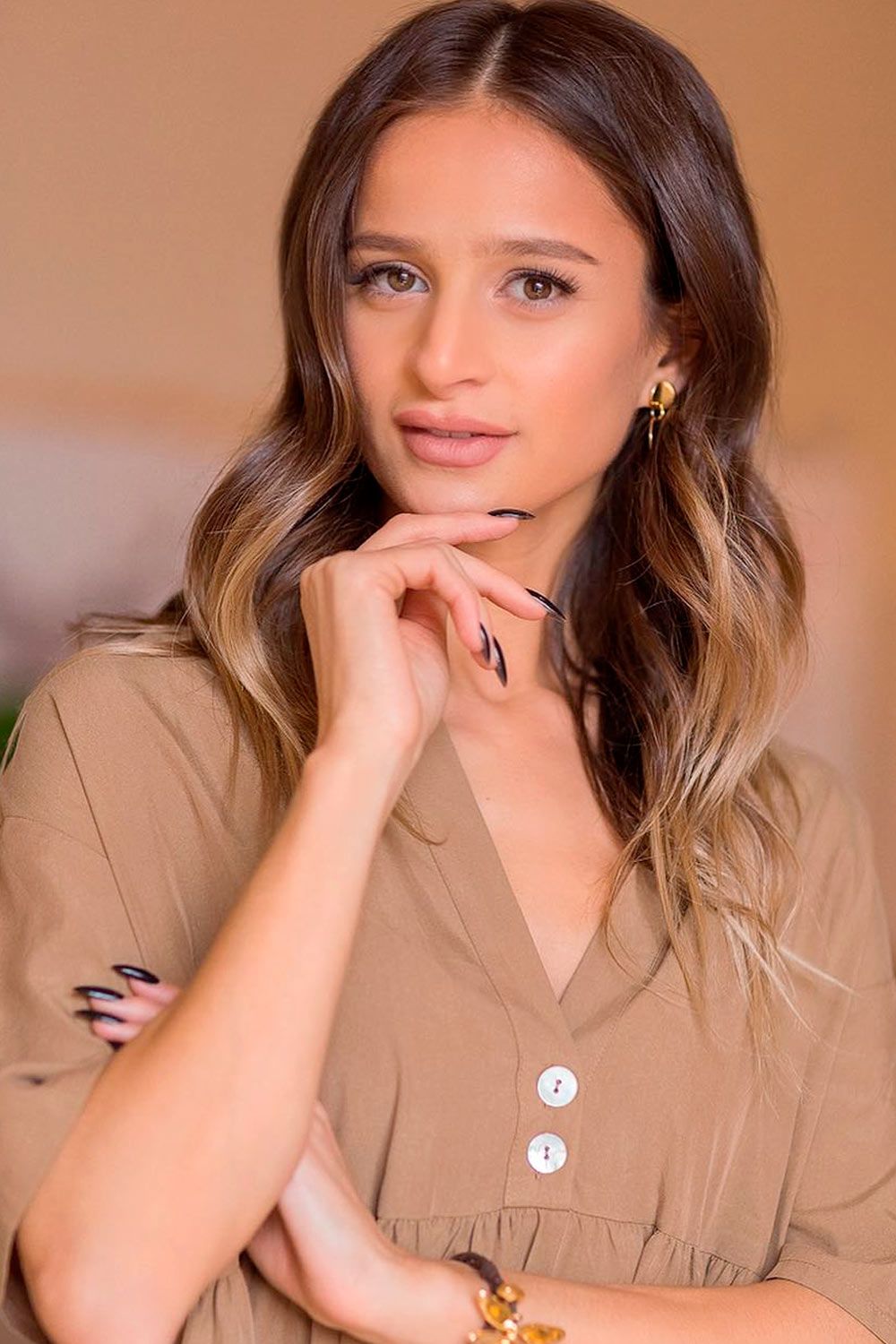 Source: victoria.pro.hair
Brunette With Honey And Bronze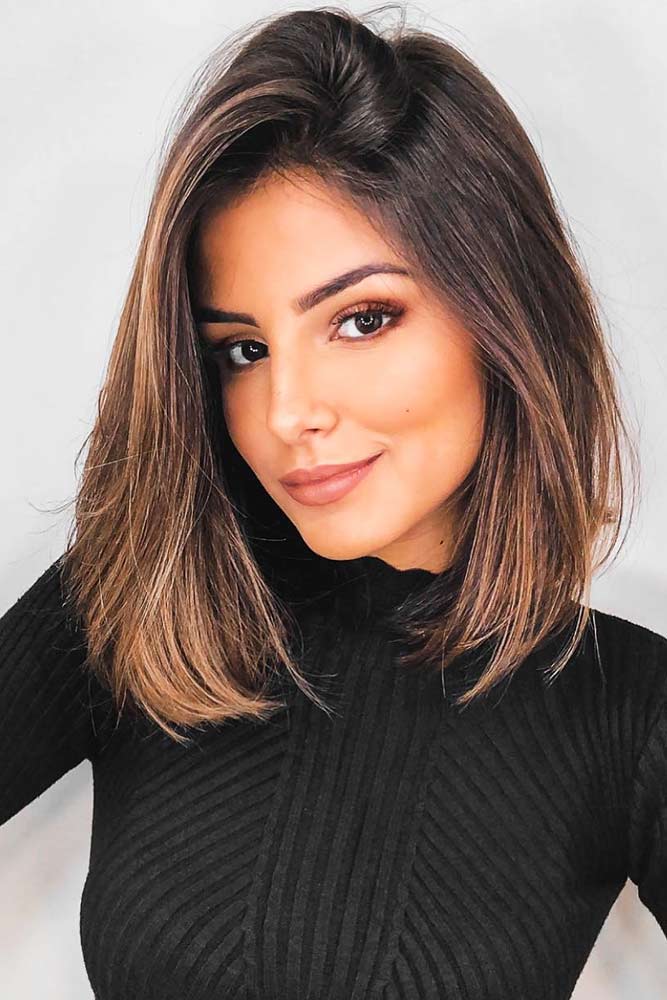 Source: petermenezes/Instagram
Giving some brightness to brunettes by adding honey and bronze shades is the color choice that will never go out of style. This idea of partial hair highlights can not only add some depth but also give some natural, effortless shine to your look.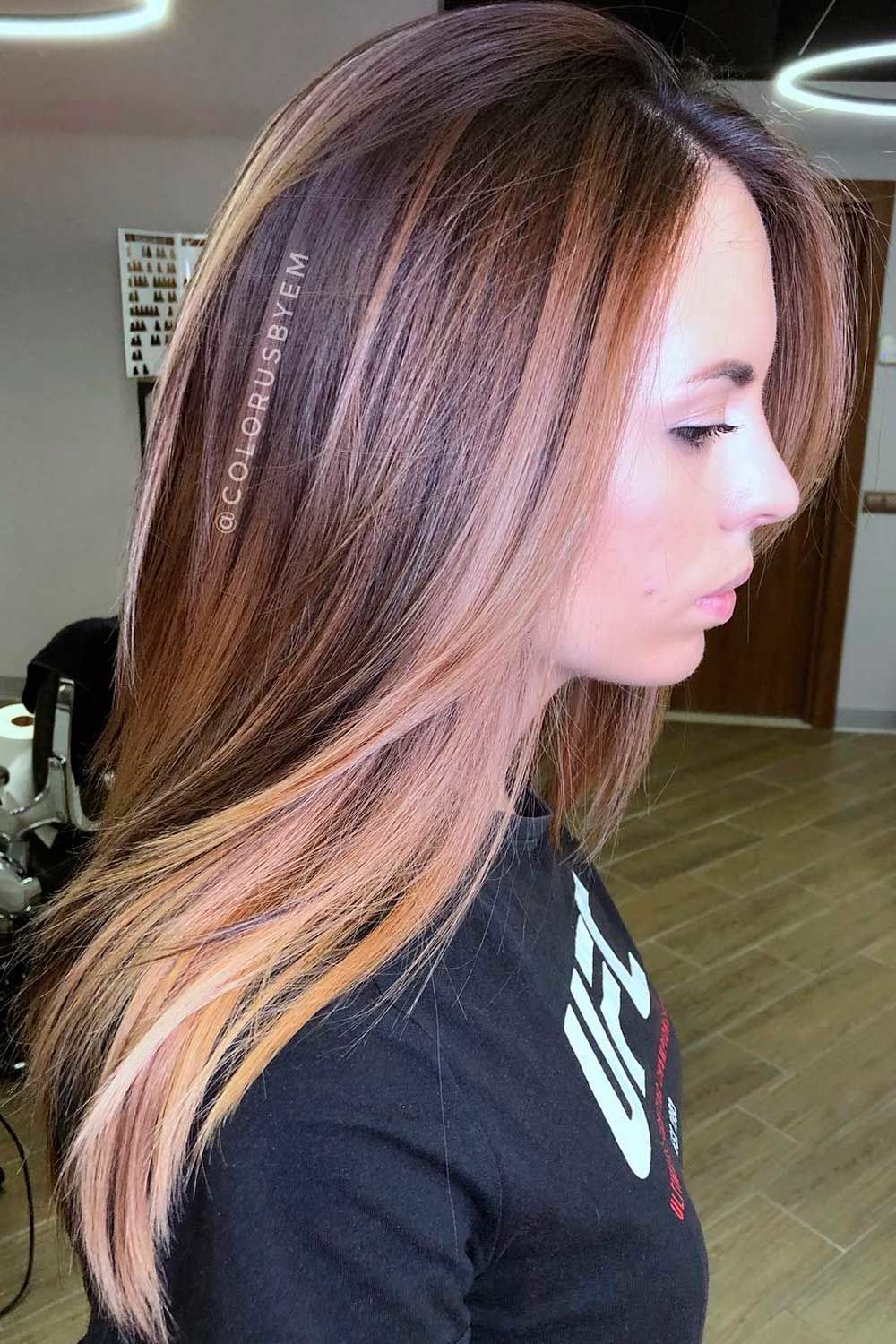 Source: balayage_moscow
Soft And Effortless Browns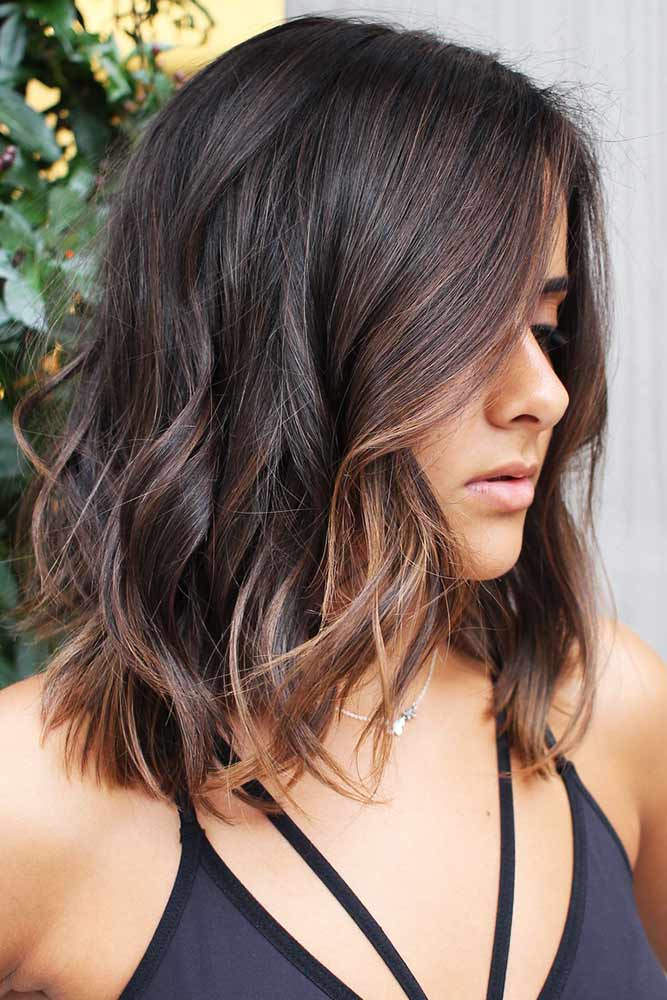 Source: petermenezes/Instagram
It's not necessary to go for partial blonde highlights to make your color look alive. A brown shade that is slightly lighter than your base is enough to spice it all in a natural way! Naturalness is priceless, and this look shows that at its best.
Natural Sun-Kissed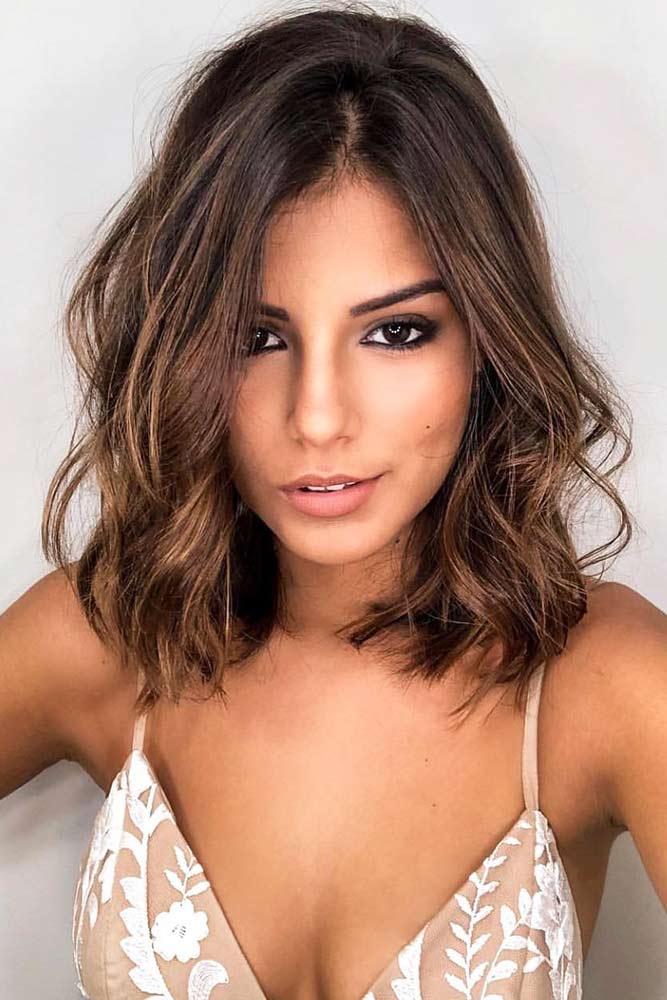 Source: petermenezes/Instagram
How about you to add some sunkissed summer vibes? As we've told you already, your partial highlights can start wherever you want. To achieve a shiny effect, freshen up your deep brown primary with light honey or caramel hues over the mid-shaft area.
Face Framing Tiger Eye Highlights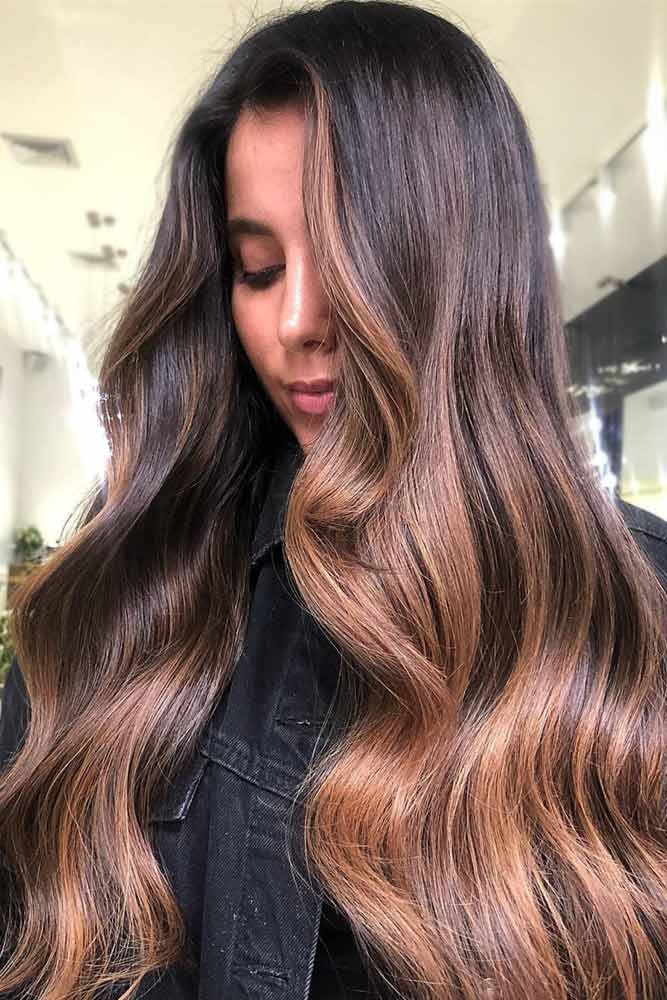 Source: adamehair/Instagram
The multidimensional tiger-eye color that mixes warm cappuccino and caramel hues is to die for. Isn't that a perfect base for framing? Just imagine what a fascinating, deep look you'll get if you frame your face with a combination of such rich hues.
Chestnut Blonde On Brown Base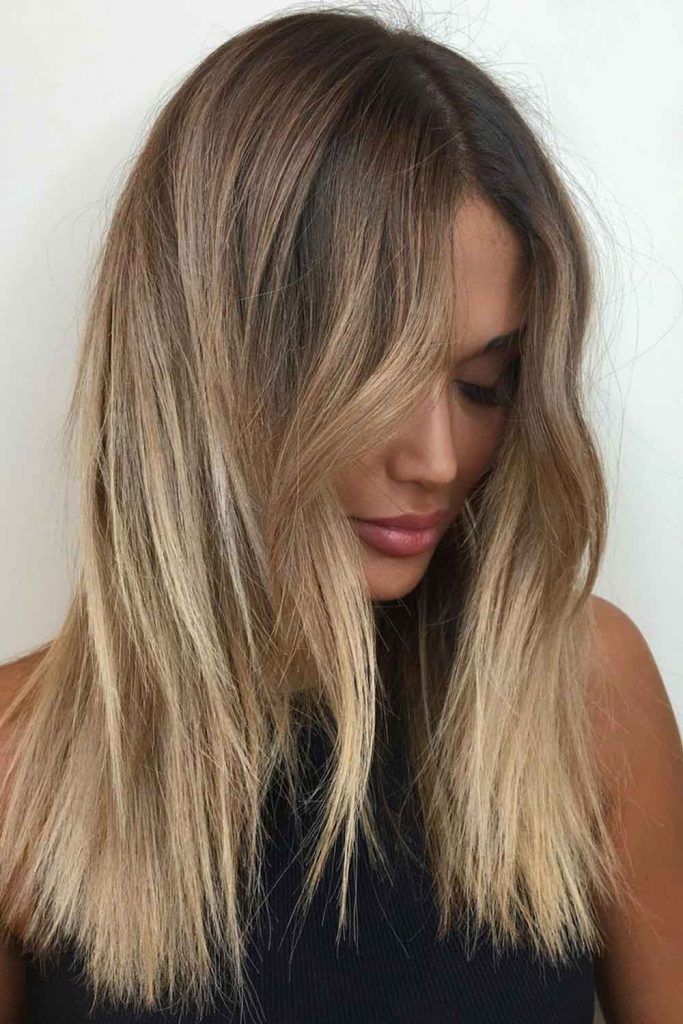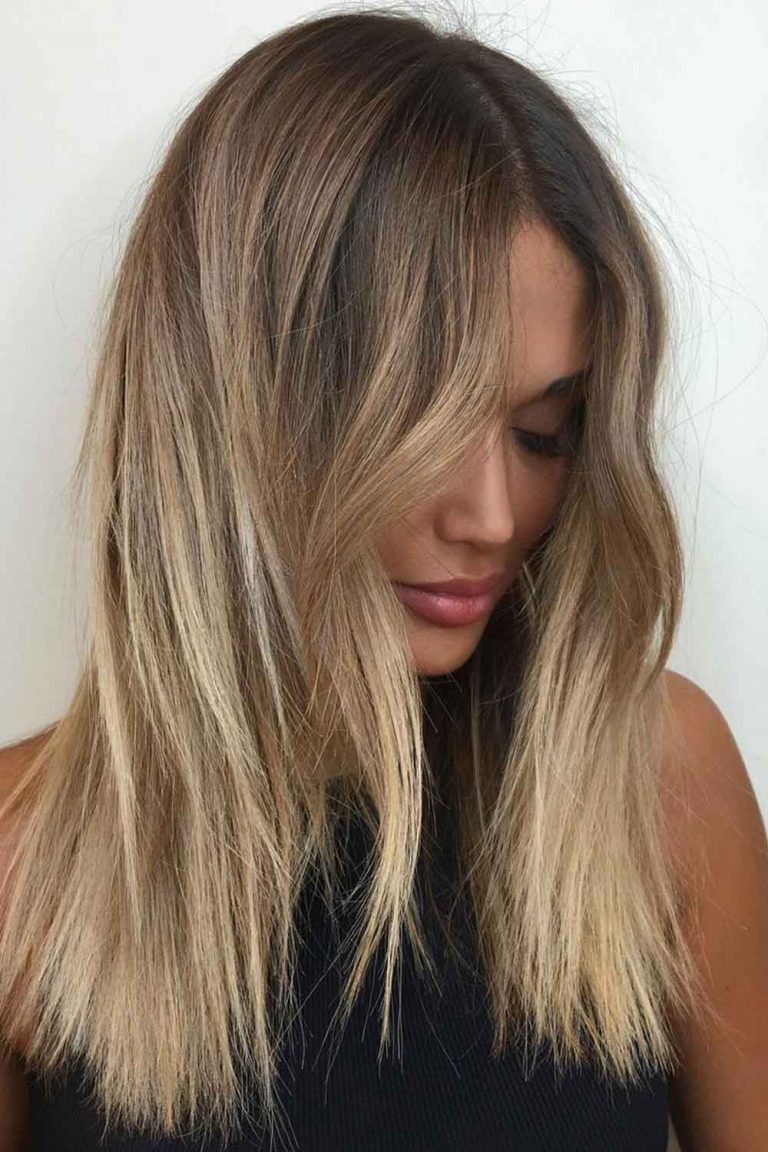 Source: instagram.com/sheffpavelstylist
These dirty chestnut blonde partial highlights are added selectively throughout the front and crown tresses. It's a wonderful choice for girls with short-to-medium haircuts, as besides the framing it lifts up the whole body.
Soft Sandy Blonde Accents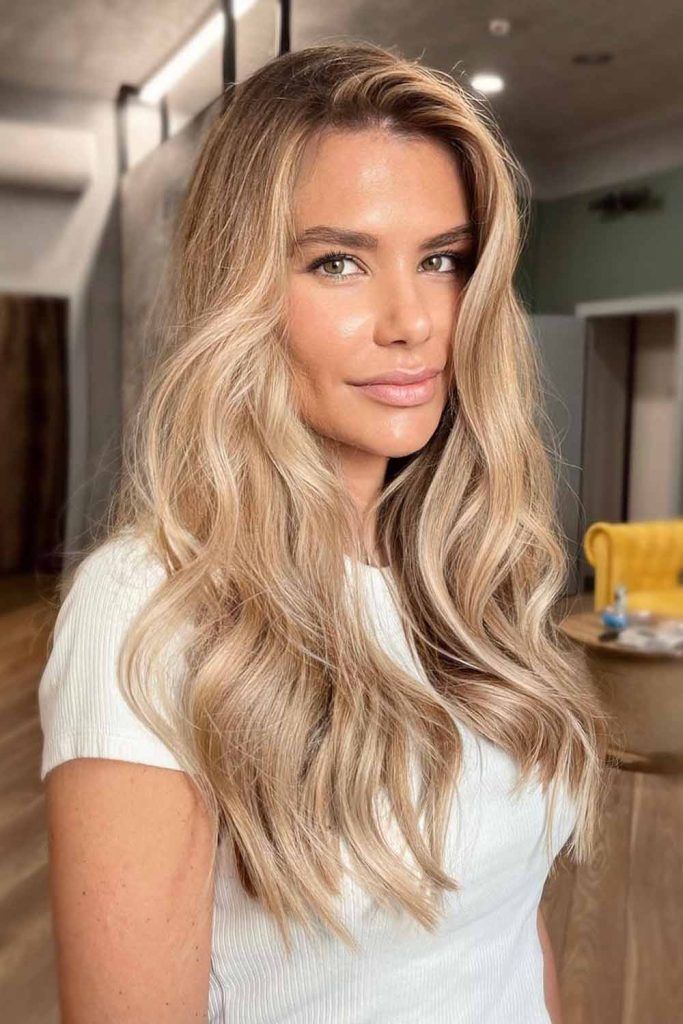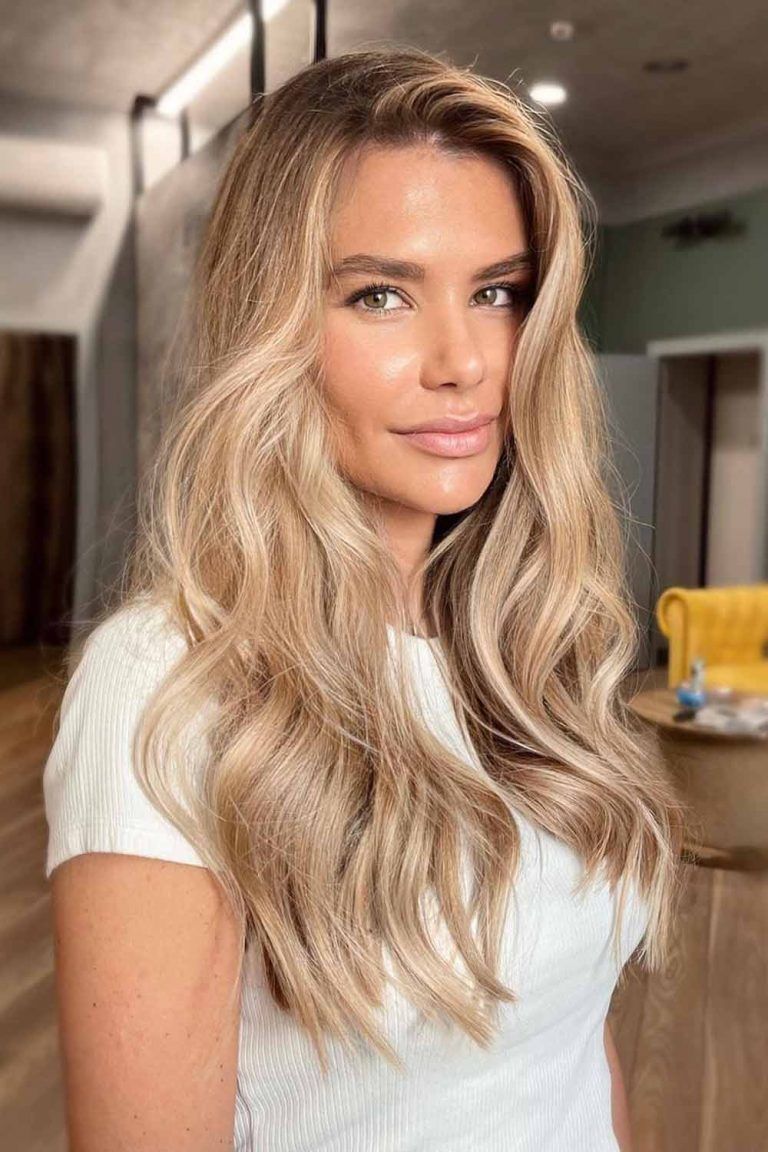 Source: instagram.com/sheffpavelstylist
If you want to accentuate your dark blonde or light brunette base, don't look any further than sandy blonde partial highlights. This shade pleasantly adapts to such gentle, natural hues, as it's not very drastic.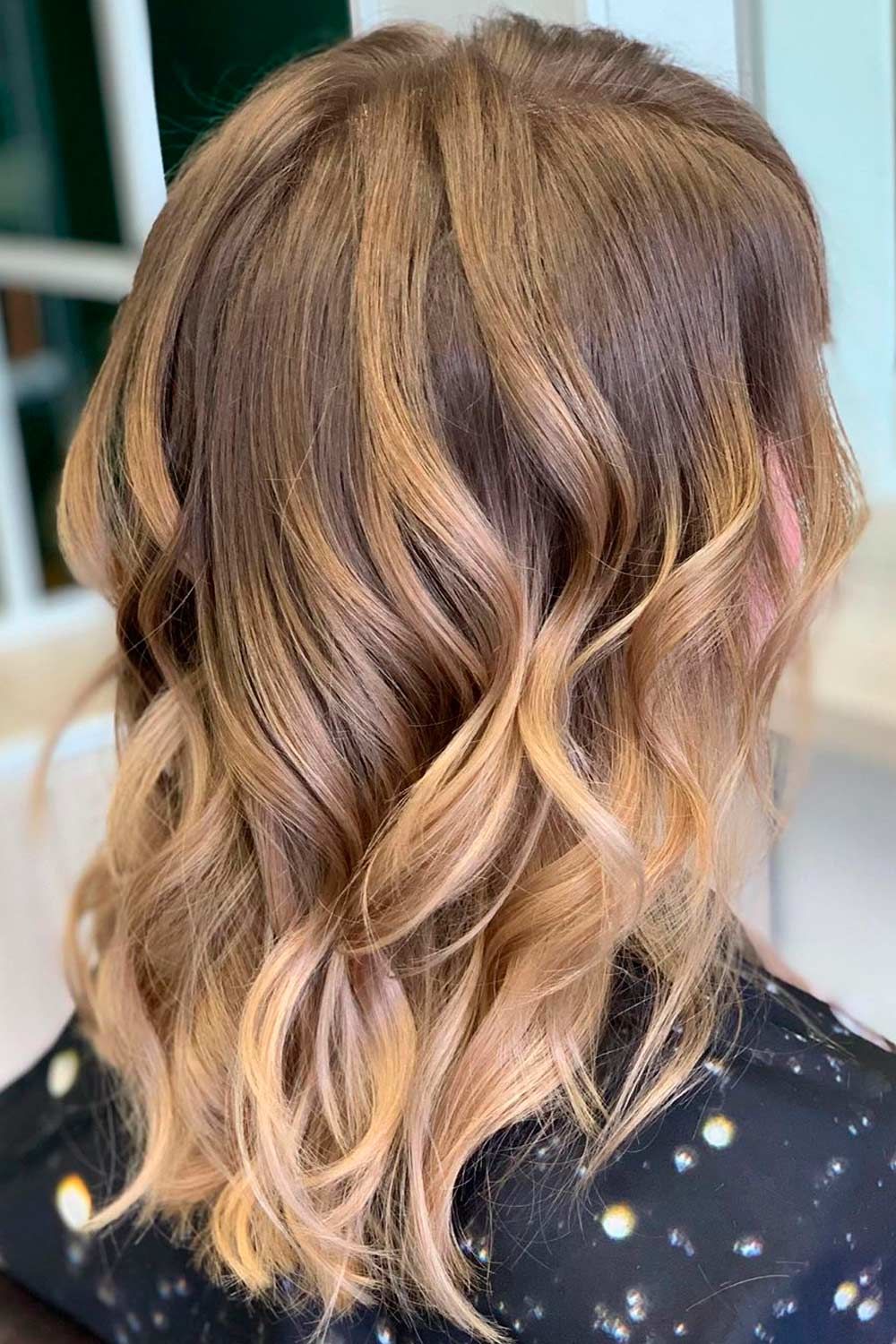 Source: victoria.pro.hair/Instagram
Cappuccino Brown Highlights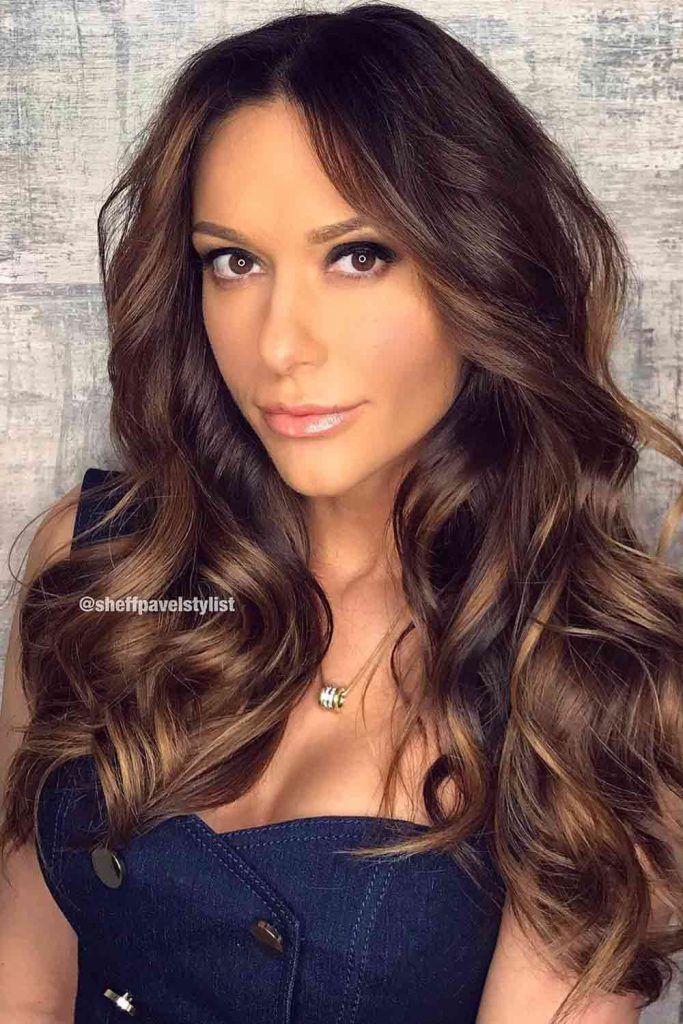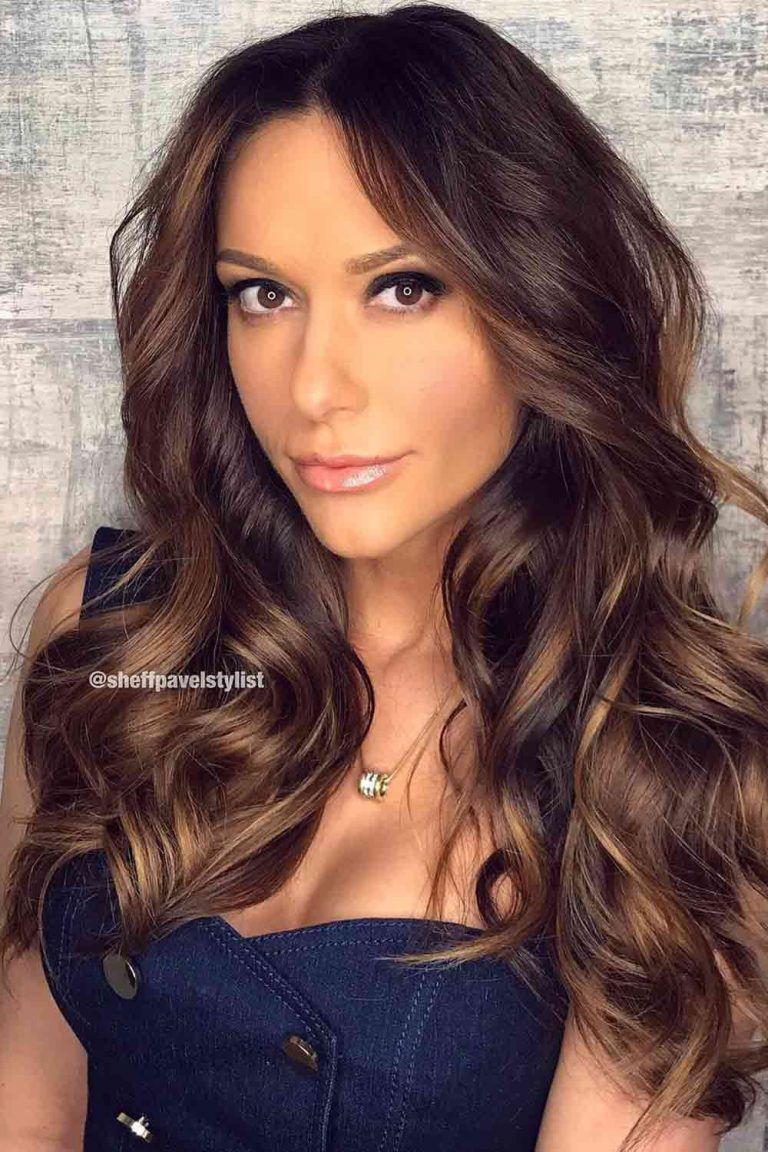 Source: instagram.com/sheffpavelstylist
Cappuccino brown highlights look like another example of coffee foam art. It will work ravishingly for cool toned brunettes, setting the smooth balance between color temperatures. If your base also has cool undertones, consider going for more vibrant highlights.
Baby Blonde Highlights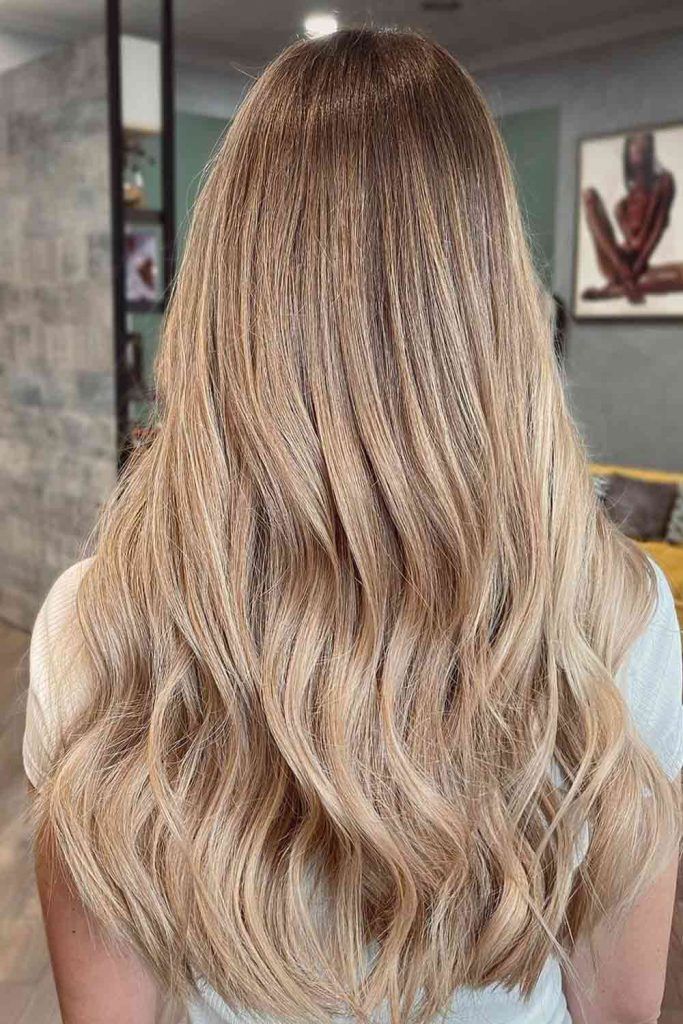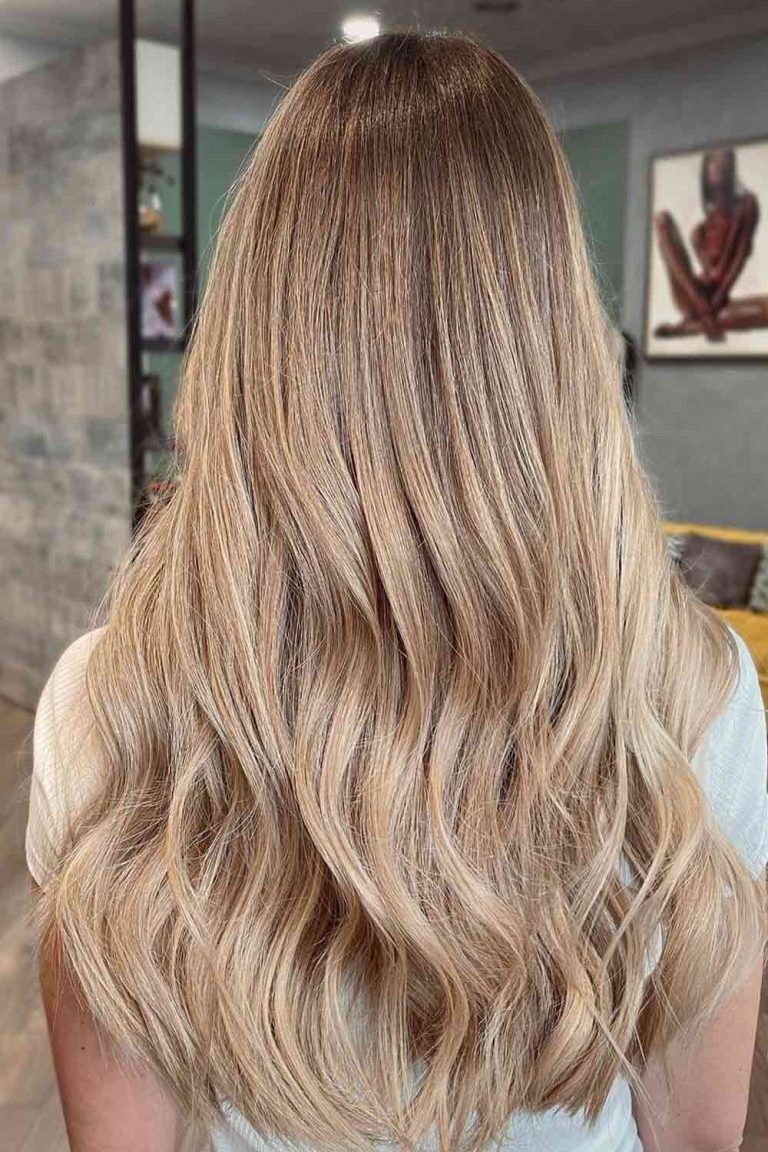 Source: instagram.com/sheffpavelstylist
Baby blonde is known as the purest blonde shade possible. When this shade is added as highlights over the sandy blonde base, it gives a very soft and blended duo. Even if highlights are meant to stand out, you can create a well-balanced color by mixing matching shades.
Ashy Toned Highlights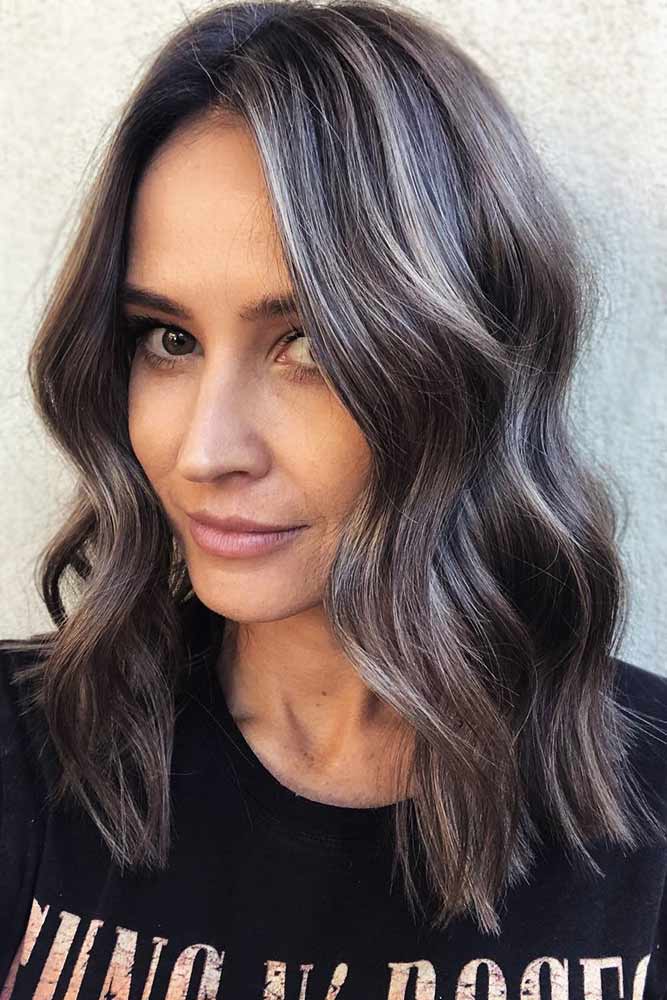 Source: _hairbygabrielle/Instagram
For a truly authentic look, where colors melt perfectly, you should make sure that they do match one another. For example, if you dream about popular washed-out coloring, find a pastel shade that is close to your base, just like in the pic: the cool cappuccino is accentuated with an ashy brunette tint.
Sunny Vibes For Dark Brunettes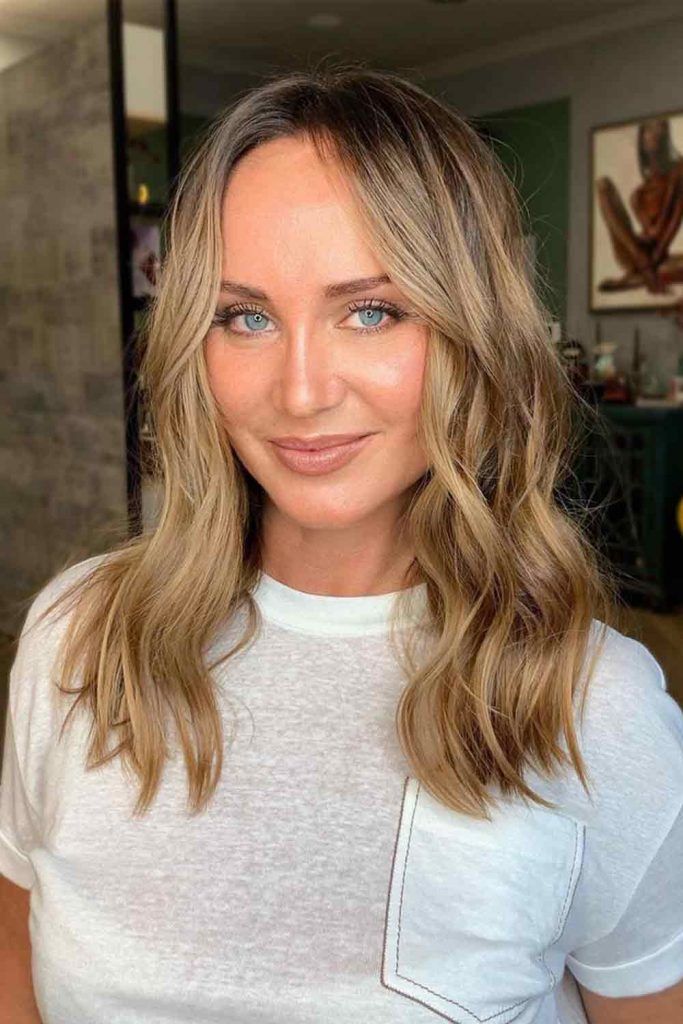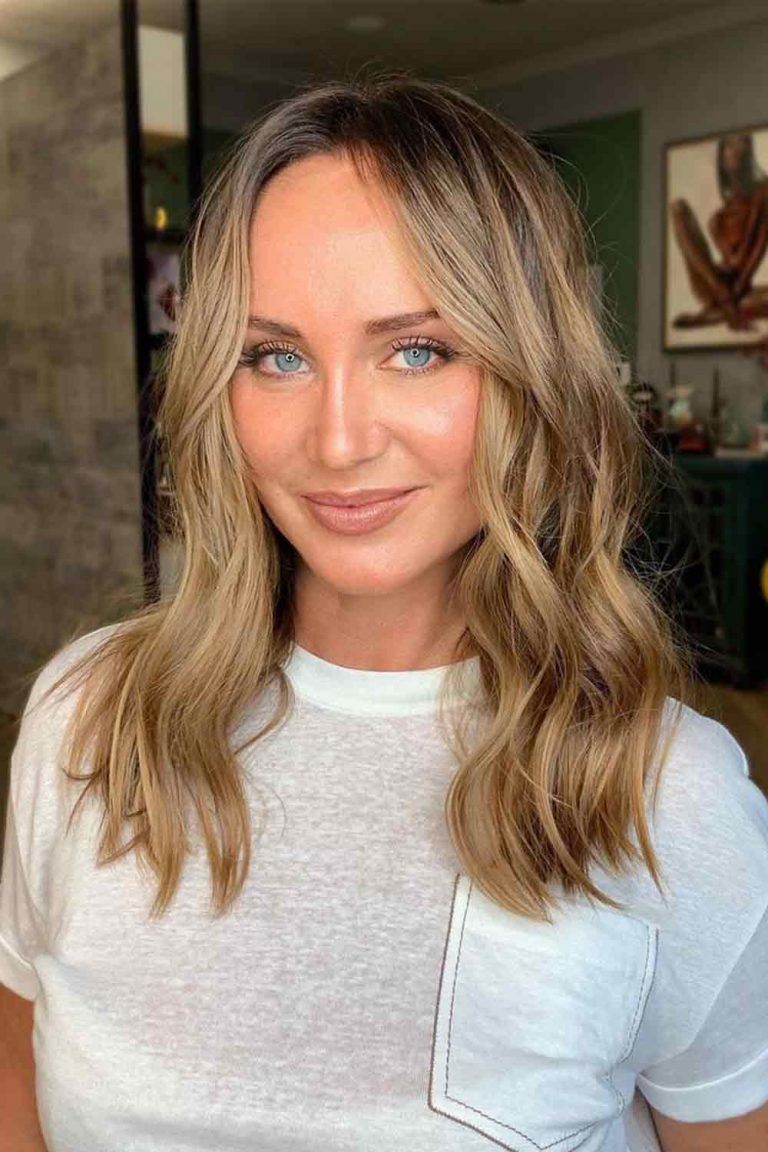 Source: sheffpavelstylist/Instagram
The good old contrastive combination of blonde and brunette colors never fails. Don't forget that when your face-framing partial highlights are waved, the beautifying effect becomes even more powerful. Just look at how these gentle wheat blonde vibes enliven the base!
Caramel Blonde Partial Highlights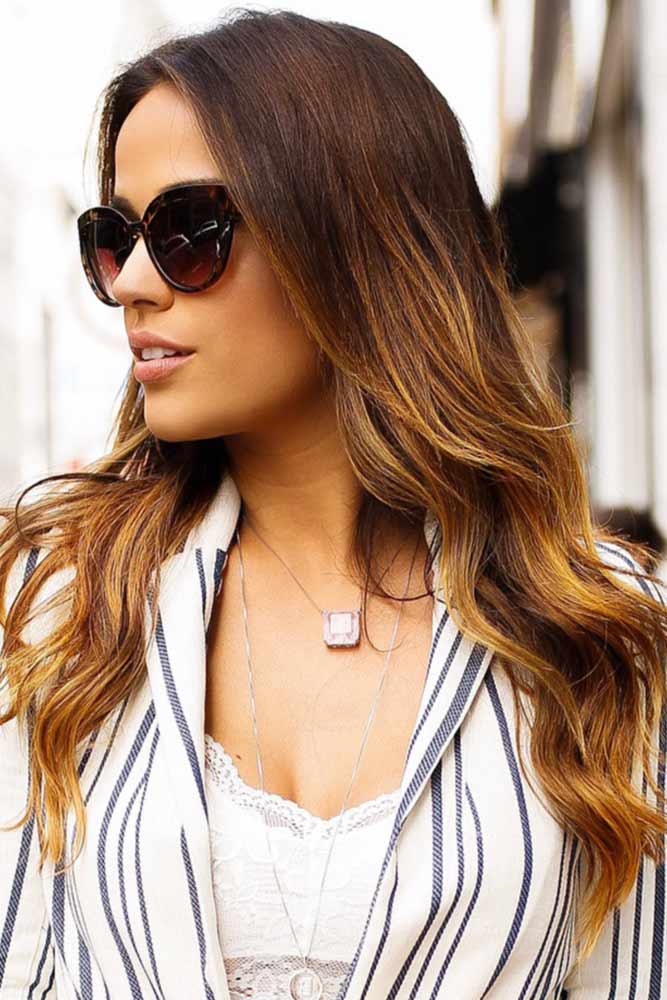 Source: brendapavanelli/Instagram
Caramel blonde partial highlights are all about summer sweetness and warmth. The best thing about this idea is that caramel hues can be a nice accentuating finish for both brunettes and blondies, which is a win-win for most ladies.
Medium Brown Hair With Buttery Blonde Highlights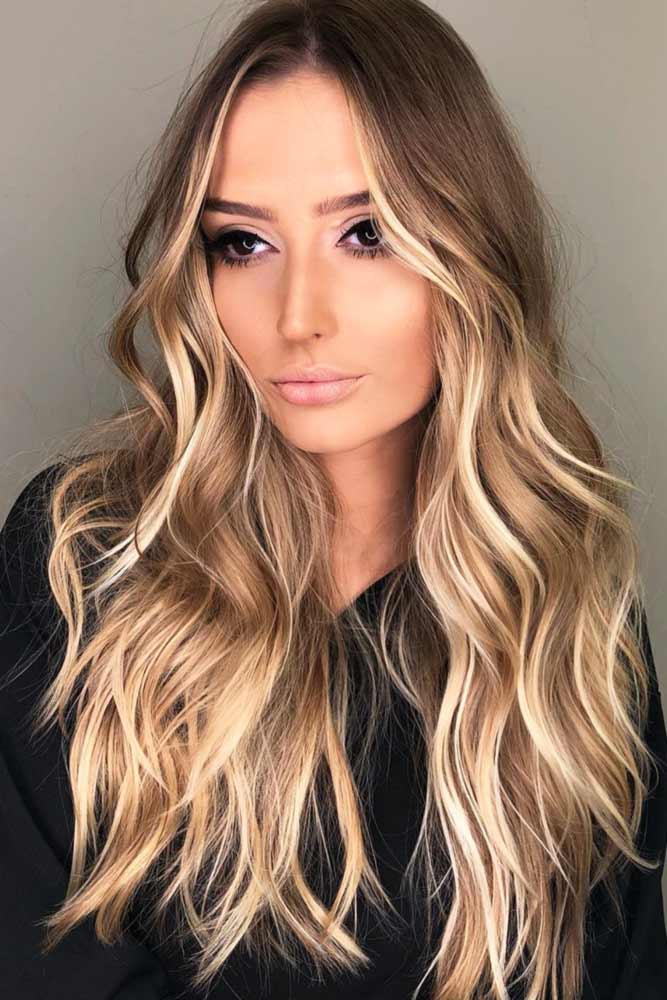 Source: mariohenriqueoficial/Instagram
Buttery blonde highlights that embellish medium brown hair looks as tasteful as peanut butter on a hot toast. This idea involves a lot of added color that stretches along the front, thus framing the face with the multidimensional, soft waves.
Honey Blonde On Brown Hair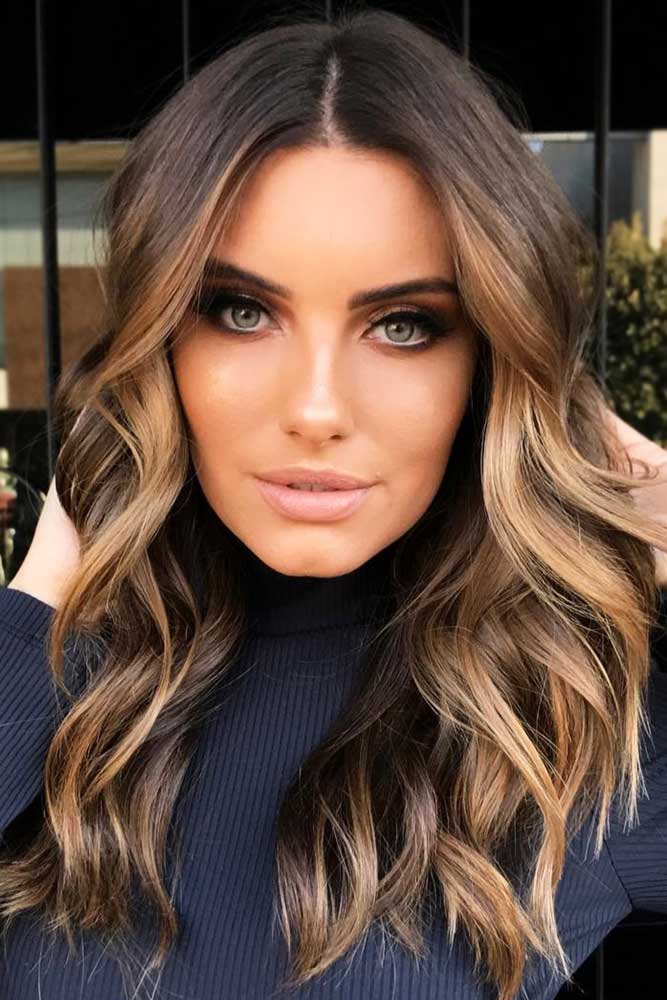 Source: mariohenriqueoficial/Instagram
Nothing can compare to the luxurious charm of honey blonde touch that hits the front and mid-shaft. With just a few sweet shiny strands, your regular cool brown can turn into deep and lush hair color. Isn't that perfect?
Light Beige Highlights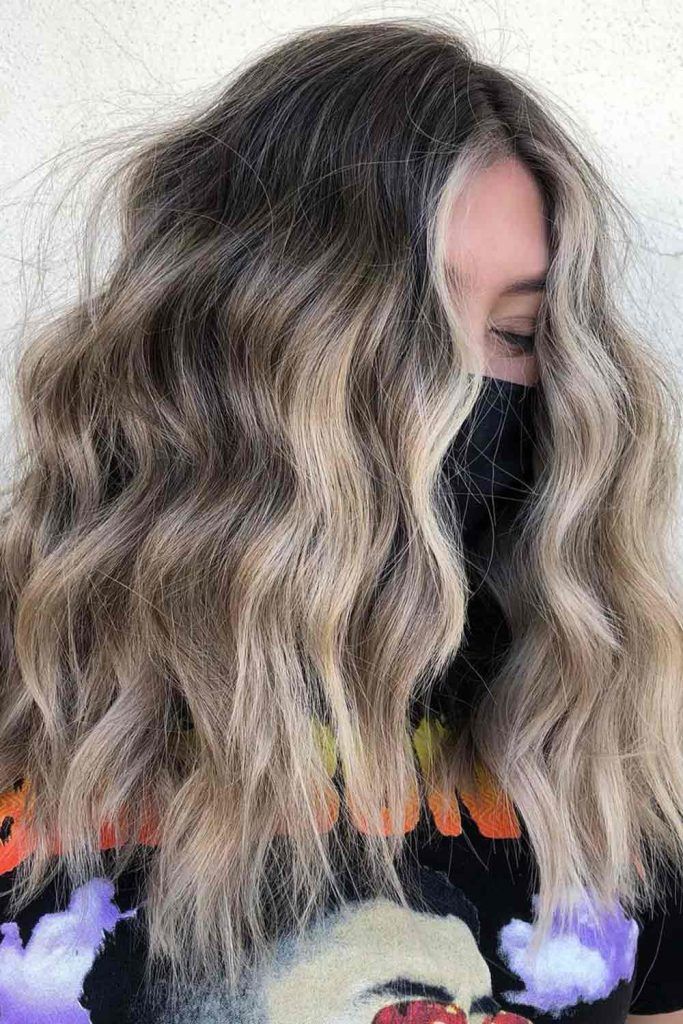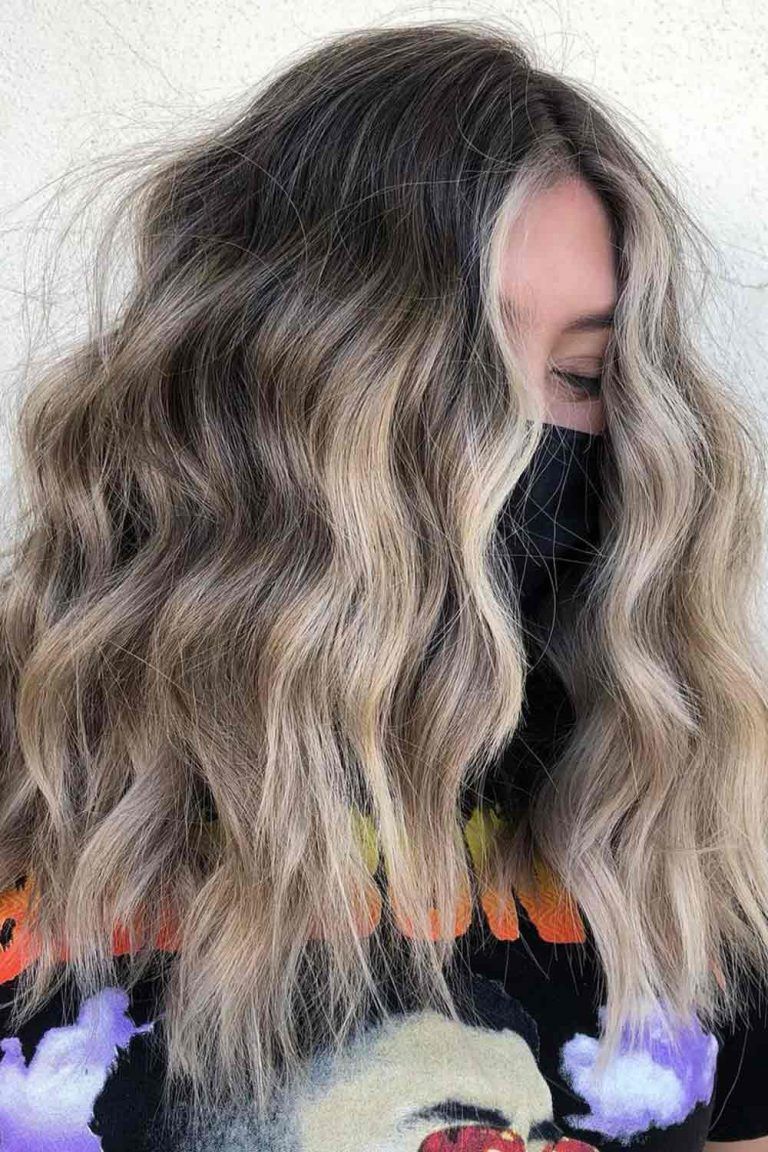 Source: _heyhelena/Instagram
For brown bases, light beige highlights are a magic wand that can reveal the natural dynamics of the natural color. Every time you think about changes, don't go too much with them. In fact, embellishing your only the front tresses with a little hint of neutral accents would be just fine.
Fiery Amber with Face Framing Blonde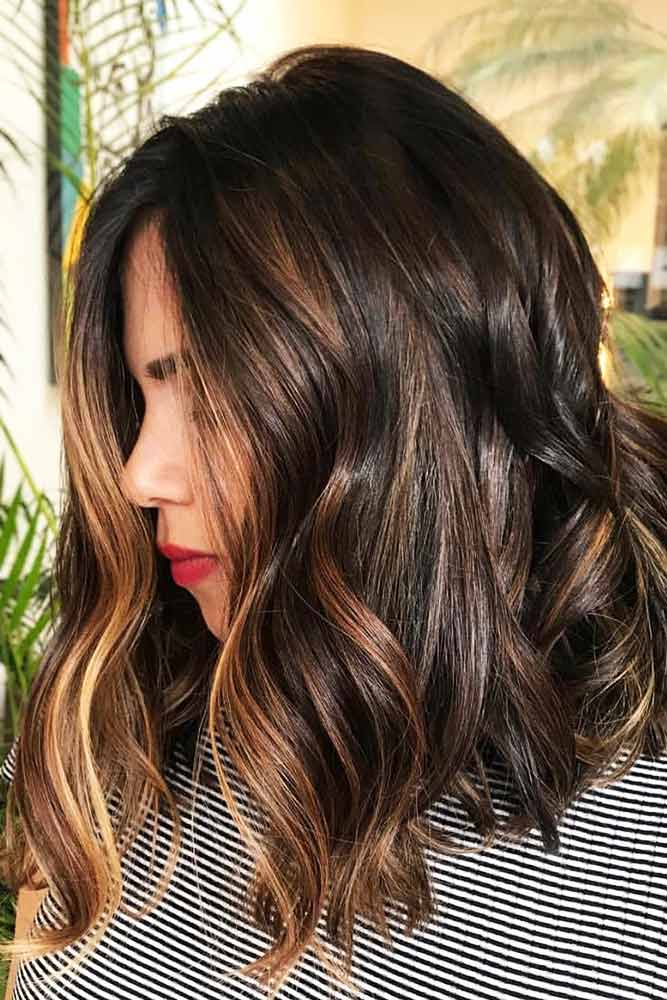 Source: petermenezes/Instagram
Getting highlights is not always all about changing something in your look; it's a way to reveal the new angles of your natural hair color. For example, many girls with amber hair color don't even realize how lucky they are. But once they add some light hues to the front pieces, they will fall in love with their own locks.
Caramel & Chocolate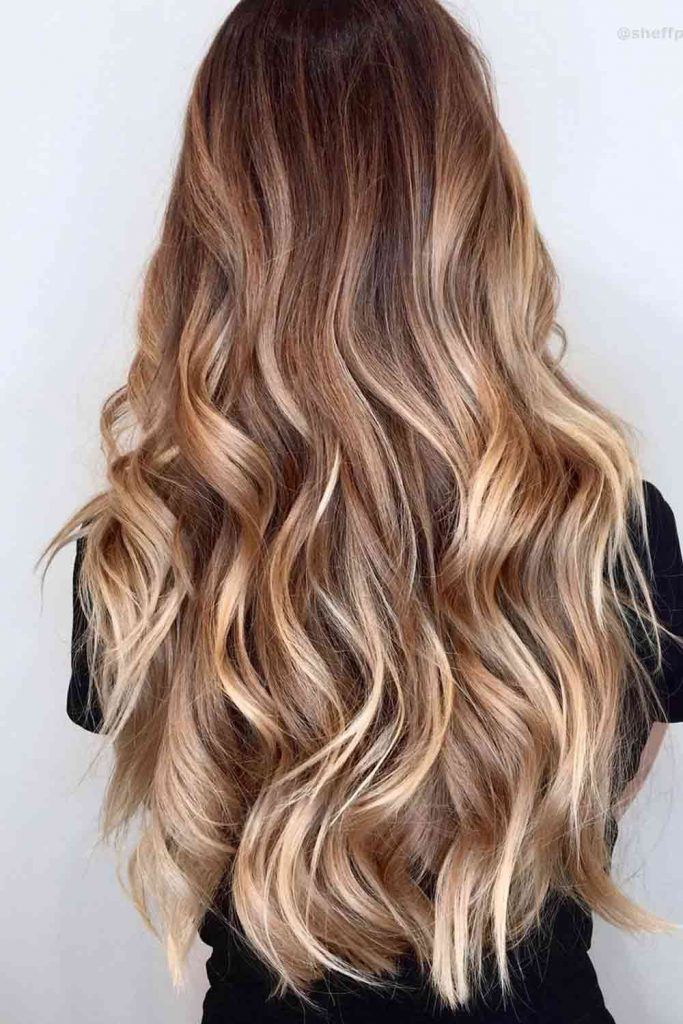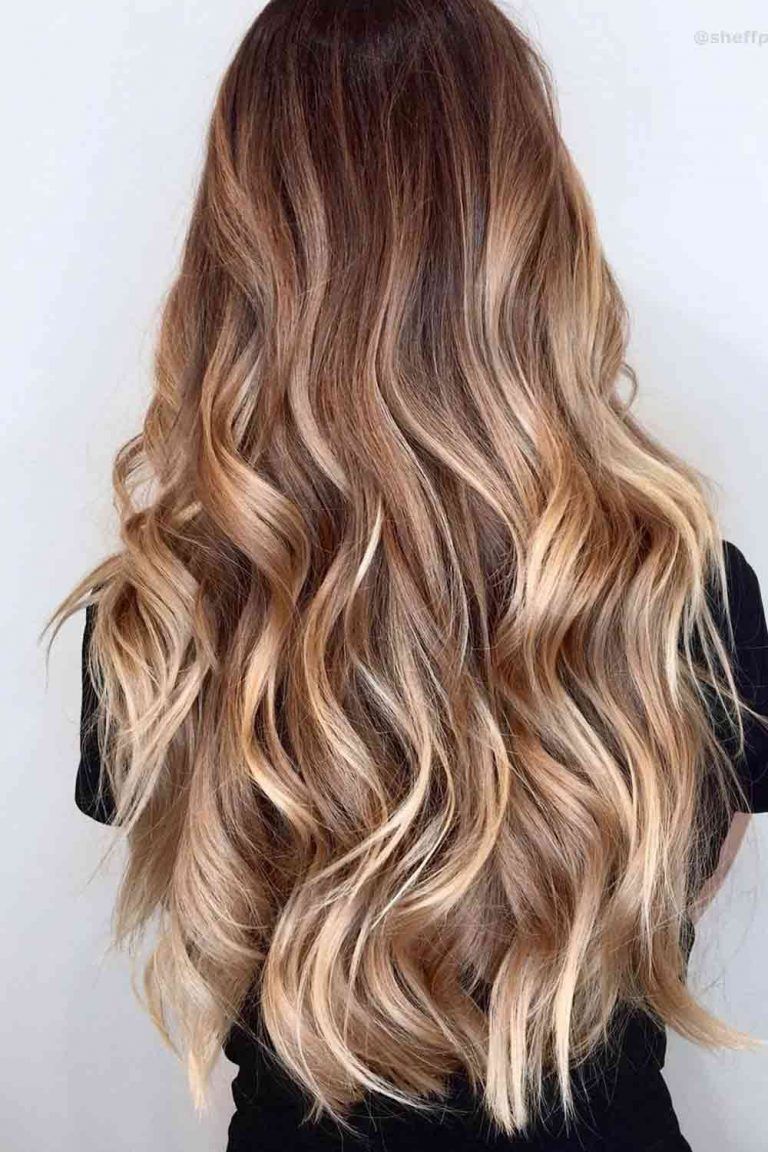 Source: instagram.com/sheffpavelstylist
Since caramel and chocolate have always been the most delicious mix of sweets, why don't you include the duo into your daily routine? Don't worry; you're not going to gain weight. If you let some caramel hues run through your tasty chocolate mane, you will get the eternal visual delight!
Subtle Blonde Highlights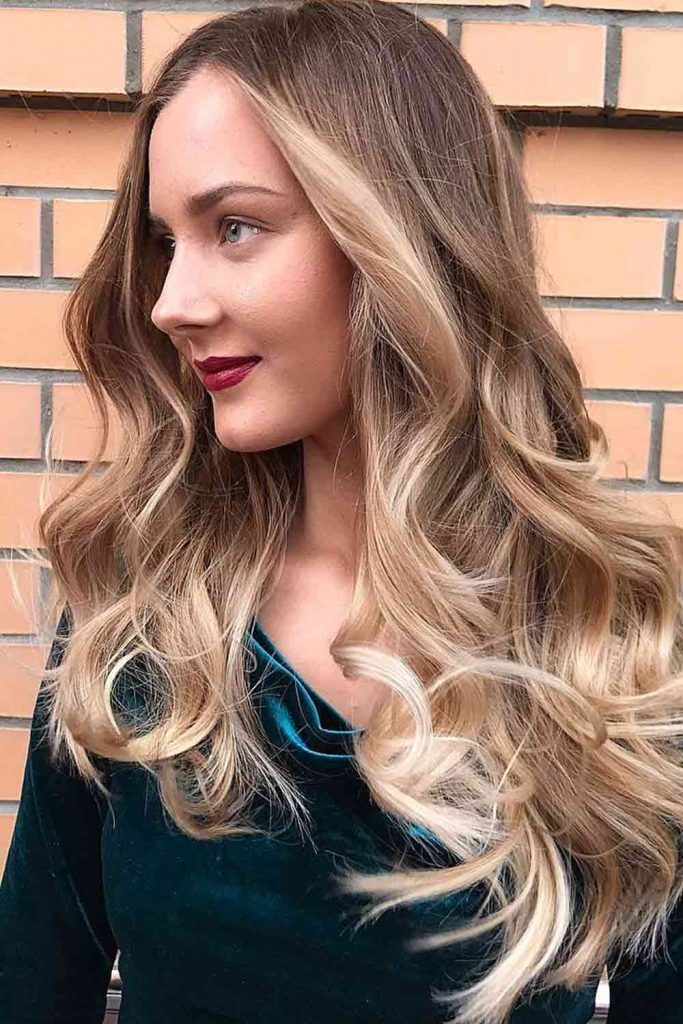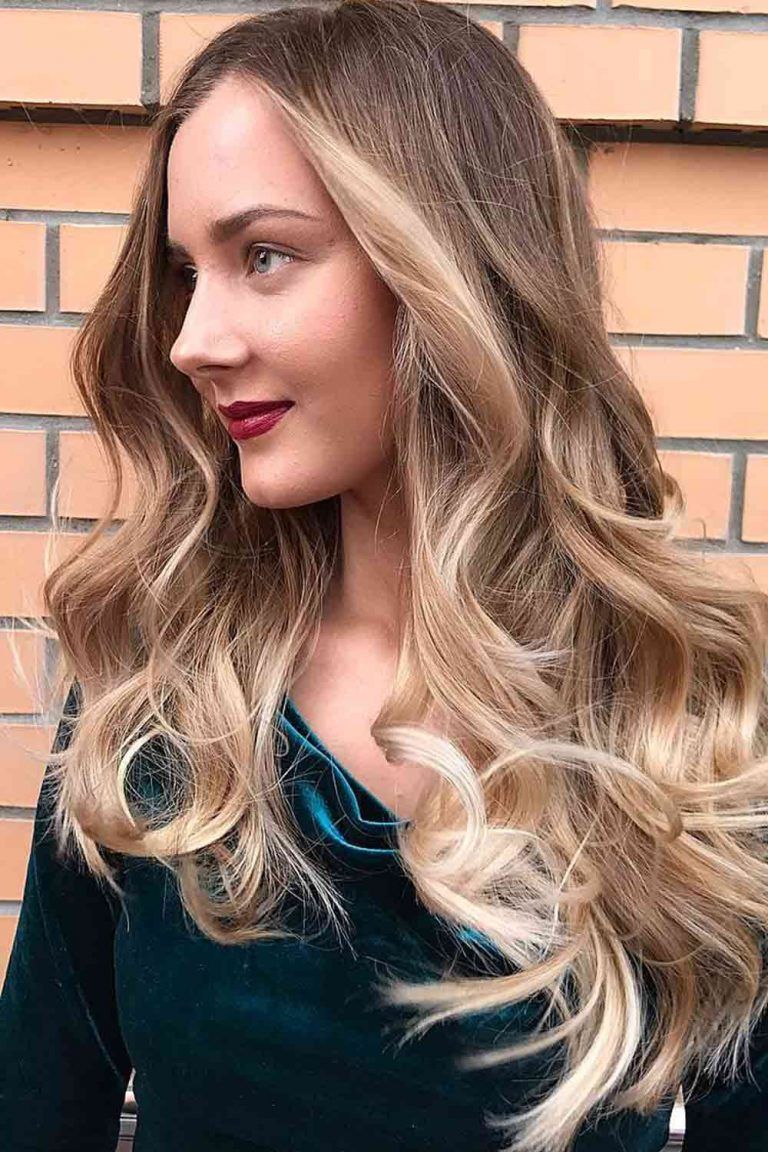 Source: instagram.com/sheffpavelstylist
Muted blonde highlights are meant to create a natural sunkissed look. Such color decisions are usually achieved with a super light, even burnt out blonde applied to specific sections of hair. As a result, the brown or dark blonde base blends with the added color so effortlessly as if the hair has been lightened by the sun.
Blonde Under Brunette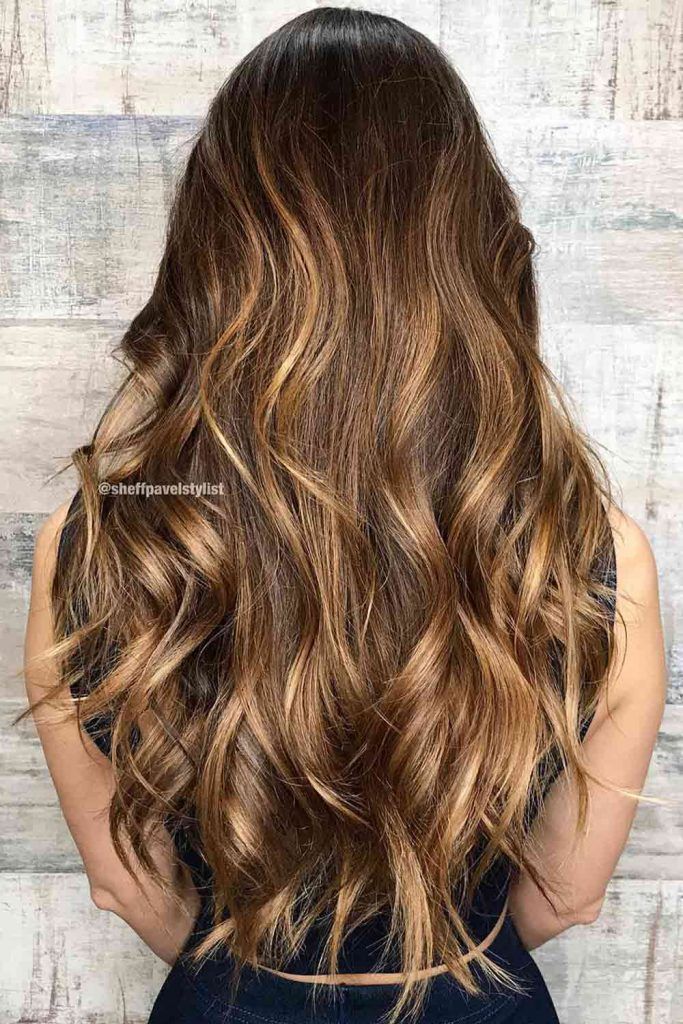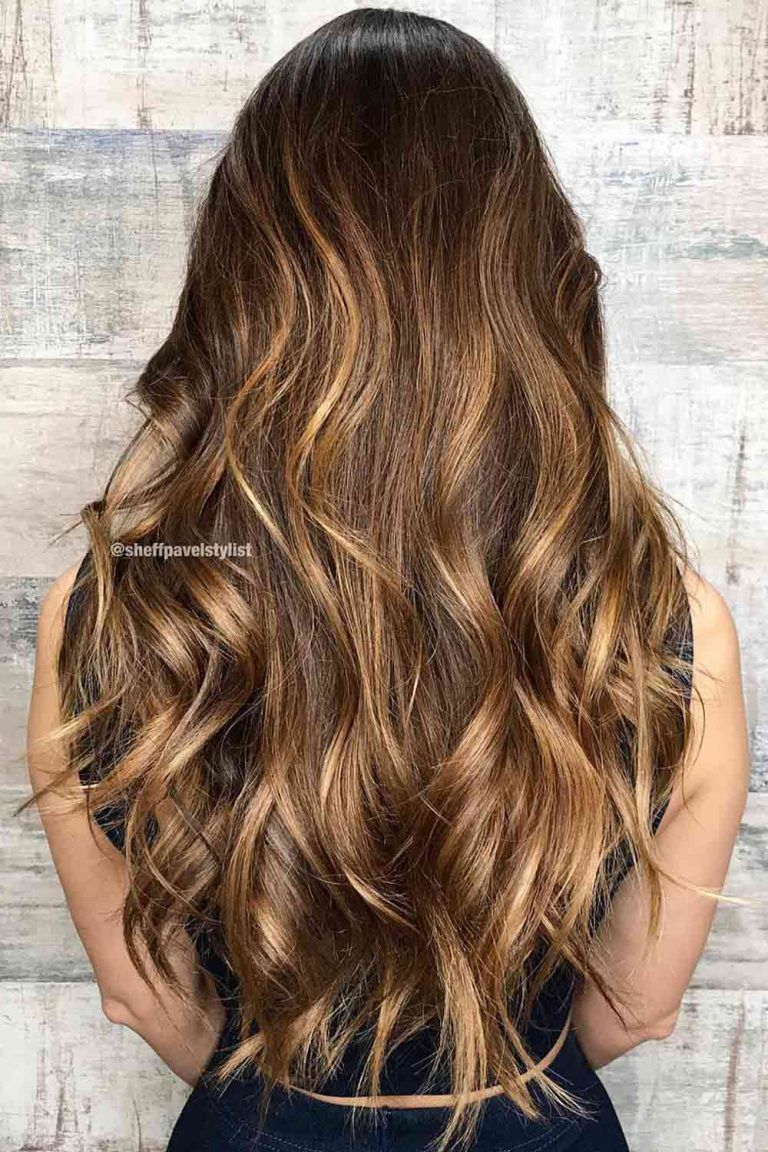 Source: instagram.com/sheffpavelstylist
Adding new colors to the lower layer of hair has become extremely popular in the last year. Although such color jobs usually appear pretty drastic, the way they freshen up the base is worth sacrificing natural looks. Also, to balance everything out, the hidden highlights can hit the front, thus creating a smoother silhouette.
Bronze And Warm Blonde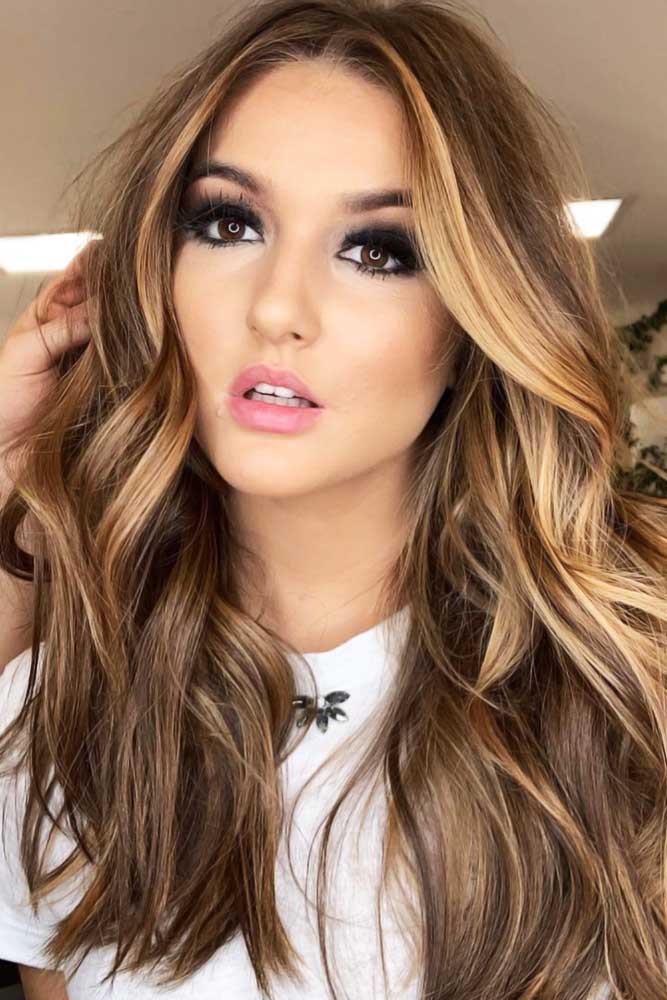 Source: mariohenriqueoficial/Instagram
Here's another way to make your light brunette or dark blonde stand out. The most fascinating thing is, it's hard to call the look either brunette or blonde. It's just gorgeous. And it goes without saying that the only thing you need is a little light accent on the front locks.
Rich And Earthy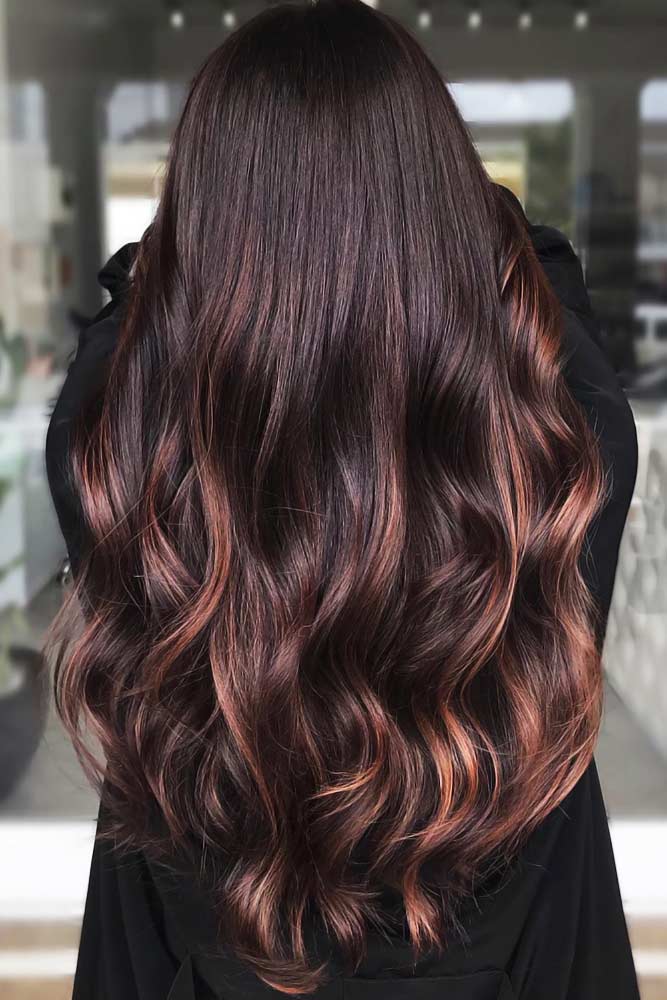 Source: suetyrrellstylist/Instagram
Naturally dark and deep hair colors unfold their dimensional side only when the sunlight reaches them. So how about lights that will enhance the depth of your dark shade? Anything that is just a tone lighter than your base added to a couple of strands would be enough to achieve the best results.
Cool-Toned Blonde Lights For Brunettes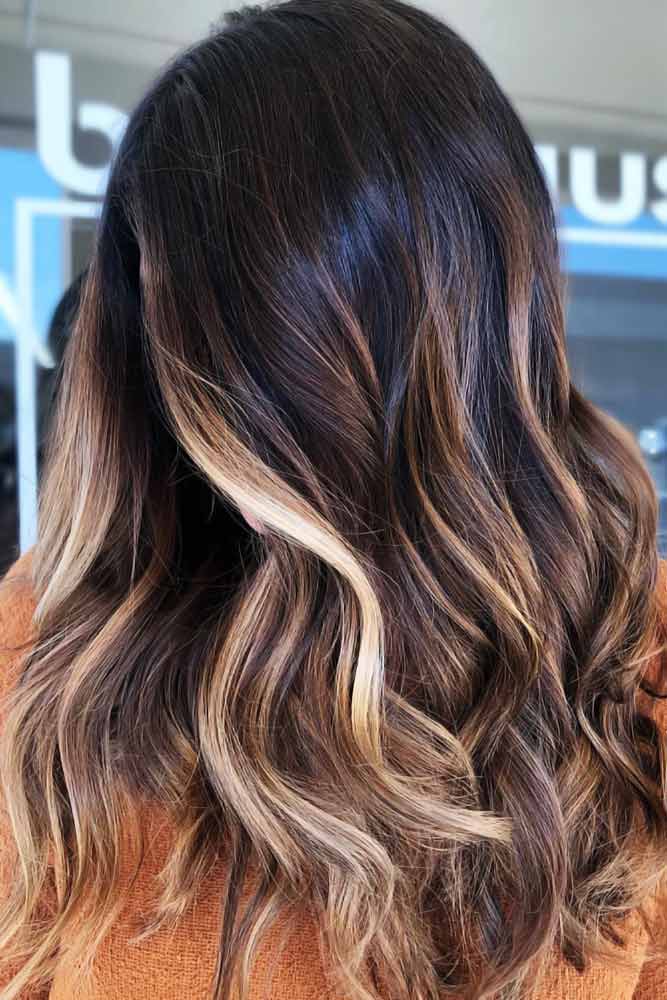 Source: frances_hairartist/Instagram
Despite being pretty sharp, light and contrastive accents on brown manes have lots of advantages. Due to the drastic play of colors, the painted strands visually build the new, more face-flattering silhouette. Remember: hair contouring can be different; but the more contrastive the colors, the better framing effect you have.
Soft And Subtle Cool Brown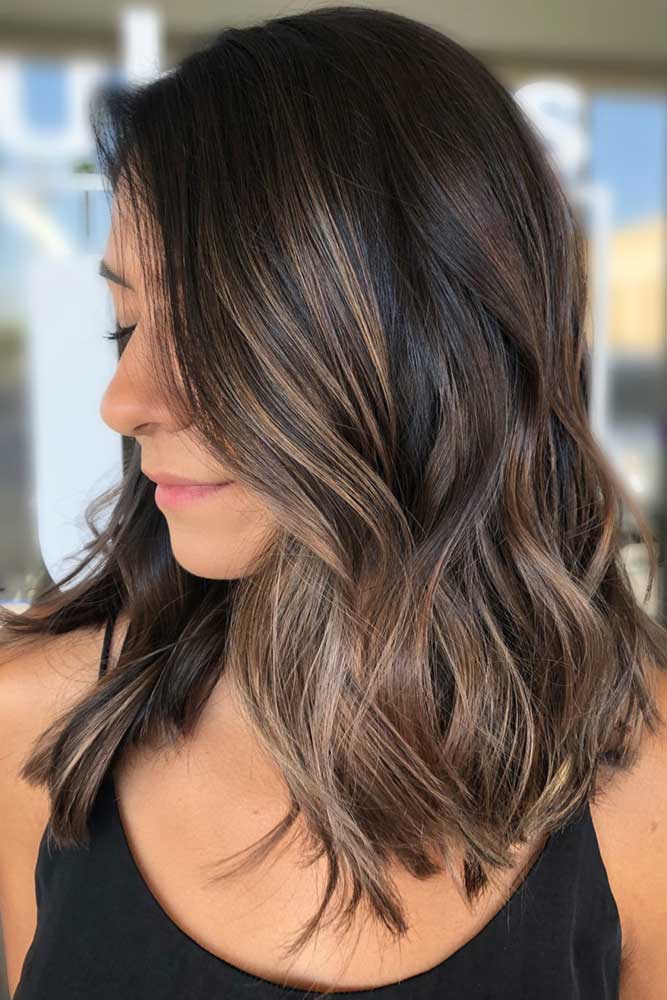 Source: frances_hairartist/Instagram
Women who aren't ready for radical changes can simply diversify their natural palette with a similar shade. A pastel, cool-toned, or faded shade of brown will be a stunning complement to your brunette color. Moreover, it can give a slight framing effect, which we can't have too much of.
Ash Lights For Brunette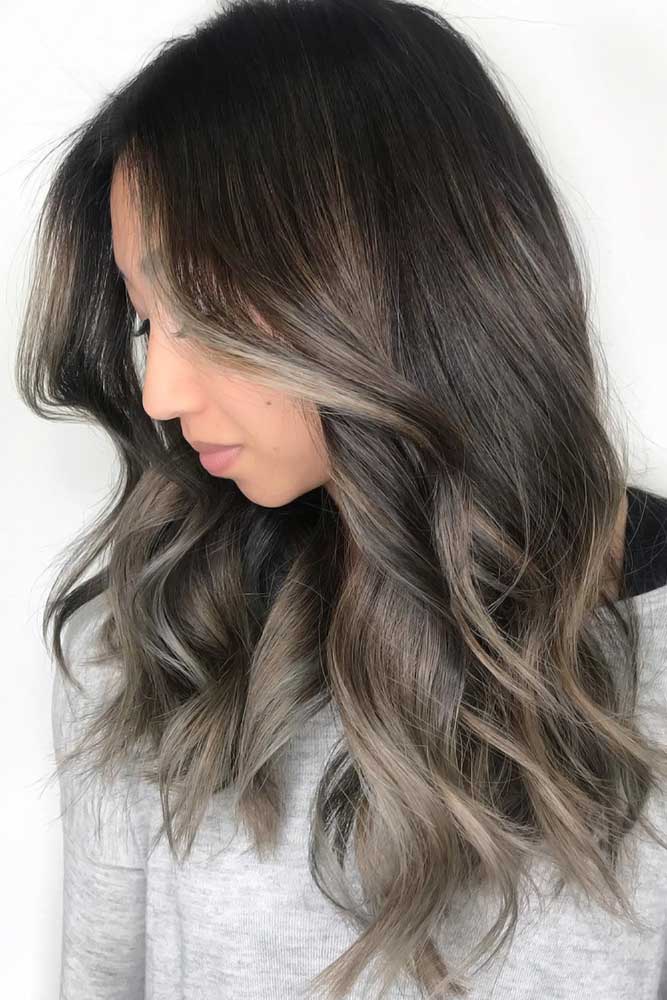 Source: frances_hairartist/Instagram
Sometimes the character brought by the accents is so strong that it changes the mood of the whole hair look. To be more exact, even a little touch of partial highlights can significantly change the tone of your hair. Here you can see how an ashy version of light brown hits the brunette base. Although the amount of color is not great at all, the ashy charm takes over the primary.
Pastel Pink Highlights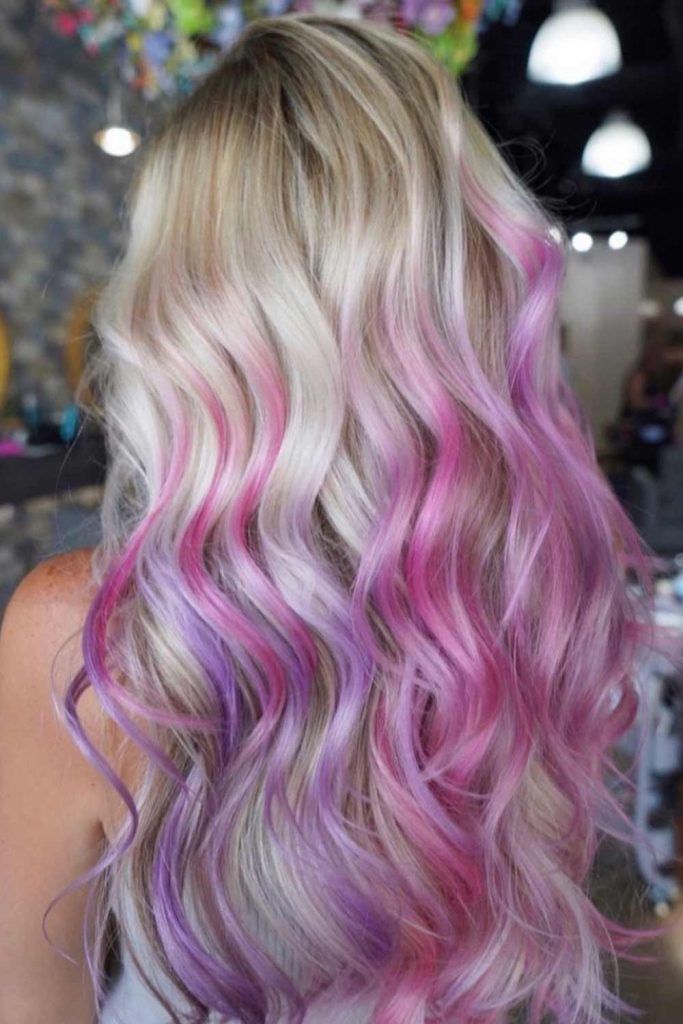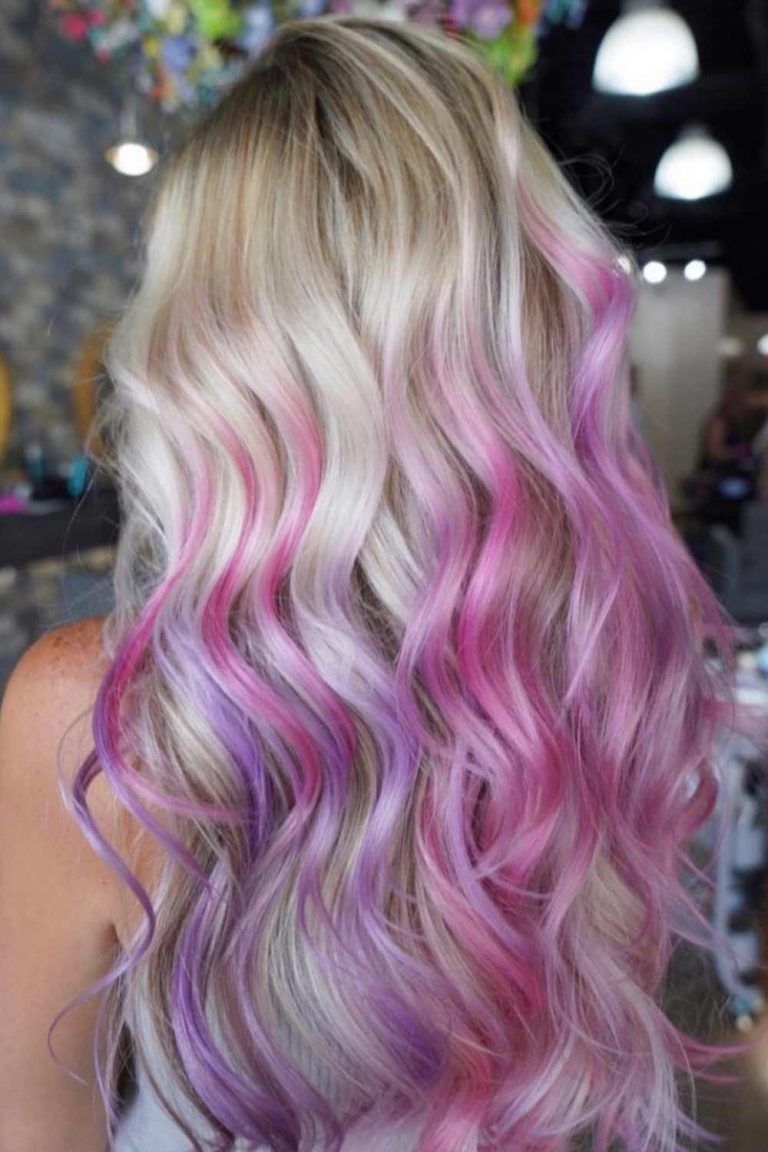 Source: xostylistxo/Instagram
If you have a peachy undertone, there's a great color finish that can emphasize your noble complexion. A pinky tint on the midshaft of your locks will go harmonic not only with your whitish blonde but also with your palish skin tone.
Latte Brown And Blonde Lights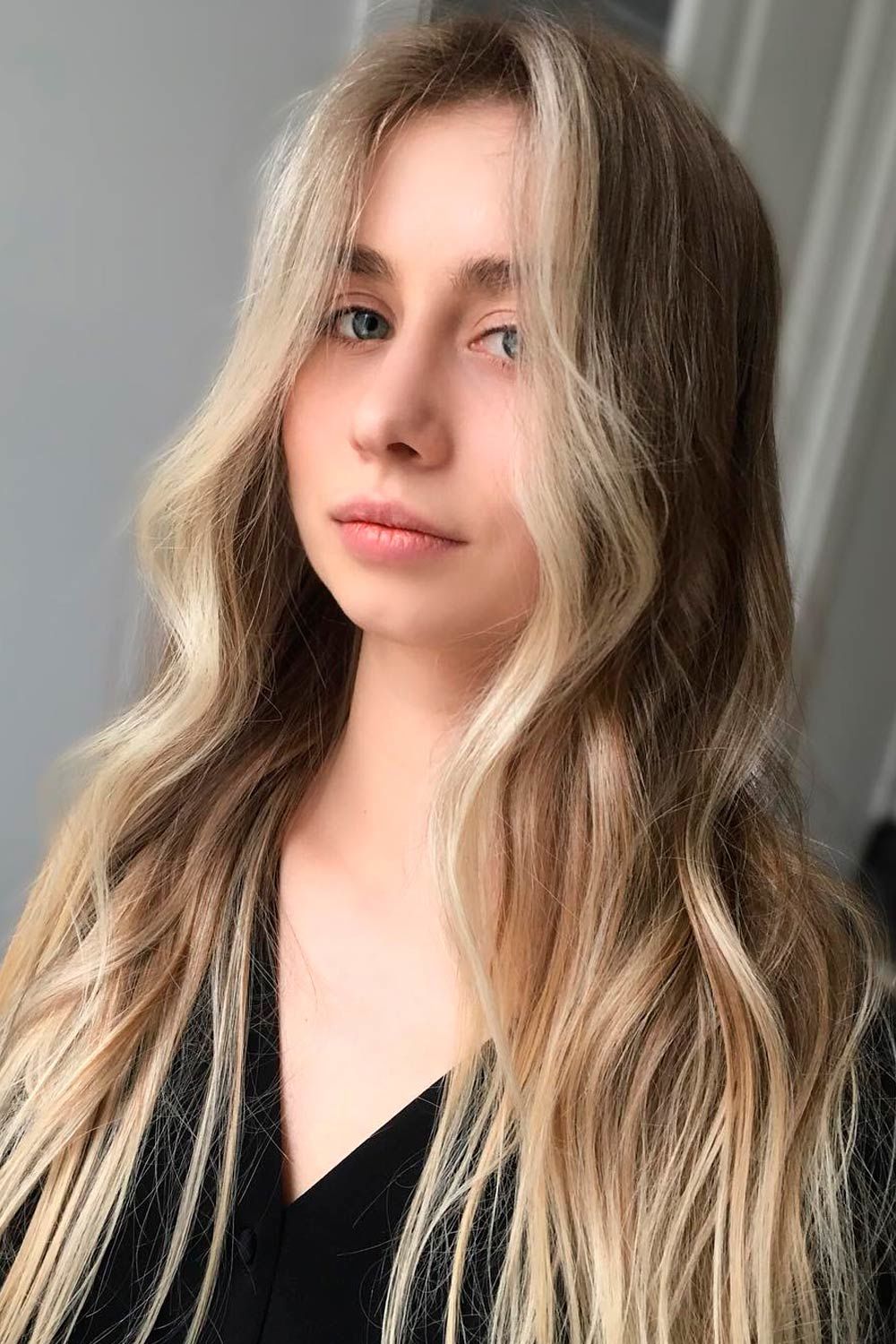 Source: victoria.pro.hair
Brunette hair color chart is full of amazing choices for everyone. Whether you're into lighter shades that look rather blonde or you prefer to catch eyes with the depth of your dark brown base, you'll never be left without the perfect hue. As for light blonde options, here's something that even celebrities can't help but recreate: latte brown. Coupled with soft blonde lights on the front, this soft coffee-inspired shade will bring out your best features and enhance your skin tone.
Beige Brown With Blonde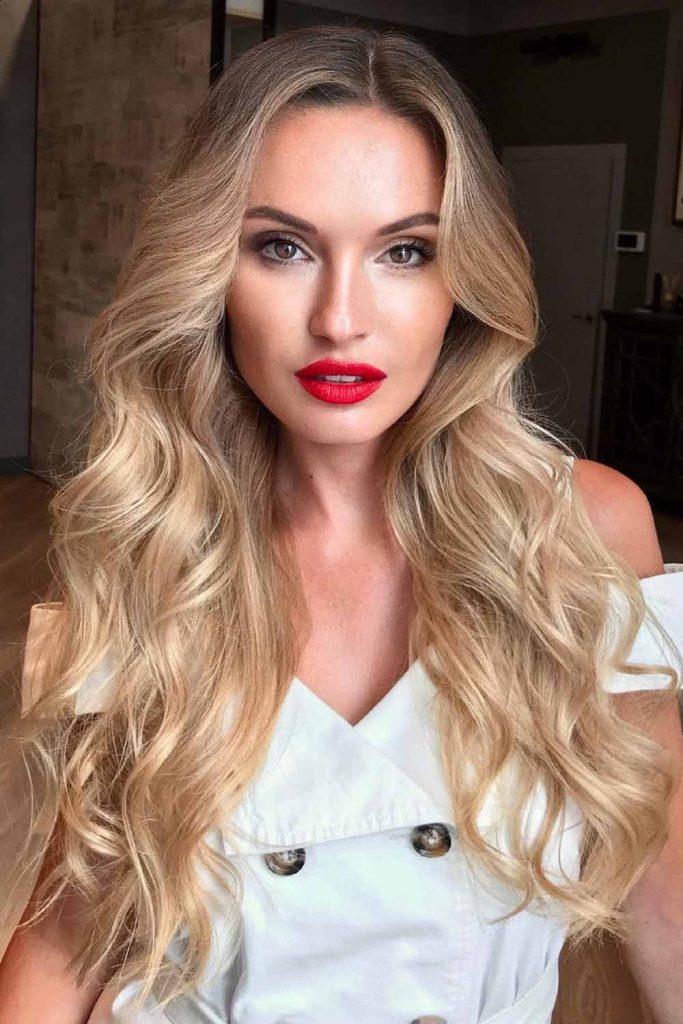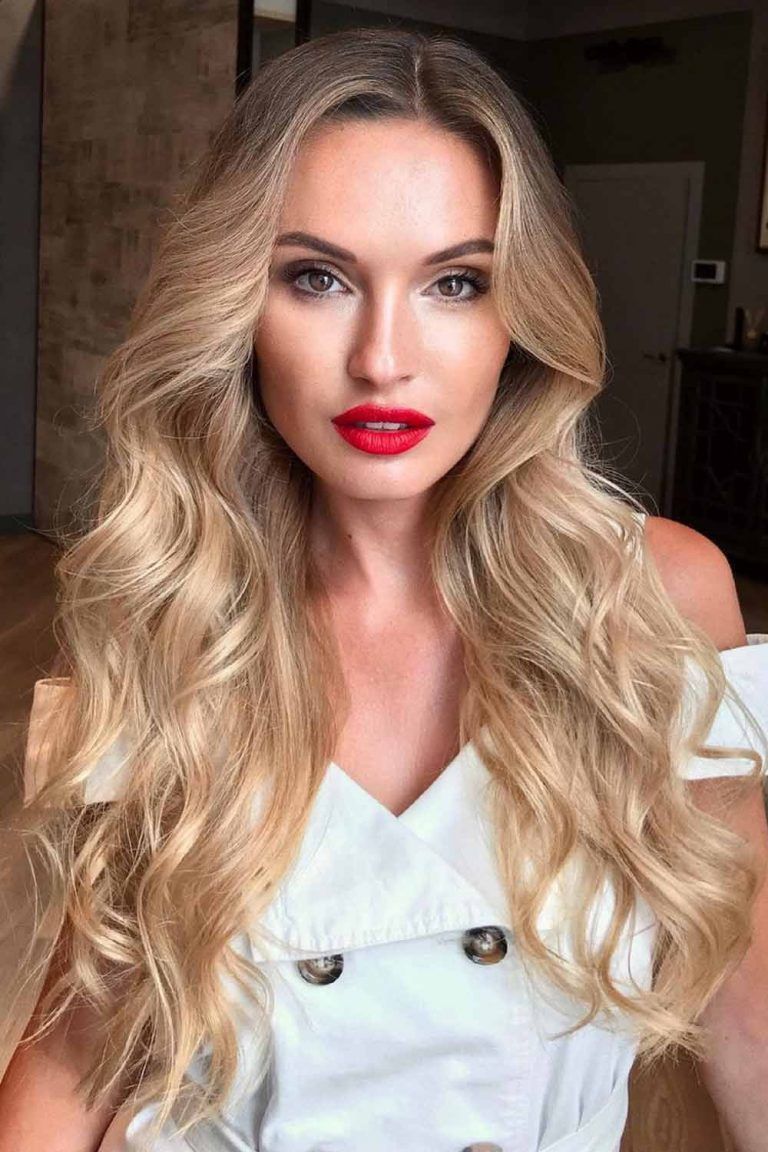 Source: sheffpavelstylist/Instagram
While regular highlights may start right at the roots, partial highlights offer an endless coloring variability for everyone interested in tailoring their looks. Here, you can see how beige brown shade meets a milky blonde hue, forming a harmonic duo full of dynamics. What makes the color job so special is the color placement: the blonde accents are applied strategically to the midshafts, thus preserving the natural shade and adding more character to it at once.
Light Brown & Blonde Partial Highlights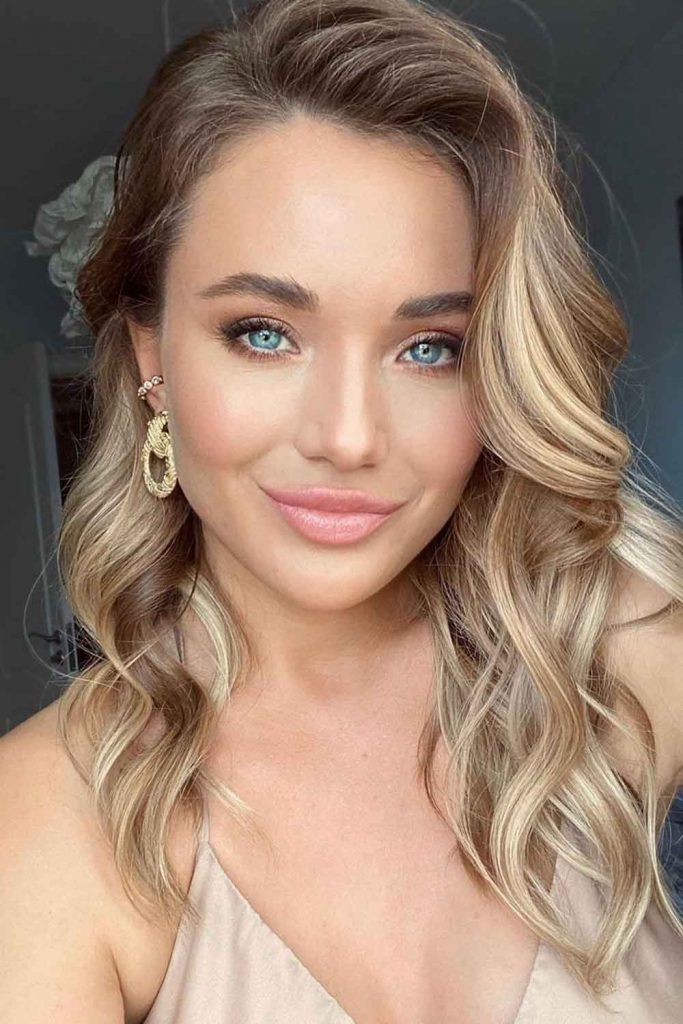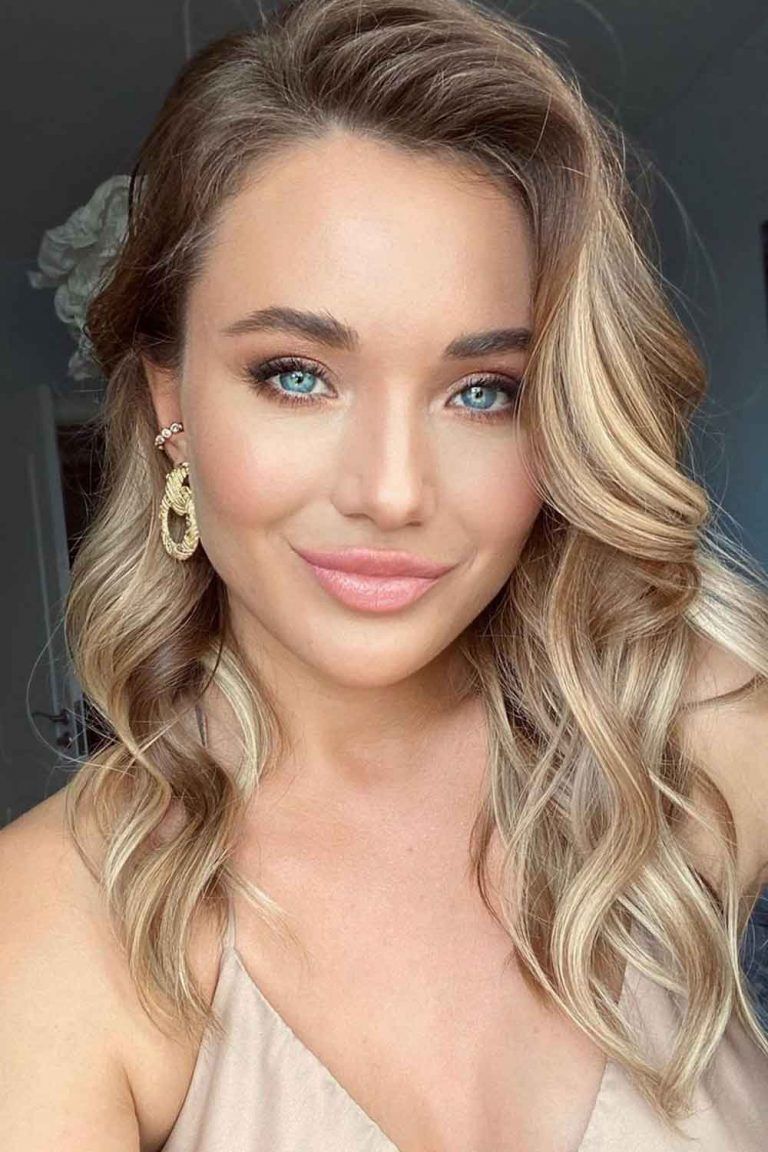 Source: instagram.com/sheffpavelstylist
The best thing is that if you want the color play to be truly big, you can make your partial highlights take over the whole mane except roots. This idea is a perfect solution for those rocking brunette hair and dreaming of trying something contrastive and light. Here, the blonde portion prevails, even though it's partial accents, not ombre. Still, the roots are well-blended and dynamic, as well as light streaks of natural brown that you can see if you have a closer look at the idea. Bottom line? Partial accents are your key to safe experiments.
Silver On Black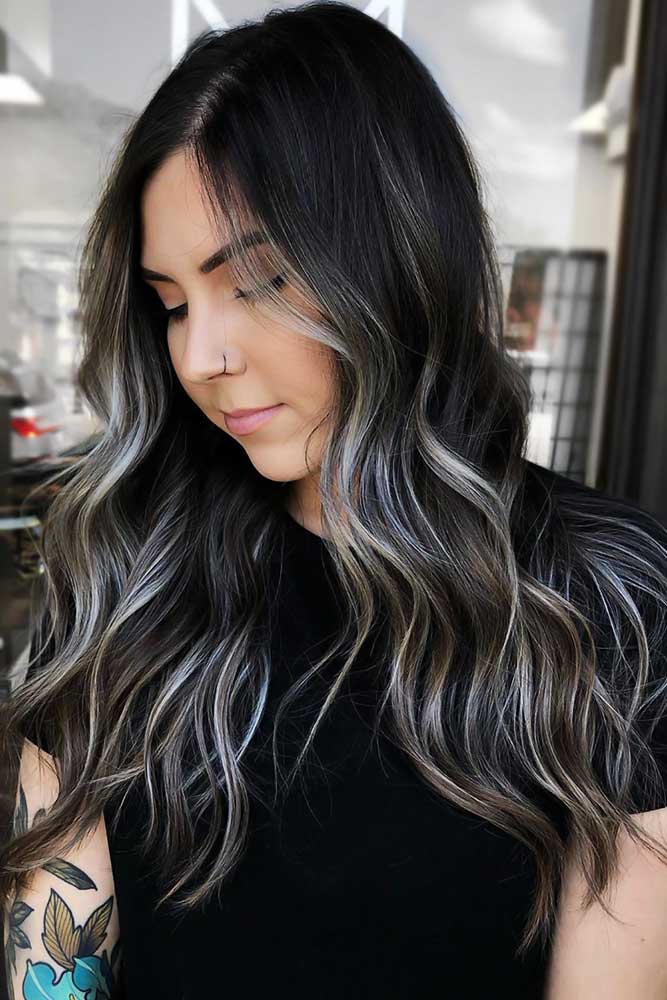 Source: aaashleee/Instagram
Probably an ageless trend in coloring. Though the opposite color of black is white, mixing them results in a very drastic and fake-ish hair look which is not acceptable for modern trendsetters. Well, as it turns out, silvery and gray hues with a whitish hue as primary are what can accentuate black locks the right way. Besides, silver is a wonderful base for blue and purple colors, so you can always amp up your highlights with one of these shades.
Black & Gold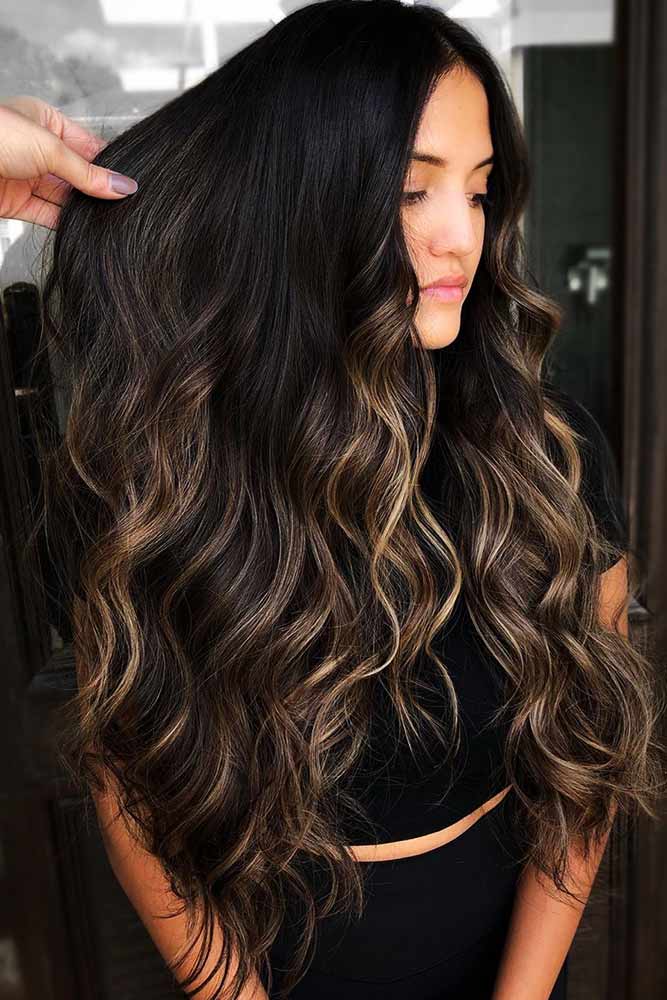 Source: aaashleee/Instagram
Before you jump in conclusions and label black and gold as a bad idea from 2007, please, look at this idea. With the right color intensiveness, as well as the right temperature, you can create a stunning mix even with once unmatching hair colors. So here comes a new version of black-to-blonde! Here, blonde has a light golden honey hue that nicely melts with this black mane, slowly graduating from brown (as a result of stretching a blonde hue over the black base) to light.
Now you know what colors match stylishly and how partial highlights differ from full ones, so you can answer the today's question and get yourself a perfect look. If you copy one of our ideas, you won't be mistaken in choice. And if you want to experiment with other shades, highlights are a good start!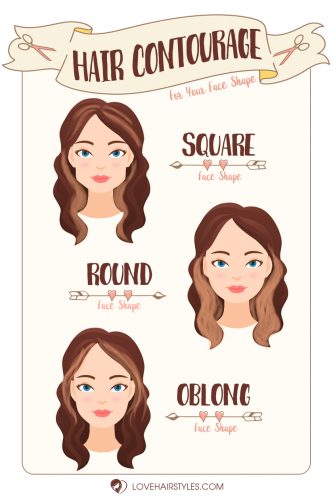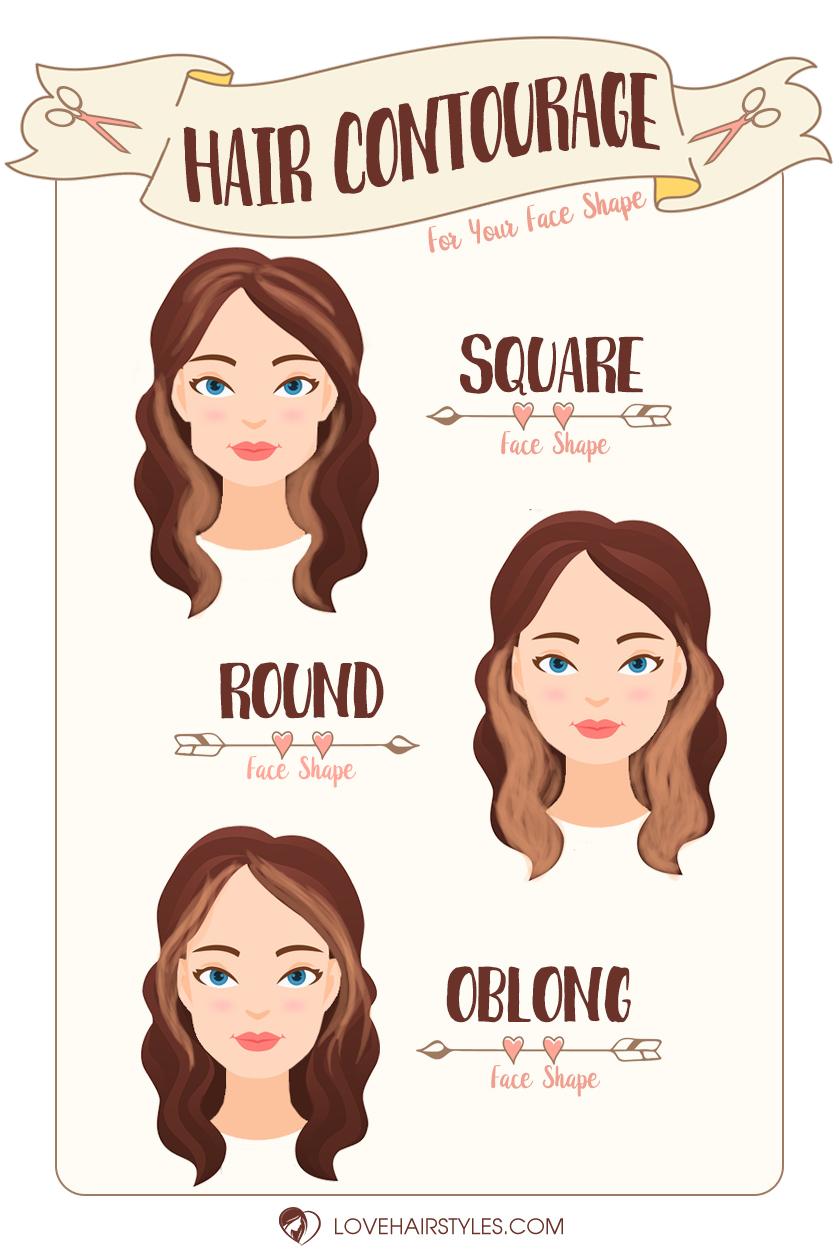 FAQ: Partial Highlights
How many foils are in a partial highlight?
The roots, crown and side hairline are foiled with roughly 20 foils or less in a partial foil highlighting. It's also worth noting that partial foil highlights do not necessarily imply application of foils to the entire head. Basically, it's just the top.
How long do partial highlights last?
Remember that all-over coloring will need to be refreshed every four to seven weeks because of root growth. Highlights, however, can last up to three months, so ask your hairstylist about the best gloss treatment after your coloring. This might give your hair more color and shine.
How long do partial highlights take?
When having a partial balayage procedure, you may anticipate to spend about 50 minutes at the salon, depending on the tint you want to get and the length of your hair.
Should I get highlights or balayage?
If you desire a dramatic color change, your stylist is likely to suggest highlight foils. If you need to make dark hair a few shades lighter, foils work best, while balayage is a preferable alternative if you want to add some casual chunks or color sweeps.
Was this article helpful?