Purple and blue hair is a new color inspiration that came to the world of hair colors right from the outer space! Coming as a two-toned dye job, this fresh combination is a perfect choice for girls who really want to make a major makeover.
From bold, vibrant, and dark to soft, pastel and muted, the blue and purple hues come in a great variety of stylish options. Celebrities like Demi Lovato and Katty Perry have already rocked their days with the duo, fascinating their fans with the amazing galactic vibe. So why don't you try it out?
Here's a compilation of the most creative and different variations of the trend. Of course, maintenance tips are here, too!
So What Happens When Your Hair Is Blue And Purple?
Credit photo: instagram.com/marisagabriellehair
Ready to believe in miracles?
Purple and Blue Hair is the newest dye obsession. Due to the resemblance to the night sky full of stars, this purple hair coloring technique is also called galaxy dye. It is possible to create this look with the help of highlights, ombre, etc. And these colors are analogous, that is, their mixture will be harmonious rather than contrast in a stark way.
So what happens when your hair is blue and purple?
First of all, all kids will love you! They will think that you are an amazing person who has superpower. Also, since the moment you dye your hair these shades, all towels in your house will be dark-colored.
Intrigued to learn why?
Every time you wash your hair, bluish water will drip from your hair. You will be like a paint pot that leaks. But a pretty one!
Let us look in detail into this mesmerizing color blend. The first question that might pop in your mind is who can pull off this look? Well, the answer is obvious: the most daring ladies who admit that experimenting is their credo. So, it is not surprising that Katie Perry and Demi Lovato already sported such look - these gals are true trendsetters who love changing their image. Follow the suit, and you will definitely make a statement wherever you go.
Tips And Tricks
Credit photo: instagram.com/asyawrr
As much as we love the mesmerizing play of purple and blue hair colors, we do realize it's a hell of a commitment! That is to say, before planning your next dramatic color transformation, you should know what to expect from the process, as well as how to maintain the result. Here is a list of essential tips that you should keep in mind to get the most of your galactic color combo!
Anti-Fade Routine Just like any bright hair color, purple and blue shades tend to wash out, so you need the right upkeep. Make sure to include color-safe products into your care routine, paying close attention to your shampoo — it should contain no harsh chemicals.
Eat, Sleep, Condition, Repeat Since colored hair is prone to dryness, you need to keep it moisturized. And conditioning is crucial on your way to healthy and long-lasting color.
The Wash-Off Stage During the first couple of washes after coloring, you will see your color washing off with water. Don't worry, that's normal!
Color Shifting Also, don't be afraid of blue and purple towels or pillows; it's totally OK for the first week after coloring.
From Hot to Cold Switch to cold water when washing your hair to preserve the color.
Color Sessions Blue and purple hair colors usually don't show up after the first session, so you may need a couple of appointments.
Purple Shampoo Is Key And last but not least, invest in good purple shampoo to keep your shade intact.
A tip: You can also leave your roots untouched, asking your colorist for a soft blend under them. In this way, you will be able to restore your natural color after bleaching or pre-lightening.
Pastel Purple And Blue Hair Color Ideas
Sea Blue With Purple Roots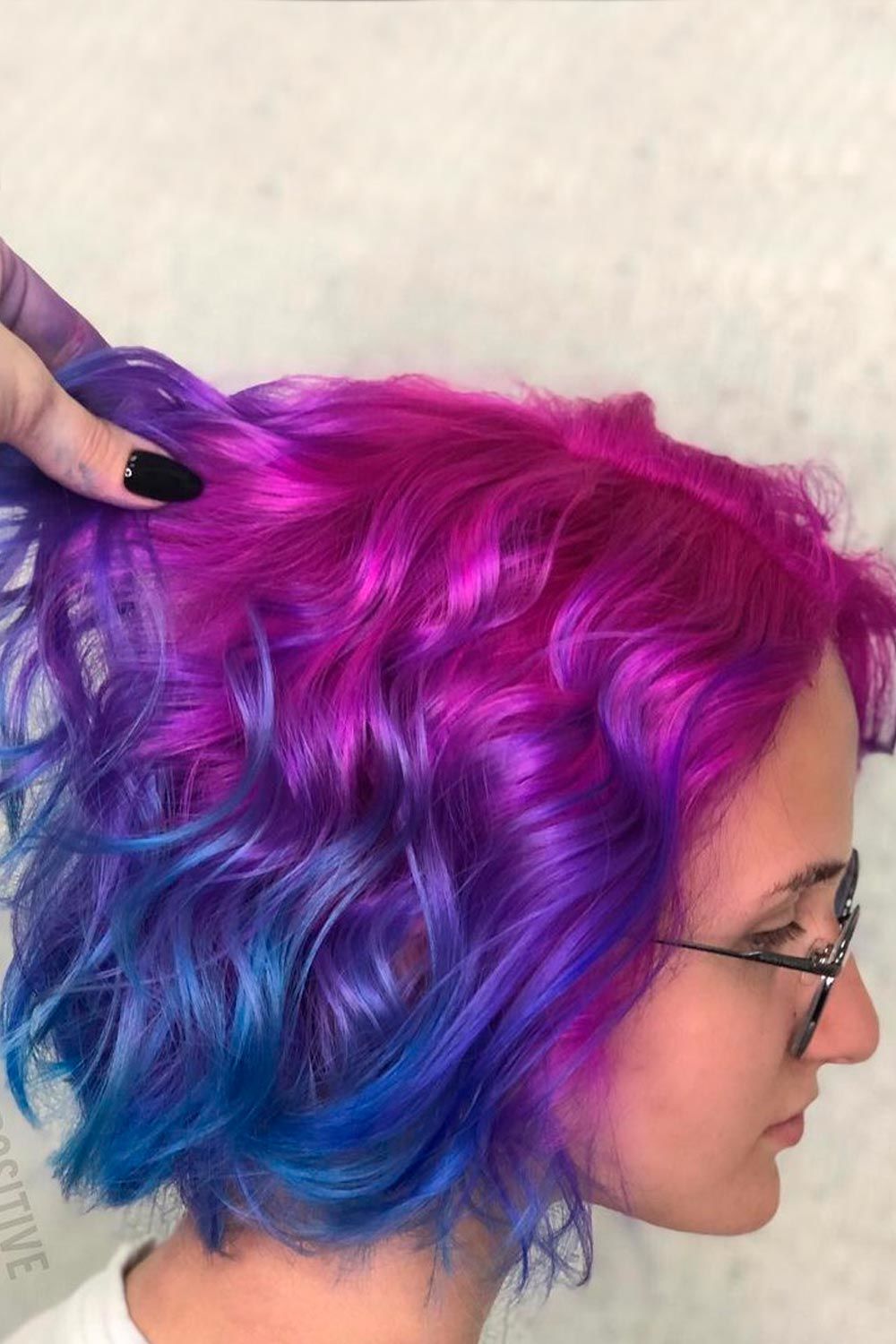 Credit photo: instagram.com/hair.positive
Every hair color is a unique story of a woman's inner self. What would your story look like? Do you want it to be engaging, profound, attractive? If so, you can't do without purple and blue, as they're known for their magical power to keep people excited. Add purple to the roots to make heads turn, transit it to light blue to catch eyes, and finish the look with some seamlessly blended streaks of blue to make jaws drop.
Ink Blue Roots To Purple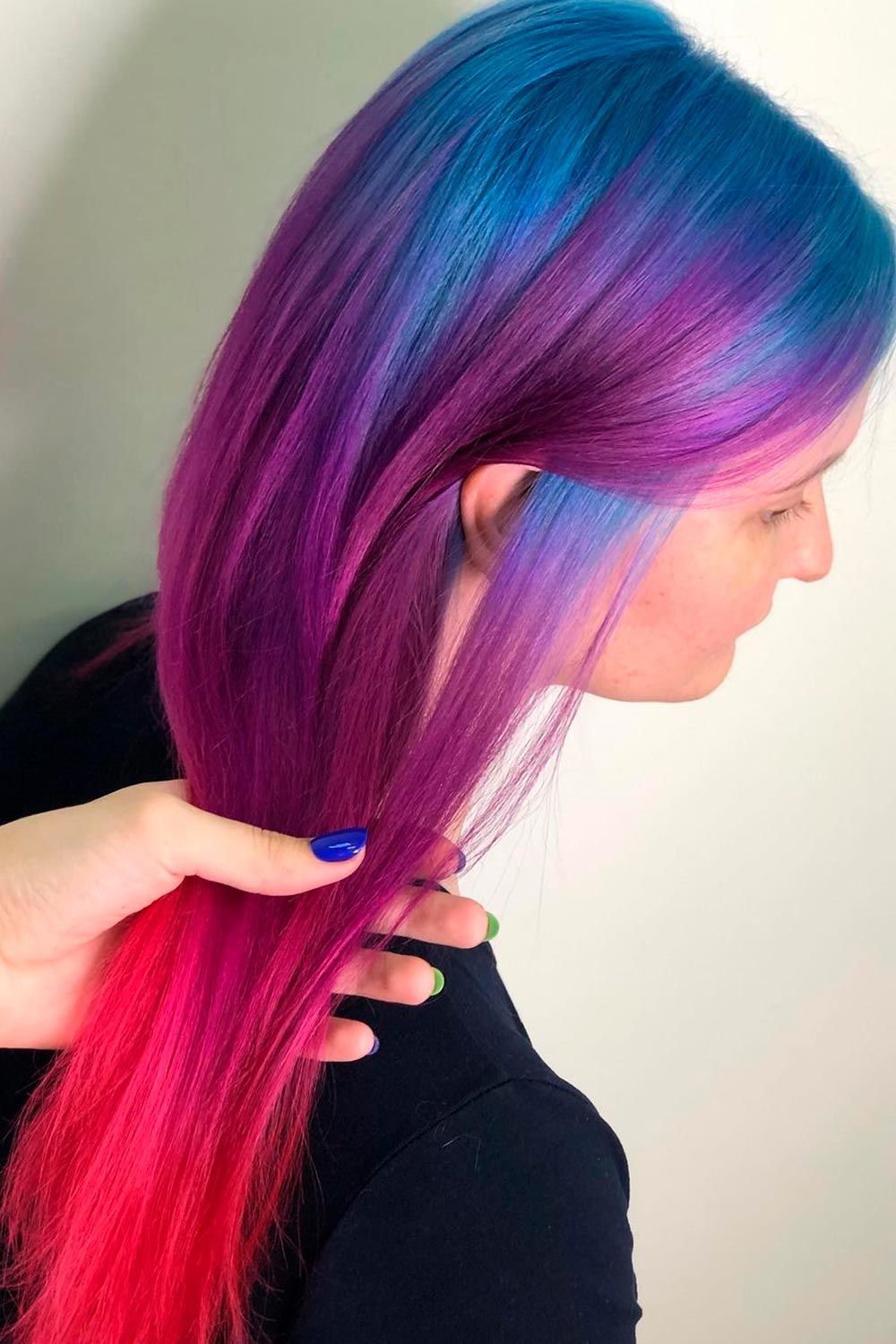 Credit photo: instagram.com/hair.positive
Pastels show hair colors in a totally new light. Not only do they make the colors softer and less intense but they also help create harmony even with the most unmatching shades. While you would probably stay away from the idea of mixing bluish-black with lilac, once you see its pastel version, you will get obsessed with it.
Whitish Pastel Ombre Ideas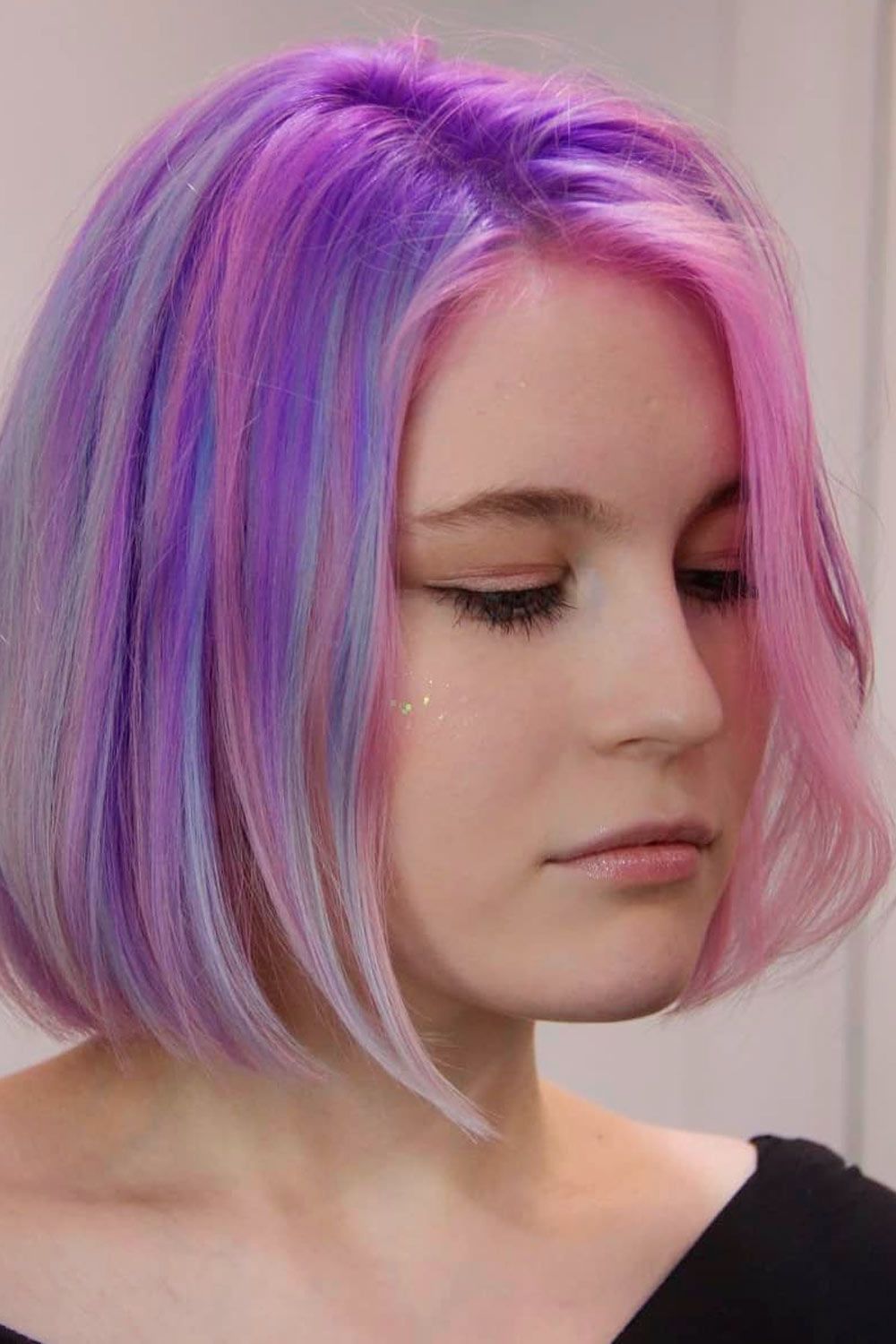 Credit photo: instagram.com/lera.lanberg
Let's not forget about the light side of color trends! Although we're used to seeing blue and purple hair colors mostly on darker bases, stepping out of standards is crucial to view things differently. So meet pastel blue to purple ombre over a whitish blonde base. To tell you the truth, we've never seen such a gentle facet of blue and purple before.
Fuchsia Purple With Blue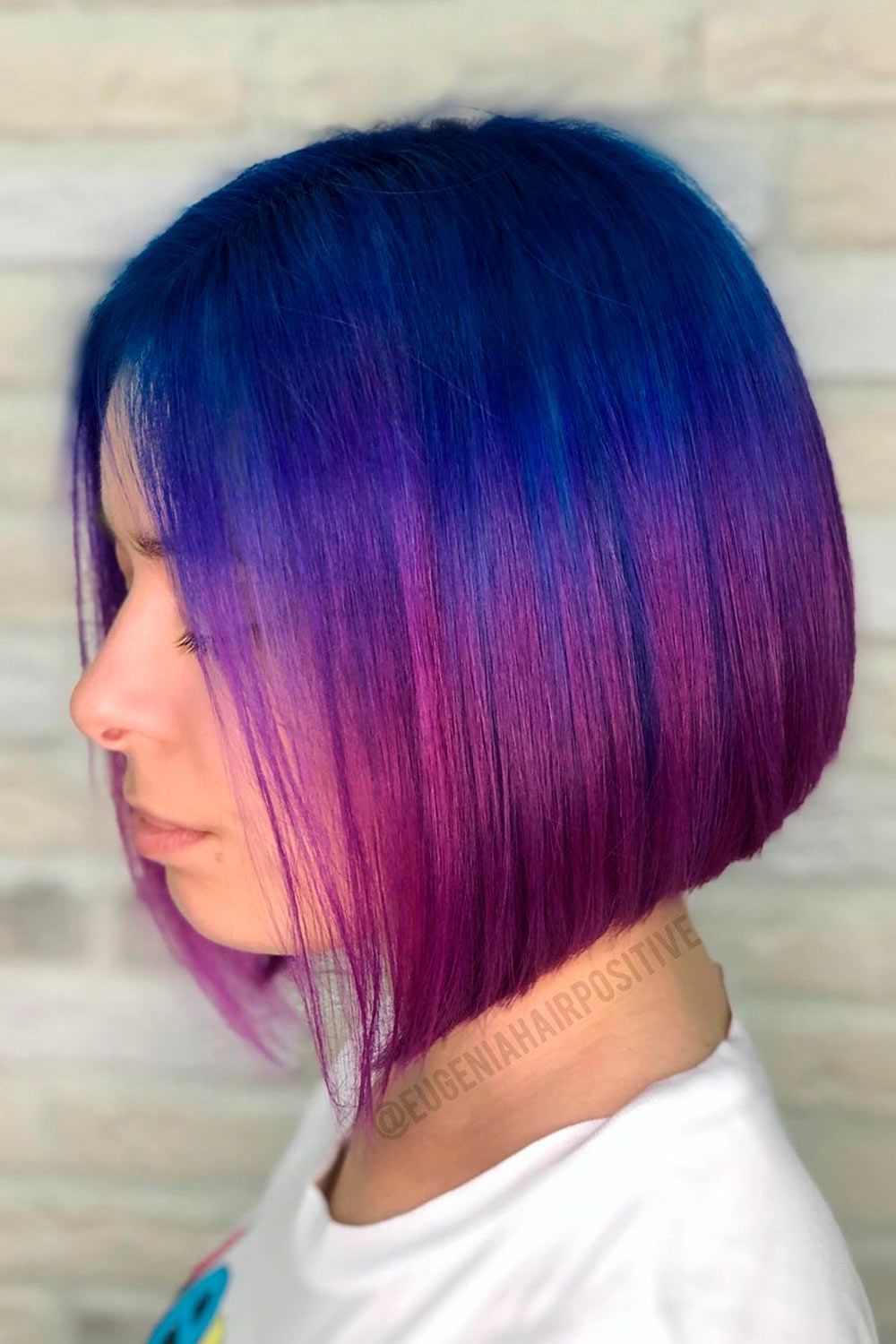 Credit photo: instagram.com/hair.positive
If you prefer bold colors even when it comes to experimenting with your hair, then we have a suggestion. Deep fuchsia and purple colors that are fading into deep blue will make your hair look bomb! Ask your hairdresser to experiment with techniques of applying the dye, and you will love the final look.
Pink Purple Balayage With Blue Contrast Lowlights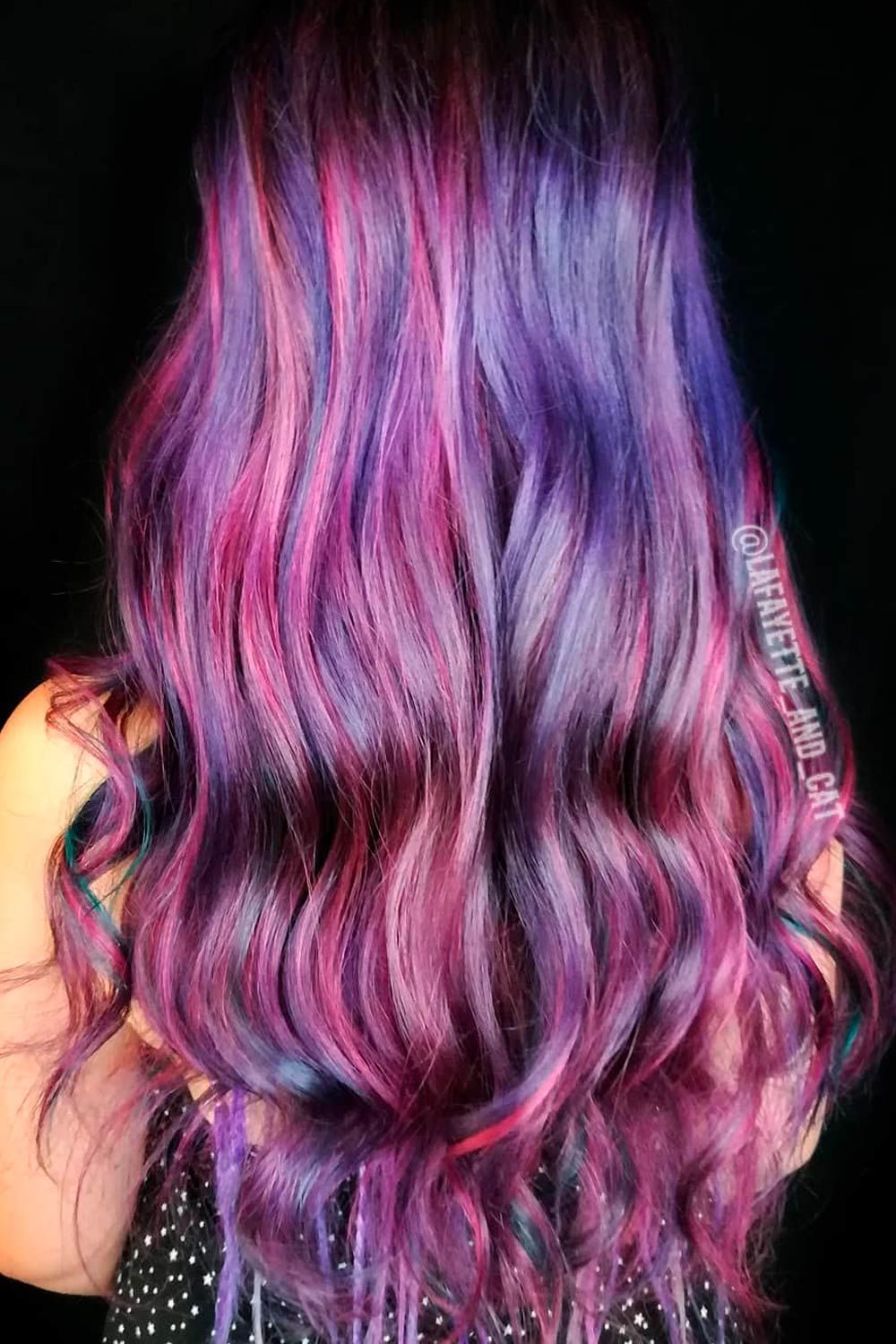 Credit photo: instagram.com/lafayette_and_cat
Who said that balayage is boring? Just look at this colorful one! How unusual and daring it looks! If you consider yourself glamorous and different from everybody, it will be your piece of cake. Pinks with contrasting blue shades look absolutely stunning here.
Bright-Contrast Purple And Blue Hair Color Variations
Violet Blue With Purple Ends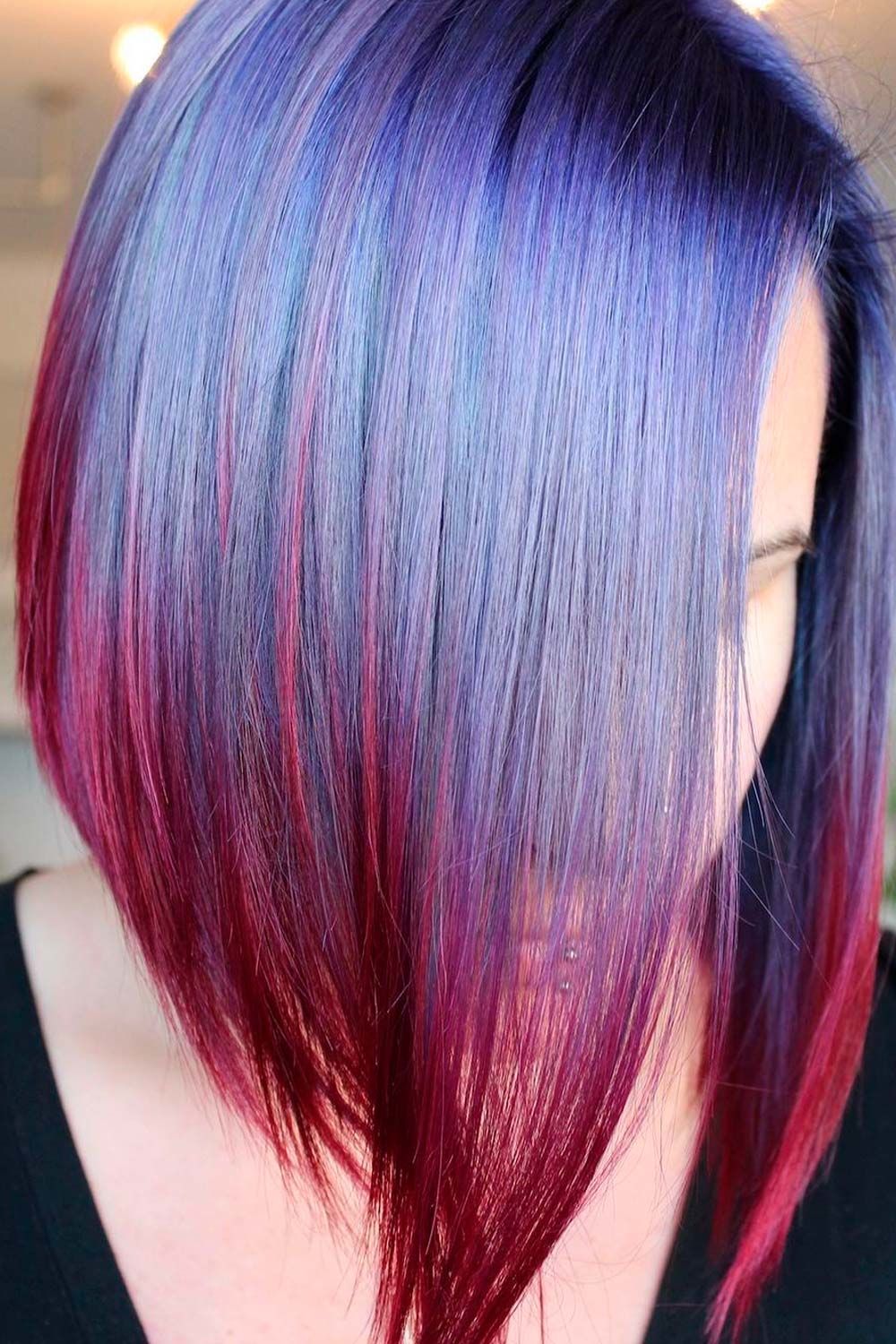 Credit photo: instagram.com/hairbykristinamarie
We love experimenting with two colors so much! Especially when such bright and creative ideas are involved. Purple, dark pink and violet-blue hair will totally win your heart. Just look at this combination of colors, and how well blended between each other they are. A Holy Grail idea for girls who love colorful hair!
Purple With Dark Blue Ends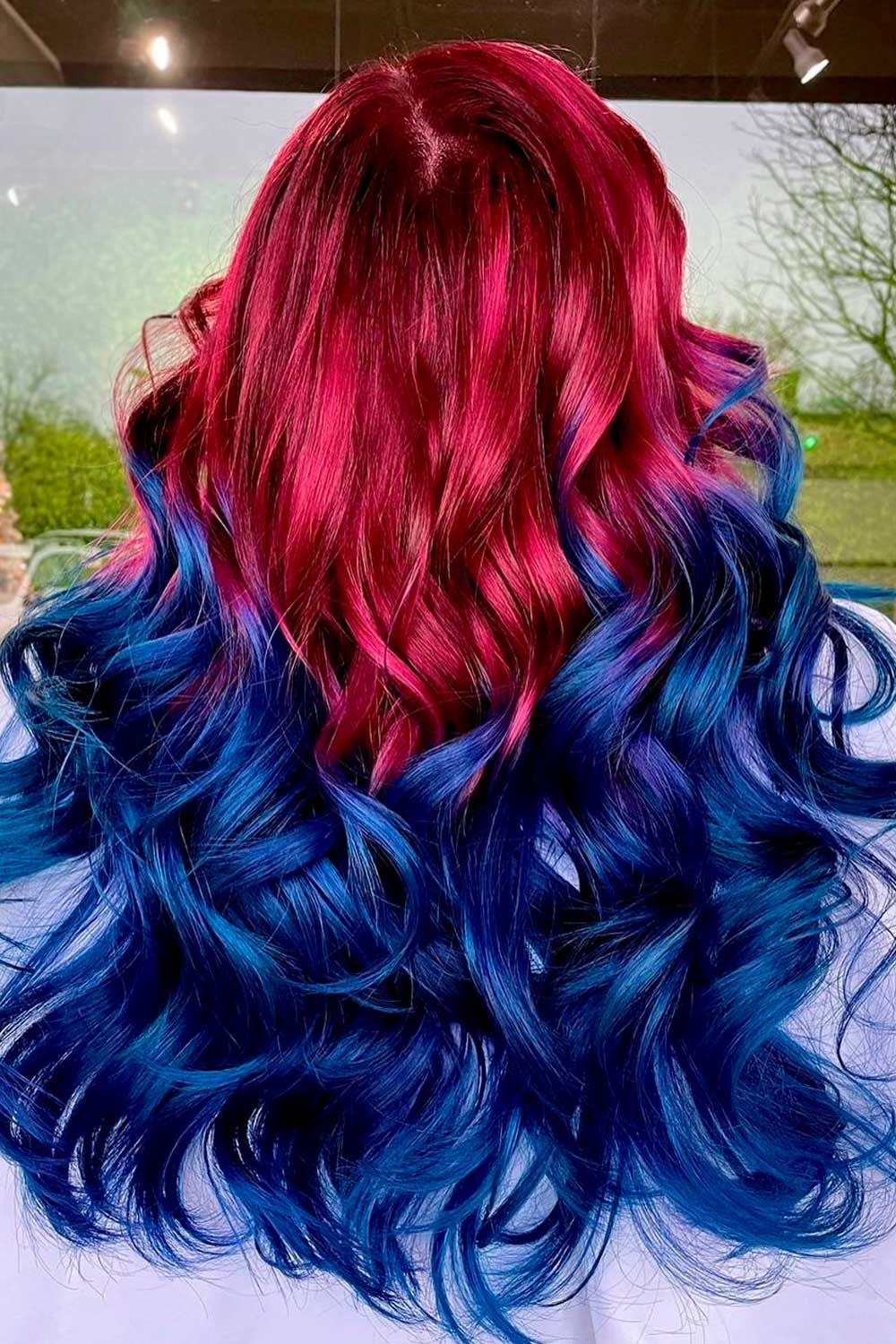 Credit photo: instagram.com/xostylistxo
Are you a fan of soft transitions between colors? Then this idea is perfect for you. Look at how blended colors look even when they are in such a huge contrast. Purple length with dark blue ends looks so well together. That`s what we love about colorful hair that is beautifully done.
Ocean Blue With Purple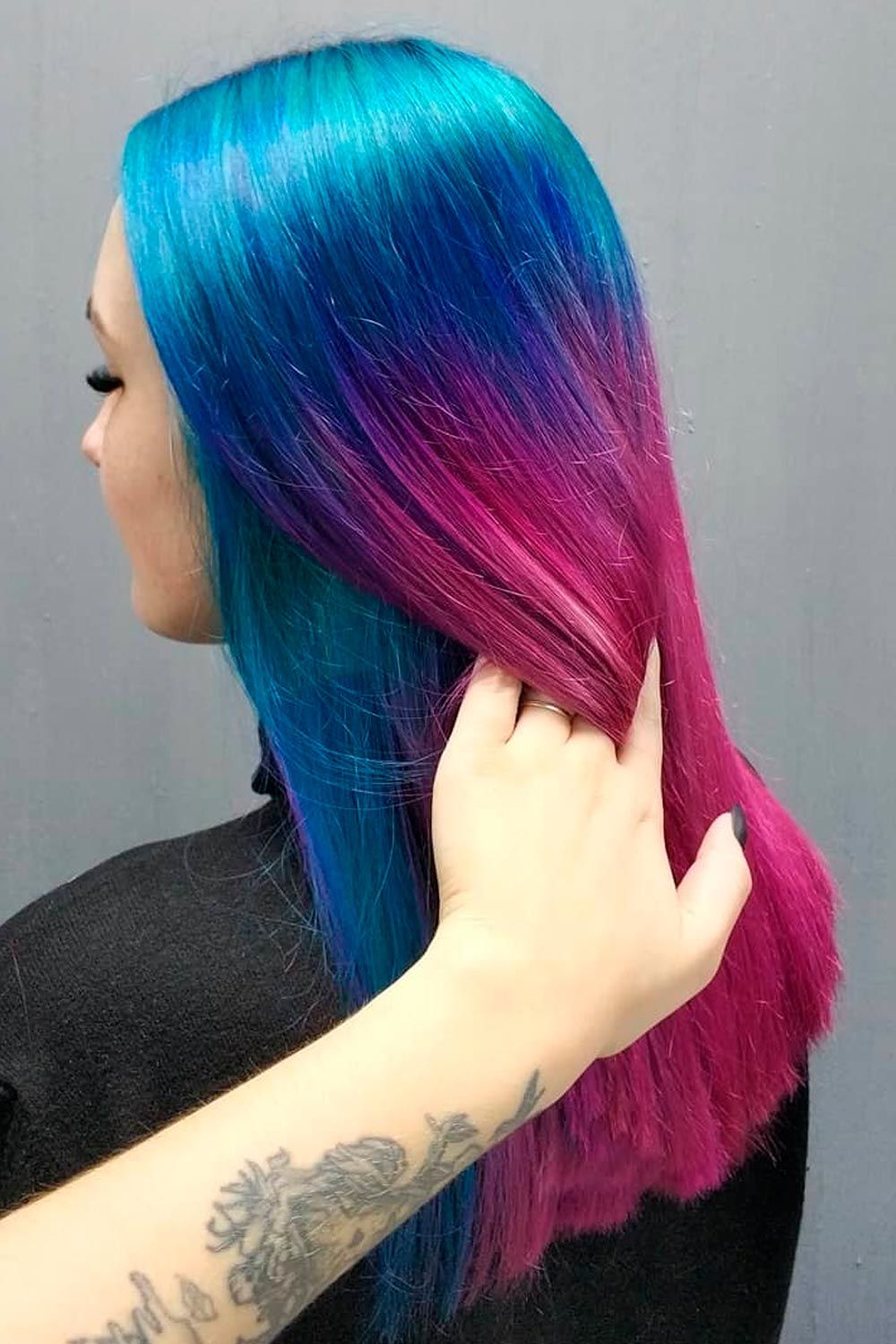 Credit photo: instagram.com/__yanakipyatok__
Why don`t you dye your hair in layers? Isn`t that a fantastic idea? Blue for the top layer of hair and pink for the bottom one. Such contrast that blends into two levels of hair is truly amazing. An idea that people who love to stand out from the crowd will like.
Pastel Blue With Light Purple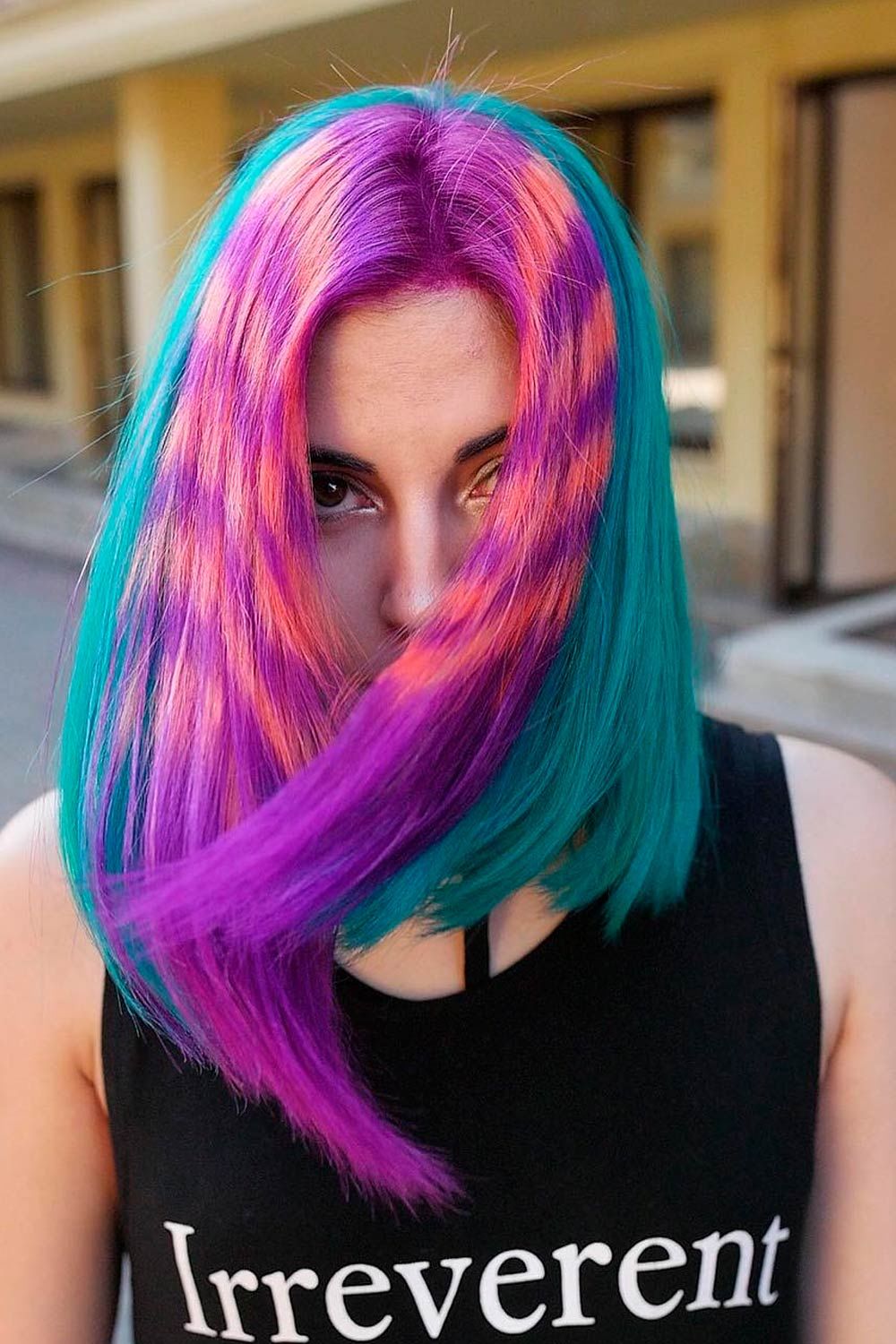 Credit photo: instagram.com/kato_studio_
Pastel colors, as well as mettalics, have rocked the beauty industry in every sphere, and of course, hair is not the exception. A pastel blue shade looks super fresh, especially when combined with a light purple. Use any technique you like, highlighting the ends or balayage. It will still look bomb.
Purple With Blue Highlights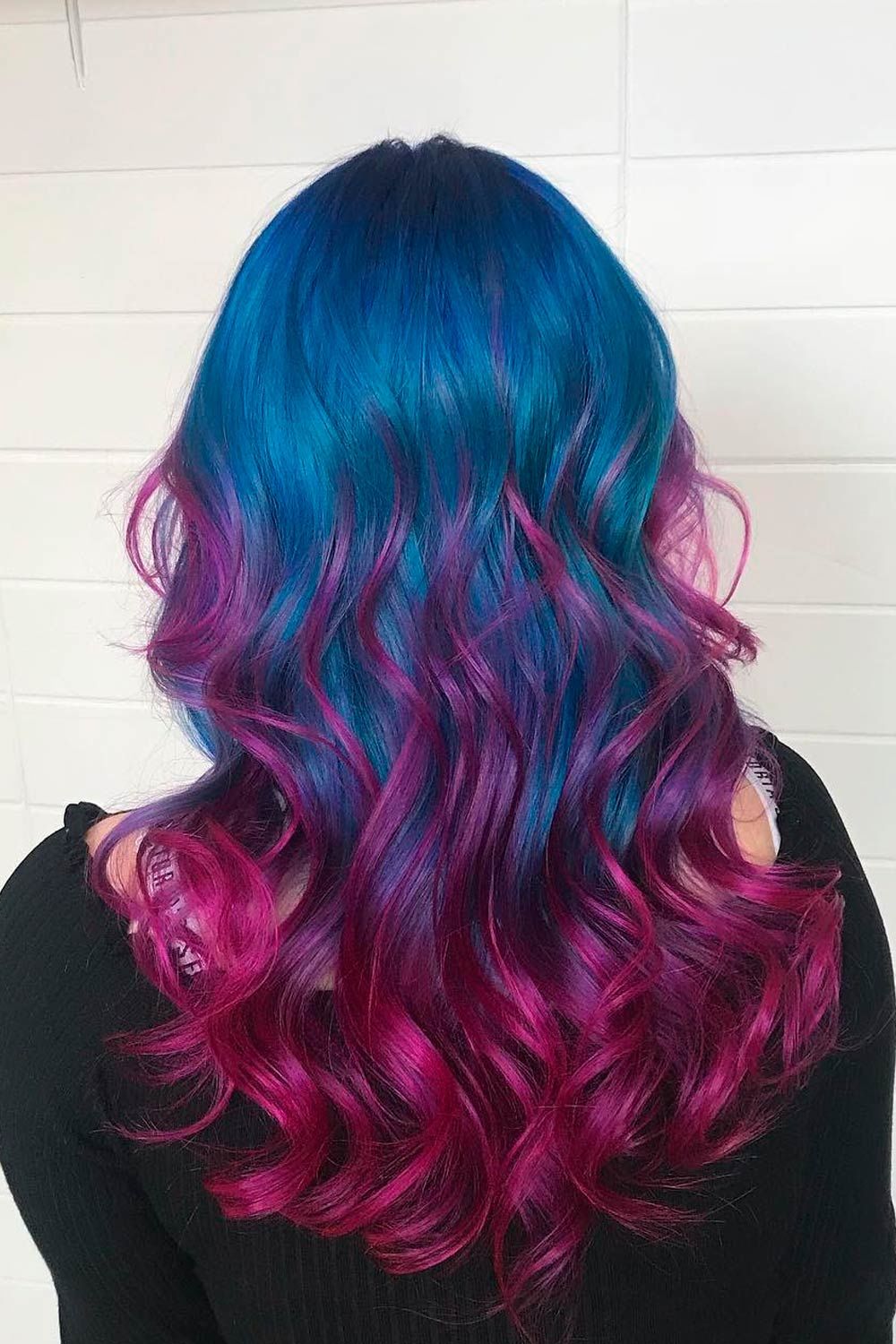 Credit photo: instagram.com/raznoglazaya_hair
Purple hair is already extraordinary so what will you say about adding blue highlights to it? Amazing, refreshing for the style and appearance of the person. We love how such contrasting colors blend in together, creating an illusion of volume and texture.
Blue And Purple Neon Highlights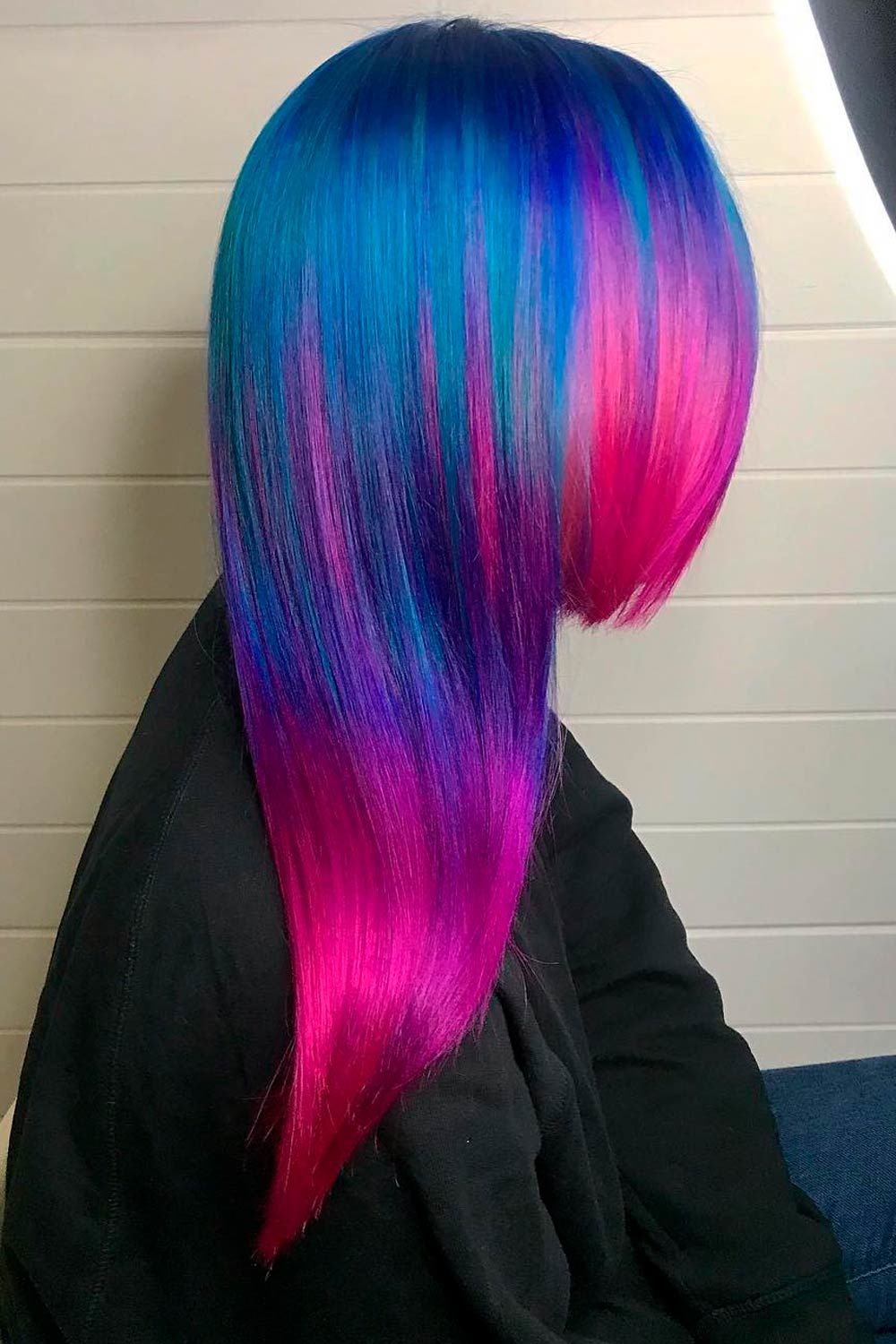 Credit photo: instagram.com/raznoglazaya_hair
Neon colors are nothing but magnets to the eyes. Sometimes such ideas come out so saturated and shiny that they literally reflect neon lights in the dark. If that's the effect you want to achieve with your color transformation, be sure to go this bold: these purple and blue highlights add a lot character to the dark roots.
Beautiful Purple And Blue Ombre Hair
Credit photo: instagram.com/lastfeastofthewolves
For example. Get mermaid hair. It is called so because this coloring technique makes your hair look similar to the varying shades of the sea. Green can be added here for more dimension.
Stunning Purple And Blue Hair Ideas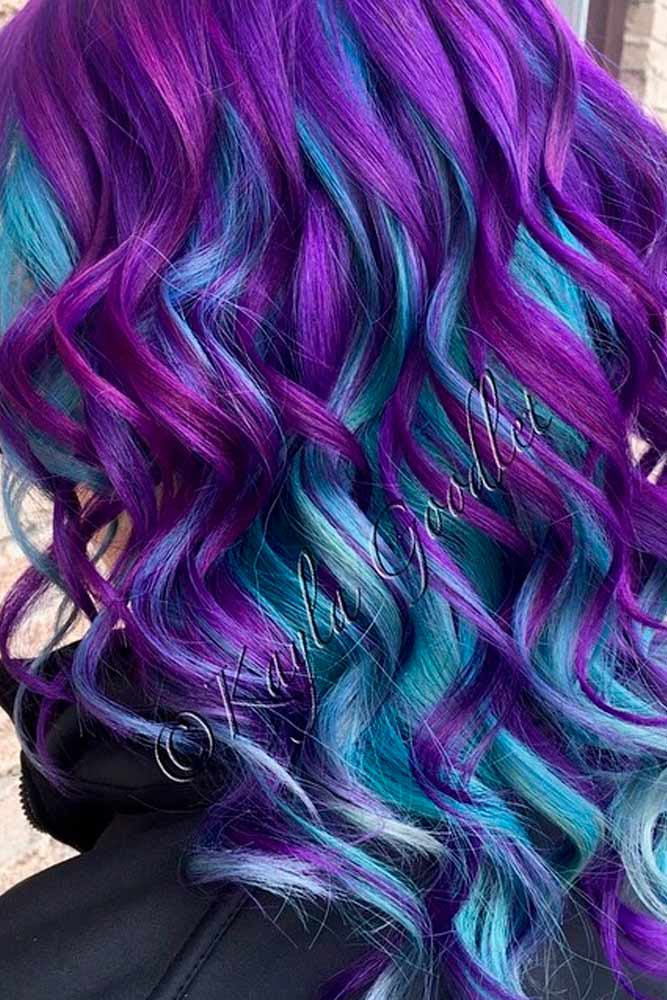 Credit photo: instagram.com/hair.by.kayla
Another option: Get purple and blue rainbow hair. It is inspired by our childhood memories when we could not wait to receive a cake in similar colors for our birthdays. The look is flirty, youthful, and fun.
Light Blue And Light Purple Hair Color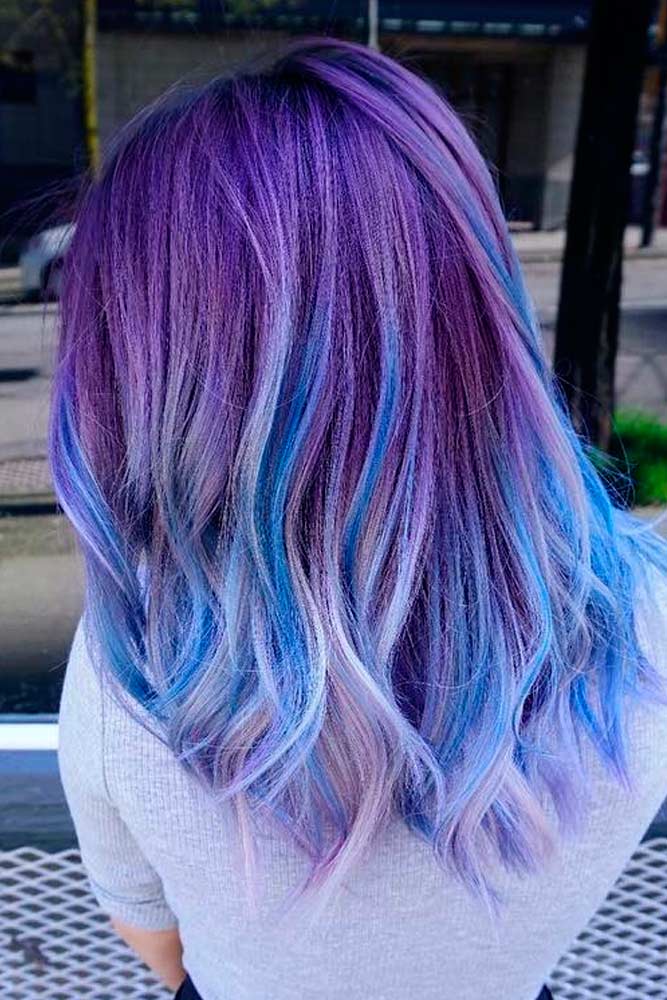 Credit photo: instagram.com/lo.rean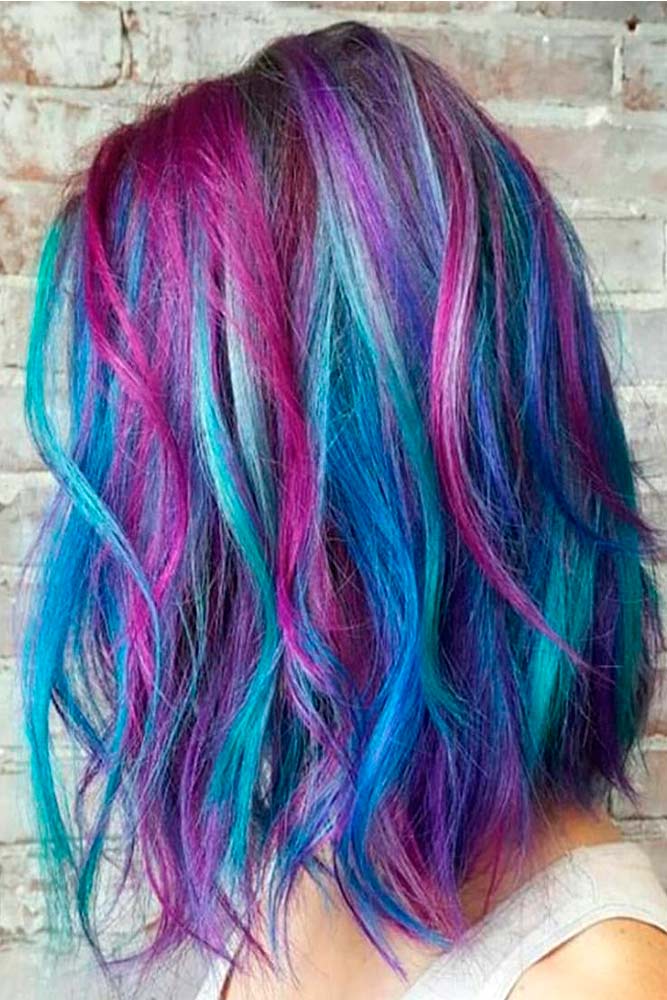 Credit photo: facebook.com/JamesJosephSalon
For a subtle look. You can opt for light blue and light purple hair color. Who says that the color should be very saturated in this trend? These galactic hues can be sweet and soft, as well.
Mermaid Hair Color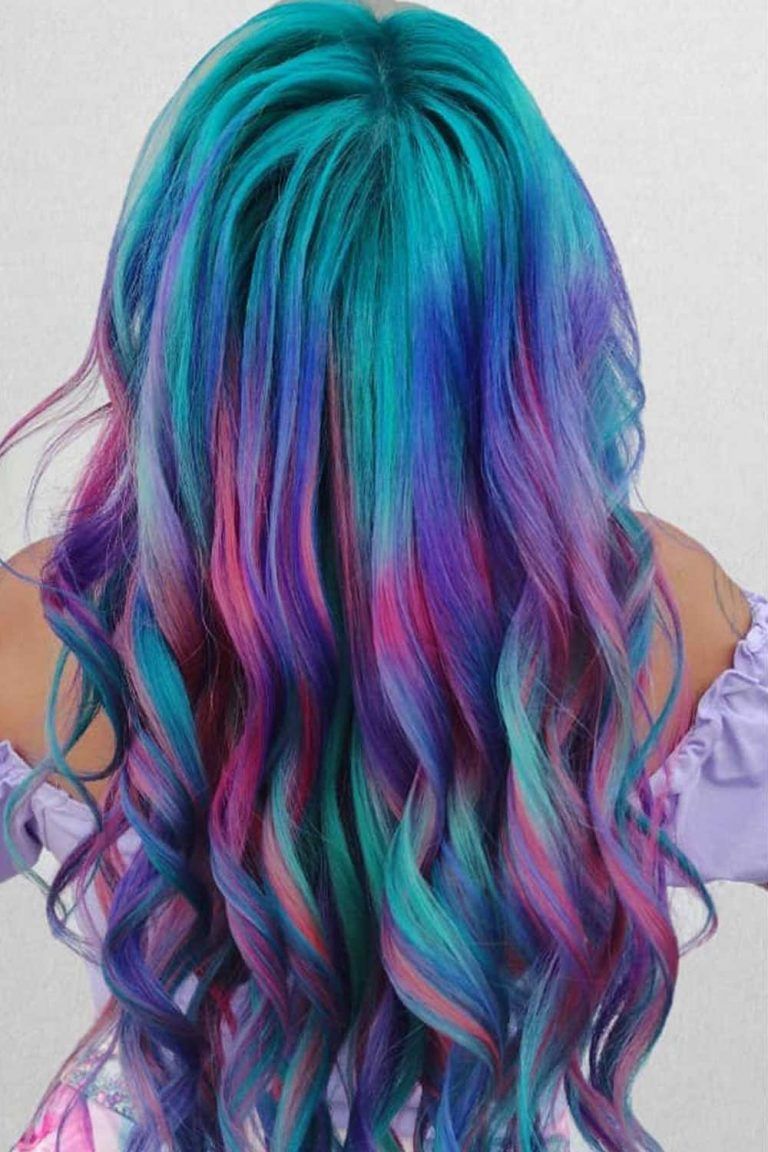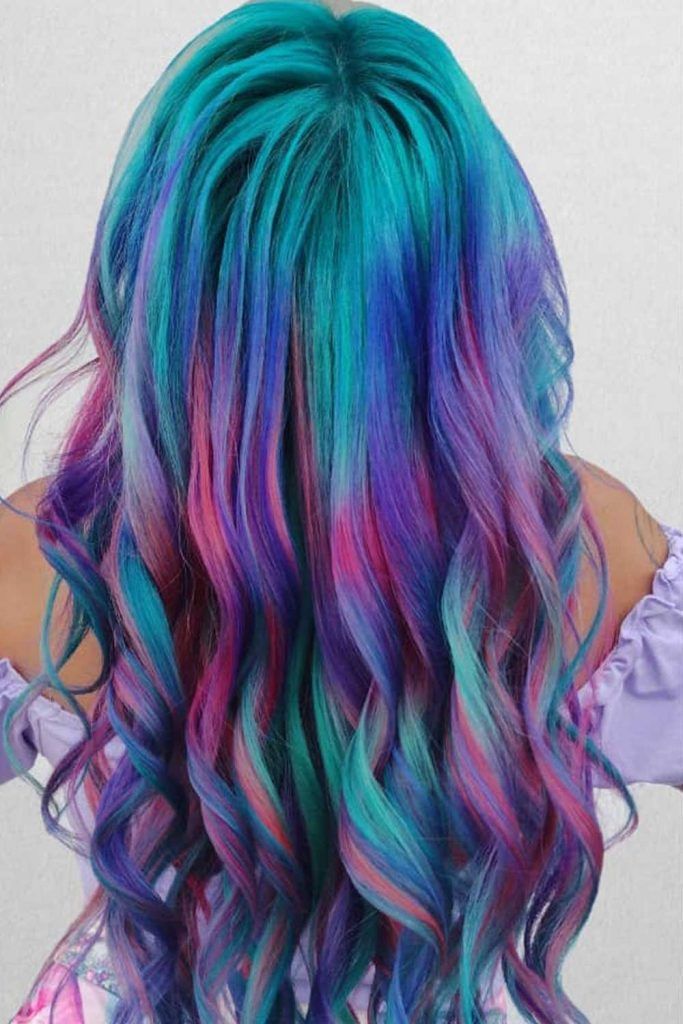 Credit photo: instagram.com/adlydesign
Colors like... Blue, pink, and purple blend perfectly to create a multi-dimensional effect that reminds us of the space. A layered haircut will truly enhance these colors blend and make each of these marvelous shades pop.
Inspirational Purple And Blue Hairstyles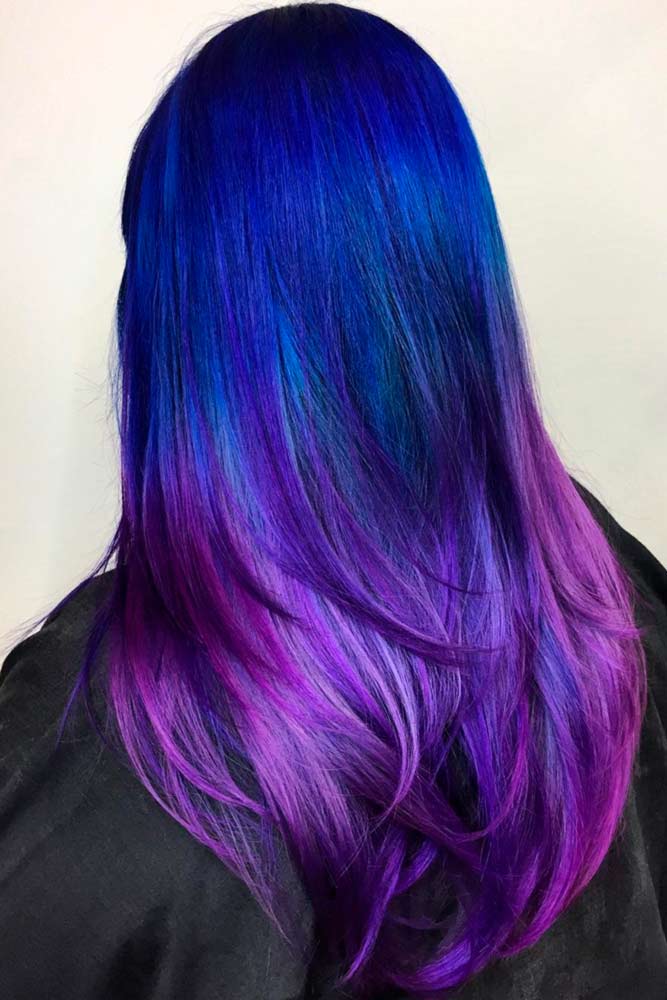 Credit photo: instagram.com/hairbymarlenewagner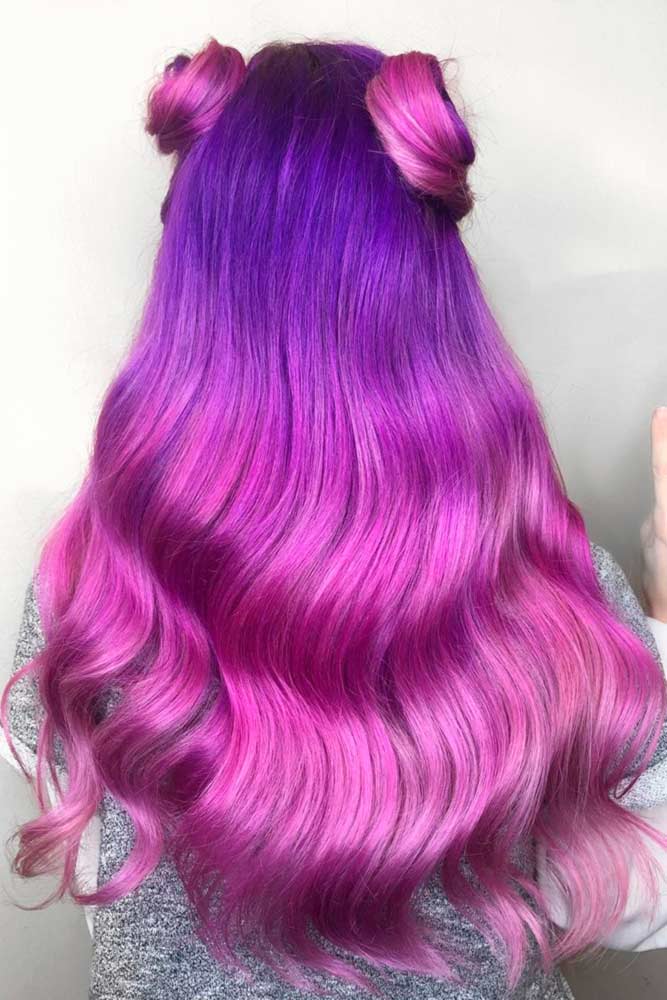 Credit photo: instagram.com/hairbystephscissorhands
When you switch to a dramatic, unusual color, everything in your life changes a little, especially your styling routine. However, we're not talking about the right care products for your colored hair this time. Now, we'd like to focus on how your new sultry color will show itself in various hairstyles. A loose twist, stunning blowouts, and even space buns will reach a whole new level with such a creative approach to coloring.
Amazing Blue and Purple Pastels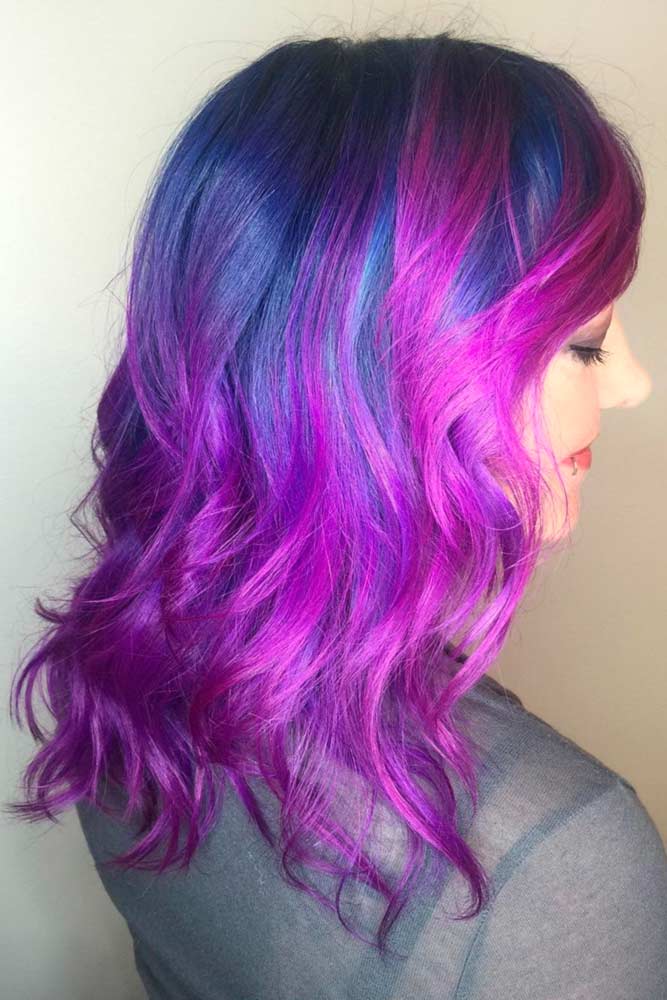 Credit photo: instagram.com/brandybstylist
If you think that there are no blue and purple shades for your complexion, pastels will prove otherwise. Apart from building harmony out of different shades, the moderate intensity of pastel colors can adapt to any skin tone and eye color. With pastels, you can nicely mix various blue, purple, and pink hair colors, as well as experiment with their dark or oil slick ideas.
Charming Purple And Blue Rainbow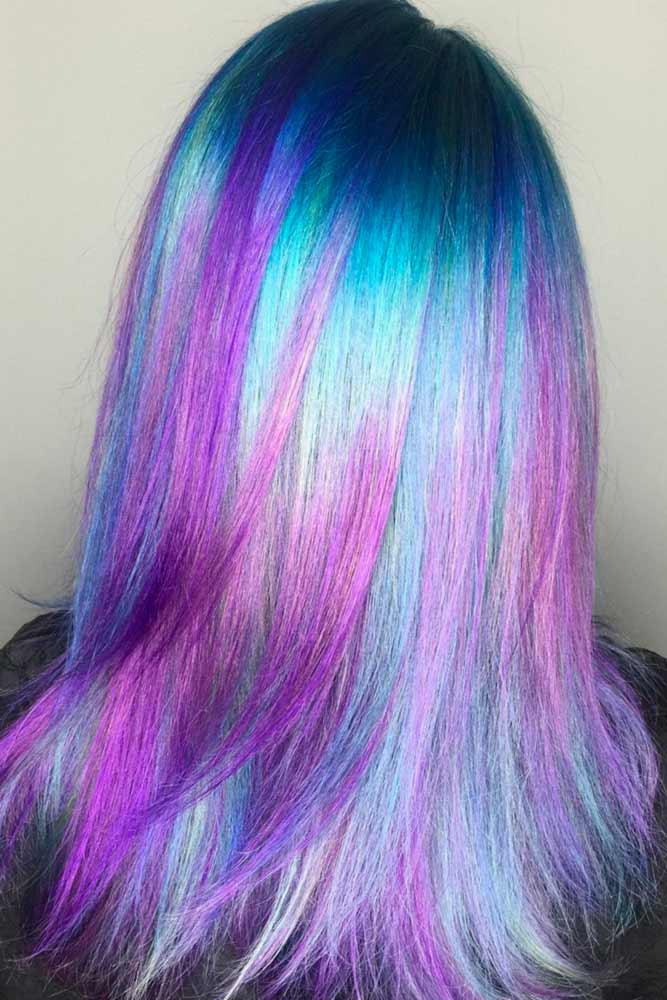 Credit photo: instagram.com/brandybstylist
When mixing purple and blue colors, think of them as a great idea for trendy holographic hair that you can complete with other exceptional shades. Also, we recommend you to keep in mind your haircut and texture to reach the balance in your look. On layered straight hair, for example, horizontally painted streaks look best. If you wear wavy hair, you love the way pastel shades flow into one another. And if you have wavy layers, you can start with blue and end with red, in case you need some drama.
Braided Blue & Purple Hairstyles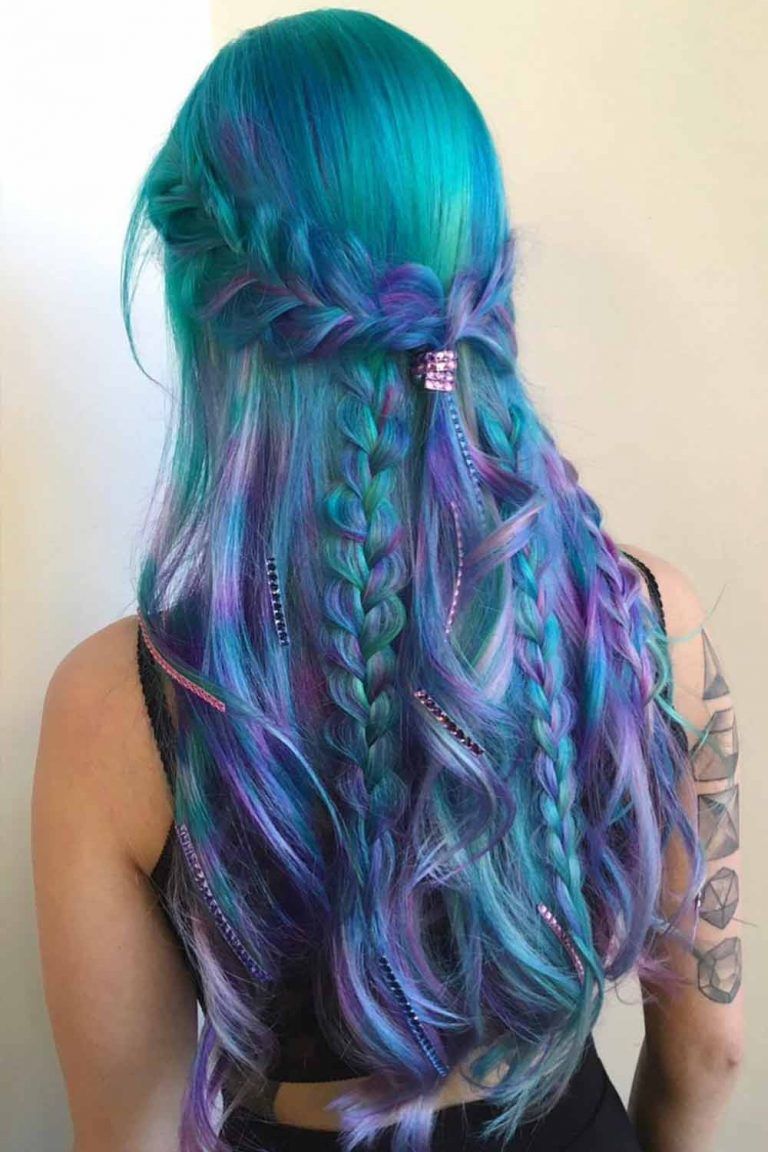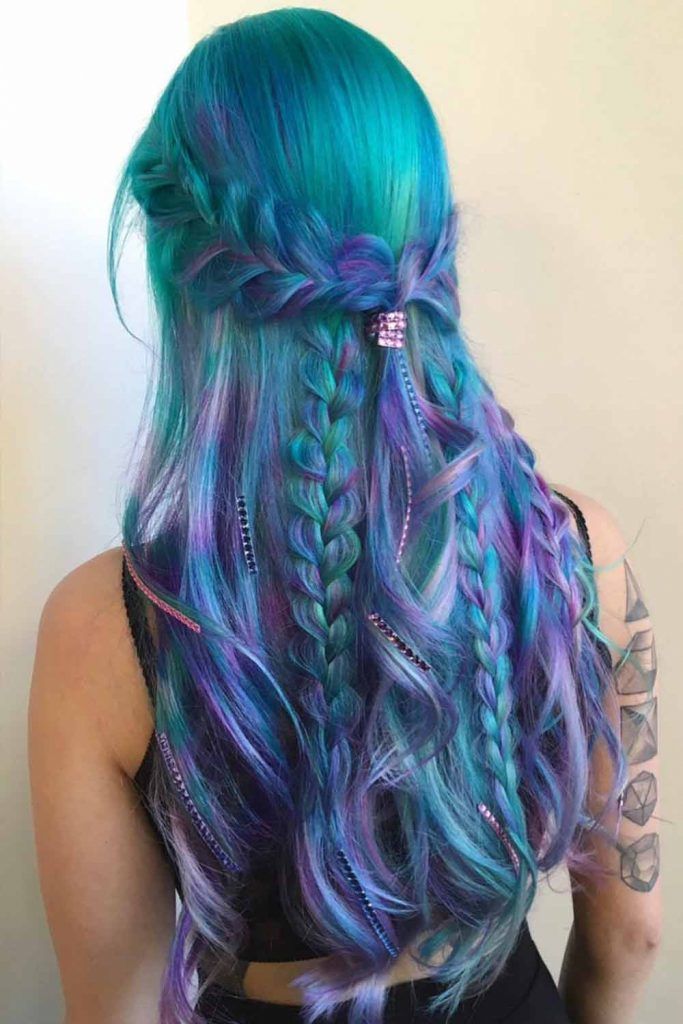 Credit photo: instagram.com/xostylistxo
Do you know why women will never stop wearing braids? Besides their practicality, they give a pleasant textured finish to the hair, not to mention its volumetric magic. Now, imagine how dimensional and sultry your multi-colored hair will look when braided. Or, just look at these amazing pics instead! A big hawk braid, fishtails, and whatever design you like will surely look different on your colored mane.
Touch of Greenery
Credit photo: instagram.com/hairgod_zito
Marine colors such as teal and aqua green will be a nice finishing touch to your purple and blue duo. You can either seamlessly blend some shade of green with balayage and sombre or go radical applying it as bright streaks or to the roots. Whatever idea you like the most, it's doomed to have all eyes on it, as nothing can beat dimensional colors of the ocean.
Bold Looks With Other Colors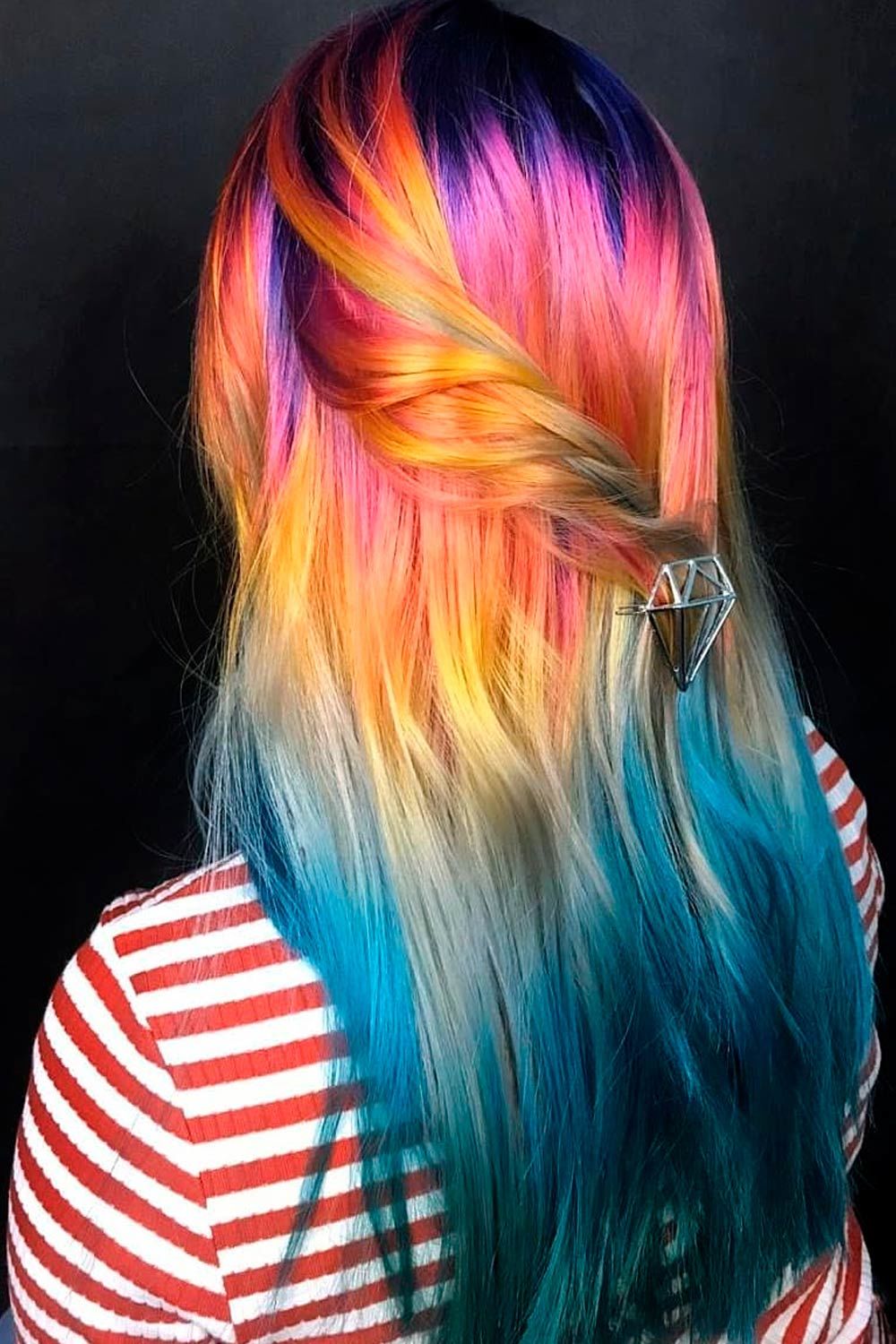 Credit photo: instagram.com/lafayette_and_cat
Once you allow yourself to color your hair two deep and unusual shades, there's no going back. Sooner or later, you will want to add some yellow, brunette, scarlet, green, blonde, and tons of different shades to enhance your look. And you know what? There's nothing bad about developing your creativity, so here are some inspiring ideas for your next color touch!
Dark Purple And Blue Hair Color
Amethyst And Aquamarine
Credit photo: instagram.com/hairgod_zito
Such dark and bright colors are not in everybody`s liking, but we think they are so eye-catching and gorgeous! Deep amethyst and aquamarine will help to make you look different from everybody else in a beautiful way.
Berry Bloom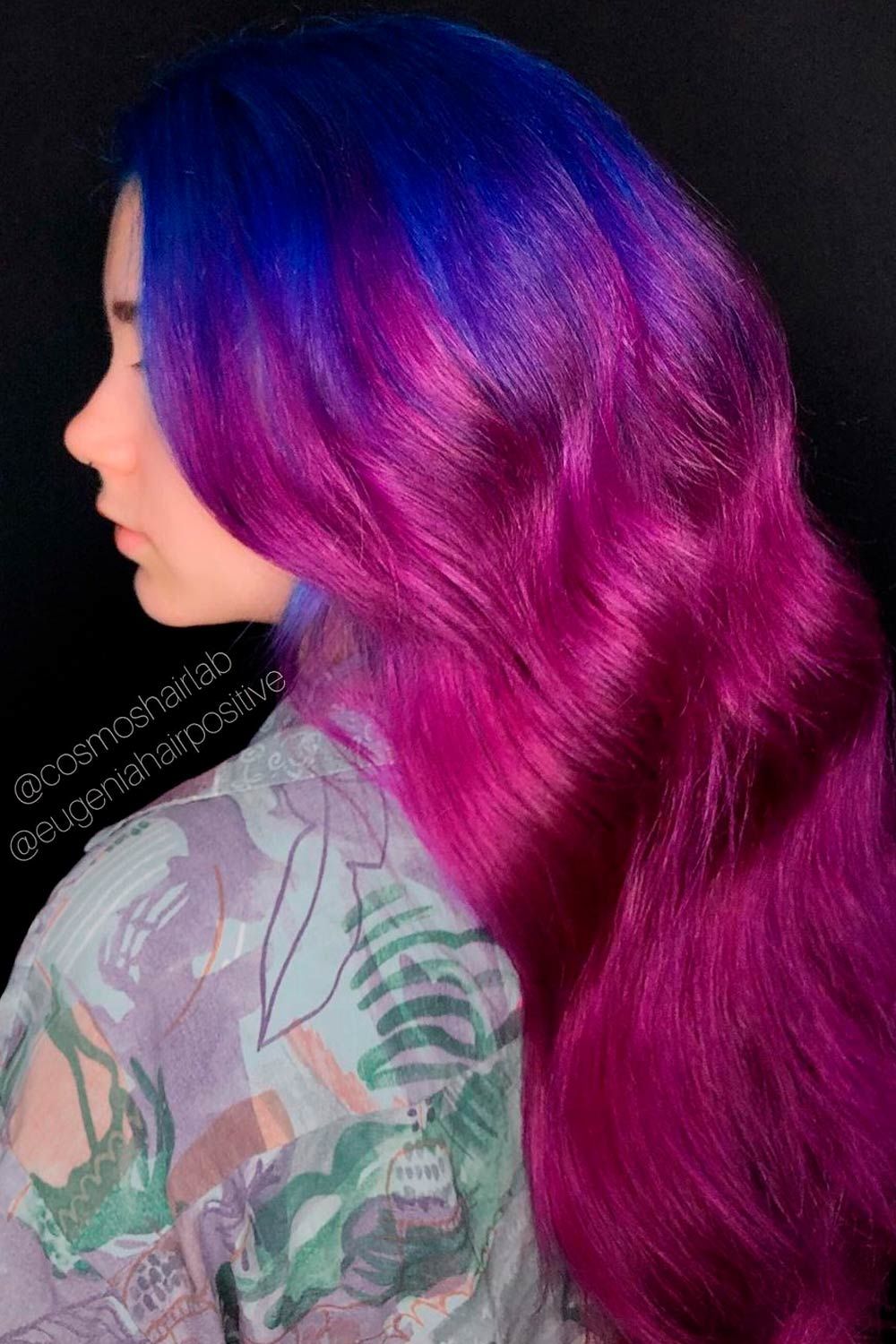 Credit photo: instagram.com/hair.positive
Now, it's time to get the most of blue and purple colors. Since you can always adjust the intensiveness of the color you want to play with, you can reveal the vivid side of the trendy combination. To make each vibrant shade stand out, apply the shades through ombre, placing blue to the top portion and purple to the bottom. Don't forget to experiment with different hues of each shade to make the color combo dimensional and dynamic.
Dark Blue To Purple Ombre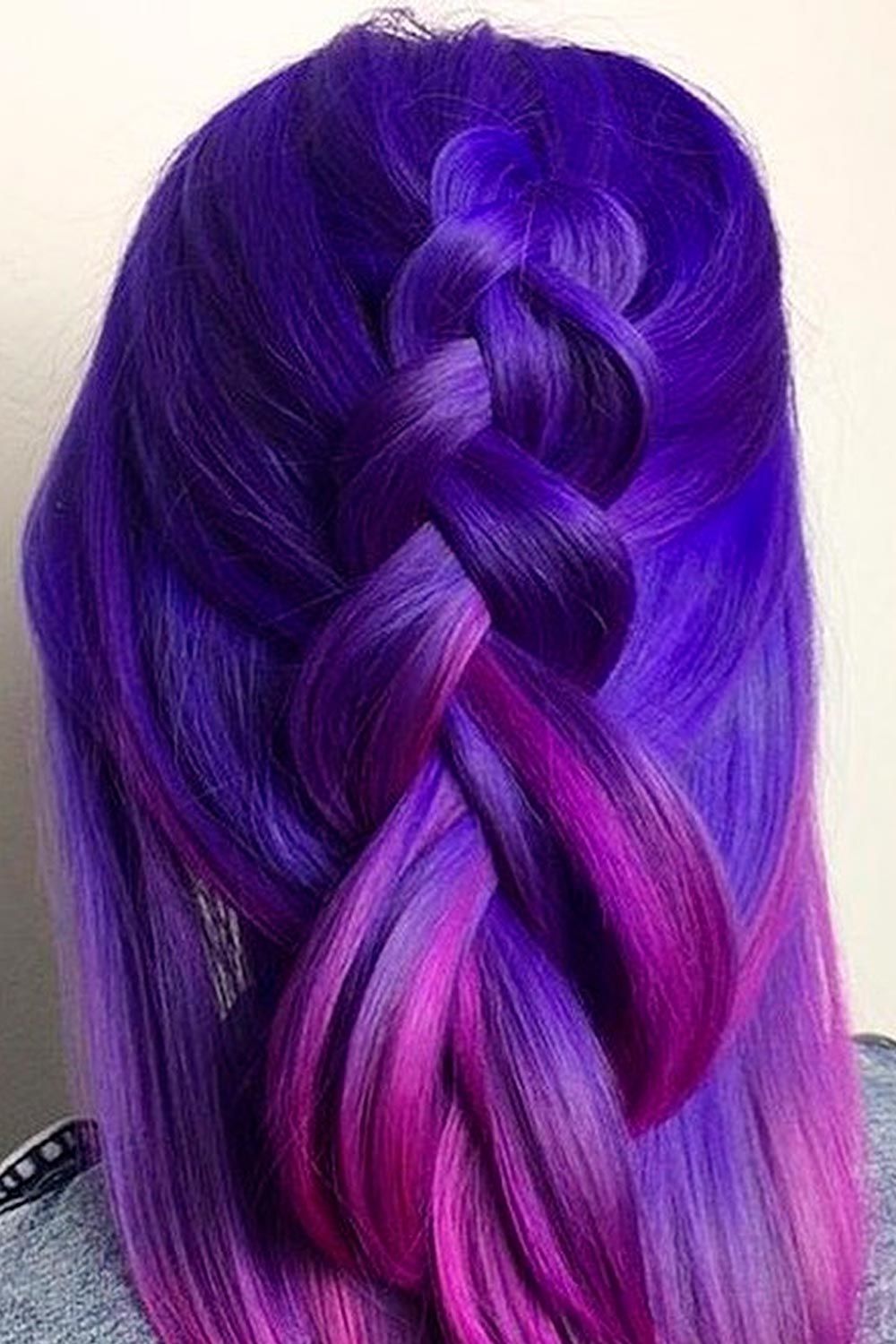 Credit photo: instagram.com/sunnyhair_spb
Here's another mesmerizing idea for purple and blue ombre. What we love about this classic technique is that it's still popular over time because it's constantly evolving. Now, you can add new colors following your own unique pattern of color placement. Here, for example, purple is added to a top layer of hair only, nicely blending with the whole mane. That's what we call ombre done perfectly.
Blue And Purple Highlights With Black Roots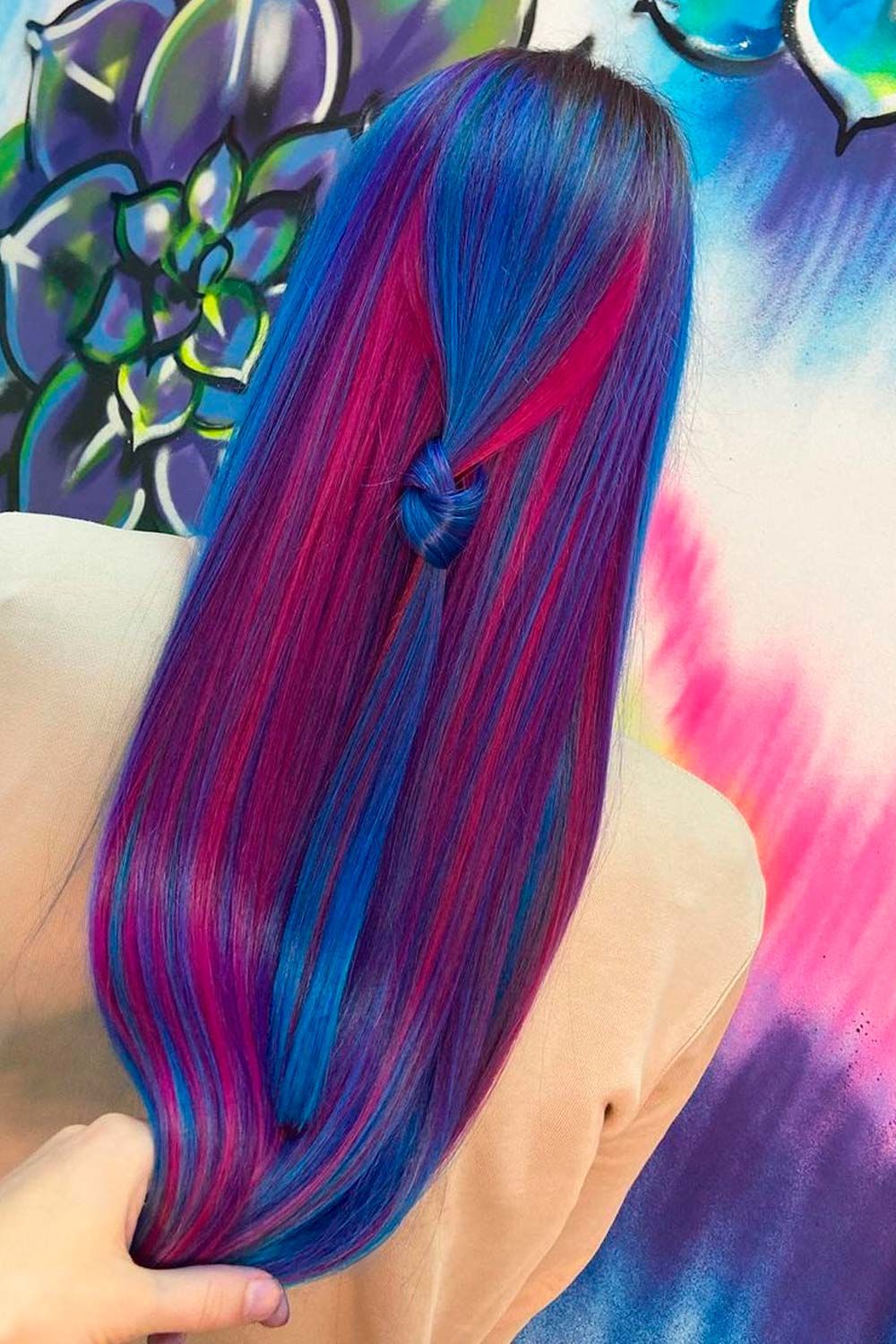 Credit photo: instagram.com/raznoglazaya_hair
Leaving your roots dark when playing with blue and purple highlights is like feeding two birds with one scone! It's no secret that darker roots are an endless classic. Also, it's always easier to grow out your own color once you feel like going natural. So, you can have a fantastic and distinctive blend of trendy shades while keeping your roots healthy. Wise and trendy, huh?
Purple Highlights With Bluish Ends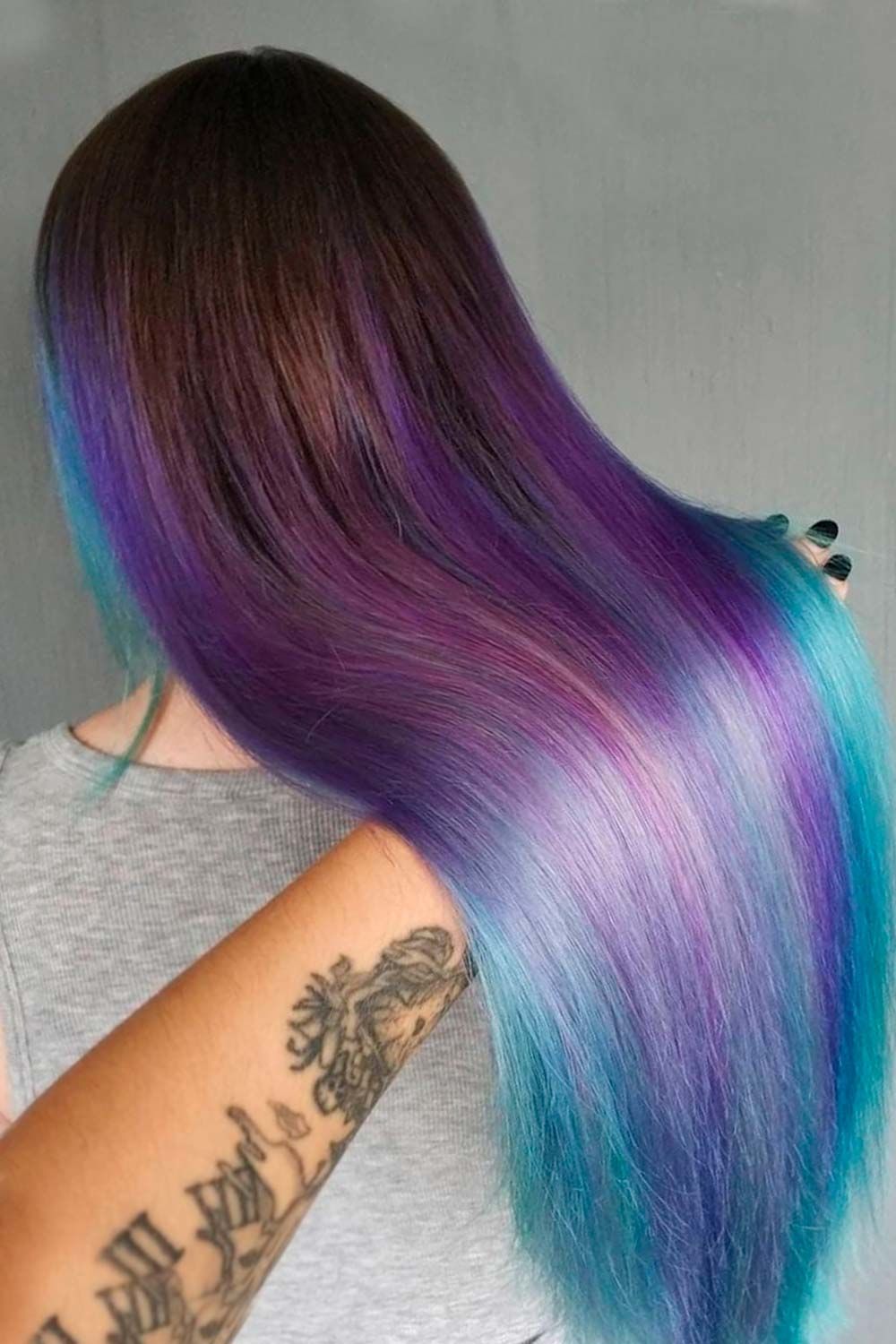 Credit photo: instagram.com/__yanakipyatok__
Highlights don't necessarily give a super accentuated look with a lighter color. You can softly emphasize your base with highlights that are a bit lighter yet still as deep as the primary. Still, a touch of lighter color won't hurt, especially if you place it at the ends, just like in this highlighted look.
Purple To Icy Blue Sombre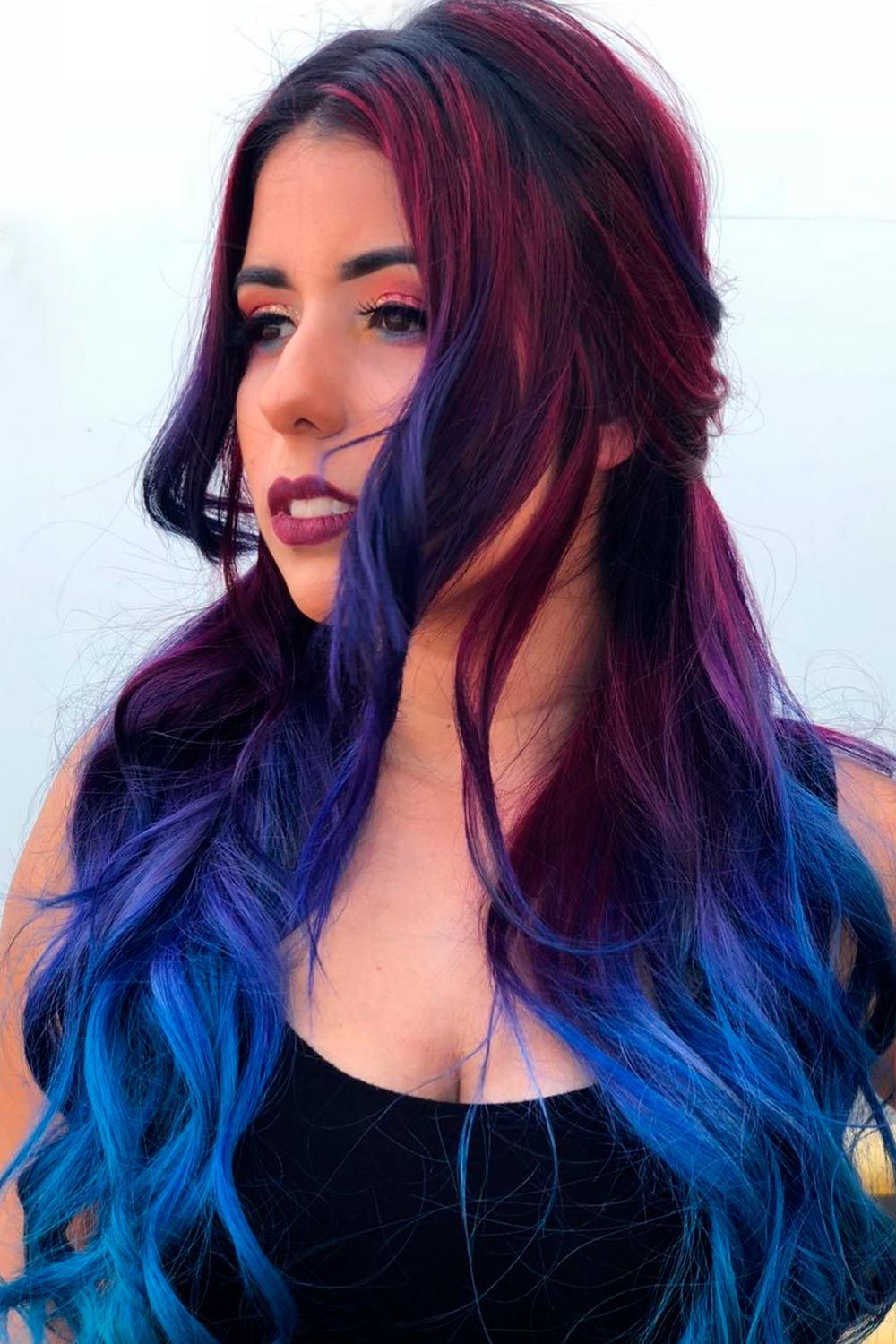 Credit photo: instagram.com/xostylistxo
Sombre isn't the most popular coloring technique these days. Nevertheless, it doesn't take a backseat. We would even say that it takes the biscuit when it comes to making the hair look like a pure canvas of gently flowing colors.
Beautiful Dark Blue and Dark Purple Hair Color
Credit photo: instagram.com/caroline.anythingbutbasic
Especially if you pair light-blue & purple hair color with loose and soft medium curls. Or, do opt for that miraculous bright effect in case you feel like you need a drastic change in your style.
Purple And Blue Hair Hairstyles Ideas
Credit photo: instagram.com/alexisbutterflyloft
Any doubts? If you feel like green is not for you, purple and blue will suffice. It will be like a reflection of the moon in the deep sea, dark but colorful, subtle but so energetic.
Two-Toned Blue and Purple Hair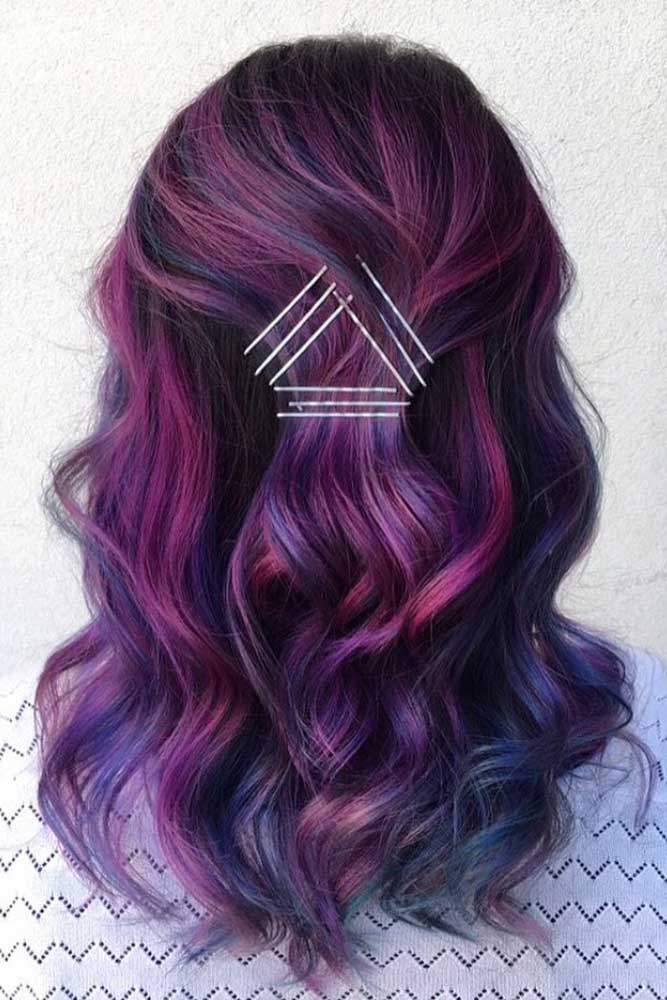 Credit photo: instagram.com/rachelturleybeauty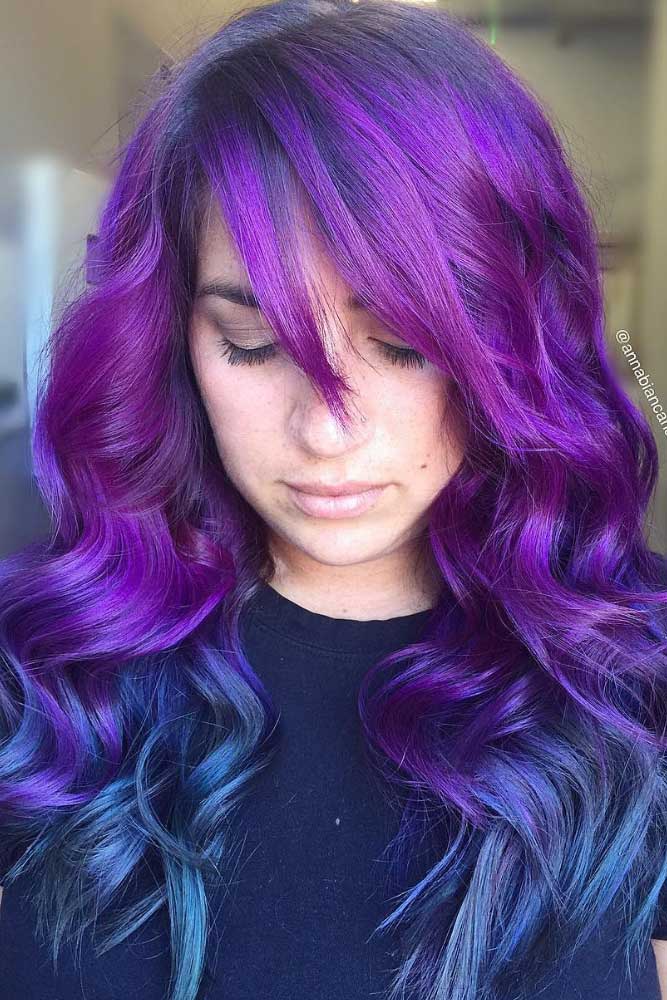 Credit photo: instagram.com/annabiancahair
Is the movie Twilight one of your favorites? Then you could praise that masterpiece about vampires and dye your hair in the color that has the similar name – Twilight Layers. This color wash appears amazing.
FAQ: Purple and Blue Hair
What color cancels out blue and purple hair?
Depending on how deep the purple in your hair is that you want to get rid of, try yellow to orange tones to cancel it out.
How do you keep purple and blue hair from fading?
Here is how you can keep your purple looking hair bright:
Wash your hair every 2-3 days only.
Use special tinted conditioners for purple hair.
Use hair products with SPF 30 organic filters.
Wear hats when in the sun.
Keep the use of hot styling products and tools to a minimum.
What should you not wear with purple hair?
This question is about color combinations to wear with purple hair that do not match purple hair hues. Among these colors are yellow, soft pastel greens, light blue, oranges, lighter hues of beige or softer undertones of your hair's purple color.
REFERENCES: