When it's been two weeks after your last color session and you notice your rich blonde shade to go yellow, it's time to let purple shampoo come into your life. You may come across lots of color-preserving products in the hair care aisle. But, in fact, none of them can compare to this essential shampoo.
ADVERTISEMENT ‧ CONTINUE READING BELOW
Though it's hard to keep up with an enviable blonde color like one on the cover of Cosmopolitan yourself, it's still possible. And today you're going to find out how to preserve the shade you left your salon with and flaunt with it between those regular salon appointments. The basics to know and products to try are here for you, too!
What Is Purple Shampoo?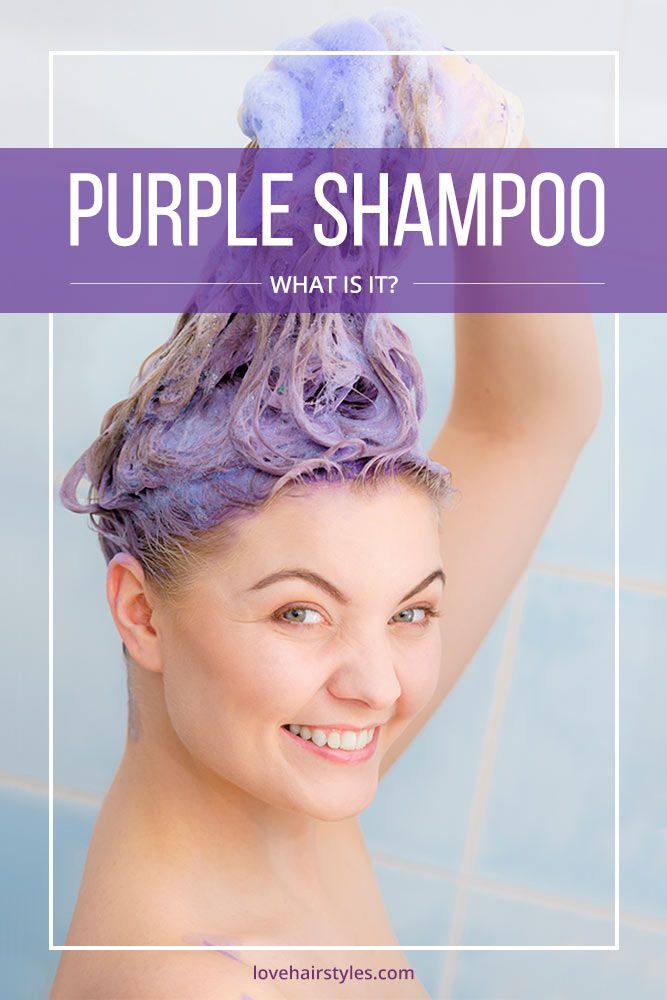 Source: Anetlanda/Shutterstock
"What is purple shampoo?" and "what does purple shampoo do?" are probably the most common questions that come to ladies' minds when they first hear of it. It's a hair care product with purple pigments designed to eliminate those unpleasant yellow undertones from lightened hair, whether it's blonde coloring or highlights for brunettes.
"Why is it purple?" is the key question that also bothers everyone. Well, everything is easier than it seems to be. Think of the color wheel. Yes, the one you saw on the wall in your elementary art school class. Purple is located opposite of yellow, which means that it can neutralize the latter, washing the brassiness away.
ADVERTISEMENT ‧ CONTINUE READING BELOW
Purple Shampoo Before And After: Why Is Purple Shampoo For Blonde Hair Is SO Necessary?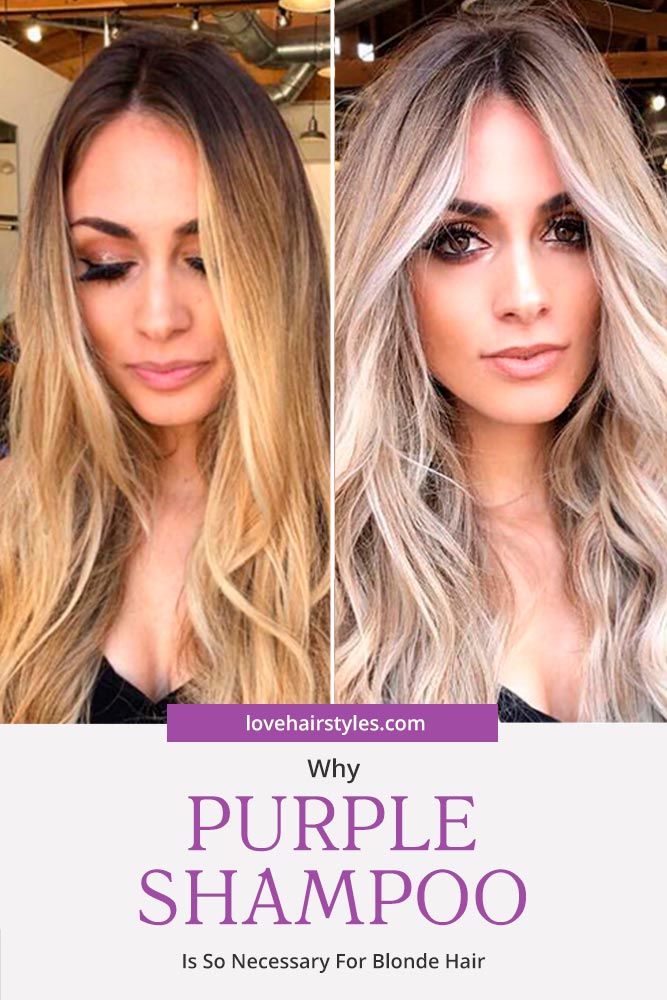 Source: hairerik via Instagram
Every time you get your hair lightened, the yellow undertones reveal itself during the color session. To get rid of it, your colorist applies a toner that smoothes out any yellow, orange or even reddish traces. And when the toner starts to fade away, the undertones show up again. And this is when your purple shampoo comes in.
Remember to involve this product into your hair care routine to keep the color fresh as if you've just left your colorist. Otherwise, you will need to live in the salon.
Such undertones are a threat not only to colored blondes; hard water, heat styling, and a lot of sunlight can also cause them to arise in your natural blonde hair color. So getting a good purple shampoo for blonde hair will be a nice investment for all light manes. And if you're wondering how purple shampoo before and after effect looks like, have a look at this pic.
HOW TO USE PURPLE SHAMPOO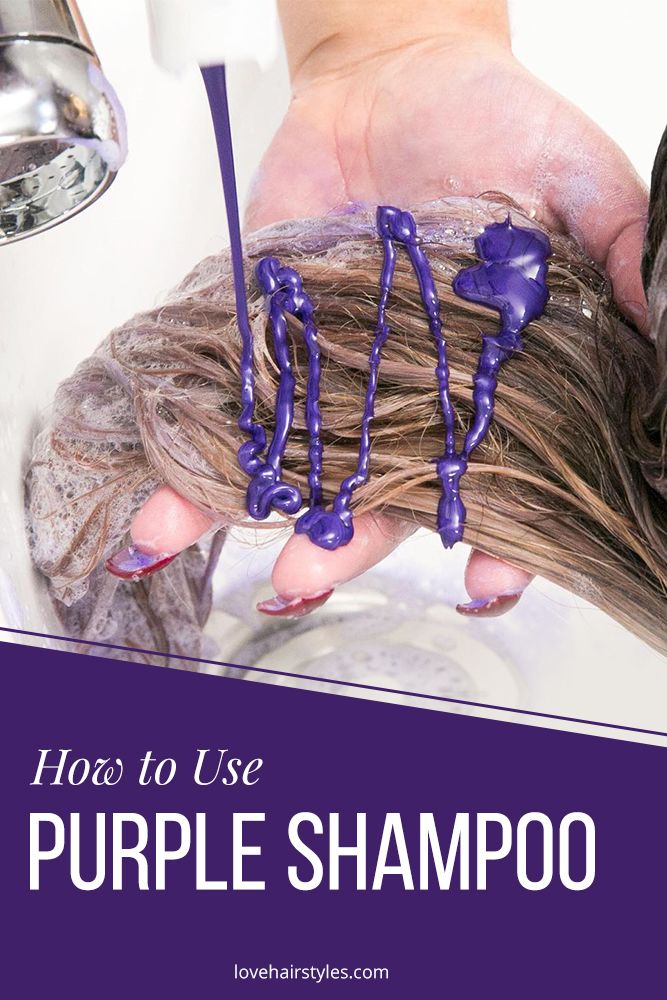 Source: redken via Instagram
There are no super complicated requirements on how to use purple shampoo. On the contrary, nothing can be simpler! When the brassiness shows up, replace your regular shampoo with the purple one, and that's it.
ADVERTISEMENT ‧ CONTINUE READING BELOW
HOW OFTEN SHOULD I USE PURPLE SHAMPOO?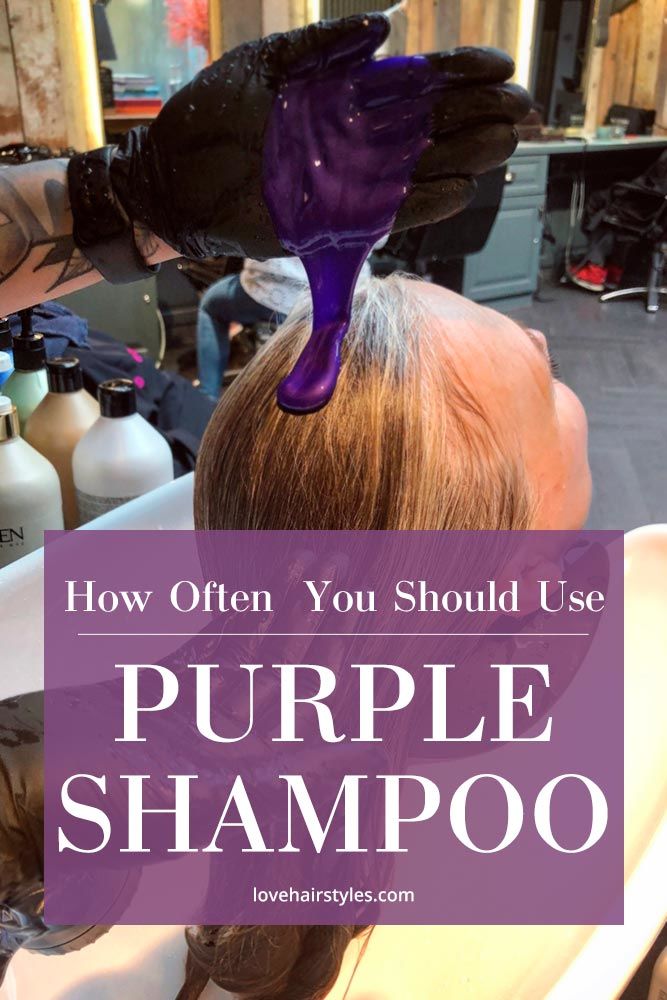 Source: redken via Instagram
And you are the one to decide how often to use purple shampoo as well. Use the product as frequently as you would with your regular shampoo.
HOW LONG SHOULD I LEAVE PURPLE SHAMPOO IN?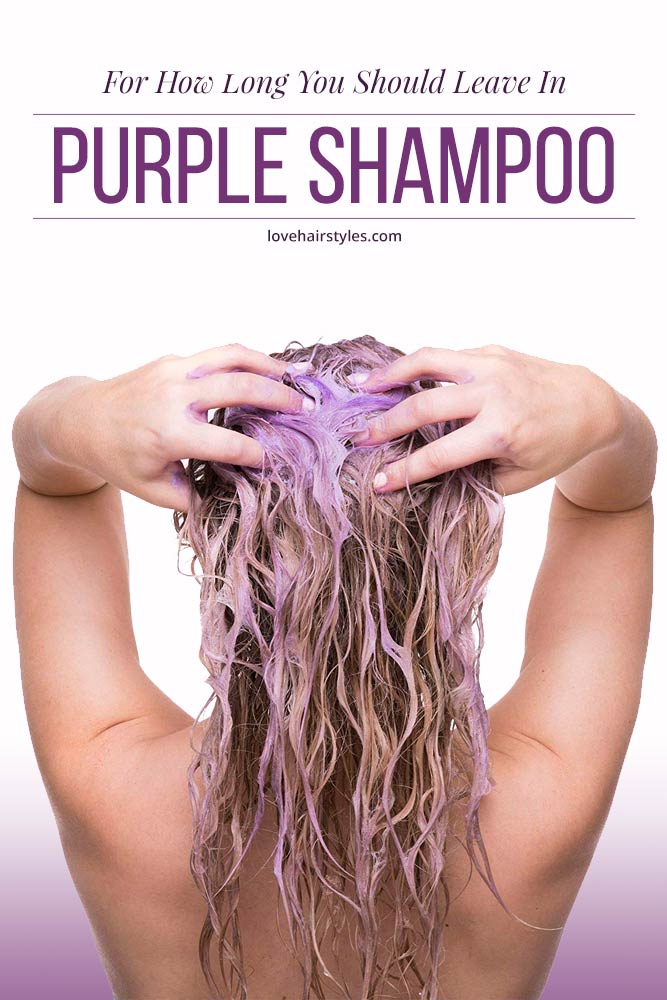 Source: Thedrybar
The time you leave the shampoo in is based on the saturation of your color. These tips work for both highlighted or fully colored hair:
Warm blondes: 1-3 minutes
Neutral blondes: 3-5 minutes
Cool blondes: 5-15 minutes
ADVERTISEMENT ‧ CONTINUE READING BELOW
Top Products To Consider To Find The Best Purple Shampoo For You
Here's the list of the most recommended products from around the globe that will help you to find the best purple shampoo for you. Check them out, pick the one you find to be the most suitable, and forget about dull hair color once and for all.
*We may earn money from affiliate links on this page. Please check out our disclosure policy for more details.
Rahua Color Full Plant-Based Shampoo
The Drop Solution By IGK
ADVERTISEMENT ‧ CONTINUE READING BELOW
PHILIP B Icelandic Blonde Shampoo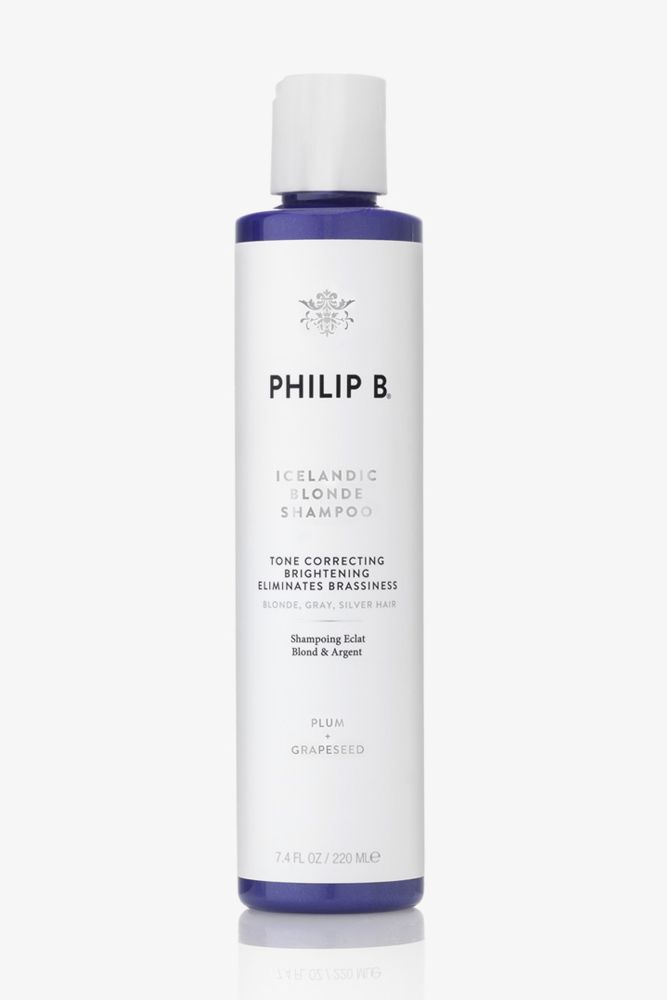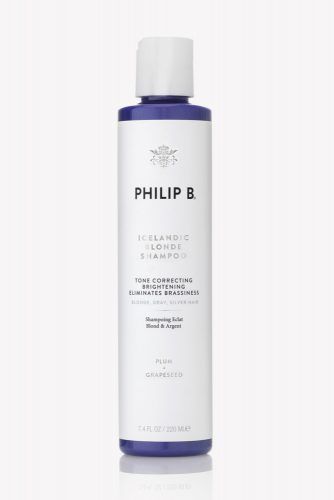 Source: Philip B
BUY on Amazon
Ladies with blonde or silver highlights can't do without this shampoo. Not only does it make the accents illuminate but also bring the healthy shine back.
Platinum Blonde Shampoo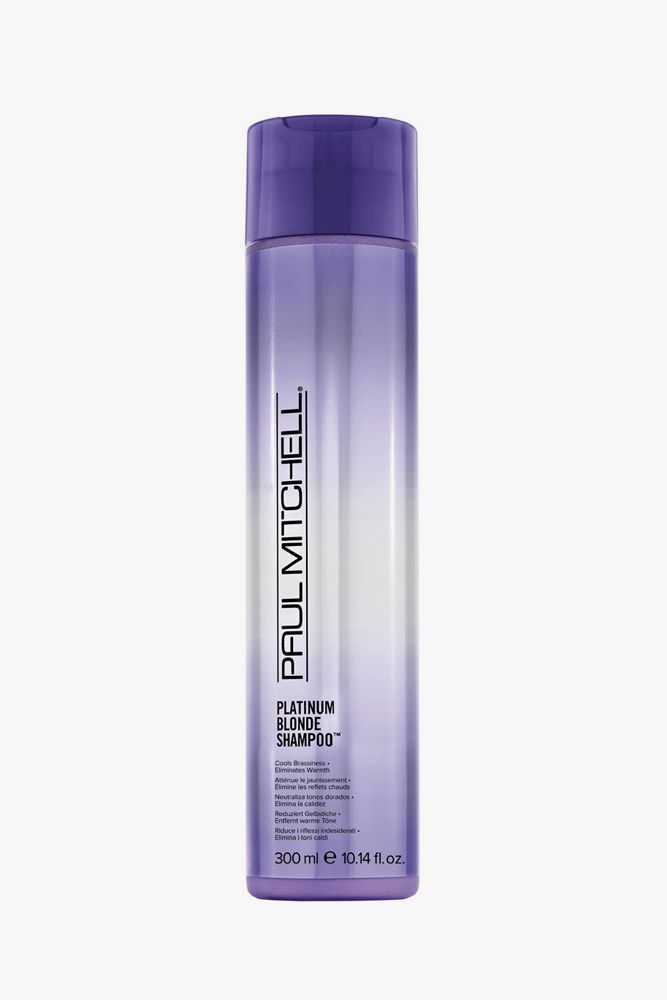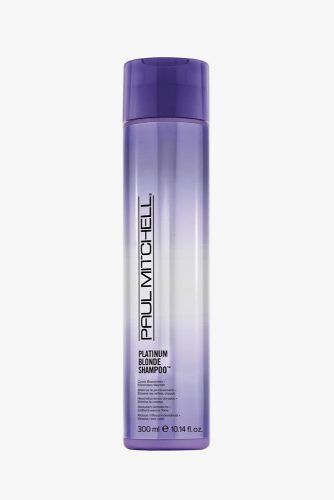 Source: Paul Mitchell
BUY on Amazon
This product is designed for natural and colored blondes only. Anyone with silvery, whitish, and platinum shades will love the way this shampoo enlivens the color.
The Hair Healer Cool Blonde Shampoo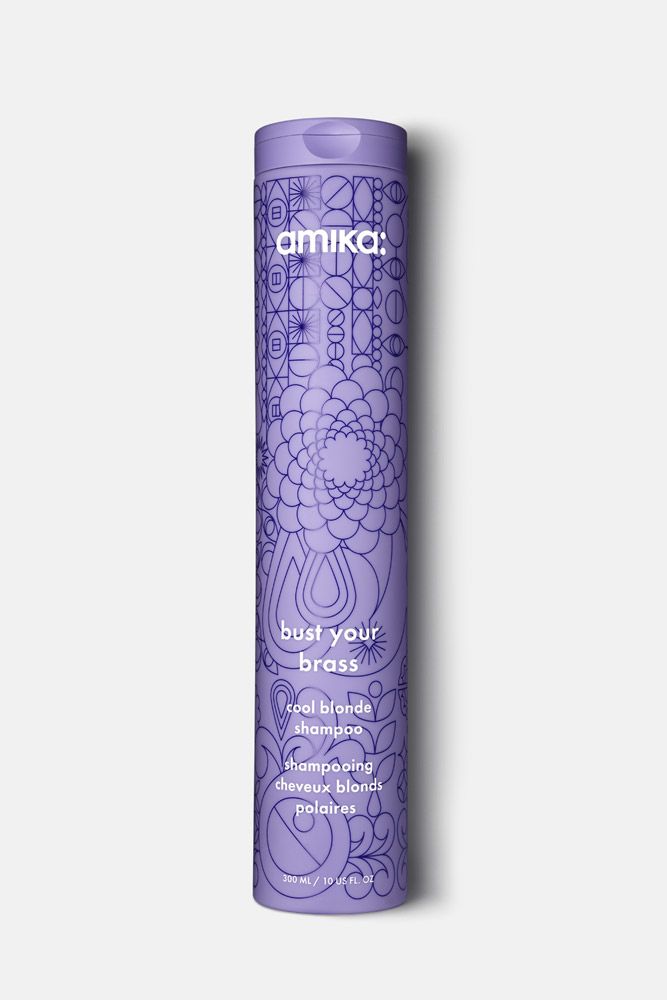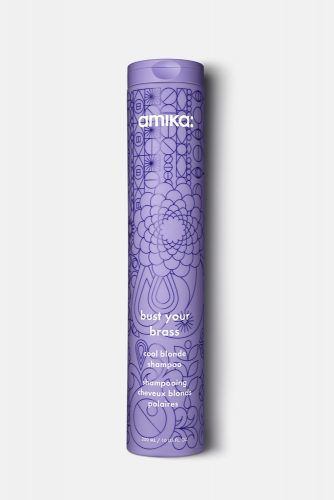 There's also shampoo created specifically for cool-toned blondes, as, you know, there's nothing worse that yellowish hue over a winter-kissed blonde!
Source: Amika
ADVERTISEMENT ‧ CONTINUE READING BELOW
The At-Home Color Sidekick
The Ultimate Brass Eliminator
Frizz Fighter, Color Balance Shampoo
ADVERTISEMENT ‧ CONTINUE READING BELOW
Davines Alchemic Shampoo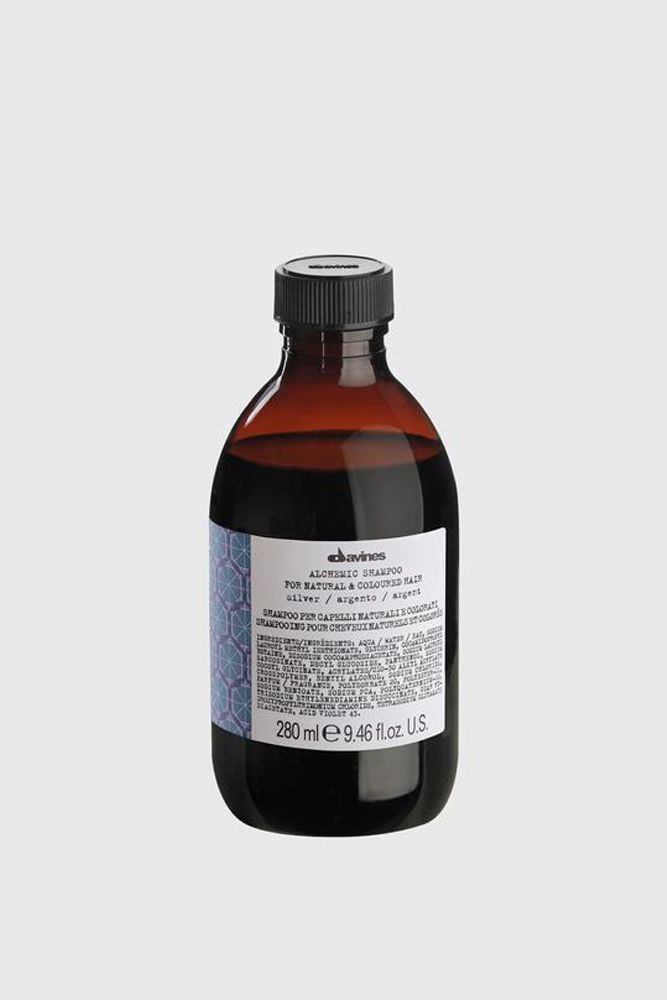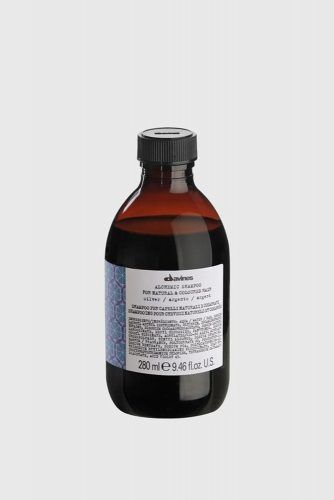 Source: Davines
BUY on Amazon
Created especially for silver and platinum manes, this little cutie nicely rejuvenates dull hair colors and gets rid of brassiness.
The Shine Enhancer By Matrix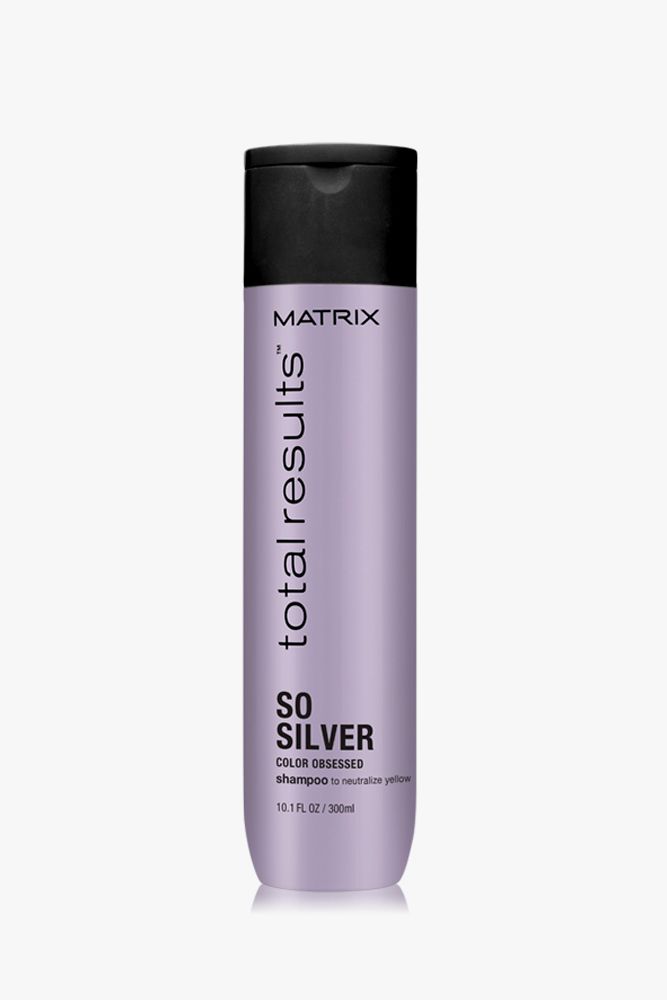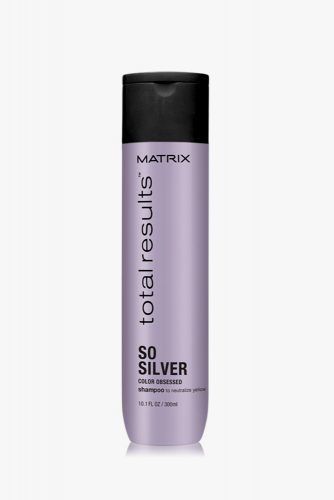 If you're not into universal products and want to go for something designed for your gray hair, look no further this matrix purple shampoo.
Source: Matrix
OGX Hydrate & Color Reviving Lavender Platinum Shampoo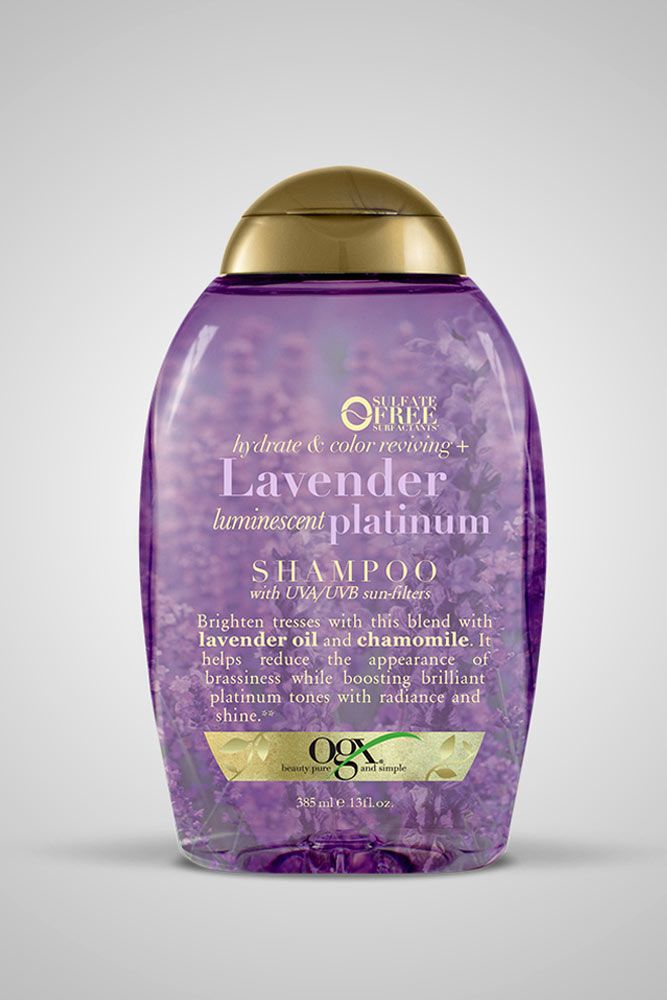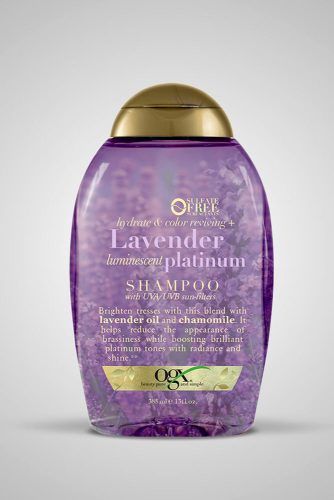 Source: Ogxbeauty
BUY on Amazon
Brilliant shine, no-brassy look, and an excellent scent. Isn't that a perfect combo to keep your blonde shade fresh?
ADVERTISEMENT ‧ CONTINUE READING BELOW
Blonde Ale Brightening Shampoo
The Best Smeller
The Hydration Hero
ADVERTISEMENT ‧ CONTINUE READING BELOW
The Shower Accessory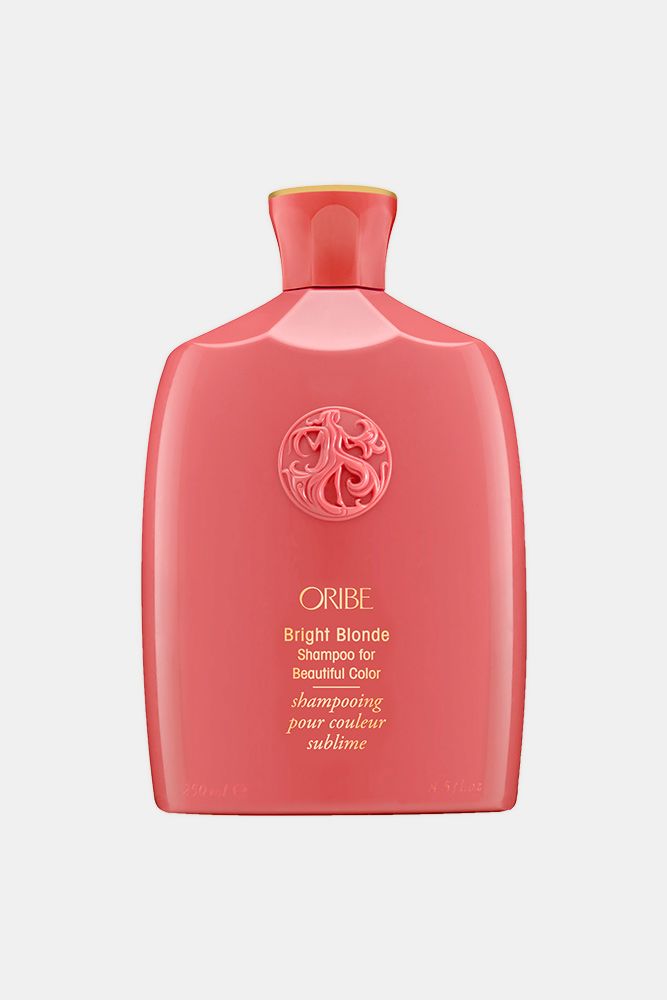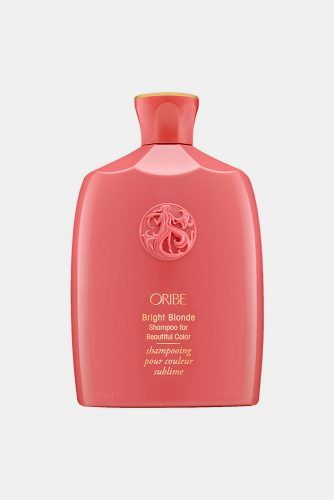 Source: Oribe
BUY on Amazon
This product works just like any other purple shampoo. Yet, it has one important feature: its sulfate-free composition, which is a win-win for ladies with weak or overstyled hair.
Purple Shampoo For Blonde Or Grey Hair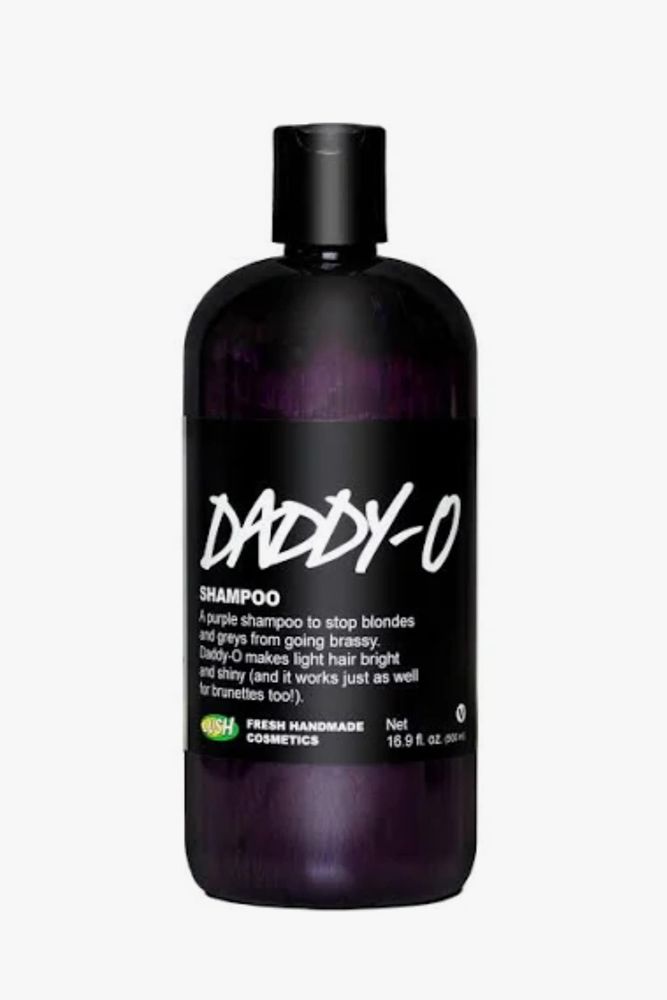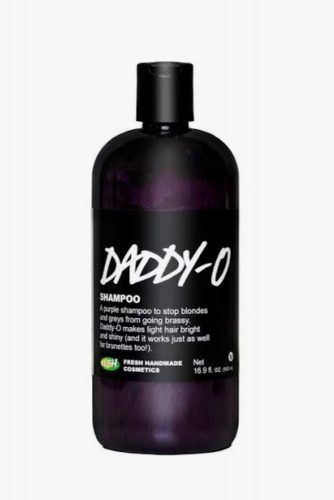 For vegans, finding a suitable hair care product can be pretty tough. So meet the vegan must-have shampoo that doesn't contain animal product while working on the brightness of your color.
Source: Lush
BlondMe Cool Blondes Tone Enhancing Bonding Shampoo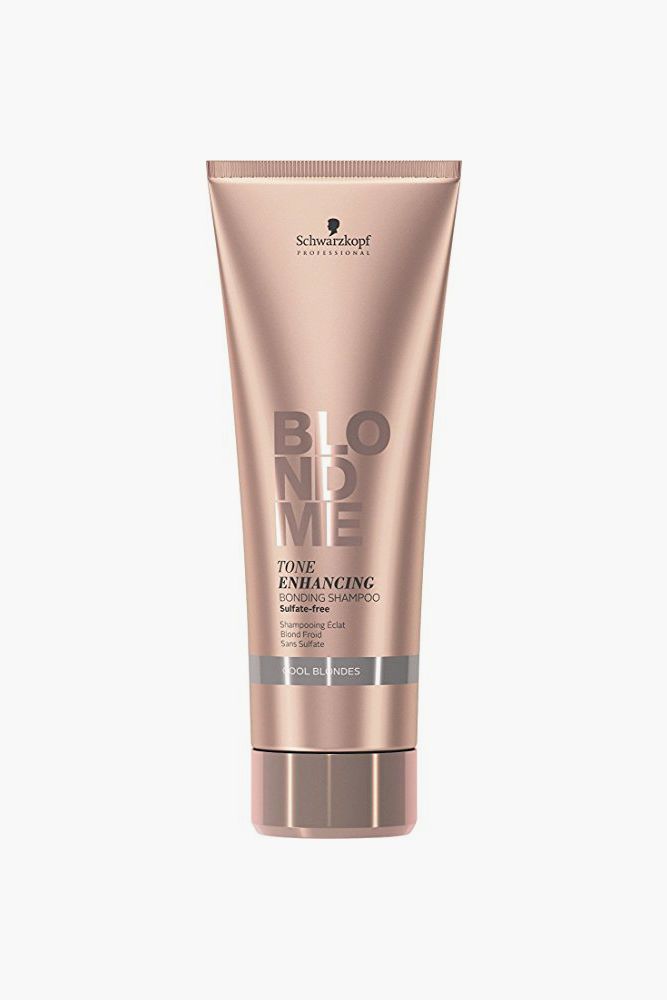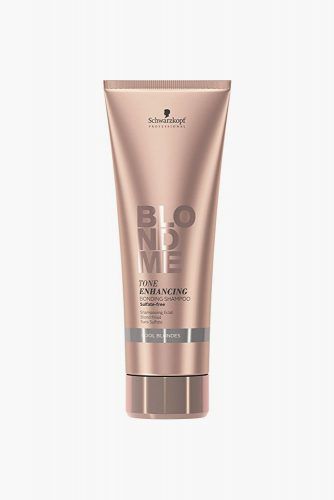 Source: Schwarzkopf
BUY on Amazon
Packed with keratin, this sulfate-free purple product will make your hair way stronger after each use.
ADVERTISEMENT ‧ CONTINUE READING BELOW
Sachajuan Silver Shampoo
Pravana The Perfect Blonde Shampoo
Fashionista Blonde Shampoo
ADVERTISEMENT ‧ CONTINUE READING BELOW
Violet Shampoo For Blonde, Highlighted & Silver Hair
Lush Luminous Blonde Shampoo
Blondeshell Debrass Shampoo
ADVERTISEMENT ‧ CONTINUE READING BELOW
Colour Renew Tone-Correcting Shampoo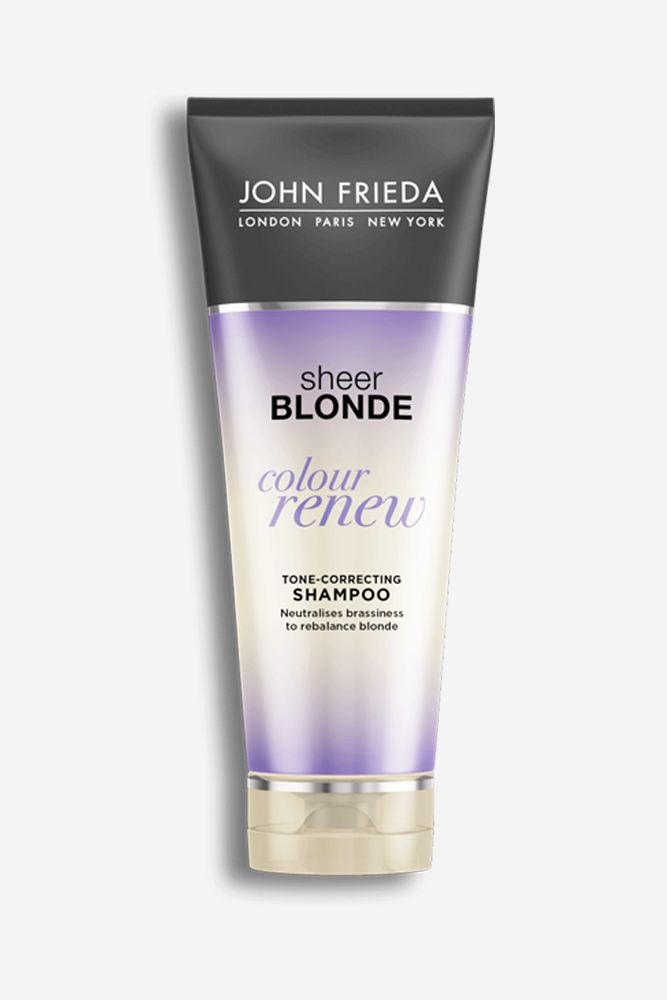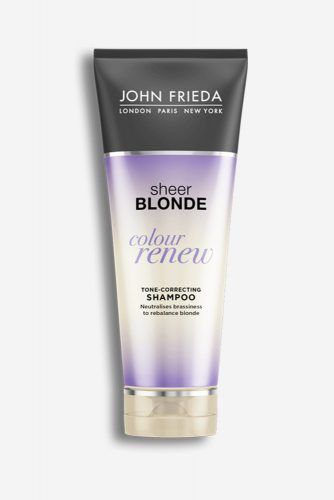 Source: John Frieda
BUY on Amazon
Don't worry! With this color-rejuvenating product, the gorgeous lush color will come back after just three shampoos.
No Yellow Shampoo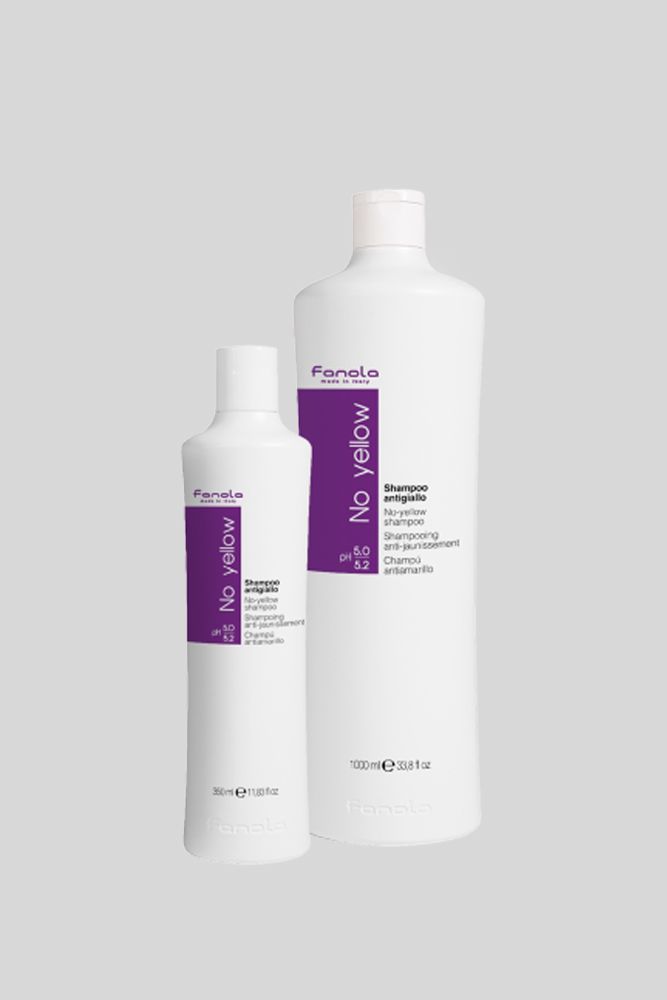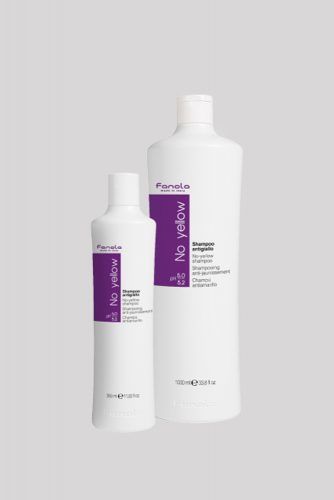 Source: Fanola
BUY on Amazon
If you can't help but play with various colors and often deal with bleaching, this shampoo will help you to keep up with a decent hair look between color sessions. It works equally well for lightened and gray colors.
Now that you know the importance of having purple shampoo in your bathroom shelf, you can avoid the so much frightening yellow nightmare. So why don't start making your color better today? You've got everything you need, girl!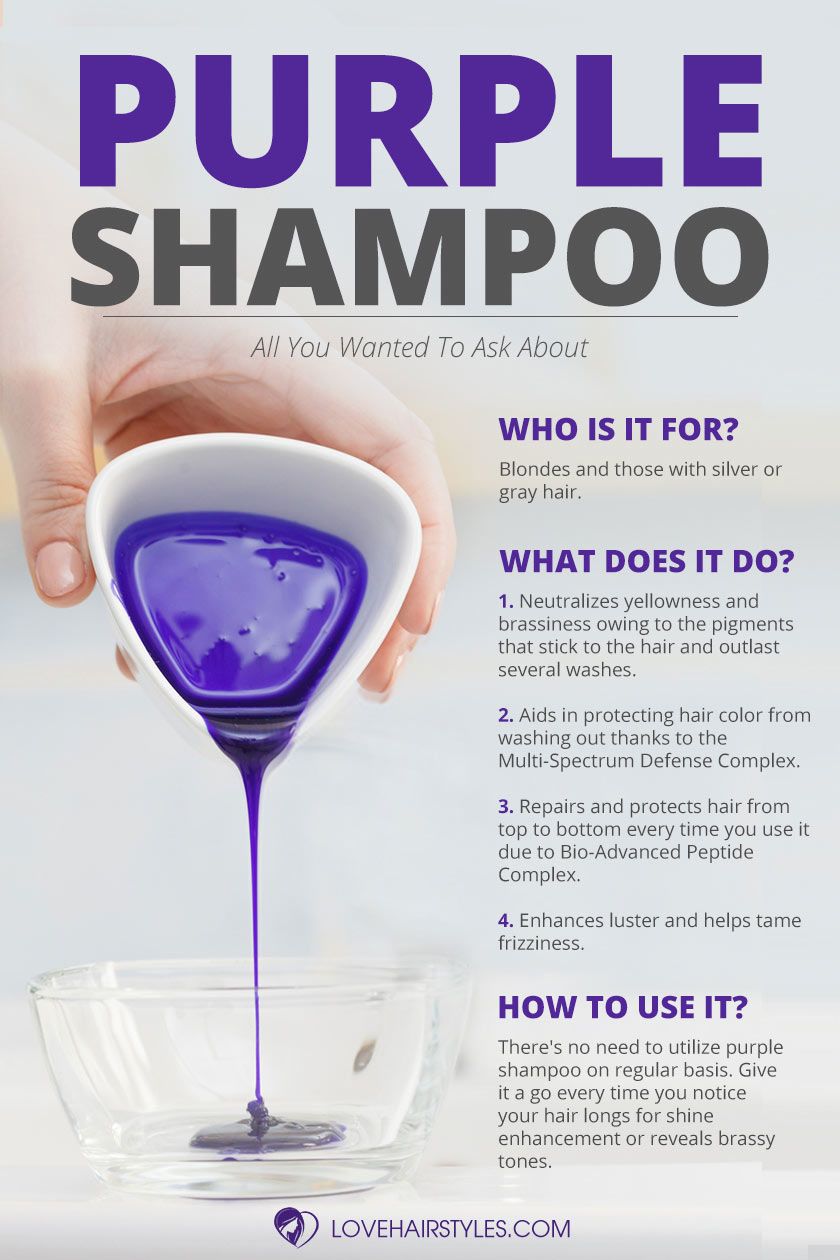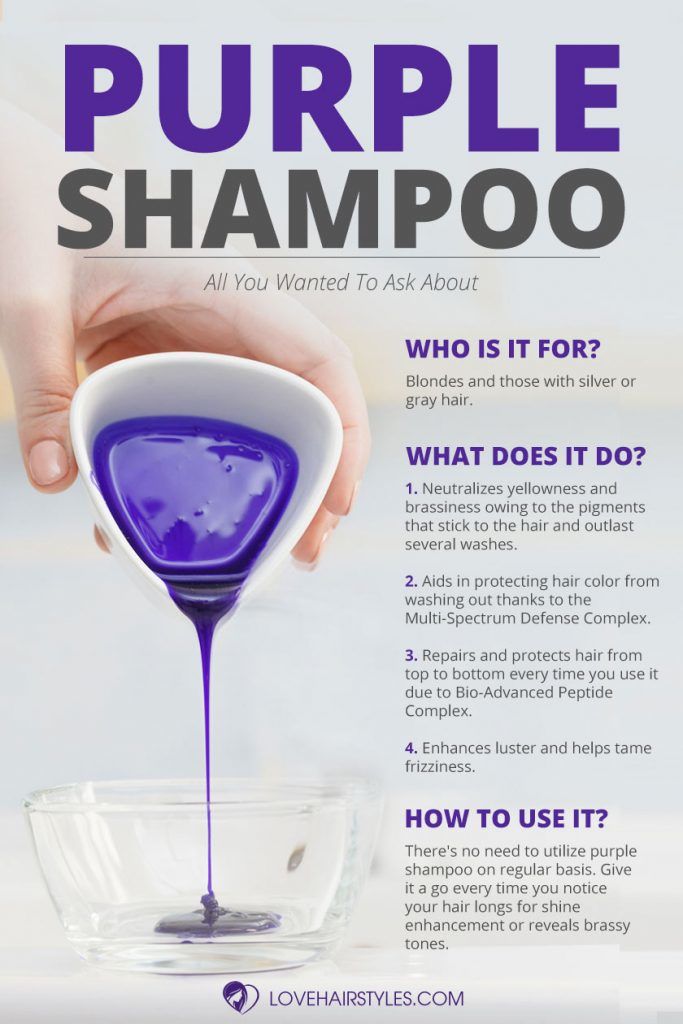 ADVERTISEMENT ‧ CONTINUE READING BELOW