Red highlights are the color and technique combination that knows no bounds. Though some ladies may associate the combo with a hot, fiery shade that overlaps the base, there's a great variety of red hair shades and ways to add them to your hair as well.
Just like us women, red hair color can be different: it can be anything from subtle strawberry to intense burgundy hues. And today you're going to meet its diversity face to face.
Getting hair highlights is the most popular way to spice up your hair color. Don't worry; there's a red option for everyone. Dive in our inspo-red gallery to see them all!
Auburn Red Highlights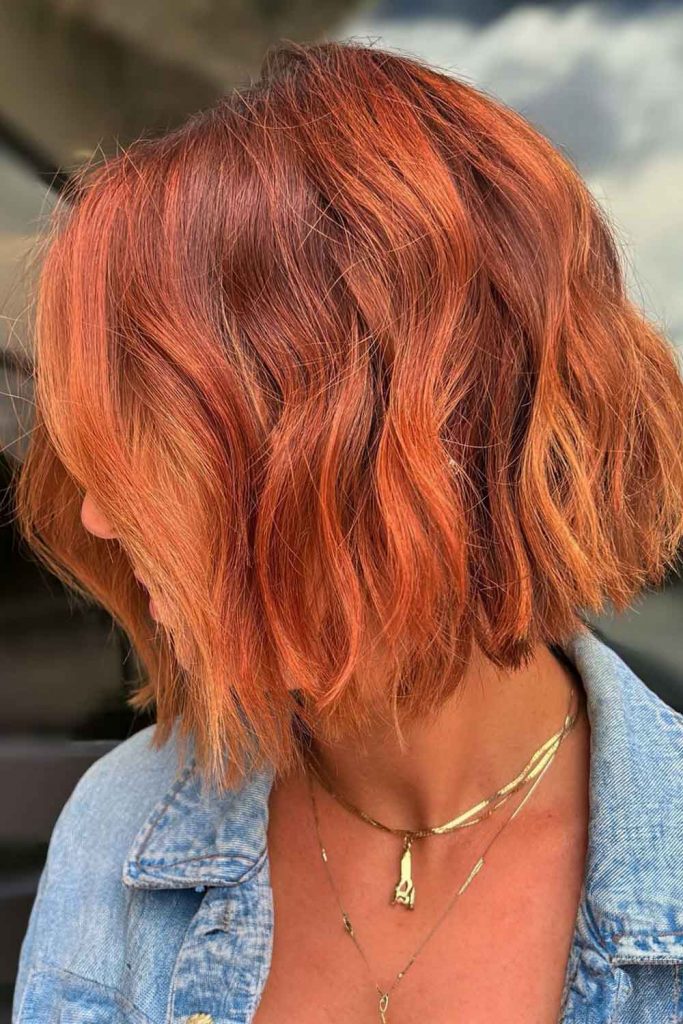 by @styled_by_carolynn
Auburn shades are something in between brunette and red hair colors. Brunettes who seek naturalness can emphasize the beauty of their hair by adding red highlights on brown hair: an effortless color variety won't hurt!
Mahogany Base With Rose Copper Highlights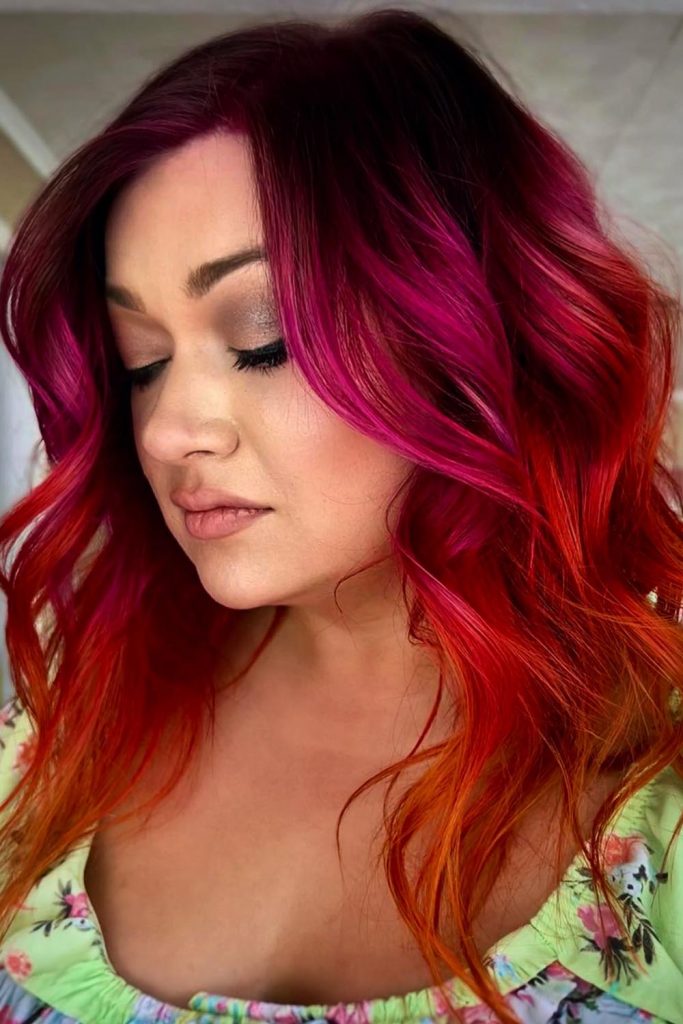 by @hairbybiancarose
While rose gold hair shade works perfectly for blondes, the rose copper shade is a breathtaking match for brunettes. Although the color work is obvious, this dark brown with red highlights looks so organic as if it's a whole natural color.
Red Wine Highlights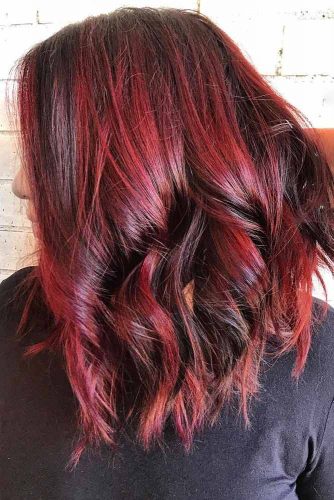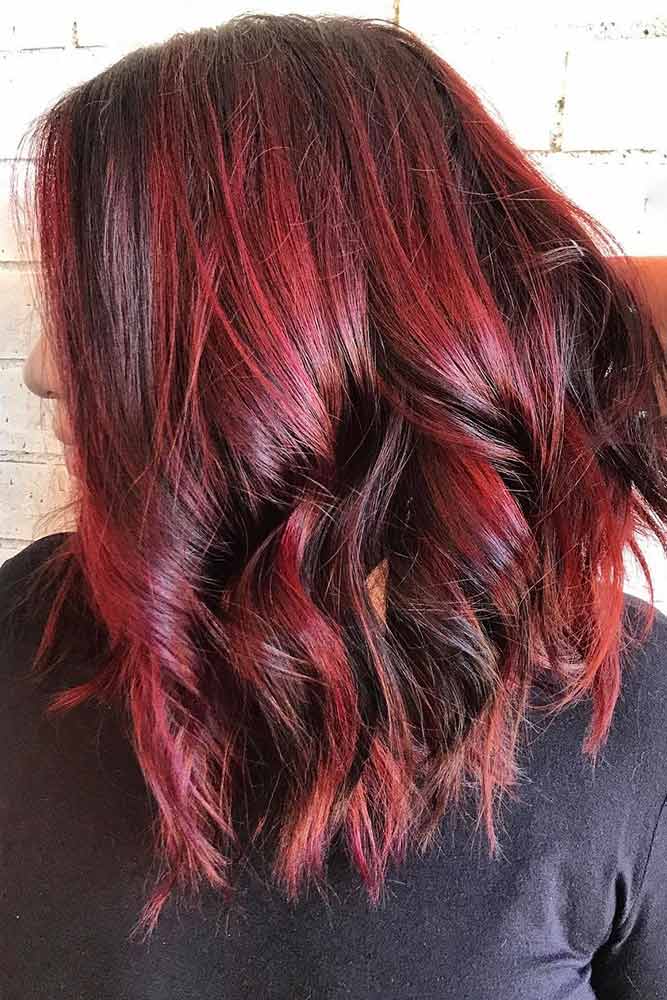 by @larisadoll
How about you to freshen up your dark brown hair with red highlights? For dark brunettes, we suggest going for light burgundy shades: as you can see, it nicely enhances the richness of your brownish locks.
Blonde With Pastel Red Highlights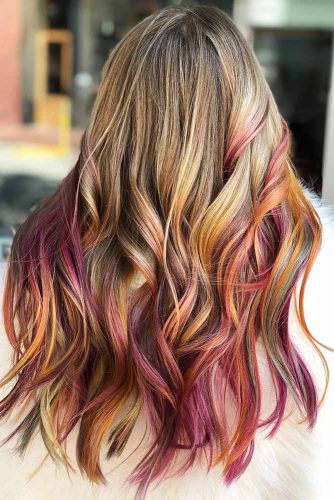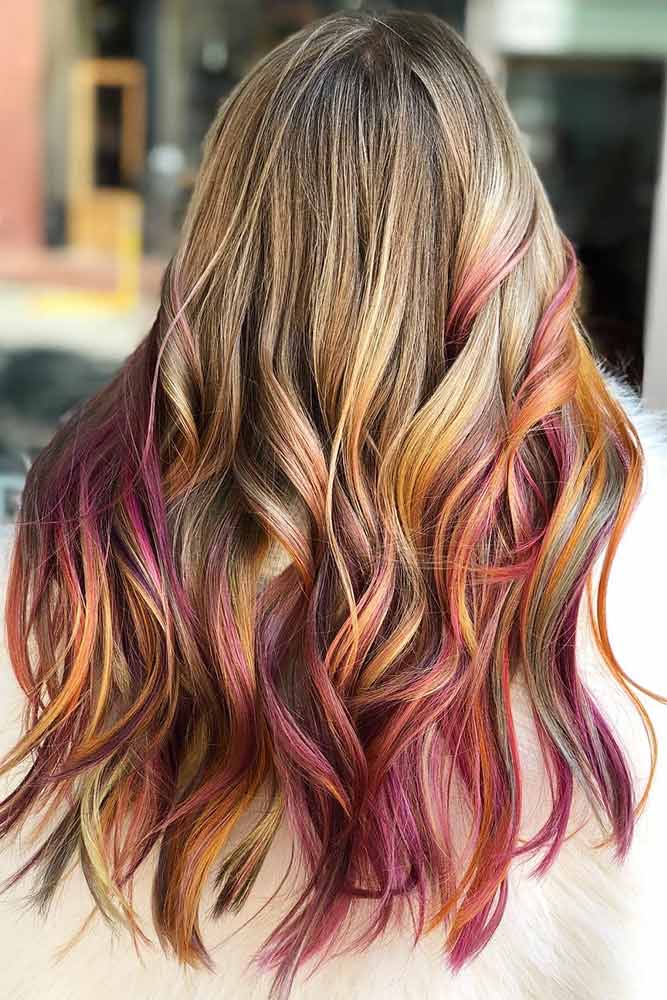 by @larisadoll
Not all red shades are super intense; there are soft, a bit washed-out hues to pair with light chevelures. To upgrade your blonde hair with red highlights, you can cover your ends with cute, pastel strands.
Red-to-Blonde Gradient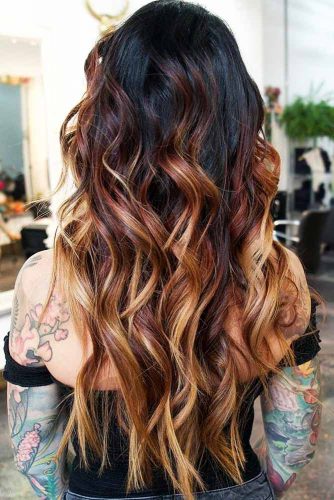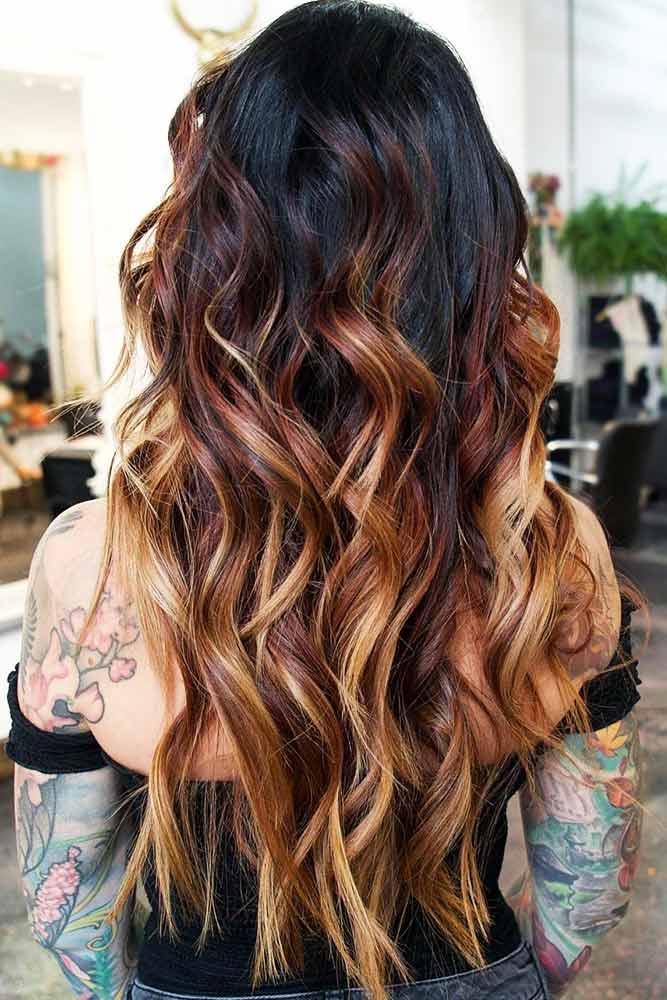 Love spectacular color graduations? Well, it's a nice way to show how different you can be. The idea of brown hair with red and blonde highlights, where darker base gradually becomes lighter and meets some reddish hints, is meant for creative girls.
Source: xostylistxo via Instagram
Red Highlights With Light Ends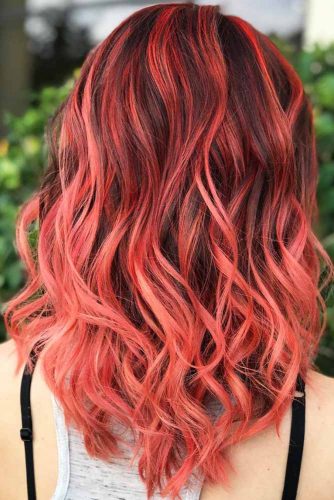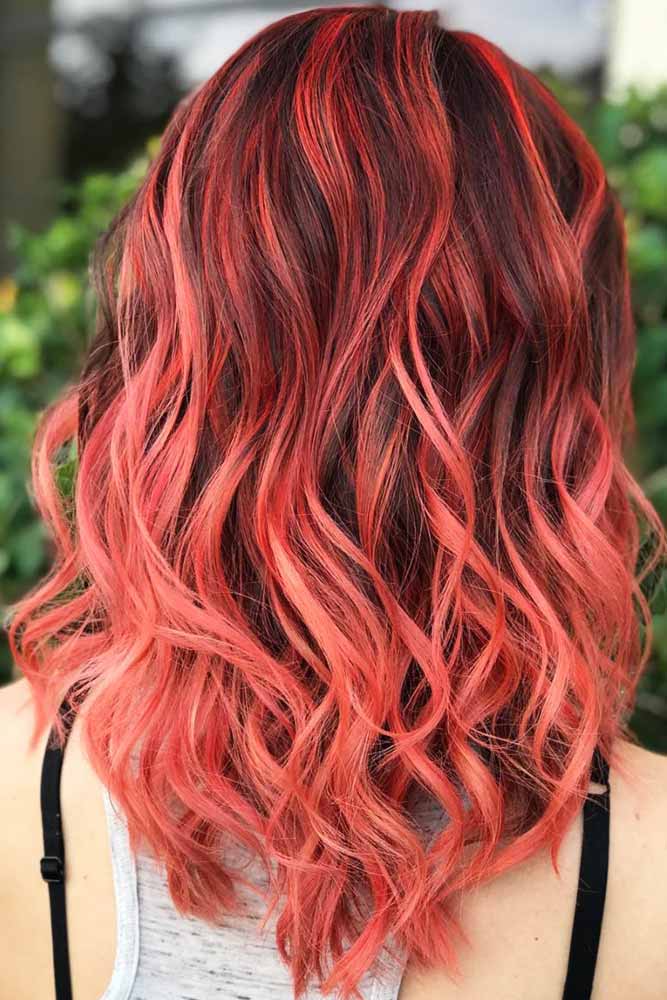 If you can't help yourself when you see red colors, why don't make the changes big? Turning your natural color into red hair with highlights of a matching scarlet shade is a fascinating color therapy!
Source: kateloveshair via Instagram
Coppery Red Highlights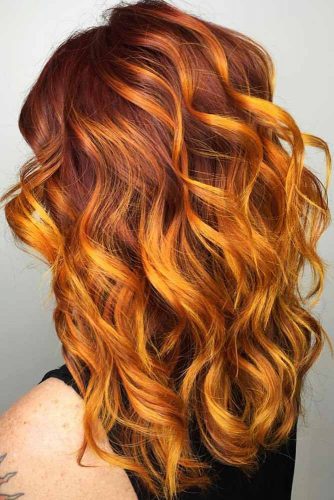 Now, it's time to cross the line between red and golden hair colors. The coppery tones work awesome for any hair color, especially if you aim to enliven yours. These red highlights in brown hair show the base in a new, luxurious light.
Source: kateloveshair via Instagram
Intense Violet Red Highlights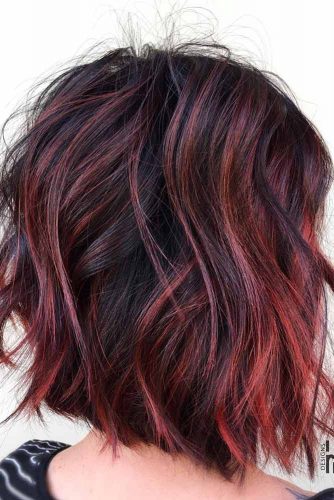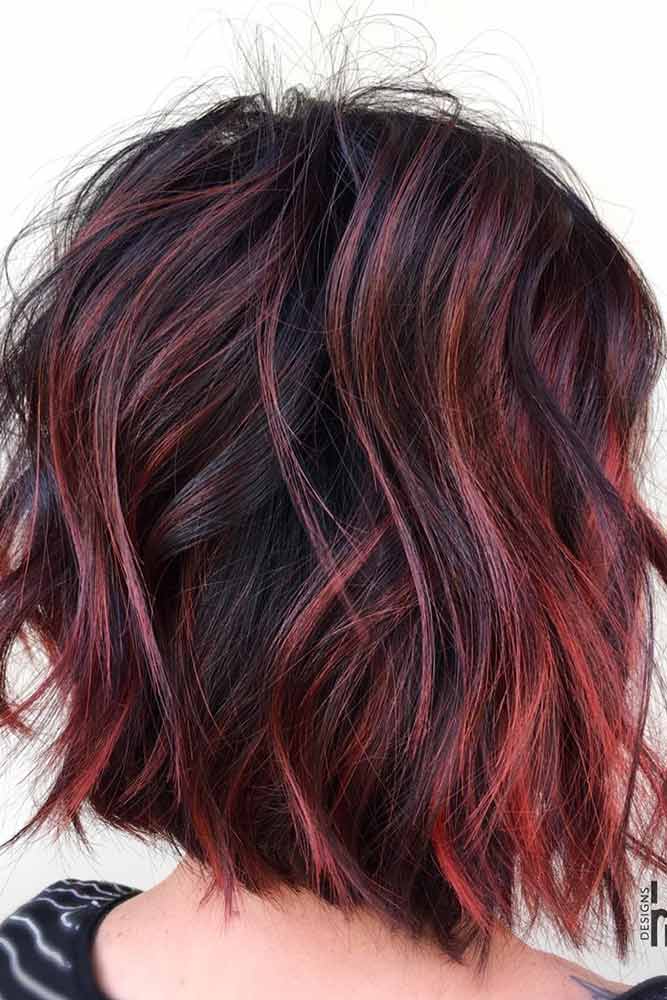 Those who are into dramatic and saturated accents, there's something more eye-catching for you! You can ask your stylist to beautify your dark hair with red highlights, adding them softly throughout the length to create a dimensional look.
Source: headrushdesigns via Instagram
Dark Copper Lowlights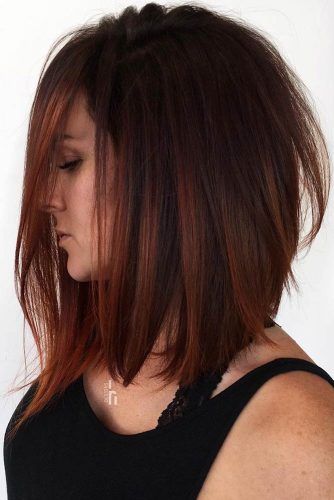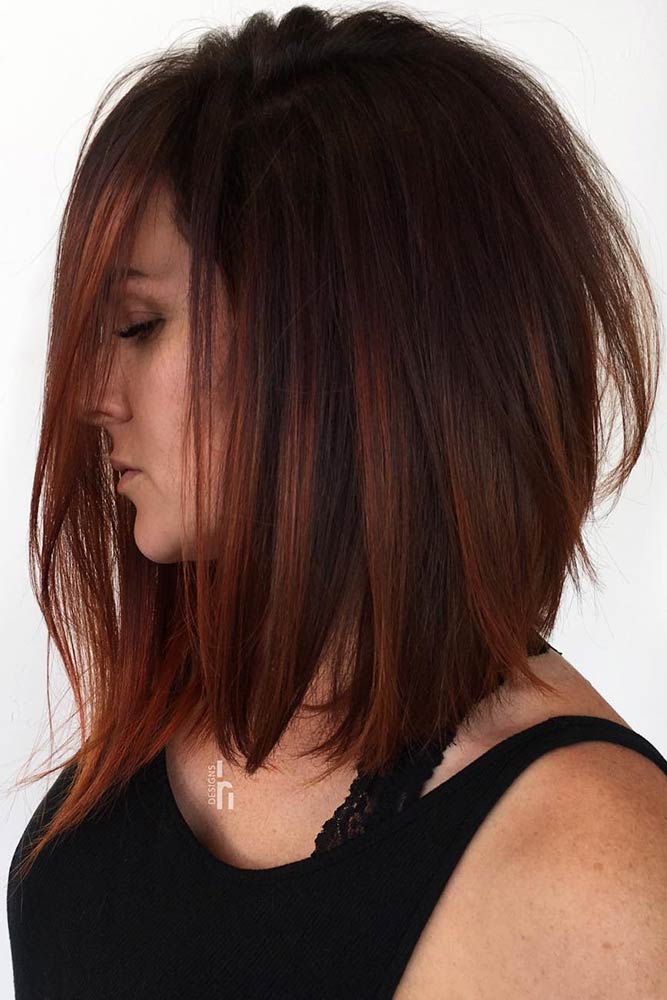 If you feel that the dark side appeals to you the most, dark red highlights aren't the only option. For example, dark copper lowlights can add more deepness, shading your hair color, and thus making it look very refined.
Source: headrushdesigns via Instagram
Fiery Light Red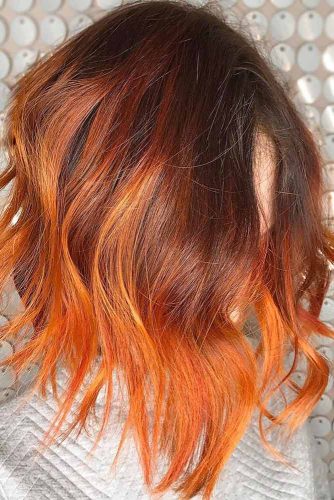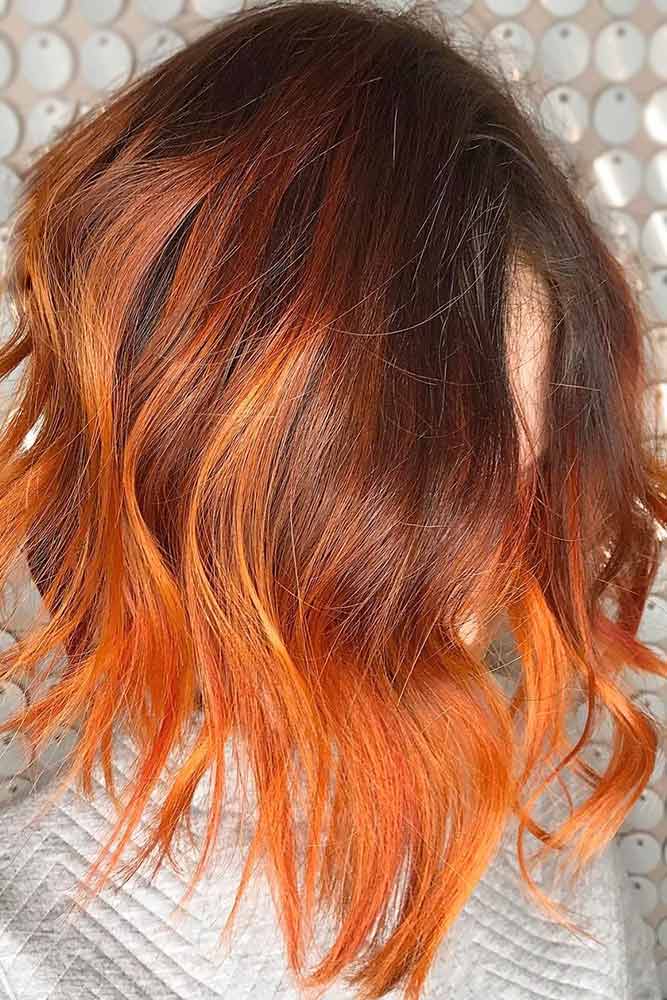 Modern trendsetters love making ends the highlight of their looks. What about you? You can make your brown hair with red highlights pop: just ask your colorist to focus on the tips, adding a fiery hue to them.
Source: epifanoff_official via Instagram
Amethyst & Copper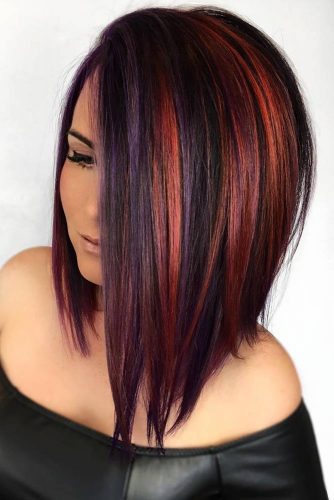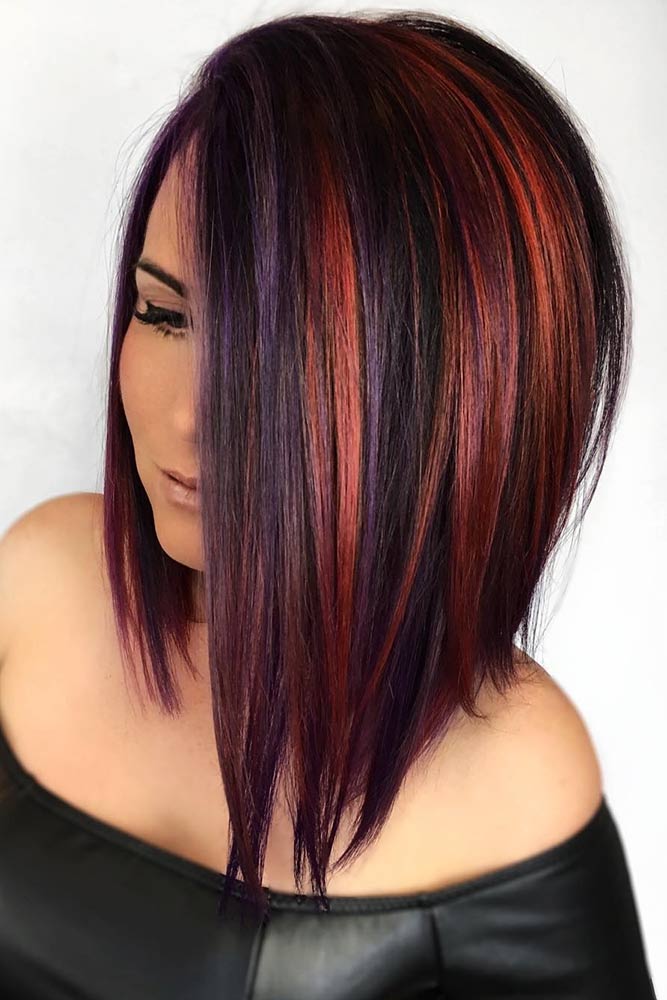 Your red highlights can be as unique and creative as you please: you're the one who decides what colors to mix and how to apply them. Not only this idea proves that there are no shades of black hair red highlights can't complement but also shows you how you can experiment with the added colors.
Source: headrushdesigns via Instagram
Red Velvet Highlights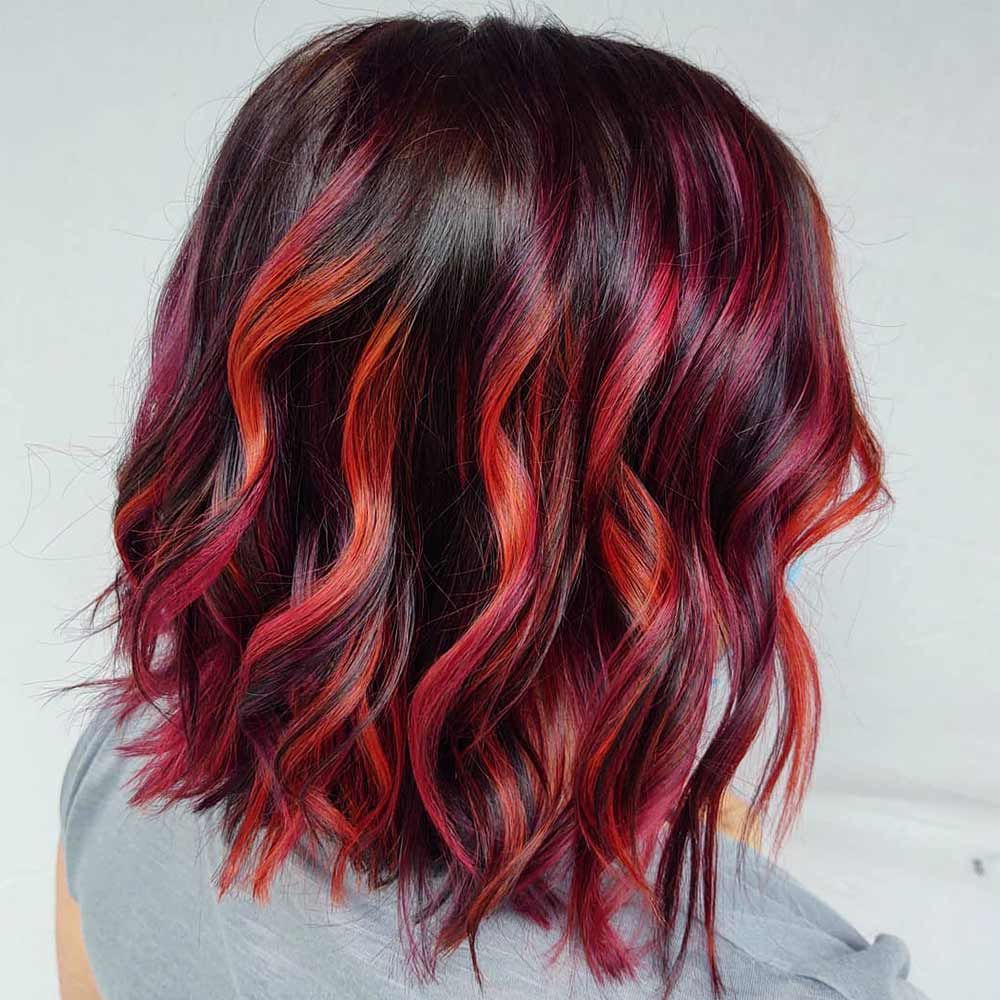 Is there anything that can compare to this multidimensional burst of reddish oomph? Her light brown hair with red highlights and various velvet hues melt with one another so nicely that it's hard to take eyes off.
Source: adlydesign via Instagram
Bright Pumpkin Red Highlights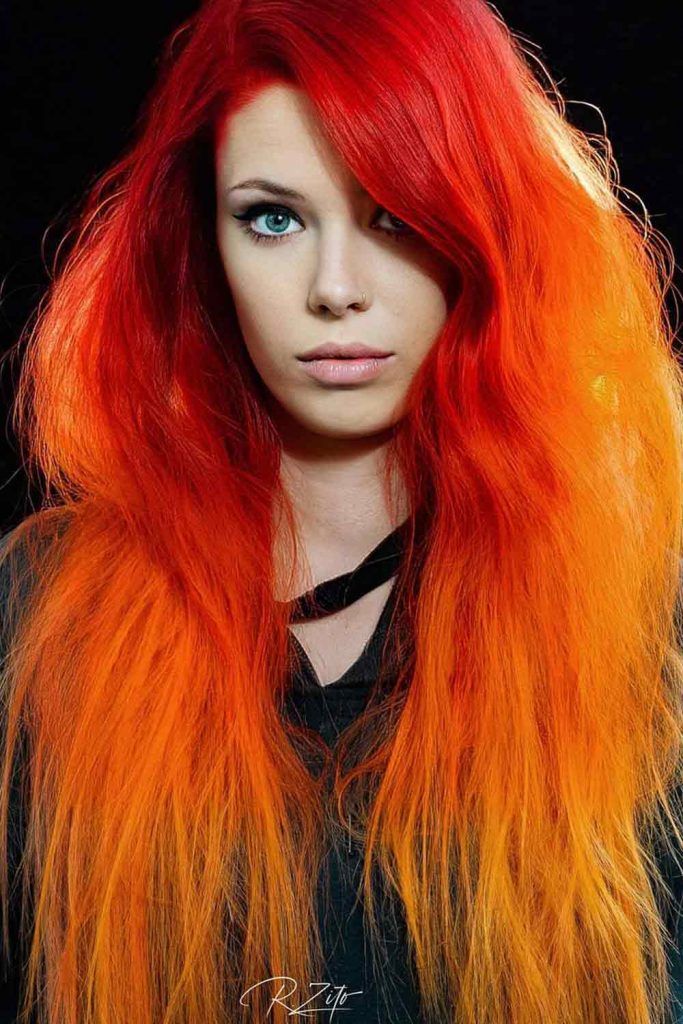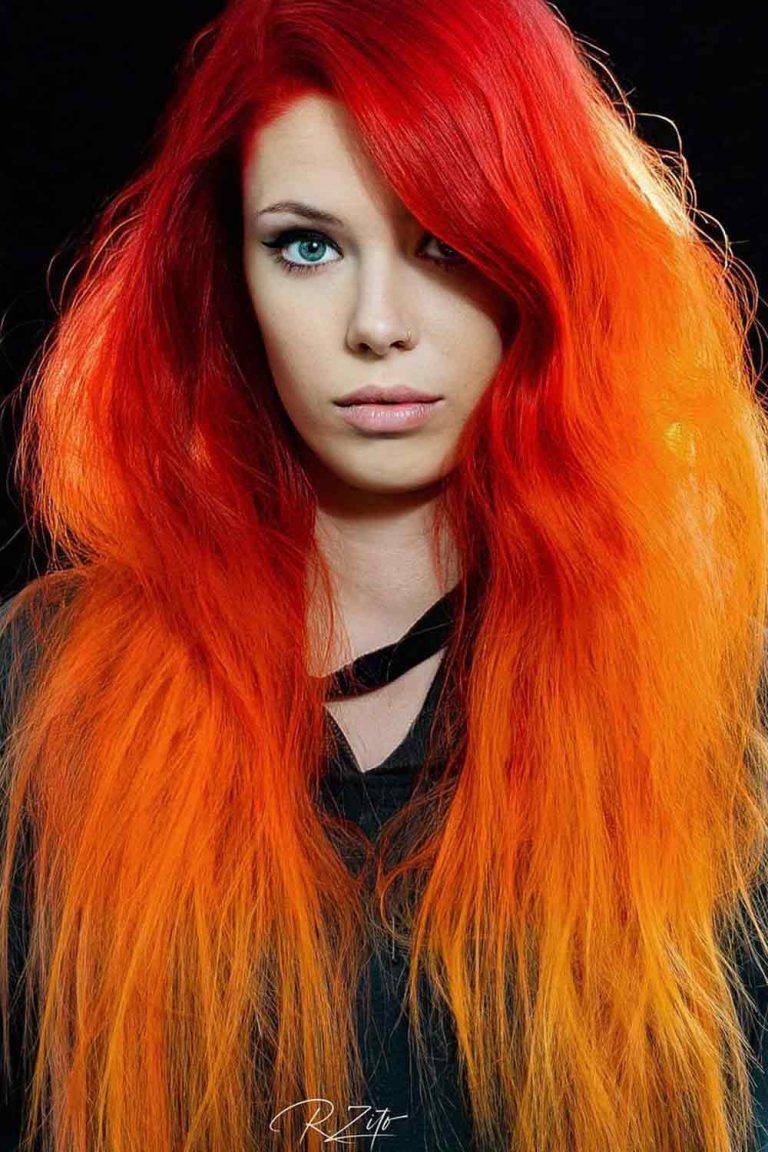 Want to look like your life is a never-ending party? Make your hair scream about it! The mixture of sweet lilac roots that transform into vivid pumpkin base can help you to show off your bright personality.
Source: hairgod_zito via Instagram
Ruby Red Highlights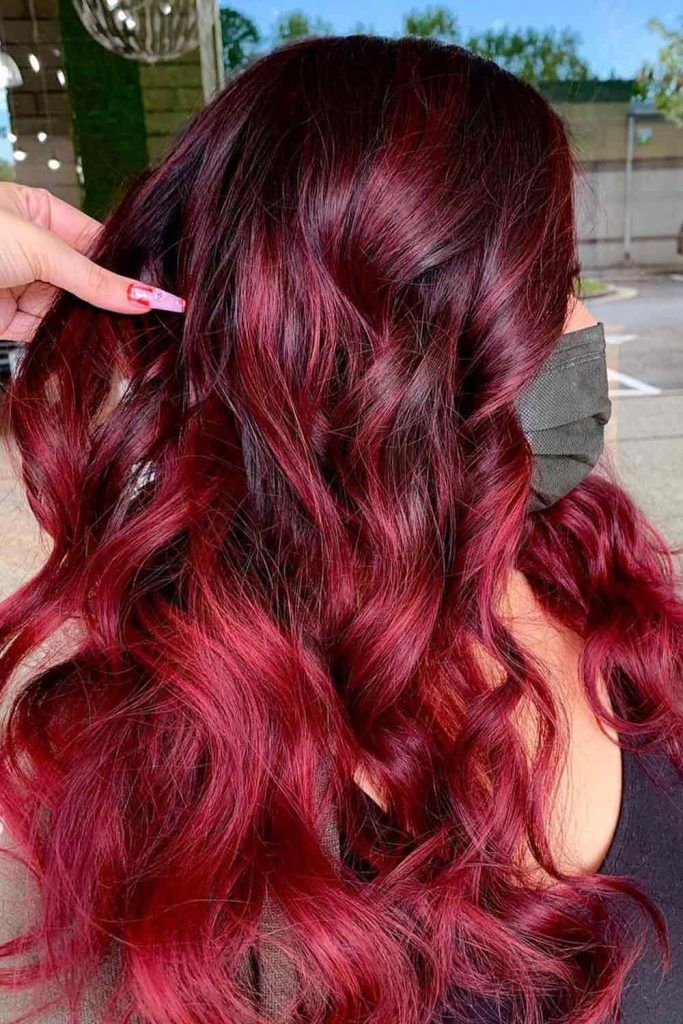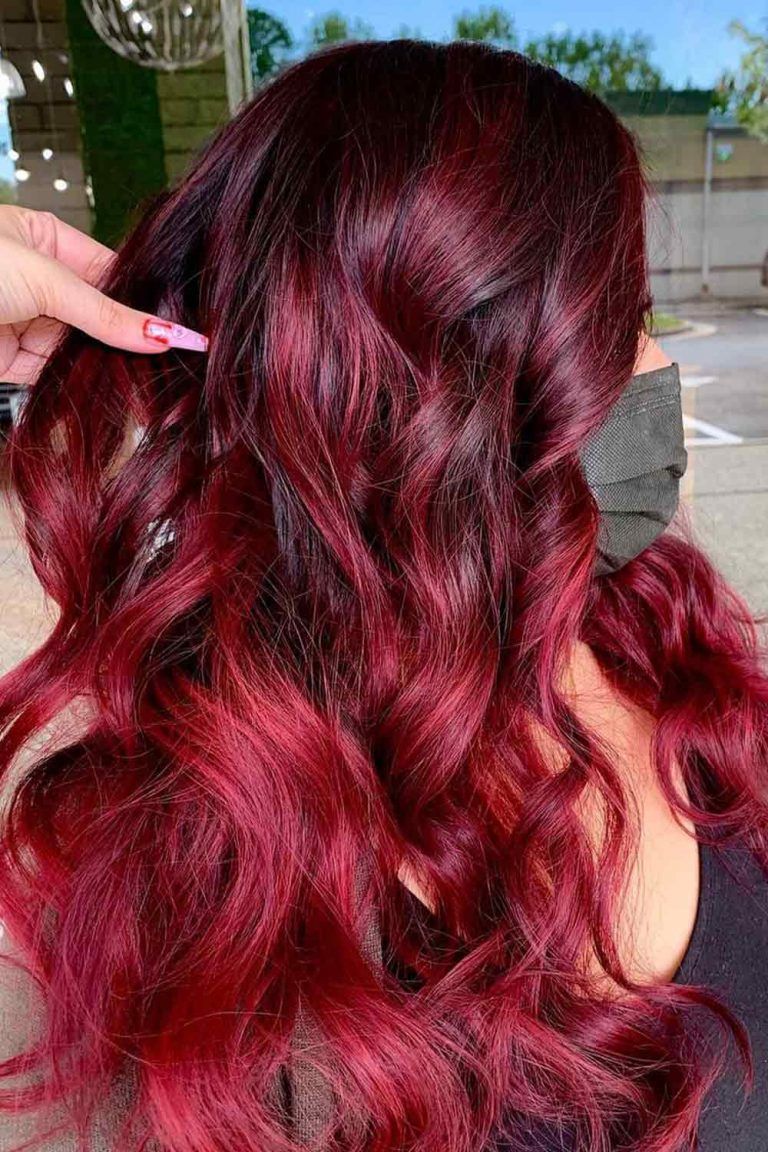 A brunette with red highlights like these is a girl to remember! Ruby red is one of the richest and vibrant hair colors. With your brown primary, it will create a deep look that will shine like an exquisite jewel.
Source: xostylistxo via Instagram
Berry-like Highlights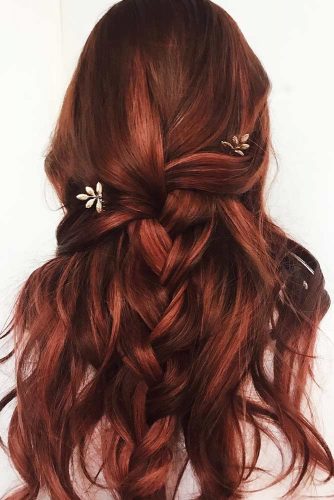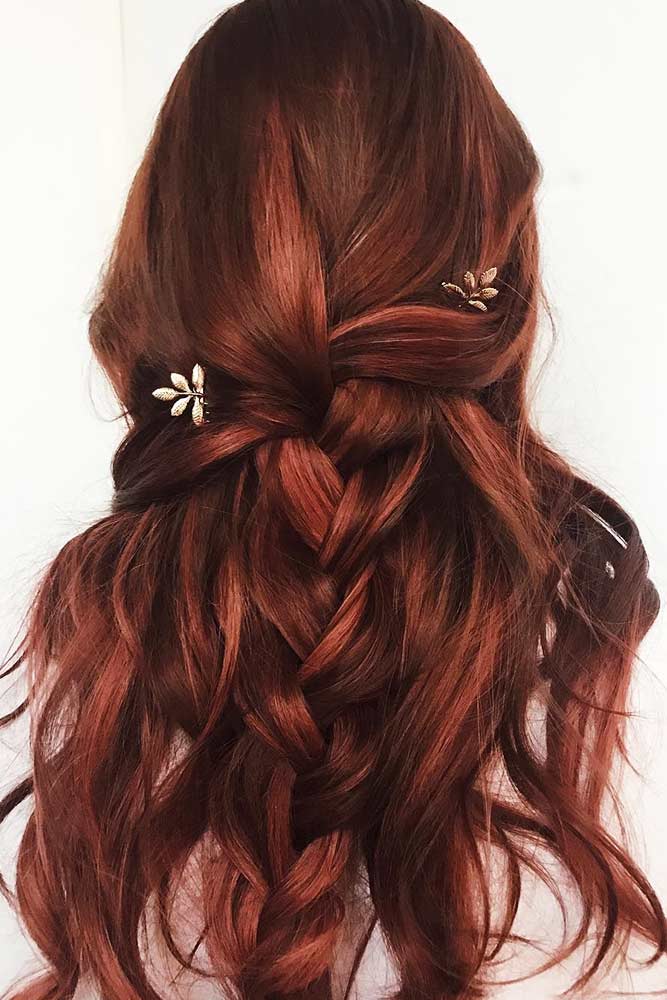 This is how evenly and effortlessly your natural shade of brown with red highlights can look if you mix the right colors. Choose the red hue that matches your primary to get an organic look with natural movement and volume.
Source: barefootblondehair via Instagram
Multidimensional Red Highlights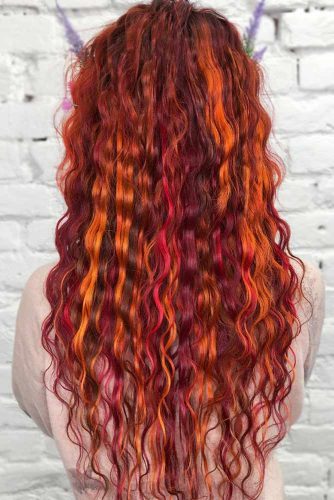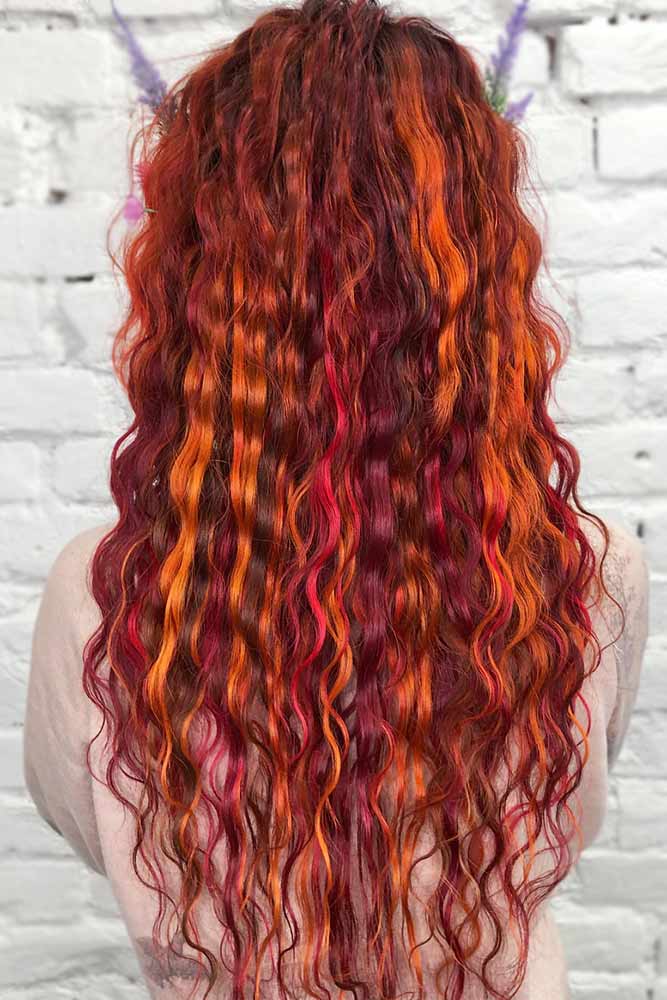 Here's another way for you to steal the show! This time, some dark coppery blonde and red highlights are added over ginger base: isn't that a head-turning idea?
Source: aliyousha via Instagram
Peach Red On Black Hair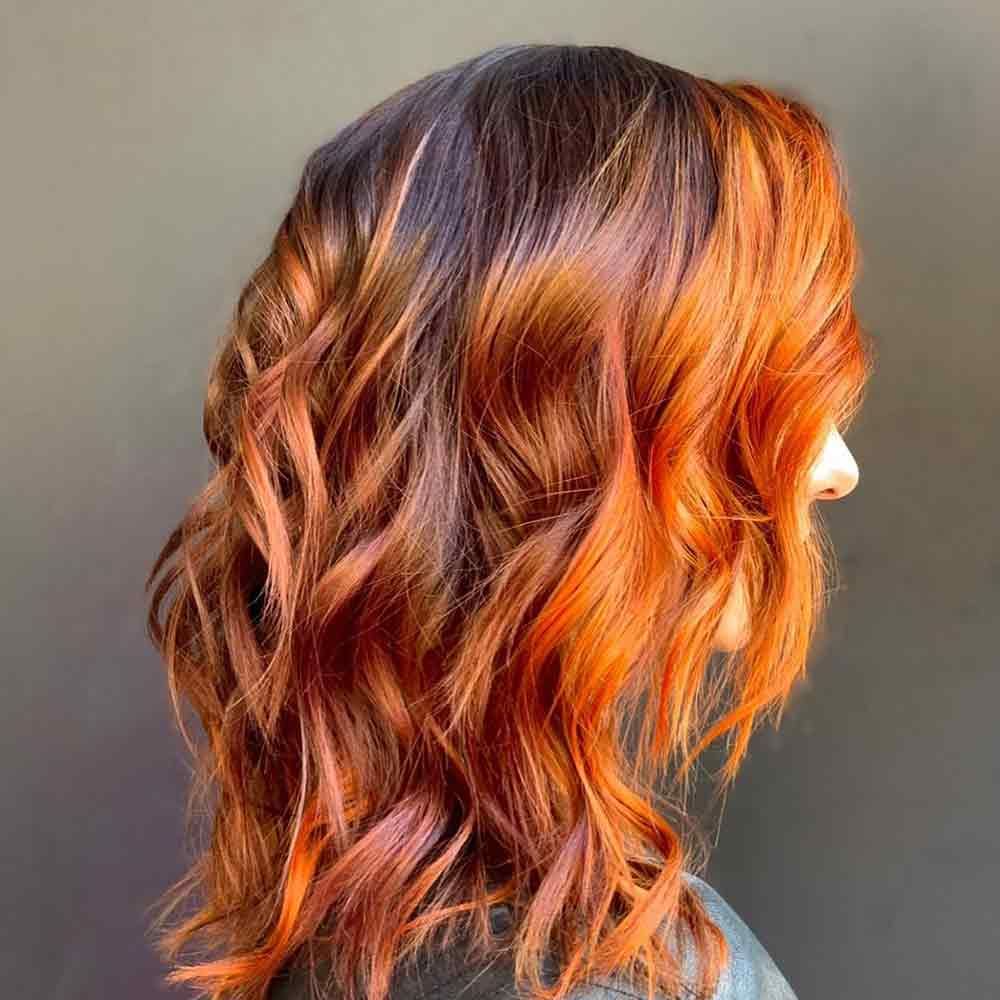 Peachy red highlights on black hair are the mixture that everyone should see: you will believe that these colors match only when you see them with your own eyes. Yes, abrupt contrasts are a thing!
Source: xostylistxo via Instagram
Ginger Highlights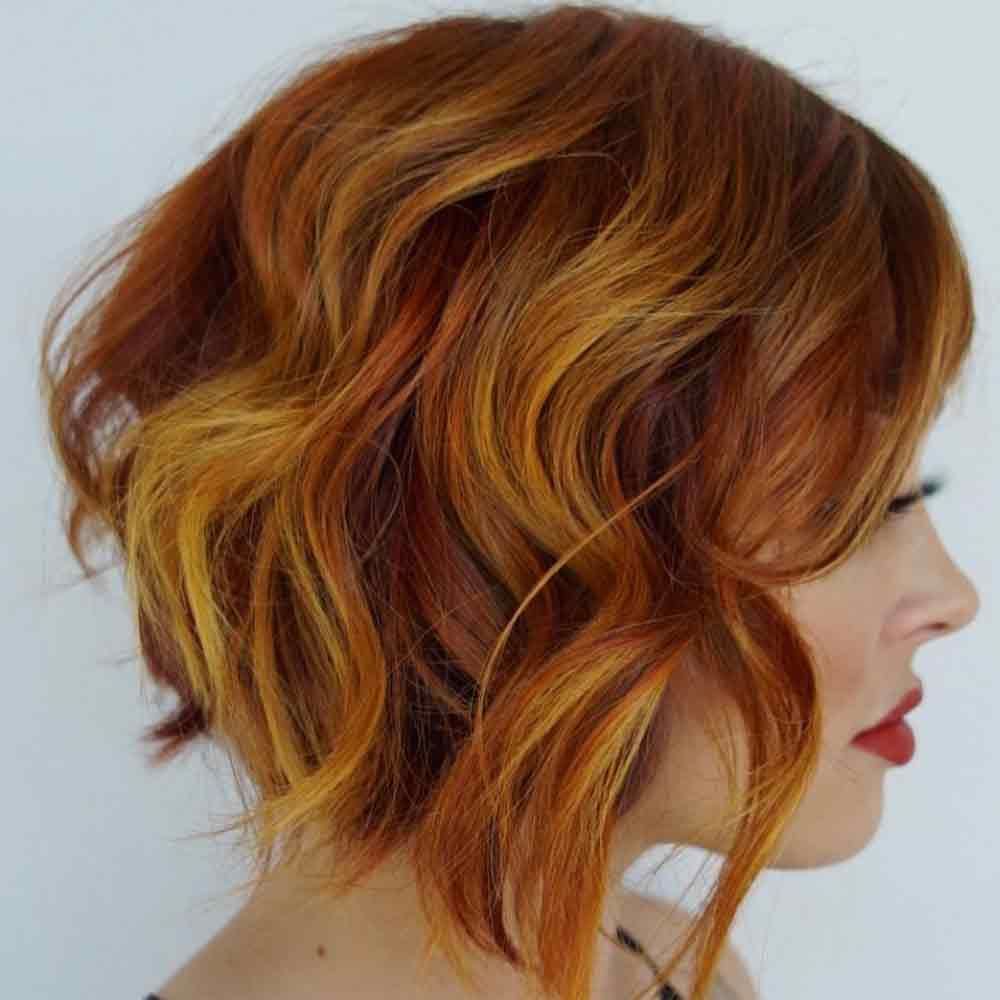 Those who think that black hair with red highlights doesn't go well just don't know how to blend them right. If you have a very dark base, ask the professional to mix your roots with a warm, gingery color seamlessly and see the difference.
Source: xostylistxo via Instagram
Fireball Whiskey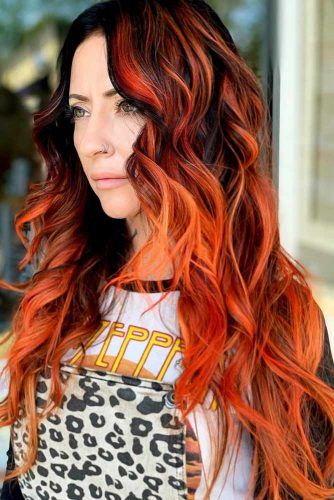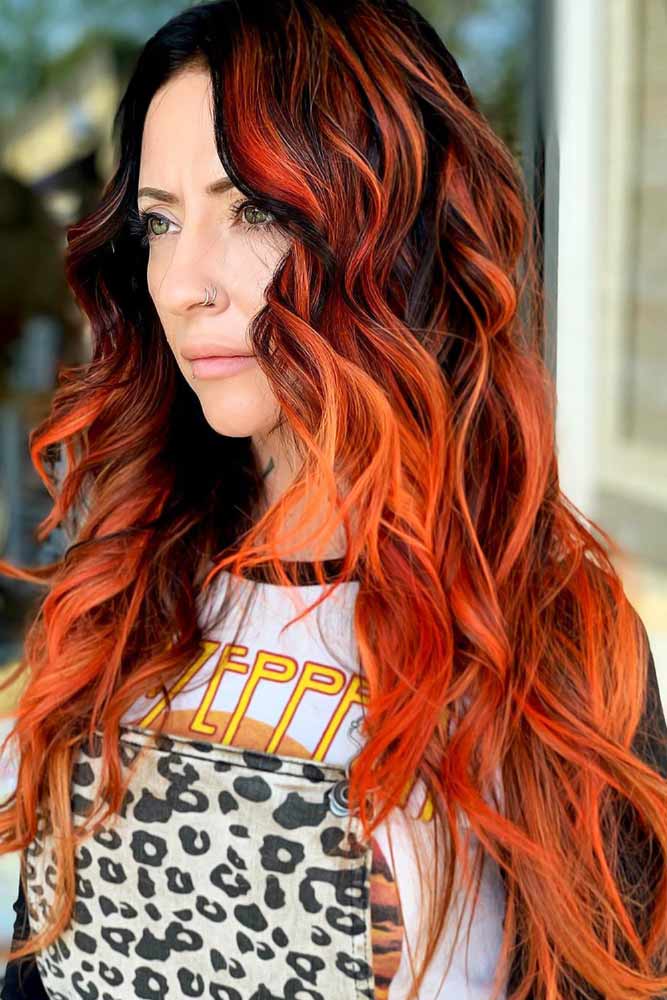 The name of this color job speaks for itself. Fireball is for a massive visual impact that the reddish accents throw to eyes contemplating the idea. Whiskey is for the intoxicating effect of the flamy shade. Together with your sexy eyes and hot makeup, this color idea will be able to catch eyes and steal hearts, making them skip a beat.
Source: xostylistxo via Instagram
Three-Color Red Highlights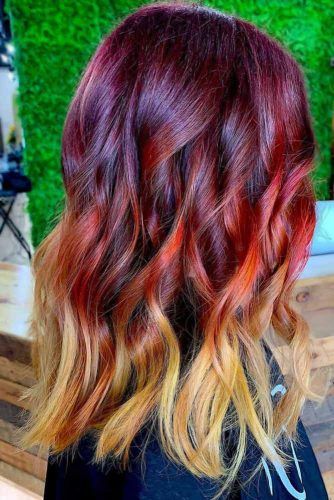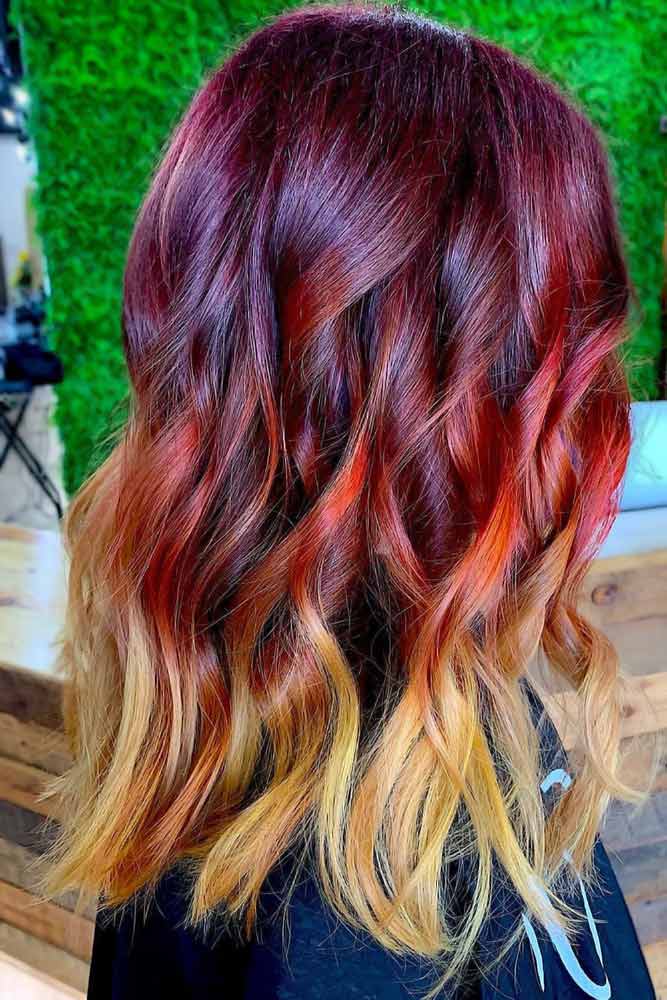 The red hair color palette is so vast and diverse that you can't decide which one to pick for your highlights? It's better to not get intimidated with mixing several shades at once, though. You can highlight your hair horizontally, creating an ombre-inspired look. Let the deepest color sit on the top, add the brighter one to the midshaft, and finish the stunning combo with lighter ends.
Source: xostylistxo via Instagram
Red & Orange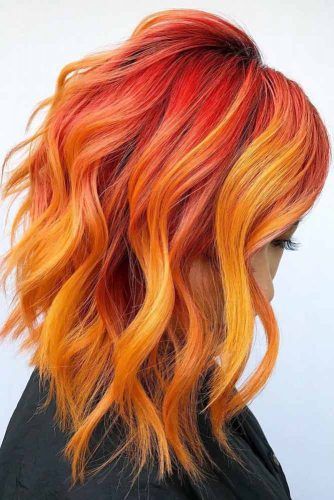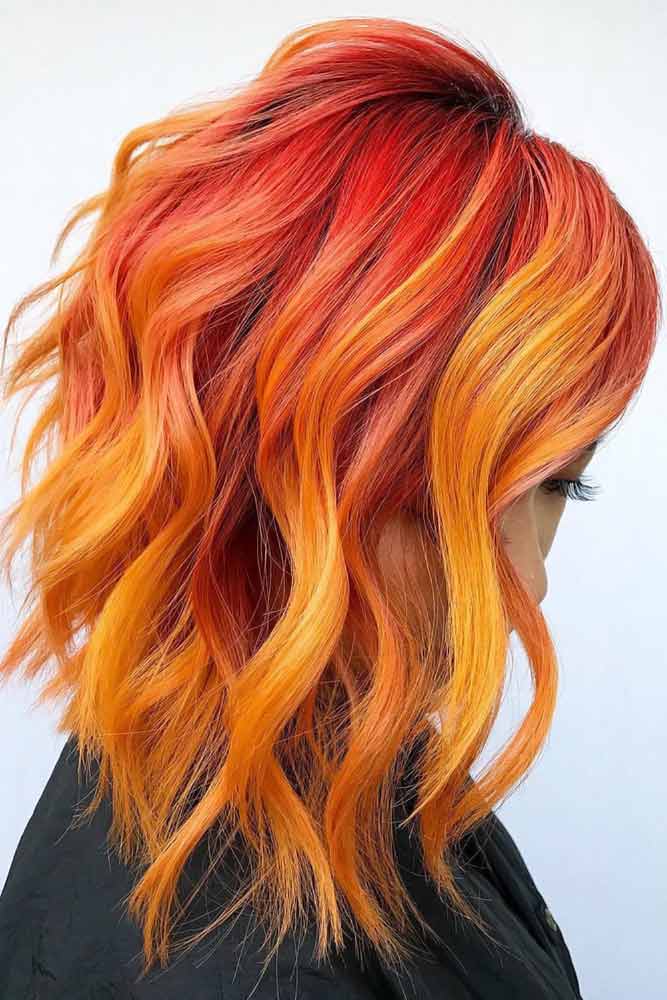 If the fire had its hair colored, it would look like this. The most captivating red shade gets illuminated by funky streaks of saturated orange running throughout the whole length. By the way, the hairstyle makes the color combination even more intense and dimensional. If you want to rock an idea like this, don't forget about enhancing it with waves from time to time.
Source: robindeltoro via Instagram
Fiery Magenta On Purple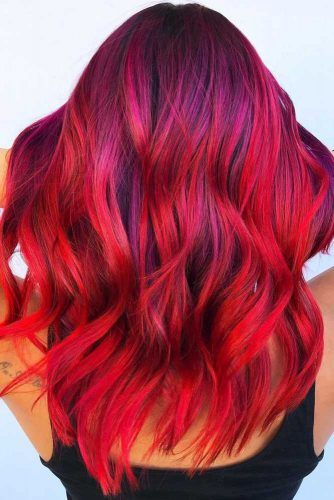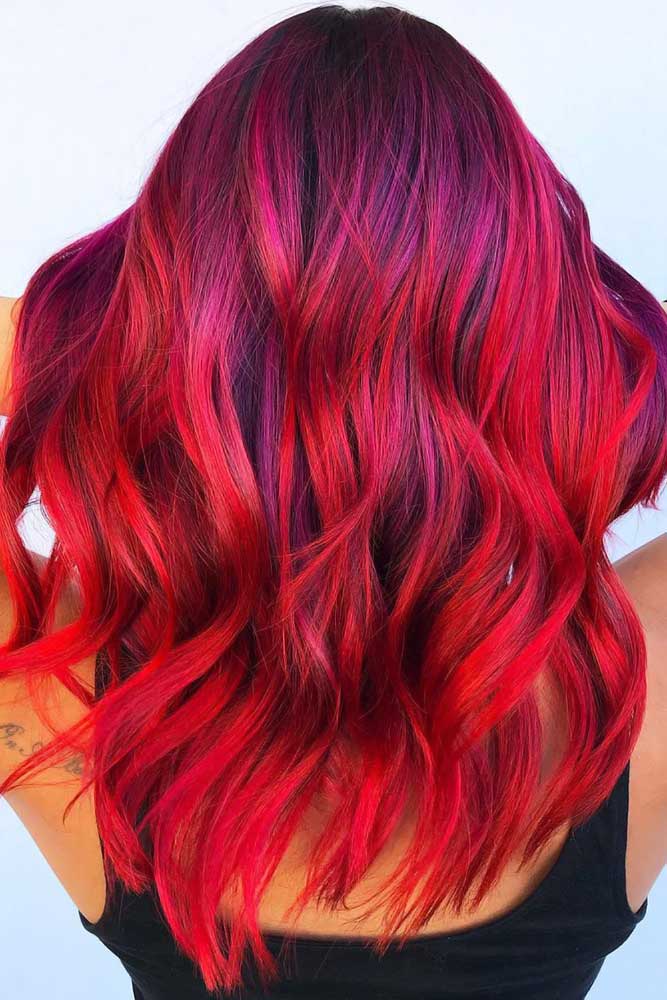 Magenta colors, whatever they are, are always different. And when it comes to hair color, the best definition for magenta is a masterpiece. Here, you can see it reveal its reddish side, thus becoming a harmonic whole with red highlights. Vivid purple, intense red, and a hint of pink vibe, who could ask for more?
Source: robindeltoro via Instagram
Dusty Clementine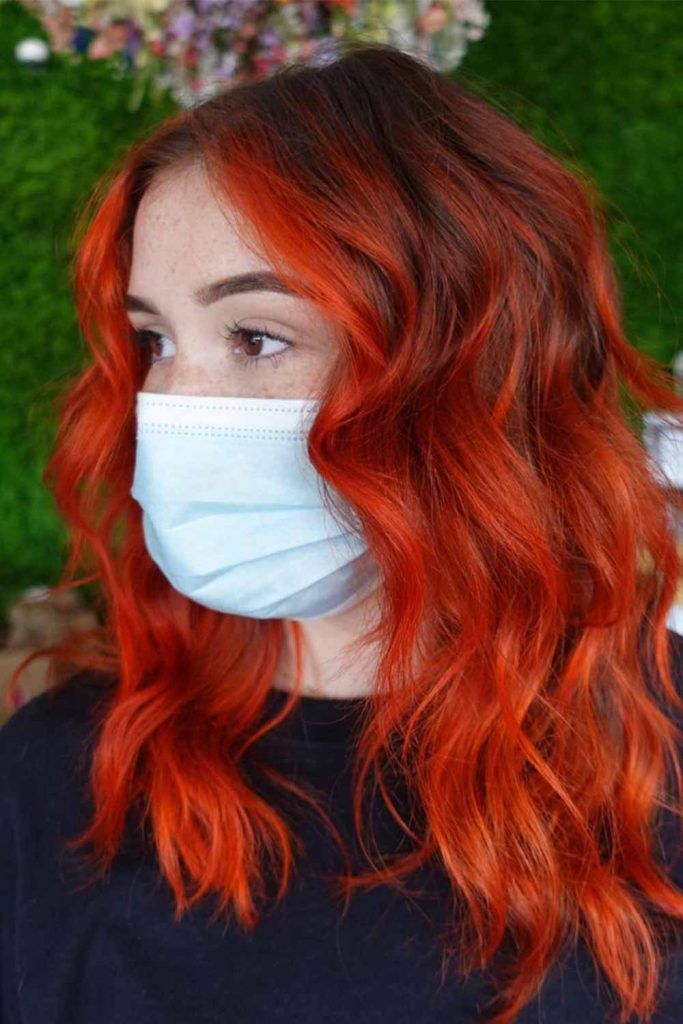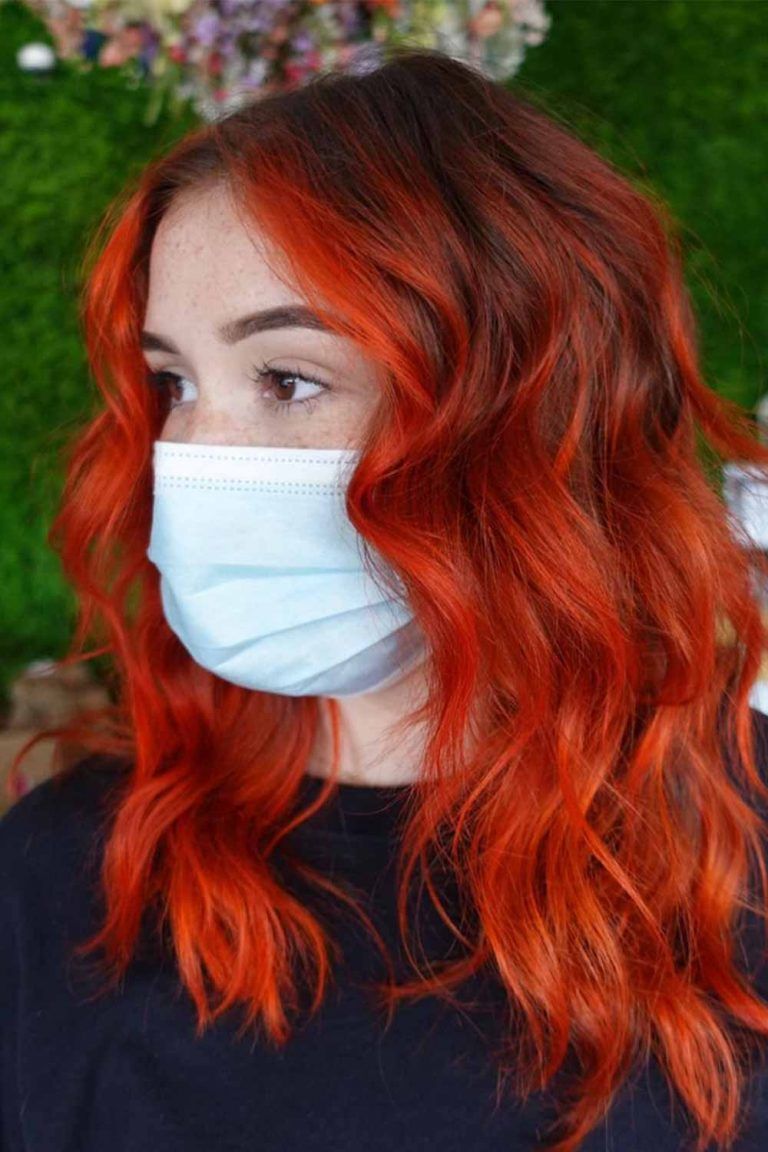 Clementines have a very smooth and silky orange skin. So how about getting hair color that can be described with the same amazing words? Though this clementine shade is way darker than the classic color, it's so shiny that it seems to reflect the light just like a mirror. This time it's dusty for one simple reason: to build perfect balance with naturally dark hair.
Source: xostylistxo via Instagram
Copper Babylight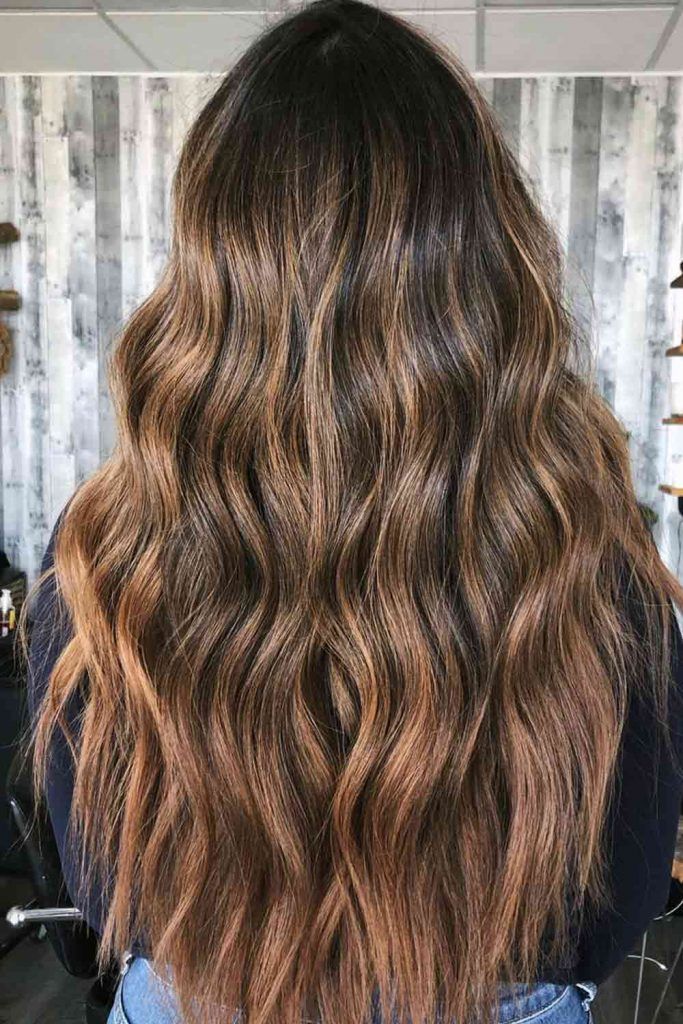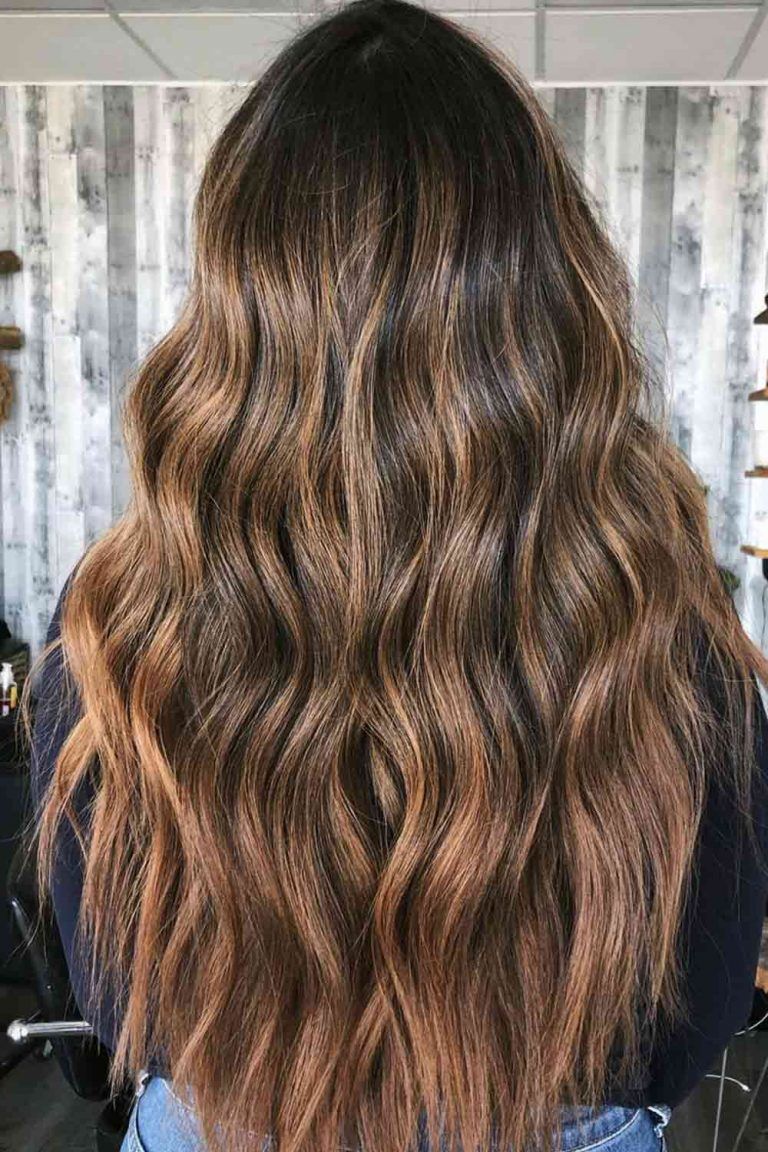 Copper shades are fantastic compromises between red and brunette hair colors. They have the sexiest tones of the former and the deepest hues of the latter. That is to say, if you opt for a copper shade as your accents, you won't ever go wrong, especially if you're a brunette. This idea, for example, features babylights - subtle, even accents that give a soft color feel.
Source: _heyhelena via Instagram
Literal Fire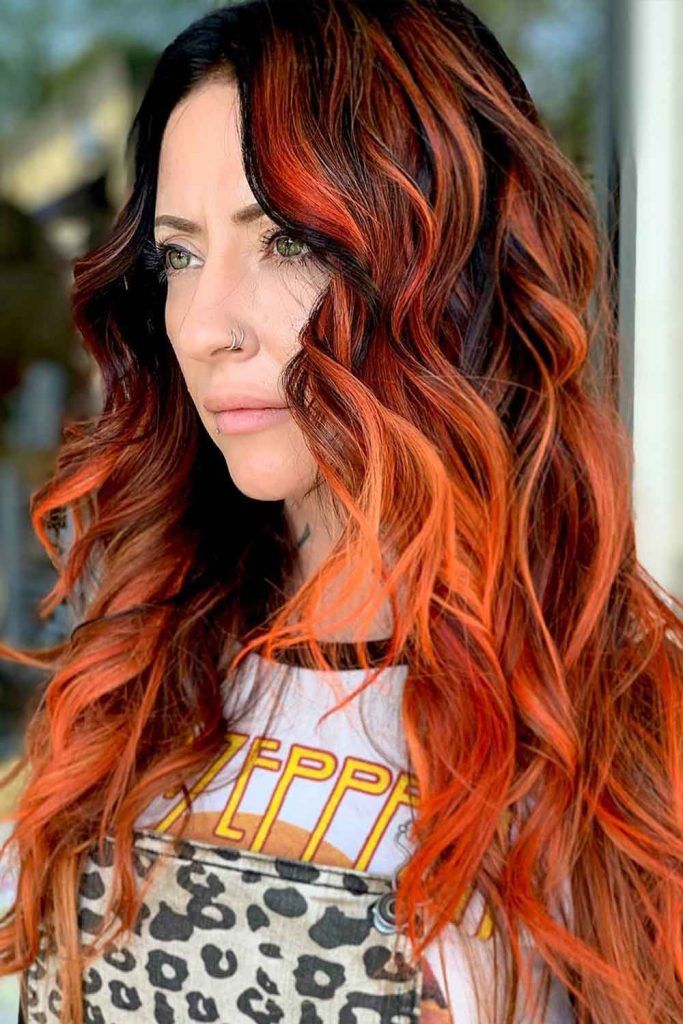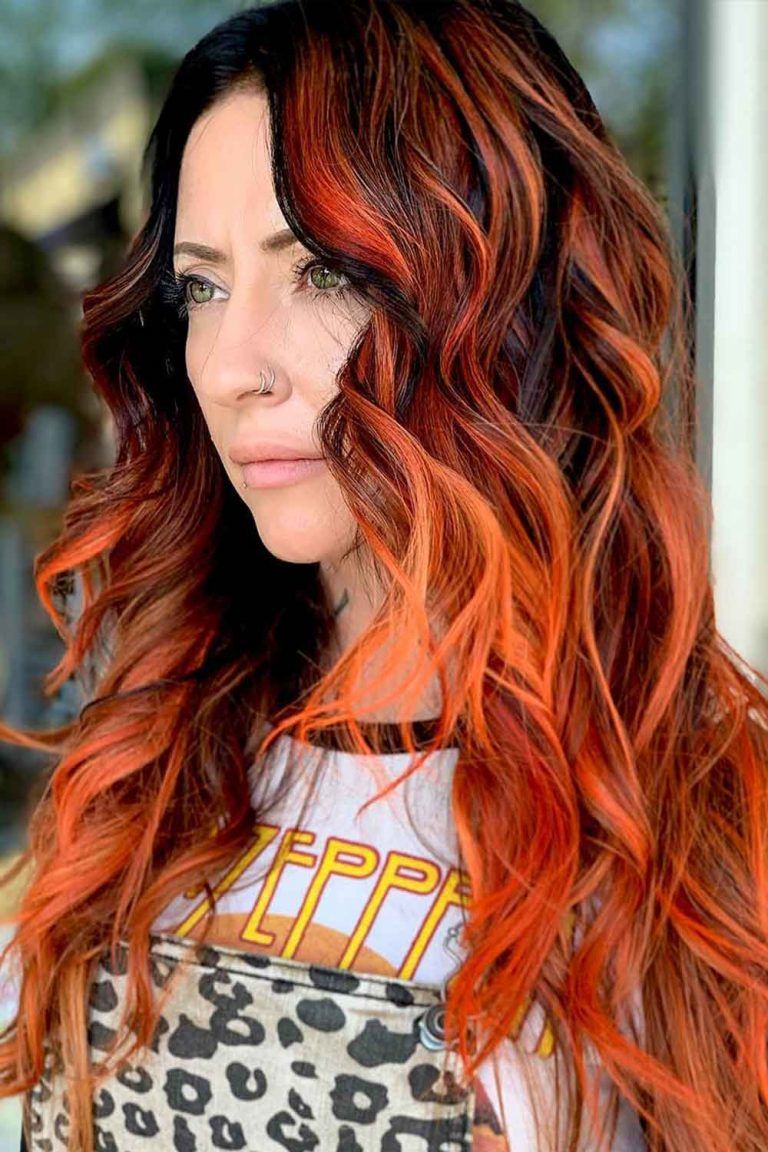 While setting one's hair on fire is a disaster, wearing fire on one's head is a gift sent from above. Okay, enough with the metaphors. Even though such head-turning hair color requires hours of sitting in a salon and tons of products for the right upkeep, the result is worth it all. Just look how organically these strands blend with one another: they look like a real fire.
Source: xostylistxo via Instagram
The variety of red hair color is just infinite. So when it comes to red highlights, there's no way you won't find the perfect idea for you. Now you are familiar with different popular ways to accentuate your color, why don't make one of them real?
FAQ: Red Highlights
Do red highlights go with brown hair?
If you have long brown hair, you can always make it look fuller than it is by adding some bright red highlights. Along with the vivid red coloring, your brown hair will look differently.
Do red highlights last?
Red highlights usually last 2-3 months, although they might start looking dull and fade much sooner. Ask your colorist to help you find the best time for you. Red highlights are a stunning way to show off your personality while also looking fashionable.
What hair color will cancel out red?
On hair that has been turned to brown or light brown, green removes red color. On hair that has been turned to a dark blonde, blue neutralizes the orange color, while violet is a great color to use on blonde hair since it takes away the yellow color.
Does ash color get rid of red?
To remove any extra red, mix 1/4 of your preferred shade with 1/4 of the same ash hue. The darker your transition is from your beginning color, the less mixture you need to add. If your new hue is only somewhat darker than the one you started with, you might need to add more ash to balance off the red tone.
Was this article helpful?