There are debates around short curly hair these days, and there is no wonder why. Very often people confuse curly and wavy hair, that is why they may come to false suggestions. The thing is that even though curly hair is considered to be more natural, it does not mean that you can't grant yourself a curly look at home. What is more, many women are dying to go for a pixie or a bob, but are afraid that it is pretty non-combinable with curls. Today we are going to open your eyes to all the myths and hopefully will encourage you to try out something new.
ADVERTISEMENT ‧ CONTINUE READING BELOW
Pixie Cut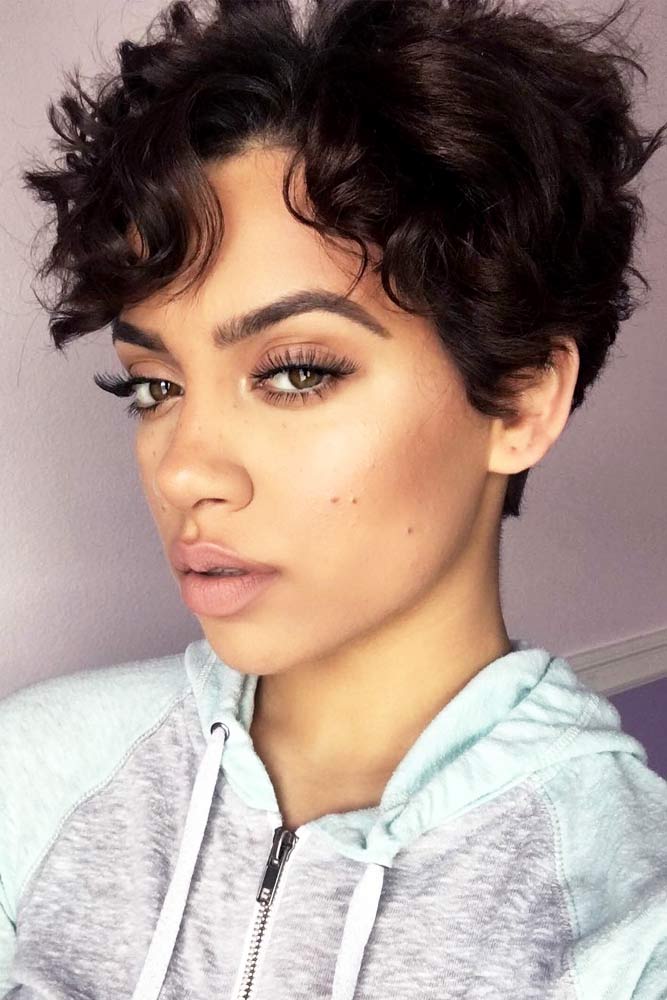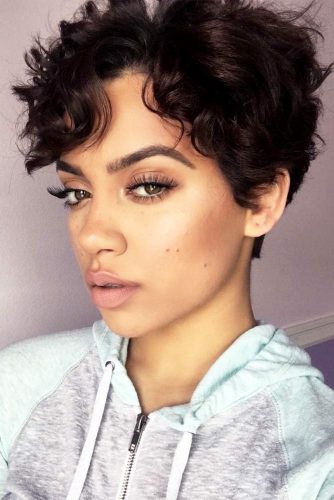 Source: mua_myesha via Instagram
If you have curly hair, you know that it can get out of control at times. Layers are always a great way to boost your curls. But how do you know how to style the best layers for curly hair? Have you thought about a cute pixie cut? Pixies are super trendy right now, and it's easy to see why! They are a great way to add life to your curls. And not to mention, they are super cute? This curly pixie is so much fun with its short and sassy side swept bangs and playful curls. You'll ask yourself why you didn't get this cut sooner!
ADVERTISEMENT ‧ CONTINUE READING BELOW
Short Curly Hairstyle For Black Hair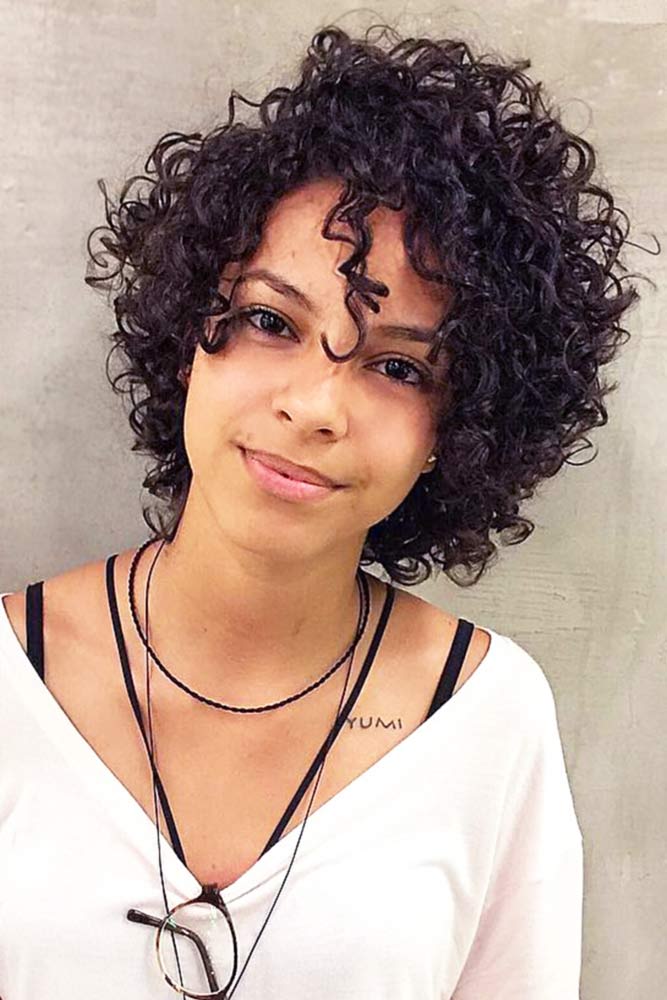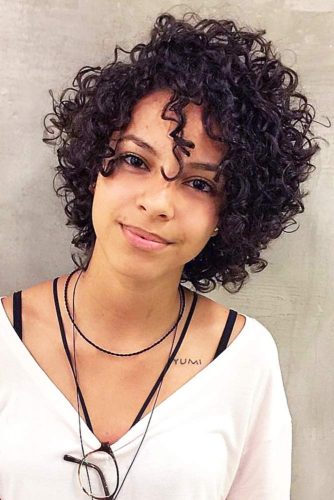 Source: casadantiga via Instagram
If you are looking for short curly hairstyles black hair, this curly bob is a great choice, It adds a ton of volume and won't weigh your hair down, as you can see in the difference between the "before and after" shots pictured here.
For those with natural hair that is really curly, a short hairstyle can be a relief. It can make your hair feel so much healthier. This look short naturally curly hair is not only fun, but it's also very stylish and chic. If you want to give your natural curls a lift, this might be the haircut you've been waiting for!
5-Minute Hairstyle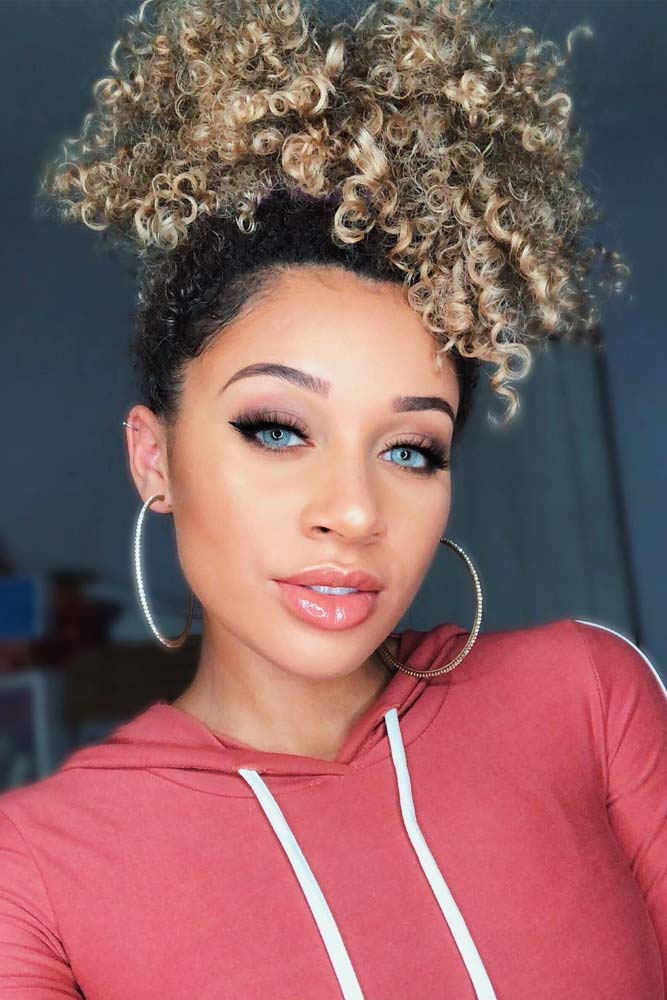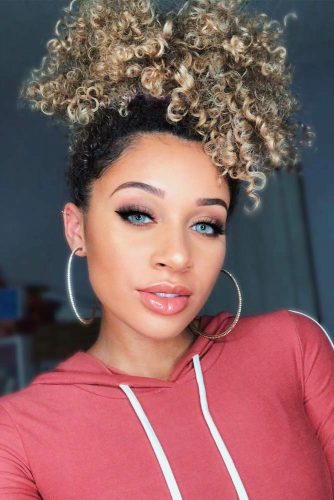 Source: luhhsetty via Instagram
A woman on the go is always looking for a quick fix. There are plenty of 5 minute hairstyles that are easy and fun solutions for all of you curly-haired girls. This high ponytail, set on the top of the head is super cute and fun! Tease your curly tresses to add more height and volume to this super trendy updo. If you aren't a fan of ponytails, there are also a lot of buns, braids and other fun quick and easy updo. Just look for short curly hairstyles pictures to give you extra inspiration to rock those short curly locks!
ADVERTISEMENT ‧ CONTINUE READING BELOW
Hairstyle For Short Curly Hair With Highlights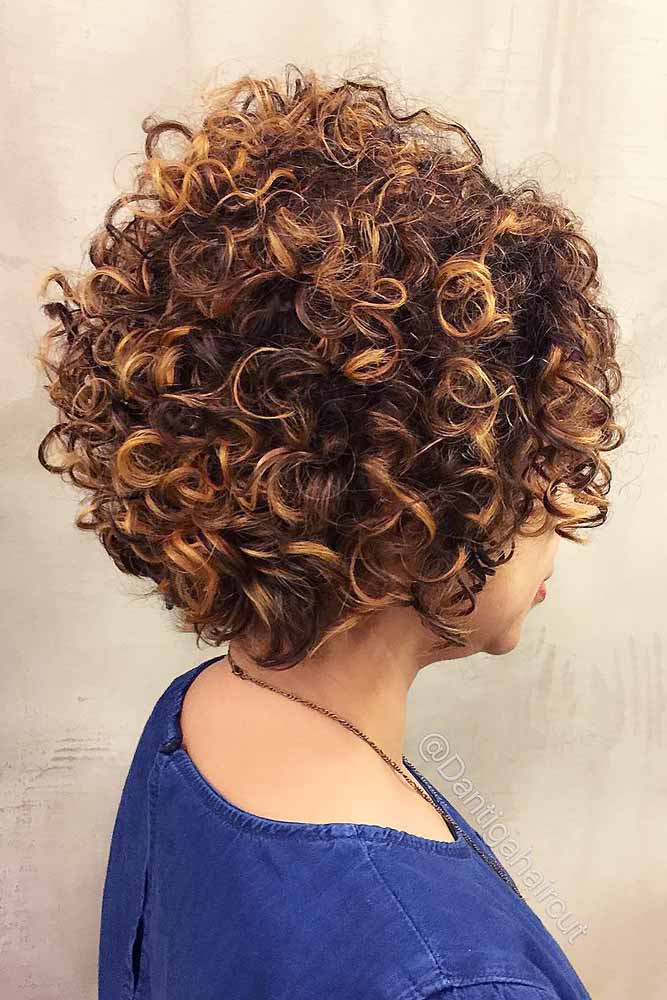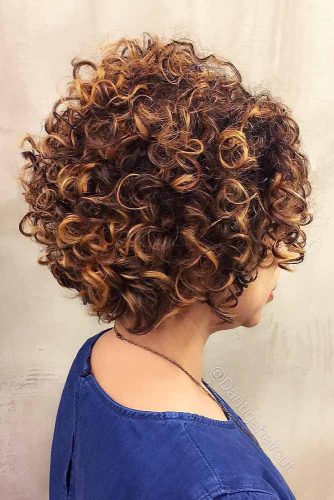 Source: casadantiga via Instagram
If you have really curly hair that can't be controlled, we have plenty of short
curly hairstyle ideas
. This adorable bob is a great way to help tame those wild, curly tresses! And for layers to give more bounce to your curls. And this style is really easy to style. You can let it air dry after applying your favorite curling product or blow dry on low using a diffuser. Then spritz your hair and gently tease it with a teasing comb to give it a ton of volume. There are so many looks for hairstyles for short curly hair with highlights. The pretty honey highlights on a chestnut brown base like the ones shown here are very pretty and will add a ton of depth to your hair.
Short Curly Hair With Bang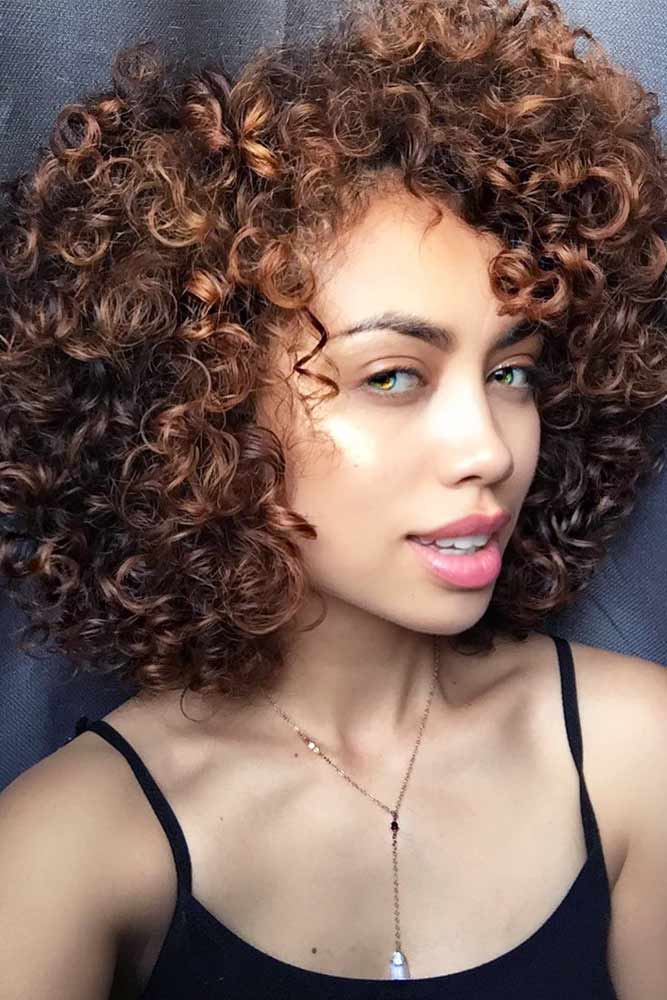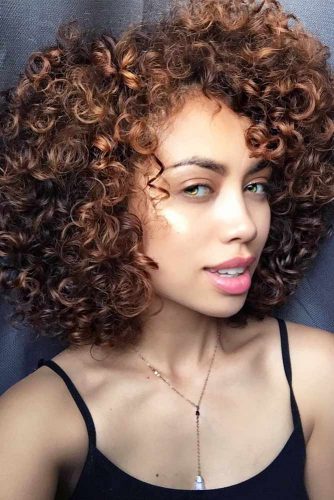 Source: ck_frias via Instagram
You don't have to go super short to rock a sexy short do for your curly locks! There are a ton of fun short curly hair with bangs to choose from. This full curly bob is a great way to show off those full-bodied natural curls. If you really want to pump up the volume, this bob with long layers will add maximum your volume to the fullest! And the short, side-swept bangs give it a soft and romantic flair if you are feeling extra chic and feminine.
ADVERTISEMENT ‧ CONTINUE READING BELOW
Short Curly Hair Style For Round Face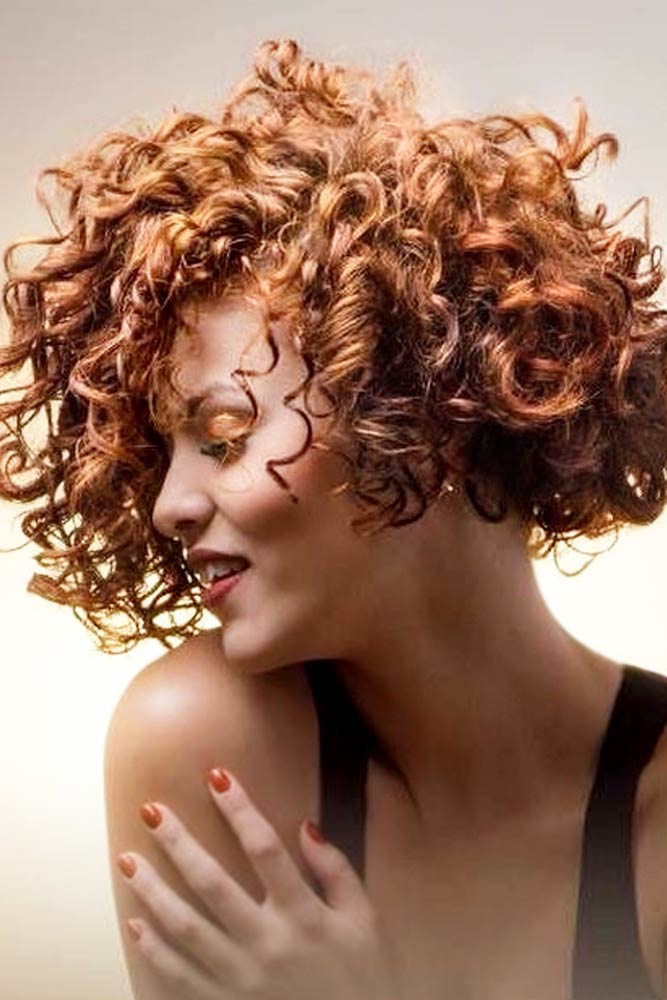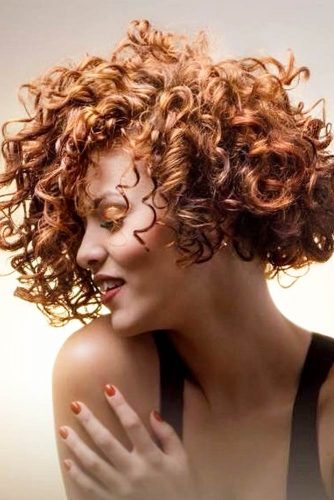 Source: nathaliebarros via Instagram
If you have a round face, you want to get a haircut that is flattering and slimming. The curly asymmetrical bob shown here will do just that. A haircut that covers your ears will help elongate your face. Asymmetrical haircuts are very much in style this season. If you want a look that gives you a bit of an edge, while flattering your facial features, this short curly bob is the way to go. Plus the messy, bedhead style is super sexy and chic! This is one of the most trendy short curly hair styles for round faces.
Short Curly Hair With Bang For A Chubby Face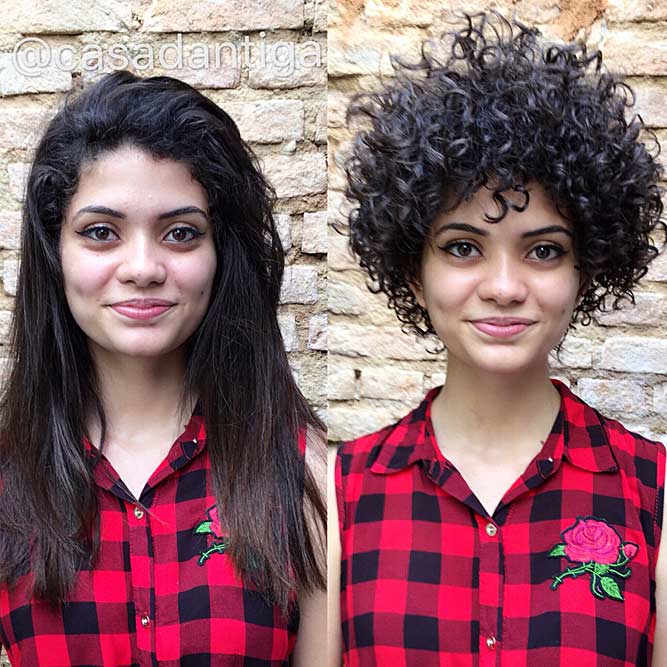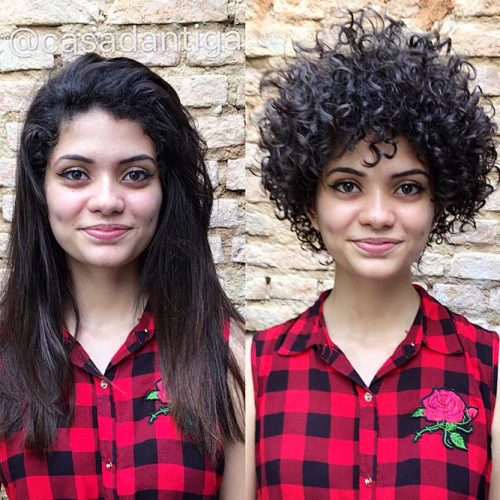 Source: casadantiga via Instagram
Let's face it. Every girl with long hair has thought about cutting it short. But not every woman has the courage to do so! Embrace your daring side and go for a short and sassy new do! If you have somewhat of a chubby face, longer hair can often be the enemy. A short curly hair with bangs chubby face can help elongate your face and highlight your gorgeous facial features such as your eyes, nose, cheekbones or lips. And a shorter cut will add a ton of volume to your hair and make you feel younger and more confident.
How To Make Short Curly Hair Look Good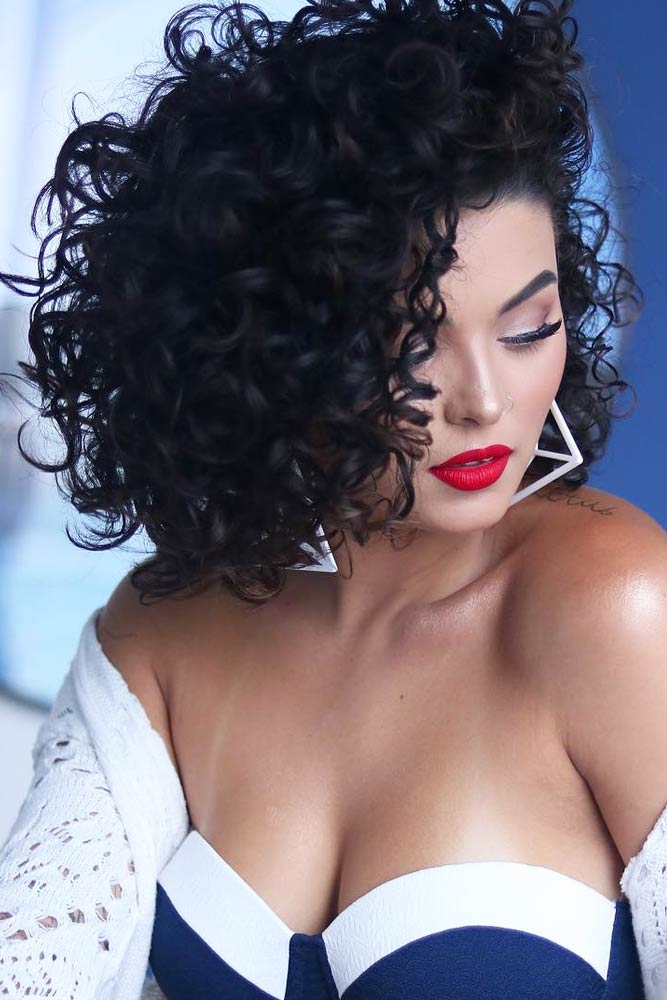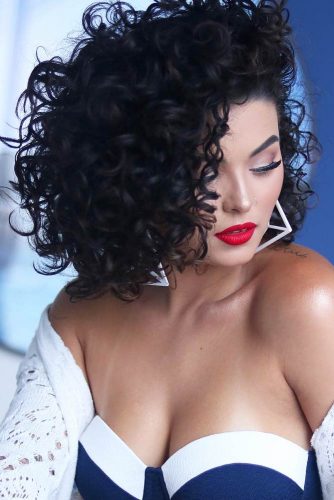 Source: nathaliebarros via Instagram
Short curly hair does not have to be a burden. In fact, it can be quite the opposite! Here are some helpful tips on how to make short curly hair look good.
Trim your ends every 4-6 weeks to keep your hair healthy.
Let your hair air dry or blow it dry with a diffuser on cool/low setting.
Condition your hair regularly. Use a leave-in conditioner to keep your hair hydrated which keeps your curls healthy and happy.
Only shampoo your hair a few times a week. Use dry shampoo between washings.
Use products made for curly hair. Avoid products with sulfates and chlorine.
Do not brush your hair. Instead, use a wide tooth comb.
Use sea salt spray to achieve perfect beachy waves.
Wrap your hair in a t-shirt instead of a towel.
ADVERTISEMENT ‧ CONTINUE READING BELOW
Wet To Dry Tutorial

Source: Sazan Hendrix
Even if you have straight hair, there are many ways to achieve easy short curly hairstyles. Here are some tips as well as a simple wet to dry tutorial to help you achieve the perfect short curly hairstyle!
Use products specially made for curly hair (or your hair texture if you have straight hair).
If you have straight hair, you can wash your hair before bed and sleep with soft, foam rollers. Simply take them out in the morning and style your hair and go!
Never brush your hair when wet.
Style your hair when wet using your fingers or a wide tooth comb. Part your hair while wet and apply your choice of curling product such as hair butter, mouse, etc.
Blow dry your hair on the lower or coolest setting with your diffuser. Blow dry upside down for added volume.
Use a thin curling wand to fix any curls that need a lift.
Tease your curly tresses and spritz with a medium hold spray!
Layered Short Hairstyle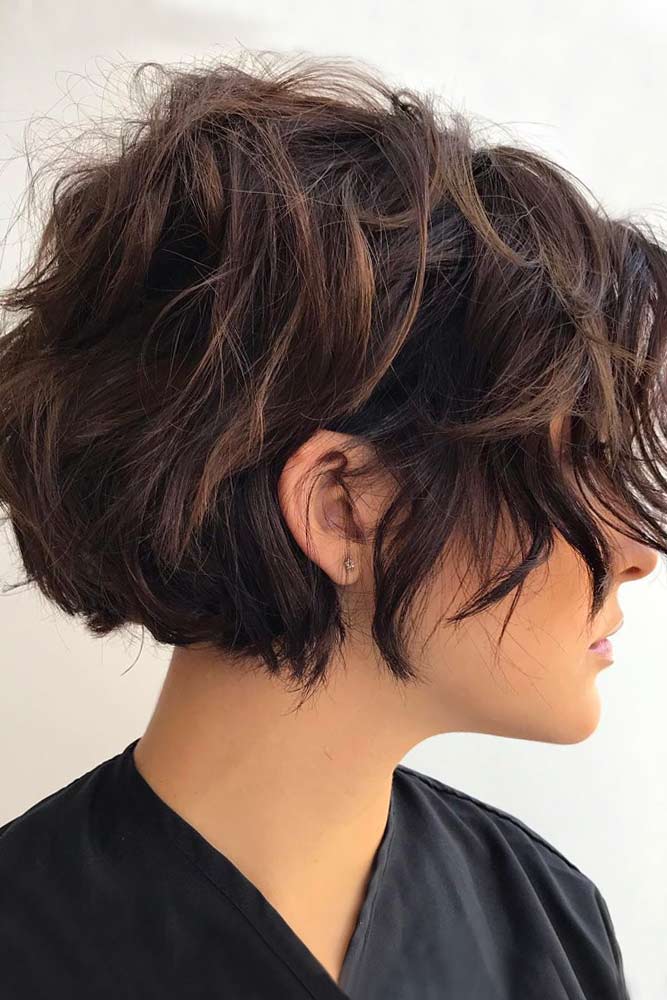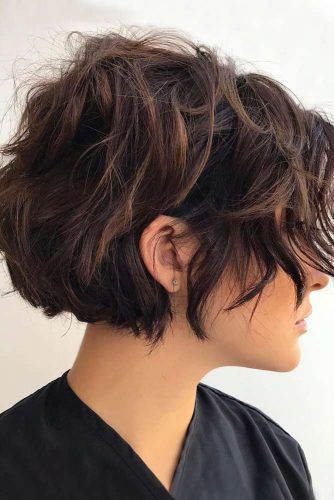 Source: danilotavares.hair via Instagram
Curls are never boring for one simple reason. There are lots of different curly and wavy patterns that can change the look of the curls depending on what styling products you use. For example, if you have natural ringlets and would like to give it some freedom, a classic messy style will be there for you. And if you have a slightly wavy texture, there's a place for messy styling anyway. Apply softening mousses and leave-in conditioners to your curly locks to give them a relaxed texture. For a bit wavy manes, some salt spray will do the trick. The point is to do as much tousling as you can!
Relaxed Curls with Deep Side Part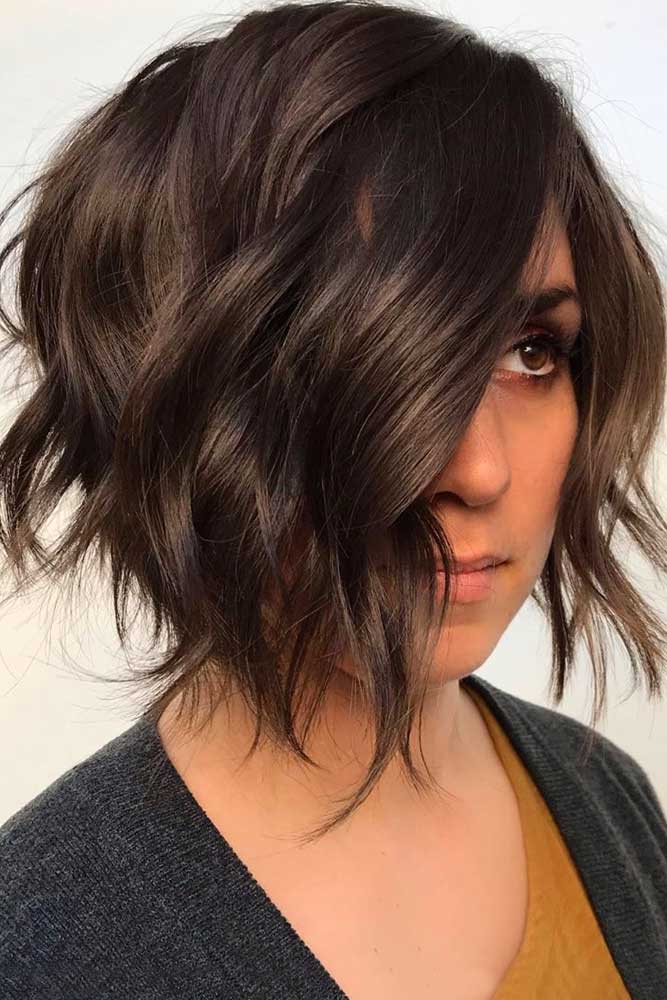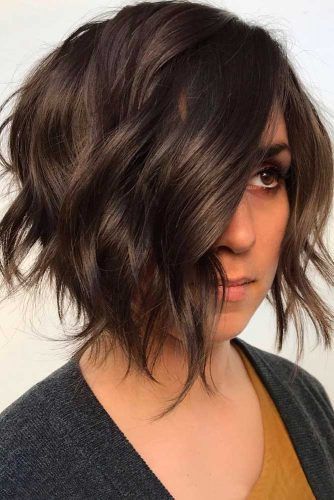 Source: styled_by_carolynn via Instagram
As told by curly-haired women, curls have different moods. As it turns out, styling products are what can make their mood fit yours. Let's be honest; we all want to rock our days with a carefree feel in our hair from time to time. Well, this idea is here to say that the time is now. It's a perfect hairstyle for those who have a rather wavy curl pattern and who are short of time as well! Let a heat protectant go first, then give your hair a pass of a curling wand, tousle things up and finish everything with hairspray. A tip: don't wave the ends to preserve the natural movement of your lovely pattern. And if you'd like to work on your face shape, a deep side part will be your magic wand.
ADVERTISEMENT ‧ CONTINUE READING BELOW
Wavy Pixie with Bangs + Gray Hair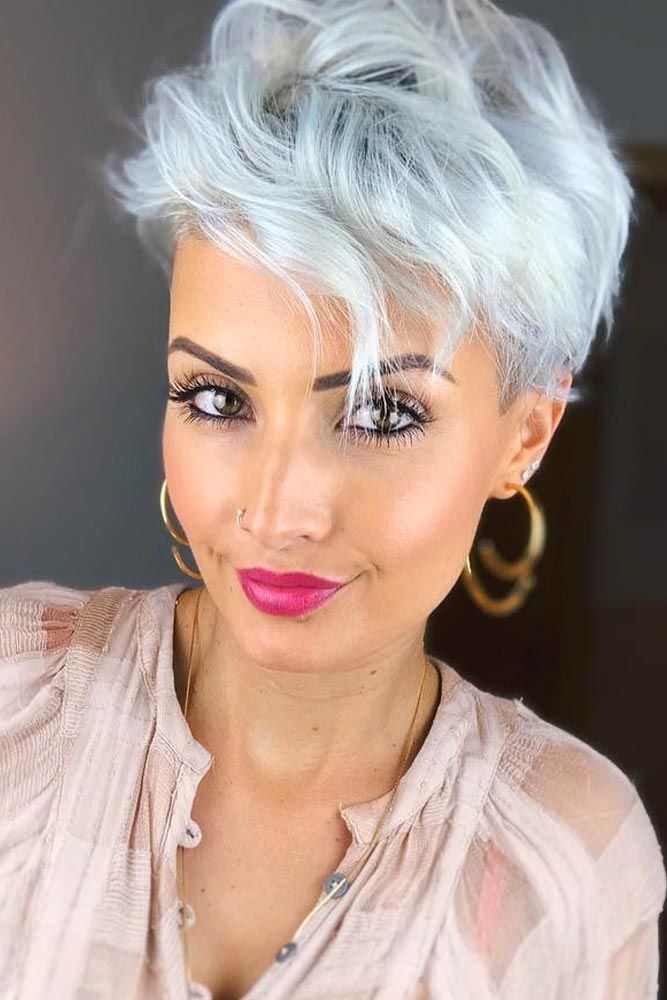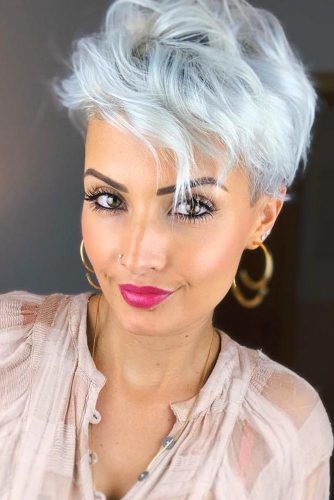 Source: jejojejo87 via Instagram
When pixies and curls meet each other, they give life to the most dynamic, enviable, and simply head-turning hairstyles we could ever see. As for this idea, it just takes the biscuit: besides the great natural movement and volume running through its length, it strikes with a trendy shade of gray. By the way, on shorter hair, it's easier to experiment with wavy and curly styles. For this look, you only need a lightweight mousse applied before blow-drying.
Afro Curly Hairstyle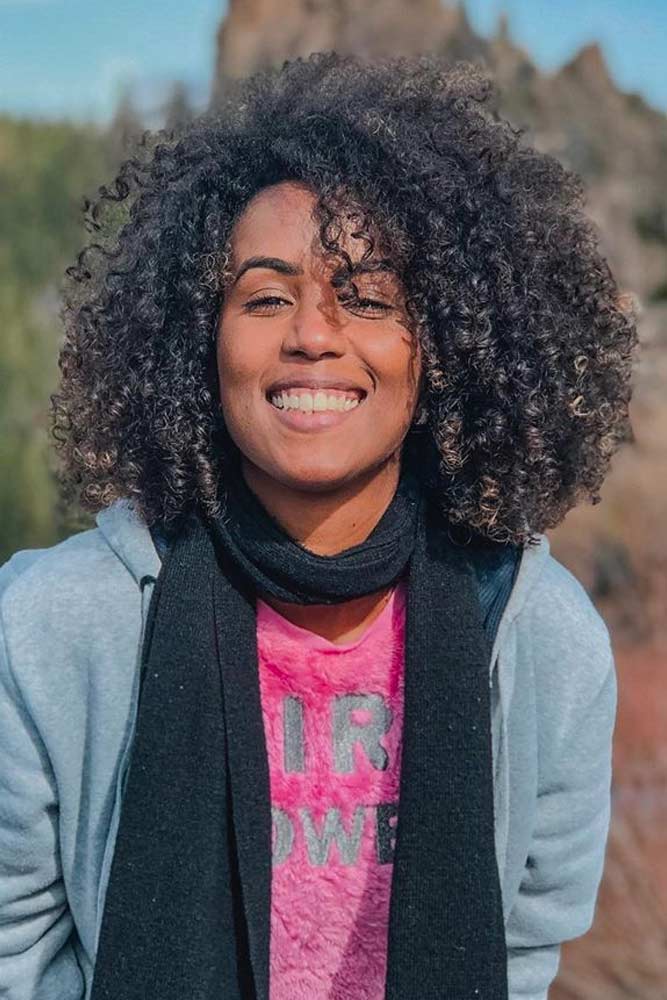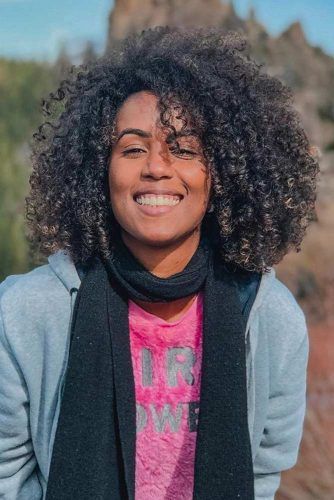 Source: nanaicosta via Instagram
Afro curls are the most beautiful texture in the world when you know how to cut and style it right. Since this amazing type of curls is prone to breakage and damage, natural-haired goddesses go for protective braids and twists. But what should we do when we want to embrace our texture as it is? This medium bob is key. First, you get a dry haircut. Then, you get yourself leave-in conditioners, moisturizing oils, and masks designed for curly hair. Once you include those in your daily routine, you will have this afro look every day! To add more character, create a side part!
Edgy Bob for Blonde Hair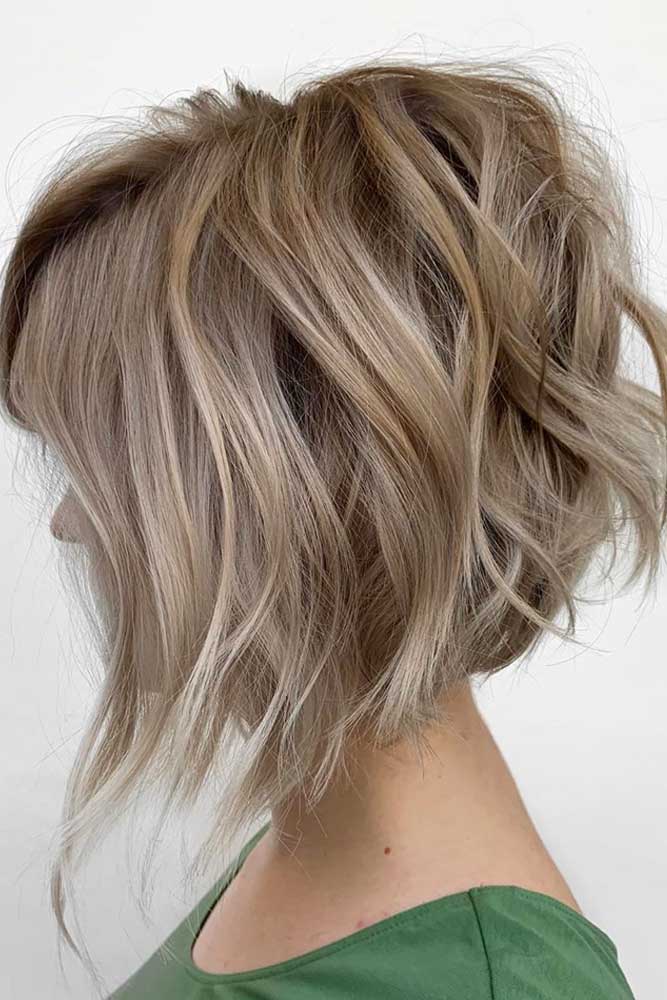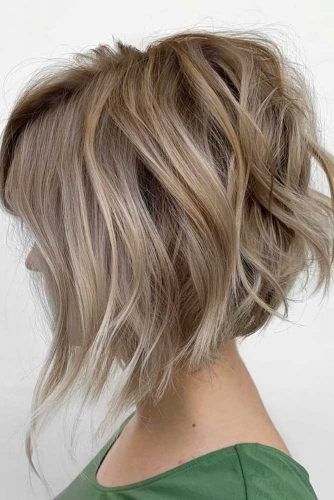 Source: headrushdesigns via Instagram
It doesn't matter if you're a natural blonde or you've dyed your hair recently; this idea is a must for every blonde in the universe. While most easy styles for short curly hair work best for casual looks, this idea will be a gorgeous finish for every single look. The thing is that this edgy hairstyle with sharp wavy layers falling one another enhances the blonde color, making it deeper and more harmonic. Whatever blonde shade you sport, don't pass by this idea and you will see your color amp up.
ADVERTISEMENT ‧ CONTINUE READING BELOW
Short Curly Style with Shaved Accent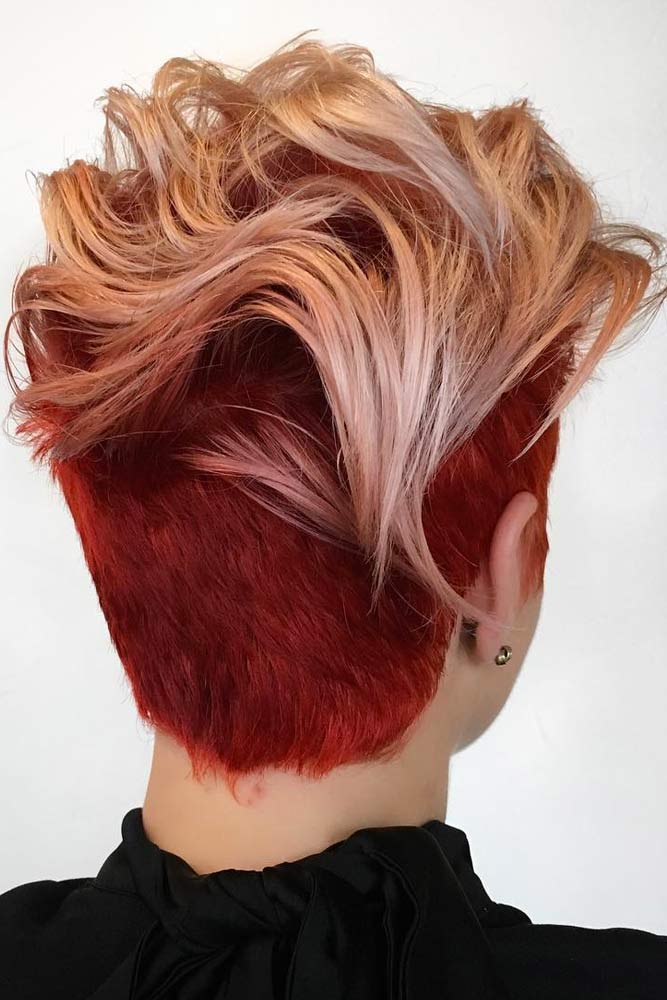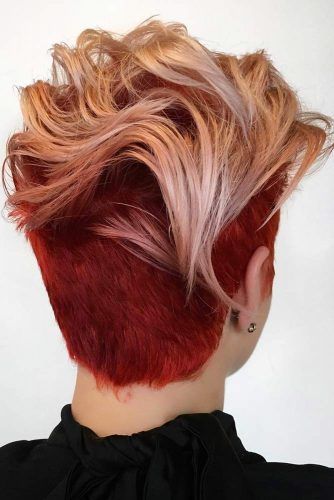 Source: headrushdesigns via Instagram
Every hairstyle has its own story, and every story has its unexpected twists. Today, you can rock a voluminous short
curly pixie
. Tomorrow, you can add even more character to your feminine look, showing how daring you can be. And what can work better than shaved sides and bright colors? Whatever your choice is, a backswept wavy top will make the look complete.
Blue & Purple Medium Waves with Bangs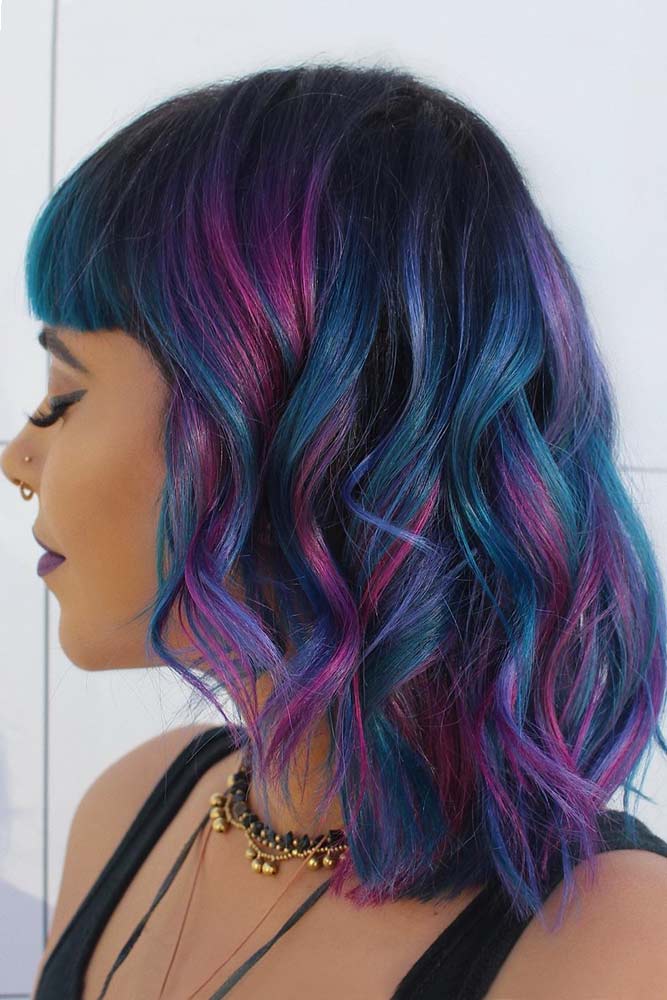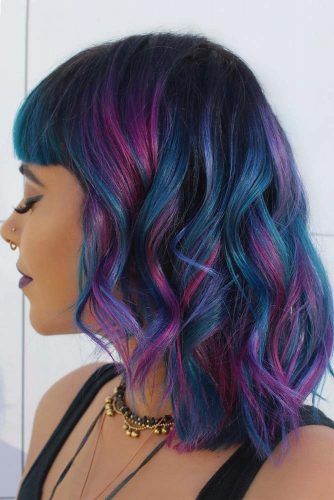 Source: kimberlytayhair via Instagram
Today, blue and purple are like peanut butter and jam. Sounds perfect, but there's no limit to perfection, right? That's why this idea features waves and bangs. Believe it or not, such waves are super easy to achieve with just a pass of medium-sized curling wand: you don't need to wait for a salon appointment to wear this masterpiece. And bangs are just the icing on the cake! They can not only make the whole look appear even more fascinating but also hide a broad forehead.
Light Brown Shaggy Bob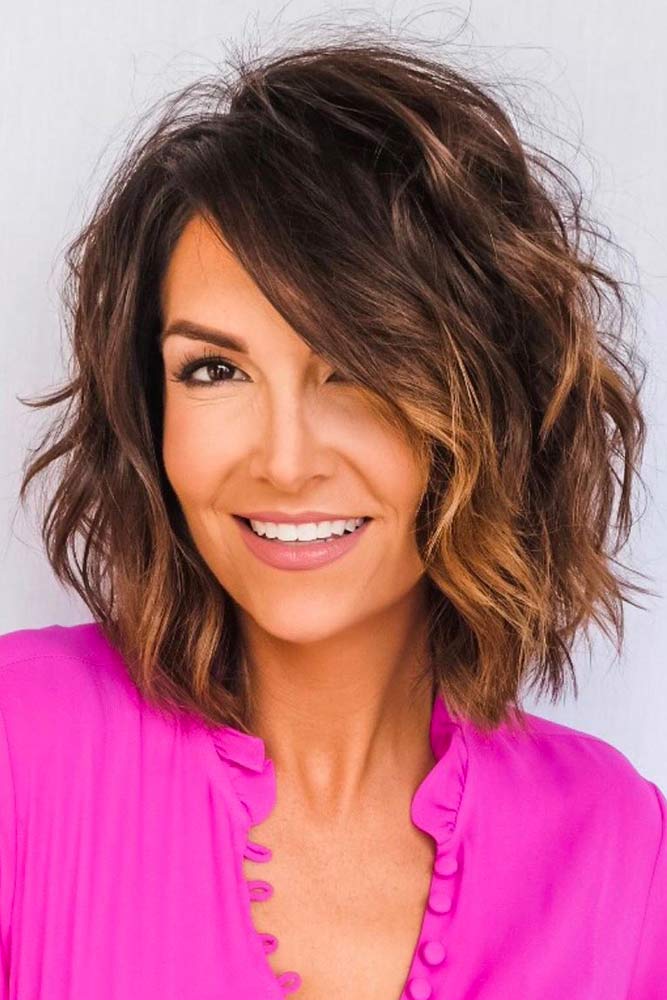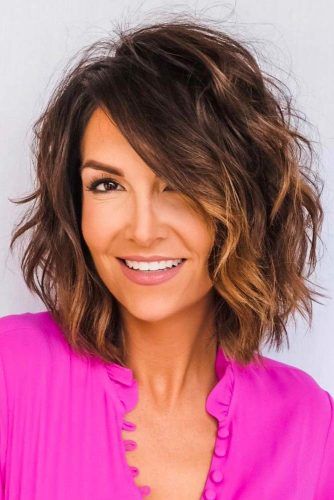 Source: chrisjones_hair via Instagram
Women love shaggy bob haircuts for their low-maintenance, easy-to-style looks. Indeed, getting a shag is enough to have a flawless look 24/7, as the cut consists of layers which a stylist shapes according to your hair pattern. You can even let your shaggy curls air dry; this look will come out right regardless of how you work with your hair after the shower. Of course, the only thing you need is to find a professional that will make the right individual contact with your locks.
ADVERTISEMENT ‧ CONTINUE READING BELOW
Messy & Effortless Medium Curls + Textured Body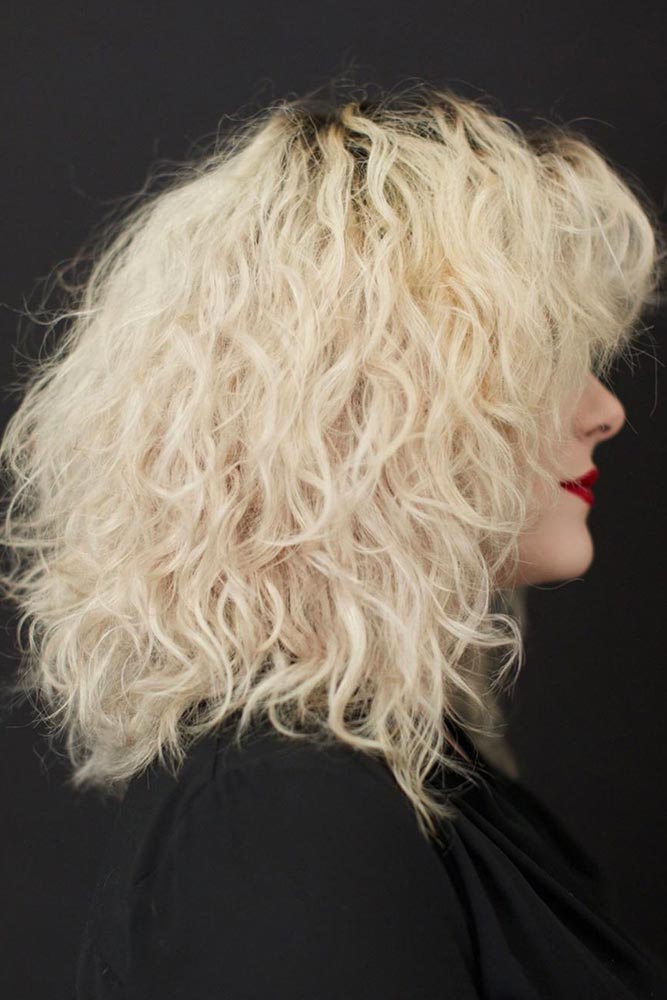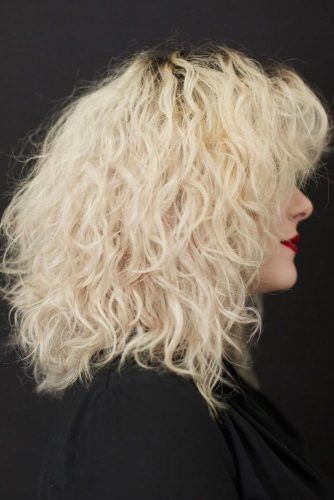 Source: anhcotran via Instagram
Before girls with such a fluffy hair type find their hairdresser, they take their texture as a curse. And when they finally meet the professional they're looking for, they will come to realize what a blessing this texture is. And here's the look that will make them fall in love with their hair: the curls are defined, yet effortless and voluminous, which is a win-win option for all occasions possible.
Vintage Curly Hairstyle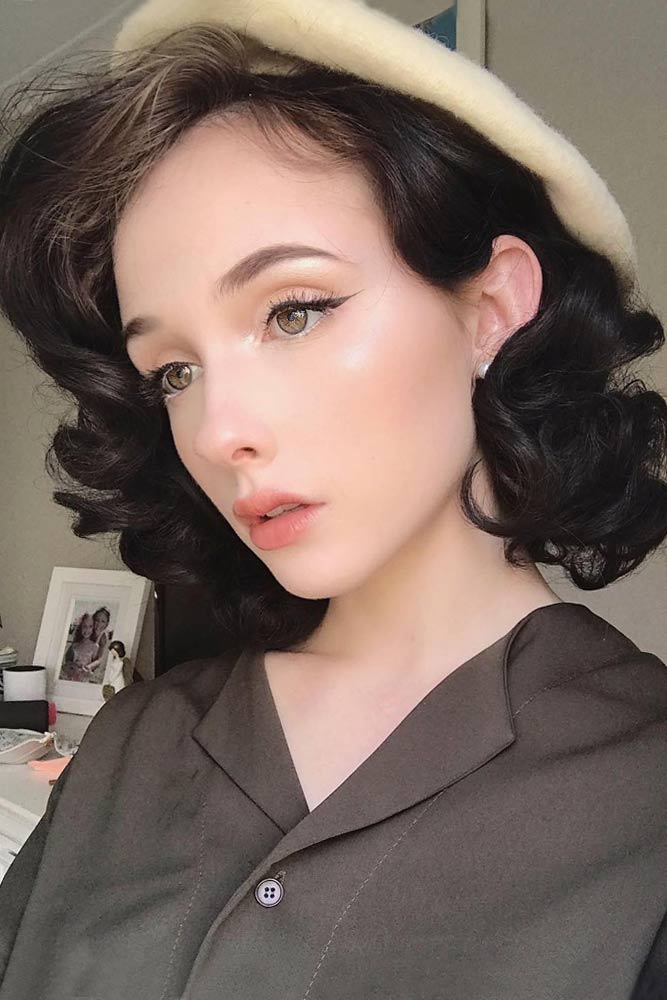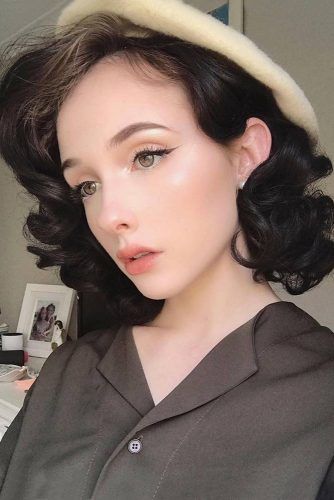 Source: miss_aizha_renee via Instagram
Do you know that most vintage hair trends were done on wet hair left overnight? Yes, women of that time were truly creative: they could create unbelievably voluminous curls out of nothing. The best thing about that, they didn't damage their locks. So if you worry about the health of your hair, as well as about the precious time in the mornings, this idea is for you. Do some tight little buns with your wet hair and go to bed. Unravel those cuties in the morning, set them with hairspray and impress everyone with an authentic vintage style!
Medium Dark Hair with Cute Curls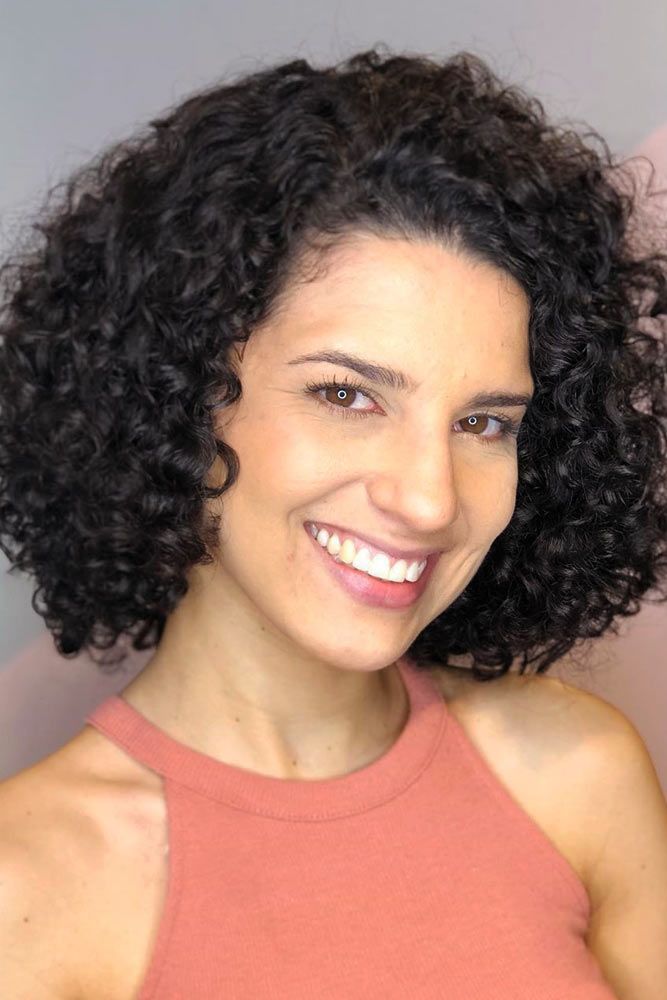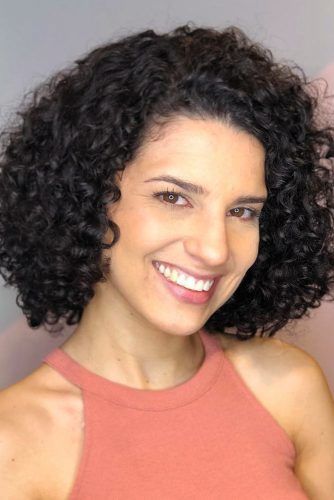 Source: devacurlbrasil via Instagram
Such short curly hair looks are just to die for. They look natural and unbelievable at the same time, making our mouths watering with effortless movement and glossy shine of the defined curls. And you know what? A short bob and deep conditioning with curl creams are the secrets of this divine look. To make the definition even more intense, coat your locks with some oils.
ADVERTISEMENT ‧ CONTINUE READING BELOW
Short & Carefree Pixie Cut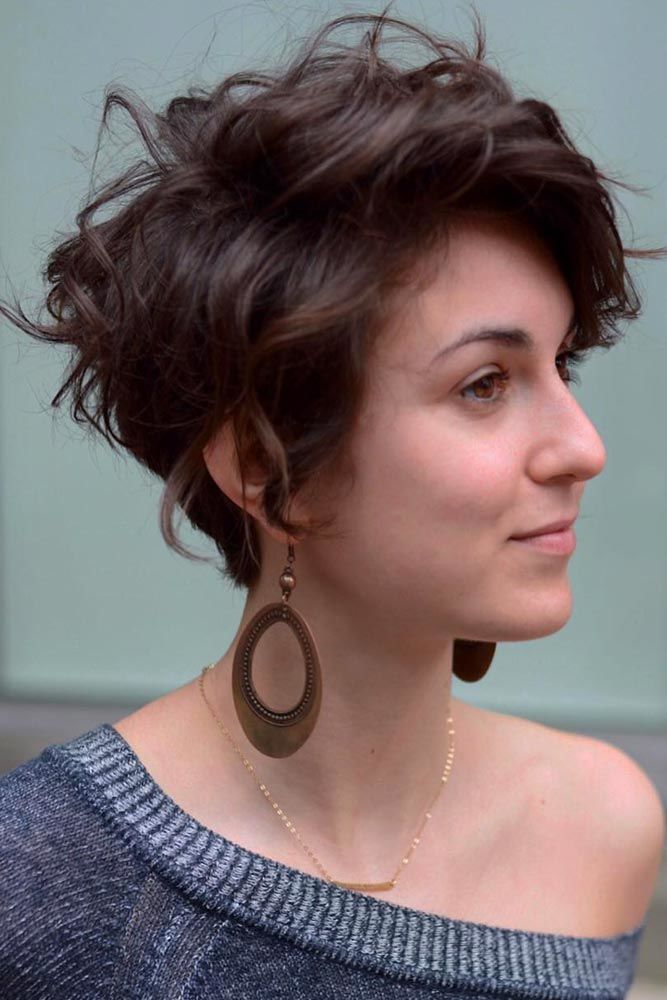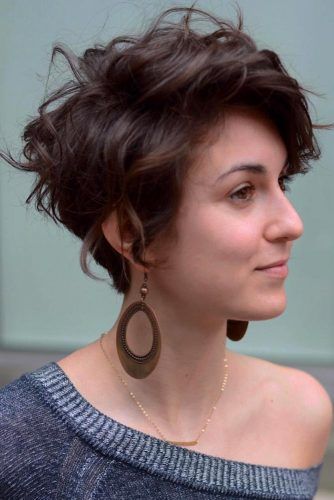 Source: cutyourhair via Instagram
Sometimes doing nothing with your hair can lead to a hairstyle you won't ever stop wearing! After deep conditioning, leave your hair to airdry and let your pixie do its own thing. In the meantime, you can shake your head and give it a little tousling. The look you see in this pic is a possible variation of what your pixie will transform into. To make the result last all day long, spritz it with strong-hold hair spray.
Asymmetrical A-line Bob Curly Hair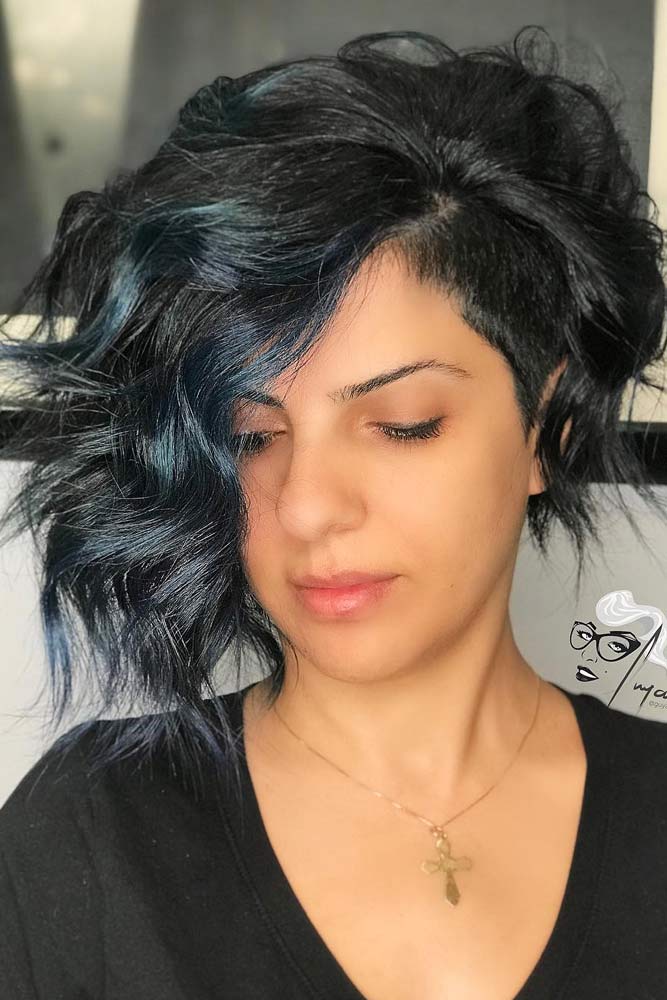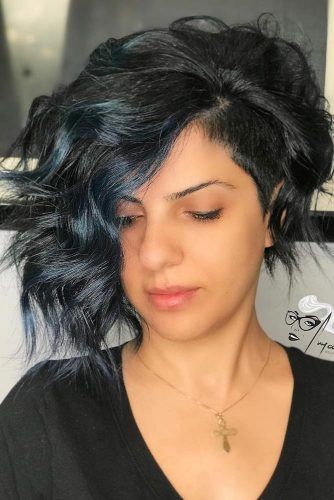 Source: guyannescissorhands via Instagram
When you want to change your look drastically, it's a sign that you need to let some asymmetry into your life. Whether you sport a bob or flaunt with a pixie, a hint of outweighed charm will show your look in a new light. Plus, it will give you more styling opportunities! Just look how gorgeously these waves dance together: they also seem to have unfolded their new side with the help of asymmetry.
Angled Bob with Light Waves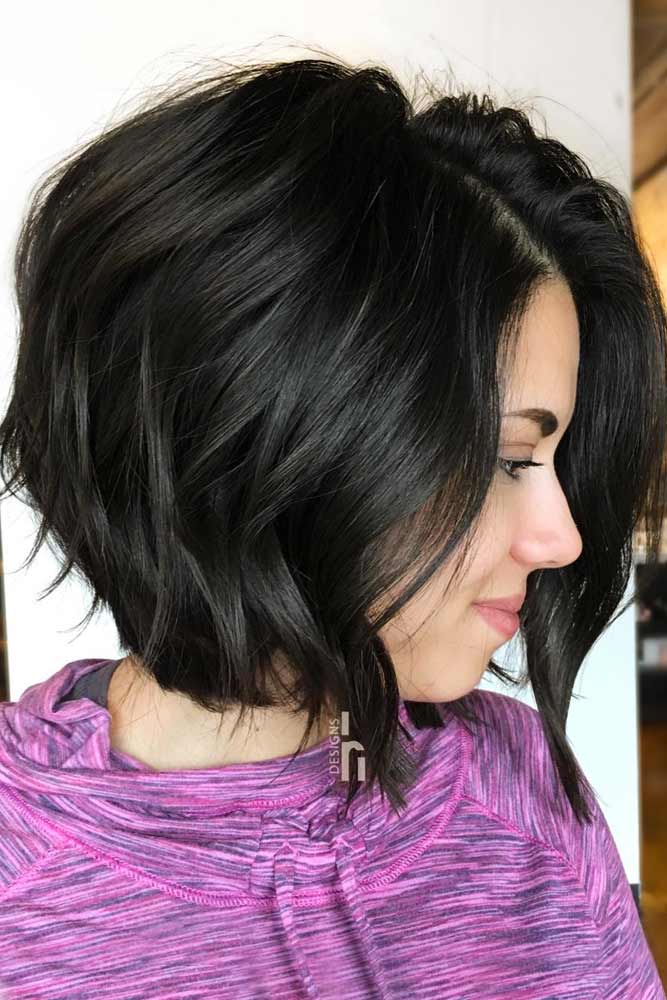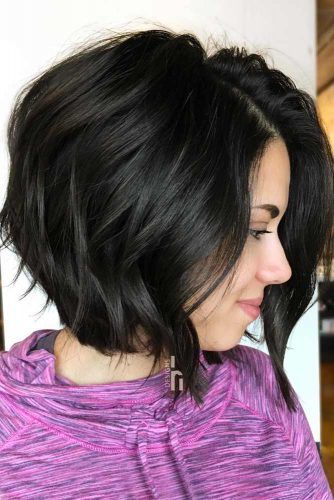 Source: headrushdesigns via Instagram
Remember how many times you would leave your home with a flat second-day hair look because you didn't have much time for styling? Busy ladies can breathe a sigh of relief, as they will always find the time for this idea. Angled bob has a very prominent front portion which will perfectly work for framing. And this is where you should start: grab a flat iron and give the front tresses a twist. Then, repeat this step with several top layers. Shake your head, secure the style with hair spray and forget about flat looks once and for all.
ADVERTISEMENT ‧ CONTINUE READING BELOW
Inverted Layered Bob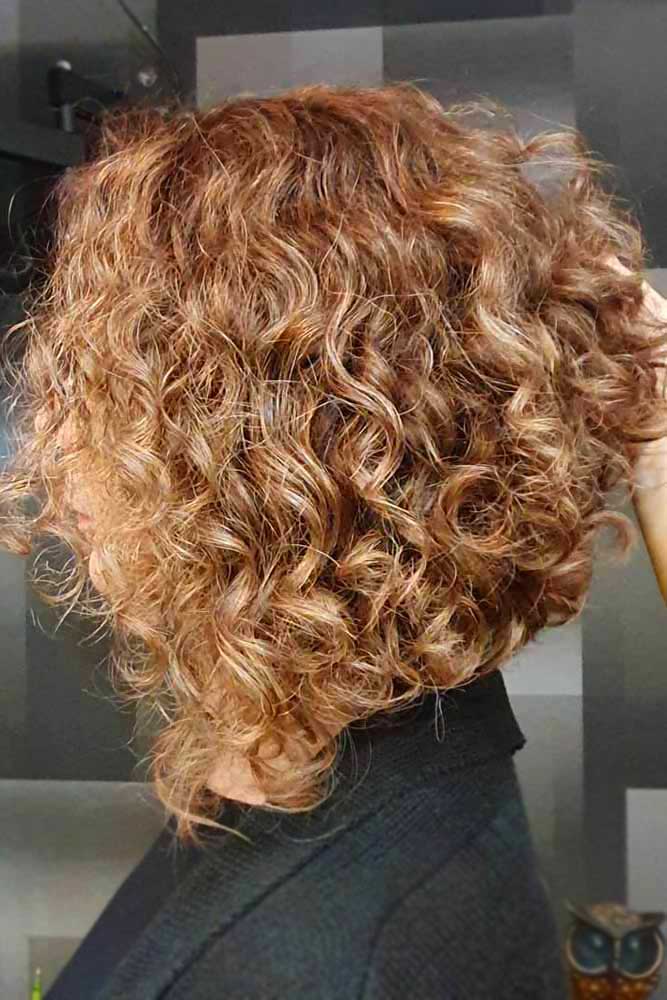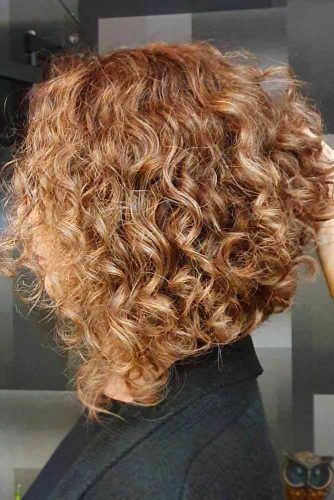 Source: denyvir via Instagram
Meet a bob hairstyle for short curly hair that can make your unruly texture behave. This inverted bob features layers, which means it involves shaping the ends to achieve definition for every single curl. When your layers are well-groomed and perfectly shaped, there's no way your hair will be a disaster. In fact, it's a wash-and-go you've been dreaming of!
Curly Chin Length Hairstyles
Source: nanaicosta via Instagram, thereallialovee via Instagram, cynoliver20 via Instagram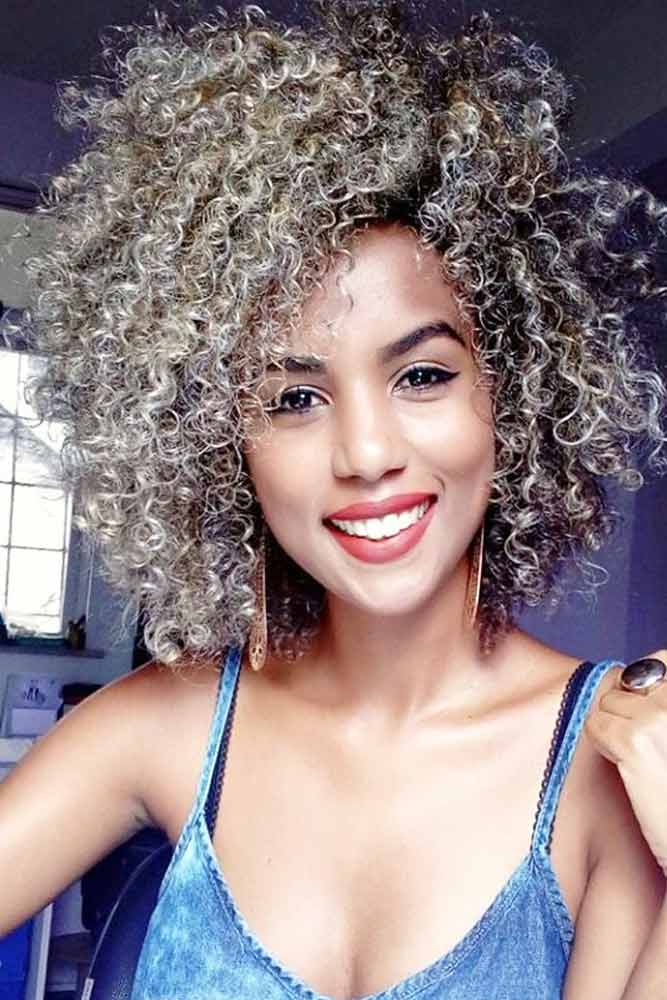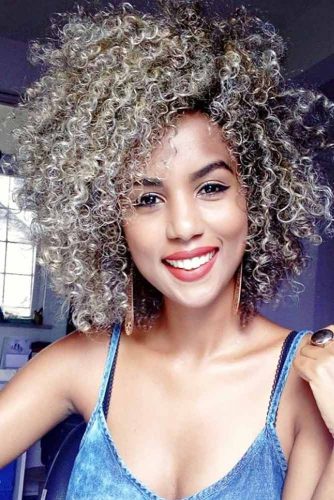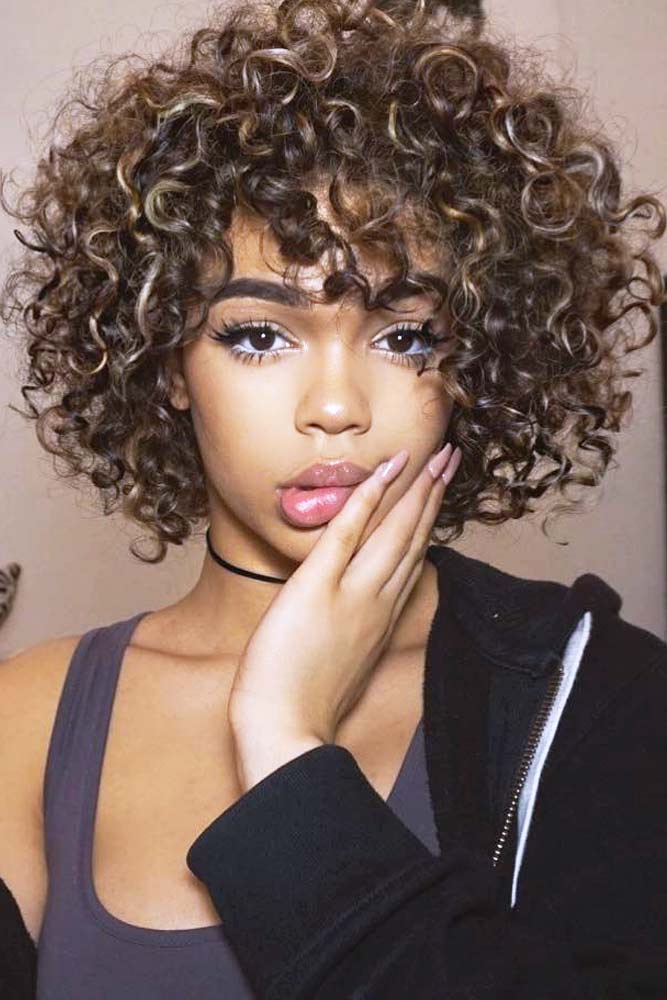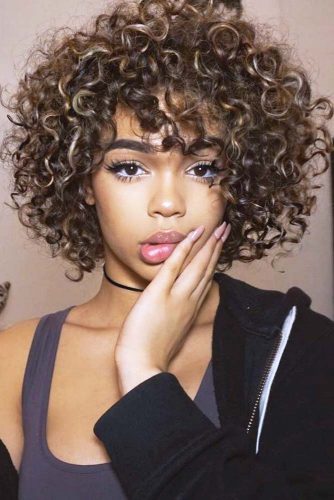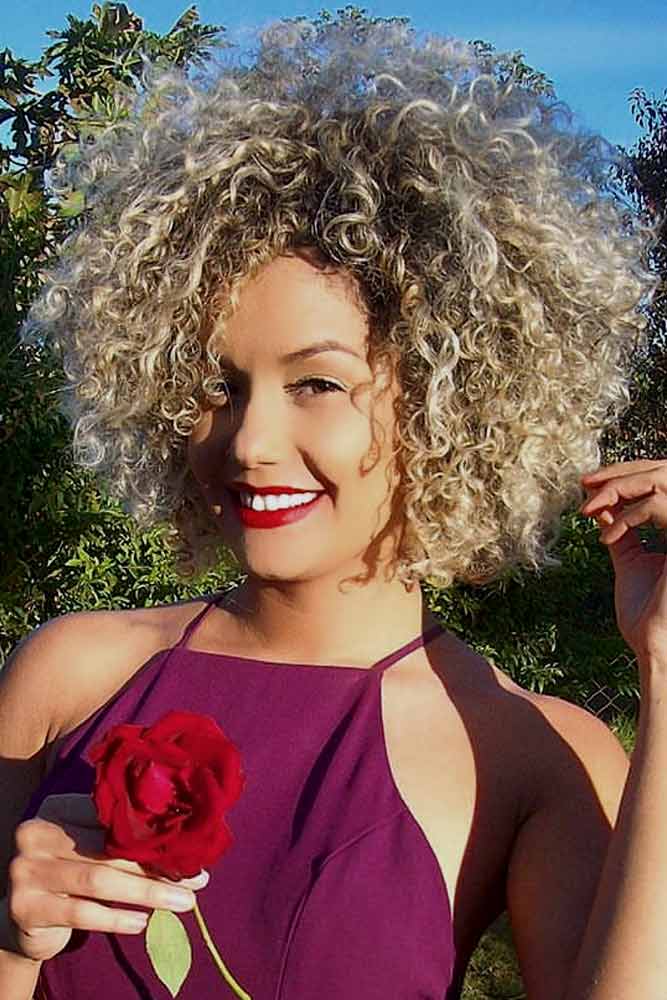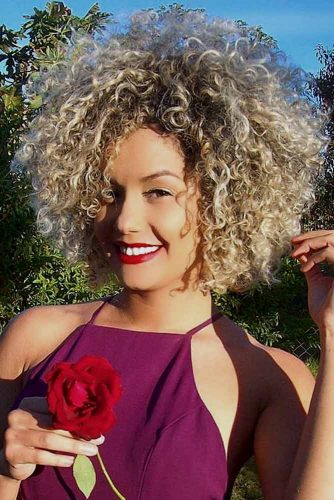 When going too short is a little bit too edgy for you, you should definitely try out a chin length layered bob. Whoever said that it does not go well with tight lovely curls has never seen something as beautiful as this stunning mane!
Curly Medium Bob Hairstyles
Source: eyesyumei via Instagram, dailiperez via Instagram, thereallialovee via Instagram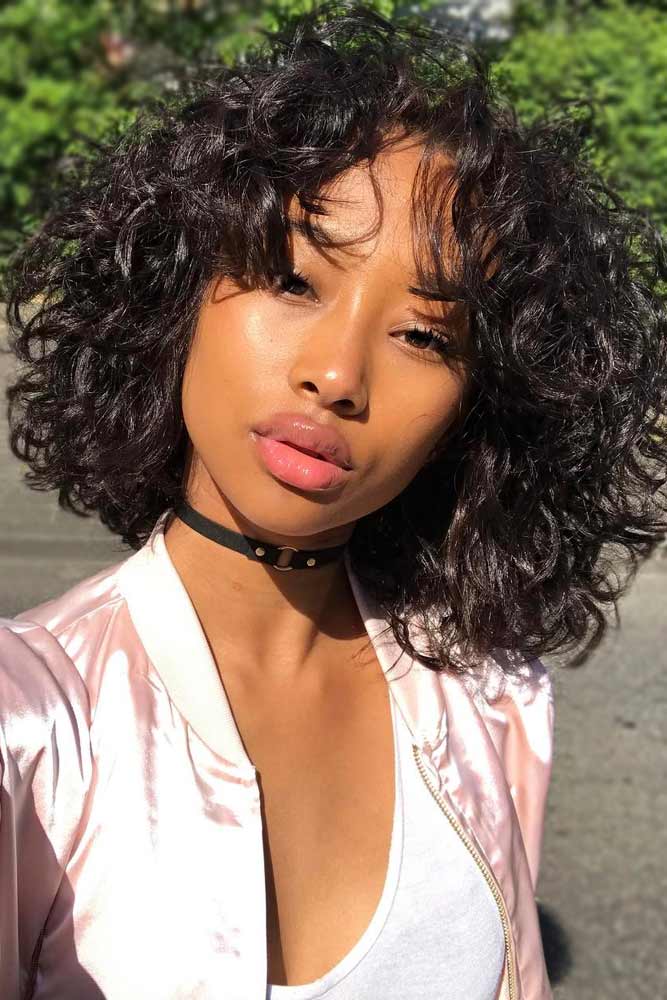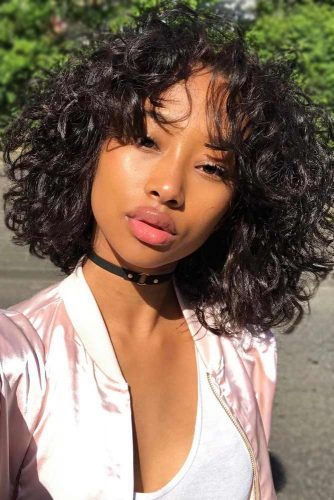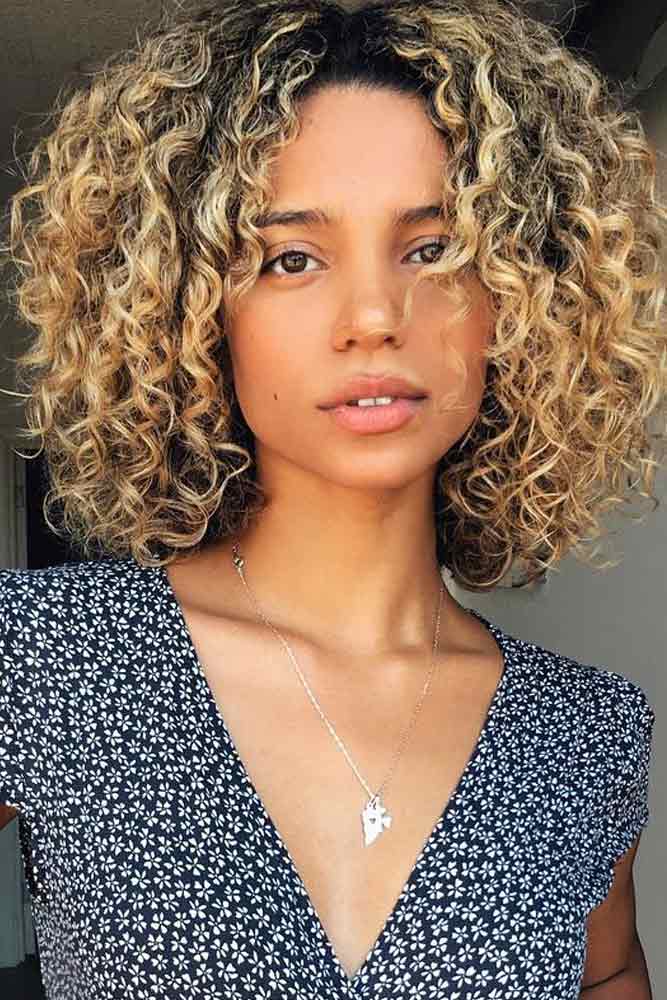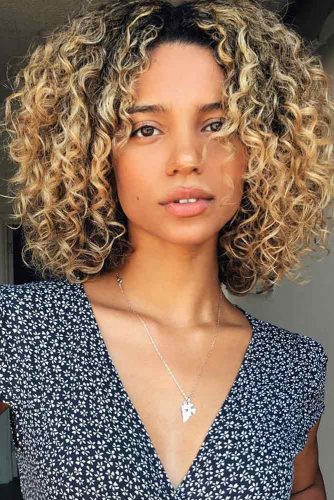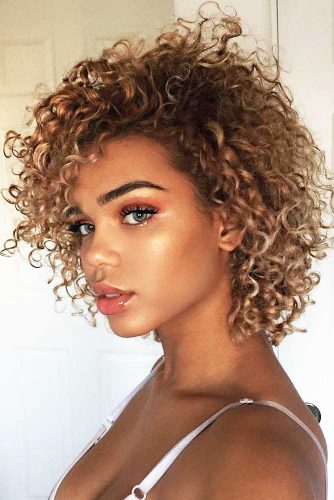 There is one important factor you should pay attention to while playing around with your middle-length curly locks – the shade. Do not be afraid of experimenting, honey-colored highlights throughout those tight curls look extraordinarily sweet.
ADVERTISEMENT ‧ CONTINUE READING BELOW
Short Curly Hair With Bangs
Source: makaylamclovin via Instagram, salsalhair via Instagram, aiyanaalewis via Instagram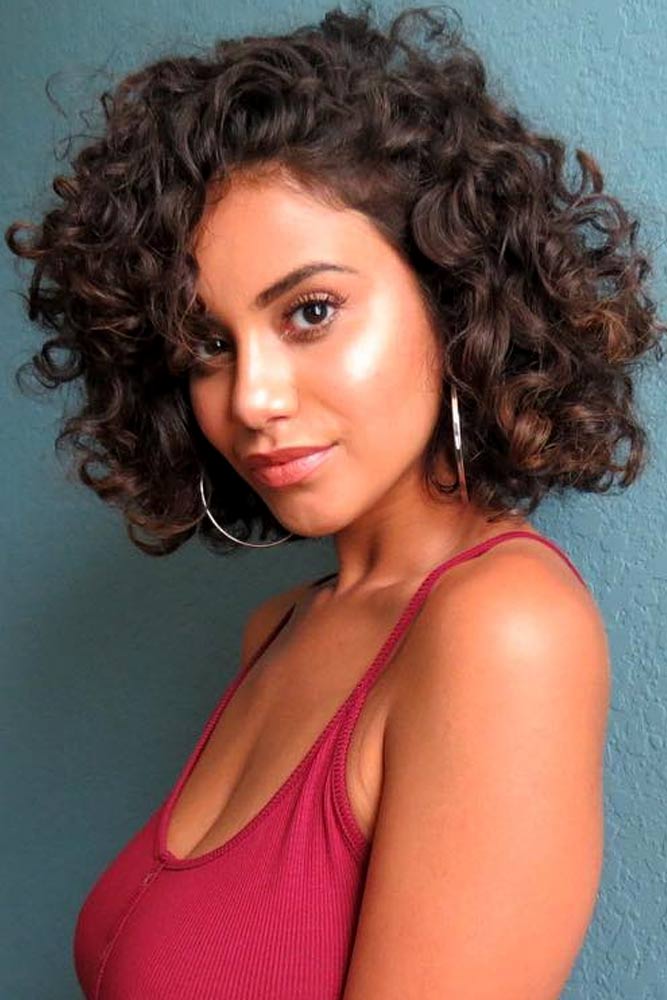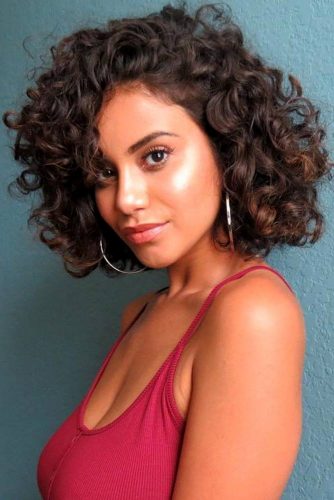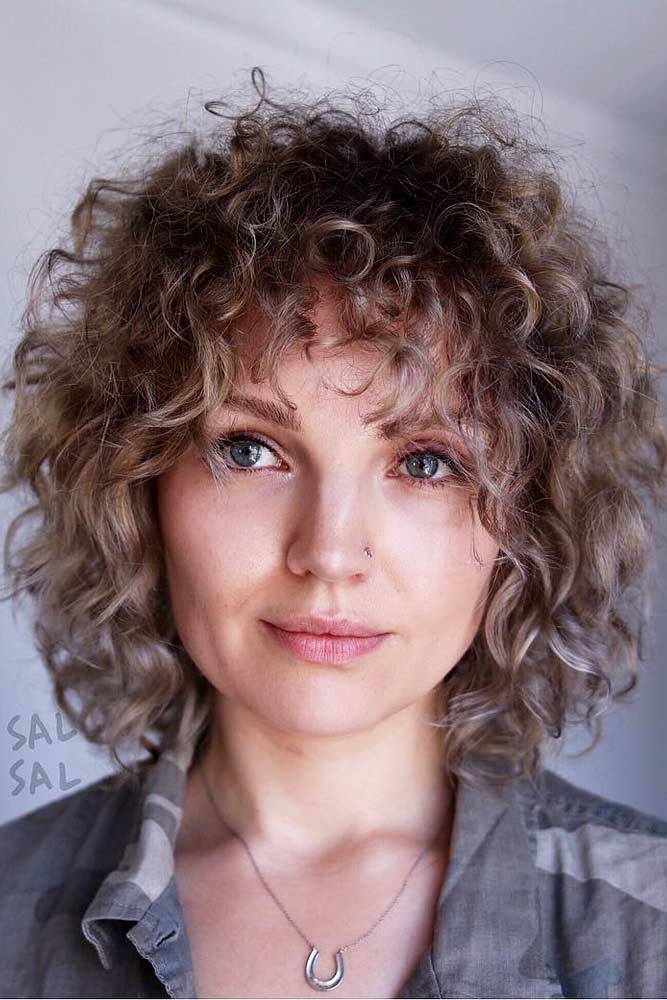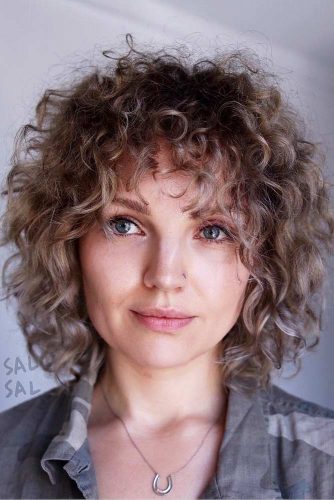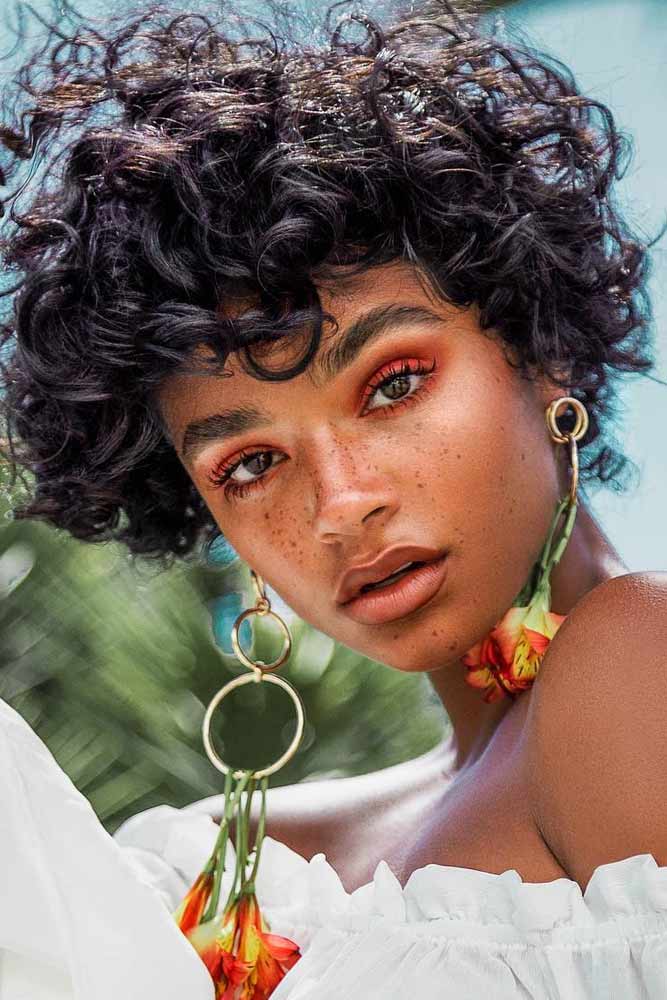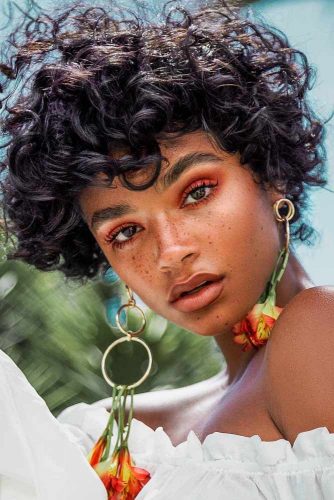 Who said that you should be afraid of bangs since your locks are curly? Quite on the contrary, easy-going side-swept bangs look more than just charming, even if your hair is natural-textured and of a natural brown shade. Sometimes there is so little needed to create the beauty.
Curly Bob Hairstyles For Oval Face
Source: thereallialovee via Instagram, thereallialovee via Instagram, nanaicosta via Instagram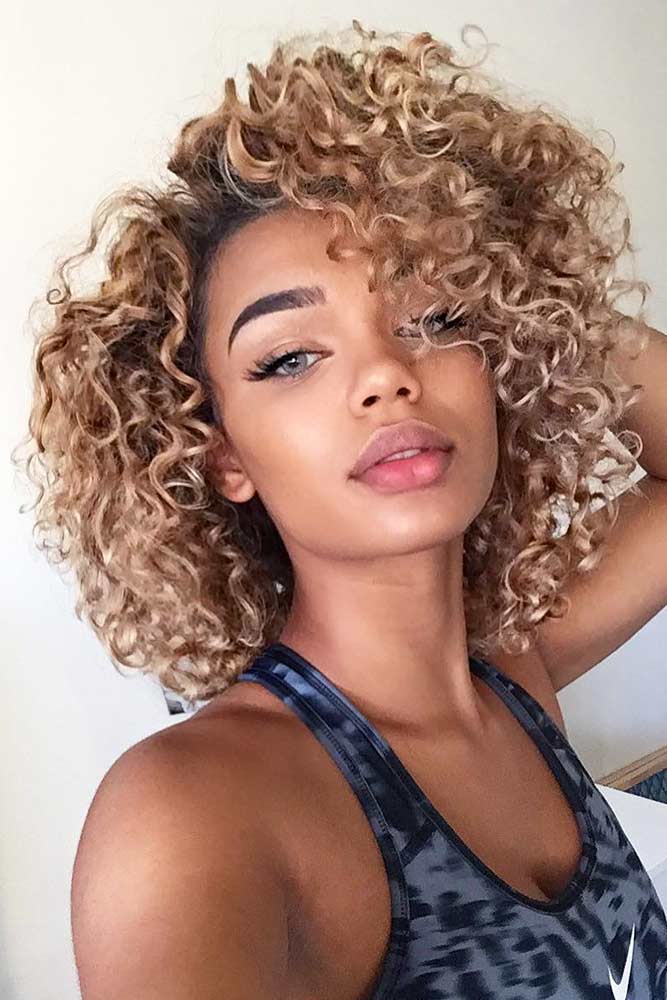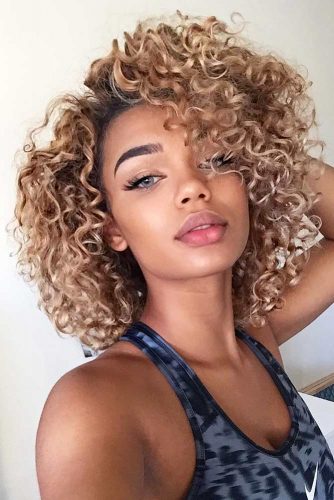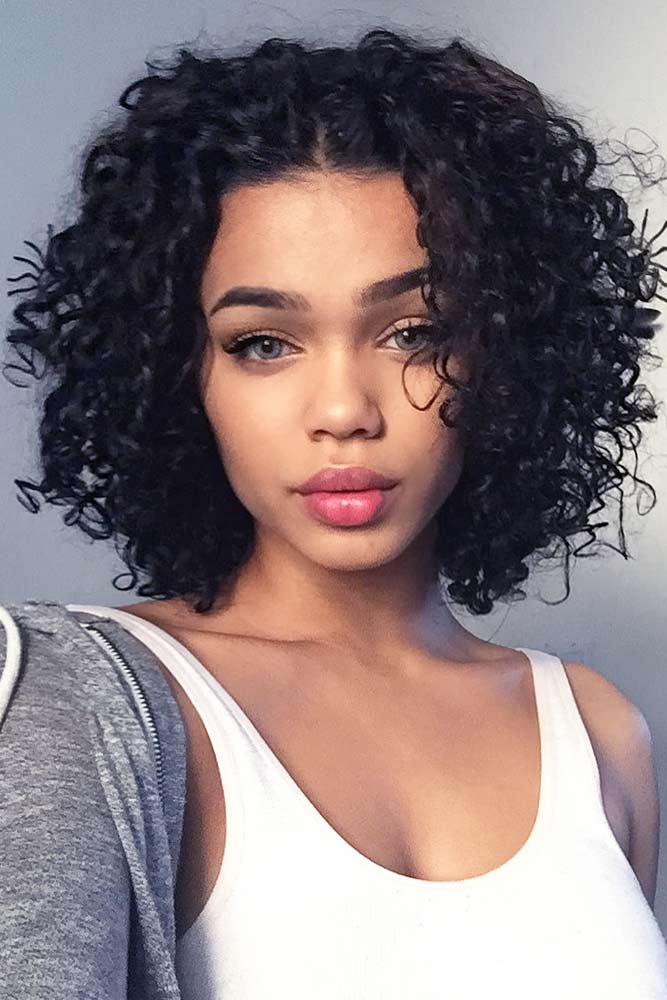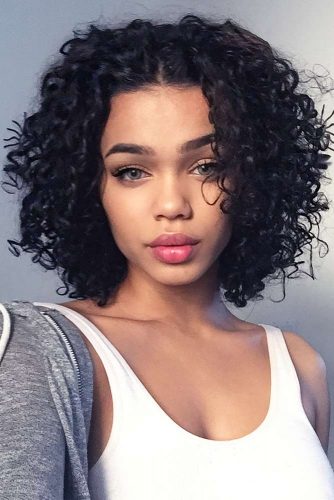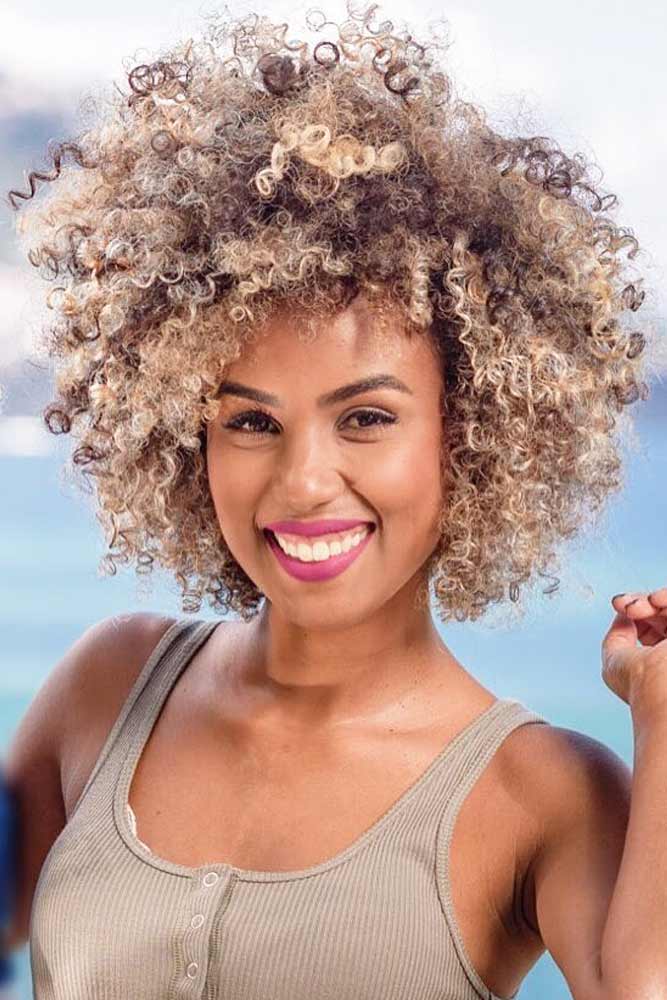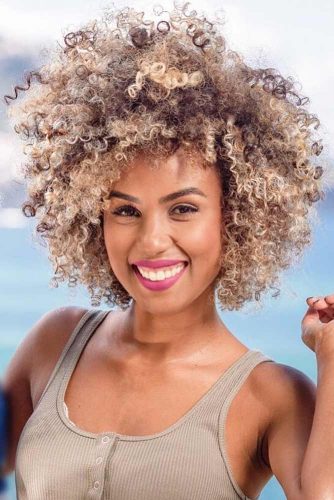 The oval face shape is the ideal shape because it can wear nearly any hairstyle! Do you have short curly hair? When thinking about what cuts will look good with your curly hair, it's important to find inspiration that reflects your own curl pattern: the width and shape of your curls. Here are the best bob haircuts for oval faces that will look fabulous on oval face shape.
Curly Bob Hairstyles For Square Face
Source: dailiperez via Instagram, salsalhair via Instagram, saraholiveirab612 via Instagram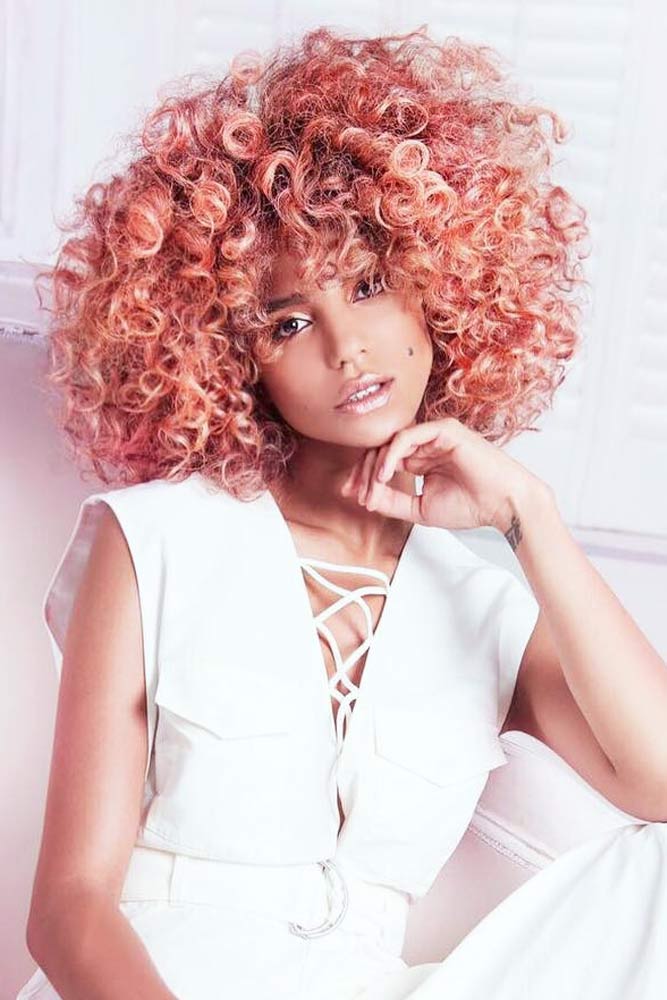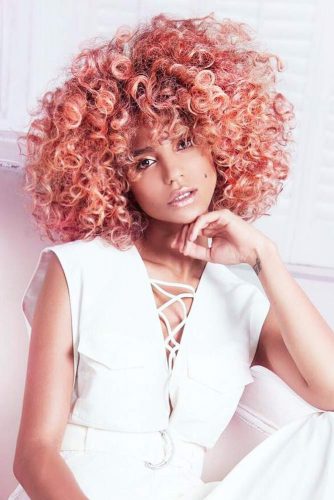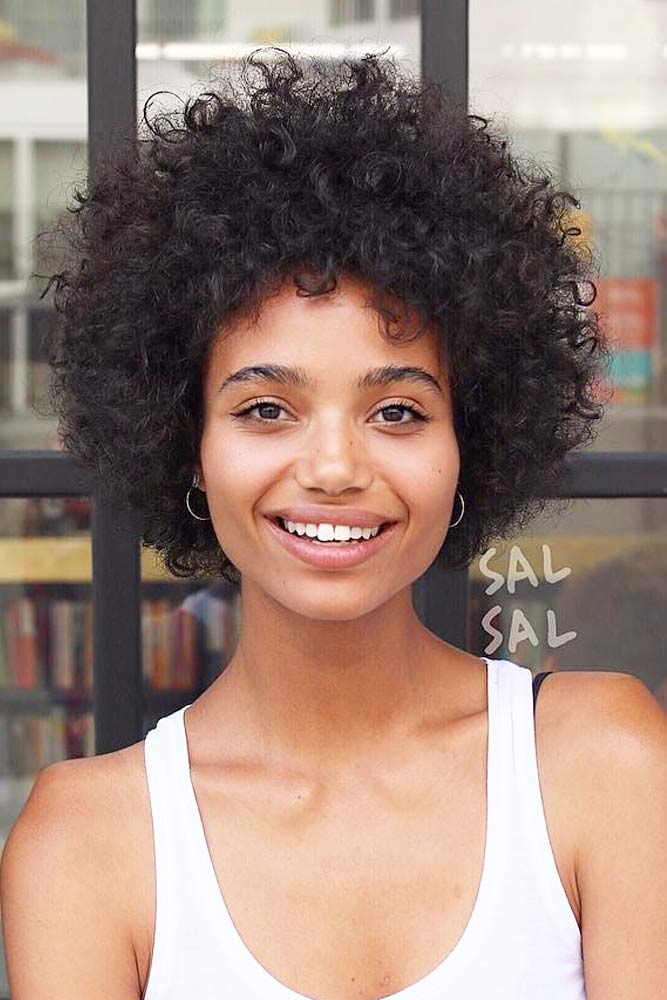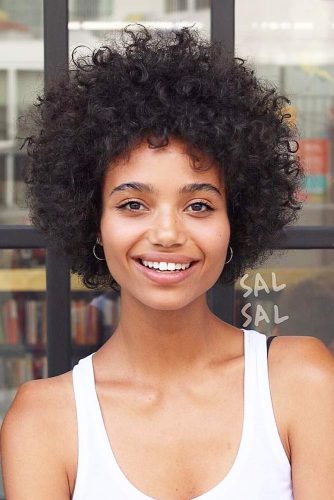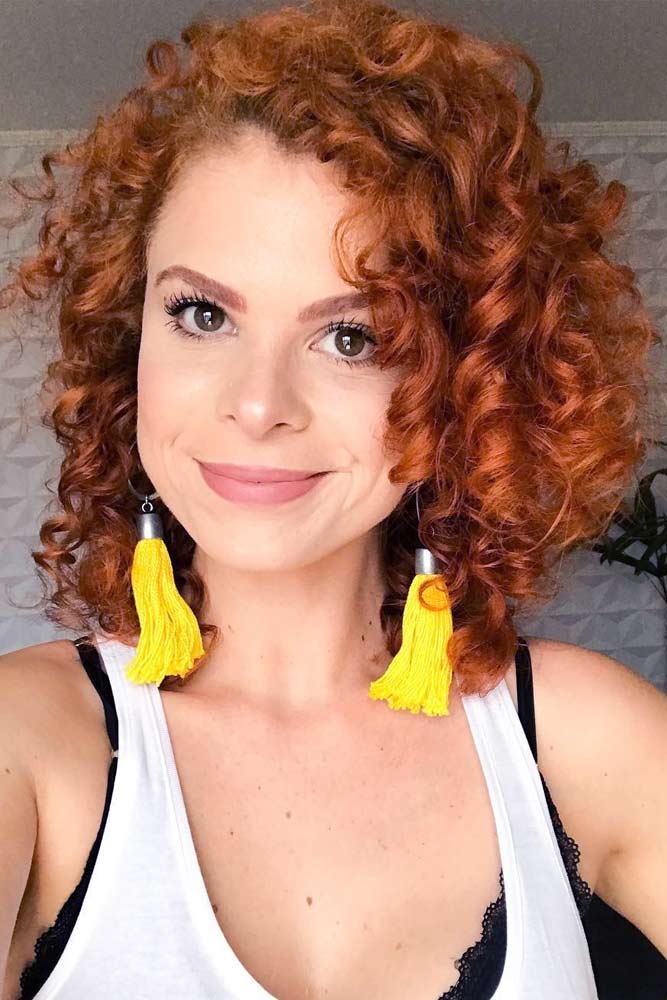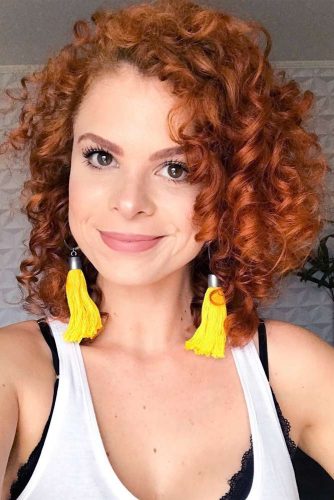 Women with square faces are very photogenic and a flattering hairstyle can accentuate their natural charm. Come on, when else will you try a classy black, bright auburn or even shocking pink if not now when your curly hair is short?
ADVERTISEMENT ‧ CONTINUE READING BELOW
Curly Pixie Hairstyles
Source: esterlymelo via Instagram, esterlymelo via Instagram, aiyanaalewis via Instagram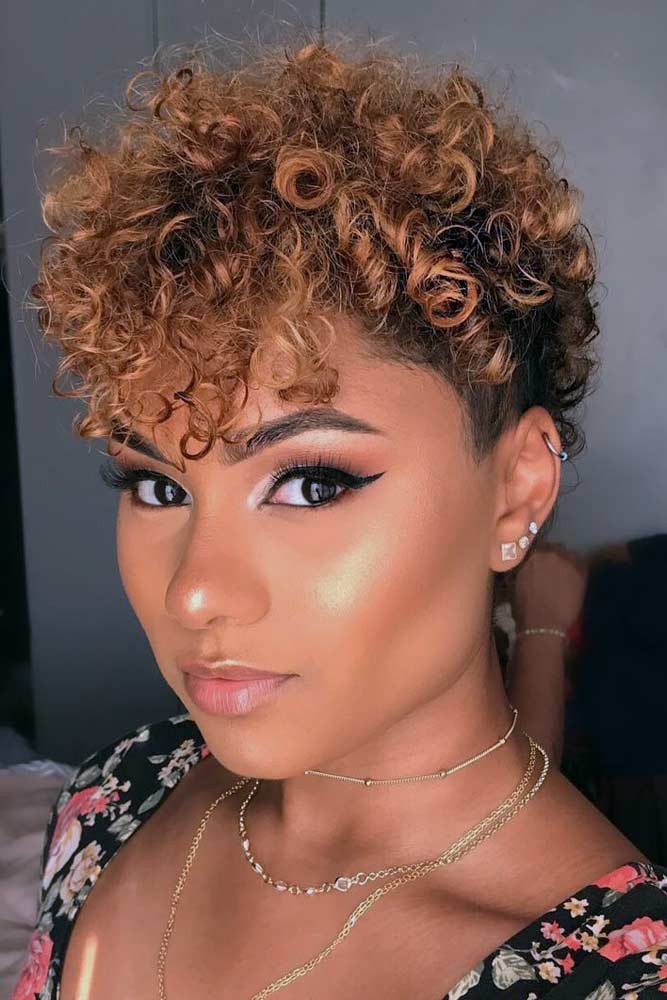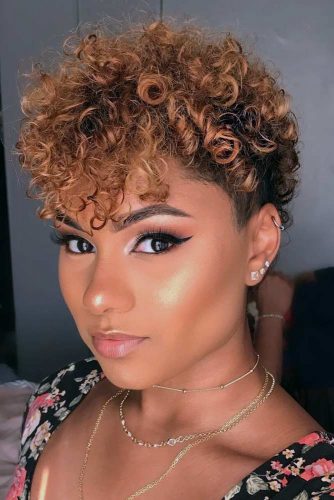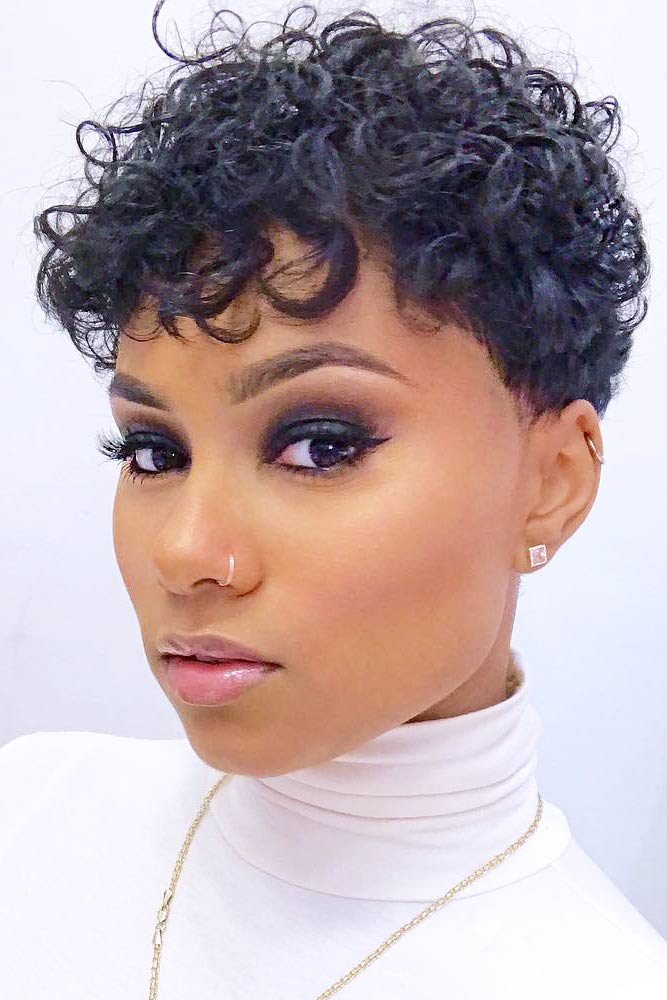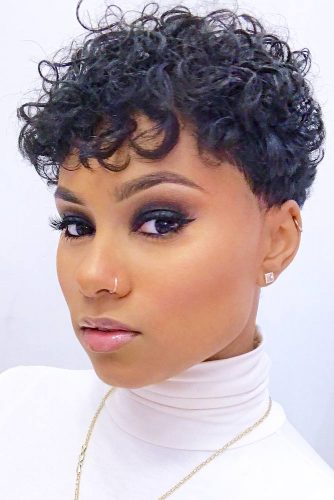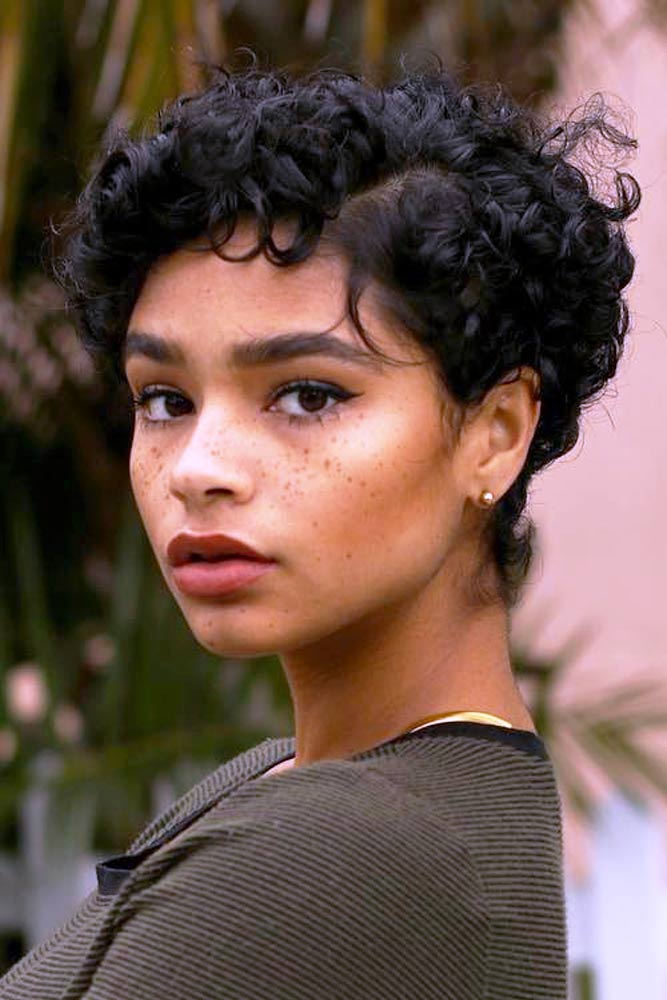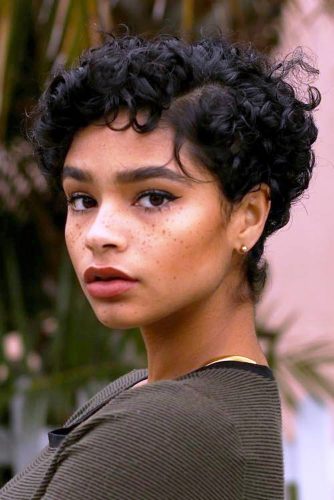 A pixie cut and curly hair look perfect together, there is no doubt about it anymore. Styling your hair so that it is truly elegant and fun has never been easier. All is left is to choose some nice coloring, and your fresh look is ready.
Undercut With Curly Hair
Source: beautybyrachelrenaepaz via Instagram, sandra_sinh via Instagram, sandra_sinh via Instagram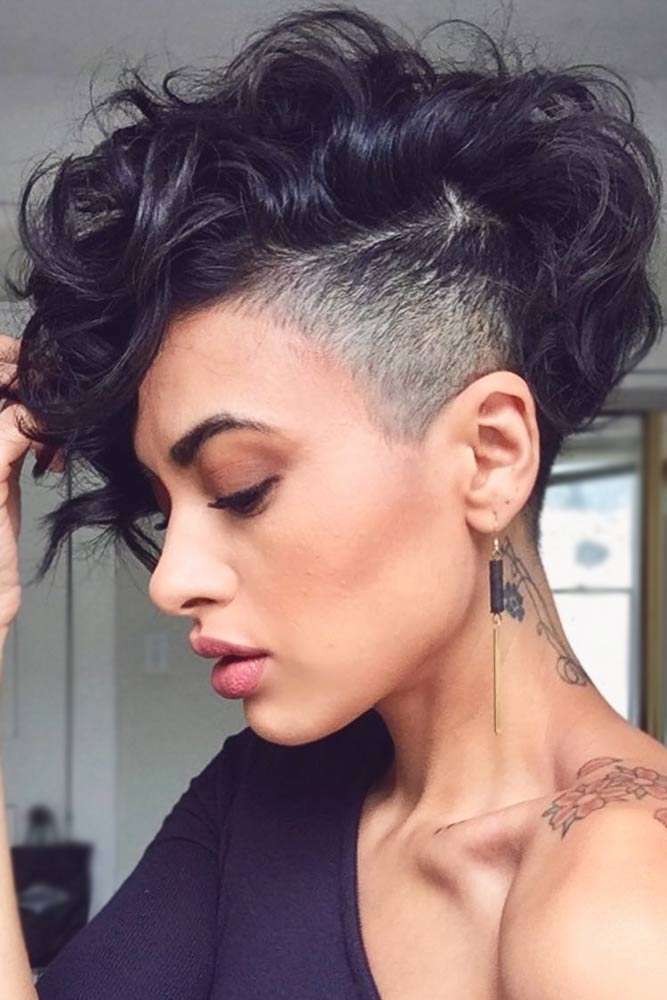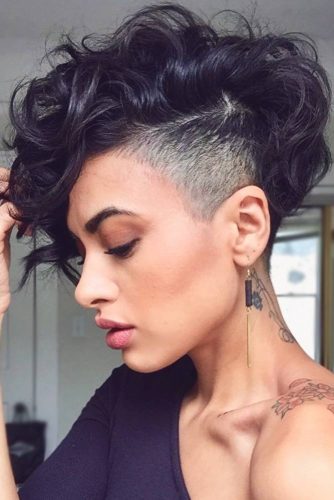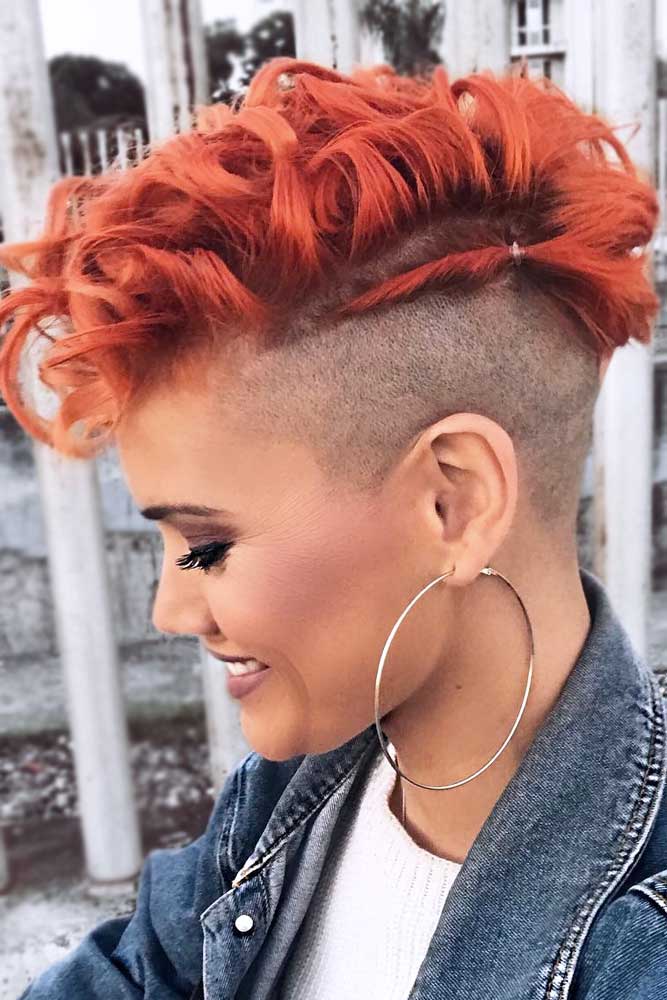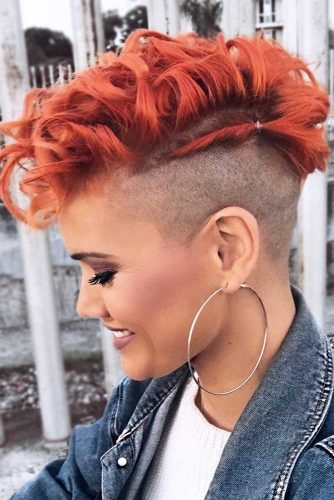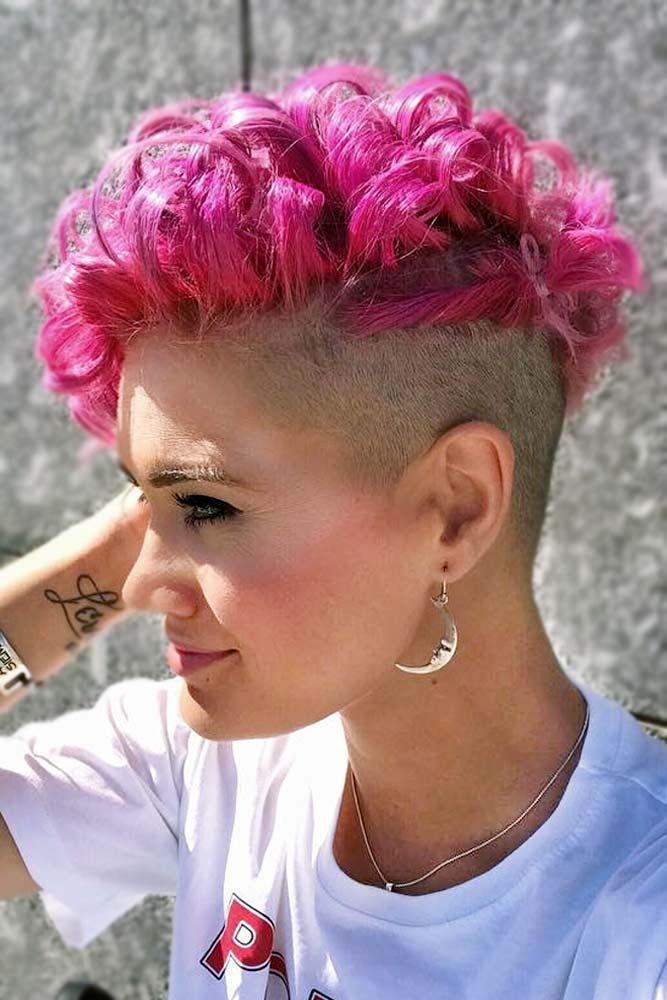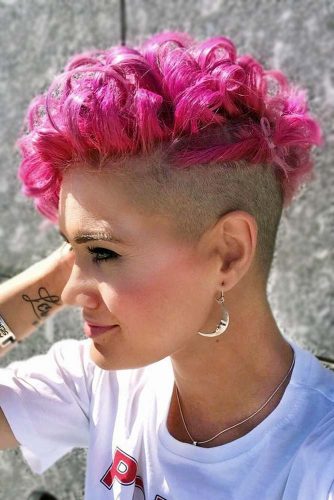 Hairstyles with undercuts are only for the boldest of you. But the thing is that curly hair looks gorgeous with an undercut involved and some bright shade added, don't you think? Just look at this bright rusty-shaded curly beauty! Breath-taking!
Main photo by
Dailiperez
ADVERTISEMENT ‧ CONTINUE READING BELOW