While the realm of hair fashion is vast, one trend has been on the minds of many – short hair balayage. The effortless allure of the style, its artistic representation, and simple maintenance can make your heart skip a beat, and that's alright.
Whether it is a pixie, bob, lob, or any other hairstyle you are in love with, it is possible to spice things up with a skillful balayage added to the scene. The technique is designed to bring depth and dimension, let alone the sun-kissed appeal, to the table. This is a list of perks one can't resist long.
Thus, we offer a free ticket into the world of sassy short hair balayage so that you can uncover all the secrets that the style holds and find the best looks to inspire from before your next hairdresser's appointment!
Balayage for Short Hair: How to Get Best Result
It is not enough to know how to balayage short hair. You must be aware of all the underwater stones that can negatively affect the final result. Considering the dangers of a ruined style, we'll share practical tips to ensure you get the best possible outcome and show your mane off with pride.
Consultation – the number of balayage options is impressively versatile, so it takes a dedicated expert to find the one that would suit you best. Thus, consulting with a specialist before scheduling the session is critical.
Right shade – no matter the trending tints and colors, you must locate the shade highlighting your locks well and compliment your skin tone.
Placement – the length of your hair matters regarding the proper location of the balayage. With short hair, framing layers would be the best to focus on.
Graduality – balayage is all about the seamless transition from one shade to another, so you should keep away from heavy gradients, or you may ruin the overall effect.
Regular trims – to make sure that your balayage looks great over time, you must schedule regular trims at least once every 4-6 weeks.
Maintenance – while short balayage hair is effortless to style, you should follow a strict care routine to ensure the health of your locks. Thus, it is best to use products designed for dyed hair. Besides, cutting on heat styling would be a practical approach.
Scheduled touch-ups – if you want your balayage to look as good as new, you must opt for regular touch-ups to maintain its vibrance and fresh appeal.
Pixie Balayage Hairstyle
One of the critical advantages of short hair balayage is that it allows you to make a statement with the least time and effort involved. Combining the technique with a pixie cut will double the result. Pixie is an icon hairstyle designed to boost your free spirit and effortless charm. Balayage will ensure that you take the cut to a new level of sophistication and style!
Honey Hues for Balayage Short Hair
Honey balayage short hair is that one thing you need to infuse your locks with warmth and radiance. The blonde honey shade is perfect for achieving that sun-kissed effect many aim at. There's barely anything better to enhance the natural allure of your hair and elevate your style in an instant. Keep in mind that straight locks will help you show off the honey hue, but light waves will introduce intricacy and dimension.
Light Ash Brown Balayage Short Hair
Credit photo: instagram.com/hairbyjaxx
i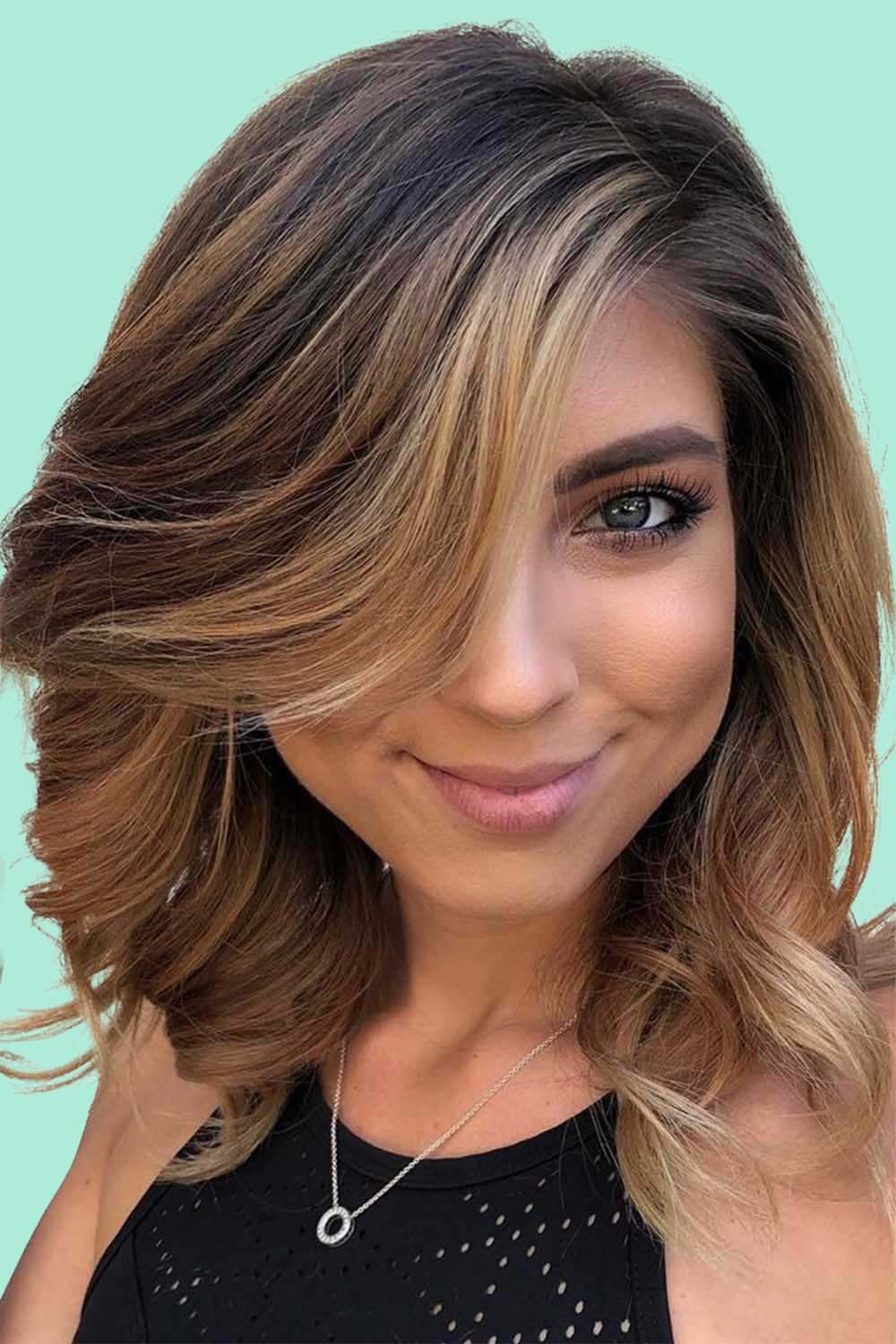 /
Light ash brown balayage short hair is an exquisite color mixture designed to add sass and precision to any haircut you opt for. The primary strength of the technique lies in its immense versatility. Thus, it will look perfect on a bob, pixie, or any other hairstyle you choose. Make your appearance twice as captivating with ash-brown balayage and reap all the benefits it offers.
Dark Brown Balayage for Straight Hair
If you are interested in a timeless and elegant hairstyle, then dark brown balayage short hair straight may just be the style to center on. The classy combination of rich blends will bring ultimate sophistication to your hair. Whether it is a sleek and polished outcome or a slightly more relaxed vibe that you are looking for, the technique will make your dreams come true.
Short Dark Hair with Blonde Highlights
It is true that balayage on short hair serves multiple purposes. For instance, when you melt the richness of dark tones with the luminance of blonde balayage, you will achieve a mesmerizing outcome based on perfectly balanced contrast. Besides, you can play around with shades that gradually melt into one another or opt for face-framing highlights to bring your best features to the front. Moreover, the technique pairs well with every short hairstyle you can come up with and completes it ideally. See for yourself!
Caramel Balayage on Short Hair
Credit photo: instagram.com/hairhunter
i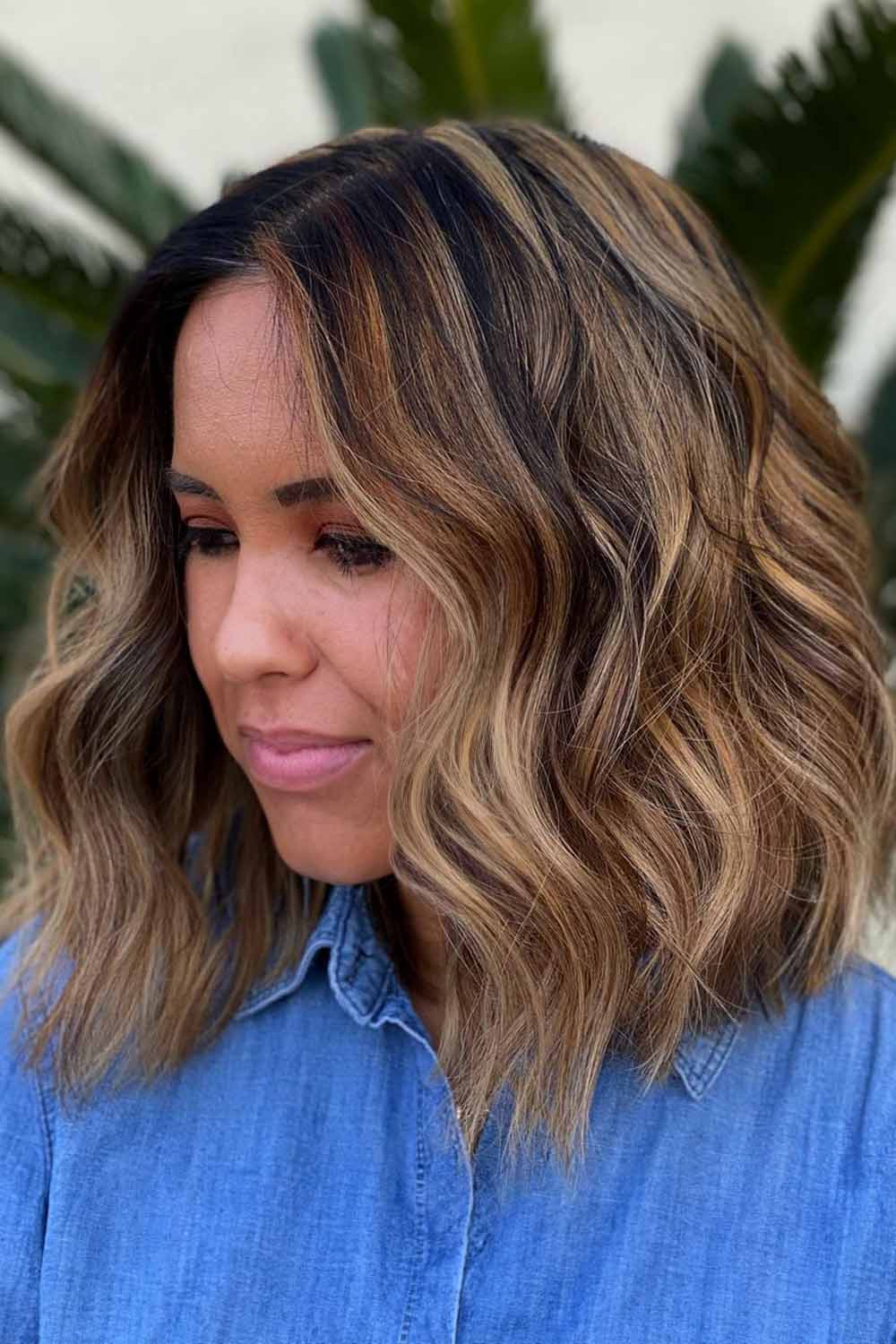 /
Caramel balayage on short hair is a pure recipe for elegance. Don't believe us? The sunlit glow of caramel highlights brings in all the sophistication and charm to the scene. Your hair will shine and glow differently when you step into the light. Besides, the levels of depth and dimension the technique presents can't be discarded.
Balayage Blonde Short Hair
Credit photo: instagram.com/xo.farhana.balayage
i
Credit photo: instagram.com/lindseyblakehair
i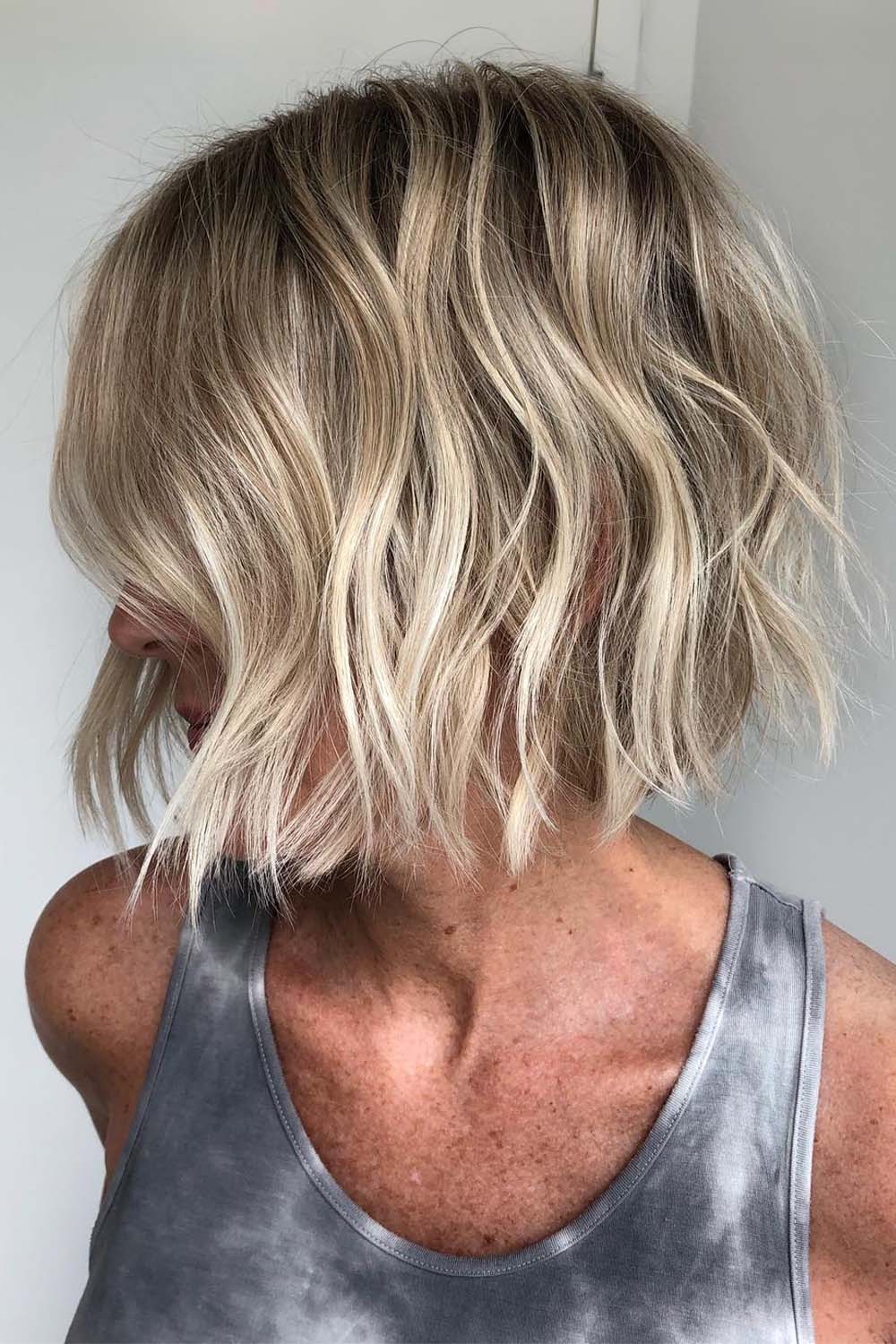 /
Balayage blonde short hair has been invented for those aiming for a perfectly natural outcome. A touch of color, a few tones lighter than your natural mane, will drastically transform your locks. The magic of blonde hues paired with the skill and dedication of an expert colorist will help you express your individuality and style so that you feel a boost of courage and confidence every time you look into the mirror.
Copper Balayage Ideas
Are you ready to seal the power of warmth and vibrance into your hair? Copper hues are precisely the means to ignite your locks and make the heads turn. Keep in mind that the specter of copper hues is versatile so that you can easily locate an ideal tint to match your style and personality. Moreover, copper balayage knows no age limits or any other boundaries, for that matter.
Shades of Lavender for Short Hair
Short hair is a perfect canvas for creativity – why not use the chance to the fullest? Well, lavender balayage is a captivating hue that can melt your locks into a pure work of art. The beauty of the lavender palette can't be coated in words, but you can play around with the boldest and the subtlest tones at will. Besides, you can incorporate other colors and project them onto the canvas of your hair. Let your individuality seep through every lavender strand of your mane!
Wavy Green Bob
Credit photo: instagram.com/cadencecolorist
i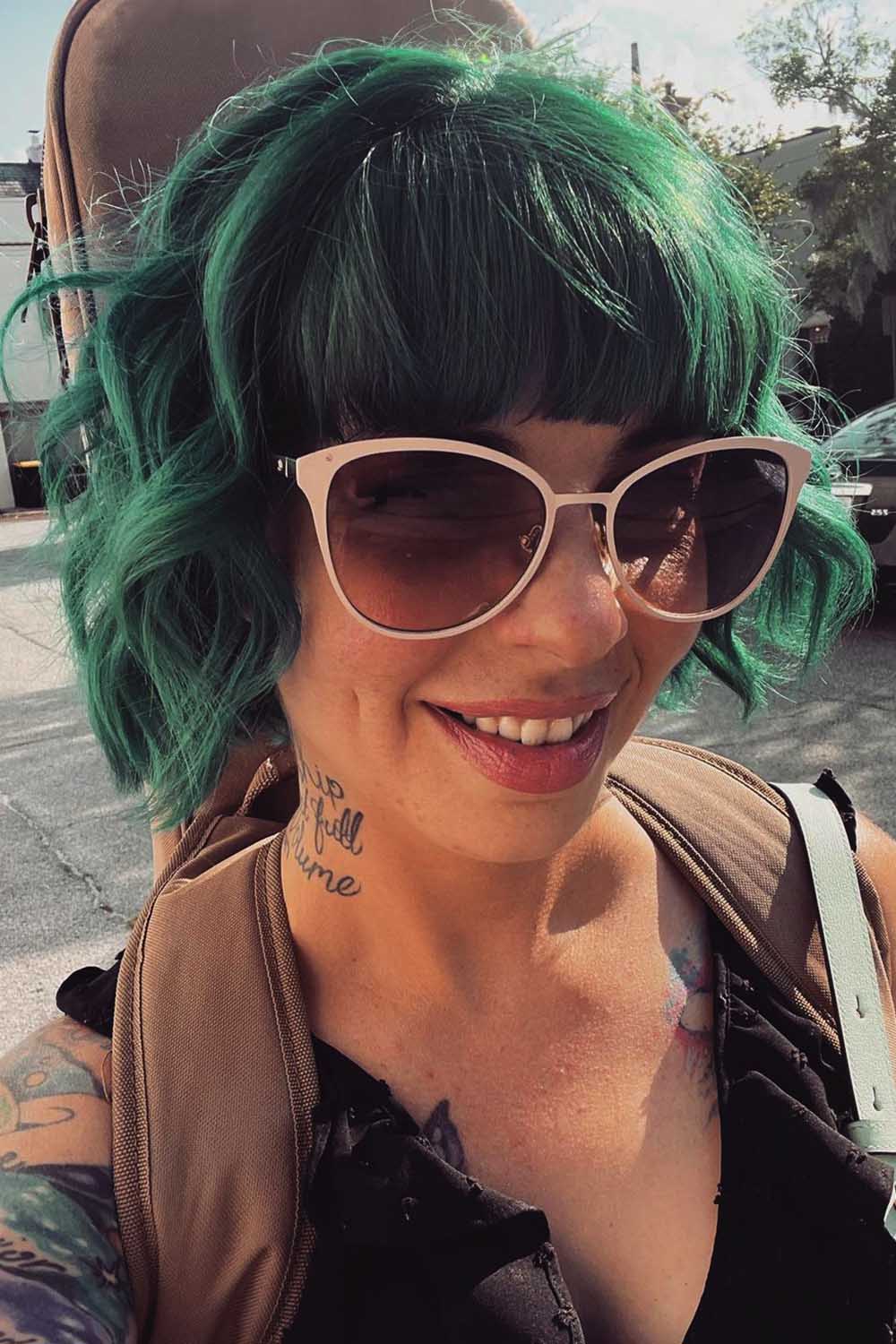 /
A wavy green bob is a scaled combination of thickness, audacity, and vibrancy. This match made in heaven will make you look bold, beautiful, and merely unforgettable. A style like that oozes with confidence and creativity. If you see yourself in these lines, then you know what to ask for the next time you head for the salon.
Pink Balayage Ideas for Short Hair
Pink balayage is one of those trends that has taken the world by storm, and we are thankful for it. While some people still think that a rich pink palette is reserved for long locks, we will prove otherwise. Pink balayage complements short hair ideally, not to mention that it comes in a plethora of shapes and forms. Anything on the scale from face framing highlights to purple to pink transitions are on offer. All it takes is to reach out your hand and seize the opportunity.
Crazy Colored Short Hair
Credit photo: instagram.com/hairhunter
i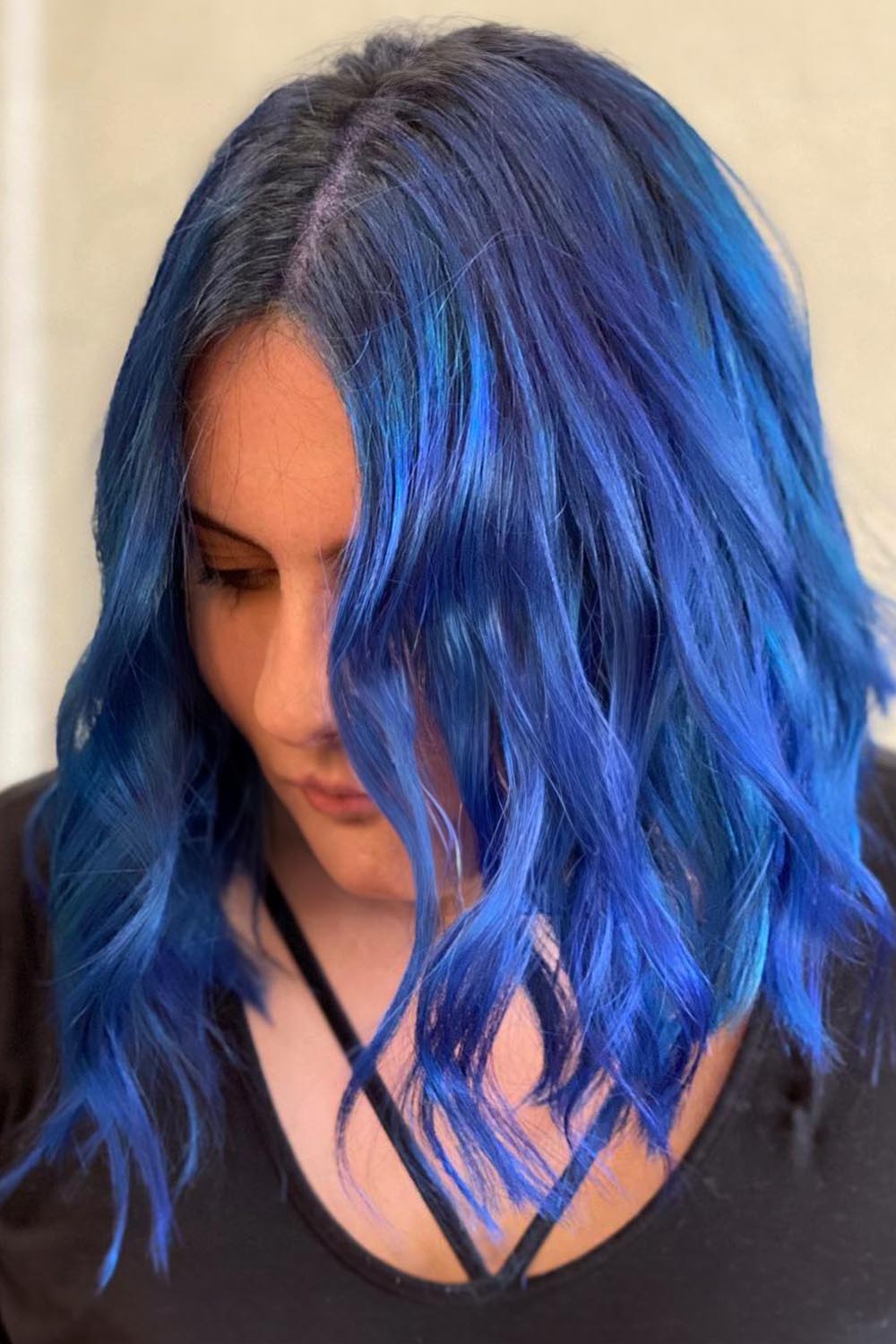 Credit photo: instagram.com/lindseyblakehair
i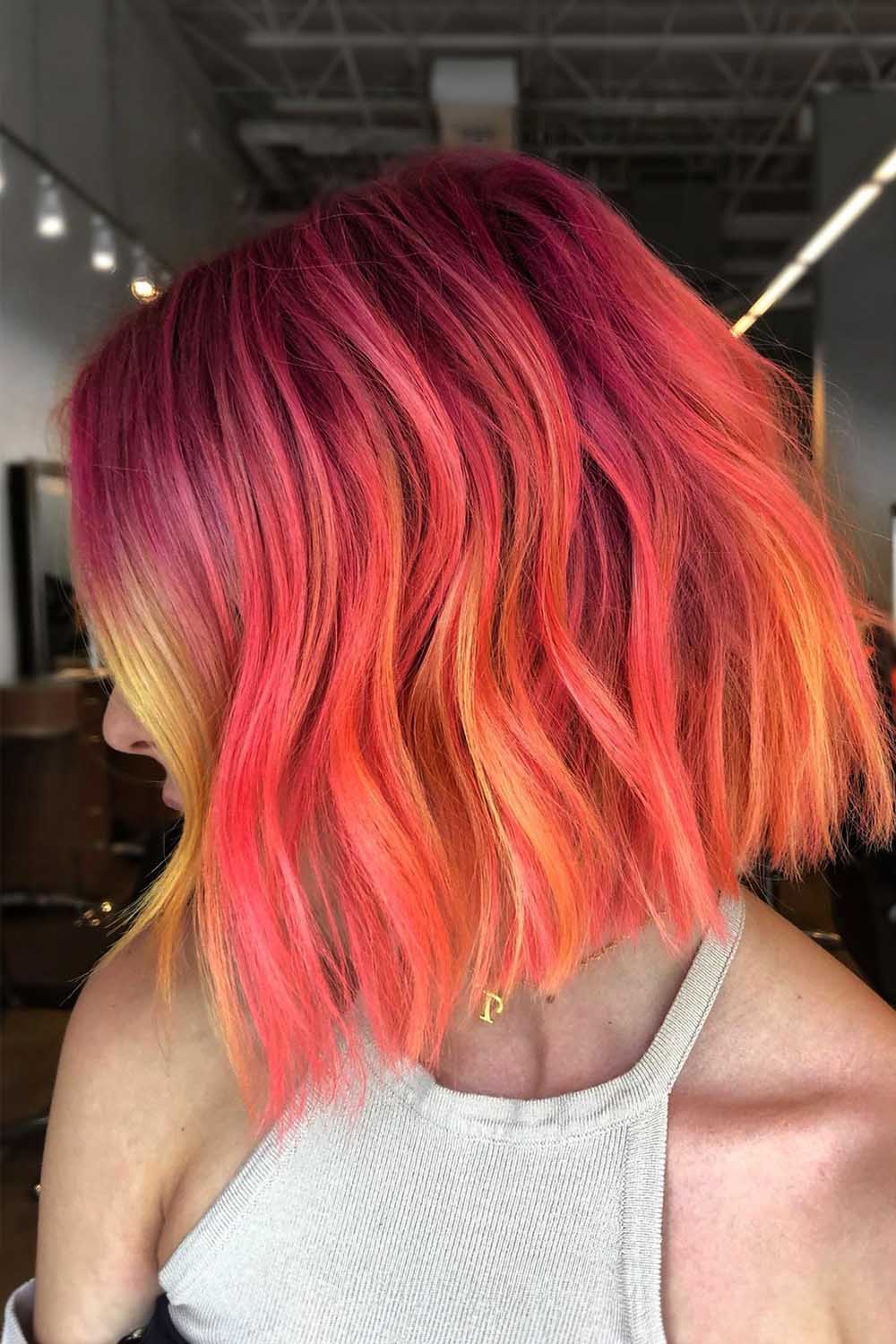 /
How bold and daring do you think you can be? Will you be able to capture the depth of midnight and the delicacy of the sunrise in your tresses? This is no longer a dream but a chance that the balayage technique presents. It is time to showcase your adventurous and edgy self to the last of it!
Burgundy Balayage for Short Hair
Credit photo: instagram.com/arielledoesmyhair
i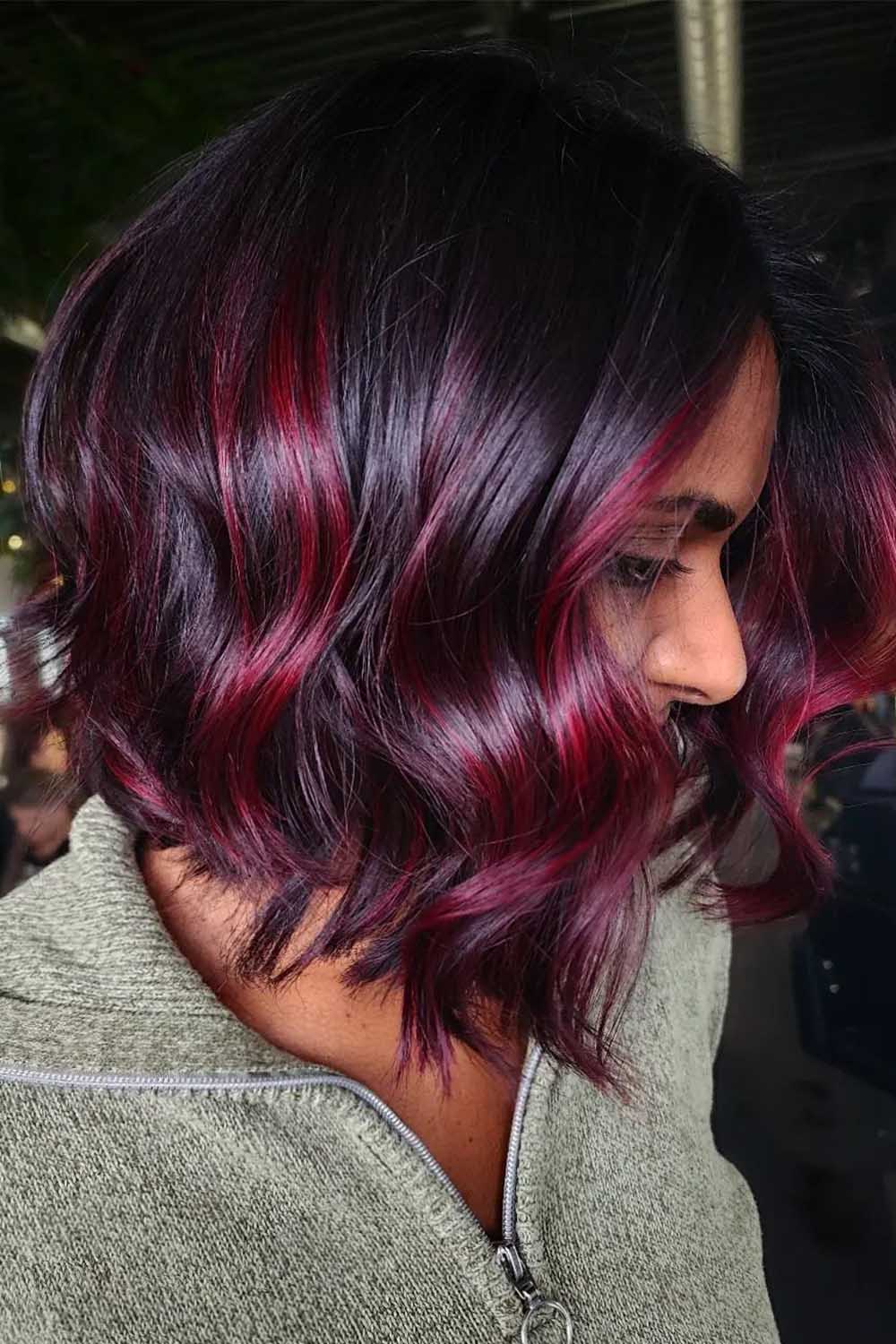 /
Burgundy balayage can redefine your perception of elegance the moment you spot the ideas to inspire from. Burgundy balayage is where sophistication and class meet boldness and comes out as a mesmerizingly beautiful style. Are you ready to embrace the shade that radiates charm and confidence? Now you know where to start from!
Caramel and Lavender Mix for Wavy Hair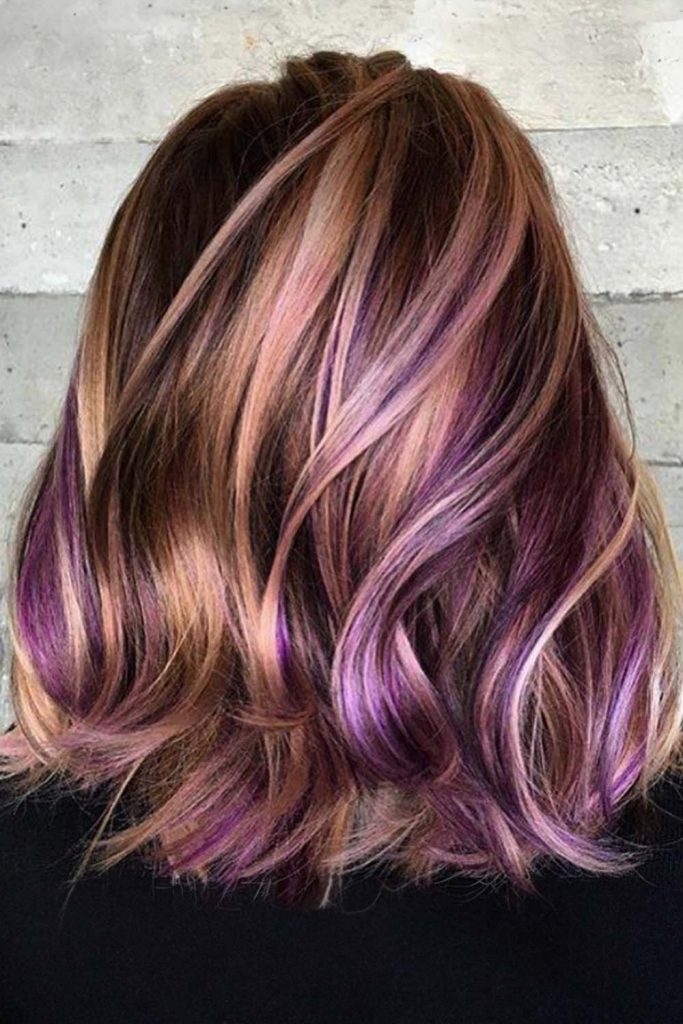 Credit photo: instagram.com/hairhunter
Sometimes, it is possible to combine the hues that seem to be impossible to match and succeed with something extraordinary. The truth is that the fusion of sweet caramel tints and enchanting lavender hues is precisely the combo we are talking about. This balayage will not only introduce depth and dimension into your hair but also coat it with the whimsical flair of a fairytale.
Was this article helpful?