There is barely a lady in the world who wouldn't want to draw the best facial features out while hiding all the flaws if any. Makeup is just one of the means to succeed with the task. However, you should not forget about the haircut as well as the hairstyle you are wearing. Face framing highlights have been introduced into fashion with the sole purpose of emphasizing the pros and purely eliminating the cons. In case you are still unaware of this trending technique and how to add it to your everyday look – you have come to the right place!
*We may earn money from affiliate links on this page. Please check out our disclosure policy for more details.
What are Face Framing Highlights?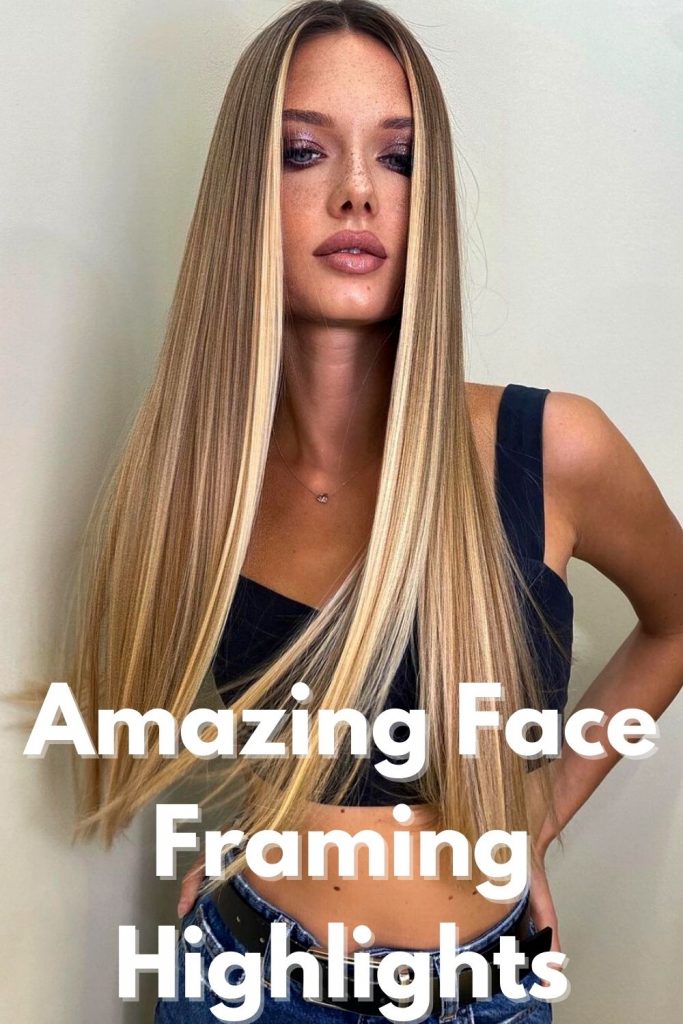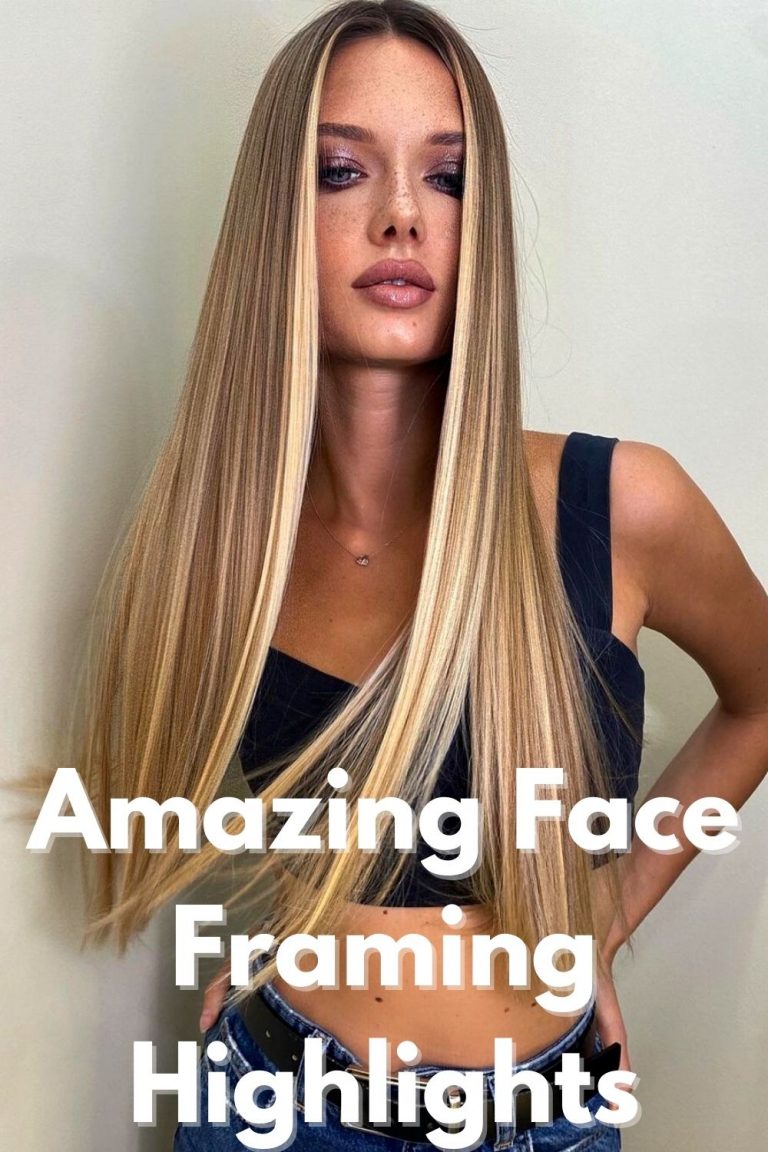 @by_eve_gunina
First things first, we should help you understand better what the front hair highlights stand for and what they generally represent. Face-framing highlighting is a hair dyeing technique that was trending a while ago. However, these days hairdressers breathed in new life into it. When the technique is applied to one's hair, the foremost strands of the hair along the hairline are highlighted with the color that suits you most. The rest of the hair may remain untouched or may feature related highlights. It depends upon personal preferences. The framing strands accent the facial features and bring them out.
Why Do They Call It a Money Piece?
Very often, face-framing highlights are called money piece hair. You should realize that the technique makes anyone look cheap or dull, not in the least. It is just so fast and effortless to come up with that it literally takes minutes to achieve. Not to mention that it will cost you pennies, and even the novice will be able to replicate the look.
Where Do You Put Highlights To Frame Your Face?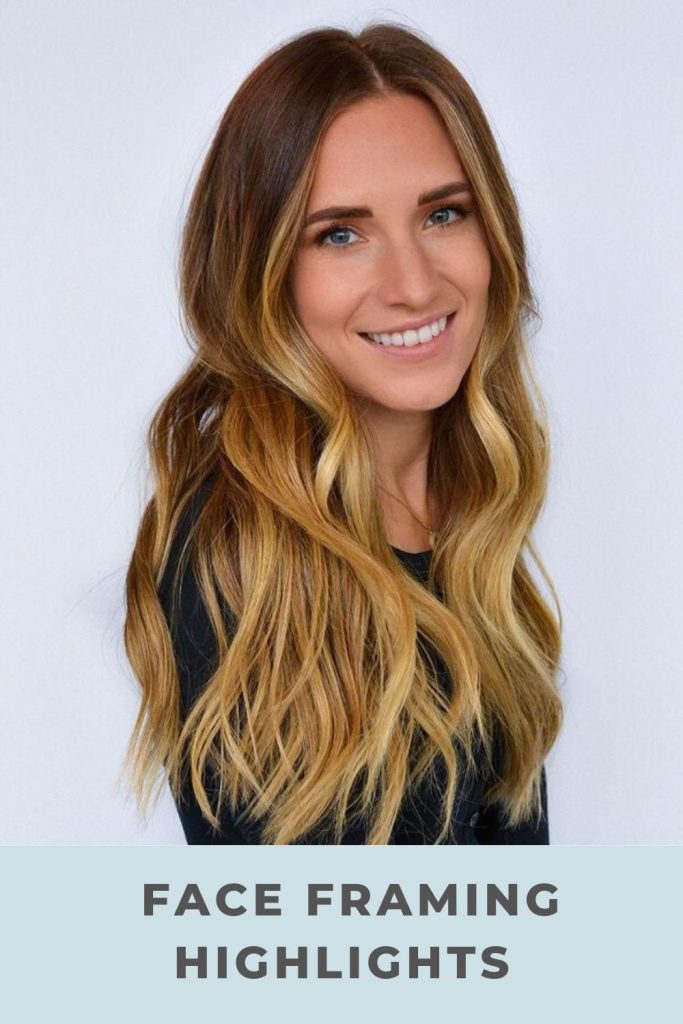 @tressesbytress
Since these are the front highlights that we are discussing, they should be put nowhere but in the front. In the majority of cases, the highlights follow the natural parting along with the hairline. It depends upon the outcome that you are trying to achieve. Smaller waves result in a softer look, while heavier strands will result in a bold personality reflection. However, you should not go over the edge with the application.
Dark Brown Money Piece Hair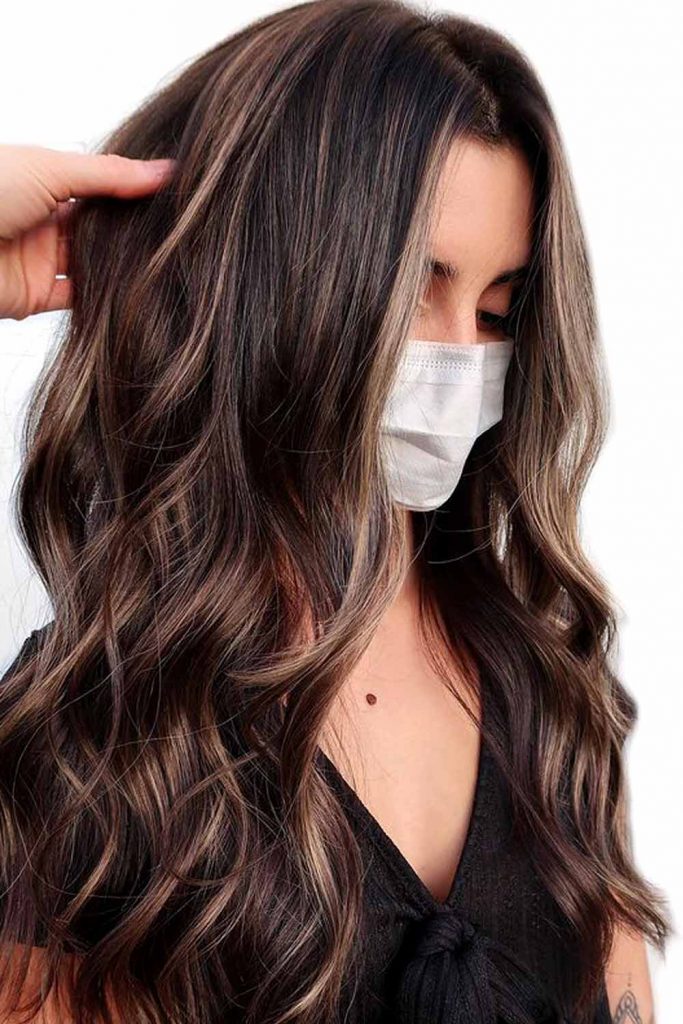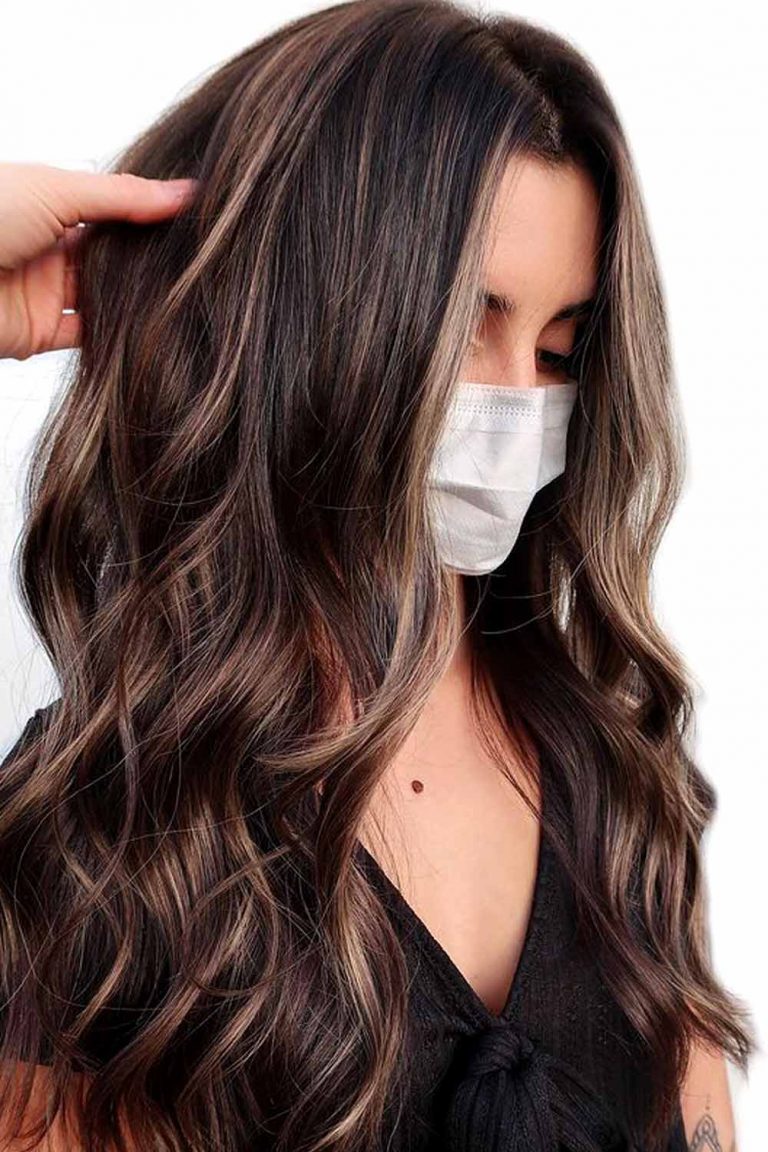 @hairby.ashleypac
Face framing highlights on dark hair vary from subtle two-two lighter strands to dramatic silver waves. While either option is mesmerizingly beautiful, you need to be aware of the fact that the lighter you go, the more bleaching there will be. Nevertheless, in the hands of a professional hairstylist, there is nothing to worry about. Just show your stylist a picture you want your hair to look like and wait a bit to enjoy the transformation!
Front Highlights for Expensive Brunette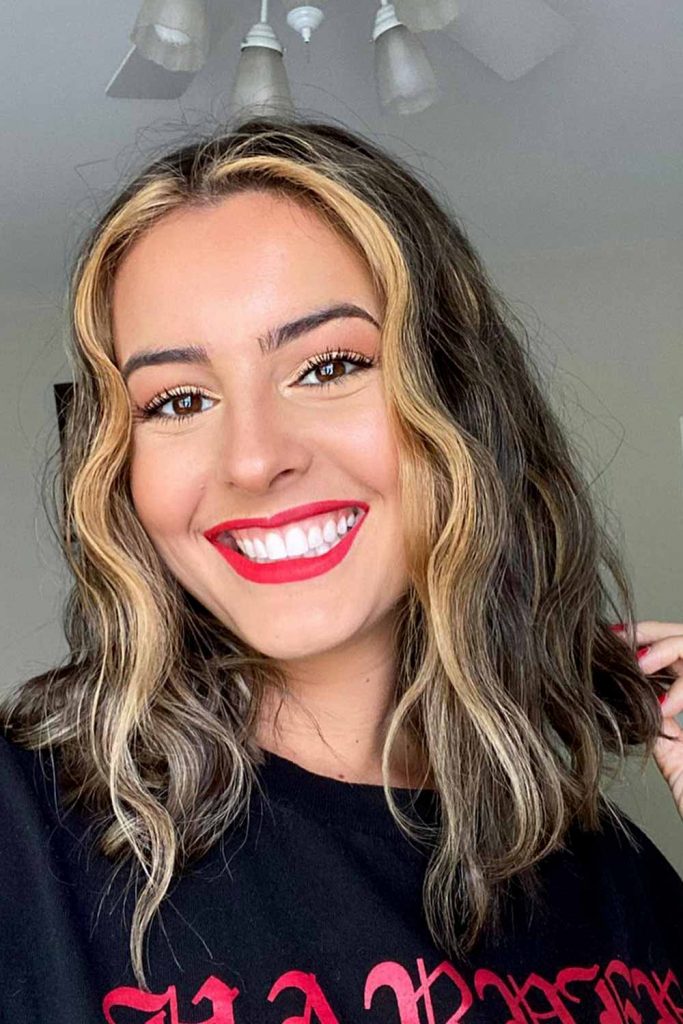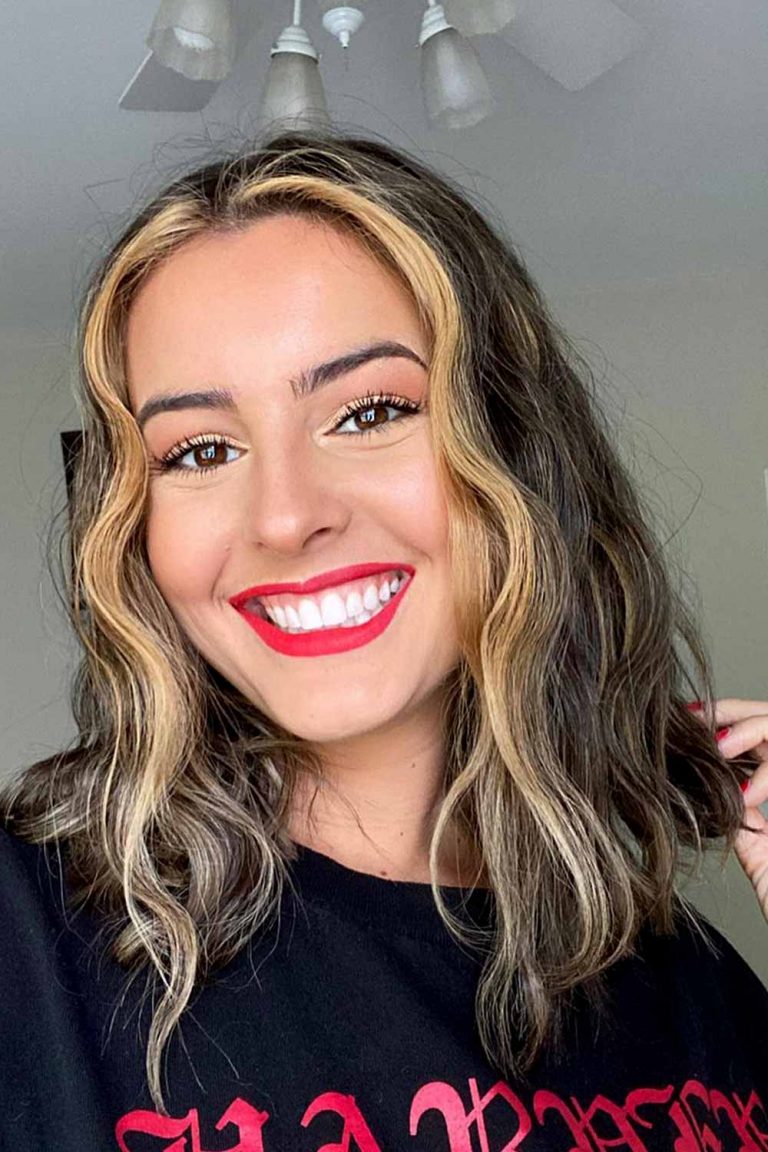 @lisacimorelli
With money-piece hair being all the rage at the moment, you may wish for the simplest way to implement the trend into your look. If that is your number one priority at present, this idea will strike you as a sizable way out. All it takes is to ask your stylist for warm-toned framing highlights that match your natural brunette shade best and call it a day.
Mid-Length Bronde with a Pop of Blonde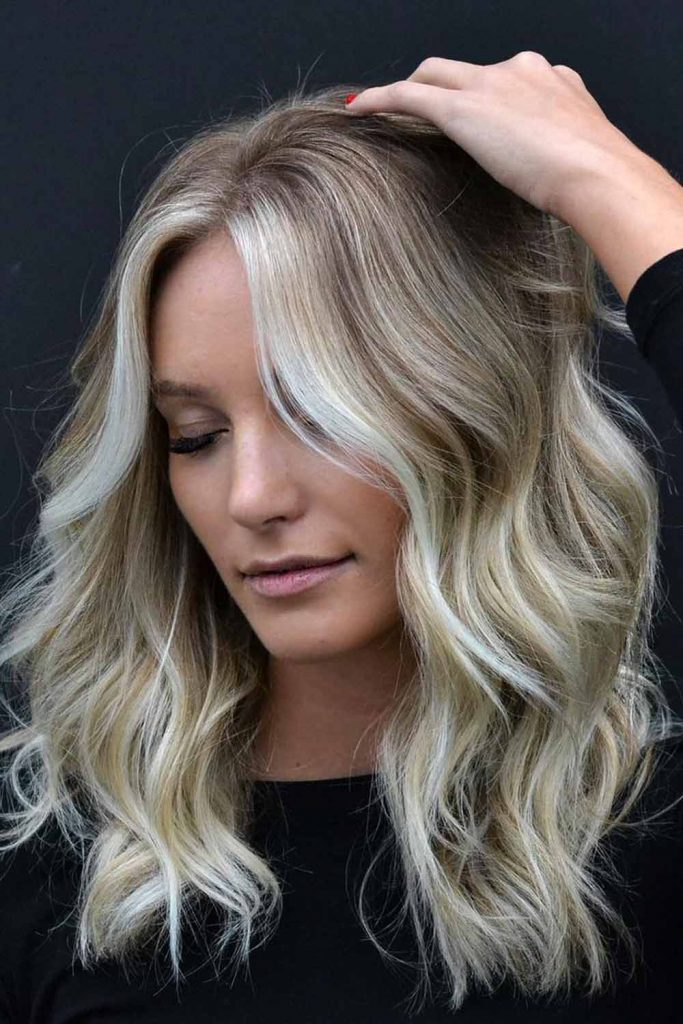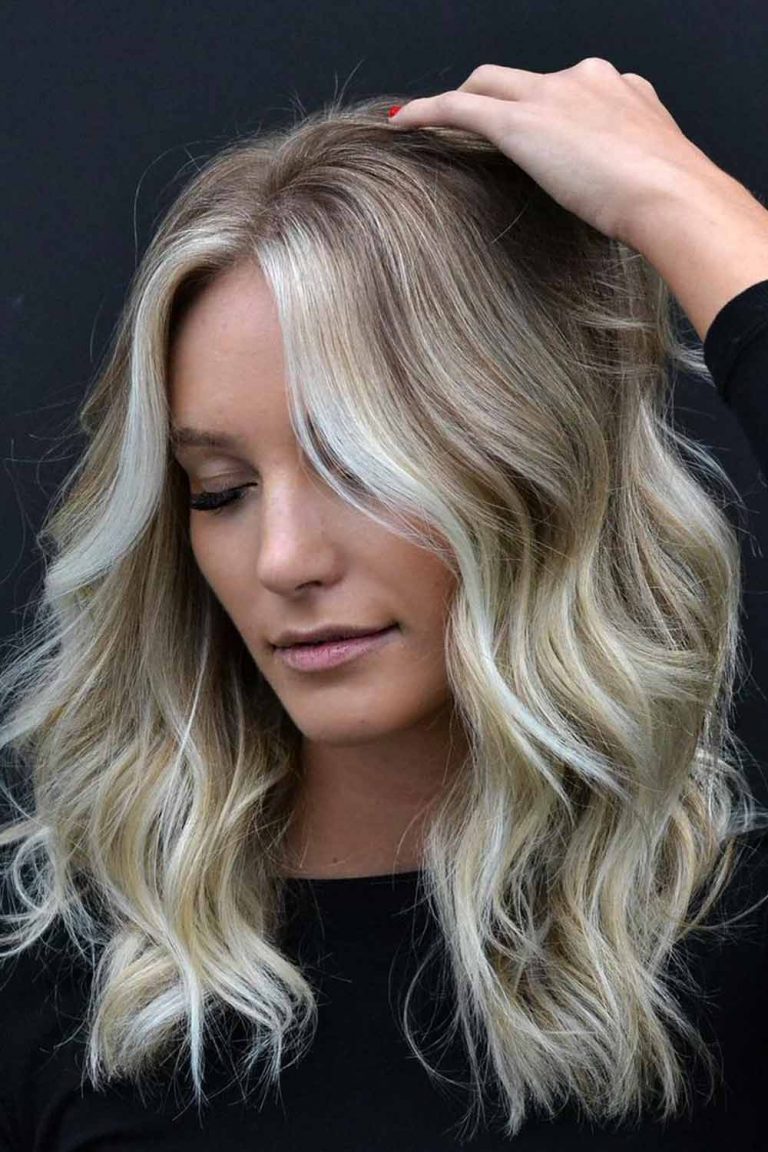 @tressesbytress
Speaking about face framing blonde highlights, we must admit that blonde on bronde looks ravishing. While the transition is barely there in terms of coloring, it stands out enough for everyone to notice it. Besides, the growing out effect will add appeal to the overall style.
The Lightest Touch of Blonde in the Front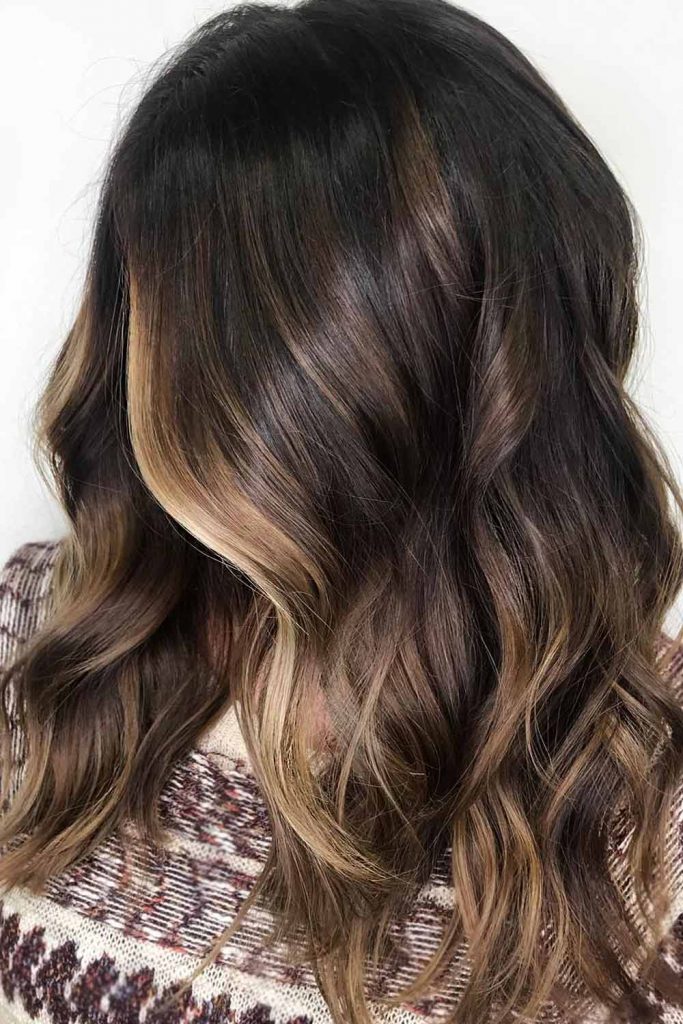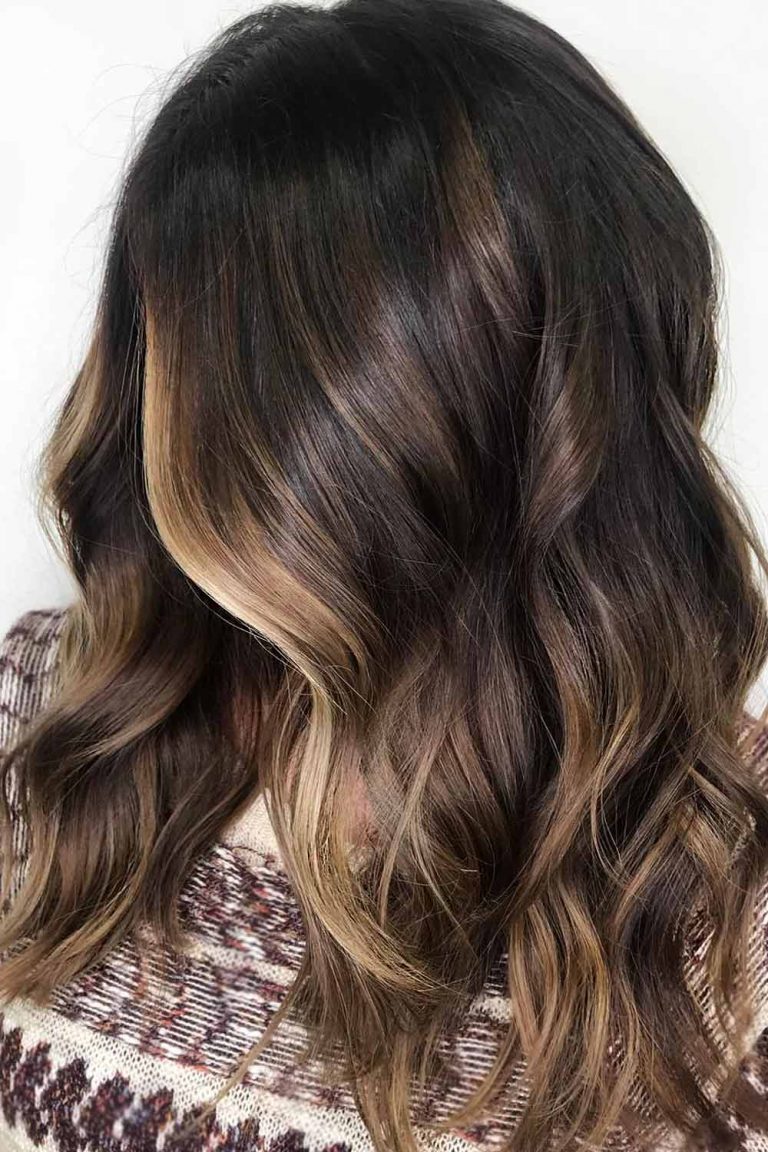 @frances_hairartist
When thinking about face framing bangs with highlights, many ladies assume that the effect is tiresome to get and expensive to look after. Such an assumption is nothing but misleading. As you pick the lightest touch of blonde to draw attention to your prominent features, it will look as though Mother Nature has blessed you with such gorgeous natural texture and dimension.
Blonde Balayage with Platinum Money Pieces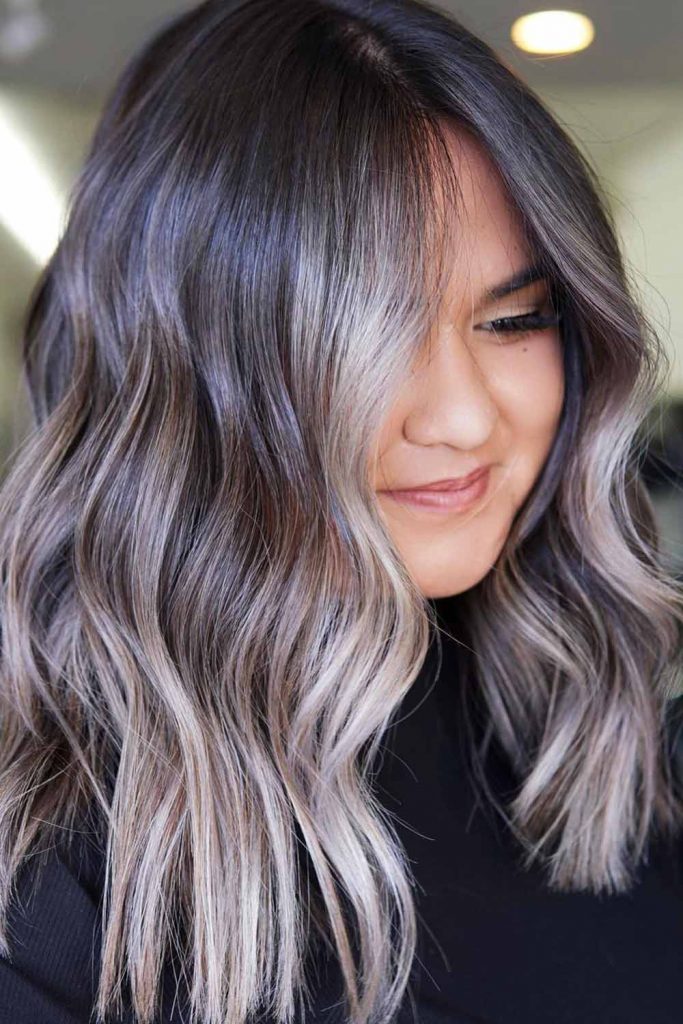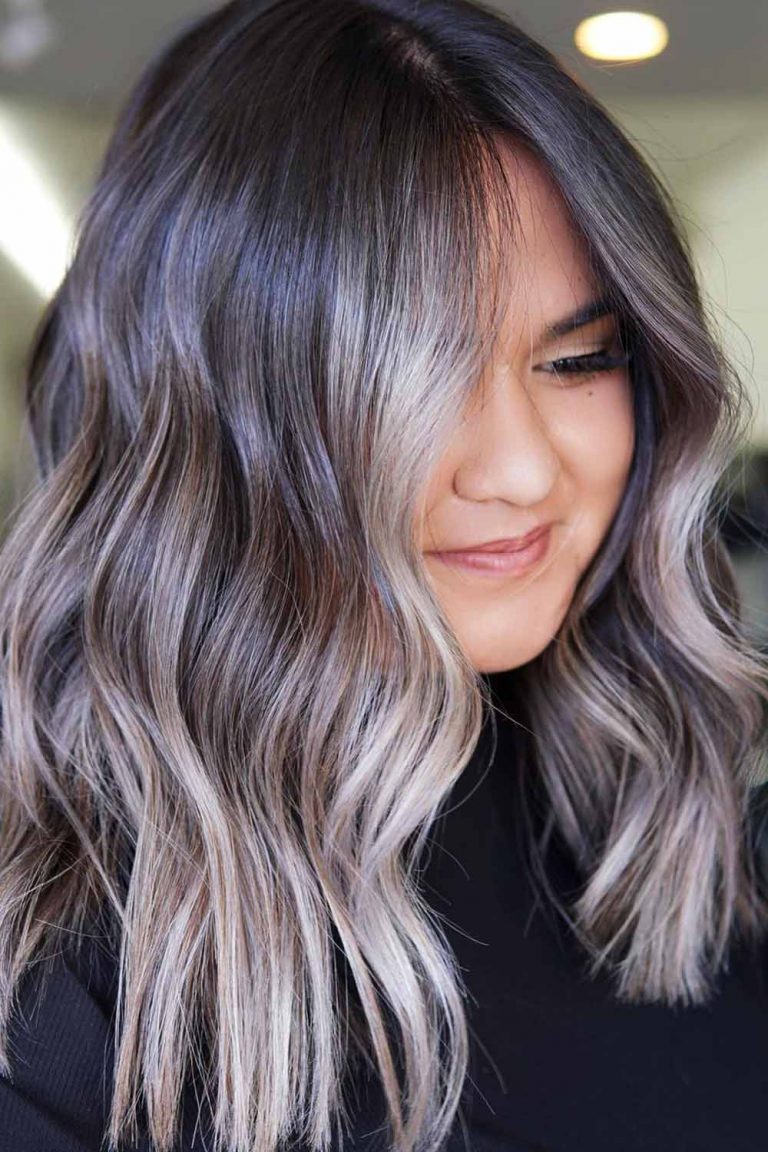 @frances_hairartist
Looking for money piece hair brunette girls fall for platinum shades more often, and the reasons are many. First things first, color is rocking the fashion world immensely. However, it also pairs with drown hues extraordinarily well. The contrast is there, and it attracts adoring glances but not to the point of going over the edge. See for yourself!
Blonde Front Highlights on Black Hair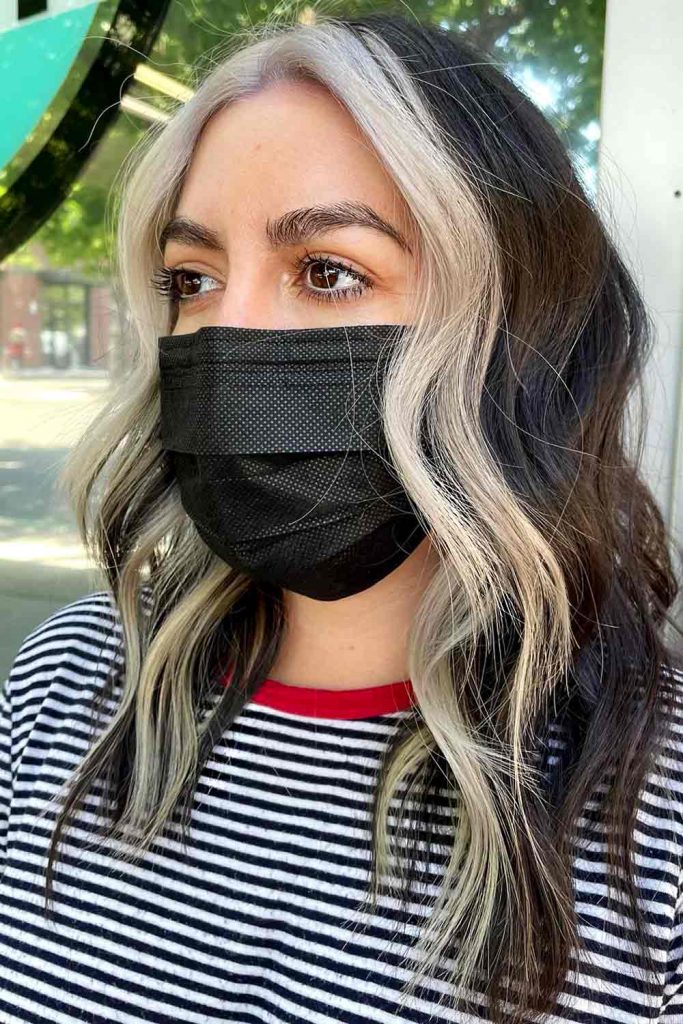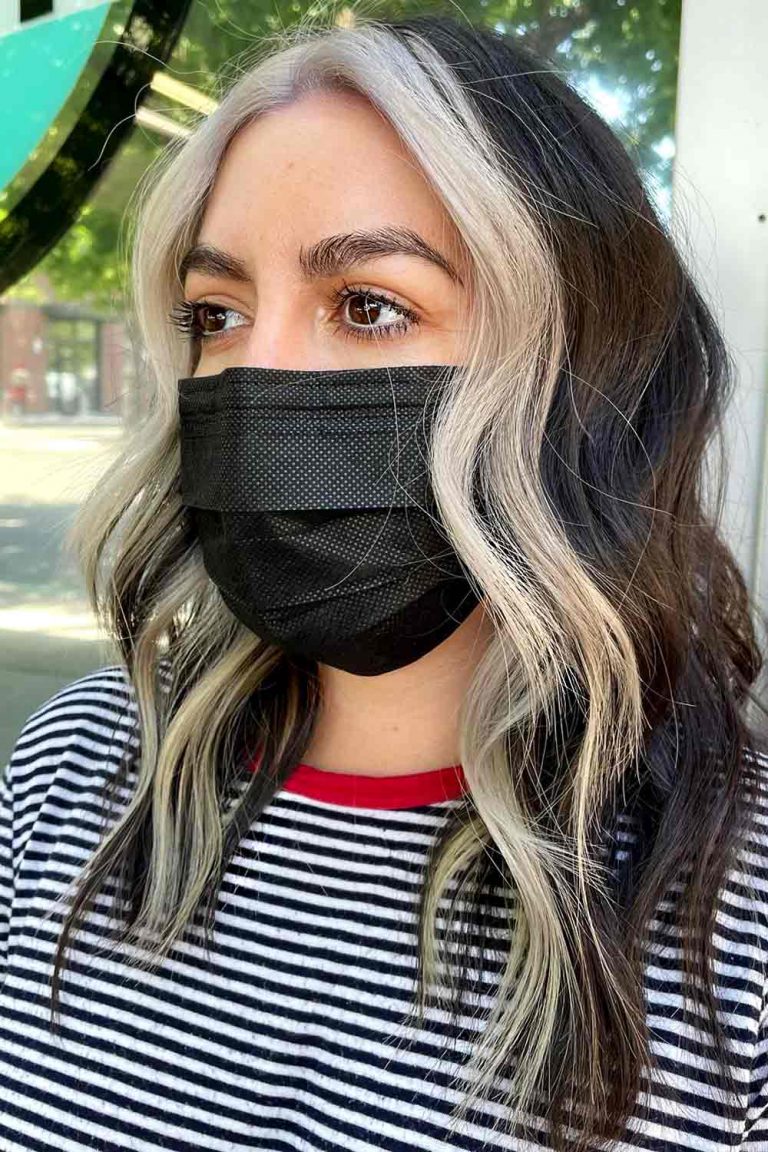 @noblandhair
Another contrasting money piece hair dark hair can be matched well with is an icy blonde. It may take some time and effort to succeed with that pure shade of blonde, but the outcome will be worth any means spent. Yet, you must remember that looks like that require regular touch-ups and visits to the salon.
Brown Hair with Ashy Face-Framing Highlights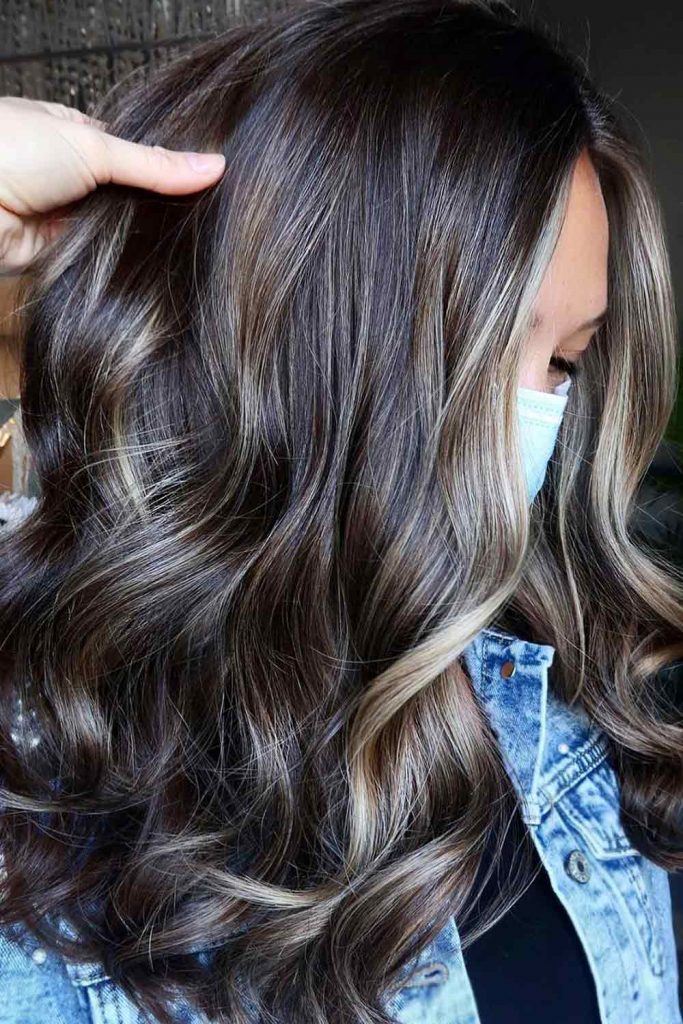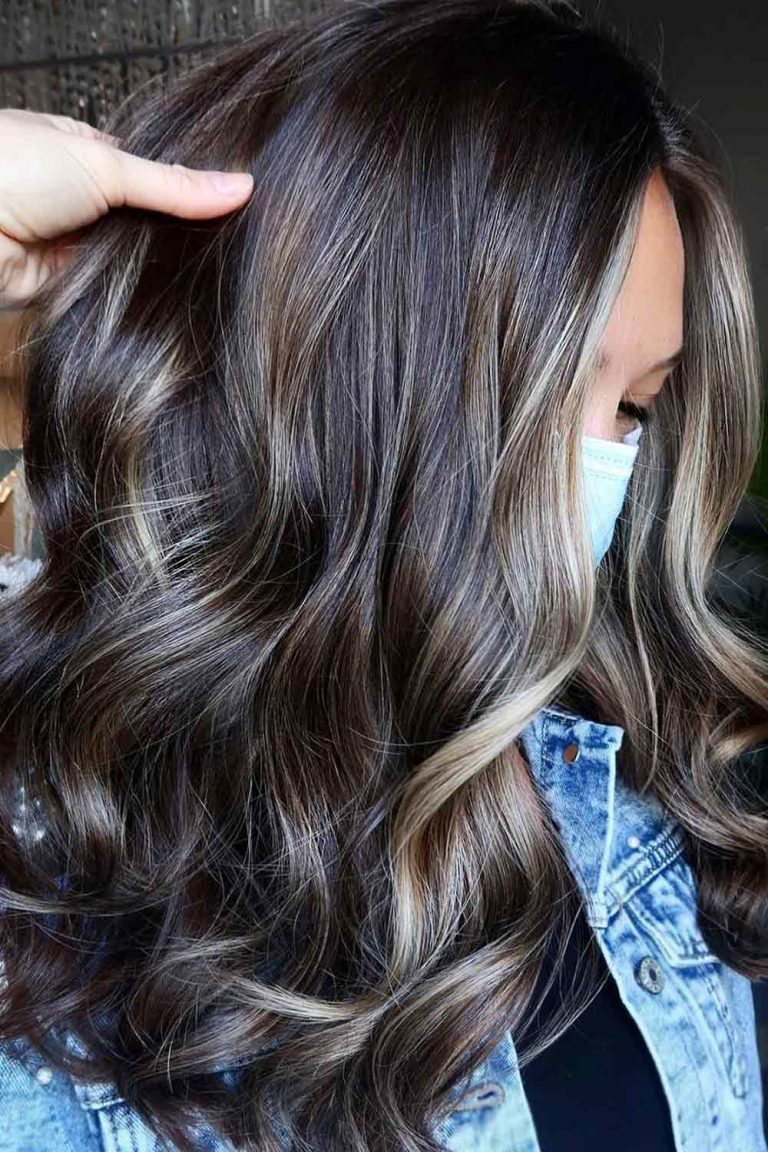 @hairby.ashleypac
Dark brown money piece hair with an ashen tone to it seems to melt with that glossy brown hair. It looks like you've spent a lot of time under the sunny skies, and your bangs lightened up naturally. The mesmerizing effect is hard to contradict.
Brunette with Blonde Front Highlights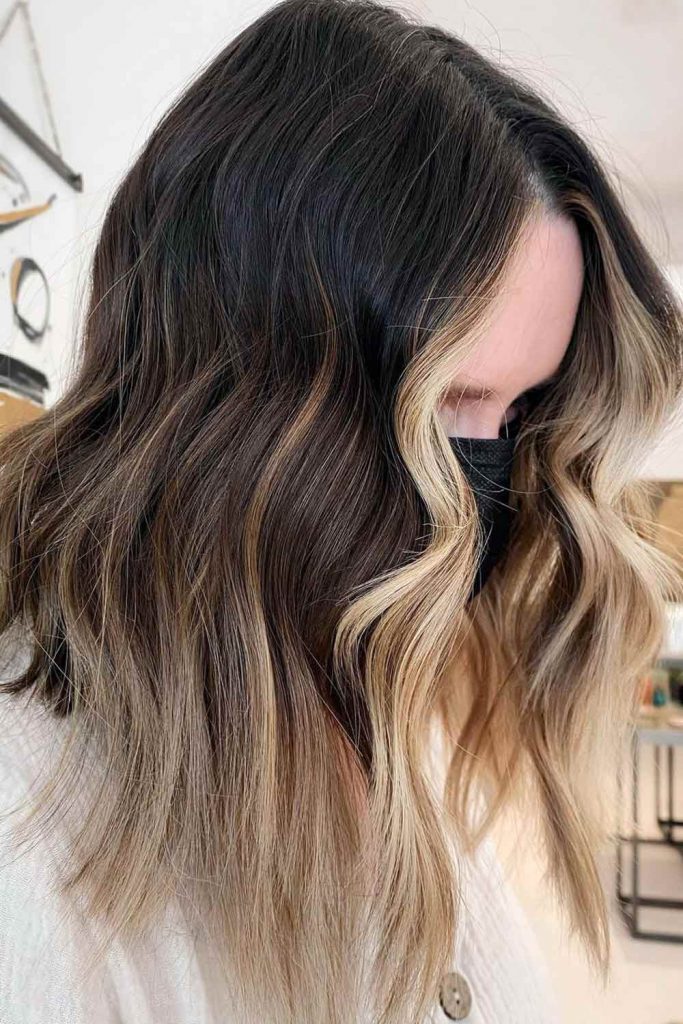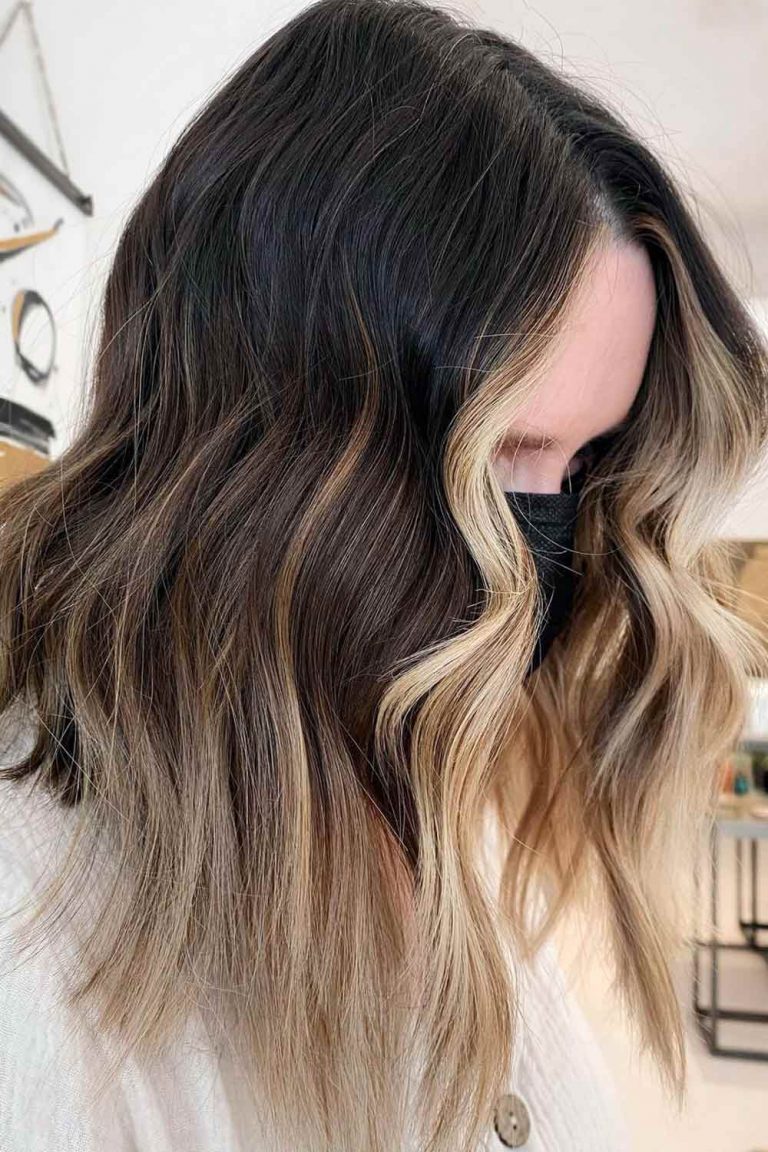 @thestrawberryblonder
Another table-turning brown hair with money piece is a mixture of chocolate brown and honey blonde highlights. Moreover, the style is completed with grown-out balayage, intensifying the fashionable flair.
Peachy Face Framing Highlights on Dark Hair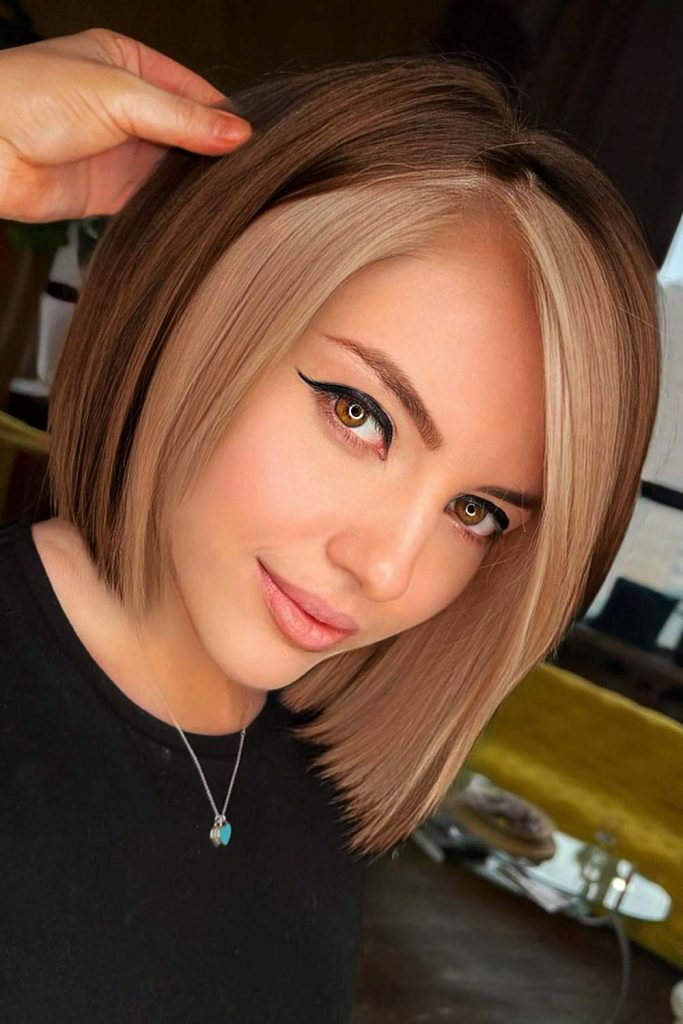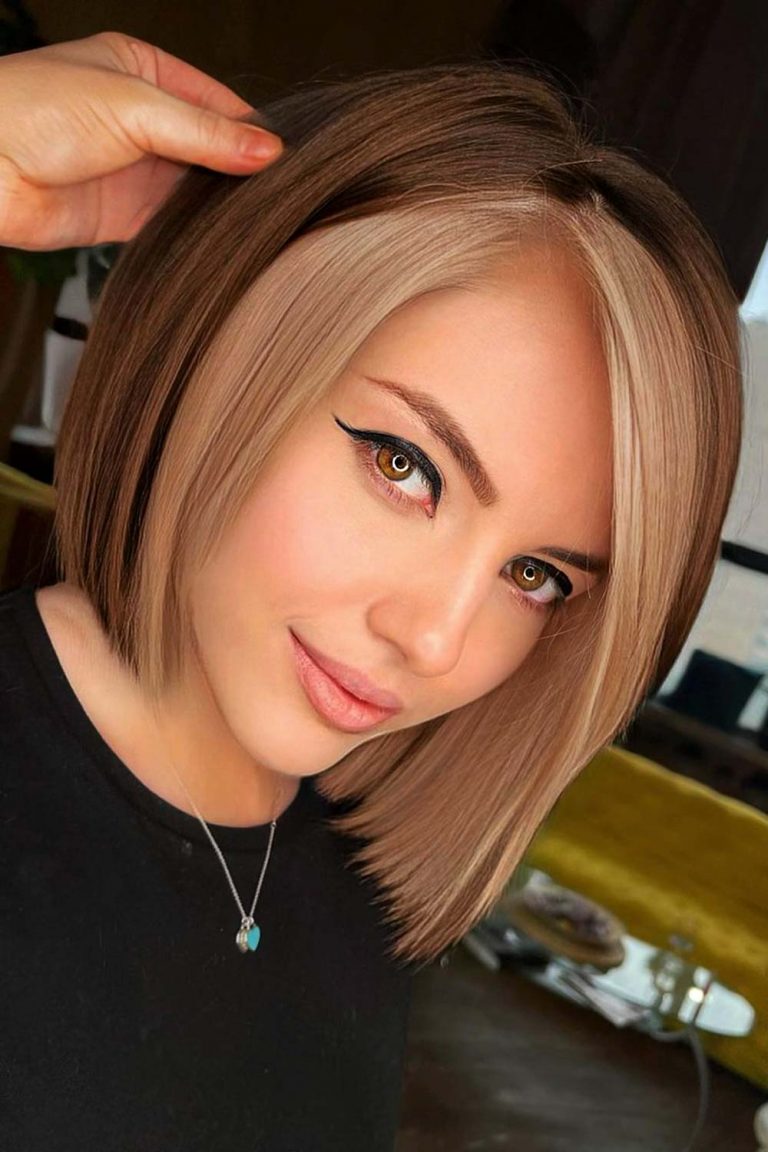 @sofiya.bravo
You can take your red hair with blonde money piece to a whole new level of fancy with a sleek bob. Strawberry blonde matches that copper-brown mane perfectly. Whether wavy or straight, your mane will always look breathtaking.
Choppy Buttery Blonde Layers with a Zing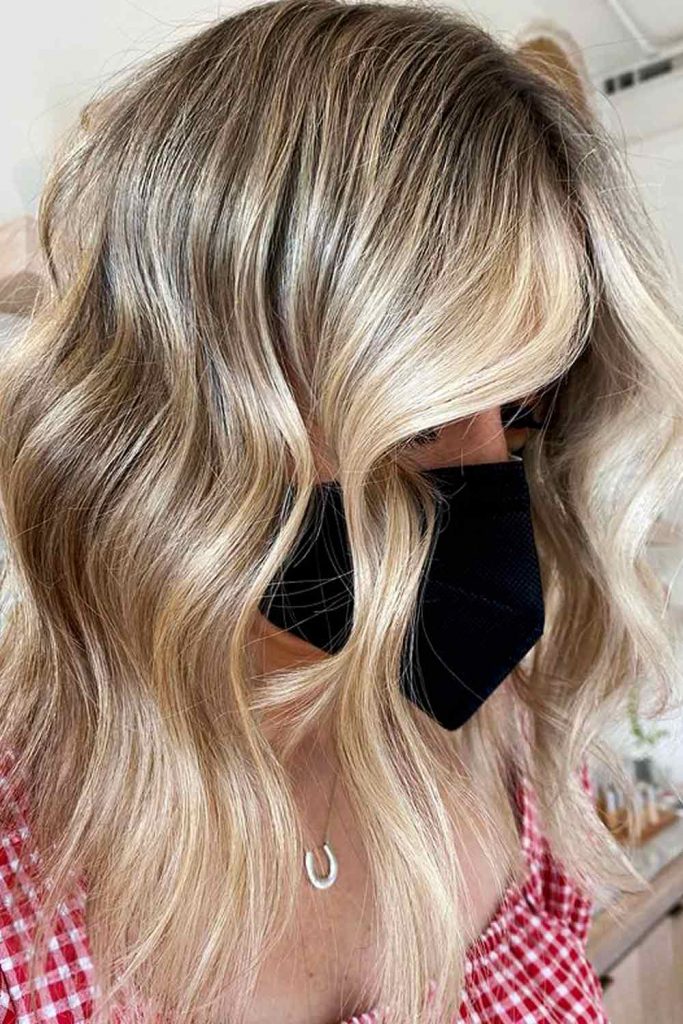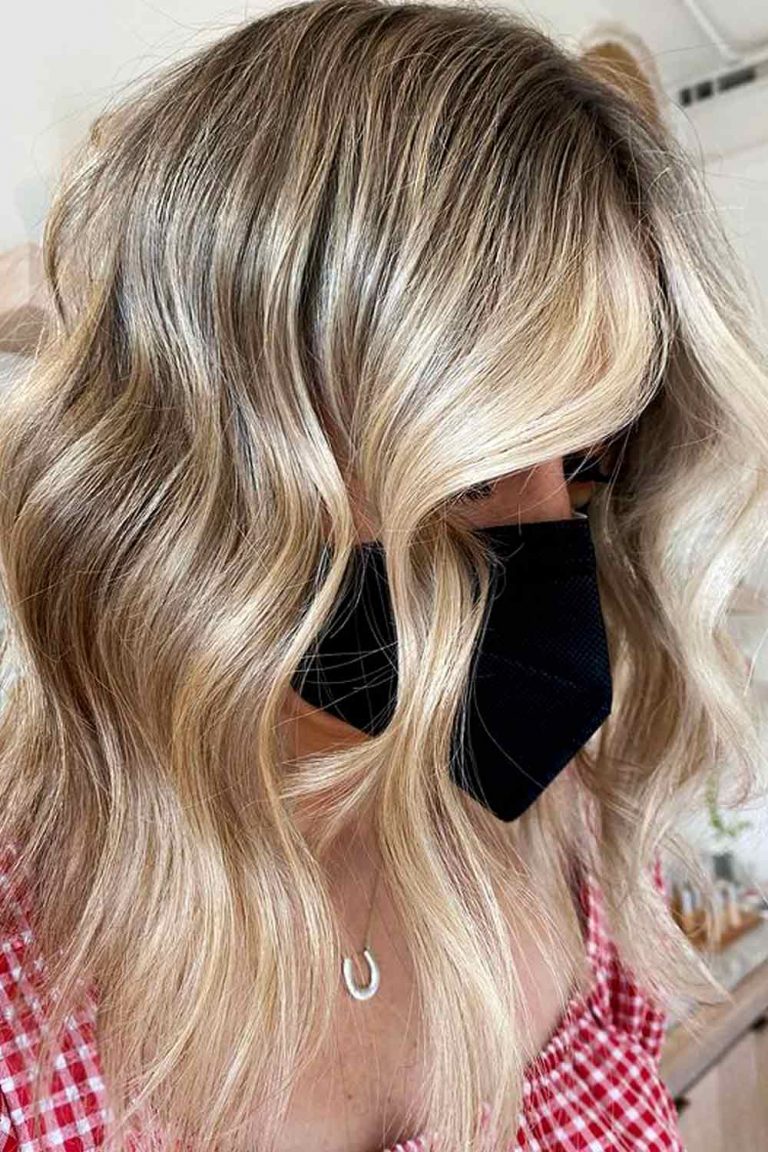 @thestrawberryblonder
Should you decide to pair your buttery balayage with framing highlights, you will make the right choice. While the framing feature enhances your face well, the seamless blending won't pose much of an overly contrasting threat, in case you fear that.
Dreamy Face Framing Balayage for Blondes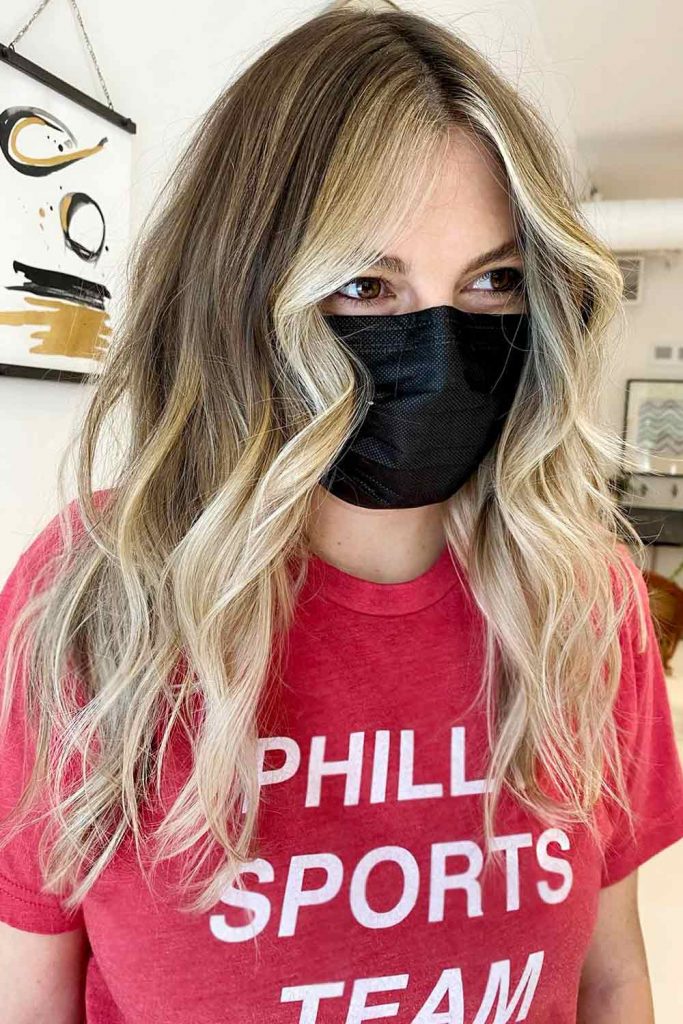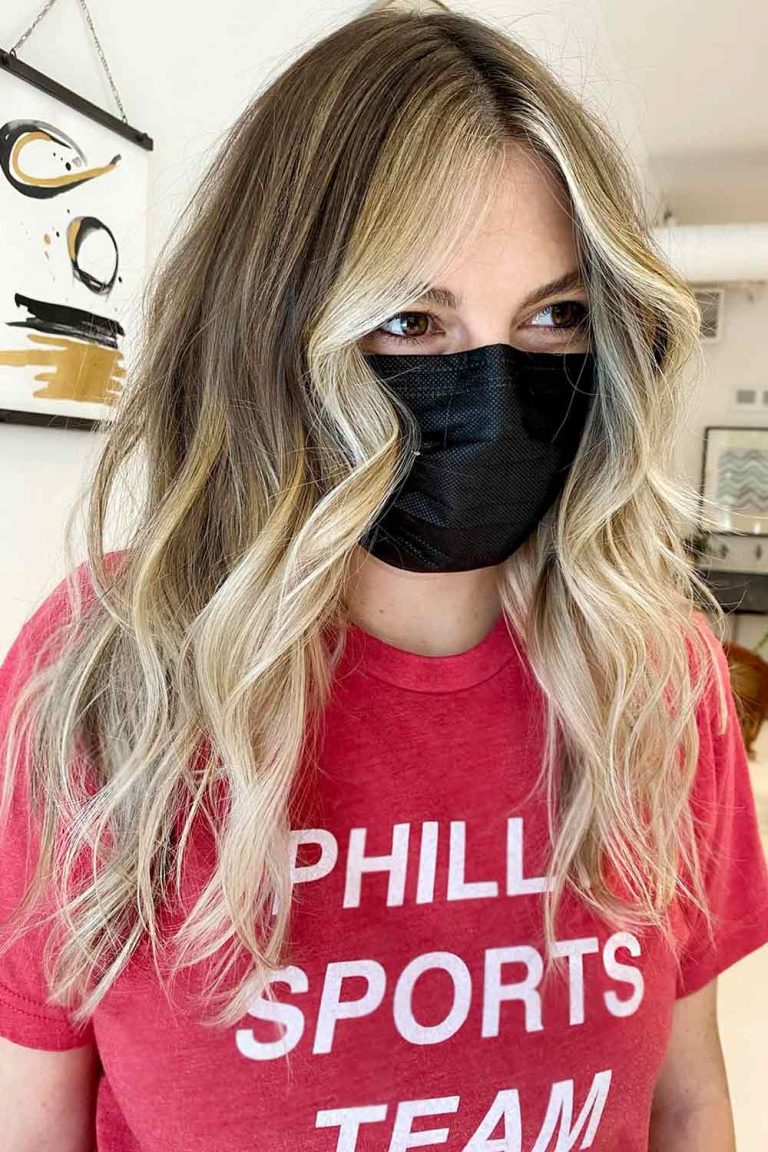 @thestrawberryblonder
Beach waves pair ideally with framing balayage on natural blondes. Those who seek both elegant and dreamy effects may want to pay some extra attention to the look. Moreover, showing roots won't ruin the general vibe of the haircut. Quite on the contrary.
Mushroom Blonde and Ash Front Highlights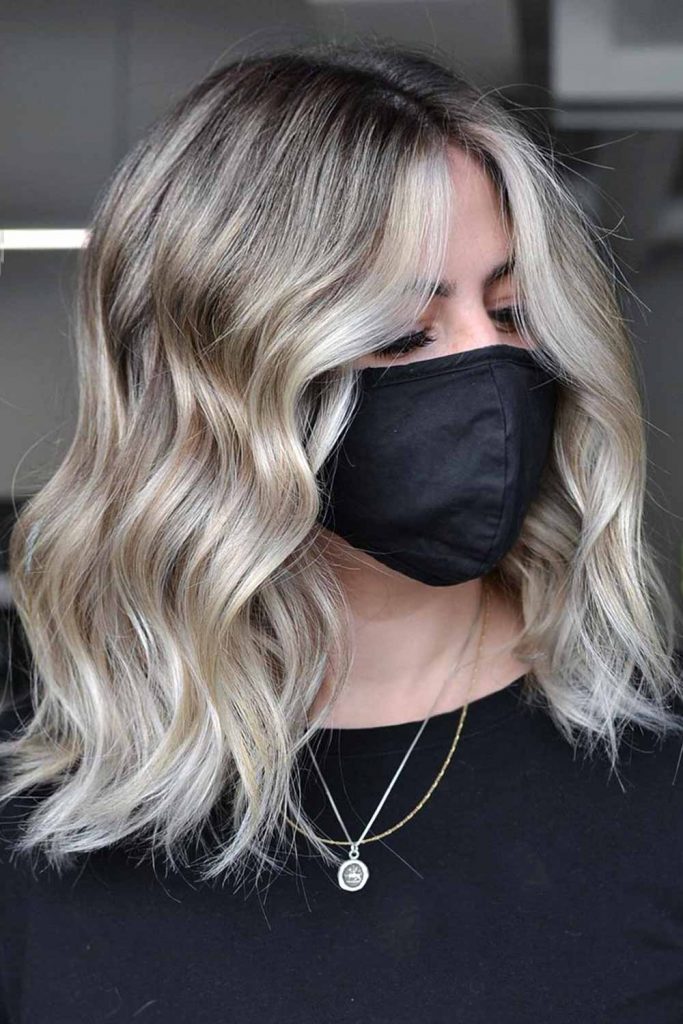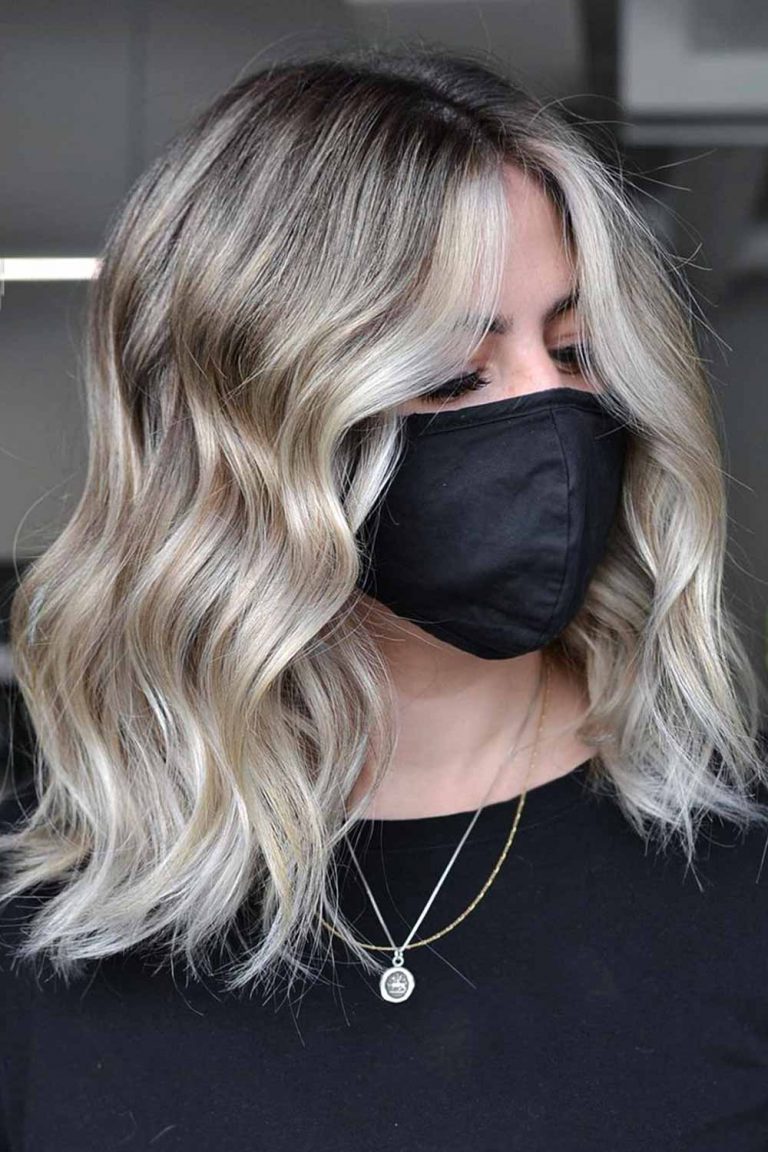 @tressesbytress
As mushroom blonde is conquering hearts all over the globe, we suggest you find something that makes you stand out from the devotee ranks. In this particular case, ashy front highlights take on the role of another accent which is challenging to miss.
Subtle Hazel-Colored Highlights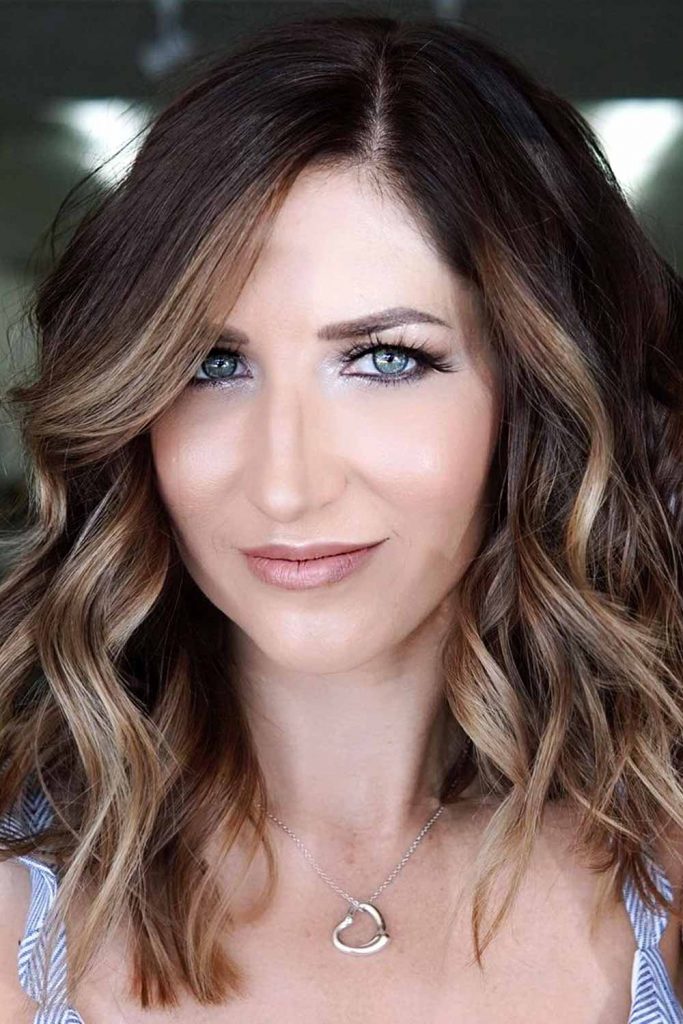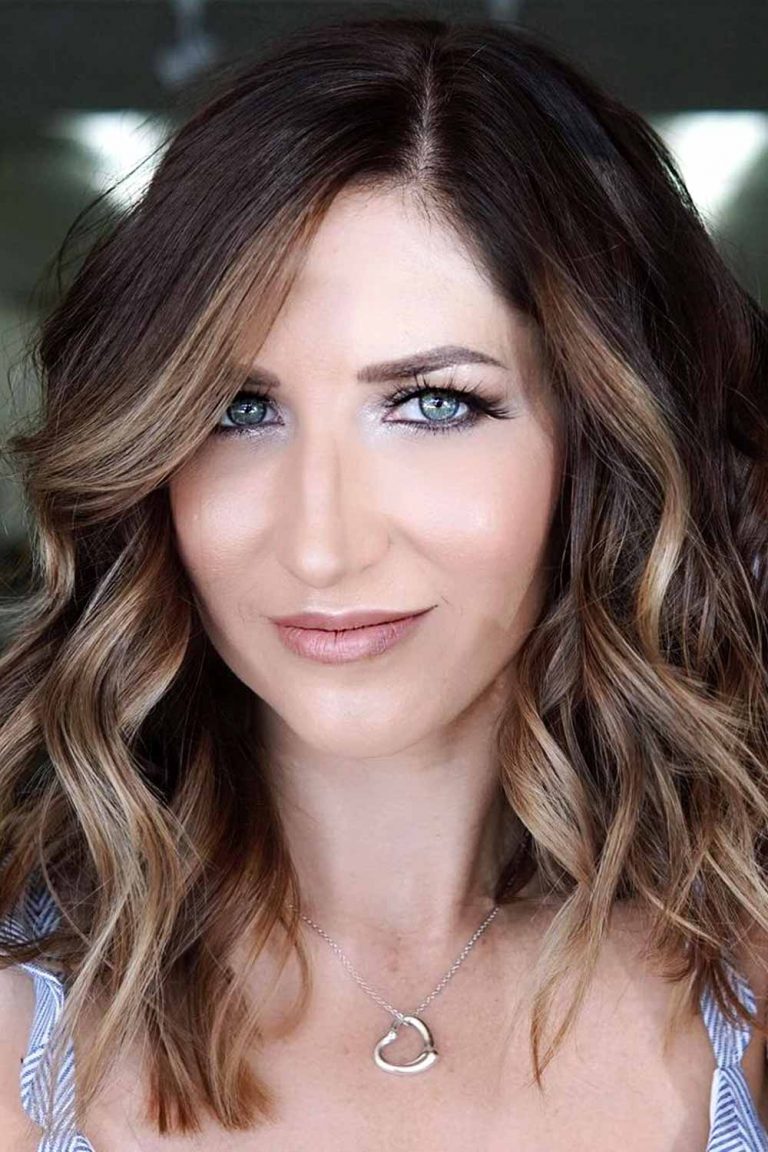 @frances_hairartist
Some women are all in for subtle face framing highlights on dark hair. If you belong to the category, hazel-colored framing highlights will suit you perfectly. The highlights are easy to implement into any style without them stealing all the glances in the room.
Mid-Length Bronde with a Pop of Blonde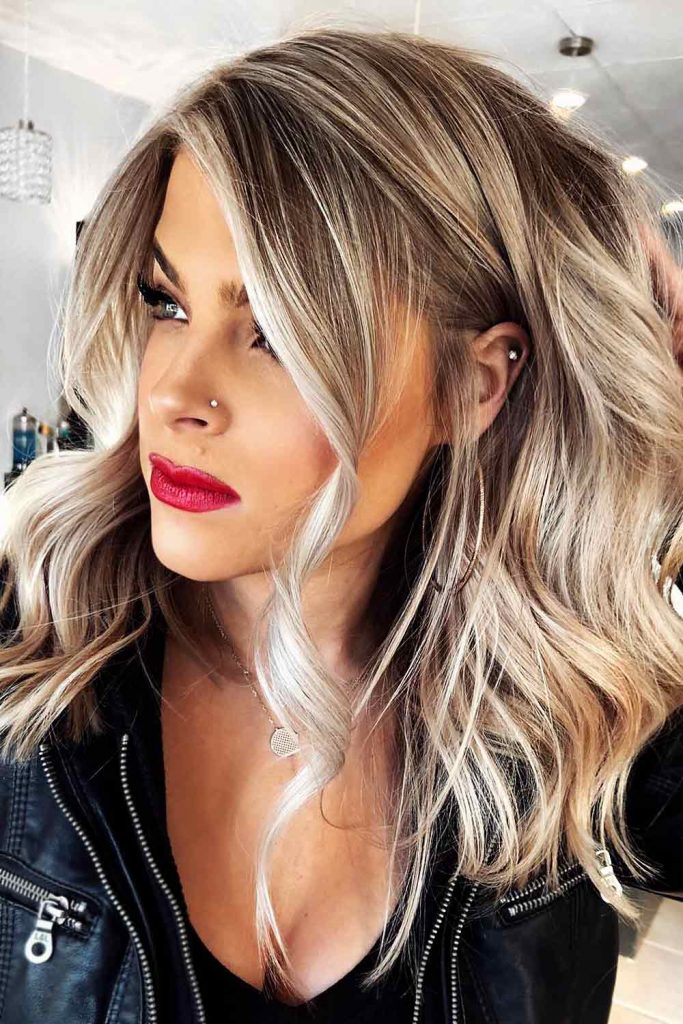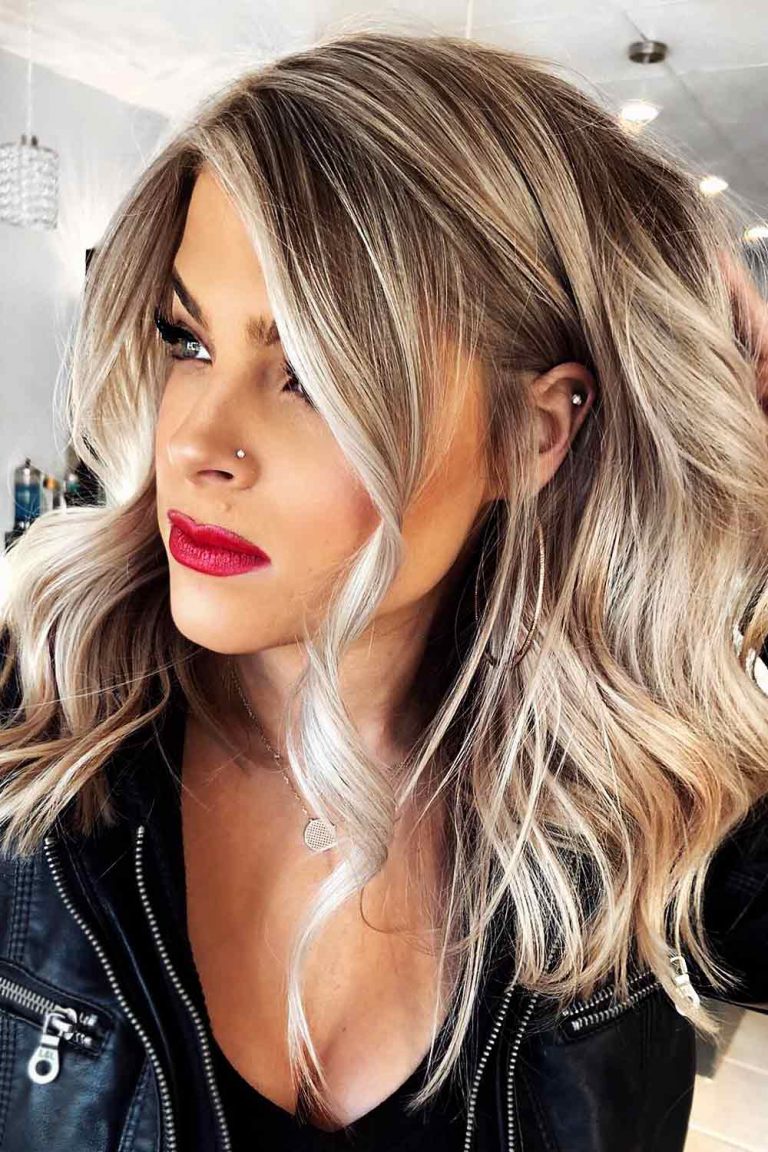 @hairby.ashleypac
The line between good old blonde and stylish bronde is, at times, hard to notice. That is one of the characteristics which make the idea so outstanding. As you coat your bronde mane with platinum blonde highlights, some thicker layers of color framing your face will serve you ideally.
Medium Wavy Honey Balayage Hair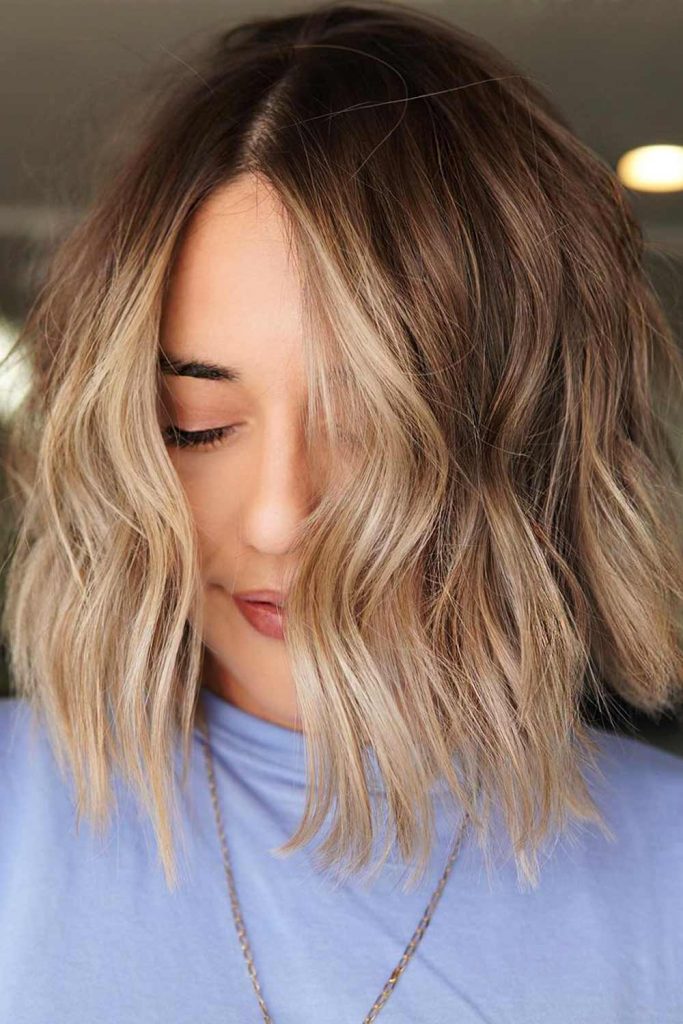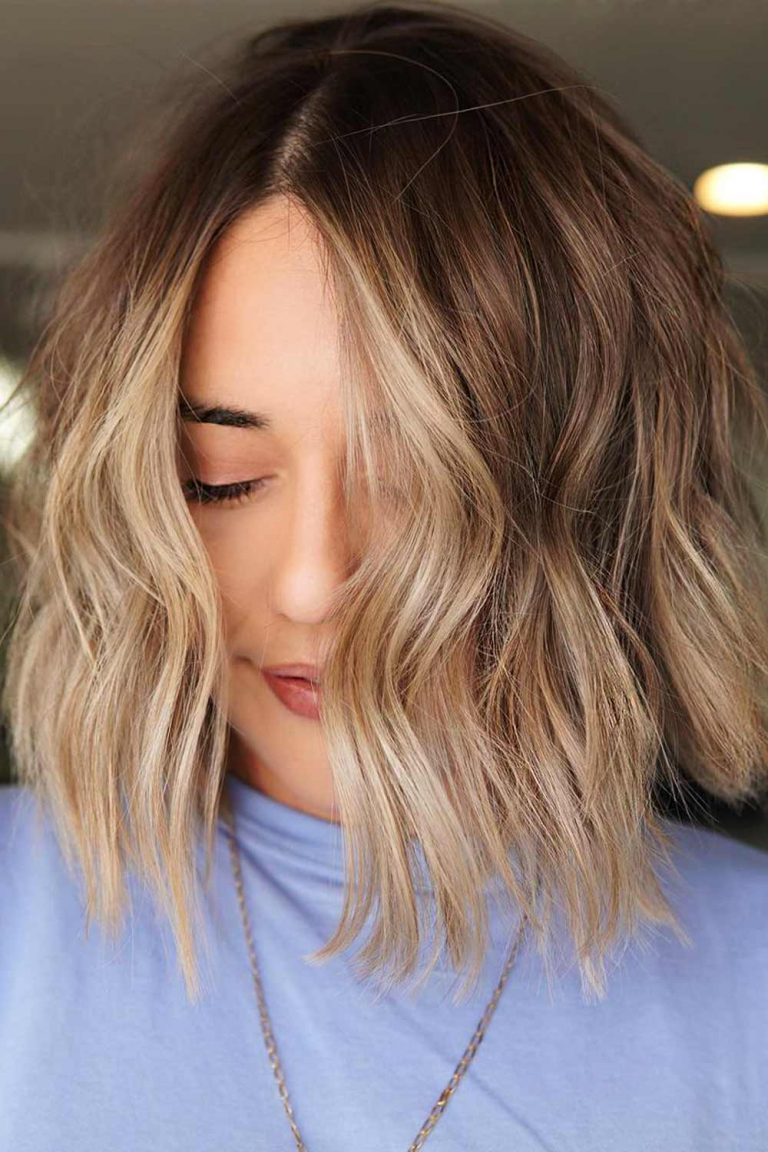 @frances_hairartist
Dark hair with money piece is on the edge of glory, and we all know that. However, noticeable contrast isn't the only feature of the style. Its adaptability is something to brood upon. If solid-color highlights aren't your cup of tea, balayage framing layers are precisely the substitution you should consider.
Red Hair with Gold Highlights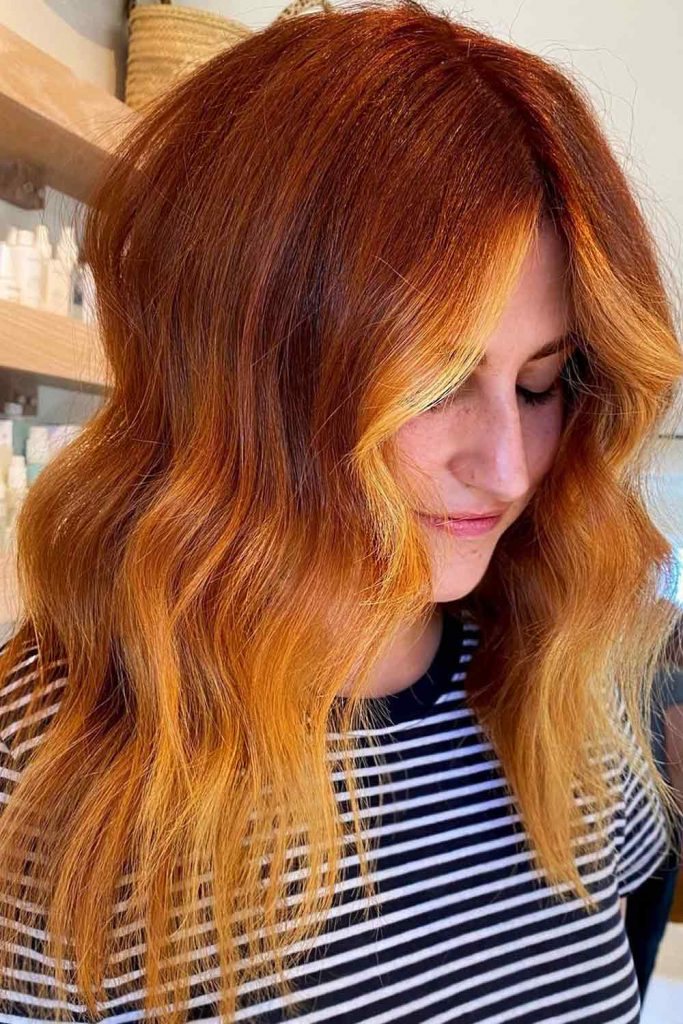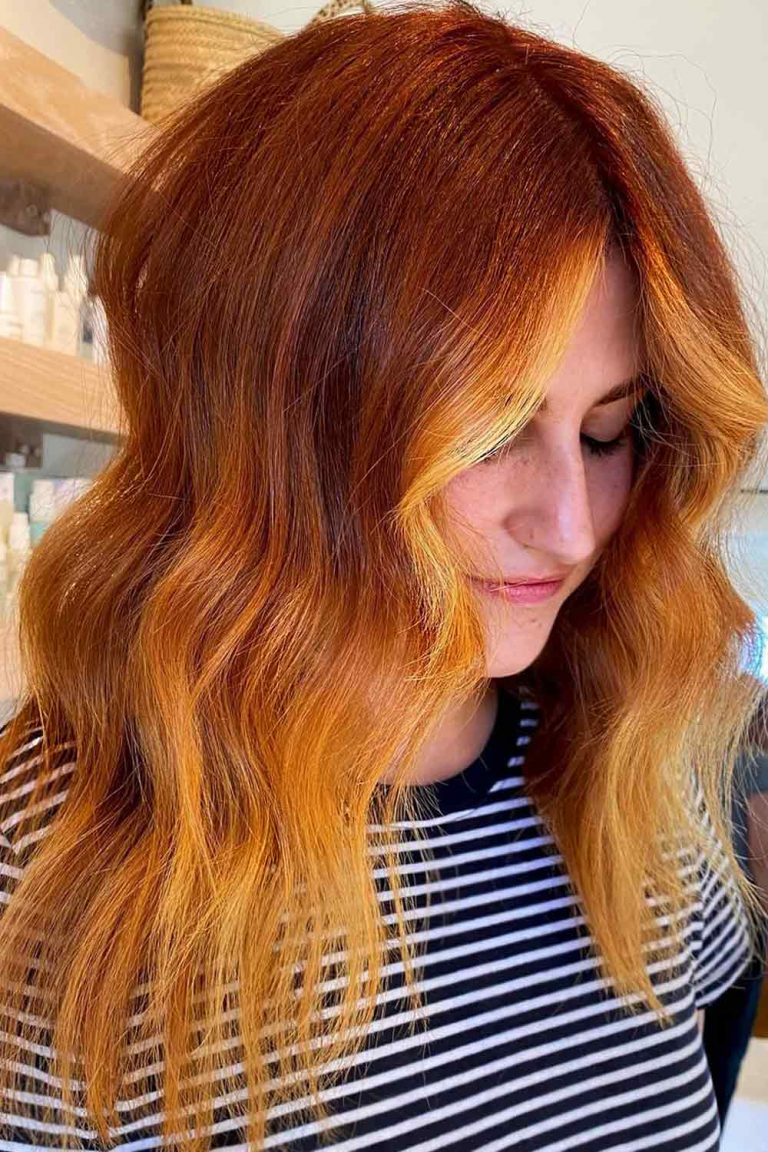 @thestrawberryblonder
Blondes and brunettes aren't the only ones who can benefit from the raging trend of face-framing highlights. In fact, redheads have infinite opportunities to adopt the style, and the gold-yellow option is the mildest to start with.
Blonde with Purple Face Framing Highlights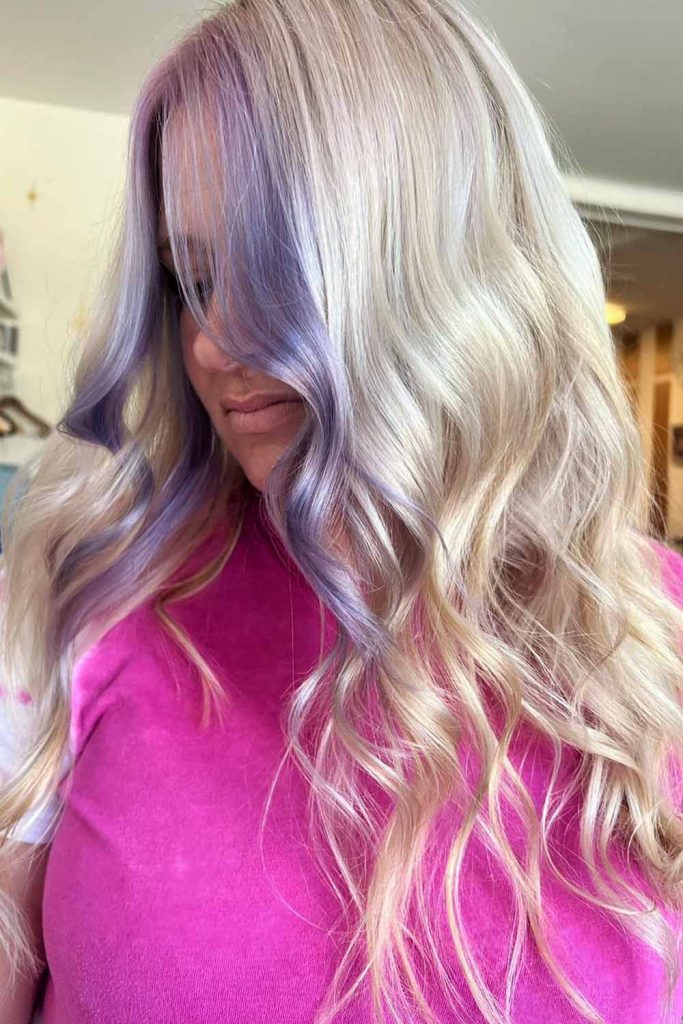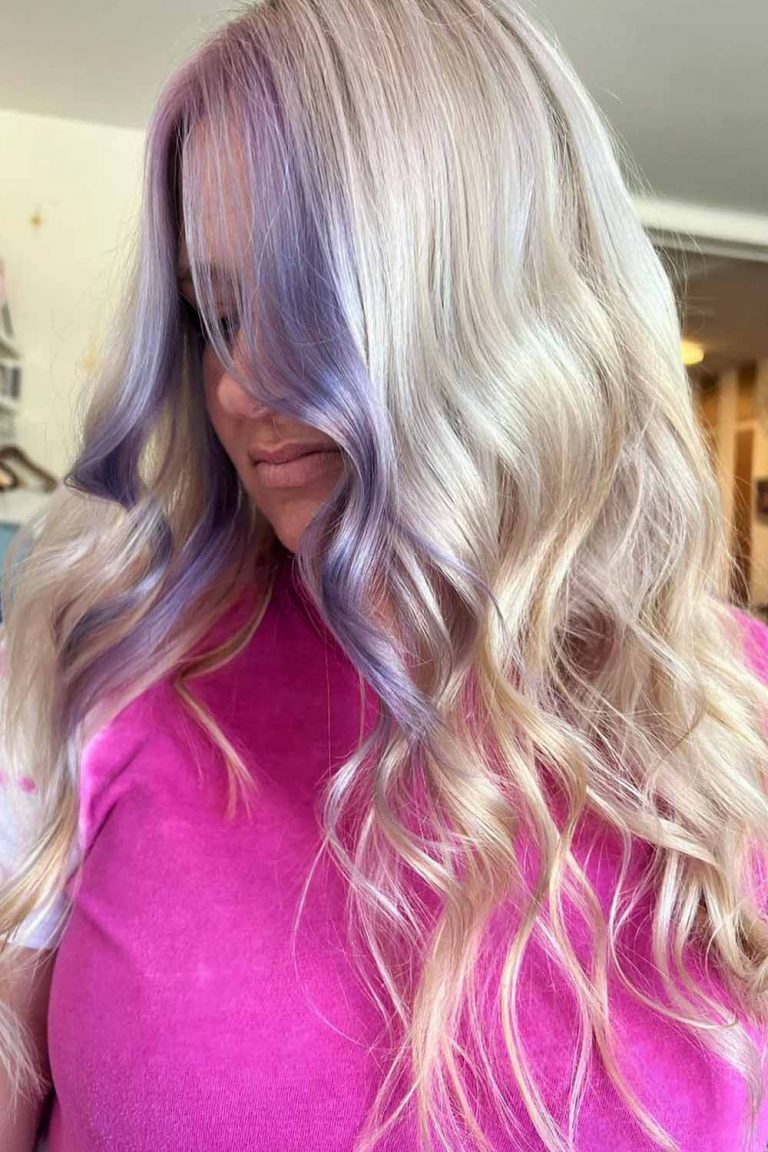 @hairbymisskellyo
Those of you interested in high contrast balayage money piece hair but care not to consider black, there is another direction to head in. The truth is that lilac shades conquered hairstyle fashion a while ago but seem to be cemented on their pedestal. Use the opportunity and seamlessly frame your face with lavender highlights that match cold blonde tones.
Pink-Red Ombre Hair with Coral Money Pieces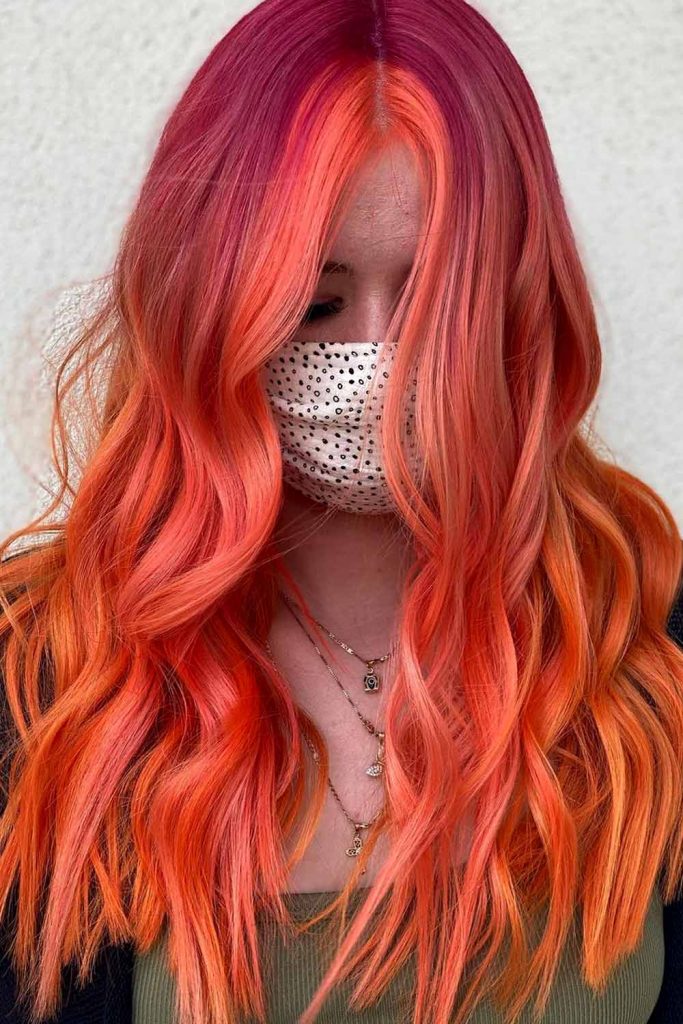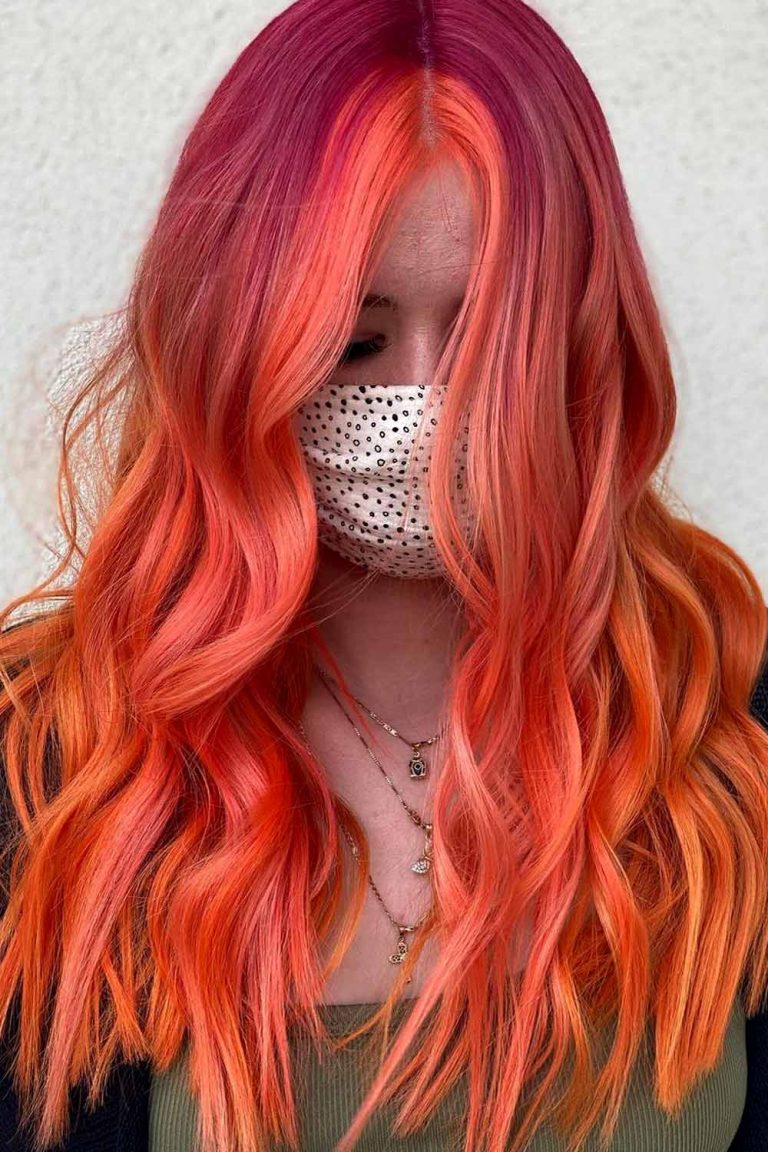 @hairbyclairperez
Red money piece hair is different from the rest for various reasons. For starters, pink to red ombre is unusual enough on its own, but a coral money piece can steal your breath away in a heartbeat. No need to go as far as neon colors to succeed with a colorful labyrinth caught in your locks!
Rose Gold Hair with Lilac Face Framing Highlights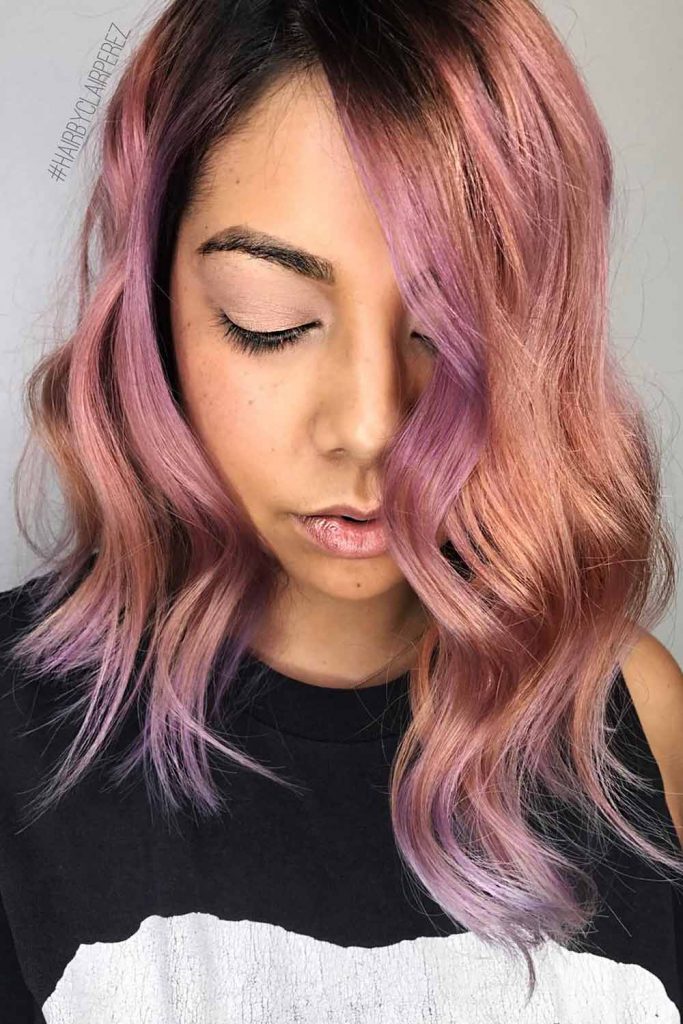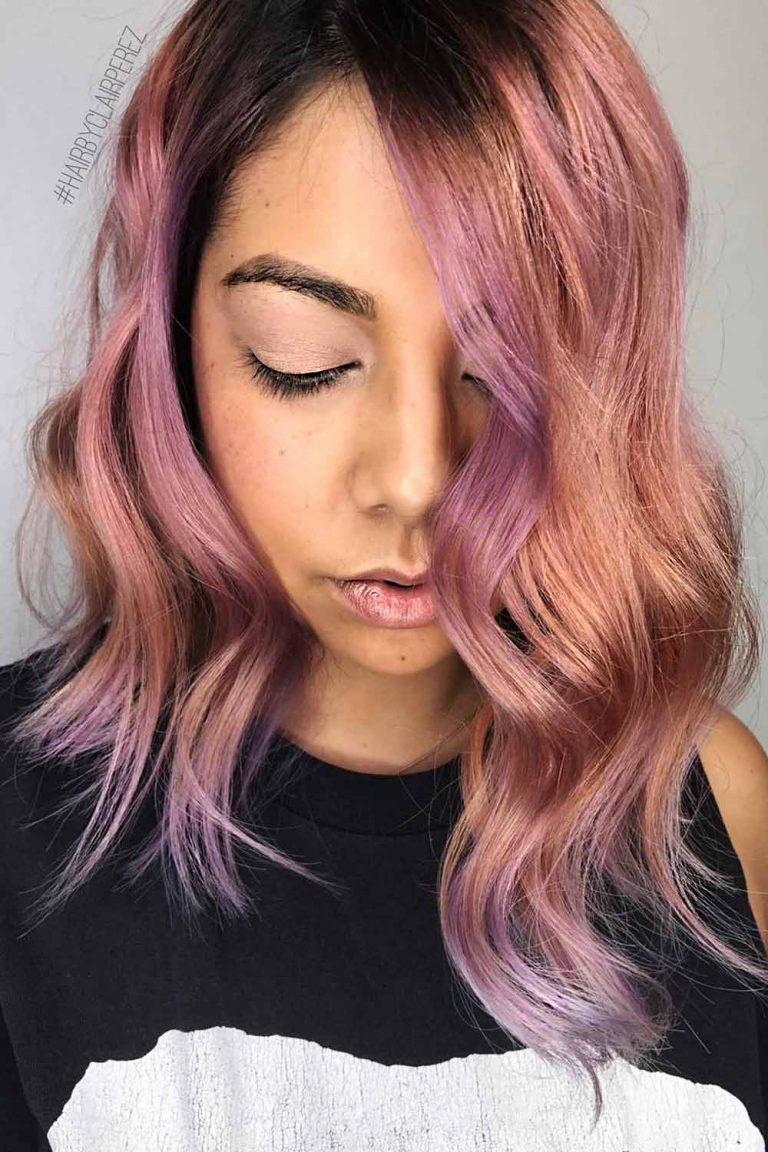 @hairbyclairperez
Dusty lilac pink money piece hair is a great way to make a statement without taking things too far to be banned by a semi-formal dress code. What's more, outgrown roots pair with the style as though they're intended to do so.
Dusty Pink Hair with Purple Highlights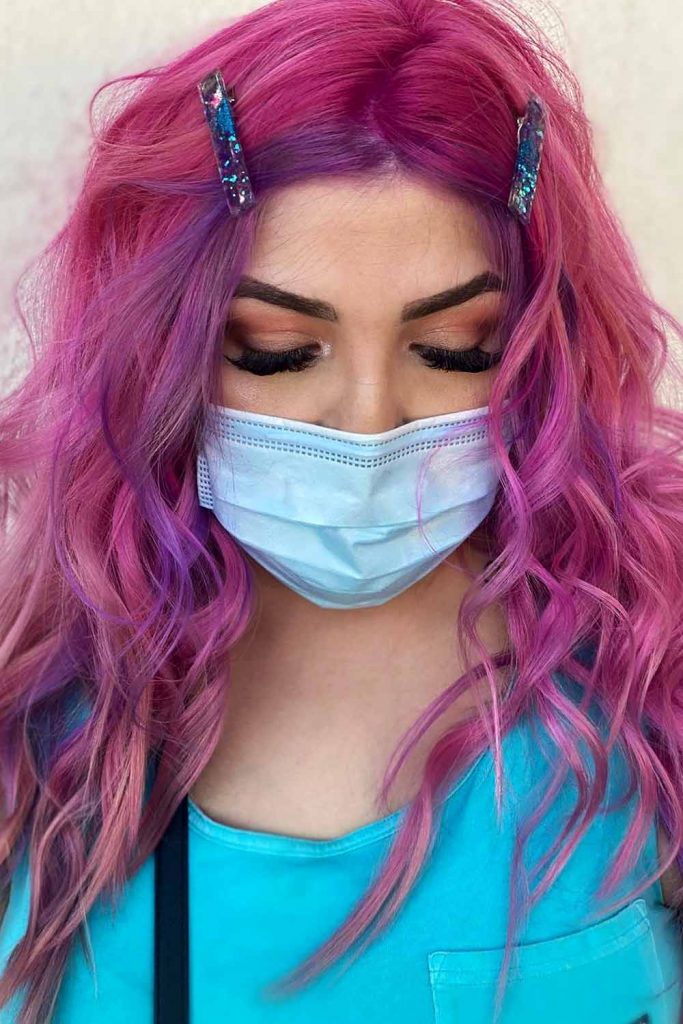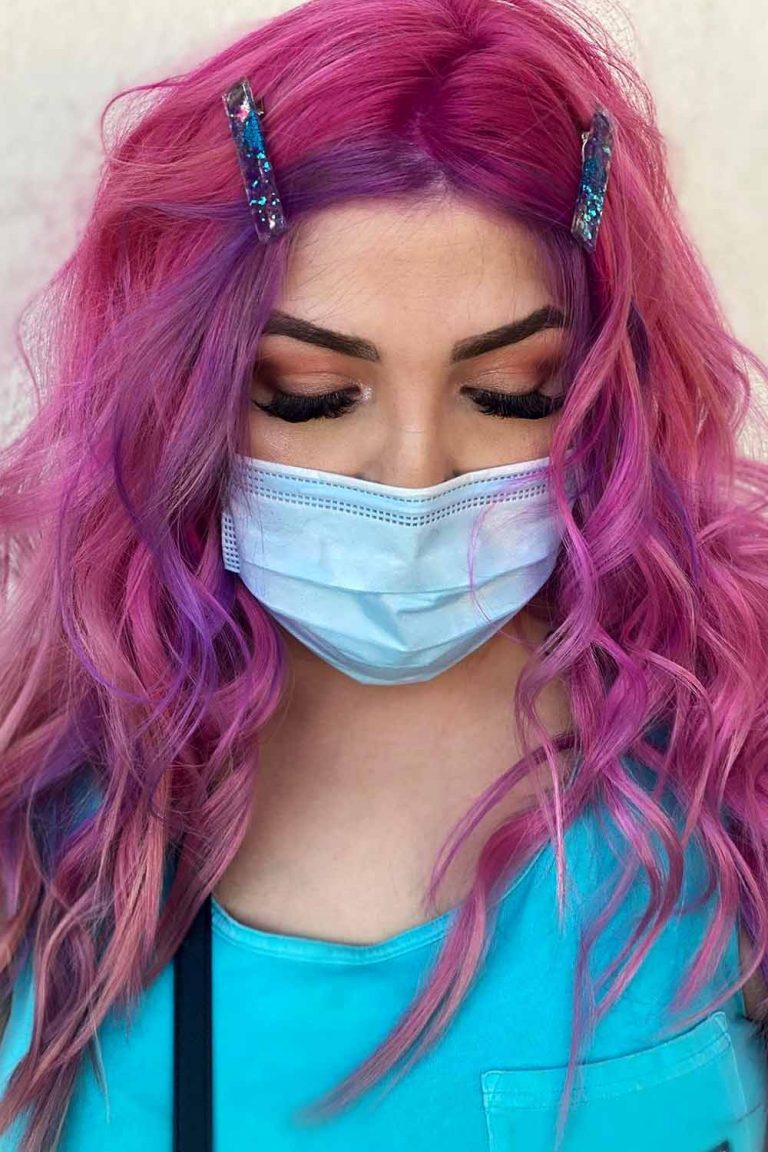 @hairbyclairperez
Sporting bright pink hair is courageous and creative enough to stop at that point. However, keeping up with trends is critical, and a purple money piece hair will help you kill two birds with a single stone. Would you dare grasp such a brilliant opportunity?
Face framing highlights can introduce that fresh twist to your look without a serious transformation or sacrifice. The variety of options to choose from is undoubtedly impressive, while the cost is utterly affordable. There is rarely anything better than to enhance your look and enjoy every single glance in the mirror, is there?
FAQ: Face Framing Highlights
What is a face frame Balayage?
Face-framing highlights are a coloring method that draws attention to your most appealing features. Say to your stylist that you want strategically placed waves and have carefully chosen coloring indications that will direct the eye to the right location.
Do highlights brighten your face?
Highlights differ from a person's natural hair color in that they are lighter. They're typically used to impart radiance to small hair sections. When used correctly, highlights can make a natural impression and assist to enhance the face.
What is better balayage or highlights?
Balayage is a good option for those looking for subtle highlights to break up their hair. Foiled highlights are much better than balayage at removing orange and red zones, and your hairstylist will thus have better control over the tone of your hair with foiled highlights.
REFERENCES:
Get the latest hair color and styling news from the Wella Stores hair blog. Source
Read on to get the latest hair trends, hair product reviews, and hairstyle inspiration. Source
Was this article helpful?