There's A Shade Of Teal Hair For Every Girl!
The teal hair color is the new, trendy blue shade that literally changes the common image of blue color. While bringing a lot of aquamarine vibes, this hue has something magical; something that can't be described with words. But it can describe your bright and unique personality, and that's enough!
Every hair color has a great variety of shades. And if you have a closer look at the blue hair color chart, you will see an unforgettable shade somewhere between ocean blue and mint hues. Sometimes there's no better way to turn your life into a fairytale than to color your hair some unusual color. So here we go: see how different teal color can be these days!
Teal Hair Color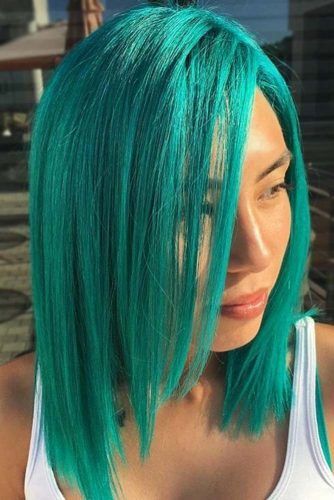 Source: butterflyloftsalon via Instagram
You can't have teal color since birth, unless you're a mermaid, of course. So the best weapon on your way to stand out is teal hair dye that comes in many different variations. The color you see above is a classic teal shade that girls choose as either an all-over or accentuating idea.
Teal With Sky Blue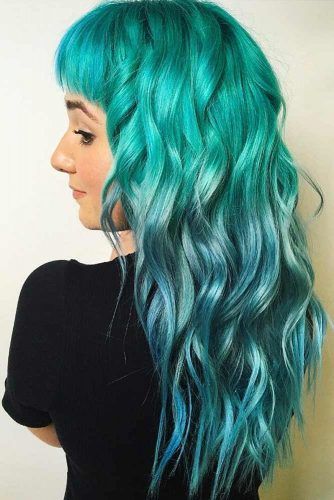 Source: bottleblonde76 via Instagram
This teal ombre hair is designed for ladies who can't have too many distinctive colors in their lives. The way these two non-matching blue shades melt with one another is real magic.
Aqua Teal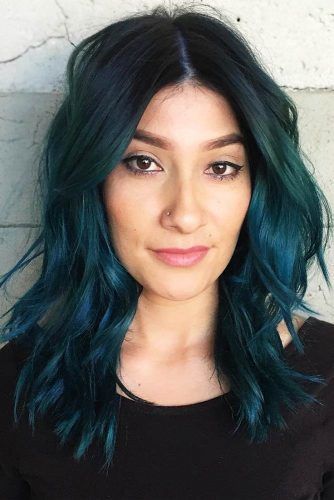 Source: butterflyloftsalon via Instagram
With the right teal hair dye for dark hair, you can get the majestic, deep ocean color that will attract everyone's attention just like singing mermaids that lure romantic sailors.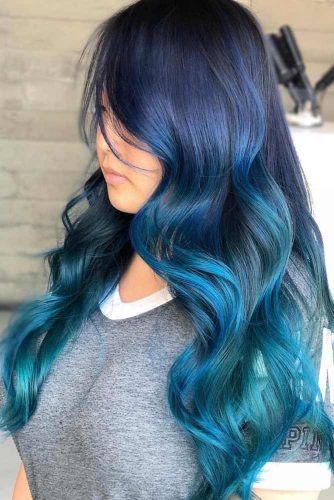 Source: butterflyloftsalon via Instagram
This time, the color blend of teal blue hair is smoother and more even: the dark base gradually turns into faded blue that slowly meets a soft wave of teal shade.
Midnight Teal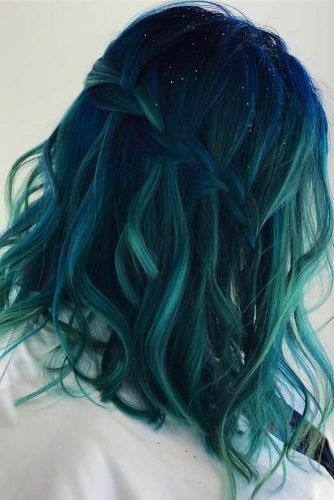 Source: butterflyloftsalon via Instagram
Imagine yourself getting into the sea when the moonshine stretches through it: this is how we describe this color. How about a pastel teal hair masterpiece that was born in the beauty of midnight?
Teal With Purple Ends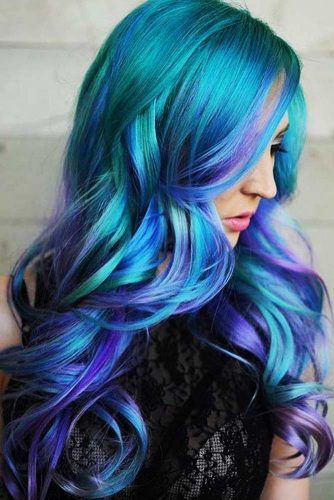 Source: xostylistxo via Instagram
Blue and purple have always been thick as thieves. And the same goes for teal and purple hair! If you want to diversify your teal base, some purple magic at the ends won't hurt.
Teal With Raven Black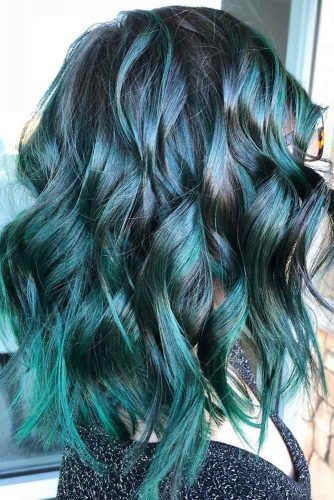 Source: xostylistxo via Instagram
Who would've thought that such contrastive colors could ever blend so effortlessly? The black and teal hair is a perfect way to show off the depth, shine, and charm of aquamarine colors.
Criss Cross Ombre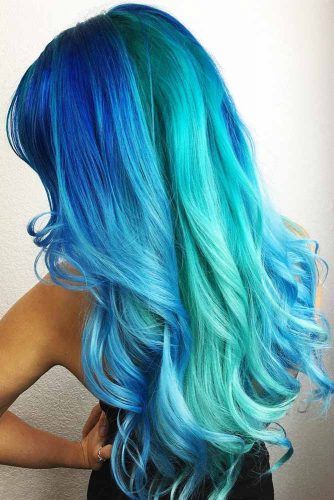 Source: xostylistxo via Instagram
Don't forget that you are the only one who decides how your ombre teal hair will look like! Want all the colors to be in the spotlight and have perfectly even graduation? Opt for soft, crisscross ombre, then.
Dusty Teal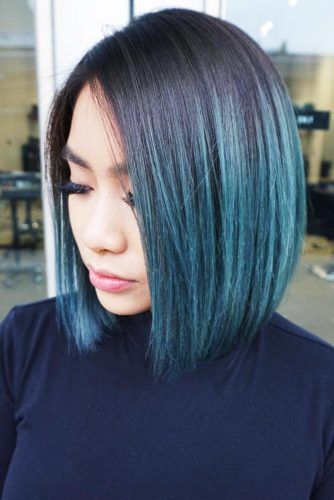 Source: evalam_ via Instagram
Is there a girl who doesn't like all those trendy faded, pastel, and dusty shades? This dark teal hair shows how you can take the popular color idea to the next level by mixing your black base with a bleak teal shade.
Teal & White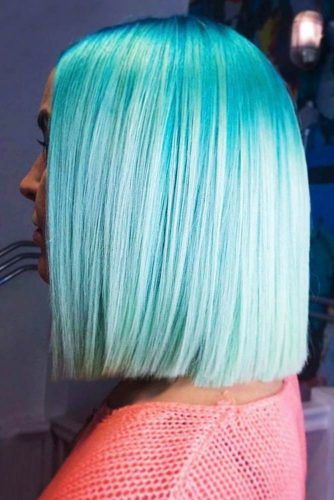 Source: rebeccataylorhair via Instagram
Blonde and teal hair brings a kind of futuristic, sci-fi-inspired mood. Well, who knows what future trends will look like? Anyway, with this idea, you will be called a trendsetter at any time.
Twilight Sparkle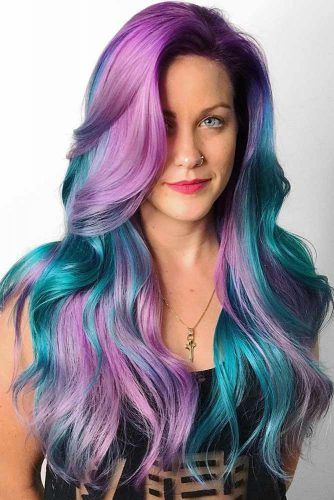 Source: hairgod_zito via Instagram
Here comes another way to pull off purple teal hair. This time colors reveal themselves from a new perspective: the strategically painted strands give an unrealistic, fairy-like look.

Teal Ombre For Brunettes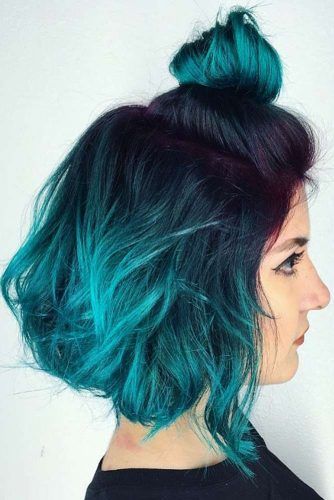 Source: hairgod_zito via Instagram
Some girls think that brunettes can't have nice transition of blue on their locks. So this brown and teal hair is here to prove otherwise! Whether you start with a black or brown base, ask your stylist to apply some color to your roots too, so that everything looks harmonic.
Purple, Fuchsia & Teal Triple Ombre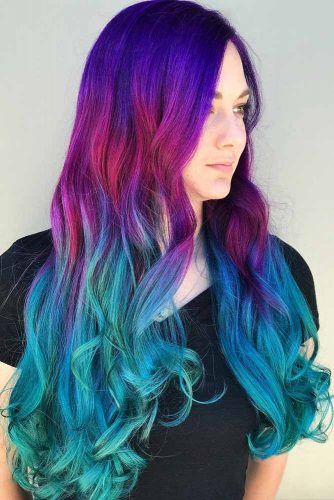 Source: hair_princess_steph via Instagram
Can't decide between purple and teal hair and teal and pink hair? There's a simple solution: just mix them all! With the purple base, saturated fuchsia mid-length, and teal ends, there's no way people won't notice your bright soul in the crowd.
Teal Rainbow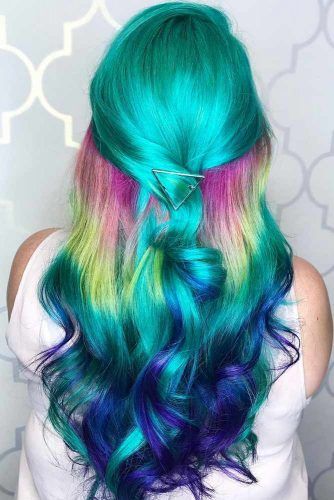 Source: hair_princess_steph via Instagram
The rainbow coloring is always fun and versatile; whatever hairstyle you do will look super unique with the play of colors. Just don't forget to make a teal shade a part of your rainbow!
Yellow With Teal And Pink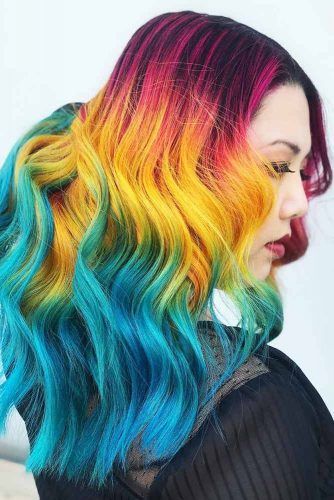 Source: kayla_boyer via Instagram
Believe it or not, once you mix three non-matching shade, you will discover the new definition of harmony. Despite the rough color lines, the dark pink, bright yellow, and teal hues look absolutely balanced.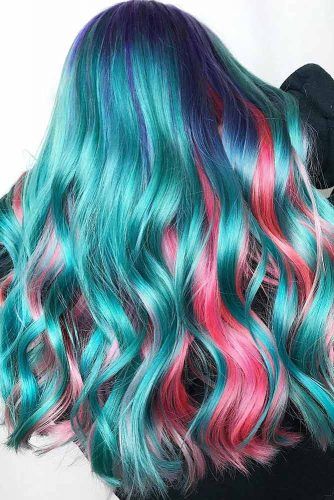 Source: kayla_boyer via Instagram
Girls who want to individualize their teal hair can add some hidden color to it. Also, some deepness on the roots can make your color look more alive: the mix of dark blue roots, teal base, and pink strands is simply gorgeous.
Denim Teal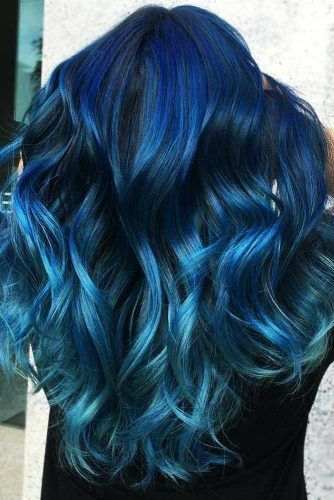 Source: taylorrae_hair via Instagram
When going for a teal shade, don't be afraid to experiment with dark teal hair dye. Not only do such colors create a stunning dimension but also nicely complement the classic teal hue.
Ocean Blues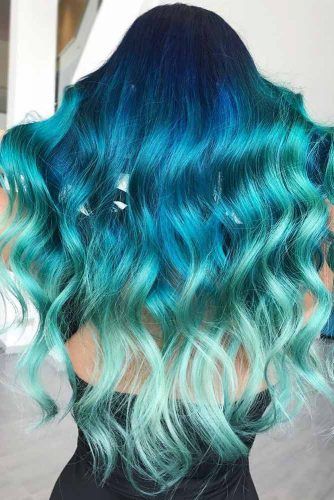 Source: kayla_boyer via Instagram
Ombre that looks like crystal waves of ocean charm, who could ask for more? Let a blue wave hit your roots, then let a gentle teal reef into your heart, and embrace the beauty of foam with your ends.
Nightfall Blue & Teal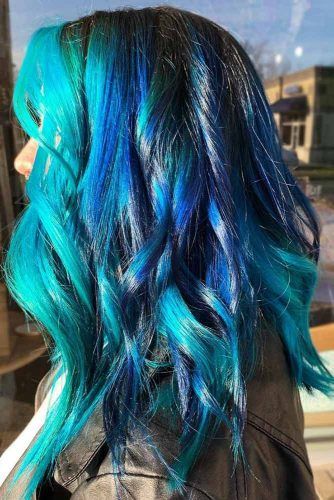 Source: xostylistxo via Instagram
When the night falls on the ground, it reflects on every surface with deep blue, teal and cobalt shades. In the same way, the colors in this hypnotic style echo one another to enhance the depth and boldness of the peekaboo graphite layers.

Neon Sky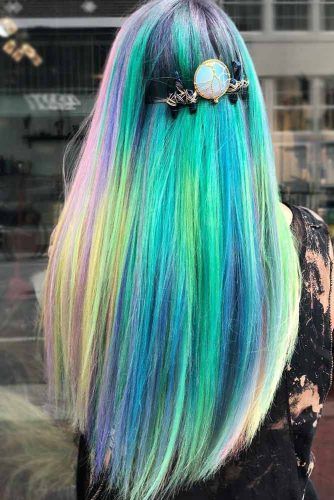 Source: xostylistxo via Instagram
Versatility is what the teal hair color has going for it. As it contains both warm and cool undertones, it matches many if not all shades of nearly any color palette. So, why not go far beyond a single hair color and run a whole rainbow through your locks, thus igniting it like the sky with neon lights?

Aquamarine Teal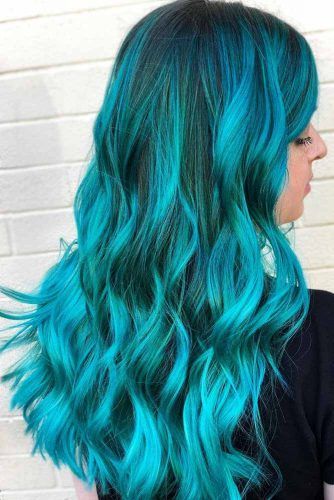 Source: hair_princess_steph via Instagram
What's the best way of flaunting beachy waves? To bring their color to the original as close as possible. Start with a graphite shade at the roots and gradually blend aquamarine teal into it, thus creating a smooth balayage effect.

Teal With Rainbow Highlights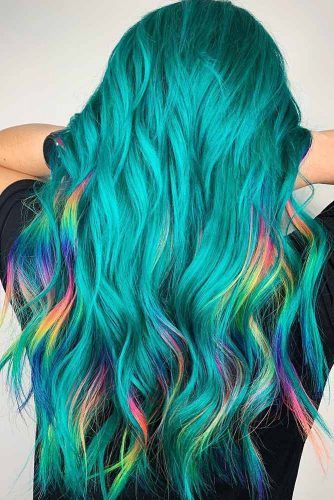 Source: hair_princess_steph via Instagram
If you don't want to dissolve your teal in the rainbow but still long for adding more colors to it, cast a couple of rainbow streaks along the tips of the hair. In this way, your locks will gain dimension and vividness without sacrificing on the main color.

Holographic With Light Teal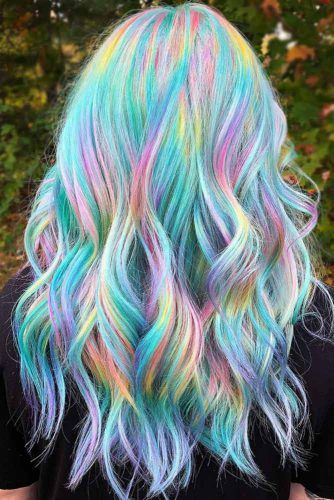 Source: hair_princess_steph via Instagram
Do you know how a soap bubble plays in the sun with its iridescent colors? Why not pull off the same vibrant effect on your hair? Go with a light teal shade as the base and run random flamboyant smudges through it for a glaring holographic impression.

Teal Accents On Black Hair With Purple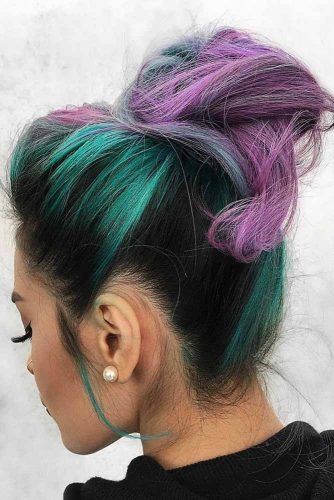 Source: jaywesleyolson via Instagram
Black is a perfect canvas for basically any hair color combo, and teal is no exception. Though, if you fall for more striking color solutions, add another shade to the duo. Purple will work perfectly in this case, especially if you go with an unusual dyeing way, such as alternating the colors in segments.

Someone call it magic, and we call it teal hair. This color is created for women with loud souls, so if your inner experimenter is screaming about changes, it's time to make the color a part of your look.
Main photo by
Hair_princess_steph