Planning to change your current hair color but not sure what to do before getting hair dyed? No worries. We got you covered. In the following guide, we have broken down all the information you need to know about preparing your hair for coloring or dyeing in ten easy steps. Plus, for your convenience, we have also rounded up some basic definitions that will help you to find understanding with your colorist with ease. So, make sure to study it before visiting the salon for your next hair coloring appointment.
How To Prepare Your Hair For Coloring In 10 Steps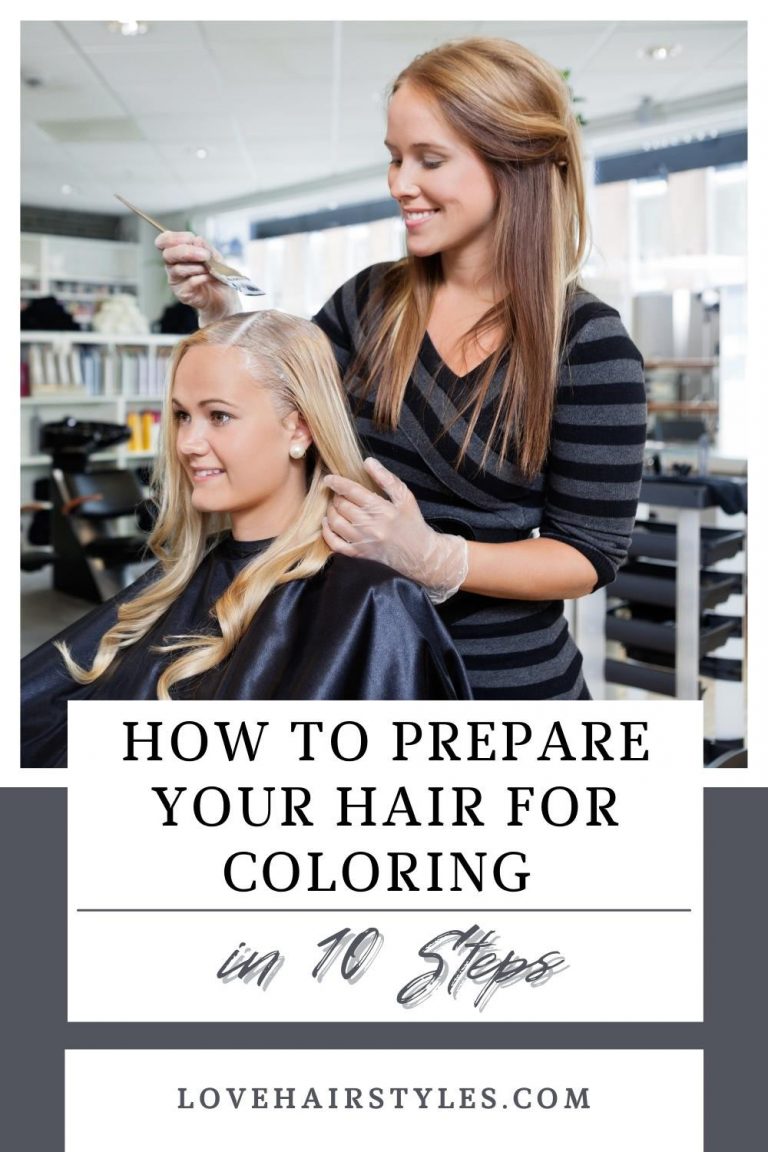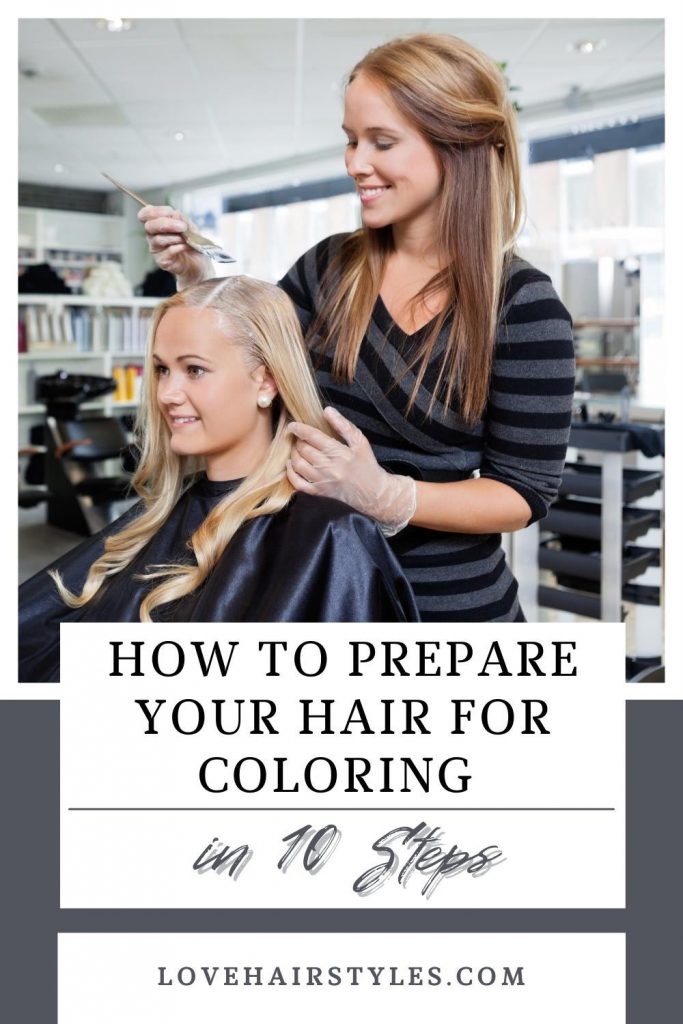 Credit photo: Shutterstock
So that you will not have to browse the Internet for answers, we have this ready-to-use ten-step guide.
Find photos that you are going to refer to. You know what they say – a picture is worth a thousand words. Describing a hair color is ten times more difficult than how to ask for a haircut or hairstyle. So, instead of trying to explain to your colorist what shade of ash gray you want to melt into buttery blonde, it is better to bring some photos for reference. If you want to be fully prepared, you can also find photos of the hair color that you do not want to end up with.

Consult your hair colorist. There may be a lot of questions to ask your hairstylist before getting the hair dyed. Every hair colorist is an artist and thus, they all have a different approach to the procedure. So, you need to contact them in advance and ask them everything about preparation for the dyeing job. Start with the most common one, which is "should I wash my hair before dying it?" While some claim that you should allow your hair to accumulate natural oils as means of protection from possible damage caused by chemicals in a hair dye, others believe that there is no need to. So, feel free to ask your hair colorist if you should come with clean hair.

Do not skip makeup. You may think that when visiting a hair colorist, there is no need for makeup. Well, if you usually do not wear it, then yes, you do not have to apply it for the appointment. However, those who choose to have a full face of makeup should also put it on when going to the hair colorist. In this way, you will be able to get the color that does not make you look washed out.

Say no to heat. Heat can be harmful to your hair even when you do not dye it. So, it is always better to cut down on it. However, if you cannot quit styling your locks with heat tools, then at least avoid using them before dyeing. Not only can heat make your hair dry and weak, but it can also cause the strands to soak in the dyes more intensely. As a result, you may end up with the wrong color.

Consider nourishing treatment. Because you put your hair under such stress, extra conditioning will not hurt it. So, if you were hesitant about whether should I condition my hair before coloring, the answer is yes. It is very advisable to treat your locks with a deeply nourishing and moisturizing hair mask. In addition to conditioning your strands, thus keeping them healthy and shiny even after such a harsh procedure, it helps the color to last longer.

Cut your hair first. Of course, how often should you cut your hair depends on your personal preferences and the current condition of your locks. Yet, as a rule of thumb, if you decide to change both your haircut and hair color, then you may be questioning whether should you color or cut your hair first. The cut goes first. Because otherwise, the whole coloring job may be ruined by excess chopping off. Plus, when the tips of your hair are freshly cut, there is less risk that they will be the wrong color, as dry split ends tend to reveal the color differently.

Do not wear fancy clothes. We understand your desire to always look your best, but hair coloring is not the right time to dress up. The thing is no matter how thorough your hair colorist tries to protect your clothes from drips and blots, it is sometimes still impossible to avoid them. What is more, there are follow-up hair salon services that can spot your clothes, such as shampooing your locks. So, make sure to wear something that you will not regret ruining. Also, you should ideally switch your pillowcases and towels to dark ones for the first week after coloring.

Grab some snacks. As you will have to spend quite some time in the salon, you may get really hungry. Salons usually offer their clients something to drink, like tea, coffee, or even champagne, but not to eat. While a food delivery might be a vital solution, in this case, to be on the safe side, it is better to bring some snacks with you. Do not be overly picky though. Some nuts, protein bars, and slices of apple, or baby carrots will be more than enough.

Allow plenty of time. Have you ever wondered how long does it take to dye hair? On average, dying hair can take between three and eight hours. That is why it is important to have a lot of free time to be able to devote the whole day to the treatment. If you have an important event, then you need to plan your hair coloring session several days before it. Sometimes, things do not go as intended and the colorist should be allowed an opportunity to fix any surprises.

Do not forget about maintaining the color. Getting the desired color is half a business. If you do not maintain it properly, you will lose the result very fast. So that it will not happen, you should plan beforehand how you are going to take care of your locks. The good news is that depending on the coloring technique, your hair may require more or less maintenance. Just like how to prepare for balayage differs from what to do before getting hair dyed, the same goes for aftercare. So, you should adjust it to your very situation.
Hair Dyeing Vocabulary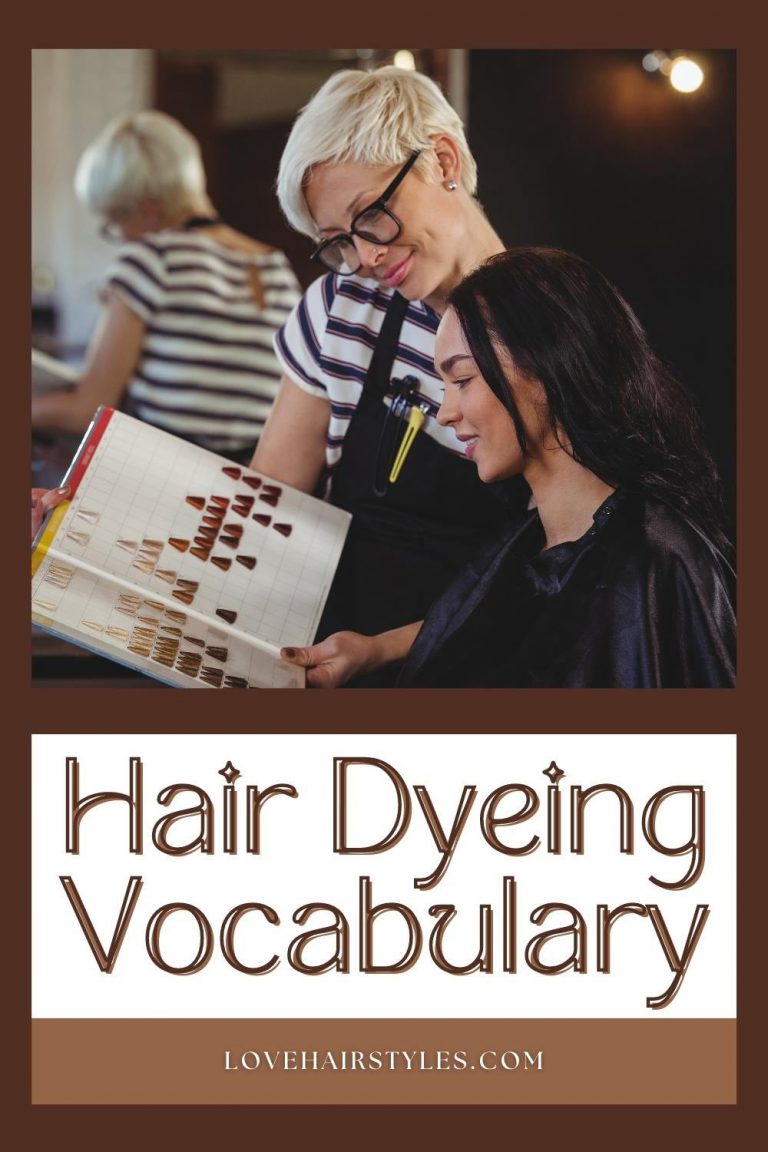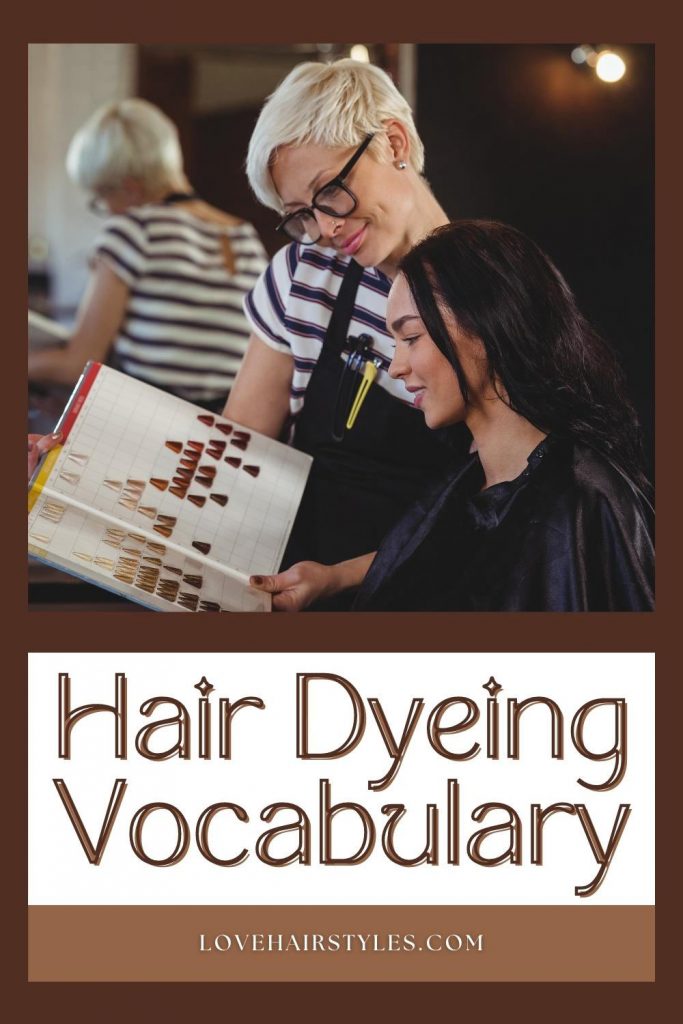 Credit photo: Shutterstock
One of the ways how to find a good hair stylist is to ensure they are on the same page with you. Though sometimes, the issue may be on your part. That is why it is important to know some basic hair coloring terms and techniques. But before learning the colorist vocabulary, let's outline what phrases you should avoid.
When describing the color you want to get, do not use such words as a warm or gold undertone, as you may end up with brassy hair. You should just specify that you do not want your hair color to look dull or inexplicit.
Another unconditional rule of communication with your hair colorist is that you should never be rude to them. Even if you are unhappy with your hair color, explain your discontent in a calm manner. Maybe, you will be able to find a solution together.
Now, as for the terms, here are the main definitions that you need to know:
Babylights – Subtle highlights resembling streaks that babies have on their sun-kissed hair.
Balayage – A hair coloring technique that originates from the word meaning "to sweep" in French. The color is swept onto your locks freehand, looking very natural and delicate.
Base Color – This is the color that the hairstylist applies highlights or another color to. It can be near the roots only or an all out color.
Bleach or Lightener – A chemical that is used to lighten or decolor your hair. To activate it, you need to add a developer to it. A bleach may have cream, oil, powder or gel formula.
Chunking – A highlighting technique that implies applying streaks in thick chunks without blending them.
Cool/Ash – Cool is used to describe the tonality or temperature of the hair color. You can use it to describe blonde, red, and brunette hair colors. Cool-toned shades include blue, green, and violet. Such hair colors as ash brown, plum red, and platinum blonde are considered cool.
Demi-Permanent Color – An ammonia-free hair color that only contains deposits. You still need to use a developer to make it work. Do not expect a drastic change in color from it.
Flamboyage – A modern take on ombre. The transition between colors is much softer, so the final result comes out deeper and more natural looking. Women with brunette or dark blonde medium to long hair will find it the most flattering.
Foiling – A highlighting technique that suggests wrapping the strand of hair into a foil strip once the bleach is applied.
Foilayage – A mix of two hair coloring techniques – balayage and foil highlighting. As a result, you get a natural yet defined application.
Full Highlights – When the colorist applies the bleach to the strands incorporating all layers, you get full highlights.
Glaze – A way to adjust the current hair color, be it natural or dyed. You can make the color more intense or toned down, richer or subtler, as well as change its tonality.
Highlights – Light streaks are applied to individual pieces of hair to create more contrast and dimension for your base hair color. There are several ways to get them: using a cap, a comb, or foil.
Jewel-Tone Hair – Hair colors that mimic gems with all their shine and beaming.
Lowlights – The opposite of highlights. They are also narrow streaks of color different than your base shade. However, instead of being lighter, they are several tones darker. They are used to accentuate your hair color or add warmth to it.
Ombré – A hair color style where the color gradually changes from darker roots to lighter ends. The actual shade starts to show up mid-length. So it not only looks natural but also requires less maintenance, as regrown hair is not as noticeable.
Partial Highlight – It is what it sounds like. You highlight your hair partially. Rather than all-out highlighting, the colorist will pay attention to a single hair section only.
Root Shadow – A hair coloring technique that requires darkening the roots to create a smooth color transition and extra deepness.
Sombré – Sombre stands for soft ombre. It is applied in the same way as a regular ombre, yet the change in color is even more subtle.
Toner – A product that you apply to your hair when it is still wet in order to get rid of undesired undertones. It can be semi or demi-permanent.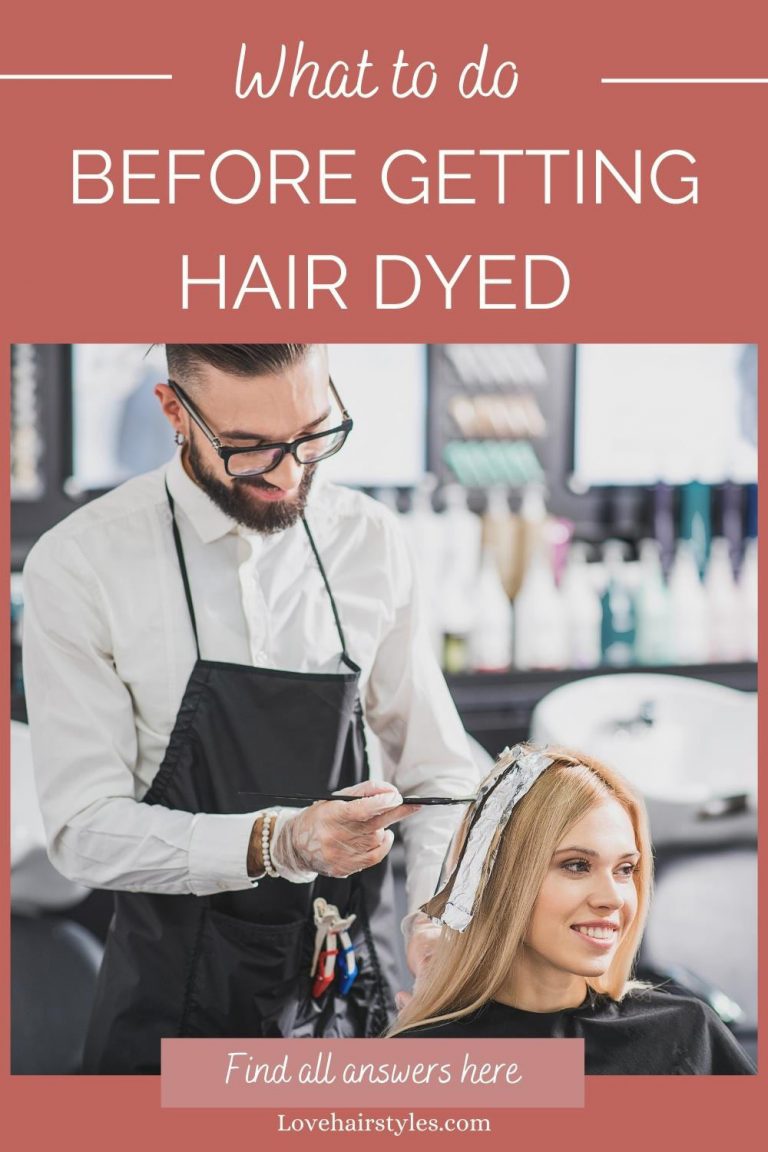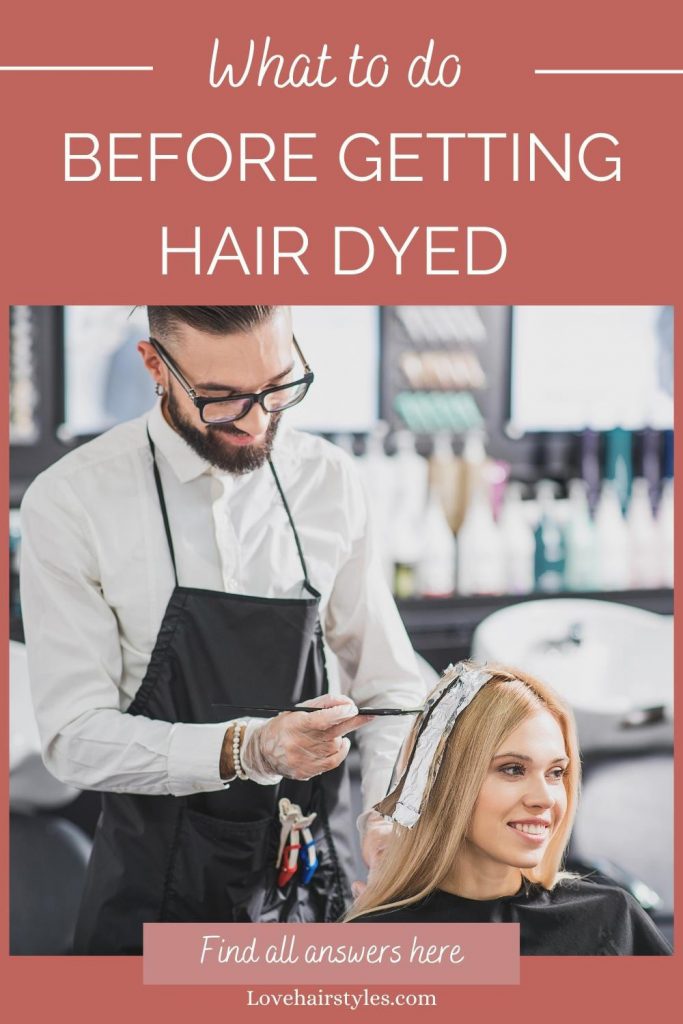 Credit photo: Shutterstock
FAQ
Why do salons wash your hair after coloring?
There is a reason why do salons wash your hair after coloring. As there may still be some dye residue on your hair, washing it will not only remove the dyes but will also help to achieve a more even color.
How long does it take to dye hair?
Usually, it takes around 2-6 hours to color the hair. But depending on the complexity of the procedure, it may last up to 8 hours.
How long should you wait to dye your hair again?
Not sure how long should you wait to dye your hair again? Allow your hair anywhere from four to six weeks to recover from the previous treatment before booking the next coloring appointment.
Now we hope you are fully informed about what to do before getting hair dyed. It may only seem that there is a lot. Just take one step at a time and you are guaranteed to get the best hair coloring experience on your next visit to the hair salon.
REFERENCES:
Hair coloring terms and techniques. Source