No matter how often you visit the hairdresser's, it rarely hits you that you should plan what to ask for at the hair salon. If you want to look your absolute best, you need to inquire about other things rather than just worry about how much to tip the hairdresser. In fact, there are things that a hair stylist wishes you'd ask since both of you will benefit from a well-defined request. The better your hair looks, the higher the salon's rep will be. So, where do you start? Read on to find more!
Hair Questions Every Professional Wants You to Ask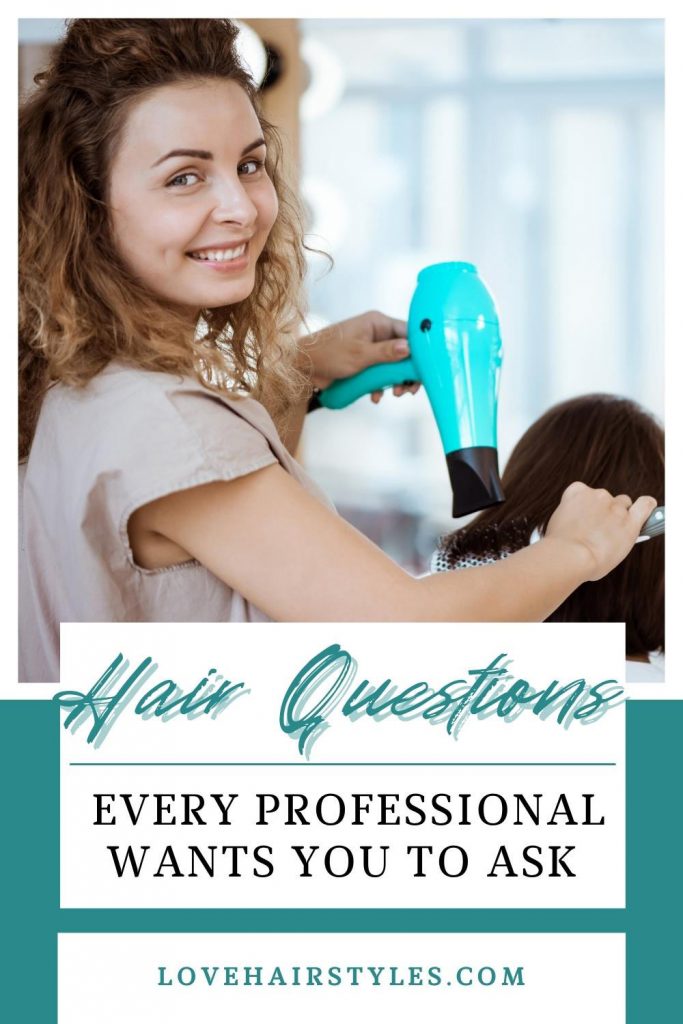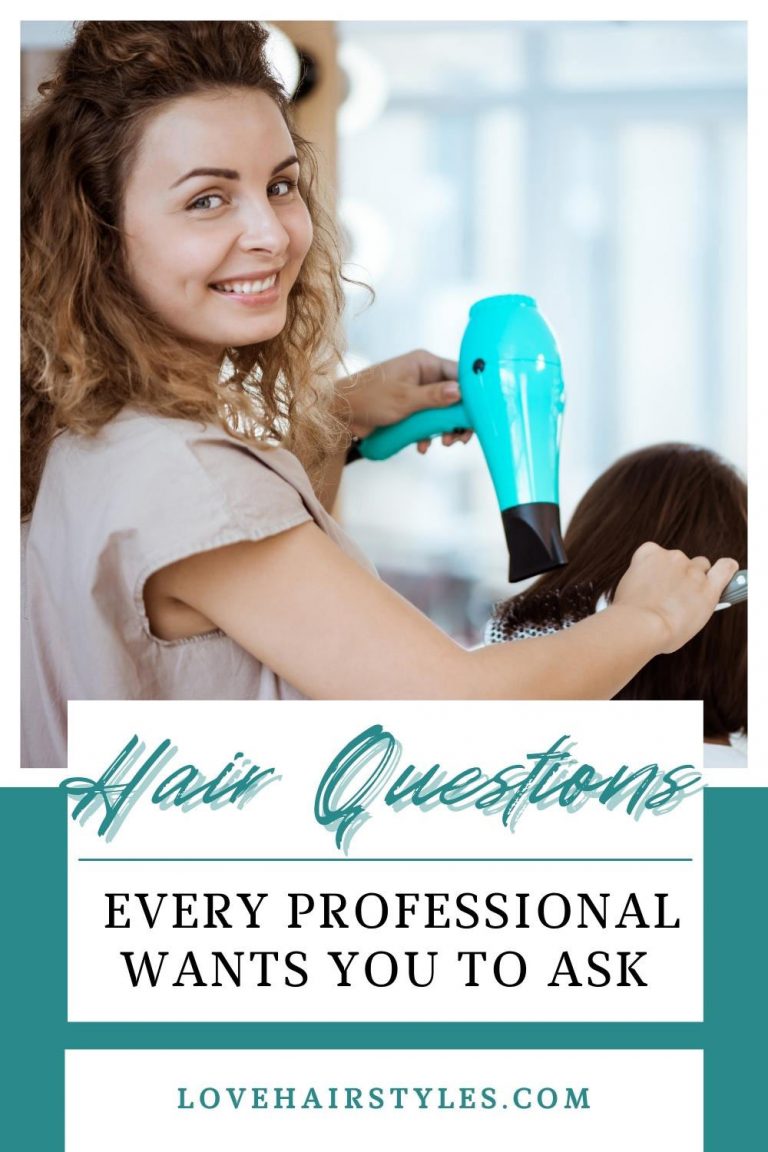 Credit photo: Shutterstock
With an incredible plethora of hair salon services, it may feel intimidating to ask the questions you would really appreciate having answers to. However, a well-trained professional wants the best for you, so rather than sitting in the chair and agreeing to whatever comes your way, it would help if you initiated a field-related discussion. You should consider the questions beforehand to help you end off on the right foot with the hairstylist. The more aware you are of what to ask for at the hair salon, the more satisfied you will be on your way home.
How Healthy are My Hair and Scalp?
It is essential to learn how to ask for a haircut women's audiences prefer these days, but at times the cut you are looking for may be too damaging for your tresses. That is why you should ask a skilled stylist how healthy your locks and scalp are. When professionals spot a potential issue, they can help you find the best solution and fix whatever problem you may have. Keep in mind that healthy hair grows from a healthy scalp, and one can't exist without another.
Which Haircut Suits My Face Shape Best?
These days it is a lot easier to figure out how to book a hair appointment rather than to find the fittest cut to your face shape. You may have an idea in mind since it looks great on a celebrity. However, the style won't look as complimenting on you if you have a different face shape and hair texture. For instance, a haircut for a round face won't look as flattering on a square one. Thus, a trained professional should be able to tell which style fits you best and what options are to be avoided at all costs, no matter how much you like them.
Which Hues Bring My Eyes Out?
You surely wonder how to find a good hair stylist, but it depends on you whether you land with a great master or not. It takes as much as to inquire from the stylist on which colors will bring the eye color out. For example, dark brown hues will stand out when you pair them with warm chestnut shades, while light brown will look exceptional with caramel colors.
What Hair Color Suits My Complexion During the Season?
You may be surprised at how informative a well-planed hairstyle consultation can be. It does not take long to figure out that your skin color will vary slightly depending upon the season outside. During colder seasons, you will look paler, and the summer spice your look with a gorgeous tan. Based on the season outside, a skilled stylist will suggest a hair color that goes perfectly well with your current complexion hue.
How Often Should I Wash my Hair?
Some questions to ask your hairstylist may sound too obvious and generic, but you can be surprised by what a true professional will tell you. Once the stylist closely interacts with your mane and observes the scalp condition and hair texture, they may advise you on how often you should shampoo your tresses. Ladies with coarser textures can go longer without washing, while those with finer locks may need to shampoo their hair on a daily basis or every other day.
What Shampoo and Conditioner Brands Do You Use?
You shouldn't feel like any of your hair questions are intrusive or inappropriate. It is your hair, and you surely care for its state. Thus, simply asking the stylist about the shampoo and conditioner brands in use can tell you a lot about the hairdresser's professionalism level. Keep in mind that hair-specific products are always the best since using greasy hair formula on dry locks is a shortcut to disaster, and a well-trained hairstylist must know it.
What Is Your Professional Advice for Home Hair Care?
You may know what to do before getting hair dyed, but you may lack essential knowledge on how to look after your tresses once you leave the salon. If you are delighted with the outcome, you should do your best to keep it longer. Thus, you may ask for some professional advice and recommendation on how to alter your home care routines. Should the stylist suggest that you change or increase the hair products involved in the routine – they are not trying to sell their products. They care for your hair and merely advise on what's best for you. There is no room for marketing at the hairdresser's.
What Styling Tools Do I Need to Style the New Cut?
Among other hair consultation questions you should ask would be the number of tools to implement into the routine so that you walk out of your home as though you've walked out of the salon. A hair professional may recommend getting round brushes that suit your hair type. Some stylists advise using hot tools every so often to increase the number of looks you can pull off. However, along with the hot tools, the hairdresser should advise on heat-protective products to ensure that you don't damage your tresses in the process.
When Should I Come Back?
How often should you cut your hair? That is another question to ask your hair professional. Depending on your schedule and lifestyle, the stylist will advise you on what to get and how often to come for a trim. If you are a busy mom, an ultra-short cut with many details may be a poor suggestion since regular touch-ups are a must. The same goes for a coloring technique. You should be able to hit the salon every three weeks – trendy highlights are there for you. In case not – a rooted balayage would be more forgiving.
Important Things to Share with Your Hairstylist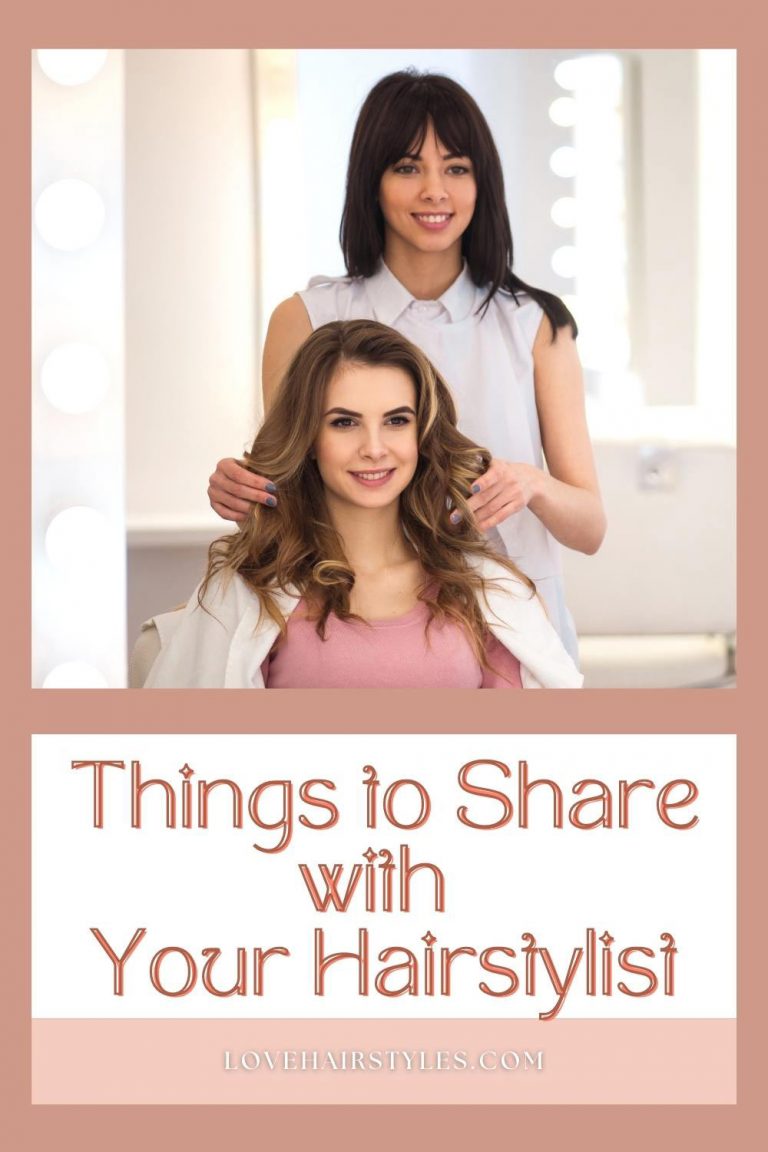 Credit photo: Shutterstock
Aside from must-ask hair consultation questions, there are some vital points to share with your stylist. According to the celebrity stylist – Tom Smith, you should always mention the following aspects:
Daily/weekly styling routines – how often you wash your locks, which styling methods you prefer, all these things will help the specialist come up with the best hair solution for you.

The best haircut you've ever had – based on what you have liked the most, the hairdresser will come up with an even better idea to compliment your style.

What drives you crazy – maybe your ears stick out too much, and you wish to hide them away—every detail matters.

How often can you visit the salon – if you are on a tight budget or schedule, the stylist will come up with the fittest alternative that will make you look presentable and won't disrupt the life flow.
Things You Should Never Say To Your Hairstylist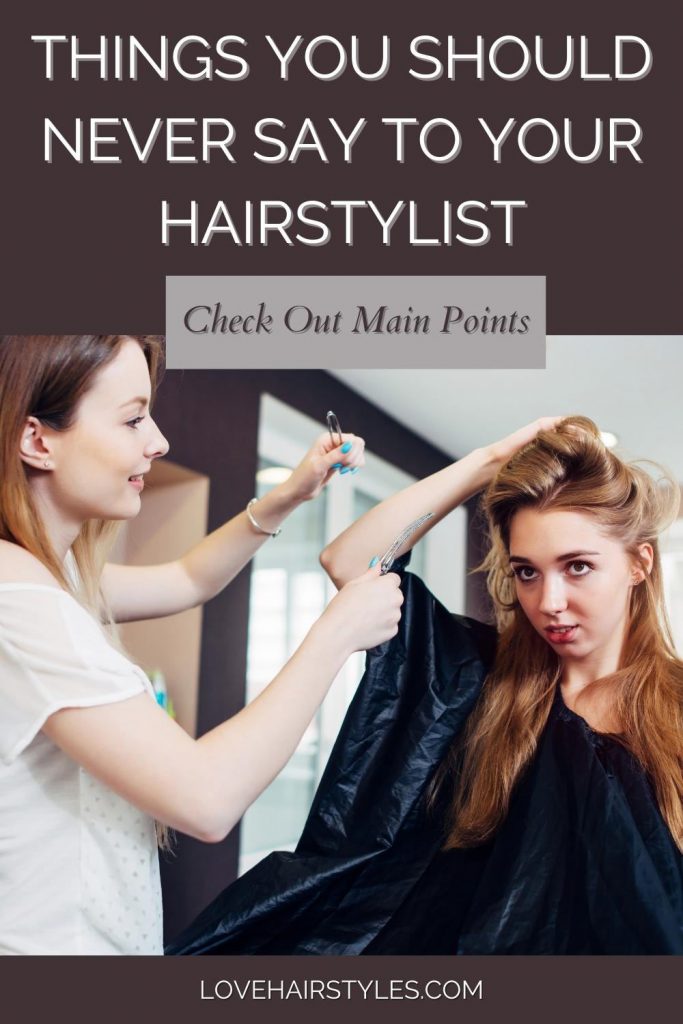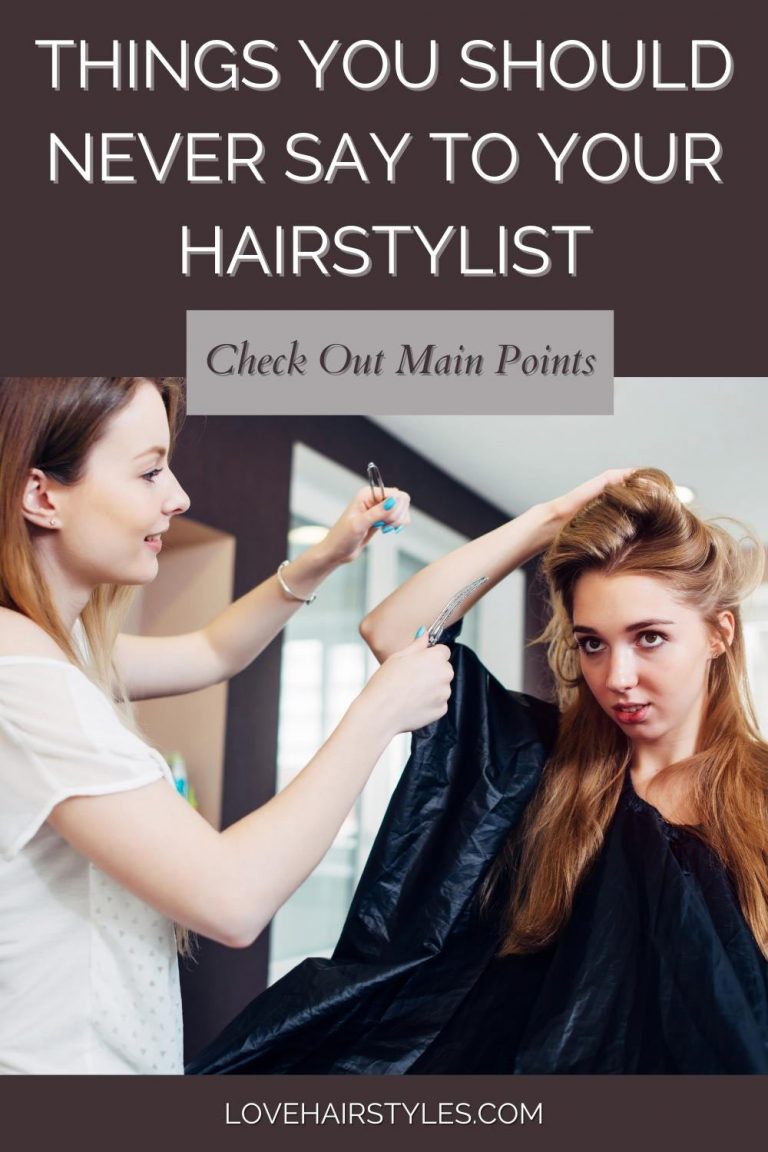 Credit photo: Shutterstock
Now, when you know what to tell a hair stylist, you should be aware of what to never say to the hair professional. These are the following points:
I trust you – even if you do trust your stylist, you should ask some consulting questions. With the best interest in mind, a hairdresser may misread your wishes and go too short on you or use a brighter hair dye than you have counted on. Casual consultation is vital.

I love it – if you are fully satisfied with the outcome, we don't see a reason not to share your joy with the specialist. However, if even the slightest detail bothers you, voice it. Once you do so, you will grant the professional a chance to fix that, or you will head home with your mood ruined.

I can't make my hair look this good at home – of course you can't! You are not a certified stylist yourself, and the lack of professional equipment adds up to that too. As long as you can't afford to invest in tools and products that the stylist uses, don't mention it.

I want an angled platinum bob, but I don't have a picture on me – if you aim at something specific, you can't simply voice it. You need to show the result you want as a visual. Once the specialists see the picture, they will be able to tell you if the look may work on you or not.

I think you should cut at a different angle – since you are not the specialist here, you shouldn't give the hairdresser advice on how to hold their tools and angle the scissors.

My old stylist did it differently – well, of course, they did, but there is no use in sharing the information with a new stylist. As long as you are fully pleased with the style they get you, there is no need to compare them.

Silent treatment – should you feel dissatisfied with the current specialist, you should ask for another. As simple as that. There is no need to silently agree to work with someone you don't feel connected with.
What to ask for at the hair salon? The answer to the question is pretty simple – ask for everything you have come for. Don't feel ashamed to voice your concerns and questions. Together with a qualified hairdresser, you will arrive at the most suitable conclusion so that both of you end up fully satisfied.
REFERENCES:
Questions to ask your hairstylist. Source
Was this article helpful?