Cornrow braids are a gift for natural hair that was sent right from above. Modern hairstylists have made this traditional African hairstyle a whole brand new trend: nowadays, it's one of the most stylish and enviable hairstyles ever. But only cuties with curly and naughty hair can sport it at its best, and today we want to share some inspiring ideas with you.
Natural locks seem to live their own, separate life, always requiring a lot of attention for their maintenance and styling. The hairstyles you are going to discover will help you forget about your tough styling routine and flaunt a gorgeous braided look for about eight weeks. Sounds tempting? Let's see them all!
What are Cornrows?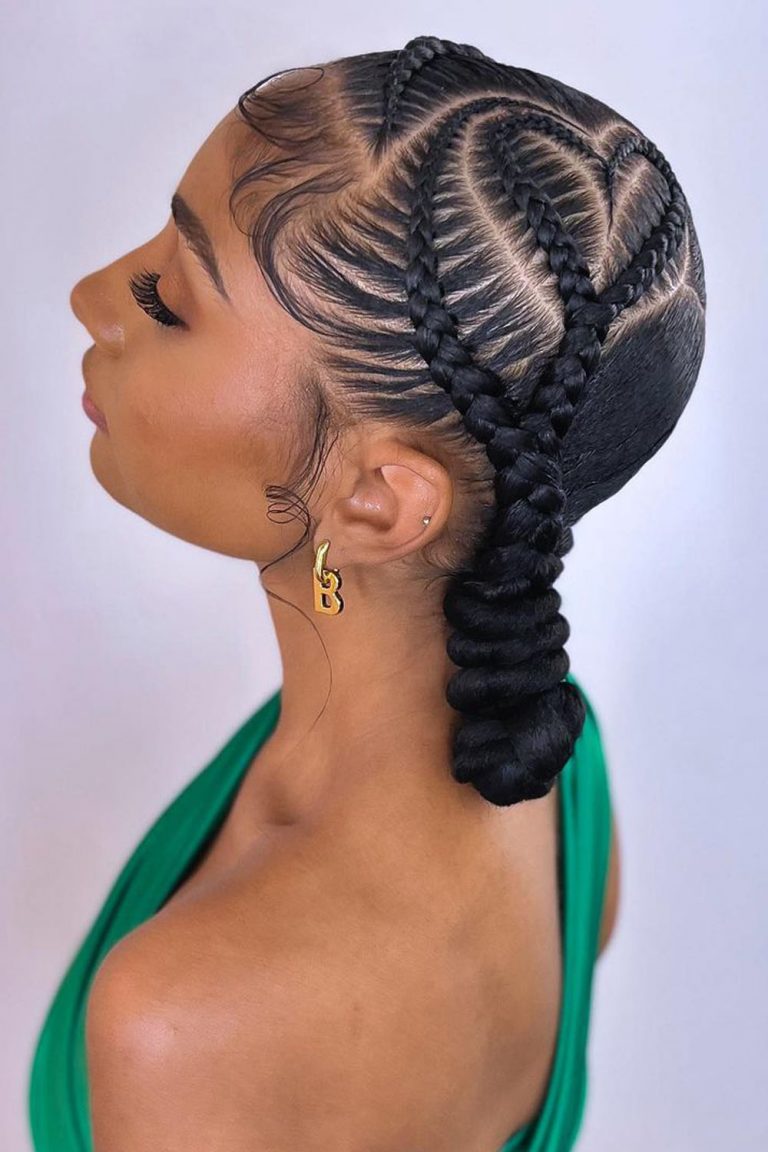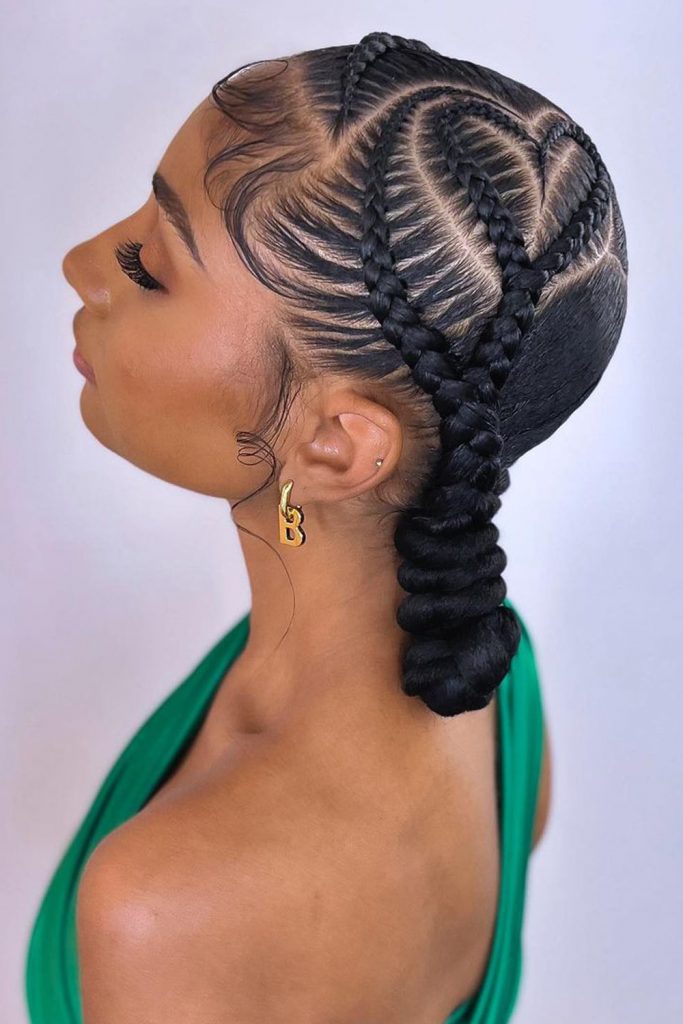 Credit photo: instagram.com/magicfingersstudio
While cornrow hairstyles are getting more popular by the day, some of you may lack the general definition of what the style represents. According to hair fashion experts, cornrows are one of the most natural hairstyles that both men and women find equally appealing. The best way to describe the style would be to mention that it is a type of a braid done incredibly close to the scalp. The sections of your hair that go into the cornrows are neatly attached to the scalp.
Many people prefer cornrows for their practical appeal, but you should know that many other styles are based on cornrows. Think about trendy crochet braids, sew-ins, and things related. Besides, cornrows can be arranged in a plethora of fancy patterns designed to embrace your unique nature and style.
How to Get Cornrows?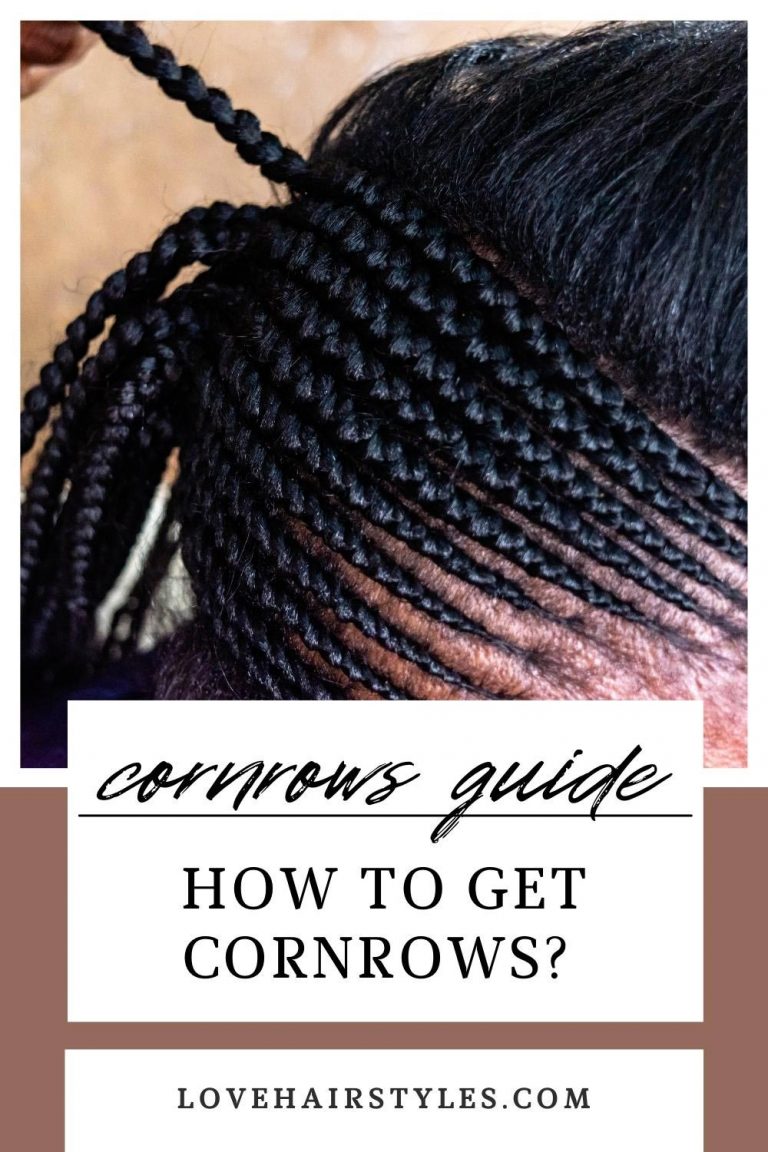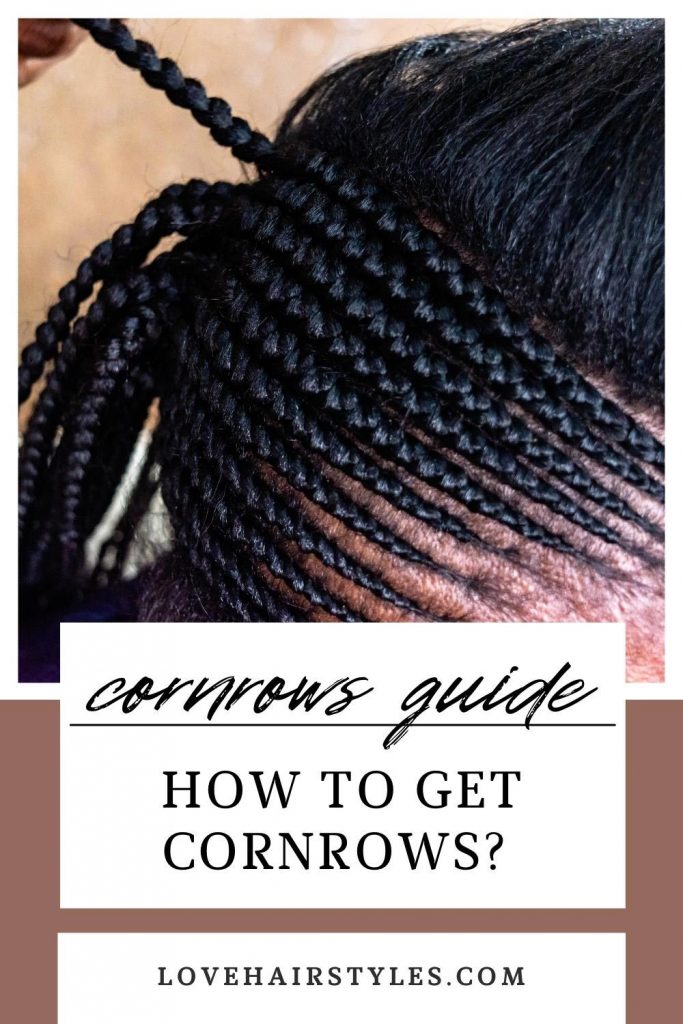 Credit photo: Shutterstock
Should you be willing to try fashionable cornrows, you may need a detailed guide as to braid those sections. The process is quite basic at its core, but it may take you a few tries to succeed with the result you actually like. Follow these steps to achieve the goal you aim at:
Prepare the hair.
You can't start adding cornrows to your style without a proper preparation process. You need to wash and condition your locks well before starting the braiding process. Don't forget to add some moisturizer to your tresses to prevent breakage.
Map the section.
Before you begin the process, you should decide how many sections you want to add to your head. Work with a rat tail comb to define crisp and neat parts.
Divide the primary section.
Divide the first section into three, the way you would with a regular braid. Make sure that the section is as small as possible.
Start the cornrow.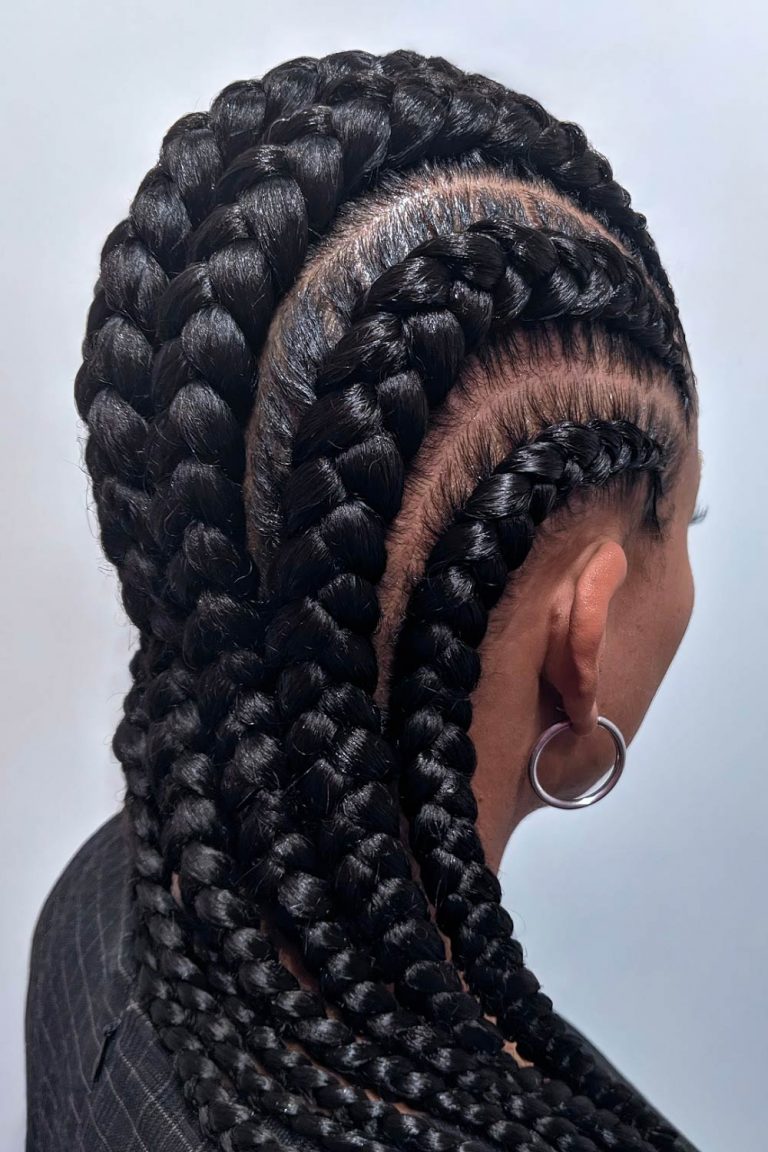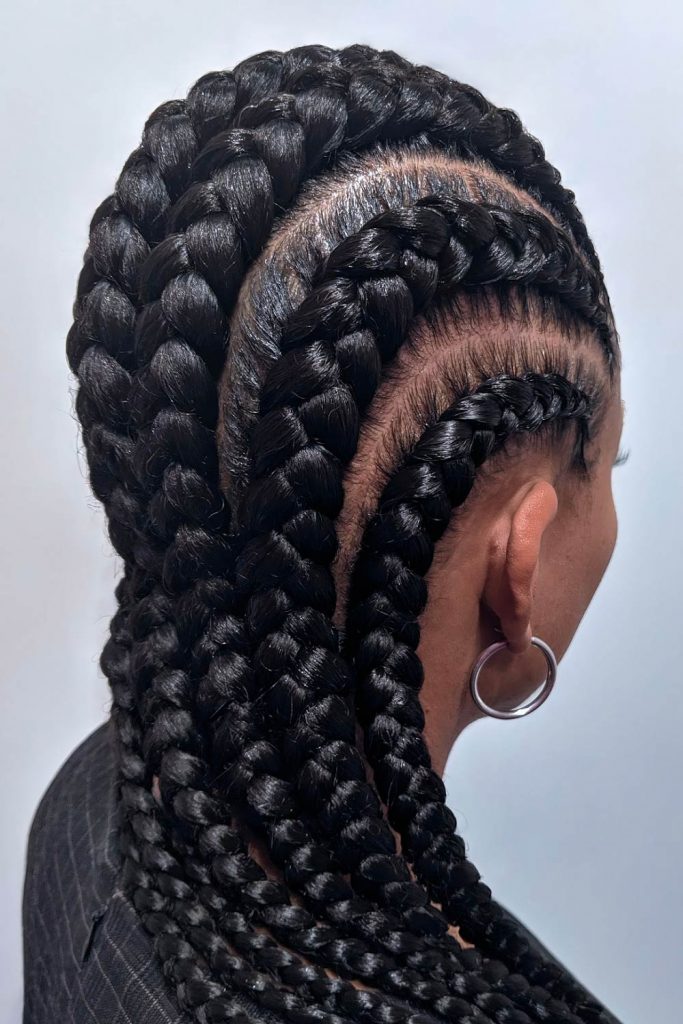 Credit photo: Shutterstock
Begin braiding the cornrow like a regular plait, but after the first section, you should be adding small portions of hair on each side of the cornrow. Connect the braid with the scalp as tightly and neatly as possible. You can add some clip-ons as you proceed with the style to enhance the length or the color, or both.
How Universal are Cornrows, and How to Adapt Them to Your Style?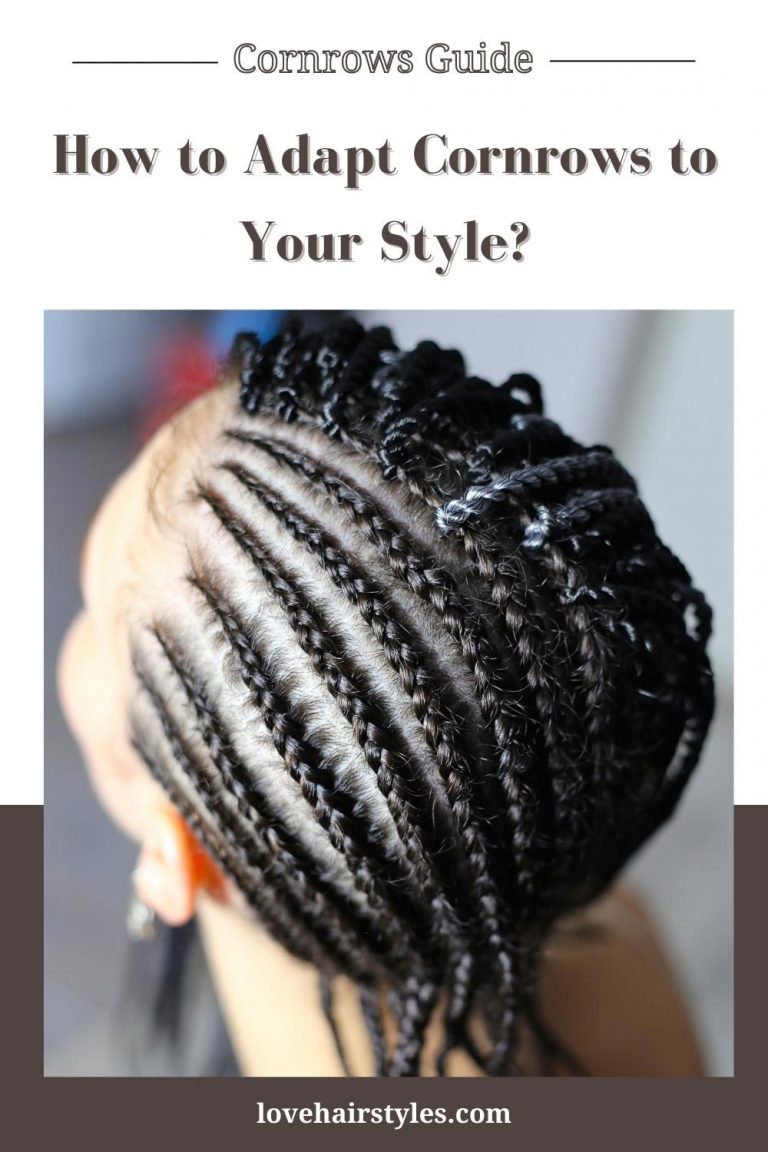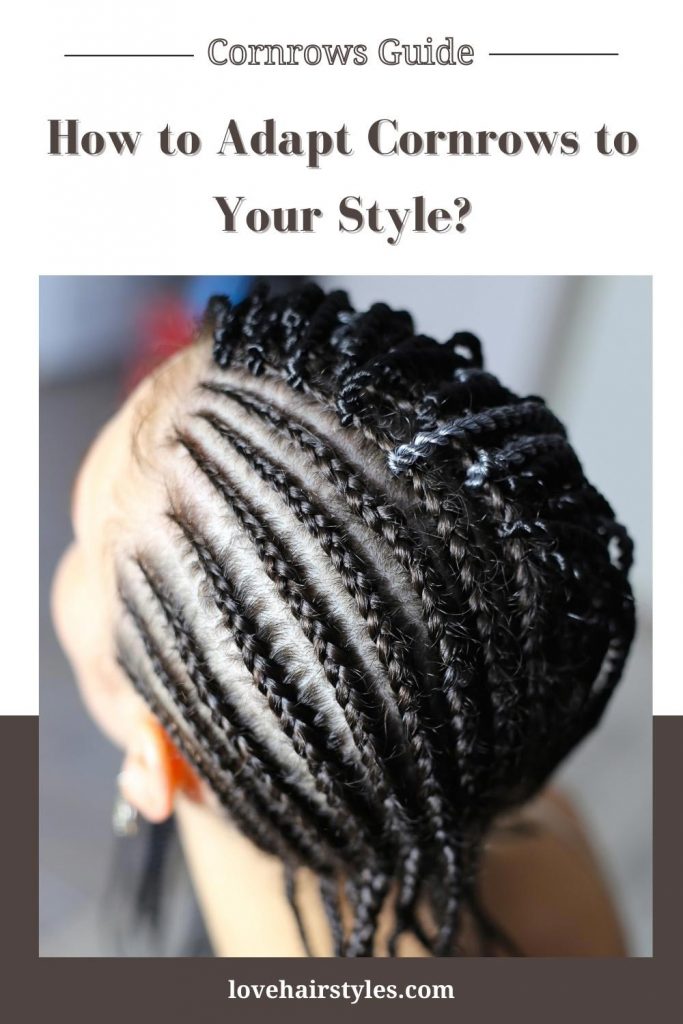 Credit photo: Shutterstock
Cornrows are probably the most versatile style of all. You can easily adapt it to your personal taste and preferences. You can pull off classy cornrows just to have the taste of what the hairstyle offers. Or, you can experiment with different patterns. Men find zig-zags especially appealing. Besides, you can implement all sorts of accessories into the cornrow to make it even more unique. On top of that, cornrows are the primary base for different protective styles, such as feed-in braids.
How long will the style last?
It takes a fair share of time and effort to succeed with style, so it is natural to wonder how long it will last. According to different hair specialists, the style can last you around 4-6 weeks, depending upon how well you take care of your locks.
Will the cornrows suit you?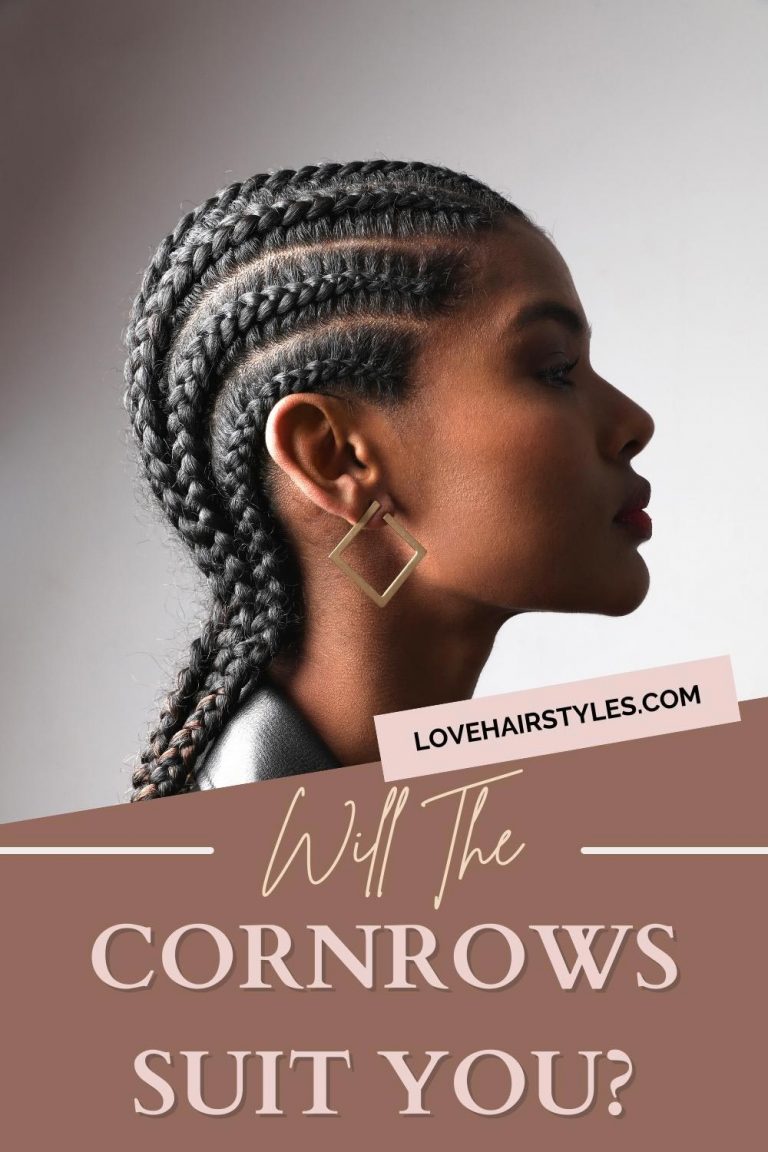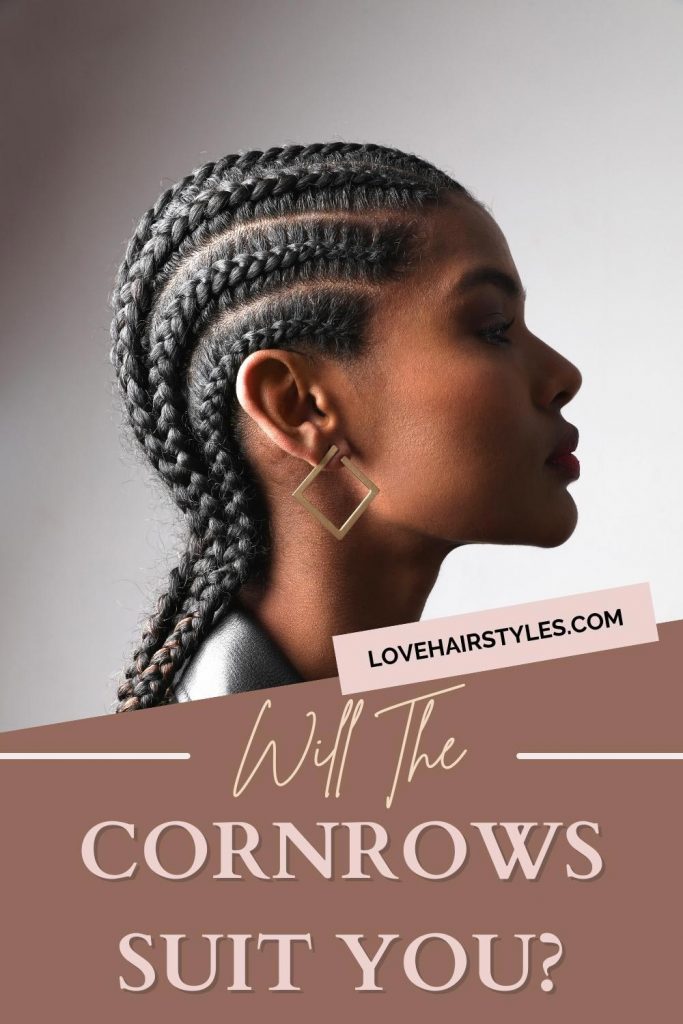 Credit photo: Shutterstock
Despite the popular appeal of the style, you may worry that it won't suit you personally. Since the style is quite adaptable, it is easy to come across the option that corresponds with your style and preferences. However, your hair texture has a say in this too. The truth is that cornrows suit coarse tresses best. While finer locks and sensitive scalps may not put up with the pressure that well. You should always listen to your body.
The best time to wear cornrows
There is no perfect season to sport the cornrow style since it is well-fit for every time of the year.
Advantages and Downsides of Sporting Cornrows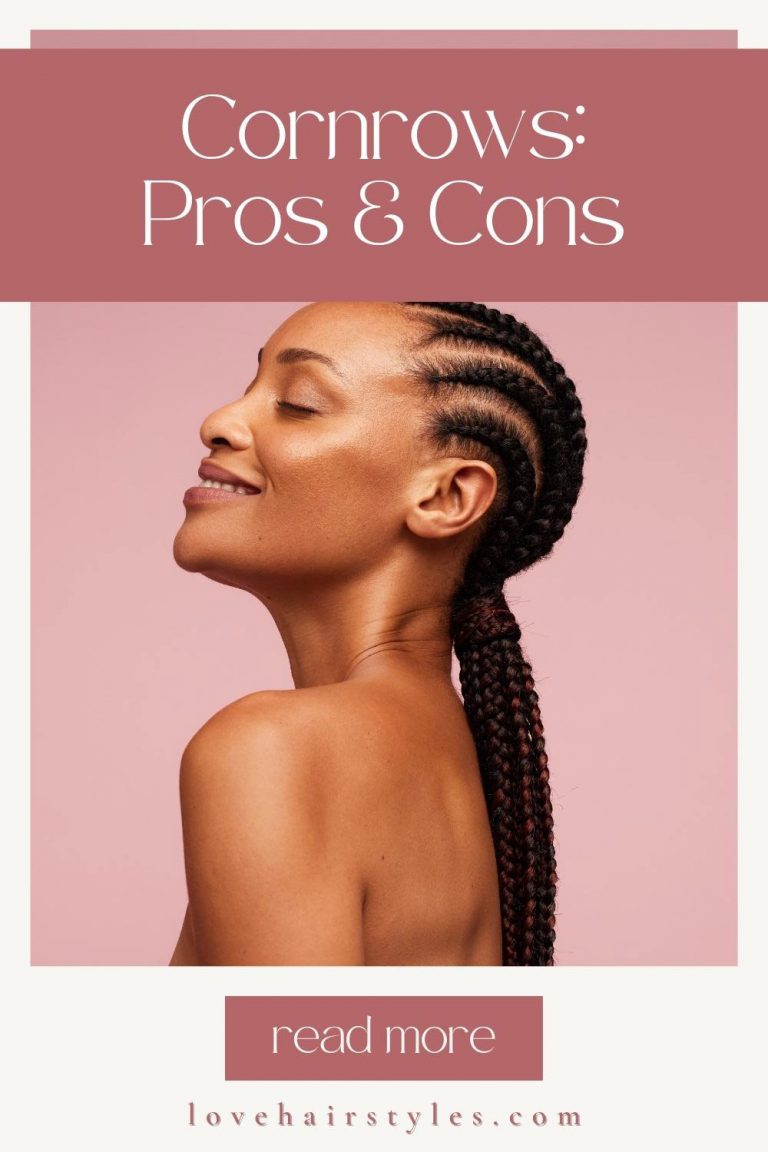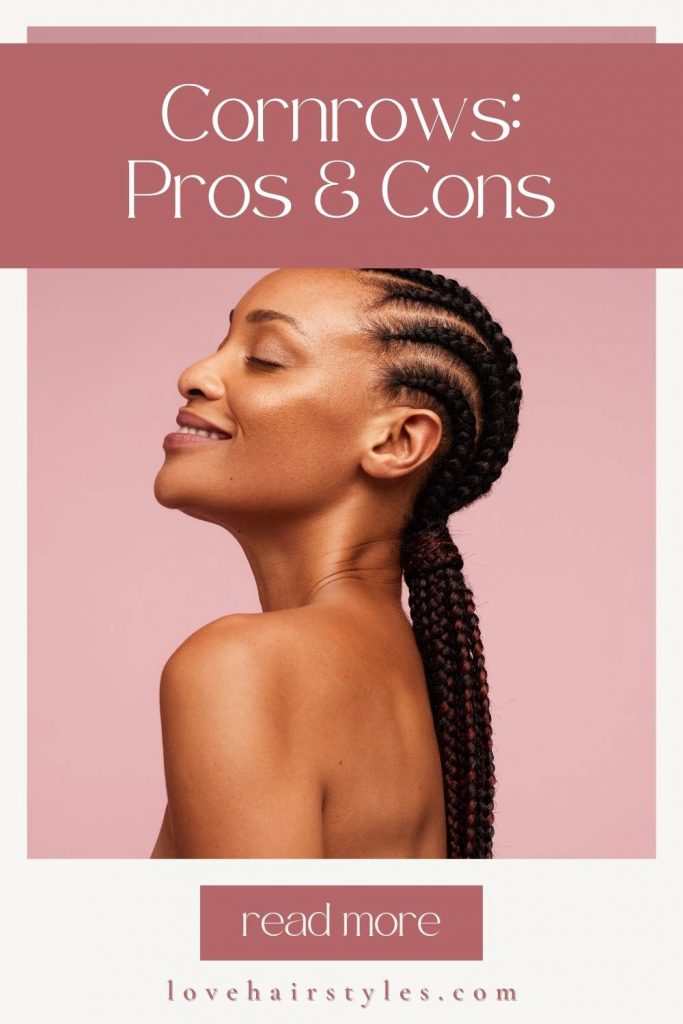 Credit photo: Shutterstock
Before you finalize your mind upon whether to give in to the style, you need to be able to distinguish between all the pros and cons that cornrows come with:
Pros:
Cornrows are quite effortless to succeed with. Thus, the style is fast to achieve.

Cornrows aren't expensive so anyone can afford them.

Cornrows are incredibly versatile. The style suits all genders and different age groups.
Cons:
Overly tight cornrows can lead to hair damage and related unhealthy conditions. That is why you should be incredibly careful when opting for the style.

Cornrows are difficult to unbraid. When done improperly, it can lead to hair breakage and tangling.
Cornrow Braids Half-Up Half Down
Credit photo: instagram.com/xcellentxtensions
i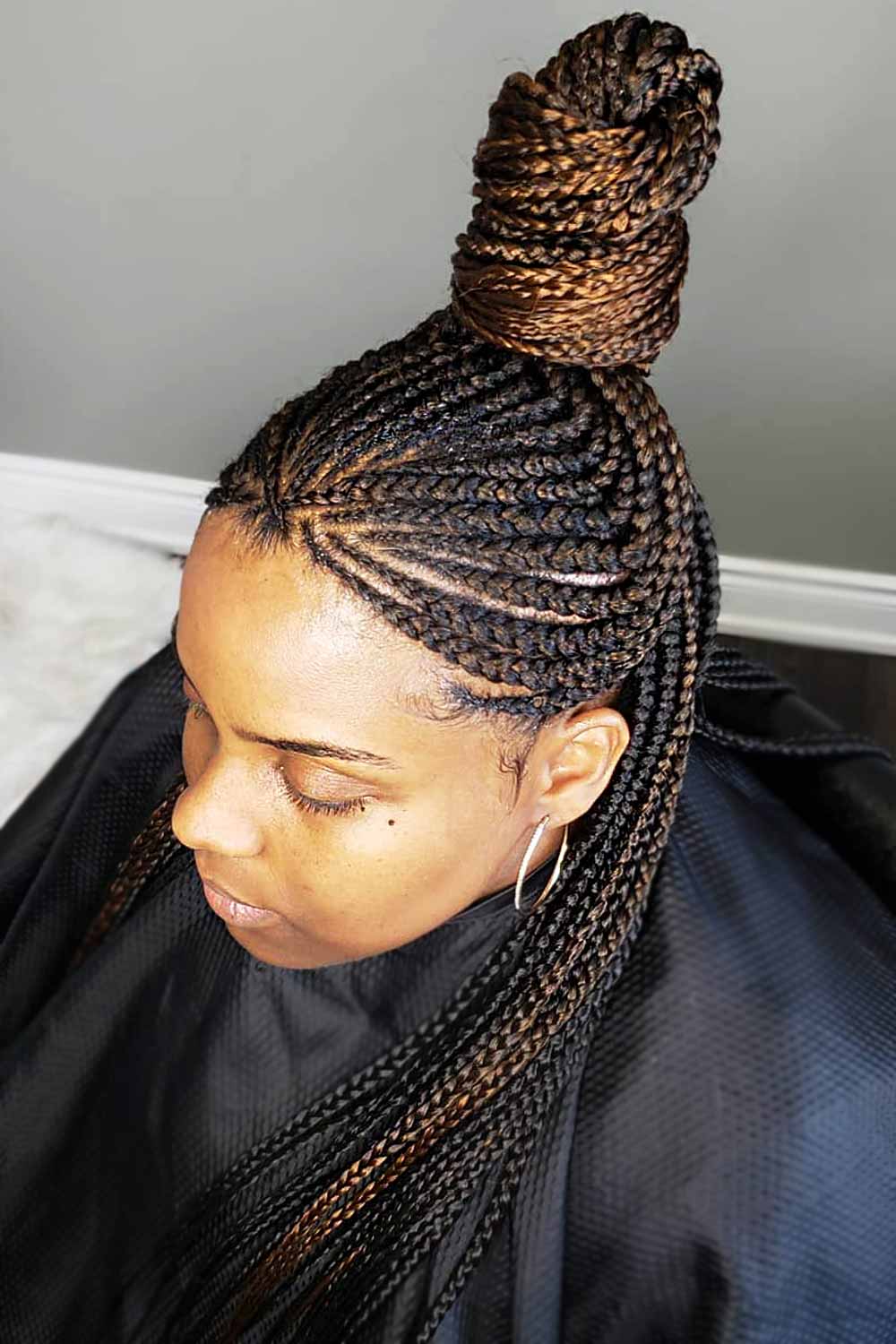 Credit photo: instagram.com/braidedroots
i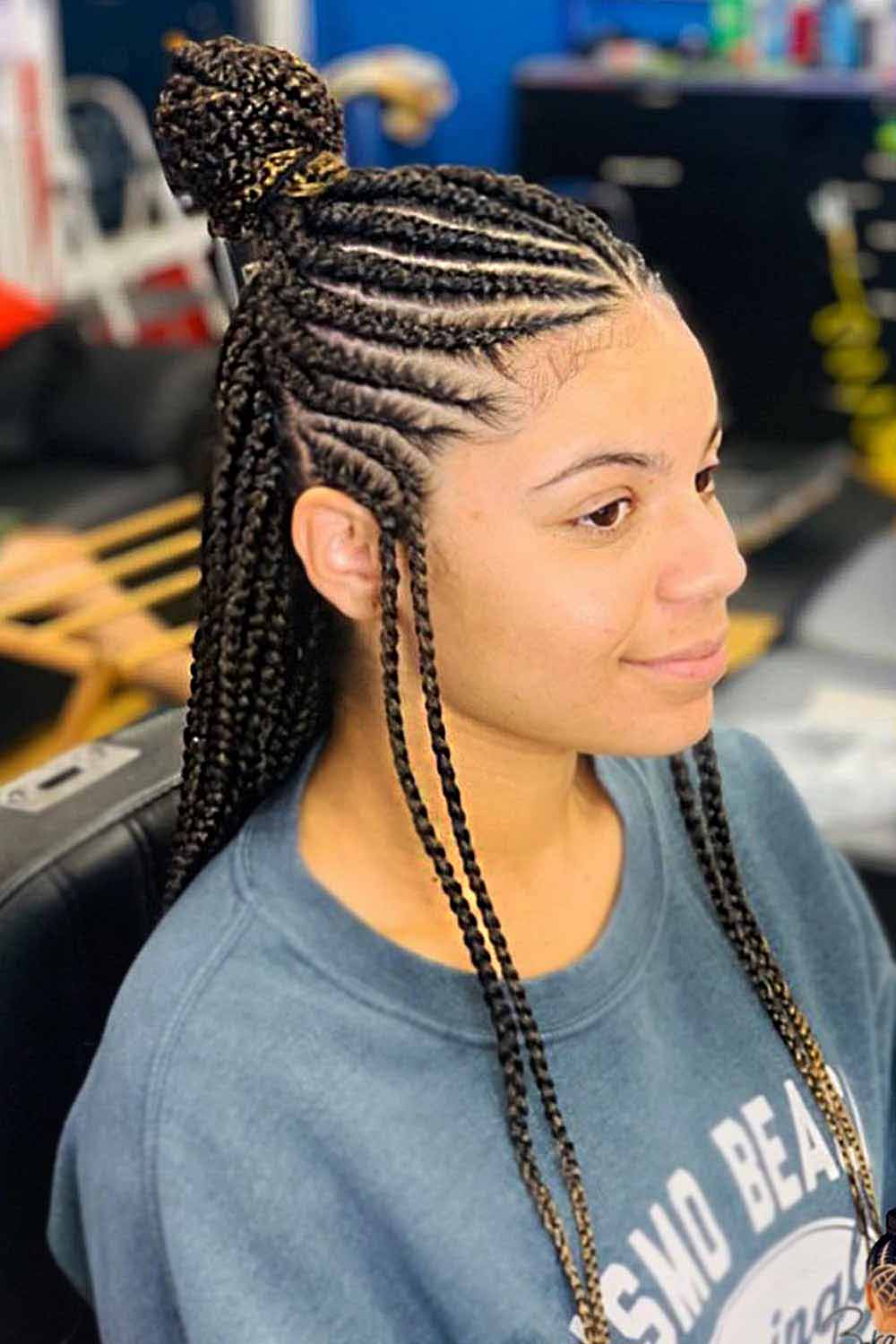 /
Your cornrows can be the reflection of who you are. Like being creative when it comes to your style? These braids form a very unusual, yet absolutely attractive geometric design that you can actually style in a lovely half-up half-down hairdo! Once you get these half cornrows, half box braids, you won't only calm down your uncontrollable thick locks; you will also get yourself an endless space for imagination.
Long Cornrow Braids For Black Ombre Hair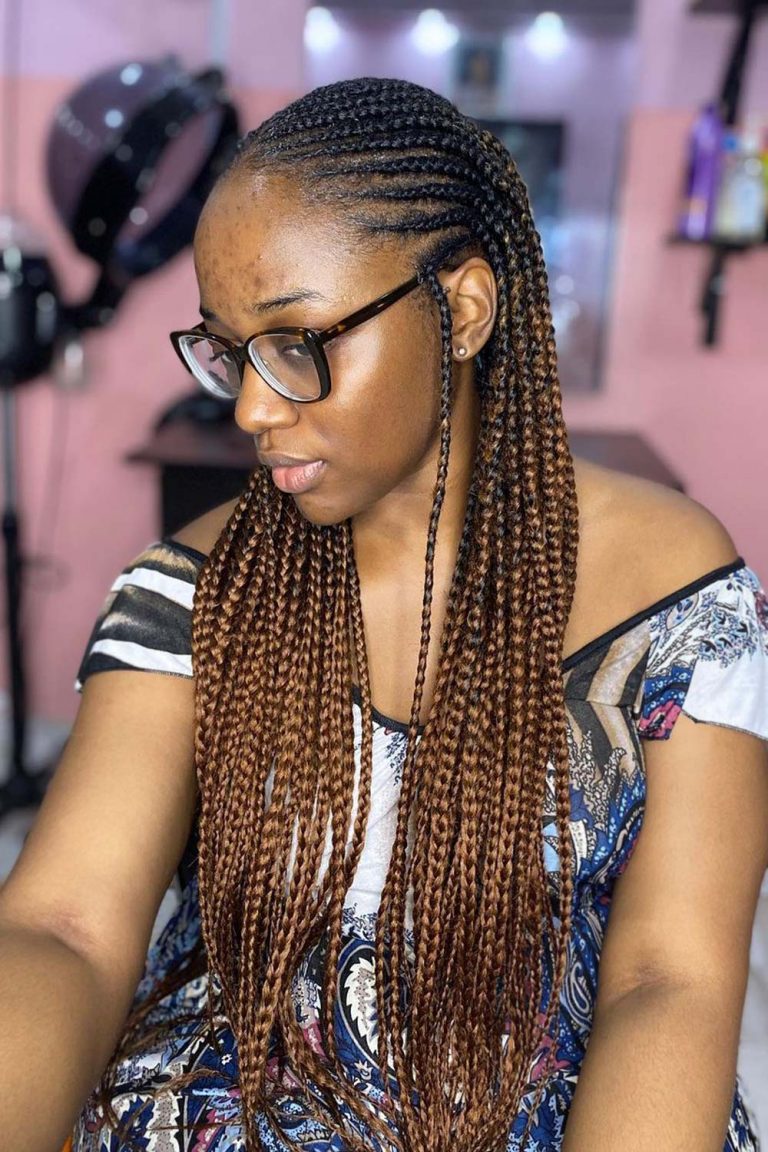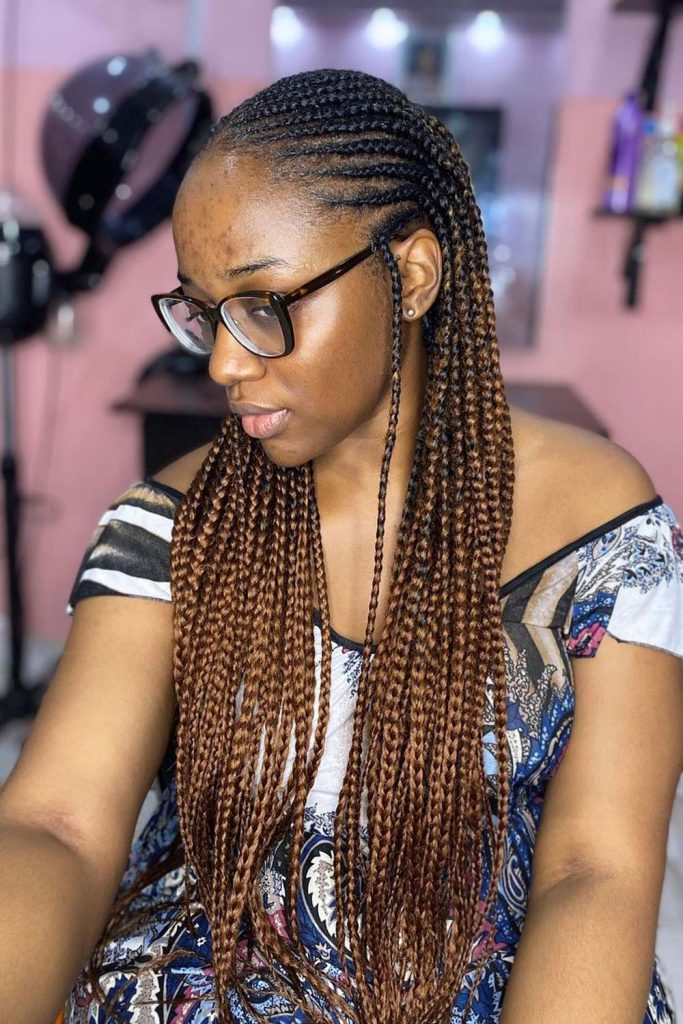 Credit photo: instagram.com/carlisbeautyhair
The main reason why we love these braids is that they're a low-maintenance hairstyle. Who doesn't want to save some time in the mornings? Styling long hair is a big deal for everyone, but if it's about long curly black hair, it needs a special approach like this.
Fancy Long Braids With Accessories
Credit photo: instagram.com/lucasbraids
i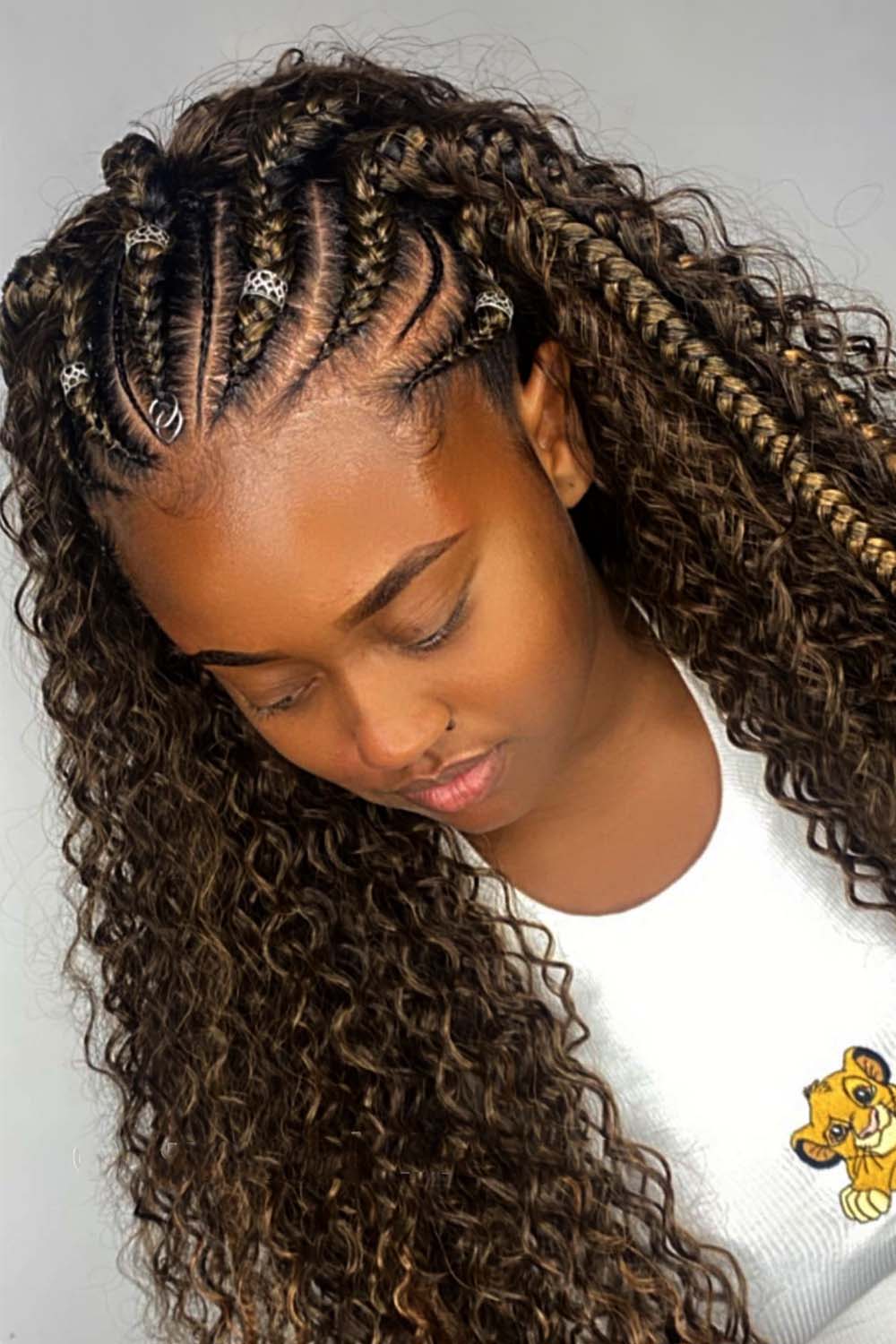 Credit photo: instagram.com/braids_by_msnelly
i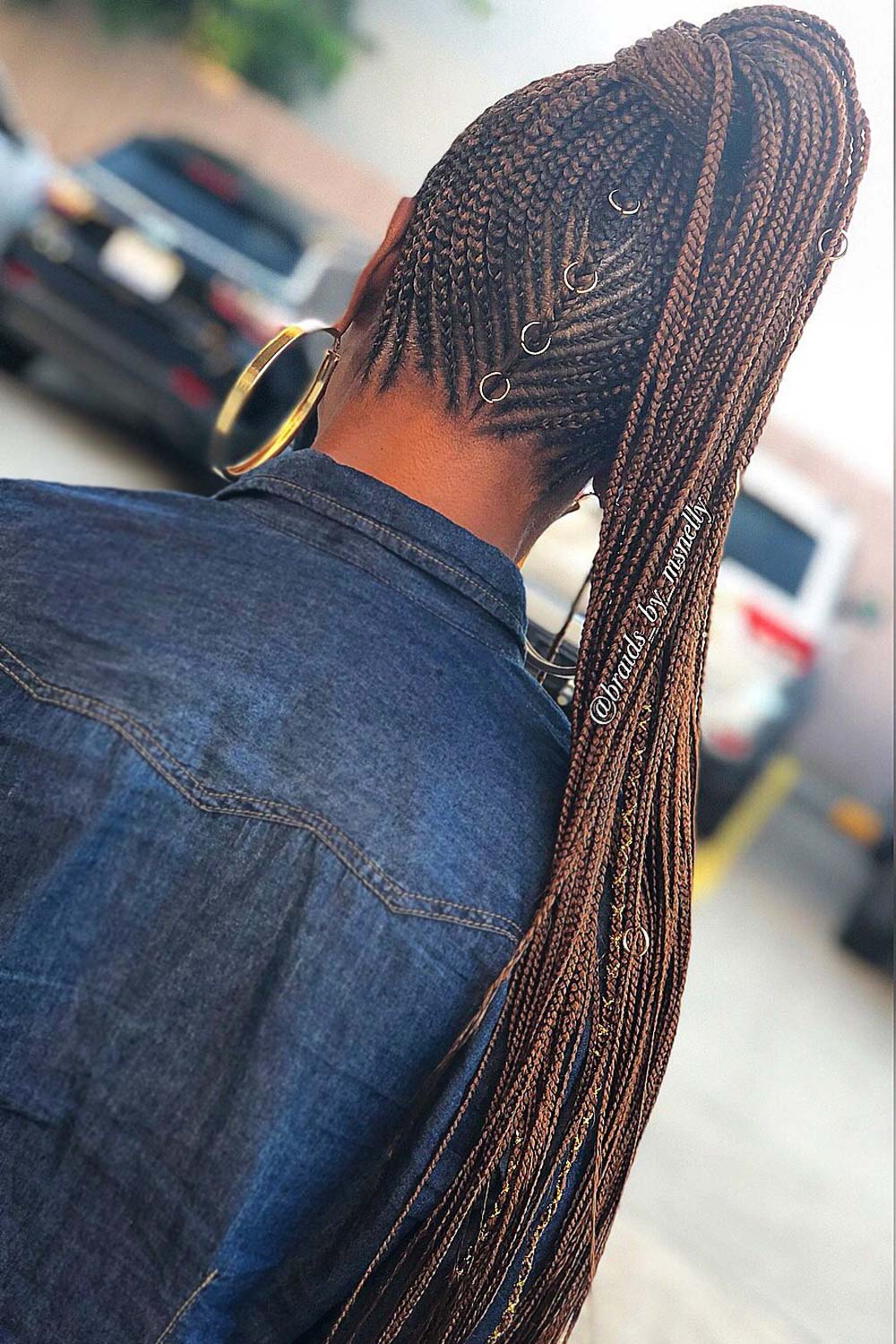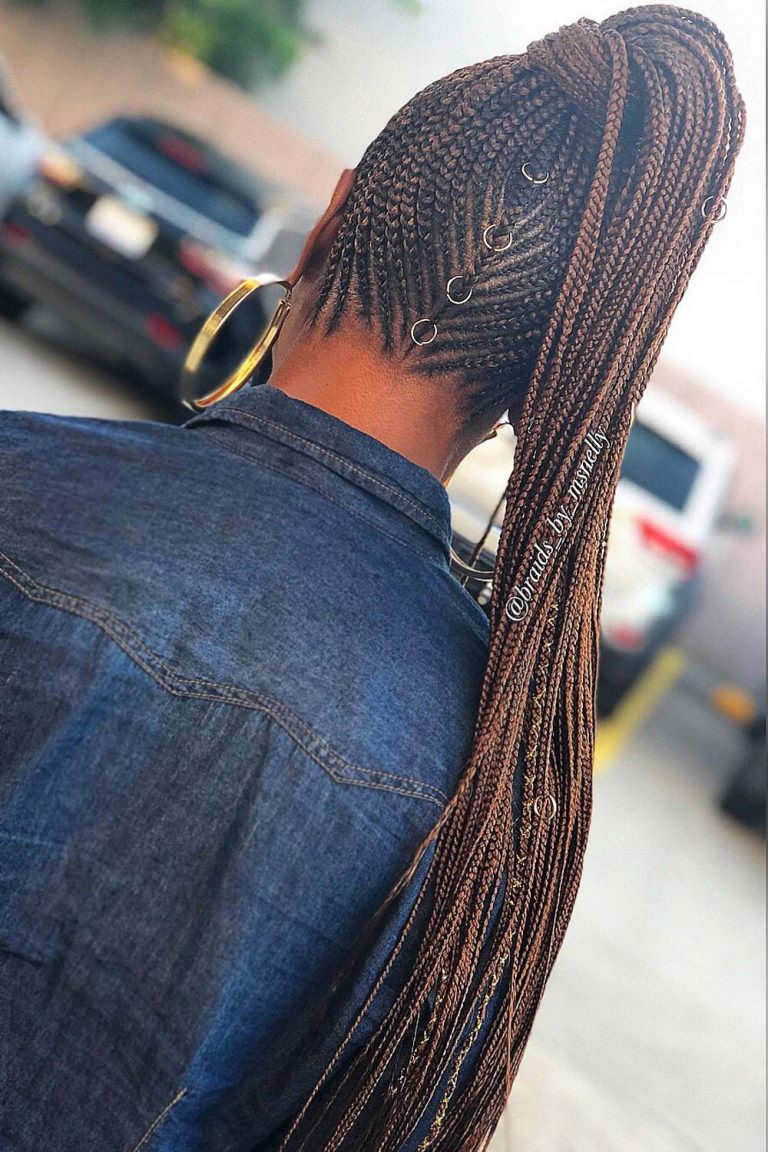 /
This idea is a proof that African American women are the real trendsetters. Unlike familiar braiding techniques, when creating cornrows, you cross the sections under to make them pop off your head. Just look how ravishing this hairstyle is: all of your natural hair is braided tightly into many rows of dimensional, visible braids. To spice it up, embellish your braids with hair beads.
Braided Cornrow Ponytail + Ombre
Credit photo: instagram.com/lucasbraids
i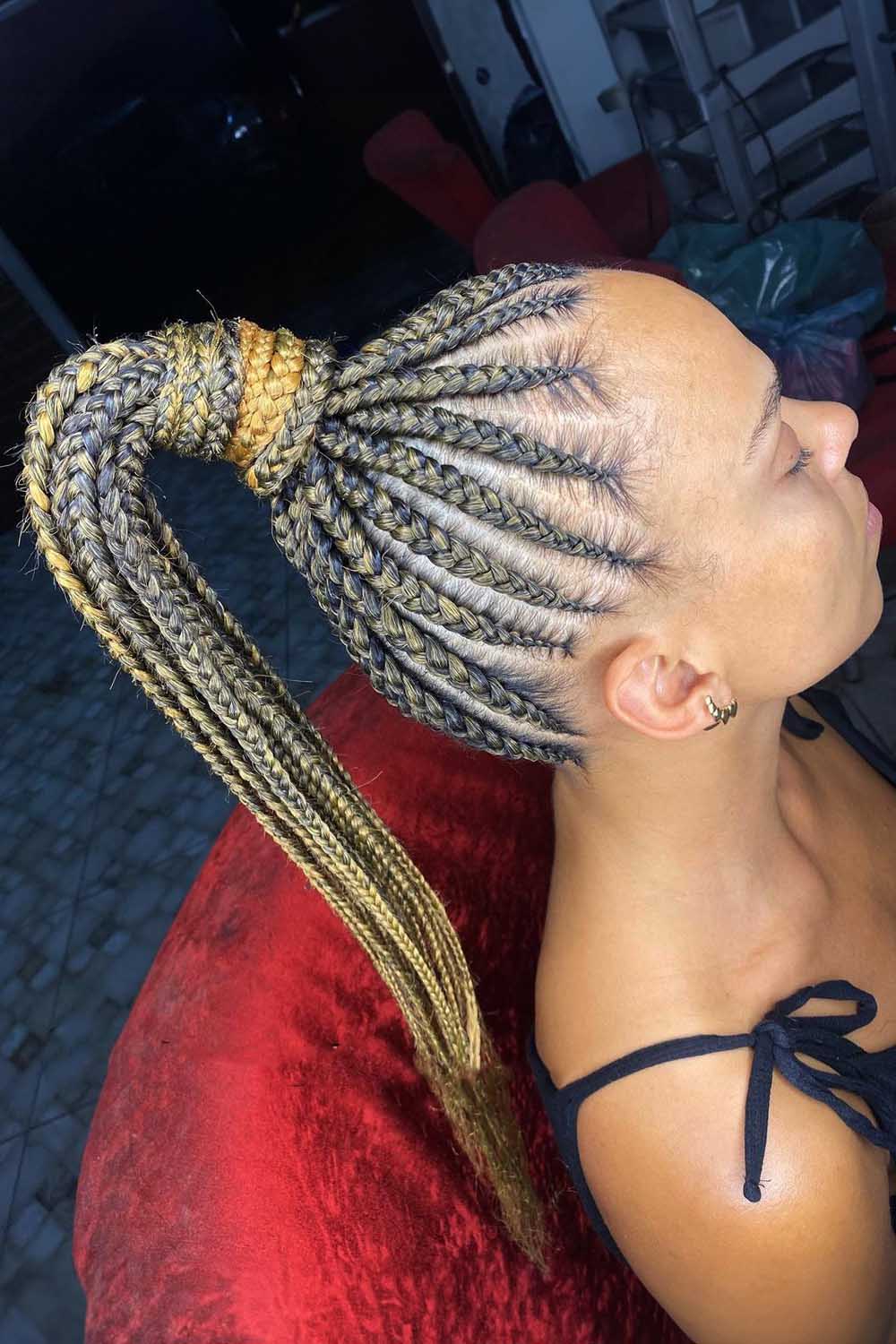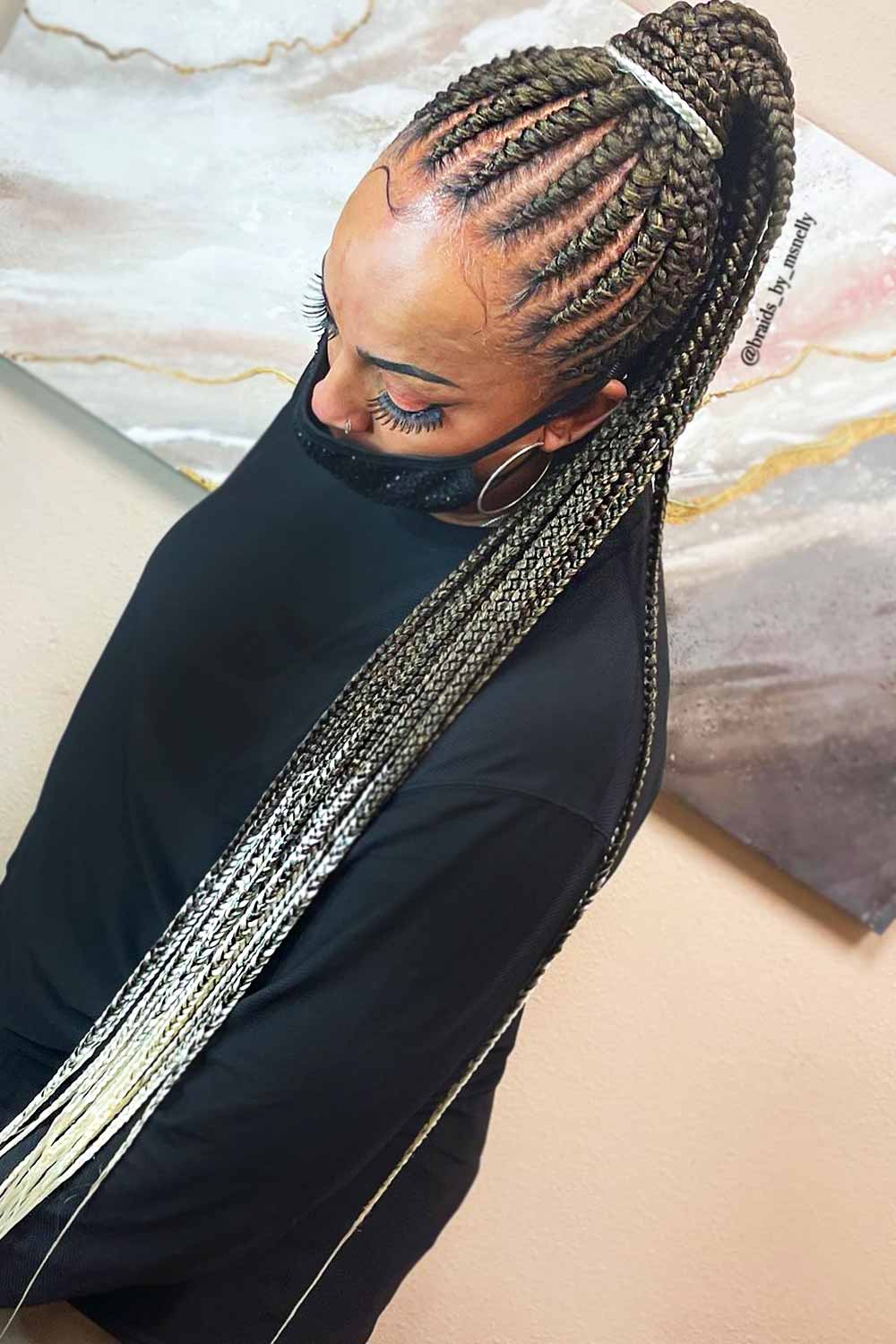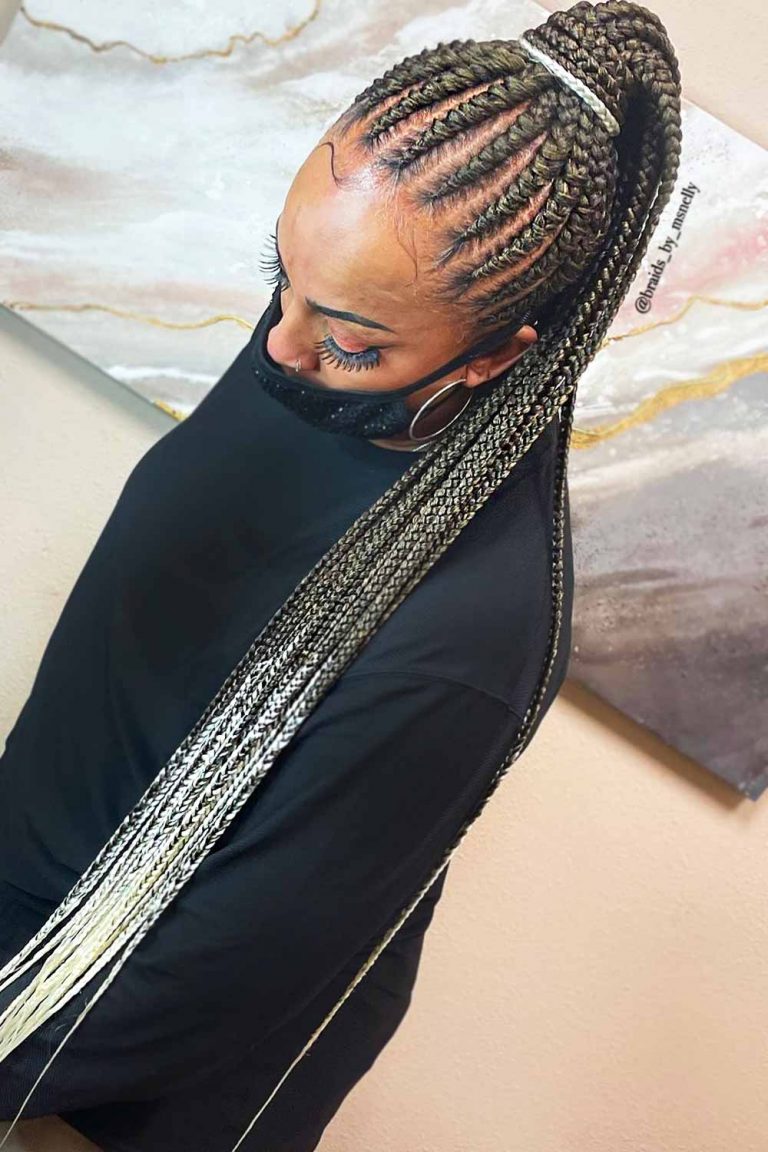 /
Most natural hairstyles feature black hair. But who says that there are limitations for female cornrow styles? We all need to change something in our styles from time to time, and new hair color is a good idea. Some contrast won't hurt! Ask your hairstylist for a light ombre for your black locks, put your stunning cornrows in a high ponytail, and look different!
Dramatic Half-Up High Twisted Bun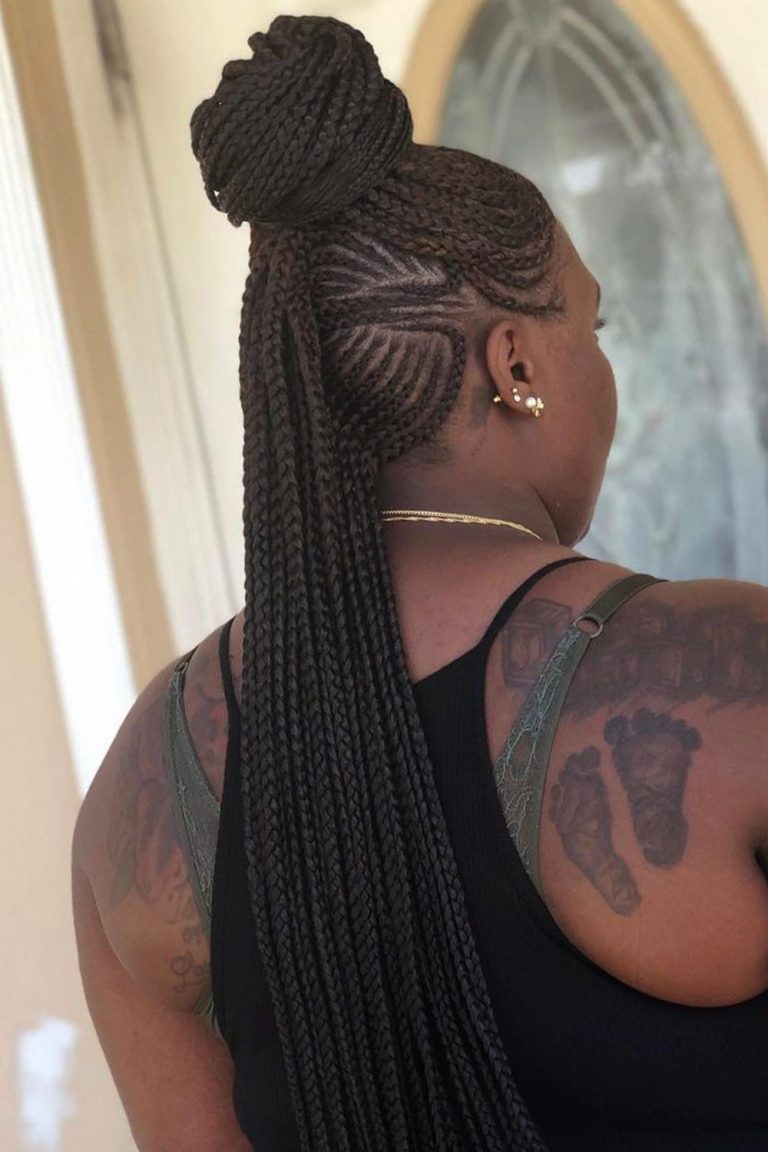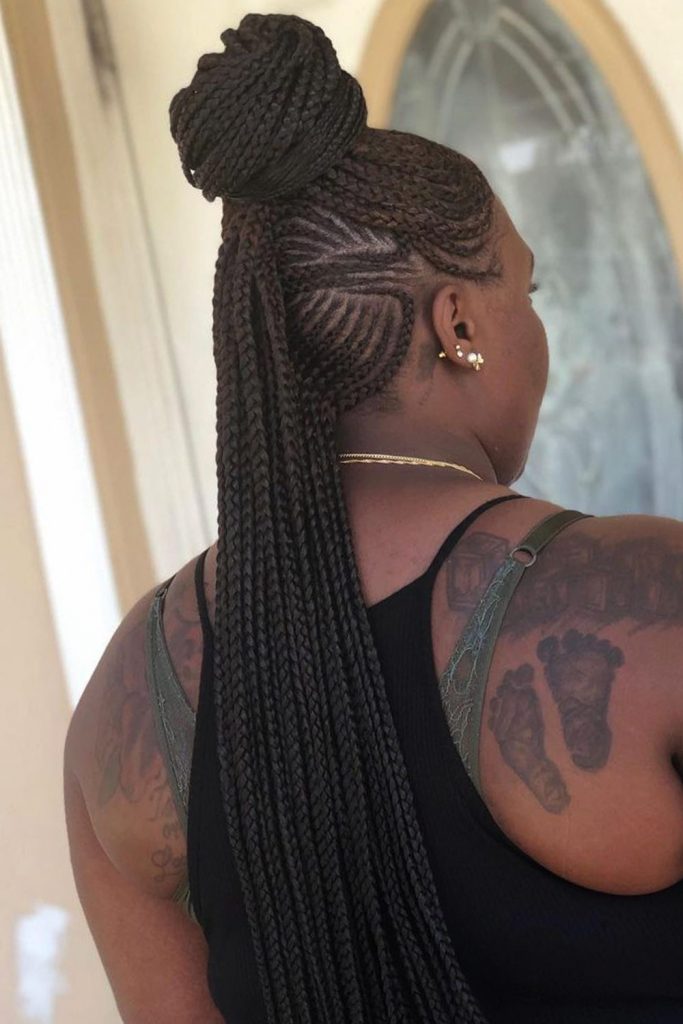 Credit photo: instagram.com/braids_by_djeph
Ladies who fancy adding some tribal-inspired vibes will fall in love with this authentic idea. Half-up bun has never been so lovely: when they're paired with braided down locks, adorned with a twist, it becomes one of the sexiest big cornrows hairstyles.
Blonde Cornrow Braids With Bright Beads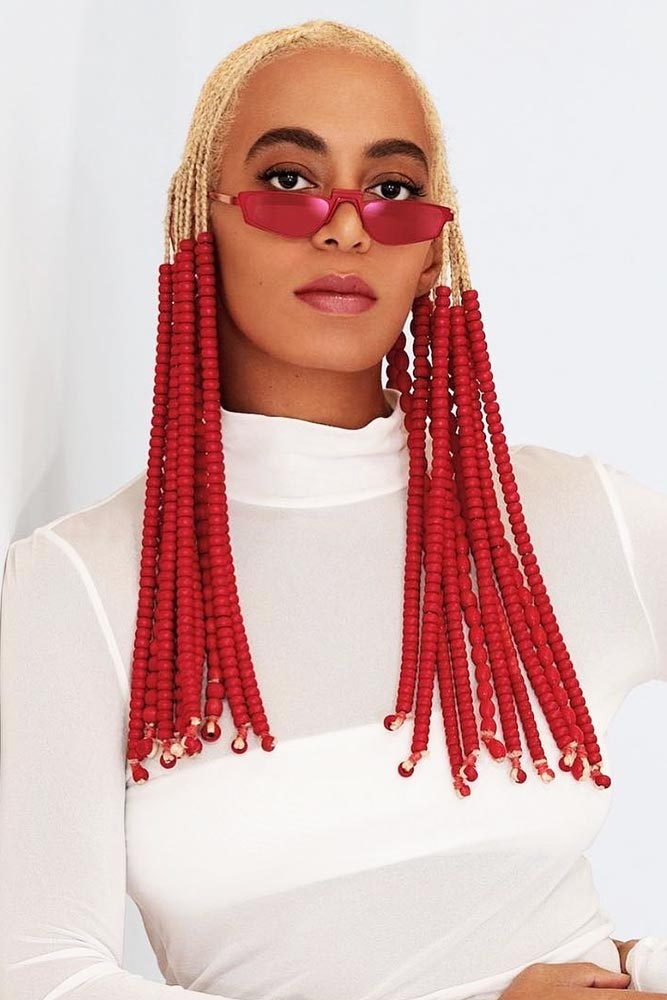 Credit photo: instagram.com/africancreature
Make your look scream how modern you are! There aren't too many different types of cornrows, but you can make yours look exceptional. You can braid your head straight back, or create a side-swept braided style, but the best way to personalize your hairdo is to accessorize it. Just look at this stunning blonde, almost fully beaded look: she's taken it to a whole new level.
Long Side-Swept Cornrow Braids
Credit photo: instagram.com/silverhairgh
i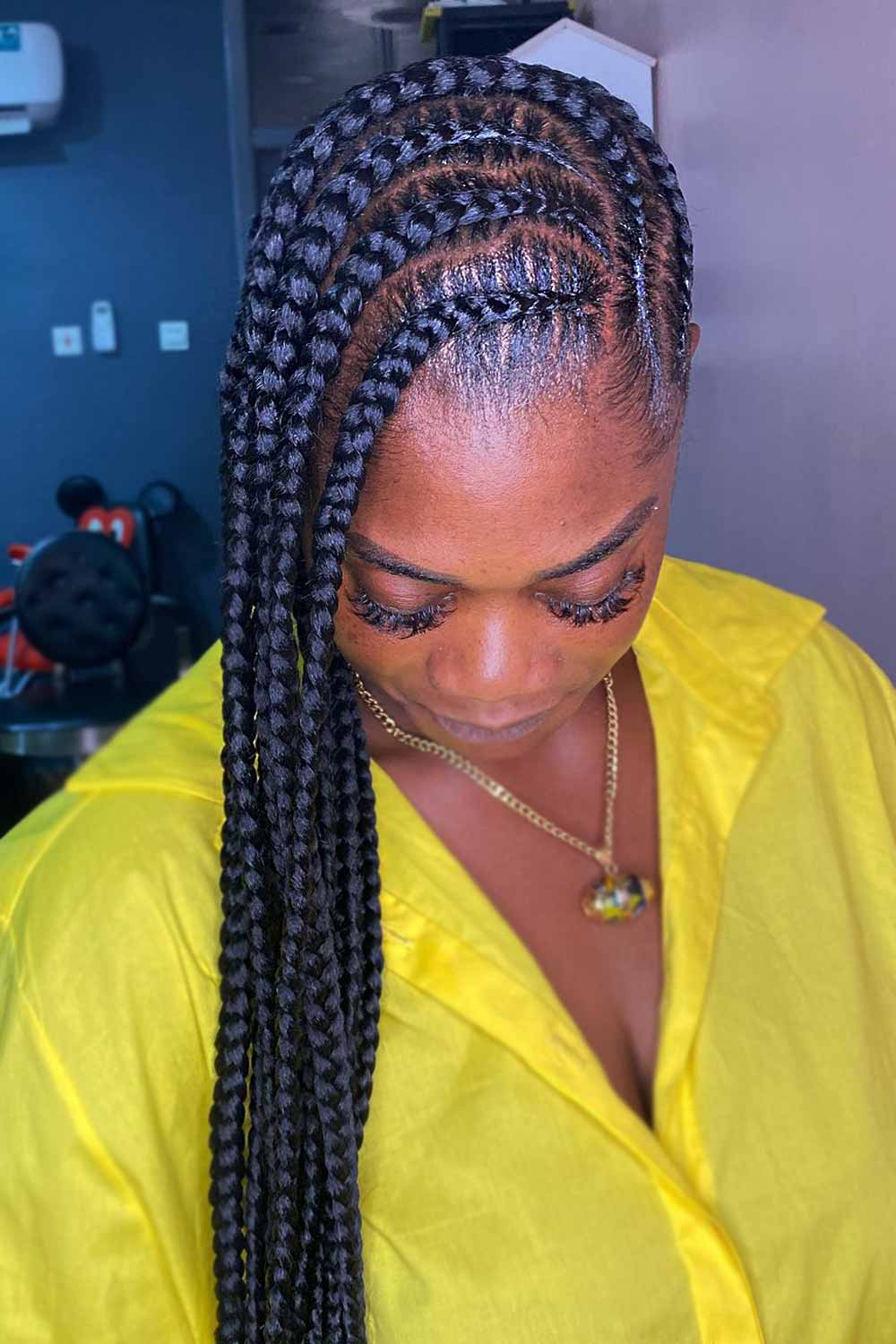 Credit photo: instagram.com/braids_by_djeph
i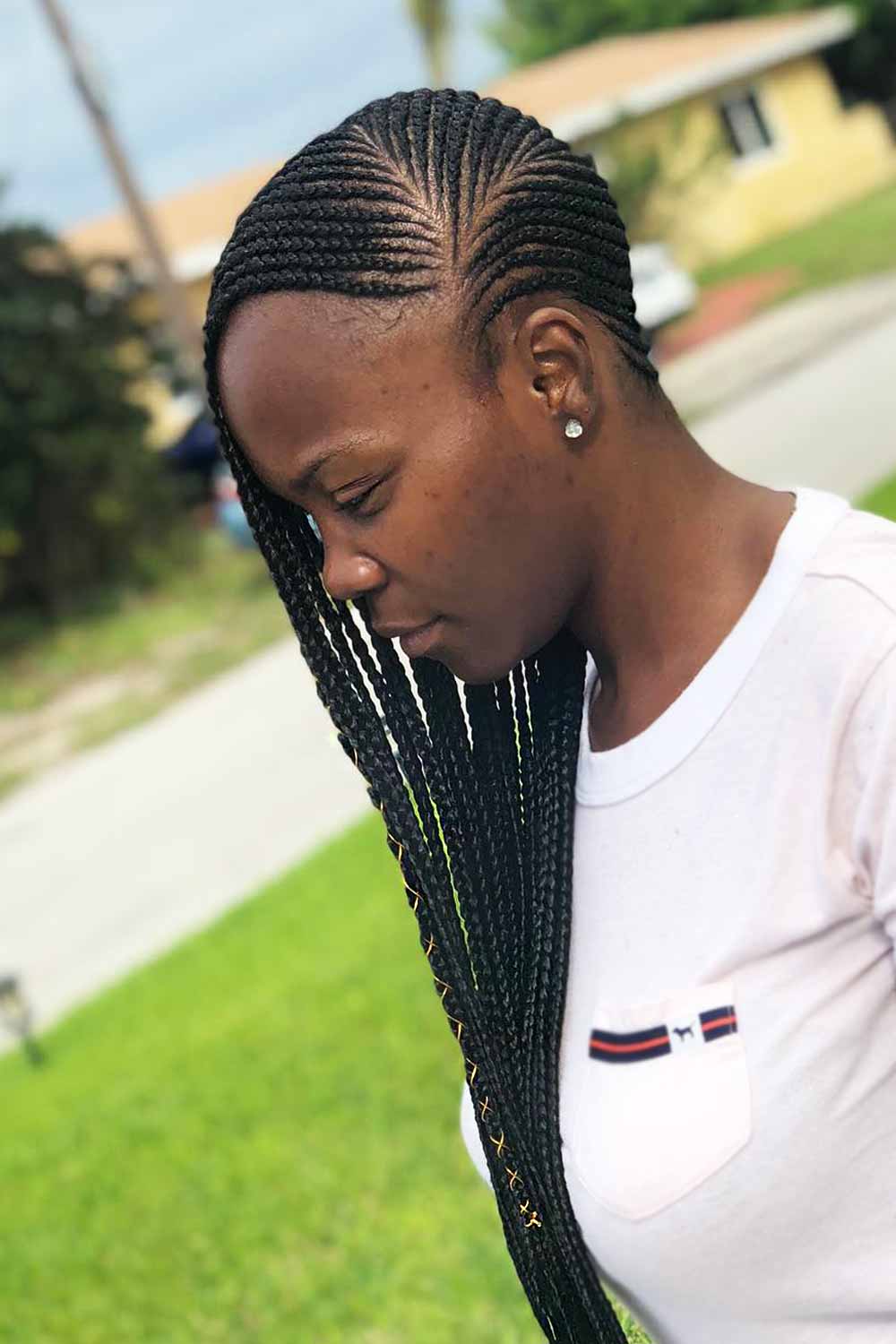 /
The longer your hair is, the more styling products it needs. Plus, many women with natural hair tend to straighten their locks with a flat iron, which is extremely harmful to puffy hair. Treat your hair with respect, let it relax from damage. Feel like straight back cornrows are too simple for you? You can create a fascinating, a bit asymmetric style with side-swept cornrows.
Cornrow Braids Into A High Bun
Credit photo: instagram.com/lucasbraids
i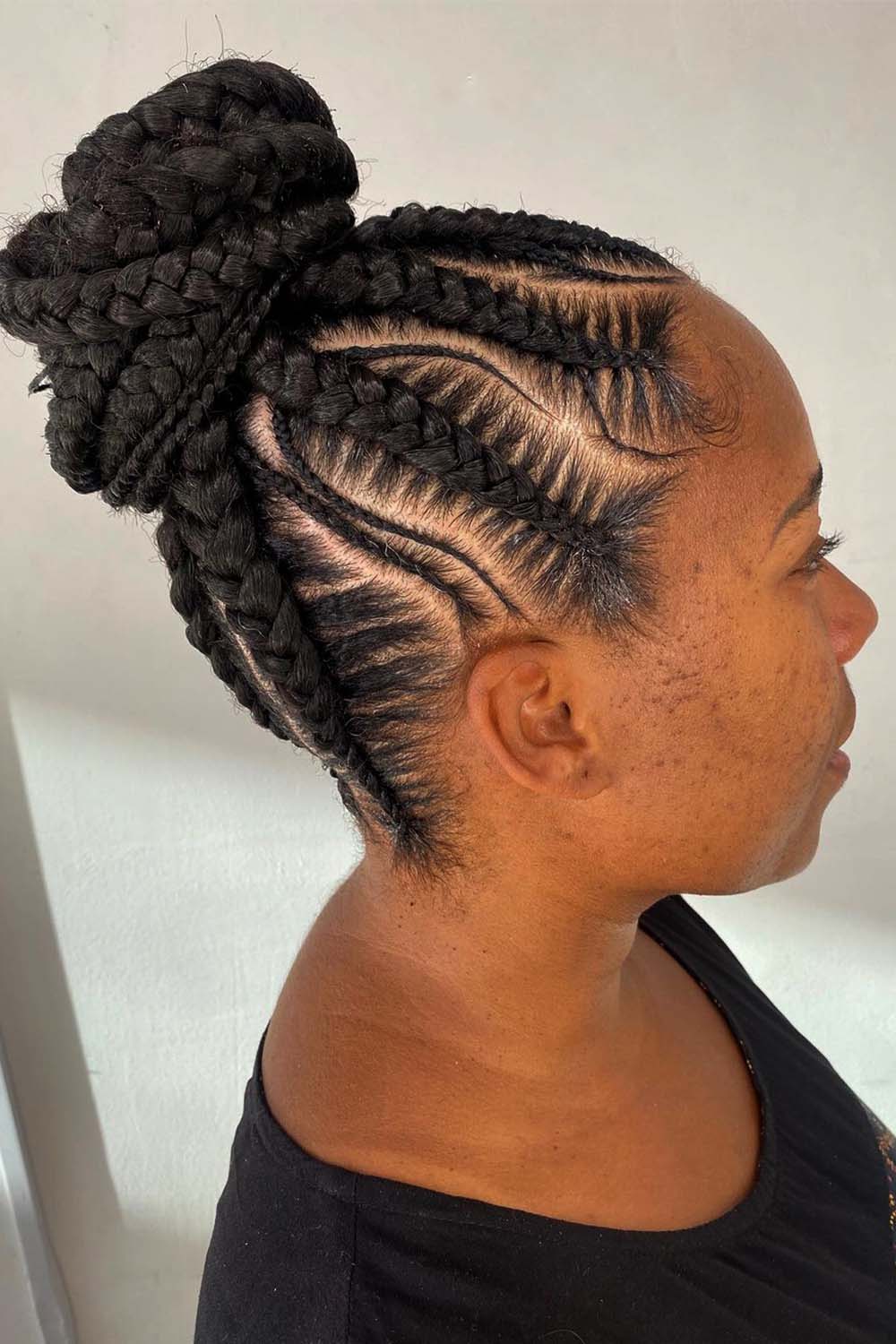 Credit photo: instagram.com/braids_by_djeph
i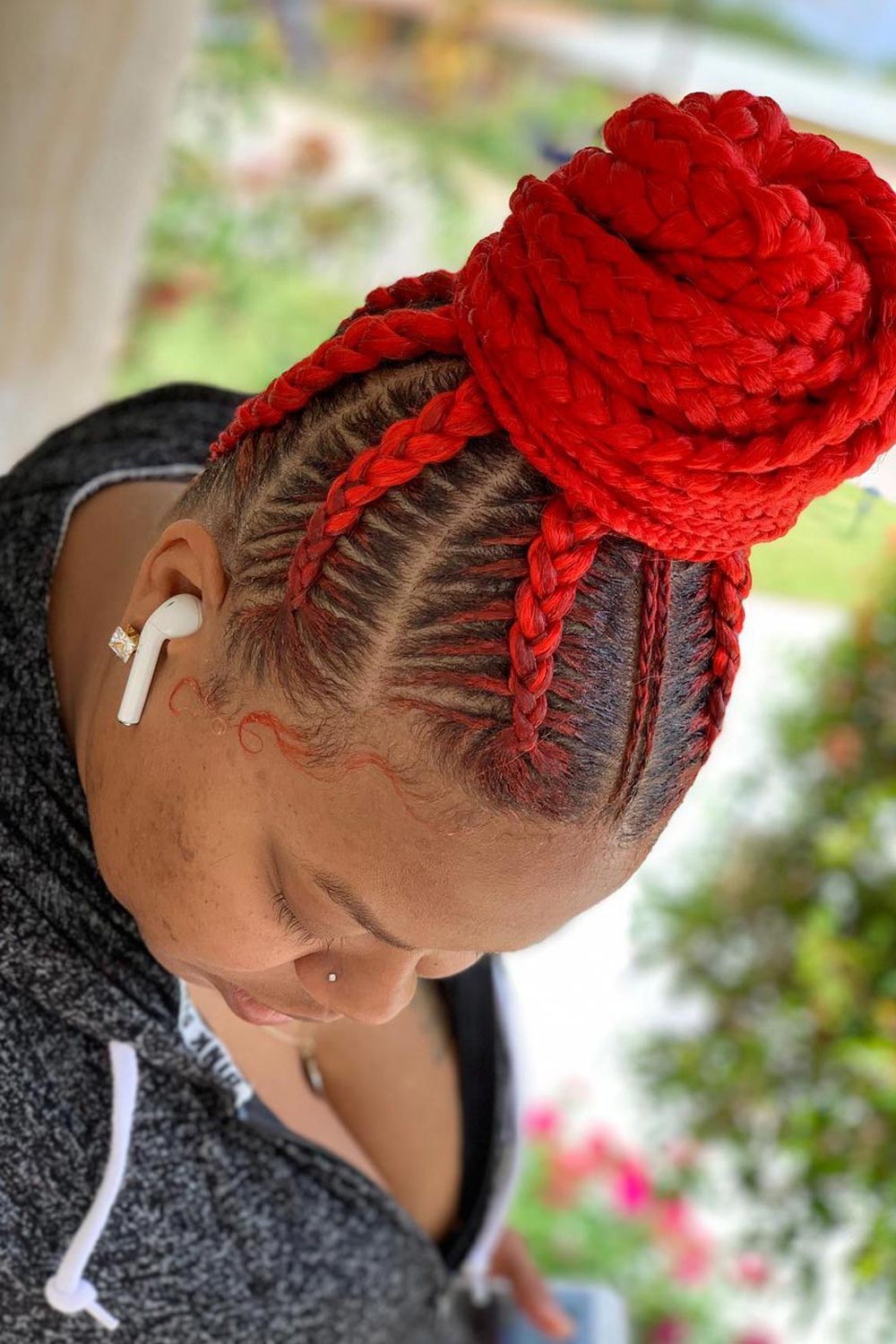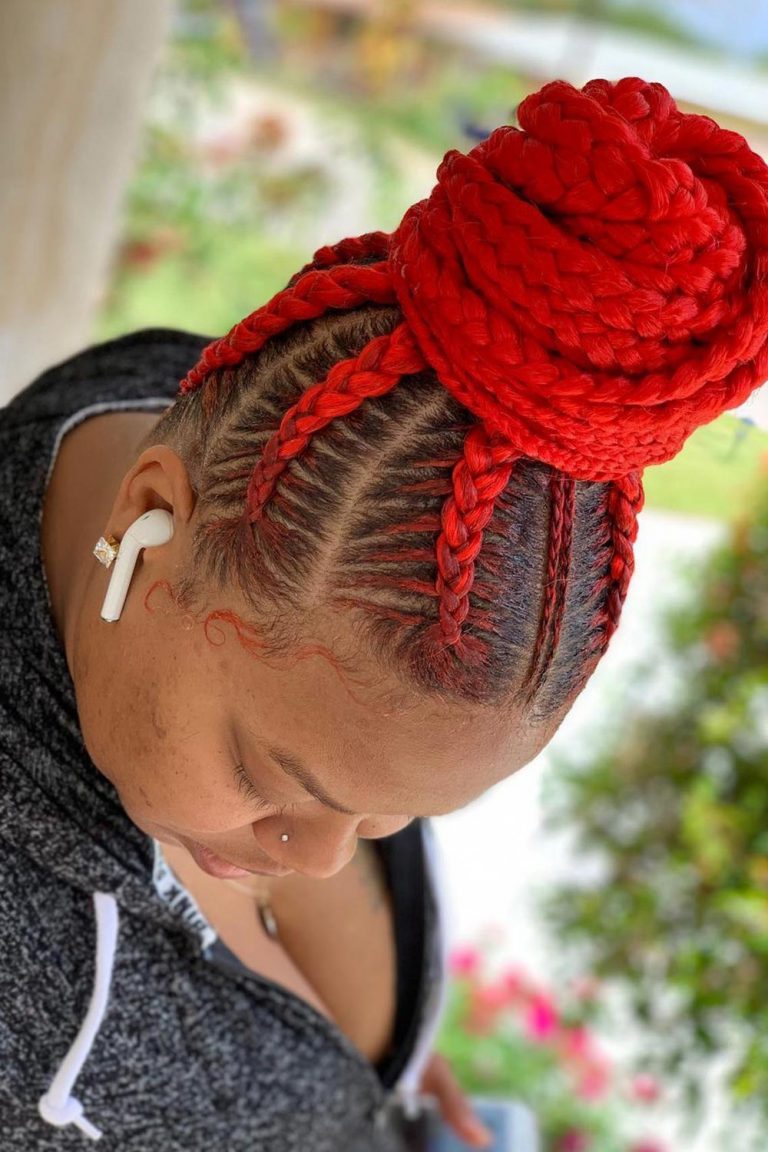 /
Whether you put your cornrows braids in an updo or prefer to sport them just the way they are, they're still a good way to keep your face open. If you want to accentuate your makeup or outfit, they're just crucial. This elegant braided high bun with exquisite beads can be a good idea for your special occasion look.
Super Tight Cornrow Braids Style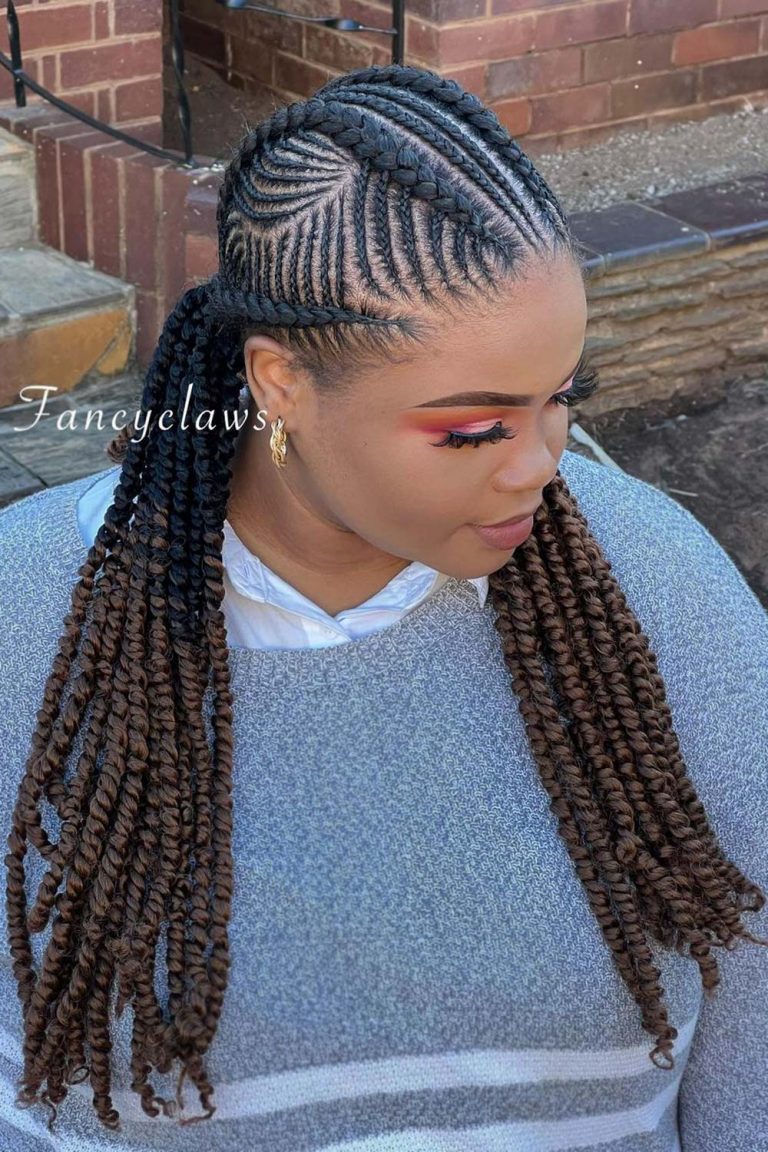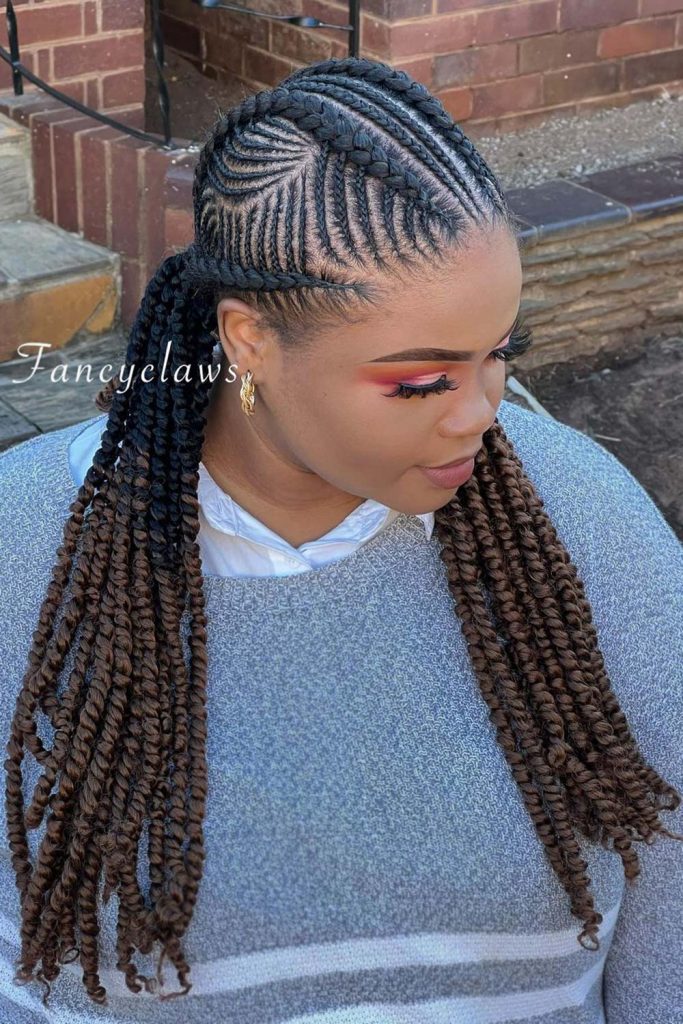 Credit photo: instagram.com/fancy_claws
Looking for a really clean and tight hairstyle? Well, we would say that it's something that all ladies with natural locks dream of. With such a super-tight braided hairstyle, your hair won't ever look messy or puffy. Two crown cornrows with tiny braided sides are to die for.
Massive Braided High Bun
Credit photo: instagram.com/xcellentxtensions
i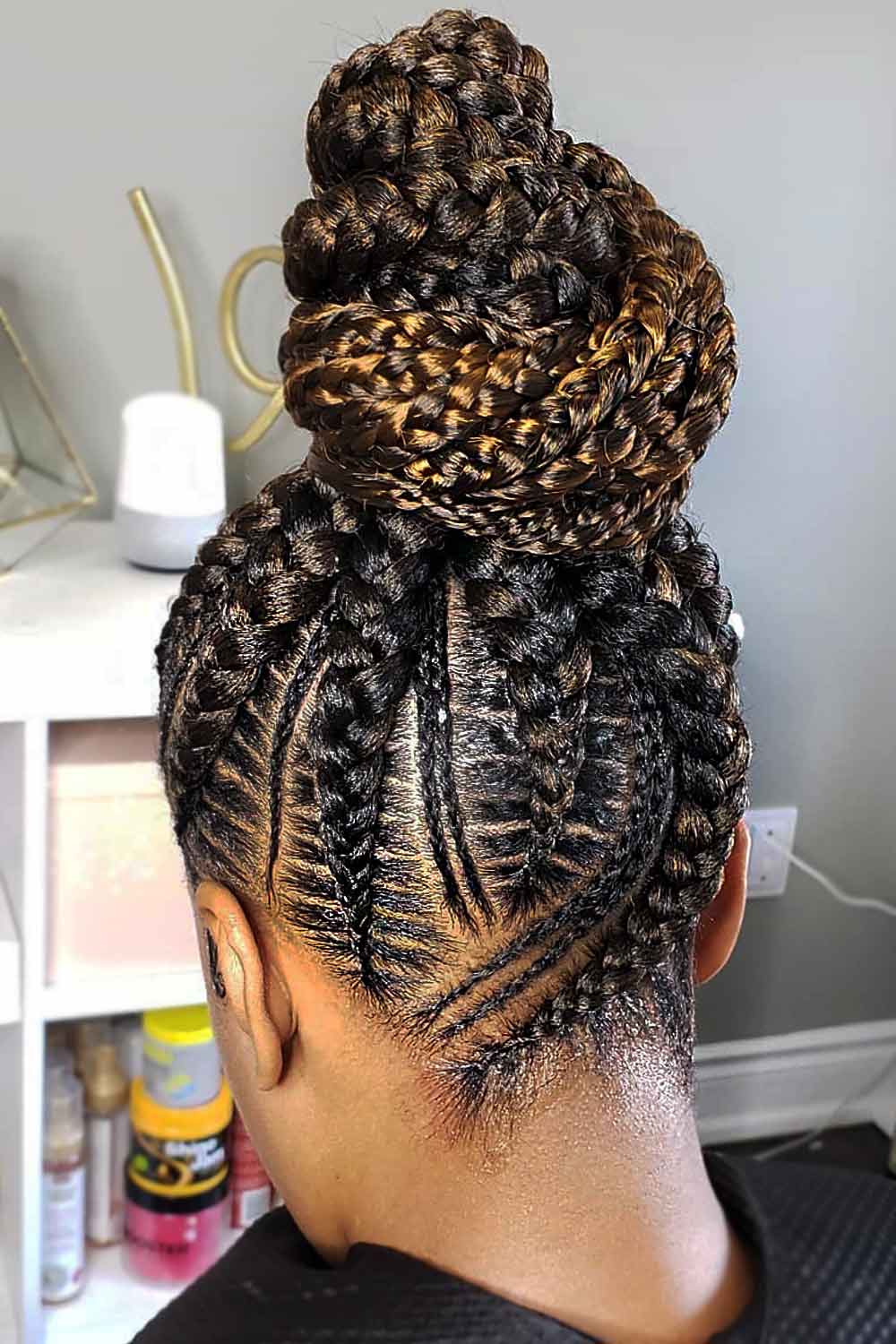 Credit photo: instagram.com/fancy_claws
i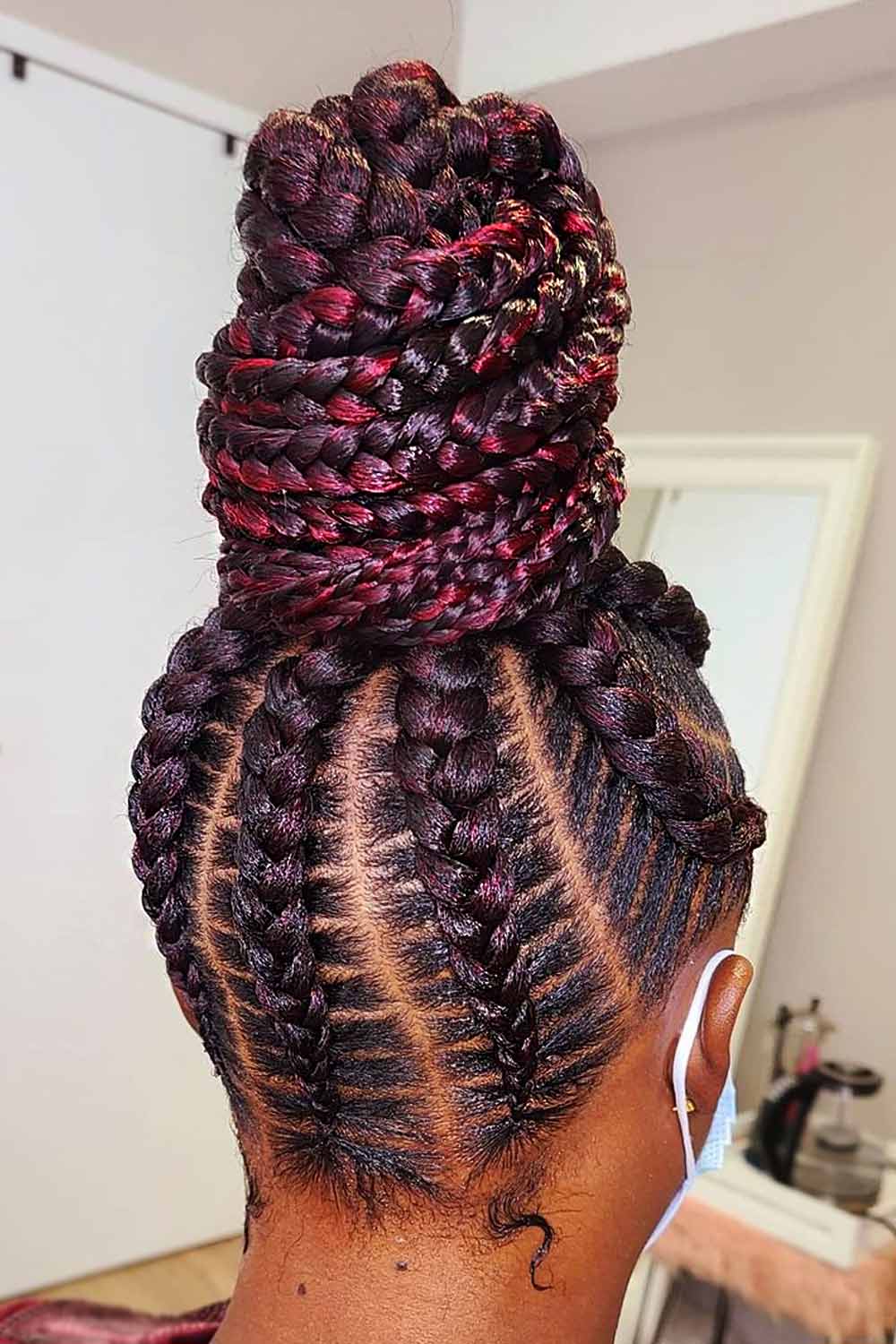 Credit photo: instagram.com/fancy_claws
i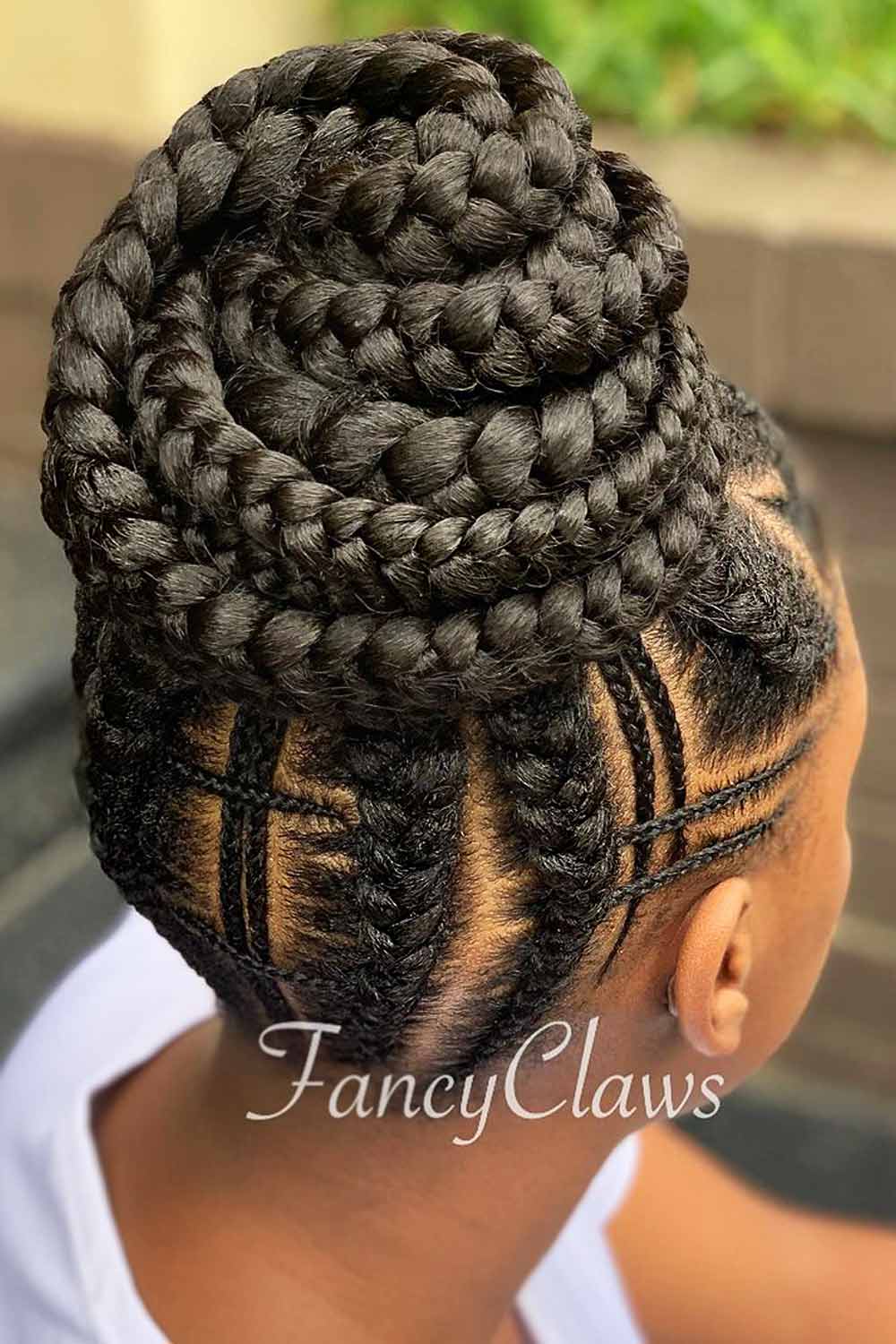 /
Those who are not afraid to be noticed will never miss this unbelievable beauty. Girls with long hair can take a fresh look at it by getting such a daring, but so adorable and elegant high bun. Tie some of your braids with colorful ties, and some can be embellished with fancy accessories. Braids, whatever they are, will never be boring!
Half-Up Cornrows Braid Hairstyle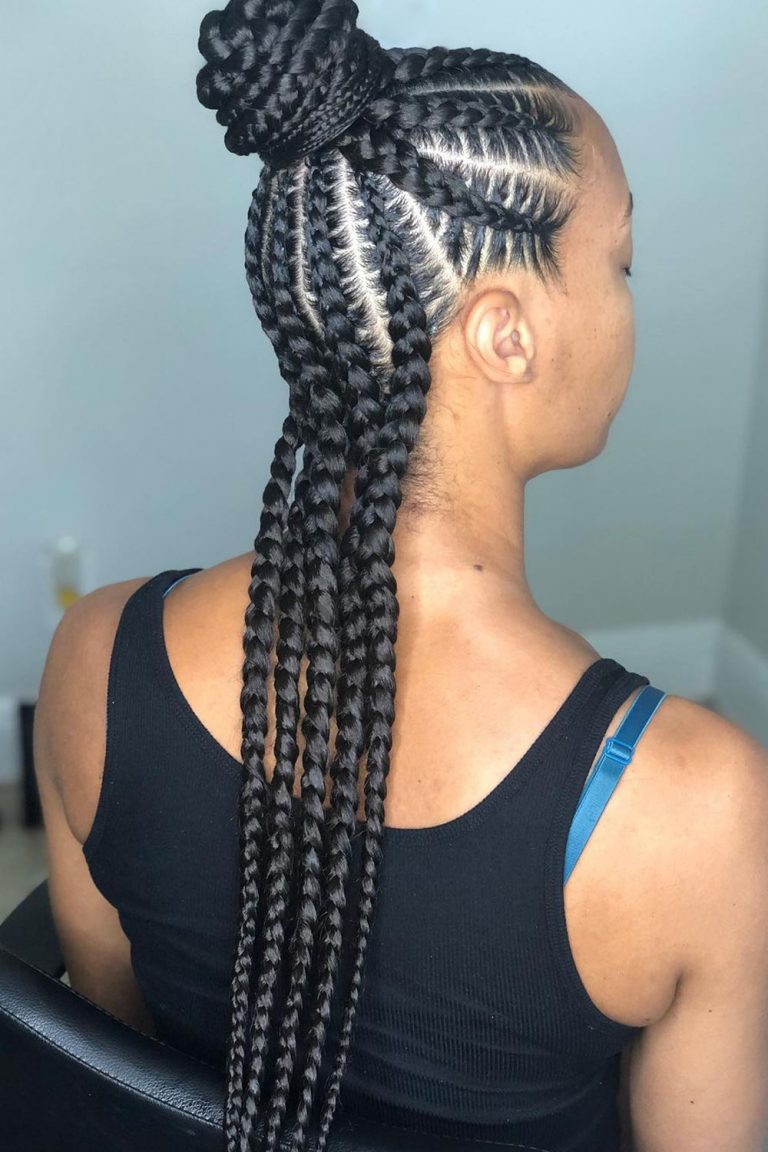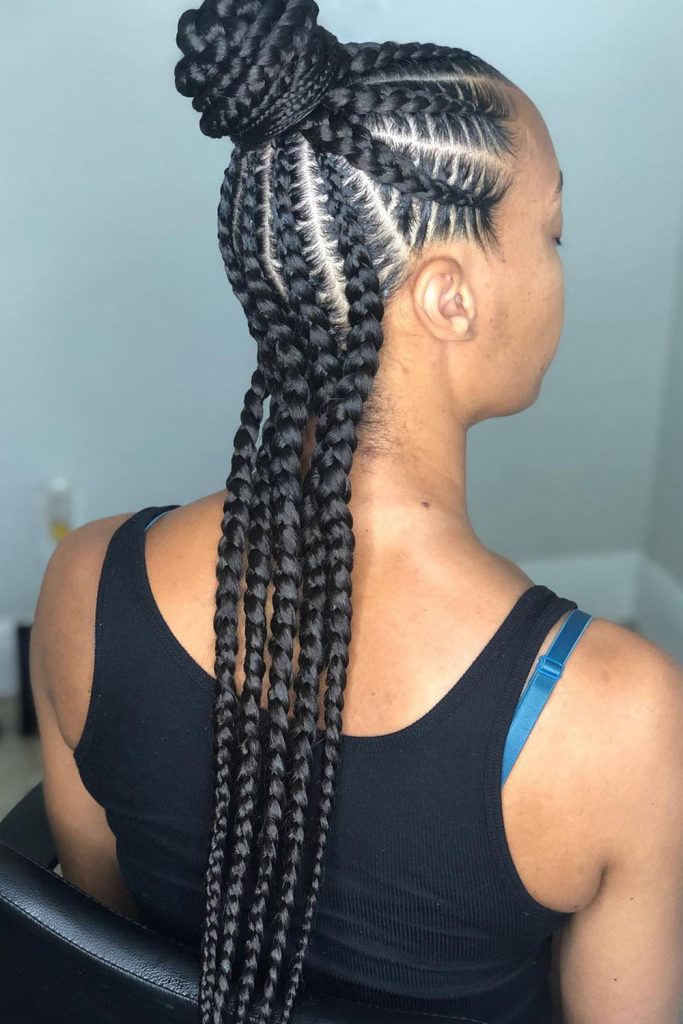 Credit photo: instagram.com/braids_by_djeph
Sometimes contrasts are not always about the colors: the thickness and fullness of your braids take part, too. The contrastive little and bigger cornrows that twist into a full and tight updo make your hair look like a masterpiece.
Delicate Halo Braid Hairdo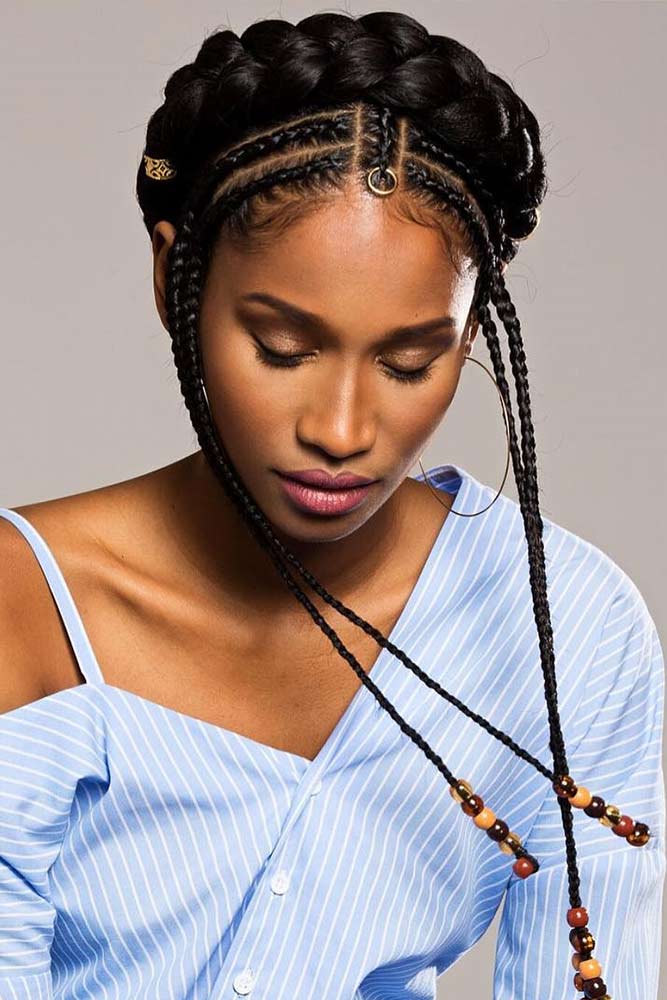 Credit photo: instagram.com/reneebigtime
Such a sophisticated, girly halo braid is something you can't do without this summer! Nothing looks lovelier than a big braid that goes across your crown, accompanied with two rows of tiny long front braids. Imagine how perfectly it will complement your summer dress!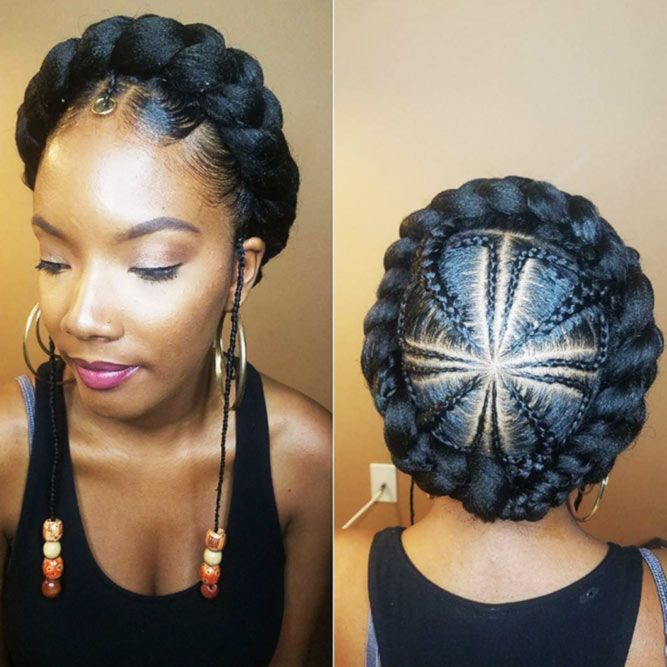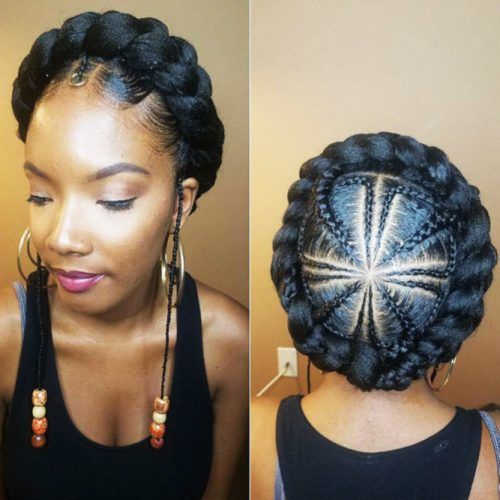 Credit photo: instagram.com/magicfingersstudio
This thick braided halo with a detailed braided design on the back of the head is just too good to be true! It seems like this idea was initially meant to make ladies with long hair proud. Obviously, you need to flaunt with a long mane to turn your hair into such a glorious halo braid.
Stylish Side-Swept Cornrow Braids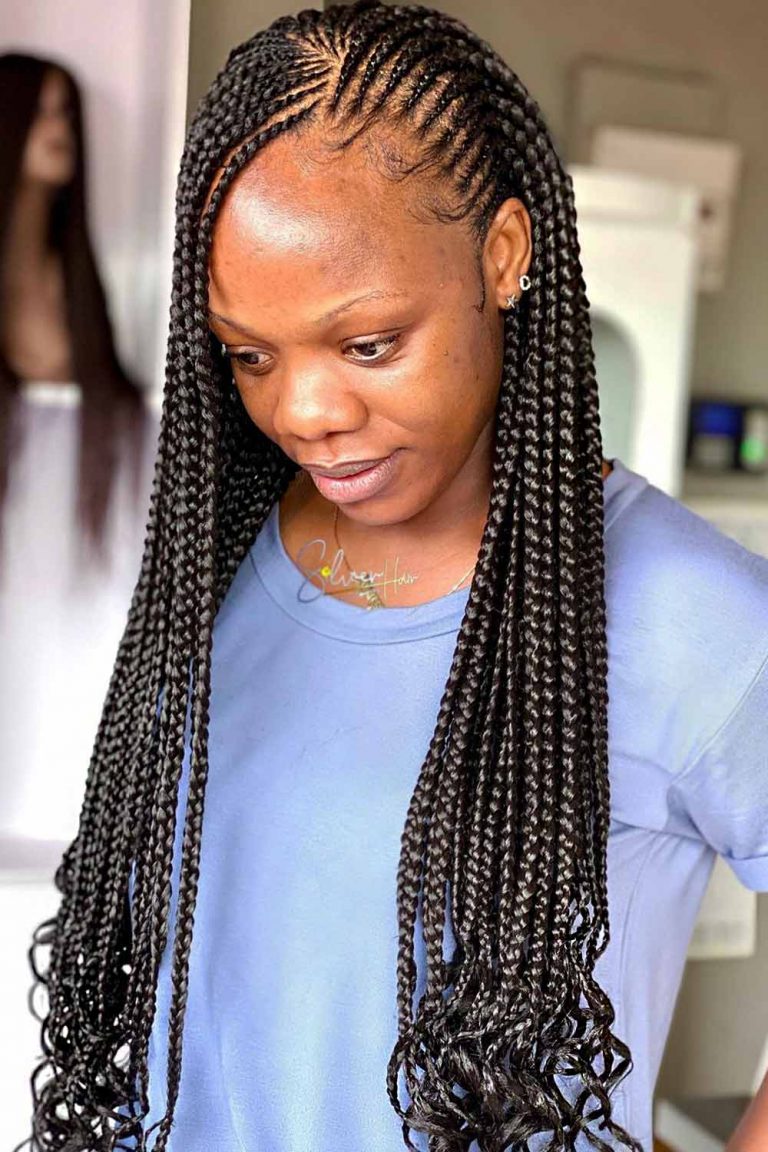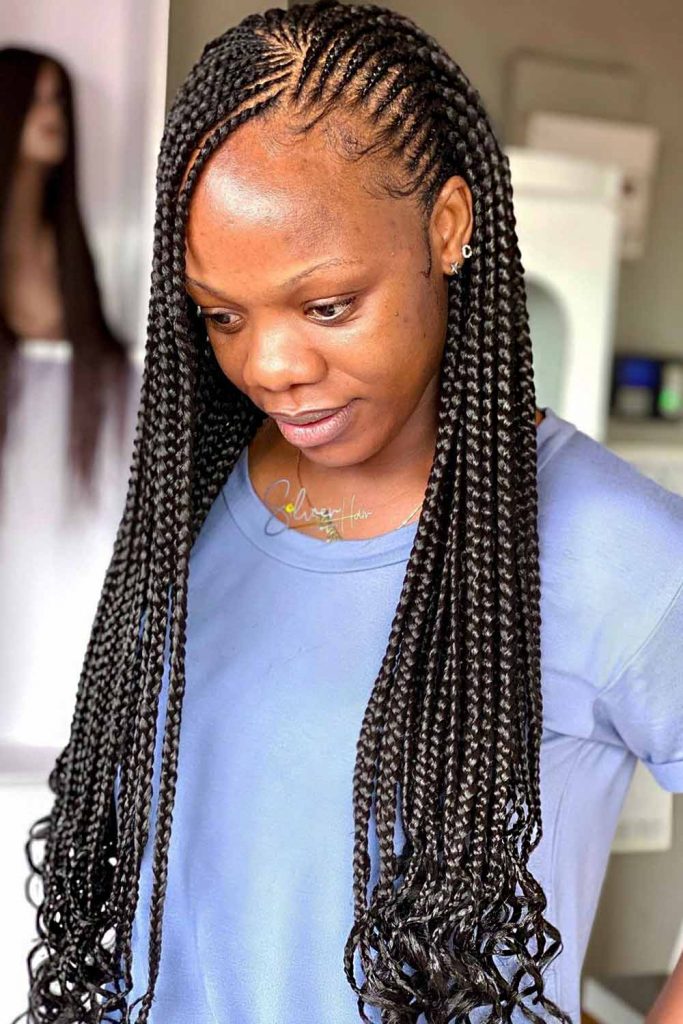 Credit photo: instagram.com/silverhairgh
These side-swept cornrow braids know how to get the most out of your baby hairs. Sometimes we get so annoyed with those sticky little pieces of hair, but how about making them a part of your hairstyle? You can leave a little section of your hair and sleek it in a wavy way so that it goes above your baby hairs, creating an accentuating detail to your asymmetric look.
Faux Hawk Cornrow Braid Style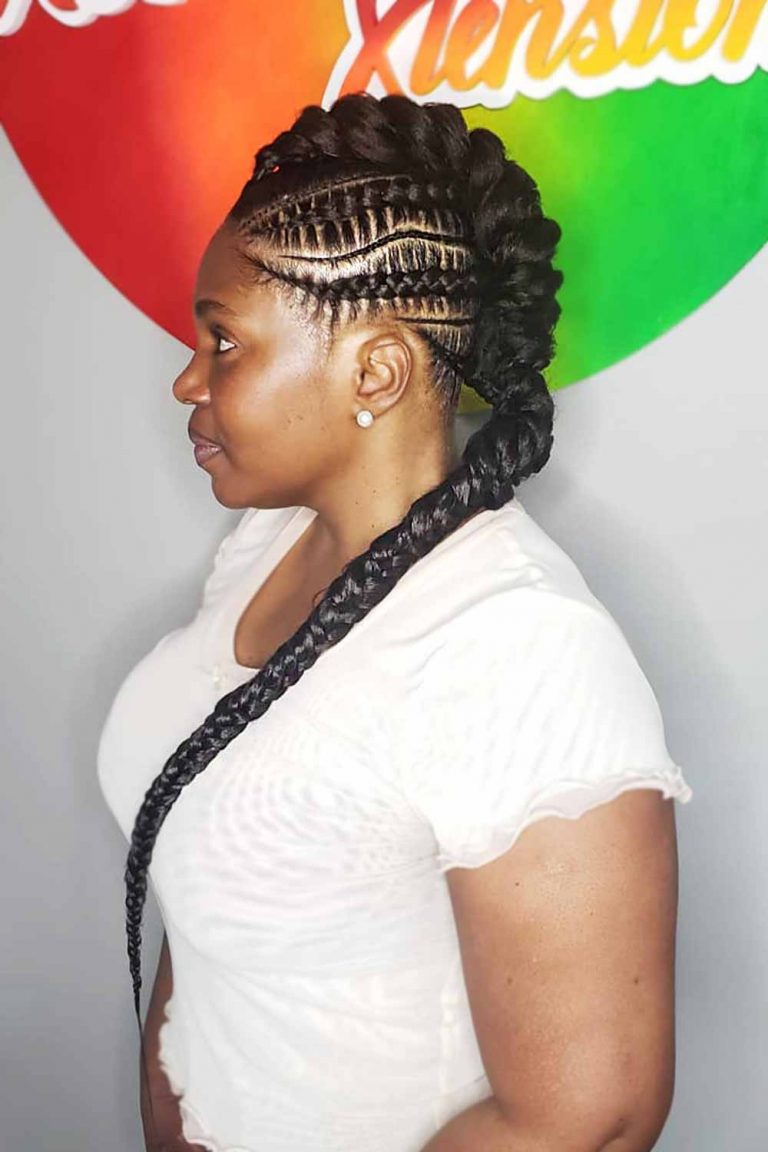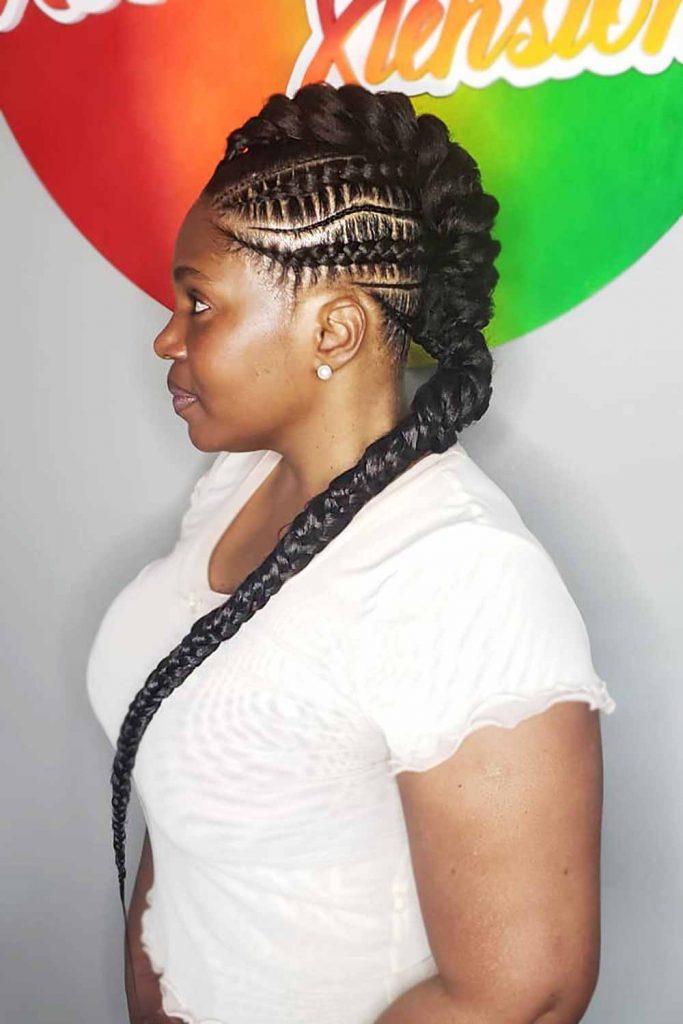 Credit photo: instagram.com/xcellentxtensions
Want to keep it significant and daring? This faux hawk, made out of cornrow braids, will do the talking. The full central braid with side cornrows forms the most iconic look ever. Braid lovers, it's your chance to be in the spotlight!
Long Blonde Cornrow Braids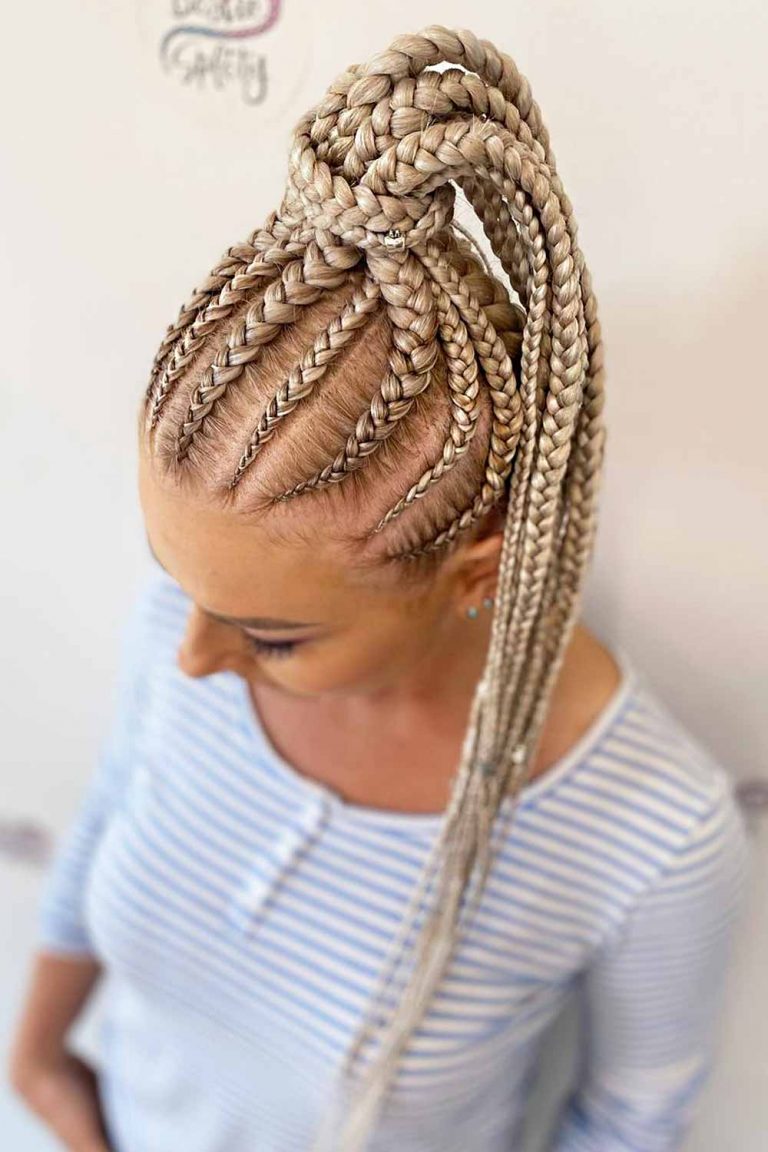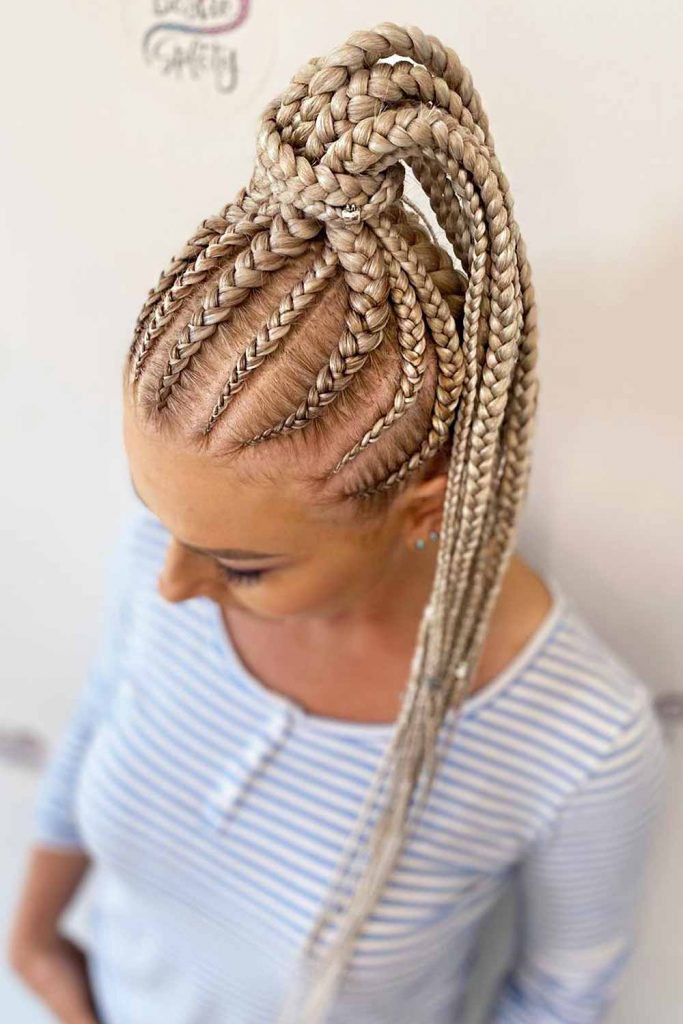 Credit photo: instagram.com/boskiesploty
Yes, blonde cornrows do exist. Those who love to experiment should go for the blonde side of cornrow braids! The braided high ponytail with braids that go around the head, twist around the pony, and hang down on your shoulders is a look to steal!
Unbelievably Full Black Braided Mohawk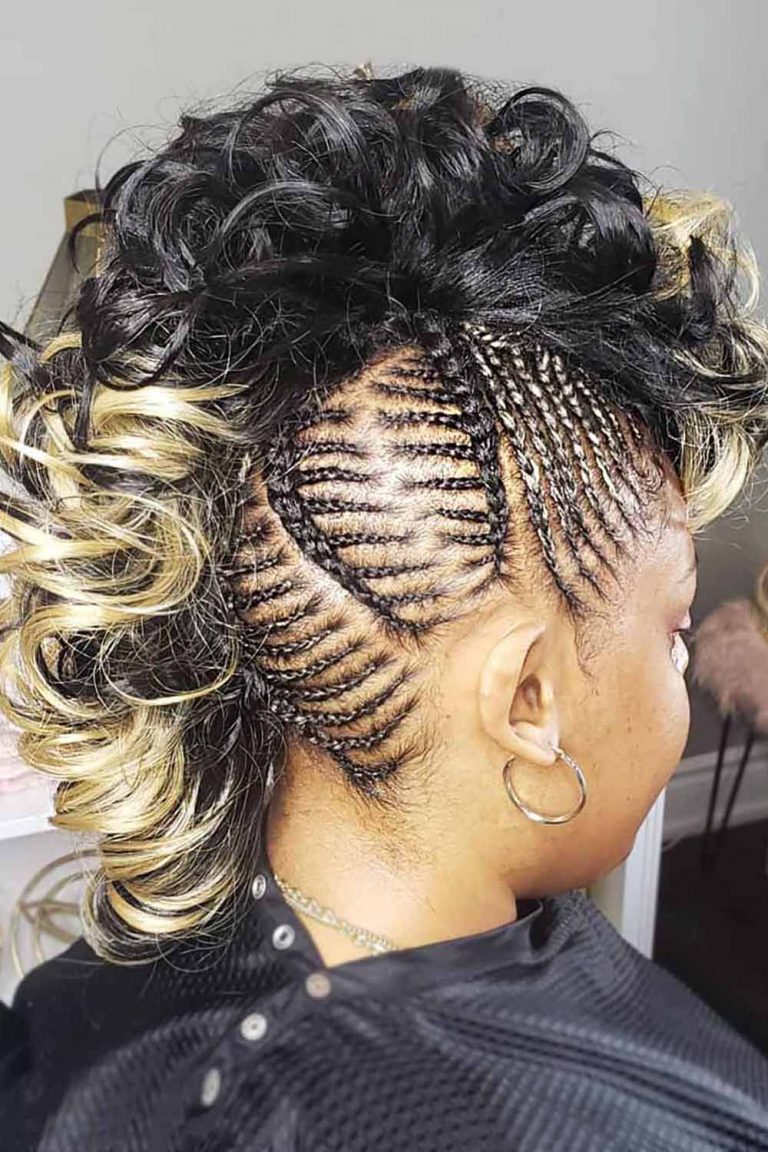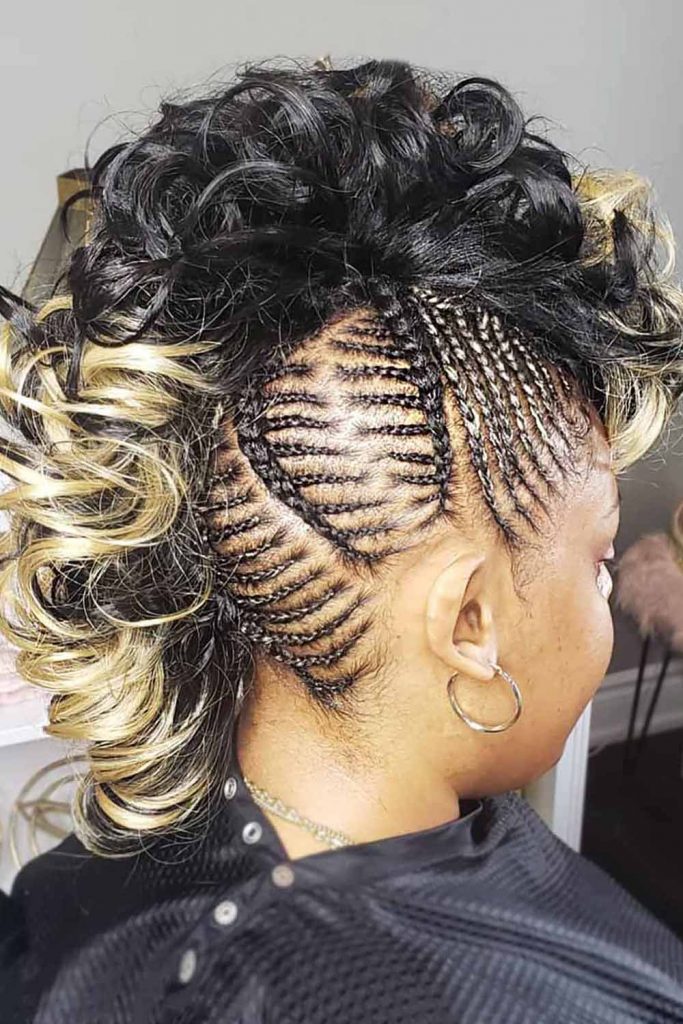 Credit photo: instagram.com/xcellentxtensions
No words in the world can describe the awesomeness of this voluminous, full hairstyle. Nothing looks as perfect as these cornrows that have turned into a bold mohawk. Some of the braids cover the top, creating an even fuller silhouette, while small cornrows perfectly perform the role of shorter sides.
Feed-in Cornrow Braids With Hair Rings
Credit photo: instagram.com/lucasbraids
i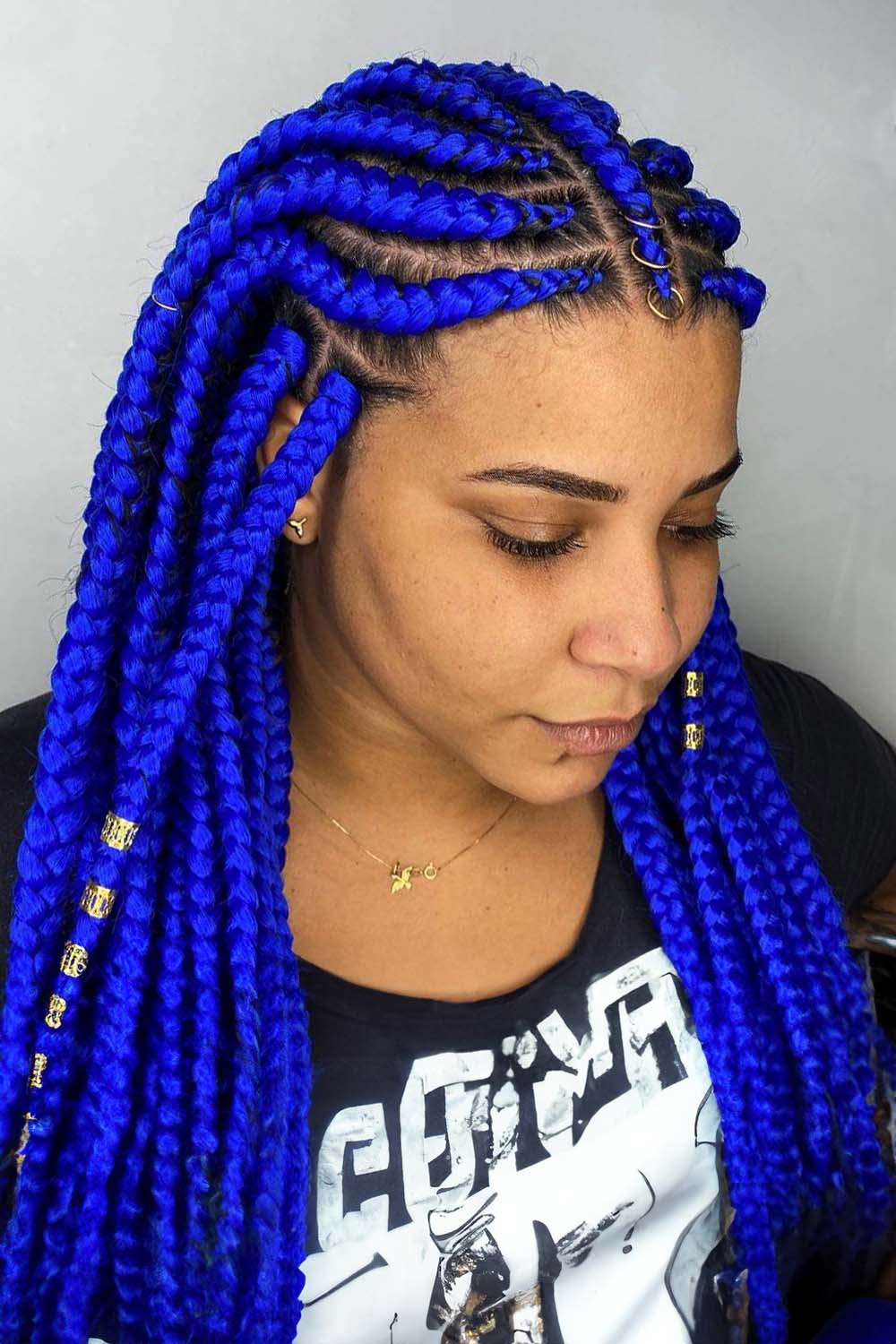 Credit photo: instagram.com/carlisbeautyhair
i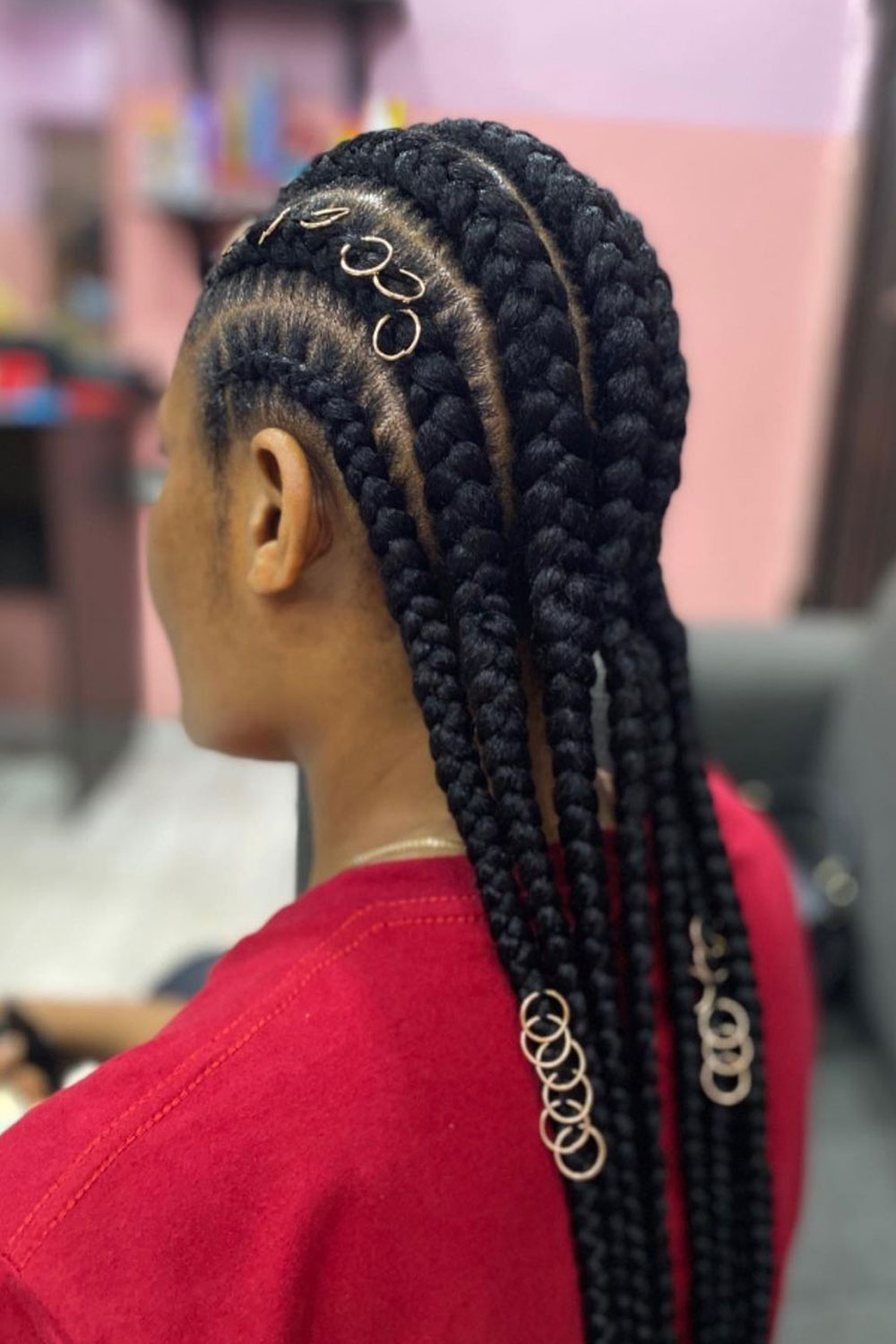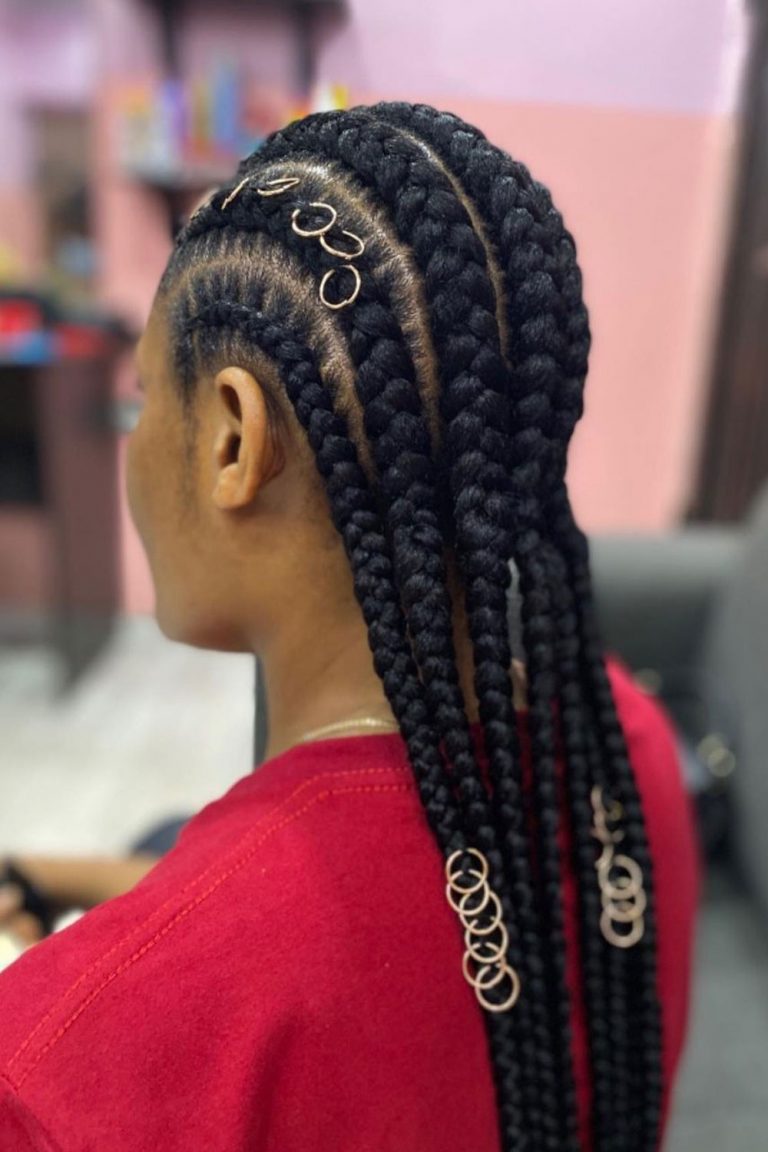 /
How do you like these neat, styled to the back feed-in cornrows? If you're looking for a classy feminine look, don't ever miss this cute idea. Beauty is in the details, remember? Incorporate some funky hair rings or a gold string in some of your braids to make it even more special.
Dutch Braids + Design
Credit photo: instagram.com/lucasbraids
i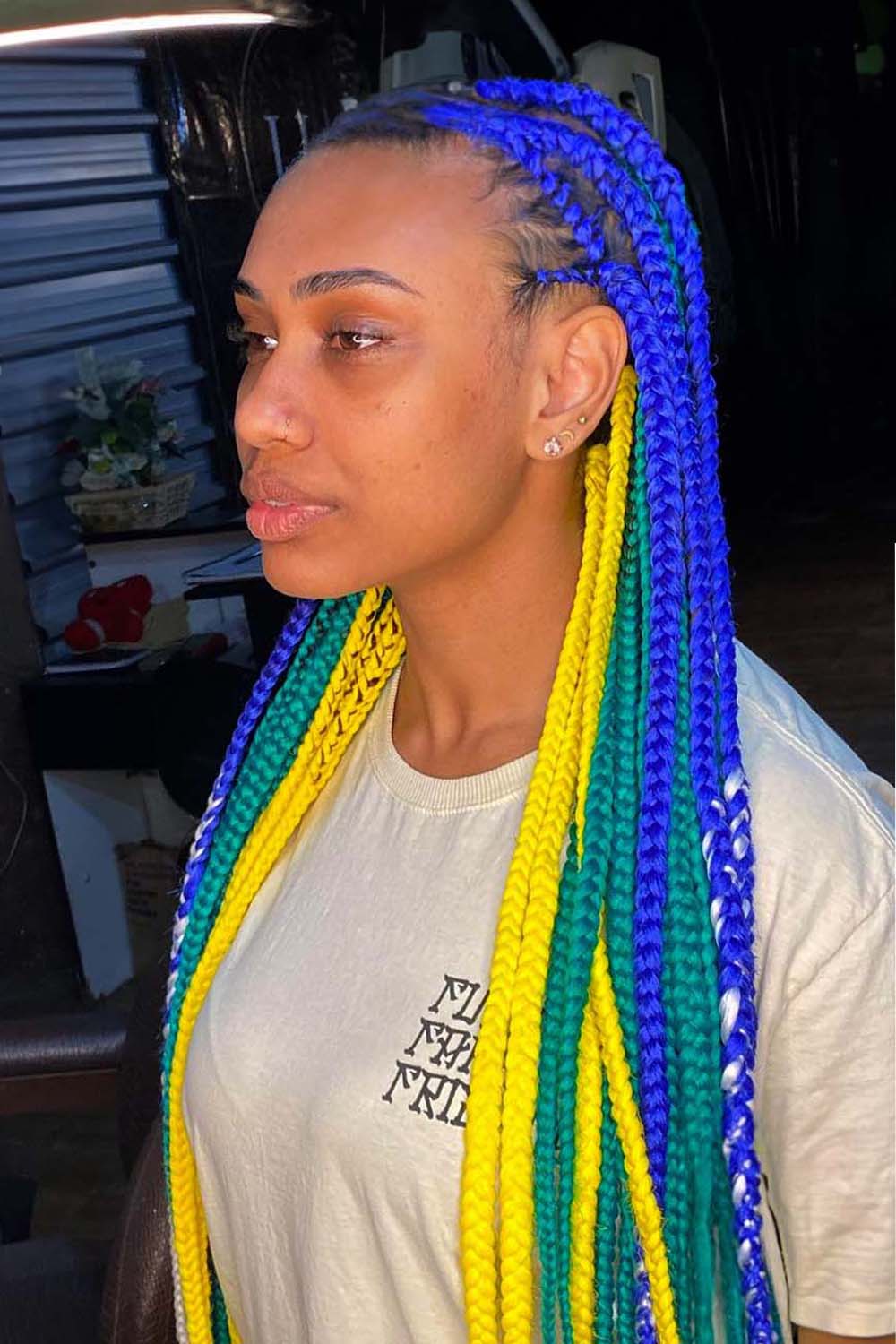 Credit photo: instagram.com/braidedroots
i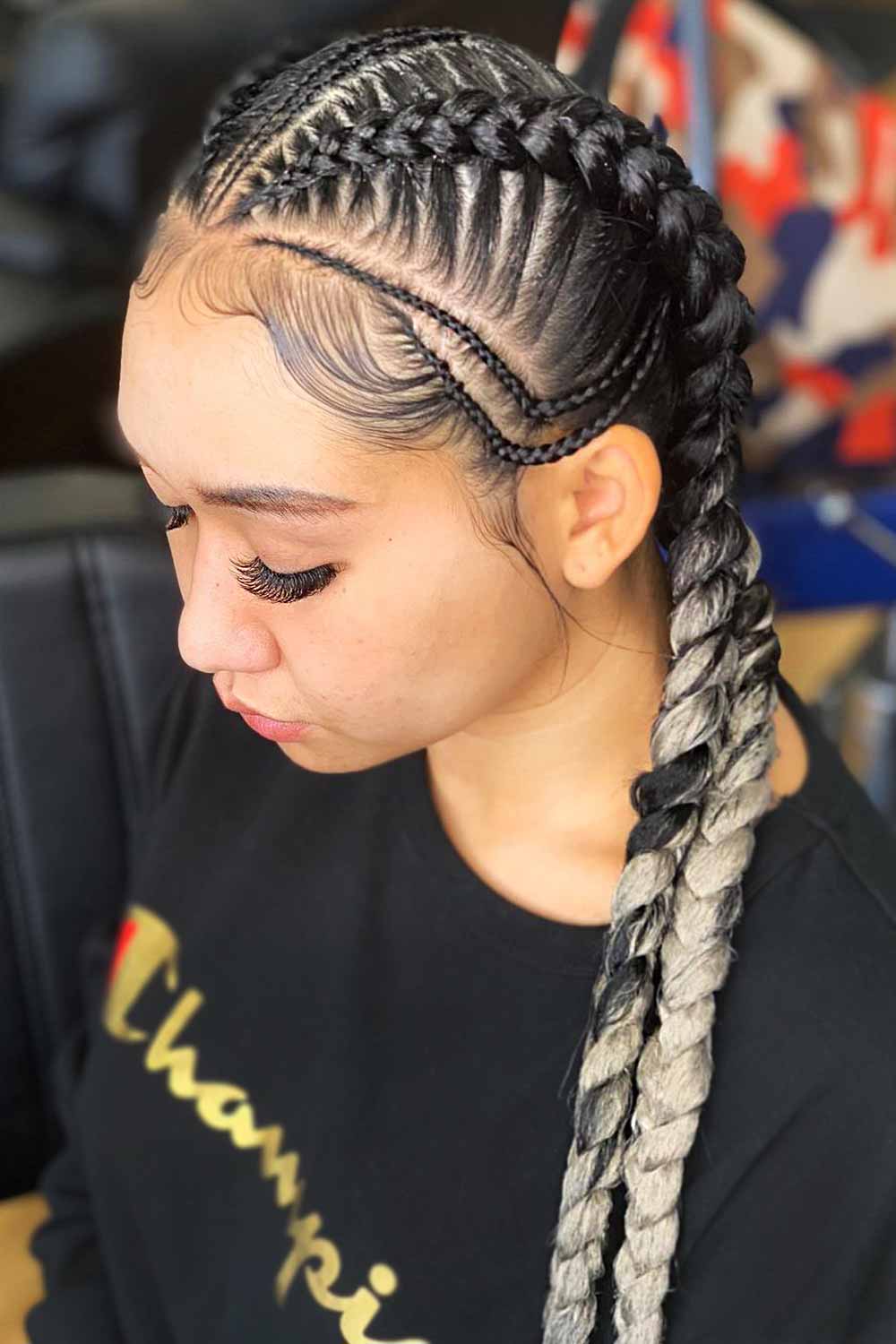 Credit photo: instagram.com/boskiesploty
i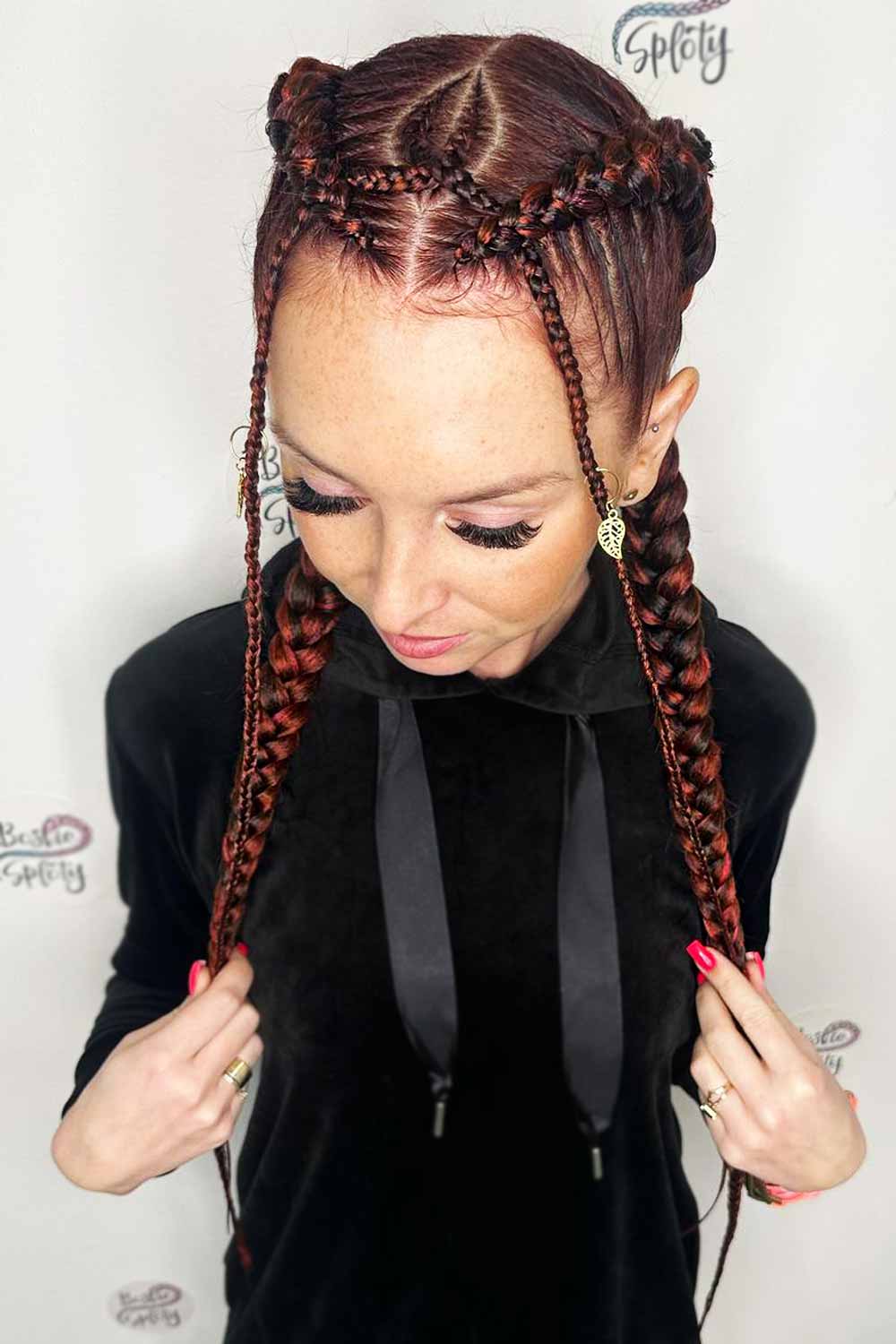 /
Why don't you make the Dutch braid technique a part of your cornrows? As you already know, there are no limitations for your imagination, so you can take any braiding idea as a basis. The standout contrast of natural hair and blonde strands will always be chic, notably if it's accompanied with a fascinating braided design on the sides.
Braided Space Buns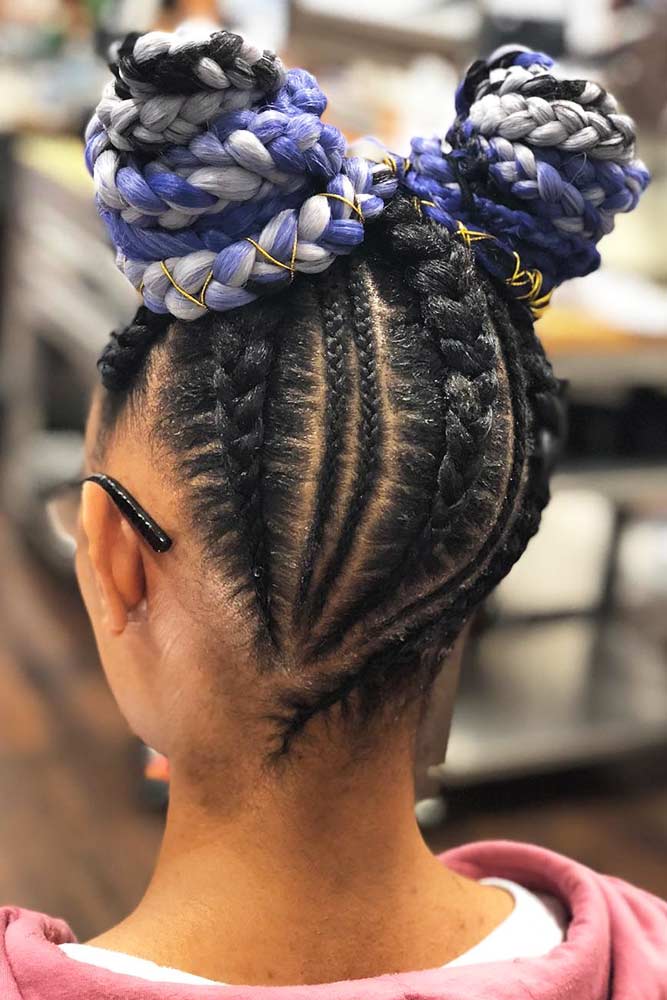 Credit photo: instagram.com/braidedroots
Space buns were initially invented to grab people's attention. And you can make them even more distinctive and eye-catching: make it pop by adding more colors and embellishing your braids with shiny elastics.
Cornrow Design With Low Bun
Credit photo: instagram.com/braidedroots
i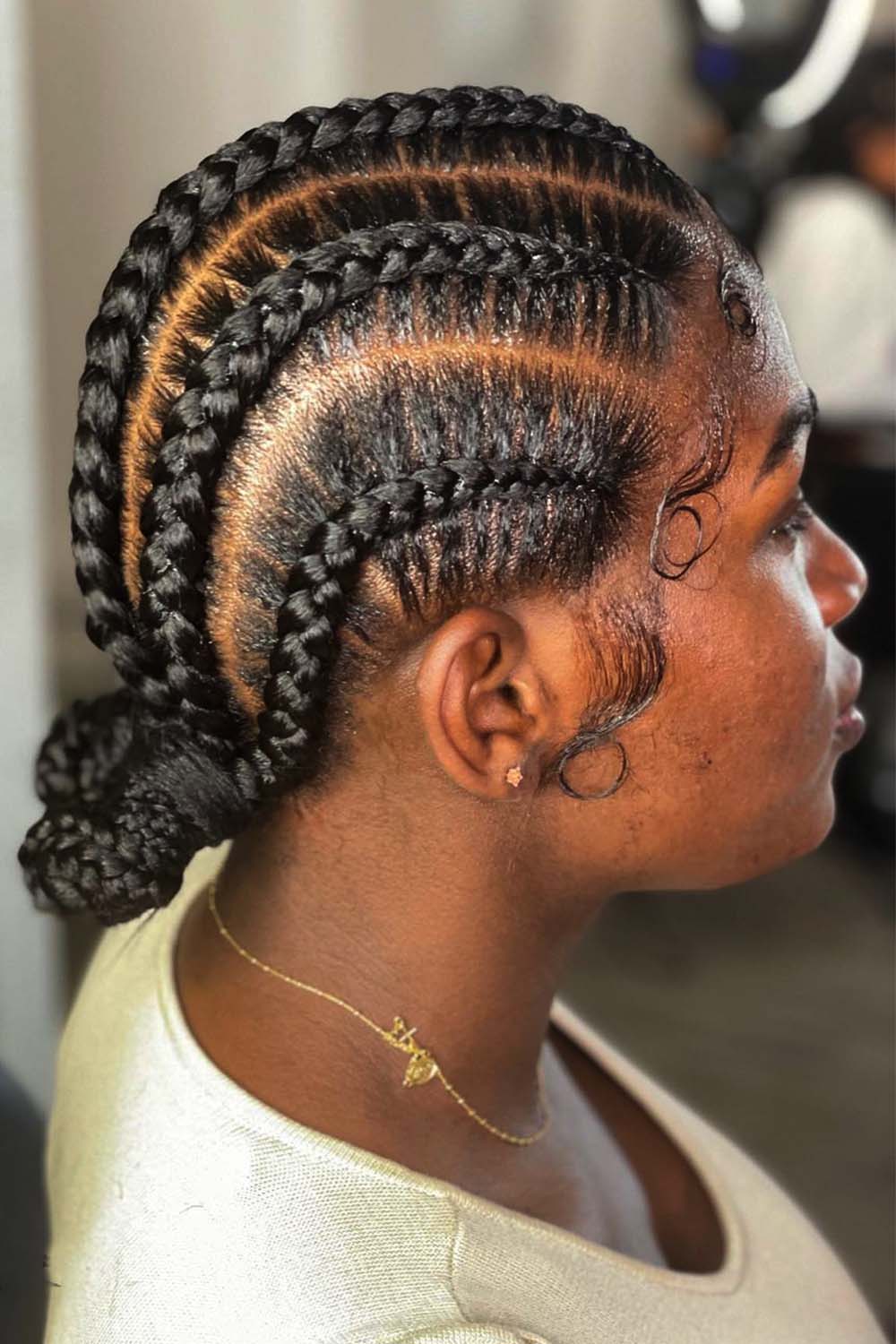 Credit photo: instagram.com/fancy_claws
i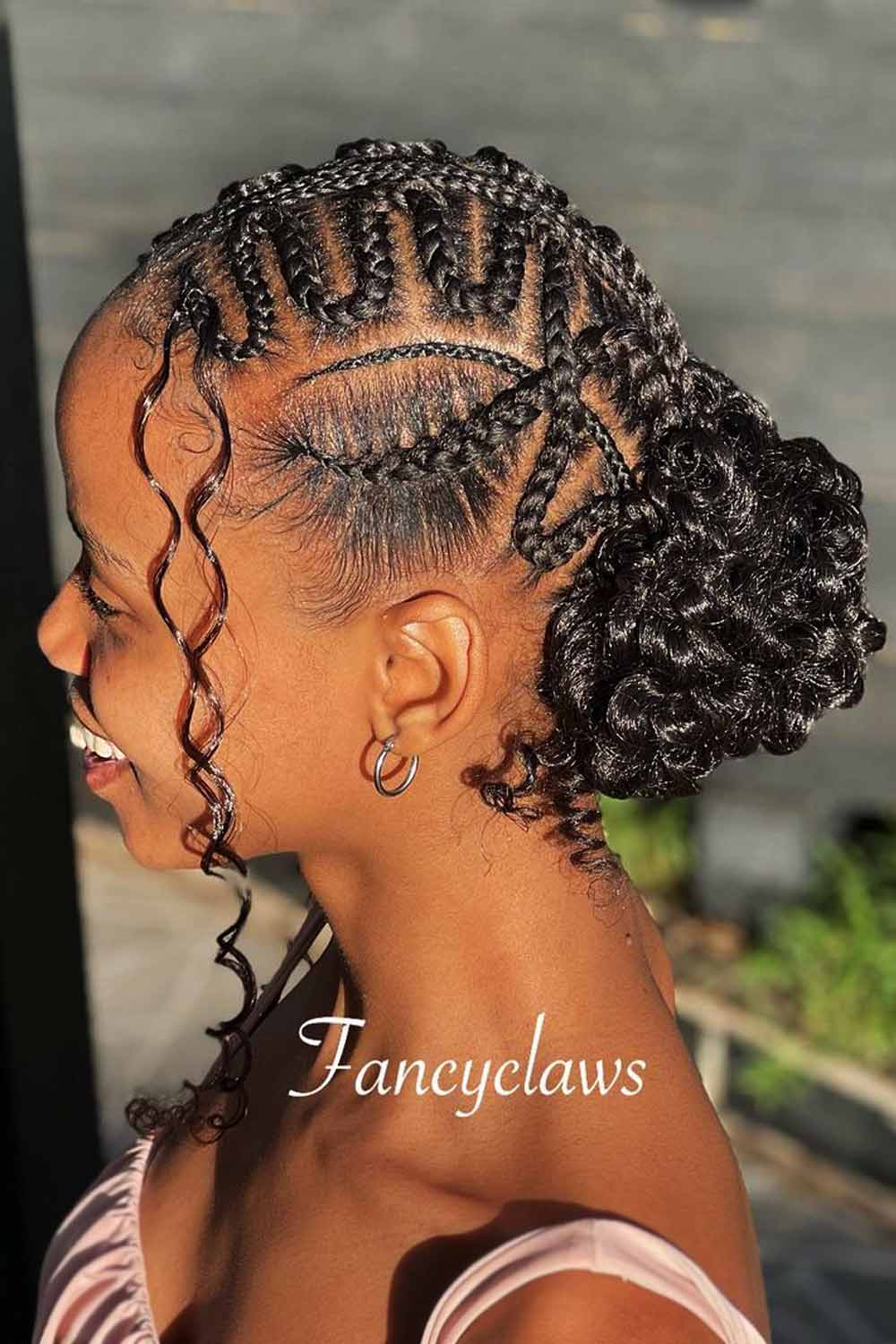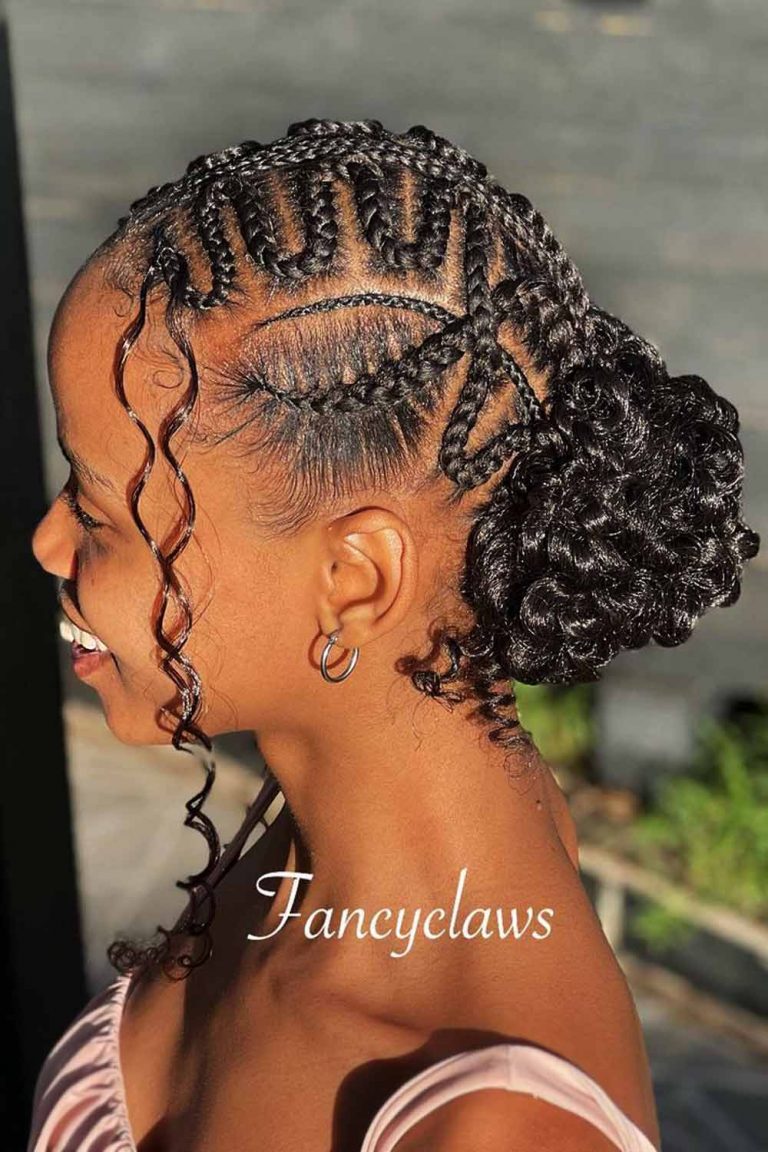 /
If you prefer less drastic, yet still unique styles, this idea is the best embodiment of such features. You can create a personal wavy design on the top and twist the rest of your braids into a low bun, keeping your hair tight and secure.
Cornrows Into Puffy Balls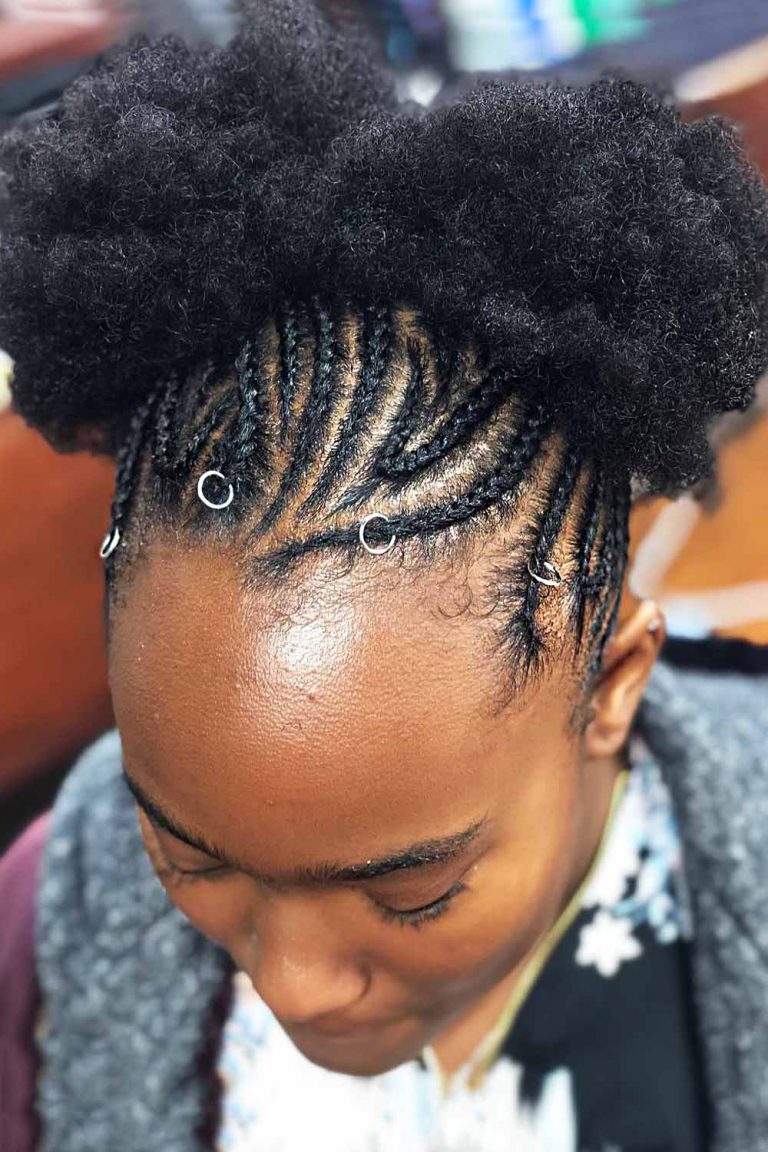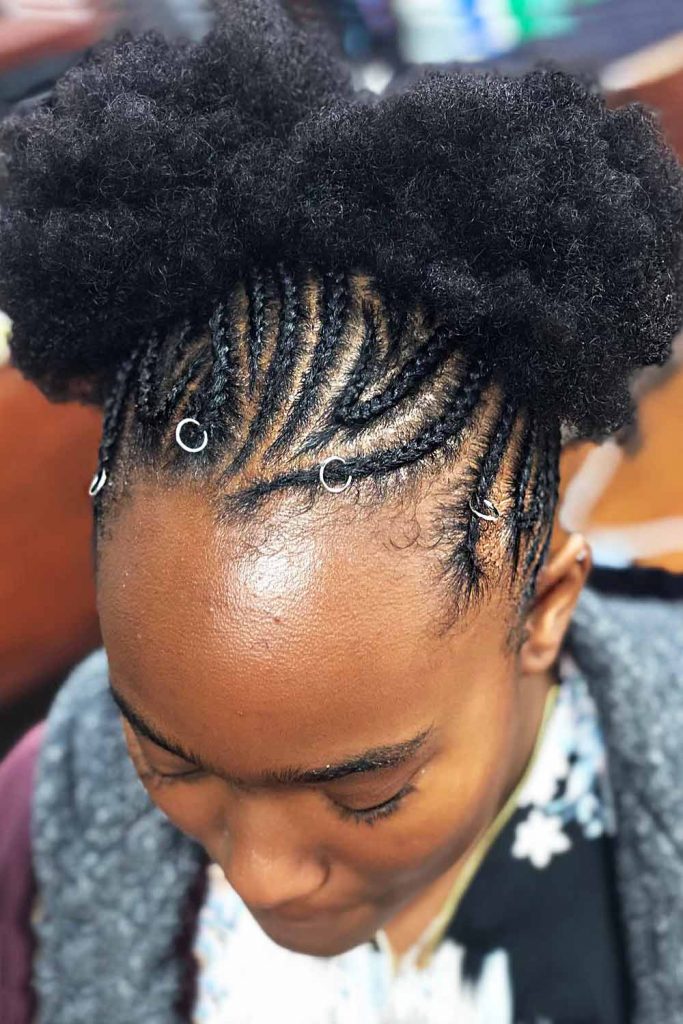 Credit photo: instagram.com/braidedroots
Since you've got the most unbelievable hair texture, don't hide it, girl! Let your cornrow braids show off your lush natural hair: the double puffy balls that stick out from your tight cornrows is a stunning way to get a unique, comfy, and enviable hairdo!
Fauxhawk Knots With Tiny Cornrows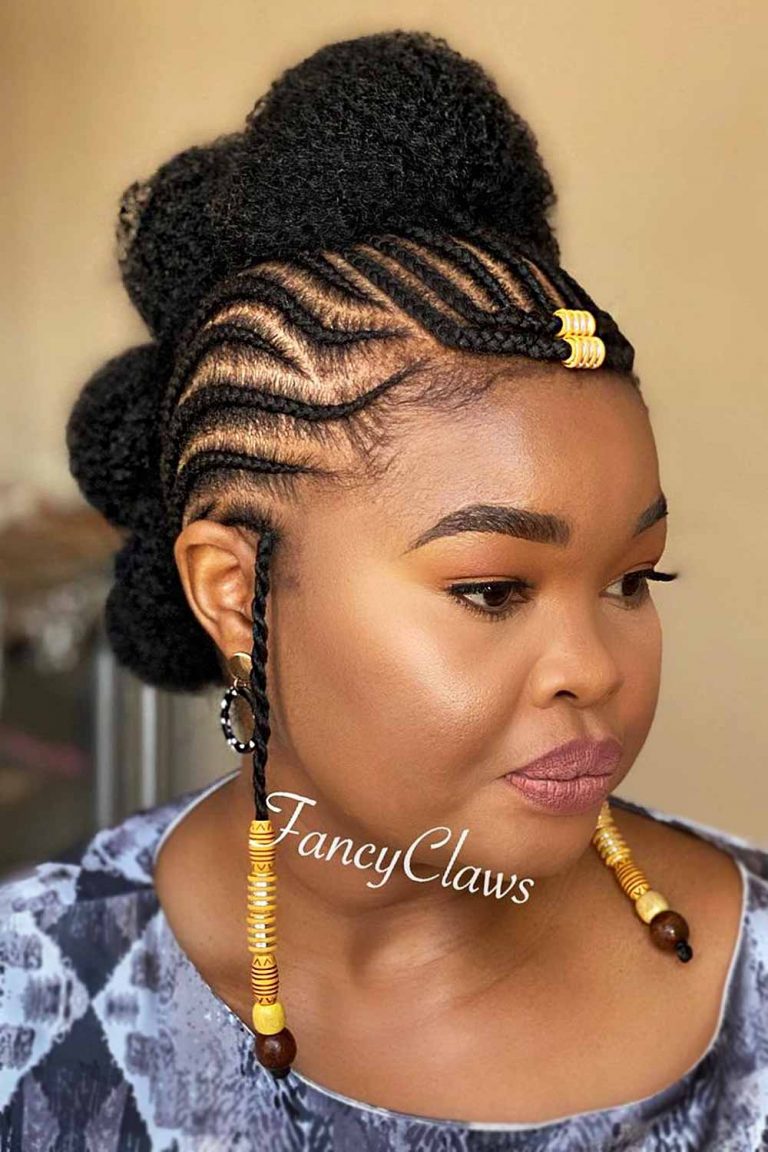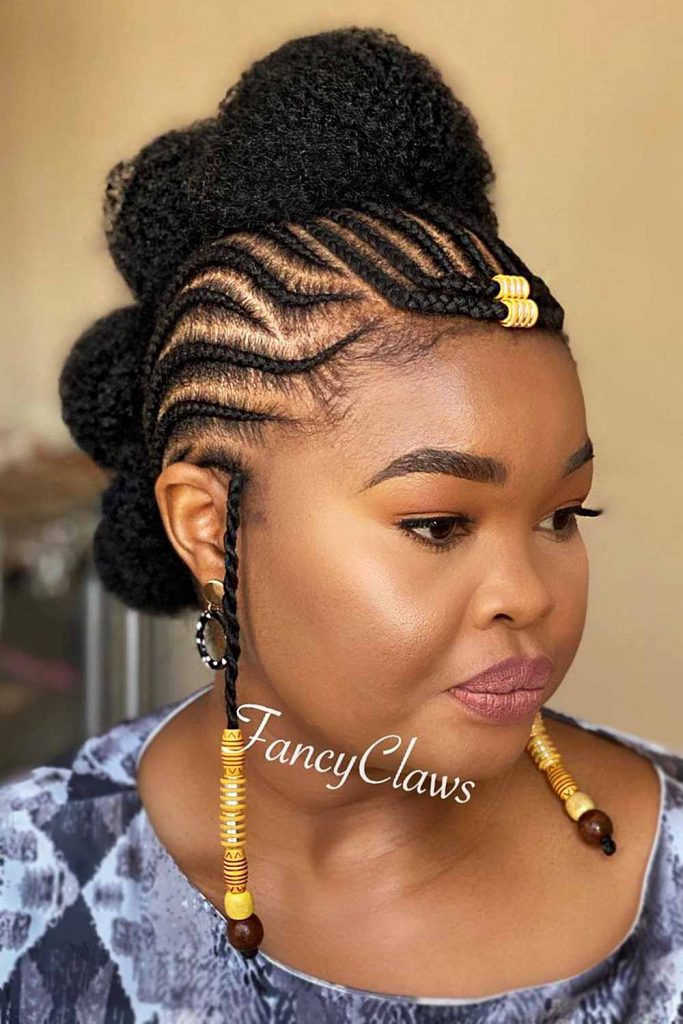 Credit photo: instagram.com/fancy_claws
Meet the sleek, outstanding, and the fullest cornrows possible. The style keeps your hair tight and shiny, while the lush triple cornrows that look like a faux hawk variation make the silhouette very dynamic and voluminous. Everything beautiful comes in pairs, so the third item will make it simply cosmic!
Braided Low Buns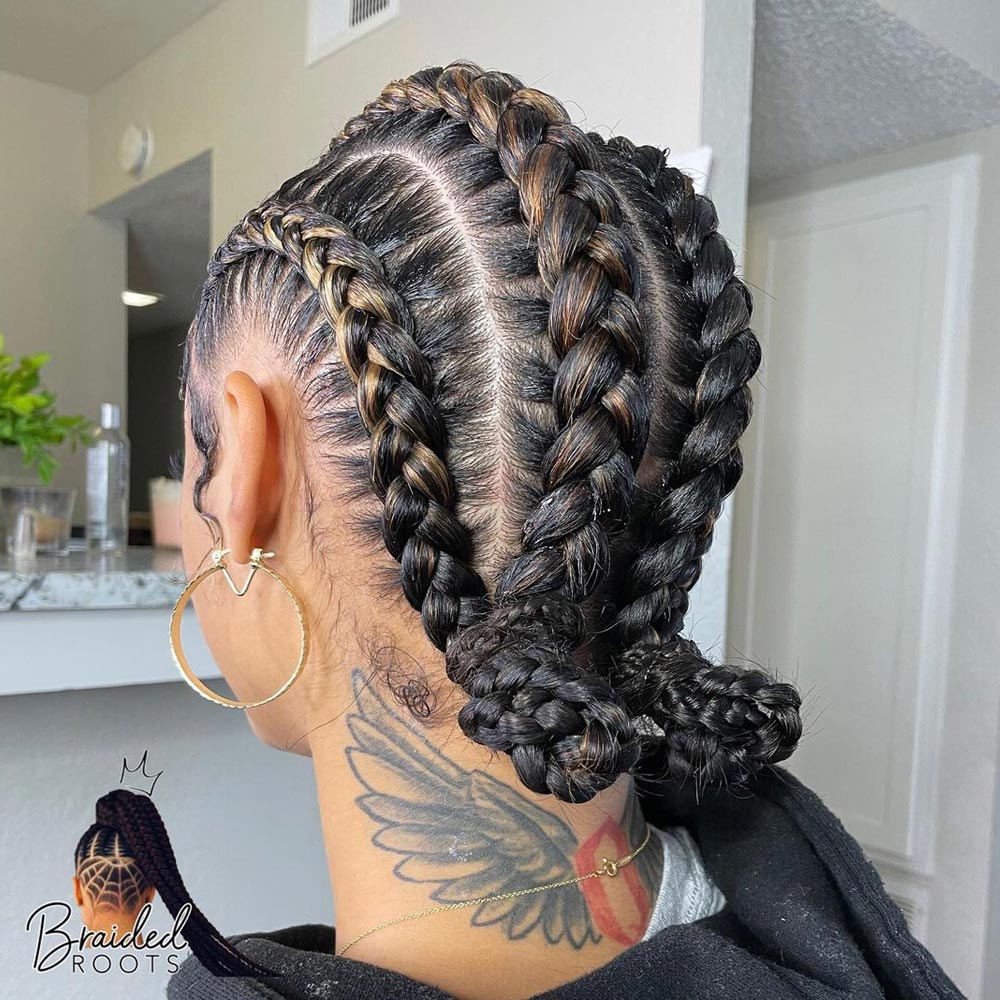 Credit photo: instagram.com/braidedroots
Though cornrow braids are meant for sassy and bold looks, there are lots of feminine ideas, and this low bun is one of the best examples. Make your rows big and thick, and then twist them into a simple, but elegant bun. Voila! A girly look is ready.
Fulani & Cornrows
Credit photo: instagram.com/xcellentxtensions
i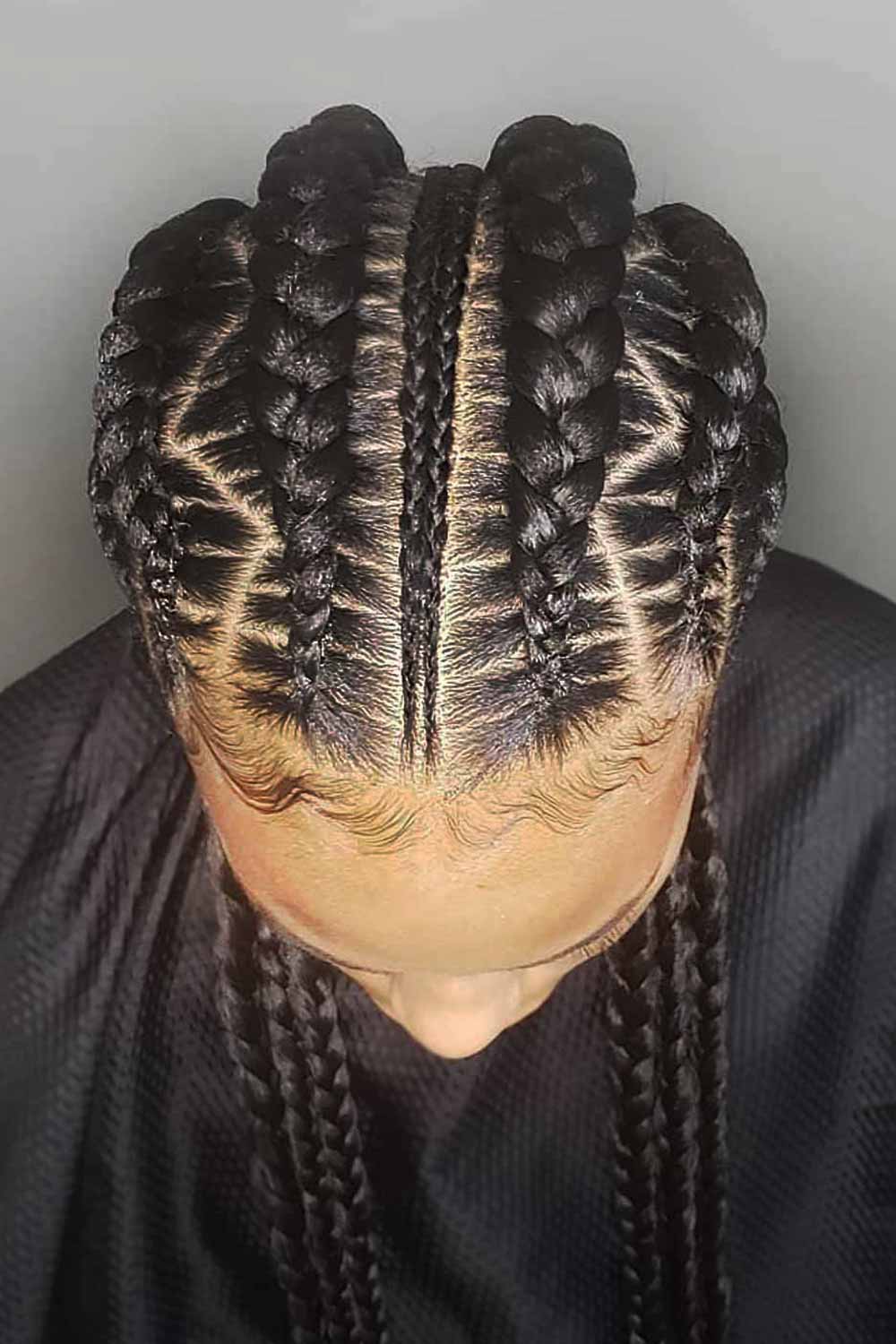 Credit photo: instagram.com/braidedroots
i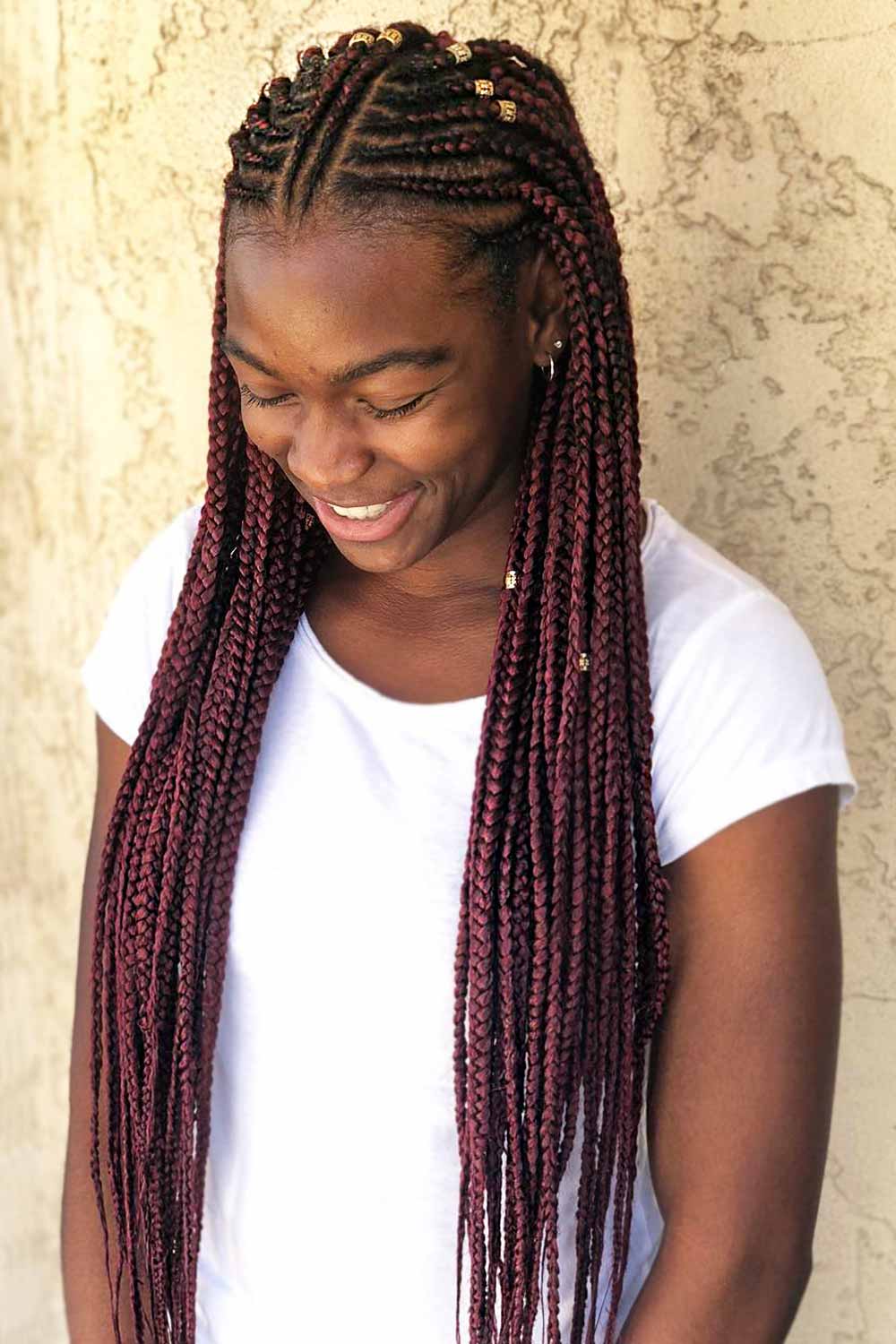 /
Both Fulani and cornrow braids have come to our world from African ethnicities which actually had no idea that their hair traditions would become trends. Now wearing patterned braids is trendy, indeed. And besides a pleasant texture, these two look totally authentic on natural hair. Two Fulani braids that stretch along the head and several cornrows are enough to rock a creative, ethnic-inspired 'do.
"X Marks The Spot"
Credit photo: instagram.com/braidedroots
i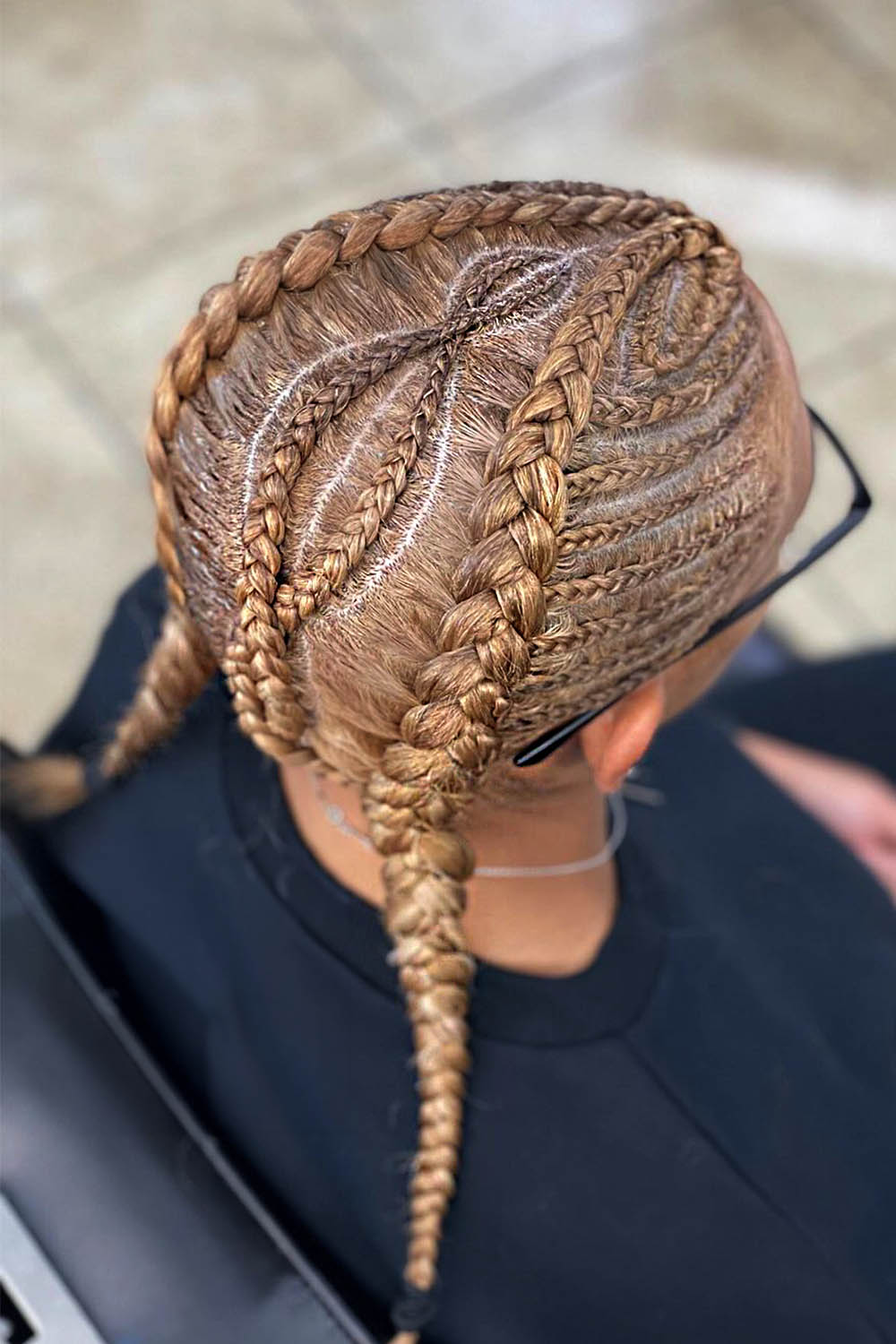 Credit photo: instagram.com/magicfingersstudio
i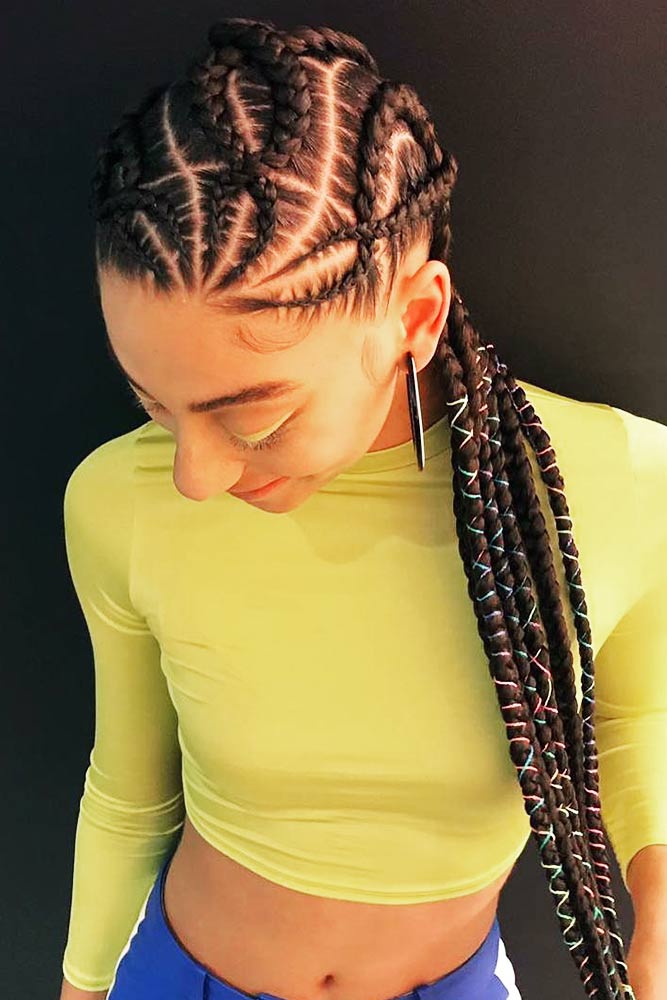 /
Obviously, this time, 'X' marks the spot of a great hair treasure. This hairstyle is another proof that braids and creativity form a truly unforgettable duo. Pay attention to the shape of those cuties! Not only do they crisscross but also gradually get thicker on the top. If it's not art, what is, then?
Sharp Zig-Zag Braids
Credit photo: instagram.com/braidedroots
i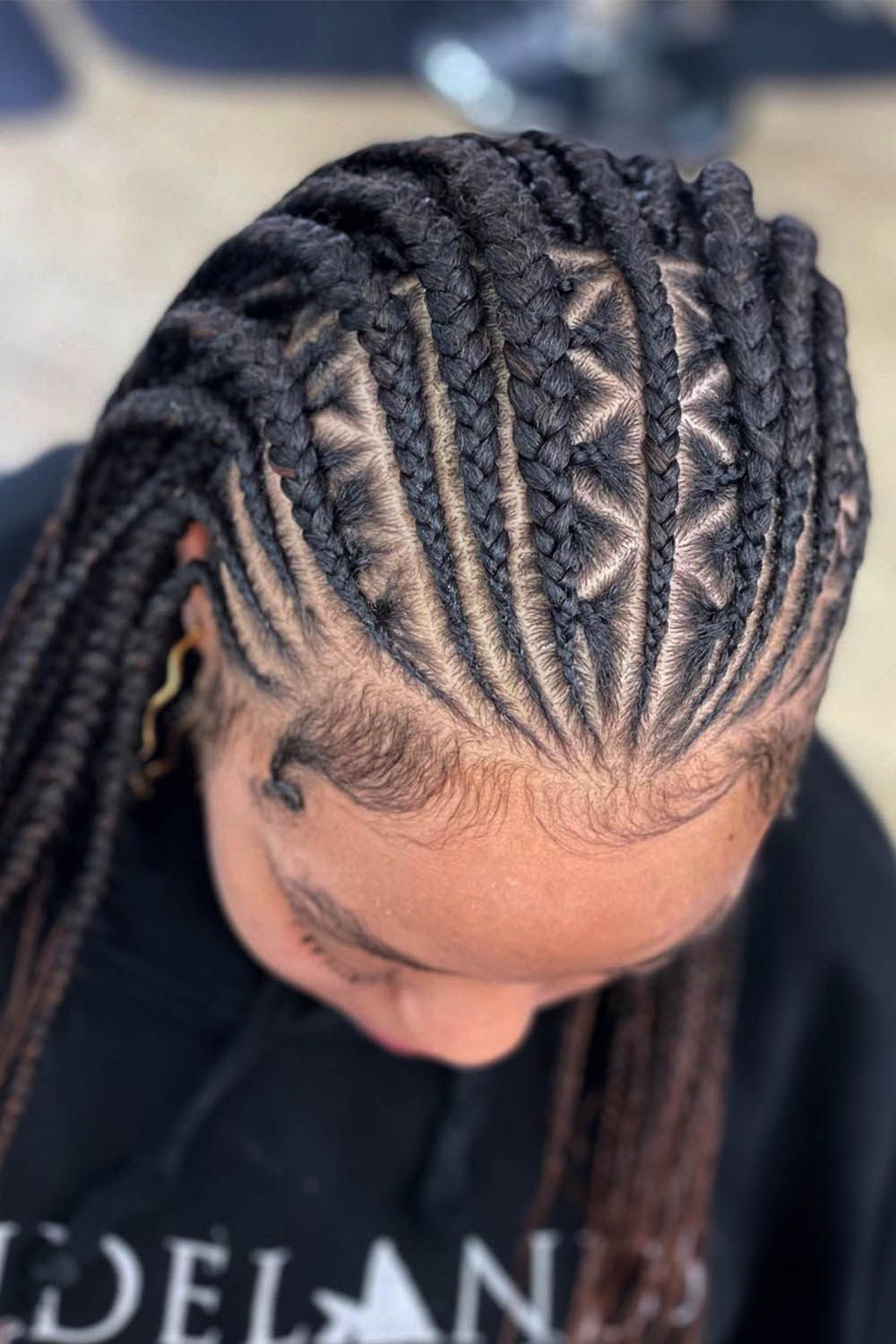 Credit photo: instagram.com/magicfingersstudio
i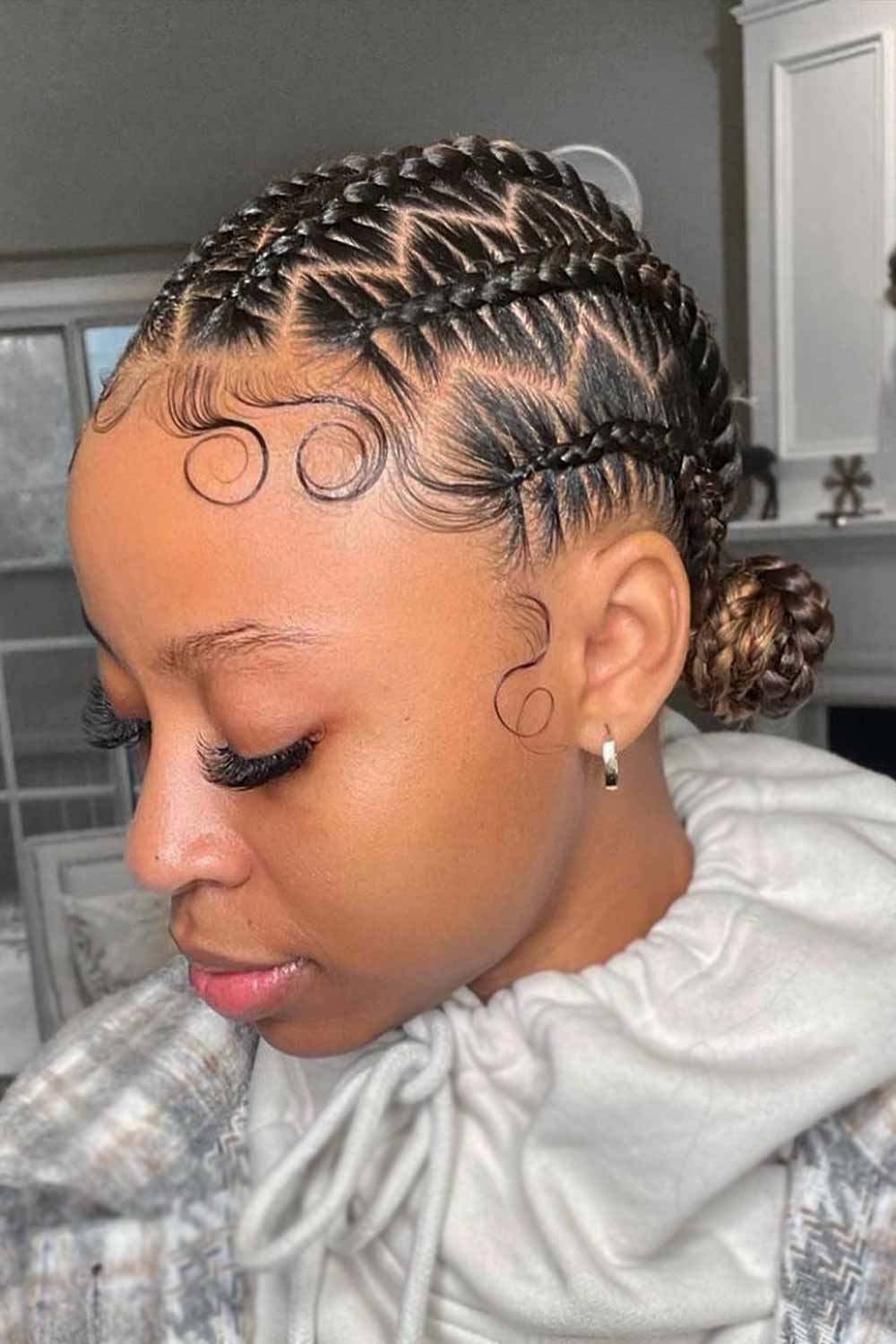 Credit photo: instagram.com/magicfingersstudio
i
/
Large gaps are the details that create such a distinctive and sharp appearance to zig-zag braids. Although this hairstyle keeps the head tight and thus the face open, it doesn't make the face appear too big or round. How? The fullness of braids sorts things out.
Stitch With Little Braids
Credit photo: instagram.com/braidedroots
i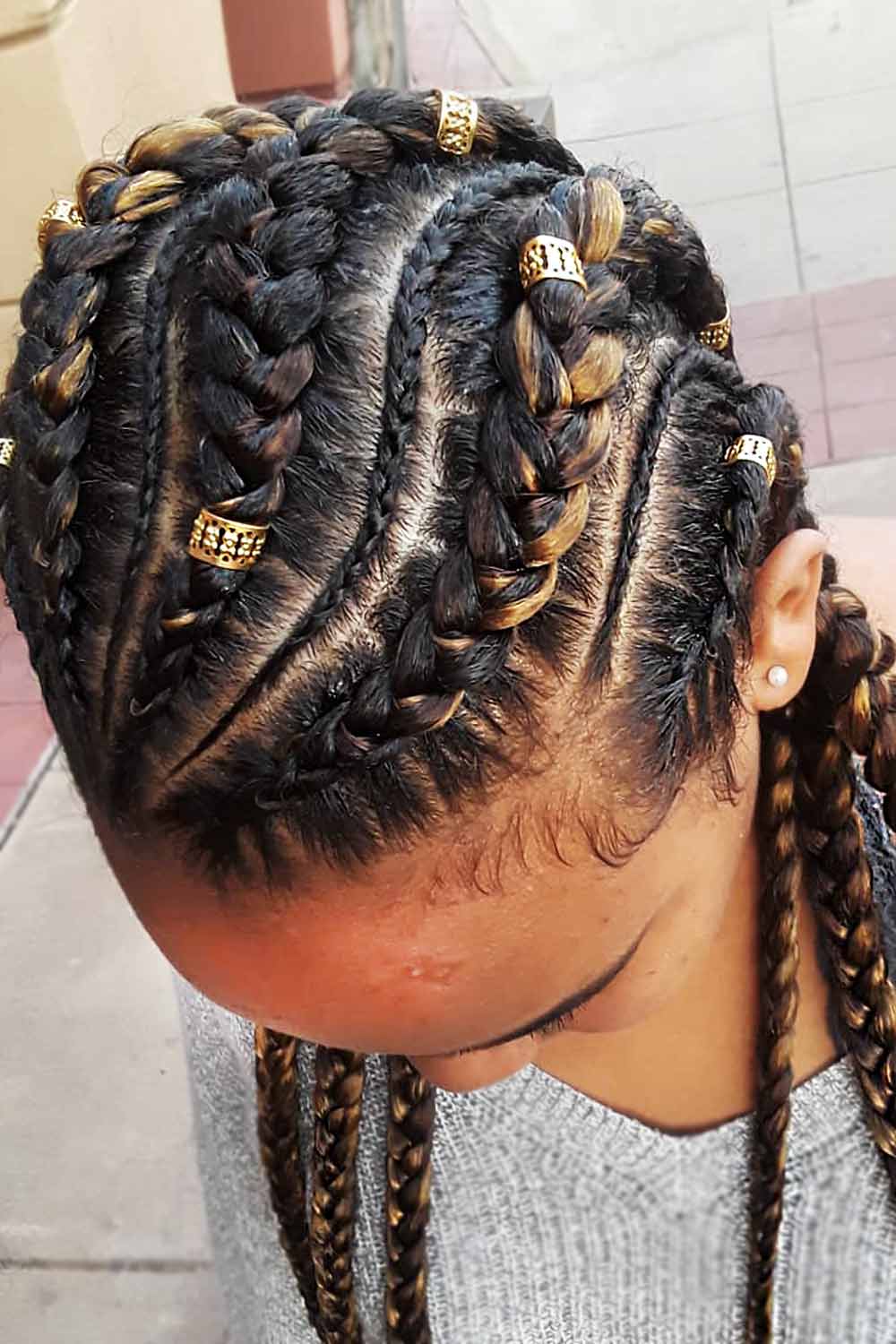 Credit photo: instagram.com/braidedroots
i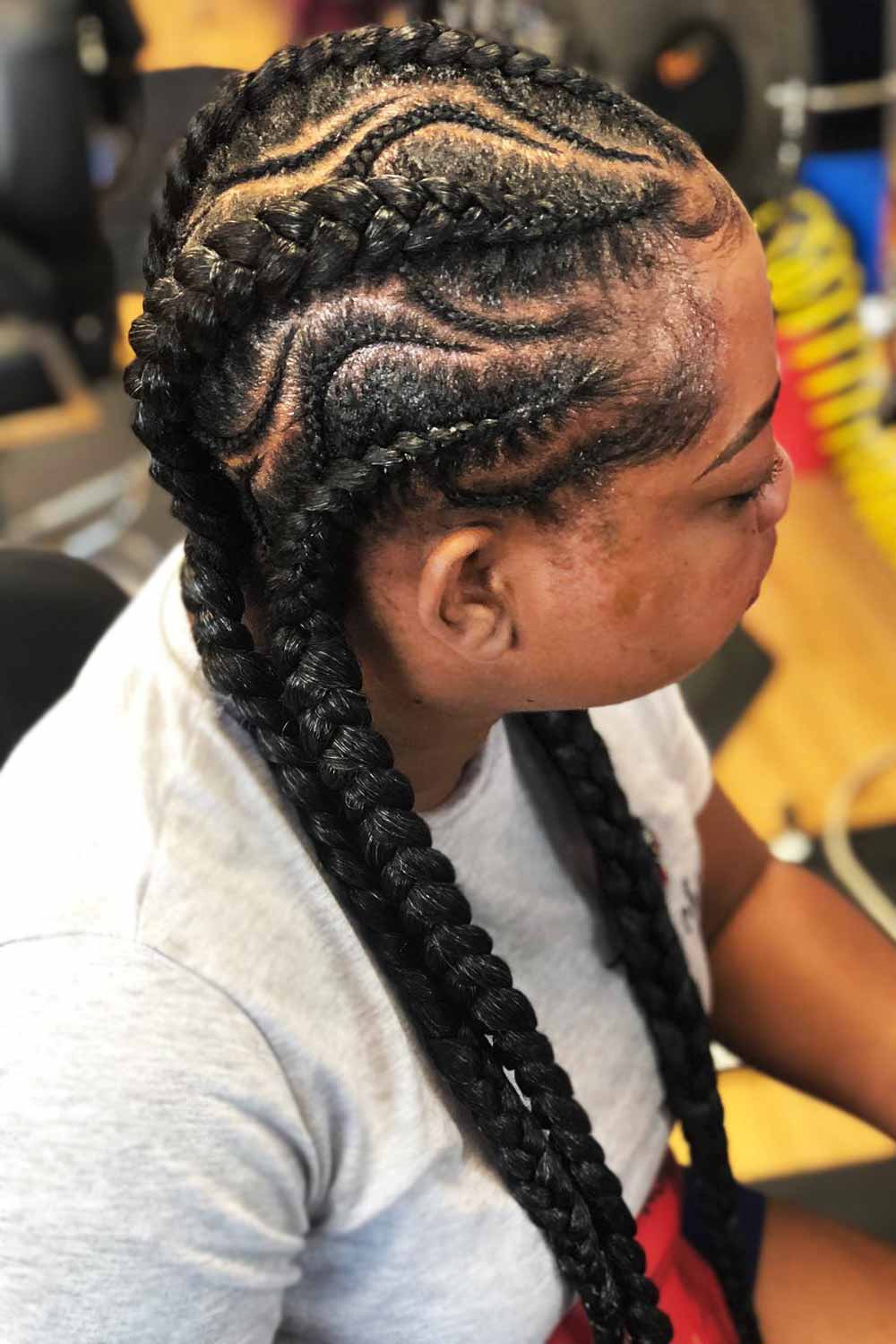 /
Though stitch and cornrow braids have a lot in common, there's a slight but significant difference between them. Stitch braiding involves cleanly outlined sections that usually look like razor-straight lines. Since these two stand so close to one another, they will definitely go perfectly together: this creative look is proof.
Flat Twist And Rodset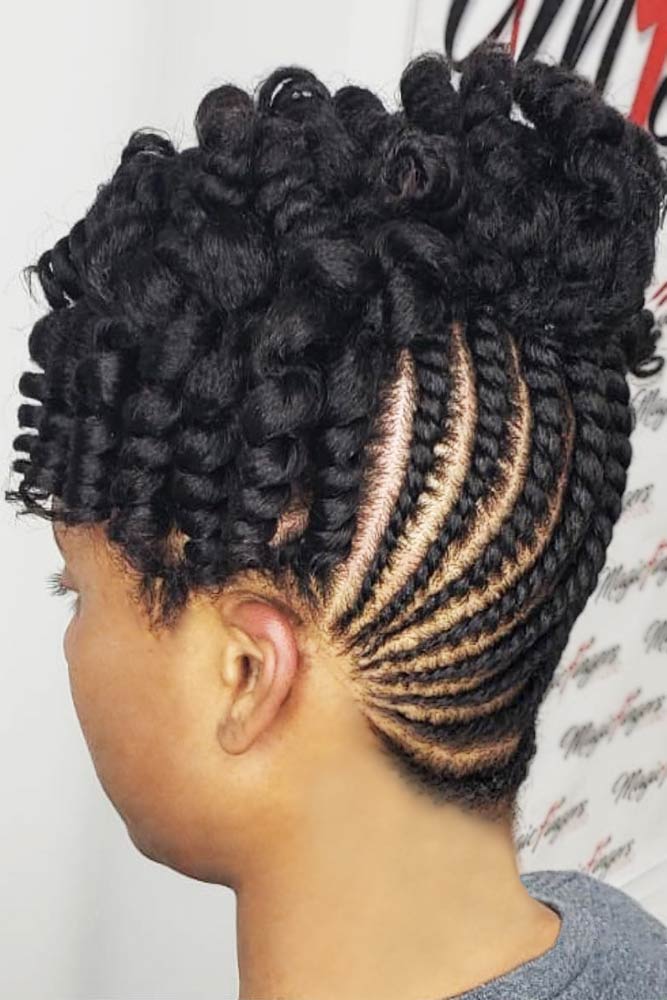 Credit photo: instagram.com/magicfingersstudio
Can you imagine a hairstyle with a multidimensional pattern? Now, be careful, as this idea can leave you speechless. These flat twists on the back, horizontal curls on the sides, and vertical rod set on top literally change the common image of braided hairstyles.
One-Braid Pony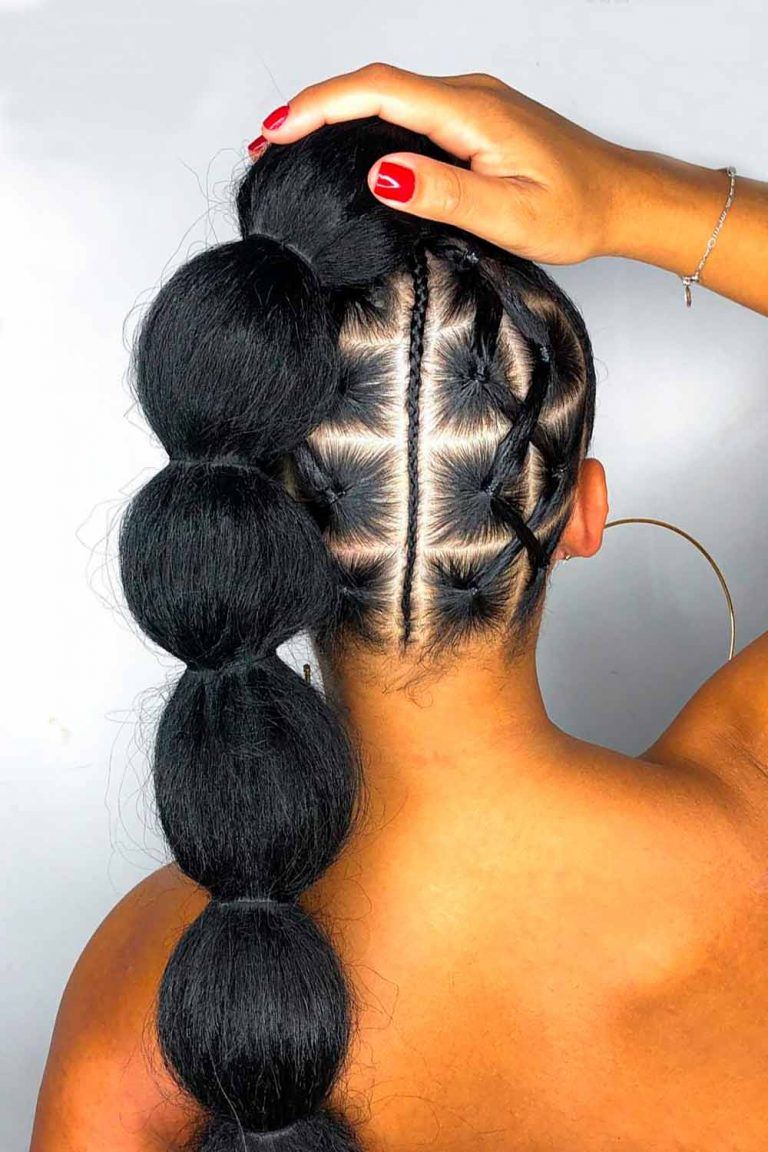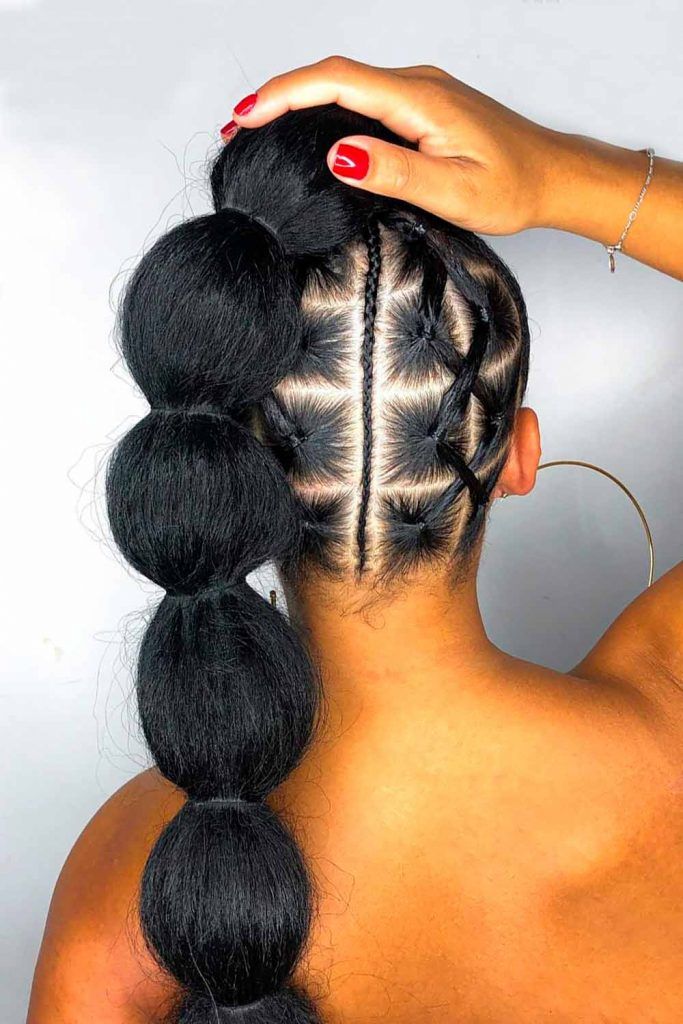 Credit photo: instagram.com/lucasbraids
Braids have lots of benefits, and making your style unique is one of them. For example, you can individualize your sleek ponytail with a signature of a little but distinctive cornrow. Also, it can work as a side part, as well as a fancy hair tie. Still think that braids are simple?
Tied Braided Low Bun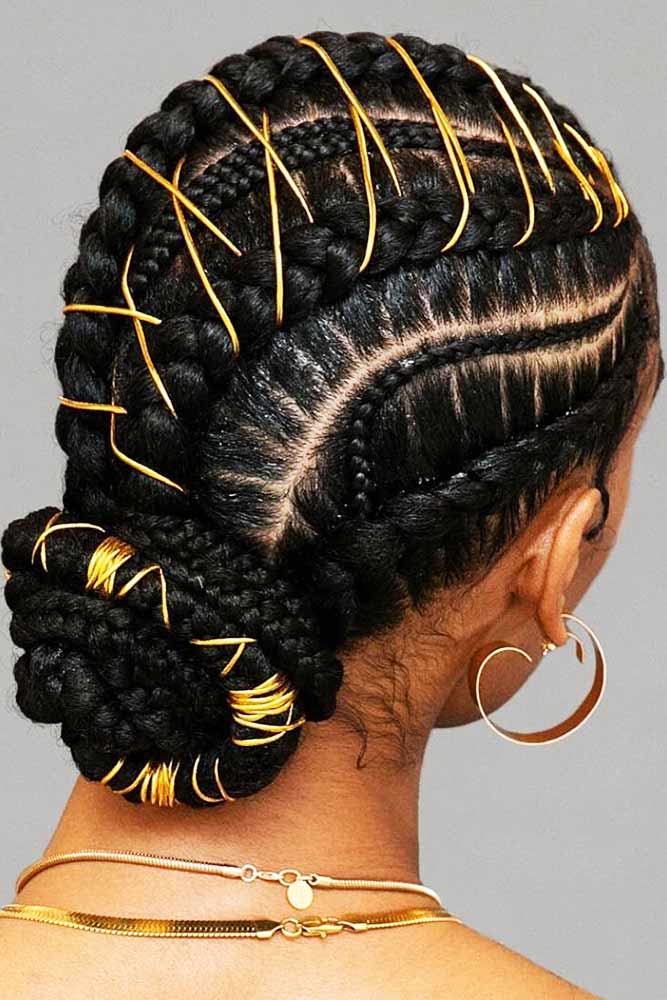 Credit photo: instagram.com/magicfingersstudio
The pattern of your braided hairstyle looks like a natural accessory by default, but it doesn't mean you can't embellish the style itself. Whether it's a low bun or a high twist made of cornrows, some bright ties or beads will only make things more fun and unique. Check out how posh this bun is! Paired with golden ties, it reaches a new level.
Medium Jumbo Braids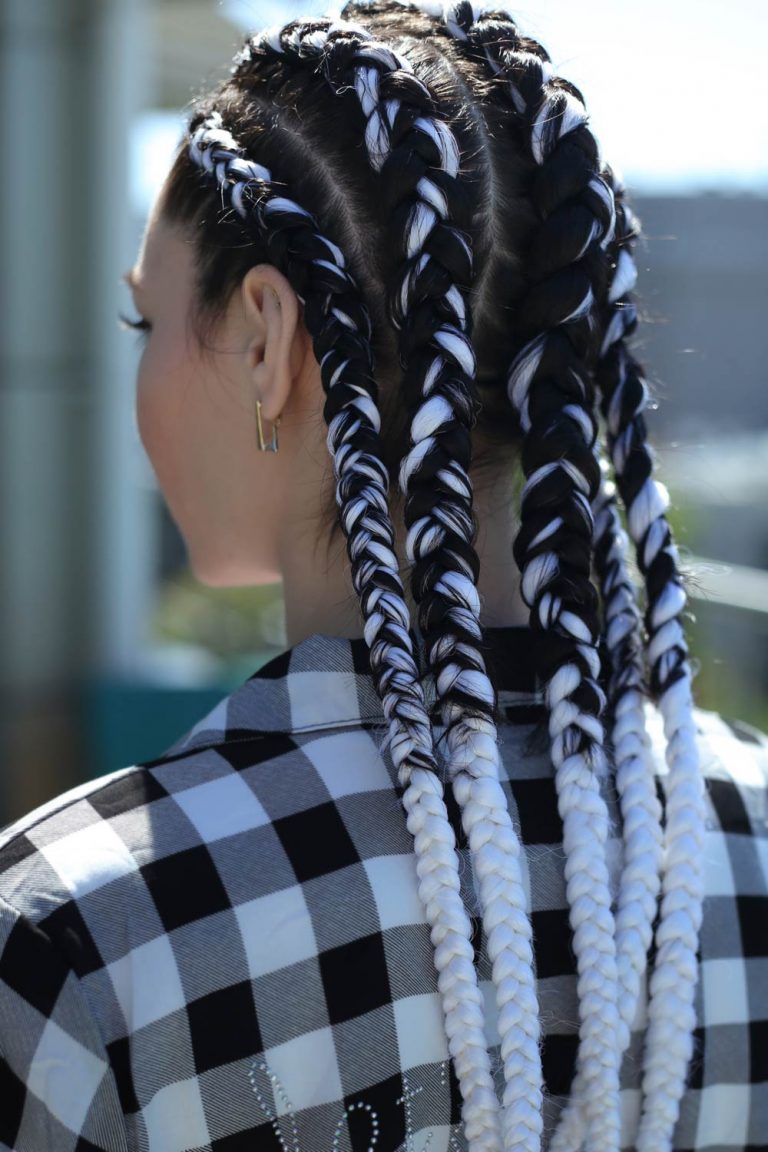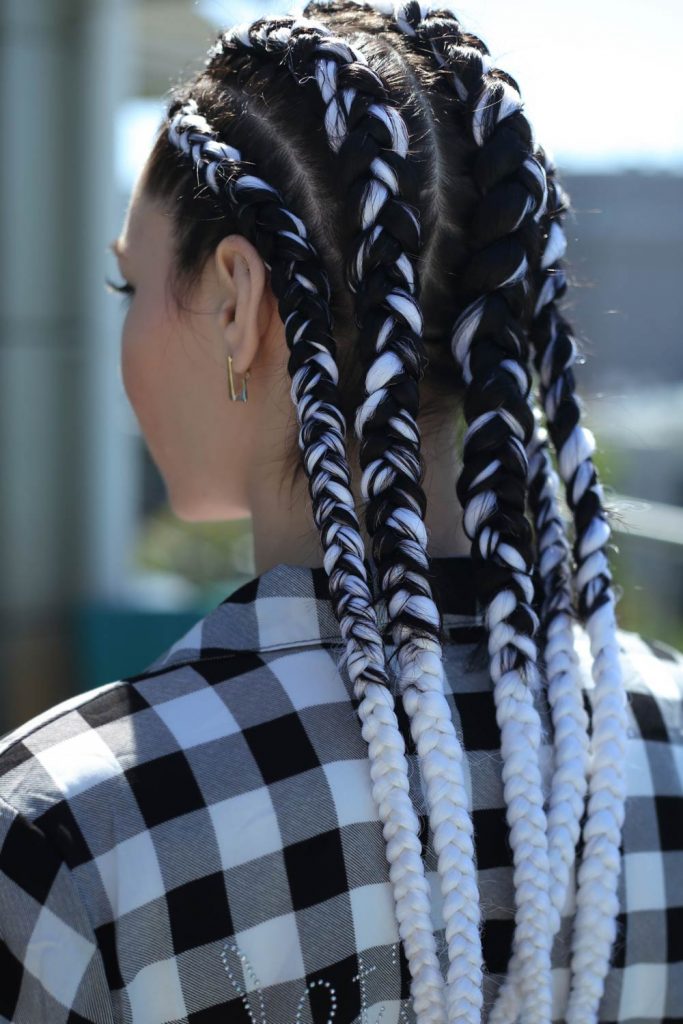 Credit photo: Shutterstock
When life gives you lemons, get yourself lemonade braids in response, they say. In fact, it's one of the most fascinating and attention-grabbing braiding technique, where braids give an imitation of a side-parted hair look. This time, it takes over the head, wrapping it all around and giving life to a new braided trend.
Cornrows Into High Sleek Pony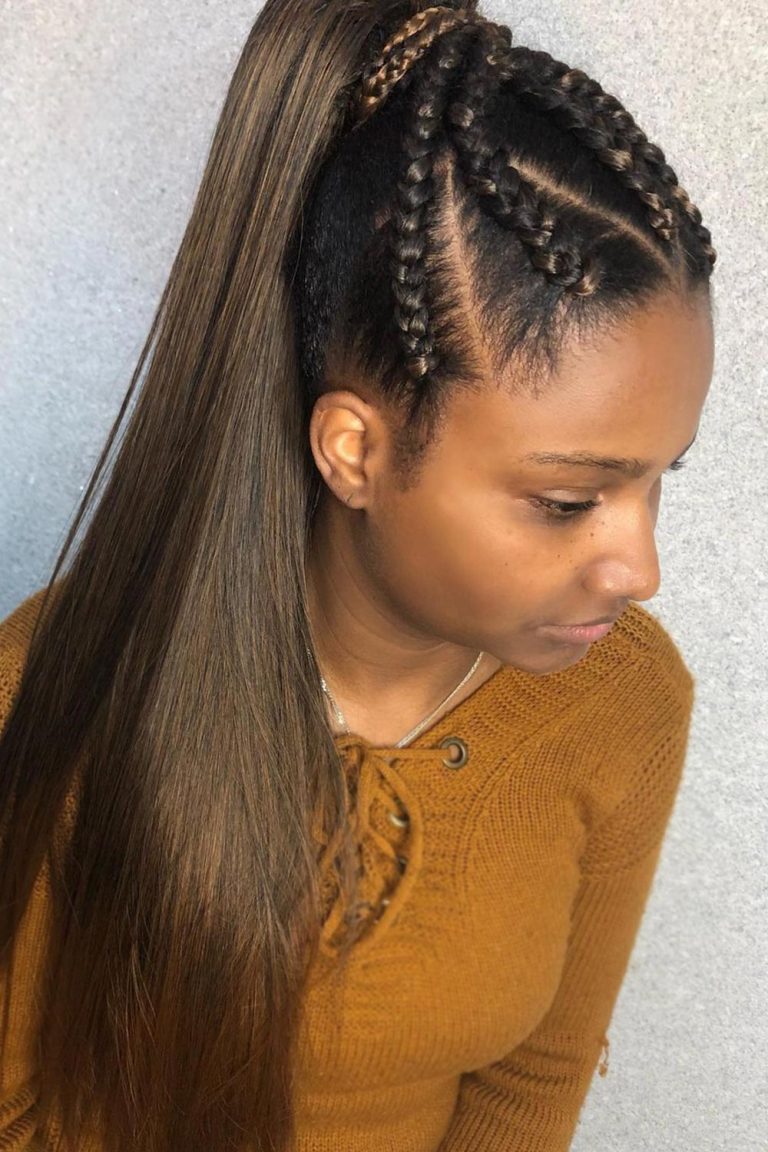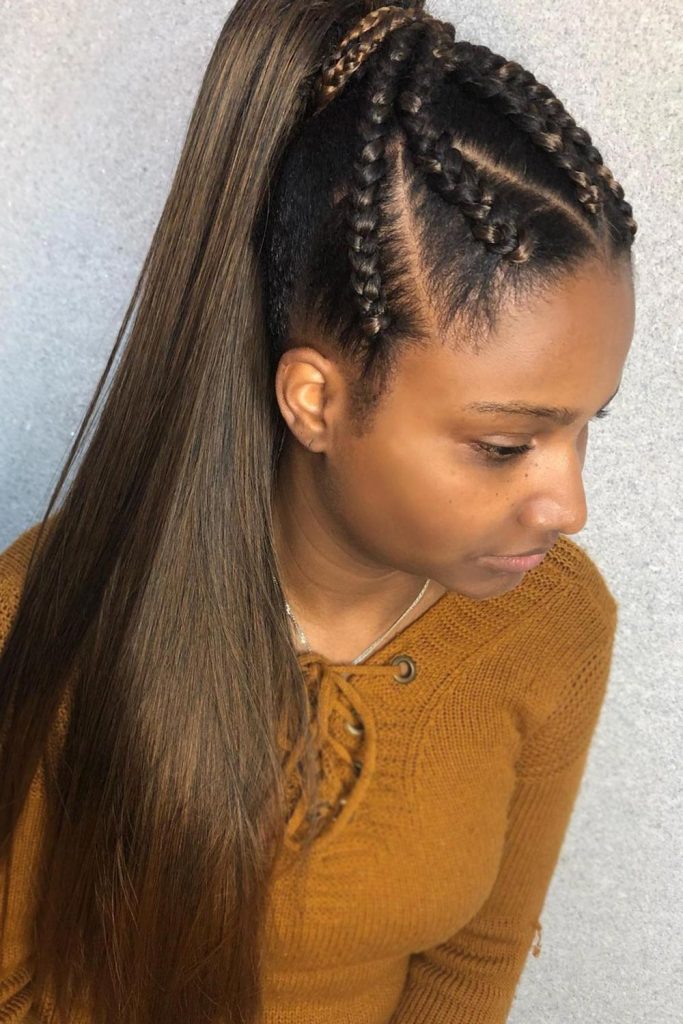 Credit photo: instagram.com/cwbraids_br
Textured at the front and sleek at the back: this idea is an epitome of the perfect play of contrasts. The good news is, you don't need to have super long hair, braid your hair partly, and straighten the rest of the locks. You can go easy way instead. Just cornrow your head, twist all the braids into a little bun, and attach a fake pony. Voila!
Cornrow Braids Pony With Brown Ombre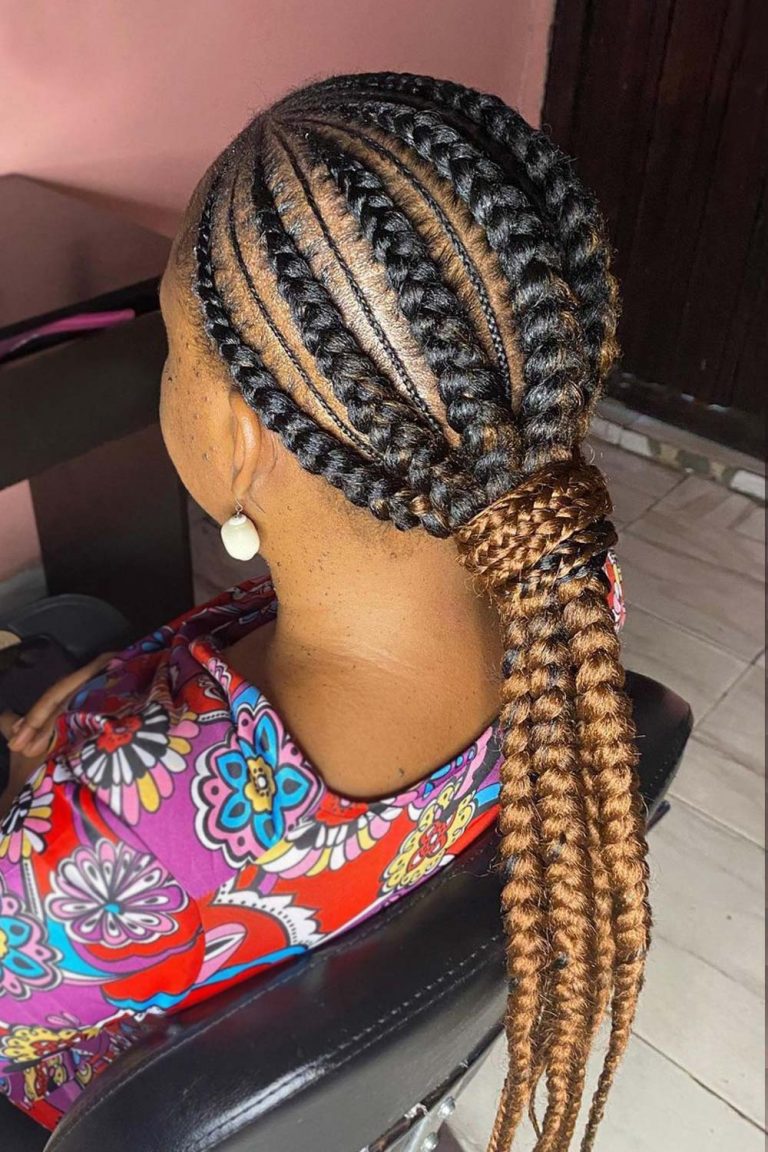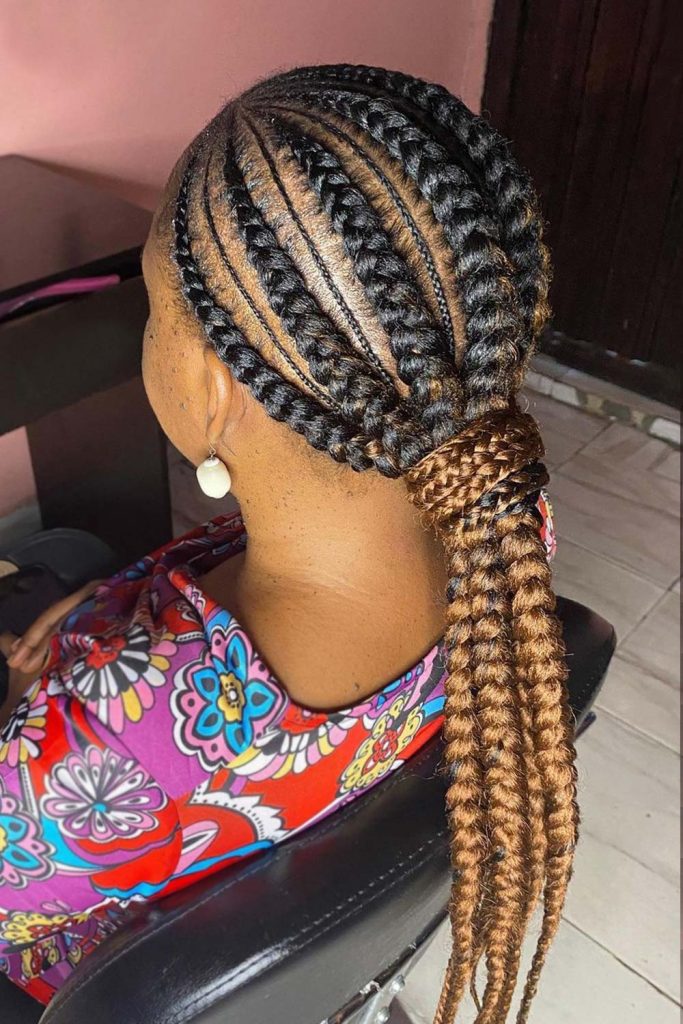 Credit photo: instagram.com/carlisbeautyhair
Cornrows are anything but limitations. While natural hair is very prone to damage, women who have this hair type can experiment with their locks to their hearts' content without spoiling their hair. Surely, if it wasn't for the mother of protective hairstyles - cornrow braids, natural-haired girls wouldn't have this vast styling freedom. And here's one more idea from the countless color experiments you can let into your life.
Braids & Waves
Credit photo: instagram.com/lucasbraids
i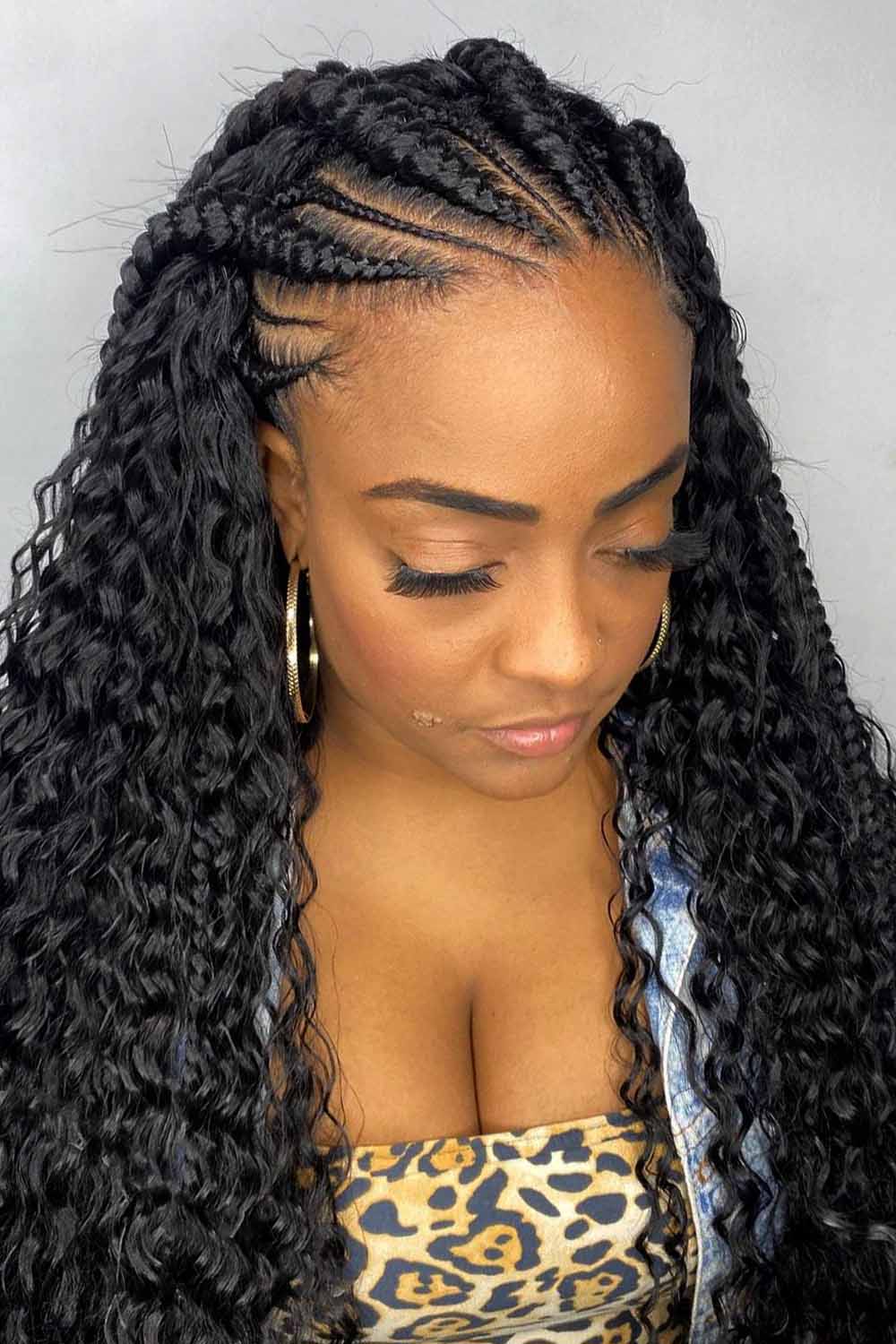 Credit photo: instagram.com/magicfingersstudio
i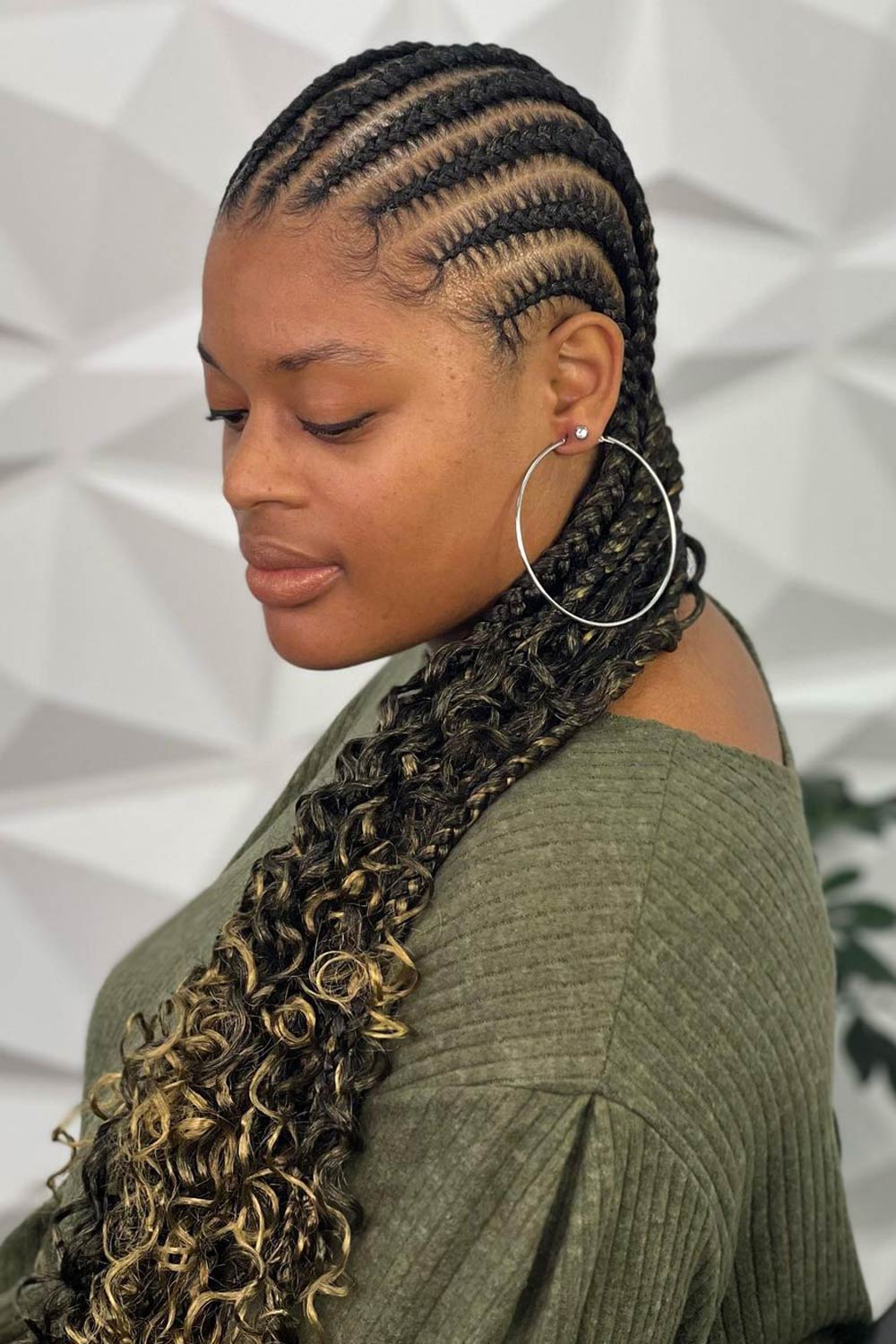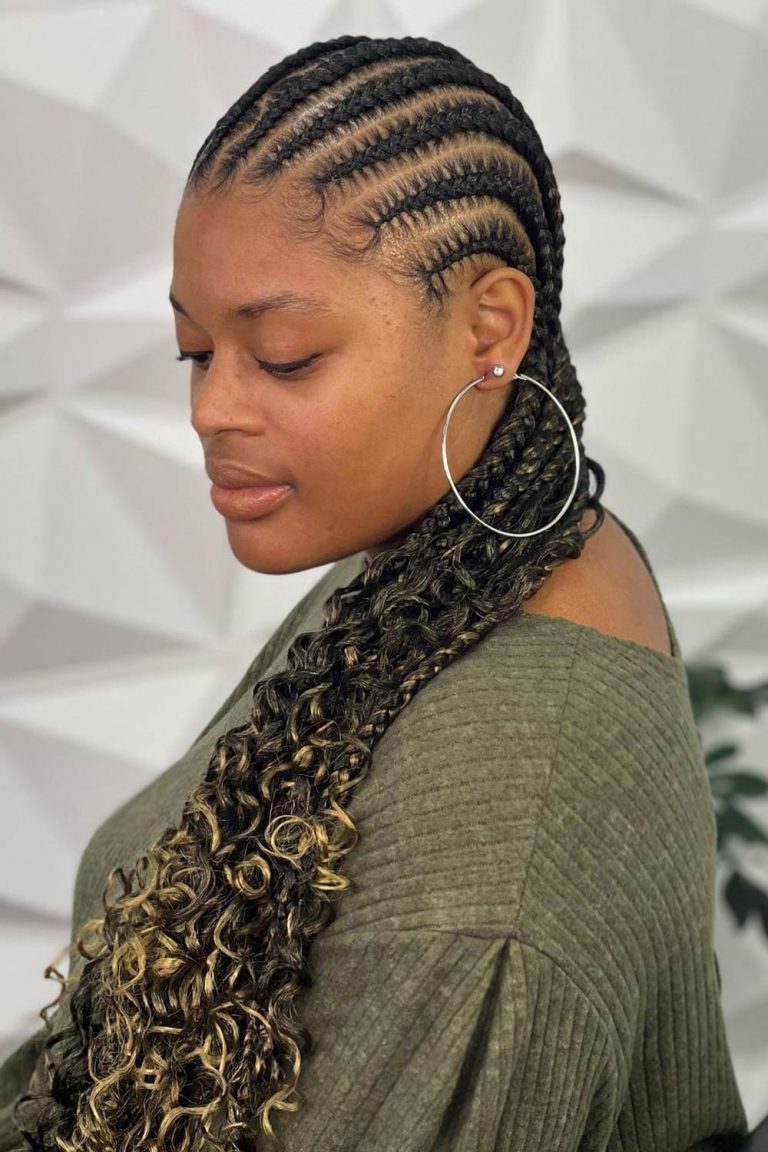 /
Meet one more jaw-dropping facet of cornrow braids! When we look at this creatively shaped tedious hairstyle, it's hard to believe that everything started with cornrowed sections. As told by many braiders and stylist experienced in working with natural hair, creating cornrows is all you need to set your imagination into motion. As you can see, this hairstyle is nothing but a product of freely flying imagination. For a pattern like this, make sure that the sections are clean and outlined, paying attention to the graduation of thicknesses. Section the braids so that they cascade to one side, give them some time, and unravel them to turn the locks into waves.
Two Sleek Cornrows
Credit photo: instagram.com/braidedroots
i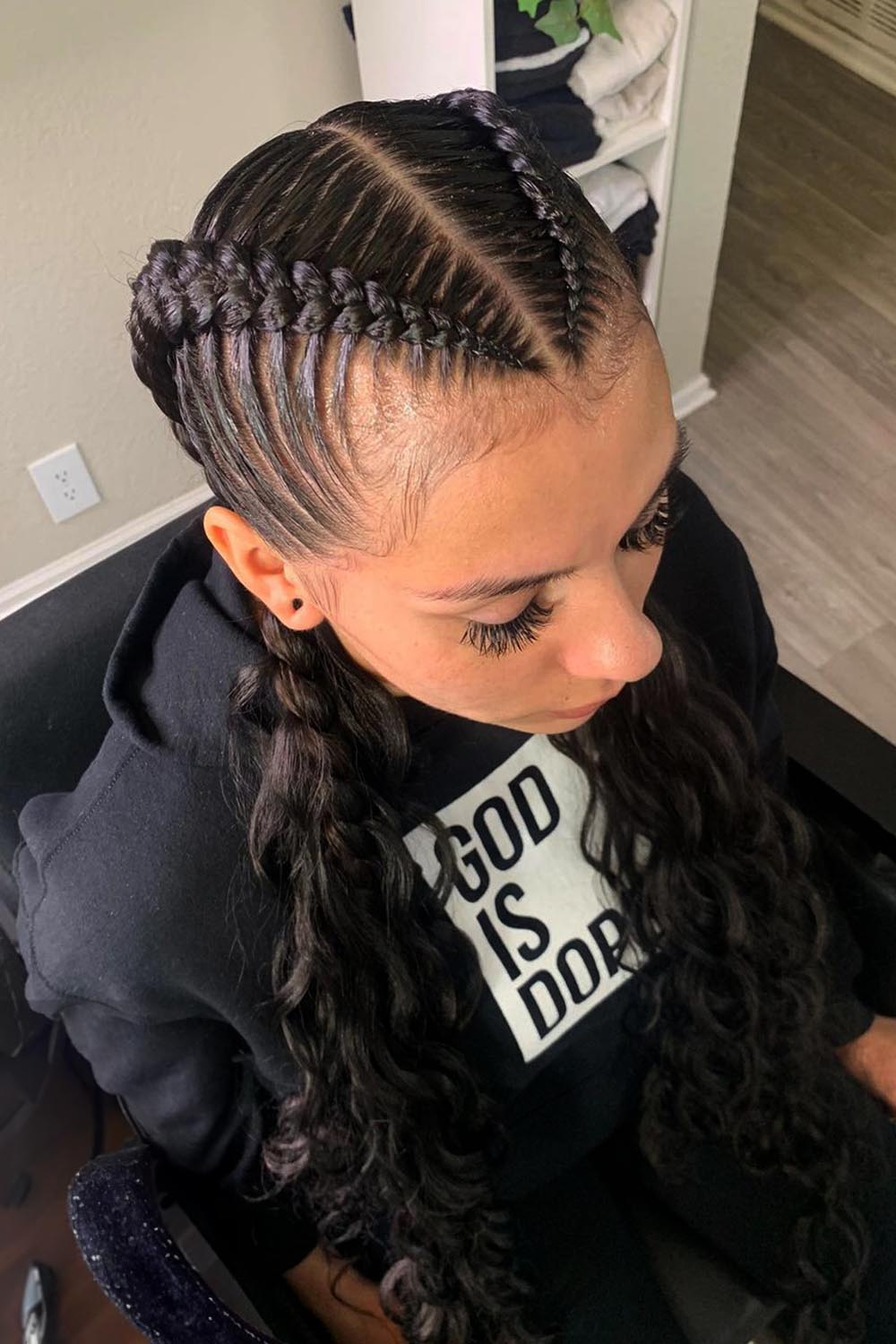 Credit photo: instagram.com/magicfingersstudio
i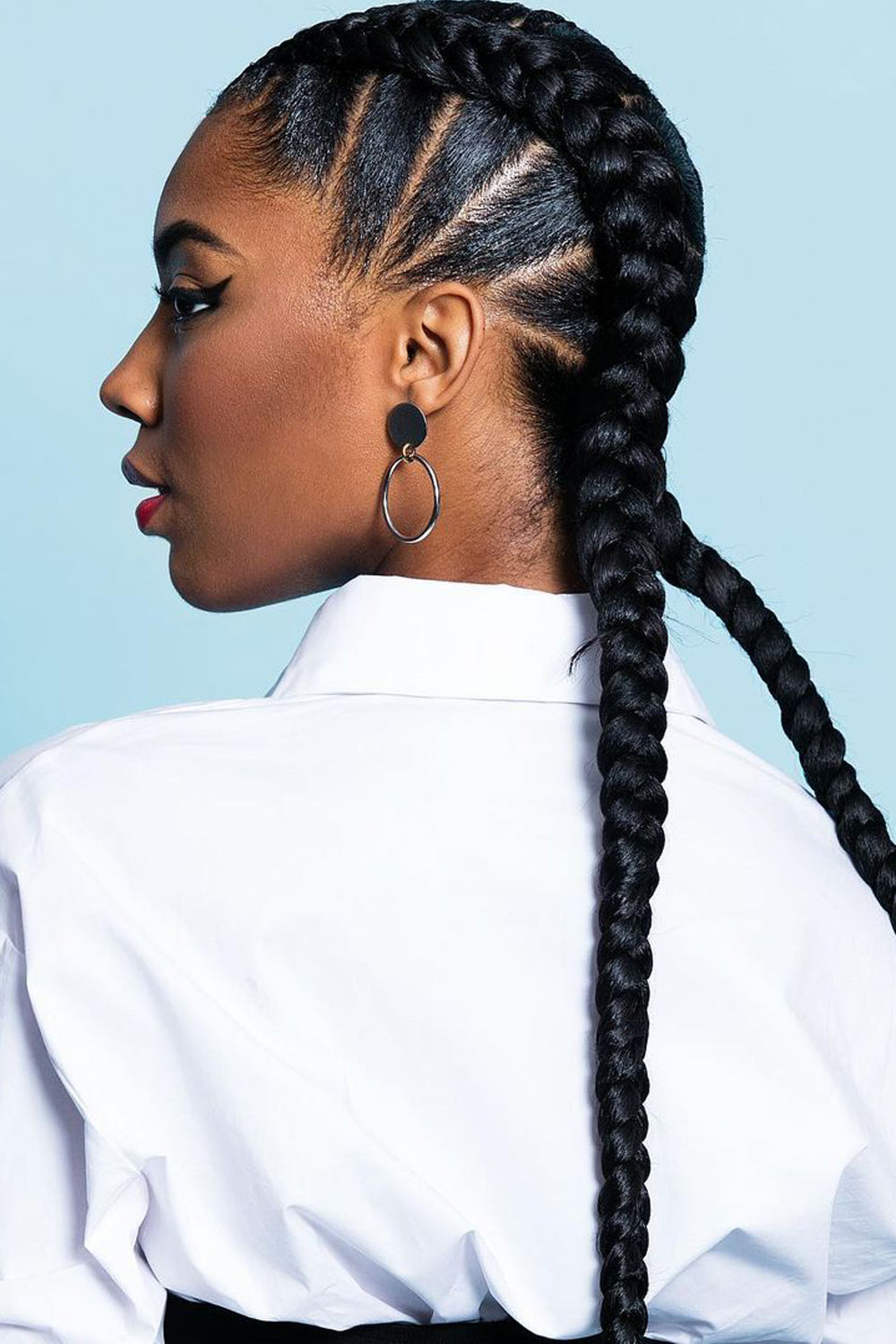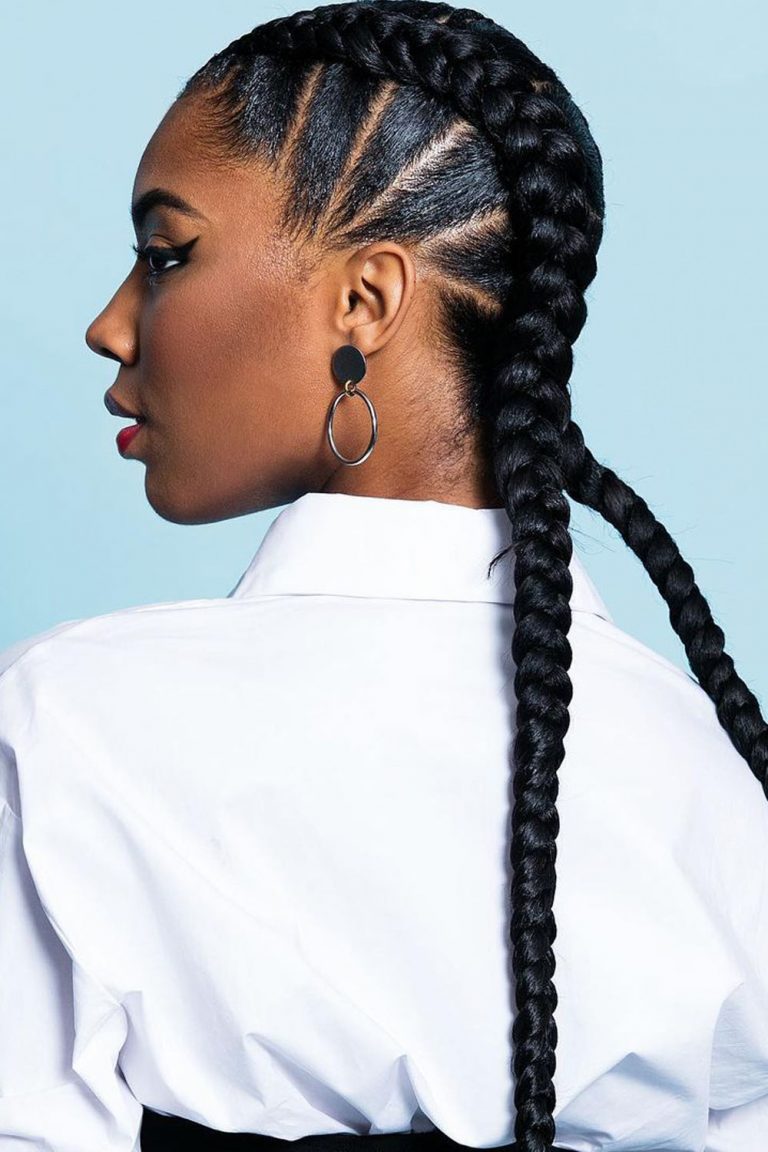 /
Although it will take plenty of time to tame your textured hair, the shine-reflecting finish of this sleek hairstyle is worth all the time and effort. If you aim to shine bright like millions of diamonds and hit people's eyes with your amazing shiny flair, this look will be your go-to. Part your hair as classically or creatively as you want, working a lot of firm gel into your hair before braiding. What makes this idea so special is that it steps out of the classic cornrowing pattern, giving a dramatic framing touch with its two thick braids on the top.
Cornrows Into Low Pony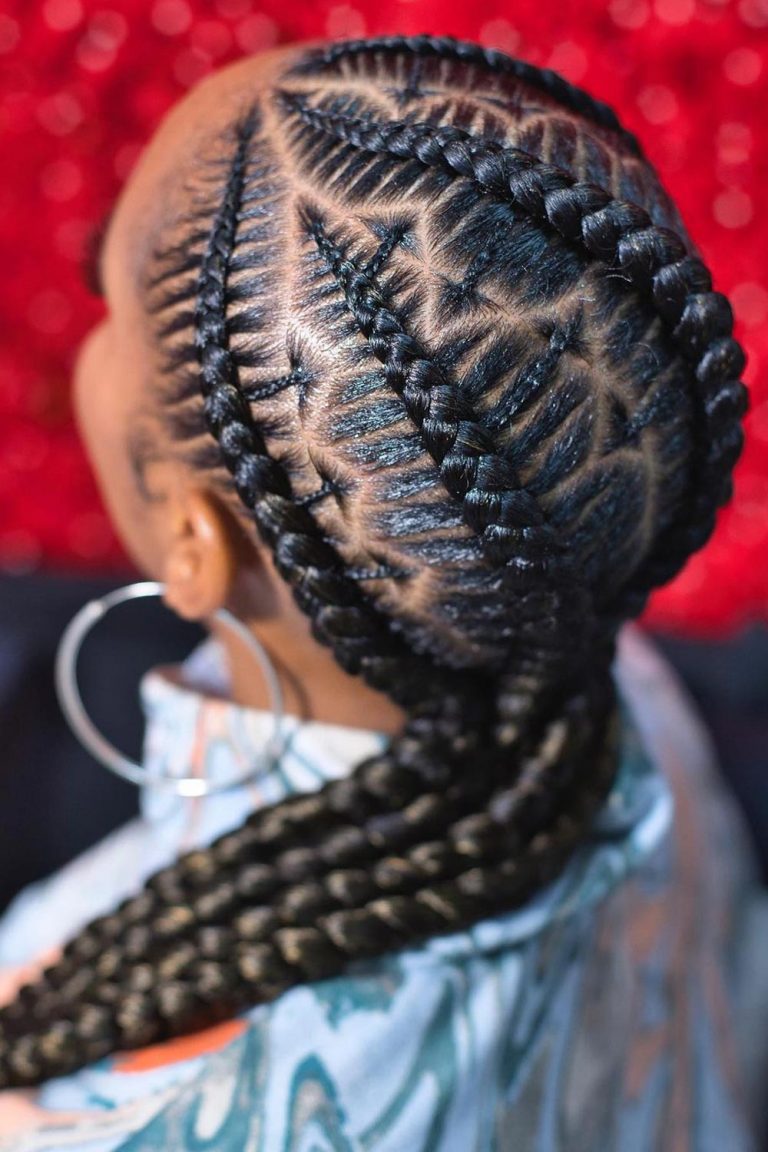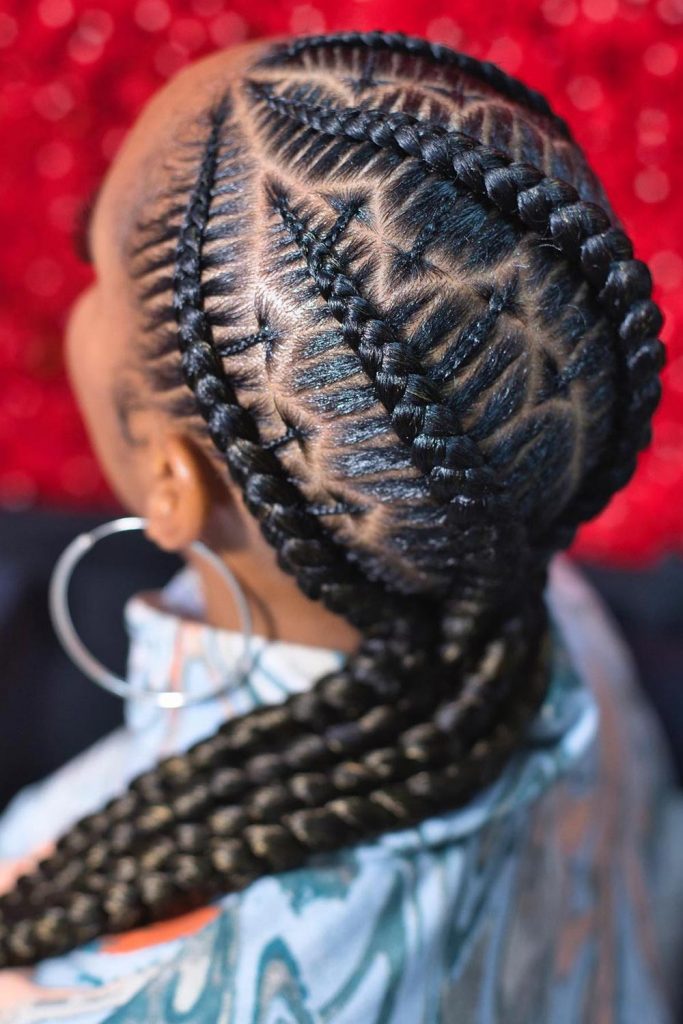 Credit photo: instagram.com/magicfingersstudio
There's nothing like a simple, yet authentic natural hairstyle that enhances the gorgeous cultural vibe of a natural-haired woman. We recommend those who want to keep their everyday looks simple but significant going for medium-textured cornrows with a loose curly ponytail. This hairstyle will keep your hair in place while still showcasing the beauty of your enviable mane. On top of that, it's as casual as it's festive if you have the right accessories at your fingertips.
Stitches And Parts
Credit photo: instagram.com/boskiesploty
i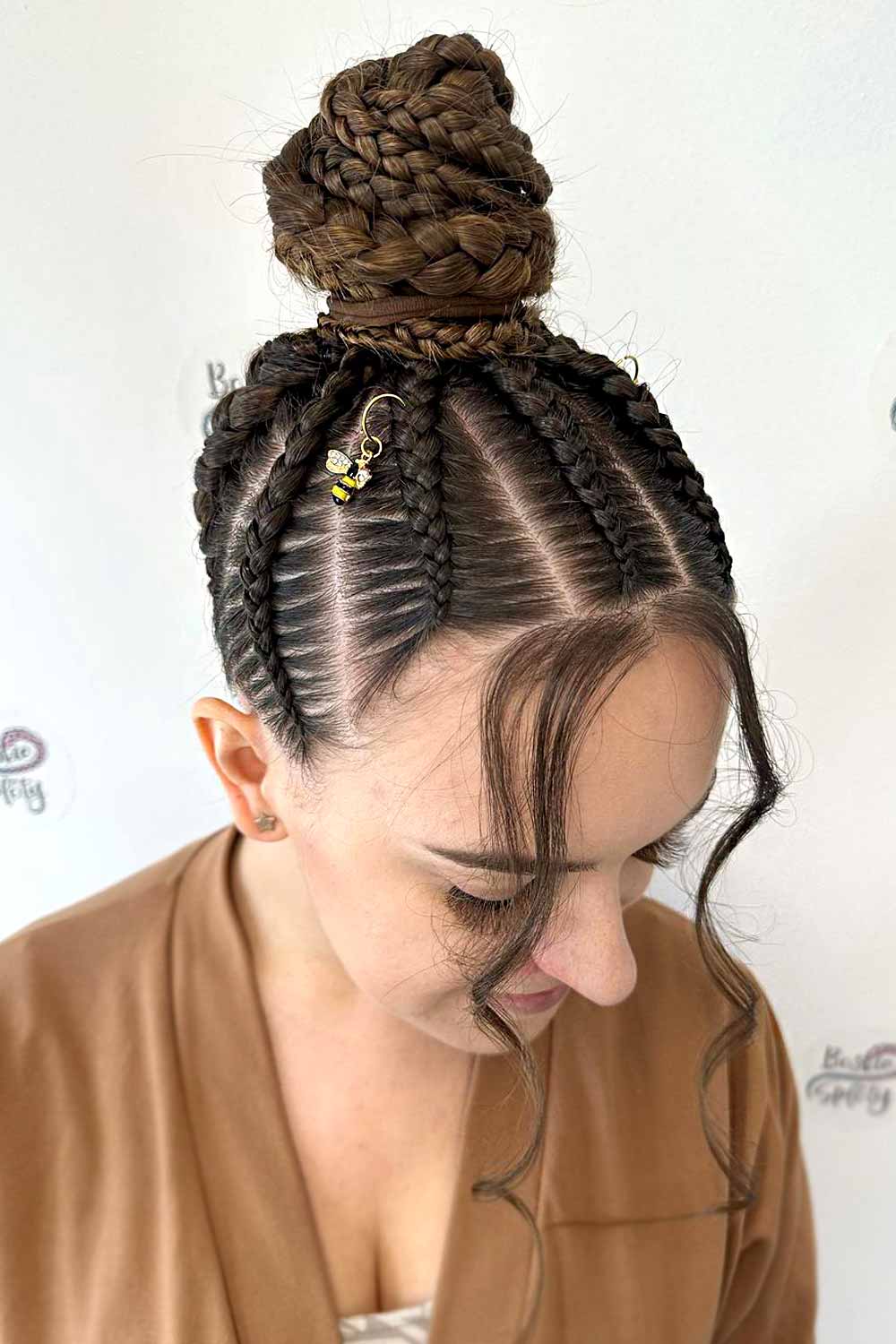 Credit photo: instagram.com/boskiesploty
i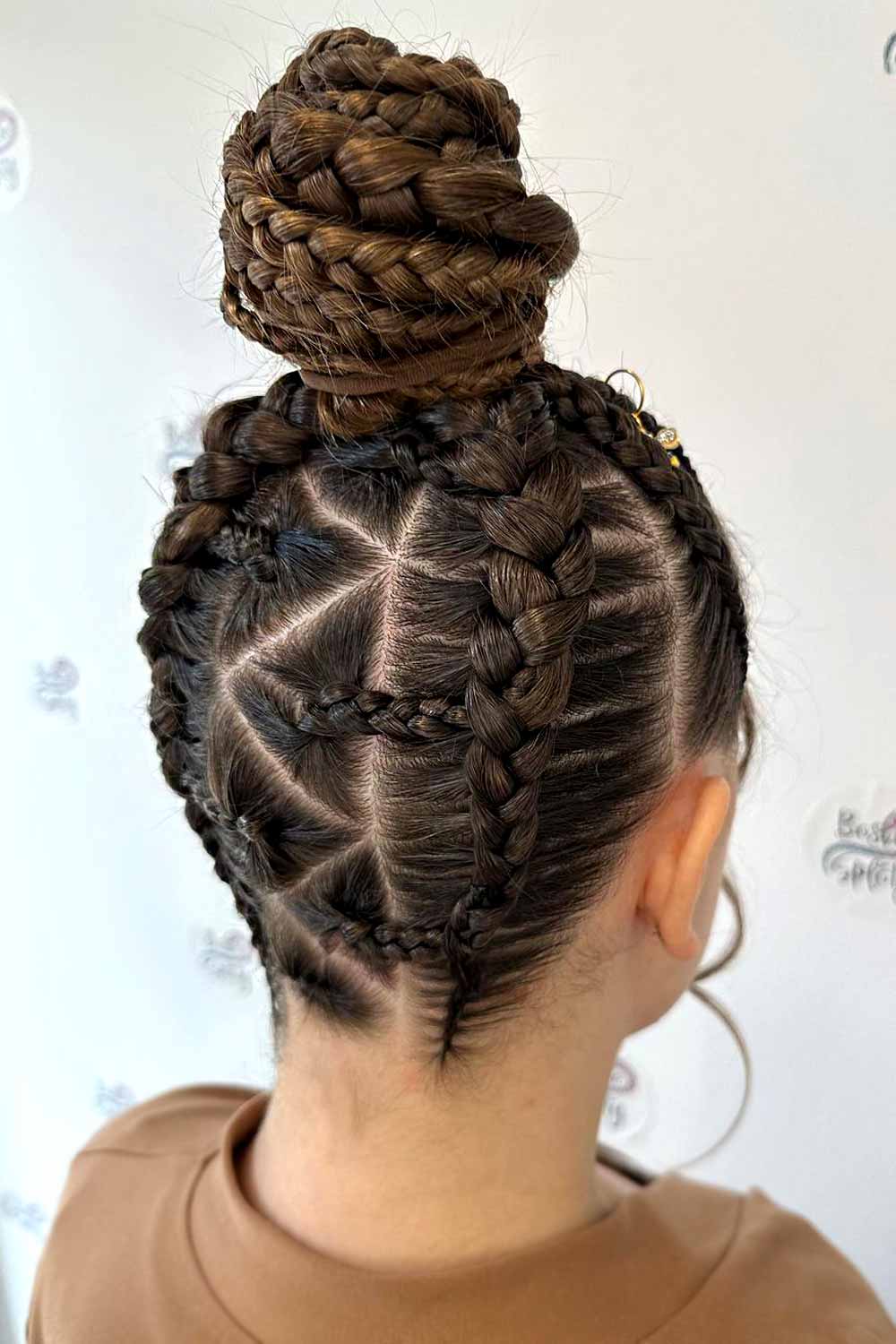 /
It's all about details, isn't it? One of the greatest things about wearing cornrows is that you can customize every single detail of your cut, as well as regulate how detailed your style should be. If you have enough time and a will to stand out in the crowd, you can focus on the parts for your cornrows and play around with stitch braids. In fact, this hairstyle is better than any accessories due to its distinctive texture and attractive pattern, so you can literally rock an embellishment on your head.
Bright Dutch Cornrows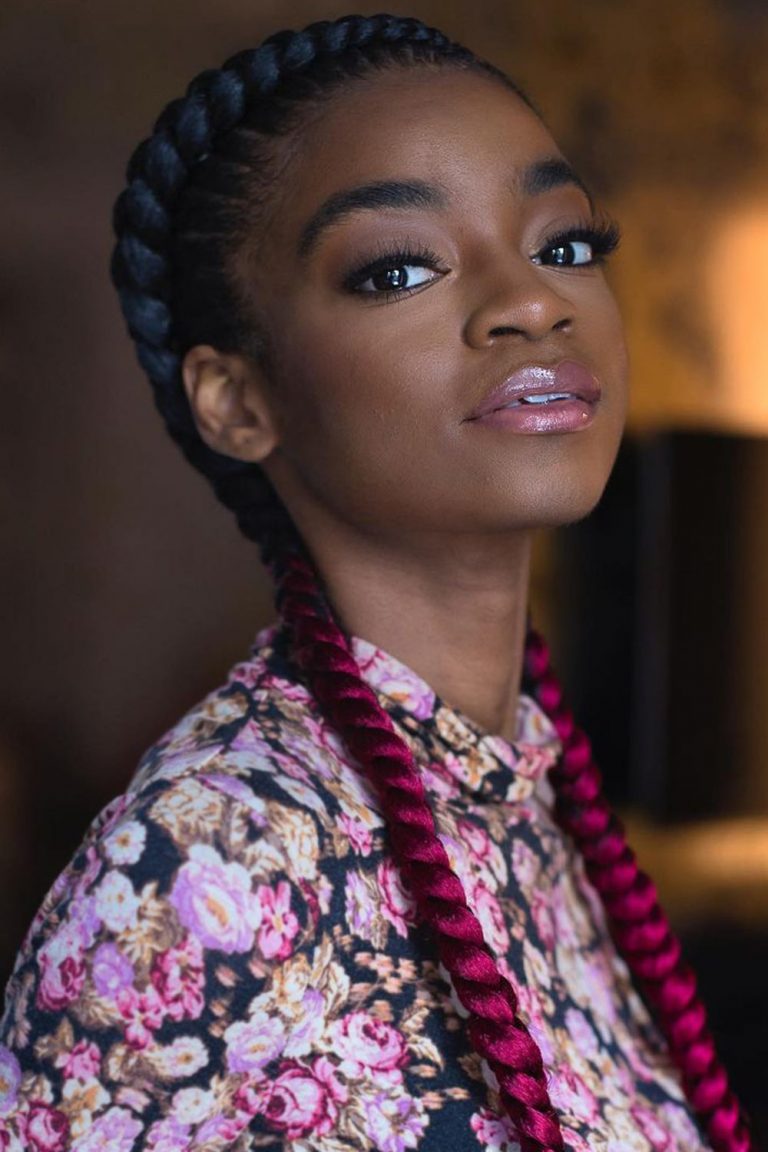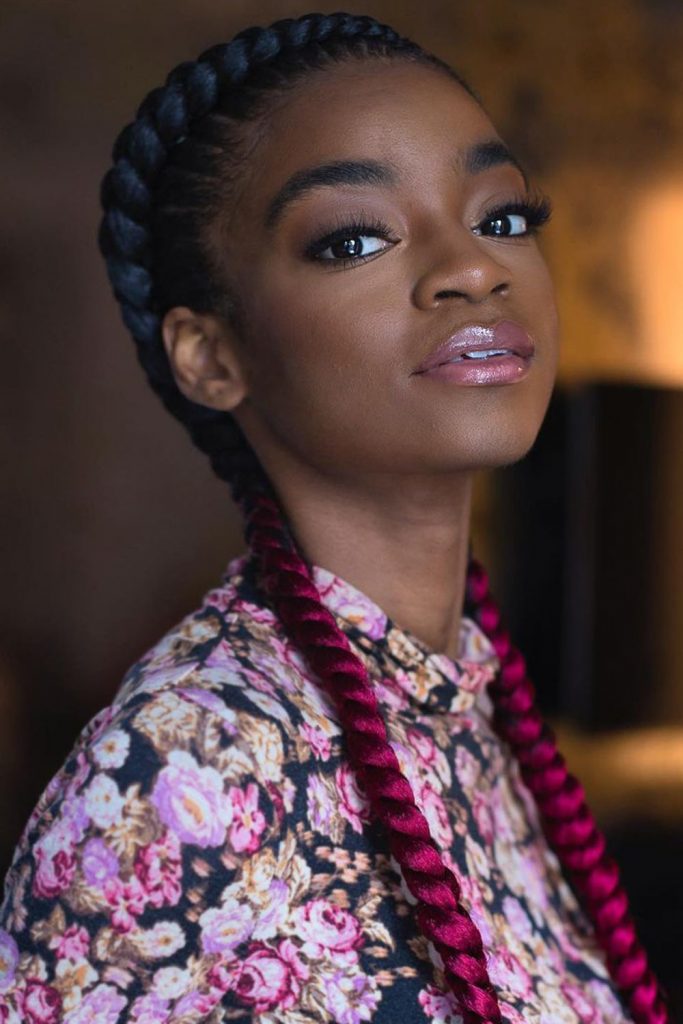 Credit photo: instagram.com/magicfingersstudio
Bright Dutch cornrows are no longer a hairstyle; they're a real piece of art that should be exhibited all around the globe to show women how far they can go with braids. This look is radiant not only for its amazingly sharp square-like sections but also for the seductive combination of two popular braiding techniques. Oh, we almost forgot: colorful streaks serve as an exclamation point of the magnificent look. And that's only the beginning of how creative cornrows can be!
Neat Cornrows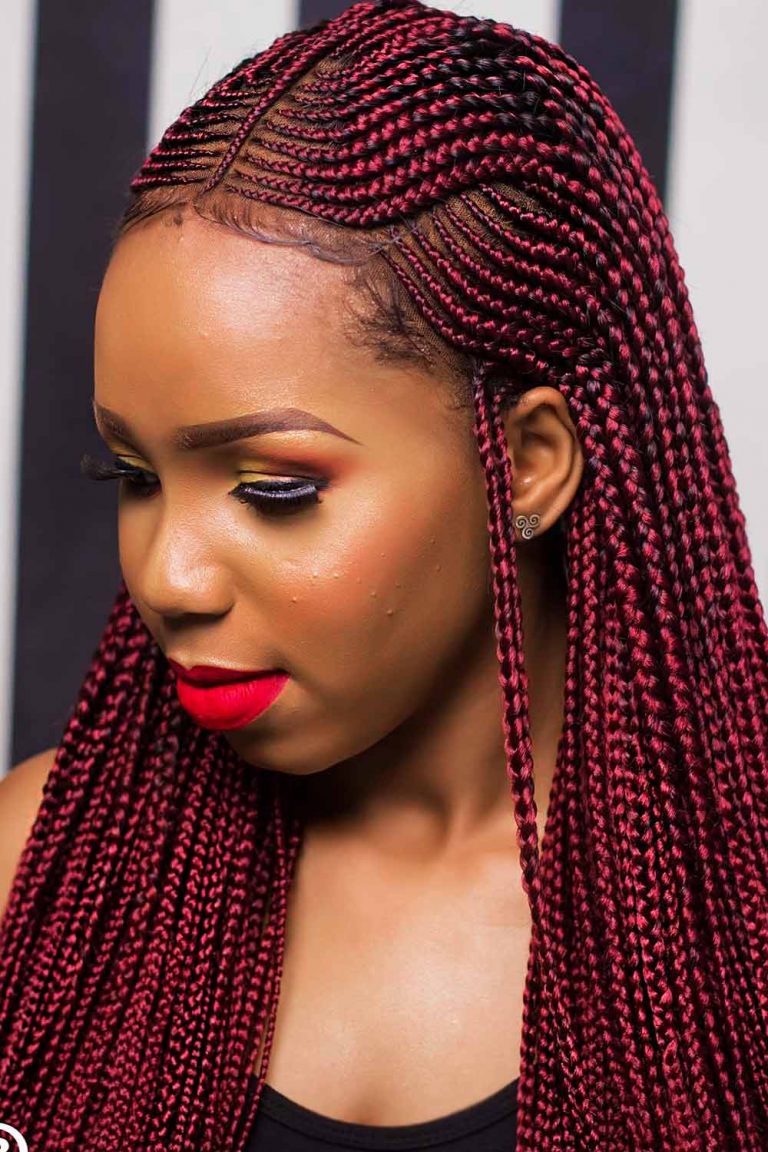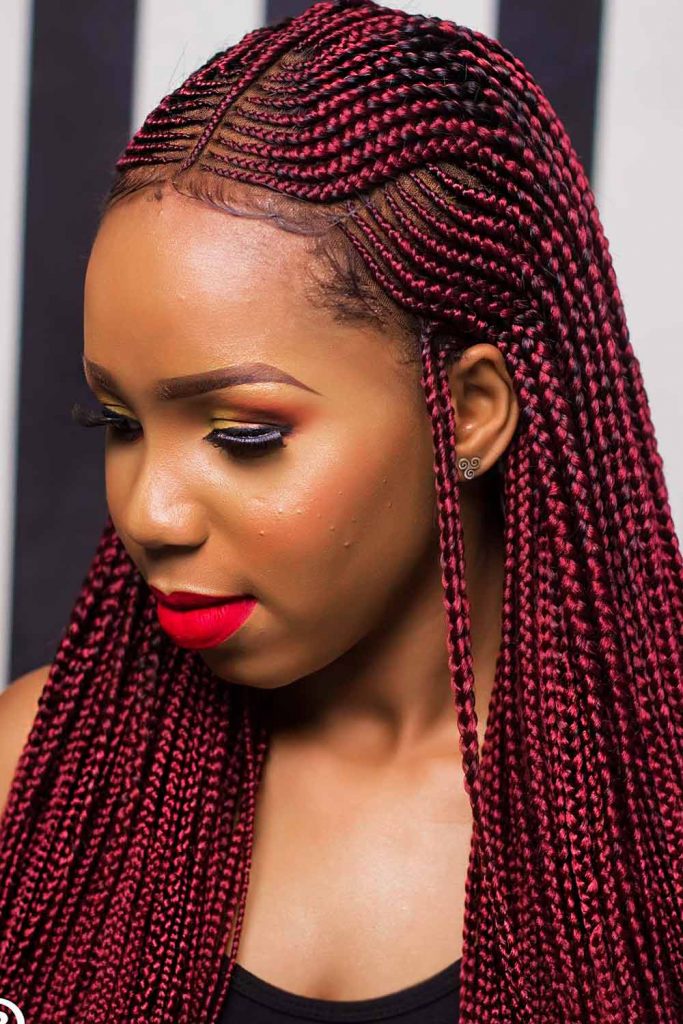 Credit photo: instagram.com/wigsbygaga
Neatness is the key to perfect cornrows. All the braids should be sectioned and shaped evenly so that they form a harmonic single whole. Yes, cornrows are a special form of art to which every woman should take a thorough approach. While you can always experiment with the shape and size of your braids, nothing can compare to a look full of identical little braids with a shiny finish and even texture.
Fulani Cornrows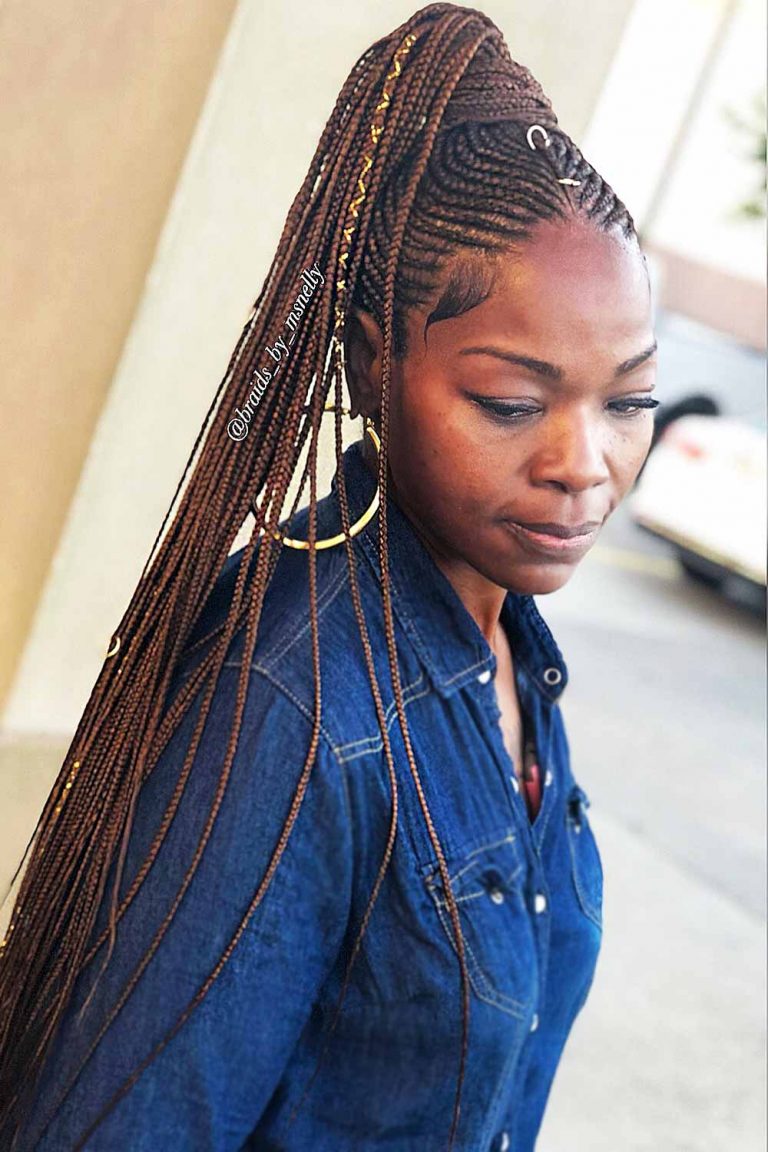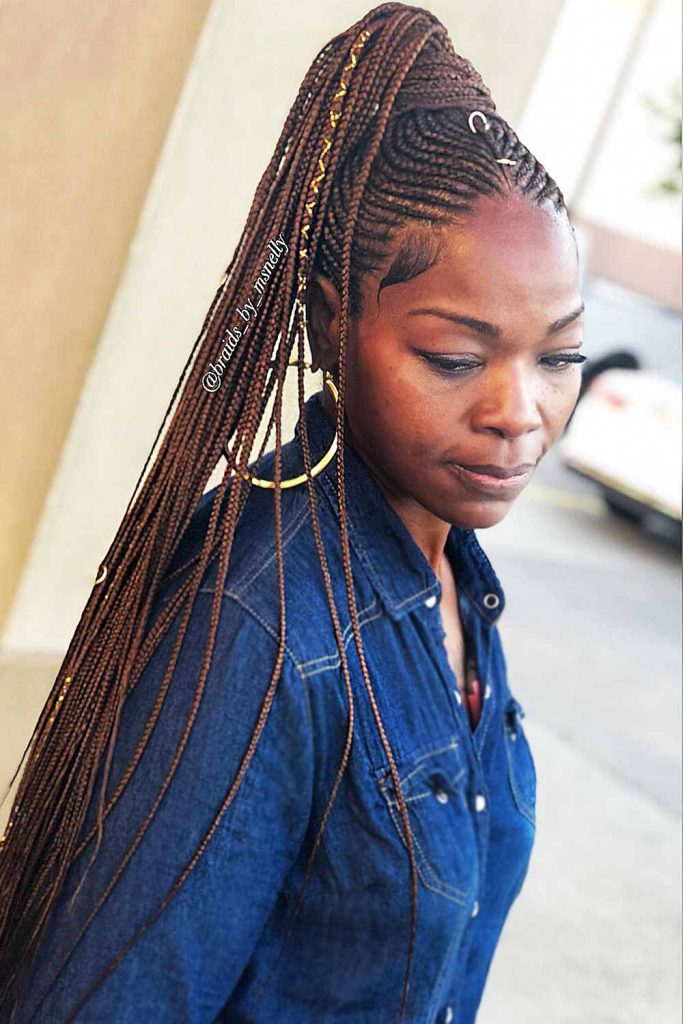 Credit photo: instagram.com/braids_by_msnelly
Fulani cornrows are another hairstyle with which you can't ever go wrong for one simple reason: it's classic and authentic, therefore ageless. There are also lots of ways to add some modernity to the timeless ethnic look by accessorizing them with anything from clips to beads. Here, for example, the look follows the initial pattern of the Fulani style that features a vertical cornrow and heavy beads finishing the style.
Center Parted Cornrows With Beads
Credit photo: instagram.com/silverhairgh
i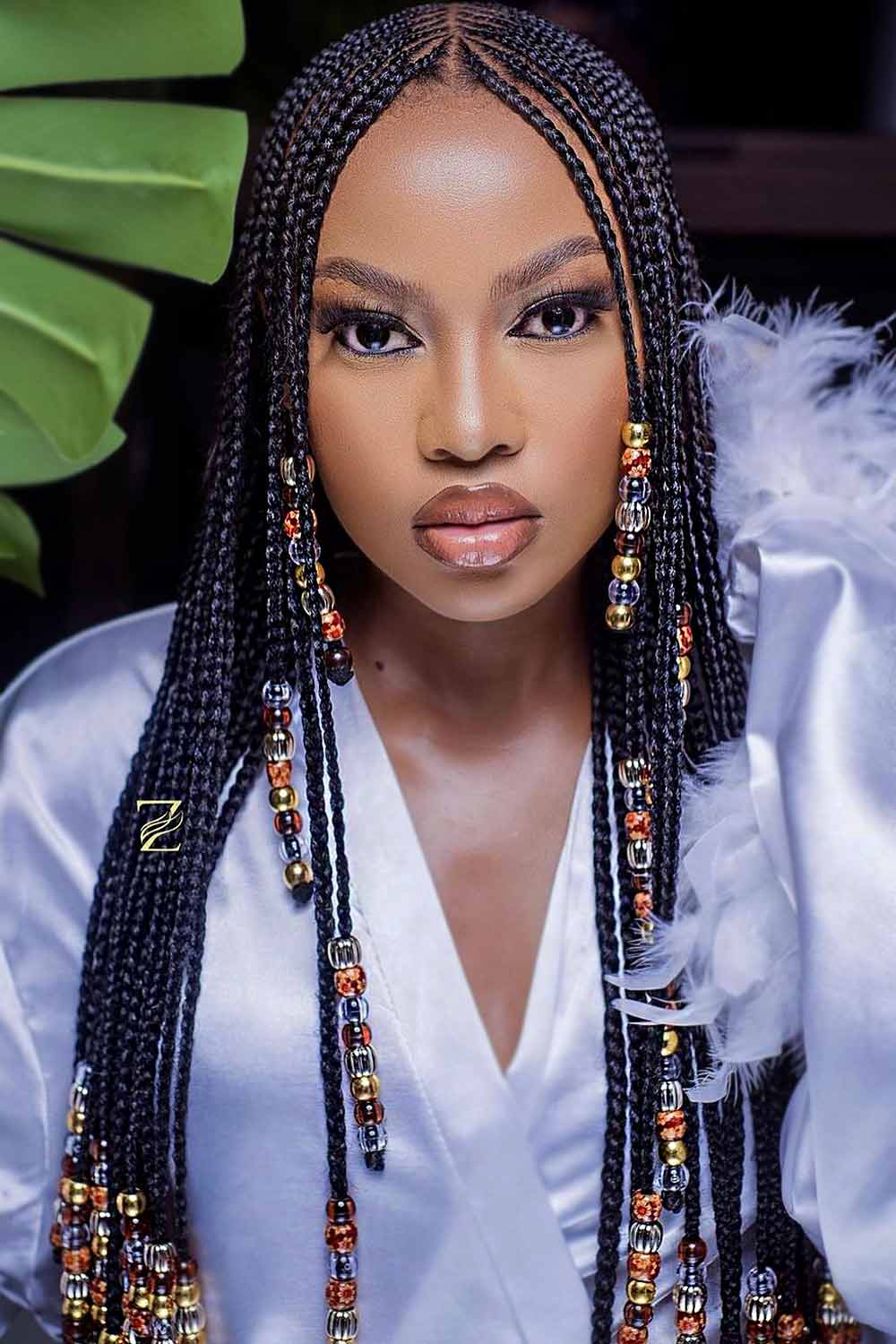 Credit photo: instagram.com/wigsbygaga
i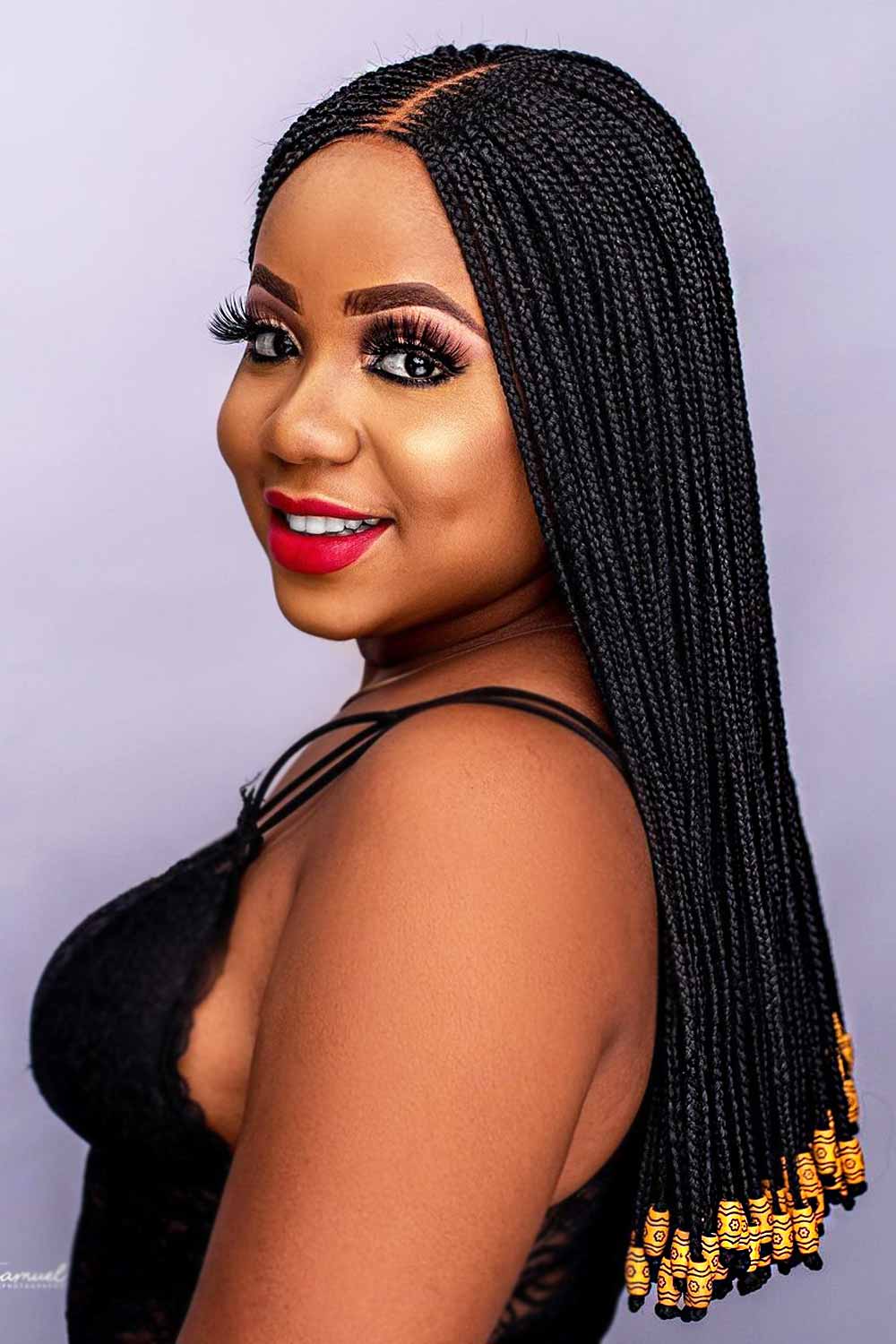 /
By styling your cornrows with a center part, you can get yourself a hairstyle that will give your face a stunning framing touch. Although they lye flat on the top, when the braids fall on the shoulders, they create two volumetric twists on both sides, which can balance out the whole silhouette. Whether you have chubby cheeks or prominent square jawline, you will love the way this style complements your appearance.
Micro Cornrows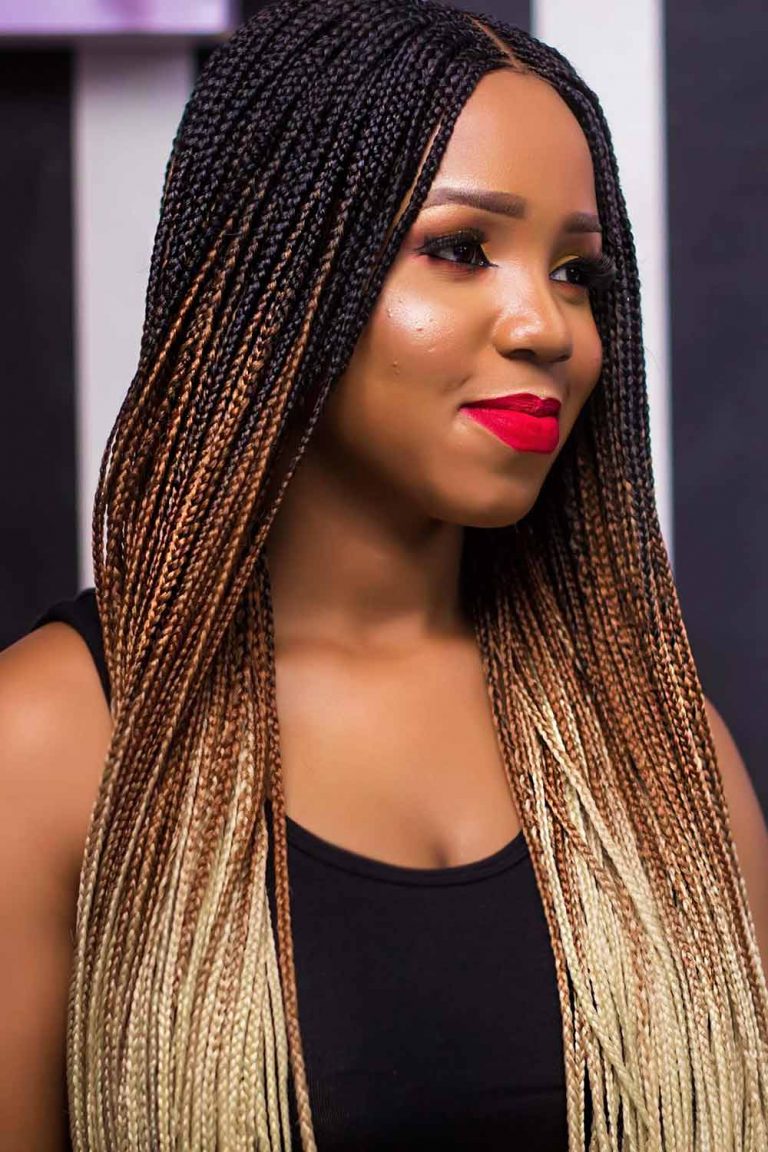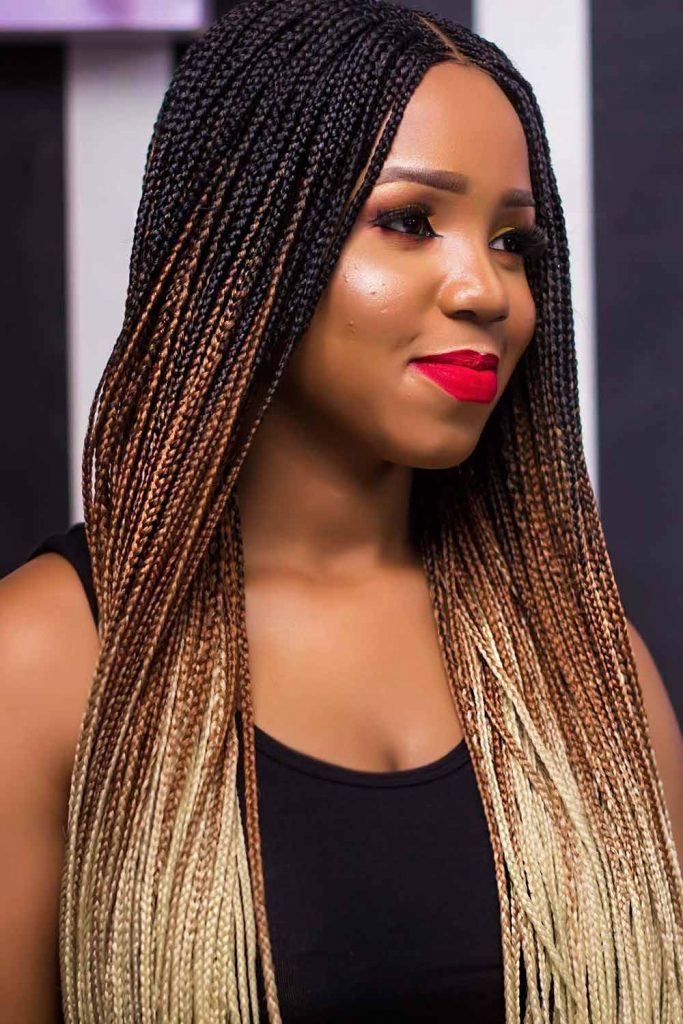 Credit photo: instagram.com/wigsbygaga
If you want a distinctive and detailed look, there's no need to create lots of details with your hair. Instead, you can simply opt for micro cornrow braids. They have a very defined appearance and give a textured finish due to their classy tiny shape. As for styling options, they're very manageable in terms of styling, so you can switch between various half-ups, updos, and braided variations throughout the week.
Cornrows Into Knot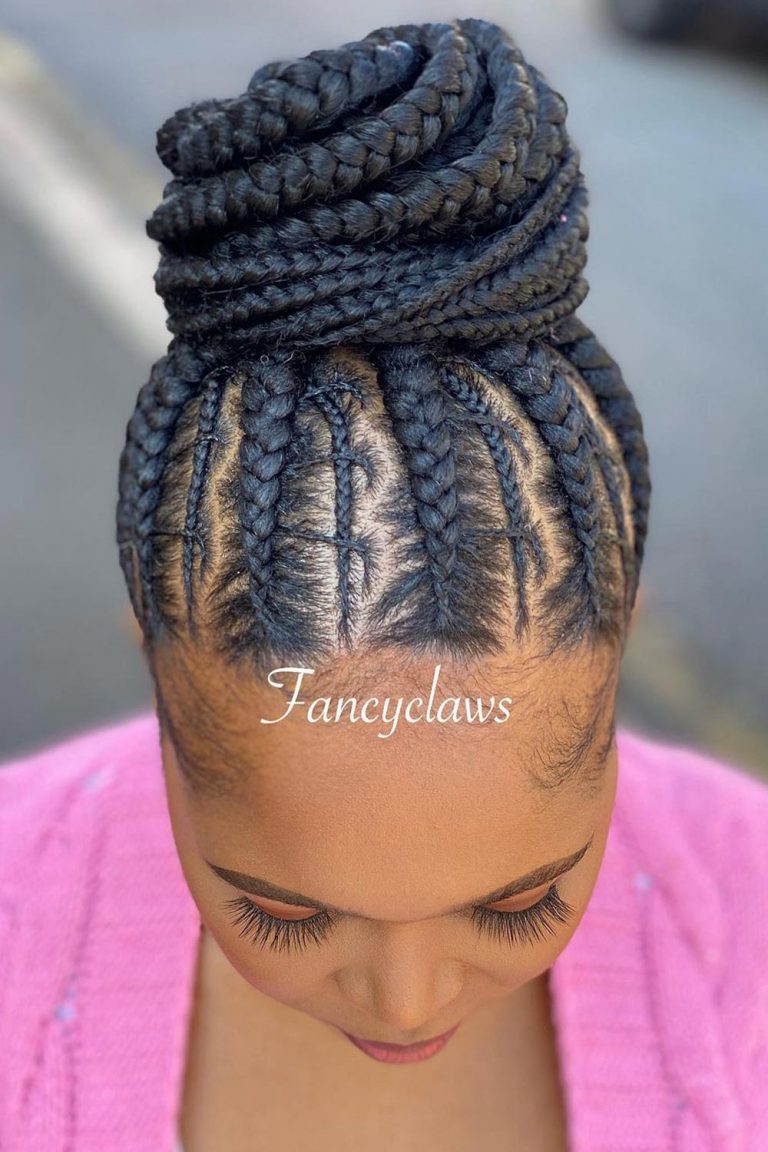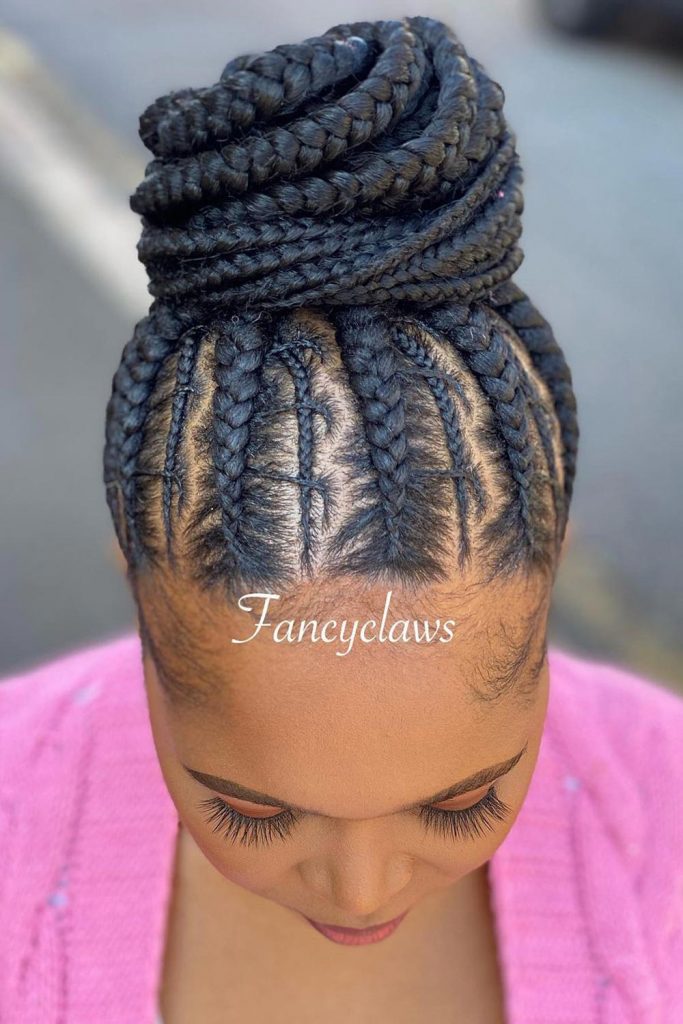 Credit photo: instagram.com/fancy_claws
Do you recognize the good old top knot that women do when they want to keep their hair out of the face? As it turns out, this hairstyle is not as simple as it seems to be when it comes to its cornrowed versions. The braid on the top is thicker than the others, which creates an interesting composition. What women love about this style the most is the way all the braids turn into a knot, gently twisting on the top of the head. As a matter of fact, this style looks so posh and luxuriant that it's worth a red carpet walk.
Cornrows Into Pony With Waves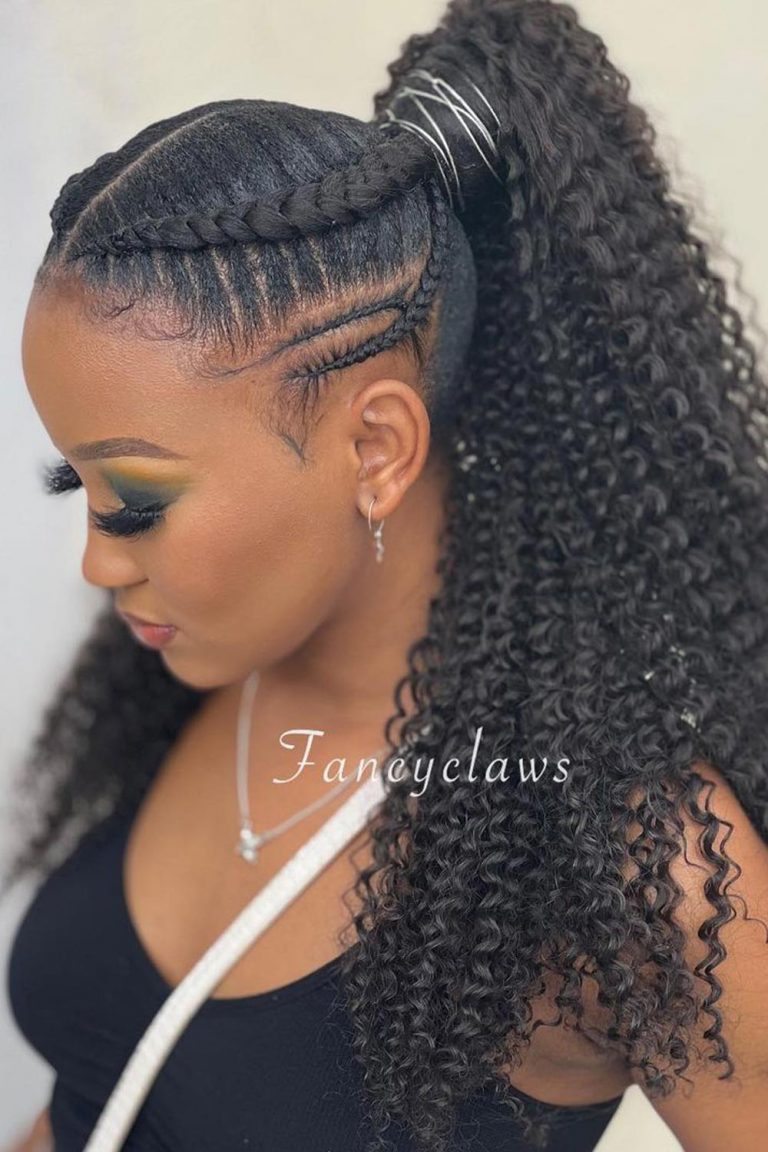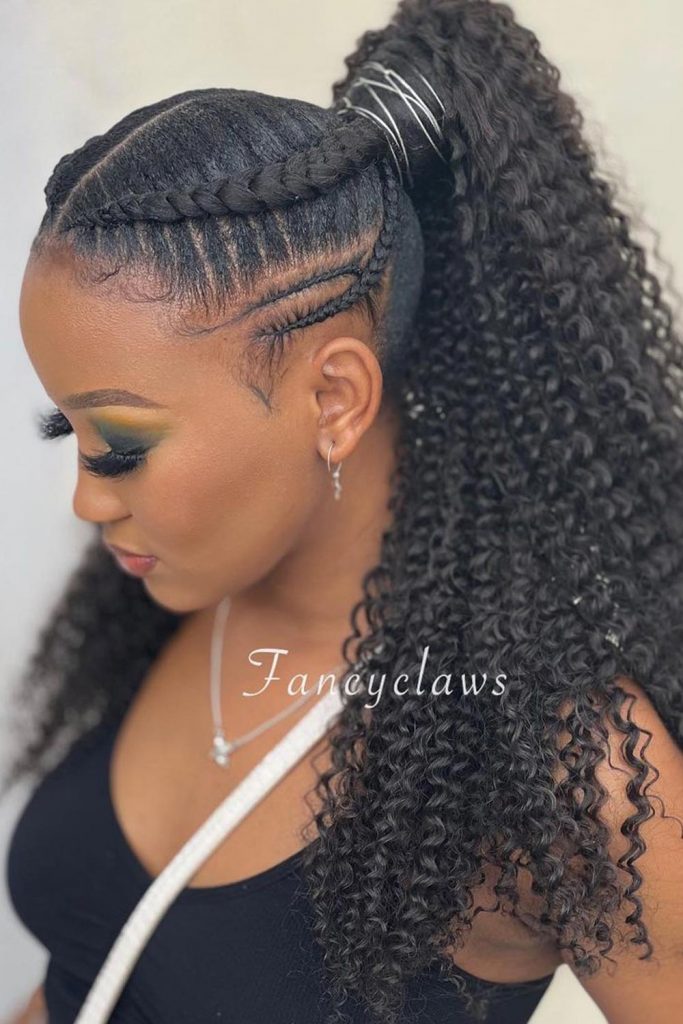 Credit photo: instagram.com/fancy_claws
You can diversify your daily styling routine with micro braids. Besides different ways to section your braids, there are some amazing ideas for spicing up their texture. For example, if you're into simple hairstyles like ponytails, you can make them voluminous by unbraiding the bottom parts, thus adding tons of volume to the pony. Since you have a lot of braids, you can also finish the look by wrapping one of the braids around the base of the pony: it will make the style more balanced and stylish.
Micro Cornrows Into Twisted Bun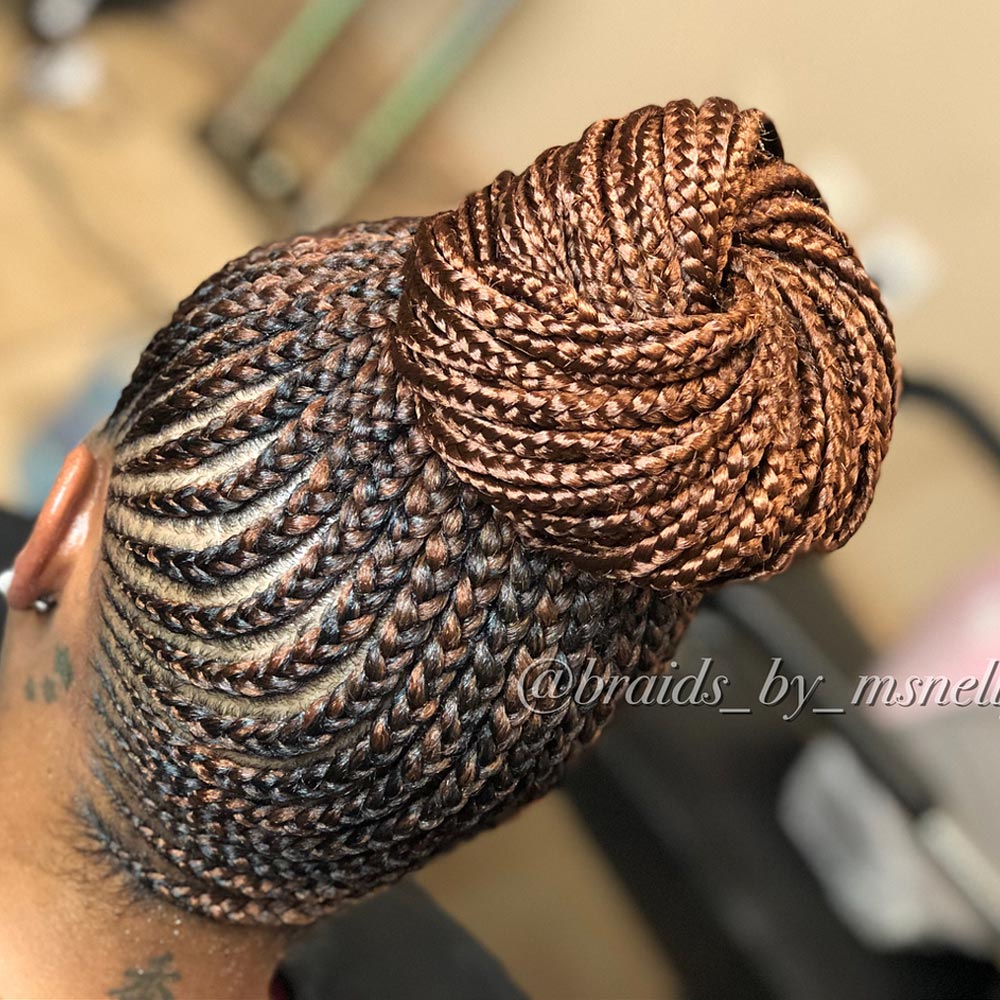 Credit photo: instagram.com/braids_by_msnelly
Micro braids are gentle and easygoing, which allows for the cleanest and neatest hairstyles you could ever imagine. Here, they're styled so splendidly as if they were combed: and that's another reason to try them out. Make sure to moisturize your braids to keep them hydrated and maintain the silky finish, and then work some firm styling product into them. After that, put all your hair up and start twisting it high so that none of the braids sticks off. Secure the look with bobby pins and prepare for tons of compliments.
Cleopatra Style Knot Cornrows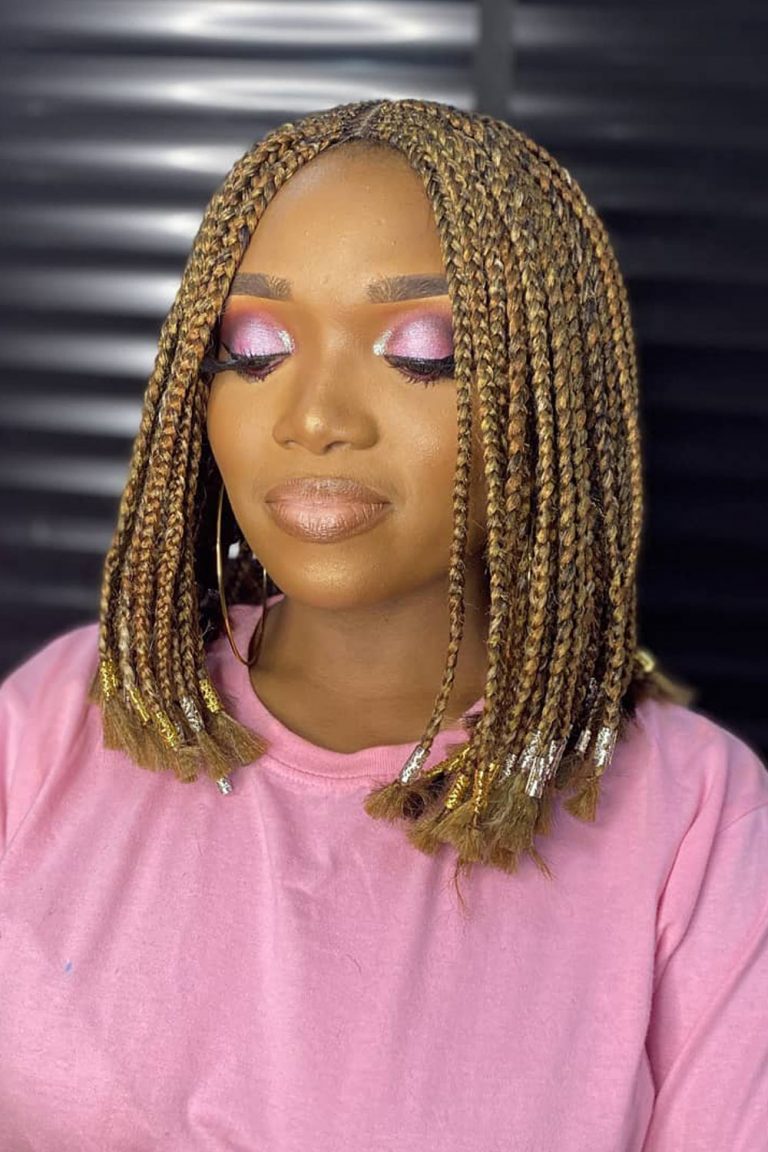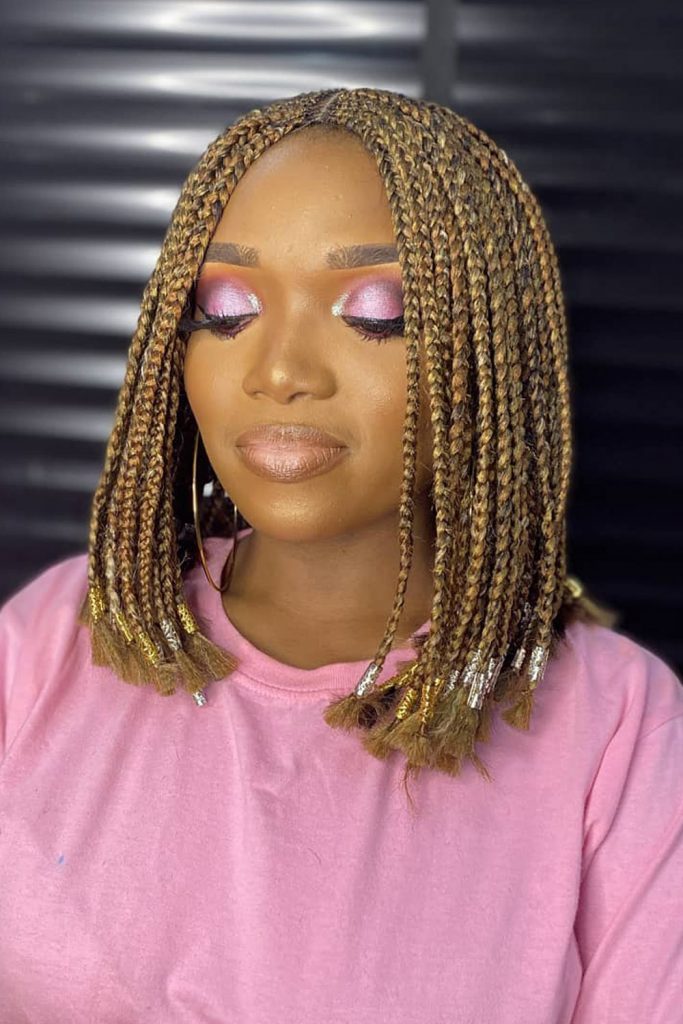 Credit photo: instagram.com/carlisbeautyhair
Well, that's a mood though! We bet that this undescribable Cleopatra-inspired hairstyle is the best "I woke up like this" look for those who want to make a statement. Okay, jokes aside. Basically, this hairstyle will be a fantastic idea to recreate for some themed party. By the way, it doesn't look like any of today's ideas: the top braids fall as a fringe, giving a totally different appearance to the look. And before you think it's too complicated, all you need is to cornrow your head. Then, just put some short extensions to the sides and top, styling the latter so that the edges fall as bangs. Of course, beads will be the icing on the cake.
Double Design Bun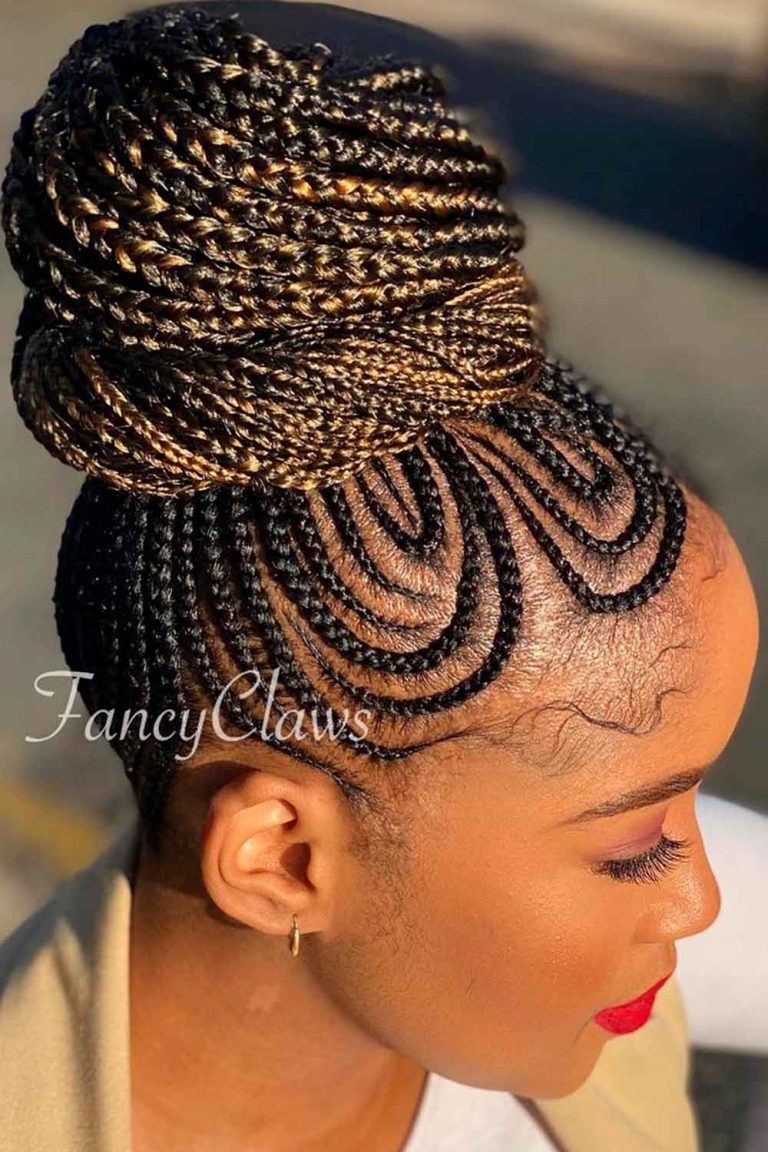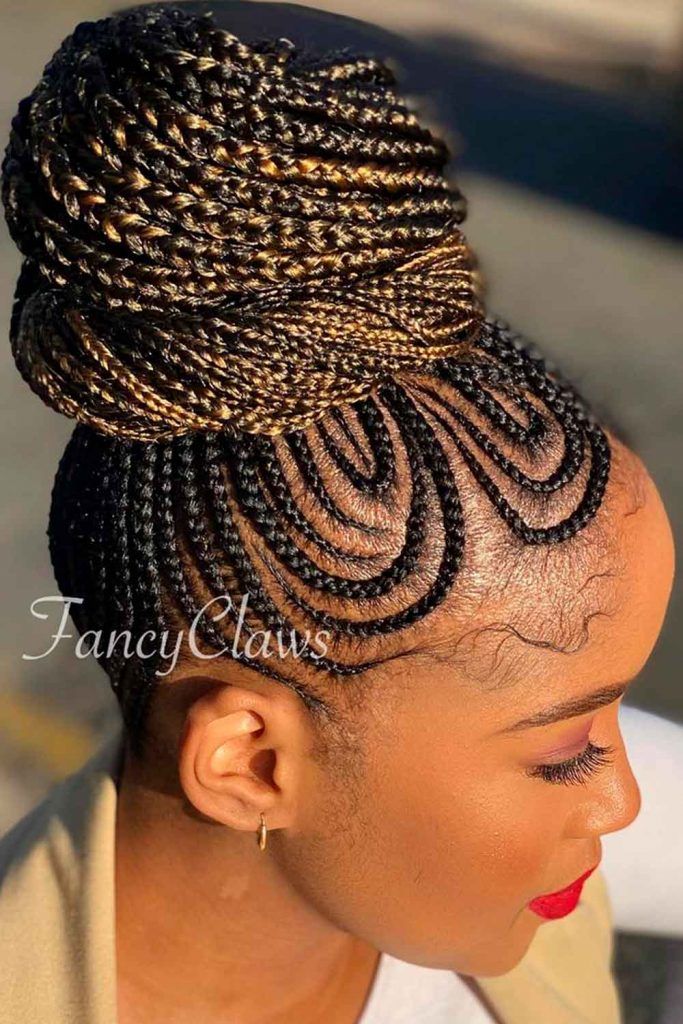 Credit photo: instagram.com/fancy_claws
How about you to get some outstanding design to add more character to all the hairstyles you wear? Tell your braider that you want to add some difference to the traditional pattern of cornrows when discussing the look you want to achieve. Obviously, it may take more time since this idea features more details. Still, you won't regret sacrificing your time once you put your hair in a bun or half-up.
Braided Genie Pony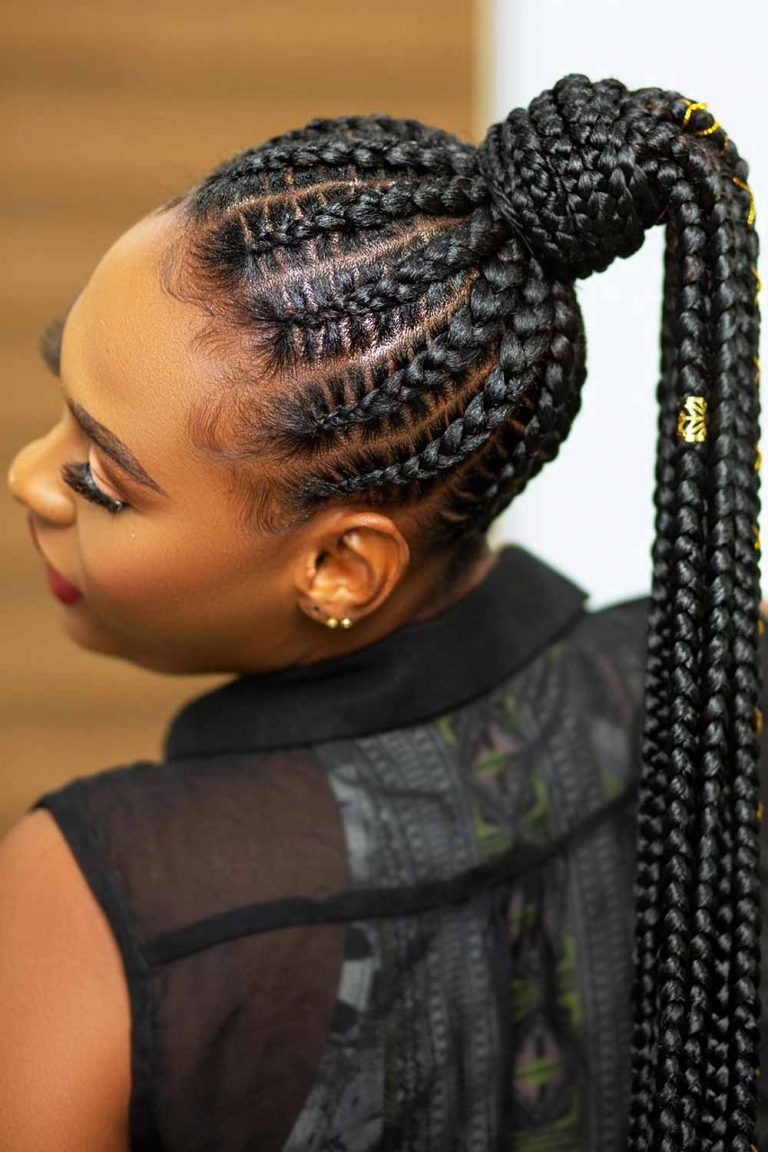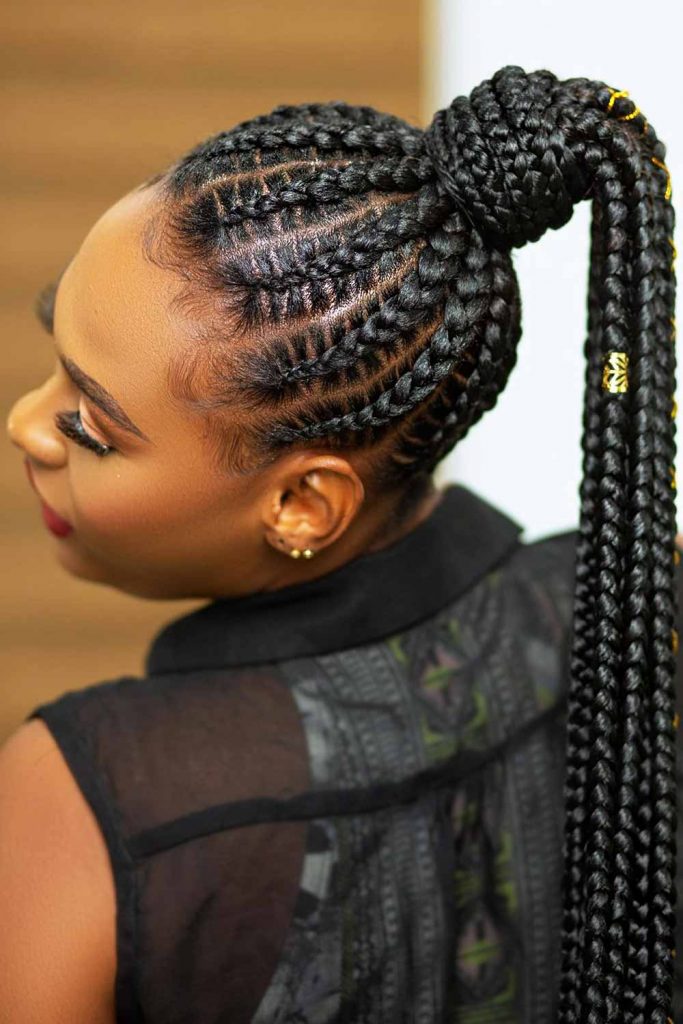 Credit photo: instagram.com/silverhairgh
It's no secret that braids know how to impress women. And, fortunately, the variety of cornrow braids hairstyles is as impressive. Now you know how you can protect your stunning natural locks from heat and give it a stunning look. It's time to bring one of these ideas to life!
FAQ: Cornrow Braids
Are cornrows bad for your hair?
Cornrows aren't harmful for your hair. They can help you repair any damage by encouraging healthy hair growth. It is actually the best protective hairstyle available. However, maintaining your hair tightly braided in cornrows for more than 5 weeks could make your hair overly dry and crimped.
Do cornrows grow hair?
Some people may be surprised to read this, but the answer is yes. Braided human hair grows 5 inches a year on average, or half an inch monthly.
Are cornrows unprofessional?
Some people do consider cornrows to be unprofessional, deviant and generally unacceptable. Cornrows are often thought to be inferior and unfit for modern, civilized society because of their dark color. When white people wear cornrows, they do not "counter" the hairstyle's "ghettoization."
What are cornrows for men?
This cunning method, which is associated with black guys but is available to everyone, is usually shorter and sleeker. This original braiding style might be uncomplicated and neat or complex and stylish.
REFERENCES: