This Hair Color Chart Is Your Personal Shade Selector!
Any hair color chart is a helping hand for ladies who have a need for color changes. As for our post, it's something more than a chart; it's your ultimate color guide. The need for bringing new shades in the palette of your life may show up at the most unexpected time, and your task is to be ready to embrace this feeling.
Though there are so many beautiful colors, not every shade can be suitable for you. Moreover, an improperly picked shade can drastically change your appearance for the worse. Therefore, finding the right shade can be a great deal of trouble.
We're here to keep you away from the time-consuming selecting process with the trendiest shades of the most requested hair colors. Alongside inspirational ideas for your next color transformation, we will answer all the questions you may come up with on your way to finding your best shade and give you some key tips on learning which color will look best on you.
What Color Should I Dye My Hair: Fail-Proof Checklist
Apart from following your preferences, there are more details to consider. The tone and undertone of your skin, as well as your eye color, are key points that determine the right shades for you. And here, we're going to lay it all out for you.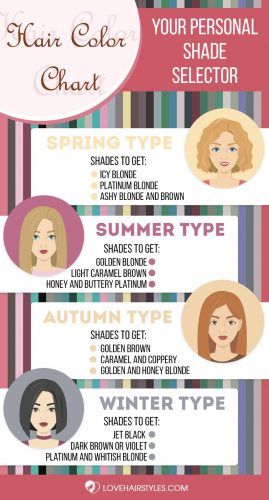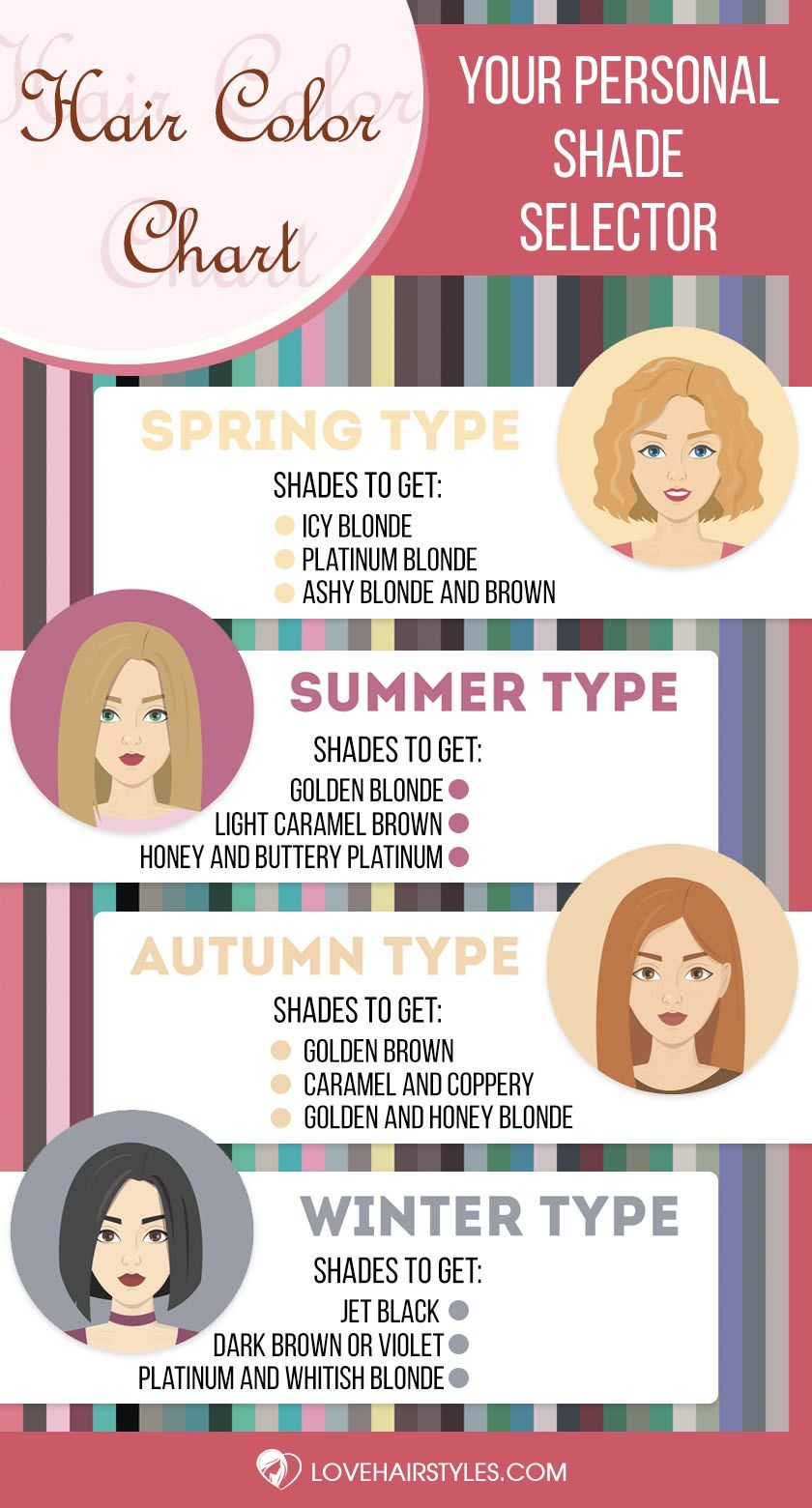 Determine your skin tone
The very first step towards finding the right shade is to determine whether your complexion is warm or cool. These two overarching categories can be diverse, but, there's a simple way to navigate. Since many women love to go for color experiments every other season, it's easier to name categories after each season.
Warm skin tones divide into two categories: fall and summer. Cool skin tones fall into two categories: winter and spring.
Warm skin tones: Fall
You have olive skin that tans easily
Your skin can be pale with an olive undertone and naturally glowy look
You have naturally dark brunette hair
Your eyes lean towards deeper colors such as golden brown, hazel green
Shades to get: colors with reddish and orange undertones
Rich auburn
Caramel and coppery
Milk chocolate
Golden brown
Golden and honey blonde
Warm beige blonde
Shades to avoid
Colors with blue, green, and violet undertones
Ashy brown
Platinum blonde
Warm skin tones: Summer
You have a golden olive complexion that gets a bronze hue when it tans
You tan easily
Your eyes can be any color from hazel to bluish
Shades to get: colors with a yellow or orange base
Golden blonde
Toffee and caramel
Champagne blonde
Honey and buttery platinum
Light caramel brown
Shades to avoid:
Ashy blonde and brunette
Colors with green and blue bases
Black
Cool skin tones: Winter
You have light, fair skin that doesn't tan easily
Your skin has pink undertones
You were born with dark hair color
The color of your eyes is blue, green, emerald green, dark brown
You have a contrast between your skin tone, eyes, and complexion
Shades to get: colors with violet, blue, and violet-red base
Dark brown or black
Platinum and whitish blonde
Dark and violet shades if you want to bring out your eyes
Jet black
Shades to avoid:
Honey and caramel
Coppery
Golden blonde
Cool skin tones: Spring
You have fair skin with a yellow or pink undertone
You may have any eye color, but usually, it's something light like light brown, hazel, green or blue
You can tan, yet not as easily as a fall or summer
You probably were born with super blonde shade or dishwater shade
Shades to get: colors with violet, green or brunette base
Icy blonde
Platinum blonde
Ashy blonde and brown
Shades to avoid:
Colors with orange or intense golden base
Golden brown
Honey blonde
Consider your budget: how much money and time you can invest in your hair
Once you know what shades will work best for your complexion, you should decide whether you're ready for a commitment. Besides regular color maintenance sessions, you should stock up on good color-preserving and hair protective products that will keep you away from damage while preventing color fade, especially if you're going to bleach your locks.
Those who want their appointments to be more flexible can ask their stylists for ombre or highlights that don't hit the roots too drastically.
Natural or drastic?
Another thing you should think of beforehand is the look you want to achieve. While some women desire to switch to another, yet still natural palette, others prefer to leave their colorists with a dramatic shade. Think of the character you want your look to express to make the choosing path shorter.
You should keep in mind the state of your hair. If it's weak and brittle, drastic changes will only cause more damage
If your hair is damaged, consider stepping out of ideas that require bleaching
Note that natural hair colors are all about regular touchups and totally new hair care routine
Permanent or temporary color?
The last but surely not least thing to consider is how long you want your color changes to last.
You can try out a new color with the help of a temporary color product that goes away after the first wash
If you're not completely sure whether the chosen hair color will suit you and you want to give it some time, there are lots of semi-permanent options
How Do I Choose Hair Color: FAQ
The right approach to picking a new shade may lead to lots of questions. So before taking you to the world of color inspiration, let us make it all clear by answering FAQs and summing up the musts-to-know!
Question #1. Should I Go Darker or Lighter?
If you want to freshen things up while staying on the same color palette, look at your skin tone first. If you have a fair complexion, light eyes, and naturally blonde color, you can bring out these features by going lighter. As for girls with naturally dark hair colors and fair to medium complexions, going darker will enhance the depth of your color.
Question #2. Which Hair Color Is Best for Black Hair?
Most women who were born with naturally black hair have warm, medium-to-dark complexions with olive undertones. Keeping in mind such skin tones, summer shades like toffee, honey blonde, and caramel will be great picks for you.
Question #3. What Hair Color Is The Best for Me?
First of all, you need to determine whether you have a warm or cool skin tone. For warm complexions, rich auburn, golden honey, milk chocolate, caramel brown, and chocolate blonde will work ravishingly. For cool tones, choose something from icy blonde, jet black, ashy brown, and ashy blonde.
Question #4. What hair color looks good with brown eyes?
If you have a light skin tone and dark brown eyes, look for platinum blonde, ashy blonde or brunette, violet, and jet black shades. And if your complexion is pretty warm while having brown eyes, it's better to go for toffee, champagne blonde, and caramel shades.
Question #5. Does Going Blonde Ruin Your Hair?
When going blonde, bleach strips the pigment from your hair, thus causing damage and dryness.
Question #6. Is Black Dye Bad for Your Hair?
While every dye leads to a damaging chemical process, black dyes are most damaging due to the intensity of the pigment involved. If you want to get this color, think twice, as getting back is a long and tedious job that requires a professional.
Question #7. Does Jet Black Hair Make You Look Older?
If you pull it off the wrong way, yes. On light skin, such a contrastive shade emphasizes wrinkles and creases, making skin look older. Modern colorists advise women over 30 to go lighter than their natural shades to keep up with a youthful look.
Blonde Hair
Blonde hair color, whatever shade it is, is the color that has always been and will always be around. Every day, every person comes across lots of light-headed ladies, and it doesn't matter if they're natural blondes or they're blondes at heart who managed to dye their locks. The point is that this color is the never-ending classic for ladies with light, fair, and medium skin tones; and that's why we want to start from it. Whether you're a natural blondie who wants to freshen up her color or you are new to this color, welcome to the blonde chart!
Mind-Blowing Platinum Blonde Hair
Platinum blonde shade is the trend that has literally blown people minds! No wonder that many girls all over the world felt proud of their light complexions and pale eye colors, as this shade works well only for such skin tones. It's become so viral not for nothing: it's cold and shiny at the same time, so those who pull it off won't look paler; they will look harmonically.
Source: hairby_chrissy via Instagram
Cool And Chic Light Ash Blonde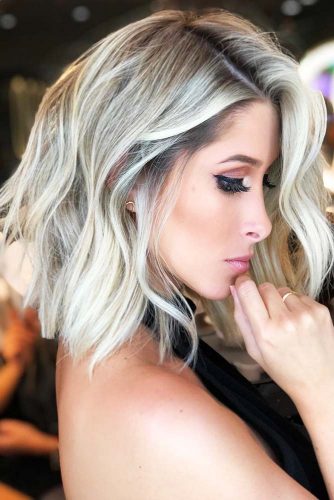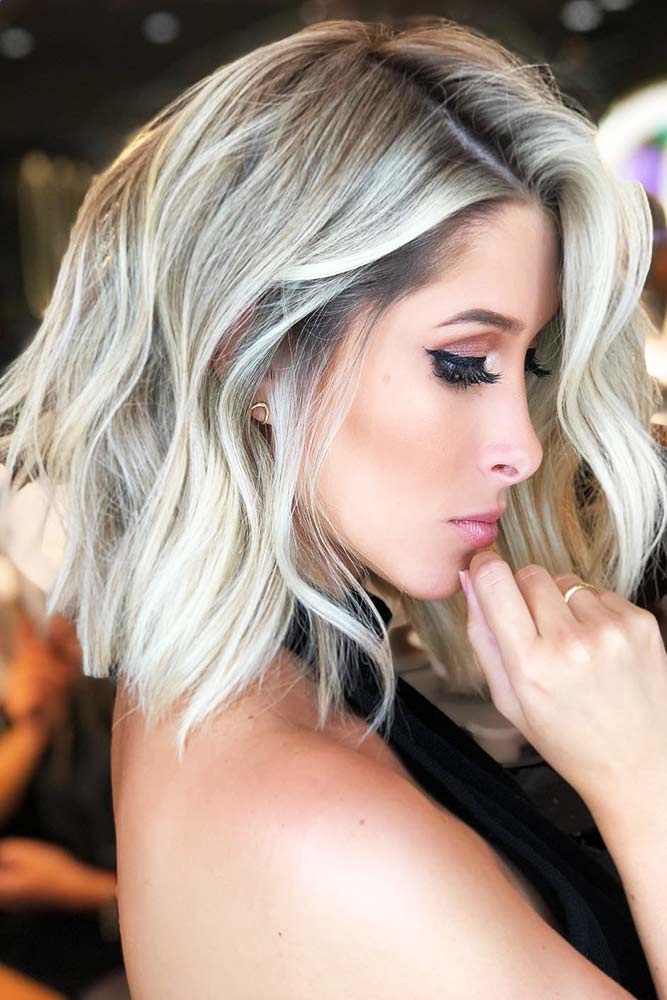 Light ash blonde shade also stands among cool-toned shades. There are plenty of reasons to go for it, and one of them is its play of colors. It's a blonde base that has a bluish tint which you can see when light reaches your hair. If you want to opt for an all-over coloring, leave the roots darker for more dimension.
Source: romeufelipe via Instagram
Sweet Honey Blonde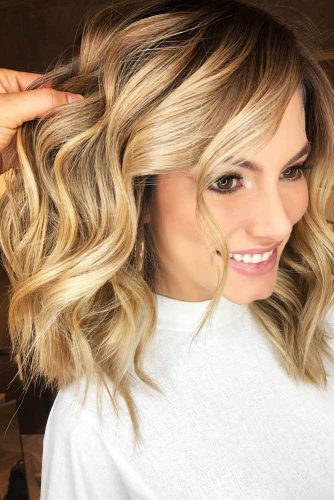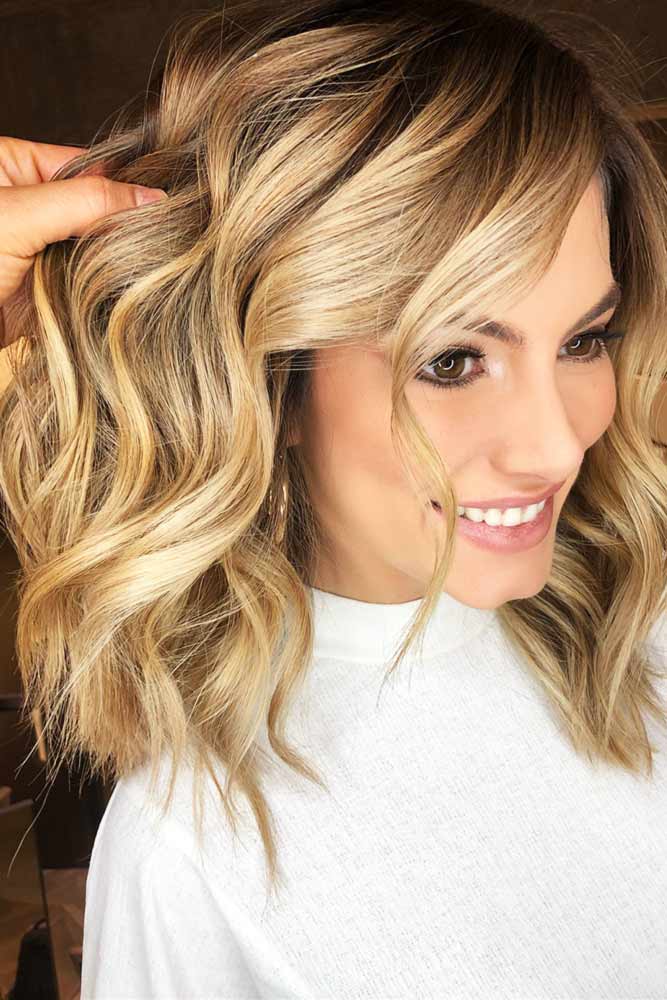 Now, let's move to the warm side of the blonde hair color chart. Honey blonde, or the sweetness that you can bring to your life without a fear of weight gain, is a bit warmer and shinier than the natural blonde. This color reveals its beauty best on medium skin tones, enhancing the charm of green or hazel eyes.
Source: romeufelipe via Instagram
Rich And Elegant Golden Blonde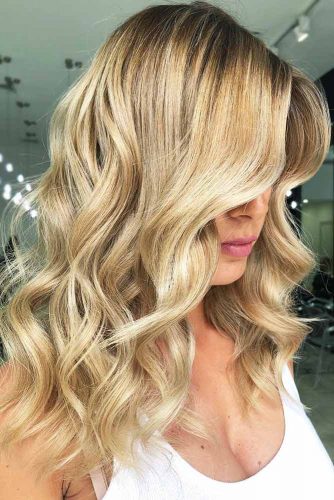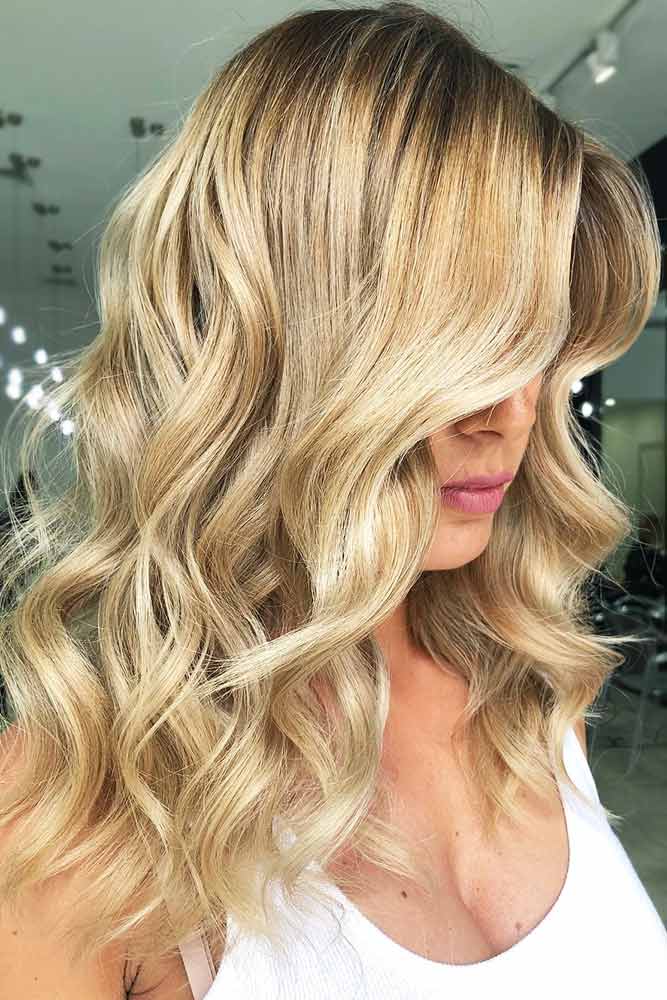 Golden blonde hair color is also warm enough, but it's completely different from the honey blonde. This shade is lighter, and the variety of its hues involves yellowish or golden tints. It will also suit any girl with a light complexion, but those who flaunt with very pale skin should opt for light golden blonde so as not to look bleak.
Source: natalieannehair via Instagram
Stylishly Neutral Beige Blonde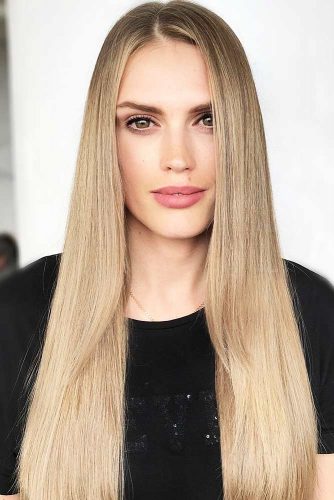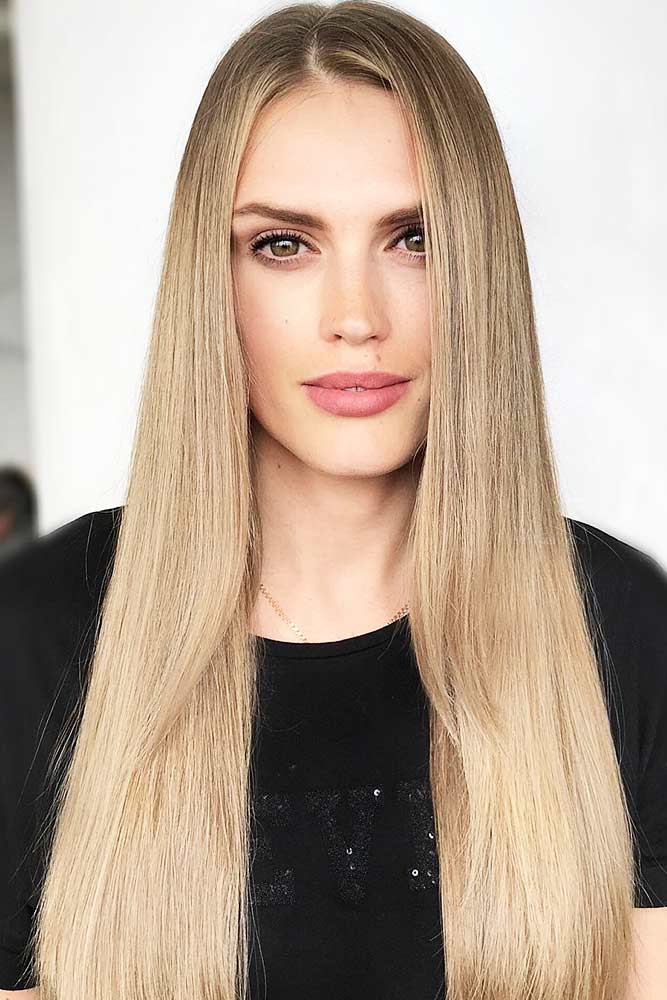 When it comes to coloring your hair in beige blonde, choosing the right shade is as crucial as picking the right nude lipstick. First of all, keep in mind that it's a neutral hair color, and even if you slightly go away from the color balance between your complexion and beige shade, it can be a disaster. Since it's a dark base with lighter highlights, it looks fantastic on medium skin tones. If your initial color is dark, consider having an ashy tint over your beige.
Source: sheffpavelstylist via Instagram
Multidimensional Dirty Blonde Hair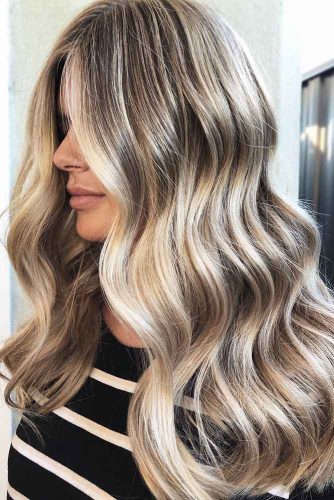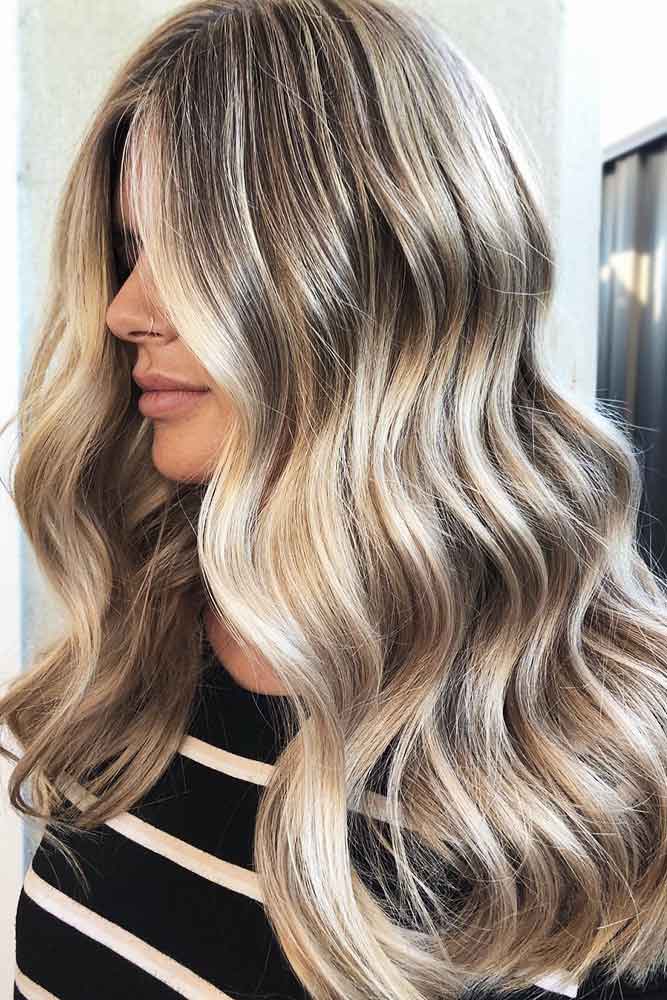 Here comes the last trend of blond hair color chart: the popular dirty blonde that is known for its dimension of colors. This shade is a stunning mixture of wheat, wet sand, and light blonde vibes. It embraces some contrastive colors, so it's better to achieve it with soft balayage highlights. Usually, the darker hues of this color prevail, which makes it the best shade for medium skin tones.
Source: _hairbygabrielle via Instagram
Icy Vanilla
As the name of this coolish light masterpiece suggests, it's meant to adjust the temperature of your look to the lowest setting. Needless to say, the combination of pale platinum and whitish shades of blonde are nothing but the best match to pale complexions. And do you know how it works? Since the main tone is very cold, cool skin tones appear warmer with them, which is a win for pale queens who'd like to have a little blush.
Source: hairby_chrissy via Instagram
Natural Blonde
Though natural blonde speaks for itself, many ladies tend to define it as the purest shade of blonde. In case you're one of them, let us dispel this myth for you. In fact, natural blonde hair color is a mixture of various blonde shades. It may embrace soft caramel, neutral, and ashy hues melting together. Also, natural blonde is never the same, and it's actually possible to achieve it with a color job. This idea, for example, consists of a light caramel base and muted platinum undertone. As a result, it fits both warm and light complexions. Yes, blonde hair color chart is impressive.
Source: rafaelbertolucci1 via Instagram
Latte Blonde
More milk, less coffee, please! Latte blonde seems to be the perfect compromise for those who are stuck between brunette and blonde sides. The roots are responsible for the light coffee scent, while beige blonde gives a soft, foamy appearance. Together, they will work as a tasteful dose of caffeine that will energize your every hairstyle.
Source: mr_colorist_2017 via Instagram
Red Hair
Every woman knows that each shade of red hair color chart is to die for. It's no secret that we can't help ourselves and get envy when a pale lady with red hair passes by. And we all know that it's quite a rare thing to meet a natural redhead, which makes this color even more desirable. Taking into account all these facts, we can't leave you without the most beautiful red hair shades. Girls with light to medium skin tones, here are some more head-turning ideas!
Gentle Light Auburn Hair
Seductive Auburn Hair Color
Sophisticated Dark Auburn Hair Color
Tasteful Light Copper Hair Color
Outstanding Copper Hair Color
Enviable Ginger Hair Color
Goldish Copper
Pure Copper
Brunette Hair
It's time to explore the dark side of our today's post. Actually, a hair color chart without brunette hair color shades is a chart wasted, so those who want to become a brunette won't be left without their dose of inspiration. Unlike all the previous colors, these shades are absolutely versatile: there's a brunette shade for any complexion. Meet another nowadays' classic!
Subtle Light Brown Hair Color
Classic Brown Hair Color
Posh Golden Brown Hair Color
Affectionate Chocolate Brown Hair Color
Sexy Black Hair Color
Alluring Jet Black Hair Color
Rich Dark Brown
Smokey Black
You've just discovered the most popular shades of blonde, brown, and red hair colors. This hair color chart contains everything you need to create a well-balanced look that will match your appearance in the most beautiful way. It's time for new colors!
Main photo by Sherrihill