Highlighted hair looks fab, whether your base color is light or dark. And here we've decided to discuss the pros of adding highlights for brunettes. Dark hair, when it is well-groomed, looks rich and stunning on its own. However, brunette hair becomes even better when more colors are blended in. Just look through these pictures, and you'll instantly wish to get it.
Brunette Wavy Bob With Warm Brown Highlights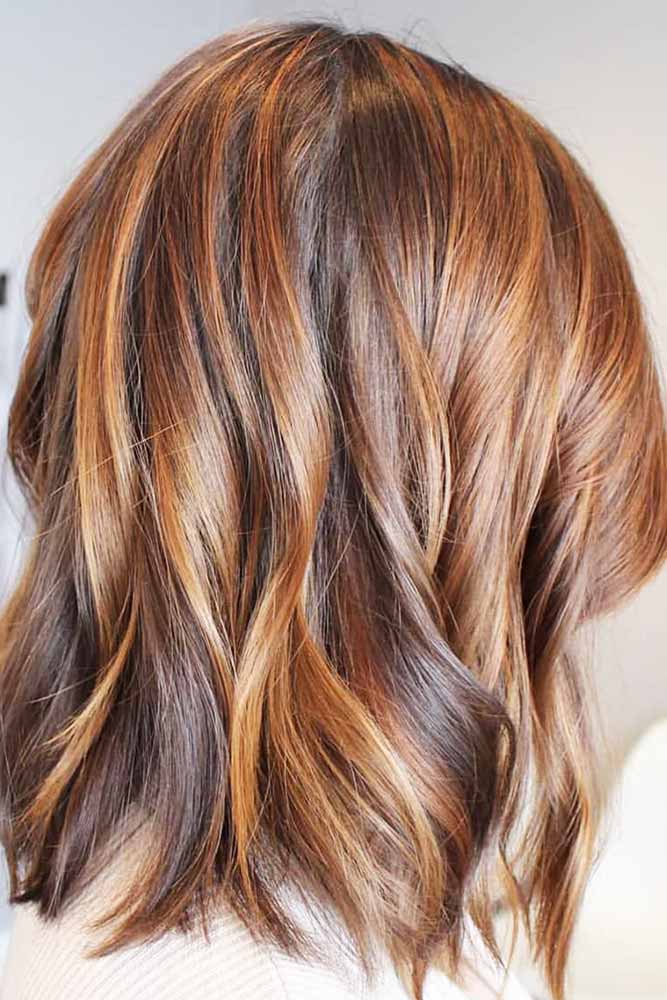 Credit photo: instagram.com/salonrooted
Bobs are always in style. And they are a great look for the woman who wants shorter hair but isn't quite ready to commit to something as short as a pixie. And you will still be able to style your hair into cute updos or half updos such as top knots, braids or buns.
This shoulder-length wavy bob is very pretty with the caramel hand-painted brown highlights that are so artfully woven onto the chocolate brown base. The colors blend perfectly with a nice contrast between cool and warm shades of brown while creating a shiny multi-tonal look. If you are unsure of how to highlight your hair, you can find instructional videos online, or ask your hair stylist for advice.
To get these pretty multi-directional waves, simply use a wide-barreled curling iron to make big, loose waves for a soft and romantic look that will make men weak in the knees when you walk by.
Light Golden Brown Face-Framing Highlights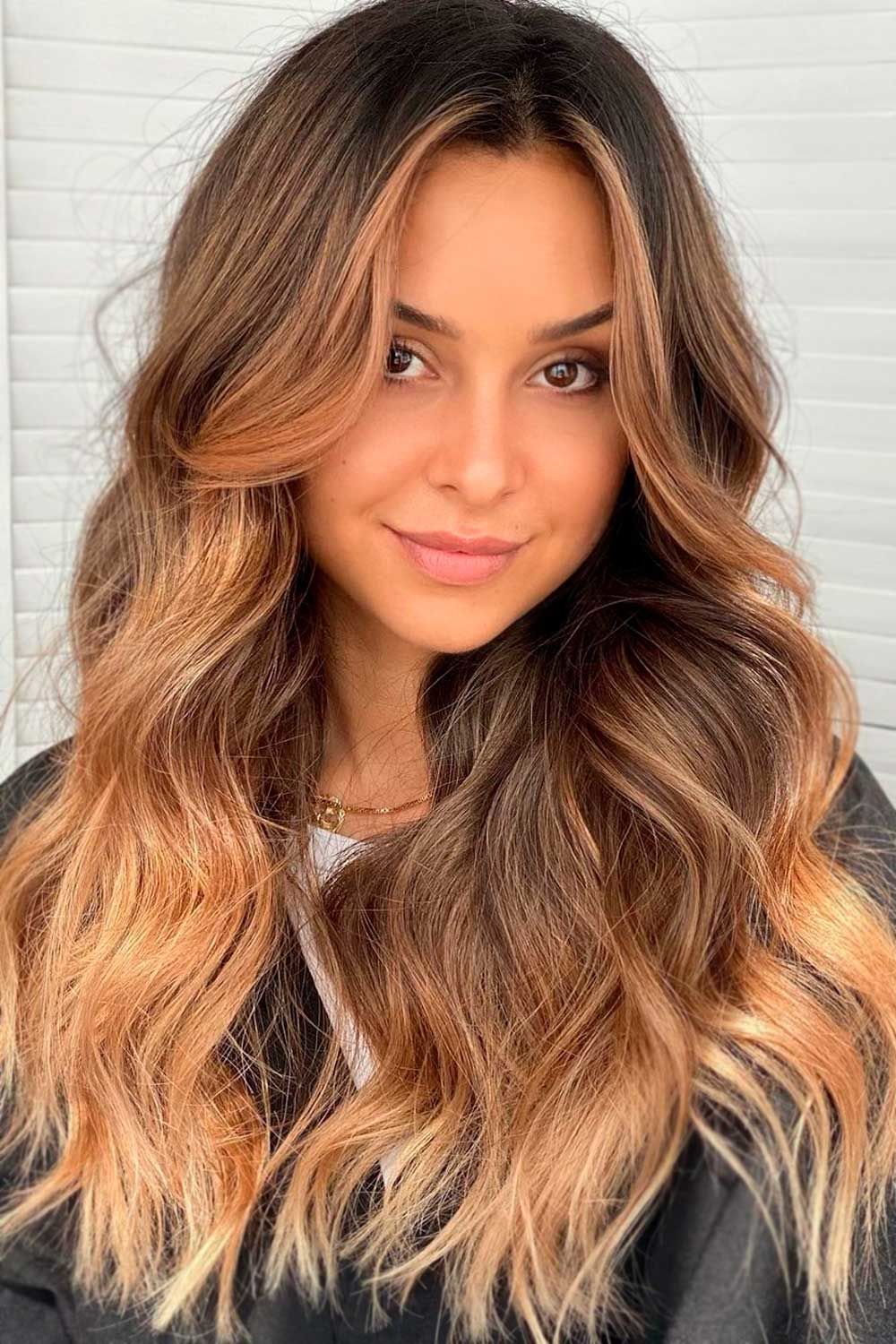 Credit photo: instagram.com/daalgard
If you grew up in the 80s or 90s, you would remember how girls used to put peroxide or Sun-In in their hair and spend hours in the sun to get blonde or light brown hair with blonde highlights. However, this only dried out their hair and, in most cases, it turned orange instead of blonde or light brown.
Luckily, today we have so many more ways to highlight hair without causing extensive damage. Take these pretty bright golden brown highlights: they look so natural with a light ash brown base to create a sun-kissed look. It appears as if you have spent hours in the sun. Ask for more highlights in the front to frame your face. Spritz your wavy tresses with sea salt spray, put on your cutest sundress and some sandals, and get ready to turn heads wherever you go!
Brown Highlighted Hair With Golden Blonde Streaks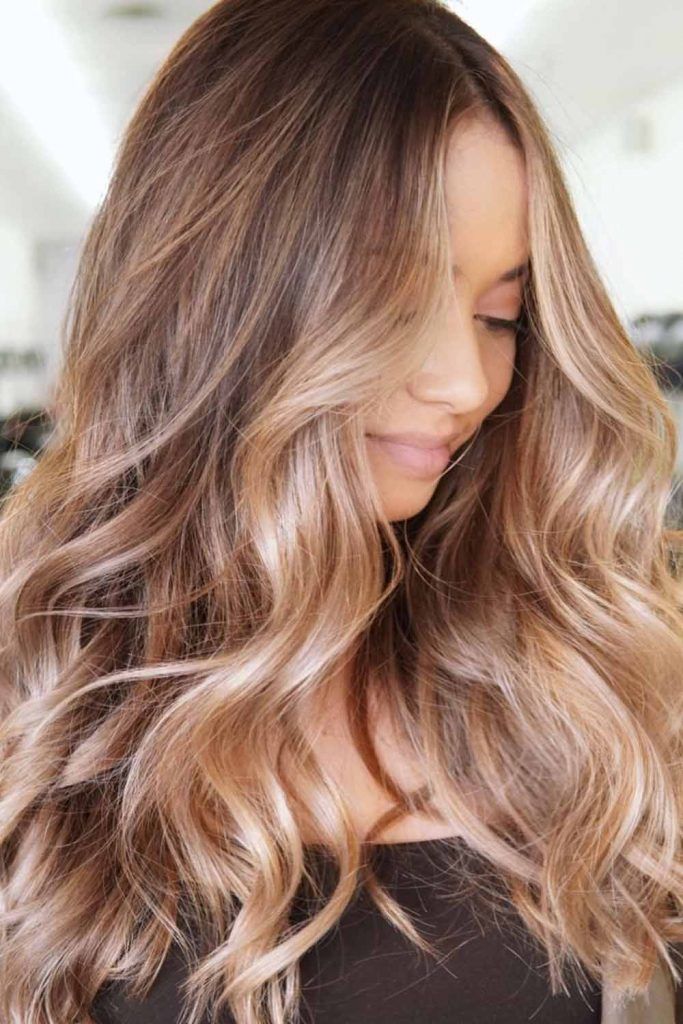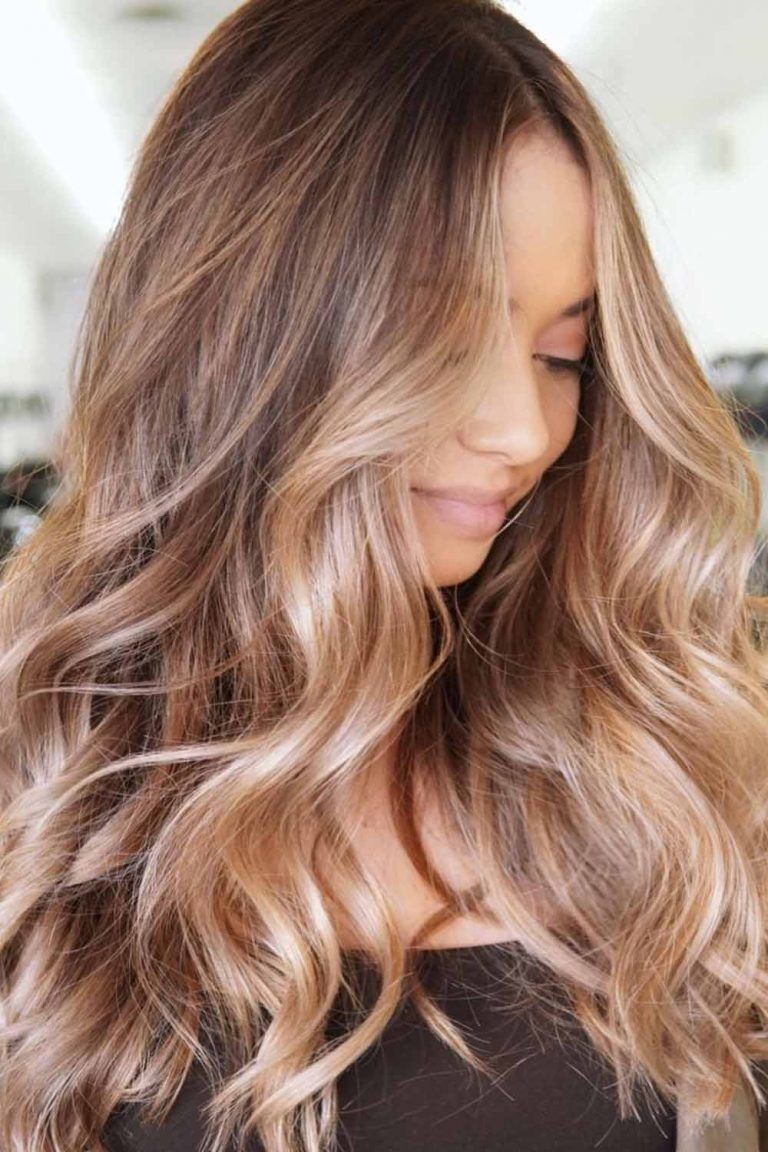 Credit photo: instagram.com/frances_hairartist
Highlighted brown hair with blonde streaks is always stunning. If you want a beachy blonde look without having to sit out in the sun for hours, try this blonde highlighted hair technique. The golden blonde highlights look striking with natural blonde tresses.
This style is so pretty for a summer day out with friends. Separate your hair into two sections and then twist them together for a full loose ponytail that is so voluminous. The blonde highlights will add a ton of depth to this funky ponytail.
Bronze Highlights For Natural Brown Hair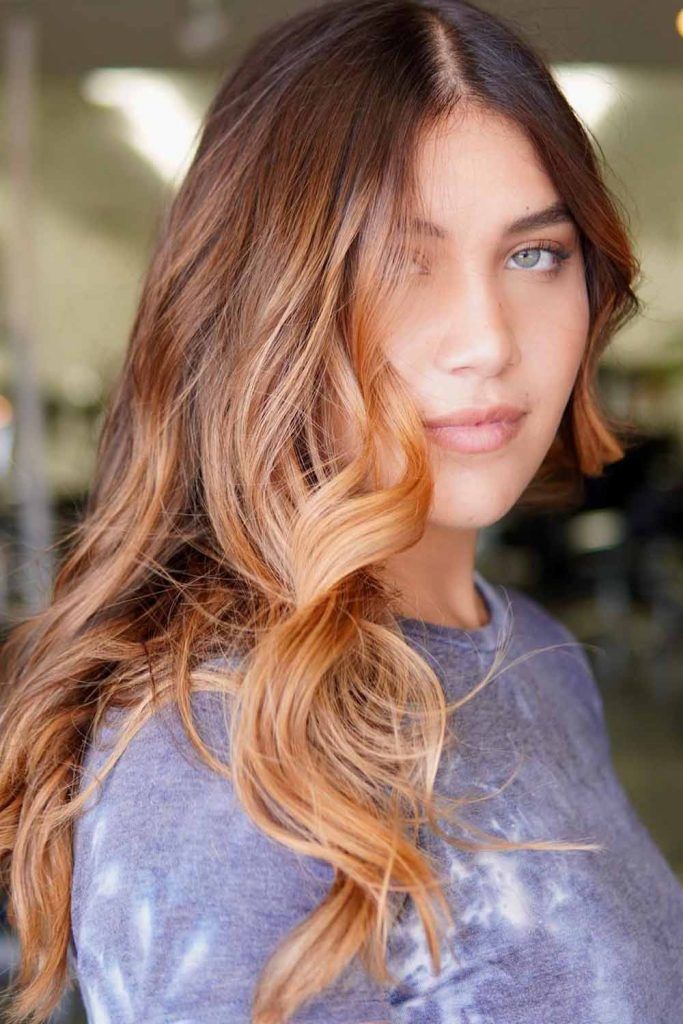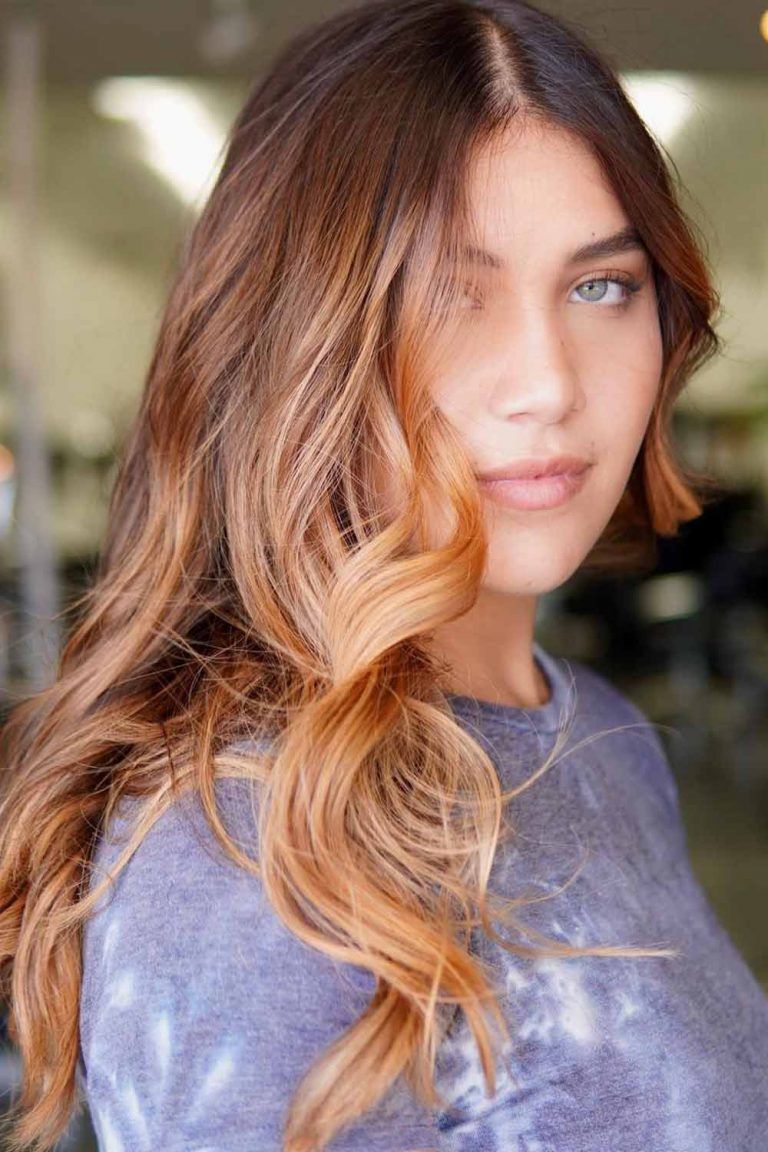 Credit photo: instagram.com/frances_hairartist
If you want a look that shimmers in the sun, these bronze highlights on brown hair are just gorgeous! These natural brunette highlights blended with bright bronze tones will make it look like you were sitting out for hours on the beach to lighten your brunette tresses. But you can easily achieve this look at home. Or ask your hair stylist to artfully hand-paint those gorgeous bronze hues.
And what's prettier than beachy blonde waves with sun-kissed highlights? If you are blessed with naturally curly or wavy tresses, all you need to do is spray your hair with a generous amount of sea salt spray. Then tousle it, so that it looks wind-blown, and let it air dry. With those luxurious, sexy waves and golden bronze highlights, you'll look like you walked right off the beach!
Sun Kissed Golden Face Framing Highlights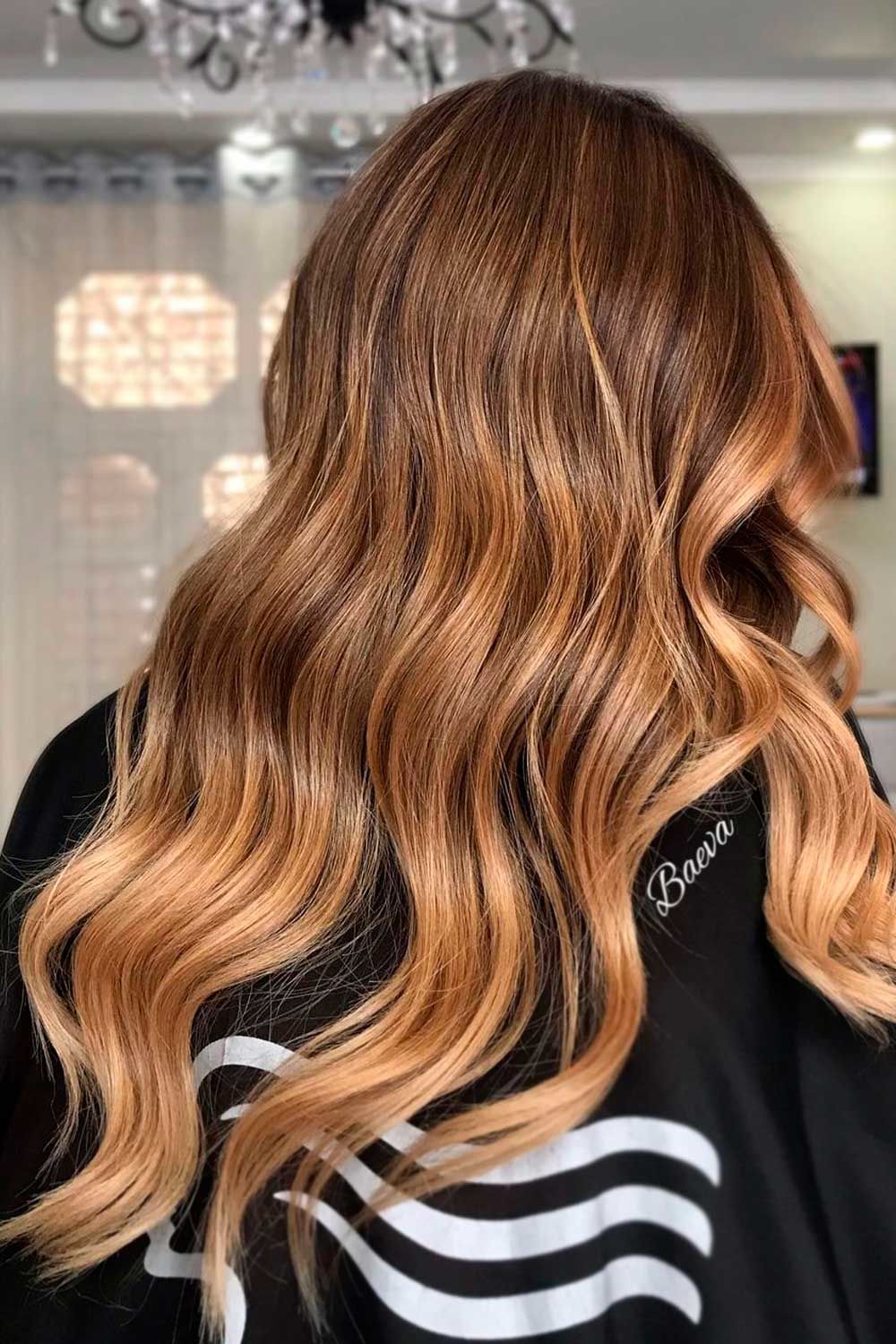 Credit photo: instagram.com/mia_baeva
Golden blonde highlights look stunning no matter what the season. They are perfect for a summer day or a cool fall night. If you want golden hair with face framing highlights, you can't go wrong with these light ash blonde highlights. Ask for heavy highlights near the front to softly frame your face to highlight your best features. The contrast between the creamy caramel hues and the chocolate brown base is superb.
Use a flat iron, or a large curling wand to get boisterous, flowy curls for your golden brown hair. With this drop-dead gorgeous combo of sexy waves and bright blonde hues, men won't stand a chance.
Light Brown Highlights On Chocolate Brown Hair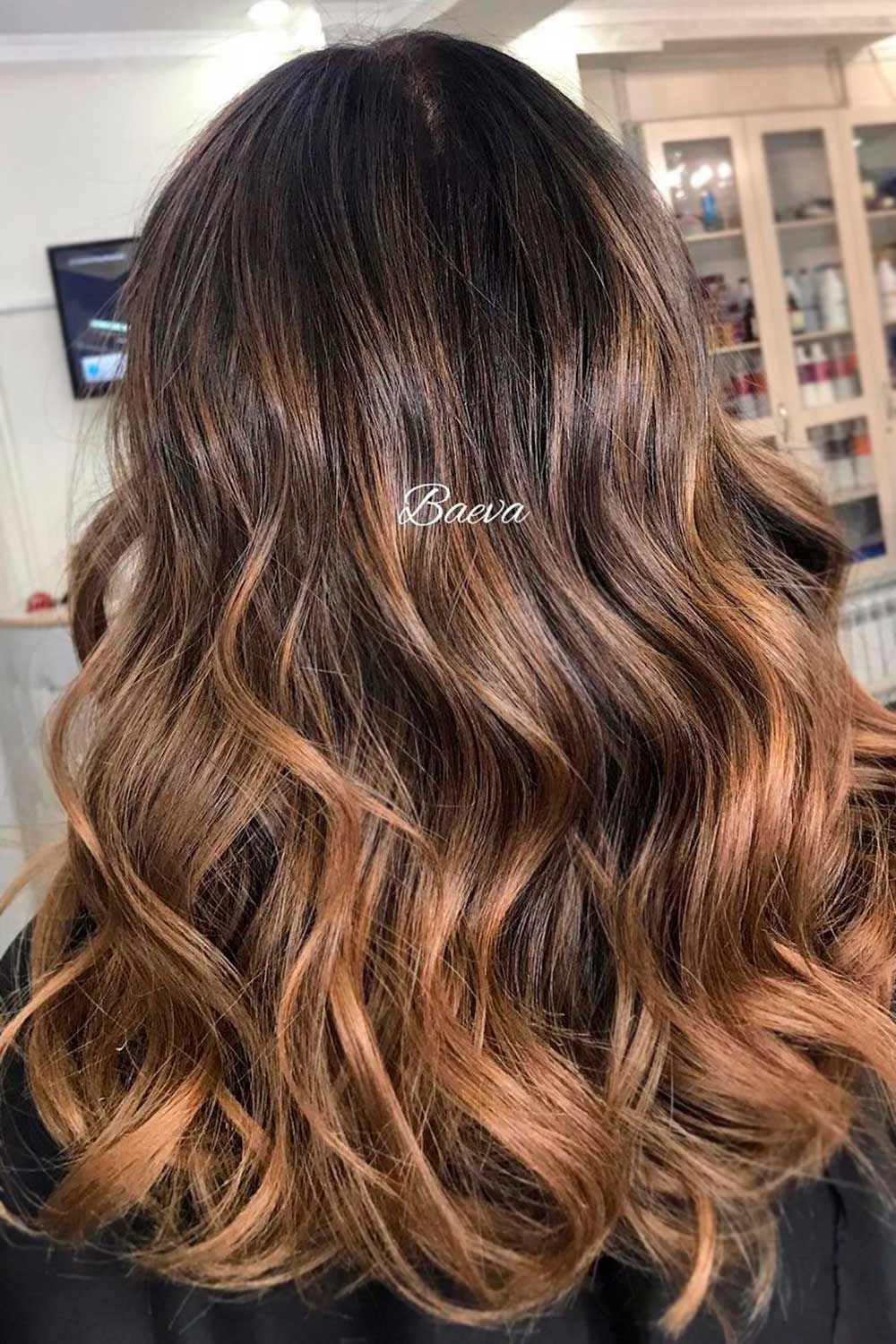 Credit photo: instagram.com/mia_baeva
Do you want to spice up your natural dark brunette hair, but don't want to go blonde? Try dark brown hair with light brown highlights. Brunettes are just as sexy as blondes, and have twice as much fun. So, why not add some life to your gorgeous dark tresses with subtle light brown highlights? Soft light brown tones combined with your natural dark brown color will add a ton of depth and dimension to your hair.
If you want to add more body, make a few soft waves with your flat iron to add some movement to these stunning shades of brown.
Coffee Brown Highlights On Dark Hair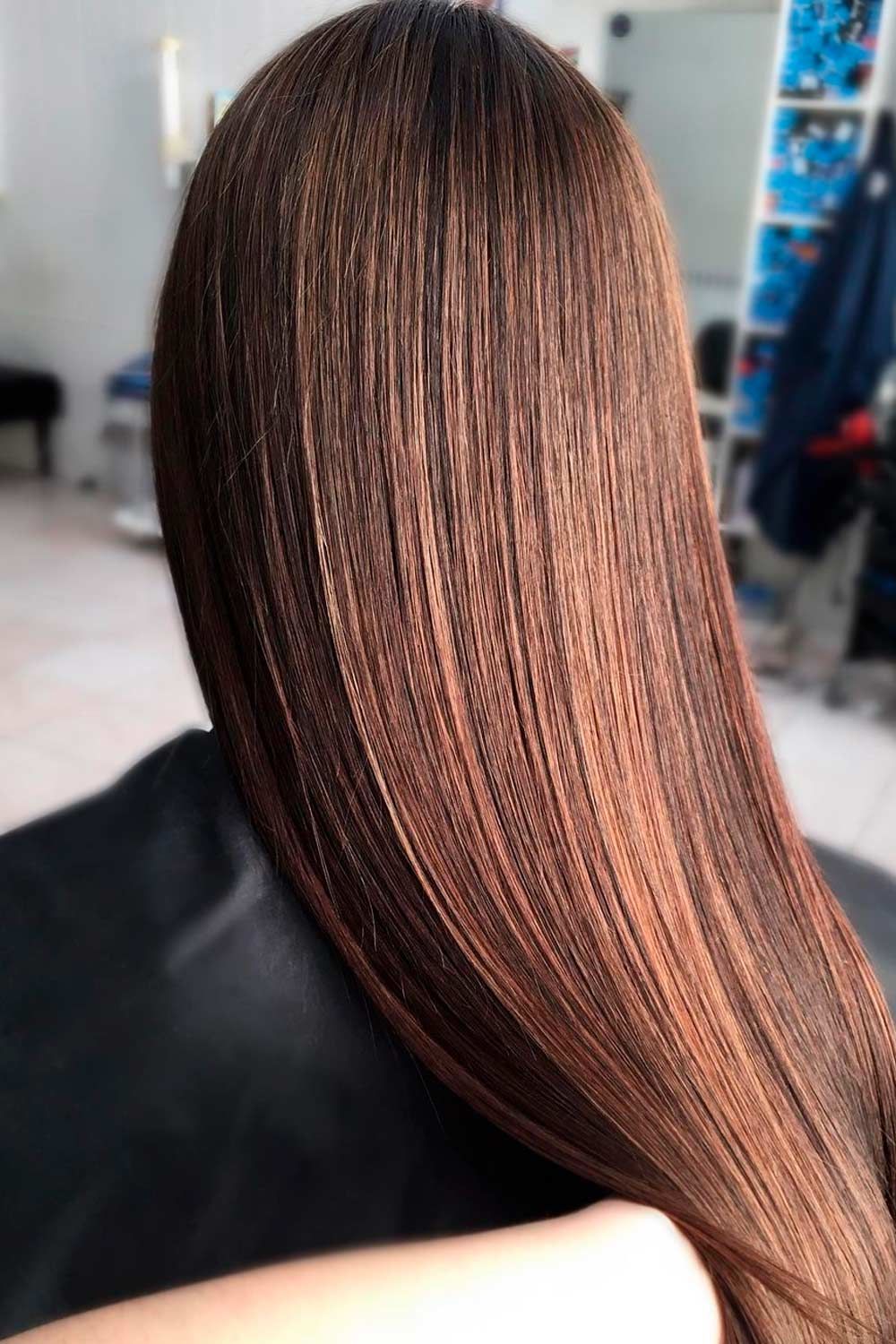 Credit photo: instagram.com/nata_hair72
For those searching for a more subtle look, these coffee brown highlights are a little more refined. Highlights on dark hair do not always have to be drastic. Simply going a few shades lighter can give you a new look without going over the top. If you work in an environment that is not laid back and does not allow for funky hair colors, then this combo could be just what you are looking for. The dark brown base with soft java colored highlights will still catch everyone's attention without being overly distracting.
If you want to make this look a bit more funky, try some fun braids at the top and let your wavy tresses cascade down your shoulders for a look that is feminine and chic.
Grey And Blonde Colored Highlights For A Hologram Effect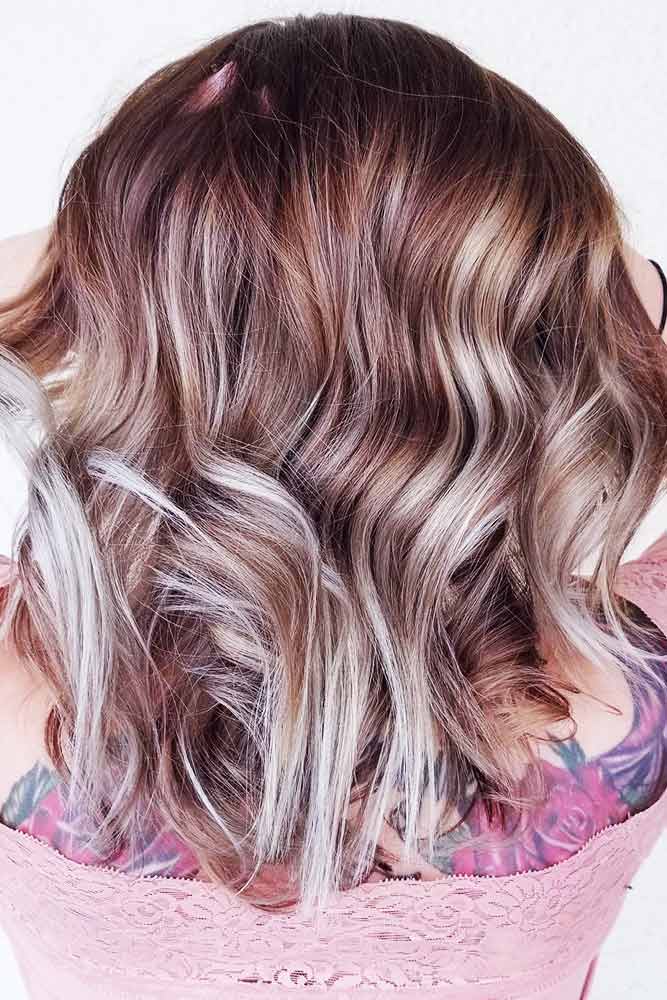 Credit photo: instagram.com/hairbystephanierose
Colored highlights are everywhere these days, but who says you have to stick to blondes and browns? If you have a pretty shade of ash brown hair and want to go for a look that's a bit more daring, this shimmery shade of gray is very cool. The breathtaking balayage blend of light brown and silver gray creates a hologram effect that is out of this world.
This look is even prettier on curly or wavy locks as the colors add a level of depth and dimension that will leave your friends speechless. Wrap your hair sideways around a large-barreled curling wand to get waterfall waves and show off your gorgeous new color.
Cherry Highlights On Dark Brown Hair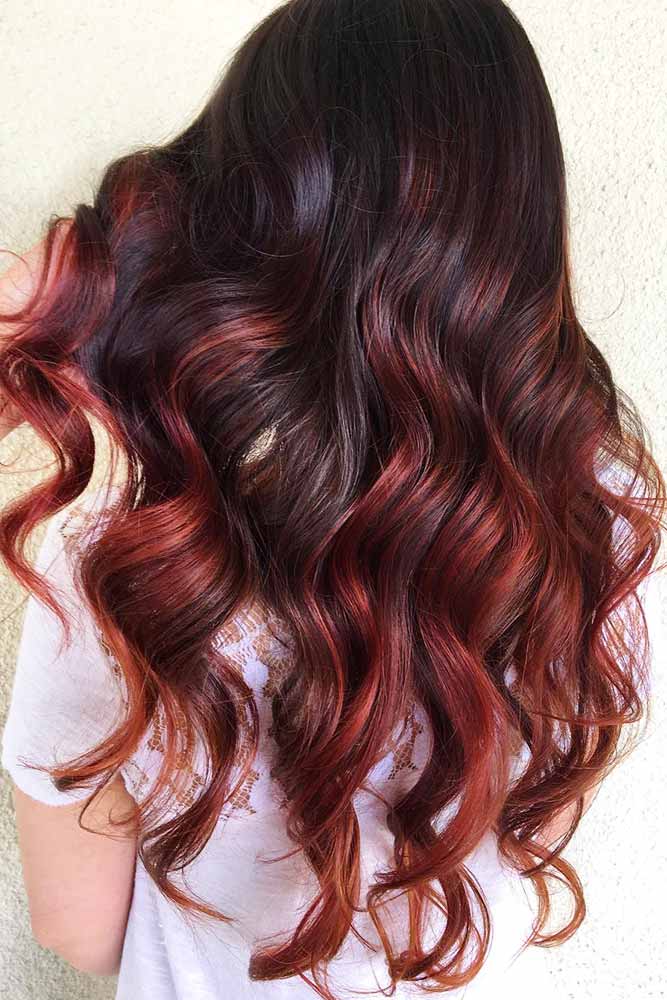 Credit photo: instagram.com/hairbystephanierose
Red highlights in brown hair is always a fun option. Red is such a bold color, and it just screams fun! Cherry red highlights on dark brown hair are very sexy, if you are looking for a burst of color to spruce up your natural brunette color.
And if you are searching for more of an edgy vibe, black hair with red highlights is great in case you are going for a darker and brooding look. Red and black hair oozes sex appeal. Ask for your rogue red highlights to be hand-painted to resemble a work of art that belongs to the Louvre!
Silvery Blonde Highlights On Chestnut Brown Hair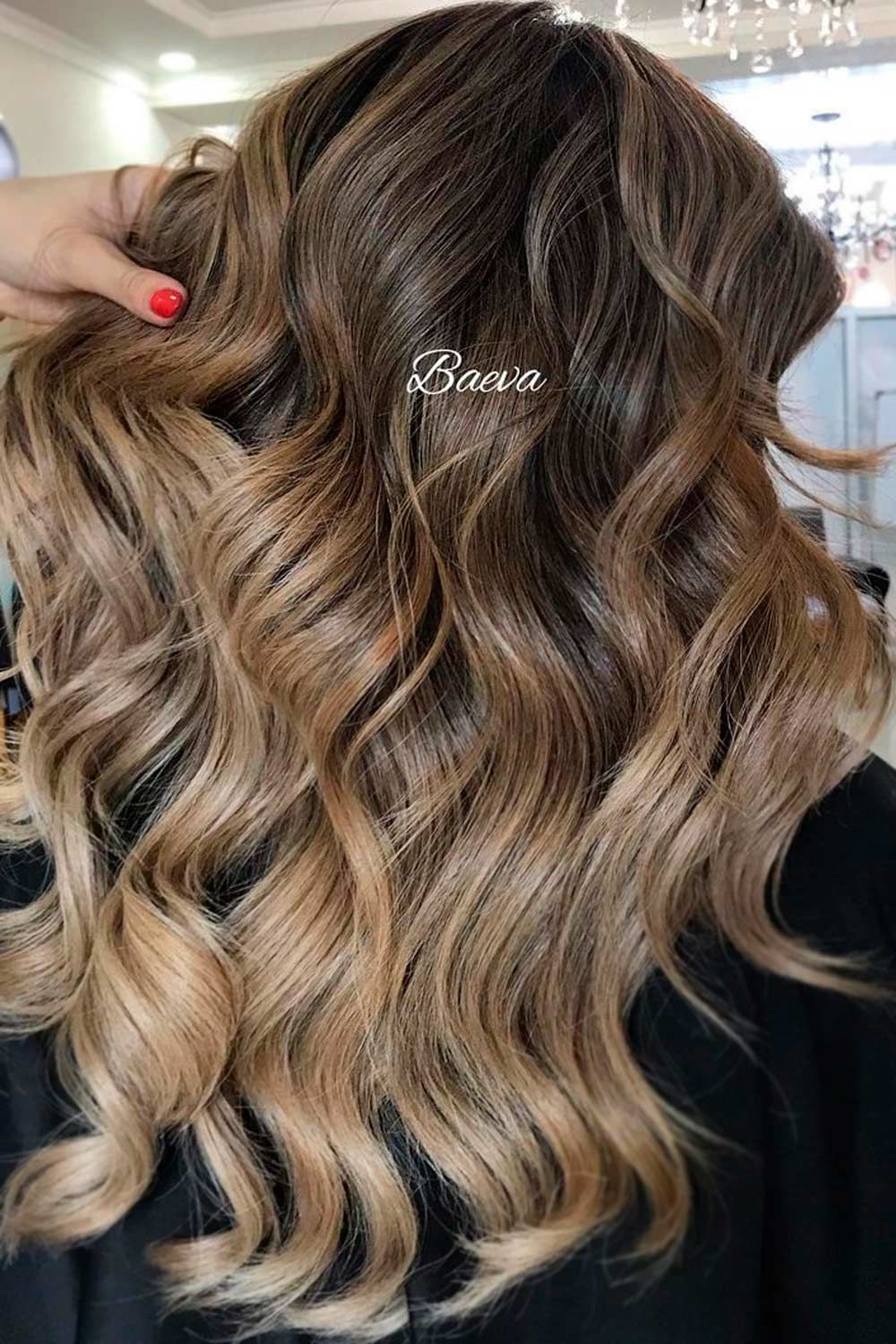 Credit photo: instagram.com/mia_baeva
If you want a look that is sexy and mysterious, why not go for a striking blend of silver-gray, dark brown and golden blonde? Dark brown hair with blonde highlights is always a classic look, but why not take it up a notch and mix in some silver steaks for a look that has a ton of depth? Ask for blonde highlights on dark brown hair but then mix in some silver-gray streaks. This look is so fun and flirty with its triple blend of multi-tonal hues! And it looks so pretty on wavy tresses!
Brown Hair With Blonde Highlights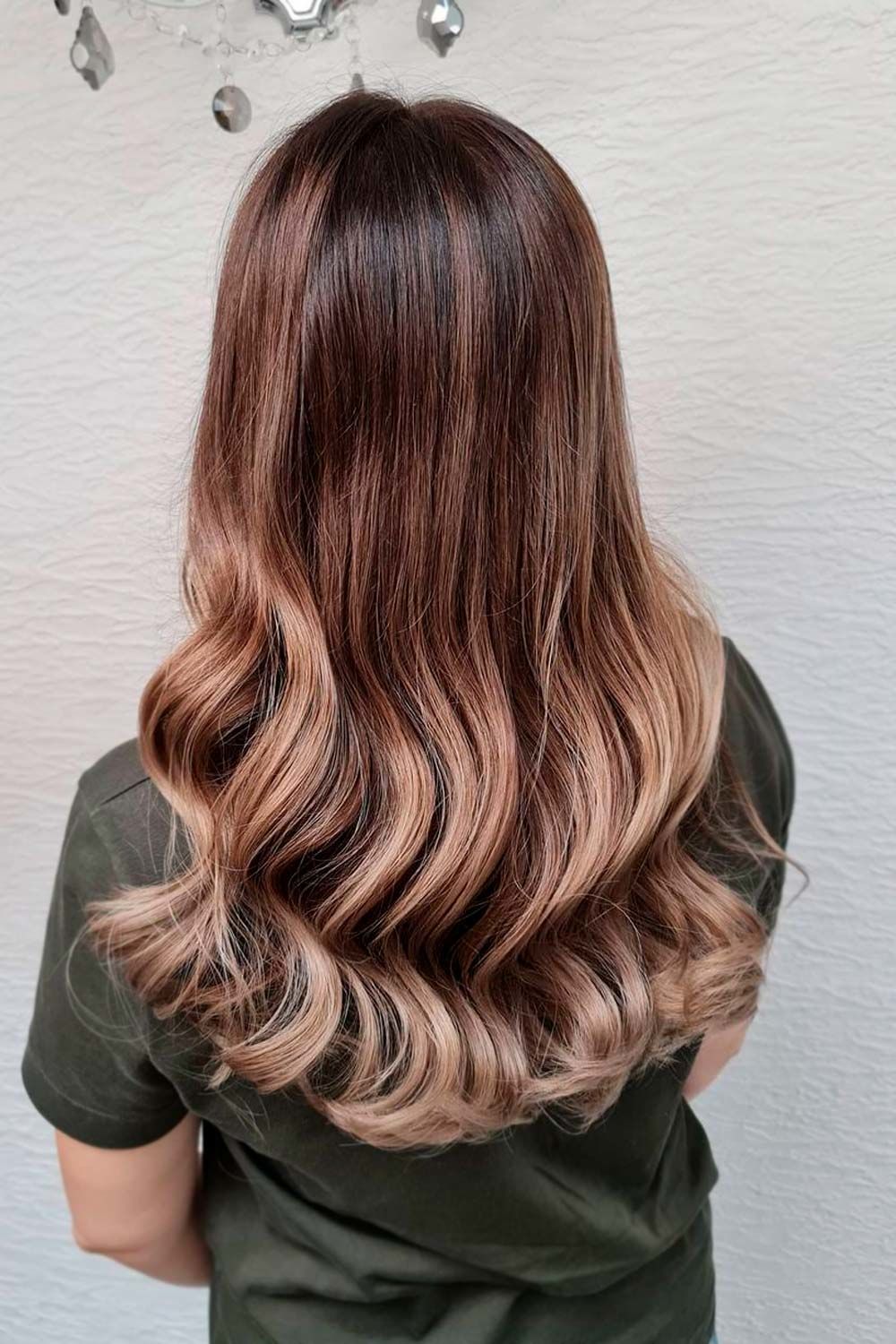 Credit photo: instagram.com/vashenko_anet
If you are ready to pursue highlights for your long hair, there are several options you can choose from. You may want chunks of color or thin strips of color added to your hair, and the choice is ultimately up to you. Any type of hair works well for highlights, so it isn't a concern if you have a curly, straight or wavy hairstyle. All of these work well for highlights of any size and degree. The model above has had her balayage hair blended so well that it appears as if her hair has grown naturally with these color tones.
Caramel Highlights On Dark Hair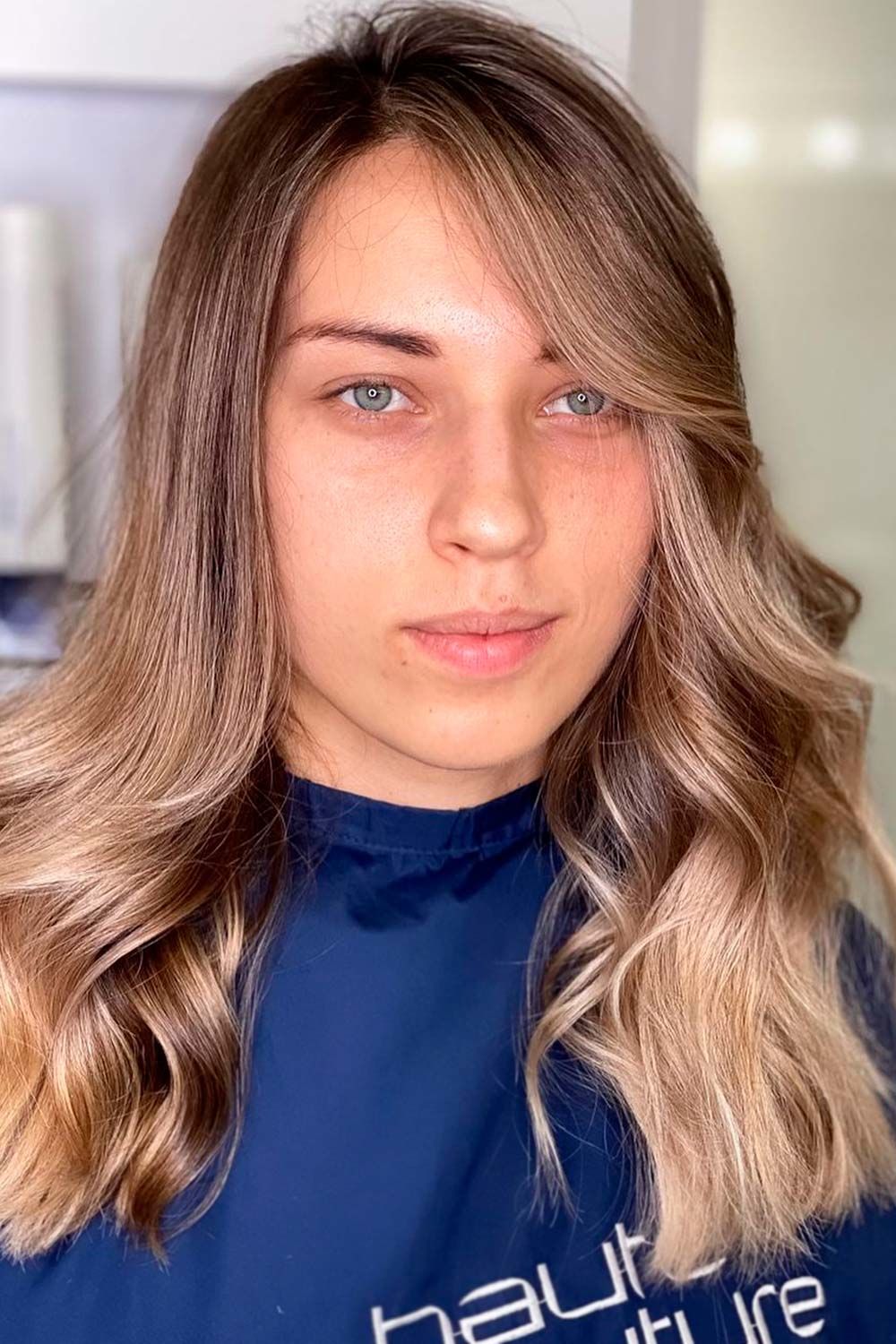 Credit photo: instagram.com/mfhair_color
One of the most popular trends in the modern hair culture is the wavy hair. Caramel highlights cover a broad spectrum of colors ranging from a hue that you would expect all the way to a tangerine or a brown sugar color. This type of highlight job is accentuated if the wearer has a long hair length. Shorter lengths can sport it as well, but longer hair allows the colors to really shine through. This type of hairstyle works well for neatly styled hairstyles as well as for the messy hairstyle.
Dark Blonde Highlights
Посмотреть эту публикацию в Instagram
Credit photo: instagram.com/petermenezes
This beautiful layered haircut is a great way to add volume to a hairstyle. Oftentimes, a new cut presents new challenges. Those challenges are evaded in modern times. Rather than having a specific, cookie-cutter type of style, women have adapted to what their hair decides to do naturally and have named it the wavy hairstyle. Women used to rock either very curly hair or stick straight hair but opt for a more relaxed look these days. The color on this model is breath-taking with the balayage hair appearing to be a natural hair color and not a color job.
Bob Haircut With Highlights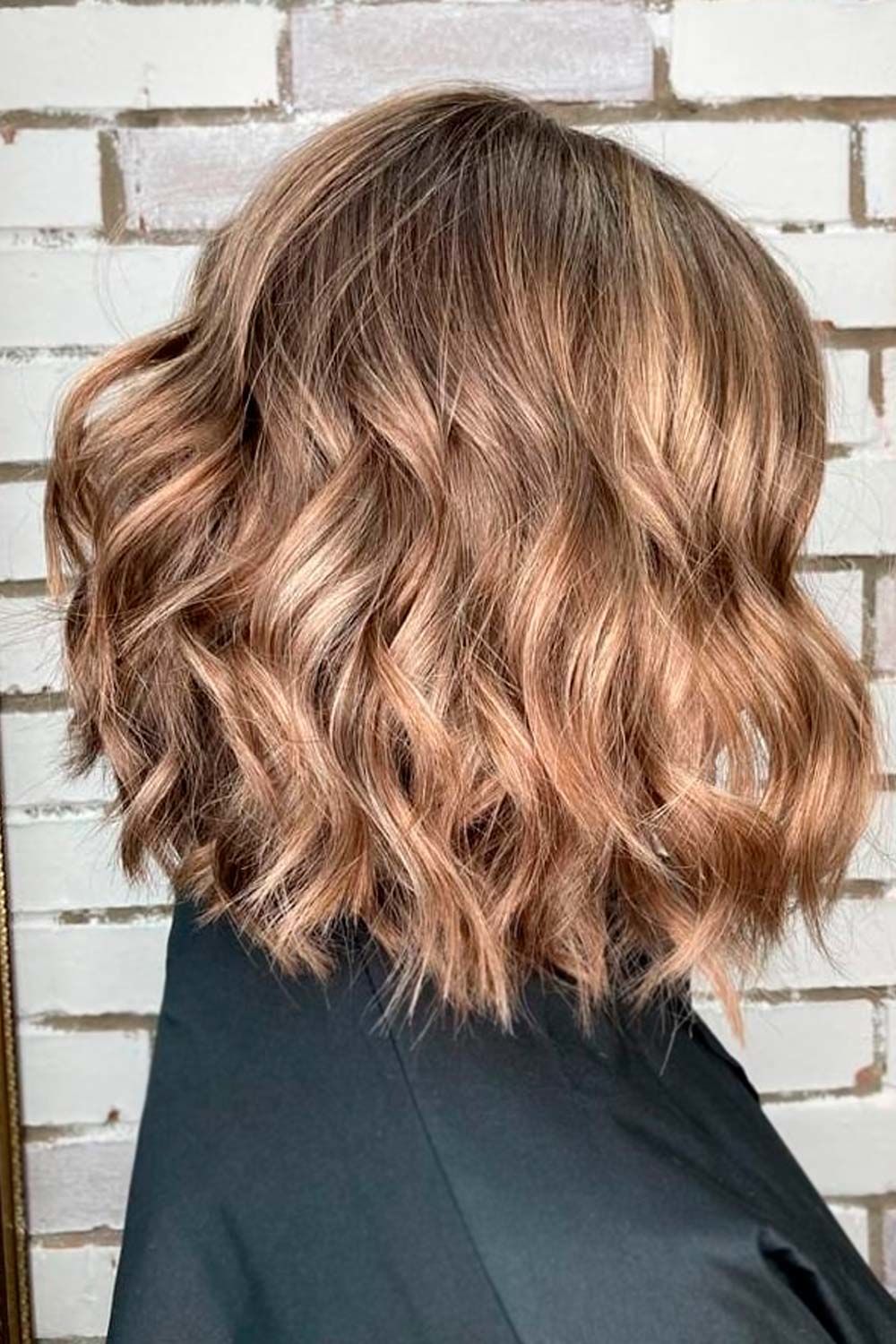 Credit photo: instagram.com/morozovajulia80
With the summer upon us, women opt for a short bob haircut. This style allows enough length to still pull your hair back into a ponytail if desired. This model's dirty blonde hair color has a beautiful balayage color application that causes the colors to blend perfectly and appear natural. This cut allows for various types of styles to be acquired to suit any occasion whether casual or formal. With a little time and a straightening iron, you can have a straight hair style that is both sleek and sexy for formal events.
Long Burgundy Highlights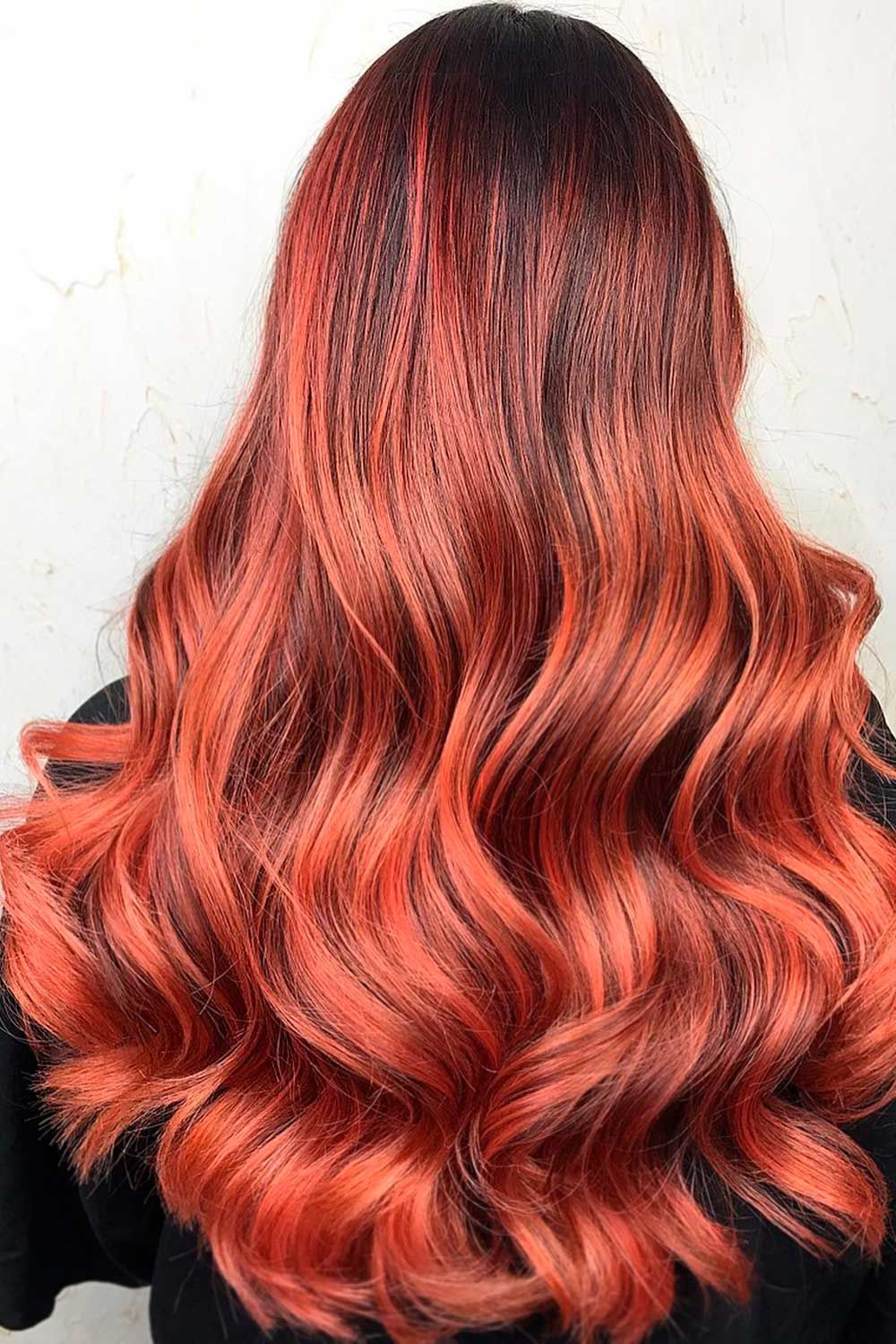 Credit photo: instagram.com/daalgard
If you have a naturally wavy hairstyle but desire more formed curls, this hairstyle is the perfect example. Oftentimes, women are hesitant to attempt to put highlights on burgundy colored hair. However, this ombre hair color is absolutely stunning! The addition of a bang haircut also gives this style more character. Whether you have long hair or short hair, this color job would be beautiful on nearly any length.
Long Brown Highlighted Hair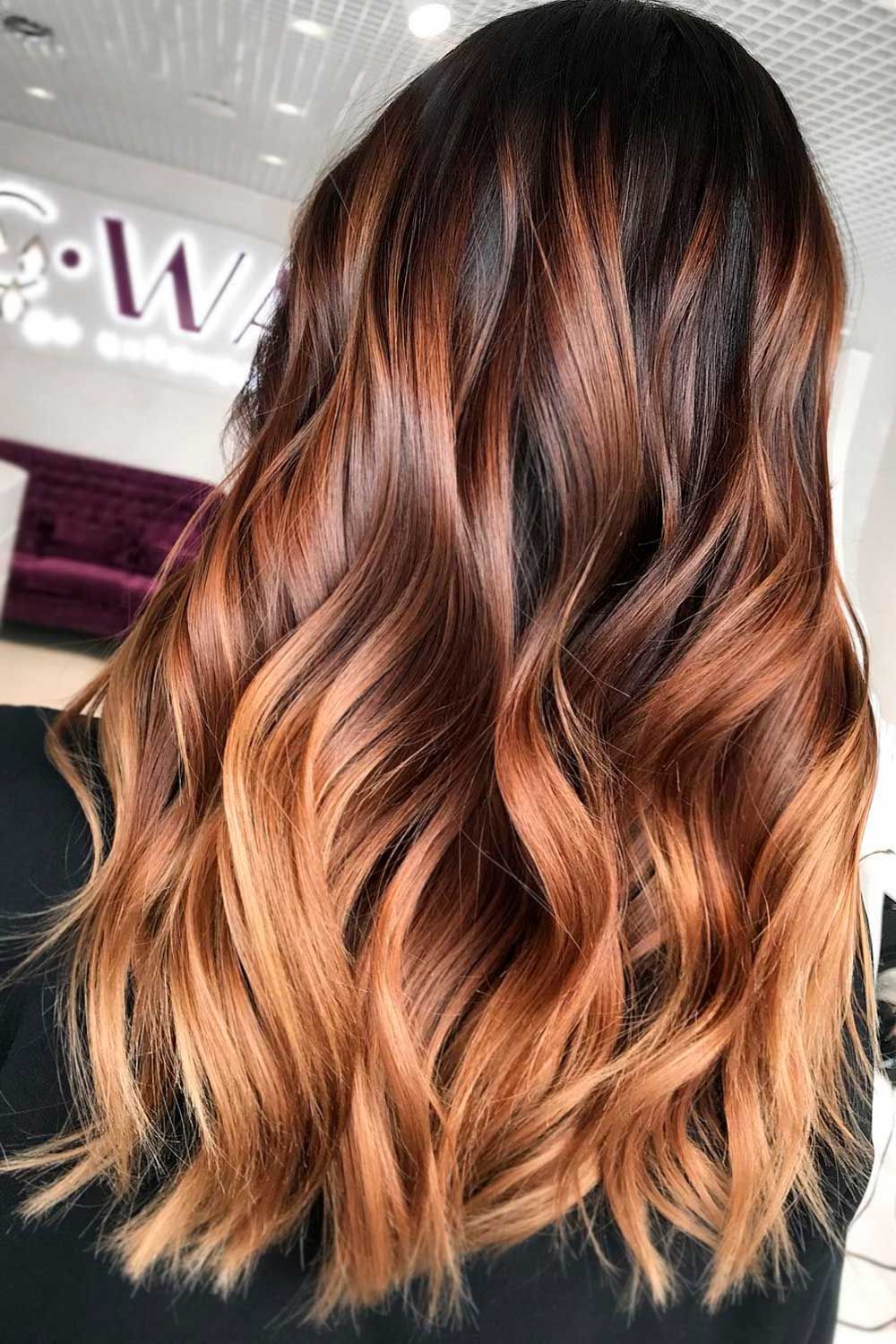 Credit photo: instagram.com/daalgard
It doesn't matter what color of hair you have, blonde highlights have been worn on every hair color imaginable and still look phenomenal. There are various tones of these blonde highlights, and some of them would often be classified as a different color rather than blonde. Like on this model, wavy hair allows the colors to flow and melt beautifully. This style looks equally stunning on short hair but really shines in the length of a long hairstyle.
Dirty Blonde Hair With Highlights
Посмотреть эту публикацию в Instagram
Credit photo: instagram.com/mariohenriqueoficial
If you're looking for a new style for your long hair, then this hairstyle pictured here may be just the style for you. This model has a gorgeous color job with highlights that compliments her skin tone and eye color. This beautiful wavy hairstyle has slightly more curl than a typical wavy style. This color job would also look good on straight or curly hair, but something about the wavy style compliments this style in a fantastic way. The dirty blonde hair color really flatters her skin tone and eye color.
Blonde Vanilla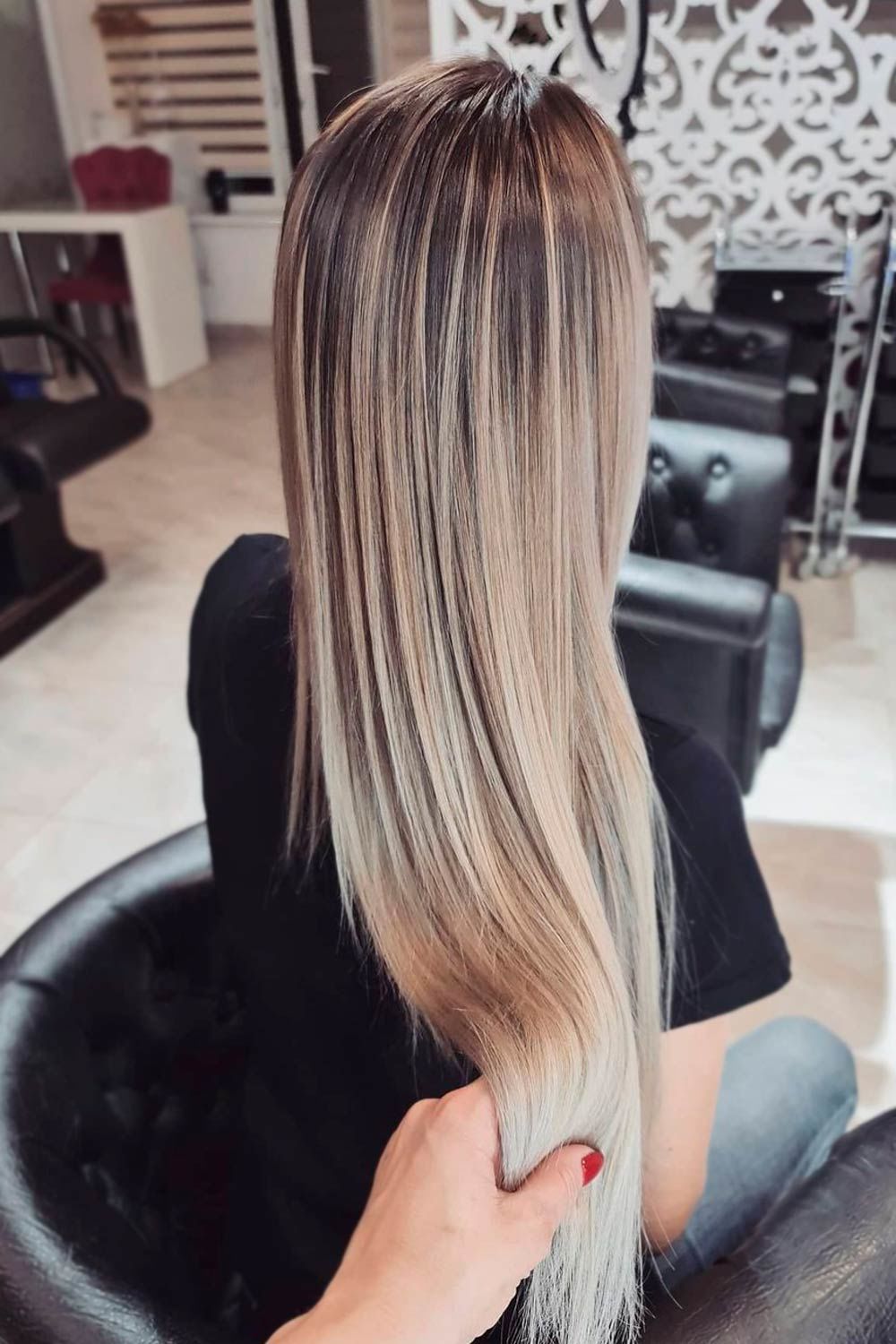 Credit photo: instagram.com/vashenko_anet
Not a total blonde yet not a brunette. While many girls tend to compare blonde and brunette, trying to find out which one is better, wise ones know that these two go hand in hand. In other words, there's no better color pair to brunette than blonde shades, and vice versa. Here, you can see how coolish vanilla blonde hues blend with a light brunette base, forming a seamless single whole.
Sandy Blonde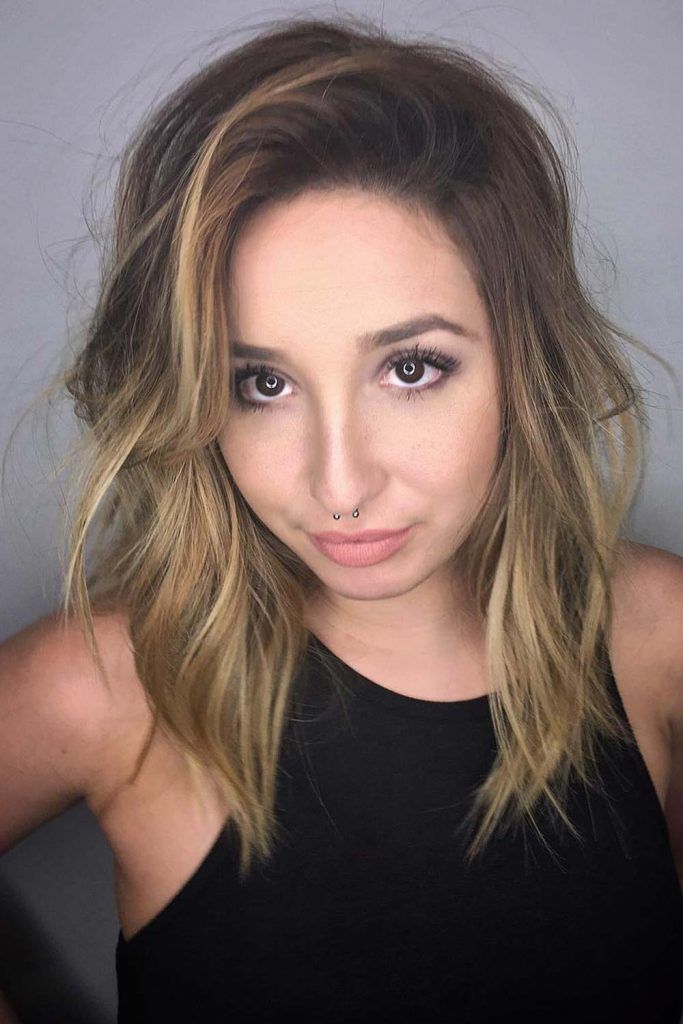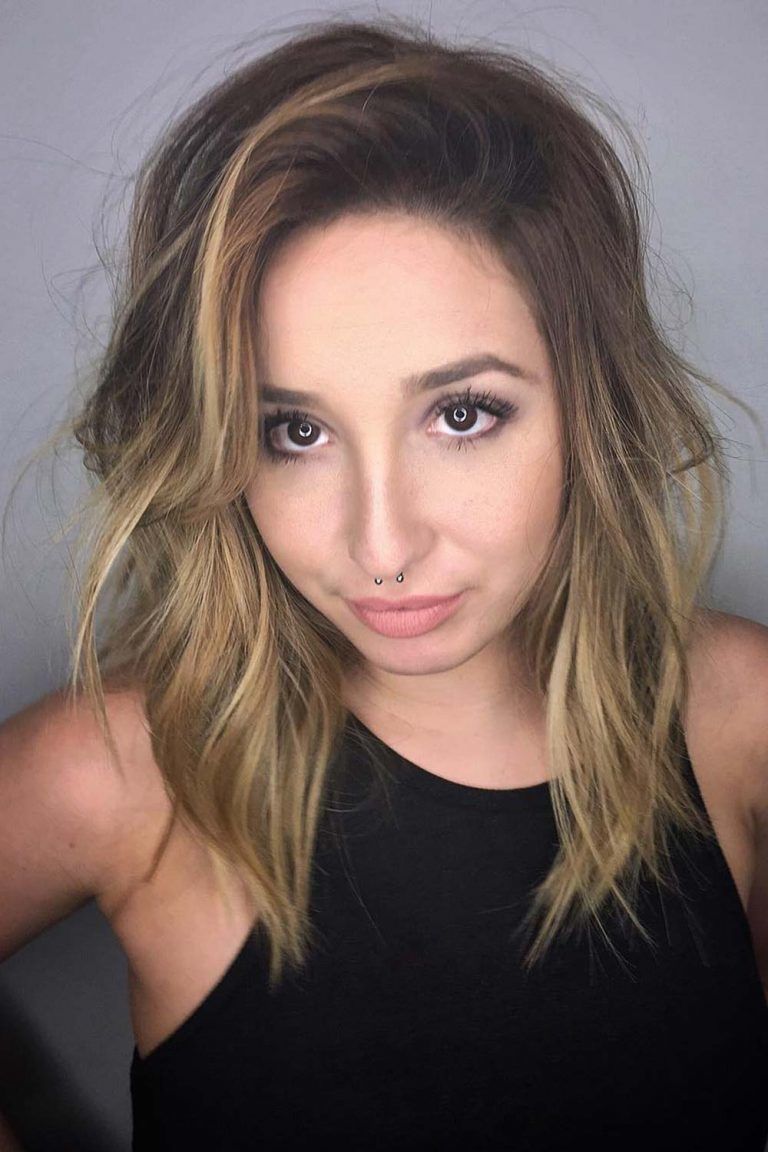 Credit photo: instagram.com/cutyourhair
Sandy blonde hues bring the mood of eternal summer; the mood of the time when glossy waves gently kiss the wet sand with its foam. Yes, highlighted hair is not just a little change of color; it's a brand new mood that can feel the space around you every single day. Make sure to leave the roots dark yet well-blended to keep up with the color and health balance of your locks.
Cappuccino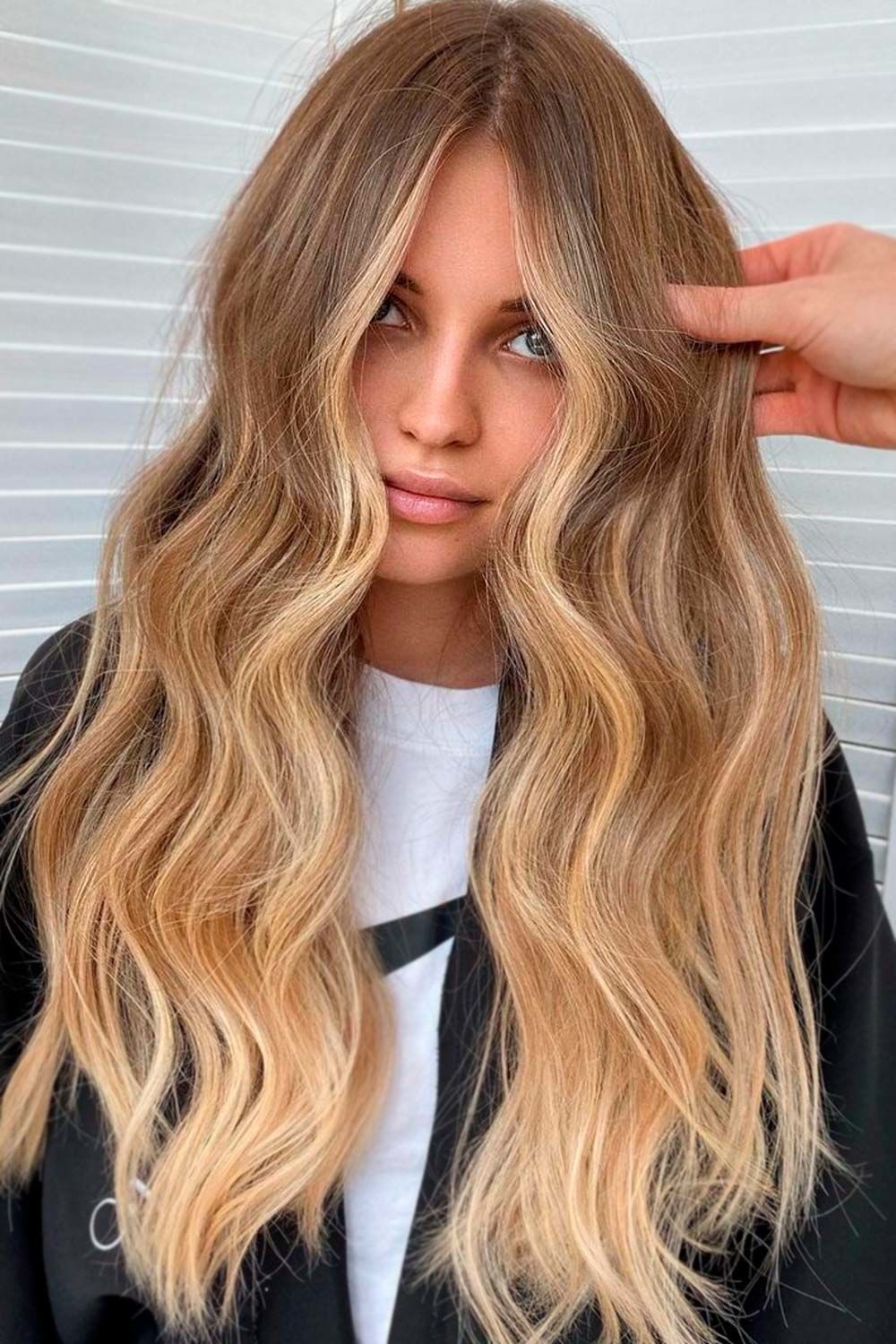 Credit photo: instagram.com/daalgard
How about a soft cream hue that melts with espresso base and ends as a powdery accent of cinnamon shade? Call it magic, call it true, but the most pleasant hair color never comes alone. And if you want to flaunt with as tasteful and attention-grabbing color as your favorite coffee drink, don't forget to find a color barista who knows the right proportions.
Buttery Blonde Lights
Посмотреть эту публикацию в Instagram
Credit photo: instagram.com/mariohenriqueoficial
Besides a refreshing appearance, there's one more visual benefit from getting highlighted hair. Remember how many times you felt disappointed about your face shape and tried to style your hair to work on it? Well, as a matter of fact, the right color approach is enough to sort things out. As you can see, these buttery blonde highlights are pretty drastic comparing to the darker mane. Also, they're added selectively to the front. As a result, they create a stunning framing effect that will wash away all the face-shape insecurities.
Coppery Toned
Посмотреть эту публикацию в Instagram
Credit photo: instagram.com/mariohenriqueoficial
Copper hair color lies between red and brunette color palettes, which means it will work for both redheads and brunettes. Even though it comes as a combination of those two, the shiny reddish vibe always prevails. So if you want to spice up your brunette mane with some natural shine, get your hair toned with some matching coppery shade.
Warm & Sultry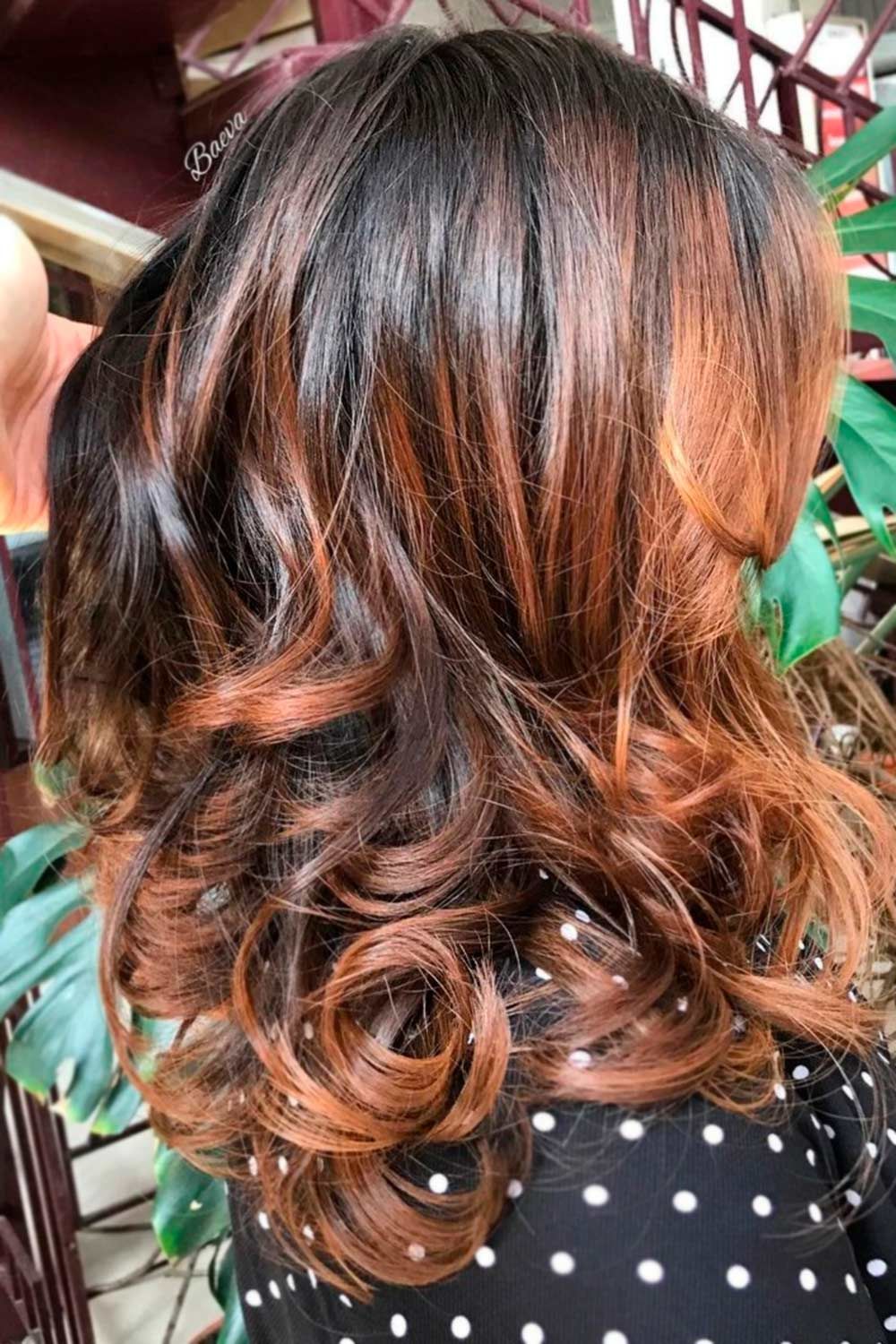 Credit photo: instagram.com/mia_baeva
When deep warm-toned shades meet a profound cool-toned base, they form a duo that can leave people speechless. This stunning mix of sophisticated brown and dark caramel highlights looks so attractive and natural that it's hard to take eyes off it. Isn't that the effect every girl would like to achieve with her new hair color?
Chestnut Brown Shades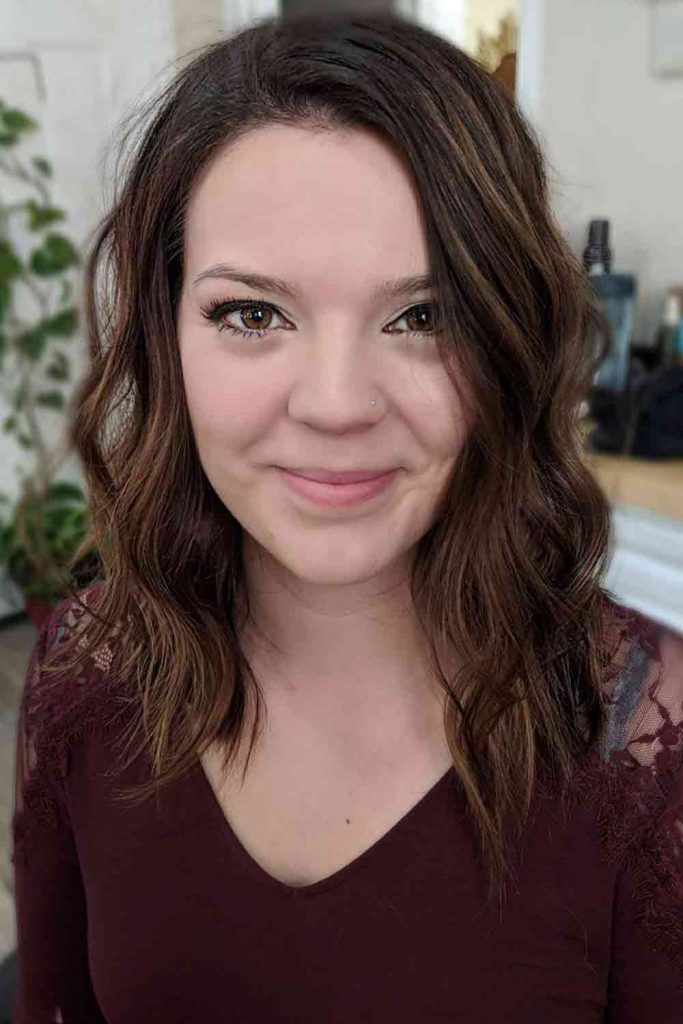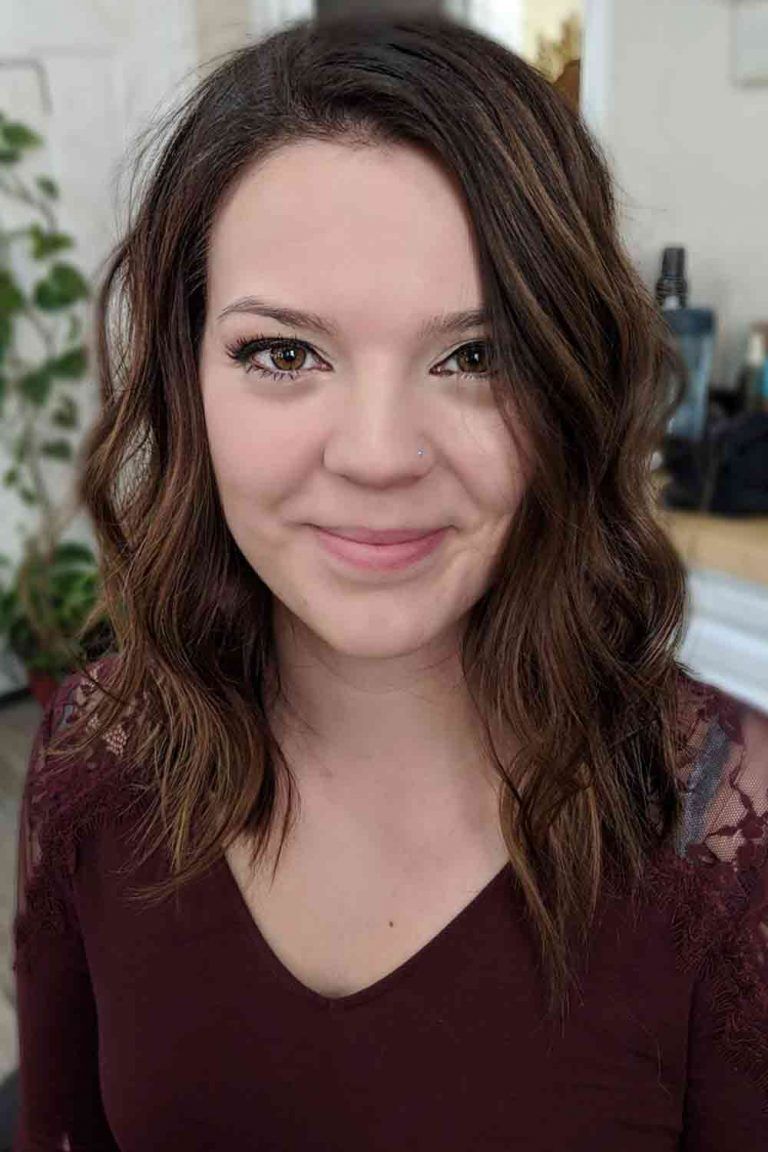 Credit photo: instagram.com/ashley.m.stylist
Here's an idea for those who want to stay loyal to their natural chestnut bases while giving a little fresh take. Just like any other color, chestnut brown comes in a variety of similar shades. So why don't you create a mindblowing dimension by mixing them all? This look, for instance, is the perfect example of such color moves.
Honey Glazed Doughnut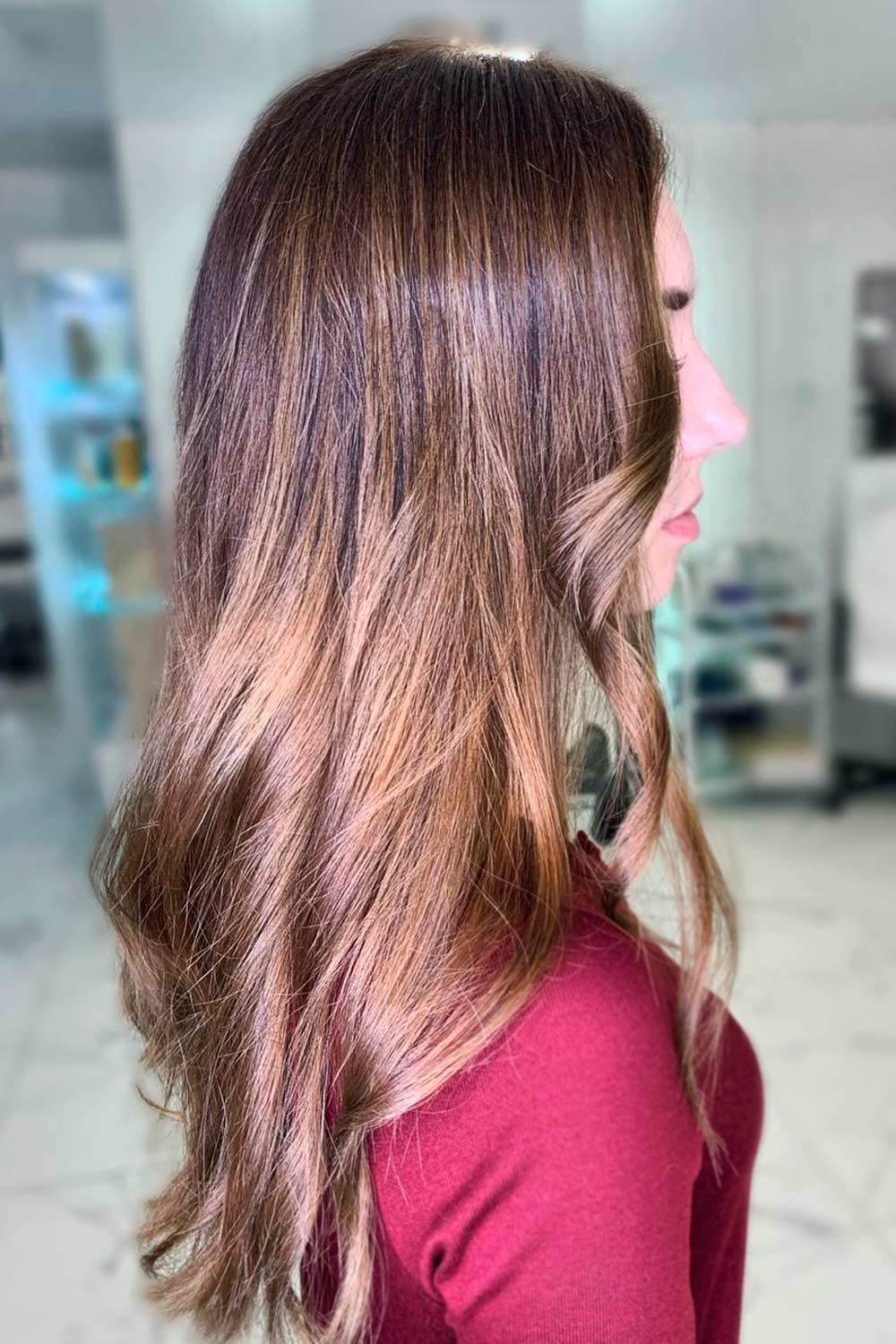 Credit photo: instagram.com/yuliiashvetsova
Unlike real chocolate donuts with honey glaze, this idea has nothing to do with calories you will regret getting. The only things that you will achieve in great amounts are countless compliments because this color play is destined to have all eyes on it. In order to make the darker base stand out, honey brunette highlights hit the ends so distinctively that it can outshine the sun itself!
Silver And White Highlighted Hair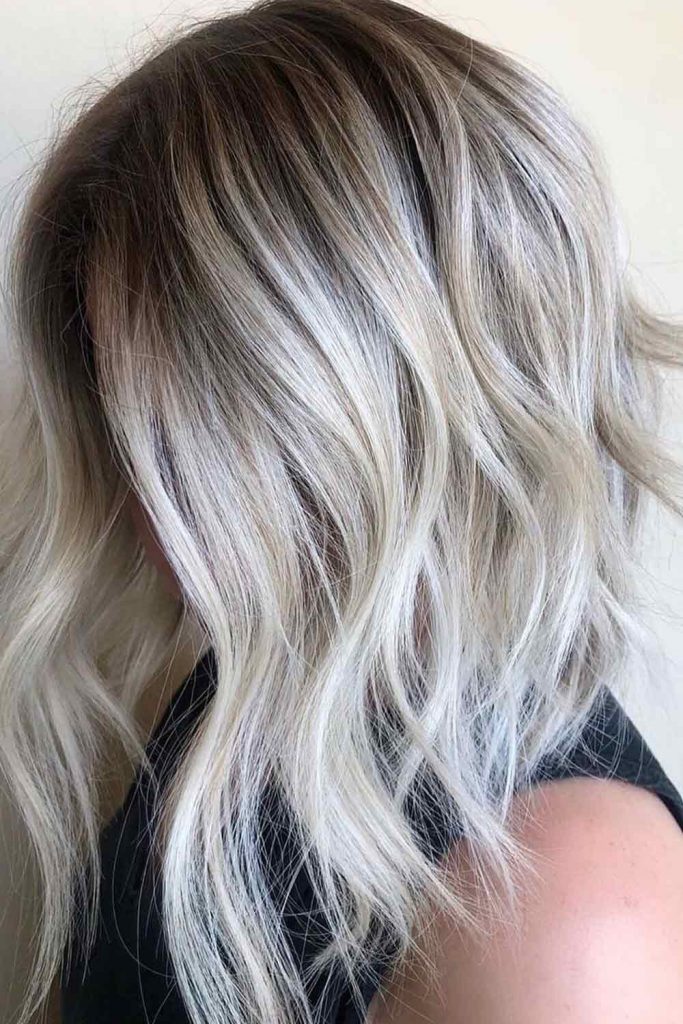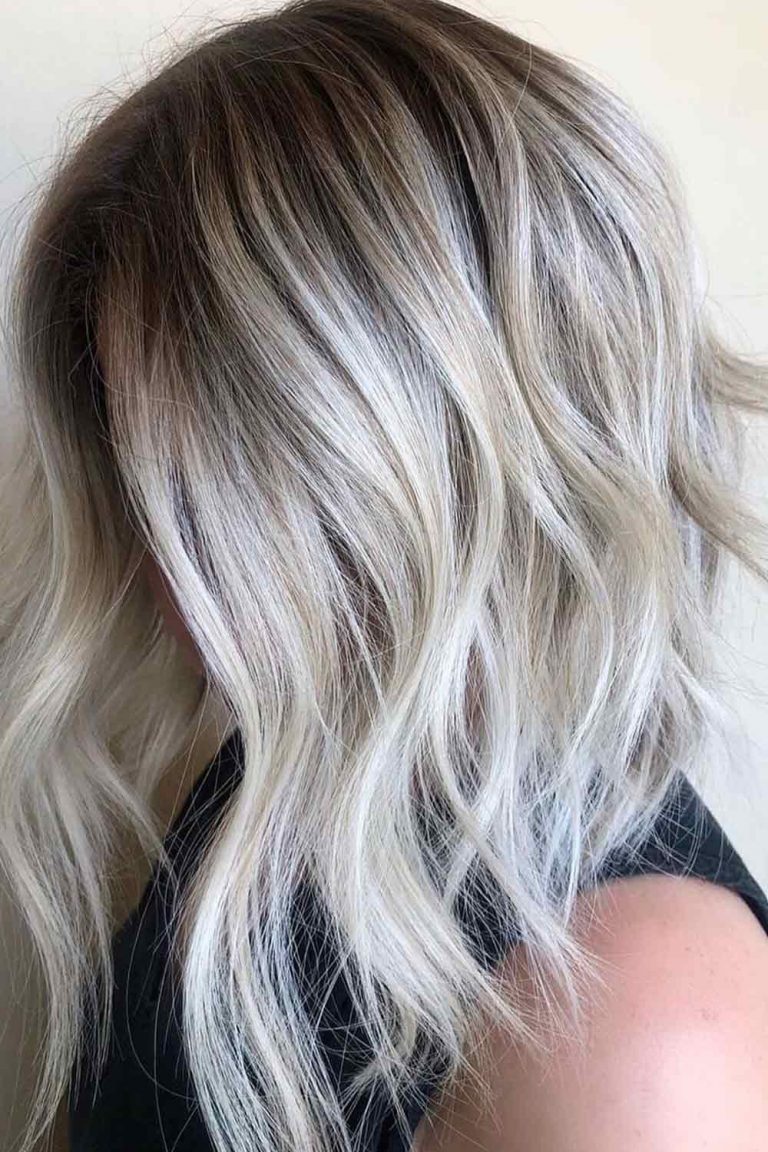 Credit photo: instagram.com/balayageombre
There are several techniques how a hair colorist highlights hair. One of the most popular options is to get ombre. For example, you can ask your colorist to make your ends several shades lighter, like caramel.
Most Delectable Caramel Highlights Hair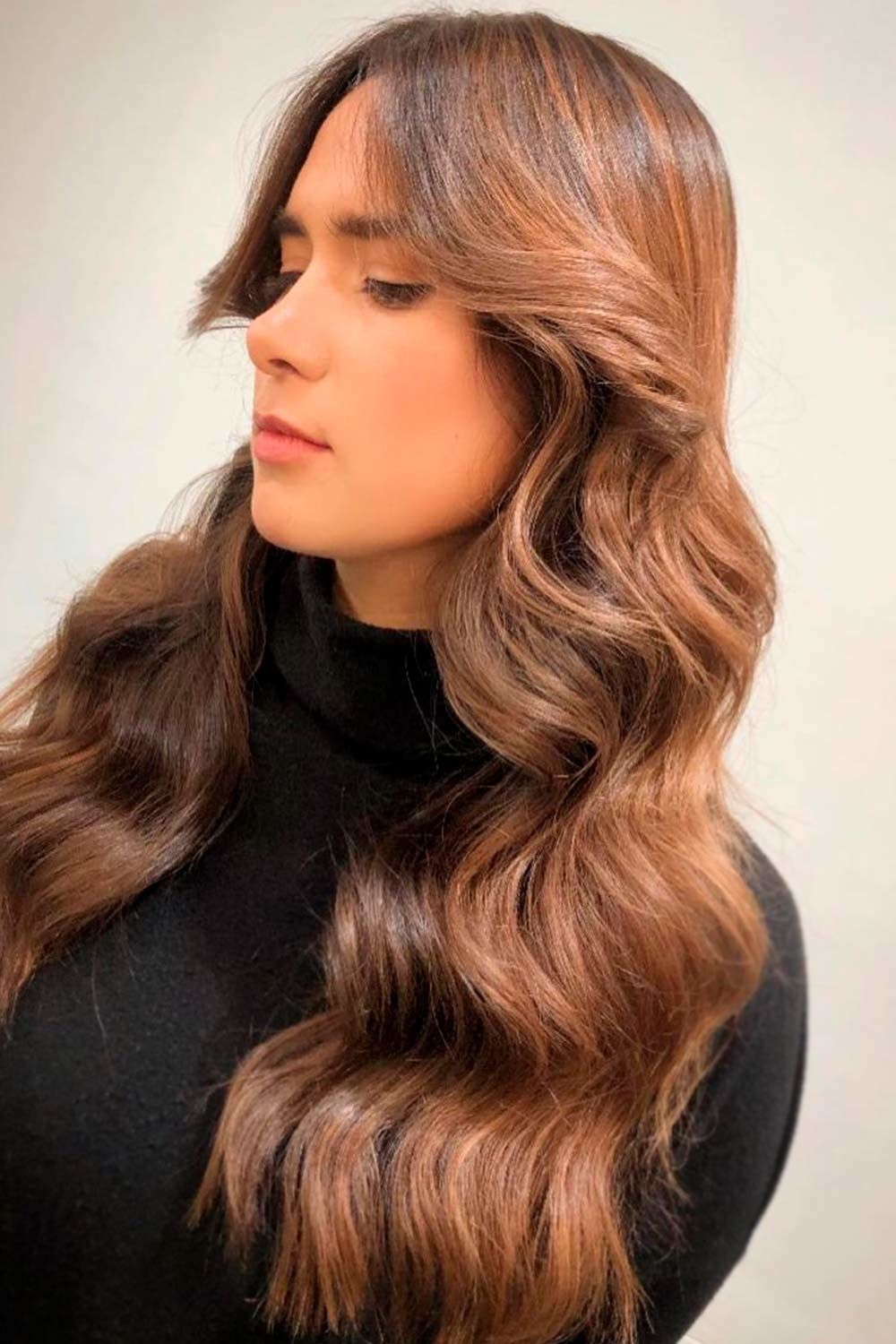 Credit photo: instagram.com/loginova_colorist
Or, ask for another trendy coloring technique and get a balayage hair color. It can also enhance the beauty of your dark hair and make it multi-dimensional. Just consult with your stylist which technique is more appropriate for your hair texture.
Amazing Highlights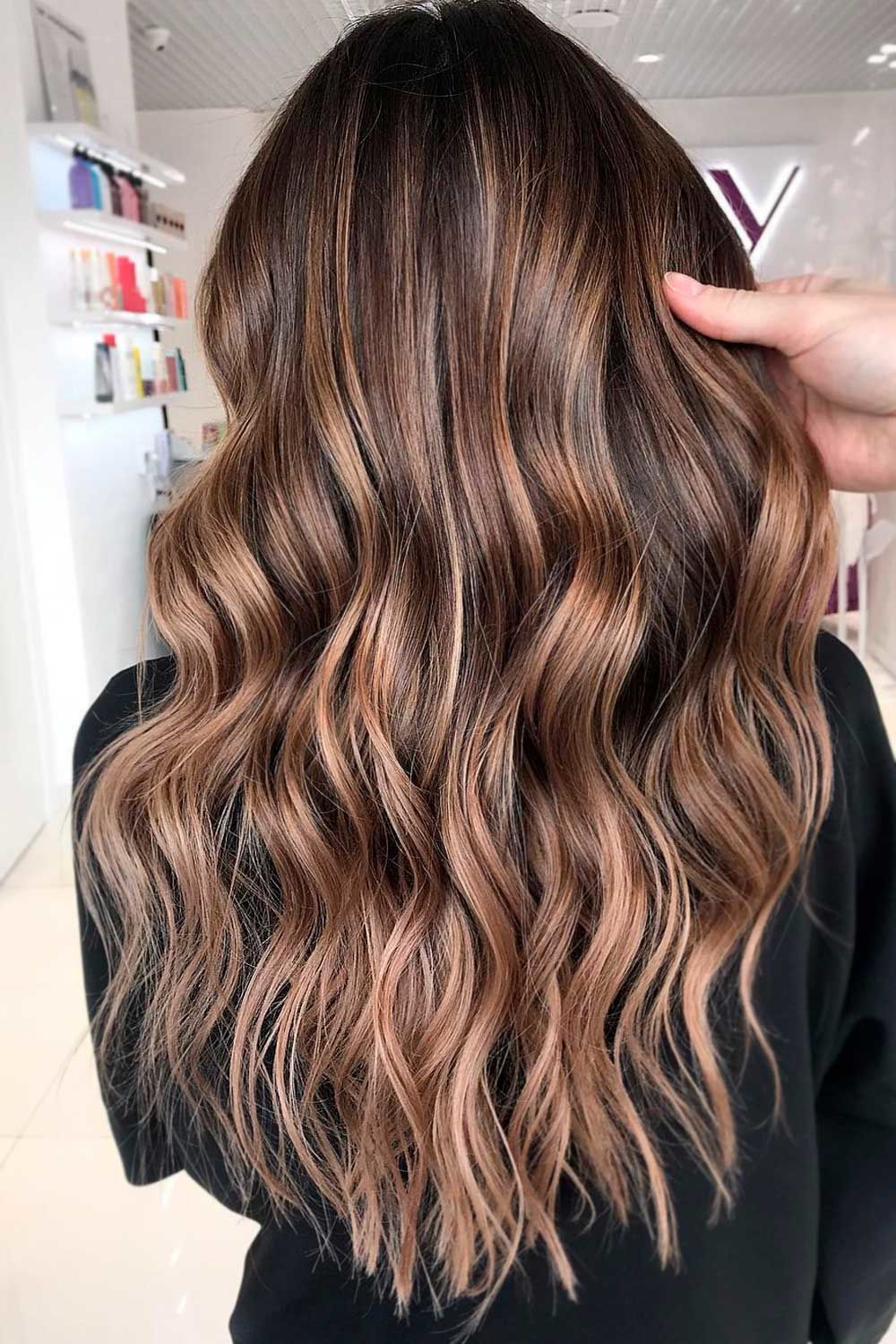 Credit photo: instagram.com/daalgard
Thus, if you opt for ombre, it requires bleaching the ends at first. And the ends of our hair always get the most damage. So, you need to be sure that their state is good enough to survive bleaching.
Highlights For Short To Medium Hair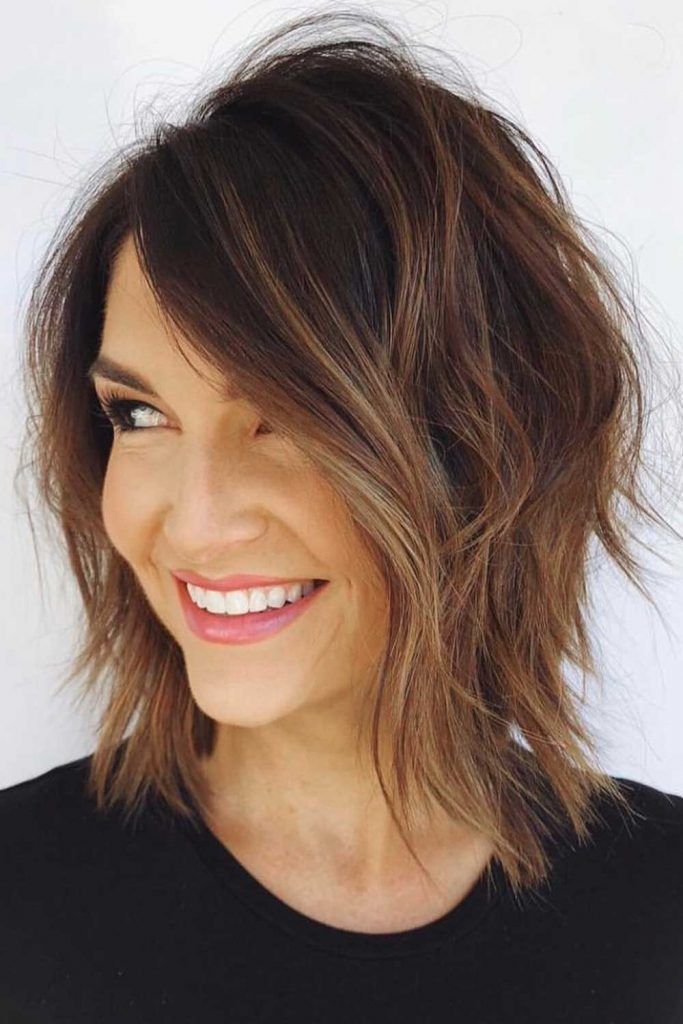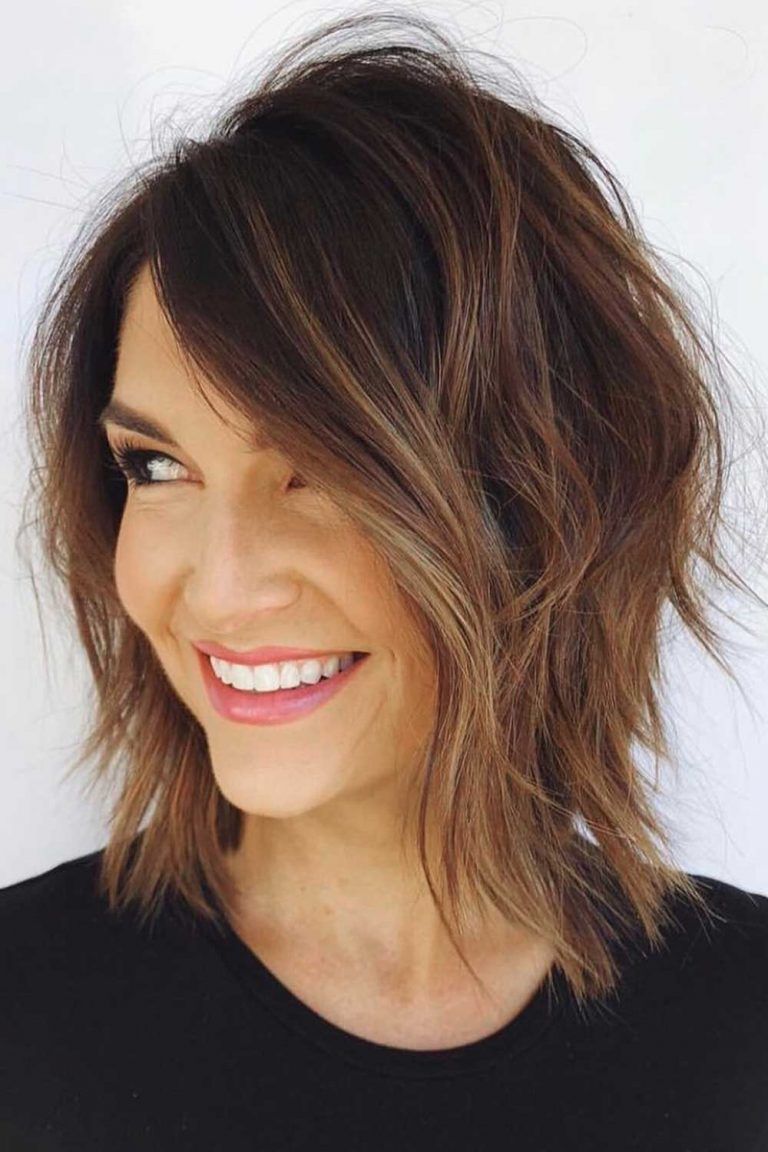 Credit photo: instagram.com/chrisjones_hair
A pixie or medium cut with the highlighted or bright strands will not leave you unnoticed in the monotonous crowd.
Amazing Long Highlighted Hair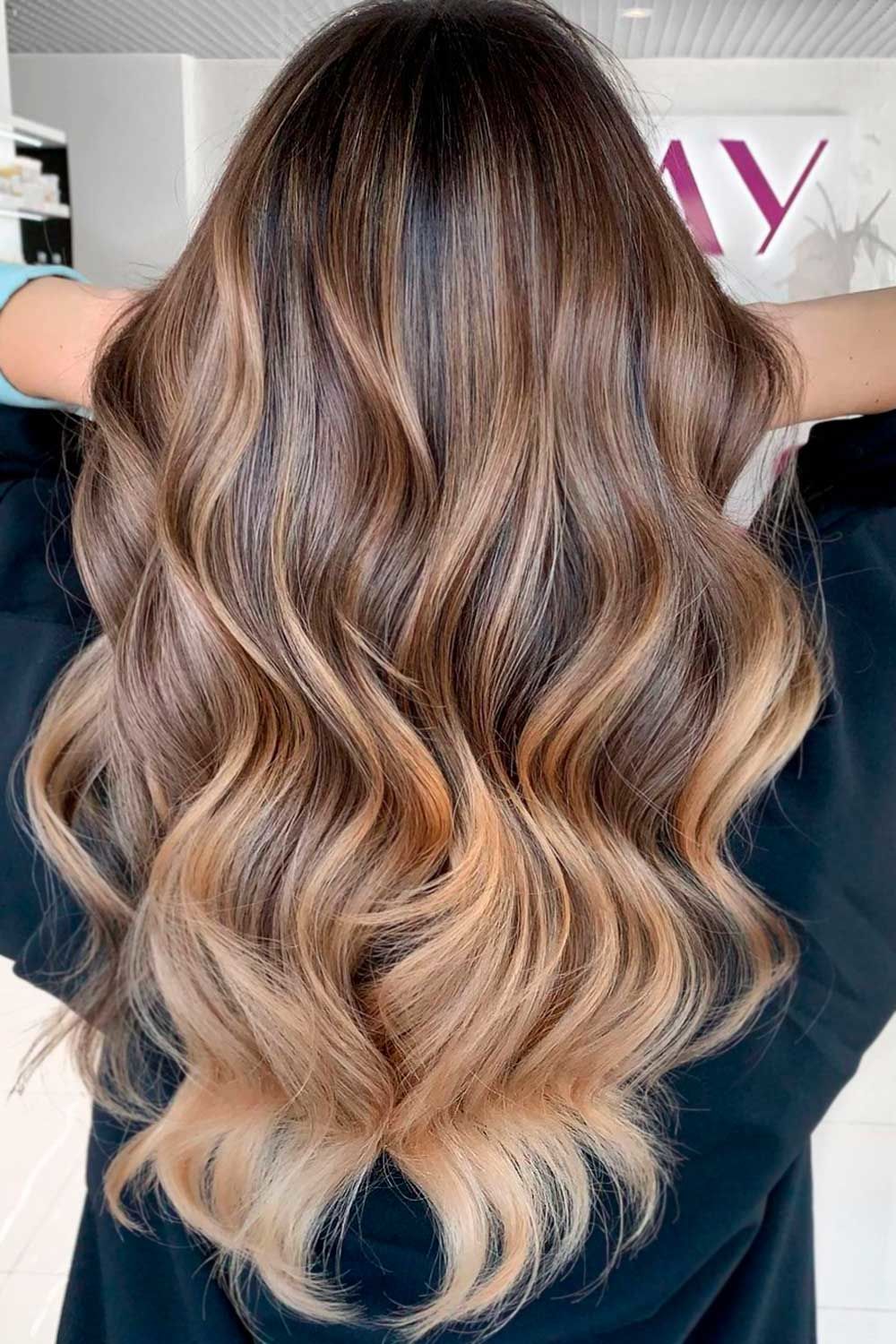 Credit photo: instagram.com/daalgard
Colorful balayage on brown hair looks amazing. This striking style starts with a deep and dark brown shade and ends with bright highlights.
Beautiful Balayage For Brunettes
Посмотреть эту публикацию в Instagram
Credit photo: instagram.com/suetyrrellstylist
On the long hair, a variety of highlighted strands looks especially charming, since they add radiance and visual volume.
Chocolate Brown Hair With Highlights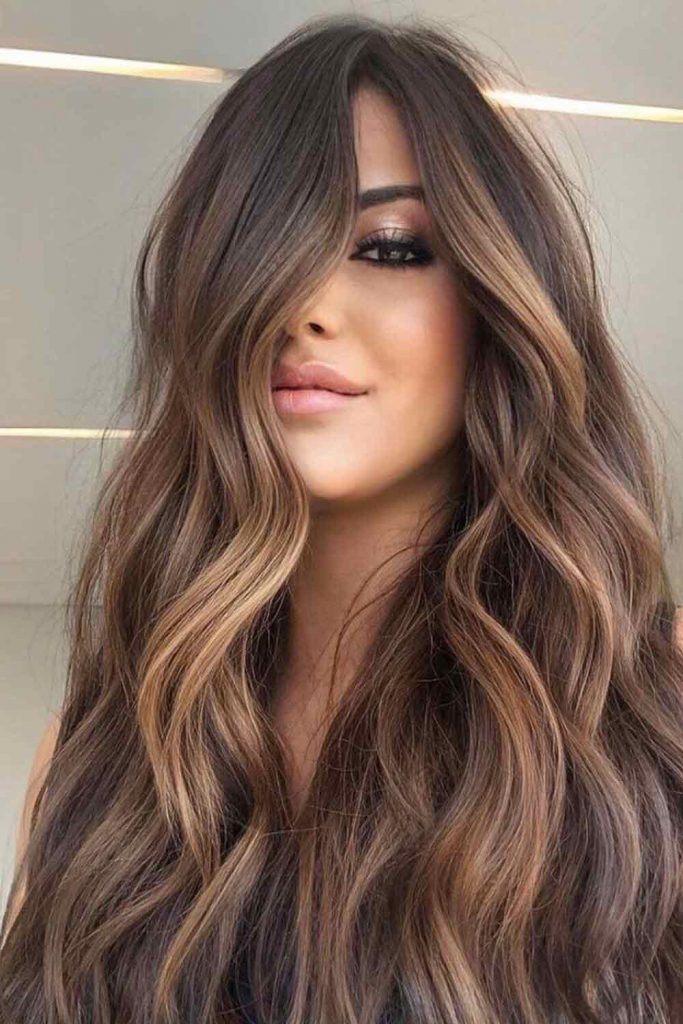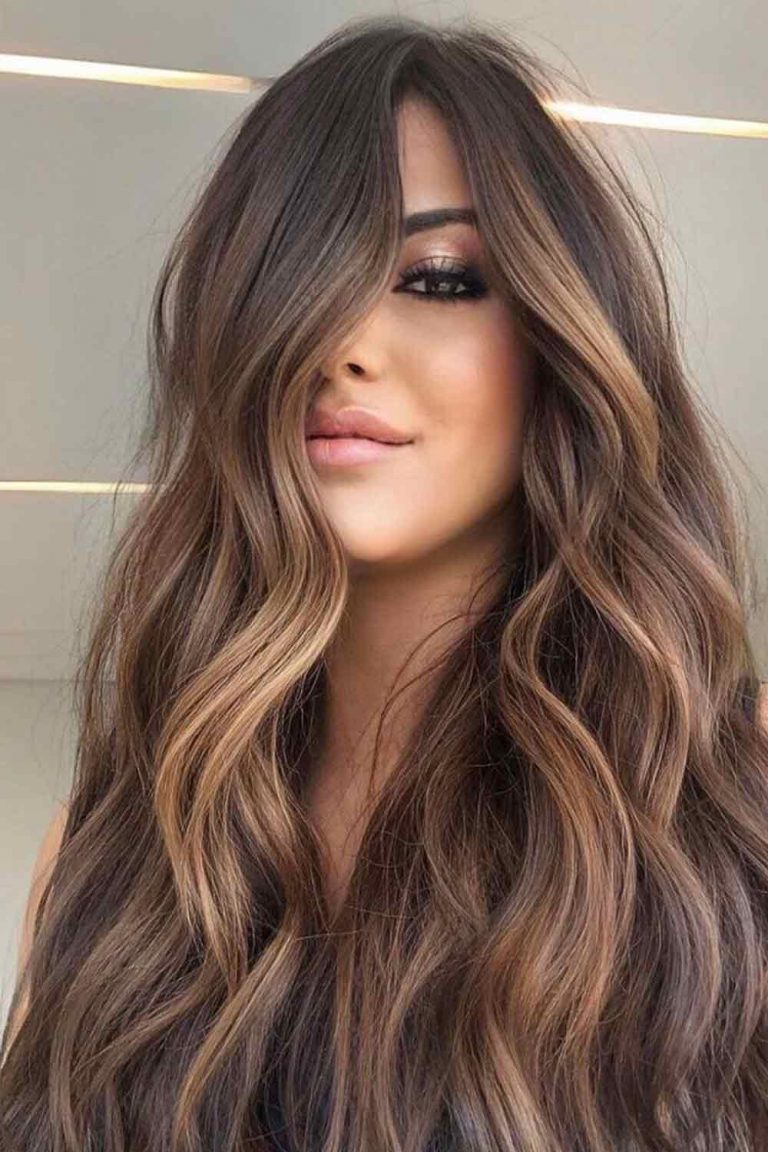 Credit photo: instagram.com/balayageombre
Highlights that are subtly popping will add some movement and dimension to your gorgeous brunette tresses.
Cold Tones For Your Dark Hair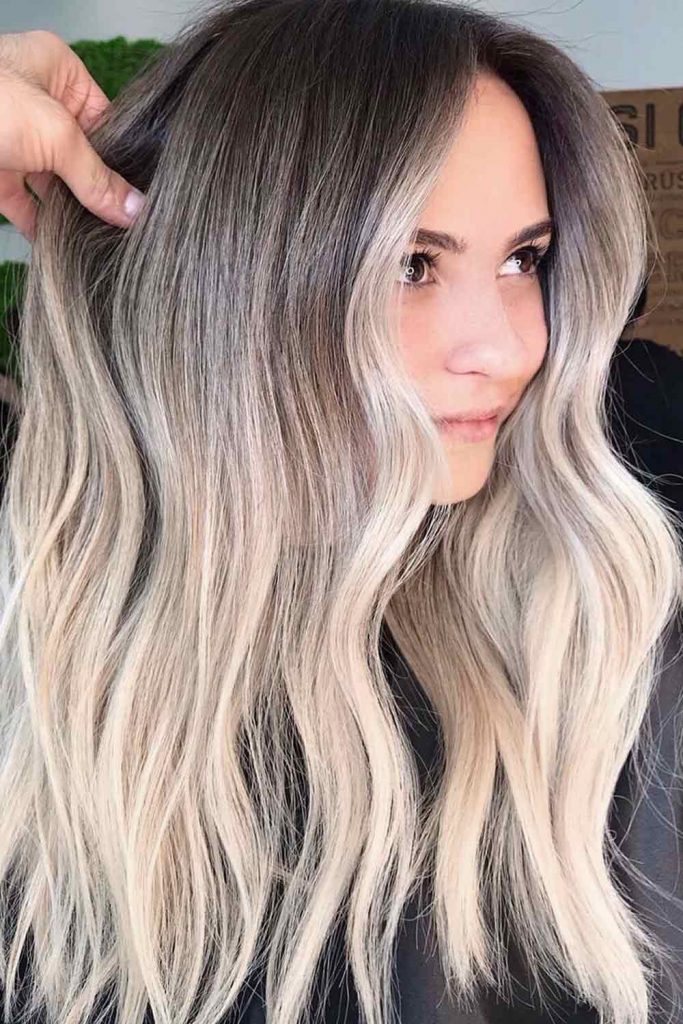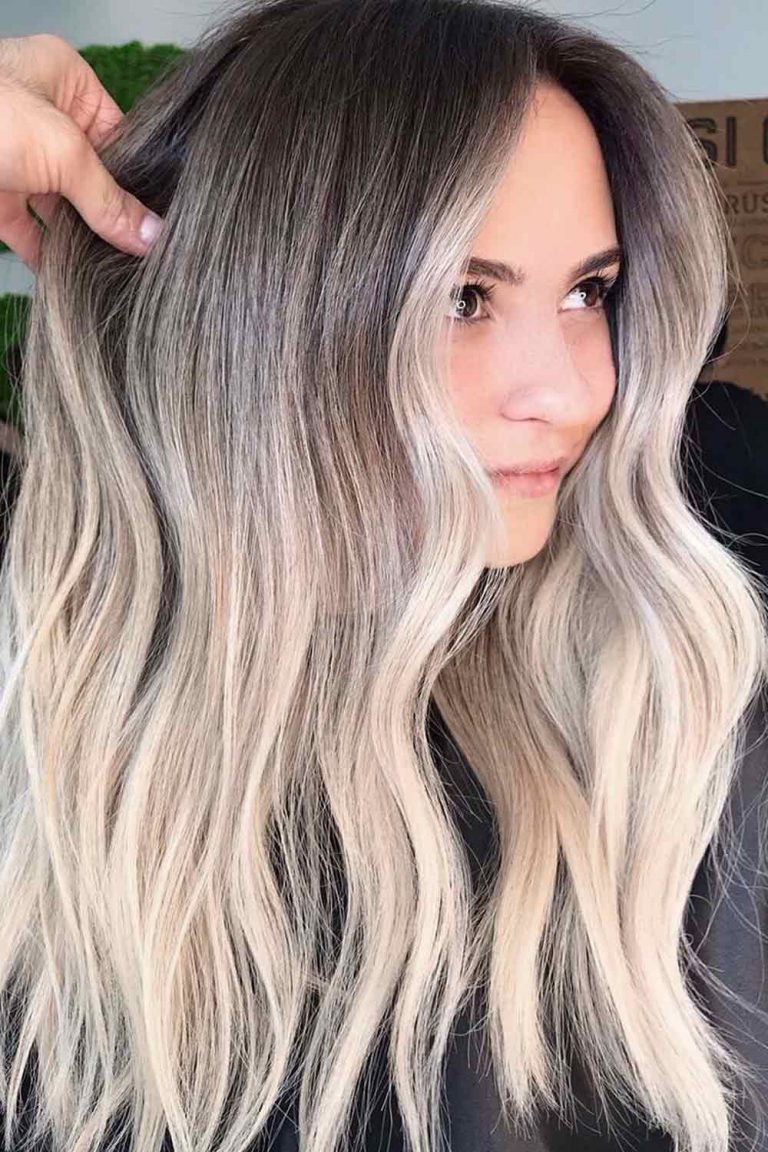 Credit photo: instagram.com/balayageombre
When darker hair meets with ice, the result is mesmerizing. Who are you and what is your secret, someone might ask.
Blonde And Brown Balayage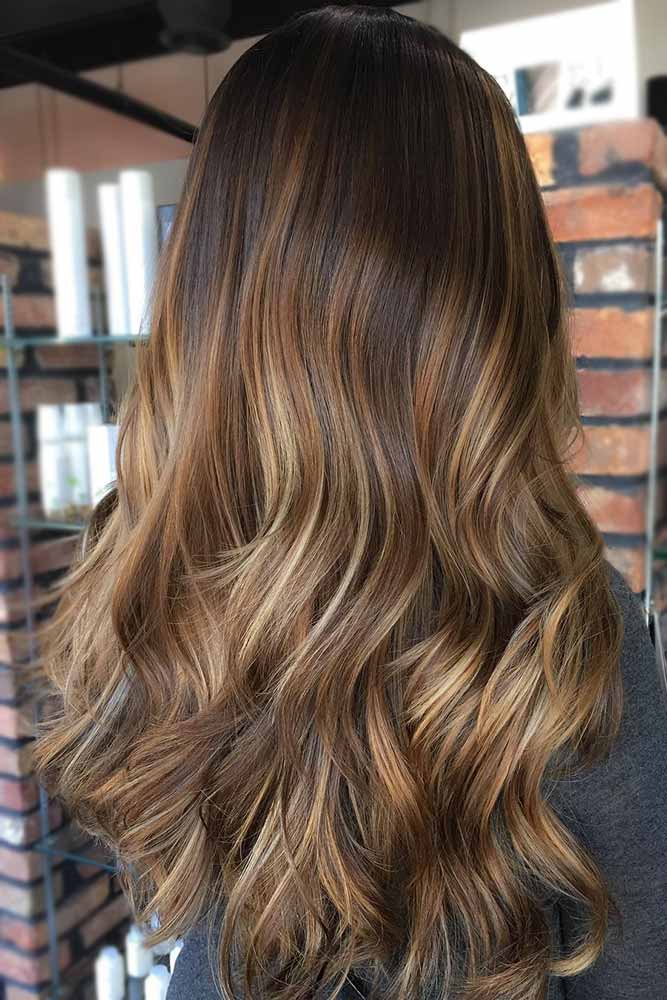 Credit photo: instagram.com/off7thsalon
These brunette locks sun-kissed with highlights look stunning. Slightly wave your hair, at least the ends, to bring out that beauty.
Warm Tones On Dark Brown Hair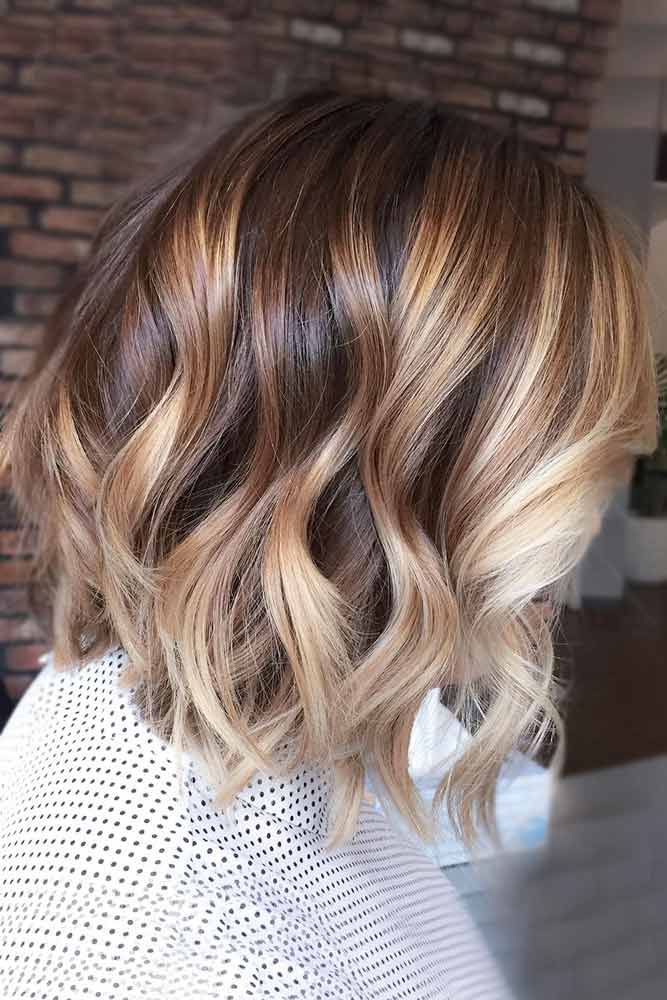 Credit photo: instagram.com/off7thsalon
Warm tones can also spice up your long brunette looks. The result will be subtle, more natural looking. This look is truly royal!
FAQ: Highlighted Hair
Which hair color is best for highlights?
Blonde Ombre
Burgundy Babylights
Purple Balayage
Yellow Ombre
Blue Ombre
Peacock green dip-dye hair
Carrot-orange dip dye hair
Is highlighted hair bleached?
Highlights, which enhance your hair by adding lines that are a tone or two lighter than your natural hair color, are frequently the first step in hair coloring. Your stylist should use more than one hue for highlights, not only bleach.
Can you do highlights without using bleach?
A developer is needed for most highlights and hair dyes, as it activates the dyes' ingredients and prepares the hair to take the new color. It's crucial to use a 40 volume developer or a solution containing 40 percent peroxide to make highlights without bleach.
Was this article helpful?