The hues mixed by the golden brown hair color form a sumptuous, silky, and dimensional palette that embraces the warmth of the summertime and the charm of the vivid fall. It's no secret that the colors we see around directly affect our mood. So why don't rock the combination that features the most inspiring shades ever? Let us show you how you can benefit from the gold-to-brown color idea.
Whether you're a blonde who wants to add some oomph to her base or you're a brunette that is about to make her color more lively, this color combination has an approach for all experiments possible. And on top of that, these two lovely shades may come in many different ways: from soft accents to a deep all-over coloring.
Before going for extreme changes, we want you to check out the natural-looking, very dimensional and rich looks that you can get by adding a couple of new shades to your base. These ideas are going to inspire you for your next salon appointment! See how to mix the familiar shades to reach a new, unique one and learn how to take care of it!
How To Take Care Of Golden Brown Hair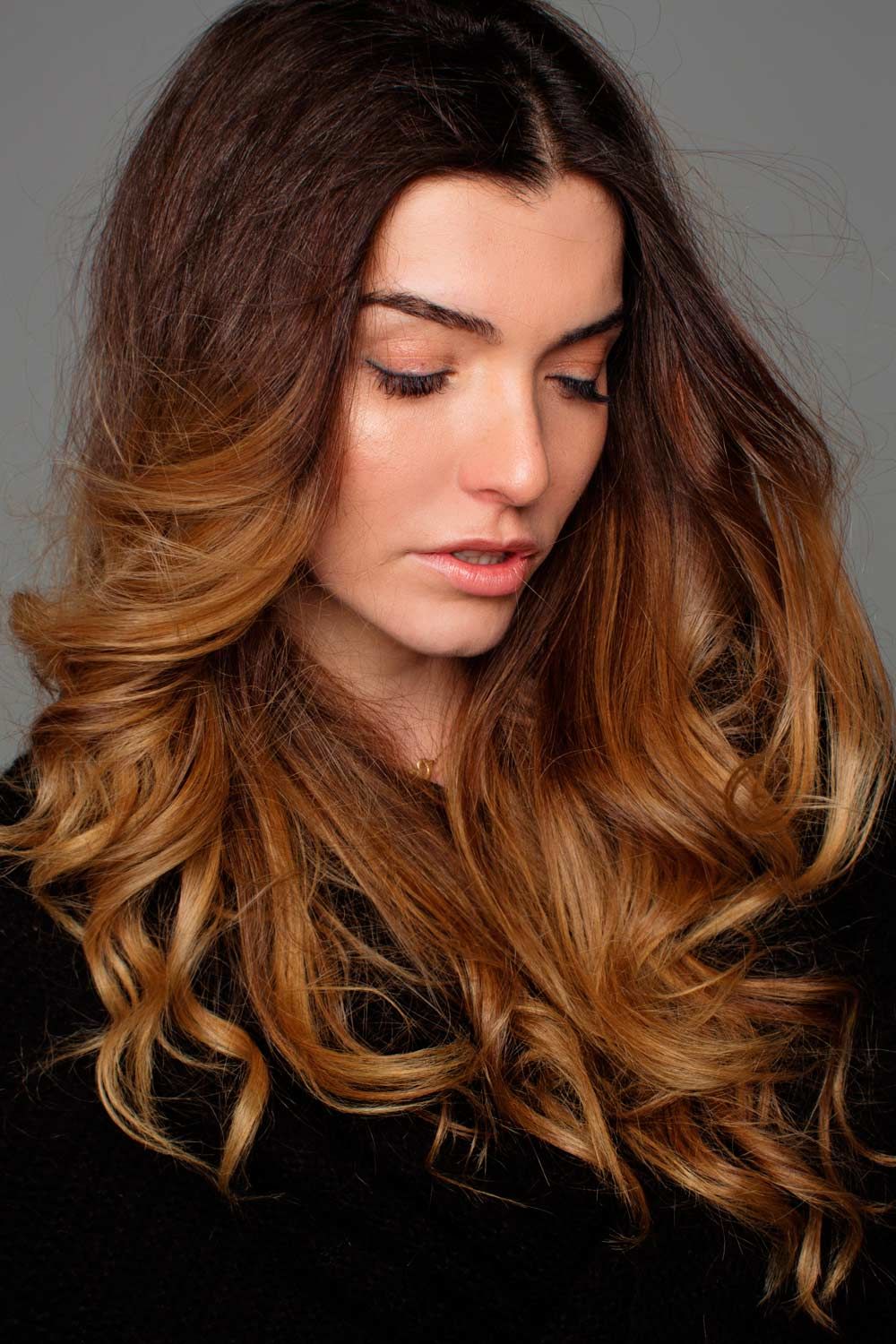 You should know how to take care of your sophisticated rich golden brown hair to keep its beauty as long as possible. The right care routine is crucial when going for new colors, and this mix isn't an exception. So we want you to take into account these essentials to keep your hair gorgeous and healthy.
Get yourself a sulfate-free shampoo and conditioner that are designed for color-treated hair. Don't forget to use your conditioner after every wash, leaving it for a couple of minutes and then rinsing it out.
Use organic masks for color-treated hair to keep your hair soft and shiny twice a week. Alter such products with your conditioner, and don't use them together.
Even though the warm golden brown hair color looks ravishing with beachy waves, consider staying away from any heat. Give your flat iron and blow dryer a break and replace them with heatless overnight styling ideas.
Luxurious Shades Of Golden Brown That You Should Try
Golden Brown Balayage
Credit photo: instagram.com/irinabilka_hairandmakeup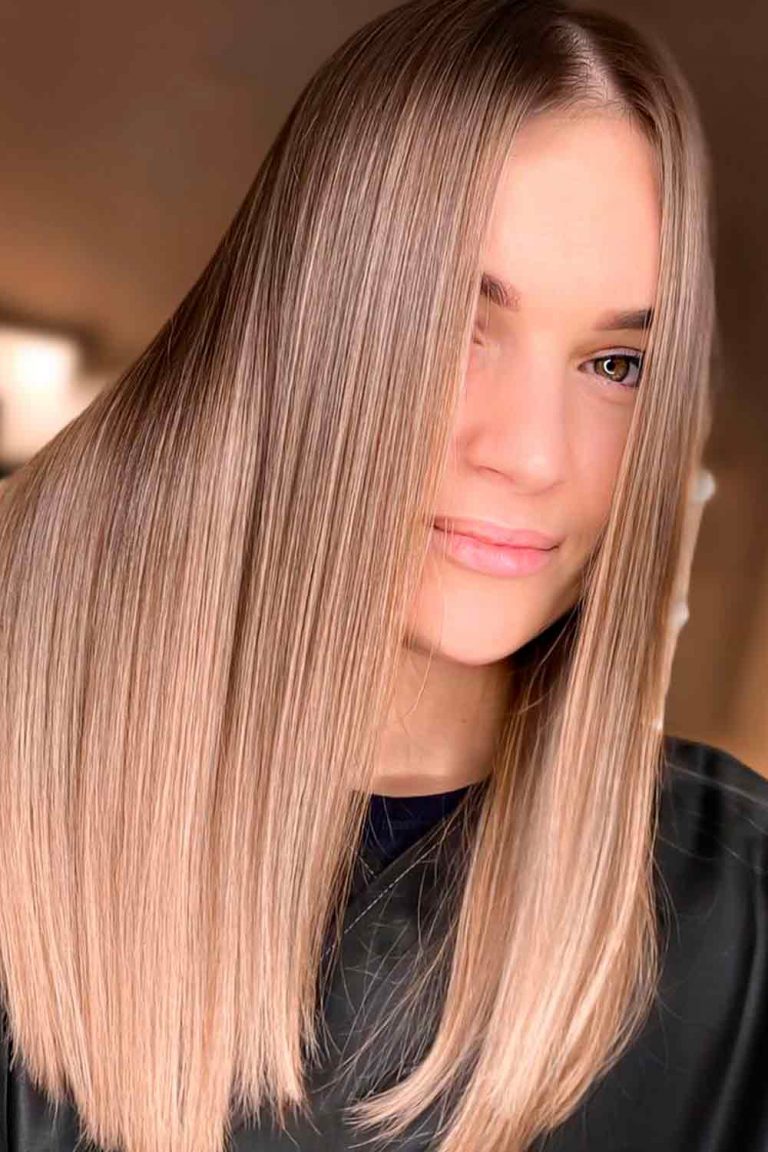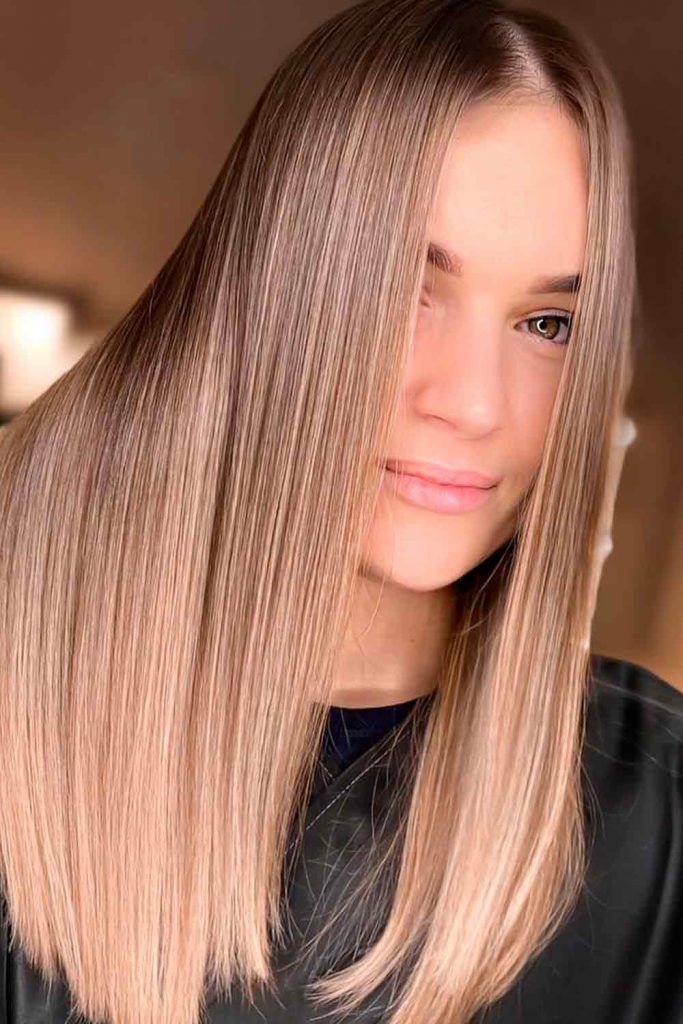 Credit photo: instagram.com/by_eve_gunina
With the diversity of golden brown hair color, it can be achieved through many techniques; and balayage is probably one of the most frequently chosen. When giving you balayage hair, your colorist colors the surface of your hair in a sweeping, free-hand technique, creating a very soft and dimensional play of colors. If you start with a blonde base, you can ask for soft caramel brown shade over it, and if you're a brunette, a golden beachy hue is what you need. Also, you can regulate the intensity of the color blend. For example, the pic above shows light golden brown hair color that awesomely works on the fair complexion.
Slight Golden Brown Hue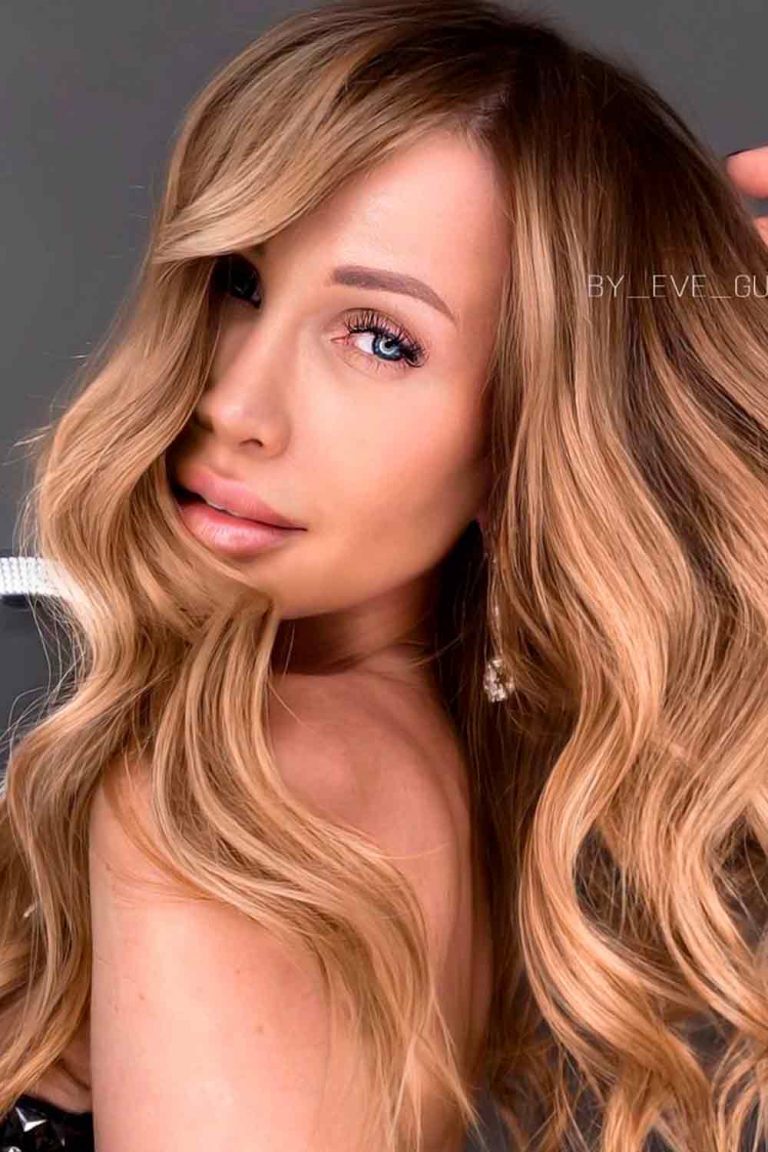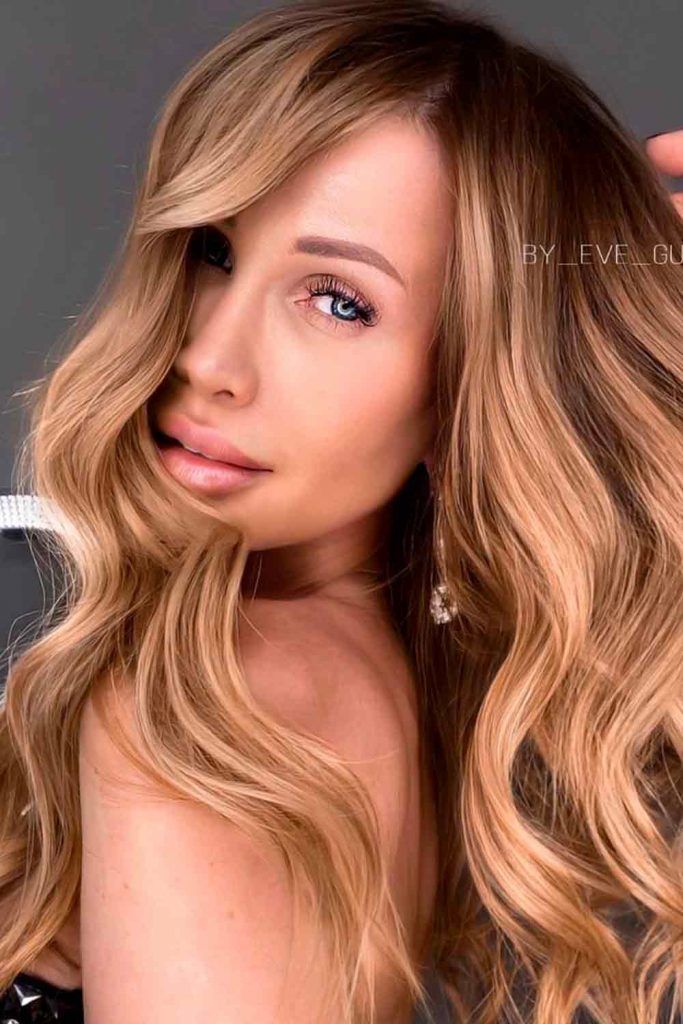 Credit photo: instagram.com/by_eve_gunina
Sometimes a bit of a golden vibe to your simple, light brown base is enough to move your hair color to the next level. And this picture is the evidence: light golden brown hair with highlights achieved by adding soft honey accents looks unbelievably refined on the warm skin tone.
Golden Ends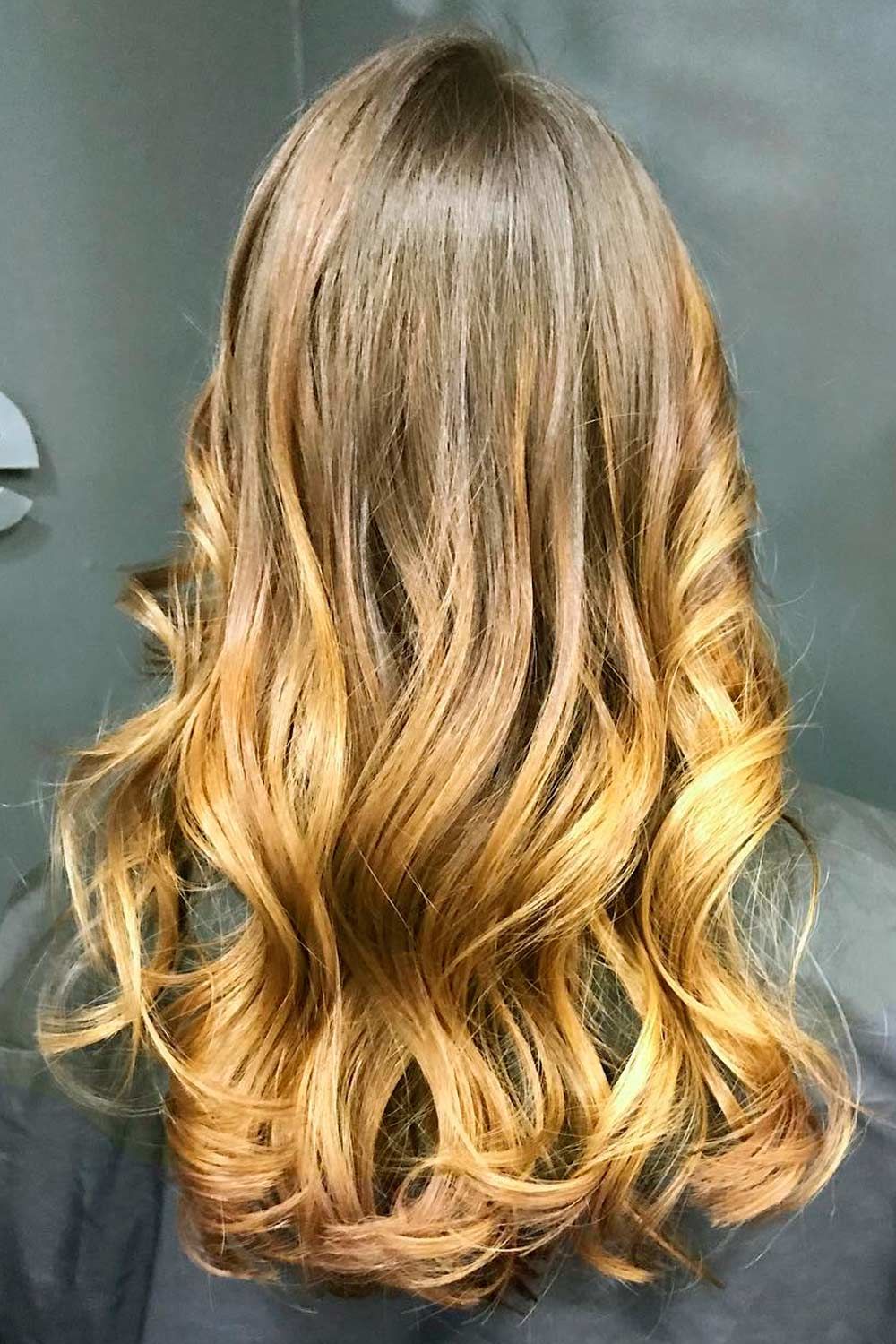 Credit photo: instagram.com/tetya_elya
Don't forget that you can choose the way your golden brown hair dye will blend. Be it a golden strand or a chevelure full of shiny caramel-to-honey hues, the added color will change your look regardless of its amount and intensity. If you want to freshen up your light or pale brunette base but don't want to damage your locks, you can add a new color to your ends only.
Brunette With Honey Gold Vibes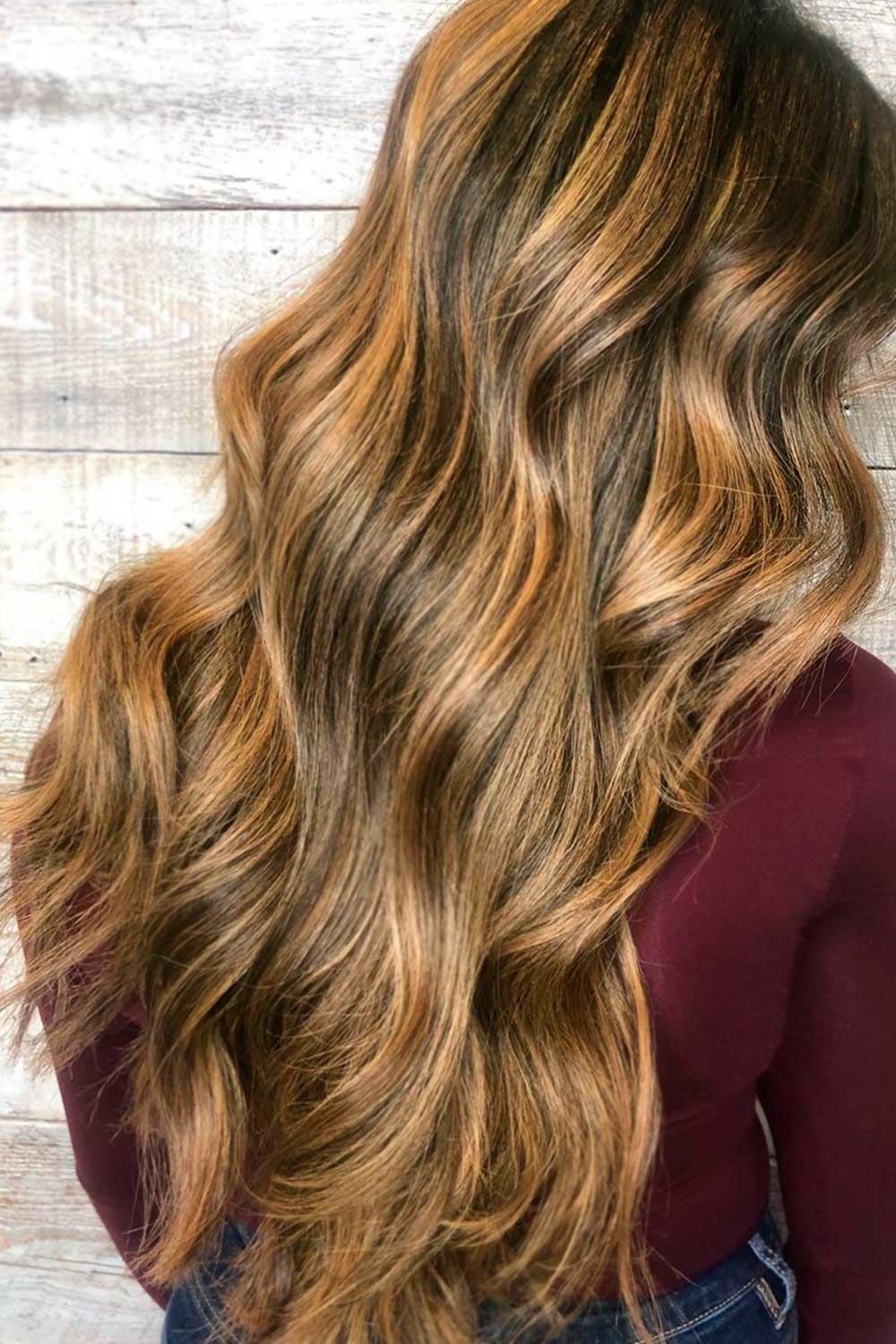 Credit photo: instagram.com/amastylist__
Modern colorists recommend women to finish the golden highlights on dark brown hair with a hint of a honey shade. First of all, it can give a smoother blend of these two. Secondly, it will add some more warmth to fine and light complexions.
Coppery Golden Brown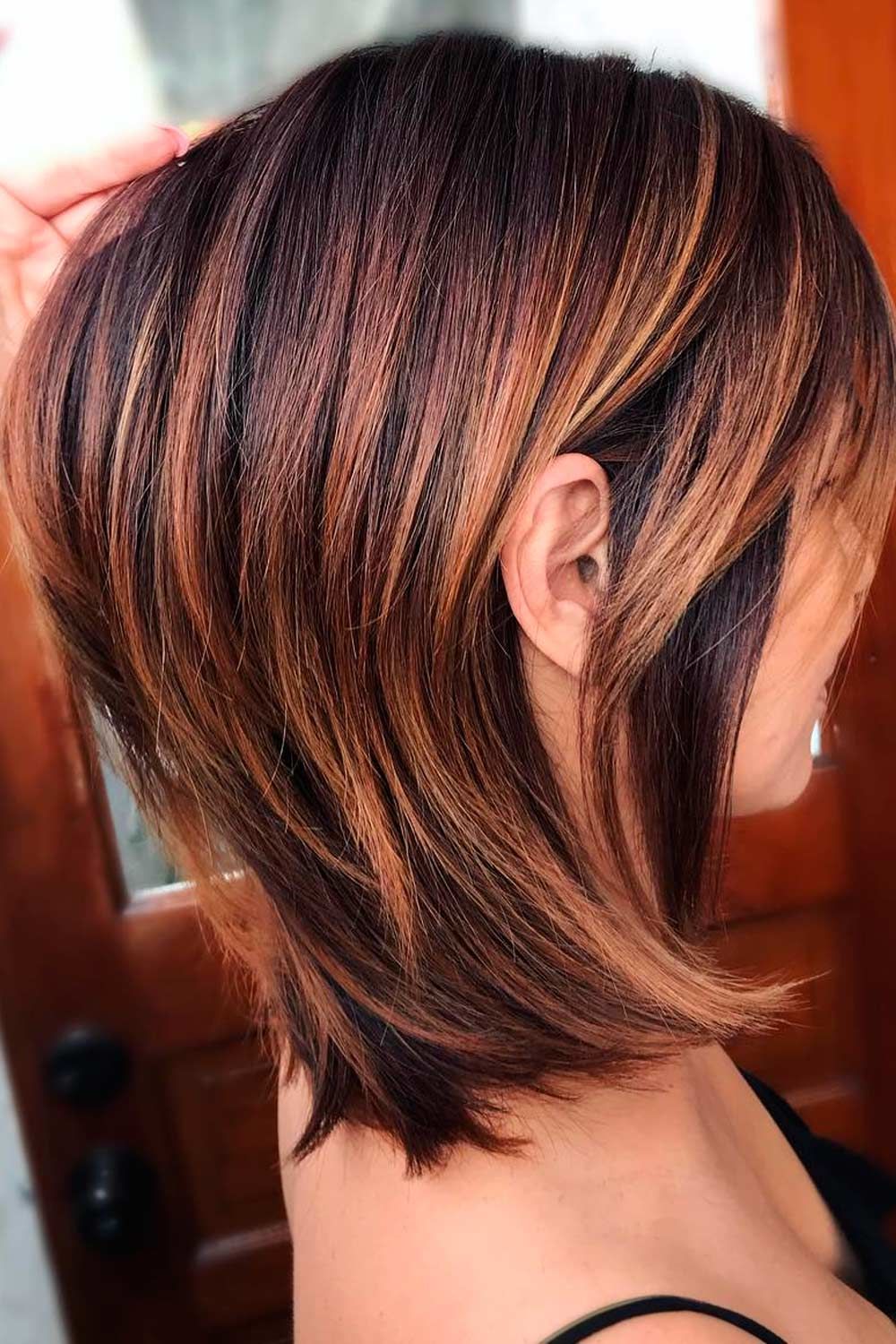 Credit photo: instagram.com/irinabilka_hairandmakeup
Ladies who appreciate reddish tones will love this coppery idea. Coppery shades are the happy medium between medium dark and light red hair colors. The light golden brown hair color on dark brown hair, where the dark base meets soft golden brown and red accents is a perfect way to create a unique, fresh, and natural-looking color.
Blonde-To-Brunette Balayage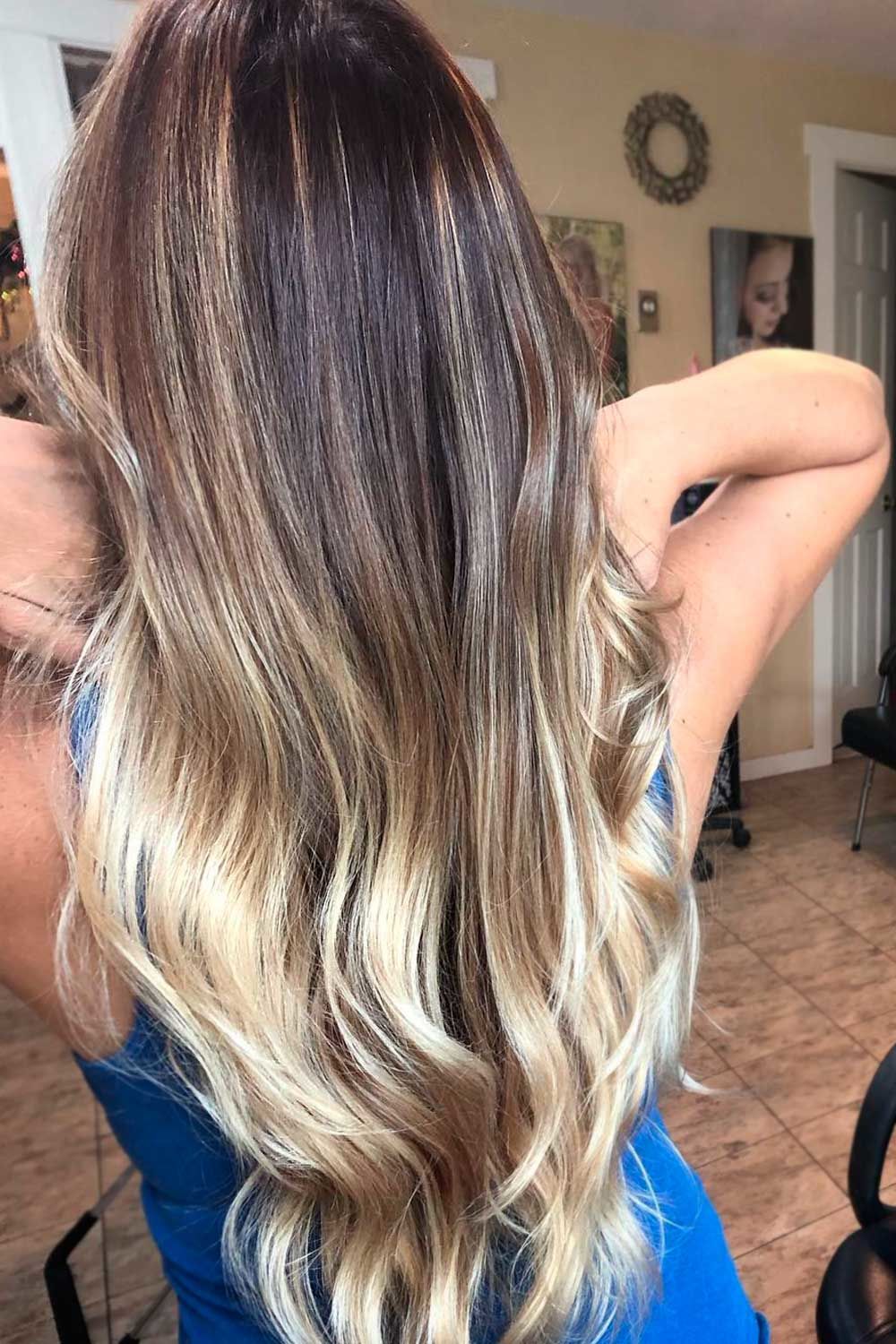 Credit photo: instagram.com/ell_beauty_
Since blonde and brunette shades always go well together, you can go for golden brown hair with blonde highlights or balayage. Both these techniques will provide you locks with a lot of movement and natural shine, and your task is to decide what effect you want to achieve. Highlights work well for stand-out looks, and balayage gives a more authentic and smooth transition.
Golden Brown Ombre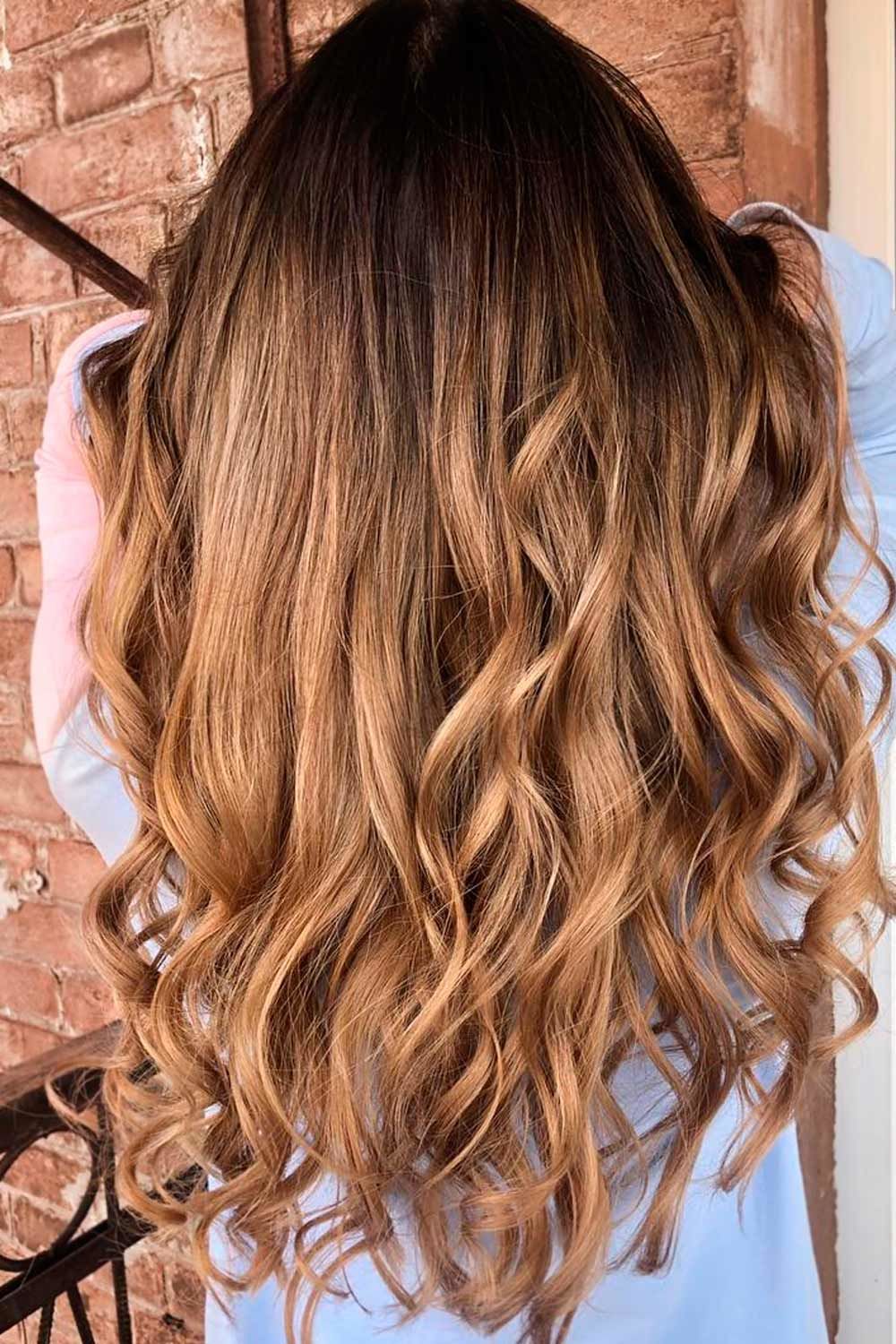 Credit photo: instagram.com/_berezniak_anna
Of course, we didn't forget about the very first coloring trend - ombre hair. If you want the color transition line to be super seeable, nothing will work better than this technique. The honey golden brown hair in the pic above slays with the distinctive and graduated look.
Tiger Eye Golden Brunette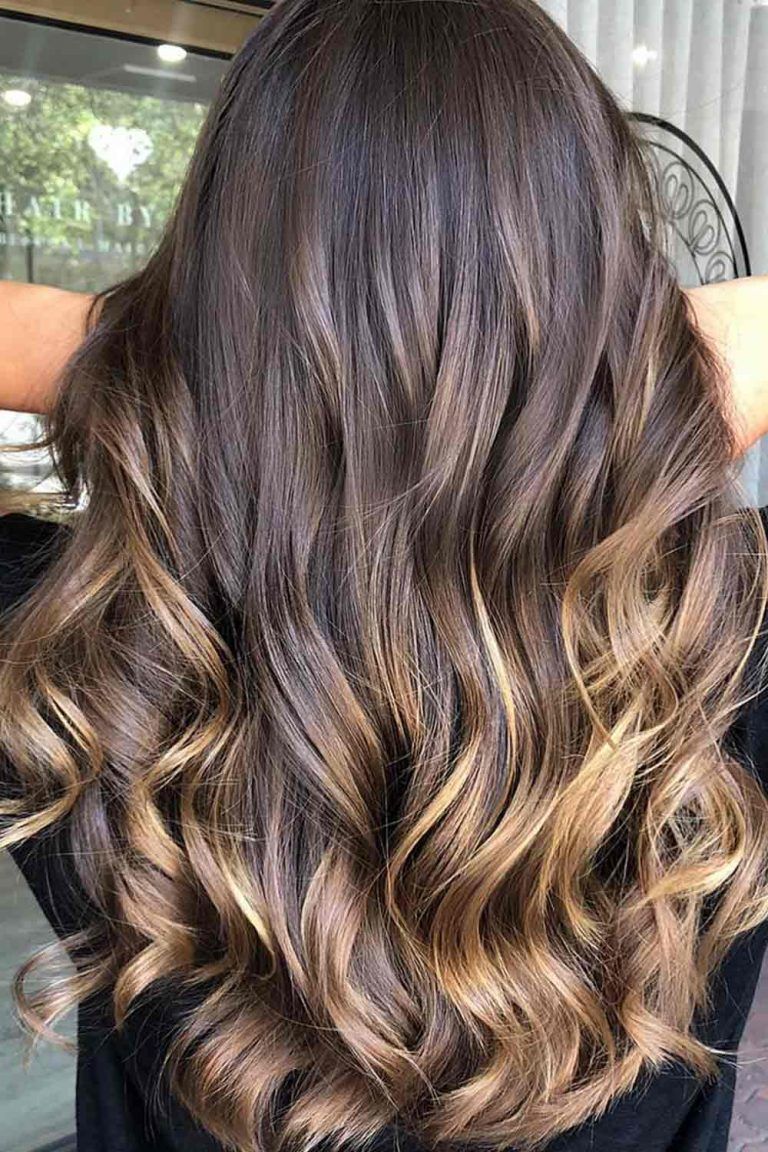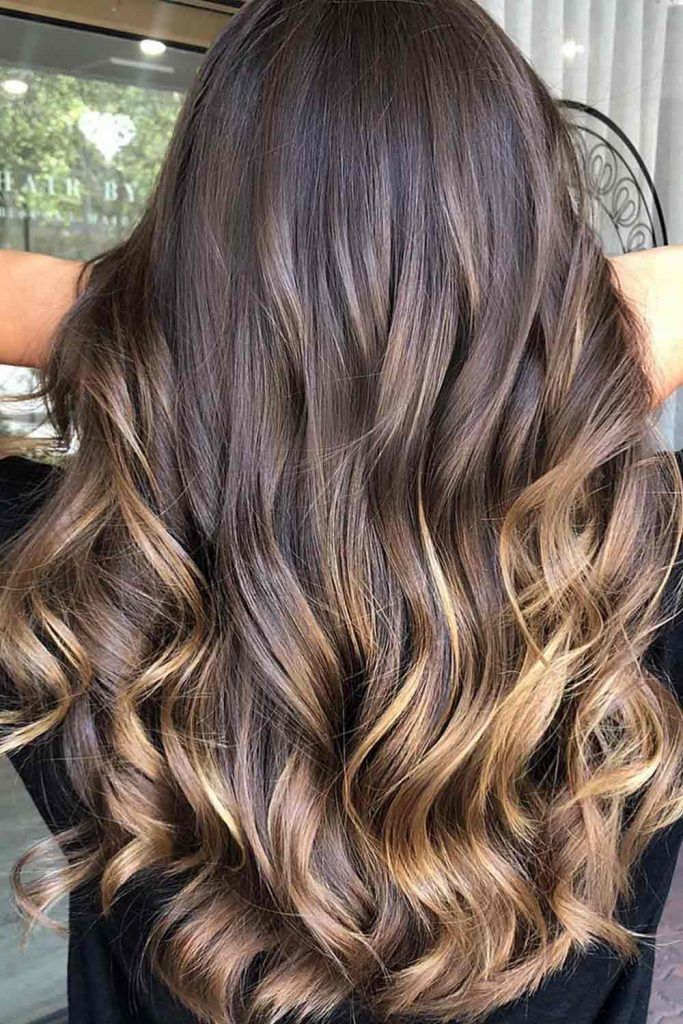 Credit photo: instagram.com/hairbyjaxx
The tiger eye hair color seems to be a mix of the sweetest, deepest, and richest brown colors in the world. Do you want your hair to look wild and glorious at once? Brown hair with golden highlights and some caramel shade are all you need. Besides the amazing color combo, this color will flatter women with its versatility: it can go with any complexion.
Cinnamon Gold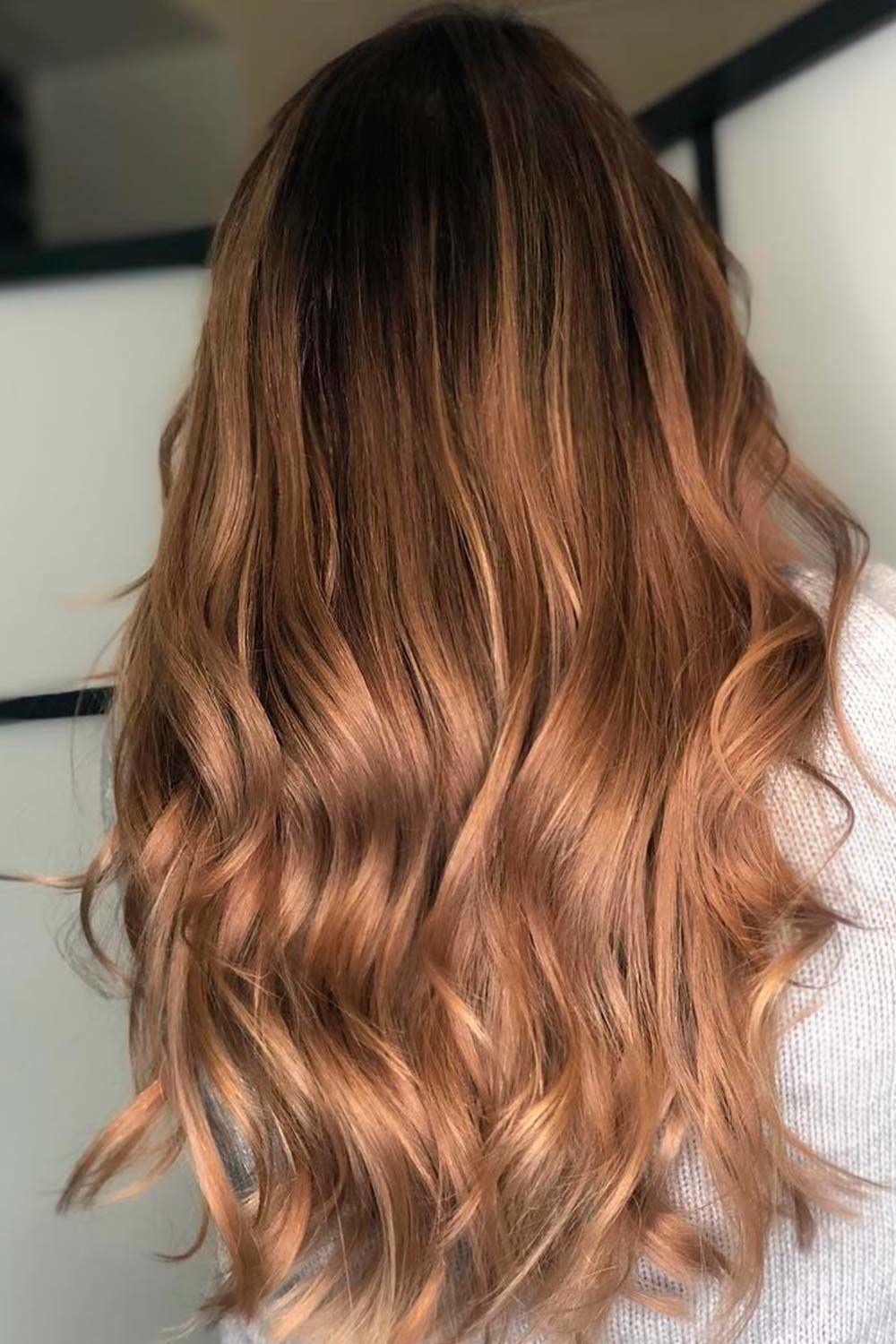 Credit photo: instagram.com/_berezniak_anna
No wonder that most brown shades share the same name with popular sweets: they look as appetitive as the everyone's favorite cinnamon rolls, brownies, and caramel biscuits. And the truth is, getting the cinnamon color is pretty easy: just ask your colorist for medium golden brown hair, where the brown is a base and the golden shade is added selectively to the front.
Medium Warm Tone
Посмотреть эту публикацию в Instagram
Credit photo: instagram.com/suetyrrellstylist
Medium golden brown hair color can be different. It can come as a pale base with a few shiny accents, a smooth mix of dark tones or a vivid, warm-toned dimension of several matching shades like these. Warm and deep brown, caramel brunette, and butterscotch shades melt together to create an eye-catching and organic movement; who could ask for more?
Dark, Warm & Gold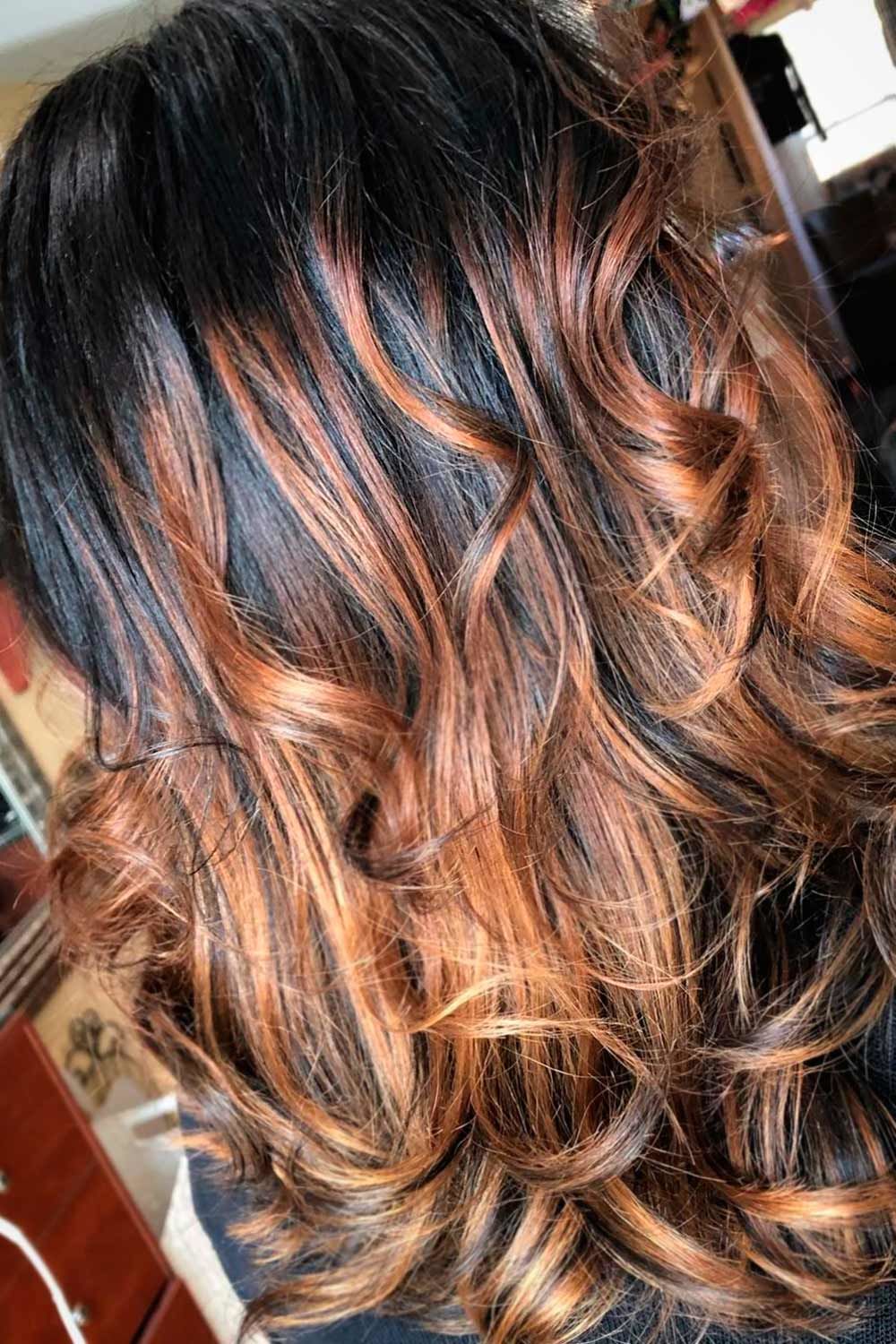 Credit photo: instagram.com/ell_beauty_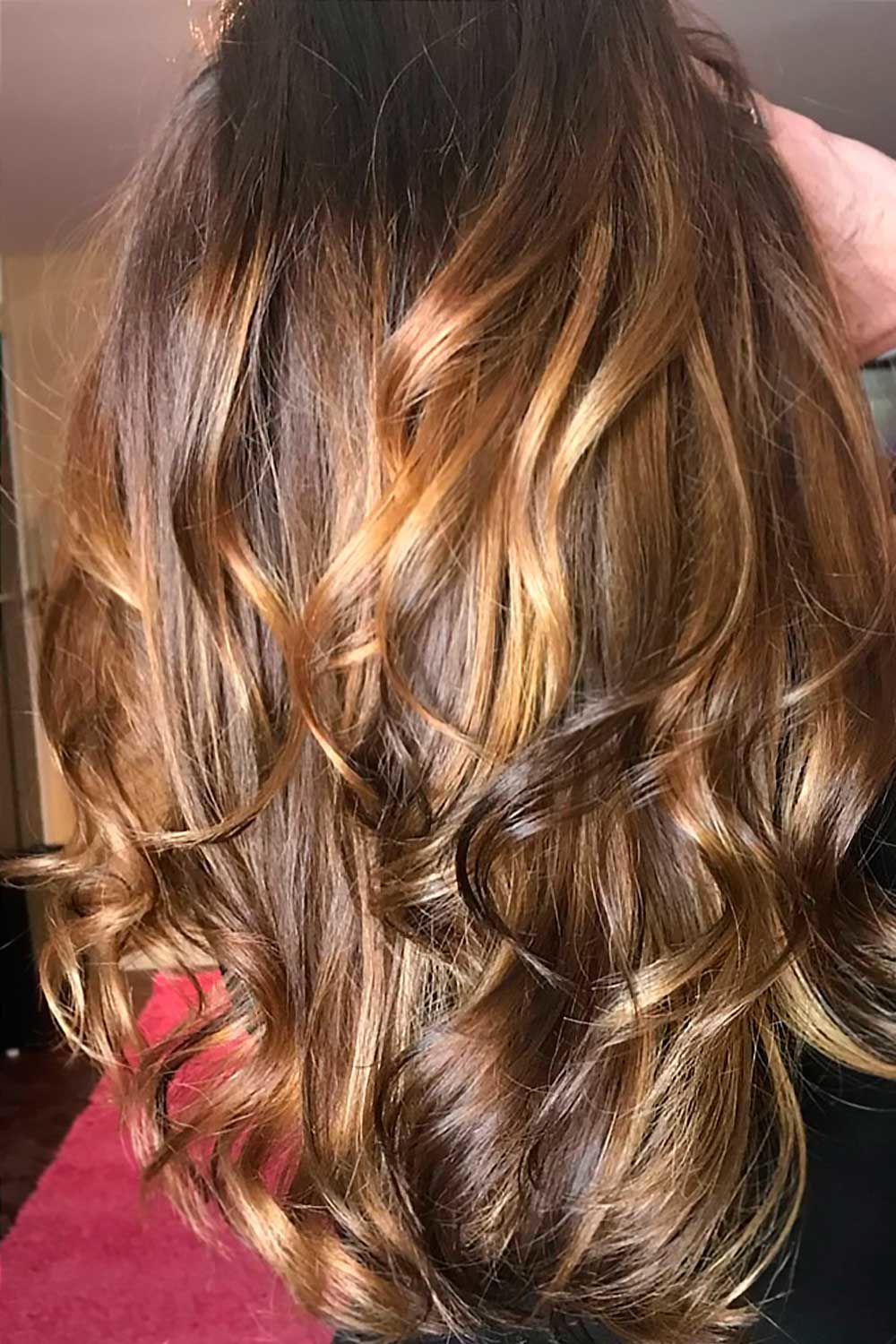 Credit photo: instagram.com/ell_beauty_
Wondering whether it's possible to get golden brown hair color on black hair or not? Well, this picture is here to satisfy your curiosity. Obviously, such colors won't produce an authentic and effortless look, yet they will give a very unique and attention-grabbing look. Here you can see how the warm golden hues accentuate the dark base.
Deep Reddish Brown
Посмотреть эту публикацию в Instagram
Credit photo: instagram.com/thejennshin
At first sight, you may confuse this dark golden brown hair color with the popular mahogany color. Yet, if you have a closer look at it, you will see the slight golden strands and little hints at the ends that make the reddish tint illuminate. This time, the gold portion isn't very intense, yet it gives a rich effect.
Light Brown With Pastel Gold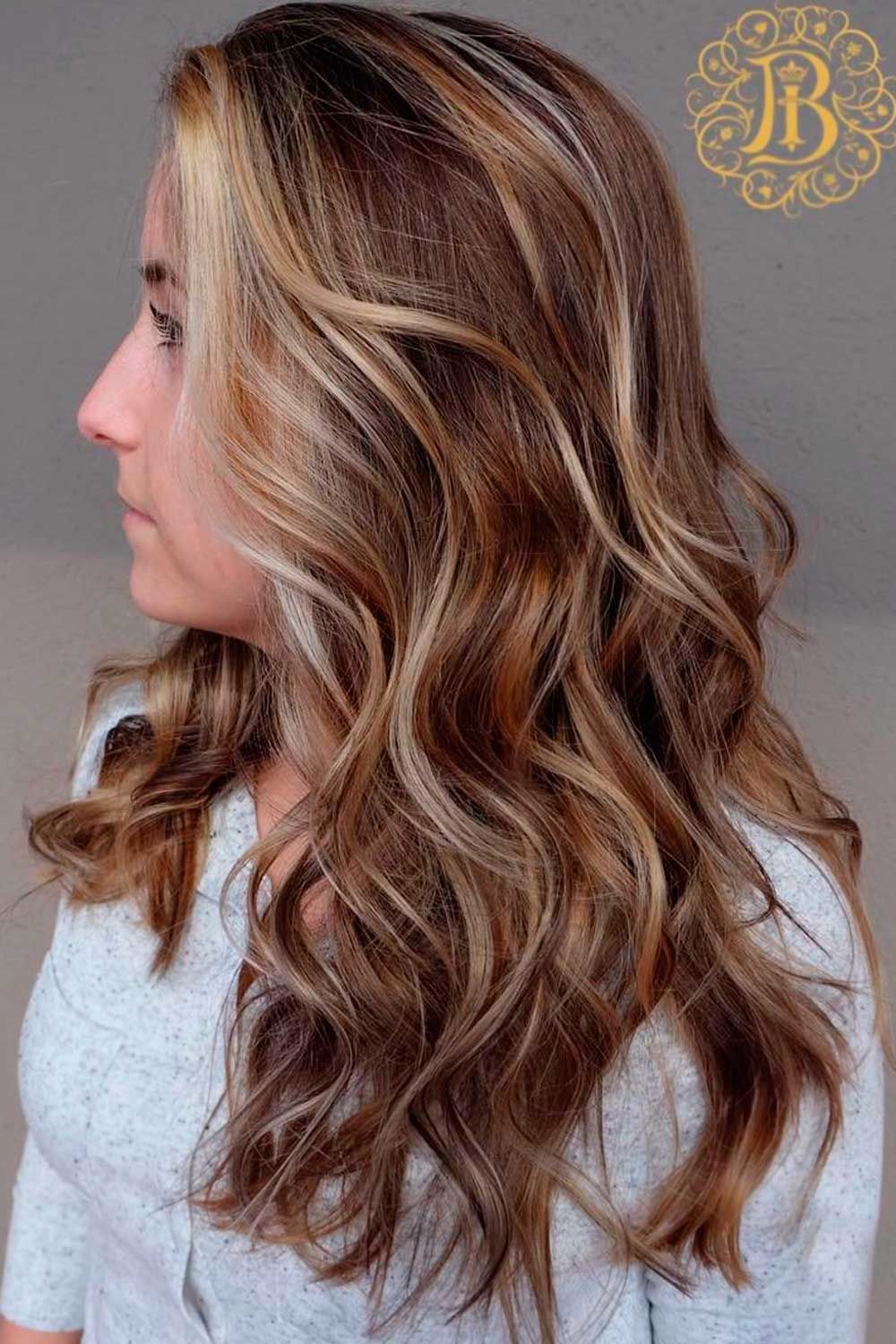 Credit photo: instagram.com/jmalonehair
This light golden brown hair color is a real masterpiece that features all the trends of now. A bit faded, yet super shiny look with pastel golden tone. As you can see, the colors are not too saturated, but they still look very sophisticated and luxurious. Such a color will perfectly emphasize the beauty of pale and porcelain complexions.
Sandy Blonde + Golden Brunette
Посмотреть эту публикацию в Instagram
Credit photo: instagram.com/suetyrrellstylist
Is she a brunette or a blonde? The right answer is probably "she's the one who rocks a perfectly balanced brown-to-blonde coloring". Once you spice up your wheat brown base with a sandy blonde shade you will finally understand that there's no need to choose between brunette and blonde colors; just mix them up!
Deep Brown With Golden Streaks
Посмотреть эту публикацию в Instagram
Credit photo: instagram.com/hairmezzmerizer
Dark golden brown hair also has a lot of fascinating variations. This idea shows how you can show off your naturally deep brown base by emphasizing it with golden brown streaks. Imagine a breathtaking golden accessory that falls on a posh fur coat. Then, look at this pic. Words are powerless!
Ashy Gold Brown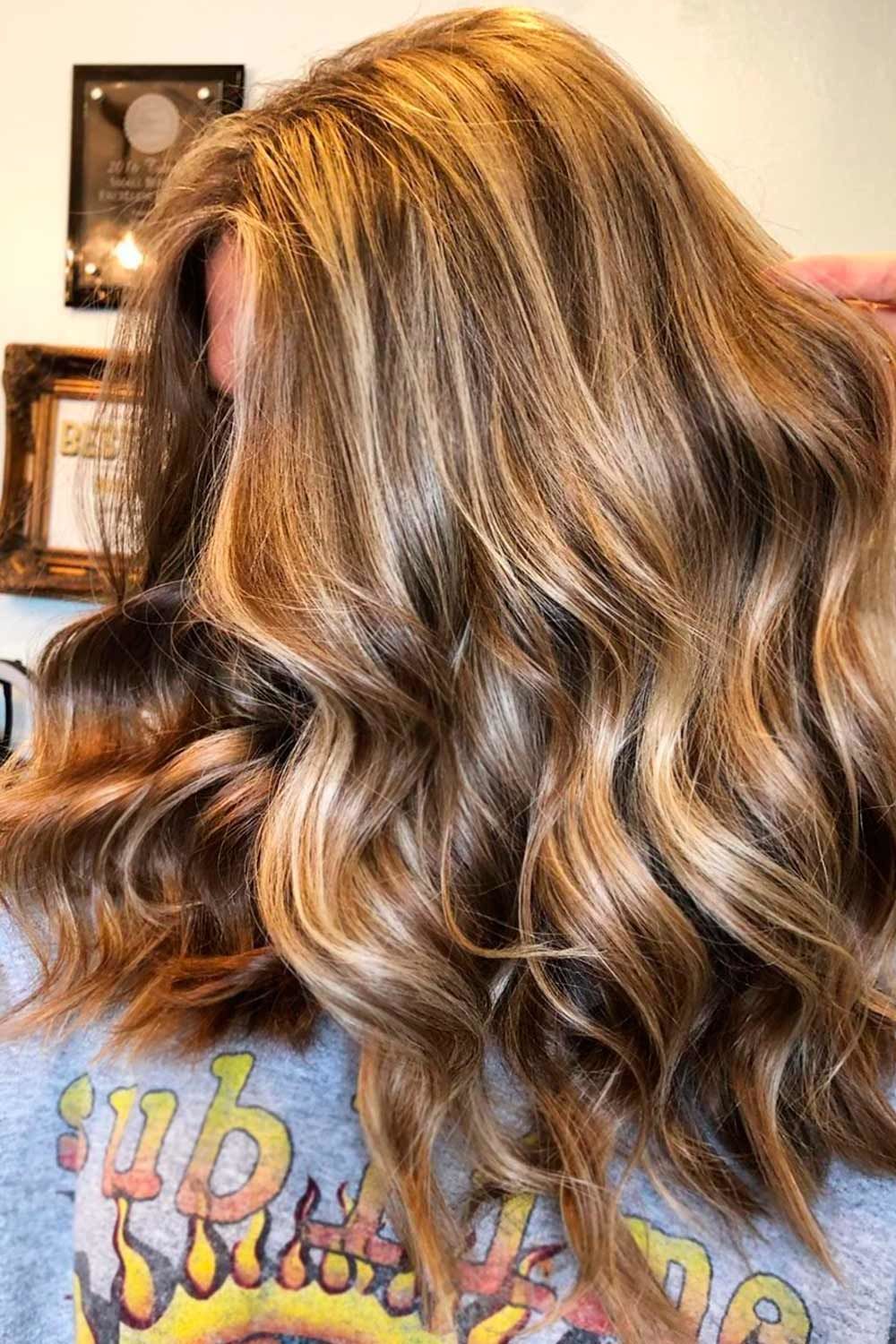 Credit photo: instagram.com/irinabilka_hairandmakeup
If you know what highlights are, there's no way you don't know about lowlights. While highlights are the lighter strands that add more movement, lowlights come as darker tones to work on dimension and deepness. This golden ash brown hair is so voluminous and profound that it's hard to take eyes off.
Gold Ombre On Dark Brown Base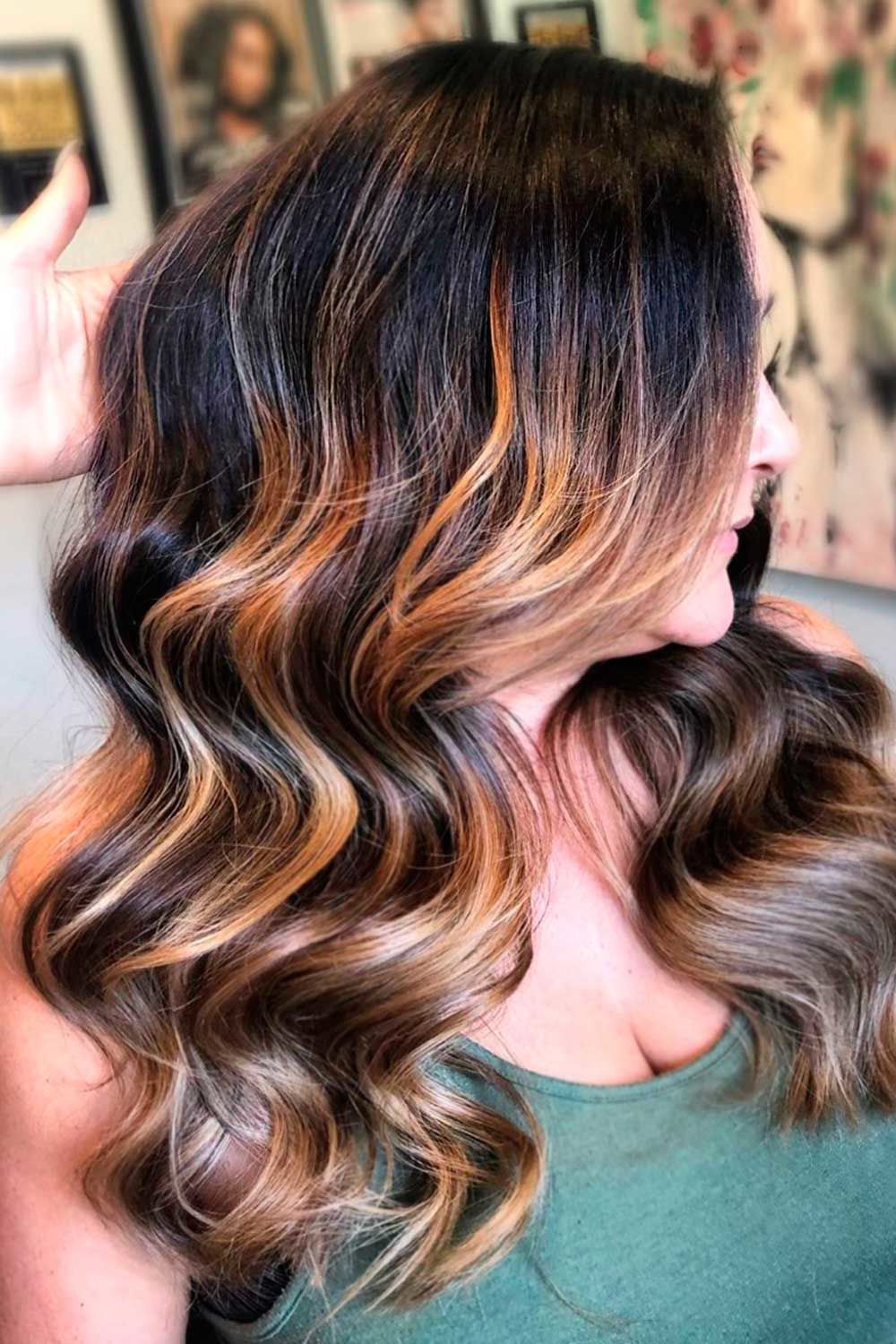 Credit photo: instagram.com/irinabilka_hairandmakeup
How about a golden waterfall that flows through your dark brown hair color? When we look at this color blend and transition, we don't believe that she wasn't born with it. For a natural, shiny, and "flowing" look like this, opt for soft ombre.
Brown With Golden Copper
Credit photo: instagram.com/_berezniak_anna
There's no better way to add tons of natural shine to your brunette locks than to spice them up with a golden copper shade. Although copper hues belong to red hair color family, they also have a lot of things in common with brunette shades. Not only do they have a similar undertone but they can also enhance the beauty of one another. Golden copper, for example, will evenly lie on your brown shade, adding a pleasant touch of effortless shine.
Golden Tiger Eye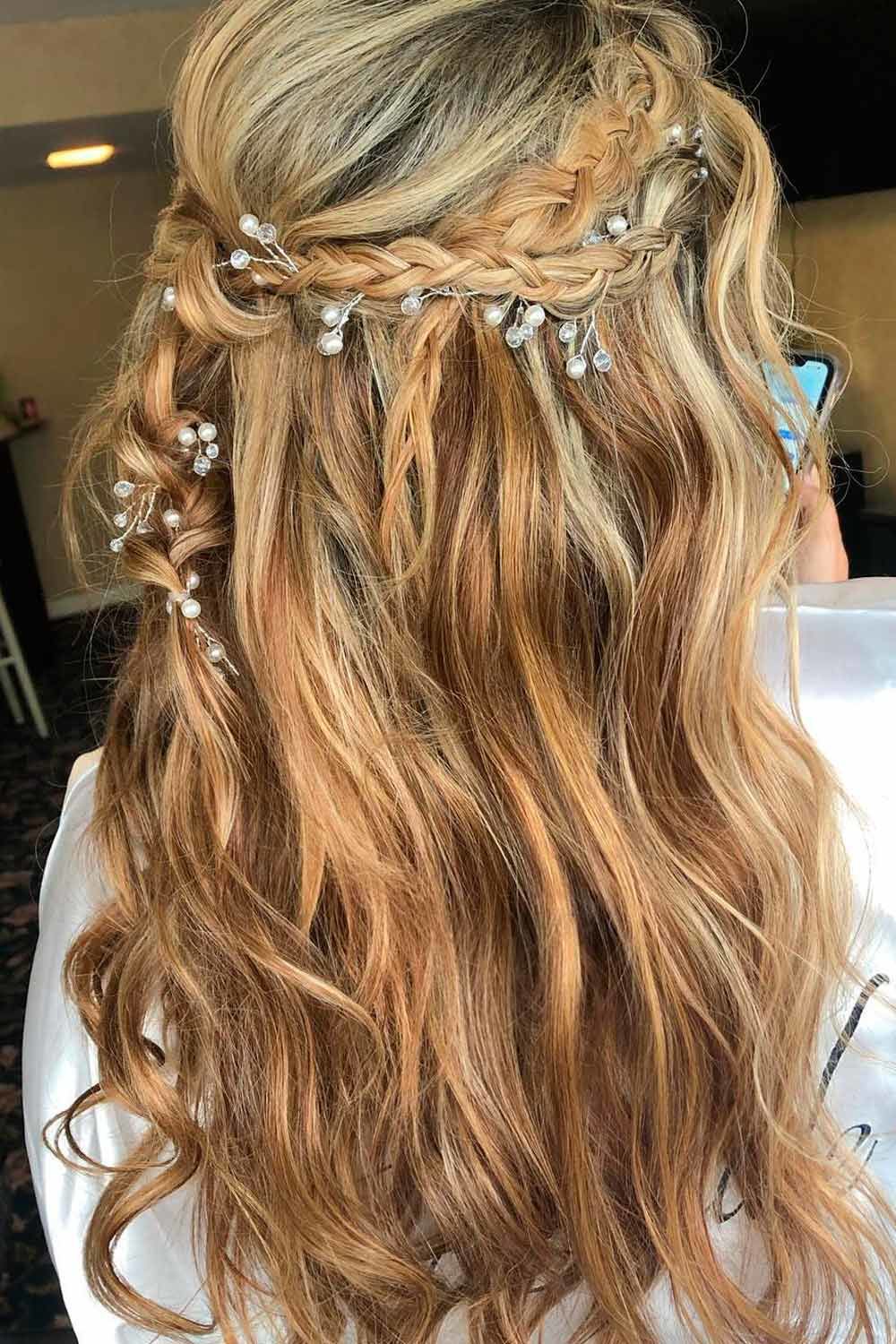 Credit photo: instagram.com/ell_beauty_
Since tiger eye color ideas are nothing but a mixture of various matching shades, your variation can be anything you want it to be. Fond of light colors? Create your own palette of light brown, dirty blonde, and golden hues, then. Such an idea can show the popular trend from a new perspective. And if you want to enhance the effect, make sure to have darker roots.
Golden Brown Partial Highlights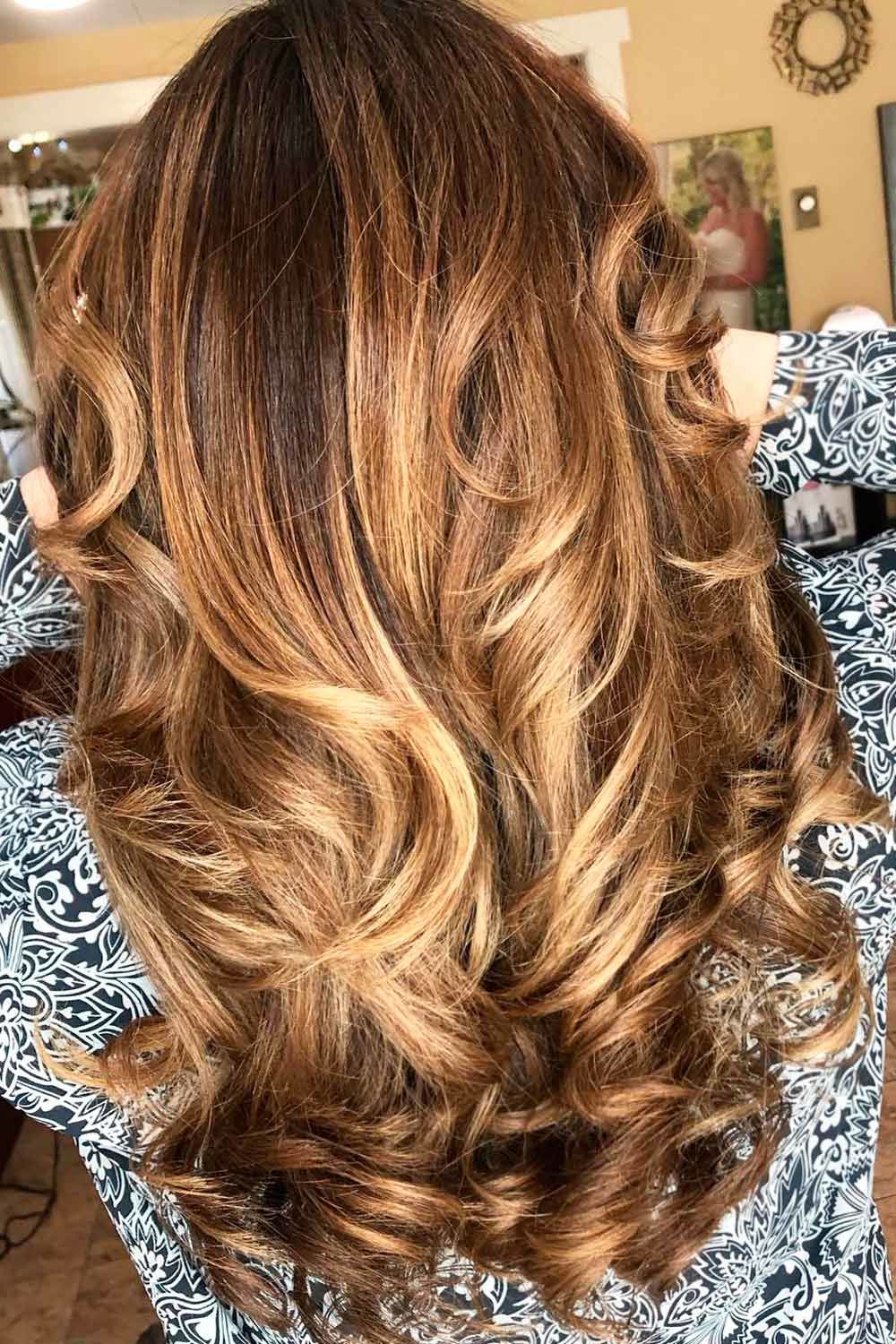 Credit photo: instagram.com/ell_beauty_
Посмотреть эту публикацию в Instagram
Credit photo: instagram.com/martafeschuk
With partial highlights, you can not just freshen up your hair color; you can do it without much damage. This coloring technique implies painting specific strands in order to add some dimension to particular hair sections while involving a minimum dye applied. Also, your golden brown highlights can hit only the front tresses thus giving you a stunning face-framing touch. In fact, the color placement is totally up to you. Besides hitting front strands, it can be a slight color touch on the ends or a couple of hidden sections that diversify your look.
Golden Chestnut Brown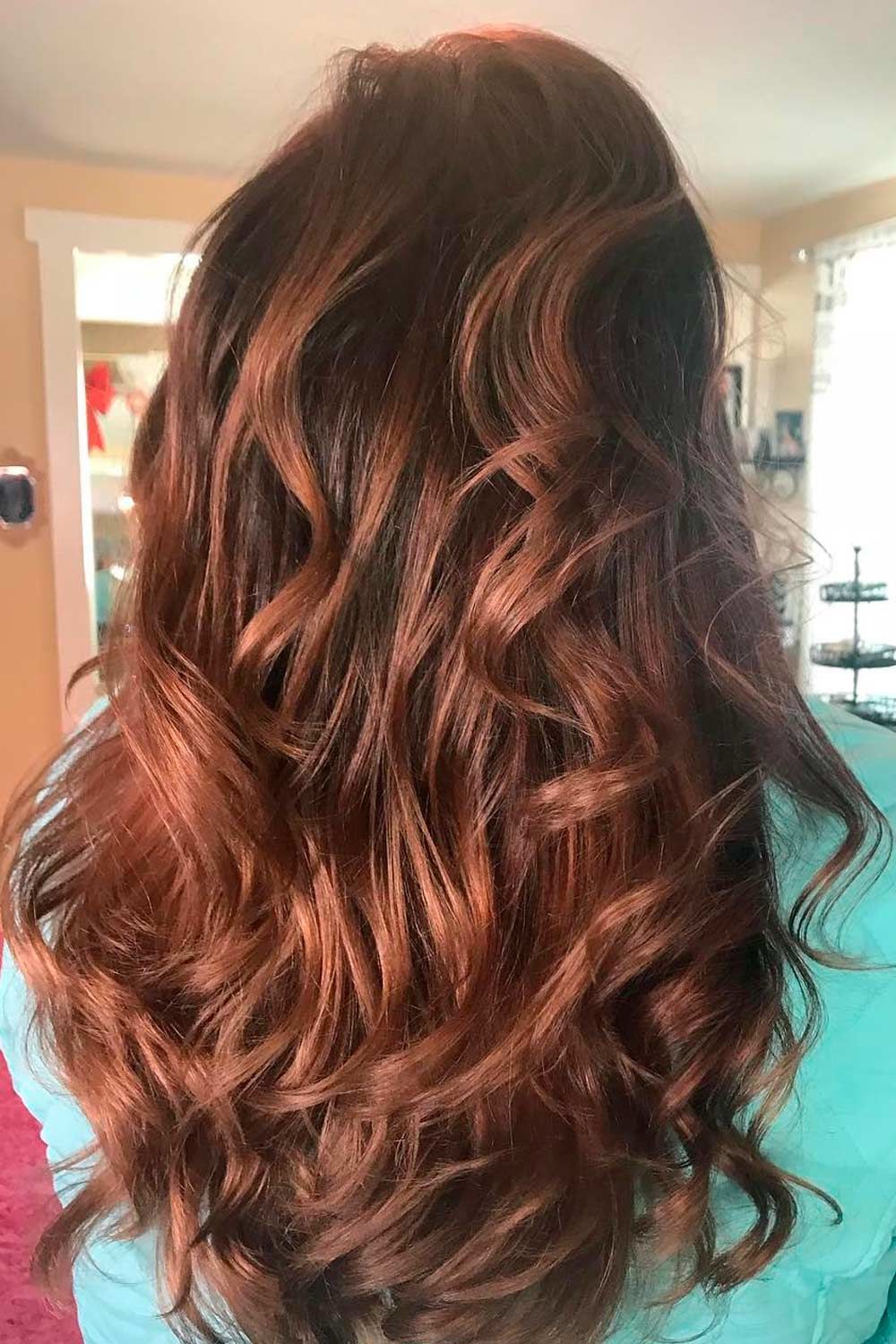 Credit photo: instagram.com/ell_beauty_
The classic chestnut brown is deep and attractive just the way it is. Still, there's no limit to perfection. And this golden brown seems to know a way to reach it. The golden vibes stretching throughout the deep chestnut base make it illuminate, revealing its fascinating dimension.
Light Golden Brown With Black Roots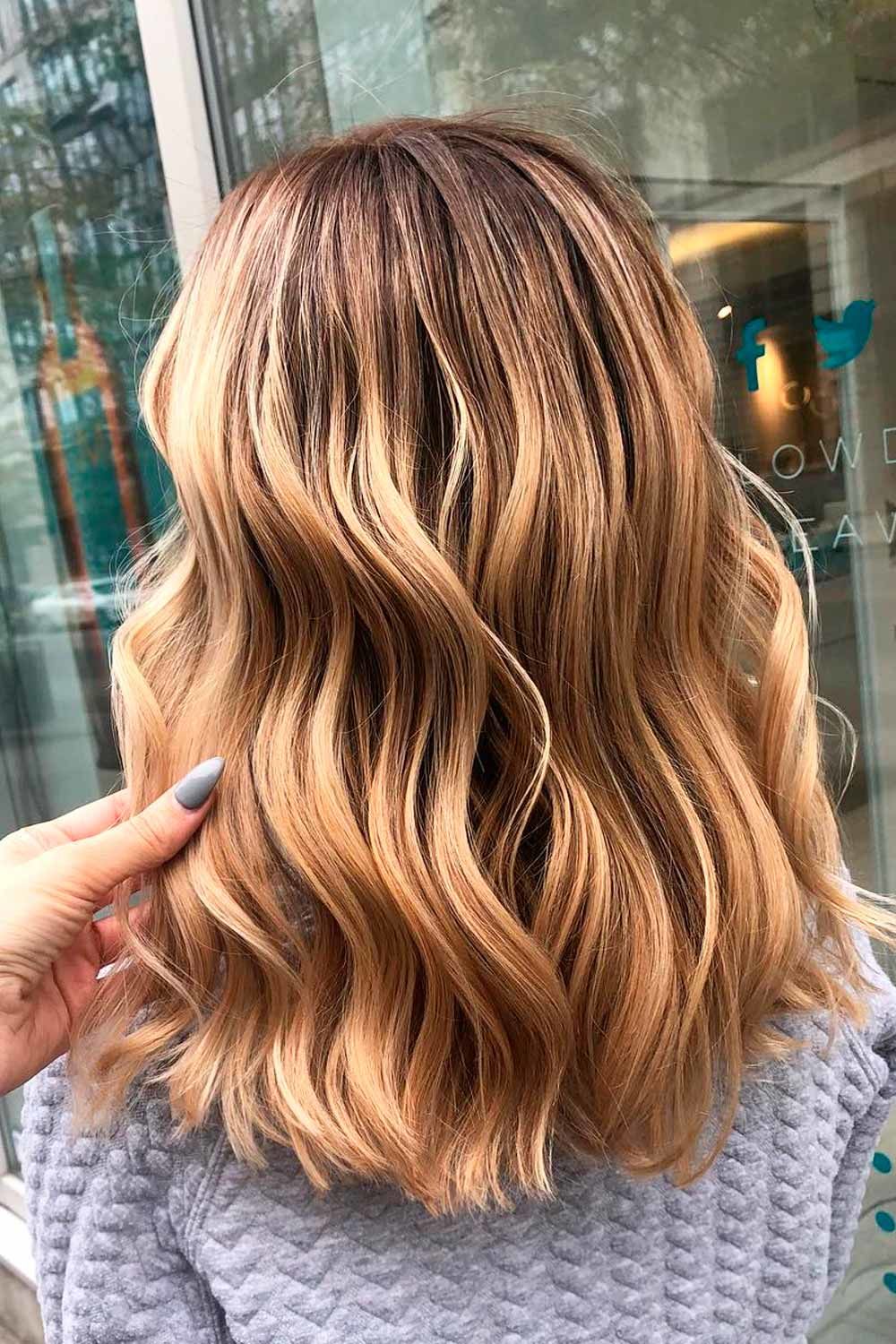 Credit photo: instagram.com/kimblome
Посмотреть эту публикацию в Instagram
Credit photo: instagram.com/kawaicat_white
To make your brand new hair color appear natural, stay away from one-tone coloring. First of all, such color jobs result in very dull and flat hair looks. Second, when they start to fade, the hair tends to look very weak and lifeless. So as not to get disappointed with your new color, make sure to get your hair colored with at least two shades. This light golden brown, for example, features natural roots and a couple of dark sections left on the lower layer. In this way, the color looks very organic. And when it starts to wash out, it will gently and gradually get back to its initial look.
Dark Brown With Face Framing Gold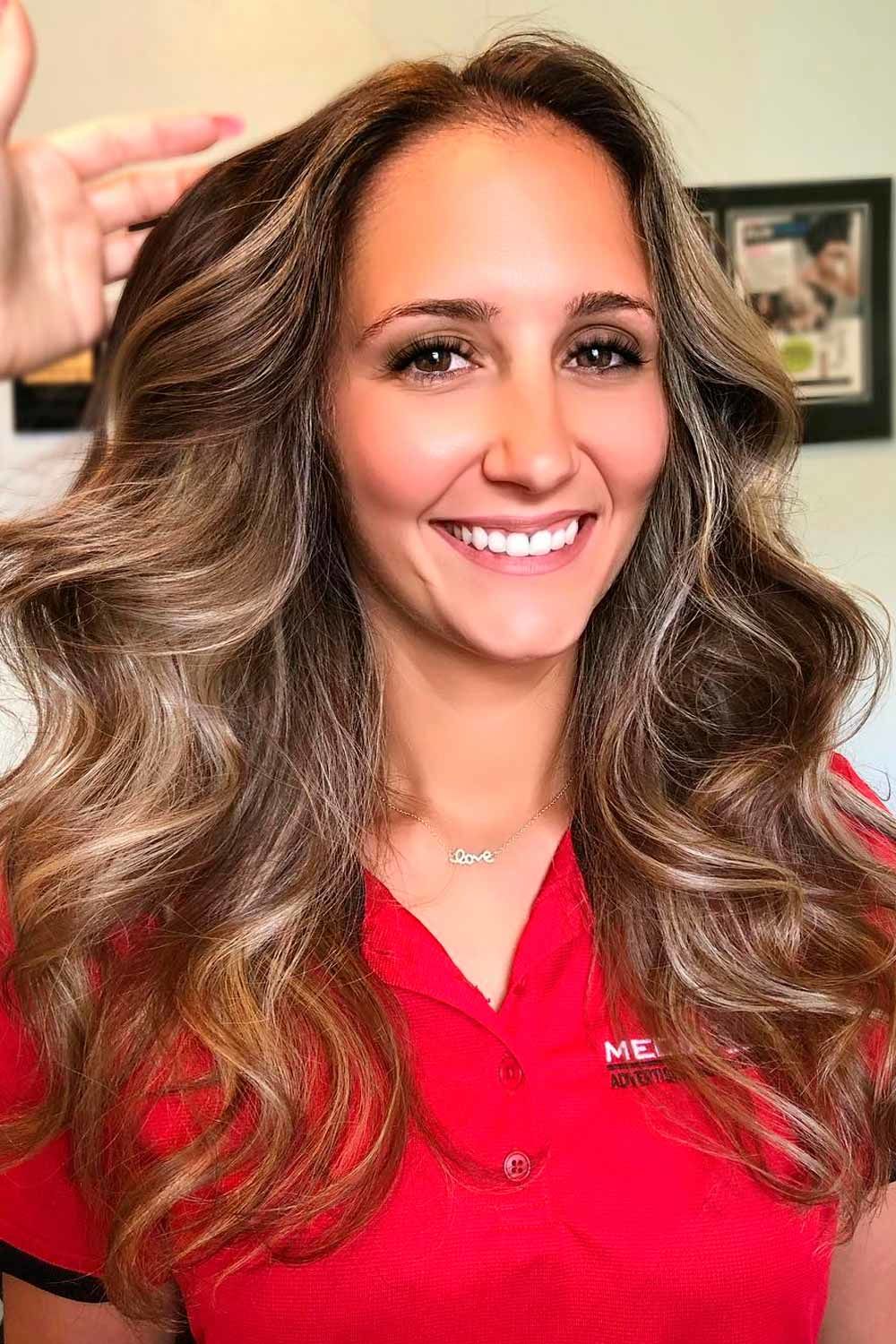 Credit photo: instagram.com/irinabilka_hairandmakeup
Here's another picture showcasing the magic power of partial highlights. Although the color hits almost the whole mane, the focus is put on the front strands. To create the face-flattering effect, ask your colorist to apply light gold highlights on your dark base, specifying how saturated the front locks should be.
Coffee To Gold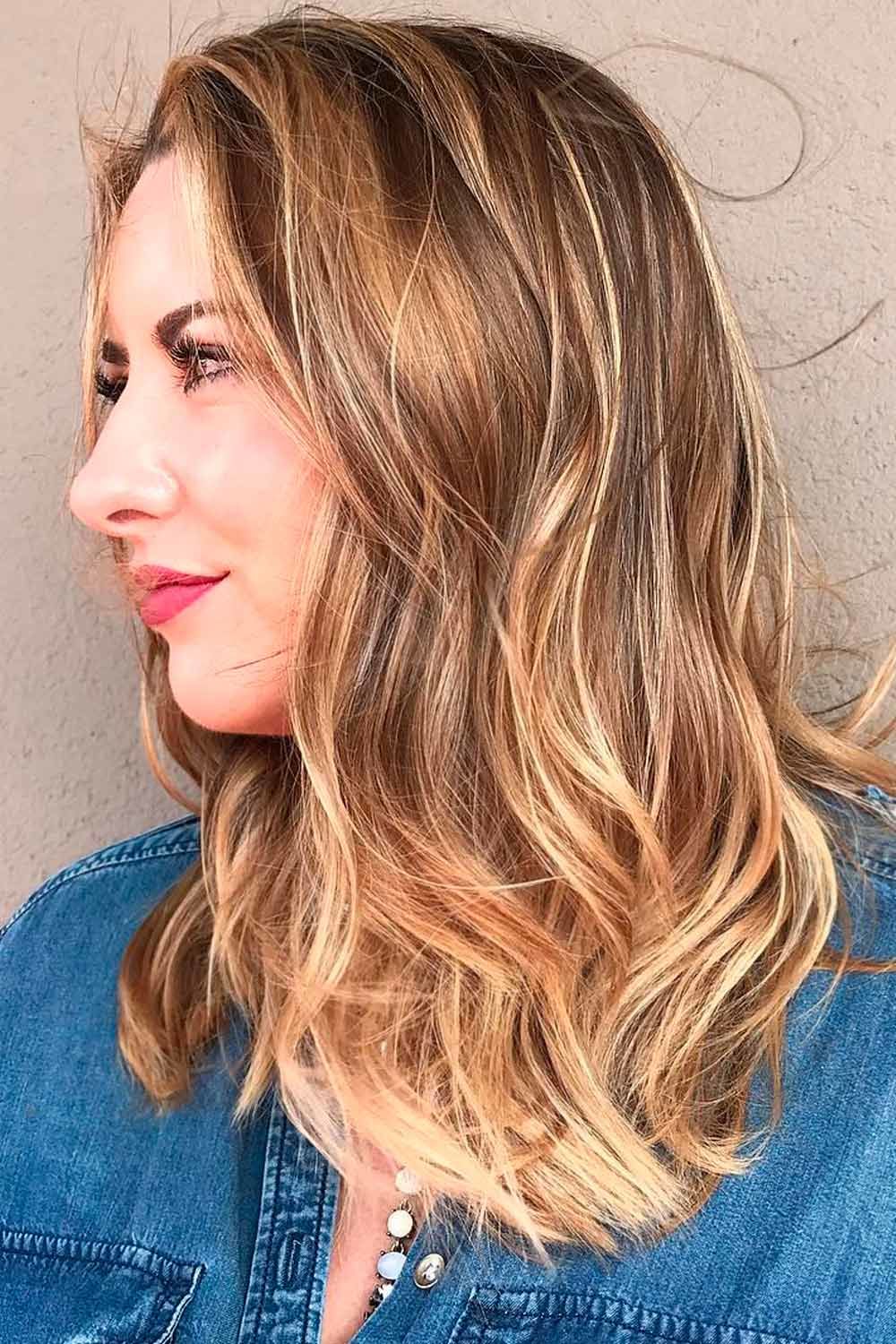 Credit photo: instagram.com/irinabilka_hairandmakeup
Just like a cup of fresh morning coffee, this idea is here to energize your hair with a pleasant mix of natural blonde and brunette hues. To achieve the look, it's better to combine a dirty blonde hue with a bright caramel shade. Needless to say, dark roots would be a nice finish!
Cool Toned Brown Balayage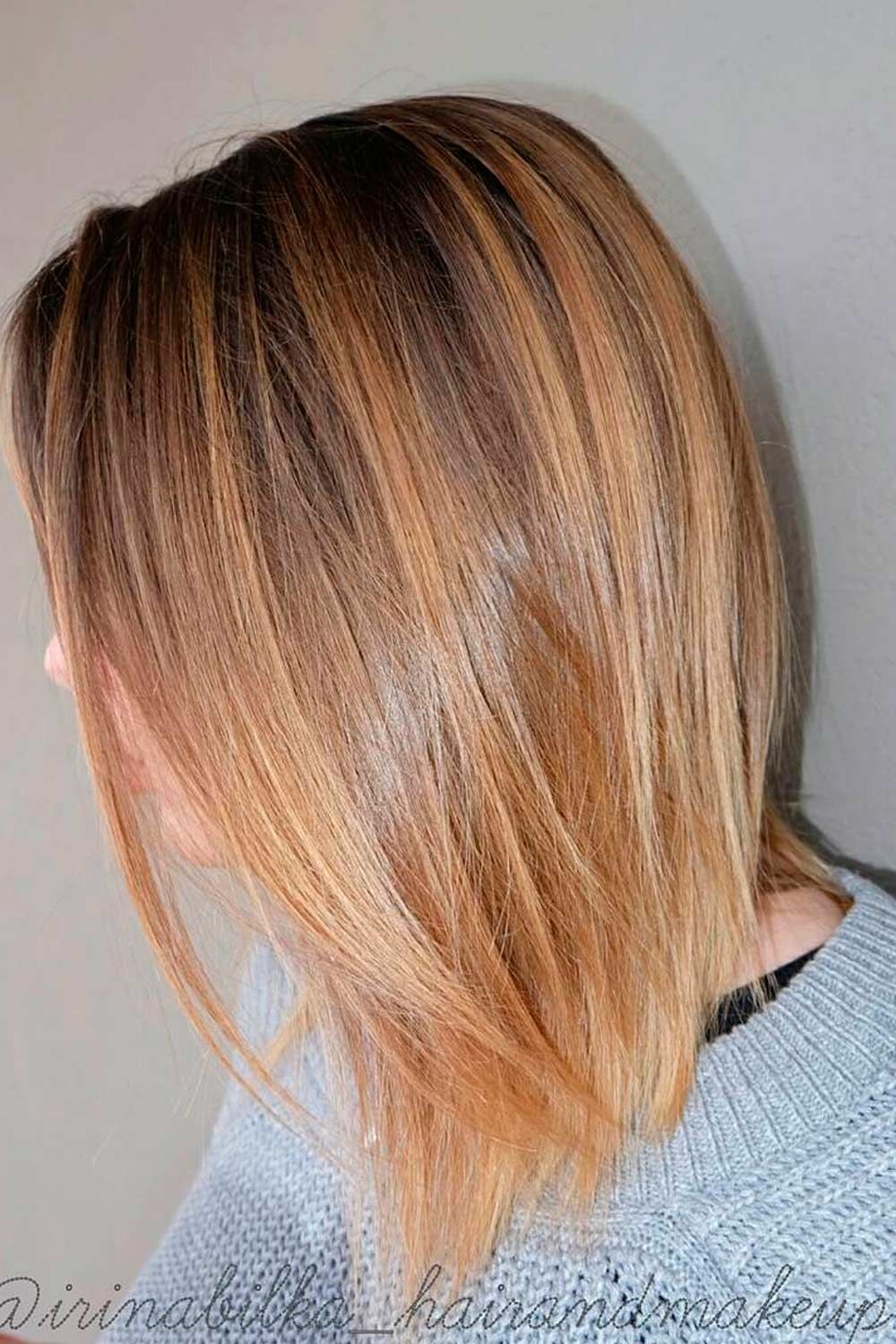 Credit photo: instagram.com/irinabilka_hairandmakeup
Instead of getting lost in the variety of coloring options, you can change the tone of your natural color. By the tone, we mean the intensiveness of your base that can give either warm or cool results. If you like this cool-toned balayage, ask your colorist for the lightest brown and the enviable look will be yours.
Auburn Toned Golden Brown
Посмотреть эту публикацию в Instagram
Credit photo: instagram.com/mariohenriqueoficial
Посмотреть эту публикацию в Instagram
Credit photo: instagram.com/martafeschuk
Auburn hair color is the happy medium between brown and red shades. And who would've thought that a hint of golden brown would be such a gorgeous match to it? The color masterpiece you see above is a child of auburn and golden brown shades that make the look deep, organic, and bright at the same time.
Light Gold Balayage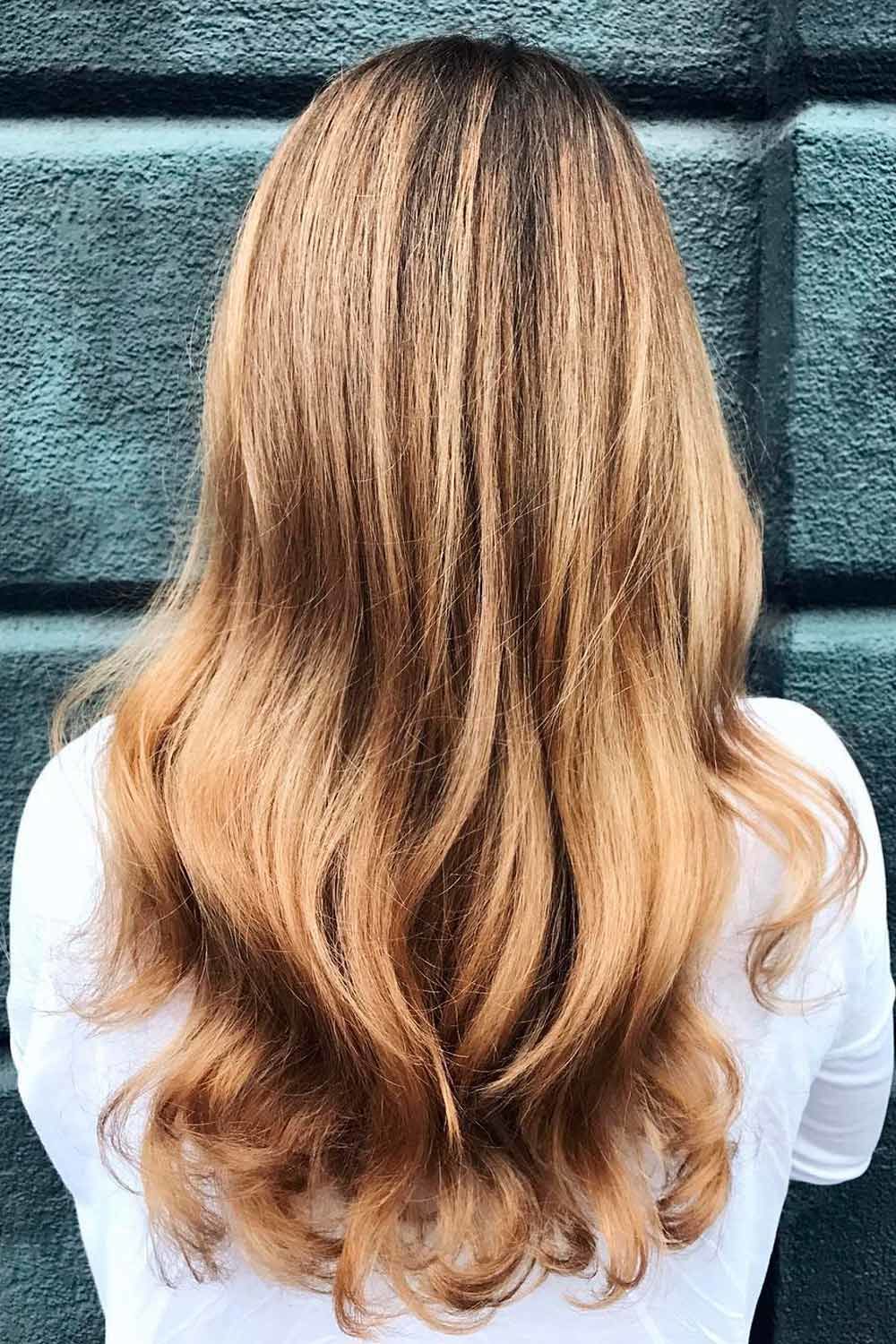 Credit photo: instagram.com/tetya_elya
This balayage is so well-balanced and seamlessly blended as if the real molten light has been added to it. Having seen such color jobs, we realize that brunette and blonde hair colors look at their best only when they go hand in hand. Here, the coppery brown base works for depth while the light gold gives an illuminative finish.
You've just explored the world of the light golden brown hair color chart, got through the jungles of warm gold-to-brown ideas, and made friends with the deep and dark side of golden brown. All these golden brown hair color pictures are the proof that these two colors can make yours show up in a new light. Yes, it's time to call your colorist and ask for rich changes!
FAQ: Golden Brown Hair
Who looks good with golden brown hair?
Auburn or warm tones that give a seductive spin to natural golden brown hair look great on warm-toned complexion women or fair-skinned women with green eyes (which perfectly highlights that dreamy color..). If you want to get a seamless color melt, the hair base has to be coloured to match the highlights in tone.
How do you get golden brown hair naturally?
Mix up your hair balm with lemon juice.
Make a solution with saltwater.
Add Vitamin C.
Add apple cider or grape vinegar.
Make a paste by mixing baking soda with hydrogen peroxide.
Apply honey and cinnamon mask.
Proceed with caution.