We'd like to share a little secret with you: the sexy redhead hair color is to die for. Let's just be honest: when we come across a hot redhead with her cute freckles, we are ready to sell our souls to look like her. We live in the 21st century, remember? It means that we don't have to get envious every time we see a woman with natural red hair, we can color your hair to one of the amazing red shades.
There's no need to tell you that this hair color, as well as auburn hair color, is extremely rare: this is the main reason why people lose their minds when they see gingers. Fortunately, with the help of modern colorists, we can join the noble club of redheads too. Yes, it's possible to attain natural-looking ginger hair that won't tell anyone we're not redheads since birth. Before calling your hairstylist, you should set your mood to this magnificent hair color. And we are here to help you out: go on reading to join the trip around the most enviable ginger looks. Let's get inspired!
Side-Parted Medium Bob With Bangs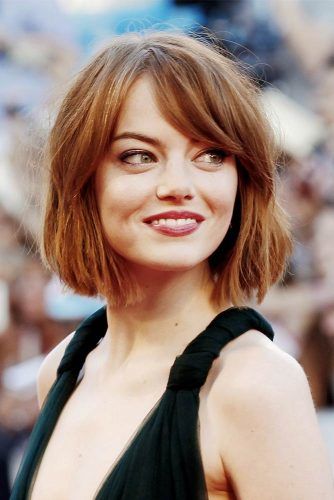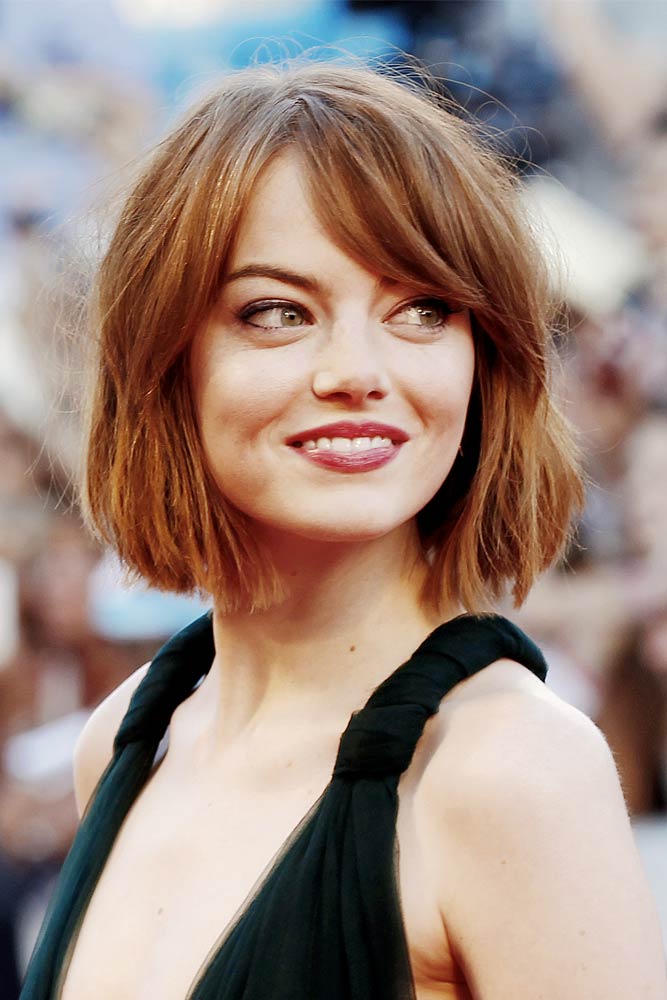 Source: Andrea Raffin/Shutterstock
We promised to show you the hottest redheads rocking the most enviable shades now, and we keep our word! If not celebrities we see in our favorite movies, who else can inspire us for the next color transformation? Now, let's start with one of the most beloved sexy redhead ladies in Hollywood - Emma Stone. She never keeps her passion for reddish shades in secret, jumping from one fiery hue to another every now and then. Here, she rocks a short bob with a side part and an orange-infused coppery shade as the icing on the cake. What makes the look so special is how harmonically her green eyes and pale skin tone get more alive with the bright color.
Side Braid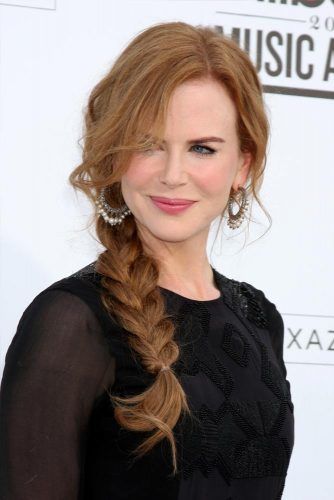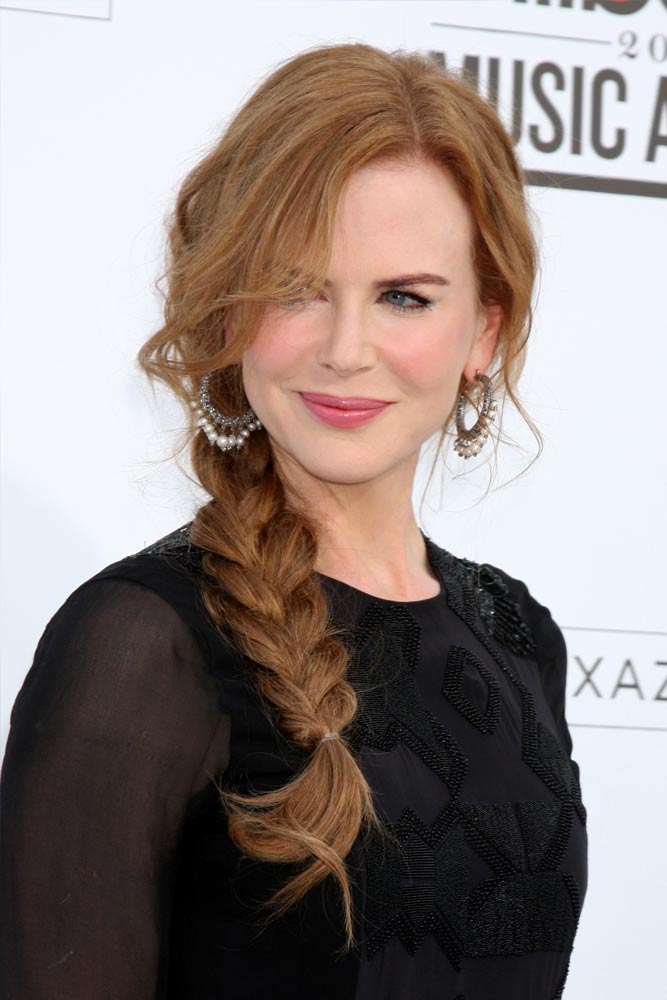 Source: Kathy Hutchins/Shutterstock
We have seen iconic Nikole Kidman with many shades of blonde in most of her movies. Still, some people have no idea that this beauty is a lucky natural redhead who would flaunt with her natural color before the rise of her career. In the past few years, the actress decided to embrace naturalness, getting back to her light auburn hue. With this effortless side braid and a natural-looking shade of light red, she simply takes years off.
Long Hair With Flipped Ends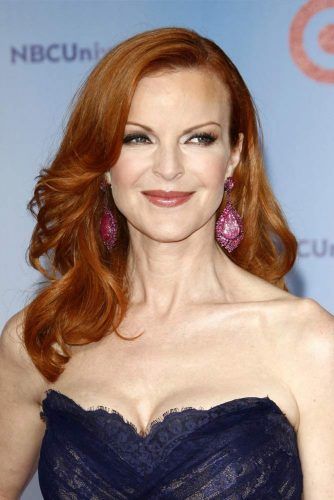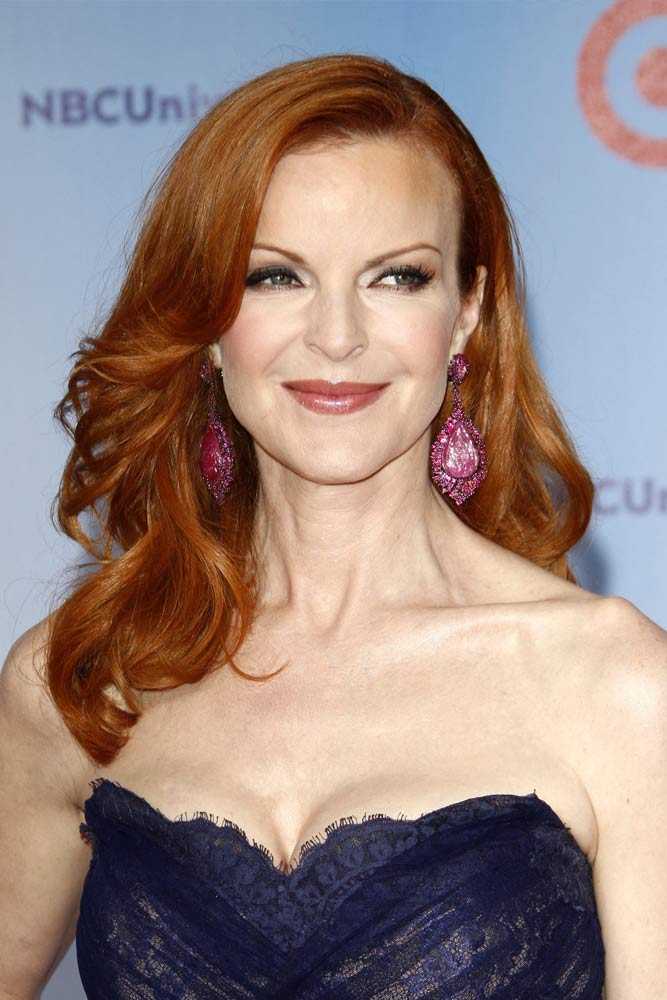 Source: Kathy Hutchins/Shutterstock
Let's be honest; we all tried to guess whether Marcia Cross is a natural redhead or not during watching the legendary Desperate Housewives series. We got through her hair portfolio and found out that the gorgeous actress was born with color in between red and brunette. As told by Marcia herself, she feels confident with this regal and rich shade of red hair color which nicely accentuates her nobly pale skin tone. Here, she shows off the beauty of her locks with a slight flip at the ends, adding a bit of face-framing magic to her pointed face.
Wavy Short Bob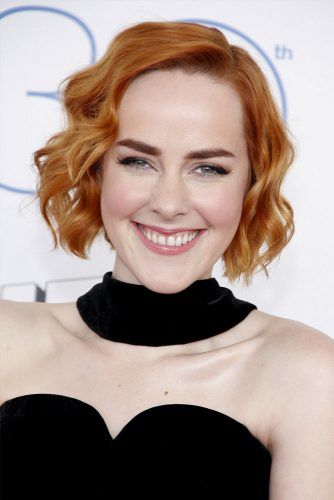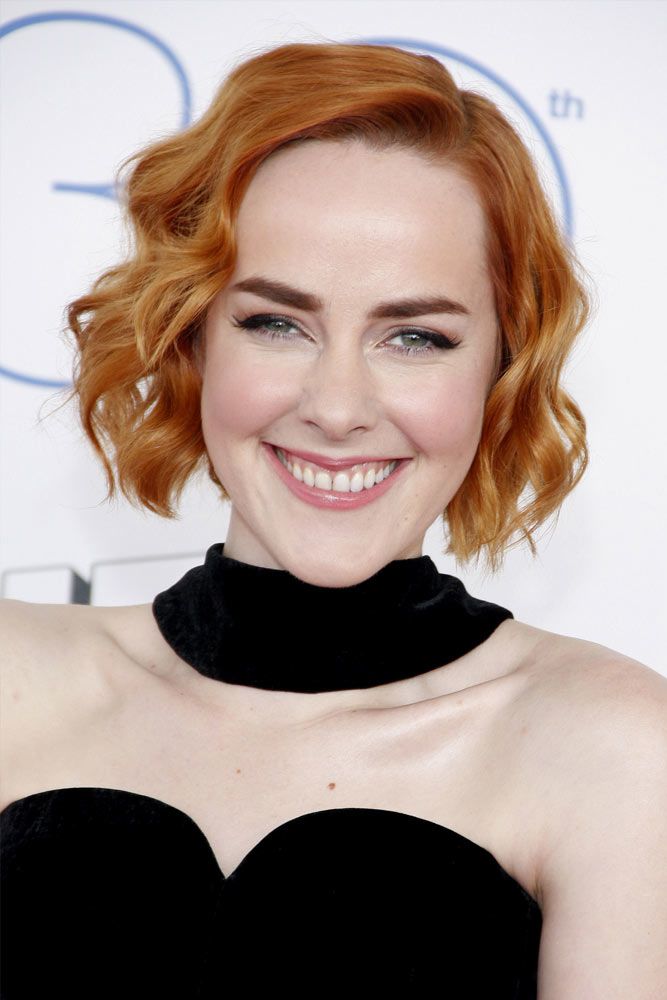 Source: Tinseltown/Shutterstock
Jena Malone is another actress who pulls off copper hair like a pro. Her short red hair does not look any less attractive or eye-catching than long one. This lady has a very big hair portfolio that features anything from blonde to dark and red. When she showed up with this sexy redhead hair color, her fans went crazy, spamming compliments on her social media. No wonder! This color does bring up her green eyes, giving a soft touch of warmth to her fair complexion at the same time.
Layered Wavy Long Hair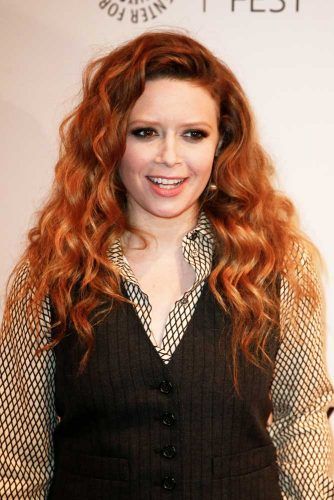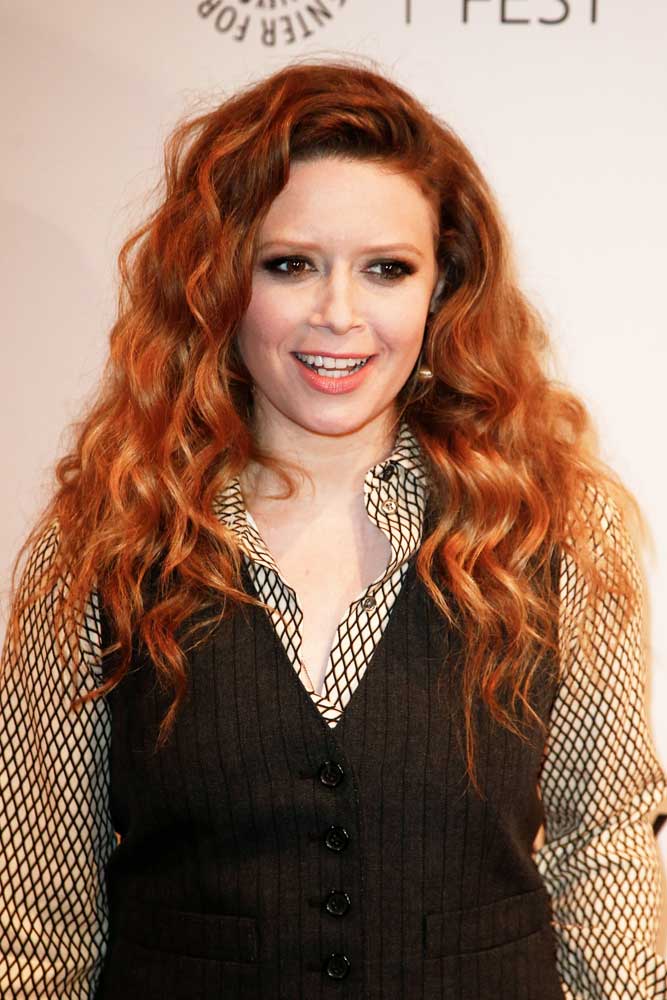 Source: Debby Wong/Shutterstock
Natasha Lyonne is a natural brunette who loves to go light and bright. Before she went red, she would sport saturated blonde shades with her dark roots kept untouched. Then, she discovered the charm of red hair color and realized that this is the shade she had been looking for her whole life. And when she wears waves, this color becomes even more enviable than ever.
Middle–Parted Long Hair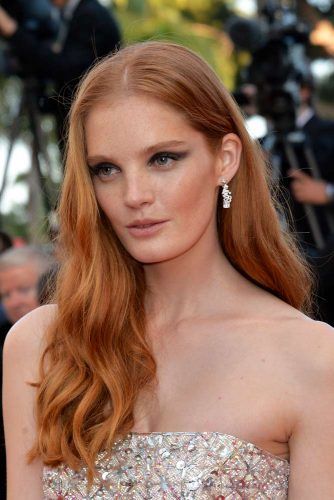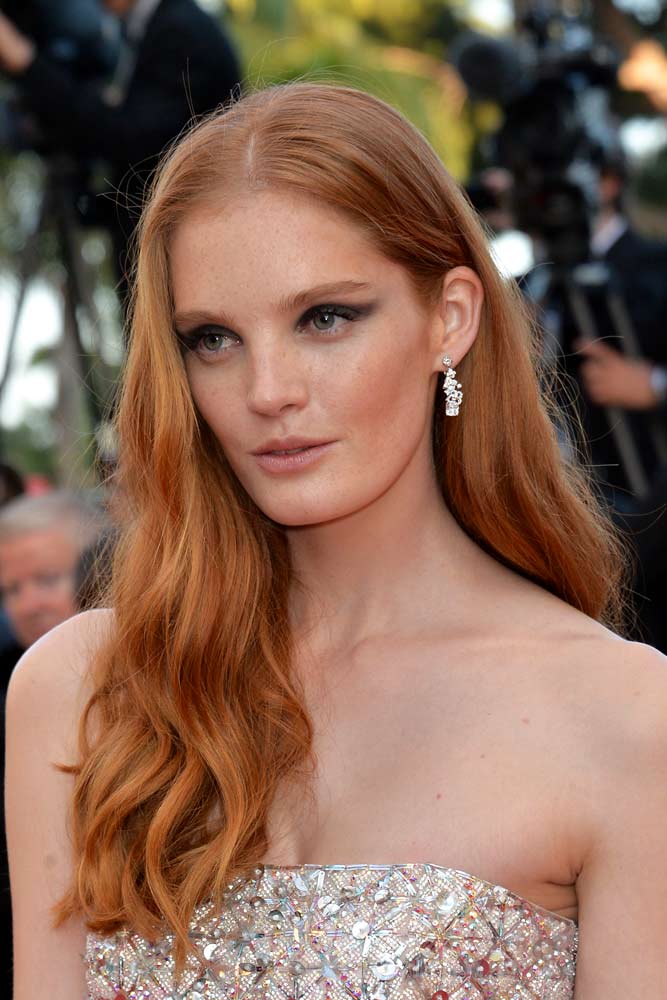 Source: Featureflash Photo Agency/Shutterstock
Red hair color palette is a gift sent from above to us mere mortals, and Alexina Graham, known as Victoria's Secret angel is living proof for that. Her subtle, sophisticated shade of red is soft enough to highlight her complexion and bright enough to put her in the spotlight. With such an amazing shade, there's no need to spend hours styling your hair - a simple middle part that showcases the beauty of the color is enough to steal the show.
Side-Parted Curly Hairstyle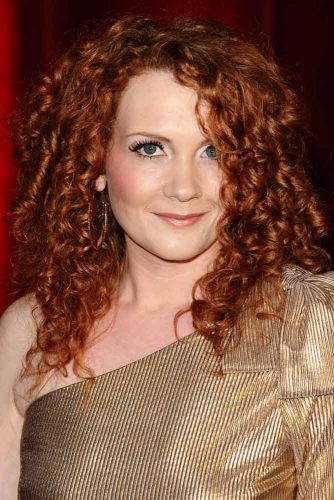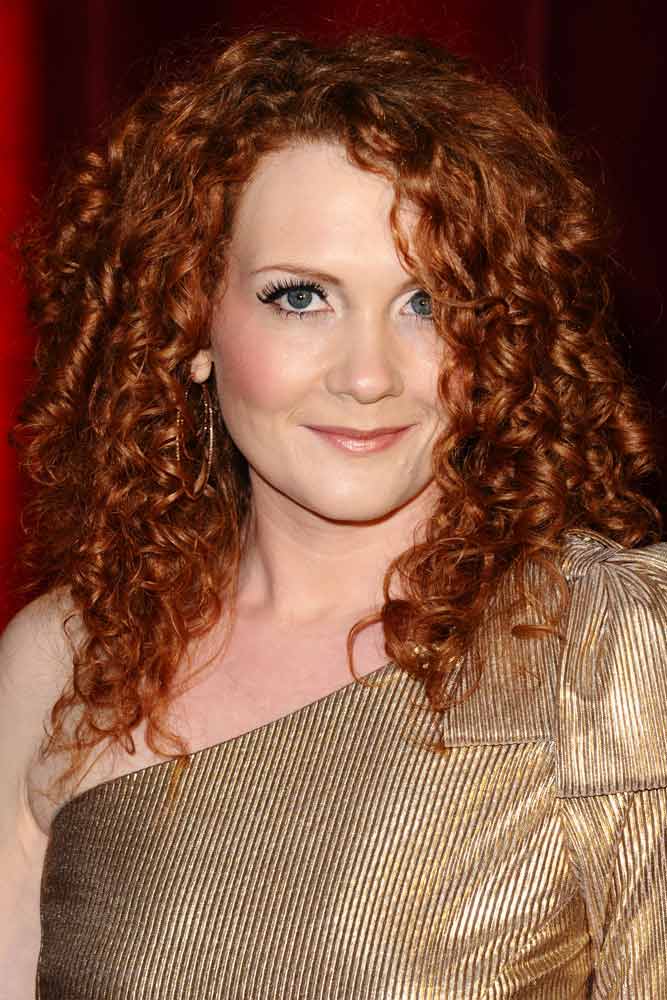 Source: Featureflash Photo Agency/Shutterstock
Jennie McAlpine seems to have tried all the shades of red. While staying loyal to her natural dark copper hair, she never kept away from experiments, adding deep and bright hues to enliven her base. Here, she slays cameras with another masterpiece on her head! Her curly locks make the saturated red hair even sexier, making the whole look super seductive.
Updo Hairstyle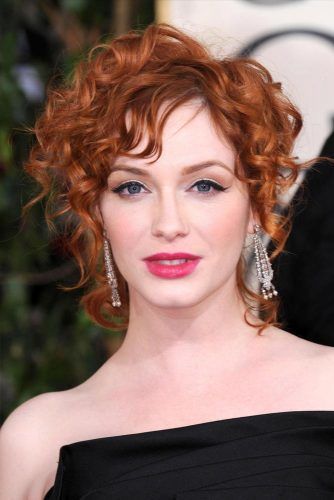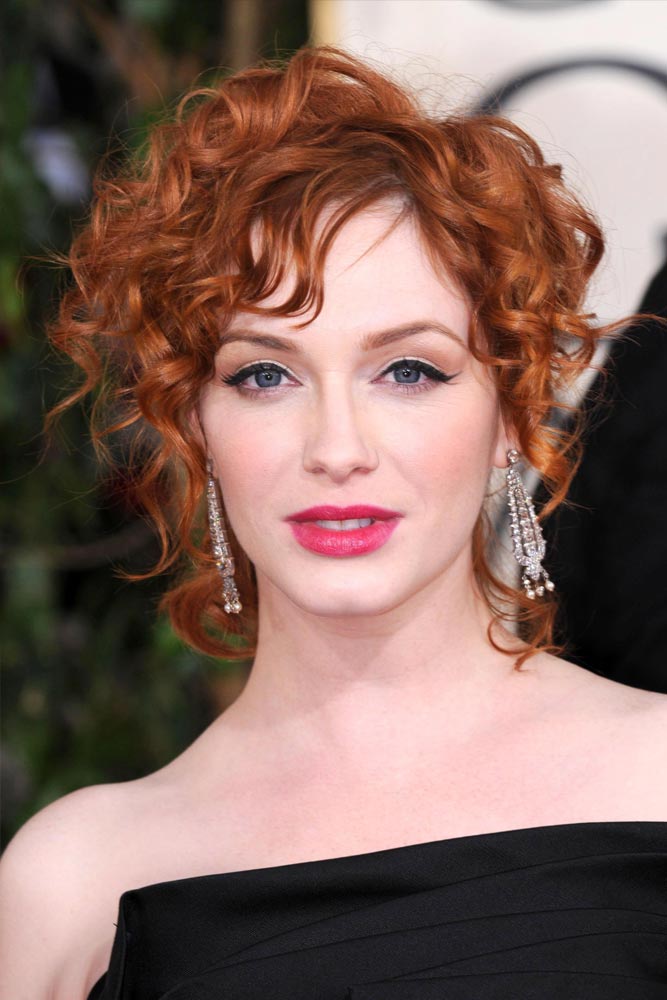 Source: s_bukley/Shutterstock
Christina Hendricks is the epitome of pure seduction and passion. Not only does she have an amazingly curvy and sexy body but she also makes heads turn with her red hair. Since her fair complexion has a warm peachy undertone, bright and shiny red shades look very harmonic and natural on her. To add more textured dimension to her enviable shade, she put her hair into an updo.
Braided Long Hair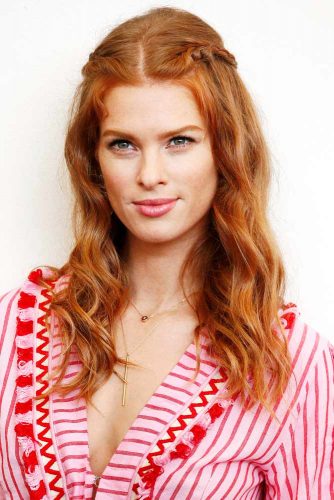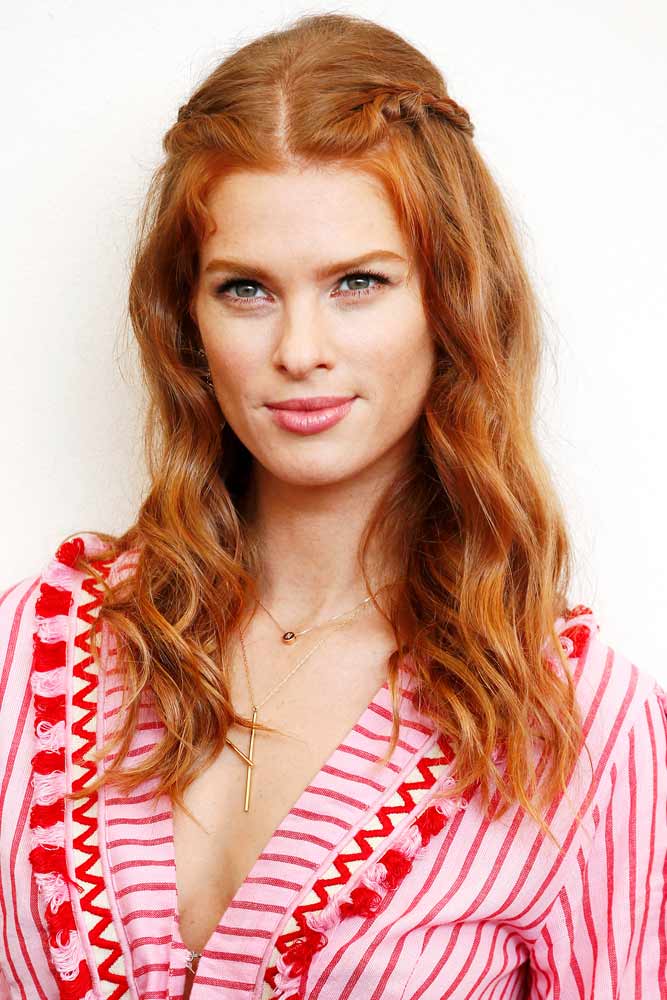 Source: Andrea Raffin/Shutterstock
Apart from a thick and dense mane, Yuval Scharf was blessed with naturally bright copper hair. Although she likes to switch between light brown and auburn shades when she needs some changes, she is in love with her vivid shade. So as we are, though! With her simple and unpretentious braided half-up here, she brings a lot of lovely hippie vibes, adding a youthful touch to the look.
Long Hair With Wavy Ends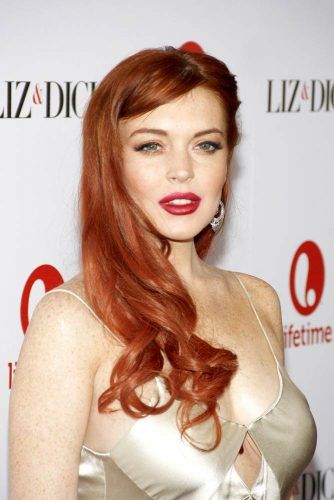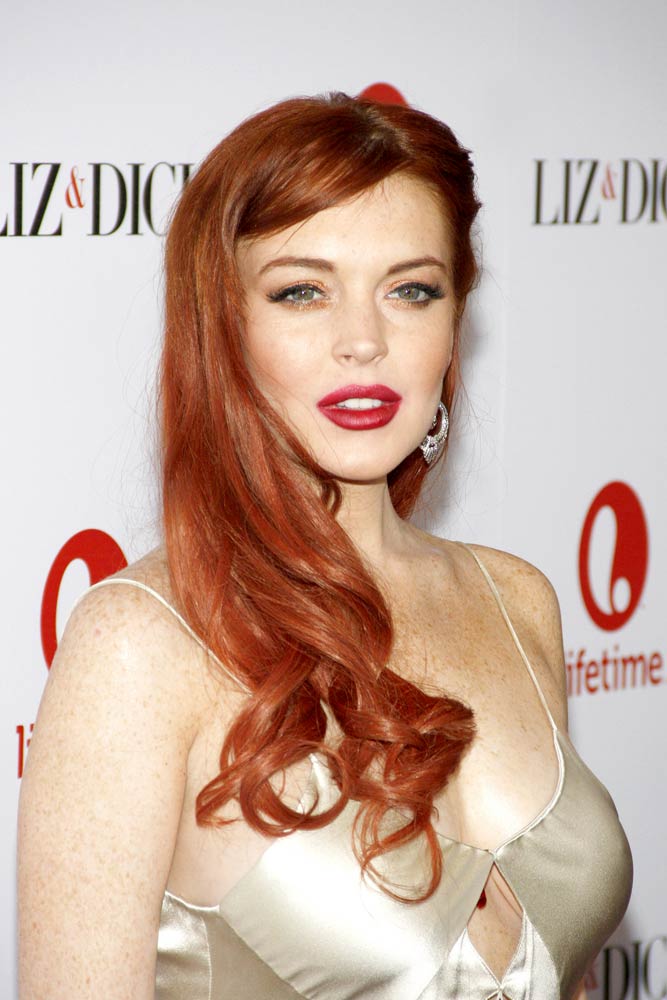 Source: Tinseltown/Shutterstock
Lindsay Lohan only gets more beautiful with the time! And the secret of her beauty doesn't lie in surgery and facelifts. The truth is, it's all about finding a perfectly flattering shade for your complexion. This spectacular shade of red looks very contrastive compared to her skin tone, thus making it appear young and fresh. To show her color at its best, the actress emphasizes it with waves and finishes the look with a matching shade of lipstick.
Red Hair Color Ideas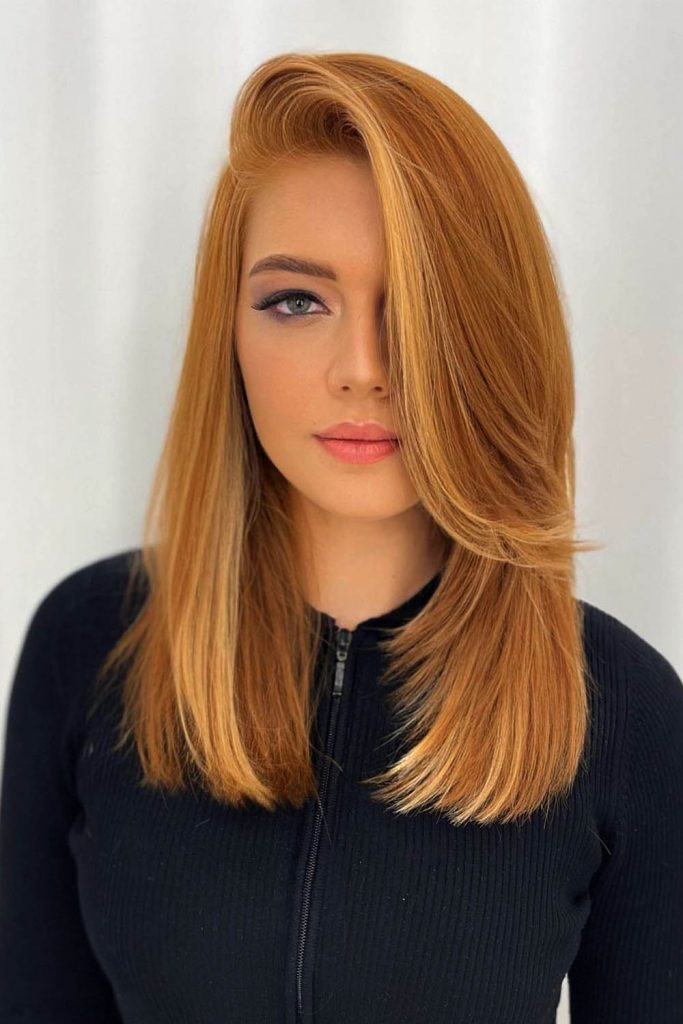 Source: sergeyshapochka via Instagram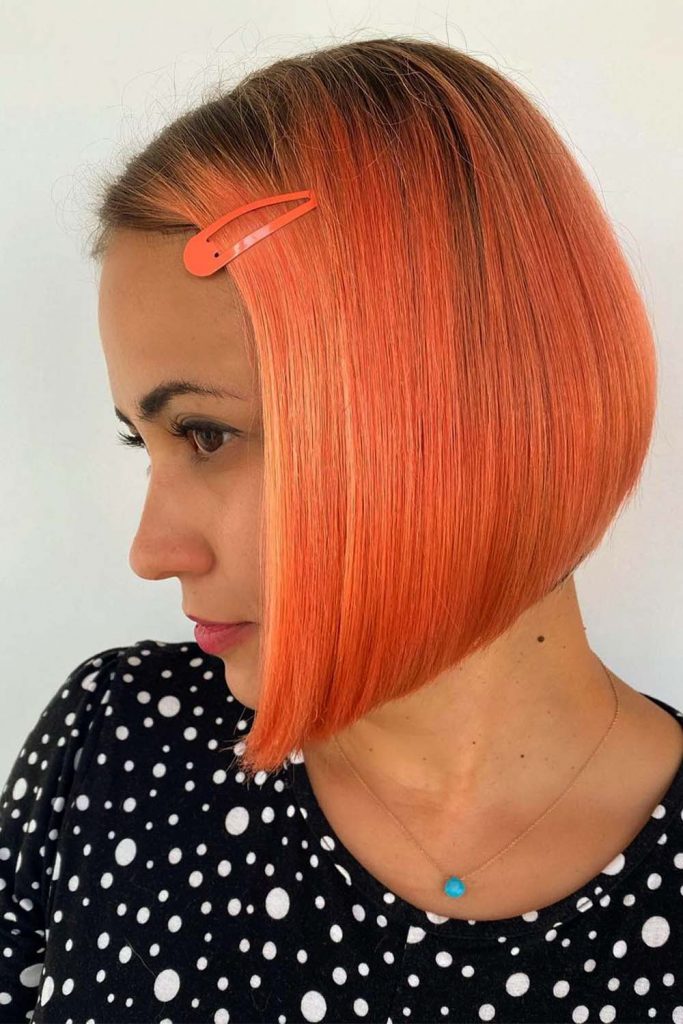 Source: manemisfit via Instagram
Even though red hair can only be met by chance, it has a lot of shades. That means that you should face every shade before asking your colorist for this hair color: otherwise, you can get lost in the red hair color chart that your hairstylist will show you. So it's better to come to the hairdresser's fully equipped with knowledge. The first thing you have to sort out is what colors do you like the most: deep or light ones? Then, make sure that your skin tone matches with the chosen color perfectly, it is the essential step to get a genuine ginger look. The red color is one of the most many-sided color people could ever see, so you should be rough and ready to meet its diversity. Golden auburn hair color, different copper hair colors, ginger hair color: each sexy redhead hair color is waiting for you to become friends!
Golden Auburn Hair Color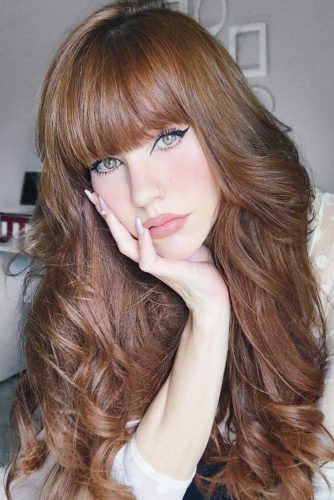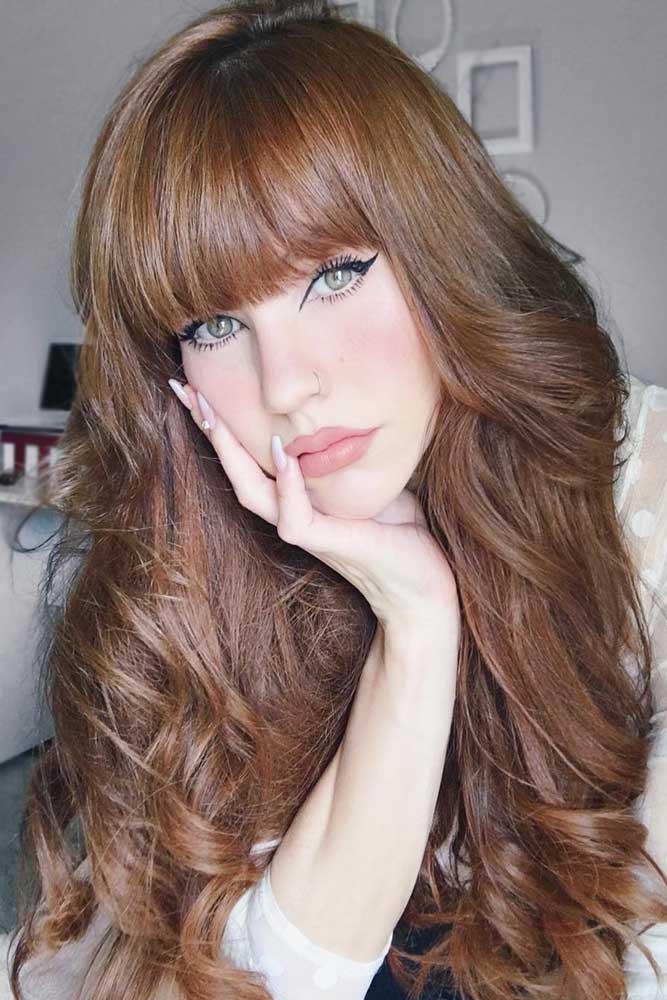 Source: annefariaa via Instagram
The hair color that was kissed by the sun, who could ask for more? Girls who have this natural auburn hair color will take over the world: it's just a real magnet for people's eyes. It's deep and warm at the same time, no other color can give you that pleasant effect. Don't panic if you've fallen in love with this color: there is nothing impossible for modern professionals! But you should keep in mind that dyeing your hair in this color just yourself is very dangerous: don't even try to find out how to get natural looking red hair from dark brown, you don't want to spoil something, right? This color is special because it changes as the sunshine reaches your hair: golden hues melt with red ones, forming a really tasteful look.
Copper Hair Color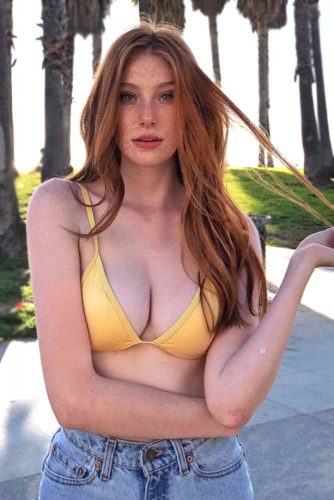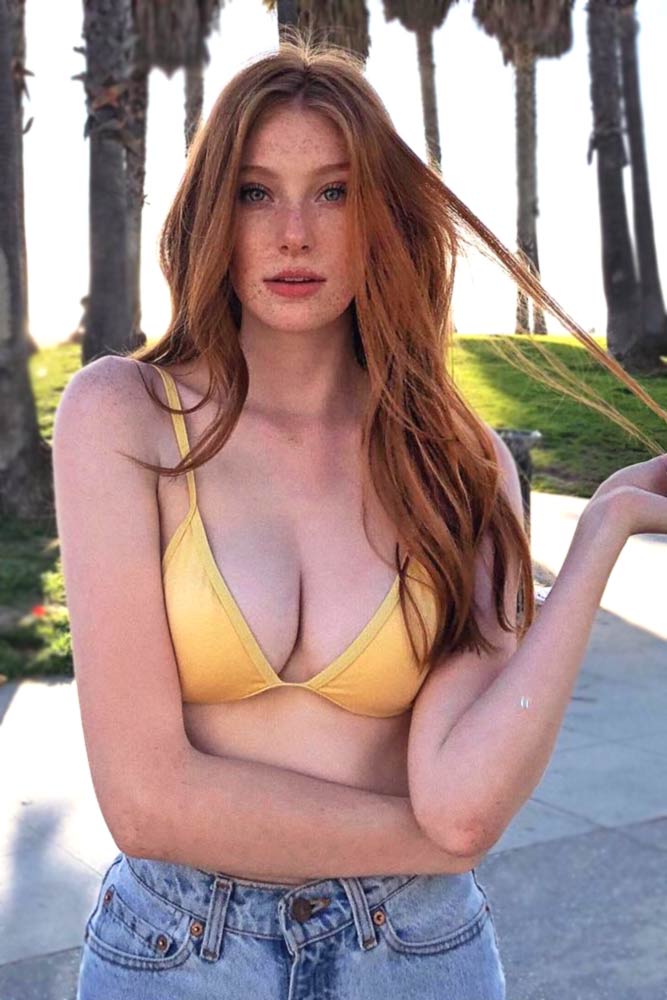 Source: madelineaford via Instagram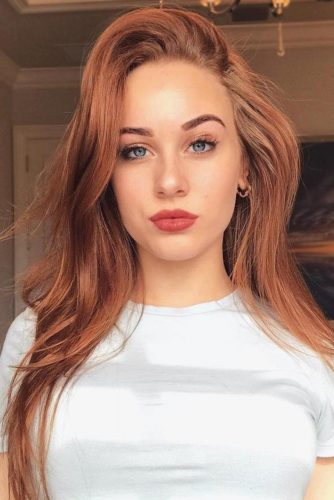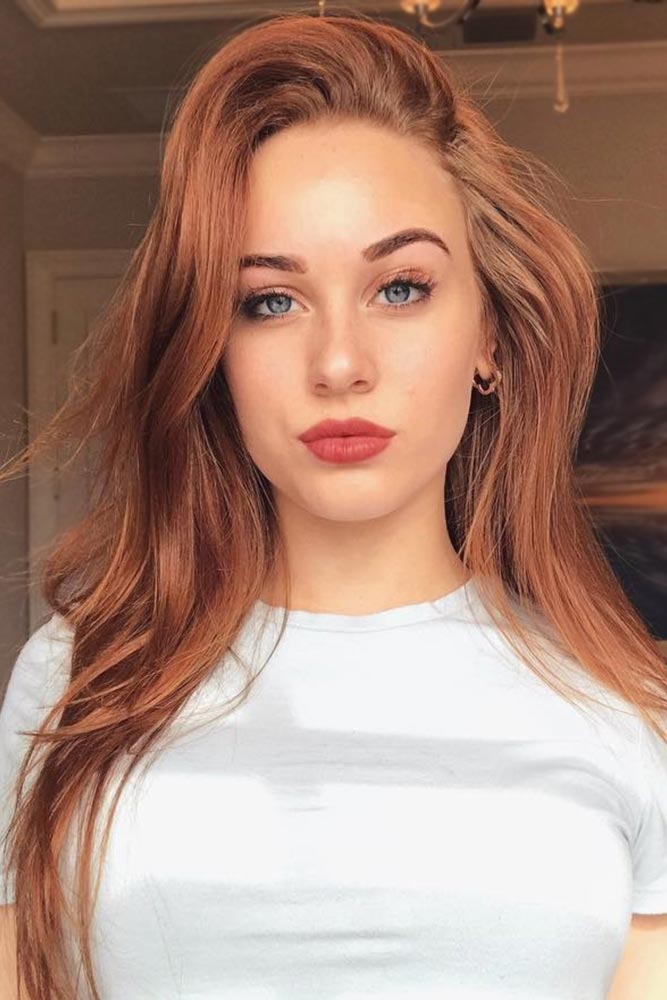 Source:sargibson via Instagram
Those who are into copper colors, meet the fascinating copper hair color! It's not as simple as it may appear, and it's also totally diverse. You can usually see it on girls with pale skin and freckles, so if you seek naturalness, make sure that it suits the color of your skin. Frankly speaking, such sexy redhead hair color as copper hair color on dark skin looks very ungenuine, just keep that in mind. As for its charm, no words in the world can describe this color: once you dye your hair in a copper shade, you will fall in love with your own hair. It seems that there is no better way to let summer vibes in your life than dyeing in such a special color. It's never too late to become a redhead, but summer is the best time to flaunt with your brand new red color.
Dark Copper Hair Color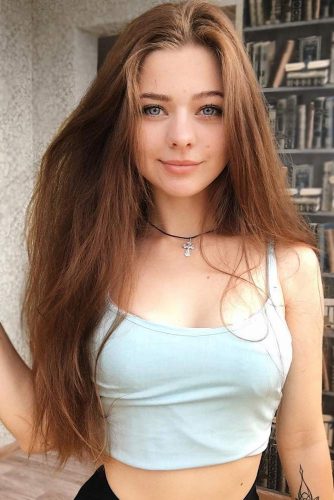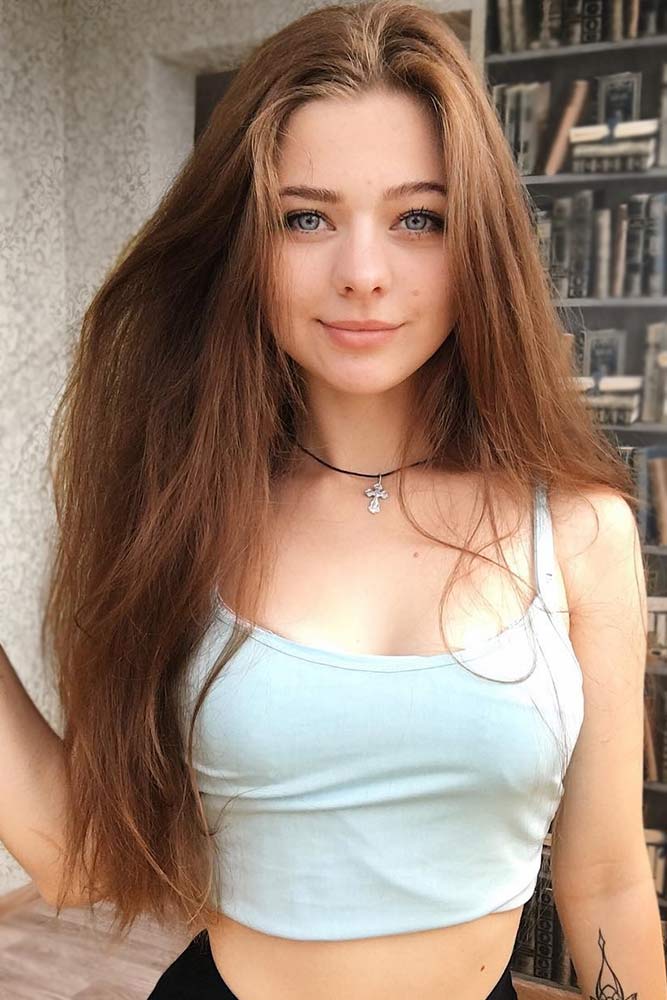 Source: masssshik via Instagram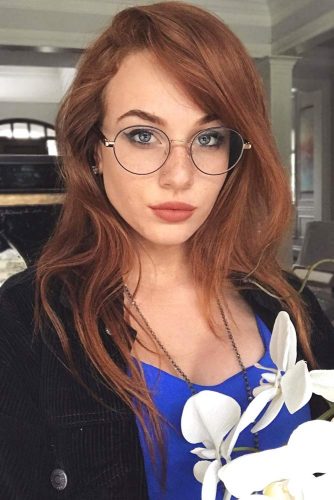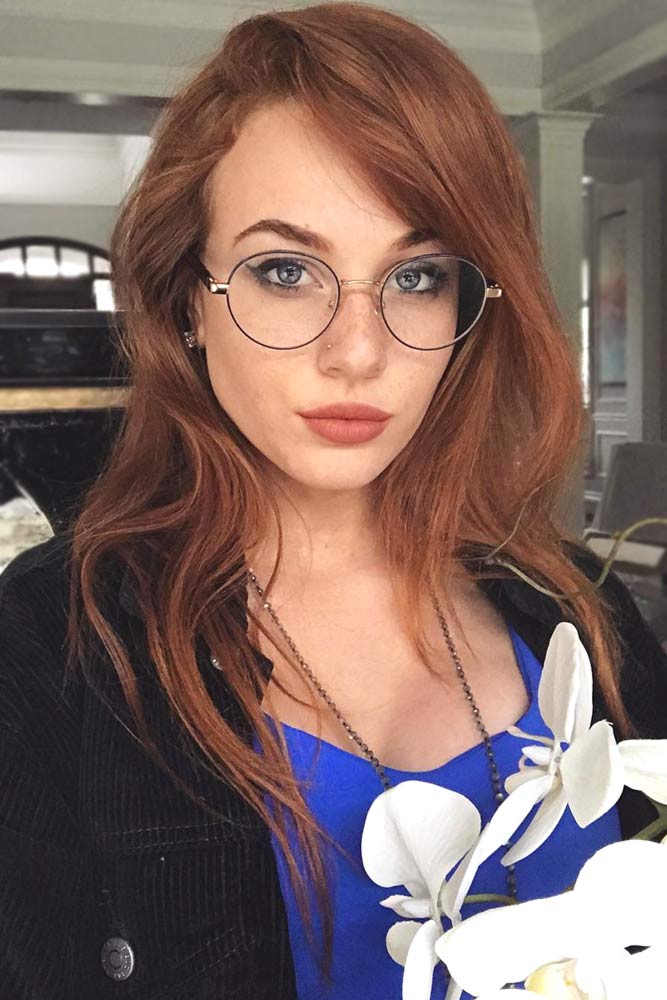 Source:sargibson via Instagram
Some girls just can't say goodbye to their dark hair, even if they dream of adding some copper hues to their style. If you're one of such girls, you can breathe a sigh of relief: dark copper hair color is the compromise you are looking for. It's the deepest variation of the copper palette, so if you feel that you're not ready for bright colors, this warm tone is essential for you to try. Look at these pics: these girls don't need to put on makeup to look beautiful, their unbelievable hair do the talking. Nothing can adorn your look better than your hair, do you get what we mean?
Ginger Hair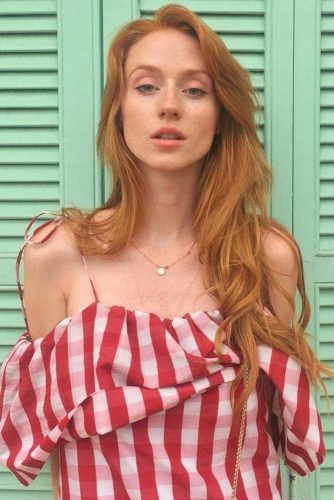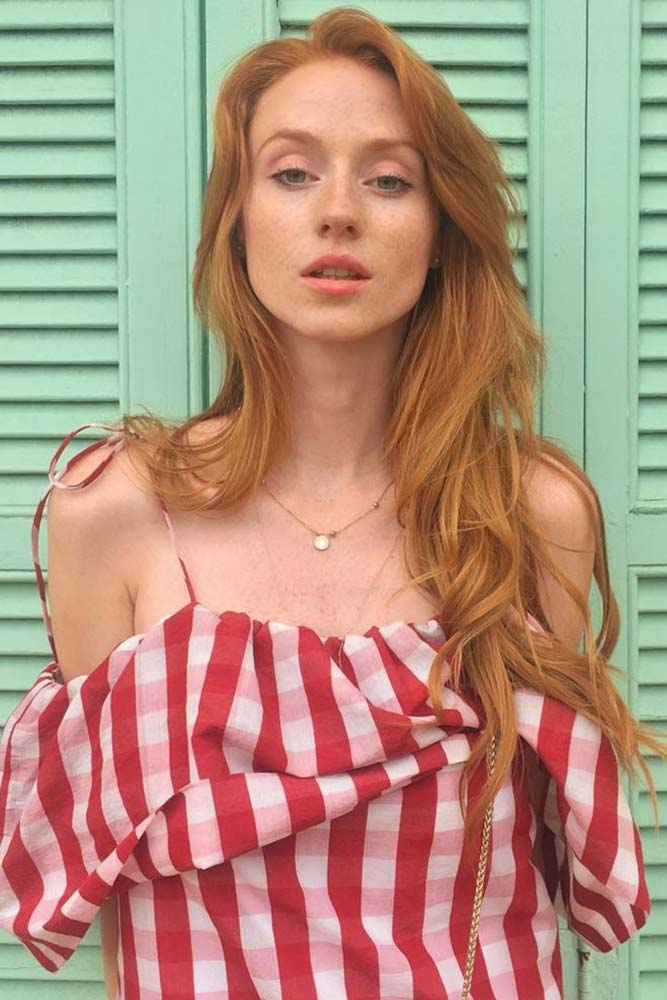 Source: linakova via Instagram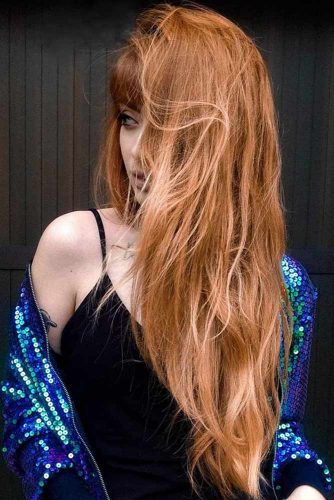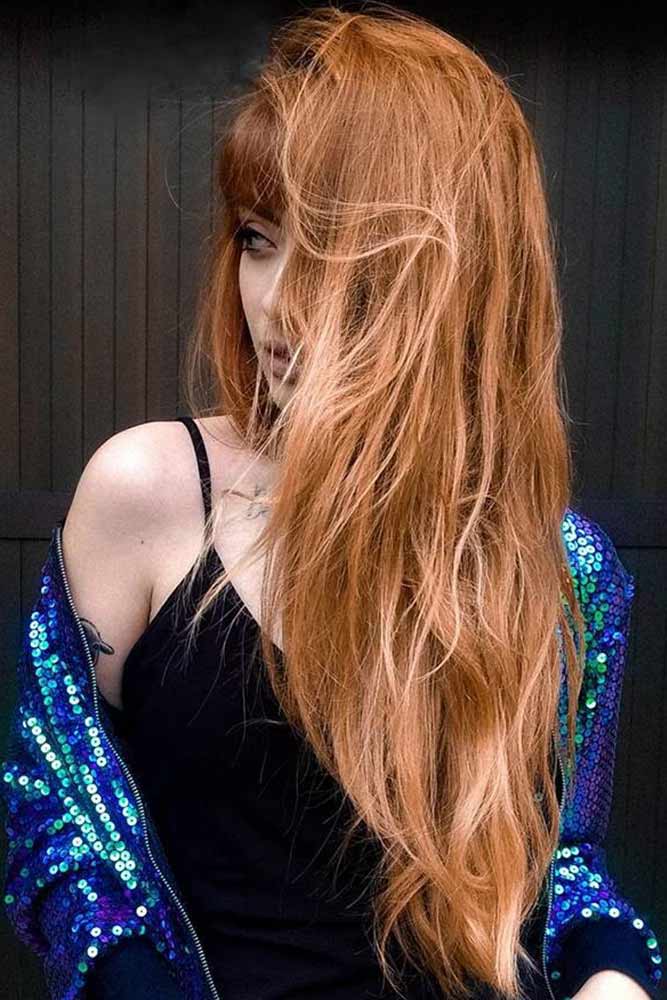 Source: marigmnz via Instagram
Here comes one of the most popular and enviable shades of natural red hair, the ginger hair color. We call these girls "gingers", which is a synonym to "queens". Once we see this sexy redhead hair color in our life, we will never forget it: it will be stuck in our heads until we dye our own hair! Yes, this is how the magic of gingers works, they are the ones to remember. How do you like these red hair color ideas? If it makes you feel any better, not all of these girls are natural gingers! We know that some women have doubts about that, and these pictures are living proofs. Remember it once and for all: dyed ginger hair can look genuine!
Light Copper Hair Color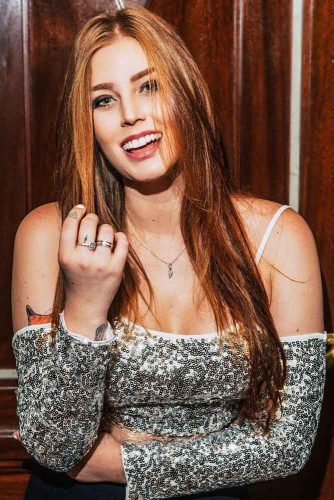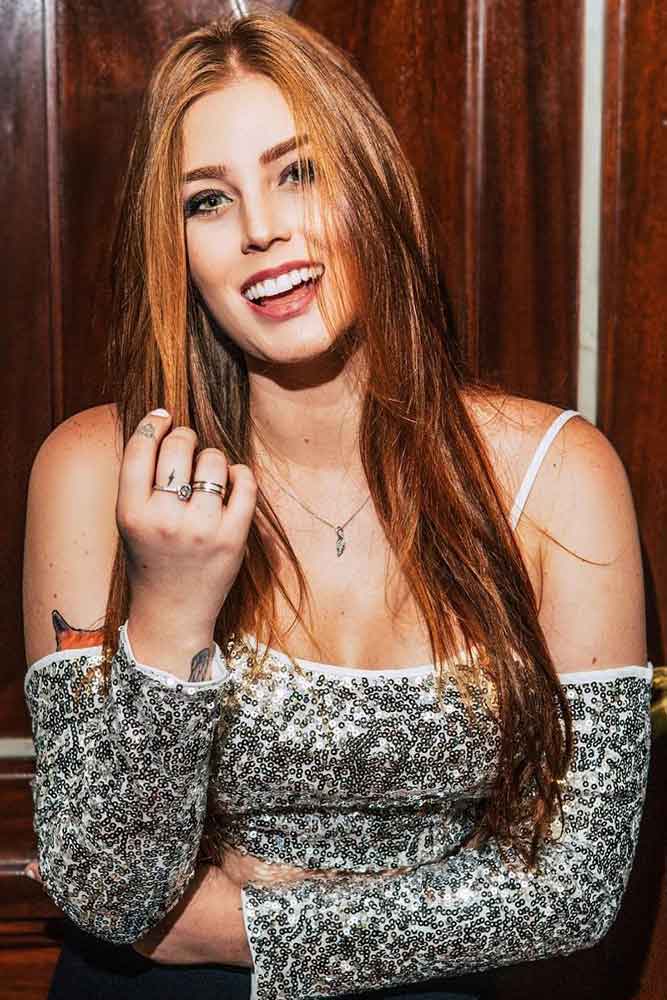 Source: flaviacharallo via Instagram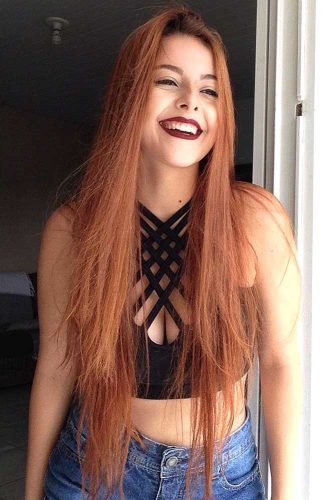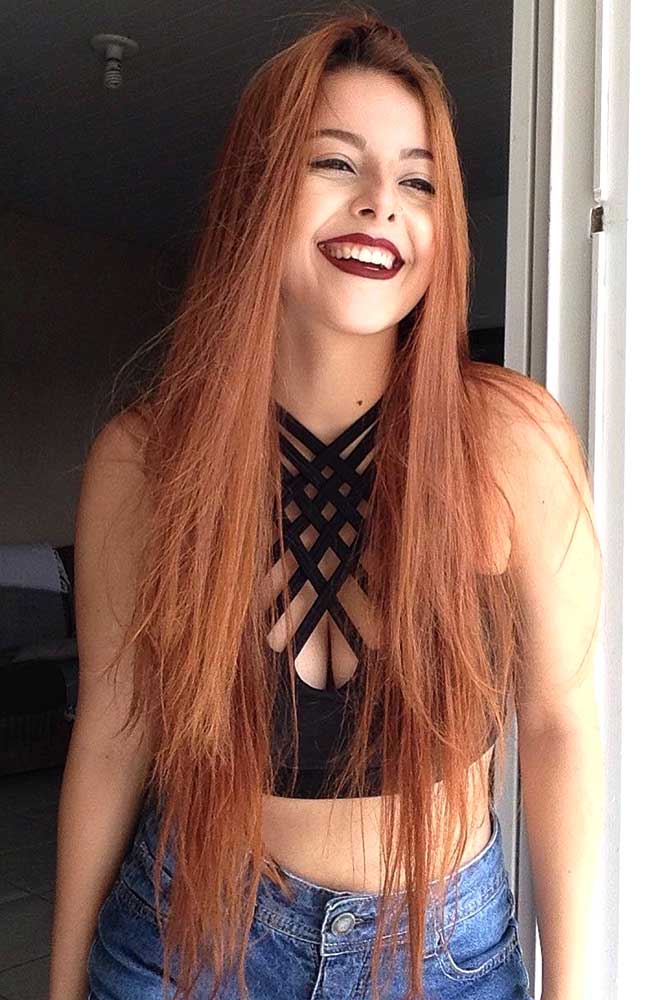 Source: amohamadx via Instagram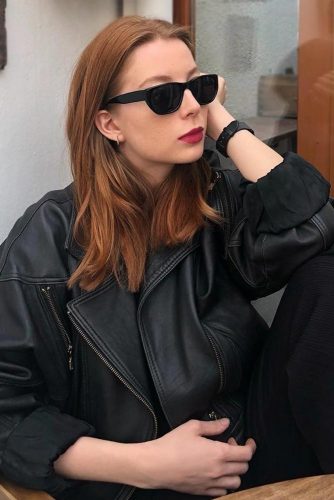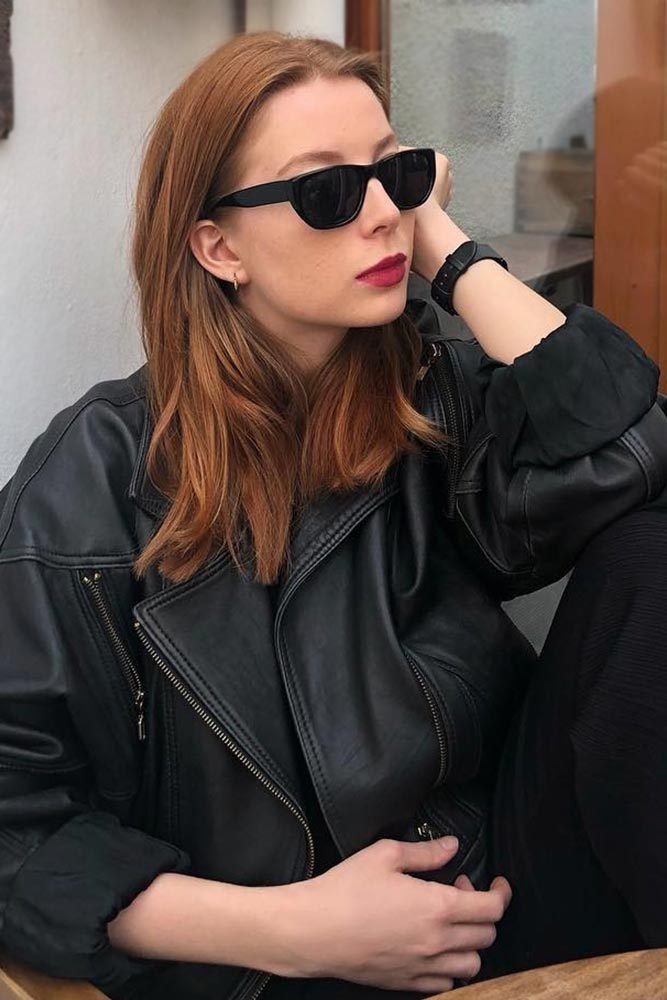 Source: handetaserr via Instagram
Let's talk about the lightest hues of red hair: the light copper hair color is the key to this topic. If you are stuck between blondes and gingers, there is a happy medium for you. Whether you want to create a warm sunny look or you are about to show everyone how sassy you are, this hair color is versatile enough to make your dreams come true. Sounds cool, doesn't it? Let us remind you not to try to get the copper hair color at home: going to lighter colors is even more complicated than to the darker ones, so it's better to leave it for professionals. A little tip: this color gets on well with soft pastel ones, so a balayage, ombre, or shatush will be in handy for you.
Auburn Hair Color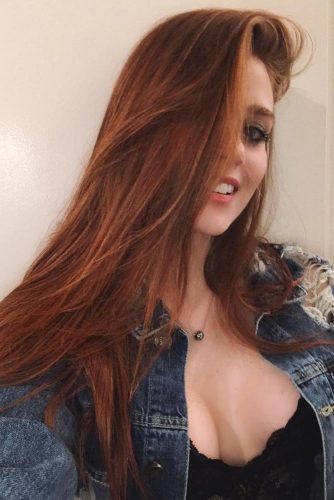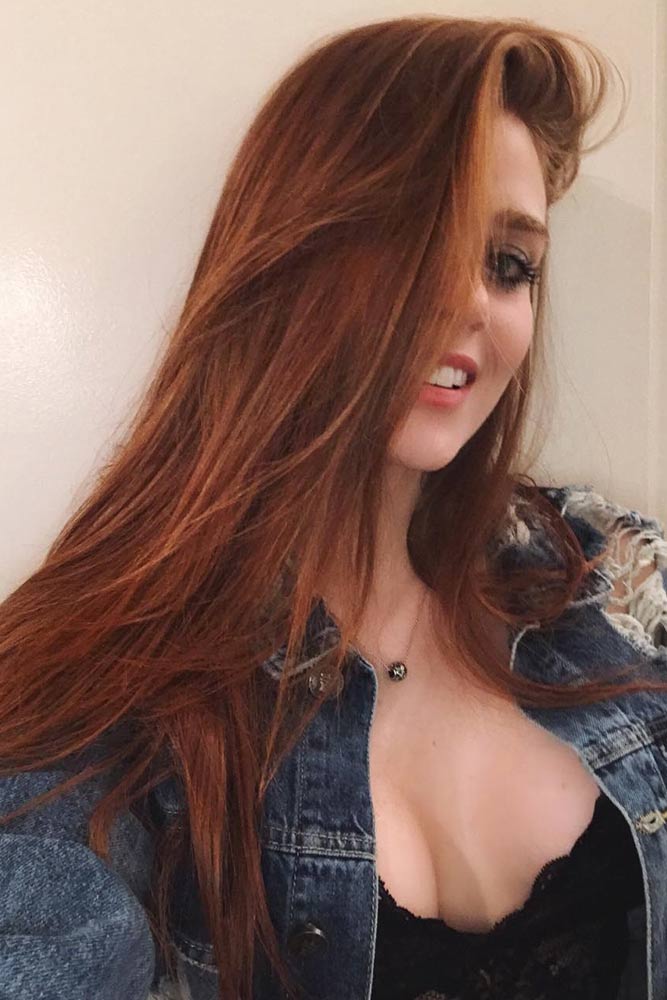 Source: flaviacharallo via Instagram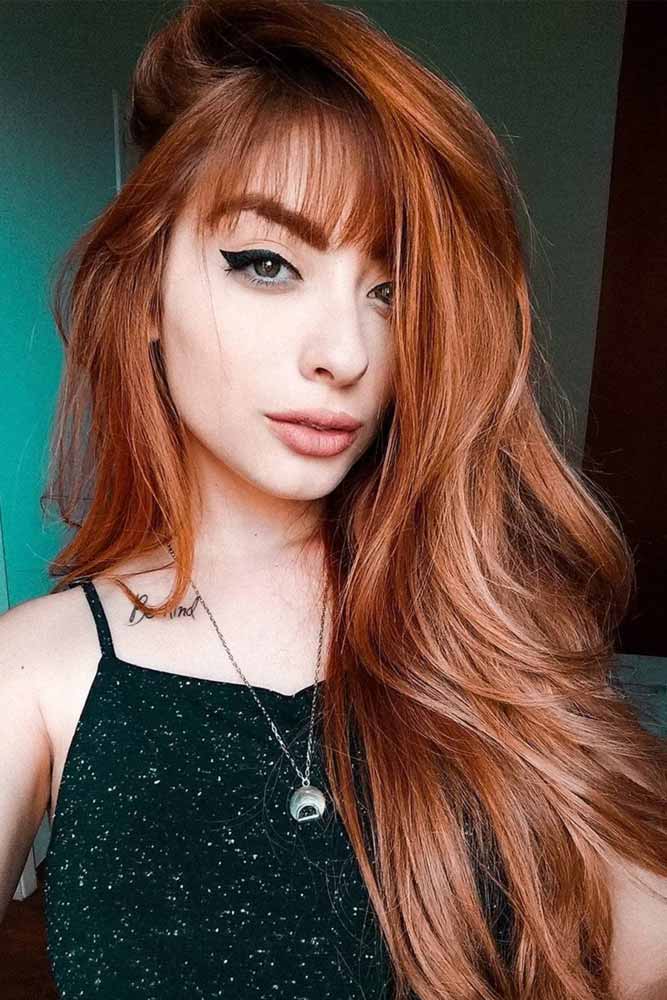 Source: marigmnz via Instagram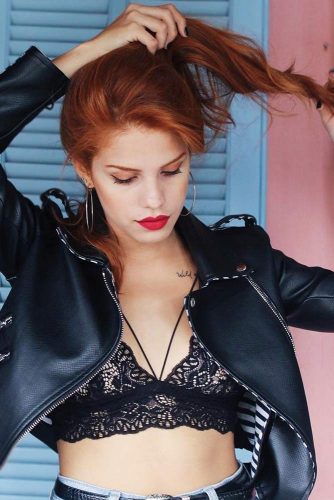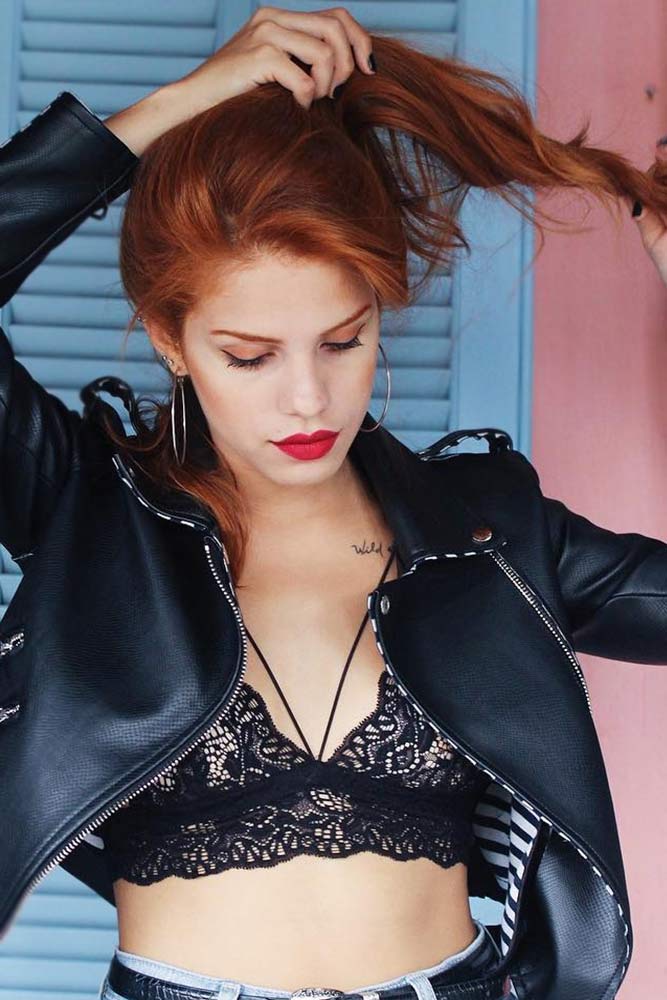 Source: mstaiara via Instagram
We will never get tired of auburn hair color, as it's the best color to sport all year long. The truth is, if you always wanted to try some coloring technique, but hesitated for some reason, this is your chance to bring your ideas to life. Ask your hairstylist and he or she will confirm that this hair color is the best base for balayage. You can blend it with any colors you want, and the more colors the better! Mix blonde, caramel, chocolate or any appetizing hues together to create your own unbelievable hairstyle. If you've been waiting for the moment when you can let your imagination run wild: it's time, girl!
Warm Red Color Ideas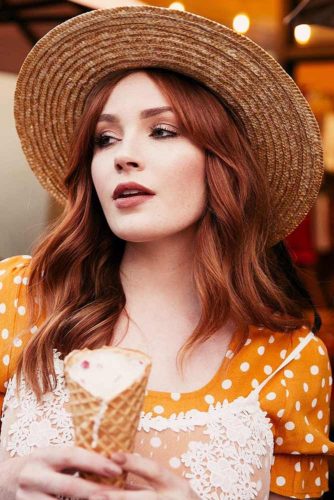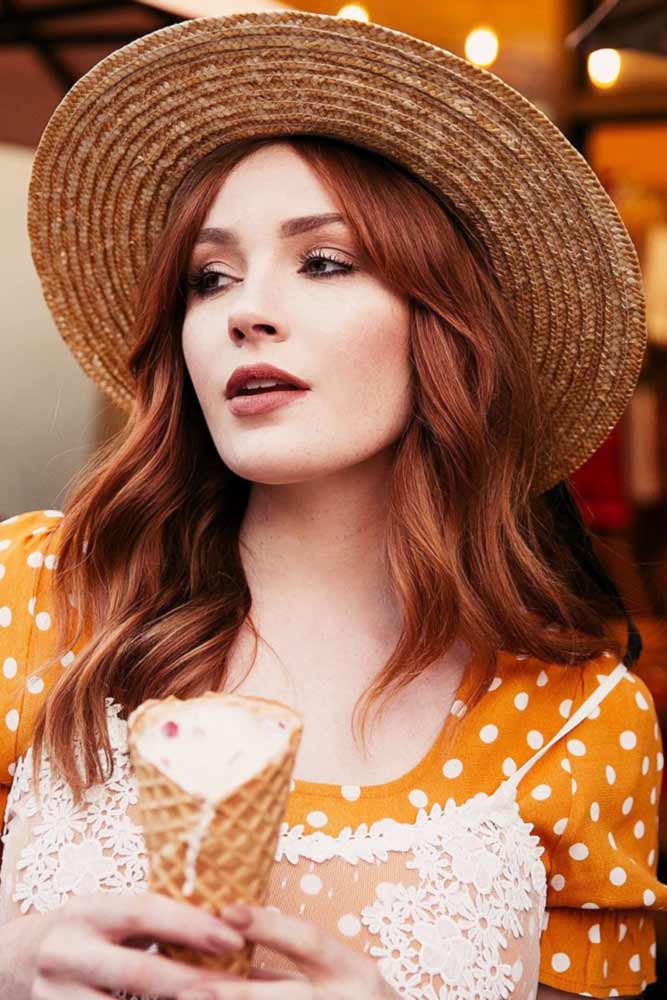 Source: xomissdanielle via Instagram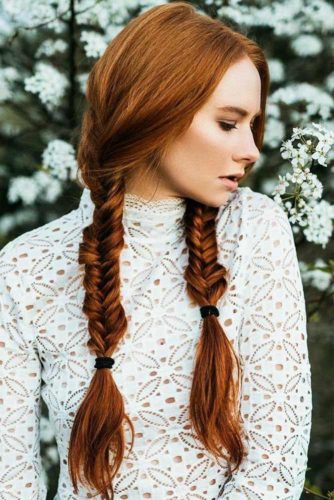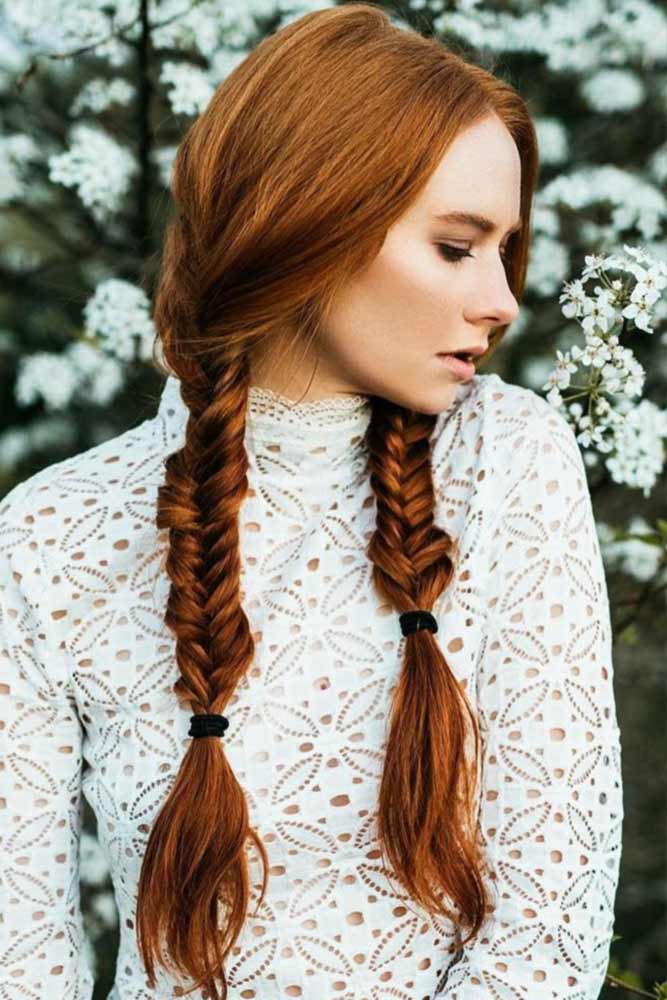 Source: redridingheadd via Instagram
While most popular shades of the sexy redhead hair color palette involve cool and peachy undertones, you can discover something that will warm up your reflection in the mirror. Just imagine how stand-out your look will be this fall: everything prepares for cold rainy days, and you flaunt with joyful red hair color. Golden copper, light reddish auburn, and bright coppery shades are the ideas you can't do without when you need to add some warmth to your hair. This time, since the warm tones prevail, such colors can also suit girls with fair to medium skin tones.
Sun Kissed Redhead Girls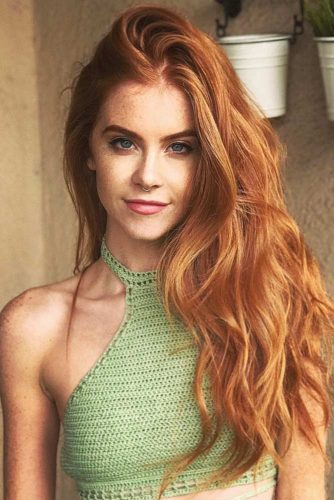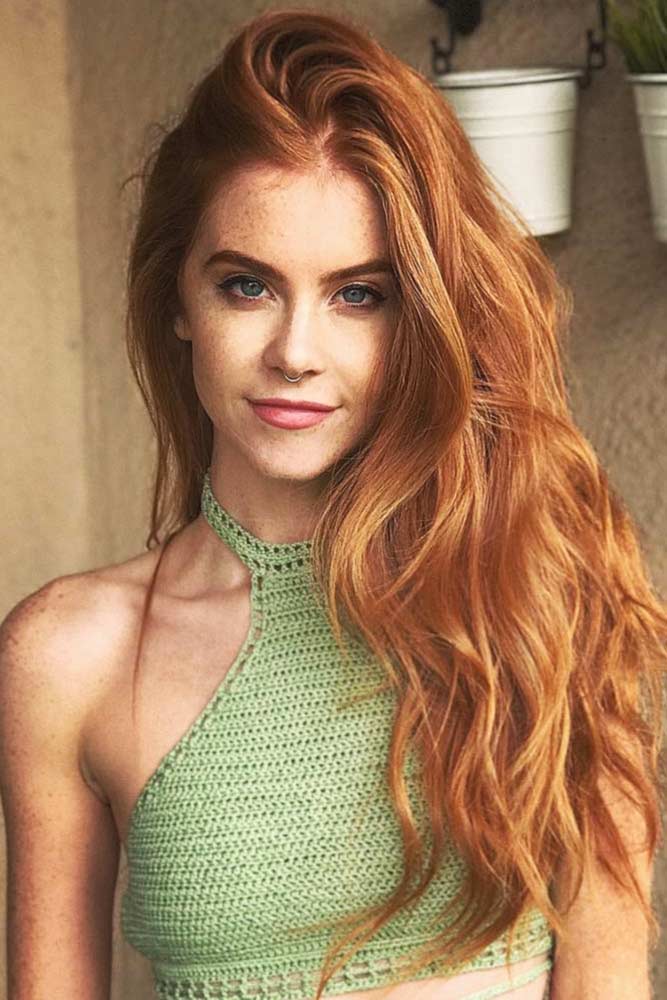 Source: iamfoxlove via Instagram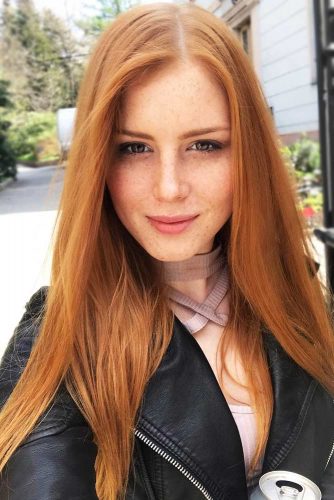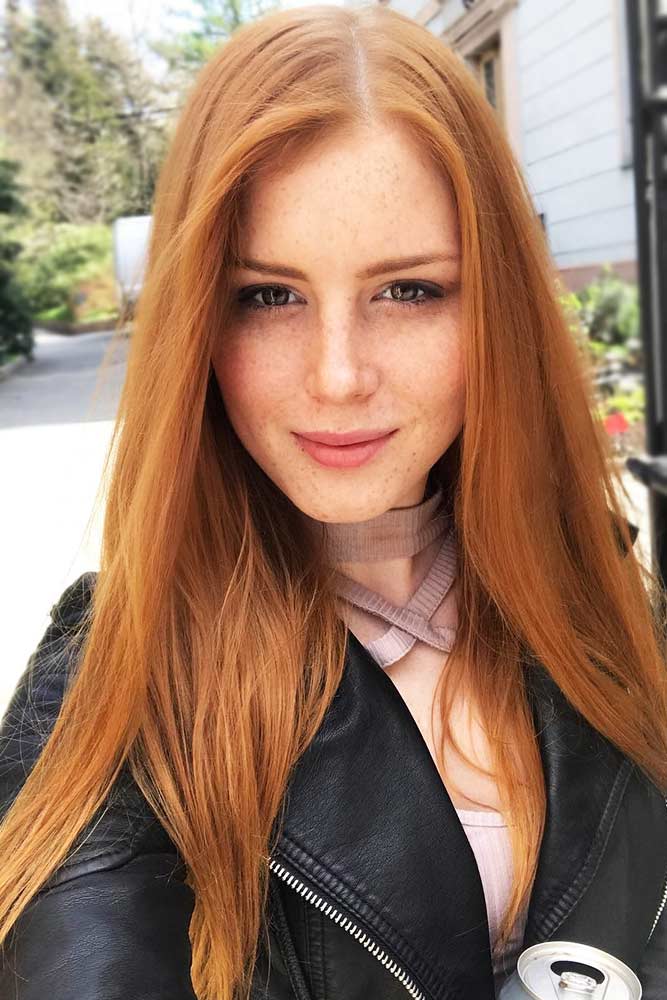 Source: cityflower_holka via Instagram
Some girls who rock the so much desirable burned-out, sexy redhead hair color seem to have made their place in the sun: their hair color looks like it has had a romance with the sunlight. Yes, such colors look unbelievably adorable, and, believe it or not, they're pretty simple to achieve. Natural gingers who spend a lot of time under the sunlight can easily get this light-coppery-to-caramel shade. As for ladies who dream of becoming iconic redheads, they can just ask their colorists for the lightest versions of coppery shades. This kind of red works best for ladies with pale complexions and peachy undertones.
Bright Ginger Crimson Hair Color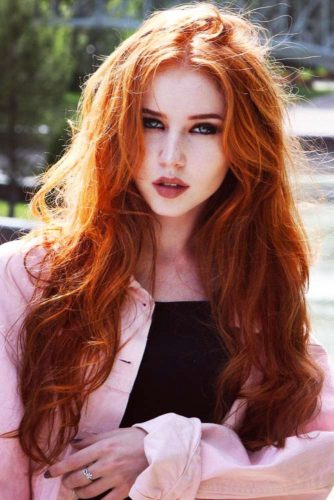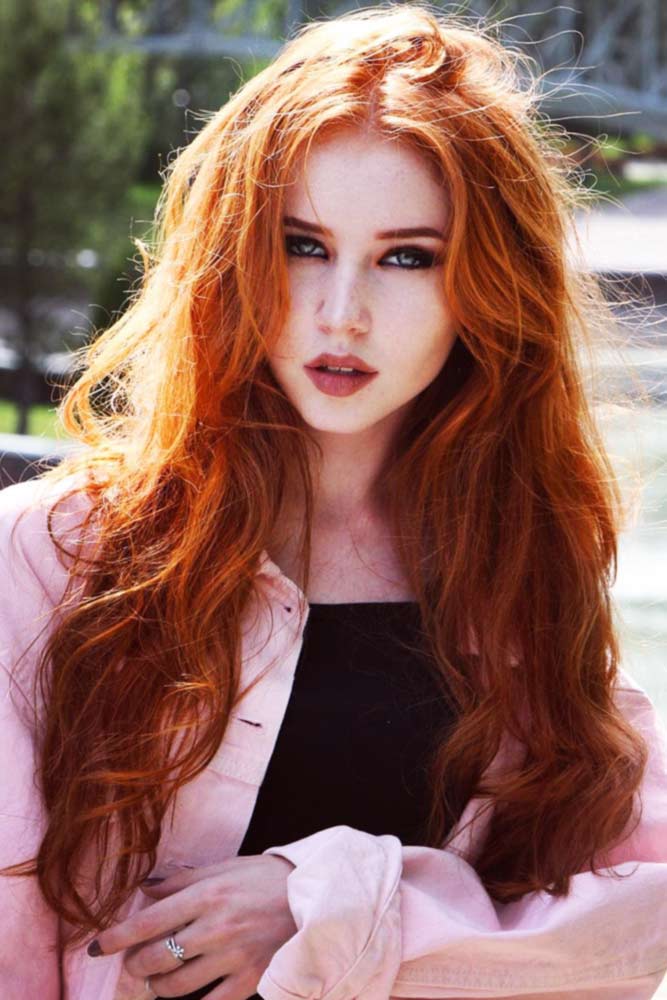 Source: zastenoi via Instagram
Nothing seems to beat the eye-catching contrast that pale complexion and warm, natural ginger hair color form together. Well, although redhead hair colors are considered the most attention-grabbing shades ever, they still can look effortless and authentic, and the point is to find a skilled colorist who can blend the colors naturally, producing organic hair color. Bright ginger hair color can be achieved through soft balayage, where caramel, bright copper, and bright auburn are mixed together. Just like every second sexy redhead hair color, this one will suit fair and pale complexions only.
Cinnamon Red Color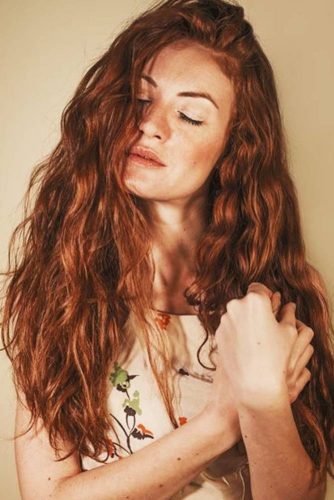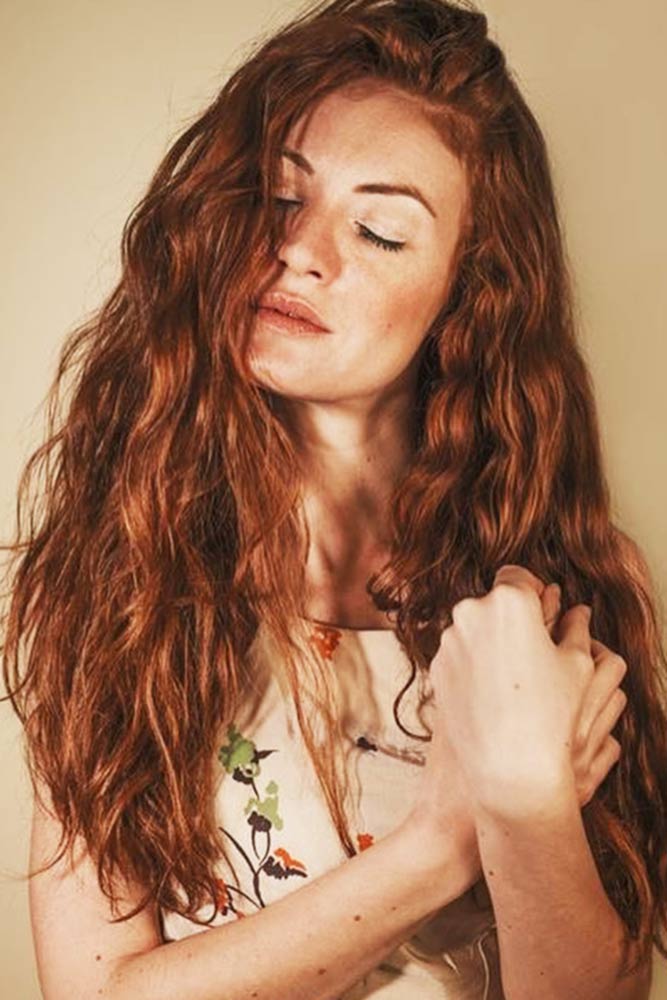 Source: valentinacarrino via Instagram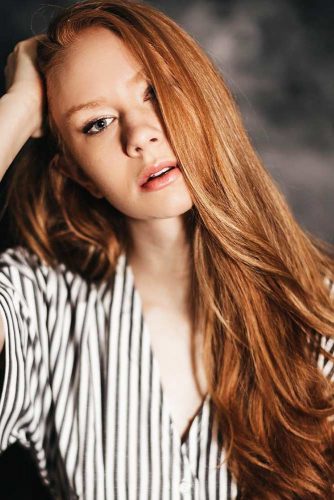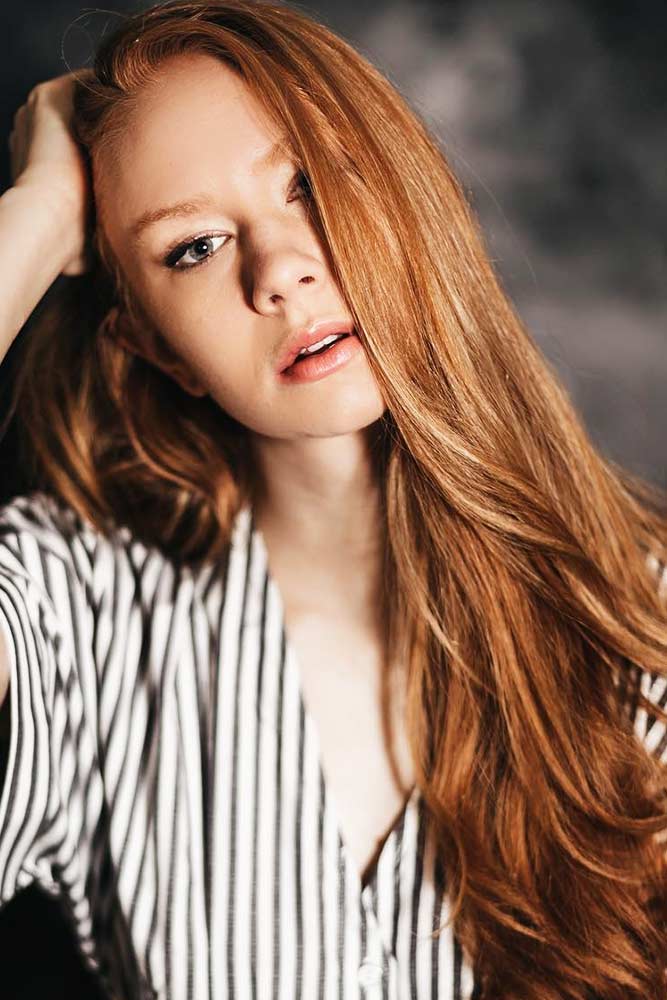 Source: redridingheadd via Instagram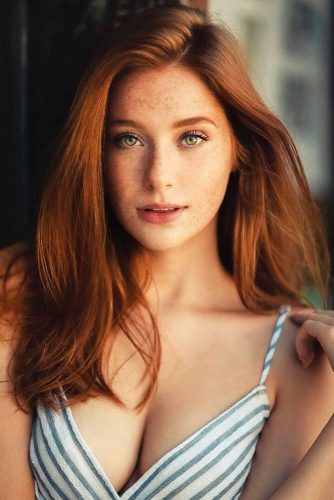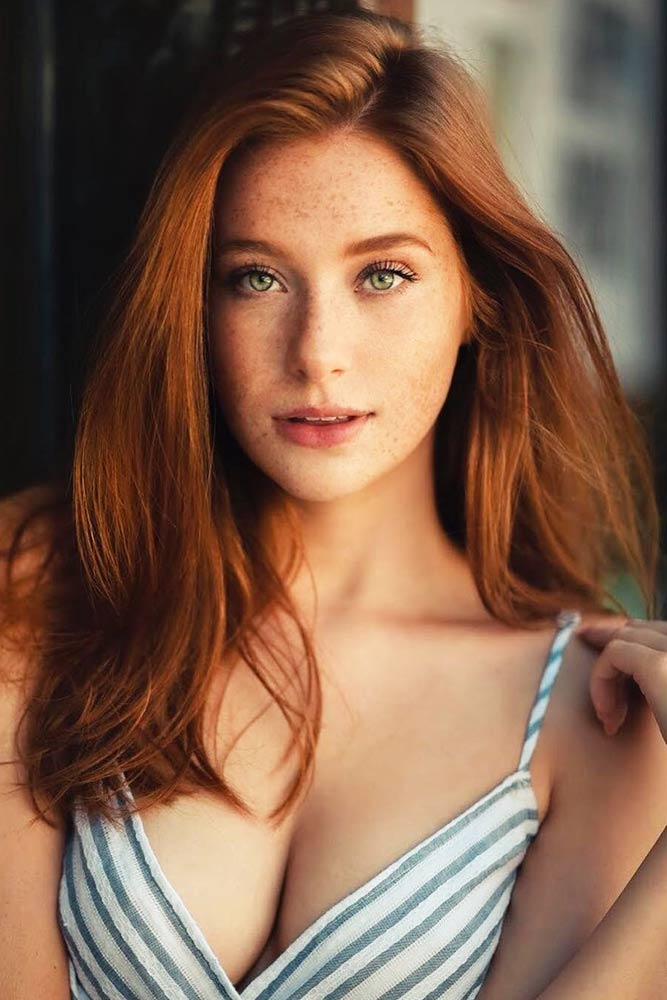 Source: madelineaford via Instagram
Cinnamon red hair color is probably a truly unique red shade we could ever see. First of all, it crosses the line between auburn, brown, and red hair color scheme, coming as a happy medium of these three rich shades. It's a perfect idea for girls whose initial hair color is close to light brown, as a gentle touch of reddish caramel accent can turn into a masterpiece called cinnamon red. This color is more flexible in terms of complexion, yet looks ravishing on fair-to-medium skin tones with soft, yellowish undertones.
FAQ: Sexy Redhead
What color is natural red hair?
Naturally red hair has faint brown overtones, although the depth and brightness of the color may vary. It can range in color from deep red to strawberry blond.
Is red hair attractive on a girl?
Girls with red hair are stunning. It's passionate, bold and energetic, allowing you to stand out and flaunt your personality. Also, people with naturally red hair are a genetic rarity, which makes them all the more desirable.
Was this article helpful?