To the many, androgynous haircuts are controversial. But, gone are those days when fashion was separate for men and women. The stereotypes are fading and styles are merging. Today, you can play with hair and transition between genders effortlessly. Androgyny has now become a trending art and how!
So here we are- sharing some mindblowing examples of androgynous haircuts. These cuts embrace the power of masculinity with a feminine hint and can also go the FTM way. Dive in to break some style stereotypes!
Hold on...
What Are Androgynous Haircuts Anyway?
Before we get to the know-hows, let's get this question clarified. In simple words, an androgynous haircut can be worn by women or men. They can be a gender-neutral approach to one's appearance and style preferences. Such haircuts are popular among those who are gender-fluidic and wish to switch between their male and female sides.
Androgynous haircuts are a liberating concept and have resonated well mainly with the LGBTQI+ community, FTM fans, celebrities, and large support groups. Now let's take a peek at the trending 2024 hits.
The Latest Androgynous Haircuts To Try
Bold, attention-grabbing, and modern are the three words that best characterize the cuts you're going to see. Buzz cuts, bobs, pixies, Mohawks, faded pompadours and undercuts often feature in androgynous haircuts.
What more do you want when androgynous haircuts are endorsed by the celebrities! There's no way you won't find your own go-to. So read up!
Soft, Side-Swept & Shaved Cut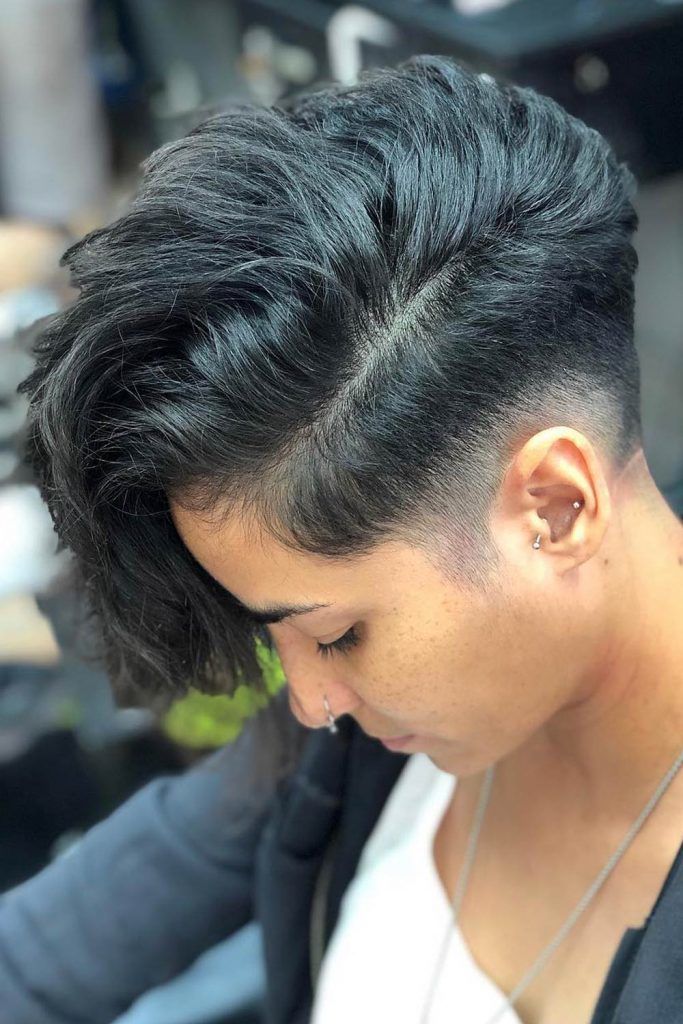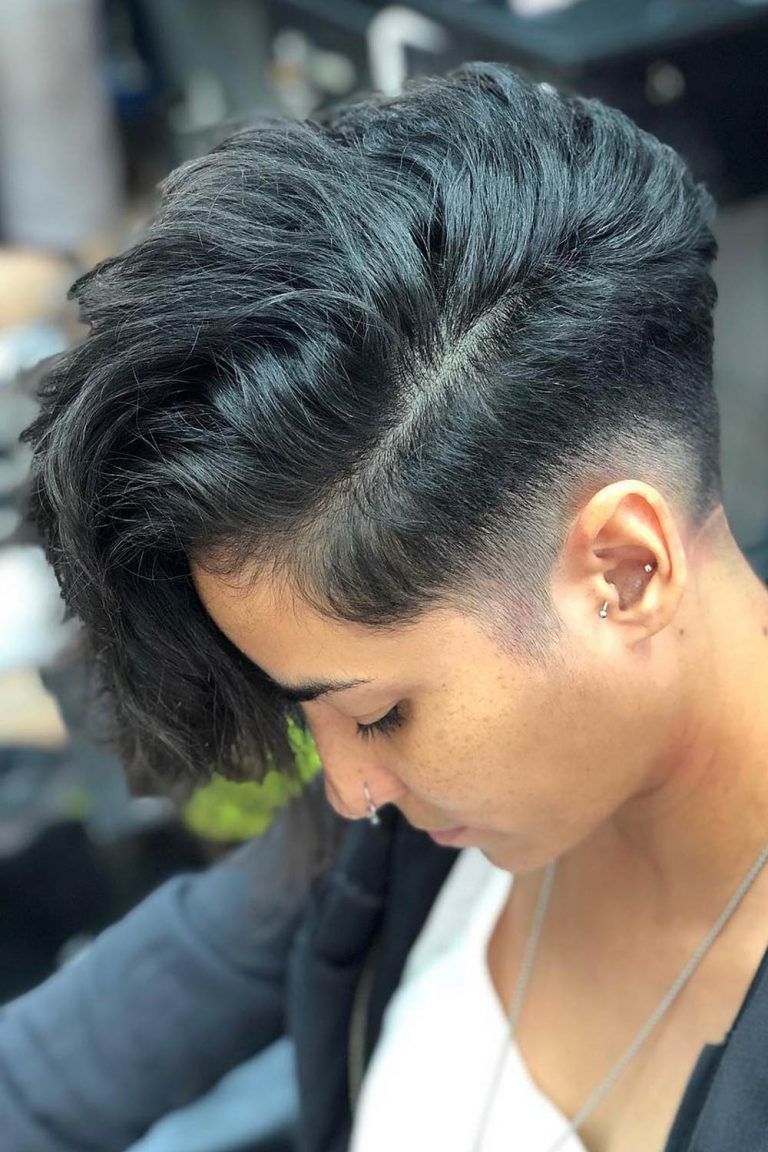 @cheobarberpr
Most androgynous short hair styles are known to bring a lot of character to a wearer. Not only do they open up the face but also give a light, contemporary look. This transformation pic showcases the powerful visual impact given by a chic side-swept pixie with shaved sides. Though the cut is initially unfeminine, the way her makeup finishes the look balances everything out.
Buzz Cut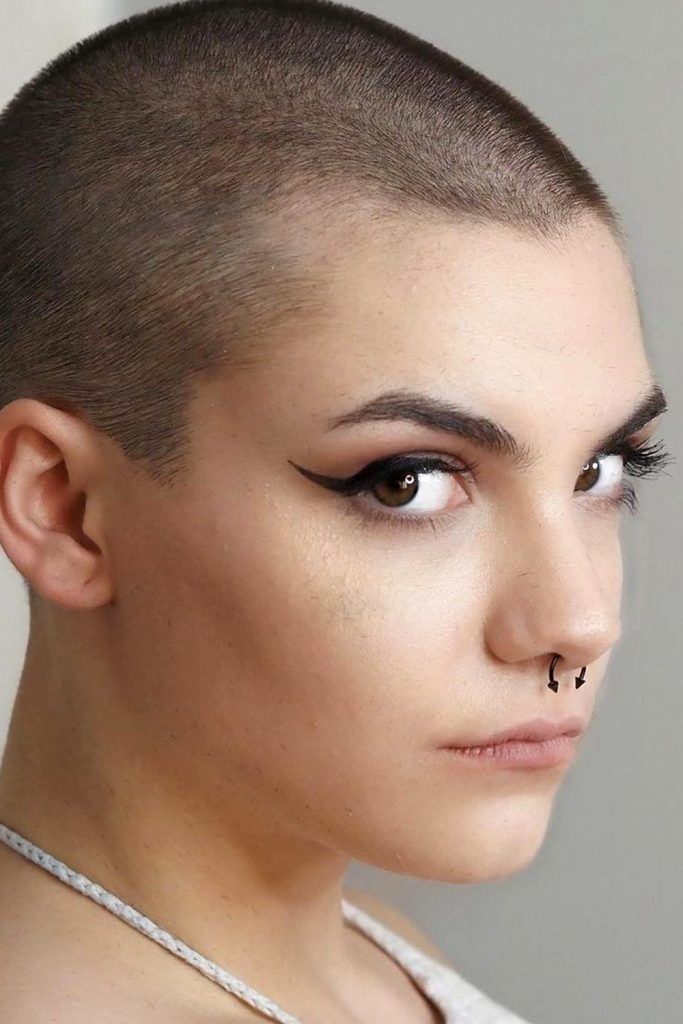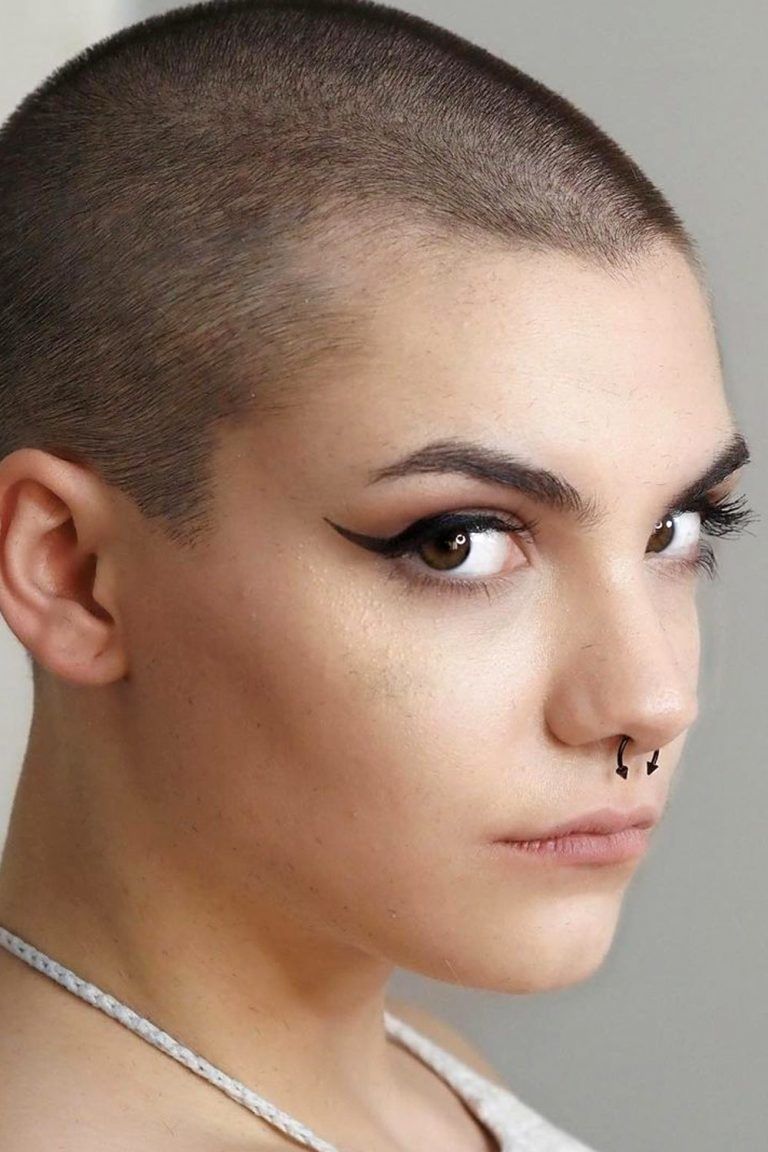 @shorthair.losangeles
Known as a plain military haircut for men, the buzz cut can always find its place in a woman's life. It also stands among popular androgynous haircuts for thin hair due to the simple structure and minimal length that hides all the traces of thin locks. Needless to say, with the right color finish, this low-maintenance haircut can turn into a versatile complement to all looks and occasions.
Classy Crop & Fade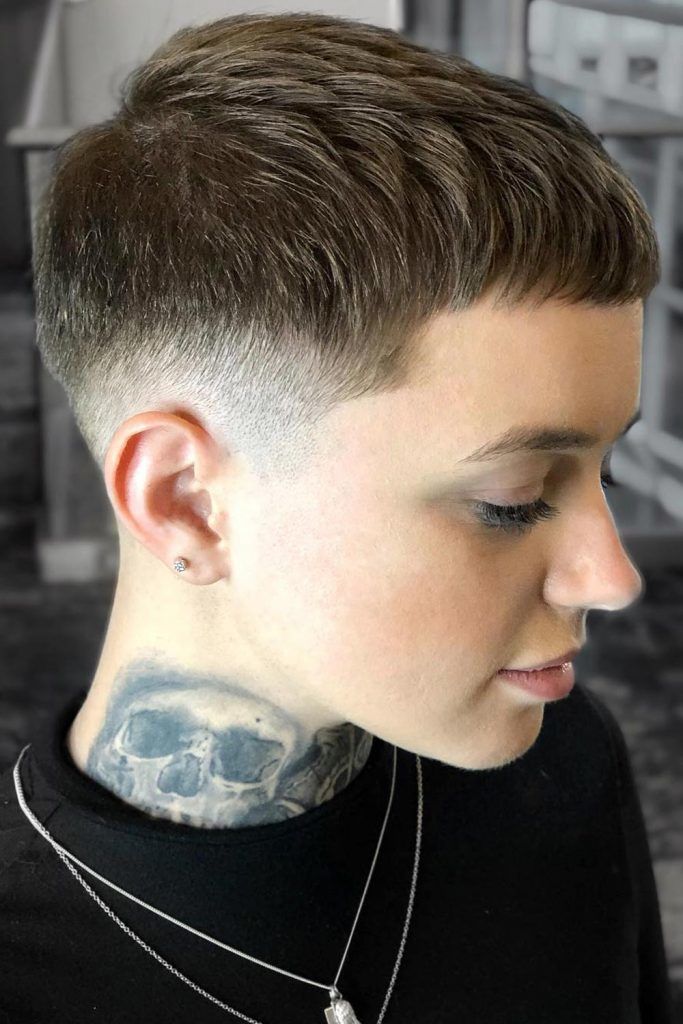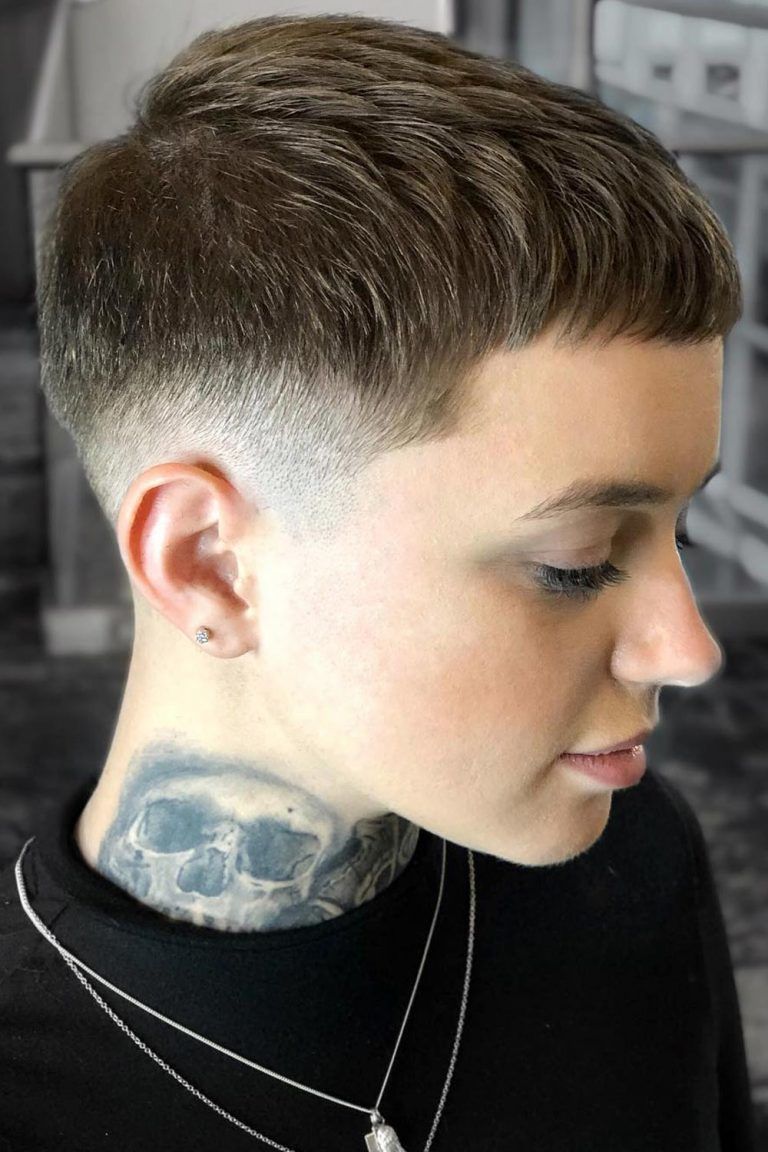 @edouardclipperhand
As for androgynous haircuts for thick hair, nothing can compare to a precise low-fade haircut for women with a minimalist crop. Although the length is kept pretty short, it still allows experimenting with the texture on top. With such a tight, contrastive approach, thick hair will get into decent shape and finally give you that light feel. A fade will keep the silhouette clean and the highlighted top will always be there for your tousled styling.
Punky Lesbian Haircut With Hair Design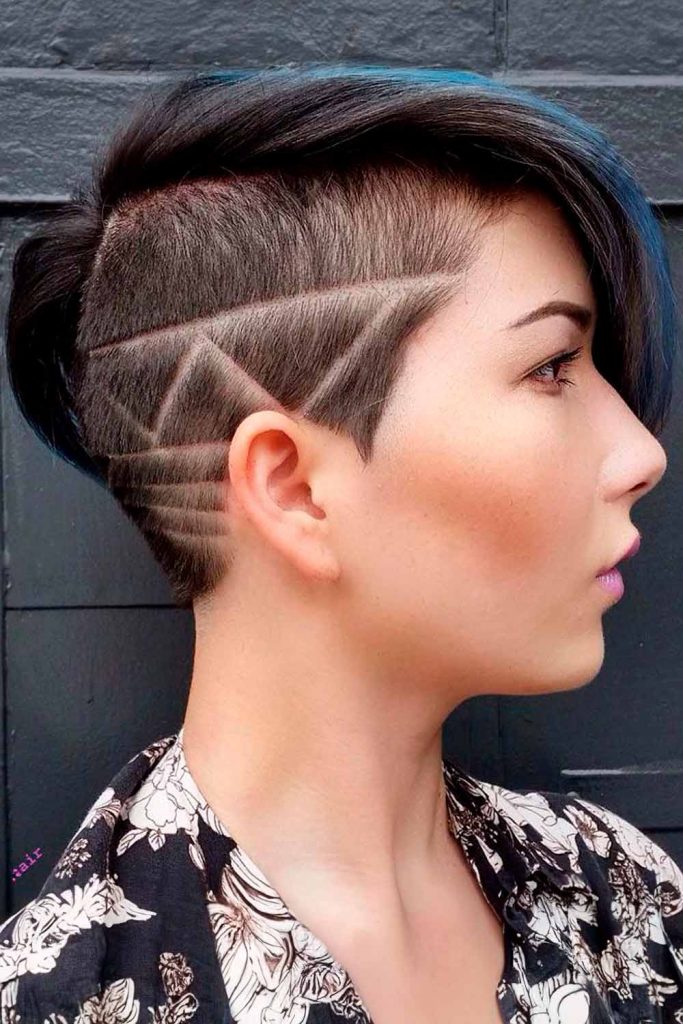 @janine_ker_hair
Punk is nothing but a state of mind. The truth is, real punks only feel satisfied when their appearance screams about their bright inner-self. So meet the long punky pixie that can do the talking, telling others who you are. Of course, you will enhance the look if you spice it up with some bold color. And to make it totally unique, you can go for some hair tattoos shaved on the sides.
Сurly Mohawk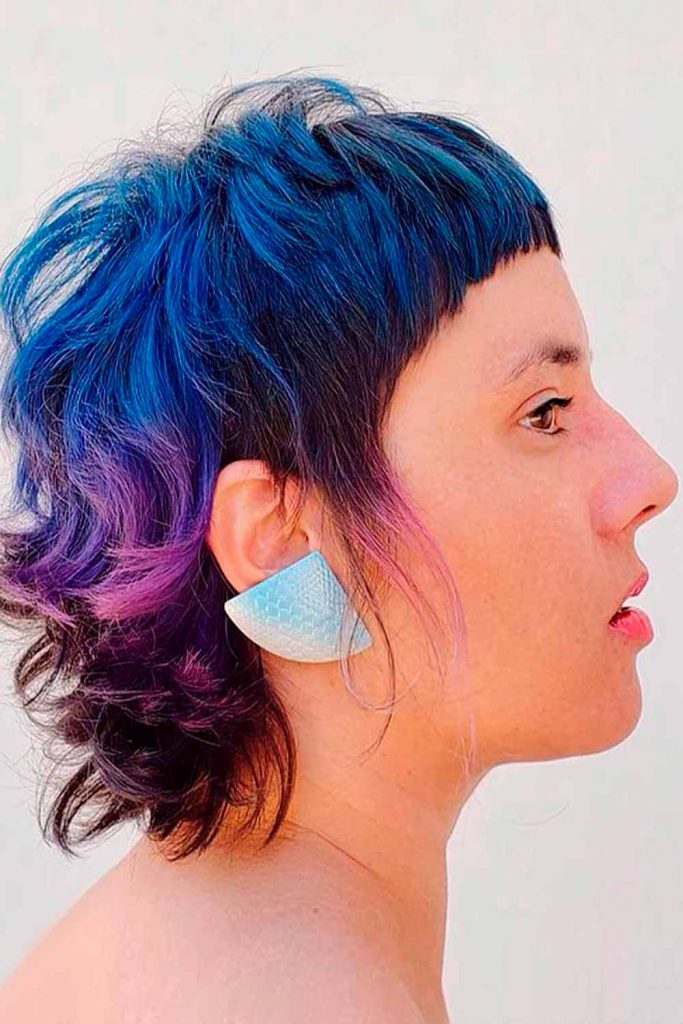 @janine_ker_hair
This mohawk is one of the few androgynous haircuts for curly hair that can get the most out of the texture. Its cleanly shaved sides and unbelievably voluminous top keep the unruly hair type neat and comfy while showing off its striking beauty. Styling curls may be tough sometimes, so cutting your hair short is a win-win choice. And if you cut it in an eye-catching way, you won't ever regret this decision.
Spiky Style With Skin Fade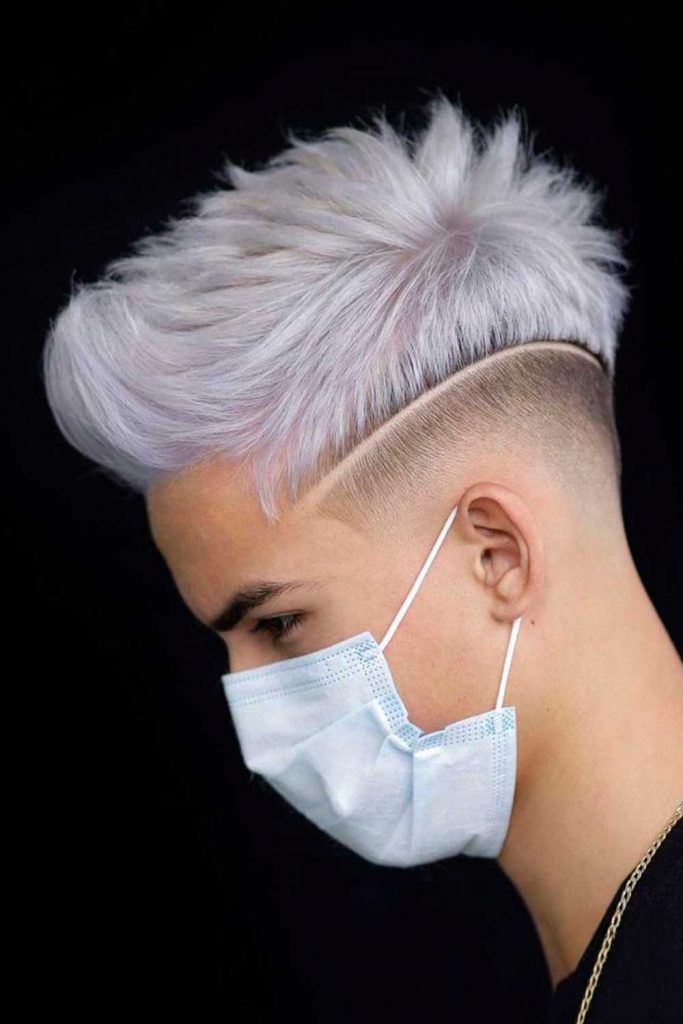 @cheobarberpr
How about the purest form of tomboy aesthetics? This fade haircut is a perfect combination of neatness, edginess, and color precision. The skin fade puts the focus on the spiky top while its spectacular accents finish the whole look. Short, bold, and distinctive, isn't that a cut to recreate?
Wavy Long Top & Short Sides Androgynous Haircut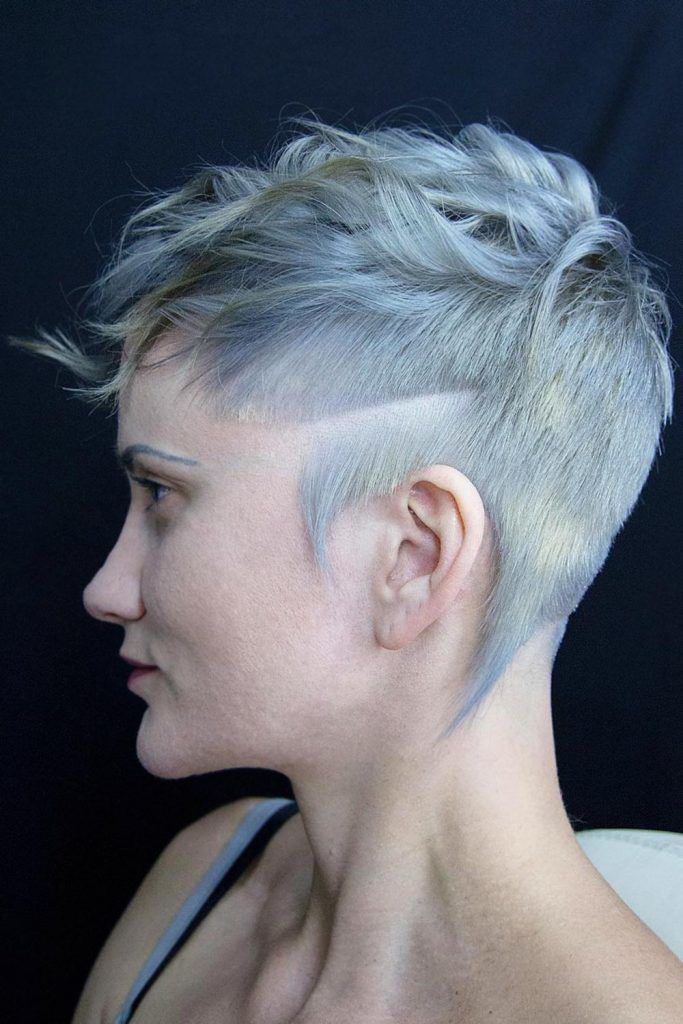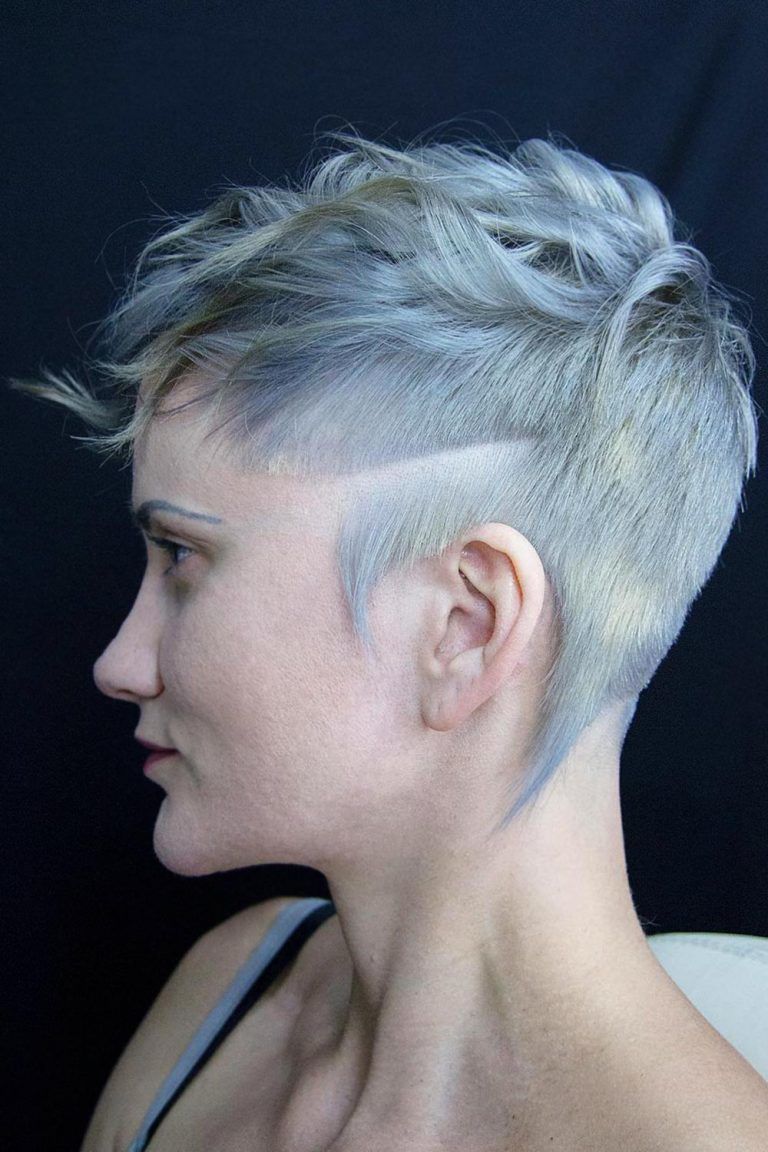 @meha_barber
Short sides long top is one of the most popular lesbian haircuts and not for nothing. It looks bold, high contrast, and stylish without much effort. Besides, taking off the hair from the sides will keep the focus on the top. This is especially beneficial when you have a pronounced hair texture, such as wavy or curly, and want to give it more emphasis.
Platinum Pixie Undercut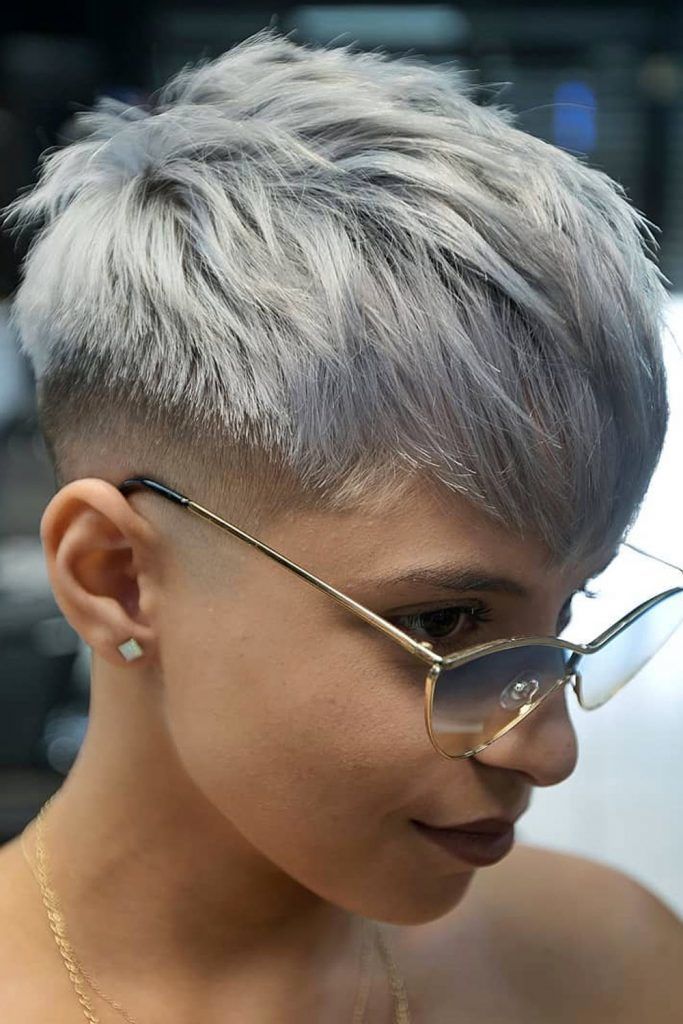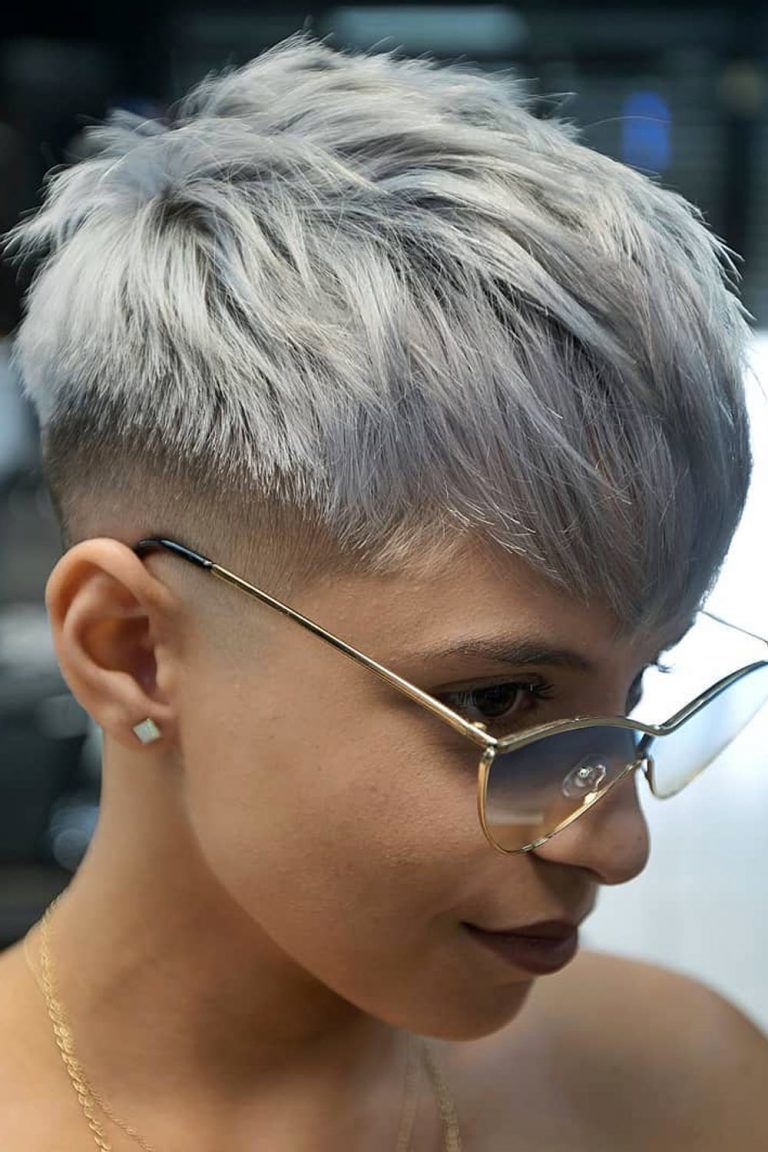 @cheobarberpr
Do you like to stand out from the crowd with your daring hair looks? Try to complement a platinum pixie with an undercut. Because it is so contrasty, you will not have to worry about extra accents. Just add the right attitude and you are good to go.
Zic-Zak Hair Tattoo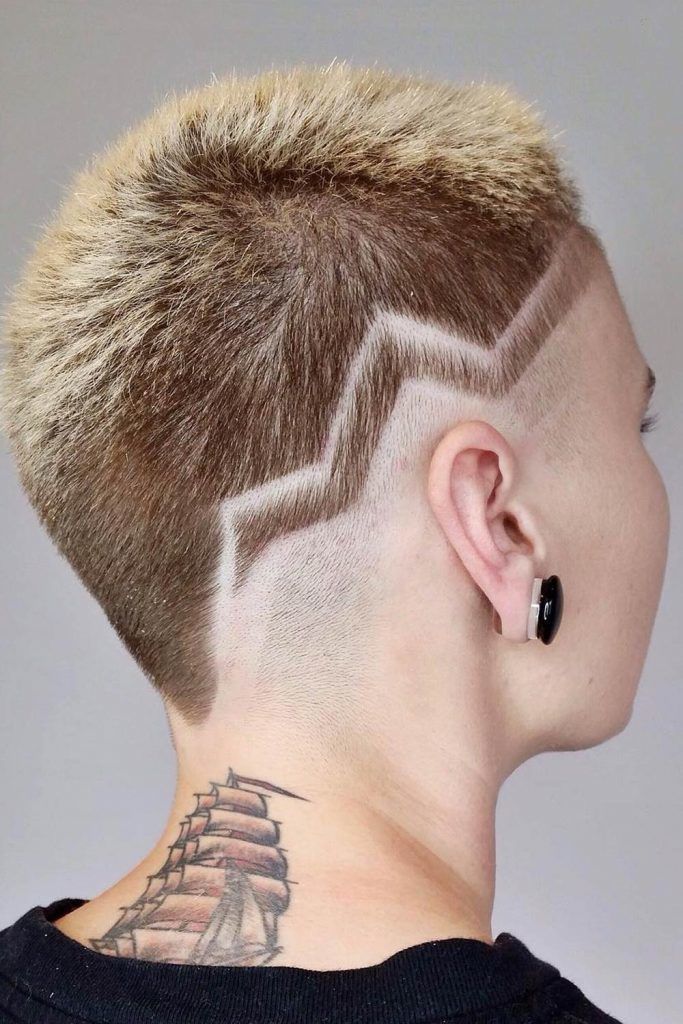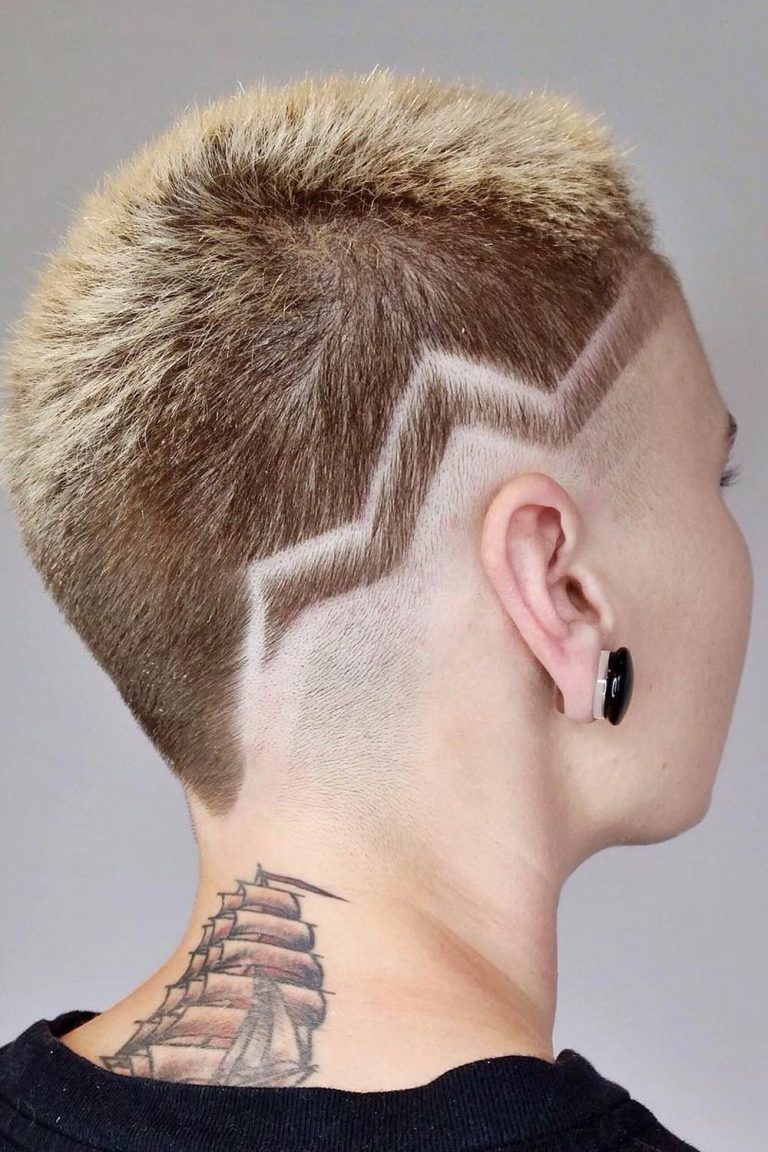 @janine_ker_hair
Hair tattoos are a surefire way to take your androgynous haircut to a whole new level. Not only do they attract attention but also allow you to express your personality. Go for an individual design that will become your signature hair look, such as this zig zag hair tattoo carved along the hairline.
Pixie Bob Androgynous Haircut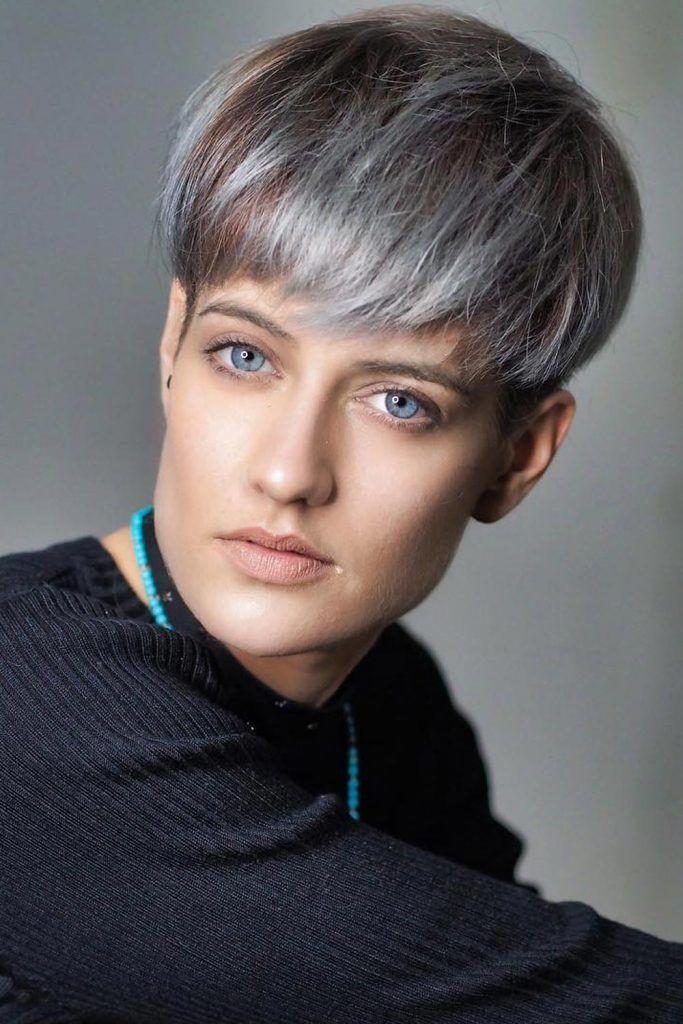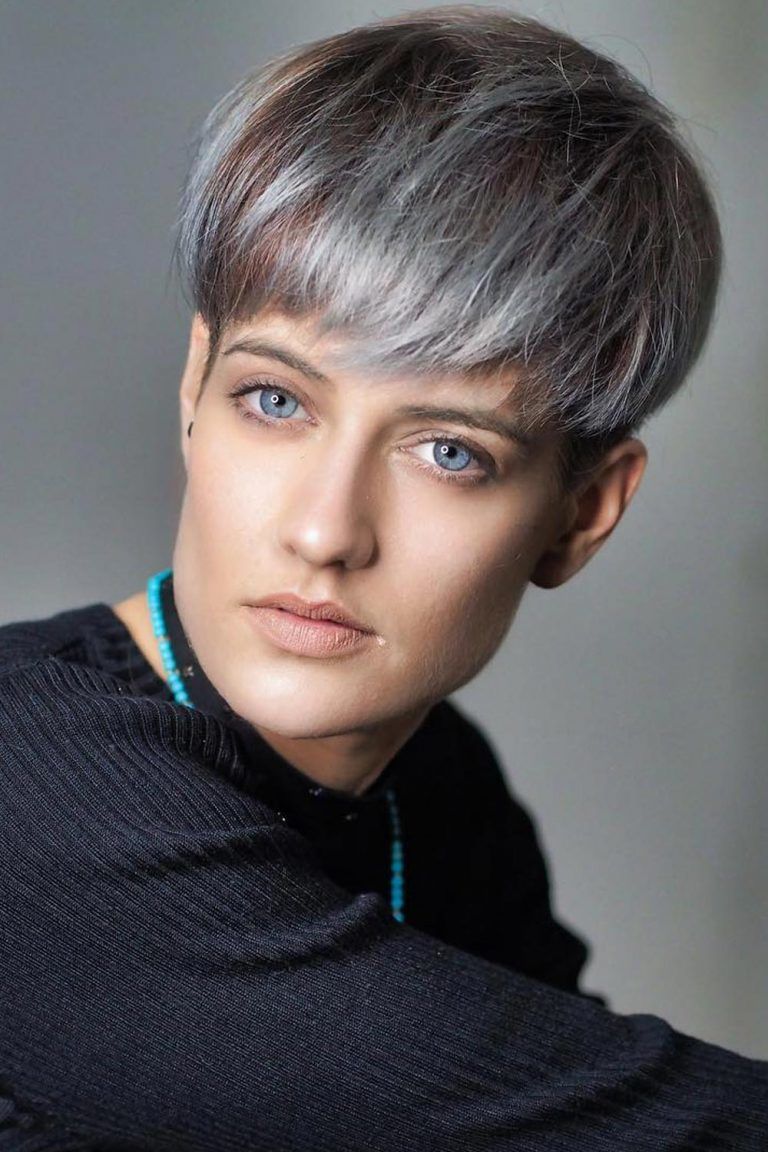 @shorthair.losangeles
Did you know that bobs should not necessarily be chin length? A pixie bob hardly touches your ears while retaining the vibe of the look. Bangs are what makes this androgynous haircut versatile. You can style them in many different ways – pushed to the side, curtain bangs or even brushed up.
Bright Blue Top with Faded Sides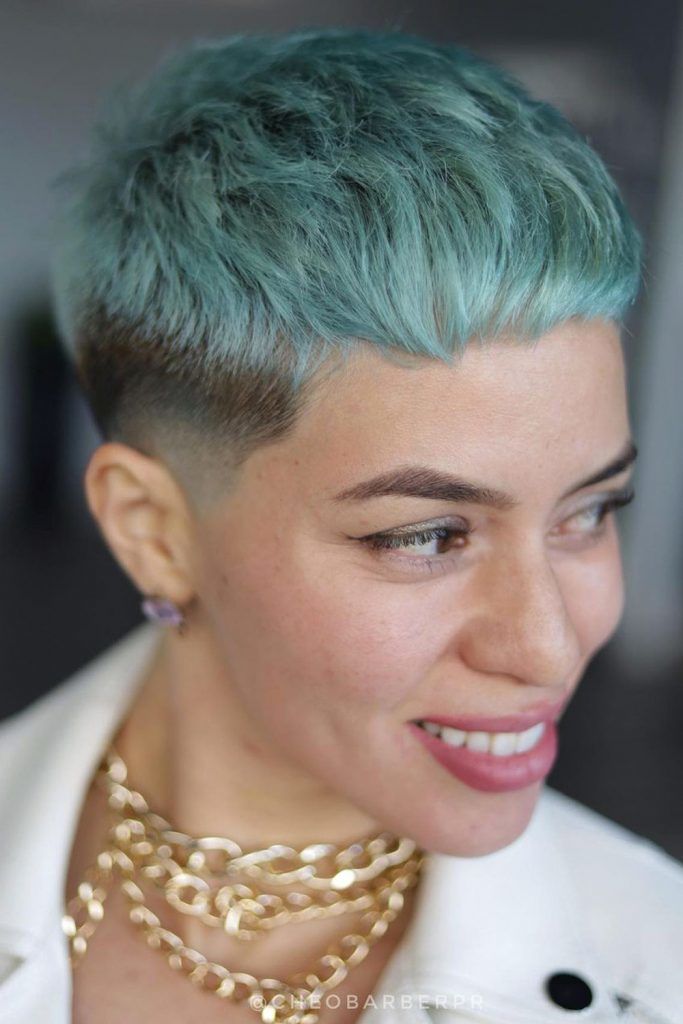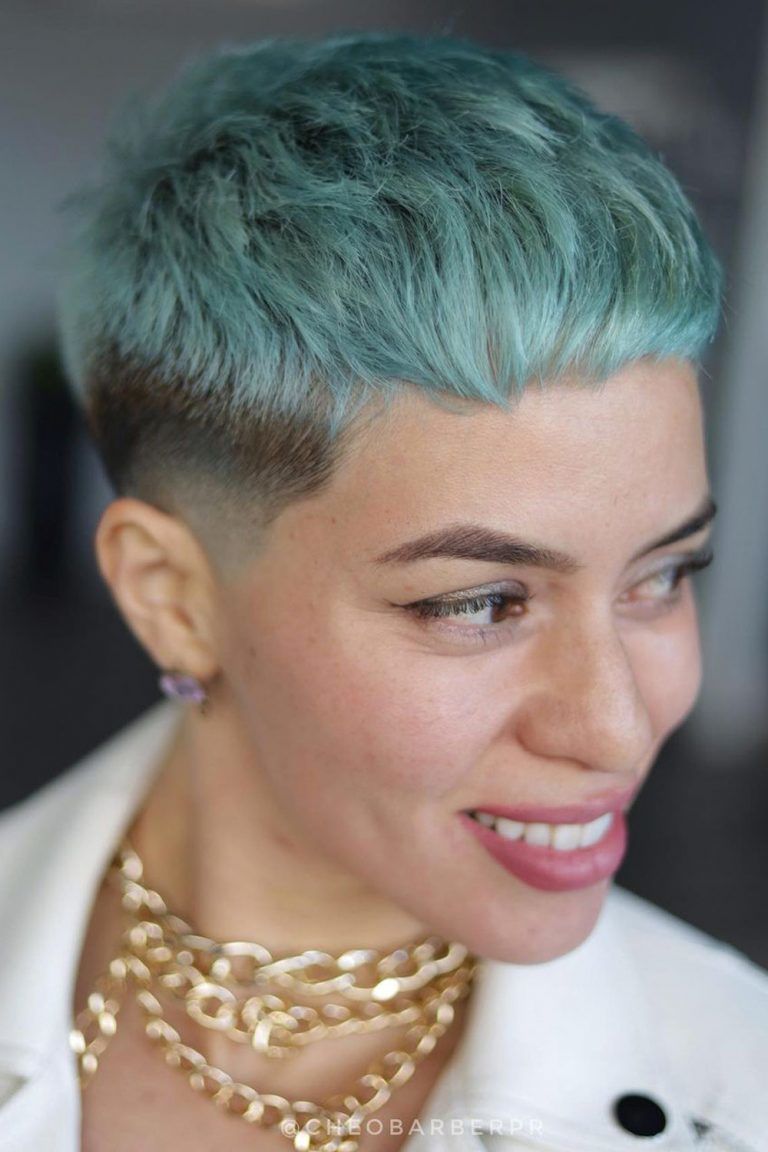 @cheobarberpr
Feeling like adding some vibrant colors to your hair look? Why not go for a vivid blue, which will pop against your naturally dark roots? If you are not sure that you will be able to pull off a full head of bright blue hair, get the sides faded. This will add balance to the look while drawing even more attention to the top.
Taper Hair with Faux Hawk Top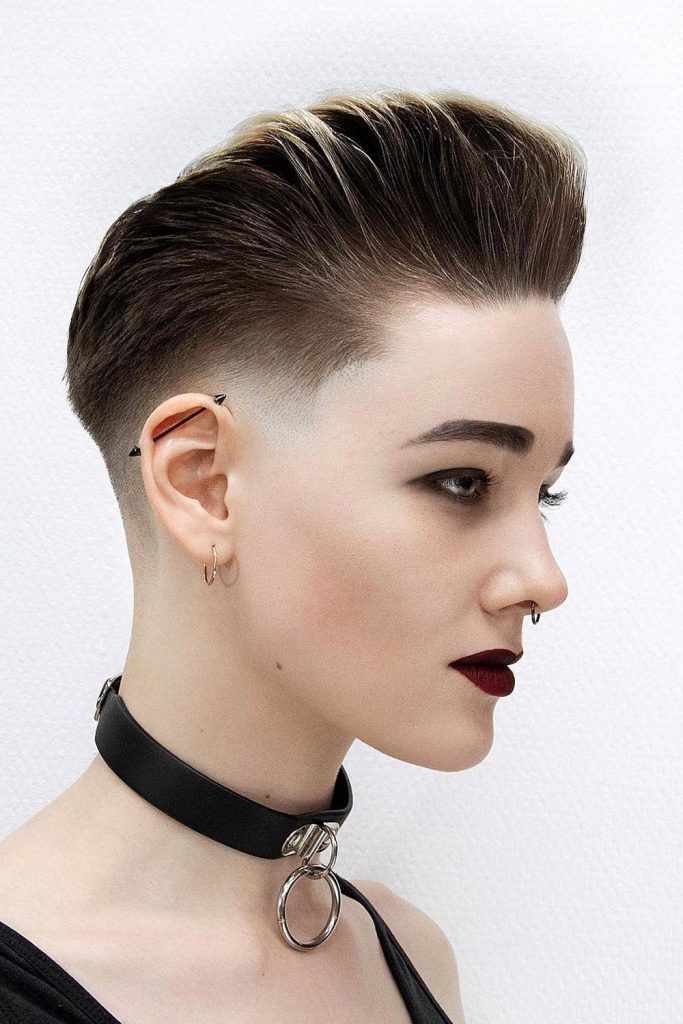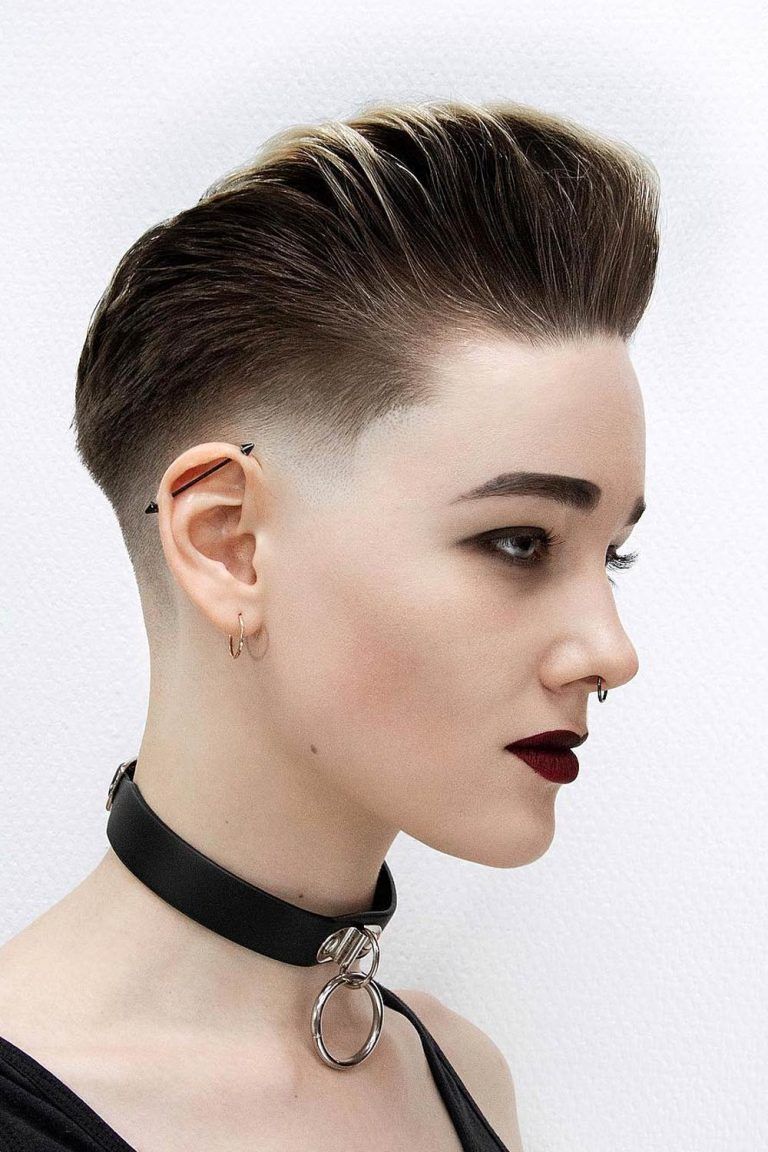 @meha_barber
Are you a Rockstar on the inside? Allow your hair to speak for you! In case a classic mohawk is a bit too much for you, go for its more reserved version, which is a faux hawk. It implies trimming the hair on the sides noticeably shorter than that on the top, yet not removing it completely. To give your haircut a softer and more universally appropriate appearance, accompany it with a medium taper cut on the back and sides.
Textured Top With Buzzed Sides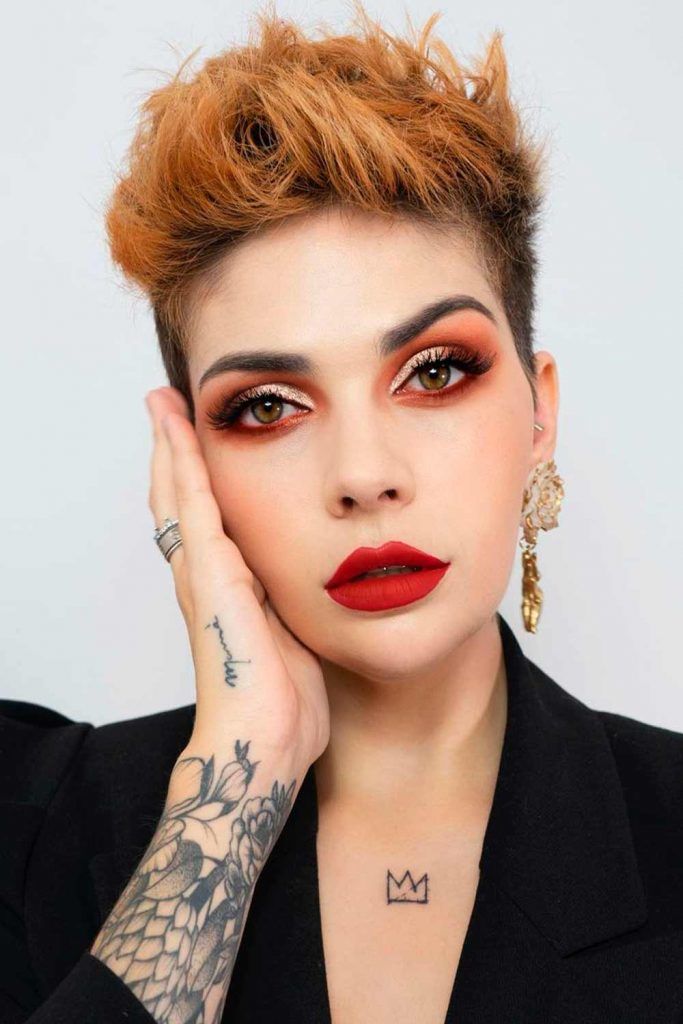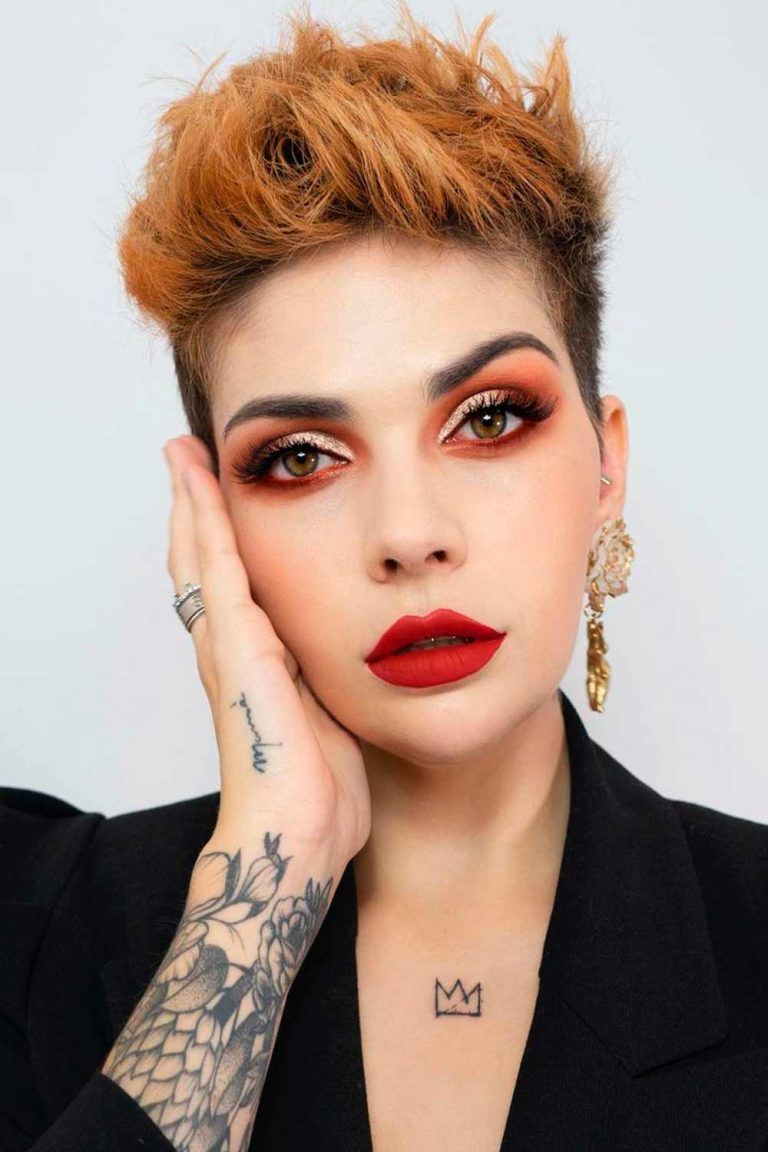 @princessstiefel
Don't forget that you can customize your androgynous cut based on your facial features and preferences. As you can see from this pic, the cut mixes a classic fringe haircut with a hint of crop on the top portion. In this way, it does not only bring a lot of serious tomboy vibes but also frames up the broad forehead. If you want to diversify it, you can always experiment with the texture on top, moving from messiness to sleekness.
Mohawk With Mullet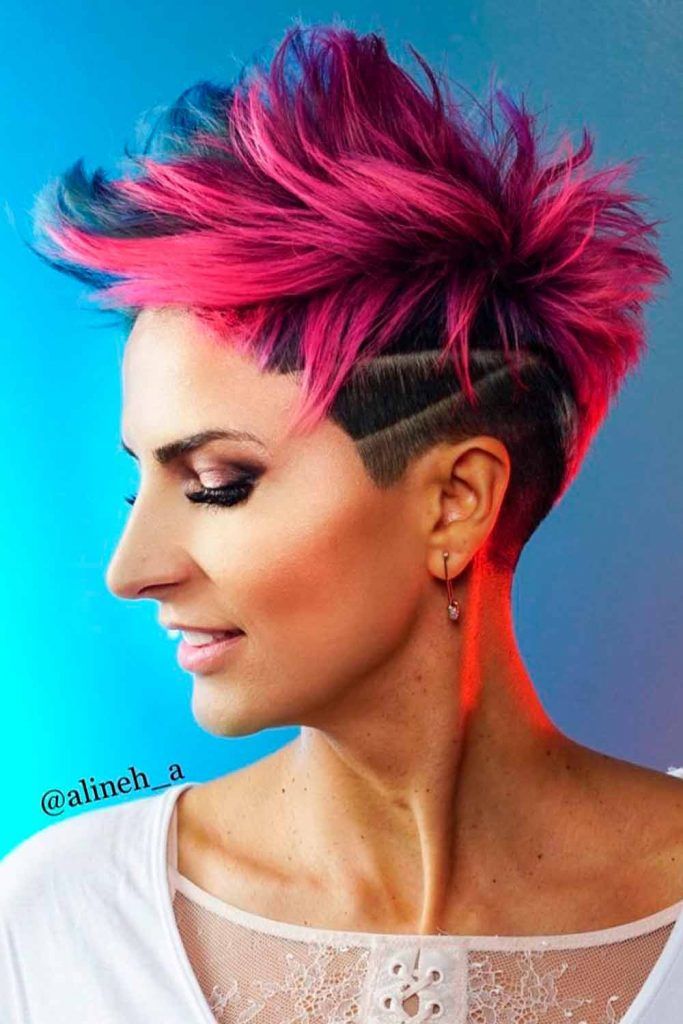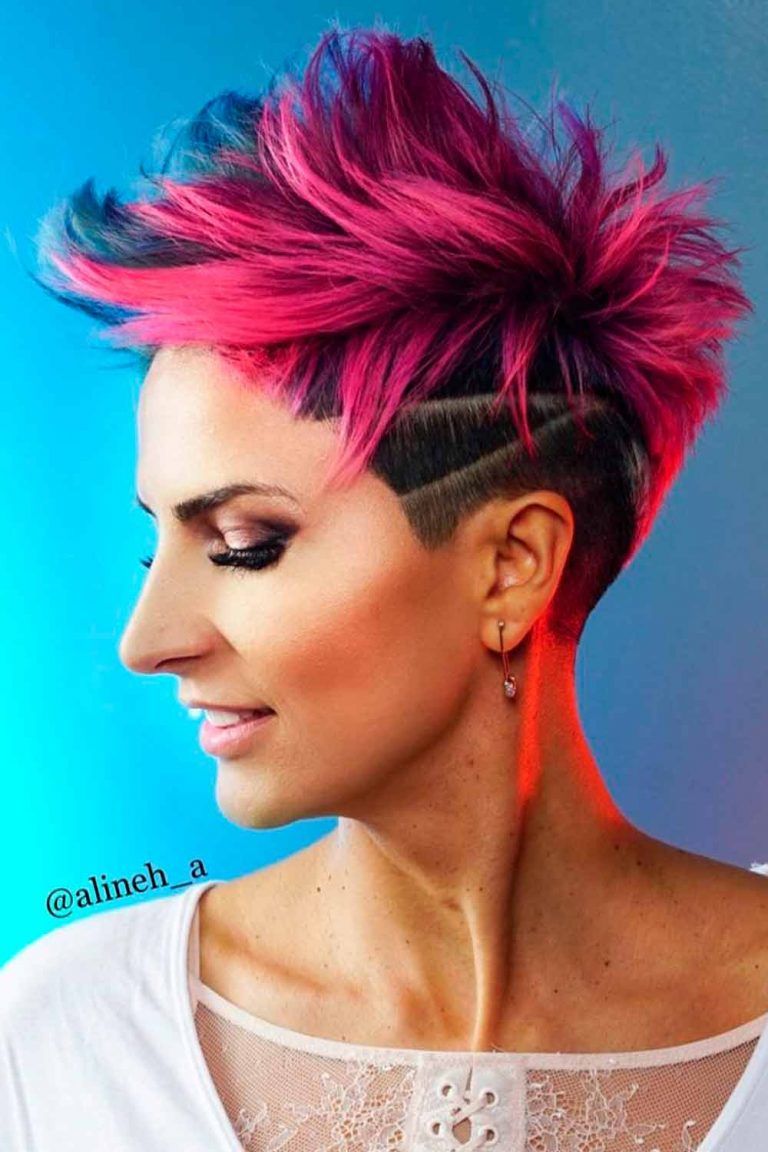 @alineh_a
An extended Mohawk that gives a fresh take at the female mullet haircut is about to make you lose your mind. Yes, your cut can be anything you want it to be, combining features of your favorite cuts. And this idea seems to be a real masterpiece: the silhouette is edgy and airy, the sides are chic and even, and the color is so dimensional!
Side Part Comb Over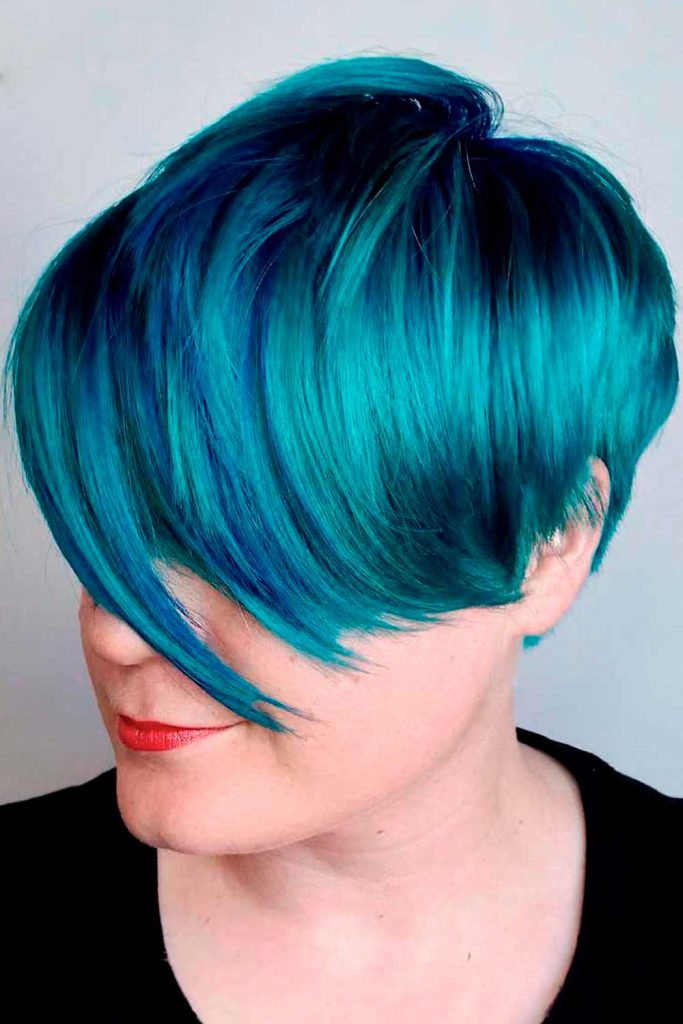 @janine_ker_hair
Having been popular for several decades, the comb over offers a great variety of modern choices. For example, you can follow today's trends and shave the sides and back, leaving the top flexible for side styling. Then, apply a style-holding product and be ready to rock a modernized version of the classic haircuts look.
Androgynous Cut With Hair Tattoo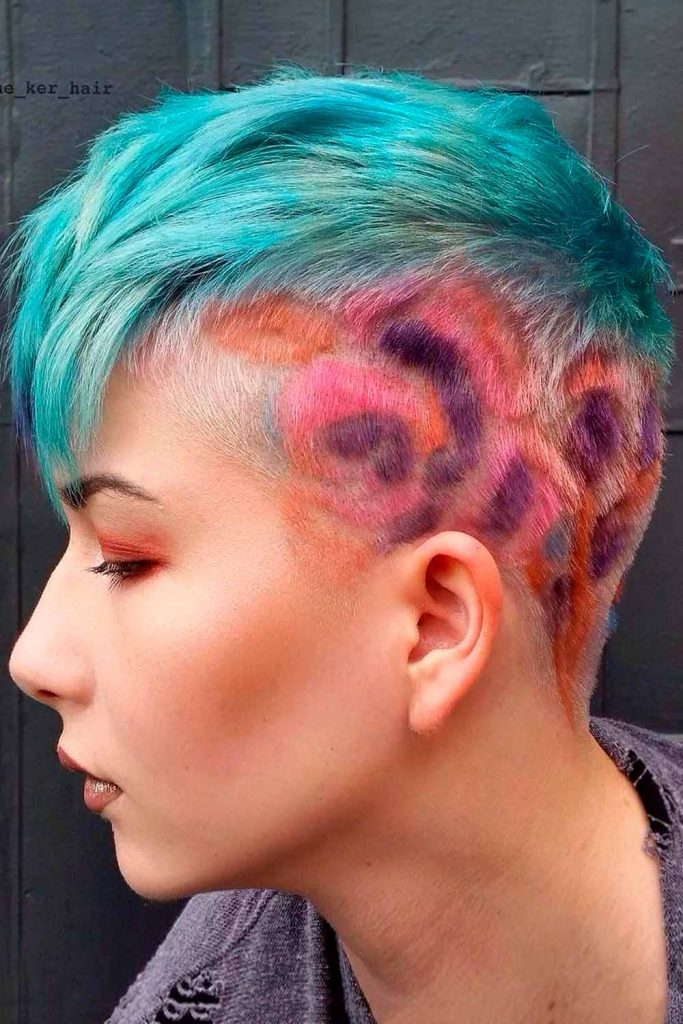 @janine_ker_hair
Whatever style you want to pull off can be even more unique if you complement it with a hair tattoo. Just like any style detail, this feature should match your personality. Anything from minimalist, one-line designs to complex patterns will work great as it will add a lot of individuality.
Androgynous Cut With Undercut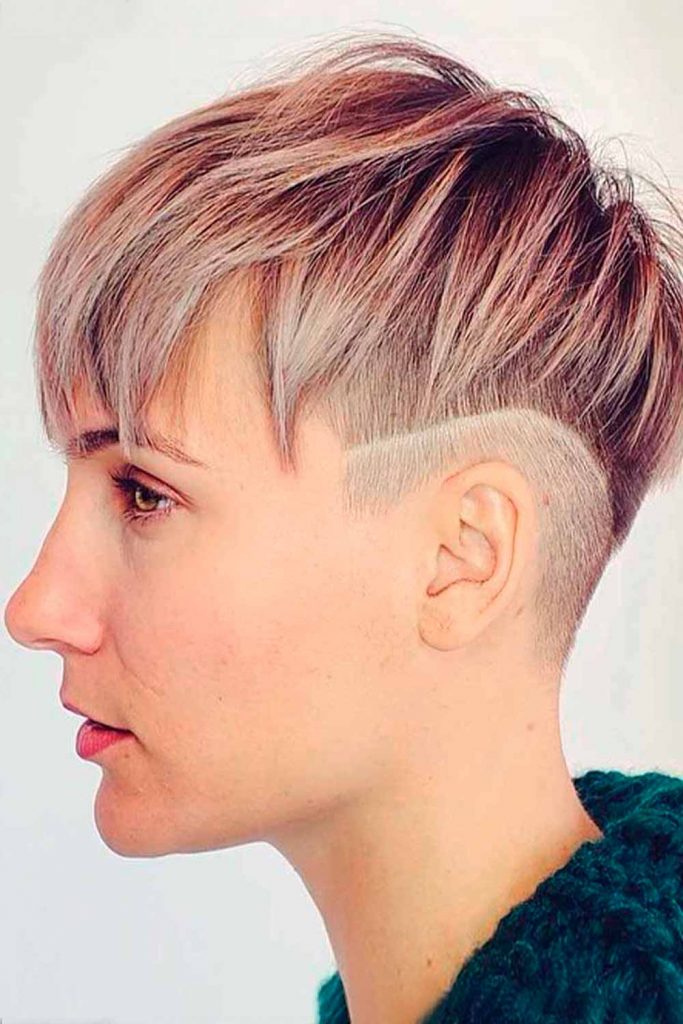 @janine_ker_hair
If you're looking for androgynous haircuts for round faces, look no further than a long undercut. You can style the top to the side, giving a nice face-framing touch to the look. Also, if you're a contrast lover, you can enhance the short-sides-long-top transition by coloring the lover portion dark.
Sleek Comb Over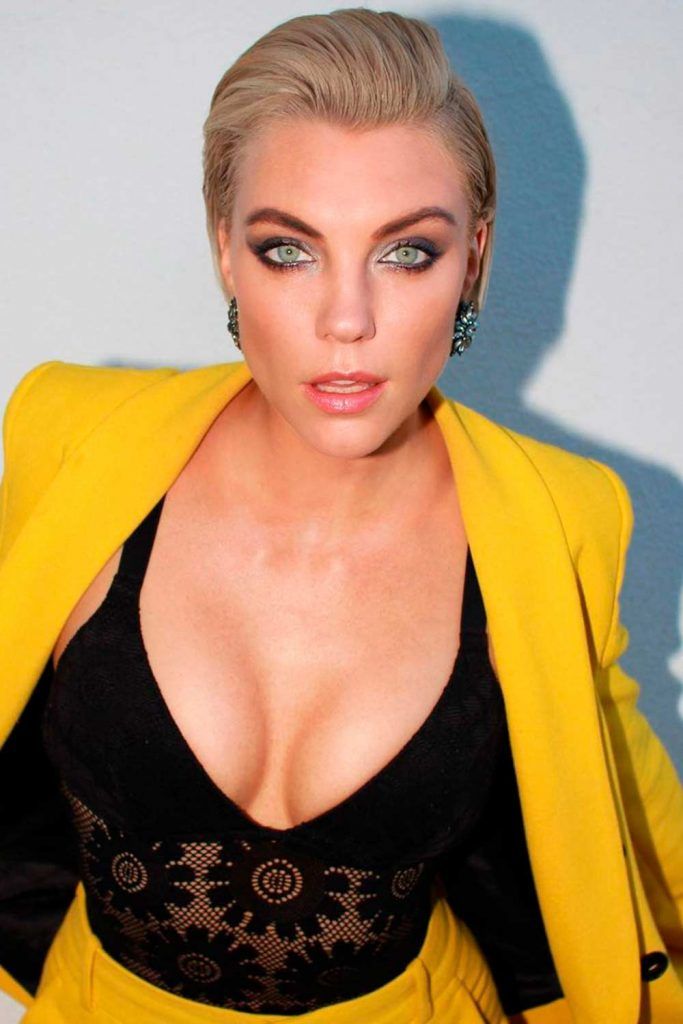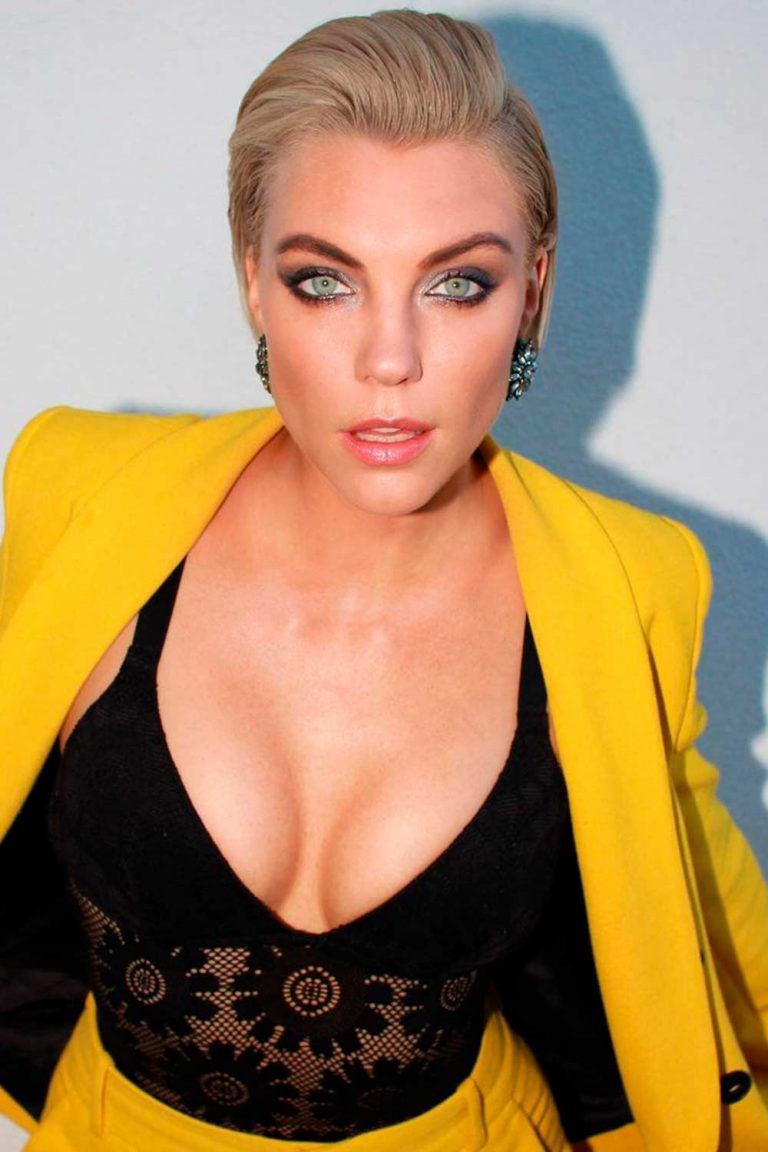 @sissemarie
Short androgynous haircuts, whatever they are, often show simplicity at a different angle. Well, this sleek comb over is proof: the absolutely smooth length transition that turns into a well-groomed top is just a cut to remember.
Slicked Quiff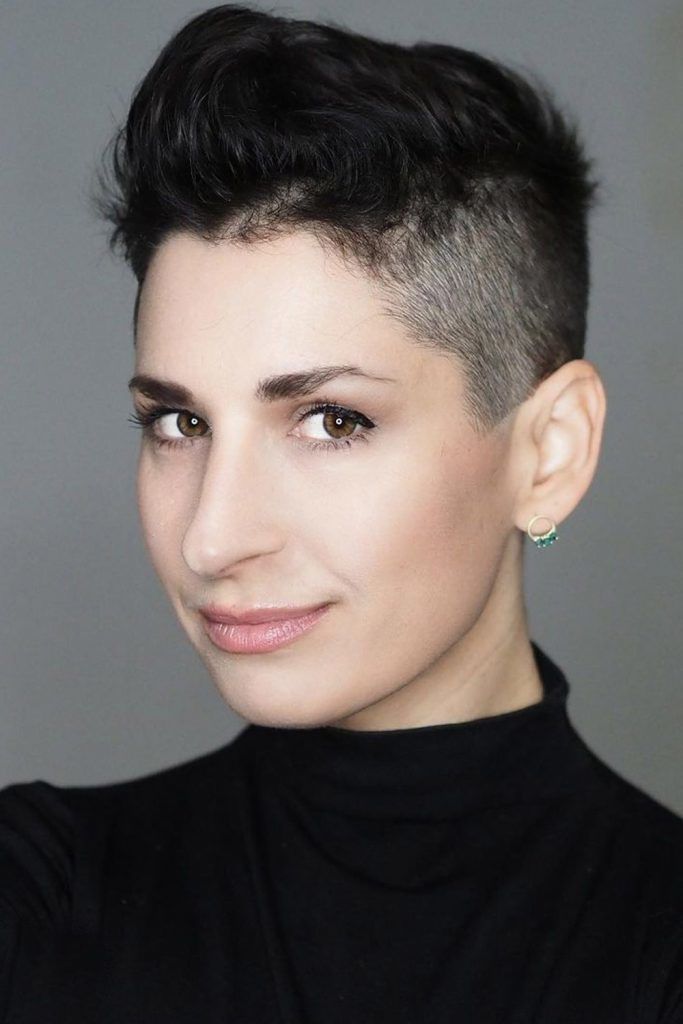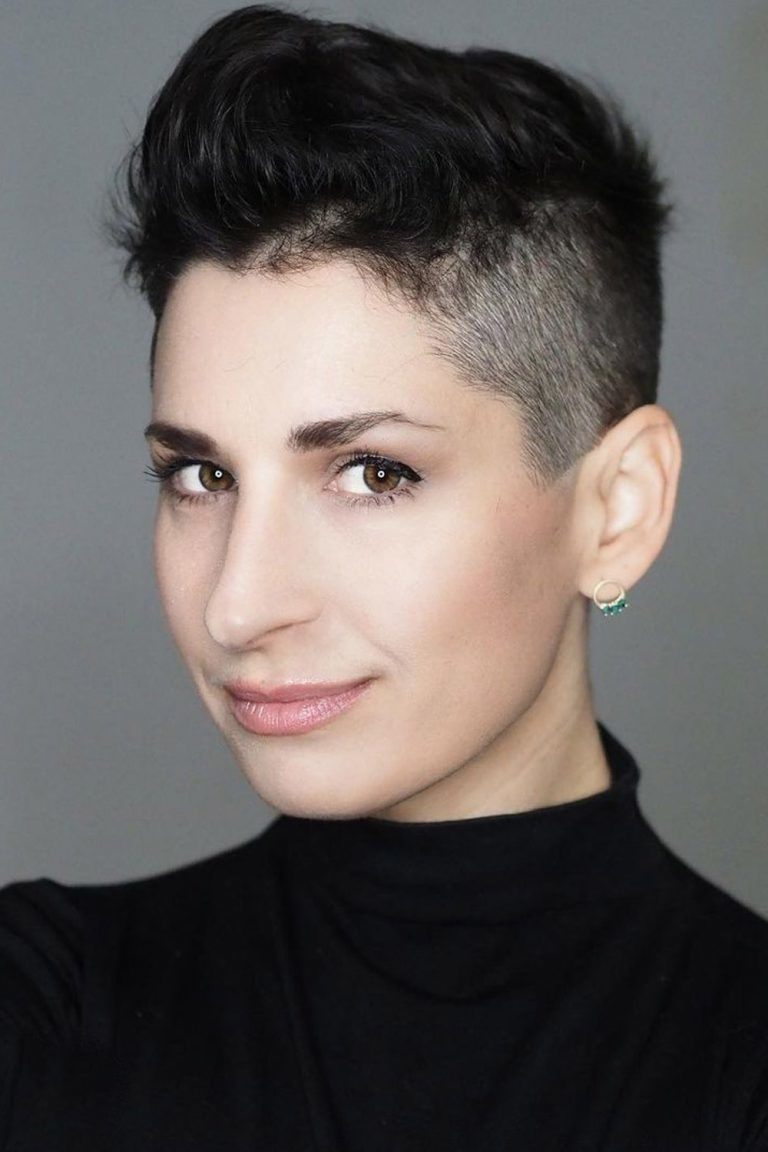 @shorthair.losangeles
While some people think of the quiff as a famous men's haircut, we know how different and diverse it can be. Once your undercut grows out, you can go on maintaining the sides but leaving the top as it is. As a result, you can make a voluminous and dramatic style a part of your casual look.
Short Boy Cut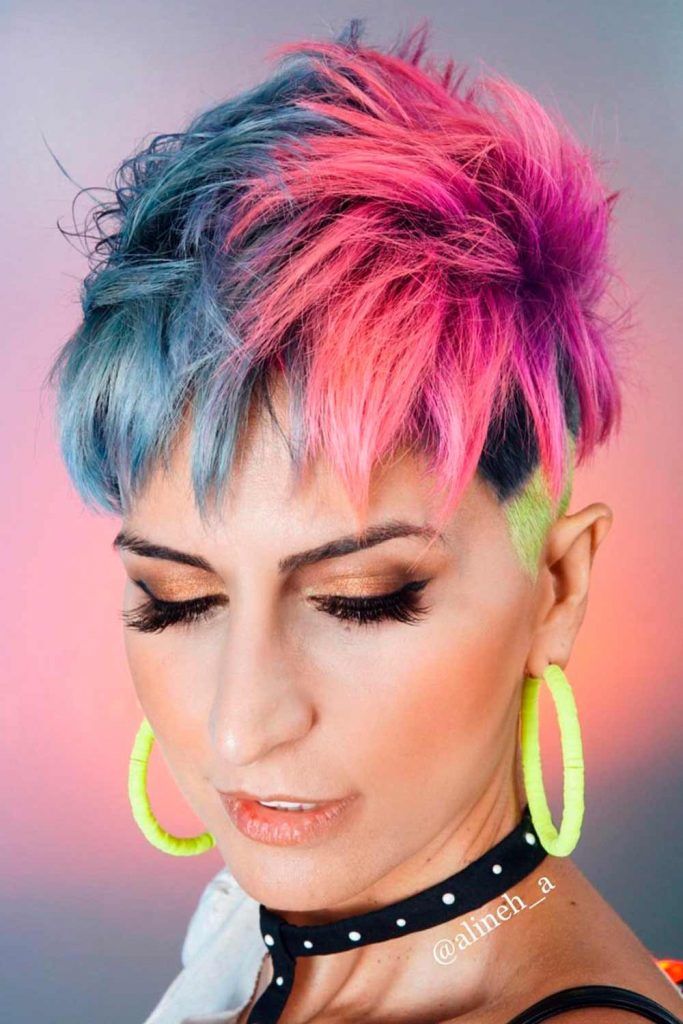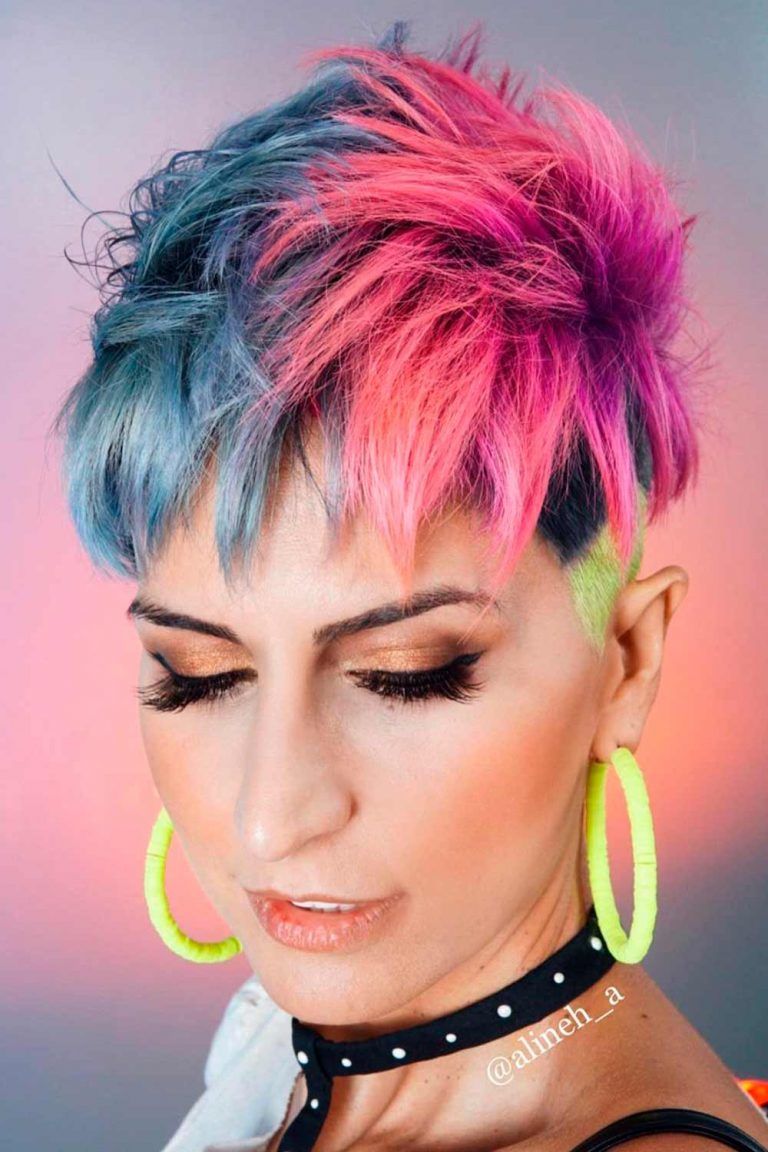 @alineh_a
This boy-inspired haircut is all you need to keep your hair simple and significant. Upkeep won't be devastating as it's another low-maintenance cut, yet, it will always give you a trendy, edgy look. Plus, such cuts work well for thick, unmanageable textures.
Short Shag Haircut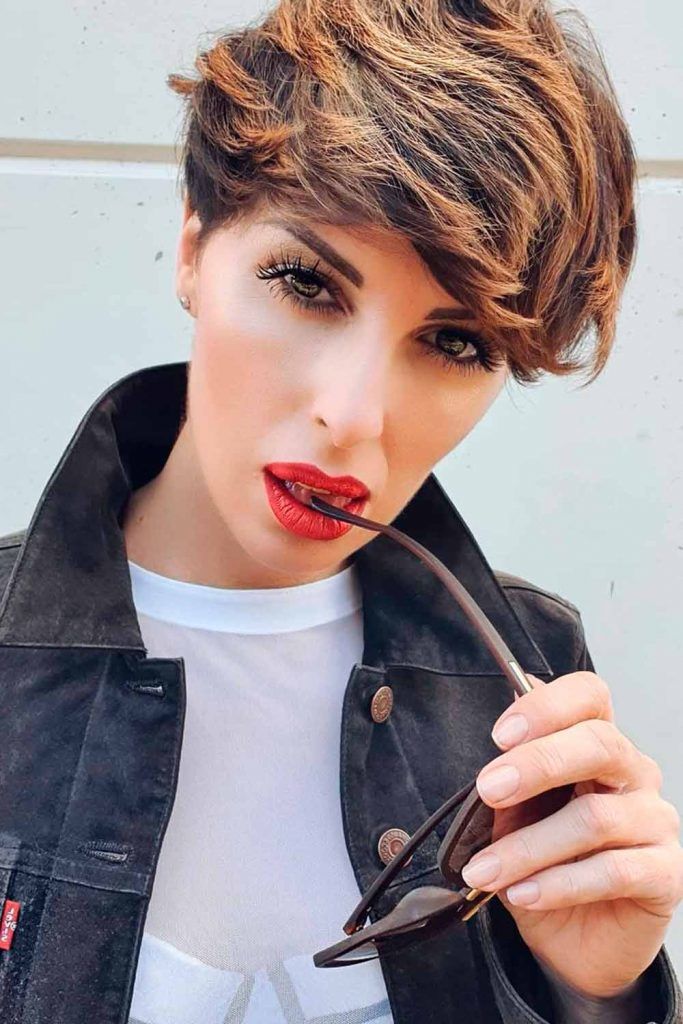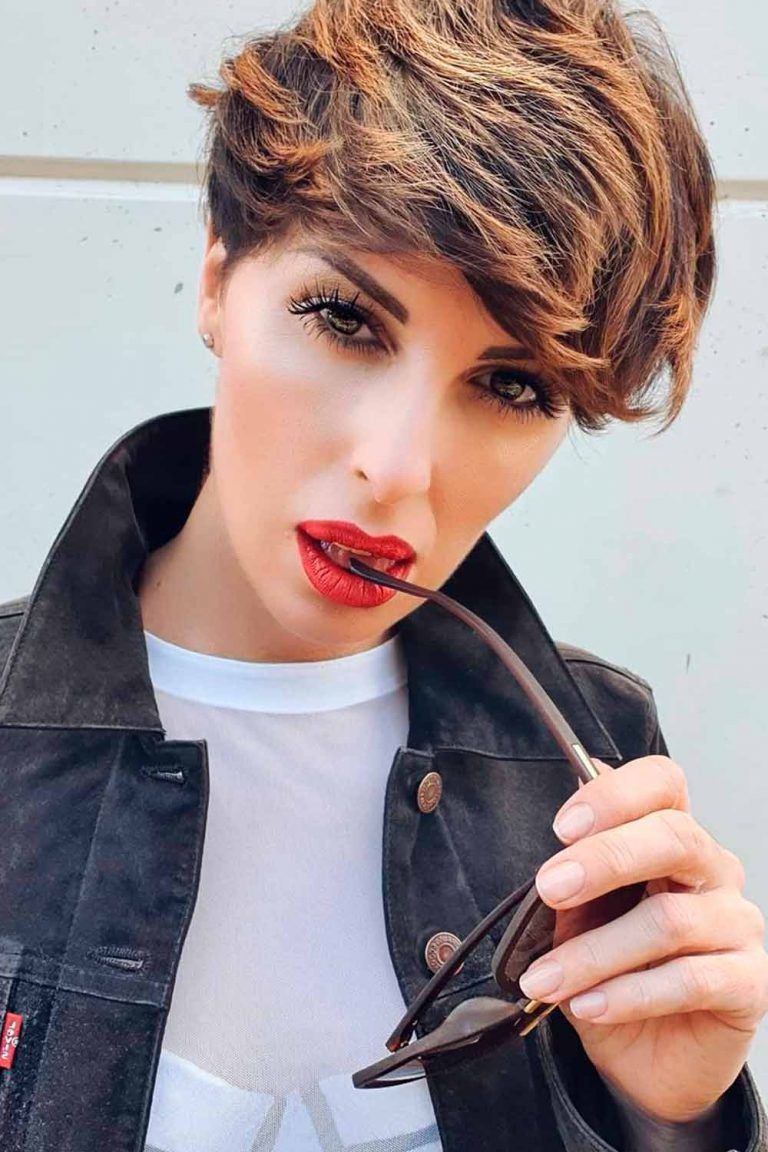 @silviagullon
Those who want their styles to give a sense of freedom and carefree living can't do without shaggy layers. Any haircut can get layered, and your task is to decide what look you want to achieve - choppy or curvy. This pic shows how choppy ends can change the image of the classic tomboy cut. That's why androgynous haircuts for oval faces always feature layers: they add the needed edge to the silhouette.
Pompadour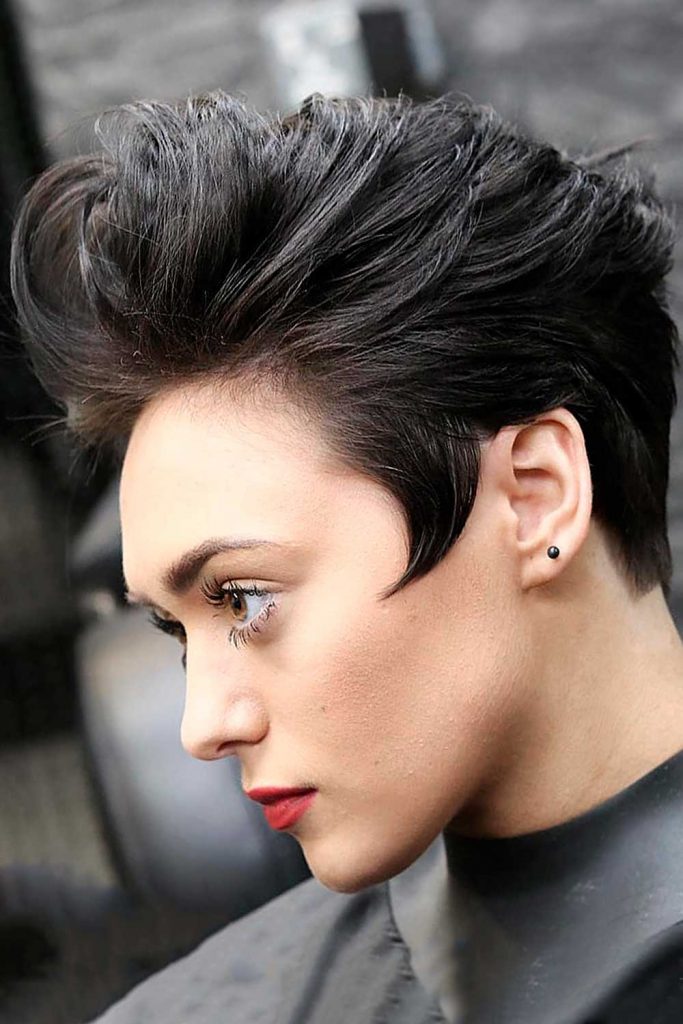 @spukthebarber
Androgynous pompadour is officially the hottest style ever spotted on modern trendsetters. Besides a full, volumetric look, this style gives a lot of room for styling creativity. You can play with the shape of your sideburns and try out different fades to individualize the look.
Bowl Cut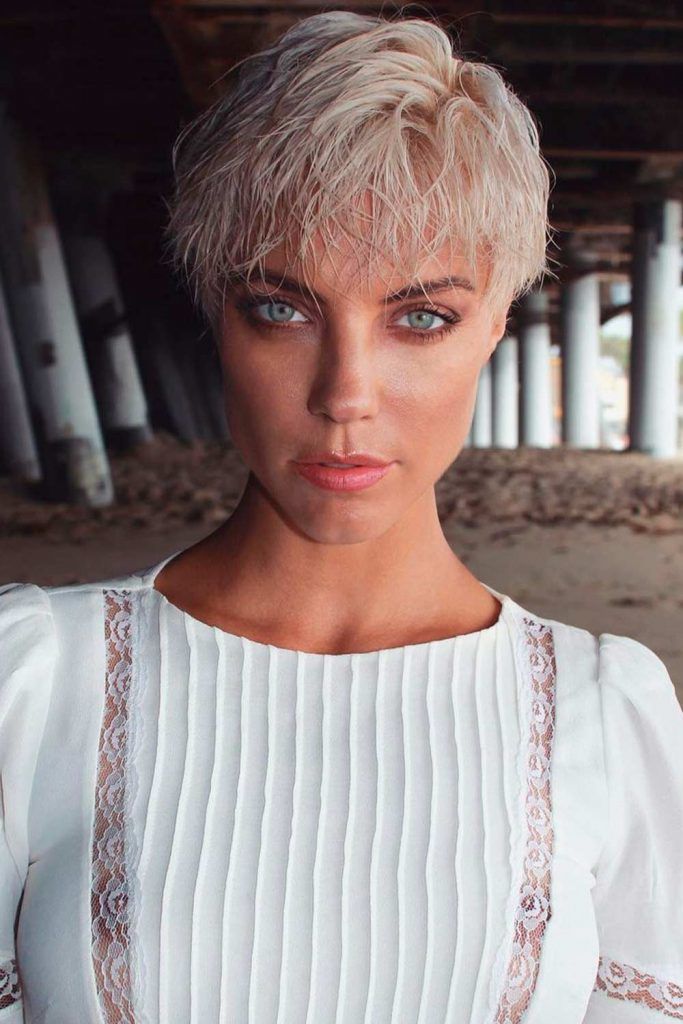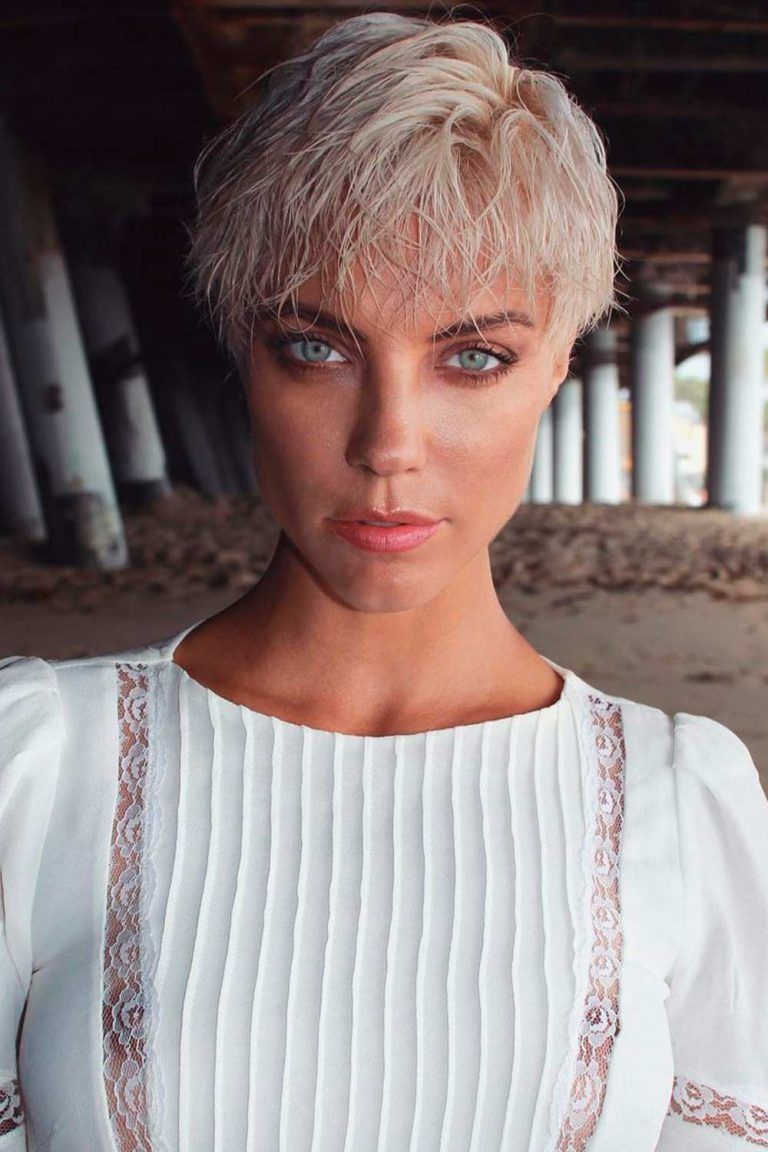 @sissemarie
The bowl haircut is back in town. This time, it's accompanied by cleanly shaved sides and gorgeous balayage that simply take the good-old cut to the next level. If you have a closer look, you will notice subtle layers that amp up the fine chevelure.
Choppy Androgynous Haircut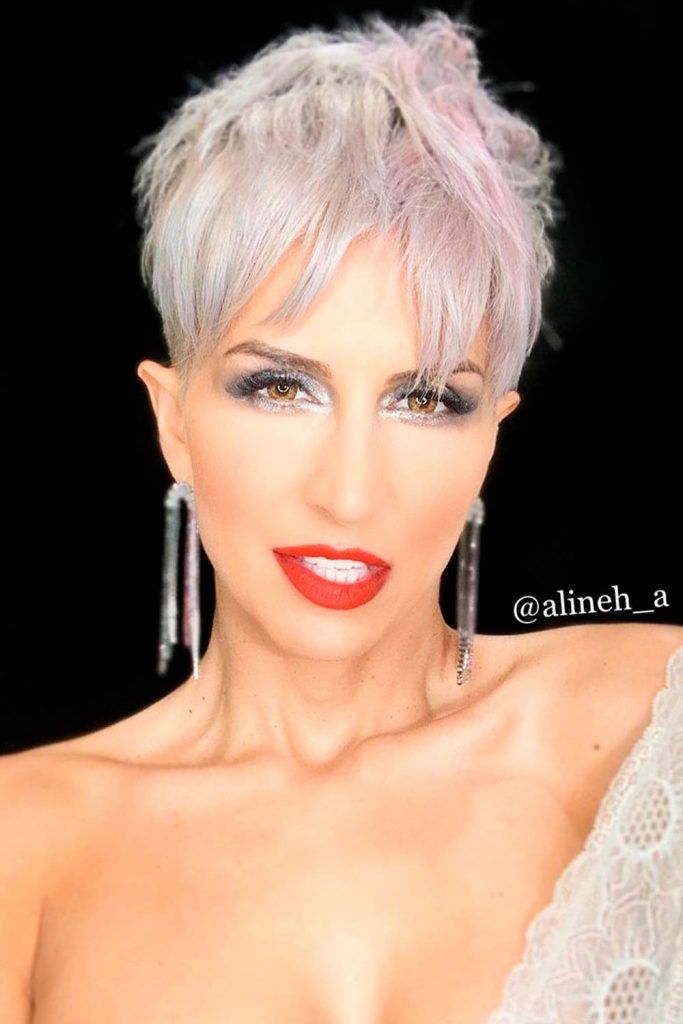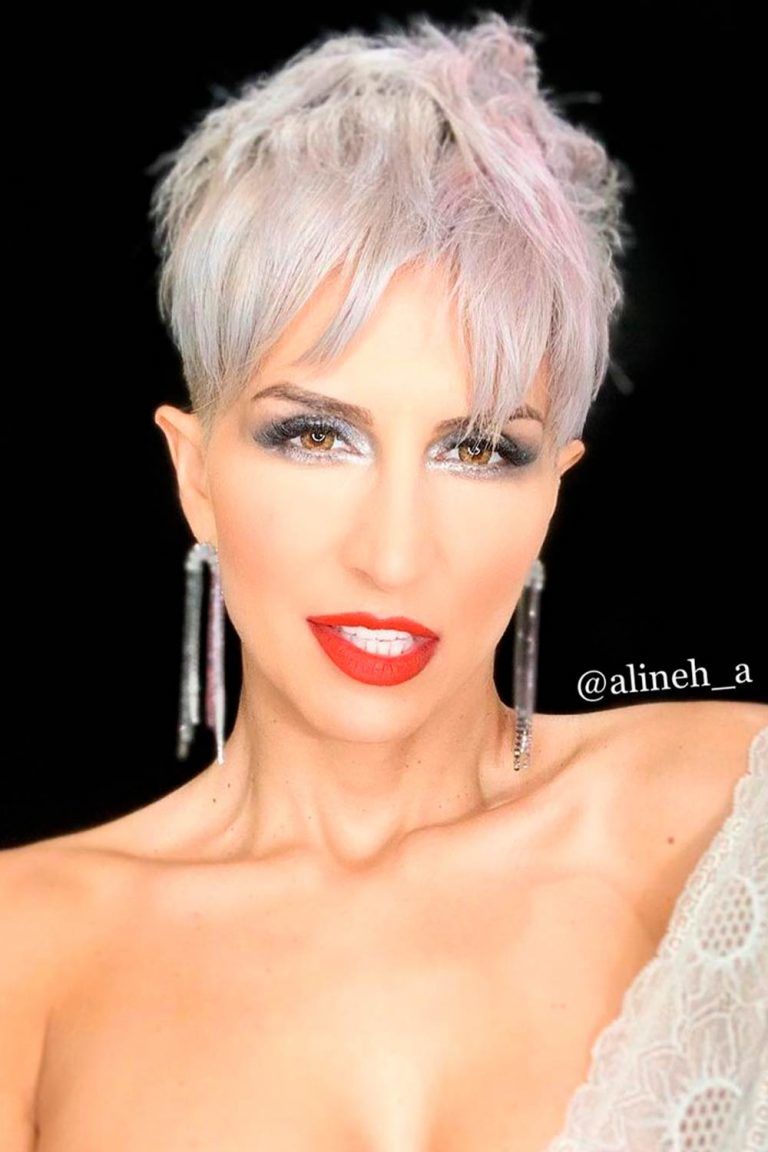 @alineh_a
The popular I-woke-up-like-this look has never been that fun! Each lock sticks in its own direction, and that's enough to make the whole style look organic and attractive. Yes, choppy layers have many things to offer!
Faded Pixie Mullet Cut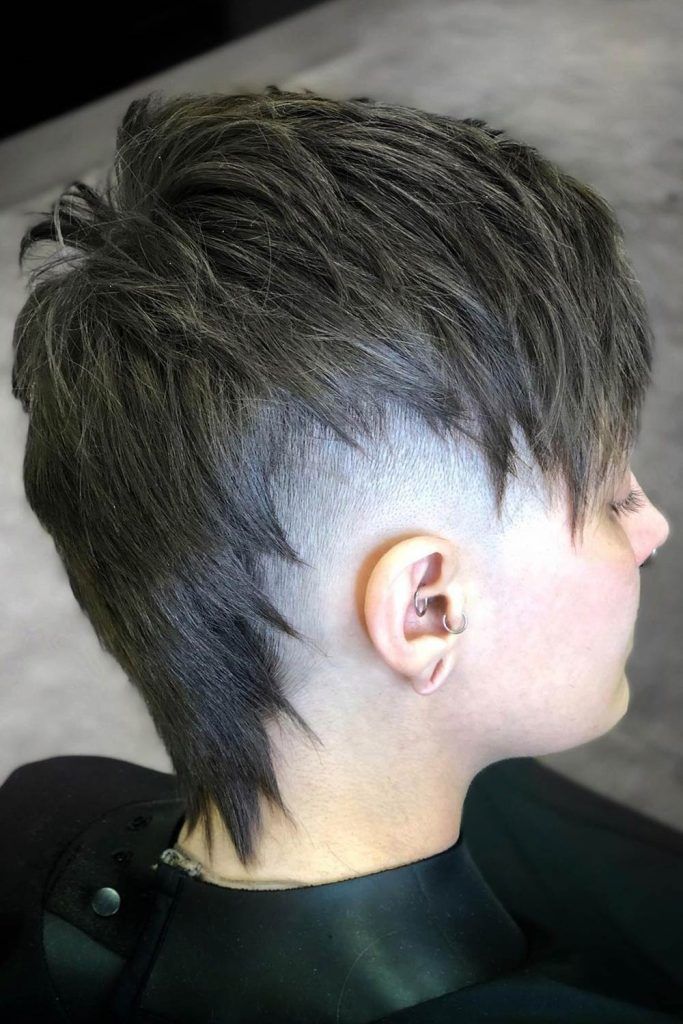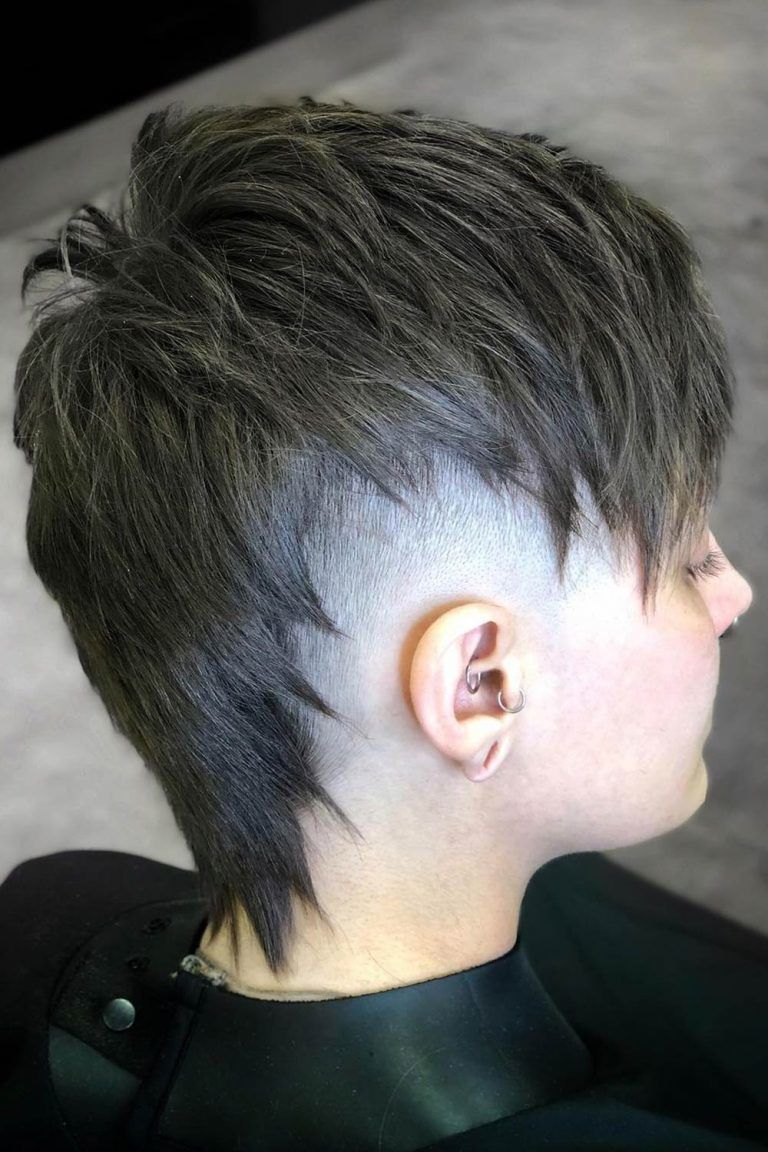 @edouardclipperhand
Guys call the mullet haircut "business at the front, party in the back." Remember what we told you about the creativity of androgynous haircuts? It's remarkable. So, your version of the mullet can drastically change the common picture of the modern fashion. This look, for example, would be a nice start. Can you imagine the visual impact of the hair party thrown by a pixie at the front and mullet in the back? The faded finish would be just the icing on the cake.
Short Androgynous Haircut With Surgical Line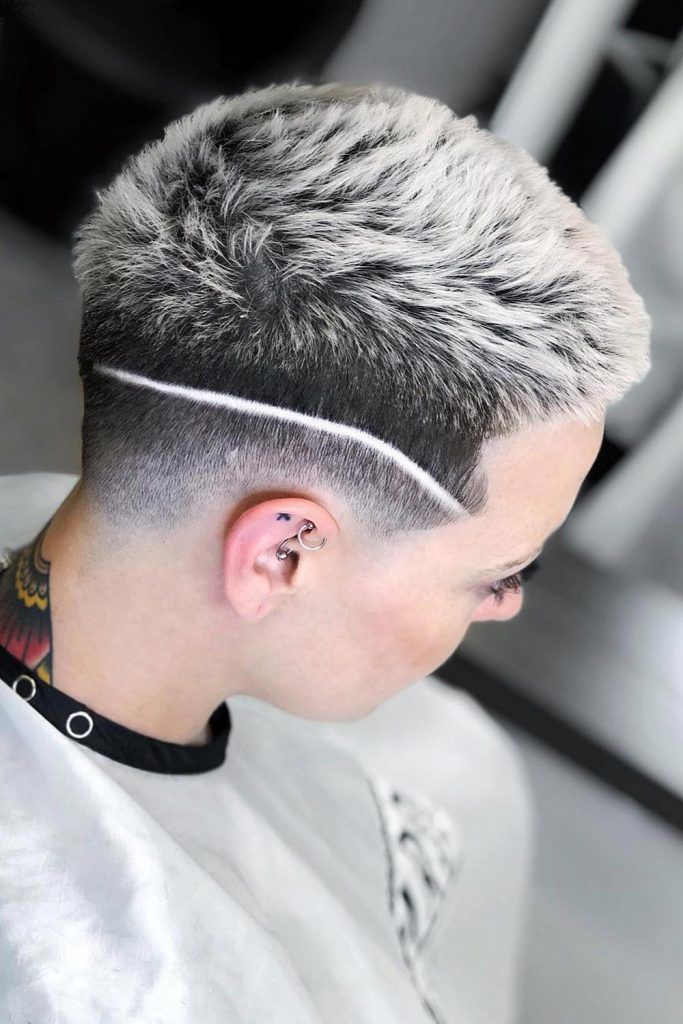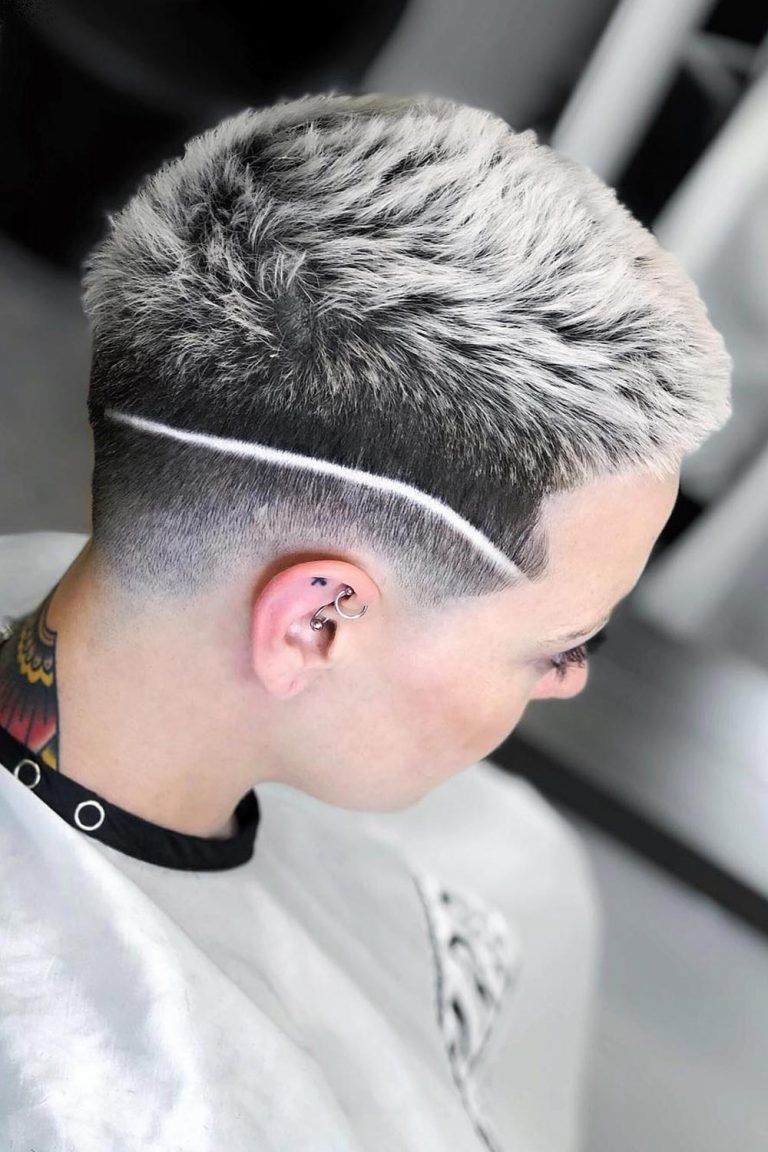 @edouardclipperhand
There's nothing as dramatic and accentuating as a shaved line and shadowed ombre highlighting a short haircut. The androgynous style is all about catching eyes and turning heads, so if you want to adapt to it, you should follow one simple rule: be bright. A short, outlined pixie with contrastive colors and striking shaved finish is a nice idea to join trendsetters.
Platinum Pixie Hawk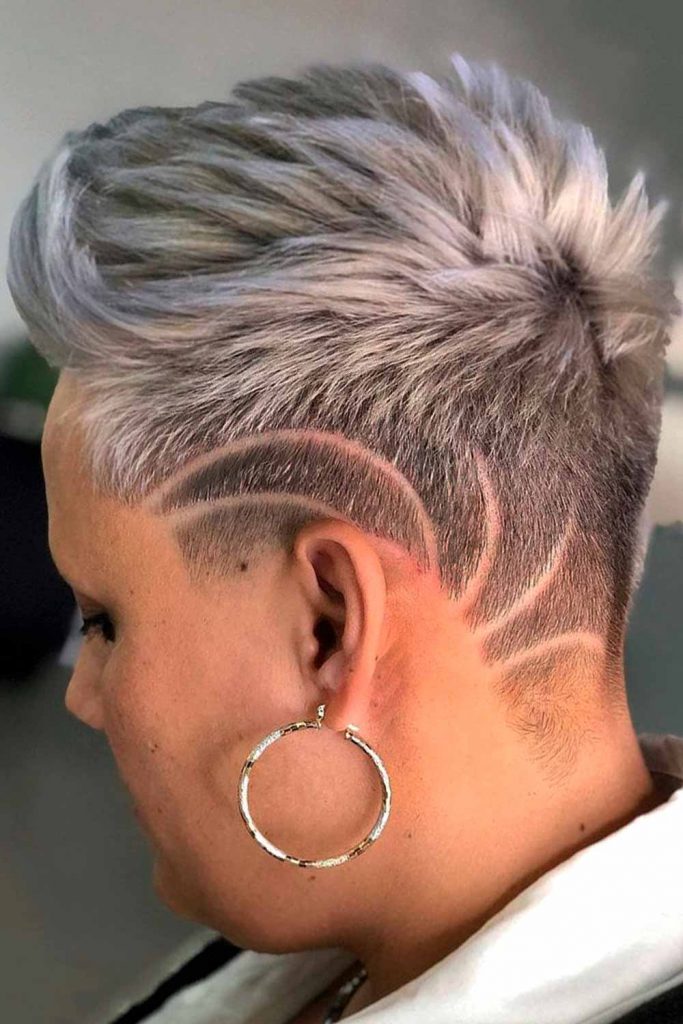 @cheobarberpr
When a sophisticated shade of blonde meets the punkiest haircut ever, androgynous trends are born. In fact, it's a fantastic way to get the most of feminine feel and restless tomboy spirit, finding a middle ground between two extremes. Shaved sides, dramatic top, tasteful color: that's a look to steal.
Dark Taper Fade Androgynous Haircut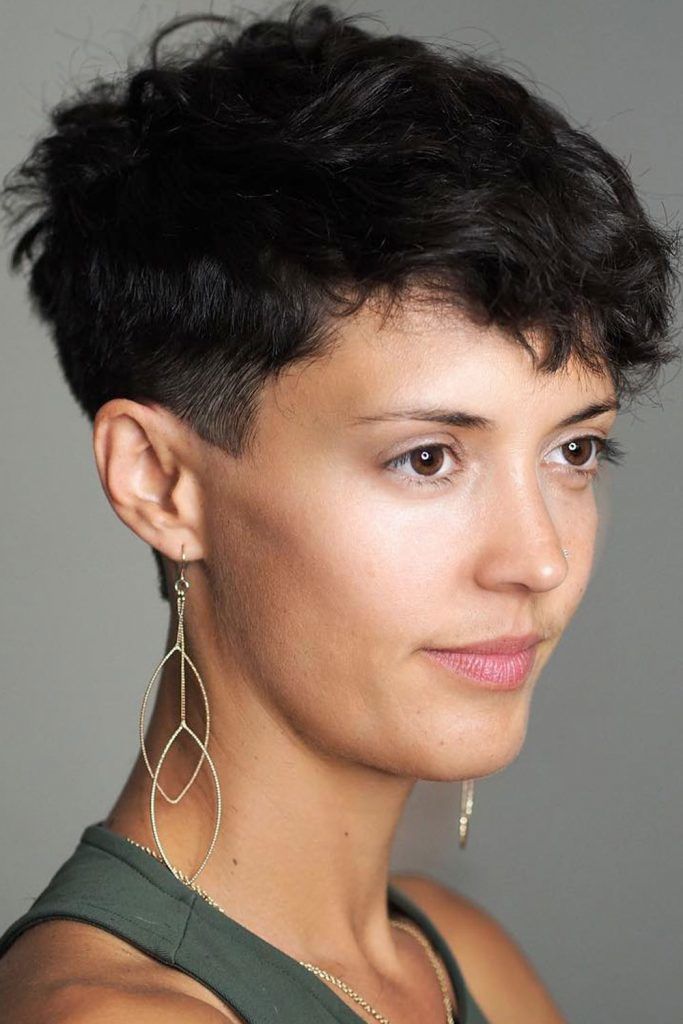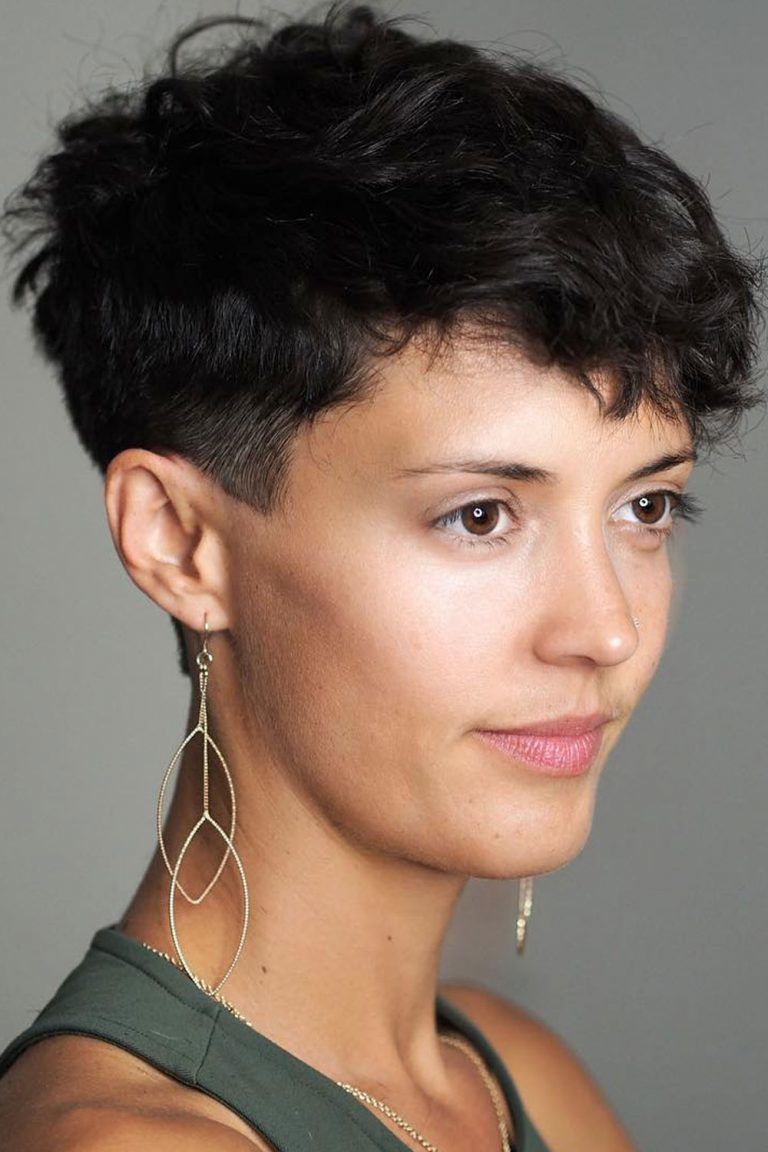 @shorthair.losangeles
If you're in the mood for something simple, yet edgy, a dark taper with slightly pointed spikes will be a fail-proof transformation. Unlike fades, tapers offer more balanced length graduation that also looks less drastic and smoothly combines the sides with the top. Once the sides are ready, you are free to experiment with top in lots of different ways. As you can see, spikes will do perfectly.
Androgynous Cut With Shaved Temple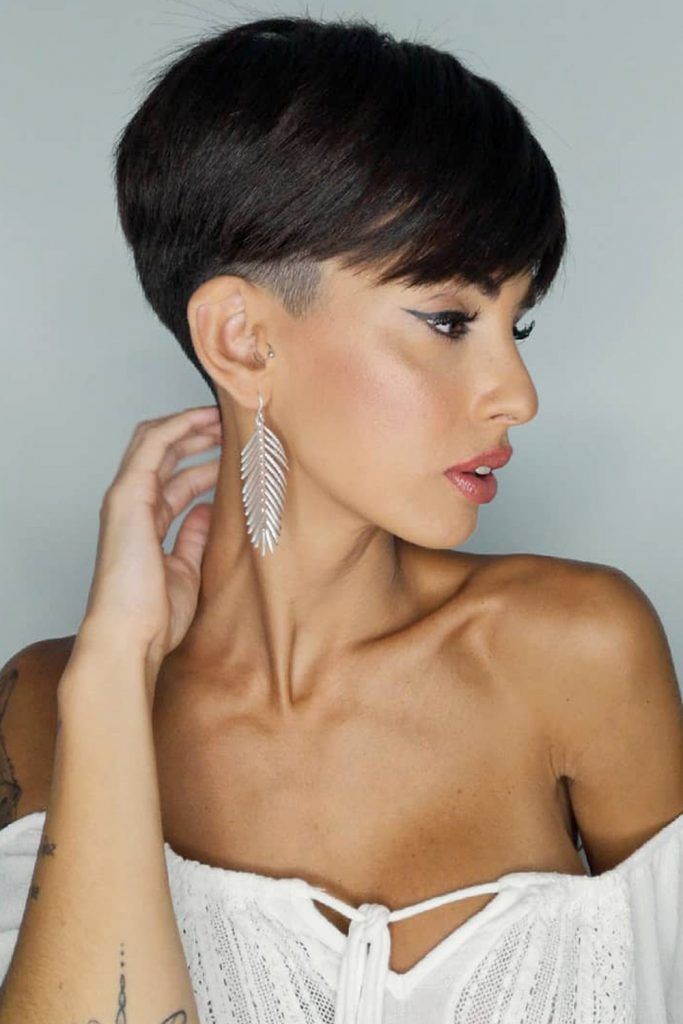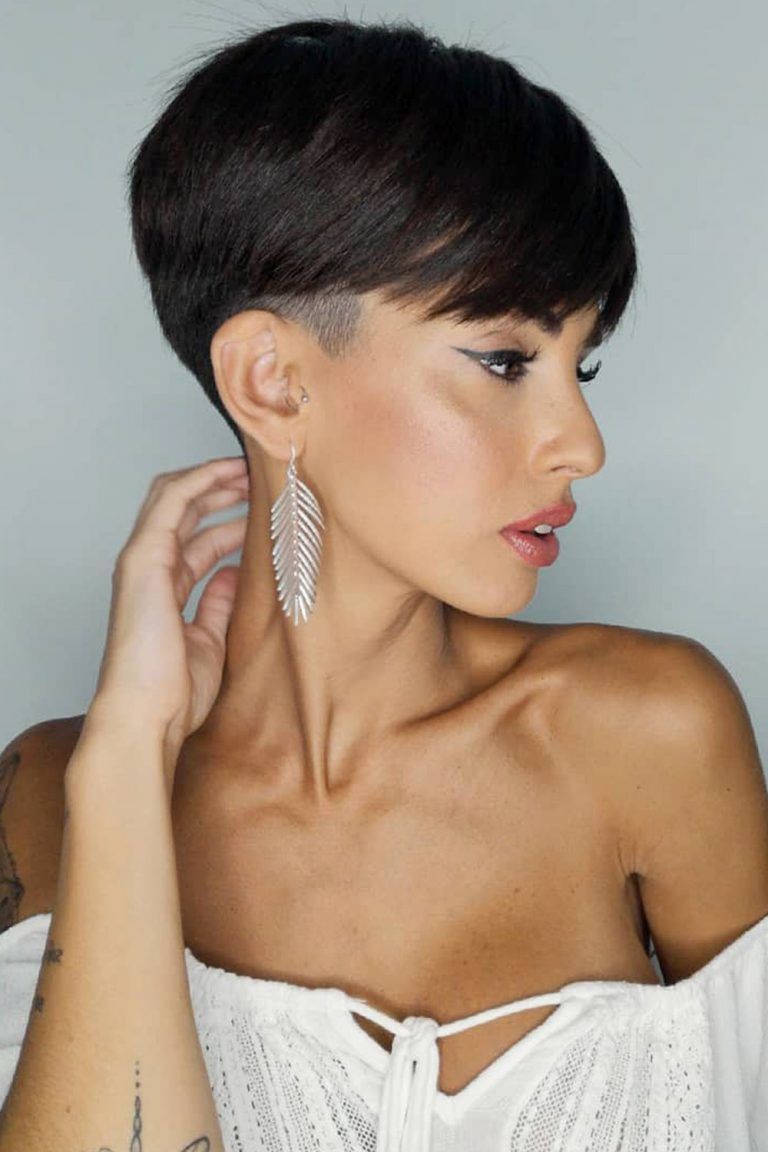 @inmadelope
A well-shaped shiny pixie with a slight tomboy flair on the side: how do you like this little bold twist? When styled right, the shape of this cut will give you an immaculate appearance suitable for any occasion possible. As for the shaved temple, it will be a sign that will tell people they're looking at a creative, unique personality.
Punky Side Part Blonde Androgynous Cut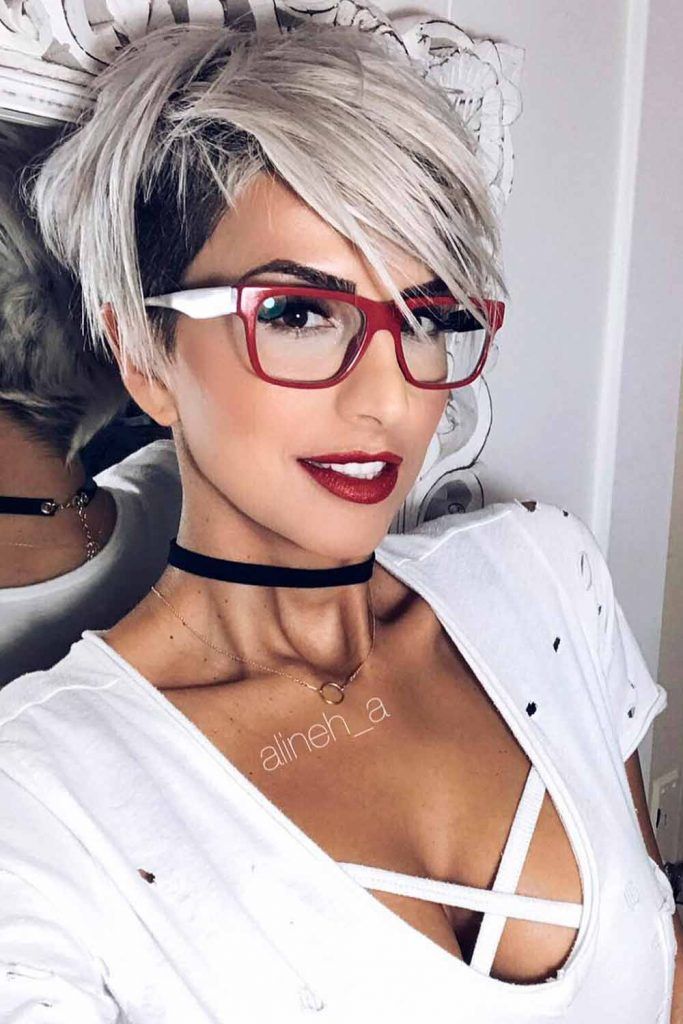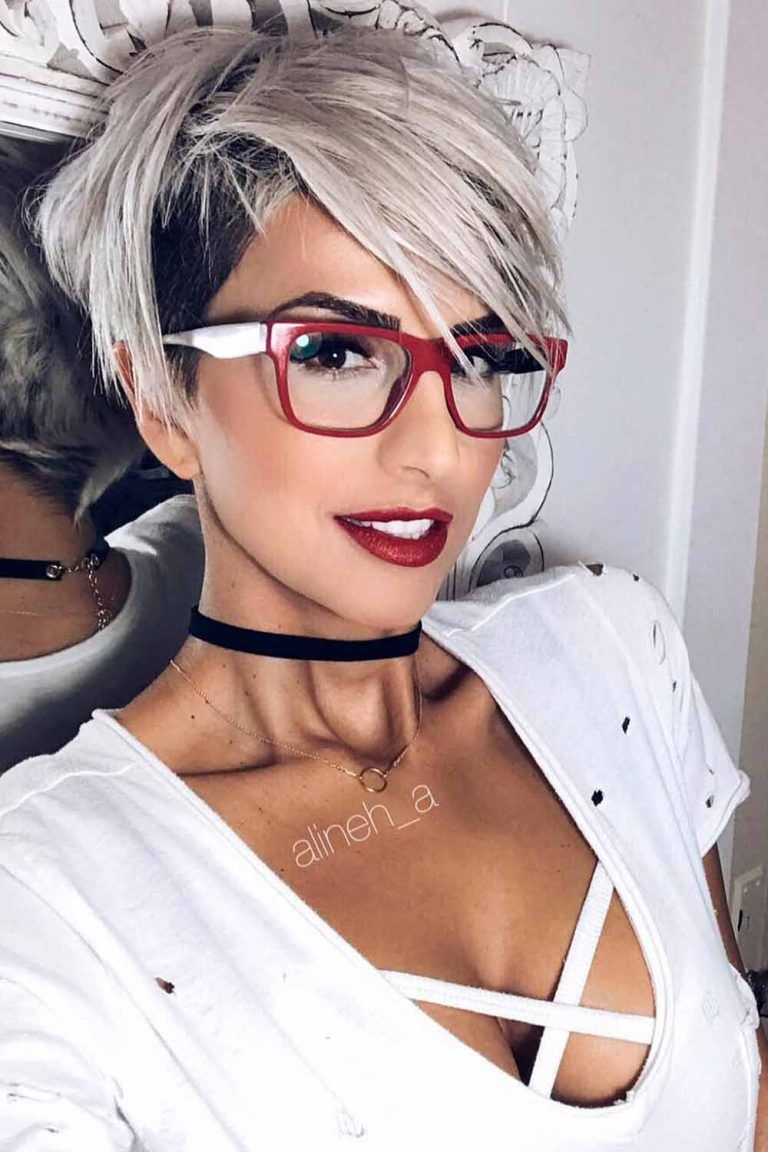 @alineh_a
Whitish blonde hair with an amazingly defined and distinctive texture and sharp ends is something that doesn't need an introduction. It's become a classic among androgynous and tomboy community for its fresh and sharp appearance that looks well on all hair types. If you have thin hair, you will balance your silhouette with its outstanding texture. And if you deal with thick hair, the cut will nicely tame it with its restrained shape.
Razor Cut and Messy Styled Look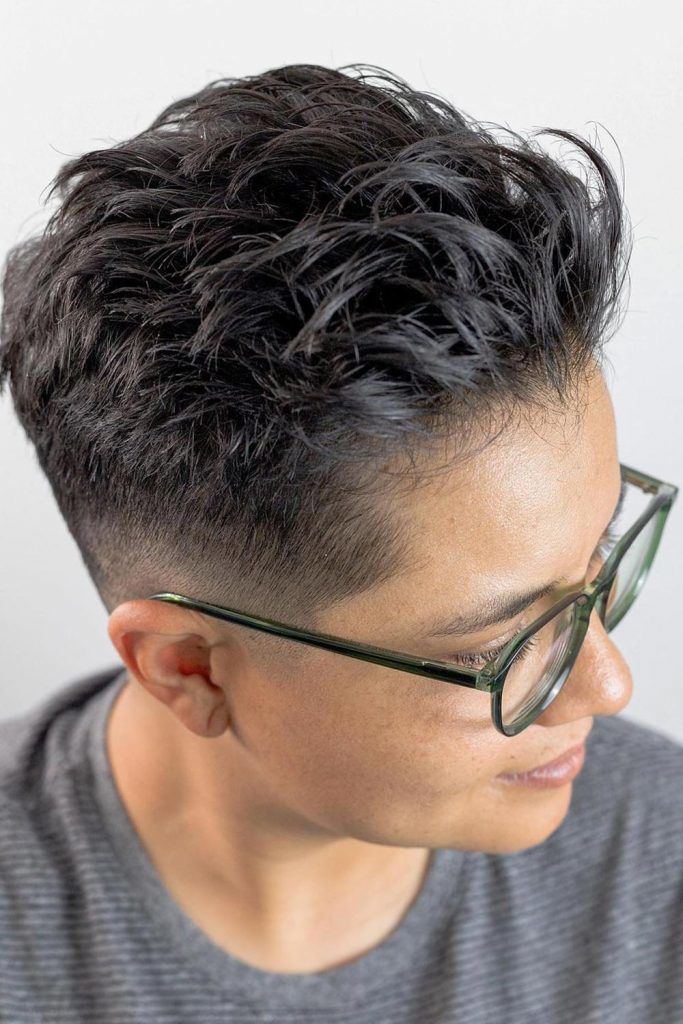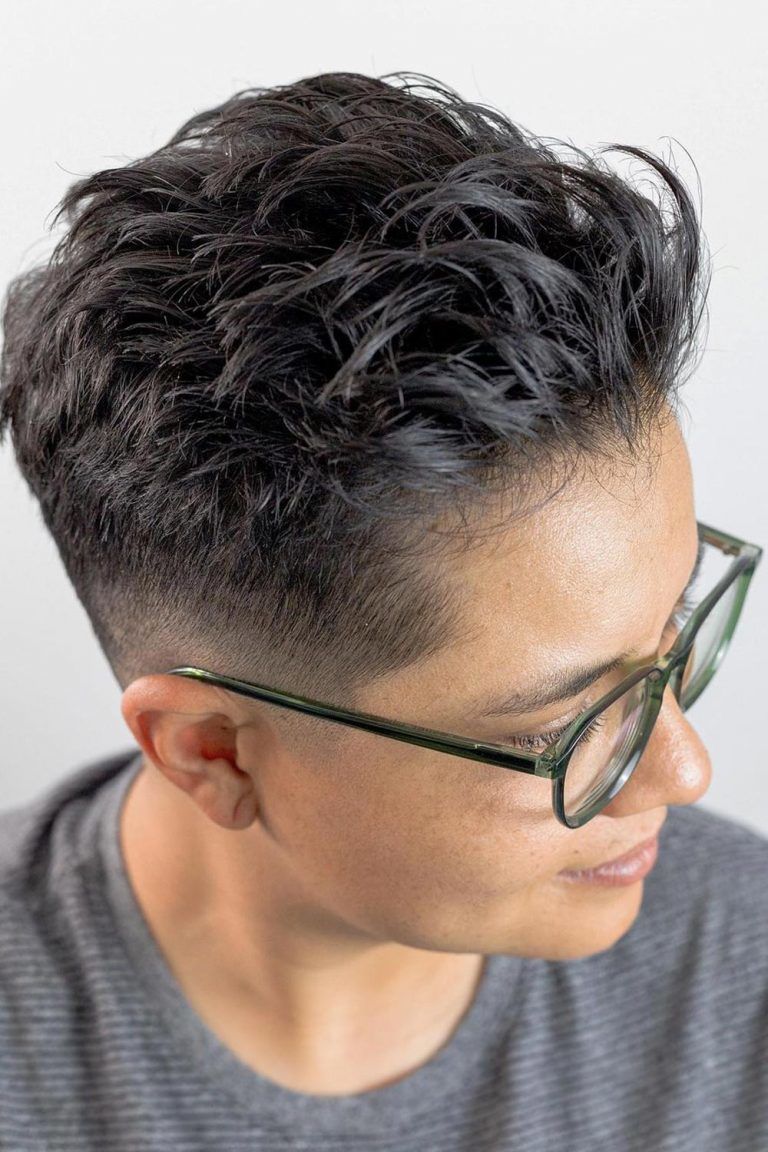 @shrunknheads
An edgy, youthful haircut can be tricky when you're not sure how it will turn out. Ask your stylist to use a razor to give you this sexy, textured style--it'll grow out beautifully without leaving an awkward phase in between!
Shaglet Cut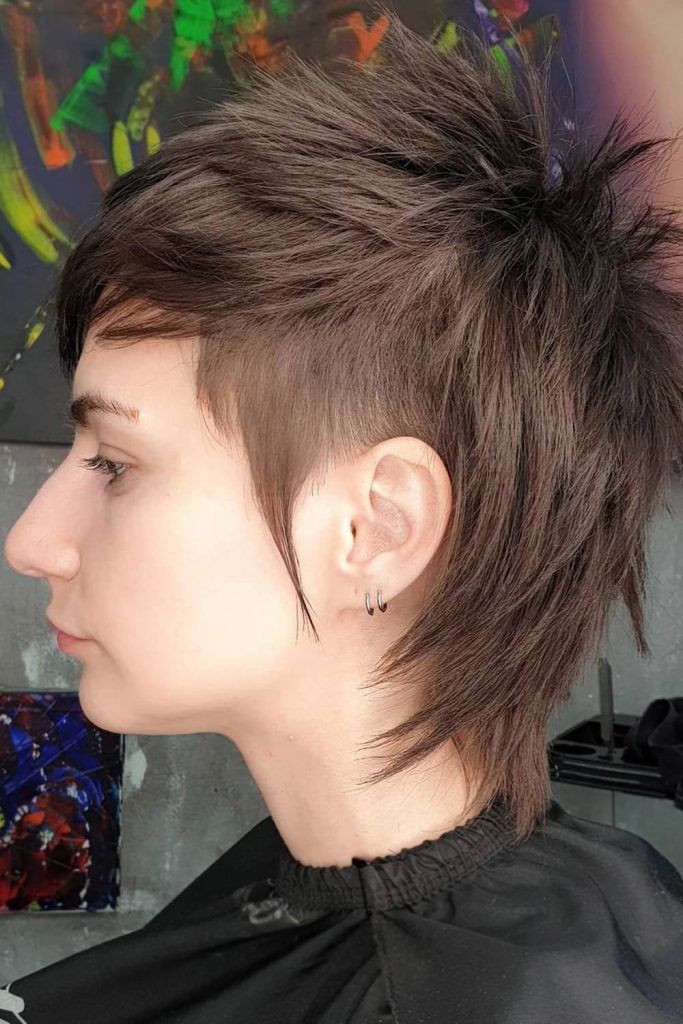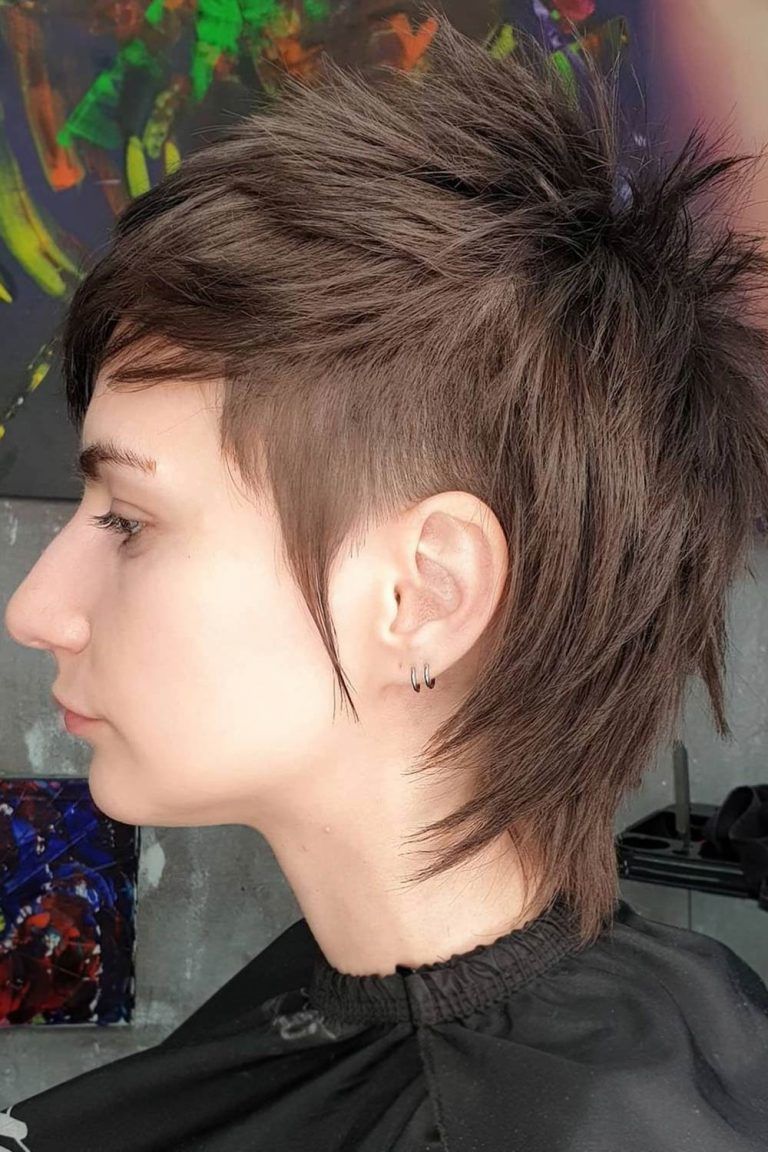 @apostoldiana
The shaglet cut is a new look that's perfect for people who want to experiment with their hair. It can be styled in many different ways and it always looks good! This hairstyle will suit you if you're looking for something short, easy-to-manage, or just don't know what kind of haircut suits your face the best.
Tapered Pixie with Unordinary Shaved Temple Hair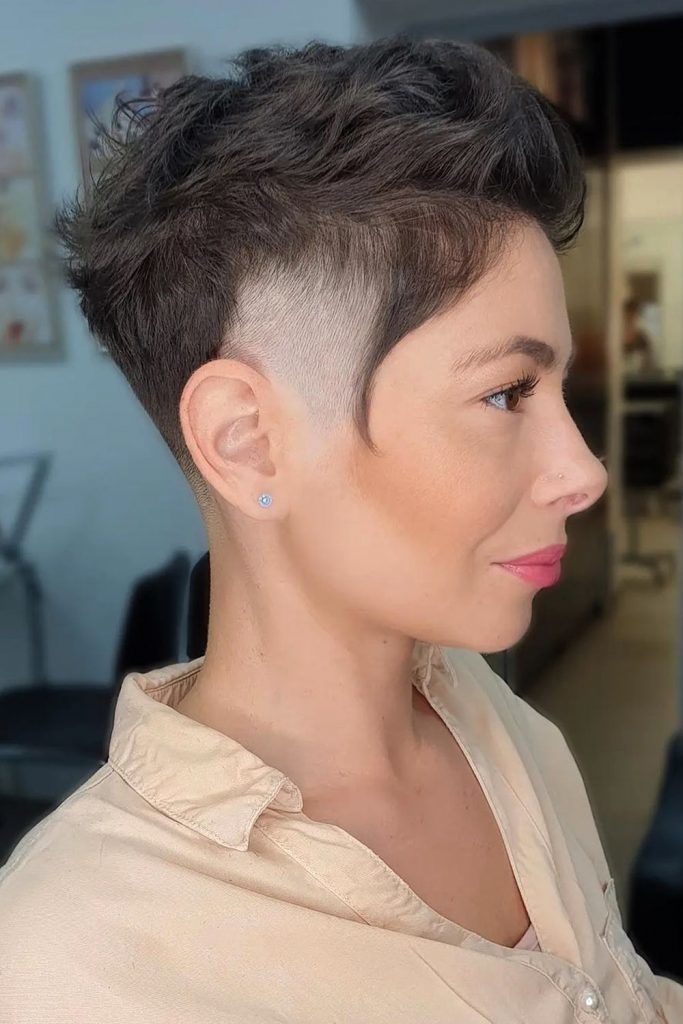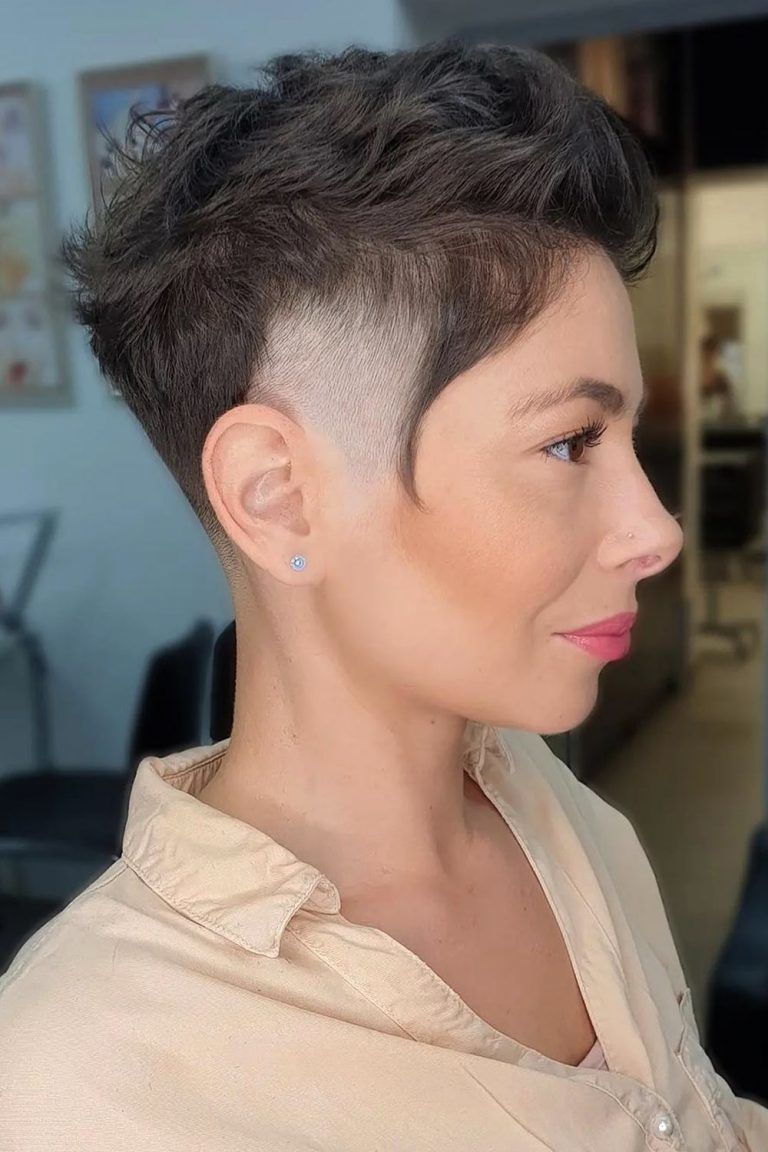 @apostoldiana
We're not going to lie, this haircut is a bit unusual. But if you want to make a statement and stand out from the crowd then it's worth trying! The shaved temple gives it a whole new look while still keeping that feminine feel to your hair.
Mullet with Sharp Fade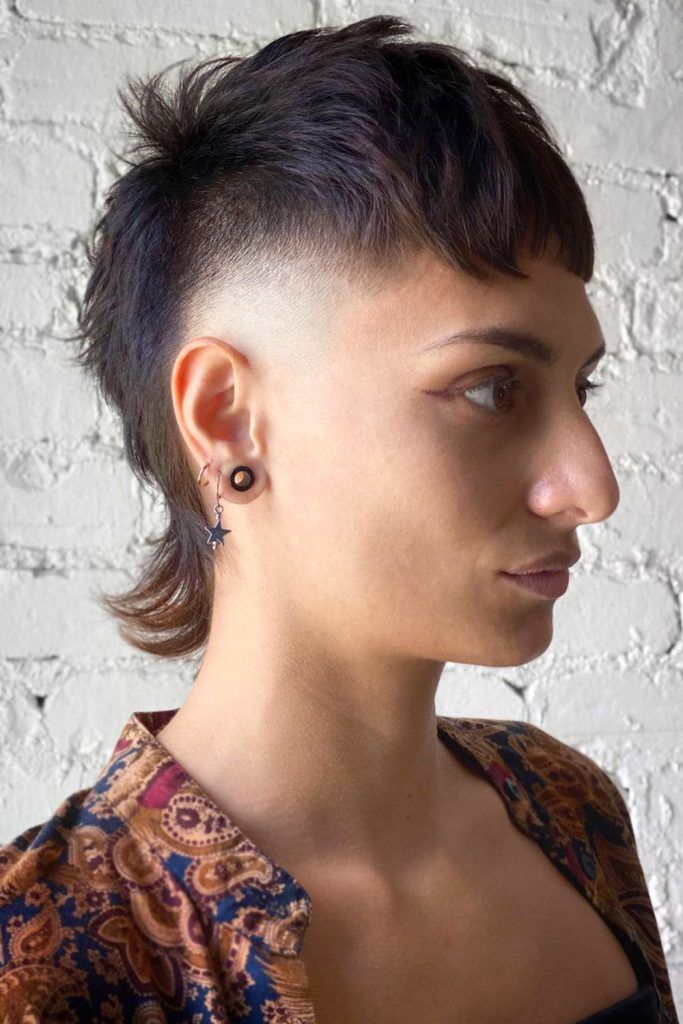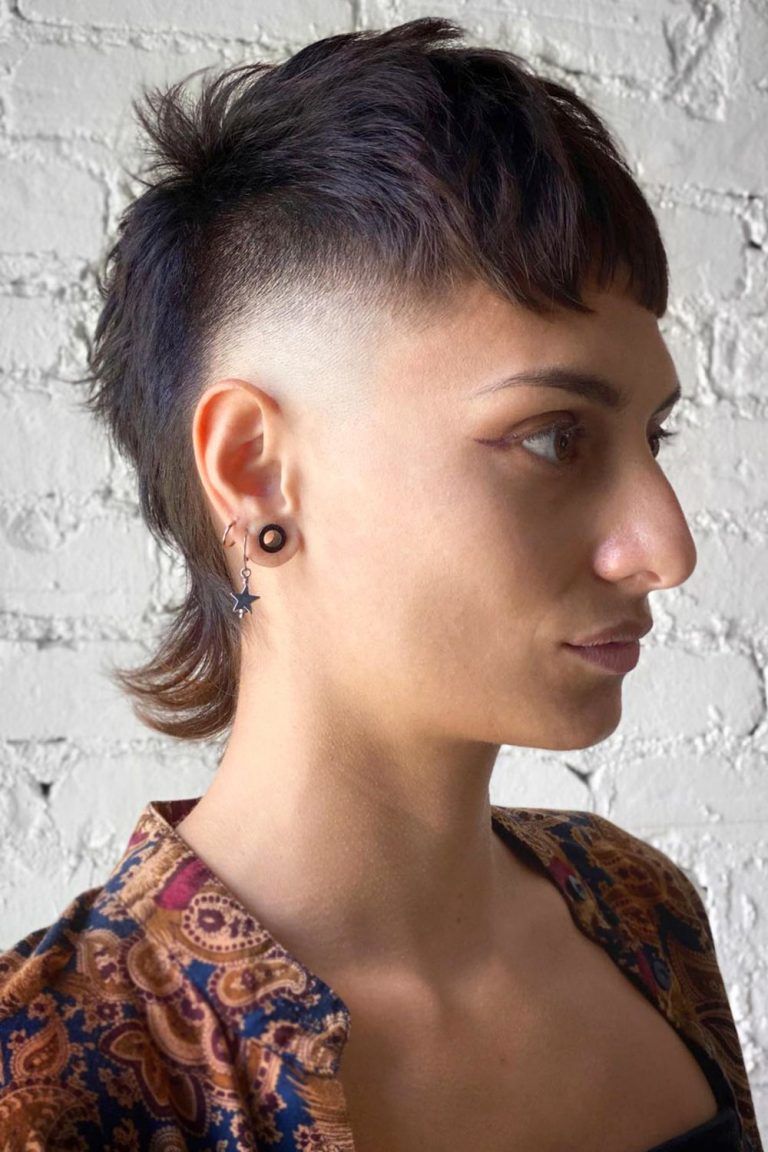 @edouardclipperhand
The mullet cut is back and better than ever. With the clean-cut fade on one side, it's now possible to rock this style as a woman! The sharp lines make it easy for anyone to wear the hairstyle without much effort.
Short Pixie with Baby Bangs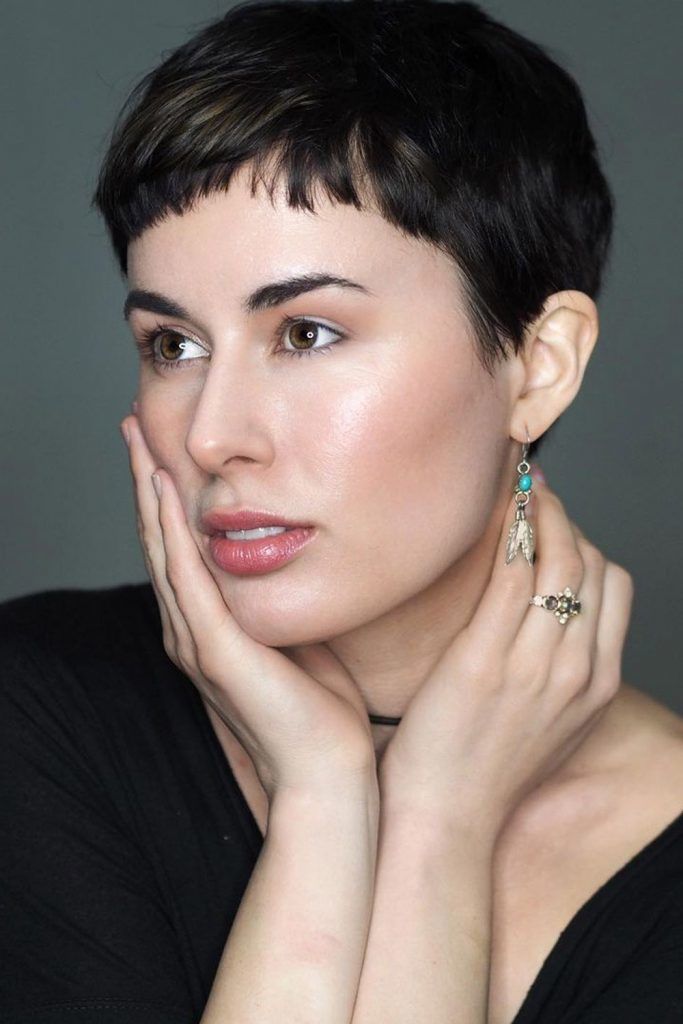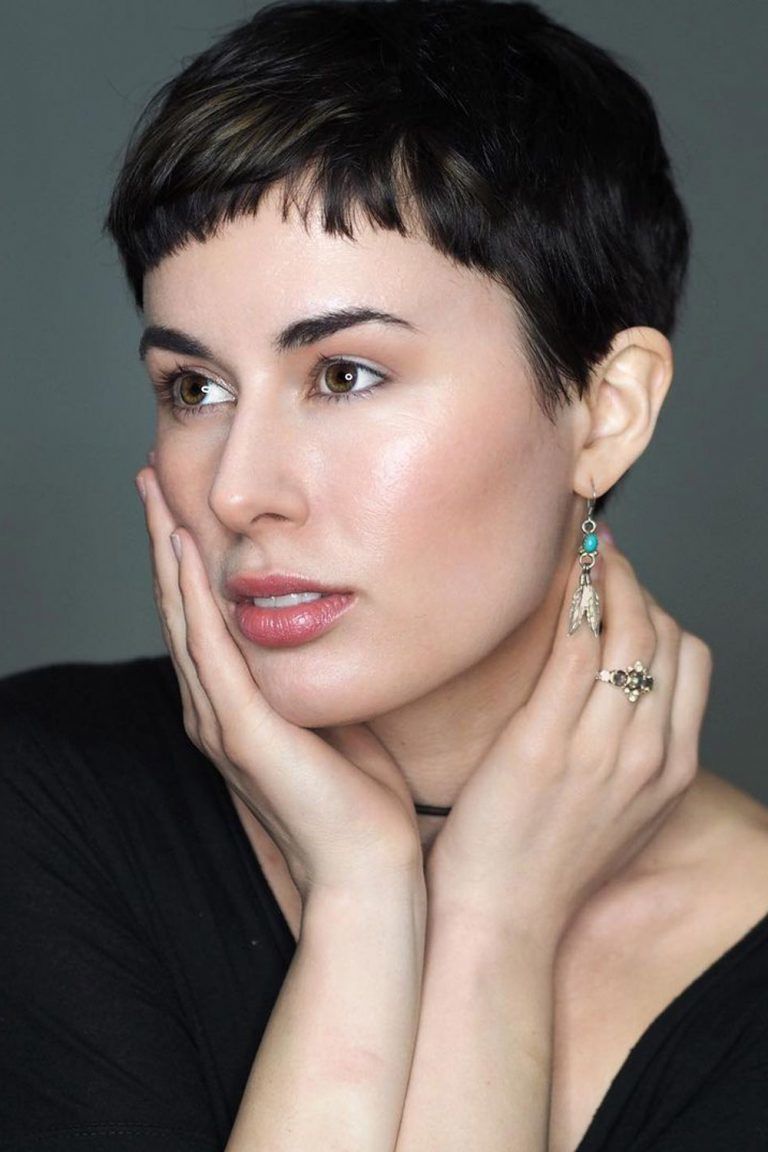 @shorthair.losangeles
This pixie haircut is a great choice for women who want to keep their hair short without compromising on style. Perfect if you're looking to go shorter with your cut, this hairstyle features baby bangs that frame the face nicely while still giving off an edgy vibe.
The Bixie Cut Trend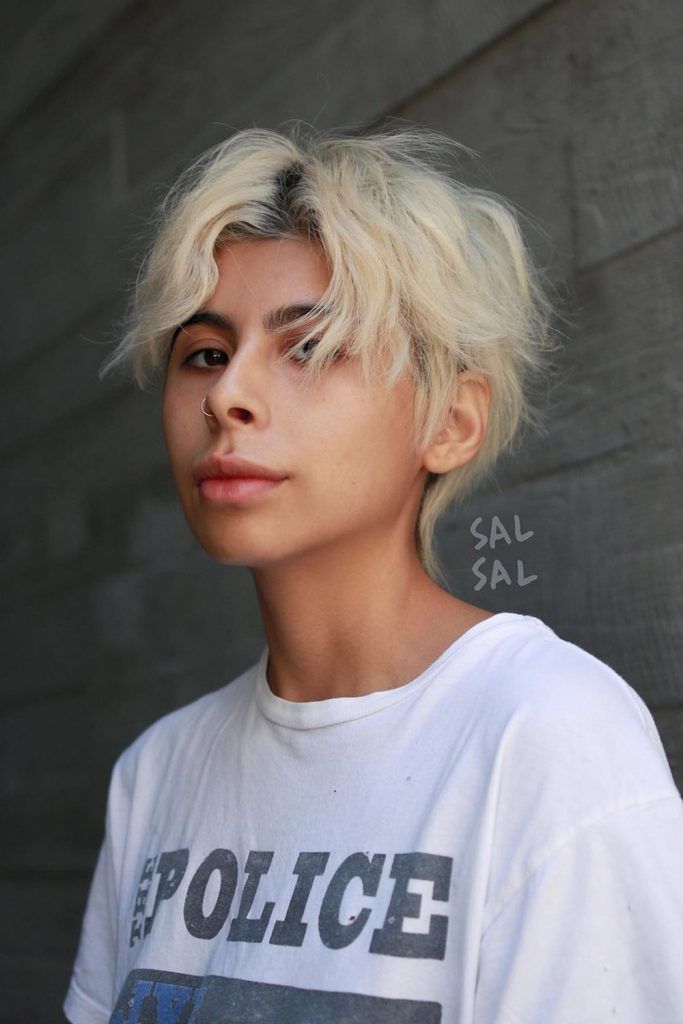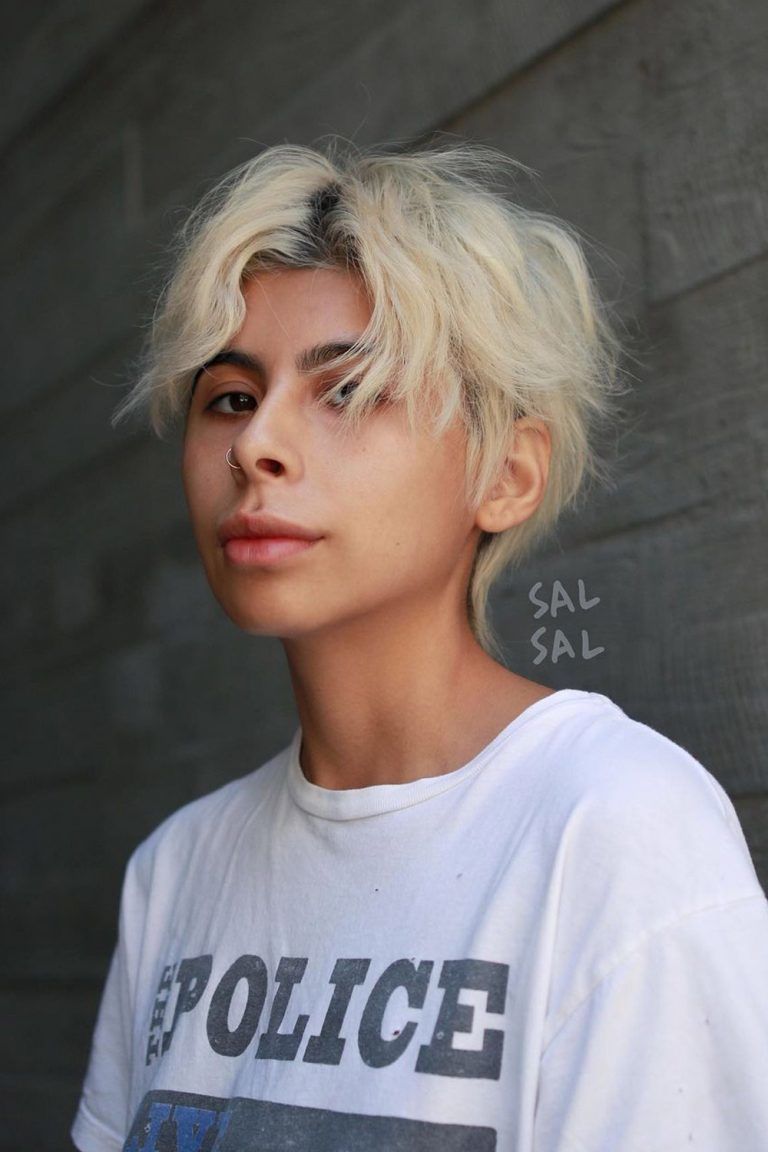 @salsalhair
This "bixie" is a super cool new cut that combines two of our favorite cuts. The bob and pixie are now better together in one neat little package! This short hairstyle is creating a whole lot of chatter ready for months ahead. It's perfect for those looking to go shorter but still want some length on top or if you're wanting an edgy look with lots of personality then it's right up your alley too. With all textures of hair being able to rock this style, we think it could be just what you need to take your 'do from drab to fab!
Feathered Bob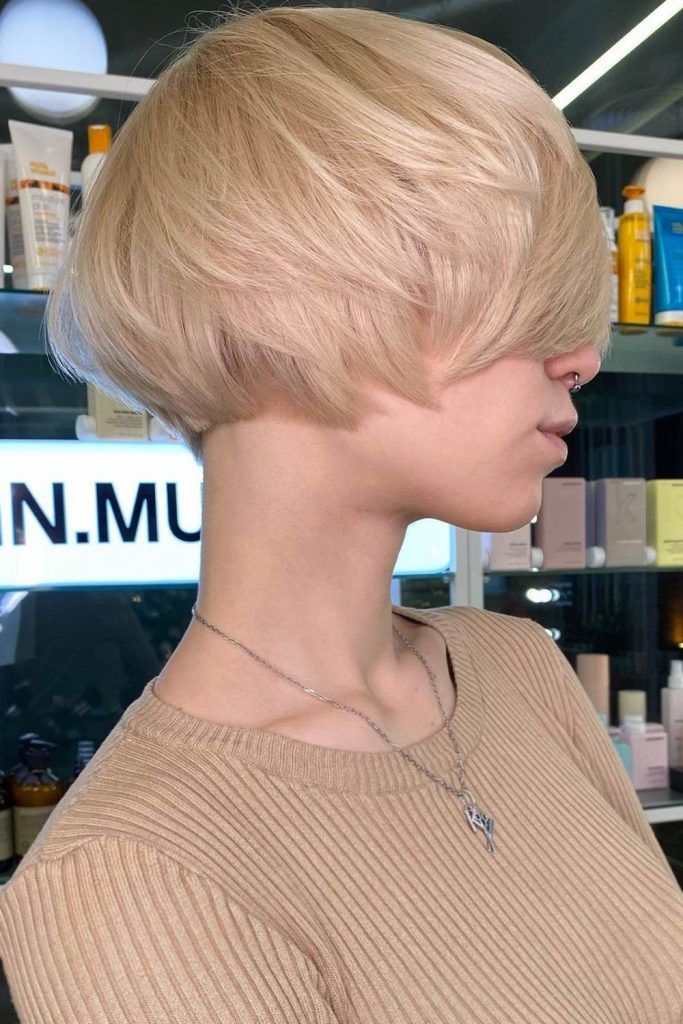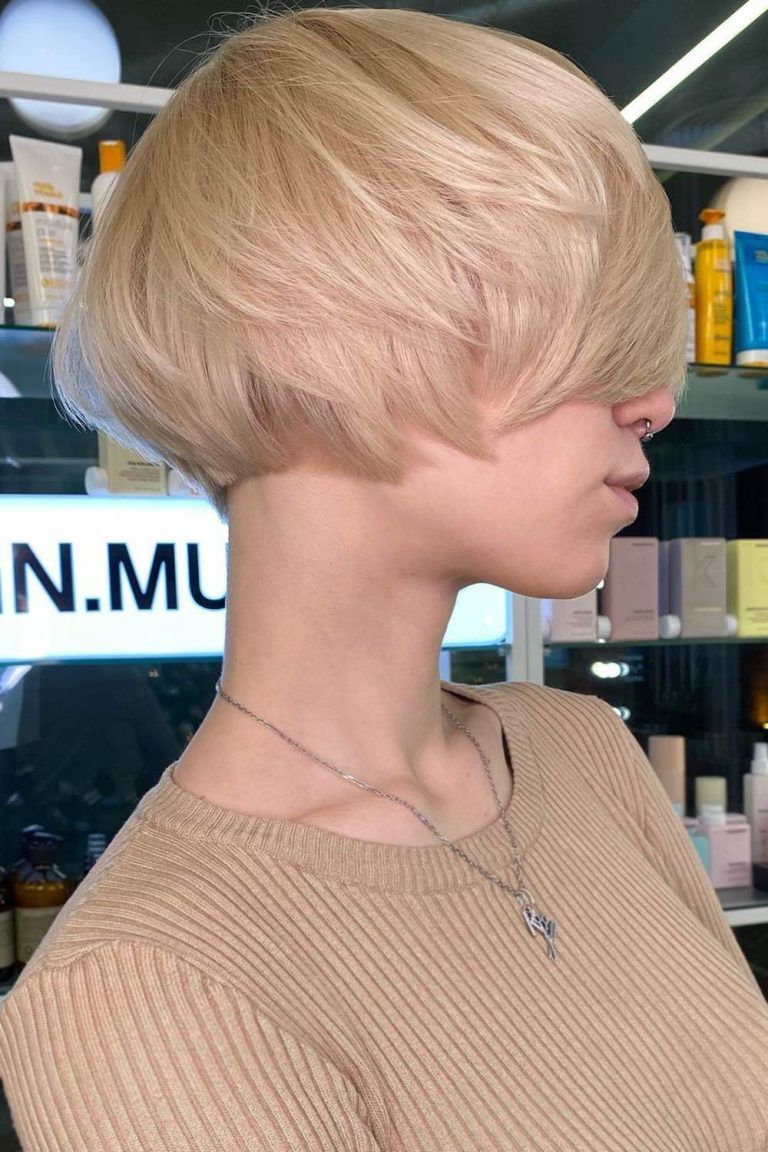 @sergeyshapochka
This hairstyle is great if you want to be androgynous. It has a feathered texture that gives it an edgy feel. This haircut will give your hair tons of volume and movement with just enough length in front to style away from face.
Short Textured Mullet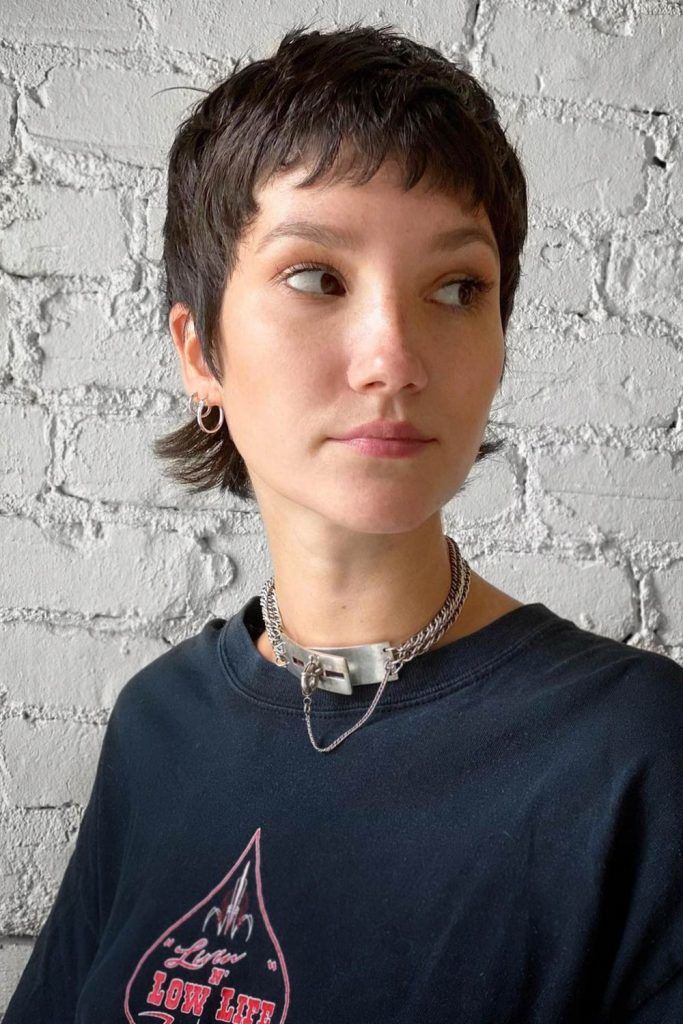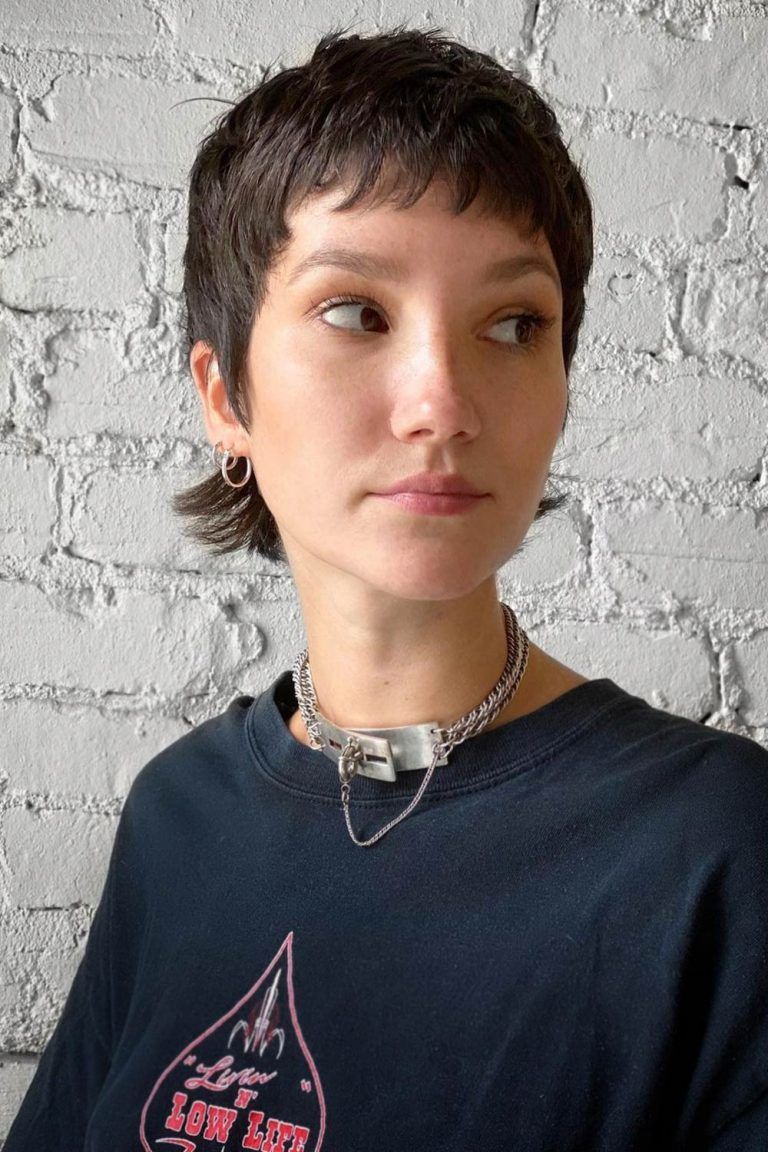 @edouardclipperhand
If you're looking for a short hairstyle that's both trendy and easy to maintain, this textured mullet is perfect! The length at the front will keep your fringe out of your eyes while keeping it feminine. You can also finish off your new 'do with some cool bangs to really show off those great features. Get ready to love this style today!
Mullet Cut with Disconnected Sideburns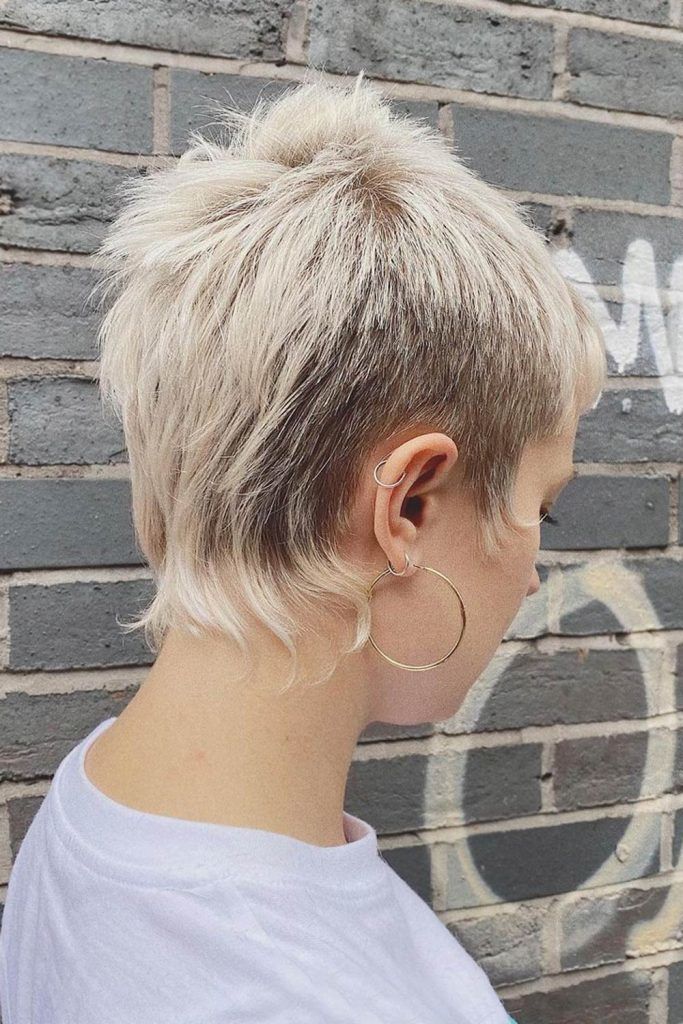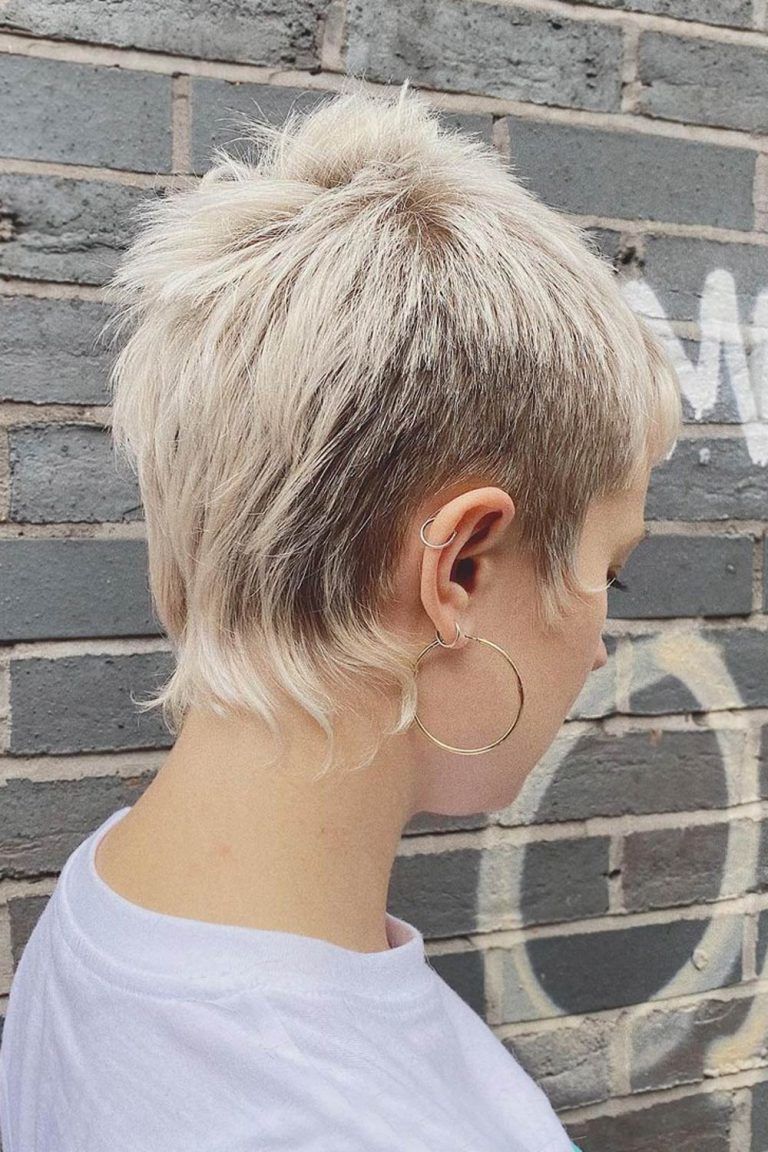 @rpb_nq
The mullet cut has made a trendy comeback with a modern twist. This androgynous hairstyle features shorter hair on the sides and a longer, business-in-the-front, party-in-the-back style. Disconnected sideburns are often incorporated to add a unique touch, creating a bold and edgy look. Perfect if you're looking for a short style that's still quite unique and gives off a distinct appeal. To add more dimension to your style, you can combine two tones using a lighter color for the top.
Choppy, Spiky Short Hair Layers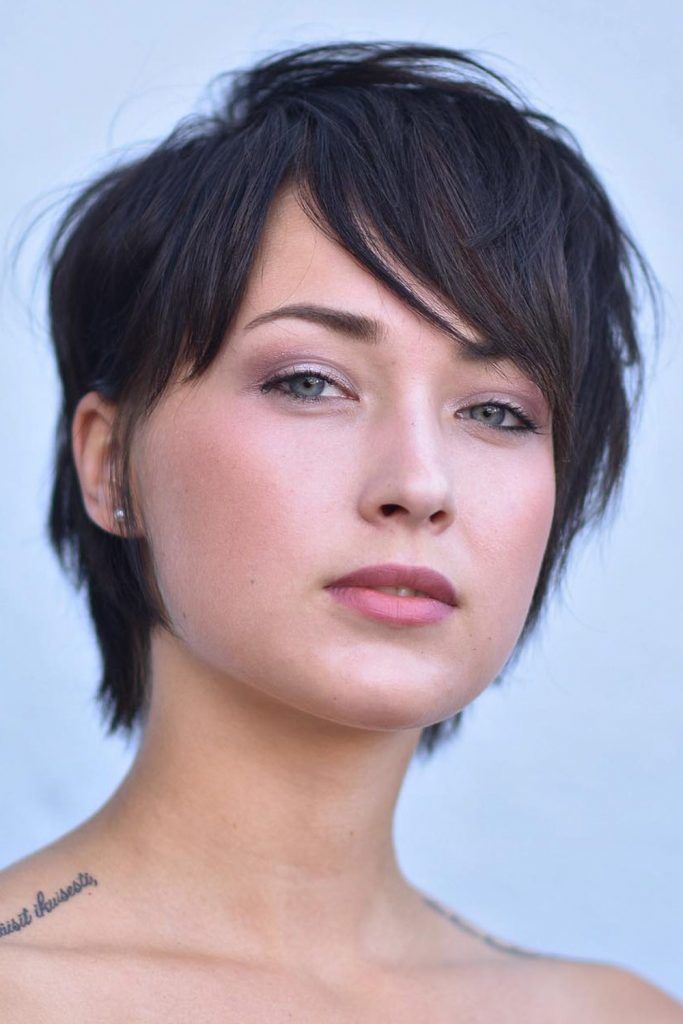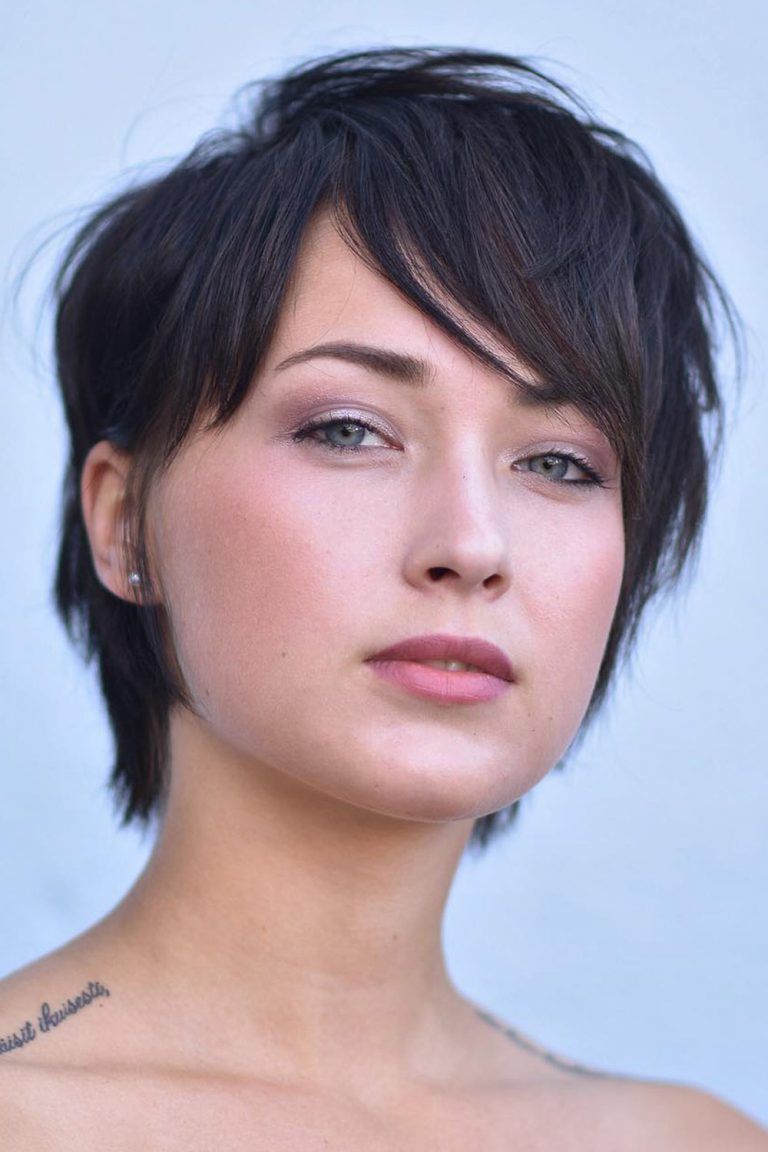 @iisakkinummi
Among other androgynous haircuts, the choppy short layers give the appearance of textured spikes. For those who still want their cut to have a small amount of volume, this style helps you achieve the desired result. The choppy layers add a sense of movement to the hair, making it a great choice for those looking to differ from the crowd. It's a style that can also easily adapt to any event, whether official events or everyday work.
Crop Cut with Long Top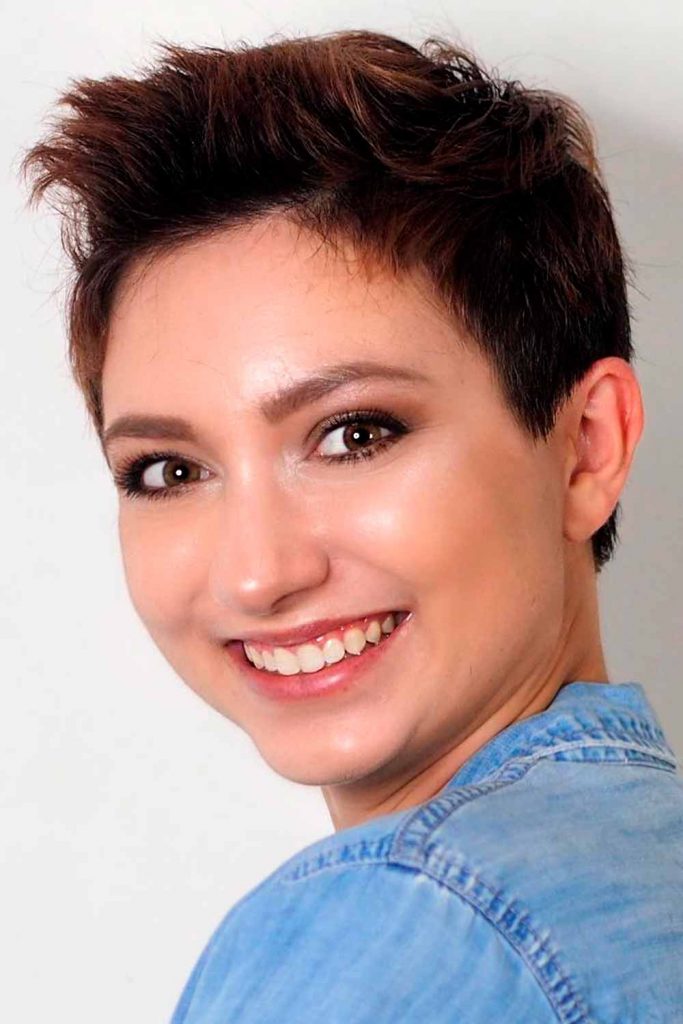 @shorthair.losangeles
Don't want any bangs or hair touching your face? Then the crop cut with a long top might just be the hairstyle you need. This haircut keeps the sides and back short while leaving the top section longer. The style is also known for its neat and clean appearance, with the longer top providing a stylish contrast. It can be adapted to suit a variety of face shapes and hair texture. All you need is to consult with your stylist on how to transform this cut into something made specifically for you!
Slicked-Down Pixie with Side Part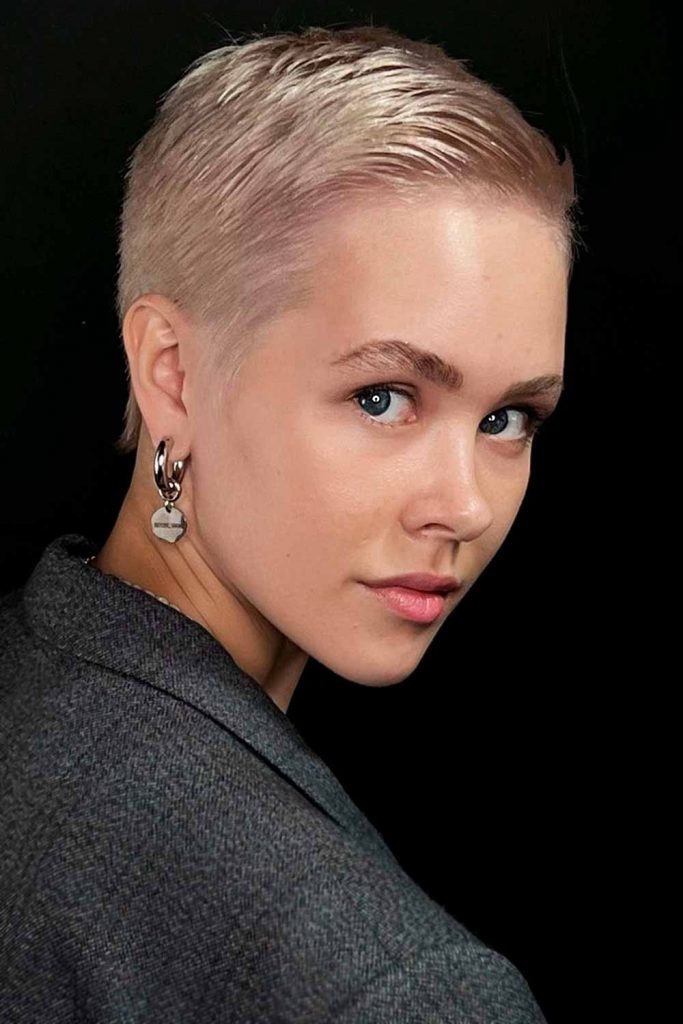 @cut_and_color
While there are short haircuts, if you want something extra short yet classic and stylish, we have another option for you. The slicked-down pixie with a side part is a chic androgynous haircut that highlights your facial features best as no hair can be spotted around your face. It combines the classic pixie cut with a sleek, polished look. For a more elegant result, introduce a side part while the slicked-down texture offers a refined and fashion-forward style.
Low Tapered Skin Fade
For a more tomboy-inspired look, say hello to low tapered skin fade! The low skin fade is a contemporary twist on the classic fade haircut and you can transform this popular cut into your own personal style. It features a gradual transition from longer hair on top to very short or shaved sides. Just like other androgynous haircuts, this style offers a clean and sharp appearance, making it a popular choice for those who want a clean-cut yet stylish look. If you want to add a little touch of personality to your style, you can introduce colour highlights that stand out from your base hair color.
French Crop
Just as much as your outfit can embody sophistication, so can your haircut. This is why if you're all about class and being on par with trendy haircuts, choosing the right cut is important. And talking about the right haircut, how about a French crop? You get to have short sides and a slightly longer top that is textured for added depth. Not only is the style perfect if you're looking for a low-maintenance haircut but it also suits a wide range of hair types. If you have a history of opting for short blunt bangs or baby bangs, then this style is more likely to fit your face shape. To keep it from looking plain, ask your stylist to add highlights in any color of your choice and you're good to go!
The Androgynous Hairstyles: Celebrities Choices
From Scarlett Johansson to Miley Cyrus, many female celebrities slay it in androgynous hairstyles. Most of them underplay their outfits and let haircuts do all the talkin'. These five ladies are our all-time favorites. Check out how they style the androgynous looks.
Cara Delevingne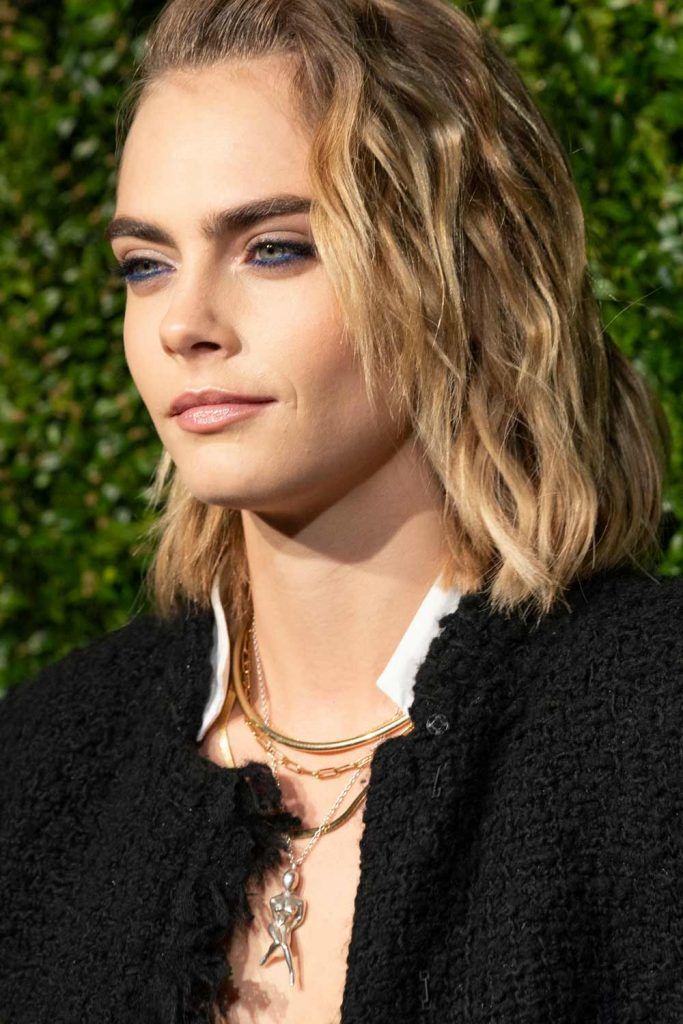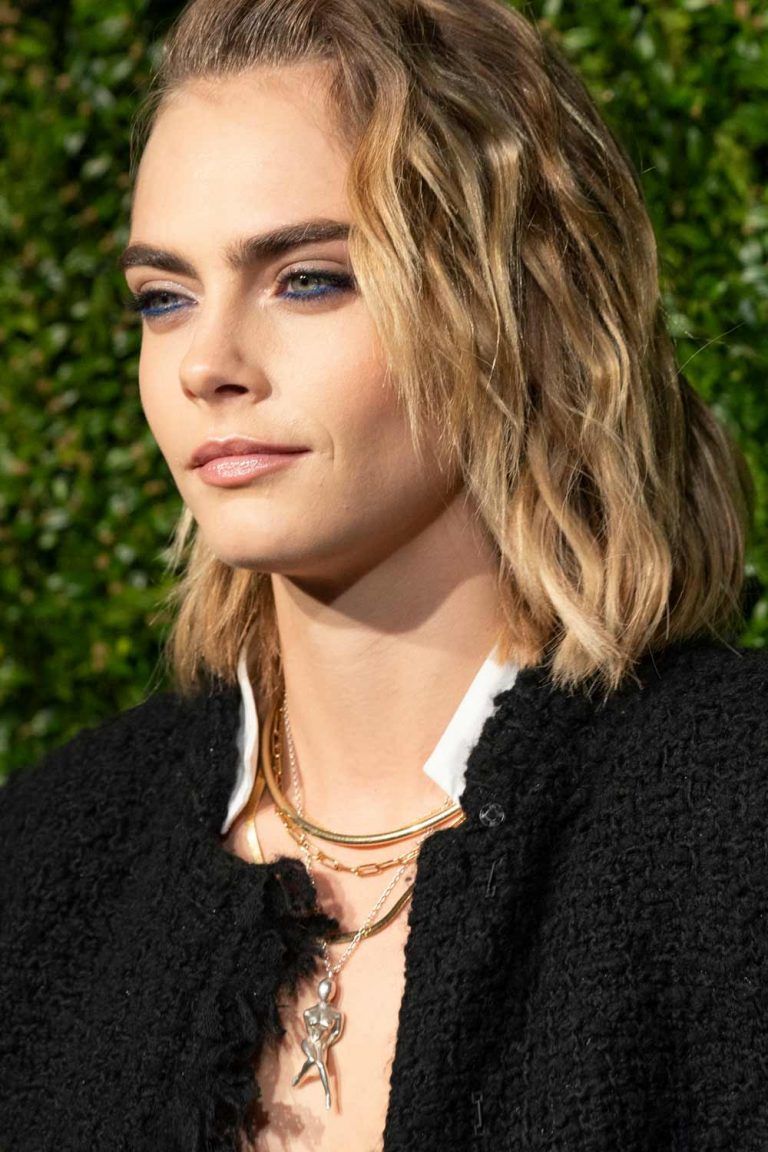 Credit photo: Lev Radin/Shutterstock
Cara Delevingne cashed every chance she got to sport the hottest androgynous hairstyles. With her thick brows and chiseled facial contours, this English model kills her short bobs and sleek hairdos. She often finishes her looks with shoulder-length haircuts, soft curls or waves, and androgynous suits.
Miley Cyrus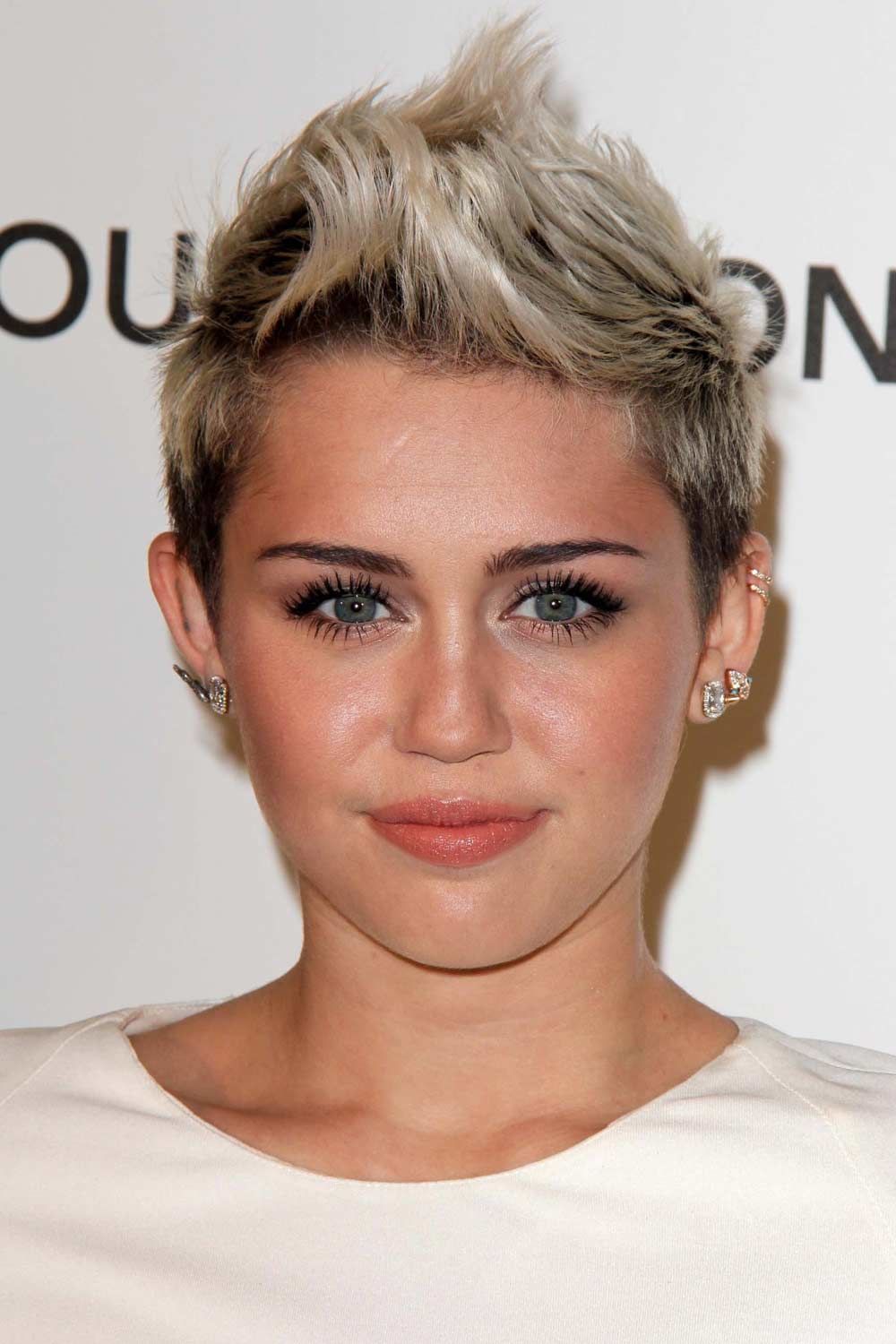 Credit photo: S_bukley/Shutterstock
Wondering how to style faux hawk with highlights in an androgynous hairdo? This look of Miley Cyrus is the best example. Get some pop highlights or blonde streaks in the top section of your hair. Clip the sides roughly. Gel the top hair into a messy Mohawk. You can do the bold red lips and winged eyes look or tone it down with boy-brows, blush, and a sheer gloss.
Kristen Stewart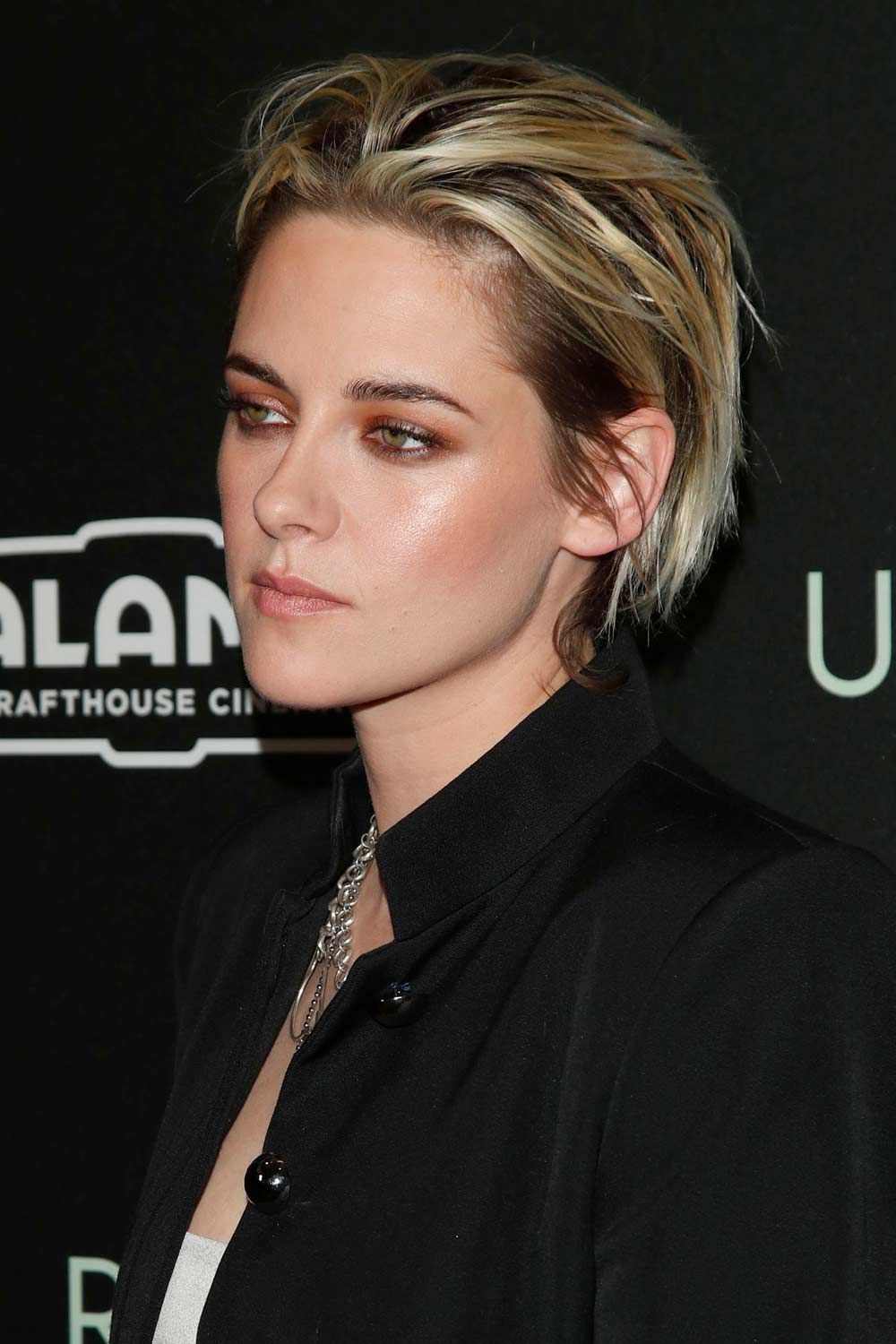 Credit photo: Kathy Hutchins/Shutterstock
K-stew is one of the strongest voices to speak about bisexuality. An out-and-out feminist, this Twilight beauty has always made a statement with her androgynous haircuts. She's often seen teaming gender-fluidic fashion with short bobs, pompadours, and buzz cuts to major events. Talk about being bold, beautiful, and a bombshell!
Nicole Richie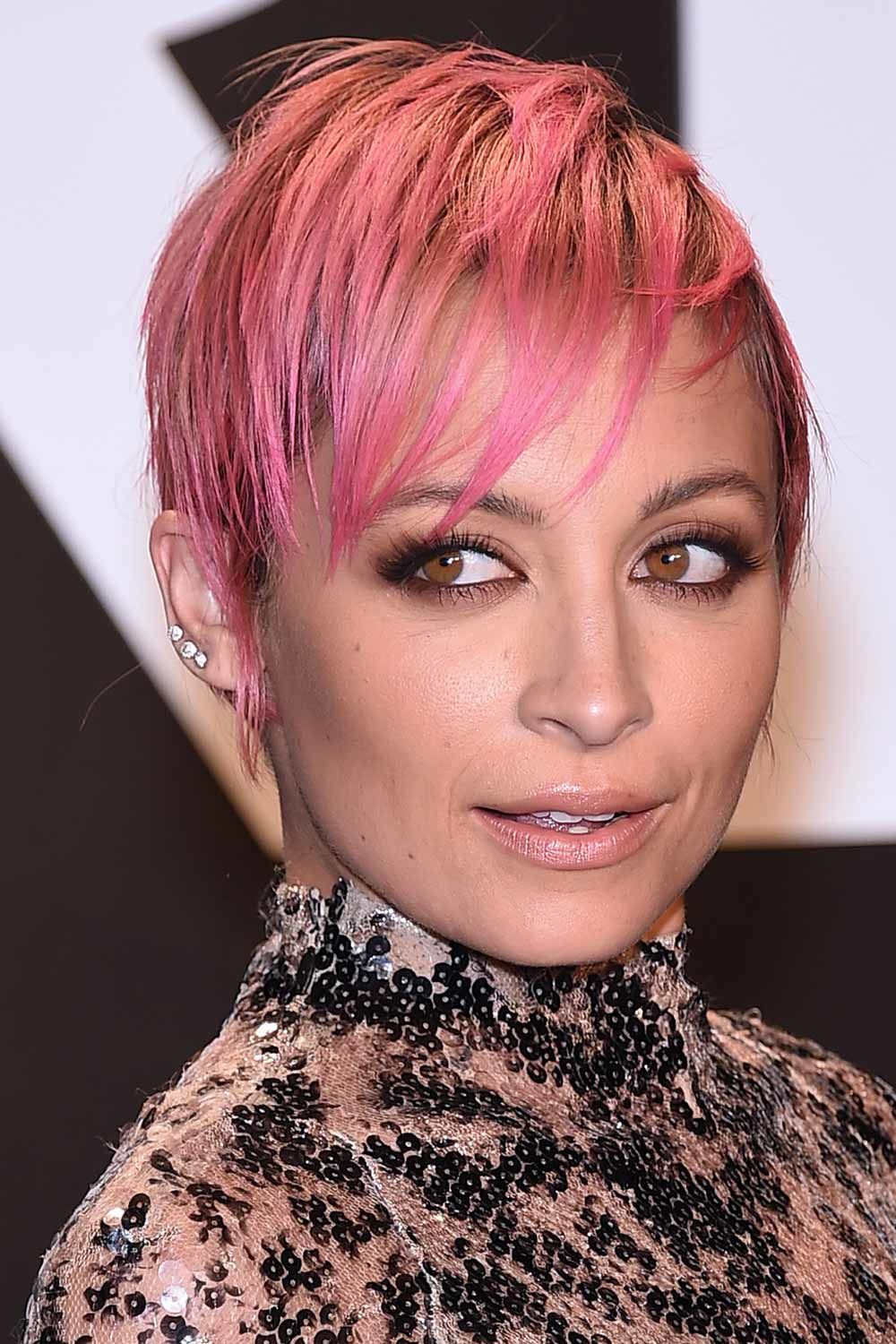 Credit photo: DFree/Shutterstock
Here's some color pop inspo for you. In her bubblegum pink hair and undercuts, Nicole Richie sports a punk spin-off of the androgynous choppy pixie look. If you have a neon hair color on you right now, this rock-chick hairdo would look bang on!
Put on some kohl or do your lashes. Wear minimal makeup and attract the eyeballs to your hair game.
Scarlett Johansson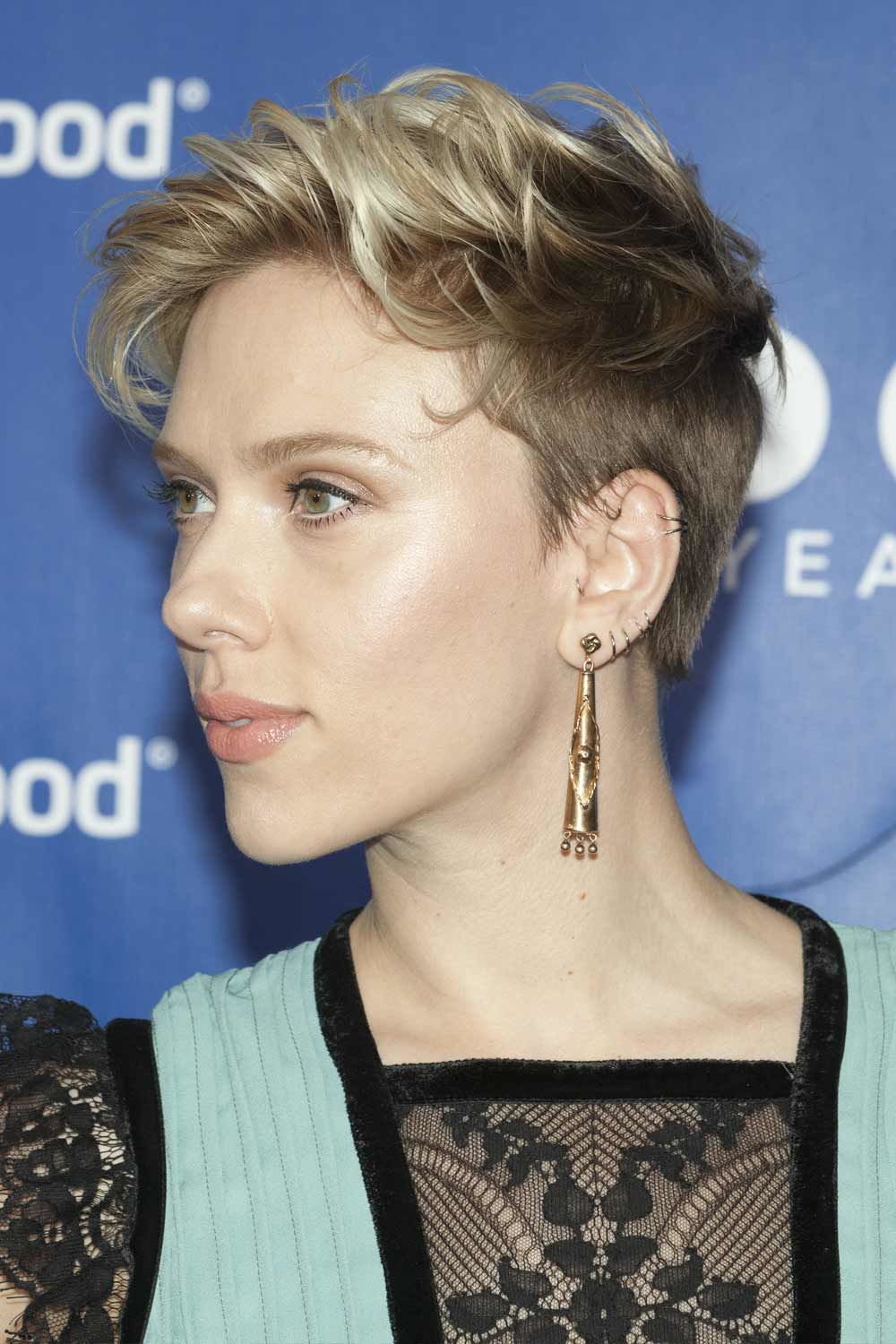 Credit photo: Lev Radin/Shutterstock
Jawlines and more jawlines! Nobody can beat ScarJo's bone structure. It's no surprise how she pulls off an androgynous pixie and still looks glam. She is the goddess of oomph and action but is always experimental with her hair. If you have a round or triangular face, Scarlett's hairstyles would suit you well. Try out her buzz cuts, faux hawks, quiff, and soft wave combinations.
Psst..! You can wear them all with her signature red lips look (wink!)
If you believe in wearing your heart on your sleeve, it's time you wore it on your hair.
Choose your favorite androgynous haircut and pair it with your own dressing style. Break free from the chains of discrimination and own the world!
The variety of androgynous women's haircuts has no bounds. Each of the ideas you've beheld is here to make you remember once and for all: your personality in the only one who defines your style. Isn't that time to let your imagination fly and get yourself a new tomboy-inspired cut?
FAQ: Androgynous Haircuts
How can I look non binary?
Allowing dress norms to define you based on the present situation is not a good idea.
Gender-neutrality can be expressed in a subtle but still noticeable way through accessories such as rings, chains, bags, and even nail polish…
Pay attention to how you carry yourself, what vibe do you give off?
Pay attention to how you evaluate other people's actions.
What is the ugliest hairstyle?
Experts at Glaminati.com believe it's mullet, sometimes known as "business up front, party in the back,". It is one of the worst hairstyles still in use today. You've probably seen that haircut on a few rednecks in your neighborhood.
Can hairstyle change your personality?
Actually, your hair length says a lot more about your personality than you might realize. Short-haired girls are considered to be more artistic and enjoy self-expression than other girls since maintaining healthy short hair necessitates many salon visits.
What is a French Bob?
A French bob, often known as a traditional Parisian women's cut, is a type of cropped bob with chin-length bangs that touch the brow line. Certain aspects of the French haircut have been modernized, such as wavy hair, heavy texture or a blunt cut.
REFERENCES:
Androgynous haircuts - Straight pixie vs. Buzzcut. Source
Was this article helpful?