Choosing Asian hairstyles men with thick and straight hair wear these days is becoming harder and harder each day! Thanks to Japanese and Korean Pop trendsetters, Asian guys know how to look modern and stylish with a great range of different quiffs, undercuts, pompadours, and variously colored spiky manes.
The variety of cuts and styles for the exceptional Asian texture seems to have no limits. Now, you can tame your tough hair type with anything from a taper or fade, as well as play around with short, medium, and long tops.
And here, we've selected the top picks for everyone, whether you're looking for something short and smart or want to steal some dramatic K-pop hair looks in 2021.

Comb Over Asian Hairstyles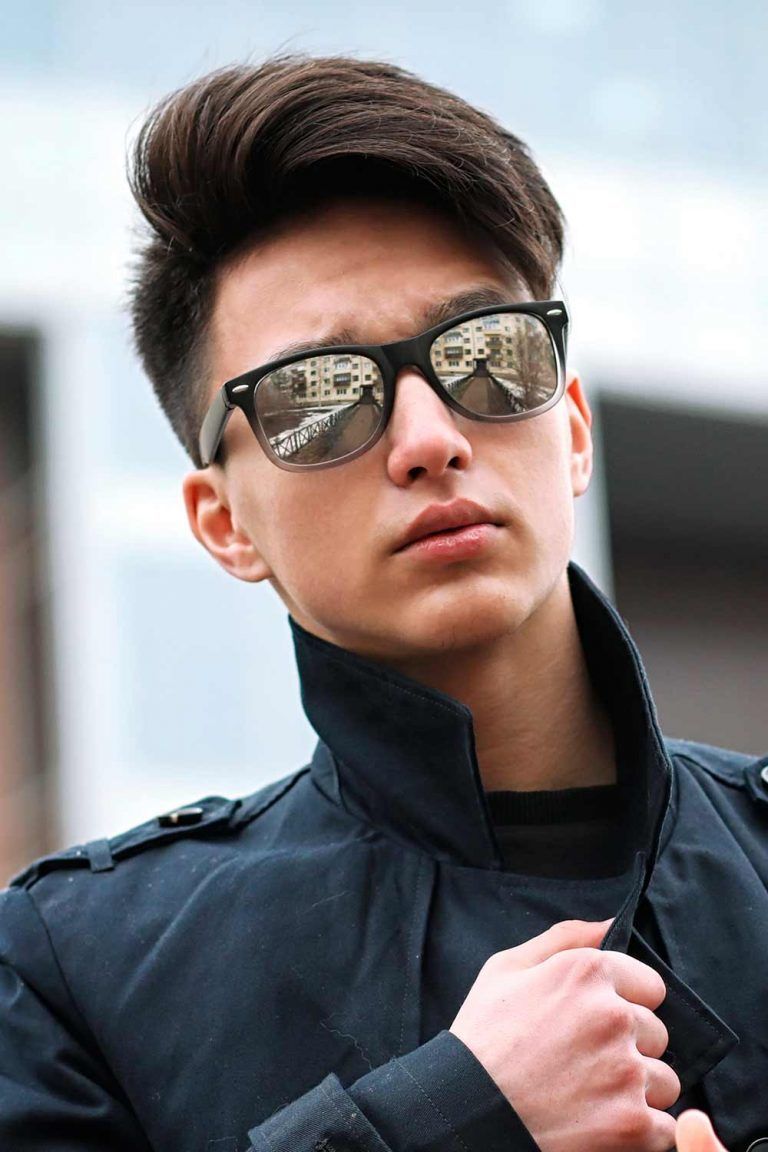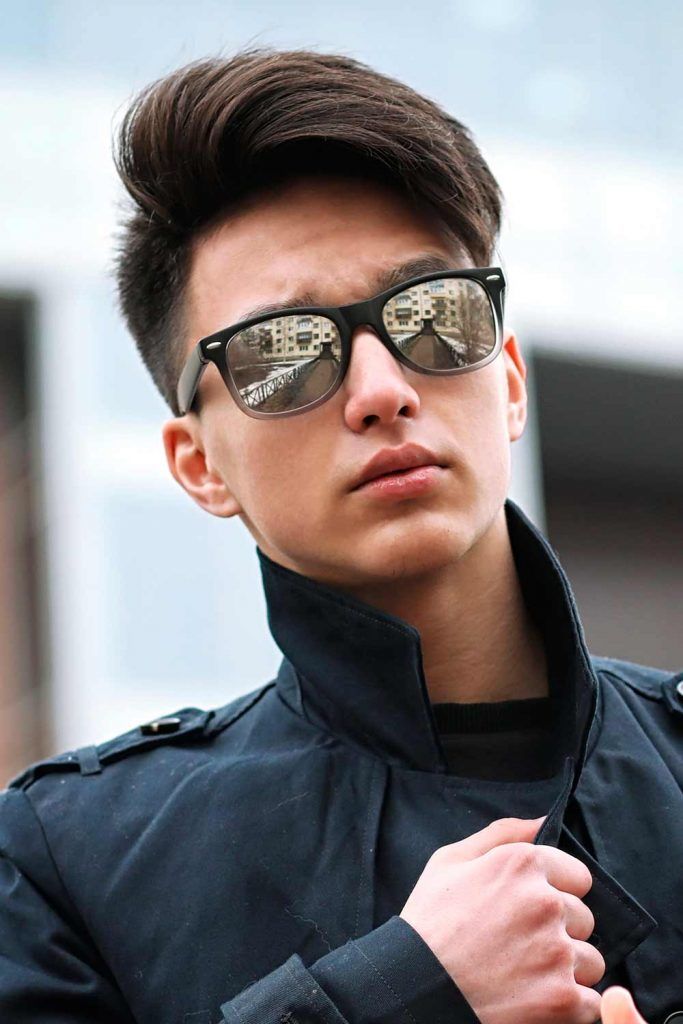 There's no man who doesn't know what comb over haircut is. Yet, from the Asian men haircut perspective, this cut offers some more oomph and volume: this swept, gelled top is a nice fresh take.
Faux Hawk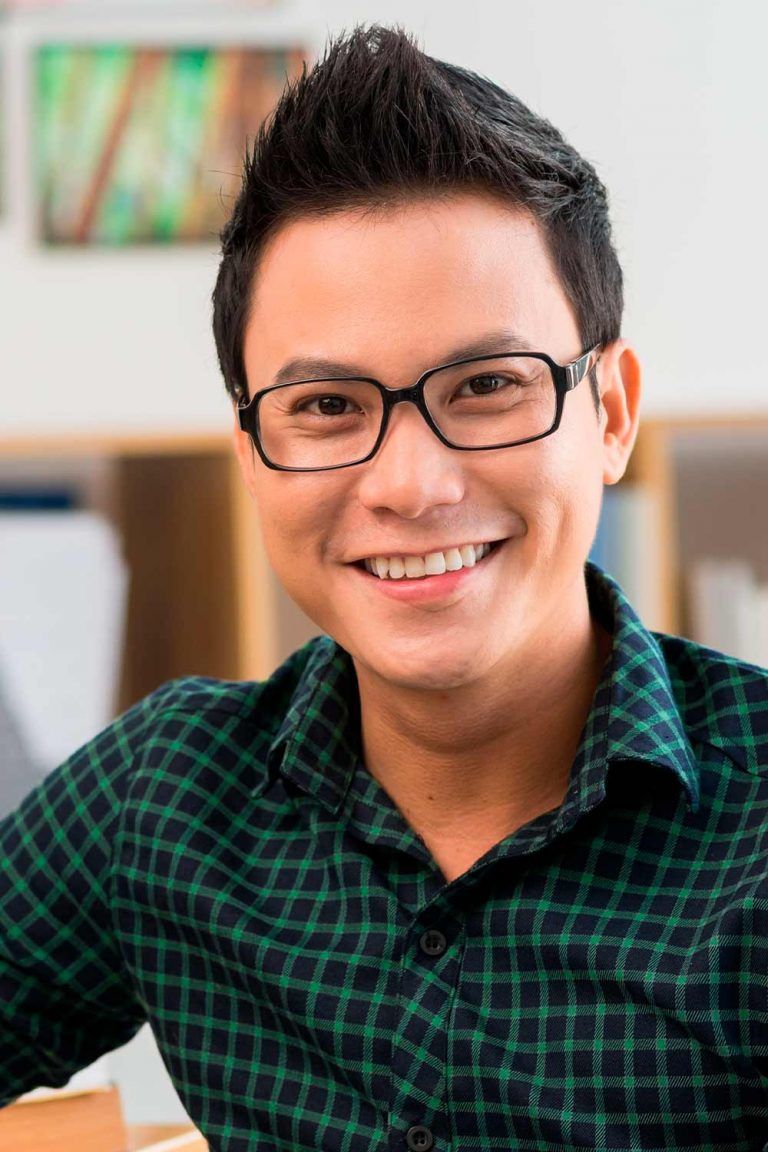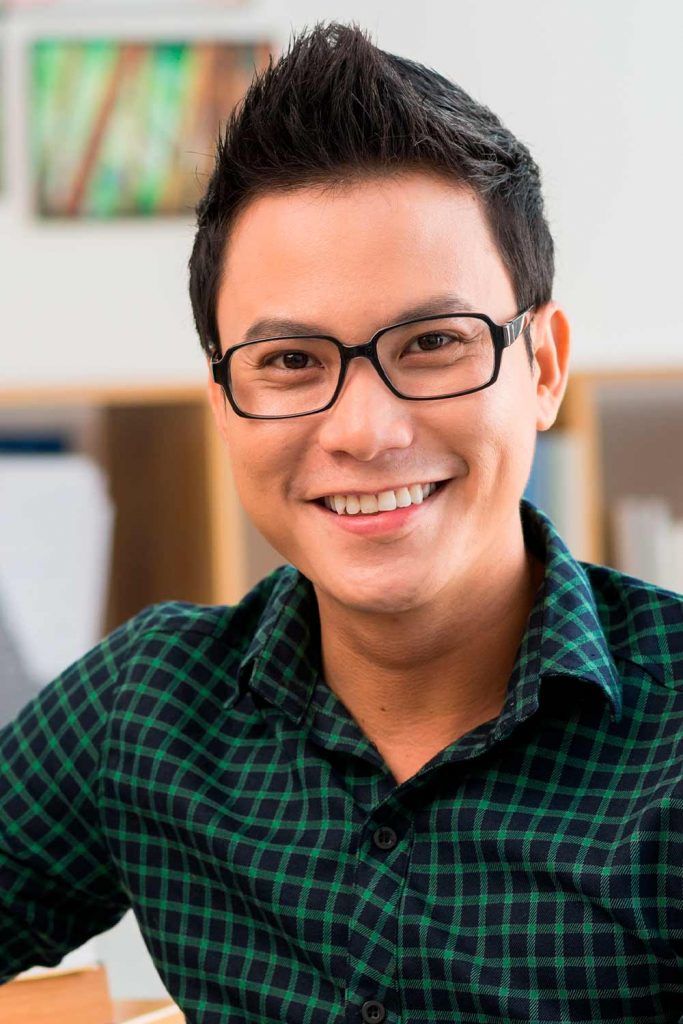 While the most common idea of the faux hawk hairstyle brings quite a brutal mood, Korean hairstyles reveal its sophisticated side. The immaculately styled top finished with a subtle Asian fade takes the style to the next level.
Disconnected Undercut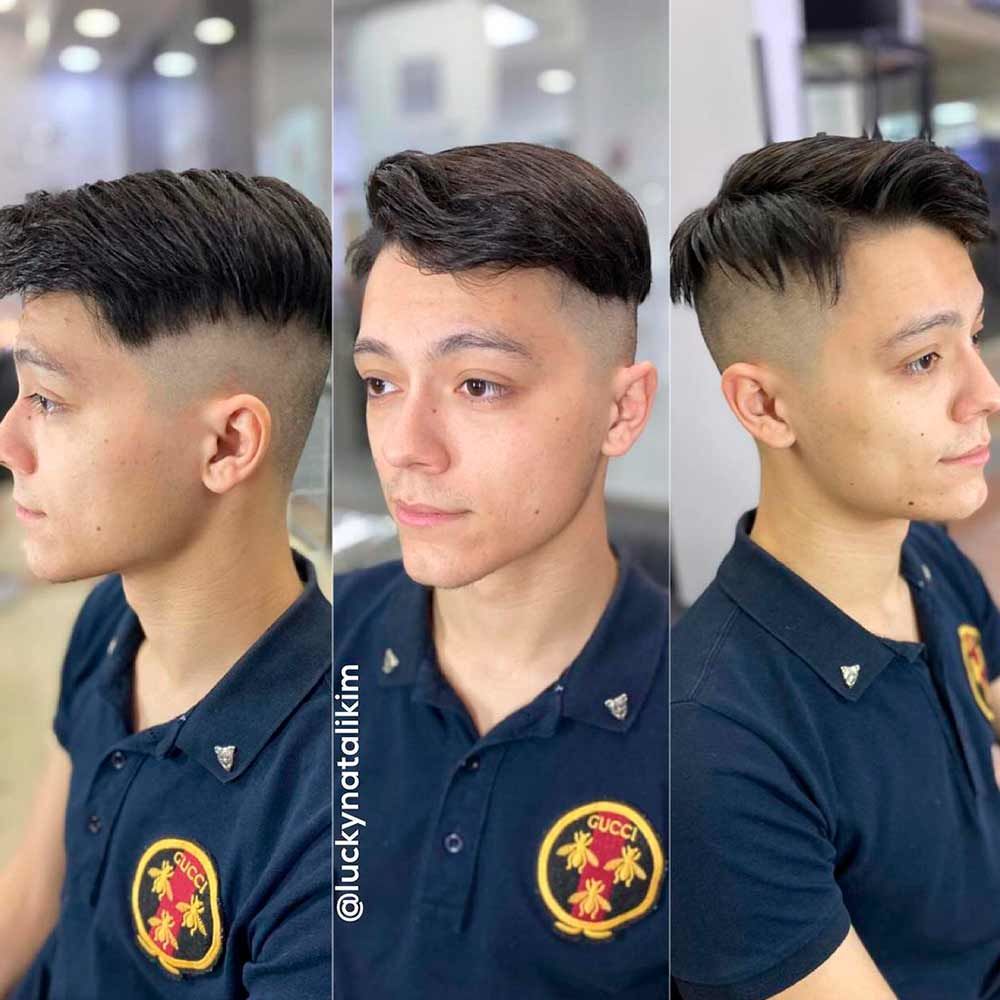 Credit photo: instagram.com/luckynatalikim
As you know, the undercut haircut can be anything you want it to be. And the wearer of this Asian undercut wants his style to be super precise. It's no surprise that the undercut Asian men customize feature rough contrasts: they give a masculine, dramatic look.
Asian Curly Hair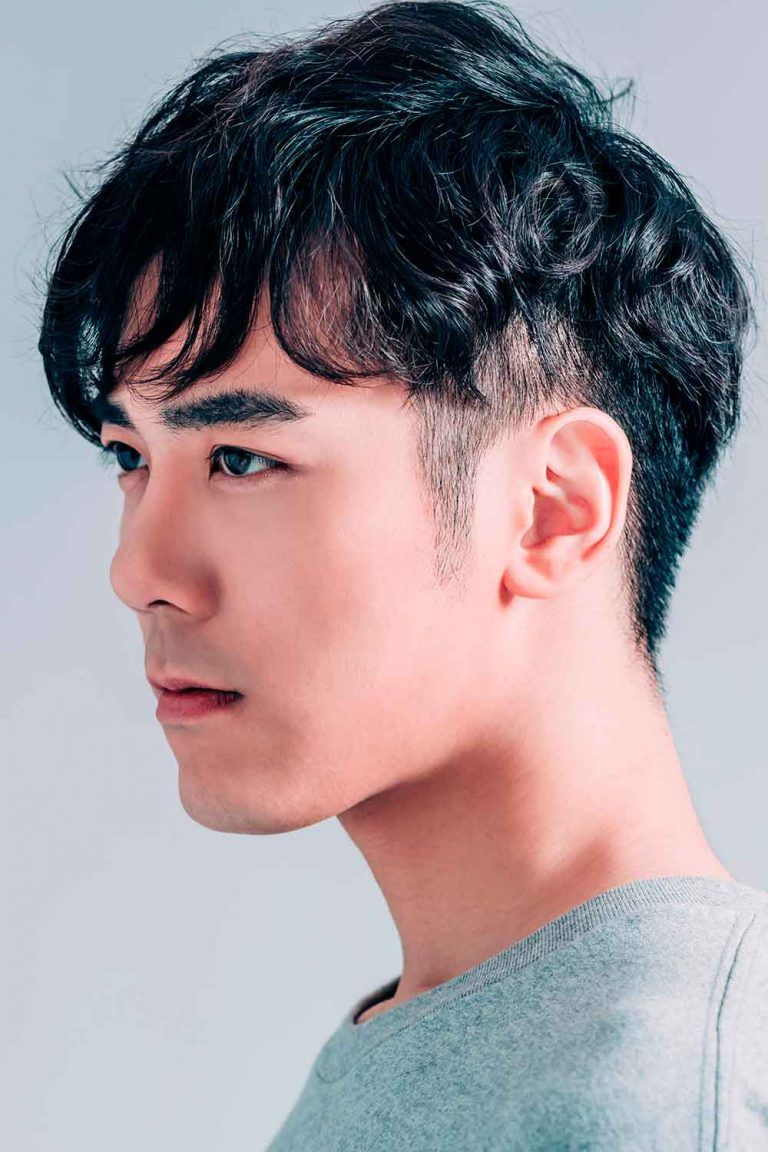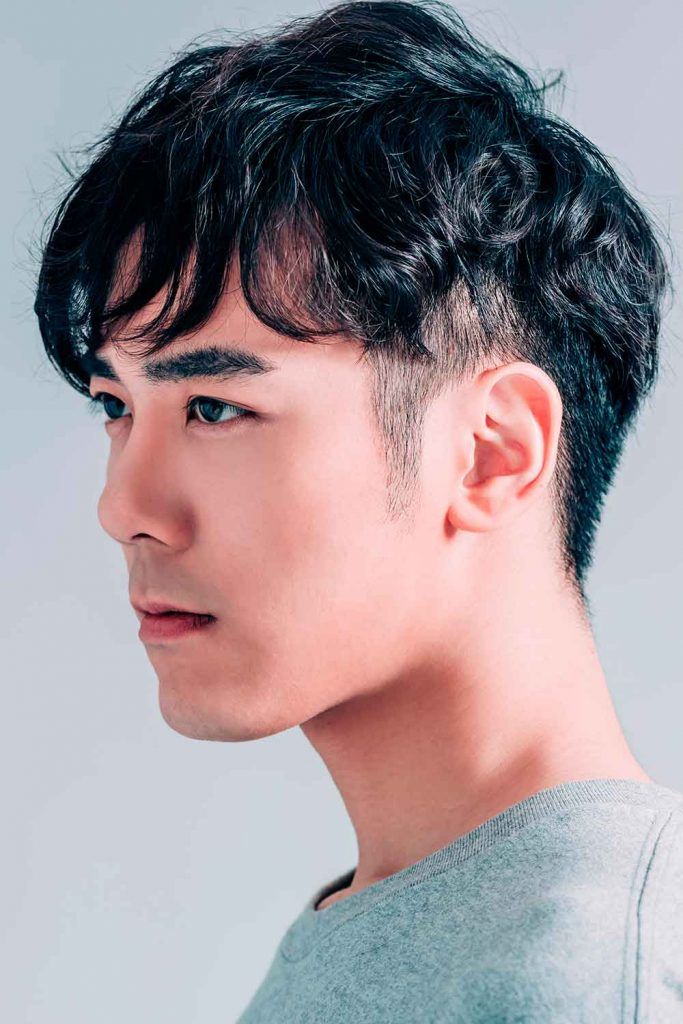 Of course, there's a stylish solution for curly hair men find to be extremely troublesome to style. Short-to-medium hairstyles for Asian hair 2021 like this are designed not only to show off the texture of a wearer but also to keep him comfy with his hair.
Classic Crew Cut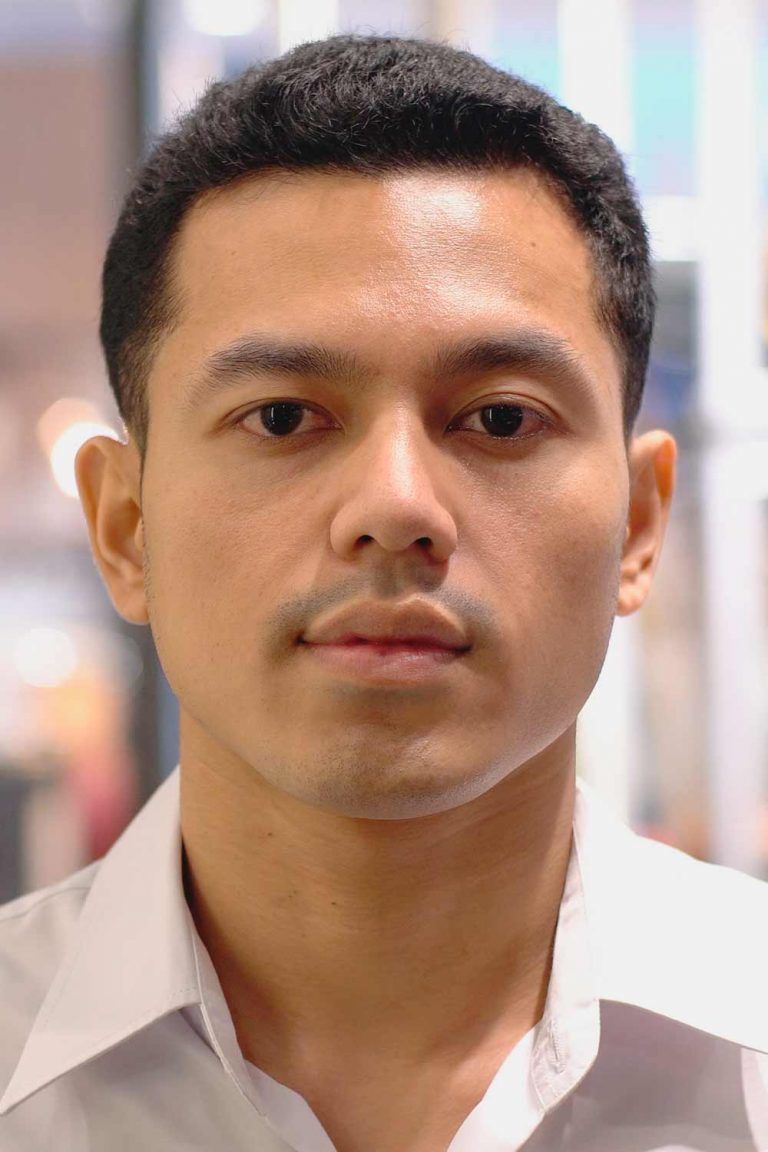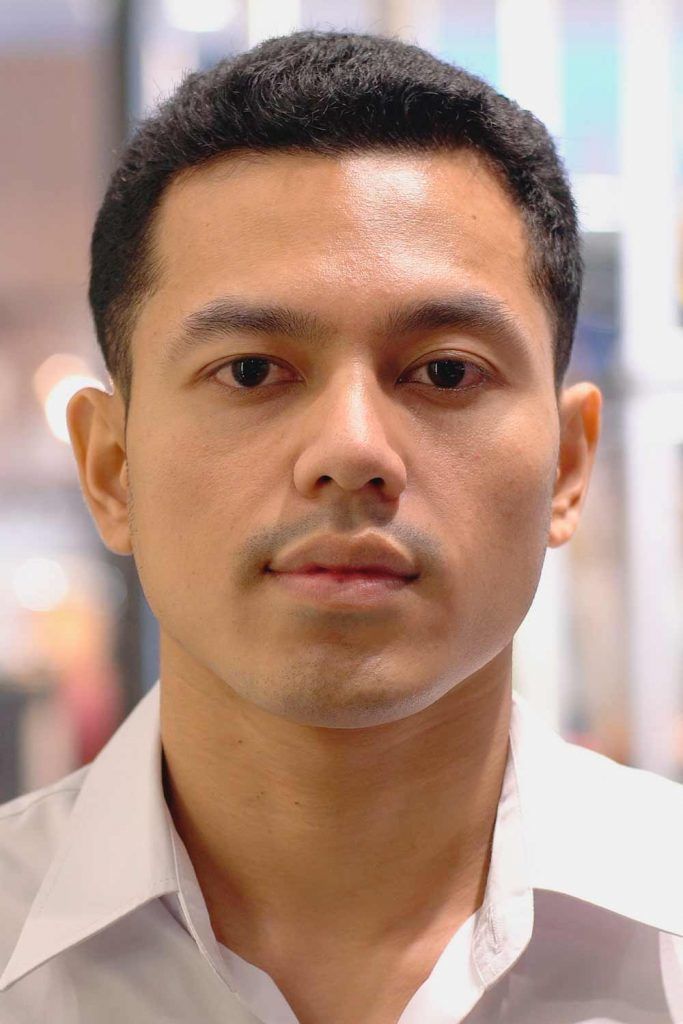 In terms of short Asian hairstyles men prefer, even the classic crew cut that follows its traditional cutting pattern can look like a brand new cut. And the highlight of the style is its textured, well-waxed top.
Pompadour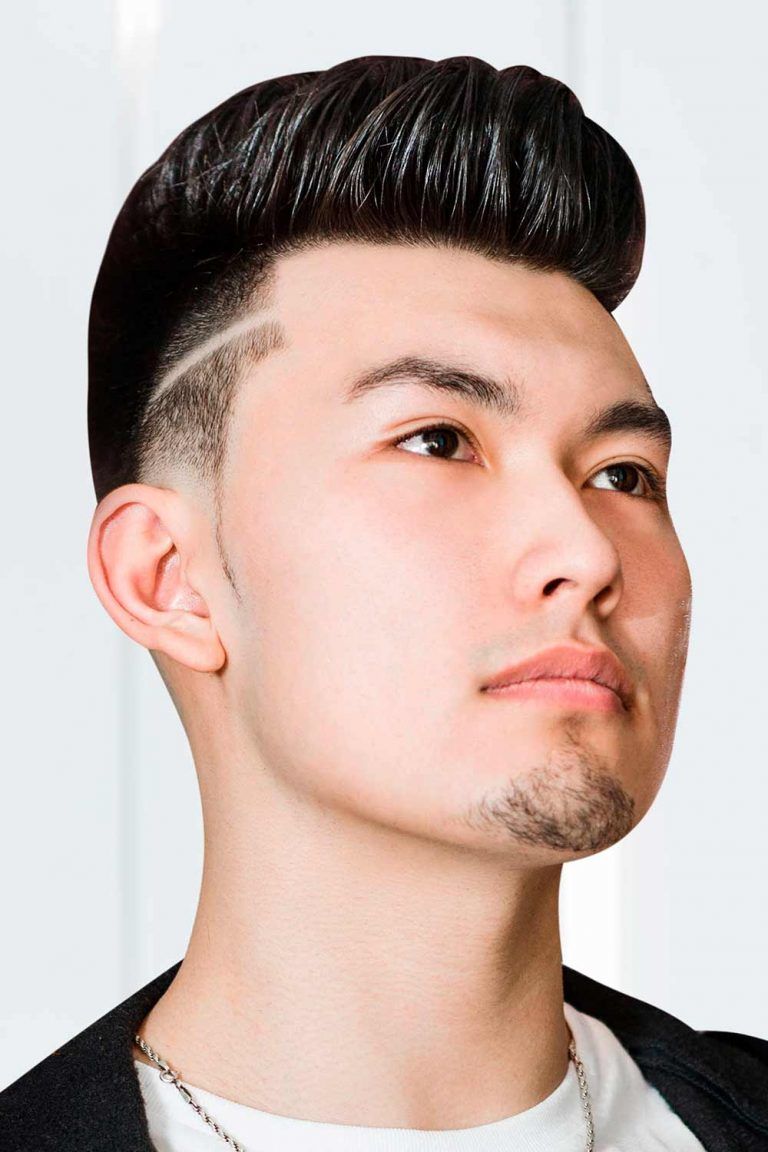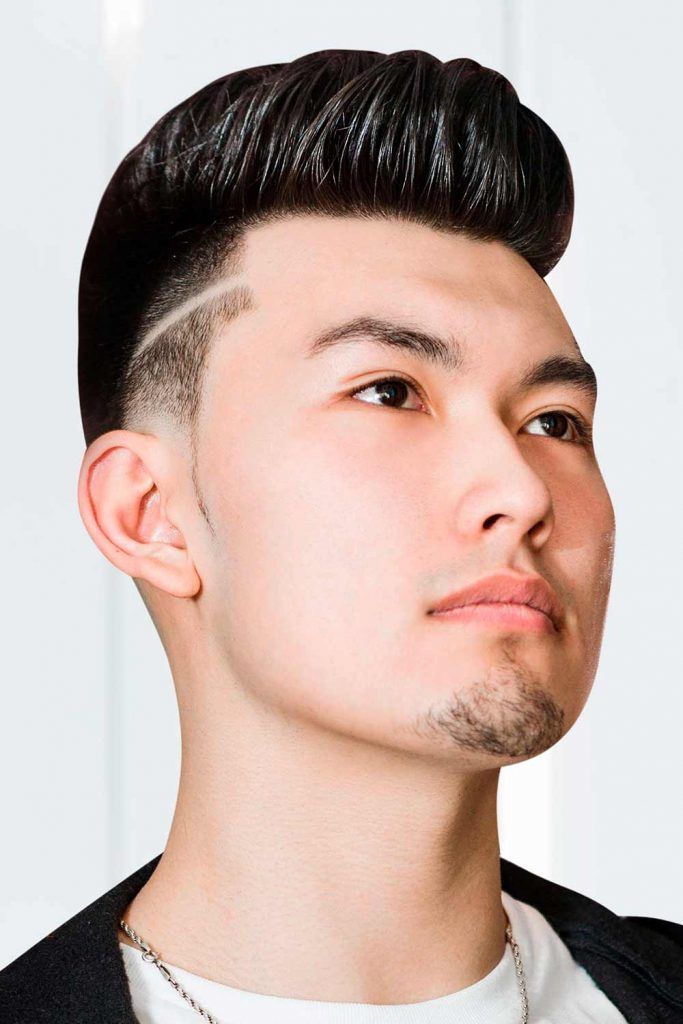 Here comes a popular Korean hairstyle men won't be able to resist! Since Asian hair is mostly thick, the style focuses on the voluminous top, keeping the sides cleanly trimmed for a more distinctive look. As a matter of fact, that's one of the few Asian hairstyles men with any hair type can try: just add the right product.
Short Sides, Long Top Asian Hairstyles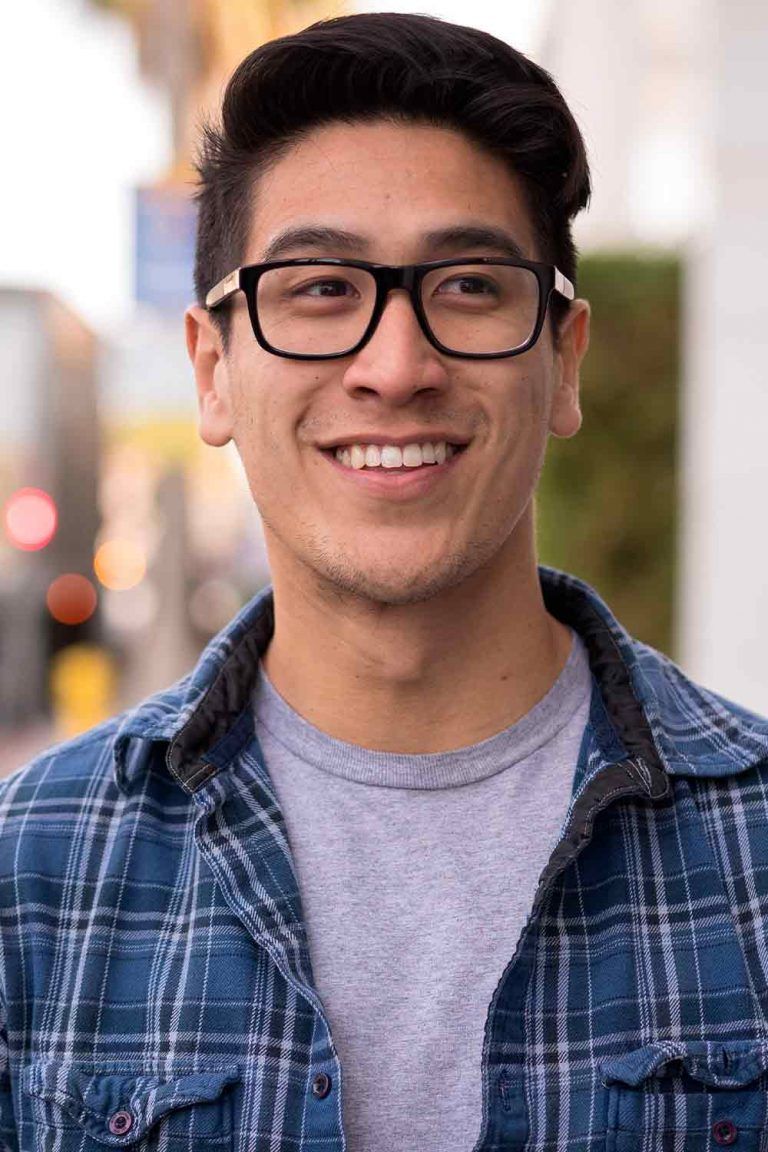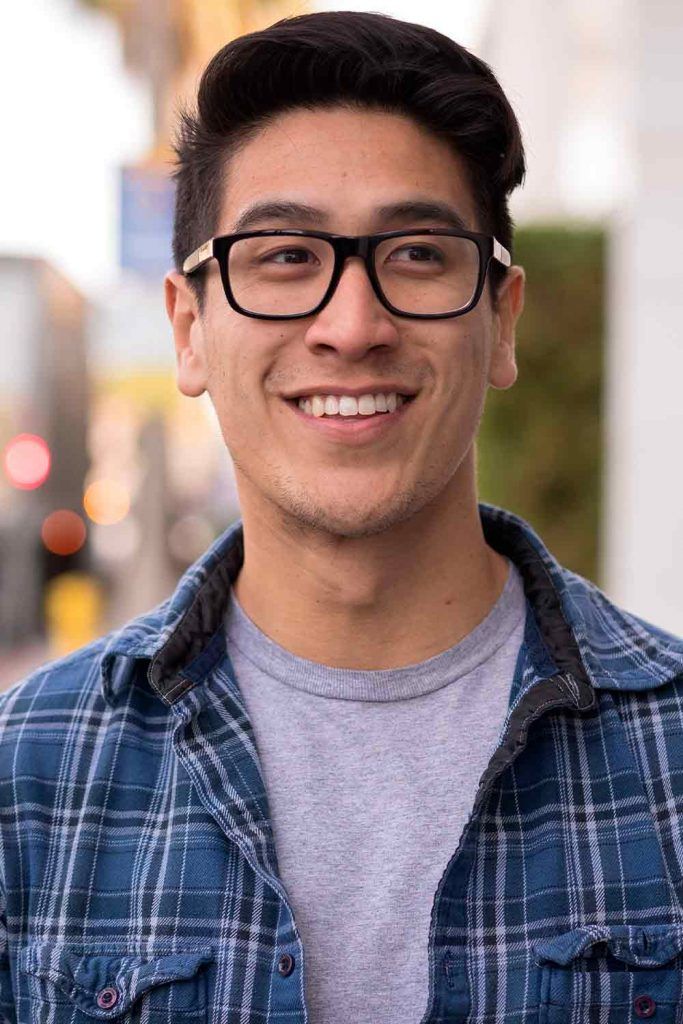 If you're looking for relaxed, carefree Asian hairstyles in 2021, this grown-out undercut version is a perfect idea. Don't maintain the sides and let the top grow, apply some clay and sweep your hair to the side. Voila!
Layered Haircut With Side Bang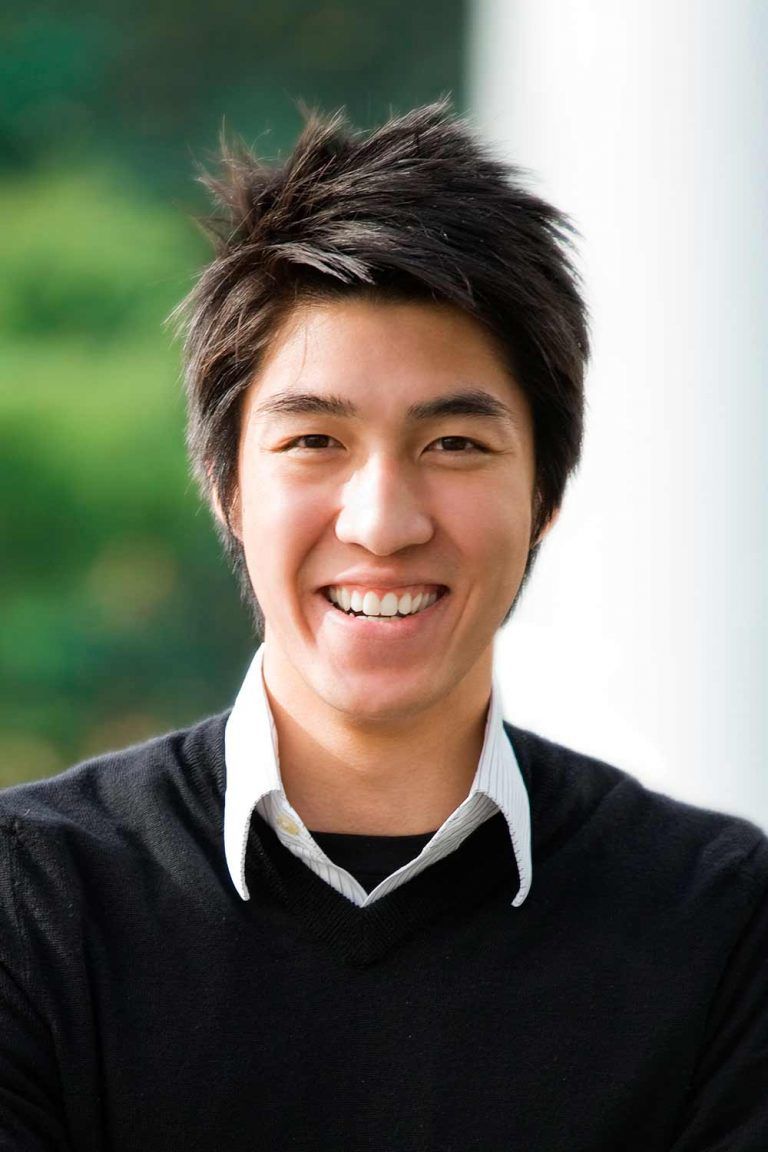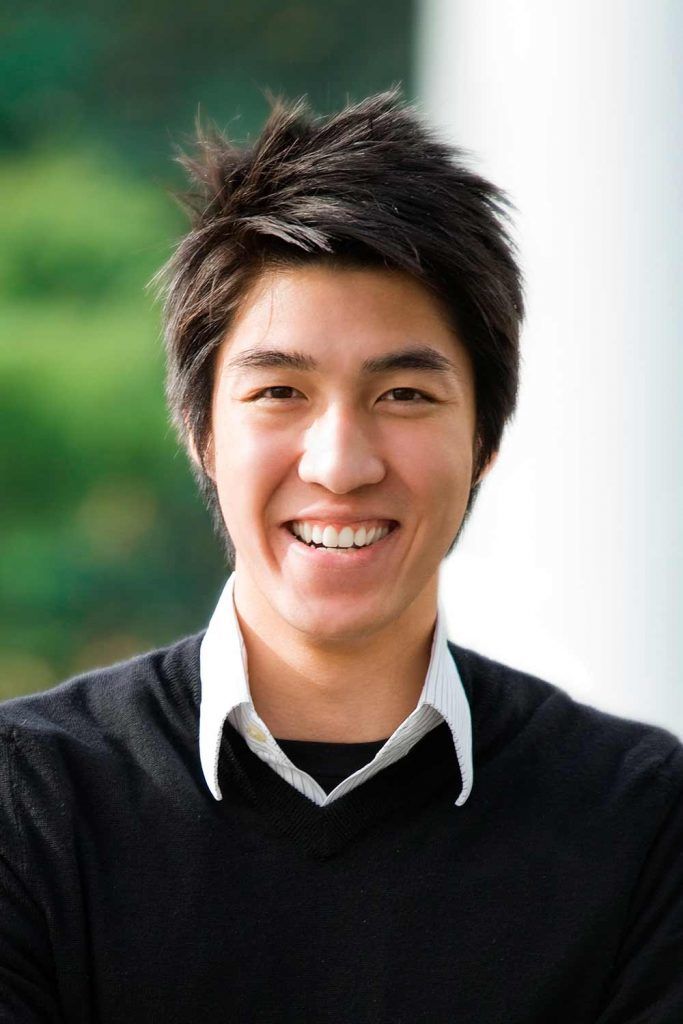 The layered fringe haircut men usually tend to stay away from is actually very popular among Asian guys. Some hairstylists even call them "Asian bangs hairstyles", as they have made a whole new trend out of fringe cuts. If you have thin hair, go for layers and bangs: they will add a lot of lift and movement.
French Crop With Straight Bang
Переглянути цей допис в Instagram
Men who want to rock a truly contemporary look should look no further than this Korean men hairstyle. Its minimalistic faded sides go awesomely with a bit spiky top. By the way, a light stubble will be a good finish for Asian hairstyles men choose today, especially for this idea.
Spiky Blonde Hair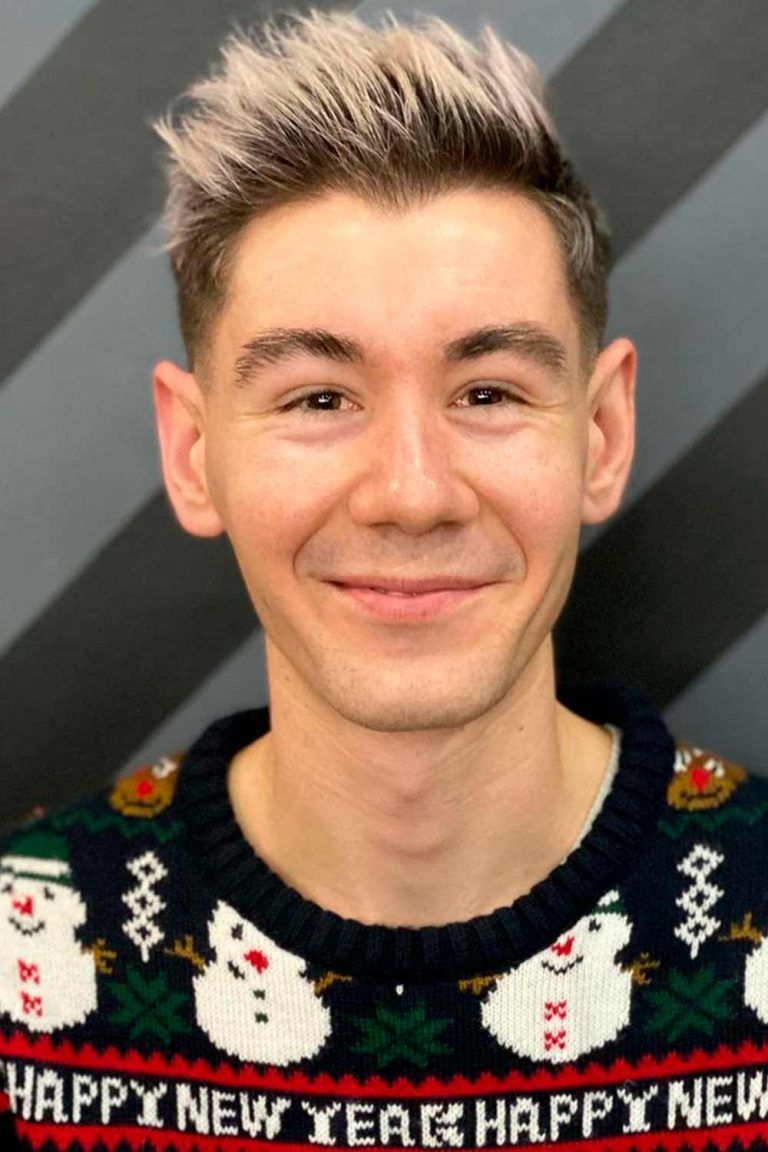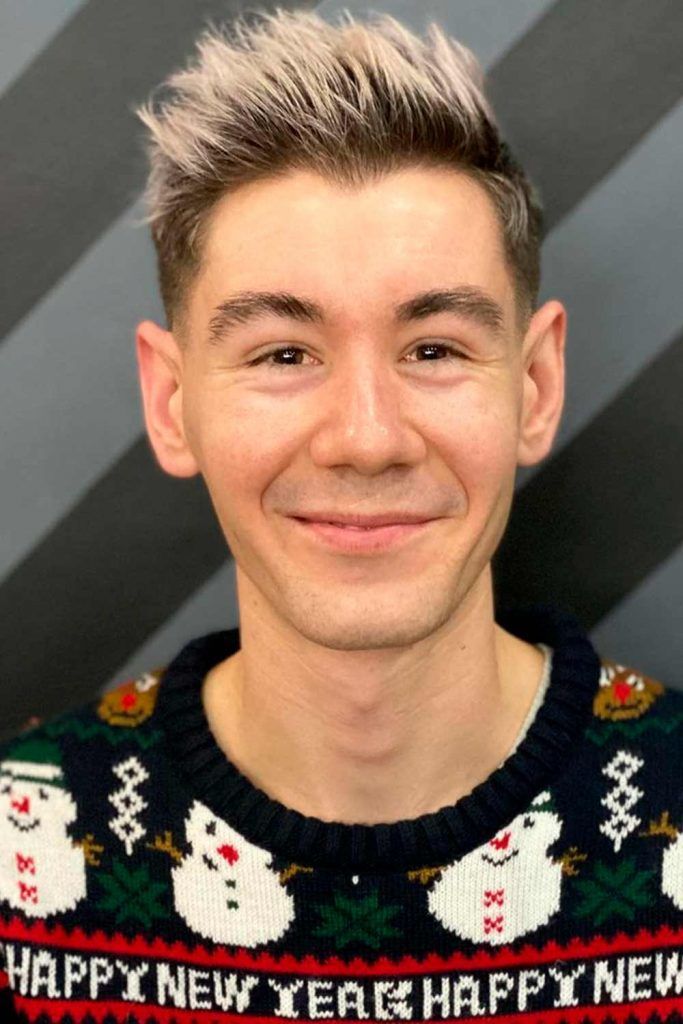 Credit photo: instagram.com/barberitta17
Short spiky hair men who appreciate football wear can actually be a part of your elegant look. A bit of lightweight pomade and slightly messy styling is enough to change the mood of the style. Plus, blonde hair men like to go for looks exceptional this time.
Medium Layered Asian Hairstyles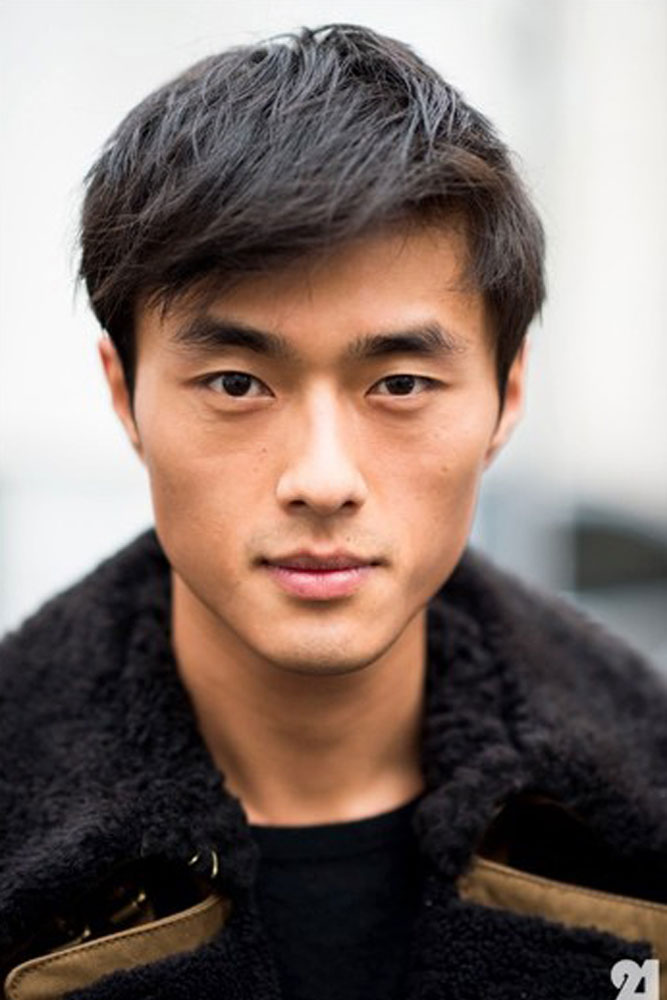 Credit photo: instagram.com/asianmalemodels
Simple hairstyles for Asian men like this are designed for comfortable everyday wear. To tame the thick texture, it's better to ask layers for help: they will give a well-groomed look even to a casual style.
Slicked Back Fade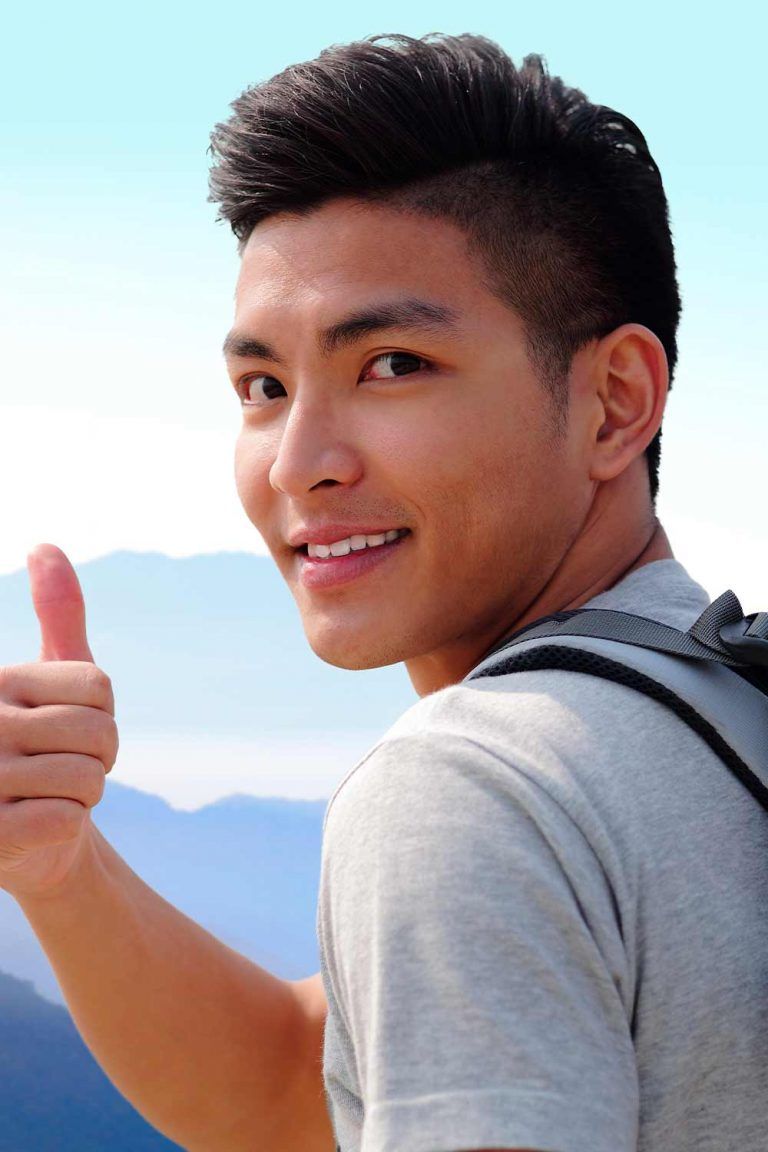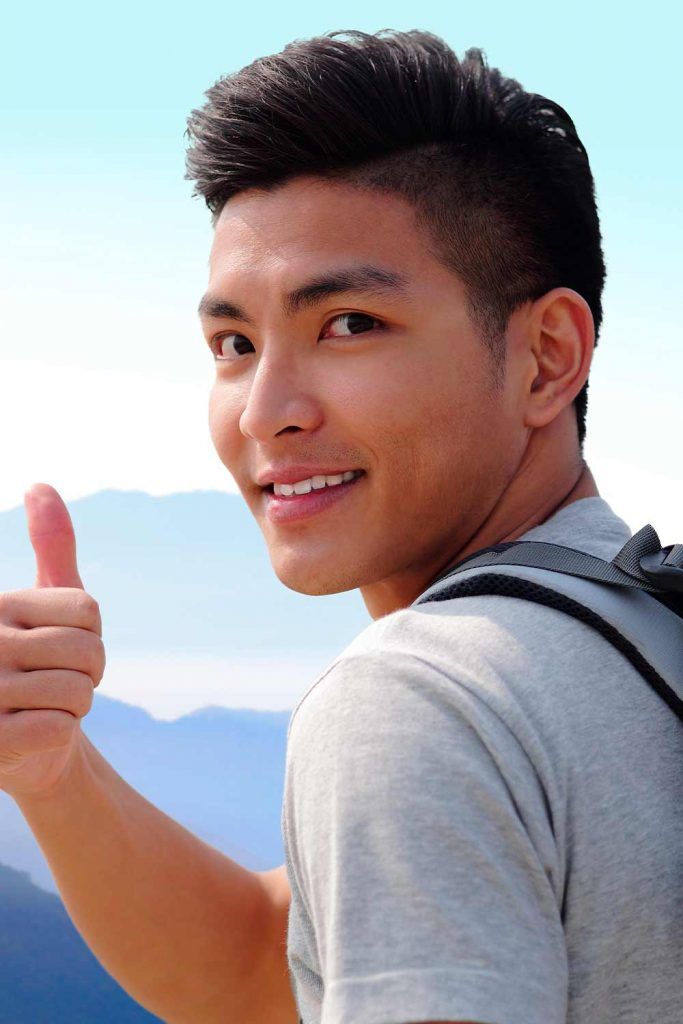 To look decent for some special day or big event, we strongly recommend stealing one of the formal Chinese hairstyles. For example, this Asian fade haircut embraces all the features a modern man needs: definition, refinement, and elegance.
Bright Messy Style
Переглянути цей допис в Instagram
How about a bright, uncommon idea of short hair Asian guys love to experiment with? Adding some chic color to your hair is enough to look different, especially if it's slightly tousled.
Asian Mullet
Переглянути цей допис в Instagram
The glam-inspired, and kind of outrageous Mullet haircut also stands among famous Korean male hairstyles. Want to be in the spotlight? Shave the sides and start growing out the hair on top and at the back of the head!
Braided Top Asian Hairstyles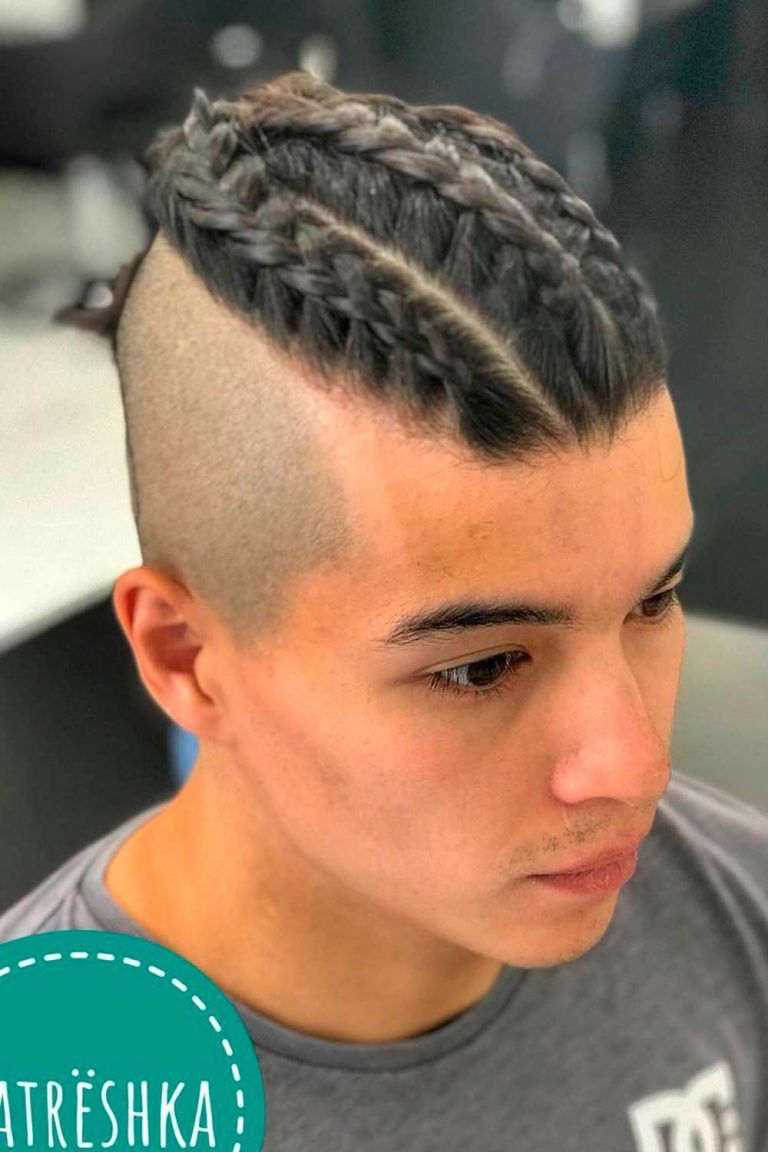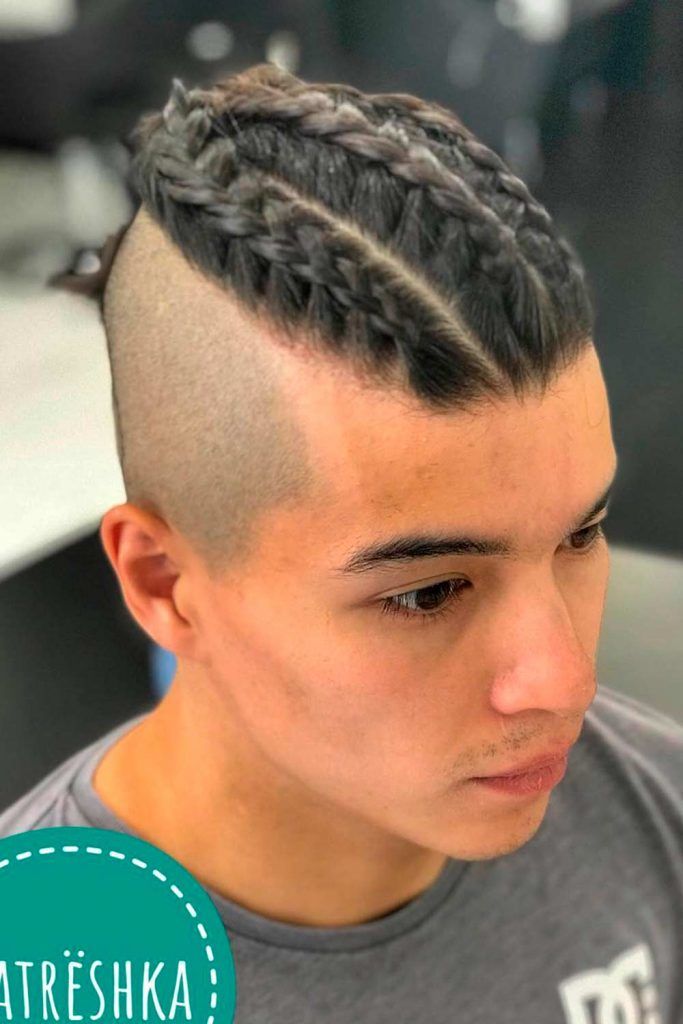 Credit photo: instagram.com/matreshka_almaty
Despite many misconceptions, the man braid hairstyles have become another trend of now recently. And the truth is, Asian braid hairstyles are full of surprises: this braided, edgy top is the proof.
Credit photo: instagram.com/kevinluchmun
Bowl Cut Asian Styles for Men
Переглянути цей допис в Instagram
Of course, the classic bowl cut has nothing to do with the Asian bowl cut! Though it's still a one-length cut, the light texture of the fringe and nicely shaped sideburns show the style in the new light. Just like all Asian hairstyles men show up with in the 21st century!
Asian Men Hairstyles + Spikes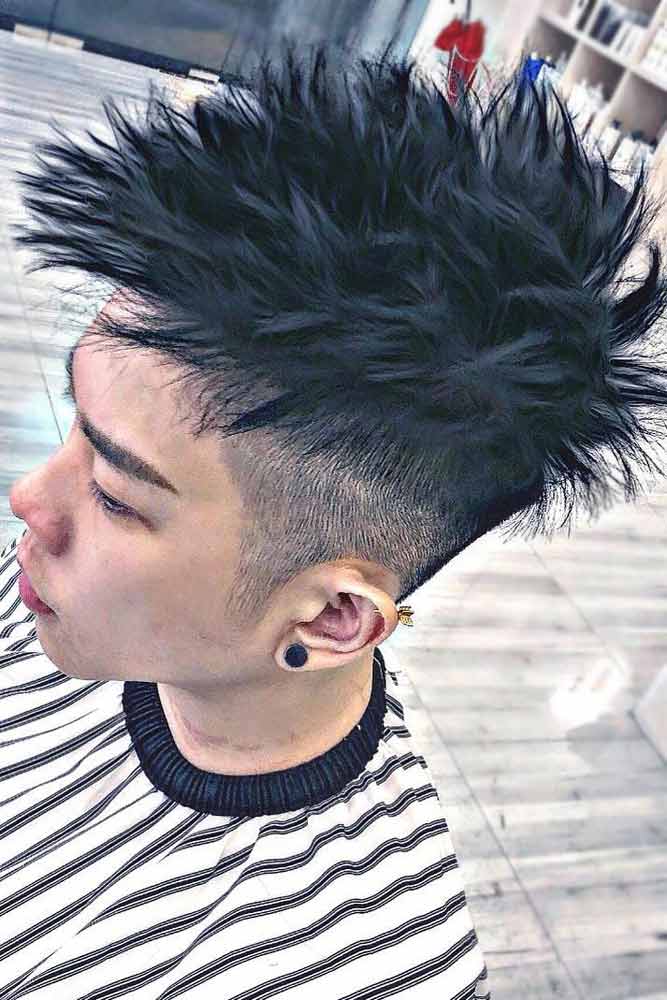 Credit photo: instagram.com/beastiehair
This Korean haircut seems to be created for a bad-boy character of everyone's favorite k-drama. The spectacular, voluminous spikes and buzzed sides make this idea the most desired Asian haircut for those who like to stand out.
Side-Parted Haircut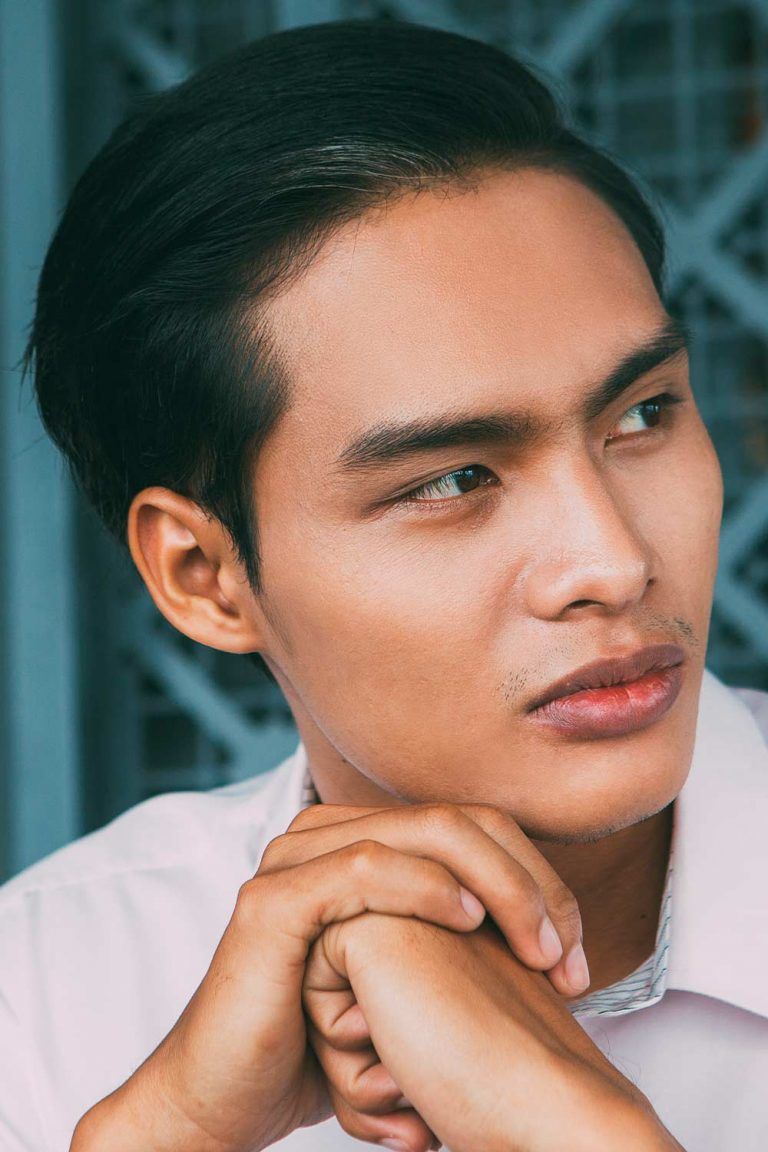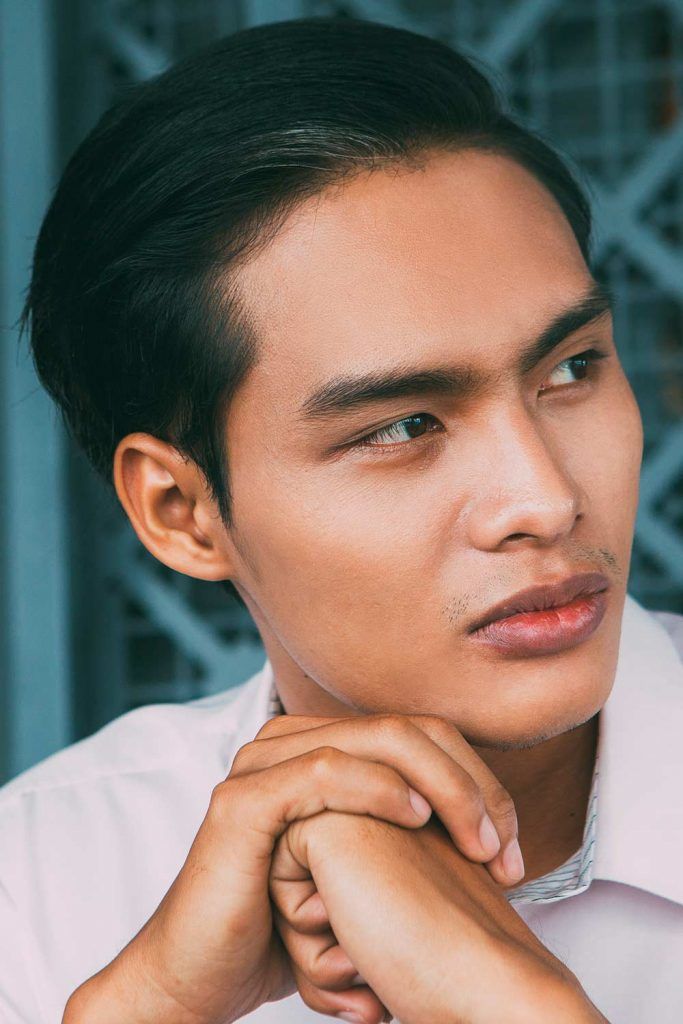 If you're wondering what Korean hairstyle a good k-drama guy would wear, this style is the answer. The neatly brushed top of this side-parted 'do gets the most out of Asian short hair, giving an immaculate, shiny look to it.
Messy Texture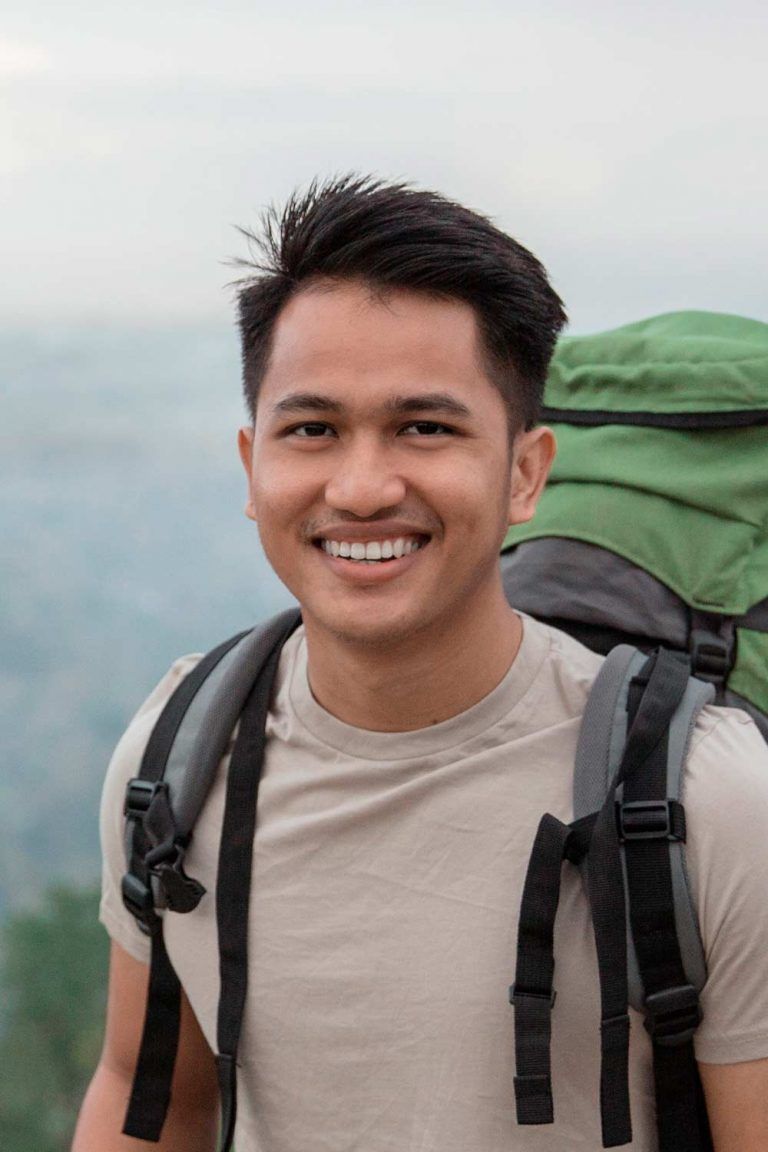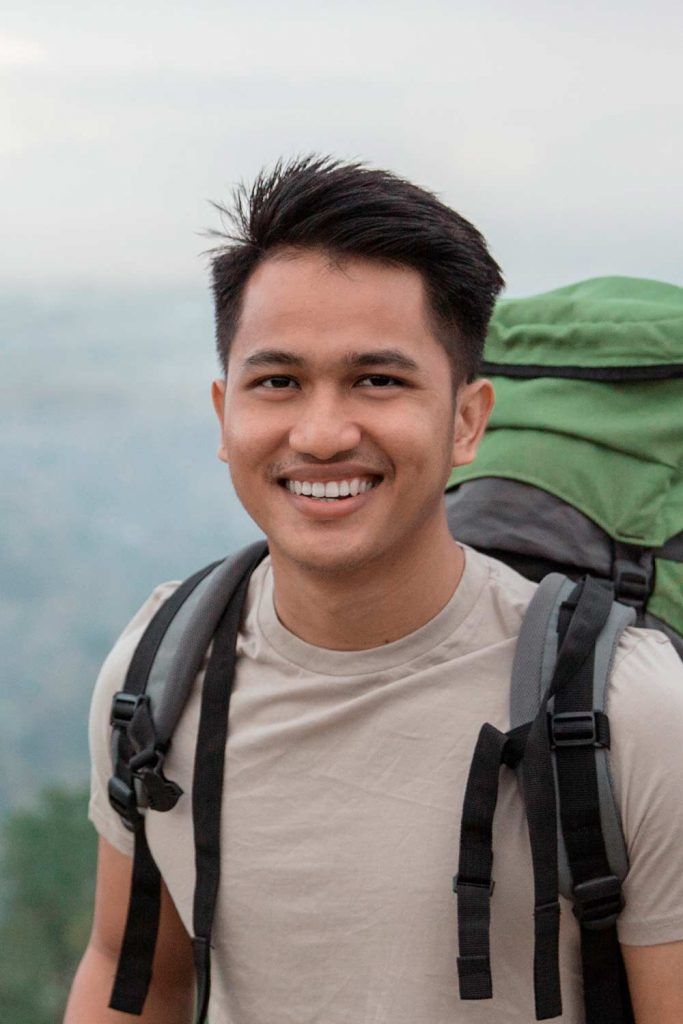 For guys with Asian hair, every new experiment requires a thorough approach due to the unruly thickness of the mane. Yet, it's still not an obstacle to the overwhelming messy look. Many stylists who deal with Asian textures recommend to go for layers throughout the length and then style them with a strong-hold salt spray. It's always better to get a new haircut than to coat yourself with tons of hair products, right? All in all, Asian hairstyles men of today rock require little product.
Skin Fade + Short Spikes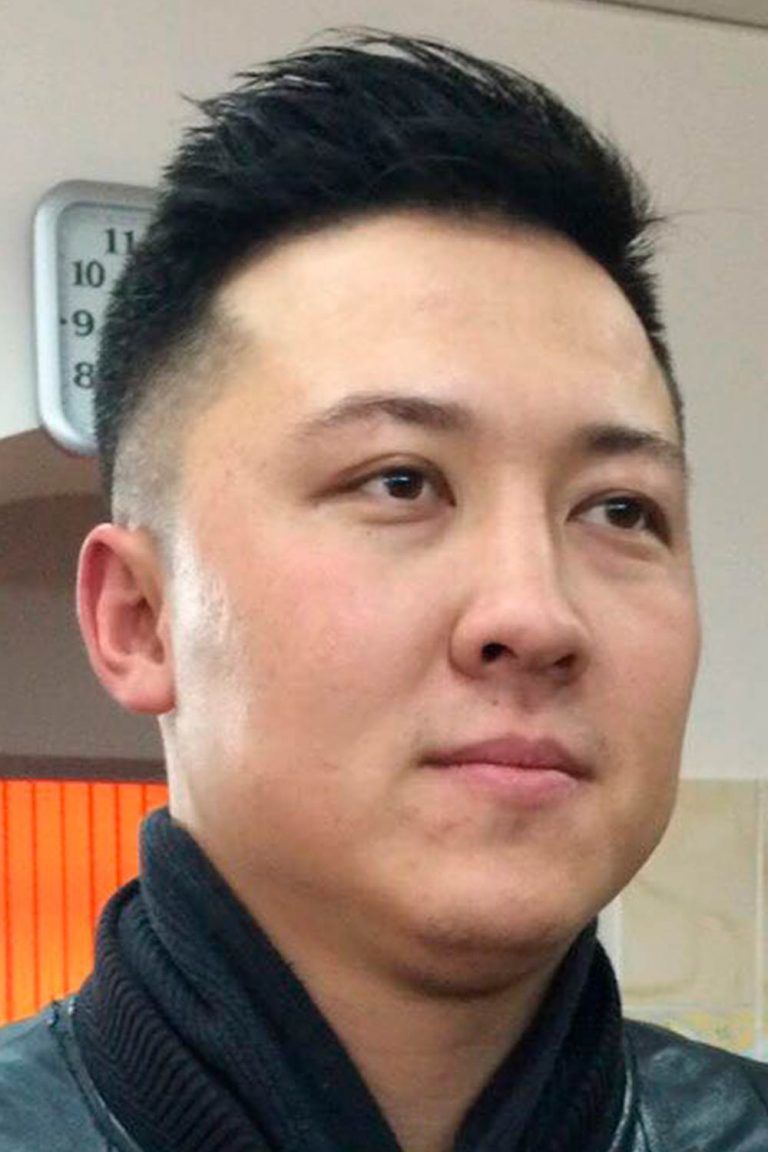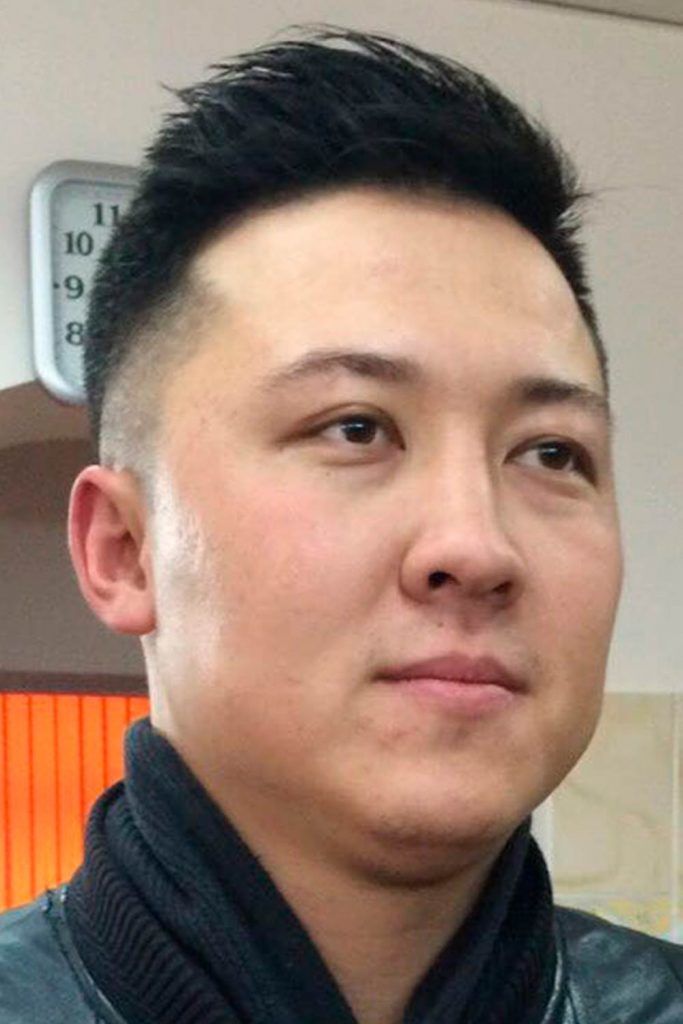 Credit photo: instagram.com/luckynatalikim
Since the natural behavior of your hair is full of spiky surprises, why don't you make them work for your look? Cutting to a short length will tame your spiky mane, giving it a sharp yet balanced appearance. As for the sides, you won't go wrong if you finish them with a dramatic skin fade.
Spiky Quiff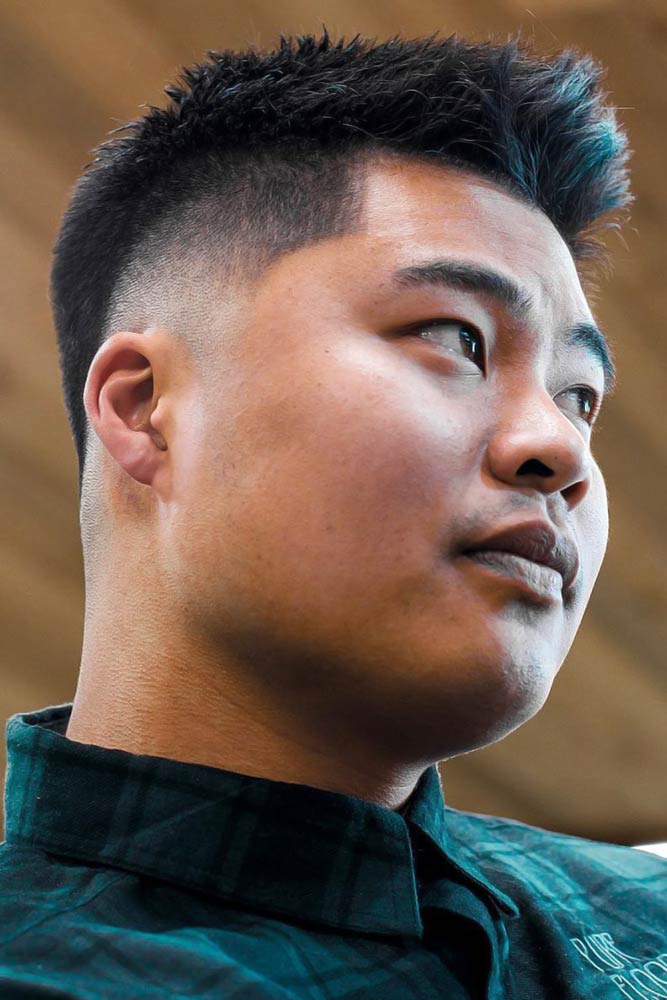 Credit photo: instagram.com/electricbarbering
Another way to show those spikes who's boss. Furthermore, this hairstyle is nothing but a new take at the good old quiff. To achieve the classic transition from sides to the top, make sure to get your sides tapered. Then, just let the top do its own thing, as the fade or taper is the detail that makes your look so quiff. Of course, some smoothing pomade will only make things better.
High And Tight
Переглянути цей допис в Instagram
It's hard to recognize the popular military haircut in this absolutely modern Asian version. Well, that's probably the reason why these guys run the men's fashion. Although the sides are cut tight to create an elongated silhouette to the top, the look still appears wild and carefree. Yep, this texture plays by its own rules.
Heavy Fringe
Переглянути цей допис в Instagram
Half-Caesar, half-Mohawk, and total Asian. This haircut seems to be a privilege of those whose thick demanding hair can resist all humidity levels and styling products applied. As you can see from the pic, the hair on top sticks out so firmly that even a hurricane won't dare to bother it. And that's what makes the cut so distinctive! The sharp stripe of hair running toward the forehead and turning to the textured fringe - that's the Asian hairstyle men with bold nature would try.
Short Pompadour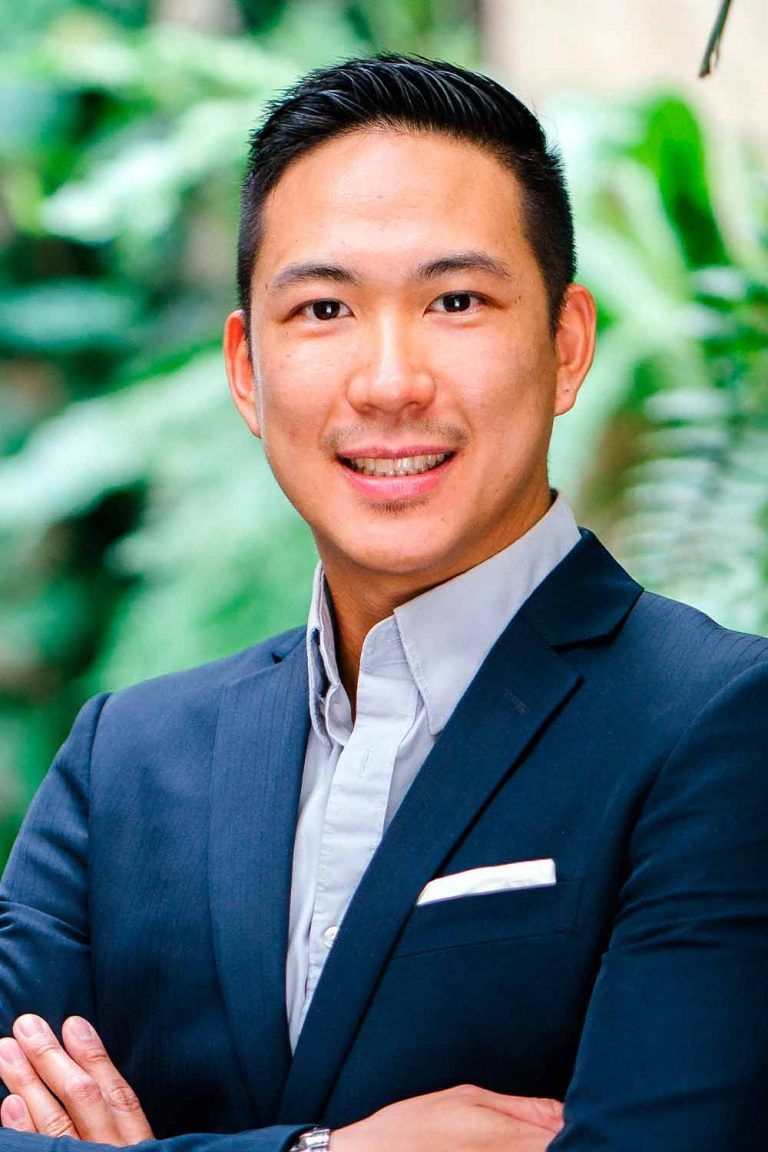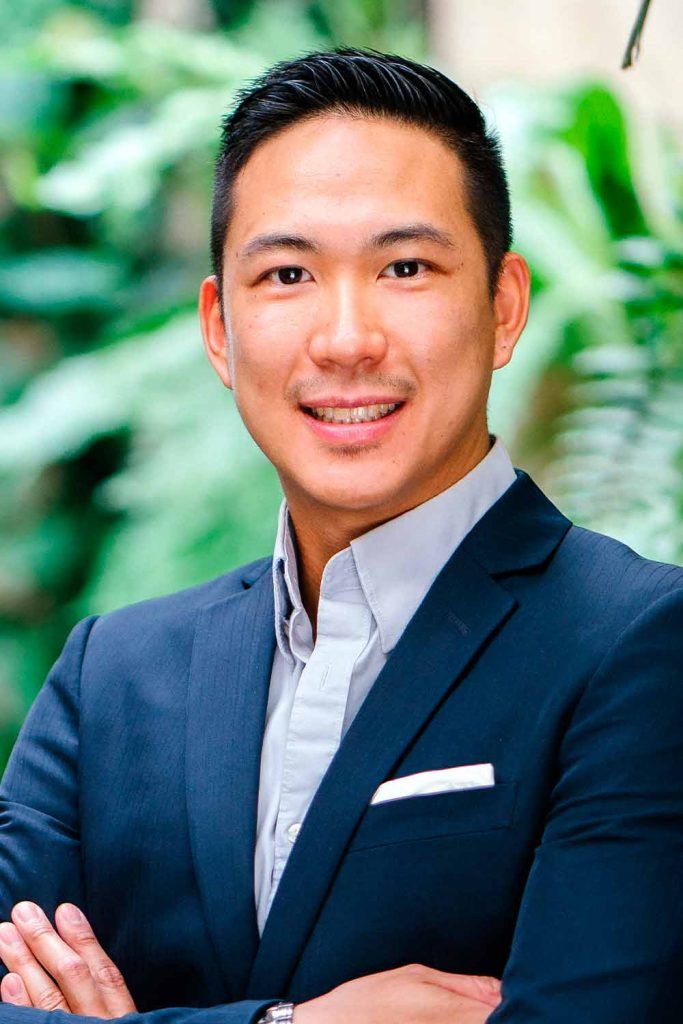 If you think that creating a pompadour on your hair is hopeless, think again! Obviously, it won't be as easy as it is for regular hair. Nevertheless, it's possible and, most importantly, it's even more classy on Asian hair. Tight sides that gradually blend with the top that gets shorter to the back and a blow dryer are keys to getting the ageless hairstyle.
Side Part Quiff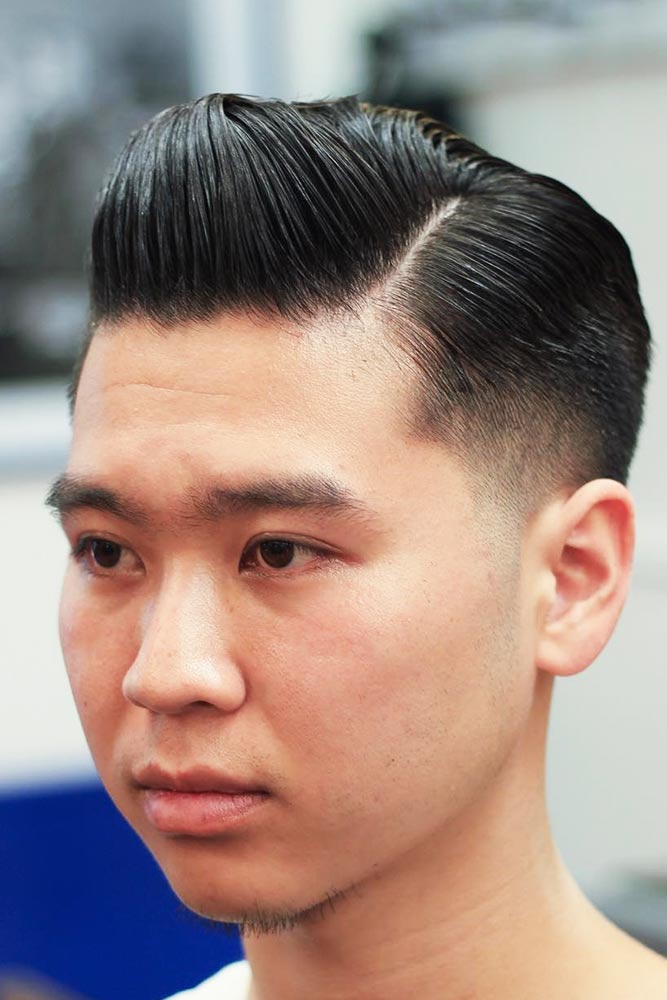 Credit photo: instagram.com/danxindestructible
Asian hairstyles men wear today, including this side-parted quiff, are worth the time and patience they take. Indeed, the sleek, well-sculpted, and absolutely immaculate parted quiff is all about firm clays, razored parts, and regular upkeep on the sides. Despite the commitment, nothing can beat this smart, sophisticated look.
Side Swept Disconnected Undercut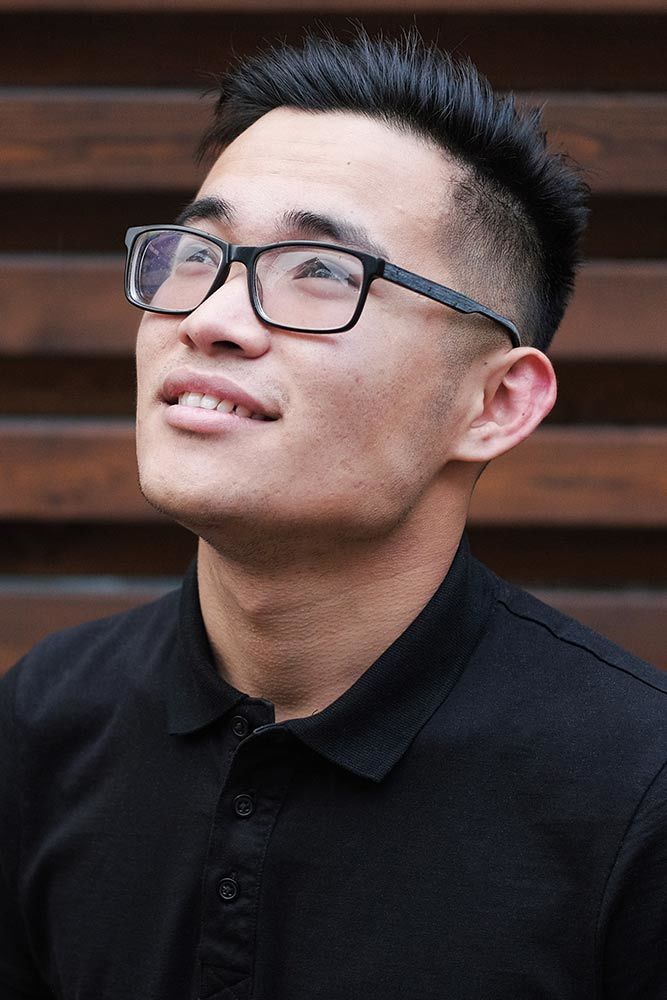 Keeping the sides tight and the top side-parted is a wise choice for those blessed with Asian hair. Since the texture is pretty thick and unmanageable in most cases, a disconnected undercut is what will keep it balanced. At the same time, the cut will keep a wearer stylish, as a side-parted lightweight undercut with nicely shaped sides are the classic you can't go wrong with.
Two Block Haircut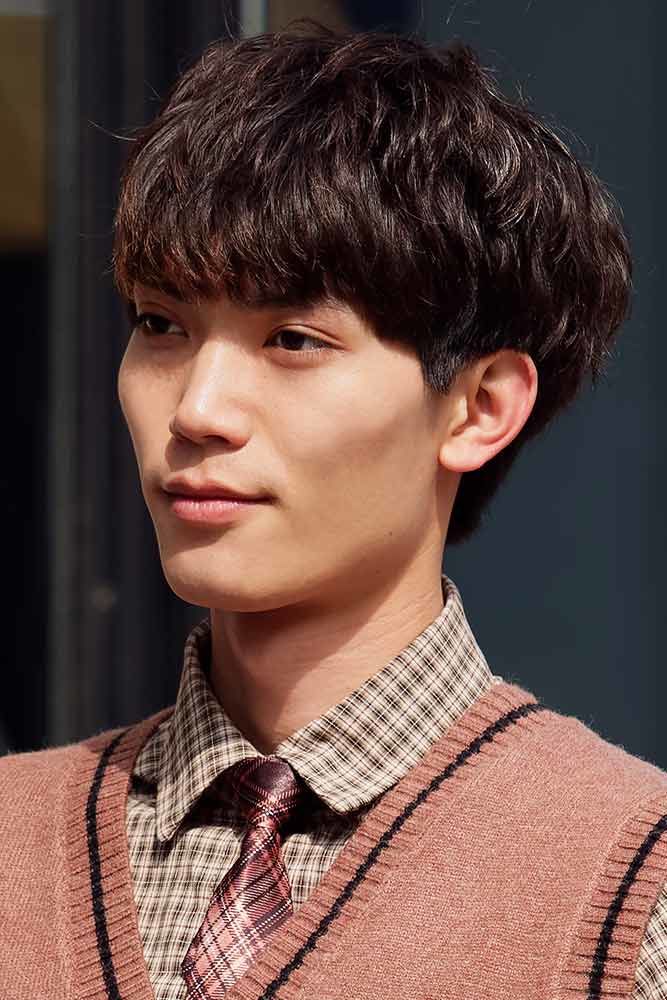 In case you're looking for something that can take over the good old undercut, we've prepared a classy variation of two-block haircut. The fun fact is, this cut is rather a simplified derivative of an undercut. However, it's outshined the latter in popularity. Unlike undercuts, two blocks feature a clean contrast of the lengths, which allows keeping the thick texture under control while rocking any length.
Medium Length Curls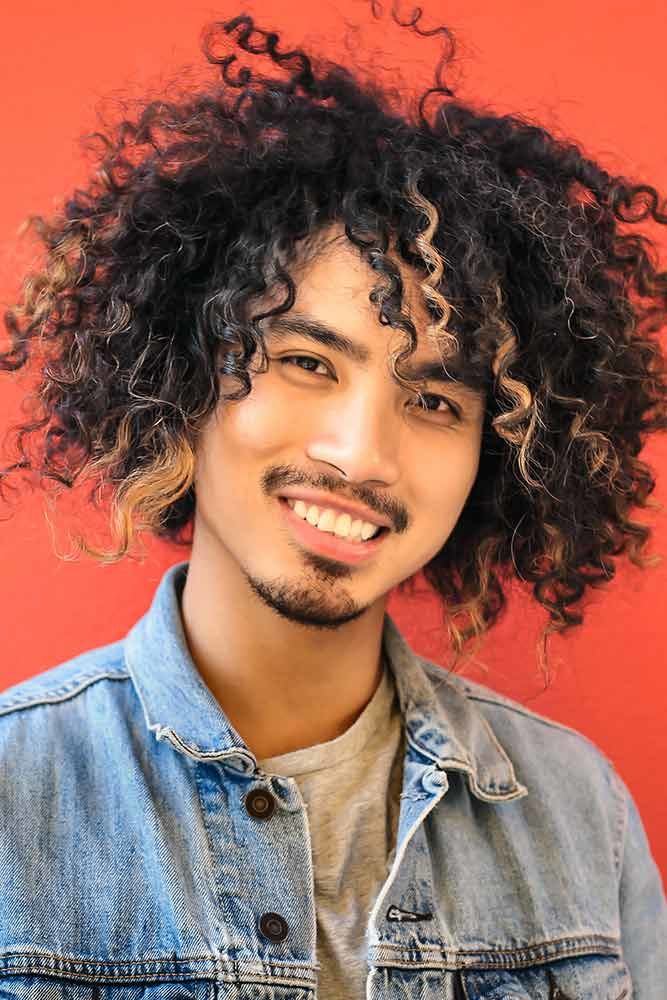 Whether you're blessed with naturally curly hair or you've got a fastly growing mane you'd like to curl, remember to keep up with the balance. Of course, there's nothing more harmonic and balanced than medium-length Asian hairstyles for men, especially curly ones. By the way, a hint of color will be a good idea for a signature look.
Undercut With Low Pony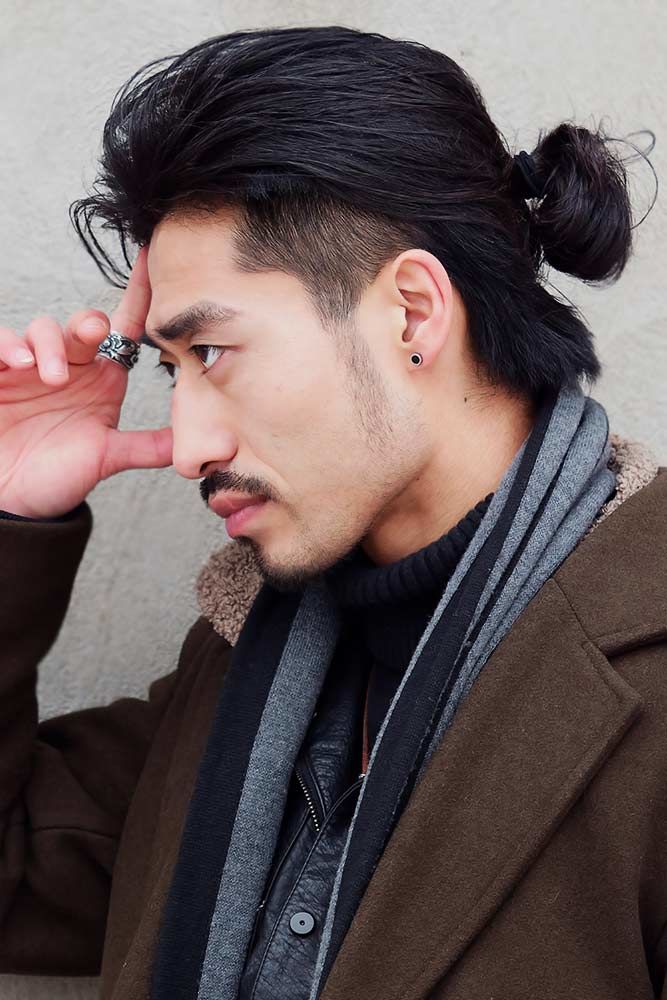 Getting back to the ageless combination for Asian hairstyles men wear like one, we'd like to show you a hip version of an undercut pony. Coupled with a decent mustache and mere stubble, this hairstyle looks especially masculine and modern. Make sure that the pony is well-secure and loose, and don't forget to keep your sideburns trimmed regularly.
Faded Shaggy Style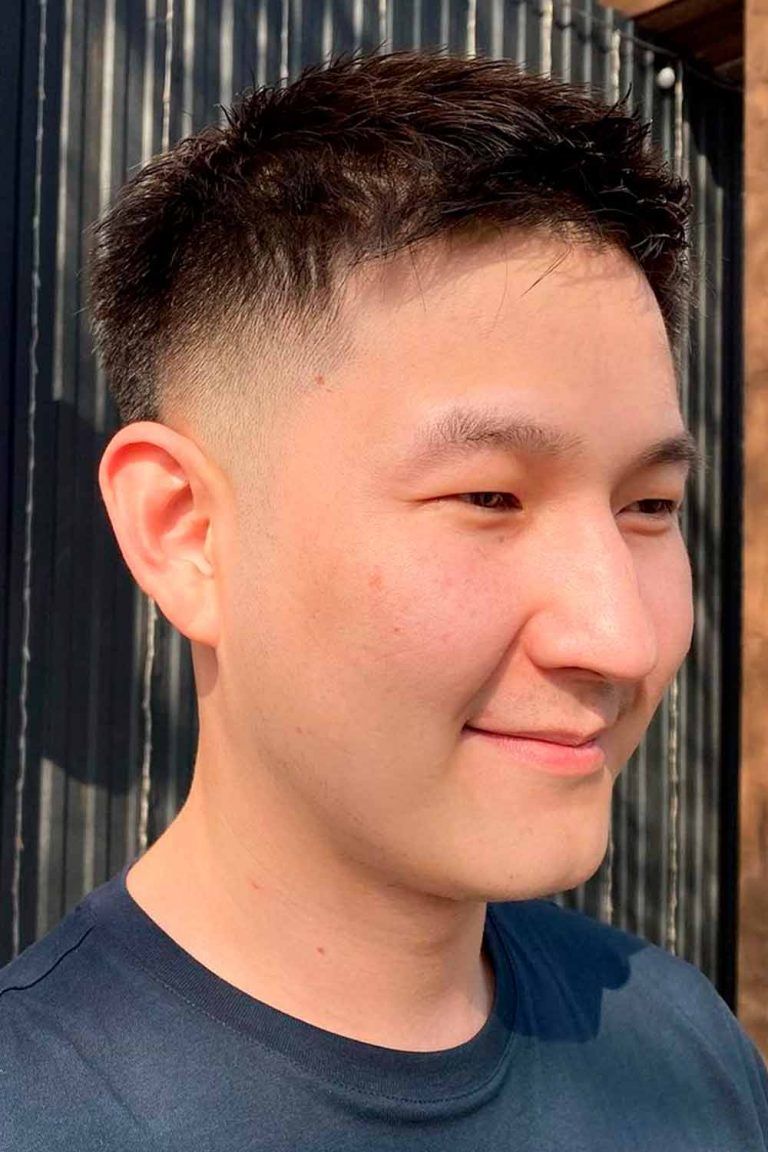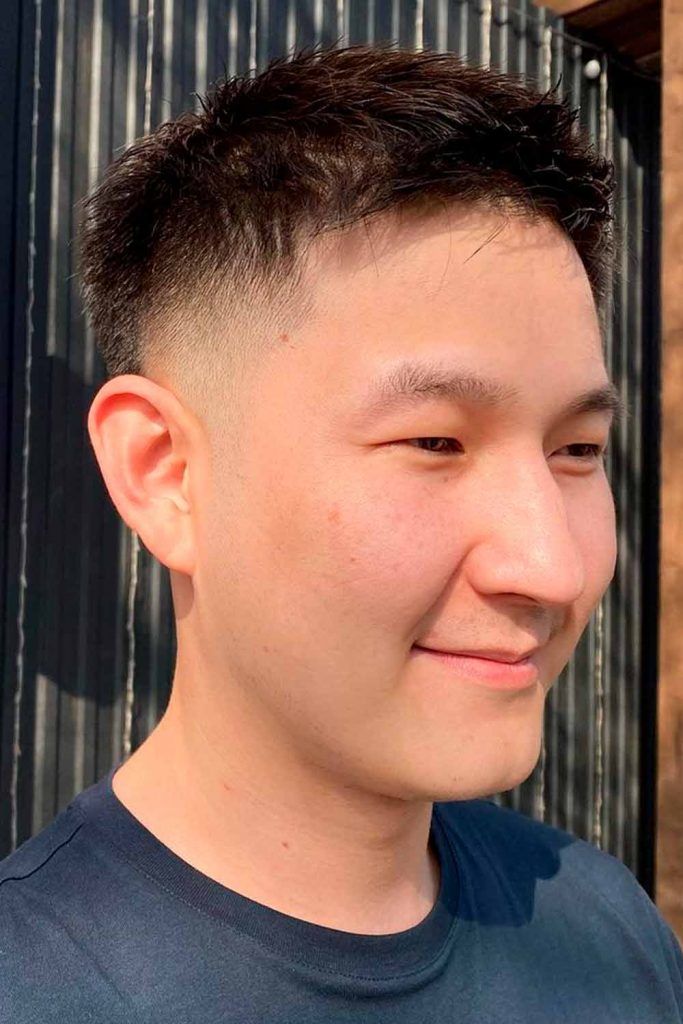 Credit photo: instagram.com/barberitta17
A fade with shag is a twofer you've been looking for. The shaggy texture is the best weapon for whipping thick locks into shape and providing the wearer with styling manageability. As for a fade, it needs no introduction, as its smoothly tapered transition that softly connects two lengths speaks for itself.
Top Knot
Переглянути цей допис в Instagram
Before you think that it's impossible to have a comfy neat look with long Asian hair, look at this top knot. While being simple enough, this hairstyle allows wearers to keep their length at the desired level. For best results, consider getting your hair layered to get rid of extra weight, and don't forget about fade. All in all, nothing works better than fades when it comes to neat looks.
Hard Part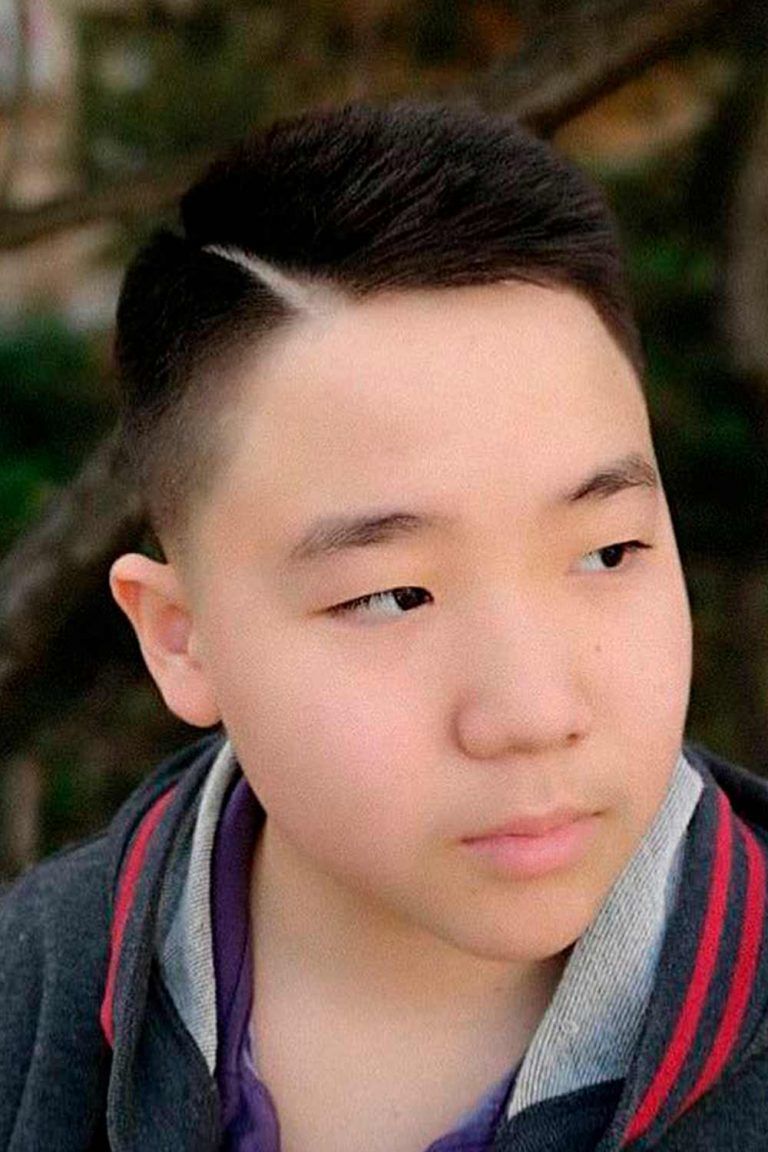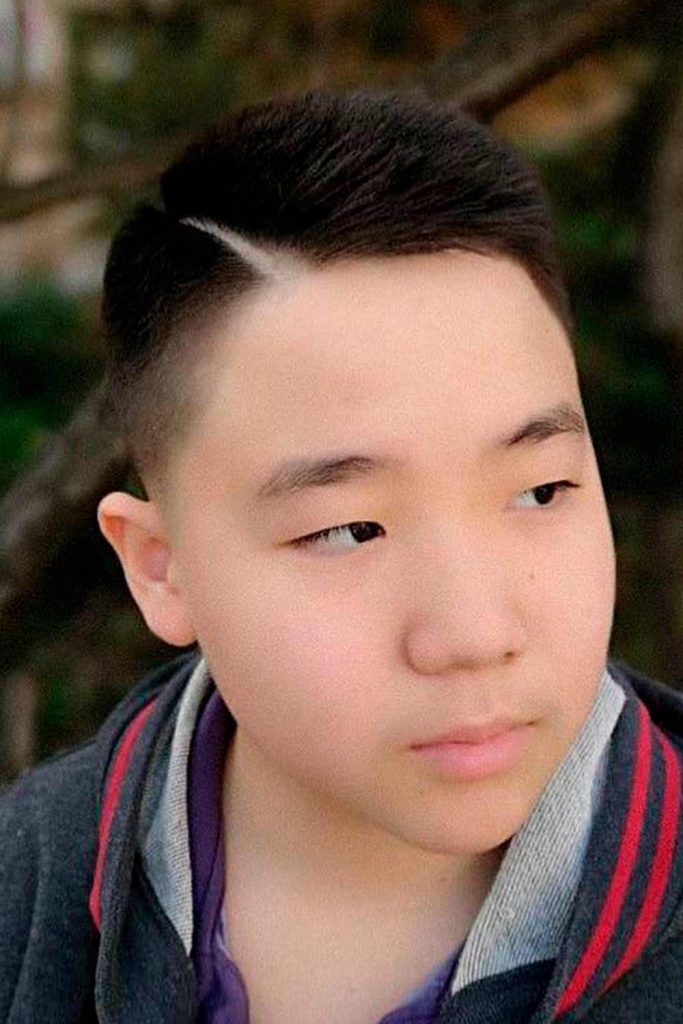 Credit photo: instagram.com/luckynatalikim
Unlike a side part that would probably fall apart once the wind blows, a hard part is achieved with clippers. In other words, it's a haircut, where your barber gives you a nicely outlined, shaved part. Besides a steady part, a hard part haircut will provide you with a well-leveled structure, which will simplify your styling routine. A bit of gel will do just great!
Swept Back Long Top With Blonde Ends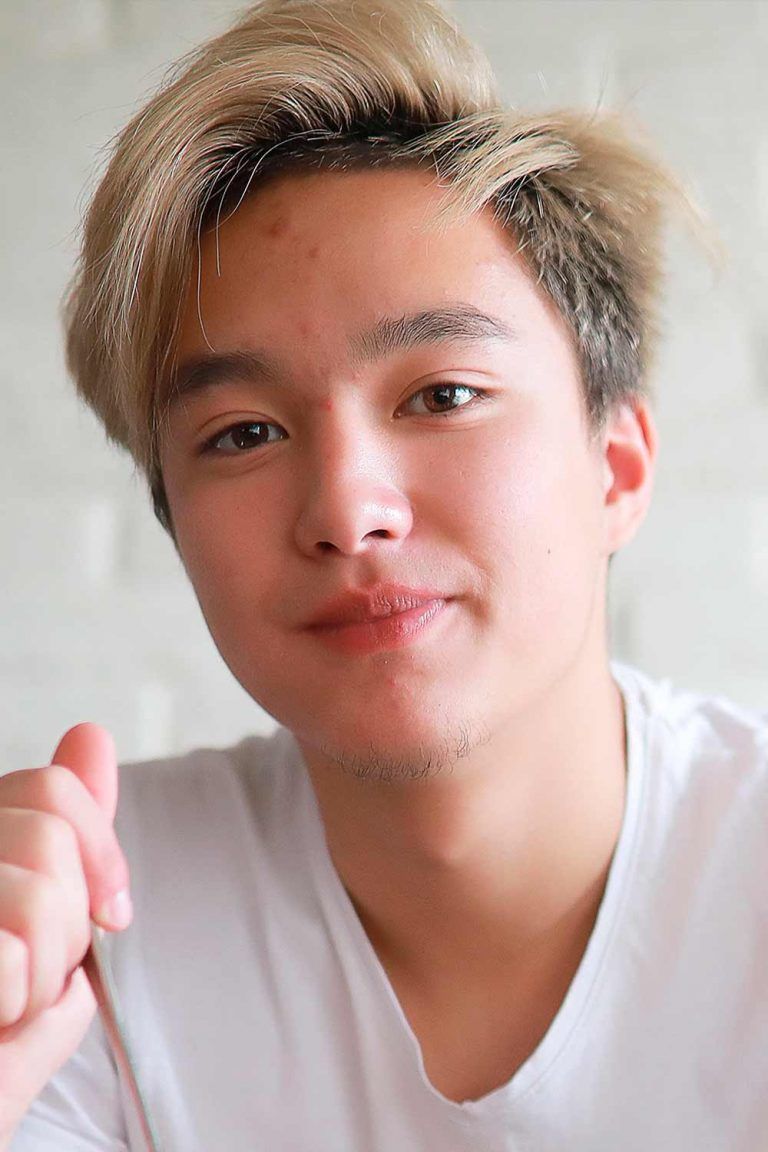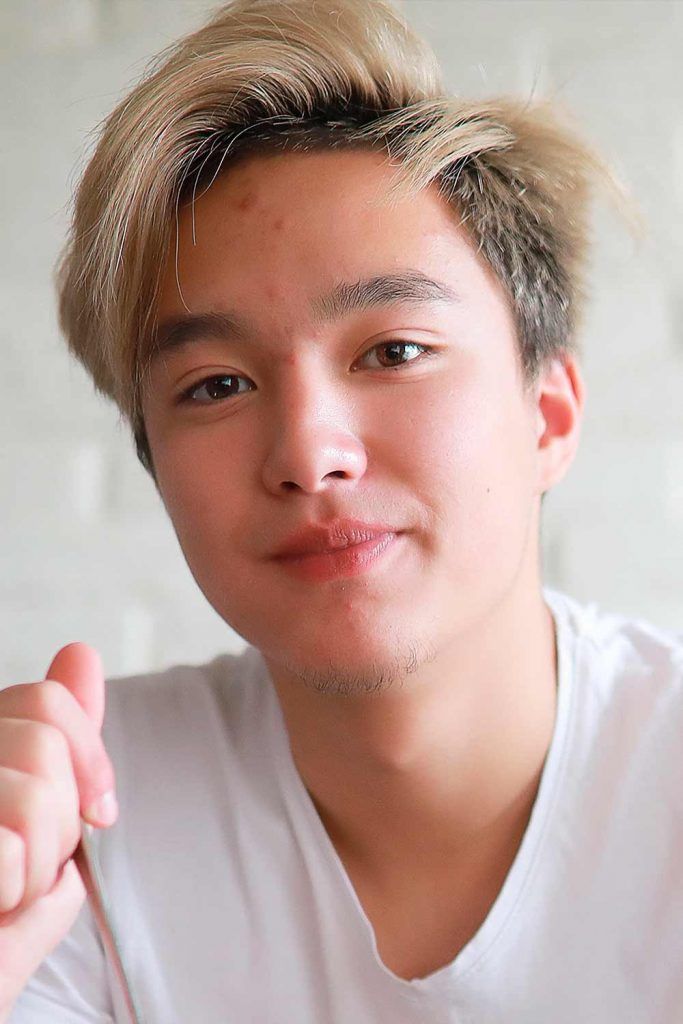 Slicked and swept-back hairstyles always look striking. However, it's crucial to pick the right products for your hair type to get the most of the look. First off, make sure to condition your hair before styling, as it should be smooth and flexible. Then, apply some wax or pomade, and brush the hair to the back. Of course, your products should be color-safe if you want to go a bit bright.
Short Cropped Haircut + Head Tattoo
Переглянути цей допис в Instagram
The cropped texture adds a lot of edge and character, nicely complementing this virile head tattoo. Also, this haircut involves a soft, merely noticeable fringe, which is an ideal option for men with broad foreheads. To style, work some gel or wax in your hair, spiking up the top.
Styled Up Textured Top + Skin Fade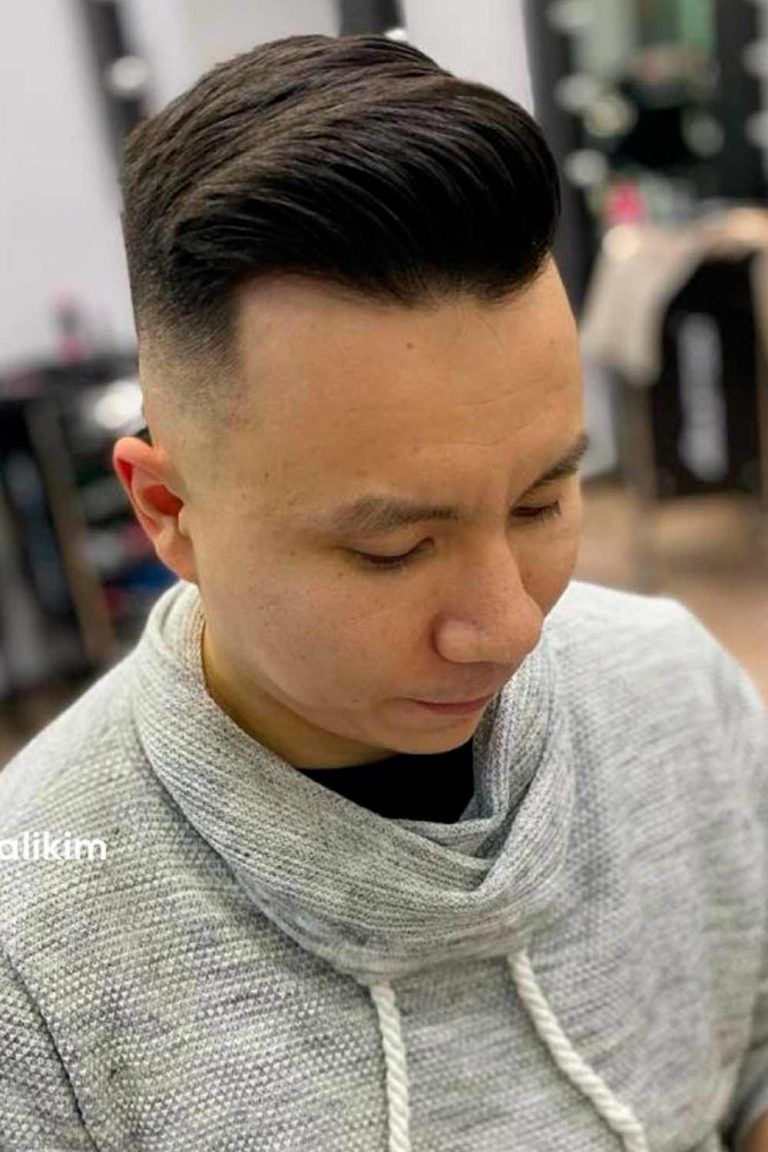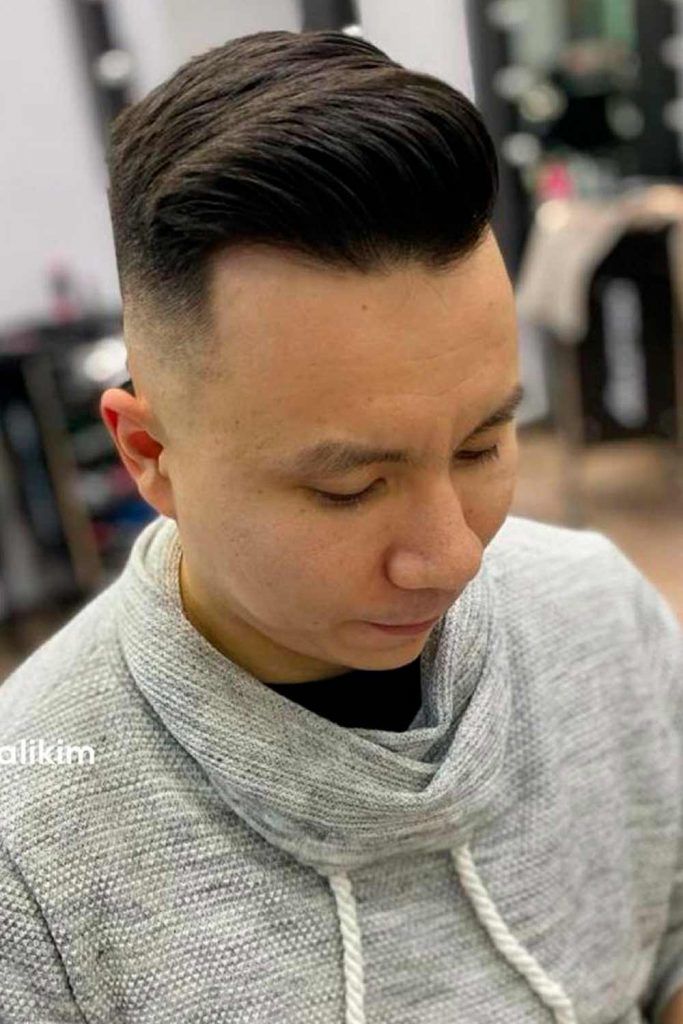 Credit photo: instagram.com/luckynatalikim
When you'd like to add some height to your hair, there's nothing like a sharply textured top with soft spikes! Keep the hair on the sides as tight as possible, leaving the top at a moderate length. In this way, the top will stand out due to the contrast. All you need to do is to apply a texturizer to the top, running your fingers through the hair in an upward motion.
Asian hairstyles know how to change your image of the familiar ideas! Now that you've seen the top styles, it's time to steal one of those contemporary looks.
FAQ: Asian Hairstyles Men
What is the Asian hairstyle called?
A queue, sometimes known as a cue, is a hairstyle popular among the Jurchen and Manchu people living in Manchuria, which was later made mandatory for the men of Qing China. The hair on top of the head is left long and braided, while the rest of the head is shaved.
Why do Korean guys have bangs?
Returning to the question why Koreans wear bangs, they are frequently groomed by a hairdresser. It looks really nice on male celebrities, and this is where the "snowball" effect begins. Many Korean guys want to look like their idols, so they often head to the salon to obtain a haircut that looks similar.
Why do Asians look better with bangs?
Slim and thin faces are regarded to be attractive in Asian countries such as Korea and Japan. As a result, hairstyles with bangs are quite popular there because they cover most of the face, making it look slimmer. What is more, girls with bangs appear younger and cuter, which is a beauty criterion in Asian countries.
REFERENCES:
You'll find everything you need to know about men's hairstyles and cuts here. Source