Meet The Asian Hairstyles Men From All Over The World Would Like To Copy!
The Asian hairstyles men with an exceptional sense of style show up with have become the new trend in men's fashion world. Well, not for nothing! Asian men have always been said to be trendsetters: their exquisite taste and sense of modernity appeal to people of all ages and lifestyles.
ADVERTISEMENT ‧ CONTINUE READING BELOW
And the same goes for Asian men hairstyles as they distinguish themselves with their versatile and unique approaches. To get what we mean, we want you to check out the hottest hairstyles that Asian mods have brought into our world. These ideas will definitely suit even the most demanding man!
Comb Over Hair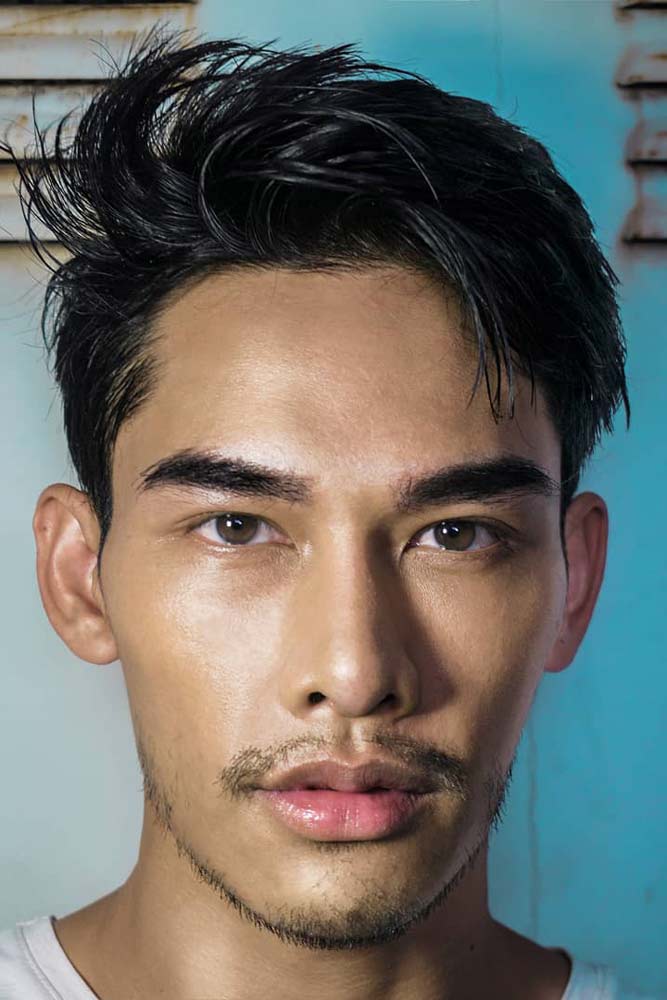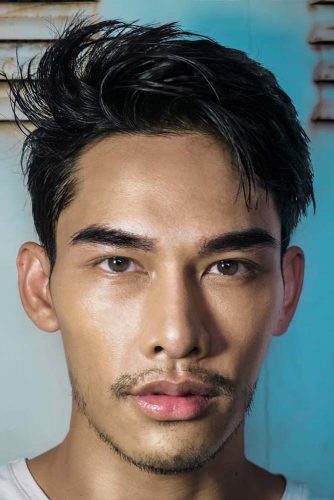 Source: scissormankung via Instagram
There's no a man who doesn't know what comb over haircut is. Yet, from the Asian men haircut perspective, this cut offers some more oomph and volume: this swept, gelled top is a nice fresh take.
ADVERTISEMENT ‧ CONTINUE READING BELOW
Faux Hawk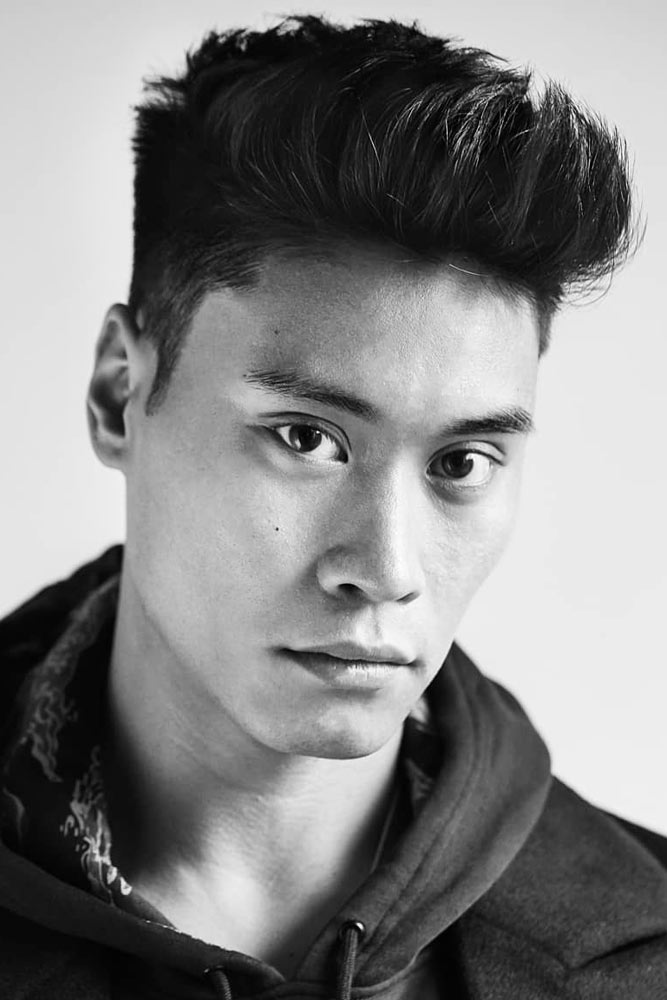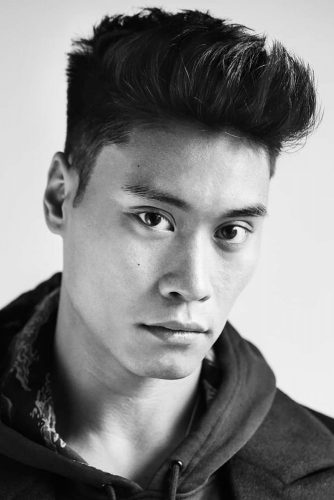 Source: nicomillado via Instagram
While the most common idea of the faux hawk hairstyle brings quite a brutal mood, Korean hairstyles reveal its sophisticated side. The immaculately styled top finished with a subtle Asian fade, takes the style to the next level.
ADVERTISEMENT ‧ CONTINUE READING BELOW
Disconnected Undercut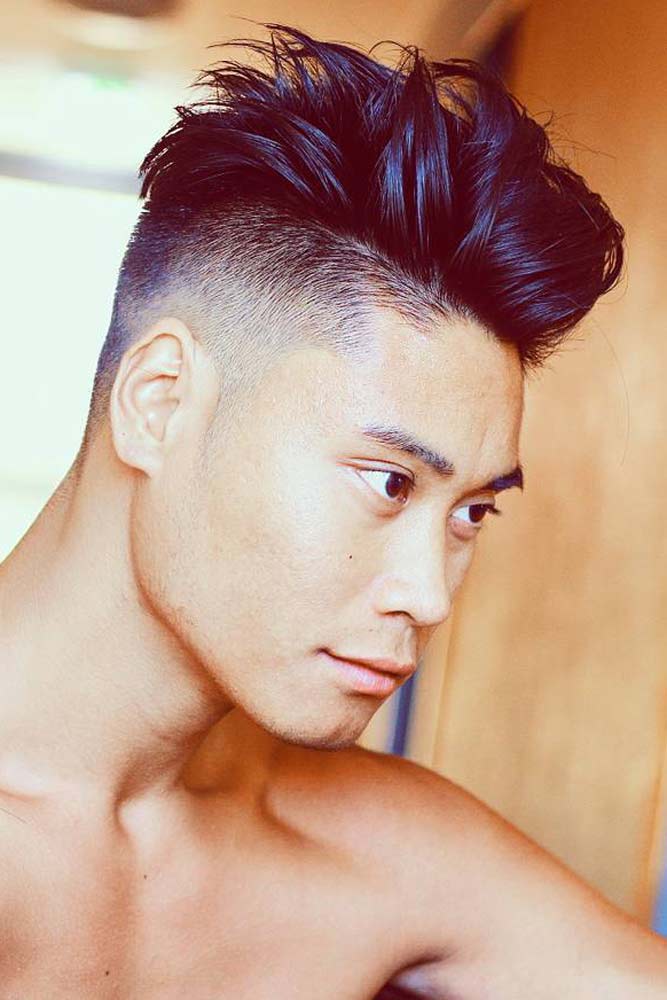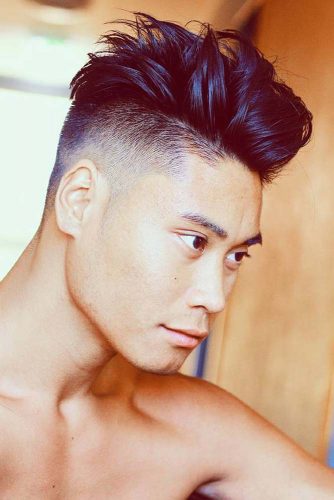 Source: nicomillado via Instagram
As you know, the undercut haircut can be anything you want it to be. And the wearer of this Asian undercut wants his style to be super precise. It's no surprise that the undercut Asian men customize feature rough contrasts: they give a masculine, dramatic look.
ADVERTISEMENT ‧ CONTINUE READING BELOW
Asian Curly Hair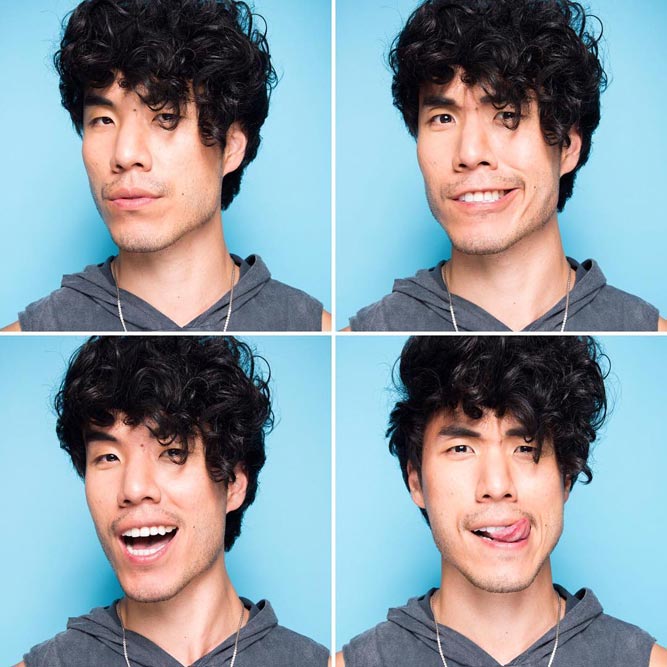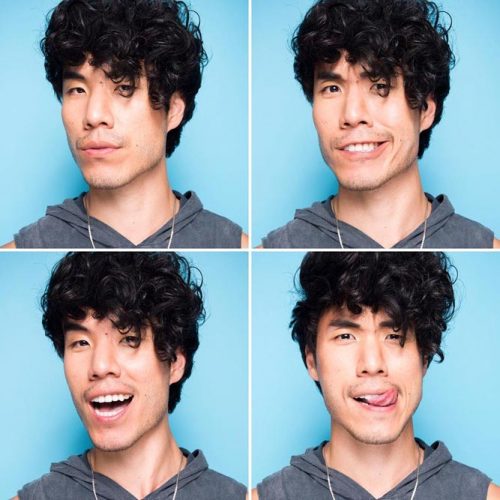 Source: eugeneleeyang via Instagram
Of course, there's a stylish solution for curly hair men find to be extremely troublesome to style. Short-to-medium hairstyles for Asian hair like this are designed not only to show off the texture of a wearer but also to keep him comfy with his hair.
ADVERTISEMENT ‧ CONTINUE READING BELOW
Classic Crew Cut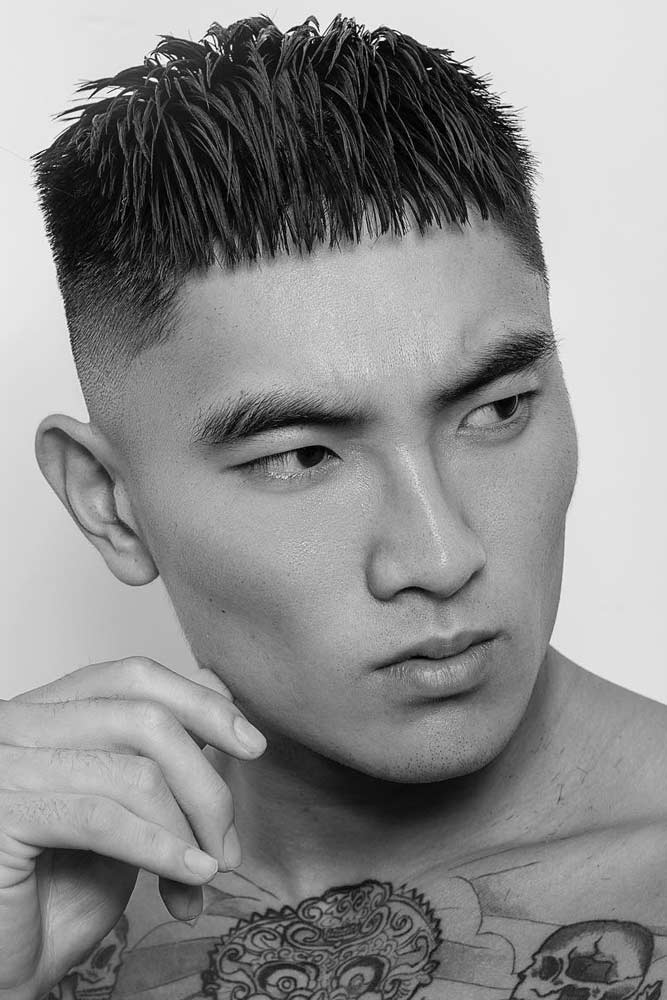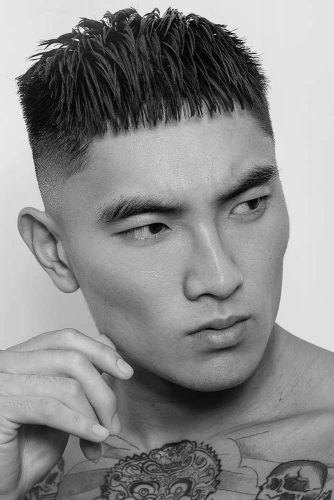 Source: kevinluchmun via Instagram
In terms of short Asian hairstyles men prefer, even the classic crew cut that follows its traditional cutting pattern can look like a brand new cut. And the highlight of the style is its textured, well-waxed top.
Pompadour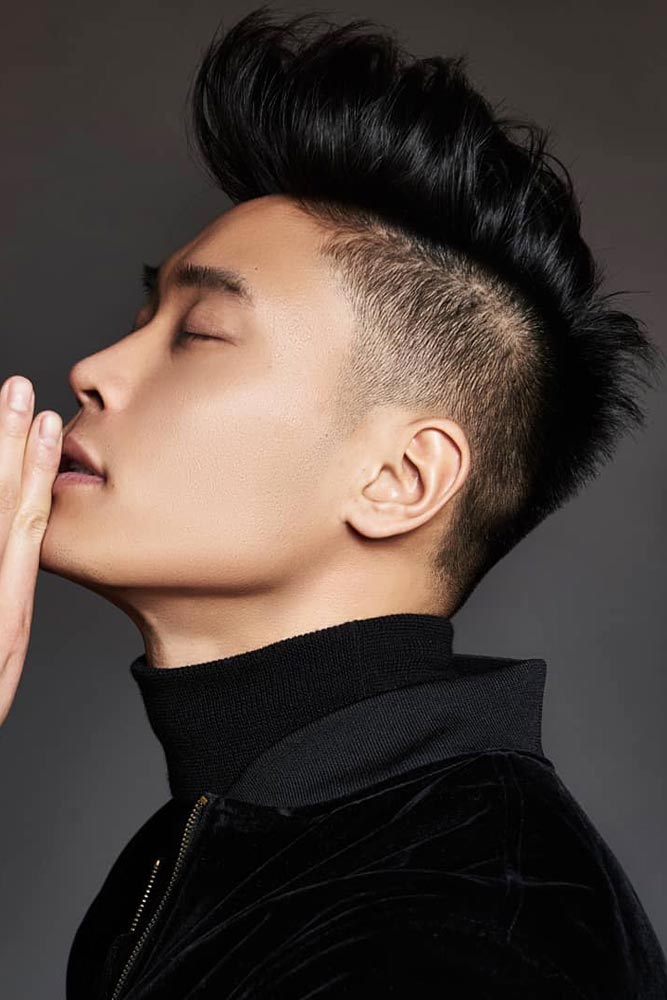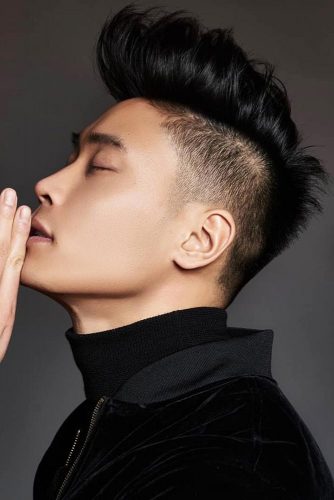 Source: nicomillado via Instagram
Here comes a popular Korean hairstyle men won't be able to resist! Since Asian hair is mostly thick, the style focuses on the voluminous top, keeping the sides cleanly trimmed for a more distinctive look.
Short Sides Long Top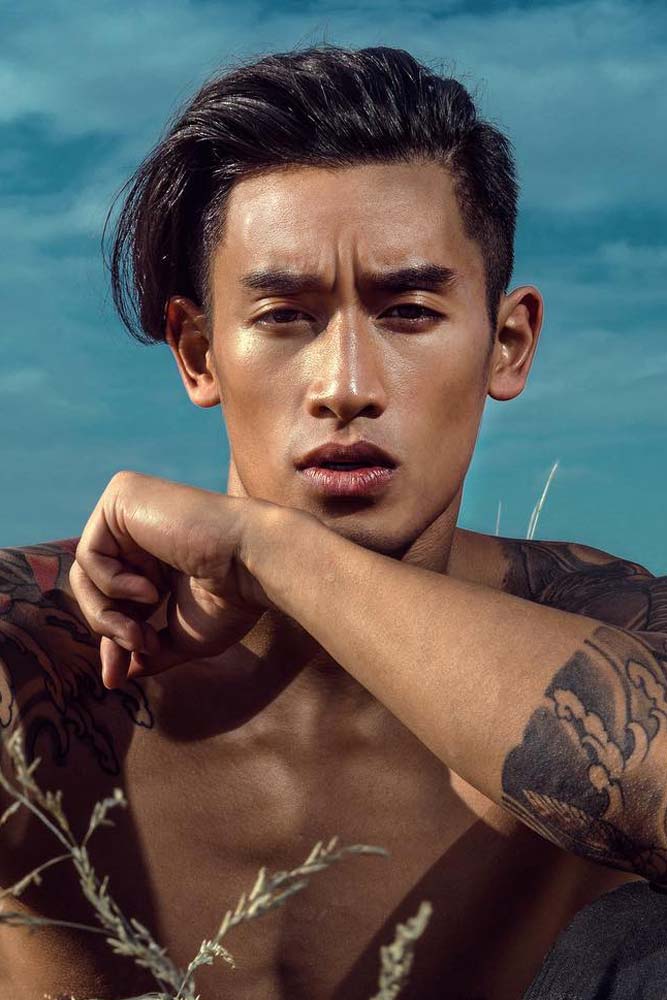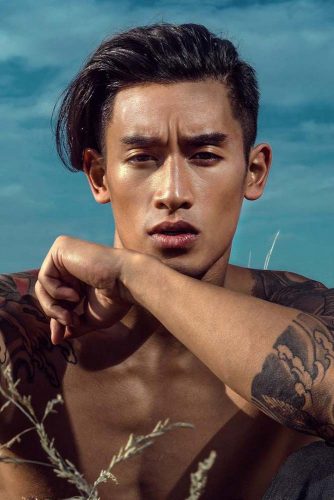 Source: vininja via Instagram
If you're looking for relaxed, carefree Asian hairstyles, this grown-out undercut version is a perfect idea. Don't maintain the sides and let the top grow, apply some clay and sweep your hair to the side. Voila!
ADVERTISEMENT ‧ CONTINUE READING BELOW
Layered Haircut With Side Bang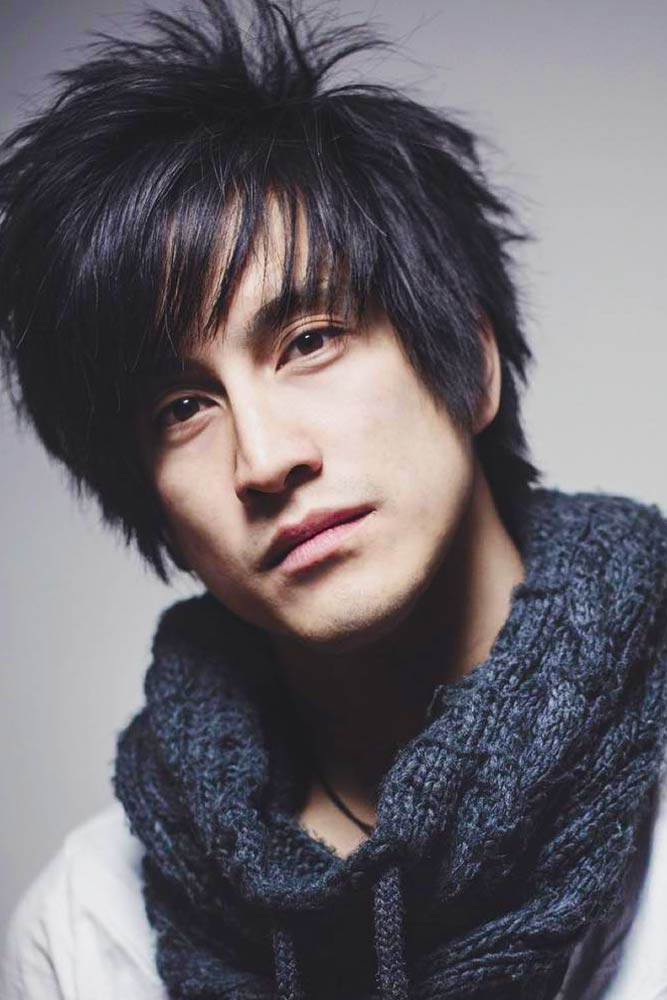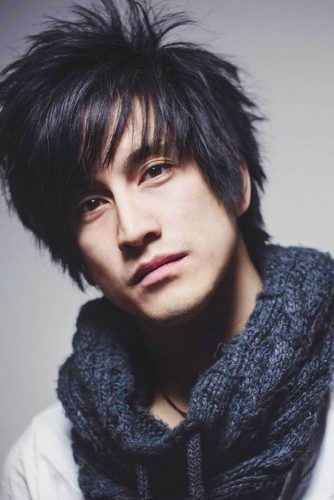 Source: vi_dan via Instagram
The layered fringe haircut men usually tend to stay away from is actually very popular among Asian guys. Some hairstylist even call them "Asian bangs hairstyles" as they have made a whole new trend out of fringe cuts. If you have thin hair, go for layers and bangs: they will add a lot of lift and movement.
French Crop With Straight Bang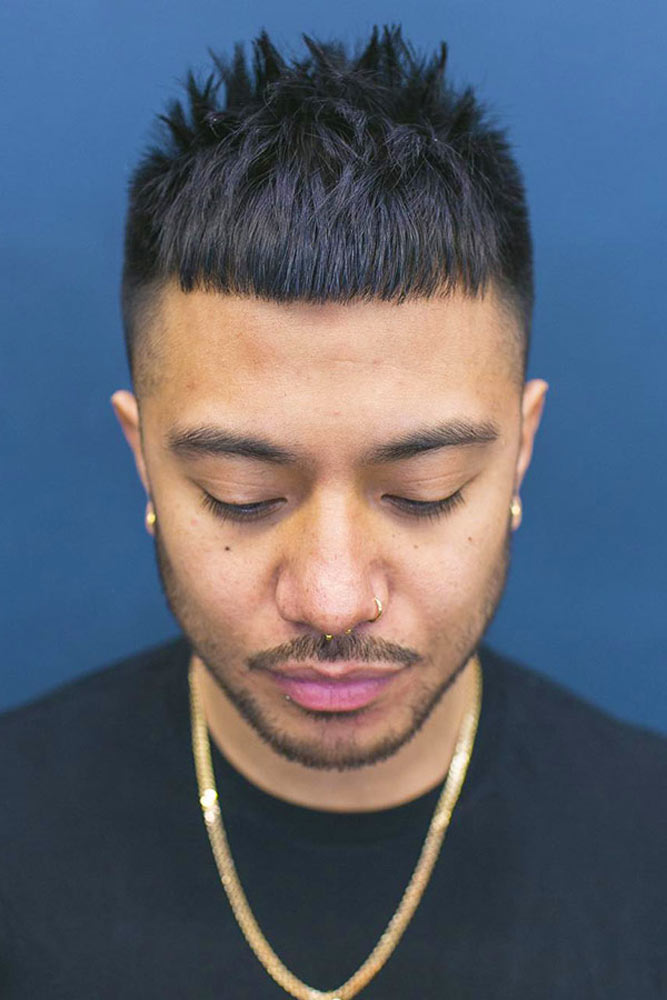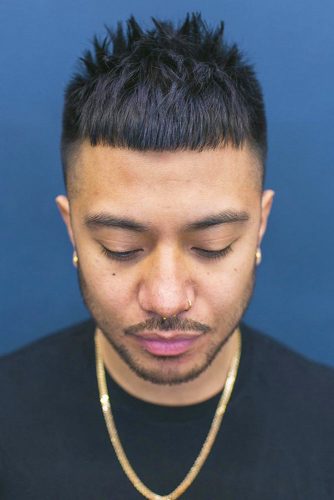 Source: chadius_maximus via Instagram
Men who want to rock a truly contemporary look should look no further than this Korean men hairstyle. Its minimalistic faded sides go awesomely with a bit spiky top. By the way, a light stubble will be a good finish.
Spiky Blonde Hair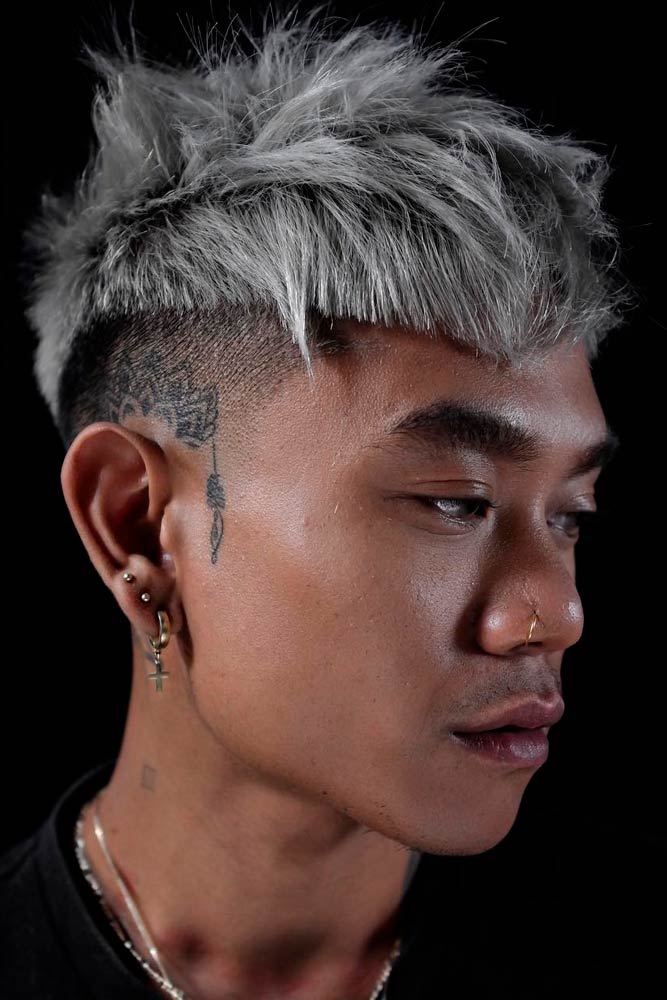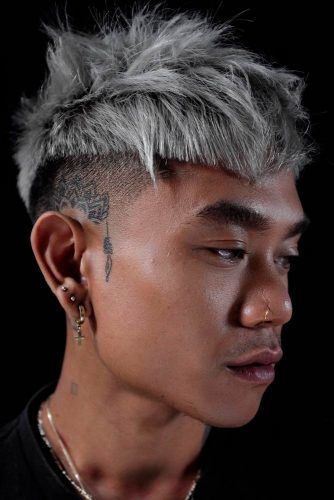 Source: staygold31 via Instagram
Short spiky hair men who appreciate football sport can actually be a part of your elegant look. A bit of lightweight pomade and slightly messy styling is enough to change the mood of the style. Plus, blonde hair men like to go for looks exceptional this time.
ADVERTISEMENT ‧ CONTINUE READING BELOW
Medium Layered Haircut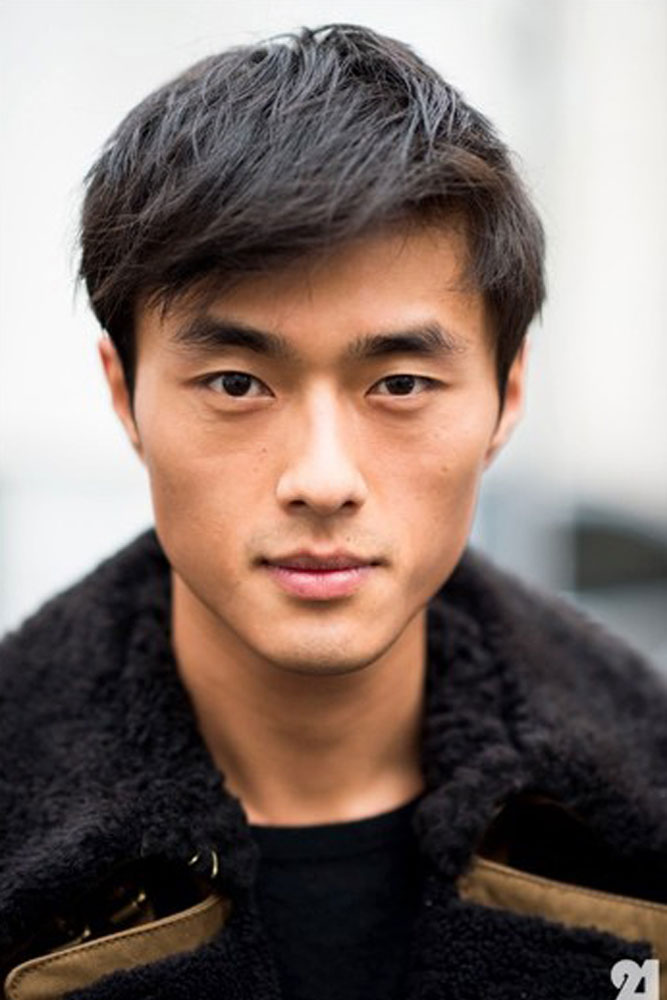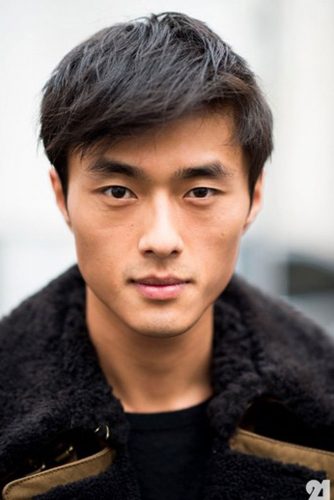 Source: asianmalemodels via Instagram
Simple hairstyles for Asian men like this are designed for comfortable everyday wear. To tame the thick texture, it's better to ask layers for help: they will give a well-groomed look even to a casual style.
Slicked Back Fade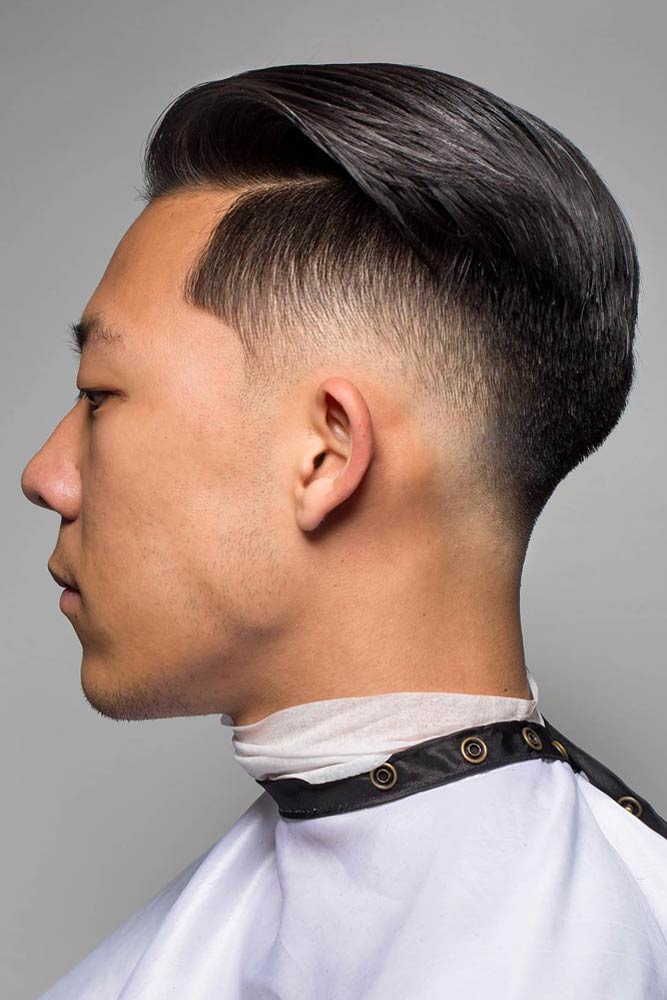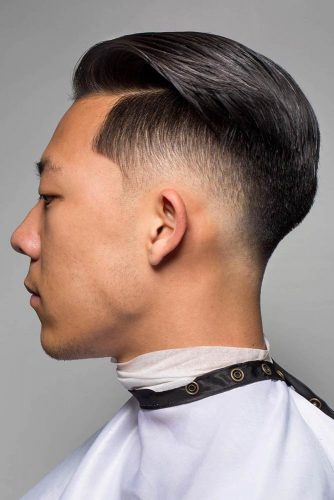 Source: andrewdoeshair via Instagram
To look decent for some special day or big event, we strongly recommend stealing one of the formal Chinese hairstyles. For example, this Asian fade haircut embraces all the features a modern man needs: definition, refinement, and elegance.
Bright Messy Style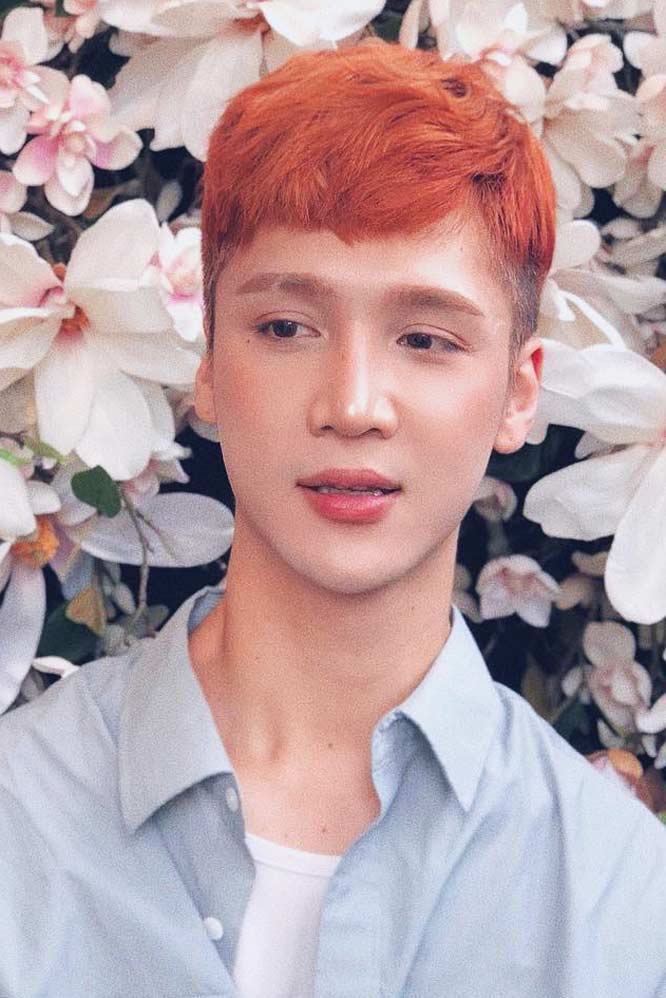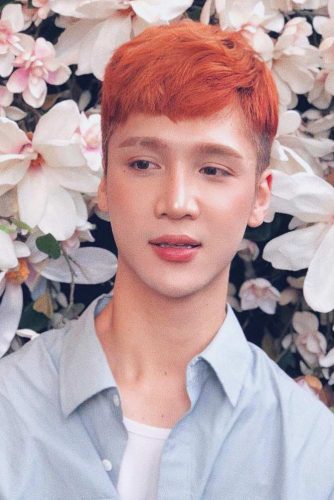 Source: edweird0 via Instagram
How about a bright, uncommon idea of short hair Asian guys love to experiment with? Adding some chic color to your hair is enough to look different, especially if it's slightly tousled.
ADVERTISEMENT ‧ CONTINUE READING BELOW
Asian Mullet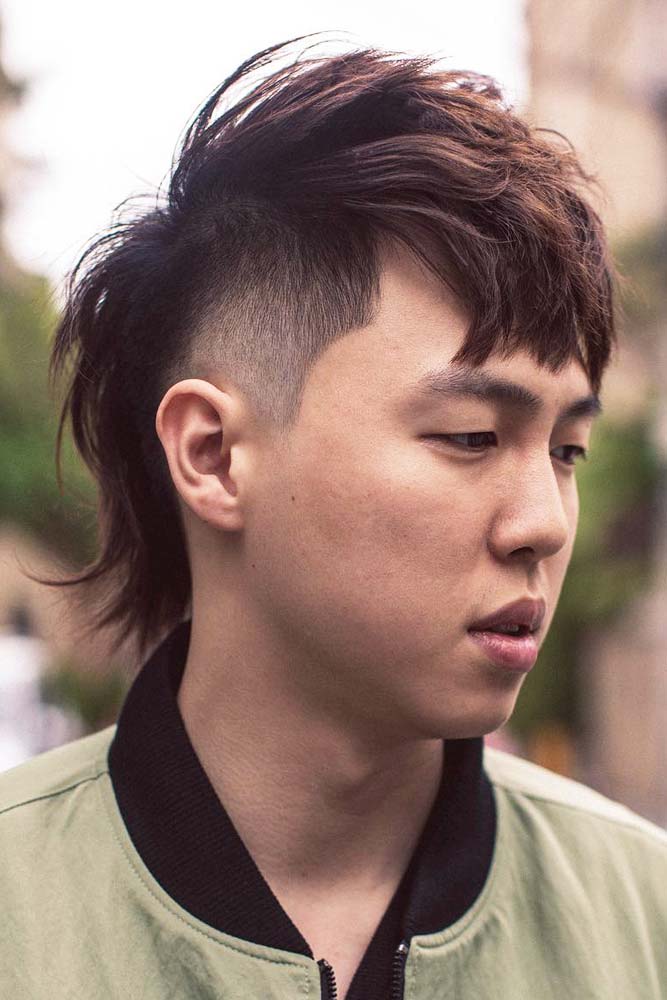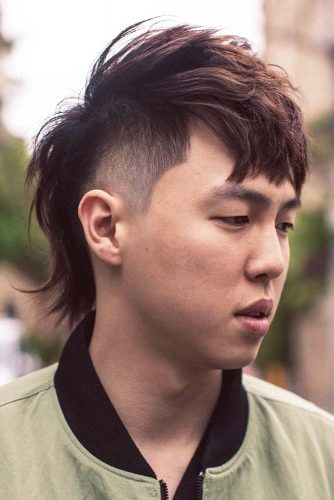 Source: kevinluchmun via Instagram
The glam-inspired, and kind of outrageous Mullet haircut also stands among famous Korean male hairstyles. Want to be in the spotlight? Shave the sides and start growing out the hair on top and at the back of the head!
Braided Top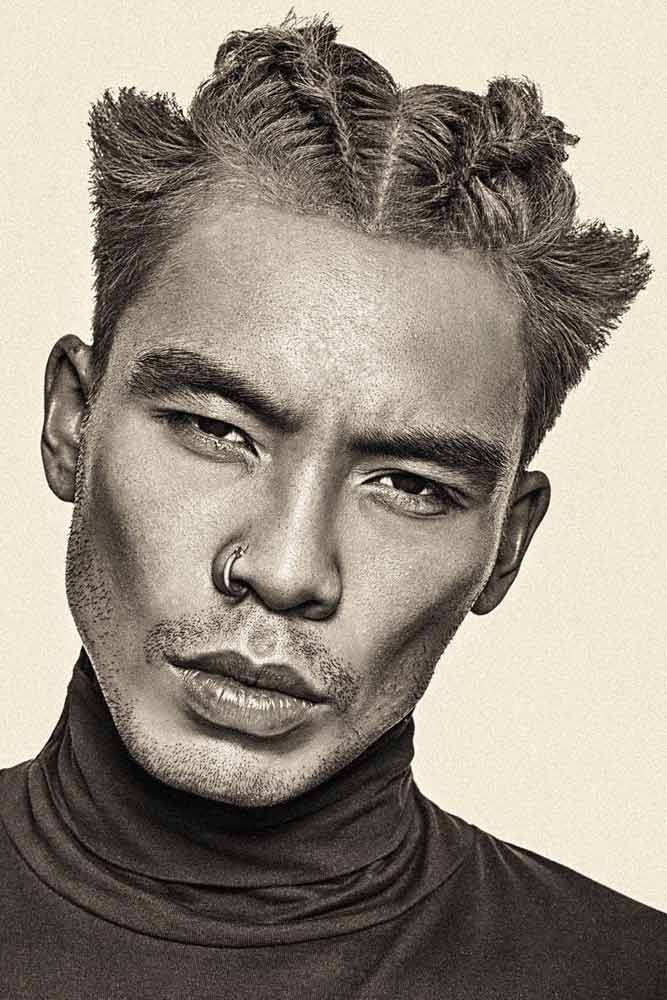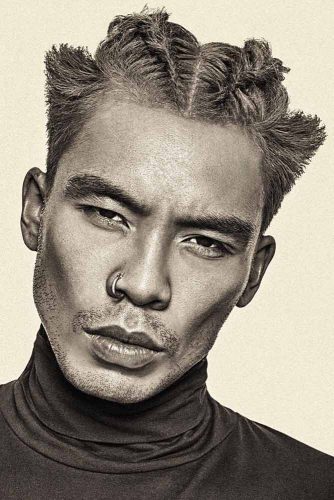 Source: kevinluchmun via Instagram
Despite many misconceptions, the man braid hairstyles have become another trend of now recently. And the truth is, Asian braid hairstyles are full of surprises: this braided, edgy top is the proof.
Source: kevinluchmun via Instagram
Bowl Cut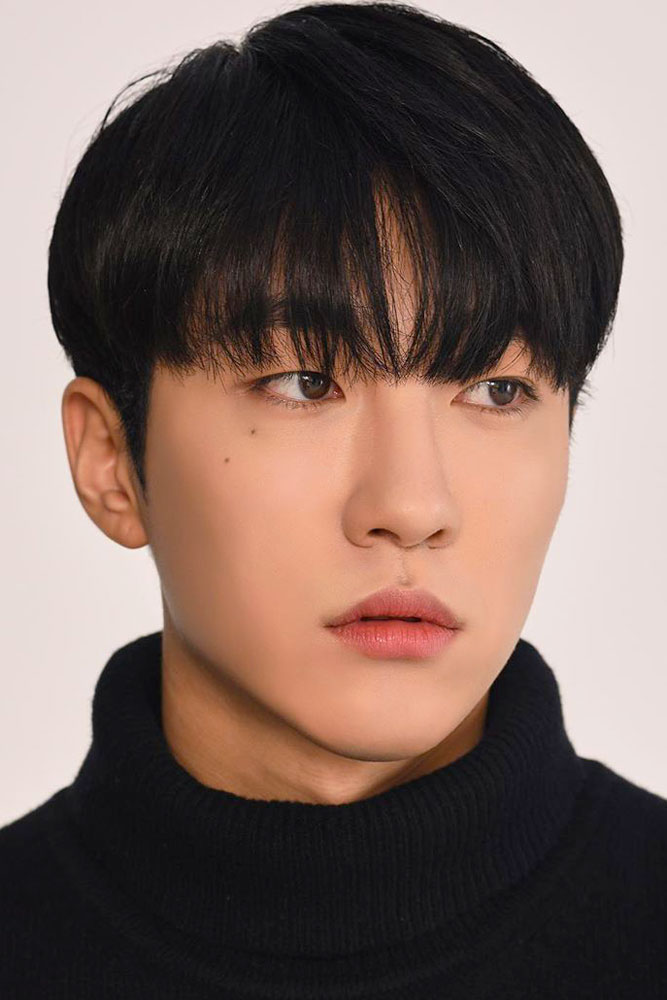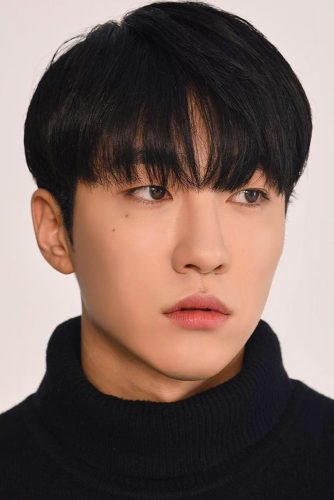 Source: kr_malemodel via Instagram
Of course, the classic bowl cut has nothing to do with Asian bowl cut! Though it's still a one-length cut, the light texture of the fringe and nicely shaped sideburns show the style in the new light. Just like all Asian haircuts!
ADVERTISEMENT ‧ CONTINUE READING BELOW
Spikes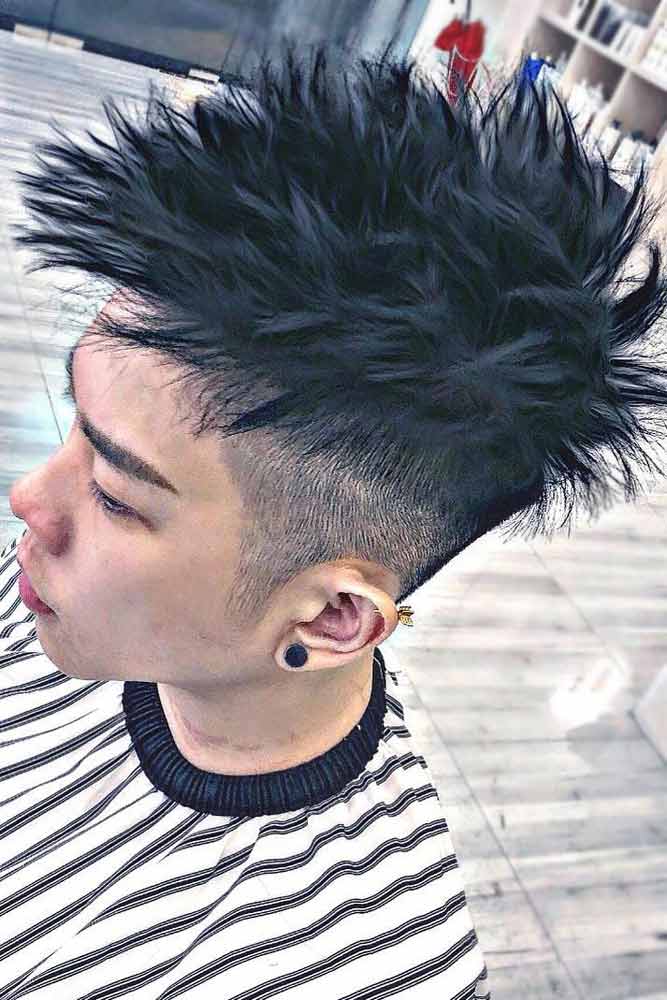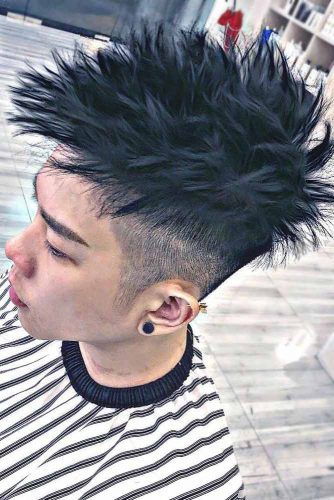 Source: beastiehair via Instagram
This Korean haircut seems to be created for a bad-boy character of everyone's favorite k-drama. The spectacular, voluminous spikes and buzzed sides make this idea the most desired Asian haircut for those who like to stand out.
Side Parted Haircut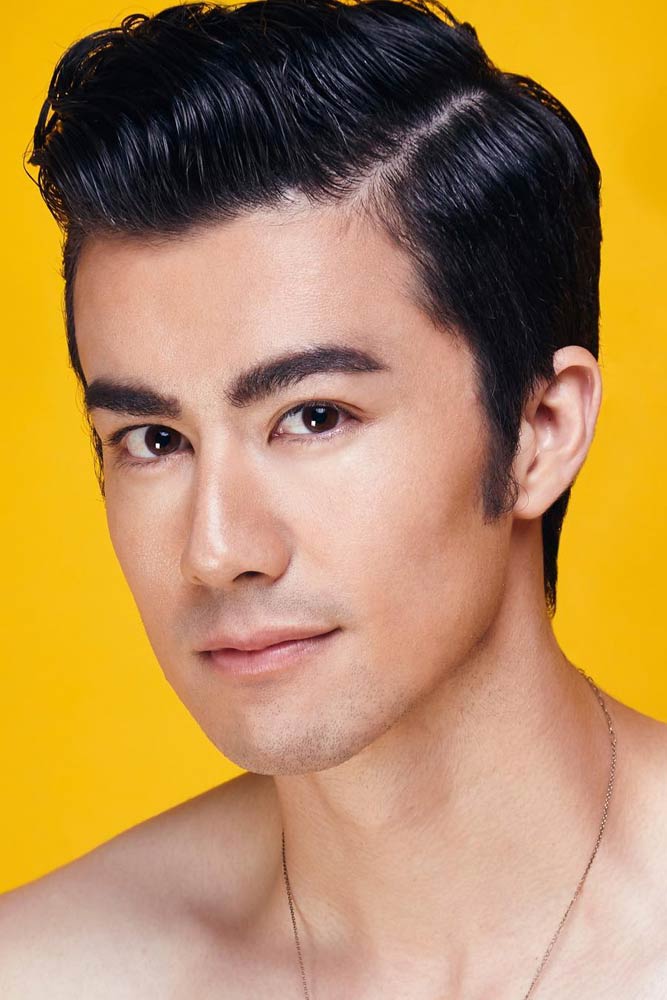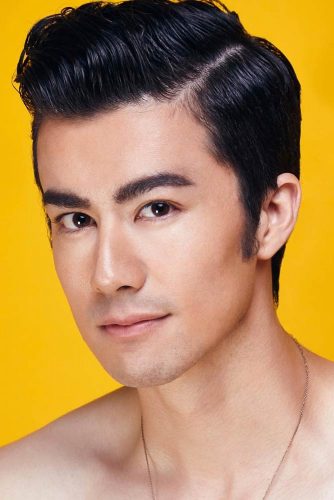 Source: redmodelling via Instagram
If you're wondering what Korean hairstyle a good k-drama guy would wear, this style is the answer. The neatly brushed top of this side-parted 'do gets the most out of Asian short hair, giving an immaculate, shiny look to it.
Messy Texture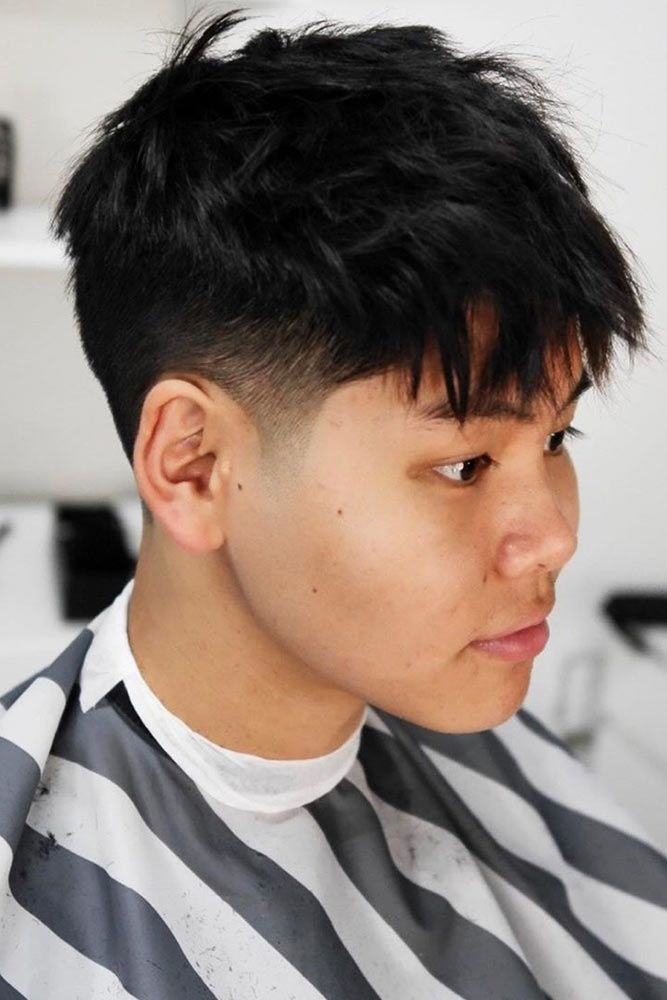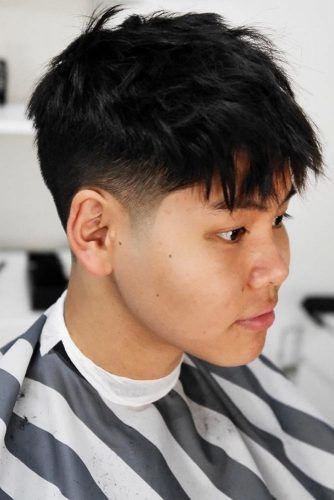 Source: staygold31 via Instagram
For guys with Asian hair, every new experiment requires a thorough approach due to the unruly thickness of the mane. Yet, it's still not an obstacle to the overwhelming messy look. Many stylists who deal with Asian textures recommend to go for layers throughout the length and then style them with a strong-hold salt spray. It's always better to get a new haircut than to coat yourself with tons of hair products, right?
ADVERTISEMENT ‧ CONTINUE READING BELOW
Skin Fade + Short Spikes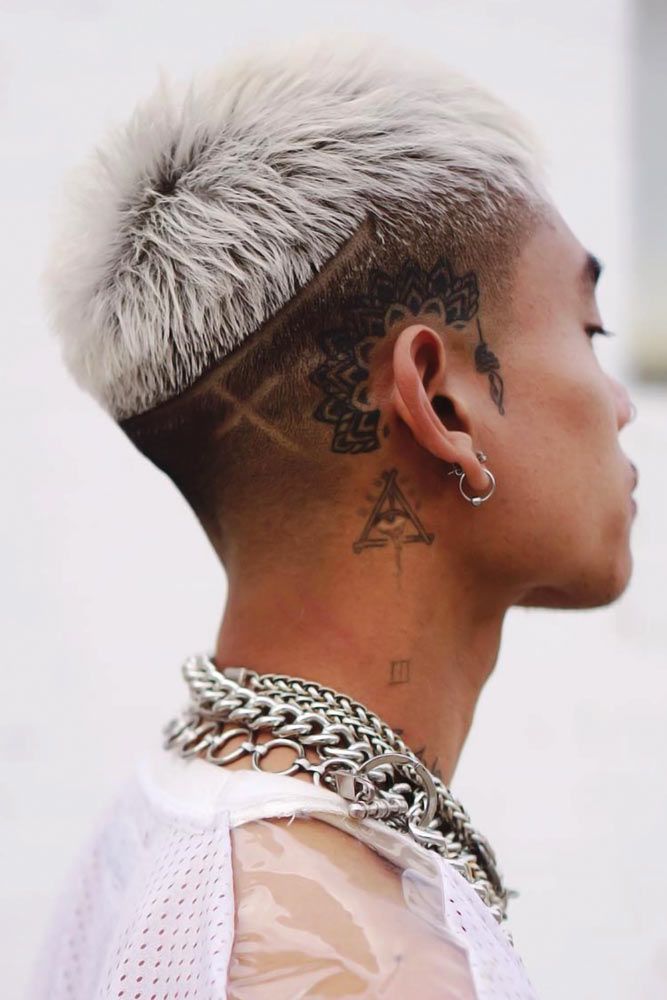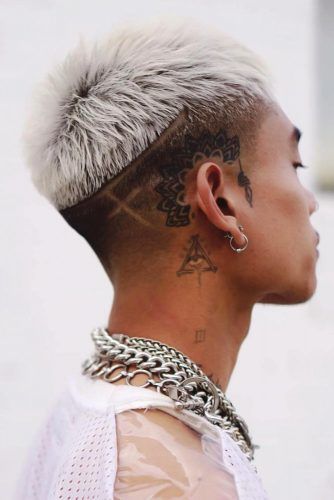 Source: staygold31 via Instagram
Since natural behavior of your hair is full of spiky surprises, why don't you make them work for your look? Cutting to a short length will tame your spiky mane, giving it a sharp yet balanced appearance. As for the sides, you won't go wrong if you finish them with a dramatic skin fade.
Spiky Quiff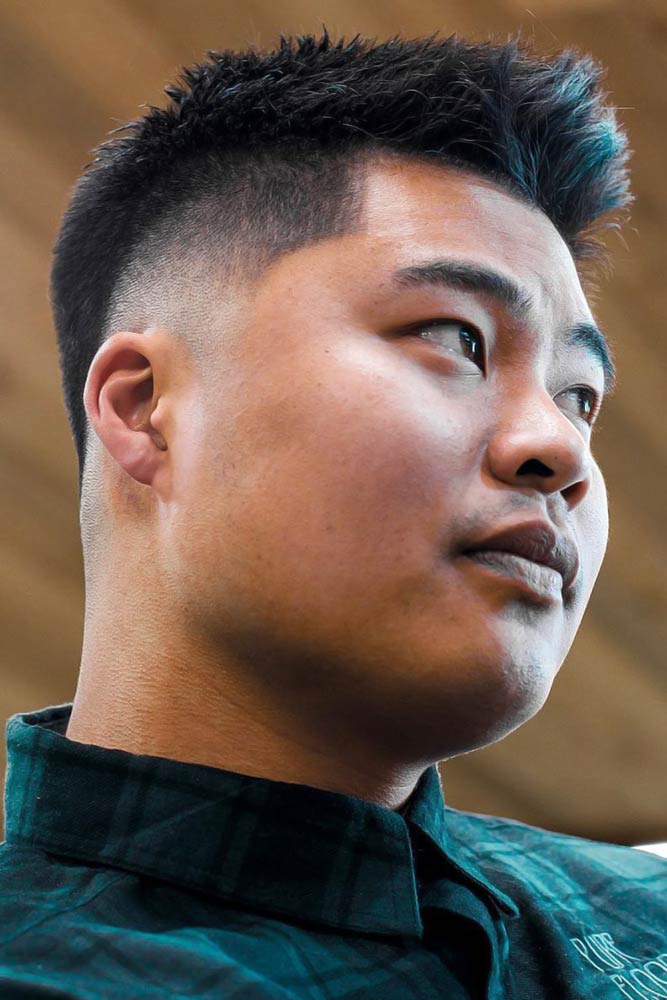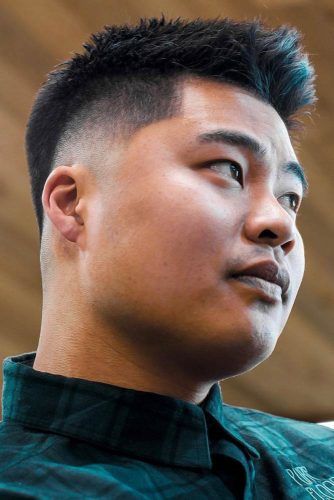 Source: electricbarbering via Instagram
Another way to show those spikes who's boss. Furthermore, this hairstyle is nothing but a new take at the good old quiff. To achieve the classic transition from sides to the top, make sure to get your sides tapered. Then, just let the top do its own thing, as the fade or taper is the detail that makes your look so quiff. Of course, some smoothing pomade will only make things better.
High And Tight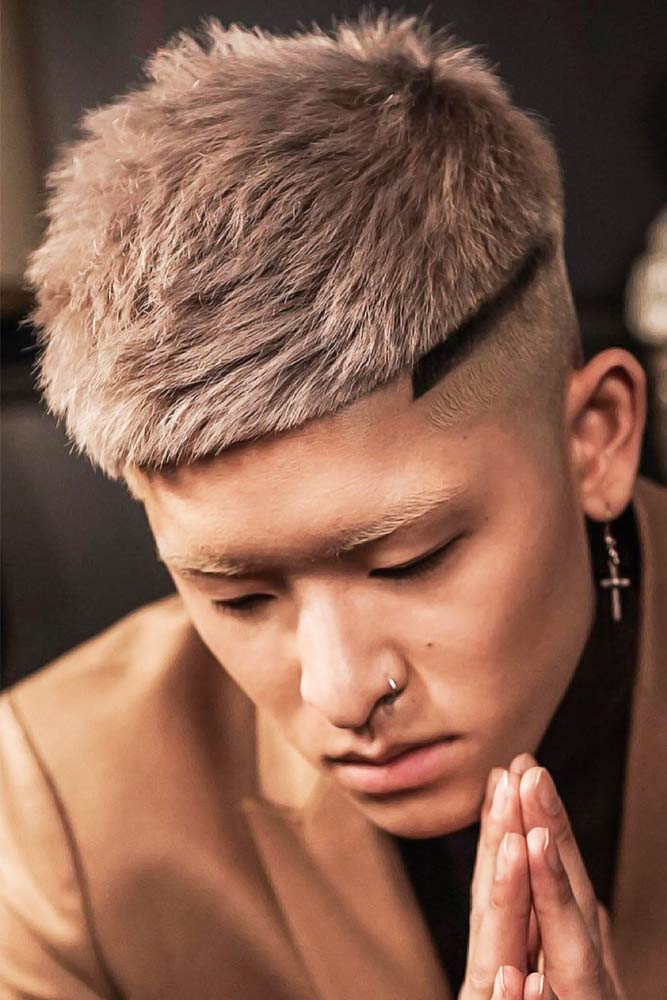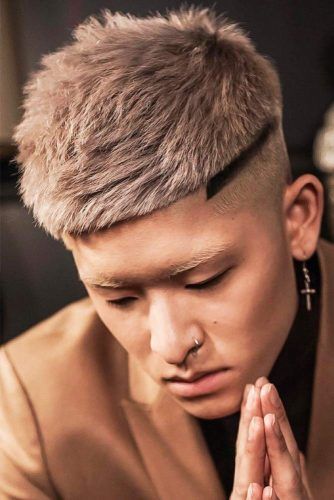 Source: staygold31 via Instagram
It's hard to recognize the popular military haircut in this absolutely modern Asian version. Well, that's probably the reason why these guys run the men's fashion. Although the sides are cut tight to create an elongated silhouette to the top, the look still appears wild and carefree. Yep, this texture plays by its own rules.
ADVERTISEMENT ‧ CONTINUE READING BELOW
Heavy Fringe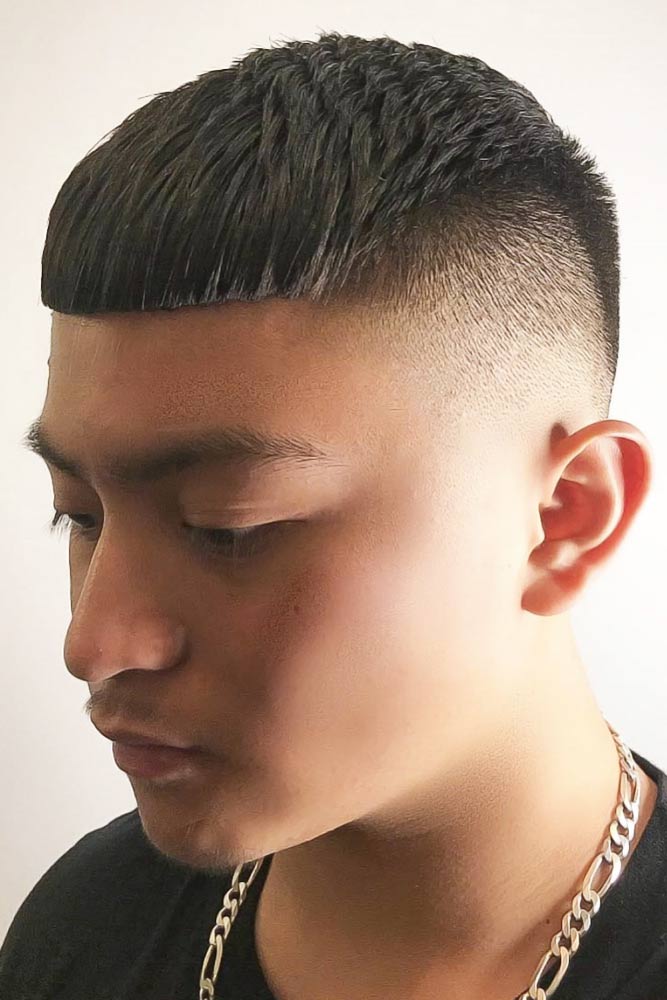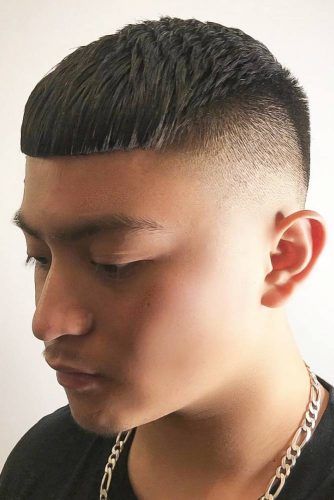 Source: chadius_maximus via Instagram
Half-Caesar, half-Mohawk, and total Asian. This haircut seems to be a privilege of those whose thick demanding hair can resist all humidity levels and styling products applied. As you can see from the pic, the hair on top sticks out so firmly that even a hurricane won't dare to bother it. And that's what makes the cut so distinctive! The sharp strip of hair running toward the forehead and turning to the textured fringe - that's the look for bold ones.
Short Pompadour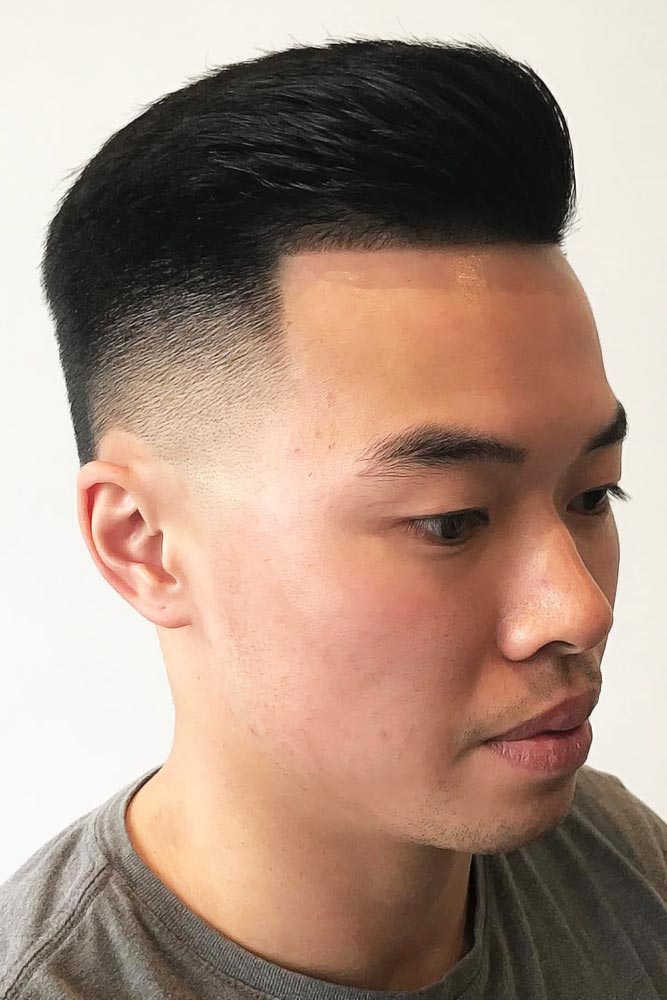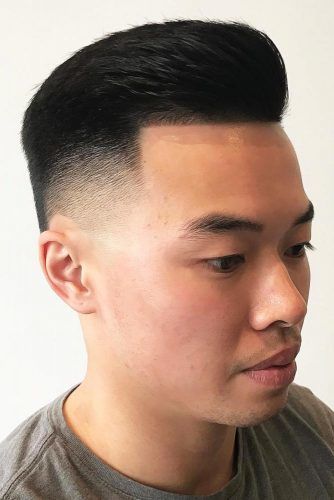 Source: chadius_maximus via Instagram
If you think that creating a pompadour on your hair is hopeless, think again! Obviously, it won't be as easy as it is for regular hair. Nevertheless, it's possible and, most importantly, it's even more classy on Asian hair. Tight sides that gradually blend with the top that gets shorter to the back and a blow dryer are keys to getting the ageless hairstyle.
Side Part Quiff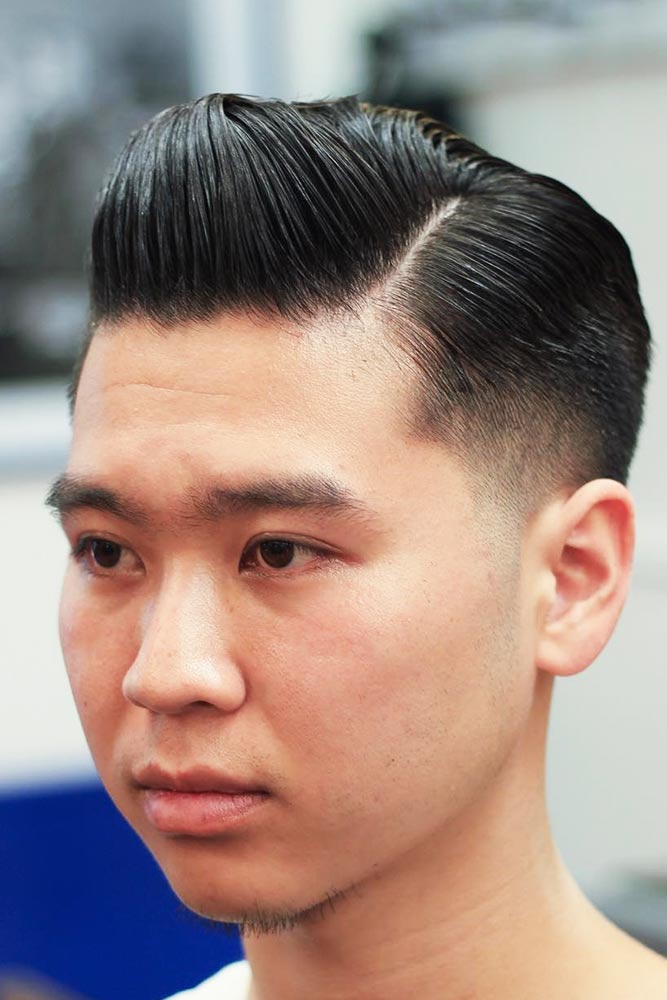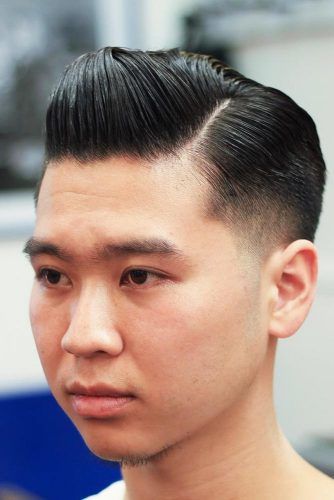 Source: danxindestructible via Instagram
Asian hairstyles, including this side-parted quiff, are worth the time and patience they take. Indeed, the sleek, well-sculpted, and absolutely immaculate parted quiff is all about firm clays, razored parts, and regular upkeep on the sides. Despite the commitment, nothing can beat this smart, sophisticated look.
Asian hairstyles know how to change your image of the familiar ideas! Now that you've seen the top styles, it's time to steal one of those contemporary looks.
ADVERTISEMENT ‧ CONTINUE READING BELOW