You may want to bring it all on when the festival season hits and show off your well-planned look. Speaking of festivals like Coachella – a year of anticipation, millions of images tried on and put aside…However, no matter your creative and unique costume, you must complete it with a matching hairdo. That is where festival braids come of great help. While the variety of options to choose from is almost unlimited, most are pretty manageable to succeed with on your own. If you are interested in the trendiest styles to pull off this season – you have come to the right place. We have gathered the best variants to enhance your festive look and emphasize individuality.
*We may earn money from affiliate links on this page. Please check out our disclosure policy for more details.
Braid your Festival Hair with Style in 2023
While each and every one of you may have your perception of festival hair, we've rounded up an entire collection of worthy festival braid ideas to experiment with this season.
Double Boxer Braids into Ponies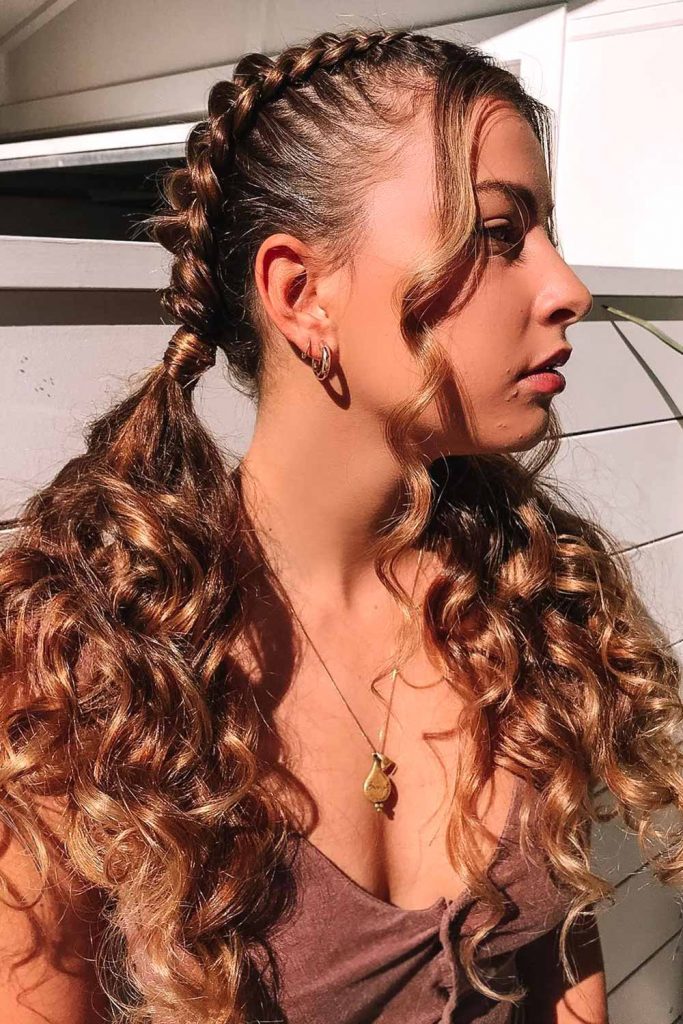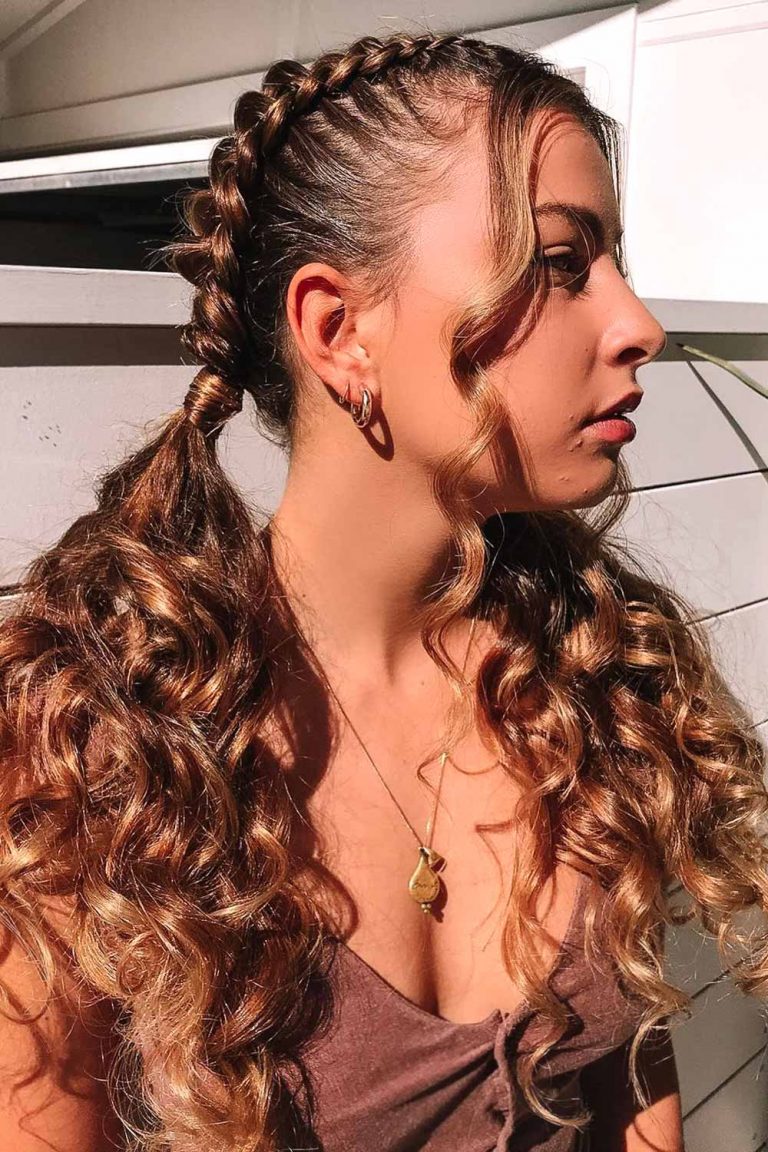 Credit photo: instagram.com/sass.and.braids
Who could have thought that a sleek ponytail would make it to the top of the list of fancy festive styles? Well, these are not simple ponies we are talking about. These are impressively curly ponytails that are formed from two sleek boxer braids. The braiding will keep the hair out of your face, while the charming curls will create your desired festive impression.
Gorgeous Voluminous Cornrows with Colorful Extensions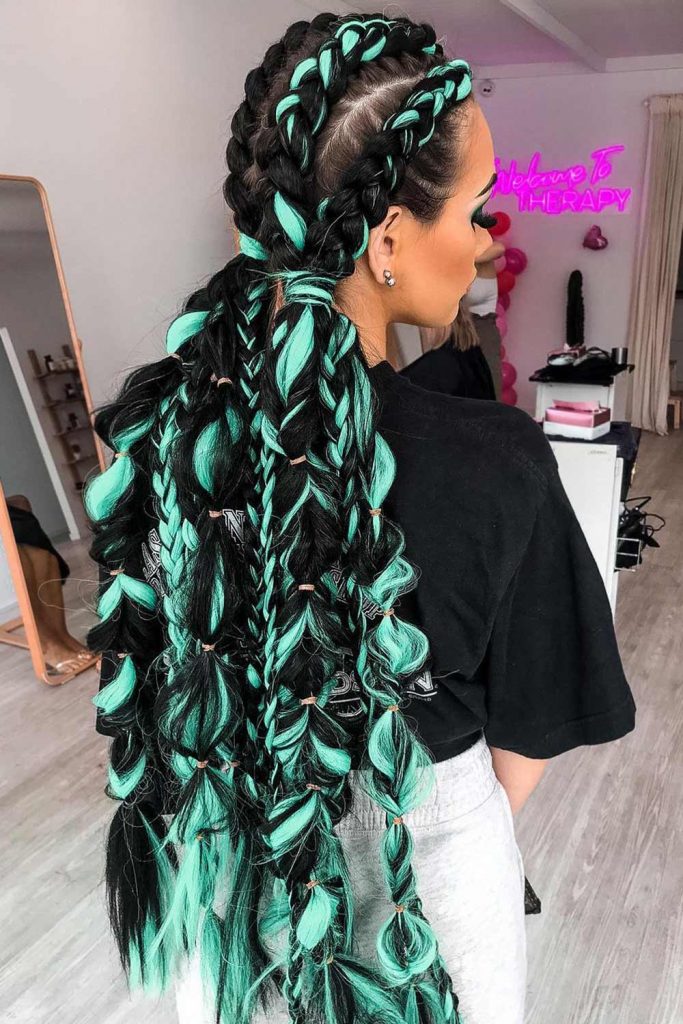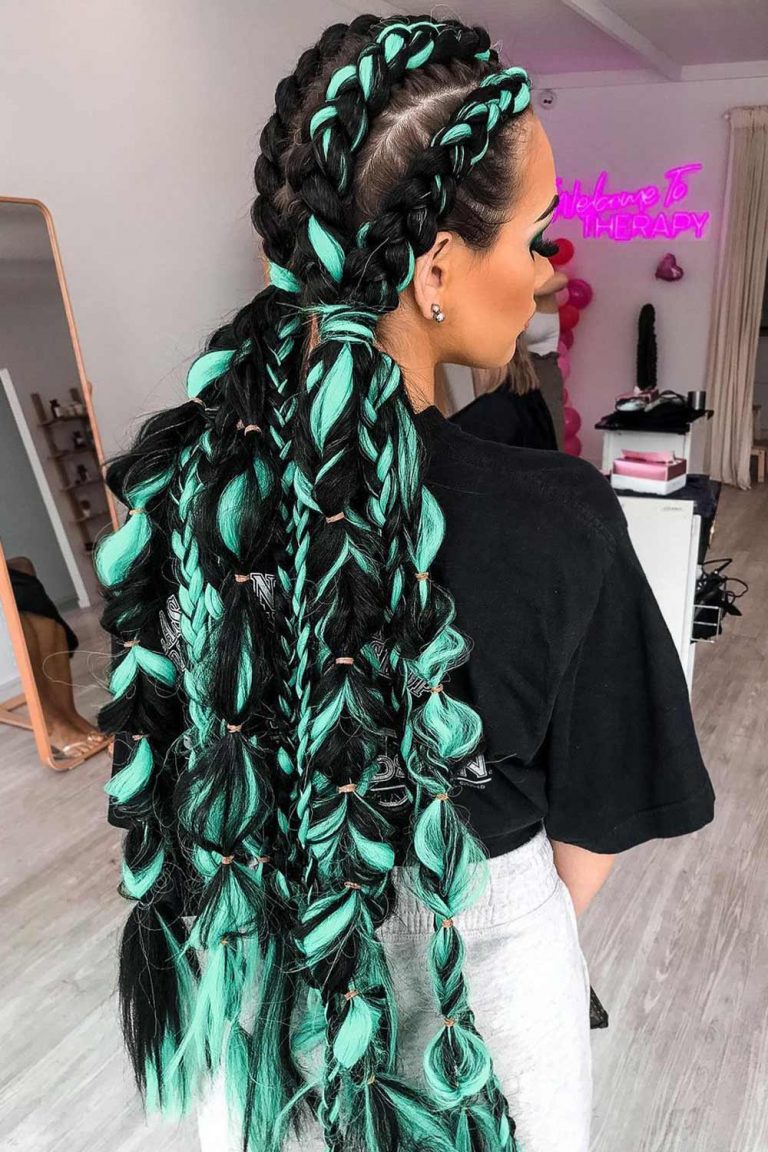 Credit photo: instagram.com/sass.and.braids
Cornrows are trendy, good-looking, and simple to achieve. As you think there isn't anything festive about the style, we beg to differ. It all depends on the type of decorative elements you choose to play around with. Voluminous and brightly shaded extensions will take your cornrows to the next level of cool in no time.
Boho Dutch Braids Merging into a Low Ponytail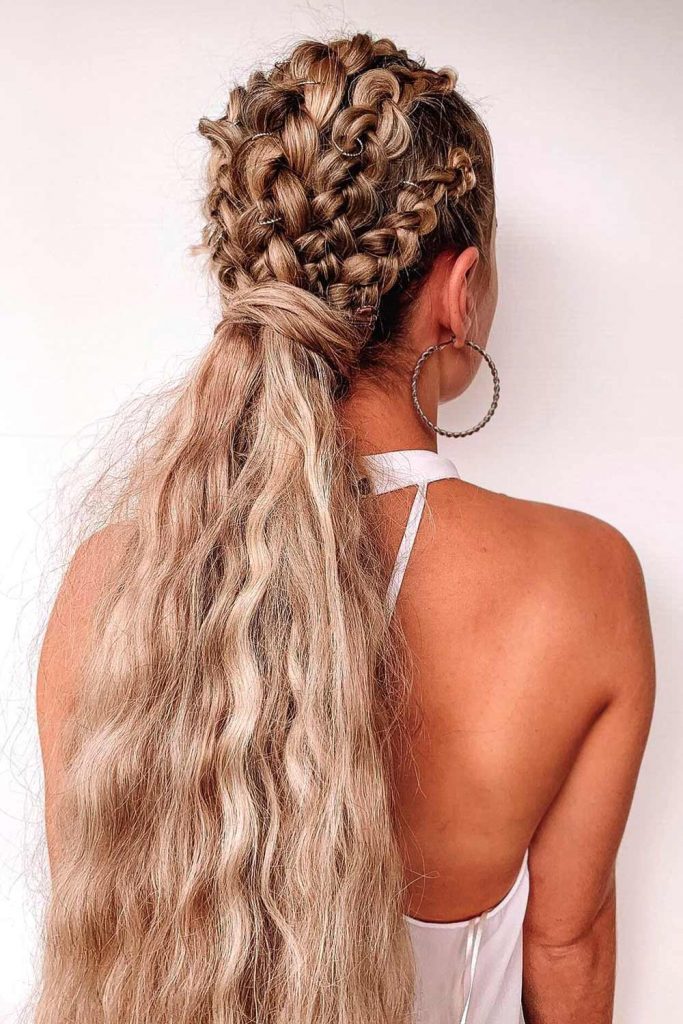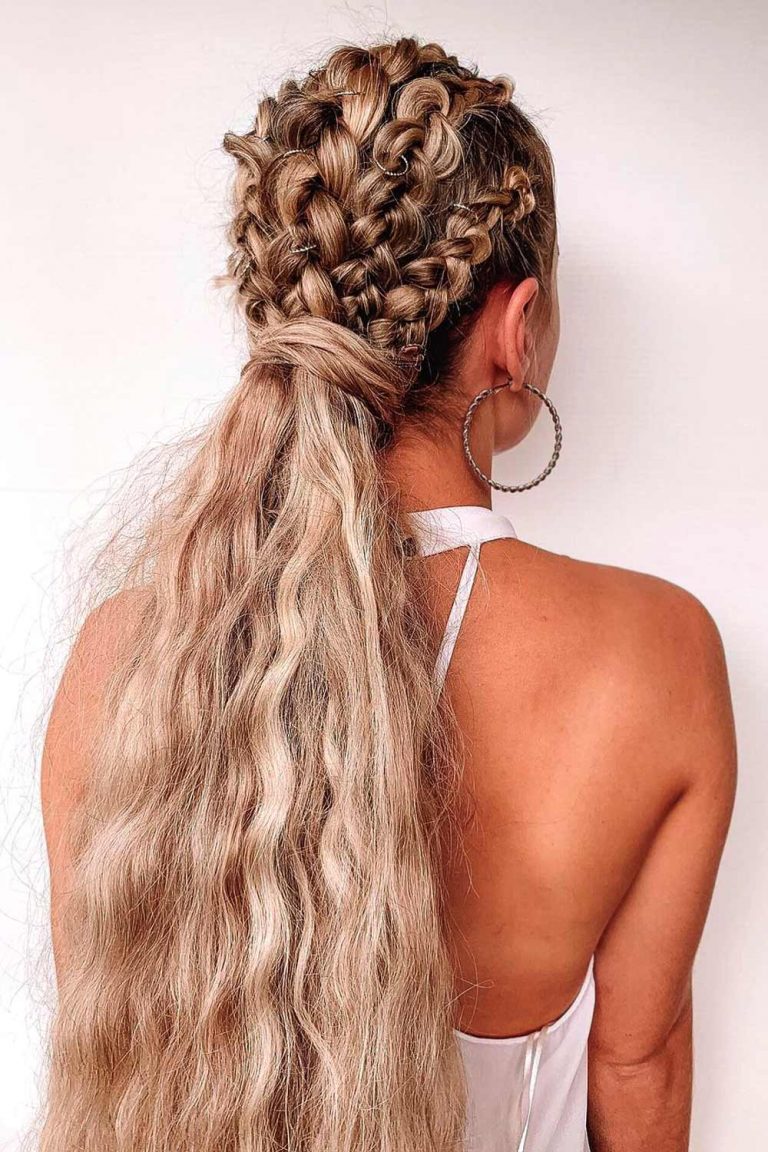 Credit photo: instagram.com/sass.and.braids
While rave braids are all about neon colors, boho styles focus on effortless appeal and chilled vibes. Ladies with long locks can gather their tresses into multiple Dutch braids, joined by a low, curly ponytail. The easy-going beach vibes and festive flairs are right in front of you.
Braided High Pony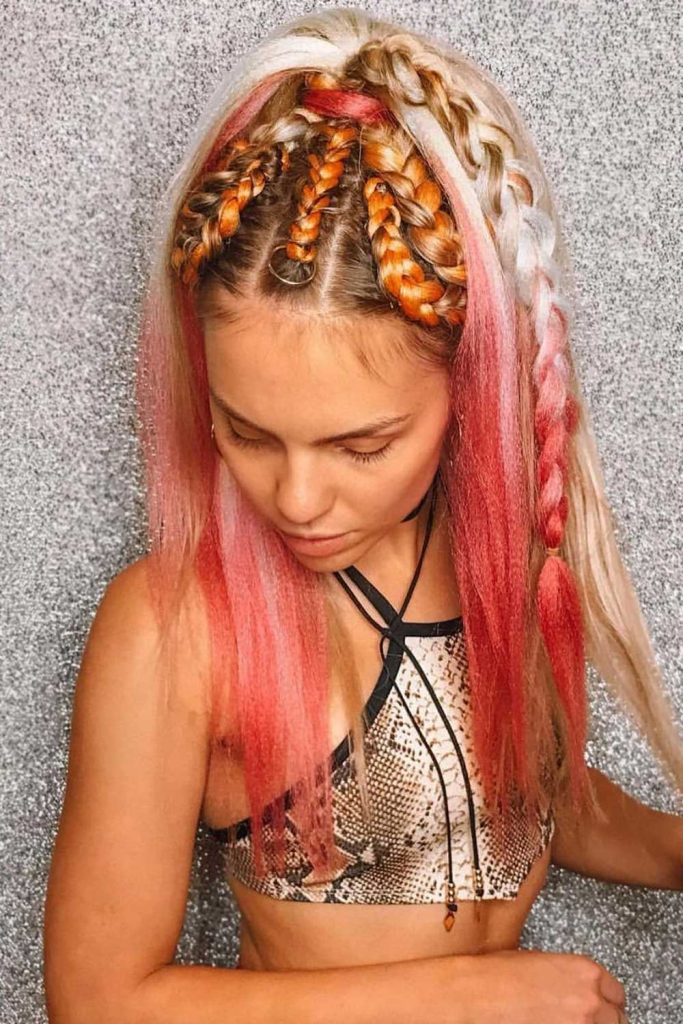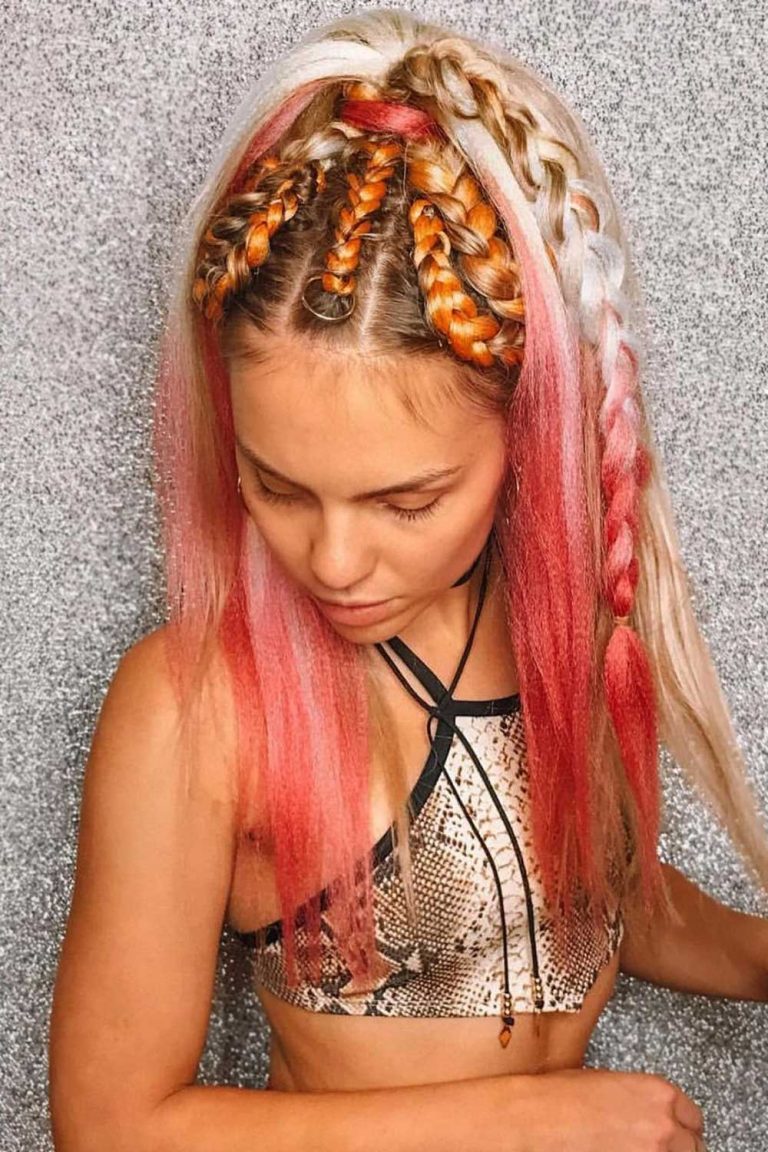 Credit photo: instagram.com/sass.and.braids
Among countless advantages of braids festival hair is their effortless appeal. All it takes is a bunch of cornrows secured on the top of your head in a neat pony. The possibility to take things further is always there, too – colorful extensions are for you to play around with.
Fancy Braided Hair with Rainbow Extensions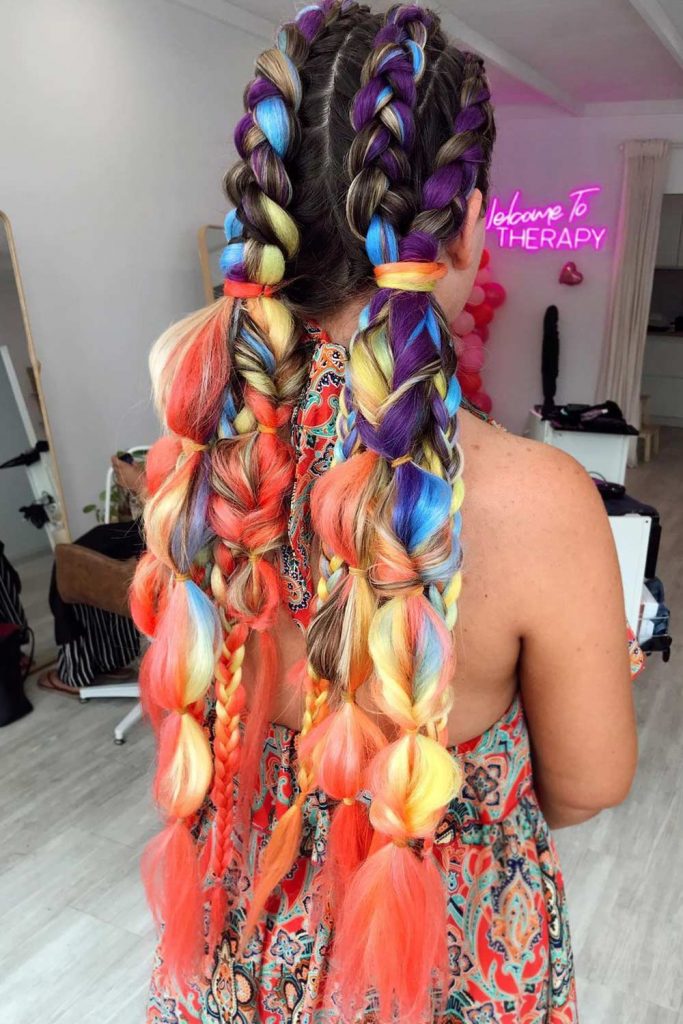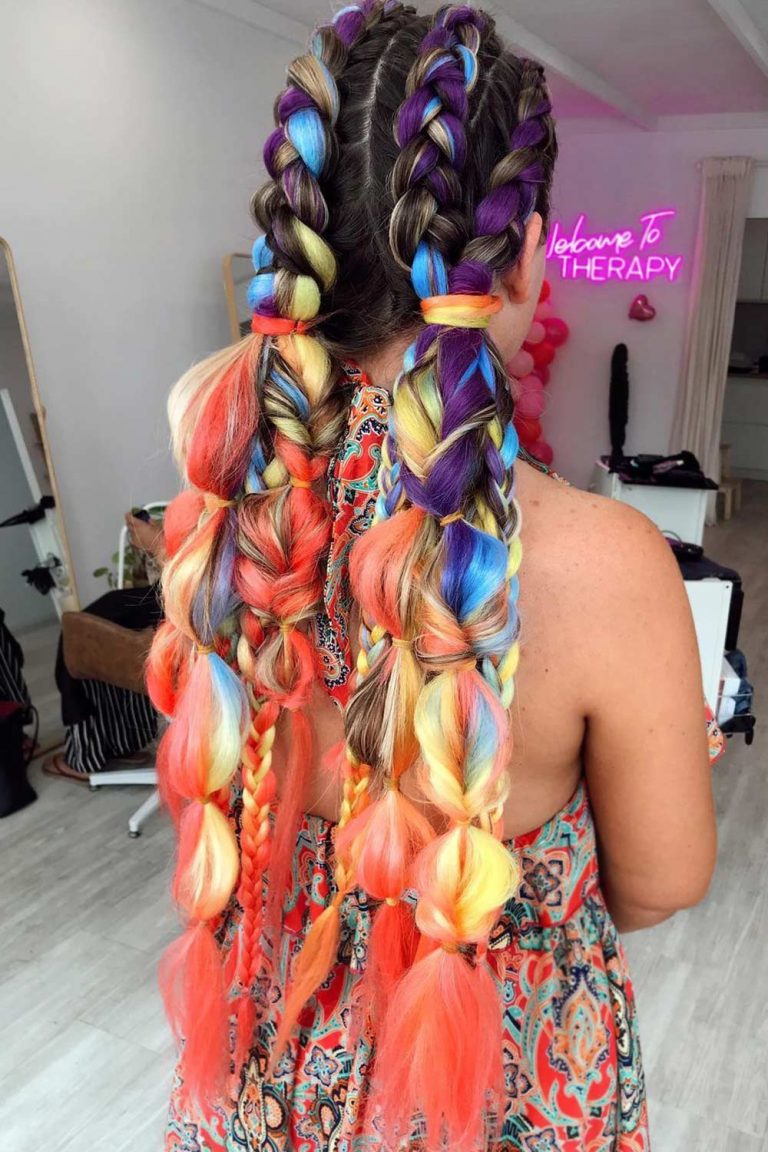 Credit photo: instagram.com/sass.and.braids
Anything that looks like kids braids on any other day seems like a creative 'do to pull off during the festival season. There is little use in cutting the number of shades implemented into the style when creating your festival image.
Long Dragon Braid in Pastel Hues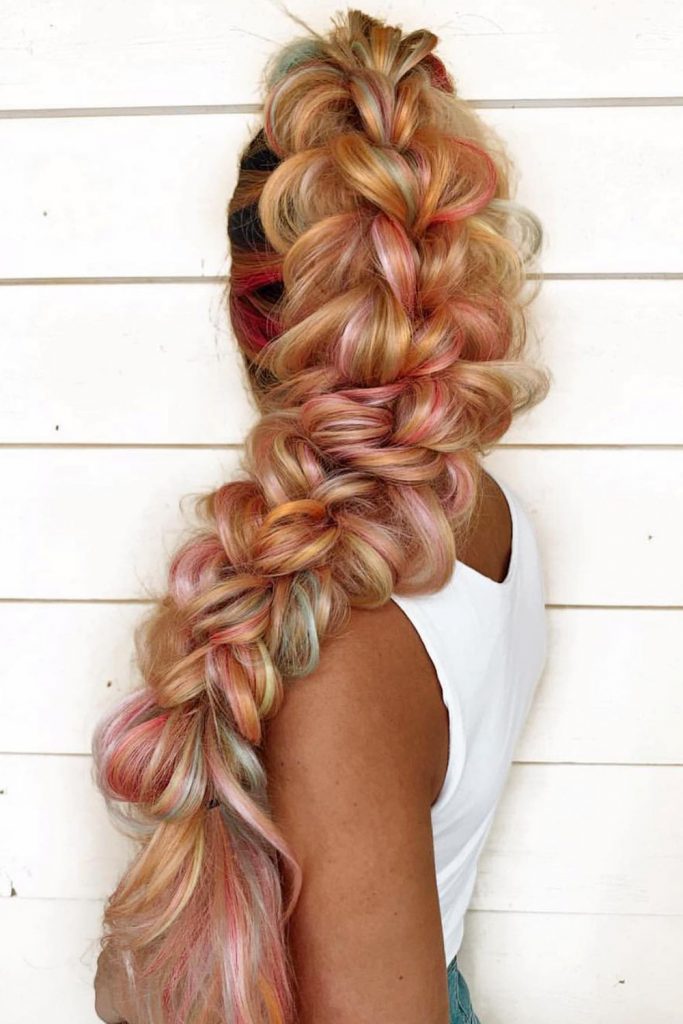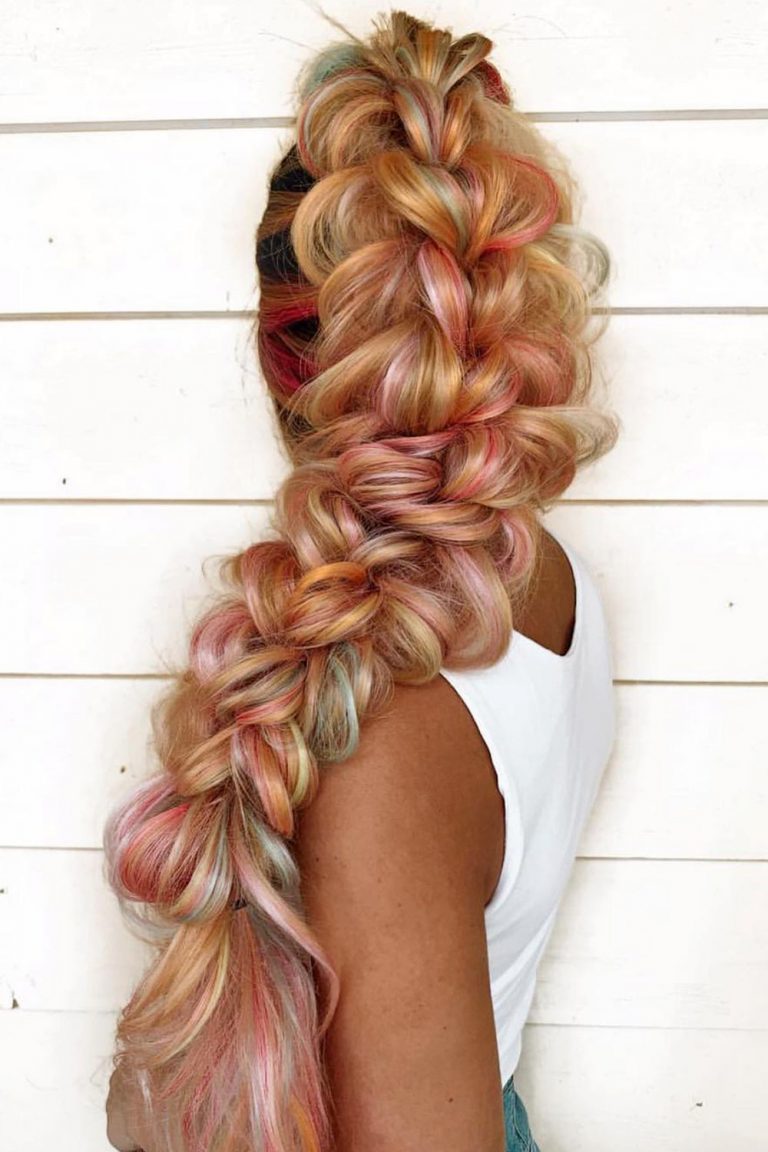 Credit photo: instagram.com/sass.and.braids
If there is any braid that can introduce drastic volume into the style, it is certainly a dragon braid. The style comes of great help when you have a long mane to manage, and you don't want to damage your tresses during the season. Besides, pastel highlights look gorgeous on every festive occasion and in everyday life.
Fairy-Blue Festival Braids with Edges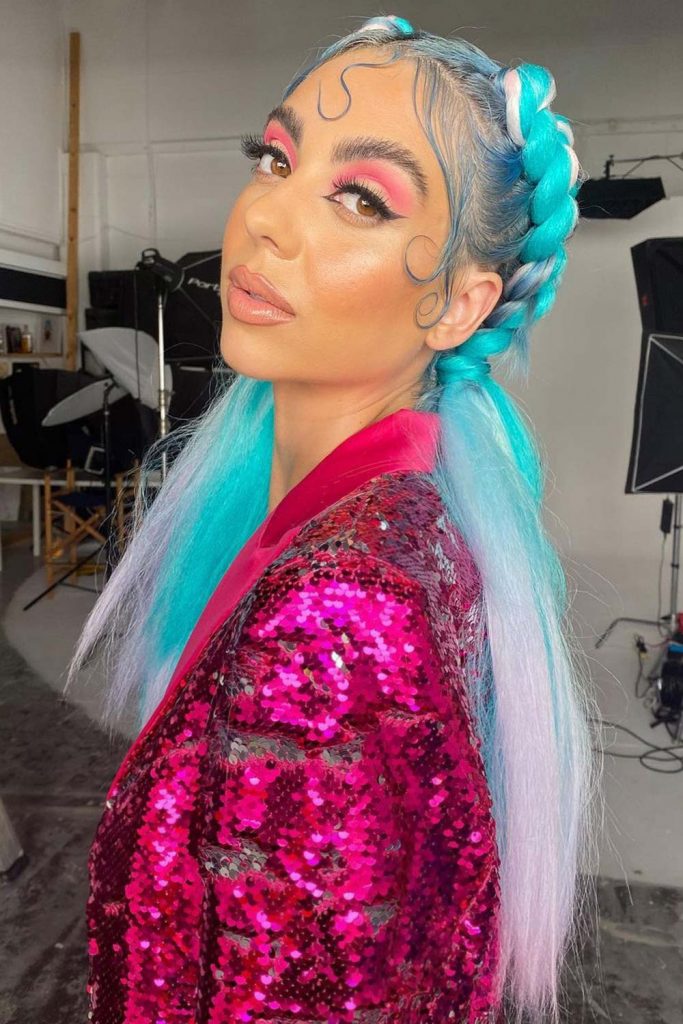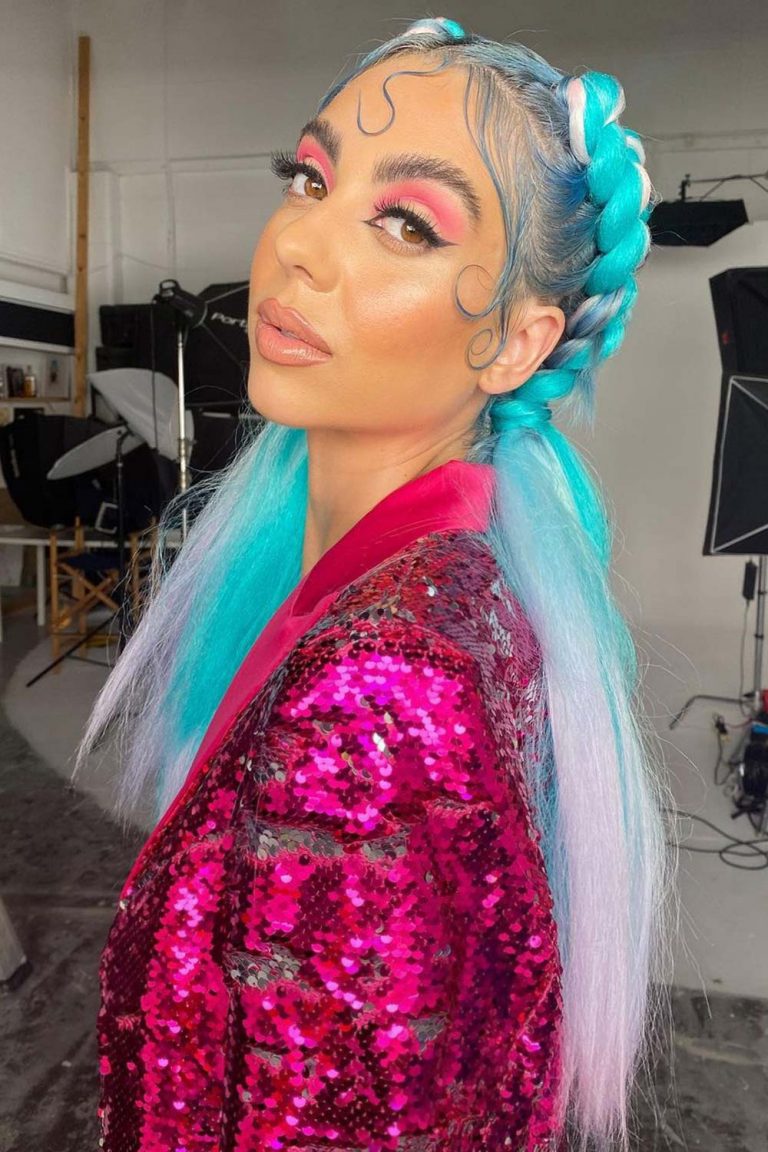 Credit photo: instagram.com/sass.and.braids
Lady Gaga can inspire tons of festival looks, and that is great. Wearing her one-time pastel blue tints in your locks may be enough to complete your Coachella look. But, there is room for improvement. Adding bright-blue extensions to your double side braids is an option to brood upon. Besides, you can skillfully frame your faces with edges. Set your imagination free, and you won't regret it!
Cornrows and Crimped Tresses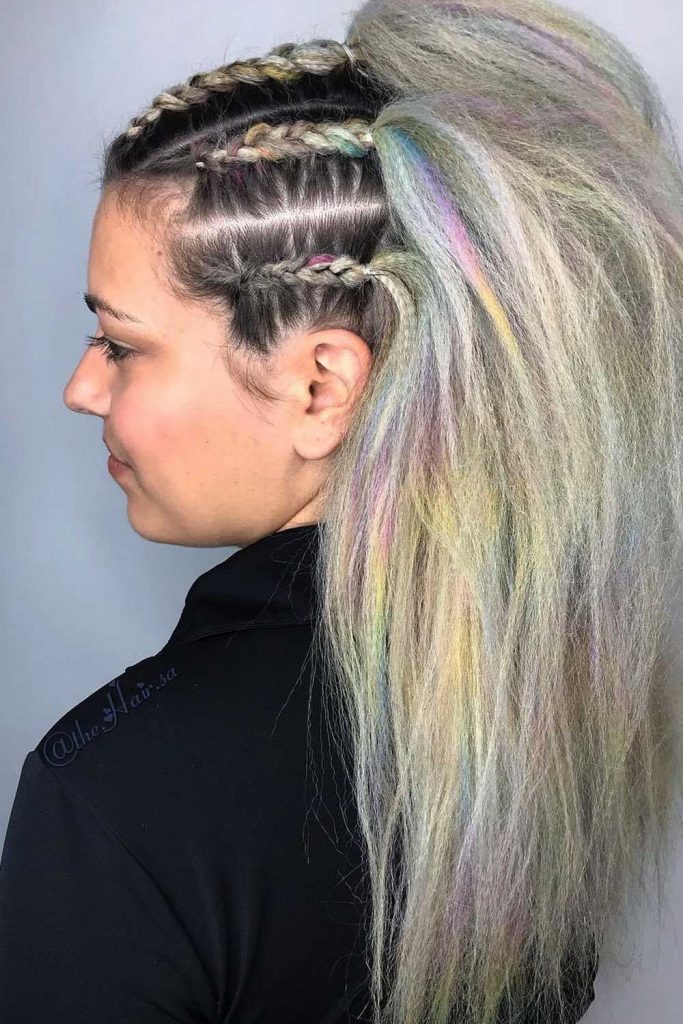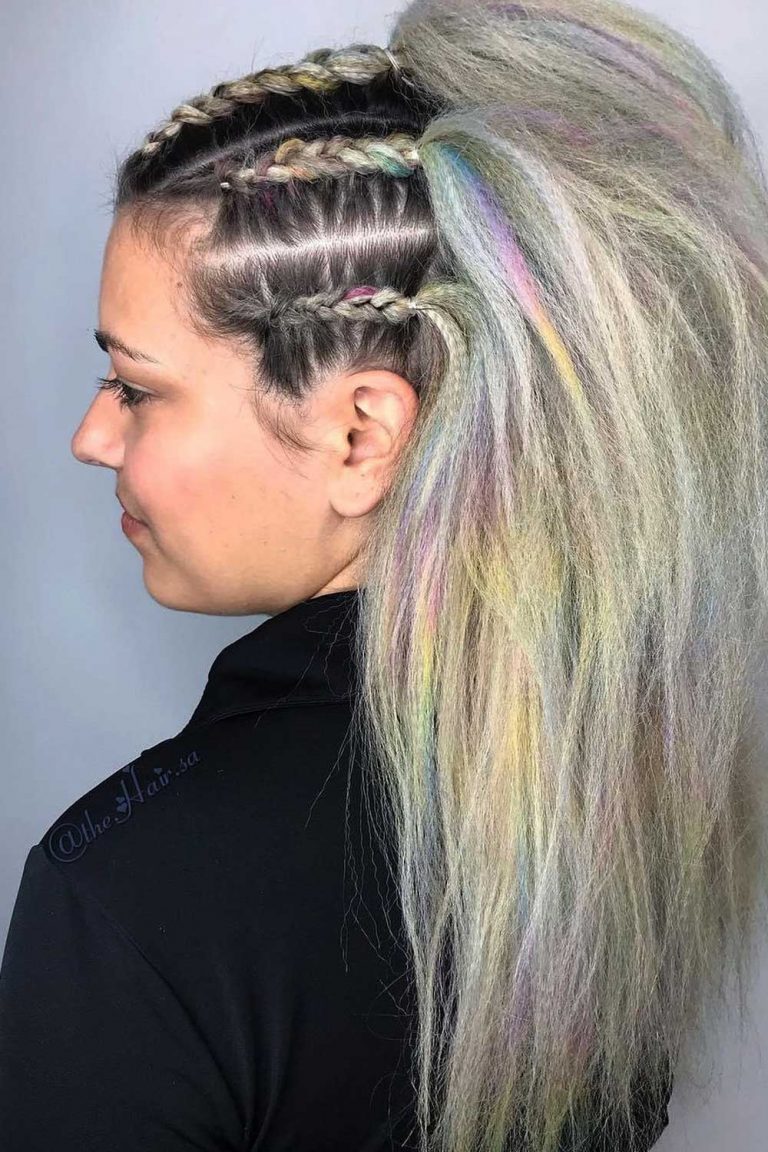 Credit photo: instagram.com/thehairsa
Keeping the hair out of your eyes during a sunny day a festival takes place is vital. While tiny cornrows deal with the mentioned task flawlessly, there is a fun part to implement into the style. That is where voluminous crimped curls come into play. Holographic highlights are a side option as well.
Twisted Purple Braids in a Half-Up Style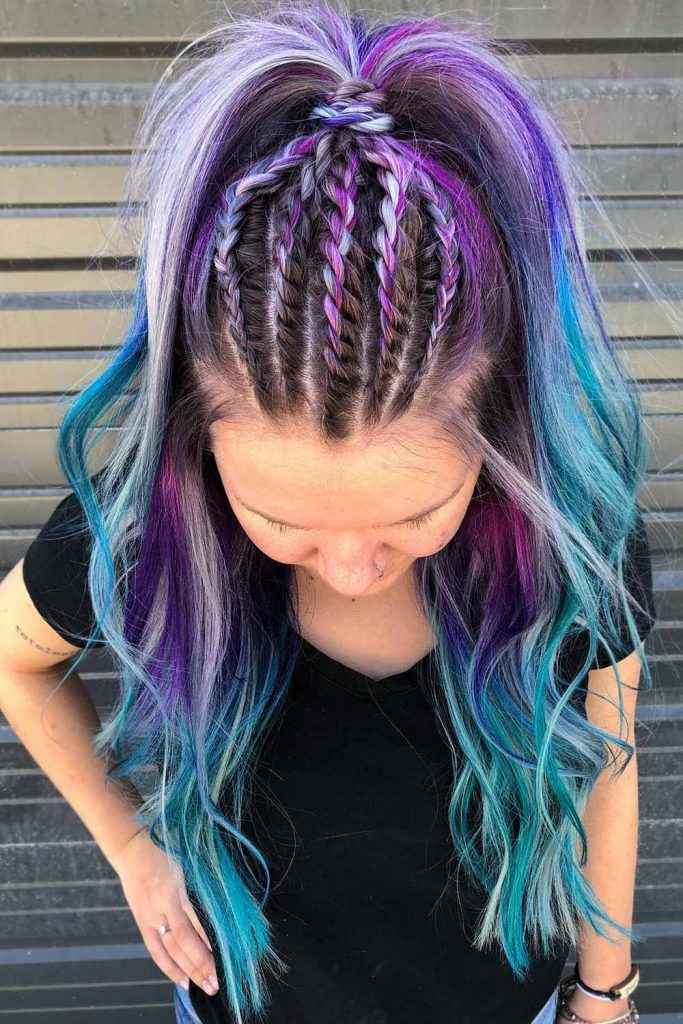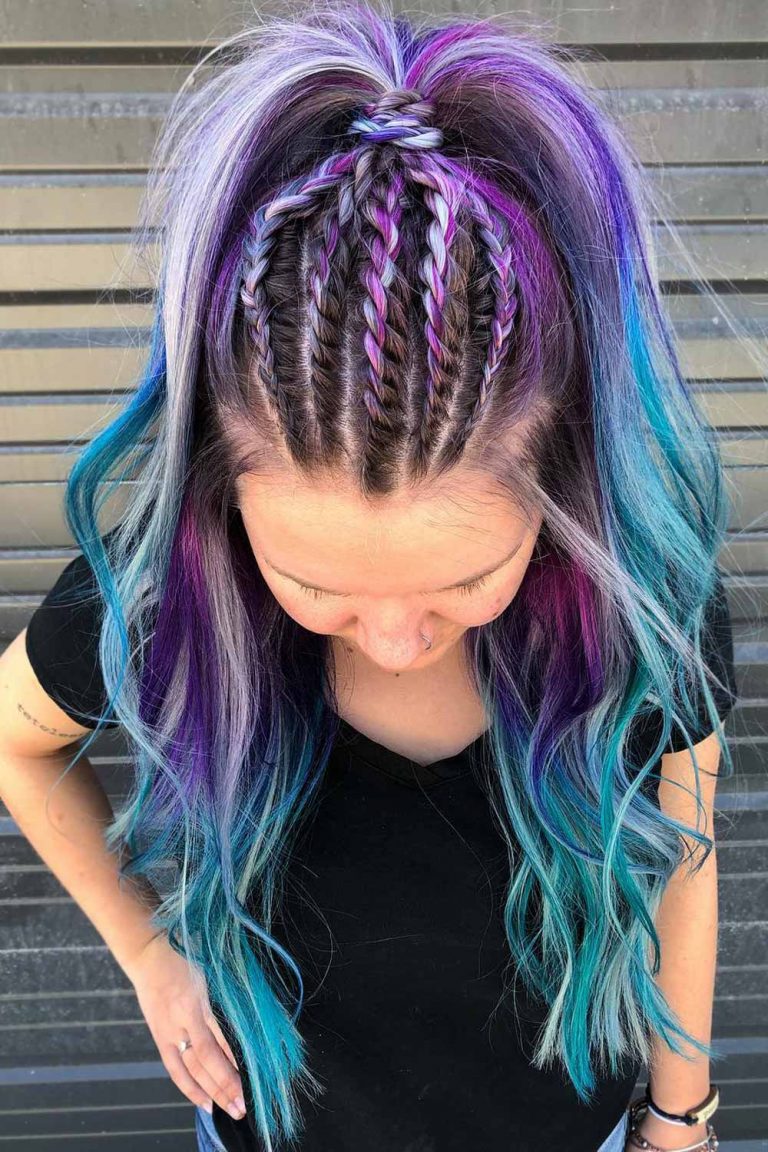 Credit photo: instagram.com/lzhouseofhair
One look at the brightly shaded mane depicted and you can say that no improvements are needed. However, we know how to showcase those blue-purple locks in the best light. While it may take a bit of time and practice to succeed with neatly twisted braids, the loose half-up won't take a lot of effort to complete the style with.
Colorful Rope Rave Braids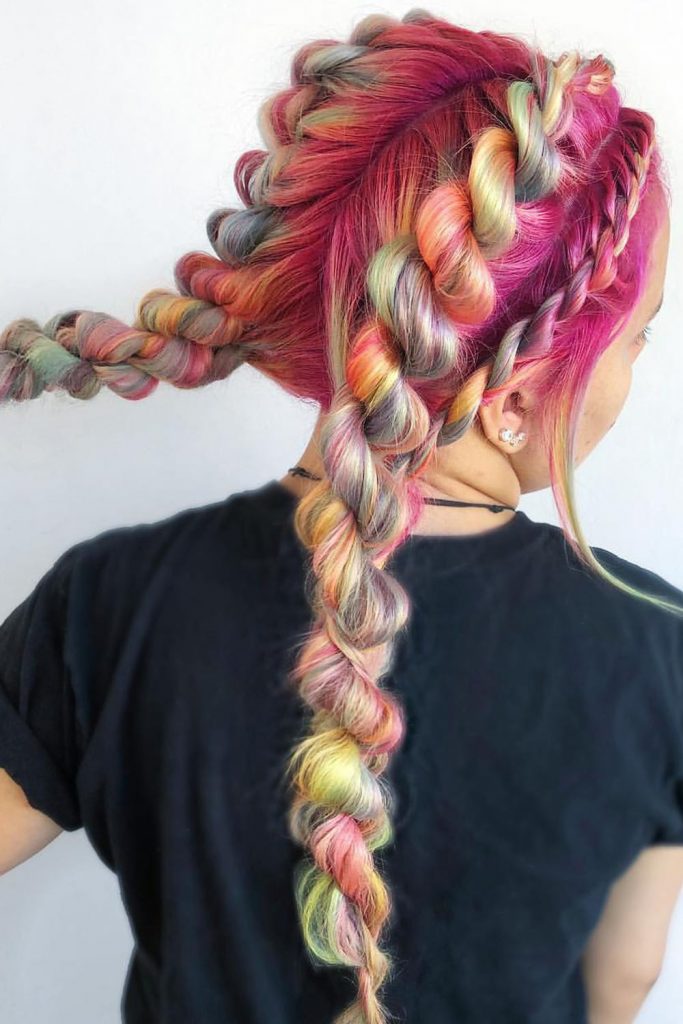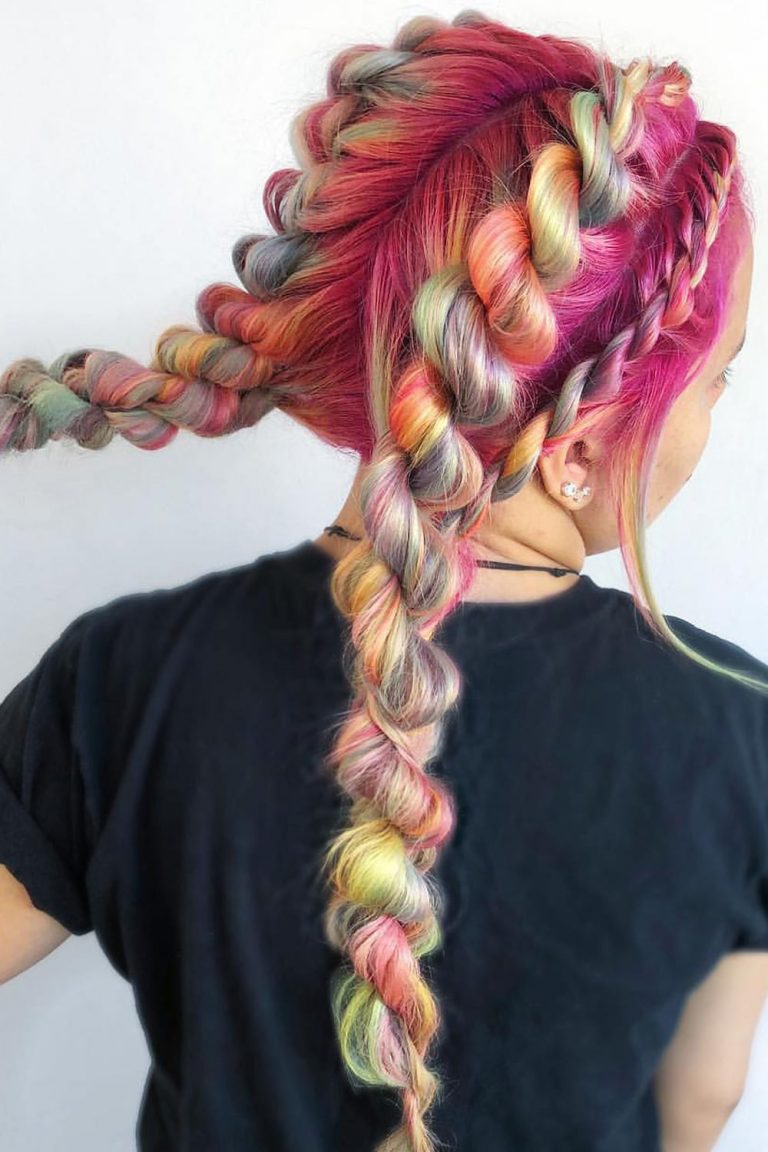 Credit photo: instagram.com/lzhouseofhair
Some festival hair braids are designed to enhance the colors that are already there. If that is your case, you can benefit from sleek double rope braids. To add some more spice, you can implement framing rope braids that fall into the two main ones. Leave some colorful bangs out to highlight your facial features as well.
Casual Fishtail Braid with Highlights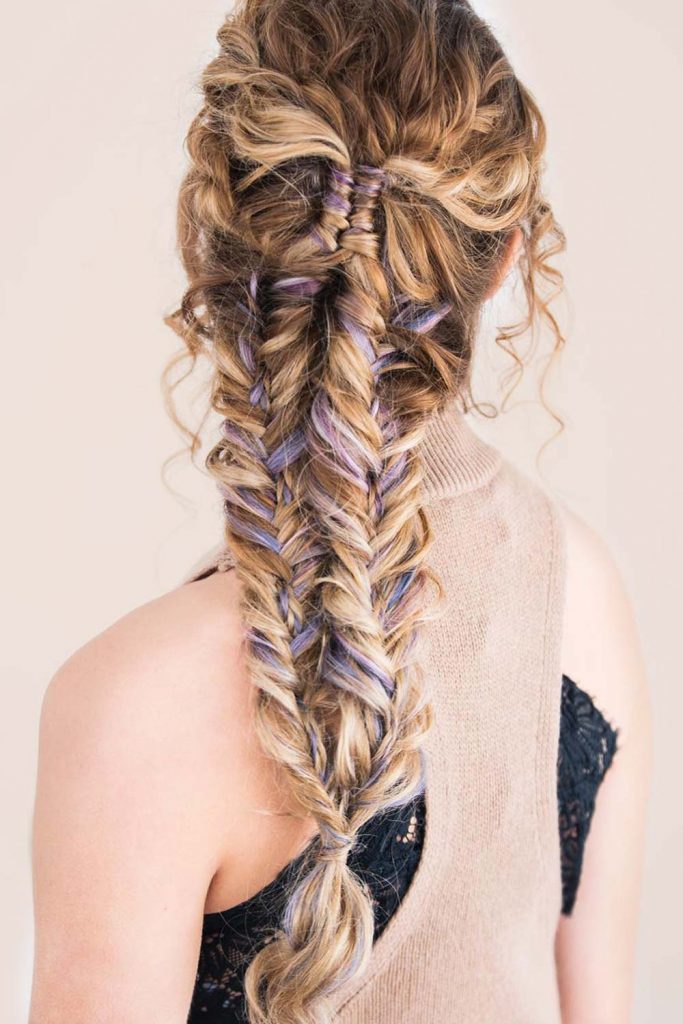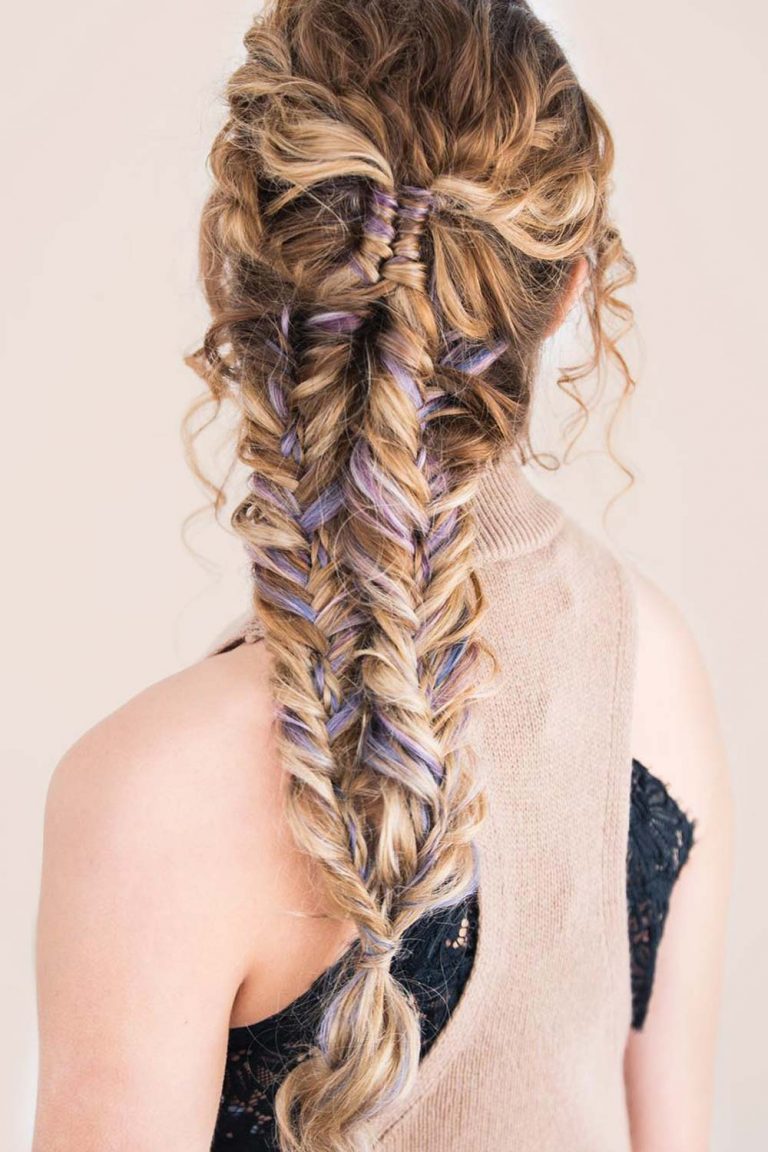 Credit photo: instagram.com/lzhouseofhair
Fishtail braids are a braiding style classics that everyone knows about. You may not know that they can be easily transformed into messy festival braids with just the right approach. Rule number one – add some curls to your mane before braiding it, and finger-comb the tresses only. Rule number two – don't try to stick to any braiding standards. A half-up fishtail falling into a double fishtail – check!
Skunk Face Framing Braids and a Braided Part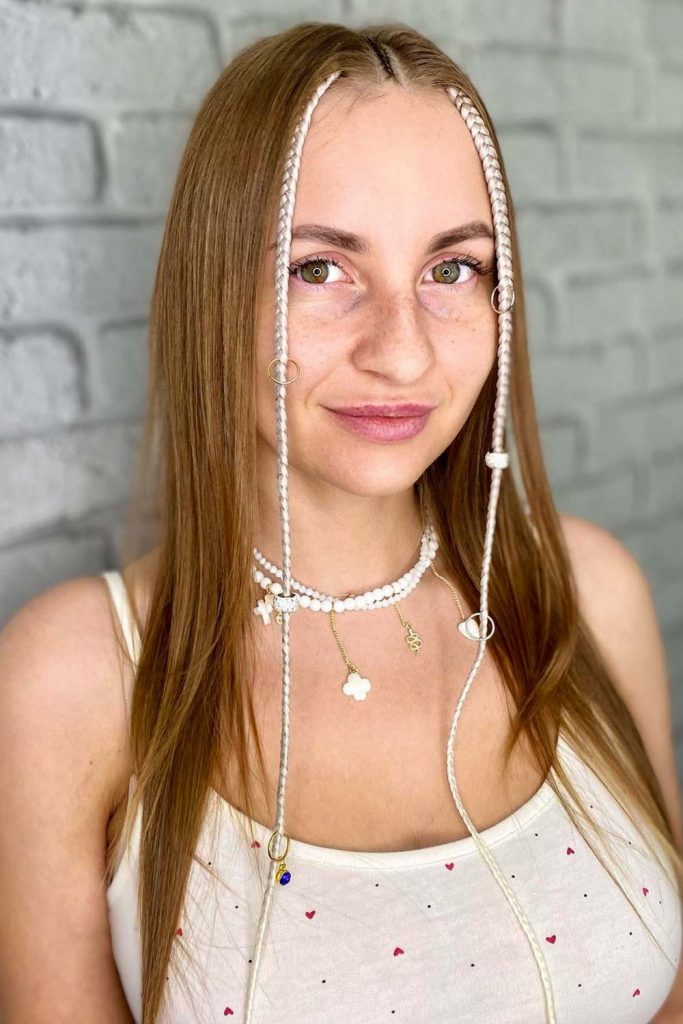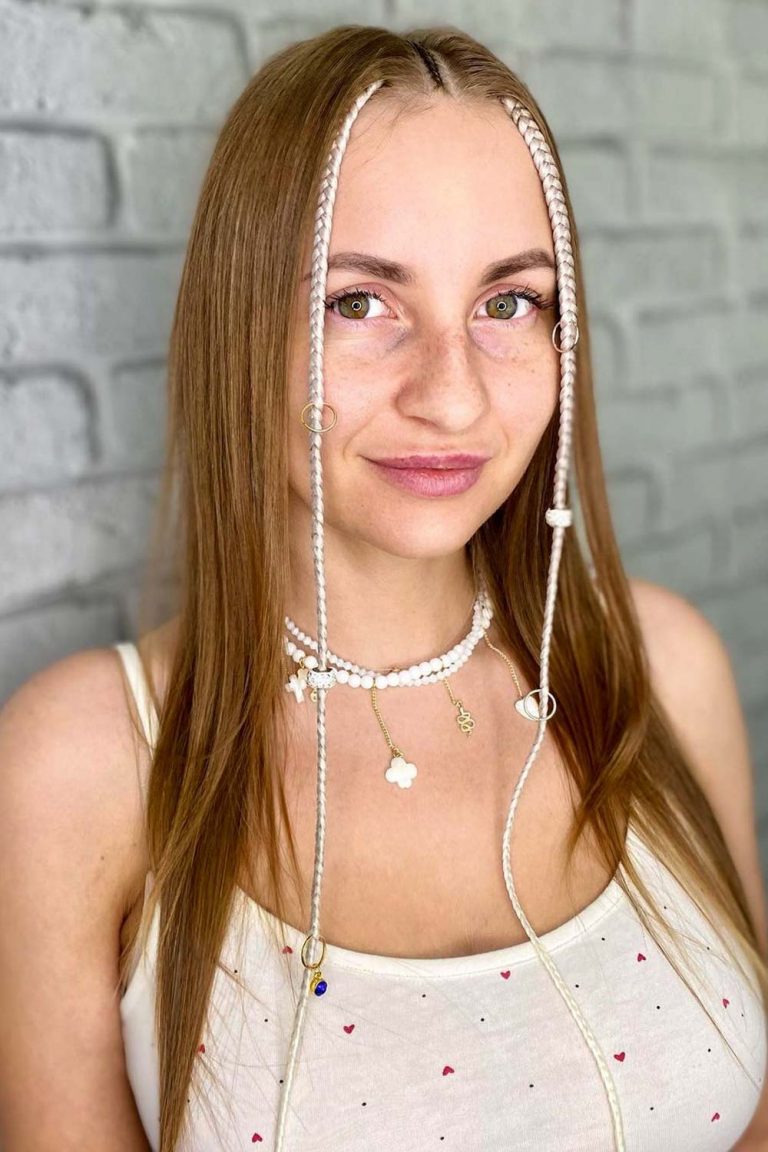 Credit photo: instagram.com/afrotinka.po
Should you be willing to wear your locks loose to the festival, we suggest you at least consider dookie braids as suitable embellishments. All it takes is to add a tiny center braid and frame your face with contrasting side braids. Yet, you can always go a little more creative and interweave embellishments into those tiny white braids.
Peek-a-Boo Box Braids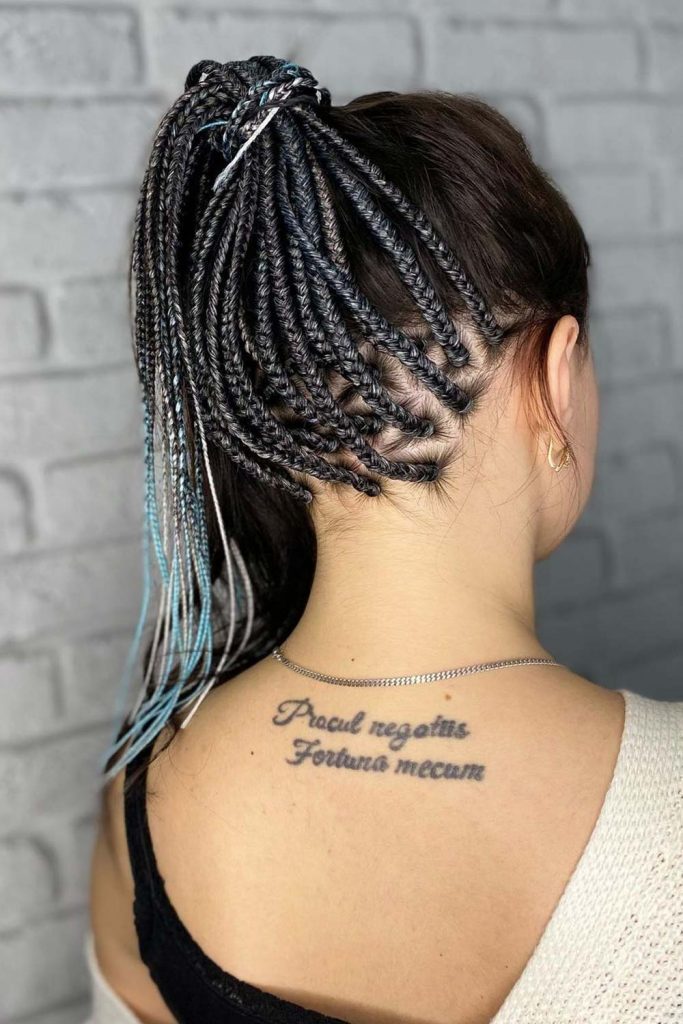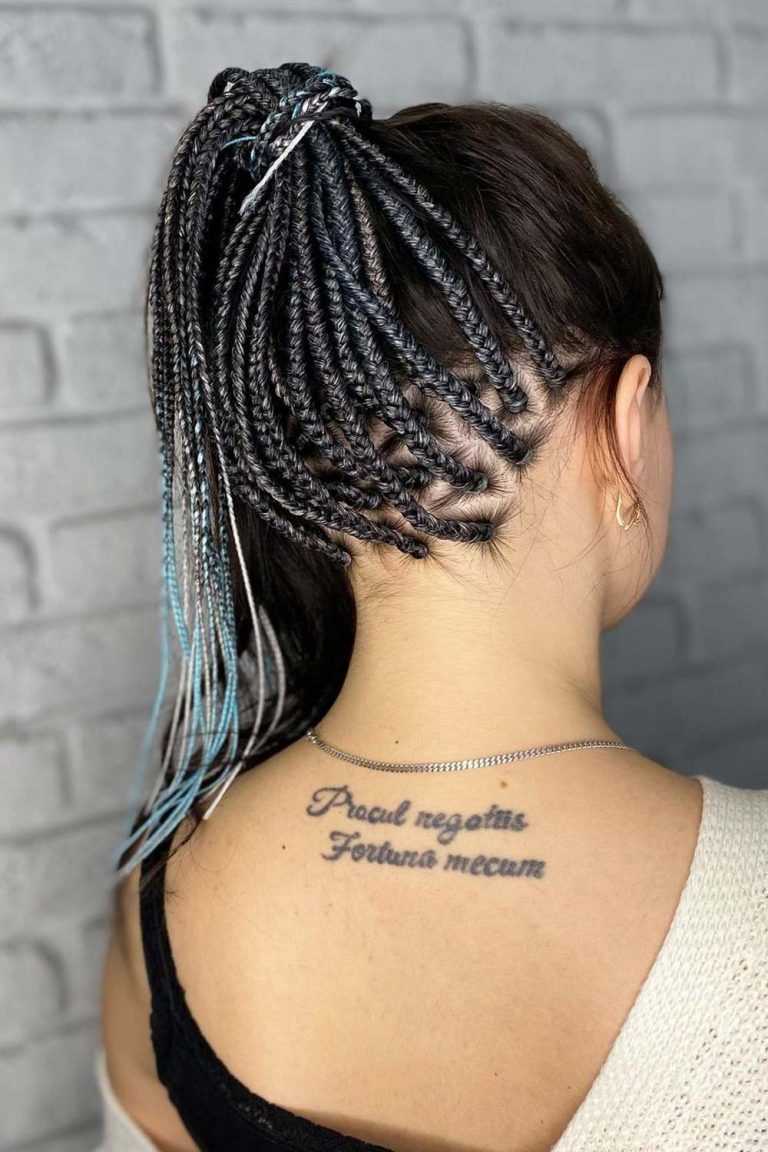 Credit photo: instagram.com/afrotinka.po
The first thing that enters your mind when it comes to peek-a-book styling is a colorful mane peering from under the veil of your mane. However, you can replicate the look with box braids too. All it takes is to braid the back of your head neatly and leave the top lie loose.
Braided Top Knots with Glitter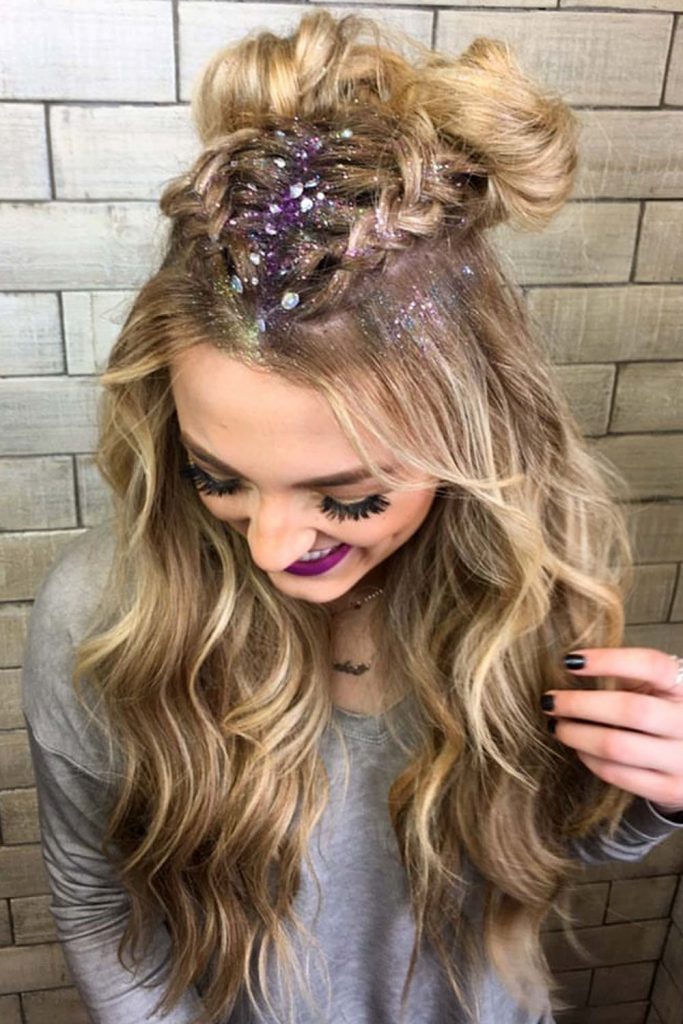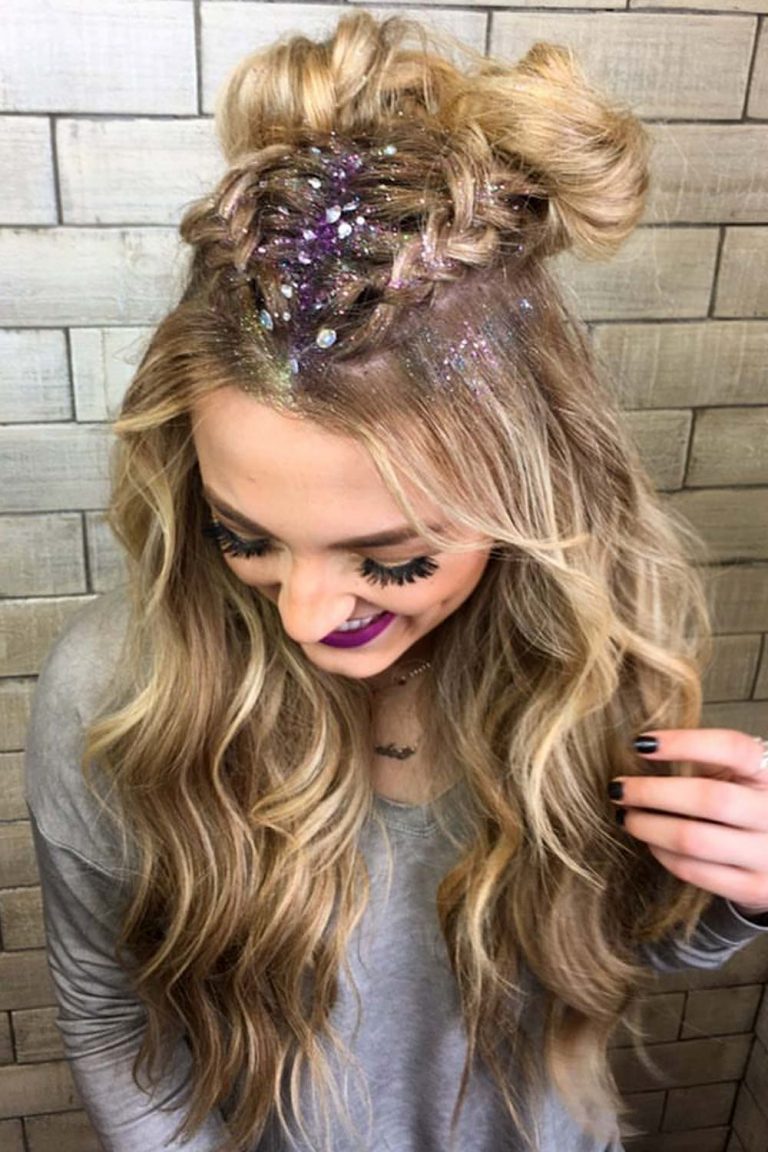 Credit photo: instagram.com/laceyelisabethbeauty
Another widely-liked attribute of festive hairstyles is glitter. However, you should use it with care not to take away the attention from the style itself. Double-braided top knots look marvelous when paired with light curls. A center part sprinkled with contrasting purpled glitter enhances the look perfectly.
Innumerate Colorful Bubble Braids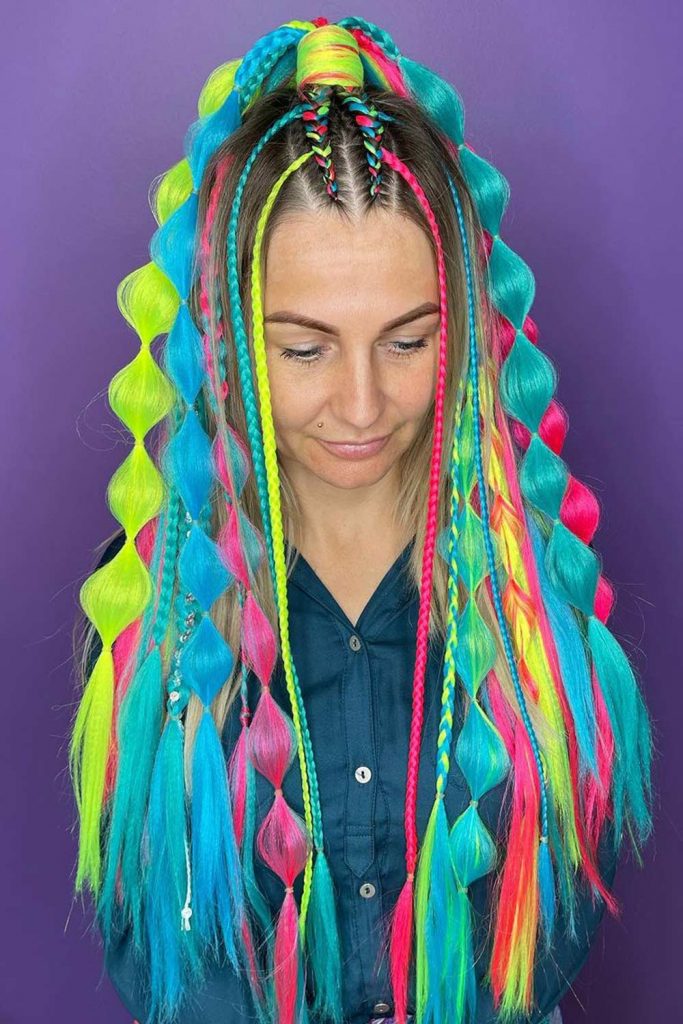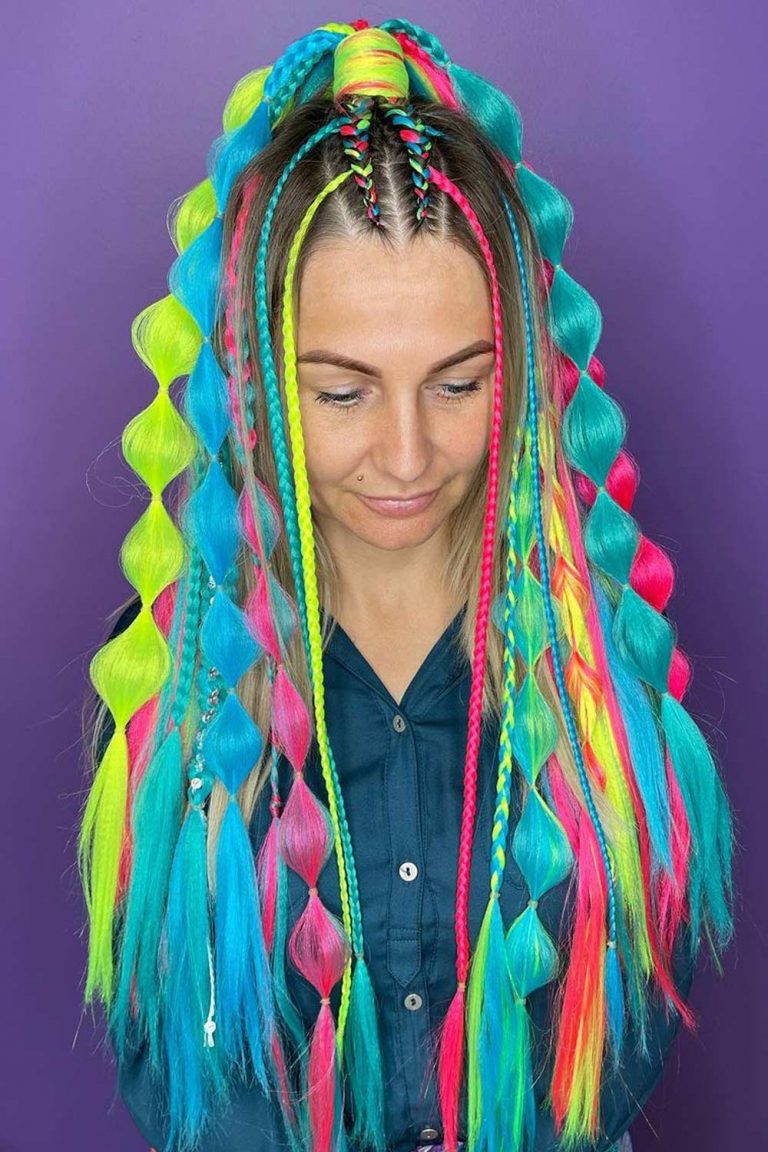 Credit photo: instagram.com/game_of_braids
Bubble braids are known for their simplicity and mesmerizing appeal. Yet, it may not be enough when heading to an anticipated event. Thus, you can multiply the braids, experiment with their size and form, and bring out the best of the braid with electric colors.
Mystery Braids with Lilac Highlights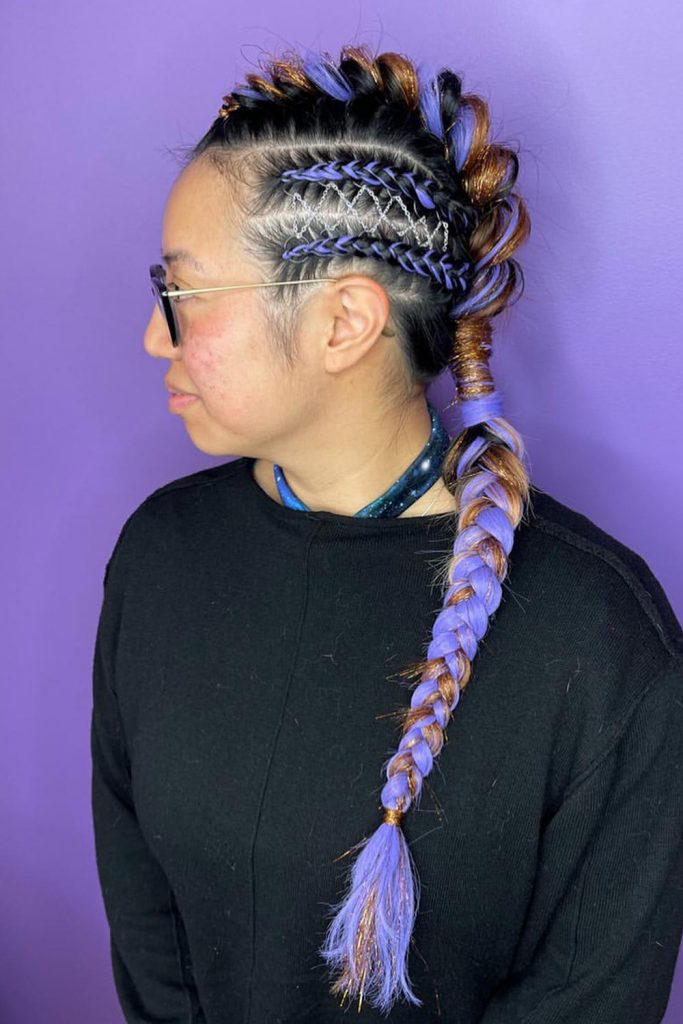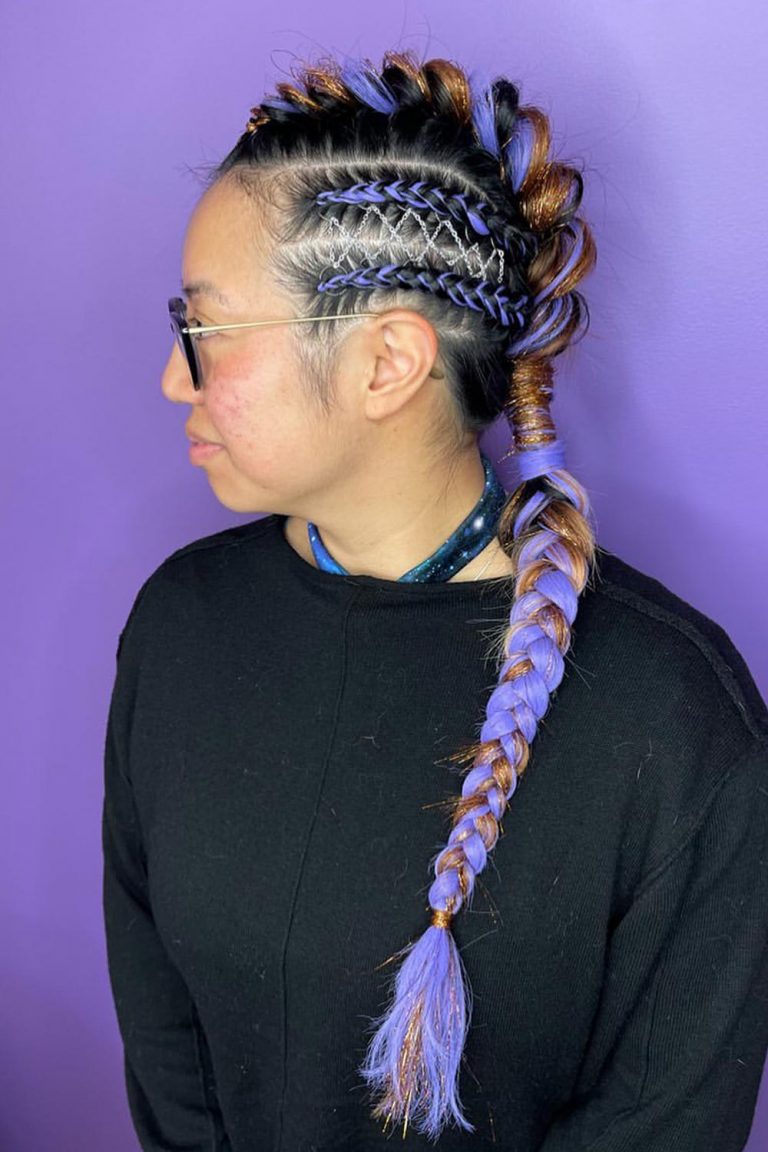 Credit photo: instagram.com/game_of_braids
Should you decide to keep all the hair in so that it does not get in the way, mystery braids will help you deal with the task effectively. On top of that, you can spice things up a little with simple yet fancy stitch braids interlaced with one another. Besides, contrasting and colorful highlights are always welcome.
Double Pull-Through Braids with 3D Effect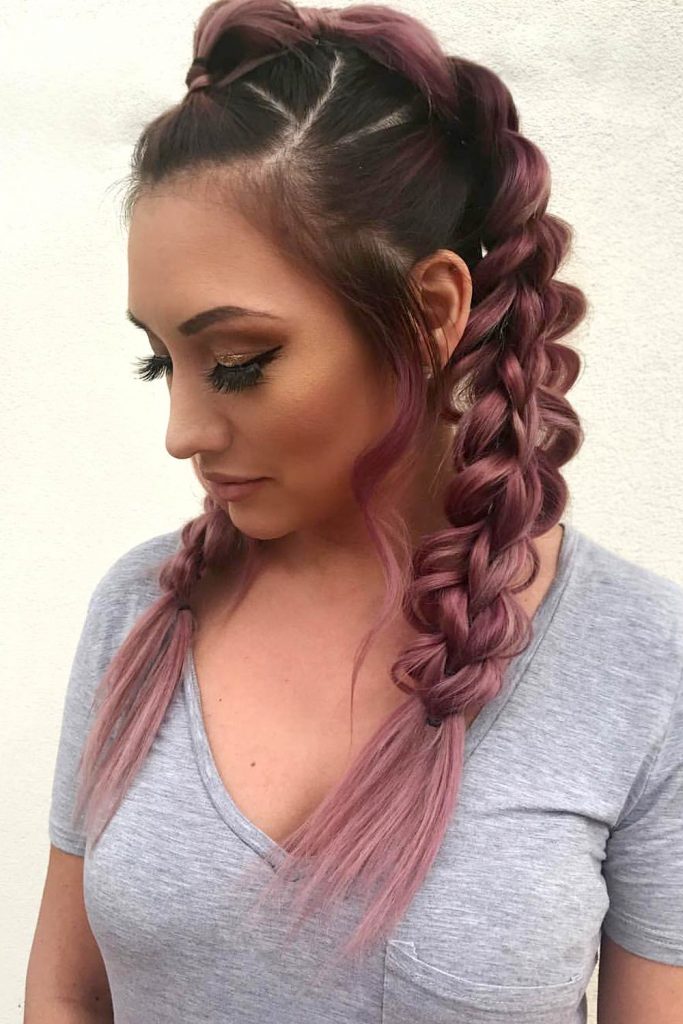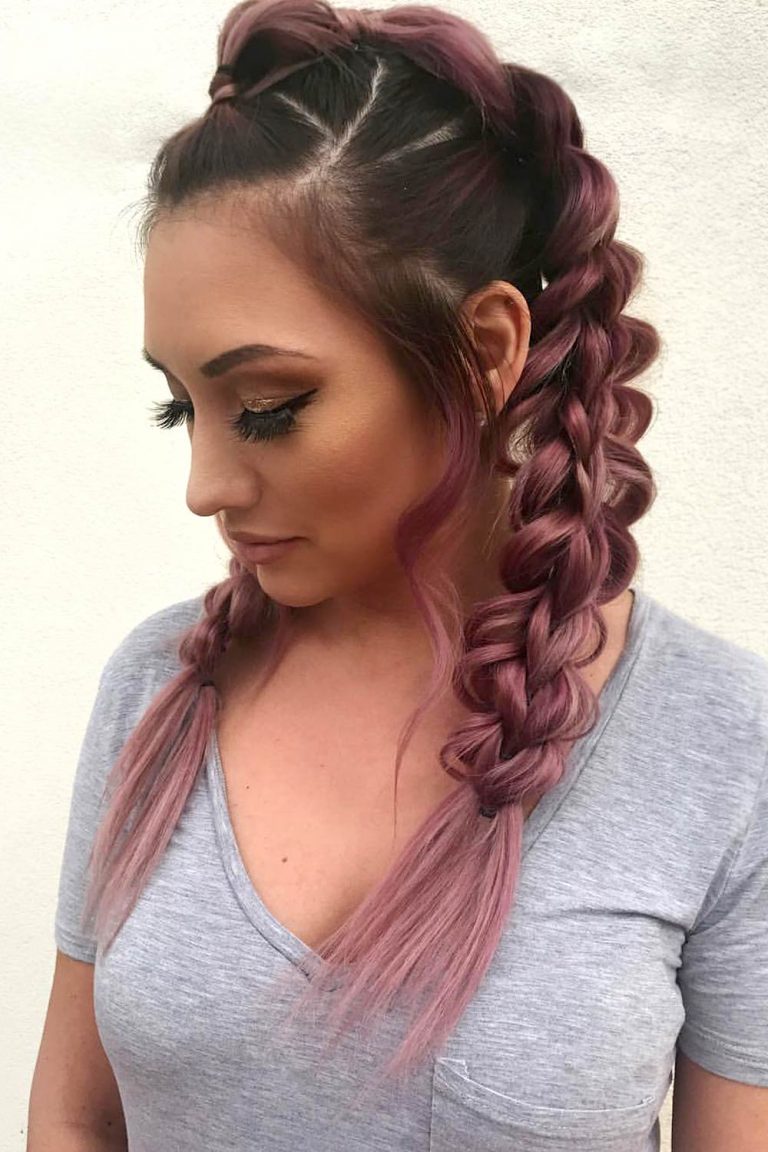 Credit photo: instagram.com/thehairstylish
People who usually head to music festivals are unpredictably creative in their day-to-day life, which is excellent. In case you fancy a dusty mauve balayage in your daily routine, it's advised to embrace it to the fullest when heading to the concert. While a simple pull-through may seem a little too mundane, we suggest you split it in two as you move down the length. Frame your face well with side bangs, and you will fall in love with the look in no time.
Braided Festival Crown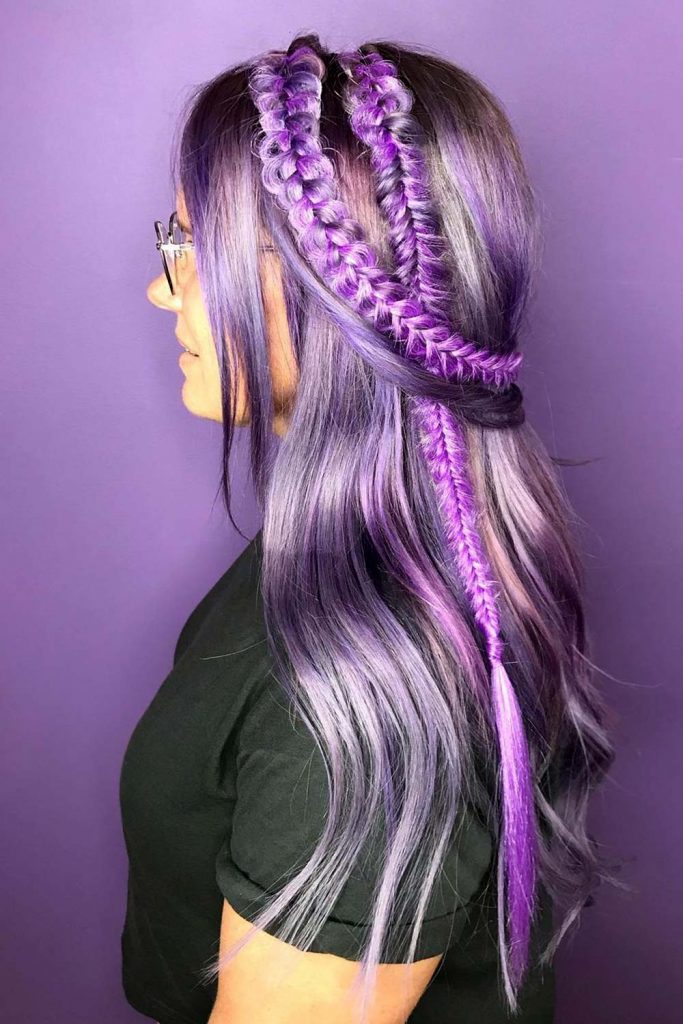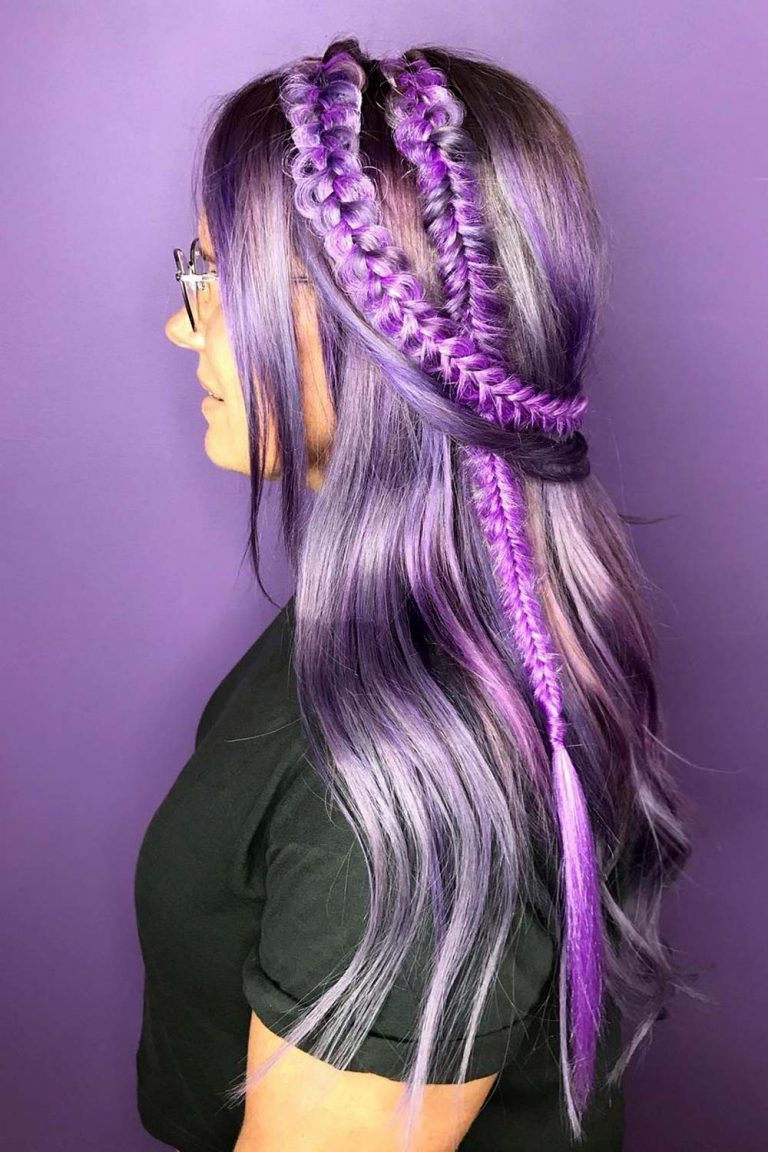 Credit photo: instagram.com/game_of_braids
A delicate crown braid is always a great idea to pull off. However, when heading to a festival, you may want to sprinkle it with casual flair and an easy-going attitude. That is where brighter add-ins paired with loose fishtail braids come of help.
Vibrant Side Cornrows with a Top Pony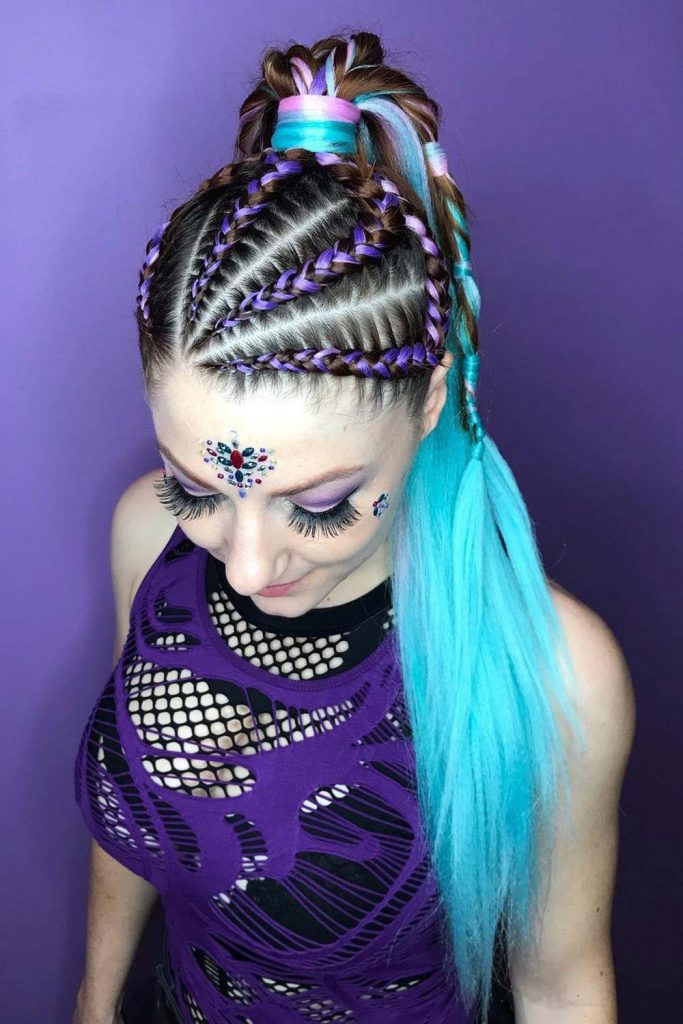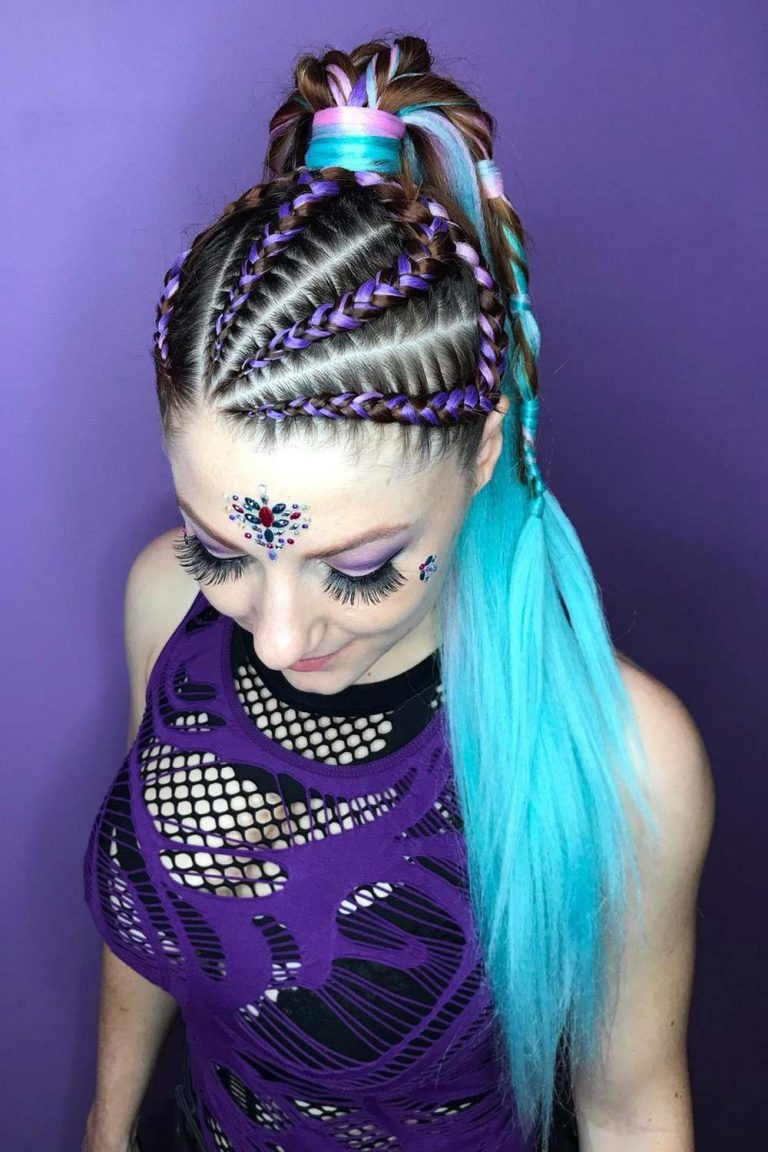 Credit photo: instagram.com/game_of_braids
Coachella braids captivate our attention due to their colorfulness but not only. The style of the braid matters too. If you don't want to go for classy cornrows this time, a side version of those is on the table. Yet, you may need a helping hand to succeed with this intricate 'do.
Double Extra Long Pull-Through Turquoise Braids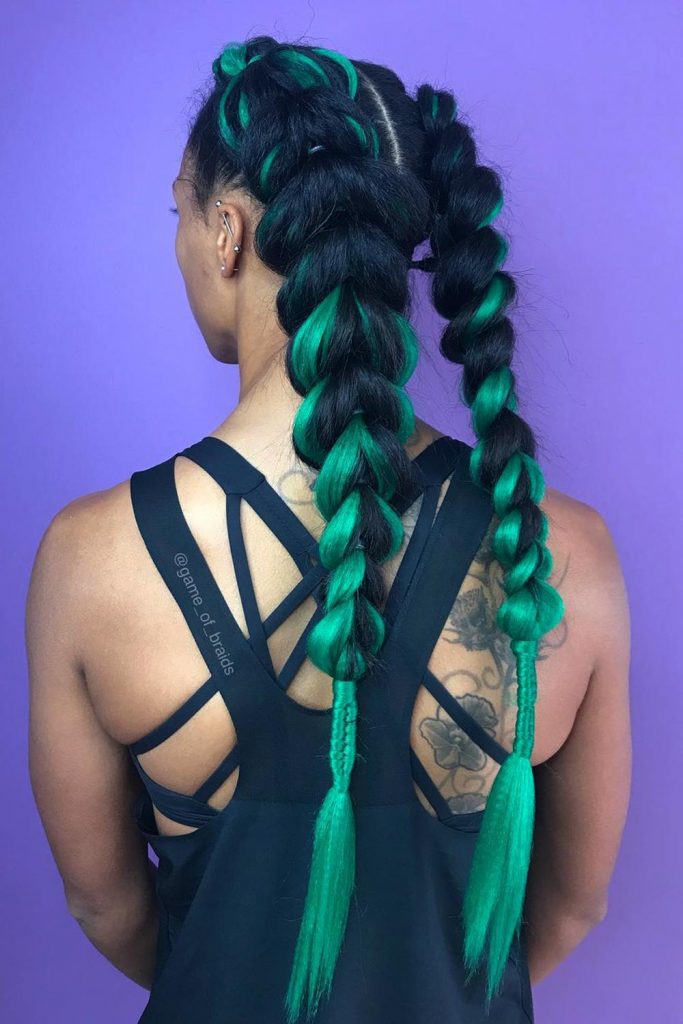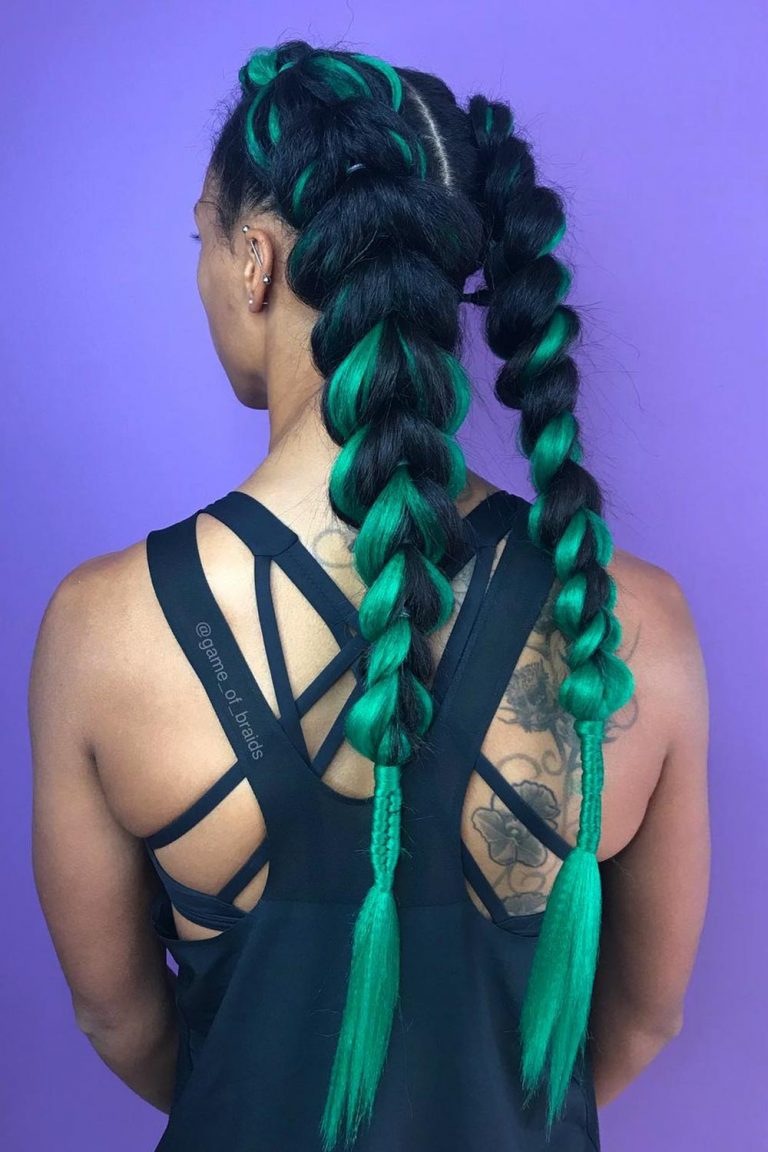 Credit photo: instagram.com/game_of_braids
Keeping things simple does not mean being unfit for the festival season. On the contrary, even the most reserved looks can acquire a festive vibe when approached correctly. For instance, ultra-long pull-through braids will become a head-turner if you spice them generously with outstanding turquoise add-ins.
Dutch Pigtails Ocean-Blue Glitter Part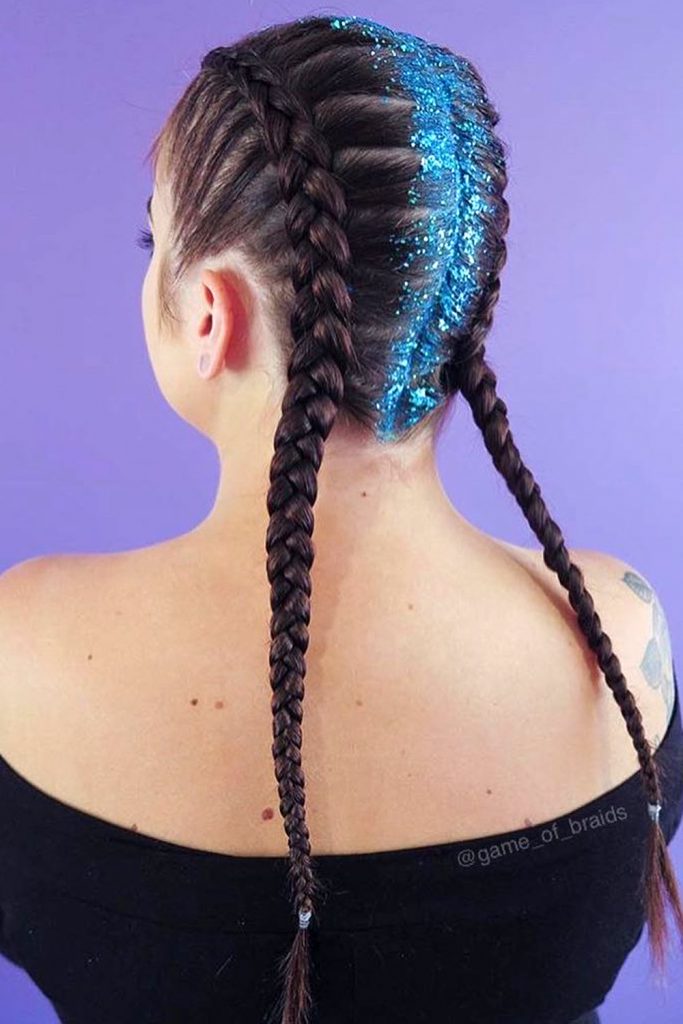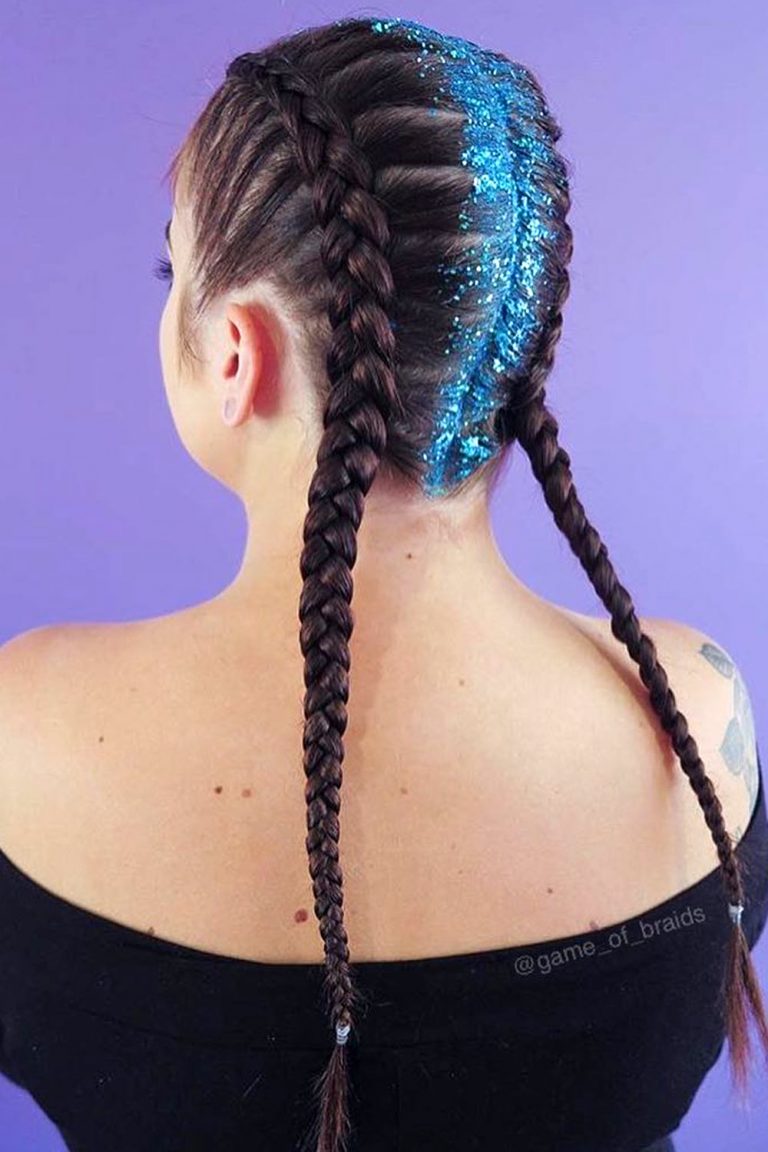 Credit photo: instagram.com/game_of_braids
Glitter festival hairstyles are all the rage at the moment. Should you be willing to cut on the cost of the style a little, a mixture of classy Dutch pigtails adorned with ocean-blue glitter center part is a variant to think about.
Braided Top Knots with Spiral Part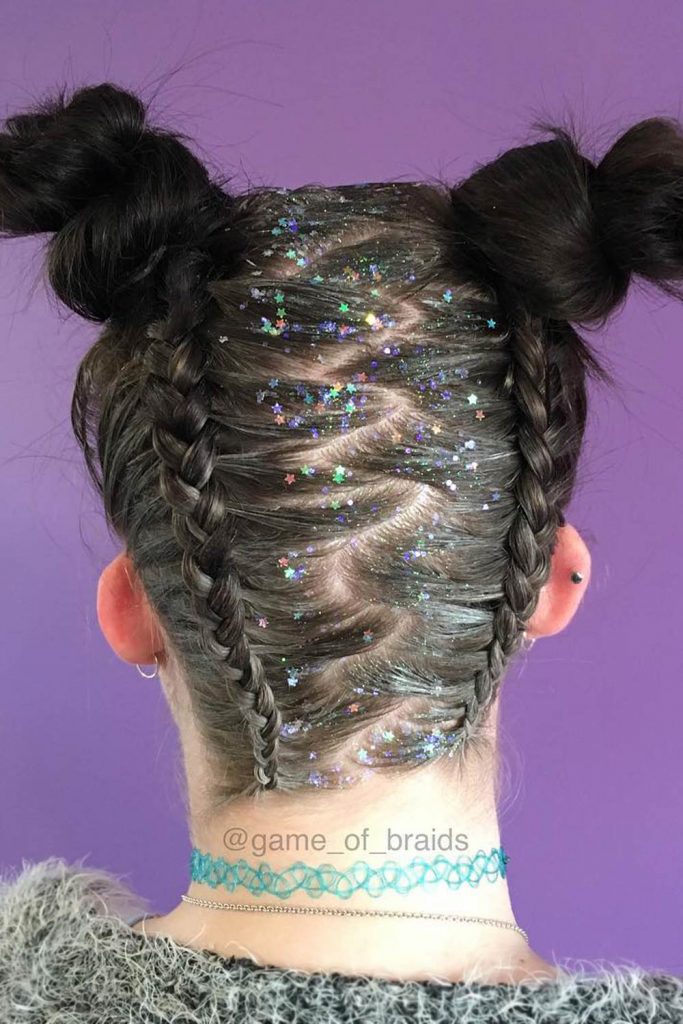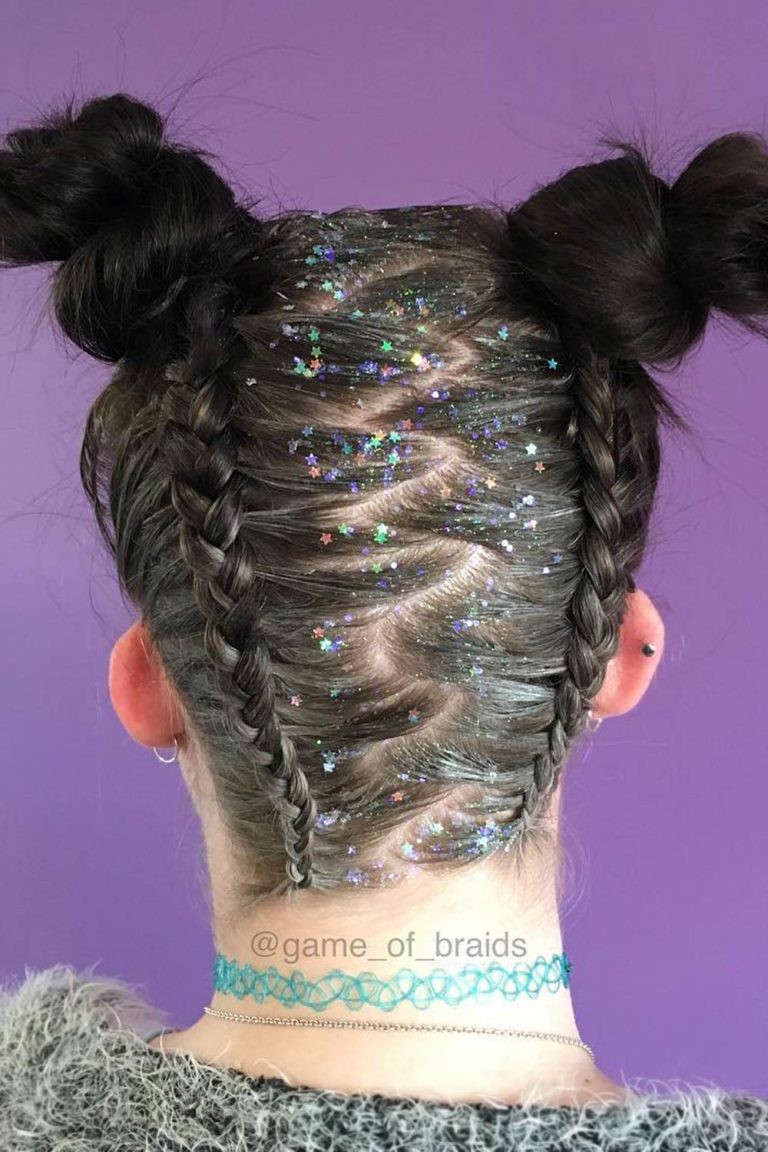 Credit photo: instagram.com/game_of_braids
Festival braids cover a plethora of styles and variations, but it is your own creativity that makes things work. Double-braided top knots can barely surprise anyone these days, although they look gorgeous. However, if you pay around with a glitter-sprinkled part and opt for a spiral part instead of a straight one, the who 'do will acquire a fresh taste.
Rainbow Hair Pull-Through Braid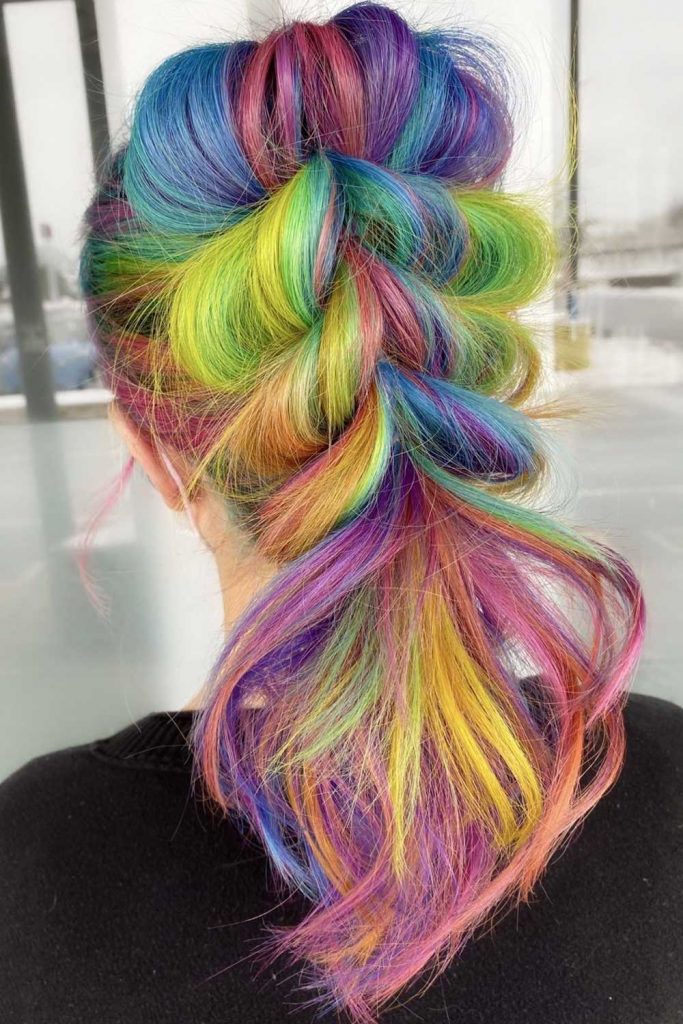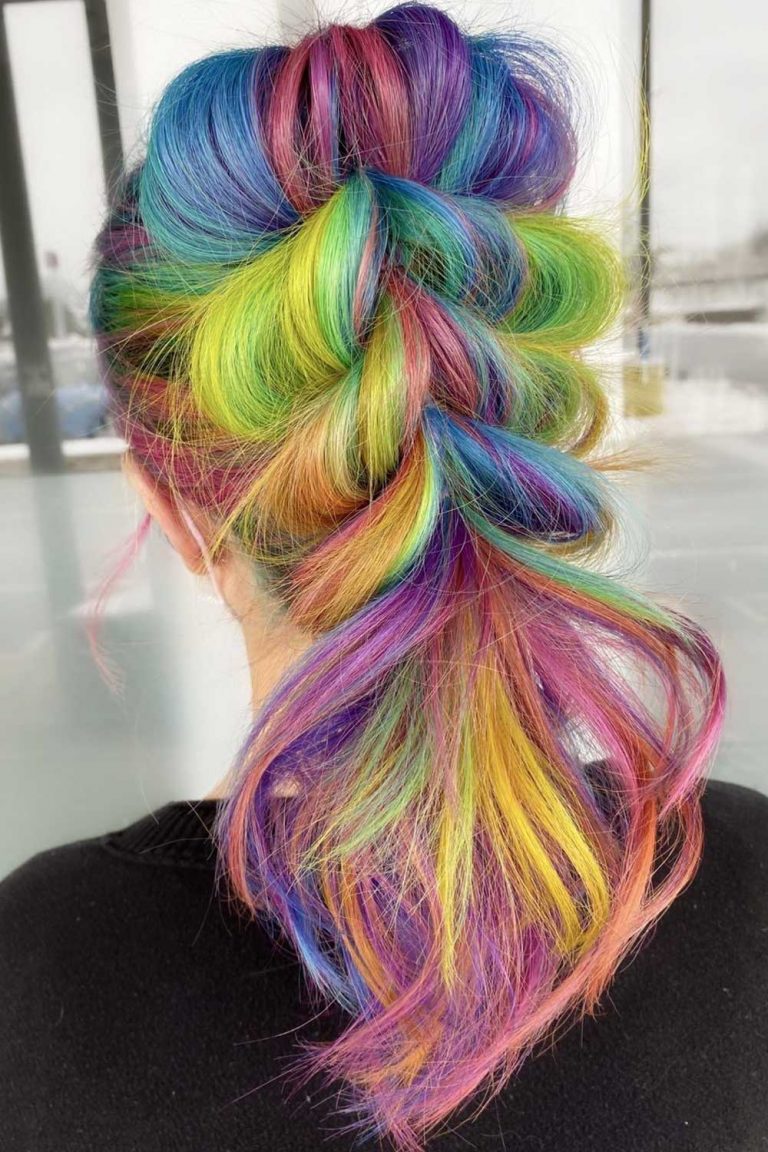 Credit photo: instagram.com/thehairstylish
You don't have to struggle much with rainbow-colored hair to achieve a stunning result. Sometimes all it takes is a high pony converted into a voluminous pull-through braid. The rest will be taken care of by mesmerizing colors transitioning one into another as your hair sways.
Exquisite Bushel Braids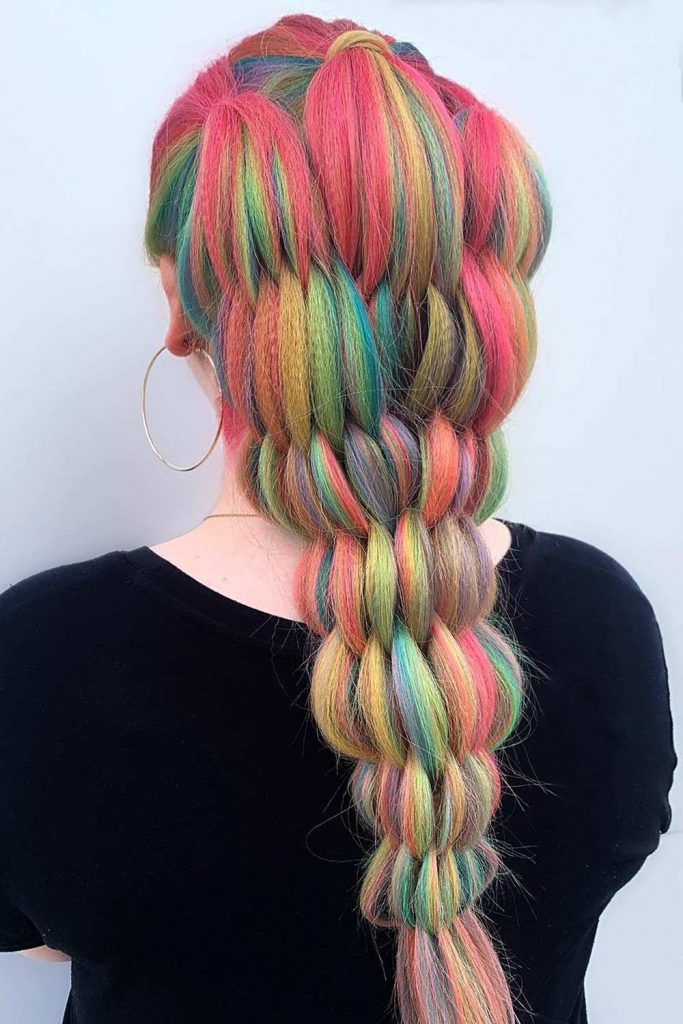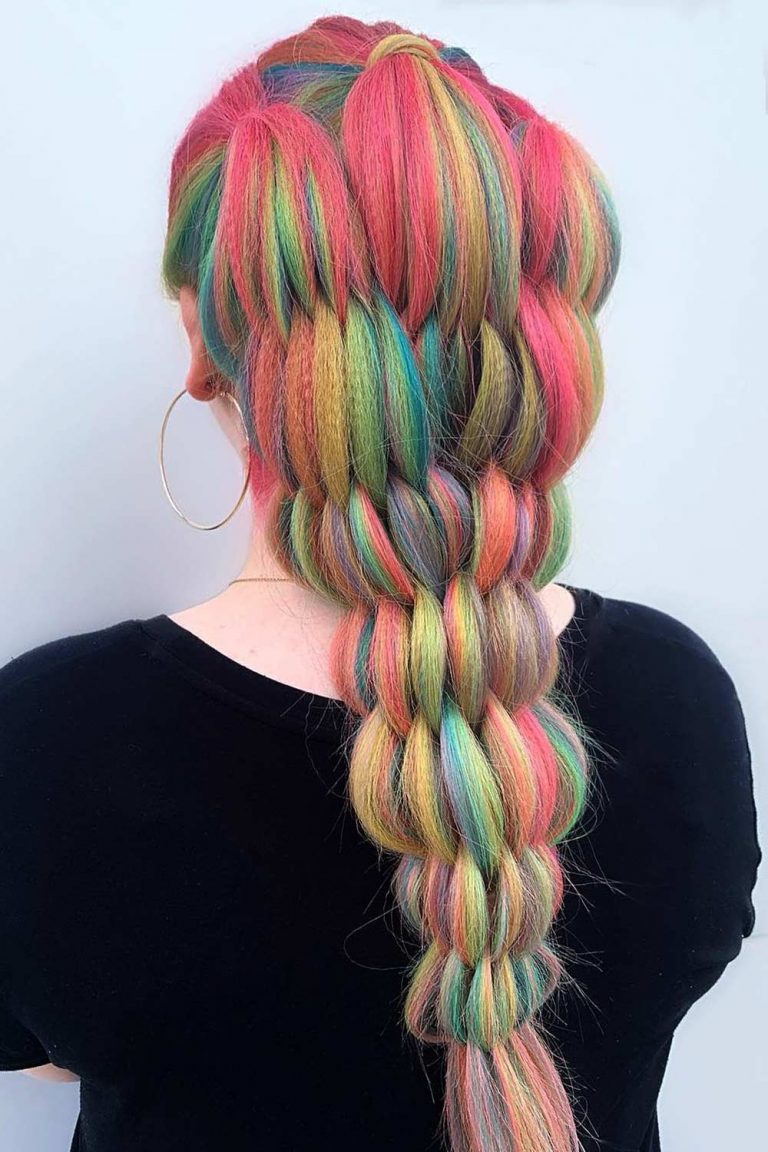 Credit photo: instagram.com/thehairstylish
Going the extra mile when considering your festival hair ideas isn't for all, but if you are willing to take the chance, the outcome will surely pay out. While a bushel braid is intricate enough on its own, the rainbow-colored mane takes things to a whole new level of exquisite. Yet, semi-permanent hair coloring prior to the braiding is advised.
Double Pull-Through Braids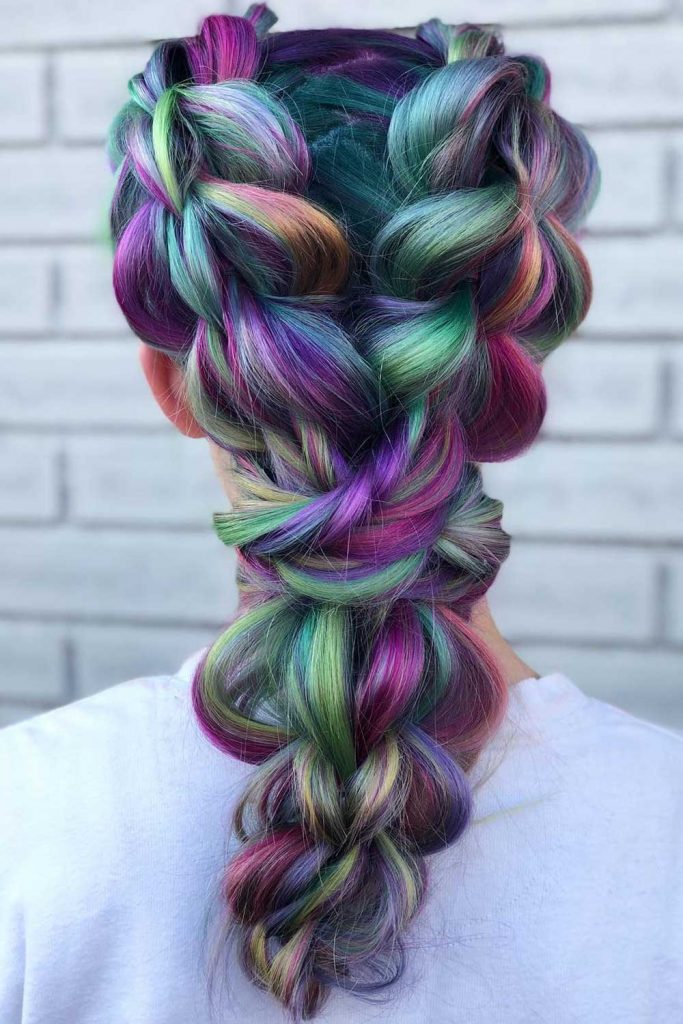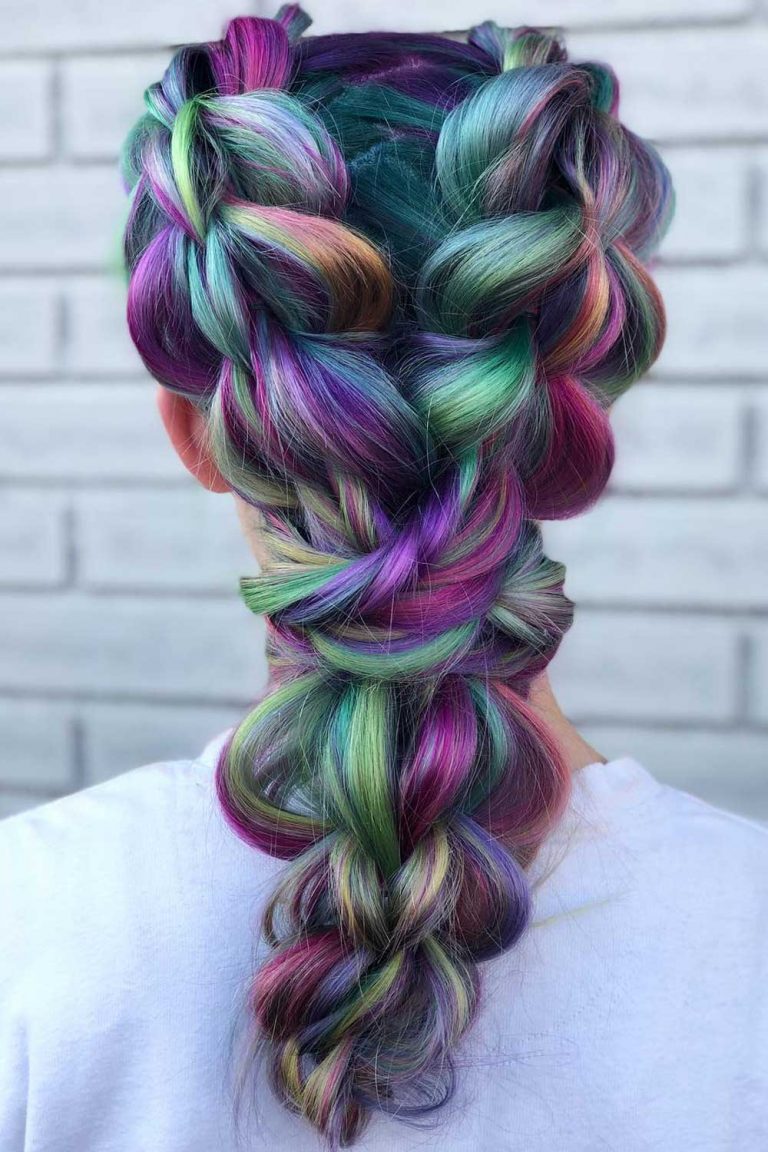 Credit photo: instagram.com/thehairstylish
Compared to rainbow hair, holographic manes carry a slightly darker, more mysterious vibe, attracting us to it. With such a multi-dimensional coloring, any hairdo will look mind-blowing. Yet, it does not mean you should settle for classy three-strands and call it a day. Instead, you can merge double pull-through braids into a single one and watch people gasp as you pass by.
Vibrant Braids with an Undercut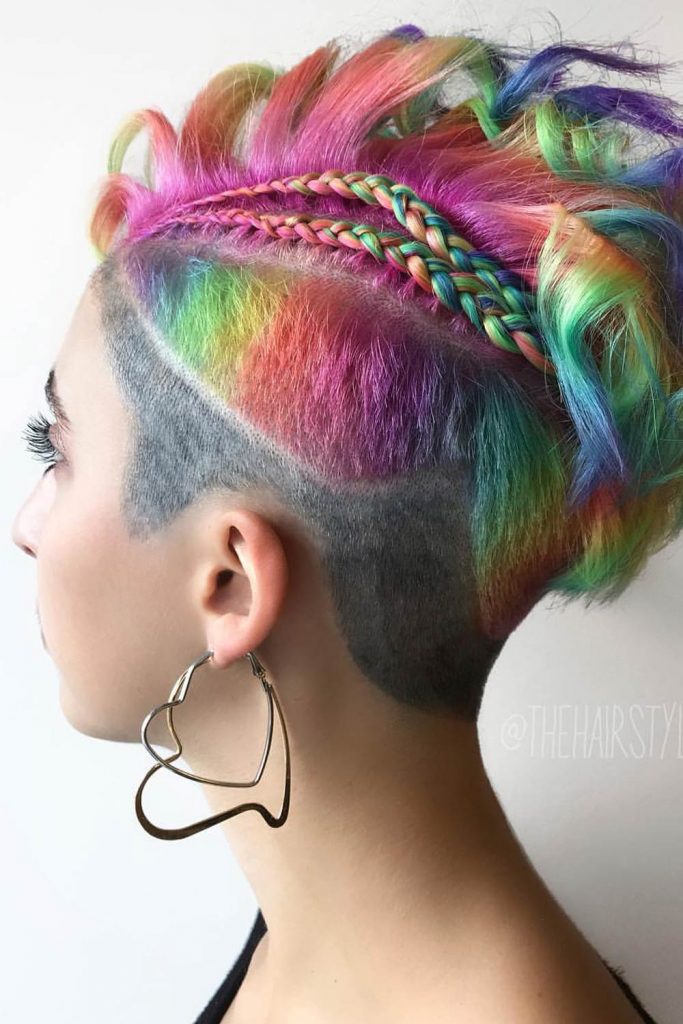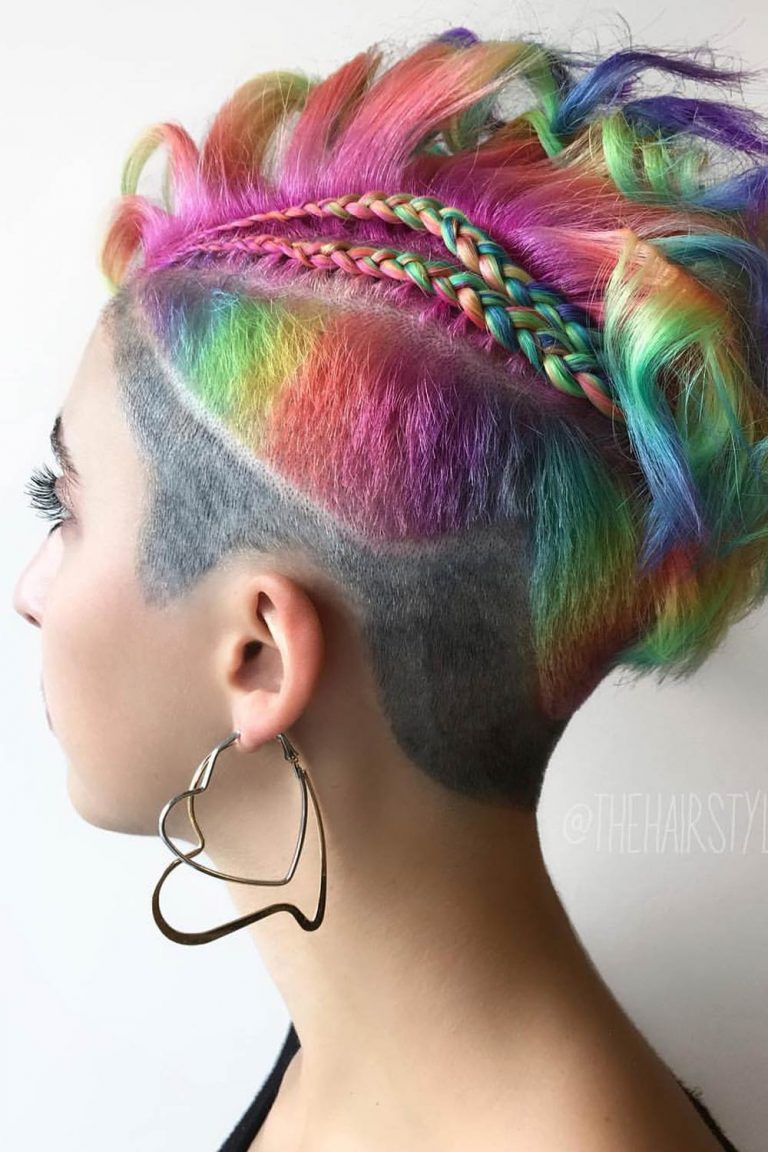 Credit photo: instagram.com/thehairstylish
Contrary to popular opinion, we will state that braids work well with present-day pixies. A gorgeous pixie with an undercut will benefit from double-side braids in the way that they enhance the contrast between the mohawk-like top and clipped undercut.
Infinity Braid Meets Bubbles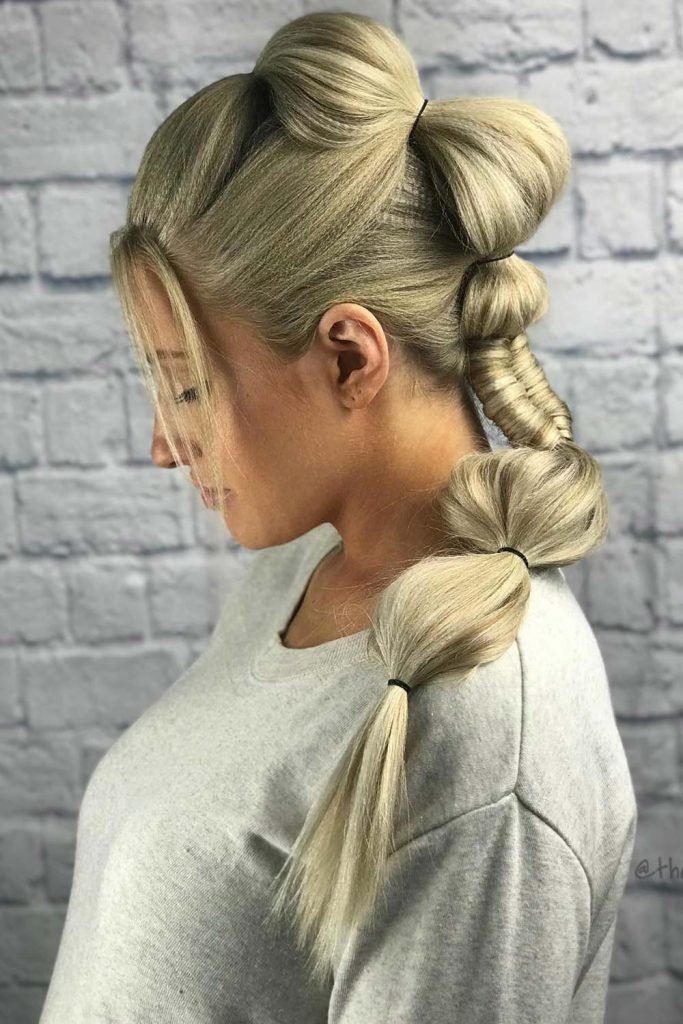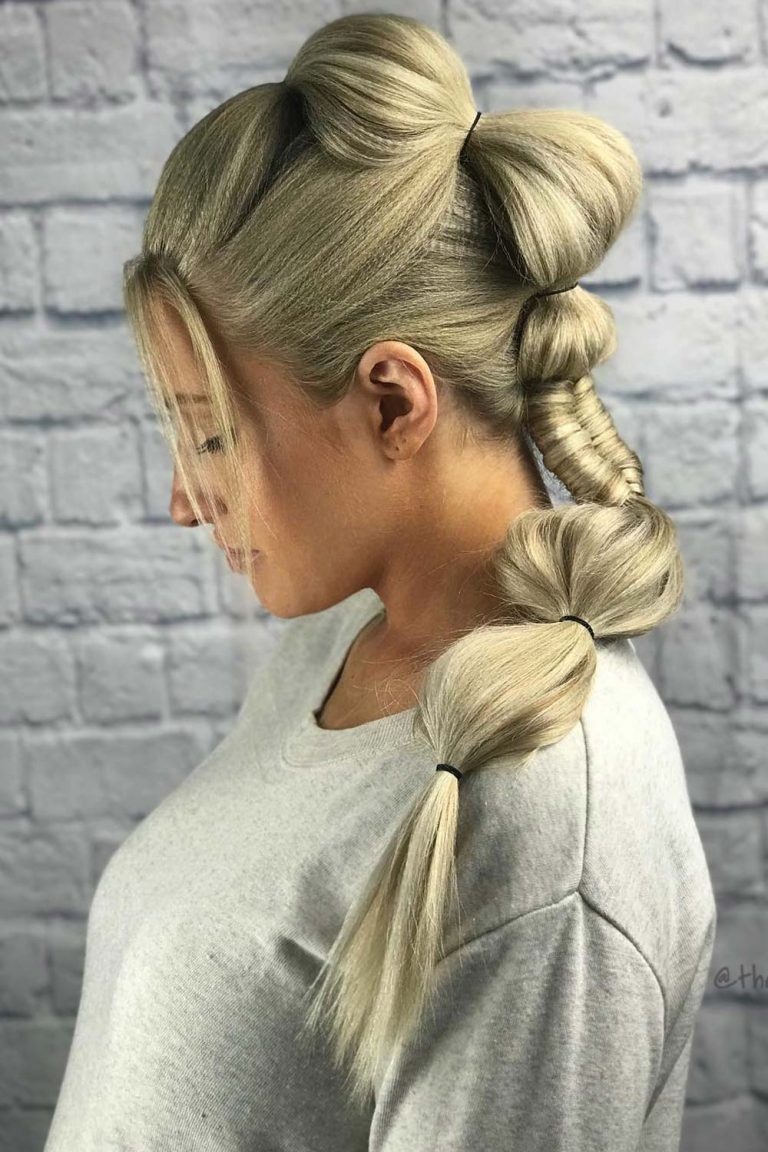 Credit photo: instagram.com/thehairstylish
Colorful highlights, add-ins, and glitters aren't the only components of a fancy festive look. Sometimes, it takes a successful experiment to create a marvelous look. As you can see, as this infinity braid meets bubble braid, they end up in a perfect harmony suitable for the fanciest festivals.
Impressive Fishtail Ponytail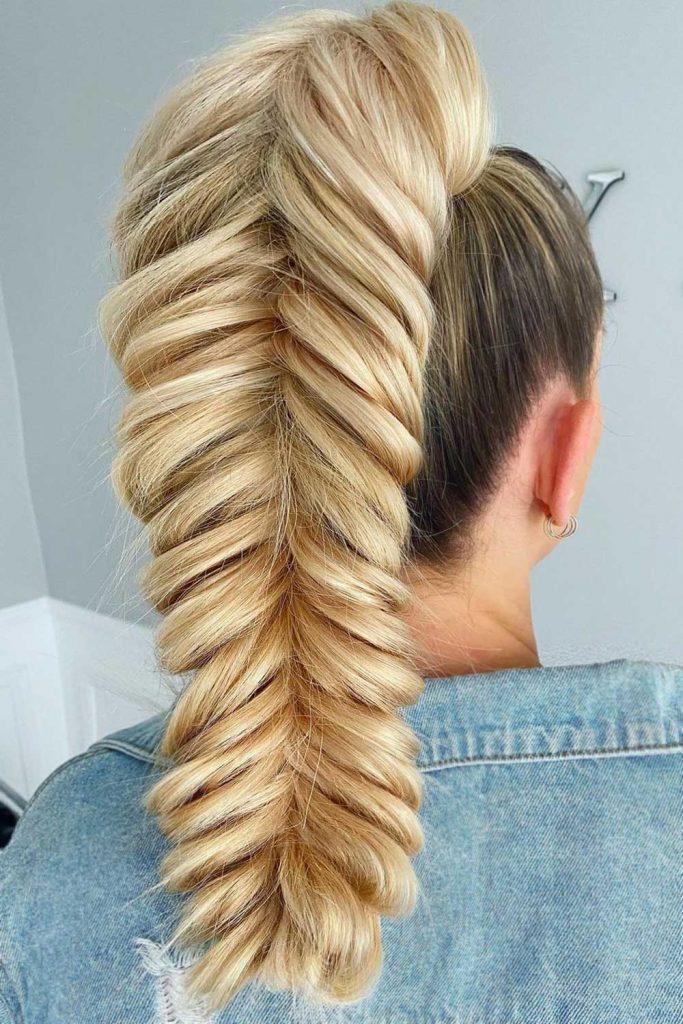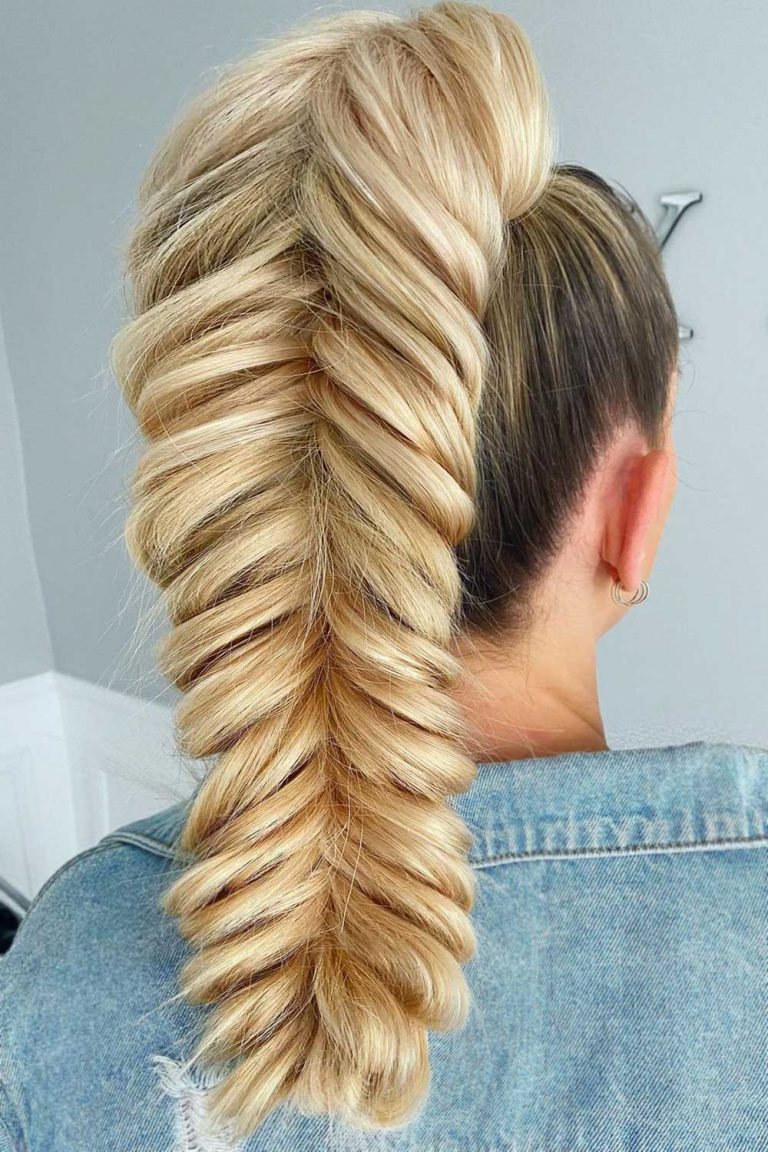 Credit photo: instagram.com/luxxloxx
In case you are running late for the event, you may want to have a hand shortcut at your disposal. How difficult is it to gather your long hair into a high pony? Sounds doable, right? Now, braid the pony a voluminous fishtail style, and you are ready to roll.
Daring Bubble Mohawk: Festival Edition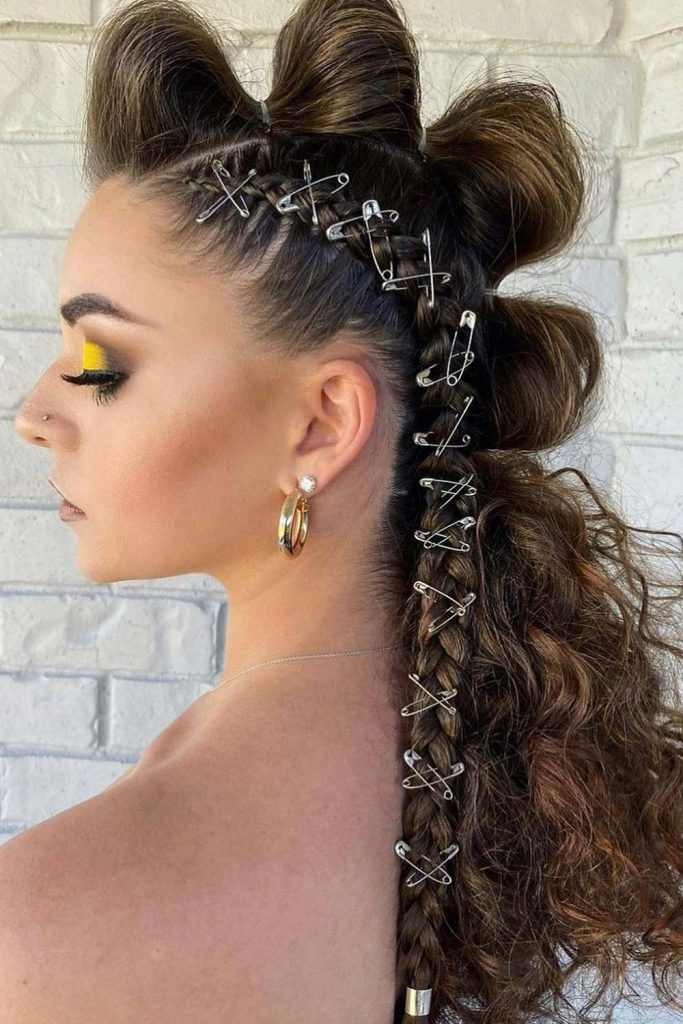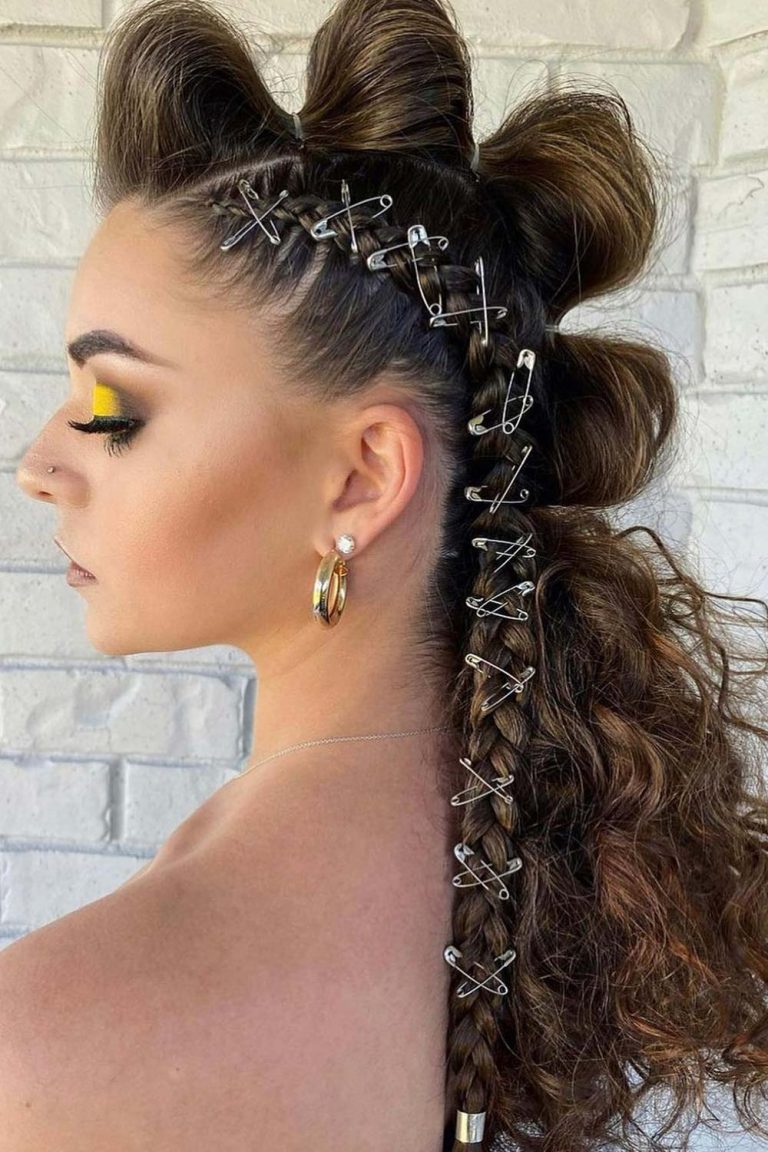 Credit photo: instagram.com/luxxloxx
If rainbows and unicorns do not feel like your cut of tea, we have something edgier hidden up the sleeve. A magnificent bubble mohawk will save you the need to cut your locks short. A sleek side dutch braid adorned with grunge-looking pins will add up that bold flair you are interested in without requiring much time and effort.
Elegant Side Braid with Embellishment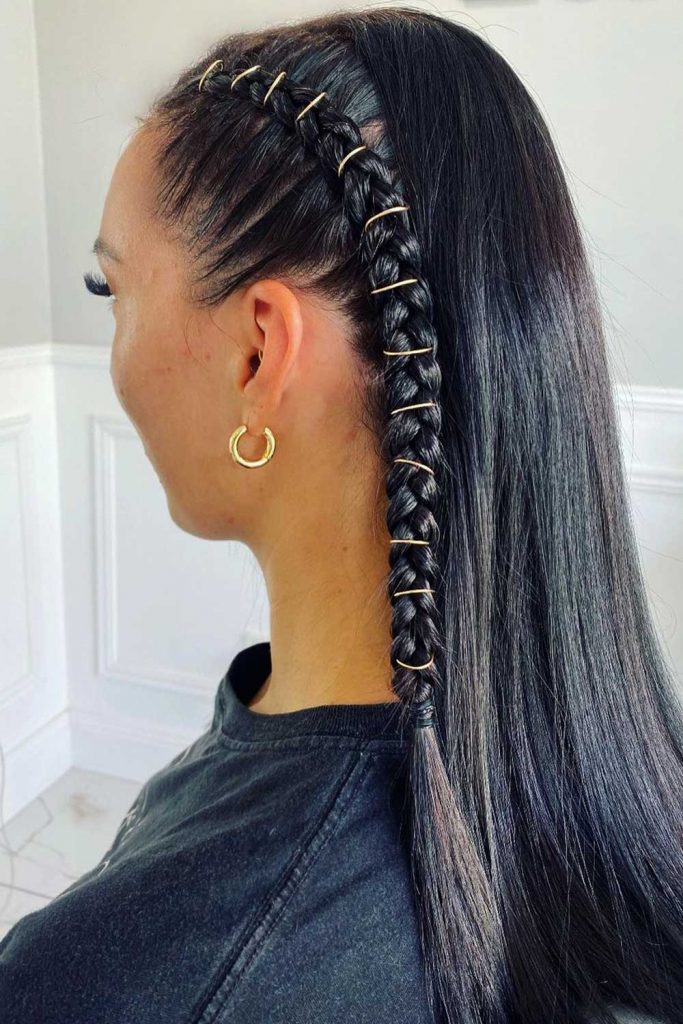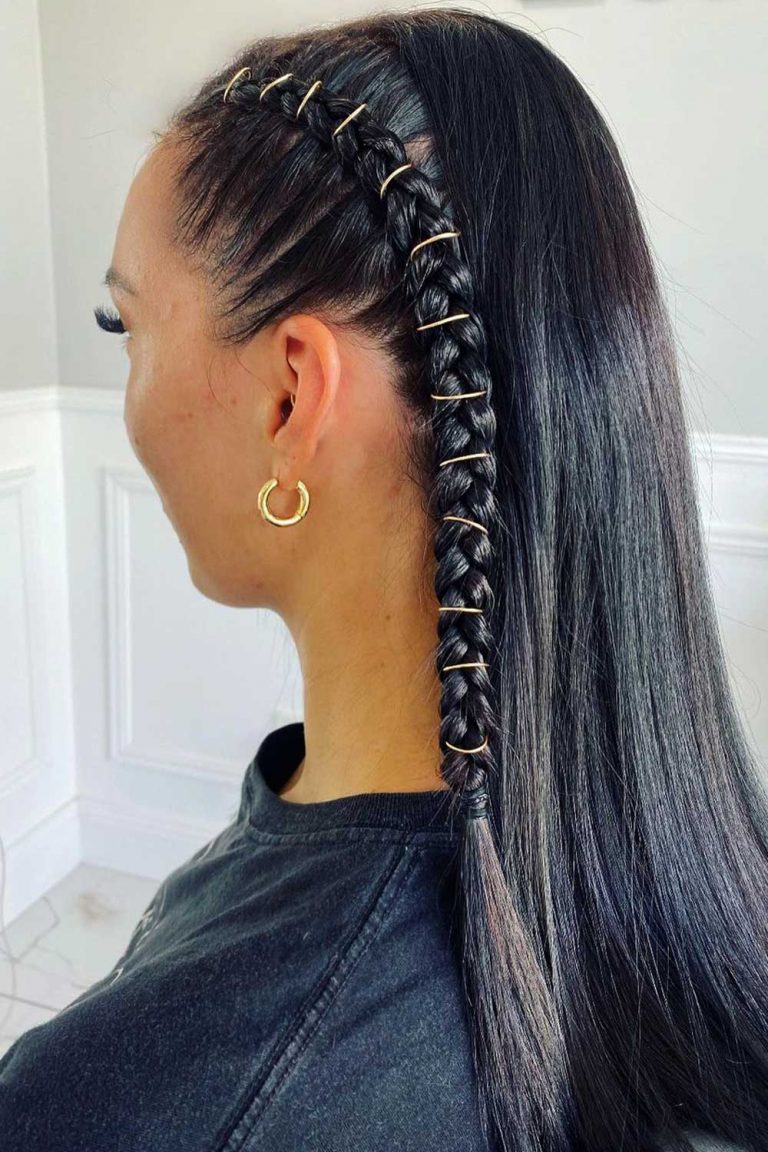 Credit photo: instagram.com/luxxloxx
Some of you may be all in for some easy festival hairstyles. If that sounds like you – we have just the right idea on offer. A simple side braid will take you 10 minutes to complete. Cover it with preferred decorum, spray a touch of hair spray to keep it in place, and dress your best! As simple as that!
Pastel Mermaid Infinity Braid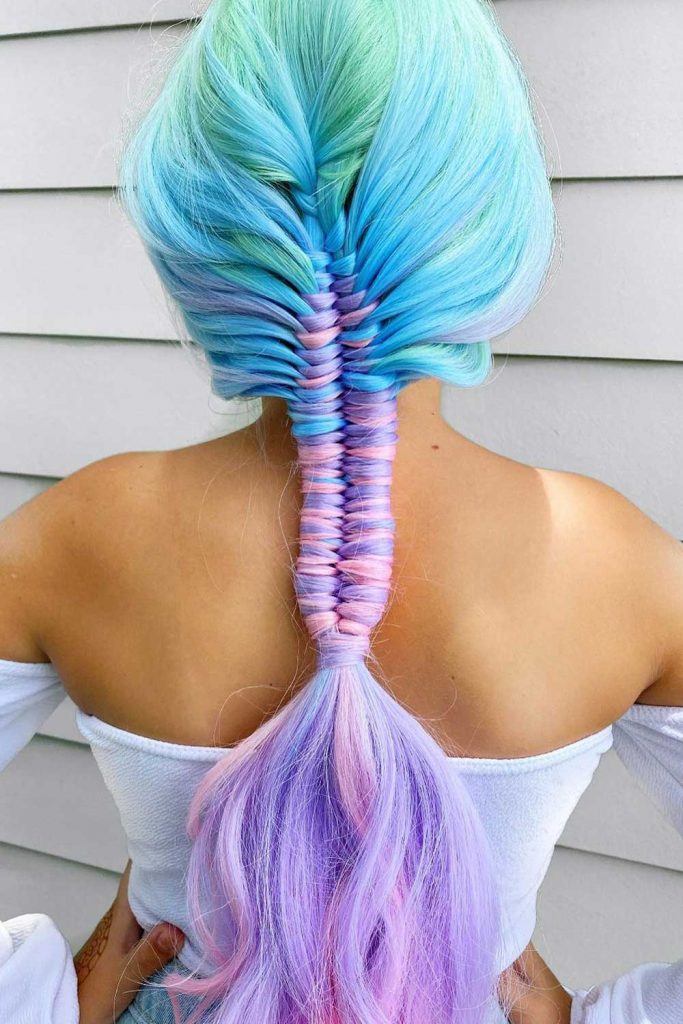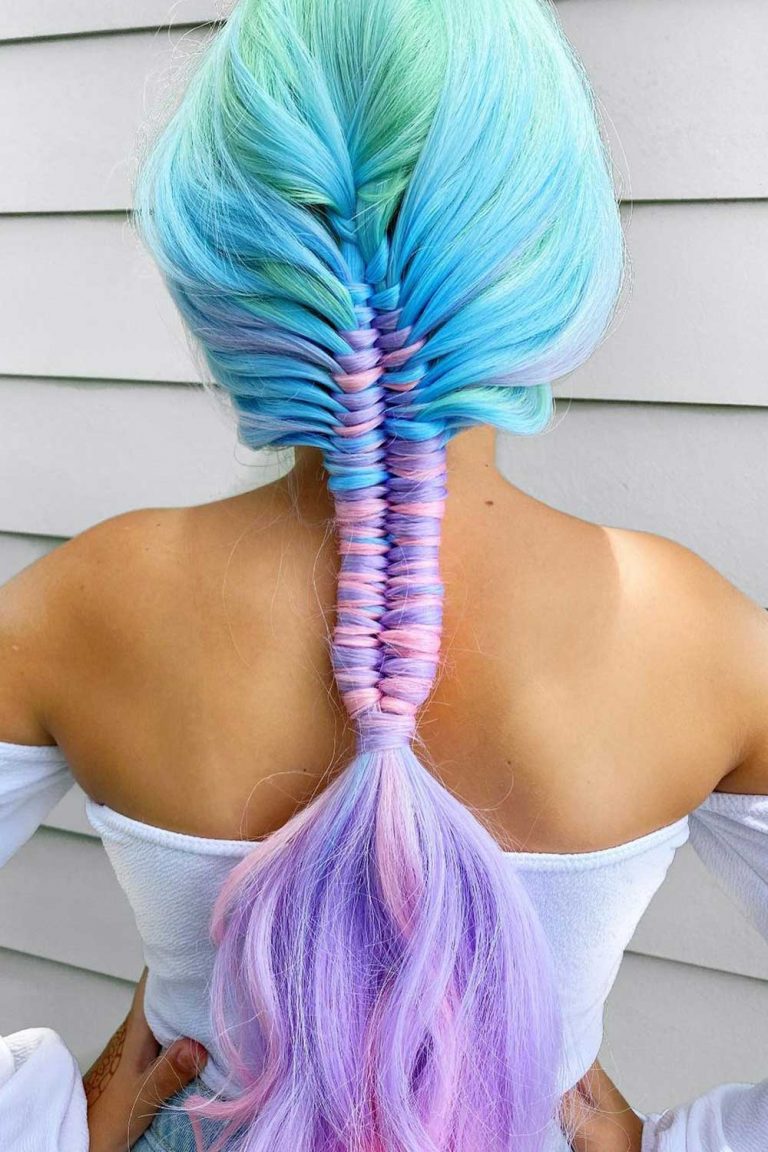 Credit photo: instagram.com/luxxloxx
In case you are pulling off a full-scale princess vibe as your festival look, a pastel-colored infinity braid is precisely what you need to complete it. Beauty comes in simplicity, and who are we to contradict that?
Baby Blue knotted Braid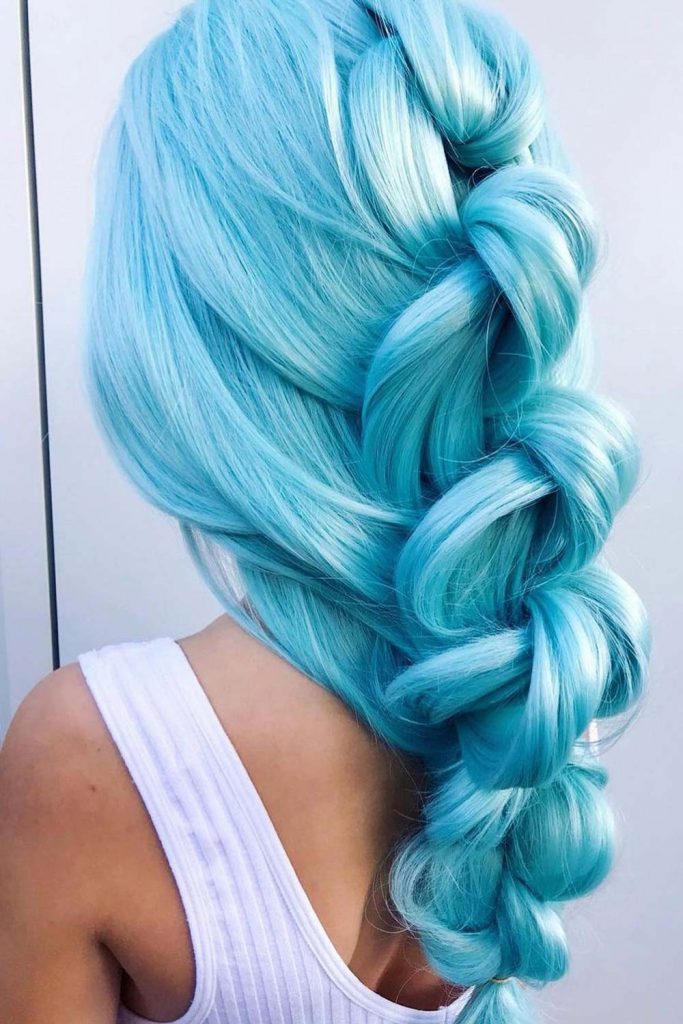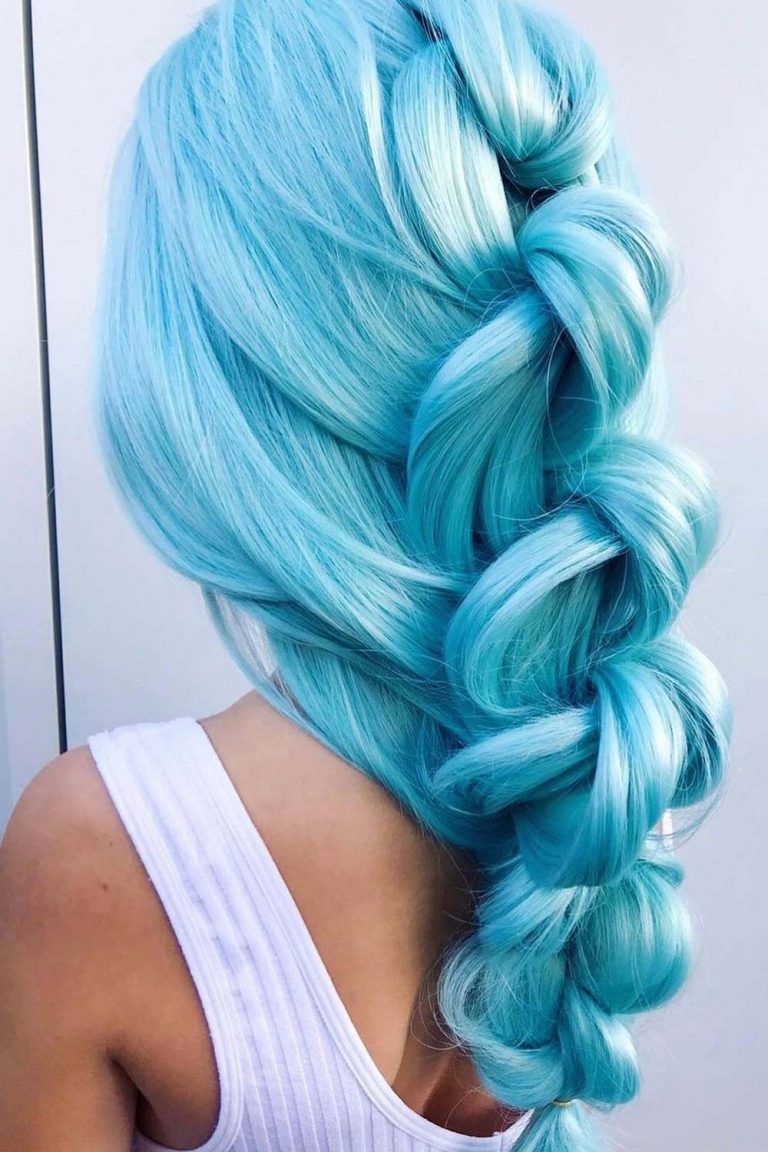 Credit photo: instagram.com/luxxloxx
A knotted braid is one of the most unique styles that captivate attention like nothing else. Pair it with such a soft blue hair color, and you will get a weapon of mass destruction in your possession.
Micro Braids, Beads, and Curls Combo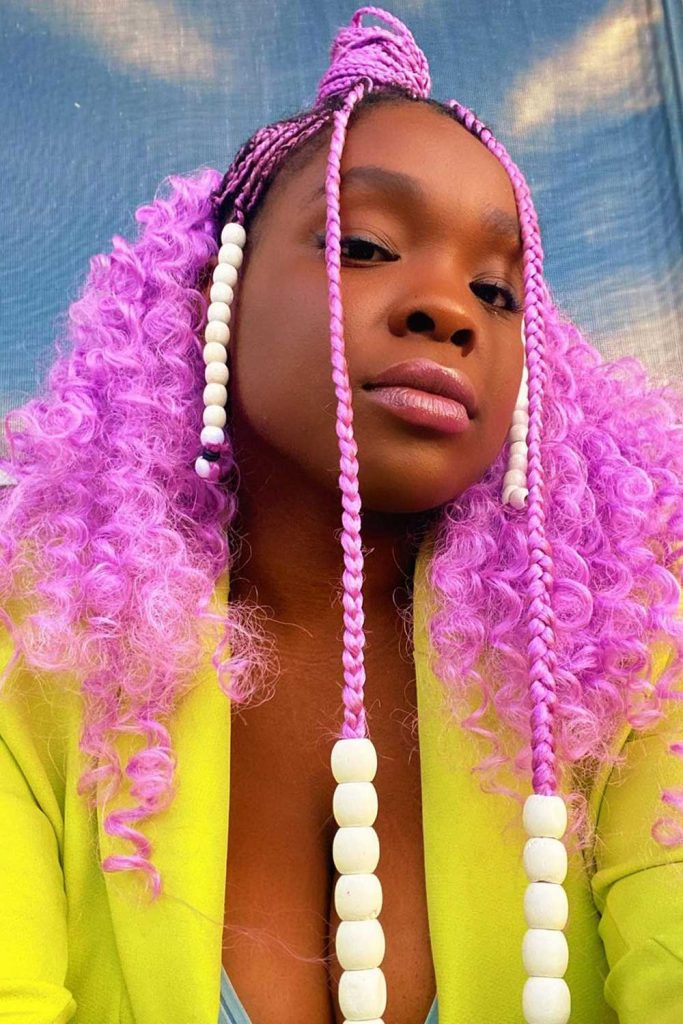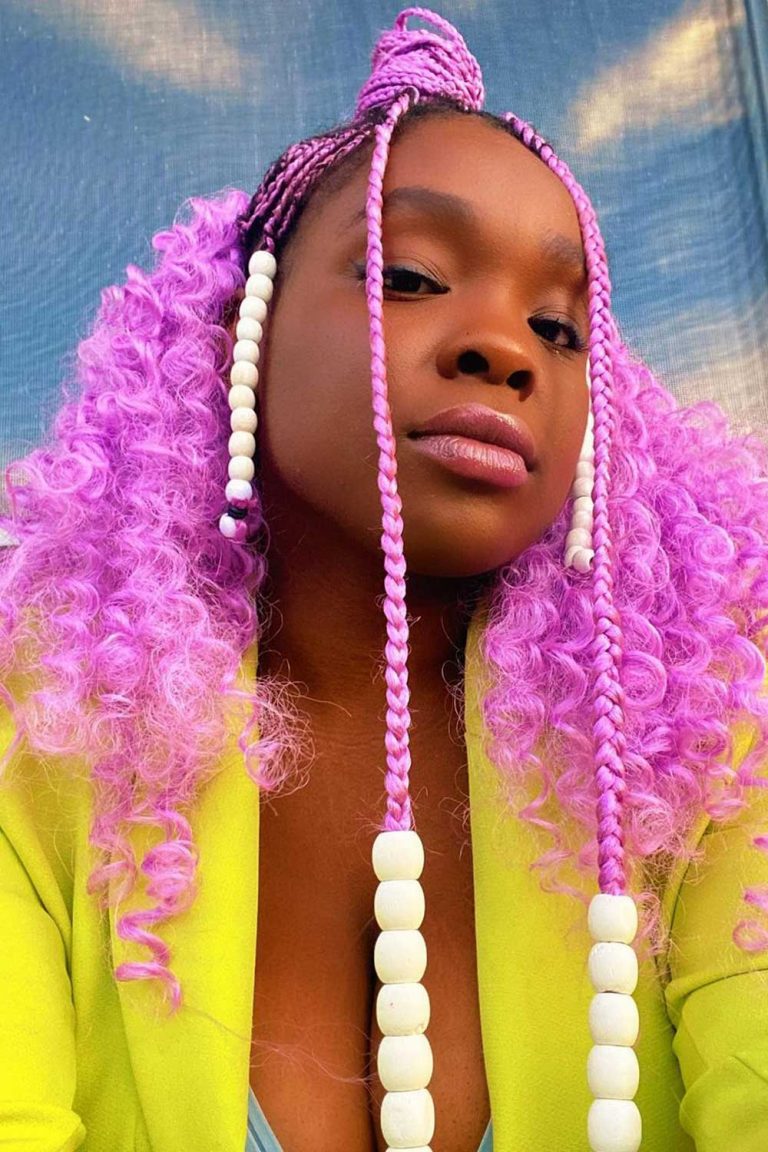 Credit photo: instagram.com/africancreature
If you agree that the more – the merrier applies to your festival look, we have an excellent idea to inspire from. An equal mixture of micro braids, stylish beads, and kinky curls dyed in bubble-gum pink hues is precisely the combination to apply for.
Dusty Blue Pull-Through Braided Pony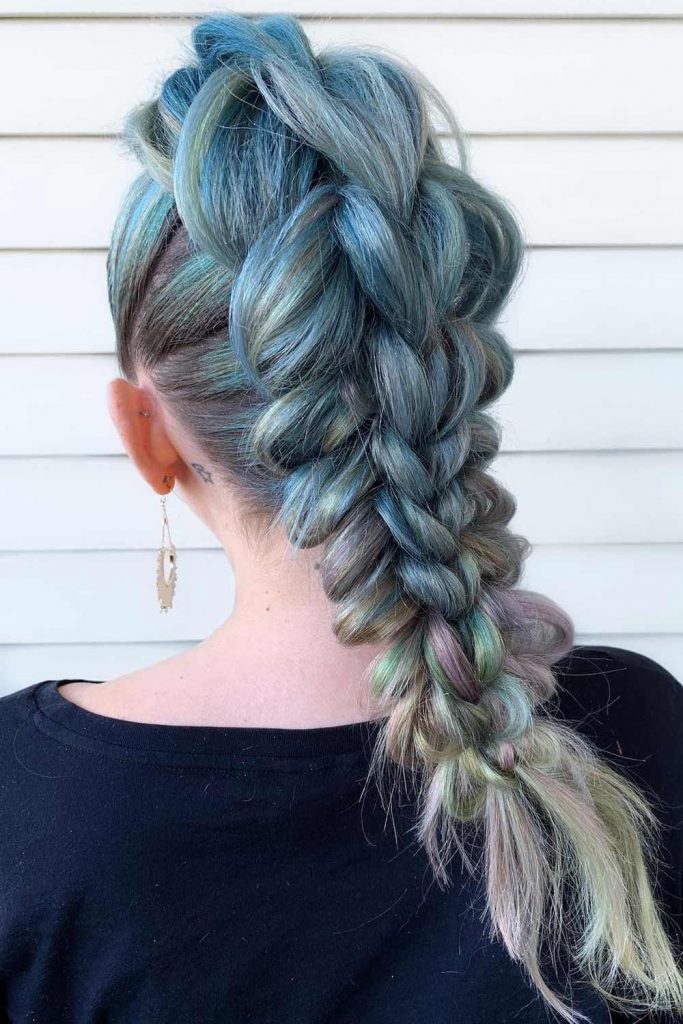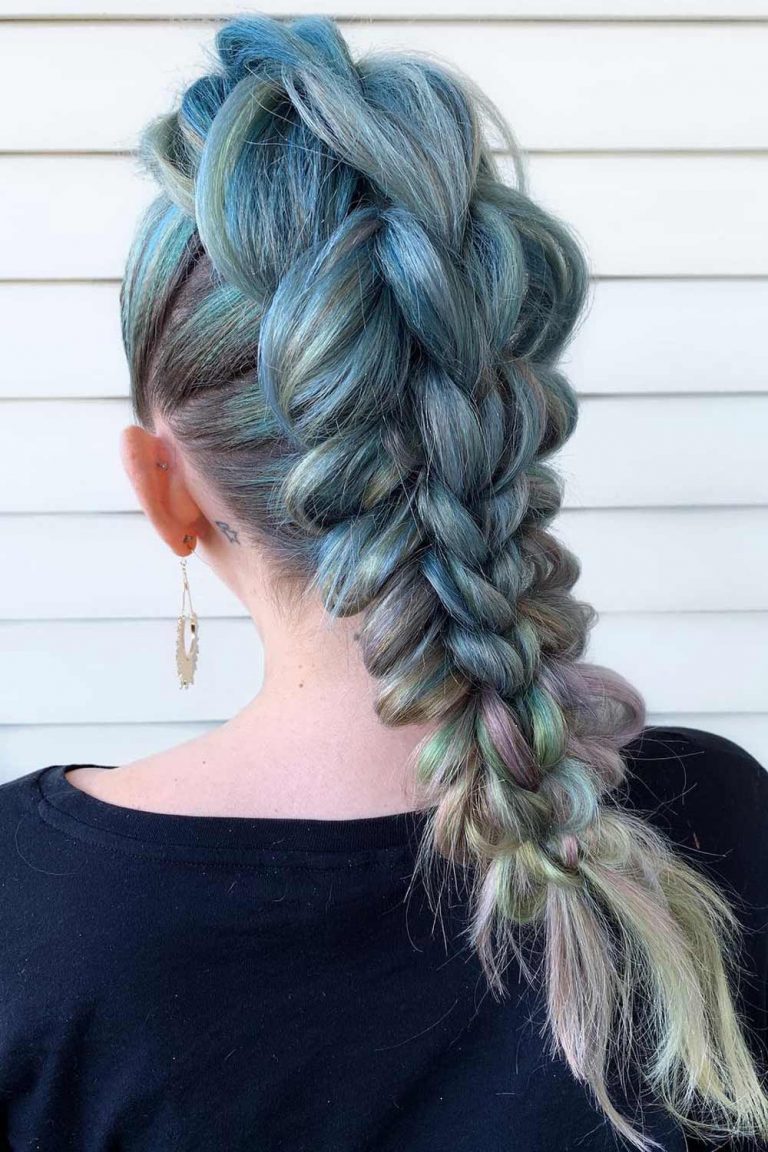 Credit photo: instagram.com/thehairstylish
Ponys, braids, and colorful highlights seem to match perfectly, and here's another way to adopt a captivating look without putting much effort and preparation into it. Simply gather your tresses into a top pony, spice it up with a pull-through braid, tug on the sides to boost that volume, and hit the road!
Impressive Long Curls with Side Braids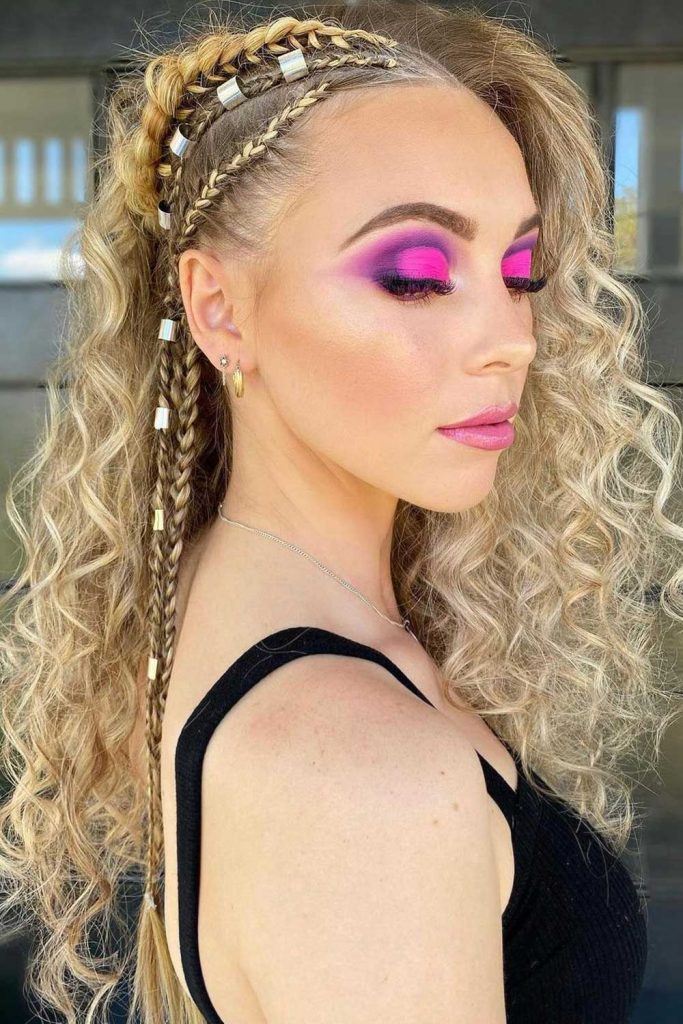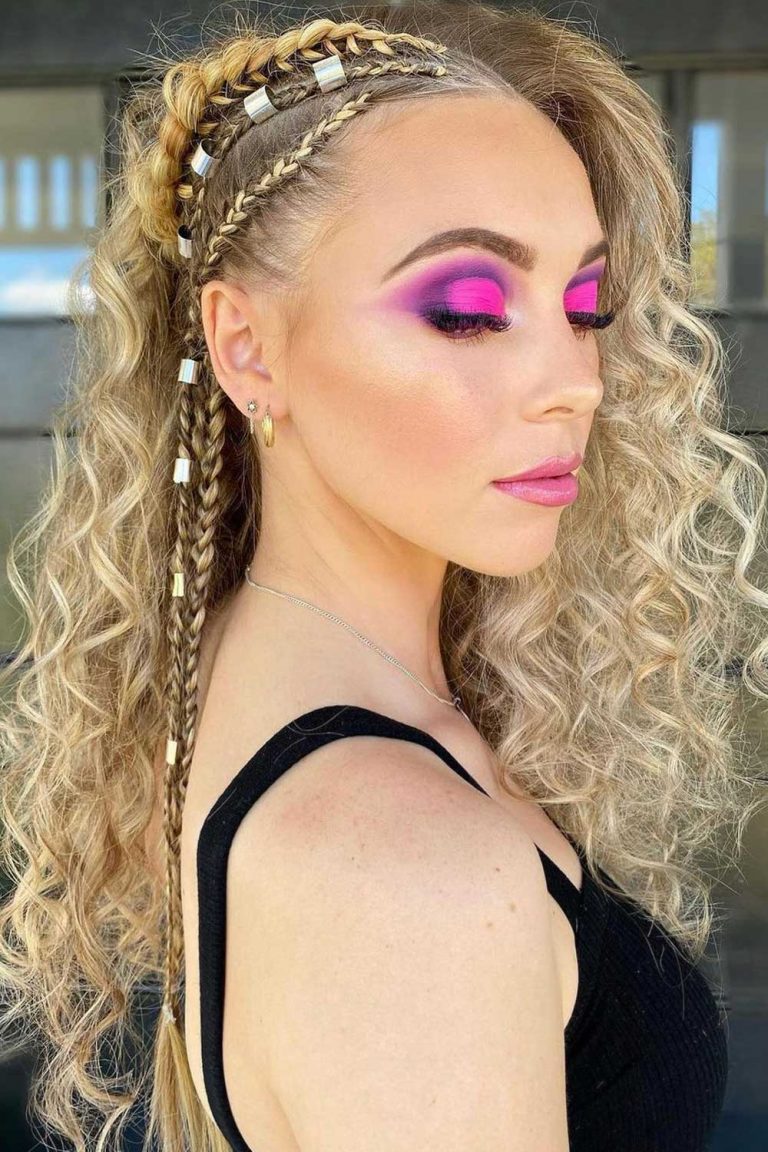 Credit photo: instagram.com/luxxloxx
Those who want to combine the two worlds in a single look may find this option quite suitable. As you embrace your naturally curly texture or work miracles with a curling wand, we suggest you dedicate a side to tiny cornrows. Spice your braids with beads, put on your fav colorful makeup, and get ready to steal the show wherever you go.
How to Choose Festival Hairstyles?
Here we pick up some critical factors to consider before finalizing your decision. There are a few points to brood upon:
Shape – since a festival lasts much longer than an ordinary concert, you must come up with a 'do which holds its form throughout the event.

Maintenance – occasional touch-ups may come of use during the festival. Thus, an utterly complex braiding you can't manage alone should be ruled out immediately.

Commitment – in case you are unwilling to commit to a dramatic style you are about to pull off, it's better to consider colorful add-ins rather than permanent dyeing. The same goes for edgy haircuts – if you can't achieve it without cutting your hair short, it's best to reconsider.

Comfort – no matter how stylish and fancy your 'do may look, it is not worth it if it causes discomfort. You are heading to the festival to have the time of your life rather than suffer from an uncomfortable hairdo.

Affordability – despite how long you have been waiting for the occasion, it is no use breaking the bank over festival hairstyles that won't survive a 3-day event in either case. You should better opt for something fancy but still affordable – festival braids!
FAQ : Festival Braids
How long do festival braids last?
Depending on the style you choose and how well you secure and look after them, festival braids may last ranging from 3 to 7 days.
How do you sleep in festival braids?
The best way to sleep with festival braids implemented into your look would be to cover them with a satin scarf whenever you head to bed.
Can festival braids get wet?
Some braids can get wet without any significant damage to them. However, if you use glitter or any other pretty fragile embellishments, it is best to keep away from water, or you can bring your shower cap and protect your 'do without sacrificing the water fun.
Festival braids are a great way to complete your holiday look. Considering that they come in a grand range of styles, shapes, colors, and forms, there is an option to suffice each specific taste. We have gathered the best options to rock the season in 2023!
REFERENCES:
Was this article helpful?